Editorial
The Crime Minister October 14th 2019
I do not recall Prime Minister Thatcher having much to say about toughening up on crime fighting. She was too busy making industry 'leaner and fitter' freeing up the City of London, turning education into a form of policing through the mind numbing national curriculum, destroying working families, raising unemployment, enriching a rich minority creating the me first culture ( the seed of 'Me Too ' ) selling state assets off cheap and giving the police the opportunity to practice for riot control at the striking coal miner's picket lines.
In the process, she destroyed the social fabric as we knew it and launched two wars- including the first Gulf War for the sake of UK And U.S oil interests.
She was a hard act to follow but New Labour's Tony Blair was more than up to the job. It was not difficult for him to outshine Thatcher's insipid successor John Major. The biggest robberies of the Major era involved the banks and city of London. No problem breaking laws when you are the law maker. Unfortunately for Johnson he is not in a position to make laws, but he is trying to impress with his Queen's Speech.
Like Tony Blair- the man many would like to see tried for war crimes, but nothing has ever stuck to the man Private Eye magazine nicknamed Teflon Tony– Boris Johnson sees himself not so much as the Crime Minister, as Parliament would have us believe- but the Crime Fighting Minister.
Thus he has come out with the same old stuff about tougher and longer sentences with a focus on domestic and harassment crimes- the latter all female vote winning post Thatcher crimes. There is no mention of tough laws against women who commit domestic violence or lie about all forms of sex attacks. That, officially, doesn't happen so doesn't need laws.
Boris is now promising 20,000 more police officers to help his cause cleaning up crime infested anti social diverse Britain. Police sources have said that to meet this target over the next few years would require at least 200,000 applicants because they calculate that only one in ten applicants will have the special qualities needed to police modern Britain. One can easily imagine what these qualities are. I believe Portsmouth University offers the police special courses on the subject, awarding a BSc at the end of it.
There are very serious questions as to what these much sought after qualities are. The judge dealing with formerGovernment Chief Whip Andrew Mitchell's libel case said : 'The officer who said you called him a Pleb could not have been lying because he has no imagination and so is perfectly suited to his job as a police constable.
In that same Plebgate incident an officer was jailed for lying that he saw and heard Mitchell calling the officers bl–dy plebs. The officer was actually at home in Aylesbury at the time of the incident.
Matters got worse. In order to clear the adverse record against him, Mitchell agreed to see three officers from three overlapping police forces in his constituency. One of these forces was West Mercia. Mitchell met them in his constituency offices in Sutton Colfield. Mitchell's wife did not trust the police so advised him to secretly record the meeting.
The three plain clothes officers came out of the meeting strutting eagerly up to the waiting media crews and their satellite dishes. Then the West Mercia Officer, DS Ken Mcall said that Mitchell admitted calling the officers plebs. Mitchell proved them liars.
A West Mercia Police Inspector, described as church going was deployed to investigate. He concluded that the officers were guilty of misconduct and should fce disciplinary proceedings, only to have his conclusions rejected by the force's Deputy Chief Constable Simon Chesterman.
It came to light that Mitchell was known to have raised concerns about police overtime hours in his constituency, which as said, included West Mercia. He was out to raise effieciency. The Crime Commissioner for Dyffed Powys wrote an article on the matter for the Mail. He named Chesterman and refered to a feral police force.
I find it nauseating every time an officer has a mishap, accident in a police car during a dangerous pursuit or is killed on the job , that we have to hear the stuff about heroics. A hero is someone who does something he doesn't have to for the sake of others. There may be a few of this type getting through the selection process if they are lucky.
In his book 'Line of Fire' one such honest senior police officer Brian Paddick wrote. 'It wasn't my homosexuality that caused me problems in the police, it was my honesty.' He quotes Mark Twain who said: 'Always tell the truth, that way you do not have to remember what you said.
Today a West Indian man arrested back in 1972, with his colleague by a Corrupt lying Metropolitan DS Police officer – who went on to die in jail for his part in planning a burgalary on police time- has won his right to appeal his conviction. He and a colleague were known as the Oval Two, and fought for black rights. The police are an appealing career choice for would be criminals and perspectivist thinkers ( See Social theory and Social Structure by R K Merton ). Thus it has been know to attarct all sorts of bigots, including racists.
The Oval Two were bailed for 8 months and did 8 months in jail. They had been followed by a group of officers led by the DS, falsely accused of shoplifting, attacked on the tube station, taken to a police station where a confession was beaten out of them. As said : that was back in 1972.! The jury automatically believed the police. There were no other witnesses. It has taken him all these years to win a right to appeal against his conviction.
Paddick writes near the beginning of his book about when he was a probationary constable. He said he was driven by a senior contable to a dance hall in a very West Indian part of South London on a Saturday night. While sitting there outside the main doors, Paddick wondered what he and his old colleague could possibly do to break up any fights.
Then a double decker bus went past and the senior man slammed the car into gear and chased after it.. As he drove with his flashing lights on, he said ; 'Did you see that?' 'What?' Paddick asked. 'That bus ran a red light'. 'No I didn't see it.' said Paddick. 'Well you will say you saw it when you get back to the station. Two police officer's words count for the truth against members of the public.'
I have my reasons for being interested in police corruption and how their system works. The head of the police college and the HM Inspector of Constabularies have raised questions about the wrong people getting promoted. One force, Cleveland, was described recently as not fit for purpose and the Met have been involved in a serious cover up regarding lies about a VIP sex abuse ring. This is the second occasion when Cressida Dick's competence has been thrown intio question.
I could go on and it is time someone joined it all up wrote a book exposing the British Police for the instiutionally corrupt organisatioin that they are. It is a place of ritualistic behaviour, a quasi military hierarchy prone to bullying anyone who doesn't seem to fit or blows a whistle- regardless of race or gender-where like recruits like, whatever the race or colour. Clevealnd forced reforming Sue Simm out of her job as CC and have had six new CCs in as many years.
Corrupt personalities may well be what they will be looking for in that 200,000- whatever they are really looking for, senior officers have too much power and independence so they will wraptheir actions all up in jargon. It has been argued that the recruitmenmt process has something to do with why the British police solve less than 6% of robberies.
They also have a reputation for victimising people they do not like, witholding and corrupting evidence. The recent Metropolitan Police scandal has seen the lead officer in the VIP case promoted and the official police watchdog coming out with what is widely regarded as a cover up or white wash. This body has been renamed the IPOC instead of the IPCC, but is still very much a part of the police system and at best a mailing service- old wine in a new bottle, or should I say Bluebottle!.
So if Crime Minsiter Boris Johnson really wants to make his mark he should do what no other Prime Minister or Home Swecretary has ever dared or wanted to do : STOP THROWING MONEY AT THE POLICE, REFORM THEM, FORCE AN EFFICIENCY DRIVE, GET A TRULY INDEPENDENT WATCHDOG WITH POWER TO ENFORCE PROSECUTIONS AND ENFORCE SEVERE PUNISHMENTS FOR POLICE WRONG DOING AND CUT CHIEF OFFICERS PARASITICAL PERKS.
The ludicrously outdated ranking system also needs looking at because it rewards those gifted at what the sociologist Irving Goffman calls impression management. It is a system which has ACC's doing little more than writing appraisals, going to conferences and courses, junkeys in expensive hotels and playing golf with those they suck up to.
Good impressions of smarming for promotion are not the way to impress the wider long suffering wider public, though the well off who see the police as their guard dogs will go on fawning to them. It is hard pressed working people who experience the reality of everyday British p
Unlocked @Unlocked_UK_·WATCH: Is Britain Becoming a Police State? After a relentless 12-month clampdown on our freedoms, is there any way back? With @toadmeister@WeAreFairCop@missalicegrant@MartinDaubney
21:4912.4K viewersUnlocked @Unlocked_UK_WATCH: Is Britain Becoming a Police State? After a relentless 12-month clampdown on our freedoms, is there any way back? Wi
The New Normal (Phase 2)
Most of Western Europe is still in "lockdown," or "under curfew," or in some other state of "health emergency." Police are fining and arresting people for "being outdoors without a valid reason."
Protest is still banned. Dissent is still censored.
The official propaganda is relentless. Governments are ruling by edict, subjecting people to an ever-changing series of increasingly absurd restrictions of the most fundamental aspects of everyday life.
And now, the campaign to "vaccinate" the entirety of humanity against a virus that causes mild to moderate flu-like symptoms or, more commonly, no symptoms at all, in over 95% of those infected, and that over 99% of the infected survive (and that has no real effect on age-adjusted death rates, and the mortality profile of which is more or less identical to the normal mortality profile) is being waged with literally religious fervor.
"Vaccine passports" (which are definitely creepy, but which bear no resemblance to Aryan Ancestry Certificates, or any other fascistic apartheid-type documents, so don't even think about making such a comparison!) are in the pipeline in a number of countries. They have already been rolled out in Israel.
In other words, as predicted by us "conspiracy theorists," the "temporary emergency public health measures" implemented by GloboCap in March of 2020 are still very much in effect, and then some. That said, as you have probably noticed, the tenor of things is shifting a bit, which is unsurprising, as GloboCap is now making the transition from Phase 1 to Phase 2 of the "New Normal" roll-out.
Phase 1 was pretty much classic "shock and awe." An "apocalyptic virus" was "discovered." A global "state of emergency" was declared. Constitutional rights were cancelled. Soldiers, police, surveillance cameras, military drones, and robot dogs were deployed to implement the worldwide police state.
The masses were bombarded with official propaganda, photos of people dropping dead in the street, unconscious patients dying in agony, bodies being stuffed into makeshift morgue trucks, hospital ships, ICU horror stories, projections of hundreds of millions of deaths, terror-inducing Orwellian slogans, sentimental "war effort" billboards, and so on.
The full force of the most formidable Goebbelsian propaganda machine in history was unleashed on the public all at once. (See, e.g., CNN, NPR, CNBC, The New York Times, The Guardian, The Atlantic, Forbes, and other "authoritative" sources like the IMF and the World Bank Group, the WEF, UN, WHO, CDC.)
But the "shock and awe" phase can't go on forever, nor is it ever intended to. Its purpose is (a) to terrorize the targeted masses into a state of submission, (b) to irreversibly destabilize their society, so that it can be radically "restructured," and (c) to convincingly demonstrate an overwhelming superiority of force, so that resistance is rendered inconceivable.
This shock and awe (or "rapid dominance") tactic has been deployed by empires, and aspiring empires, throughout the course of military history. It has just been deployed by GloboCap against … well, against the entire world. And now, that phase is coming to an end.
The shape of Phase 2 is not entirely clear yet, but one can make a few logical assumptions. Typically, this is the phase in which the conquering force (in this case, GloboCap) restores "normality" (i.e., a "new normality") to the society it has just destabilized and terrorized. It installs a new occupation-friendly government, restarts the economy, and otherwise begins the gradual transition from martial law to something resembling "normal" everyday life. It hands out candy bars to kids, financial aid to businesses, power to generals and police, and "freedom" to the shell-shocked public.
This appears to be where we are at the moment. As you've probably noticed, the corporate media, government leaders, and medical experts have been making noise about "the end of the pandemic," or at least "the end of the emergency phase" of it. Suddenly, "some level of Covid is tolerable," "Zero Covid is unlikely," et cetera. This is happening pretty much right on cue.
Now that the vaccination push is underway, they are trying to temper the mass paranoia and hatred that they have fomented for over a year with some hope and a vision of a post-crisis future.
Governments are carefully relaxing restrictions, making sure we understand that if we don't obey orders, wear our masks, get our vaccinations, and so, they will crack down on us again without mercy. They want to ease us into the pathologized-totalitarian future gently, so that it feels like we are being liberated, returning to some semblance of normal life, albeit in a new, more terrifying, perpetually-virus-and-extremist-threatened world.
For example, here in Germany, the government has decided to "return some freedom and trust to the people," but they are prepared to lock us down "hard" again if they suspect we haven't "used their trust wisely."
According to the 5-Step Plan, bookshops and florists can reopen this week with a one-person-per-ten-square-meter limit, up to ten people can play non-contact sports, and five people from no more than two households can meet up (and, thus, also play non-contact sports), unless the "incidence rate" of positive PCR tests rises above 100 per thousand, in which case, back to "hard lockdown" we go.
Two weeks after that, on March 22, if the "positive-test rate" stays below 50, outdoor restaurant dining can resume, and theaters, cinemas, and opera houses can open. However, if the "positive-test rate" is more than 50 but less than 100, outdoor dining will only be permitted on a strictly pre-booking basis. (One assumes there will be roving goon squads examining restaurants' booking records and ordering patrons to show their papers.) There are further Kafkaesque conditions in the plan, but I think you get the general idea.
Meanwhile, in the USA, although DC remains under occupation, the Capitol surrounded by razor-wire fences to protect democracy from an imaginary enemy straight out of George Orwell's 1984, Texas, Mississippi, and a few other states are joining Florida in open rebellion, and allowing people to go out to eat, get together with their families and friends, walk around in public without medical-looking masks, and otherwise go about living their lives in a totally non-anus-clenched-paranoid fashion.
Notwithstanding the outrage of the Covidian Cultists, this development is not of great concern to GloboCap, as the coastal power centers are full-blown "New Normal," and the liberals who predominantly occupy them have been transformed into paranoid, hysterical zealots who now dedicate a considerable amount of time to hunting down alleged "Covid deniers," "anti-maskers," "vaccine refusers," "white-supremacist extremists," "conspiracy theorists," "libertarians," dead "racist cartoonists," and anyone else who won't conform to their pathologized-totalitarian ideology, and obsessively trolling them on social media, or reporting their thoughtcrimes to the Reality Police.
This transformation of the relatively affluent, predominantly liberal, middle/upper classes, and the millions futilely aspiring thereto, into mindlessly-order-following "Good Germans" (or, rather, mindlessly-order-following "New Normals") has also occurred here in Western Europe, and elsewhere throughout the global capitalist empire, and was one of GloboCap's main objectives throughout Phase 1 of the "New Normal" roll out. This transformation has been in progress for quite some time, less dramatically and without a virus. It will continue once this virus is gone.
The "New Normal" isn't just about a virus. The "New Normal" was never just about a virus. You don't need a new "normal" because of a virus. You need a new "normal" when your current "normal" has outlived its usefulness to those in power, which, in our case, are the global capitalist ruling classes.
I've been writing about this for … well, most of my life, and publishing these columns for the last five years, so I'm not going to summarize all that here, but, basically, we're living through one of those historic transformations of the structure of political power that we usually don't recognize until after it has occurred … not just a "changing of the guard," a transformation of the nature of power, how it is exercised, the beliefs it is based on, and the "reality" conjured into being by those beliefs.
This transformation began with the end of the Cold War, when global capitalism became the first globally-hegemonic ideological system in history. The roll-out of the "New Normal" is part of that transformation, not the whole of it, but an essential stage. We are transitioning from an ideological "reality" to a post-ideological, pathologized "reality" … a "reality" in which any and all deviation from official ideology (i.e., "normality") is no longer a political challenge or threat, but an "illness" or "psychiatric disorder."
I'm going to be obnoxious and quote myself, so that I don't have to try to explain this again. Here's a passage from a recent column:
A globally-hegemonic system (e.g., global capitalism) has no external enemies, as there is no territory 'outside' the system. Its only enemies are within the system, and thus, by definition, are insurgents, also known as 'terrorists' and 'extremists.'
These terms are utterly meaningless, obviously. They are purely strategic, deployed against anyone who deviates from GloboCap's official ideology … which, in case you were wondering, is called 'normality' (or, in our case, currently, 'New Normality') … [t]he new breed of 'terrorists' do not just hate us for our freedom … they hate us because they hate 'reality.'
They are no longer our political or ideological opponents … they are suffering from a psychiatric disorder. They no longer need to be argued with or listened to … they need to be 'treated,' 'reeducated,' and 'deprogrammed,' until they accept 'Reality.'
As we shift from Phase 1 to Phase 2 of the "New Normal," the pathologization of political dissent will continue, and intensify, both overtly and subtlely. GloboCap and the corporate media will continue to warn of imminent "attacks on democracy" by imaginary "domestic terrorists," as well as the old "non-domestic terrorists." They will also continue to warn of imminent threats posed by exotic viruses, and "variants" of exotic viruses, and permanent "conditions" caused by viruses, and other threats to our bodily fluids.
Above all, they will continue to warn of the danger of ingesting "misinformation," "conspiracy theories," or any other type of unverified, unauthorized, un-fact-checked content. They will thoroughly diagnose the sources of such content, and exhaustively explain the pathological conditions these sources will clearly be suffering from. They will explore a variety of treatments and cures, and recommend prophylactic measures against potential exposure to these sources.
These multiplicitous "threats to democracy" (i.e., "terrorists," "viruses," "misinformation," "racism," "sexism," "homophobia," "transphobia," "electoral-system scepticism," "white-supremacist pancake syrup," "premeditated pronoun abuse," "oppositional-defiant-infant masklessness," "vaccine hesitancy," "religion," et cetera) will fuse into a single Goldstein-like enemy which "New Normal" children will be conditioned to reflexively hate and fear, and want to silence, and quarantine off from "normal" society, or "cure" of their "illness" with government-mandated, "safe and effective" pharmaceutical therapies.
But whatever … I wouldn't worry about that. I'm probably just getting all worked up over nothing. After all, as a lot of my ex-friends will tell you (through their multiple masks and prophylactic face shields), I'm just a paranoid "conspiracy theorist" spreading "unverified misinformation."
VCJ Hopkins is an award-winning American playwright, novelist and political satirist based in Berlin. His plays are published by Bloomsbury Publishing and Broadway Play Publishing, Inc. His dystopian novel, Zone 23, is published by Snoggsworthy, Swaine & Cormorant. Volumes I and II of his Consent Factory Essays are published by Consent Factory Publishing, a wholly-owned subsidiary of Amalgamated Content, Inc. He can be reached at cjhopkins.com or consentfactory
COVID-19: Police in talks with ministers about tightening 'vague' lockdown exercise rules Posted March 7th 2021
Existing rules are "a real challenge", a senior officer tells MPs, adding "it's really difficult to get the right balance".
By Russell Hope, news reporter
Wednesday 13 January 2021 14:44, UK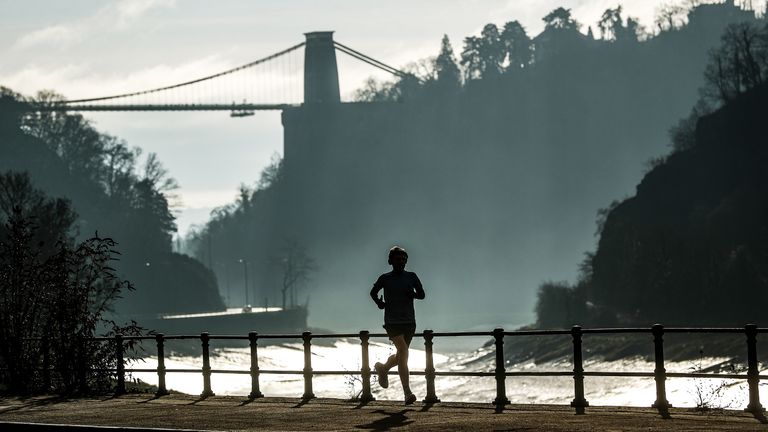 Police are in talks with ministers to tighten the "woolly" and "incredibly vague" lockdown regulations around exercise, a senior officer has said.
Existing rules are "a real challenge", Owen Weatherill, from the National Police Chiefs' Council, told a committee of MPs on Wednesday.
The assistant chief constable, who is leading the policing response to the pandemic in England and Wales, was giving evidence to the Home Affairs Select Committee.
Live COVID updates from UK and around the world How far can you go for exercise during lockdown?
Mr Weatherill told members police were holding discussions with the Home Office and the Department of Health, in the hope that they could "give greater clarity to the public and also to our officers".
I was cuffed by the Covid stasi… queueing for a coffee: This 51-year-old mother strolled two miles to get some refreshment – but fell foul of the long arm of the law Posted March 5th 2021. Mail on Line
Floss Knight, 51, walked to Borough Market, London, with a friend and her son
Mother-of-two claims four police officers approached and put her in handcuffs
Ms Knight, who works as psychotherapist, is now waiting to receive a £200 fine
By Floss Knight For The Daily Mail
Published: 22:08, 2 March 2021 | Updated: 09:23, 4 March 2021
2.8k shares 1.9k View comments
+3
Floss Knight, 51, walked to Borough Market, London, for a coffee with a friend and her 13-year-old son
Even now I feel traumatised, exhausted, incredulous. Four days ago, on an afternoon of glorious sunshine when I'd allowed myself to hope that the bleakest days of the pandemic were past, I was pitched into an ordeal that has left me reeling.
A girlfriend and I were standing with her 13-year-old son in a queue at an artisan bakery waiting for a coffee. We were doing nothing more.
Chatting at a social distance, masks ready, we stood outside revelling in the unaccustomed warmth of the sun, waiting to buy our drinks and cake.
Five minutes later, four police officers had surrounded me. In a flash, a thickset policeman had my arm in a vicious, vice-like grip, twisted behind my back.
The pain was sharp. It made me wince. 'Why are you hurting me?' I cried out. 'What the hell are you doing?'
Meanwhile, a female officer was handcuffing me. I started to panic. 'I don't believe this,' I sobbed. 'It's insane.'
I tried to calm myself, to slow the pace of my thudding heart. One of my wrists was cuffed, my other arm was wrenched back and the male officer was trying to grab my phone.
How had it come to this? How had a pleasant afternoon's walk — which combined physical exercise and much needed mental relief from the pandemic — to a coffee shop in Borough Market two miles away from our homes in South-West London descended into such chaos and terror?
+3
The mother-of-two claims that four police officers approached her before putting her in handcuffs (above)
As I think back over the events of last Saturday afternoon I still find it hard to believe how swiftly and arbitrarily the mood changed; how outrageously heavy-haded the reaction of the police was.
I consider myself a law-abiding citizen. A married mother of two teenage sons, I work as a psychotherapist.
Indeed, I had two flourishing practices specialising in helping those with mental health problems until the pandemic decimated my business. I am now upwards of £70,000 in debt. But I'll come to that later.
For our family — as for countless others — the pandemic has been a trial of our resilience and fortitude. It has not been easy, financially or emotionally. Yet we've stuck to the rules.
When my brother-in-law died of cancer, aged 60, last December we were unable to visit him as he breathed his last in hospital. We accepted it as a necessary corollary of the pandemic. We had to keep everyone safe.
I know I am not alone in struggling to remain hopeful. My close friend and her teenage son were also lowered by successive lockdowns, from observing the constraints imposed by the pandemic.
Which was why, when we woke to a day full of sunshine last weekend, we felt that hope was just around the corner. We proposed a modest outing — there is no other kind to be had, after all, these days — to cheer ourselves up.
+3
Ms Knight, who works as psychotherapist, said that she eventually gave officers her name and address and is expecting a £200 fine to arrive any day now
And as we walked along, chatting pleasantly — ensuring we kept the requisite two metres apart — we looked forward to the refreshments we proposed to buy at a bakery that had the foresight to arrange takeaways.
It was while we were queuing outside the shop that the mood started to turn sour.
Four police officers — three women and a man — were outside the bakery. The male officer held a loudhailer, as if he was preparing to marshal restive crowds at a riot. Was it really necessary to police people waiting patiently in a queue with such a heavy hand?
There were about six people ahead of us, standing sensibly at appropriate distances, and the officers were processing down the line asking where they'd come from.
Then they got to us. To the same question, we answered that we'd walked just over two miles from our homes in South-West London. The male officer didn't question the number in our party, but to our surprise, said, 'Then you need to leave. You've come too far. You've breached the Covid rules. We're issuing you with a £200 fine.'
At this stage, I was bewildered. What exactly are the rules? Apart from the instruction 'Stay Local', no one seems to know. Boris Johnson rode seven miles on his bicycle to take exercise some months back and to my certain knowledge he was not reprimanded or arrested.
I did not ask what an appropriate distance to travel would be. I merely retorted calmly that we'd just come to buy our coffees and then go home. But this was when things turned ugly.
The four officers converged on me, getting so close they were certainly infringing the two-metre social-distancing rule. I suppose I could have meekly gone home, but I felt outraged. I was being asked for my address and ID just for queuing for a coffee. I confess I started to sound irritated. 'Is it a crime to stand outside a shop and buy a coffee?' I demanded. It seemed that it was. The whole thing was preposterous.
This was when the two officers descended; one arm was twisted behind my back, the other cuffed. 'Why are you hurting me? That's totally unnecessary,' I wailed. 'We learnt to do that at police training college,' the burly male officer replied.
He tried to wrest my phone from me but I managed to wrench it back and hide it in my handbag. My friend was filming on her mobile. Another passer-by stopped to ask if I was OK. What on earth was happening?
Knowing how insanely the police were overreacting, I felt enraged. The huge pressures I'd endured during the pandemic started to crowd in on me: my lost business, my brother-in-law's death; the months of bleak isolation at home. And now this one spark of joy — a little weekend outing — was ending in aggression and tears.
But then a small voice inside my head told me how stupid I'd be to find myself with a criminal record just because I was over-wrought and angry at the huge overreaction of the police. So I calmed myself.
I reasoned, too, that I am not a troublemaker. I also have a strong sense of justice; of what is morally right and wrong. Perhaps if I'd lied to the police that I lived just around the corner I would not have ended up incurring their wrath.
But I do not lie. That's the whole point. With a heavy heart, I gave them my name and address, knowing notice of a £200 fine will arrive any day now. This is money I can ill afford to part with as I am my family's main breadwinner and my business debts — including rent and business rates — are mounting.
I'm far from the only one dreading the consequences of an innocent trip out of the house. Reports of needlessly heavy-handed police tactics are numerous. I've heard of one father of two who was questioned by police after taking his children and dog out for a walk around a reservoir, four miles from their village in Yorkshire.
When he and his wife returned to their car, a policewoman appeared and asked them what they were doing. She said she had done a registration check and knew the car was from outside the area.
When the couple replied that it was their area, the officer said they shouldn't be leaving their village. They challenged her on this, asking where does it say you can't leave your village to take exercise?
The officer handed them a leaflet entitled Coronavirus Regulations: Restrictions On Movement, which advised them that the circumstances of their vehicle being present at that location was not a 'reasonable interpretation of the exemption to restrictions on movement'.
He is still waiting to hear if he will be fined.
Yesterday, another man was allegedly strip-searched in custody after police arrested him for a suspected breach of Covid rules. He'd travelled to a beach 20 miles from his home in North Wales to walk by the sea and give his wife and teenage son a 'mental break' from the stresses of lockdown.
There are, of course, grievous breaches that must be controlled and I applaud the police for their part in this.
In general, I have huge respect for the police who, by and large, do a difficult job in challenging circumstances. I know, too, the pressures exerted by the pandemic have made their task even more difficult.
But why do they seem so readily to be picking on law-abiding citizens doing their best to follow confusing restriction rules while serious crimes go unpunished? What, for instance, are they doing about knife crime? Our capital city has its own epidemic of deaths from stabbings.
One of my sons — indeed just about every pupil in his class — has been the victim of a terrifying attack. He was stopped at knifepoint and surrounded by a group of thugs who told him they were going to 'shank' (stab or slash) him if he didn't hand over his phone. He did so, they booked an Uber on it and fled.
I turned detective and was able to trace the route they took as the Uber was charged to my account. I provided the police with the information. The criminals were apprehended and found to have stacks of stolen credit cards on them, as well as my son's phone.
That happened four years ago and the police promised to let me know when the culprits were charged. To this day, I've heard nothing. So I must assume they got off scot-free.
Then there is my dear old mum, now 80, who recently underwent a terrifying ordeal in her own home. Mum lives alone, independently, and one Saturday last year she heard banging on her front door. A gang had tried to kick it down and when they failed to do so — it's a sturdy oak door —– they tried to ram it by reversing a van into it.Fortunately, the door did not succumb. Mum was frightened. She rang the police — but they said they could not come round until the following Tuesday. As far as I'm aware, the offenders have not been caught. Hardly surprising, is it, when police take three days to respond to an emergency call?
Yet there are officers aplenty when it comes to policing 50-something women in coffee-shop queues. If I sound resentful it is because I am. As I left Borough Market last Saturday, van-loads of police were arriving.
What upsets me most is that the country needs to heal. Yet, even now, when we dare to hope that the end is in sight, it seems that Covid is pulling us apart. As a psychotherapist, I managed two safe, calm practices. These have been destroyed by lockdown. My income has been reduced by 70 per cent, just at the time when the services I offer are needed most.
I'm working hard to help those who have suffered most — the young, students and single-parent familes — to find safe, affordable help. So many of us have mental health problems and, ironically, it was because my friend's son was feeling particularly low that we decided to take that walk last Saturday to cheer him up.
Yet we walked home feeling disconsolate, wrung out, intimidated. It has made me wary. Should I even leave the garden? Now the weather brings the promise of an uplift in our spirits, mine remain at rock bottom.
How could a walk in the sunshine to lift the desperately flagging spirits of a teenage boy and two 50-something mums, with the modest reward of coffee and cake, end in such a nightmare?
How, after the year we have all endured in which we gave up our freedoms with good grace, do we now find ourselves living in a Stasi state?
A police spokesman said: 'We are aware of a social media video in which a woman alleges she was handcuffed. The woman was contacted by police and asked to provide details of the incident. However, the woman has not yet responded.
'While the Government's roadmap contains positive news, the Met's message is clear — now is not the time for complacency. Throughout the city, Londoners must continue to stick to the rules, which are fundamentally there to save lives.
'That means you must stay at home wherever possible. You should not be meeting with other households unless a support bubble is in place or you are meeting one other person for exercise.
'Officers across London will continue to take action against rule breakers, adopting the 'Four Es' process of engaging, explaining, encouraging and then enforcing.'
Share or comment on this article:
Mother, 51, strolled two miles to get a coffee – but fell foul of the long arm of the law
There Are Spying Eyes Everywhere—and Now They Share a Brain
Lockdown review: What are the risks of schools, pubs and shops reopening? Posted February 21st 2021
By Ben Butcher
BBC Reality CheckPublished14 hours agoRelated Topics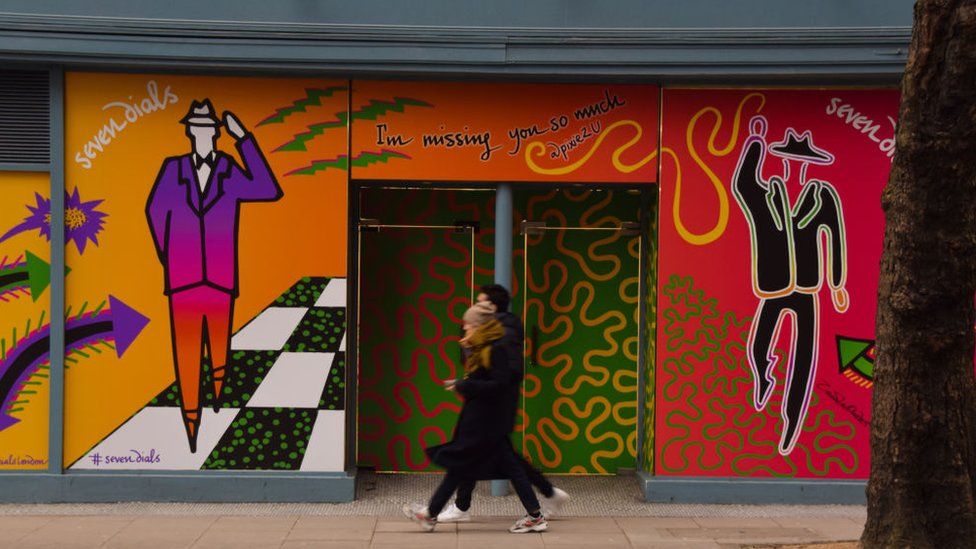 Prime Minister Boris Johnson is due to announce what he has called a "road map out of lockdown" for England and there has been much media speculation about which restrictions might be relaxed first.
Over the course of the past year, the Scientific Advisory Group for Emergencies (Sage) has advised the government on the pandemic, assessing the risks of transmission of coronavirus in many areas of daily life.
This advice looks at how closing or opening certain sectors could affect its spread – although with varying degrees of confidence, as the precise impact of each measure is difficult to assess.
The assessments which have been publicly released have not yet factored in the impact of the vaccine rollout or the new, more transmissible Covid variants.
We have looked at what Sage has advised about the risks in a number of areas.
Schools
Sage has said (with "moderate confidence") that schools have a "moderate" impact on transmission.
Boris Johnson has called the reopening of schools in England "a priority". The phased reopening of schools in Scotland and Wales has already been announced.
But the role schools have played in the spread of the virus is not clear-cut.
One report from Sage notes, perhaps unsurprisingly, that cases were highest among children when schools fully reopened in September 2020.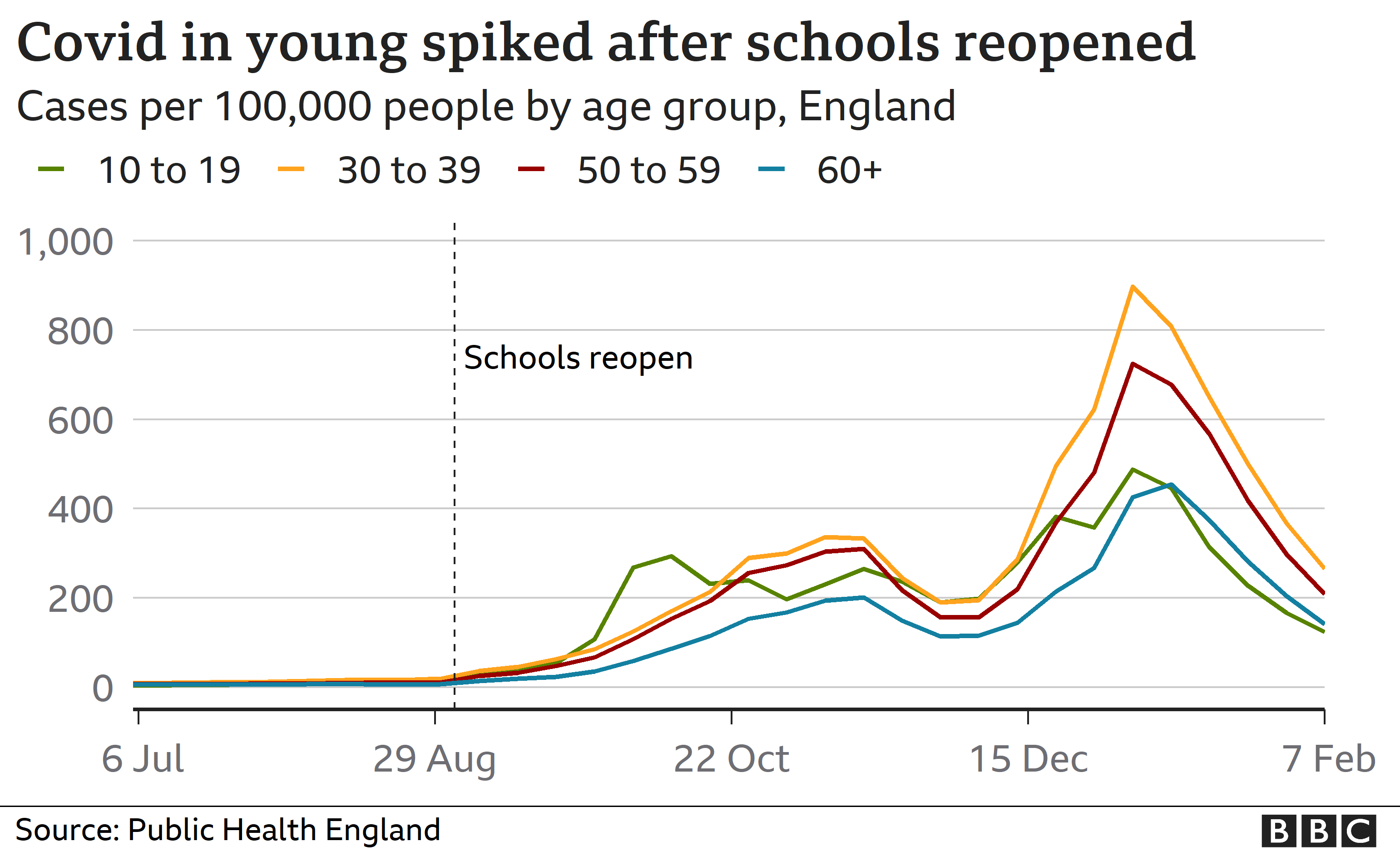 There is no clear evidence that schools are the driving force behind broader community spikes.
"It is difficult to quantify the size of this effect and it remains difficult to quantify the level of transmission taking place specifically within schools compared to other settings," Sage reported in November.
Its evidence suggests that primary school children are "less susceptible to infection than adults," but the risk increases among older children.
Sage concluded that closing secondary schools was "more effective" than closing primary schools due to this.
In fact, some recent research from the University of Warwick concludes that there is no hard evidence that primary schools spread the virus.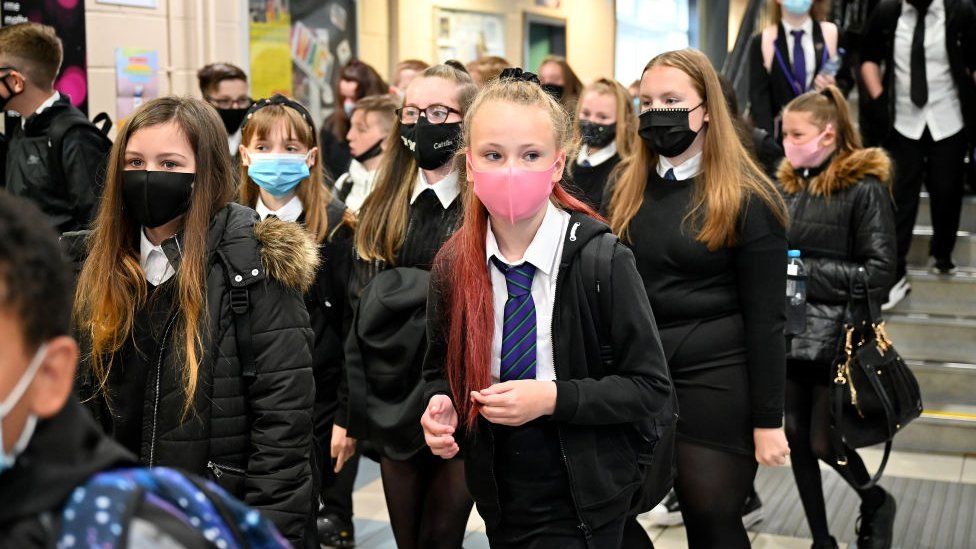 When announcing the reopening of schools in Scotland, First Minister Nicola Sturgeon said: "The key risk in reopening schools is not transmission of the virus within schools; instead, the risk comes from the increased contact that the reopening might spark among the wider adult population."
This could include parents gathering at the school gates, or people returning to work.
All recent Sage documents agree that the risk of serious illness to children is very small compared to adults over 60.
Outdoor gatherings
Sage has said (with "high confidence") that outdoor gatherings have a low impact on transmission.
One of the first restrictions to be loosened after the first lockdown was outdoor gatherings.
Currently, you are only able to exercise outdoors with one other person.
Wales is relaxing its outdoor rules and there is speculation about whether England's restrictions might be loosened to allow for a return to outdoor gatherings with five other people (also known as the rule of six), outdoor sports or something smaller, such as being allowed to sit on a park bench with one other person.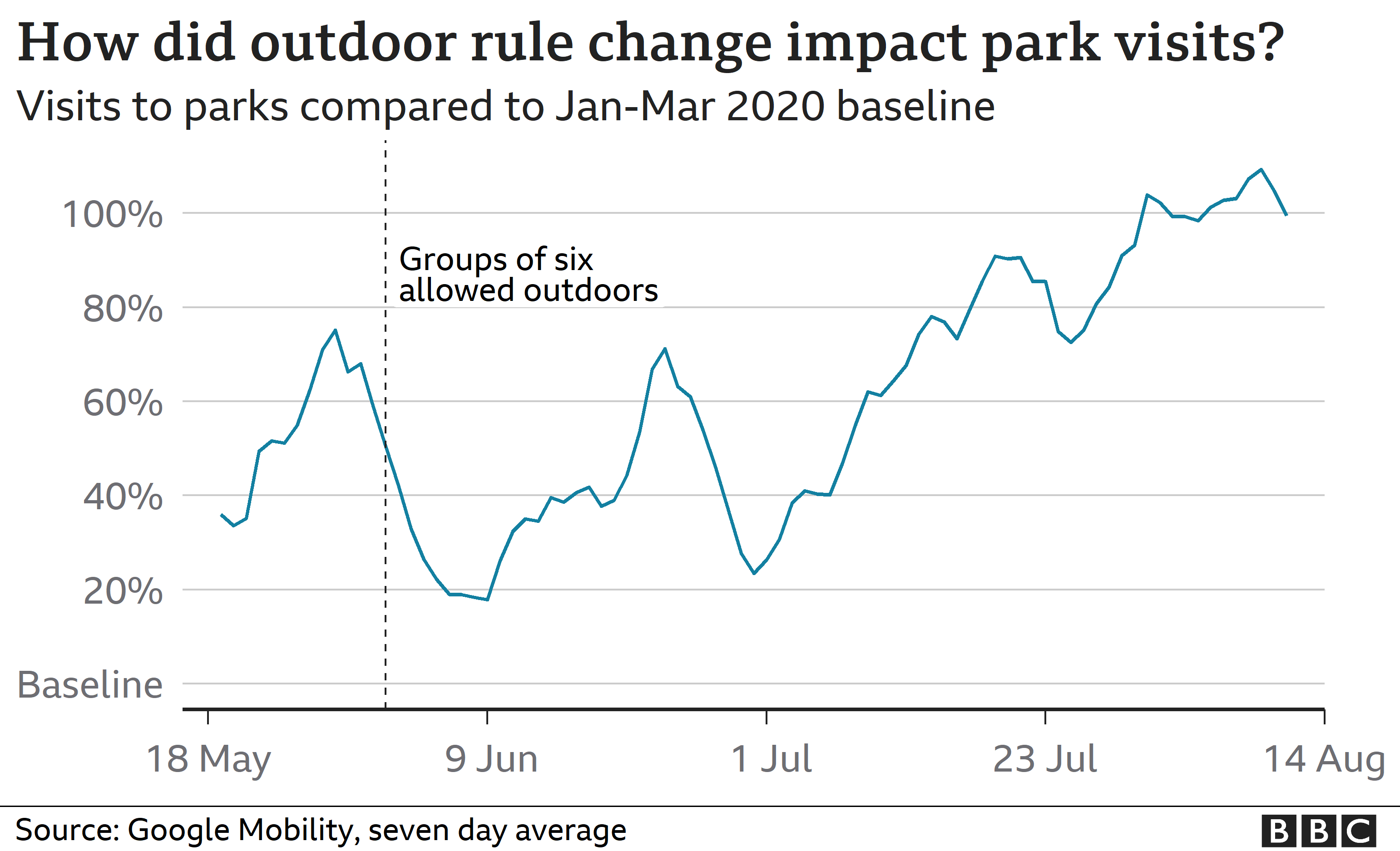 Sage has long been confident that small outdoor gatherings have a lower impact on transmission because coronavirus "does not persist in well-ventilated outdoor areas for long" and the virus's "survival on surfaces is reduced under UV light [the sun]".
But despite being considered low-risk, the virus is still able to spread outdoors. This is why when a lot of people had the virus in January, the government stopped gatherings outside.
And, as ever, the closer you are to someone – for example, standing close to them and chatting – the higher the chance of droplets passing between you. So it is likely social distancing measures will still be encouraged.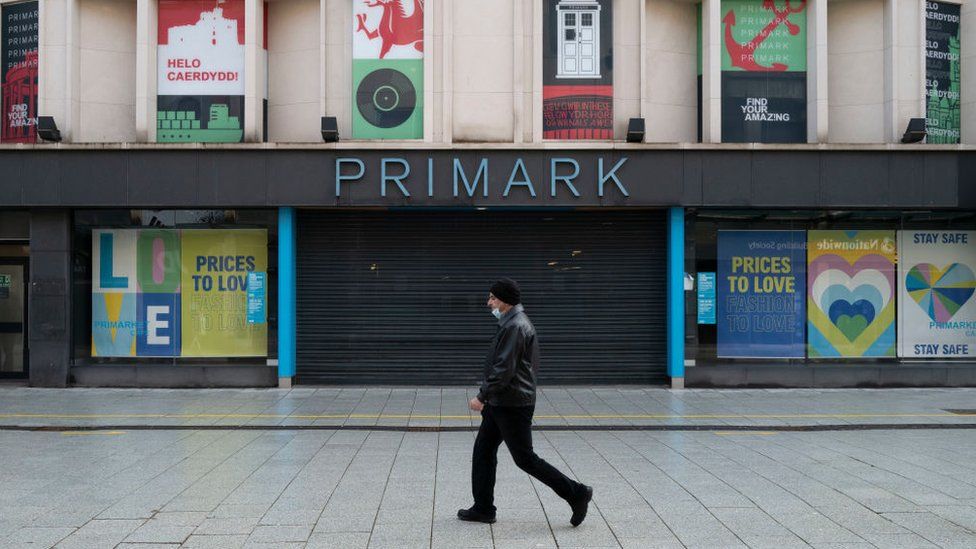 Non-essential retail
Sage has said (with "low-moderate" confidence) that retail has a low impact on transmission.
Before the last lockdown was lifted, Sage recommended that "opening non-essential retail safely would require a significant effort to ensure that environments are appropriate to minimise transmission (for example social distancing and hygiene measures, ventilation)".
This follows the idea that contacts between people are more dangerous indoors as particles in the air are replaced less slowly with clean air.
Sage estimated that opening non-essential retail such as clothes shops would see a 10% increase in indoor contacts between people.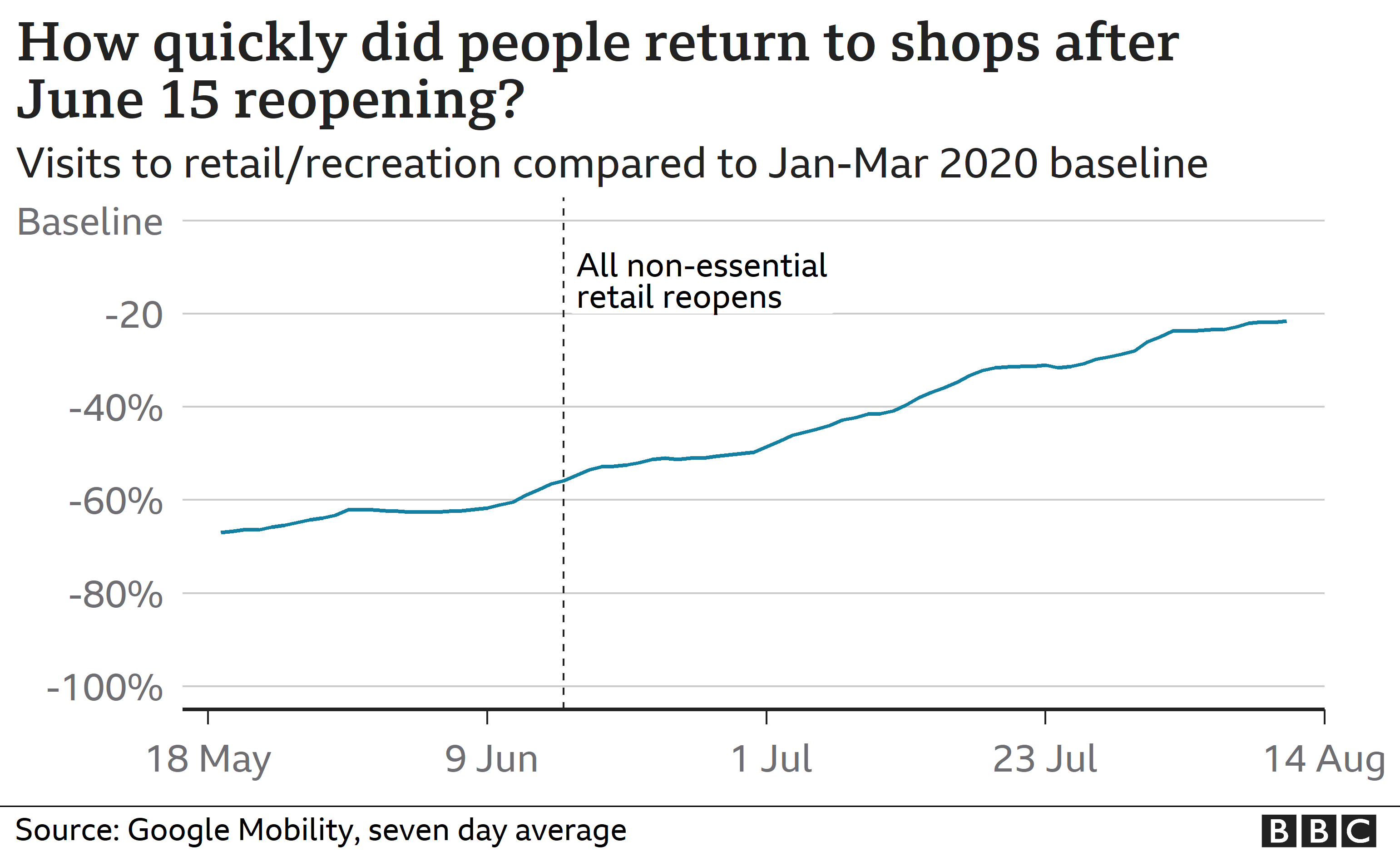 This is why when shops reopened we saw crowd control, one-way systems and designated spaces for people to queue.
Sage thinks that in general non-essential retail is "low risk" when these measures are in place and masks are worn.
But once again, if coronavirus is already highly prevalent in a community as it was in December, these "low risk" actions can become riskier as more people have the virus to begin with.
Pubs and restaurants
Sage has said (with "moderate confidence") that hospitality has a moderate impact on transmission.
Without restrictions, the hospitality sector can see people from different households mixing indoors for long periods of time.
Throughout the pandemic, Sage has said:
"Smaller gatherings such as bars and nightclubs are higher risk as you can be in closer contact with others"
"Japan, China, South Korea, and Indonesia noted that their largest super-spreading events originated from pubs, clubs, restaurants, gyms and wedding venues"
"The general picture in the UK (and overseas) is that it has only been possible to get R consistently below 1 in places where there have been substantial restrictions on hospitality."
Sage has also noted that alcohol can have an impact on people following social distancing measures.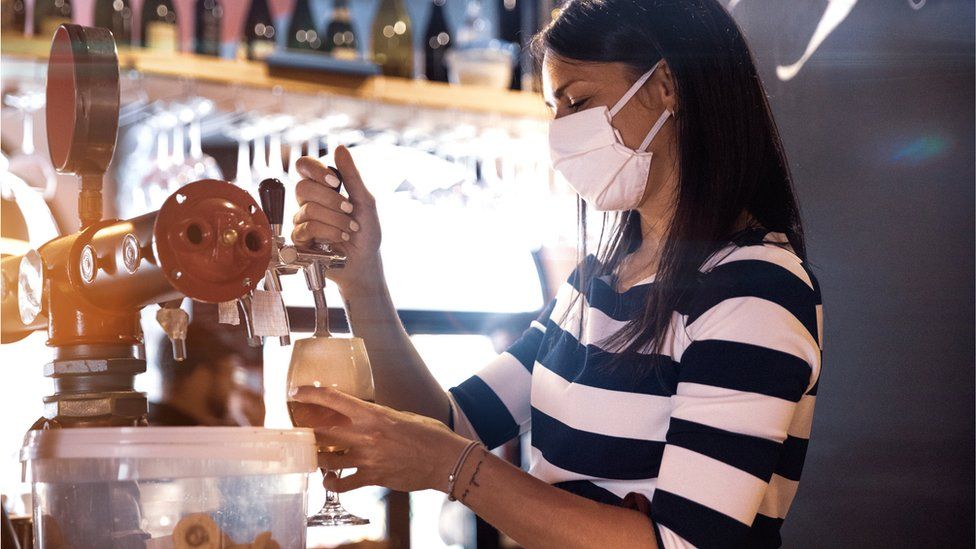 In the past year, we have seen attempts to limit the spread of coronavirus in hospitality, such as caps on the number of households allowed to drink together, and limiting service to outdoor areas.
"Allowing customers to sit outside only [is] likely to be much lower risk," Sage reports.
Another restriction implemented in England was a 10pm closure for hospitality, but as Reality Check has previously reported, the evidence-base for this was minimal.
Holiday homes and rentals
Sage has not issued specific advice on the risk of transmission in this sector.
It briefly mentions the need for greater understanding of "travel patterns and existing levels of seeding (or spreading from one region to another)" before making conclusions on restricting travel between UK nations and between regions within them.
It also seems unlikely that any changes to self-catering holidays would coincide with the reopening of the broader hospitality sector.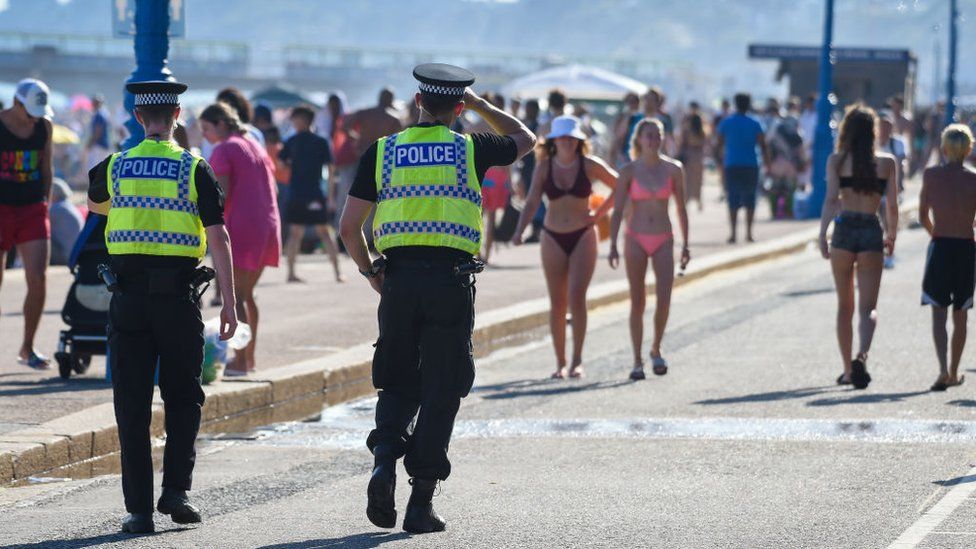 This would mean most activities taking place outdoors, where the risks of spreading the virus are lower.
Last year, Reality Check looked at whether large gatherings of tourists on Bournemouth beach had an impact on case numbers, but found no evidence of it leading to a spike.
Comment Reality Check and the BBC are contradictions in terms. They are fundamental to the British Police State and Britain's elite work to make the whole world into the same. R.J Cook
Policing the ( U.K ) Police February 19th 2021
In the last few years there have been some interesting reports from the Chief Constable's office at the Police College. These have included expressions of the nepotism linked to police promotion , fostering a stagnant culture and corruption.
The British police force began life through Home Secretary Tory Robert Peel's Metropolitan Police Act of 1829. It was soon copied in other large urban areas. The object of the exercise was to protect the wealthy and the wealthy from rising crime. Much of this crime was due to the greed and selfishness of the rich and their political representatives . Tories and Whigs.
Both these parties represented the rich. Universal suffrage had to wait until 1928 . Although skilled male artisans got the vote in 1868 , there was no real political choice. An education act , founding the state system had been preluded as ' educating our new masters' meaning the artisans. It was cheapskate religion dominated system born out of fear of Germany as a competitor with a far better education system under Bismark's leadership.
Britain and France shared fear of Germany , so set them up for war in 1914. So Gerrmany was set on a different path and is still grovelling in guilt from the Nazi era which emanated from unfair blame for two world wars, the Anglo French imposed miseries building up German working class resentment leading to Hitler and 1939.
Germany is now under bourgeoise leadership which is fostering more resentment leading to more heavy handed policing in a European Union that has failed all of its working class people. Hence the persecution of Tommy Robinson and Marine Le Pen because the cosseted leaders do not want to admit or face the truth – maybe they are incapabable or delusional.
So this elite's solution is more heavy handed policing across the board. the so called 'far right ' terrify them. We see the baton wielding armour clad cops whacking their way suppressing protest across Europe. Macron doesn't want them filmed while they do it , hence the bill to protect them, Cops appear to have the worst of their human characteristics boosted in training. – possibly including penis enhancement and having half their brains removed , who knows what they get up to in training ?
So here in the U.K , following the U.S George Flloyd atrocity, the black communities claim to be the only victims of police unaccountability, corruption lies and brutality. I know from experience that their often vile behaviour is more complex and self interersted. For them it is about bullying , targets and protecting their own.
They certainly pick on the weak and those they consider the usual suspects. By its very nature and through the changing role of police into a militia reminiscent of the nineteenth but better equiped for brutality, the police recruiters look for a robotic mindset responsive only to 'superior' ( sic ) officers. At heart most of them are cowards , hiding inside uniforms , in collectives or hidden away monitoring cameras , internet , spying undercover and other new methods of evidence gathering in the post Tony Blair New Labour age.
Let us hope that with the BLM genie out of the bag , the black protesters will expose more of police criminality , which specialises in faking evidence , withholding evidence and making the most of Tony Blair's vile ' bad character ' so called evidence , which they use as liberally as a good whore uses her make up.
British policing has a history of recruiting and promoting odd balls. During my research for W.H Smith 's commission ; 'Southampton Past & Present' I discovered the city police recruited all manner of criminal. In the 1960s , among other matters , there was Challoner of West End central who set new standards in vile police corruption. People forget that McPherson's original conclusion, concerning the Stephen Lawrence inquiry, was that the British Police are 'instutionally corrupt' To protect the police from serious reform and pandering to BAME's penchant for playing victim, this was moderated to 'institionally racist'.
Whatever the colour of the victim. too many people are being driven mad through failed multi culture . collapsing social structure and rising poverty . Faced with consequent rising crime , the police will meet targets by picking on the vulnerable , with the usual tricks and closing ranks to cover their crimes.
Covid Lockdown has given police a great chance to show how well they can work in the British Police State. Her we see a brave masked officer putting his life on the line arresting a former nurse for taking her mother out of a 'care' home.
Who could say it better that the victimised former Chief Constable Sue Sim. If she couldn't make her own force accountable , who can ? Her force went on to further disgrace but nothing has been done to deal with instiutional corruption because our politicians don't want it to happen. That is why there are so many police propaganda films on T.V and why we are repeatedly told that officers are heroes putting their lives on the line , every day , for us.
There Are Spying Eyes Everywhere—and Now They Share a Brain – Arthur Holland Michel Posted February 13th 2021
Security cameras. License plate readers. Smartphone trackers. Drones. We're being watched 24/7. What happens when all those data streams fuse into one?
One afternoon in the fall of 2019, in a grand old office building near the Arc de Triomphe, I was buzzed through an unmarked door into a showroom for the future of surveillance. The space on the other side was dark and sleek, with a look somewhere between an Apple Store and a doomsday bunker. Along one wall, a grid of electronic devices glinted in the moody downlighting—automated license plate readers, Wi-Fi-enabled locks, boxy data processing units. I was here to meet Giovanni Gaccione, who runs the public safety division of a security technology company called Genetec. Headquartered in Montreal, the firm operates four of these "Experience Centers" around the world, where it peddles intelligence products to government officials. Genetec's main sell here was software, and Gaccione had agreed to show me how it worked.
He led me first to a large monitor running a demo version of Citigraf, his division's flagship product. The screen displayed a map of the East Side of Chicago. Around the edges were thumbnail-size video streams from neighborhood CCTV cameras. In one feed, a woman appeared to be unloading luggage from a car to the sidewalk. An alert popped up above her head: "ILLEGAL PARKING." The map itself was scattered with color-coded icons—a house on fire, a gun, a pair of wrestling stick figures—each of which, Gaccione explained, corresponded to an unfolding emergency. He selected the stick figures, which denoted an assault, and a readout appeared onscreen with a few scant details drawn from the 911 dispatch center. At the bottom was a button marked "INVESTIGATE," just begging to be clicked.
Citigraf was conceived in 2016, when the Chicago Police Department hired Genetec to solve a surveillance conundrum. Like other large law enforcement organizations around the country, the department had built up such an impressive arsenal of technologies for keeping tabs on citizens that it had reached the point of surveillance overload. To get a clear picture of an emergency in progress, officers often had to bushwhack through dozens of byzantine databases and feeds from far-flung sensors, including gunshot detectors, license plate readers, and public and private security cameras.
This process of braiding together strands of information—"multi-intelligence fusion" is the technical term—was becoming too difficult. As one Chicago official put it, echoing a well-worn aphorism in surveillance circles, the city was "data-rich but information-poor." What investigators needed was a tool that could cut a clean line through the labyrinth. What they needed was automated fusion.
Gaccione now demonstrated the concept in practice. He clicked "INVESTIGATE," and Citigraf got to work on the reported assault. The software runs on what Genetec calls a "correlation engine," a suite of algorithms that trawl through a city's historical police records and live sensor feeds, looking for patterns and connections. Seconds later, a long list of possible leads appeared onscreen, including a lineup of individuals previously arrested in the neighborhood for violent crimes, the home addresses of parolees living nearby, a catalog of similar recent 911 calls, photographs and license plate numbers of vehicles that had been detected speeding away from the scene, and video feeds from any cameras that might have picked up evidence of the crime itself, including those mounted on passing buses and trains. More than enough information, in other words, for an officer to respond to that original 911 call with a nearly telepathic sense of what has just unfolded.
Gaccione turned to a second console, this one loaded with a program called Valcri. Where Citigraf is designed for relaying early leads to patrol officers rushing to the scene of a crime, Valcri is for the detectives working long cases at the precinct. Originally developed to root out sex-trafficking rings, its fusion algorithms hunt for subtler, more elaborate patterns that might stretch across years of unstructured data. Gaccione told me about one counterterrorism unit, which he wouldn't name, that had used the system to build a detailed profile of "a middle-aged unemployed individual with signs of radicalization," using "various databases, CCTV, phone records, banking transactions, and other surveillance methods." If done manually, he estimated, this kind of investigatory grunt work would take a couple of weeks. In this instance, it took "less than a day."
The market for fusion technology has been enjoying a quiet boom in recent years. Genetec says that Citigraf is deployed in "many cities." A growing number of established tech giants, including Cisco, Microsoft, and Motorola, sell fusion systems globally, often in the guise of "smart city" modernization packages. (Cisco sometimes even sweetens the pot with no-interest financing.) Palantir, which bills itself as a "data integration" firm, reportedly counts among its clients the Central Intelligence Agency, Immigration and Customs Enforcement, and the Centers for Disease Control and Prevention. Anduril has built a "virtual wall" along parts of the border with Mexico, using fusion software to link together a network of surveillance towers. Last fall, the four-year-old company won a flexible contract, capped at $950 million, to contribute elements of the technology to the US military's Advanced Battle Management System.
For all these customers, a central appeal of fusion is that it can scale to new sources of data. You can add fuel to your "correlation engine" by, say, hooking up a new network of sensors or acquiring a privately owned library of smartphone location data. (The Pentagon's Special Operations Command was recently revealed to be a buyer of many such libraries, including those from a Muslim prayer app with tens of millions of users.) Organizations with their own coders can develop capabilities in-house. In New York, for instance, the police department's analytics division created a custom plug-in for its fusion system. The feature, called Patternizr, draws on more than a decade's worth of departmental data to match property crimes that could be related to each other. When a new report comes in, all the investigator has to do is click "Patternize," and the system will return a list of previous incidents, scored and ranked by similarity.
Mind-bending new breakthroughs in sensor technology get a lot of buzzy press: A laser that can covertly identify you from two football fields away by measuring your heartbeat. A hack that makes your smartphone spy on anything nearby with a Bluetooth connection, from your Fitbit to your smart refrigerator. A computer vision system that will let the authorities know if you suddenly break into a run within sight of a CCTV camera. But it's a mistake to focus our dread on each of these tools individually. In many places across the world, they're all inputs for a system that, with each new plug-in, reaches a little closer to omniscience.
That idea—of an ever-expanding, all-knowing surveillance platform—used to be a technologist's fantasy, like the hoverbike or the jetpack. To understand how this particular hoverbike will finally be built, I began by calling up the people who designed the prototype.
The Department of Defense was among the first organizations to face large-scale surveillance overload. By the decade after September 11, its arsenal of spy technologies had grown to galactic proportions. The department had experimented with computerized fusion since at least the 1970s, but the most advanced systems still couldn't handle more than two or three data inputs. A modern intelligence unit had to contend with hundreds. According to Erik Lin-Greenberg, who ran an elite fusion team for the Air Force from 2010 to 2013, the old ways still ruled. Each human analyst was typically responsible for a single data stream. They compared their findings in chats and phone calls, or sometimes by yelling to one another across the room. In one case, Lin-Greenberg said, another team in his squadron identified an IED just in time to halt a convoy less than 500 feet up the road.
One of the people who was supposed to help fix intractable problems like this was Dan Kaufman, the director of information innovation at the Defense Advanced Research Projects Agency, the Pentagon's storied R&D hub. With his sunny manner and bowl of shimmering silver hair, Kaufman wasn't cut from the camo-speckled cloth of the typical military-industrial denizen. In his previous life, he had run the video game developer DreamWorks Interactive, where he helped launch what would become the Medal of Honor series. Later, as a consultant, he had worked with the CIA's venture capital fund, In-Q-Tel. At Darpa, Kaufman was known for championing complex computing projects with a distinct commercial flavor. He felt that the Pentagon's fusion efforts were due for a shake-up.
In the winter of 2010, Kaufman was introduced to Ben Cutler, an experienced engineer and tech entrepreneur who was considering a tour of duty in government. Over the phone, Kaufman explained the problem to Cutler and outlined his vision for what to do about it: He wanted a software platform that could integrate all available intelligence in a single, consolidated interface and grow as new capabilities came online. For Cutler, who had spent the previous year working on a new operating system at Microsoft, the idea clicked right away. What the Pentagon needed, he realized, was an OS for surveillance.
Cutler was intrigued enough to write a pitch. The document, which he completed in a day, opens with a theatrical flourish: "A patrolling group of soldiers pursues a pickup into a village; it stops at a mosque." At this point, in real life, the soldiers might have to wait for an old-fashioned fusion team to deliver its assessment. But in Cutler's scenario, they would simply log their geographic coordinates and the pickup's license plate number into a tablet. The operating system would then return a description of the neighborhood around the mosque ("known insurgent meeting area"), a profile of the imam ("has worked well with friendly forces"), and any records connecting the vehicle with known terrorist groups.
Weeks later, Cutler was offered the job. I asked him whether he believed at the time that he had the expertise to build what he had pitched. "No!" he said, laughing a bit wildly.
To be fair, nobody did. The project, officially called Insight, would depend on a science fiction novel's worth of technical breakthroughs. A study commissioned the previous year by the National Geospatial-Intelligence Agency had concluded that many of the features that Darpa was now proposing were still far from feasible.
Among Insight's most difficult tasks was to find a way of associating "hard" data, meaning sensor-derived physical information like radar hits and GPS coordinates, with "soft" data such as terror watchlists and reports from informants. To link different data points in different formats, while at the same time accounting for flaws in the data itself (gaps in coverage, ambiguous signals), required extraordinarily complex math. And in order to operate on the scale Kaufman wanted—to, say, pick out a mobile phone call and correlate its soft metadata with the hard satellite imagery of the people on either end of the line—the Insight platform would need to be capable of processing thousands of gigabytes at a time.
That was just the first step. Next, Cutler's engineers would have to find a way of hardwiring the accumulated knowledge of decades of spycraft into algorithms that could interpret, like a seasoned analyst, the subtle cues that give away the enemy's intent. These algorithms would track targets across sensor feeds and databases, tracing their every move in digital and physical space, assembling what Michael Pagels, an engineer who participated in the project's drafting, called "life histories."
Still the Darpa team wouldn't be done. Cutler wanted the system to display the assembled casefile for every fighter and vehicle on a "grand chessboard"—a digital template of the physical battle space with thousands of moving pieces. Analysts would be able to click on any single one and know exactly what it was and where it had been, and take a best guess of what it might do next. And because the dynamics of battle were always shifting, the software would need a programming interface simple enough to let analysts code in new algorithms as needed.
Finally, to run simulated tests of the platform, someone would have to create a millimetrically accurate virtual battlefield populated with thousands of realistic avatars. Will McBurnett, an engineer for one of Insight's contractors, described this to me as "Sim City for adults." (Here, at least, the team had a head start: One of Kaufman's earlier Darpa ventures was a made-for-the-military video game called RealWorld, in which soldiers could rehearse missions in a detailed virtual battlefield before heading out for the real thing. Insight drew on the same code.)
Cutler threw himself into the program, he told me, as if it were any other startup taking an idea "from inception to early market introduction." He set tight deadlines. He constantly reminded outside vendors that they were spending taxpayer dollars. To keep the focus on substance, he banned overdesigned PowerPoint presentations. By 2013, he had secured a deal to transfer the technology to the Army, which in Darpa terms was like receiving a buyout offer from Facebook. That year, an agency press release declared that Insight would "dispel the fog of war."
Darpa tested the platform repeatedly at Fort Irwin National Training Center, a vast mock battlefield in Southern California. In each weeklong exercise, "red teams" of highly trained soldiers would hide out among thousands of actors, like insurgents blending into the civilian population. Insight's job was to find them. Analysts would run the fusion system 24 hours a day, searching for the red teams in radar and lidar sweeps, drone footage, cell phone and internet data, and encyclopedic intelligence records that, as Cutler put it, "no analyst can possibly read." The system might, for instance, alert its operators whenever a vehicle from an enemy watchlist entered a certain neighborhood. It could also generate a "normalcy model" of the observed areas so that it could alert analysts to anomalies, like a car driving erratically. (The more complex patterns remain secret; many are still used to identify targets in counterterrorism operations today.)
By the time of Insight's final disclosed test, in September 2015, the Army had pivoted the program to what McBurnett called "1980s-style, full-on, armored-brigades-on-armored-brigades kind of action." I obtained a short video of one of these later iterations of the software from BAE Systems, the prime contractor for Insight. It shows Fort Irwin in "grand chessboard" mode, with an enemy artillery unit moving across the terrain. Each vehicle, tracked relentlessly through multiple data feeds, is marked with a "likely identity" and a detailed tactical life history. In the video, analysts use the software to figure out whether the red teams will come at their forces head-on from the north or attempt a flanking maneuver from the south. As new intelligence streams in, Insight recalculates the relative likelihood of each eventuality. Soon, an alert appears in the corner of the screen: Insight predicts an 82 percent chance of an attack from the north.
Public disclosures and interviews reveal a patchy story of what happened next. According to Brian Pierce, a former senior Darpa official, the Army may have been forced to put Insight on ice because of a lawsuit that Palantir brought in 2016. The Army wanted a new surveillance platform, built in part on the foundation that Insight had laid, and Palantir protested that its off-the-shelf tools hadn't received fair consideration. (Three years later, it was awarded the replacement contract.) But elements of the Insight system did find their way to the battlefield. Its vehicle-tracking tool, for instance, was adopted by an Air Force aerial surveillance program in Afghanistan called Blue Devil, which assisted in the capture or killing of at least 1,200 people between 2011 and 2014. Dave Logan, a vice president at BAE who manages its intelligence and surveillance programs, confirmed that Insight lives on in some form: The company recently received a contract from the Air Force Research Laboratory to continue development, he said, "with the goal to market the product to Department of Defense end user communities in the future."
In the United States, there are no specific national rules governing fusion technology. Absent a legal challenge to test its constitutional integrity, there's little to say that you can't blend data sets together, even if doing so might generate information that investigators would otherwise have needed a court order to obtain. In the absence of stricter regulations, Genetec has developed a series of safeguards for its software. One feature, which is optional, automatically blurs all faces in CCTV footage. And if an analyst wants to see where a vehicle has been, he needs to enter a case number to activate the search; that way, he can't snoop on his girlfriend.
But the uncomfortable truth is that fusion's more dystopian incarnations are already out in the world. Dahlia Peterson, a research analyst at Georgetown's Center for Security and Emerging Technology, told me that fusion architectures are central to the Chinese government's campaign against dissidents and minority citizens, particularly the Uighur Muslim group. One such system, the Integrated Joint Operations Platform, fuses together facial recognition scans from CCTV cameras; financial, medical, and criminal records; hardware identifiers from smartphones and computers; even mandatory questionnaires that ask residents, among other things, how many times they pray each day. According to reporting by The New York Times, a cloud computing center in Xinjiang, powered in part by chips from Nvidia, can comb through hundreds of millions of photos and reports from the area's many checkpoints while applying real-time analytics to up to 1,000 CCTV cameras simultaneously. Authorities use the life histories generated by these systems to determine who is "trustworthy." Those who aren't often risk being sent to prison or a reeducation camp.Most Popular
Advertisement
In modern life, we're rarely not in the crosshairs of some spying device or other. We rush by a license plate reader on our way to work, a few blocks from a burglary that's being patternized. As we walk from the parking lot to the gym, or the mosque, we're picked up on a dozen CCTVs. We attend a protest under the watchful eye of a drone. Our smartphones log our every move, our every click, and our every like. But no single one of these machines, when used in isolation, is omniscient. The fact that intelligence can be difficult and tedious to correlate was perhaps the last natural rampart standing between us and total surveillance. The little privacy we have left exists in the spaces between each data point.
Fusion technology eviscerates those spaces. With the click of an "INVESTIGATE" button, our digital footprints, once scattered, become a single uninterrupted life history, leaving not only our enemies, but also our friends and our lovers, with nowhere to hide.
This story has been updated to clarify Dave Logan's VP role at BAE Systems.
---
UK Corrupt Police <info@ukcorruptpolice.com>To: pollystate@btinternet.com;07/02/21 18:251
This is just a quick message to our subscribers.
After the unlawful application by Lancashire police to bring a restraining order against me, stopping me from blogging about any Lancashire officers, I am about to begin proceedings for an appeal or to set aside the judgement of the judge, David Knifton.
David Knifton QC (part time judge) is linked to police and never disclosed this in the hearing;
https://ukcorruptpolice.com/qc-david-knifton-failed-to-declare-a-conflict-of-interest-with-police-while-acting-as-a-judge/
Two officers intentionally committed perjury in the same hearing. Criminal proceedings will be brought against them.
https://ukcorruptpolice.com/another-lancashire-police-officer-under-criminal-investigation-for-perjury-against-the-same-victim/
The appeal is being crowdfunded and is likely to go to the High Court, we are hoping that we can get this crowdfunding to ensue a strong case is brought against Lancashire police and the applicant, who is the Chief Constable of Lancashire police, is held to account before he retires in April 2021.
Thank you all for your support.
Comment One could say a lot about this . The subject makes me feel sick. So I will confine myself to this , for the moment : "What else would you expect from the British Police State , the most sophisticated police state in the World. Its methods were used across an empire , used by Nazi cousins and techniques of oppression and corruption are exported across the world. with tried and tested Empire Building . Here is just one recent example of a country that has designed jails for Saudi Arabia, good old Britain. As my favourite history teacher often told me : 'Beware the smile on the face of the tiger.'
Yates of the Yard , Expert in dealing with the uppity ones. Posted February 8th 2021
Just after the Arab Spring was brutally crushed in Bahrain, Britain's John Yates, the former Assistant Metropolitan Police Commissioner, became an advisor to the Ministry of Interior. What happened next?
On August 14th, many Bahrainis will celebrate the day in 1971 when the country gained its independence from Britain. The Bahrain government and its ruling family, however, will not, preferring instead to commemorate "National Day" on December 16th, marking the date the current King's father began his rule in 1961. King Hamad recently went so far as to say, "for all practical and strategic purposes the British presence has not changed and it remains such that we believe we shall never be without it." The celebrations on August 14th will thus take the form of protests demanding self-determination, democracy and human rights.
To many opposition activists, the contemporary face of British "practical and strategic purposes" in Bahrain is John Yates, the former Assistant Metropolitan Police Commissioner hired as an advisor to the Bahrain Ministry of Interior (MOI) in December 2011. Yates is the latest in a long line of British advisors to Bahrain, including the notorious Colonel Ian Henderson CBE who oversaw horrific torture during his tenure heading the country's security apparatus between 1966 and 1998.
Yates was hired to help implement police reforms after the brutal response by security forces in attempting to suppress a popular pro-democracy uprising, begun on February 14th, 2011. He was recruited following recommendations made by a report which concluded that security forces, operating under a "culture of impunity", had been responsible for systematic torture, extrajudicial killing, enforced disappearances and excessive force.
However, as multiple local and international human rights reports havedocumented, these practices continue, reforms have been scant, and theculture of impunity persists. This begs the question: what has Yates actually done in Bahrain? Moreover, where does Yates' role sit within Britain's current "practical and strategic purposes," both at home and in Bahrain?
The stated aim of the British Embassy in Bahrain reads in part: "to help Bahrain to return to a stable and reformist state […] while protecting our significant defence and security interests". Although the British Governmenthas said that it "had no involvement in [Yates'] appointment," his new position and extensive connections would likely have been welcomed, helping to keep British interests at the heart of the so-called reform process.
Indeed, British hooks into police "reforms" were made clear last June, when Yates accompanied Bahrain's Interior Minister on a visit to London formeetings with Government Ministers, the Director General of Mi5, and other officials. According to a document prepared by the Foreign and Commonwealth Office (FCO), he was "keen to learn from the UK". Following the meetings, the MOI began receiving FCO support for a community policing project and training from Her Majesty's Inspectorate of Prisons.
The direct links between Yates and post-2011 policing in Bahrain are speculative, particularly given the presence of US police advisor John Timoney, once branded "America's worst cop". However, it's worth exploring four tactics further: forensics, containment, surveillance and delegitimising the opposition. Before turning to Yates' period inside Bahrain though, it is instructive to look at what he was bringing.
"I am very well connected"
John Yates came to Bahrain with experience and knowledge of some of the most sensitive and secretive aspects of British policing and public life. In a witness statement dated February 22nd 2012, Yates said: "From around 2001, I was vetted (and remain so vetted) to the highest possible level as a police officer. Such a level of vetting allows me access to the highest grade of 'secret' and 'top secret' material." In 2009, Yates became Assistant Commissioner for Specialist Operations and the national lead for counter-terrorism.
Yates, however, was mired in controversy when he was hired by the Bahrain government. Just months before, he had very publicly resigned from the Met, following concerns over his handling of the phone hacking investigation and friendship with an implicated media executive. Nevertheless, during his policing career, Yates developed close ties with the British establishment. In 2007, following accusations that he was leaking information on the then Labour government to the media, he reportedly refused to allow his own phone records to be examined, telling the investigating officer: "No Bob, I am very well connected."
Yates was familiar with events in Bahrain when he took the job there. On February 15th 2011, the day after the pro-democracy uprising started, Yateshad lunch with the "Security Advisor to the Royal Court of Bahrain". It is not currently known what was discussed, or what subsequent meetings Yates and other British officers may have had. However, it is probable that the Bahraini official raised concerns over opposition figures based in London. This raises a question seldom asked: to what extent, if at all, has the British police monitored Bahraini dissidents, whether for domestic purposes or as part of an intelligence sharing agreement?
There are good grounds for posing this question. For example, Dr Saeed Shehabi who heads the London based Bahrain Freedom Movement wastried in absentia in 2011 and sentenced to life for calling for the fall of the regime. The Bahrain government labels him a "terrorist". Speaking recently, Dr Shehabi said that when travelling outside Britain, he and others are routinely stopped and questioned for up to two and a half hours under the UK Anti Terrorism Act.
Another central question: what is the operational working relationship between British and Bahraini police? Prior to 2011, the UK's National Policing Improvement Agency had three full time advisers in Bahrain. Did they remain in place? Equally, what duties has the UK Police Counter Terrorism Liaison and Extremism Officer (CTLEO) responsible for Bahrainperformed since 2011?
These questions seek to reframe the possibilities and continuities of Yates' role in Bahrain, particularly as following his appointment, officers from the Metropolitan Police were deployed to Bahrain on two separate occasionswith the approval of the British Home Secretary. Indeed, the first deployment was revealed on December 7th, 2011 – five days after Yates' new job was announced – following incidents at Bahrain airport and outside the British Embassy. Five days later, Prime Minister David Cameron met with King Hamad in London. These incidents likely ensured that both Yates' future role and British counter-terrorism assistance were on the minds of both leaders.
Yates of Bahrain
The first real public challenge for John Yates was on February 14th, 2012, the one-year anniversary of the uprising. Mass protests marking the date were expected. Rumours were rife that demonstrators would attempt to return to Lulu Square in the capital, Manama. The site had been occupied by protesters in February and March 2011, before being attacked and cleared by security forces, who then demolished the sculpture at its centre and turned the site into a militarized zone.
Yates promised a strategy of "containment" and "kettling", insisting that security forces would pursue a "reasonable reaction to provocation". He also took the opportunity to smear the opposition movement: "This isn't organised protests, its just vandalism, rioting on the streets." On the day, as the BBCreported, Manama "was under a massive police presence and remained calm throughout". However in the villages, "communities were effectively locked down". Opposition groups reported over 100 injuries.
This was an extreme form of "containment", dependent on massive deployment and blind faith that police would not act in a reckless, undisciplined manner, despite all evidence to the contrary. However, the underlying rationale – keeping Manama free from protest – was central to the longer policing strategy. Checkpoints became an increasing feature, obstructing access to protests and even funerals.
Concurrently, villages outside the capital came under nightly attack by tear gas – a chemical weapon – fired excessively and indiscriminately at demonstrators, over residential areas and into houses. Physicians for Human Rights has compiled a list of 19 people said to have died from tear gas exposure, many at home, between January and March 2012. The sense of being under daily siege is exacerbated by the fact that the majority of the police are foreign mercenaries, brought to Bahrain with the promise of a better salary, housing and citizenship.
Yates's perspective, however, was quite different. He said: "I don't get a sense of being under siege," and, "Along with my family, I feel completely safe. Indeed, safer than I have often felt in London." Indeed, when in Bahrain, Yates adopted something of a PR role, going on a media offensiveat the two peaks of international attention – February 14th and the Formula 1race in April. Yates blamed "inaccurate and often deliberately false information being spread through social media forums," adding that there were "criminal acts being perpetrated against an unarmed police force, who, in the face of such attacks, are acting with remarkable restraint." The latter claim seems particularly odious given that Bahrain police are armed with high-velocity tear gas launchers and shotguns loaded with birdshot pellets – weapons which have caused serious and even lethal injuries.
Yates's public comments were strikingly similar to those of the Bahrain government and the Western PR firms paid to promote its message. As such, they played into a wider strategy to delegitimise the opposition within the local and international community by associating them with violence and lies.
Whilst policing and political strategies sought to restrict and delegitimise critical voices and citizen journalists, surveillance of the opposition increased apace. CCTV cameras have been installed across the country, although these have been regularly attacked by angry protesters. For Yates, "CCTV is everywhere [and is] utterly fantastic". Police units dispatched to protests and other incidents often have a cameraman present recording protesters, as seen in this police footage from a demonstration in Manama on January 6th, 2012. This is reminiscent of British Forward Intelligence Teams, used to help police identify and monitor protesters, whose details are then stored on a database.
Bahrain's interest in surveillance predates Yates. At the IDEX 2011 arms fair, Bahrain was reported to be "seeking an aerostat/UAV [Unmanned Aerial Vehicle] surveillance solution for national security missions". Subsequently, a UAV dubbed the "spy balloon" by activists, began to be sighted above Manama, as seen here and here. Equipment provided by Trovicor has enabled the interception and monitoring of opposition communications. British intelligence gathering company Olton has also worked for the Bahrain government, including the MOI, although the full details are currently unknown.
In April 2012, several months into Yates' tenure, Bahraini activists began to be targeted by spyware called FinFisher, manufactured by UK company Gamma International. The spyware infects computers and mobile devices, capturing user's activities and communications. Amongst the targets were London based Bahraini Shehab Hashem and British-Bahraini Dr Ala'a Shehabi. The British government is currently being challenged over its export controls concerning Gamma's products.
Modern policing
An oft-cited MOI reform is the introduction of CCTV cameras into interrogation rooms, as a means of preventing the violent abuses committed throughout 2011. To skirt this, in 2012 unofficial detention centres were established. Individuals were taken to them by security forces, either as punishment, or to be tortured.
The US State Department recently summarized the forms of torture used in these sites throughout 2012. They include "beating", "electric shock" and "sexual abuse". Yates dismissed the reports of abuse in secret detention centres, saying: "But that would be on YouTube". In May 2012, he outlinedhis plans to develop forensic policing methods in Bahrain. His reasoning is expressed euphemistically: "It's a move away from a confession-based approach to a more scientific approach." Fundamentally, he means a structural move away from the use of torture and duress to obtain confessions. This would be tested over the following months.
On June 27th, while Yates and the Interior Minister were meeting with British officials, the MOI announced that two weeks previously it had discovered"over 5 tons" of "highly-explosive material used for bomb making". Several days later, BBC's Frank Gardner vastly downgraded the haul from "over 5 tons" to "over 100kg". He also revealed that a "team of forensic detectives from the Metropolitan Police" had been sent to Bahrain to assist in the investigation. They stayed until at least the start of August.
The direct British involvement raises serious questions about complicity in human rights abuses. Three men arrested in relation to the case allege that they were tortured and suffered other ill-treatment. They were also reportedlyheld "separately in solitary confinement for months" and denied "regular access to a lawyer" and medical care. Lawyer Mohamed Al Tajer has further alleged that British officials were present during interrogation sessions.
Four men are currently on trial in the case, accused of "being part of a terrorist group". They deny the charges against them. Nevertheless, Britain continued to expand its police presence in Bahrain, dispatching members of the National Policing Improvement Agency in "late 2012" to provide forensics training.
John Yates' contract officially expired last July. However at the time the Bahrain government said that he "remains as an important advisor" and is "scheduled to regularly visit the country in the coming months." Yates is currently a "senior consultant" to intelligence firm G3. In July 2011, the company was awarded a £1.5million contract by the Bahrain government to develop a "media campaign to support Bahrain's position in the international community".
Despite the ongoing repression and gross human rights violations, the British government continues to pursue its "significant defence and security interests" in Bahrain. In February, Bahraini officials attended the Security and Policing exhibition organised by the Home Office. The following month, King Hamad's son and accused torturer Sheikh Nasser attended the Counter Terror Expo arms fair in London. The Head and Senior Military Advisor of theUKTI Defence & Security Organisation, responsible for British arms sales, made separate trips to Bahrain in March and April. It is thus little wonder that for many Bahrainis, the British government's claimed support for reforms, democracy and human rights, are just a facade to disguise their support for the status quo.
Originally written for @OpenDemocracy by John Horne and John Lubbock
Share this:
Covid Related Deaths Rise In Step With Vaccination In U.K Posted January 29th 2021
It is an odd experience, is it not, to watch mainstream media patronise us about "fake news" when their own version of "real news" suggests we probably know far more than they'd ever acknowledge.
Did you know….
· That Covid19 has never been isolated….a fact best understood by following Christine Massey et al's exhaustive research into the subject.
· That Covid19 is an invented name for just another Coronovirus – Number 7 – since the series began a considerable time ago….check out Dr Simone Gold talking about this with clinical accuracy and at length on Bitchute.
· This probably helps explain PCR false negative results, in that '…..a negative result does not rule out COVID-19 and should not be used as the sole basis for treatment or patient management decisions.It is possible to test a person too early or too late during COVID-19 infection to make an accurate diagnosis via COVID-19 RT-PCR Test. In addition, asymptomatic people infected with COVID-19 may not shed enough virus to reach the limit of detection of the test, giving a false negative result. In the absence of symptoms, it is difficult to determine if asymptomatic people have been tested too late or too early. Therefore, negative results in asymptomatic individuals may include individuals who were tested too early and may become positive later, individuals who were tested too late and may have serological evidence of infection, or individuals who were never infected.' Or in short, "Yes and No with reservations". (See Official FDA report for details)
· Although only 4% of PCR tests are dubbed "false positive", this nomenclature is misleading for one simple reason outlined earlier above: no test can detect Covid19 with accuracy, because nobody has ever seen it. The PCR tests identify the presence of Coronavirus in the patient, not Covid19 specifically. Six previous strains have been around for decades, and in older/comorbid patients with reduced-effectiveness immune systems this can easily result in death with a strain of Coronavirus rather than death as a result of Covid19. This obviously makes all tests and 'case rate' data based on PCR completely meaningless.
· Despite that reality, self-assigned 'fact check' organisation Politifact insists that " the idea that PCR tests don't work or result in huge numbers of false positives is false". These days, one has to fact-check the fact checkers….especially those who ignore false negatives – and proudly proclaim they are "partnered with Facebook". UK MP Rebecca Harris or example uses her constituency site to assert "You should only accept information from trusted health bodies and authorities. They have scientific evidence to support their advice, these conspiracy theories do not.". Severely lacking from that blatant, blanket lie is one iota of evidence to support it. The FT asserts, 'The idea that we are suffering an 'infodemic' when it comes to Coronavirus is attractive — and wrong'. Also a ludicrous whopper: there are in excess of 1.4 million official 'anti-disinformation' out there according to Google.
· The greatest Fact-Checking False Fact output on the planet comes from the Washington Post. Some of the examples are hilarious, but I choose this one as most typical in its partial truisms: "While a cure for covid-19 would be more than welcome, no drug or other treatment has been found to eliminate the illness. Since the coronavirus emerged in China late last year, myriad false rumors have circulated about potential cures, ranging from drinking bleach to snorting cocaine". Deconstructing this garbage, 1. There can be no cure for Covid19 because it is a rapidly mutating virus like the Common Cold 2. Invermectin when taken in the right dosage at an early stage (or as a prophylactic) has been shown in high-quantity trials to produce close to 100% certainty of zero resultant mortality. HCQ + Zinc when used as a management drug after symptomatic infection reduces even older patient death rates by 88%. 3. President Trump was accused by WaPo's Sister BS title The New York Times as "advising people to drink bleach". A total lie, so something of an own-goal by the DC Dissemblers there. Trump did however not wear a mask, but chose instead to use the HCQ cocktail; when he became infected, he was up and about, fully recovered, within 72 hours.
· Physical abuse of children during Lockdown in the UK is up a staggering 1500% compared to the three previous years – the British Medical Journal has the details on that one.
---
All I ask is that you now consider today's MSM in the empirical context of that (whether you agree or not) well-documented account above…
Health and science reporterJanuary 11, 2021
We know that the vaccines now available across the world will protect their recipients from getting sick with Covid-19. But while each vaccine authorized for public use can prevent well over 50% of cases (in Pfizer-BioNTech and Moderna's case, more than 90%), what we don't know is whether they'll also curb transmission of the SARS-CoV-2 virus.
That question is answerable, though—and understanding vaccines' effect on transmission will help determine when things can go back to whatever our new normal looks like.
The reason we don't know if the vaccine can prevent transmission is twofold. One reason is practical. The first order of business for vaccines is preventing exposed individuals from getting sick, so that's what the clinical trials for Covid-19 shots were designed to determine. We simply don't have public health data to answer the question of transmission yet.
The second reason is immunological. From a scientific perspective, there are a lot of complex questions about how the vaccine generates antibodies in the body that haven't yet been studied. Scientists are still eager to explore these immunological rabbit holes, but it could take years to reach the bottom of them.
Comment Nothing can be allowed to stand in the way of the global ruling elite'e new normal police state. Most American media has become no different from the state-controlled media in China. It is worse in the sense that Western Anglo U.S dominated media is insidious and elitist, having the same claim to truth seeking as a hypnotist.

In addition, major social media platforms are censoring peoples' voices. And they are doing so almost exclusively to members of just one political party or viewpoint.
R.J Cook
The Reel End Of History January 11th 2021
Quote of the day:
What we are watching in the US and the UK (and elsewhere) is the film-reel of the end of the Soviet Union being run backwards. We are watching the transition from a system of consent to a system of coercion.
Other quote of the day:
"In the West, Everything is permitted, except that which is forbidden. Here in the Soviet Union, everything is forbidden except that which is permitted."
Last April, a cheerful article in the Bay Area press publicised the (short) list of outdoor activities permitted by authorities in the new world of coronavirus. Everything else, by implication, was forbidden.
I saw the article and shuddered. We in the West had crossed a Rubicon.
Shapers of slavery: the empire by winter oak The World Economic Forum organises its Global Shapers Community by means of hubs – there are more than 400 of these in some 150 different countries. The idea is to give the impression of a worldwide youth movement, a groundswell of opinion from the new generation endorsing the WEF's call for a Great Reset of our society and our lives. But, of course, in reality the Global Shapers set-up is not a "community" at all, but a centralised structure in which young recruits are merely puppets, obedient mouthpieces for those actually running the show.
The real agenda behind the Global Shapers is made very clear by looking at its leadership, as we did in our previous article. The Shapers in all these hundreds of hubs are effectively working for the likes of WEF boss Klaus Schwab, Chinese Big Pharma billionaire Eric Tse and David Rubenstein of the war-profiteering CIA-linked Carlyle Group. This is a world of "social impact investing", of lucrative human and natural "capital", a world of blockchain, robotics and AI, of equity funds and pharmaceutical businesses, a world of exponential profit and exploitation hidden behind a rhetoric of "inclusivity", "sustainability" and "systemic change". Their agenda is nothing less than the acceleration of global corporate control to a level we can barely imagine, the imposition of a full-on techno-tyranny in which freedom is abolished for 99.99% of humanity and in which future generations are reduced the status of digitally-farmed cattle for the profit of the parasitical elite. To illustrate this shocking reality, we here take a closer look at Shapers and their connections in some key global locations: London, Brussels, Beijing, Lagos and New Delhi.
LONDON The London hub of the Global Shapers describes itself as a "large, vibrant and extremely diverse group" of young people who "care deeply about having an impact in London and the wider world". It is currently listed as being involved in four projects: Shaping Fashion. "Now that the Coronavirus pandemic requires us to stay home and stay safe, Shaping Fashion and Fashion Revolution have joined forces for digital activation and empowerment of citizens". Covid Action in Europe. "This initiative provides WHO with an opportunity to gather information from Shapers on any rumours or potential misinformation that is circulating". United Against C19. "Stay at home. Help stop the spread of misinformation". Combat COVID. Stop misinformation. "Calling upon readers to share any rumours or potential misinformation they hear, the project endeavours to generate information for the WHO Europe to inform their communication around COVID-19".
One of the rising stars among the 42 hub members is Rory Daniels. Daniels came to the public's attention when he stood as Liberal Democrat candidate for Llanelli in the 2017 General Election while still a 19-year-old student. Presented as "passionate about the EU", he finished last of five candidates with a meagre 548 votes and even lost his deposit. But a total lack of democratic mandate has not held him back. Daniels spoke at a UNESCO conference in Stockholm in 2019, where he was listed as "Young Leader of Industry, European Commission" and since September 2019 he has been a member of Amnesty International's first Global Youth Task Force.
'Our Democracy' what a pathetic sick joke. R.J Cook
| | |
| --- | --- |
| New post on The Slog | |
BRACE FOR IMPACT by Amy Boone
In this insightful post, AJC Boone concludes that the days of Left-Right duopoly have passed, and that if we want to survive in (and work against) the New Model State, we have to understand its assumptions, strengths and weaknesses. She proposes three palms to lash ourselves to in the light of the coming tsunami My every morning's waking thought is that we now live in a science-fiction horror movie. (Hang on, you too?) And I have tried for weeks to find words about the unfurling and accelerating nightmare. And I have mostly failed. But find words we must. And share them, because with words comes understanding, and only with understanding comes the possibility of protecting ourselves and what we hold dear. First, an accounting: In large part, the current nightmare is one in which an arguably worse-than-normal seasonal flu has been hystericised into the Black Death to justify the UK (and a significant portion of western world) government's bizarre assumption of dictatorial powers. These powers are in principle limitless ("if it saves just one life otherwise lost to COVID..!") and de facto unchecked (who, or what, is interested in challenging them?

Would a Labour Party of Sir Keir or Jeremy Corbyn ever reverse the government overreach? Moreover, so far from being able to check the government policy-makers, any public scepticism towards COVID policy was very early on demonised and may be criminalised. In the interest of preserving our collective horror at what is happening (outrage being one of the few valuable political commodities wielded by the plebs), let's remind ourselves that the government's tyrannical trespass includes
-imposing universal house-arrest without robust debate on cost-benefit trade-offs;
-the consequent slicing off of great swathes of the economy like steaks off a dangling beef carcass;
-demonising normal human interaction as health- and life-threatening;
-explicitly or indirectly cancelling milestone-marking and contemplation-inducing traditions of christenings, graduations, birthdays, weddings, holidays, funerals — I wonder if one day our grandchildren will watch nature documentaries showing elephants mournfully circling a deceased herd-mate and ask us why humans don't do that;
-cutting off the arts and museums from their audiences, and so dissolving the ties binding us to whatever greatness can be gleaned from our past;
-and promoting the mass disorientation and mental health calamity all of this inevitably entails.

It is a nightmare, further, in which the 24/7 "news and information media" messaging is both 1) insanely at odds with tangible reality and 2) obstinately incurious about why all manner of worldly authorities' messaging is also at odds with the observable world. Oh, and in case you missed it, the American Republic was in the last 72 hours taken off life-support, a few years shy of her 250th birthday, having been essentially raped to death in the early morning hours of November 4th according to hundreds of eye-witnesses and technical affidavits, though we are told by our self-appointed superiors in the media and political Establishment that the criminal event was entirely consensual. (Vengeance is now quietly being wrought upon the brave witnesses, pour encourager les autres.) So now we wander dumbstruck, like tourists on a Thai beach on Boxing Day 2004, picking up and marvelling over an octopus revealed on a seabed emptied of seawater ("Oh, look, Honey, 5th Avenue is completely devoid of humans…"), without grasping what is imminently headed our way. While I cannot see the future, and it's far too late to run for higher ground, I would like to point out what look to me like a couple of sturdy coconut palms to which we might lash ourselves and brace for the impact of a coming onslaught.

There are a few things it will be useful to confirm collectively, and these can serve as anchors against an incoming flood of insanity. Because I'm pretty sure much more is coming. And that it will be insane. "LEFT-V.-RIGHT" NOW FULLY TRANSFORMED INTO "TOP-V.-BOTTOM" First of all, for orientation purposes, let's tackle the main question — "what the fuck?" — because I think I have an answer. It is quite clear that the basic political antagonism that has defined western democratic politics for the last two centuries — the Left-Right, workers v. owners, BIg Government v. Small Government tension — has been fully replaced by a Top-Bottom tension: the Blob versus the People. The metropolitan, transnational elites of an awesome Weberian Administrative State and its affiliates in media and academia, versus the free-thinkers whose economic and political self-determination are an Enlightenment birth right tied to identity and joy in life. You did not need me to point out the existence of the Top-Bottom trope.

But I must underscore that its explanatory power for current events has lately assumed devastating importance. Top-Bottom is now unmistakably the tacit political arrangement under which we live. Top-Bottom systems have their own particular logic and imperatives, which we must identify in order to find a way to fight against them. This is Coconut Palm Number One. Notice that today's ruling-class Blob is a canny reconstitution of elements from the Left-Right wreckage.

The Blob has digested the ruthlessness and cynicism towards adversaries that characterised the Marxist Left, but has spat out the Left's egalitarianism. Or, rather, the Blob's egalitarianism, exactly as played out by the history of the Soviet Union, is selective egalitarianism (thus morphed neatly into an oxymoron, like "two-tier justice"). It is the equality enjoyed by galley-slaves, peered down upon by the Pigs-who-NEED-to-eat-apples from their aeries in Davos or on the "7th Floor". (Did you know that the CIA, the US State Department, and the FBI each house their respective poohbahs on a "7th floor", and refer to it in such phrases as "You'll need to rewrite that report — left as is, it'll piss off the 7th floor"?) As to the galley-slaves, "You will own nothing and you will be happy," proclaims the World Economic Forum's own ghastly p.r. video. The Blob has also absorbed the worst of the defunct Right, namely its material insatiability and its entitlement, while rejecting any compensating sense of duty and responsibility that tradition once apportioned to those "to whom much has been given".

The Blob is all droit du seigneur and no noblesse oblige. Of course Blobs have lorded over Serfs throughout human history. It's the Standard-Issue Regime, the human default. But the Enlightenment was supposed to put an end to the Top-Bottom political order in the West because Top-Bottom is incompatible with equality, the right of self-determination, and freedom of thought, speech and assembly. And yet glance again at the basic, supposedly inviolate, rights contained in the Enlightenment-born US Constitution's Bill of Rights with its Anglo-Saxon roots in the Magna Carta, and you will notice how many of them – espousing rights of free speech and assembly, privacy, property, habeas corpus, transparent and peer-based justice — have been blithely cast aside. Vivid examples verging on parody, of their breach, lie in the cases of Julian Assange, General Michael Flynn, Roger Stone, police action and draconian fines deployed against "COVID-related" acts throughout Britain, and the vast and unregulated surveillance-state apparatus, intravenously penetrating our lives via social media.

Moreover, while a common foundation of Enlightenment values allowed for pendular alternation between Left and Right parties and their respective sets of policy preferences, the Top cannot "alternate" with the Bottom. Public chatter since November 3rd's pantomime election showed many people intuiting that if the implausible result were allowed to stand, with mass-fraud claims unexamined, then no free and fair elections would be allowed to occur in the US ever again. They sensed the structural imperative that Top can never peacefully give way to Bottom. In the era of Trump, the rare anti-Blob pundits have pointed out the eye-watering snobbery of functionaries who claim to "smell the Walmart shoppers" or media figures who chortle over Deplorables scurrying off to chain-hotels and chain-restaurants.

But this is no mere snobbery, nor even hatred (though hatred has indeed been stoked artificially for tactical purposes). It is the accidentally revealed logic of a structural reality. The Tops' very survival depends on their steady "boot on the human face of the Bottoms — forever". Up to now this boot-on-the-face business has been obfuscated, or portrayed as the reasonable reaction of Decent People specifically to the "hate-able" Mr Trump and his supporters, or against the "bigotry" of Brexiteers. But do not misunderstand a continual sluicing of sneering contempt upon any challengers to the Tops' monopoly on authority. Persuading the masses that the Top deserve to monopolise the truth about what is Right and Good is what the Top must do to remain the Top. It's basic maintenance work, exactly as are purges of dissent and the calendar of Orwell's Hate Campaigns in "1984". I wrote in an earlier essay about the strikingly ready recourse to (deception-based) demonisation by the Democratic Party, and how this made democratic politics impossible. I am now realising to what degree this is a feature,-not-a-bug. And if it is the structural imperative of Top-Bottom systems that the Top maintains a monopoly on authority to rule, then this requires putting an end to conversations about alternatives.

The Top will try to convince us that the Top deserve to be on Top, but having already failed at that (see the shocking plebiscites of 2016), they will ultimately be forced to coerce us to go along with it. See the trajectory of COVID vaccines as a model: happy-hype persuasion degenerated quickly into the coercion of "get vaccinated or forfeit the right to travel" (among other things). There is a meta-Purge (no longer merely of wayward individuals, but of access to alternative free speech platforms) currently underway in the social media. These platforms have presented themselves as, and were generally used as, the virtual Public Square to host a mass Public engaging in rational discourse entwined in the idea of consent-of-the-governed. This meta-Purge amounts to a dismantling of the machinery of public discourse. It is another betrayal, another demonstration of how Top-Down systems reject and are at-odds with the Enlightenment. Thirty years ago, I flubbed a question on my Ph.D. oral exam.

My professor asked me why the Soviet Union fell. There are a million answers to that, and I gave a few, even while feeling strongly that none were very satisfactory. That is, until a week or so after the exam, when this esprit de l'escalier came to me: Mikhail Sergeevich Gorbachev had wanted to make the USSR a system-of-consent, but he only had to-hand the tools of the existing system-of-coercion. Hence the violence in the Baltics and Georgia, and the ultimate collapse of the empire. What we are watching in the US and the UK (and elsewhere) is the film-reel of the end of the Soviet Union being run backwards. We are watching the transition from a system of consent to a system of coercion. This is Coconut Palm Number Two. THE KEY TOTALITARIAN SWITCH Speaking of which, much of the New Normal reminds me of an old normal, namely, that which prevailed in Leningrad where I lived and studied for the first half of 1985. Brutalised and brutal, equal parts menace and braggadocio, set against the grandeur of its history, letters and the arts, the Soviet Union, in five months, taught me a life-time of cause and effect.

It is not a time and place I would like to return to. In fact I had nightmares of not being able to get out, even months after I had left, while I slept in a high-rise in Chicago. The things I learned could fill volumes, but one supremely relevant point was told to me by an older Soviet gentleman who risked taking me to a cafe. "In the West," he said, "Everything is permitted, except that which is forbidden. Here in the Soviet Union, everything is forbidden except that which is permitted." Last April, a cheerful article in the Bay Area press publicised the (short) list of outdoor activities permitted by authorities in the new world of coronavirus. Everything else, by implication, was forbidden. I saw the article and shuddered. We in the West had crossed a Rubicon. That is Coconut Palm Number Three.
War on covid war on masses. January 11th 2021
BORIS Johnson has come under fire for reportedly breaching his own coronavirus lockdown rules.
The Prime Minister was spotted cycling seven miles away from Downing Street, although current guidance says people "should not travel outside [their] local area".
Johnson also had a full security detail with him, according to reports in The Evening Standard.
He was spotted at around 2pm wearing a Transport for London hat and a mask, cycling in Olympic Park.
The paper asked if Johnson had cycled there or been driven and then gotten on his bike, but the Government declined to answer.
A Downing Street source said Johnson had been exercising. They told the Standard: "He did note how busy the park was and he commented on it at the meeting last night. "He was concerned about if people were following the rules and was concerned after his cycle ride around the park."
READ MORE: Are the SNP 'too slow' on Covid vaccine rollout compared to England?
The meeting was to discuss coronavirus guidance and whether it should be updated.
The Mirror reported that a Downing Street source had "very firmly" rejected the idea Johnson broken any rules.
They said: "There isn't anything in the rules that says you can't drive somewhere in order to take exercise. It says is that you must exercise locally. We very deliberately never put a distance on it."
Andy Slaughter, Labour MP for Hammersmith, said: "Once again it is 'do as I say not as I do' from the Prime Minister.
"London has some of the highest infection rates in the country. Boris Johnson should be leading by example."
It comes after the Prime Minister was forced to justify travelling from London to Bristol to visit a new vaccination centre.
Johnson said it was "essential that I explain to the public what we are doing to roll out the mass vaccination centres".
He added: "Everybody should be asking themselves whether they need to be leaving home, whether they need to be doing something that could actually end up spreading the disease."
UK Health Secretary Matt Hancock yesterday said the "rules are not there as boundaries to be pushed – they are the limit to what people should be doing".
He added: "The police are right to take very seriously the rules we have brought in. We haven't brought them in because we wanted to, we've brought them in because we had to.
"Every flexibility can be fatal." 10 comments
Comment If matters are as serious as Johnson says, he should be fined extra heavily, and along with rule breaking escort police officers, forced to resign. R.J Cook
The UK is at the "worst point" of the coronavirus pandemic, Health Secretary Matt Hancock has warned, as he appealed for the public to follow government restrictions. He told a Downing Street briefing that the vaccine was the "way out" of the pandemic, but made clear the public's actions "could make a difference". A total of 2.3 million people have now had a Covid vaccine in the UK – with 2.6m doses given in total. Mr Hancock's comments follow an earlier warning by Prime Minister Boris Johnson that the UK was facing a "perilous moment" in the pandemic, and must not become complacent despite the Covid vaccine rollout.
There are few benefits from lockdown, but one often touted is that people are managing to save a little money: lower transport costs, fewer shop-bought office lunches, cheaper childcare costs and no foreign holidays.
Single mum Caroline Rice gives a wry smile when asked if she's managed to squirrel away extra cash over the past few months during pandemic restrictions.
"My spending is up," she says. "The heating costs are higher because it's very cold. I'm having to shop locally because of lockdown, where the prices are slightly higher. The nearest Asda is 12 miles away."
The small savings on little luxuries that many people are making – fewer coffees or restaurant meals – were never an option for her in the first place.
Her meagre finances meant the registered child minder, who lives in rural County Fermanagh, was already living week-to-week. Now it seems like day-to-day, she says.
"There's a mental stress, fatigue, in having to check the bank balance every day to see how much I'm down," she says. "My child and I haven't bought any clothes in almost a year."
She's having to home-school her child. Many people wouldn't think twice about printing off their child's maths homework project. Caroline had to write it out by hand because they could not afford the ink.
Shock Horror How Dare U Do That To Wonderful U,K Police ? U Put 80 plus, BAME & Obese Lives at Risk Of A less Than 1 % Chance Of Covid Related Death & Of Destroying Wonderful NHS. January 11th 2021
Bench arrest video 'stage-managed by anti-lockdown protesters'
Published3 hours ago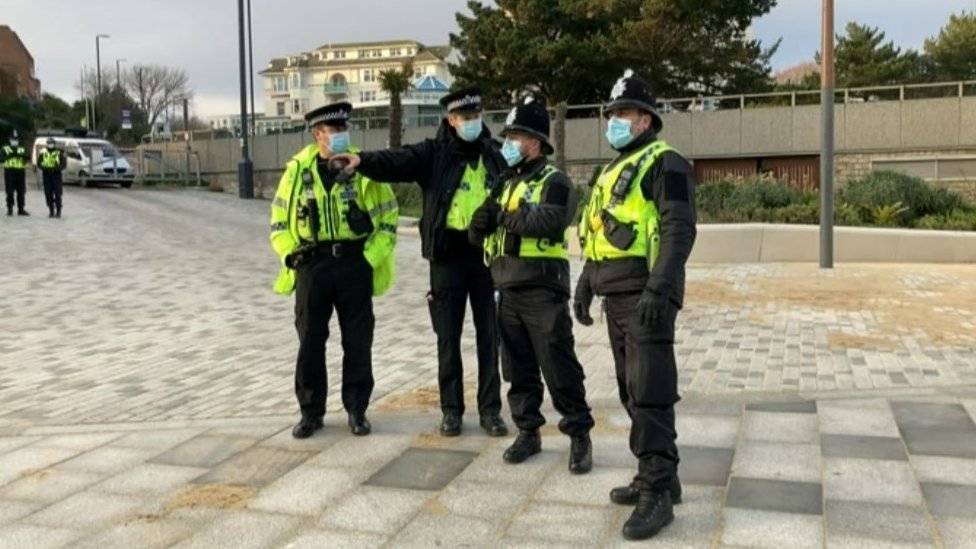 A video shared online apparently showing a woman being arrested in breach of lockdown for sitting on a bench was "stage-managed", police said.
Dorset Police believe the video was planned and recorded by anti-lockdown protesters during a demonstration in Bournemouth on Saturday.
Three people were arrested for not giving their details so officers could issue fines for breaking Covid rules.
The BBC has asked one of the protesters who posted the video to comment.
The force said two of those held were later de-arrested when they confirmed their details in police custody and a third was released when his details were verified – all three were then issued fixed penalty notices.
Officers also issued at least seven other fines and 10 dispersal notices.
'Shame on them'
Assistant Chief Constable Mark Callaghan, from Dorset Police, said: "We believe this video was planned, stage-managed and recorded by members of the protest group who turned up in multiple areas, several of whom refused to engage or provide their details.
"If people refuse to give their details in such circumstances then it leaves officers with little option, but to arrest until the details are established. Our officers would only arrest as a last resort.
"It was clear that the group was deliberately organising their activities, walking around in twos and then trying to come together in a 'flash mob'-style approach, as they have done previously. This activity went on for a couple of hours."
The force's chief constable James Vaughan earlier said: "I condemn the actions of these selfish individuals who knowingly flouted the lockdown restrictions."
The force said there were "repeated attempts" to engage with the organisers to stop the planned protest and found a number of the protesters had "travelled considerably" from out of the Dorset area.
Mr Vaughan added: "Our county is gripped with infections and yet these irresponsible individuals have ignored what is being asked of them and have left their homes to protest. Shame on them."
Sam Crowe, director of public health for Dorset, said its hospital services were "close to being overwhelmed".
Mr Crowe said: "Infection rates locally have been doubling in less than a week. If this carries on, our hospitals will not be able to cope with caring for those needing life-saving treatment. Stay at home means exactly that."
Latest figures show Bournemouth, Christchurch and Poole has reached 745.2 cases per 100,000 people.
Comment The people who should feel shame are the smug public sector workers, like the police, NHS and all levels of government, who have guranteed working hours, pensions and pay, enforcing petty useless rules in a 'crisis' created and exaggerated by the ruling globalising elite who lie that we live in a democracy.
In this moronic police state world, the cost of wider deeper damage to material, physical and mental health must not be measured. And then, adding insult to injury they want to raise council tax to keep public sector pay high and the chosen ones 'safe.' And it is all so democratic, we must have more laws to stifle comment and criticism like this. R.J Cook
Credit…Mason Trinca For The New York Times; Agence France-Presse — Getty Images
Britain January 10th 2021
Home Secretary Priti Patel has said officers "will not hesitate" to enforce lockdown rules as she defended the way police have handled breaches.
She said rising numbers of coronavirus cases and deaths illustrated the need for "strong enforcement".
It comes after the National Police Chiefs' Council published guidance saying officers should issue fines more quickly when rules are broken.
More than 30,000 fines have been handed out by forces in England and Wales.
NPCC figures show 32,329 fixed penalty notices were issued between 27 March and 21 December last year.
How Cities Lost Control of Police Discipline January 3rd 2021
In the chaos of 1960s Detroit, a fledgling police union laid the groundwork for a system that, to this day, constrains discipline for officers accused of misconduct.
By Kim Barker, Michael H. Keller and Steve Eder
It took Portland, Ore., almost $1 million in legal fees, efforts by two mayors and a police chief, and years of battle with the police union to defend the firing of Officer Ron Frashour — only to have to bring him back. Today, the veteran white officer, who shot an unarmed Black man in the back a decade ago, is still on the force.
Sam Adams, the former mayor of Portland, said the frustrated disciplinary effort showed "how little control we had" over the police. "This was as bad a part of government as I'd ever seen. The government gets to kill someone and get away with it."
After the death of George Floyd at the hands of Minneapolis officers in May spurred huge protests and calls for a nationwide reset on law enforcement, police departments are facing new state laws, ballot proposals and procedures to rein in abusive officers. Portland and other cities have hired new chiefs and are strengthening civilian oversight. Some municipal leaders have responded faster than ever to high-profile allegations of misconduct: Since May, nearly 40 officers have been fired for use of force or racist behavior.
But any significant changes are likely to require dismantling deeply ingrained systems that shield officers from scrutiny, make it difficult to remove them and portend roadblocks for reform efforts, according to an examination by The New York Times. For this article, reporters reviewed hundreds of arbitration decisions, court cases and police contracts stretching back decades, and interviewed more than 150 former chiefs and officers, law enforcement experts and civilian oversight board members.
While the Black Lives Matter protests this year have aimed to address police violence against people of color, another wave of protests a half-century ago was exploited to gain the protections that now often allow officers accused of excessive force to avoid discipline.
That effort took off in Detroit, partly as a backlash to the civil rights movement of the 1960s, when police officers around the country — who at times acted as instruments of suppression for political officials or were accused of brutality in quelling unrest — felt vulnerable to citizen complaints.
Newly formed police unions leveraged fears of lawlessness and an era of high crime to win disciplinary constraints, often far beyond those of other public employees. Over 50 years, these protections, expanded in contracts and laws, have built a robust system for law enforcement officers. As a result, critics said, officers empowered to protect the public instead were protected from the public.
In many places, the union contract became the ultimate word. The contract overrode the city charter in Detroit. The contract can beat state law in Illinois. The contract, for years, has stalled a federal consent decree in Seattle.
Many police contracts and state laws allow officers to appeal disciplinary cases to an arbitrator or a review board, giving them final say. Arbitrators reinstate about half of the fired officers whose appeals they consider, according to separate reviews of samplings of cases by The Times and a law professor. Some arbitrators referred to termination as "economic capital punishment" or "economic murder."
Disciplinary cases often fall apart because of contractual or legal standards that departments must show a record of comparable discipline: A past decision not to fire makes it harder to fire anyone else.
Because many departments don't disclose disciplinary action for police misconduct and there is no public centralized record-keeping system, it is difficult to determine how many cases are pursued against officers, and the outcomes.
And police chiefs acknowledge that they don't always seek the discipline they think is warranted. That can lead to problem officers remaining on the streets. Rather than gamble on arbitration, some chiefs allow officers to quit or opt for financial settlements, which can enable them to move on to other departments with seemingly unblemished records.
"You would pay them to leave," said Roger Peterson, the former police chief in Rochester, Minn., who said he had negotiated such payments for about a dozen officers during his 19-year tenure. "It stunk."
8 Officers Fired in 2020 and Appealing Their Cases
Fool Britannia Posted December 27th 2020
The prime minister has vowed to focus on "levelling up the country" and "spreading opportunity", after securing the post-Brexit trade deal this week.
Boris Johnson told the Sunday Telegraph the deal would provide new legislative and regulatory freedoms to "deliver for people who felt left behind".
But fishermen's leaders have accused him of "caving in" and sacrificing their interests to reach the agreement.
MPs will vote on the deal in Parliament on 30 December.
The agreement was reached on Christmas Eve after months of fraught talks on issues such as fishing rights and business rules.
Scrutiny of the treaty began in earnest on the morning of Boxing Day when the 1,246-page document was officially published, with Conservative Eurosceptics among those promising to pore over the details of the accord.
Comment Britannia is the Latin name for Britain. The name personifies this elitist divisive, smug unjust island. Britannia's image is, appropriately for a feminazi fronted state, female and was impressed on the big pennies of my childhood.
The last time – 2011- I went to the Albert Hall's Promenade concert , they were singing Rule Britannia, with the line 'Britons never never shall be slaves. Even the company of my upper middle class one time public school girl lady friend could not stop changing the words to 'always, always will be slaves.' A pompous ass in front of me threatened me with security.
By that time, I had enough of this horrible vile hypocritical and unjust police state countrty to last a life time. The elite who sold the masses Brexit did it for themselves, just as they justified the cold war. It is all about them and the asses will never see it. They voted Brexit to stop mass illegal immigration that went higher and higher and will carry on. The global economy will bring more varied disease, gang crime and drugs – and lockdowns to stifle protest.
Those who raise a voice against all this will face more oppressive thought and language laws. The extreme injustice of this sysetm, where its leaders are rejoicing for freedom from European law . They are celebrating. Lockdown and all the other laws are now in elite hands. Julian Assange's fate is the tip of our police state iceberg. This is now a matter of Cruel Fool Britannia. There is nothing cool about it.
The elite's cheapo empire trick of divide and rule has been revamped in a most absurd fashion. The race wars have been brought back, via BLM, to hide the fact that the police, bully and discriminate against all lower class poor ignorant desperate people, not just black.
One doesn't know whether to laugh or cry over the diversity rainbow trick. The British ruling elite have always been fakes and hypocrits about sex. Mini skirts and contraceptives were the feminist sirens. Dirty old powerful men were easily lured into employing more 'sexy' young women, leading on to the sick 'Me Too' movement that has destroyed Johnny Depp, on the basis that women are so pretty they can never lie.
This leads to one parent families and little boys wanting to be girls like their mummy. This leads to power mad TERF feminists raging about sex change men wanting a convincing disguise so they can get into public toilets to assault and rape them, Don't worry, it is all about keeping people safe (sic ). A safe is where you lock things up. We are locking up more low class men than ever, outnumbered only by the similarly elitist U.S.A. It is all about power and power has nothing to do with equality. R.J.Cook
Covid-19: Tougher Covid rules begin for millions in UK December 26th 2020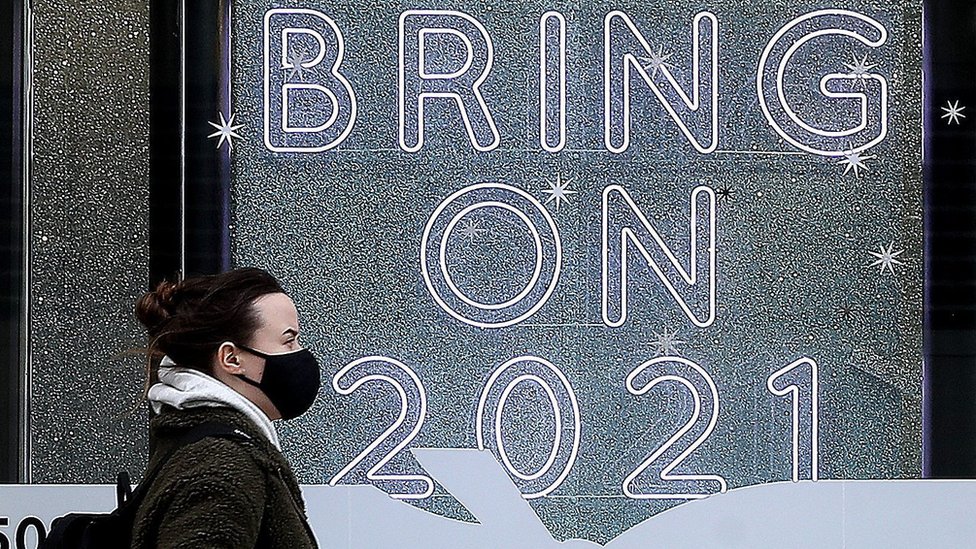 Harsher Covid restrictions now apply to millions more people, as rule changes come into force across the UK.
Around six million people in east and south-east England have gone into tier four, England's highest Covid level – which includes a "stay at home" order.
Lockdowns have also started in Scotland and Northern Ireland, and measures have been reimposed in Wales after being eased for Christmas.
It comes after official UK coronavirus deaths passed 70,000 on Christmas Day.
The toughest measures – which mean the closure of all non-essential shops, as well as hairdressers, swimming pools and gyms – now apply to around 24 million people in England, more than 40% of the population.
Meanwhile, work has continued in Kent to clear the backlog of lorries formed after France closed the border to the UK due to the discovery of a fast-spreading variant of coronavirus.
The border has reopened but drivers must provide a negative Covid test before making the crossing.
Transport Secretary Grant Shapps said more than 15,000 tests had now been carried out on lorry drivers, with 36 positive results.
Prof Devi Sridhar, chairwoman of global public health at the University of Edinburgh, told the BBC she believed all of England was likely to soon be in tier four.
"I think that's where it's heading and it's better to be honest with people so they can plan the next few weeks to understand what might be coming," she said, adding: "To really keep a handle on these numbers, you need to move early."
The whole of Sussex, Oxfordshire, Suffolk, Norfolk and Cambridgeshire, as well Essex, Waverley in Surrey, and all of Hampshire with the exception of the New Forest, are now in tier four.
Bristol, Gloucestershire, Somerset, Swindon, the Isle of Wight, the New Forest and Northamptonshire, as well as Cheshire and Warrington, have all moved up to tier three. Meanwhile, Cornwall and Herefordshire have moved from tier one to tier two.
Tier four restrictions mean shops in many town and city centres have been closed for the first time in decades on Boxing Day, when there are usually sales.
Even some retailers deemed "essential" – such as Asda – have opted not to open.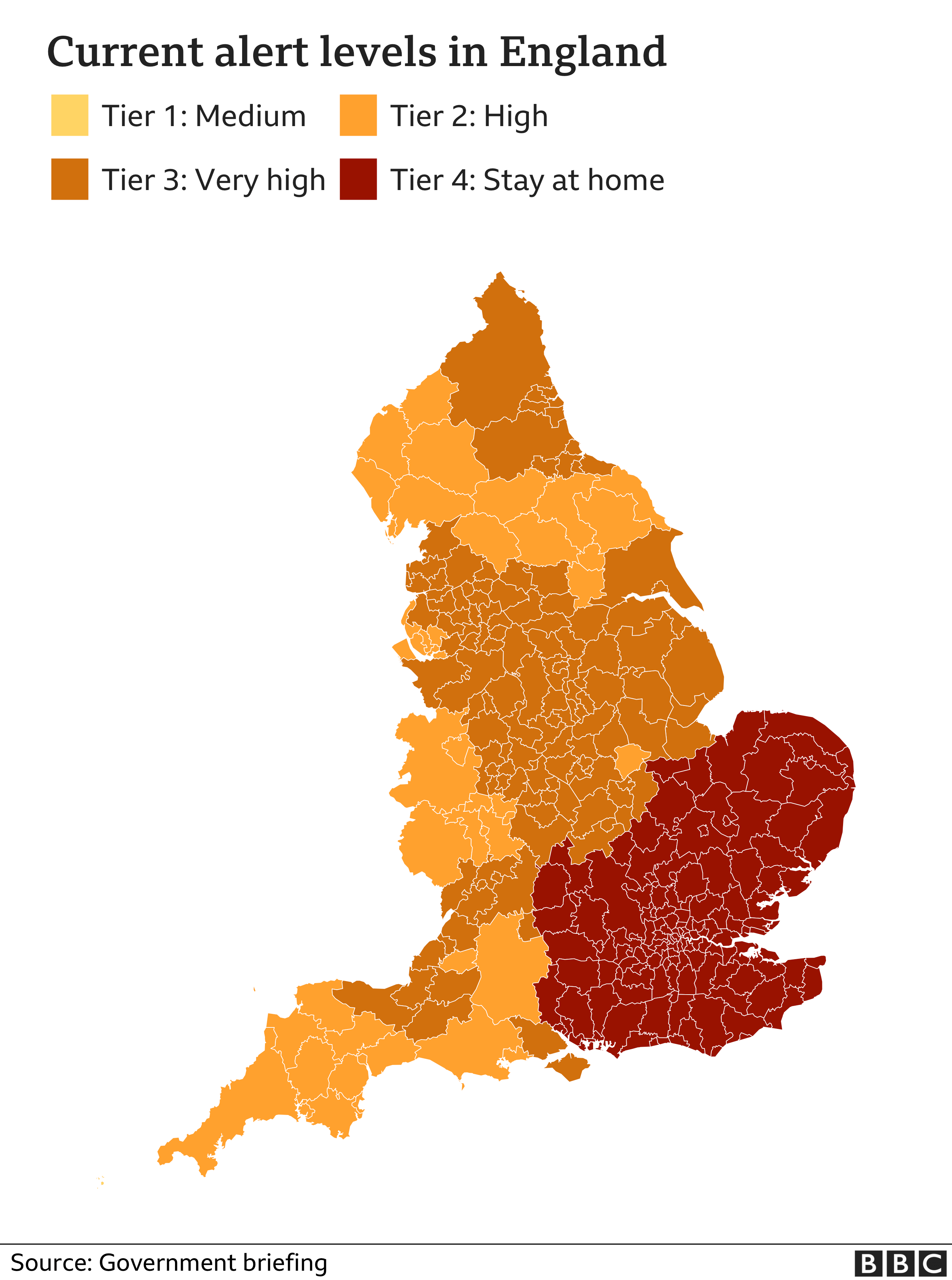 In Scotland – which operates under a different tier system – level four lockdown measures have come into force across the mainland for three weeks. Orkney, Shetland, the Western Isles and other island communities are in level three.
And in Northern Ireland, a six-week lockdown has begun. The first week, until 2 January, has stricter restrictions, including essential shops closing at 20:00 GMT and no sport.
For the first week, people are also banned from meeting indoors or outdoors between 20:00 and 06:00.
NI police have legally-enforceable powers to tell anyone out during those hours to return home, unless they have a "reasonable excuse", such as being a key worker or having caring responsibilities.
On Saturday, the UK government announced a further 34,693 people had tested positive for Covid-19 in England and Scotland, while a further 210 people had died within 28 days of a positive test in England.
Due to service changes over the holiday period deaths in Scotland and deaths and cases in Wales and Northern Ireland will reported at a later date, the government said.


In Europe, France, Sweden, Spain and Switzerland have reported cases of the more contagious coronavirus variant identified in the UK.
France has confirmed one case, while Switzerland has identified three, two of which are British citizens currently in the country, while Spanish officials said there had been three cases of the variant linked to a man who had flown from the UK on Thursday.
In Sweden the country's health agency said a traveller was ill with the strain there but was self-isolating.
The appearance of the new coronavirus variant in England triggered travel curbs with dozens of countries.
On Christmas Day, the Queen delivered a heartfelt message of hope to the country in her TV address, praising the "indomitable spirit" of those who have risen "magnificently" to the challenges of the pandemic.
She said what many people want "for Christmas is a simple hug or a squeeze of the hand" and that "even on the darkest nights there is hope in the new dawn".
The Archbishop of Canterbury used his Christmas sermon to praise schools and hospitals for bringing hope during the coronavirus crisis.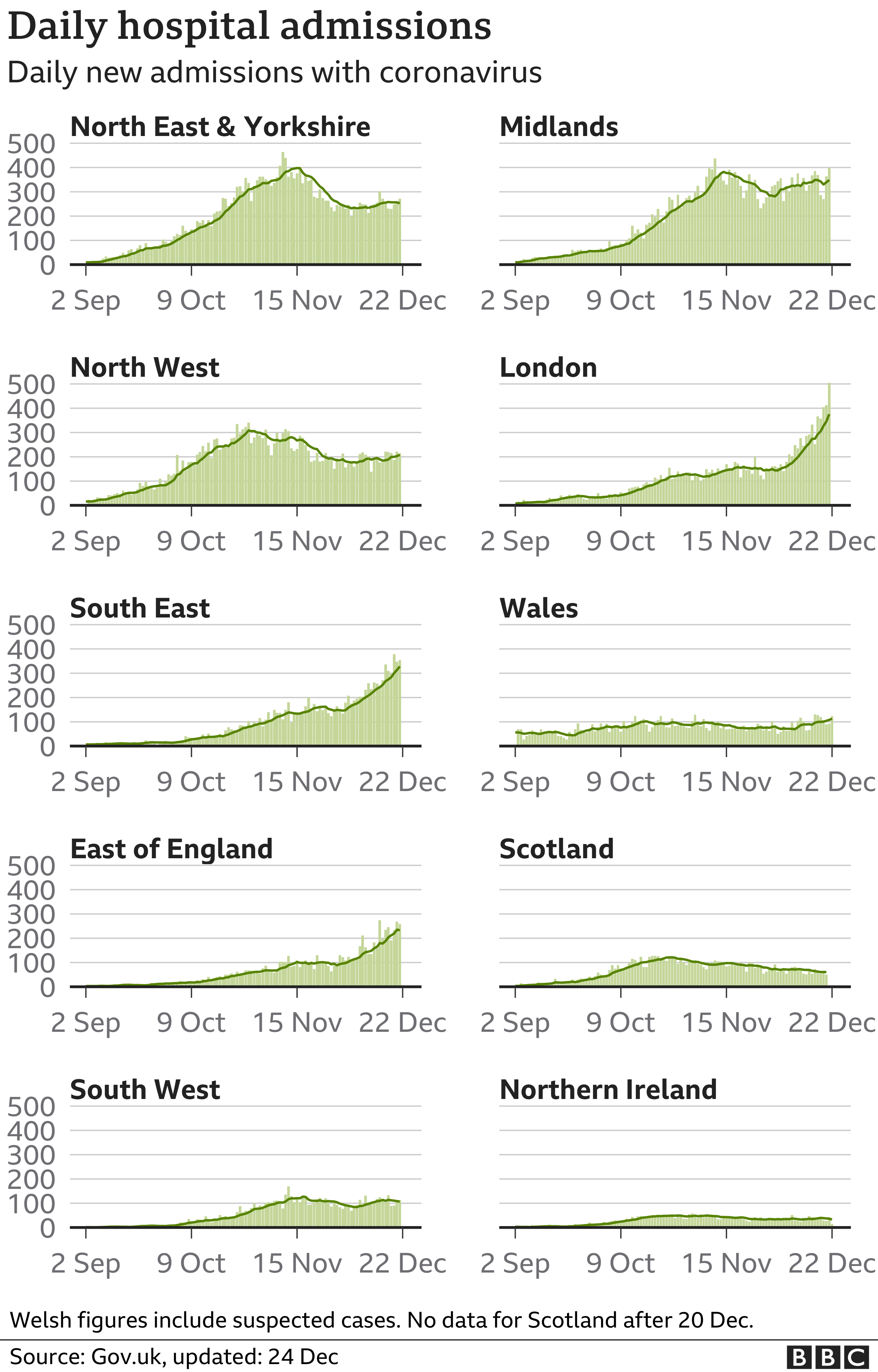 European Police State December 16th 2020
As a preface to the following story, I was never a fan of the global internet, so called 'information highway'. I read a lot of George Orwell and Aldous Huxley during my teen years and guessed where computers would lead us.
As a school maths teacher, working with a load of 'nerds', I could see how gullible and excited these people were by the new IT Age. it was obvious to me that the State intention was for a disiformation super global highway,
As with all hi tech developements, it was inevitable that military and social control would come first. So we have the following mainstream media story in the name of protecting women. children and minorities from hate crime and sexual predators because these people can't be trusted to keep away from social media.
There is no mention of the real European agenda, which will always include Britain whatever baloney they use to make it look as if Britain has left because the pretence of democracy is vital. Women can be relied upon en masse to support anything the elite tells them is in their favour. State hate for the masses or particular nuisance individuals or groups does not come in to it. There is a crisis of over popuation with massive cultural conflict in Europe, of which Germany's major drug problem is one outcome.
Hi tech companies are not the only ones making obscene – what we economists used to call 'abnormal' -profits. These profits are off the scale due to the Covid 19 lockdown which must not be questioned in the police state because that would undermine the strugging health services. But it is only the social media platforms and facilitators which bother the elite.
I was informed by one of my police news feeds that facebook shut them down because of trolls and a facebook decision that they are 'dangerous.' The danger of interest to these elite people is to themselves because most of the money is in their hands. They have shaped this world, with all its ailments, violence, war, hatred and suffering, for their own greedy ends. In their system, money is power.
My generation dominate that elite. Most of them will be as well educated and informed about the Russian Revolution, Marx, Engels and Lenin as I am. They are the only devils the rich and powerful fear. In their warped hate filled minds, they pass of Russia and China as the embodiement of their fears, fears we must share with them on pain of hell. As for their lackeys, it will soon be a crime to make any negative comment about them, let alone take photos. The report is below. R.J Cook
More on the European Police State December 16th 2020
Many of Silicon Valley's biggest companies could face blockbuster fines under new proposals from the European Union announced Tuesday aimed at boosting digital competition and protecting people from online harm.
The announcement represents a watershed moment for Ursula von der Leyen's Commission, which has made so-called "technological sovereignty," or efforts to bolster the bloc's role in digital markets, a central piece of its legislative agenda.
Under the proposals, known as the Digital Markets Act and Digital Services Act, large online platforms like Google, Amazon and Facebook will face new limits on how they can expand their online empires or face levies of up to 10 percent of their global revenue — potentially billions of euros — for unfairly hamstringing smaller rivals.
In the most egregious cases, EU regulators would be granted stronger powers to break up companies that flouted the bloc's new digital rulebook.
Brussels also outlined separate fines of up to six percent of annual revenue for Big Tech companies — those with at least 45 million users across the 27-country bloc — that fail to limit how illegal material, everything from hate speech to counterfeit products, can spread across their networks.
"Now we have such an increase in the online traffic that we need to make rules that put order into chaos," Margrethe Vestager, the European Commission's executive vice president who oversaw the bloc's digital reboot, told reporters Tuesday. "We should be able to navigate without being confronted with terrorist propaganda and feeling as certain that the toy we buy online is safe, just as well as the toy we buy in a brick and mortar shop."
The proposals are still far from becoming law. The European Parliament and member countries will now weigh in — there is no consensus on how best to regulate tech companies — and final rules are not expected before 2023 at the earliest. Deciding which companies are deemed dominant under Europe's new regime — making them liable for tougher oversight — will also take years, and will likely involve firms challenging those decisions in EU courts.
Those in favor of the new rules say the current system for policing the online world is broken, with Silicon Valley holding too much sway over people's digital lives.
"It is the right move to prohibit some practices up front instead of picking up the pieces afterwards," Monique Goyens, head of BEUC, the consumer group, said in a statement, though added Brussels should have gone further in limiting the powers of dominant online companies.
Those against the reboot caution that Europe's proposals may harm innovation, just as the bloc tries to keep pace with the United States and China.
"We are concerned that they appear to specifically target a handful of companies and make it harder to develop new products to support small businesses in Europe," Karan Bhatia, Google's vice president of government affairs and public policy, said in a statement.
Still, Brussels is eager to flex its regulatory muscles as other parts of the globe, most notably the U.S. — where local competition authorities recently filed separate antitrust lawsuits against Google and Facebook — also begin to question Silicon Valley's role in people's daily lives.
"The bigger they are, the more obligations they have to fulfil," said Thierry Breton, the French commissioner who helped draft Tuesday's proposals and is a staunch critic of Big Tech, told reporters Tuesday in reference to the largest digital players. "Our responsibility is to decide and to give direction and the rules to protect what is important to us."
Digital Markets Act: Dos and don'ts
The centerpiece of Europe's digital plans is aimed at boosting online competition in a world dominated by Silicon Valley.
As part of the proposals, the Digital Markets Act will impose new obligations on so-called "gatekeepers," or online players that determine how other companies interact with online users, to ensure these platforms do not stop others from competing for users. The rules will cover companies offering digital services like online search, social networking, video-sharing platforms, cloud computing, internet messaging services, online operating systems, online marketplaces and advertising products.
Failure to live by these rules could lead to hefty fines up to 10 percent of a company's global revenue, or — in the worst cases — threatsto break up firms that repeatedly break the new rules, a provision that is already baked into EU law.
On Tuesday, Brussels did not name companies that would be designated as gatekeepers. But officials said that any firm with European revenues of at least €6.5 billion or at least 45 million users in the bloc would fall into the new category, allowing for tougher regulatory oversight. Companies operating in at least three EU countries, controlling a digital ecosystem that rivals need to use to reach customers and maintaining an entrenched market position would be included. That would almost certainly include the likes of Facebook, Google, Apple, Amazon and Microsoft, though it will initially be up to companies to determine if they fall under the scope of the new rules.
There will also be a lesser defined gatekeeper provision to ensure the new rules also apply to smaller platforms that either do not have sufficient revenues to meet the EU's first criteria or are only dominant in specific online markets. Several departments within the Commission are expected to work to define who should be treated as a gatekeeper — an overtly political decision that will likely lead to internal strife amid ongoing tensions between Vestager and Breton over the bloc's approach to digital rulemaking.
"We have to be very careful in Europe because we're focusing on the issue of Big Tech," said Jacques Cremer, a French academic who co-wrote a Commission-sponsored report last year on how to overhaul competition rules for the digital age. "The biggest issue we are facing is innovation in Europe."
As part of the overhaul, the Commission outlined plans to ban certain business practices like dominant digital companies displaying or ranking their own products ahead of those of rivals, known as self-preferencing. Apple, for instance, could see restrictions on how it promotes its new suite of digital services, while Google may be limited in placing its own products at the top of people's search results.
Brussels also wants to outlaw gatekeepers' ability to ban others from accessing their online marketplaces like app stores, as long as these rivals comply with conditions that apply to all firms present on the service. That has become a significant bone of contention for the likes of Spotify and Facebook that believe Apple has slapped unfair conditions on those companies' apps on the company's App Store. The iPhone maker denies any wrongoing.
Big Tech firms will also have to inform, and win approval from, Brussels when they plan to buy smaller rivals — an acknowledgement, according to officials, campaigners and some smaller tech firms, that the EU's current merger rules have often failed to stop large companies from buying startups, in what many see as tactics to stifle competition.
"We will regulate again for a level playing field," Breton said. "So that all businesses will have the same opportunities, no matter their nationality."
Digital Services Act: Greater responsibility
Brussels also unveiled a sweeping reboot of how large platforms must police their platforms for illegal material — rules that have not been updated in two decades.
Under those separate proposals, known as the Digital Services Act, online platforms will have to do more to limit the spread of illegal content and goods. The United Kingdom published similar proposals earlier on Tuesday, while the United States is mulling its own changes to so-called content liability to force platforms to further police what is posted or sold online.
The largest platforms like Facebook, Google and Amazon will have to provide regulators and outside groups with greater access to internal data, and appoint independent auditors who will determine if these firms are compliant with the new rules.
That will require these companies to carry out yearly risk assessments over how they are stopping illegal content and goods from spreading on their networks. National regulators will be granted more powers, including the ability to levy fines of up to six percent of a firm's annual revenue if companies flout the regulations.
The biggest tech companies will also be forced to provide greater transparency to people over who targets them with online ads and how, give them more control over the material they see online. Companies will be encouraged to sign up to a new code of practice to stop illegal content from spreading, which will be overseen by firms, regulators and parts of civil society.
A lot of pressure will be on national regulators as the first point of contact to enforce the new rules. Many of Silicon Valley's biggest names are legally based in Ireland, mostly for tax purposes, but Vestager dismissed concerns that Dublin would not be either willing or able to hold these companies to account if they abuse the new rules.
For EU officials, Tuesday's announcements mark their latest attempt to create greater competition in digital markets and protect people online from a wave of illegal material.
But many European politicians, tech executives and civil society groups still disagree over how best to promote those goals while still encouraging the bloc's online economy to compete with those of the U.S. and China.
That balance — Europe pushing for greater control over the online world while also boosting its digital economy — will now take center stage.
"Now, the U.S., us, the Australians, the Japanese are part of a global conversation about how to balance things because the most important thing here is that with size comes responsibility," Vestager said. "All business operating in Europe — they can be big ones, they can be small ones — can freely and fairly compete online just as they do offline."
France mulls ban on police images, alarming rights defenders November 17th 2020
Sylvie Corbet
The Associated Press Staff
Contact Published Tuesday, November 17, 2020 4:19AM EST Last Updated Tuesday, November 17, 2020 12:25PM EST
PARIS — French lawmakers start debating a security bill Tuesday that would ban the publication of images of police officers with intent to cause them harm, a measure that has provoked outrage from journalist organizations and rights campaigners.
Critics, including the United Nations, France's human rights ombudsman and Reporters Without Borders, say the proposed law would hurt press freedoms.
Over a hundred people from journalists' unions and human rights groups protested Tuesday afternoon in front of the National Assembly in Paris, ahead of the debate that was scheduled to begin in the evening.
Related Stories
The Office of the High Commissioner for Human Rights at the United Nations expressed fears in a report that the bill "could lead to significant violations of human rights and fundamental freedoms, in particular the right to privacy and the right to freedom of expression."
The proposed law is championed by lawmakers of President Emmanuel Macron's party, which has a majority at the National Assembly.
Its most controversial measure would make it a new criminal offence "to disseminate, by whatever means and on whatever media, with the intent of causing physical or psychological harm, an image of the face or any other element that could identify a police officer."
Offenders would face up to one year in prison and a 45,000-euro ($53,000) fine.
Speaking Tuesday at the National Assembly, Interior Minister Gerald Darmanin, who is backing the measure, said the bill aims at preventing "calls for rape" and "murders" of police officers who may be identified on videos.
He downplayed any impact for journalists.
"Will journalists still be able to film? The answer is yes. Will they be able to broadcast? The answer is yes. Will a citizen be able to film police in action? The answer is yes," he told lawmakers.
But France's human rights ombudsman, Claire Hedon, said the bill involves "significant risks of undermining fundamental rights," including press freedom.
"The publication of images relating to police interventions are legitimate and necessary for democratic functioning," she said.
Critics are warning that the bill will result in "massive" self-censorship and argue that images posted online help expose police blunders and brutality. They say the measure would endanger journalists and other people filming police in action, especially during violent demonstrations. They also worry how courts will determine whether images were posted with intent to harm.
The National Assembly is scheduled to vote next week on the bill, which will then go to the Senate.
Comment Prime Minister Gordon Brown tried this in Britain without changing the law. Covid restrictions are not law, but Ministerial powers mean they can do anything. When I covered the EDL demonstration in Aylesbury 2010, I had to show my press card, with its reverse side noting I was a police approved photographer. The public were not allowed into the protest area. That is the way we have gone in Police State Europe. It is like being the frog in the water before someone starts boiling it. R.J Cook
Right on Britain November 18th 2020
'Obsession' with catching far-right extremists to 'appease the hard left' in Britain is diverting police, MI5 agents and public money away from stopping dangerous jihadis, intelligence expert warns Posted November 18th 2020
Colonel Richard Kemp said: 'The authorities know full well that the far-right extremism is not a major threat in the UK'
Nigel Farage says problem of right-wing extremism is used as a 'diversion'
Libyan suspect Khairi Saadallah was on the radar of MI5 before Reading murders
He had just been released from jail – similar to past two terror attacks in London
Priti Patel has revealed 25 terror plots foiled since 2017 – 8 were right-wing
By Martin Robinson, Chief Reporter and Dan Sales For Mailonline
Published: 16:54, 22 June 2020 | Updated: 17:16, 22 June 2020
5.3k shares 587 View comments
An obsession with catching far-right extremists in Britain is diverting police, MI5 agents and public money away from stopping more dangerous jihadis, a leading intelligence expert warned today.
Colonel Richard Kemp told MailOnline he thought the counter-terror focus has lurched too far towards the far-right and is a 'pretence' to 'appease the sort of people that do want to damage the UK such as Islamic terrorists and the hard-left'.
Libyan suspect Khairi Saadallah is believed to have been on the radar of MI5 because of a tip-off that he wanted to join Islamic State and is alleged to have carried out the three murders in Forbury Gardens in Reading on Saturday night just 16 days after being released from prison.
Saadallah is believed to be among 43,000 people in the UK that MI5 is aware of who pose a potential terrorist threat to the UK, of which around 4,000 are linked to right-wing extremism compared tens of thousands of potential jihadis.
Britain's top anti-terror cop Neil Basu has repeatedly said that right-wing extremism poses the fastest growing terror threat to the UK while Home Secretary Priti Patel told the Commons this afternoon that since 2017 they have foiled 25 terrorist plots – with just eight driven by right-wing ideologies.
Colonel Kemp has said that this focus on the far-right is a 'false emphasis' by police and the security services.
He said: 'The authorities know full well that the far-right extremism is not a major threat in the UK. The reason that it is often spoken about and discussed is that is because it's a way of appeasing the sort of people that do want to damage the UK, like Islamic terrorists and to a lesser extent the hard left.
'Obviously we have seen far-right people doing some terrible things, but it's not any way comparable to Islamic jihad or similar to that.
+16
+16
Libyan suspect Khairi Saadallah was on the radar of MI5 because of a tip-off that he wanted to join Islamic State and Colonel Richard Kemp told MailOnline he thought the counter-terror focus has lurched too far towards the far-right
+16
Britain's top anti-terror cop Neil Basu has repeatedly said that right-wing extremism poses the fastest growing terror threat to the UK
'There is a pretence put up that it is. The authorities know it isn't and I am concerned that because they have this narrative in Government far-right extremism is a danger resources are diverted to it when they shouldn't be.
'It obviously does need to be monitored but it shouldn't cause resources to be diverted from more important priorities.
'Resources are going to be very, very stretched and that is then compounded by this false concentration on far-right. I am not saying far-right isn't a threat and of course resources have to be given to dealing with it, but it should not be done at the expense of other extremism'.
Nigel Farage told MailOnline the focus on right-wing extremism can be considered a 'diversion' from the thousands of dangerous extremists on Britain's streets.
He said: 'I abhor violence of all kinds – but we do have a jihadi problem in the country and I lay the blame at the Government's door. We have an immigration policy and are bound to the human rights act that leaves us impotent. Boris Johnson mumbles on about learning lessons and I'm sick of it'.
The third victim of the Reading terror attack was today named as David Wails. Joe Ritchie-Bennett (centre), 39, from Philadelphia in the US, had been sitting in Forbury Gardens in Reading with his friends, including fellow victim James Furlong (right), 36, when they were attacked
+16
One onlooker, Lawrence Wort (in blue), said he saw the man stab three men 'in the neck and under the arms' before turning around and running towards him. He and his group fled and the attacker then tried to stab another group sitting down. Two of the three victims, Joe Ritchie-Bennett, 39, and James Furlong, 36, are also pictured above (in green)
Before Saturday's atrocity, jihadis have murdered 64 people and injured 212 others in attacks using cars, knives and bombs in Westminster, at the Manchester Arena and twice on London Bridge.
+16
Nikita Malik, the Director of the Centre on Radicalisation and Terrorism (CRT) at the Henry Jackson Society told MailOnline the far-right figures in relation to Prevent may be higher because it is easier to spot
In the same period there have been two killings carried out by far-right terrorists in the UK – the murder of Labour MP Jo Cox by neo-Nazi Thomas Mair in 2016 and Darren Osborne's killing of a Muslim man outside the Finsbury Park mosque in 2017.
Police and security services have foiled 25 terror attacks since March 2017, with just eight relating to right-wing terrorism.
The murders, which are now being treated as terror-related, are feared to be the third Islamist-inspired attack since November involving extremists who knifed their victims.
Yet the Home Office claimed in December that the number of referrals of potential far-right terrorists now outnumbers possible jihadists – despite violent Islamist extremists still murdering and maiming significantly more people on British soil.
This was based on referrals to the Government's anti-radicalisation scheme Prevent, which aims to stop terrorists before they offend, which said 561 people were found to be at 'risk of radicalisation' in the year to March – with 254 classed as holding far-right views and 210 classed as suspected Islamists.
Nikita Malik, the Director of the Centre on Radicalisation and Terrorism (CRT) at the Henry Jackson Society told MailOnline the far-right figures may be higher because it is easier to spot.
+16
+16
Khuram Butt, the leader of the 2017 attack on London Bridge and Parsons Green train bomber, Ahmed Hassan, were referred to Prevent, which is a voluntary scheme
+16
+16
Sudesh Amman launched a knife attack in Streatham just after leaving prison in February while Usman Khan was attending an event as part of his parole conditions when he murdered two on London Bridge last November
She said: 'Far right and Islamist terrorism numbers are often compared – for example the Far right threat exceeds the Islamist threat, and vice versa. This is often an unfair comparison, given that these two threats are very different.
'The Islamist threat, in the United Kingdom, had a historical precedent that pre-dated Islamic State – this is coupled with the fact that Islamic State had an international network, and while some Far Right groups have international branches, the scale of this is not comparable to what Islamic State achieved in its prime.
'Referrals to Prevent, in themselves, are often not reflective of the nature of the threat because not all referrals are deemed serious enough to be a threat that needs intervention by a Channel mentor.
'Finally, a referral to the Far Right may be easier to do than an Islamist referral, because people understand far-right symbols such as swastikas easier than Islamist symbols. Finally, when we speak of referrals to Prevent in and of themselves – these will be greatly reduced during COVID-19 given that people are not interacting as they used to, and this will have an impact on the ability to prevent threats as well'.
Ms Malik said that the attack in Reading, another bu Sudesh Amman in Streatham in February and Usman Khan on London Bridge last November represents a 'new phase' of 'low-grade, high-impact events which put a heavier strain on our police and monitoring services'.
She said: 'The use of low-grade, ordinary weapons such as those employed in the Streatham attacks and in the Reading incident makes it difficult to thwart such plots, given the ease of access of obtaining such materials – they can be found in an ordinary person's kitchen.
'We should keep in mind that the police and investigation services have successfully thwarted 25 plots since 2017.
+16
+16
Thomas Mair murdered Labour MP Jo Cox after becoming obsessed with far-Right material
+16
The number of referrals over right-wing extremism to the Government's anti-terror scheme Prevent has hit record levels – but jihadis have claimed significantly more lives in Britain
+16
+16
These are the geographical breakdowns of cases based on the type of extremism reported
+16
Right-wing extremism cases have outnumbered Islamist cases for the first time, Home Office figures show
+16
The highest number of Prevent cases were in the north-east of England, followed by London and then the north-west
Prevent: £40million-a-year scheme that failed to stop Parsons Green Tube bomber
Parsons Green Tube bomber Ahmed Hassan on the bus with his bucket bomb
Prevent, which was introduced in 2011, has an annual budget of about £40 million and aims to stop people being drawn into terrorism.
Extremism is defined by Prevent as, 'vocal or active opposition to fundamental British values, including democracy, the rule of law, individual liberty, and mutual respect and tolerance of different faiths and beliefs. We also include in our definition of extremism calls for the death of members of the armed forces.'
Public bodies including councils and schools are required by the 2015 Counter-Terrorism Act to have 'due regard to the need to prevent people from being drawn into terrorism.'
Anyone concerned that someone they know is at risk of radicalisation can refer them to Prevent, but only a small percentage of cases are deemed to require anti-extremism action.
When authorities conclude there is a risk the person could be drawn into terrorism, the case will move to what is known as the Channel programme. A panel of support workers including police and local authority staff then assess what support a person needs.
Prevent has come under renewed scrutiny recently after it emerged that Parsons Green Tube bomber Ahmed Hassan was referred to the scheme.
Police said he duped support workers by 'appearing to engage with the programme' when all the time he was plotting to cause carnage.
Staff from various agencies met him several times between February 2016 and September 2017, and he received 'extensive support' in mental health and education, but was not deterred from his murderous plans. Advertisement
'However, the sheer scale of the numbers of subjects of interest and the number of active terrorist investigations – often involving higher-risk materials, networks, and historical subjects of interest – makes an incident such as the one in Reading over the weekend enormously difficult to prevent'.
The government's controversial £40million anti-radicalisation scheme Prevent, which aims to stop terrorists before they offend, says 561 people were found to be at 'risk of radicalisation' in the year to March – with 254 classed as holding far-right views and 210 classed as suspected Islamists.
A referral to Prevent about a potential terrorist will usually come from a teacher, doctors, police officer or relative – but taking part in the programme is not compulsory.
And the Home Office's figures do not refer to plots, arrests or convictions for terror offences or the fact jihadis have been responsible for significantly more deaths on Britain's streets than far-right extremists since Prevent began in 2011.
And in the 12 months to September 2019, 224 people were arrested on suspicion of terror offences in the UK – and three out of four of them held Islamist-extremist views.
Experts believe the increase in far-right referrals to Prevent could be skewed by increased sharing and posting of far-Right material online or via messaging services such as WhatsApp – rather genuine plots to murder and maim.
Police and the security services have been urged 'not to take their eye off the ball' because of the perceived increasing threat of right-wing violence.
London Bridge attacker and previously convicted terrorist Usman Khan was free to kill two Cambridge graduates after successfully overturning his original sentence for his part in a plot to blow up the London Stock Exchange.
Khan injured three others during his rampage which started at a prisoner rehabilitation conference less than a year after he was released from jail on licence half way through a 16-year jail sentence.
He was banned from London under the terms of his bail but used the cover of the education event to commit murder with knives and spark fear by wearing a fake terror belt.
One in seven Islamists jailed for terror offences have been let out early after appealing their sentences.
They included extremists who plotted to blow up shopping centres, nightclubs and army bases, targeted members of the Royal Family and led al Qaeda cells planning mass murder on a 'colossal and unprecedented scale'.
Khuram Butt, the leader of the 2017 attack on London Bridge that spread into Borough Market, was involved with Prevent but still helped murder eight people.
And the perpetrator of the Parsons Green train bombing, Iraqi refugee Ahmed Hassan, was also referred to Prevent before trying and failing to detonate a bucket IED on the Tube two years ago.
Changes in Police Calls for Service During the Early Months of the 2020 Coronavirus Pandemic Posted November 10th 2020
Matthew P J AshbyPolicing: A Journal of Policy and Practice, paaa037, https://doi.org/10.1093/police/paaa037 Published: 25 June 2020
Abstract
The coronavirus pandemic poses multiple challenges for policing, including the need to continue responding to calls from the public. Several contingency plans warned police to expect a large and potentially overwhelming increase in demand from the public during a pandemic, but (to the author's knowledge) there is no empirical work on police demand during a major public health emergency. This study used calls-for-service data from 10 large cities in the USA to analyse how calls for service changed during the early months of the 2020 COVID-19 outbreak, compared to forecasts of call volume based on data from previous years. Contrary to previous warnings, overall the number of calls went down during the early weeks of the pandemic. There were substantial reductions in specific call types, such as traffic collisions, and significant increases in others, such as calls to dead bodies. Other types of calls, particularly those relating to crime and order maintenance, continued largely as before. Changes in the frequency of different call types present challenges to law enforcement agencies, particularly since many will themselves be suffering from reduced staffing due to the pandemic. Understanding changes to calls in detail will allow police leaders to put in place evidence-based plans to ensure they can continue to serve the public. Issue Section: Article
Introduction
The coronavirus epidemic unfolding in the USA is likely to present several different challenges for law enforcement agencies. This article attempts to provide early evidence on how demand for police response to incidents has changed during the early months of the pandemic, using calls-for-service data from 10 large US cities.
The appearance of the first US case of the COVID-19 disease caused by the novel coronavirus designated as SARS-CoV-2 on 20 January 2020 led to changes in society across the USA that are unprecedented in recent decades. As well as leading to at least 80,554 deaths by 11 May (Dong et al., 2020), the virus resulted in school closures in every state and stay-at-home orders in many (Mervosh et al., 2020). Both the virus and federal, state, and local responses to it may have had an effect on policing in several different ways.
First, the virus may have directly influenced the ability of police agencies to continue to function. For example, on 3 April 2020, over 1,500 New York City police officers (about 4% of all officers) had been infected and one in six officers was sick or quarantined, including the chief of the counterterrorism bureau (Southall, 2020). In Detroit, the chief of homicide investigation was one of several officers to die of COVID-19 (Eligon and MacFarquhar, 2020).
Secondly, law enforcement officers were asked to undertake new tasks as part of the government response to coronavirus. For example, since police typically lead the initial response to a sudden death at home, they became first responders to many COVID-19 deaths in the community. Officers were also required to enforce stay-at-home orders that covered at least 90% of Americans by mid-April 2020 (Reuters, 2020). In New York City, for example, over 700 officers were diverted from other duties to respond to calls related to breaches of social distancing regulations (Sandovai, 2020). While enforcing stay-at-home orders may be more familiar for officers in parts of the country more prone to natural disasters, for many it will have been entirely new. Internationally, there has been much debate about how police should balance enforcing public health regulations and protecting both civil rights and police–community relations (Cave and Dahir, 2020). Officers may have also had to contend (often with little notice) with changes to procedures, for example, to encourage social distancing between officers or between officers and the public.
Thirdly, the virus and governmental responses to it may lead to changes in factors that influence the frequency or severity of incidents to which police respond. For example, initial indications suggest an increase in gun purchases during the early weeks of the epidemic (Schwartz, 2020). A record number of Americans also claimed unemployment benefits (Rushe and Holpuch, 2020), with previous studies having linked joblessness to (for example) higher rates of suicide (Milner et al., 2013).
It is the changes in demand for policing, as measured in the number of calls for service, which were the focus of the present study. There are at least three reasons why it is useful to make initial estimates of any changes now, even if (as with all scientific results) they are inevitably provisional. First, gathering initial evidence at this stage is likely to be helpful in shaping future research questions on COVID-19 and policing, especially since the range of such questions is so large. Secondly, academics are already fielding questions from the media and others as to how police demand is changing during the pandemic. Most importantly, early evidence may be useful in helping practitioners to develop responses to later stages of the pandemic. This is especially important because it is likely that there will be multiple waves of infection during the pandemic (Xu and Li, 2020) and it is possible that future waves will hit hardest in different places to those most affected by (and able to learn most from) the first wave.
Studying police calls for service
Answering calls for service from the public and other agencies is a core part of the mission of almost all law enforcement agencies. People call the police not only to deal with serious crimes or major threats to public safety but also for a wide range of 'order maintenance' tasks, from disputes between neighbours to minor traffic collisions (Thacher, 2014). Servicing the demand produced by calls for service consumes a large proportion of available police resources (Meehan, 1992), with other activities such as crime prevention and pro-active law enforcement often relegated to the time available between calls (Shane, 2007).
Since answering calls takes up so much police time, understanding calls for service is essential to understand policing. Nevertheless, understanding trends and patterns in calls has received much less attention from scholars than understanding patterns in crime. Research on calls has typically focused on designing efficient systems for call handling and response (Brooks et al., 2011; Green, 1984; Larson and Rich, 1987; Mazerolle et al., 2002) or has used calls for service as a proxy for crime or disorder in research into other issues unrelated to calls themselves (Cohn and Rotton, 2003; Decker et al., 2007; Klinger and Bridges, 1997; Quinet and Nunn, 1998). Most studies of calls for service have used small sample sizes, often involving the study of a few hundred calls (Neusteter et al., 2019).
Undercover November 9th 2020
America Is Not a Democracy Posted November 7th 2020
How the United States lost the faith of its citizens—and what it can do to win them back The Atlantic March 2018
Yascha Mounk
For years, the residents of Oxford, Massachusetts, seethed with anger at the company that controlled the local water supply. The company, locals complained, charged inflated prices and provided terrible service. But unless the town's residents wanted to get by without running water, they had to pay up, again and again.
The people of Oxford resolved to buy the company out. At a town meeting in the local high-school auditorium, an overwhelming majority of residents voted to raise the millions of dollars that would be required for the purchase. It took years, but in May 2014, the deal was nearly done: One last vote stood between the small town and its long-awaited goal.
The company, however, was not going down without a fight. It mounted a campaign against the buyout. On the day of the crucial vote, the high-school auditorium swelled to capacity. Locals who had toiled on the issue for years noticed many newcomers—residents who hadn't showed up to previous town meetings about the buyout. When the vote was called, the measure failed—the company, called Aquarion, would remain the town's water supplier. Supporters of the buyout mounted a last-ditch effort to take a second vote, but before it could be organized, a lobbyist for Aquarion pulled a fire alarm. The building had to be evacuated, and the meeting adjourned. Aquarion retains control of Oxford's water system to this day.
The company denied that the lobbyist was acting on its behalf when he pulled the alarm; it also denies that its rates were abnormally high or that it provides poor service. Some Oxford residents supported Aquarion, and others opposed the buyout because they feared the cost and complication of the town running its own water company. But many residents, liberal and conservative, were frustrated by the process. The vote, they felt, hadn't taken place on a level playing field.
"It was a violation of the sanctity of our local government by big money," Jen Caissie, a former chairman of the board of selectmen in Oxford, told me. "Their messiah is their bottom line, not the health of the local community. And I say that as a Republican, someone who is in favor of local business."
A New England town meeting would seem to be one of the oldest and purest expressions of the American style of government. Yet even in this bastion of deliberation and direct democracy, a nasty suspicion had taken hold: that the levers of power are not controlled by the people.
"The preferences of the average American appear to have only a minuscule, near-zero, statistically non-significant impact upon public policy."
It's a suspicion stoked by the fact that, across a range of issues, public policy does not reflect the preferences of the majority of Americans. If it did, the country would look radically different: Marijuana would be legal and campaign contributions more tightly regulated; paid parental leave would be the law of the land and public colleges free; the minimum wage would be higher and gun control much stricter; abortions would be more accessible in the early stages of pregnancy and illegal in the third trimester.
The subversion of the people's preferences in our supposedly democratic system was explored in a 2014 study by the political scientists Martin Gilens of Princeton and Benjamin I. Page of Northwestern. Four broad theories have long sought to answer a fundamental question about our government: Who rules? One theory, the one we teach our children in civics classes, holds that the views of average people are decisive. Another theory suggests that mass-based interest groups such as the AARP have the power. A third theory predicts that business groups such as the Independent Insurance Agents and Brokers of America and the National Beer Wholesalers Association carry the day. A fourth theory holds that policy reflects the views of the economic elite.
Gilens and Page tested those theories by tracking how well the preferences of various groups predicted the way that Congress and the executive branch would act on 1,779 policy issues over a span of two decades. The results were shocking. Economic elites and narrow interest groups were very influential: They succeeded in getting their favored policies adopted about half of the time, and in stopping legislation to which they were opposed nearly all of the time. Mass-based interest groups, meanwhile, had little effect on public policy. As for the views of ordinary citizens, they had virtually no independent effect at all. "When the preferences of economic elites and the stands of organized interest groups are controlled for, the preferences of the average American appear to have only a minuscule, near-zero, statistically non-significant impact upon public policy," Gilens and Page wrote.
Outlets from The Washington Post to Breitbart News cited this explosive finding as evidence of what overeager headline writers called American oligarchy. Subsequent studies critiqued some of the authors' assumptions and questioned whether the political system is quite as insulated from the views of ordinary people as Gilens and Page found. The most breathless claims made on the basis of their study were clearly exaggerations. Yet their work is another serious indication of a creeping democratic deficit in the land of liberty.
Subscribe to The Atlantic
To some degree, of course, the unresponsiveness of America's political system is by design. The United States was founded as a republic, not a democracy. As Alexander Hamilton and James Madison made clear in the Federalist Papers, the essence of this republic would consist—their emphasis—"IN THE TOTAL EXCLUSION OF THE PEOPLE, IN THEIR COLLECTIVE CAPACITY, from any share" in the government. Instead, popular views would be translated into public policy through the election of representatives "whose wisdom may," in Madison's words, "best discern the true interest of their country." That this radically curtailed the degree to which the people could directly influence the government was no accident.
Only over the course of the 19th century did a set of entrepreneurial thinkers begin to dress an ideologically self-conscious republic up in the unaccustomed robes of a democracy. Throughout America, the old social hierarchies were being upended by rapid industrialization, mass immigration, westward expansion, and civil war. Egalitarian sentiment was rising. The idea that the people should rule came to seem appealing and even natural. The same institutions that had once been designed to exclude the people from government were now commended for facilitating government "of the people, by the people, for the people."
The shifting justification for our political system inspired important reforms. In 1913, the Seventeenth Amendment stipulated that senators had to be elected directly by the people, not by state legislatures. In 1920, the Nineteenth Amendment gave women the vote. In 1965, the Voting Rights Act, drawing on the Fifteenth Amendment, set out to protect the vote of black Americans. The once-peculiar claim that the United States was a democracy slowly came to have some basis in reality.
That basis is now crumbling, and the people have taken notice. In no small part that's because the long era during which average Americans grew more wealthy has come to a sputtering stop. People who are asked how well they are doing economically frequently compare their own standard of living with that of their parents. Until recently, this comparison was heartening. At the age of 30, more than nine in 10 Americans born in 1940 were earning more than their parents had at the same stage of their lives. But according to eye-popping research led by the economist Raj Chetty and his co-authors, many Millennials do not share in this age-old American experience of improving fortunes. Among those Americans born in the early 1980s, only half earn more than their parents did at a similar age.
Americans have never loved their politicians or thought of Washington as a repository of moral virtue. But so long as the system worked for them—so long as they were wealthier than their parents had been and could expect that their kids would be better off than them—people trusted that politicians were ultimately on their side. Not anymore.
The rise of digital media, meanwhile, has given ordinary Americans, especially younger ones, an instinctive feel for direct democracy. Whether they're stuffing the electronic ballot boxes of The Voice and Dancing With the Stars, liking a post on Facebook, or up-voting a comment on Reddit, they are seeing what it looks like when their vote makes an immediate difference. Compared with these digital plebiscites, the work of the United States government seems sluggish, outmoded, and shockingly unresponsive.
As a result, average voters feel more alienated from traditional political institutions than perhaps ever before. When they look at decisions made by politicians, they don't see their preferences reflected in them. For good reason, they are growing as disenchanted with democracy as the people of Oxford, Massachusetts, did.
The politician who best intuited this discontent—and most loudly promised to remedy it—is Donald Trump. The claim that he would channel the voice of the people to combat a corrupt and unresponsive elite was at the very core of his candidacy. "I am your voice," Trump promised as he accepted his party's nomination at the Republican National Convention. "Today, we are not merely transferring power from one administration to another or from one party to another," he proclaimed in his inaugural address, "but we are transferring power from Washington, D.C., and giving it back to you, the people."
Donald Trump won the presidency for many reasons, including racial animus, concerns over immigration, and a widening divide between urban and rural areas. But public-opinion data suggest that a deep feeling of powerlessness among voters was also important. I analyzed 2016 data from the American National Election Studies. Those who voted for Trump in the Republican primaries, more than those who supported his competition, said that they "don't have any say about what the government does," that "public officials don't care much what people like me think," and that "most politicians care only about the interests of the rich and powerful."
Trump has no real intention of devolving power back to the people. He's filled his administration with members of the same elite he disparaged on the campaign trail. His biggest legislative success, the tax bill, has handed gifts to corporations and the donor class. A little more than a year after America rebelled against political elites by electing a self-proclaimed champion of the people, its government is more deeply in the pockets of lobbyists and billionaires than ever before.
It would be easy to draw the wrong lesson from this: If the American electorate can be duped by a figure like Trump, it can't be trusted with whatever power it does retain. To avoid further damage to the rule of law and the rights of the most-vulnerable Americans, traditional elites should appropriate even more power for themselves. But that response plays into the populist narrative: The political class dislikes Trump because he threatens to take its power away. It also refuses to recognize that the people have a point.
America does have a democracy problem. If we want to address the root causes of populism, we need to start by taking an honest accounting of the ways in which power has slipped out of the people's hands, and think more honestly about the ways in which we can—and cannot—put the people back in control.
Matt Dorfman
At the height of the Mexican–American War, Nicholas Trist traveled to Mexico and negotiated the Treaty of Guadalupe Hidalgo, which ended the hostilities between the two nations and helped delineate America's southern border. Two decades later, the U.S. government still hadn't paid him for his services. Too old and weak to travel to Washington to collect the money himself, Trist hired a prominent lawyer by the name of Linus Child to act on his behalf, promising him 25 percent of his recovered earnings.
Congress finally appropriated the money to settle its debt. But now it was Trist who refused to pay up, even after his lawyer sued for his share. Though the contract between Trist and Child hardly seems untoward by today's standards, the Supreme Court refused to uphold it out of fear that it might provide a legal basis for the activities of lobbyists:
If any of the great corporations of the country were to hire adventurers who make market of themselves in this way, to procure the passage of a general law with a view to the promotion of their private interests, the moral sense of every right-minded man would instinctively denounce the employer and employed as steeped in corruption.
Extreme as this case may appear, it was far from idiosyncratic. In her book Corruption in America, the legal scholar Zephyr Teachout notes that the institutions of the United States were explicitly designed to counter the myriad ways in which people might seek to sway political decisions for their own personal gain. Many forms of lobbying were banned throughout the 19th century. In Georgia, the state constitution at one time read that "lobbying is declared to be a crime." In California, it was a felony.
Over the course of the 20th century, lobbying gradually lost the stench of the illicit. But even once the activity became normalized, businesses remained reluctant to exert their influence. As late as the 1960s, major corporations did not lobby directly on their own behalf. Instead, they relied on collectives such as the U.S. Chamber of Commerce, which had a weaker voice in Washington than labor unions or public-interest groups. "As every business executive knows," the future Supreme Court Justice Lewis F. Powell Jr. complained in 1971, "few elements of American society today have as little influence in government as the American businessman."
"I always knew the system was dysfunctional," said Congressman Steve Israel. "Now it is beyond broken."
All of this began to change in the early 1970s. Determined to fight rising wages and stricter labor and environmental standards, which would bring higher costs, CEOs of companies like General Electric and General Motors banded together to expand their power on Capitol Hill. At first, their activities were mostly defensive: The goal was to stop legislation that might harm their interests. But as the political influence of big corporations grew, and their profits soared, a new class of professional lobbyists managed to convince the nation's CEOs that, in the words of Lee Drutman, the author of the 2015 book The Business of America Is Lobbying, their activity "was not just about keeping the government far away—it could also be about drawing government close."
Today, corporations wield immense power in Washington: "For every dollar spent on lobbying by labor unions and public-interest groups," Drutman shows, "large corporations and their associations now spend $34. Of the 100 organizations that spend the most on lobbying, 95 consistently represent business."
The work of K Street lobbyists, and the violation of our government by big money, has fundamentally transformed the work—and the lives—of the people's supposed representatives. Steve Israel, a Democratic congressman from Long Island, was a consummate moneyman. Over the course of his 16 years on Capitol Hill, he arranged 1,600 fund-raisers for himself, averaging one every four days. Israel cited fund-raising as one of the main reasons he decided to retire from Congress, in 2016: "I don't think I can spend another day in another call room making another call begging for money," he told the old NewYork Times. "I always knew the system was dysfunctional. Now it is beyond broken."
A model schedule for freshman members of Congress prepared a few years ago by the Democratic Congressional Campaign Committee instructs them to spend about four hours every day cold-calling donors for cash. The party encourages so many phone calls because the phone calls work. Total spending on American elections has grown to unprecedented levels. From 2000 to 2012, reported federal campaign spending doubled. It's no surprise, then, that a majority of Americans now believe Congress to be corrupt, according to a 2015 Gallup poll. As Israel memorably put it to HBO's John Oliver, the hours he had spent raising money had been "a form of torture—and the real victims of this torture have become the American people, because they believe that they don't have a voice in this system."
Big donors and large corporations use their largesse to sway political decisions. But their influence goes far beyond those instances in which legislators knowingly sacrifice their constituents' interests to stay on the right side of their financial backers. The people we spend time with day in and day out shape our tastes, our assumptions, and our values. The imperative to raise so much money means that members of Congress log more time with donors and lobbyists and less time with their constituents. Often, when faced with a vote on a bill of concern to their well-heeled backers, legislators don't have to compromise their ideals—because they spend so much of their lives around donors and lobbyists, they have long ago come to share their views.
The problem goes even deeper than that. In America's imagined past, members of Congress had a strong sense of place. Democrats might have risen through the ranks of local trade unions or schoolhouses. Republicans might have been local business or community leaders. Members of both parties lived lives intertwined with those of their constituents. But spend some time reading the biographies of your representatives in Congress, and you'll notice, as I did, that by the time they reach office, many politicians have already been socialized into a cultural, educational, and financial elite that sets them apart from average Americans. While some representatives do have strong roots in their district, for many others the connection is tenuous at best. Even for those members who were born and raised in the part of the country they represent, that place is for many of them not their true home. Educated at expensive colleges, likely on the coasts, they spend their 20s and 30s in the nation's great metropolitan centers. After stints in law, business, or finance, or on Capitol Hill, they move to the hinterlands out of political ambition. Once they retire from Congress, even if they retain some kind of home in their district, few make it the center of their lives: They seem much more likely than their predecessors to pursue lucrative opportunities in cities such as New York, San Francisco, and, of course, Washington. By just about every metric—from life experience to education to net worth—these politicians are thoroughly disconnected from the rest of the population.
The massive influence that money yields in Washington is hardly a secret. But another, equally important development has largely gone ignored: More and more issues have simply been taken out of democratic contestation.
In many policy areas, the job of legislating has been supplanted by so-called independent agencies such as the Federal Communications Commission, the Securities and Exchange Commission, the Environmental Protection Agency, and the Consumer Financial Protection Bureau. Once they are founded by Congress, these organizations can formulate policy on their own. In fact, they are free from legislative oversight to a remarkable degree, even though they are often charged with settling issues that are not just technically complicated but politically controversial.
In 2007, Congress enacted 138 public laws. In the same year, independent federal agencies finalized 2,926 rules.
The range of crucial issues that these agencies have taken on testifies to their importance. From banning the use of the insecticide DDT to ensuring the quality of drinking water, for example, the EPA has been a key player in fights about environmental policy for almost 50 years; more recently, it has also made itself central to the American response to climate change, regulating pollutants and proposing limits on carbon-dioxide emissions from new power plants.
While independent agencies occasionally generate big headlines, they often wield their real power in more obscure policy areas. They are now responsible for the vast majority of new federal regulations. A 2008 article in the California Law Review noted that, during the previous year, Congress had enacted 138 public laws. In the same year, federal agencies had finalized 2,926 rules. Such rules run the gamut from technical stipulations that affect only a few specialized businesses to substantial reforms that have a direct impact on the lives of millions. In October 2017, for example, the Consumer Financial Protection Bureau passed a rule that would require providers of payday loans to determine whether customers would actually be able to pay them back—potentially saving millions of people from exploitative fees, but also making it more difficult for them to access cash in an emergency.
The rise of independent agencies such as the EPA is only a small piece of a larger trend in which government has grown less accountable to the people. In the latter half of the 20th century, the Federal Reserve won much greater independence from elected politicians and began to deploy far more powerful monetary tools. Trade treaties, from nafta to more-recent agreements with countries such as Australia, Morocco, and South Korea, have restricted Congress's ability to set tariffs, subsidize domestic industries, and halt the inflow of certain categories of migrant workers. At one point I planned to count the number of treaties to which the United States is subject; I gave up when I realized that the State Department's "List of Treaties and Other International Agreements of the United States" runs to 551 pages.
Most of these treaties and agreements offer real benefits or help us confront urgent challenges. Whatever your view of their merit, however, there is no denying that they curtail the power of Congress in ways that also disempower American voters. Trade treaties, for example, can include obscure provisions about "investor–state dispute settlements," which give international arbitration courts the right to award huge sums of money to corporations if they are harmed by labor or environmental standards—potentially making it riskier for Congress to pass such measures.
This same tension between popular sovereignty and good governance is also evident in the debates over the power of the nine unelected justices of the Supreme Court. Since the early 1950s, the Supreme Court has ended legal segregation in schools and universities. It has ended and then reintroduced the death penalty. It has legalized abortion. It has limited censorship on television and the radio. It has decriminalized homosexuality and allowed same-sex marriage. It has struck down campaign-finance regulations and gun-control measures. It has determined whether millions of people get health insurance and whether millions of undocumented immigrants need to live in fear of being deported.
Whether you see judicial review as interpreting the law or usurping the people's power probably depends on your view of the outcome. The American right has long railed against "activist judges" while the American left, which enjoyed a majority on the Court for a long stretch during the postwar era, has claimed that justices were merely doing their job. Now that the Court has started to lean further right, these views are rapidly reversing. But regardless of your politics, there's no question that the justices frequently play an outsize role in settling major political conflicts—and that many of their decisions serve to amplify undemocratic elements of the system.
Take Citizens United. By overturning legislation that restricted campaign spending by corporations and other private groups, the Supreme Court issued a decision that was unpopular at the time and has remained unpopular since. (In a 2015 poll by Bloomberg, 78 percent of respondents disapproved of the ruling.) It also massively amplified the voice of moneyed interest groups, making it easier for the economic elite to override the preferences of the population for years to come.
Donald Trump is the first president in the history of the United States to have served in no public capacity before entering to the White House. He belittles experts, seems to lack the most basic grasp of public policy, and loves to indulge the worst whims of his supporters. In all things, personal and political, Plato's disdainful description of the "democratic man" fits the 45th president like a glove: Given to "false and braggart words and opinions," he considers "insolence 'good breeding,' license 'liberty,' prodigality 'magnificence,' and shamelessness 'manly spirit.' "
It is little wonder, then, that Plato's haughty complaint about democracy—its primary ill, he claimed, consists in "assigning a kind of equality indiscriminately to equals and unequals alike"—has made a remarkable comeback. As early as 2003, the journalist Fareed Zakaria argued, "There can be such a thing as too much democracy." In the years since, many scholars have built this case: The political scientist Larry Bartels painstakingly demonstrated just how irrational ordinary voters are; the political philosopher Jason Brennan turned the premise that irrational or partisan voters are terrible decision makers into a book titled Against Democracy; and Parag Khanna, an inveterate defender of globalization, argued for a technocracy in which many decisions are made by "committees of accountable experts." Writing near the end of the 2016 primary season, when Trump's ascent to the Republican nomination already looked unstoppable, Andrew Sullivan offered the most forceful distillation of this line of antidemocratic laments: "Democracies end when they are too democratic," the headline of his essay announced. "And right now, America is a breeding ground for tyranny."
The antidemocratic view gets at something real. What makes our political system uniquely legitimate, at least when it functions well, is that it manages to deliver on two key values at once: liberalism (the rule of law) and democracy (the rule of the people). With liberalism now under concerted attack from the Trump administration, which has declared war on independent institutions such as the FBI and has used the president's pulpit to bully ethnic and religious minorities, it's perhaps understandable that many thinkers are willing to give up a modicum of democracy to protect the rule of law and the country's most vulnerable groups.
If only it were that easy. As we saw in 2016, the feeling that power is slipping out of their hands makes citizens more, not less, likely to entrust their fate to a strongman leader who promises to smash the system. And as the examples of Egypt, Thailand, and other countries have demonstrated again and again, a political elite with less and less backing from the people ultimately has to resort to more and more repressive steps to hold on to its power; in the end, any serious attempt to sacrifice democracy in order to safeguard liberty is likely to culminate in an end to the rule of law as well as the rule of the people.
The easy alternative is to lean in the other direction, to call for as much direct democracy as possible. The origins of the people's displacement, the thinking goes, lie in a cynical power grab by financial and political elites. Large corporations and the superrich advocated independent central banks and business-friendly trade treaties to score big windfalls. Politicians, academics, and journalists favor a technocratic mode of governance because they think they know what's best and don't want the people to meddle. All of this selfishness is effectively cloaked in a pro-market ideology propagated by think tanks and research outfits that are funded by rich donors. Since the roots of the current situation are straightforwardly sinister, the solutions to it are equally simple: The people need to reclaim their power—and abolish technocratic institutions.
This antitechnocratic view has currency on both ends of the political spectrum. On the far left, the late political scientist Peter Mair, writing about Europe, lamented the decline in "popular" democracy, which he contrasted with a more top-down "constitutional" democracy. The English sociologist Colin Crouch has argued that even anarchy and violence can serve a useful purpose if they seek to vanquish what he calls "post-democracy."
The far right puts more emphasis on nationalism, but otherwise agrees with this basic analysis. In the inaugural issue of the journal American Affairs, the self-styled intellectual home of the Trump movement, its founder Julius Krein decried "the existence of a transpartisan elite," which sustains a pernicious "managerial consensus." Steve Bannon, the former White House chief strategist, said his chief political objective was to return power to the people and advocated for the "deconstruction of the administrative state."
Mair and Crouch, Krein and Bannon are right to recognize that the people have less and less hold over the political system, an insight that can point the way to genuine reforms that would make our political system both more democratic and better functioning. One of the reasons well-intentioned politicians are so easily swayed by lobbyists, for example, is that their staffs lack the skills and experience to draft legislation or to understand highly complex policy issues. This could be addressed by boosting the woefully inadequate funding of Congress: If representatives and senators were able to attract—and retain—more knowledgeable and experienced staffers, they might be less tempted to let K Street lobbyists write their bills for them.
Similarly, the rules that currently govern conflicts of interest are far too weak. There is no reason members of Congress should be allowed to lobby for the companies they were supposed to regulate so soon after they step down from office. It is time to jam the revolving door between politics and industry.
Real change will also require an ambitious reform of campaign finance. Because of Citizens United, this is going to be extremely difficult. But the Supreme Court has had a change of heart in the past. As evidence that the current system threatens American democracy keeps piling up, the Court might finally recognize that stricter limits on campaign spending are desperately needed.
For all that the enemies of technocracy get right, though, their view is ultimately as simplistic as the antidemocratic one. The world we now inhabit is extremely complex. We need to monitor hurricanes and inspect power plants, reduce global carbon emissions and contain the spread of nuclear weapons, regulate banks and enforce consumer-safety standards. All of these tasks require a tremendous amount of expertise and a great degree of coordination. It's unrealistic to think that ordinary voters or even their representatives in Congress might become experts in what makes for a safe power plant, or that the world could find an effective response to climate change without entering cumbersome international agreements. If we simply abolish technocratic institutions, the future for most Americans will look more rather than less dangerous, and less rather than more affluent.
It is true that to recover its citizens' loyalty, our democracy needs to curb the power of unelected elites who seek only to pad their influence and line their pockets. But it is also true that to protect its citizens' lives and promote their prosperity, our democracy needs institutions that are, by their nature, deeply elitist. This, to my mind, is the great dilemma that the United States—and other democracies around the world—will have to resolve if they wish to survive in the coming decades.
We don't need to abolish all technocratic institutions or merely save the ones that exist. We need to build a new set of political institutions that are both more responsive to the views and interests of ordinary people, and better able to solve the immense problems that our society will face in the decades to come.
Writing about the dawn of democracy in his native Italy, the great novelist Giuseppe Tomasi di Lampedusa has Tancredi, a young aristocrat, recognize that he will have to let go of some of his most cherished habits to rescue what is most valuable in the old order: "If everything is to stay the same," Tancredi says, "everything has to change." The United States is now at an inflection point of its own. If we rigidly hold on to the status quo, we will lose what is most valuable in the world we know, and find ourselves cast as bit players in the fading age of liberal democracy. Only by embarking on bold and imaginative reform can we recover a democracy worthy of the name.
This article is adapted from Yascha Mounk's new book, The People vs. Democracy: Why Our Freedom Is in Danger and How to Save It.
Antipsychotic Medicines Posted October 27th 2020
Authored by Dr Laurence Knott, Reviewed by Dr Hannah Gronow | Last edited 29 Jun 2018 | Meets Patient's editorial guidelines
In this series: Schizophrenia Psychosis
Antipsychotics are medicines that are mainly used to treat schizophrenia or mania caused by bipolar disorder. There are two main types of antipsychotics: atypical antipsychotics and older antipsychotics. Both types are thought to work as well as each other. Side-effects are common with antipsychotics. You will need regular tests to monitor for side-effects while you take these medicines.
In this article
What are antipsychotics?
Antipsychotics are a group of medicines that are mainly used to treat mental health illnesses such as schizophrenia, or mania (where you feel high or elated) caused by bipolar disorder. They can also be used to treat severe depression and severe anxiety. Antipsychotics are sometimes also called major tranquillisers.
Trending Articles
There are two main types of antipsychotics:
Newer or atypical antipsychotics. These are sometimes called second-generation antipsychotics and include: amisulpride, aripiprazole, clozapine, olanzapine, quetiapine and risperidone.
Older typical well-established antipsychotics. These are sometimes called first-generation antipsychotics and include: chlorpromazine, flupentixol, haloperidol, levomepromazine, pericyazine, perphenazine, sulpiride and zuclopenthixol.
Antipsychotics are available as tablets, capsules, liquids and depot injections (long-acting). They come in various different brand names.
Older antipsychotics have been used since the 1950s and are still prescribed today. Newer antipsychotics were developed in the 1970s onwards. It was originally thought that these medicines would have fewer side-effects than the older type of antipsychotics. However, we now know that they can also cause quite a few side-effects.
How do antipsychotics work?
Antipsychotics are thought to work by altering the effect of certain chemicals in the brain, called dopamine, serotonin, noradrenaline and acetylcholine. These chemicals have the effect of changing your behaviour, mood and emotions. Dopamine is the main chemical that these medicines have an effect on.
By altering the effects of these chemicals in the brain they can suppress or prevent you from experiencing:
Hallucinations (such as hearing voices).
Delusions (having ideas not based on reality).
Thought disorder.
Extreme mood swings that are associated with bipolar disorder.
When are antipsychotics usually prescribed?
As discussed above, antipsychotics are usually prescribed to help ease the symptoms of schizophrenia, mania (caused by bipolar disorder), severe depression or severe anxiety. Normally they are started by a specialist in psychiatry, or your GP will ask a specialist for advice on when to start them.
Also, for many years antipsychotics were used to calm elderly people who had dementia. However, this use is no longer recommended. This is because these medicines are thought to increase the risk of stroke and early death – by a small amount. Risperidone is the only antipsychotic recommended for use in these people. Even then, it should only be used for a short period of time (less than six weeks) and for severe symptoms.
Which antipsychotic is usually prescribed?
The choice of antipsychotic prescribed depends upon what is being treated, how severe your symptoms are and if you have any other health problems. There are a number of differences between the various antipsychotic medicines. For example, some are more sedating than others. Therefore, one may be better for one individual than for another. A specialist in psychiatry usually advises on which to use in each case. It is difficult to tell which antipsychotic will work well for you. If one does not work so well, a different one is often tried and may work well. Your doctor will advise.
It is thought that the older and newer types of antipsychotics work as well as each other. The exception to this is clozapine – it is the only antipsychotic that is thought to work better than the others. Unfortunately, clozapine has a number of possible serious side-effects, especially on your blood cells. This means that people who take clozapine have to have regular blood tests. See below.
In some cases, an injection of a long-acting antipsychotic medicine (depot injection) is used once symptoms have eased. The medicine from a depot injection is slowly released into the body and is given every 2-4 weeks. This aims to prevent recurrences of symptoms (relapses). The main advantage of depot injections is that you do not have to remember to take tablets every day.
How well do antipsychotics work?
It is thought that for every 10 people who take these medicines, 8 will experience an improvement in their symptoms. Unfortunately, antipsychotics do not always make the symptoms go away completely, or for ever. A lot of people need to take them in the long term even if they feel well. This is in order to stop their symptoms from coming back. Even if you take these medicines on a long-term basis and they are helping, sometimes your symptoms can come back.
Symptoms may take 2-4 weeks to ease after starting medication and it can take several weeks for full improvement. The dose of the medicine is usually built up gradually to help to prevent side-effects (including weight gain).
What is the usual length of treatment?
This depends on various things. Some people may only need to take them for a few weeks but others may need to take them long-term (for example, for schizophrenia). Even when symptoms ease, antipsychotic medication is normally continued long-term if you have schizophrenia. This aims to prevent relapses, or to limit the number and severity of relapses. However, if you only have one episode of symptoms of schizophrenia that clears completely with treatment, one option is to try coming off medication after 1-2 years. Your doctor will advise.
Stopping antipsychotics
If you want to stop taking an antipsychotic you should always talk to your doctor first. This is in order to help you decide if stopping is the best thing for you and how you should stop taking your medicine. These medicines are usually stopped slowly over a number of weeks. If you stop taking an antipsychotic medicine suddenly, you may become unwell quite quickly. Your doctor will usually advise you to reduce the dose slowly to see what effect the lower dose has on your symptoms.
What about side-effects from antipsychotics?
Side-effects can sometimes be troublesome. There is often a trade-off between easing symptoms and having to put up with some side-effects from treatment. The different antipsychotic medicines can have different types of side-effects. Also, sometimes one medicine causes side-effects in some people and not in others. Therefore, it is not unusual to try two or more different medicines before one is found that is best suited to an individual.
The following are the main side-effects that sometimes occur. However, you should read the information leaflet that comes in each medicine packet for a full list of possible side-effects.
Common side-effects include:
Dry mouth, blurred vision, flushing and constipation. These may ease off when you become used to the medicine.
Drowsiness (sedation), which is also common but may be an indication that the dose is too high. A reduced dose may be an option.
Weight gain which some people develop. Weight gain may increase the risk of developing diabetes and heart problems in the longer term. This appears to be a particular problem with the atypical antipsychotics – notably, clozapine and olanzapine.
Movement disorders which develop in some cases. These include:

Parkinsonism – this can cause symptoms similar to those that occur in people with Parkinson's disease – for example, tremor and muscle stiffness.
Akathisia – this is like a restlessness of the legs.
Dystonia – this means abnormal movements of the face and body.
Tardive dyskinesia (TD) – this is a movement disorder that can occur if you take antipsychotics for several years. It causes rhythmical, involuntary movements. These are usually lip-smacking and tongue-rotating movements, although it can affect the arms and legs too. About 1 in 5 people treated with typical antipsychotics eventually develop TD.
Atypical antipsychotic medicines are thought to be less likely to cause movement disorder side-effects than typical antipsychotic medicines. This reduced incidence of movement disorder is the main reason why an atypical antipsychotic is often used first-line. Atypicals do, however, have their own risks – in particular, the risk of weight gain. If movement disorder side-effects occur then other medicines may be used to try to counteract them.
Will I need any tests while taking an antipsychotic?
Your doctor will want to monitor you regularly for side-effects if you take an antipsychotic. The tests needed and how often you will need to have them depend on which antipsychotic you are taking.
In general, your doctor will take a sample of blood for certain tests before you start treatment. The tests look at:
How many blood cells you have.
How well your kidneys and liver are working.
How much lipid (fat) is in your blood.
Whether you have diabetes.
When you take clozapine your white blood cell (leukocyte) and differential blood counts must be normal before treatment is started. After beginning treatment, a full blood count should be taken every week for 18 weeks, then at least every two weeks after that. If clozapine is continued, and the blood count is stable after one year, then monitoring should occur at least every four weeks, and for four weeks after finishing. These tests may be repeated in the first three or four months of treatment. After this they are normally done every year. However, your doctor may advise you to have these tests more often.
Your weight and blood pressure are usually measured before you start treatment and every few weeks after this for the first few months. After this they are normally measured every year.
The blood level of prolactin (a hormone) may also be measured before starting treatment and six months later. Usually it is then measured every year after this. The prolactin level is measured because sometimes antipsychotics can make you produce too much of this hormone. If you make too much prolactin it can lead to your breasts growing bigger and breast milk being produced.
Who cannot take antipsychotics?
Antipsychotics are usually not prescribed for people who are in a coma (comatose), have depression of their central nervous system, or who have a tumour on the adrenal gland (phaeochromocytoma).
Can I buy antipsychotics?
No – they are only available from your pharmacist, with a doctor's prescription.
How to use the Yellow Card Scheme
If you think you have had a side-effect to one of your medicines you can report this on the Yellow Card Scheme. You can do this online at www.mhra.gov.uk/yellowcard.
The Yellow Card Scheme is used to make pharmacists, doctors and nurses aware of any new side-effects that medicines or any other healthcare products may have caused. If you wish to report a side-effect, you will need to provide basic information about:
The side-effect.
The name of the medicine which you think caused it.
The person who had the side-effect.
Your contact details as the reporter of the side-effect.
It is helpful if you have your medication – and/or the leaflet that came with it – with you while you fill out the report.
Previous article
Antipsychotic Medicines
Authored by Dr Laurence Knott, Reviewed by Dr Hannah Gronow | Last edited 29 Jun 2018 | Meets Patient's editorial guidelines
In this series: Schizophrenia Psychosis
Antipsychotics are medicines that are mainly used to treat schizophrenia or mania caused by bipolar disorder. There are two main types of antipsychotics: atypical antipsychotics and older antipsychotics. Both types are thought to work as well as each other. Side-effects are common with antipsychotics. You will need regular tests to monitor for side-effects while you take these medicines.
In this article
What are antipsychotics?
Antipsychotics are a group of medicines that are mainly used to treat mental health illnesses such as schizophrenia, or mania (where you feel high or elated) caused by bipolar disorder. They can also be used to treat severe depression and severe anxiety. Antipsychotics are sometimes also called major tranquillisers.
Trending Articles
There are two main types of antipsychotics:
Newer or atypical antipsychotics. These are sometimes called second-generation antipsychotics and include: amisulpride, aripiprazole, clozapine, olanzapine, quetiapine and risperidone.
Older typical well-established antipsychotics. These are sometimes called first-generation antipsychotics and include: chlorpromazine, flupentixol, haloperidol, levomepromazine, pericyazine, perphenazine, sulpiride and zuclopenthixol.
Antipsychotics are available as tablets, capsules, liquids and depot injections (long-acting). They come in various different brand names.
Older antipsychotics have been used since the 1950s and are still prescribed today. Newer antipsychotics were developed in the 1970s onwards. It was originally thought that these medicines would have fewer side-effects than the older type of antipsychotics. However, we now know that they can also cause quite a few side-effects.
How do antipsychotics work?
Antipsychotics are thought to work by altering the effect of certain chemicals in the brain, called dopamine, serotonin, noradrenaline and acetylcholine. These chemicals have the effect of changing your behaviour, mood and emotions. Dopamine is the main chemical that these medicines have an effect on.
By altering the effects of these chemicals in the brain they can suppress or prevent you from experiencing:
Hallucinations (such as hearing voices).
Delusions (having ideas not based on reality).
Thought disorder.
Extreme mood swings that are associated with bipolar disorder.
When are antipsychotics usually prescribed?
As discussed above, antipsychotics are usually prescribed to help ease the symptoms of schizophrenia, mania (caused by bipolar disorder), severe depression or severe anxiety. Normally they are started by a specialist in psychiatry, or your GP will ask a specialist for advice on when to start them.
Also, for many years antipsychotics were used to calm elderly people who had dementia. However, this use is no longer recommended. This is because these medicines are thought to increase the risk of stroke and early death – by a small amount. Risperidone is the only antipsychotic recommended for use in these people. Even then, it should only be used for a short period of time (less than six weeks) and for severe symptoms.
Which antipsychotic is usually prescribed?
The choice of antipsychotic prescribed depends upon what is being treated, how severe your symptoms are and if you have any other health problems. There are a number of differences between the various antipsychotic medicines. For example, some are more sedating than others. Therefore, one may be better for one individual than for another. A specialist in psychiatry usually advises on which to use in each case. It is difficult to tell which antipsychotic will work well for you. If one does not work so well, a different one is often tried and may work well. Your doctor will advise.
It is thought that the older and newer types of antipsychotics work as well as each other. The exception to this is clozapine – it is the only antipsychotic that is thought to work better than the others. Unfortunately, clozapine has a number of possible serious side-effects, especially on your blood cells. This means that people who take clozapine have to have regular blood tests. See below.
In some cases, an injection of a long-acting antipsychotic medicine (depot injection) is used once symptoms have eased. The medicine from a depot injection is slowly released into the body and is given every 2-4 weeks. This aims to prevent recurrences of symptoms (relapses). The main advantage of depot injections is that you do not have to remember to take tablets every day.
How well do antipsychotics work?
Symptoms may take 2-4 weeks to ease after starting medication and it can take several weeks for full improvement. The dose of the medicine is usually built up gradually to help to pIt is thought that for every 10 people who take these medicines, 8 will experience an improvement in their symptoms. Unfortunately, antipsychotics do not always make the symptoms go away completely, or for ever. A lot of people need to take them in the long term even if they feel well. This is in order to stop their symptoms from coming back. Even if you take these medicines on a long-term basis and they are helping, sometimes your symptoms can come back.
revent side-effects (including weight gain).
What is the usual length of treatment?
This depends on various things. Some people may only need to take them for a few weeks but others may need to take them long-term (for example, for schizophrenia). Even when symptoms ease, antipsychotic medication is normally continued long-term if you have schizophrenia. This aims to prevent relapses, or to limit the number and severity of relapses. However, if you only have one episode of symptoms of schizophrenia that clears completely with treatment, one option is to try coming off medication after 1-2 years. Your doctor will advise.
Stopping antipsychotics
If you want to stop taking an antipsychotic you should always talk to your doctor first. This is in order to help you decide if stopping is the best thing for you and how you should stop taking your medicine. These medicines are usually stopped slowly over a number of weeks. If you stop taking an antipsychotic medicine suddenly, you may become unwell quite quickly. Your doctor will usually advise you to reduce the dose slowly to see what effect the lower dose has on your symptoms.
What about side-effects from antipsychotics?
Side-effects can sometimes be troublesome. There is often a trade-off between easing symptoms and having to put up with some side-effects from treatment. The different antipsychotic medicines can have different types of side-effects. Also, sometimes one medicine causes side-effects in some people and not in others. Therefore, it is not unusual to try two or more different medicines before one is found that is best suited to an individual.
The following are the main side-effects that sometimes occur. However, you should read the information leaflet that comes in each medicine packet for a full list of possible side-effects.
Common side-effects include:
Dry mouth, blurred vision, flushing and constipation. These may ease off when you become used to the medicine.
Drowsiness (sedation), which is also common but may be an indication that the dose is too high. A reduced dose may be an option.
Weight gain which some people develop. Weight gain may increase the risk of developing diabetes and heart problems in the longer term. This appears to be a particular problem with the atypical antipsychotics – notably, clozapine and olanzapine.
Movement disorders which develop in some cases. These include:

Parkinsonism – this can cause symptoms similar to those that occur in people with Parkinson's disease – for example, tremor and muscle stiffness.
Akathisia – this is like a restlessness of the legs.
Dystonia – this means abnormal movements of the face and body.
Tardive dyskinesia (TD) – this is a movement disorder that can occur if you take antipsychotics for several years. It causes rhythmical, involuntary movements. These are usually lip-smacking and tongue-rotating movements, although it can affect the arms and legs too. About 1 in 5 people treated with typical antipsychotics eventually develop TD.
Atypical antipsychotic medicines are thought to be less likely to cause movement disorder side-effects than typical antipsychotic medicines. This reduced incidence of movement disorder is the main reason why an atypical antipsychotic is often used first-line. Atypicals do, however, have their own risks – in particular, the risk of weight gain. If movement disorder side-effects occur then other medicines may be used to try to counteract them.
Will I need any tests while taking an antipsychotic?
Your doctor will want to monitor you regularly for side-effects if you take an antipsychotic. The tests needed and how often you will need to have them depend on which antipsychotic you are taking.
In general, your doctor will take a sample of blood for certain tests before you start treatment. The tests look at:
How many blood cells you have.
How well your kidneys and liver are working.
How much lipid (fat) is in your blood.
Whether you have diabetes.
When you take clozapine your white blood cell (leukocyte) and differential blood counts must be normal before treatment is started. After beginning treatment, a full blood count should be taken every week for 18 weeks, then at least every two weeks after that. If clozapine is continued, and the blood count is stable after one year, then monitoring should occur at least every four weeks, and for four weeks after finishing. These tests may be repeated in the first three or four months of treatment. After this they are normally done every year. However, your doctor may advise you to have these tests more often.
Your weight and blood pressure are usually measured before you start treatment and every few weeks after this for the first few months. After this they are normally measured every year.
The blood level of prolactin (a hormone) may also be measured before starting treatment and six months later. Usually it is then measured every year after this. The prolactin level is measured because sometimes antipsychotics can make you produce too much of this hormone. If you make too much prolactin it can lead to your breasts growing bigger and breast milk being produced.
Who cannot take antipsychotics?
Antipsychotics are usually not prescribed for people who are in a coma (comatose), have depression of their central nervous system, or who have a tumour on the adrenal gland (phaeochromocytoma).
Can I buy antipsychotics?
No – they are only available from your pharmacist, with a doctor's prescription.
How to use the Yellow Card Scheme
If you think you have had a side-effect to one of your medicines you can report this on the Yellow Card Scheme. You can do this online at www.mhra.gov.uk/yellowcard.
The Yellow Card Scheme is used to make pharmacists, doctors and nurses aware of any new side-effects that medicines or any other healthcare products may have caused. If you wish to report a side-effect, you will need to provide basic information about:
The side-effect.
The name of the medicine which you think caused it.
The person who had the side-effect.
Your contact details as the reporter of the side-effect.
It is helpful if you have your medication – and/or the leaflet that came with it – with you while you fill out the report.
Comment
This is astonishing stuff. Following my very serious criminal allegations, over nearly 13 years, against two police forces command and control, and their many efforts to have me tried and jailed, my doctor et al were contacted. They first tried this in 2013, when a senior forensic psychiatrist concluded that I was not suffering from any known mental illness. The police and my GP ignored this report. It was not in disclosures, redacted and sent to me at my request after a year of arguing with them,
In March 2018, two psychiatrists and a mental health nurse turned up at my home, making three 40 minute calls in total, concluding that I do not have normal psychology, have a paranoid personality disorder and should be subject to a multi agency approach.
Their report said that I would be upset if I saw all of the combined Police/NHS records on my case, but I did not need hospital at the moment but should take anti psychotic drugs, as detailed, with side effects, above. Another report, based on me being persuaded to attend the Gender Identity Clinic, concluded that I have ' a secure female identity .'
The police still refuse to disclose records of their alleged investigations into my criminal behaviour and alleged domestic violence – the first of which I heard while in court being prosecuted for repeating criminal allegations against individuals including senior police officers.
I spent another 12 hours in police custody on August 24th, in a cold dark dirty cell, before nearly succeeding in strangling myself. I was then transferred to a secure mental health facility, kept for 12 hours, went before a panel of two senior doctors and a senior mental health worker. I was judged sane and fit to leave.
Interestingly, the police, who have a very big axe to grind with me, informed my GP that I am a violent mentally ill alcoholic, advising them to inform a consultant urologist dealing with other aspects of my medical care. This GP, Dr Roger Dickson Principal of Norden House Surgery Avenue Rd, acted accordingly.
The urologist informed me, along with Dr Ramasamay of the same surgery putting me in a position where I could copy a letter from Reading Police Station, off of his VDU, informing Norden House that I am, in their opinion, mentally ill. It is a very serious matter when police can make these allegation as if fact. meanwhile Dickson seemed to have forgotten that he regularly passed me fit to drive HGVs, which I had been doing for the 12 years leading up to lockdown. There is something very rotten about our public services, particularly the police.
This is life in a very dangerous police state today. I have worked in a wide range of occupations, including teaching, journalism, engineering, truck driving, construction and writing many books. No one apart from the little Police and NHS clique seem to have noticed how mad I am. Praise be to our wonderful police and NHS ( sic ). The situation is ongoing. R.J Cook
Search for:
Recent Posts
Recent Comments
Archives
Categories
Copyright 2020 | MH Newsdesk lite by MH Themes
Early Works > Poems: Prison, Camp, and Exile
Poems: Prison, Camp, and Exile
The first of the three poems in this section, "Prisoner's Right," was written in the labor camp at Ekibastuz in 1951. It summarizes some general thoughts about camp arguments that Solzhenitsyn heard and participated in. This poem is Solzhenitsyn's own contribution to these arguments about Russia's future. The voice is recognizably that of the "mature" Solzhenitsyn. He rejects the claim that prisoners have any special "rights" as victims or any special claim on the attention of others. Instead, he calls on them to cultivate the "illumined interior suffering core" that allows for spiritual growth and moral self-development. Solzhenitsyn does not lose sight of the "endlessly long" number of Russians and Chinese who have perished at the hands of Communist totalitarianism. His poem beautifully evokes the one "right" that belongs to every zek: the right to be "rancorless sons / Of our luckless and sad Russian land."
"Acathistus" was written in February 1952, when Solzhenitsyn lay in the camp clinic at Ekibastuz, recovering from surgery. The operation appeared to be successful (although a biopsy was sent to Omsk for routine examination), and this poem expresses Solzhenitsyn's gratitude for his new lease on life. Only much later, in response to a written query, did Omsk reply that the tests showed a seminoma. This deeply moving poem describes Solzhenitsyn's loss of faith under the influence of "bookish wisdom" (primarily Marxist-Leninist dogma) and his ultimate return to the faith of his fathers as a result of "purpose-from-High's steady fire." This "song of praise" concludes with Solzhenitsyn's magnificent proclamation of his faith in the Providence of the living God. "Acathistus" first appeared as part of The Gulag Archipelago, part IV, chapter 1, "The Ascent," perhaps the richest and most studied chapter of that magisterial work.
The last poem in this section, "Death—not as chasm," was written on December 2, 1953, in Dzhambul, a regional center in southern Kazakhstan. Solzhenitsyn's doctors had just told him that he had two weeks to live. Leaving the clinic, he composed this poem as he walked down the street. The poem conveys the pathos of a dying man grieving less for himself than for a still "crucified" Russia. The Russian writer approaches death stoically but with deep love of country informing his "otherworldly gaze." Although he would live for another fifty years and more, this would turn out to be the final poem which he would write.
– by Edward E. Ericson, Jr. and Daniel J. Mahoney, " rel="noreferrer noopener">The Solzhenitsyn Reader
---
Selections from Solzhenitsyn's Poems
"Prisoner's Right"
Yoke of years that we lived in a prison
Grants no rights: we're entitled to naught.
Not to pulpits. Nor lecterns. Nor glory.
Nor power. Nor halos of saints.
Nor in memoirs to mix with fatigue
Our colorless ashen complaints,
Nor: that armies of youths should now run astride life
By the path that we treaded for them.
All will go as 't will go. There's no point
To pound out the wheel's rut in advance.
An illumined interior suffering core:
May, for everything, this be our one recompense.
It's the loftiest gem of all earthly gemstones.
And, to carry it home undefiled,
Let of our phantom rights, then, the very least be:
Our secreted right to an equal revenge.
There's a number. So endlessly long,
Comprehensible just to Chinese and to Russians,
All those fallen, extinguished, without guilt or trace:
In that number we're nil upon nil upon nil. . . .
Our right is but one:
To be rancorless sons
Of our luckless and sad Russian land.
Let our grievances burn, rot, decay deep inside
To the outside we'll spring living shoots: only then,
Looking up, will our Russia's fatigued countryside
See the Sun it awaited so long.
||||||||||
Translation by Ignat Solzhenitsyn
---
"Acathistus" [1]
When, oh when did I scatter so madly
All the goodness, the God-given grains?
Was my youth not spent with those who gladly
Sang to You in the glow of Your shrines?

Bookish wisdom, though, sparkled and beckoned,
And it rushed through my arrogant mind,
The world's mysteries seemed within reckon,
My life's lot like warm wax in the hand.

My blood seethed, and it spilled and it trickled,
Gleamed ahead with a multihued trace,
Without clamor there quietly crumbled
In my breast the great building of faith.

Then I passed betwixt being and dying,
I fell off and now cling to the edge,
And I gaze back with gratitude, trembling,
On the meaningless life I have led.

Not my reason, nor will, nor desire
Blazed the twists and the turns of its road,
It was purpose-from-High's steady fire
Not made plain to me till afterward.

Now regaining the measure that's true,
Having drawn with it water of being,
Oh great God! I believe now anew!
Though denied, You were always with me. . . .
[1] Acathistus: in the Orthodox Church, a reading or song of praise.
||||||||||
Translation by Ignat Solzhenitsyn
---
["Death—not as chasm"]
Death—not as chasm, but death as a crest,
A ridge onto which has ascended the road.
Up in the black sky that shrouds my deathbed
Gleams the White Sun of God.
Turning about I see in its white rays
Russia, my Russia, to her polar wreaths;
View her with that otherworldly gaze
Carved out on stelae1 by wise ancient Greeks.
I see you clearly, no rancor or spite:
Your lows. And your glory. And daily life's fight.
No more shall I see you thus: crucified;
No more shall call Resurrection t'your side. . . .
||||||||||
Translation by Ignat Solzhenitsyn
---
BBC revolt: Britons pledge to cancel TV licence as they reject 'liberal elite' broadcaster
THERE is a growing revolt against the BBC, according to a Conservative MP, who revealed that his own constituents are overwhelmingly in favour of scrapping the TV license fee.
By Oli Smith PUBLISHED: 07:56, Sat, Oct 24, 2020 | UPDATED: 11:38, Sat, Oct 24, 2020 251
BBC: Broadcaster slammed for being 'liberal elite' by Anderson
Sign up for FREE now and never miss the top politics stories again.
We will use your email address only for sending you newsletters. Please see our Privacy Notice for details of your data protection rights.
Conservative MP Lee Anderson has exposed a growing rebellion against the BBC across the country. Speaking to Defund The BBC, the Ashfield MP remarked that his own constituents had turned away from the broadcaster because it is run by "the liberal elite". Mr Anderson, who is one of the so-called Red Wall Tory MPs, went on to criticise the BBC for being anti-Brexit and anti-working class.
Trending
Defund the BBC campaign chairman Calvin Robinson asked Mr Anderson: "You've been out there and asked your constituents what they think of the BBC.
"You turned to social media and asked do you think the BBC represents great value for money.
"You asked whether the BBC offers an unbiased media outlet, and if you think the license fee needs scrapping. What was the response?"
Mr Anderson said the response from his Ashfield constituents was "overwhelming," and that "90 percent of people agree with me" that the license fee should be scrapped.
JUST IN: 'Rip it up!' Boris Johnson MUST dump EU deal to save Brexit – MEP
Conservative MP Lee Anderson has exposed a growing rebellion against the BBC across the country (Image: DEFUND THE BBC)
Defund the BBC campaign chairman Calvin Robinson questioned Mr Anderson (Image: DEFUND THE BBC)
He continued: "You look back to the BBC when I was growing up in the 70s, it was a place of safety.
"It was a place of education, of unbiased news. It was a part of our lives, a part of growing up.
"It has gone on to become anti-government, anti-Brexit, anti-working class, and its because you have this liberal elite that work for the BBC, who say we have to spend £100m of taxpayer money on diversity training."
Mr Anderson blasted the broadcaster for "peddling left-wing nonsense" and being run by "champagne socialists".
Local lockdowns: Government answers 10 biggest questions about what you can and cannot do
The Ashfield MP remarked that his own constituents had turned away from the broadcaster (Image: GETTY)
BBC: Broadcaster accused of 'alienating leave voters' by MP
The staunch Brexiteer also accused the broadcaster of treating Leave voters in his constituency as "thick and stupid".
He went on to warn the BBC that viewers are "switching off in their droves" from the broadcaster after he has cancelled his own licence.
Mr Anderson revealed he will not be "paying another penny to the BBC" amid a heated debate on the TV licences.
DON'T MISS:
Queen and Prince William to hold crunch Megxit talks without Harry [INSIGHT]
Sadiq Khan savaged after Mayor accused of costing London £11bn [VIDEO]
Furious BBC Question Time clash erupts as Nicky Morgan shames Rayner [INTERVIEW]
Related articles
Anderson, who is one of the so-called Red Wall Tory MPs, went on to criticise the BBC for being anti-Brexit (Image: DEFUND THE BBC)
The MP explained "I don't know what they're playing at because let me tell you, people are switching off in their droves.
"They're ripping their TV licences up. I've cancelled mine. I won't be paying another penny to the BBC.
"As far as I'm concerned, they can take a running jump."
This comes a week after Culture Secretary said he does not want to send a signal that it is legitimate to not pay the TV licence.
Oliver Dowden made the comment to MPs as the Government prepares to publish its response to a consultation on decriminalisation.
The establishment uncovered: how power works in Britain
In an exclusive extract from his new book, Owen Jones explains how the political, social and business elites have a stranglehold on the country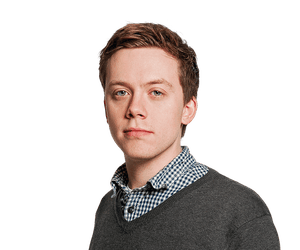 Tue 26 Aug 2014 18.00 BST First published on Tue 26 Aug 2014 18.00 BST
Shares 4,931 Comments 999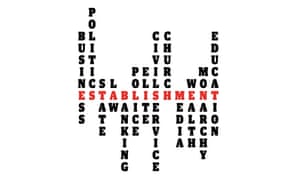 How the establishment connects all areas of life in modern Britain. Photograph: Christophe Gowans/The Guardian
Definitions of "the establishment" share one thing in common: they are always pejorative. Rightwingers tend to see it as the national purveyor of a rampant, morally corrupting social liberalism; for the left, it is more likely to mean a network of public-school and Oxbridge boys dominating the key institutions of British political life.
Here is what I understand the establishment to mean. Today's establishment is made up – as it has always been – of powerful groups that need to protect their position in a democracy in which almost the entire adult population has the right to vote. The establishment represents an attempt on behalf of these groups to "manage" democracy, to make sure that it does not threaten their own interests. In this respect, it might be seen as a firewall that insulates them from the wider population. As the well-connected rightwing blogger and columnist Paul Staines puts it approvingly: "We've had nearly a century of universal suffrage now, and what happens is capital finds ways to protect itself from, you know, the voters."
Back in the 19th century, as calls for universal suffrage gathered strength, there were fears in privileged circles that extending the vote to the poor would pose a mortal threat to their own position – that the lower rungs of society would use their newfound voice to take away power and wealth from those at the top and redistribute it throughout the electorate. "I have heard much on the subject of the working classes in this house which, I confess, has filled me with feelings of some apprehension," Conservative statesman Lord Salisbury told parliament in 1866, in response to plans to extend the suffrage. Giving working-class people the vote would, he stated, tempt them to pass "laws with respect to taxation and property especially favourable to them, and therefore dangerous to all other classes".
The worries of those 19th-century opponents of universal suffrage were not without foundation. In the decades that followed the second world war, constraints were imposed on Britain's powerful interests, including higher taxes and the regulation of private business. This was, after all, the will of the recently enfranchised masses. But today, many of those constraints have been removed or are in the process of being dismantled – and now the establishment is characterised by institutions and ideas that legitimise and protect the concentration of wealth and power in very few hands.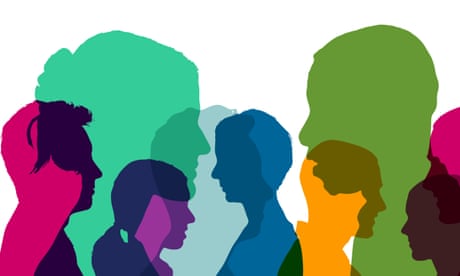 Read more
The interests of those who dominate British society are disparate; indeed, they often conflict with one another. The establishment includes politicians who make laws; media barons who set the terms of debate; businesses and financiers who run the economy; police forces that enforce a law that is rigged in favour of the powerful. The establishment is where these interests and worlds intersect, either consciously or unconsciously. It is unified by a common mentality, which holds that those at the top deserve their power and their ever-growing fortunes, and which might be summed up by the advertising slogan "Because I'm worth it". This is the mentality that has driven politicians to pilfer expenses, businesses to avoid tax, and City bankers to demand ever greater bonuses while plunging the world into economic disaster. All of these things are facilitated – even encouraged – by laws that are geared to cracking down on the smallest of misdemeanours committed by those at the bottom of the pecking order – for example, benefit fraud. "One rule for us, one rule for everybody else" might be another way to sum up establishment thinking.
These mentalities owe everything to the shared ideology of the modern establishment, a set of ideas that helps it to rationalise and justify its position and behaviour. Often described as "neoliberalism", this ideology is based around a belief in so-called free markets: in transferring public assets to profit-driven businesses as far as possible; in a degree of opposition – if not hostility – to a formal role for the state in the economy; support for reducing the tax burden on private interests; and the driving back of any form of collective organisation that might challenge the status quo. This ideology is often rationalised as "freedom" – particularly "economic freedom" – and wraps itself in the language of individualism. These are beliefs that the establishment treats as common sense, as being a fact of life, just like the weather.
Not to subscribe to these beliefs is to be outside today's establishment, to be dismissed by it as an eccentric at best, or even as an extremist fringe element. Members of the establishment genuinely believe in this ideology – but it is a set of beliefs and policies that, rather conveniently, guarantees them ever growing personal riches and power.
As well as a shared mentality, the establishment is cemented by financial links and a "revolving door": that is, powerful individuals gliding between the political, corporate and media worlds – or who manage to inhabit these various worlds at the same time. The terms of political debate are, in large part, dictated by a media controlled by a small number of exceptionally rich owners, while thinktanks and political parties are funded by wealthy individuals and corporate interests. Many politicians are on the payroll of private businesses; along with civil servants, they end up working for companies interested in their policy areas, allowing them to profit from their public service – something that gives them a vested interest in an ideology that furthers corporate interests. The business world benefits from the politicians' and civil servants' contacts, as well as an understanding of government structures and experience, allowing private firms to navigate their way to the very heart of power.
Yet there is a logical flaw at the heart of establishment thinking. It may abhor the state – but it is completely dependent on the state to flourish. Bailed-out banks; state-funded infrastructure; the state's protection of property; research and development; a workforce educated at great public expense; the topping up of wages too low to live on; numerous subsidies – all are examples of what could be described as a "socialism for the rich" that marks today's establishment.
This establishment does not receive the scrutiny it deserves. After all, it is the job of the media to shed light on the behaviour of those with power. But the British media is an integral part of the British establishment; its owners share the same underlying assumptions and mantras. Instead, journalists and politicians alike obsessively critique and attack the behaviour of those at the bottom of society. Unemployed people and other benefit claimants; immigrants; public-sector workers – these are groups that have faced critical exposure or even outright vilification. This focus on the relatively powerless is all too convenient in deflecting anger away from those who actually wield power in British society.
To understand what today's establishment is and how it has changed, we have to go back to 1955: a Britain shaking off postwar austerity in favour of a new era of consumerism, rock'n'roll and Teddy Boys. But there was a more sinister side to the country, and it disturbed an ambitious Tory journalist in his early 30s named Henry Fairlie.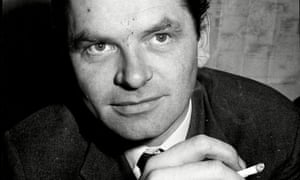 Henry Fairlie, the journalist who popularised the term 'the establishment' in the 1950s. Photograph: Associated Newspapers/Rex
Early in his career, Fairlie was mixing with the powerful and the influential. In his 20s, he was already writing leader columns for the Times. But, at the age of 30, he left for the world of freelance writing and began penning a column for the Spectator magazine. Fairlie had grown cynical about the higher echelons of British society and, one day in the autumn of 1955, he wrote a piece explaining why. What attracted his attention was a scandal involving two Foreign Office officials, Guy Burgess and Donald Maclean, who had defected to the Soviet Union. Fairlie suggested that friends of the two men had attempted to shield their families from media attention.
This, he asserted, revealed that "what I call the 'establishment' in this country is today more powerful than ever before". His piece made "the establishment" a household phrase – and made Fairlie's name in the process.
For Fairlie, the establishment included not only "the centres of official power – though they are certainly part of it" – but "the whole matrix of official and social relations within which power is exercised".
This "exercise of power", he claimed, could only be understood as being "exercised socially". In other words, the establishment comprised a set of well-connected people who knew one another, mixed in the same circles and had one another's backs. It was not based on official, legal or formal arrangements, but rather on "subtle social relationships".
Fairlie's establishment consisted of a diverse network of people. It was not just the likes of the prime minister and the archbishop of Canterbury, but also incorporated "lesser mortals" such as the chairman of the Arts Council, the director general of the BBC and the editor of the Times Literary Supplement, "not to mention divinities like Lady Violet Bonham Carter" – the daughter of former Liberal prime minister Herbert Asquith, confidante of Winston Churchill and grandmother of future Hollywood actor Helena Bonham Carter.
The Foreign Office was, Fairlie claimed, "near the heart of the pattern of social relationships which so powerfully controls the exercise of power in this country", stacked as it was with those who "know all the right people". In other words, the establishment was all about "who you know".
But important facets of power in Britain were missing from Fairlie's definition. First, there was no reference to shared economic interests, the profound links that bring together the big-business, financial and political elites. Second, his piece gave no sense of a common mentality binding the establishment together. There was one – although it was very different from the mentality that dominates today, despite the fact that, then as now, an Old Etonian Conservative (Anthony Eden) was in Downing Street. For this was the era of welfare capitalism, and an ethos of statism and paternalism – above all, a belief that active government was necessary for a healthy, stable society – was shared by those with power.
The differences between Fairlie's era and our own show that Britain's ruling establishment is not static: the upper crust of British society has always been in a state of perpetual flux. This relentless change is driven by survival. History is littered with demands from below for ruling elites to give up some of their power, forcing members of the upper crust of British society to compromise. After all, unchecked obstinacy in the face of demands for change risks bringing down not just individual pillars of the establishment, but the entire system of power with them.
The monarchy is a striking example of a traditional pillar of power that, faced with occasionally formidable threats, has had to adapt to survive. This was evident right from the origins of a power-sharing arrangement between crown and parliament struck in the aftermath of revolution and foreign invasion in the 17th century, and which continues to exist today. Many of the monarchy's arbitrary powers, such as the ability to wage war, ended up in the hands of the prime minister. Even today, the monarchy's role is not entirely symbolic.
"The Crown is a bit of a vague institution, but it is kind of the heart of the constitution, where all the power comes from," says Andrew Child, campaign manager of Republic, a group advocating an elected head of state. The prime minister appoints and sacks government ministers without needing to consult the legislature or electorate because he is using the Queen's powers: these are the Crown's ministers, not the people's. In practice, too, members of the royal family have a powerful platform from which to intervene in democratic decisions.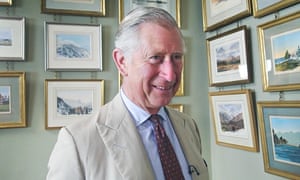 Prince Charles, as next in line to the throne, has a powerful platform from which to intervene in democratic decisions. Photograph: Picasa
Prince Charles, the designated successor to the throne, has met with ministers at least three dozen times since the 2010 general election and is known to have strong opinions on issues such as the environment, the hunting ban, "alternative" medicine and heritage.
In contrast to other European countries, Britain's aristocracy also managed to avoid obliteration by adapting and assimilating. In the wake of the industrial revolution it absorbed – much to the disgust of traditionalists – some prospering businessmen into its ranks, such as the City of London financier Lord Addington and the silk broker Lord Cheylesmore. The aristocracy continued to wield considerable political power throughout the 19th century, supplying many prime ministers, such as the 1st Duke of Wellington, the 2nd Earl Grey and the 2nd Viscount Melbourne. But following parliament acts passed by MPs in 1911 and 1949, this power was curtailed when the elected House of Commons enshrined in law its own dominance over the aristocrats' House of Lords. The legacy of centuries of aristocratic power has not vanished, though: more than a third of English and Welsh land – and more than 50% of rural land – remains in the hands of just 36,000 aristocrats.
Although less influential today than it has ever been, the Church of England retains the trappings of its old power. Indeed, the word establishment is testament to its one-time importance: the term is likely to derive from the fact that the Church of England is the country's "established church", or state religion, with the monarch serving as its head. The church's most senior official, the archbishop of Canterbury, is appointed by the prime minister on behalf of the monarch.
Even though Britain is one of the most irreligious countries on Earth, with just one in 10 attending church each week and a quarter of Britons having no religious beliefs, the Church of England still runs one in four primary and secondary schools in England, while its bishops sit in the House of Lords, making Britain the only country – other than Iran – to have automatically unelected clerics sitting in the legislature.
The establishment is a shape-shifter, evolving and adapting as needs must. But one thing that distinguishes today's establishment from earlier incarnations is its sense of triumphalism. The powerful once faced significant threats that kept them in check. But the opponents of our current establishment have, apparently, ceased to exist in any meaningful, organised way. Politicians largely conform to a similar script; once-mighty trade unions are now treated as if they have no legitimate place in political or even public life; and economists and academics who reject establishment ideology have been largely driven out of the intellectual mainstream. The end of the cold war was spun by politicians, intellectuals and the media to signal the death of any alternative to the status quo: "the end of history", as the US political scientist Francis Fukuyama put it.
All this has left the establishment pushing at an open door. Whereas the position of the powerful was once undermined by the advent of democracy, an opposite process is now underway. The establishment is amassing wealth and aggressively annexing power in a way that has no precedent in modern times. After all, there is nothing to stop it.
Comment In short, British people are incredibly ignorant. Easy GCSE's easy A levels and easy passage into 'Uni' makes them believe they are clever. All the Black History bullshit leaves the arrogant shapeshifting aristocracy out of the picture, free from blame.
The picture is clear and simple. Blacks and women painted as victims, no mention of class, the elite who control the media paint the oppressed long exploited and deluded working classes as far right baddies if they don't bend the knee to blacks.
Toe the line or the police state police lackeys will call and ruin your life. Same will go for the U.S if the Democrats and British elite get their way. It is pretty bad there already.
R.J Cook
Police State New Powers To Abuse Public October 17th 2020
Police Will Abuse Their New Powers just as they abuse the powers they already have. October 17th 2020
MPs have voted against an attempt to formally ban undercover agents and informants from committing murder, torture and rape.
The House of Commons rejected an amendment that aimed to limit the kind of crimes that can be authorised under a new law.
The Covert Human Intelligence Sources (Criminal Conduct) Bill went on to pass its third reading by 313 votes to 98, sending the unamended legislation off to the House of Lords for further scrutiny.
It would allow public authorities, ranging from police and MI5 to HMRC and the Food Standards Agency, to authorise agents and informants to commit crimes while undercover.
The proposed authorisations would not only be issued in the interests of national security or preventing and detecting crime, but also preventing "disorder" and in the "interests of the economic well-being of the United Kingdom".
An amendment tabled by Labour leader Sir Keir Starmer would have stopped the authorisation of serious offences including causing death or bodily harm, torture, violating the sexual integrity of a person and detention. It was defeated by 317 votes to 256 on Thursday.
Conservative former minister David Davis, who proposed a similar amendment, pointed out that allies US and Canada have "specific limits" on the crimes their agents can commit.
He said the amendments "would give the intelligence services the protections they need but stop short of giving them the carte blanche authorisation to carry out the heinous crimes in the name of the state that have happened too often in the past".
But he denied that it was a licence to "commit any and all crimes" because of human rights laws and codes of practice.
MPs also voted against an amendment that would have required authorities to apply for judicial warrants for criminal conduct authorisations, and set out the reasons why they were needed.
Several MPs complained that time to debate the law had been severely limited, amid accusations that the government was rushing the bill through ahead of potentially damaging findings in the forthcoming Undercover Policing Inquiry.
Labour whipped its MPs to abstain from the vote, prompting a flurry of resignations from Labour frontbenchers from the left of the party – including shadow financial secretary Dan Carden, who resigned his post ahead of the debate.
He told the Commons the bill "paves the way for gross abuses of state power against citizens" and accused the government of taking the Labour leadership "for a ride" with loose assurances.
Officials have argued that the Human Rights Act must be considered in authorisations and would prevent the most grievous crimes, but several MPs questioned that assurance.
Sir Bob Neill, a former Conservative minister and chair of the Justice Committee, told the Commons: "If that's the case, given the importance of the subject, why not put that on the face of the bill? And should there be at any time a future government… that derogated from the Human Rights Act, it would be better to have that protection here."
Sir Bob also raised concern over the redress open to victims of authorised crimes, but Mr Brokenshire said the bill was not a barrier to judicial review or scrutiny by the Investigatory Powers Tribunal.
Stella Creasy, the Labour MP for Walthamstow, called for an amendment to prevent children and vulnerable informants being subject to criminal conduct authorisations
The government said the proposal was covered by separate guidance on the law but she called for it to be contained in the bill itself, adding: "It is right to see them as children first."
Liberal Democrat former minister Alistair Carmichael suggested a series of changes to implement further safeguards, including to prevent crimes on economic grounds being authorised unless there is a national security justification.
"If it's decided we maybe need a different governor of the Bank of England, can we authorise a Chis (Covert human intelligence source) to wipe him out?" he asked.
The independent chairman of the Intelligence and Security Committee, Julian Lewis, asked for a commitment to oversight in the bill, which Mr Brokenshire said he intended to provide.
His amendment, which was also defeated, would have mandated annual reports to the committee containing statistics on the number and category of criminal conduct authorisations by the intelligence services.
The bill was drawn up after MI5 narrowly won an Investigatory Powers Tribunal (IPT) ruling over the lawfulness of agents' crimes, while a separate challenge over the use of children as informants and spies continues.
Maya Foa, director of the legal charity Reprieve – which brought the legal challenge against MI5 – said: "Without limits on the crimes agents can commit this bill is wide open to abuse – and history suggests this will result in terrible harm.
"We are hopeful the House of Lords will amend this legislation to make clear MI5 cannot say what is and isn't lawful, nor authorise torture, murder, or sexual violence."
Mr Brokenshire, the security minister, told MPs that there would be "deep and retrospective oversight" of the powers, including through regular inspections by the Investigatory Powers Commissioner.
He added: "A covert human intelligence source is not able to commit any and all criminality.
"There are limits to the activity that can be authorised under the bill and they are contained within the Human Rights Act 1998. The covert human intelligence sources code of practice also sits under this legislation and provides additional guidance and safeguards that apply to the authorisation of such activity."
Comment Britain's police have always abused their powers, covering up their corruption and crimes by closing ranks. Hillsborough said it all. As for enabling HM Inspector of Revenue and Customs – plain H.M Inspector of Taxes or Inland Revenue when I worked for them – they have always employed undercover agents. The one specialist in my office was the scruffiest member of staff, always with a dog end roll up stuck to his lip, an ill fitting cheap suit, looking like a half wit, a shuffle rather than a walk, but with a mind as sharp as a butcher's knife.
He looked the part, answering ads in the local Portsmouth News and newsagents, replying very innocently then asking for cash deals. Once he got such a deal, the trader's card would be marked. Have to admit I liked the scruffy funny looking undercover inspector, and the public hated all of us – why do modern public servants have to winge so much ? An investigation and audit followed – and possible legal proceedings. I have to admit that my colleague and I did rout out a corrupt pyramid selling business in Fratton, Portsmouth. That's another story and covered by Official Secrets Act, as will these undercover officers will be- which we all signed.
R,J Cook
Undie Cover Police October 17th 2020
As someone labelled paranoid for being under police observation for nearly 13 years, even receiving a PNC Criminal Marker and related records which they still won't explain in spite of serious harm done, I find news that the Tory Government have formalised and legitimated the British Police's right to break the law, allegedly to keep all the good people safe, very alarming.. I was told, after being forced to see a psychiatrist about my suspicions in 2018, that I am paranoid, don't need hospital yet and would be very upset if I saw all the records the State has on me.
The first milestone in legitimating these Draconian intrusive police powers came in the wake of 9/11. Then prime Minister Tony Blair announced that new anti terror law was applying to all of us, where necessary, taking our freedoms to protect our freedom – classic Orwellian 'Double Speak.'
Given the British Police, in cahoots with a corrupt target driven CPS, have a record for fabricating evidence and withholding evidence that might be helpful to defence lawyers, legitimating these intrusive powers should alarm anyone who wants a free society.
Ironically, free movement of labour and open borders has enhanced the State argument for removing freedom of thought and expression. Protest is a major concern of the State, so Covid 19 Lockdown is further excuse for these powers. The police had de facto rights to mislead women into sex – effectively state approved rape -during animal rights protests, even fathering children.
So protests like anti lockdown and against HS2 are obviously legitimate targets for more of the same. Reasonable suspicion is a vague term, with evidence easily invented to support these Police gut feelings.
Undercover police cleared 'to have sex with activists' October 15th 2020
Promiscuity 'regularly used as tactic', says former officer, contradicting claims from Acpo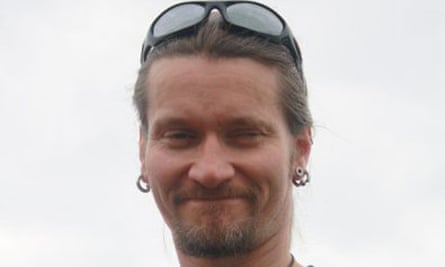 Mark Kennedy had sexual relationships with several women while serving as an undercover policeman and infiltrating a ring of environmental activistsMark Townsend and Tony ThompsonSat 22 Jan 2011 21.00 GMT
Undercover police officers routinely adopted a tactic of "promiscuity" with the blessing of senior commanders, according to a former agent who worked in a secretive unit of the Metropolitan police for four years.
The former undercover policeman claims that sexual relationships with activists were sanctioned for both men and women officers infiltrating anarchist, leftwing and environmental groups.
Sex was a tool to help officers blend in, the officer claimed, and was widely used as a technique to glean intelligence. His comments contradict claims last week from the Association of Chief Police Officers that operatives were absolutely forbidden to sleep with activists.
The one stipulation, according to the officer from the Special Demonstration Squad (SDS), a secret unit formed to prevent violent disorder on the streets of London, was that falling in love was considered highly unprofessional because it might compromise an investigation. He said undercover officers, particularly those infiltrating environmental and leftwing groups, viewed having sex with a large number of partners "as part of the job".
"Everybody knew it was a very promiscuous lifestyle," said the former officer, who first revealed his life as an undercover agent to the Observer last year. "You cannot not be promiscuous in those groups. Otherwise you'll stand out straightaway."
The claims follow the unmasking of undercover PC Mark Kennedy, who had sexual relationships with several women during the seven years he spent infiltrating a ring of environmental activists. Another two covert officers have been named in the past fortnight who also had sex with the protesters they were sent to spy on, fuelling allegations that senior officers had authorised sleeping around as a legitimate means of gathering intelligence.
However Jon Murphy, Acpo's spokesman on serious and organised crime, said last week that undercover officers were not permitted "under any circumstances" to sleep with protesters.
He added: "It is grossly unprofessional. It is a diversion from what they are there to do."
Mounting anger among women protesters will see female activists converge on Scotland Yard tomorrow to demand that the Met disclose the true extent of undercover policing. The demonstration is also, according to organisers, designed to express "solidarity with all the women who have been exploited by men they thought they could trust".
Climate campaigner Sophie Stephens, 27, who knew Kennedy, said there was fury among women who felt violated by the state: "We know women have been abused by men posing as policemen and it's becoming clear this was state-sanctioned. These women did not know they were forming a relationship with policemen. It's appalling – and now we want the full details of the undercover officers to be made public."
The protest will be followed on Tuesday by the appearance before the Commons home affairs select committee of the acting Met commissioner, Tim Godwin, and Commander Bob Broadhurst, who is responsible for public order in the capital. Both will be asked to explain why Scotland Yard gave false information over the use of covert operatives during the London G20 protests in 2009. The issue of sexual activity by operatives is also likely to be brought up.
The former SDS officer claims a lack of guidelines meant sex was an ideal way to maintain cover. He admitted sleeping with at least two of his female targets as a way of obtaining intelligence.
"When you are on an undercover unit you were not given a set of instructions saying you could or couldn't do the following. They didn't say to you that you couldn't go out and drink because technically you're a police officer, that you shouldn't go out and get involved in violent confrontations, you shouldn't take recreational drugs.
"As regards being with women in very, very, very promiscuous groups such as the eco-wing, environmental movement, leftwing, or the Animal Liberation Front – it's an extremely promiscuous lifestyle and you cannot not be promiscuous in there.
"Among fellow undercover officers, there is not really any kudos in the fact that you are shagging other people while deployed. Basically it's just regarded as part of the job. It'd be highly unlikely that you were not [having sex].
"When you are using the tool of sex to maintain your cover or maybe to glean more intelligence – because they certainly talk a lot more, pillow talk – you would be ready to move on if you felt an attachment growing.
"The best way of stopping any liaison getting too heavy was to shag somebody else. It's amazing how women don't like you going to bed with someone else," said the officer, whose undercover deployment infiltrating anti-racist groups lasted from 1993 to 1997. Two years later the SDS became the National Public Order Intelligence Unit, the secretive organisation that employed Kennedy and whose activities are the subject of three investigations.
The officer added that undercover police were strictly encouraged not to form a bond with women they were sleeping with and said that he knew Jim Boyling, the undercover officer who married an activist he was supposed to be spying upon.
Boyling, a specialist operations detective constable with the Met, was suspended on Friday pending an investigation into his professional conduct.
The former SDS officer, who has now left the Met, said one stipulation by senior commanders was that undercover officers should be married, so that they had something to return to. He said the move was introduced when a spy never returned after five years undercover.
Covert officers can have sex or take drugs with suspects only when 'necessary and proportionate' under new guidelines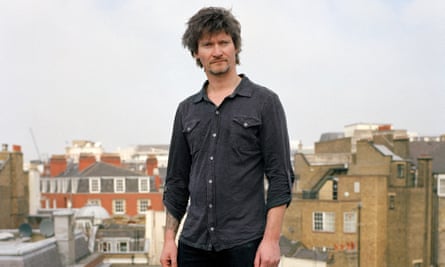 Mark Kennedy, who was exposed as a police spy by his ex-girlfriend after a six-year relationship. Photograph: Philipp EbelingPress AssociationWed 29 Jun 2016 00.01 BST
Last modified on Tue 28 Nov 2017 18.53 GMT
Undercover police officers can never be authorised to start sexual relationships with those they are targeting under official guidelines published for the first time.
The instructions, in an 80-page document, also state that taking drugs cannot be approved as a tactic for covert units.
National guidance on undercover policing, which is being made public by the College of Policing, the professional standards body for the police service, states that it is "never acceptable" for an undercover operative to have sex with those they are investigating.
Launching a consultation on the guidance, Alex Marshall, the chief executive of the College of Policing, told BBC Radio 4's Today programme: "It's never acceptable for an undercover officer to form an intimate sexual relationship with the people they're targeting or they meet while carrying out these duties."
Marshall said undercover policing should only be used for "people who represent a risk to the public".
The guidance prohibits officers to "form an intimate sexual relationship with those they are employed to infiltrate and target or may encounter during their deployment".
It adds: "This conduct will never be authorised, nor must it ever be used as a tactic of a deployment."
Undercover policing was subject to increased scrutiny following revelations in the Guardian about a secretive Scotland Yard unit known as the Special Demonstrations Squad (SDS).
Undercover officers have been found to have formed long-term intimate relationships with women during their missions, gathered intelligence about the relatives of the murdered teenager Stephen Lawrence and other grieving families campaigning for justice, and concealed evidence in court cases.
Many of the undercover spies secretly stole the identities of dead children to help develop their fake personas, without consulting or informing the children's parents.
Scotland Yard has made payouts to several women who unwittingly became involved in relationships with undercover officers. A judge-led inquiry into undercover policing in England and Wales was launched last year.Woman who was engaged to police spy sues Met over 'psychological torture'Read more
The guidance says that if an undercover officer engages in unauthorised sexual activity for whatever reason – for example, they perceive an immediate threat to themselves or others if they do not do so – then this "will be restricted to the minimum conduct necessary to mitigate the threat".
This would then be recorded, reported and the circumstances investigated. The position set out on sexual activity was described as a "much stronger and unequivocal statement" compared with previous guidelines.
Conduct may be authorised that involves "communications of a sexual nature" where the authorising officer believes it is "necessary and proportionate to operational objectives", the guidance adds.
Taking controlled drugs "will not be authorised as a tactic of a deployment" but if an officer does so because they perceive an immediate threat this should be limited to the minimum extent necessary to mitigate the threat.
The document also says that for an undercover deployment to be effective it may be necessary for personnel to participate in criminal activity about which they have been tasked to report. It warns all undercover unit staff should be aware of the dangers posed through "exposure in true identity" on social media.Undercover UK police spy apologises after being tracked down by woman he deceivedRead more
Undercover policing is used by forces across England and Wales to obtain evidence and intelligence. "Foundation" operatives carry out low-level infiltration, for example buying drugs on the street. An "advanced" operative is trained to undertake higher-level infiltrations in which they must be able to withstand intense scrutiny, such as counter-terrorism work.
The draft guidance is being published at the start of a consultation, with the final version released later this year.
It says operatives can only work once they have been accredited and should undergo psychological or personality assessments.
Marshall described undercover policing as an "essential tactic" to protect the public, save lives and bring serious criminals to justice.
He said: "By publishing the vast majority of the guidance, withholding only operational tactics which would no longer be viable if shared, we want the public to see the measures we have in place to ensure undercover policing is used in a way that is proportionate, lawful and ethical."
Lawyer Jules Carey, of Bindmans, who is representing individuals affected by undercover policing, said: "It is disappointing that the guidance fails to spell out that in a democracy the first consideration should be whether it is necessary to use an undercover officer at all, or whether the intelligence could be obtained through some other means.
"The guidance should also make it clear that the degree of intrusion should be proportionate to the seriousness of the crime being investigated."
Comment What sort of revolting animals could do this ? Says a lot about the British Police State – and the revolting police mindset. Charles Close
A world built on bribes? Corruption in construction bankrupts countries and costs lives, says TI report
16 March 2005
Re Posted here as European Police State October 11th 2020
Transparency International's Global Corruption Report 2005 shows how corruption in the construction sector undermines economic development, and threatens to hamstring post-conflict reconstruction in Iraq and beyond
"Corruption in large-scale public projects is a daunting obstacle to sustainable development," said Peter Eigen, Chairman of Transparency International (TI), launching the TI Global Corruption Report 2005 today. "Corruption in procurement plagues both developed and developing countries," Eigen added. "When the size of a bribe takes precedence over value for money," he said, "the results are shoddy construction and poor infrastructure management. Corruption wastes money, bankrupts countries, and costs lives." TI is the leading international non-governmental organisation combating corruption worldwide.
"Funds being poured into rebuilding countries such as Iraq must be safeguarded against corruption," Eigen said today. "Transparency must also be the watchword as donors pledge massive sums for reconstruction in the countries affected by the Asian tsunami," he added. The Global Corruption Report 2005, with a foreword by Francis Fukuyama, includes a special focus on construction and post-conflict reconstruction, and highlights the urgent need for governments to ensure transparency in public spending and for multinational companies to stop bribing at home and abroad.
"The unfolding scandal surrounding the UN sponsored oil-for-food programme in Iraq highlights the urgent need for strict conflict-of-interest rules and transparent and open bidding processes," said Eigen. As Reinoud Leenders and Justin Alexander write in the GCR 2005, much of the anticipated expenditure on building and procurement in Iraq has not yet been spent. "If urgent steps are not taken," they write, Iraq "will become the biggest corruption scandal in history".
To mark the publication of the Global Corruption Report 2005, today TI launched its Minimum Standards for Public Contracting, setting out a blueprint for transparent public procurement. According to Juanita Olaya, TI Programme Manager for Public Contracting, "international donors and host governments must do more to ensure transparency in public procurement by introducing effective anti-corruption procedures into all projects. Tough sanctions are needed against companies caught bribing, including forfeiture of the contract and blacklisting from future bidding."
The TI Standards call on public contracting authorities to ensure that contracts are subject to open, competitive bidding. Other measures include maintaining a blacklist of companies caught bribing; providing public disclosure of the entire process; and ensuring monitoring by independent oversight agencies and civil society. The TI Standards also advocate the use of a TI Integrity Pact, which commits the authority and bidding companies to refrain from bribery. The Integrity Pact is a tool that has already been successful in reducing corruption and cutting the costs of dozens of procurement procedures around the world, and most recently has been agreed to be deployed in the EUR 2 billion development of the Berlin-Brandenburg International Airport in Germany.
TI also urged the private sector to do more to curb bribery. "Companies from OECD countries must fulfil their obligations under the OECD Anti-Bribery Convention and stop paying bribes at home and abroad," said Eigen. "With the spread of anti-bribery legislation, corporate governance and anti-corruption compliance codes, managers have no excuse for paying bribes," he said. A promising sign, he said, was the addition of a tenth anti-corruption principle to the UN Global Compact, signed by close to 2,000 international companies, and the endorsement of a public anti-corruption pledge by 63 companies from the energy, metals and mining, and engineering and construction sectors at the World Economic Forum in Davos in January 2005. The challenge now for companies is to enforce tough anti-bribery policies.
The costs of corruption
The scale of corruption is magnified by the size and scope of the construction sector, estimated globally at some US$3,200 billion per year. The Global Corruption Report 2005 presents detailed case studies of large-scale infrastructure projects that have been plagued by corruption – including international bribes paid to secure contracts for the Lesotho Dam, and the implication of politicians in corruption concerning the purchase of a waste incinerator in Cologne, Germany.
The Global Corruption Report 2005 finds that a lack of transparency in large-scale projects can have a devastating impact on economic development. "Corrupt contracting processes leave developing countries saddled with sub-standard infrastructure and excessive debt," said Eigen today. Corruption raises the cost and lowers the quality of infrastructure. But the cost of corruption is also felt in lost lives. The damage caused by natural disasters such as earthquakes is magnified in places where inspectors have been bribed to ignore building and planning regulations. Corruption steers money away from health and education programmes towards large capital-intensive infrastructure projects. Corruption can also have disastrous environmental consequences – the Yacyretá dam in Argentina, the Bataan nuclear power plant in the Philippines and the Bujagali dam in Uganda have all been subject to allegations of the improper diversion of money.
Taking action to prevent corruption
To coincide with the publication of the Global Corruption Report 2005, Transparency International is launching an international initiative aimed at preventing corruption in construction projects. Neill Stansbury, Project Director for Construction & Engineering at TI-UK, who is leading the initiative, said that "corruption in construction projects can be avoided if all parties put into place the necessary preventive measures. This requires coordinated international action by governments, banks, export credit agencies, project owners, contractors and other relevant parties." TI has produced a series of risk assessments, action plans and anti-corruption tools for this sector, and it will use these to lobby relevant organisations to take action to prevent bribery.
The Global Corruption Report 2005 also includes detailed assessments of the state of corruption in 40 country reports written by Transparency International's national chapters and other experts. The book contains the findings of the latest research into corruption and ways to combat it, including studies on the links between corruption and issues such as pollution, gender and foreign investment.
'Monuments of corruption' from the Global Corruption Report 2005:
The Lesotho Highlands Water Project, in which US$2 million were allegedly paid in bribes by Acres International and 11 other international dam-building companies.
The Cologne incinerator project in Germany, where US $13 million was allegedly paid in bribes during the construction of a US$ 500 million waste incineration plant.
The Yacyretá hydropower project on the border of Argentina and Paraguay, built with World Bank support, is flooding the Ibera Marshes. Due to cost overruns, the power generated by Yacyretá is not economic and needs to be subsidised by the government. According to the head of Paraguay's General Accounting Office, US$1.87 billion in expenditures for the project 'lack the legal and administrative support documentation to justify the expenditures'.
The reservoir of the Bakun dam in Sarawak, Malaysia, which will submerge 700 km2 of tropical rain forest. The mandate to develop the project went to a timber contractor and friend of Sarawak's governor. The provincial government of Sarawak is still looking for customers to consume the power to be generated by the project.
The Bataan nuclear power plant in the Philippines, built at a cost of more than US $2 billion. The contractor, Westinghouse, admitted paying US $17 million in commissions to a friend of former president Marcos. The reactor sits on an active fault line, creating a major risk of nuclear contamination if the power plant ever becomes operational.
The Bujagali dam in Uganda, which is currently being investigated for corruption by the World Bank and four different governments after a British subsidiary of the Norwegian construction company, Veidekke, admitted paying a bribe to a senior Ugandan civil servant. The cumulative environmental impacts of Bujagali and other dams on the Nile have never been assessed.
Transparency International's Minimum Standards for Public Contracting Public procurement authorities should:
Implement a code of conduct that commits the contracting authority and its employees to a strict anti-corruption policy. The policy should take into account possible conflicts of interest, provide mechanisms for reporting corruption and protect whistleblowers.
Allow a company to tender only if it has implemented a code of conduct that commits the company and its employees to a strict anti-corruption policy
Maintain a blacklist of companies for which there is sufficient evidence of their involvement in corrupt activities. Debar blacklisted companies from tendering for the authority's projects for a specified period of time
Ensure that all contracts between the authority and its contractors, suppliers and service providers require the parties to comply with strict anti-corruption policies.
Ensure that public contracts above a low threshold are subject to open competitive bidding
Provide all bidders, and preferably also the general public, with easy access to information about all phases of the contracting process, including the selection and evaluation processes and the terms and conditions of the contract and any amendments.
Ensure that no bidder is given access to privileged information at any stage of the contracting process, especially information relating to the selection process.
Allow bidders sufficient time for bid preparation and for pre-qualification requirements when these apply.
Ensure that contract 'change' orders that alter the price or description of work beyond a cumulative threshold are monitored at a high level, preferably by the decision-making body that awarded the contract.
Ensure that internal and external control and auditing bodies are independent and functioning effectively, and that their reports are accessible to the public. Any unreasonable delays in project execution should trigger additional control activities.
Separate key functions to ensure that responsibility for demand assessment, preparation, selection, contracting, supervision and control of a project is assigned to separate bodies.
Apply standard office safeguards, such as the use of committees at decision-making points and rotation of staff in sensitive positions. Staff responsible for procurement processes should be well trained and adequately remunerated.
Promote the participation of civil society organisations as independent monitors of both the tender and execution of projects.
The Global Corruption Report 2005 is published in London by Pluto Press (ISBN 0 7453 2396 0). The book can be ordered (£19.99 / $29.95 plus postage and packing) through online booksellers, local bookshops or the publisher ( www.plutobooks.com). The report is published in French by Economica (ISBN 2-7178-5025-2).
Battle of Trafalgar September 26th 2020
Given the terrifying nature and developments in Britain's Police State, the Police State page is now full up. So here is a new page, opened on the day of an appalling display of police oppression during an anti lockdown demonstration in London's Trafalgar Square.
Curiously these protestors were not given the freedom to march around London as the BLM protestors have been. So there apears to be a strong element of race and class war going on here.
Government has not made a case for lockdown. Their well so called scientists are well paid government officials. People thinking more police are the solution to Britain's problems should think again. This country ticks every box to qualify as a dictatorship -that is why the authorities keep telling us what a wonderful democracy Britain is. Charles Close
The Dubliners-Rising of the Moon – YouTube www.youtube.com/watch?v=o2M4usgh8Ss A great song sang by the Master himself. Luke Kelly. This song is very Famous and is about 1798 rebellion

Video Duration: 3 min
Views: 1.8M
Author: darrin42

The Dubliners – The rising of the moon – YouTube www.youtube.com/watch?v=Gpt6Sh-LW3M 16/08/2016 · The rising of the moon, sung by Luke Kelly and The Dubliners. Enjoy! And don't forget to like!

Video Duration: 3 min
Views: 81
Author: minadjo Ait yahia

The rising of the moon-The Dubliners – YouTube www.youtube.com/watch?v=3388VcL5CKA excellent

Video Duration: 3 min
Views: 294.7K
Author: BigShowToDamax

Dubliners – The Rising Of The Moon Lyrics (Video) www.stlyrics.com/songs/d/dubliners6611/therisingofthemoon249331.html The Rising Of The Moon by Dubliners. And come tell me Sean O'Farrell, tell me why you hurry so. Hush a bhuachaill, hush and listen and his cheeks were all aglow. I bear orders from the captain, get you ready quick and soon. For the pikes must be together at the rising of the moon. At the rising of the moon, at the rising of the moon . For the pikes must be together at the rising of the moon …
What Is The Most Corrupt Country In Europe? Posted October 11th 2020
» Subscribe to NowThis World: http://go.nowth.is/World_Subscribe While many Europeans believe that corruption in the continent is increasing, which country actually has the highest rate of corruption? Learn More: RAND Corporation: The True Economic Cost of Corruption in Europe: Up to €990 Billion Annually http://www.rand.org/blog/2016/03/the …youtube.com 3:06 3 years ago
Covid: Clashes as police shut down protest over new rules
Police have clashed with demonstrators at a protest in central London against coronavirus restrictions.
Officers used batons to control the crowd, after bottles and water were thrown by demonstrators massed in Trafalgar Square.
At least three protesters and four officers were injured, while 10 people were arrested.
The Met Police said the protest was being shut down because the crowd was not social distancing.
Thousands had gathered in central London to protest against the latest government rules, with very few wearing masks.
Protests are exempt from the rule-of-six restrictions, but demonstrators must social distance.
Organisers must also submit a risk assessment.
Rules in England limit indoor and outdoor gatherings to six people, with some exceptions.
Officers penned the crowd in Trafalgar Square as water and bottles were thrown at them by demonstrators – with some chanting "pick your side".
Two police officers required hospital treatment. Image Copyright @MetPoliceEvents @MetPoliceEvents Report
Police removed sound equipment and used batons against protesters, leaving some with visible injuries.
The majority of demonstrators in Trafalgar Square have now been dispersed by police but the Met said some had moved to Hyde Park. Image copyright EPA
Demonstrators were asked to leave and the force said anyone who stayed could be subject to enforcement.
In a statement, the Met said: "Crowds in Trafalgar Square have not complied with the conditions of their risk assessment and are putting people in danger of transmitting the virus.
"This has voided their risk assessment and we have informed the event organisers they are no longer exempt from the regulations.
"By leaving now, you can keep yourself safe and avoid any enforcement action being taken by officers," the statement added.
Earlier, police confiscated a makeshift riot shield from one man. Image copyright EPA Image caption Large crowds gathered in Trafalgar Square earlier.
The "we do not consent" rally came a week after a separate event which saw more than a dozen officers injured when a "small minority" targeted police and more than 32 arrests were made.
Commander Ade Adelekan, who is leading the Met operation, previously said that while there was "great frustration" at the regulations, they were designed to keep people safe from the virus.
"By flagrantly gathering in large numbers and ignoring social distancing, you are putting your health and the health of your loved ones at risk," he said.
He added that he would not tolerate police being targeted during protests and officers would "respond quickly to any scenes of violence".
Several people have been seriously injured by Police State Police.
Wales' first town-only lockdown has come into force.
Llanelli in Carmarthenshire had restrictions imposed from 18:00 BST on Saturday, making it the first town hit with restrictions which do not apply to the rest of the surrounding county.
Wales' two biggest cities – Cardiff and Swansea – will follow suit on Sunday evening following Covid-19 spikes.
Llanelli MP Nia Griffith said lockdown would be "a tricky time… but it's better to do it sooner than later".
"What we don't want is to leave things too late and then wish we'd done more," she said.
"It will impact on different people in different ways but the general feeling is we that need to get on top of this."
Wales' Health Minister Vaughan Gething told BBC Breakfast on Saturday the situation was "very serious" and comparable with cases in February.
"We ended large parts of NHS activity about two weeks later. We had a full lockdown three-and-a-bit weeks later," he said.
People in 13 ward areas in Llanelli cannot now leave town, or mix indoors with anyone outside their own household.
The town has seen 85 coronavirus cases over the past week – compared to 24 across the rest of Carmarthenshire.
Carmarthenshire council leader Emlyn Dole said it was "worrying to see how sharply the number of positive cases has risen in the Llanelli area".
"Action has had to be taken to help stop the spread and break the chain of infections concentrated in this area to prevent a whole county lockdown," he said.
Mr Dole told BBC Radio Wales Breakfast he thought the spike in cases was down to pubs and bars not "paying as much heed to the restrictions as the rest of us" in terms of social distancing. Image copyright Ordnance Survey/Carmarthenshire council
The rate of infection across Llanelli has leapt to 152 cases per 100,000 of the population – it is just 18 per 100,000 for the rest of Carmarthenshire.
It places the town in the top three weekly infections rates across Wales, alongside Blaenau Gwent on 202 per 100,000 and Merthyr Tydfil at 169 per 100,000.
Maria Battle, who chairs the Hywel Dda University Health Board serving south west Wales, said: "Our local community has given us such tremendous support during the past few months.
"To protect the health of our people, including the most vulnerable, and to ensure our NHS resources are available to provide people with the care they need, we need the help of our Llanelli population and wider community now more than ever before."
Comment Governement propaganda. Charles Close