Anyone wishing to comment on or contribute to this website please contact rjcofnorthbucks@btinternet.com.
Advertisement.
Just to remind police monitoring this site , I am aware that Google et al have been asked to restrict access and site profile as well as adding 'insecure site' warnings. R. J. Cook writing in the land of 'independent media.'
https://www.courtroomadvice.co.uk/police-court-bail.html
https://addictionrehabtreatment.com/mental-health/anxiety/anxiety-leads-to-drug-abus
April 19th 2023
Lucy Letby trial: Nurse's notes found in home search released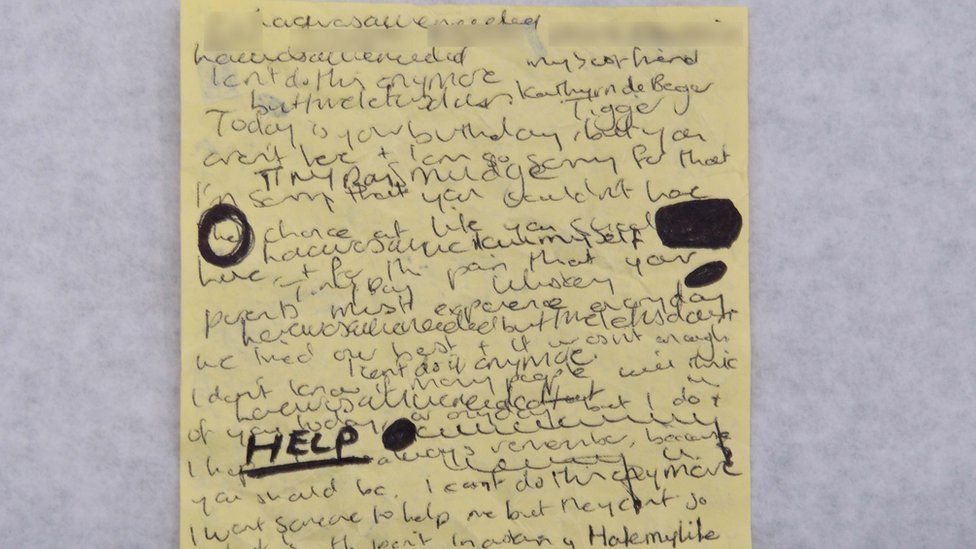 By Daniel O'Donoghue
BBC News
Images of notes found at the home of nurse Lucy Letby, which her trial has heard contained phrases such as "I killed them" and "I am evil", have been released.
The handwritten notes were recovered by officers when Ms Letby was first arrested on 3 July 2018.
The 33-year-old is currently on trial accused of murdering seven babies and attempting to murder 10 others at the Countess of Chester Hospital.
She has denied all the charges.
Ms Letby, originally from Hereford, faces 22 charges in total relating to fatal and near-fatal incidents in 2015 and 2016.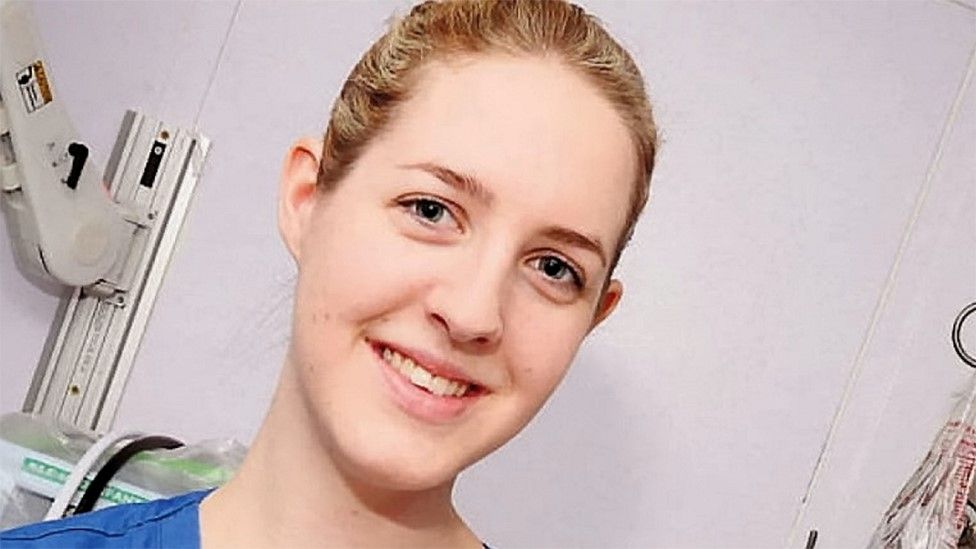 On Monday, Manchester Crown Court was told the notes were filled with closely-written words and included declarations of love for a colleague, who cannot be identified for legal reasons.
Also written on the papers were the phrases "help me", "I can't do this any more" and "how can life be this way?".
Jurors were also told police recovered a 2016 diary from a chest of drawers, which contained a reference to "twins" on the date two twin boys prosecutors have claimed Ms Letby attempted to murder were born.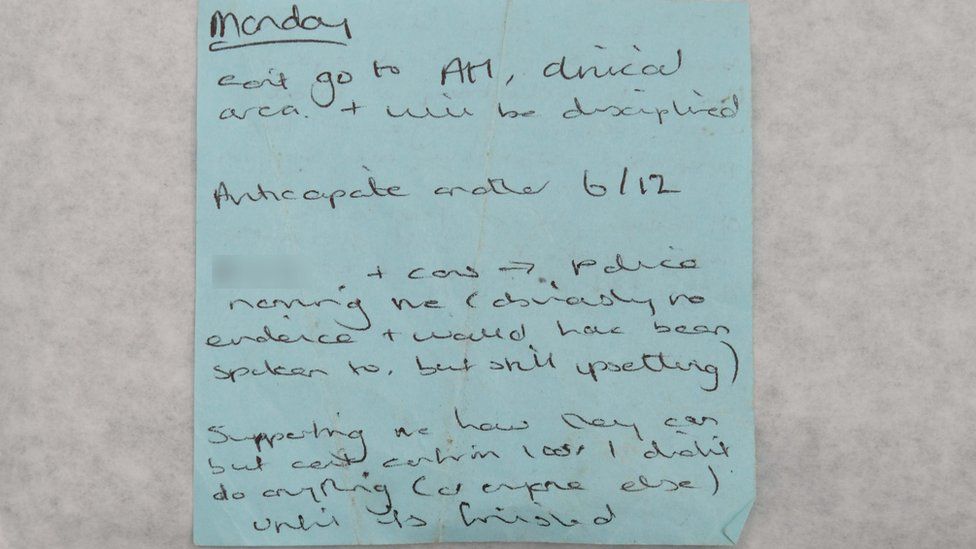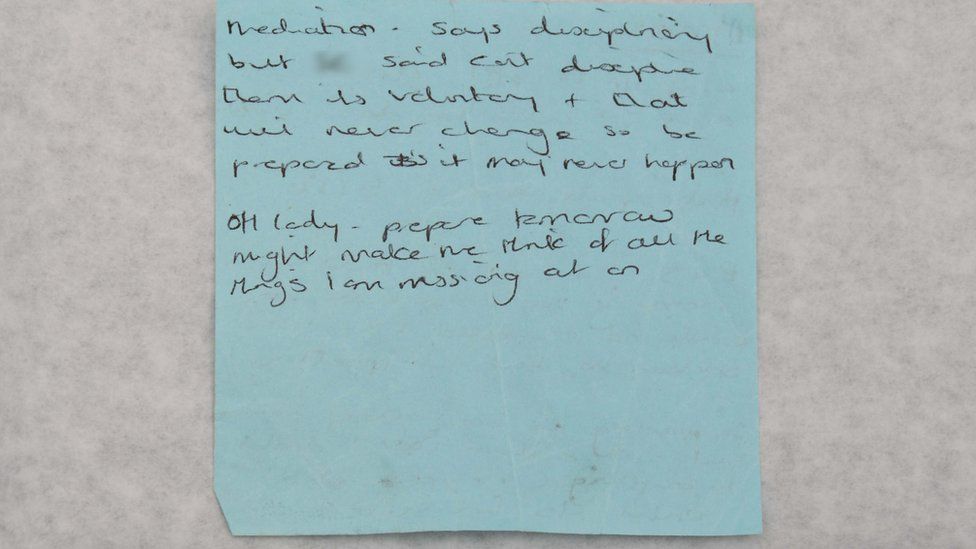 Further entries included initial letters which the prosecution have said related to three other babies that Ms Letby allegedly attacked after returning from a holiday to Ibiza.
The court was told a green note found inside the diary read "I don't deserve to live".
It also included the wording "I killed them on purpose because I'm not good enough to care for them", "I am a horrible evil person" and, in capital letters, "I am evil I did this".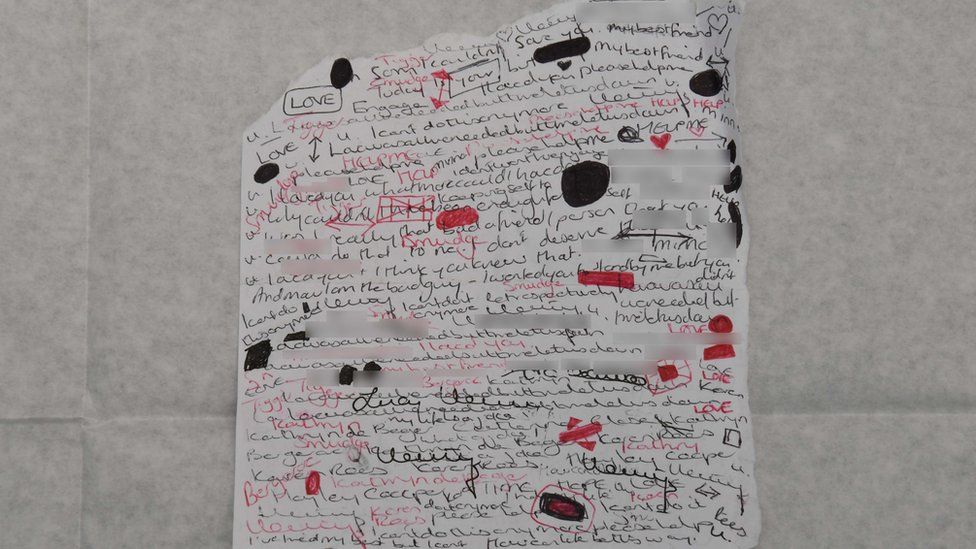 The diary also contained an A4 piece of paper containing similarly jumbled handwritten notes.
One sentence on it read: "I killed them. I don't know if I killed them. Maybe I did. Maybe this is down to me."
"Kill me" was also written in bold and circled on the sheet, while other words and phrases included "foreign objects", "slander", "tired", "crime number", "diagnosis compromised", "risk factors" and, repeatedly, "help me".
In his opening speech, Ben Myers KC, defending, told jurors the green note was the "anguished outpouring of a young woman".
He added Ms Letby was "in fear and despair" at the time, as she realised the "enormity" of what was being said "about her, in the moment, to herself".
The case continues.
April 18th 2023
Chris Mason: How big a deal is inquiry into Rishi Sunak's declarations?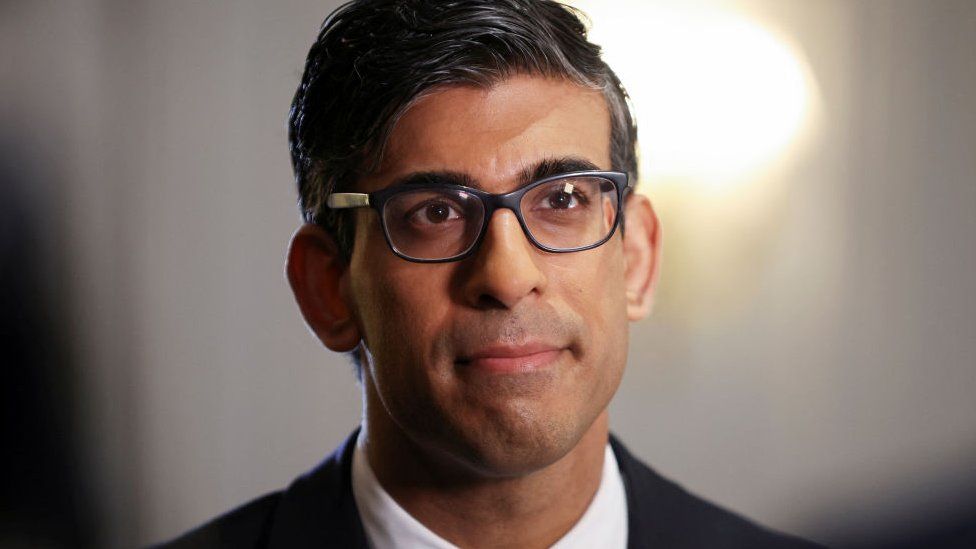 By Chris Mason
Political editor, BBC News
Sleaze. It's a big word, and it gets lobbed around at Westminster rather a lot.
It tends to refer to alleged wrongdoing, often financial or moral.
The thing is, it can take in everything from an MP who ends up in jail – think the MPs' expenses scandal just for starters – to alleged procedural or administrative cock-ups that are soon forgotten.
So how big a deal is the investigation into the prime minister by the parliamentary commissioner for standards?
On the Richter scale of these things, it feels like a rather minor tremor. Think a few loose roof tiles rather than anything much more.
There are two things at the crux of this.
The first is what Rishi Sunak chose to say, and, crucially, not to say, in front of what is known as the Liaison Committee of MPs at the end of last month.
He was asked explicitly, by the Labour MP Catherine McKinnell, "there is nothing as prime minister you wish to declare?".
And he did not at that point refer to a childcare company his wife Akshata Murty has shares in which looks likely to benefit from this spring's Budget.
"All of my disclosures are declared in the normal way," Mr Sunak replied.
But in announcing his investigation, the website of the standards commissioner, Daniel Greenberg, pointed to a particular rule in the code of conduct of MPs, stating that "members must always be open and frank in declaring any relevant interest in any proceeding of the House or its Committees, and in any communications with ministers, members, public officials or public office holders".
The implication being that the prime minister should have referred explicitly to his wife's shareholding in front of the committee.
The added twist here, a symptom of the chaos at Westminster in the last year or so, is the Register of Ministerial Interests, which has conventionally been updated around every six months, hasn't seen the light of day since last May.
So when the prime minister said to the Liaison Committee, as he did, that his "disclosures are declared in the normal way" they haven't actually been published.
He has said he has informed officials in the Cabinet Office, but whatever he told them, and they told him about whether it should be explicitly registered, has not been publicly declared.
Incidentally, Labour leader Sir Keir Starmer found himself in a run-in with the parliamentary commissioner for standards last summer.
It was Mr Greenberg's predecessor then, Kathryn Stone.
She found he had breached the MPs' Code of Conduct eight times, describing the breaches as "minor and/or inadvertent" over declarations that were late.
Sir Keir apologised. The row very quickly blew over.
The prime minister will hope his encounter with Mr Greenberg is also quickly forgotten about, although it will increase the scrutiny of Ms Murty's other business interests and the declarations relating to them.
It is a reminder for Downing Street of another two things: the inevitable stories, borne of intrigue and fascination, relating to the Sunaks' vast wealth, of which this is the latest.
And that if you say on your first day in the job of prime minister, almost six months ago now, that your government will be defined by "integrity, professionalism and accountability at every level", you bet people will hold you to it.
Related Topics
April 7th 2023
The Elms: Whittlesey care home's chaotic final days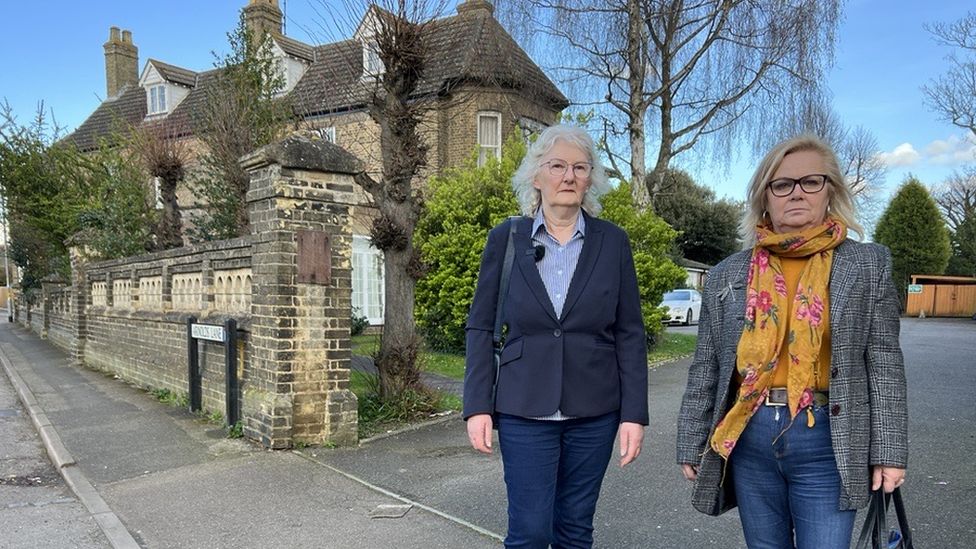 By Phil Shepka
BBC News, East
The estate agent's brochure describes it as a large detached period property set in attractive gardens. What is not mentioned is the catalogue of failures that led to it being on the market. So how did a home run by one of the UK's biggest care providers come to such a chaotic end?
"It was not a very pleasant meeting," says Jeanne Poole of the day she and others expressed their concerns about The Elms care home in Whittlesey, Cambridgeshire.
Mrs Poole's husband David, who had dementia and Parkinson's disease, was being cared for at the 37-bed home, run by HC-One, which calls itself the "Kind Care Company".
Also attending the meeting in February 2019 were some residents, along with family members and HC-One managers. Mrs Poole says she, and relatives of George Lowlett and Margaret Canham, were among the most vocal in raising concerns.
Within two months, all three residents were dead.
Last month, their families sat side by side, supporting one another in a makeshift courtroom at Peterborough Town Hall as coroner Caroline Jones pored over the final days and weeks of their loved ones' lives.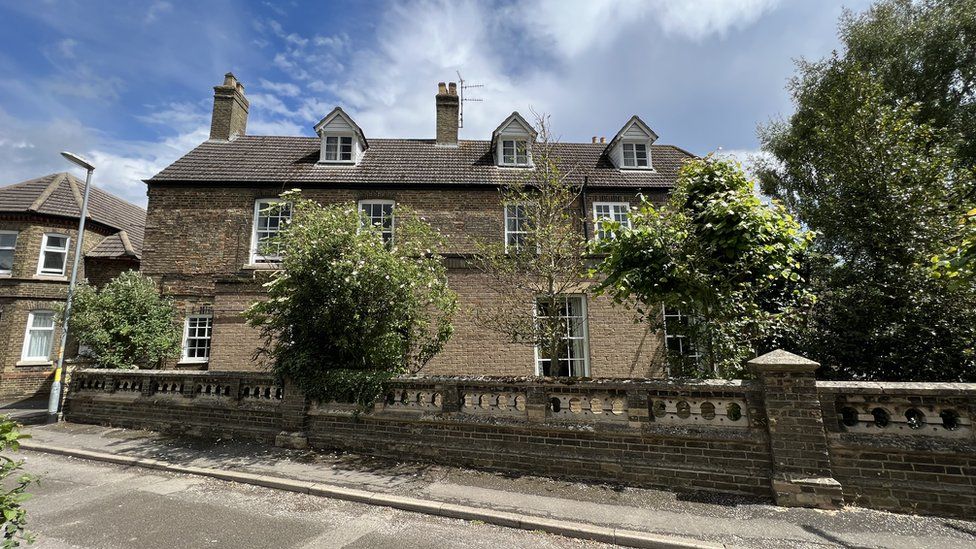 In the case of 97-year-old Mrs Canham, a former silver service waitress who took great pride in her five-generation family, the coroner highlighted "suboptimal care".
Her granddaughter Kim Arden told the inquest she felt she had been "lied to" by HC-One since her death.
In the case of Mr Lowlett, 90, an expert witness said the fact the former civil servant had been out of bed for 13 hours the day before he died, despite being on antibiotics for a chest infection, was not "usual practice" and "wasn't evidence of compassionate care".
And the coroner found it "disconcerting to hear" about the discomfort of Mr Poole, 74, after failures to correctly administer his bowel medication, adding that his care was not "safe and effective".
He had been at the home, near Peterborough, since October 2018 and his widow says his decline "was like pushing him off a cliff".
"It was just really shocking to see, and you feel so helpless," she says.
"Nobody was listening and nobody was interested. The home wasn't fit for purpose; it couldn't meet his needs. They failed him so badly and he deserved better."
The families had spent four years seeking answers through medical records and information requests. At the end of the inquest, Ms Jones, while not finding the poor care contributed to the deaths, called their campaign "remarkable".
She acknowledged the "landscape for care in Cambridgeshire has now changed" following their work, as The Elms closed last autumn with HC-One admitting it had "not been able to provide the right standard of care". It is now for sale at £900,000.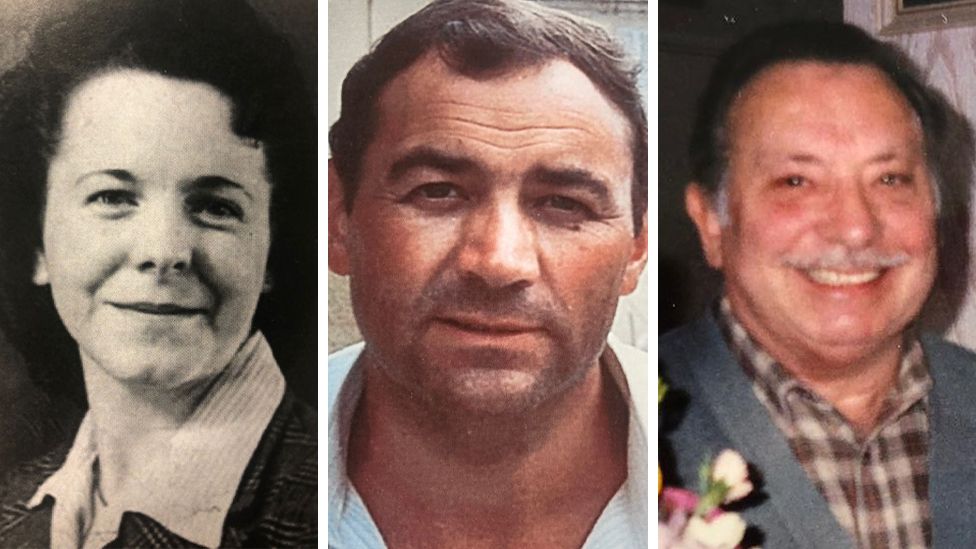 But could action have been taken sooner?
In 2019 numerous people were expressing concerns to the Care Quality Commission (CQC), including Mrs Arden, who contacted it nine times.
But the home was not inspected until August 2019 when it was found to be requiring improvement in all areas.
The CQC has since apologised for not inspecting sooner, and to all three families for missing the opportunity to potentially launch a criminal investigation.
Only three months after that inspection, Cambridgeshire County Council's contracts team rated the home as "good."
Shortly afterwards came the Covid-19 pandemic, which curtailed the CQC's inspections.
But by June 2022, following a BBC report about deaths at The Elms and after receiving a letter from local MP, now Health Secretary, Steve Barclay, the CQC went in and rated it inadequate.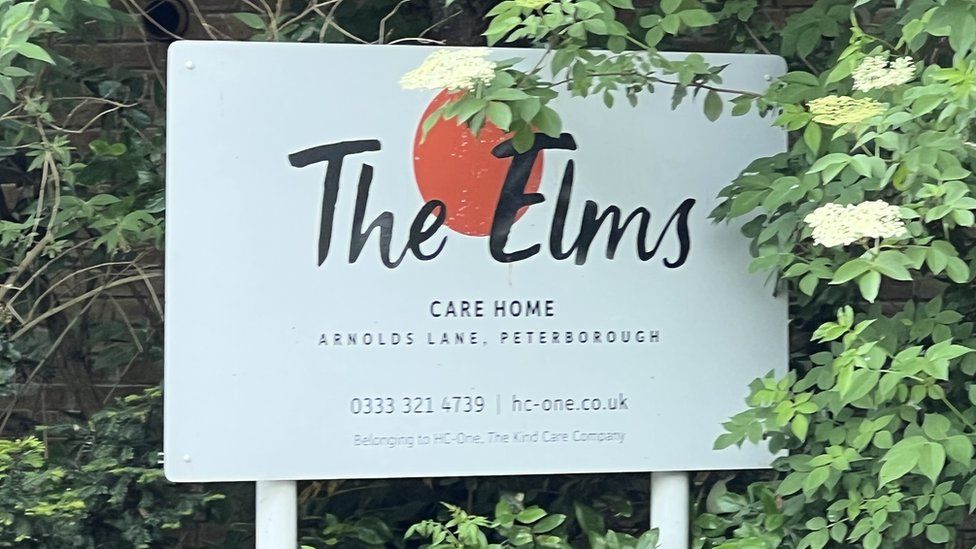 The BBC has obtained documents under the Freedom of Information Act showing communication between the council and HC-One, throwing light on the home's demise and raising questions over whether bosses learned from deaths.
The inquests of Mr Lowlett, Mrs Canham and Mr Poole highlighted poor record-keeping, revealing that the home had four different sheets on which information could be logged on individuals.
The coroner said this could be "confusing" and that "it was not clear at all times who had recorded what, when", while there were gaps in records prior to Mr Lowlett's death.
After a previous inquest, HC-One apologised to the family of Joyce Parrott, who died in April 2020. No attempt had been made to resuscitate after her records were apparently mixed up with those of someone else called Joyce.
In April 2022, nearly two years to the day after Ms Parrott died, a council officer found the handwriting on care plans was difficult to read, noting "name is not consistent".
They recommended: "Care plans need to be reviewed as they are not person-centred and they don't always reflect the resident's preferences, personality and identity."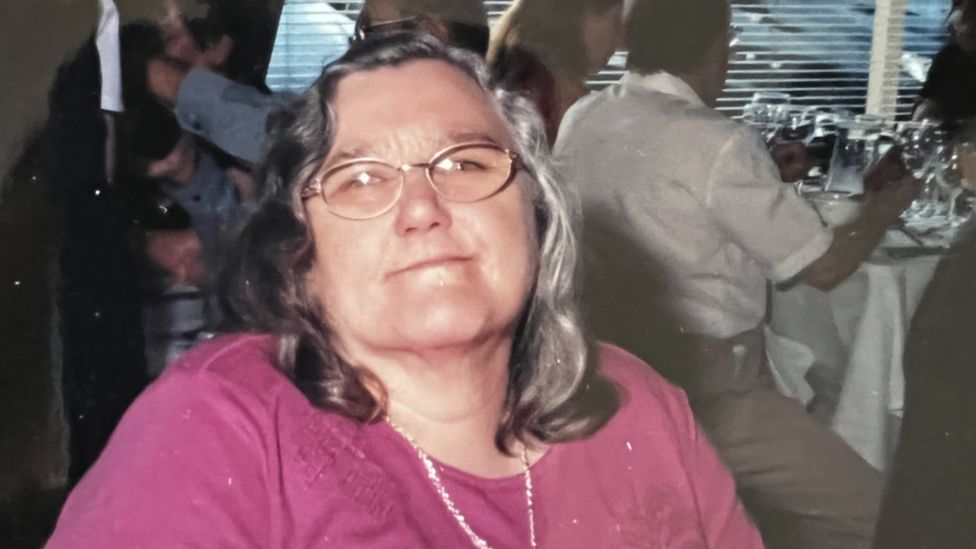 By December 2021, the local care home support team had enough concerns to visit not just The Elms weekly, but do the same for each of HC-One's five Cambridgeshire homes.
Subsequent findings across the next few months included:
Agency staff profiles lacking "evidence they have undergone appropriate checks", while one staff member had a contract that was not signed and another did not have one at all
The fire alarm system had 66 faults displayed
Staff supervisions had not taken place, while the majority of staff stated there were rarely enough people on duty to ensure the service was safe
A long-standing issue around mental capacity assessments, which first appeared as a concern in the documents in April 2021
By July 2022, the council had suspended sending new referrals to all of HC-One's homes in the county.
In a damning letter to the owners on 28 July, the authority said the lack of improvement led it to "conclude that there are significant weaknesses in the leadership and support offered by HC-One as a corporate parent".
It claimed internal communication within HC-One management was poor, that there was a lack of leadership "accountability and drive" and that a "carousel of staff" at all levels led to insufficient managerial or clinical leadership.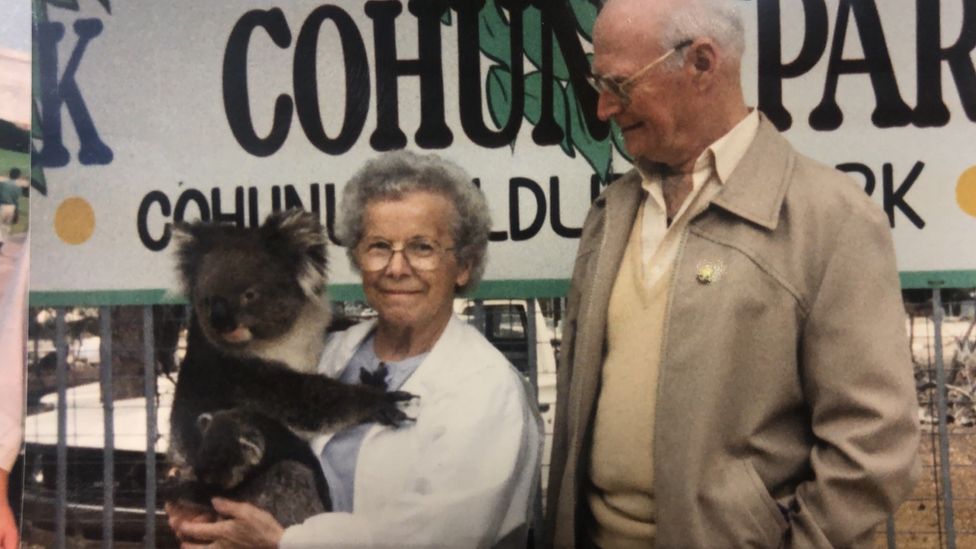 The home relied upon agency staff to fill gaps, but the council said there were "concerns that due diligence is still not in place in all cases" and that the "volume of agency staff can also adversely impact the quality of care delivery in individual homes".
The cracks continued to appear in August 2022, where the officer noted: "The home appeared very chaotic, although this is expected given the current circumstances.
"Several staff from alternative HC-One services are in The Elms supporting due to the previous management team no longer working for the company."
One resident said the home was "'chaos' and there is always people 'coming and going'".
They also discovered "all residents have had a very small but consistent weight loss which should have been identified and addressed".
HC-One closed the home down prior to a damning CQC inspection report being made public, and the council suspension remains in place to this day.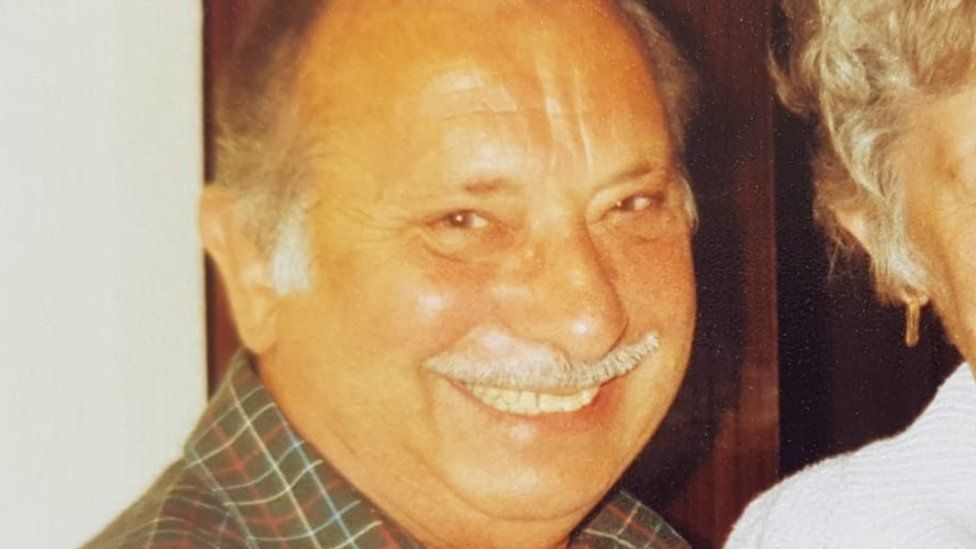 The company, which runs homes across the country, said it was "clear that The Elms should have provided far better care to Mrs Canham, Mr Lowlett, and Mr Poole".
It said the home and regional management team no longer worked for the company, adding: "A lot has changed in the organisation over the past four years, but we know we still have a lot more to do to win back the trust of people in Cambridgeshire."
It said the feedback received "demonstrates we are moving in the right direction".
But the council has asked the coroner to make a prevention of future deaths report about HC-One and, in a moment Ms Jones described as "bombshell", took the inquest an opportunity to tell the company it would not lift the suspension for at least 12 months.
The CQC said after its 2019 inspection it monitored the home closely and then when it re-inspected in June 2022 "we found a deterioration in the level of care being provided, so rated the home as inadequate, and put it into special measures".
Rob Assall, CQC's director of operations for London and East of England, said: "We re-inspected partly to follow up on previous inspections to check on the progress of improvements they were told to make, and due to information provided to us which gave us further concerns about the quality of care being provided.
"Information from members of the public, stakeholders such as MPs and staff working in services, is vital to help us hear about the quality of care and helps us decide when and where to inspect."
The council said it worked with HC-One "for an extended period of time to try to achieve improvements in the quality of care they provided, but improvements made were never sustained".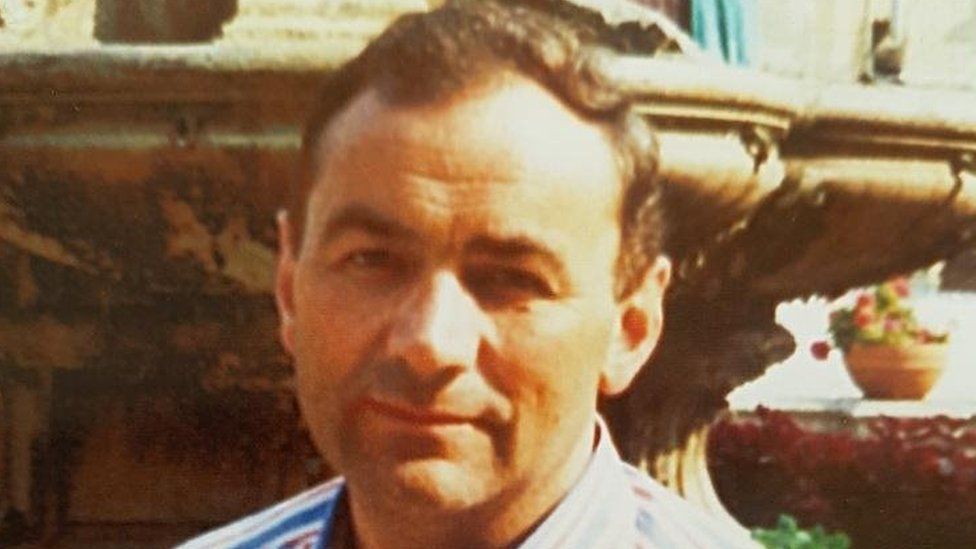 These issues may never have come to light had it not been for the determination of the three families.
Mrs Poole urges others in similar situations to "take photographs, keep a diary, talk to other families that have residents in those homes".
She says the past four years had been a "daily struggle" in their hunt for answers for their loved ones.
Mrs Poole says it "felt very much that no-one believed us, that we were exaggerating", but following the inquests hopes "we can save lives and drive change going forward".
March 26th 2023
Sexual Harrassment of biological females by males to be outlawed in the streets.
On 15 June 2022, Greg Clark (Conservative) presented the Protection from Sex-based Harassment in Public Bill 2022-23 to Parliament. The Bill has Government support. The Home Office has published Explanatory Notes (PDF) to accompany the Bill.
The Bill's second reading took place on 9 December 2022. Committee stage took place in a single sitting on 22 February 2023. Commons report stage and third reading are scheduled for 24 March 2023.
This briefing relates to the law in England and Wales.
The nature and prevalence of public sex-based harassment
Public sex-based harassment is generally understood to involve unwelcome and unwanted behaviour directed at a person in a public space, such as on the street, on public transport, in a gym, or at a hospitality venue, because of that person's sex.
Examples of such behaviour include intrusive or persistent staring or questioning, following someone, sexual or obscene comments, propositions or gestures, flashing or exposing intimate body parts, non-consensual physical contact, and technology-enabled sexual behaviour.
In March 2021 research published by the APPG on UN Women found that 71% of women of all ages in the UK had experienced some form of sexual harassment in a public space. That number rose to 86% among 18-24-year-olds.
In a 2018 report on sexual harassment of women and girls, the Women and Equalities Committee noted that public sex-based harassment "reduces women and girls' freedom to enjoy public life, and can negatively affect feelings of safety, bodily autonomy and mental health".
The Government's position
In July 2021, the Government published its Tackling violence against women and girls strategy. The strategy said there were several existing criminal offences that public sex-based harassment could fall under, including offences under the Protection from Harassment Act 1997, the Public Order Act 1986 and the Sexual Offences Act 2003.
However, the strategy said the Government was committed to ensuring "not only that the laws are there, but that they work in practice". The Government would therefore be "looking carefully at where there may be gaps in existing law and how a specific offence for public sexual harassment could address those".
The strategy also set out several non-legislative actions to deal with public sex-based harassment, including a national communications campaign and plans for revised police guidance and prosecution guidance on using existing offences.
Calls for change
Parliamentarians and women's rights groups have remained concerned that the existing law is insufficient to deal with public sexual harassment. There have been (unsuccessful) attempts to introduce a specific offence by seeking to amend Government bills, and there have been calls for the Government to legislate.
Plan International UK, a children's charity with a particular focus on girls' rights is running the Crime Not Compliment campaign, which calls for the Government to make public sexual harassment a crime. A petition supporting the campaign has received over 65,000 signatures to date.
The campaign group Our Streets Now, started by two sisters after a conversation about experiencing the world as young women, is running a similar campaign. Their petition on the change.org website has received over 463,000 signatures to date.
In a joint briefing Plan International UK and Our Streets Now argue the existing criminal law is "fragmented, incomplete and disjointed" (PDF) and that "many acts of abuse and sexually harmful behaviour fall through the legal cracks".
The Government's consultation
On 21 July 2022, the Government launched a consultation on the options for creating a new offence of public sexual harassment.
The Government's view is that "behaviour amounting to public sexual harassment is already covered by existing criminal offences (subject to the individual circumstances of the case)". It was not therefore proposing to create a wholly new offence.
The consultation instead set out two possible models that would build on the existing offence in section 4A of the Public Order Act 1986. This section covers the intentional use of threatening, abusive or insulting words or behaviour, or disorderly behaviour, to cause a person harassment, alarm or distress. The two proposed models were:
Option 1: create a new offence where a person commits an offence under section 4A of the 1986 Act, and does so because of the complainant's sex or presumed sex.
Option 2: the same as option 1, but with the addition of an illustrative (not exhaustive) list of types of threatening, abusive, insulting or disorderly behaviours that could be covered by the offence.
Each model would provide for a higher maximum sentence if those offences were committed on the basis of the complainant's sex.
The consultation closed on 1 September 2022.
The Government published the consultation outcome on 8 December 2022. The Government said it had concluded that an offence of public sexual harassment should be introduced, and that it would be pursuing Option 1 despite most respondents preferring Option 2. The Government considered that including a list of behaviours was not "the right course to take" as such behaviours could become prescriptive, could rapidly become out of date, and could have the effect of ruling out other types of behaviour from being considered.
The Bill
The Bill would introduce a new offence causing intentional harassment, alarm or distress to a person in public where the behaviour is done because of that person's sex. It would do this by implementing Option 1 from the Government's consultation on the issue.
Clause 1 of the Bill would add a new section 4B to the Public Order Act 1986. Under new section 4B, a person would be guilty of an offence if:
they commit an offence under section 4A of the 1986 Act (intentional harassment, alarm or distress); and
they carried out the conduct referred to in section 4A(1) because of the sex (or presumed sex) of the person to whom they intended to cause harassment, alarm or distress.
It would be irrelevant whether the defendant was also motivated by additional factors other than sex/presumed sex, and whether they carried out the conduct for the purposes of sexual gratification.
The section 4B offence would be triable either way, meaning it could be prosecuted in either the magistrates' court or the Crown court. The maximum penalty in the Crown court would be a two year prison sentence and/or a fine.
The Bill received extensive cross-party support at second reading, although there was some debate on the challenges that could be involved in proving intent.
At committee stage, the following amendments and new clauses were agreed without division:
an amendment to extend the new section 4B offence to Wales (as introduced it would have only applied to England)
a new clause and related amendments to make consequential changes to other legislation on football banning orders, the disclosure of criminal records in Scotland, and disqualification from elected office
The Committee also considered an amendment and new clause tabled by Stella Creasy, relating to the requirement for intent. She did not press either to a division after the Minister said she would look at the issue further, but indicated that she expected to return to the issue at report stage.
March 20th 2023
Newspaper headlines: Judges 'to back down' on Rwanda and Boris' dossier
By BBC News
Staff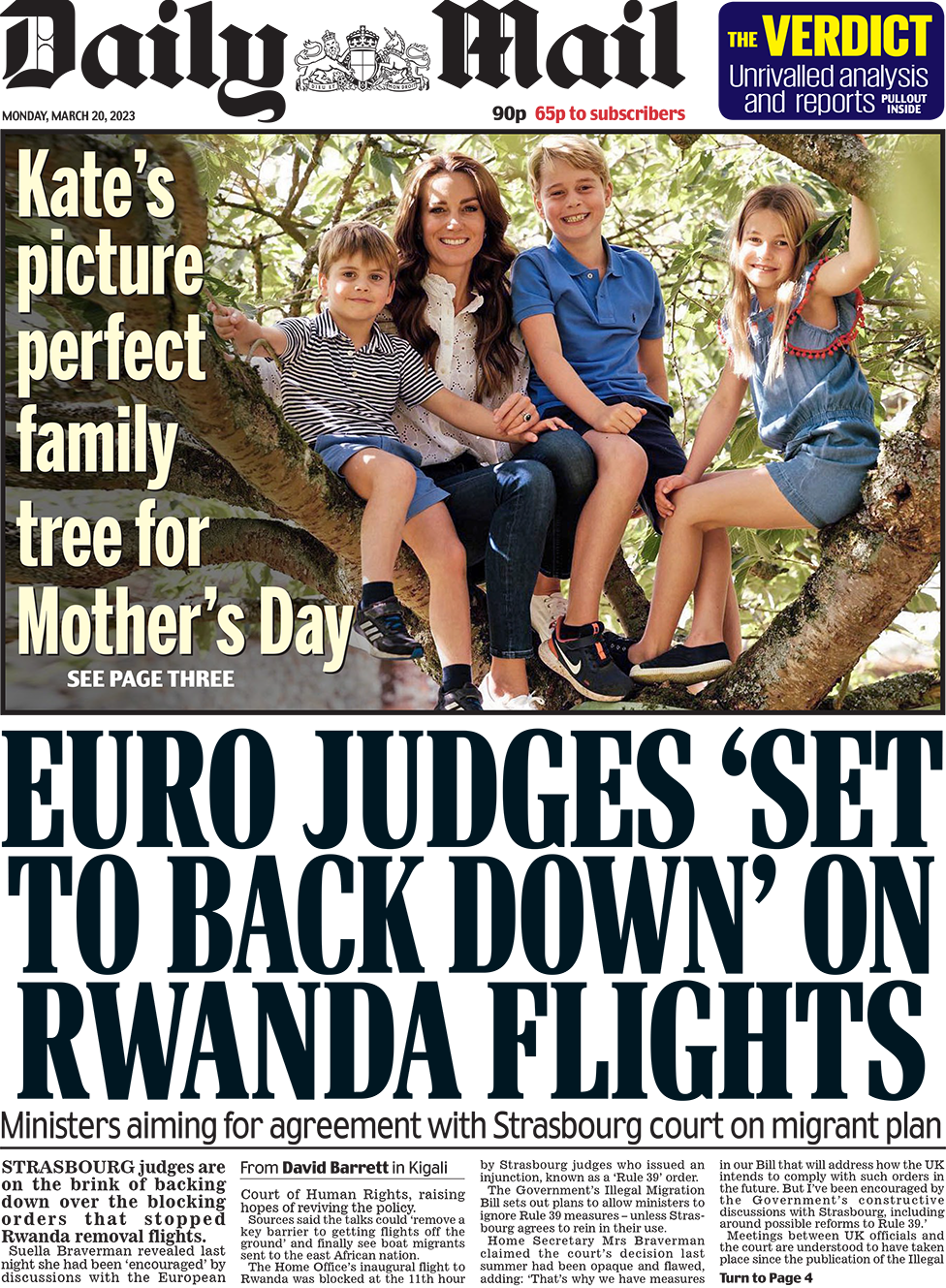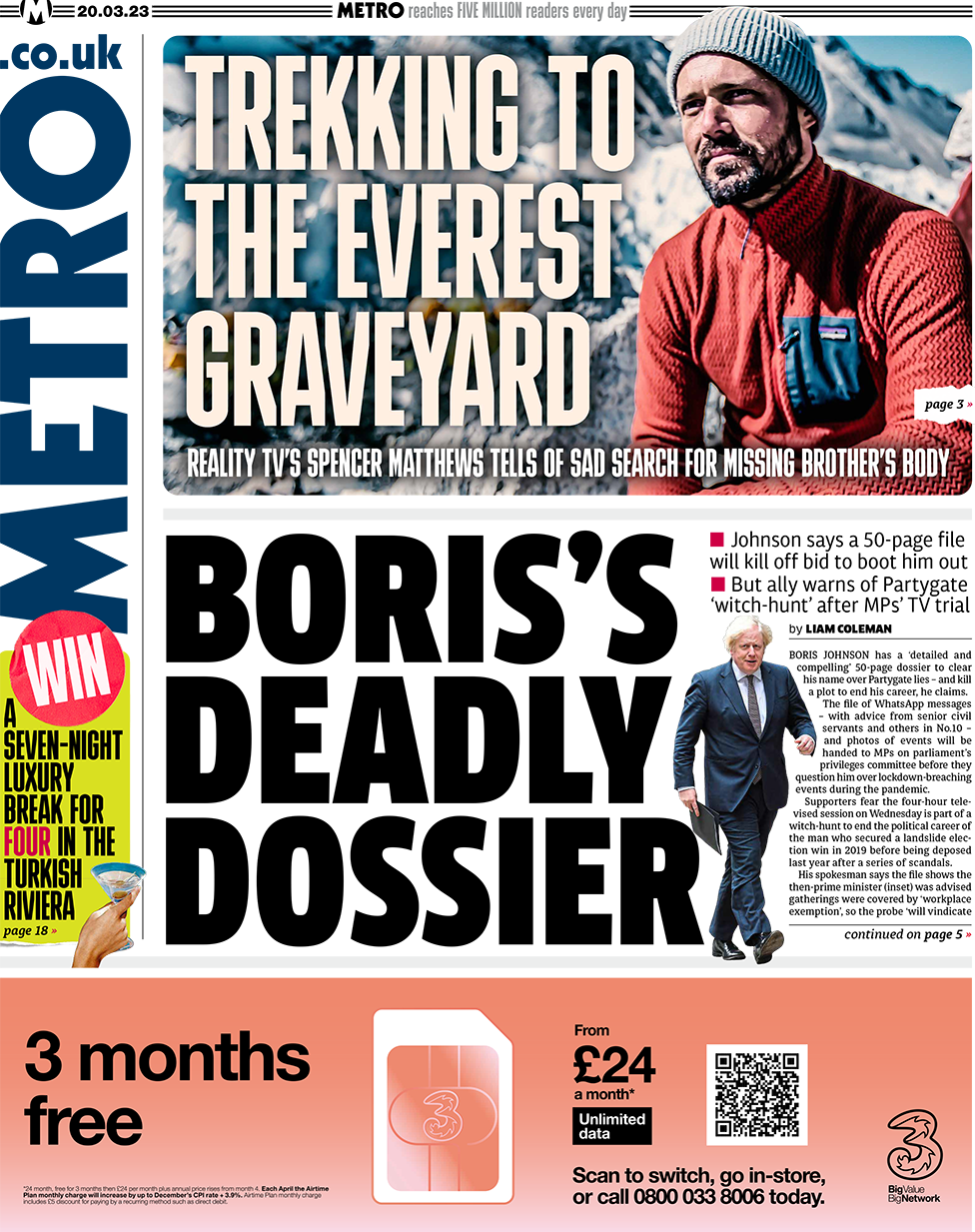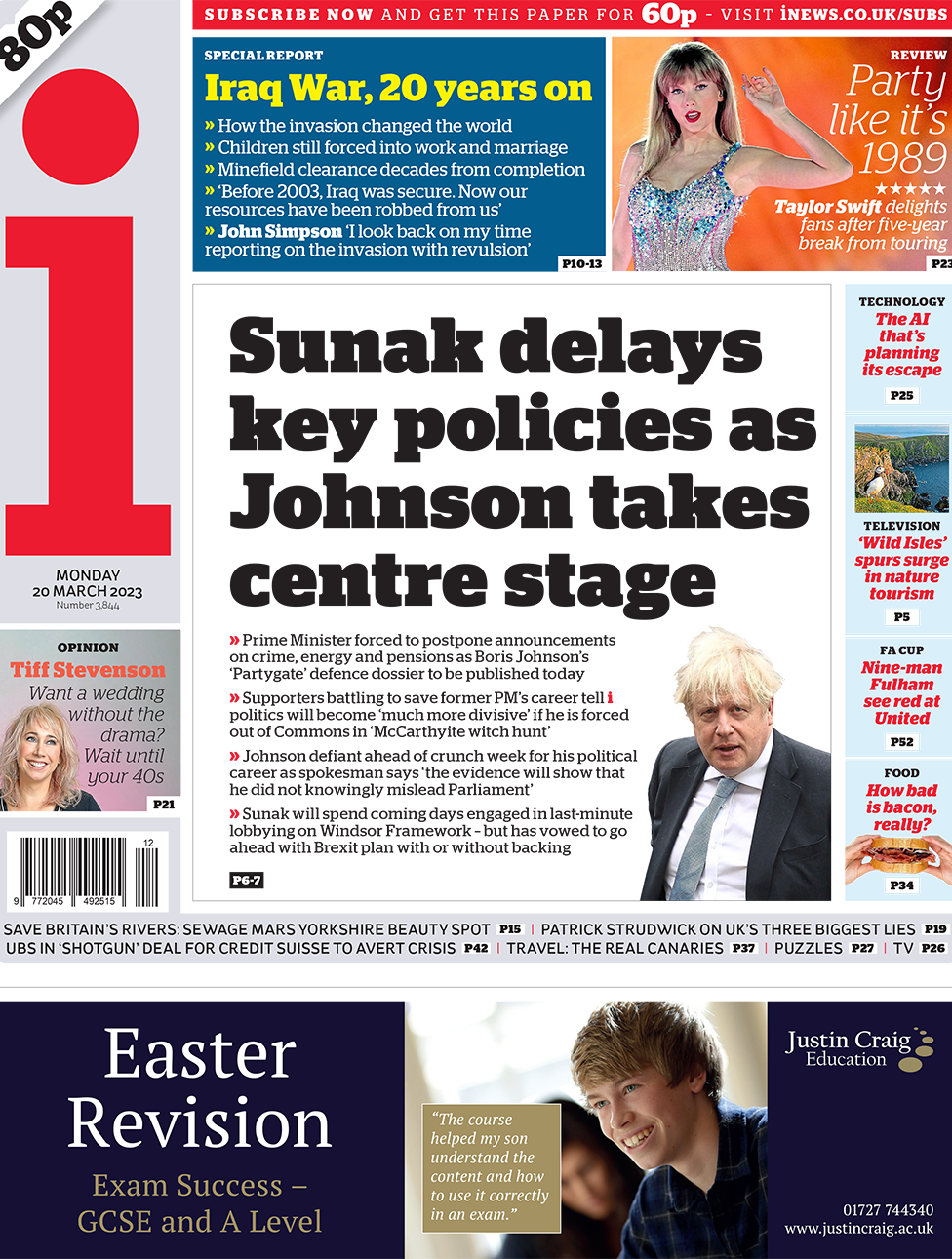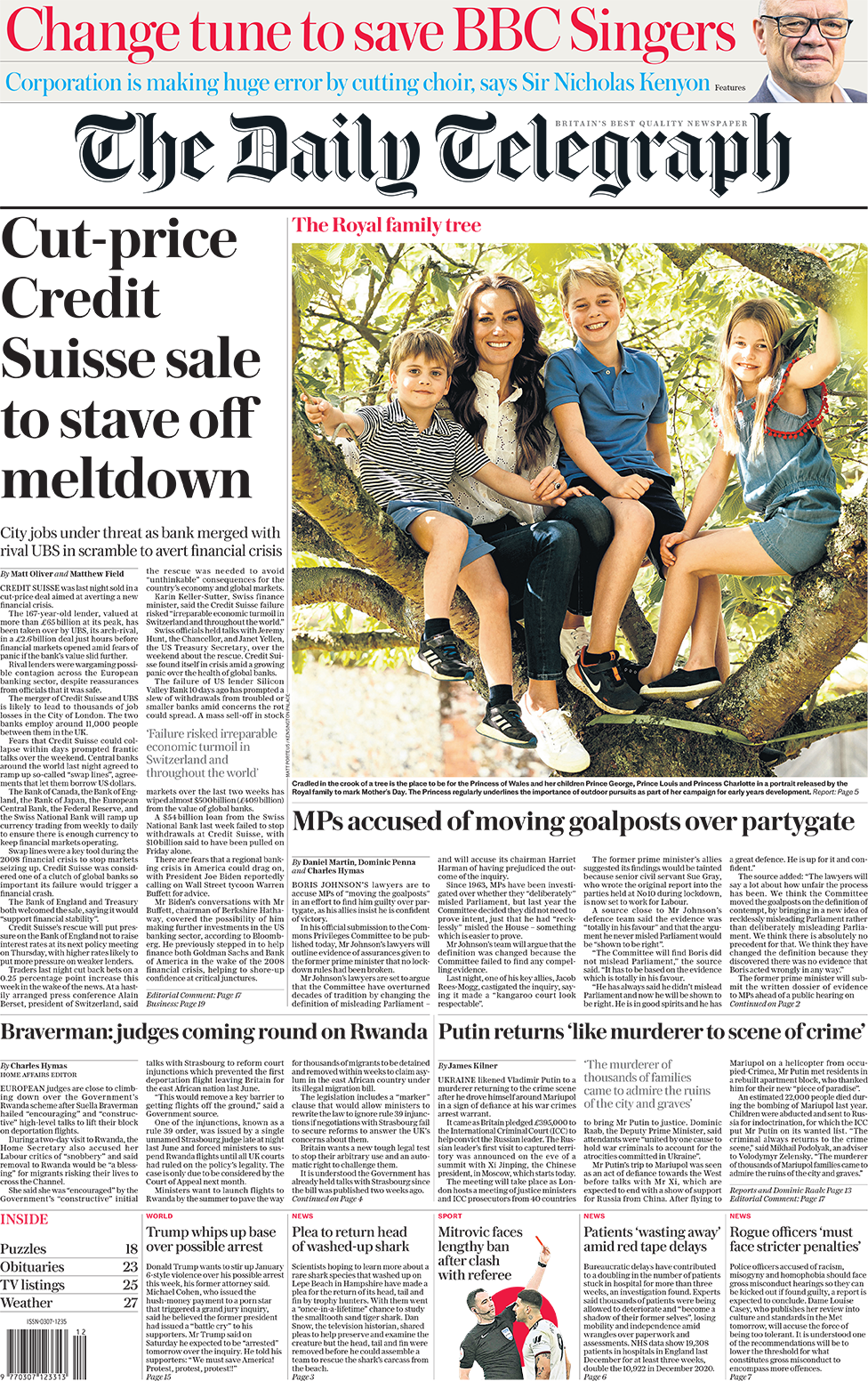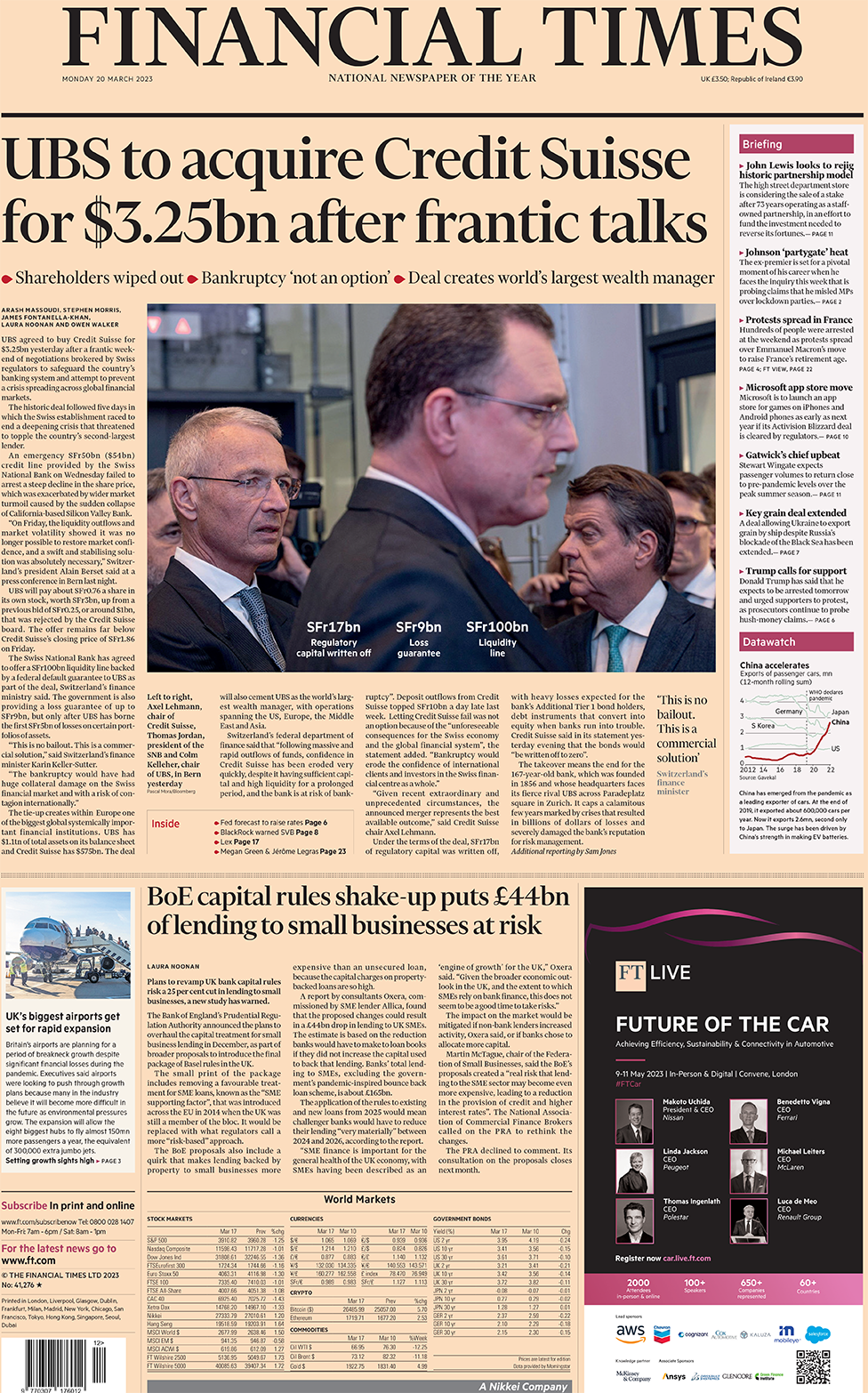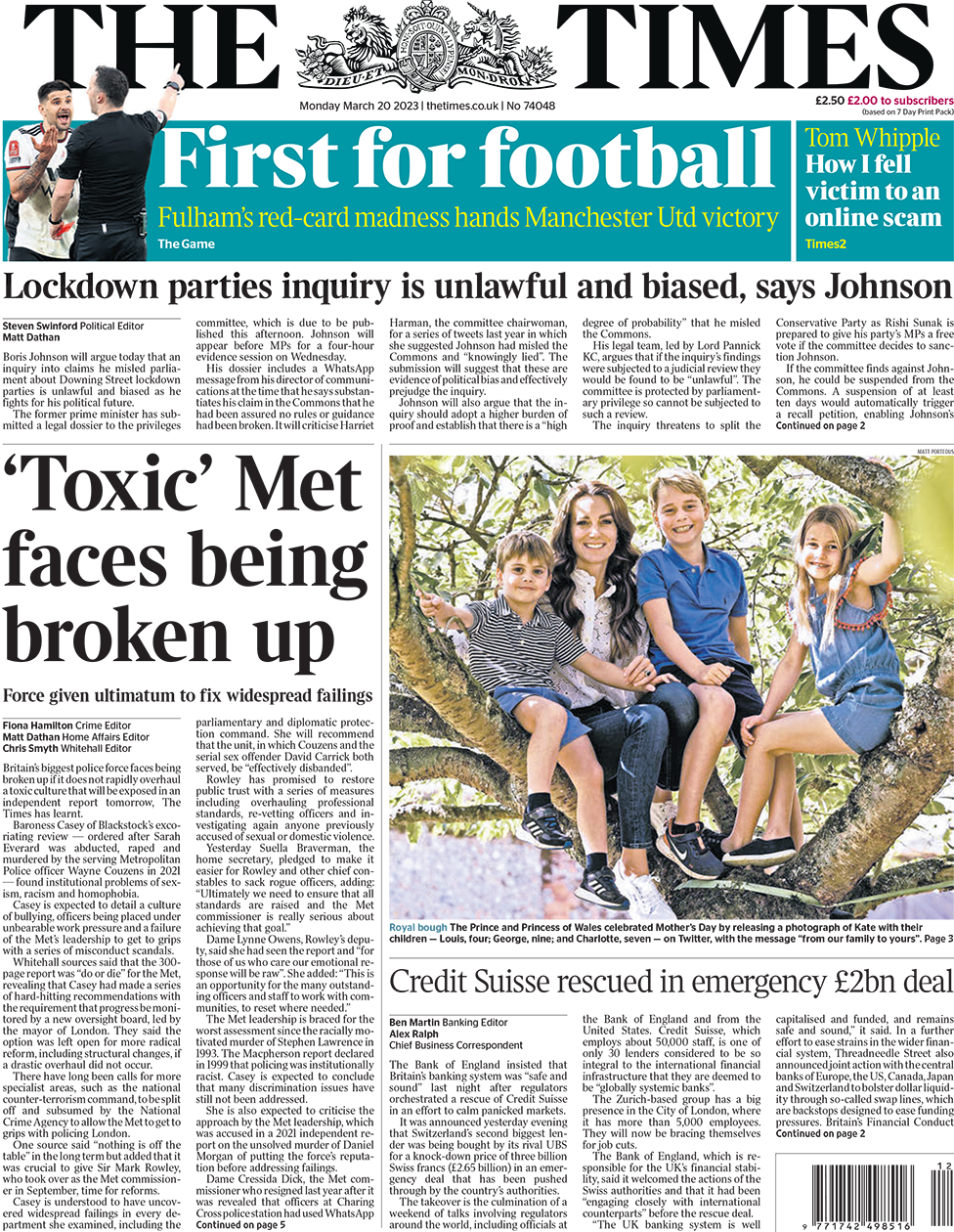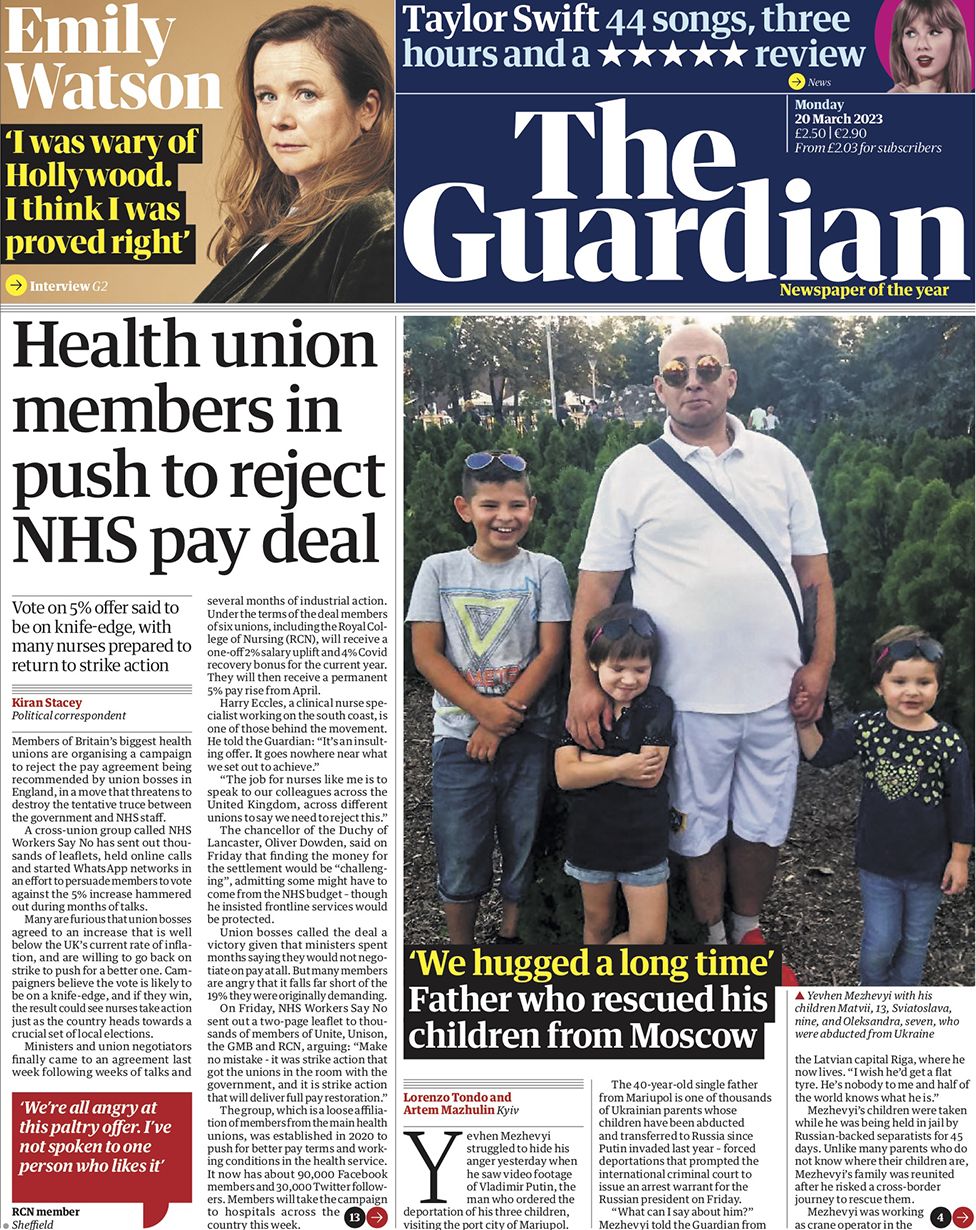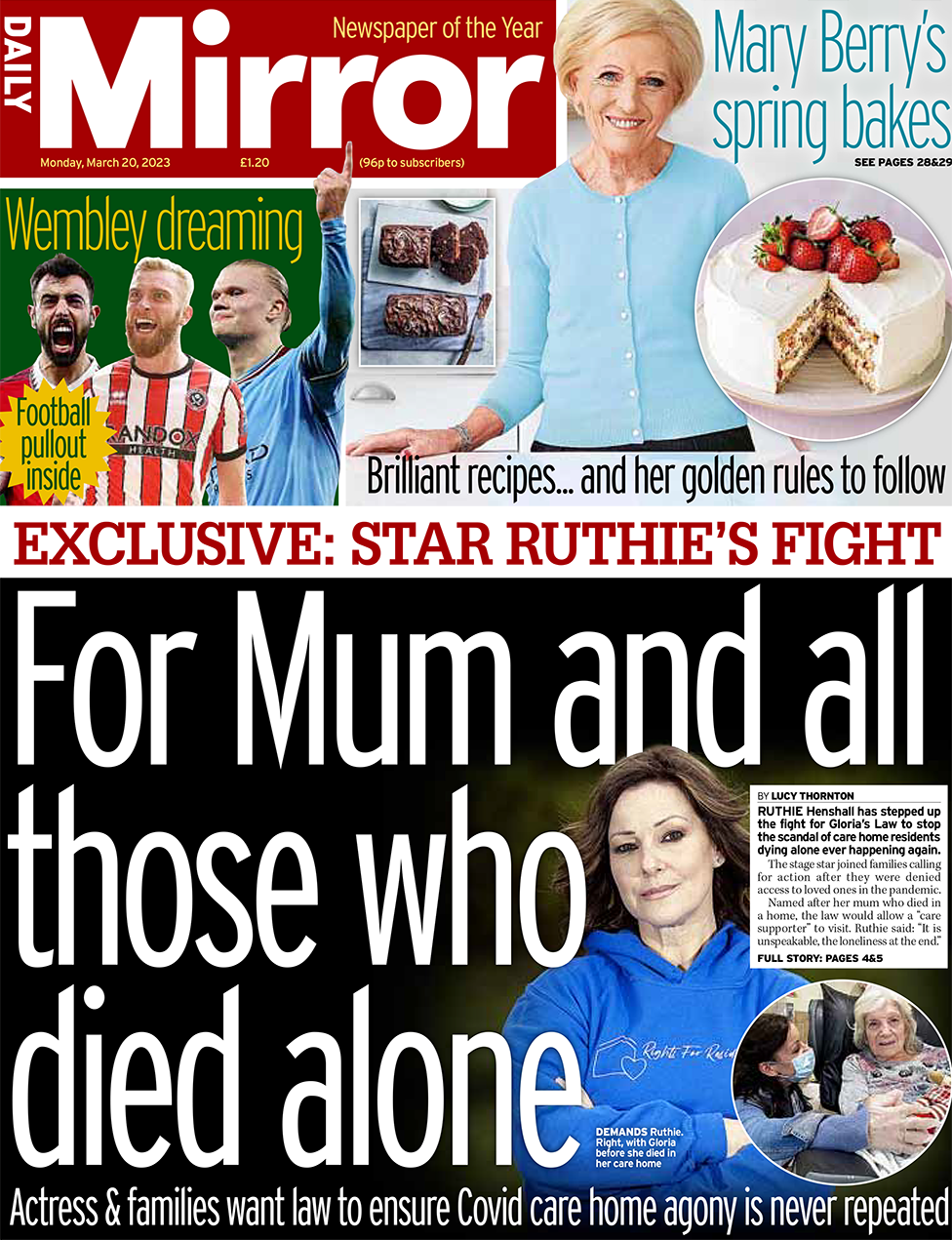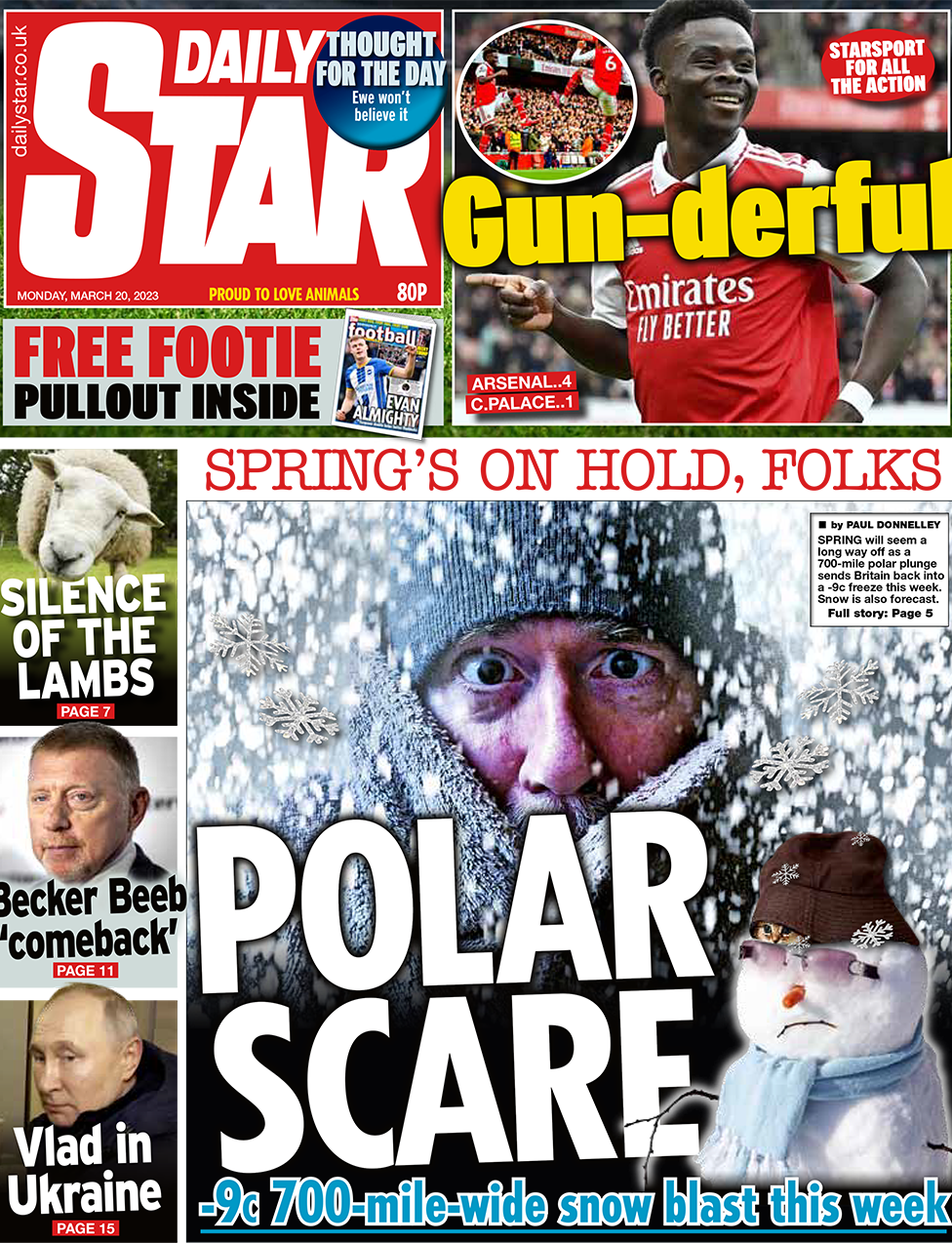 The Financial Times leads on the takeover of Credit Suisse – saying it will "cement UBS as the world's largest wealth manager".
The Telegraph says the deal will incentivise the Bank of England not to raise interest rates because of the pressure that would put on weak lenders.
The front page of City AM features an image of a Saint Bernard – which are used in rescue work in the Alps.
"It's a Swiss rescue" reads the headline.
"Boris braces for Partygate showdown" says the Independent, joining the Metro in leading with the former prime minister's appearance before a Commons committee on Wednesday where he'll deny knowingly misleading parliament.
The Times says that Mr Johnson is preparing to go "on the attack" in a written defence – claiming the committee is biased.
But Tory MPs tell the Independent that strategy would be unwise.
The paper says Mr Johnson is "addicted to getting himself into trouble" and may "be reading about his own destruction in Thursday's newspapers".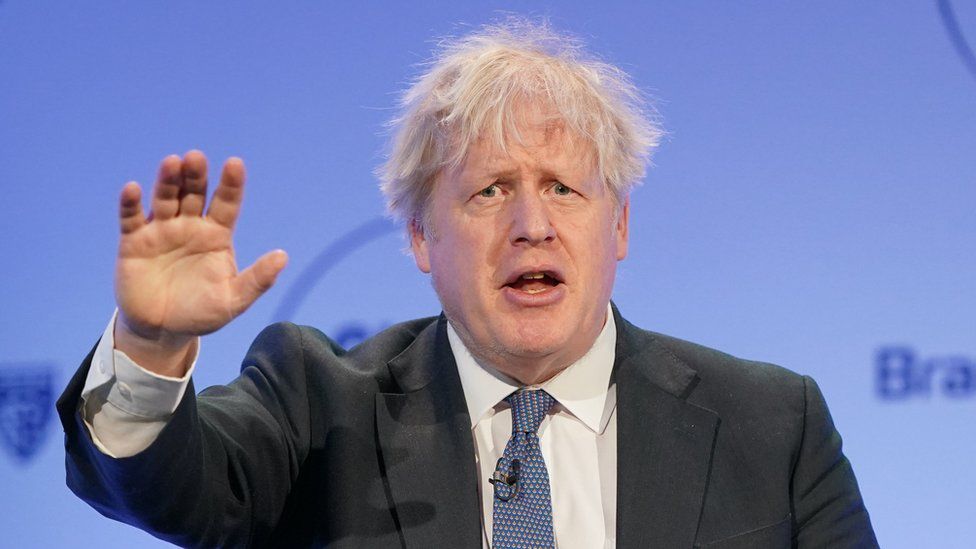 The Daily Mail, the Daily Express and the Sun claim judges in Strasbourg – who blocked a flight last year that was due to take migrants to Rwanda – are "on the brink of backing down".
Home Secretary Suella Braverman tells the papers she's been "encouraged" by conversations she's had with the court.
The Times says the Metropolitan Police could be broken up if it doesn't reform what it describes as its "toxic culture", which is due to be criticised in a report being published on Tuesday.
Sources have told the paper that if a "drastic overhaul" doesn't happen, then structural changes to the force could be considered.
The Sun says the Met is giving out 29,000 phones to its officers, with the understanding they will be monitored for what the paper calls "bad behaviour".
The Guardian says the pay offer agreed by the government and health unions could be rejected by NHS workers.
It says many are "furious" the deal is below the rate of inflation.
Also in the Guardian, the columnist George Monbiot argues that the invasion of Iraq – 20 years ago – is "probably the greatest crime against humanity so far this century".
He says its architects – including Sir Tony Blair and Gordon Brown – are as guilty as Vladimir Putin of waging a "manifestly illegal war".
The BBC's world affairs editor, John Simpson, writes in the i that the invasion is the reason why the public doesn't trust politicians.
He says campaigns for Scottish independence and Brexit can be traced back to the decision.
Mr Simpson also says Mr Putin "probably" wouldn't have invaded Ukraine, and China might not have thought about "crushing" Hong Kong or invading Taiwan were it not for the Iraq war.

March 17th 2023
Immigration saving the Economy? Nonsense!
Following the Spring Budget Statement, media commentators, as well as the usual open-borders and immigration enthusiasts, leapt on the Chancellor's implied assertion that high net migration will prevent the UK economy from going into recession. We said such a claim was baseless (See here). The claim followed earlier projections from the OBR, derived from recent years' immigration levels. The figures arrived at are little more than guesswork given they appear not to take account of the loose points-based system and the demands from businesses. The Chancellor made a virtue of expanding the supply of foreign workers, adding a raft of occupations where industry claims there are shortages. This is on top of future flows from Hong Kong (some 3.5 million are eligible for the path to settlement) and those seeking refuge from elsewhere, plus, of course, illegal immigration or the students who having arrived for studies and who will be here for five or six years with many being joined by dependants (some 20% will settle here). The trades going onto the Shortage of Occupations List (SOL) include: Bricklayers, roofers, tilers, slaters, carpenters, joiners and plasterers. Additionally, around 50,000 care workers came to the UK last year. As one expert said, "migration on this scale contributes a lot to housing demand. We are proposing to import lots of builders to build houses mostly as a consequence of immigration and they themselves will require more builders to supply the additional dwellings which their presence will make necessary." One final point on the importation of (cheaper) labour from abroad. We asked a roofer in his early 20s what he thought about the need for foreign workers in his trade. His response was that, in his experience, some 60% of those doing the jobs to be listed on the SOL were already from overseas, and predominantly from eastern Europe. But he didn't understand why people said there was a shortage. "There's loads already here" to do the job for less than his firm could do it. He went to to say, "…it's common knowledge that foreign workers are paid less. An experienced UK roofer will get £180-£200 a day, while a foreign worker [he said Romanian] will get £100-£130 a day…An [inexperienced] foreign worker would be given £50-£60 a day. An Englishman [his word] would get £90 a day. A Romanian asks for cash, they only want cash, so they don't get taxed." Is it really these sort of workers that our economy now depends on? Our question to the Chancellor and the OBR is, pray, how do such migrant workers help the households who, as the Telegraph noted this week:  '……faced the biggest two-year squeeze in living standards on record?' Mass immigration may boost overall GDP but the benefits don't impact the pockets of ordinary people. On another matter (no, not Lineker), while all the post-Budget noise was going on, the government successfully pushed its new 'Illegal Immigration Bill' through its second reading in parliament, much to the howls and screeches of open borders fanatics and progressive liberals on both sides of the House.


Responding To Labour Shortages – Is More Immigration The Answer?

Since leaving the European Union and emerging from the Covid-19 Pandemic, the topic of workforce immigration has rarely been far from the headlines. Whether it is increasing the number of agricultural workers, nurses or hospitality staff there has been no end to the calls for ever more immigration. If anything, it seems as if no matter the number of immigrants imported to do whatever job needs doing on any particular day, the demand for more just rises and rises. See the full blog here.
MIGRATION WATCH UK IN THE NEWS
The Sun: MIGRANT SURGE 1.6million migrants set to come to Britain in the next five years, figures reveal

'This suggests that the government has no intention of getting a grip of the scale of immigration, as the public want. 'Failing to do so will only lead to further massive, unsustainable population increases.' You can also read our comment reported in News 24 and the full comment published here. Talk TV: Will the new UK-France deal make a difference to Channel crossings? 'What I don't see is why the French refuse to accept that dealing with this problem is just as much in their interests as it is in ours.' GB News: The government's plan has the potential to solve the Channel crisis 'The bill, I think, is certainly a very important step. There's a lot of flaws, there's a lot yet to be done. Which can be rectified as it goes through parliament. As it is, I think it will probably get held up in the courts. Whether we like it or not, the only way that this crisis is going to be resolved is if we start returning people who come here illegally.' Evening Standard: Campaigners brand Bill to curb Channel crossings 'unethical and impractical' 'As it stands, the small boats Bill has many of the right ingredients to solve the Channel crisis. 'However, it is vital that it is not neutered as it makes its way through Parliament. Enshrining in statute a requirement to detain and remove illegal arrivals is a vital first step. 'Furthermore, establishing the precedent that illegal entrants will be unable to claim asylum or other forms of refuge will serve as a powerful deterrent. 'It is equally important, of course, to plug the huge gaps created by the Human Rights and Modern Slavery Acts. These are all essential elements if the tide of illegal boat arrivals is to be stemmed.'
Democracy is working… This week the new Illegal Immigration Bill had a comfortable passage through parliament, with a large majority at second reading. There is much more drama to come, no doubt, but Conservative MPs know that if they fail to pass the Bill in a robust enough state (there are flaws that must be addressed), it could mean meltdown come the next election. If you haven't already contacted your MP about the immigration mess we are in, please do so here.
We wouldn't be able to continue this work without the help of our supporters. If you would like to donate, please click the button below.
Our supporters are all as concerned about the future of our country as we are. Some have been kind enough to remember us in their will. If you wish to consider leaving a bequest to Migration Watch UK, or wish to discuss anything else, do please get in touch. Our email is: admin@migrationwatchuk.org
March 12th 2023
Tip Of Corrupt Police Iceberg
Police Dung Hill-by RJ Cook
Today's news included a woman who has spent two years trying to get her serving West Yorkshire Police officer husband investigated for domestic, including sexual , abuse. This is typical of the U.K police self serving culture. The media and other members of the bourgeoise chattering classes don't want to face up to what is wrong here. Hence when pervert police rapist Wayne Couzens was back in the news, a posh female Sky News panel member came out with the same old sexist prejudice: "What Wayne Couzens did was all about power" .She didn't need to verify this to earn unanimous agreement. This elite woman could not miss a chance to tar all white men with the same brush.
In reality Couzens is a psycho who took extreme sexual pleasure from a particular type of modern young career woman who he obviously hated , humiltated , raped and killed. The big questions are, how did he get recruited inbto an elite unit, and why were previous complaints against him not investigated at senior level – nothing less than Chief Inspector? It should be a warning to anyone asking help from or arrested by these boys in blue. Currently there is no worthwhile external body to oversee the massively corrupt police and their dung hill of an organisation. Police need to be whiter than white and subject to random monitoring of all aspects of their private lives. Instead of that, they trade on the drivel that they put their lives on the line everyday they go to work.
Police advertise themselves as protectors of women yet their male ranks are swollen with adulterers , perverts, porn watchers/collectors and wife beaters. They have a culture of lying, faking and concealing evidence with CPS connivance. They enjoy hanging out on 'dogging sites' , where I have been told they threaten arrest unless their prey concedes to sex. Their instinct to close ranks under pressure was magnificently exposed by decades of Hillsborough cover ups from high level down. With their own mental health open to question, they are the last people to play a key role here, as they do. They believe themselves , acting accordingly as Plebgate demonstrated, to be above the law. R J Cook.
Former West Yorkshire Police officer abused his position for a sexual purpose
Published
26 Oct 2022
A former West Yorkshire Police officer would have been dismissed without notice had he not already resigned for abusing his position to form a sexual relationship with a vulnerable woman.
The Independent Office for Police Conduct (IOPC) investigated after concerns were raised about PC Craig Beazley's actions prior to joining the force in 2017.
PC Beazley admitted having a sexual relationship with the woman, who he had met during the course of his duties while serving with Greater Manchester Police.
We received a conduct referral from West Yorkshire Police, the force where he was employed at the time the allegation came to light in April 2021. He was placed on restricted duties by the force prior to his resignation being tendered.
Investigators obtained statements from PC Beazley and the woman, whom he came into contact with when she reported being a victim of crime. We also analysed mobile phone records and interviewed PC Beazley under criminal caution.
We found evidence he abused his position as a police officer to form an inappropriate relationship with a woman he knew to be vulnerable and made efforts to keep their relationship a secret.
IOPC Regional Director Thea Walton said: "The police are there to help the people they serve, not exploit them. Abuse of position for a sexual purpose is serious corruption and has absolutely no place in policing.
"PC Beazley knew what he was doing was wrong and tried to hide it. He took advantage of a woman he knew to be vulnerable and in doing so damaged her trust in the police. As a result of his reckless and selfish behaviour, he has now been barred from working in policing.
"Nobody should ever be made to feel uncomfortable and unable to challenge a person's behaviour just because of their job. I would encourage anyone in a similar situation to speak to someone – you will be listened to and your experiences will be taken seriously."
On conclusion of our investigation in October 2021, we determined PC Beazley had a case to answer for gross misconduct. We also referred the case to the Crown Prosecution Service, which decided against authorising any charges.
At a misconduct hearing held by West Yorkshire Police, which concluded yesterday, the panel found PC Beazley had breached the professional standards of behaviour with regard to authority, respect and courtesy; honesty and integrity; duties and responsibilities; and discreditable conduct.
He would have been dismissed without notice had he not already resigned and was barred from working in policing in future.
February 28th 2023
Met Police: Sir Stephen House's 'regretful sex' rape comment investigated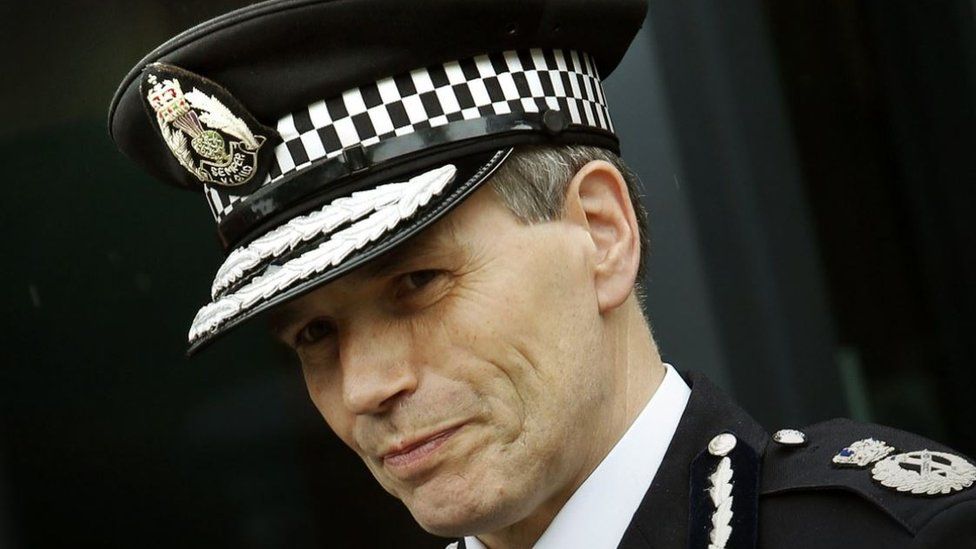 By Yasmin Rufo
BBC News
A former Met Police deputy commissioner is being investigated after allegedly saying the "bulk" of rape complaints were "regretful sex".
It was claimed Sir Stephen House made the comments to a Home Office adviser in January 2022.
The force said the comments were "wholly unacceptable", and the matter had been referred to the Independent Office for Police Conduct (IOPC).
Sir Stephen said: "I categorically deny using the phrase 'regretful sex'."
The accusation was made on Channel 4 News by Prof Betsy Stanko, a Home Office adviser appointed to conduct Operation Soteria – which is examining the way police forces respond to rape cases.
She spoke to Sir Stephen when he was deputy commissioner of the Metropolitan Police.
Horrific offence
She said: "It felt as if he was trying to minimise what the problem was, not taking it seriously.
"He used terms to describe – or a term to describe – what he thought the bulk of the rape complaints were, which was the term 'regretful sex'."
Met Police Deputy Commissioner Dame Lynne Owens said: "Rape is a horrific offence that has a devastating and lasting impact.
"The comments included in the Operation Soteria Bluestone report are wholly unacceptable.
"We recognise that they risk further undermining the confidence of victims to come forward and that is deeply regrettable.
"Having been made aware of an allegation that the comments were made by a senior Metropolitan Police officer, we have referred the matter to the Independent Office for Police Conduct."
Findings from Operation Soteria declared some officers "displayed a culture of disbelieving victims".
In a statement, Sir Stephen House said: "I have dedicated over four decades of public service to protecting the public from predatory offenders.
"These are not words I have ever used in relation to rape or sexual assault and the reason I am so certain that I did not say this is because I simply do not believe it; I find the phrase abhorrent.
"I find this characterisation of me to be deeply upsetting, and colleagues who know me know how untrue it is."
An IOPC spokesperson confirmed the police watchdog had "received a conduct referral yesterday from the Metropolitan Police Service (MPS) regarding alleged comments made by a former senior MPS officer in January 2022".
"We will now carefully assess the referral to decide what further action may be required from us," they added.
Sir Stephen has held a number of senior positions, including serving as Police Scotland's first chief constable between 2012 and 2015 and being appointed as Acting Commissioner of the Metropolitan Police in April 2022 after Dame Cressida Dick left the position.

Related Topics
More on this story
Comment Liberal feminist lefties assume the right to set the police agenda. Clearly they ,who dominate mainstream media, want to present Sir Stephen's comment as a sort of vile cover story for appalling revelations of police officer sex and abuse crimes. There is a knee jerk response to him saying something feminists trail blazing guru Germaine Greer said years ago.The truth is that too many women lie about rape and domestic abuse for various reasons , bad sex being one of them ,which is why female dominated juries frequently aquit.
However, we are in a society and age where politically correct pressure groups demand that all men accused of rape are judged guilty. On the other hand, as we saw from the Caroline Flack case , women should never be charged with assault or sex offences because women are so superior they only do wrong under male influence. Police officers will need reprogramming if they don't know this.
R.J. Cook
Poor families more resourceful in past, says top Tory Lee Anderson
By Paul Seddon
Politics reporter
People struggling with living costs were "more resourceful" in previous decades, the Tory deputy chairman has said.
Lee Anderson told the BBC there was a "different culture" in his youth, and people were more likely to take on extra work.
The MP – who grew up in a mining town – has faced criticism for previously questioning the need for food banks.
Recalling his childhood, he said "our garden was our foodbank".
He said his parents had "made do" in the 1970s, despite growing up in an environment that people today would see as "very, very, poor".
But speaking to the BBC's Political Thinking with Nick Robinson podcast, he said: "We didn't think we were in poverty.
"Things were more expensive I think back in the Seventies. Food was definitely more expensive, relatively speaking," he told the podcast.
"We had one holiday a year, which was a caravan in Skegness. We had a garden full of vegetables, [with] chickens at the bottom for the eggs.
"Perhaps if some people today could go back in a time machine and see how we lived, they'd think we were very, very, poor. But I didn't see that at the time."
When challenged that people some parts of the country today would not have a garden to grow vegetables in, he replied: "The point I was making was people were more resourceful when I was growing up as a child.
"They were more resourceful. My parents were the children of men that had fought in the war, they'd gone through very, very difficult times.
"So it was a different culture, there was a different outlook on life. And they made do.
"My dad always said to me – if you need more money, go and work a weekend shift, do a bit of overtime. It wasn't 'complain on Facebook or Twitter or go and do a TikTok video or just complain to government'."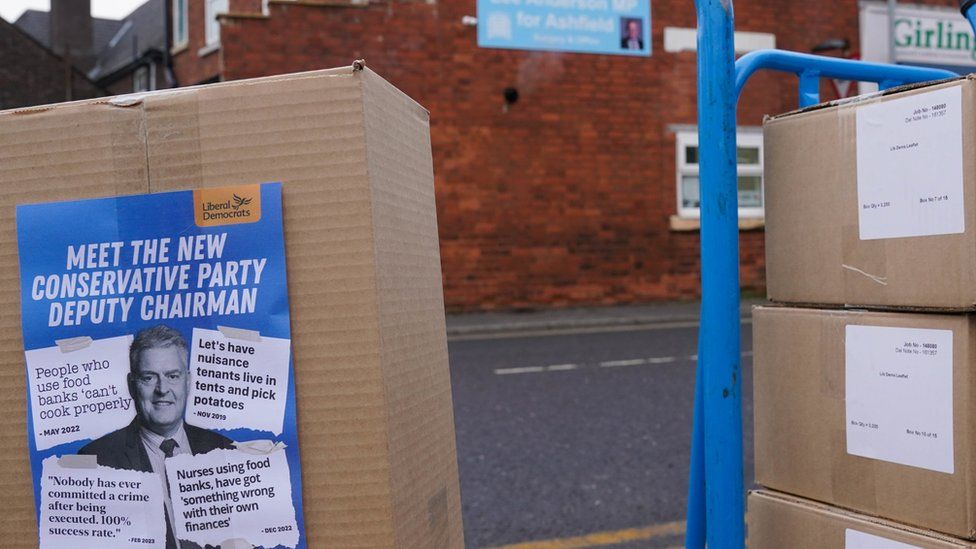 Mr Anderson, who grew up in Ashfield, Nottinghamshire, a former mining area which he now represents as MP, was appointed deputy Tory chairman by Rishi Sunak last month.
Since then he has found himself at the centre of media storms for his outspoken views on issues such as migrant Channel crossings, his support for the death penalty, and the use of food banks.
Before his appointment, he was branded "out of touch" last year for suggesting people needed to learn how to cook and budget "properly", rather than use food banks.
He later defended his comments, saying he was glad to have started a "debate" on the issue.
In his interview with Nick Robinson, he said anyone earning an annual salary of £35,000 "should not be using a food bank" when asked about a row over whether nurses had used the resource.
He said that whenever he talked about the issue, his inbox was flooded with people making supportive comments "saying 'you know what Lee, thank goodness somebody is speaking out, we actually agree with you'".
Pressed on whether higher housing costs in places like Barking, a London borough, could lead people on this income to use a food bank, he replied: "Where are they?"
"I get pensioners contacting me from southern constituencies who are on peanuts, there's on less than twenty grand a year, they're not using foodbanks."
Read More https://www.bbc.co.uk/news/uk-politics-64814421
Inside the UK's Mormon missionary boot camp
By Harvey Day
BBC News
Every year, thousands of young Mormons go on missions to try to recruit others into the religion. The BBC was given access to their UK boot camp, where they learn how to teach Mormon beliefs and use social media to reach potential converts.
When 19-year-old Rebekah Cooper started her mission, she had to give up her first name, stop making phone calls to her friends and surrender any time to be on her own, other than to use the toilet or shower.
Known only as Sister Cooper during her religious mission, she also began a strictly-planned daily schedule – of prayer, study, exercise, volunteering in the community and seeking out potential converts – starting at 06:30 every morning and ending with a nightly curfew.
Along with general Mormon rules based on religious scriptures like a ban on premarital sex and drinking tea and coffee, missionaries aren't allowed to stay out late or watch TV or movies. Typical Gen Z pastimes like gaming and TikTok are also forbidden.
Read More https://www.bbc.co.uk/news/uk-64790111
March 2nd 2023
'It's just not worth it': why full-time work no longer pays in the UK
Britain has a shrinking economy and a worker shortage – so why aren't part-time workers increasing their hours?
Jedidajah OtteMon 13 Feb 2023 12.30 GMTLast modified on Mon 13 Feb 2023 21.13 GMT
Tougher benefit rules have boosted employment in the UK, but have also trapped workers in dead-end jobs and weakened incentives to move from part to full-time work, according to the Institute for Fiscal Studies (IFS).
As Britain is expected to be the only major industrialised country to see its economy shrink this year, amid rising interest rates and higher taxes, the government is frantically trying to find ways to boost economic growth.
With the chancellor, Jeremy Hunt, having launched an inquiry into why hundreds of thousands of people have left the workforce recently, and the Treasury keen to get more people into full-time work, the question of why more people aren't increasing their hours amid a persistent shortage of workers has once more moved centre stage.
More than 8 million people – a quarter of the UK workforce – are in part-time work now, the latest official figures from the Office for National Statistics (ONS) show.
Influential Tory backbenchers are putting pressure on the chancellor to introduce a range of measures to help make childcare more affordable so parents can get back to work.
In a keynote speech at Bloomberg last month, Hunt urged early retirees and those struggling to find a new job to rejoin the workforce. "We need you, and we will look at the conditions necessary to make it worth your while," he said.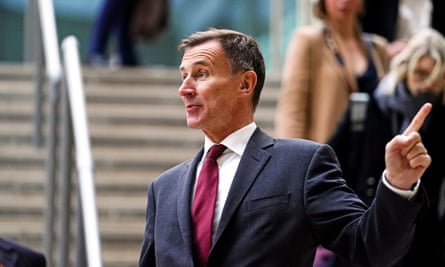 Jeremy Hunt during his first major speech as chancellor he declared that 'declinism about Britain was wrong in the past and it is wrong today'. Photograph: Jordan Pettitt/PA
But for more than a decade now, due to a range of Conservative policies, families working full-time across the income spectrum have been finding themselves earning less money than if they worked part-time.
William, 58, a single father from Bedfordshire, is one of several people who told the Guardian that they would like to work more, but are financially better off for reducing their hours.
He works 11 hours a week as a community care worker, visiting elderly clients in their own homes.
"I've reduced my hours because I'm receiving universal credit. If I work over a certain number of hours or earn over £334 a month, my award is reduced. This means that I don't get paid for some of the hours worked in real terms.
"My job requires that I use my car and although I receive a mileage allowance, this gets added to my take-home pay and again my UC award is reduced, so effectively I don't receive the money I lay out for fuel."
Read More https://www.theguardian.com/business/2023/feb/13/full-time-part-time-work-no-longer-pays-uk-economy?utm_source=pocket-newtab-global-en-GB
Comment The issue here is thelow pay and poverty trap. It is a very old story in the U.K. R. J. Cook
February 24th 2023
Skirting The Issue – A Comment On The Following Article by R.J.Cook.
Skirting The Issue by R.J.Cook.
A 1995 article in the Los Angeles Times showcases the concept of female uniform fetishism.. In the article, Midge Wilson, a psychology professor at DePaul University, explains how a man dressed in police or military uniform delves into the female's psyche. "A man in uniform taps into… father figures, heroism, protection and power," he said. "He also suggests a chance for excitement and adventure."
The myth that girls and women never lie makes the world an ever more dangerous place for men. There is a prevailing nonsense that there must be no fiction or non fiction suggesting female sexuality. We are supposed to believe that unless a girl has been abused by an evil man, her sexuality switches on mysterioously when they reach 18 , but then only as passive recipients.
The truth is that schoolgirls wear the shortest possible skirts as soon as they hit puberty, hormones taking control far earlier than it does with the boys due to a far shorter reproduction window.
However , living in a society dominated by the mindset of TERFS like J.K. Rowling, womens defining feature is an uniterrupted curse of menstrual flow, where pregnancy is the last thing on their minds, or at least that is what we are supposed to think they think. Reality is that girls soon learn from their mothers to keep their natural feelings to themselves. Secrecy is their power. As for fathers talking about daughters bravely resisting schoolskirt length rules, maybe for some ther daughters are seen secretly as their female selves.
From the school's viewpoint, the vulnerability of male teachers to allegations of perving upskirts too short for modesty when bending or in high winds should be paramount. School girls have vivid imaginations leading to a life time of agonising over how attarctive they are – allied to endless complaints about men seeing them as sex objects.
It is still taboo to discuss why female uniforms have erotic appeal. Before the age of feminism, slim line bourgeoise nurses were faviurites busily bustling along with under slips rustling under starched uniforms, and prim white caps, frilly sleaves and black stockings. Those days are long gone. Modern nurses are notable only for pay disputes and modety wear. For sake of fairness , the same rules should apply to schoolgirl uniforms. Girls know what they are doing , but as with old fashioned nurses hooking doctors, they portray a vulnerability deliberately to attract males -with risk to males , themselves and any male they misrepresent for egotistical gratification.
R.J.Cook
Merseyside schoolgirls 'humiliated' by staff skirt inspections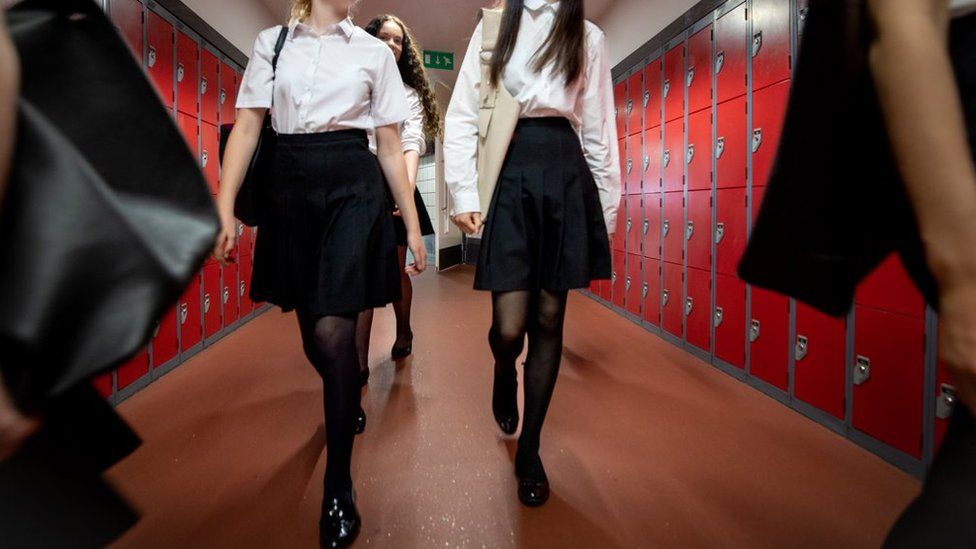 By Holly Jones
BBC News
Female pupils say they have been left "humiliated" over enforcement of a uniform policy at a Merseyside school.
Girls have been made to enter Rainford High School in St Helens separately to boys and have had their skirt length inspected by male teachers, they claim.
Hundreds of pupils staged a protest against how rules, which have left some pupils in tears, have been imposed.
The school said "the implementation of the uniform policy was carried about by staff, both male and female".
More than 1,000 people have signed a petition against the policy with some calling it "outdated" and "ridiculous".
Tony, a parent who has complained about the treatment of his daughter, said: "When pupils returned after half term, they lined girls up and examined their skirts and told them, 'Yours is suitable, yours is not'.
"It was humiliating. My daughter was so upset about it."
The protests come after a letter was sent to parents in October, in which the school stated it had seen a "majority" of female students wearing skirts "significantly north of knee length".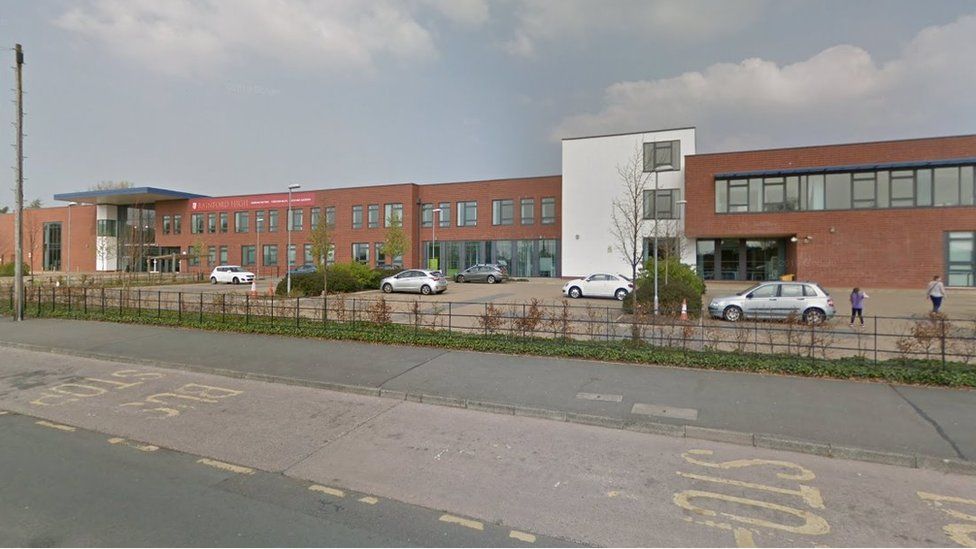 Tony added his daughter had been given a detention for taking part in the protest on Wednesday.
He said: "I am so proud of my daughter for standing up for her beliefs, It's appalling how it's been handled."
Videos shared on TikTok show what was described as a "protest" at the school, with large groups of pupils gathered in corridors and male pupils wearing skirts on top of their uniforms.
The letter to parents argued skirts need to meet standards so pupils concentrate on work "without worrying that actions such as sitting down become overly precarious due to skirt length".
It added that pupils who fail to meet the uniform guidelines will "face challenges and potential sanctions".
This is disgusting and I am ashamed it is happening at Rainford High School in St Helens. Male teachers should not be measuring the length of girls' skirts.

It is so demeaning and I am proud of our local girls and boys that are protesting against it./Swl8YfbQde— Marie Rimmer MP (@MarieRimmer) February 24, 2023
The BBC is not responsible for the content of external sites.View original tweet on Twitter
Rainford sixth form student, Summer, who took part in the protest on Wednesday, said: "It's annoying [the teachers] think we're protesting against the rule, [but] we're protesting how its being implemented – to have girls separated from boys. It's humiliating, and girls are leaving lessons crying.
"There is a minority that take it to the extreme and wear skirts too short. But they're branding everyone the same."
Head teacher Ian Young said like many schools "we have a clear uniform policy".
"The implementation of the uniform policy was carried about by staff, both male and female," he said.
"Unfortunately, during the protests, a number of students breached the school's behaviour policy and this resulted in us implementing our discipline policy and taking the appropriate action in accordance with this.
"Daily school life requires a range of policies and implementing these policies enables our school to create a safe and productive environment, ensure the smooth running of the school and makes sure that a consistent approach is applied."

February 23rd 2023
Does the UK's voter photo ID rule lock out marginalised Brits?
Published: February 16, 2023
Volunteers wait to record voters' intentions at a new polling station at The Turbine Theatre in the Nine Elms ward of the borough of Wandsworth on the day of the local elections, in London, Britain, May 5, 2022. REUTERS/Toby Melville
What's the context?
Plans to make voters show a photo ID could disenfranchise ethnic minorities, LGBTQ+ people and the homeless, say critics
LONDON – Marginalised groups in Britain including ethnic minorities and the homeless risk losing their right to vote due to government plans that require people to show a photo ID before voting, campaigners and lawmakers said.
Currently, voters need only give a name and address to vote, but from May 4, they will be asked to show some form of photo ID in a bid to prevent voter fraud.
Critics fear the new rules could lock out millions of Britons without easy access to a photo ID, be it a driving licence or passport, and may deter the young, old, disabled and homeless people from casting their votes, advocates say.
A range of photographic documents would be accepted at polling stations, including a new Voter Authority Certificate, a photo document ID that is free to apply for.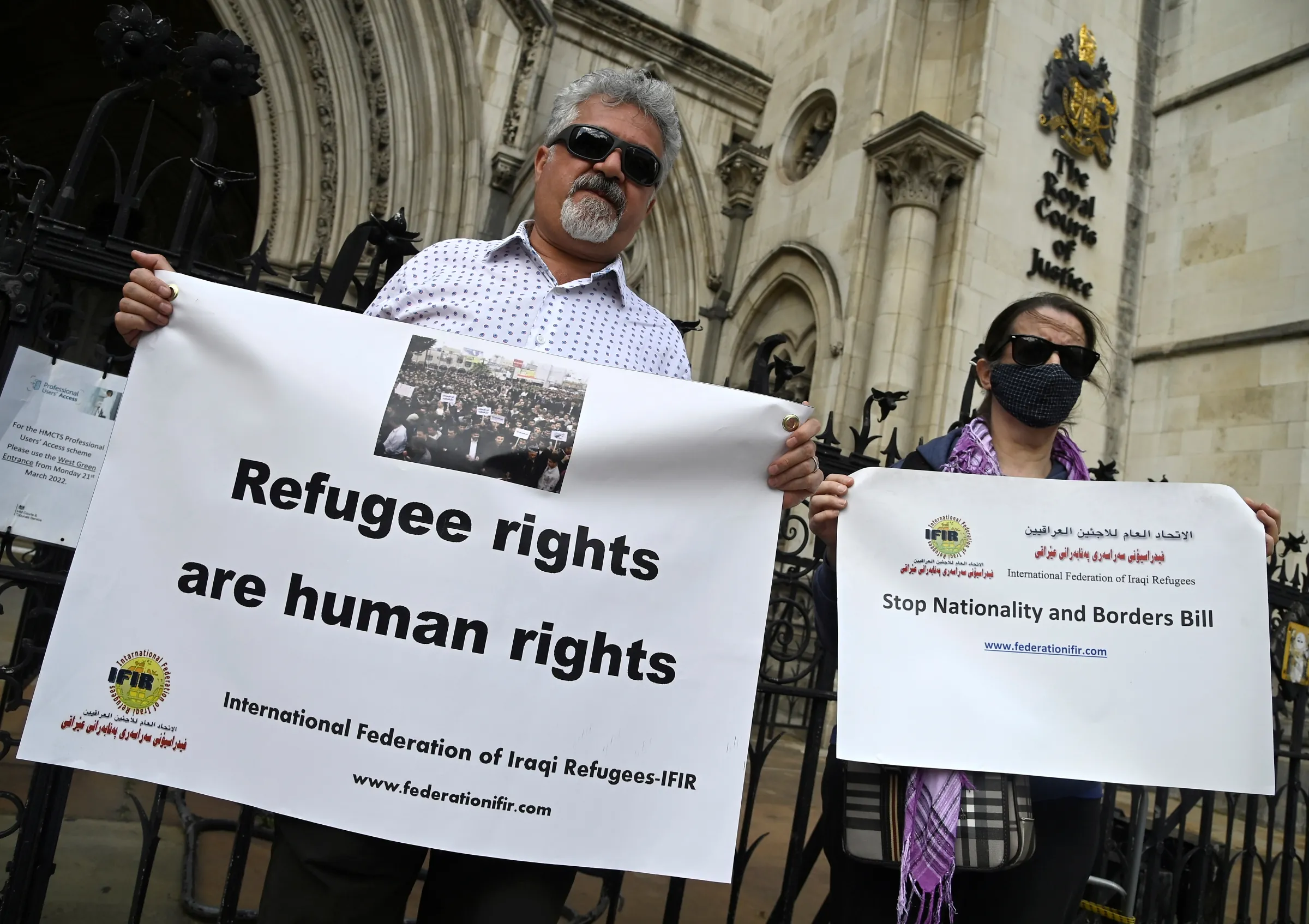 Go DeeperUK digital residence checks lock out refugees, slavery victims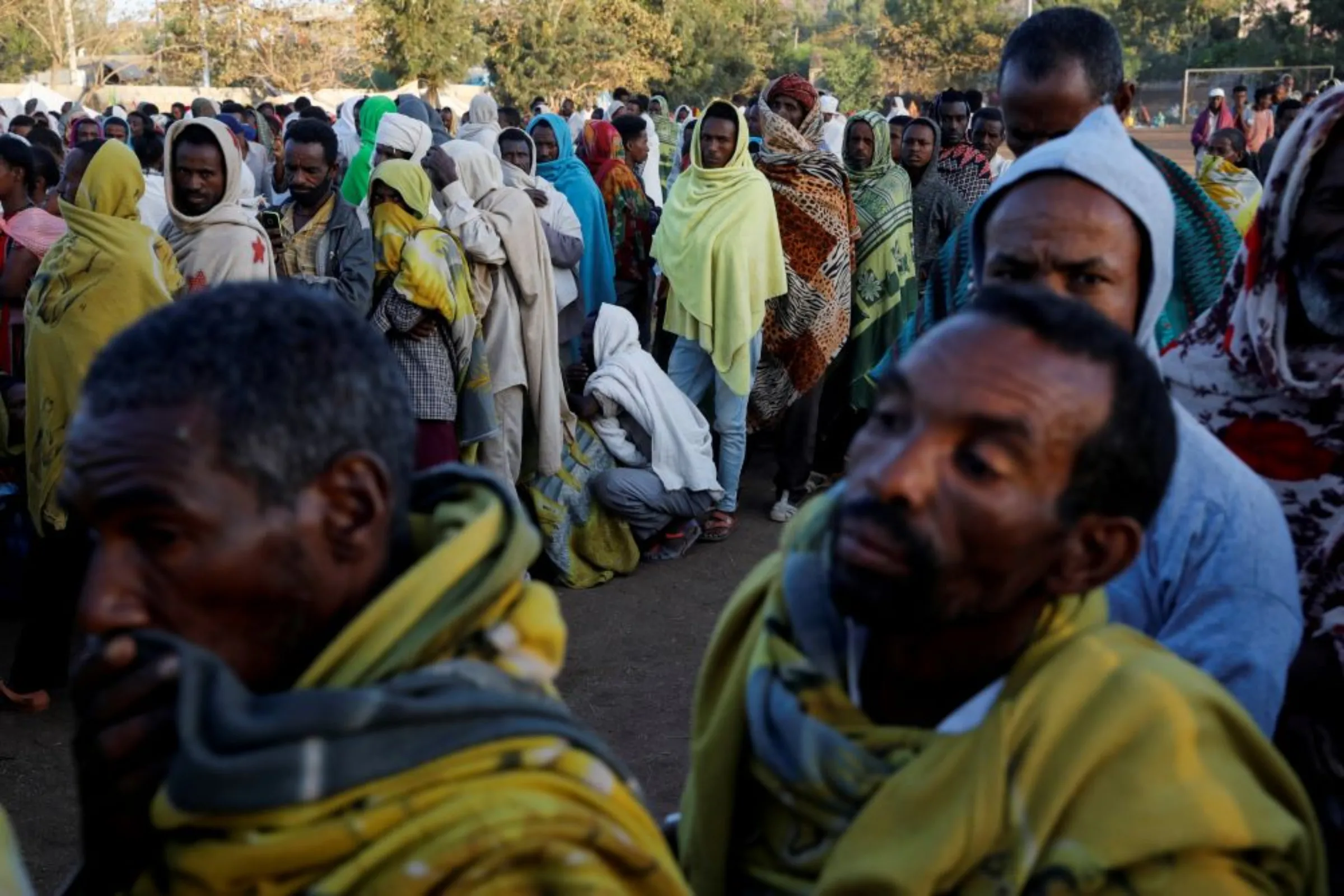 Go DeeperEthiopia digital ID prompts fears of ethnic profiling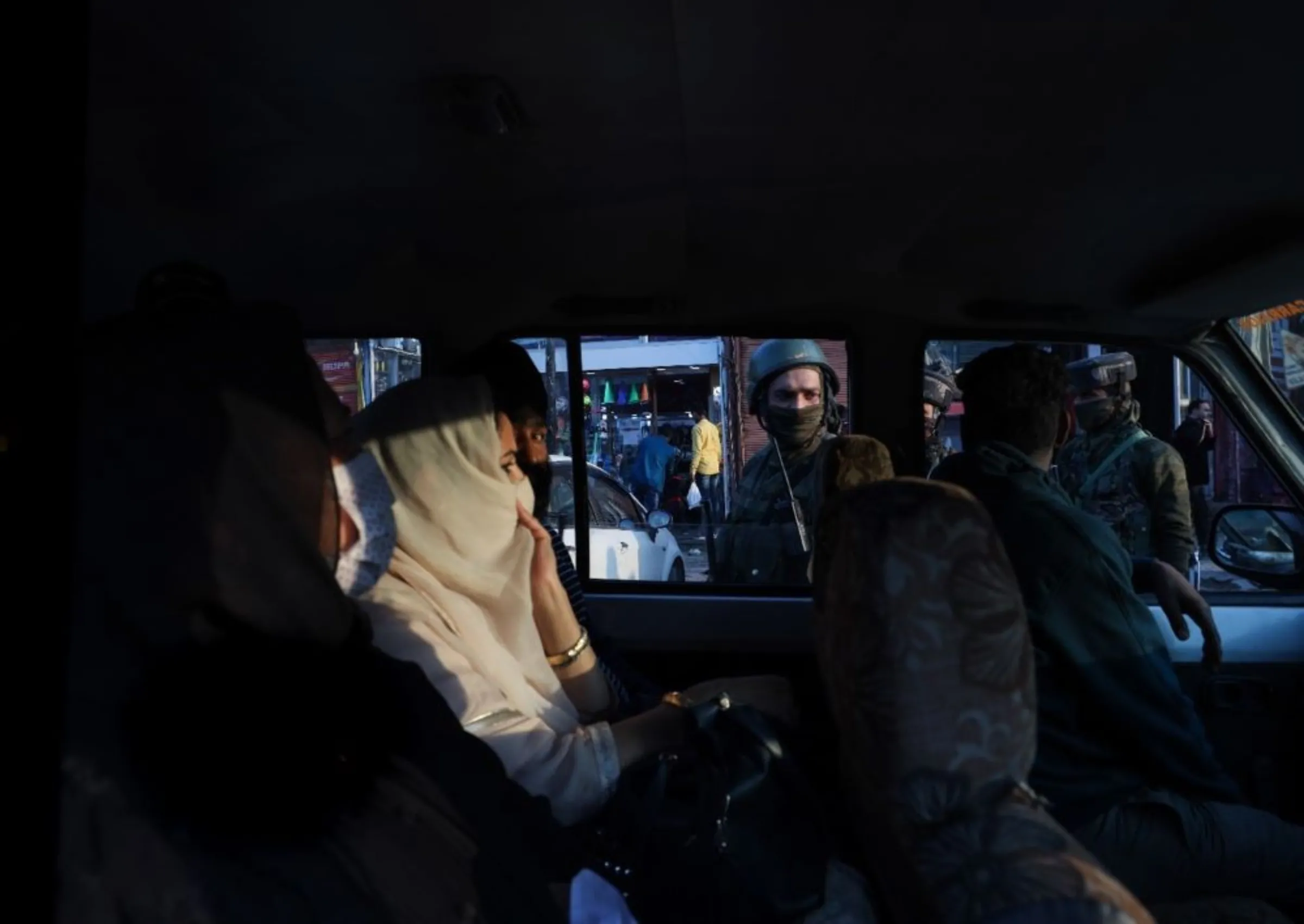 Go DeeperNew digital ID in Indian Kashmir raises concerns over surveillance
According to 2021 research commissioned by the Cabinet Office, 96% of the electorate held a form of ID with a recognisable photo.
In an electorate of 46.5 million people, that means about 1.9 million eligible voters and nearly 2.6 million Britons across the whole population do not have a recognisable photo ID, according to a December parliamentary report.
The Cabinet Office says the new rules are required to help prevent absent voting and voter intimidation.
"Showing identification to vote is a reasonable approach to combat the inexcusable potential for voter fraud in our current system and strengthen its integrity," a Cabinet Office spokesperson said by email.
Yet according to data from the Electoral Commission, Britain has low levels of voter fraud.
Police investigated 315 cases of voter fraud in 2021 but none led to a conviction.
Here's what activists and lawmakers say the proposal could mean for vulnerable Britons if it is passed by parliament:
Black, Asian and minority groups
Electoral Commission data in 2019 showed that 25% of Black and Asian Britons were not registered to vote compared to the national average of 17%.
Equality think-tank the Runnymede Trust said voter IDs were likely to have a disproportionate impact on Black and minority ethnic (BME) people.
"The government's own data shows that white people are most likely to hold one form of photo ID – 76% hold a full driving licence. But 38% of Asian people, nearly a third of people of mixed ethnicity (31%), and nearly half of Black people (48%) do not," the group said in a 2021 report.
Labour lawmaker Marsha De Cordova said voter ID would "lock millions of people out of democracy – in particular Black, Asian and ethnic minority voters, who are less likely to have, or be able to afford, photo ID."
LGBTQ+ people
Requiring voters to show a photo ID will add bureaucratic hurdles and costs to people who already face inequalities and are already less likely to be able to afford a passport or driving licence, says LGBT+ rights group Stonewall.
In a 2021 report, the group said nearly a quarter of trans respondents and almost one in five non-binary respondents said they did not have photo ID.
"For many trans, non-binary and gender non-conforming people, the photograph, name, and/or gender marker on their ID may not reflect their appearance or gender identity," said the Stonewall report.
Transgender rights advocates expressed concern that trans people may be turned away from voting if they look different from the image on their photo IDs.
"A trans person whose physicality has changed may be unable to update their photo ID, to make it more congruent with their current appearance, through lack of money," Cara English, head of public engagement at Gendered Intelligence charity, said by email.
She added that some trans people who are able to change their ID to reflect their gender may have to present themselves differently to how they appear on the ID on voting day "to avoid public scrutiny or attack".
Homeless people
Housing charities say the ID requirement could make it even harder for homeless people to vote.
"People sleeping rough or in other forms of acute homelessness often struggle to access or keep safe their forms of identification," said Matt Downie, chief executive of homelessness charity, Crisis.
"Add to this the lack of digital access for the mainly online applications processes, and the obvious barrier of having no proof of address, and you can see why anything that requires proof of ID can be a mountain to climb for people who are homeless."
Homeless people in Britain can vote, provided they state a place where they spend a good amount of time, such as a night shelter, or even the closest address to a park bench or doorway.
Yet only 2% of people who are homeless are registered to vote, according to 2017 data by the Cabinet Office.
(Reporting by Lin Taylor, Sharon Kimathi and Rachel Savage. Additional reporting by Umberto Bacchi; Editing by Helen Popper and Lyndsay Griffiths)
---
Jam Tomorrow – by R.J. Cook.
Comment Ancient Greeks invented the word democracy ,merging their words demos and krakos to mean 'people rule.' That was never true in Ancient Greece and isn't true anywhere in the world today.
Britain's elite leadership and media are relentless with their propoganda that U.K is a democracy in a country where most people have no idea what the word means. In my life time so many things never went wrong at the same time. We live in a country where we are brainwashed into believing we have a cost of living crisis. To state the simple truth that it is the cost of war crisis is deemed treason.
News has just broken that Boris Johnson insists U.K must break the ice and send fighter jets to Ukraine. Fortunes , as throughout history, are being made from fear and misery. The Ukraine con proxy war was planned from the moment Putin went off the western Yeltsin puppet show script. NATO run Ukraine was always going to renege on the Minsk Agreement.
The situation is increasingly complex and dangerous. All the masses are told is that Russia are an evil threat to our democracy which must be beaten. There are rampant calls for more militay support ,risking all out potential nuclear war with immediate extra cost to taxpayers and economy.
At no stage are the masses objectively informed about this war or any ley issue. The masses do not get to vote on anything of importance. The western elite interest groups will stoke up this war along with allies until they get what they want in Ukraine.
The masses have been expected to love 'their democracy' so much they will respond to any 'jingoistic' call to arms, with all the tunes of glory, romanticising carnage and death. In this context many of us don't see the point of registering to vote. Increasing numbers of registered voters see no point in voting. Thatcher won a landslide in 1979 with 40% of the 60% who bothered to vote choosing her version of the TORIES. Thatcher went on to lead a rapacious fire sale asset stripping state assets. Their privatisation founded the private wealth and public squalor of the nation today. War mongering and the age of Anglo – U.S rolling wars had begun. It has all been allededly in the name of democracy necessitating heroic sacrifice for regime change throughout the world. The 'Crusade' against Russia will be followed by increasing subversion of China which owns so much of U.S National Debt.
Back in 2003, I was on a BBC Saturday live morning radio panel, as a writer , talking about Blair's gimmick of postal voting as a cure for political apathy. I warned that it would encourage voter fraud from certain groups favouring New Labour. Subsequent events in Birmingham proved I was right. Illegals were voting.
It is not surprising that immigrant community and asylum representatives are angered by the scheme. This is because it is deemed racist questioning why an illegal described as an asylum seeker arrives here every 3 minutes, at unaccounted enormous taxpayer expense. They are following thousands who have come before them, adding to a massive pressure group. To question their impact and alleged benefit to society is judged racist.They do not come from diverse communities and are not required to integrate when inevitably accepted. The ruling elite do not bear proportionate burden of these third world highly religious newomers who frequently clash with LGBTQI and established national culture. The elite benefitting from cheap labour , are safe in their mansions and large houses, talking down to the rest of us.
So many of us are marginalised in a Britain where it is not even safe to talk freely on the bus. Even Labour leader Jeremy Corbyn mouthing the words under his breath ,in Parliament, 'Stupid Woman', was investigated for 'Hate Crime.'
As for the special impact of photo ID for voting if you are LGBTQI, it doesn't wash with me. If your are serious about being transsexual , legally change your name and get your photo ID , as I have done. Otherwise stop claiming to be the opposite sex. Then ask the question why we have to show it in so many places. It is not just about voting to legitimate the morons posturing in parliament. The ruling elite started by making it impossible to rent a hotel room with cash. Now they want a cashless economy like India's where super Rich Sunak's family have profited from related software. That elite have a destination in mind for the 90% who live on 10% of the land while they , the 10% ,enjoy life on the other 90% and a world that is their oyster.
This is not much different from the Nazis and branding their slaves. Religious bigotry , football tribalism, tick box dumbed down educsastion, psychiatrists, anti psychotics , more police, more laws and LGBTQI diversity propoganda are crucial to the tightning social control. Adulterer Prince Charles is now KING of the hill – a perfectly formed and uniforned specimen.
Having th.e 'right to vote' and choose between one manufacturer of lies, false promises, deceptions and 'freedumbs' over another seems rather pointless. But maybe it is the symbolic castration that makes condom protected voting seem important.. Even long term jailbirds want to keep their penises and testicles for masturbation purposes. R.J. Cook
February 21st 2023
Asda and Morrisons limit sales of some fruit and vegetables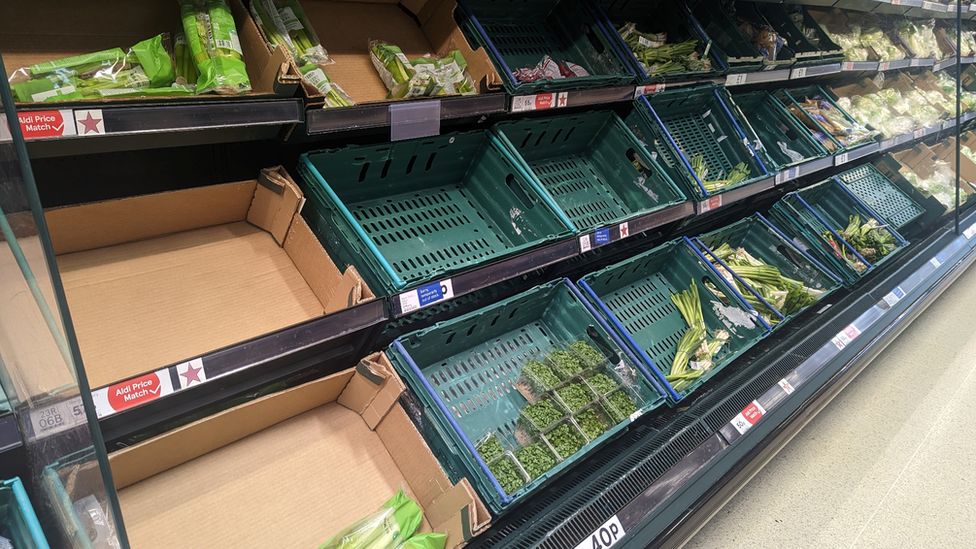 By Theo Leggett & Michael Race
Business reporters, BBC News
Asda and Morrisons are putting limits on purchases of some fruit and vegetables as supermarkets face shortages of fresh produce.
Asda said it was capping sales of items such as tomatoes, peppers and lettuce at three each per customer.
Morrisons said limits of two on products like cucumbers would be introduced at stores from Tuesday.
However, Tesco, Sainsbury's, Lidl, Aldi, Waitrose and Marks & Spencer currently do not have limits in place.
Pictures of empty supermarket shelves have been circulating on social media, after shoppers found it hard to get some items in recent days.
The shortages – which are affecting Ireland too – are largely the result of extreme weather in Spain and north Africa, where floods, snow and hail have affected harvests.
During this time of year, a significant proportion of what the UK consumes usually comes from those regions.
The shortages are expected to last "a few weeks" until the UK growing season begins and retailers find alternative sources of supply, the British Retail Consortium (BRC) said.
Andrew Opie, director of Food and Sustainability at the trade group, added that supermarkets are "adept at managing supply chain issues" and were working with farmers to ensure the continued supply of fresh produce.
As well as tomatoes, peppers and lettuce, Asda said it was also limiting sales of salad bags, cucumbers, broccoli, cauliflowers and raspberry punnets.
"Like other supermarkets, we are experiencing sourcing challenges on some products that are grown in southern Spain and north Africa," a spokesperson said.
Morrisons said as well that cucumbers, tomatoes, lettuce and peppers were affected at its shops.
In the winter months the UK imports around 95% of its tomatoes and 90% of its lettuces, most of it from Spain and north Africa, according to the BRC.
Southern Spain has been suffering unusually cold weather and in Morocco crop yields have been affected by floods, while storms have led to ferries being delayed or cancelled.
Meanwhile in the UK and Netherlands, farmers have cut back on their use of greenhouses to grow winter crops due to higher electricity prices.
UK crops hit
Paul Smith, from wholesaler Oliver Kay, said with lower levels of planting this year, there was less surplus available to offset reduced yields elsewhere.
"Growers across the UK and Europe have been battling with severe weather conditions for a number of months now," he said.
A spell of heatwaves in June 2022 led to the fourth warmest UK summer on record and temperatures broke the 40C mark for the first time. That was followed by sharp, prolonged freezes in December.
Tim O'Malley, managing director of Nationwide Produce, one of the UK's largest fresh produce firms, has warned his customers that could mean "major shortages" in domestically grown crops too.
UK crops of carrots, parsnips, cabbage and cauliflower had been affected by the poor weather, Mr O'Malley said.
"We are about to see serious shortages and price hikes on these lines in the coming weeks and months," he said.
"The biggest issue we now have as an industry is not inflation, it's mother nature," he added.
Minette Batters, president of the National Farmers' Union, called for more support for growers, describing it as "ridiculous" that the horticulture sector was not included in the government's support scheme for energy intensive industries.
However, farming minister, Mark Spencer, said the shortages were the result of "weather events in other parts of the world" rather than the challenges facing UK producers.
Not Brexit
Anecdotal evidence suggests the UK has been bearing the brunt of the shortages, but problems have also been reported in Ireland.
Tesco Ireland said its stock levels were temporarily affected, while the locally-owned chain SuperValu has also reported problems.
Industry sources suggested the UK may be suffering because of lower domestic production and more complex supply chains, as well as a price-sensitive market. But they said Brexit was unlikely to be a factor.
The main impact of new border procedures for fruit and vegetable imports will not be felt until January 2024 – while imports from Morocco, which is outside the EU, are already subject to border checks.
Industry sources, include wholesaler Ken Mortimer, whose firm Heritage Fine Food Company supplies restaurants and schools in the south west of England, said they did not believe Brexit was at the root of current shortages.
Comment Climate change and third world overpopulation have been impacting on food supply and prices for too many years. Brexit is only an issue because it was a con. Most of our food could be resourced elsewhere if the global elite had not wrecked the international economy for profit, covering their greed with lies and fear mongering.
Africa is a basket case but crticising its corruption is condemned as racist. Ukraine leads the league of East European corrupt 'democracies' and that is behind the NATO proxy war on Russia . Criticise Ukraine and you are an anti democratic Putin Nazi. The NATO proxy war is driving the so called 'cost of living crisis'.
The rich have never been richer , but never more afraid of sociaslism or even communism feeding revolution. So for the global elite, Russia must not win. It must be denigrated and depleted. If that means a nuclear World War 3 ,ultimately they don't care. Meanwhile public sector workers, egoes fed by Covid clapping, demand more pay. Lower classes already hard hit taxpayers will carry the burden.
R J Cook
February 19th 2023
Plymouth shooting: Families say warning signs were ignored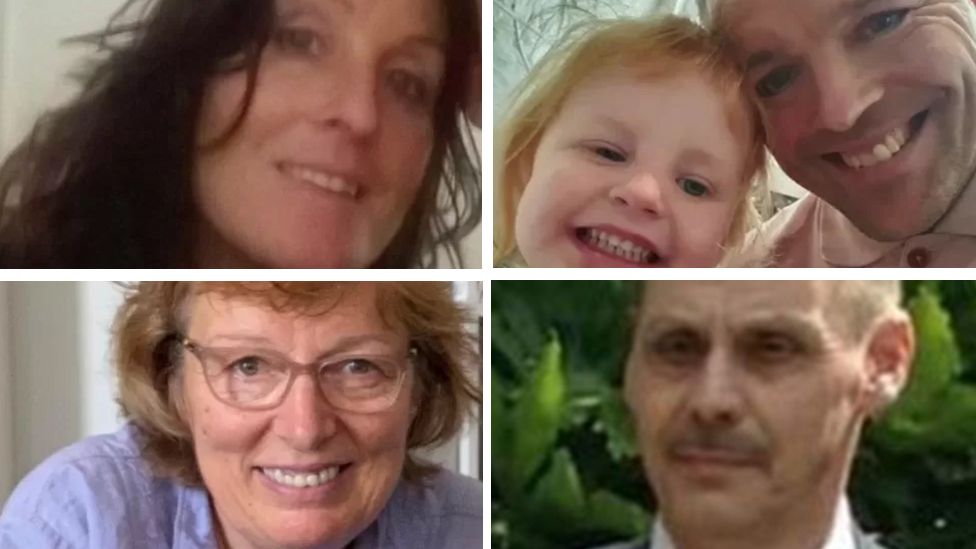 By Miles Davis & Johanna Carr
BBC News
Breathtaking incompetence and failings by police allowed a gunman to kill five people during a mass shooting in Plymouth, victims' families have said.
Jake Davison killed his mother and four other people, including a girl aged three, with a shotgun in August 2021.
Families of four of the victims said: "Warning signs were ignored and a licence to kill was granted."
The inquest jury said there had been a "catastrophic failure" at Devon and Cornwall Police.
At the conclusion of a five-week inquest at Exeter Racecourse jurors said the deaths of the victims were "caused by the fact the perpetrator had a legally-held shotgun".
All five of the victims were unlawfully killed, the jury found.
Davison killed his mother Maxine, 51, Sophie Martyn, three, her father Lee, 43, Stephen Washington, 59, and Kate Shepherd, 66, in the Keyham area of Plymouth before turning the gun on himself.
The Independent Office for Police Conduct (IOPC) said a criminal investigation into possible health and safety breaches by Devon and Cornwall Police was ongoing.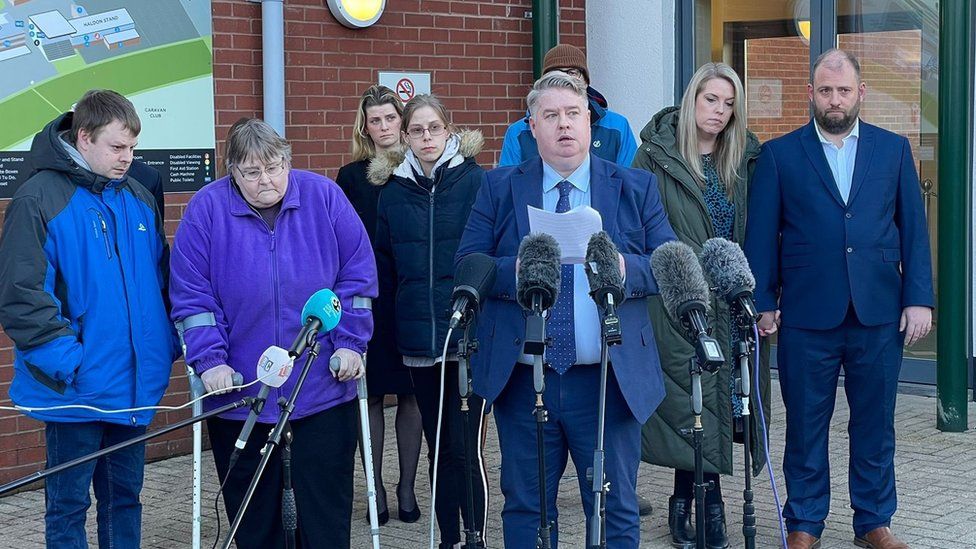 In a joint statement read outside the hearing, the Martyn, Washington and Shepherd families said the shooting "was an act of pure evil".
They added: "However, we now know that this evil act was facilitated and enabled by a series of failings and incompetence from the people and organisations that are supposed to keep us safe."
The families said they had been "hopelessly failed by the system" and in particular by Devon and Cornwall Police.
They said the evidence heard at the inquest told "a consistent story of individual failures, breathtaking incompetence and systemic failings within every level of the firearms licensing unit of the Devon and Cornwall Police force".
They said: "It is beyond us how Davison, a man with a known history of violence, mental health issues, and with no real need to own a firearm, was granted a licence to possess a gun in the first place."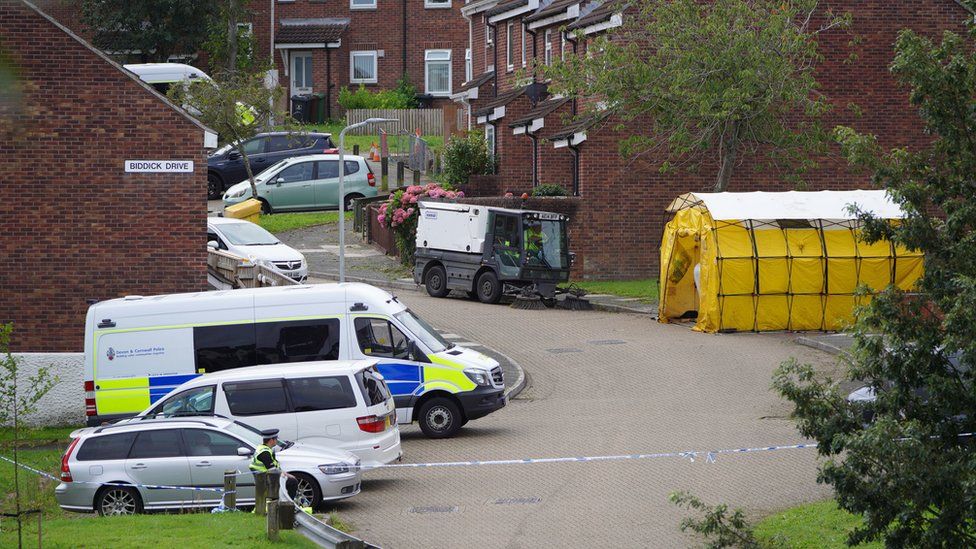 Delivering a narrative conclusion on behalf of the jury, Ian Arrow, senior coroner for Plymouth, said: "There was a serious failure by Devon and Cornwall Police's firearms and explosive licensing unit in granting and later failing to revoke the perpetrator's shotgun licence."
After hearing evidence from more than 50 witnesses the jury concluded there was "a lack of scrutiny and professional curiosity at all levels" and a "seriously unsafe culture of defaulting to granting licences and returning licences after review".
The jury said there was a "catastrophic failure in the management of the Firearms Licensing Department at Devon and Cornwall Police".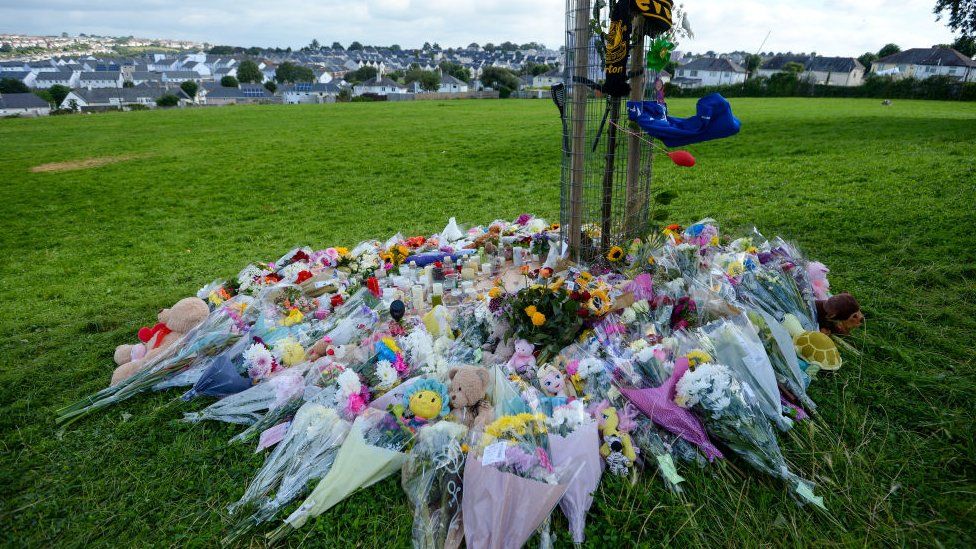 The IOPC watchdog found two employees of Devon and Cornwall Police had a case to answer for misconduct over the way they dealt with Davison's gun licence.
IOPC regional director David Ford said: "The potential corporate failing of Devon and Cornwall Police as an organisation is subject to our separate criminal inquiry into possible health and safety breaches."
Mr Ford added the IOPC was liaising with the Home Office regarding "recommendations at a national level to help inform improved firearms licensing arrangements and guidance for the police service as a whole".
Davison applied to Devon and Cornwall Police for a shotgun certificate in July 2017 aged 18, saying he wanted to go clay pigeon shooting with his uncle.
As part of the application process Davison had declared his autism and Asperger's but when police sought relevant information from his GP, the doctor declined to provide any as it was not mandatory.

February 16th 2023
Police to hold two misconduct hearings over Wayne Couzens indecent exposure
A former and a current officer accused of failing to properly investigate claims against Couzens, who went on to murder Sarah Everard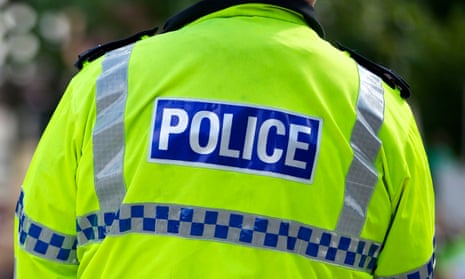 Police can check car registration details from a desk via a computer linked to the Driving and Vehicle Licensing Agency. Photograph: Christopher Thomond/The Guardian
Vikram Dodd Police and crime correspondentTue 14 Feb 2023 16.10 GMTFirst published on Tue 14 Feb 2023 13.11 GMT
A former Metropolitan police officer is to face a gross misconduct hearing for allegedly failing to properly investigate indecent exposure allegations against Wayne Couzens, made days before he murdered Sarah Everard, the police watchdog has said.
The former Met officer is also facing claims over misleading testimony given to investigators and is one of two people to face action over alleged missed chances to identify Couzens as a suspected sex offender before he went looking for a woman to attack in March 2021. The Met said the constable resigned in 2022 while under investigation.
The Independent Office for Police Conduct also said a sergeant from Kent police would face a misconduct meeting over separate allegations relating to another alleged indecent exposure by Couzens, in Dover in 2015, when police were given his car registration after he allegedly exposed himself in public.
Neither the Met nor the IOPC would confirm the gender of the former officer facing the gross misconduct hearing. Another Met officer who supervised the inquiries was cleared of wrongdoing.
The Met said the PC was tasked with investigating incidents at a fast food restaurant in Swanley, Kent, where Couzens repeatedly indecently exposed himself in February 2021.
Six days before Couzens – then an armed Met officer – kidnapped and then murdered Everard, on 27 February 2021, he was seen by staff at the restaurant in his car with his genitalia visible.
The female staff were upset and recorded the registration plate – which if checked would show the black Seat belonged to Couzens – and details from a credit card he used to pay for food were also recovered. The incident was reported to police the next day.
The Met said: "On 28 February 2021, the Met received an allegation of exposure at a location in Swanley, Kent. This was recorded and passed to a local officer to investigate. By the time of Sarah Everard's kidnap, on 3 March 2021, the investigation was not concluded and Couzens' occupation had not been identified."
Couzens on Monday pleaded guilty to three different criminal charges of indecent exposure, all of which happened before he murdered Everard.
He is serving a whole-life sentence for the March 2021 kidnap, rape and murder of Everard.
The IOPC said: "The MPS police constable will face allegations they breached police standards of professional behaviour for duties and responsibilities for alleged failings over the way inquiries were progressed. The constable is also accused of breaching the standards relating to honesty and integrity over parts of an account provided to IOPC investigators in respect of the alleged failings."
Police can check car registration details from a desk via a computer linked to the Driving and Vehicle Licensing Agency. Such checks are regarded in policing as basic, a senior Met officer accepted.
Couzens was arrested by his fellow Met officers on 9 March over Everard's disappearance.
The IOPC added: "We began an investigation after a conduct referral from the MPS on 10 March 2021 concerning the investigation into reports that a man had exposed himself to female staff on two occasions in February 2021 at a drive-through fast food restaurant in south London. Former MPS officer Wayne Couzens pleaded guilty to both offences on Monday 13 February 2023.
"The IOPC investigation … looked at whether inquiries were adequately carried out and supervised between the officer's visit to the restaurant on 3 March and on 10 March when a different team took over.
"We considered whether local and national policies were followed in relation to the gathering of any available CCTV evidence, checks on a vehicle used by the alleged offender, and if evidential material was correctly dealt with."
The IOPC also said an officer from Kent police would face a misconduct meeting over separate allegations relating to another alleged indecent exposure by Couzens
The Kent officer, a sergeant, was investigated over a 2015 incident when Couzens was alleged to have exposed himself in Dover. A man out driving with his partner and child saw another man in a car naked from the waist down. The man recorded the registration and passed it to Kent police. Couzens pleaded not guilty to that charge on Monday, which prosecutors decided to allow to lie on file.
The IOPC said: "We found no evidence to suggest that Wayne Couzens was identified as a police officer and he was not spoken to."
Couzens was an officer in the parliamentary and diplomatic protection group, the same unit as the serial rapist David Carrick, who was jailed last week. The Met insists the two officers did not work together and there was no evidence they knew each other.
A inquiry ordered by the government into the Couzens scandal conducted by Dame Elish Angiolini KC is waiting for the disciplinary hearings to conclude before publishing its findings, which is expected to be this summer.
Comment This does not explain why weirdos like Couzens are recruited in the first place and why investigation into Couzens, known affectionately by fellow officers as 'the rapist' was dealt with at so junior a level. It should have been an inspector at least. However , that is U.K's corrupt police. It is not just the 'Met.'
R.J. Cook
February 15th 2023
Nicola Sturgeon says resignation 'comes from a place of duty'
'I could go on… but I would have less energy to give to the job'
Questioned on what has changed since she said a few weeks ago she would not quit, and whether concerns surrounding her party's finances were an issue, Sturgeon again insists her decision is not a result of short-term pressures.
But she says she is a human being dealing with conflicting emotions.
"I could go on for another few months, six months, a year maybe, but I know as time passed, I would have less and less energy to give to the job," Sturgeon admits. "I owe it to the country to say it now."
Comment Nicola Sturgeon has seriously upset the not so liberal left. Devolution , like BREXIT, was an elite con trick Ultimately the only sub culture that matters is the same old ruling class. Using their mass media to help the Parliamentary process along, they decide what becomes law and who enforces it. Nicola Sturgeon has seriously strayed from the all important feminist social control industry and its messages.
TERF feminists , like J.K Rowling are approved media mouthpieces for all women ,defining what 'normal' women must be, say ,do and aspire to.. Women who don't agree with them must go. They also assume the right to define men and how they must adapt to female 'empowerment.' Female leaders are obliged to prioritise this 'empowered woman' model ,contolling or out lawing any man who does not conform. That coercive controlling behaviour also applies to any biolgical male identifying as female at any age. The role these feline feminists play in destroying family life and making small boys so averse to their gender, so desperate to be girls in feral Britain , must never be considered let alone investigated.
R.J. Cook.
February 13th 2023
20 Slang Terms From World War I
One of the subtlest and most surprising legacies of the First World War is its effect on our language.
Read when you've got time to spare.
Advertisement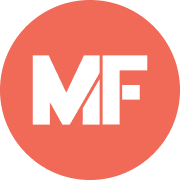 More from Mental Floss
Advertisement
Photo by A. R. Coster, Topical Press Agency/Getty Images
One of the subtlest and most surprising legacies of the First World War—which the United States entered more than 100 years ago, when the country declared war on Germany on April 6, 1917—is its effect on our language. Not only were newly named weapons, equipment, and military tactics being developed almost continually during the War, but the rich mixture of soldiers' dialects, accents, nationalities, languages, and even social backgrounds (particularly after the introduction of conscription in Great Britain in 1916) on the front line in Europe and North Africa produced an equally rich glossary of military slang.
Not all of these words and phrases have remained in use to this day, but here are 20 words and phrases that are rooted in First World War slang.
1. Archie
Apparently derived from an old music hall song called Archibald, Certainly Not!, Archie was a British military slang word for German anti-aircraft fire. Its use is credited to an RAF pilot, Vice-Marshall Amyas Borton, who apparently had a habit of singing the song's defiant chorus—"Archibald, certainly not! / Get back to work at once, sir, like a shot!"—as he flew his airplane between the exploding German shells on the Western Front.
2. Basket Case
While it tends to be used in a fairly lighthearted way today (usually describing someone who constantly makes stupid mistakes, or who crumbles under pressure), the original basket case is an unexpectedly gruesome reminder of just how bloody the War became. In its original context, a basket case was a soldier who had been so badly injured that he had to be carried from the battlefield in a barrow or basket, usually with the implication that he had lost all four of his limbs.
3. Blighty
Derived from vilayati, an Urdu word meaning "foreign," blighty is an old military nickname for Great Britain. It first emerged among British troops serving in India in the late 19th century, but didn't really catch on until the First World War; the Oxford English Dictionary records only one use in print prior to 1914. A "blighty wound" or "blighty one" was an injury severe enough to warrant being sent home, the English equivalent of a German Heimatschuss, or "home-shot." Self-inflicted blighty wounds were punishable by death, although there are no known reports of anyone being executed under the rule.
4. Blimp
As a military slang name for an airship, blimp dates back to 1916. No one is quite sure where the word comes from, although one popular theory claims that because blimps were non-rigid airships (i.e., they could be inflated and collapsed, unlike earlier rigid, wooden-framed airships), they would supposedly be listed on military inventories under the heading "Category B: Limp." However, a more likely idea is that the name is onomatopoeic, and meant to imitate the sound that the taut skin or "envelope" of a fully inflated airship makes when flicked.
5. Booby-Trap
Booby-trap had been in use since the mid-19th century to refer to a fairly harmless prank or practical joke when it was taken up by troops during the First World War to describe an explosive device deliberately disguised as a harmless object. Calling it "one of the dirty tricks of war," the English journalist Sir Philip Gibbs (1877-1962) ominously wrote in his day-by-day war memoir From Bapaume to Passchendaele (1918) that "the enemy left … slow-working fuses and 'booby-traps' to blow a man to bits or blind him for life if he touched a harmless looking stick or opened the lid of a box, or stumbled over an old boot."
6. Cooties
As a nickname for body lice or head lice, cooties first appeared in trenches slang in 1915. It's apparently derived from the coot, a species of waterfowl supposedly known for being infested with lice and other parasites.
7. Crump-Hole
Crump is an old English dialect word for a hard hit or blow that, after 1914, came to be used for the explosion of a heavy artillery shell. A crump-hole was the crater the shell left behind.
8. Daisy-Cutter
Before the War, a daisy-cutter had been a cricket ball or baseball pitched low so that it practically skims along the surface of the ground. The name was eventually taken up by troops to describe an artillery shell fitted with an impact fuse, meaning that it exploded on impact with the ground rather than in the air thereby causing the greatest amount of damage.
9. Dingbat
In the 19th century, dingbat was used much like thingummy (the British term for thingamajig) or whatchamacallit as a general placeholder for something or someone whose real name you can't recall. It came to be used of a clumsy or foolish person during the First World War, before being taken up by Australian and New Zealand troops in the phrase "to have the dingbats" or "to be dingbats," which meant shell-shocked, nervous, or mad.
10. Dekko
Like blighty, dekko was another term adopted into English by British troops serving in 19th-century India that gained a much larger audience during the First World War; the Oxford English Dictionary has no written record of the term between its first appearance in 1894 and 1917. Derived from a Hindi word of equivalent meaning, dekko was typically used in the phrase "to take a dekko," meaning "to have a look at something."
11. Flap
"To be in a flap," meaning "to be worried," dates from 1916. It was originally a naval expression derived from the restless flapping of birds, but quickly spread into everyday English during the First World War. The adjective unflappable, meaning unflustered or imperturbable, appeared in the 1950s.
12. Iron Rations
The expression iron rations was used as early as the 1860s to describe a soldier's dry emergency rations, which typically included a selection of hard, gritty provisions like rice, barley, bread, biscuits, salt, and bacon. During the First World War, however, the term came to be used as a nickname for shrapnel or shell-fire.
13. Kiwi
The UK declared war on August 4, 1914, and New Zealand joined immediately after. By August 29, New Zealand had successfully captured Samoa—only the second German territory to fall since the war began. Within months, New Zealand troops, alongside those from Australia, began to arrive in Europe. They quickly gained the nickname Kiwis, as an image of New Zealand's national bird was featured on many of their military badges, emblems and insignias. Incredibly, some 100,444 total New Zealanders saw active service during the First World War—equivalent to 10 percent of the entire country's population.
14. Napoo
English-speaking soldiers frequently found themselves serving alongside French-speaking soldiers in the First World War, often with little chance of one understanding the other. So when French soldiers would exclaim il n'y a plus! meaning "there's no more!" the English soldiers quickly commandeered the expression and Anglicized it as napoo, which they took to mean finished, dead, or completely destroyed.
15. Omms-n-Chevoos
English troops arriving in France in 1914 were unceremoniously loaded onto basic railway transport carriages marked with the French notice "Hommes: 40, Chevaux: 8" on their doors. The notice designated the carriage's maximum occupancy ("40 men, 8 horses"), but for those English troops with no knowledge of French, the carriages themselves became known as omms-n-chevoos.
16. Pogey-Bait
Pogey-bait was candy, or a sweet snack of any kind, among American and Canadian troops. No one is quite sure where the term comes from, but the first part could be pogy, a nickname for the menhaden fish (i.e. literally "fish-bate"), or else pogue, a slang word for a non-combatant or weakly soldier.
17. Shell-Shock
Although the adjective shell-shocked has been traced back as far as 1898 (when it was first used slightly differently to mean "subjected to heavy fire"), the first true cases of shell-shock emerged during the First World War. The Oxford English Dictionary has since traced the earliest record back to an article in The British Medical Journal dated January 30, 1915: "Only one case of shell shock has come under my observation. A Belgian officer was the victim. A shell burst near him without inflicting any physical injury. He presented practically complete loss of sensation in the lower extremities and much loss of sensation."
18. Spike-Bozzled
Spike was used during the First World War to mean "to render a gun unusable." Spike-bozzled, or spike-boozled, came to mean "completely destroyed," and was usually used to describe airships and other aircraft rather than weaponry. Exactly what bozzled means in this context is unclear, but it's probably somehow related to bamboozled in the sense of something being utterly confounded or stopped in its path.
19. Strafe
One of the German propagandists' most famous World War I slogans was "Gott Strafe England!" or "God punish England," which was printed everywhere in Germany from newspaper advertisements to postage stamps. In response, Allied troops quickly adopted the word strafe into the English language after the outbreak of the War, and variously used it to refer to a heavy bombardment or attack, machine gun fire, or a severe reprimand.
20. Zigzag
Zigzag has been used in English since the 18th century to describe an angular, meandering line or course but during the First World War came to be used as a euphemism for drunkenness, presumably referring to the zigzagging walk of a soldier who had had one too many.
February 11th 2023
How Zelenskyy has channelled his inner Churchill to sustain Ukraine's war effort
It wasn't just the 'V for victory' gesture during his visit to London that showed the parallels between the two leaders
|
Feb 10, 2023
President Volodymyr Zelenskyy addressed the British parliament this week just metres from the spot where his great hero Winston Churchill had lain in state on an ornate dais in 1965, receiving the gratitude of the nation he had saved from being squashed.
Not for the first time the Churchillian spirit seemed to fill the Ukraine leader, who later this month will mark a year of his nation at war.
Mr Zelenskyy held up his hand in Churchill's V for victory gesture and his speech recalled his moving experience when visiting the UK's Cabinet War Rooms, a relic of the wartime prime minister's command post, in late 2020.
Read more
"There is an armchair in the War Rooms, the famous Churchill armchair, and a guide smiled and offered for me to sit down on this armchair, from which orders were given," said Mr Zelenskyy as he addressed both houses in the 900-year-old Westminster Hall.
"And he asked me how did I feel.
"I said that I suddenly felt something, but it is only now that I know what the feeling was, and all Ukrainians know it perfectly well, too.
"It is the feeling of how bravery takes you through the most unimaginable hardships to finally reward you with victory."
Admiration for the Ukrainian leader's response to the Russian invasion of his country in the small hours of February 24 is strong in the UK and often comes referenced to the man who led Britain in its darkest and its finest hour.
Only 13 days after the war started, Mr Zelenskyy was beamed via video link to the Houses of Commons where, on two TV screens hanging from the galleries, he struck the same rhythm of Churchill's often-remembered Dunkirk fighting speech of 1940.
"We will not give up, and we will not lose," said Mr Zelenskyy.
"We will fight till the end — at sea, in the air, we will continue fighting for our land whatever the cost. We will fight in the forests, in the fields, on the shores, in the streets."
As shown by his speech, Mr Zelenskyy himself does not discourage the comparison, though he has often denied that he sees himself as Churchill MkII, 80 years on.
Former UK prime minister Boris Johnson, who is a biographer of Churchill, told Mr Zelenskyy in an awards ceremony last year that the great man would have admired the guts that the Ukraine leader displayed as Russian tanks rolled towards Kyiv, a city under cruise missile bombardment.
"I think Churchill would have cheered and probably would have wept, too, because he was often moved to tears, at the sheer courage, the moral, physical courage, you showed in those grim weeks," Mr Johnson said. "The global wave of solidarity for Ukraine was in large measure generated by your own, personal articulation of [your] cause, your defiance, your dignity. Your unfailing good humour has moved millions.
"You've become a symbol of the heroism of the Ukrainian people."
Mr Johnson added he could imagine the Second World War leader walking in spirit with Mr Zelenskyy, jabbing at the way forward with his stick and marvelling at the former Ukrainian television comedian's "contempt for danger".
In October 2020, we were proud to host President Zelensky at Churchill War Rooms, as part of his government visit to the UK. Our thoughts are with him and the incredible challenge facing him and his nation. pic.twitter.com/Ath9qtuBJb— Imperial War Museums (@I_W_M) March 4, 2022
On his trip to London, Paris and Brussels this week, Mr Zelenskyy came with demands for support, particularly military backing that includes modern fast fighter jets for his country. As he did on a visit to Washington in December, Mr Zelenskyy took the billions already sent to Ukraine with thanks and added to his wishlist.
For those with a historical vantage point, the 5'7″ Ukraine leader is the same height as Mr Churchill. He is also the same height as his hosts on this rare visit outside Ukraine, Britain's new leader Rishi Sunak, France's Emmanuel Macron and Germany's Olaf Scholz.
One of Mr Churchill's granddaughters said she certainly saw the shared qualities they had displayed as leaders. "To my mind, there has never been an easier case to make than that for President Zelenskyy as a wartime leader, showing so many of the same characteristics as my grandfather: bravery, courage, grace under pressure, and a very close relationship with his people," Emma Soames told the International Churchill Society. "The parallels go on and on."
When he was criticised on social media this week for not wearing a suit and tie — as he had done on the trip to the Churchill War Rooms in 2020 — his defenders pointed to the boiler suit that Churchill had worn. The British leader called it the "siren suit" after the air raid warnings that would sound out in London, and the green velvet he favoured was not dissimilar in colour to the Zelenskyy fatigues.
The outfit made something of a selling point for its maker Turnbull & Asser, and the same is happening for M-Tac, the tactical clothing firm that supplies the Ukrainian President.
In cajoling the US and its allies into support, Mr Zelenskyy is aping Mr Churchill's Lend-Lease speeches to America in early 1941 in which he declared that Washington should "give us the tools and we will do the job".
Diplomats and officials across Europe and the US acknowledge Mr Zelenskyy's relentless pitch as something that cannot be resisted over time. "President Zelenskyy's own strategic communications have been amazing. I don't think I've seen a leader in my lifetime resonate that well globally," one western official said during the Ukrainian leader's visit to Britain.
As for personal comparisons, Mr Zelenskyy says it is all about the challenge faced by the two countries decades apart. "We are fighting and we are defending ourselves, just like the horrific challenges in the 20th century. Just like then, the facts of leadership are decisive.
"No one knows how much time and effort it will take to achieve that victory but it will be worthwhile and this will become our shared history as prominent as it was in Churchill's time, and we will be quoted just as he was since."
https://www.thenationalnews.com/weekend/2023/02/10/how-zelenskyy-has-channelled-his-inner-churchill-to-sustain-ukraines-war-effort/
Police arrest 15 after violence at asylum seeker hotel near Liverpool
Objects, including lit fireworks, were thrown at officers, and a police van was set alight in the disruption
Feb 11, 2023
Beta V.1.0 – Powered by automated translation
Fifteen people were arrested after a protest outside a UK hotel housing asylum seekers descended into chaos.
Three people, including a police officer and two members of the public, suffered minor injuries in the disorder at the Suites Hotel, in Knowsley, near Liverpool, on Friday night.
Objects, including lit fireworks, were thrown at officers and a police van was destroyed after being set alight.
Merseyside Police said 13 men and two women between the ages of 13 and 54 were arrested on suspicion of violent disorder.
The force said people were "facilitating a peaceful protest and counter protest" outside the hotel when others, "who were not part of the original protest group, turned up, and it is clear that they were only interested in causing trouble".
Chief Constable Serena Kennedy said: "They turned up armed with hammers and fireworks to cause as much trouble as they could and their actions could have resulted in members of the public and police officers being seriously injured, or worse."
The hotel has been used to accommodate asylum seekers in Merseyside since January 2022.
Knowsley Council has said it received less than 48 hours' notice from the Home Office last year of its intention to house asylum seekers at the hotel.
Read more
UK to speed up deportation of migrants with convictions
In a statement after the violence, the Knowsley Council said the Home Office gave less than 48 hours' notice of its intention to temporarily house asylum seekers at the hotel in January last year.
"More than a year later, this temporary arrangement between the hotel and the Home Office remains in place," the council said in a statement.
The local authority said it had expressed concern to the Home Office at the time that its "lack of engagement" meant the council could not inform its residents and put in place "any support needed".
Shadow Home Secretary Yvette Cooper called the behaviour of protesters "shameful and appalling".
"Thank you to Merseyside police for responding to the shameful violence and appalling behaviour in Knowsley this evening that put people at risk & for working to keep everyone safe," she wrote on Twitter.
Clare Moseley, founder of refugee charity Care4Calais, said she was among 100 to 120 people from pro-migrant groups who went to the scene in reaction to the protest to show support for the asylum seekers.
She said: "I'm trying to get in touch with some of the poor men in that hotel, I can only imagine how frightened they are.
"It was like a war zone."
Multiple asylum seeker advocacy groups accused protesters of being affiliated with the far right.
Refugee Action chief executive Tim Naor Hilton wrote on Twitter: "If you're part of a baying mob outside a hotel where refugees live then you're the far right…even if you don't like being called that."
Assistant Chief Constable Paul White said: "We will always respect the right to protest when these are peaceful, but the scenes tonight were completely unacceptable, putting those present, our officers and the wider community in danger.
"Thankfully we have not had any serious injuries reported up to this point, but for officers and police vehicles to be damaged in the course of their duty protecting the public is disgraceful.
"We have arrested some of those suspects and will continue without hesitation to review all and any evidence which comes in, through CCTV, images or other information you may have."
Last January, Knowsley Council said it had received no notification that the Suites Hotel was being considered as temporary accommodation for asylum seekers before the Home Office announced its official procurement.
A different council in Merseyside, St Helens, was "incorrectly notified" by the Government department, according to Knowsley.
When the correct authority was notified on January 13, Knowsley Council claimed that the Home Office was unable to confirm how many asylum seekers would be arriving or when.
At a meeting the following day, the local authority said it had asked for some time to be allowed for the local community to be informed but the Home Office could not agree to that request and told them on January 17 that asylum seekers would be arriving in two days' time.
It is understood that private company Serco was appointed by the Government to manage the Suites Hotel site and provide support to asylum seekers living there.
Knowsley Council said it was "not involved in that contract" and was not being paid to house asylum seekers, but nevertheless reiterated its "commitment" to supporting people fleeing "persecution and terror".
It added: "The council's role is to continue to work with partner agencies to ensure minimal disruption and impact on the local community while this site is being operated by the Home Office."
The government has been housing asylum seekers in Knowsley since 2016, the council said.
The Home Office has been contacted for comment.
Britain takes in fewer asylum-seekers than some of its European neighbours including France and Germany, but has seen a sharp increase in the number of people trying to reach the UK across the English Channel in dinghies and other small boats.
More than 45,000 people reached Britain by that route in 2022, and most applied for asylum.
The system for considering asylum applications has slowed to a crawl because of political turmoil and bureaucratic delays, leaving many migrants stuck in hotels or other temporary accommodation.
Updated: February 11, 2023, 16:23
Comment I have just watched the unquestioning prejudiced Sky News report on this matter. One asylum seeker ( many would say economic migrants ) arrives every 3 minutes , averaging 459 a day. These are just the ones we know about. Across Europe there is a correlation with sex and drug crime. Someone has to pay for these people. In the above case ,Liverpool is an area of high unemployment and by no stretch of imagination ; 'Holly Oaks' multi cultural brainwashing soap opera paradise where' community friendly ' police are always on hand to keep order and protect womenfromnasty men…
Someone has to pay for migrants who cost upwards of £150,000 each p.a in public services and benefits. I know from my training as an economist and with HM Inpsector of Taxes, that the bottom 30% of wage earners pay 60% of the taxes. They are feeling the pain even more in an area of high unemployment compounded by the Anglo – U.S led Proxy War on Ukraine. Laughably ,Liverpool is also denoted a City of Culture and home of this years's anodyne mind numbing Eurovision Song Contest.
R J Cook
February 10th 2022
Old War Horses & Other Animals
AMNESTY INTERNATIONAL
Public Statement 2005
UK: The killing of Jean Charles de Menezes
Amnesty International considers that the attempt by the Metropolitan Police Service (Met) to delay the
Independent Police Complaints Commission (IPCC) from taking over the investigation into the killing of
Jean Charles de Menezes was directly contrary to international human rights law and standards on the
effective investigation and prevention of unlawful killings. Amnesty International is gravely concerned that
this delay at the initial crucial stage of the investigation may have critically compromised its effectiveness.
Relevant international and domestic law and standards require that an investigation into an incident
such as the killing of Jean Charles de Menezes be carried out promptly, and that it be conducted
independently and thoroughly from the very outset. The investigative authority must have the power to
obtain all the information necessary to the inquiry. In light of what has transpired so far, Amnesty
International is concerned these key requirements were not fulfilled. For example, the delay in the IPCC
taking over the investigation may have meant that crucial evidence was destroyed or otherwise lost.
The fact that the Met retained control over the investigation at the crucial initial stage runs counter
to the need for it to be carried out independently of those responsible for the killing. This fact, together with
the initial statements about the circumstances of the killing, attributed to the UK authorities, have given rise
to allegations of a cover-up.
Amnesty International has called for a prompt, thorough, independent, impartial and effective
investigation into the into killing of Jean Charles de Menezes. The organization considers that all the
circumstances leading up to the killing, as well as its immediate aftermath, including the above-mentioned
official statements and the alleged cover-up should be investigated in a manner which strictly complies with
relevant international and domestic human rights law. In particular, Amnesty International has urged that
there be full public scrutiny of the actions of state agents and agencies involved, including the Met and the
security services, so as to ascertain whether the killing of Jean Charles de Menezes was lawful. Specifically,
the investigation should consider whether the force used was no more than absolutely necessary and a
proportionate response in the circumstances.
Amnesty International considers that as the IPCC carries out its investigation, it should ensure that
it does so in a manner which earns and maintains the confidence of the family of the victim and of the
general public that it will be effective in getting at the truth. The IPCC should ensure that the inquiry is
carried out independently, impartially and thoroughly, and that it obtains all the information necessary, as
required by human rights law, including, in particular, the case-law of the European Court of Human Rights
under Article 2 of the European Convention for the Protection of Human Rights and Fundamental Freedoms
enshrining the right to life.
Background
On 22 July 2005, plainclothes officers shot dead Jean Charles de Menezes, a Brazilian national who had
been working in the UK for the last three years. Initial police statements stated that he was a suspect linked
to the bombing incidents which have taken place in London, since 52 people were killed in coordinated
attacks on 7 July. However, on 24 July the Chief Commissioner of the Metropolitan Police stated
categorically that Jean Charles de Menezes had no involvement in any suspicious activities, and that he
had been shot dead as a result of a mistake.
At the present moment, the IPCC has full control over the inquiry into the killing of Jean Charles de Menezes.
Warning: This is archived material and may be out of date. The Metropolitan Police Authority has been replaced by the Mayor's Office for Policing and Crime (MOPC).
See the MOPC website for further information.
Stockwell
On Friday 22 July 2005 Jean Charles de Menezes was shot by MPS officers at Stockwell underground station following anti terrorist operations resulting from the terrorist bombing of the London transport system on 7 July 2005 and the failed terrorist attacks on the transport system on 21 July 2005.
Coroner's Inquest
The Coroner's Inquest into the death of Jean Charles de Menezes began on 22 September 2008. On Friday 12 December 2008 the jury returned an open verdict.
At the conclusion of the inquest the coroner, Sir Michael Wright, wrote to the MPA outlining a number of concerns that emerged during the course of the inquest and requesting a written MPA response by 20 February 2009.
Stockwell 1
Stockwell 1 is a report in two parts. The first, known as Stockwell 1A, deals with the circumstances of the death of Jean Charles de Menezes. The second, known as Stockwell 1B, deals with complaints by the family of Jean Charles de Menezes concerning the treatment they received by the MPS immediately following his death and makes recommendations on the operational lessons as identified by the Independent Police Complaints Commission (IPCC).
HMIC (Stockwell 1B)
Her Majesty's Inspectorate of Constabulary (HMIC) conducted a review of the action taken by the MPS to assess and validate MPS progress against the 16 recommendations made by the IPCC in conclusion to its Stockwell 1B enquiry.
Stockwell 2
Stockwell 2 is a report on the investigation into complaints about the MPS's handling of public statements following the shooting of Jean Charles de Menezes. The second investigation followed allegations from the family of Jean Charles de Menezes that the Commissioner of the Metropolitan Police, Sir Ian Blair and others had knowingly made public inaccurate information or had failed to correct inaccurate information placed in the public arena.
IPCC: Stockwell 2 report [PDF document]
Stockwell 2 report recommendations
The recommendations contained in the report are as follows:
The investigation has identified serious weaknesses in the MPS in relation to the handling of critical information including within the senior management team. The MPA should consider what management action is required to resolve this. In view of the serious nature of the failings, the Home Office and Her Majesty's Inspectorate of Constabulary (HMIC) should also consider what action they need to take to address the issues raised.
The MPA recognises that the issues identified by Operation Erini are areas of concern within the MPS and that they are fully addressed and systems are implemented to prevent a re-occurrence.
The Commissioner sets out to his personal staff his expectations in relation to keeping him informed of events occurring within the MPS area.
The responsibility for keeping the Commissioner and other key staff informed of critical information is made clear to the MPS senior management team.
The MPS reviews the purpose of the Crime Reporters' Association briefings including the potential for the MPS to be compromised if they are briefed outside an agreed media strategy.
All strategic meetings convened to discuss critical incidents are appropriately minuted in order that decisions made can be later identified and justified.
MPA Stockwell scrutiny
The decision to undertake the scrutiny followed the publication of the two reports into the shooting by the IPCC and a guilty verdict as a result of the prosecution of the MPS under Health and Safety legislation.
HMIC report 'Stockwell – MPS progress Jan 2008-April 2009'
This is the third report by HMIC concerning the MPS and the tragic events which led to the death of Jean Charles de Menezes (one of these reports is confidential and has not been published). At the request of the MPA, HMIC has specifically focused on Command & Control and the closely related issue of 'inter-operability', how different units and personnel work together operationally, because these are the issues that lie at the heart of the tragic incident and are matters of public confidence.
Letters
Other associated reports
MPA 'Counter-Terrorism: The London Debate' (22 Feb 2007)
The MPA sought the views on terrorism and counter-terrorism of a diverse selection of over 1000 people who live and work in London.
MPA scrutiny of MPS media and communications (5 April 2007)
The MPA was concerned about the approach taken by the MPS to managing the press coverage of Forest Gate and conducted a short scrutiny of the Directorate of Public Affairs to consider what lessons can be learnt from that experience.
MPS review of internal communications systems (23 Feb 2006)
This report outlines the progress made in relation to MPS procedures and resilience in a range of key areas that developed from the response to the unprecedented policing challenges in July 2005.
Published clarification by the Evening Standard
The following clarification was published in the Evening Standard on 7 August 2007.
Inquiry Report
We have been asked to point out that there was no suggestion in the Stockwell 2 Inquiry Report that either the Metropolitan Police Authority, or its chair Len Duvall, behaved in a dishonest manner: We are happy to clarify this.
Supporting material
See also
On other websites:
Streatham police shooting: Family of Chris Kaba demand criminal investigation
7 September 2022
Chris Kaba, 24, was fatally shot by a firearms officer from the Metropolitan Police shortly before 10pm on 5 September in Kirkstall Gardens, Streatham Hill, London. His death is now under investigation by the Independent Office for Police Conduct, and will be subject to an inquest in due course.
The family ask for privacy at this difficult time. They will not be undertaking any further interviews at this stage.
They have issued the following statement: "The family of Chris Kaba seek a homicide investigation into his death from the outset. We have today told the Independent Office for Police Conduct (IOPC) of that demand and that we do not want any delay as has happened in other fatal shootings – otherwise we and the wider public can have no confidence that the police will be held to account.
We also want the IOPC to tell us whether or not a weapon was found in any search of the vehicle that Chris was driving. We have not received this information even though the shooting happened almost two days' ago.
Finally, we are desperately appealing for any witnesses, whether before, during or after the pursuit and the shooting, to come forward to the IOPC and / or to our solicitors at Hickman and Rose.
We are devastated; we need answers and we need accountability. We are worried that if Chris had not been Black, he would have been arrested on Monday evening and not had his life cut short."
Deborah Coles, Director of INQUEST, said: "When the police kill, they must be held accountable to the rule of law. INQUEST fully supports the family's call for this to be a criminal investigation from the outset. It is essential that fatal use of force by police is examined with this high level of scrutiny.
There is rightly anger and frustration at yet another Black man whose life has been cut short after the use of lethal force by police. Too often we see misinformation and demonisation of those who die. We hope this is not repeated here, as family and friends mourn the loss of a loved one."
Chris's family are represented by INQUEST Lawyers Group members Daniel Machover of Hickman and Rose.
Also see:
A black man shot dead by police in south London was unarmed, a police watchdog has confirmed, as his family called for a murder investigation.
Chris Kaba, a rapper who due to become a father within months, died after a chase involving armed officers that ended in Streatham Hill, south London, on Monday night.
His Audi was hemmed in by two police cars in narrow residential street Kirkstall Gardens and the 24-year-old, from Wembley, was killed by one round fired by an officer.
The Independent Office for Police Conduct said armed officers had pursued him after an automatic number plate recognition camera indicated the vehicle was linked to a firearms incident in the previous days.
The watchdog said "no non-police issue firearm has been recovered from the vehicle or the scene" following a detailed search of the area.
Mr Kaba's family said on Wednesday they were "devastated" and needed "answers and accountability" over his death.
In a statement released through the charity Inquest, they said: "The family of Chris Kaba seek a homicide investigation into his death from the outset. We have today told the Independent Office for Police Conduct (IOPC) of that demand and that we do not want any delay as has happened in other fatal shootings – otherwise we and the wider public can have no confidence that the police will be held to account.
Recommended
"We also want the IOPC to tell us whether or not a weapon was found in any search of the vehicle that Chris was driving. We have not received this information even though the shooting happened almost two days ago.
"Finally, we are desperately appealing for any witnesses, whether before, during or after the pursuit and the shooting, to come forward to the IOPC and/or to our solicitors at Hickman and Rose.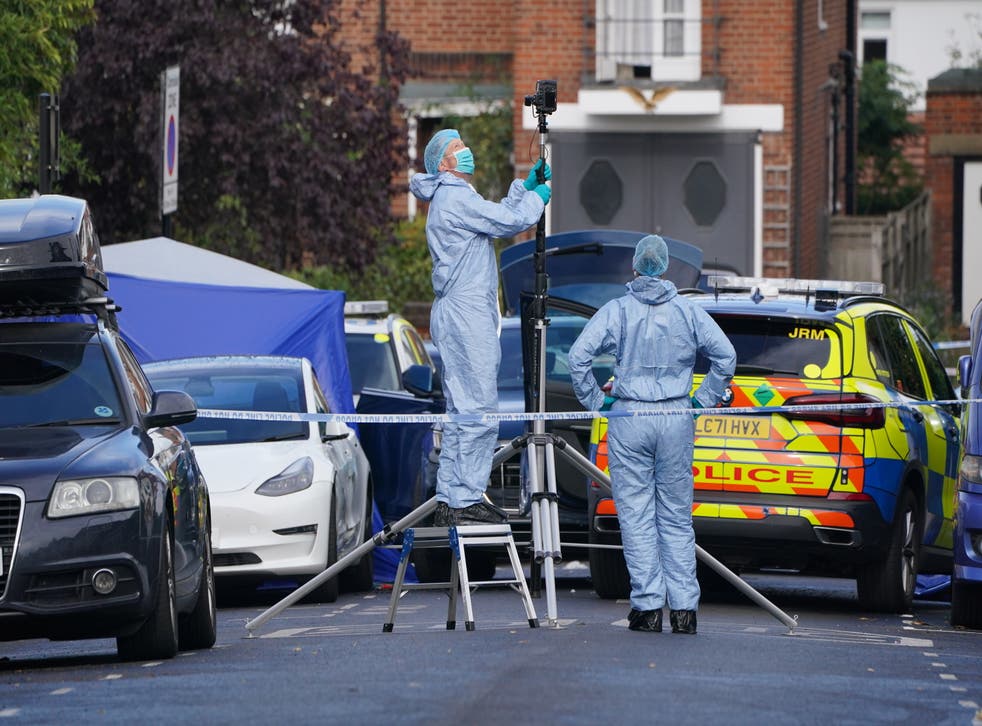 "We are devastated; we need answers and we need accountability. We are worried that if Chris had not been black, he would have been arrested on Monday evening and not had his life cut short."
The IOPC said it had met with Mr Kaba's family on Wednesday to update them on its investigation.
Sal Naseem, regional director of the watchdog, said: "We recognise that there is community concern following this incident and we appreciate that questions will remain around how Mr Kaba tragically ended up being fatally shot following an attempted vehicle stop.
"We are working hard to piece together all of the circumstances surrounding this incident and we want to reassure the community that these questions will be answered in due course, however it will take some time before our investigation is able to uncover all of the facts. While these details are still being confirmed, we ask that the public avoid speculating about this incident out of respect for Mr Kaba's family and for anyone else affected."
Mr Kaba's car and police vehicles involved in the chase have been taken to a secure location for a detailed forensic examination.
The IOPC said a Metropolitan Police probe into the firearms incident which the Audi was allegedly linked to was ongoing and " it would not be appropriate to provide further information".
The Met has expressed its condolences to Mr Kaba's loved ones, saying the force understood that "the family and community want answers".
In a statement issued earlier on Wednesday, Commander Alexis Boon said the incident was "extremely concerning" and vowed the force would co-operate with the police watchdog in its aftermath.
The officer said: "I would like to express my sincere condolences to the family and friends of the man who died and I recognise the devastating and lasting impact this tragic incident will have on them.
"I understand that this incident is extremely concerning and I would like to reassure the community that the Met is co-operating fully with the Independent Office for Police Conduct as they carry out a thorough and independent investigation."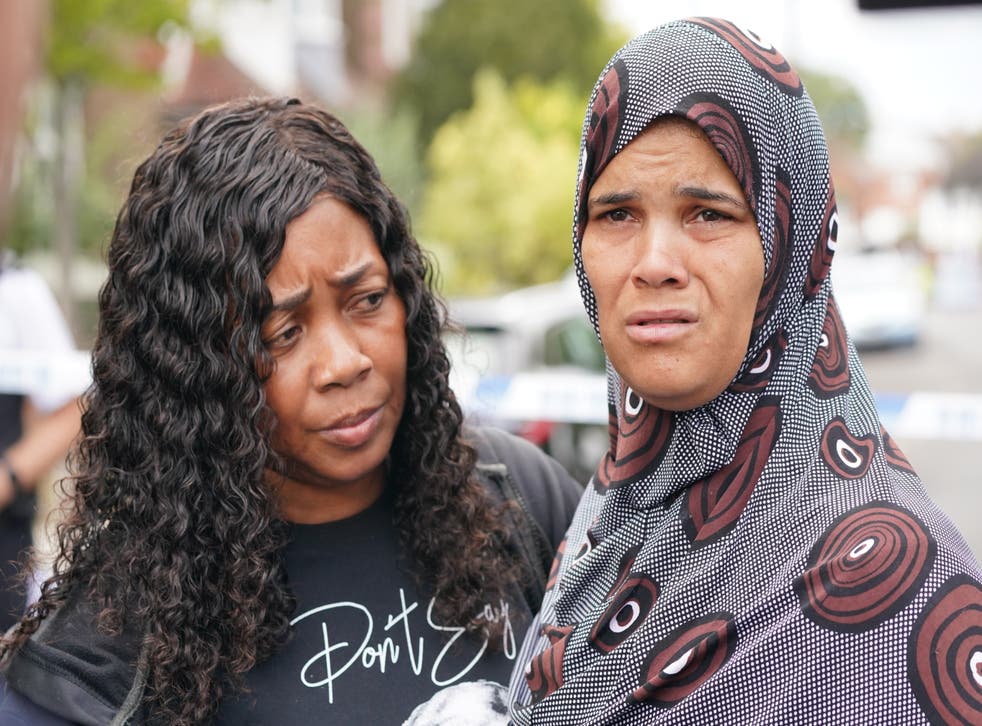 Prosper Kaba, Mr Kaba's father, told BBC News: "Really we are shocked to see that in this century from a specialist of the law like police, can shortcut someone's life, especially a young boy."
Mother Helen Nkama, speaking through tears, said: "My heart is broken. I am speechless. My heart is broken."
She added: "I need justice to be done for Chris."
The pastor at a church which Mr Kaba, from Wembley, west London, attended as a child said there were discussions in the community about organising a vigil for him.
Reverend Siaa-Liane Mathurin, of New Park Road Baptist Church, said: "Chris came to the church when he was little. He was from round here, he lived just over the road.
"The community are scared. I've had young people come to me asking 'why did they shoot him?'
"There are families who didn't send their kids to school today.
"I'm speaking to community leaders about organising a demonstration or a vigil."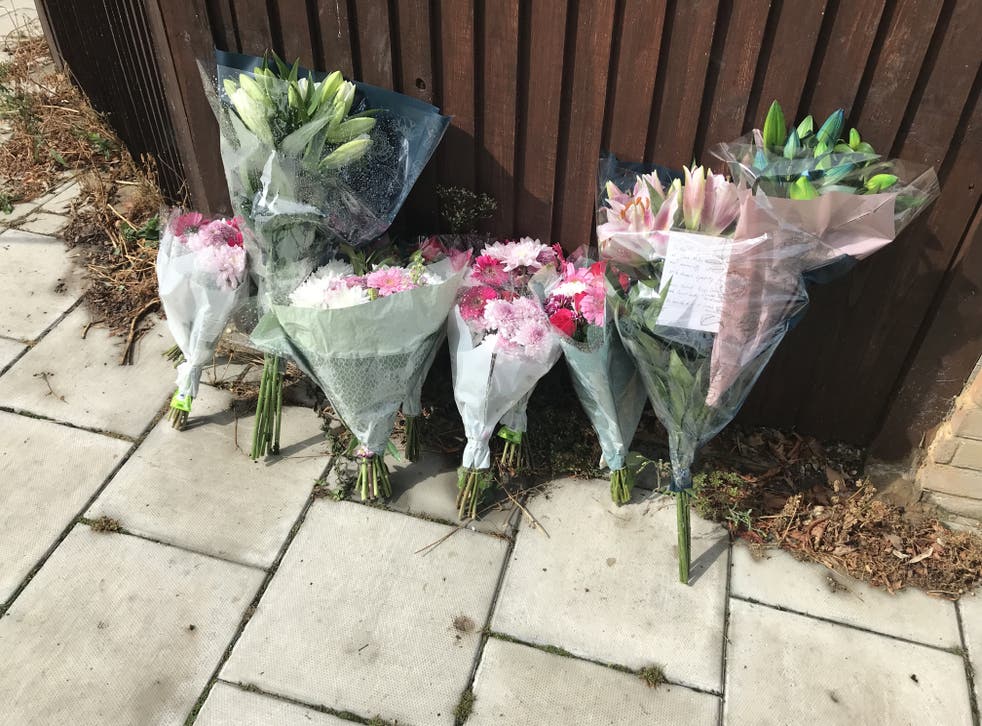 Speaking at the scene on Tuesday, Kim Alleyne, 49, whose daughter Karimah Waite was engaged to Mr Kaba, said of him: "He was so loved. He was so funny. He was super kind. Crazy. He was always happy. He'd do anything for you.
"He was a fiance, he was due to get married in five months' time. He's got a baby on the way that he's never going to see.
"It's horrible and so shocking and so sad."
Some paying tribute at the scene said Mr Kaba was a rapper known as Madix or Mad Itch 67.
Jefferson Bosela, 27, who was Mr Kaba's cousin, said: "He was a good person, a good, happy guy. He didn't deserve that. No-one deserves that.
"Nobody deserves to be shot by the police, whether they are a good person or a bad person."
Sadiq Khan, the mayor of London, said: "When anyone loses their life as a result of police force, it's important it is properly and thoroughly investigated.
"It's right the IOPC are undertaking an investigation into the shooting of Chris Kaba, who we now have confirmation was unarmed.
" The IOPC are fully aware of community concerns and the importance of transparency about this very serious incident. A community reference group is being brought together to improve local engagement."
February 9th 2023
Rob Sewell, editor of Socialist Appeal 08 Feb 2023
While Sunak's government is thrown from pillar to post, and energy bosses rake in record profits, the working class is being attacked from all angles. British capitalism is in a dire state. Only a revolution programme can offer a way forward.
Lenin once remarked about Britain that: "Here, more than anywhere else, the bourgeoisie are used to governing and know how to govern."
If he was alive today, he would have fallen off his chair laughing at the sight of this dysfunctional, crisis-ridden Tory government, which has completely lost the plot.
Rishi Sunak's administration is on the ropes, battered by economic turmoil and a series of political scandals. Deputy PM Dominic Raab has been accused of bullying. Outgoing Tory Party chairman Nadhim Zahawi is embroiled in tax-dodging allegations. Conservative backbenchers are in a mutinous mood. And the spectre of Boris Johnson and Liz Truss haunts Number 10.
Of course, there are stark differences between when Lenin wrote and today. At that time, Britain was a major world power. Now, in the words of former US Treasury secretary Larry Summers, "the UK is behaving a bit like an emerging market turning itself into a submerging market" – all ruled over by a tarnished monarchy and a gaggle of misfits.
This reflects and demonstrates the decline of British capitalism – a demise that has rapidly accelerated in recent times.
Instead of investing in industry, the capitalists, looking for short-term profits, put their money abroad and in speculation. To hell with the future! Get rich today! This was their motto.
Now the ruling class is tobogganing towards disaster with their eyes closed, dragging the rest of us down with them.
Don't you hate it when you "carelessly" forget about a few million in profits on your tax return? We've all been there!

Zahawi's tax scandal comes as no surprise. The Tories & the establishment are packed with crooks and swindlers. It's high time we toppled this corrupt system! pic.twitter.com/886XmgIiYS — Socialist Appeal (@socialist_app) January 28, 2023
Them and us
Britain has rightly been described as the 'sick man of Europe'. But even this aphorism is behind the times. It is forecast that the UK economy, already in recession, will now shrink more than even sanction-hit Russia in the year ahead. Britain has become a basket case.
"Just about everything that could go wrong has," concluded Martin Wolf, the chief economist at the Financial Times.
While the rich get richer, the rest of us are getting poorer. The oil and gas corporations have announced record profits. Their fat-cat shareholders are billions of pounds richer, simply from owning a stake in these parasitic monopolies.
Shell, for example, has reported annual profits of £32 billion for 2022. This is double the previous year's figure, and the highest in the company's 115-year history. Similarly, BP made a total of £23 billion in profit last year.
Fossil fuel giant Shell reported annual profits of £32 billion for 2022, the highest in their 115 year history. And their friends at BP are close behind. Meanwhile, millions of workers are footing the bill for a crisis they didn't cause. We say: expropriate the bosses' wealth! pic.twitter.com/tk2dvoUYKf — Socialist Appeal (@socialist_app) February 8, 2023
At the same time, energy bosses are no doubt laughing at the millions of low-paid workers who are struggling to pay their bills: the nurses, ambulance workers, cleaners, care workers, bin workers, and many, many others.
Horror stories
There are many horror stories circulating of how the working class in Britain is being affected by this crisis, especially in terms of their health.
Many of these accounts are being carried in the international press, by journalists puzzled by the collapse in living standards in Britain, which is supposed to be a rich country.
The following is from the front page of a recent edition of the New York Times, from 30 January:
"When her two sons ask for snacks she can no longer afford, Aislinn Corey, a preschool (nursery) teacher in London, lays down a blanket on the floor and plays 'the picnic game.' She takes an orange or an apple collected from her preschool's food bank and slices it in thirds to be shared.

"'We do it as an activity,' she said. 'So they don't know that mummy is struggling.'

"She says dinners are often reduced to 'pasta pasta pasta', and she sometimes skips the meal entirely so there is more food for her children."
This is what life is like for millions of working-class families in Britain. And things are getting worse, not better, as prices keep on rising. This April, households will see their energy bills jump by hundreds of pounds, as the fossil fuel giants rake in bumper profits.
Crisis of capitalism
This crisis is not only affecting the working class, however, but the middle classes also.
One Tory grandee, Lord Andrew Tyrie, was recently forced to recognise that "we have a widespread public dissatisfaction with capitalism". He even talked of a "crisis of capitalism" – all from the mouth of a Conservative peer!
Tyrie went on: "People feel alienated, they feel they live in a rip-off economy and it's run for others, not them. These attitudes run deep into the middle classes, who are the new vulnerable." This is astonishing stuff from a representative of the establishment.
In the past, the middle classes were the mainstay of British capitalism and the Tory Party. But now they are increasingly being ruined. Accompanying this, we are seeing strikes among 'professionals' and layers of workers who have never taken action before. This includes nurses, lawyers, and head teachers.
There is panic amongst the serious strategists of capital, as demonstrated by the warnings of this Tory lord. But there is nothing they can do about it.
Yes, capitalism is in crisis – a deep crisis. The crisis of British capitalism is particularly acute. But the representatives of the ruling class are impotent, and are simply fiddling while Rome burns.
Poisoned chalice
We are entering revolutionary times in Britain, the likes of which we have not seen for a century.
As Lenin explained, revolution comes onto the agenda when there is a complete impasse in society. It arises when the working class cannot live in the old way, and when the ruling class cannot govern and reign as before.
The Labour and trade union leaders, however, including the 'lefts', have no perspective of changing society. As a result, in the absence of revolutionary leadership, this will be a protracted crisis, drawn out over the next decade or so. But the longer the moment of reckoning is delayed, the more convulsive it will be.
The present Conservative government is in its death agony. This explains the permacrisis on Downing Street, with a seemingly endless torrent of scandals and sleaze. And no amount of cabinet reshuffles will help to heal the festering wound inside the Tory Party.
The ruling class will seek to hand the poisoned chalice over to Starmer and the right-wing Labour leaders. In turn, the working class will gain a lesson in right-wing reformism.
Starmer and the Blairites are loyal servants of capitalism. In cricketing terms, they are the establishment's 'second eleven'; its B-team. They will act little differently from the Tories.
The Labour leader has stated that he's "against austerity". But Labour is "going to inherit a really bad situation", he continued. "We're going to have to be fiscally disciplined."
In other words, there will be more austerity. The working class will be made to pay for the crisis.
Revolutionary programme
Capitalism today cannot afford reforms, only counter-reforms. Given the explosive anger in the working class, and the dire economic situation, the next Labour government will be a government of crisis from day one.
As Lenin explained, there is no way out for the working class on the basis of capitalism. These words are more true today than ever before.
We will, of course, fight for every reform, every wage increase, every concession. At the end of the day, however, the only real solution to our problems is to take control of the economy into our hands.
This means fighting for a revolutionary programme, based upon the nationalisation of the banks and the giant monopolies that dominate the economy. There should be no compensation for these parasites.
Only then can we plan the economy, under workers' control and management, and use society's immense resources for the benefit of all.
Such a programme would inspire workers everywhere, providing a stepping stone to a socialist Europe and a World Federation of Socialist States.
Without this, in the words of Lenin, "capitalism is horror without end".
Showman Zelensky wows England's ancient seat of power
Ukraine's leader pressed at British heart strings when he evoked "the so few" pilots defending his skies from Russia's invasion.
The former TV comedian Volodymyr Zelensky brought a decorative hat box to the millennium-old Westminster Hall.
It was there as a showman's prop, and contained a pointed message to UK parliamentarians and the West in general.
Inside sat a Ukrainian air force ace's helmet, and the president's message delivered in person to 2,000 British dignitaries was: give me fighter planes, and I'll finish the war.
Ukraine's leader pressed at British heart strings when he evoked "the so few" pilots defending his skies from Russia's invasion.
It was also "the few" of the Royal Air Force (RAF) that wartime prime minister Winston Churchill praised for saving Britain from Nazi invasion in the summer of 1940.
Behind Zelensky, bathed in wintry sunlight for this occasion, a huge stained glass window paid tribute to members and staff of parliament who lost their lives in World War II.
Churchill's evocative tribute to the RAF in turn was drawn from William Shakespeare's "Henry V" — a patriotic tribute to another invasion, by England, of France.
When he addressed the British parliament last March, two weeks into the Russian assault, Zelensky also drew on Churchill and Shakespeare. But that was by video.
This time he was in London in person, for a surprise visit kept under wraps for security reasons. It was only his second overseas trip since the invasion began.
Zelensky recalled his last visit to the parliament, two years ago, when he was toasted with tea and scones.
Then, in peacetime, "I thanked you for delicious English tea". Now, he said: "I will be leaving the parliament today thanking all of you in advance for powerful English planes".
While he is far from fluent in English, his phrasing carried its own fluency as he appealed for "combat aircrafts for Ukraine, wings for freedom".
The applause from the British audience for the warplanes appeal was more muted than for other lines. There is deep ambivalence in London and other NATO capitals at the prospect of being drawn deeper into the war.
But Prime Minister Rishi Sunak's spokesman later said the defence secretary had been tasked with assessing the request.
There was nothing lukewarm about the powerful audience's welcome to Zelensky, dressed in his usual military fatigues, in contrast to the 18th century black-and-white court dress of his parliamentary escorts.
Not many foreign heads of state get invited to address a joint session of parliament in Westminster Hall. Zelensky followed in the rarefied steps of Charles de Gaulle, Nelson Mandela and Barack Obama.
He spoke a few steps away from where Queen Elizabeth II lay in state after her death in September.
It was also roughly the same spot, in 1649, where the first King Charles stood trial at the hands of his parliamentary accusers in the English Civil War. He lost his head.
Centuries earlier, Westminster Hall's construction was begun in 1097 to stamp the authority of England's new Norman rulers on their Anglo-Saxon subjects.
But Zelensky, calmly and with occasional notes of passion, dismantled the idea of regime violence and offensive war to force change in today's world.
He did not need to name his target, Russian President Vladimir Putin, but Zelensky did name-check the ousted British prime minister who helped rally the West to his cause: Boris Johnson.
He was there in the hall, as was 10 Downing Street's new incumbent Sunak, who has vowed to continue unstinting British support, albeit without Johnson's rhetorical flourishes.
As he left the historic hall, en route to a Buckingham Palace audience with King Charles III, Zelensky was warmly greeted by Sunak, Johnson and opposition Labour leader Keir Starmer.
Ukraine's president had an extended chat with Starmer, perhaps conscious that the Labour leader is on course to supplant Sunak in Britain's next general election, likely in 2024, if opinion polls are correct.
Ukraine's war is nothing less than a defence of democracy worldwide, Zelensky said in his speech, buoyed by Sunak's promise of British pilot training if not, yet, the advanced jets he craves.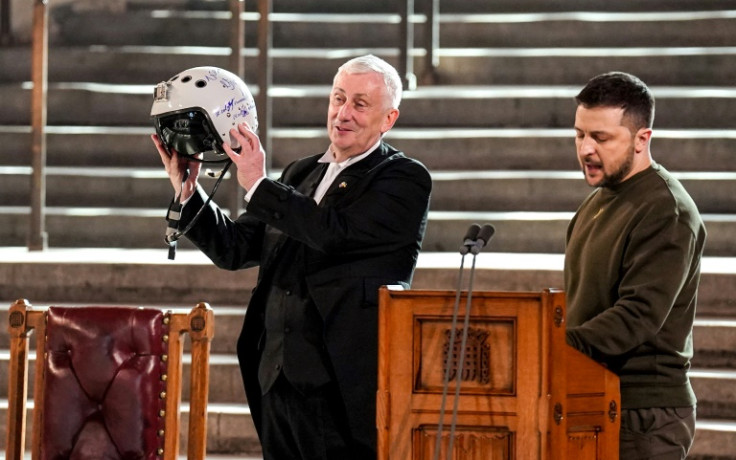 Comment Given the devious NATO treachery behind this so called righteous conflict , the comparison to Battle of Britain is corny and in bad taste. The ridiculous expression on the smirking Speaker's face informs me more about the cocky child like depths to which career politicians have dragged Parliament. He and others won't be smirking if they push their war game war mongering band wagon over the edge. These people dodge real issues , like high level police corruption , incompetence and unaccountability. They consistently show appallingly bad judgement , as with COVID 19 and clapping the NHS. Elite driven Brexit was a stupendous con trick, setting them apart from EUROPE so they could do what is best for their short term materialistic and egotistical gratification. That goes for their careerist virtue signalling scare mongering man hating bourgeoise anti feminine, feminists too.
R. J. Cook
February 8th 2023
Academic rigour, journalistic flair
Skylines are being transformed by this boom sector. Peter Devlin/Alamy
The rise of corporate landlords: how they are swallowing city centres like Manchester one block of flats at a time
Published: February 1, 2023
Authors
Adam Leaver Professor of Accounting & Society, University of Sheffield
Jonathan Silver Senior Research Fellow, University of Sheffield
Richard Goulding Research Associate in Urban Political Economy, University of Sheffield
Disclosure statement
Adam Leaver receives funding from the Economic & Social Research Council and Luminate. He is a member of The Labour Party.
Jonathan Silver works for University of Sheffield. He receives funding from the Economic and Social Research Council and European Research Council
Richard Goulding works for the University of Sheffield. He receives funding from the Economic and Social Research Council
University of Sheffield provides funding as a founding partner of The Conversation UK.
The Conversation UK receives funding from these organisations
We believe in the free flow of information
Republish our articles for free, online or in print, under Creative Commons licence.
The housing prospects for young people in the UK were completely changed by the global financial crisis of 2007-09. While the government largely succeeded in rescuing the banks and the housing market, it created an environment where house prices remained high and mortgages were only available to those who could afford hefty deposits. As a result, many young people who might have got a foot on the property ladder were forced to keep renting.
While this has prompted much concern in recent years about the prospects for "generation rent", the flipside is that it created an investment opportunity. To meet the demands of this demographic, property investors started putting billions of pounds into a new housing class known as build-to-rent (BTR).
To understand this shift, we've been researching the rise of these properties in one of the UK's leading cities, Manchester. It demonstrates a change in the kinds of organisations that own UK homes, and some difficult implications for those who rent them.
The new property boom
The residential rental market used to be mainly made up of buy-to-lets, which are typically owned by small-scale landlords who have a relatively small number of properties in their portfolios. Build-to-rent, on the other hand, refers to large blocks of housing units owned by institutional investors such as pension or investment funds.
This housing class has grown significantly over the past ten years: by the end of 2022, it accounted for over 240,000 units built or under construction in the UK. Property group Savills predicts that this will increase fivefold over the next decade.
These new corporate landlords were attracted by the fact that they could earn a high yield on their investment from rents (at least when interest rates were low). There were also valuable economies of scale in marketing, managing and maintaining multiple blocks of flats that were all in the same area.
London is the largest market for this kind of property in the UK, accounting for about 50% of completed BTR properties. But as our recent paper shows, its presence is growing in cities like Manchester. In the city regional centre, which includes Manchester city centre, Salford Quays, central Salford and the Pomona area of Trafford, out of 45,000 new housing units built between 2012 and 2020, 22,984 were BTR. That's just short of one-fifth of the national total.
UK build to rent by city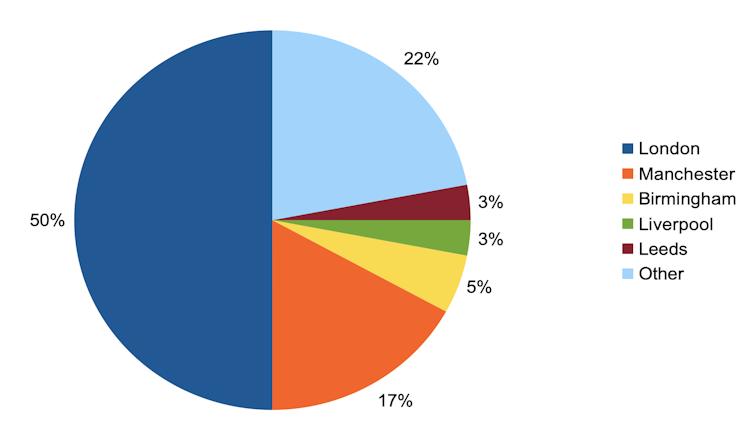 Role of the public sector
Both the UK government and city councils have been instrumental in helping the build-to-rent market to take off. The government made a £1 billion BTR fund available to investors between 2012 and 2016 to underwrite their projects, as well as making it easier for them to get planning permission thanks to the 2018 National Planning Policy Framework.
In Manchester, local policymakers also funnelled national subsidies towards these investors: Greater Manchester's Housing Investment Fund initially lent out £167 million to six high-profile developments.
A more indirect subsidy has been the relaxation of affordable housing requirements. Between 2012 and 2020, developers in central Manchester and the nearby areas of Salford and Trafford only contributed £15.4 million in the "section 106" payments used to build such properties. Given that there was an £8.3 billion investment into BTR over the same eight-year period, this is a very small amount.
Overall, we found that only 471 new homes in the city-regional centre out of 45,000 have been classed as "affordable" by government criteria, meaning that the city's residential boom has been dominated by private sector market rental housing. According to policy guidance, 20% of new units are supposed to be affordable. Developers in the centre are clearly not contributing to these targets.
Following the money
These highly conducive conditions helped attract a variety of new financial players. Given that they can choose to sell these properties on or to hold them, including revaluing them upwards in future as a way of booking profits, it has attracted players with different investment strategies and risk appetites. From our research into Manchester, 39% of BTRs have been built by non-listed property funds, while 24% are listed funds, 14% are pension and insurance funds and 9% are from investment banks.
Two-thirds of the money came from overseas, including from North America, the Middle East, China and Europe. Some of the money is registered in tax havens such as the Cayman Islands. We developed this interactive map with the Open University to make it easy for people to see these relationships – you just click on a marker for a given development to follow the money.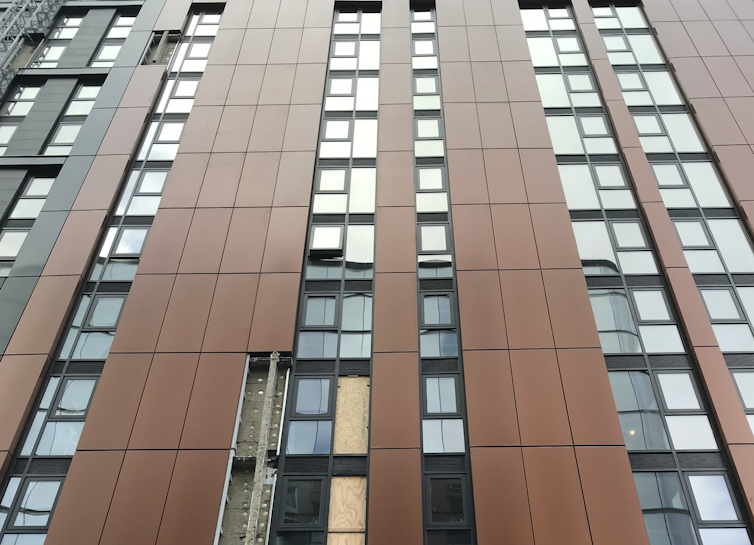 Build-to-rent properties undoubtedly meet an urgent need: in a context of dwindling housing supplies and high inflation, there are many young people without the means to save for a deposit or buy a house. But it also transfers the capital gains that they would have enjoyed as homeowners to corporate landlords, often located outside the UK.
This exacerbates wealth inequalities by making it harder for these renters to keep pace with those who already own properties as prices rise. At the same time, the lack of affordable housing may exclude established communities as rents are pushed up further around the city centre.
The government and local authorities have tried to create the most beneficial climate for BTR investors. But this raises questions about the loss of local democratic control over development, as urban landscapes are liable to become shaped by the investment preferences of powerful new players rather than local need.
Devising a workable alternative is our next research project. But in the broadest terms, we need an urban development model built on a new compact between national and local state organs to build good quality social and affordable housing where the benefits would be recycled locally, rather than drifting off to tax havens.
How to keep up with the global economy?
It can be an exhausting exercise when things are changing so fast. But COVID, the metaverse and what's happening in Ukraine all have impacts we need to be aware of. This is why I co-write a weekly business and economy email newsletter. It brings a curated summary of the week's briefings from academic experts straight to your inbox. And it's free.
Steven Vass
Business + Economy Editor
President Zelensky in first UK visit since invasion of Ukraine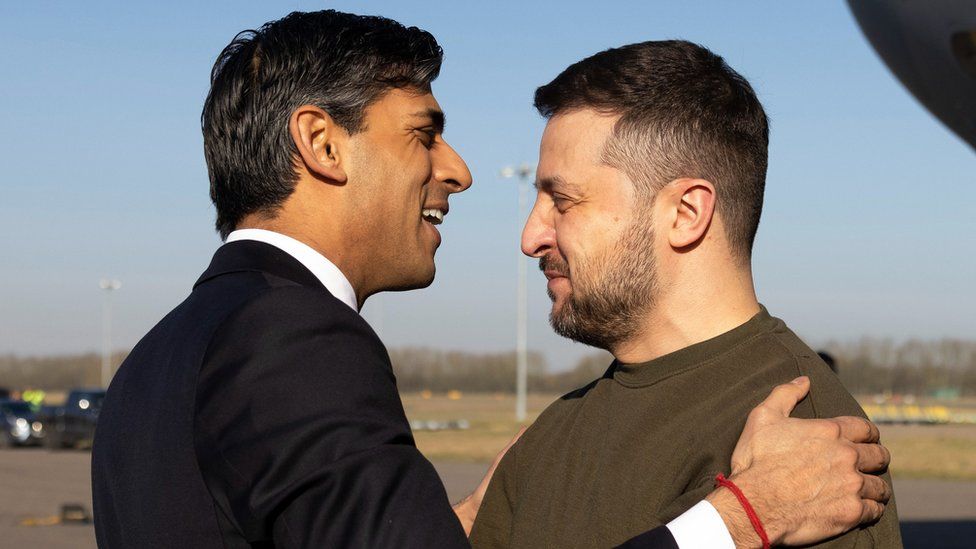 By Paul Seddon
Politics reporter
Ukrainian President Volodymyr Zelensky has met Rishi Sunak, after arriving for his first UK visit since Russia's invasion.
He held talks with the British prime minister in Downing Street, ahead of an audience with King Charles and a speech to Parliament.
It comes as UK training of Ukrainian forces is set to be expanded to cover fighter jet pilots and marines.
The UK has also announced a fresh round of sanctions targeting Russia.
The latest sanctions target IT companies, as well as manufacturers of military equipment such as drones and helicopter parts.
Plans have been announced to train Ukrainian pilots to fly Nato-standard fighter jets in the future, a key request from Ukraine.
Western countries have been considering how to bolster support for Ukraine, with the country braced for a renewed Russian offensive later this month.
The expansion of the UK's training programme signals a shift, after the UK said it was "not practical" for it to send its aircraft to Ukraine.
Last week, Mr Sunak's spokesman told reporters that British military jets were "extremely sophisticated and take months to learn how to fly".
The UK has already announced plans to send Challenger 2 tanks to Ukraine, with Ukrainian troops receiving training in how to operate them.
No 10 said Mr Sunak would be offering to provide Ukraine with "longer range capabilities" to disrupt Russia's ability to target Ukraine's critical national infrastructure.
It added that British training would be scaled up this year, with a further 20,000 Ukrainian soldiers set to be trained.
Sir Keir Starmer, leader of the opposition Labour Party, said Ukraine must have the UK's "full support" in its fight against Russian forces.
At Prime Minister's Questions in Parliament, he welcomed government announcements on further training for Ukrainian troops.
During a largely consensual edition of the weekly scrutiny session, Mr Sunak said the UK would support Ukraine to achieve a "decisive military victory on the battlefield this year".
Read More https://www.bbc.co.uk/news/uk-politics-64566248
What support has the UK given Ukraine?
Since Russia invaded in February last year, the UK has spent £2.3bn on military assistance, making the country the second biggest donor behind the US. The government has said it plans to match this spending again this year.
The UK has also imposed a series of financial sanctions on Russia and taken over 100,000 Ukrainian refugees.
Military equipment provided so far includes:
Several air defence systems, including Starstreak, designed to bring down low-flying aircraft at short range.
Challenger 2 tanks
Artillery including 30 AS90 self propelled artillery guns
Hundreds of thousands of rounds of 155mm ammo
M270 multiple-launch rocket systems with M31A1 precision munitions
Next-generation light anti-tank weapons, or Nlaw
Maritime Brimstone missiles
Armoured vehicles, including Mastiff patrol vehicles
Heavy lift unmanned aerial vehicle (UAV) systems to provide logistical support to isolated force
Electronic warfare equipment
February 7th 2023
' The Lady Doth Protesteth Too Much, Methinks.'
– a comment by R J Cook
Every time I hear the authorities and their so called independent media lackeys ranting and moralising about Britain being a democracy , I am reminded of Shakespeare's Hamlet ,Act 3, Scene 3. Here Hamlet's mother Gertrude tellingly says :'The lady doth protest too much, methinks.' It's a cynical, ironic, somewhat sarcastic comment about someone overdoing a denial, suggesting that they are, indeed, to some degree guilty.
If British authorities had not pushed me to the edge of bankruptcy , labelling me a delusional paranoid bi polar schizophrenic violent alcholic likely to die by misadventure, getting me fired from truck driving , I would buy a car. If I had such a car and then kept knocking on a neighbour's door telling them to come and look at my purchase, repeatedly telling them 'Look, this is a car !' My neighbours would have good reason to judge me insane for overstating the obvious.
So when it comes to our government of pampered super rich , capitalist lackeys , self serving, untrustworthy, lawyers and feminists ( of both sexes ) repeatedly telling myself and the nation that Britain is a democracy, they are either insane , fools or congenital liars. I know what I think.
Many years ago , as a teenager , I read a brilliant book called Anatomy of Britain written by Anthony Sampson and published by Hodder & Stoughton in 1962. The book was an examination of the ruling classes of the United Kingdom, looking at the holders of political, bureaucratic, and financial power. Those are the people whose children were fake protestors waiting their turn to take over control , exploiting the nerds new ever developing war driven technology creating a deceptive blinding gloss to an ever more hypocritical and terifying police state tyranny. They rely on fakery and a population more 'freedumb' than free. Brexit was a masterstroke of a con trick , with the House of Lords Remoaner majority dictating that Euro Laws and Directives cannot be deleted from the Statute Book. Obviously not , because , as Angela Merkel said ; 'Britain was responsible for originating 80% of them.'
So it is no surprise that London's new police chief spoke to deflect criticism of his FORCE , along with all the Provincial Forces, by stating that misogyny is a wider public problem. This so called 'new broom' is a paid Metropolitan Police Commissioner.His yearly pay in the United Kingdom is approximately £292,938 per annum, which is 349% above the national average. Salary ..This does not include benefits like a luxury car , round the clock on call drivers , health and other perks. Crime pays well for a select few. He is an overpaid PR man. The Metropolitan Police , along with all the other 42 police forces ( and 3 specialist forces ) stems from a dysfunctional promotion systen where like recruits like and corruption is normal . One cannot overstate the case that U.K Police are full of excuses and unaccountable to the public. The fob off with sex pervert rapist killer PC Wayne Couzens was that he was representative of what all men might like to do to women.
Therefore according to a demented man hating Liberal ( sic ) feminist in the House of Lords , men should face a curfew. At no stage must the guns ,flash lights or X Rays be directed on to Britain's overpaid self serving institutionally corrupt police. Hillsborough was a massive example of this ,with no holds barred on cover ups and denigrating witnesses while exalting police liars. The woman sitting next to Charles DeMenezes was lablled a whore because she saw an armed plain clothes police officer jump on to her tube train.This moron then pumped 9 shots into Charles. The woman ,Ms Dick, who gave the kill order was promoted to being one of the worst London Police Chiefs ever.
This brings me to the wider issue of the public sector pampering and salaries. Ludicrous Lockdown with all the masks and disinfectent did nothing to contain the man made virus which was no more dangerous than flu. Lockdown actually ruined lives , instilled mass fear and killed people who the virus had never touched. Along the way Boris Johnson and his government pandered to the NHS by encouaraging nightly mass clapping. It was utterly absurd but generated a sense of NHS staff self importance causing the largest ever strike, the culture of which has spread to teachers and threatening other public sector areas , including the massively state subsidised appaently private rail network
The fuel for this fiasco has been the incredible U.K money and resources being pumped into NATO's proxy war on Russia in the name of UKRAINE'S FREEDUMB. British masses are , putting it politely, gullible to the nonsense that we are facing a cost of living crisis. How can they not see it for what it is, a cost of war crisis.
Anti Russian sanctions have massively hit the world's grain, fertiliser and energy market. Key money grabbing elements in the U.K and Russia were determined to wreck Nordsteam and ensure Norstream 2 never came on line – as disgraced U.K Prime Minister and Zelensky buddy made public. He and others of this elite , have admitted that Minsk was disingenuos. Ukraine was never going to be an independent buffer. The long game was always regime change in Russia. It had been so ever since drunkard western placeman Yetsin's protegee had not rebelled over the plan to reduce Russia to the same level of idiocy and eliteclique profiteering as the west.It is telling and amusing how Russia's original asset stripping oligarch's ,during the Yeltsin era, were welcomed with all their money,to Britain. To call the Anglo U.S and EU elite hypocrits is not enough. They want UKRAINE , contol of the Black Sea and ultimately Russia for its resources and to distribute migrants from an overflowing Europe ,U.K and U.S. It is all about the money.
The current outraged U.K private sector strike force aren't concerned as to where the money is coming from. Companies like Shell ,which made £34 billion profits in the last financial year. The electricity combines reject windfall taxes on grounds they need massive profits to develop green technology. This is a world where 5 % of the world's population own 62% of global wealth , 10% of UK population own 90% of the land , while 90% of the population live on 10% of the land.This is indicative of some hideous developing problems.
The financial realities stemming from all of this should be obvious. The power dynamic makes a mockery of Boris Johnson's 'levelling up' policy and associated special department. As I write , Britain's much vaunted 'black' (sic ) super rich Prime Minister Sunak , has just lashed out millions to create four new departments. He boasts that he is working hard with colleagues to cut the rising cost of living and energy costs. The world financial markets are there for the speculating international elite. British industry is internationally financed ,including energy.There is a lot of competition for funds only interested in elite obscene profit. The same process applies to shares. Government already uses billions of taxpayer's money to prop up the increasingly bloated state sector , buses and railway. Rich people have many methods of tax avoidance. So it's no surprise that the bottom 30% of the population pay 60% of all the taxes.
So,given that the rich won't be paying significantly more tax and are said to need the incentive of high pay , this means it will be the lower orders who pay for public sector pay rises. They will experience life on the receiving end of an appalling self serving NHS and education ( brainwashing ) system. People, living their fast lives, attached to their I phones ,understand next to nothing about economic reality. Government doesn't want them to. As far as they care ,it is all about their power , pay and privilege.They expect the masses to believe that the Bank of England's interest rate rise will cut inflation. It is all about profits for the global financial and share markets.
Inflation boils down to cost pull and wage pull, which are explained as follows : Cost-pull inflation is a purported type of inflation caused by increases in the cost of important goods or services where no suitable alternative is available. As businesses face higher prices for underlying inputs, they are forced to increase prices of their outputs. If it wasn't for businsses being funded by international capital ,they might be persuaded to reduce their profits. In reality they expect them to grow at the expense of the weakest. NHS and teachers are behaving as if they feel strong enough to hold the system ( sic ) to ransom -hence the imminence of wage push inflation.
Wage-push inflation can occur for a few reasons, in theory. One is due to unions negotiating set wage increases at fixed intervals for their members. When unions negotiate higher wages for their members, this can push up the cost of the final goods at retailers, which could cause inflation.
During my 12 years as a truck driver , I saw fuel prices rise. Travelling long distance carrying food and drink, my truck would have to be fully fuelled when I left, refuelled before my return and again when I returned to the depot. I was just one of many, the daily fuel costs massive. The U.K may have only ever gotten 7 % of its oil from Russia , but oil is traded on a global market , as I said. Ships and aircraft use forms of oil too. Russia is a major supplier.
Politicians lie all the time , secrecy part of their trade. Their job is to hide the truth. Strikers are concerned only to maintain their life styles and profer politically correct views – significantly that mass immigration has no inflationary effect and it is racist to say otherwise.The masses are in denial and lap it all up. It gives them a sense of purpose reminiscent of the 'Dunkirk Spirit.' As with Covid scaremongering, the ruling elite are stoking up fear of Russia ,masquerading as the home of independent media ,exemplifying democracy. In this context , this website is marked unsafe by GOOGLE U.K and my link to RT is blocked because it is effectively illegal to publish Russia's viewpoint here and elsewhere in the west. Anglo U.S led NATO has sown the wind with Russia , by sending tanks after so much else. They have reason to fear the whirlwind.
R J COOK
Contact rjcofnorthbucks@btinternet.com
David Carrick jailed for life over series of rapes while Met police officer
Carrick, 48, admitted 85 serious offences during 17-year campaign of terror and attacks against women
David Carrick, who believed his position as a Metropolitan police officer made him "untouchable" as he waged a 17-year campaign of terror and attacks against women, has been jailed for life.
The 48-year-old must serve a minimum term of 32 years minus the time he has spent in custody before he can even be considered for release.
At Southwark crown court, Mrs Justice Cheema-Grubb told Carrick, who was in the dock: "You behaved as if you were untouchable. You were bold and at times relentless, trusting that no victim would overcome her shame and fear to report you. For nearly two decades you were proved right."
She said Carrick had taken "monstrous advantage" of his position as a police officer, which gave him "exceptional powers to coerce and control" and that he had betrayed his oath to protect the public and caused "irretrievable devastation".
As the judge began her remarks, Carrick, in a dark grey jacket and tie, looked at her, but his gaze dropped to the floor as she detailed his crimes, his face expressionless.
Cheema-Grubb said the former Met firearms officer faced a "spectacular downfall" and would endure a "difficult time in custody", which will last until he is 78 years old, at the earliest.
Read More https://www.theguardian.com/society/2023/feb/07/david-carrick-jailed-life-rapes-met-police-officer
This is not an isolated case and the Metropolitan is not the only police force with misogynistic and sexist attitudes within its ranks. We see time and again police officers abusing their positions of power and they have been emboldened to do so through a lack of action and willful ignorance. Police-perpetrated violence has not just been tolerated, it has been encouraged.
It's not easy to create cultural change, but it must start with a zero-tolerance approach to all acts of violence against women and girls and sexist behaviours. It is crucial that police officers who perpetrate violence against women and girls are held accountable for their actions. Those in power must take responsibility for making the changes needed to address male violence.
If you are affected by anything you read here, you can talk to us.
February 6th 2023
UK faith leaders warn about the "threat to liberties" of the new Police law
Religious leaders also denounce the "disproportionate impact" that the draft law will have on "already marginalised minorities" and call for its removal.
Christian Today · LONDON · 02 MARCH 2022 · 15:45 CET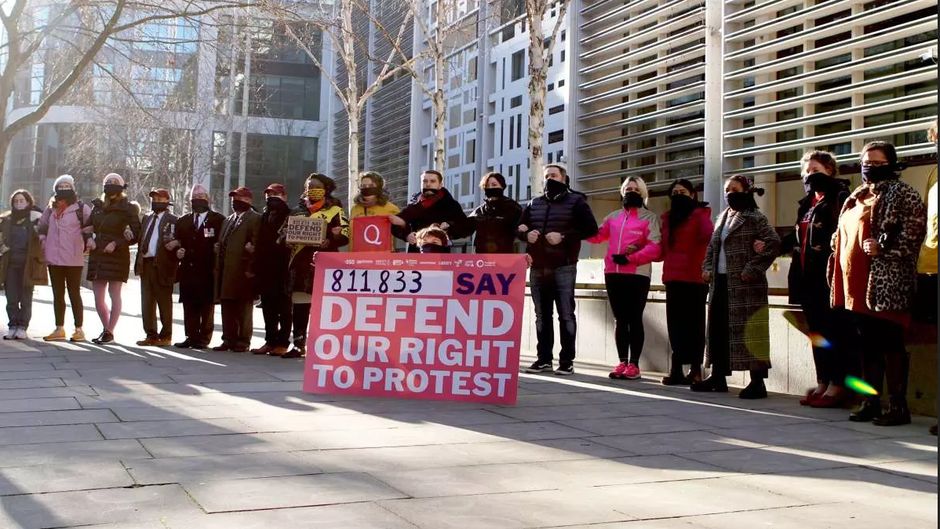 Christian Aid,">
People protest against the Police, Crime, Sentencing and Courts Bill. / Christian Aid
Dozens of UK faith leaders have signed a letter to the MPs, to express their "concerns about Parts 3 and 4 of the Police, Crime, Sentencing and Courts Bill", which is still being debated.
Although the "most draconian provisions in the Bill", have already been removed, it "currently introduces disproportionate sentences for peaceful protest and allows someone to be convicted for breaching a police condition placed on a protest".
"A grave threat to civil liberties"
"The new restrictions on peaceful processions and assemblies present a grave threat to civil liberties in this country, and would allow the police to potentially criminalise a wide range of scenarios, either for being too 'noisy' or for causing 'serious unease'", warns the letter.
Furthermore, "there are also likely to be a number of severe consequences for faith and belief communities across the country",it adds.
According to the signatories, the new law "would have a chilling effect on the practices of millions of those putting their faith into practice […] Events such as prayer vigils, public acts of worship, community events and protests could be restricted or banned with incredible ease".
Discrimination to minorities
The letter also denounces the "disproportionate impact" that the draft law will have on "groups already marginalised by our society, such as Gypsy, Roma, and Traveller". Faith leaders "deplore the Bill's attack on those communities and their way of life".
They explain that the law will "create a new trespass offence at a time where the Government has failed in its duty to provide sufficient sites and permitted stopping places. This further criminalises marginalised communities with profound levels of societal stigma and economic hardship".
"All this is unacceptable in a democratic society and strikes at the heart of the rich diversity of belief and expression that has been championed and celebrated in the past. For this reason we call for the removal of Part 3 of the Bill entirely", concludes the letter.
In addition to this letter, over 300 civil organisations have also signed another letter asking for the removal of the Parts 3 and 4 of the draft law, and encouraging citizens to write to their MPs to vote for this.
Since March 2021
In March 2021, the British parliament held its first debate on the Police, Crime, Sentencing and Courts Bill, without reaching a decision.
Afterwards, in November 2021 the government tabled a series of amendments to its own draft law, which added even more measures to restrict and criminalise protests.
However, this January, MPs rejected almost all of the government's measures, such as giving police powers to impose more noise-based restrictions on protests and the ability to place restrictions on one person protests, or giving them greater powers to restrict peaceful assemblies and to impose conditions on one-person protests, among others.
The draft law was again debated in the House of Commons this Monday February 28 without an agreement, so that it will enter what is known as "ping pong" between the houses. Amendments will go back and forth between the two chambers of Parliament, although usually the Lords will defer to the elected chamber if no compromise is reached.
Published in: Evangelical Focus – europe – UK faith leaders warn about the "threat to liberties" of the new Police law
Comment Britain's ruling elite places police on a pedestal and we are supposed to worship them. The police are there to serve that elite. It is highly significant that government is ever ready to increase police numbers and powers. Increased accountability is never on the agenda. Cover ups are their speciality because the system has to be protected regardless of incredible injustices. So it is incredible that a 'well respected ' senior Metropolitan Police officer ,David Carrick, is about to be sentenced at Southwark Crown Court, for 85 sex offences. These include 48 rapes involving 12 women. R J COOK
February 3rd 2023
Infected blood inquiry: Five things we have learned
Related Topics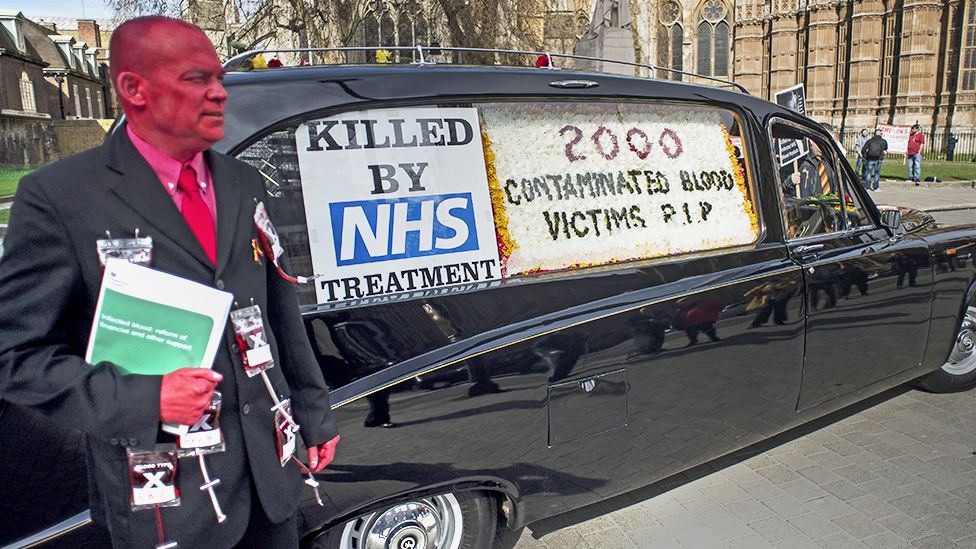 By Jim Reed
Health reporter
A long-running public inquiry into what has been called the worst treatment disaster in the history of the NHS has heard its final evidence.
It is thought tens of thousands were infected with HIV and hepatitis between 1970 and 1991 after being given a contaminated drug or blood transfusion.
The inquiry, which started in 2018, has reviewed thousands of documents and heard testimony from 370 witnesses.
It now plans to publish its formal conclusions and recommendations in the autumn.
Here are five important things that have been revealed by the inquiry over the past five years.
1. How big the contaminated blood scandal is
A group of academics hired by the inquiry produced detailed estimates of the numbers infected in the 1970s and 80s.
A total of 1,250 people with haemophilia and other bleeding disorders contracted HIV after being given a protein made from blood plasma known as Factor VIII.
About half of that group later died of an Aids-related illness.
At the time, the UK was not self-sufficient in Factor VIII, so it was often imported from the United States – where prisoners and other at-risk groups were paid to donate.
Another 30,000 NHS patients probably contracted a different virus – hepatitis C – through the same contaminated treatment, or a blood transfusion after surgery or childbirth.
It is thought about 2,050 of that group later died of liver failure or cancer caused by hepatitis C, before an effective treatment became widely available.
https://www.bbc.co.uk/news/health-64497868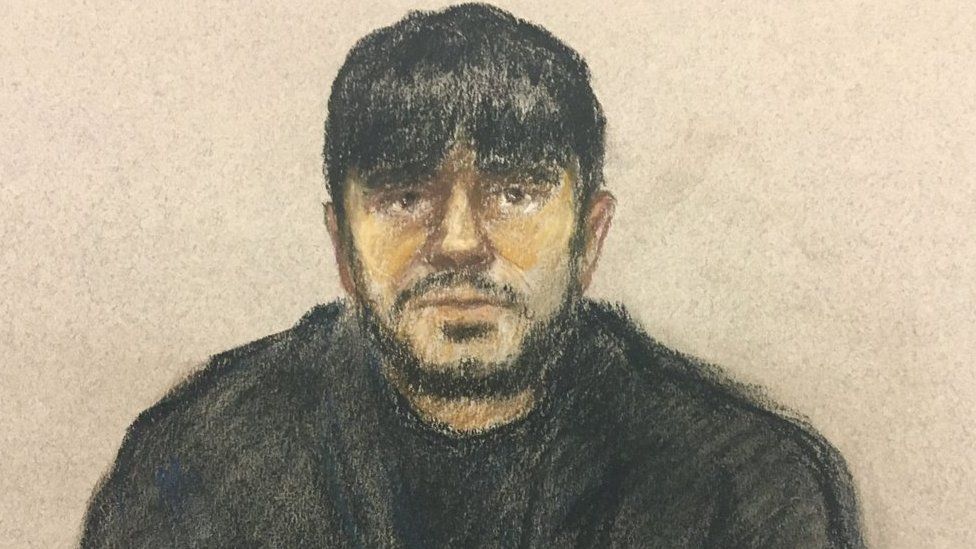 By Daniel Sandford
BBC News home affairs correspondent
A man who arrived at Windsor Castle armed with a crossbow and told a protection officer "I am here to kill the Queen" has pleaded guilty to a charge under the Treason Act.
Jaswant Singh Chail, from Hampshire, was arrested on Christmas Day 2021, when the late monarch was living at Windsor due to the Covid pandemic.
At the Old Bailey earlier, Chail, 21, pleaded guilty to three charges.
He is the first person in the UK to be convicted of treason since 1981.
Chail, from North Baddesley, near Southampton, also admitted making threats to kill and possessing the loaded weapon in the castle. He is due to be sentenced at the same court on 31 March.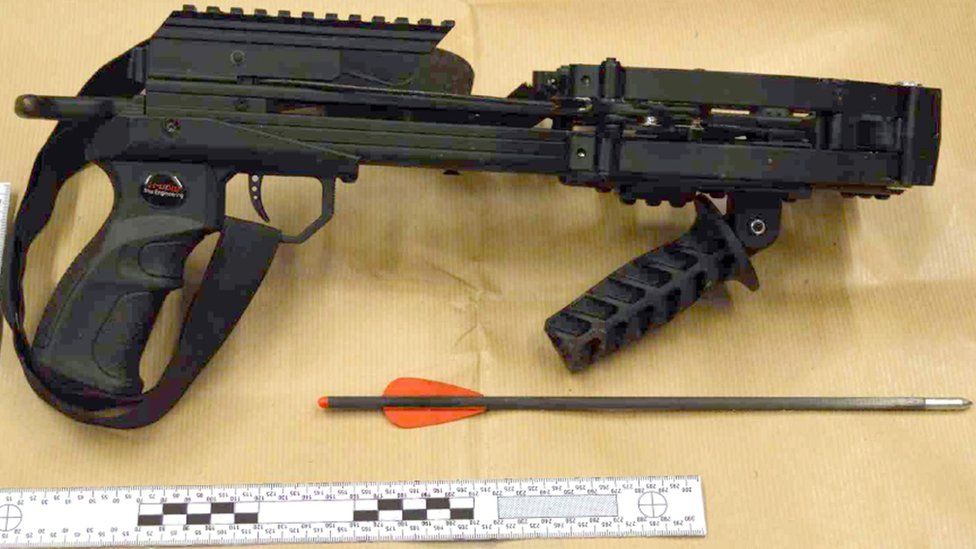 He was spotted by a royal protection officer in a private section of the castle grounds just after 08:10 GMT on 25 December 2021.
The officer was at a gate, leading to the monarch's private apartments.
Chail, who was unemployed at the time but had worked for the Co-op supermarket, had climbed into the grounds using a nylon rope ladder, and had already been there for about two hours.
He was wearing a hood and a mask, and was described as "like something out of a vigilante movie".
The officer took out his Taser, and asked him: "Morning, can I help, mate?" Chail replied: "I am here to kill the Queen."
The protection officer immediately told Chail to drop the crossbow, get on his knees, and put his hands on his head. Chail complied and then said again: "I am here to kill the Queen."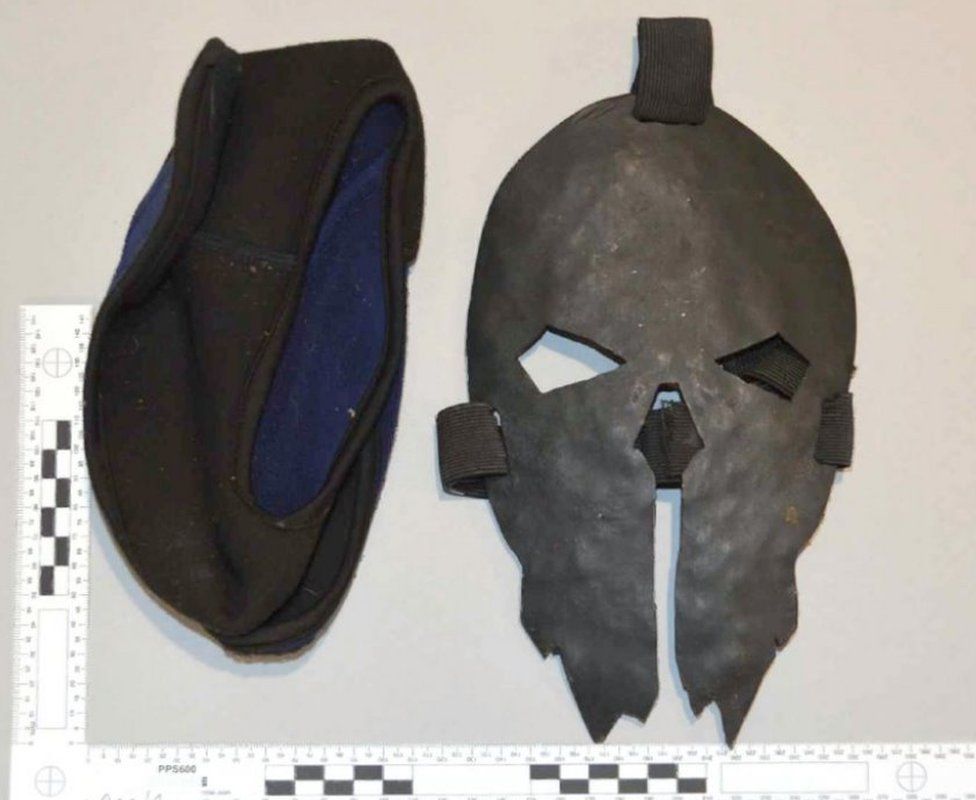 The crossbow was found to be loaded with a bolt and the safety catch was off.
Chail was also carrying a handwritten note, which read: "Please don't remove my clothes, shoes and gloves, masks etc, don't want post-mortem, don't want embalming, thank you and I'm sorry."
In a video posted on Snapchat minutes before he entered the castle, Chail said: "I'm sorry, I'm sorry for what I've done and what I will do. I will attempt to assassinate Elizabeth, Queen of the Royal Family.
"This is revenge for those who have died in the 1919 Jallianwala Bagh massacre. It is also revenge for those who have been killed, humiliated and discriminated on because of their race."
The Jallianwala Bagh massacre took place when British troops opened fire on thousands of people who had gathered in the city of Amritsar in India.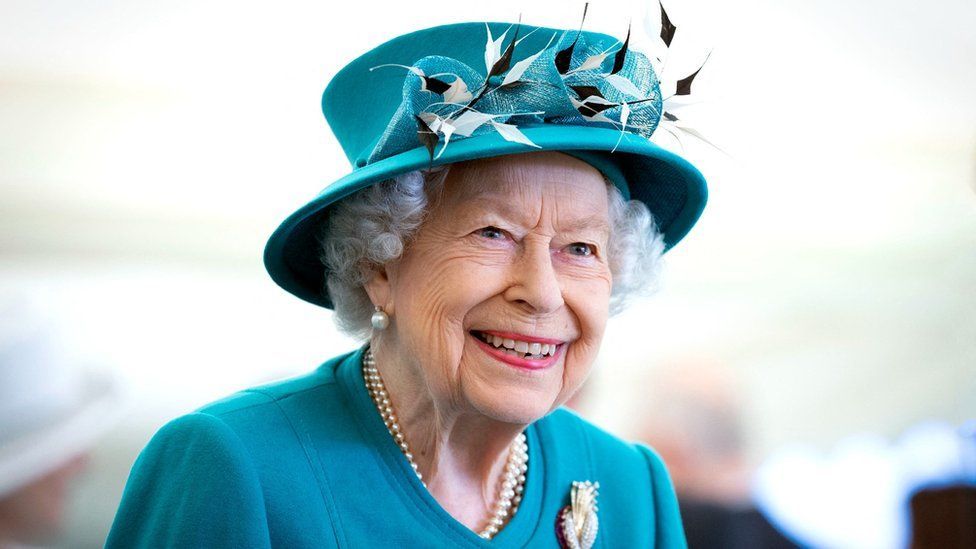 The death toll is disputed – but hundreds of people were killed and Indian sources put it nearer to 1,000.
Also in the video and apparently referencing the Star Wars films, Chail said: "I'm an Indian Sikh, a Sith. My name was Jaswant Singh Chail, my name is Darth Jones."
Prosecutors said the footage was recorded four days earlier and sent to about 20 people on his contact list 10 minutes before his arrest.
Chail's crossbow was found to be comparable to a powerful air rifle with the potential to cause serious or fatal injury.
Prosecutors said crossbow bolts, a metal file and other items were later found in a hotel room where he had stayed the previous night.
It was also alleged Chail had previously tried to get close to the royals by applying to join the Ministry of Defence Police and the Grenadier Guards.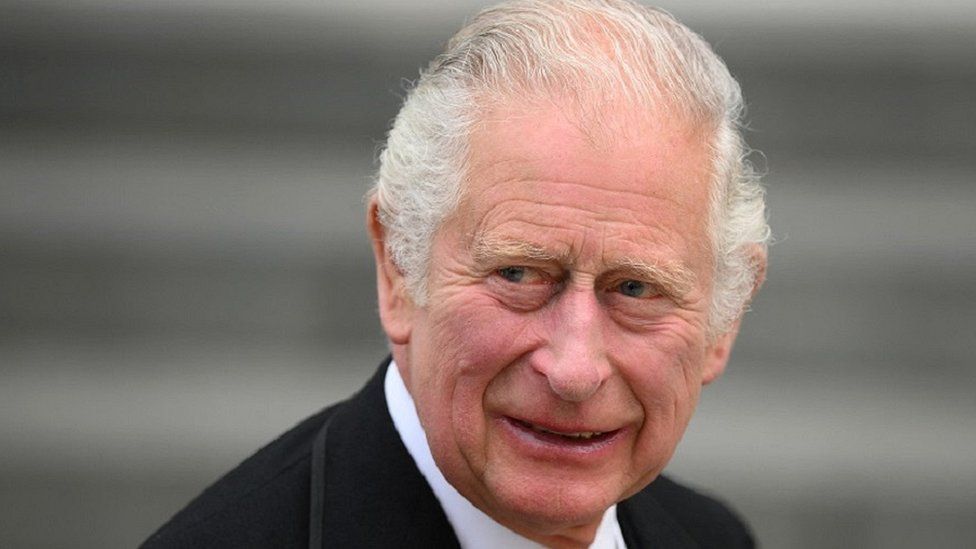 Commander Richard Smith, who leads the Met Police's counter terrorism unit, said: "This was an extremely serious incident, but one which the patrolling officers who apprehended Chail managed with great composure and professionalism.
"They showed tremendous bravery to confront a masked man who was armed with a loaded crossbow, and then detain him without anyone coming to harm."
Police said Chail's actions were not treated as terrorism offences but the counter terrorism division was deemed the appropriate team to lead the investigation.
Chail is currently in Broadmoor Hospital where he appeared in court via a remote video link.
It was heard his mental health had improved with treatment and he would have been fit to stand trial.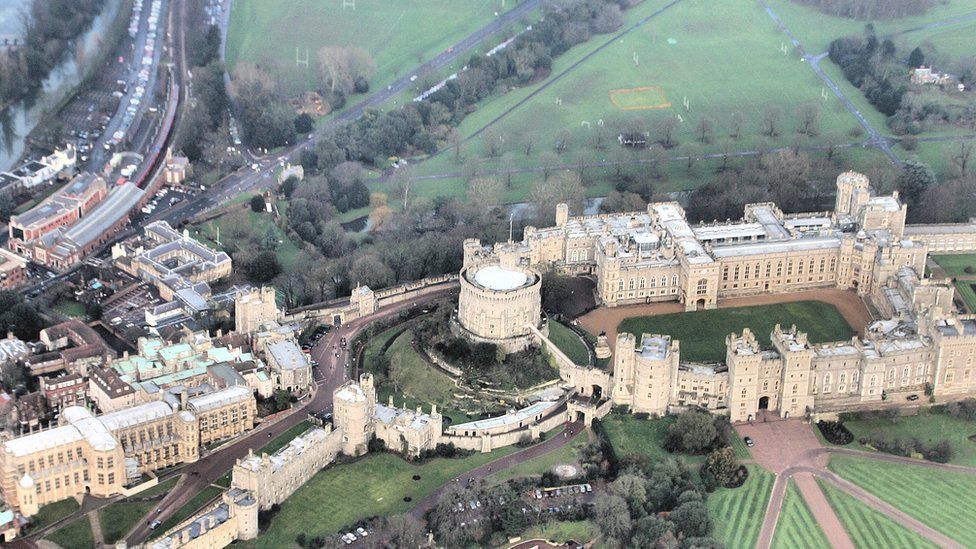 The Queen had been staying at Windsor Castle for Christmas, rather than spending it as usual on her Sandringham estate in Norfolk.
Her Majesty was due to be joined for lunch by the then Prince of Wales and the Duchess of Cornwall, as well as the Earl and Countess of Wessex.
Under the 1842 Treason Act, it is an offence to assault the Queen, or have a firearm or offensive weapon in her presence with intent to injure or alarm her or to cause a breach of peace.
In 1981, Marcus Sarjeant was jailed for five years under the section of the Treason Act after he fired blank shots at the Queen while she was riding down The Mall in London during the Trooping the Colour parade.
The last person to be convicted under the separate and more serious 1351 Treason Act was William Joyce, also known as Lord Haw-Haw, who collaborated with Germany during the Second World War.
Additional reporting by Toby Wadey
More on this story
Comment This guy obviously had mental health and attention seeking issues. It seems to me absurd his case ever got this far. What kind of assassin, while attempting the impossible , annouces his presence and intent to security guards in a most heavily protected bastion ? What kind of police and CPS pursues such an absurd and expensive prosecution ? There are no polite answers, but this is Britain after all.
R J Cook.
February 2nd 2023
Head of RAF Recruitment Resigns Over Forced Diversity Push
Sources claim that the head of recruitment, herself a senior female officer, has accused RAF leadership of putting an "effective pause" on hiring white male recruits.
According to Sky News, the head of recruitment at the Royal Air Force (RAF) has resigned over concerns that Air Chief Marshal Sir Mike Wigston has been putting 'woke' ideology before military prowess. Sky's sources claim that the head of recruitment, herself a senior female officer, has accused RAF leadership of putting an "effective pause" on hiring white male recruits. The force has done so, it is alleged, to meet "impossible" diversity targets focussed on recruiting more women and ethnic minorities.
In fairness, much of the impetus for greater 'diversity,' 'equity,' and 'inclusion' within the military comes from Westminster. Despite over a decade of (nominally) Conservative government, the Ministry of Defence is still pursuing targets to increase the presence of 'marginalized' identity groups in the armed forces, as if diversity, like quality, is an end-in-itself. One of these is to enlarge the percentage of women in the force from roughly 12% to 30% by the end of the decade.
Still, under Sir Mike Wigston the RAF has been chasing an even more ambitious target, attempting to get that number to 40% within the same time period. Another RAF aim is to double the number of ethnic minority recruits from 10% to 20% by 2030.
It is an admirable thing for anyone, no matter their background, to want to join the British military. The concern among defence sources, according to Sky News, is that an engineered push towards diversity for diversity's sake risks watering down the strength of the British armed forces to defend the realm. If diversity, equity, and inclusion are being ranked first among the army's values, then quality is at best a close second. In a majority white country where the average man is much more likely than the average woman to entertain a military career, adopting an ideological bias in favour of females and ethnic minorities inevitably narrows the talent pool. For a private company to do this is absurd enough; for a national military to play these games is dangerous, since in a time of war countries must depend on talent within the army to keep them safe.
Sky's sources fear that one consequence will be a deterioration in the fighting power of the RAF—not to mention the Royal Navy and the Royal Marines which, although on a smaller scale, seem to be enslaved by the same 'woke' mindset.
One challenge is for conservatives to explain why an institution ostensibly founded on patriotism, authority, and discipline has proved no less susceptible than businesses and entertainment platforms to ideological capture by the zealous disciples of modern identity politics.
Harrison Pitt is a writer for The European Conservative. Based in the UK, he has also been published in The Spectator, Quillette, Spiked-Online, The Critic, and others.
The Humanitarians Are Comming – a comment by R J Cook
The woman featured in the above report had to resign because she was obviously the wrong type of woman. She demonstrated having a good brain, honesty , integrity and judgement. She was acting in the cause of a service where , unlike the bloated dishonest self applauding police , actually do put their lives on the line I share her view that they should recruit the very best for expensive training and a key role in national defence.
Back in the early 1970s , I was up for officer aircrew selection in the Royal Navy's Fleet Air Arm. Initial selection was at RAF Biggin Hill. I arrived by travel warrant from Portsmouth on a Bank Holiday weekend in time for the air show. The rest of my potential officer intake were mainly from upper middle class public schools. I was befriended by a somewhat psycho young man. When he saw the Red Arrows fly past , laughing manically,he said: 'I do wish they would collide like the Italian display team did at Rome when I was there with my father. They were too low to escape by ejecting.' This fellow had already won a flying scholarship from the RAF. Clearly he was the right stuff.
As selection progressed , I was lost for words when the female officer psychiatrist asked me : 'Could you kill ?' My hesitation gave me away. In clipped confident cut glass style , she ended my silence : 'Well that is what it all comes down to in the end.'
These days the truth is hidden by so much peace keeper equal opportunities mind your language jargon etc that you would need an X RAY machine to see it. Even then it is so deformed by propaganda telling us what a privilege it would be to kill or be killed by the Russians , that the average robotically educated conceited dim wit would still not recognise truth. So why not select on quotas ? That is fair and true is it not ?
I recall reading an account of a female fighter jet pilot operating in Afghanisan. She boasted how she flew low over the Taliban positions to scare them with her computer guided multi million pound hi tech thundering jet, not even needing to fire a single missile. One of her female colleagues , in the same article , argued that the RAF should prioritise humanitarian goals. So look out Vladimir Putin and company. The humanitarians are coming. Be afraid. Look what they have done to Julian Assange. You are up against the famous British Democracy Fiends who would have you believe Russia had nothing to do with defeating the NAZIS. No one rewrites history like them. The U.S and EU elites rely on their skills.
R.J Cook
January 31st 2023
RT News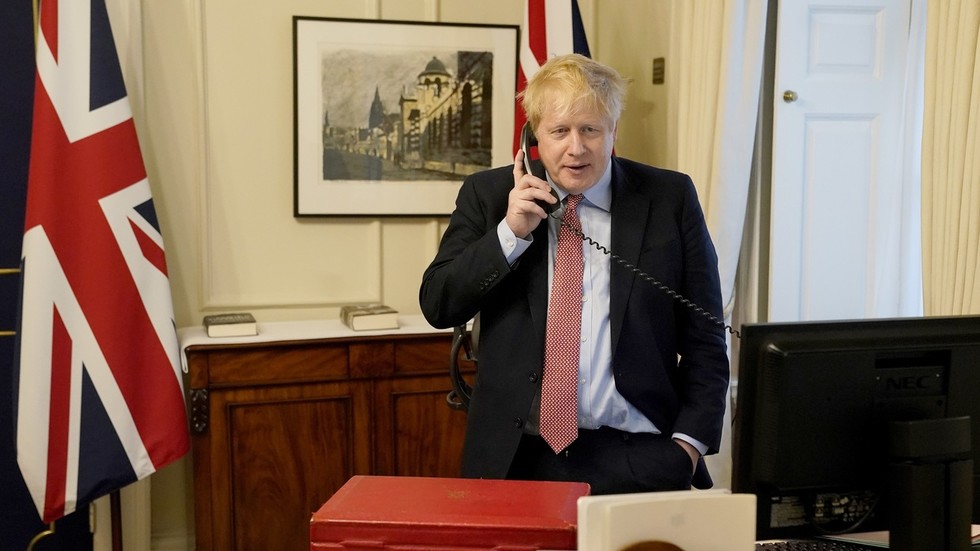 Johnson lied about Putin missile 'threat' – Kremlin
Boris Johnson's claim that Vladimir Putin threatened him with a missile strike is a "lie," according to Kremlin spokesman Dmitry Peskov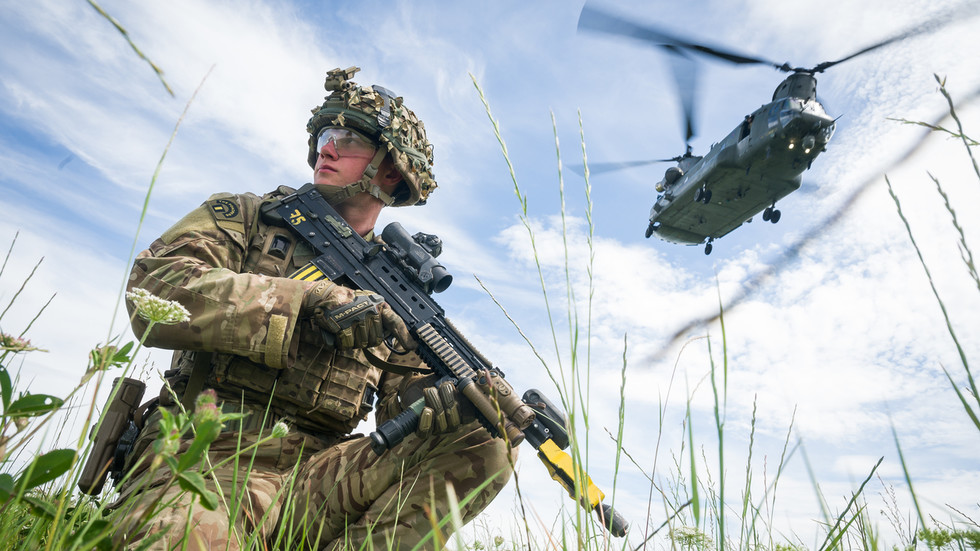 US skeptical of UK military – Sky News
A senior US general told British Defence Secretary Ben Wallace the UK's military is not a top-level fighting force, Sky News has reported
Strikes on Wednesday 1 February will disrupt daily life – No 10
By Alice Evans
BBC News
Mass strike action on Wednesday will cause "significant disruption", Downing Street has said.
Teachers, university workers, civil servants, train and bus drivers are all due to walkout during the day.
Around 500,000 workers are due to take part, making it the biggest strike in more than a decade, according to the Trades Union Congress (TUC).
Talks between teaching unions and the Department for Education (DfE) ended without progress on Monday.
The National Education Union (NEU) said Education Secretary Gillian Keegan had "squandered an opportunity" to avoid Wednesday's strike action.
It expects about 23,000 schools to be affected in the first of its seven planned walkouts by teacher members in England and Wales.
The DfE has offered a 5% pay rise to most teachers for the current school year, but the NEU wants a fully funded above-inflation increase for teachers.
Some schools have announced they will close but others are still deciding – meaning many parents are waiting to hear whether they will need to make childcare arrangements.
But Schools Minister Nick Gibb said the government expected the "majority" of schools in England to be open "in some capacity".
Teachers join a wave of public sector workers striking over pay and conditions.
Members of seven unions will be on strike on 1 February.
Lecturers, librarians, and other university workers belonging to the UCU union will join the walkouts.
So will train drivers belonging to Aslef, affecting services in England, Scotland and Wales.
Passengers have been warned there will be huge disruption to services across 14 rail networks, with some operators unable to run any trains.
Customers are encouraged to check their route before travelling.
Teachers belonging to the Educational Institute of Scotland will strike on Wednesday in the Clackmannanshire and Aberdeen city areas.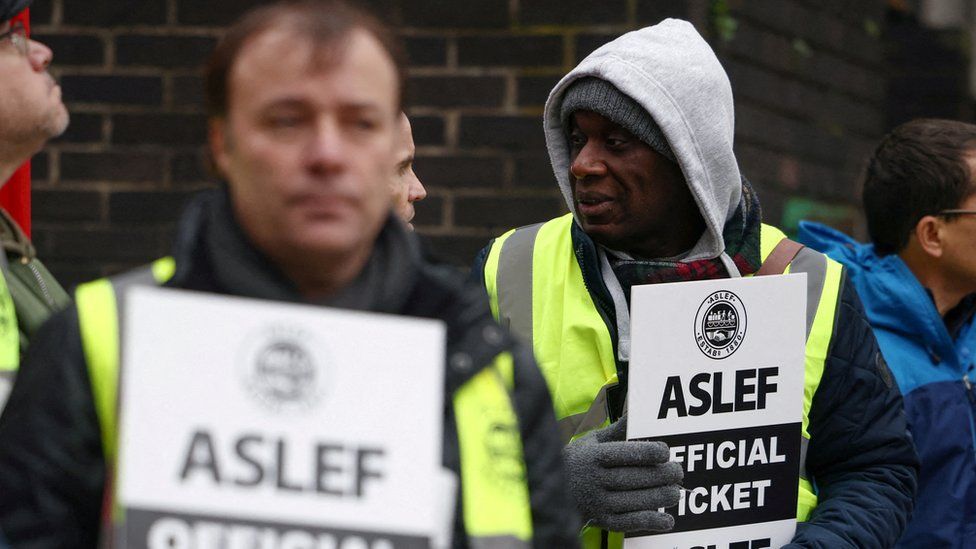 About 100,000 civil servants in 124 government departments are among those taking part in a dispute over pay and conditions, including workers at the Department for Work and Pensions (DWP) and the Driver and Vehicle Licensing Agency.
Mark Mclean, 42, a civil servant at the DWP in Newcastle, is going on strike and said losing a day's wage was "very hard" but described the decision to walk out as "massive".
"Everything's going up and the developed country that we are, I think we shouldn't have to cut many corners just to put the gas and electric on," he said.
"I'm a single parent, and my daughter lives with me full-time. She's got a life she's accustomed to and like any child you don't want them to suffer when it comes to getting better wages.
"So it is hard to cut corners like that but if needs must, you have to."
Some bus drivers employed by Abellio in London are also taking action, with the Unite union calling for a pay rise for members to reflect the cost of living.
The action comes as the TUC says the average public sector worker is more than £200 a month worse off compared with a decade ago.
The union will hand in a petition to Downing Street on Wednesday in protest at the government's proposed "anti-strike" legislation.
The new law would set minimum service levels that striking industries would have to meet before taking action.
The prime minister's official spokesman said: "We know that there will be significant disruption, given the scale of the strike action that is taking place tomorrow, and that will be very difficult for the public trying to go about their daily lives.
"We are upfront that this will disrupt people's lives and that's why we think negotiations rather than picket lines are the right approach."
The spokesman also said the announcement of an ambulance workers' strike on 10 February was "deeply concerning".
"We are putting in place significant mitigations, which have previously helped reduce some of the impact of these strikes," he said, urging unions to reconsider.
What is the current state of the British armed forces?
As a US general warns the British Army is no longer a top-level fighting force and calls for greater defence spending, we take a look at data showing the current state of the British armed forces.
By Saywah Mahmood, data journalist Tuesday 31 January 2023 07:05, UK
Tuesday 31 January 2023 07:05, UK
https://imasdk.googleapis.com/js/core/bridge3.553.0_en.html#goog_888489968 Is the British Army up to scratch?
UK defence spending as a proportion of GDP has halved since the 1980s – leading to a decline in equipment and a drop of one in six military personnel, Sky News analysis has shown.
It comes after Sky News revealed on Sunday that a senior US general privately told Defence Secretary Ben Wallace that cuts to the British Army meant it was no longer regarded as a top-level fighting force.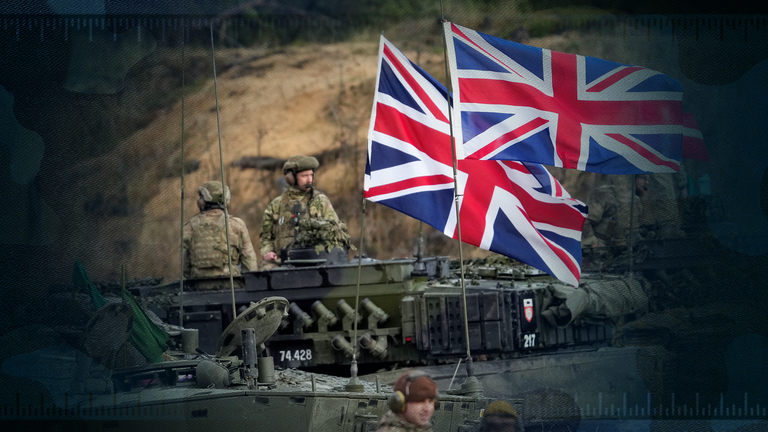 Defence minister James Heappey told the Commons he understood Prime Minister Rishi Sunak and Chancellor Jeremy Hunt know the army is "in urgent need of recapitalisation" and "there is a budget coming".
So what has happened to UK defence spending?
In 2021, the UK spent 2.2% of its Gross Domestic Product on defence, amounting to about £45.9bn.
However, this number has fallen since the mid-1950s. In the financial year ending in 1956, the UK spent just under 8% of its GDP on defence and in 1980 it was 4.1%. Since 2000, the proportion has remained around the 2% mark.
In comparison, health spending as a proportion of GDP in 1956 was just under 3% and in 2020 this figure jumped to over 7%.
https://flo.uri.sh/visualisation/12589741/embed
Defence spending has remained consistent over recent years because of the government's pledge, as a NATO member, to spend at least 2% of GDP on defence each year.
Military expenditure compared with other countries
The UK is only one of a handful of countries to have consistently met this NATO benchmark.
The UK has the third-highest average defence spending as a fraction of GDP, behind just the US and Greece.
Also, Greece only hits this 2% target because the money is predominantly spent on salaries and pensions.
https://flo.uri.sh/visualisation/12589289/embed
However, this could change as many countries are taking measures to increase their defence spending.
Last year, the German Chancellor, Olaf Scholz, pledged a one-off special fund of €100bn (£82bn) to bolster Germany's defences and to invest 2% of its GDP on defence going forward.
For context, in 2021 Germany's GDP was $4.26trn and 2% of this is $85.2bn.
Personnel and equipment
The UK has also maintained the NATO standard of allocating at least 20% of its defence budget on equipment.
Over a quarter (28%) of the UK's defence budget was spent on equipment in 2022, according to NATO estimates.
However, several types of equipment types have seen a decrease in recent years, according to data from the Ministry of Defence (MoD).
Armoured fighting vehicles, like tanks, have seen a decrease of 5% from 2016 to 2022 and artillery has seen a decrease of 2%.
Fixed-wing aircraft that are in service have seen a decrease of 10%, and in-service rotary winged platforms, such as helicopters, have seen a decrease of 24% in the same time period.
While British defence spending has been maintained over a substantial amount of time, personnel numbers in the armed forces have been on the decline for years.
Conservative defence committee chairman Tobias Ellwood told Sky News that "we have become complacent. We need to invest to make sure we retain people, the good people that are there, but there are not enough of them and the equipment is now obsolete".
Quarterly figures from the MoD show that in 2022 there are just over 145,000 regular armed forces personnel.
This represents a decrease of 14% from the figures of 169,150 10 years ago and personnel figures are set to decrease even further.
https://flo.uri.sh/visualisation/12589945/embed
Back in November 2022, Ben Wallace told the parliament that the British Army would now be reduced to 73,000 by the middle of the decade. Latest figures show that the number of regular British Army personnel stood at 79,139.
Rising energy costs and inflation will affect the armed forces
The MoD was the only department on the receiving end of budget cuts at the government spending review in October 2021.
The ministry's most recent annual staff costs were just under £15bn and the ministry can expect calls, like other sectors, for larger pay increases to protect the real terms pay of members of the armed forces.
Rising global energy prices are also likely to put pressure on MoD spending with recent figures showing a spend of around £600m per year on energy and fuel.
Asked about the US general's private comments on Monday, the prime minister's official spokesman said the government is "ensuring our armed forces have the equipment and capability they need to meet the threats of tomorrow including through a fully funded £242bn 10-year equipment plan".
"The prime minister is clear that we have to do everything necessary to protect our people that's why the UK has the largest defence budget in Europe," the spokesman added.
---
The Data and Forensics team is a multi-skilled unit dedicated to providing transparent journalism from Sky News. We gather, analyse and visualise data to tell data-driven stories. We combine traditional reporting skills with advanced analysis of satellite images, social media and other open source information. Through multimedia storytelling we aim to better explain the world while also showing how our journalism is done.
Why data journalism matters to Sky News
January 30th 2023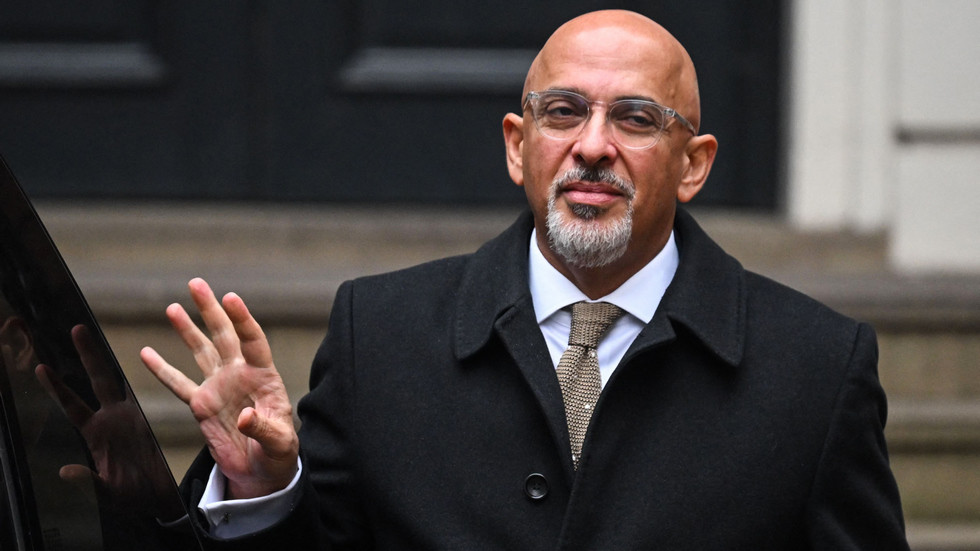 Tory chairman fired over tax affairs
Nadhim Zahawi has been sacked as the Tory Chairman over his million-pound settlement of a tax dispute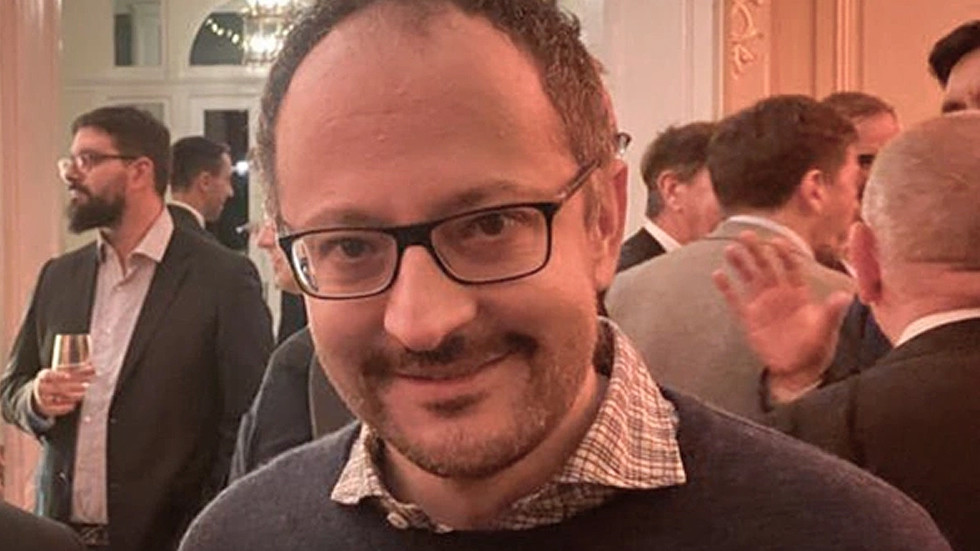 Russian-born billionaire becomes UK's top taxpayer
A Russian-born mathematician and founder of trading company XTX Markets in London becomes Britain's biggest taxpayer
'Life And Limb Must Come First' – Grant Shapps Defends Controversial Anti-Strikes Bill
He will introduce new legislation to parliament on Tuesday to ensure "minimum safety levels" during industrial action.

By
10/01/2023 07:47am GMT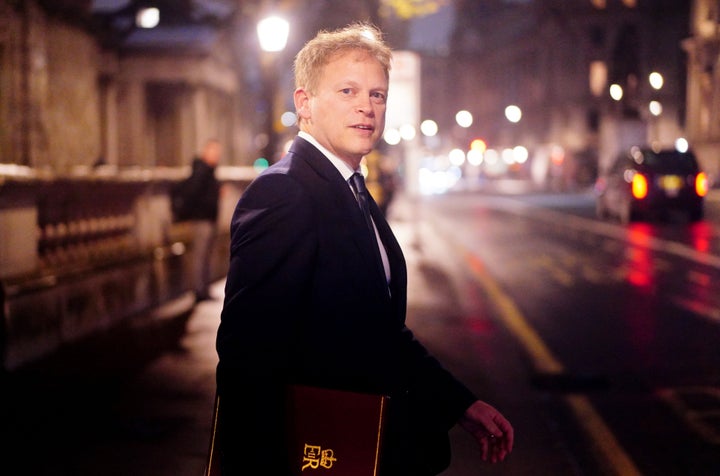 Grant Shapps today said "life and limb must come first" as he defended a controversial new anti-strike bill.
The Business Secretary was promoting the new law aimed at ensuring a minimum level of service in crucial sectors during industrial action.
Shapps said the government want to end "forever strikes" and argued that the government's legislation would bring the UK "into line" with other European countries.
The move has sparked threats of legal challenges, while Labour has said it would likely repeal the legislation.
'Do you think that people in the NHS work hard enough?' – @KayBurley

Business Secretary @grantshapps says 'through technology and modernisation there are many new ways to improve efficiency in the workplace'https://t.co/WUnquWvHqf

📺 Sky 501 and YouTube pic.twitter.com/YkMSdJX2AT— Sky News (@SkyNews) January 10, 2023
The bill will be introduced to parliament on Tuesday afternoon, a day after crisis talks between ministers and unions failed to resolve industrial disputes involving nurses, teachers and rail workers.
Shapps told GB News: "I'll be introducing a minimum safety level bill, which will sort of say, 'look, we will never withdraw the right to strike from people but when there are strikes on life and limb must come first, and there has to be a minimum safety standard put in place for that'."
He added: "We don't really ever want to have to use that legislation.
"In those most recent strikes, the Royal College of Nursing, the nurses, agreed a set national level of support.
"Unfortunately, we couldn't get there with ambulances across the country, meaning there was a bit of a postcode lottery as to whether an ambulance would turn up in the case of something serious, like a heart attack or a stroke.
"We can't have that, so common sense tells us that we need to have minimum safety levels."
Health Secretary Steve Barclay is considering backdating next year's NHS staff pay increase to prevent further strikes.
He suggested that improvements in efficiency could "unlock additional funding", leading to an increased offer for the 2023/24 pay settlement in the spring.
Sara Gorton, from Unison, said there had been an "acknowledgement" that avoiding strikes would "involve a reach-back" into the current pay year.
It raises the prospect that the pay deal for 2023/24, which is due to be agreed in time for April, could be backdated and applied to the final quarter of the 2022/23 financial year.
Ministers have previously refused to discuss wages for nurses and other public-sector workers, insisting those were matters for the independent pay review bodies.
Prime minister Rishi Sunak will chair his first Cabinet meeting of in 2023 on Tuesday morning.
Grant Shapps Condemned For Accusing Striking Ambulance Workers Of Putting Lives At Risk
The business secretary hit out as he unveiled a new law which could see staff sacked for taking part in industrial action.
By
10/01/2023 02:41pm GMT|Updated January 10, 2023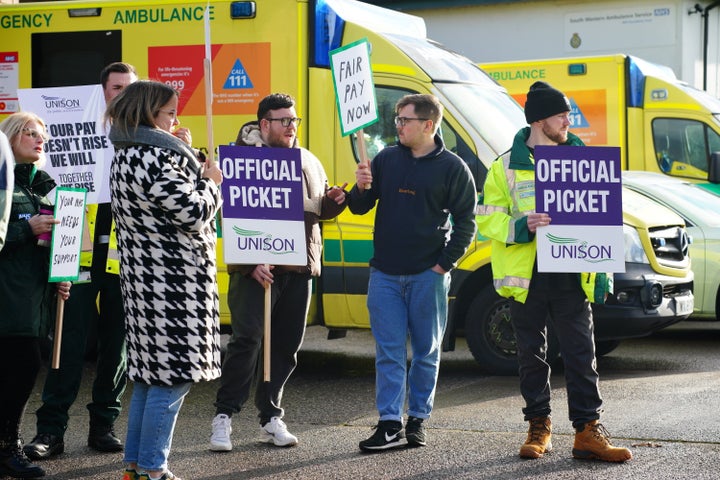 Grant Shapps has been condemned after he accused striking ambulance workers of "putting lives at risk".
The business secretary hit out as he unveiled the government's new anti-strike legislation, which could see NHS staff sacked for taking part in industrial action.
His comments came ahead of the latest walkout by ambulance crews tomorrow.
Speaking in the Commons, Shapps said attheir previous strike last month, unions had failed to agree "minimum safety levels" with employers to ensure emergency calls could be answered.
He said: "Health officials were left guessing at the likely minimum coverage, making contingency planning almost impossible and putting everyone's constituents' lives at risk."
Ambulance workers are represented by a combination of the GMB, Unite and Unison trade unions.
A GMB spokesperson said: "This is an extraordinary attack on ambulance workers by Mr Shapps.
"He surely knows that across NHS trusts, GMB members who care for the public every single day, work closely with employers to provide appropriate cover on strike days and have left picket lines to help out on urgent calls.
"The public know who is to blame for the crisis in our NHS – this government. And, people will be disgusted that in a matter of months, they have gone from clapping health workers to legislating to sack them."
The new law is aimed at ensuring a minimum level of service in crucial sectors during industrial action.
Shapps said the government want to end "forever strikes" and argued that the government's legislation would bring the UK "into line" with other European countries.
The move has sparked threats of legal challenges, while Labour has said it would repeal the legislation if it wins the next election.
Labour deputy leader Angela Rayner said: "The public is being put at risk every day due to the government's NHS crisis and staffing shortages. He is right that it is his government's duty to protect the public's access to essential services, but livelihoods and lives are already being lost.
"We all want minimum standards of safety, service and staffing. It is the ministers failing to provide it."
NHS Chief Slams Government's Attempts At Reform: 'As Popular As Cup Of Cold Sick'
"We are in a crisis right now, people are on strike, government needs to get round the table, Victor Adebowale told BBC Question Time.

By
20/01/2023 10:33am GMT
The government's approach to the ongoing strikes within the health service are as popular as a "cup of cold sick", according to the chair of the NHS Confederation.
Lord Victor Adebowale, chair of the NHS confederation, told Thursday's BBC Question Time how it was time that a proper plan to increase pay was put in place to help the health service out of the crisis it is already in.
Nurses, ambulance drivers and potentially junior doctors are all pushing back against low public sector pay – amid the cost of living crisis, inflation and a looming recession – as well as their difficult working conditions.
Suggesting it was well past the time for the government to actually take action, Adebowale said: "I was in hospital the other day – if I went to nurses, who were looking after people in corridors and said, 'You know what, what we need now is reform,′ right, it would be about as popular as a cup of cold sick."
Related
NHScost of livingstrikesnurses
He said the only way to move forward was to acknowledge firstly that "we are in a crisis right now, people are on strike, government needs to get round the table."
The audience broke out in applause at this suggestion. The government has mostly refused to intervene with pay negotiations between any public sector workers and their employers.
Adebowale continued: ″We need a proper workforce plan, by which we mean a long-term workforce plan, so we know how many nurses we need now, how many nurses we need in the future, what we're going to need to do, what they're going to need to be paid.
"And thirdly, we need to stick with the reforms we've just had. Remember in July, we passed, and there was general cross-party support for this, a bill that created integrated care systems, Population Health, they've just got started.
"We need to start creating healthy communities so we need hospitals less – my members would love that."
So far, the government has offered a one-off payment for NHS workers.
"If I went to the nurses who were looking after people in corridors and said, 'what we need now is reform', it'd be about as popular as a cup of cold sick"

NHS Confederation's Victor Adebowale says the priority should be addressing the pay dispute#bbcqt https://t.co/TppLfk4Voe pic.twitter.com/AYys0Kq412— BBC Question Time (@bbcquestiontime) January 19, 2023
The NHS was one of the hot topics on Question Time this week amid the ongoing strikes and fears about its general future.
The mother of a nurse spoke from the audience and said that most of her daughter's cohort chose not to stay in the NHS and moved abroad instead.
She said they're "sick and tired of the pressures, of the agency staff who don't turn up, and just being dumped on all the time".
The audience member continued: "Nobody ever talks about the morale of staffing in the NHS very much.
"But that is a major issue, they go into nursing, not for the fancy salary, [but because] they want to make a difference and they can't because they don't have enough staff."
She added that the vacancies in the nursing sector "having been going on for years" and "successive governments have kicked the can down the road for years" because it's costly.
"We have to decide – do we want an NHS or don't we? Because that's what it is coming to."
"They go into nursing, not for the fancy salary, they want to make a difference. And they can't because they don't have enough staff"

This #bbcqt audience member says morale among NHS staff is a major issue https://t.co/TppLfk4Voe pic.twitter.com/rpMkZP8Y6r— BBC Question Time (@bbcquestiontime) January 19, 2023

Minister Confronted With Damning Graph On NHS Funding During BBC Question Time

Presenter Fiona Bruce pushes Will Quince on annual increases in the health budget under Labour that have since fallen significantly.

By

20/01/2023 05:44am GMT

BBC Question Time presenter Fiona Bruce has said a Conservative claim of record spending on the NHS "doesn't look so good" after a minister was confronted with a damning graph.

A special edition of the corporation's flagship political programme from Hoddeson, Hertfordshire, was devoted to health as the sector faces multiple crises, most notably a stand-off with nurses and other staff over pay.

Bruce presented health minister Will Quince with a graphic using Institute of Fiscal Studies data suggesting NHS spending between 1955-56 and 2019-20 increased by an average of 4% – but the annual rise has been below that for all but one year since 2010.

BBC graphic demonstrating the change.

Bruce said: "Let's just look at a graph looking at funding of the NHS. This will be familiar to you, in terms of where funding was for the NHS before the Conservative government came into power and where it is now.

"As you can see, if you look at the average there, it's pretty dramatic in terms of the drop in funding. So when you talk about record investment, that doesn't look so good."

Fiona Bruce shuts down Conservative Minister of Health
who suggests record funding for the NHS by showing this graph #BBCQT pic.twitter.com/lULg531C8S— Farrukh (@implausibleblog) January 19, 2023

Quince replied by not addressing the point of the graph – that health spending went up by a greater percentage in the Labour years – but by saying "we're spending more on health and social care now than ever in our country's history".

Bruce followed up by saying "the average increase has been something like 3% but when you look at that, it's more like 1.6%".

But Quince persisted: "If you take, for example, 2010, it was around £100bn that we spent on the NHS. By 2025, it will be £166bn.

"And, if you look at when times were tough, for example, when we came out of the economic crisis in 2008-2009, the coalition government, despite having to make reductions in spending elsewhere, prioritised the NHS."

It's unclear precisely which research by the respected think-tank the graph refers to. But one study that does not include the latest annual figure states spending increased by 6% annually during the Blair-Brown years, dropped to 1% under the coalition, and was up to 1.6% under the Conservative government up to 2018-19.

In any case, many watching seized on the figures.

Justify this you Tory shithouses.

Damning. pic.twitter.com/uUTLO7jlNw— Supertanskiii (@supertanskiii) January 19, 2023

Thank you to #bbcqt for sharing this graphic.
It tells the story of the NHS over the last 20 years.
Record funding under Labour, with the results to show for it.
Deep and sustained cuts by the Tories and Lib Dems, resulting in the crisis we have today. pic.twitter.com/rMMhaNLggx— Andrew Lewin (@Alewin7) January 19, 2023

Let's see the #Tory squirm out of this. #Tories choking the #NHS of funding. Absolutely shocking #bbcqt #BBCQuestionTime #QuestionTime pic.twitter.com/CX55SSXTEC— Mark Scales (@IndeedItsMark) January 19, 2023

At last! #bbcqt challenges the propaganda and produces a graphic which debunks Tory MP health minister Will Quince's assertion that Tories have spent record amounts on the NHS. pic.twitter.com/up5oN2j0z7— Deirdre Heenan (@deirdreheenan) January 19, 2023

The reason why our NHS is in crisis in one graph. Since 2010, the NHS has been chronically underfunded. The NHS cannot merely be reformed out of this crisis. It needs a significant increase in health spending. Everything else is rhetoric and wishful thinking. #BBCQT #NHSCrisis pic.twitter.com/xsSHX9mlTQ— Paul Hindley 🔶🏳️🌈🇺🇦 (@PaulHindley_) January 19, 2023

The IFS report said: "UK health spending increased in real terms by an annual average of 3.6% per year between 1949-50 and 2018-19.

"Spending increased sharply during the late 1990s and 2000s, growing by an average of 6% per year during the Blair and Brown governments as part of a wider growth in public service spending.

"Since 2009-10, health spending growth has slowed sharply. Between 2009-10 and 2018-19, real spending grew by an annual average of 1.3%. Average increases of 1% per year under the coalition government (2009-10 to 2014-15) were the smallest five-year average seen under any government.

"However, it is important to note that these increases took place over a period during which most areas of public spending experienced large reductions. Indeed, spending on areas such as education, defence, and public order and safety has fallen, while spending on health has continued to rise – albeit at a slower rate than has tended to be the case historically."
Question Time Audience Unloads On Minister Over NHS 'Warzone'
Alex Chalk refuses to say that the healthcare system is gripped by a "crisis".

By
13/01/2023 04:01am GMT
A government minister has refused to admit the NHS is in crisis as he faced a mauling from healthcare workers during the BBC's flagship politics show.
Alex Chalk, a defence minister, was sent on Question Time as the healthcare system faces huge pressures and was brought up as the first question on the programme.
The NHS is currently battling multiple problems including long ambulance delays, record workplace vacancies, a shortage of beds and industrial action by staff who are protesting over pay and working conditions.
The problems were underlined by a succession of NHS workers in the audience in Birmingham.
One said: "I've been on the frontline prior to the pandemic, during the pandemic, post pandemic. I'm going to put it bluntly, it's like a warzone. There are beds everywhere, patients everywhere. Elderly people are sitting on chairs for 24 hours. It's not OK. it needs to be addressed and addressed now."
Another added: "My (healthcare) trust declared a critical incident, and it stepped down the critical incident. Not because things are getting better but because it doesn't make any difference us declaring it a critical incident, because you refuse to accept this is a crisis. And people are dying because you are not addressing the problems."
"Even at a time like this when finances are really stretched, he found an additional £14b to ensure the NHS has got…resources going into the coming years"

The Conservatives' Alex Chalk discusses the prime minister's handling of NHS pressures #bbcqt https://t.co/25KAIk5Jy3 pic.twitter.com/c9DeWHWqDS— BBC Question Time (@bbcquestiontime) January 12, 2023
Following the barrage, presenter Fiona Bruce pushed Chalk on whether he would admit the service was facing a "crisis".
Chalk said: "There is no doubt the pressures are at historic levels … the reason why I say that is because talk is cheap, action is what matters."
As Bruce interrupted him repeatedly demanding that he say the NHS was in crisis, he added: "It's incredibly intense … action is what matters."
The government says it has backed the NHS and social care system with up to £14.1 billion additional funding over the next two years, including an extra £500 million this winter to speed up hospital discharge and free up beds. It also said it has awarded a 9.3% pay rise to the lowest earners in the NHS last year.
BBC Question Time: Tory Minister Shut Down For Dismissing Brexit As 'Six Years Ago'
"Brexit is a disaster for our economy."

By
18/11/2022 05:21am GMT
A BBC Question Time audience member shut down a Tory minister who tried to dismiss the sustained impact of Brexit as "something that happened six years ago".
Treasury minister Victoria Atkins was responding to criticism from the crowd that leaving the EU has underpinned the UK's current economic strife, and suggested it was no longer relevant.
She added "international headwinds" are causing the problems that have tipped the country into a recession.
This week, a former Bank of England policymaker said that the UK economy has been "permanently damaged" by Brexit, because it reduced the country's potential output and resulted in reduced investment into UK businesses.
After their confrontation ended on the TV show, another audience member said it was "not good enough" to say Brexit was historic, and described how quitting the bloc had been a "disaster".
He said his business, which exports books to the EU, is "hanging in there", and added "I have no interest in trading with Australia or New Zealand".
"When are we going to start talking about rejoining the single market?"

"That happened six years ago…we've just got to look forward"

The Conservatives' Victoria Atkins cites "international headwinds" as a cause of rising costs in the UK #bbcqt

Watch https://t.co/GFV3dQsX8n pic.twitter.com/z200q31yy1— BBC Question Time (@bbcquestiontime) November 17, 2022
He said: "Brexit is a factor. The two main parties are not talking about it. But we are talking about it, and BBC journalists are starting to question politicians about it. And it's about time we got it out in the open.
"We had a vote, we had a marginal decision in favour of leaving, whatever that meant. It meant lots of different things to different people. But Brexit … it's a disaster. It's a disaster for our economy.
"Growth is not a new thing. We need to grow and we need to export, and we need to export to our biggest and most obvious market, which is just over 20 miles away and across the Channel."
Atkins argued there hadn't been time to have an "objective assessment of Brexit on our economy", and made international comparisons to spare the UK economy's blushes that have already been debunked by the BBC.
UK Economy 'Permanently Damaged' By Brexit, Says Ex-Bank of England Official
Senior economist Michael Saunders thinks country "wouldn't be talking about an austerity budget" if it had stayed in the EU.

By
14/11/2022 05:16pm GMT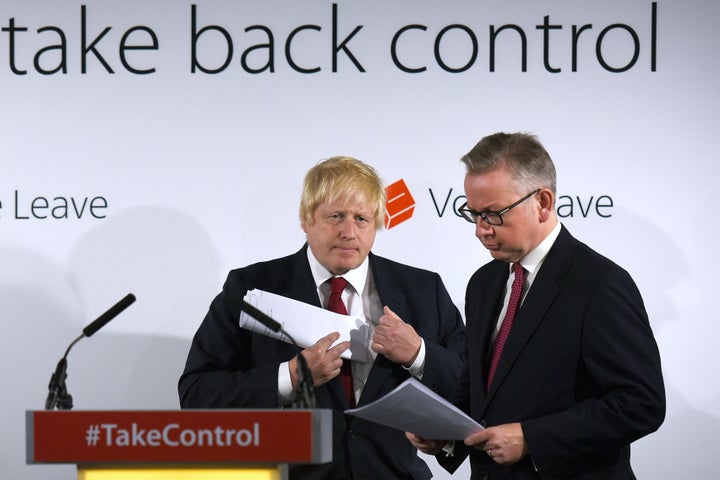 A former Bank of England policymaker has said that the UK economy has been "permanently damaged" by Brexit, because it reduced the country's potential output and resulted in reduced investment into UK businesses.
In an interview on Bloomberg TV, Michael Saunders said that Jeremy Hunt's "austerity budget" this week is a consequence of leaving the EU.
Saunders joined the rate-setting Monetary Policy Committee shortly after the Brexit referendum in 2016, and left the role in August this year.
The UK economy has been 'permanently damaged by Brexit', says former BOE policymaker Michael Saunders in an exclusive interview with @lizzzburden https://t.co/ndFxnDAt9Q pic.twitter.com/4HxC2QsLyg— Bloomberg TV (@BloombergTV) November 14, 2022
He said: "The UK economy as a whole has been permanently damaged by Brexit. It's reduced the economy's potential output significantly, eroded business investment.
"If we hadn't had Brexit, we probably wouldn't be talking about an austerity budget this week. The need for tax rises, spending cuts wouldn't be there if Brexit hadn't reduce the economy's potential output so much."
This message needs to be repeated loudly and often. Brexit is ONE OF the causes of the pain that will be felt by everyone as austerity bites. To turn things around, it will be necessary (but not sufficient) to join the single market and customs union. We need to face reality. https://t.co/UMsvhW2api— Brian Cox (@ProfBrianCox) November 14, 2022
On Sunday, Hunt denied that Brexit has made the UK poorer – despite the government's own Office for Budget Responsibility saying it has.
The chancellor, who campaigned for Remain in the 2016 referendum, insisted the UK can make a "tremendous success" of leaving the EU.
He said it is important to consider the effects of Brexit "in the round", and that Brexit brings both "costs" and "opportunities".
The chairman of the OBR, Richard Hughes, last year said that Brexit would reduce the UK's potential gross domestic product by 4% in the long term.
Saunders, who is now senior economist at Oxford Economics, added some of the ambitions behind Liz Truss's failed mini-budget were correct in that "raising potential output is the big challenge", but her "suggested solution to cut taxes and deregulate are wrong".
He added: "I put the emphasis more on improving trade links with the EU, improving education, training, and also fixing this worrying rise in long-term sickness, which has been reducing the workforce so much."
Saunders said the economy has faced a "challenging period with the Brexit vote, the depreciation of sterling, a long period of political uncertainty, the pandemic and then renewed political uncertainty".
Last week, former Bank of England governor Mark Carney doubled down on his claims the move has taken a toll on the pound, suggesting the decision to leave the EU continues to play a part in the UK's financial woes.
January 29th 2023
A sharp increase in officers armed with the electrical weapon is resulting in serious injuries and deaths, with Black people and those suffering from mental ill health more likely to be Tasered.
On 7 June 2022, a 41-year-old Black man was tasered repeatedly by a Metropolitan Police officer on Chelsea Bridge. Oladeji Adeyemi Omishore, from Pimlico, fell to the ground and appeared to drop something, after receiving the five-second electric shock, a video shows.
Oladeji was tasered twice more when he tried to sit up, with officers yelling at him to comply. He staggered over two barriers into the River Thames and died in hospital later that evening.
The Metropolitan Police initially claimed that Oladeji had been carrying a screwdriver – and shouting – while walking towards the bridge, but witnesses disputed this and it's since emerged he was merely holding a lighter.
In a recent statement, Oladeji's family raised concerns about the misinformation surrounding their loved one's death, criticising both the Met and the IOPC for taking over a week to correct this inaccurate statement. Oladeji often used the lighter with his cigarettes, his family says.
It's well-known by police that early reports of any incident stick in the public mind. Selen Cavcav is a senior case worker at Inquest, a charity that provides expertise on state-related deaths. "Misinformation and false narratives immediately following a death is a common tactic which deflects attention from serious public concern, and protects police from necessary criticism," says Selen. "These tactics must be independently investigated along with the wider circumstances of the death."
This fatal incident raises urgent questions as to why it was considered acceptable to repeatedly taser someone in mental distress. It comes at a time when public confidence and trust in the police is at an all-time low. The Metropolitan Police is now in "special measures" following a series of scandals, from the murder of Sarah Everard to the strip-searching of an innocent Black school girl during her period. For the Met, this means increased scrutiny and a demand for the service's leadership to produce an improvement plan. The Met will be forced to regularly report to inspectors and the Home Office, with an oversight group scrutinising the changes made.
The Metropolitan Police did not respond to Huck's request for comment.
Tasers are playing a bigger role in British policing than ever, with 34,429 incidents across England and Wales between March 2020 and April 2021. The subject had a mental health condition in 24 per cent of taser discharges, according to Home Office figures.
In a June 2022 family court case, a judge demanded Lancashire Police explain the treatment of a suicidal girl, 16, taken into the care of Blackpool council. The girl was threatened with a Taser and told she was "wasting police time" after cops were tasked with stopping her from jumping off a motorway bridge.
It's likely that Taser use will continue to increase, as last month Home Secretary Priti Patel announced controversial plans to arm over 8,900 volunteer police officers with the electrical weapons. And similarly, Police Scotland is in the midst of a £3 million scheme to provide a four-fold increase in Taser officers.
"Despite the growing number of taser-related deaths at the hands of the police, there was a 78% increase in the use of tasers against children under 18 in 2018/2019 compared to the year prior, with 29 incidents involving children under eleven" – Race To The Bottom

— decolonial communist (@decolonialcommi) July 26, 2022
But despite the optimistic title of "less lethal weapon", a Taser discharge has resulted in a total of 18 deaths across England and Wales, Amnesty International reports. Similarly, there have been over 1000 deaths in the US following a police altercation involving the device.
The Taser X26, which is used by UK cops, causes extreme pain and constitutes torture, the United Nations Committee Against Torture and other Cruel, Degrading and Inhumane Treatment notes. And what's more, if you're not a police officer, you could spend up to 10 years in prison for carrying this prohibited weapon.
Marc Cole, age 30, died after being repeatedly tasered – "nearly continuously" for 43 seconds – by a Devon and Cornwall Police officer in May 2017. The Taser contributed to his death and he hadn't been aggressive or posed a threat, an inquest later concluded. The dad-of-two was experiencing a mental health crisis – with depressive and paranoid thoughts – after the death of his father. Emergency services were called to his friend's house in Falmouth, on Cornwall's south coast, after neighbours reported Marc was acting erratically.
"A number of people dialed 999, as my brother had a knife and threatened to self-harm," says Marc's sister, Lisa Cole, who is from Manchester. "One caller said Marc 'looked like a lost soul' and was 'wandering', but 'not appearing to threaten anyone', so he hoped to get some medical help."
But on arrival, officers made "no attempt to de-escalate" the situation before running towards Marc and yelling at him to drop the knife, eye-witnesses told the inquest. When he immediately failed to comply, PC Timothy Wilson tasered him for six seconds.
Marc fell to the floor, but – less than a second later – PC Wilson reactivated the Taser for 22 seconds and then 15 seconds, the internal log on the device showed. Officers later claimed it was because Marc lifted a knife to his throat, but eye-witnesses dispute this.
In total, Marc was tasered for almost ten times longer than the recommended amount of five seconds. He went into cardiac arrest and died 20 minutes later. "Witnesses described him shout, 'What have I done?' But they said he appeared confused rather than aggressive and angry," Lisa says.
The prolonged use of the Taser had a "more than trivial" impact on Marc going into cardiac arrest, an inquest concluded. It was noted that alcohol and cocaine, consumed much earlier in the day, was detected in Marc's body. And while Taser manufacturer, Axon, claims the device is safe to use around people who have consumed alcohol and drugs, a medical expert told the inquest that research on Taser safety is flawed as it's largely produced by the manufacturer.
Like the family of Oladeji, Marc's loved ones describe a struggle to get the facts on what happened that day. "An inquest is meant to be about the truth," Nadine Kinder, Marc's partner, says. "But the only truth I remain sure of is that two innocent children were robbed of a life with their dad and me."
The inquest heard that in an initial statement, PC Wilson, who served with Devon and Cornwall Police for 16 years, said he'd only activated the Taser once. In his second September 2017 statement, PC Wilson said he'd used it twice. While giving evidence at the inquest, he told the jury that he'd used it three times.
The IOPC consulted with a number of families bereaved by deaths following police use of taser, including Lisa Renee Cole, the sister of Marc Cole and a campaigner on mental health and police use of force.

Her response, along with other families: pic.twitter.com/vkrVB60tRD

— INQUEST (@INQUEST_ORG) August 25, 2021
PC Wilson said he was "given guidance" by a PolFed solicitor to say that he activated the Taser on two occasions, even though it was used three times. The officer admitted that, on reflection, he regretted taking that advice.
"Other officers present at the scene gave conflicting accounts, later blaming the advice of the PolFed solicitors," Lisa says. "They initially claimed he stabbed someone, but it later emerged – in court – he'd accidentally grazed someone when climbing over a hedge. It was literally less than a cat scratch and paramedics confirmed it didn't need medical attention."
This cavalier attitude from Devon and Cornwall Police – and the subsequent resistance to scrutiny following a death – is symptomatic of a deeper cultural problem in law enforcement across Britain, Lisa and fellow campaigners note.
Officers often stick together to corroborate one another's accounts with the implicit consent of PolFed representatives and managers. The end result is often thinly-veiled hostility and contempt for people at their most vulnerable, victims' families say. "Like George Floyd, my brother called out for his mum in his last words. He was terrified and dying. Literally lying on the floor, foaming at the mouth and struggling to breathe," Lisa says. "Officers later mocked him by writing witness statements specifically saying 'Marc was calling for his mummy'. But others at the scene confirmed he didn't use the word 'mummy' like the police claimed."
Responding to the claims made in this article, Devon and Cornwall Police said: "This case has been investigated by the force's Professional Standards Department and Independent Office for Police Conduct (IOPC) and has been the subject of a jury inquest. All concluded that the performance of our officers did not fall below the standard expected in incredibly difficult circumstances. The equipment our officers use and training they undertake is also overseen by the National Police Chiefs Council, College of Policing and central government.
"Stating that we are a body that is resistant to scrutiny, or that this tragic death somehow alludes to a cultural problem within policing, is simply not accurate."
Since this incident and the painful aftermath, Lisa has met countless families across the country who seek greater accountability around taser use in policing. Among them are the loved ones of Adrian McDonald, 34, who died after being repeatedly tasered by cops during a mental health crisis in December 2014.
"Staffordshire Police were called to help my brother three days before Christmas. He'd barricaded himself in a room and was really distressed," Wayne, Adrian's brother, says. "But instead, they tried to arrest him and tasered him for 25 seconds, while simultaneously setting their Alsatian dog on him."
The police dog bit Adrian five times with the bites going through his skin and fat, then into his muscle. "My brother begged for an ambulance, but they were more interested in the welfare of their dog. That says it all to me," says Wayne.
Adrian was left slumped in the cage of a police van and heavily breathing, vehicle and body cam footage shows. He gasped, "I can't breathe" four times, and the word, "please", to which the officer simply responded: "You can breathe because you're talking". The police failed to call an ambulance. Though Adrian was twitching and lost consciousness, another nine minutes passed before an officer called an ambulance. He was pronounced dead at the scene, while still handcuffed.
"As it stands, the police are covering up poor treatment of families who've lost their loved ones," Wayne explains. "They originally told the public my brother was a burglar, even though they knew he wasn't. I know they do this for their own benefit; vilify the victim so the organisation's reputation isn't tarnished."
Adrian died as a result of the stress of the incident, an inquest ruled. Like Marc and others before him, he had consumed cocaine earlier in the day, and – when combined with the impact of the taser – this likely contributed to his death. The two arresting officers were initially found guilty of misconduct, but this verdict was overturned on appeal.
Staffordshire Police did not respond to Huck's request for comment.
As a Black man experiencing mental health issues, Adrian was seven times more likely to be tasered than a white person in the same situation. He was also significantly more likely to face prolonged use lasting over five seconds, an IOPC report from 2021 highlights.
Former Metropolitan Police officer, Ali Hassan Ali – who left the force after realising it's failing many Black people including men with mental health struggles – is campaigning for tighter regulation around police use of Tasers. Ali is also a founding member of Operation Withdraw Consent, an organisation that encourages society to collectively withdraw its consent to poor-policing practice.
"It's well-known that Black people are more likely to be incorrectly perceived as aggressive by cops, whether they're in need of mental health assistance, the victim of a crime, or even someone who may have committed an offense themselves," says Ali. "This negative perception of certain ethnic groups is clear in many of the processes, attitudes and beliefs in policing culture. We know that 90 per cent of Met officers disciplined for racism still work for the force. And the organisation failed to record the grounds for one-in-four stop and searches, yet again evading scrutiny of whether they were justifiable."
He continues: "From the response to these fatal taser incidents, it's clear that this lack of transparency is a problem all over the country though, from Falmouth to London and Stoke-on-Trent – so I don't hold out hope for immediate change."
Limited transparency and accountability for loss of life mean that preventable deaths following police contact will continue, with marginalised groups most at risk. But campaigners, who refuse to let the names of those who've died be forgotten, aren't giving up on the fight for justice.
Say Their Names is a series uncovering the stories behind the staggering number of deaths in police custody or following contact with the police. See more of the series here.
Follow Rebecca Tidy on Twitter.
January 28th 2023
80% of UK police accused of domestic abuse kept jobs, figures show
Experts and campaigners say data is further evidence of misogyny in ranks and poor leadership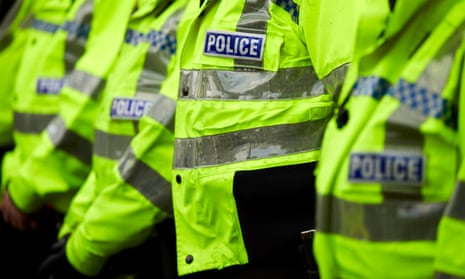 Just 36 officers and staff accused of domestic abuse, 2.7% of cases, were dismissed. Photograph: Christopher Thomond/The Guardian
Vikram Dodd and Sarah HaqueThu 17 Mar 2022 17.00 GMTLast modified on Sun 20 Mar 2022 11.57 GMT
More than 1,000 police officers and staff accused of domestic abuse are still serving in law enforcement, new figures show.
Eight out of 10 kept their jobs after the allegations were made, with a small fraction being disciplined or dismissed.
Experts and campaigners said the figures were further evidence of problems in policing, not just in terms of misogyny in the ranks but in a failure of leadership to tackle wrongdoers.
A series of freedom of information requests by the Bureau of Investigative Journalism showed that 1,080 out of 1,319 police officers and staff who were reported for alleged domestic abuse during a three-year period were still working. Replies were received from 41 forces across the UK.
Just 36 officers and staff, 2.7% of the total reported, were dismissed, while 203 either resigned or retired or left for other reasons.
Disciplinary actions, which can include written warnings or suspension, were taken against 120 officers and staff, 9.1% of the total.
The conviction rate of police officers and staff for domestic abuse is 3.4%, lower than the 6.3% in the general population.
In one case, a male officer with the Metropolitan police was alleged to have abused his partner, a female Met officer.
Susie, not her real name, said she was physically and sexually abused by him during their relationship. She reported him to the Met but, despite other claims he was abusing a second female officer, the force decided he could continue working.
Susie said: "They say how much they're going to support women, and they don't. That's a really bitter pill to swallow."
Ruth Davison, the chief executive of the charity Refuge, described the figures as alarming: "We see that there is a problem of misogyny, not just in the Met police but right across the police force. The whole of the police force needs radical culture change.
"I can't really overstate how serious this is. Domestic abuse is fundamentally about power and control, the abuse of power. And police officers do have power; they're supposed to use that for our benefit to uphold the law and to keep us safe."
The replies from forces covered allegations from January 2018 to September 2021.
The action taken by forces differed. The Met, the largest force, received 398 domestic abuse reports against serving officers and staff, with nine people being dismissed and 336 still working.
The second largest force, Police Scotland, did not dismiss a single employee after receiving 67 reports in three years. The Police Service of Northern Ireland dismissed one employee after receiving 52 reports.
The second largest force in England, West Midlands police, kept its records secret, claiming the cost of providing them would be excessive.
Concerns mounted over misogyny in the police after a serving Met officer kidnapped and murdered Sarah Everard as she walked home in London in March last year.
Last month an official report described officers at Charing Cross police station swapping grossly offensive WhatsApp messages, including about violence to women.
The Charing Cross scandal triggered the ousting of Cressida Dick as Met commissioner, with the mayor of London, Sadiq Khan, angered by the response of the Met leadership.
A spokesperson for Khan said of the domestic abuse findings: "These shocking figures are deeply concerning and will be worrying for the public, risking even further damage to trust and confidence in the police."
The shadow minister for domestic violence and safeguarding, Jess Phillips, said: "The police have got to undertake huge reforms to ensure women and girls feel safe and that has to start with them. When cases are brought against police officers, they must act without fear or favour, and act accordingly."
A spokesperson for the National Police Chiefs' Council said: "Figures such as these will cause concern to victims and we want to assure you that policing is working hard to root out those who display misogynistic characteristics."
The murder of Sarah Everard has led to two inquiries, one commissioned by the Met and the other by the home secretary.
January 27th 2023
Cost of War Crisis – Whose Freedom ?