On The Day George Floyd Died, Police Across The US Shot And Killed At Least Five Other Men July 4th 2020
Police in the US have not gone more than two days without fatally shooting someone since 2015. Melissa Segura BuzzFeed News Reporter
ON MAY 25, 2020 — the day Minneapolis police killed George Floyd — officers shot and killed at least five other men across the country. They included a decorated Marine veteran and two warehouse workers. They lived with their children in suburban brick houses and with their mothers off dusty backroads. They were Black, white, Latino, and Pacific Islander. They hailed from the Southeast to the North Pacific. Since 2015, police in the US have not gone more than two days without fatally shooting someone. The day of Floyd's death was only in its second hour when police registered the first killing of the day. 1:30 a.m. CTHouston
The wailing sirens and whoosh of police cruisers coming down the quiet Houston street — just 10 miles from where Floyd grew up — were exactly what Joelaunda Castillanos didn't want when she called 911.
Her husband, Joe Louis Castillanos, 38, had served one combat tour as a Marine in Afghanistan and another in Iraq, which left him with PTSD. He'd been struggling for years — but that night, Joe was out walking the streets alone and Joelaunda was scared about what he might do to himself. She needed help talking him down, she explained to the police dispatcher.
Hours earlier, Joe, Joelaunda, and their two daughters, ages 7 and 11, had spent the evening at a family barbecue. Joelaunda wanted to leave. Joe didn't. "Let's go," she pleaded. They were the last couple there. But leaving meant Joe would have to face the clock inching closer to midnight, closer to Memorial Day, and closer to the memory he just couldn't shake.
For Joe, Memorial Day wasn't for empty platitudes about America's fallen heroes. It was a reminder of Cpl. Payne. An improvised explosive device had struck their vehicle, leaving them sitting ducks. Desert winds blew. Dust jammed their guns. Payne didn't stand a chance.
Joe couldn't forgive himself for not being able to save him.
Most days, the shrinks he saw, the medication he took, and the workouts he endured dulled his pain. For the last 13 years, he'd worked as a mail carrier in the rough-and-tumble city of Richmond, Texas, southwest of Houston. He'd befriended kids along his route, and every August he made special deliveries of school supplies to those who might not have any. At Christmas time, his mail truck doubled as Santa's sleigh, doling out gifts. He'd even timed his route so that his 5 p.m. break meant he could have dinner each night with Mister Cortez, an elderly man who he worried received few visitors.
But this Memorial Day seemed to affect Joe more than any other. Joelaunda, who'd loved him since she spotted his dimples when they were both teenage store clerks, could see how he badly was struggling.
"Why didn't I die from the IED?" he asked until the day he no longer wanted to wonder.
When the family returned home from the barbecue, Joe tucked the girls into bed and kissed them on their foreheads. Then he told his wife of 13 years that he intended to kill himself. He grabbed a gun on his way out the door.
After Joelaunda explained Joe's state of mind to the dispatcher, she loaded their girls into the car to go looking for him. The Houston Police Department boasts one of the nation's most progressive police chiefs and a crisis response team that's regarded as one the country's best. Yet from April 21 through Memorial Day, Houston police had killed six people.
Joelaunda spotted her husband walking along their street, and she rolled down the window to encourage him to come home. But just then, at least two police cars rushed into the neighborhood. One officer jumped out of the car, his gun extended in Joe's direction.
"Drop the weapon," the officer said to Joe. "Drop the weapon. Drop the weapon. Drop the weapon, bro. Don't do it."
Joe turned to face them, walking backward and away from the arriving officers.
Another officer emerged from the second arriving police car.
"Drop it, dawg," the second officer yelled. "I don't want to shoot you."
In an instant and for no obvious reason, the commands escalated.
"Get on the fucking ground," one shouted. "On the ground."
Three officers kept advancing, guns drawn, as Joe paced backward away from them, holding the gun down by his side.
"Don't shoot," Joelaunda cried out, watching with her daughters as the police advanced toward her husband. "Don't shoot."
At a time when anger over the police killings of Black people convulses the country, brown lives aren't faring much better. Latinos are 77% more likely to be killed by the police than white people are. In the week of May 25, at least four other brown men died in law enforcement encounters. Fatal outcomes are higher for military veterans, too. The Centers for Disease Control and Prevention found military veterans and active-duty soldiers were 1.4 times more likely to die in law enforcement encounters than civilians were.
"Put the fucking gun down," the officer shouted at Joe one last time.
Joelaunda and the girls heard the bullets whiz by their heads.
Seconds later, Joe was on the ground.
The Castillanos' family attorney, Tanika J. Solomon, would later say the police had shot him multiple times in the back.
In Joe's case, Houston police would maintain that the Marine veteran fired into the ground before he "raised the gun" toward officers. BuzzFeed News has reviewed footage of the shooting provided by the Castillanos' family attorney, which does not show Joe pointing his weapon at officers.
In the middle of the street, Joelaunda and her daughters watched it all unfold.
"Mommy," Joelaunda said her daughters told her as police blocked off the scene and surrounded Joe's body, "you told them not to shoot."2:30 a.m. CTLeague City, Texas
Thirty miles southeast of the Castillanos' home, an officer in League City followed up on a tip about a suspicious truck parked outside the Scottish Inn. Michael Guzman, a five-year veteran on the force, noticed the white truck in the parking lot appeared to have a fake tag. Inside the truck, 33-year-old Justin Mink sat alongside Sophia Thompson, 27.
The police car pulling up alongside Justin wasn't his first interaction with law enforcement. In 2004, he and his partner, April, married, and they had a son a year later. But a combination of drugs and alcohol consumed him and eroded his relationships with his wife, and their son. By 2007, he bottomed out when the couple's 6-and-a-half-month-old daughter died.
Justin and April separated. He lost his job at a chemical plant after showing up drunk. Another gig at a coffee shop lasted less than a week after the employer learned he had lied on his job application. A neighbor had shot him when he tried breaking into the home he used to share with an ex-girlfriend and her mother. He drove a lawnmower through the glass storefront of an Aaron's furniture showroom.
Then Justin robbed a bank.
He'd served nearly eight years in a federal prison when he was transferred to a halfway house last August.
"He was doing really good," April said. "He was working on goals. He was learning new things."
Justin found work on a farm. Through that, he developed an interest in genetic engineering and spent his free time reading about it online.
"He was trying to change," April said. "Then something snapped."
Justin vanished from his son's life suddenly. He ditched the halfway house on April 29, nearly a month before the police car rolled up alongside the white truck in the motel parking lot.
But the officer didn't initially pay much mind to Justin. Guzman noticed Sophia had an outstanding warrant and moved to arrest her.
That's when police say Justin pulled a knife, slashing through Guzman's shirt and bulletproof vest.
Guzman opened fire. Justin would be the city's fifth man killed by police since 2018. Between 2009 and 2018, of the 1,582 officers who have died on duty, 11 were stabbed.
Justin was shot at least twice.
His death started like so many other fatal encounters with the police: after a stop for a minor infraction. A BuzzFeed News review of police killings during the month of May found that 15 of them began with anything from a broken taillight to a call for police to break up an outdoor barbecue to a plea for help from a man who told the police he was starving.
April and her son didn't find out about Justin's death for over a week. It was more time wondering if he'd been living on the streets.
When April finally learned the news after police tracked down his parents, she had to tell their 15-year-old son.
"I was expecting that call," he told her.5:30 a.m. PT/7:30 a.m. CTPhoenix
"The Talk" about police encounters that Erma Johnson had with her son, Dion, almost always included this advice: Record the interaction.
That's why Erma said her 28-year-old son had to have been in a deep sleep when an Arizona Department of Public Safety trooper approached Dion's rental car parked between Phoenix's Loop 101 and the Tatum Boulevard on-ramp. He didn't record anything.
Instead, Erma is left to piece together a story that she said doesn't make sense to her: Police said the trooper found her son asleep in the car and beer cans scattered across the floorboards. That the trooper managed to remove a gun from the passenger seat without waking Dion. And that after the trooper woke up her son, Dion reached for the officer's gun, prompting him to shoot.
Nearly 10 hours after Dion had been shot, Erma heard a loud knock on her door. She and her daughter had tried reaching him all morning. She exhaled, figuring it was her son. Instead, she opened the door to find two officers who had come to tell her her son was dead.
"It's hard to believe because [Dion] was not confrontational with the law, anybody of authority, or anything like that," Erma said of the trooper's story. "He gives you the utmost respect, always."
Her suspicion of the police narrative isn't just grounded in a mother's love; it's rooted in a far deeper mistrust between communities of color and the police. Footage from incidents across the country has undermined police accounts of shootings. In 2015, the release of dashcam footage in Chicago unraveled a police tale that 17-year-old Laquan McDonald lunged toward Jason Van Dyke, prompting the officer to fire 16 shots. McDonald had not made any threatening movement toward the officer.
Media reports of Dion's death were quick to mention his previous encounters with the law, including a no-contest plea to a 2008 armed robbery charge and a guilty plea in 2012 to another armed robbery. But the arresting officer couldn't have known that since the car Dion was driving was a rental.
Such reports can shift the focus from the officer's actions to the deceased's character, even when it's not relevant. "Every time a person has a record, it's implicit, that person was killed for a reason," said Jocquese Blackwell, the Johnson family attorney. "It's the Black tax. Why did Dion have to die? That he had a past didn't matter."
And Erma insisted those media reports did an injustice to her son's life. "He's not the type of person they've made him out to be," she said.
The man she raised carried groceries for an older neighbor, she said. He spent Sundays in the winter cheering on his Arizona Cardinals, and in the summer he morphed into a human jungle gym at family functions, with children climbing along his limbs. Most days, he worked in a warehouse. Most nights, though, he sat hour after hour writing rhymes and beats and planned on returning to school to study music.
"I'm going to be famous one day," he'd tell Erma when she'd convince him to take a break and come out of his room.
The death of a Black man asleep in his car after a night of drinking only to encounter law enforcement shares the storyline of Atlanta's Rayshard Brooks. Atlanta police fatally shot him 17 days after Dion died. Yet his death led to a felony murder charge against the officer, sparked the resignation of Atlanta's police chief, and moved Mayor Keisha Lance Bottoms to enact new use-of-force restrictions.
Dion's family has yet to even learn the name of the officer who shot him.
Though the cases are strikingly similar, they differ in at least one regard: Brooks's shooting was captured on video. Dion's was not.
Erma said she wants her son's death to force all officers to use body cameras. The Arizona Department of Public Safety does not outfit all its troopers with bodycams, and the motorcycle driven by the trooper who shot Dion did not have a dashcam. A bill pending in Arizona's statehouse would provide over $4 million to outfit Department of Public Safety officers with bodycams. Johnson's death, Blackwell said, could spur that bipartisan bill forward.
There was one sliver of video capturing her son's final moments.
A TV station managed to record a video feed from traffic cameras installed around the city. The video doesn't show the shooting but it captured Erma's son, writhing on the highway. Two troopers appeared to hold him to the ground. In view of the camera, an ambulance idled just yards away. Nearly six minutes passed — as Dion bled on the road — before the ambulance approached and medics tended to him.
"The last moments just tear me up," Erma said of the paramedics on the sidelines. Her voice, just days after she buried her son, rasped with exhaustion.
Dion had promised her he'd be famous, she remembered. Later that week, protesters around Phoenix scribbled his name on posters and chanted it through the streets.9:25 p.m. CTMinneapolis
A memorial site for George Floyd in Minneapolis.Stephen Maturen/Getty Images
As Derek Chauvin pushed his knee on George Floyd's neck, the 46-year-old called out for his dead mother. And all this because Floyd, who'd been out of work since the coronavirus lockdown, had allegedly tried floating a fake $20 bill.
"I can't breathe," he cried out.
"Everything hurts."
"Mama!"
"Mama!"11:30 p.m. ET/10:30 p.m. CTJonesborough, Tennessee
The Washington County Sheriff's Department received a call about a man armed with a large knife who had threatened to hurt himself and a loved one. When deputies arrived at the Jonesborough house off a rural, two-lane road cutting through fields of green, they found 44-year-old Gary "Pat" Dorton on his mother's porch. He'd already scared his mother away.
Friends and neighbors in the town of 5,400 knew him as the guy who could do pretty much anything. Stall a car? Pat could fix it. Place some drums in front of him? He'd find a new rhythm. Worried your garden soil is too dry? He'd won awards for his horticultural skills.
But those close to him knew the other parts of him, too. The Pat who'd lost his father as a child and the Pat who had mental health issues.
No body camera footage has been made available of the incident that night, leaving only the police's version of the events. Pat charged a deputy with a knife before trying to cut himself, a statement read. Deputies fired both Tasers and their guns. He died at the scene.
Yet his obituary listed a different cause of death: "a lifelong broken heart."
Pat's friend, Micah Roberts, wondered if his friend had to die that night.
"He was having a mental health episode," Roberts said. "That's why I'm so mad."
Experts estimate 1 in 4 people who have been shot and killed by police have mental health issues. Advocates for police reform have long argued that the Pat Dortons of the world don't need armed officers responding to calls but trained mental health experts. The Washington County Sheriff's Department doesn't offer such resources. Rural communities like Washington County are often short on training funds for cutting-edge de-escalation trainings but abundant in residents with weapons at the ready. Those two factors help to explain why departments serving towns of fewer than 25,000 people accounted for 27% of all police killings from 2013 to 2015.
The Tennessee Bureau of Investigations — the agency typically brought in to conduct an outside review of police shootings in the state, including Pat's — has yet to release the names of the officers involved or the findings of its probe. The Bureau has taken over the inquiries of the 19 officer-involved shootings in 2020 alone.
When officers made Pat the 16th person killed in an encounter with law enforcement this year in Tennessee, his friends lost a skilled skateboarder, a dog lover, and a kung fu fighter.
Katie, his sister, lost her big brother and first friend.
"Thank you for letting me borrow your GI Joe Jeep for my Barbies," she wrote in his obituary. "Thank you for trying to let me be a kid after our dad died. I wish you had known I needed you to be a kid then, too. … Thank you for protecting our mom from having to watch you die by scaring her out of the house. … I love you."9:39 p.m. PT/11:39 p.m. CTModesto, California
Nearly 2,500 miles across the country on a near-empty street in California's Central Valley, rookie officer Ryan Owens was driving a police cruiser in response to a call when something caught his eye.
"I think he has a gun back there," Owens, who was eight months into the job, told his training officer, John Carrico, riding in the passenger seat.
Owens flipped a U-turn back toward the man, 35-year-old Reymar Gagarin.
Reymar had dropped out of high school in Guam and more than a decade earlier moved to Modesto to be near his mother.
In 2007, he enrolled in a vocational training program to study auto mechanics.
"I wanted a better life," he told a newspaper reporter who wrote about the program.
He planned on using his training to snag a decent-paying job fixing cars for a dealership. Instead, he stocked shelves at Walmart and fulfilled orders for Amazon. His downtime included a trip to Legoland.
But the police claimed Reymar had told friends he planned to lead officers on a high-speed chase and then provoke them to shoot him. A police statement said Reymar flashed a fake gun as he approached Owens and Carrico. Bodycam footage released by police shortly after the shooting showed Carrico firing his gun at Reymar, an apparent suicide by cop.
No national data exists on the number of people who provoke officers into killing them, but Vivian Lord, a professor at the University of North Carolina at Charlotte, found that roughly 29% of fatal law enforcement encounters between 2004 and 2008 were suicides by cop.
Lord and other academics have found that most of those seeking to have a law enforcement officer kill them are men, and many have previous suicide attempts, histories of substance abuse, or other mental health issues. Researchers also note a high incidence of religiosity among those trying to force officers to kill them — a byproduct of the belief that suicide is a sin. Thus, dying by an officer's force absolves them.
The video of Reymar's shooting shows him lying in the middle of the road. Then it appeared that he was trying to rise.
"Stay down," Carrico yelled at Reymar. "Stay down."May 26Houston
Attendants from Fort Bend Memorial Planning Center prepare George Floyd's casket before a memorial service in Minneapolis on June 4, 2020.Stephen Maturen/Getty Images
The day after Joe Castillanos died, his widow made arrangements with the Fort Bend Memorial Planning Center in Rosharon, Texas — by coincidence, the same mortuary the Floyd family would also hire.
The bodies of two men, both killed by police on the same day, would be stored in the same morgue.
Yet Joelaunda couldn't help but be frustrated. One man's death would launch a movement. Her husband's death had received less than a few lines of print. She couldn't even find a way for Joe to receive the customary salute for veterans.
It wasn't that she begrudged the attention Floyd had received. As a Black woman married to a Latino man, she supports the protesters and their mission, even if the daily news has exacerbated her grief. It's that the man she loved died in obscurity.
Like so many others.
By the end of her first day without Joe, police would fatally shoot nine more people. ●
Illustrations by Carlos Basabe for BuzzFeed News
British Police State Latest March 25th 2020
UK cracks down hard First it was advice, now it's an order. Boris Johnson has issued a stark message to the country: "At this moment of national emergency… stay at home." Speaking after the UK death toll reached 335, the prime minister introduced unprecedented restrictions on everyday life, meaning people must only leave their house for one of four reasons – to exercise once a day, to travel to and from work where "absolutely necessary", to shop for essential items, and to fulfil any medical or care needs. Shops selling non-essential goods have been told to shut, along with libraries and children's playgrounds, and gatherings in public of more than two people who do not live together will be prohibited. The restrictions will be in place for at least three weeks and police will have the power to enforce them, including through fines. Read the prime minister's statement in full and get a more detailed breakdown of the new rules. The BBC's political editor, Laura Kuenssberg, says it's still not quite the kind of total crackdown seen in other countries, at least not yet – no curfews, for example – and there will be a time on the other side of this crisis to analyse whether the government made the right decisions at the right time. A reminder here of the symptoms of coronavirus and how you can minimise your risk. And here we answer 10 of your most-asked questions .
Latest worldwide The World Health Organization says the pandemic is "accelerating", with more than 360,000 cases globally and more than 16,000 deaths. But WHO director general Tedros Adhanom Ghebreyesus said it was still possible to "change the trajectory" with rigorous testing and contact-tracing strategies. Many other nations have now imposed lockdowns along the lines of that in the UK. France is strictly limiting physical exercise and closing outdoor markets, and South Africa's government is preparing for the worst. India is stopping all domestic flights, but there are particular fears surrounding one textile city. In Italy, the worst-hit country, the latest daily increase in deaths was the smallest since last Thursday, raising hope that stringent restrictions on public life are starting to have an effect. The BBC's Sima Kotecha describes the haunting experience of Rome under lockdown. In the US, where 481 people have died, state governors and city mayors are pleading for more help from the federal government. However, the BBC's Anthony Zurcher explains why the president may be having second thoughts about following suit with a large-scale lockdown. Our live page has all the latest developments, while health correspondent James Gallagher looks at when and how life might return to normal. l.
A closer look at business Coronavirus is an economic emergency as well as a health one, and our colleagues in BBC Business have pulled together the guidance on how to apply for government business support. Lots of measures have been announced, but still, freelance and self-employed people tell us they feel forgotten. Companies are attempting to help in the fight against the disease. Carmakers are answering calls from governments to help make more ventilators and face masks, while several tech giants are teaming up to accelerate delivery of testing kits. At the opposite end of the economic scale, we take you inside a pharmacy on the coronavirus front line in Manchester and meet some of the workers keeping our essential services running.
US-China contagion: The battle behind the scenes It is clearly not a good time for the world and it is not a good time for relations between the US and China. President Donald Trump has repeatedly chosen to call the coronavirus the "Chinese virus". The president and his secretary of state have both denounced China for its failings in the initial handling of the outbreak. Meanwhile, social media in China has spread stories that the pandemic has been caused by a US military germ warfare programme; rumours that gained considerable traction. But this is not just a war of words, something more fundamental is going on .
Editorial Comment The Lib Dems are very open about saying this is a good reason to cancel Brexit. This is the Brexit revenge . It appears that though Corona Virus ( Covid 19 ) kills fewer by far, than the flu, it is more contagious.
The NHS can't cope because mass immigration has overwhlemed the system. The people dying are very much the elderly and those with underlying health conditions, as was the case with the 18 year old.
Robert Cook
Daily Brief: Johnson orders police to enforce UK lockdown March 24th 2020
Boris Johnson will order police to enforce a strict coronavirus lockdown, with a ban on gatherings of more than two people and strict limits on exercise, as he told the British public: "You must stay at home." All non-essential shops will close with immediate effect, as will playgrounds and libraries. (The Guardian)The government will also provide "space to be safe" on trains to NHS staff and other key workers, transport minister Grant Shapps has said, after images of overcrowded trains surfaced on social media. (Evening Standard)Almost one in five people around the globe, or more than 1.5 billion people, are under lockdown, ordered to stay home as the world enters a critical week in responding to the accelerating coronavirus pandemic. (The Guardian)However in China's Hubei province, where the outbreak started in late December, Chinese authorities are lifting the months-old lockdown. (Associated Press)
Trump may soon push businesses to reopen ignoring experts advice
President Trump said Monday that he may soon loosen federal guidelines for social distancing and encourage shuttered businesses to reopen — defying public health experts, who have warned that doing so risks accelerating the spread of the novel coronavirus or even allowing it to rebound.
British Government & Labour Opposition Combine to Suspend all Civil Liberties March 23rDaily Brief: Johnson orders police to enforce UK lockdownd 2020
Editor's note: The opinions in this article are the author's, as published by our content partner, and do not necessarily represent the views of Microsoft News or Microsoft.
On March 13—Friday the 13th, as it happened—my husband was driving down a Polish highway when he turned on the news and learned that the country's borders would shut down in 24 hours. He pulled over and called me. I bought a ticket from London to Warsaw minutes later. I don't live there all of the time, but my husband is Polish, the only house I own is in rural Poland, and I wanted to be in it. The next morning, Heathrow Airport was spookily empty except for the Warsaw flight, which was packed with people trying to get one of the last commercial trips back into their country. During check-in, agents were refusing to board passengers without a Polish passport (I have one) or residency documents. Then someone realized that the new rules went into effect only at midnight, and so I witnessed a conversation between one of the stewards and two non-Polish passengers: "You realize that you might not be able to fly out again. You realize that you may be in Warsaw for a very long time …"
That same day, we called our college-freshman son in the United States and told him to get to the airport. He had been planning to stay with friends and family after his university closed. Instead, we gave him 30 minutes' notice to get on one of the last flights to London, connecting to one of the last flights to Berlin. By the time he landed in Europe on Sunday, Poland had shut its borders to all public transportation. He took a train from Berlin to Frankfurt an der Oder, a town at the Polish-German border. Then he got out and walked across, carrying his luggage, as if in a Cold War movie about a spy exchange. He saw roadblocks, soldiers with guns, men in hazmat suits taking temperatures. My husband picked him up on the other side.
Poland was not the first European country to shut its borders, nor was it the last. About a dozen European countries have now halted or dramatically slowed border crossings. In addition, the Schengen Area—the European Union's free-movement zone—has now stopped admitting non-EU citizens. The medical evidence for these dramatic border closures is muddy: Amy Pope, a former National Security Council staffer who worked on the Ebola crisis in 2014, told me that the Obama administration considered closing borders to travelers from West Africa at the time, but "scientists strongly advised against it, as it would likely make the outbreak worse." Border closures, without careful planning, can slow down movement of equipment and expertise or create clusters of infectious people at airports and other checkpoints. Closures also give the illusion of resolute action without changing the reality on the ground. Back in January, President Donald Trump's decision to stop flights from China gave him and his administration the false sense that they had stopped COVID-19. They had not.
In Poland's case, the abrupt, seemingly unplanned decision caused massive chaos. Polish citizens are now stranded all over the place, and the government has been forced to arrange charter flights to get them home. Thousands of citizens of Ukraine, Belarus, and the Baltic states—including truck drivers and tourists just trying to get home—were lined up in their cars at the Polish-German border for several days, using nearby fields as a toilet, because border guards were refusing non-Poles entry. The German Red Cross was handing out food, drinks, and blankets.
None of these harsh, dramatic measures stopped the virus in Poland. The epidemic had already begun to spread a few weeks earlier and is still spreading. But despite the chaos—perhaps even because of the chaos—the border clampdown is immensely popular. The state is doing something. And this may be a harbinger of what is to come.
There is nothing new about the sudden enthusiasm for aggressive government intervention during a health crisis. Throughout history, pandemics have led to an expansion of the power of the state. As the Black Death spread across Europe in 1348, the authorities in Venice closed the city's port to vessels coming from plague-infested areas and forced all travelers into 30 days of isolation, which eventually became 40 days; hence the word quarantine. A couple of centuries later, William Cecil, the chief minister to Queen Elizabeth I, battled the plague in England with a law that allowed authorities to shut the sick in their houses for six weeks. A few years later, the Plague Act of 1604 made criticizing these and other measures illegal.
At least while they were frightened, people complied. At times when people fear death, they go along with measures that they believe, rightly or wrongly, will save them—even if that means a loss of freedom. Such measures have been popular in the past. Liberals, libertarians, democrats, and freedom-lovers of all kinds should not fool themselves: They will be popular now too.
In some European countries, we are already watching that process unfold with a good deal of social consensus. Italy has gone into total lockdown. All shops and businesses are closed except those deemed essential; roadblocks are in place to prevent unnecessary travel; public parks and playgrounds are shut. Italian police already have fined tens of thousands of people for being outside without a valid reason. Since last Tuesday, Paris has been on a similarly stringent lockdown. You cannot leave home without filling out a form; 100,000 police officers have been assigned to make sure people don't break the rules. On one day alone—Wednesday of last week—French police issued 4,000 fines for being outside for nonessential reasons.
Harsh, yes—but people now accept these measures as necessary. The Italian prime minister, Giuseppe Conte, enjoys the support of seven out of 10 Italians at the moment, an extraordinary number in a country that historically distrusts its politicians. The French president, Emmanuel Macron, has openly described the fight against the virus as a "war," and this tougher approach and language have won him a majority of national approval too.
Taking advantage of this impulse, some are already going much farther. On Friday, the Hungarian government sent a bill to Parliament that will give dictatorial powers to the prime minister, Viktor Orbán, in the name of the "emergency." For an indefinite period of time, he will be able to ignore whichever laws he wishes, without consulting legislators; elections and referenda are to be suspended. Breaking of quarantine will become a crime, punishable by a prison sentence. The spread of false information or other information that causes "disturbance" or "unrest" will also be a crime, also punishable by a prison sentence. It is unclear who will define false: The language is vague enough that it could include almost any criticism of the government's public-health policy. None of this will fix the fact that Hungary is one of the European countries least prepared to fight the pandemic—not least because the policies of its nationalist government persuaded so many educated people, doctors included, to leave the country.
In normal times, the Hungarian opposition would never support such a blatant transfer of power, especially one that seems designed to hide the government's failures. But at this time, some who would normally oppose the government will go along. "All of their warning systems have been switched off," Péter Krekó, a Hungarian analyst, told me. At this moment of rising fear, he said, nobody wants to be seen as unpatriotic, as somehow harming the health and safety of Hungarians. Everybody wants to believe in the essential goodness of the nation and the state.
A similarly abrupt transition is taking place in Israel, where Benjamin Netanyahu—still prime minister despite having lost a recent election—has enacted an emergency decree that allows him to postpone the start of his own criminal trial and that prevents the newly elected Israeli Parliament, in which the opposition has a majority, from convening. He has also given himself huge new powers of surveillance without any oversight. Institutions and tactics normally used to track terrorists will now be used to monitor quarantine compliance, follow average citizens' activity and movement, and keep track of their temperatures and health status. A part of the Israeli population will never accept either the enhanced role of security services or Netanyahu's self-interested crackdown: The English edition of the newspaper Ha'aretz has already dubbed these moves a "corona-coup." But as long as Israelis are frightened, another part of the population will.
Americans should be prepared for their fellow citizens to react the same way. Our federal system does give us some advantage: Quarantine powers vary from state to state; those who enforce them are more likely to be state police than federal security services. But the American president has already proved that he prefers gesture politics to real measures, border closures to the mass production of masks and test kits. More to the point, he has a longer record: The Ukraine scandal showed us that Trump has little respect for rule of law, and the Mueller investigation showed us that he cares little for the independence of the Department of Justice. He has already abused government power for political reasons, and he has a loud claque of supporters who have applauded him for doing so. In the coming weeks or months, it is very likely that he will use this crisis to accrue more power, just like Orbán and Netanyahu have, and it is very likely that Fox News will support him. So will many Americans. The Department of Justice, Politico has reported, has already asked Congress for powers to detain Americans without trial, even though such powers are not remotely necessary. Those lawmakers who resist these and similar measures to come should prepare to be accused of endangering their constituents' lives.
In an alternate universe with a different president, health officials in the United States could have had better options, better ways to channel public anxiety, better ways to monitor the public's well-being, using technology and without suspending the rule of law. South Korea, a flourishing and robust democracy, is using apps to track coronavirus patients and others under quarantine yet has not felt the need to suspend Parliament. Sema Sgaier of the Surgo Foundation, an organization that promotes the use of data and behavioral science in public health, points out that technology can help in other ways—for instance, by monitoring outbreaks of COVID-19 so that quarantines and lockdowns can be targeted to particular neighborhoods or towns, thereby avoiding the blanket shutdowns that entire American states have imposed. It should also be possible to use tracking technology in transparent ways, offering citizens the right to log out of the system once the pandemic is over.
Here in Poland, the government is a long way away from deploying such sophisticated tactics, and the old methods are still in place. Local police in our rural district have been phoning, regularly, to make sure that everyone in our house remains inside: 14 days of quarantine are now compulsory for everyone in the country who has returned from abroad. They have been polite. I understand that they are doing their jobs, and I understand that the point is to make people safe. But neither I nor anyone else on their lists has any way of knowing whether, after this epidemic subsides, new powers ceded to the authorities during the crisis will ever be given back.
/
UK leads the world with draconian law
Former Director of Public Prosecutions Lord Macdonald assesses anti-corruption legislation and the legal burden placed on British businesses May 2, 2012
The UK now has some of the toughest anti-corruption legislation in the world. The Bribery Act 2010 is unforgiving – along with the Proceeds of Crime Act 2003 and its sharp anti-money laundering provisions, we impose strict duties on companies that do business through London. Behaviour that used to be no more than questionable has now become patently criminal.
The consequences for business are both obvious and under-appreciated. In particular, the risk to law firms, banks, accountants and commerce flowing from inadequate internal compliance regimes is that these failings can amount to criminal offences under UK law, for which the corporates themselves can be prosecuted. Many foreign entities in London still have no idea of the draconian nature of UK legislation, still less of the obligations it imposes upon them and of the consequences of non-compliance.
The problem is particularly acute for companies with UK offices doing business in parts of the world where corruption is endemic. Everyone knows, for example, that in Africa and the Far East, cargo ships won't be assigned berths until so-called facilitation payments have been made to harbour staff. Indeed, the practice is so widespread that US legislation offers a carve out and these cash handovers are tolerated as a part of doing business internationally.
Behaviour that used to be no more than questionable has now become patently criminal
But the UK Bribery Act shows no such understanding. Under our law, a facilitation payment is a bribe and a criminal act. Indeed, it is possible that profits earned under a contract oiled by portside payments of this sort may be considered criminal property under the Proceeds of Crime Act, so that a company dealing with these assets commits the serious offence of money laundering.
So what is an honest business to do? First, it needs to understand the law and to take all reasonable steps to see that its employees abide by it. This means having policies and practices consistent with legislation, since a failure to do so can amount to an offence in its own right. Companies need to be able to show that their response to the Bribery Act is to enforce future compliance through policed business practices.
And this is a recurring theme, so that a UK company purchasing an overseas operation that may have been involved in past corruption must be able to demonstrate a corporate determination to mend its new subsidiary's ways. For the clear risk is that any profits flowing into London from past corrupt practice could raise the spectre of money laundering offences too.
These quandaries are the price we pay for world-leading legislation. Yet it is important to understand that it has never been our law that wherever a crime is evidenced, a prosecution must follow. Whatever the state of the evidence, charges will only be brought where a prosecutor finds that they are in the public interest. This is where the answer usually lies – in the case of a respectable company striving to clean up a newly acquired subsidiary, the Crown Prosecution Service may be unlikely to reach such a conclusion.
Coronavirus Outrage March 23rd 2020
Coronavirus: Boris Johnson to address nation on new measures Boris Johnson is to address the UK on new measures to tackle the coronavirus pandemic, amid concerns people have been ignoring government advice.
The UK has been under growing pressure to follow other countries by ordering the closure of more shops, and enforcing rules on social distancing.
The PM will make a statement at 20:30 GMT. Meanwhile, people in the most at-risk groups have begun getting an NHS text urging them to stay at home for 12 weeks.
The UK's death toll has reached 335.
A further 46 people have died in England since Sunday – aged between 47 and 105 and all with underlying health conditions – while there were four deaths in Scotland and four in Wales.
There have been 83,945 tests to date, with 6,650 confirmed cases.
The NHS in England has announced it has identified 1.5 million of the most at-risk people, while there are 200,000 in Scotland, 70,000 in Wales and 40,000 in Northern Ireland.
A text message from NHS England tells people in the most at-risk group: "Please remain at home for a minimum of 12 weeks. Home is the safest place for you. Staying in helps you stay well and that will help the NHS too."
The government's emergency committee Cobra has met and emergency legislation introducing measures to respond to the outbreak has cleared its first Commons hurdle with MPs giving it an unopposed second reading.
Meanwhile, Foreign Secretary Dominic Raab says Britons travelling abroad should return to the UK as soon as possible because international travel is becoming more difficult with the closure of borders and the suspension of flights.
Elsewhere, the British Olympic Association said Great Britain will not send a team to Tokyo 2020 if the spread of coronavirus continues as predicted.
The International Olympic Committee has given itself four weeks to decide on the future of the Games, but Australia and Canada have already announced they will not compete this summer.
Coronavirus: 18-year-old 'youngest' to die in UK as fatalities rise by 48 to 281
The number of COVID-19 infections has risen by 665 in a day to 5,683, the Department of Health said.
An 18-year-old is understood to have become the youngest person to die in the UK after testing positive for coronavirus.
The number of people who have died after contracting the highly contagious respiratory disease rose by 48 in a day to 281 on Sunday.
COVID-19 infections in the UK have increased by 665 to 5,683, the Department of Health said.
In England, 37 more people who tested positive for COVID-19 have died, bringing the total number of confirmed deaths to 257.
The patients were aged between 18 and 102 years old – thought to be the youngest and oldest so far.
Comment The underlying medical conditions, including of the 18 year old, as well as travel background, class and ethnicity are always left out of these scaremongering reports.
Why ? We are finding it increasingly difficult to post comments and updates . This should mark the beginnining of the end of the elite's money grabbing himan rights hypocrisy they call the global economy. Why ? Robert Cook
Corona and the madness of elites Posted March 22nd 2020
Their panicked response stems from their fear of the masses. Norman Lewis 2nd March 2020
Share Topics PoliticsScience & TechWorld
Last week, the world stock markets suffered their worst week since the financial crisis in 2008, with $6 trillion wiped from shares and, in some markets, a sell-off at a rate not seen since the Great Depression almost a century ago. Why? Because global investors are in a panic about the potential economic fallout from the coronavirus epidemic.
Many commentators are making the point that this is mad. Ross Clark argues convincingly in the Spectator that the 'most dangerous thing about coronavirus is the hysteria'. Philip Aldrick, economics editor of The Times, agrees. He says it is the 'panic we should fear more than the virus itself'.
Our appetite for doom and fear of the unknown are offered as explanations for this behaviour. Risk culture and a predisposition to overreacting to threats are also certainly components of what is happening. But there is another equally important element linked to these that is not being raised – that this madness is not being driven by the 'low-information', knuckle-dragging, gullible ignorant masses, but by the information-rich, university-educated and refined global business and government elites.
The contrast between the responses to coronavirus from the elites and ordinary people has been stark. Even as the level of panic in the mainstream reporting around coronavirus has risen, ordinary people have just gotten on with their lives. The supposedly well-informed elites, who often accuse the 'dumb' masses of being vulnerable to hysteria and 'fake news', have themselves been prodded into panic. Meanwhile, where they are not in lockdowns, ordinary people are still going to work, commuting, going to bars… They're simply getting on with their lives, while taking note of the potential risks.
The elites are in free-falling panic; like a herd of wildebeest, panicked by the sight of a predator and rushing blindly across crocodile-infested waters, they have sparked a potential global economic meltdown. Meanwhile, we see stoic common sense, simple but profound wisdom, on the part of the 'great unwashed'. Podcast 'We need a democratic revolt against the climate extremists' spiked
The elite response is, in part, a product of misanthropy. For decades now, our culture has succumbed to the idea that human beings are the source of the world's problems. People are always depicted as the problem: whether we're destroying the planet or carrying threatening diseases.
This has a long-established pedigree in Western society. Louis Pasteur, the great 19th-century scientist who discovered microbes, had a horror of democracy. In the words of David Bodanis, Pasteur saw the mob as 'a collection of small infecting creatures that decent people didn't ordinarily see, but which was always there, ready to pounce, to enter our society and take over and grow'.
This metaphor of the masses as like bacteria – small things swarming everywhere, ready to strike, to grow and to propagate – captured the right-wing fear of the masses at the time.
Throughout the 20th century, especially after the Bolshevik Revolution of 1917, when the masses became a real social and political force in society, the bacteria / mass metaphor became particularly prevalent. When Lenin was sent into Russia in 1917, he was described 'like a plague bacillus' in his sealed train. Western European leaders used the phrase 'cordon sanitaire' to describe the policy of encircling the new entity over there, to keep its contamination from seeping out. Recommended Break free of the fiscal rules Phil Mullan
In 1920, Winston Churchill, then secretary of state for war and air, described the Bolshevik revolution as 'a poisoned Russia, an infected Russia, a plague-bearing Russia, a Russia of armed hordes smiting not only with bayonet and with cannon, but accompanied and preceded by the swarms of typhus-bearing vermin which slay the bodies of men, and political doctrines which destroy the health and even the soul of nations'.
Meanwhile, Hitler and the Nazis saw Judaism as a deadly virus and Jews as its carrier, and thus the only solution was their eradication. The postwar containment theory aimed at stopping the spread of communism, or in the case of communist China, the 'Yellow Peril', is a more modern version of the same sentiment. McCarthyism in the US was an attempt to stop communism spreading like a bacterium at home.
This type of language is not being used widely in today's panic about coronavirus, of course. (Although there have been some references to a new 'Yellow Peril'.) Still, the underlying sentiment is definitely present: whether it is people boycotting Chinatowns in city centres, or populist politicians like Matteo Salvini or Marine Le Pen blaming foreigners for the spread of the disease.
People are presented as the danger – the unwitting but deadly bearers of an invisible threat. This plays to a pre-existing, misanthropic narrative that can only further divide society, increase a sense of atomised vulnerability, and let the panicked irrational global elites off the hook in the process.
It is tragic. Deaths from Covid-19, to use its official name, are deeply regrettable. But we need a sense of proportion. The virus's fatality rate is believed to be around one per cent. This is around seven times higher than the fatality rate of standard flu, but a fraction of the rate for 2003's severe acute respiratory syndrome (9.6 per cent) and 2012's Middle East respiratory syndrome (34.4 per cent).
Coronavirus is far more infectious than SARS and MERS. But scientists are working flat-out to find treatments and vaccines. The World Health Organisation believes that the drug remdesivir, developed by the company Gilead Sciences, may be an effective treatment, and it is currently in clinical trials.
Human creativity and our capacity to solve problems can and will contain coronavirus. People are not the problem. But the global elites certainly are. Their behaviour is fuelling more panic, and now threatens billions with economic recession. We need to embrace the calm and wisdom of the masses, not the madness of elites.
Norman Lewis works on innovation networks and is a co-author of Big Potatoes: The London Manifesto for Innovation
Coronavirus and climate change: A tale of two crises March 23rd 2020
Coronavirus has cut emissions faster than years of climate negotiations. Does the outbreak reveal what life might be like if we were to act seriously on climate change? Or what it might be like if we don't?
China, the world's biggest greenhouse gas polluter, has no plans to cut its emissions anytime soon. Under its Paris Agreement pledges, Beijing has promised to hit peak emissions by 2030. So for the next decade, they're only going to go up.
Yet suddenly, this colossal, coal-powered economy has slashed emissions by 25%, according to numbers crunched by Lauri Myllyvirta at the University of Helsinki's Centre for Research on Energy and Clean Air. Not because of the climate crisis, but the COVID-19 public health emergency.
"For something like this to happen virtually overnight is very much unprecedented," Myllyvirta told DW.
Wuhan, the 11 million-strong Hubei province city at the center of the coronavirus outbreak has been on lockdown since late January. With businesses and factories in the province shuttered, and hundreds of millions of people across the country rendered immobile by sweeping travel restrictions, the atmosphere above China in NASA satellite images appears virtually clean of nitrous oxide emissions.
NASA data shows a dramatic fall in nitrous oxide, a pollutant emitted from fossil fuels, after China put the breaks on its economy to contain coronavirus
Around the world, the aviation industry is predicting significant losses, British airline Flybe has collapsed, sporting events and international conferences have been cancelled, schools closed. Economists are warning of possible recession in Chinese trading partners Germany and Japan, while global growth is predicted to slow and oil demand has fallen faster than at any time since the 2008 financial crash.
All this looks like good news for the planet — at least in the short term. "Suppose you were a policymaker, and you were thinking about what you would do to lower emissions — you just got a pretty good instruction," says Amy Jaffe, director of the Council on Foreign Relations' Energy Security and Climate Change program.
Read more: EU unveils law committing to climate neutrality by 2050
Learning to localize
Jaffe says the virus is prompting us to change our habits in ways that could make a longer-term contribution to climate protection — working from home, video conferencing, working shorter weeks or staggering office hours to reduce traffic.
Companies might also conclude that what's good for the planet — localized production — is a sensible way to protect their supply chains from all kinds of risk, such as extreme weather events linked to climate change.
"They really need to go and think about all these events that could actually disrupt their supply chain and think about what they're going to do to make it more resilient," Jaffe told DW.
Still, the biggest share of emissions saved in China over recent weeks comes from the slowdown in manufacturing, and that's something few politicians would advocate as official policy beyond an immediate crisis.
Smokestack rebound?
In China, Myllyvirta says the pressure to resume business as usual is so great there have been reports of local governments ordering workerless factories to run their machines just to use up power, with the expectation that their superiors will be looking at electricity consumption as a sign of recovery.
After the 2008 financial crash, "which also led to a dramatic drop-off in China's emissions and marked improvement in air quality because export industries went into freefall," Myllyvirta says the government launched a massive, construction-heavy stimulus program that saw emissions surge.
Such stories don't bode well for the climate in a post-crisis scenario when the country is keen to get the economy back up and running.
Chinese factories may be expected to make up for lost time as the Chinese economy gets going again
Myllyvirta says state investment in "smokestack industries" geared to maintaining the country's growth target could see rebound emissions more than cancel out savings over the last few weeks. He hopes China might instead opt for a path of slower, "high quality" growth, based on services, household consumption and investment in green technology and renewables.
Others argue that boosting consumption always comes at a cost to the planet, and the global obsession with expanding GDP makes little more sense than running empty production plants just to get the numbers up.
A managed contraction
"The only time we see emissions significantly reduce is when countries — or the globe — goes into recession," says Jon Erickson, an ecological economist at the University of Vermont's Gund Institute who studies emerging infectious disease vectors in relation to climate change.
"These moments really point to how intimately greenhouse gas emissions are tied to economic growth," Erickson told DW.
While recessions are good for the climate, they're terrible for people — particularly those who already benefit least from our fossil-fuel economies. Among the hardest hit by China's coronavirus response are low-waged migrant workers already living precarious lives.
The economic impact of coronavirus has rippled out well beyond China's borders. Business is slow in Bangkok's Chinatown, which would normally be flooded with tourists
Global supply chains have been disrupted by the virus
Yet advocates of a managed contraction of economic activity to protect the climate say shocks like the current outbreak illustrate the stark choices before us.
"We never want to do things in crisis mode," Erickson says. Instead, we have a "five to 10 year window" to "completely transform the economy so that the worst side of the contraction can be reduced, so that we can protect those who are most vulnerable."
Read more: Can we consume less without wrecking the economy?
If that sounds ridiculously optimistic, recent weeks at least suggest that when a crisis is deemed urgent enough, the world can act big and fast.
"If we truly treat climate as an emergency, as we are treating this pandemic as an emergency, we have to have a similar level of international coordination," Erickson says, starting with rapid scaling-back of fossil fuel investments.
A taste of future crises
Transmitting person-to-person and sending economic tremors across six continents, coronavirus has highlighted how closely interconnected our global community is. The ripple effect through supply chains also reveals our collective responsibility for emissions, as China's factories supply businesses and consumers in the West.
Read more: Will COVID-19 exacerbate drugs shortage in Germany?
Neglecting that responsibility could mean crashes and crises far more painful than anything we've seen yet.
Japan is among the countries that could be hard hit by the economic fallout from coronavirus
With a global death toll of over 3,000, COVID-19 still appears far less deadly than fossil fuels, which, according to a recent study that Myllyvirta co-authored for Greenpeace, are responsible for 4.5 million air pollution-related deaths each year, aside from climate impacts. But scientists warn that warmer, wetter conditions are increasing the probability of such outbreaks. No one knows how deadly the next one might be.
Read more: Climate change has become a health emergency
"This is an opportunity to talk about planned economic stabilization, and talk about planned degrowth," Erickson says. "The economy will contract, it will hit limits, it will crash, it will collapse on its own. That's going to hurt the most."
Catastrophes triggered by warming oceans A California day at the South Pole In Antarctica, scientists measured temperatures on par with Los Angeles. In February, a record 18.3 degrees Celsius (64.9 degrees Fahrenheit) was measured at the Argentinean research station Esperanza Base in the north Antarctic. This was the highest temperature since measurements began there, according to NASA. The warm weather led to quickly developing melt ponds (pictured right).
'Panic and fear are as contagious as this virus. And they'll kill even more people': A powerful plea from KAROL SIKORA, one of Britain's most distinguished doctors
By Karol Sikora For The Mail On Sunday
Published: 02:05, 15 March 2020 | Updated: 08:35, 15 March 2020
The Perfect Storm stars George Clooney as an intrepid fisherman who navigates his boat through a storm of deadly ferocity – a freakish confluence of weather fronts, gales and vast tides that defy all attempts at prediction, let alone control.
Today, our healthcare system is in the same perilous position as Clooney's fragile boat in that film.
The coronavirus is highly contagious and, fanned by global connectivity, is infecting huge numbers of people.
It is fair to say that the outlook is bleak and that the risk to human life is serious. Yet the situation is not desperate.
We cannot allow attention to be diverted from already vulnerable patients because it seems politically expedient to prioritise the coronavirus. Then there is the temptation to take steps that might do more harm than good, writes Professor Karol Sikora
In fact, if we all behave sensibly, I believe the crisis will have passed by the end of June when, relieved it's over, we might even be surprised at how quickly the virus seemed to melt away.
For this to happen, though, we must avoid another deadly force – and that is panic.
Because by over-reacting and distorting our priorities, we can do harm to the thousands of people already dependent on the health service, those whose chances of survival would be compromised or destroyed if their treatment were to be disrupted. This is why I support the steady approach taken by our Government so far.
Some suggest we should have taken drastic action early on – that schools should be closed, that borders should be shut, that we should all be confined indoors. But after a lifetime in medicine, I've seen many crises come and go and I know that wrong-headed intervention can cause as much damage as the problems it is supposed to cure.
Let me be blunt: if we rush to 'act' for the sake of being seen to act, we are certain to condemn vulnerable people to a premature death.
This is not to underestimate the gravity of the situation.
While for most people, this will be a minor illness – no worse than a bad cold – there will be many others for whom it is serious.
Coronavirus is a tiny, streamlined machine, which engulfs the cells deep in the tiny air sacs of the lung, hijacks their command and control mechanisms, kills them and spews out more infectious virus. Different people respond in different ways.
The Perfect Storm stars George Clooney as an intrepid fisherman who navigates his boat through a storm of deadly ferocity – a freakish confluence of weather fronts, gales and vast tides that defy all attempts at prediction, let alone control
Some, particularly those with lung or heart issues, will become breathless. Some might also get secondary pneumonia and go on to develop multiple organ failure in the kidneys, liver and brain.
Yet others seem to be hardly affected. So far, only about one in 20 of those infected require some sort of medical support, with the rest recovering after a few days.
We've had a measured response in Britain and so far it has worked well. Emphasising self-isolation and social distancing, the official response has been a classic public health intervention aimed at delaying the rate of infection so that our health system is not overwhelmed.
Yet nobody can offer the assurances people really want, and the imagery from around the world is powerful: patients lying on trolleys; medical staff in cumbersome protective clothing; soldiers patrolling the streets; and legally enforced, profound changes to the lives of whole populations.
Fear, too, is contagious, however, and there is a danger that by talking up the crisis, our healthcare systems become inundated to the point of collapse.
How, for example, should we protect the routine care of patients with cancer and cardiac diseases – twin scourges of the 21st Century?
The NHS has always worked at capacity, with six-month waits frequent over winter, which is why we often see delays and rationing.
We cannot allow attention to be diverted from already vulnerable patients because it seems politically expedient to prioritise the coronavirus.
In fact, if we all behave sensibly, I believe the crisis will have passed by the end of June when, relieved it's over, we might even be surprised at how quickly the virus seemed to melt away. Empty shelves are pictured above at an Asda store
Comment British Cases have risesn from 48 to 281, while media offers no analysis of patient socio economic ethnic background. There is no official explanation as to why this less lethal virus is so feared- more than the deadly bigger killer, flu.
There is no talk of ending free movement or reviewing the global economy, which if this virus is not a military weapon dumped in China, has to be the main issue.
If it is a result of British and U.S meddling in China, then we are in the hands of money grabbing lunatics who are worse and more murderous than I thought they were . I am currently shut out of my comment page becauase if what I have been publishing. Robert Cook.
Killing and Culling the Masses by fear, not guns March 21st 2020
The Coronavirus 5G Connection and Coverup
Makia Freeman 19 February 2020
The China Coronavirus 5G Connection
is a very important factor when trying to comprehend the coronavirus (formerly abbreviated 2019-nCoV, now COVID-19) outbreak. Various independent researchers around the web, for around 2-3 weeks now, have highlighted the coronavirus-5G link despite the fact that Google (as the self-appointed NWO Censor-in-Chief) is doing its best to hide and scrub all search results showing the connection. The coronavirus 5G connection doesn't mean the bioweapons connection is false (it's not a case of either-or), but rather broadens the scope of the entire event. Wuhan was one of the test cities chosen for China 5G rollout; 5G went live there on October 31st, 2019, almost exactly 2 months before the coronavirus outbreak began. Meanwhile, many scientific documents on the health effects of 5G have verified that it causes flu-like symptoms. This article reveals the various connections behind the coronavirus phenomenon, including how 5G can exacerbate or cause the kind of illness you are attributing to the new virus. The rabbit hole is deep so let's take a dive.


5G – A Type of Directed Energy Weapon
For the deeper background to 5G, read my 2017 article 5G and IoT: Total Technological Control Grid Being Rolled Out Fast. Many people around the world, including concerned citizens, scientist and even governmental officials, are becoming aware of the danger of 5G. This is why it has already been banned in many places worldwide, such as Brussels, the Netherlands and parts of Switzerland, Ireland, Italy, Germany, the UK, the USA and Australia. After all, 5G is not just the next generation of mobile connectivity after 4G; it is a radical and entirely new type of technology – a military technology used on the battlefield that is now being 'deployed' (military term) in the civilian realm. It is phased array weaponry being sold and disguised as primarily a communications system when the frequency bands it uses (24GHz – 100+GHz including MMW [millimeter waves]) are the very same ones used in Active Denial Systems, i.e. crowd control. Even mainstream Wikipedia describes Active Denial Systems as directed energy weaponry; it disperses crowds by firing energy at them, causing immediate and intense pain, including a sensation of the skin burning. Remember, directed energy weapons (DEW) are behind the fall of the Twin Towers on 9/11 and the fake Californian 'wildfires'.



Symptoms of EMF microwave illness. Credit: MicrowavedVets.com


Numerous scientists have warned of the dangerous health effects of 5G. For instance, in this 5G Appeal from 2017 entitled Scientists and Doctors Warn of Potential Serious Health Effects of 5G, scientists warned of the harmful of non-ionizing RF/EMF radiation:

"Effects include increased cancer risk, cellular stress, increase in harmful free radicals, genetic damages, structural and functional changes of the reproductive system, learning and memory deficits, neurological disorders, and negative impacts on general wellbeing in humans. Damage goes well beyond the human race, as there is growing evidence of harmful effects to both plants and animals."
If you listen to Mark Steele and Barrie Trower, you'll get an idea of the horrifying effects of 5G. In this interview, Trower echoes the above quote by stating how 5G damages the immune system of trees and kills insects. He reveals how in 1977, 5G was tested on animals in hopes of finding a weapon. The results were severe demyelination – stripping the protective sheath of nerve cells. Some nations are now noticing a 90% loss of insects (including pollinating insects like bees) which congregate around lamp-posts where 5G is installed.

Wuhan Military Games and Event 201 Simulation
If you dig deep enough, some disturbing connections arise between 5G and the men who have developed or are developing vaccines for novel viruses like ebola, zika and the new coronavirus COVID-19. In a fantastic piece of research, an author under the pen name of Annie Logical wrote the article Corona Virus Fakery And The Link To 5G Testing that lays out the coronavirus 5G connection. There is a ton of information, so I will break it all down to make it more understandable.
From October 18-27th 2019, Wuhan hosted the Military World Games and specifically used 5G (for the first time ever) for the event. Also on October 18th, 2019 in New York, the Johns Hopkins Center in partnership with World Economic Forum (WEF) and the Bill and Melinda Gates Foundation hosted Event 201 – "A Global Pandemic Exercise" which is a simulation of a pandemic. Guess what virus they happen to choose for their 'simulation'? A coronavirus! Guess what animal cells they use? Pig cells! (COVID-19 was initially reported to be derived from a seafood market, and the fish there are known to be fed on pig waste). Event 201 includes the UN (since the WEF now has a partnership agreement with UN), Big Pharma (Johnson and Johnson), Bill Gates (key figure in pushing vaccines, human microchipping and Agenda 2030) and both China and America's CDC. Participants in Event 201 recommended that governments force social media companies to stop the spread of 'fake news' and that ultimately the only way to control the information would be for the WHO (World Health Organization, part of the UN) to be the sole central purveyor of information during a pandemic.

Inovio, Electroporation and 5G
As reported on January 24th, 2020, US biotech and pharmaceutical company Inovio received a $9 million grant to develop a vaccine for the coronavirus. Inovio got the money grant from the Coalition for Epidemic Preparedness Innovations (CEPI), however they already have an existing partnership with CEPI; in April 2018 they got up to $56 million to develop vaccines for Lassa Fever and Middle East Respiratory Syndrome (MERS). CEPI was founded in Davos by the governments of Norway and India, the Wellcome Trust … and the participants of Event 201: the Bill and Melinda Gates Foundation and the WEF. CEPI's CEO is the former director of BARDA (US Biomedical Advanced Research and Development Authority) which is part of the HHS. Inovio claimed they developed a coronavirus vaccine in 2 hours! On the face of it such a claim is absurd; what is more likely is that they are lying or that they already had the vaccine because they had the foreknowledge that the coronavirus was coming and was about to be unleashed.

So who owns and runs Inovio? Two key men are David Weiner and Dr. Joseph Kim. Weiner was once Kim's university professor. Weiner was involved with developing a vaccine for HIV and zika (you can read my articles about zika here and here where I exposed some of the lies surrounding that epidemic). Kim was funded by Merck (a large Big Pharma company) and produced something called Porcine Circovirus (PCV 1 and PCV 2). As mentioned above, there is a link between pig vaccines/pig DNA and the coronavirus; Annie Logical notes that it "has long been established that seafood in the area is fed on pig waste." Kim served a 5-year tenure as a member of the WEF's Global Agenda Council – yet another organ pushing the New World Order One World Government under the banner of Agenda 2030 Global Governance.

Weiner is an employee and advisor to the FDA, is considered a DNA technology expert and pioneered a new DNA transference method called electroporation – a microbiology technique which uses an electrical pulse to create temporary pores in cell membranes through which substances like chemicals, drugs or DNA can be introduced into the cell. This technique can be used to administer DNA vaccines, which inject foreign DNA into a host's cells that changes the host's DNA. This means if you take a DNA vaccine, you are allowing your DNA to be changed! As if vaccines weren't already horrific enough … but here's the kicker: electroporation uses pulsed waves. Guess what else uses pulsed waves? 5G! This is either a startling coincidence or evidence or a sinister coronavirus 5G-connection. Annie writes:

"[T]he same action that 5G technology uses in pulsed waves and the coronavirus was reported to have started in an area in China that had rolled out 5G technology! So we can see how geneticists using scientists are tampering with the building blocks of our existence and what is disturbing is that Prof Wiener is a HIV pioneer and we know that soon after the Polio vaccines were given to millions in Africa that HIV emerged.They have perfected the art of injecting animal or bird DNA into human chromosomes which alters our DNA and causes things like haemorrhaging, fever, cancers and even death."
Speaking of HIV (which is not the same things as AIDS, but that is another story), remember also that a group of Indian scientists put out their research that the virus was manmade and had HIV inserts. They found that 4 separate HIV genes were randomly embedded within the coronavirus. These genes somehow converged to create receptor sites on the virus that were identical to HIV, which was a surprise due to their random placement. They also specifically stated that this was not likely to happen naturally ("unlikely to be fortuitous in nature"). In yet another example of egregious censorship, these scientists were pressured to withdraw their work.

5G and Electroporation DNA Vaccines – Both Producing Pulsed EMF Waves
Consider the implications of this for a moment. The technology exists to use EMFs to open your very skin pores and inject foreign DNA into your bloodstream and cells. This is an extreme violation of your bodily sovereignty, and it can have long-term effects, because of genetic mutation – changing your very DNA which is the biological blueprint and physical essence of who you are.

What if 5G mimics electroporation? What if 5G can do on a large scale what electroporation does on a small scale? We already know that 5G has the potential to be mutagenic (DNA-damaging). The frequencies that 5G uses, especially 75-100GHz, interact with the geometrical structure of our skin and sweat ducts, acting upon them like a transmission reaching an antenna, and fundamentally affecting us and our mood.

What if 5G is being used to open up the skin of those in Wuhan so as to allow the new bioweapon coronavirus to infiltrate more easily?

Mandatory Vaccines, Depopulation and Transhumanism
So, what's at the bottom of the coronavirus-5G connection rabbit hole? I would suggest we find mandatory vaccine agenda, the depopulation agenda and transhumanist agenda (via DNA vaccines). The key figures and groups who appear to have planned this already have the vaccine in place, just as they did for the other epidemics that fizzled out (SARS, ebola and zika). Weiner even has links to HIV/AIDS, and if you dive into that as Jon Rappoport did, you find gaping holes in that story.

It's the same epidemic/pandemic game played out every 2-3 years. There's a couple of versions. In the first version, you invent a virus, hype it up, get people scared, do ineffectual and inconclusive tests (e.g. like the PCR test which measures if a viral fragment is present but doesn't tell you the quantities of whether it would actually causing the disease), inflate the body count, justify quarantine/martial law and brainwash people into thinking they have to buy the (toxic) vaccine and introduce mandatory vaccination. You don't even need a real virus or pathogen for the version. In the second version, you create a virus as a bioweapon, release it as a test, pretend it was a natural mutation, watch how many people it kills (which helps with the eugenics and depopulation agendas), again justify martial law, again justify the need for mandatory vaccines and even pose as the savior with the vaccine that stops it. As a variation on this second version, you can even develop a race-specific bioweapon so as to reduce the population of rival nations or enemy races as a geopolitical strategy. This article suggests that the coronavirus targets Chinese people/Asians more than others, and certainly the official death count attests to that, although it's always hard to trust governmental statistics. Annie Logical gives her take:

"The con job goes like this.
Step 1) poison the population purposely to create disease that does not and would never occur naturally
Step 2) parlay the purposely created disease as being caused by something invisible, outside the realm of control or knowledge of the average person
Step 3) create a toxic vaccine or medication that was always intended to further poison the population into an early grave
Step 4) parlay the vaccine or medication poisoning as PROOF the disease, which never existed, is much worse than anticipated
Step 5) increase the initial poisoning, which is marketed as a fake disease, and also increase the vaccine and medication poisoning, to start piling the bodies into the stratosphere
Step 6) repeat as many times as possible upon an uninformed population because killing a population this way (the art of having people line up to kill themselves with poison……known as a "soft kill" method) is the only legal way to make sure such eugenic operations can be executed on mass and in plain sight."
DNA vaccines are a disturbing new advancement for transhumanism. After all, the objective of the transhumanist agenda is to merge man with machine, and in doing so, wipe out what fundamentally makes us human, so we can be controlled and overtaken by a deeply sinister and negative force. It's all about changing us at the fundamental level, or attacking human sovereignty itself. DNA vaccines fit right in with that – literally changing your DNA by forcefully inserting foreign DNA to change your genetics, with consequences no one could possibly fully foresee and predict.

One Last Coronavirus-5G Connection
Finally, I will finish with another coronavirus-5G connection. The word coronavirus itself refers to many kinds of viruses by that name, not just COVID-19. Guess who owns a patent for a coronavirus strain that can be used to develop a vaccine? The Pirbright Institute. And guess who partially owns them? Bill Gates! As yoiu can read here Pirbright is being supported in their vaccine developement endeavors by a British company Innovate UK … who also funds and supports the rollout of 5G. Innovate UK ran a competition in 2018 with a £15 million share out to any small business that could produce vaccines for 'epidemic' potential.

The Motivation to Hype and the Motivation to Downplay
History has shown that in cases of epidemics (or fake epidemics) there is almost always a morass of conflicting reports and contradictory information. In such situations, it can be very difficult to get to the bottom of the matter and find the truth. The conflict stems from the different motivations of nations, governments and other interested groups. Essentially, there are 2 main motivations: the motivation to hype (exaggerate and use fear to grab attention, sell something, make a group look bad/incompetent, make people scared, make the public accept mandatory vaccination and martial law) and the motivation to downplay (cover up and hide the true extent of the damage, morbidity or mortality so as to appear competent and in control, to lessen possible anger, backlash or disorder). Sometimes, these 2 motivations may drive the behavior of the same group, e.g. in the case of the Chinese Government, it has the motivation to hype (to get people afraid so they easily follow its draconian quarantine rules) and the motivation to downplay (so as to appear in the eyes of its people and the rest of the entire world to have the situation under control, to ensure saving face, credibility and a good reputation).

Final Thoughts on the Coronavirus 5G Connection
Governments around the world have experimented with bioweapons both on their own citizens and foreign citizens, and even sold that research to other governments for their own benefit (e.g. Japan's notorious Unit 731 which developed bioweapons in China, only to hand over that research to the US after losing World War 2). See Bioweapons: Lyme Disease, Weaponized Ticks, Plum Island & More for a brief history of the USG's usage of weaponized ticks which resulted in Lyme Disease. The evidence that COVID-19 is a bioweapon is overwhelming – and so is the evidence that 5G is involved to either cause the flu-like symptoms/pneumonia people have been experiencing, and/or to exacerbate the virulity of the virus by weakening people's immune systems and subjecting them to pulsed waves of EMF to open up their skin to foreign DNA fragments (including viruses).

In this kinds of story, there are no major coincidences – only connections and conspiracies waiting to be uncovered.

*****
Makia Freeman is the editor of alternative media / independent news site The Freedom Articles and senior researcher at ToolsForFreedom.com. Makia is on Steemit and FB.

Sources:

*
*https://thefreedomarticles.com/5g-iot-technological-control-grid/

*https://smombiegate.org/list-of-cities-towns-councils-and-countries-that-have-banned-5g/

*https://thefreedomarticles.com/dew-laser-weapons-used-against-people/

*https://www.jrseco.com/wp-content/uploads/2017-09-13-Scientist-Appeal-5G-Moratorium.pdf

*
*https://www.vigiliae.org/virus-link-to-5g/

Insane Coronavirus Panic will kill more than the actual virus March 20th 2020.
California ordered nearly 40 million people to stay home and New York state on Friday told all non-essential workers to do the same while pleading for more medical personnel and supplies to treat coronavirus cases that could overwhelm hospitals.
"This is the most drastic action we can take," New York Governor Andrew Cuomo said at a news conference announcing he would issue an executive order to mandate that 100% of the non-essential workforce stay home and all non-essential businesses close.
"Remain indoors, go outside for solitary exercise," he said.
The order would be enforced with civil fines and mandatory closures for any businesses not in compliance, he said. Cuomo said it was not a "shelter in place" order and neither was California's.
New York has 7,102 confirmed cases, 2,950 of which are new. The hospitalization rate is 18%. Of the state's cases, 4,408 are in New York City, the most populous U.S. city with about 8.5 million people.
Cuomo pleaded for the manufacturing of ventilators and protective masks for an expected surge in cases.
"The ventilators are to this war what missiles were to World War Two," Cuomo said. He said the state would "pay a premium" to companies that could provide more personal protective equipment, gloves and masks, and he asked companies that might be capable of making these products to "get creative.
Editorial Comment On the face of it this is an extreme over reaction.. Equally likely is that is part of the British / U,S war on China They could have planted the virus,. .
The damage is building up, job losses, business failures and social unrest seem ineveitable, which is why troops are already on some streets. There are 20,000 at the ready in U,K, primed to go in hard. The police have powers to lock people up if they won't self isolate. Over 65s must stay of the streets, with pubs, restaurants forced to close for 12 weeks.
This is on top of so much other discontent -isoldiers are already on the streets of Paris. The elite have been driven by greed, protected by lies and failed through inate stupidity. Hubris and noblese oblige riddle their pampered mindset.
Italy extends coronavirus lockdown to entire country, imposing restrictions on 60 million Posted March 10th 2020
ROME —Prime Minister Giuseppe Conte said Monday that Italy would restrict freedom of movement on a scale unprecedented in a democracy, locking down the entire country — 60 million people — in an attempt to contain the accelerating coronavirus. Italy extends coronavirus lockdown to entire country, imposing restrictions on 60 million
The decision, announced in an evening address, indicates that Italian policymakers are convinced that hard-line measures offer the best chance to slow the virus. If Italy succeeds, a version of its tactics could be used in other countries where cases are multiplying, including across Europe, where cross-border movement is a cherished right for many citizens.
"We all must give something up for the sake of Italy," said Conte, adding that the country's health system was at risk.
Entering last weekend, Italy had imposed relatively minor restrictions on movement — quarantining 11 small towns near the epicenter of the outbreak with a total population of 50,000. The Italian government had also closed schools nationally. Then, early Sunday, Italy took its first drastic move against the virus, with Conte announcing a plan to lock down areas around the virus's epicenter in the north, with travel restrictions applying to 16 million people.

But with the latest moves, which will take effect Tuesday and remain in place until at least April 3, Italy is going far further, upending the last vestiges of normalcy, ensuring a bruising recession and testing the limits of what a democracy can do during peacetime.
Italy's hope is to cut off its citizens, no matter where they live, from most kinds of travel, including abroad and from one region in the country to another. Italians will be permitted to travel only for essential work, health reasons or other emergencies.
There were immediate questions about how stringently measures would be enforced, and over the last day in the north — where similar measures were already in place — people could still board planes and trains provided they had a signed declaration. Police and other law enforcement officials were checking passengers, and those without authorization to travel risked fines and prison time.
But Italians have begun to accept the steps that authorities and experts have urged: reducing their social lives and cutting out all but their essential tasks. Though the appreciation of the virus's gravity was slow to arrive, many Italians now feel they are facing their greatest crisis since World War II, and that weeks or months of social and economic disruption are necessary to reduce the disease's toll.
In recent days, the number of people falling ill has climbed rapidly, with active cases reaching nearly 8,000. In less than three weeks, 463 people have died. Italy has experienced a wider spread than any country except China.
Italy is the first country outside Asia to deal with a substantial coronavirus outbreak, but other countries — including Germany and the United States — also have registered a growing number of cases. Italy has become something of a laboratory for how a country can fight the virus and how all normal routine can collapse in a matter of weeks.

Eleven days ago, Italy had roughly 600 cases — same as the United States has now. Germany, France and Spain have all reported more than 1,000 cases.
"The contagion's gait in other [European] countries is similar to Italy's from a few days ago," said Ferruccio de Bortoli, the former editor in chief of the Corriere della Sera newspaper. "I think there should be a general alarm, an European awareness of facing an invisible enemy for which of course no treatment or vaccine exists as of yet."
Some virologists have said that, until a vaccine is created, the virus's spread can only be slowed through social isolation — by halting the daily patterns of seeing friends and taking trips. Though it is unclear why Italy so rapidly expanded its restriction zone, early data from the initial, small towns that Italy locked down was promising, showing that the measures did slow the virus's spread.
China, where the virus first erupted, succeeded in decelerating the virus on a far greater magnitude, after imposing rigid controls on 60 million people in Hubei province.
In Italy, the greatest resistance to controls has emerged in the form of prison riots. Protests about restrictions on visitors have led to at least one reported instance in which 20 inmates managed to escape. The restrictions — chiefly the suspension of visiting hours and drastically reduced time out of cells — were put in place as a way to reduce the danger of the virus spreading through Italy's overcrowded prison system.
Those restrictions were the "straw that broke the camel's back" in places with already-high tensions, said Gennarino De Fazio, a union leader for prison guards.
Follow the government's latest travel advice for people travelling back to the UK from affected areas, including whether to self-isolate. Don't go to the GP or hospital, stay indoors and call NHS 111. In parts of Wales where 111 isn't available, call NHS DIrect on 0845 46 47. In Northern Ireland, call your GP.
Despite China's claim that the coronavirus outbreak was traced back to a market in Wuhan that sold live animals, there have been rumblings that the disease escaped from a biology lab or was part of a biological warfare experiment. Republican Sen. Tom Cotton (Ark.) has perhaps been the loudest voice parroting this theory. Ditch the fake news ==> Click here to get news you can trust sent right to your inbox. It's free!
Now, a new report in the New York Post points to evidence that suggests Cotton's theory may be more fact than fiction.
According to the Post, after Chinese President Xi Jinping recently warned about the need to prevent similar viral outbreaks in the future, the Chinese Ministry of Science and Technology released a new document, titled, "Instructions on strengthening biosecurity management in microbiology labs that handle advanced viruses like the novel coronavirus."
Additionally, there is only one microbiology lab in the China capable of handling the deadly coronavirus: the National Biosafety Laboratory, which is part of the Wuhan Institute of Virology.
That means the only Chinese lab capable of safely handling the disease is located in the outbreak's epicenter.
But that's not all, according to the Post.
The fact that China's top biological warfare expert, Maj. Gen. Chen Wei, was dispatched last month to accelerate containment efforts also suggest the outbreak's origin is more nefarious than the Chinese government has admitted.
The evidence points to SARS-CoV-2 research being carried out at the Wuhan Institute of Virology. The virus may have been carried out of the lab by an infected worker or crossed over into humans when they unknowingly dined on a lab animal. Whatever the vector, Beijing authorities are now clearly scrambling to correct the serious problems with the way their labs handle deadly pathogens.
In fact, Cotton has not been coy about his belief that China is being dishonest. Last Friday, the Arkansas senator said the Chinese government is "lying to the world about this deadly matter."
The potential for global pandemic still remains high, as the coronavirus has now infected a significant number of people in Italy, opening the door for a European outbreak.
Bone China Valuable But Easily Broken Posted February 25th 2020
China will step up policy adjustments to help cushion the blow to the economy from a coronavirus outbreak that authorities are still trying to control, President Xi Jinping was quoted as saying on Sunday.
Chinese policymakers have rolled out a raft of measures to support an economy jolted by the virus, which is expected to have a devastating impact on first-quarter growth.
The situation is showing a positive trend after arduous efforts but there is no room for "weariness and relaxed mentality" among officials, state television quoted the president as saying.
"At present, the epidemic situation is still severe and complex, and prevention and control work is in the most difficult and critical stage," Xi said.
"The outbreak of novel coronavirus pneumonia will inevitably have a relatively big impact on the economy and society," Xi said, adding that the impact would be short-term and controllable.
The outbreak, which has infected nearly 77,000 people and killed more than 2,400 in China, is one of the most serious public health crises to confront Chinese leaders in decades.
"For us, this is a crisis and is also a big test," Xi said.
China's economic growth may show a sharp slowdown in the first quarter, probably dipping to 3% or even lower from 6% in the previous quarter – which was the weakest pace in nearly 30 years, economists estimated.
Some forecasters also say there is a growing risk the economy could contract in the first quarter from the previous three months, as factories have been slower than expected to resume production due to shortages of staff and raw materials.
Low-risk provinces should focus on restoring work and production in an all-round way, provinces with medium-level risks should aim for an orderly work resumption, while high-risk regions should focus on epidemic controls, Xi said.
He highlighted the importance of fighting the epidemic in the capital Beijing, which has recently required people arriving from elsewhere in China to be quarantined at home for 14 days.
"The safety and stability of the capital is directly related to the overall work of the party and the state," Xi said.
The government would step up policy support to help achieve economic and social development targets for 2020, Xi said.
China would maintain a prudent monetary policy and roll out new policy steps in a timely way, he said, adding the government would also study and roll out phased tax cuts to help tide small firms over difficulties.
The government would also take steps to support flexible employment and help college graduates to find jobs, Xi added.
Editorial Comment This is the age of World War Three, so anything is possible, including the West releasing the virus in China and elsewhere, to blame China and undermine her. Our elite do not care about us underlings and minions.
In the last analysis Capitalism treats minions no better than communism does. Its lackeys and historians rewrite the past, glorifyiung war. Comunism has never really had a chance. Trump started a trade war. Globalisaton was only meant to benefit an elite. Polly Sexual
Mass Shooting Latest Februuary 7th 2020
The gunman, who later shot himself and his mother, has been identified as a member of a far right group. The authorities have published a list of previous far right atrocities, but omitted the historic Islamist incidents for the sake of race relations in multi cultural Germany.
The rise of the Far Right AFD is causing much concern, with unrest among the lower classes across Europe.
Britain's surveillance methods, expperience dating back to its' Empire, policing, controls, laws and monitoring are secoind to none, so they are doing their very best to help European Governments counter the far right which is considered a bigger risk to the planned new social order than Islamic terrorists.
Mass Shooting In Germany Posted February 20th 2020
At least 11 people have been killed and others seriously injured after two shootings at shisha bars in the German town of Hanau, according to local police.
Nine people died in the attacks on the two bars at around 10pm on Wednesday night, police said.
A huge hunt was launched for the perpetrators involving dozens of armed police and a helicopter hovering above the commuter town 25km east of Frankfurt.

Police then tweeted at around 5am local time that special police force officers had stormed the home of the alleged suspect and found him dead along with another body.

"One of the dead people is most likely the culprit," police said in a statement. "There are currently no indications of other perpetrators. Investigations into the identity of the victims and the suspected perpetrator are ongoing."
Local police initially said that five people had been seriously injured, but later confirmed that eight people were "fatally wounded" in shootings at around 10pm local time and a major operation had been launched.

According to local media, eight or nine shots were fired at the Midnight shisha bar on Heumarkt in the centre of the town.
A dark vehicle was seen leaving the scene. Soon afterwards, shots were fired at a second shisha bar – the Arena Bar & Café in Kurt-Schumacher-Platzin the western Kesselstadt district.
Police initially said eight people had died but later updated the figure to say that nine had been killed in the two attacks.
At least five people were believed very seriously injured in the attacks. It was not clear whether the ninth fatality was one of those injured earlier.

Initial reports of a third incident in the district of Lamboy were denied by police.
Police said on Wednesday night they had no confirmed information on the background of the two attacks and appealed for witnesses to come forward. There was no detail about the possible motive.
Hanau's federal MP, Katja Leikert, called the attack a "horrific scenario" in a tweet in which she offered her "heartfelt condolences" to the victims.
The mayor of the town, Claus Kaminsky, said it was the "worst evening imaginable".
Hanau, which sits in southwestern Germany, about 20 km (12 miles) east of Frankfurt, has a population of about 100,000.
Reports of the shooting come just days after one person was shot dead and four more were injured outside a Berlin music venue. The shooting in the German capital occurred last Friday near the Tempodrome, which was hosting a Turkish comedy show on the night. The motives behind the Berlin attack have remained unclear.
LIES ARE US – Britain and World War Three Posted February 18th 2020
At least 11 people have been killed and others seriously injured after two shootings at shisha bars in the German town of Hanau, according to local police.
Nine people died in the attacks on the two bars at around 10pm on Wednesday night, police said.
A huge hunt was launched for the perpetrators involving dozens of armed police and a helicopter hovering above the commuter town 25km east of Frankfurt.

Police then tweeted at around 5am local time that special police force officers had stormed the home of the alleged suspect and found him dead along with another body.

"One of the dead people is most likely the culprit," police said in a statement. "There are currently no indications of other perpetrators. Investigations into the identity of the victims and the suspected perpetrator are ongoing."
A senior OPCW ( Organisation for Prevention of Chemical Warfare ) has voiced alarm at an atmosphere of bullying and intimidation. Britain's elite officialdom has been accused, along with its U.S offspring, of politicising the OPCW as part of its anti Russian and anti Assad policies.
These two countries, with Macron tagging along behind, support a no holds barred strategy toward keeping Syria at war until the leigitimate government is destroyed, the oil is secure and Israel is happy.
It does not matter to these comfortable protected people how many lies are told, how many incidents are faked, how many cover ups ( hence the Anglo U.S determination to destroy Julian Assange and Chelsea Manning, along with Wikileaks ).
Britain and Germany pioneered chemical weapons during World War One, and Britain has never looked back Its ruling elite are effortlessly ruthless, which Hitler learned to his cost.
They are also effortlessly hypocritical, manipulative and dishonest, which some of us lower orders have learned to our cost. The indispensable elite BBC, as part of this UK plc enterprise, is fighting efforts toward reform because they argue they are of great value to Britain and the New World Order.
Their idea of equality is to have their Oxbridge educated posh men and women staff paid equally too much at the tax and licence payers expense. Having all that money puts them way over our heads, enabling them to patronise and pontificate to their heart 's content. Robert Cook
Another British and US Attack on Russia, MSN Report below insists Syria, backed by Russia, used chemical weapons on Idlip. February 8th 2020
The independent inquiry commissioned by the Organisation for the Prohibition of Chemical Weapons (OPCW) shows that one of the two had never been on the team investigating the April 2018 attack in Douma and the other was only on the team for a brief period.
Both individuals, referred to in the report as Inspector A and B, may face legal action.
More than 40 people were killed on 7 April 2018 in the town of Douma on the outskirts of Damascus. The town was at the time held by rebels but besieged by pro-government forces. Civilians claimed they were the victims of a chemical weapon attack.
The assault prompted reprisal missile strikes on Syrian government targets by the US, Britain and France a week later, one of the few direct strikes on Syrian government assets in the nine-year civil war.
Russia immediately launched a campaign, including bringing witnesses from Syria to the OPCW headquarters in the Hague to challenge the claim that chemical weapons were used.
The charge that Russia permits, or covers up the Syrian president, Bashir al-Assad's use of chemical weapons on Syrian civilians, is one of the most bitter flashpoints between Russia and the west.
Following the US strike, the OPCW set up a fact-finding mission to decide whether chemical weapons had been used, but not to attribute responsibility. It ruled in March 2019 that a banned toxic chemical containing chlorine was likely to have been used in Douma. The fact that chemical weapons were delivered through airstrikes effectively meant the OPCW believed the Syrian air force was responsible.
Internal OPCW reports questioning whether chemical weapons had been used leaked last May, raising questions about manipulation of the OPCW by the west.
But an OPCW inquiry into those leaks published on Thursday found the authors of the internal reports only had a minor supporting role in the Douma team.
The OPCW chief Fernando Arias told OPCW states in comments published on Thursday that the two individuals were "not whistleblowers". He said: "They are individuals who could not accept that their views were not backed by evidence." He added that the two men breached their obligations to the organisation, saying their behaviour was even more egregious since they had manifestly incomplete information on the investigation.
The official inquiry said: "Inspector A did not have access to all the documents, witness interviews, laboratory tests and analyses by independent experts." It said he never wrote an official OPCW report, and only wrote a personal document created with incomplete information.
It added: "Inspector B was by contrast on the fact-finding mission and did travel to Damascus in April, but never left the command post because he had not completed the necessary training required to be deployed on-site in Douma. He left the OPCW in August, but continued to approach staff members in an effort to have continued access to and influence over the Douma incident. The majority of the fact-finding team's work was carried out after he left the organisation."
The two whistleblowers declined to take part in the investigation that met instead with 29 witnesses between July 2019 and this month.
Some have criticised the OPCW for being so slow to challenge the validity of the leaks, so ceding the ground to those who believe the west and its intelligence agencies fabricate evidence of chemical weapons use to discredit Assad.
Tobias Schneider, a Syria analyst, said: "I thought the organisation was slow and reactive in their initial response to the leaks, ceding the field and allowing the narrative to spin out of control. This is not surprising. The OPCW secretariat is very careful to avoid anything that might be viewed as 'politicising' what they see as their 'technical' work. Obviously, not all signatory states see eye to eye on this issue. So they [the secretariat] fell back on the independent investigation as a procedural tool.
"The final report of that investigation, as well as the remarks of the director general himself, I think were extraordinarily and unexpectedly forceful and direct.
"My sense is that the DG and the secretariat realised that this disinformation campaign represented a direct assault not only on the organisation (and thus the convention it is meant to uphold) but also on the professionalism and reputations of those that serve in their ranks, oftentimes in extremely difficult circumstances."
Editorial Comment The British and U.S dominated OPCW report was used to justify almost immediate evidence destroying raids on Idlip. Anything these people say through mainstream elite media now should be taken with a 'pinch of salt.'
It is obvious to anyone with a brain that the Anglo U.S (Brmerican ) elite alliance wants Assad out at any cost, thus asserting their strategic control, especially of Oil and Israeli interest.
The Western elite provoked global terrorism for their global interests. Now in Britain they use it as an excuse for 50,000 more police to watch and report on us all.
When that same puffed up pompus lying western smug self righteous money grabbing condescending elite kill and maim, it is called collateral damage.
The ongoing persecution of Julian Assange and Chelsea Manning for revealing British and U.S war crimes says it all about these vile hypocrits who make billions from wars in the name of ' democracy ' (sic )
Robert Cook
A Chinese doctor who tried to issue the first warning about the deadly coronavirus outbreak has died, the hospital treating him has said. February 7th 2020
A Chinese doctor who tried to issue the first warning about the deadly coronavirus outbreak has died, the hospital treating him has said.
Li Wenliang contracted the virus while working at Wuhan Central Hospital.
He had sent out a warning to fellow medics on 30 December but police told him to stop "making false comments".
There had been contradictory reports about his death, but the People's Daily now says he died at 02:58 on Friday (18:58 GMT Thursday).
The virus has killed 636 people and infected 31,161 in mainland China, the National Health Commission's latest figures show.
The death toll includes 73 new deaths reported on Thursday.
The virus causes severe acute respiratory infection and symptoms usually start with a fever, followed by a dry cough.
Coronavirus Latest January 30th 2020
The death toll from the coronavirus outbreak has risen to 170, and a confirmed case in Tibet means it has reached every region in mainland China.
Chinese health authorities said there were 7,711 confirmed cases in the country as of 29 January.
Infections have also spread to at least 15 other countries.
The World Health Organization (WHO) will meet on Thursday to again consider whether the virus constitutes a global health emergency.
"In the last few days the progress of the virus, especially in some countries, especially human-to-human transmission, worries us," WHO Director-General Tedros Adhanom Ghebreyesus said on Wednesday.
Chinese authorities have stepped up their attempts to contain the spread of the coronavirus outbreak as one province and three cities – including Beijing – banned long-distance buses.
As the United States, France and Australia prepared to evacuate their citizens from Wuhan, the quarantined city at the outbreak's epicentre, drastic measures were being put in place to prevent China's population of 1.4 billion from moving around the country.
The eastern Shandong province, with a population of 100 million people, will suspend long-distance buses entering the province, state broadcaster CCTV reported, following the announcement of similar measures in the cities of Tianjin, Beijing and the historic Xi'an.
Inter-city buses in the province will only be allowed to leave if stations have temperature screening measures, CCTV said.
From 6pm (1000 GMT) on Sunday, Xi'an – home to the Terracotta Army – will suspend long-distance buses and tourist chartered buses entering the city of 10 million people, local officials said on the Twitter-like Weibo platform, following the announcement of similar measures in Tianjin and Beijing.
Editorial Comment The Corona Virus is a mutation of SARS, a severe respiratory infection. Densely populates areas in China and Britain are obviously concerned. Poverty, crowding and enforced lifestyles have always been factors in pandemics – hence EBOLA spreading like wildfire in Africa. Robert Cook
Social Media Watchdog excuse to watch messed up children January 2020
The government is setting up an independent regulator for online safety. And the Royal College of Psychiatrists wants it to require social-media companies to share anonymised data on how youngsters use the likes of Instagram, Facebook and Twitter. "Time for… decisive action to hold social-media companies to account for escalating harmful content to vulnerable children and young people," says report co-author Dr Bernadka Dubicka. Industry body Tech UK points to existing research partnerships, such as a project with the Samaritans to deepen understanding of how people engage with harmful content.
Can a city go carbon neutral to stop climate change?
Some councils in the UK have set a challenging target of reducing net carbon emissions to zero by 2020 in a bid to tackle climate change. Glasgow is among them and BBC News is reporting from the city throughout the day as part of the Our Planet Matters project.
Storm Gloria Hits Spain January 24th 2020
MADRID (Reuters) – Spain's government will hold an emergency meeting on Friday to deal with the impact of a storm that has caused heavy rains, powerful winds and huge waves, and killed at least 13 people.
Residents were left grappling with the wreckage of Storm Gloria, including collapsed bridges, damaged railway lines and entire beaches wiped away by waves.
Fire raining on beaches, red skies and a billion animals killed: the new Australian summer
Brigid Delaney 12 hrs ago
The following is an extract from the above referenced article.
It's the summer when what we thought of as the union between humans and the natural world seemed suddenly and irrevocably rent. The contract was nullified. The collapse appeared total at times. A billion animals died. Some species may never return.
It's the summer when climate change stopped being something we talked and argued about, an abstract thing to be debated. Instead it was the ash we breathed into our bodies, the devastation we saw with our eyes and pain felt in our hearts. When you feel it there, you can no longer deny it.
Some immigrants who had come for the "lifestyle" were similarly rethinking their choices, and talking of making the journey in reverse.
The good life in Australia wasn't looking so good any more.
For Australians, a collective grief emerged. We yearned for the past. All summer, we spoke of previous summers – long, dusky days and evenings at the beach, unbroken weeks of sunshine and clear water, skin browning, and the days and weeks merging like a hot, salty dream – as if they were scenes from another epoch, a lost idyll.
Editorial Comment Human's are a herd animal. The above piece shows self pity for a world of one upmanship and consumerism. Today the U.N announced that Europe must open the door to climate migrants. This flight from the underprivileged old THIRD World was predicted years ago. Those migrants will want what the natives have. They will NOT be mainly eco warriors. It is hard to have hope. Meanwhile there is virtual reality, TV and drugs- including alcohol.
Human Arrogance Posted January 23rd 2020
'Oh what a piece of work is man,
How noble in reason,
In thought and movement how express and admirable,
In apprehension how like a God..' William Shakespeare
There are now more than 400 known cases of the new virus that has spread to several Chinese provinces, as well as countries including the US, South Korea and Thailand. And Chinese authorities are warning that the coronavirus – which has killed nine people and has been confirmed as transmittable from person to person – could mutate and spread further
God is a big issue in modern appeasment divrsity guilt politics
God is a big issue in modern politics, so much for little Greta Thinberg ( sic ) and the science. God , if he. it or she was a scientist would not have such a long unhygienic beard, terrible hair and awful clothes- if bodies were not so naff and the weather was better we would not need clothes anyway – blame God please.. Also God's diction would not always be so loud and always in English. The whole religious thing is absurd. Man created God, not the other way around.
There is a new book out, which I have obviously read. It is about religion and 'Bloody Mary '.. It details how our present Queen's religious maniac murderous ancestor Mary Catholic retrovert Tudor burnt Protestants at Smithfield. Unrepentant Bishop of Worcester was 45 minutes in the fire before he lost consciousness. He took 4 hours to die, moaning all the time. much to the delight of vengefull watching Catholic weirdos.
During this period of Bishop Worcester dying, blood thirsty God fearers saw his mouth shrink, his eyelids burn off, eyes bulge and pop , heard him plea for mercy, then his arm fell off. All in the name of 'turn the other cheek' Jesus.
So forget God and envo religion, no hope there.
Bugs can kill us if we are overpopulated, which is what we are doing. Greta, shut up about carbon. Carbon is basic to life. You do not understand ' the science' You are a foolish egotistical puppet who would be a good fit for 'Thunderbirds' amd 'International Rescue'. You talk like one of them You walk like one of them. If you want to be grown up, accept criticism. You have no idea what you are talking about.
You are an idiot. Robert Cook
New Scramble For Africa Posted January 23rd 2020
Given recent developments in the global economy, especially Brexit and the Trump administration's "America First" policy, it is worth assessing how Africa's three largest commercial partners—China, the European Union, and the United States—are likely to impact the region in the near future as it relates to trade and investment trends.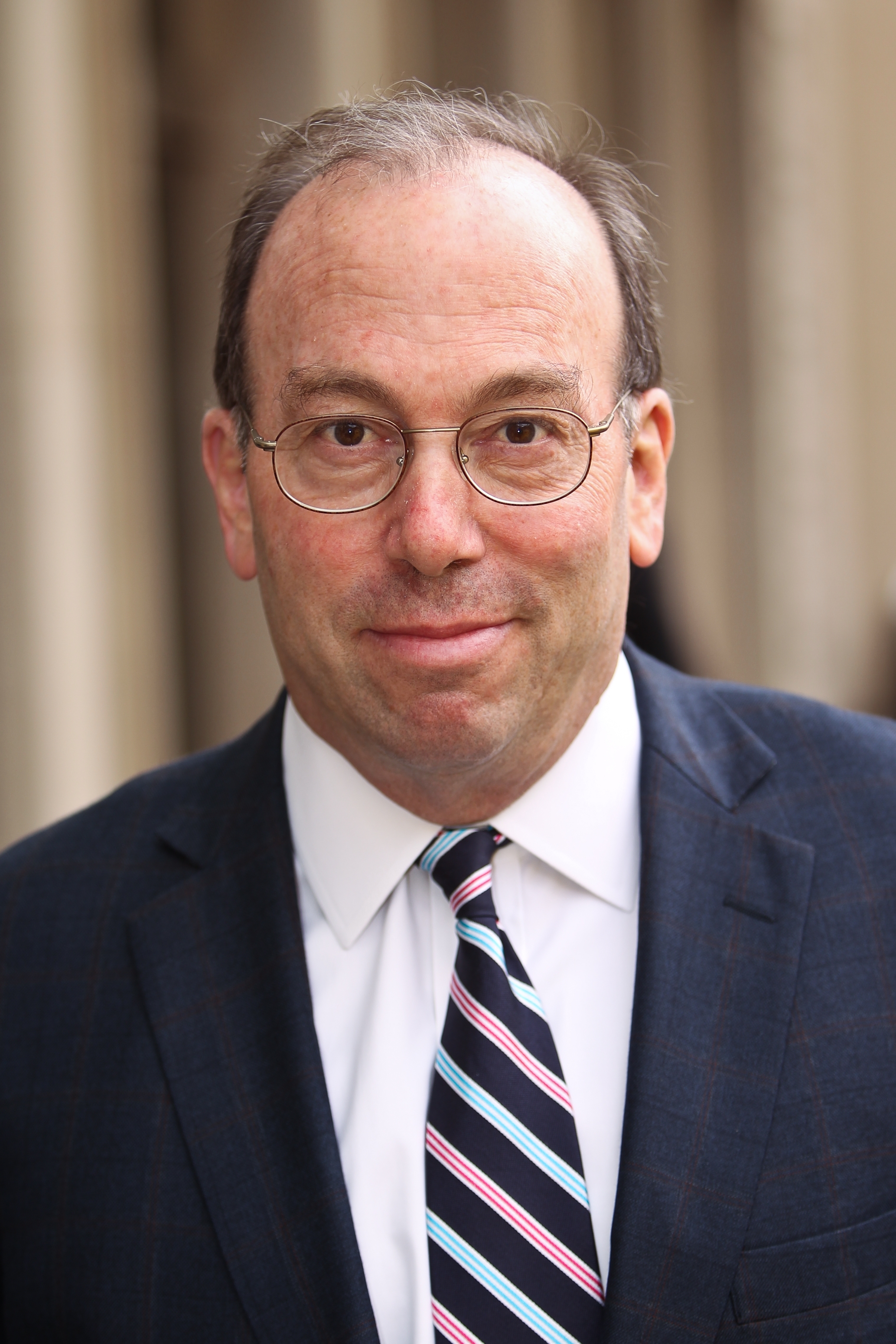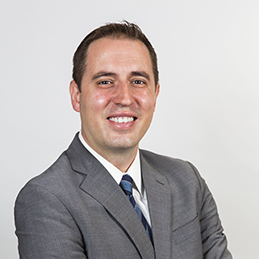 Former State Department official, served in Angola, Tanzania, Ghana, and South Africa
China – Leaping ahead
The China-in-Africa story may be increasingly familiar, but its complexity cannot be overstated. As China's domestic growth began to surge at the end of the last century, demand for natural resources and job creation forced China to look for markets abroad. Africa was a willing partner, due to its abundance of commodities and need for infrastructure development.
China's role on the African continent has been defined by the financing of more than 3,000, largely critical, infrastructure projects, according to the AidData Project. China has extended more than $86 billion in commercial loans to African governments and state-owned entities between 2000 and 2014, an average of about $6 billion a year. In 2015, at the sixth Forum on China-Africa Cooperation (FOCAC), President Xi Jinping pledged $60 billion in commercial loans to the region, which would increase lending to at least $20 billion a year if that pledge is fulfilled.
As a result, China has become the region's largest creditor, accounting for 14 percent of sub-Saharan Africa's total debt stock, according to Foresight Africa 2018. In Kenya, for example, the volume of Chinese loans to the government is six times larger than that of France, the country's second-largest creditor. The FOCAC that will be held in Beijing later this year is likely to continue this trend of extending commercial loans for infrastructure projects.
While China's level of foreign direct investment (FDI) is relatively low, accounting for just over 5 percent of total FDI inflows into the region in 2015, two-way trade has grown 40 times over the last 20 years and now exceeds $200 billion. More recently, there has been a surge in Chinese private investment combined with a continued, but more limited, state engagement. A 2017 McKinsey study reports that there are more than 10,000 Chinese-owned firms operating in Africa today, about a third of whom are involved in manufacturing. Notably, French academic Tierry Pairault points out that the overwhelming majority of these enterprises are small and micro businesses. McKinsey also reports that Chinese investment in Africa increasingly contributes to job creation, skills development, and the transfer of new technologies, practices more generally associated with Western business norms.
As China works to implement the Belt and Road Initiative, the largest public works program ever, the issue of China's commercial loans and the subsequent debt incurred by African governments is likely to increase as a public policy concern. There is room to limit the negative consequences of these loans: China should consider transitioning toward a blended financing model, based on Western and Chinese sources of financing, for its support of Africa's much-needed infrastructure projects. In addition, Africa would benefit if China were to more actively open tenders to international competition as opposed to tying commercial loans to the exclusive use of Chinese companies and materials on terms that are often opaque. A larger portion of grants, as opposed to a singular reliance on commercial loans, even at concessional rates, would be in Africa's interest.
The European Union – Building on historical advantages
While the history of colonialism continues to haunt the Europeans—see the viral video of President Akufo-Addo declaring his intent to free Ghana from aid while sharing a stage with French President Macron—when it comes to doing business, language, local knowledge, and historical connections matter.
The launch of the Africa-EU Strategic Partnership and the first-ever summit between the 27 members of the EU and the 54 nations of Africa in 2007 seem to have hit a reset of sorts in the two regions' relationship. Indeed, over the last decade, the EU has worked, with a large degree of success, to transition to a partnership model based on reciprocal trade. The fifth EU-Africa Summit took place in Abidjan in 2017 against a background in which two-way trade exceeds $300 billion. In association with the summit, the EU pledged to mobilize more than $54 billion in "sustainable" investment for Africa by 2020.
The EU is shoring up its commercial position in Africa through a web of free trade agreements, or Economic Partnership Agreements (EPAs), which Brussels is negotiating or has concluded with 40 African nations in sub-Saharan Africa. The EPAs provide European companies with preferential access to markets across the region and will liberalize about 80 percent of imports over 20 years. Progress on concluding the EPAs is not without its challenges. Not surprisingly, Nigeria contends that an EPA undermines its industrialization strategies, and Brexit detracts from the EU ability's to negotiate as a common market.
A comprehensive EU trade strategy combined with a private sector that has historic ties to local markets sets the stage for continued growth and influence by European firms in the African market. In addition, the EU is well positioned to share lessons learned from its decades of experience with regional economic integration as, especially as the Continental Free Trade Agreement was signed by most African Union members in Kigali on March 21.
The United States – Global brands, lagging support
Since 2000, U.S.-African commercial relations have been based on the African Growth and Opportunity Act (AGOA), a non-reciprocal trade agreement that grants about 40 countries duty-free access for approximately 6,400 products to the U.S.
AGOA has had a mixed legacy, given its goal of growing Africa's export markets rather than building two-way trade and investment partnerships. AGOA has helped integrate trade and investment into the U.S.-Africa policy dialogue and led to the creation of more than a million jobs, directly and indirectly, on the continent. However, only approximately 300 of the available product lines are utilized and a relatively small number of countries—principally South Africa, Lesotho, Kenya, Mauritius, and Ethiopia—have taken advantage of AGOA to establish a significant volume of non-oil exports to the U.S. At the same time, the EU's assertive free trade strategy and China's surge in trade and commercial loans have left the U.S. in need of a new commercial strategy.
In fact, the U.S. commercial engagement in Africa is waning: Over the last five years, U.S. exports to sub-Saharan Africa have averaged $19 billion. Two-way trade has fallen from a high of $100 billion in 2008 to $39 billion in 2017, largely due to U.S. energy self-sufficiency.
We Love Electric Cars But Please Do Not Build Them In Our Back Yard. Bad For Our Environment. Posted January 22nd 2020
Around 250 Germans on Saturday protested in the outskirts of Berlin where electric car startup Tesla is planning to build a gigafactory, saying its construction will endanger water supply and wildlife in the area.
The U.S. carmaker announced plans last November to build its first European car factory in Gruenheide, in the eastern state of Brandenburg.
Politicians, unions and industry groups have welcomed the move, saying it will bring jobs to the region, but environmental concerns drove hundreds of locals to the streets on Saturday.
"We are here, we are loud, because Tesla is stealing our water," protesters called.
Saturday's protest came after a Brandenburg water association on Thursday warned against "extensive and serious problems with the drinking water supply and wastewater disposal" for the proposed factory.
Anne Bach, a 27-year-old environmental activist, said Tesla's plans published earlier this month showed it would need more than 300 cubic meters of water per hour which would drain the area's declining reserves.
"I am not against Tesla … But it's about the site; in a forest area that is a protected wildlife zone. Is this necessary?" Bach said.
British Elite Excel at Cover Ups Posted January 22nd 2020
The Skripal story was suspicious from the get go. Originally sources said that Skripal's daughter was engaged to an FSB agent. This, like the rest of the story has been forgotten. She was in England visiting her father, a top Russian military man who had betrayed his country.
Allegedly the Russians sent agents to poison the Skripals withhyper deadly Novichok – which has also been made up the road from Salisbury at top secret Porton Down.
To back up the British version of events, two Russian 'agents' were filmed in the area before the crime. They said they came to see the Cathedral. How do we know that that they did not come to see Skripal and were possibly Skripal's handlers. After all, why did Putin release him for asylum in England ?.
As Putin said, if they wanted to kill the Skirpals they would have done it. Why do the British act so high and mighty??? They are capable of anything, as the rape subterfuge to extradite Julian Assange to the U.S who want to jail him for exposing Anglo British war crimes.
In the murky world of espionage and so called State security anything is possible. There is no right or wrong. Britain is expert in this field and associated hypocrisy. Clearly I could not fact check this story even if I wanted to.
So conspiracy theories abound and are inevitable. Thus, a local delivery driver told me there was something odd about the restaurant where the Skirpals had their last meal before falling ill. He said there was a secret room because he heard people talking from behind a wall while he was making deliveries. He added that all traces of the Skripal's house had been demod been demolished and removed.
There has been no update on this intrigue since the story below was written. Robert Cook
Where Are The Skripals? UK Government Blocks Press Reports
May 1, 2018 Niamh Harris News, UK
The British government alleged that the Skripals were poisoned by Novichok, a deadly nerve agent, and then blamed Russia for it.
While Yulia is now believed to be in a safe house, there have been no updates on Sergei or his condition since his daughter left the Salisbury District Hospital in early April. Have they been silenced?
Some say that the British media just had its attention diverted by recent world events, but others suggest something else is going on…..
Updates on the Skripal saga have simply dried up….why?
RT reports: A number of bloggers have spent months questioning the government's narrative on the Skripal attack. Among them is former UK Ambassador to Uzbekistan Craig Murray. Murray pointed out a tweet by Channel 4 journalist Alex Thomsen, who said the only "decisive public move by the authorities has been to censor MSM (mainstream media) via a D Notice… from identifying Mr Skripal's handler living nearby."
About the only decisive public move by the authorities has been to censor MSM via a D Notice last week from fully identifying Mr Skripal's MI6 handler living nearby…

— alex thomson (@alextomo) March 12, 2018
For those who may not know, a D-notice is a British government request that particular information is reported by the media on grounds of national security. The media does not have to agree, but almost always does.
Now, police and intelligence agencies have revealed that they have still to identify a suspect in the nerve agent attack in Salisbury. It's one thing for someone who supposedly poisoned an old man and his adult daughter with a chemical weapon in the middle of Britain's sleepy countryside, but another for them to then disappear into thin air in a country with more CCTV coverage than any other. And how can Britain point the finger so firmly in Russia's direction if they have exactly zero suspects?
Almost 2 months since #skripalpoisoning and now it emerges that there are no suspects. One of the largest police operations of recent times in one of the most watched [cctv] societies and nothing… #salisbury

— Rupert Evelyn (@rupertevelyn) May 1, 2018
So many questions, so few answers. Apparently frustrated with the lack of closure, many have taken to social media to raise their digital eyebrows about the lack of Skripal updates… and lack of suspects.
It is now 3 weeks since we last had any update on the condition of #sergeiskripal or his daughter #YuliaSkripal As Russia is keen to point out neither have been seen since the fell ill 2 months ago

— Rupert Evelyn (@rupertevelyn) May 1, 2018

None of that seems to matter though, as UK National Security Adviser Sir Mark Sedwill knocked down any hope that the police were closer to catching the bad guys who attacked the Skripals. Asked by an MP at a Commons defence committee hearing if they knew who the individuals responsible were, his response was simple: "Not yet."
Even though Sedwill lacks any suspects, he still insists that Russia is the UK's biggest threat.
Writer at Your News Wire
Virus danger to life, spreading fast. Posted January 22nd 2020
The number of people infected with a new Corona virus in China tripled over the weekend, with the outbreak spreading from Wuhan to other major cities.
There are now more than 200 cases, mostly in Wuhan, though the respiratory illness has also been detected in Beijing, Shanghai and Shenzhen.
Three people have died. Japan, Thailand and South Korea have reported cases.
The new strain of coronavirus, which causes a type of pneumonia, can pass from person to person, China confirmed.
Respiratory expert Zhong Nanshan, who heads the health commission team investigating the virus, said 14 medical workers had caught it while treating patients, state media reported.
The sharp rise comes as millions of Chinese prepare to travel for the Lunar New Year holidays.
Although the outbreak is believed to have originated from a market, officials and scientists are yet to determine exactly how it has been spreading.
The outbreak has revived memories of the Sars virus – also a coronavirus – that killed 774 people in the early 2000s across dozens of countries, mostly in Asia. Analysis of the genetic code of the new virus shows it is more closely related to Sars than any other human coronavirus.
Experts in the UK say the number infected could be higher than official figures suggest, with estimates closer to 1,700.
Editorial Comment As world population increases exponentially, . accelerating travel technology means disease and its transmission has more opportunity . Nature tends to balance, which is what climate change is about. There is also the problem of biological warfare in these conditions.
Britain has an establishment near Salisbury dedicated to this, having passed its technologies nto favoured regimes- as Iraq once was. Some believe the AIDS virus was man made, having particularly targeted parts of Africa.
The primary reason for governments wanting to control social media is to stop people thinking outside the boxes they put us in. In Britain diversity is a big suffocating box provided and sustained by the elite, their police and the overpaid mainstream media.
The BBC's Sarah Montgomery recently got a payout of over £400,000 because she has been underpaid as a woman. Britain's fake certai Democracy works well for those from classes. Robert Cook
2019 was second-hottest year ever, more extreme weather ahead: WMO Posted January 19th 2020
Reuters Wednesday January 15, 2020 15:06
Kitco News
Share this article:
GENEVA (Reuters) – Last year was the Earth's second-hottest since records began, and the world should brace itself for more extreme weather events like the bushfires ravaging much of Australia, the World Meteorological Organization (WMO) said on Wednesday.
The Geneva-based WMO combined several datasets, including two from the U.S. space administration NASA and the UK Met Office.
These showed that the average global temperature in 2019 was 1.1 degree Celsius (2.0 Fahrenheit) above pre-industrial levels, creeping towards a globally agreed limit after which major changes to life on Earth are expected.
"Unfortunately, we expect to see much extreme weather throughout 2020 and the coming decades, fuelled by record levels of heat-trapping greenhouse gases in the atmosphere," said WMO Secretary-General Petteri Taalas.
Australia had its hottest, driest year ever – a precursor to the bushfires.
Scientists say climate change is likely to have contributed to severe weather in 2019 such as a heatwave in Europe and the hurricane that killed at least 50 people when it barrelled through the Bahamas in September.
Governments agreed at the 2015 Paris Accord to cap fossil fuel emissions enough to limit global warming to 1.5 Celsius (2.7 Fahrenheit) above pre-industrial levels – after which global warming is expected to be so severe that it will all but wipe out thhe world's coral reefs and most Arctic sea ice.
However, the WMO has previously said that much greater temperature rises — of 3-5 Celsius (5.4-9.0 Fahrenheit) — can be expected if nothing is done to stop the rise in harmful emissions, which hit a new record in 2018.
The United States — the world's top historic greenhouse gas emitter and leading oil and gas producer — began the process of withdrawing from the Paris Agreement last year. U.S. President Donald Trump has cast doubt on mainstream climate science.
On a conference call with reporters on Wednesday, however, U.S. scientists said it was clear from the data that greenhouse gas emissions were warming the planet.
"We end up with an attribution of these trends to human activity pretty much at the 100 percent level … All of the trends are effectively anthropogenic (man-made) at this point," said Gavin Schmidt, director of NASA's Goddard Institute for Space Studies.
The hottest year on record was 2016, when a recurring weather pattern called El Nino pushed the average surface temperature to 1.2 Celsius (2.2 Fahrenheit) above pre-industrial levels, the WMO said.
"In the future we easily can expect warmer El Ninos than the previous ones," said WMO scientist Omar Baddour. "We can raise a red flag now."
Additional reporting by Cecile Mantovani and Nichola Groom; Editing by Hugh Lawson and Kevin Liffey
Editorial Comment It is significant that climate change is exclusively blamed on carbon footprint, as if unsustainable population growth, rolling wars, world wide fantasy of ever increasing living standards, especially for all the poor down trodden women and non white ethnic groups.
Finding scapegoats is one of the main keys to understanding human history, along with religious indoctrination and bigotry. Environmenatism is a new major religion. Like all mesmerising religions, truth is just a comforting word, it does not have to be true to be true truth. Robert Cook
Prejudice against Russia is OK. Putin his place. Posted January 18th 2020
Moscow is to create the most extensive collection of WWII documents, open to all persons anywhere, to once and for all "shut the filthy mouth" of those seeking to rewrite history for short-term gains, the Russian president said.
Any person, Russian or non-national, will be able to access the archive, including through a website resource, and the ultimate goal is to debunk any disinformation about the most devastating conflict in human history, President Vladimir Putin pledged, during a meeting with veterans of the Great Patriotic War, held in St. Petersburg on Saturday.
The creation of the center would leave no chance to those willing to distort the truth about the war for their own political needs, he argued.
We will shut the filthy mouth of some public figures abroad, who open theirs only to achieve short-term political goals. We will shut them up with reliable and fundamental facts.
The center is expected to incorporate the biggest and most extensive collection of documents, as well as photos and video footage dating back to the World War II era. The president first floated this idea during his annual state-of-the-nation address earlier this week, arguing that Russia should combat "brazen lies and attempts to distort history."
In St. Petersburg, Putin also said that Moscow should follow the example of Tel Aviv, which virtually allows no one on Earth to forget about the true horrors of the Holocaust. Also on rt.com Lest we forget? Western amnesia about Soviet role in WWII victory has some disturbing aspects…
"Among the Holocaust victims, a large number were Soviet Jews," he said, adding that "we should also not forget about the sacrifices of other Soviet peoples, the Russian people" who defended "their homeland and the whole world from the brown plague [of Nazism]."
Putin's words come amid a row between Moscow and Warsaw over the events that led to the Second World War. Poland has been revising that devastating conflict's history for quite some time, seeking to shun any responsibility relating to events during that period, while presenting itself as a victim of both Nazi and Soviet aggression and occupation.
Warsaw has been removing monuments to Soviet soldiers who died while liberating the city from Nazi Germany occupation, and also initiated an EU Parliament resolution in September, which claims that the 1939 non-aggression pact between Moscow and Berlin had "paved the way for the outbreak of the Second World War." Also on rt.com 'Nobody in Poland cares about WWII anymore': Warsaw ignores 75th anniversary of its liberation from fascism
This last move did not sit well with Moscow, which labeled it a falsification of history. Putin himself eventually joined the heated debate between the two nations, when he called Jozef Lipski, the Polish ambassador to Berlin from 1934 to 1939, "a bastard and an anti-Semitic pig."
The Russian president referred to the fact that the envoy had promised Adolf Hitler that Poles would "erect for him a beautiful monument in Warsaw" if he expelled all European Jews to Africa. Warsaw took offense to Putin's remarks, though no one disputed Lipski's words, which have long been known to the public.
The dispute soon attracted international attention, as the ambassadors of the US –and Germany, of all countries– sided with Poland on the matter and argued that "Hitler and Stalin colluded to start WWII." Also on rt.com Embassy row: US & Germany jump into spat over WWII outbreak between Russia and Poland
Poland's revisionist policies are not limited to arguing with Russia, though. Warsaw is also seeking up to a "trillion" in reparations from Germany over Nazi crimes committed on its territory, while refusing to admit any responsibility over its own role in crimes committed against Polish Jews during the Nazi occupation – a stance that has led Warsaw to a simmering row with Israel.
Editorial Comment Politics is about dumbing down, not enlightenment. The British elite are good at it. A spolied self centred hedonistic branch of the British Royal Family ruled Russia until 1917 ignoring the misery of their massive population, having troops shoot starving protestors outside the Winter Palace in 1905.
The British Royal family changed their name from Saxe Coburg Goethe in 1914 in case working class men realised that the German King (Kaiser Wilhem II ) was first cousin to the British and Russian's heads of state.
The British and U.S masses were and still are taken as fools. After the Russian Revolution was facilitated by desperate German leaders in 1917, the British elite refused the Russian Royal family asylum because they feared they might make claim to be among Britain's ruling classes.
The revolutionaries could not trust them so they shot them. Their leader, Vladimir Ulyanov aka Lenin was also shot, in 1924. He gave way to the brutal insane lying tyrant Stalin. The socialist dream was over.
Hitler and Stalin were two of a kind, beginning World War Two as partners.. Paranoid Hitler turned on Stalin in 1940, resulting in his inveitable defeat with a war on two fronts- encircled.. Britain then allied with Russia.
After the war, Russia became the bad guy, justifying an arms race that enriched and goes on enriching arms makers in the west, especially Britain and the U.S.A.
In this context Russia's decisive contribution to World War Two is forgotten. Russia will not be forgiven until it is a satellite of the self indulgent hypocritical western elites. The war goes on, with the Middle East the current front line. Vladimir Putin must be put in his place.
Footnote Putin has just announced constitional change, transferring power to the Duma ( Parliament ), subject to popular vote. The President would thus become a rubber stamp, rather than the other way around, as it is today. Putin wants Russia to move to the next stage of building democracy in Russia.
Robert Cook
Trump defends killing of Soleimani regardless of 'imminent' threat, says he had a 'horrible past'
13 Jan, 2020 15:57 / Update ago Posted January 15th 2020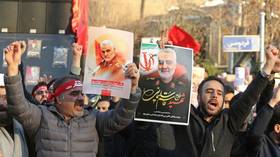 File photo © AFP / ATTA KENARE
Follow RT on www.rt.com
US President Donald Trump has lashed out against the "fake news media" and their "Democrat partners" over criticism of his administration's decision to assassinate Iranian general Qassem Soleimani.
The president claimed in tweets marred with misspellings that it does not matter if Soleimani presented an imminent threat to the US, something he had said previously to defend the assassination, because of the general's "horrible past."
The Fake News Media and their Democrat Partners are working hard to determine whether or not the future attack by terrorist Soleimani was "imminent" or not, & was my team in agreement. The answer to both is a strong YES., but it doesn't really matter because of his horrible past!— Donald J. Trump (@realDonaldTrump
Secretary of State Mike Pompeo also struggled in a recent press conference to define the "imminent" threat Soleimani presented to the US. He claimed the US "got it right" with their decision to kill the general.
A reporter just asked Pompeo if he can provide specific evidence of the imminent threat that led to Soleimani's assassination.And he has absolutely nothing. These men want to lie us into war, again. pic.twitter.com/pekTrsSEqR— Joshua Potash (@JoshuaPotash) January 7, 2020
Huge crowds of Iranians took to the streets in the aftermath of the general's death to protest the killing, and his funeral drew an enormous procession.
Tehran targeted military sites in Iraq housing US forces in retaliation for the assassination. No American casualties were reported in what was believed to be a show of force by the Iranian authorities.
Meanwhile, Back at the Ranch !
Asian stock markets rose on Friday as the US and China moved toward striking a trade deal to avert a new round of tariffs.
The deal could be announced later in the day, after US President Donald Trump reportedly signed off on the terms.
Washington is said to have agreed to remove some tariffs, while Beijing would boost purchases of US farm goods.
However, many of the more difficult issues are still to be addressed.
Optimism surrounding a trade deal pushed Asian markets higher, with Japan's Nikkei 225 index rising 2.3% while Hong Kong's Hang Seng put on 2%. The Shanghai Composite added 1.2%.
Editorial Comment You do not need me to tell you that this is all about Trump lining up for re election. Robert Cook
Forensic Pathologist: Epstein Autopsy 'More Indicative of Homicide' After Graphic Photos Surface www.theepochtimes.com Posted January 10th 2020
By Jack Phillips6 Comments January 6, 2020 Updated: January 6, 202
Forensic pathologist Dr. Michael Baden said that graphic photos showing injuries apparently sustained by financier Jeffrey Epstein's neck are more indicative of homicide than suicide, which is his official cause of death.
"I think there's a lot of information that still hasn't been revealed yet that is essential in order to arrive at a conclusion, whether this is a suicide or homicide," Baden, who was hired by Epstein's brother Mark to investigate the circumstance surrounding his death, told Fox News on Monday. "I think the closing out of the case as a suicide so quickly was premature."
Two graphic photos show deep marks around Epstein's neck, and other photos showed what appears to be a makeshift noose fashioned from prison bedsheets. The photos were first published by CBS News.
The New York City Medical Examiner's Office said Epstein, 66, died in August of a suicide by hanging. Since then, there has been intense speculation about whether he killed himself or whether one of the powerful people that he considered his friends was responsible.
But Baden, who previously worked for the same medical examiner's office, said the mark on his neck "doesn't match the ligature that was found at the scene and that the medical examiner copied to show how he was hanged."
He added that "it was too wide and too smooth. This is a rougher injury."
"There is no transfer of any blood on that ligature from the neck," Baden said. "It doesn't match the ligature mark on the neck. It's too wide, it's too smooth, and it doesn't have any transfer of skin or blood."
Aside from the photos, Baden said there are more unanswered questions, including how the guards and EMTs reacted to his death.
"I think the important thing is to find out what was seen when the guards first went into the cell. Was he hanging? Was he on the ground? As some people reported when he was found," Baden said. "EMS is not supposed to remove dead bodies from jails," Baden added. "They're supposed to have a whole forensic workup, what kind of forensic evidence is on the clothing, how long the person was dead."
He continued, "We can tell from the ligature mark that he had been … there was a tight ligature around his neck for many hours, and the front of the neck, before he was found … so he was dead for a long time. But we could be more specific about that if somebody tested out the stiffness of the body, et cetera, at the scene."
Epstein was jailed at the Manhattan Correctional Center in July after he was arrested on new sex trafficking charges. He was previously convicted in 2008 for procuring a minor girl for prostitution.
Two guards at the jail have been charged in the case for reportedly failing to check on Epstein and falsifying records.
Iran Posted January 10th 2020 RT
Iran has dismissed claims that the Ukrainian Boeing 737 that crashed near Tehran was hit by a missile as "psychological warfare," calling on countries that lost citizens in the crash to send representatives to join its probe.
"All these reports are a psychological warfare against Iran," government spokesman Ali Rabiei said on Thursday. "All those countries whose citizens were aboard the plane can send representatives and we urge Boeing to send its representative to join the process of investigating the black box."
Meanwhile, foreign ministry spokesman Abbas Mousavi has called on Canadian PM Justin Trudeau to share the intelligence he has claimed to have from "multiple sources" that the plane was shot down by a surface-to-air missile, state media report.
We are calling on the Canadian Prime Minister and any other government that has information about the crash to hand it over to the investigation committee in Iran.
Trudeau's claim follows statements from UK PM Boris Johnson that his government is "urgently looking into" reports that the plane was shot down by a missile and speculation from US President Donald Trump that he had "suspicions" that "somebody could have made a mistake."
While Trump did not explicitly accuse Tehran of shooting down the plane, anonymous US officials have told media that it was "highly likely" Iranian air defenses brought it down. The Pentagon has not commented in an official capacity. Also on rt.com Trump confirms more sanctions against Iran, says Tehran plane crash may have been 'mistake'
Ukraine International Airlines flight PS752 crashed shortly after taking off from Tehran on its way to Kiev early Wednesday morning, killing all 176 passengers and crew members on board. Ukraine has sent investigators to Tehran and an inquiry is underway into what caused the crash.
Iran has welcomed all countries who lost citizens in the crash, as well as Boeing representatives, to take part in the investigation, and even stated it might enlist the help of French or Canadian experts to decode the data in the black boxes recovered from the wreckage, with the results being "published and publicized to the world." However, it has flatly refused to hand the boxes over to the US, slamming the "illogical" rumors implicating Tehran in the wreck.
Iran attack: US troops targeted with ballistic missiles Posted January 8th 2020
The UK has put the Royal Navy and military helicopters on standby amid rising tensions in the Middle East, Defence Secretary Ben Wallace has said.
The government was putting in place "urgent measures" to protect British nationals and interests in the region, Mr Wallace told the House of Commons.
He said non-essential UK personnel had also been moved out of Baghdad.
His comments come in the wake of the US killing of Iranian general Qasem Soleimani in Iraq on Friday.
Mr Wallace, answering questions from MPs on the growing crisis, reiterated the government's calls for all sides to "de-escalate".
But hours after his statement, the US Department of Defence said an air base housing U.S troops in Iraq had been hit by more than a dozen ballistic missiles.
Iranian state TV said the attack was in retaliation to Soleimani's death.
Iran has carried out a ballistic missile attack on air bases housing US forces in Iraq, in retaliation for the US killing of General Qasem Soleimani.
More than a dozen missiles launched from Iran struck two air bases in Irbil and Al Asad, west of Baghdad.
It is unclear if there have been any casualties.
The initial response from Washington has been muted. President Trump tweeted to say casualties and damage were being assessed.
Editorial Comment Trump and Co are seriously pushing their luck, but don't care haow many are killed by their crass policies, or on whose side they are. Robert Cook
Reality TV Posted January 7th 2020
Jeremy Clarkson, sort of alternative reality TV man, has caused outrage with his latest newspaper column for 'The Sun'.
He began the piece by saying: "I've suspected for some time God didn't want people to live in Australia.
"He created it as a continent far, far away where he could house all his experiments that had gone wrong."
The Who Wants To Be A Millionaire? presenter went on to list all the creatures that live in Australia and suggested God was "embarrassed" by them and wanted to set fire to the country.
Jeremy continued: "For millions of years, this big, sandy cupboard under the stairs went unnoticed.
Fears for interpreters in Chaotic Iraq Posted January 7th 2020
Interpreters working with Australian soldiers in Baghdad said they fear they will be abandoned in an increasingly dangerous and chaotic Iraq, after the country's parliament voted to expel all foreign troops and Australia said it might be forced to pull out.
Shia militia leaders have vowed to target and kill Iraqi citizens who have cooperated with foreign forces, describing them as enemies who will be "eliminated".
More than 70 Iraqi interpreters who have been serving alongside Australian troops stationed in Baghdad have pleaded with the Australian government to be allowed to apply for visas for them and their families to escape the country.
One interpreter, who spoke to the Guardian on condition of anonymity for fear of reprisals, said they had lost faith in the Australian government's ability or willingness to protect them.
"If the Australian army leaves Iraq or stays we will still be in a dangerous position, because your government doesn't think about us, we mean nothing to them."
Interpreters have asked Australian military officers in Baghdad for help, but have been told they cannot assist them. The interpreters said the cost of applying overseas is prohibitive, running to several thousands of dollars.
The resolution is not binding on the government, but it was backed by the prime minister, Adel Abdul Mahdi, who has formally resigned but remains in a caretaker role.
Editorial Comment One should wonder why on earth there are Australian soldiers in Iraq. One should, of course, not wonder why the country is in chaos.
Iraq was created after World War One, out of a region called Mesopatamia. The joke at the time of Britain's part in the infamous Versailes Peace Treaty- which did so much to provoke World War Two, was 'Mesoptamia and Mess up at home here.'
As Sir Winston Churchill's son Randolph pointed out, the British Empire was built on the cheap. It was built on bribery, corruption and encouraging religious divisions by an elite and their lackeys. These people knew and still know how to divide and rule. They do not care for anything other than their own enrichment.
There are feminists and other idiots in Britain and the U.S.A who believe that the speight of invasions and wars stirred up by these people in the Middle East since 1990, are about democracy and women's rights. Well, one cannot talk sense to nonsense.
Sadam Hussein was a lackey to the west who fought a proxy war for the U.S against Iran, nearly bankrupting his country. To rebuild, he infuriated U.S and British oil interests by flooding the marlet with cheap crude oil. So he fell out of favour and eventually hanged as a scapegoat.
Hussein warned the West that they did not understand Iraq, and that chaos would follow his demise. The same happened in Libya, they are working on it in Syria, and now it is Iran's turn. Israel's crooked PM is calling the shots. But the elite cannot be told. They do not care how many are killed in their intererst. That his why Jullian Assange and Chelsea Manning have to be locked up forever.
The British Government are eager to interfere in Cyprus to free a woman judged to have lied about gang rape, but care not fpr Assange. Britain always knows best, just like its U.S offspring a nation built on genocide by British settlers/ invaders. All is God's will, of course. Robert Cook
Lackey Britain ready to back Trump's Iran gambit Posted January 4th 2020
,
, A ROYAL Navy nuclear-powered submarine armed with Tomahawk cruise missiles is in position to strike Iran if tensions give way to war in the Middle East.
Despite desperate attempts to de-escalate the stand-off between the US and Iran, Top Brass are working furiously to ensure Britain is ready to back America militarily if asked.
Elite operatives from the SAS and SBS were also heading to Iraq braced for rescue missions, it was reported last night.
Soleimani was wiped out after intelligence was received that his forces were about to launch kidnap raids on American citizens and ­diplomats in the Middle East.
US President Donald Trump also claimed Soleimani had planned bloody attacks in London.
While the world held its breath for Iran's next move, senior defence sources revealed that an Astute class hunter-killer sub was sat silently in range of Iranian targets.
UK'S DEADLY MISSILES ALREADY IN RAGE OF IRAN
An insider said: "There will be no first strike, but every precaution is being made, depending on how Iran reacts to the death of Soleimani.
"If things unravel quickly, the UK will always stand shoulder-to-shoulder with the US. The hunter-killers are the most advanced submarines in the Royal Navy. They are a deadly asset and there is one well within range of Iran."
The Navy keeps an attack sub in the region at all times. The crew would just need to manoeuvre into a "firing pocket" and unleash the missiles. The 20ft Tomahawk missile carries a 1,000lb high-explosive warhead with the power to destroy a building. It has a range of more than 1,550 miles, travels at more than 550mph and has a GPS guidance system allowing it to switch targets mid-flight.
Tomahawk land-attack cruise missiles were last fired by the Navy in 2011 against Gaddafi's military facilities in Libya.
And they were used by the Navy in Iraq in 2003 and Afghanistan in 2001.
They are often first choice for an initial strike before a major offensive. US "monster" sub-USS Florida is also certain to be in reach of Iran after leaving Gibraltar days ago. Also nuclear-powered, it can carry 154 cruise missiles.
The officer, 62, was the second most powerful ­figure in Iran — responsible for its sinister operations abroad.
For 21 years, he commanded the elite Quds force, part of the Iranian Revolutionary Guard, and reported directly to the Supreme leader ­Ayatollah Khamenei.
He was behind Syria's civil war, attacks on US and UK troops, the rise of pro-Iranian militia in Iraq, and bolstered terror groups in the region. But his convoy was reduced to a smouldering heap in Baghdad.
He promised her that "everyone will take revenge" and added: "The Americans did not realise what a grave mistake they have made.
CHANTS OF 'DEATH TO AMERICA'
"They will suffer the consequences of such criminal measure not only today, but also throughout the years to come." A vast crowd gathered yesterday in Baghdad for a funeral procession, marking the first of days of mourning for Soleimani. They were also there to mourn Iraqi paramilitary chief Abu Mahdi al-Muhandis, killed in the strike too.
Outraged Iraqis waved militia flags and chanted "Death to America".
The US said it had deployed 3,000 more troops to the Middle East to respond to any backlash.
Up to 50 operatives from the SAS and SBS are also being drafted in, the Sunday Mirror reported.
Trump says 52 Iranian targets will be hit 'fast & hard' if US assets attacked
MILI-BLOCKED
Operation to kill General Soleimani 'previously thwarted by David Miliband'
Mr Trump said: "The United States military executed a flawless precision strike that killed the number one terrorist anywhere in the world, Qasem Soleimani."
He said the commander was "plotting imminent and sinister attacks on Americans" and added: "Soleimani made the death of ­innocent people his sick passion — contributing to terrorist plots as far away as New Delhi and London."
Royal Navy warships will shadow commercial vessels through the perilous Strait of Hormuz, the Defence Secretary announced last night.
UK troops have also been ordered to abandon their training of Iraqi forces and switch to securing the British embassy in Baghdad, the Sunday Times reported.
Suspicion and hate over the years
By Graeme Culliford
IRAN'S relationship with Britain has been filled with hatred and mutual suspicion since 1979.
That was when the country's UK-backed Shah was overthrown by the Islamic revolution.
In 1980 an SAS team stormed the Iranian Embassy in London to save 22 hostages. One hostage died in the crossfire.
The five gunmen killed were from a terrorist group opposed to Ayatollah Khomeini's regime.
In 1989 Khomeini declared a "fatwa" — a murder order — against author Salman Rushdie.
In 2004 eight UK sailors were held three days after their ship reportedly entered Iran's waters.
In 2007 15 Navy personnel were seized by the Iranian Revolutionary Guard for 13 days.
In 2016 UK-Iranian national Nazanin Zaghari-Ratcliffe, 42, was arrested on trumped-up charges. She is still in prison.
The following year a cyber-attack on Parliament was blamed on Iran. And last year Marines seized an Iranian-owned oil tanker heading for
Editorial Comment When mainstream media reports on what Britain thinks or wants to do to Iran, that Britain is the country's elite. When it, or its prominent politicians comment on the public or national interest, it is talking about its own class interest.
The U.S interest and involvement in the Middle East increased as Britain's Imperial role wained. Nowadays the U.S, a one time colony built on the genocide of native American Indians, can always rely on Little Britain to act as a running dog, giving credibility to an insane foreign policy paid for by the lower classes. You don't hear feminists protesting. They buy into war in the name of freeing women.
The current round of insanity started in 1990, when George Bush Snr needed an oil crisis to appease fellow U.S Oil billionaires. They were angry with Sadam Hussein for flooding the world with cheap oil after his crippling proxy war against Iran on the United States behalf. The U.S is beholden to Israel who hate Iran. Trump's son in law is Jewish. He is also rich.
Of no further use, Sadam Hussein was set up and betrayed by his former paymasters. Iraq was broken, terrorism flourished, giving the Anglo US elite the perfect excuse for creating their police state, with which they have infected Europe. They are the self styled good people. We are supposed to trust them, and ignore them at their peril. To add insult to injury, Tony Blair – who did so much to stoke the fires in the Middle East- was given a sinecure as Middle Eastern Peace Envoy.
They won't leave Iran or Syria alone, as they set their sights on the longer term, and even more dangerous game of regime change in Russia and China- that's why they are stirring things up in Hong Kong. This elite has its deep well provisioned fallout shelters at the ready. Robert Cook
Qasem Soleimani: US kills top Iranian general in Baghdad air strike Posted January 3rd 2020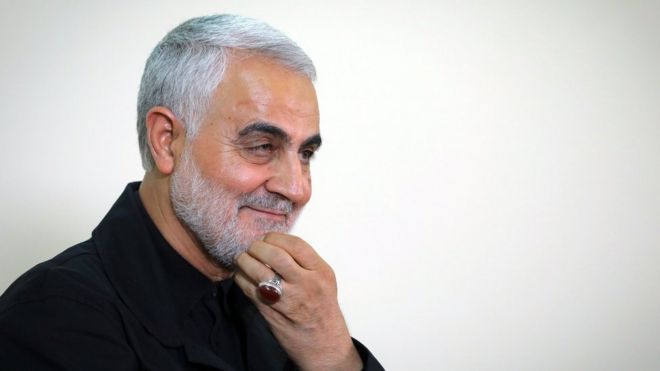 Iran's most powerful military commander, General Qasem Soleimani, has been killed by a US air strike in Iraq.
The 62-year old spearheaded Iranian military operations in the Middle East as head of Iran's elite Quds Force.
He was killed at Baghdad airport, alongside local Iran-backed militias, early on Friday in a strike ordered by US President Donald Trump.
Gen Soleimani's killing marks a major escalation in tensions between Washington and Tehran.
Under his leadership, Iran had bolstered Hezbollah in Lebanon and other pro-Iranian militant groups, expanded Iran's military presence in Iraq and Syria and orchestrated Syria's offensive against rebel groups in the country's long civil war.
Iran's Supreme Leader Ayatollah Ali Khamenei said "severe revenge awaits the criminals" behind the attack. He also announced three days of national mourning.
Gen Soleimani was widely seen as the second most powerful figure in Iran behind the Ayatollah Khamenei. His Quds Force, an elite unit of the Iranian Revolutionary Guards, reported directly to the Ayatollah and he was hailed as a heroic national figure.
But the US has called the commander and the Quds Force terrorists and holds them responsible for the deaths of hundreds of American and coalition troops.
President Trump, who was in Florida at the time of the strike, tweeted an image of the American flag shortly after the news broke.
A statement from the Pentagon said Gen Soleimani "was actively developing plans to attack American diplomats and service members in Iraq and throughout the region".
"This strike was aimed at deterring future Iranian attack plans," it added.
Meanwhile, global oil prices have soared by more than 4% in the wake of the attack.
What happened?
Gen Soleimani and officials from Iran-backed militias were leaving Baghdad airport in two cars when they were hit by a US drone strike near a cargo area, US media reports say.
The commander had reportedly flown in from Lebanon or Syria. Several missiles reportedly struck the convoy and at least five people are thought to have died.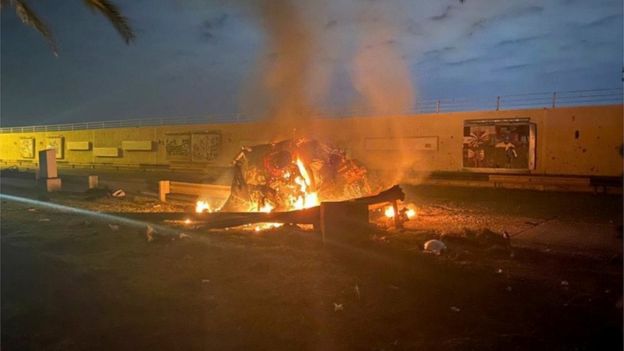 Iran's Revolutionary Guards said Iraqi militia leader Abu Mahdi al-Muhandis was among those killed.
The Pentagon statement said: "At the direction of the president, the US military has taken decisive defensive action to protect US personnel abroad by killing Qasem Soleimani."
It added: "The United States will continue to take all necessary action to protect our people and our interests wherever they are around the world."
The drone strike comes days after protesters attacked the US embassy in Baghdad, clashing with US forces at the scene. The Pentagon said Gen Soleimani approved the attacks on the embassy.

Iran's most powerful military figure was regarded as the strategic mastermind behind its vast ambition in the Middle East and the country's real foreign minister when it came to matters of war and peace.
As commander of elite special forces, he orchestrated covert operations, involving a web of proxy militias, across the region. He also commanded political influence inside Iran and was regarded as second only to Iran's all-powerful Supreme Leader.
He was widely considered a principal architect of President Bashar al-Assad's war in Syria, the ongoing conflict in Iraq, the fight against Islamic State, and many battles beyond.
The silver-haired general with a close-cropped beard was a cult hero for his fighters and the face of evil for his foes. For years, US officials considered killing a cunning adversary who ordered attacks on their forces and taunted them with social media barbs.
At times some of their aims were aligned, including in the fight against Islamic State, but they remained sworn enemies.
Iranian officials are categorical – this is an act of war to be met by "harsh retaliation". Iran has many ways and means to strike back as a long-simmering crisis suddenly moves to a new, dangerous chapter.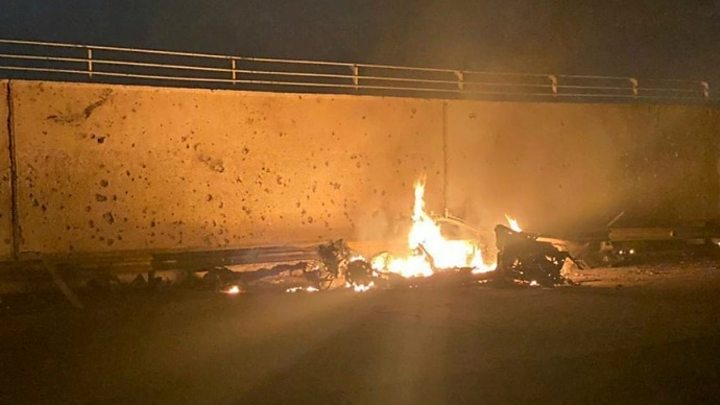 What has Iran said?
Iran's Foreign Minister, Javad Zarif, called the attack an "act of international terrorism", tweeting that the US "bears responsibility for all consequences of its rogue adventurism."
Editorial Comment Qasem Soleimani was the brains behind defeating Isil in Syria. The U.S cannot rely on Turkey in that region, where it needs an airbase close to Russia- which is on the regime change list. This war crime also has the benefit of taking attention away from Trump's impeachment, rather like Clinton and the Kosovo intervention. Charles Close
The Fire Next Time Posted January 3rd 2020
Australia Wild Fires Posted January 3rd 2020
Mallacoota: How people survived in the fire-hit beach town
Out on the water, crammed into a boat with five members of her family, Amy Savage felt helpless watching a line of orange spread across the sky.
How bad would the fire be? How long would they be stuck out here?
"The scariest thing was not knowing," she says.
Just an hour earlier, she and her family had fled their campground tents as a mammoth blaze swept towards the sleepy Australian coastal town of Mallacoota.
This was not the New Year's Eve they had been anticipating.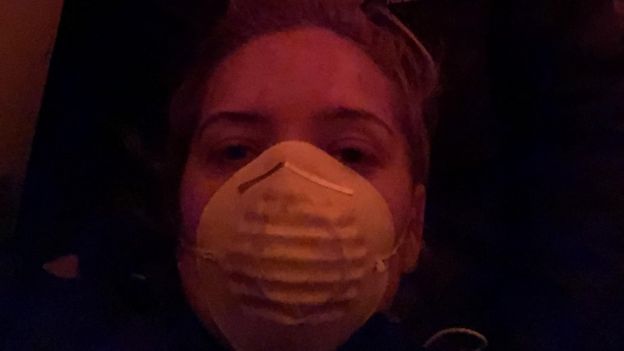 For years, her family, like many others, had ventured to this corner of the nation each summer for an idyllic coastal getaway filled with nature trails, fishing and water-skiing.
Now she feared it was burning to the ground. All around her in the dark, other holidaymakers waited anxiously in their bobbing boats, scanning the foreshore.
Waiting on the shore
On the beach, people lined the water's edge, fearful of the fire front's advance.
Authorities had told reporters there were 4,000 people sheltering on the beach on Tuesday morning but witnesses reported there were only hundreds actually on the sand.
The smoke was so toxic that many, including Melbourne couple Raphael Korman, 30 and his wife Yukie, 31, were sheltering in their cars near the foreshore. Yukie, who has a respiratory issue, was struggling to breathe in the smoke.
Their camping trip had been aborted the day before when authorities escalated warnings about a fire set to sweep through the region. The couple debated staying at their camp in the bush, but ultimately heeded the warnings, Mr Koran says.
The long, dark night
So on 30 December, they drove back into Mallacoota – passing closed roads along the way. That night they bunkered down in the holiday park which doubled as the emergency meeting area.
The atmosphere was tense: "You could see this glowing redness that was starting to encroach on the town," Mr Korman said.
The next day he woke up at 08:00 where "everything [was] pitch dark – like the sun forgot to rise. There's no sun – absolutely no light coming from the sky." His eyes watered from the smoke.
The fire had gotten so close to the town by now that its smoke column – a plume as high as 14km into the sky – had completely blacked out the sky.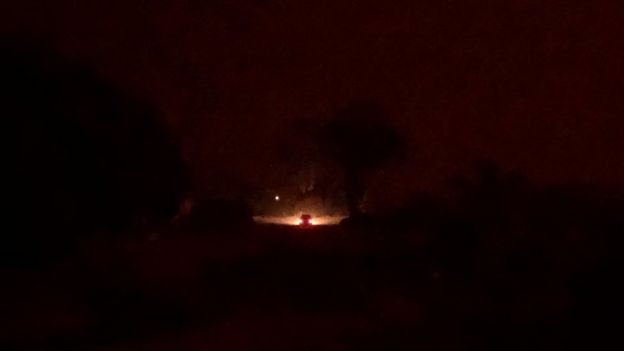 "This was when we were most anxious," he told told the BBC. "When there was no sun, and everything was just black there was this real feeling of apocalyptic dread. This is otherworldly – not a natural thing to be happening," he said.
The sky stayed black for another hour then changed to blood-red. The fire had arrived in town.
Saving homes
Dominic Van Der Merwe and his brother had stayed behind to defend their father's property on the town's north edge, while the rest of the family fled to the jetty by the shore.
That night they had set alarms every hour to keep an eye out for embers. By 07:30 they were up, hosing down the house and the large garden, keeping things wet. They heard the fire before they saw it.
"It sounded like a jet engine, a far-away plane over the hill that we were on," Mr Van Der Merwe told the BBC.
"Then the first we actually saw of it was when the blackness of the clouds above us started to glow red," – the fire was behind the crest in the hill – where the first line of houses were.
Suddenly, the front burst over the top, hitting a street only 200m away. Gas bottles were "screaming and then exploding".
Editorial Comment The source of this story is the BBC, so there is no comment on the climate change related issue. We are supposed to see it as a separate isolated phenomena.
Greta Thurnberg is a distraction, aimed at making us think cutting our carbon footprint and eating insects instead of meat is the solution.
Human overpopulation, elite fired rolling wars and greedy lifesyles are the issues to watch. Little Greta's neurotic reposne to the world is no answer. mental illness is rising among females.
Fostering feminism and hate male is no solution either. Feminism creates weird mothers and sons. Women need to take responsibility for wider issues, cutting out the self righteous victimhood and abandoning the moral high ground. They are living in a political fantasy world, oblivious of real danger, just blaming men.
Most Muslims and so called Christians do not appreciate the abstract messages from the bible. The good book –from which the Koran is derived- predicted 'The Fire Next Time.'
Boeing Boeing Gone CEO fired over what was money grabbing corner cutting corporate manslaughter. Posted December 26th 2019
By David Shepardson
WASHINGTON (Reuters) – Boeing Co documents under review by a U.S. congressional panel appear to point to a "very disturbing" picture of commentary from the planemaker's employees over the grounded 737 MAX aircraft, a congressional aide said on Tuesday.
The documents were submitted to the House of Representatives transportation infrastructure committee and the Federal Aviation Administration on Monday, the same day Boeing announced the firing of chief executive Dennis Muilenburg amid a crisis over the handling of the aftermath of two fatal crashes.
UN women's rights agency tweets motherhood is a 'penalty' – on CHRISTMAS Posted December 26th 2019
Damian Wilson is a UK journalist, ex-Fleet Street editor, financial industry consultant and political communications special advisor in the UK and EU. 25 Dec, 2019 16:28
Unless those in charge have lost their marbles, it seems the Christmas break at UN Women started a little early thanks to an entirely avoidable row about, of all things at this time of year, motherhood.
As the 1.3 billiion Catholics all over the world reflect on the miracle a lowly young girl giving birth to the Saviour just over 2000 years ago, UN Women, ironically in charge of gender equality and female empowerment, tweet out a message detailing the disadvantages of motherhood as some sort of political point.
Not every woman can afford the penalty.#WomensProgress2019#FamiliesOfTodaypic.twitter.com/86DxuKJedJ— UN Women (@UN_Women) December 25, 2019
In a message of the kind usually sighted on the office feminist's coffee mug in the communal kitchen, the note lists the penalties of motherhood, as if those women with children needed any reminding. So there's "more unpaid care and domestic work," which usually goes by the term of 'parenting' but hey, it's Christmas, so we'll accept the cracker-level joke.
Next on the list is "irregular work", then "reduced employment" (see irregular work). Again, these are the compromises that millions of people around the world make in order to raise their children. The choices are, either don't have kids (which is a non-argument), or pay for childcare, which in most cases makes the whole point of working irrelevant as the money earned is simply paid out to the carer.
The essence of this argument is one of priorities, which is up the individual to decide, not the welfare state or employers looking for stable and reliable workforce.
And then we have further impositions, "limited maternity benefits" (arguable country by country), and the juicy issues of "gender-based occupational segregation" and "gender pay gaps". Sourced RT International
Excuse me, but what have those two things got to do with motherhood? It would most likely be argued that all women, regardless of whether or not they have children, face issues here. As for the final suggestion of 'higher rates of poverty in old age" well, yes, this is an issue, but again, highly variable among the nations of the world.
A single African mother with four children will have a hard time building a future, not just for her family, but for herself, once those children become adults with dependant families of their own. But these women are not those concerned with "gender-based occupational segregation". To them, that language and the concept it expresses would be utter nonsense.
How does the UN square this sort of political posturing with those things it should be looking at, like reducing infant mortality rates in the developing world, or ensuring that women are not dying through the natural act of childbirth?
Motherhood is not an issue that needs some post-ironic message shared by UN Women with its first world social media followers. Sure it has its minuses, but as any mother – or father – will tell you, they are far outweighed by the pluses.
So to pick Christmas Day, of the other 365 available, to insult the Catholic belief in the sanctity of the Virgin Mary and everything that she as a mother sacrificed is not only tin-eared, it is ignorant, foolish, and a sackable offence.
Just wait until the grown-ups return to work from their holiday break.
Editorial Comment There is a pattern with with wmen's groups across the world. They are moaners, complainers, always truth telling and victims of an allegedly male dominated system. Their mouthiest mouthpieces are invariably upper middle class, educated in social sciences or literature. They have no experience of the average man's struggle to earn a living and to support a family- even when his wife has lied to achieve a good divorce settlement.
The reasons there is no equivalent masculinist backlash movment is because men still idealise women. This process starts with their mothers and is compounded if they have daughters. We are, of course, supposed to accept that wmen never lie about rape or that they never commit domestic violence, except in self defence. So they are always virtuous in the eyes of media, police and the justice system. Feminists arguments, like all religions do not have to make sense.
So here we have a privileged group of women at the United Nations decrying the curse of motherhoood. So why do women always want custodody of the children in divorce? The answer is money and to punish the departing hsband. Feminism is about power, and power is a zero sum.
A glance back into British history from the Boer War until the Second World War shows us that women did not hesitate to hand out white feathers to any man who refused to join the army. In World War One, men had to be motivated to fight equally expolited German working class men, in the name of a King who was cousin to both the Gerrman and Russian narcisistic monarchs. Good women handed out white feathers to men out of uniform. Young British soldiers were fed the lie that German soldiers were baby killers.
When my Uncle Arthur was invalided out of the army in 1940, women never stopped handing him out white feathers. His brother Charlie was killed four years later, fighting with the London Irish Rifles against the Geram working class soldiers.
British women helped to provoke World War Two. They used their new enfranchisement to force a punitive peace settlement, using the slogan 'Squeeze Germany until the pips squeak.' In 1919 Germany suffered terrible economic sanctions and reparations which led to the rise of Hitler and the Nazis. When the Nazis returned from conquering Czechoslovakia in 1938, German women were exuberant in welcoming the young soldiers. They wanted more war, getting it in Poland, then the world. Women loved Hitler and his rhetoric.
These days history is being re written in so many ways, including the lie that females were in the front line of war. That is not true, though they did play a key role in spying. Women excel at lying. They watch, take note, manipulate and quietly destroy without fear or even any idea of the consequences. This includeds destroying their own childrens futures. More and more women in mainstream politics has created more calls for censorship and more laws to protect and promote them.
The current generation of female public servants have only one enemy in mind, men- excepting their daddies whose unconditional love and grovelling they never seem to find in a partner or husband. Their goal is female supremacy, and they wonder why so many desperate men plead that they are so good thus women too. With more boys growing up in single parent families with only negative male role models to see and hear in the media, tehy want sex changes. So at an ever earlier age, a welcoming female orientated education system says they can be girls if they think they are.
This is so funny because feminists really don't like them. High Priestess of feminism Germaine Greer said that transexuals cannot be women because they don't have smelly vaginas, She said 'They are failures as men.' Greer's personal daddy story and struggles a s a big six footer at a posh Australian girls boarding school make interesting reading.
Back in my youthfull heyday, there was unisex and hippies. Peace and love, protesting against the Vietnam War was the young western female message. Now these pugnacious women want rolling gender war. They also want wars across the world for human rights especially women. Beware Greta and her scapegoating westerners. For her war has no massive carbon or nuclear footprint.
The one thing the UN Women will not say about motherhood in the Islam/Catholic world is that they have too many children, creating poverty, mass migration exacerbating problems in the west and hardship, pushing down international wages thus fueling overproduction and consumerism.
I will say again, 'The richest 8 people in the world own more wealth than the poorest 3.8 billion. That is the maths. Forget little Greta's simplistic reference to the science, At the very best, in a very limited way, Greta states the obvious. Her puppet masters don't care, she is a female emblem, the new feminist messiah. It will soon be a hate crime to criticise her.
Robert Cook
Guard said he'd 'f**k each and every one of us' – released gun activist Butina recalls humiliation in US prison
26 Oct, 2019 21:32 / Updated 1 month agoGet short URL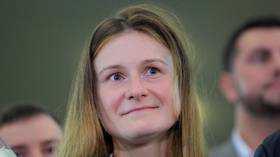 Maria Butina on her arrival in Moscow. © Reuters / Tatyana Makeyeva
The US penal system takes lives away from female inmates and turns them into constantly humiliated slaves, Maria Butina, who returned to Russia after spending more than a year in an American prison, said.
Butina, who was charged with failing to properly register as a foreign agent, spent a month in solitary confinement before pleading guilty to the charges. The Russian said she only did it because she knew that her persecution was politically motivated and a fair trial was impossible.
"The worst thing is the US Marshals Services where they humiliate you; forbid you from going to the toilet for 16 hours; deny you water or food," Butina said as she talked to RT and Sputnik news agency on a plane that was taking her from the US back to Moscow. After that a low-security prison in Tallahassee, Florida seemed like "paradise" for her as she was allowed to go for walks and got a lot better rations. Also on rt.com 'Like a bad Hollywood flick with allegations as surreal as Alice in Wonderland' – Russia's Butina on US arrest
"I was just a stack of bones," she recalled, but daily jogging and other exercises helped a lot. "I had problems with my memory, but it returned to me. My eyesight also improved."
However, it's still a very tough environment where humiliation of inmates is widespread as some officers treat prisoners "absolutely terribly."
Butina recalled that just one day before she was to be released, a guard, who became unhappy with how the prisoners were executing their duties in the kitchen, warned them: "If you will do that again I will f**k each and every one of you."
When a guard is cursing at you in the most obscene words possible… It just shouldn't be like that. We're women after all.
At first, the relations with fellow inmates were "tense" after she was transferred from Alexandria to a correctional facility in Tallahassee because "everybody watched the news" where she was portrayed as a villain, the 30-year-old recalled.
But that changed quickly when people got to know her. The activist said that a newspaper article in her defense was also passed on inside the prison and after some time "even some guards were telling me: 'It seems that they lied to us on this one.'"
Editorial Comment When it comes to justice and the penal system, the British, U.S and Europe are no more interested in Human Rights than the worst of Third World Countries, they just have highly sophisticated expensive PR and media folk to hide thier crimes etc.
Violence erupts during pro-Trump women's event at DC hotel after attendees at 'high-profile Democrat wedding' harass conservative women; 1 arrested Posted Dedember 18th 2019
A South Carolina man was arrested in Washington, D.C., after reportedly attacking a man who defended a group of pro-Trump women who had convened for a Women for America First event. Ditch the fake news ==> Click here to get news you can trust sent right to your inbox. It's free!
The event, held at the Willard Hotel on Saturday, was titled, "A Very MAGA Holiday Weekend." About 200 women were in attendance at the pro-Trump holiday event.
A "high-profile Democrat wedding" was simultaneously going on inside the hotel venue in an adjacent ballroom, according to the group.
What are the details?
Women for America First released a media bulletin on Monday about the incident.
The news release pointed out that wedding attendees reportedly interrupted the event "at least" 30 times throughout the evening, including a physical assault on Jonathan Gilliam, who is a former FBI special agent and retired Navy SEAL. Wedding attendees reportedly threatened women at the event, allegedly calling them "c****," "Nazis," and "MAGA trash."
Gilliam, who was a guest speaker at the event, also tweeted about the incident, writing, "Saturday night at the Willard Hotel in Washington DC, I attended @america1stwomen (WFAF) gala, speaking in support of our president @realDonaldTrump and the strength of all free women of the United States."
Source www.theblaze.com
Editorial Comment I think it is pretty obvious who the F…ing Nazis are in this case. Women like blacks are not supposed to have minds of their own in the Anglo Saxon World of the self appointed liberal class. These people are very liberal with their self righteous hateful patronising hurtful judgments. They brook no argument. Women must ally with them or be ostracised. That is not the way to truth and social progress.
Meanwhile, according to a Blaze staff report :
'On the radio program Tuesday, Glenn Beck spoke with Douglas MacKinnon, a former White House and Pentagon official and author, about his recent article in The Hill, "Is a Trap Being Set for Trump in the Senate Trial?"
MacKinnon told Glenn that he has heard from several Capitol Hill staffers who say there are a lot of "meetings going on behind closed doors" between various Republican senators on Capitol Hill, many of whom are known to dislike President Donald Trump.
"The vast majority of these Republican senators, either privately or publicly, can't stand President Trump for a lot of reasons," MacKinnon explained. "The main reason, Glenn, is they can't control him. They've never been able to control him. They can't predict what he's going to do … he is a disrupter."

MacKinnon noted that it would only take 20 of the 53 Republican senators, combined with the 47 Democrats, to convict the president.'
Editorial Comment The U.S ruling elite – and the British- loved President Regan, the anthesis of Trump, because he took his stage directions like the B Movie star he naturally was. Trump is rather different. From my British perspective, I hope Boris Johnson is the same. Meanwhile British so called Labour Party ( sic ) must have a female leader who is on message and thus out of touch with the grim reality of life at the bottom in Britain.
Trump's mean words harm our agency, says former FBI Director – just don't ask about our past!
16 Dec, 2019 22:05 / Updated 18 hours agoGet short URL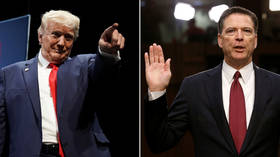 US President Donald Trump; Former FBI Director James Comey (R). © Reuters / Kevin Lamarque; Reuters / Jonathan Ernst
By Graham Dockery, RT President Donald Trump's verbal attacks on the FBI are a "dire threat" to the rule of law in America, according to former FBI Director William Webster. But the agency has a scandal-rich history and needs more, not less, scrutiny.
Trump has referred to certain FBI officials as "scum" and former agency Director James Comey as a "slimeball." He's accused Comey of launching the 2016 'Russiagate' investigation against his campaign for nakedly partisan reasons, and his Attorney General, William Barr, has accused the agency of acting in "bad faith" in its handling of the 2016 probe.
This renewed attention on the FBI comes after the publication of a report by the Justice Department's Inspector General last Monday. The report found 17 irregularities, inaccuracies and omissions in the FBI's FISA warrant application, used to obtain permission to surveil former Trump campaign adviser Carter Page, and criticized the agency for knowingly using the bogus 'Steele Dossier' as basis for this FISA application.
Chris Wallace: "If you were still there, and all of this came out … would you resign?"Comey: "No. I don't think so. There are mistakes I consider more consequential than this during my tenure."What exactly is more consequential than the FBI falsifying info? pic.twitter.com/kZIyJjvyeG— Alex Marlow (@AlexMarlow) December 16, 2019
While the report stopped short of accusing the agency of bias, it didn't do the FBI any favors in the PR department. Enter former Director William Webster, who set about correcting the record in a New York Times op-ed on Monday.
"Calling FBI professionals 'scum,' as the president did, is a slur against people who risk their lives to keep us safe," he wrote. Barr's accusations of bias, he continued, "risk inflicting enduring damage on this critically important institution."
President Trump's assertion last week that current FBI Director Christopher Wray "will never be able to fix the FBI" is another dangerous threat, Webster opined. "The independence of both the FBI and its director are critical and should be fiercely protected by each branch of government."
Webster seems to forget that the FBI exists to protect America's people and government, not the other way round.
Ironically, if anything, the Inspector General's report shows that left to operate independently, the FBI cannot be trusted. Though Inspector General Michael Horowitz did not directly accuse the agency of bias, a mountain of evidence suggests otherwise.
Source www.rt.com
Boeing to suspend 737 MAX production, as 400 new jets collect dust amid ongoing safety review
16 Dec, 2019 22:16 / Updated 17 hours agoGet short URL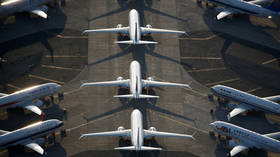 FILE PHOTO: An aerial photo shows Boeing 737 MAX aircraft at Boeing facilities at the Grant County International Airport in Moses Lake, Washington. © Reuters / Lindsey Wasson
Follow RT on
With a federal safety review ongoing, Boeing has decided to suspend production of the troubled 737 MAX passenger jet, having made over 400 that it can't deliver until the ban is lifted – if ever. Workers will remain safe, for now.
Production at the Renton, Washington facility near Seattle will be suspended in January, Boeing said in a statement on Monday. It is unclear how long the pause will last.
"This decision is driven by a number of factors, including the extension of certification into 2020, the uncertainty about the timing and conditions of return to service and global training approvals, and the importance of ensuring that we can prioritize the delivery of stored aircraft," Boeing said.
We have decided to prioritize the delivery of stored aircraft and temporarily suspend production on the 737 program beginning next month.
Boeing Statement Regarding 737 MAX ProductionRelease: https://t.co/LBEFfW9Rl5— The Boeing Company (@Boeing) December 16, 2019
The 12,000 workers affected will not be fired or furloughed, according to the Wall Street Journal, which first reported the suspension.
The Federal Aviation Administration ordered the grounding of all 737 MAX models in March, grudgingly following the lead of countries around the world after the fatal crash of Ethiopian Airlines Flight 302 killed 157 people. Five months earlier, a 737 MAX of Indonesia's Lion Air crashed in the same manner, killing 189 passengers and crew.
Since then, almost 400 MAX jets have been stuck on the ground, and Boeing has manufactured 400 more, which it cannot deliver to customers anywhere. The FAA review is still ongoing, amid a number of revelations suggesting that flaws with the MAX's control software were long known to the company and its test pilots.
Source www.rt.com
Impeach the President Posted December 11th 2019
The Democrats have been working at impeaching the President since Day One. The Anglo British media have been on their side. Saint Hilary Clinton, who said loudly, 'Womens Rights are Human Rights, Human Rights are Women's rights,' was supposed to have won.
It is ironic that the Democrats have gone for Bush over raising doubts about the integrity of Democrat front runner Joe Biden. The moral hypocrisy of the U.S elite is only rivalled by its incestuous relative Britain. House Democrats announced two articles of impeachment Tuesday against President Donald Trump — abuse of power and obstruction of Congress — pushing toward historic votes over charges he corrupted the U.S. election process and endangered national security in his dealings with Ukraine.
Speaker Nancy Pelosisi next to the chairmen of the impeachment inquiry committees, stood at the Capitol for what she called a "solemn act." Voting is expected in a matter of days in the Judiciary Committee and by Christmas in the full House. Trump maintains he did nothing wrong and his reelection campaign called it "rank partisanship."
Impeachment is a risk any President takes by getting out of line with the U.S Deep State. They are on a mission to rule the world by any means possible, with Britain always on their side. This impeachment process is different from any I can remember. Nixon was obviously guilty, caught red handed and on tape.
George Bush Junior should have been impeached for lying over Iraq having weapons of mass destruction, just as his partner Tony 'Boy' Bliar should have been prosecuted for war crimes. Bill Clinton's colourful sex life and the Whitewater scandal should have been among the things that saw him booted out of office. His abuse and exploitation of the vulnerable Monica Lewinsky says it all about the elite being above the law. In that context, the strange death of the Clintons friend sex fiend Jeffrey Epstein raises very serious issues about elite moral hypocrisy on both sides of the Atlantic. Charles Close
Fresh Protest Hong Kong Today December 1st 2019
The protest in the bustling shopping district of Tsim Tsa Tsui came after hundreds of people had marched to the U.S. consulate to show "gratitude" for U.S. support for the demonstrations that have roiled the China-ruled financial hub for six months.
Shops and businesses in the area shuttered early as police sprayed volleys of tear gas at protesters, including some elderly residents and others with their pets, as they marched past the city's Kowloon waterfront, home to luxury hotels and shopping malls.
Police made several arrests as the tear gas sent hundreds fleeing towards the harbour.
Hong Kong had enjoyed relative calm for the past week since local elections last Sunday delivered an overwhelming victory to pro-democracy candidates.
French Fried Assad December 1st 2019
The Jerusalem Post
November 26, 2019
France laid out a new posture for itself in discussions in the Gulf this week, chiding the Americans for not standing up to Iran's threats against Saudi Arabia and other countries. Paris now wants to play a more robust role in maritime security as Washington's influence declines across the region.
French Defense Minister Florence Parly condemned America for leaving the Iran deal and also condemned Iran at the Manama Dialogue confab in Bahrain over the weekend. The conference is organized by the International Institute of Strategic Studies and has foreign ministers and leaders from the region, as well as security and defense officials, in attendance.
"We've seen deliberate, gradual US disengagement," she said. She also slammed former president Barack Obama for leaving the "fighter jets on the tarmac," according to France24, a reference to the US decision in 2013 not to punish Bashar Assad's regime in Syria for chemical weapons attacks.
The French conjured up bad memories from 2013 when, according to Le Nouvel Observateur, then-French president Francois Hollande had prepared Rafale jets and SCALP cruise missiles to punish Assad. Targets included the Fourth Armored Division, and missiles and commander centers. But the US decided to back down and the planes didn't fly. The US, UK and France carried out airstrikes in 2017 and 2018 against Syria, but they were much smaller and less consequential than what might have occurred in 2013.
ISIS London Bridge Posted December 1st 2019
ISIS has claimed the London Bridge terror attack was carried out by one of its fighters.
The terrorist organisation said Usman Khan, who killed two people and injured more during a knife rampage on Friday, acted on their behalf.
The group relayed the information through its news agency Amaq in a post that was published on the TamTam and Telegram app.
Editorial Comment A police officer shot the suspect because he refused to surrender and was wearing a fake bomb vest. Let us hope the officer does not face another ludicrous murder charge.
U.S and Britain Obviously behind so called pro democracy protests. November 28th 2019
President Trump on Wednesday signed tough legislation that would impose sanctions on Chinese and Hong Kong officials responsible for human rights abuses in Hong Kong, signaling support for pro-democracy activists in the territory and escalating tensions with Beijing as Mr. Trump tries to negotiate a trade deal with Chinese leaders.
Whether Mr. Trump would ultimately sign the legislation had been a subject of debate, as he refused to commit to doing so as late as last week, saying that he supported the protesters but that President Xi Jinping of China was "a friend of mine." But Mr. Trump was left with no other option, as the bill had passed both chambers by veto-proof majorities.
Royal Protection Better than Durex Posted November 24th 2019
The FBI has gone to great lengths to cover up evidence of Prince Andrew's role in his billionaire pal Jeffrey Epstein's sordid pedophiliac activities, claims a former Florida police officer. Posted November 24th 2019
Ex-cop John Mark Dougan claims he has hundreds of hours of footage from the billionaire pedophile's Palm Beach mansion.
But the Feds raided his home and collected all the information he had obtained about Esptein, prompting him to seek asylum in Russia to avoid arrest on suspicion of computer hacking.
"I'm certain the FBI is involved in some kind of cover-up over Epstein," said Dougan. "That could absolutely include Andrew's role, or it could be that senior FBI people visited the house and don't want to reveal that."
French Kiss Posted November 20th 2019
There is strong evidence that Britain is behind Hong Kong Protests with U,S support and 'encouragment'. The Paris yellow vest protests are more organic , a reaction to urbane indifferent ultra confident Macron whose election had much to do with U.S and U.K interference to desperately defeat far right Le Penn. So much for European democracy!
A young French journalist is just one of the victims of heavy handed pro capitalist police action in Paris. Here protestors are condemned. while in Hong Kong they are celebrated as pro democracy
Wrong Kong Posted November 19th 2019
Britain and the U.S think they invenetd and have the monopoly with copyright of democracy. So the western media whose news views are domianted by their elites, continue to protray Hong Long protestors as victims of oppression, Why if China is so bad does the west go on trading? Why not have a sanctimonious trade boycott and sanctions as wit with Iran?
So now Hong Kong's high court has overruled Chian's ban on face masks, meaning they can escape punishment for acts of violence during their so called democratic protests.
Meanwhile not a blind bit of notice is taken of the free Julian Assange protestors. British politicians are conspicuous by their silence. Obviously many of them are women and have bought into the smear campaign that Assange is a rapist and serial sex offender.
Few people in this country care about what happens to Assange and Chelsea Manning. British army officers have now been exposed for serious war crimes. Who cares about that?
Sex is always a good one these days if you want to destroy someone- unless you are a British Royal, In that case all the allegations under the sun won't jail you. Robert Cook
Let Russia Be Russia
The Case for a More Pragmatic Approach to Moscow Posted November 17th 2019
By Thomas GrahamNovember/December 2019
Since the end of the Cold War, every U.S. president has come into office promising to build better relations with Russia—and each one has watched that vision evaporate. The first three—Bill Clinton, George W. Bush, and Barack Obama—set out to integrate Russia into the Euro-Atlantic community and make it a partner in building a global liberal order. Each left office with relations in worse shape than he found them, and with Russia growing ever more distant.
President Donald Trump pledged to establish a close partnership with Vladimir Putin. Yet his administration has only toughened the more confrontational approach that the Obama administration adopted after Russia's aggression against Ukraine in 2014. Russia remains entrenched in Ukraine, is opposing the United States in Europe and the Middle East with increasing brazenness, and continues to interfere in U.S. elections. As relations have soured, the risk of a military conflict has grown.
U.S. policy across four administrations has failed because, whether conciliatory or confrontational, it has rested on a persistent illusion: that the right U.S. strategy could fundamentally change Russia's sense of its own interests and basic worldview. It was misguided to ground U.S. policy in the assumption that Russia would join the community of liberal democratic nations, but it was also misguided to imagine that a more aggressive approach could compel Russia to abandon its vital interests.
A better approach must start from the recognition that relations between Washington and Moscow have been fundamentally competitive from the moment the United States emerged as a global power at the end of the nineteenth century, and they remain so today. The two countries espouse profoundly different concepts of world order. They pursue opposing goals in regional conflicts such as those in Syria and Ukraine. The republican, democratic tradition of the United States stands in stark contrast to Russia's long history of autocratic rule. In both practical and ideological terms, a close partnership between the two states is unsustainable.
In the current climate, that understanding should come naturally to most U.S. policymakers. Much harder will be to recognize that ostracizing Russia will achieve little and likely prove to be counterproductive. Even if its relative power declines, Russia will remain a key player in the global arena thanks to its large nuclear arsenal, natural resources, geographic centrality in Eurasia, UN Security Council veto, and highly skilled population. Cooperating with Russia is essential to grappling with critical global challenges such as climate change, nuclear proliferation, and terrorism. With the exception of China, no country affects more issues of strategic and economic importance to the United States than Russia. And no other country, it must be said, is capable of destroying the United States in 30 minutes.
Only Russia is capable of destroying the United States in 30 minutes.
A more balanced strategy of restrained competition would not only reduce the risk of nuclear war but also provide the framework for the cooperation needed to tackle global challenges. Smarter relations with Russia can help guarantee European security and strategic stability, bring a modicum of order to the Middle East, and manage the rise of China. As U.S. policymakers demand that Russia moderate its behavior, they must be prepared to scale back their near-term goals, especially in settling the crisis in Ukraine, to forge a more productive relationship with Moscow.
Above all, U.S. policymakers will need to see Russia plainly, without sentiment or ideology. A new Russia strategy must dispense with the magical thinking of previous administrations and instead seek incremental gains that advance long-term U.S. interests. Rather than trying to persuade Moscow to understand its own interests differently, Washington must demonstrate that those interests can be more safely pursued through both considered competition and cooperation with the United States.
END OF THE ILLUSION
Washington's initial post–Cold War emphasis on partnership and integration fundamentally misread the reality in Russia, positing that the country was in the midst of a genuine democratic transition and that it was too weak to resist U.S. policies. To be sure, the premise that Russia was shedding its authoritarian past did not appear unreasonable in the early 1990s. In the U.S. view, the Cold War had ended with the triumph of Western democracy over Soviet totalitarianism. The former Soviet bloc countries began to democratize after the revolutions of 1989. The rising forces of globalization fed the belief that free-market democracy was the pathway to prosperity and stability in the decades ahead. The leaders of the new Russia—President Boris Yeltsin and the dynamic young reformers around him—declared their commitment to sweeping political and economic reforms.
Yet even in the 1990s, there were signs that these assumptions were wrong. Contrary to the dominant Western narrative, the collapse of the Soviet Union marked not a democratic breakthrough but the victory of Yeltsin, a populist, over Soviet leader Mikhail Gorbachev, who ironically was a more committed democrat, having overseen what remain the freest and fairest elections in Russian history. Russia had few enduring native democratic traditions to draw from and only a shaky sense of political community on which to base a well-functioning democracy. To make matters worse, the state institutions fell prey to rapacious oligarchs and regional barons. Ruthless cliques competed, often violently, to carve up the assets of a once totally nationalized economy. Political chaos spread as old-time Communists and Soviet patriots battled more progressive forces.
The disorder intensified throughout the 1990s to the point that many observers feared Russia would crumble, just as the Soviet Union had earlier in the decade. The task of restoring order fell to Yeltsin's successor, Putin. Even as he packaged his plans in democratic rhetoric, Putin made clear in a document called "Russia at the Turn of the Millennium" (released on December 30, 1999) that he intended to return to the traditional Russian model of a strong, highly centralized authoritarian state. "Russia," he wrote, "will not soon, if ever, become a version of the United States or England, where liberal values have deep historical roots. . . . For Russians, a strong and sturdy state is not an anomaly to be resisted. To the contrary, it is the source and guarantor of order, the initiator and driver of any change."
"Russia will not soon, if ever, become a version of the United States or England," Putin wrote.
U.S. officials were not blind to the obstacles to democratic reform or to Putin's intentions, but in the afterglow of the Cold War victory, they insisted that partnership with Russia had to be grounded in shared democratic values; mere common interests would not suffice. To build public support for its policies, each administration assured Americans that Russia's leaders were committed to democratic reforms and processes. From the 1990s on, the White House measured the success of its approach in large part in terms of Russia's progress toward becoming a stronger and more functional democracy, an uncertain enterprise over which the United States had little influence. Not surprisingly, the strategy collapsed when it proved impossible to bridge the gap between that illusion and Russia's increasingly authoritarian reality. For Clinton, the moment of truth came when Yeltsin installed a new government of conservatives and Communists after the 1998 financial collapse in Russia; for Bush, it came when Putin cracked down on civil society in reaction to the Orange Revolution in Ukraine in 2004; and for Obama, it came when Putin announced in 2011 that, after having served as prime minister, he would reclaim the presidency.
The second flawed premise—that Russia lacked the strength to challenge the United States—also appeared sensible in the early post-Soviet years. Russia's economy contracted by nearly 40 percent between 1991 and 1998. The once feared Red Army, starved of investment, became a shadow of its former self. Russia was dependent on Western financial support to keep both its economy and its government afloat. In these circumstances, the Clinton administration for the most part got its way, intervening in the Balkans and expanding NATO without serious pushback from Russia.
This premise, however, became less plausible as Russia's economy rapidly recovered after Putin took office and restored order by clamping down on the oligarchs and regional barons. He subsequently launched a concerted effort to modernize the military. Yet the Bush administration, convinced of Washington's unparalleled might in the "unipolar moment," showed little respect for renewed Russian power. Bush withdrew from the Anti-Ballistic Missile Treaty, expanded NATO further, and welcomed the so-called color revolutions in Georgia and Ukraine, with their anti-Russian overtones. Similarly, the Obama administration, although less certain of American power, still dismissed Russia. As the upheavals of the Arab Spring unfolded in 2011, Obama declared that Syrian President Bashar al-Assad, a Russian client, had to go. Washington also paid little heed to Russia's objections when the United States and its allies exceeded the terms of the UN Security Council–backed intervention in Libya, turning a mandate to protect an endangered population into an operation to overthrow the country's strongman, Muammar al-Qaddafi.
Both the Bush and the Obama administrations were brought crashing down to earth. The Russian incursion into Georgia in 2008 demonstrated to the Bush administration that Russia had a veto over NATO expansion in the guise of the use of force. Similarly, Russia's seizure of Crimea and destabilization of eastern Ukraine in 2014 shocked the Obama administration, which had earlier welcomed the ouster of Viktor Yanukovych, the pro-Russian Ukrainian president. A year later, Russia's military intervention in Syria saved Assad from imminent defeat at the hands of U.S.-backed rebels.
WILL TO POWER
Today, nearly everyone in Washington has dropped the pretense that Russia is on the path to democracy, and the Trump administration considers Russia to be a strategic competitor. These are overdue course corrections. Yet the current strategy of punishing and ostracizing Russia is also flawed. Beyond the obvious point that the United States cannot isolate Russia against the wishes of such major powers as China and India, this strategy makes some grave mistakes.
For one thing, it exaggerates Russian power and demonizes Putin, turning relations into a zero-sum struggle in which the only acceptable outcome of any dispute is Russia's capitulation. But Putin's foreign policy has been less successful than advertised. His actions in Ukraine, aimed at preventing that country's westward drift, have only tied Ukraine more closely to the West while refocusing NATO on its original mission of containing Russia. Putin's meddling in U.S. elections has complicated relations with the United States, which Russia needs to normalize to win greater foreign investment and to create a long-term alternative to its excessive strategic dependence on China.
In the absence of concerted Western action, Putin has inserted Russia as a major player in many geopolitical conflicts, most notably in Syria. Nevertheless, Putin has yet to demonstrate that he can bring any conflict to an end that consolidates Russia's gains. At a time of economic stagnation and spreading socioeconomic discontent, his activist foreign policy now risks overstretch. In these circumstances, Putin needs to retrench. And that imperative should open up possibilities for the United States to turn to diplomacy and reduce the burden of competition with Russia while protecting U.S. interests.
Putin's foreign policy has been less successful than advertised.
Another flaw in the current strategy is that it imagines Russia as a pure kleptocracy, whose leaders are motivated principally by a desire to preserve their wealth and ensure their survival. To work, this policy assumes that sanctioned officials and oligarchs will pressure Putin to change his policy in Ukraine, for example, or unwind Russia's interference in American domestic politics. Nothing of the sort has happened because Russia is more like a patrimonial state, in which personal wealth and social position are ultimately dependent on the good graces of those in power.
U.S. policymakers are also guilty of not reckoning seriously with Russia's desire to be perceived as a great power. Russia is indeed weak by many measures: its economy is a fraction of the size of the U.S. economy, its population is unhealthy by U.S. standards, and its investment in the high-tech sector is far below U.S. levels. But Russian leaders cling to the conviction that to survive, their country must be a great power—one of the few countries that determine the structure, substance, and direction of world affairs—and they are prepared to endure great ordeals in pursuit of that status. That mindset has driven Russia's global conduct since Peter the Great brought his realm into Europe more than 300 years ago. Since the collapse of the Soviet Union, Russian leaders have focused on restoring Russia's great-power status, just as their predecessors did after the national humiliation of the Crimean War in the 1850s and then again after the demise of the Russian empire in 1917. As Putin wrote two decades ago, "For the first time in the past two to three centuries, [Russia] risks sliding to the second, and possibly even third, echelon of world states. To prevent this, we must exert all our intellectual, physical, and moral forces. . . . Everything depends on our ability to grasp the dimensions of the threat, to rally together, and to commit to this long and difficult task."
Part of that task is countering the United States, which Putin sees as the primary obstacle to Russia's great-power aspirations. In contrast to what it imagines as Washington's unipolar ambitions, the Kremlin insists on the existence of a multipolar world. More concretely, Russia has sought to undermine Washington's standing by checking U.S. interests in Europe and the Middle East and has tried to tarnish the United States' image as a paragon of democratic virtue by interfering in its elections and exacerbating domestic discord.
RUSSIA'S WORLD
In its quest for great-power status, Russia poses specific geopolitical challenges to the United States. These challenges stem from Russia's age-old predicament of having to defend a vast, sparsely settled, multiethnic country located on a landmass that lacks formidable physical barriers and that abuts either powerful states or unstable territories. Historically, Russia has dealt with this challenge by maintaining tight control domestically, creating buffer zones on its borders, and preventing the emergence of a strong coalition of rival powers. Today, this approach invariably runs against U.S. interests in China, Ukraine, Europe, and the Middle East.
No part of eastern Europe and the former Soviet Union has loomed larger in the Russian imagination than Ukraine, which is strategically positioned as a pathway into the Balkans and central Europe, blessed with tremendous economic potential, and hailed by Russians as the cradle of their own civilization. When a U.S.-supported popular movement in 2014 threatened to rip Ukraine out of Russia's orbit, the Kremlin seized Crimea and instigated a rebellion in the eastern region of the Donbas. What the West considered a flagrant violation of international law, the Kremlin saw as self-defense.
When they look at Europe in its entirety, Russian leaders see at once a concrete threat and a stage for Russian greatness. In practical terms, the steps Europe took toward political and economic consolidation raised the prospect of an enormous entity on Russia's borders that, like the United States, would dwarf Russia in population, wealth, and power. Psychologically, Europe remains central to Russia's great-power sensibilities. For the past three centuries, Russia has demonstrated its prowess on Europe's great battlefields and through its grand diplomatic conferences. After the defeat of Napoleon in 1814, for example, it was the Russian emperor Alexander I who received the key to the city of Paris. Europe's consolidation and the continued expansion of NATO have had the effect of pushing Russia out of Europe and diminishing its voice in continental affairs. And so the Kremlin has accelerated efforts to exploit the fault lines within and between European states and to stoke doubts in vulnerable NATO members about their allies' commitment to collective defense.
After the defeat of Napoleon in 1814, the Russian emperor Alexander I received the key to the city of Paris.
In the Middle East, Russia has returned after an absence of some 30 years. At first, Putin intervened in Syria both to protect a long-standing client and to prevent the victory of radical Islamist forces with ties to extremists inside Russia. But after saving Assad and seeing the absence of a strong U.S. role, his ambitions grew. Russia decided to use the Middle East as an arena to showcase its great-power credentials. Largely bypassing the UN-sponsored peacemaking process, in which the United States is a central player, Russia has teamed up with Iran and Turkey to seek a final political resolution of the crisis in Syria. To reduce the risk of a direct conflict between Iran and Israel, Russia has strengthened its diplomatic ties to Israel. It has rebuilt relations with Egypt and worked with Saudi Arabia to manage oil prices.
It has also grown closer to China in developing a strategic counterbalance to the United States. This relationship has helped Russia resist the United States in Europe and the Middle East, but the greater concern for Washington should be how it enhances Beijing's capabilities. Russia has aided China's commercial penetration of Central Asia and, to a lesser extent, Europe and the Middle East. It has given China access to natural resources at favorable prices and has sold the country sophisticated military technology. In short, Russia is abetting China's rise as a formidable competitor to the United States.
Moscow's more assertive foreign policy today is a reflection not of the country's growing strength—in absolute terms, its power hasn't increased much—but of the perception that U.S. disarray has magnified Russia's relative power. The country's behavior is also driven by a persistent fear that guides Russian foreign policy: the sense that in the long run, Russia will fall dangerously behind both the United States and China. The Russian economy is stagnating, and even official projections see little hope for improvement in the next ten years. Russia cannot invest as much as its two competitors in the critical technologies, such as artificial intelligence, bioengineering, and robotics, that will shape the character of power in the future. Putin may be pressing hard now, at the time of Russia's heightened relative power, to better position the country in the new multipolar world order he sees emerging.
BETWEEN ACCOMMODATION AND RESISTANCE
The challenge Russia now poses to the United States does not echo the existential struggle of the Cold War. Rather, the contest is a more limited competition between great powers with rival strategic imperatives and interests. If the United States was able to reach accommodations with the Soviet Union to strengthen global peace and security while advancing American interests and values, surely it can do the same with Russia today.
Beginning in Europe, U.S. policymakers should give up any ambitions of expanding NATO farther into formerly Soviet spaces. Rather than courting countries that NATO is unwilling to defend militarily—note the limp responses to Russian attacks on Georgia and Ukraine—the alliance should strengthen its own internal cohesion and reassure vulnerable members of its commitment to collective defense. Halting NATO expansion eastward would remove a central reason for Russia's encroachments on former Soviet states. But the United States should still cooperate on security matters with those states, a kind of relationship that Russia tolerates.
So far, the United States has insisted that the possibility of NATO membership remains open to Ukraine. Washington has categorically rejected Russia's incorporation of Crimea and insisted that the conflict in the Donbas be brought to an end on the basis of the agreement signed in Minsk in 2015, which stipulates a special autonomous status for separatist regions inside a reunited Ukraine. This approach has made little headway. The Donbas conflict continues, and Russia is putting down deeper roots in Crimea. Distracted from reform by the struggle with Russia, Ukraine is beset by corruption, political volatility, and economic underperformance.
The time is ripe for bold diplomacy in settling the crisis in Ukraine.
The recent election in Ukraine of a new president, Volodymyr Zelensky, whose supporters now dominate the parliament, has created an opening for a comprehensive resolution of the crisis. Two tradeoffs are essential. First, to allay Russian concerns, the United States should tell Ukraine that NATO membership is off the table, while deepening bilateral security cooperation with Kiev. Second, Kiev should recognize Russia's incorporation of Crimea in exchange for Moscow's acceptance of the full reintegration of the Donbas into Ukraine without any special status. In a comprehensive agreement, Ukrainians would also receive compensation for lost property in Crimea and Ukraine would be afforded access to offshore resources and guaranteed passage through the Kerch Strait to ports on the Sea of Azov. The United States and the EU would incrementally ease their sanctions on Russia as these arrangements took effect. At the same time, they would offer Ukraine a substantial assistance package aimed at facilitating reform in the belief that a strong, prosperous Ukraine is both the best deterrent against future Russian aggression and a necessary foundation for more constructive Russian-Ukrainian relations.
Such an approach would be met initially with great skepticism in Kiev, Moscow, and elsewhere in Europe. But Zelensky has staked his presidency on resolving the Donbas conflict, and Putin would welcome the chance to redirect resources and attention to countering spreading socioeconomic unrest in Russia. Meanwhile, European leaders are suffering from Ukraine fatigue and want to normalize relations with Russia while still upholding the principles of European security. The time is ripe for bold diplomacy that would allow all sides to claim a partial victory and accommodate the hard realities on the ground: NATO is not prepared to accept Ukraine as a member, Crimea is not going back to Ukraine, and a separatist movement in the Donbas is nonviable without Moscow's active involvement.
A smarter Russia strategy would also better reckon with the implications of the Kremlin's military intervention in the Middle East. It is Iran—not Russia—that poses the main challenge there. When it comes to Iran, Russia has diverging, but not necessarily opposing, interests from those of the United States. Like the United States, Russia does not want Iran to obtain nuclear weapons—that was why it supported the nuclear deal with Iran, the Joint Comprehensive Plan of Action, from which the Trump administration withdrew in 2018. Like the United States, Russia does not want Iran to dominate the Middle East; Moscow seeks to forge a new equilibrium in the region, albeit with a different configuration than the one sought by Washington. The Kremlin has worked to improve relations with other regional powers, such as Egypt, Israel, Saudi Arabia, and Turkey, none of which is especially friendly with Iran. Russia has paid particular attention to Israel, allowing it to strike Iranian and Hezbollah positions in Syria. If the United States deferred to Russia's limited security interests in Syria and accepted Russia as a regional player, it could likely persuade the Kremlin to do more to check aggressive Iranian behavior. The Trump administration is already moving in this direction, but a more vigorous effort is warranted.
Washington must also update its approach to arms control. What worked for the last 50 years no longer will. The world is shifting toward a multipolar order, and China in particular is modernizing its forces. Countries are developing advanced conventional weapons capable of destroying hardened targets once vulnerable only to nuclear weapons and cyberweapons that could put at risk nuclear command-and-control systems. As a result, the arms control regime is breaking down. The Bush administration withdrew from the Anti-Ballistic Missile Treaty in 2002, which the president described as an obsolete relic of the Cold War, and in 2018, the Trump administration withdrew from the Intermediate-Range Nuclear Forces Treaty, which it had derided as ineffective and out of date.
Nevertheless, the United States should prolong New START—the strategic arms reduction treaty signed in 2010 that is set to expire in 2021—a move that Russia supports despite the Trump administration's hesitation. The treaty fosters transparency and trust between the two countries—essential qualities in a time of strained relations—but it does not restrain the accelerating arms race in increasingly sophisticated and powerful weapons. The most promising systems—hypersonic weapons and cyberweapons, for example—fall outside the New START treaty's purview. Policymakers need to develop a new arms control regime that encompasses novel, rapidly developing technologies and includes other major powers. Although it is necessary to bring China into the process at some point, the United States and Russia should take the lead, as they have before—they possess unique experience in considering the theoretical and practical requirements of strategic stability and corresponding arms control measures. Together, Washington and Moscow should develop a new arms control regime and then bolster it with multilateral support.
On strategic nuclear issues and other matters, the United States cannot prevent the rise of China, but it can channel growing Chinese power in ways that are consistent with U.S. interests. It should make Russia part of this effort rather than drive Russia into China's embrace, as the United States is now doing. It is impossible, of course, to turn Russia against China; Russia has every reason to pursue good relations with a neighbor that has already surpassed it as a major power. But the United States could deftly encourage a different balance of power in Northeast Asia that would serve U.S. purposes.
Together, Washington and Moscow should develop a new arms control regime.
To do so, U.S. policymakers should help multiply Russia's alternatives to China, thereby improving the Kremlin's bargaining position and reducing the risk that its trade and security agreements with Beijing will be tilted heavily in China's favor, as they are now. As U.S.-Russian relations improve in other areas, the United States should focus on removing those sanctions that prevent Japanese, South Korean, and U.S. investment in Russia's Far East and that block joint ventures with Russian firms in Central Asia. Increasing Russia's options would give the Kremlin greater leverage in dealing with China, to the United States' advantage.
U.S. efforts to moderate competition on regional issues could incline Russia to curb its electoral meddling, but the problem won't go away easily. Some level of interference, from Russia and from other states, is unavoidable in today's interconnected world. Because European democracies face similar challenges, the United States should work with its allies to develop joint and reinforcing responses to these cyberthreats. There should be some redlines regarding Russian behavior; for instance, U.S. officials should take a strong stance against hacking that aims to weaponize stolen information or corrupt data, including voter rolls and vote counts. With better-coordinated exchanges of intelligence, the sharing of best practices, and occasional joint action, the United States and its allies must harden critical electoral infrastructure, push back against Russia with criminal prosecutions and targeted sanctions, and, when appropriate, launch cyber-counterstrikes.
Russian propaganda outlets, such as the television channel RT, Sputnik radio, and social media accounts, pose a trickier problem. A confident, mature, and sophisticated democratic society should be capable of containing this threat with ease without frantically trying to shut down offending websites and Twitter accounts. Amid hyperpartisan rancor in the United States, however, the media and the political class have exaggerated the threat, blaming Russia for domestic discord and dangerously narrowing the room for critical debate by insinuating that opinions that might align with official Russian preferences are part of a Kremlin-inspired influence campaign. A more constructive approach would be for the United States and other democracies to foster greater awareness of the arts of media manipulation and help raise the critical reading skills of their publics, without dampening the vigorous debate that is the lifeblood of democratic societies. Some Scandinavian countries and Baltic states have devoted considerable effort to these tasks, but the United States has lagged behind.
As the United States hardens its systems and educates its citizens, it should also involve Russia in establishing rules of the road in cyberspace. Even if such rules are not fully observed in practice, they could act as a restraint on the most troubling behavior, much in the way the Geneva Conventions have constrained armed conflict.
On all these issues, the proposed mix of accommodation and resistance takes into account the hard realities of Russian interests and American power. This approach stands in sharp contrast to the ones U.S. administrations have pursued since the end of the Cold War, which misread Russia and refused to recognize U.S. limitations. In many ways, this strategy would represent a return to the tradition of U.S. foreign policy before the end of the Cold War.
That grand tradition was forward-looking, pursuing foreign policy with patience over time and satisfied in the short term with incremental gains. The United States did not fear making accommodations with Moscow because it was confident in its values and its future, aware of its great power but mindful of its limitations and respectful of its rival's power. This subtle understanding marked the strategies that all U.S. Cold War–era presidents pursued to master the challenge from Moscow. By recapturing the virtues of its past, the United States can master that challenge again today.
The Brutish Isles Posted November 17th 2019
Evidence implicating British soldiers in the murder of children and the torture of civilians was covered up by military commanders, according to leaked documents that had been kept secret by the government.
Military detectives unearthed disturbing allegations that senior commanders had tried to hide war crimes by British troops in Afghanistan and Iraq, a year-long investigation by The Sunday Times and the BBC Panorama programme has established.
Evidence had been found of murders by an SAS soldier and deaths in custody, beatings, torture and degrading sexual abuse of detainees by members of the Black Watch. The military detectives also discovered allegations of the falsification of documents serious enough to merit prosecutions of senior officers.
Editorial Comment Britain and the U.S Elites are untouchable as the Assange cover up shows. Soldiers do what the politicans want, then carry the can for those slippery self centred liars. The whole Iraq invasion was a war crime. If politicans have to be prosecuted, then prosecute the politicans, starting with Tony Blair.
RTQuestion more live 06:31 GMT, Nov 13, 2019
US would attack foes & friends to protect its hegemony and doesn't shy away from using terrorists as proxies – Assad to RT Posted November 13th 2019
11 Nov, 2019 05:17 / Updated 1 day ago
Syria became a testing ground for the US as it refines its tools to safeguard global hegemony, President Bashar Assad told RT's Afshin Rattansi in an exclusive interview. He also explained what many Syrians are fighting for.
Washington sees its former dominant role slipping away and is trying to preserve it using all means available, the Syrian leader believes. So the US would "fight the Russians, the Iranians, the Syrians, whoever said 'No'. Even their allies if they said 'No'. Like the Western governments, they will fight with them," he said.
In fact, Syria was targeted by the US after two very costly direct military invasions in Afghanistan and Iraq. In the latter case, the US and its allies fought against Saddam Hussein – an Iraqi strongman, who enjoyed active support of Washington and London for decades – particularly in his war with another American rival – Iran.
Yet, later, relations between them soured in the wake of the Gulf War and Saddam's Iraq was eventually designated a target for US invasion in 2003.
Campaigns against Saddam and the Taliban in Afghanistan turned out to be too costly for Washington and apparently brought lower yields than expected.
So, the US took a different approach in an attempt to topple his government, Assad said, a war through jihadist proxies. Contrary to the public declaration that terrorist groups like Al-Qaeda, the Nusra Front or Islamic State (IS, formerly ISIS) were to be eliminated, the US had no qualms about supporting them as long as they were following their goals. Also on rt.com 'Like a giant ISIS recruiting poster': Trump's Syrian oilfield occupation slammed by 'moderate' rebel recruiter Biden
"Al-Qaeda is a proxy against the Syrian government, against the Russian government and the Iranian government," he explained.
How did ISIS rise suddenly in 2014?! Out of nowhere! Out of nothing! In Iraq and Syria at the same time, with American armaments?! It's very clear.
US hand in glove of terrorists
He said IS at the peak of its power could not have been smuggling oil worth millions of dollars per month out of Syria without the US turning a blind eye.
"Since ISIS started … looting Syrian oil in 2014, they had two partners: [Turkish President Tayyip] Erdogan and his coterie, and the Americans, whether the CIA or others," he said. The US-supervised looting of Syria's riches openly continues today, he added. Yet, that looting – so the president says – doesn't stop when a war ends.
The Americans always try to loot other countries in different ways regarding not only their oil or money, or financial resources. They loot their rights, their political rights, every other right. That's their historical role at least after World War II.
Assad said that murky ties between Washington and hardline militants in Syria is the reason why he is skeptical about Donald Trump's claim that American special ops indeed took down IS leader Abu Bakr al-Baghdadi. Just like in the case of Osama Bin Laden, no definitive proof of the death was made public, which contrasts sharply with what happened to people like Iraqi leader Saddam Hussein or Libyan leader Muammar Gaddafi. Moscow, for its part, also has reservations about claims Baghdadi is dead, calling for the release of some definite proof. Also on rt.com Al-Baghdadi was US 'spawn', his death is still an open question – Lavrov
Regardless of whether al-Baghdadi is dead or alive, the important thing is not to be sidetracked by the brouhaha, Assad believes.
The whole story was about whitewashing the American hand from being hand in glove with the terrorists during the last, not only few years, but during the last decades.
People fight and die for a cause, not a person
The narrative supporting regime change in Syria usually focuses on Assad and his inner circle, claiming that disposing of the so-called 'dictator' would be enough to ensure positive change in Syria. "Assad must go" has long been a mantra in the West. The man himself says the notion is ridiculous since hundreds of thousands of Syrians fighting on the side of Damascus are certainly not putting their lives on the line for his person.
People would die, especially en masse for a cause, and this cause is defending their country, defending their existence, their future.
The same is even truer for nations like Iran and Russia, which sent their troops to help the Syrians in the battle against terrorism. Believing that any government would bet its interests on the political survival of a single foreign leader "is against logic," Assad said. The leader is often accused of using brutality and terror tactics against the civilian population to turn against the militant groups opposing Damascus and pledge allegiance to the Syrian government. He argued that such an approach would be not only immoral but also impractical.
"The war in Syria was about capturing the hearts of the people, and you cannot capture the hearts of the people by bombarding them," he said. "How could the Syrian people support their state and their president and their army, if they are killing them?"
Economic warfare continues
Assad said that Western leaders who say that the Syrian people are suffering under his government are hypocrites because the very same leaders inflict suffering on Syrians through economic sanctions. It is basically just another way to try and ensure regime change, he argued.
This is maybe the last ditch-attempt in order to push them to be against their government. But they tried it last winter, they tried it before, and it did not work because the people knew the whole story, and they knew where their interest lies.
Syria traditionally has a strong public sector, which provides many services like healthcare or education free or at subsidized prices. With the economy crippled by the war even more people rely on the government to get basic things like food or heating oil.
The sanctions, however, are not limited to the government, Assad said. Private investors are strongly discouraged by the US and its allies from bringing capital into government-controlled parts of Syria, which makes economic recovery, reconstruction and return of refugees harder.
Other countries need to fight back. It's time for a worldwide rebellion against the US empireReplyShare50 Likes

I disagree. People need to unite against All governmentsReplyShare1 Like
Start will Israel. The synagogues have been funding color revolutions since 1905ReplyShare21 Likes

US is a monster, hungry for profit and loot, is the worst enemy of the mankind and the Earth itself, does care nil even for its friends and its own citizens!ReplyShare33 Likes

This post violated our policy.
The system said it hadn't wanted it, so it's here now twice?! I forgot: Guard NordStream2 well, really well.ReplyShare
US coup against Morales (Bolivia) = LITHIUM (for technology) The US couldn't tolerate China's more benign TRADE with Bolivia.ReplyShare6 Likes

Assad in this interview was no bragass like any american politition , he was cool and calm with rasional comments. Exposing the western agendas!ReplyShare48 Likes

just heard news that James le Mesurier was found dead in Istanbul. Karma at work, with a little help hopefully.ReplyShare4 Likes
He has always been rational. he said from the start that his country was being attacked by foreigners. Of course he is correct..ReplyShare21 Likes

Its plain to see that Assad is the real deal. He leaves all western leaders in the dust, intellectually and morally.ReplyShare23 Likes
I am sure I am not the only one who, over time, found a lot of the claims did not ring true somehow. The chemical attacks, white helmets, missile attacks, barrel bombs (remember them ?). Russians being blamed for a lot of it, especially attacks on hospitals and schools and large groups of civilians. The biased (bought and paid for) by the "inspectors" and their fake reports. Now this President can come forward and calmly explain the entire situation in a calm and collective way that is entirely credible. Well done RT and all the very best to you President Assad and your people.ReplyShare20 Likes
The US Mafia, Inc.ReplyShare17 Likes
The Western powers have committed crime against Syria,when they will be punished for their crimes against humanity???????ReplyShare16 Likes

Well said. The truth eventually outs as one can plainly see by USA pillaging Syria's Oil which was USA's intention all along. i.e USA presence in Syria is against international law and illegal as was the invasion which was based on the usual USA Fake News.ReplyShare2 Likes
Before they can be punished they MUST be taken down … those with the power call the tune, unfortunately … the world needs to find a way to stand up against continuus US and NATO warfare …ReplyShare10 Likes

Great interview! Assad is a smart man and a great leader. Makes you sick to the stomach. Not just the Syrian story, which became a complete disaster ever since the West started meddling in their affairs. It also shows how weak Western leaders and societies as a whole have become. If every country had thoughtful leaders like Assad, the world would likely be a better place.ReplyShare23 Likes

Get lost LOLLLLLLLL go back to liveleakReplyShare1 Like
He actually has medical specialist qualifications, studied in Britain at one of the Medical Schools in London. He and Mr Putin are among the best educated of the present world leadersReplyShare2 Likes

Mr Assad has an extraordinary ability to disseminate clarity and ask vital questions. Such people as Mr Assad are good for the international community if we wish to retain our freedom in the light of truth confirmed by truly examining hard facts and asking pointed questions. The fact is this "western conglomerate" represents a tyranny which is godless and completely inline with George Orwell's views which he expressed in two books written well before their time.ReplyShare19 Likes
I prefer to believe All Assad and therefore the question is, how should I judge all the Trump poppets. The day Erdogan sends the emigrants (millions), our real problems will start. Europe has only one good option; free yourself from the American influence.ReplyShare12 Likes

Freeing ourselves from the American influence and to do that, we have to disband NATO, which the US promised to do right after the dissolution of the Warsaw Pact. But an American promise is worth less than their dollar. Th ruling power in the world, the cartel of international bankers, uses the US as its military arm. Without NATO the emperor wears no clothes.ReplyShare4 Likes
The Euro oligarchy depends on US support and US occupation forces. No American influence would equal a huge change in European governance.ReplyShare3 Likes
© Autonomous Nonprofit Organization "TV-Novosti", 2005–2019. All rights reserved.
This website uses cookies. Read RT Privacy policy to find out more.
Majority in U.S Condemns wars in Iraq and Afghanistan as not worth fighting, Posted November 12th 2019
Britain's Boris and Jeremy Hunt pledge support for Hong Kong Protestors. Wonder Why? Posted November 12th 2019
More Demonocracy Posted November 12th 2018
World War Free? Posted November 10th 2019m
The Chinese embassy in Germany has dismissed the US secretary of state's accusations of the Chinese government's growing authoritarianism as the product of a "Cold War mentality and zero-sum game mindset."
Speaking in Berlin on Friday ahead of 30th anniversary events to mark the falling of the Berlin Wall, Mike Pompeo took aim at both China and Russia, saying the world needs to be protected from threats posed by both and that "free nations are in a competition of values with unfree nations."
Pompeo also accused the Chinese Communist Party of "shaping a new vision of authoritarianism."
Responding to the remarks, a spokesperson for the Chinese embassy in Germany said Beijing "expresses strong dissatisfaction and firm opposition" to Pompeo's comments, adding that they seem designed to drive a wedge between China and European nations.
The spokesperson added that "unilateralism and protectionism pose a serious threat to world peace and stability," and China is willing to strengthen relations with Germany "so as to make contributions to world peace and development."
Chinese Foreign Ministry spokesman Geng Shuang accused Pompeo of ideological prejudice and said that "attempts to separate the Chinese people and the Chinese Communist Party are a provocation against the entire Chinese people and are doomed to fail."
Editorial Comment Freedom is just another name for nothing. It is bandied around by bloated smug usually male politicians. Their female counterparts prefer to talk about themselves as the great honourable unfree in their own never ending war against male oppression. Truth is the one thing none of them are looking for.
As for the U.S or Britain having anything to teach about democracy truth and freedom, they should explain themselves to Julian Assange, his former co workers and supporters.
They got Assange on spurious sex charges, relying on women as the new thought police. Unfortunately sex is a basic human drive for reproductiion and vanity so good men will always be vulnerable on that one. The elite know that and are above that and other laws themselves. Britain should be renamed Cover Ups r'Us.
Hong Kong Democracy? Posted November 8th 2019
Hong Kong protesters held a vigil for "martyrs" on Saturday November 9th and many demanded "revenge" after a student died in hospital this week following a high fall, fueling anger among pro-democracy demonstrators who first took to the streets in June.
Thousands of people peacefully gathered in Tamar Park next to central government offices in the former British colony that returned to Chinese rule in 1997, after they had secured rare permission from the police to hold the evening rally.
The protesters sang hymns and carried flowers, while many shouted "revenge," a call heard increasingly often at rallies and given added impetus since a student died on Friday after falling from a multi-story car park during a protest.
Police estimated 7,500 people attended Saturday's vigil.
Editorial Britain's ruling elite took Hong Kong through its vile Opium Wars in the ninetreeth century. Now, along with the U.S, they are involved with this so called pro democracy movement. As always it's about the money and Shamocracy. Robert Cook
This is what's wrong with Canada's Right
As its support base shifts and hardens, the Conservatives increasingly have a new measure: are you with us or against us? Posted November 5th 2019
Jan 11, 2019
This month's duelling cover stories go inside the angry, closed-minded, petty world of Canadian politics—and how to fix it. Here's why we did it.
---
During Ontario's Progressive Conservative leadership race last winter, Bill Fox donated to Caroline Mulroney's campaign. The party immediately began carpet-bombing him with fundraising messages denouncing the "downtown elites" they were going to take down. "When you live in a condominium in Leslieville at the corner of Dundas and Carlaw, it's pretty hard not to take that a little personally," says Fox, hooting with laughter.
He was Brian Mulroney's director of communications when Mulroney steered the PCs to a historic federal majority of 211 seats in 1984, but Fox hasn't felt at home with the current federal Conservatives for years, mostly because of the party's social policy and anti-elite bent. He can see the feeling is mutual. "In their mind, I am now part of the 'other,' " he says. "I'm not them."
The major parties in Canada were, not so long ago, big tents that were nominally blue or red but sheltered a broad and often ideologically mixed bag of policy positions and personal opinions. Every few years, they would cobble together a set of proposals tackling the issues of the day and hope to build a coalition large enough to govern. As Fox points out, in his days on the front lines, Red Tories like him and Blue Grits were common creatures, and if you wanted to be mischievous, you would ask what the difference was between them.
No one would confuse a Grit and a Tory of any hue these days, and it would be treated as a slur if you did.
On the right side of the Canadian spectrum, this tribalism has its roots in the 2003 merger of the PCs and Canadian Alliance that produced the Conservative Party of Canada, now led by Andrew Scheer. But, paradoxically, the newly split right—thanks to Maxime Bernier bolting to found the anti-immigration, libertarian People's Party of Canada—­­­­is further fuelling the Conservative tendency to appeal to the most ardent base and seemingly no one else. "Mr. Bernier, for his own selfish reasons, has made it increasingly difficult, and borderline impossible, to campaign in the mould of the Harperite campaign strategy, which was 'rough the edges off and go for a big-tent Conservative party,' " says Jason Lietaer, a conservative strategist and president of Enterprise Canada. "Because Mr. Scheer is fighting a rear-guard action, that is a significant risk."
RELATED: Why it's dangerous to equate the Left and the Right
More broadly, James Moore, Stephen Harper's former industry minister, argues that across all parties, the traditional left-right axis has been replaced by a sort of tripartite purity test. "There's 'with us,' 'might be with us,' and 'against us,' " he says. "And it's on an issue-by-issue basis."
And the metrics by which Canadian Conservatives judge who is with them or against them have fundamentally shifted. University of Saskatchewan political studies professor David McGrane, drawing on findings of a paper he co-authored called "Moving beyond the urban/rural cleavage," says the action on the right is on identity issues like immigration, gay rights and environmentalism rather than traditional small-government, low-tax policies. "For Conservative voters, suburbanites and people who live in more rural areas, this idea of being socially progressive and economically conservative doesn't hold up," he says. "You're probably more economically progressive and socially conservative."
No 10 accused of 'whopping untruths' over Russia report Posted November 3rd 2019
Russia has interfered in elections of other countries, says Mr Grieve Downing Street has been accused of telling "whopping untruths" over the publication of a report into the threat posed by Russia to the UK's democratic processes.
The claim by former attorney general Dominic Grieve ramps up the war of words with Number 10 over the release of the dossier, which he argues is essential ahead of the election.
Labour leader Jeremy Corbyn has also demanded its publication, questioning what the government "have got to hide".
Mr Grieve, the chair of parliament's Intelligence and Security Committee (ISC), alleges the prime minister is sitting on the report ahead of the 12 December poll.
The independent MP who was kicked out of the Tories by Boris Johnson over his opposition to no-deal Brexit is calling on the Conservative leader to publish the committee's report before parliament is dissolved on Tuesday.
The House of Commons has previously been told the report was sent to the PM on 17 October.
A former head of MI6's Russia desk is understood to have given evidence to the inquiry Mr Grieve says Downing Street should have signed off the report within 10 working days, but No 10 dispute this and maintain the process usually takes six weeks.
Parliament is expected to sit on Monday and Tuesday ahead of dissolution although proceedings could be brought to an end sooner, which may prevent the report's release.
Speaking to Sky News, Mr Grieve said: "If it can't be published by Tuesday it will not be published at the earliest until April or May of next year.
"It does have a bearing on electoral processes because we know that the Russians have in other countries interfered in their electoral processes."
He said that Downing Street's six-week claim on clearing the report was "completely and totally untrue".
Jeremy Corbyn has questioned what the government 'have got to hide' Mr Grieve added: "It's a lie. I really get worried about this. The process of getting this report cleared is finished.
"The last stage – the clearance by the prime minister – is programmed for 10 days.
"The suggestion that six weeks are needed is just astonishing.
"They are coming out with things that are quite simply whopping untruths and they must know it."
He went on: "I find it really worrying. What on earth is going on when people can come along and authoritatively suggest something which is complete fiction.
"If the prime minister has a reason why he can't publish or doesn't wish this report to be published we need to know about it please.
"It would be exceptional. It has never, ever happened before."
The Remain-supporting MP dismissed any suggestion that his call was linked to continuing tensions over the referendum.
Meanwhile, Mr Corbyn told reporters: "Yes it should be released.
"And I suspect that the reason it hasn't been published is because they're going to delay it past the dissolution of parliament on Tuesday and then they can hide it away until some point in the future.
"If a report has been called for and written, and it should be in the public domain, then what have they got to hide?"
Sky News understands Christopher Steele, the former head of MI6's Russia desk, gave evidence to the ISC inquiry.
Turkey, Is their Christmas Coming soon? Posted October 30th 2019
Amb. W. Robert Pearson, former U.S. ambassador to Turkey (2000-2003) and director general of the U.S. Foreign Service (2003-2006), told Middle East Forum Radio on October 23 that Turkish President Recep Tayyip Erdoğan's bid for "hegemonic control over the geography of Syria south of the Turkish border" is likely to fail, even with an American green light:
[Erdoğan] has tried for years now, offering in Idlib, Aleppo, and along the northeastern border to establish that kind of hegemony and get the Russians to agree to it. But the Russians have never agreed to it. They'll push the Turks out of every bit of that geography they can and they will complete that job. Now that they're doing patrols along the border with Turkish forces, something Erdoğan really did not prefer to have happen but is happening – backed by Syrian government, state armed forces – sooner or later, the Russians are going to say to the Turks, "please leave Syria," and it will happen.
Since Erdoğan surely understands this reality, Pearson reasons that the real reasons for the Turkish invasion earlier this month were "purely political." The Turkish leader "needs to shore up a base that is weakening" and compensate for his party's defeat in Istanbul's mayoral election in June. "This was his way of trying to rally his supporters to back his other domestic actions. A lot of people have suffered as a result of it."
Amb. W. Robert Pearson is presently a non-resident scholar at the Middle East Institute.
Pearson, who was serving as U.S. ambassador in Ankara when Turkey's ruling Justice and Development Party (AKP) came to power in 2002-2003, recounted how Erdoğan has changed over the course of his long tenure. "He's evolved the articulation of his position, really from the time he came into politics, from a man who was moderate, reached out to all elements of the society, ran on a liberal platform in 2002, to the authoritarian rather hardline approach that he takes today."
The AKP's ascent, like that of Islamists elsewhere, was aided by the corruption and ineptitude of the secular political establishment:
They had gained support because they actually did things for people at the common level and reached out to communities in a way that the established parties didn't do. The established parties had faced a number of charges of corruption, and they had, frankly, run out of energy. And for a year, at least, before the election in 2002, we in the embassy knew that the support for Erdoğan's party was running at about 30%, which is a high number for Turkey. But none of the people in the establishment, when we talked to them, would accept this as credible. They thought that these were manufactured numbers and then when the results occurred and Erdoğan's party was elected they were quite shocked. But we were not.
Pearson is pessimistic that the U.S. congress can bring sufficient pressure to bear on Turkey to change Erdoğan's thinking, predicting "lots of condemnation, no sanctions":
To be honest with you, Erdoğan doesn't care what the U.S. does because [it has] now completely abdicated any influence or control in Syria. [It has] nothing on the table with Turkey that Turkey would find appealing to bargain about. So the real question is whether the Senate will pass a veto-proof heavy sanctions bill that would punish Turkey economically as a result of the incursion. I think that President Trump and his allies are working strenuously to let the heat about this issue out without allowing any of the substantive reaction that the Senate's been talking about. … [A]ny attempt to pass a veto-proof bill in the Senate will be met by strong opposition from [Majority Leader] Mitch McConnell and will have a very difficult time passing. So if it doesn't pass, then there's nothing that will be done against Turkey that is more than window dressing, and the U.S. will eventually be regarded as a non-player.
Pearson disagreed with MEF Radio cohost Gary C. Gambill's suggestion that it may be time for Washington to reconsider its designation of Turkey's PKK (Kurdistan Workers Party) as a terrorist group:
Well, let's look at it from the other end of the telescope. When we were trying – the UK, the U.S. and others – to bring peace to Northern Ireland, we didn't start by deciding the IRA was not a terrorist organization. We started with a dialog process that led to a peace agreement, which led to the promise of political involvement by the IRA and its colleagues in the politics of Ireland rather than terrorist act. So if you want to do this right, you start a dialog with the Kurds, which would be a very good idea, and eventually you reach an accommodation.
Pearson disputed Turkish claims that the Syrian Kurdish YPG (Peoples Protection Units) – the main force within what the U.S. military rebranded as the Syrian Democratic Forces (SDF) – is one and the same as the PKK:
Well, they are kissing cousins, there's no doubt about that, and they sympathize with each other. But there is no evidence whatsoever that the YPG was supplying arms, especially American manufactured arms, to the PKK, which we all recognize as a terrorist organization which wants to carve out separate territory in Turkey. … They were more interested in the protection of their own people and their own territory in northeastern Syria.
Asked if the U.S. should support Kurdish self-determination, Pearson drew a distinction between the right to self-determination and the right to self-defense. Kurdish self-determination requires that one or more of the four countries (Turkey, Iraq, Syria, and Iran) that contain part of the Kurd's historic homeland "either agree to it or accept it," which he called "a steep mountain to climb."
The U.S. withdrawal forced Syrian Kurds "to jump into the arms of
the Russians."
But the U.S. "was right in asserting that the Kurds had a right of self-defense," he says, recounting how they were savagely attacked by ISIS as it expanded in 2013 and 2014. "No one else stepped forward to protect them or help them. So we did. and they were marvelous in helping us with bringing ISIS to the point of near collapse."
The tiny U.S. military presence in northeastern Syria should have been maintained long enough to "ensure that the Kurds made the best deal possible with the Damascus and with Turkey regarding their future in Syria," Pearson argues. "By fleeing as we did, we made it impossible for them to do that and they had to jump into the arms of the Russians and the Syrians just for survival purposes. That's where we are today."
Editorial Comment At last a U.S administration admits it is oil about stealing the oil Syria needs to rebuild. Britain is there to back them.
Turkey-Backed Jihadists in Syria Kidnap, Murder, and Desecrate
by Seth Frantzman
The Jerusalem Post
October 24, 2019
Originally published under the title "Turkey-Backed Jihadists in Syria Call Women 'Whores,' Execute Prisoners."
NATO member Turkey has sent hundreds of far-right extremists that it recruited under the banner of the Syrian National Army to fight in Syria. It has used them as both shock troops and canon fodder to fight mostly Kurdish forces along the border, but as a ceasefire began last week these units turned to looting attacking civilians and mutilating corpses, according to videos they posted online. The US says human rights violations may be occurring. Kurdish activists wonder why NATO stands behind religious extremists whose statements look little different than ISIS.
The first videos of jihadists being sent to fight Kurds under the banner of 'Syrian rebel' groups appeared in the lead-up to Turkey's offensive on October 9. Videos showed men waving swords and chanting about "killing the kuffar" or "infidels," terminology often used by ISIS. On October 12 a video emerged of a group executing two Kurdish detainees by the side of a road in Syria. According to reports it took place near the M4 highway inside Syria.
Comment These are not necessarily the views of Robert Cook
Conspiracy? Never! Posted October 27th 2019
Today in the U.K the clocks go back making the nights even darker. I am used to going to work in the dark and coming home in the dark. Living in the West, I am also used to the elite media doing its best to keep me in the dark.
These days we are expected to belive that there is no such thing as a conspiracy in spite of history being full of them, including the Jewish priests comspiring with Judas and the Romans to capture and kill Jesus because they did not like his egalitarian message.
Ironically the powerful went on twist his teachings into the rival religions of Roman Catholicism, Proestantism and Islam with all of its schisms and politics.
Conspiracy comes naturally to the power hungry as does skill in lying. So we have the official lies about chemical weapons attacks on Douma in Syria, used as an excuse for the U.S, Britain and France to bomb government troops and installations.
The truth behind this hypocritical moralising attack on Syria is becoming clear. It is- as all the wars in the Middle East since 1990 have been- all about oil and rich peoples' self interest.
Of course there have been and will go on being war crimes. But as the Assange affair proves, it will not be the power elite who pay the price for revelations. It will be the lower class ignorant and desperate for a job who get the blame for slightest misdemeanours, making all look good. Whsitleblowers like Julian Assange and Chelsea will be locked away and driven mad with Britain's connivance- all in the name of Representative Democracy.
Robert Cook
Putin is the New King of Syria
by Jonathan Spyer
The Wall Street Journal
October 16, 2019
By giving Turkey a green light to invade northern Syria, the U.S. upended the balance of power in the Middle East with a single stroke.
…
Vladimir Putin is now the indispensable strategic arbiter in Syria. None of the remaining pieces on the broken chessboard can move without Mr. Putin's hand.
…
Mr. Assad, the Kurds, Turkey and Israel all now depend on Moscow's approval to advance their interests in Syria. This process has been sealed by sudden windfall this week, all without the firing of a single Russian bullet. All roads to Syria now run through Moscow. Mr. Putin could hardly ask for more.
Read the full article at the Wall Street Journal (subscription required).
Jonathan Spyer is director of the Middle East Center for Reporting and Analysis, and is a research fellow at the Middle East Forum and at the Jerusalem Institute for Security and Strategy.
Hong Kong October 16th 2019
The Hong Kong protests have entered a fifth month, a longevity that might have been hard to predict at the outset. The protests were sparked in reaction to an extradition bill that protesters feared would mean turning over dissidents to mainland China, but have turned into a broad movement over fears that liberties under the "one country, two systems" promised when the United Kingdom turned over its colony to China would be trampled.
Inevitably, this brought the Chinese government at into conflict with Western companies that do business with China. Recently, the Chinese government has started flexing its muscles, going so far as to pressure Western companies to censor their own employees. Many companies, even big ones, are already caving, including Apple, the NBA, and the gaming company Blizzard Entertainment.
Syria regime change latest October 14th 2019
Syrian Kurds expect the government to deploy troops to stop Turkey's incursion where they are suffering from a heavy Turkish offensive- in the wake of the U.S withdrawal. There have been heavy losses on both sides, including civilians.
Approximately 800 members of Islamic State terrorists and their families have escaped during the Turkish Kurdish conflict.
Editorial Comment It is interesting that the U.S withdrew because they said the situation was untenable. Britain has had special forces active in Syria for some years, Old Etonian and Ex PM and millionaire David Cameron- of Brexit disaster fame- was cheer leader for jumping on the 'let's topple the wicked Assad' bandwagon.
There was a plethora of luvvie humanitarian feminists in Parlaiment who agreed with him. Those are the types now affecting concern about the latest round of killing in the region- telling us we must welcome another round of massive refugee influx to Europe because of it.
The PC luvvies in Britain's Parliament are stooges for the big boys who are only interested in dividing and ruling the Middle East for oil. If we had democracy here we would not be persecuting an 80 year old soldier for war crimes in Northern Ireland whilst facilitating the brutal treatment and extradition of Julain Assange for his part in exposing blatant U.S war crimes. We would not have mainstream media and politicians lying that people voted for Brexit with a deal.
I am a remainer by the way, but believe the majority voted to leave with no mention of leaving meaning staying in the customs union with all the rules and regulations, but no represenatation, which is what seems likely to happen.
This country is a sick joke when it comes to their lies about spreading democracy. It has been a malign influence on Europe with its PC mania and elite greed. The elite's part in the war games for oil in the Middle East makes a mockery of the Extinction Rebellion protests and little Greta's wailings.
free-speechfront.infoAustralian judge tells Islamists that their belief (Shari'a) has no place in any civilized society
State Department Distrust of Syrian Kurds Paved the Way for Betrayal October 13th 2019
by Seth Frantzman
The Jerusalem Post
October 11, 2019
Originally published under the title "US Secretly Viewed Its Own Kurdish Partners in Syria as "Terrorists."
State Department distrust of Syrian Kurds long predates President Trump's abandonment.
The US State Department admitted on Friday that it had always viewed the Syrian Democratic Forces, a group that the US helped create, as including components of the Kurdistan Workers Party (PKK), which the US views as a terrorist organization. This was in contrast to the Pentagon which viewed the SDF as key partners in the defeat of Islamic State. For years, two parts of the US government fought a quiet war against one another, as the US urged the SDF in Syria to fight ISIS, a war in which is suffered around 11,000 casualties.
The comments were made by a State Department official and tweeted by Wall Street Journal reporter Dion Nissenbaum. "For years the US government rejected idea that the YPG in Syria was an offshoot of the PKK, a group the US and Turkey classify as a terrorist group. Yesterday, a State Department official admitted the obvious," noted Nissenbaum. At the same time Lara Seligman, Pentagon correspondent for Foreign Policy noted that "US military officers who served with the SDF described a group of passionate, fearless fighters who share American values." She wrote that these US military officers were unanimously "devastated by the latest news, and more than one expressed a deep sense of shame."
P-ssing in the Wind October 9th 2019
One Last Thing
Epstein's Apparent Suicide: Everything We Know Posted October 6th 2019
Friday morning, thousands of documents detailing Jeffrey Epstein's sexual abuse of underage girls were made public.
That night, he apparently hung himself in his cell. (Because, yeah, if you're going to commit suicide, that's the time to do it.)
Now, I've read all the conspiracies theories (including one that President Trump and former President Bill Clinton snuck into Epstein's cell and strangled him with one of Hillary's pants suits).
But here's what we actually know right now:
Epstein tried to commit suicide about two weeks ago. He was put on suicide watch for three days, after which, the worst psychiatrist in the world declared he was no longer a suicide risk.
Epstein was taken off suicide watch but, per prison procedure, he was assigned a cellmate and guards were instructed to check on him every 30 minutes (because we all know it takes at least 35 minutes to kill yourself).
And yet, the night he apparently hung himself (or Prince Andrew tricked him into drinking cocaine powder or whatever), Epstein was alone.
His cellmate had been transferred earlier that week. And according to a report by the Associated Press, the prison's guards were working extreme overtime shifts to make up for staffing shortages, causing them to neglect their duties (because they were all sleepy and such).
Epstein wasn't found until the following morning at 6:30 am when the guards were making their morning rounds.
Now, no one's going to shed any tears for this walking dumpster of person. But the victims of Epstein feel like they've been robbed of their justice. And there are legitimate concerns about efforts to halt the investigation into high profile world figures who may be (and already have been) implicated in this case.
However, according to Attorney General William Barr, this case won't end with Epstein's death and the prison where he apparently committed suicide will be placed under investigation:
"Let me assure you that this case will continue on against anyone who was complicit with Epstein," Barr said, speaking at a conference for police officers in New Orleans. "Any co-conspirators should not rest easy. The victims deserve justice, and they will get it."

"I was appalled and frankly angry to learn of the [jail's] failure to adequately secure this prisoner. We are now learning of serious irregularities at this facility that are deeply concerning and demand a thorough investigation."

"We will get to the bottom of what happened, and there will be accountability.
Barr seems determined to pursue this case without Epstein. But with Epstein's death, we've undoubtedly lost our shot at taking down some of the highest-profile offenders.
Maybe some folks will have their reputations dragged through the dirt because of their association with a child sex trafficker. But there's no way this gets tied up with a bow.
Until next time,
Shane Ormond
Editor One last Thing
Editorial Comment These are not necessarily the views of this website. However, different views must be considered.
Draining the Swamp- Myth of Democracy October 6th 2019
Trump's administration in the U.S and Britian's peculiar regime have revealed important truths about the democratic myth. Trump is being criticised rather nastily again, by so called Democrats for asking China to probe the Biden family of billionaires. Biden, as most will know, was Vice President to saintly fellow rich man Obama. Now Biden wants his turn in the White House.
As in Britain, the political prima donnas of both genders care more about themeselves than the serious problems which their greed, control and negligence have created. So last week it was all about dirty dealings in Ukraine.
Now Trump wants to know what the Bidens have been up to in China. Democrats are outraged that this is timed with Trade talks between the U.S and China. Allegations are being made that if Trump doesn't get his way, then tarriffs on Chines goods will rise from 25-30%. This will affect jobs in both countries because of their symbiotic reltionship.
Violent Protests in Hong Kong to spoil 70th anniversary celebrations.
1 October 2019 • 12:53pm
Hong Kong police shot a pro-democracy protestor in the chest on Tuesday as violent clashes erupted across the city hours after China held a massive military parade in Beijing to celebrate 70 years of Communist Party rule, according to a news agency.
It was the first such injury from a live round in nearly four months of increasingly violent protests and threatened to strip the spotlight from China's carefully-choreographed birthday party, designed to underscore its status as a global superpower.
While President Xi Jinping took salutes from some 15,000 troops in the capital, pro-democracy protesters in Hong Kong threw eggs at his portrait, with tens of thousands of people defying police orders to disperse.
"An officer discharged his firearm after coming under attack and a protester was struck in the chest in Tsuen Wan district today," a police source said, requesting anonymity.
The wounded protester received initial first aid from officers before paramedics arrived and took him to hospital, the source added.
Many of the fights in the city were especially fierce with police in one district having corrosive liquid thrown at them and officers in another area retreating into a town hall from projectile-throwing crowds.
Burning barricades sent a pall of black smoke over the city, a regional hub for some of the world's biggest banks.
The violence cast a shadow over the lavish parade in Beijing where tanks, new nuclear missiles and a supersonic drone paraded down the Avenue of Eternal Peace as Xi and other Communist Party leaders watched from a rostrum overlooking Beijing's Tiananmen Square.
The event was meant to showcase China's journey from a poor nation broken by war to the world's second largest economy.
British media condemns today's violence during latest Hong Kong protests- posted September 29th 2019
Pro democracy protestors have been fired on with rubber bullets and water canon today. Their demands have gone on to claim universal suffrage. They want the two systems agreement to be re written. Petrol bombs and bricks have been thrown at police.
They are building up to October 1st and the 70th anniversary of the Chinese Communist Revolution. Law and order appears to have broken down and their are fears that Beijing will increase its use of force as protestors seem determined not to give up. Some might say this is just another battle in World War Three as rival super power blocks vie for cultural, political and financial dominance.
There is speculation, and tentative evidence that the U.S and Britain have fermented the situation in the financial and commercial hub of Asia. Hong Kong looks set to lose its limited autonomy. Britain is, of course always sanctimonious about these issues but would not hesitate to use heavy handed police to crush serious protests.
Two million, mainly the young have taken to the streets as demands have escalated since the original demand to withdraw the extradition treaty was revoked.
British media are complaining that the police are becoming less tolerant of the media as these protests go into their 17th week. Meanwhile the British mainstream media ignores the ongoing yellow vest protests in Paris. Robert Cook
Epstein Sex Abuse Cover Up- Septmber 29th 2019
The FBI has expended their investigation into Jeffrey Epstein by using more witnesses who claim to have been victims of his sex trafficking, some of whom could help authorities figure out what Prince Andrew's connection was to the disgraced financier who died by suicide in his New York prison cell in August.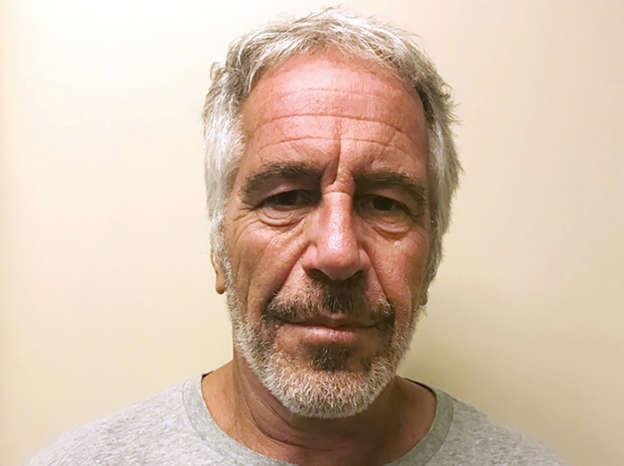 © ASSOCIATED PRESS FILE – This March 28, 2017, file photo, provided by the New York State Sex Offender Registry shows Jeffrey Epstein. A woman whose claims of sexual abuse against Epstein were outlined in a federal indictment sued his estate Wednesday, Sept. 18, 2019, saying the wealthy financier took advantage of her family's poor financial position to abuse her from age 14 to 17. (New York State Sex Offender Registry via AP, File)
Former sex slave, Virginia Roberts Giuffre, had accused the Duke of York of having sex with her when she was underage in many US states at just 17 years old and she claimed she was offered up while at Epstein's ex-girlfriend Ghislaine Maxwell's London home.
But the probe was dropped by the UK's Metropolitan Police in 2015 and this week a former Florida cop who worked as a Palm Beach County sheriff's deputy in Epstein's pedophile case of 2009 alleged the FBI covered up Prince Andrew's involvement.
Now the Federal Bureau of Investigation will question approximately 100 victims who were aged 14 or 15 when the alleged sex trafficking by Epstein took place.
© Provided by Associated Newspapers Limited Virginia Roberts Giuffre (center aged 17) claimed in a lawsuit dropped in 2015 that she was forced to have sex with the Duke of York (left) at the London home of Ghislaine Maxwell (right)
Prince Andrew has reportedly claimed to only have seen Epstein, who killed himself aged 66, twice a year. They met in 1999 and the royal flew on the financier's private jet twice – including once in 2001 with Giuffre.
It's claimed 35-year-old Giuffre's account isn't the only one the FBI – who have already identified 80 victims – is looking into in regards to Prince Andrew, 59.
He also visited Epstein's New York home in 2013 and it's now claimed more witnesses could reveal details about his friendship with Epstein.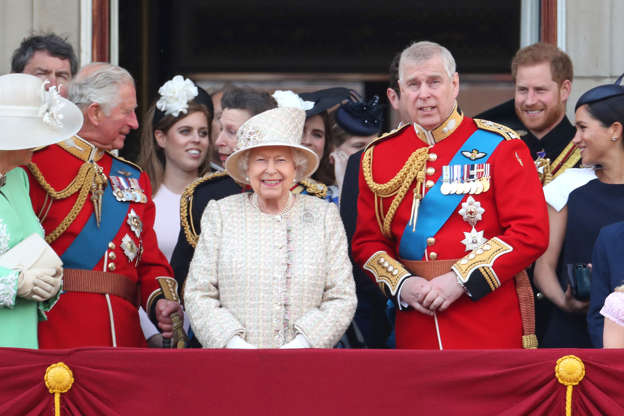 © 2019 Getty Images LONDON, ENGLAND – JUNE 08: Prince Charles, Prince of Wales, Princess Beatrice, Princess Anne, Princess Royal, Queen Elizabeth II, Prince Andrew, Duke of York, Prince Harry, Duke of Sussex and Meghan, Duchess of Sussex during Trooping The Colour, the Queen's annual birthday parade, on June 08, 2019 in London, England. (Photo by Chris Jackson/Getty Images)
'The US investigation is focusing on several potential victims in the hope that they can provide more details about Prince Andrew and his connection to the Epstein case,' sources from the US Department of Justice told The Sunday Times. 'They are not going to dismiss it [claims relating to Andrew] because he is a royal.'
The publication reports that Scotland Yard detectives have been briefed and are ready to assist the investigation.
Alleged victims will be interview over the course of the next two months, The Sunday Times reported.
© Provided by Associated Newspapers Limited Andrew met the disgraced man in 1999 and has flown on his private just twice including with Giuffre in 2001. He visited Epstein's New York home in 2013. They are pictured in December 2010, after Epstein was released from a short stint in prison for the 2009 case where he was convicted as a pedophile
Prince Andrew has repeatedly denied the allegations against him, saying they were 'false' and 'without foundation'.
Buckingham Palace has referred to previous denials in reference to his connections to Epstein who was awaiting trial after being accused of sex trafficking by dozens of females when he killed himself.
But the British royal has not recently spoken to clear his name.
Former head of royal protection at Scotland Yard, Dai Davies, who oversaw security for Prince Andrew in the late 1990s said that a probe was vital when it comes to the welfare of the general public in the UK.
Saying an investigation was in the 'publicinterest', Davies added to The Sunday Times: 'I would have thought it's in Prince Andrew's interests to clear this matter up. Any residue of doubt or innuendo should be cleared up by a clear, unequivocal, structured investigation.'
© Provided by Associated Newspapers Limited Giuffre, now 35, speaks during a press conference outside a Manhattan court in New York on August 27
John Mark Dougan, an ex-Marine and former Palm Beach County sheriff's deputy who now lives in Russia, had worked for the sheriff's office in 2005, the year it began an investigation into Jeffrey Epstein and may still have inside information concerning Epstein and Prince Andrew.
'I'm certain the FBI is involved in some kind of cover-up over Epstein,' Dougan told the Times. 'That could absolutely include Andrew's role, or it could be that senior FBI people visited the house and don't want to reveal that.'
Dougan fled the US in 2016 as he was probed in an unrelated hacking case and he has accused cops in regards to child molestation websites, corruption and Nazism.
He claims to have back-ups of files from the old case.
'My copies of the files will never be released unless something untoward happens to me, because they are my guarantee of safety for me and my family in the US,' Dougan said.
Meanwhile is has been reported Prince Andrew has hired a new Special Adviser to spearhead a PR 'fightback' following the Epstein scandal.
Jason Stein, who developed a reputation at Westminster as a 'master of the dark arts', will start as Communications Secretary to the Duke next month.
© Provided by Associated Newspapers Limited John Mark Dougan, an ex-Marine and former Palm Beach County sheriff's deputy who now lives in Russia, had worked for the sheriff's office in 2005, the year it began an investigation into Jeffrey Epstein and may still have inside information concerning Epstein and Andrew
Mr Stein, 28, lost his job earlier this month when Ms Amber Rudd quit as Work and Pensions Secretary in protest at the removal of the whip from 21 Tory MPs after they rebelled against the Government to stop a No Deal Brexit.
Earlier this month, Virginia Roberts Giuffre went on American TV to repeat claims that she was coerced by Epstein into having sex with the Duke on three occasions, the first in 2001 when she was 17.
The Prince vehemently denies the allegations, which were thrown out by a US judge in 2015 because they were 'immaterial and impertinent'.
A Buckingham Palace spokesman said of the accusations: 'It is emphatically denied that The Duke of York had any form of sexual contact or relationship with Virginia Roberts. Any claim to the contrary is false and without foundation.'
In a 2017 newspaper interview, Andrew admitted he didn't care about criticism, saying: 'You don't get it right all the time. . . it doesn't bother me. It's just part of life's rich tapestry.'
Mr Stein and Buckingham Palace last night declined to comment on the appointment.
MSN UK is committed to Empowering the Planet and taking urgent action to protect our environment. We're supporting Friends of the Earth to help solve the climate crisis, please give generously here or find out more about our campaign here. Microsoft may earn an Affiliate Commission if you purchase something through recommended links in this article
Police State Population has to be controlled by the elite September 26th 2019
Little Greta Wins A Big Prize September 25th 2019
Greta Thunberg has won Sweden's alternative Nobel Prize – the Right Livelihood Award – for her climate activism.
The 16-year-old was recognised "for inspiring and amplifying political demands for urgent climate action reflecting scientific facts".
She shares this year's award with Davi Kopenawa, a Brazilian indigenous leader, who has fought to protect the Amazon rainforest, Guo Jianmei, a Chinese women's rights lawyer and Aminatou Haidar, a Western Sahara human rights defender.
"With the 2019 Right Livelihood Award, we honour four practical visionaries whose leadership has empowered millions of people to defend their inalienable rights and to strive for a liveable future for all on planet Earth," a foundation spokesperson said.
Editorial Comment This award is a smokescreen. It is a pity the award did not go to the more worthy Julian Assange. Greta has achived nothing but a distraction.
Climate change: Impacts 'accelerating' as leaders gather for UN talks Posted September 23rd 2019
By Matt McGrath Environment correspondent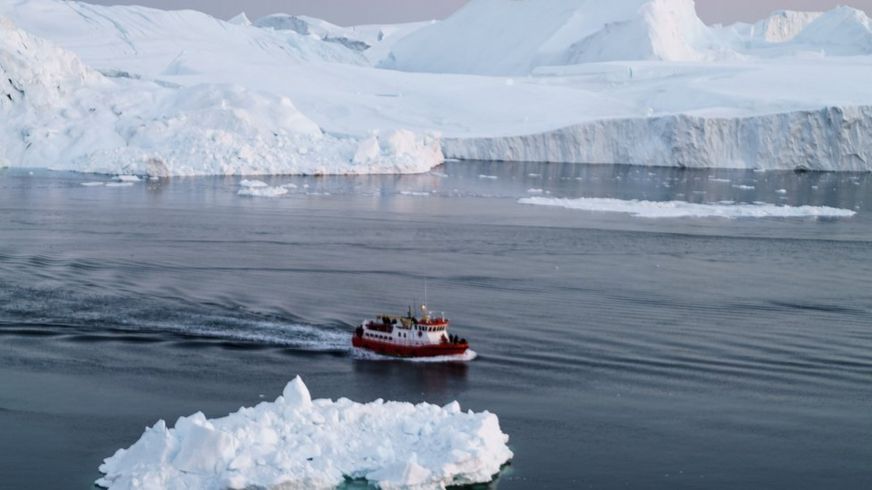 The signs and impacts of global warming are speeding up, the latest science on climate change, published ahead of key UN talks in New York, says.
The data, compiled by the World Meteorological Organization (WMO), says the five-year period from 2014 to 2019 is the warmest on record.
Sea-level rise has accelerated significantly over the same period, as CO2 emissions have hit new highs.
The WMO says carbon-cutting efforts have to be intensified immediately.
The climate statement is a pull-together of the latest science on the causes and growing impacts of unprecedented levels of warming seen in recent years.
Recognising that global temperatures have risen by 1.1 degrees C since 1850, the paper notes they have gone up by 0.2C between 2011 and 2015.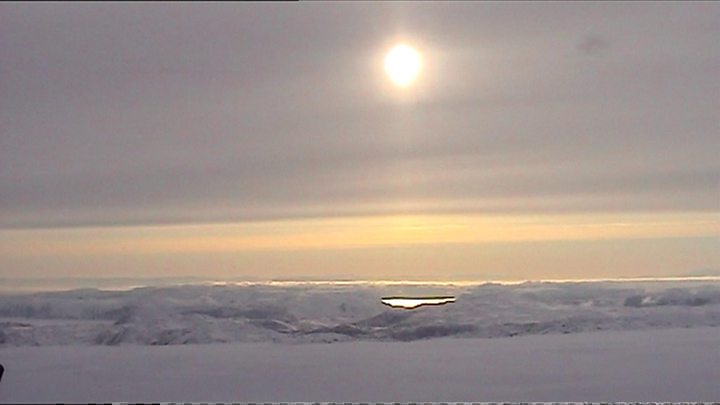 This is as a result of burgeoning emissions of carbon, with the amount of the gas going into the atmosphere between 2015 and 2019 growing by 20% compared with the previous five years.
Perhaps most worrying of all is the data on sea-level rise.
The average rate of rise since 1993 until now is 3.2mm per year. However, from May 2014 to 2019 the rise has increased to 5mm per year. The 10-year period from 2007-2016 saw an average of about 4mm per year.
"Sea-level rise has accelerated and we are concerned that an abrupt decline in the Antarctic and Greenland ice sheets, which will exacerbate future rise," said WMO secretary general Petteri Taalas.
"As we have seen this year with tragic effect in the Bahamas and Mozambique, sea-level rise and intense tropical storms led to humanitarian and economic catastrophes."
The report also highlights the threats to the oceans, with more than 90% of the excess heat caused by climate change ending up in the waters. The WMO analysis says 2018 had the highest ocean heat content values on record.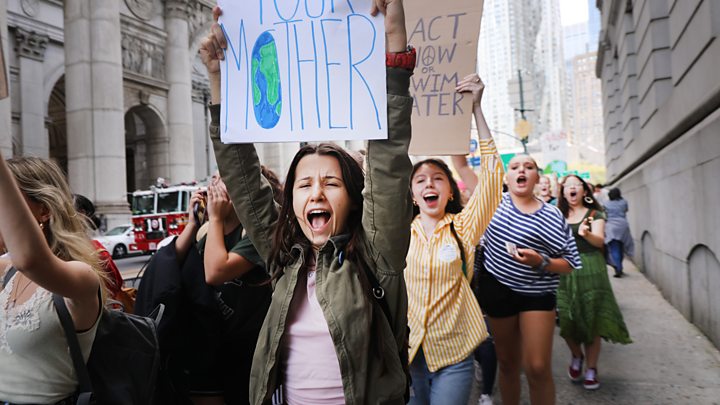 The study underlines the fact that wherever you look on the planet right now, the story is the same: human-induced warming is impacting the scale and intensity of extreme weather events such as heatwaves and wildfires.
"Climate change due to us is accelerating and on a very dangerous course," said Prof Brian Hoskins, chair of the Grantham Institute, Imperial College London, and professor of meteorology, University of Reading.
"We should listen to the loud cry coming from the schoolchildren. There is an emergency – one for action in both rapidly reducing our greenhouse gas emissions towards zero and adapting to the inevitable changes in climate."
'No fancy speeches'
The WMO report is meant to inform the special UN summit on climate change taking place in New York on Monday.
A range of political leaders will attend the one-day event, which is designed to be about action and not words, according to UN secretary general António Guterres.
"I told leaders not to come with fancy speeches, but with concrete commitments," he said ahead of the meeting.
"People want solutions, commitments and action. I expect there will be an announcement and unveiling of a number of meaningful plans on dramatically reducing emissions during the next decade, and on reaching carbon neutrality by 2050."
Greta Thunberg and other youth activists, fresh from marching on the streets of New York on Friday, will speak at the opening of the meeting.
About 60 heads of state are expected to follow, with countries expected to announce new actions to limit the causes of warming or to speak on initiatives developed by a coalition of nations.
While China, India, France, Germany and the UK will speak at the meeting, there is no place on the podium for Japan or Australia.
Mr Guterres has asked that as well as committing to net-zero emissions by 2050, countries should reduce subsidies for fossil fuels and stop building new coal-fired power stations. The question of coal has led to the barring of Japanese Prime Minister Shinzo Abe and Australia's Scott Morrison.
The US, Brazil and Saudi Arabia will also not be taking part.
The success of the special summit remains in the balance – what isn't in question is the urgency of action and the fact that delay means more difficult decisions down the line.
"It is highly important that we reduce greenhouse gas emissions, notably from energy production, industry and transport. This is critical if we are to mitigate climate change and meet the targets set out in the Paris Agreement," said Petteri Taalas from the WMO.
"To stop a global temperature increase of more than 2 degrees C above pre-industrial levels, the level of ambition needs to be tripled. And to limit the increase to 1.5 degrees, it needs to be multiplied by five," he said.
Follow Matt on Twitter @mattmcgrathbbc.
Julian Assange Serves His Time But Will Not Be Released- September 21st 2019.
Julian Assange received the longest and toughest sentence for breach of bail in the U.K. He is being detained and subjected to what the authorities call controlled movements. This means he is not allowed to see or be seen by other inmates. He has been in solitary confinement with very little contact with visitors or information from the outside world since his arrest. I am waiting for him to commit suicide like Jeffrey Epstein in another Houdhini style trick .
Assange lifted and shone a light under a very large U.S rock that has, and still is, covering up hideous war crimes. These crimes would not be so bad if Britain and the U.S were not so eager to condemn others. How can this be when a very old soldier is being prosecuted for his alleged part in the Bloody Sunday Northern Ireland shootings?
I very much doubt that Assange committed rape, but these days a woman's allegations regarding the lightest of inappropriate touching is taken as truth of rape. British police and politicians admit that we are no longer limited to evdience based prosecutions, hence the argreement to name and shame suspects as if automatically guilty, shield the identity of alleged victims all in the name of getting more accusers to sway juries. High time for a Statute of Limitations on sex allegations.
In any event it does not matter to the espionage case of whether Assange is guilty of rape- I doubt he could get a fair trial on this or anything else. No matter what else he has done or been accused of doing, Assange is not a U.S citizen and Britain has no right to extradite him.
Meanwhile the British plebs are easily distracted by tales of the modern day Mother Theresa, St Greta and the issue of women's problems and their rights.
Assange, as a whistele blower and publisher has no rights in Britain and the U.S's excuses for democarcies. Here he has also exposed the corruption and anti democratic role of Britain's wealthy powerful selfinterested globalist elite in the Brave New World order.
It is the most oppressive order yet and the women's movement has no interest in criticising what it is a part of it, because it feels protected by the new status quo which has used allegations of sex crime to incarcer(h)ate the most significant whistle blower of the industrial age.
Britain & U.S Destabilised the World Posted September 19th 2019
During my undergraduate days at the University of East Anglia, most of my contemporaries were from upper middle class backgrounds. In those days only three percent of the British population went to university. The good thing about that statistic was degrees were scarce enough to guarantee good quality teaching and job opportunities. Universities were not conveyor belts, meaning time for other reading and activities. I also had the benefit of a full grant and the opportunity to find work during my vacations.
On the downside, a poor- perhaps over sensitive- boy like me felt rather an outsider. My fellow students, many enjoying smoking pot and tripping on LSD, seemed to be on a different wavelength. These were unisex days of peace and love. I grew my hair long. Foolish me prayed for the end of the Vietnam War and for my poor worn out widowed working class mother to live long and have a better life.
Those were the days of PMs Wilson and Heath, and Thatcher 'the milk snatcher' Minister of Education. Northern Ireland's 'Troubles' were at a height follwing 'Bloody Sunday.' My opinionated fellow students protested and determined to have a better world.
On graduation day, the rebels brought along their posh comfortable parents, dressing up for memoir photos in cap and gown. Then off they went for careers in the Civil Service, Education, Local Government, Politics and Media. They became senior figures of great influnece creating the world of rolling conflict, disillusion, injustice, one parent families, feminism, individualism, loneliness and mental illness we have today. Robert Cook
Nicolas J. S. Davies
Posted on June 18, 2019Categories Uncategorized5 Comments While the mystery of who is responsible for sabotaging the two tankers in the Gulf of Oman remains unsolved, it is clear that the Trump administration has been sabotaging Iranian oil shipments since May 2, when it announced its intention to "bring Iran's oil exports to zero, denying the regime its principal source of revenue." … Continue reading "US Sanctions: Economic Sabotage That Is Deadly, Illegal, and Ineffective"
Posted on April 15, 2019Categories Uncategorized5 Comments The U.S. Congress has begun debate on the FY2020 military budget. The FY2019 budget for the US Department of Defense is $695 billion dollars. President Trump's budget request for FY 2020 would increase it to $718 billion. Spending by other federal Departments adds over $200 billion to the total "national security" budget ($93 billion to … Continue reading "A $350 Billion Defense Department Would Keep Us Safer Than a $700 Billion War Machine"
Posted on March 28, 2019Categories Uncategorized1 Comment Forty-five years after Congress passed the War Powers Act in the wake of the Vietnam War, it has finally used it for the first time, to try to end the U.S.-Saudi war on the people of Yemen and to recover its constitutional authority over questions of war and peace. This hasn't stopped the war yet, … Continue reading "War, Peace and Presidential Candidates"
Posted on February 06, 2019Categories Uncategorized13 Comments In his masterpiece, Killing Hope: U.S. Military and C.I.A. Interventions Since World War II, William Blum, who died in December 2018, wrote chapter-length accounts of 55 US regime change operations against countries around the world, from China (1945-1960s) to Haiti (1986-1994). Noam Chomsky's blurb on the back of the latest edition says simply, "Far and … Continue reading "Venezuela: The US's 68th Regime Change Disaster"
Posted on February 04, 2019Categories Uncategorized4 Comments When the Trump administration unilaterally pulled out of the Iran nuclear agreement in May 2018 and announced it would reimpose sanctions against Iran, the European Union (EU) declared its commitment to preserving the agreement and finding ways for its companies to circumvent U.S. sanctions. Now, eight months later, the Europeans finally announced the creation of … Continue reading "Will Iran Sanctions Herald the Fall of the Imperial Dollar?"
Posted on January 03, 2019Categories Uncategorized13 Comments My father was a doctor in the British Royal Navy, and I grew up traveling by troop-ship between the last outposts of the British Empire – Trincomalee, Gibraltar, Hong Kong, Malta, Aden, Singapore – and living in and around naval dockyards in England and Scotland. The British naval bases where I grew up and the … Continue reading "The Hidden Structure of US Empire"
Posted on December 26, 2018Categories Uncategorized6 Comments As our nation debates the merits of President Donald Trump's call for withdrawing U.S. troops from Syria and Afghanistan, absent from the debate is the more pernicious aspect of US military involvement overseas: its air wars. Trump's announcement and General James Mattis' resignation should unleash a national discussion about US involvement in overseas conflicts, but … Continue reading "Bring the Troops Home, But Also Stop the Bombing"
Posted on September 27, 2018Categories Uncategorized2 Comments The Saudi bombing of a school bus in Yemen on August 9, 2018 killed 44 children and wounded many more. The attack struck a nerve in the U.S., confronting the American public with the wanton brutality of the Saudi-led war on Yemen. When CNN revealed that the bomb used in the airstrike was made by … Continue reading "In Yemen and Beyond, US Arms Manufacturers Are Abetting Crimes Against Humanity"
Posted on September 12, 2018Categories Uncategorized6 Comments As if the horrific Saudi bombing of a Yemeni school bus that killed 44 children on August 9, 2018 wasn't bad enough, CNN reported that the bomb used in the attack was manufactured by Lockheed Martin, one of the major U.S. defense contractors. Nima Elbagir, reporting for CNN's Situation Room, showed a map of Yemen … Continue reading "Bombing Yemeni School Children for Profit"
Posted on June 22, 2018Categories Uncategorized4 Comments In my recent report on the death toll in America's post-9/11 wars, I estimated that about 2.4 million Iraqis have been killed as a result of the U.S. invasion and hostile military occupation of their country. But opinion polls in the United States and the United Kingdom have found that a majority of the public … Continue reading
Editorial Comment Below are a series of articles on Ukraine. Britain's elite have played big shot in Europe for years, exerting an insidious influence seriously above their weight. The misbelief that they single handedly won World War Two- which they helped to cause and prolong through incompetence of leadership- encourages their outdated attitude.
Conceited about their long lost empire, which was built on the cheap and con tricks of bribes and divide and rule, its leaders have a sense of cultral superiority, still believing that they rule the world.
Their upper crust BBC, especially the dedicated World Service, is second to none in the World of patronising propoganda. They also excel on the home front when it comes to telling the indigenous population what to think.
UK To Expand Support To Ukraine's Armed Forces Posted September 18th 2019
Defence Secretary Sir Michael Fallon has reaffirmed the United Kingdom's commitment to Ukraine Published 20 January 2017 From: Ministry of Defence and The Rt Hon Sir Michael Fallon MP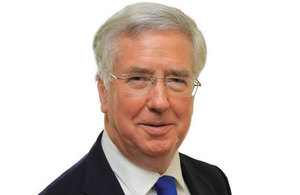 Defence Secretary Sir Michael Fallon has said that the United Kingdom stands firmly alongside Ukraine as the British Army prepares to broaden its already extended training package to all of the country's armed forces.
Speaking in Ukraine's capital Kyiv, on his second trip to the country in 18 months, Sir Michael said that the UK is beginning to deliver training to Ukraine's Air Force as well as its Army and Navy.
Meeting with Defence Minister of Ukraine, General of the Army Stepan Poltorak, the Defence Secretary confirmed that the UK's short-term training teams (STTTs) will have trained 5,000 members of the Ukrainian Armed Forces by the end of March – 1,000 more than initially planned – and will now continue in their training role for another year.
The Defence Secretary also agreed to explore how Britain's training efforts in Ukraine could be maximised to produce long-term benefits on the ground, delivering a more comprehensive approach including by Train the Trainer (T3). Moving to this method of training would entrench the impact of Britain's support within Ukraine's armed forces for years to come.
Furthermore, Britain will continue its commitment to support defence reform in Ukraine via the UK defence section. As part of his visit the Defence Secretary will meet the UK Special Defence Advisor in Kyiv and Ukraine's Defence Reform Office who are working hand-in-hand to continue reforms and support further anti-corruption efforts.
Defence Secretary, Sir Michael Fallon said:
The values of freedom and democracy cannot be traded.

Britain is stepping up on the global stage and standing firm with our Ukrainian friends.

The UK is sending a clear message that we are committed to defending democracy across the world and support Ukraine's sovereignty, independence and territorial integrity.
During his visit, Sir Michael met with Ukrainian veterans to hear first-hand how the UK's training provides vital support for the UAF. In December he confirmed that the training programme, named Op Orbital, would be extended meaning UK forces will be in the country until at least 2018. As the UK extends its training, a new regiment – 4 SCOTS – will take over dedicated delivery of the infantry short-term training.
Later in his visit, which marks the 25-year anniversary of UK-Ukrainian diplomatic relations, the Defence Secretary also visited the ATO Memorial inside the National Defence University to pay tribute to the 127 soldiers killed in the East of the country in 2014-2015.
The Defence Secretary also spoke about how the UK is a partner in prosperity with Ukraine. He met with staff of the Antonov National Company, the Ukrainian aircraft manufacturers company. British equipment from operations in Afghanistan and now in Iraq has been transported using Antonov aircraft and Dowty Propellers, based in the UK, has started component deliveries for propeller systems that will equip a demonstrator for the company's new AN-132 twin-engine transport aircraft.
Britain's Europe minister went to Ukraine to extol the virtues of democracy and the EU. It didn't go very well Kim Sengupta Posted September 19th 2019
© Provided by Independent Digital News & Media Limited
Both countries happen to have the letters U and K in their name. One is in a state of political turmoil, with a population bitterly divided and facing a future of uncertainty, the other is Ukraine.
The first visit by the UK's latest Europe minister, Christopher Pincher, in his new post was to the eastern European country. He came with advice of the need for political stability, the imperative for politicians to abide by the rule of law and the importance of European alliances in ensuring security and prosperity.
It is a kind of Holy Grail for many in Ukraine – still in a state of civil war, but with a president with a governing majority following recent elections – to join the European Union. The British government is fully backing this bid, ministers from London have assured repeatedly, while in the next breath declaring that Britain must break free from its servitude to Brussels.
Appearing at the Yalta European Strategy (YES) conference in Kiev over the weekend Mr Pincher firmly stuck to this line. There was a slight tweaking of language with Britain's backing extended to any transatlantic ties Ukraine may seek, but, he stressed, the government was staying firmly behind Kiev's European Union aspirations.
The script was the same as that of former ministers in international settings, some since sacked by Boris: "Britain is leaving the EU, not Europe"; "the UK is determined to play a leading role in European defence"; "Britain will continue to play a full part in European affairs."
It would not be unfair to say that not many people at the conference, let alone in Ukraine itself, had heard of Mr Pincher. They listened to him say that Britain would defend Ukraine against Russian aggression in polite silence and with a smattering of applause. He did not take any questions from the floor.
It was noticed in the audience that he called their country "the Ukraine". It may seem a minor point, but it matters here. It has been officially Ukraine since gaining independence in 1991 and many Ukrainians regard the use of the prefacing article as a casual ignoring of their wish to change the name from that of the Soviet times.
Mr Pincher said he was glad to be in Kiev, dwelling on this year's YES theme, "Happiness Now", and using it to focus on how nations can be happy at such troubled times.
The Yalta conferences were originally held in Yalta before the Russians took over. I was in Crimea during the annexation and saw the venue, Livadia Palace, where Roosevelt, Stalin and Churchill signed the Yalta Declaration turned into a monument to the triumph of Russian diplomacy. Talks with Moscow are due to be held by the new government of Volodymyr Zelensky soon. A highly symbolic prisoner exchange has already taken place and there are tentative hopes of a possible settlement to the strife.
Mr Zelensky is a former professional comedian as opposed, went a joke at the conference, to some current amateur comedian leaders of states. Yet the new Kiev administration is keen to impress its very serious intention to seek membership to the European Union and Nato.
"With all the things going on in London, just getting out of London makes me happy… As it will also make some of my parliamentary colleagues," said Mr Pincher. He then decided to speak for the nation: "What will make British people happy will be when Brexit is finished," he announced to general silence.
The minister then went on to explain what will make Ukraine a happy nation. One vital ingredient was "the rule of law, which is the bedrock of all democracies". There should be, he wanted to stress, the "rights of recourse to law, the right to go to court."
The minister praised the Ukraine's government for the sheer volume of action in parliament since coming to power. "One hundred and eighty-eight pieces of legislation – we can't match that in Westminster, would that we could…" he said wistfully . Sitting next to me a new MP in the Rada shook her head. "Wasn't it his government that shut down parliament?" she mused.
The Europe minister was asked whether he recognised the irony of the UK backing Ukraine's bid for European Union membership at the same time his own government was "desperately" trying to get out the union.
"We are leaving the EU, not leaving Europe. The people voted to leave the EU and democrats execute the will of the people. I am confident we can get a deal; we are working flat out to get a deal, we are doing that," he explained.
The journalist moderating, Fareed Zakaria, pointed out that both the European Union and the Irish government have said that London has not provided a viable alternative to the Irish backstop. Leo Varadkar had been quite encouraging at his last press conference, the minister insisted. Many in the room begged to differ.
Mr Zakaria pointed out that parliament had voted against a no-deal Brexit, but Boris Johnson and his supporters had threatened to ignore the vote. "This is happening in the mother of parliaments, what lesson does this send to a fledgling democracy like Ukraine?" Mr Pincher assured the audience that the prime minister was working very hard to secure a deal.
Mr Pincher was asked about the peculiarity of urging Ukrainian politicians to uphold the rule of law while some in the British government have been saying Boris was prepared to break it. The "chief lawbreaker is your prime minister", held Mr Zakaria. Mr Pincher assured that there was no contradiction involved here. http://players.brightcove.net/624246174001/default_default/index.html?videoId=5837728067001Support free-thinking journalism and attend Independent events
"I didn't realise the prime minister can pick and choose which laws to follow and which he laws he'll break", sniffed Mr Zakaria.
Mr Pincher's response was essentially "there's nothing to see here, let's move on now…"; all the while reiterating British support for Ukraine and the prospect of trade deals between the two countries in the future and support against Russian interference in Ukrainian politics.
The minister was asked about allegations of Russian interference in the Brexit referendum and British politics. "There is no evidence that it had a significant effect on British elections," he insisted, but acknowledged the need for vigilance on matters like cyber warfare and misinformation.
"I'm glad you didn't question me about Brexit!" Mr Pincher said with a hint of sarcasm to Mr Zakaria at the end. "You knew they were coming" the moderator responded. The Europe minister, according to diplomatic sources, was surprised to be questioned so intensely about the subject.
Brexit was not going to go away. Next up was Tony Blair, while Mr Pincher sat in the audience. The former prime minister commented that Brexit "is all going according to plan, but whose plan it is isn't clear. There is now a blockage in parliament – I think there will be an extension. This extension has to come from Europe, but everyone wants a resolution."
Mr Blair reiterated his recently expressed view that there should be a second vote on Brexit before another election to clarify where people stood three years on from the referendum.
"There shouldn't be a Brexit question in the election: that should be about issues like the economy, education, how the country is governed… But one can ask [in a referendum] 'do you want to continue with it?'" he said.
"This is something which will affect generations to come. This was a generational thing: two-thirds of over 65s voted for Brexit, two thirds of under 35s voted to stay. Having another referendum is perfectly democratic."
Mr Blair spoke about the worrying rise of populism and the stated aim of some hardline Brexiters to turn the people against parliament. The backbench MPs who are critical of the government, he pointed out, were doing their job. "They are studying the details of what's being proposed. But if you listen to some, like right wing newspapers, these Conservative MPs who are doing this are somehow 'traitors'.
"These people are giving up their jobs, I can think of no higher principle than giving up your livelihood to correct something wrong being done to your country."
As the session ended my Ukrainian MP friend mused: "It was Boris Johnson who kicked out the Conservative MPs, isn't it? This British minister Pincher should have been asked about that."
Then she paused and reflected: "It's funny, we are sitting in Ukraine hearing about your civil war in the UK. But maybe that is enough for one morning – we would be here all day if we had to discuss the war in the Conservative Party as well."
Ukraine's East-West Divide: It's Not That Simple Posted September 18th 2019
February 27, 2014 13:23 GMT
---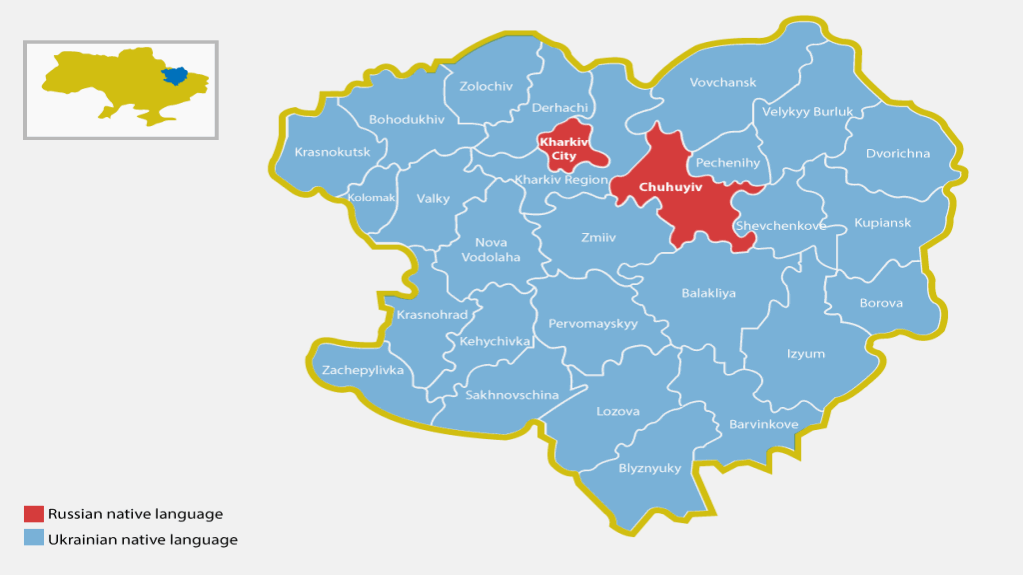 The threat seemingly appears during every Ukraine crisis.

In 2004, governors in eastern Ukraine warned that Russia-friendly regions in the east would split if Viktor Yushchenko became president.

The disputed election of Viktor Yanukovych, a Russia-backed candidate, was overturned and Yushchenko won in a revote. The country remained politically divided, but discussion of eastern secession quickly withered.

Ten years later, Yanukovych, elected in 2010 after disappointment in the Orange Revolution, has been ousted, and the east-west divide has again come to the fore.

Iterations of maps like this one, shown on Al-Jazeera on the day Yanukovych fled Kyiv, have told the story thusly.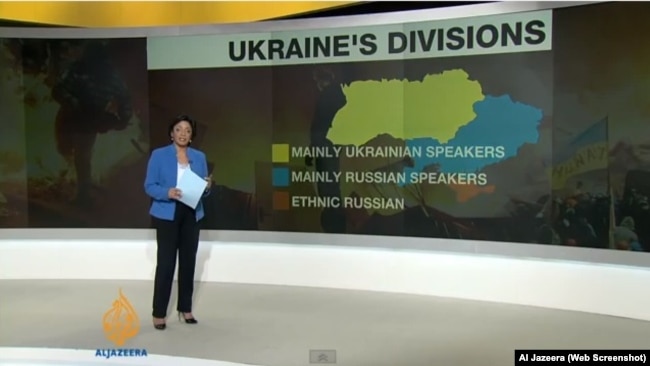 The eastern part of the country, stretching from Kharkiv Oblast, to the border regions of Donetsk and Luhansk and to the Crimean Peninsula, is seen as predominantly Russian.

Indeed, major cities in the east are largely Russian-speaking industrial hubs and the autonomous Crimean Republic is overwhelmingly Russian-speaking.

A Closer Look

But a closer look within oblasts like Kharkiv shows that maps like the one above may oversimplify the divide.

Kharkiv Oblast includes Kharkiv, Ukraine's second-largest city. Its governor, Mykhaylo Dobkin, recently led a conference of pro-Russian governors that rejected the authority of Ukraine's new government and the region voted strongly for Yanukovych's Party of Regions in the 2010 presidential election.

The city, an industrial center with Soviet-era high-rises and mammoth monuments 50 kilometers from the Russian border, is widely seen — perhaps next to Donetsk — as the epitome of Russian Ukraine.

But this is how the region actually looks.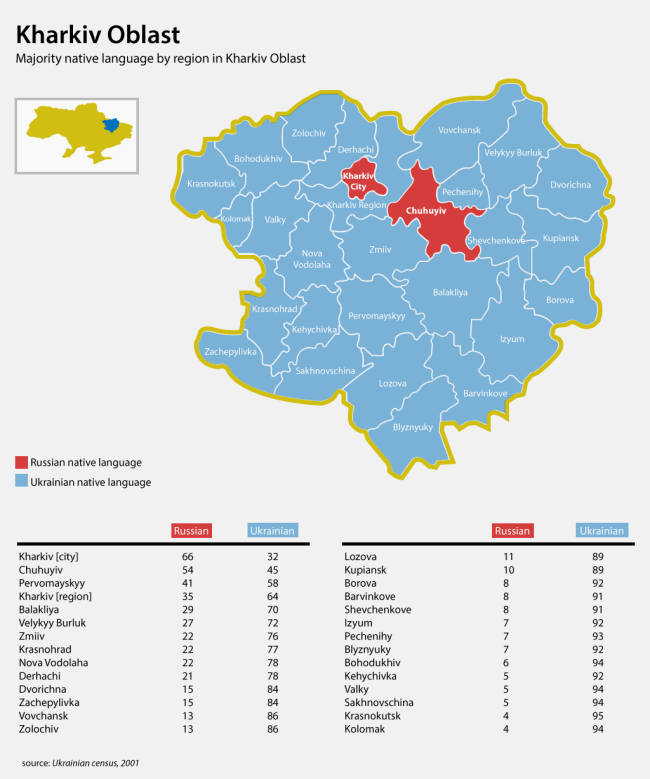 According to 2001 census data, 54 percent of Kharkiv Oblast's nearly 3 million residents identified their native language as Ukrainian, compared to 44 percent — mostly concentrated in the city — who said Russian.

Outside the city center, which is one of only two Kharkiv regions that identifies itself as Russophone, the contrast is even starker.

In Donetsk Oblast, further to the east, almost three-quarters of the population identified itself as Russian-speaking, but again, in a majority of regions outside the main city, people were more likely to identify themselves as Ukrainian-speakers.

The Point?

Any effort to break eastern Ukraine from Ukraine proper would meet resistance not only from the western half of the country, but from wide swaths of Ukrainians living within those regions (This is a good time to note that past polls have indicated that a majority of Russian-speakers living in the country have also expressed loyalty to Ukraine and not Russia. Also, some people who identify themselves as Ukrainian-speaking may speak Russian in their day-to-day lives).

"There are significant numbers of ethnic Ukrainians who continue to speak Ukrainian in the east and in the south," says Ukraine scholar Alexander Motyl in a recent interview with RFE/RL. "There are significant numbers of passionate Ukrainians, let's call them patriots, who speak Russian and who prefer Russian culture, and who nevertheless are committed to Ukrainian statehood and Ukrainian nationhood."

In Kharkiv, where the anti-Maidan conference was held on February 22, pro-Maidan supporters have taken over the city-administration building, facing off with protesters who say their loyalty is with Russia.

In Crimea, the home of Russia's Black Sea Fleet and long a hotbed of separatism, thousands of Crimean Tatars — who made up 11 percent of Crimea's population according to the 2001 census — have massed in opposition to separation from Ukraine.

Ukraine's diversity runs deep in both its east and west — ethnolinguistic maps notwithstanding.


Graphics by Christina Hicks
EU and Ukraine — close but not that close Posted September 18th 2019
Brussels and Kiev celebrate fresh ties but Dutch disagreement casts shadow over talks.
By David Stern
KIEV — Ukrainian and European Union leaders ended a two-day summit Thursday that celebrated their growing closeness while also highlighting points of tension between the two sides.
European Council President Donald Tusk and European Commission President Jean-Claude Juncker arrived in Kiev on Wednesday evening for talks with President Petro Poroshenko and other top officials.
It should have been a victory lap after one of the most successful periods in relations with Brussels in Ukraine's history. Last month, the EU granted Ukrainians the right to travel to Europe's Schengen zone without visas — one of their most prized foreign policy goals. This week, the EU ratified a far-reaching Association Agreement with Kiev, which had been more than a decade in the making.
But a disagreement over wording, which left organizers without a final summit communiqué, cast a shadow over the gathering.
At issue was a line declaring that "the European Union acknowledges Ukraine's European aspirations and welcomes its European choice" — which had been included in a statement after the EU's 2015 Eastern Partnership summit, as well as written into the ratified political and trade agreement.
But a disagreement over wording, which left organizers without a final summit communiqué, cast a shadow over the gathering.
According to European diplomats, Dutch officials insisted additional language be inserted into the final statement, to reflect a 2016 European Council decision that the Association Agreement did not guarantee Ukraine a path to become an EU member. The Dutch parliament had earlier ratified the deal on the condition that this did not lead to "automatic" membership for Ukraine.
EU officials said Ukraine and its EU allies insisted the line must be included without alteration. So in the end, the seven-page document, which had been laboriously negotiated over weeks, was not issued.
Some observers were at a loss as to why a compromise could not be reached — perhaps by leaving out the line altogether.
"Practically, this is not a big deal," said one European diplomat, speaking on condition of anonymity. "But symbolically it's damaging. It shows a lack of unity."
At the moment this is more a question of language than policy. The Netherlands, officials say, is supportive of Ukraine in private discussions; however, Dutch officials take a harder line in public, fearful of providing political ammunition to the country's far right.
Rocky road to agreement
Within the EU there's a certain amount of unity, at least for the moment, over the policy toward Ukraine — reflected by the extension last month of sanctions against Russia for its annexation of Crimea and destabilization campaign within Ukraine.
The Association Agreement is viewed as the capstone of this consensus, though the path to ratification was strewn with rocks.
Moscow opposed the deal from the outset, pressuring Viktor Yanukovych, Ukraine's president at the time, to reject it in 2013. This unleashed pro-Western protests and clashes in the capital, which ultimately drove Yanukovych from power.
The agreement was signed, but fighting broke out in Ukraine's east, which grew into a conflict that's killed more than 10,000 people and decimated the country's economy. Meanwhile, Dutch voters rejected the Association Agreement in a referendum, concerned over what commitments it made to the Ukrainians.
After Dutch concerns were assuaged by fellow EU leaders, there was a sense of mission accomplished among European and Ukrainian officials in Kiev on Thursday. Tusk even handed Poroshenko a document formally confirming ratification.
Moscow opposed the deal from the outset, pressuring Viktor Yanukovych, Ukraine's president at the time, to reject it in 2013.
"[This] was a kind of milestone summit, to summarize all the work that has been done," said European Commission Vice President Valdis Dombrovskis. "Now we are discussing how to fully use the potential of the Association Agreement and deepen cooperation in a number of sectors."
But though membership is not on the table at the moment, Ukrainian officials are keen to establish other incentives they can work toward — and hold out to the public as possibilities for the future. In remarks after the summit, Poroshenko expressed hopes for Ukraine to become a member of the EU customs union and Schengen open-border zone.
EU officials were noncommittal.
Furthermore, it remains to be seen how fully Ukraine implements the Association Agreement's commitments, which come into full effect in September and involve wide-ranging political, legal, economic and quality-control reforms.
Ultimately, Ukraine's endemic corruption was the biggest point of concern. EU leaders warned their Ukrainian counterparts that this had to be their primary focus, otherwise all the hard work of the past years could be undone.
"What we're asking — we won't be lecturing the country because this isn't a country that needs to be lectured — is to increase the fight against corruption," Juncker said. "Corruption is undermining all the efforts this great nation is undertaking."
Authors:
Carnegie Europe
Why Does Ukraine Matter to the EU?
Source: GettySummary: A real discussion of the EU's interests in Ukraine that moves beyond generalities may help member states avoid further frustrations and help the EU get more out of its relations with Kyiv. Related Media and Tools
Some adults turn their noses up at the question of "why," believing it to be childish. And when it comes to the EU's foreign policy, especially in its Eastern neighborhood, the question is considered simply inappropriate. That the EU will engage with its Eastern neighbors is just a given today. Take Ukraine. The EU has made a significant political investment in Kyiv over the years but has not given much thought to why Ukraine matters.
Yet, the EU should take a strategic pause and ask this question. Brussels's policy and the instruments it has used have had little impact on Ukraine. The country is moving further away from the EU and into a gray zone of no reform. Many in the union are frustrated with Kyiv and wonder why they should be more pro-Ukrainian than the Ukrainians themselves. Or why they have to save Ukrainians from bad leadership or from Russia.
Shumylo-Tapiola is a nonresident associate at Carnegie Europe in Brussels, where her research focuses on Eastern Europe and Eurasia. @OShumyloTapiola
Still, the EU as a whole is not asking the fundamental question and is sticking to its current policy despite all the worrying signs.
By ignoring reality, the EU is setting itself up for a big disappointment and running the risk of limiting its policy options to disengagement. A real discussion of the EU's interests in Ukraine that moves beyond generalities may help member states avoid further frustrations and help the EU get more out of its relations with Kyiv.
The EU Foreign Policy Radar Screen
Ukraine was largely invisible to the EU in the first decade of its independence. Relations were based on the vague EU-Ukraine Partnership and Cooperation Agreement of 1998 (similar accords were offered to all post-Soviet states). None of the then fifteen EU members at the time saw Ukraine as a priority. It was too far away from the EU, too difficult to understand, and too close to Russia.
Ukraine appeared on the EU's political radar screen with the 2004 enlargement. Especially after Ukraine's 2004 Orange Revolution brought a pro-Western, democratic-leaning government to power, the EU was forced to think about a special policy for Ukraine. The country seemed like it was the next Poland, which joined the EU in 2004 after significant reforms. Responding to Kyiv's European agenda and helping it reform became natural for many in the EU. Ukraine was offered "all but institutions"—the chance to access the EU's internal market after significant reform—within the newly launched European Neighborhood Policy and further Eastern Partnership initiative (EaP).
The EU could take that approach as long as Kyiv appeared intent on reform. But there was a serious democratic regress in Ukraine caused by the leadership's massive power- and asset-grabbing. This change of course during the presidency of Viktor Yanukovych revealed a Ukraine that was not ready to seriously reform. This was not a Poland that would do everything possible to get back home to Europe.
The EU initialed the Association Agreement with Ukraine, but full signing of the accord was put on hold until things started changing for the better. If Ukraine does not fulfill the EU's conditions over a certain period of time—which include addressing the issues of selective justice, reforming its electoral legislation, and conducting a number of reforms within the Association Agenda—the agreement may be shelved and Ukraine may start slowly disappearing from the EU's strategic map.
The EU's Interests in Ukraine—Driven by Member States
EU foreign policy is too young, and Brussels's role as a leader in strategic thinking is still weak. Many policy decisions are very much driven by individual member states and their often divergent national interests.
The member states did not engage in much debate about Ukraine's importance. According to the 2003 European security strategy, which aimed to build a ring of well-governed states around the union, Ukraine had some sort of role to play. This was a lowest-common-denominator strategy, in which Ukraine was put in a basket with other EU neighbors and expected to become a well-governed democracy and market economy on the EU's border. And that made it a safe bet for securing an EU-wide consensus.
However, that was where the similarity of positions ended. Deciding why to actually interact with Ukraine was left to each member state and depended on the state's location in Europe, historical experience, and national interests.
The EU member states initially formed two groups vis-à-vis Ukraine—the idealistic activists and pragmatic conservatives.
Idealistic Activists
The Central and Eastern European states that joined the EU with the 2004 and 2007 enlargements, especially Poland, interpreted the lowest common denominator as an open-door policy. Ukraine was important for creating the Europe these idealistic activists wanted.
They had a common history with Ukraine, and their populations included large communities of Ukrainian migrants. They felt obliged—as Germany once felt with Poland—to do good and to lend a hand to help Ukraine weather painful reforms. This view was strongly supported by their societies. Pragmatic calculations were secondary, though geographical and linguistic proximity meant that Ukraine's market did present many opportunities to these states. They advocated for the EU to give Ukraine a membership perspective and for the Association Agreement to be signed quickly as a step toward membership.
These idealistic activists were later supported by a few old member states, like Sweden and Finland, and many in the European Parliament, the European Commission, and the newly formed European External Action Service.
Yet, the group split over the presidency of Viktor Yanukovych, when Ukraine turned away from democratic reform.
One faction, led by Poland and Lithuania, continued pushing for the agreement to be signed unconditionally. Their stance was driven by a fear of Russia, and, in particular, the fear that if Ukraine were not in the process of integrating with the EU, it could be more easily drawn into the Russia-led Eurasian Customs Union. Keeping Ukraine in the EU's orbit through the Association Agreement was seen as a way of keeping Russia away from the EU's (read: Poland's) borders. This faction felt obliged to press the rest of the EU to not give up on Ukraine despite negative developments on the ground.
The other faction (essentially, all of the idealistic activists but Poland and Lithuania) still wanted to help Ukraine but needed to see signs of genuine interest in reform and shared values from Kyiv. They supported signing the Association Agreement with Kyiv only after the Ukraine had met all the preconditions.
Growing disappointment with Yanukovych after endless failed attempts to reach out to him turned even the last do-gooders away from idealism. Talking about Ukraine became emotionally difficult, and these states did not see much sense in pushing the rest of the EU toward signing the agreement at any cost. They had other, more important issues to talk about with the heavyweights like Germany and France. Wasting political capital on Ukraine, even given the Russia factor, no longer seemed worth it.
Pragmatic Conservatives
A conservative group consisting mainly of older member states sat opposite the idealists. They were the closest it got to the lowest-common-denominator position. This group felt no historical connection to Ukraine and no obligation to help it reform. Some of these member states were simply geographically too far away from Ukraine. And for many of them, Kyiv was still legitimately in Moscow's orbit.
This group saw the 2004 and 2007 enlargements as necessary but also as defining the EU's external borders. Any further Eastern enlargement was seen as a weakening of the union and a dilution of European integration. These countries' interest in Ukraine was rather selfishly straightforward—they wanted a stable, well-governed, democratic country that was friendly to the EU. These states also had an interest in Ukraine's market, but it mattered just as much as any other big market outside the EU.
They did not object to engagement with Ukraine, but they thought the country should be kept at arm's length and that engagement should take place on the EU's terms. That meant Ukraine had to first do all the necessary hard work, and only then could it enjoy any possible benefits from proximity to the EU. Their line has always been clear: Ukraine had to reform to prove it deserved to get closer to the EU.
They opposed offering the carrot of membership to Ukraine, even in the immediate aftermath of the Orange Revolution when public opinion of Ukraine in those countries was relatively positive. The furthest they agreed to go was to launch talks on the Association Agreement.
For this group, Yanukovych's presidency underlined the need for the EU to think about its values. These states insisted that Kyiv had to fulfill the EU's conditions before the Association Agreement could be signed. Their tactical interest shifted. They put rapprochement with Ukraine—a country whose leadership acted against European values—on hold.
Idealists and Pragmatists Unite
The positions of all member states are now coalescing around the vision of waiting for the situation on the ground to improve while keeping the option of signing the agreement open. They primarily seek not to promote European values in Ukraine but to ensure that the EU does not compromise its own values because of the geopolitical fears of certain EU member states. Some idealists are still trying to influence the situation on the ground, but even their hopes are bound to eventually fade.
What Ukraine Means for the EU Today
Alas, the EU debate on Ukraine is rarely about Ukraine itself or the EU's interests there. Instead, it is primarily about EU enlargement or Russia. On both issues, the positions of EU member states are irreconcilable. These issues are wrapped up with so much emotion and fear that the member states cannot talk about their foreign policy interests with respect to Ukraine in an objective way. But Ukraine is significant for the entire EU (EU27) in terms of political stability, security, and energy-related matters.
Politics and Security
Today's Ukraine poses a security threat to the EU. It is not building a nuclear bomb, it is not capable of starting a war with its neighbors, and it cannot launch a new Cold War with the West. But Ukraine's poor governance, which has been further degraded by Yanukovych's presidency, may potentially lead to instability and public (possibly violent) discontent that could negatively affect the EU. At the least, it may significantly increase the flow of migrants from Ukraine, which is already ranked fifth among non-EU suppliers of migrants to the EU27.
Ukraine's democratic decline also has a negative impact on Eastern Europe and sends negative signals to the other EaP countries (Armenia, Azerbaijan, Belarus, Georgia, and Moldova). For years, Kyiv was a role model for the EU's EaP, and it remains a key partner in the initiative. The Association Agreements with Moldova, Georgia, and Armenia were modeled on the EU's accord with Ukraine. A declining Ukraine casts a long shadow over the Eastern Partnership and undermines its value for the entire region.
Kyiv is an important actor in the "5+2" talks on the conflict between neighboring Moldova and the country's breakaway region of Transnistria as well. For a long time, Ukraine aligned with the EU and proved to be an important partner for Brussels on this issue. However, Ukraine under Yanukovych is more vulnerable to external (that is, Russian) pressure and may eventually change its approach to Transnistria.
Economics and Trade
Of the EU's Eastern neighbors, Ukraine is the country with the second-largest joint border with the EU at over 1,300 kilometers (or 800 miles). In 2011, Ukraine was the union's 24th most important source of imports (accounting for 0.9 percent of imports from non-EU countries) and ranked nineteen on the list of countries receiving the most EU exports (accounting for 1.4 percent of EU exports). This compares with Russia, which is the EU's second-largest import partner and fourth-largest export partner, and Turkey, which is seventh and fifth, respectively.
The potential for greater economic and trade links between the EU and Ukraine is significant. Ukraine offers a market of 45 million consumers, and 70 percent of its arable land is made up of some of the most fertile soil in Europe. But for this potential to be realized, and for EU businesses to be willing to invest in or trade with Ukraine, the country has to dramatically improve its poor business climate. It currently ranks 137 out of 185 countries in terms of the ease of doing business according to the World Bank's Doing Business 2013 report and 73 out of 144 countries on the World Economic Forum's Global Competitiveness Report 2012–2013.
Energy
Despite Russia's attempts to redirect its gas supply to the EU through the Belarusian gas transit system and Nord Stream pipeline, Ukraine remains the most important transit country for Russian gas going to the EU. Today, twelve EU member states receive gas through the Ukrainian transit system,1 which is in relatively bad shape and needs to be significantly modernized.
Yet, the Ukrainian authorities have not asked the EU for the funds that were pledged by Brussels in 2009 to help modernize the system. The Ukrainian government is also reportedly holding negotiations with Moscow on the creation of a bilateral consortium to manage the Ukrainian gas transit system. While this may provide for the safe transit of gas to the EU in the short run, it does not guarantee modernization and hence security of transit for the EU in the medium term.
Ukraine also offers energy resources that the EU needs. It is one of the biggest producers of electricity in Europe. Its electricity systems are partially integrated with the European Network of Transmission System Operators for Electricity, and the country supplies electricity to four EU member states (Hungary, Slovakia, Poland, and Romania). In addition, Ukraine has significant natural gas and shale gas resources that it is starting to develop.
The Russia Factor
Russia appears to be an unavoidable piece of the puzzle. When it comes to the common neighborhood, the EU looks as if it is competing with Moscow for spheres of influence. While the EU is neither willing to nor capable of playing this game, Moscow is. A badly governed Ukraine—that is, one that is corrupt and undemocratic—is more vulnerable to Moscow's pressure and thus has more chance of being absorbed by the Eurasian Customs Union over time. While this does not confront the EU with hard security threats, it may complicate trade and other relations with Ukraine.
What Should the EU Do?
The question of Ukraine's relevance would not be asked if the country were consolidating its democracy and transitioning to a market economy. The question then would be how to help Ukraine reform in the most efficient way. The EU's lowest-common-denominator approach would probably be enough, and the Association Agreement coupled with financial support could be the natural instrument for assisting Ukraine.
But today's Ukraine is a mixed bag for EU members. Kyiv does not want to reform, and the Ukrainian leadership has taken numerous steps that move the country further away from the EU. In its current shape, Ukraine seems to matter only because of its size, its geographical proximity to the EU, and the host negative, problematic agenda items that it brings to the table. It has long had positive potential, but realizing that potential, especially in terms of economics and trade, is prohibitively expensive, and the EU has more to gain from engagement with other countries, such as Russia or Turkey.
The EU's natural approach is most likely to wait for the situation in Ukraine to improve. Over time, the EU may consider a policy of containing Kyiv. But that would make the EU a mere observer of developments in the region and would go against the EU's interest of building a stable and well-governed neighborhood, a goal that is still very valid. Therefore, continued engagement with Ukraine is key. However, the EU may need to reconsider a few things to be more successful in its endeavor.
EU member states should agree to pause the EU enlargement debate and deliver a clear message to Ukraine.The sad truth is that the EU does not have the institutional capacity or will to enlarge beyond a few Balkan countries. It is also clear that the enlargement carrot will not work in Ukraine as it did in Poland. Erasing the issue of enlargement from the Ukraine debate will help the EU be more pragmatic and less emotional about Ukraine. It will tame Kyiv's bloated sense of self-importance and help it understand Ukraine's interest-based relevance for the EU27.
The EU should end its unnecessary rhetoric about competition over Ukraine with Russia. Toning down the rhetoric does not mean that the EU is giving Ukraine away to the Eurasian Customs Union. Rather, it means stopping Kyiv from playing Brussels against Moscow and letting Ukraine decide its direction independently. Brussels should remain open to signing the Association Agreement if Kyiv shows signs of real interest in such a relationship. Such a move would also reinforce the value of what the EU has to offer rather than fueling comparisons with Russia.
EU member states should also discuss EU27 interests in Ukraine and find relevant instruments for engaging with Kyiv. Today's EU is better equipped for this discussion than it has been in the past. There are fewer illusions about Ukraine, and the EU is no longer afraid of losing the country.
The EU's primary interest in Ukraine is putting an end to the negative agenda. While the EU's general objective toward Kyiv may remain, the EU will have to rethink its instruments of engagement. Democracy is a bottom-up process, as recent events in the Arab world have demonstrated. The EU cannot impose it from above. Brussels should gradually engage in comprehensive outreach to the grass roots—a process that is not well-known to the EU. Tripling the number of scholarships for Ukrainian students of all levels and increasing the number of possibilities for professional training and exchange beyond government officials coupled with support for grassroots movements will be key. Providing visa-free travel to the EU for ordinary Ukrainians can help significantly facilitate the learning process and may contribute to change in Ukraine.
This is a long-term investment that will require creative solutions from the EU to overcome Ukraine's rather messy politics. However, it is clearly in the EU's strategic interest. Once the EU27's interests in Ukraine are clarified and its instruments have been fine-tuned, member states can move on to discussing the relevance of and approach to the entire Eastern Partnership region.
1 The states are Austria, Bulgaria, the Czech Republic, France, Germany, Greece, Hungary, Italy, Poland, Romania, Slovakia, and Slovenia. End of document
Related Topics
Comments(14)
Post your comments 2500 character limit. No links or markup permitted. Comments are moderated and may not appear immediately. Screen names appear with your comment.Screen Name
Follow the conversation—Sign up to receive email updates when comments are posted to this article.Email AddressCharacters Used 0Sort by:
Dmytro ShulgaApril 17, 20136:57 am
Quite right, the EU should define its own interests vis-a-vis Ukraine. It's not a question of values vs. interests. The real problem seems to be that many in the EU see no interest in Ukraine, and this is a mistake. Ukraine is not the EU's #1 trading partner, but it is still an important market. E.g. German trade with Ukraine is bigger in volume than German trade with some the EU's member states like Greece or Baltic states taken together. One can rightfully claim that the business climate is bad, but Doing Business Index indicators are substantially better than those of the previous 'orange' years. As regards the EU's energy security – Ukraine is a member of the Energy Community, an important transit country (not yet controlled by Gazprom, as most post-Soviet states), and a large reserve of the shale gas. Taken all this into account, isn't Ukraine important for the EU?
Reply to this postYuriy MatsiyevskyApril 18, 201310:20 am
What about supplementing engagement with personalized sanctions if Yanukovych fails to meet the EU's conditions for the association agreement? There are some voices both within and outside Ukraine to modify the current EU strategy.
Reply to this postEberhard Rhein, Brussels April 19, 20131:44 am
Well done Olga! Both in terms of analysis and policy responses.
Reply to this postUK. Raine May 30, 20134:09 am
I have worked for 15 years in Ukraine since the Soviet bloc collapsed and over this time realised that in one form or another Ukraine has been occupied since 1709. When Peter the Great first stole their identity and history. With the theft of the name Russ. Now it seems they have finally got their identity back they are like children in a playground. They don't know what to do with it. They need time to grow up and Moscow still wants control, they're not happy to give back what they stole so long ago. Ukraine when left in peace which was very rare has always strived for democracy. Moscow however is happier with autocratic rulers if not the German tsars. Then the Georgians Stalin & Beria with the KGB. Wasn't Putin a colonel of the KGB?
Reply to this postLGAugust 09, 20134:34 pm
Kievan Rus is not the same thing as Ukraine. Ethnic Russians, Belarusians and Ukrainians all (rightfully) claim descent from Kievan Rus. To claim that Kievan Rus was purely a Ukrainian kingdom is wrong because at the time no such ethnic group as Ukrainian existed, same with Russian or Belarusian ethnic group. You ought to read non biased sources of Ukrainian history, not the ethno-nationalist bunk they propagate from Kiev and Lvov. An independent Ukraine has never existed prior to 1918.
MitchelJune 13, 201312:38 pm
Ukraine is the largest European country, with significant natural and mineral resources and is of strategic significance for the EU in terms of security. It would be very unreasonable and unwise for the EU to lose Ukraine and other East European countries (Moldova, Georgia, Belarus) to Russia which would strengthen Russia as an empire and only create more rivalry and threat/danger to the EU from Russia. The EU must not wait until Russia succeeds in domination over those countries. Further delay in bringing those countries into NATO and the EU may be very costly to the EU in the near future if Russian neoimperialism succeeds in its policies. Russia is a disguised enemy and a rival of the EU, not a reliable partner. Only Russia is a real threat to the EU economically, militarily (with the largest arsenal of weapons of mass destruction) and in terms of security because Russia has expansionist domineering ambitions not only in Eastern Europe, but also globally. Ukraine, Georgia, Moldova, Belarus as European peaceful countries (unlike Russia) must belong to NATO and the EU to make the EU stronger and more prosperous so that they have a brighter future and do not get under oppressive Russian rule again which this time may be fatal to these nations.
Reply to this postLGAugust 09, 20134:25 pm
The cold war ended bro!
HavemaskwilltravelMarch 12, 20146:22 am
Oh, I'm so happy that the EU is able and willing to give us that 'bright' future without oppressing us. Hail, hail the EU!
LGAugust 09, 20134:27 pm
The author fails to mention that bringing in Ukraine would require billions of dollars in investments from the wealthier EU members. Pray tell where will the cash strapped governments get the cash to fund Ukraine's modernization? Romania and Bulgaria ate up a good chunk of the money Brussels sent their way and they are not successful states by any means of the imagination, especially Bulgaria where the mafia is still ingrained with state offices and officials.
Reply to this postVadymNovember 29, 20136:41 pm
Very good analysis Olga. Brussels does not have united strong foreign polices. That is why he is loosing to Russia. But for Ukrainians to "put Ukraine in a basket with other EU neighbours and expected to become a well-governed democracy and market economy on the EU's border" will not work. I am Ukrainian myself and logic of majority of people from Ukraine is: " I do not want to be a a second grade neighbour. Give me a chance to be a member of EU in the future or I will join to another union or country as equal partner. It sounds for me like to be a good dog around rich household. Every one like you but nobody never let you sit at the table. That is why the problem is not only with president of Ukraine. It is more fundamental problem. Many friends of mine who are nor supporter of Yanukovich at all are very frustrated and humiliated because such position of EU regarding Ukraine, and they not sure if it will be right to sign the AA with EU. Even though next president will be more democratic and will sign the AA with EU this association will bring constant trouble to both parties. Only prospective to be a member of EU when Ukraine will met all standards will give a pace of mind to both parties.
Reply to this postGuestMarch 23, 20142:25 pm
The EU "wants" the Ukraine because of a workforce even much cheaper than in Poland, that's why.
Reply to this postUKoutofEUnowMay 02, 20141:23 am
We Euro sceptics in the United Kingdom, DO NOT want further EU enlargement. If Ukraine, Turkey and other Eastern European countries join, it would be a further disaster for the big 5 EU countries, especially the UK. There would be mass immigration from these countries to the West. The UK is already struggling in every way, because of the massive influx of people from Poland and the other countries that joined in 2004. These Eastern Europeans did not care one bit, about British citizens, when they came over to the UK. Our services, like schools and hospitals, are completely over burdened with the mass influx of Eastern European citizens. Our people cannot get jobs. The last thing the United Kingdom wants, is further enlargement of the European Union. In fact, the United Kingdom needs to get out of the EU NOW. It is bad for Britain, and will only get worse. My fellow British citizens, vote on the 22nd of May, to get the United Kingdom out of the EU.
Europe is the most blood littered continent in the world.i really wonder why it still ,it finds a problem to unit fully at zero human cost with Turkey than risk having unpredictable super power enemy like Russia may wait until winter and cuts off all gas supplies to Europe.America may find a problem of getting its soldiers out of Afghanistan.So need to rush but calculate.Ask the late Napoleon about the Crimean war
Reply to this posthttp://www.vidafmgospel.com.br/site/index.php/component/kide/-/index.php?option=com_kideNovember 20, 20164:12 am
Related analysis from Carnegie
Popular Articles
Featured
Stay connected to Judy Dempsey's Strategic Europe with a new smartphone app for Android and iOS devices
Carnegie Europe
Rue du Congrès, 15
1000 Brussels, Belgium
Phone: +32 2 735 56 50
Fax: +32 2736 6222
© 2019 All Rights Reserved Share this selection
Posted September 18th 2019
9,473 Views | April 29, 2018 https://theduran.com/why-the-us-deep-state-hates-vladimir-putin/
Eric Zuesse 3 Shares 3
Read Next
Here is Vladimir Putin in extemporaneous discussion and interview (translated into English): % buffered00:00-05:58
This next video shows Putin offering Russia's billionaires the choice between being dispossessed of their companies by the Government, or else signing an agreement with the Government, promising that they will henceforth place the welfare of their workers and of the people of Russia, above their own personal welfare and wealth, and only one billionaire there, Oleg Deripaska, hesitated, at which point Putin treated him contemptuously and Deripaska promptly signed. % buffered00:00-01:39
Here is how Britain's Express newspaper, on 7 October 2015, described that second video:
It shows the 63-year-old [Putin], who has launched a blitz of more than 50 airstrikes against the terror regime [Syria's ISIS] in recent days, directly confronting Russian oligarchs and ranting at them that they are good for nothing COCKROACHES.
In the incredible footage, Putin humiliates Oleg Deripaska, one of the world's richest men with a fortune of $6m [Deripaska's fortune in 2009 was actually $3.5 billion], and treats him like his personal lapdog.
It was filmed on a tour of Pikalevo, a struggling factory town where families had been venting their anger over job losses and unpaid wages.
Back when the Putin-Deripaska encounter happened, the right-wing British newspaper Telegraph had bannered, on 4 June 2009, "Vladimir Putin takes Oleg Deripaska to task", and it placed their hostile slant on the event by sub-heading: "Vladimir Putin, the Russian prime minister, publicly criticised his most faithful oligarch on Thursday in an attempt to deflect growing social discontent on to the country's unpopular super-rich." (Of course, the U.S. regime would ignore why Russia's super-rich were "unpopular," much less the fact that America's super-rich were involved in these heists from Russia that had caused so much of Russia's post-Soviet depression.)
On 27 April 2018, Deripaska ceded control over the world's second-largest aluminum-producer, Russal, and he did it because the United States regime had recently placed him and his corporations under new economic sanctions, which are allegedly focused against Russian billionaires who support Putin politically.
If Deripaska wouldn't cede control, then the sanctions-hit would be harder and more damaging to Russia's economy, so Deripaska — in fulfillment of his agreement signed with Putin — ceded control.
In other words, Deripaska, whom Putin had actually forced to commit to placing Russia's interests above their own, is now being treated by the U.S. regime as one of the chief people to 'blame' for Putin's being in office, in Russia's 'dictatorship'.
This threat, by Putin, to Russia's wealthiest (Deripaska having been one of the billionaires whom Putin didn't dispossess when coming into power in 2000), wasn't a staged PR event, but instead was simply the best-filmed instance of Putin's standard policy, ever since becoming Russia's leader: his policy that an aristocrat can lose everything if he places his interests above the nation's interests.
This policy was the fundamental change from the prior, Boris Yeltsin, years, when Harvard's economics department and the World Bank, during the immediate post-Soviet 1990s, came into Russia and set up the system, working in conjunction with Yeltsin's friends, to funnel the future profits from Russia's vast undervalued natural resources, into partnerships between Yeltsin's friends and U.S. billionaires and affiliated investors. See Also
That American-led corruption sent the Russian economy into a tailspin, from which the new Russian President, Putin, rescued it, by laying down the law to the billionaires: that their interests were subordinate to, not dominant above, the nation's interests. This is the principal difference between the ideology of today's America, and of today's Russia.
My 3 June 2014 article, "How and Why the U.S. Has Re-Started the Cold War (The Backstory that Precipitated Ukraine's Civil War)", showed, by means of graphs, that the economic depression which engulfed Russia (and which was totally ignored by the Western press) during 1990-2000, ended and reversed immediately following (when Putin came into power), and especially ever since around 2004, so that Russia's economic growth-rate under Putin, at least the rate prior to America's economic sanctions against Russia in 2014, was one of the world's best and looked likely to pose serious competition to the U.S. aristocracy in the future.
From the pits that were brought by the U.S. regime in Russia — including the massive heists from the Russian public — to the period of Putin's rule in Russia, has been a sea-change, and the U.S. regime cannot tolerate it; they want the U.S. elite's looting of Russia to return.
This is necessarily a simplified overview of the conflict between the U.S. regime and Russia, but it's nonetheless true. In order to understand it more deeply, filling in the details during the period after the end of the Soviet Union — and of its communism, and of its Warsaw Pact military alliance mirror-image to America's NATO alliance, till now — cannot meaningfully be done outside the context of the U.S. regime's swindle of Russia ever since the night of 24 February 1990, when U.S. President George H.W. Bush told America's allies that it was a lie to Soviet President Mikhail Gorbachev when Bush's people had promised Gorbachev that if the Soviet Union and its Warsaw Pact ended, then NATO would not expand, not move "one inch to the east" toward Russia's border — which the U.S. and those allies have since done all the way up to Russia's border.
(In reverse, it's as if Russia now were placing its soldiers and its missiles on or near the Mexican border, and the Canadian border.) This swindle of Russia meant that though the Cold War did end on Russia's side, it never yet has ended on America's. The greed of the U.S. regime — and of its allies — seems to be endless, including, ultimately, grabbing Russia itself. Putin resists, and so they hate him. That's the reality.
To the U.S. regime and it propagandists, Putin is "The Pariah" and "The West's Public Enemy Number One", but to the Russian people, he is the protector of their nation against the U.S. regime's threats to Russia's national sovereignty. More diametrically opposite views of the same man, could hardly even be imagined.
The scandal in Washington no one is talking about Posted September 17th 2019
By Paul Sperry New York Post
May 21, 2016 | 6:37pm Enlarge Image
President Obama and his former Attorney General Eric Holder are tight-lipped on the Fast and Furious gun scandal — but a judge has ordered the release of 20,000 pages of buried emails and memos. AP (2)
The deadly-but-forgotten government gun-running scandal known as "Fast and Furious" has lain dormant for years, thanks to White House stonewalling and media compliance. But newly uncovered emails have reopened the case, exposing the anatomy of a coverup by an administration that promised to be the most transparent in history.
At least 20 other deaths or violent crimes have been linked to Fast and Furious-trafficked guns.
A federal judge has forced the release of more than 20,000 pages of emails and memos previously locked up under President Obama's phony executive-privilege claim. A preliminary review shows top Obama officials deliberately obstructing congressional probes into the border gun-running operation.
Fast and Furious was a Justice Department program that allowed assault weapons — including .50-caliber rifles powerful enough to take down a helicopter — to be sold to Mexican drug cartels allegedly as a way to track them. But internal documents later revealed the real goal was to gin up a crisis requiring a crackdown on guns in America. Fast and Furious was merely a pretext for imposing stricter gun laws.
Only the scheme backfired when Justice agents lost track of the nearly 2,000 guns sold through the program and they started turning up at murder scenes on both sides of the border — including one that claimed the life of US Border Patrol Agent Brian Terry.
While then-Attorney General Eric Holder was focused on politics, people were dying. At least 20 other deaths or violent crimes have been linked to Fast and Furious-trafficked guns.
The program came to light only after Terry's 2010 death at the hands of Mexican bandits, who shot him in the back with government-issued semiautomatic weapons. Caught red-handed, "the most transparent administration in history" flat-out lied about the program to Congress, denying it ever even existed.
Then Team Obama conspired to derail investigations into who was responsible by first withholding documents under subpoena — for which Holder earned a contempt-of-Congress citation — and later claiming executive privilege to keep evidence sealed.
But thanks to the court order, Justice has to cough up the "sensitive" documents. So far it's produced 20,500 lightly redacted pages, though congressional investigators say they hardly cover all the internal department communications under subpoena. They maintain the administration continues to "withhold thousands of documents."
Even so, the batch in hand reveals the lengths to which senior Obama operatives went to keep information from Congress.
The degree of obstruction was "more than previously understood," House Oversight and Government Reform Chairman Jason Chaffetz said in a recent memo to other members of his panel.
"The documents reveal how senior Justice Department officials — including Attorney General Holder — intensely followed and managed an effort to carefully limit and obstruct the information produced to Congress," he asserted.
They also indict Holder deputy Lanny Breuer, an old Clinton hand, who had to step down in 2013 after falsely denying authorizing Fast and Furious.
Their efforts to impede investigations included:
Devising strategies to redact or otherwise withhold relevant information;
Manipulating media coverage to control fallout;
Scapegoating the Bureau of Alcohol, Tobacco, Firearms and Explosives (ATF) for the scandal.
For instance, a June 2011 email discusses withholding ATF lab reports from Congress, and a July 2011 email details senior Justice officials agreeing to "stay away from a representation that we'll fully cooperate."
Though Obama prides himself on openness, transparency and accountability, the behavior of his administration belies such lofty principles.
The next month, they went into full damage-control mode, with associate Deputy Attorney General Matt Axelrod warning an ATF official that providing details about Fast and Furious "strikes us as unwise."
Then, in late August 2011, another email reveals that Holder had instructed his staff to have an official at ATF "close the door to his office" to prevent information about the mushrooming scandal from leaking.
Talking points drafted for Holder and other brass for congressional hearings made clear that Justice intended to make ousted ATF officials the fall guys for the scandal.
"These (personnel) changes will help us move past the controversy that has surrounded Fast and Furious," Assistant Attorney General Ron Weich wrote in August 2011.
In an October 2011 email to his chief of staff, moreover, Holder stated that he agreed with a strategy to first release documents to friendly media "with an explanation that takes the air out" of them, instead "of just handing them over" to Congress.
"Calculated efforts were made by senior officials to obstruct Congress," Chaffetz fumed.
"Over the course of the investigation," he recounted, "the Justice Department has provided false information, stonewalled document requests, produced scores of blacked-out pages and duplicate documents and refused to comply with two congressional subpoenas."
Though Obama prides himself on openness, transparency and accountability, the behavior of his administration belies such lofty principles. "Transparency should not require years of litigation and a court order," Chaffetz pointed out.
Obama insists Fast and Furious is just another "phony" scandal whipped up by Republicans to dog his presidency. What does his heir apparent Hillary Clinton think?
The anti-gun zealot has been silent on the gun-proliferation scandal. But then, she's been busy sweeping subpoenaed emails under the rug of her own scandal.
Paul Sperry is former Washington bureau chief for Investor's Business Daily and author of "Infiltration" and "Muslim Mafia."
Trump: It looks like Iran hit Saudi Arabian oil facilities
Robert Burns, The Associated Press
Published Monday, September 16, 2019 5:52AM EDT
Last Updated Monday, September 16, 2019 9:50PM
WASHINGTON — U.S. President Donald Trump declared Monday it "looks" like Iran was behind the explosive attack on Saudi Arabian oil facilities. But he stressed that military retaliation was not yet on the table in response to the strike against a key U.S. Mideast ally.
Oil prices soared worldwide amid the damage in Saudi Arabia and fresh Middle East war concerns. But Trump put the brakes on any talk of quick military action — earlier he had said the U.S. was "locked and loaded" — and he said the oil impact would not be significant on the U.S., which is a net energy exporter.
The Saudi government called the attack an "unprecedented act of aggression and sabotage" but stopped short of directly pinning blame on Iran.
Related Stories
Trump: It looks like Iran hit Saudi Arabian oil facilities
Oil price jump linked to Saudi Arabian attacks sparks energy stock rally
Energy sector helps lift main Canadian stock index to another record high
Saudi Arabia: Drone attacks knocked out half its oil supply
What the drone attack in Saudi Arabia means for gas prices in Canada
U.S. President Donald Trump speaks before leaving the White House, Monday, Sept. 16, 2019, in Washington. (AP Photo/Manuel Balce Ceneta)
This image provided on Sept. 15, 2019, by the U.S. government and DigitalGlobe and annotated by the source, shows damage to the infrastructure at at Saudi Aramco's Kuirais oil field in Buqyaq, Saudi Arabia. (U.S. government/Digital Globe via AP)
Iran denied involvement.
Trump, who has repeatedly stressed avoiding new Middle East wars, seemed intent on preserving room to manoeuvr in a crisis that Secretary of State Mike Pompeo had immediately called Iran's fault. Pompeo said Saturday, "Iran has now launched an unprecedented attack on the world's energy supply."
Trump, too, had talked more harshly at first. But by Monday afternoon he seemed intent on consultations with allies.
"That was an attack on Saudi Arabia," he said.
"It wasn't an attack on us, but we would certainly help them," he said, noting a decades-long alliance linked to U.S. oil dependence that has lessened in recent years. The U.S. has no treaty obligation to defend Saudi Arabia.
Trump said he was sending Pompeo to Saudi Arabia "to discuss what they feel" about the attack and an appropriate response.
One U.S. official, speaking on condition of anonymity to discuss internal deliberations, said the U.S. was considering dispatching additional military resources to the Gulf but that no decisions had been made. The U.S. already has the USS Abraham Lincoln aircraft carrier battle group in the area, as well as fighter jets, bombers, reconnaissance aircraft and air defences.
Trump, alternating between aggressive and nonviolent reactions, said the U.S. could respond "with an attack many, many times larger" but also "I'm not looking at options right now."
American officials released satellite images of the damage at the heart of the kingdom's crucial Abqaiq oil processing plant and a key oil field, and two U.S. officials said the attackers used multiple cruise missiles and drone aircraft.
Private experts said the satellite images show the attackers had detailed knowledge of which tanks and machinery to hit within the sprawling Saudi oil processing facility at Abqaiq to cripple production. But "satellite imagery can't show you where the attack originated from," said Joe Bermudez, an expert at the Center for Strategic and International Studies who examined the images.
"What the photos indicate is that someone planned a sophisticated, co-ordinated attack that really impacted the production of oil at this facility," he said.
The U.S. alleges the pattern of destruction suggested Saturday's attack did not come from neighbouring Yemen, as claimed by Iranian-backed Houthi rebels there. A Saudi military alleged "Iranian weapons" had been used.
The Saudis invited United Nations and other international experts to help investigate, suggesting there was no rush to retaliate.
Jon Alterman, the chief Middle East expert at the Center for Strategic and International Studies, said the Saudi caution reflects the kingdom's wariness of taking on Iran.
"I don't think there's a great independent Saudi capability to respond," he said. "You don't want to start a war with Iran that you don't have an idea how you're going to end."
In New York, the new U.S. ambassador to the United Nations, Kelly Craft, condemned the attack and said that "emerging information indicates that responsibility lies with Iran."
At the Pentagon, Defence Secretary Mark Esper suggested Iranian involvement, too. In a series of tweets after meeting with Trump and other senior national security officials, Esper said the administration was working with partner nations "to address this unprecedented attack and defend the international rules-based order that is being undermined by Iran."
Iran rejected the allegations, and a government spokesman said there now is "absolutely no chance" of a hoped-for meeting between Iranian President Hassan Rouhani and Trump at the U.N. General Assembly next week.
"Currently we don't see any sign from the Americans which has honesty in it, and if the current state continues there will be absolutely no chance of a meeting between the two presidents," spokesman Ali Rabiei said.
Downplaying any talk of imminent U.S. military action, Vice-President Mike Pence's chief of staff, Marc Short, told reporters at the White House that Trump's "locked and loaded" was "a broad term that talks about the realities that" the U.S. is "safer and more secure domestically from energy independence."
The new violence has led to fears that further action on any side could rapidly escalate a confrontation that's been raging just below the surface in the wider Persian Gulf in recent months. There already have been mysterious attacks on oil tankers that Washington blames on Tehran, at least one suspected Israeli strike on Shiite forces in Iraq, and the downing of a U.S. military surveillance drone by Iran.
Those tensions have increased ever since Trump pulled the U.S. out of Iran's 2015 agreement with world powers that curtailed Iranian nuclear activities and the U.S. re-imposed sanctions that sent Iran's economy into freefall.
The weekend attack halted production of 5.7 million barrels of crude a day, more than half of Saudi Arabia's global daily exports and more than 5% of the world's daily crude oil production.
The U.S. and international benchmarks for crude each vaulted more than 14%, comparable to the 14.5% spike in oil on Aug. 6, 1990, following Iraq's invasion of Kuwait.
U.S. stocks were down but only modestly. Major stock indexes in Europe also fell. Markets in Asia finished mixed.
At a news conference, Saudi military spokesman Col. Turki al-Maliki said, "All the indications and operational evidence, and the weapons that were used in the terrorist attack, whether in Buqayq or Khurais, indicate with initial evidence that these weapons are Iranian weapons."
Russia's Foreign Ministry, while expressing "grave concern" about the attack, warned against putting the blame on Iran, saying that plans of military retaliation against Iran would be unacceptable.
——
AP Writers Jon Gambrell and Aya Batrawy contributed from Dubai, United Arab Emirates. AP writers Zeke Miller and Michael Biesecker contributed from Washington, Tali Arbel from New York, Elaine Kurtenbach from Bangkok, Nasser Karimi from Tehran, Dave Rising from Berlin, Samy Magdy from Cairo and Qassim Abdul-Zahra from Baghdad.
Robert Mugabe's vast wealth exposed by lavish homes and decadent ways Posted September 12th 2019
This article is more than 1 year old
Zimbabwe's leader is said to have assets of £1bn – but since an EU crackdown in 2002, there has been little sign of extravagant spending outside the country
Mugabe makes first public appearance since military takeover
When Grace Mugabe summoned a number of supporters to her sprawling private compound at Mazowe, north of Harare, in 2014 – she told them that all suggestions her husband was a wealthy man were wide of the mark.

Standing in front of the 30 or so luxury villas that she has had built on the property, she insisted that the truth was that Mugabe was the poorest head of state in the world.
"We are blessed because we have Baba Mugabe," she said. "He is the poorest president the world over. I have never seen him asking for money from anyone." Profile
Who is Grace Mugabe and why is she controversial?
Nobody listening believed a word of it, of course. Grace enjoys a number of soubriquets in Zimbabwe, all of them reflecting a widespread belief that she enjoys squandering the country's wealth: the First Shopper, Gucci Grace, and even DisGrace.
The couple's home in Harare is said to be extraordinarily opulent, so much so that when their daughter Bona was married there, photographers were said to have been ordered not to take any pictures that showed the property in the background.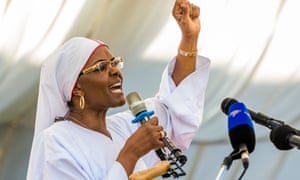 Facebook Twitter Pinterest Grace Mugabe addresses Zimbabwean worshippers and congregants at a rally in Harare earlier in November. Photograph: Jekesai Njikizana/AFP/Getty Images
According to some estimates, Robert Mugabe has about £1bn-worth of assets, much of it invested outside Zimbabwe. A 2001 US diplomatic cable, later released by the whistle-blowing organisation WikiLeaks, quoted this figure, and said that while reliable information was difficult to find, there were rumours that his assets "include everything from secret accounts in Switzerland, the Channel Islands and the Bahamas to castles in Scotland".
Grace Mugabe is said to have bought a number of properties in the affluent Sandton suburb of Johannesburg and there are reported to have been property purchases in Malaysia, Singapore and possibly Dubai.
The first lady is reported to have the sort of designer shoe collection that might be expected of a dictator's wife and, notoriously, is said to have spent $75,000 (£56,000) on luxury goods on a single shopping spree in Paris.
Grace denies this, although there is plenty of evidence of extravagance within the Mugabe family. Earlier this year the couple's youngest son, Bellarmine Chatunga, posted on Instagram a photograph of his watch with the caption: "$60,000 on the wrist when your daddy run the whole country ya know!!!"
Shortly afterwards, a video emerged showing the 21-year-old dousing his watch with champagne from a bottle of Armand de Brignac gold champagne, which retails at around $400 a bottle.
0:47 Robert Mugabe's son pours champagne over his watch – video
A small glimpse of Robert and Grace Mugabe's wealth came to light in 2015, during a dispute over ownership of a $7.6m home in Hong Kong. There was a second glimpse earlier this year when the government-owned Herald newspaper reported that Grace had ordered a $1.35m diamond ring to mark her wedding anniversary.
However, there has been little sign of the couple's riches outside the country since 2002, when the European Union began imposing sanctions and asset seizure orders on senior regime figures. This came after the government launched a violent crackdown on opponents, refused to permit the monitoring of elections and evicted some white farmers from their farms.
So little has come to light that the Herald at one point said: "Nothing has been found despite the celebrated international intelligence network of the Americans, British and other western super powers."
But in Zimbabwe itself, the couple have been more brazen. As well as the compound at Mazowe and the palatial home in the capital's wealthy Borrowdale district, they have a number of land holdings.
The best known is the Omega Dairy farm, one of the largest dairy farms in southern Africa. Opposition politicians have claimed that the Mugabes actually own 14 farms in the country, which would be in contravention of the constitution, which limits land holdings.
Further diplomatic cables made public by Wikileaks offer intriguing insights into the kleptocracy that the couple helped to create.
In one, headlined "Doing business Zimbabwe-style", a US diplomat recounts a story about a high court judge taking possession of a white commercial farm north of Harare in 2002, in defiance of a order issued by his own court.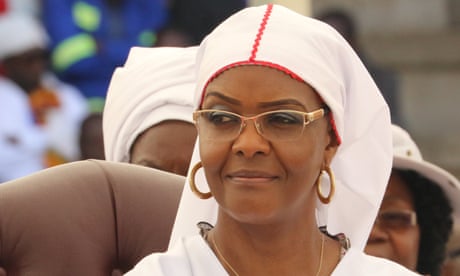 Read more
"The farm was near the Mugabe rural home," the diplomat reported. "In 2009, the farm caught the eye of First Lady Grace Mugabe, who apparently wanted it for her son from her first marriage."
She is said to have ordered the judge off the land. He countered with a lawsuit "but unsurprisingly", the diplomat noted, no court was willing to hear the case.
The judge then found another farm, and demanded that the owner leave. But a government minister, who was "a patron" of the owner, told him to desist and look for another farm.
So he found another large farm and demanded a portion of that. The owners were reported to be "a bit miffed" that he was demanding 900 hectares, when his original farm had been just 600. "They ultimately negotiated," the diplomat said.
Since you're here…
… we have a small favour to ask. More people are reading and supporting The Guardian's independent, investigative journalism than ever before. And unlike many news organisations, we have chosen an approach that allows us to keep our journalism accessible to all, regardless of where they live or what they can afford. But we need your ongoing support to keep working as we do.
The Guardian will engage with the most critical issues of our time – from the escalating climate catastrophe to widespread inequality to the influence of big tech on our lives. At a time when factual information is a necessity, we believe that each of us, around the world, deserves access to accurate reporting with integrity at its heart.
Our editorial independence means we set our own agenda and voice our own opinions. Guardian journalism is free from commercial and political bias and not influenced by billionaire owners or shareholders. This means we can give a voice to those less heard, explore where others turn away, and rigorously challenge those in power.
US National Security Advisor John Bolton resigns
Published time: 10 Sep, 2019 16:02 Edited time: 10 Sep, 2019 16:45 Get short URL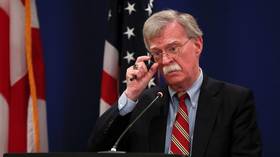 © Reuters / David Mdzinarishvili
National Security Advisor John Bolton, one of the most prominent war hawks in Donald Trump's administration, has handed in his resignation, the US president has announced.
"I informed John Bolton last night that his services are no longer needed at the White House… I asked John for his resignation, which was given to me this morning," Trump tweeted. The president said that he and others in the administration "strongly" disagreed with many of Bolton's decisions.
….I asked John for his resignation, which was given to me this morning. I thank John very much for his service. I will be naming a new National Security Advisor next week.— Donald J. Trump (@realDonaldTrump) September 10, 2019
Bolton gave a different account of events, however, implying on Twitter that his resignation wasn't a completely done deal yet, or at least he had not been informed about it.
I offered to resign last night and President Trump said, "Let's talk about it tomorrow."— John Bolton (@AmbJohnBolton) September 10, 2019
Trump made the announcement just 90 minutes before Bolton was to appear at a joint press-conference with US Secretary of State Mike Pompeo and Treasury Secretary Steven Mnuchin. Also on rt.com 'Russian trolls run Trump's Twitter account?' Moscow ridicules Bolton's disinformation claims
Bolton was appointed national security advisor on April 9, 2018, and proceeded to do everything to live up to his reputation as a staunch war hawk. He advocated the use of force and regime change in Syria, Venezuela, North Korea and Iran. The 70-year-old also strongly supported the US withdrawal from the nuclear deal with Tehran and the termination of non-proliferation agreements with Russia.
Trump recently kept Bolton sidelined from his key international meetings as he was looking for opportunities to reinvigorate dialogue with Iran and North Korea. The president had previously complained that the advisor was too eager to get the US into another war. Also on rt.com John Bolton being sidelined by Trump allows the world to breathe easier
Editorial Comment Mike Pompeo has just held a press conference stating that Donald Trump's foreign policy will not change. There will be no easing up on Iran. Reading between the lines, John Bolton was about cutting to the chase with heavy bombing. He had no patience with pussy footing sanctions to achieve the U.S long standing international programme for regime change. At least he was honest about U.S intentions. Trump is more secretive and duplicitous. Charles Close
Breaking: John Bolton, Perhaps Even Stupider Than Trump, Resigns….Why?
By Gordon Duff, Senior Editor – September 10, 2019 0 412
Introduction:
Bolton, perhaps the most poisonous toad of the neocon' aquarium, is gone, again. Is he dying? Is this an indication that Netanyahu's total and absolute control over Trump is waning?
Look at the failures:
North Korea shits on us every day and Trump looks like a total dick every time they launch a missile.
The Taliban could care less if Trump won't invite them to Camp David, they might well take it themselves, militarily, given enough time.
The US is now pushing for peace in Yemen, knowing the Saudi's are beaten. Trump lauded their fake military purchases, but we now know they are screwing us and reselling Russian hardware behind our backs.
Venezuela made fools of us, and Bolton, except we are planning on beating them next year in a TV series, "Jack Ryan, the Zionist Tool"
The US economy is starting to tank…
Trump and Netanyahu's boy in Britain has become a total liability.
Russia secretly opened up a land route from Iran to Lebanon, by setting up an air base in al Bukamal on the Syria-Iraq border.
Turkey, our partner in the fake safe zone inside Syria is now pouring in starving refugees and blaming Trump, another US defeat.
Iran smuggled a supertanker past our naval blockade in daylight…making the US Navy look like total dicks, better than the pirates they would have been otherwise. Why? Did military commanders tell Trump to "go fuck himself" again?
…and we can go on forever….
Russia Today: National Security Advisor John Bolton, one of the most prominent war hawks in Donald Trump's administration, has handed in his resignation, the US president has announced.
"I informed John Bolton last night that his services are no longer needed at the White House… I asked John for his resignation, which was given to me this morning," Trump tweeted. The president said that he and others in the administration "strongly" disagreed with many of Bolton's decisions.
I informed John Bolton last night that his services are no longer needed at the White House. I disagreed strongly with many of his suggestions, as did others in the Administration, and therefore….

….I asked John for his resignation, which was given to me this morning. I thank John very much for his service. I will be naming a new National Security Advisor next week.
11.6K11:58 AM – Sep 10, 2019Twitter Ads info and privacy 6,441 people are talking about this
EDITORIAL DISCLOSURE
All content herein is owned by author exclusively. Expressed opinions are NOT necessarily the views of VT, authors, affiliates, advertisers, sponsors, partners, technicians or Veterans Today Network (VT). Some content may be satirical in nature.
All images within are full responsibility of author and NOT VT.
About VT – Read Full Policy Notice
February 6, 2019
by Medea Benjamin – Nicolas J. S. DaviesFacebookTwitterRedditEmail
In his masterpiece, Killing Hope: U.S. Military and C.I.A. Interventions Since World War II, William Blum, who died in December 2018, wrote chapter-length accounts of 55 U.S. regime change operations against countries around the world, from China (1945-1960s) to Haiti (1986-1994). Noam Chomsky's blurb on the back of the latest edition says simply, "Far and away the best book on the topic." We agree. If you have not read it, please do. It will give you a clearer context for what is happening in Venezuela today, and a better understanding of the world you are living in.
Since Killing Hope was published in 1995, the U.S. has conducted at least 13 more regime change operations, several of which are still active: Yugoslavia; Afghanistan; Iraq; the 3rd U.S. invasion of Haiti since WWII; Somalia; Honduras; Libya; Syria; Ukraine; Yemen; Iran; Nicaragua; and now Venezuela.
William Blum noted that the U.S. generally prefers what its planners call "low intensity conflict" over full-scale wars. Only in periods of supreme overconfidence has it launched its most devastating and disastrous wars, from Korea and Vietnam to Afghanistan and Iraq. After its war of mass destruction in Iraq, the U.S. reverted to "low intensity conflict" under Obama's doctrine of covert and proxy war.
Obama conducted even heavier bombing than Bush II, and deployed U.S. special operations forces to 150 countries all over the world, but he made sure that nearly all the bleeding and dying was done by Afghans, Syrians, Iraqis, Somalis, Libyans, Ukrainians, Yemenis and others, not by Americans. What U.S. planners mean by "low intensity conflict" is that it is less intense for Americans.
President Ghani of Afghanistan recently revealed that a staggering 45,000 Afghan security forces have been killed since he took office in 2014, compared with only 72 U.S. and NATO troops. "It shows who has been doing the fighting," Ghani caustically remarked. This disparity is common to every current U.S. war.
This does not mean that the U.S. is any less committed to trying to overthrowing governments that reject and resist U.S. imperial sovereignty, especially if those countries contain vast oil reserves. It's no coincidence that two of the main targets of current U.S. regime change operations are Iran and Venezuela, two of the four countries with the largest liquid oil reserves in the world (the others being Saudi Arabia and Iraq).
In practice, "low intensity conflict" involves four tools of regime change: sanctions or economic warfare; propaganda or "information warfare"; covert and proxy war; and aerial bombardment. In Venezuela, the U.S. has used the first and second, with the third and fourth now "on the table" since the first two have created chaos but so far not toppled the government.
The U.S. government has been opposed to Venezuela's socialist revolution since the time Hugo Chavez was elected in 1998. Unbeknownst to most Americans, Chavez was well loved by poor and working class Venezuelans for his extraordinary array of social programs that lifted millions out of poverty. Between 1996 and 2010, the level of extreme poverty plummeted from 40% to 7%. The government also substantially improved healthcare and education, cutting infant mortality by half, reducing the malnutrition rate from 21% to 5% of the population and eliminating illiteracy. These changes gave Venezuela the lowest level of inequality in the region, based on its Gini coefficient.
Since Chavez' death in 2013, Venezuela has descended into an economic crisis stemming from a combination of government mismanagement, corruption, sabotage and the precipitous fall in the price of oil. The oil industry provides 95% of Venezuela's exports, so the first thing Venezuela needed when prices crashed in 2014 was international financing to cover huge shortfalls in the budgets of both the government and the national oil company. The strategic objective of U.S. sanctions is to exacerbate the economic crisis by denying Venezuela access to the U.S.-dominated international financial system to roll over existing debt and obtain new financing.
The blocking of Citgo's funds in the U.S. also deprives Venezuela of a billion dollars per year in revenue that it previously received from the export, refining and retail sale of gasoline to American drivers. Canadian economist Joe Emersberger has calculated that the new sanctions Trump unleashed in 2017 cost Venezuela $6 billion in just their first year. In sum, U.S. sanctions are designed to "make the economy scream" in Venezuela, exactly as President Nixon described the goal of U.S. sanctions against Chile after its people elected Salvador Allende in 1970.
Alfred De Zayas visited Venezuela as a UN Rapporteur in 2017 and wrote an in-depth report for the UN. He criticized Venezuela's dependence on oil, poor governance and corruption, but he found that "economic warfare" by the U.S. and its allies were seriously exacerbating the crisis. "Modern-day economic sanctions and blockades are comparable with medieval sieges of towns," De Zayas wrote. "Twenty-first century sanctions attempt to bring not just a town, but sovereign countries to their knees." He recommended that the International Criminal Court should investigate U.S. sanctions against Venezuela as crimes against humanity. In a recent interview with the Independent newspaper in the U.K., De Zayas reiterated that U.S. sanctions are killing Venezuelans.
Venezuela's economy has shrunk by about half since 2014, the greatest contraction of a modern economy in peacetime. The World Health Organization (WHO) reported that the average Venezuelan lost an incredible 24 lb. in body weight in 2017.
Mr. De Zayas' successor as UN Rapporteur, Idriss Jazairy, issued a statement on January 31st, in which he condemned "coercion" by outside powers as a "violation of all norms of international law." "Sanctions which can lead to starvation and medical shortages are not the answer to the crisis in Venezuela," Mr. Jazairy said, "…precipitating an economic and humanitarian crisis…is not a foundation for the peaceful settlement of disputes."
While Venezuelans face poverty, preventable diseases, malnutrition and open threats of war by U.S. officials, those same U.S. officials and their corporate sponsors are looking at an almost irresistible gold mine if they can bring Venezuela to its knees: a fire sale of its oil industry to foreign oil companies and the privatization of many other sectors of its economy, from hydroelectric power plants to iron, aluminum and, yes, actual gold mines. This is not speculation. It is what the U.S.'s new puppet, Juan Guaido, has reportedly promised his American backers if they can overthrow Venezuela's elected government and install him in the presidential palace.
Oil industry sources have reported that Guaido has "plans to introduce a new national hydrocarbons law that establishes flexible fiscal and contractual terms for projects adapted to oil prices and the oil investment cycle… A new hydrocarbons agency would be created to offer bidding rounds for projects in natural gas and conventional, heavy and extra-heavy crude."
The U.S. government claims to be acting in the best interests of the Venezuelan people, but over 80 percent of Venezuelans, including many who don't support Maduro, are opposed to the crippling economic sanctions, while 86% oppose U.S. or international military intervention.
This generation of Americans has already seen how our government's endless sanctions, coups and wars have only left country after country mired in violence, poverty and chaos. As the results of these campaigns have become predictably catastrophic for the people of each country targeted, the American officials promoting and carrying them out have a higher and higher bar to meet as they try to answer the obvious question of an increasingly skeptical U.S. and international public:
"How is Venezuela (or Iran or North Korea) different from Iraq, Afghanistan, Libya, Syria and at least 63 other countries where U.S. regime change operations have led only to long-lasting violence and chaos?"
Mexico, Uruguay, the Vatican and many other countries are committed to diplomacy to help the people of Venezuela resolve their political differences and find a peaceful way forward. The most valuable way that the U.S. can help is to stop making the Venezuelan economy and people scream (on all sides), by lifting its sanctions and abandoning its failed and catastrophic regime change operation in Venezuela. But the only things that will force such a radical change in U.S. policy are public outrage, education and organizing, and international solidarity with the people of Venezuela. Join the debate on Facebook More articles by:Medea Benjamin – Nicolas J. S. Davies
Medea Benjamin is cofounder of CODEPINK for Peace, and author of several books, including Kingdom of the Unjust: Behind the US-Saudi Connection. Nicolas J. S. Davies is a writer for Consortium News and a researcher with CODEPINK, and the author of Blood On Our Hands: the American Invasion and Destruction of Iraq
The Venezuelan Refugee Crisis Is Not Just a Regional Problem Posted September 10th 2019
Latin American Neighbors Are Pulling More Than Their Weight
By Cynthia J. Arnson July 26, 2019
Venezuela's refugee crisis is the largest in Latin American history. Worldwide, it is now second only to that of Syria. A staggering four million Venezuelans have fled their homeland, the majority since 2015. This number constitutes more than 12 percent of the country's total population. Leaving behind a collapsed economy and mounting repression, over one million Venezuelans have fled since last November. The UN projects that the number of refugees will climb to 5.4 million by the end of 2019, while other researchers have predicted several hundred thousand more.
No country in Latin America has escaped the impact of Venezuela's meltdown. Colombia, which shares a long border with Venezuela, now hosts the largest number of refugees—1.3 million, up from about 300,000 just two years ago. Another 710,000 Venezuelans traveled through Colombian territory in 2018 in transit to other destinations farther south. Peru hosts the second-largest number of Venezuelans (806,900), followed by Chile (288,200) and Ecuador (263,000). Caribbean states have smaller totals but the most refugees relative to their population.
Yet only a fraction of the international assistance dedicated to other major crises has been devoted to the outpouring of Venezuelan refugees. The United Nations High Commissioner for Refugees (UNHCR) and International Organization for Migration (IOM) asked the international community for $738 million to assist migrant-receiving countries in Latin America and the Caribbean in 2019. By early July, international donors had contributed a scant 23.7 percent of the requested funds. The shortfall, in the words of one senior Bogotá-based aid worker, is a "recipe for disaster." Eduardo Stein, the UN special representative for Venezuelan refugees and migrants, pointed out that "Latin American and Caribbean countries are doing their part to respond to this unprecedented crisis, but they cannot be expected to continue doing it without international help."
None of the migrant-receiving countries in Latin America has the financial wherewithal to provide shelter, food, medical care, and employment to such large numbers of hungry and vulnerable people. Public health and education are already overextended and underresourced in many of the receiving
Epstein Death Cover Up posted September 8th 2019
Bulbous Prince Andrew was back in the public eye yesterday in Bruge. Wearing another of his fancy dress uniforms, the Royal was dedicating something to do with one of his ancestors and dodging quetions about hus links with Geoffrey Epstein.
Saturday, August 10, 2019 by: Mike Adams
Tags: bill clinton, Child rape, clintonbodycount, democrats, Jeffrey Epstein, left cult, murder, Pedophilia, suicide
28KViews
(Natural News) This post won't be lengthy. The story is so simple that everybody already knows what happened here.
Jeffrey Epstein was found dead in his jail cell at 7:30 am this morning, according to police. He was under "suicide watch," which was of course a designation placed on him roughly two weeks ago to set up the back story for what just happened. Jeffrey Epstein was "arkancided" / murdered for the simple reason that dead men don't talk. And Epstein had a lot to say that would have implicated Bill Clinton and dozens of high-profile global power brokers who happily raped young boys and girls that were provided by Epstein as part of his blackmail-based wealth creation scheme.
The hashtag #ClintonBodyCount is already trending again on Twitter, and the death of Epstein raises the total number of people mysteriously found dead after possessing potentially damaging information on the Clintons to about 70 or so. No political couple (Bill and Hillary) has left a longer trail of body bags behind them as they carried out an increasingly treasonous series of high crimes against this nation. Hillary Clinton pre-sold her anticipated presidency to the highest bidders on the international stage, collecting hundreds of millions of dollars in the Clinton Family Foundation which was little more than a funnel for corruption, bribery and payoffs. Anyone who possessed information that could have exposed the Clintons was mysteriously found dead. In fact, the most dangerous profession in America is working for the Clintons.
Understand that if Hillary Clinton had won the presidency, Donald Trump would right now be in prison facing charges of treason thanks to the fact that the Obama administration had set up an elaborate, staged hoax to falsely claim that Trump was working for the Russians. The plan was to have Clinton's DOJ charge Trump with treason, sending a message to anyone who might think about challenging the deep state ever again.
Clinton's plan for the total rollout of an authoritarian regime also included the mass arrests of all independent media leaders — including myself — who would be charged with carrying out espionage by "working with the Russians" to try to steal the election for Trump. This is why the "PropOrNot" list was published before the election: It was actually an arrest list of websites to seize, shut down and criminally prosecute for daring to criticize Hillary Clinton or Obama. When Trump became president instead of Hillary, the tech giants used the list as a blacklist to de-platform, de-monetize and ban every website on the list. Realize that if Hillary had won the presidency, we would all be in prison right now and probably "suicided" just like Jeffrey Epstein.
The thing is, this deep state conspiracy is still being run by the criminal wing of the FBI, the bunkered-up Barack Obama, and Hillary loyalists inside the bureaucracy. But William Barr and Trump have turned the tables, and we are now just months away from criminal prosecutions of numerous deep state operators who were following orders from Obama and Clinton. That's why the deep state — which includes the "black hat" faction of the corrupt FBI — is now desperately running every op they can imagine, from false flag shootings to murdering Clinton enemies who might be able to name names.
Over the next 2-3 months, you are going to witness the deep state pulling out all the stops, running every mass shooting they can initiate, and possibly even carrying out 9/11-scale mass terrorism events on U.S. soil. Make no mistake: These are being run by the Obama / Clinton loyalists inside the FBI and other agencies. These are the very people who are about to be criminally prosecuted by Trump's DOJ, and they are now operating in sheer desperation mode, willing to kill anyone it takes to try to start a civil war or blame Trump for all their own violence.
Do not be surprised if you see bombings, mass poisonings, mass shootings and even buildings brought down. These are all being run by the FBI, which is America's most experienced terrorist organization.
To get up to speed, you need to read this article from All News Pipeline which reveals how the El Paso shooter was tied to the CIA's MKUltra assassination program.
Even Ann Coulter is now publicly saying Jeffrey Epstein "probably didn't kill himself at all." It's abundantly obvious Epstein was taken out to make sure he didn't implicate the Clintons. Only a fool would believe the Clintons aren't involved here.
Sure, Epstein probably deserved to be taken out, and he's now burning in Hell for his crimes against children, but the Clintons have managed to silence yet another person who held damning evidence against them, and America continues to be partially run by the most dangerous, treacherous crooks, pedophiles and murderers our world has ever seen. They're called Democrats, and they hope to destroy America, mass execute all Christians and Trump supporters, annihilate the First and Second Amendments, and roll out an authoritarian left-wing society run by snowflake libtard lunatics who scream "tolerance!" while they shoot you in the face with guns they confiscated from conservatives who stupidly wanted to "get along" with the radical Left.
Things are coming to a peak here, folks. The day of reckoning is coming soon for the Clintons and their accomplices, including Comey, Brennan, Clapper and others. Even more shockingly, the day is also coming that CNN will close its doors and shut down because it will be so utterly discredited for its complicity in this massive criminal conspiracy that it will have zero credibility remaining.
There is nothing the desperate Democrats won't do now to try to start a civil war. They have no ethics, no limits and respect no rule of law. This is exactly why all Democrats must be removed from power, everywhere across the country, and prosecuted for their crimes against us all.
Editorial Comment My readers may not be surprised to know that I have spent time in the cells. Suicide is understandable, but there is nothing there to hand yourself with or from. So this death is very suspicious and obviously there is a cover up. This man broke his neck in two places rather than spill the beans, and he was on suicide watch, but the vidoe disappeared.
U.S Bribe Iran tanker captain September 7th 2019
The Adrian Darya 1 left Gibraltar in August, despite a last-minute US effort to keep it detained
The US state department has confirmed it offered millions of dollars to the captain of an Iranian oil tanker which is at the centre of a diplomatic row.
Brian Hook, head of the department's Iran Action Group, emailed the captain of the Adrian Darya 1 about sailing it somewhere the US could seize it.
The vessel was suspected of moving oil to Syria, and was temporarily impounded by UK authorities in Gibraltar in July.
It was released last month after Iran gave assurances about its destination.
The US justice department, which had tried to block the release, then issued a warrant to seize the tanker.
Reports of the cash offer first appeared in the Financial Times on Wednesday and have been confirmed by the state department.
"We have conducted extensive outreach to several ship captains as well as shipping companies," a spokeswoman told AFP news agency.
The US blacklisted the tanker, last Friday. A Treasury Department statement said the vessel was being used to transport 2.1 million barrels of Iranian crude oil for the benefit of Iran's Revolutionary Guard – a branch of the country's armed forces the US has designated a terrorist organisation.
What Hong Kong's massive protests are really about Posted September 8th 2019
The fight over an extradition law and democracy in China, explained. By Alex Ward@AlexWardVoxalex.ward@vox.com Jun 11, 2019, 10:50am EDT
On the surface, the people of Hong Kong are fighting their political leaders over a seemingly bland set of amendments to a longstanding law. But what's really motivated people to flood the city's streets in record numbers is something much grander: the future of democracy in China.
Last week, hundreds of thousands in Hong Kong held a candlelight vigil for the victims of the Tiananmen Square massacre 30 years ago. And on Sunday, roughly 1 million people demonstrated in the semi-autonomous Chinese city-state against amendments to an extradition law that would allow a person arrested in Hong Kong to face trial elsewhere, including in mainland China.
That peaceful protest — one of the largest in the city's history, featuring about one in every seven residents — turned violent the next day when a few hundred citizens clashed with police.
The passion is understandable. For many, the amendments would all but cement Beijing's authority in a city that's supposed to be allowed to operate mostly on its own for three more decades. The problem for demonstrators is that the measures will likely pass as soon as Wednesday, due to a legislature and leader that answer to Beijing.
"We were doing it, and we are still doing it, out of our clear conscience, and our commitment to Hong Kong," Carrie Lam, the city's chief executive, told reporters on Sunday in her first comments after the protests began.
The extradition law fight, then, is the latest one in Hong Kong residents' years-long effort to stave off Beijing's creeping authority. And while the newest push is among the largest in the city's history, it still may not be enough to save democracy in its nearly last Chinese refuge.
"Hong Kong will just become another Chinese city ruled by the Communist Party," Jimmy Lai, a local pro-democracy leader and media mogul, wrote for Nikkei Asian Review last week.
Hong Kong's extradition law amendments, explained
After taking over Hong Kong in a war in the 1800s, Britain returned it to China in 1997 with an important stipulation: The city would partly govern itself for 50 years before fully falling under Beijing's control. So until 2047, the expectation was that the city and the mainland would operate under the principle known as "one country, two systems."
But Beijing clearly isn't waiting that long. "In recent years, the Hong Kong government has disqualified elected lawmakers, banned activists from running for office, prohibited a political party, jailed pro-democracy leaders, expelled a senior foreign journalist, and looked the other way when Beijing kidnapped its adversaries in Hong Kong," Ben Bland, a Hong Kong expert at the Lowy Institute in Australia, told me.
Those actions, among others, have animated many in the city to resist. "Being here reminds me that the Chinese government is so inhumane and, recently, they are tightening the rule of law in Hong Kong," Tiffany, a 23-year-old university student who attended the candlelight vigil last week, told the Asia Times on June 5.
Critics view proposed amendments to the extradition law as part of that "tightening."
The Hong Kong government first discussed them in February, prompted by a shocking case. Chan Tong-kai, a local, was suspected of killing his pregnant girlfriend while the two were on vacation in Taiwan. But the city was unable to send him back to the island because they don't share an extradition agreement.
The reason? When Hong Kong's extradition accords were being finalized in 1997, Taiwan and China weren't included because the mainland has a "fundamentally different criminal justice system operating in the mainland" and because of "concerns over the mainland's track record on the protection of fundamental rights," according to an April statement by the Hong Kong Bar Association.
That reality doesn't sit well with Hong Kong's current government. Lam, the chief executive, cited Chan's case among two reasons she wants the amendments passed. "One is of course to provide a legal basis for us to deal with the Taiwan case; the other is to plug a loophole in the existing arrangements for the return or the surrender of fugitive offenders," she told reporters in April before a government meeting.
The amendments would give the chief executive the authority to decide on a case-by-case basis if a suspected criminal should be extradited to a place with which the city has no formal extradition agreement. That on its own is already a problem for critics, as the city's leader isn't elected, but rather is picked by a committee appointed by the government in Beijing.
What's more, while the city's courts would get to review the chief executive's decision, they will have "very little power to reject any extradition request," M.K. Tam, director of the human rights group Amnesty International Hong Kong, told Al Jazeera on Tuesday. "It's not a formal prosecution so you cannot examine the evidence presented by the other side."
The bill also would apply retroactively, meaning thousands of people who may have angered mainland China with a supposed past crime could be at risk of facing trial in mainland China.
As a result, many fear the amendments will allow Beijing to target any person in Hong Kong that it wants.
"We all know that if they want to prosecute someone — a human rights defender or activist — actually in mainland China, the charges are political in nature but they use other laws to prosecute them," Tam continued.
However, supporters of the law contend that certain financial crimes won't be included in the bill, potentially saving the city's influential business leaders from extradition. They also say that no one will be sent away if they might be tortured or killed as part of their punishment, and that the offense must be illegal both in Hong Kong and wherever the suspect is extradited.
That's still not enough to assuage those who've long championed the city's judicial values. "Both Hong Kong and China knew very well that there had to be a firewall between our different legal systems," Hong Kong's last British governor, Chris Patten, told the South China Morning Post in May, adding that Lam's position is "absurd."
So the people of Hong Kong are fighting back to curb mainland China's growing clout in the city. The problem is that effort has been going on for years — and it's seemingly failing.
Mainland China versus Hong Kong
China is an authoritarian state. Its political leadership and law enforcement officials don't like anyone protesting against the government in Beijing and have no tolerance for democratic movements. That, in part, is what makes Hong Kong's status as a quasi-democracy so unique in China — and so threatening to Beijing.
Little by little, mainland China has gained more power in the city. But every move has only compelled the citizenry to resist even harder.
Here are just two recent examples: Thousands of protesters surrounded Hong Kong's government headquarters in 2012 after an announced proposal to include more pro-China materials in the school curriculum.
Two years later, even more demonstrators overran Hong Kong's financial district after a new election law allowed a Beijing-backed committee to name the city's chief executive — the same law that brought Lam to power in 2017.
Experts say the newest flare-up is part of the long-term resistance movement to keep the city as independent as possible.
"The proposed change to the extradition law, which would open up Hong Kongers and others passing through the city to the vicissitudes of mainland Chinese justice, is the latest in a long list of actions that undermine democratic freedoms and the rule of law," says Bland, who also wrote a book about life in post-handover Hong Kong.
There's also a dark history behind this specific extradition issue. China has increasingly begun kidnapping people it views as criminals, either for their pro-democracy views or for other perceived crimes, but who are outside of its legal jurisdiction. Beijing's authorities sometimes hold prisoners for years without a proper trial.
In January 2017, for instance, billionaire business executive Xiao Jianhua was forcibly taken out of Hong Kong's Four Seasons hotel, even though mainland Chinese officials legally can't do so without the city's say so. Xiao is now in mainland China, and his fate remains unclear.
This is why the extradition law fight is so personal and so widespread: It's for the future of human rights and democracy in the city. And if Beijing wins, Hong Kong's millions of citizens could lose both.
"When the legislation passes — which now seems near certain, and imminent — it will spell the death of Hong Kong as the world has known it," Ray Wong Toi-yeung, a political activist from the city, wrote for the New York Times last week.
Editorial Comment Hong Kong belongs to China. Democracy is a dubious term – it's a whore's charter. The protestors are all about greed and self interest and there is a trail of foreign control back to U.S and Britain.
U.S.-backed Kurdish militiamen celebrate their capture of Raqqa from ISIS in October 2017. Posted September 5th 2019
Originally published under the title "America's Key to Keeping ISIS Defeated."
U.S.-backed Kurdish militiamen celebrate their capture of Raqqa from ISIS in October 2017.
Eastern Syria sits at the crossroads of critical policy decisions in Washington. The region is at the center of an escalating crisis in U.S.-Turkey relations, while maintaining America's presence there blocks Iranian and Russian gains in Syria. It also is key to keeping ISIS defeated. Washington should see eastern Syria as one of the most important strategic pieces of "real estate" to emerge out of the last half-decade of conflict in the Middle East.
The area of northeast Syria where the U.S. today plays a critical role, roughly the size of West Virginia, is now a kind of Gordian Knot. While American adversaries, such as Russia or Iran, have a clear goal in Syria, keeping the Bashar al-Assad regime in power and entrenching their influence, the U.S. policy goal is less clear.
Seth Frantzman is The Jerusalem Post's op-ed editor, a Writing Fellow at the Middle East Forum, and a founder of the Middle East Center for Reporting and Analysis.
There's a movement to turn Hong Kong back into a British colony Posted August 31st 2019
September 03, 2016 · 12:15 PM EDT By Patrick Winn
Listen to the story.
A campaigner carries a former colonial Hong Kong flag during a Hong Kong-UK reunification demonstration outside the British Consulate in Hong Kong on July 1, 2016 — the 19th anniversary of Hong Kong's handover to Chinese sovereignty from British rule. Credit:
Bobby Yip/Reuters
China's rulers already revile Hong Kong's independent streak. Many see the island territory as a feisty place corrupted by Western political thought, a legacy of its time under British rule.
Now along comes a campaign to vindicate the Communist Party's worst suspicions.
This movement's adherents aren't clamoring for freer elections. Nor are they demanding outright independence.
They want to transform Hong Kong back into a British territory — and proclaim Queen Elizabeth II as their head of state.
"Many Hong Kongers love Her Majesty very much!," says Alice Lai, the leading face of the campaign. "Even now, we still call Her Majesty 'The Boss.'"
Even in Hong Kong's more rebellious circles, this idea will sound far-fetched. The city's pro-democracy camps are mostly fixated on less radical goals, such as loosening Beijing's grip on Hong Kong's leadership.
But the Hong Kong-United Kingdom Reunification Campaign, while extremely small, is quite serious.
Congratulations to Her Majesty The Queen on her 90th birthday! Love from #HongKong ❤ #queenat90 pic.twitter.com/yzmEntvIyl— HK-UK Reunification (@HKUKreunite) April 18, 2016
Lai, a graphic designer in her 30s, tried to advance the cause by running for office in Hong Kong's upcoming Sept. 4 elections.
She was swiftly banned.
So were five other would-be candidates accused of agitating for Hong Kong's independence — a cause that, according to Beijing, is fueled by a "Western world … seeking to plunge Hong Kong society into disorder." (A conspiratorial Chinese government-produced video recently warned that, within these separatist campaigns, "we can often catch a glimpse of the dark shadow of the Stars and Stripes.")
Wishing for an independent Hong Kong isn't so rare. A recent poll shows that one in six Hong Kongers shares that unlikely dream.
But among the banned candidates, only Lai envisions Hong Kong retreating into the arms of the UK, which controlled the island territory for more than 150 years.
A campaigner for Hong Kong-UK reunification counts donations on July 1, 2016 — the day marking the 19th anniversary of Hong Kong's handover to Chinese sovereignty from British rule. Credit:
Bobby Yip/Reuters
Hong Kong was handed back to China in 1997 with some major caveats. Both sides agreed that Hong Kong would enjoy a "high degree of autonomy," including a legal system with some basis in British common law.
But in recent years, Communist Party stalwarts, aided by their loyalists in Hong Kong, have been tightening their controls on the affluent territory.
Beijing insists on vetting Hong Kong's candidates lest a separatist take power. Chinese agents have even crossed borders to snatch up critics. Many Hong Kongers, who speak Cantonese, fear their native tongue will be snuffed out by mandatory Mandarin lessons in public schools.
Reunification campaigners claim Beijing's meddling is now so severe that it has actually voided the terms of the British handover.
In Lai's dream scenario, these grievances will compel the UK to reassert its ownership of Hong Kong — a move that would nuke relations with China, a key trading partner, and baffle heads of state around the world.
Nevertheless, the campaigners are hopeful. Here, Lai explains the movement's ideology, its next steps and her fondness for the British Empire. The interview has been edited for length and clarity.
PW: Your group has said that China is carrying out an "inhumane occupation" of Hong Kong. What does that mean?
AL: It means that transferring Hong Kong from the UK to China is a violation of human rights. It's a transfer from a democratic country to an authoritarian, totalitarian country. It's totally unlawful, this Chinese occupation.
You've also said Hong Kong culture, society and education are all under threat from China.
Yes, it's true. Hong Kong is a more civilized place than China. Hong Kong has always had lots of British values. We have law and order, the English language, some common cultural values and regulations. All of this forms the basis of a civilized place. For example, we throw our rubbish in the bin.
But now Hong Kong is deteriorating.
Your supporters like drinking high tea and eating cupcakes that look like the UK flag.
Yes, we drink tea [at events on the street] and educate Hong Kongers about the Magna Carta. You'll also see that our breakfasts are similar to the British breakfast. We eat eggs, tea and sausage.
I realize you don't want to be controlled by China's Communist Party. But wouldn't it be strange if Hong Kong's head of state was a far-away caucasian woman in England — the queen?
Many Hong Kongers really love Her Majesty very, very much! We still call her "The Boss." She loves her people and she was very good to us.
Signing the birthday card/ present #hongkong #Queenat90 pic.twitter.com/Mr3hjGqzoY— HK-UK Reunification (@HKUKreunite) April 17, 2016
Your chances of success are very, very low. Are you serious about winning? Or is this just a way to protest against China?
It's just the beginning. We're now trying different methods of advising Hong Kongers on this issue. That's what is most important: showing them they have the right of self-determination.
How would you convince British diplomats to ruin their relationship with China by attempting to reclaim Hong Kong?
The former British foreign secretary has already declared that China breached the joint declaration. We'll also get more Hong Kongers to sign an online petition … so that we can force the UK to do more.
We can just hope that China will act like an adult. In the South China Sea — er, the Philippine Sea — they say they own the whole place. We cannot let China do anything it wants. They're a brutal, authoritarian country. Next they may say they own the world.
Brexit showed that a lot of British people want to become less entangled with the outside world. How would you convince the average English person that they need Hong Kong back in the UK?
I'd tell them that Hong Kong passed from the UK's hands without our consent. And that we really love the UK. Also, Hong Kong is one of the best international finance cities. If we reunite, that would be good for the UK.
You say the Chinese government is very oppressive. But the British Empire could be oppressive and also quite racist. A long time ago, Chinese in Hong Kong weren't allowed in public after dark. Does that cause you to think twice about celebrating Hong Kong's colonial history?
That was a historical time, back in the very beginning. Once Hong Kong became a colony, many people moved here and it was just a better place to live.
Why not just try to make Hong Kong totally independent?
It's better to reunite. Hong Kong under the UK had a well-functioning system. We still have tangible legal and political ties.
Going independent, on the other hand, is stepping into confusion and uncertainty.
Which is better: British food or Cantonese food?
I like to think our cuisine is a mix of British and Hong Kong styles.
Surely, you know Cantonese food is better, right?
Well, I like my milk tea very much.
How do you want people to vote in September?
I'll start a (pro-reunification) petition in early September and send it to the election committee.
I still want to take part in legislative elections. That's a formal way to gain the confidence of Hong Kongers. And joining the legislative council would be a good way to talk to the UK about our situation.
Editorial Comment There are a lot of stupid people among the British masses. Many are ignorant and their psuedo intellectual certainties are inversely related to thier idiocy. I am surpsrised with voters like these that Britain ever let go of money making Hong Kong as a result of the vile opium trade and resulting opium wars. Britain's elite have always been war mongers squandering badly if at all educated young people for their grandiose schemes.
Their U.S offspring is of the same mentality, selling the illusion of demcracy just as nineteenth century quack doctors/peddlars sold hair restorsers to gullible hopefull vain bald men. British people genrally do not like the bald truth, left or right. They prefer cover ups, which si why we have corrupt police all covered up in nice uniforms and PR.
The police are at the heart of our withering democarcy and the rise of our police state. Stupid Brits of any class have no right or logic in criticising China's efforts to keep all of its territory and people on message. Britain's population is brainwashed every day, as school, using the media, obeying the thought police and shopping dissident neighbours and colleagues is the say the wrong thin and don't like BBC's 'Woman's Hour'