We hope to take a fair and balanced view of the Great Nation of China , its history and people – and into why it is now being scapegoated , along with Russia, by the global elite and its war mongering lackeys
May 11th 2022
China races to consolidate strategic victory in Solomon Islands
by Joel Gehrke, Foreign Affairs Reporter
Chinese officials are racing to strike a maritime economic agreement with the Solomon Islands following the signing of a security pact that Western officials suspect will give the communist regime's navy a foothold in the Pacific islands.
"China welcomes the Solomon Islands to take a ride on China's economic development express and strengthen cooperation in economy, trade and other fields," a Chinese Embassy spokesman in Honiara said Wednesday. "Some people are indifferent to the real challenges and development needs of the Pacific island countries such as the Solomon Islands, but are keen to dictate the normal exchanges and cooperation between China and the islands, obviously with ulterior motives."
That statement, an implicit jab at Australian officials, followed the leak of a draft plan for "deepening blue economy cooperation" between Beijing and the island nation through joint initiatives to "establish marine economic cooperation parks and deep-sea fishing bases." That leaked proposal aligned with the misgivings of U.S. and Australian officials, who suspect that China aspires to acquire a naval base that would empower their military to cut the supply lines between Hawaii and Australia.
'MORE AND MORE' CHINESE OFFICIALS WANT TO INFORM ON REGIME: AUSTRALIAN SPY CHIEF
Read More China races to consolidate strategic victory in Solomon Islands | Washington Examiner
Chinese city of 26 million people to enter lockdown with a twist as new testing regime launched
The Chinese city of Shanghai is to be divided in half for a two-part lockdown which will see authorities roll out an experimental COVID testing regime.© ReutersSome of Shanghai's residents are growing angry about seemingly endless cycles of testing
Shanghai has been battling a new coronavirus surge for nearly a month, and on Saturday reported its highest daily number of cases since the initial outbreak in China receded.
Read More Chinese city of 26 million people to enter lockdown with a twist as new testing regime launched (msn.com)
Comment Many of us believe that Covid is a bio engineered virus to debilitate China. Whatever, lockdowns and vaccinations do not work. The world has to live with this, with only the vulnerable isolating. Those of us over 70 should accept we are at the end of our lifespan and not make such an issue that we might get and die of Covid 19. R J Cook.
March 22nd 2022
US imposes visa restrictions against China
State Department cites "human rights abuses" against Uighurs, Tibet, Hong Kong and religious minorities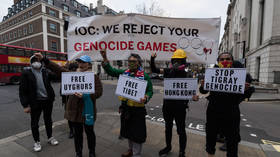 The US is imposing visa restrictions on Chinese officials in order to punish Beijing for alleged repression, intimidation and harassment of human rights activists and dissidents, both in China and around the world, the State Department said on Monday. As examples, Secretary of State Antony Blinken cited "genocide" of Uighurs and repression in Tibet and Hong Kong.
China is "attempting to intimidate, harass, and repress dissidents and human rights defenders inside and outside," Blinken said, adding that "perpetrators of human rights abuses must continue to face consequences."
The US "rejects efforts by [People's Republic of China] officials to harass, intimidate, surveil and abduct members of ethnic and religious minority groups, including those who seek safety abroad, and US citizens, who speak out on behalf of these vulnerable populations," Blinken said in a statement released by the State Department on Monday afternoon.
Read More US imposes visa restrictions against China — RT World News
Chinese official calls sanctions on Russia increasingly 'outrageous'
BEIJING (Reuters) – A senior Chinese government official said on Saturday that sanctions imposed by Western nations on Russia over Ukraine are increasingly "outrageous".
© Reuters/YEW LUN TIAN Dialogue event on democracy in Beijing
Vice Foreign Minister Le Yucheng also acknowledged Moscow's point of view on NATO, saying the alliance should not further expand eastwards, forcing a nuclear power like Russia "into a corner".
Read More Chinese official calls sanctions on Russia increasingly 'outrageous' (msn.com)
March 6th 2022
China warns US not to 'add fuel to the flames' in Ukraine
China has warned the US against any moves that "add fuel to the flames" in Ukraine as Russia continued its attack for the 11th day.
The country's foreign minister Wang Yi has urged negotiations to resolve the immediate crisis and called on the West to take account of Moscow's concerns about NATO expansion.
Read More China warns US not to 'add fuel to the flames' in Ukraine (msn.com)
Comment China should be very concerned and are no doubt aware that NATO, principally the NUKUS element, ultimately need control of Russia, hence regime change tactics, to trap China who they see as the ultimate threat to their power and hunger for resources. So Yelinsky is squealing for fighters and for Russians to 'fight evil' – as if he and his entourage and NUKUS backers are innocent. R J Cook
February 16th 2022
Muted Debut: China Digital Money at Olympics; JPMorgan Bank Enters the Metaverse | NTD BusinessNTD BUSINESSPAUL GREANEY
Will China's debut of it's digital currency at the Olympics get the traction it wants? Foreign visitors from around the world are using it — despite security and privacy concerns.
One of the biggest banks in the world is officially in the meta-verse. it says the opportunity is worth trillions.
And luxury retailers are moving out of airports. Thats a significant source of income for the airports. What will happen to them now?
We hear from an entrepreneur who turned a pandemic job loss into an opportunity to start her own business. Now she says she'll never go back to 9-to-5.
A famous sports car from the 1980's is coming back — but this time it'll be electric.
Read More Muted Debut: China Digital Money at Olympics; JPMorgan Bank Enters the Metaverse | NTD Business (theepochtimes.com)
February 15th 2022
Scott Morrison says China has been 'banding together with Russia' amid Ukraine crisis
Ross Martin-Pavitt
Disabled children should exercise for 20 minutes a day, first UK guidelines sayCelebs Go Dating's Miles and Chloe make surprising decision
© Provided by The Independent jwplayer-thumbnail-f443280e.jpg
Australia's prime minister on Tuesday urged China to denounce Russian threats against Ukraine, as the crisis between the U.S.-led allies and Moscow raises the specter of a broader conflict.
Scott Morrison noted that Beijing and Moscow had announced they were pursuing closer relations since more than 100,000 Russian troops were sent to the Ukrainian border.
Read More Scott Morrison says China has been 'banding together with Russia' amid Ukraine crisis (msn.com)
Comment This man is way behind the time. Putin has backed off and sealed the fate of Europe. NATO could not have fought. Putin has failed. He has told the bully that he can win. Power is a zero sum game. The Western European decadence and mass migration is coming in. R J Cook
February 7th 2022
China's trillion-dollar 'artificial sun'
Zeleb.es
A bright dream
China has been developing for years an "artificial sun", an energy source with a power capacity that is comparable to our closest star. The latest reports indicate that they have succeeded.
Pictured: The beginnings of the project.
January 28th 2022
China's ambassador to US warns of possible military conflict over Taiwan
Vincent Ni China affairs correspondent
China's ambassador to the US has warned that the two countries could face a "military conflict" over the future of Taiwan, in an unusually explicit reference to the prospect of war.
© Provided by The Guardian Photograph: Xinhua/Rex/Shutterstock
"The Taiwan issue is the biggest tinderbox between China and the United States," Qin Gang told the US public broadcaster National Public Radio (NPR), on Friday. "If the Taiwanese authorities, emboldened by the United States, keep going down the road for independence, it most likely will involve China and the United States, the two big countries, in the military conflict."
Read More China's ambassador to US warns of possible military conflict over Taiwan (msn.com)
January 24th 2022
Upcoming Live Q&A Webinar: With New Lockdowns, Is the CCP Reaching a Breaking Point?
Upcoming Live Q&A Webinar: With New Lockdowns, Is the CCP Reaching a Breaking Point?UNMASKING COMMUNIST CHINAJOSHUA PHILIPP
The Chinese regime is bringing back new lockdowns for an alleged new outbreak of the CCP Virus. Videos have emerged of authorities welding shut the doors of housing complexes, locking people inside, and reports are increasingly emerging of people nearing starvation. These actions take place just ahead of the Beijing Olympics, and amid growing signs of an internal fight within the communist party leadership.
What's really going on in China? What do the lockdowns show us, not just of the social impact, but of the "China Model" of governance itself; and what do the latest shifts in China and the ruling regime mean for the world? Join host Joshua Philipp and distinguished guest speakers, Anders Corr, Patricia Adams, and Stephen Yates, as we explore these topics in this special online event.
Upcoming Live Q&A Webinar: With New Lockdowns, Is the CCP Reaching a Breaking Point?UNMASKING COMMUNIST CHINA
Read More Unmasking Communist China | The Epoch Times
January 22nd 2022
Henan Official Warns of Isolation, Detention if Homecoming for Chinese New Year
By Luo Ya and Gu Xiaohua January 22, 2022 Updated: January 22, 2022
A recent video from an official in Henan Province in China, sparked outrage from Chinese netizens. A Chinese lawyer condemned the lawless and heartless Party officials.
On Jan. 20, County Mayor Dong Hong announced his pandemic containment policy online for those planning to return home for the Chinese New Year holiday. He said they were part of a "vicious plan" and will be subject to "isolation and then detention."
He said, "Anyone who tries to return from a medium or high-risk area will first be quarantined and then detained, regardless of having proof of vaccination or a negative nucleic acid test in [the last] 48 hours."
Read More Henan Official Warns of Isolation, Detention if Homecoming for Chinese New Year (theepochtimes.com)
January 21st 2022
China's $1Tn artificial Sun burns five times brighter than real thing in breakthrough test
Antony Ashkenaz
Beijing spent $1trillion on developing an experimental nuclear reactor that could bring the world a step closer to achieving limitless clean energy. In a breakthrough test, this "artificial Sun" set a new world record after it was able to superheat a loop of plasma to temperatures five times hotter than the Sun for more than 17 minutes, according to state media reports.
Read More China's $1Tn artificial Sun burns five times brighter than real thing in breakthrough test (msn.com)
.
January 11th 2022
British backing for China's global ambitions raises the alarm
Helen Cahill
---
Sir Danny Alexander declared to a room full of European policymakers and financiers that a Chinese rival to the World Bank offered a "message of hope".
Read More British backing for China's global ambitions raises the alarm (msn.com)
June 7th 2022
Dozens trapped after 'gas explosion in office block' destroys street
Sam Corbishley
Dozens trapped after 'gas explosion in office block' destroys street
Sam Corbishley
---
Biden addresses pandemic: 'We're going to be able to control this' – liveCelebrity tributes pour in for Black acting pioneer Sidney Poitier after death at 94
© Provided by Metro Rescuers are on the scene in Wulong district, in Chongqing (Picture: @globaltimesnews)
Dozens of people are feared to have been trapped after a building collapsed following an explosion in southwest China.
The cause of the blast is suspected to have been a gas leak in the canteen of the office block in the municipality of Chongqing.
Read More Dozens trapped after 'gas explosion in office block' destroys street (msn.com)
June 6th 2022
A closer look at China's strict 'zero-Covid' policy
With the Winter Olympics in Beijing set to begin in just over a month, China is sticking more than ever to its anti-Covid measures, which are among the world's strictest. The city of Xi'an has been in lockdown for almost a fortnight, all because of fewer than 2,000 Covid-19 cases. To date, only a handful of cases of the Omicron variant – all of them arrivals from abroad – have been identified.
Read More A closer look at China's strict 'zero-Covid' policy (msn.com)
December 26th 2021
End of Xi Jinping: Policy 'mistake' threatening 'regime ending crisis' for Chinese leader
Antony Ashkenaz
---
Struggling property giant Evergrande has promised it will engage with creditors after it formally defaulted this month. The world's most indebted property developer has more than $300bn (£224.67bn) worth of liabilities and has been missing payment deadlines on its debt bonds, triggering 30 day grace periods each time.
The Chinese government are now trying to contain the damage from the Evergrande default.
Read More End of Xi Jinping: Policy 'mistake' threatening 'regime ending crisis' for Chinese leader (msn.com)
December 17th 2021
Apple halts iPhone production
Apple have been forced to halt production on the iPhone 13 due to supply chain issues
hina may have headaches to deal with when it comes to the semiconductor space, be they general shortage issues or U.S. sanctions, but that isn't stopping the country from hitting record-high integrated circuit (IC) production figures.
According to the South China Morning Post, China has produced 203.6 billion chips within the first seven months of 2021 (via Tom's Hardware). That's a 47.3% year-over-year boost compared to the same time in 2020. Just in July, Chinese semiconductor companies managed 31.6 billion units — a new monthly record.
This is all part of China's larger plan to become as technologically independent as possible amid its chipmaking war with the U.S. With over 200 billion units produced and still five months of 2021 to go, it's not hard to see the concerted effort the country is making to cut itself off from relying on the outputs of other nations.
Read More China's semiconductor industry has produced 203.6 billion chips in 2021 so far | Windows Central
Comment When I loaded new HP printer cartridges yesterday, I noted that these very expensive items were made in China, like so much of computer hardware. The industry has become reliant on China. China supplies 40% of manufactured goods. China is to powerful for the Anglo U.S dominated global elite.
This alarms the western and is why the pretend to be concerned about the county's Muslims. They fear China's friendship with Russia and want global regime change. Chaos in the Middle East and Afghanistan shows where more of that will lead to.
The masses are being deliberately distracted by Covid alarmism and myths that mass migration into Europe is about anything other than importing cheap labour from regions so extreme in religious faith that their migrants are expected to await greater rewards in even. This chaos can only get worse, under arrogant cosseted greedy western tyrants masquerading as democratic. R J Cook
December 15th 2021
China unveils 'levitating' train that can reach speeds of 600 km/h
China unveils 'levitating' train that can reach speeds of 600 km/h
China's new maglev train, which uses electro-magnetic force to 'levitate' the train above the track with no contact between the train cars and the rail, is capable of a top speed of 600 km/h, according to state media, making it the fastest in the world.
Read More China unveils 'levitating' train that can reach speeds of 600 km/h (msn.com)
Diesel truck chemical crisis means supplies being airlifted in
Peter Vincent and Stephen Johnson For Daily Mail Australia
Australia's main maker of AdBlue, a scarce chemical needed to run diesel trucks, has resorted to flying in emergency supplies to prevent shortages from paralysing supply chains.
AUSblue is frantically securing new supplies of the anti-pollutant from overseas and the vital chemical partly behind the crisis, urea.
A global shortage of urea – due to China ceasing exports and local producers shutting production for maintenance – created a 'perfect storm' for AdBlue availability.
December 8th 2021
Boris Johnson sent China warning as Xi eyes up UK's £285m lithium goldmine
Sebastian Kettley
---
Biden's carbon-neutral order praised for 'aligning government power with…ITV I'm A Celebrity: Viewers shocked after star shares that they once played backgammon with Beyoncé
© GETTY Boris Johnson and Xi Jinping
Minister and investors fear China's growing monopoly in the lithium mining market poses a threat to Britain's national security. Their warning to the Prime Minister comes after the Chinese giant Ganfeng Lithium was reportedly edging towards a takeover of the London-based Bacanora Lithium PLC. According to a report published earlier this summer, the Jiangxi-based firm was eyeing up a £285million deal that would grant it access to the UK's valuable lithium stores.
Read More Boris Johnson sent China warning as Xi eyes up UK's £285m lithium goldmine (msn.com)
Comment The Anglo U.S incestuous world ruling elite are only interested in wealth and resources. Britain's virtue signalling chattering classes like to rant and chant about China's allegedly persecuted Muslims.
There are about 12 million Uighurs, mostly Muslim, living in north-western China in the region of Xinjiang, officially known as the Xinjiang Uyghur Autonomous Region (XUAR). The Uighurs speak their own language, similar to Turkish, and see themselves as culturally and ethnically close to Central Asian nations. These people do not identify as Chinese.
Britain's chattering classes and elite have an obsession withj Islam because they want to bring back God and religious bigotry with associated repression. Intelligent oppressed people in the U.K fought hard to remove the fake morality and distortions of Christianity. Allah is a concept, Allah does not exist. You can't build a human future society with any hope if it is built on Islam. Uighurs have fought in Syria for Islamic state. They believe God wants them t have as many children as possible. Why should China pay for this ? Hearing voices, God's or anyone else , is paranoia. God does no speak to us.
There is nothing sustainable about Islam. It tolerates no criticism, so cannot develop – our elite does not want it to.
I am currently under a police led conspiracy to label me as a paranoid and deluded. Their reasons are on this site. They have fought all efforts to disclose their reasons for this, using the excuse that the files are sensitive and can't be shown inc courtt..Do you think I am an ex spy and national secrity risk ?
Theye say I am paranoid and deluded because of what I write and say. They need no evidence for our courts. This is the tyranny under which we live. The elite's media and chattering classes decide what is and isn't delusion. They are sanctimoniously and disingenuously offering mental health care for those who are disturbed by their heavily policed multi cultural society.
In fact only one culture, the elite's , decides what we can and cannot do. That is why there is a production line of new laws. Those of us who are transsexual are expected to stay in our box, showing gratitude for the nice pseudo liberals who allow us to wear dresses , fancy underwear and high heels..
But we must not step out of that box to use the ladies toilets, as my recent experience at Aylesbury's premier mental hospital; ( I am being polite in calling it that because of hate speech laws ) the nicely named Whiteleal emphasised on my digital recording. Isn't it racists to assoicate the word white with insanity >
Thise people work from a book called the DSM ( Diagnosis, Statistics, Medication ), weighing 6kg the last time I saw it ,but getting bigger every year as more mad conditions are invented to box in the misfits and dissidents.
Meanwhile, language has never been so minded. The Chinese used to look to Britain for lessons on police state methids. So it is a bit thick when they admonish China for their famed aptitude for copying, rather like their equally brilliant Mongoloid equals in Japan. Isolating them in the name of liberty – especially when they hold so much U.S debt – is rather stupid, but then so are Boris Johnson and Joe Biden. R J Cook
December 4th 2021
China and Laos open $6 billion high-speed rail link
---
Sage scientists seek balanced UK response to Omicron concernsMichael Buble says Christmas has become 'emotional' after son's…
VIENTIANE (Reuters) – A $6 billion high-speed rail line connecting China with its Southeast Asian neighbour Laos opened on Friday, a milestone in Beijing's ambitious Belt and Road infrastructure plans.
© Reuters/PHOONSAB THEVONGSA A train is ready on the station during the handover ceremony of the high-speed rail project linking the Chinese southwestern city of Kunming with Vientiane in Laos
Read More China and Laos open $6 billion high-speed rail link (msn.com)
China surprises U.S. with hypersonic missile test, FT reports – October 17th 2021
---
I rejoiced in Blair's triumph in '97. Will I ever get the chance to cheer again?Gandhi in heels? Maria Callas statue hits the wrong note
BEIJING (Reuters) – China tested a nuclear-capable hypersonic missile in August, showing a capability that caught U.S. intelligence by surprise, the Financial Times reported, citing five unnamed sources.
© Reuters/Thomas Peter FILE PHOTO: The Chinese national flag is seen in Beijing, China
The report late on Saturday said the Chinese military launched a rocket carrying a hypersonic glide vehicle that flew through low-orbit space, circling the globe before cruising towards its target, which it missed by about two dozen miles.
"The test showed that China had made astounding progress on hypersonic weapons and was far more advanced than US officials realised," the report said, citing people briefed on the intelligence.
Read More China surprises U.S. with hypersonic missile test, FT reports (msn.com)
Why China is developing a game-changing thorium-fuelled nuclear reactor
---
China is poised to test a thorium-powered nuclear reactor in September, the world's first since 1969. The theory is that this new molten-salt technology will be "safer" and "greener" than regular uranium reactors, and so could help Beijing meet its climate goals. Yet is the country's investment in this also geostrategic?
Read More Why China is developing a game-changing thorium-fuelled nuclear reactor (msn.com)
Comment Britain is absurd in its machinations against China. For years it has imported their cheap goods and educated its students on hard science subjects – whilst neglecting its own out of class interest and politically correct divide and rule obsessions. Its' elite thinks it can divide and rule China by making an issue of their Muslims and more on human rights. This is pathetic. One does wonder whether Covid 19 was a western plot to undermine them. But conspiracy theories are a sure sign of madness, so I must be careful.
Britain shows off Queen Elizabeth aircraft carrier to anxious Japan – September 6th 2021
By Tim Kelly
---
By Tim Kelly
© Reuters/POOL A view of the British Royal Navy's HMS Queen Elizabeth aircraft carrier at the U.S. naval base in Yokosuka
TOKYO (Reuters) – Britain showed off its HMS Queen Elizabeth aircraft carrier to Japan's defence chief on Monday at a naval base near Tokyo, marking the start of a permanent military presence in a region trying to come to grips with China's growing power.
Read More Britain shows off Queen Elizabeth aircraft carrier to anxious Japan (msn.com)
Comment
Britain's ruling elite with the woke humanitarian troops are very dangerous. They would like to draw Europe and the U.S into war with China and are busy working to undermine Putin. When you look at what Britain is – obsessed with so called female equality and anti racism among other things- they are a dangerous force to be leading anything.
Britain's elite have a new and peculiar self confidence after leaving Europe. They have another condescending pumped up leader who thinks he is like Churchill , so obsessed he has written a book on that over rated dangerous poser.
The British masses are quite peculiar. They voted, by a small majority, to Brexit. These people actually thought this would end migration. But as the Muslim majorities in parts of Birmingham displayed by voting overwhelmingly to leave, they knew that Brexit would mean more Islamic migrants from the Islamic world so destabilised by Tony Blair's appalling and murderous legacy. It is pretty obvious why so many cross through Europe for Britain , where they will be welcomed by that elite. R J Cook
James Dyson lays out plan to rebuild Brexit Britain amid fears 'China has overtaken us' August 29th 2021
---
The British inventor has described his blueprint to save British innovation and fight back against the current cultural mores that could smother it. Mr Dyson is worried that Asian economies could take over the UK as centres for design and excellence. He described how in Singapore 40 percent of graduates are engineers.
Read More James Dyson lays out plan to rebuild Brexit Britain amid fears 'China has overtaken us' (msn.com)
Comment Britain is spoiling for a fight with China .That'swhy they are telling Europe they should join forces to control China's fishing practice. Its' elite still think nineteenth century rules apply. This country has a problem training engineers because they can't accept that it attracts mostly boys. Education and the wider social world , along with family , is feminised. Boys grow up with a negative stereotype, epitomised by the feminist phrase ;toxic masculinity. A level English has become a course requirement.
As noted by a female engineer on this site's engineering page, Britain quite simply , has a problem recruiting engineers for training. My 18 years as a teacher, and my wider experience tells me why. Dyson is not going to confront the real issue. As for China, it is much bigger than U.K well disciplined , organised , and has more resources. Inviting a never ending supply of Muslim cheap labour will not solve the U.K problem. It is a matter of culture. Multi culture is an absurdity where transsexuals , among others, can't just be people. They have to be a type in the LGBTQI box.
That attitude epitomises this society which is run by a dictatorial comfortable arrogant elite relying on feminist shock troops , the BBC and police to hold all the conflicting parts in place – isolating and locking them up if need be. Their grotesque form of social engineering is a metaphor for their attitude to everything. All is bodged and eventually the wheels come off ,as they have just done in Afghanistan. Our leadership are the ultimate of used car salesmen , not knowing or caring about engineers other than to tell all the girls they should be one R J Cook
11 years in case thought to be linked to Huawei
Abbianca Makoni
---
LIVE: Hospitals declare 'black alerts' as UK records 104 further deathsThese 101 celebs have voiced animated characters
A court in China has sentenced a Canadian entrepreneur to 11 years in prison in a move thought to be linked to the arrest of a Huawei executive.
© KCNA VIA KNS/AFP via Getty Image FILES-NKOREA-CANADA-DIPLOMACY-ESPIONAGE-TRIAL
Michael Spavor and another Canadian, Robert Schellenberg, have been detained in China in what critics call "hostage politics" after the executive, Meng Wanzhou, was arrested at the Vancouver airport in late 2018.
Ms Meng, the daughter of the founder of the Chinese telecoms company, is currently detained in Canada. She was arrested on a warrant from the US charged with misleading HSBC Holdings PLC about Huawei's business dealings in Iran.
Her actions could have potentially caused the bank to violate American economic sanctions, reported Reuters. If Ms Meng is extradited to the US she could face charges linked to violating sanctions.
China has released very little detail on the spying case against Mr Spavor other than the allegation that he was a conduit for intelligence and sensitive information provided to former Canadian diplomat Michael Kovrig beginning in 2017.
Canadian Ambassador Dominic Barton, who met with Mr Spavor after his court hearing, said he is "strong, resilient, focused on what's happening."
The ambassador said Mr Spavor asked to send three messages: "Thank you for all your support, it means a lot to me. Two, I am in good spirits. And three, I want to get home."
Mr Spavor was also fined 50,000 yuan (£5,569.83) on top of his sentence.
The move comes just days after it was revealed that Canadian Robert Schellenberg, who was arrested for drug smuggling in 2014 in China, faces a death sentence.
The sentencing also came as lawyers in Canada representing Ms Weng tried to convince a court not to extradite her to the United States.
"We call on China to grant Robert Schellenberg clemency. We have expressed our firm opposition to this cruel and usual punishment and continue to express that to the Chinese authorities," Mr Barton said.
"It is not a coincidence that these are happening right now, while the case is going on in Vancouver," referring to Huawei official Meng Wanzhou's case.
Comment It was insane to incarcerate Meng Wanzhou. What goes around comes around as my late sister Patricia Mary always said. R.J Cook
August 10th 2021
bing.com/news
Chinese nuclear attack subs 'stalking' Britain's new aircraft carrier across PacificCHINESE nuclear attack submarines have attempted to secretly shadow the Royal Navy aircraft carrier HMS …Daily Express · 22hChina's submarines attempt to shadow UK Aircraft carrier heading to Pacific : ReportsChinese nuclear submarines tried to secretly follow UK aircraft carrier HMS Queen Elizabeth that was moving into the Pacific Ocean, but were soon identified, the Express newspaper reported on
Comment Britain's elite moral and self righteous indignation when Russians and Chinese ships shadow intrusions into their space, is amusing and nauseating. Along with their U.S offspring, they think they are the moral example to the world.
They reacted in exactly the same way when Russia's carrier sailed past the Isle of Wight. I am putting aside comment on the morals of all sides here for the moment, to place attention on the way Anglo-U.S and European mainstream media is part of ongoing indoctrination process far more sophisticated in its war on free thinking and protest than the Eastern bloc ever could be.
Their on going exploitation of the old Third World in hoc with bigoted dictatorships, with cover of lamenting slavery , is one major example of their ruthless planet destroying deceptions. It is laughable but disruptive to global stability. It is a driving force behind mass migration from the Third World , because Third world populations expect a better life in the West . It is the force behind global pandemics , while enriching the elite and immiserating the masses – for whom the elite have utter contempt.
R.J. Cook
China is Buying up U.S. Farmland at a Record Pace – August 4th 2021
A dual foundation has assured rampant American prosperity: Cheap land, expensive labor. With the advent of the Immigration Act of 1965 authored by Sen. Ted Kennedy (D-MA), President Ronald Reagan's Immigration Amnesty of 1986, and the Ill-advised NAFTA Treaty of 1994, that formula hasn't held true. When there was not enough labor, employers had to pay more rather than simply …

Read more
China imposes sanctions on US citizens, rights groups under new law – July 24th 2021
NEWS WIRES
---
China said on Friday that it has imposed counter-sanctions on U.S. individuals including former U.S. commerce secretary Wilbur Ross in response to recent U.S. sanctions on Chinese officials in Hong Kong.
© REUTERS – ERIN SCOTT
The sanctions are the first imposed by China under its new anti-foreign sanction law, passed in June, and come days before U.S. Deputy Secretary of State Wendy Sherman is due to visit China amid deeply strained ties.
China also imposed unspecified "reciprocal counter-sanctions" on current and former representatives of a range of organisations, including the Congressional-Executive Commission on China and the U.S.-China Economic and Security Review Commission.
Other institutions named included the National Democratic Institute for International Affairs, the International Republican Institute, Human Rights Watch (HRW), and the Washington-based Hong Kong Democracy Council (HKDC).
"The U.S. side concocted the so-called Hong Kong business advisory, baselessly smeared Hong Kong's commercial environment, and illegally sanctioned Chinese officials in Hong Kong," China's Foreign Ministry said in a statement.
"These actions seriously violated international law and the basic principles of international relations, and seriously interfered in China's internal affairs," the ministry said.
White House press secretary Jen Psaki told a regular news briefing that the United States was "undeterred" by China's move, which came after Washington last week issued its business advisory for Hong Kong and imposed sanctions on more Chinese officials over Beijing's crackdown on democracy in the former British colony.
Comment Very simply , China must make a stand against the patronising Anglo U.S and European global elite. These elites have very dangerous worldwide policies. They will not deal with corruption and chaos in the Third World or dangerous Islamic bigotry and intlerance.
Christian vales have been rubbishd and restrained. Not so hypocritical and bigoted Islam which has an increasinly powerful voice and influence in what was the secular western world.
Religion is not a race. I am no longer a Chrsitian but support its humanistic values. I have not changed race. Most Muslims are dark skinned fellow Caucasians, but North Africa's incoming surplus popuation are culturally different and confident of a right to their dominant place in the western world because the Woke elite says it is their humanitarian right. Try going the other way. Robert Cook
China plans mass rocket launch to divert asteroid that could wipe out life on Earth
Adam Smith 7 hrs agoLike83 Comments|93
---
Student areas record highest rates of new Covid infections in EnglandBitcoin price – live: Crypto analysts say 'big move is overdue' amid remarkable…
© Nasa 920_684_bennu_carousel_4.jpg
Chinese researchers want to send more than 20 rockets from the country to practise diverting asteroids away from Earth.
Scientists at China's National Space Science Centre found in simulations that 23 Long March 5 rockets, which weigh 900 tonnes when they leave the planet, hitting simultaneously could divert an asteroid from its original path by nearly 9,000 kilometres – 1.4 times the Earth's radius.
The Long March 5B rocket was also the type that was infamously left free-falling by China in May this year, traveling around the world every 90 minutes – too fast for space agencies to tell where it is going to land. Fortunately, it disintegrated over the Indian Ocean.
The probability of an asteroid colliding with Earth is low but one, the 78 billion kilogram Bennu, has been targeted for investigation.
Bennu is classified as a B-type asteroid, which means it contains a lot of carbon along with various other minerals, formed over 4.5 billion years ago. As a primordial artifact that has been preserved by the vacuum of space, the asteroid could contain molecules that developed when life was first evolving on Earth. It might also, ironically, be the end of life on Earth.
China plans mass rocket launch to divert asteroid that could wipe out life on Earth – Posted July 7th 2021
Adam Smith
---
Student areas record highest rates of new Covid infections in EnglandBitcoin price – live: Crypto analysts say 'big move is overdue' amid remarkable…
© Nasa 920_684_bennu_carousel_4.jpg
Chinese researchers want to send more than 20 rockets from the country to practise diverting asteroids away from Earth.
Scientists at China's National Space Science Centre found in simulations that 23 Long March 5 rockets, which weigh 900 tonnes when they leave the planet, hitting simultaneously could divert an asteroid from its original path by nearly 9,000 kilometres – 1.4 times the Earth's radius.
The Long March 5B rocket was also the type that was infamously left free-falling by China in May this year, traveling around the world every 90 minutes – too fast for space agencies to tell where it is going to land. Fortunately, it disintegrated over the Indian Ocean.
The probability of an asteroid colliding with Earth is low but one, the 78 billion kilogram Bennu, has been targeted for investigation.
Bennu is classified as a B-type asteroid, which means it contains a lot of carbon along with various other minerals, formed over 4.5 billion years ago. As a primordial artifact that has been preserved by the vacuum of space, the asteroid could contain molecules that developed when life was first evolving on Earth. It might also, ironically, be the end of life on Earth.
Bennu is classified as a B-type asteroid, which means it contains a lot of carbon along with various other minerals, formed over 4.5 billion years ago. As a primordial artifact that has been preserved by the vacuum of space, the asteroid could contain molecules that developed when life was first evolving on Earth. It might also, ironically, be the end of life on Earth.
Britain's biggest microchip factory sold to Chinese-owned tech firm
James Titcomb
---
A Chinese-owned technology company has seized control of Britain's biggest microchip plant after forcing its owners to sell the facility when they failed to deliver on a contract.
Nexperia acquired 100pc of Newport Wafer Fab's factory in South Wales on Monday by triggering a contractual clause which allowed it to take command of the site.
Executives at the facility had urged ministers to prevent the sale, and sought funding for an alternative rescue bid, but the Government refused to intervene despite fears for national security.
Ministers are now facing a backlash from MPs who have accused them of turning a blind eye to Communist China's efforts to dominate the market in chips, the crucial building blocks of modern electronics.
Nexperia is a Dutch business owned by Chinese electronics company Wingtech. Wingtech's shareholders include two state-backed investors.
Tom Tugendhat, chairman of the foreign affairs select committee, said: "Many of our allies have expressed serious concerns about this deal.
"This is the first real test of the new legislation since its introduction in April. The Government is yet to explain why we are turning a blind eye to Britain's largest semiconductor foundry falling into the hands of an entity from a country that has a track record of using technology to create geopolitical leverage."
Newport Wafer Fab, which makes power supply chips used in cars, is understood to have entered into a contract with Nexperia, using the facility as collateral, when the Dutch company invested in it in 2019.
It has been forced into the sale after being unable to fulfill production obligations, allowing Nexperia to take command of the plant.
Nexperia is believed to be paying around £65m for the facility. This is thought to be enough for Newport Wafer Fab to repay debts to the Welsh government and other lenders, which had supported a management buyout of the facility in 2017.
The company added that it would protect around 400 jobs at the facility, which each week produces around 8,000 wafers – the mass-produced boards of microchips – making it the UK's largest production site.
Newport Wafer Fab wrote to the Government earlier this year asking it to intervene after Nexperia installed two directors onto the business's board.
Mr Tugendhat had also demanded that Kwasi Kwarteng, the Business Secretary, scrutinise the deal under new laws allowing it to block deals on national security grounds.
The Telegraph understands that ministers ordered a security assessment of the sale, but found no reason to intervene.
Last week, Mr Kwarteng wrote to Mr Tugendhat saying the deal had been "considered thoroughly" and was not a national security threat.
A copy of the letter, seen by The Telegraph, states: "I want to give you my assurance that this issue has been considered thoroughly. We will continue to monitor the situation closely and use our powers if appropriate."
Mr Kwarteng added that "mergers and takeovers are primarily commercial matters for the parties involved" and that any economic intervention was a matter for the Welsh government.
Mr Tugendhat claimed that by allowing the deal, the Government was reneging on recently-signed G7 promises to make semiconductor supply chains more resilient, and said other countries had raised concerns about the sale.
Conservative MP Bob Seely added: "I fear we are being naive and I fear that our standards in the recent National Security and Investment Bill are lower than the US and Australia."
Drew Nelson, Newport Wafer Fab's chief executive, said he planned to use proceeds from the sale to invest in manufacturing cutting-edge compound semiconductors.
Xi on collision course with Biden over Taiwan after 'harsh' warning – fresh conflict fears – July 4th 2021
---
Trains halted and rain seeps into new shopping centre amid Edinburgh floodingJohn Lewis unveils plans to move into home rental market
And Professor Steve Tsang fears Beijing's increasing belligerence, especially in relation to Taiwan, has the potential to trigger a potentially disastrous "unintended conflict". Prof Tsang was talking after an extraordinary speech by Xi Jinping, China's President, during an event to mark the 100th anniversary of the foundation of the Chinese Communist Party (CCP) in which he warned foreign forces not to try to "bully" his country.
Xi added: "Anyone who dares try to do that will have their heads bashed bloody against the Great Wall of steel forged by over 1.4 billion Chinese people."
Prof Tsang, the director of the China Institute at London's School of Oriental and African Studies (SOAS), told Express.co.uk: "I would not say that Xi used stronger than normal language.
"Instead I would say he used unnecessarily harsh language which will backfire in the outside world.
Xi Jinping says foreign powers will find their 'heads bashed and bloodied' if they bully China July 1st 2021
Sophia Yan
---
Call for global treaty to end production of 'virgin' plastic by 2040MP queries watchdog's ability to protect UK jobs amid private equity deals
Foreign countries that dare to "bully" China will see "their heads bashed bloody against the Great Wall of Steel forged by over 1.4 billion people," proclaimed leader Xi Jinping in a landmark speech to celebrate the ruling Communist Party's centenary.
© Provided by The Telegraph Xi Jinping said 'any attempt to divide the Chinese people from the party is bound to fail'
"We will never allow any foreign power to bully, oppress or subjugate us," said Mr Xi as cheers erupted from the audience. The party's "glorious journey" over a century means "any attempt to divide the Chinese people from the party is bound to fail."
Mr Xi, 68, spoke of how "national rejuvenation" had always been the party's priority and would continue to remain so, using the term at least 25 times in a speech lasting 66 minutes.
Festivities kicked off early Thursday, with helicopters roaring overhead in formation displaying "100," followed by fighter jets streaming coloured smoke, while a 100-gun salute echoed across Tiananmen Square.
At home, China's big birthday comes after the country recovered relatively quickly from the coronavirus pandemic, and as membership in the ruling party has swelled to 95 million people.
For Mr Xi – China's most powerful leader since Mao Zedong after he abolished term limits – the celebration is designed to burnish his credentials at a time when China is facing challenges on the world stage.
Global criticism is growing over China's human rights abuses in Xinjiang and Hong Kong, and concerns abound about the health of its economy, the world's second-largest.
New Zealand refuses to accuse China of genocide against Uighurs in break with Western allies Posted May 6th 2021
5 May, 2021 09:58 Get short URL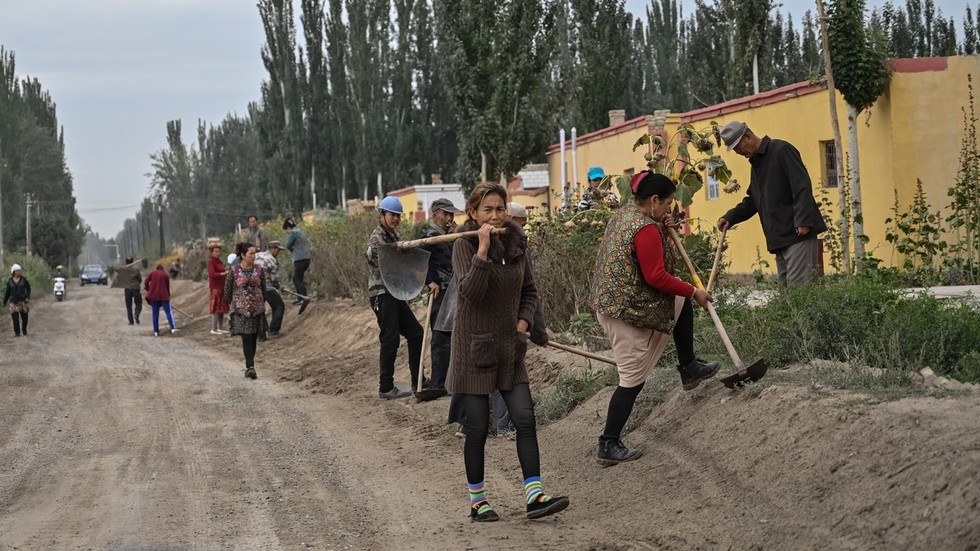 FILE PHOTO. People on a street in a small village where ethnic Uighurs live, Xinjiang, China. © AFP / HECTOR RETAMAL
The New Zealand parliament has expressed 'grave concern' about China's alleged treatment of Uighur Muslims but, in a break from its Five Eyes spy network partners, the government has refused to call it a genocide.
The divide between New Zealand and its Western partners was outlined during a parliamentary session on Wednesday, as politicians unanimously backed a motion expressing "grave concern" about allegations of human rights violations against Uighur Muslims.
The declaration only managed to secure the support of MPs after Prime Minister Jacinda Ardern's left-wing Labor Party ensured the motion contained no reference to claims of a genocidal act by Beijing against the minority group, claims that are accepted by some of New Zealand's closest allies.
Warning the following article from The Diplomat is more smug western elite propaganda. April 21st 2021
The lying self indulgent hypocritical Anglo U.S patronising elite are leading their minions to hell. They did it in 1914 and 1939, glorifying carnage , making it all seem so heroic. They will do it again. They are doing it. China and Russia have been provoked time and again.
This elite wants to break West China away because they want to loot and pillage – same goes for North Korea. They lie that it is all about human rights. You would have to be as moronic as Joe Biden or Boris Johnson to say or believe that. All they care about is money.
In Britain and the U.S they are playing the blacks , Muslims and LGBTQI as underdogs. These aggrieved people don't see eye to eye and they don't see the elite's bigger picture, which starts by undermining the old white working classes and any sort of union or movement. They are happiest fighting it out to be the worst treated victims ever.
Divide and fool. A banal education, and incessant hidden messages coded deep in daily TV advertising, are crucial and powerful to the plot. The west's culture is way beyond decadent. It is sub moronic and heavily policed , openly and covertly. The following article is typical of the China and Russia bashing.
The clue to the following article's conceited arrogance is in the bit about not worrying because the U.S and its allies have more ships and bigger when put together. It forgets the fragementation and Islamification of Europe and U.S , along with never ending BAME influx. Also it ignores all the debt and transfer of manufacturing to China. It also forgets that China and Russia's discipline is better, with more speed , less profit obsession, when it comes to creating more and new weapons. That is why the Anglo U.S elite are playing with fire stirring up dissidence in Russia and China. In the west everyone is as free as they like so long as they obey increasingly oppressive and restrictive elite laws. Robert Cook
Yes, China Has the World's Largest Navy. That Matters Less Than You Might Think.
China's fleet relies disproportionately on smaller classes of ships – and U.S. capabilities are bolstered by its allies' navies. By Benjamin Mainardi April 07, 2021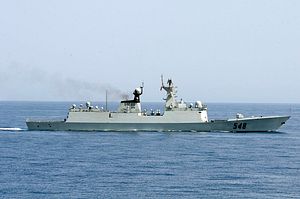 Since the release of the Department of Defense's "2020 China Military Power Report" this past September, much has been made of China's securing the title of the "world's largest navy." Indeed, the United States Office of Naval Intelligence has confirmed that the People's Liberation Army Navy (PLAN) has surpassed the United States Navy in total battle force ships, approximately 360 to 297, with future projections expecting the gap to grow. By 2025, the PLAN is predicted to field as many as 400 vessels whereas the United States plans only to field 355. Quantitative discussions of this sort have fostered an increasing level of hysteria in the U.S. media and even parts of its foreign policy and defense establishments.
What such discussions fundamentally misunderstand about the two fleets, however, are the major differences in force structure as well as the incomparable regional ally differential maintained by the United States. In fact, most discussions about the size of the PLAN inflate its surface warship fleet by including either small coastal patrol ships or its amphibious transports and landing ships.
In order of descending size, the PLAN's surface force is comprised of two aircraft carriers, one cruiser, 32 destroyers, 49 frigates, 37 corvettes, and 86 missile-armed coastal patrol ships. In addition, China's submarine fleet includes 46 diesel-powered attack submarines, six nuclear-powered attack submarines, and four ballistic missile submarines. This is further supplemented by the China Coast Guard, which fields roughly 255 coastal patrol ships. In sum, China has a surface warship fleet of 121 vessels, a submarine fleet of 56 platforms, and another 341 coastal patrol ships.
For its part the United States Navy boasts a surface fleet of 11 aircraft carriers, 92 cruisers and destroyers, and 59 small surface combatants and combat logistics ships. Its submarine fleet is comprised of 50 attack submarines, 14 ballistic missile submarines, and four cruise missile submarines. As such, the United States maintains a surface fleet of about 162 vessels, depending on the inclusion of its small combatants and combat logistics ships, and a submarine fleet of 68 platforms.
Here we clearly see that talk of China's massive navy is rather out of proportion. It should be noted that China's fleet relies disproportionately on smaller classes of ships, like the frigate and corvette, which are widely considered not to be major surface combatants. Even still, the bulk of its numbers advantage comes from its coastal patrol ships which, while not insignificant, have limited capacity to project power beyond China's near seas. Further, the United States maintains a massive carrier advantage. Wherever one falls on the debate over the continued viability of aircraft carriers, the fact remains that both states are interested in producing them.
Enjoying this article? Click here to subscribe for full access. Just $5 a month.
Even more confounding is the conspicuous failure to account for U.S. allies, which are generally referenced only as brief afterthoughts in discussions of the need for the United States to ramp up its naval forces. Ostensibly, the naval buildup is aimed at reassuring U.S. regional allies. Yet the naval forces of such allies are seldom, if ever, part of the equation. At a time when much of the U.S. national security ethos has placed emphasis on "making allies pay their fair share," it's a rather paradoxical initiative.
For reference, China's single formal ally – North Korea – maintains a handful of submarines and coastal patrol vessels. In contrast, the United States has formal military alliances with six Indo-Pacific states – Australia, Japan, New Zealand, the Philippines, South Korea, and Thailand. Moreover, many regional powers – notably India, Indonesia, Singapore, Taiwan, and Vietnam – maintain ever-deepening security relationships with the United States due precisely to concerns over potential threats from China.
Diplomat Brief
Weekly Newsletter
N
Get briefed on the story of the week, and developing stories to watch across the Asia-Pacific.Get the Newsletter
While the United States does remain the primary guarantor of security for states such as Japan and South Korea, they are by no means helpless. Indeed, the Japanese Maritime Self-Defense Force maintains one of the largest surface fleets in the world, containing 51 major surface combatants. Likewise, South Korea's naval forces total 23 major warships, with eyes on major expansions. Nonetheless, the role of allied fleets goes largely unmentioned in U.S. national security discourse.
All this is not to say that the United States should neglect its naval forces. Far from it, the United States Navy is arguably the most important day-to-day component of the U.S. military on the international stage. Rather, I would encourage a greater degree of skepticism toward distinct force goals. It would likely serve U.S. interests better to shift focus towards modernizing current platforms and investing in developing new systems.
American analysts and commentators would do well to remember that the United States is not alone in its concerns about the expansion of the China's navy. That calls for the massive enlargement of the United States Navy, notably to 500 vessels, seldom acknowledge the potential roles and contributions of allies is startling. Authors
The Problem Is. Posted April 8th 2021
The problem with the following is that China has been a constant target of Anglo U.S regime change criticism, talking as if they are champions and bastions of human rights. They are very interested in provoking conflict with a growing Muslim community which has provided 'warriors' for Islamic terrorism.
There is a naivety and possible hypocrisy about Reporters Without Borders ( RSF – Reporters sans frontières ) . Robert Cook
https://www.google.com/search?client=firefox-b-d&q=reportiers+sans+frontiers&nfpr=1&sa=X&ved=2ahUKEwjZhdfR1u7vAhVPY8AKHVpiDtIQvgUoAXoECAEQMA
We learned of her arrest exactly six months ago. Pham Doan Trang, a well-known Vietnamese journalist who had been awarded the RSF Press Freedom Prize in 2019, was arrested at her Ho Chi Minh City home by plainclothes policemen last October. There's been no news of her since then. She's not been allowed to talk to a lawyer or her family and she is facing up to 20 years in prison on a charge of "anti-state propaganda."

As she completed her sixth month in detention, several RSF Press Freedom Prize laureates recorded video messages expressing their support for her in order to help draw international attention to her fate. All of them called for her immediate and unconditional release by the Vietnamese authorities
The Winner ? Posted March 22nd 2021
You know who's won economically from all this? China. Exports now up to 110% of pre-Covid levels. https://ccpgloballockdownfraud.medium.com/the-chinese-communist-partys-global-lockdown-fraud-88e1a7286c2b
Foreign Policy Mags View, angst about Muslims and obvious western interest in China's resources & provoking dissent. March 4th 2021
More Dirt on China from the self righteous ons.
By James Palmer
Welcome to Foreign Policy's China Brief.
The highlights this week: China's legislative two sessions begins with new Hong Kong controls expected, strange flights continue from Myanmar to southern China, and Alibaba's Jack Ma falls down an annual rich list.
Have feedback? Hit reply to let me know your thoughts.
---
Rubber Stamps at the Ready
Thursday marks the start of China's annual two sessions, the gathering of the National People's Congress (NPC) and the Chinese People's Political Consultative Conference (CPPCC), where representatives meet in Beijing to rubber-stamp agreed legislation. While the NPC is technically China's legislature, it meets for less than two weeks each year, largely to sign off on the state's agenda. Some stray delegates used to attempt to raise off-message topics each year, but that has diminished under President Xi Jinping's growing control.
In some ways, the CPPCC is more interesting. The advisory body brings together a wide range of the Chinese elite, from soldiers to business leaders. It is a classic example of the Chinese Communist Party's so-called united front system, which attempts to control all elements of civil society to work together toward the party-state's ends.
While united front actions abroad, like influencing Chinese-language media worldwide, have captured attention in the past four years, the majority of the work is domestic, such as control over religious institutions, ethnic minorities, and public intellectuals. The state doles out membership to both the NPC and CPPCC as a reward for public figures who follow the party line. The Hong Kong movie icon Jackie Chan is a faithful CPPCC delegate, for example.
Reading the two sessions is like an exercise in Kremlinology. How long do delegates have to clap for particular figures? Which preset proposals will be put through? Last year's NPC introduced the national security law that kicked off a crackdown in Hong Kong. Increased restrictions, possibly including travel bans and internet controls, are likely to be formalized this week.
Another big takeaway: China's family planning policies could be seriously loosened—that is, outside of Xinjiang, where forced sterilization and mass arrests have caused birth rates to plummet by half since 2017. Elsewhere, the state has universally allowed families to have two children since 2015, but that policy hasn't produced the baby boom officials hoped for. China's long-term demographic figures remain dire, with last year seeing a record low number of new babies.
If restrictions are loosened or eliminated altogether, that will leave the vast family planning bureaucracy—which still enforces regular pregnancy checks and other coercive measures, especially in the countryside—in need of a new role. Over the long term its purpose may shift, as in other communist states, toward a coercive natalist policy.
---

Semiconductors are essential for everything from advanced telecommunications to state-of-the-art healthcare and next generation military applications. FP Analytics' new report, Semiconductors and the U.S.-China Innovation Race, dives into the geopolitical tensions surrounding this vital industry, the central role of Taiwan, & how strengthening supply chains is essential to future economic and national security.
---
What We're Following
Beijing's image in U.S. hits record low. Gallup polling shows that a higher percentage of Americans have an unfavorable view of China than ever before, with just 20 percent holding a mildly or strongly positive view of China—a 13 percent drop from last year's strikingly low figures. At present, China is less popular in the United States than after the bloodshed in Tiananmen Square in 1989. The pandemic has clearly driven the shift, but China's genocidal actions in Xinjiang, crackdown in Hong Kong, and increasingly aggressive rhetoric also seem to factor in.
As a result of this unpopularity, and also in part because the Republican Party is attempting to paint President Joe Biden as weak on China, lawmakers are pushing record number of bills on U.S. business with China at the state level. Florida's HR 439 bill, for example, would prohibit any state agency from dealing with Chinese services, especially tech ones.
Similar bills in other Republican-controlled legislatures may prove an unexpected hazard for U.S.-China business relations, just as new technology controls come in at the national level.
Midnight flights to Myanmar. Rumors among Myanmar's opposition about strange flights from China have turned out to be true, according to data obtained by researchers in Australia. Since taking power in a coup on Feb. 1, the military has halted almost all international flights to and from Myanmar, but regular night flights continue between Yangon, its largest city, and Kunming, in southern China.
There is plentiful speculation on what could be on the planes. It's possible the flights could be carrying ammunition, weapons, and crowd control equipment, or that some trade deal mattered too much to important people on both sides to be halted. If it does turn out that China is supplying the regime's security forces, who killed 38 people on Wednesday, anti-Chinese sentiments among Myanmar's people will grow even fiercer.
Colonialist propaganda. The BBC has unearthed a remarkable Chinese state documentary from 2017 about labor transfer program from Xinjiang. The film directly depicts the coercion involved, but it portrays it as part of a heroic government effort to "modernize" the Uyghur population. Absent from the program, of course, is the camp-to-forced-labor pipeline that foreign researchers have investigated.
Despite China's claims of uplifting Xinjiang's population, those coerced into factory work have included businesspeople, university lecturers, and other high-earning professionals. (Who exactly has seized control of former Uyghur-run enterprises remains relatively uninvestigated.) Meanwhile, government spokespeople this week launched personal attacks against women who have testified about rape in Xinjiang.
---
Tech and Business
The rich list. The annual Hurun Rich List, which compiles data on China's 1,000 wealthiest individuals, is out. The big news: Alibaba cofounder Jack Ma was knocked out of the top spot to fourth place, due to the government's blocking of Ant Financial's initial public offering at the last minute. Zhong Nanshan, now in first place, is not well known beyond China. He owns one of the most popular bottled water brands, but his biggest boost came from his ownership of a bioscience firm involved in vaccine manufacturing.
As elsewhere, Chinese billionaires' wealth has swelled during the pandemic even as others suffered. But mega-wealth remains risky business in an autocratic communist state with extreme income inequality, and some of the wealthiest work hard to conceal how rich they are. The Hurun List, which is compiled by Luxembourg-born Rupert Hoogewerf, has been nicknamed the "fat pig killing list," since past members have fallen victim to political machinations.
Property checks. Guo Shuqing, one of China's top regulators, gave a press conference in which he discussed domestic and foreign property bubbles. Guo noted that real estate within China remains overinflated—which he called "very dangerous." Property has outstripped all other investment vehicles in China for at least two decades. Many enterprises, when you dig beneath the surface, are actually vehicles for circumventing property laws.
The government frequently tries to rein real estate in due to economic fears and societal consequences—only to face pushback from upper-middle-class urbanites, a key support group for the Communist Party.
Pirates arrested. One of the last remaining major websites for pirated TV shows in China has been taken offline. Such sites, which break both copyright law and Chinese censorship laws, were a major part of the entertainment experience for Chinese millennials. Pirated DVDs, once a mainstream product, largely disappeared from the streets of cities as a result.
With streaming services now ubiquitous and the government cracking down, it's much harder for young Chinese to watch uncensored foreign media than it was even five or 10 years ago. Even the most banal of foreign shows can end up pulled for unspecified reasons: Friends, once a cultural behemoth, is no longer streaming in China.
---
What We're Reading
"Inside Xinjiang's Prison State," by Ben Mauk, the New Yorker
This detailed story in the New Yorker, based on interviews that Mauk conducted with refugees in Kazakhstan and elsewhere, powerfully conveys the stories of the victims of China's abuses in Xinjiang. Artist Matt Huynh compiled the accompanying illustrations from witness details and documented evidence, down to the type of security camera used.
This method is particularly effective in making up for the lack of photos of life in China's internment camps. While extensive satellite imagery has reached the outside world, there are almost no images from within the camps save for those from propaganda tours.
China through elite eyes. February 28th 2021
Introduction by R.J Cook.
The west is having a love affair with Mulims so long as it thinks it can tame them. They don't really understand the serious purposes of Islamists and how it binds and informs their psyche. It has been using the threat of so called extremists – an out come of Bush Blair led oil wars – for the purposes of ever extending anti terror laws , so inevitably Trudeau is on message with the other 5 Is countries. Whilst opposing Catalan separtism , they whinge about the rapidly overpopulating Xinjiang. Once again, religion is being passed of to the badly educated easily misled western masses as genocide.
The Mulims of Xinjiang are not a race. But they are sitting on rare earth minerals that an Anglo U.S led coalition want their hands on. So they use the well tried con trick of stirring up rebellion. They have the same motive in Latin America and Africa. The BLM movement is part of the smokescreen as if the elite ever cared about the Capitalist underclass, BAME or other.
Genocide is just an extension of the racist smear campaign. As for Hong Kong's disappearing democracy , the declaimers don't support demcracy in their own countries. It is just a word to make people believe that they voted for all the chaos, misery, poverty, hardship , financial inquality , carnage and suffering the elite always cause and sustains for their own power and privilege. If the U.S and Britain feel so strongly about China , why have they been feeding of and exploiting China since the 1970s ?
That elite and their gullible masses also need reminding that the British elite, who controlled the opium trade, stole Hong Kong from China , through war, were granted it on a 99 year lease but never wanting to give it back. Talk about colonialist hypocrisy and sham demcoracy !!! All the Anglo Amercan elite cares about is more money for them and fooling their gullible masses with jingoism. R.J Cook
Canada says genocide. The Canadian Parliament overwhelmingly voted in favor of declaring the atrocities in Xinjiang genocide. Prime Minister Justin Trudeau abstained from voting on the motion, which passed 266-0. China has responded with the usual vitriol. The decision follows former U.S. Secretary of State Mike Pompeo's declaration of genocide, despite a split memo from the State Department. Some U.S. lawyers argue that the atrocities are crimes against humanity but not genocide.
The Canada-China relationship is already fraught. Two years ago, China detained two Canadian citizens, Michael Kovrig and Michael Spavor, on spying charges after Canada detained the CFO of Huawei, Meng Wanzhou, following a U.S. extradition request. The Canadian government has described China's actions as "hostage diplomacy." The new genocide bill includes a provision calling for the 2022 Winter Olympics to be moved from Beijing if the atrocities continue—a significant move given Canada's influence in winter sports.
End of Hong Kong's local democracy. With pro-democratic politicians already out of the Legislative Council and many opposition members arrested, the Hong Kong government is now looking to eliminate local representatives opposed to Beijing's policies. The government suffered a shock defeat in 2019 when pro-democrats swept local elections, angering Beijing—something the city government appears determined not to repeat.
Canada says genocide. The Canadian Parliament overwhelmingly voted in favor of declaring the atrocities in Xinjiang genocide. Prime Minister Justin Trudeau abstained from voting on the motion, which passed 266-0. China has responded with the usual vitriol. The decision follows former U.S. Secretary of State Mike Pompeo's declaration of genocide, despite a split memo from the State Department. Some U.S. lawyers argue that the atrocities are crimes against humanity but not genocide.
The Canada-China relationship is already fraught. Two years ago, China detained two Canadian citizens, Michael Kovrig and Michael Spavor, on spying charges after Canada detained the CFO of Huawei, Meng Wanzhou, following a U.S. extradition request. The Canadian government has described China's actions as "hostage diplomacy." The new genocide bill includes a provision calling for the 2022 Winter Olympics to be moved from Beijing if the atrocities continue—a significant move given Canada's influence in winter sports.
End of Hong Kong's local democracy. With pro-democratic politicians already out of the Legislative Council and many opposition members arrested, the Hong Kong government is now looking to eliminate local representatives opposed to Beijing's policies. The government suffered a shock defeat in 2019 when pro-democrats swept local elections, angering Beijing—something the city government appears determined not to repeat.
New patriotism tests will preemptively rule out any representative who doesn't follow the official line, and pro-Beijing figures will likely replace elected representatives in their limited role in choosing Hong Kong's leader.
vNew patriotism tests will preemptively rule out any representative who doesn't follow the official line, and pro-Beijing figures will likely replace elected representatives in their limited role in choosing Hong Kong's leader.
China recently confirmed that three privates and one officer died as "martyrs" in the clash with Indian forces in the disputed Galwan River Valley last year, and it may have lost more than four troops. The People's Liberation Army rarely admits its casualties and had not previously admitted to any losses in the clash. For example, China still maintains that there was not a single COVID-19 case among military personnel, including those sent to Wuhan last year during the initial outbreak there.
Chinese state media has named the young soldiers and attributed patriotic quotations to them, such as "One should make accomplishments wherever he is needed by the party." The Chinese Communist Party sometimes requires soldiers to write testimonies full of approved drivel as part of indoctrination efforts, but the lines recall the case of Lei Feng, a 22-year-old soldier whose diary of Maoist exertions was supposedly found after his accidental death in 1962.
The announcement may again inflame tensions between Beijing and New Delhi, which had decreased since last summer but remain much higher than before the Galwan clash. Both sides recently agreed to withdraw troops from around Pangong Lake, and China may see the new spate of nationalism as politically necessary to justify the withdrawals. Anti-Indian feeling has proliferated on the Chinese internet in the last week, with little intervention from censors.
Previously, sketchy reports suggested that the toll on the Chinese side was more than four deaths. India stated immediately after the clash that it lost 20 soldiers, and Indian media has reacted with skepticism to China's announcement. So have some Chinese, including at least three bloggers arrested for expressing their doubts publicly.
Challenging official accounts of martyrdom, whether recent or historic, has become increasingly risky under President Xi Jinping: Defaming "heroes and martyrs" was made illegal in 2017.
Ambassadorial prospects. U.S. President Joe Biden has yet to announce his pick for U.S. ambassador to China, creating a guessing game in Washington. Currently, long-term Biden ally and former Chicago Mayor Rahm Emanuel is being talked up, as are several other figures who largely lack Chinese language skills or experience living in the country.
But the truth may be that the role simply doesn't matter that much. In an era of acute tensions, the U.S. ambassador's ability to gladhand their way into Chinese officials' hearts is more fragile than before. The position is also a potential poison chalice for careers, given the extent to which any relationship with China is going to be scrutinized by the Republican Party.
Source Foreign Policy Magazine ( FP )
Beijing Hints at What It Wants of US-China Relationship Through State Media Posted February 24th 2021
By Nicole Hao February 9, 2021 Updated: February 10, 2021 biggersmallerPrint
Chinese state-run media Xinhua published a series of four commentaries in which it called on the new U.S. administration to "lead the U.S.-China relationship back on track" after years of what one article called "casting poison" onto bilateral relations.
"Treating China as a major strategic competitor or even a rival is a historical, directional, and strategic error [that the U.S. made]," Xinhua wrote in its first commentary published on Feb. 4. "Now the [United States'] most urgent task is to correct itself to take the right path… It's time for the U.S. to show political foresight and walk toward China."
The commentary went on to criticize the United States for ruining the relationship in the past four years, making indirect swipes at the Trump administration.
"Some people were believing blindly in 'America first,' delusionally thinking that 'decoupling' and 'disrupting supply chains' could stop the globalization of the economy," the Xinhua article stated.
Former president Donald Trump had suggested the idea of decoupling the Chinese and U.S. economies. His administration officials have also highlighted national security risks in relying on Chinese manufacturing and called for critical sectors to reshore.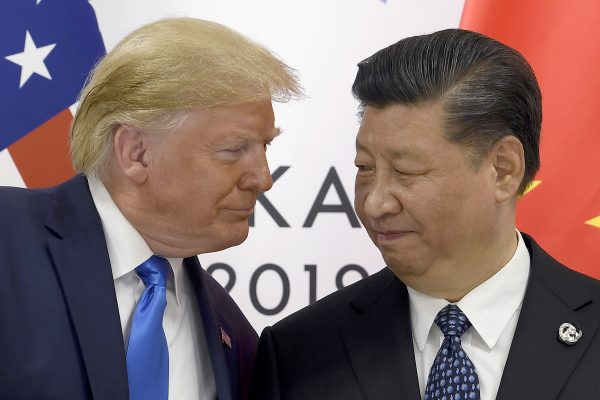 The media outlet published a second commentary that day, criticizing the U.S. government for policies restricting Chinese researchers from obtaining visas.
The Trump administration enacted visa restrictions for researchers with links to Chinese military-affiliated institutions, citing risks of espionage and intellectual property theft to benefit the Chinese regime.
It claimed the United States "heavily destroyed the humanities exchange between America and China," and noted that many Chinese students choose to stay in the United States upon graduating from their degrees.
The commentary did not mention or address the U.S. concerns.
A third commentary was published on Feb. 5, focused on U.S.-China trade relations.
Xinhua criticized that the Trump administration tried to decrease U.S. investment into China, encouraged American firms to leave China, and suppressed Chinese firms in the United States. The former two likely referred to the aftereffects of trade war tensions, as the United States enacted punitive tariffs to address China's unfair trade practices and China responded with retaliatory tariffs. The former administration also placed a list of Chinese firms on a trade blacklist for national security risks or their roles in China's human rights abuses.
But the article made no mention of the former administration's rationale for the policies.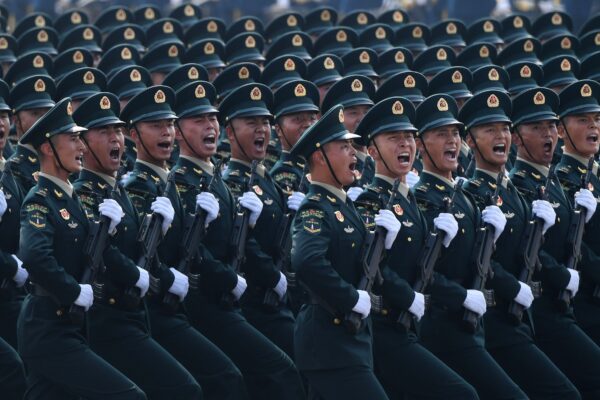 A fourth commentary was published on Feb. 6, focused on tech cooperation.
"The last U.S. government unreasonably suppressed and intensively shut out China's science and technology with the excuse of national security. Those methods were disgusting and shocking," the article stated. "Technological containment is akin to the crooked path of self-isolation."
Many of the blacklisted Chinese companies were tech firms, effectively blocking them from doing business with American suppliers.
Then, on Feb. 7, Chinese Ambassador to the United States Cui Tiankai criticized the Biden's administration China policy during an interview on CNN. Asked about State Secretary Antony Blinken and Chinese diplomat Yang Jiechi's recent phone call, Cui said: "You don't have an effective foreign policy just by talking tough or playing tough."
Blinken had said the United States would stand up for human rights and democratic values in Xinjiang, Tibet, and Hong Kong.
Xinhua's recap of their phone call was in a markedly different tone.
"[Blinken said that] the U.S. was willing to develop a stable and constructive bilateral relations with China," Xinhua reported.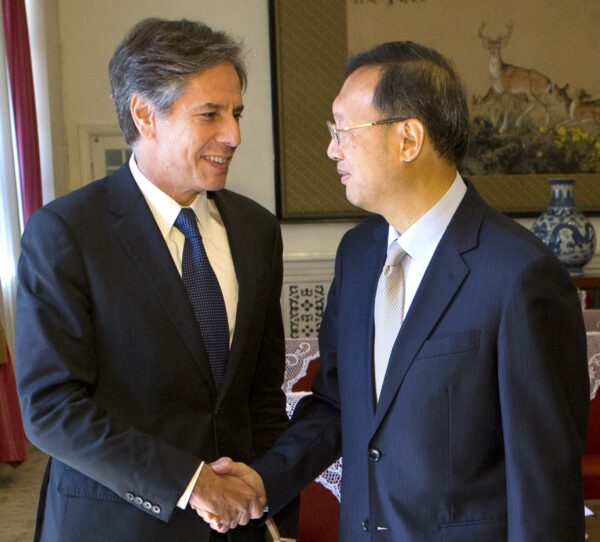 China affairs commentator Yang Wei concluded that the recent commentaries and rhetoric from Chinese officials show that they "are trying to threaten Biden's administration to kneel down and listen to them."
"In fact, we have seen the result, which is that the U.S. government and Beijing couldn't be in agreement on almost all issues," Yang wrote in a commentary published on the Chinese-language Epoch Times on Feb. 7.
U.S.-based China affairs commentator Li Linyi analyzed that the Xinhua commentaries were a display of what the Chinese regime hopes the Biden administration would change about the relationship.
"The Chinese regime is laying its cards on the table," Li said in a phone interview, and testing whether the new administration would fulfill its requests.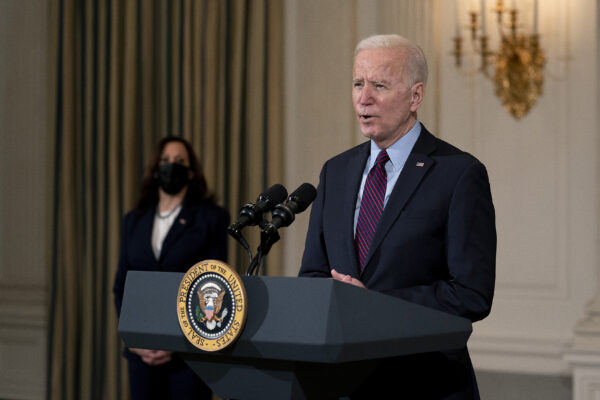 During an interview with CBS's "Face the Nation" that was broadcast on Feb. 7, President Joe Biden said, "there's going to be extreme competition [between the U.S. and China]," but that the new relationship he wants to forge need not be one of conflict.
French President Emmanuel Macron similarly said during an event held by Washington-based think tank Atlantic Council on Feb. 5: "China is altogether a partner, a competitor, and a systemic rival."
Macron explained that China was a partner on climate change, a competitor on trade, and a rival given its geopolitical ambitions and human rights abuses.
Comment The Western media and poliical elite are always hot on hitting China & Russia with the Human rights stick. Scratch the surface and if you want to see it, the west is the best at human rights abuse, with Assange and Chelsea Manning the tip of a very big and historical iceberg.
What they really mean is they want China to be huggy and luvvie duvvie with their large growing Muslim population just as they are over here. That is because racism – though Islam is obviously not a race – and pandering to Muslims for votes is important . Muslims, driven by 'faith' not science, are driven to overpopulate.
This is a massive environmental issue which Islam will never acknowledge. yet they all want a better life in the more progressive Western economies, whilst expecting their values and faith to reign and develop without challenge. They are not multi culturalists , never will be and scream racism as soon as anyone questions where Islam wants to take us all. The west's liberal elite are right behind them and are angry with China's resistance. Interesting how China's cheap labour is O.K for all the cheap luxuries western hypocrits love so much.

US NewsNRA Files Lawsuit Against New York AG Over Attempt to Dissolve 'Political Opponent'6

Social IssuesConservative Groups Launch Movement to Protect Children From Gender Identity Politics28

CongressHouse Democrats to Challenge Seating of Iowa GOP Rep. Miller-Meeks73

Chinese RegimeChina Will Exploit Paris Climate Accord to Undermine US: Expert63

Executive BranchChinese Regime Is 'Authoritarian Adversary' Posing 'Biggest Geopolitical Test': Biden CIA Director Nominee48

CongressDemocratic House Leader Says Majority Has Never Embraced Socialism341 From Around the Web 135 CommentsHide Comments –Policies and RegulationsUpgrade to commentSUBSCRIBE FOR $1Includes unlimited access to all articles, puzzles, commenting + free gifts

Copyright © 2000 – 2021 Back Top We use cookies to understand how you use our site and to improve your experience. This incl
China Targets America's Rare Earth Vulnerability Posted February 18th 2021
By Emel Akan February 17, 2021 Updated: February 17, 2021 biggersmallerPrint
WASHINGTON—China is reportedly looking into curbing the export of rare-earth minerals to the United States, which may become a new source of friction between the two countries.
China's Ministry of Industry and Information Technology in January proposed draft controls on the production and export of rare-earth minerals and provided 30 days for public comment.
During the comment period, industry executives were asked to assess how U.S. and European companies could be affected if Beijing decided to cut rare-earth exports during a bilateral dispute, the Financial Times reported, citing people involved in the discussions.
"The government wants to know if the U.S. may have trouble making F-35 fighter jets if China imposes an export ban," a Chinese government adviser told the Financial Times.
Industry executives were also asked to comment on how quickly the United States could secure rare earths from alternative suppliers or increase its production capacity.
Rare earths are 17 metals that are required in the manufacturing of airplanes, computers, cell phones, electricity generation and transmission systems, and advanced electronics.
China controls about 80 percent of the global supply of rare-earth minerals and sees its dominance as leverage that can be used against the West. It's not clear whether China can really weaponize rare-earth exports, as it could backfire by forcing other countries to increase their own production capacity.
The timeline to increase production capacity at home "could in fact be very, very short" with more government support and industry innovation, according to Pini Althaus, CEO of USA Rare Earth, a mining company that is developing the Round Top rare-earths deposit in Texas.
"The writing has been on the wall for decades, and now we are seeing first-hand why we've been raising the alarm that China's dominance over the rare earth and critical minerals industry is a highly volatile geopolitical concern," Althaus said in a statement.
"To counter the effort of the CCP to put a chokehold on defense and other high-tech metals, the U.S. and its allies must continue to invest in this space."
Former President Donald Trump last year signed an executive order to expand and strengthen domestic mining of rare earths and other critical minerals.
"The United States now imports 80 percent of its rare earth elements directly from China, with portions of the remainder indirectly sourced from China through other countries," Trump stated in the executive order. "In the 1980s, the United States produced more of these elements than any other country in the world, but China used aggressive economic practices to strategically flood the global market for rare earth elements and displace its competitors."
Last year, a bipartisan group of House and Senate lawmakers also introduced proposals aimed at reducing U.S. dependence on China by providing tax incentives for the rare-earths industry.
"The global pandemic has highlighted our reliance on China to meet our demand for critical minerals that are used in products such as electric and hybrid cars, computers, and military equipment," Rep. Henry Cuellar (D-Texas) told The Epoch Times.
"It is essential for our national security and economic interests that we reduce our nation's dependence on China for rare earth minerals. I co-sponsored the RARE Act to incentivize domestic production and develop our own consistent supply chain. To remain a world leader in technological and military innovation, we must act."
The White House didn't immediately respond to a request from The Epoch Times for comment.
President Joe Biden, during his election campaign, pledged to "accelerate innovation in supply-chain resilience" and address "issues like reliance on rare-earth minerals." Follow Emel on Twitter: @mlakan
We can expect more anti China Articles like this one , because Britain's elite assumes right to ban Chinese media whilst being outraged when their patronising BBC World Service is banned in response : Because Britain's elite assumes a right to ban Chinese media whilst being outraged when their patronising BBC World Service is banned in response.
Britain's ruling elite , with monarch as Head of State, claim to be Christian. In fact , the only people who take religion extremely seriously in Britain are is rapidly expanding Muslim population.
The following should be read with all of that in mind, wondering about evidnece and motive behind the complainants and the BBC for this article. Women have a very powerful weapon when it comes to claiming sexual abuse and violence. It is usually , if not always taken as truth without evidence or consideration of malice.
There is an assumption of female purity and innocence. Britain's mainstream media and ruling elite in its fake democracy , aslo have an interersting and biased realtionship with Islam
Russia and China are under ideological attack from the Western Anglo-U.S elite and their media. R.J Cook February 16th 2021
'Their goal is to destroy everyone': Uighur camp detainees allege systematic rape
By Matthew Hill, David Campanale and Joel Gunter
BBC NewsPublished2 February

Women in China's "re-education" camps for Uighurs have been systematically raped, sexually abused, and tortured, according to detailed new accounts obtained by the BBC.
You may find some of the details in this story distressing.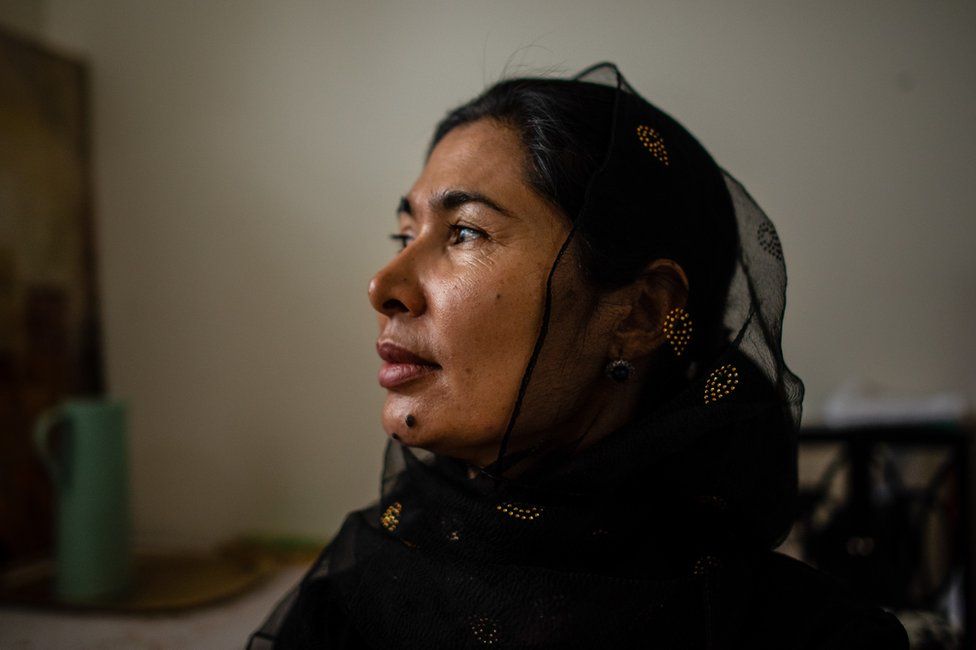 The men always wore masks, Tursunay Ziawudun said, even though there was no pandemic then.
They wore suits, she said, not police uniforms.
Sometime after midnight, they came to the cells to select the women they wanted and took them down the corridor to a "black room", where there were no surveillance cameras.
Several nights, Ziawudun said, they took her.
"Perhaps this is the most unforgettable scar on me forever," she said.
"I don't even want these words to spill from my mouth."

Tursunay Ziawudun spent nine months inside China's vast and secretive system of internment camps in the Xinjiang region. According to independent estimates, more than a million men and women have been detained in the sprawling network of camps, which China says exist for the "re-education" of the Uighurs and other minorities.
Human rights groups say the Chinese government has gradually stripped away the religious and other freedoms of the Uighurs, culminating in an oppressive system of mass surveillance, detention, indoctrination, and even forced sterilisation.
The policy flows from China's President, Xi Jinping, who visited Xinjiang in 2014 in the wake of a terror attack by Uighur separatists. Shortly after, according to documents leaked to the New York Times, he directed local officials to respond with "absolutely no mercy". The US government said last month that China's actions since amounted to a genocide. China says reports of mass detention and forced sterilisation are "lies and absurd allegations".
First-hand accounts from inside the internment camps are rare, but several former detainees and a guard have told the BBC they experienced or saw evidence of an organised system of mass rape, sexual abuse and torture.
Tursunay Ziawudun, who fled Xinjiang after her release and is now in the US, said women were removed from the cells "every night" and raped by one or more masked Chinese men. She said she was tortured and later gang-raped on three occasions, each time by two or three men.
Ziawudun has spoken to the media before, but only from Kazakhstan, where she "lived in constant fear of being sent back to China", she said. She said she believed that if she revealed the extent of the sexual abuse she had experienced and seen, and was returned to Xinjiang, she would be punished more harshly than before. And she was ashamed, she said.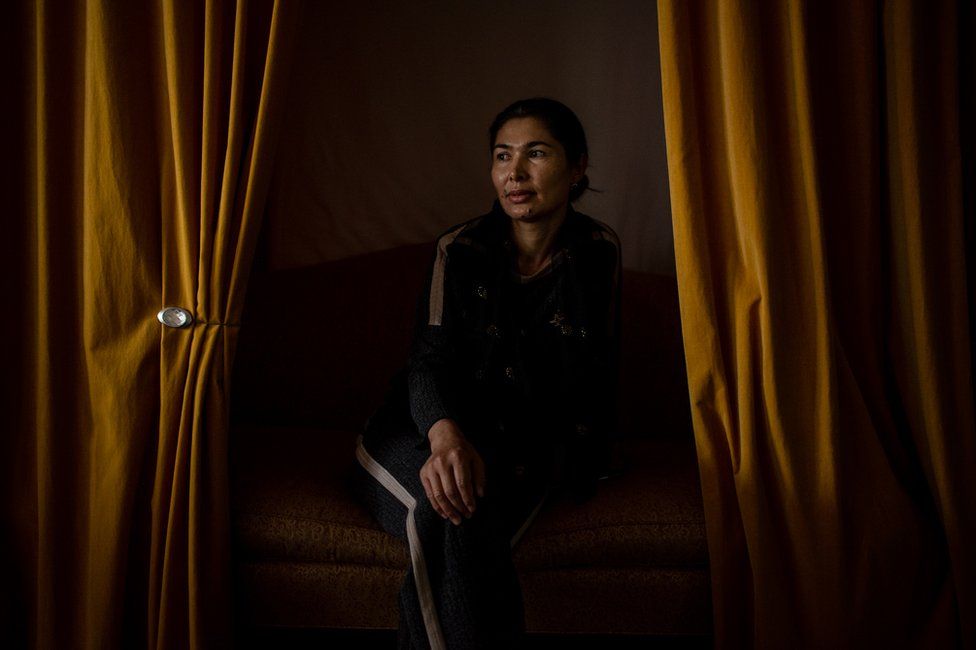 It is impossible to verify Ziawudun's account completely because of the severe restrictions China places on reporters in the country, but travel documents and immigration records she provided to the BBC corroborate the timeline of her story. Her descriptions of the camp in Xinyuan county – known in Uighur as Kunes county – match satellite imagery analysed by the BBC, and her descriptions of daily life inside the camp, as well as the nature and methods of the abuse, correspond with other accounts from former detainees.
Internal documents from the Kunes county justice system from 2017 and 2018, provided to the BBC by Adrian Zenz, a leading expert on China's policies in Xinjiang, detail planning and spending for "transformation through education" of "key groups" – a common euphemism in China for the indoctrination of the Uighurs. In one Kunes document, the "education" process is described as "washing brains, cleansing hearts, strengthening righteousness and eliminating evil".
The BBC also interviewed a Kazakh woman from Xinjiang who was detained for 18 months in the camp system, who said she was forced to strip Uighur women naked and handcuff them, before leaving them alone with Chinese men. Afterwards, she cleaned the rooms, she said.
"My job was to remove their clothes above the waist and handcuff them so they cannot move," said Gulzira Auelkhan, crossing her wrists behind her head to demonstrate. "Then I would leave the women in the room and a man would enter – some Chinese man from outside or policeman. I sat silently next to the door, and when the man left the room I took the woman for a shower."
The Chinese men "would pay money to have their pick of the prettiest young inmates", she said.
Some former detainees of the camps have described being forced to assist guards or face punishment. Auelkhan said she was powerless to resist or intervene.
Asked if there was a system of organised rape, she said: "Yes, rape."
"They forced me to go into that room," she said. "They forced me to take off those women's clothes and to restrain their hands and leave the room."
Some of the women who were taken away from the cells at night were never returned, Ziawudun said. Those who were brought back were threatened against telling others in the cell what had happened to them.
"You can't tell anyone what happened, you can only lie down quietly," she said. "It is designed to destroy everyone's spirit."
Mr Zenz told the BBC that the testimony gathered for this story was "some of the most horrendous evidence I have seen since the atrocity began".
"This confirms the very worst of what we have heard before," he said. "It provides authoritative and detailed evidence of sexual abuse and torture at a level clearly greater than what we had assumed."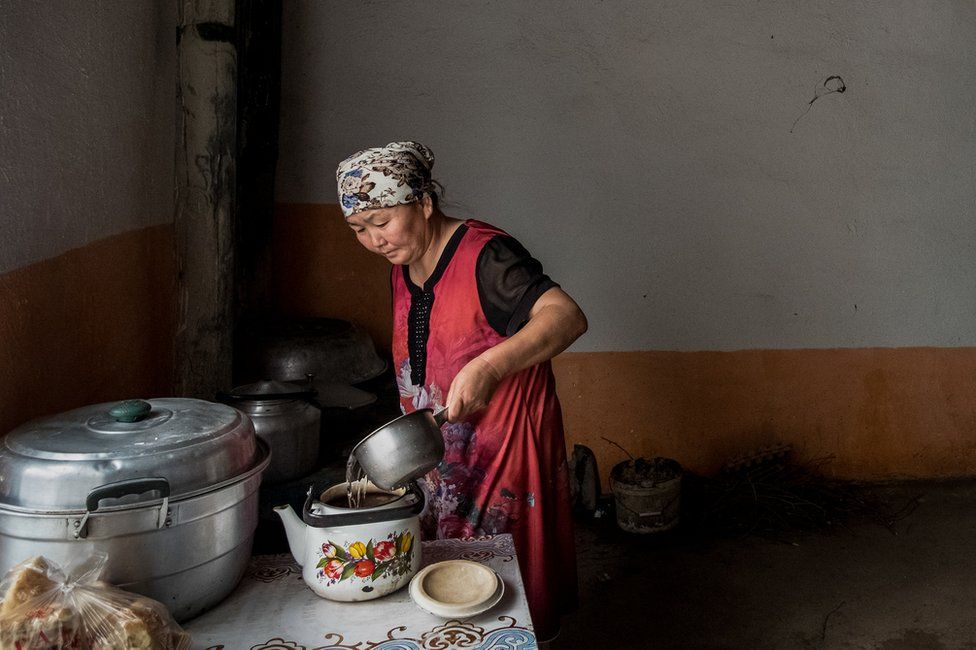 The Uighurs are a mostly Muslim Turkic minority group that number about 11 million in Xinjiang in north-western China. The region borders Kazakhstan and is also home to ethnic Kazakhs. Ziawudun, who is 42, is Uighur. Her husband is a Kazakh.
The couple returned to Xinjiang in late 2016 after a five-year stay in Kazakhstan, and were interrogated on arrival and had their passports confiscated, Ziawudun said. A few months later, she was told by police to attend a meeting alongside other Uighurs and Kazakhs and the group was rounded up and detained.
Her first stint in detention was comparatively easy, she said, with decent food and access to her phone. After a month she developed stomach ulcers and was released. Her husband's passport was returned and he went back to Kazakhstan to work, but authorities kept Ziawudun's, trapping her in Xinjiang. Reports suggest China has purposefully kept behind and interned relatives to discourage those who leave from speaking out. On 9 March 2018, with her husband still in Kazakhstan, Ziawudun was instructed to report to a local police station, she said. She was told she needed "more education".
According to her account, Ziawudun was transported back to the same facility as her previous detention, in Kunes county, but the site had been significantly developed, she said. Buses were lined up outside offloading new detainees "non-stop".
The women had their jewellery confiscated. Ziawudun's earrings were yanked out, she said, causing her ears to bleed, and she was herded into a room with a group of women. Among them was an elderly woman who Ziawudun would later befriend.
The camp guards pulled off the woman's headscarf, Ziawudun said, and shouted at her for wearing a long dress – one of a list of religious expressions that became arrestable offences for Uighurs that year.
"They stripped everything off the elderly lady, leaving her with just her underwear. She was so embarrassed that she tried to cover herself with her arms," Ziawudun said.
"I cried so much watching the way they treated her. Her tears fell like rain."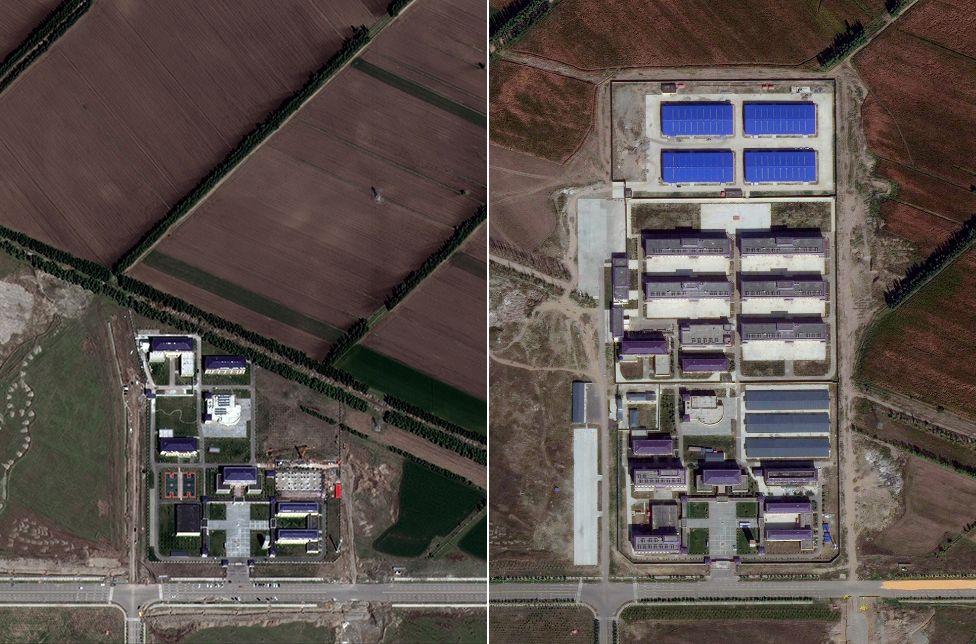 The women were told to hand over their shoes and any clothes with elastic or buttons, Ziawudun said, then taken to cellblocks – "similar to a small Chinese neighbourhood where there are rows of buildings".
Nothing much happened for the first month or two. They were forced to watch propaganda programmes in their cells and had their hair forcibly cut short.
Then police began interrogating Ziawudun about her absent husband, she said, knocking her on the floor when she resisted and kicking her in the abdomen.
"Police boots are very hard and heavy, so at first I thought he was beating me with something," she said. "Then I realised that he was trampling on my belly. I almost passed out – I felt a hot flush go through me."
A camp doctor told her she might have a blood clot. When her cellmates drew attention to the fact that she was bleeding, the guards "replied saying it is normal for women to bleed", she said.
According to Ziawudun, each cell was home to 14 women, with bunk beds, bars on the windows, a basin and a hole-in-the-floor-style toilet. When she first saw women being taken out of the cell at night, she didn't understand why, she said. She thought they were being moved elsewhere.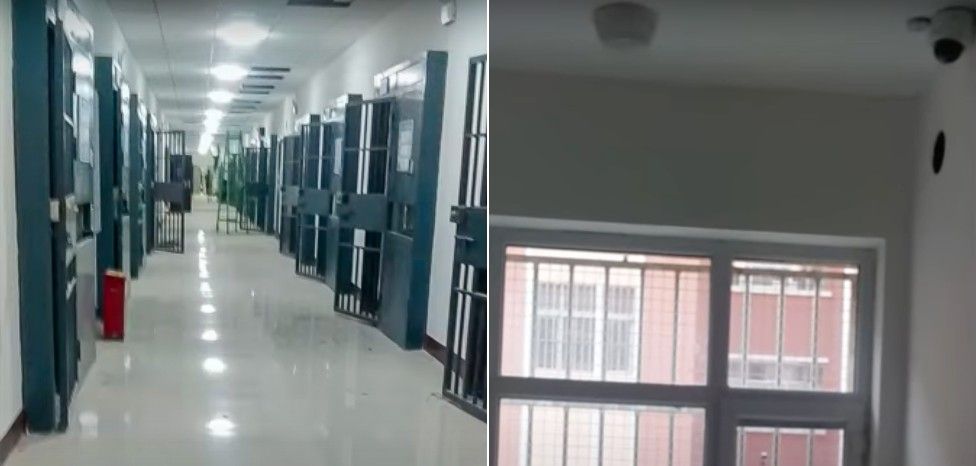 Then sometime in May 2018 – "I don't remember the exact date, because you don't remember the dates inside there" – Ziawudun and a cellmate, a woman in her twenties, were taken out at night and presented to a Chinese man in a mask, she said. Her cellmate was taken into a separate room.
"As soon as she went inside she started screaming," Ziawudun said. "I don't know how to explain to you, I thought they were torturing her. I never thought about them raping."
The woman who had brought them from the cells told the men about Ziawudun's recent bleeding.
"After the woman spoke about my condition, the Chinese man swore at her. The man with the mask said 'Take her to the dark room'.
"The woman took me to the room next to where the other girl had been taken in. They had an electric stick, I didn't know what it was, and it was pushed inside my genital tract, torturing me with an electric shock."
Ziawudun's torture that first night in the dark room eventually came to an end, she said, when the woman intervened again citing her medical condition, and she was returned to the cell.
About an hour later, her cellmate was brought back.
"The girl became completely different after that, she wouldn't speak to anyone, she sat quietly staring as if in a trance," Ziawudun said. "There were many people in those cells who lost their minds."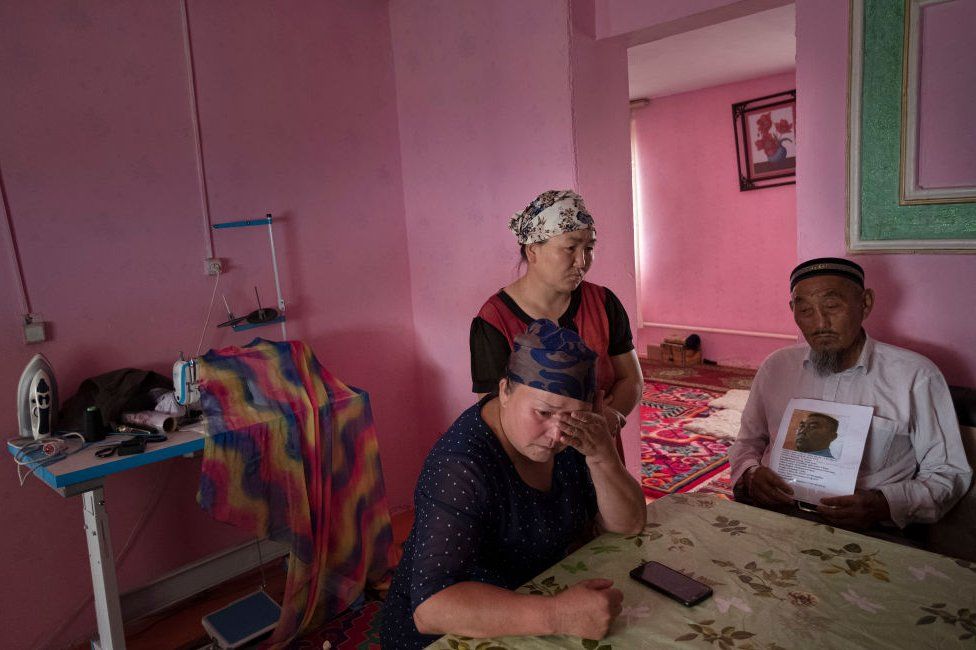 Alongside cells, another central feature of the camps is classrooms. Teachers have been drafted in to "re-educate" the detainees – a process activists say is designed to strip the Uighurs and other minorities of their culture, language and religion, and indoctrinate them into mainstream Chinese culture.
Qelbinur Sedik, an Uzbek woman from Xinjiang, was among the Chinese language teachers brought into the camps and coerced into giving lessons to the detainees. Sedik has since fled China and spoken publicly about her experience.
The women's camp was "tightly controlled", Sedik told the BBC. But she heard stories, she said – signs and rumours of rape. One day, Sedik cautiously approached a Chinese camp policewoman she knew.
"I asked her, 'I have been hearing some terrible stories about rape, do you know about it?' She said we should talk in the courtyard during lunch.
"So I went to the courtyard, where there were not many cameras. She said, 'Yes, the rape has become a culture. It is gang rape and the Chinese police not only rape them but also electrocute them. They are subject to horrific torture.'"
That night Sedik didn't sleep at all, she said. "I was thinking about my daughter who was studying abroad and I cried all night."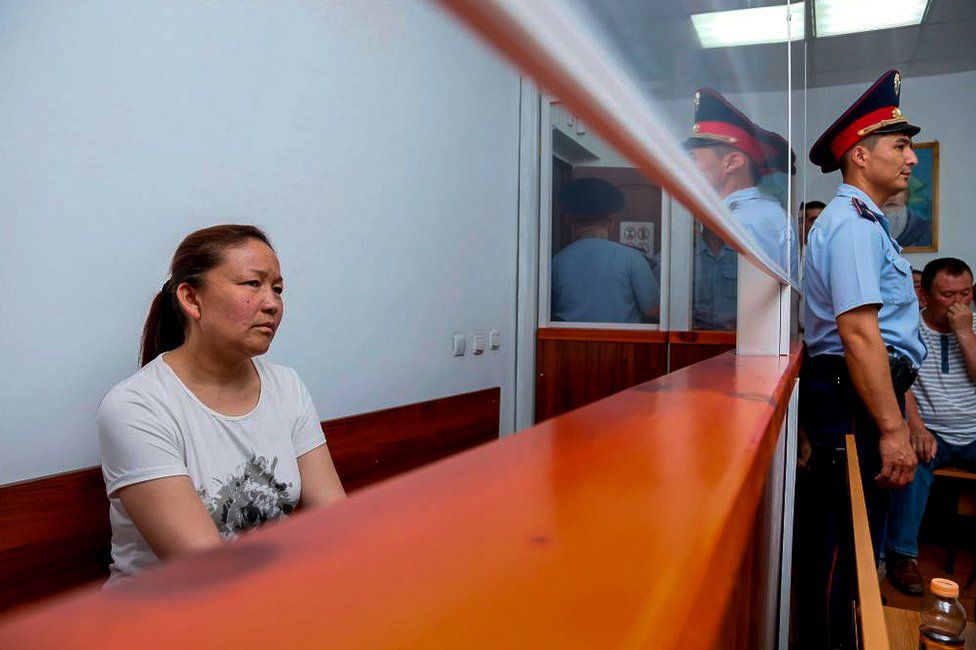 In separate testimony to the Uyghur Human Rights Project, Sedik said she heard about an electrified stick being inserted into women to torture them – echoing the experience Ziawudun described.
There were "four kinds of electric shock", Sedik said – "the chair, the glove, the helmet, and anal rape with a stick".
"The screams echoed throughout the building," she said. "I could hear them during lunch and sometimes when I was in class."
Another teacher forced to work in the camps, Sayragul Sauytbay, told the BBC that "rape was common" and the guards "picked the girls and young women they wanted and took them away".
She described witnessing a harrowing public gang rape of a woman of just 20 or 21, who was brought before about 100 other detainees to make a forced confession.
"After that, in front of everyone, the police took turns to rape her," Sauytbay said.
"While carrying out this test, they watched people closely and picked out anyone who resisted, clenched their fists, closed their eyes, or looked away, and took them for punishment."
The young woman cried out for help, Sauytbay said.
"It was absolutely horrendous," she said. "I felt I had died. I was dead."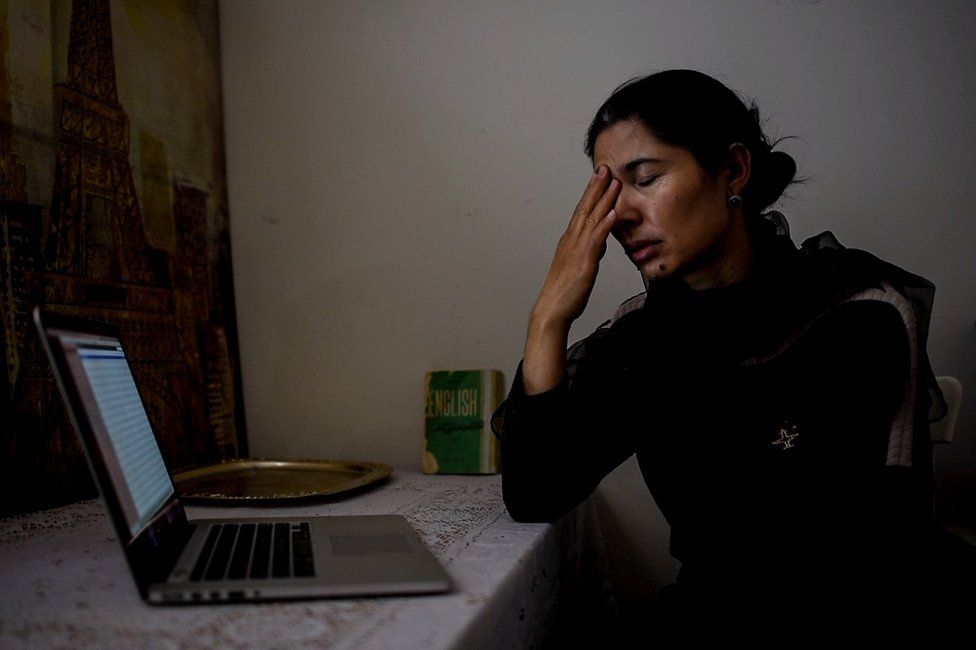 In the camp in Kunes, Ziawudun's days drifted into weeks and then months. The detainees' hair was cut, they went to class, they underwent unexplained medical tests, took pills, and were forcibly injected every 15 days with a "vaccine" that brought on nausea and numbness.
Women were forcibly fitted with IUDs or sterilised, Ziawudun said, including a woman who was just about 20 years old. ("We begged them on her behalf," she said.) Forced sterilisation of Uighurs has been widespread in Xinjiang, according to a recent investigation by the Associated Press. The Chinese government told the BBC the allegations were "completely unfounded".
As well as the medical interventions, detainees in Ziawudun's camp spent hours singing patriotic Chinese songs and watching patriotic TV programmes about Chinese President Xi Jinping, she said.
"You forget to think about life outside the camp. I don't know if they brainwashed us or if it was the side effect of the injections and pills, but you can't think of anything beyond wishing you had a full stomach. The food deprivation is so severe."
Detainees had food withheld for infractions such as failing to accurately memorise passages from books about Xi Jinping, according to a former camp guard who spoke to the BBC via video link from a country outside China.
"Once we were taking the people arrested into the concentration camp, and I saw everyone being forced to memorise those books. They sit for hours trying to memorise the text, everyone had a book in their hands," he said.
Those who failed tests were forced to wear three different colours of clothing based on whether they had failed one, two, or three times, he said, and subjected to different levels of punishment accordingly, including food deprivation and beatings.
"I entered those camps. I took detainees into those camps," he said. "I saw those sick, miserable people. They definitely experienced various types of torture. I am sure about that."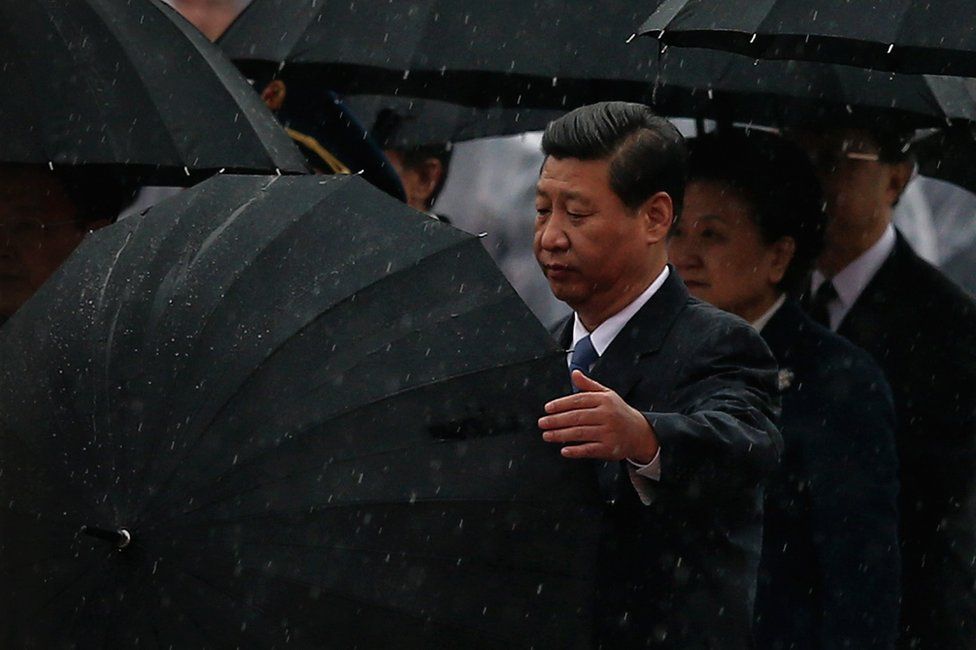 It was not possible to independently verify the guard's testimony but he provided documents that appeared to corroborate a period of employment at a known camp. He agreed to speak on condition of anonymity.
The guard said he did not know anything about rape in the cell areas. Asked if the camp guards used electrocution, he said: "Yes. They do. They use those electrocuting instruments." After being tortured, detainees were forced to make confessions to a variety of perceived offences, according to the guard. "I have those confessions in my heart," he said.
President Xi looms large over the camps. His image and slogans adorn the walls; he is a focus of the programme of "re-education". Xi is the overall architect of the policy against the Uighurs, said Charles Parton, a former British diplomat in China and now senior associate fellow at the Royal United Services Institute.
"It is very centralised and it goes to the very top," Parton said. "There is absolutely no doubt whatsoever that this is Xi Jinping's policy."
It was unlikely that Xi or other top party officials would have directed or authorised rape or torture, Parton said, but they would "certainly be aware of it".
"I think they prefer at the top just to turn a blind eye. The line has gone out to implement this policy with great sternness, and that is what is happening." That left "no real constraints", he said. "I just don't see what the perpetrators of these acts would have to hold them back."


According to Ziawudun's account, the perpetrators did not hold back.
"They don't only rape but also bite all over your body, you don't know if they are human or animal," she said, pressing a tissue to her eyes to stop her tears and pausing for a long time to collect herself.
"They didn't spare any part of the body, they bit everywhere leaving horrible marks. It was disgusting to look at.
"I've experienced that three times. And it is not just one person who torments you, not just one predator. Each time they were two or three men."
Later, a woman who slept near Ziawudun in the cell, who said she was detained for giving birth to too many children, disappeared for three days and when she returned her body was covered with the same marks, Ziawudun said.
"She couldn't say it. She wrapped her arms around my neck and sobbed continuously, but she said nothing."
The Chinese government did not respond directly to questions from the BBC about allegations of rape and torture. In a statement, a spokeswoman said the camps in Xinjiang were not detention camps but "vocational education and training centres".
"The Chinese government protects the rights and interests of all ethnic minorities equally," the spokeswoman said, adding that the government "attaches great importance to protecting women's rights".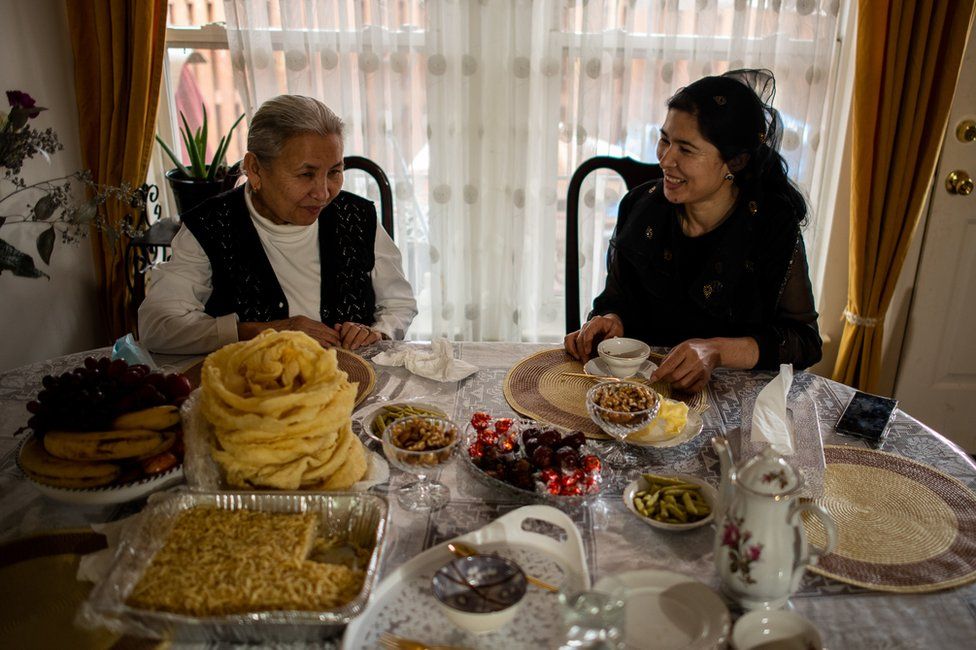 Ziawudun was released in December 2018 along with others who had spouses or relatives in Kazakhstan – an apparent policy shift she still doesn't fully understand.
The state returned her passport and she fled to Kazakhstan and then, with the support of the Uyghur Human Rights Project, to the US. She is applying to stay. She lives in a quiet suburb not far from Washington DC with a landlady from the local Uighur community. The two women cook together and take walks in the streets around the house. It's a slow, uneventful existence. Ziawudun keeps the lights low when she is in the house, because they shone brightly and constantly in the camp. A week after she arrived in the US, she had surgery to remove her womb – a consequence of being stamped on. "I have lost the chance to become a mother," she said. She wants her husband to join her in the US. For now, he is in Kazakhstan.
For a while after her release, before she could flee, Ziawudun waited in Xinjiang. She saw others who had been churned through the system and released. She saw the effect the policy was having on her people. The birth rate in Xinjiang has plummeted in the past few years, according to independent research – an effect analysts have described as "demographic genocide".
Many in the community had turned to alcohol, Ziawudun said. Several times, she saw her former cellmate collapsed on the street – the young woman who was removed from the cell with her that first night, who she heard screaming in an adjacent room. The woman had been consumed by addiction, Ziawudun said. She was "like someone who simply existed, otherwise she was dead, completely finished by the rapes".
"They say people are released, but in my opinion everyone who leaves the camps is finished."
And that, she said, was the plan. The surveillance, the internment, the indoctrination, the dehumanisation, the sterilisation, the torture, the rape.
"Their goal is to destroy everyone," she said. "And everybody knows it."

Photographs by Hannah Long-Higgins
Readers in the UK affected by sexual abuse or violence can find support information via the BBC website here.
Western Elite Same Blame Game – following elite consensus report is disinformation about alleged Chines Disinformation. Posted February 15th 2021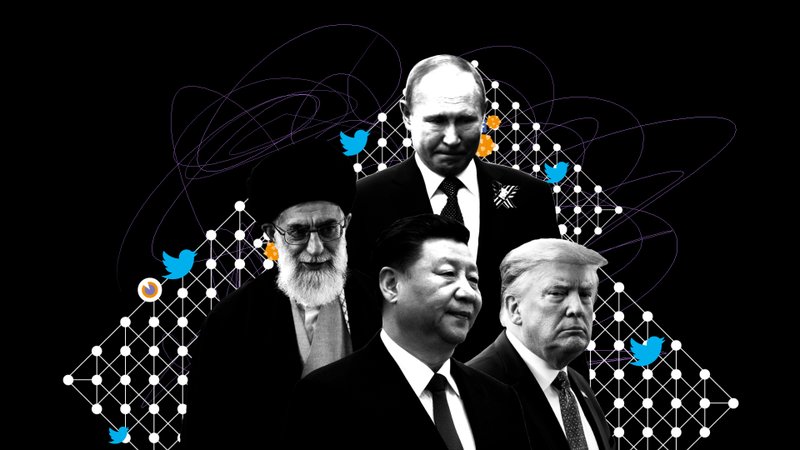 AP ILLUSTRATION/PETER HAMLIN
Exclusive: Anatomy of a conspiracy — with COVID-19 China, the US, Russia and Iran took leading role with disinformation
A nine-month AP investigation, conducted in collaboration with the Atlantic Council's Digital Forensic Research Lab, has found that powerful political figures and allied media in China, the U.S., Russia and Iran flooded the globe with disinformation about the origins of the COVID-19 pandemic.
As rhetoric from leading U.S. Republicans intensified, China went on the offensive, launching what may be its first truly global digital disinformation campaign, Erica Kinetz reports from Brussels.
China used its growing presence on Twitter and Facebook to seed and spread disinformation that coursed through tens of thousands of accounts with hundreds of millions of followers in dozens of languages.
The rumors began almost as soon as the disease itself. Claims that a foreign adversary had unleashed a bioweapon emerged at the fringes of Chinese social media the same day China first reported the outbreak of a mysterious virus.
"Watch out for Americans!" a Weibo user wrote on Dec. 31, 2019. Today, a year after the World Health Organization warned of an epidemic of COVID-19 misinformation, that conspiracy theory lives on, pushed by Chinese officials eager to cast doubt on the origins of a pandemic that has claimed more than 2 million lives globally.
From Beijing and Washington to Moscow and Tehran, political leaders and allied media effectively functioned as superspreaders, using their stature to amplify politically expedient conspiracies already in circulation. But it was China — not Russia – that took the lead in spreading foreign disinformation about COVID-19's origins, as it came under attack for its early handling of the outbreak.
Superspreaders behind Top COVID-19 conspiracy theories. The AP identified the people behind these explosive claims and analyzed how these narratives were exploited by governments around the world. From genial U.S. midwestern professors to anonymous social media posters to Iran's Supreme Leader, when it comes to false claims about the origins of the coronavirus, these are the superspreaders, David Klepper, Farnoush Armiri, and Beatrice Dupuy report.
VIDEO: China's role in COVID-19 disinformation.
Why Attempts to Build a New Anti-China Alliance Will Fail
The big strategic game in Asia isn't military but economic.
By Kishore Mahbubani | January 27, 2021, 12:26 PM
Australia, India, Japan, and the United States have perfectly legitimate concerns about China. It will be uncomfortable living with a more powerful China. And it's equally legitimate for them to hedge by cooperating in the Quadrilateral Security Dialogue, informally known as the Quad. Unfortunately, the Quad will not alter the course of Asian history for two simple reasons: First, the four countries have different geopolitical interests and vulnerabilities. Second, and more fundamentally, they are in the wrong game. The big strategic game in Asia isn't military but economic.
Australia is the most vulnerable. Its economy is highly dependent on China. Australians have been proud of their remarkable three decades of recession-free growth. That happened only because Australia became, functionally, an economic province of China: In 2018-2019, 33 percent of its exports went to China, whereas only 5 percent went to the United States. Trending Articles
Biden's U.N. Pick Assembles Team of Foreign-Policy Veterans
Linda Thomas-Greenfield is staffing her New York and Washington offices with a range of career and political…
This is why it was unwise for Australia to slap China in the face publicly by calling for an international inquiry on China and COVID-19. It would have been wiser and more prudent to make such a call privately. Now Australia has dug itself into a hole. All of Asia is watching intently to see who will blink in the current Australia-China standoff. In many ways, the outcome is pre-determined. If Beijing blinks, other countries may follow Australia in humiliating China. Hence, effectively, Australia has blocked it into a corner.
And China can afford to wait. As the Australian scholar Hugh White said: "The problem for Canberra is that China holds most of the cards. Power in international relations lies with the country that can impose high costs on another country at a low cost to itself. This is what China can do to Australia, but [Australian Prime Minister] Scott Morrison and his colleagues do not seem to understand that." Significantly, in November 2019, former Prime Minister Paul Keating warned his fellow Australians that the Quad would not work. "More broadly, the so-called 'Quadrilateral' is not taking off," he told the Australian Strategic Forum. "India remains ambivalent about the U.S. agenda on China and will hedge in any activism against China. A rapprochement between Japan and China is also in evidence … so Japan is not signing up to any program of containment of China." While India has clearly hardened its position on China since Keating spoke in 2019, it is unlikely to become a clear U.S. ally.
Japan is also vulnerable but in a different way. Australia is fortunate to have friendly neighbors in the Association of Southeast Asian Nations. Japan only has unfriendly neighbors: China, Russia, and South Korea. It has difficult, even tense, relations with all three. It can manage difficult relations with Russia and South Korea; both have smaller economies. But the Japanese are acutely aware that they now have to adjust to a much more powerful China again. Yet this is not a new phenomenon. With the exception of the first half of the 20th century, Japan has almost always lived in peace with its more powerful neighbor, China.
Over time, the different economic interests and historical vulnerabilities of the four countries will make the rationale for the Quad less and less tenable.
As the East Asia scholar Ezra Vogel wrote in 2019, "No countries can compare with China and Japan in terms of the length of their historical contact: 1,500 years." As he observed in his book China and Japan, the two countries maintained deep cultural ties throughout much of their past, but China, with its great civilization and resources, had the upper hand. If, for most of 1,500 years, Japan could live in peace with China, it can revert to that pattern again for the next 1,000 years. However, as in the famously slow Kabuki plays in Japan, the changes in the relationship will be very slight and incremental, with both sides moving gradually and subtly into a new modus vivendi. They will not become friends anytime soon, but Japan will signal subtly that it understands China's core interests. Yes, there will be bumps along the way, but China and Japan will adjust slowly and steadily.
India and China have the opposite problem. As two old civilizations, they have also lived side by side over millenniums. However, they had few direct contacts, effectively kept apart by the Himalayas. Unfortunately, modern technology has no longer made the Himalayas insurmountable. Hence, the increasing number of face-to-face encounters between Chinese and Indian soldiers. Such encounters always lead to accidents, one of which happened in June 2020. Since then, a tsunami of anti-China sentiment has swept across India. Over the next few years, relations will go downhill. The avalanche has been triggered.
Yet China will be patient because time is working in its favor. In 1980, the economies of China and India were the same size. By 2020, China's had grown five times larger. The longer-term relationship between two powers always depends, in the long run, on the relative size of the two economies. The Soviet Union lost the Cold War because the U.S. economy could vastly outspend it. Similarly, just as the United States presented China with a major geopolitical gift by withdrawing from the Trans-Pacific Partnership (TPP) trade agreement in 2017, India did China a major geopolitical favor by not joining the Regional Comprehensive Economic Partnership (RCEP). Economics is where the big game is playing. With the United States staying out of TPP and India out of RCEP, a massive economic ecosystem centered on China is evolving in the region. Here's one statistic to ponder on: In 2009, the size of the retail goods market in China was $1.8 trillion compared with $4 trillion for that market in the United States. Ten years later, the respective numbers were $6 trillion and $5.5 trillion. China's total imports in the coming decade will likely exceed $22 trillion. Just as the massive U.S. consumer market in the 1970s and 1980s defeated the Soviet Union, the massive and growing Chinese consumer market will be the ultimate decider of the big geopolitical game.
This is why the Quad's naval exercises in the Indian Ocean will not move the needle of Asian history. Over time, the different economic interests and historical vulnerabilities of the four countries will make the rationale for the Quad less and less tenable. Here's one leading indicator: No other Asian country—not even the staunchest U.S. ally, South Korea—is rushing to join the Quad. The future of Asia will be written in four letters, RCEP, and not the four letters in Quad.
Read More
The fuzzy goodwill between Biden and America's Asian allies will soon be tested by China's growing power. Essay | C. Raja Mohan
India Doesn't Need the Quad to Counter China—and Neither Do Its Partners
The nascent pact with Australia, Japan, and the United States is pointless. It should be quietly disbanded. Voice | Salvatore Babones
Kishore Mahbubani, a distinguished fellow at the National University of Singapore's Asia Research Institute, is the author of Has China Won? The Chinese Challenge to American Primacy.View
Comments Tags: alliances, Argument, Australia, China, geopolitics, India, Japan, Security, United States
Trending Now Sponsored Links by Taboola By Taboola
More from Foreign Policy By Taboola Latest Xi Jinping Shows His Nerves Over Decoupling January 27, 2021, 6:22 PM This Is the Year Democracies Fight Back January 27, 2021, 5:09 PM Afghanistan Wanted Chinese Mining Investment. It Got a Chinese Spy Ring Instead. January 27, 2021, 3:00 PM How Saudi Arabia Restored Its U.S. Influence Machine After the Khashoggi Murder January 27, 2021, 1:51 PM Beijing's Welcome Gift to Biden: More Threats and Tensions January 27, 2021, 1:03 PM See All Stories
Trending
Voices Putin Has Learned From Belarus in Handling the Navalny Protests Alexander Gabuev Biden's Bold Gamble on Immigration Is About America's Future Edward Alden America Needs Protection. So Does the Regime. Steven A. Cook
By using this website, you agree to our use of cookies. This use includes personalization of content and ads, and traffic analytics. Review our Privacy Policy for more information.
Powered by WordPress.com VIP © 2021, The Slate Group