Covid News
US passes 500,000 virus deaths, matching terrible toll of three wars; Biden mourns the dead, balancing nation's grief and hope
The COVID-19 death toll in the United States surpassed 500,000, all but matching the number of Americans killed in World War II, Korea and Vietnam combined.
The lives lost are greater than that of Miami; Raleigh, North Carolina; or Omaha, Nebraska, report Heather Hollingsworth and Tammy Webber.
The U.S. toll is by far the highest reported in the world. Despite the rollout of vaccines since mid-December, a closely watched model from the University of Washington projects more than 589,000 dead by June 1.
The Human Impact of Half a Million Deaths: A top health researcher says it's hard to imagine an American who hasn't lost a relative or doesn't know someone who died. The virus has reached into all corners of the country and communities of every size. At other moments of epic loss, like the 9/11 attacks, Americans have pulled together to confront the crisis and console survivors. But this time, the nation is deeply divided.
Staggering numbers of families are dealing with death, serious illness and financial hardship. And many are left to cope in isolation, unable even to hold funerals. Experts warn 90,000 more deaths are likely in the next few months, despite a massive vaccination campaign, Adam Geller reports.
VIDEO: US death toll from COVID-19 tops 500,000.
Biden Mourns with Nation: With sunset remarks and a national moment of silence, President Joe Biden acknowledged the country's once-unimaginable loss — half a million Americans in the pandemic. Biden addressed what he called a "grim, heartbreaking milestone" directly. He spoke about the dead as though he knew them, adding that "there's nothing ordinary about them. The people we lost were extraordinary." Biden and his wife, Jill, along with Vice President Kamala Harris and her husband Doug Emhoff then stepped outside to observe a moment of silence at sunset, Jonathan Lemire and Josh Boak report.
VIDEO: Biden marks 'heartbreaking' 500,000 virus deaths.
VIDEO: White House ceremony honors the dead.
PHOTOS: America's pandemic toll over the course of one deadly year. After a relentless march of death and tragedy, it's easy to forget the shocking images, so many day after day, scenes once unthinkable in a country of such wealth and power. As the year unfolded, AP photographers formed a pictorial record of suffering, emotion and resilience. It shows the year that changed America. Words by Jocelyn Gecker. 
UK to lift lockdown slowly in spring; Enduring the agony of post-COVID-19 loss of smell
Britain has announced the gradual easing of one of Europe's strictest lockdowns, with Prime Minister Boris Johnson laying out the step-by-step plan.
Faced with a dominant virus variant that is both more transmissible and more deadly than the original virus, the country has spent much of the winter under a rigid lockdown — the third since March 2020.
Children will return to class and people will be able to meet one friend for coffee in a park in two weeks, Jill Lawless and Danica Kirka report from London. But people longing for a haircut, a meal at a restaurant or a drink in a pub will have to wait for another two months, and people won't be able to hug loved ones that they don't live with until May at the earliest.
Britain has had Europe's deadliest outbreak, with more than 120,000 deaths. Under the new plan, schools reopen March 8, while shops and hairdressers can reopen April 12, along with pubs and restaurants, though only outdoors.
Hopes for a return to normality rest largely on Britain's fast-moving inoculation program that has given more than 17.5 million people, a third of the country's adults, the first of two doses of vaccine. The government aims is to give every adult a shot of vaccine by July 31.
Vaccine Study: Two U.K. studies showed that vaccination programs are contributing to a sharp drop in hospitalizations, boosting hopes that the shots will work as well in the real world as they have in carefully controlled studies. Preliminary results from a study in Scotland found that the Pfizer vaccine reduced hospital admissions up to 85% four weeks after the first dose, while the AstraZeneca shot cut admissions up to 94%. In England, preliminary data from a study of health care workers showed that the Pfizer vaccine reduced the risk of catching COVID-19 by 70% after one dose, a figure that rose to 85% after the second.
Deadened Senses: A year into the pandemic, doctors are striving to better understand and treat patients who lose their sense of smell. Called anosmia, the condition is a common symptom of COVID-19. It is non-lethal but terribly vexing for long-term sufferers who many weeks after infection still cannot taste food or smell the things they love.
In the southern French city of Nice, virus olfactory disorders are being studied by medical researchers who were previously using scents in the diagnosis of Alzheimer's. They have also used fragrances to treat post-traumatic stress in children after a terror attack and now lend their expertise to help post-virus patients recover their sense of smell. John Leicester reports from Nice.
More from Around the World:
The head of the World Health Organization pleaded with rich countries to check before ordering additional vaccine shots for themselves whether that undermines efforts to get vaccine shots to poorer nations.
Portugal's new daily infections have dropped below 1,000 for the first time since early October. It comes just weeks after Portugal was the worst-hit country in the world by size of population. Officials credited a national lockdown that began Jan. 15 with bringing the steep drop.
Elementary students in more than half of Germany's 16 states have returned to school after more than two months at home. It is the first major relaxation of the country's pandemic measures since before Christmas.
Mexico has received the first shipment of Russia's Sputnik V COVID-19 vaccine. Some 200,000 doses arrived last night.
Japan's Emperor Naruhito expressed concern about the impact the pandemic has had on people in remarks for his 61st birthday.
Comment
Ugly truths behind the Covid situation cannot be made to stick. The elite and public don't want to know. So the destructive lockdown continues. One is talking to a brick wall because BAME must be protected in spite of their awkwardness over vaccination and lifestyle, and the vain old baby boomers have to be pampered.
Firstly Europe and the U.S cannot sustain absorption of massive over population overspill from the old Third World , with all of its demands on health , while rich get richer and the poor pay for this burden. Covid 19 is being exaaggerated to hide reality and cover for the global re set.
Secondly , Britain records Covid infections and deaths on the basis of unreliable tests – it is so absurd that no one has died of flu this last year , for example. Possible death with Covid 28 days after a dubious test , is not death from Covid. Same goes for those who are obese- why is there sympathy for obsity which mainly affects women and not alcoholism which mainly affects men ? Society is inherently about favoured groups , scapegoats , ideologies including religion and conspiracies.
Thirdly , a virus cannot be beaten and always evolves rapidly. The only viable solution is to let it move naturally , infecting people to establish herd immunity. Vulnerable groups could then choose to self isolate. But as we see with all of those migrants who crossed Europe because Britain is softer with them, BAME tend not to accept isolation and call the virus racist because it hits them harder. This is a serious cultural class.
It is a fact that one hospital in the North East has its IC unit fully occupied by patients from multi ethnic Birmingham. Muslims have strong objections to vaccine because they fear it may not be Halal and that it will affect their fertility. So pressure groups , including teachers , do not want lockdown eased and the nightmare goes on. R.J Cook
Canada belongs to the great British School of doctoring figures rather than face up to real health and social issues. February 21st 2021
So far, COVID-19 has claimed more than 17 000 lives in Canada. The COVID-19-related death rate among older people in long-term care facilities in Ontario, Canada's most populous province, has prompted the biggest union representing long-term care workers to call for the Canadian army to intervene. The army was called into care homes last spring after COVID-19 outbreaks in Quebec killed 3890 residents and caused large numbers of staff illnesses and absences. Soldiers had to deliver basic services to the residents, while military medics delivered medical care. So far, COVID-19 is responsible for 2877 deaths in Ontario's long-term care facilities.
When Canada's national health data agency reported in June, 2020, that Canada had the worst record among wealthy nations for COVID-19-related deaths in long-term care facilities for older people, many observers referred to it as a "national disgrace". At that time, as the first wave of COVID-19 in Canada began to subside, its 2039 homes for older people accounted for about 80% of all COVID-19-related deaths. 6 months later, as the second wave of COVID-19 sweeps the country, little has changed, and Canada's long-term facilities remain dangerously prone to the disease.
Comment Canada has a large and growing Somalian population. Toronto is suffering an explosion of gang and violent crime. The elite and related political classes led by 'he for she' Trudeau, are well protected from the consequences of their 'liberalism.'
The following extract makes interesting reading :
"Cashberta:" Migration Experiences of Somali-Canadian Second Generation Youth in Canada Sagal Jibril (207210008) July 29, 2011 A Major Paper submitted to the Faculty of Environmental Studies in partial fulfillment of the requirements for the degree of Master in Environmental Studies, York University Ontario
Sagal Jibril (207210008) July 29, 2011
My paper examines the circumstances that have pushed Somali-Canadian male youth from Toronto to Alberta; a region with a growing and booming economy. Once in Alberta, Somali youth are caught in situations where many are unable to work in their professional fields, or are unemployed and underemployed due to lack of skills and education. Without employment, some of these Somali youths have ended up in criminal activities—ultimately leading to their death. This paper is grounded in the migration, settlement and integration of the Somali diaspora of Canada throughout the 1990s to the present, with an emphasis on the difficult integration and settlement experience of Somali-Canadian youth. It seeks to better understand the experiences of Somali families, specifically Somali families from the Greater Toronto Area, and the barriers they have faced in their process of relocation from Somalia to Canada. Further, this paper emphasizes the experiences of Somali-Canadian second generation male youth who are impacted by the obstacles their immigrant families face upon arrival in Toronto, and how that has hindered their integration into mainstream Canada such as in the labour market, the education system and their experiences with discrimination and other systemic barriers. These families face literacy problems and therefore cannot provide necessary educational support to their children at home. They face employment barriers and housing conditions in areas that are sometimes prone to violence, and consequently do not possess the requisite political skills to assist their children in navigating the various institutions that they must interact with such as the schools, security, policing and judicial systems. All of these challenges have affected Somali youth leading to their own difficult experiences in Canada. I anticipate that this paper will add onto the paucity of research on second generation immigrant youth, specifically the experiences of Somali-Canadian males in Toronto, and the struggles they face every day, such as acute discrimination due to their race, skin color and religion, and their origins from an immigrant household usually situated in low income neighbourhoods in the Greater Toronto Area.
R.J Cook
February 18th 2021
US life expectancy drops a year in pandemic, most since WWII; How will we know we've reached 'herd immunity?'
Life expectancy in the United States has dropped a staggering one year during the first half of 2020 as the pandemic caused its first surge of deaths, health officials say.
Minorities suffered the biggest impact, with Black Americans losing nearly three years and Hispanics nearly two years, according to preliminary estimates from the Centers for Disease Control and Prevention, Marilynn Marchione reports.
"This is a huge decline," the CDC said. "You have to go back to World War II, the 1940s, to find a decline like this."
Other health experts say it shows the profound impact of COVID-19, not just on deaths directly due to infection but also from heart disease, cancer and other conditions.
VIDEO: Huge drop in U.S. life expectancy in pandemic.
EXPLAINER: How will we know we've reached herd immunity? Health officials around the world are racing to vaccinate people — but what qualifies as "enough" is still an open question. The goal is to get to "herd immunity," when enough people are protected from a virus, either from vaccination or a past infection. That makes it hard for the virus to jump from person to person. Many experts say at least 70% of a population needs to be protected. Candice Choi and Aniruddha Ghosal report.
More from Around the World:
South African President Cyril Ramaphosa was among the first in his country to receive a vaccination, effectively joining an observational study as the Johnson & Johnson vaccine is not yet authorized for general use anywhere in the world.
The European Union, under heavy pressure to ramp up vaccination efforts, approved contracts for 300 million additional doses of Moderna's vaccine and 200 million more from Pfizer. The EU is also funding more research to successfully hunt down variants and counter them.
U.N. Secretary-General Antonio Guterres sharply criticized the "wildly uneven and unfair" distribution of vaccines, saying 10 countries have administered 75% of vaccinations.
Pope Francis presided over a pandemic Ash Wednesday service, with reduced participation of the faithful and a revised rite to reduce the chances of infection as the virus keeps spreading through Italy.
Dutch lawmakers are set to debate hastily drawn up legislation underpinning the country's coronavirus curfew after a judge ordered it scrapped earlier this week.
How do we know the COVID-19 vaccines are safe? The AP is answering Viral Questions in this series.
China Briefing February 11th 2021
By James Palmer
Welcome to Foreign Policy's China Brief.
The highlights this week: What to make of the WHO investigation into the origins of the coronavirus, the Biden administration announces a comprehensive review of U.S. strategy toward China, and how the pandemic may have affected China's birth rate.
Have feedback? Hit reply to let me know your thoughts.
---
Who Pulls the Strings?
A weekslong World Health Organization (WHO) investigation into the origins of the coronavirus came to a spluttering end this week. The investigators simultaneously dismissed suspicions that the virus could have originated in a laboratory leak and endorsed Beijing-backed conspiracy theories about possible origins beyond China.
The investigation was a propaganda victory for the Chinese authorities and a bizarre misstep by WHO, which botched early information about the pandemic while pandering to Beijing and has faced frequent criticism for being too close to China. The Biden administration was quick to express skepticism, with good cause.
All indications are that the coronavirus originated through zoonotic transfer, most likely connected to China's largely unregulated trade in wild animals. But numerous theories have hypothesized that the virus emerged from one of Wuhan's laboratories, one of which was conducting research on bats. The only evidence for this is sketchily circumstantial—despite leaks from the Trump administration pushing the story.
But WHO's investigation of the issue was hardly thorough. Peter Ben Embarek, the WHO team leader, said he had questioned lab personnel extensively: "They're the best ones to dismiss the claims and provide answers to all the questions." But this isn't true, especially in an autocratic system that often scapegoats people for accidents: Lab personnel would have every reason to cover up the story.
The WHO investigators also gave cautious approval to the idea pushed by Beijing that the virus could have been brought to China by cold goods carried from Europe or the United States. Every study shows that the coronavirus transmits by airborne droplets. "There's no evidence for this epidemiologically preposterous theory that it was exported to Wuhan," the global health expert Annie Sparrow told Foreign Policy. "China didn't import it. It incubated it."
The investigation's progress seems to have divided the team itself. WHO team member Peter Daszak launched an attack on the Biden administration after it questioned the results of the investigation. Daszak's EcoHealth Alliance project was a funder of the Wuhan labs, and he has consistently defended WHO's position on China. But another team member, Thea Kolsen Fischer, complained of a refusal to provide complete data, and still other team members spoke privately of uncooperative officials and intense political pressure.
"The Chinese government is just trying to its divert attention away from Wuhan, where the outbreak began and where they discovered the new coronavirus last December. Beijing has concocted this fomite-spread-by-frozen-food theory to avoid being held accountable for their own deadly cover-up and causing yet another pandemic," Sparrow said. "And now we're going to see this mission embark on a global wild-goose chase with Beijing in remote control."
Feb 8, 2021
AP MORNING WIRE
Good morning. In today's AP Morning Wire: February 8th 2021
Trump's 2nd impeachment trial to open with sense of urgency, speed.
Unwilling to wait, poorer countries actively seek their own vaccines.
165 missing, 18 killed, after glacier breaks in India's Himalayas.
Analysis: A race war in America evident long before the Capitol siege.

TAMER FAKAHANY
DEPUTY DIRECTOR – GLOBAL NEWS COORDINATION, LONDON
The Rundown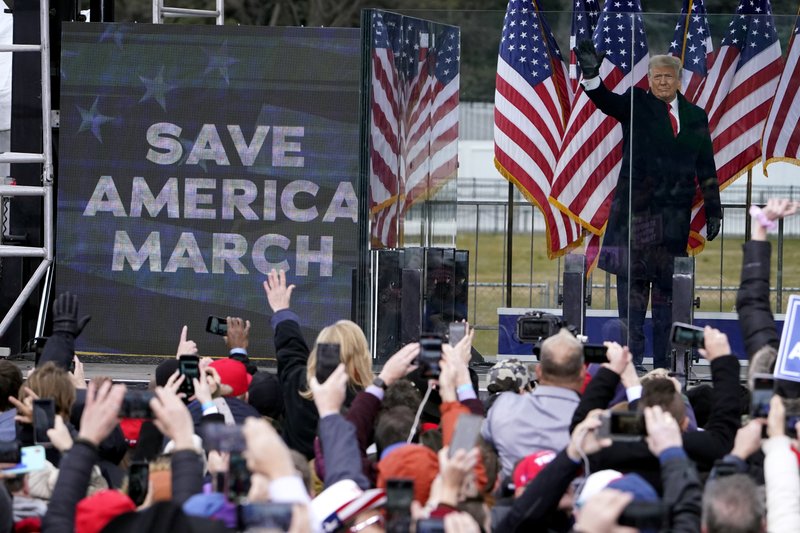 AP PHOTO/JACQUELYN MARTIN
Trump's second impeachment trial to open with sense of urgency, speed; Trial confronts painful memories of Capitol siege
No American president has been impeached twice. Nor has any in 245 years faced two impeachment trials, the second one while no longer in office.
Donald Trump's historic second impeachment trial is opening on Tuesday with a sense of urgency, Lisa Mascaro and Hope Yen report.
Democrats want to hold the former president accountable for the violent U.S. Capitol insurrection. And Republicans want it over as fast as possible.
It comes just over a month since the deadly Jan. 6 riot. Senate leaders are still working out the details, but it appears there will be few witnesses, and Trump has declined a request to testify.
Holed up at his Mar-a-Lago club in Florida, the former president has had his social media bullhorn stripped from him by Twitter, without public comments since leaving the White House.
House managers prosecuting the case are expected to rely on the trove of videos from the siege, along with Trump's incendiary rhetoric refusing to concede the election, to make their case. His new defense team has said it plans to counter with its own cache of videos of Democratic politicians making fiery speeches.
The House impeached Trump Jan. 13 on the charge of inciting insurrection.
EXPLAINER: How Trump's second impeachment trial will work.
5 key questions for Trump's Senate impeachment trial.
VIDEO: Trump impeachment trial confronts Capitol siege.
Analysis: The outcome of Trump's second impeachment trial may seem preordained, but the trial itself matters. It is ultimately a test of whether a president, who holds an office that many of the nation's founders feared could become too powerful in the wrong hands, is above the law. Senators will be forced to sit still, listen to evidence and wrestle with elemental questions about American democracy. The American people will also be sitting in their own form of judgment as they watch. The verdict and the process itself will be scrutinized for generations, Political Editor Steven Sloan writes.
Capitol Breach-What We Know: On Jan. 6, the U.S. Capitol was besieged by supporters of Trump who were angered by the then-president's election loss. While lawmakers inside the building were voting to affirm Joe Biden's win, Trump loyalists were marching to Capitol Hill and breaking in. Five people died in the violent melee, including a police officer. The toll of the siege is still being tallied, from the growing number of people charged with crimes to the continued presence of National Guard troops in the nation's capital, Kevin Freking, Nomaan Merchant and Lolita C. Baldor report.
Insurrection Remembrances: The trial is more than an effort to convict the former president over inciting an insurrection. It's a chance for a public accounting and remembrance of the worst attack on the U.S. Capitol in 200 years. In the month since the siege, Trump defenders say it's time to move on. But many lawmakers have started recounting their personal experiences from that day. For many who were witnesses, onlookers and survivors, it's far from over. Lisa Mascaro has that story.
Trump Prosecutor: Stacey Plaskett couldn't cast a vote last month when the House impeached Trump, but she can help prosecute him. The non-voting delegate from the Virgin Islands is among the impeachment managers selected by House Speaker Nancy Pelosi to argue the case. It's an extraordinary moment that places Plaskett in the center of just the fourth U.S. impeachment trial in history. But there will also be a familiar dynamic when Plaskett walks into the Senate chamber that she's experienced before. She'll be one of the only Black women in the room, Padmananda Rama and Mary Clare Jalonick report.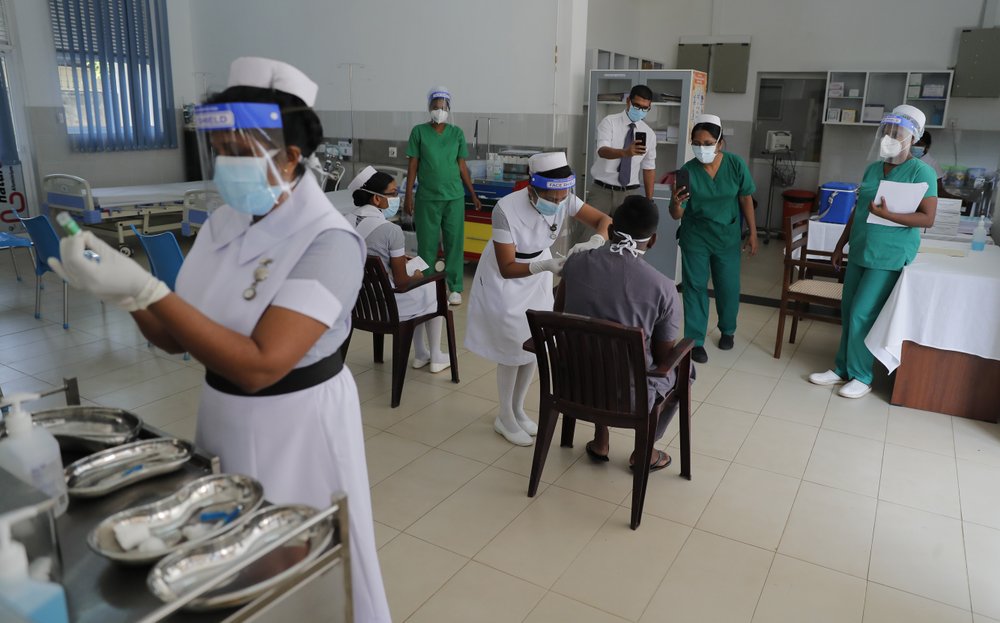 Welcome to Foreign Policy's China Brief.
The highlights this week: A new report includes accounts from witnesses of systemic rape in Xinjiang's camps, Beijing and Washington spar over climate cooperation, and how Chinese hackers may have exploited last year's SolarWinds cyberattack.
Have feedback? Hit reply to let me know your thoughts.
---
China Bashing from FP Magazine.
In Xinjiang, Sexual Violence Is Systemic Posted February 8th 2021
This week, the BBC released a series of accounts from witnesses of systematic rape inside the carceral system in Xinjiang, where more than 1 million Uighurs and other Muslim ethnic minorities are imprisoned. Refugees have previously recounted sexual abuse in the camps, but the BBC report gathers several key witnesses, including some women who were raped.
These accounts track with the scale of the camps, recorded both through satellite data and on Chinese government websites—and with the government's own sexualized rhetoric.
But it remains unclear whether officials use rape as a deliberate weapon of genocide or whether it reflects systemic abuse and contempt for minority rights. For example, one witness describes Han Chinese men paying for access to imprisoned women in Xinjiang. That could be a sanctioned policy—or it could be the kind of ground-level corruption and abuse that pervades authoritarian systems.
The Chinese government has a long history of sexualizing Uighur women in official texts. In a discourse familiar from Orientalism elsewhere, Uighur men are portrayed as primitive, while the women are portrayed as hidden beauties that Han Chinese men can save. The government actually prohibited intermarriage in Xinjiang until 1979, leading to a pervasive myth that marrying Uighur women was still forbidden.
Now authorities promote intermarriage, including coerced unions. The Big Brother program, in which over 1 million Han Chinese have been assigned to Uighur homes to monitor everyday life, is also reportedly an opportunity for sexual assault and abuse, especially in households where the Uighur men have been imprisoned. Forcible sterilization has also been widely deployed to reduce the Uighur birth rate.
The new revelations will likely stir further demands for action in the West. British politicians have already demanded further inquiry into China's "genocidal" actions in Xinjiang—a step that could, under new laws, scupper any potential trade agreement between the countries.
Comment The West wants regime change and never challenges what is wrong with Islam which is medieval in out look and does not want reform. Western media is not idealistic and cannot be trusted to question anything not targeted by the plutocrats in charge of the agenda. R.J Cook
Just Look Posted February 4th 2021
Just look at what's happening in Western Australia this week, one person working at a quarantine centre tested positive for covid, so the entire south west of the state, with an area much larger than Great Britain, with a population of 2,000,000 are forced into hard lockdown, (house arrest) with only four reasons to leave the house, shopping for essentials (only large chain stores allowed to open), medical appointments, 1 hour of exercise in your immediate area only, providing care for a disabled/elderly relative. Masks are mandatory every where outside your front door, with very few exemptions, (under 12 yo, or swimming, the government want the privilege of water boarding us), non compliance is $1,000 fine. Temperatures are around 37C that's around 100F.
So you can imagine how comfy that is walking around the streets with a mask on. All pubs, cafe's and small shops closed, everyone is working from home that can. All kids playgrounds have been sealed off and closed, at this time of year with the intense sunlight every day the temperature of most play equipment can leave you with first degree burns, I doubt there are many viruses that would last more than a few seconds in that environment. In four days and tens of thousands of tests not a single extra case. On top of that, mandatory registration (track and trace) was introduced this week, applying to all shops, venues, churches, brothels, etc, actually everywhere outside of a private house. With a $50,000 /12 months jail for non compliance.
This tyrannical masterpiece doesn't even mention covid in its name it's just the SafeWA app,so it's obviously intended to be a permanent way of life now for West Aussies, and don't think the excuse of not having a smart phone will get you out of it, there is a pen and log book at every entrance. I wonder how hard it is to get residency in Tanzania. SF Global Correspondent for RCONB/Planet Eaters
Pelosi Typical Democ (rat ) Posted February 3rd 2021
Only A Pawn In Their Game Posted February 3rd 2021
'War is peace, liberty is slavery and BLM is nominated for the Nobel Peace Prize': Panahi Posted February 1st 2021
31/01/2021|4min
Sky News host Rita Panahi says the world has reached the point where "war is peace, freedom is slavery and BLM is nominated for the Nobel Peace Prize". Ms Panahi pointed out the nomination comes after the BLM riots of 2020 where more than two dozen people were killed and hundreds more assaulted while homes and business were looted and burnt to the ground.
The overall cost of the damage caused is estimated to be around $2 billion. She described the BLM movement as "a deeply divisive and destructive neo-Marxist group that is virulently anti-police, anti-capitalist and anti-nuclear family". "I thought after the Capitol Hill riot that the left would finally come to accept that violence and rioting are not things to be celebrated or whitewashed but alas, they have learnt nothing". "While they categorise one riot as an insurrection or a coup they celebrate hundreds of violent riots by leftist agitators as righteous acts of social justice". "The Nobel Peace Prize is meant to acknowledge an individual or group that has done the best work for fraternity between nations and people and the promotion of peace. Does this look peaceful to you?" "Welcome to 1984 where war is peace, freedom is slavery and ignorance is strength. How do you even parody something that is so insanely grotesque."
Covid Related Deaths Rise In Step With Vaccination In U.K Posted January 29th 2021
Russia's Dictatorship is in agony, according to the U.S 'Leftie Neo Con ' Foreign Police Magazine. Here is a sample . January 28th 2021
Over the weekend, Russia erupted in some of the largest and most widespread protests in decades, after Alexey Navalny—the anti-corruption crusader-turned-opposition politician who was poisoned by Russian President Vladimir Putin's agents last summer, and then spirited out of the country to recover in Germany—returned home for the first time and was immediately arrested. To get a sense of what the demonstrations mean, where they are headed, and whether this time will be different, Foreign Policy's editor at large Jonathan Tepperman spoke to Garry Kasparov, the former Russian chess champion and democracy activist. Their conversation has been edited for length and clarity.
Comment This is the U.S fake liberal elite pot calling the Putin kettle black. dodgy dealer Navalny is their Guido. He fits the sort of dirty dealing that has fouled the U.S and Britain . There is no evidence Putin's men poisoned the Skripals or Navalny. The hypocrisy of calling 4000 Russian orchestrated
Navalny protesters pro democrats and those protesting against fake democrat plutocrats beggars belief. Those who protested on Capitol Hill had no obvious link with Trump , but Trump symbolises their marginalisation and old fashioned masculinity in a feminised pro BLM and women's rights.
He is labelled a racist. His four year term was dogged with media hysteria over an alleged Russian connection. It is crude and obvious. The Anglo U.S Elite want another Russian Revolution, luring the young men and women to believe the future lies with the western planet eaters.
Get control of Russia , to hell with their deplorables, and China must fall in line. The only diverssity that is real is between the hideously and selfish rich , and low income hopeless deplorables. R.J Cook
Covid Moving Goalposts – from the BMJ . January 26th 2021
The number of daily coronavirus deaths in the UK is likely to come down "relatively slowly", England's chief medical officer has warned.
Prof Chris Whitty said the UK was going to see "a lot more deaths" over the next few weeks before the effects of the vaccination programme were felt. c
Current restrictions were "just about holding" in lowering infection rates, he told a Downing Street briefing.
It comes as the UK surpassed 100,000 coronavirus deaths on Tuesday.
A further 1,631 deaths within 28 days of a positive test were recorded in the daily figures.
And 20,089 coronavirus cases were reported on Tuesday, continuing a downward trend in the number of UK cases seen in recent days.
'Incredibly high number'
Prof Whitty told a Downing Street news conference the rolling seven-day average for deaths was 1,242 – "an incredibly high number" – and unlikely to come down quickly.
"I think we have to be realistic that the rate of mortality, the number of people dying a day, will come down relatively slowly over the next two weeks – and will probably be flat for a while now."
Prof Whitty said the number of people testing positive for coronavirus was "still at a very high number, but it has been coming down".
But he cautioned against relaxing restrictions "too early", as Office for National Statistics data showed a "rather slower" decrease.
The number of people in hospital with Covid-19 in the UK had "flattened off", he said, but was still an "incredibly high number" and "substantially above the peak in April".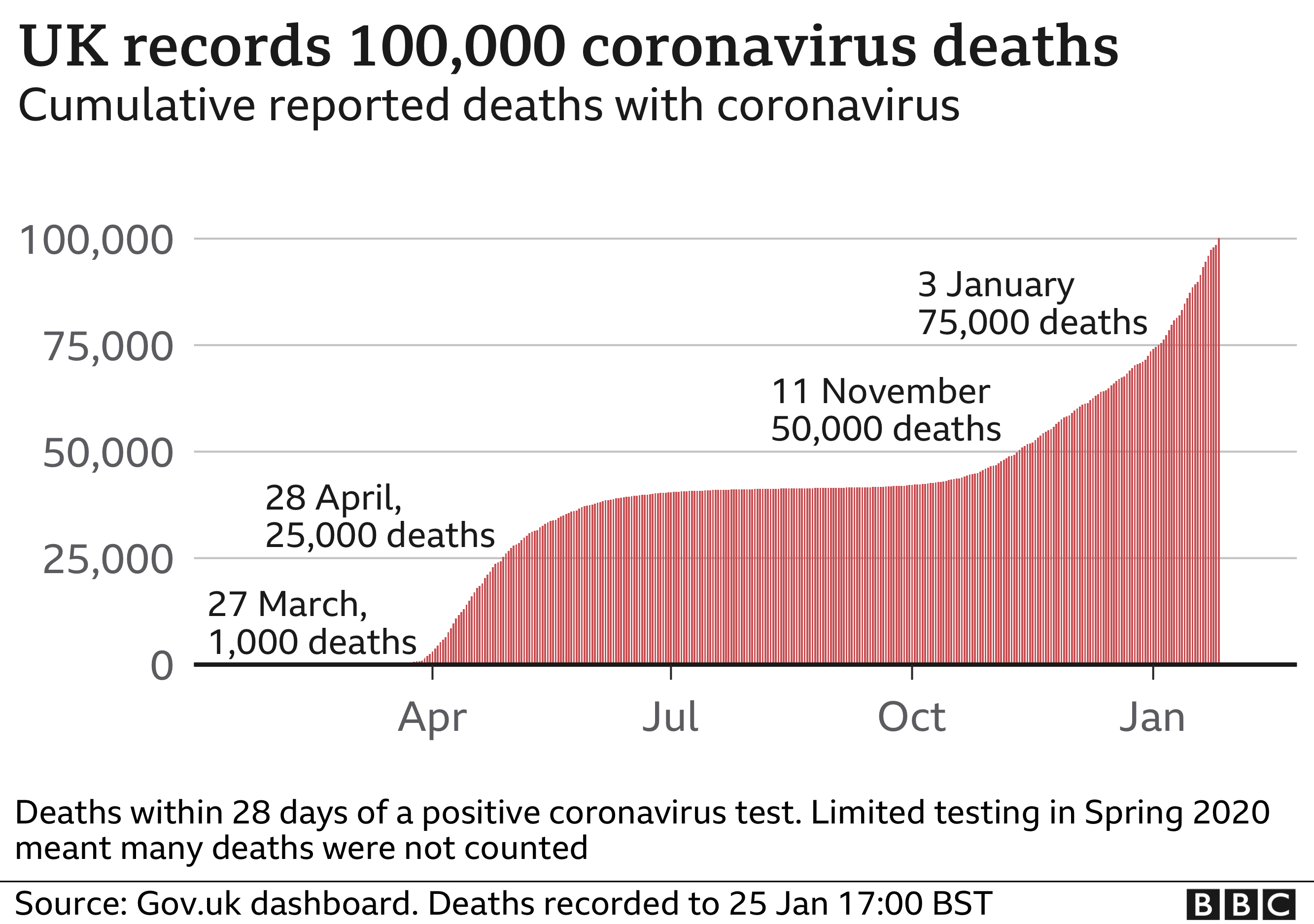 Prof Whitty said the new, more transmissible variant discovered in the south east of England at the end of last year had altered the UK's situation "very substantially" and had made it "much harder" to bring infection levels down.
"We were worried two weeks ago that the measures we have at the moment were not enough to hold this new variant," he told the news conference.
"I think what the data I showed you at the beginning of the slide sessions shows is that the rates are just about holding with the new variant, with what everybody's doing.
"It's going to be much harder because of this new variant and I think we have to be realistic about that."
Sir Simon Stevens, chief executive of NHS England, said that more than a quarter of a million severely ill coronavirus patients have been looked after in hospital since the pandemic started last year.
"This is not a year that anybody is going to want to remember nor is it a year that across the health service any of us will ever forget," he said.
Rapid Response:
The goal posts have moved (from the horse's mouth)
Dear Editor
"'If the vaccine also allows you to prevent initial infection, that would be great…what I would settle for, and all of my colleagues would settle for, is the primary endpoint to prevent clinically recognizable disease.' "
Dr Anthony Fauci quoted by Megan Sheets, Daily Mail [1].
So, what might happen if people have suppressed symptoms but are contagious? And what will doctors tell their patients if vaccines are rolled out as early as next month [2,3].
[1] Megan Sheets, ' Dr Fauci warns that early COVID-19 vaccines will only prevent symptoms from arising – not block infection', Daily Mail 27 October 2020, https://www.dailymail.co.uk/news/article-8884031/Dr-Fauci-warns-early-CO…
[2] Zoe Tidman, ' Coronavirus: Doctors to be 'put on standby for potential December vaccine rollout'', The Independent 4 November 2020, https://www.independent.co.uk/news/health/coronavirus-vaccine-uk-when-ro…
[3'] John Stone, ' Re: New guidance from the GMC: what constitutes meaningful dialogue? Vaccines are a matter of individual autonomy too', 20 October 2920, https://www.bmj.com/content/371/bmj.m3933/rr-0
Competing interests: AgeofAutism.com, an on-line daily journal, concerns itself with the potential environmental sources for the proliferation of autism, neurological impairment, immune dysfunction and chronic disease. I receive no payment as UK Editor04 November 2020 John Stone UK Editor AgeofAutism.com London N22 @JohnStone32
More New Covid Strains More Lockdown January 24th 2021
South Africa coronavirus variant: 77 cases found in UK
Published46 minutes agoRelated Topics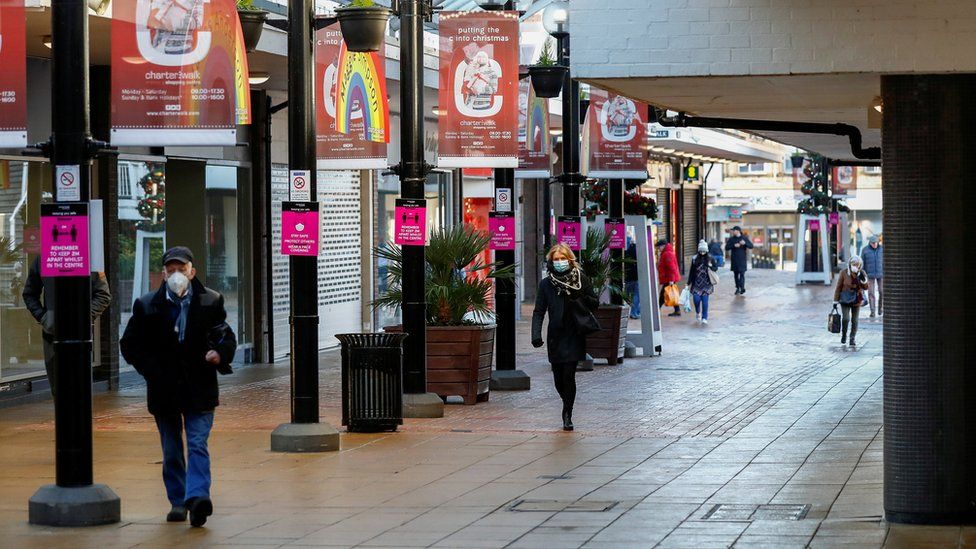 The UK has identified 77 cases of the coronavirus variant first detected in South Africa, the health secretary has said.
Cases are linked to travellers arriving in the UK, rather than community transmission, Matt Hancock added.
He told the BBC's Andrew Marr cases were under "very close" observation and enhanced contact tracing was under way.
Ministers are due to meet on Monday to consider imposing tougher restrictions on people arriving from abroad.
Scientists have said there is a chance the South African variant may harm the effectiveness of current vaccines.
Meanwhile, Mr Hancock said that "three quarters of all the 80-year-olds in the country and a similar number of care homes" had been vaccinated.
Both the Pfizer-BioNTech and Oxford-AstraZeneca vaccines require two doses, and figures so far reflect those given the first dose.
Mr Hancock said that it was "far too early to say" what proportion of the population needed to be vaccinated before lockdown restrictions could be eased.
Police have issued more than £15,000 in fines after 300 people attended an illegal rave in a railway arch.
Officers raided an unlicensed music event in Nursery Road, Hackney, at 01.30 GMT on Sunday.
Many people fled the scene, while organisers padlocked the doors from the inside to stop officers getting in, police said.
No arrest were reported, but 78 fines of up to £200 for breaching lockdown restrictions were issued.
A dog unit and helicopter were deployed to the scene, with police saying they made numerous attempts to contact the organisers.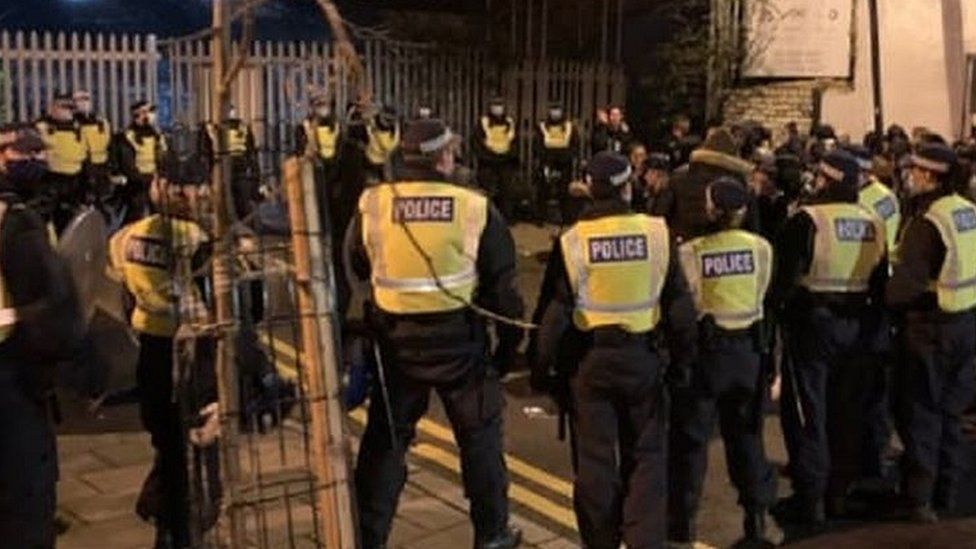 Ch Supt Roy Smith said: "This was a serious and blatant breach of the public health regulations and the law.
"Officers were forced, yet again, to put their own health at risk to deal with a large group of incredibly selfish people who were tightly packed together in a confined space – providing an ideal opportunity for this deadly virus to spread.
"Not just organisers, but all those present at such illegal parties can expect to be issued a fine."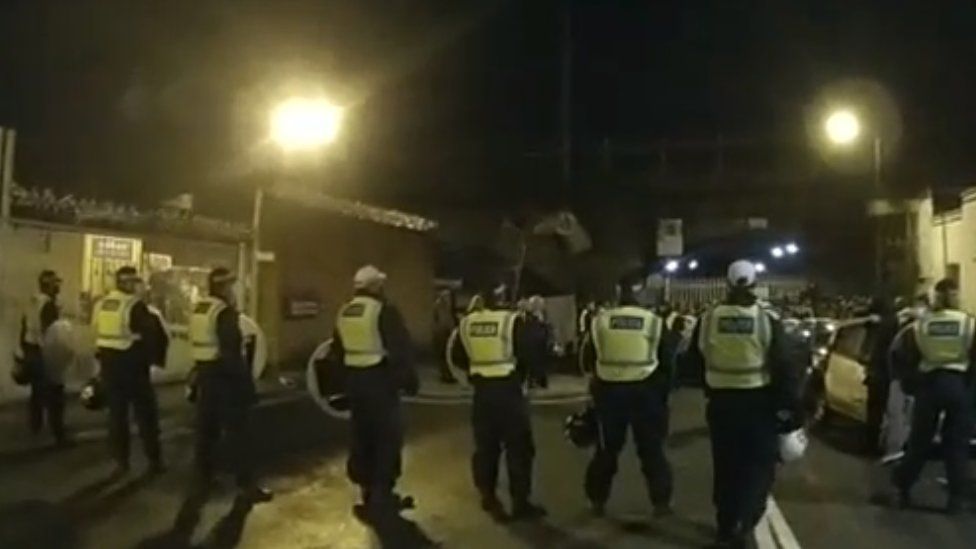 Californian dies hours after getting COVID-19 vaccine, prompting probe Posted January 24th 2021
January 23, 2021 | 10:13pm | Updated Enlarge Image
The person who tested positive for coronavirus in December had been vaccinated just hours before their Jan. 21, 2021 death. Getty Images/iStockphoto
More On:
A California resident who was vaccinated against COVID-19 died just hours later — and authorities are trying to find out why.
The Placer County Sheriff's Office announced the death and the investigation Saturday in a Facebook post, but gave few details.
The county, which is in the greater Sacramento area, was "recently notified" of the person's death, the police said.
The person had tested positive for coronavirus in December and had been vaccinated just hours before their Jan. 21 death.
There was no indication which vaccine the person had been given.
"There are multiple local, state, and federal agencies actively investigating this case; any reports surrounding the cause of death are premature, pending the outcome of the investigation. Our thoughts are with the family of the deceased," the sheriff's office wrote.
An autopsy would be done Monday, the sheriff's office told CBS' Sacramento affiliate.
United Kingdom Land of the unfree – the new serfdom. January 22nd 2021
The US Coup: A tale in two pictures The pictures are worth a thousand words each. We should pay attention. Posted January 21st 2021
Today we just have a brief thought experiment for you to consider.
For starters, forget what you think about Donald Trump.
Instead, imagine an election in Russia – for example – where a graph of the winner's votes looked like this:
…and then there was an inauguration ceremony, where the streets of Moscow looked like this:
What would you think was going on in Russia?
Anything good?
Madrid explosion: Three dead and 10 injured as huge blast destroys Catholic building. January 20th 2021
Three people have been confirmed dead and a fourth is missing after a massive blast tore through a religious building in Madrid's Toledo Street with many more injured and others feared trapped in the rubble,
A man who went into a building belonging to the Catholic Church to fix the boiler is now believed to be among the dead. While pedestrians who were walking in the street when the explosion took place are, as of 5.30pm, believed to be among the dead.
Terrorism has been ruled out.
Greatest Hono(u)r ! R.J Cook January 20th 2021
The ignorant global wide comments on regime change in the U.S.A informs me just how brainwashed, arrogant and stupid are the whites of all ages. The blacks are becoming united by a sense of grievance emanating from the global elite, casting themselves as being under the banner of the left. Their meaning of the left label is along way from its origins in the French Revolution.
It is sold in schools and colleges by self righteous virtue signalling teachers and lecturers – of which I have been both, as fighting nasty racists and sexists, thus empowering all the downtrodden women and BAME – a huge justification and cover for ludicrous lockdwon which does so much to suppress the masses and destroy small business.
I saw the rise of this fake leftism. It is the root of the absurd multi cultural society, which has given us the fragmented U.S.A and Europe today , so dependent on police and military oppression. The issue of class is never mentioned. The same is true of Europe, the only difference being that Europe was historically run by tyrants and in bred Royals who gave us World War One and Two.
The British led the flow across the Atlantic to escape from Europe to create a New World using genocide more than slavery to do so. Sadly too many never left home mentally, passing on their hypocrisy, amplified and juiced in by fake religion.
Ironically these fake Christians don't realise that the Mulims being imported into the quest, actually believe their is an all powerful God, rather than brute violent animal instinct and all powerful nature. Too many in the elite are having too much pleasure .
So Washington is now , like Beirut and Baghdad. Troops on the streets of heavily fortified Washington is testament to the New World Order Police State, faking democracy for the sake of that top 5 % who call the tune. The power and privilege of the top 1 % is even more mind blowing, so we have a State command for us to take the vaccine, with the proviso that lockdown will never end.
President Trump left the White House on Wednesday morning for the final time as president, describing the last four years as "the honor of a lifetime."
Trump walked out of the White House to Marine One shortly after 8:10 am for the short ride to Joint Base Andrews where he will make farewell remarks before boarding Air Force One for the flight to his Florida resort, Mar-a-Lago.
The commander in chief, sporting his signature red tie, walked out of the executive residence holding hands with first lady Melania Trump who was wearing a black dress, large sunglasses, and heels.
Arriving on Marine One at Joint Base Andrews a few minutes later, he told an adoring crowd gathered to see him off and the nation, "I will always fight for you. I will be watching, I will be listening.
"And I will tell you that the future of this country has never been better. I wish the new administration, great luck and great success."
Trump also vowed, "we will be back in some form" and ran through his accomplishments in office, including creating the Space Force branch of the military and confirming three Supreme Court judges.
Democracy ? R.J Cook January 20th 2021
As the incoming elite front people arm themselves for a posturing Presdidential inaugeration of Capitol Hill, defended by 125,000 troops, which says it all about this icon of so called democracy, Trump says a final word before heading down to Florida.
US President Donald Trump struck an optimistic and defiant note in his farewell address, vowing that his movement is here to stay and praising his administration's achievements in restoring America while not starting any new wars.
"We did what we came here to do — and so much more," Trump said in the speech on Tuesday afternoon. He argued that his administration had restored American strength at home and leadership abroad, "built the greatest economy in the history of the world," and achieved a "series of historic peace deals in the Middle East."
I am especially proud to be the first president in decades who has started no new wars.
Western Media & Elites Back Navalny Insurrection. This is O.K it is all for bringing western style democracy where 1 % profit from BAME friendly ludicrous lockdown, punishing the underclass who voted for Trump and all the worldwide other white elitists January 19th 2021
When Gorbachev brought Glasnost , the Anglo US elite were quick to undermine his power, bringing in Boris Yeltsin , effectively in a coup, along with cronies favourable to alleged sex pest Bill Clinton . So began the rape of the old U.S.S.R's hard won state assets and the creation o parasitic hedonistic oligarchs like Navalny.
The Anglo U.S billionaire dominated elite media thus produce articles like the one below. They want Russia in their club of fake democracies , playing their game by their rules. The sanctimonious fake Anglo U.S Christian fake democrats speak down to the world's masses with no intention of doing anything for poor countries other than importing them with all their miseries, potential to be used in a race war to put down whites, provide more cheap labour, mindless consumers and excuses for rolling lockdowns.
That's why the grumpy sour faced Ethioipian head of the WHO and one of the elite from mindlessly overpopulated Ethiopia insists that Covid and health is all about inequality and a problem to be paid for by the west's indigenous masses.
In that context, patronising and ridiculing Putin with support for on the street dissidence, is something to be encouraged in Russia and condemned in the U.S.A.
Appalling western education based on atomising the masses into gender and race, rather than class, guarantees this pseudo morality from the western ruling elite wins over. So Assange is evil and should be kept in jail, while Navalny elevated by the suspicious case of his poisoning, gets the rich boy Juan Guido treatment. R.J Cook
Putin HUMILIATED as Kremlin rebel Alexei Navalny calls for huge street protest
FIERCE Vladimir Putin critic Alexei Navalny urged his fellow Russians to hold a street protest after he was remanded in custody – as the UN and West called for his immediate release.
By Alex Shipman PUBLISHED: 00:23, Tue, Jan 19, 2021 | UPDATED: 08:14, Tue, Jan 19, 2021 67
Alexei Navalny calls on supporters to 'take to the streets'
The 44-year-old has been detained for 30 days following his return to Moscow – the first time since he was poisoned in 2020. He said in a video clip released on Twitter after the ruling: "Don't be afraid, take to the streets. Don't go out for me, go out for yourself and your future."
Trending
Mr Navalny, an anti-corruption campaigner, had been detained on arrival at Moscow's Sheremetyevo airport on Sunday.
He had spent the previous five months in Germany recovering from novichok poisoning.
Mr Navalny has blamed Mr Putin for the nerve agent attack last August which almost killed him. The Kremlin denies involvement and says it has seen no evidence he was poisoned.
The pre-trial detention was a decision made after an hour long hearing in a police station in Khimki, near Moscow, which Mr Navalny described as the "highest level of lawlessness".
Vladimir Putin pictured in 2019 (Image: Getty) Sign up for FREE now and never miss the top politics stories again
We will use your email address only for sending you newsletters. Please see our Privacy Notice for details of your data protection rights.
Russian opposition leader Alexei Navalny and his wife Yulia aboard the flight back to Moscow (Image: Getty)
The Kremlin did not respond to this but has previously indicated its belief that he should face justice for any potential crime.
He is accused of flouting the terms of a suspended prison sentence for embezzlement and will be remanded in custody until February 15.
A hearing on January 29 will determine whether his 3.5 year sentence should be replaced with a jail term.
Mr Navalny is leader of the Progress Party and founded the Anti-Corruption Federation. In 2018, he plotted a presidential election bid which was blocked by the Russian judiciary.
But he has millions of supporters and was nominated for the Nobel Peace Prize last year.
READ MORE: 'Ageing autocrat' Putin out to prove who's top dog with Navalny arrest
Alexei Navalny and his wife Yulia are seen at the passport control point at Moscow's Sheremetyevo (Image: Getty)
Related articles
Around 10,000 demonstrators plan to rally in Moscow with further protests scheduled to take place across the nation on Saturday.
Foreign Secretary Dominic Raab said: "It is appalling that Alexey Navalny, the victim of a despicable crime, has been detained by Russian authorities.
"He must be immediately released.
"Rather than persecuting Mr Navalny, Russia should explain how a chemical weapon came to be used on Russian soil."
The UN Human Rights office said in a Tweet: "We are deeply troubled by the arrest of Aleksei Navalny, and call for his immediate release and for his due process rights to be respected in line with the rule of law.
DON'T MISS:
Biden sends warning to Putin after Russia detains poisoning victim [INSIGHT]
Putin humiliated as Russia blamed for sinking of 'modern Titanic' [REVEAL]
World War 3: Russia and China could spark 'uncontrollable war' [SPOTLIGHT]
British fishermen forced to 'buy back' catch from OWN waters under Boris Johnson deal
BRITISH fishermen will be forced to "buy back" fish from UK waters, according to Richard Tice as the Brexit deal lets them claim only 23 percent of the quota.
By Claire Anderson PUBLISHED: 16:51, Tue, Jan 19, 2021 | UPDATED: 17:38, Tue, Jan 19, 2021 18
Brexit: UK fishermen have to 'buy back' their fish says Tice
Chairman of Reform UK, Richard Tice, hit out at Boris Johnson's Brexit deal which did not secure "full control" of fish in British waters. Speaking to Jonathan Saxty on Brexit Watch, Mr Tice said: "What he secured there is really not good at all and as is Boris' style, he really glossed over the truth about that. The reality is that they got back about 23 percent of the quota but we haven't taken back full control of the fish in our waters.
Statistics Deliberately Misleading January 19th 2021
Summary
One in 10 people in the UK had antibodies against the virus by December, national statistics show
Almost 96,000 people have died with the virus, death certificates indicate
Criminal justice watchdogs have "grave concerns" about court backlogs
Campaigners take the UK government to court over claims support scheme discriminated against self-employed mothers
Five times as many children are now at school – compared to figures from last year's lockdown
Unions call for tougher enforcement amid concerns bosses are breaking Covid safety rules
Stress, depression and anxiety among parents has increased with lockdown pressures, research suggests
Joe Biden's spokeswoman says the US will maintain travel bans on the UK, much of the EU and Brazil to mitigate spread of Covid-19
Two more Australian Open tennis players test positive
Comment No country and its elite does propaganda better than Britain. In the last 12 months, flu seems to have all but disappeared. It seems as if death would have never happened but for lockdown. Had there been no lockdown , then we would all have died. That's why we need more lockdown it seems. The police are out in large numbers to arrest miscreants, fine fellows they are , where would we be without them ? All dead from Covid 19 it seems.
So there is no need to question the statistics. It is all very simple. Nothing to do with BAME, the elderly and sickly. No need to wonder where this virus came from, spread worldwide, was so predicatble and is presented to us as the harbinger of universal death. No need to wonder why the elite are getting so much richer off this and are not being taxed for it.
As always, the poor must pay for the top 5 % who call the tune in our fake democracy. When the grizzled BAME head of the WHO complains about not getting a big enough share of the vaccine – which won't end lockdown it has been made clear – we are not supposed to question the role of elites, chosen Third World BAME dictators and religion in feeding over population, disease and exporting all this and poverty to the so called western democracies. When the masses protest, out come the moralising elite and their media / police lackeys with the racism brush to tar us with. They get to feel very nice, virtuous and safer in the process.
That's why when the tear jerking reports from the health care front line are forced into our faces ,they always pixel out the bedridden in intensive care. We mustn't make dangerous connections. We are supposed to believe it is all about suppressing the virus and our right to immortality.
As I write , liberals are up in arms because an outbreak of Covid 19 in the U.K Napier barracks asylum centre has put it into isolation. Inmates and supporters are demonstrating on Human Rights Grounds, with government insisting these migrants are not being treated as criminals . R.J Cook
Foreword or Four Letter Word – Not Sure Because Following Article Concerns An Anglo Euro U.S Stooge for the New World Greed Order. Protest Is O.K When It Fits Fake Western Elite Fake Democracy.
So This Post Yelstsin NAVALNY ( Who would be dead if Novochok had been used ) Oligarch Creeps In Under The Biden Covid Wire Just In Time To Be A Hero – Anti Corruption Pot Calls Kettle Black.
These Are The Moralisers Who Jailed Asange For Exposing Lies. What About Bidens & Ukraine ? As For The West , They Could Give Masterclasses On Corruption Without Trace, Especially Britain. R.J Cook January 18th 2021
Russian opposition leader Navalny arrested upon arrival in Moscow
The anti-corruption crusader returns 5 months after being poisoned. ( sic – R.J Cook )
By Eva Hartog January 17, 2021 8:14 pm
Share on Twitter Share on Linkedin Mail Print
MOSCOW — Russian opposition leader Alexei Navalny was detained upon arrival at a Moscow airport Sunday — five months after being poisoned by a military-grade nerve agent — prompting international condemnation.
Before he was escorted away by police in black face masks at passport control, Navalny told a small group of journalists he did not regret coming back to Russia.
"I am completely happy. This is the best day in five months," he said in a livestreamed video broadcast by several Russian media outlets. "I know that I am in the right, and that the criminal cases against me are fabricated."
Navalny flew in from Germany, where he had undergone treatment for exposure to a nerve agent of the Novichok group. European countries have blamed Russian authorities for the poisoning while Navalny himself has pointed the finger at the FSB secret service, which he says was acting on the direct orders of President Vladimir Putin. Moscow has denied the accusations and has refused to investigate the poisoning.
Instead, Russia's prison authority warned in the past week that Navalny would be detained the moment he set foot on Russian soil. It said he had breached the terms of a suspended prison sentence handed to him in 2014 in an embezzlement case widely denounced by his supporters as politically motivated. He now faces a similar fate as his brother Oleg Navalny, who already served three and a half years behind bars for the same case.
There were already three other legal cases launched against Alexei Navalny, and the threat of arrest was interpreted by his supporters as a further attempt to dissuade him from returning.
That he would not be welcomed back with open arms by Russian authorities, therefore, did not come as a surprise. But the timing and manner of the expected detainment had been the subject of feverish speculation ever since Navalny announced his impending return on Instagram just days ago.
The move prompted criticism from EU leaders, including the bloc's top diplomat, Josep Borrell, who called on Russian authorities to respect Navalny's rights and to set him free.
"Politicisation of the judiciary is unacceptable," Borrell tweeted.
A joint statement from the governments of Lithuania, Latvia and Estonia said the "EU should act swiftly and if he is not released, we need to consider imposition of restrictive measures in response to this blatant act."
European Council President Charles Michel and European Parliament President David Sassoli also called for his release.
"The arrest of Alexey #Navalny in Moscow is an offence to the international community, to Europe that helped save his life," Sassoli tweeted. "We ask the Russian authorities for his immediate release. We are ready to invite him to the @Europarl_EN."
The European People's Party, the largest group in the European Parliament, said the arrest "should not go unanswered," and called for a debate in plenary this coming week.
Jake Sullivan, U.S. President-elect Joe Biden's incoming White House national security adviser, similarly called for Navalny's release and added: "The Kremlin's attacks on Mr. Navalny are not just a violation of human rights, but an affront to the Russian people who want their voices heard."
Russian Foreign Ministry spokeswoman Maria Zakharova said in a statement in response that Sullivan and others were "rushing" to post comments.
"Have respect for international law, do not interfere with national law of sovereign countries, deal with your domestic problems," Zakharova said.
Last-minute detour
Navalny's plane was diverted away at the last moment from Vnukovo Airport, where it was originally scheduled to land, and where hundreds of his supporters had heeded his call to "Come meet me!" — braving temperatures of -20 degrees Celsius.
There was a heavy police presence at the airport and in total some 60 people were detained, according to the OVD police monitoring website.
Upon hearing the flight from carrier Pobeda — Russian for "Victory" — would no longer be landing at Vnukovo, many in the crowd turned to livestreams on their phones to follow what was happening.
Others rushed off to make the one-hour car journey to Sheremetyevo Airport on the other side of town, but faced more disappointment after roads leading there were sealed off.
Earlier this weekend, several Navalny supporters were similarly hampered in their efforts to greet the opposition politician. Some of those traveling from outside the capital were taken off planes or trains by officers. And in the city of Samara, a Navalny campaigner said her door was glued shut to prevent her from leaving.
Navalny's supporters point to these incidents, as well as the last-minute plane diversion, as evidence the Kremlin is fearful of Navalny's influence at a time of economic downturn and Putin's faltering popularity.
"The authorities are showing their pettiness, their fear," prominent filmmaker Vitaly Mansky told POLITICO at Vnukovo Airport. "But this day is a historic one regardless: A politician who survived a murder attempt returns to the country that tried to kill him. It shows he is stronger than this country and its rulers."
Russian authorities, however, were intent on showing they were unfazed by the return of the government's most prominent opposition politician.
The airport at which Navalny's plane had been set to land cited a problem with a snow plow for the diversion.
And asked to comment on Navalny's detention, Putin spokesman Dmitry Peskov said: "Excuse me, was he detained in Germany? I'm not up to speed."
Whether this is, as some analysts have suggested, a final crackdown on Navalny remains to be seen. He could be held in custody pending a court hearing on his suspended sentence on January 29.
But others argue anything is still possible and the authorities are playing it by ear. "For today, the problem has been solved, there was no big welcome with flowers. But tomorrow is a new day and something new will be thought up," political analyst Ekaterina Shulman told the VTimes media outlet.
Public reaction in Russia to the detention in the coming days and weeks will also be crucial to what Moscow decides to do next, according to political analyst Valery Solovei. "The most important indicator for the Kremlin regarding Navalny's fate will be determined by protest dynamics," Solovei said on the Ekho Moskvy radio station. "If there had been 10,000 people at the airport tonight, instead of mere hundreds, this would not have happened."
Echoing that sentiment, Navalny's wife, Yulia Navalnaya, thanked his supporters and urged them not to be discouraged.
"The most important thing Alexei said tonight is that he's not afraid," she said as she stepped into a car, leaving the airport where her husband had just been detained. "I'm not afraid either. And I call on you all not to be afraid."
Covid Fear & Panic January 15th 2021
What's been happening around the UK?
We are going to be closing the live page soon so here's a recap of today's coronavirus headlines:
UK Prime Minister Boris Johnson held a press conference where he announced all travel corridors will be closed from Monday for a month to protect the UK against new variants of Covid
People arriving in the UK must show a negative test and quarantine for 10 days or test negative again after five days
Deaths will continue to rise into next week because there are more people in hospital with Covid than ever, says Prof Whitty
The number of cases are "extremely high" but are "levelling off", he says
Meanwhile, a leading scientist says one of two coronavirus variants first detected in Brazil has been found in the UK – but not the variant that is causing concern
Hospitals in the Brazilian city of Manaus have reached breaking point while treating Covid-19 patients, amid reports of severe oxygen shortages and desperate staff
Globally, more than two million people have now died of Covid-19 since the pandemic began, according to Johns Hopkins University.
That's all from the live team but we will be back tomorrow.
These updates were brought to you by Jasmine Taylor-Coleman, Sarah Collerton, Vanessa Barford, Emma Harrison, George Wright, Doug Faulkner, Jennifer Meierhans, Victoria Bisset and Joshua Cheetham.Article share tools
A temporary mortuary that can hold up to 1,300 bodies has been opened in Ruislip, west London, as the capital faces a growing coronavirus death toll.
London recently exceeded 10,000 Covid-related deaths, a figure Mayor Sadiq Khan described as "heartbreaking".
The Breakspear Crematorium facility, which took a week to build and cost about £3m, is expected to receive bodies from Friday.
It has been called "a visual, sobering reminder" of the continuing cost of the pandemic.
Westminster City Council chief executive Stuart Love, who is leading the London-wide response, says: "We have built this really hoping it doesn't get used to its capacity.
"This just re-emphasises the message of staying at home and looking after your loved ones."
Comment BAME account for 14 % of U.S population and 34 % of the less than 1 % of deaths that are actually covid related deaths. Mainstream media traffics doctored figures and behaves as if death had previously been abolished. One person dies every 50 seconds in Britain.
The older, more unhealthy as in obese and heavy smoking, the more likely you will die during this outbreak , but Covid will not be the ultimate cause of your death.
The virus looks suspiciouly like having been bio engineered, but it – especially the new strain – is no big killer on its own. Our appalling conceited arrogant NHS managers have a great trick to cover their mistakes, carelessness and the filth that sustains MRSA and C difficile – the latter killed my 83 year old hardworking tax paying mother. Those deaths are now covid related and of financial benefit to the hospitals, R.J Cook
New York City 'will run out of vaccines next week,' says mayor
New York City Mayor Bill de Blasio has warned that the city may run out of coronavirus vaccines next week without a resupply.
"If we don't get a serious supply, we're going to have to freeze the appointment system," he told WNYC radio. "That would be insane, after all the progress we've made."
He's the latest official to express concern for vaccine supplies, in a state that was once at the epicentre of America's outbreak and continues to be one of the worst-affected parts of the US.
New York State receives about 300,000 doses a week, and a third of these go to New York City, according to officials. But Governor Andrew Cuomo said on Friday that the state would be receiving 50,000 fewer doses next week.
While New York City has historically been struggling to administer jabs at scale, the pace picked up this week due to the expansion of vaccination sites, and more people becoming eligible. Between Monday and Thursday, the city administered nearly 120,000 doses.
I will comment on this story and all the excuses made for women & Terfs in this fake equality era , later on. There needs to be an end to the female blank cheque and an end to the weaker sex excuses. There is no middle ground here.
The drivel about Caroline Flack said it all. There would have been none of that for a male, and there is no sympathy for Johnny Depp even though there is no evidence of crime on his part.
Women's excuses are nauseating. Men need protection from women and their illusions about them. It says it all that feminists want not liking women to be a crime.
R.J Cook January 15th 2021
'Womb raider' Lisa Montgomery is first woman executed in US since 1953
By Associated Press
January 13, 2021 | 2:00am | Updated
'Womb raider' Lisa Montgomery is first woman executed in US since 1953
More On:
TERRE HAUTE, Ind. — A Kansas woman was executed Tuesday for strangling an expectant mother in Missouri and cutting the baby from her womb, the first time in nearly seven decades that the US government has put to death a female inmate.
Lisa Montgomery, 52, was pronounced dead at 1:31 a.m. Wednesday after receiving a lethal injection at the federal prison complex in Terre Haute, Indiana. She was the 11th prisoner to receive a lethal injection there since July when President Trump, an ardent supporter of capital punishment, resumed federal executions following 17 years without one.
"The craven bloodlust of a failed administration was on full display tonight," Montgomery attorney Kelley Henry said in a statement. "Everyone who participated in the execution of Lisa Montgomery should feel shame."
"The government stopped at nothing in its zeal to kill this damaged and delusional woman," Henry said. "Lisa Montgomery's execution was far from justice."
It came after hours of legal wrangling before the Supreme Court cleared the way for the execution to move forward. Montgomery was the first of the final three federal inmates scheduled to die before next week's inauguration of President-elect Joe Biden, who is expected to discontinue federal executions.
But a federal judge for the District of Columbia halted the scheduled executions later this week of Corey Johnson and Dustin Higgs in a ruling Tuesday. Johnson, convicted of killing seven people related to his drug trafficking in Virginia, and Higgs, convicted of ordering the murders of three women in Maryland, both tested positive for COVID-19 last month.
Montgomery killed 23-year-old Bobbie Jo Stinnett in the northwest Missouri town of Skidmore in 2004. She used a rope to strangle Stinnett, who was eight months pregnant, and then cut the baby girl from the womb with a kitchen knife. Montgomery took the child with her and attempted to pass the girl off as her own.
An appeals court granted Montgomery a stay of execution Tuesday, shortly after another appeals court lifted an Indiana judge's ruling that found she was likely mentally ill and couldn't comprehend she would be put to death. But both appeals were lifted, allowing the execution of the only female on federal death row to go forward.
One of Montgomery's lawyers, Kelley Henry, told the Associated Press Tuesday morning that her client arrived at the Terre Haute facility late Monday from a Texas prison and that, because there are no facilities for female inmates, she was being kept in a cell in the execution chamber building itself.
"I don't believe she has any rational comprehension of what's going on at all," Henry said.
Montgomery has done needlepoint in prison, making gloves, hats and other knitted items as gifts for her lawyers and others, Henry said. She hasn't been able to continue that hobby or read since her glasses were taken away from her out of concern she could commit suicide.
"All of her coping mechanisms were taken away from her when they locked her down" in October when she was informed she had an execution date, Henry said.
Montgomery's legal team says she suffered "sexual torture," including gang rapes, as a child, permanently scarring her emotionally and exacerbating mental health issues that ran in her family.
At trial, prosecutors accused Montgomery of faking mental illness, noting that her killing of Stinnett was premeditated and included meticulous planning, including online research on how to perform a C-section.
Henry balked at that idea, citing extensive testing and brain scans that supported the diagnosis of mental illness.
see also
Appeals court vacates order delaying execution of Lisa Montgomery
"You can't fake brain scans that show the brain damage," she said.
Henry said the issue at the core of the legal arguments are not whether she knew the killing was wrong in 2004 but whether she fully grasps why she is slated to be executed now.
In his ruling on a stay, US District Judge James Patrick Hanlon in Terre Haute cited defense experts who alleged Montgomery suffered from depression, borderline personality disorder and post-traumatic stress disorder.
Montgomery, the judge wrote, also suffered around the time of the killing from an extremely rare condition called pseudocyesis in which a woman's false belief she is pregnant triggers hormonal and physical changes as if she were actually pregnant.
Montgomery also experiences delusions and hallucinations, believing God spoke with her through connect-the-dots puzzles, the judge said, citing defense experts.
"The record before the Court contains ample evidence that Ms. Montgomery's current mental state is so divorced from reality that she cannot rationally understand the government's rationale for her execution," the judge said.
The government has acknowledged Montgomery's mental issues but disputes that she can't comprehend that she is scheduled for execution for killing another person because of them.
Details of the crime at times left jurors in tears during her trial.
Prosecutors told the jury Montgomery drove about 170 miles (274 kilometers) from her Melvern, Kansas, farmhouse to the northwest Missouri town of Skidmore under the guise of adopting a rat terrier puppy from Stinnett. She strangled Stinnett, performed a crude Caesarean and fled with the baby.
Prosecutors said Stinnett regained consciousness and tried to defend herself as Montgomery cut the baby girl from her womb. Later that day, Montgomery called her husband to pick her up in the parking lot of a Long John Silver's in Topeka, Kansas, telling him she had delivered the baby earlier in the day at a nearby birthing center.
see also
Judge delays Trump's federal executions after inmates get COVID-19
Montgomery was arrested the next day after showing off the premature infant, Victoria Jo, who is now 16 years old and hasn't spoken publicly about the tragedy.
Prosecutors said the motive was that Montgomery's ex-husband knew she had undergone a tubal ligation that made her sterile and planned to reveal she was lying about being pregnant in an effort to get custody of two of their four children. Needing a baby before a fast-approaching court date, Montgomery turned her focus on Stinnett, whom she had met at dog shows.
Anti-death penalty groups said Trump was pushing for executions prior to the November election in a cynical bid to burnish a reputation as a law-and-order leader.
The last woman executed by the federal government was Bonnie Brown Heady on Dec. 18, 1953, for the kidnapping and murder of a 6-year-old boy in Missouri.
The last woman executed by a state was Kelly Gissendaner, 47, on Sept. 30, 2015, in Georgia. She was convicted of murder in the 1997 slaying of her husband after she conspired with her lover, who stabbed Douglas Gissendaner to death.
Surprise Surprise ! No Such Thing As Conspiracy In Our Western Style Democracies ! January 15th 2021
John Solomon on the drive-by impeachment of Donald Trump. (video)
https://youtu.be/n3d6P1sT6MU
No wonder the impeachment was done so quickly
Evidence is emerging about the Capitol invasion:
Metro Police and FBI knew attack was coming
they knew several of the individuals involved
knew of conversations about "killing cops"
U.S. Attorney is bringing a conspiracy case — which means it was planned
if attack was planned, Trump could not have caused it
planners may have given maps of the Capitol to the perpetrators
The icing on the cake:
Solomon says key Capitol officials including the Sergeants at Arms of both houses and the Capitol Police Chief were interviewed about collusion with the invaders (all three have resigned):
Solomon issued FOIA request for details of Congress officials questioned.
Police refused to name names because it's "personally embarrassing" and "invades privacy".
"These are public officials. Their job was security. What they did is a matter of public interest. Something tells me what's in those documents has some bearing on what happened on the Hill. And the question I have is what did Nancy Pelosi and Mitch McConnell know."
— John Solomon, founder and editor of Just The News
Covid Correspondent Gloucestershire January 12th 2021
The latest Covid data available at the weekend, when I did this calculation, covers the seven days to 2 January. The infection rate per 100,000 people here in Gloucestershire is 351.5. That's 0.35% – 3.5 people per 1000. County population is 637,000, so 2230 have tested positive. That's one case per 285 people.
The 100,000 figure is used, apparently, so different-sized areas can be compared. However, surely a number that can be directly related to a smaller area would be more helpful. As an example, a report on the highest infection rate in the county says 'Matson and Robinswood: 672.3 per 100,000'. This, to my mind, is less useful than 'Matson and Robinswood (population 10,000): 6.7 per 1000'.
Clearly we can't be given actual figures, because 'Matson and Robinswood: 67 cases' isn't as scary as a statistic that includes 672.
It becomes even less scary if we factor in the 80%+ false positives of PCR tests: perhaps these false positives explain all the cases of allegedly infected people who are asymptomatic. Hold the presses for 'Matson and Robinswood: 13 cases'…
The same logic drops total Gloucestershire cases to 446, which is one case per 1428 people – 0.07%. Given that some tests are more accurate than others, the truth probably lies between 0.07% and 0.35%; my guess is at the lower end given the prevalence of PCR testing.
Is there something I'm not taking into account?
Apply this reasoning to any area, and the pandemic disappears in a puff of logic. You don't need to be a swivel-eyed tinfoil hat-wearing conspiracy theorist to conclude we're being conned.
S.F
Police in Gloucestershire have fined a further 11 people and warned a further 38 for breaking lockdown rules.
Over the weekend of Saturday, January 9, and Sunday, January 10, Gloucestershire Constabulary fined or warned 49 people regarding the rules.
Fines for breaking coronavirus lockdown regulations are punishable with a £200 fine for the first offence, lowered to £100 if paid within the first two weeks.
This can be doubled to £400 for the second offence, and can be doubled with each further offence to a maximum of £6,400.
Gloucestershire police have not disclosed whether fines were for first offence or otherwise.
In addition to the 11 fines, 38 people were issued with warnings, with the majority of offences being for people gathering.
The force engaged with many more people but did not issue warnings or fines.
More than 16,000 people have now tested positive for coronavirus in Gloucestershire since the pandemic first hit in March.
The grim milestone was reached after 261 new cases were confirmed across the county today (January 11).
Gloucester once again recorded the region's highest total, with 72 cases.
The infection rate in the city now stands at 495.6 cases per 100,000 people – one of the highest across the South West.
Infections remain high in the Forest of Dean, where 61 further positive lab tests were reported in the past 24 hours.
Public Health England is to start recording coronavirus cases and deaths by ethnicity, BBC News understands.
It comes after research suggests people from black, Asian and minority ethnic backgrounds are at greater risk of becoming seriously ill with Covid-19.
Downing Street has commissioned an investigation into the issue.
Communities Secretary Robert Jenrick said: "There does appear to be a disproportionate impact of the virus on BAME communities in the UK."
Speaking at the daily Downing Street press conference, he added: "It is for that reason that the Chief Medical Officer commissioned work from Public Health England to better understand this issue. It is right we do thorough research swiftly, so we can better understand it and then take any action that is required."
The Intensive Care National Audit and Research Centre found that 34% of more than 4,800 critically-ill patients with Covid-19 identified as black, Asian or minority ethnic.
This is despite only 14% of people in England and Wales being from ethnic minority backgrounds, according to the 2011 census.
'Risk assess certain groups'
Almost three-quarters of the 51 healthcare workers whose deaths have been announced are also from BAME backgrounds, BBC analysis shows.
Dr Chaand Nagpaul, chair of the British Medical Association, said it was vital to find out why ethnic minorities are disproportionately affected.
"We must do everything we can now to prevent further deaths," he said.
"We may need to risk assess certain groups of NHS workers if they are older or have other medical conditions – they should be shielded and prevented from exposure to the virus."
Dr Nagpaul said there was not enough data on why there was greater illness and deaths being seen in ethnic minorities because it was not routinely collected.
He also said death certificates currently don't have information on ethnicity, so it is not possible to see if other factors have played a part.
U.K 3 metre rule with lockdown indefinite & imminent change as vaccine conveniently delayed amidst fears for aged, obsese and BAME. This is democracy at work ! More Police Being Recruited for control. January 12th 2021.
COVID-19 can effect people of all ages. Recent data shows that the older people are, the higher their risk of severe illness from COVID-19. Age is an independent risk factor for severe illness, but risk in older adults is also in part related to the increased likelihood that older adults also have underlying medical conditions.
You are more at risk if you are obese, have chronic disease such as heart disease, diabetes, lung disease, or are being treated for cancer. We know that anyone having a weak immune system will also be at a higher risk of infection, severe disease, and death. In addition, there might be an increase risk for those with asthma, high blood pressure, neurologic conditions such as dementia, cerebrovascular disease such as stroke, or who are pregnant, who are obese, have liver disease, have cystic fibrosis or who smoke..
Other risk factors include race/ethnicity, use of certain medications, poverty and crowding, certain occupations and even pregnancy,
Hypocrit Bullsh-tter & Churchillian Fantasist Breaks Own Rules January 11th 2021
BORIS Johnson has come under fire for reportedly breaching his own coronavirus lockdown rules.
The Prime Minister was spotted cycling seven miles away from Downing Street, although current guidance says people "should not travel outside [their] local area".
Johnson also had a full security detail with him, according to reports in The Evening Standard.
He was spotted at around 2pm wearing a Transport for London hat and a mask, cycling in Olympic Park.
The paper asked if Johnson had cycled there or been driven and then gotten on his bike, but the Government declined to answer.
A Downing Street source said Johnson had been exercising. They told the Standard: "He did note how busy the park was and he commented on it at the meeting last night. "He was concerned about if people were following the rules and was concerned after his cycle ride around the park."
Comment If the situation is as serious as the government and 'experts' say it is, then Johnson and his police entourage deserve massive fines and firing. R.J Cook
Covid-19: Drop 'absurd' 5% council tax increase – Starmer Posted January 9th 2021
Published1 hour ago
"Absurd" council tax rises should be scrapped to ease the pressure on family budgets, Labour leader Sir Keir Starmer has said.
Local authorities in England will be able to raise council tax by 5% from April, with 3% used to top up adult social care budgets.
Sir Keir said this meant those living in a band D property could see bills rise by an average of £90.
He added that the prime minister should provide extra funding to councils.
But the government says the rise in council tax bills, plus extra money from central government, will ensure a real-terms increase in support for local services.
Sir Keir wrote in the Sunday Telegraph: "It is absurd that during the deepest recession in 300 years, at the very time millions are worried about the future of their jobs and how they will make ends meet, Boris Johnson and [Chancellor] Rishi Sunak are forcing local government to hike up council tax.
"The prime minister said he would do 'whatever is necessary' to support local authorities in providing vital services – he needs to make good on that promise."
Sir Keir urged Mr Johnson to "give families the security they need" by dropping the tax increase.
He said families had been treated as an "afterthought" by the government during the pandemic, adding that Labour would become the "party of the family" under his leadership.
A Ministry of Housing, Communities and Local Government spokesperson said: "Council tax plays an important role in helping fund the frontline services needed to respond to the pandemic.
"Our approach strikes a balance between allowing local authorities to address service pressures and ensuring local residents have the final say on excessive increases."
A £500m fund to support people struggling with finances meant councils could "cut bills further for some of the most vulnerable households", they added, while a £7.2bn support package would help meet "the major Covid-19 service pressures in their local area".
The chancellor's Spending Review in November set out the cost to the UK economy so far of dealing with the coronavirus pandemic.
Mr Sunak warned the "economic emergency" caused by the pandemic had only begun, with lasting damage to growth and jobs.
Comment We in U.K live in a plutocracy headed up by a parasitical royal family increasingly wheeled out to endorse the government line / lies. I am glad to see some decency from Starmer, former head of corrupt CPS, on the matter of council tax.
There is good reason to believe that Covid19 is man made as part of the global elite rivalries, released accidentally or deliberately and spread by greed fuelled global economy which benefits a wealthy minority, making a mockery of the word democracy. R.J Cook
Reasons why the 2020 presidential election is deeply puzzling
If only cranks find the tabulations strange, put me down as a crank Posted January 8th 2021
Ballots are recounted in Gwinnett County, Georgia (Getty)
November 27, 2020
3:44 PM
To say out-loud that you find the results of the 2020 presidential election odd is to invite derision. You must be a crank or a conspiracy theorist. Mark me down as a crank, then. I am a pollster and I find this election to be deeply puzzling. I also think that the Trump campaign is still well within its rights to contest the tabulations. Something very strange happened in America's democracy in the early hours of Wednesday November 4 and the days that followed. It's reasonable for a lot of Americans to want to find out exactly what.
First, consider some facts. President Trump received more votes than any previous incumbent seeking reelection. He got 11 million more votes than in 2016, the third largest rise in support ever for an incumbent. By way of comparison, President Obama was comfortably reelected in 2012 with 3.5 million fewer votes than he received in 2008.
Trump's vote increased so much because, according to exit polls, he performed far better with many key demographic groups. Ninety-five percent of Republicans voted for him. He did extraordinarily well with rural male working-class whites.
Trump grew his support among black voters by 50 percent over 2016. Nationally, Joe Biden's black support fell well below 90 percent, the level below which Democratic presidential candidates usually lose.
Trump increased his share of the national Hispanic vote to 35 percent. With 60 percent or less of the national Hispanic vote, it is arithmetically impossible for a Democratic presidential candidate to win Florida, Arizona, Nevada, and New Mexico. Bellwether states swung further in Trump's direction than in 2016. Florida, Ohio and Iowa each defied America's media polls with huge wins for Trump. Since 1852, only Richard Nixon has lost the Electoral College after winning this trio, and that 1960 defeat to John F. Kennedy is still the subject of great suspicion.
Midwestern states Michigan, Pennsylvania, and Wisconsin always swing in the same direction as Ohio and Iowa, their regional peers. Ohio likewise swings with Florida. Current tallies show that, outside of a few cities, the Rust Belt swung in Trump's direction. Yet, Biden leads in Michigan, Pennsylvania, and Wisconsin because of an apparent avalanche of black votes in Detroit, Philadelphia, and Milwaukee. Biden's 'winning' margin was derived almost entirely from such voters in these cities, as coincidentally his black vote spiked only in exactly the locations necessary to secure victory. He did not receive comparable levels of support among comparable demographic groups in comparable states, which is highly unusual for the presidential victor.
We are told that Biden won more votes nationally than any presidential candidate in history. But he won a record low of 17 percent of counties; he only won 524 counties, as opposed to the 873 counties Obama won in 2008. Yet, Biden somehow outdid Obama in total votes.
Victorious presidential candidates, especially challengers, usually have down-ballot coattails; Biden did not. The Republicans held the Senate and enjoyed a 'red wave' in the House, where they gained a large number of seats while winning all 27 toss-up contests. Trump's party did not lose a single state legislature and actually made gains at the state level.
Another anomaly is found in the comparison between the polls and non-polling metrics. The latter include: party registrations trends; the candidates' respective primary votes; candidate enthusiasm; social media followings; broadcast and digital media ratings; online searches; the number of (especially small) donors; and the number of individuals betting on each candidate.
Despite poor recent performances, media and academic polls have an impressive 80 percent record predicting the winner during the modern era. But, when the polls err, non-polling metrics do not; the latter have a 100 percent record. Every non-polling metric forecast Trump's reelection. For Trump to lose this election, the mainstream polls needed to be correct, which they were not. Furthermore, for Trump to lose, not only did one or more of these metrics have to be wrong for the first time ever, but every single one had to be wrong, and at the very same time; not an impossible outcome, but extremely unlikely nonetheless.
Atypical voting patterns married with misses by polling and non-polling metrics should give observers pause for thought. Adding to the mystery is a cascade of information about the bizarre manner in which so many ballots were accumulated and counted.
The following peculiarities also lack compelling explanations:
1. Late on election night, with Trump comfortably ahead, many swing states stopped counting ballots. In most cases, observers were removed from the counting facilities. Counting generally continued without the observers
2. Statistically abnormal vote counts were the new normal when counting resumed. They were unusually large in size (hundreds of thousands) and had an unusually high (90 percent and above) Biden-to-Trump ratio
3. Late arriving ballots were counted. In Pennsylvania, 23,000 absentee ballots have impossible postal return dates and another 86,000 have such extraordinary return dates they raise serious questions
4. The failure to match signatures on mail-in ballots. The destruction of mail-in ballot envelopes, which must contain signatures
5. Historically low absentee ballot rejection rates despite the massive expansion of mail voting. Such is Biden's narrow margin that, as political analyst Robert Barnes observes, 'If the states simply imposed the same absentee ballot rejection rate as recent cycles, then Trump wins the election'
6. Missing votes. In Delaware County, Pennsylvania, 50,000 votes held on 47 USB cards are missing
7. Non-resident voters. Matt Braynard's Voter Integrity Project estimates that 20,312 people who no longer met residency requirements cast ballots in Georgia. Biden's margin is 12,670 votes
***
Get a digital subscription to The Spectator.
Try a month free, then just $3.99 a month
***
8. Serious 'chain of custody' breakdowns. Invalid residential addresses. Record numbers of dead people voting. Ballots in pristine condition without creases, that is, they had not been mailed in envelopes as required by law
9. Statistical anomalies. In Georgia, Biden overtook Trump with 89 percent of the votes counted. For the next 53 batches of votes counted, Biden led Trump by the same exact 50.05 to 49.95 percent margin in every single batch. It is particularly perplexing that all statistical anomalies and tabulation abnormalities were in Biden's favor. Whether the cause was simple human error or nefarious activity, or a combination, clearly something peculiar happened.
If you think that only weirdos have legitimate concerns about these findings and claims, maybe the weirdness lies in you.
Patrick Basham is director of the Democracy Institute.
Simon & Schuster Statement Regarding THE TYRANNY OF BIG TECH by Josh Hawley
January 7, 2021 Corporate Communications Corporate News, Simon & Schuster
After witnessing the disturbing, deadly insurrection that took place on Wednesday in Washington, D.C., Simon & Schuster has decided to cancel publication of Senator Josh Hawley's forthcoming book, THE TYRANNY OF BIG TECH. We did not come to this decision lightly. As a publisher it will always be our mission to amplify a variety of voices and viewpoints: at the same time we take seriously our larger public responsibility as citizens, and cannot support Senator Hawley after his role in what became a dangerous threat to our democracy and freedom.
Lies That Life Is Black & White ' By R.J Cook Posted January 8th 2021
Bob Dylan wrote 'Lies that life ( democracy ) is black and white, I spoke their words as if a wedding vow, but I was so much older then, I'm younger than that now.' As I have written before, the word democracy is nowadays rather over used. Politicians and mainstream media keep drumming it in. Because Yeltsin failed to corrupt Russia into the western elite club, Russia has joined China as common enemies of the west.
When one references the west, one is referencing the elite , because money rules. The term democracy comes from the combination of Greek words demos and krakos – people and rule.
Websters defines democracy as ' rule of the majority, government in which supreme power is vested in the people and exercised by them directly or indirectly through a system of representation usually involving periodically held free elections. '
That sounds rather nice , but reality is rather different. In Europe , the first defined movement toward democracy was the French Revolution in 1789. By this time, the English had led the colonisation of what became the United States . Leaving aside their genocide of North American Indians and slavery – in which unfortunately for white and black liberal revisionists actually involved powerful blacks selling blacks – the United States founding fathers were fond of democratic jargon . The French gave them the Statue of Liberty.
It is true to say that poor immigrants could get rich in the U.S.A when it was in flux with so much up for grabs. As time made way for corporate America. That situation changed.
Meanwhile back in Britain, the first industrial nation and mother country , there had been a tyranny by the established Norman land grabbing elite who financed new industries, especially iron, steel, railways , cotton and shipyards. The rich were very much in charge, the new rich copying their tyranny. Trade Unions were banned, with the Lovelace Brothers, Tolpuddle Martyrs transported to Australia along with other 'convicts' in 1834, simply for forming a farm labourers union.
Britain's history teaching was and still is selective. Britain's Imperial navy and army were virtually slaves, as were the factory and mine workers. Mortality rates were high, life span short outside of the wealthy, many of whom had helped found the United States – e.g the Washington family from Northamptonshire.
After dangerous campaigns and protests, skilled working men got the vote in 1867, and a State education system in 1870 because Germany had united and was a growing threat. The Tory Minister in charge referenced ' we must now educate our masters.'
Total uniform suffrage , including women, did not pass in Britain until 1928. It did them little good because the Anglo American inter bred elite had caused the Great Depression, which was not relieved until they all went back to war over their shares of global resources that had not been resolved by World War One. In both of those wars, common people had no choice but t 'serve their country' and risk losing what little they had.
In Britain post 1945 , memories of near communism in the 1930s and Nazism encouraged a vestige of free health care and broader longer state education. By 1950, the working classes had forgotten the war and fell for rich man Churchill's lies that socialism was after their taxes and freedom. There followed 13 years of what became known as 'Tory mis rule' and higher taxes , with national service to facilitate withdrawal from Empire on terms favourable to the vested interest of the Anglo U.S elite. By this time the myth of rule democracy was ingrained in the moronic working class mind.
The 1950s saw the emergence of youth culture soaking up young working class pay packets, along with birth of women's lib. All of this accelerated through the 1960s, giving the young and women illusions of being allowed to rebel and get free. By the 1970s, youth culture had embraced drugs and the contraceptive pill. Women were told how free they were.
By 1979, the Labour Party were tainted as strike backers and communists. Thatcher came in on a pack of egalitarian lies, backed by City of London spivs and the Murdoch Press. Greedy hot metal print unions loved her low taxes on their fat restrictive practice pay packets. They refused to type set a word against her, until her friend Murdoch, on the broken back of small fry newsman Eddie Shah, brought in the digital age – something he had been working on in new dockland premises, built along with all the other glittering towers where the docks and dock workers once had their restrictive practices and high wages. Technology was being funded and developed rapidly by and for the rich. At no stage in this brief history did government by the people have anything to do with it.
So the process went on. Britain joined the EU, initiating rules it wanted and blocking social reform. The rich folk wanted cheaper labour and went about bombing the Middle East. Stupid liberals and feminists welcomed mass immigration and easy benefits, drawing millions through Europe to ghettos like Sangette. Ignorant British working class voters fell for bull sh-t about leaving Europe and getting our country back. It was a campaign run by rich men like Nigel Farage whose role as a Euro MP was to make Europe fail, and Boris Johnson using Brexit to become the most useless Prime Minister ever – and that is a high hurdle to clear.
So here we are in the rich man's global economy suffering at the bottom from Covid Tyranny, probably due to a genetically engineered virus – no other interpretation makes sense – with us lower orders in danger of losing everything in an ever more powerful police state set up to keep the masses divided and in their pens or dying on the filthy streets.
So we have greedy patronising 'Fancy Nancy' Pelosi and 'Bullsh-tter Boris' reminding is how privileged we are and how they are defending our precious democracies. 'Me thinketh the lady ( Pelosi ) protesteth too much .' When Lincoln, no saint, made his famous Gettysburg address about democracy, he might have said 'You only have to fool some of the people some of the time.'
Joe Biden and Harris look promising in that department. Calling the Capitol Hill protesters domestic terrorists tells us exactly where they are aiming with totalitarian legislation imitating Britain and offering their in breds over here much encouragement.
So my definition of democracy is that it is a vomit laden dose of smarmy lies intending to make us sick, then offering remedy if we go on voting for them. They know all the mainstream parties are the same, and anyone who doesn't fit, like Trump, will not get off the ground, even if the majority vote for him. Biden was chosen to win the moment Trump apparently won four years ago and pernicious Pelosi led the charge against him. It is quite funny that this woman is still at it, with her entourage of dubious 'Democrats.'
R.J Cook
Major Incident As Corona new strain threatens London's large BAME and other vulnerable groups where obesity and other health conditions are prevalent . January 8th 2021
The spread of Covid in London is "out of control" according to Sadiq Khan, who has declared a "major incident".
The coronavirus infection rate in London has exceeded 1,000 per 100,000 people, based on the latest figures from Public Health England.
However, the Office for National Statistics recently estimated as many as 1 in 30 Londoners has coronavirus.
Mr Khan told BBC political reporter Karl Mercer that the figure is as high as 1 in 20 in some parts of London.
Major incidents have previously been called for the Grenfell Tower fire in June 2017 and the terror attacks at Westminster Bridge and London Bridge.
'My heart is broken'
A major incident is any emergency that requires the implementation of special arrangements by one or all of the emergency services, the NHS or the local authority.
It means the emergency services and hospitals cannot guarantee their normal level of response.
Currently, there are more than 7,000 people in hospital with Covid-19, the mayor said.
This is a 35% increase compared to last April's peak of the pandemic, he added.
Dr Samantha Batt-Rawden, a senior intensive care registrar at Royal London Hospital, tweeted: "We tried. We really tried. NHS staff pleaded with people that Christmas is not worth it. Now one in 30 people in London have Covid and ICUs are overwhelmed. My heart is broken."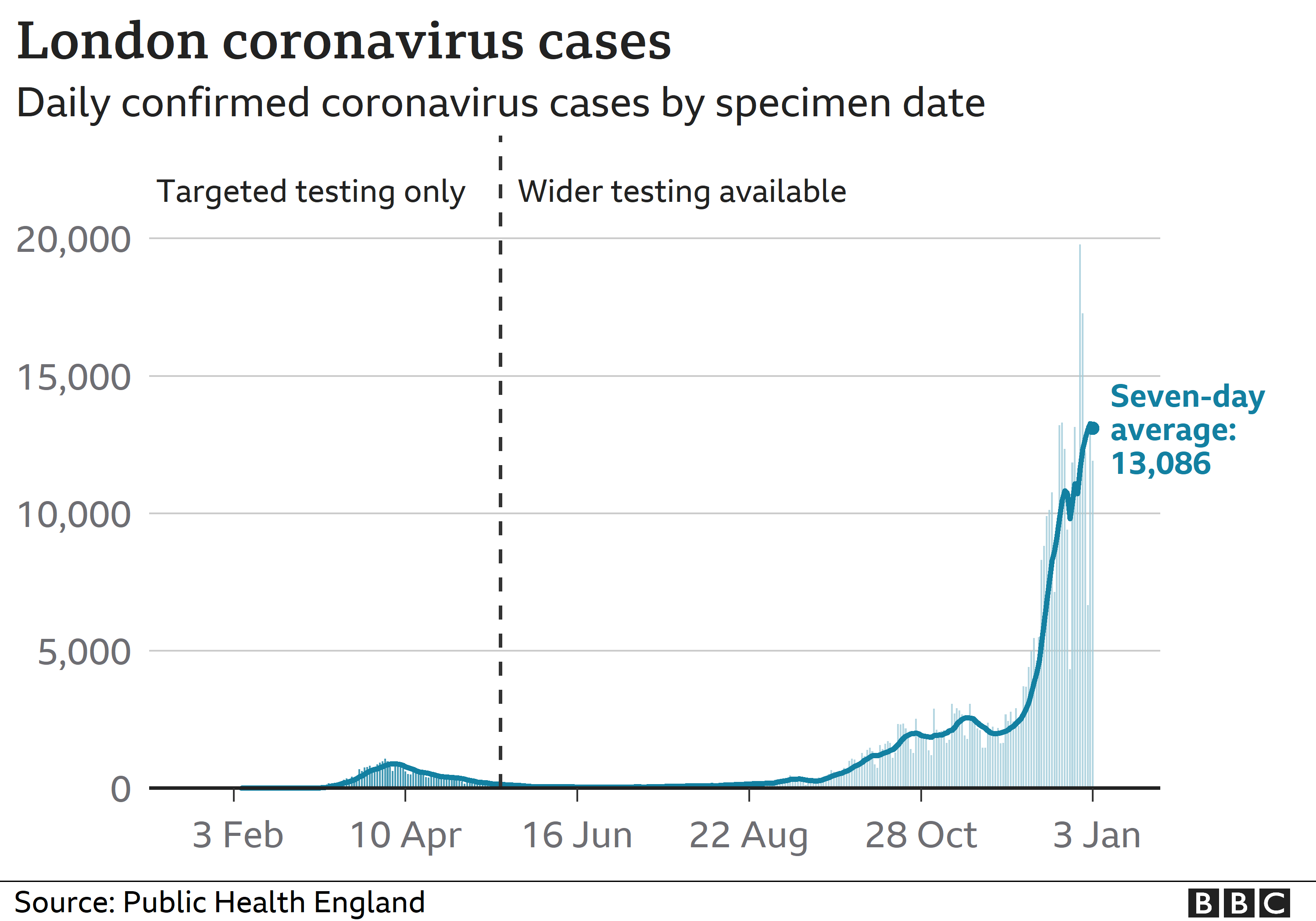 Brian Sicknick death: Federal murder probe planned in Capitol Police officer killing
January 8, 2021 | 10:01am | Updated Enlarge Image
US Capitol police officer Brian Sicknick died a day after collapsing when he returned to his division office following the attack on the Capitol. Facebook
More On:
Prosecutors plan to open a federal murder probe into the death of Brian Sicknick, the US Capitol Police officer who died after reportedly being hit in the head with a fire extinguisher during this week's riots, according to a report.
A law enforcement official told CNN that prosecutors in the US Attorney's Office will launch an investigation.
Sicknick, 42, died Thursday, a day after collapsing when he returned to his division office following the attack on the Capitol, according to the USCP, which said he was injured "while physically engaging with protesters."
Two sources told the New York Times that the officer had been struck with a fire extinguisher.
News of the officer's death came as the chief of the Capitol Police, Steven Sund, announced his resignation.
He will step down Jan. 16, according to a report by NBC News.
Sicknick had joined the Capitol Police in July 2008, and most recently served in its First Responders Unit.
"The entire USCP Department expresses its deepest sympathies to Officer Sicknick's family and friends on their loss, and mourns the loss of a friend and colleague," the USCP said in a statement.
Sicknick was the fifth person to die as a result of Wednesday's mob attack on the Capitol. One woman was shot and killed by Capitol Police and three others suffered medical emergencies that proved fatal.
Comment O.K But what about a Federal Murder investigation into the police murder of Ashli Babbit ? Watch out, individuals will have to stand still and take whatever the police want to do to them , however they want to do it. This is another trick toward developing a stronger U.S POLICE STATE and Biden's crew won't be short of help from British experts ( sic ).
When P.C Steven Harwood assaulted and killed Ian Tomlinson at G7 in 2008, the police surgeon had the audacity to blame Ian Tomlinson, smearing him as a homeless alcoholic who was going to die at that very moment when Harwood hit him from behind.
The then head of Crown Prosecution Service, Sir Kier Starmer ( now Labour Party leader ) fought to block prosecution in 'the public interest' ( sic ). After a long legal battle Harwood – who had a police record for violent conduct when in Surrey Police -went to court and was found not guilty of manslaughter.
The public will find that the Anglo European U.S Police have enormous powers already and they are getting stronger as the masses are pushed further into the dirt and are losing hope. BLM and LGBTQI Rainbow land is not going to change this. – but there are always drugs and suicide. R.J Cook
Great Global Re Set & Elite's Covid Con. January 8th 2021
The hidden agenda is in plain sight. January 8th 2021. R,J Cook
Coronavirus: Women on exercise trip 'surrounded by police' Posted January 8th 2021
By Caroline Lowbridge
BBC NewsPublished1 hour agoRelated Topics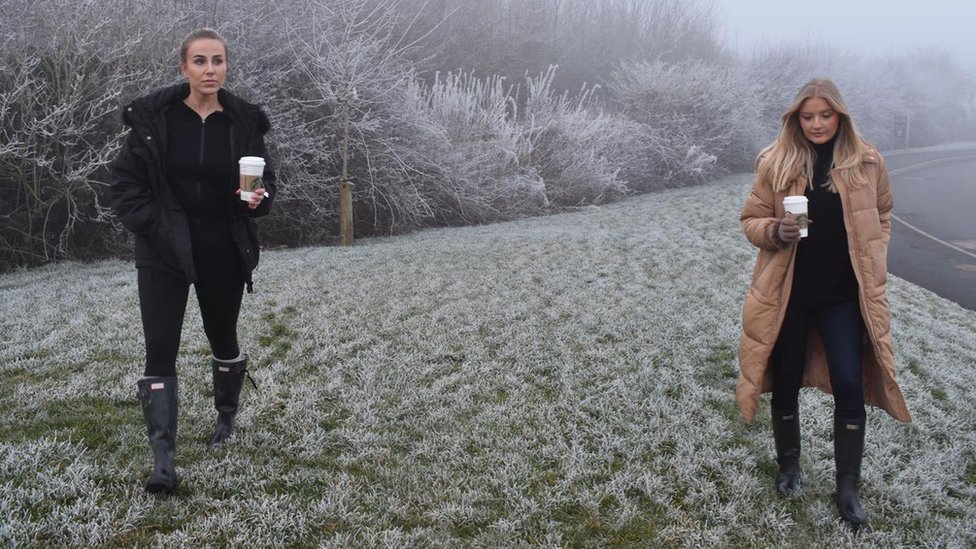 Two women have described how they were surrounded by police, read their rights and fined £200 each after driving five miles to take a walk.
The women were also told the hot drinks they had brought along were not allowed as they were "classed as a picnic".
Guidance for the current lockdown says people can travel for exercise as long as it is in their "local area".
The police force involved, Derbyshire Police, said driving for exercise was "not in the spirit" of lockdown.
One of the would-be walkers, Jessica Allen, assumed "someone had been murdered" when she arrived at Foremark Reservoir on Wednesday afternoon.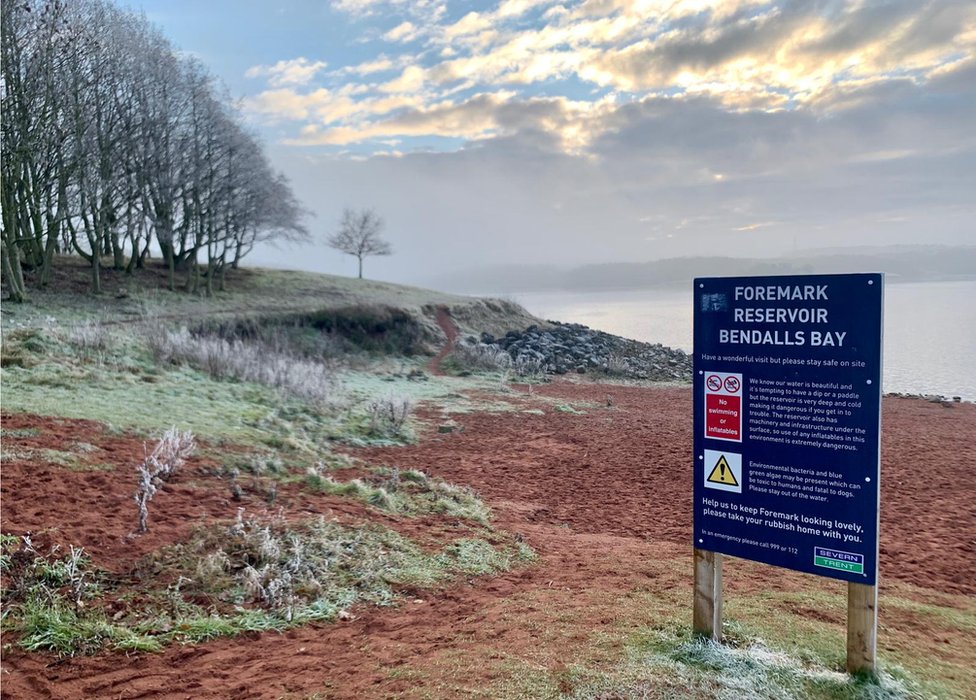 "As we drove in there was a police van, a police car, and there were loads of police there," said Ms Allen, who lives in Ashby-de-la-Zouch in Leicestershire.
"I genuinely thought someone had been murdered; the place is normally so quiet. The next thing, my car is surrounded. I got out of my car thinking 'There's no way they're coming to speak to us'. Straight away they start questioning us.
"One of them started reading my rights and I was looking at my friend thinking 'This must be a joke'.
"I said we had come in separate cars, even parked two spaces away and even brought our own drinks with us. He said 'You can't do that as it's classed as a picnic'."
Her friend, Eliza Moore, said she was "stunned at the time" so did not challenge police and gave her details so they could send a fixed penalty notice.
"Just seeing a police officer anyway is quite scary for some people and we were really not expecting to be approached and to be told we were doing something wrong," she said.
"We don't want to get away with it if we have broken the rule, but it seems a bit unfair that you can be fined on something that's so vague."
A US Capitol police officer has died from injuries sustained in the attack on Congress by a pro-Trump mob as top Democrats have called for the president to be removed for "inciting" the riot.
Calls for Trump Impeachment After Police Oficer Dies – Report from British Ministry of Information aka BBC January 8th 2021
House Speaker Nancy Pelosi urged Vice-President Mike Pence to invoke the 25th amendment to the Constitution to declare the president unfit for office.
Alternatively, she vowed to initiate the process to impeach the president.
Under pressure, Donald Trump finally condemned the "heinous attack".
Wednesday's violence came hours after Mr Trump encouraged his supporters to fight against the election results as Congress was certifying President-elect Joe Biden's victory in the November vote.
Five people have died in relation to the riot, including Brian Sicknick, an officer at the US Capitol Police (USCP) who was "injured while physically engaging with protesters", the police said.
Meanwhile, the top congressional Democrats – Speaker Pelosi and Senate Democratic leader Chuck Schumer – have urged Vice-President Pence and Mr Trump's cabinet to remove the president for "his incitement of insurrection".
"The President's dangerous and seditious acts necessitate his immediate removal from office," they said in a joint statement.
The duo called for Mr Trump to be ousted using the 25th Amendment, which allows the vice-president to step up if the president is unable to perform his duties owing to a mental or physical illness.
But it would require Mr Pence and at least eight cabinet members to break with Mr Trump and invoke the amendment, something they have so far seemed unlikely to do. Mr Trump is due to leave office on 20 January, when Mr Biden will be sworn in.
Mrs Pelosi indicated that if the vice-president failed to act, she would convene the House to launch their second impeachment proceedings against Mr Trump.
However, to succeed in convicting and removing the president, Democrats would need a two-thirds majority in the Senate, and there is no indication they would get those numbers. And it was not clear whether enough time remained to carry out the process.
Media reports, quoting unnamed sources, said Mr Trump had suggested to aides he was considering granting a pardon to himself in the final days of his presidency. The legality of such a move is untested.
Our Democracies Under Threat (sic) ? R.J Cook January 8th 2021
Our Democracies Under Threat ( sic ) ?
One phrase best describes the myth of what our western elites call multi culture. That is 'our democracies and democratic institutions.'
All of yesterdays Anglo U.S European elite media and elite politicians are as one and in charge of our thoughts , behaviour and conduct. There are laws now breeding like rabbits, with expanding jails to deal with miscreants.
They vilified, in arrogant tones, what happened at the Washington Capital. They justified shooting a white woman dead by labelling her a domestic terrorist. Biden's fixed expression, with comic timing waiting for the crowds applause, speaking about the Capitol uprising, should be a warning of the police state and more wars to come, in the name of 'our democracies .'
So the uprising had to be labelled domestic terrorism and use of arms invented to justify state murder in the face of protest. It just wasn't what they expected from what one pundit called the citadel of world democracy. There is meant to be a consensus and it is theirs. Donald Trump was always the misfit. The white woman shot deserved it. The elite retain the right to define the new normal, so protest is not on their fake multi cultural fake democratic agenda.
No one would dare say George Floyd deserved to die or that riots following every apparent act of police brutality on blacks is anything other than protests. That is because there is no multi culture. There is a ruling elite consensus. Pandering to the elite funded BLM is part of that ever adapting consensus . The inevitable white working class back lash feeds that elite's need to virtue signal to 'women' and blacks, thus diverting attention from their Covid 19 lockdown , its terrible consequences for the masses and other crimes against humanity.
To suggest being able to vote for an elite consensus is a demonstration of democracy in action, is absurd. But the elite have the best education and more wealth than the rest of the world put together. They control education for the lower orders – and thus those peoples' ability to comprehend and think. The rich kids study in safe spaces at home and school. Even if blighted by feminist fed divorce rates, they still have money and connections. They will not suffer from the ludicrous lockdowns ( which will never stop the virus ) which are, to quote Boris Johnson, to protect the elderly and vulnerable.
People like Johnson are not going to spell out who those vulnerable are, or why they can't be protected while the rest of us get on with earning a living. That would raise too many awkward questions. It would stop them bankrupting us for the asset strippers, it would stop us killing ourselves.
Obviously if intensive care units were full of young otherwise fit people, the toadying media would be in there photographing and ramming the stories down our throats. In our fake democracies we have to do what the elite tell us. We have to obey to protect institutions that benefit them. Being allowed to vote between one sect of this ruling class or another – and their female liberated lackeys – is not democracy and it is not multi culture.
Diversity and all the LGBTQI ( sexuality should not be one's defining characteristic, if it is then mental health issues need addressing on a national scale ) is a smokescreen as reality for an increasing number is life and horrible death on the streets while the likes of moralising Nancy Pelosi, Joe Biden, Boris Johnson , Macron , Angela Merkel and Matt Hancock continue their safe wealthy lifestyles.
The only diversity and inequality that matters comes from a very unequal distribution of wealth. Multi culture is really the difference between rich and poor culture. The role of posh overpaid corporate journalists is to obscure that truth and to blind us with pseudo science, getting poor whites, poor blacks, poor men and poor women at each other's throats whilst laughing all the way to the bank. R.J Cook
The following is a point of view, not shared by the editor, but there will be no comment as it deserves to be read with an open mind.The following is a point of view, not shared by the editor, but there will be no comment as it deserves to be read with an open mind.
Extract From Democracy Now January 7th 2020
As Washington reels from the storming of the U.S. Capitol by a pro-Trump mob intent on overturning the 2020 election results, lawmakers are considering new impeachment proceedings against President Trump for fomenting the insurrection. Civil War and Reconstruction historian Manisha Sinha says this isn't the first attempt to disrupt the democratic process by right-wing white domestic terrorists, citing the 1898 Wilmington coup and other efforts before that throughout the Southern states. "These groups today remind me of those people," says Sinha. In response to the call to invoke the 25th Amendment against Donald Trump, she argues, "This is an awful portent for our democracy, and we need to respond forcefully to it."
But going from the immediate history and this week the white supremacist Proud Boys leader being arrested in D.C. with long guns, with automatic weapons — very clear what was going to be happening in Washington — to centuries analysis, let's turn to Manisha Sinha, in addition to Bree Newsome Bass, who is still with us. Professor Sinha is a historian of slavery, abolition, Civil War and Reconstruction and the author of The Slave's Cause and The Counterrevolution of Slavery, professor at University of Connecticut.
MANISHA SINHA: Thank you for having me, Amy. Well, I think what happened yesterday was rather astounding. As a historian of the Civil War and Reconstruction, I have often made comparisons between what has happened under the Trump regime — and I call it a regime, not an administration — and what has happened earlier in our history. But I did not think that this would actually come to pass, though I should have suspected it, considering what had happened in Michigan just recently.
Now, as Bree mentioned, this attempt to disrupt the democratic process — in this case, the counting of the votes of the Electoral College — by the use of domestic terror has happened repeatedly in our history. And it especially happened during Reconstruction, not just the Wilmington coup of 1898, but before that. In each of the Southern states, either voting or actually democratic governance was disrupted by right-wing, white terrorist groups, like the Ku Klux Klan, the Knights of the White Camelia, the White League, the Red Shirts for Wade Hampton in South Carolina. There were a number of them. And so, these groups today remind me of those people. And they were the ones flying the Confederate flag in Congress. That did not happen during the Civil War, and it happened yesterday.
So I think this is an awful portend for our democracy, and we need to respond forcefully to it. Either enforce the Enforcement Acts from the Reconstruction era to arrest and prosecute or — I am shocked at the few who have been arrested so far.
Now, clearly, we need to evoke the 25th Amendment against Donald Trump. I don't think we have the time to go through a lengthy impeachment process anymore, but we do have the time to invoke the 25th Amendment.
The question is: Will Mike Pence and his Cabinet and a section of the Republican Party go on with this? They have clearly enabled Trump so far. Even those who denounced violence yesterday were clearly complicit in the extent to which Trump has challenged the election results. And there is still a segment within the Republican Party, 102 members of the House of Representatives and seven senators, because Rick Scott joined the challenge for the Electoral College votes of Pennsylvania, so we are seeing right now a substantial group within the Republican Party, too, that is enabling Trump.
And this is extremely dangerous. A message needs to be sent. Trump needs to be disabled. And these members of Congress, as Cori Bush has called, need to be censured, expelled. They need to bear the consequences of their actions in inciting violence.
An Attack On Our Democracy
R.J Cook January 7th 2020
I was replying with an e mail thanking my book editor when Sky News came on about the uprising in Washington, upsetting Joe Biden's 'investiture' ( sic ). As I watched, I found myself writing him the following message :
Thanks very much for your wonderful job on my book. I read it through this morning. Meanwhile I have been listening to and watching Sky and BBC fawning over Biden. I haven't seen anything worse about Trump than I see in him, but Trump did at least prove the president is a figure head and the mainstream press is in the hands of the rich and powerful.
Biden , who wants Assange jailed for eternity, has just called the U.S Washington demonstrators, an attack on 'the citadel of liberty.'I have never heard the word democracy so oft repeated, emphasised and its processes deified in the past ten years.
Biden keeps talking about our institutions of democracy and is making me feel rather sick. The U.S , for decades has consumed more natural resources every year than the rest of the world put together, and most of that is in the hands of 5 %. The maths are dangerously imbalanced. They have done the divide and rule of genders, now they are getting really strong on virtue signalling with the race card, blaming the white udnerclass for slavery and racism. That could be a big problem because that's where they get most of their service people from, like the former airforce woman they shot dead yesterday because she didn't step back.
Now he is going on about GOD. We will hear a lot more of that with Biden and Harris pandering to BAME. All this God revival stuff worries me, though there may well be one ( hope so, otherwise my prayers are wasted ) but how many wars have been waged in God's name ?
Biden has just said justice is blind ( sic ). It is the self righteous pomposity of it all that makes me want to vomit when 'creepy Joe' talks. This guy, using a BLM stooge as VP, is going to be the war monger from hell . This man is stoking up all that WWII melodrama and heroism. The BLM are going to be in for a rude awakening. He called the outburst and deaths in Washington, yesterday, domestic terrorism. Poor whites are going to juxtapose that with the reverence given to BLM.
All this is against the dangerous background of the U.S elite refusing to accept the rise of China and Russia , countries they had hoped to bring in as 2nd and 3rd in the New World Order. Then we have the Covid 19 mystery and lockdown , with its much loved 'new variant',. which is ,if sincere, then is the work of idiots because lockdown will cause more problems than it solves. God, I must shut up. I didn't likeTrump much, but this man is revolting and so was Obama, such fakes, war mongers and delusionists.
Sorry, just venting. He is really playing the race and gender card, but never mentions U.S poor whites who had high hopes of Trump. Sky loves Biden, such a clean old man ! Pelossi, as I expect you are watching, has just called Trump a man who incited an assault ' on our democracy, and our democratic institutions ' calling it an act of sedition. She is demanding Trump's impeachment under the 25th ammendment.
As Neil Young and Buffalo Springfiled sang, 'There's something happening here, what it is ain't exactly clear. . There's a man with a gun over there, telling me I got to beware, Step outa line, the man come and blow you away.' Am I also overreacting or is something serious going on? When the U.S sneezes , the world catches cold, they said in 1929. God these people frighten me.
Thanks again, Regards Robert
Britain's Place in the world January 6th 2021
The fact that millions of migrants and alleged refugees make a beeline across Europe and the treachorous English channel for a better life, speaks volumes for how awful it is in the old Third World, run mainly by black bigots, white multinationals and religious lunatics, . As my late mother used to say 'Where ignorance is bliss, it is folly to be wise.'
The fate of whisteleblower and publisher Julian Assange tells us all we need to know about Britain's version of democracy. The ruling elite call it representative democracy, yeh, well representative of them may be, but not what most intelligent honest people would call democracy.
The Anglo- US Deep States were caught out by Assange leaking Chelsea Manning's stolen documents revealing , among other things, U.S War Crimes in a war significantly faciliated by Britain's Tony Blair, with Press Officer Alistair Campbell, using a fake dossier about 'weapons of mass destruction'. The Weapons Inspector, Dr David Kelly, who rubbished the claims, later died, after being hounded by elite owned press lackeys, in what many believe was a British Intelligence service faked suicide murder.
The stakes are high for these ruthless people. But British en masse are selfish cowards, they also know the system will label and destroy any opponent. Time in the cells is very frightening, as I know from much experience. Only Russians and Chinese are baddies. Trump would not dare pardon Assange. It would be all the 'evidence' the fake democrats' need to finally convict him of being a Russian agent..
The odd couple of Blair and Campbell, with dopey feminised parliamentary backing – I attended a party at the House of Commons when all of this was going on- started the war, helping George Bush Junr, complete what his father deliberately fell short of in 1990, destroying Saddam Hussein, the man who fought a proxy war for them , against Iran to please Israeli money, over 7 years, then broke OPEC price fixing to rebuild his country. This all came out through leaks. They needed an oil panic and price rise for Texas and Saudi oil billionaires. All very simple.
The end result was destroying the Middle Eastern social fabric and openining the door to the mass migration into Europe from there, North and West Africa when they extended their 'ethical' ( sic ) foreign policy to Libya and Syria. Covid 19 lockdown and fear montering is a perfect distraction , smokescreen and block on protest regards these rolling wars. To add insult to injury , this proected elite blame us, the white underclass, for racism and slavery !. The eliet then use dopey schoolteacher to roll out the rainbow multi culture to deal with conflicts caused by Islam and feminism , labelling parents who don't approve.
Briatin has the nastiest smoothest most patronising effective elite, with an army of lackeys to keep the lid on reality, criminalising or labelling as mad anyone who steps out of line. But don't worry, they are 'protecting the NHS, the elderly, obese and other and vulnerable.' No wonder people like me are either thinking about or committng suicide. I find it a job not to be sick every time I wake up.
If it is back to square one, why should we even flatter the so called 'scientists ' for their predictions and 'remedies' which don't even deserve the flattering name of guesswork artists when they are all for blatant propaganda and fear mongering manipulation?
I have never understood the British and wider world's obsession with women's bums let alone anal sex. The antropologist Dr Desmond Morris, in his work 'The Naked Ape' explained bum fixation along the lines that buttocks reminded would be impregnators of the comforting site of mummy's milk laden life sustaining breasts.
Still the hygiene issues of probing where the faeces emits is pretty disgusting but appealing to many – I know the idiot vindictive police have been hoping to catch me at it with men for years – they still have a case on file rather than face the truth and legal action. That story is covered elsewhere. That is because the British police employ sickos, weirdoes, paedophiles , bullies and fantasists. But I digress.
This picture of women's fetishistic ridiculous 'pany covered' bulbous bottoms, says a lot about toilets and women's underwear fetishistic sad sicko pathetic big headed moronic Britain. Guessing whose bottom the pictures belong to, is something not even apes would bother to do. But as the Trans Exclusionary Feminists ( Terfs ) demonstrate, the Brits are obsessed with public toilets, vaginas , tits and bums.
Pity they are not more interested in personalities. It is high time the judges were judged. Our highly esteemed Christians go to church, shameless hypocrits. Ask them where it is written 'Judge not lest ye be judged' and they won't be able to tell you unless they are linked to the clerical world which is totally out of touch with reality and hypocritical in its own patronising money grabbing way. By the way, especially for moron U.K cops who monitor this site, the 'Sexy Me' page is a piss take especially for you to enjoy while you are polishing your helmets.
Thankfully greedy local councils are selling all these public toilets off. Who needs them with lockdwon anyway ? Oh yeh, the homeless, record numbers rising every day, they will have to pee and sh-t in the street, and maybe die soon because the Covid Billioanires won't help them.
Talking of sicko weirdo pervert police in the U.K, should there be any need to debate their dismissal ? Yes, because if you get rid of them all , how many will be left ? They used to say, set a thief to catch a thief, so maybe set a pervert to catch a pervert. Maybe that's the sort of cop they send into men's toilets to catch gays ? How many British Police Officers do you need to hear the truth ? Don't know because it never has and never will happen.
R.J Cook
January 4th 2021
Same Old Story January 4th 2021
So it is to be more lockdown. 'We' haven't beaten the virus yet ( sic) ', what a joke. we must listen to the scientists and follow stricter rules. ( sic ). What sort of moron believes that and ignores the damage being done to the hopelss hapless masses ?
A virus cannot be beaten, even if some deep state created it so you have its genetic code to speed up vaccines which must not be allowed to work because lockdowns have been so effective at controlling the increasing dangerous and divided masses in mythical multi cultural rainbow world.
We have had a lot. We are supposed to believe lockdown worked, but NHS collapsing under weight of it all means we need more. We no longer hear of Covid deaths, just more of rising infections from a highly convenient and timely new strain.
Panic is the order of the new day. Europhile Sturgeon is setting the pace, keeping England in line. Boris seems to have no mind of his own, unless he is even more devious than he needed to be to pull off the leadership contest and Brexit con – fooling Labour voters who were scared of Corbyn and actually beleievd they ever had a country to get back from anyone. Europe was warped and scapegoated by the elite, cloaking the mass immigration they made move in by bombing and terrorising the Middle East's gullible ignorant God fearing masses rather than paying them back for empire.
Blaming the white masses and the BLM con, pulling down stupid old statues that most of us never looked at or up to, is part of that elite con and diversion from what they are up to now.
Mental health problems are on the one hand the worse since World War two because of lockdown, but a tame professor 'expert' says we mustn't get all the new psychosis out of perspective.
Professors are rarely the best in their field of research, but excel in politics and back stabbing. they have big egos making a lot of noise.Things will pass and folk will get over them, the professor insists without evidence or reason other than everything ultimately dies, as we old folk should, making way for new blood, not patronising the young
So things will pass. No worries now. . Well tell that to the French 11 year old boy who cut his dead young mother down from the noose. Her little cafe had gone bust due to lockdown. She lost everything. But don't worry. We have to prioritise old folk like me, especially the hedonists of my ghastly baby boomer generation and BAME, who all fear death – the former believing they should never die and the latter not so sure of their God, and unwilling to change their unhealthy community lifetstyles.
There is no political will to stem the influx of illegal BAME because that would be racist, and they are cheap labour for the New World Order run by the likes of Bill Gates.
As for shutting down our schools, well I know from 18 years teaching in Britain's front line what many of our 'successful' teachers really think of the kids- obstacles to promotion and self aggrandisement. Council taxpayers are expected to fund them and all the other public sector workers on full pay – telling them they are heroes, rather than how lucky folk like us are or were to have protected jobs. We had and should still have obligations to the people who pay us – try telling that to the corrupt overpaid police and moaning NHS workers who won't talk about the real issues in that failing service.
Meanwhile, the rich get richer and will not be paying more tax across the globe any time soon – in spite of creating an overpopulated global economy which exploits peoples ignorance, feeds religious bigotry, then bombs them if that doesn't work.
Anyone who blows those parasites secrets ends up like Julian Assange and Chelsea Manning, is villified by moralists like Creepy Joe Biden and war monger Hilarous Hilary Clinton famous for her quote : ' We came ( the Anglo U.S elite ) , we saw, he died.' So did stability in North Africa, with a consequent BAME avalanche of immigration into the west, at a time when Gaddafi had a plan to bring economic prosperity, trade and stability to North and West Africa – his own customs area. Our elite rulers don't want that, so they had to kill him, under the guise of democracy ( sic } R.J Cook
Why NHS Can't Cope Is A Secret ? It is at risk of being shown unfit for purpose like so much of British Public ( sic ) service. January 4th 2021
'NHS could be overwhelmed in 21 days' – chief medical officers
The UK's chief medical officers and NHS England's medical director have recommended that the UK Covid alert level should move up to level five, the highest possible, after warning that they were "not confident that the NHS can handle a further sustained rise in cases".
In a statement they said that "without further action there is a material risk of the NHS in several areas being overwhelmed over the next 21 days".
"There are currently very high rates of community transmission, with substantial numbers of Covid patients in hospitals and in intensive care," they said.
"Cases are rising almost everywhere, in much of the country driven by the new more transmissible variant."
But the statement added it was "absolutely crucial" people still came forward for emergency care.
Boris Johnson is expected to announce a set of new national restrictions for England, similar to the March lockdown, in a televised address at 20:00 GMT.
The PM is likely to urge the public to follow the new rules from midnight.
It is expected people will be told to work from home if possible and schools will close for most pupils.
It is not yet clear when the measures will be reviewed, but MPs are likely to be given a vote to approve them retrospectively on Wednesday.
It comes as Scotland announced a legal requirement to stay at home from midnight, with schools to be closed.
Mr Johnson will set out plans for England as the UK's devolved nations have the power to set their own coronavirus regulations.
Alongside Scotland, both Wales and Northern Ireland have also implemented national restrictions – the devolved administrations were due to take part in a four nations conference call at 17:00 GMT.
On Monday, the UK recorded more than 50,000 new confirmed Covid cases for the seventh day in a row.
As of 08:00 GMT, there were 26,626 Covid-19 patients in hospital in England, according to the latest figures.
This is a week-on-week increase of 30%, and a new record high.
Mr Johnson is expected to tell people to work from home unless they are a key worker, or it is not possible for them to do so, for example if they work on a construction site, according to BBC political editor Laura Kuenssberg.
It is also understood that England's chief medical officer, Prof Chris Whitty, has told the prime minister the new variant of coronavirus is now spreading throughout the country.
The new variant – first identified in Kent and since seen across the UK and other parts of the world – has been found to spread much more easily than earlier variants.
Scottish MP Margaret Ferrier has been arrested by police after she admitted using public transport while infected with Covid-19.
Ms Ferrier apologised for what she called a "blip" in September.
She was suspended from the SNP group at Westminster and leaders, including First Minister Nicola Sturgeon, urged her to quit as an MP over the row.
Police Scotland said she had been charged in connection with "alleged culpable and reckless conduct".
Ms Ferrier apologised in September after travelling from London to Glasgow having tested positive for coronavirus.
The Rutherglen and Hamilton West MP said she had experienced "mild symptoms" and taken a test, but had then decided to travel to Westminster because she was "feeling much better".
She then travelled home again on a train after receiving the positive test result, and said she "deeply regretted" her actions.
A Police Scotland spokesman said: "We can confirm that officers today arrested and charged a 60-year-old woman in connection with alleged culpable and reckless conduct.
"This follows a thorough investigation by Police Scotland into an alleged
BAME 76 year old Mum's 'heartbreaking' death next to daughter in a – heavily BAME populated high density city with much poverty – Leicester hospital. January 4th 2021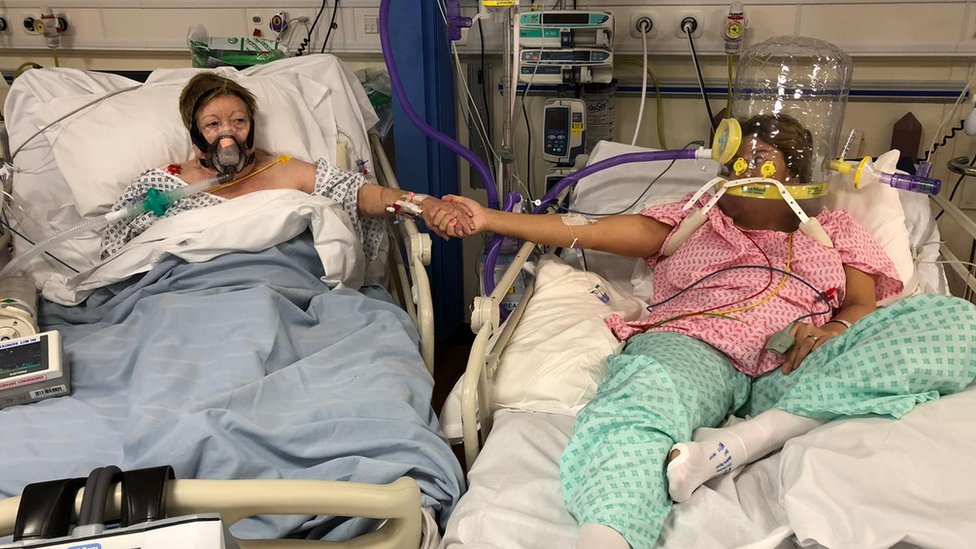 A woman who watched her mother die next to her in hospital after they both caught Covid-19 has pleaded with people to follow precautions.
Maria Rico, 76, from Leicestershire, removed her oxygen mask to speak to her two daughters one final time – despite knowing this would hasten her death.
Anabel Sharma described the moment as "heartbreaking" but said she was glad her mother did not die alone.
She has released their final photograph to raise awareness of the virus.
'Comfort'
Mrs Sharma, from Whitwick, said her mother had died about half-an-hour after her mask was taken off.
"My mum asked them to take her mask off and they said, 'Once we take this off, that will be it. You won't have very long'.
"She said, 'Yes, I know that but I've had enough'," said Mrs Sharma, 49.
"We had about five minutes with her when she was able to speak, then she lost consciousness.
"She told us she wasn't afraid to die, that she was ready. She told me I had to fight hard because I had the children at home."
Comment The appalling and expensive NHS killed my mother through incompetence and filth. She was 83. Her last days in Stoke Mandeville followed weeks after her catching c difficile in filthy Milton Keynes Hospital. That story is covered elsewhere on this site. NHS neglect also killed my father when he was 41. Lockdown serves several puroses, but will not stop 'the virus.' Covering for the dreadful NHS and social control are top of the list of reasons for prolonging lockdown misery and destruction. Hospitals get extra funding for listing deaths as Covid related. Their figures should not be trusted and are meant to frighten. . R.J Cook
Maxwell and Elite Paedophile Ring January 4th 2021
She's been in solitary confinement since her arrest last July. Days and nights are endured in complete isolation, except for the guards who shine a torch into her eyes every fifteen minutes as she tries to sleep. Apparently no prison officer will speak a word to her.
She reportedly sometimes goes 20 hours without food. She's lost almost two stones and when she complained, prison authorities at New York's notoriously harsh Metropolitan Detention Center removed her scales to prevent her recording any further weight loss.
She is forced to wear paper clothes and is refused a bra because of fears she is a suicide risk.
Her cell is tiny – 9ft by 7ft. Maxwell faces another six months in this claustrophobic concrete bubble before trial. Whatever you think of her, it would take a heart of stone not to feel empathy for another human being suffering what amounts to mental torture. To coin a phrase: you wouldn't treat a dog like that. Extracted from Richard & Judy column
Comment This is indeed inhumane, but commensurate with equality law. Maxwell is accused of hideous and vile crimes. Epstein was in it up to his neck , a close friend of Prnce Andrew and associate of Bill Clinton.
Wealthy people have judged and punished the masses for centuries while abusing without censure. It is hard to believe this wealthy person was ever arrested, not least because there are always excuses for women.
Epstein somehow managed to break his neck in two places while in close custody. Maybe this extreme treatment is not so much about getting her to turn state evidence, but simply to kill her.
Why such a long time before trial ? Presumably they had evidence to hold her in custody. R.J Cook
UK judge blocks Julian Assange extradition January 4th 2021
The UK's top court ruled against the extradition of the WikiLeaks founder, citing mental health grounds. In the US, he faces up to 175 years, for multiple espionage charges for releasing sensitive military documents.
Julian Assange is set to hear whether he will be extradited to the US
A UK judge on Monday refused a US request to extradite WikiLeaks founder Julian Assange on espionage charges.
District Judge Vanessa Baraitser gave the decision during the morning, saying it would be "oppressive" because of his mental health.
Assange was likely to commit suicide if sent to the US, Baraitser said.
Assange faces 18 charges in the US relating to the 2010 release by WikiLeaks of 500,000 secret files detailing aspects of military campaigns in Afghanistan and Iraq.
If convicted in the US, Assange would be jailed for up to 175 years.
What did the judge rule?
The judge rejected claims by the defense that Assange was protected by free-speech guarantees. His "conduct, if proved, would therefore amount to offenses in this jurisdiction that would not be protected by his right to freedom of speech," Baraitser said.
But she said Assange suffered from clinical depression that would be exacerbated by the "severely restrictive detention conditions designed to remove physical contact" in US prison.
Assange had the "intellect and determination" to circumvent any suicide prevention measures the authorities could take, the judge said.
The Judicial Office tweeted a link to the full judgement in the Assange case.
Who is Julian Assange?
The 49-year-old was born in 1971 in Townsville, north-eastern Australia.
In 2006, he founded WikiLeaks in 2006 as part of a collective. The website enabled anyone to anonymously submit leaked secret documents.
He shot to fame in early 2010 when WikiLeaks published a classified US military video showing a 2007 attack by Apache helicopters in Baghdad that killed a dozen people, including two Reuters news staff.
WikiLeaks published hundreds of thousands of secret US diplomatic cables that laid bare often critical US appraisals of world leaders, from Russian President Vladimir Putin to members of the Saudi royal family. Watch video 02:06
Assange in London court for US extradition hearing
Assange has faced multiple controversies, including charges of sexual assault, following a visit to Sweden.
Human rights groups criticized him for going public with the Afghan war logs while not adequately protecting informants.
In a bid to avoid extradition to Sweden over sexual assault allegations, he stayed in Ecuador's embassy in London from 2012 to 2019 where he was granted asylum.
But Assange was arrested for breaching bail in 2019 after a change of government in Quito brought an end to his asylum in the mission.
The years in the embassy took a toll on both his mental and physical health, according to his lawyers, doctors and UN experts.
Why was he up for extradition to the US?
In April 2019, a grand jury in the US state of Virginia charged Assange with one count of computer hacking. This was for allegedly assisting former US Army intelligence analyst Chelsea Manning in accessing classified documents that exposed the US military activities in Iraq and Afghanistan.
In May 2019, the WikiLeaks founder was indicted under the US Espionage Act on 17 counts for soliciting, gathering and publishing US military and diplomatic documents in 2010, all provided by Manning.
The US Justice Department on June 11, 2020 formally asked Britain to extradite Assange to the US to face a total of 18 charges.
What has the reaction been like?
His extradition has sparked criticism, among others by Nils Melzer, UN special rapporteur on torture who told DW: "the United States is trying to criminalize investigative journalism."
Christian Mihr, director of the German branch of Reporters without Borders (RSF) attended many days of the court proceedings in London.He told DW he believed that British authorities had "attempted to systematically shut out international observers."
The process was "political," Mihr added.
The German government's Human Rights Commissioner Bärbel Kofler has urged the UK to adhere to human rights and fulfil humanitarian obligations in the extradition process.
German Green party member of parliament Margit Stumpp, told DW that she sees "the rule of law being violated" in the extradition procedures.
"I've often been to Turkey, and there I had no problems getting into the courtroom," Stumpp said.
Watch video 06:52
UN rapporteur on torture warns of manipulation in Assange case
The London Economic January 3rd 2021
Legal action launched over missing three BILLION Tories spent on private Coronavirus contracts
"When billions of pounds of public money is handed out to private companies, some of them with political connections but no experience in delivering medical supplies, ministers should be explaining why those companies were awarded the contracts."
by Joe MellorOctober 11, 2020 in News
There has been an outcry over the huge amount of money that the Government can't account for, that has been spent since the start of the pandemic.
Serious questions have been asked about the whereabout of the funds, but so far the Government hasn't been forthcoming with the details requested.
The Government has failed to account for £3 billion spent on private contracts since the start of lockdown, new figures have shown.
It comes as three cross-party MPs and the Good Law Project, a non-profit-making organisation, have launched legal action against the Government over its failure to disclose details of its spending on contracts related to the pandemic.
Green MP Caroline Lucas, Labour's Debbie Abrahams and Liberal Democrat MP Layla Moran have filed a judicial review against the Government for breaching the law and its own guidance and argue that there are mounting concerns over the Government's coronavirus procurement processes.
Not made public
They say that, despite the Department of Health and Social Care disclosing in September that at least £11 billion worth of contracts have been awarded by the department since April, related predominantly to coronavirus, new analysis by Tussell shows that over £3 billion worth of these contracts have not been made public.
The Department of Health and Social Care has said due diligence was carried out on all Government contracts which have been awarded.
RelatedPosts
The Government has 21 days to respond to the judicial review proceedings.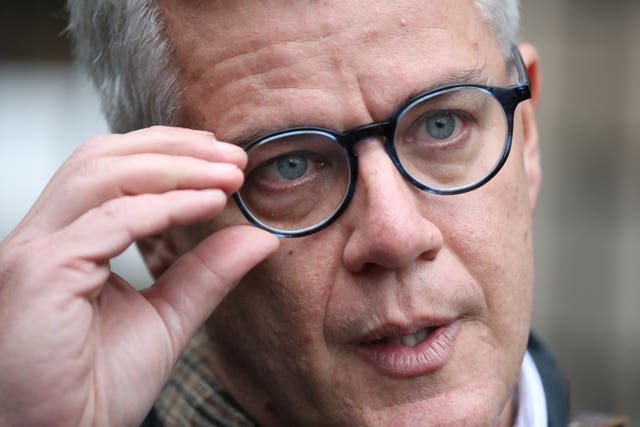 Jolyon Maugham QC, director of Good Law Project said: "What we know about the Government's procurement practices during this pandemic gives real cause for concern.
The law can be a powerful tool for accountability. Here's how we are using it to keep those in power honest. https://t.co/x1Mkrkj8yg #goodlawproject— Jo Maugham QC (@JolyonMaugham) October 11, 2020
"Huge sums of public money have been awarded to companies with no discernible expertise.
"Sometimes the main qualification seems to be a political connection with key Government figures.
"And I have seen evidence that Government is sometimes paying more to buy the same product from those with political connections.
"We don't know what else there is to discover because the Government is deliberately keeping the public in the dark.
"We are left with no option but to push for transparency through the courts."
Completely unacceptable
Ms Lucas added: "When billions of pounds of public money is handed out to private companies, some of them with political connections but no experience in delivering medical supplies, ministers should be explaining why those companies were awarded the contracts.
"It's completely unacceptable that, as an MP, I'm prevented from being able to scrutinise those decisions."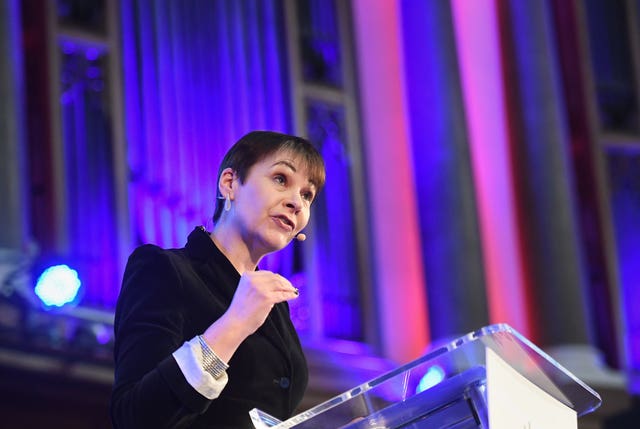 Ms Abrahams said: "Transparency is crucial for effective scrutiny and will only improve our response to this crisis.
"The persistent failure to publish the details of Covid contracts leads you to wonder what this Government has got to hide."
Ms Moran added: "It is totally unacceptable for the Government to avoid scrutiny during a public health crisis.
"As we enter a predicted second wave we need to be able to take stock of what has worked and what hasn't to protect as many lives as possible.
"Government must let Parliament do its job and properly scrutinise their decisions."
Crowdfunded
The legal challenge is being crowdfunded with the support of 38 Degrees and Good Law Project and the three MPs have instructed Deighton Pierce Glynn and Jason Coppel QC and Christopher Knight of 11KBW to act in the judicial review proceedings
Campaigns director of 38 Degrees, Ellie Gellard said: "The public needs to know where taxpayers' money has been spent in our ongoing battle against coronavirus so that we can be sure those who have been paid, deliver what they promised.
"That's why thousands of members of the public have chipped in to help get the answers we deserve, transparency is needed to restore public trust in the Government's approach."
Who discerns what is fake news and why don't we decide for ourselves? Navanwitwa Sachdev Posted January 3rd 2021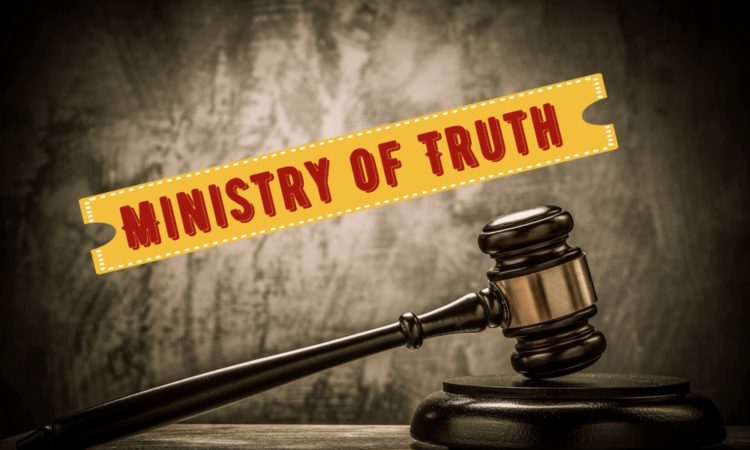 4.57Kviews
Governments across the world are implementing policies and practices to control the fake news monster of social media. However, who decides what is fake news? Why don't we decide for ourselves?
Canadian Prime Minister Justin Trudeau announced a digital charter to impose "meaningful financial consequences" on tech companies if they don't curb misinformation on their platforms.
During an online extremism summit, world leaders, like Trudeau, French President Emmanuel Macron and New Zealand Prime Minister Jacinda Ardern, signed the 'Christchurch Call for Action', a non-binding agreement that involves governments and private companies to curb online extremism through regulations and self-policing.
Tech giants, Facebook, Microsoft, Twitter, Google, and Amazon have signed the agreement.
Singapore has passed an anti-fake news law that empowers authorities to police online platforms and even private chat groups. According to the new law, the government can order platforms to remove, what it thinks, are false statements that are "against the public interest", and to post corrections.
After the devastating suicide bombings on Easter Sunday, Sri Lanka banned social media for nine days as a step against spreading damaging hate messages. This included Facebook, WhatApp, Instagram, YouTube, Viber, and Snapchat.
The Sri Lankan government was praised for taking a tough stand against panicked misinformation, but, at the same time, many Sri Lankans were forced to be cut off from communicating with relatives with only a government-friendly media for information.
While such initiatives aim to counter online extremism and misinformation, the problem does not wholly get solved. In fact, this either invites third-party bias or curbs freedom.
Fact-Checker Bias
Two years ago, Facebook said it would rely on third-party fact-checkers to curb fake news. Turns out, the consolidation of the third party consisted of a handful of media organizations with their own political leanings.
The prompt to reduce fake news from Facebook's news feed revealed that it removes financial incentive from spammers, and not from sensational stories with the potential to sway elections.
If fact-checkers are employed, won't they be puppets in the hands of their employers?
Hence, government-employed fact-checkers will be obligated to the government to allow profitable content and curb the opposite.
This sets up a person or an organization to be the moral authority on what is real or fake, offensive or friendly — a type of dystopian Ministry of Truth.
And in the process, what happens to free speech?
Self-Checking News
As users of platforms like Facebook, WhatsApp, YouTube, etc., we often do not discern information for ourselves. Our blind trust in information outlets and platforms often lead us to form beliefs without researching all sides of a story.
A Canadian Journalism Foundation survey has found that about 40% of Canadians have difficulty identifying a fake news story from a fact-based one.
In a survey of more than 74,000 people in 37 markets across the globe, the 2018 Digital News Report found that more than half (51%) of the respondents trust the news media they themselves use most of the time.
In a news analysis done by BuzzFeed in election year 2016, the most popular fake articles got more Facebook shares, reactions, and comments than the actual high-quality news.
We live in our cocoons of comfortable beliefs — a veritable echo chamber alongside those of similar beliefs while seldom stepping out of that comfort zone and losing our objectivity in the process.
Social media platforms do not want this objectivity in us either, because they want us to connect with other like-minded individuals, since continuing to do that keeps us on their platforms.
Should we now blindly trust a government to tell us what to believe?
Good Cop Posted January 3rd 2021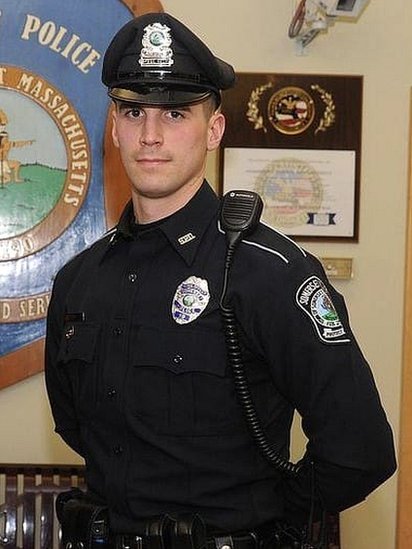 A US police officer who was called out to arrest a family suspected of shoplifting instead bought them some food so they could have a decent Christmas dinner.
Matt Lima was called to a food store in Somerset, Massachusetts, last month, a police statement said.
Two women were reported not to be scanning all of their groceries.
When questioned, the family said they had fallen upon hard times and could not afford to pay for all the food.
They had still wanted to give the children a Christmas dinner.
Mr Lima served them with a "no trespass" order, but did not press charges as all the items on the shopping receipt were for food, police said.
He then bought them gift cards worth $250 (£180) with his own money so the women and their two children would be able to buy food for their Christmas dinner at another shop of the same chain.
"The two children with the women reminded me of my kids, so I had to help them out," Officer Lima said.
"Obviously, this family was in need and I can't imagine having to make the decision to go to Stop and Shop [the food store] and just only pay for what I can afford – or do I go there and try to take things for Christmas dinner for the kids?" he told local TV.
"They were very thankful, they were kind of shocked. I'm sure a lot of people in that same situation would be thinking that there was going to be a different outcome, and maybe they would be arrested or have to go to court.
"I bought the gift card close in value to what would've been taken," he added. "I just did what I felt was right. It's not about me, I just tried to put myself in that family's shoes and show a little bit of empathy."
Culture Con Trick January 3rd 2021
Story & Comment to follow
The following few images are intended to summarise aspects of last year, with comment on the oppressive con trick of multi culture.
The above image relates to a U.S medical journal advocating ommission of gender from birth certificates. It is all part of the LGBTQI cultural movment which refuses to accept birth sex as fixed.
Across the western world, those of us whose income was heavily connected with the hospitality sector are being driven to the wall by our totalitarian fake demcoracies pursuing Covid 19 lockdown in spite of the the fact that lockdowns do nothing to beat the virus. So with this in mind, as the virus spreads and mutates, lockdowns are tightened, and we are told vaccines won't change things. All of this rather than accept that only BAME, elderly, obese and worried well should be protected if they want to be. Otherwise the fall out for the lower classes will be worse and the rich will go on getting richer. They don't matter, they can enjoy 'multi culture' or lump it.
Here we go again as a Somalian immigrant gun man is shot dead by police in U.S. U.S is soaking up a lot of Africa's surplus population as the continent continues to decline under dictatorships and capitalist exploitation. Somalia is rife with gangsters and crime.
Fun is against the law now, must stay safe because the rich and powerful say so, it suits them. As Trump said. fear is power, power is fear.
Stupid people voted to leave E.U ' to get our country back.' 90% of the population live on 10% of Britain's land, 400 rich families own 95% of Scotland, something 'The Sturgeon' never mentions as she plays to the gallery. Over 95% of world wealth is in the hands of 5 % of the population.
The future ?
The face of multi culture in all its glory.
Lab leak is most 'credible' theory behind Covid-19 outbreak, says US senior official Posted January 3rd 2021
Christopher Bucktin 41 mins ago These surprising foods have been 'banned' around the world Brexit news – live: Johnson says he will stay on as PM as Britons living in EU turned…
One of America's most senior government officials says the most 'credible' theory about the origin of coronavirus is that it escaped from a laboratory in China.
Matthew Pottinger, who is President Donald Trump 's respected Deputy National Security Adviser, told politicians from around the world that even China's leaders now openly admit their previous claims that the virus originated in a Wuhan market are false.
Mr Pottinger said that the latest intelligence points to the virus leaking from the top-secret Wuhan Institute of Virology, 11 miles from the market, saying: "There is a growing body of evidence that the lab is likely the most credible source of the virus."
© Getty Images Matthew Pottinger said that even China's leaders now openly admit their previous claims are false
He claimed the pathogen may have escaped through a 'leak or an accident', adding: "Even establishment figures in Beijing have openly dismissed the wet market story."
The comments, which were made during a Zoom conference with MPs on China last week, come as a team of experts from the World Health Organisation prepare to fly to Wuhan to investigate how the pandemic began.
Iain Duncan Smith, the former Tory Party leader who attended the meeting, said Mr Pottinger's comments represented a 'stiffening' of the US position on the theory that the virus came from a leak at the laboratory, amid reports that the Americans are talking to a whistleblower from the Wuhan institute.
© AFP via Getty Images He claimed the pathogen may have escaped through a 'leak or an accident'
"I was told the US have an ex-scientist from the laboratory in America at the moment," he said.
"That was what I heard a few weeks ago.
"I was led to believe this is how they have been able to stiffen up their position on how this outbreak originated."
He added that Beijing's refusal to allow journalists to visit the laboratory only served to increase suspicion that it was 'ground zero' for the pandemic.
Regional restrictions in England are "probably about to get tougher" to curb rising Covid infections, the prime minister has warned.
Boris Johnson told the BBC stronger measures may be required in parts of the country in the coming weeks.
He said this included the possibility of keeping schools closed, although this is not "something we want to do".
But he added ministers had to be "realistic" about the spread of the new variant of the virus.
Mr Johnson said the government was "entirely reconciled to doing what it takes to get the virus down," and warned of a "tough period ahead".
He said increasing vaccination would provide a way out of restrictions and that he hoped "tens of millions" would be vaccinated in the next three months.
Defending his handling of the pandemic, the prime minister said the government had taken "every reasonable step that we reasonably could" to prepare for winter.
But, speaking on the BBC's Andrew Marr programme, he said ministers "could not have reasonably predicted" the new, more transmissible variant of the virus that has emerged over the autumn.
He also urged parents to send their children to primary school on Monday if they are open in their area, adding he had "no doubt" schools were safe.
Secondary schools in England are due to stagger their return – with pupils taking exams in 2021 starting on 11 January, and other year groups returning in person on 18 January.
In London and some surrounding areas, primary schools will not open for most pupils until 18 January.
In other areas of England, primaries are due to return on Monday, with teaching unions and some councils calling for them to also stay closed.
However Amanda Spielman, the head of Ofsted, England's schools watchdog, said closures should be kept to an "absolute minimum".

Karen Carney deletes Twitter account after barrage of abuse caused by Leeds United's tweet Posted January 2nd 2021
Amazon Prime pundit received plenty of abuse on social media following comments made over Leeds United's success with the Premier League side posting a tweet mocking the former England star.
Karen Carney has deleted her Twitter account with the Amazon Prime pundit have receiving a barrage of abuse in recent days.
Carney was targeted by Leeds United following comments over their success last season with Marcelo Bielsa's side promoted to the Premier League.
Carney had questioned whether the Whites can keep up their intense performances for the entirety of the season following their promotion.
Carney believes the coronavirus break during the previous campaign allowed the Elland Road outfit the opportunity to regroup.
She said: "They outrun everyone and credit to them. My only concern would be, will they blow up at the end of the season like the last couple of seasons?
Comment Karen Carney's sensitivity is just more propaganda for laws to control speech. I am no fan of Premier League football because it is all about obscenely overpaid prima donnas, who without the roar of fake crowds would be seen for what they are, nothing special.
Now if I were egotistical or stupid enough to have a twitter account, then I might expect abuse for writing this. Many years ago, when I started out in local journalism, I wrote a local column taking the piss out of Thatcher and the local Tories, in Tory Buckinghamshire. The paper received abusive hate mail about me, so I apologised to the editor. He laughed, telling me to write more and go on upsetting them.
That editor was also pretty rough with me and very critical. That is how I learned. Unfortunately, women are being welcomed into every sphere of activity. Allegedly equal, and always shouting about it, they demand changes to rules and language codes, ultimately castrating journalism and worlds beyond – as we see with women in Parliament.
As it happens, I think Carney's comments were fair. But she has no right to be outraged by manly response to her truths.She is working in a man's world, and there are differences, however much social engineering is enforced. Many of these supporters have little else in increasingly dull insecure and desperate lives. She has every right to do her job and comment on their dreadful arrogant team, but no right to comment on their self expression unless they are threatening or slandering her, rather than reacting to her commentary. R.J Cook
RSF Reportiers Sans Frontieres
Will Julian Assange be extradited to the United States?
Posted January 2nd 2021
Dear Friends,

Extradition proceedings against Wikileaks publisher Julian Assange are set to conclude on 4 January, when District Judge Vanessa Baraitser is due to give her decision in a 10 am hearing at London's Central Criminal Court (the Old Bailey).

With just days to go to this historic judgment, RSF again condemns the targeting of Assange for his contributions to journalism and calls for his immediate release. It is clear that this case is politically motivated and that it aims to make an example of Assange in order to intimidate media outlets all over the world. If the US government is successful in securing Assange's extradition and prosecuting him for his contributions to public interest reporting, the same precedent could be applied to any journalist anywhere. The possible implications of this case simply cannot be understated; it is the very future of journalism and press freedom that is at stake!

Prior to this decision, RSF has been submitted via email the final version of its petition to Number 10, the Ministry of Justice, the Home Office, and the Foreign, Commonwealth & Development Office calling on the British authorities not to extradite Julian Assange. RSF will also post a visual with the names of all the petition's signatories on its home page and on all of its international social media accounts.

RSF will go to the Central Criminal Court in London on 4 January in order to try to attend the hearing and closely follow developments in this case.

Wishing you and your loved-ones a very happy new year to come.

Thank you for your unfailing support!
—

REPORTERS WITHOUT BORDERS
Rebecca Vincent
Director of International Campaigns
Taking Flack January 2nd 2021
All the celebrities we have lost in 2020
Neil Peart.
Kobe Bryant. The former basketball superstar, 41, was killed alongside his 13-year-old daughter Gianna and seven others after their helicopter crashed in Calabasas, Southern California. …
Nicholas Parsons. …
Terry Jones. …
Kirk Douglas. …
Pop Smoke. …
Caroline Flack. …
Kenny Rogers.
The list above intrigues me because of Caroline Flack's name being among names we are supposed to lament having passed on in 2021. There was clear evidence that she perpetrated serious domestic violence on her sleeping partner.
Flack was the 'glamorous' glittering host of a trashy sex orientated show called 'Love Island', the pinnacle of a career that started with Blue Peter. Her success was built on her looks, her show was banal but very much in tune with Britain's dumbed down popular culture. She attacked her partner with a heavy table lamp, hitting him about the head, because she found his texts to a woman 20 years older than her. To some that justified her actions.
Meanwhile the highly talented actor Johnny Depp, without evidence, has been crucified by the Sun newspaper, sacked and airbrushed from film history for assaulting his ex wife, the very not talented Amber Heard, even though there is absolutely no evidence other than what she told her girl friends and the media. She had already won a $9 million divorce settlement when she went on to join the 'Me Too' movement.
Record Numbers Living Alone & Crumbling NHS That Can't Cope with Mass Immigration , collapsing family life ( I blame feminism and the aged elite running it )and ageing population, so this will never end until World War Three Starts.
The top 5 % have 95% of the wealth, and are getting richer, which is why the global elites like pushing for foreign adventures, and there will eventually be one big one. Hence Russo/Sino racist phobia. Covid lockdowns and panic makes no sense without there being a hidden agenda. R.J Cook January 1st 2021
Primary schools reopening: Call for remote learning as Covid cases rise January 2nd 2021
Pressure is growing on the government to keep all schools in England closed for two weeks after the Christmas break amid a surge in coronavirus cases.
Teaching unions have told primary school staff it is unsafe to return to work, and called for remote learning.
Head teachers have begun legal action to force ministers to reveal data behind the decision for some schools to reopen on Monday.
The government said decisions are based on new infections and NHS pressure.
Labour has accused the government of "creating chaos" for parents.
Most primary schools in England are expected to open on Monday while secondary schools will reopen on a staggered basis, with exam year pupils returning on 11 January and others returning a week later.
On Friday, Education Secretary Gavin Williamson announced that all of London's primaries would remain shut on Monday – reversing a decision to keep only schools in certain boroughs closed.
He said the closures were a last resort in the face of a fast-moving situation.
Elsewhere, Brighton and Hove Council has advised primary schools to switch to remote learning next week.
Meanwhile, president of the Royal College of Physicians, Prof Andrew Goddard, told the BBC the new highly infectious strain of coronavirus was spreading across the country, adding: "All hospitals that haven't had the big pressures that they've had in the South East, London and south Wales should expect that it's going to come their way."
The next few weeks will be "nail-bitingly difficult" for the NHS, hospital bosses have warned.
Staff absences and the new Covid variant are creating a "challenging situation", Saffron Cordery, of NHS Providers, which represents hospital trusts in England, said.
Doctors are urging the public to "take it seriously and follow the rules" to protect the health service.
The year started with 53,285 more Covid cases and 613 deaths being reported.
The day's figures do not include data from Northern Ireland or Wales, or the numbers of deaths from Scotland – as these are not being published on certain days during the Christmas and New Year period.
It comes after the UK reported its highest daily cases on Thursday, with a record 55,892 infections.
Meanwhile, new analysis by Imperial College London has confirmed the new variant of coronavirus has a much quicker rate of transmission than the original strain.
And an analysis of NHS England data from 23 hospital trusts by the Health Service Journal shows that Covid-19 is putting intense pressure on adult acute care and general beds, as well as those in intensive care.
It found that more than a third of these beds were occupied by patients with Covid-19 on Tuesday, and in three trusts – North Middlesex in London, and Medway and Dartford and Gravesham in Kent – the figure was more than half.
Based on the recent rise in numbers, the analysis suggests that all acute and general beds might soon be filled with Covid-19 patients.
Speaking on BBC Breakfast, Ms Cordery said the surging transmission and death rates were "incredibly hard to deal with".
"When we are seeing major London trusts saying they are under pressure, that's when we know we're in a very challenging space," she said.
A leading intensive care doctor has urged people to follow restrictions until the vaccination programme is fully rolled out.
Lockdowns 'kill more Britons than they save': Leading economists warn that Government's coronavirus strategy is coming with a heavy price
Three experts gave evidence to Treasury Committee urging rethink in approach
Two of them claimed blanket lockdowns caused more suffering than mitigated
They urged policymakers focus resources on protecting elderly and vulnerable
Top economists warned yesterday that the Government is 'killing more people than it could possibly save' through lockdowns.
Giving evidence to the Treasury Committee, three experts urged Boris Johnson to rethink his approach.
Two of them claimed blanket lockdowns have already caused more suffering than they mitigated – damaging the economy, mental health and job prospects.
Gigi Foster, a professor at the University of New South Wales who has been advising Australian policy, said: 'It's very clear that the UK is killing many more people via lockdowns and suspended health services than it could possibly save from Covid.'
David Miles, of Imperial College London, said a short, sharp lockdown could have been effective but that a three-month lockdown 'didn't look sensible'.
Tony Yates, of think-tank the Resolution Foundation, was cautious of relaxing restrictions too speedily but said the first lockdown should probably have ended sooner.
The economists' advice will weigh on the Government, as Mr Johnson tries to suppress a rapid increase in Covid-19 cases and Chancellor Rishi Sunak desperately tries to keep a grip on the public finances.
Junior doctor, 35, killed himself during coronavirus lockdown as he struggled with isolation Posted January 1st 2021
Joshua Burke, 35, was violin virtuoso touring with London Chamber Orchestra
But he stopped his music career to retrain as a doctor at Warwick University
He was concerned by 'ethics' of understaffed hospitals and suffered depression
Took a break from work but killed himself two months before he was set to return
His older sister Zoe, 38, says he was 'failed' by the NHS in 'isolating' lockdown
For confidential support call the Samaritans on 116123 or visit a local Samaritans branch, see www.samaritans.org for details
A junior doctor and talented musician killed himself after struggling with isolation during the coronavirus pandemic.
Joshua Burke, 35, was a violin child protégé who won a scholarship to the Yehudi Menuhin School, before graduating with a first class degree from the Royal College of Music in London.
He toured with the London Chamber Orchestra and worked as a violin teacher but five years ago decided to put his music career on hold to study medicine.
Mr Burke graduated as a doctor from Warwick University in July last year, but relatives said he struggled with the 'ethics' of medicine and also suffered from depression. He was found dead on June 14.
His older sister Zoe, 38, told the Mail that her brother, who lived alone, was 'failed' by the NHS in lockdown because he didn't get the treatment he needed. She also said he would likely be here today had it not been for the coronavirus pandemic.
The mother-of-two, of Todmorden, West Yorkshire, said: 'He went to the doctor and self-prescribed what he needed and they had a doctor-to-doctor chat, where what really should have happened was that my brother was severely unwell and he should have been referred to psychiatric services.
'When Joshua didn't return surely the doctor should have chased it up but (he) wasn't because of the stress of lockdown and insufficient funding for mental health in general. He slipped through the net. He was failed.
'Right now there is so little help for mental health and it has become such a major issue in lockdown. I genuinely think my brother would not have taken his own life now if it hadn't been for lockdown.
'The last time I saw him, he was just very jolly with me but there was always this undercurrent and he was suffering from lockdown boredom.'
In a tribute published in the British Medical Journal, Mr Burke's uncle Peter Schroder, a GP in Germany, said: 'Intelligent, well read, hardworking, empathetic, and humorous, Josh would have made a good doctor.
'But he struggled with ethical problems in medicine, his growing depression and corona isolation.
He may not have asked loudly enough for the needed help.'
Mr Burke had an unconventional childhood. He and his sister were home-schooled by their parents on the family yacht while they sailed around the world.
Mr Burke started playing the violin aged eight and won a scholarship to the Yehudi Menuhin School of Music, in Surrey, aged 15.
After forging a career in music, he became disillusioned and decided to retrain as a doctor, winning a place at Warwick University to study medicine in 2015. He graduated last year and started working as a junior doctor at a hospital in Bristol.
But Miss Burke said her brother struggled to cope with working in an under-staffed NHS and had issues regarding the 'ethics' of medicine. He decided to take a break from work and moved to Halifax, west Yorkshire, but killed himself two months before he was due to return to the frontline in August.
Miss Burke, a former English teacher and full-time mother, added: 'He went through a huge career change to finally become a doctor and then started to have these concerns around ethics.
'My brother was a really ethical person and had concerns around understaffing in hospitals. Joshua was a junior doctor and was on his own with just one other doctor for 12-hour shifts.
He graduated as a doctor from Warwick University in July last year, but relatives said he struggled with the 'ethics' of medicine and also suffered from depression. He was found dead on June 14
'I am sad to say I believe the pressure of going back was one main factor in the timing besides lockdown. A greater factor than lockdown. He'd just put in so much effort for med school, like for his music career, and then that wasn't working out either.
'He became a doctor and then the whole pressure of his life became too much.'
Miss Burke said she was angry that she had obeyed lockdown rules and not taken her seven-year-old daughter and one-year-old son to see her brother when she visited him the last time.
'Had it not been for the lockdown it might not have happened,' she said. 'I am so angry. I didn't take my children to see my brother – he would have really liked to see the children.
'The last time I went to visit him he said that he hoped that I might have brought my daughter, and can you imagine how it breaks my heart to think he might still be here if I did.
'And then Dominic Cummins went all over but I was scared to transmit Covid and it really upsets me. This has been a terrible trauma, I was very close to him. He was a very special person and I miss him a lot.'
According to charity Doctors in Distress, one doctor dies by suicide every three weeks. Medics are between two and five times more likely to kill themselves than other professionals, with female doctors most vulnerable when compared to the general population.
There are fears that the increased stress placed on the NHS during the coronavirus pandemic is worsening the mental health of doctors.
A report by the British Medical Association, published in May, revealed that almost half of doctors in England were suffering from work-related anxiety, burnout and depression. A third said their mental health had worsened during the Covid-19 pandemic.
Only last week cancer specialist Professor Angus Dalgleish, writing in the Mail, revealed how he had been shocked to learn of the death from suicide of two of his colleagues in the space of just a few weeks.
He said their deaths were a 'graphic illustration' of how the lethal impact of the disease goes way beyond the physical harm caused by the virus itself.
On & On It goes. December 31st 2020
There is "absolutely no reason" schools in England will not be ready to mass test pupils when they return next term, the education secretary has said.
Gavin Williamson said he wanted school closures to be as "short as possible" after delaying their reopening amid surging coronavirus cases.
It comes as people are being warned to not to gather on New Year's Eve.
Some 20 million people in England have been told to "stay at home" after tier four was expanded at midnight.
They join the 24 million already in the toughest restrictions – meaning non-essential businesses must close, and people should stay home unless they have a "reasonable excuse".
On Wednesday the UK recorded a further 50,023 new Covid cases, as well as 981 more deaths within 28 days of a positive test – more than double Tuesday's total.
People who do not follow social distancing rules or wear masks "have blood on their hands", an intensive care doctor has warned.
Prof Hugh Montgomery told BBC Radio 5 Live hospitals were facing a "tsunami" of Covid cases and he feared it would get worse after New Year's Eve.
He urged people to accept that it was going to be a "miserable" occasion this year and not to gather in groups.
It echoes official advice to stay at home and not hold parties.
About 44 million people in England are now living under the toughest level of Covid restrictions after tier four was expanded at midnight.
A further 50,023 new Covid cases were recorded in the UK on Wednesday, as well as 981 more deaths within 28 days of a positive test – more than double the previous day's total.
'Angry'
Prof Montgomery, who works in intensive care at London's Whittington Hospital, and leads a research group at UCL, said: "We are in a lot of trouble in UK intensive care now.
"Just huge numbers coming in, my heart goes out as well to our emergency departments, seeing a tsunami in the last week or two of cases. Everyone is working at maximum stretch."
We have a run down over managed incompetent National Health Service paid for by lower class tax payers. It cannot cope with an ageing population, mass immigration of BAME, poverty and unhealthy lifestyles. Over paid NHS doctors have no right to preach to the lower orders of Britain who are suffering because of the elite, their global economics and fake liberalism. It is the elite and overpaid upper ecehlons – in this police state- who have blood on their hands. R.J Cook
Canada December 30th 2020
A couple in Ontario, Canada, tested positive for the new strain of the virus on December 26.
They had no known travel history or high-risk contacts and are now in self-isolation, officials said.
Source: BBC
India reported eight cases of the new variant on Tuesday, all of them people returning to the country from the UK.
They have been put in isolation and their close contacts in quarantine.
India called a halt on all flights from the UK on December 23 until the end of the year.
Source: The Times of India
Pakistan announced on December 29 that six passengers who had flown from the UK were found with the new variant.
It is not clear when exactly they arrived in Pakistan, but the country had banned all flights from the UK since December 21.
In light of the new cases, Pakistan extended its travel ban from the UK until January 4, 2021.
Nigeria and South Africa have also found separate, new coronavirus variants in recent days.
The UK announced on December 23 that it had found a different, possibly more infectious coronavirus variant originating from South Africa.
And on December 24, Nigeria reported another variant of the virus, separate from the ones found in the UK and South Africa.
John Nkengasong, the head of the Africa Centers for Disease Control and Prevention, said that health officials were analyzing more samples and that little is known so far about that variant.
"Give us some time … it's still very early," Nkengasong said, according to Al Jazeera.
Source: Business Insider, Al Jazeera Latest Updates 3 hours ago The coronavirus pandemic
Covid-19: Twenty million in England added to toughest tier of restrictions Posted December 30th 2020
A further 20 million people in England will join the toughest tier of Covid restrictions from Thursday.
The Midlands, North East, parts of the North West and parts of the South West are among those escalated to tier four.
And secondary schools across most of England are to remain closed for an extra two weeks for most pupils.
The public must "redouble" its efforts at this "critical moment", the PM said, before adding he was confident things will be "very much better" by 5 April.
"All of these measures in the end are designed to save lives and protect the NHS," he said at a Downing Street briefing. "For that very reason, I must ask you to follow the rules where you live tomorrow night and see in the new year safely at home."
Earlier, the Oxford-AstraZeneca vaccine was approved for use in the UK, with the first doses to be given on Monday.
But Boris Johnson warned that people should not "in any way think that this is over" as "the virus is really surging".
His comments came as a further 50,023 new Covid cases were recorded in the UK on Wednesday, as well as 981 more deaths within 28 days of a positive test – more than double Tuesday's total.
Under tier four rules, non-essential shops, beauty salons and hairdressers must close, and people are limited to meeting in a public outdoor place with their household, or one other person.
Health Secretary Matt Hancock told MPs that rising cases across England mean it is "therefore necessary to apply tier three measures more broadly too, including in Liverpool and North Yorkshire".
In tier three areas, household mixing is banned indoors and in private gardens, while the rule of six applies in public spaces. Shops, gyms and personal care services can remain open, but hospitality settings must close except for takeaway.
All of the tier changes will come into effect at 00:01 GMT on Thursday 31 December.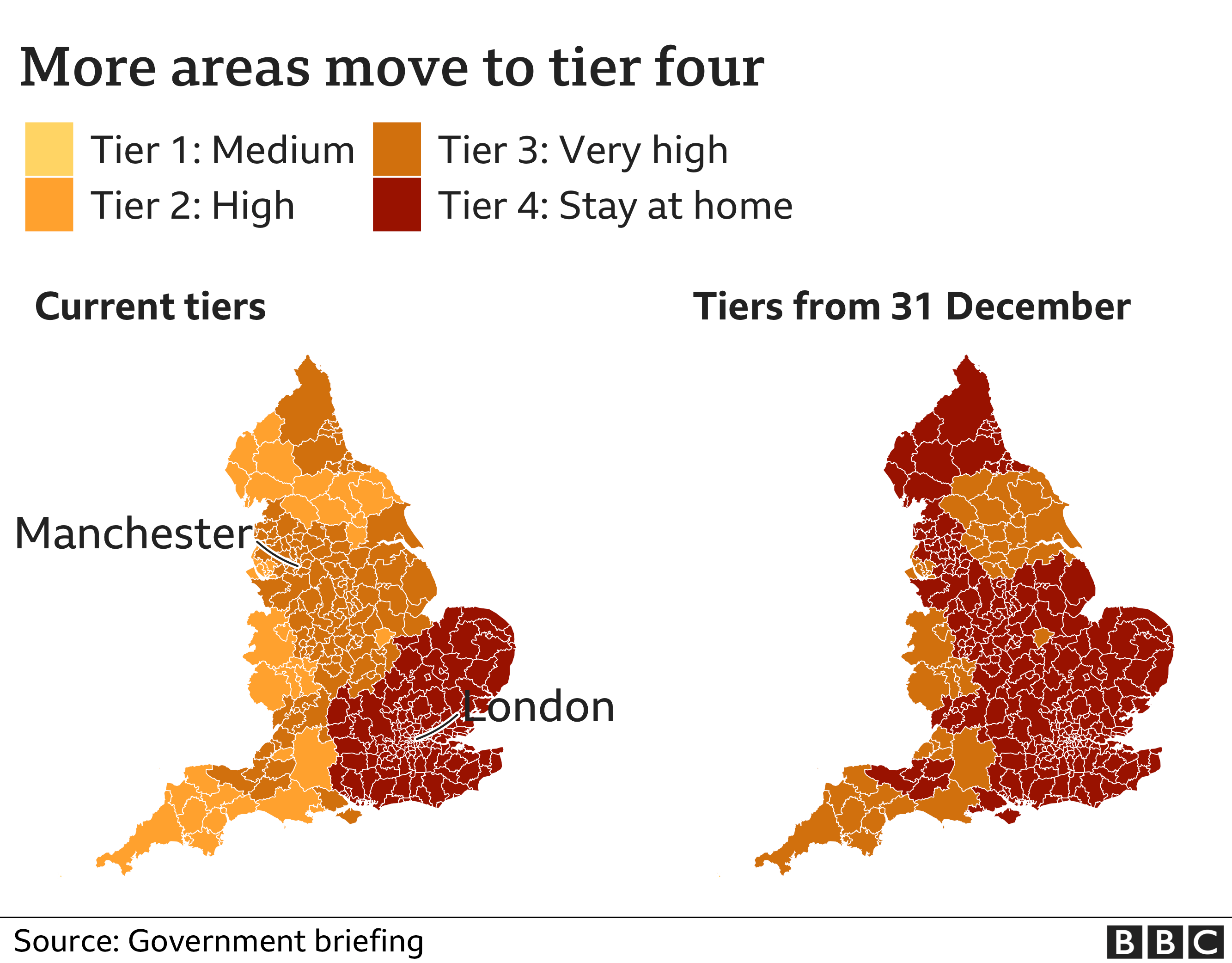 Following his colleague in the Commons, Education Secretary Gavin Williamson said secondary schools across most of England will remain closed for an extra two weeks for most pupils.
He added that exam-year pupils will return a week earlier than their schoolmates in the week of 11 January, and in a small number of areas with the highest infection rates, primaries will remain closed temporarily.
Commenting on the delay, the prime minister said: "We must face the reality, the sheer pace of the spread of this new variant, requires us now to take even tougher action in some areas, and that does affect schools."
Speaking to the BBC earlier, Mr Johnson said that 60% of UK coronavirus cases were now the new, more transmissible, strain of Covid-19.
Asked by political editor Laura Kuenssberg if the government had been too slow to act, he said: "What we, unfortunately, were not able to budget for was this this new variant."
He added: "It's spreading rapidly from the places where it's started, in the east of London and in Kent. And, alas, it's starting to seed across the country."

The areas joining tier four from Thursday are:
Leicester City
Leicestershire (Oadby and Wigston, Harborough, Hinckley and Bosworth, Blaby, Charnwood, North West Leicestershire, Melton)
Lincolnshire (City of Lincoln, Boston, South Kesteven, West Lindsey, North Kesteven, South Holland, East Lindsey)
Northamptonshire (Corby, Daventry, East Northamptonshire, Kettering, Northampton, South Northamptonshire, Wellingborough)
Derby and Derbyshire (Derby, Amber Valley, South Derbyshire, Bolsover, North East Derbyshire, Chesterfield, Erewash, Derbyshire Dales, High Peak)
Nottingham and Nottinghamshire (Gedling, Ashfield, Mansfield, Rushcliffe, Bassetlaw, Newark and Sherwood, Nottinghamshire, Broxtowe)
Birmingham and Black Country (Dudley, Birmingham, Sandwell, Walsall, Wolverhampton)
Coventry
Solihull
Warwickshire (Rugby, Nuneaton and Bedworth, Warwick, North Warwickshire, Stratford-upon-Avon)
Staffordshire and Stoke-on-Trent (East Staffordshire, Stafford, South Staffordshire, Cannock Chase, Lichfield, Staffordshire Moorlands, Newcastle under Lyme, Tamworth, Stoke-on-Trent)
Lancashire (Burnley, Pendle, Blackburn with Darwen, Ribble Valley, Blackpool, Preston, Hyndburn, Chorley, Fylde, Lancaster, Rossendale, South Ribble, West Lancashire, Wyre)
Cheshire and Warrington (Cheshire East, Cheshire West and Chester, Warrington)
Cumbria (Eden, Carlisle, South Lakeland, Barrow-in-Furness, Copeland, Allerdale)
Greater Manchester (Bolton, Bury, Manchester, Oldham, Rochdale, Salford, Stockport, Tameside, Trafford, Wigan)
Tees Valley (Darlington, Hartlepool, Middlesbrough, Redcar and Cleveland, Stockton-on-Tees )
North East (County Durham, Gateshead, Newcastle-upon-Tyne, North Tyneside, Northumberland, South Tyneside, Sunderland)
Gloucestershire (Gloucester, Forest of Dean, Cotswolds, Tewkesbury, Stroud, Cheltenham)
Somerset Council (Mendip, Sedgemoor, Somerset West and Taunton, South Somerset)
Swindon
Bournemouth, Christchurch and Poole
Isle of Wight
New Forest
The areas joining tier three are:
Rutland
Shropshire and Telford & Wrekin
Worcestershire (Bromsgrove, Malvern Hills, Redditch, Worcester, Wychavon, Wyre Forest)
Herefordshire
Liverpool City Region (Halton, Knowsley, Liverpool, Sefton, Wirral, St Helens)
York & North Yorkshire (Scarborough, Hambleton, Richmondshire, Selby, Craven, Ryedale, Harrogate, City of York)
Bath and North East Somerset
Devon, Plymouth, Torbay (East Devon, Exeter, Mid Devon, North Devon, South Hams, Teignbridge, Torridge, West Devon, Plymouth, Torbay)
Cornwall
Dorset
Wiltshire
Epidemiologist looks to the past to predict second post-pandemic 'roaring 20s' December 30th 2020
A couple wearing facemasks to prevent the spread of coronavirus watch the sunset from Elysian Park in Los Angeles, California, last month. Photograph: Apu Gomes/AFP/Getty Images
Dr Nicholas Christakis says once pandemics end, often there is a period in which people seek out extensive social interactions
Jessica Glenza@JessicaGlenzaMon 21 Dec 2020 08.00 GMT
It is almost exactly one year since the coronavirus Sars-CoV-2 was identified by Chinese scientists as the source of a new, lethal respiratory illness.
Since, more than 1.5 million people have died globally, economies worldwide have shut down multiple times and societies have isolated in their homes and watched holidays pass without the closeness of family and friends. Ahead of us is a year undertaking the most logistically challenging public health campaign ever.
But, in this, Yale professor and social epidemiologist Dr Nicholas Christakis brings cold comfort, as laid in his new book Apollo's Arrow: The Profound and Enduring Impact of Coronavirus on the Way We Live. And that is because he sees a pattern. "One of the arguments in the book is that what's happening to us may seem to so many people to be alien and unnatural, but plagues are not new to our species – they're just new to us," said Christakis, whose expertise is in how our behaviors influence contagion in society.
Here is the comfort that might be taken in Christakis's observations of disease over millennia: plagues and pandemics end. They always end. They ended even before we had vaccines to respond to them. And how we react to these germs – through social distancing for example – determines the force with which they hit our society.
Further, while distributing vaccines from Pfizer and Moderna will be one of the greatest public health challenges of our time, they also represent one of humankind's great achievements.
If we can vaccinate a sufficient portion of the population (roughly 75% according to some estimates), we will bring the pandemic to heel much earlier and with less death than it might have ended on its own.
Plagues are not new to our species – they're just new to us
Dr Nicholas Christakis
"We're the first generation of humans alive who has ever faced this threat that allows them to respond in real-time with efficacious medicines," said Christakis. "It's miraculous."
Then, once pandemics end, often there is a period in which people seek out extensive social interaction, and which Christakis predicts will be a second "roaring 20s" just as after the 1918 flu pandemic.
"During epidemics you get increases in religiosity, people become more abstentious, they save money, they get risk averse and we're seeing all of that now just as we have for hundreds of years during epidemics," said Christakis.
As well, economies of ancient civilizations collapsed in times of disease.
"Many people seem to think it's the actions of our government that are causing the economy to slow – that's false," he said. "It's the virus that's causing the economy to slow, because economies collapsed even in ancient times when plagues happened, even when there was no government saying close the schools and close the restaurants."
This future, Christakis predicts, will not come until society has had time to distribute the vaccine, probably through 2021, and had time to recover from the socioeconomic devastation it has wrought, probably through 2023. But the vision he lays out for 2024 and beyond is one filled with experiences pined for in isolation: packed stadiums, crowded nightclubs and flourishing arts.
"In 2024, all of those [pandemic trends] will be reversed," he said. "People will relentlessly seek out social interactions." That could include "sexual licentiousness", liberal spending, and a "reverse of religiosity".
In the coming year, these predictions ride on people's continued adherence to social distancing measures. That is because even with two vaccines authorized for distribution in the US, there are only currently enough doses to reach 150 million Americans.
Scientists will need to continue to develop other vaccine candidates, the government will need to assess and approve them if they are safe and effective, and people will need to take them to reach the broad enough swath of the population necessary to extinguish the pandemic. There will also be continued learning about the vaccines, including how long the immunity they confer lasts and whether they are safe for children.
The coming year will test the world's endurance in continuing to social distance, hand-wash, wear masks and avoid crowds, the 14th century's answer to plagues, and strategies which work like breakwaters to curb the tidal wave of force now being experienced across the US.
Christakis warns we have already proved to be vulnerable to the poor leadership, lack of coordination and misinformation widespread during a pandemic. "As a society we have been very immature," said Christakis. "Immature, and typical as well, we could have done better."
Succumbing to misinformation, divisiveness and denial are also features so typical of a pandemic, they might be "required", said Christakis. But, reservoirs of expertise continue to exist, he says, and it is possible we may come together to meet a challenging year ahead.
"Our world has changed, there's a new deadly pathogen that is circulating, we're not the first people that have had to face this threat, and a lot will be asked of us," said Christakis. "And we're just going to have to be grown up about it."
More Panic, Fear & Economy With Truth – a comment on the following mainstream reports. December 29th 2020
It is a very stupid dimwitted persson who believes that governments never conspire with others or lie. The word demcracy has never been so overused in my lifetime. To borrow from Shakespeare's 'Merchant of Venice', 'Me thinketh the lady Britannia protesteth too much.'
There have been strenuous establishment efforts, amplified by their tame media, to make lockdowns look like lifesavers. From the outset their have been calls for severe ridicule and punishments for doubters.
At the same time people have been led to believe that they are all equally at risk of catching Covid and that the virus will kill them without aid of other conditions , membership of BAME lifestyle communities , poverty stricken, very old , in care homes of dreadful NHS hospitals. There is also the reality that lockdowns make the rich richer and they aren't paying for re shaping the global economy for their benefit.
To suggest that propaganda that a vaccine won't be enough to end lockdown along with convenient news of a new more contagious ( they don't like to tell you 'less deadly ) 'strain will attack the young and healthy, is just ramping up the conspiracy, and just sacrilege.
One mustn"t point out that the elite and so called scientists want it both ways – saying lockdown isn't working so we need even more, regardless of wider harm to economy, society and health , is pure heresy against the 'new science' which we must worship. It is pathetic that anyone except those with senile dementia can believe 'the science' and hypocrits like Neil Ferguson. To compare these so called Covid fighters to the wartime generation is an insult.
The 'Stay Safe' mantra would have been a stupid joke in 1939 . Hitler would certainly have had a laugh. Meanwhile they go on bombing the Third world, staying safe from ground war, encouraging and facilitating more mass Third World immigration, cultural conflict and imported disease. Hate crime prevents discussion on pain of jail. Mass immigration tames the indigenous masses, scapegoating them as racists if they object. The rich are above it all in this fake age of equality where stupid upper middle class feminists and TERF shocktroops are the stormtroopers.
R.J Cook
Breaking UK reports more than 53,000 daily Covid cases December 29th 2020
A record 53,135 coronavirus cases have been reported in the UK on Tuesday, as well as 414 deaths within 28 days of a positive test, according to the latest government data.
Yesterday, 41,385 Covid cases and 357 deaths were reported in the UK.
It is thought the infection rate was higher during the first peak in April, but testing capacity was too limited to detect the true number.
Part of the reason the number is so high is a lag in Christmas reporting, but it also reflects the impact of the faster-spreading variant.Article share tools
England's "very high" Covid infection level is a "growing concern" as the NHS struggles to cope with rising patient numbers, a health official has said. December 28th 2020
On Monday, a record 41,385 Covid cases and 357 deaths were reported in the UK.
NHS England said the number of people being treated for the virus in hospital is now 20,426, which is higher than the previous peak of about 19,000 in April.
Health officials in Wales and Scotland have also said they are at risk of becoming overwhelmed.
Monday's figure for new cases is the highest daily number reported by the UK government, and the first time the daily total has surpassed 40,000.
It is thought the infection rate was much higher during the first peak in April, but testing capacity was too limited to detect the true number.
Some data over the Christmas period is incomplete, as a result of certain services being paused.
BBC health editor Hugh Pym said Monday's figure included some infections where reporting was delayed, but that officials did not deny there had been a significant increase in infections.
Dr Yvonne Doyle, medical director at Public Health England, said: "This very high level of infection is of growing concern at a time when our hospitals are at their most vulnerable, with new admissions rising in many regions."
"Despite unprecedented levels of infection, there is hope on the horizon," she added.
Dr Doyle urged members of the public to "continue to play our part in stopping the spread of the virus" as the Pfizer/BioNTech coronavirus vaccine is rolled out.
'We cope at a cost'
Hospitals in Wales, Scotland and the south of England have reported rising pressure on their services as the number of Covid patients increases.
Queen Elizabeth Hospital in Woolwich, south-east London, said on Monday that an "internal incident" over its "high number of Covid-positive patients" had been ongoing since Sunday.
"All our patients have received the treatment they need, including intensive care treatment for Covid-19 and oxygen therapy as required.
"We are continuing to monitor the situation to ensure that this remains the case," a spokesperson for Lewisham and Greenwich NHS Trust said.
Scene & Heard December 27th 2020
All things connected – Real Politik, Alternative für Deutschland, Drugs December 27th 2020
We are driven primarily by animal instinct, which is why the masses neither understand or care to see that all is connected. Feminism and anti racism are arguably inherently sexist and racist. Still there is no point arguing that point.
The world isn't really muti cultural. It is made up of blobs of population ruled over and conned by a parasitical hypocritical multil coloured elite . However, I attribute a lot more intelligence to the Chinese. They are the big threat to the nasty ruthless dishonest secretive western elite. Their crucial attitude difference to problems like Africa, for example, is to say to their leaders, 'It's your problem, sort it.' The west manipulate divisions, support dictators and rip off resources -so promoting migration and scapegoating the white underclass as racists when they react to taking the brunt of it.
We are not God's children. The bible and Koran are the same book. Islam retarded the advancing Arab world. Catholicism would have done the same to what became the west, including pre revolutionary Russia, but for chance. The Reformation, long overdue and kicked into touch by sex pest wife killer and rapist Henry VIII's lust for young Ann Boleyn, created thinking room for the Industrial Revolution, but religious oppression cruelty and deception still thrived in the so called Christian world. The bible has been revised many times to keep up with the elite's changing ideas and need to control in a changing world.
Fool Britannia Posted December 27th 2020
The prime minister has vowed to focus on "levelling up the country" and "spreading opportunity", after securing the post-Brexit trade deal this week.
Boris Johnson told the Sunday Telegraph the deal would provide new legislative and regulatory freedoms to "deliver for people who felt left behind".
But fishermen's leaders have accused him of "caving in" and sacrificing their interests to reach the agreement.
MPs will vote on the deal in Parliament on 30 December.
The agreement was reached on Christmas Eve after months of fraught talks on issues such as fishing rights and business rules.
Scrutiny of the treaty began in earnest on the morning of Boxing Day when the 1,246-page document was officially published, with Conservative Eurosceptics among those promising to pore over the details of the accord.
Comment Britannia is the Latin name for Britain. The name personifies this elitist divisive, smug unjust island. Britannia's image is, appropriately for a feminazi fronted state, female and was impressed on the big pennies of my childhood.
The last time – 2011- I went to the Albert Hall's Promenade concert , they were singing Rule Britannia, with the line 'Britons never never shall be slaves. Even the company of my upper middle class one time public school girl lady friend could not stop me changing the words to 'always, always will be slaves.' A pompous ass in front of me threatened me with security.
By that time, I had enough of this horrible vile hypocritical and unjust police state countrty to last a life time. The elite who sold the masses Brexit did it for themselves, just as they justified the cold war. It is all about them and the asses will never see it. They voted Brexit to stop mass illegal immigration that went higher and higher and will carry on. The global economy will bring more varied disease, gang crime and drugs – and lockdowns to stifle protest.
Those who raise a voice against all this will face more oppressive thought and language laws. The extreme injustice of this sysetm, where its leaders are rejoicing for freedom from European law . They are celebrating. Lockdown and all the other laws are now in elite hands. Julian Assange's fate is the tip of our police state iceberg. This is now a matter of Cruel Fool Britannia. There is nothing cool about it.
The elite's cheapo empire trick of divide and rule has been revamped in a most absurd fashion. The race wars have been brought back, via BLM, to hide the fact that the police, bully and discriminate against all lower class poor ignorant desperate people, not just black.
One doesn't know whether to laugh or cry over the diversity rainbow trick. The British ruling elite have always been fakes and hypocrits about sex. Mini skirts and contraceptives were the feminist sirens. Dirty old powerful men were easily lured into employing more 'sexy' young women, leading on to the sick 'Me Too' movement that has destroyed Johnny Depp, on the basis that women are so pretty they can never lie.
This leads to one parent families and little boys wanting to be girls like their mummy. This leads to power mad TERF feminists raging about sex change men wanting a convincing disguise so they can get into public toilets to assault and rape them, Don't worry, it is all about keeping people safe (sic ). A safe is where you lock things up. We are locking up more low class men than ever, outnumbered only by the similarly elitist U.S.A. It is all about power and power has nothing to do with equality. R.J.Cook
Preview5:16Christmas 1914 by Mike HardingYouTube · JayJay Media · 29 Nov 2014Preview5:03MIKE HARDING 'CHRISTMAS 1914' (Old Four Eyes Is Back)
Managed Divergence ! December 26th 2020
The UK's new trade deal with the EU marks "the beginning of a moment of national renewal", Boris Johnson's chief Brexit negotiator has said.
The agreement was announced on Christmas Eve, after months of fraught talks on issues such as fishing rights and business rules.
Lord Frost described it as "one of the biggest and broadest" ever.
MPs will vote on the deal in Parliament on 30 December, with the UK to exit existing trading rules on 31 December.
The European Parliament also needs to ratify it, while EU ambassadors received a Christmas Day briefing on the trade deal from EU negotiator Michel Barnier.
A 1,246-page document, which has been published on the UK government's website, sets out the post-Brexit relationship with the EU and includes about 800 pages of annexes and footnotes.
Speaking to reporters on Saturday, Lord Frost said: "There's no more role for the European Court of Justice, there's no direct effects of EU law, there's no alignment of any kind, and we're out of the single market and out of the customs union just as the manifesto said we would.
"All choices are in our hands as a country and it's now up to us to decide how we use them and how we go forward in the future."
Senior members of the UK negotiating team added the deal allowed for a "managed divergence" from EU rules and standards.
A free trade agreement usually rules out tariffs being applied to imported goods. Under the terms of this deal if either party acts in a way the other views as anti-competitive, they can go to an independent arbitrator. If that doesn't resolve the complaint, either party can impose tariffs.
The French Minister for Europe Clément Beaune said: "There is no country in the world that will be subject to as many export rules to us as the UK."
But the UK negotiators described the rules as "standard" for third party trade deals.
'You are not alone ' says the Queen. If she is hearing voices it is time she stepped down. December 25th 2020
Just when I think the Queen and her family could not make themselves look more out of touch and irrelevant, she comes up with more drivel written by one of her toffee nosed over paid upper class lackeys.
There have never been so many poor and lonely people in this God foresaken country – as well as the world beyond. As someone officially deluded and paranoid, I don't see why I should join in the collective delusion of religion. Fantasy friends from the religious world, or a free meal from the Salvation army is not even on a par with sticking plasters.
I have just watched T.V re run of Alistair Sim in 'Scrooge.' At least the greedy sad old miser sees the light and starts doing good. Not so in this particular nasty hypocritical sanctimonious country that has a policy of bombing countries into its version of democracy.
Britain today has more greedy selfish money grabbing rich folk than ever lived in Victorian years. Drivel about diversity. BLM and BAME shows how much contempt they have for the obsequious masses.
Let's be clear, if there isn't a hidden agenda behind lockdown, then we are being governed by imbeciles. How grotesque that the super rich aren't paying for all of this fallout and readjusting of the global economy, and are simply getting richer.
Having one of the world's richest women telling us we are not alone is either an invitation to delusion or telling us everything is O.K if we are not alone in the gutter.
Endless drivel and stupid solidarity rituals about how we may all look a little different, standing for different things , and that different can be good, is patronising mush.
The real differences start with how much money we have or do not have. There has never been such nauseating advertising papering over the fault lines solidarity rubbish on T.V, especially on the advertisements. That's why we have so much anti hate speech, controlling the masses, their fears and frustrations.
If the Queen really believes what she said today, then that is another good reason for getting rid of a family only invited over from Germany in the seventeenth century to block the Jacobite Catholic Stuarts – changing their names to Windsor so the ignorant young World War One soldiers would not realise they were pawns in a rich family's squabble over sharing their empires. R.J Cook
The Queen has used her Christmas Day message to reassure anyone struggling without friends and family this year that they "are not alone".
She said what many people want "for Christmas is a simple hug or a squeeze of the hand" – but "even on the darkest nights there is hope in the new dawn".
The 94-year-old praised acts of kindness, saying the pandemic "brought us closer" despite causing hardship.
The Queen, like so many, is spending the day apart from her family.
"Remarkably, a year that has necessarily kept people apart has, in many ways, brought us closer," the monarch said in the broadcast, adding that the Royal Family has been "inspired" by people volunteering in their communities.
"In the United Kingdom and around the world, people have risen magnificently to the challenges of the year, and I am so proud and moved by this quiet, indomitable spirit."
She lamented that "people of all faiths have been unable to gather as they would wish for their festivals", but said "we need life to go on".
The Queen highlighted Diwali celebrations last month in Windsor – where she is spending Christmas with the Duke of Edinburgh for the first time in decades – as an example of "joyous moments of hope and unity despite social distancing".
"Of course for many, this time of year will be tinged with sadness – some mourning the loss of those dear to them and others missing friends and family members distanced for safety, when all they really want for Christmas is a simple hug or a squeeze of the hand," she added.
"If you are among them, you are not alone, and let me assure you of my thoughts and prayers."
She gave particular thanks to young people, to frontline workers, and to "good Samaritans [who] have emerged across society, showing care and respect for all".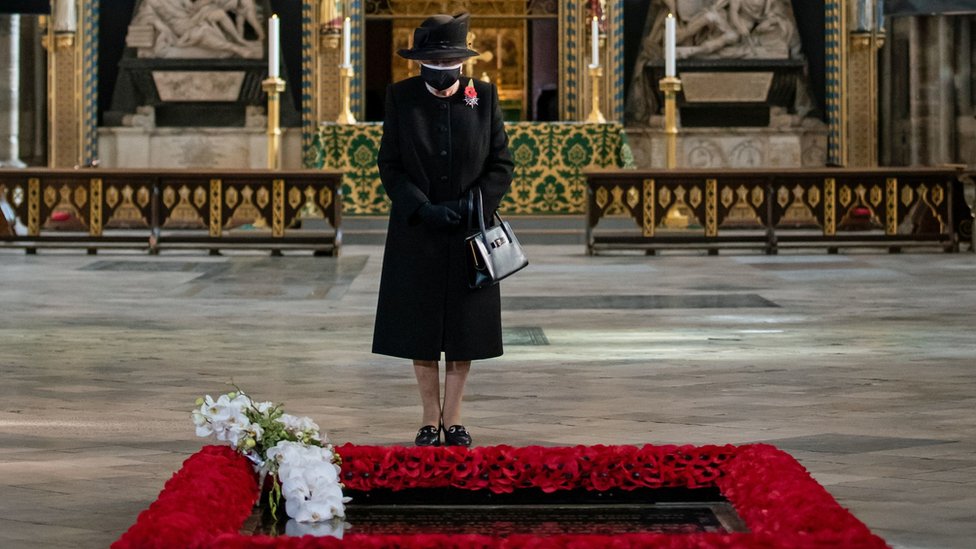 "We continue to be inspired by the kindness of strangers and draw comfort that even on the darkest nights there is hope in the new dawn," she said.
Referring to the centenary of the Unknown Warrior's burial in Westminster Abbey, she said: "The Unknown Warrior was not exceptional, that's the point. He represents millions like him who, throughout our history, have put the lives of others above their own and will be doing so today.
"For me, this is a source of enduring hope in difficult and unpredictable times."
This year's message was recorded in mid-December with a pared-back film crew and in accordance with government guidance
UK May car sales collapse by 89% to 1952 levels as lockdown devastates industry Posted December 24th 2020
Author: Will Beacham
2020/06/04
BARCELONA (ICIS)–UK new car sales collapsed by 89% year on year in May to levels not seen since 1952 as the coronavirus shutdowns and closure of most automotive production devastated the country's market.
Figures published on Thursday by the Society of Motor Manufacturers show that just 20, 247 vehicles were sold in May 2020 compared with 183,724 a year earlier.
The fleet business fared worst, falling by 93% whilst private sales dropped by 84%. Sales of all types of cars fell except for battery electric vehicles which grew by 21.5% to 2,424.
The Tesla Model 3 electric vehicle was the top-selling car in the UK in May 2020, demonstrating how quickly consumers are shifting away from conventional vehicles.
With the coronavirus lockdowns only kicking off in March in the UK, year-to-date figures look better. From January to May car sales fell by 51% to 508,125.
The society is pinning its hopes on a recovery as the lockdowns are eased and car showrooms reopen.
Mike Hawes, CEO of the trade group said: "After a second month of shutdown and the inevitable yet devastating impact on the market, this week's re-opening of dealerships is a pivotal moment for the entire industry and the thousands of people whose jobs depend on it."
Early reports from showrooms suggest good business is being done, but it is too early to tell how demand will change over the coming months, according to the group.
Hawes added: "Restarting this market is a crucial first step in driving the recovery of Britain's critical car manufacturers and supply chain, and to supporting the wider economy."
On 4 June Aston Martin said it would cut 500 jobs, a fifth of its workforce.
Used car sales are performing well since showrooms reopened on Monday, as people seek alternatives to public transport, reports the Financial Times.
In April, EU passenger car sales fell 76.3% year on year, the sharpest decline since records began.
CHEMICAL VALUE CHAINS SUFFER
Chemical supply chains feeding the automotive sector have been particularly badly hit by the virus. Key polymers used for the automotive sector include polypropylene, polyurethanes, and polyamides.
Front page image source: Shutterstock
Comment What is it with the self interested money grabbing morons behind the lockdown con that they think the cosnsequences are not pulling apart the social fabric. Yesterday a man tried to sell me a second car for £400 more than he originally asked for. Obviously I didn't buy , excellent as it was. I am now going after my bus pass.
At this moment I am collecting my thoughts on a message to my local council. This is the opening paragraph :
Dear Sir/Madam,

I write with reference to your council tax reminder. It amazes me that you assume the right to an income when the same is denied to me. The latest lockdown extension is the last straw: when or will it ever end? I was relying on my work in now dead publishing world and as an agency truck driver in the devastated hospitality sector. Thanks very much Covid lockdown. At least I expect to die before it gets me ! Thanks Government and all the relevant public sectors.
There is something very odd about the earnestness, self righteous enthusiasm of our pseudo democratic rulers , their experts and lackeys have for lockdown.
The scaremongering figures involve guesswork, dubious tests and repeated calls for more lockdown because infections and Covid related deaths among various permutations and mixings of obese, very poor, elderly. those with pre existing illness, and BAME are rising. Another remindeer, death rates of infected are less than 1% and average age of death is 82, with other key fatal factors.
For this, the rest of us, outside the elite, must risk losing our livings, homes and families. Especially considering lockdown obviously doesn't work and there is no reason to suppose more would do anything other than wreck more lives, why do it ?
I wish I thought the elite were stupid. Though many of their lackeys may be, they are not. They are very very dangerous. So that is why car sales are falling, and the knock on effect through Keynes Acclerator, The Multiplier and Fisher's Velocity Circulation of Money Theory will devastate those outside of the servics, money, and asset grabbing elite, including the bankers.
This is what happened in 1930s Germany, the Jews being scapegoated because Jews monoplised banking and money lending – Britain and France's elite having blamed and screwed Gerrmany for World War One. It is happening again . Flooding Europe with BAME and the BLM movement is not a solution. It is making matters worse. That is why the elite want more police and are terrified of the far right. R.J Cook
Broad welcome from Europe's leaders to Brexit deal December 24th 2020
Germany, which holds the presidency of the EU until the end of the month, has led reaction to the deal across the 27-member bloc. Chancellor Angela Merkel says she's "happy" the deal clearly regulates the UK's future relationship with the EU. The government in Berlin will be able to "quickly judge if Germany can support today's outcome", she says, as member states have been kept in touch throughout the Brexit talks.
French President Emmanuel Macron has written on Twitter
that "European unity and firmness have paid off" and France will ensure the deal protects its citizens, fishermen and producers.
Dutch Prime Minister Mark Rutte says the deal is "excellent news" and the Netherlands will now study it carefully. Austria's chancellor tweeted his response in English.
Finnish Europe minister Tytti Tuppurainen points out the agreement is "damage control" as the UK's new relationship lacked the benefits of the single market.
Spanish Prime Minister Pedro Sánchez welcomes the deal but points out the UK and Spain are still working on an agreement over UK territory Gibraltar.
Italian Prime Minister Giuseppe Conte believes a "fair and balanced" deal has been reached that protects European citizens and businesses. And Sweden's Stefan Lofven has voiced his approval in English.
Amazing Covid & Experts ( sic )
The following BBC report has something of the Dunkirk fantasy of failure presented as victory. To many of us, the appearance of a new super version of the Covid 19 virus seems very convenient, following on from the dictat that lockdown has to continue until there is enough vaccine uptake and evidence it works. The earliest date for easing what are going to be tougher measures, is August 2021. Plenty of asset stripping and ruined lives before then – non covid additional death, excess deaths have numbered 88,000 since lockdown.
We have some highly dubious 'experts' backing their's and other vested interests. Neil Ferguson, the 'scientist' who excused himeslf breaching lockdown because he said he'd had it and was immune, is back on the scene.
This contradicts what his sort had been saying. Scotland's answer to mad Maggie Thatcher, The Sturgeon' has been making the most of lockdown fears because she wants her country to keep feeding off the EU, at any cost. She has apologised , like Kay Burley and Princess Bea for breaking the rules. Why bother when these highly paid folk are above the law in Fascist Britain ?
Some very silly Brits voted to leave the EU because they didn't like the rampage of so many Islamic and North African migrants. Inevitably the ill informed leave vote, because the masses are badly educated and ignorant, was fuelled by this fear and some very powerful people who wanted to develop even nastier oppressive British elite powers than they had devised for Europe which they will never leave alone – thus corrupting- the E.U.
Edward Heath sold out British fishing and agriculture, then came Thatcher destroying British industry through union paranoia, followed by Blair's attack on the rural economy declaring that Britain would become the Hong Kong of Europe. So it's nor surprsing that Macron is taking the piss. Britain's real fascist government of greedy toffs and their lackeys are fudging a trade deal.
So they wait till Christmas to release news of more infectious Covid variant – actually less dangerous, and the original one threatens only sickly, obese, aged and BAME minoritites, never killing on its own. the idea is for a smokescreen to delay Brexit, ultimately getting the far worse Norway model because the elite want an even better way to blame Europe for their greedy, vile corrupt, elitist police state, where 5 % own 95% of the wealth and occupy 90% of the British land mass.
Since Britain is the most densely populated country in Europe, one can see that real density for the masses is even worse than official figures, so with unrestricted immigration and open borders, diesease spreads fast, hence talk of a new world order which wil make life heaven for the rich and hell for the masses. The British elite MEPS and civil servnats have created or backed 80% of the Euro laws they pretend to hate, and they are much more petty in enforcing them,
Because the average Brit is ignorant, badly educated in a multi cultural swamp where all they see is the swamp in which they are drowning, the elite will always win with their new world order.
Just remember when looking at the BBC ( Ministry of Information ) statistics and report, nobody dies of just Covid which has an average age of death ( always Covid releated death of 82 with a death rate of under 1%. Deaths are calculated by anyone dying 28 days after testing with Covid related illness. It is not clear how they calcualte Covid as the main killer because the authorities ahve an agenda.
Add to that there are many BAME NHS staff which is struggling with massive illegal immigrants, 'refugess' and other rising population, then we have an NHS which media and their government underlings must protect – when they should be protecting us. Meanwhile the New Nighingale hospitas, curiously remain empty. All is very odd and duplicitous. R.J Cook
Covid-19: Truckers who tested negative board ferries for France
Published2 hours agoRelated Topics
Lorry drivers who have tested negative for coronavirus have begun boarding ferries at the port of Dover after France reopened its border with the UK.
Some 3,800 lorries have been parked up in Kent after France closed its UK border on Sunday amid concern over a fast-spreading variant of the virus.
France ended its ban on UK arrivals on Wednesday, on the condition that people were tested before travelling.
Earlier, police clashed with drivers who have spent days in their cabs.
Transport Secretary Grant Shapps warned there were "severe delays" and urged people to avoid travelling to Kent.
Around 50 countries imposed a ban after the UK warned of a new, fast-spreading variant of coronavirus.
The French government's ban, introduced on Sunday, has now been eased to allow French citizens, British nationals living in France and hauliers to travel – if they test negative less than 72 hours before departure.
Soldiers have joined NHS Test and Trace staff in Kent to carry out rapid tests on thousands of stranded lorry drivers.
But Communities Secretary Robert Jenrick said it could take "a few days" to clear the backlog.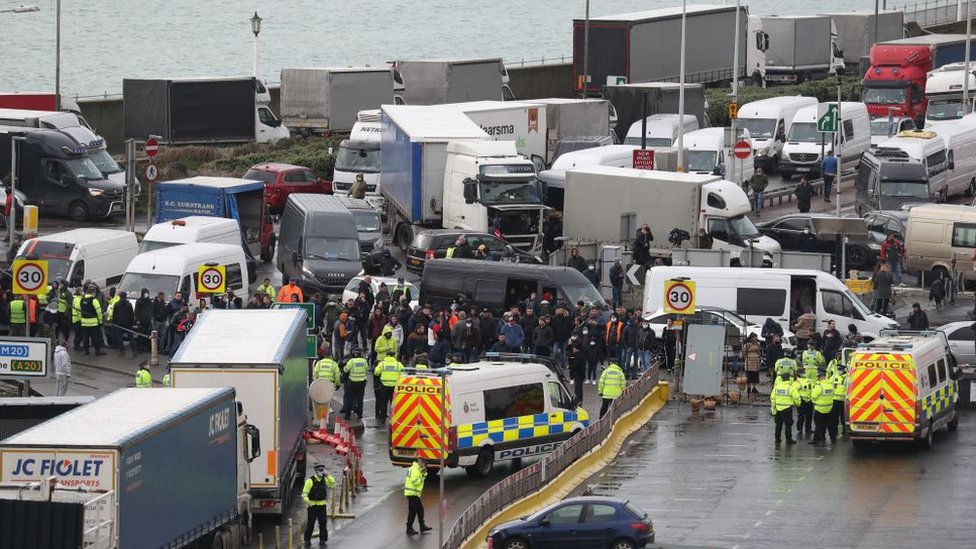 A number of drivers clashed with police this morning, with officers trying to push back a small crowd trying to enter the Port of Dover.
Kent Police said one man is in custody after being arrested for obstructing a highway in Dover and there have been disturbances at Manston Airport, where a lorry-holding facility run by the Department for Transport is now full.
The entrance to the Port of Dover is currently closed with a line of police officers blocking it, BBC reporter Amanda Akass said.
They told her they will not start allowing vehicles through until "protesters" – several dozen drivers – move from the roundabout at the entrance.
But the drivers have said they will not move as they do not want to go to the back of the queue and cannot move as the road is blocked in both directions.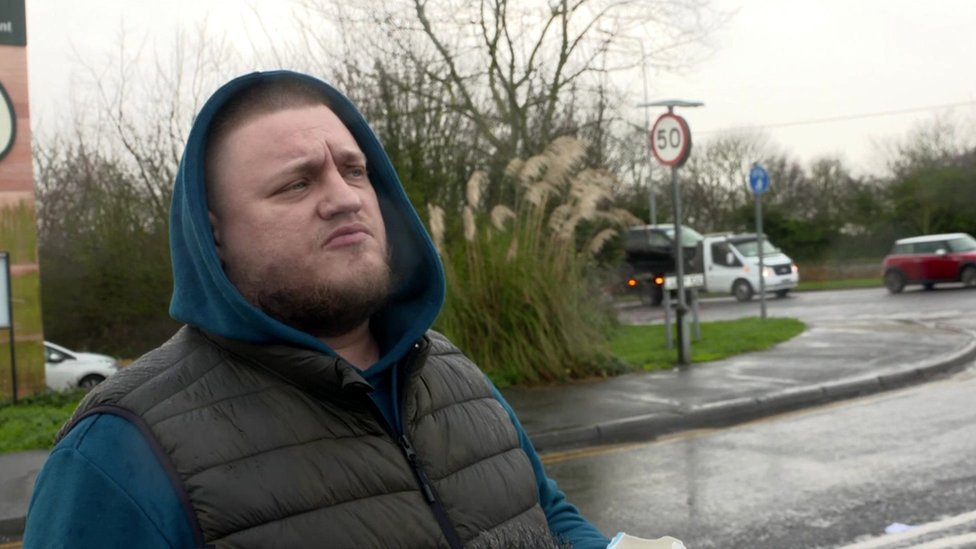 "We are very tired. We're staying in cars, we don't have a lot of food, no money," one driver told the BBC.
"Police three days ago told us that testing will start soon, but they don't know when and that's why people are protesting," another said.
"We just want to do the test and just go straight home."
Rod McKenzie of the Road Haulage Association described the situation as "chaos" as lorry drivers headed to ports thinking the borders would be open.
"They're tired, frustrated, desperately wanting to get home for Christmas," he said.
He said the information given to them has been "extremely poor", while food provision, toilets and washing facilities were "inadequate".
Richard Lloyd, director of a British firm that imports farm machinery from Poland, said he had been called by the family of a driver who was stuck without food, asking whether he could get a loaf of bread to the lorry.
"He didn't want to go anywhere because of the security of the truck, and obviously a place in the queue, so it was a desperate situation," Mr Lloyd said.
The government says free food and water is being provided. A statement said there are 12 food trucks at Manston Airport and eight more arriving, and more than 200 toilets. It also said there are toilets stationed every kilometre between parts of the M20.
"We are working tirelessly to provide support to hauliers awaiting testing at Manston and the M20," it said.

Analysis
By Simon Jones, BBC reporter at the scene
Frustrated lorry drivers have confronted the police as tensions over their continuing confinement threatened to boil over.
Some hauliers marched out of the Manston lorry park, where they've been forced to sleep in their cabs, demanding to know when they'll be allowed to go home.
There's a huge backlog of traffic to clear. Some hauliers said they'd been told the testing on the site was initially delayed because the tests got held up in traffic.
Manston is now full – so there'll be some pressure on the authorities to get as many tests done as quickly as possible to clear space for any new arrivals.

Eurotunnel said around around 700 cars, 50 vans and 20 trucks s have been able to cross the Channel since this morning, and a "flow" of trucks has arrived at the British terminal since 16:00 GMT.
Roger Gough, leader of Kent County Council, told BBC Radio Kent that the "most difficult" challenge is clearing a route from Manston Airport to Dover, around 20 miles south, "to be able to get those lorries onto the ferries".
"Whilst we're able, for instance, to get some progress in terms of people travelling via the Eurotunnel, it's much harder to get vehicles to the port in the current situation," he said.
"The problem is also that – particularly for the non-HGV traffic, the families and so on – you have some really quite worrying welfare situations," he said.
He added that the British authorities are in a "race against time" because the last ferry leaves on Christmas eve, and are trying to persuade the French to "keep things running on the Calais side over Christmas day".
More than 5,000 lorries are being held in Kent, according to the Department for Transport.
Officials have been going from lorry to lorry to provide tests.
Home Secretary Priti Patel urged hauliers "not to travel to Kent as we work to alleviate congestion" as "travelling now will slow things down".
"Tourist travellers who are not French residents should not travel," she tweeted.
The Port of Dover also urged passengers not to turn up without a negative coronavirus test.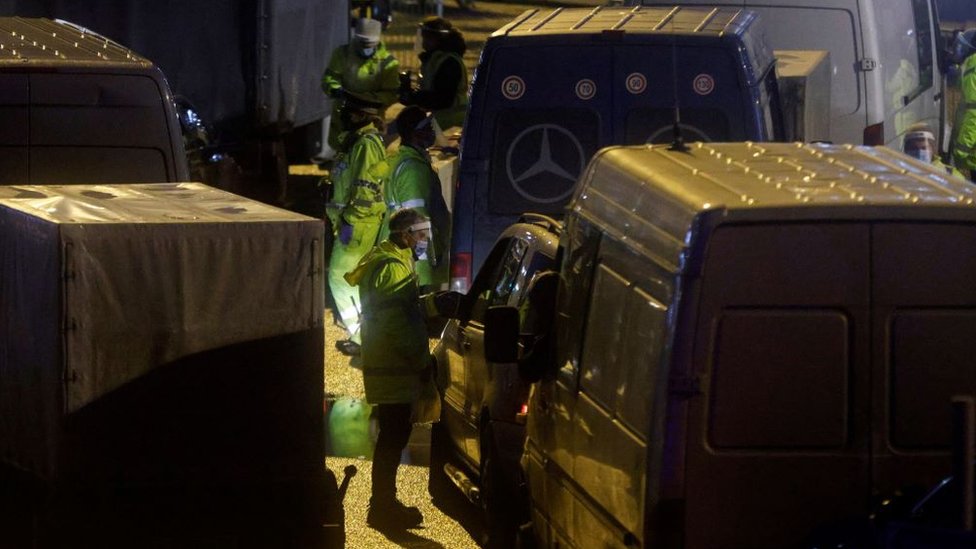 Mr Jenrick told BBC Radio 4's Today programme it is likely to take "a few days" to clear the backlog of lorries that have built up.
He said there would be "multiple testing sites" at Manston Airport and elsewhere.
Rapid "lateral flow" tests will be used, which can detect the new variant and work like a pregnancy test to give a result in about 30 minutes.
Freight drivers will receive their test result by text, and a negative result gives them the right to cross the Channel.
If they test positive they will be offered Covid-secure hotel accommodation nearby where they will have to self isolate.
Testing will also take place on the French side for hauliers entering the UK.
Germany's Lufthansa airline is airlifting fresh fruit and vegetables to the UK on Wednesday as firms seek to beat the lorry chaos at sea ports.
We are sending a @BoeingAirplanes B777 Freighter to Doncaster Sheffield @DSA_Airport. On board: 80 tons of fruits and vegetables. @Lufthansa_Cargo is currently examining whether additional special cargo flights can be offered during the next days. Watch #LH8352 on @flightradar24 pic.twitter.com/mpvCQA7Mgz— Lufthansa News (@lufthansaNews) December 23, 2020
The BBC is not responsible for the content of external sites.View original tweet on Twitter
The British Retail Consortium also warned there may be shortages of some fresh goods until the backlog is cleared.
The Road Haulage Association said: "Even if the border is opened up, a short delay in the process is going to mean huge delays in the supply chain."
Normally, about 10,000 lorries a day travel between Dover and Calais at Christmas, largely bringing in the freshest produce.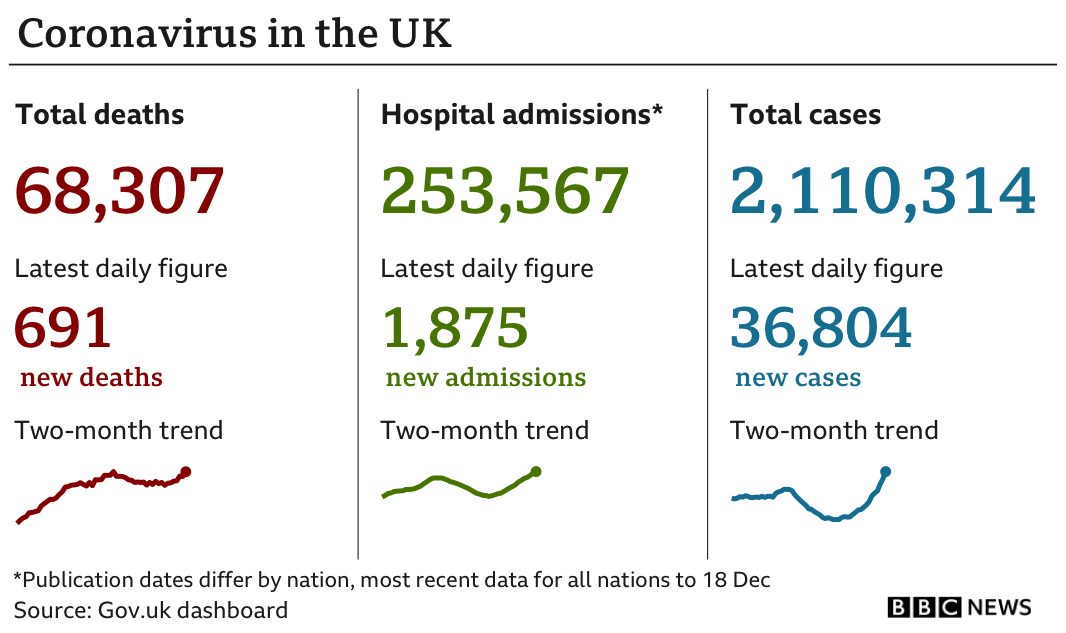 Blinding with science December 21st 2020
As a teacher and college lecturer over 18 years, originally I intended to spend more time developing the Junius Education page, because good education is essential to healthy society and that society's claim to be democratic.
In Britain, education for the masses has always left much to be desired, with a social class biased basis and social class outcomes. Strangely, maybe due to Britain's appalling general education, I have been called upon to teach most subjects, including maths and science.
Biology was my least favourite science, but my ex wife was brilliant at the subject. Dissections and statistsics were among her speciallities. She could also have been a good teacher, because she made an unpleasant subject interesting to me. That doesn't make me an expert, but there is an old saying, 'If you want to know something, ask an expert and they will never stop talking.' Until I met her, I had never heard of micro biology and statistics on epidemics were the least of my concerns.
In my 1950s childhood, there were killer diseases and I had most of them because my father did not trust vaccinations. As I have said elsewhere, he died when I was 11, but that was enough for him to make an impression. As a post graduate student of psychology, I learned the Jesuit concept of 'Give me the child until it is seven and I will give you the adult.' I have substituted modern words for boy and man.
So my father's scepticism coupled with a distrust of the society that sent him to war, left him struggling in civvy street, then cycling 12 miles to work and back to drive a lorry – a job that killed him, means I don't trust the official line on Covid 19, as I have written elsewhere.
Herd immunity comes from catching things, not lockdown or mask wearing. Scientists are blinkered, tests and studies are not the real world. Not being allowed to discuss age, BAME, lifestyle, mass immigration and old age, along with the Brexit diversion should raise question marks over the alleged new big killer strain which authorities fear will overwhelm a failing NHS ( National Health Service ). The idea that this mutant, known back in September , spreads faster than the other one, is a mix of guesswork and timely propaganda.
As for a vaccine which they want us to take, without removing lockdown because they say the virus will keep mutating, why bother ? Many fear that because it is RNA based, and designed therefore to plug in to modify DNA – think hard drives and RAM- it is going to alter our minds even more than lockdown. Maybe it will. Our DNA is modifying all the time. That is a major reason for ageing.
The problem is that when we start talking about these acids and viruses, the sceintists have the edge. To some they are Gods, others devils and some just don't believe because they speak for politicans. Politicians have earned mistrust and even contempt. So it is what it is.
More people are going mad and becoming destitute, with relationships crumbling and children suffering as unemployment soars along with collapsing businesses, because of lockdown for a disease which kills less than 1% of those affected.The average age of Covid related death – it never kills on its own- is 82, and for that we sacrifice the young !
The death stats are deliberately misleading because it is always about Covid related after 28 days from test. Its key impact is on high density BAME communities, certain related lifestyles and old age, especially in privatised care homes.
Sturgeon speaking for Scotland, echoed by London Mayor Sadiq Khan are leading the charge for longer tougher lockdown because they see it as a way of stalling and ultimately ending Brexit.
There are many good reasons for scrapping Brexit and joining the fight to save Europe from the real fascists running France, Britain and Germany, but scaremongering and causing harm with this ridiculous new variant, just to help this type of useless posturing politician, is not one of them.
Lockdown is about adjusting the dangerous global economy to stifle the waves of working class protest Europe and U.S wide. Blinding people with science that few British MPs understand- in spite of their expensive educations in humanities and money grabbing law – is the the British Parliament and Government's speciality.
Epidemiologists are not virologists. Covid's key impact is on high density BAME communities, certain related lifestyles and old age, especially in privatised care homes. NHS and care home workers – the latter often casuals going from one home to another – are drawn heavily from BAME because of low pay.
Epidemiologists are politically correct, omitting key variables from practice and debate. They take a model of the virus, relate it to highly selective sample populations, using a computer to predict its spread on a rate calculated in a laboratory. In short, there is too much guesswork.
Below is a fatalistic fait accompli extract from more feel good pseudo Dunkirk ( a great British disaster in case you didn't know, my dad was wounded there ) spirit journalism from the politcally correct MI5 friendly Guardian . R.J Cook
Has a year of living with Covid-19 rewired our brains? Paula Coccoza Posted December 21st 2020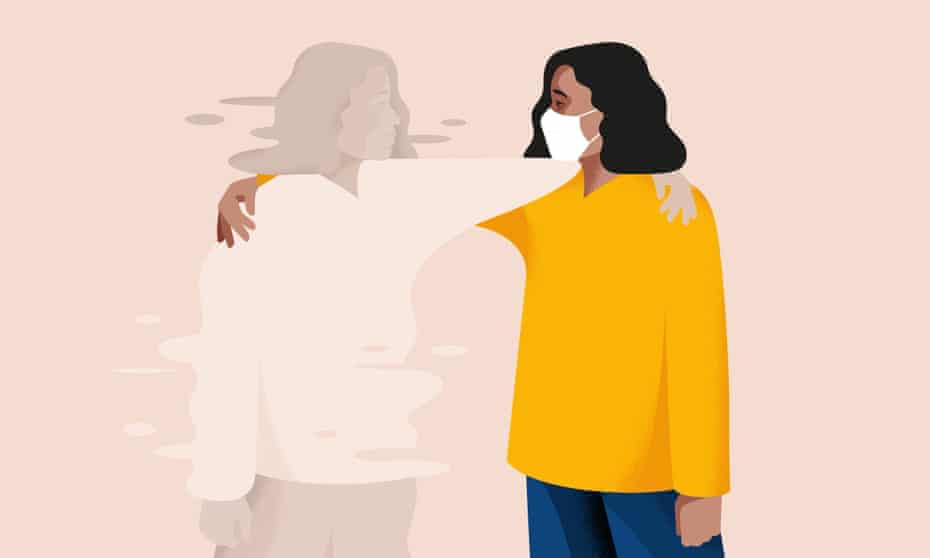 The loss of the connecting power of touch can 'trigger factors that contribute to depression – sadness, lower energy levels, lethargy. Illustration: Nathalie Lees/The Guardian
The pandemic is expected to precipitate a mental health crisis, but perhaps also a chance to approach life with new clarity
When the bubonic plague spread through England in the 17th century, Sir Isaac Newton fled Cambridge where he was studying for the safety of his family home in Lincolnshire. The Newtons did not live in a cramped apartment; they enjoyed a large garden with many fruit trees. In these uncertain times, out of step with ordinary life, his mind roamed free of routines and social distractions. And it was in this context that a single apple falling from a tree struck him as more intriguing than any of the apples he had previously seen fall. Gravity was a gift of the plague. So, how is this pandemic going for you?
In different ways, this is likely a question we are all asking ourselves. Whether you have experienced illness, relocated, lost a loved one or a job, got a kitten or got divorced, eaten more or exercised more, spent longer showering each morning or reached every day for the same clothes, it is an inescapable truth that the pandemic alters us all. But how? And when will we have answers to these questions – because surely there will be a time when we can scan our personal balance sheets and see in the credit column something more than grey hairs, a thicker waist and a kitten? (Actually, the kitten is pretty rewarding.) What might be the psychological impact of living through a pandemic? Will it change us for ever?
"People talk about the return to normality, and I don't think that is going to happen," says Frank Snowden, a historian of pandemics at Yale, and the author of Epidemics and Society: From the Black Death to the Present. Snowden has spent 40 years studying pandemics. Then last spring, just as his phone was going crazy with people wanting to know if history could shed light on Covid-19, his life's work landed in his lap. He caught the coronavirus.
Snowden believes that Covid-19 was not a random event. All pandemics "afflict societies through the specific vulnerabilities people have created by their relationships with the environment, other species, and each other," he says. Each pandemic has its own properties, and this one – a bit like the bubonic plague – affects mental health. Snowden sees a second pandemic coming "in the train of the Covid-19 first pandemic … [a] psychological pandemic".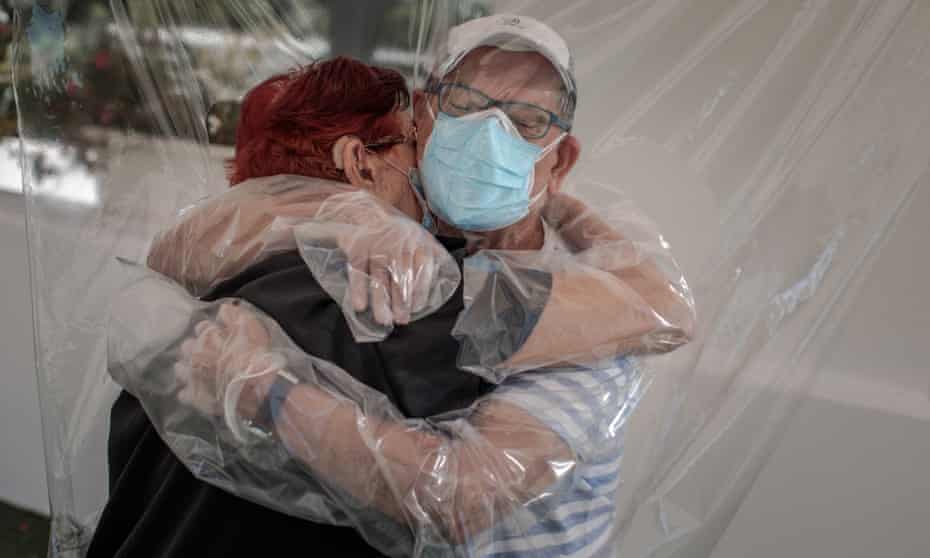 A man embraces his aunt through a plastic curtain at a home for the elderly in Spain in June, for the first time in three months. Photograph: Biel Aliño/EPA
Aoife O'Donovan, an associate professor of psychiatry at the UCSF Weill Institute for Neurosciences in California, who specialises in trauma, agrees. "We are dealing with so many layers of uncertainty," she says. "Truly horrible things have happened and they will happen to others and we don't know when or to whom or how and it is really demanding cognitively and physiologically."
The impact is experienced throughout the body, she says, because when people perceive a threat, abstract or actual, they activate a biological stress response. Cortisol mobilises glucose. The immune system is triggered, increasing levels of inflammation. This affects the function of the brain, making people more sensitive to threats and less sensitive to rewards.
In practice, this means that your immune system may be activated simply by hearing someone next to you cough, or by the sight of all those face masks and the proliferation of a colour that surely Pantone should rename "surgical blue", or by a stranger walking towards you, or even, as O'Donovan found, seeing a friend's cleaner in the background of a Zoom call, maskless. And because, O'Donovan points out, government regulations are by necessity broad and changeable, "as individuals we have to make lots of choices. This is uncertainty on a really intense scale."Quick Guide
Covid at Christmas: how do rules vary across Europe?
The unique characteristics of Covid-19 play into this sense of uncertainty. The illness "is much more complex than anyone imagined in the beginning", Snowden says, a sort of shapeshifting adversary. In some it is a respiratory disease, in others gastrointestinal, in others it can cause delirium and cognitive impairment, in some it has a very long tail, while many experience it as asymptomatic. Most of us will never know if we have had it, and not knowing spurs a constant self-scrutiny. Symptom checkers raise questions more than they allay fears: when does tiredness become fatigue? When does a cough become "continuous"?
O'Donovan sighs. She sounds tired; this is a busy time to be a threat researcher and her whole life is work now. She finds the body's response to uncertainty "beautiful" – its ability to mobilise to see off danger – but she's concerned that it is ill-suited to frequent and prolonged threats. "This chronic activation can be harmful in the long term. It accelerates biological ageing and increases risk for diseases of ageing," she says.
In daily life, uncertainty has played out in countless tiny ways as we try to reorient ourselves in a crisis, in the absence of the usual landmarks – schools, families, friendships, routines and rituals. Previously habitual rhythms, of time alone and time with others, the commute and even postal deliveries, are askew.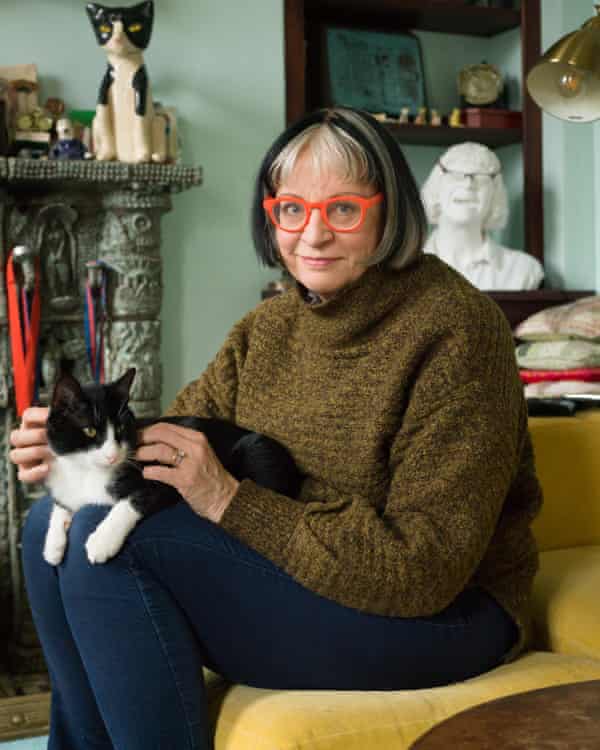 Philippa Perry: 'We are becoming a sort of non-person.' Photograph: Pål Hansen/The Observer
There is no new normal – just an evolving estrangement. Even a simple "how are you?" is heavy with hidden questions (are you infectious?), and rarely brings a straightforward answer; more likely a hypervigilant account of a mysterious high temperature experienced back in February.
Thomas Dixon, a historian of emotions at Queen Mary University of London, says that when the pandemic hit, he stopped opening his emails with the phrase "I hope this finds you well."
The old "social dances" – as the psychotherapist Philippa Perry calls them – of finding a seat in a cafe or on the bus have not only vanished, taking with them opportunities to experience a sense of belonging, but have been replaced with dances of rejection. Perry thinks that's why she misses the Pret a Manger queue. "We were all waiting to pay for our sandwiches that we were all taking back to our desks. It was a sort of group activity even if I didn't know the other people in the group."
In contrast, pandemic queues are not organic; they are a series of regularly spaced people being processed by a wayfinding system. Further rejection occurs if a pedestrian steps into the gutter to avoid you, or when the delivery person you used to enjoy greeting sees you at the door and lunges backwards. It provides no consolation, Perry says, to understand cognitively why we repel others. The sense of rejection remains.
The word "contagion" comes from the Latin for "with" and "touch", so it is no wonder that social touch is demonised in a pandemic. But at what cost? The neuroscientists Francis McGlone and Merle Fairhurst study nerve fibres called C-tactile afferents, which are concentrated in hard-to-reach places such as the back and shoulders. They wire social touch into a complex reward system, so that when we are stroked, touched, hugged or patted, oxytocin is released, lowering the heart rate and inhibiting the production of cortisone. "Very subtle requirements," says McGlone, "to keep you on an even plane."
But McGlone is worried. "Everywhere I look at changes of behaviour during the pandemic, this little flag is flying, this nerve fibre – touch, touch, touch!" While some people – especially those locked down with young children – might be experiencing more touch, others are going entirely without. Fairhurst is examining the data collected from a large survey she and McGlone launched in May, and she is finding those most at risk from the negative emotional impact of loss of touch are young people. "Age is a significant indicator of loneliness and depression," she says. The loss of the connecting power of touch triggers "factors that contribute to depression – sadness, lower energy levels, lethargy".
"We are becoming a sort of non-person," says Perry. Masks render us mostly faceless. Hand sanitiser is a physical screen. Fairhurst sees it as "a barrier, like not speaking somebody's language". And Perry is not the only one to favour the "non-person clothes" of pyjamas and tracksuits. Somehow, the repeat-wearing of clothes makes all clothing feel like fatigues. They suit our weariness, and add an extra layer to it.
Cultural losses feed this sense of dehumanisation. Eric Clarke, a professor at Wadham College, Oxford, with a research interest in the psychology of music, led street singing in his cul-de-sac during the first lockdown, which "felt almost like a lifeline", but he has missed going to live music events. "The impact on me has been one of a feeling of degradation or erosion of my aesthetic self," he says. "I feel less excited by the world around me than I do when I'm going to music." And the street music, like the street clapping, stopped months ago. Now "we are all living like boil-in-a-bag rice, closed off from the world in a plastic envelope of one sort or another."
No element of Covid-19 has dehumanised people more than the way it has led us to experience death. Individuals become single units in a very long and horribly growing number, of course. But before they become statistics, the dying are condemned to isolation. "They are literally depersonalised," Snowden says. He lost his sister during the pandemic. "I didn't see her, and nor was she with her family … It breaks bonds and estranges people."
Why Bother With Useless Lockdowns & Vaccines and not go for real herd immunity ? The consequences of current policies are growing daily and horrendous for the masses.
Answer is that it suits money making super rich who have fed off globalisation and Covid lockdown like blood sucking leeches.
Here are a few articles that should explain why only accepting the path to herd immunity is the only solution and that BAME lifestyles , old age are minority issues.
Globalisation and rolling wars , creating massive ongoing population displacement, are monsters far worse than Covid 19 which is either a deliberate or accidental outcome of the ruling global elite who have more wealth than the bottom 95% put together. Democracy is a nonsense in this environment.
Look at Boris Johnson's face in his latest press release and you see a man who looks like a hostage. R,J Cook
Covid: France and Germany among nations banning flights from UK Posted December 20th 2020
Published18 minutes agoRelated Topics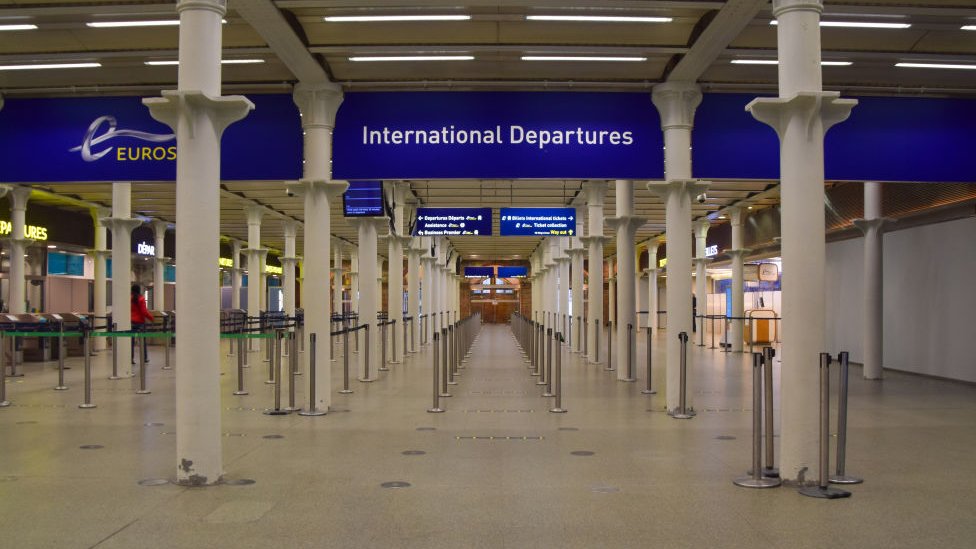 European nations have begun to apply travel bans with the UK after it said that a more infectious coronavirus variant was "out of control" there.
Ireland, Germany, France, Italy, the Netherlands and Belgium are all suspending flights and travel, although the measures vary.
An EU meeting will be held on Monday morning to discuss a more co-ordinated response.
The new variant has spread quickly in London and south-east England.
Prime Minister Boris Johnson on Saturday introduced a new tier four level of restrictions for those areas, scrapping a planned relaxation of rules over the Christmas period for millions of people.
Top health officials said that there was no evidence the new variant was more deadly, or would react differently to vaccines, but it was proving to be up to 70% more transmissible.
Which countries have acted and how?
Within hours of the UK announcement on Saturday, the Netherlands said it would ban all passenger flights from the UK from 06:00 (05:00 GMT) on Sunday until 1 January.
Pending "greater clarity" on the situation in the UK, the Dutch government said that further "risk of the new virus strain being introduced to the Netherlands should be minimised as much as possible".
The country on Sunday reported a daily increase of more than 13,000 cases – a new record, despite tough lockdown measures being applied on 14 December.
Belgium is suspending flights and train arrivals from the UK from midnight on Sunday. Prime Minister Alexander De Croo told Belgian television channel VRT the ban would be in place for at least 24 hours as a "precautionary measure", adding "we will see later if we need additional measures".
Italy's Foreign Minister Luigi Di Maio said on his Facebook page that the government was about to sign a measure to suspend flights from the UK.
In Ireland, urgent talks were held on Sunday. In a statement afterwards, the government announced that flights arriving from the UK would be banned for 48 hours at least from midnight, and "in the interests of public health, people in Britain, regardless of nationality, should not travel to Ireland, by air or sea".
Ferry crossings for freight would continue.
In Germany, an order from the ministry of transport said planes from the UK would not be allowed to land after midnight on Sunday, although cargo would be an exception. Health Minister Jens Spahn said the UK variant had not yet been detected in Germany.
France has suspended all travel links with the UK for 48 hours from midnight. It said the period should be used to provide a co-ordinated European response.
Austria is also planning a ban on flights from the UK, with details currently being worked out, local media reported. Bulgaria has suspended flights to and from the UK from midnight.
A European Council meeting will be held at 10:00 GMT on Monday on co-ordinating EU actions.
What is the new variant?
In the UK, it was first identified in the middle of October from a sample taken in September.
The World Health Organization (WHO) says the same mutation has also been detected in the Netherlands, Denmark and Australia.
Dr Catherine Smallwood, of WHO Europe, said that as of 20 December, the numbers in those countries were small, nine in Denmark and one each in the other two nations. But she said other countries had notified WHO of other variants "that also carry some of the genetic changes seen in the UK variant".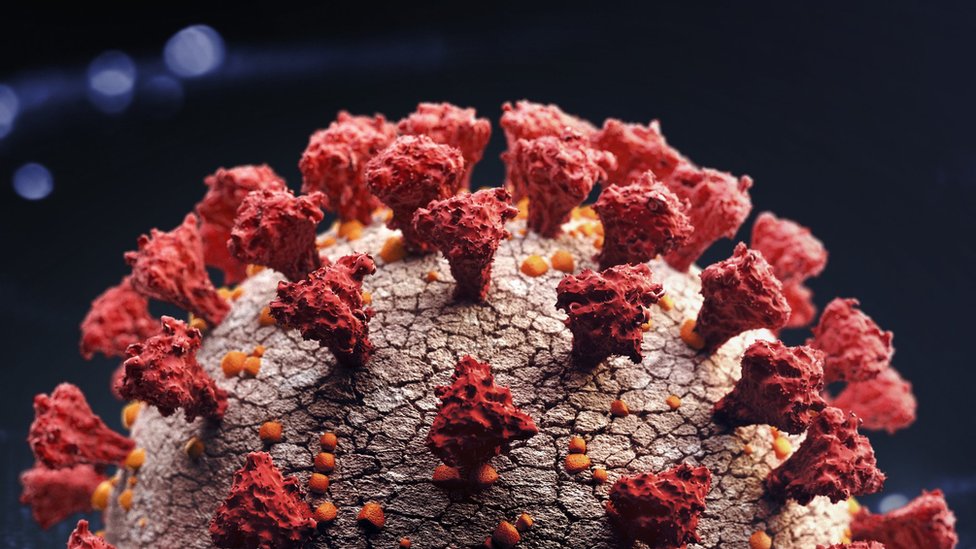 The new UK variant has been shown to spread faster than the original virus – up to 70% more transmissible based on modelling figures – but scientific details on the genetic changes, and how they could affect the behaviour of Covid-19, remain unclear.
Although there is no indication the variant will be more resistant to already-developed vaccines, the mutation does involve the spike protein of the virus.
This is the part that helps it infect cells – and also the part the vaccines have been designed to target. So although scientific experts have warned against an alarmist response, they also say it is essential to track the variant and try to stay ahead of the virus.
Comment New variants were originally supposed to be less dangerous – the current one is only a risk to BAME and OAPs, with a kill rate of less than 1% affecting those with poor life styles and very elderly – like me !.
Most, if not all deaths are 'with Covid' and there is no reason to trust the authorities on this or anything else. It is highly convenient for the super rich wealth traansfer and as a smokescreen and diversion from the Brexit fiasco and con trick.
It is interesting that flights from U.K are banned, but not flights in or illegal immigrants. R.J Cook
Endless lockdowns are not the answer
It is London's misfortune to have such a weak and credulous mayor Telegraph View 16 October 2020 • 6:00am
Slowly, but surely, the country is once again being locked down and the prospects of any relief from this madness before next spring are bleak. Policy makers have decided that, despite all the evidence to the contrary, the best way of dealing with the pandemic is national paralysis….
Could Covid mutation spreading from MINK to humans in Denmark derail vaccine race? Scientists say single strain 'is less sensitive to antibodies', sparking calls to shut borders after country locked down entire region amid outbreak
Newly-identified strain could make a Covid-19 vaccine obsolete, scientists said
So far 12 infections involving the strain linked to five farms have been found
Authorities add they have no proof the strain is more contagious or deadly
Scientists told MailOnline it is 'normal' for mutations to occur in viruses
By Luke Andrews For Mailonline
Published: 09:38, 6 November 2020 | Updated: 18:20, 6 November 2020
Denmark has forced an entire region into lockdown after discovering a mutated form of coronavirus that has jumped from minks to humans.
Health officials fear the newly-identified strain, which the country's prime minister warned posed a 'serious risk to public health', could scupper a Covid-19 vaccine before one is even found to work.
Denmark has placed seven towns in North Jutland into an emergency lockdown and ordered the culling of all the country's up to 17million minks in an effort to prevent any further spread of the strain.
The relevance of coronavirus mutation
By Sarah Cook
28 July 2020
Coronavirus SARS-CoV-2, the virus behind the COVID-19 pandemic, has been studied intensely since emerging in late 2019 – so far, researchers have sequenced tens of thousands of SARS-CoV-2 genomes to learn about the genetic variation of the virus. Monitoring the viral genome for mutations can give important clues as to how the biology of the virus is changing and the potential impact on transmission rates and disease severity. From a policy point of view, this can have huge impacts on reinstating or relaxing lockdown and social distancing measures.
Survival of the fittest
Genetic variation is caused by mutations (or errors) arising randomly in the genome as the virus spreads through populations. This process happens at different rates in different viruses and the biological consequences of these mutations vary greatly.
Coronaviruses such as SARS-CoV-2 possess 'proof-reading' machinery that enables the virus to repair most mutations that occur in the genetic code. The genetic diversity of SARS-CoV-2 is therefore quite low and the virus mutates relatively slowly, accumulating around two mutations in its genome per month, around four times slower than the influenza virus.
The vast majority of mutations will be neutral, meaning that there will be no impact on the biology of the virus. Positive mutations could increase a virus's ability to infect host cells, to replicate within a host cell more rapidly, to evade the host immune response, or increase virus transmissibility. These are likely to support spread of the virus through the human population. Negative mutations, on the other hand, inhibit these capabilities, and are unlikely to prevail.
How many strains of SARS-CoV-2 are there?
There are currently investigations and debates underway as to whether there are different strains of SARS-CoV-2 circulating – in particular, there is a focus on whether a genetic mutation in the SARS-CoV-2 genome that emerged early in the pandemic rendered it more transmissible , which would allow the virus to spread to more people, more easily.
The interpretation of genomic data is still ongoing, but has important impacts for medical developments, public health and policy decisions. Recent analyses have suggested that a variant of the original virus isolated from patients in Wuhan, carrying a mutation in the viral spike protein, has dominated around the world.
The spike protein
The external shell of the virus is covered by the spike protein which enables the virus to attach to and enter host cells. This protein is of particular interest as it is one of the most likely targets for the immune system, and therefore, vaccines are being developed using the specific sequence of the spike protein.
A recent publication by Korber et al provided evidence that a specific mutation in the spike protein has dominated in viruses isolated from patients around the world – i.e. the mutation has been repeatedly found to dominate in different locations where the original and the mutated version co-circulated – suggesting that this mutation conferred a fitness advantage. They found that individuals infected with this variant of the virus had higher viral loads – i.e. more virus particles in their upper respiratory tracts – potentially meaning that they may be more effective at spreading the virus. In addition, laboratory tests in cells suggest that this variant could be better at entering human cells, though these tests cannot determine the impact on transmission within populations.
In addition to the Korber paper, the COVID Genomics UK (COG-UK) consortium's most recent report echoes the finding that viruses containing the spike protein mutation are prevailing. However, COG-UK have been somewhat more reserved in their interpretation of the analyses, stating that the full impact of this finding is not yet clear.
Whilst there is still uncertainty around the importance of these findings, importantly, both analyses confirmed that there is not yet any evidence that there is a link with this mutation and more severe disease.
Why does it matter?
Many factors have contributed to the SARS-CoV-2 pandemic. External factors such as densely populated, globally mobile communities have contributed to disease spread, but virus biology also contributes.
SARS-CoV-2 is highly transmissible with estimates that each infected person will infect two to four individuals – as a comparison, those with seasonal influenza will infect one to two individuals. In humans, SARS-CoV-2 infection does not always cause symptoms or they can emerge up to two weeks after infection. Containing the spread of the disease is more difficult when individuals can be infected and pre- or asymptomatic, and pass on the virus without knowing it.
Changes to the viral genome that enable SARS-CoV-2 to infect individuals more efficiently and replicate faster but do not, for example, change the severity or timescale of symptoms could lead to more people being infected. Conversely, a mutation that leads to more people feeling ill could mean more people getting tested and either being advised to isolate or being hospitalised, thereby potentially reducing transmission.
From a policy point of view, changes to virus biology and our understanding of what is causing them can have huge impacts on reinstating or relaxing lockdown and social distancing measures.
In addition to impacting policy decisions, changes to the genome sequence can have consequences for other disease management initiatives. There are many efforts ongoing to develop diagnostics, vaccines and treatments, which rely on accurate genomic information. Should mutations arise in parts of the genome, such as the Spike protein gene, which are being targeted by these efforts, then this could undermine the development of vaccines or treatments based on a particular genetic sequence. For example, many groups are working on vaccines that use the specific structure of spike protein to evoke an immune response, bestowing immunity.
With only seven months' worth of genetic data, gathered from only a small sample of the infected population, uncertainty is to be expected. The relative importance of mutations found so far in the SARS-CoV-2 genome is still unclear. But with what we know about the infectious disease genomics, the substantial sequencing efforts around the globe in response to the pandemic are clearly vital to reducing the spread of this disease and future pandemics.
Your Body Acquires Trillions of New Mutations Every Day
And it's somehow fine?Sarah ZhangMay 7, 2018
As you read this article, the cells in your body are dividing and the DNA in them is being copied, letter by letter. So long is the human genome—more than 3 billion letters—that even an astonishingly low error rate of one in many million letters could amount to 10 new mutations every time a cell divides.
Oh, perhaps you're also catching some sun (ultraviolet rays) while you read this, or enjoying a beer (alcohol), or have recently been high in the atmosphere on an airplane (cosmic rays). Congratulations, you've given yourself even more mutations. In a typical day, scientists estimate, the 37 trillion cells in your body will accumulate trillions of new mutations.
Are you horrified yet? Good, me too.
But somehow we are not all walking bags of cancer. Somehow we accumulate bajillions of mutations and are, mostly, okay. How?
"It sounds very scary," acknowledges Cristian Tomasetti, a cancer researcher at Johns Hopkins. "Fortunately for us," he says, "the great majority of places where these mutations may hit don't have important consequences."
Imagine, if you will, that the human genome is a like a finely tuned car. Many of the trillions of daily mutations in your DNA are like changing the tint of your car windows. It doesn't really matter. Others may be so bad that they kill the individual cell, like if you took a valve out of the car engine. Very, very few changes would make the whole car run better. (Sorry to disappoint those who are wondering, Why don't we all have superpowers? This is not X-Men.)
Recommended Reading
A small number of those mutations could strike in a cancer gene, making individual cells better at dividing and growing. But one mutation isn't usually enough to make the cell cancerous. "Evolution has built in a formidable number of safety nets," says Jan Vijg, a geneticist at the Albert Einstein College of Medicine. For example, a cancer cell needs to override the natural limit on how many times a cell can divide. It needs to escape "apoptosis," or the cell's tendency to self-destruct when something goes wrong. And it needs to evade an immune system that is constantly on the lookout for aberrant cells. A single cell must accumulate all these mutations to be become successfully cancerous.
Not all cells in the body accumulate mutations equally. A lot of this has to do with simply how frequently these cells divide. You're constantly shedding the lining of your gut, for example, so those cells need to divide frequently to replace others.
Environmental factors play a role. For example, Tomasetti says, lung cells may come into frequent contact with tobacco smoke or pollution, which can cause mutations in their own right. Skin, on the other hand, is frequently exposed to sunlight. In one study, eyelid skin on middle-aged and elderly people—who have been through decades of sun exposure—had a stunningly high number of mutations: 60 to 180 in the genes of each cell.
Vijg has also compared the mutation rate in germ-line cells (sperm and eggs) with somatic cells (everything else, including your skin, liver, blood, etc.). Only the mutations in germ-line cells can get passed on to your children. And germ-line cells appear to have some way of suppressing mutations, perhaps through more robust DNA repair. The cells that make sperm, for example, are constantly dividing to make more sperm, but the mutation rate in sperm is less than one-tenth of that somatic cells. This makes sense in an evolutionary context: Mutated sperm are probably not very good in the race to fertilize an egg.
Once sperm meets egg, the fertilized egg begins to divide. And once it begins to divide, it begins making mistakes in DNA replication. "Even from the minute we're conceived, our cells are accumulating mutations," says Peter Campbell, a cancer geneticist at the Sanger Institute, who has studied mutation rates in the early embryo. (Campbell was also behind the eyelid-skin study.) Our cells continue to accumulate mutations over a lifetime. A typical blood cell from a 100-year-old person, Vijg says, contains 4,000 single-letter mutations and possibly hundreds of other kinds of mutations that are more difficult to detect through single-cell sequencing. Cancer is more common in the elderly because they have simply had more time to accumulate the right—or rather, wrong—set of mutations.
As humans age, cells in the body also become more different from each other. Perhaps half of your blood cells are descendants of a cell that acquired a certain mutation 20 years ago. The other half does not have this mutation. Imagine this process happening over and over again across decades, so that your body slowly becomes a mosaic of different cell groups, each with their unique mutations. We come to contain multitudes.
New Feudalism, Posted December 20th 2020 by R.J Cook
New Feudalism, Posted December 20th 2020 by R.J Cook
The Judaic , Christian, Islamic triadic and evolving religious bigotry is derived from the absurd and conceited notion that we are made in the image of an all powerful male God.
Off the top of my head, I think Shakespeare wrote, 'Oh what a piece of work is man, How noble in Reason, In thought and movement how express and admirable, in apprehension how like a God.'
These days, Shakespeare would struggle to get published without serious editing and revision. He would have to confine his references to person kind. The dynamics of his historical works would have to be race and gender. Juliet would have to be a stronger woman, Romeo would need to man up or be a lesbian. Logically, the newly discovered hupersonity will not be safe until the world, and ultimately the universe is run by pure spirited black women.
This is because the secret is out. The white patriarchy is to blame for everything. That is the theory, anyway- according to feminism
Throughout history there have been dominant and oppressive ideologies claiming to be truth. Anyone with their own sense of a divergent truth is in trouble.
There are anti hate laws and psychiatrists with a book called 'Diagnosis, Statistics & Medication' to deal with miscreants and offenders. The Covid 19 lockdown conundrum and ever mutating virus is covered by this elite insurance policy.
Protection is our comically named democracies' buzz word. No national elite does hypocrisy and discrete tyranny better than Britain. They are the ones being protected. They are the one's whose global economy and new cold war tactics have caused this problem for us of the lower orders. As Donald Trump famously told Bob Woodward, 'Real Power is Fear.'
The global mega rich elite billionaire class should be paying the personal financial costs to us of their policies. They won't. They will pass more laws and employ more police to control and prevent revolution – the only outcome they fear. They will impose more taxes on us to pay for this. Feudalism is back. We have a new serfdom , with the masses unable to move or do anything without elite consent and being watched. R.J Cook
HO, HO, NO!
Coronavirus UK latest – PM bans bubbles in London and South East as he revealed new Covid strain 70% more infectious December 19th 2020
Patrick Knox
– What is Tier 4?
– What areas are in Tier 4?
– Are Christmas Covid bubbles cancelled in Tier 3 and Tier 4?
– What are the support bubble rules?
– What is the new Covid strain? Live Blog
19 Dec 2020, 19:28
Updated: 19 Dec 2020, 19:28
That little placard in front of shifty looking Boris, 'Hands, Face. Space' says it all about Covid brain training, it derives from the childrens chant, 'HEADS SHOULDERS, KNEES, & TOES' because to the elite, we have to be retrained, or should I say reprogrammed, as children for life in this new world feudalism. Boris looks like a hostage telling the world all will be well. R.J Cook
By Patrick Knox
CHRISTMAS plans have been trashed for millions after it was reported today that London, the South East and East will be moved into a new Tier 4 lockdown.
Under the new highest level tier, travel and different households mixing will be banned, said Boris Johnson at a press conference today.
But elsewhere families will only be allowed to form "Christmas bubbles" on December 25 itself.
It comes after Boris Johnson met ministers and had a four-nations conference after it emerged English hospitals are 90 per cent full because of the rapidly spreading new strain of Covid.
It came amid "growing concern" about the threat posed by the mutant Covid bug – which is spreading fastest in South East England and London.
Follow our coronavirus live blog below for the very latest news, reaction and updates on the lockdown plans…
TIER 4 LOCKDOWN RULES

Travel ban enforced by law
No Christmas bubbles
Only allowed our for exercise or travel for education, emergency and childcare
No entry to or exit from Tier 4
No overnight stays outside home
Non-essential shops and hairdressers closed
One person can meet other person
International travel banned unless for work

WHO IS IN TIER 4?

Greater London (all 32 boroughs and the City of London)
Kent
Buckinghamshire (including Milton Keynes)
Berkshire
Surrey (excluding Waverley)
Gosport, Havant, Portsmouth
Rother and Hastings

In the east of England, the areas affected are:

Bedfordshire
Hertfordshire
Essex (excluding Colchester, Uttlesford and Tendring)
Peterborough
PM: CANNOT CONTINUE WITH CHRISTMAS AS PLANNED "We must look again at Christmas," Boris Johnson says. The PM added that "with a very heavy heart" we cannot continue with the easing of rules as planned. People in Tier 4 areas must not mix with other households at Christmas, Johnson says. But elsewhere, people will only be allowed to meet up with two other households on Christmas Day, rather than the original five days.
PM: NEW COVID-19 STRAIN MUCH MORE TRANSMISSIBLE Boris Johnson begins by saying he has been briefed on the latest data, which shows Covid-19 is spreading more rapidly than expected. The prime minister says there is "no evidence" that it causes more severe illness, but it does appear to be passed on significantly more easily. Johnson says initial indications are that it is 70 per cent more transmissible than the original variant of the disease.
Boris Johnson cancels Xmas for millions with Tier 4 lockdown at MIDNIGHT and bubbles axed
DEATHS UP ACROSS UK Government data reports 27,052 new cases compared to 28,507 to yesterday. But deaths were today reported to be 534 compared to 489 the previous day.
DEATH TOLL A further 339 people who tested positive for coronavirus have died in hospital in England, bringing the total number of confirmed deaths reported in hospitals to 46,122, NHS England said on Saturday. Patients were aged between 44 and 100. All except 13, aged between 64 and 95, had known underlying health conditions. The deaths were between November 5 and December 18. Eighteen other deaths were reported with no positive Covid-19 test result. Wales, Scotland and Northern Ireland have not yet posted their stats.
NEW STRAIN SENDS SURGING NUMBERS INTO HOSPITAL The Sun understands evidence shows a dramatic hike in positive cases in London in the past week. And there are fears people are catching the virus — despite wearing PPE and socially distancing. A health source said: "The last 48 hours have changed everything." It could be weeks until it is known just how dangerous the new strain could be.
160 CommentsTopics
Comments are subject to our community guidelines, which can be viewed here.160 commentsLatest
Comment With this sort of logic, mutations, manufactured or biological, the elite can make lockdown run and run, getting richer and richer. The Immigration, old age ( no offence to the aged, but I am 70 and have had my day ) and BAME factors must not be mentioned, nor all the guesswork and dubious labelling of so many deaths as Covid related.
The current death rate is less than 1% of alleged infections, affecting an average age group of 82. But it is all worth it to protect the awful badly run over expensive NHS.
Destroying so many lives as lockdown is doing, doesn't matter if it pleases and comforts certain groups. It is incredible, with non compliance being a police and criminal matter. If the NAZIS had ever invaded Britain, there would have been no shortage of concentration camp guards. R.J Cook