The Covid situation has focused -or should have – the Western Consumerist masses on the Third World. The term Third World has been replaced by smug western elite media by the euphemism 'The Developing World.' A rose by any other names would smell as sweet. So renaming the Third World does not hide the all pervading stink of corruption and exploitation.
R,J Cook
Democracy Now! <digest@democracynow.org>
The South African
www.thesouthafrican.com
The South African
English-language South African daily online newspaper
The South African is an English-language South African online news publication created in March 2003 by the multinational media company, Blue Sky Publications, and it operates as an online news and lifestyle publication with offices in South Africa and the United Kingdom. The publication started as a London-based broadsheet newspaper aimed at providing news for South Africans living in London.
Algeria in chaos, trouble started with independence January 17th 2021
In the midst of widespread popular discontent with the regime led by the Hirak movement, resource-wealthy Algeria continues to struggle with the same socioeconomic challenges it has faced for a decade. Only now, the country's economic standing has been further complicated by the ongoing coronavirus pandemic and the recent drop in oil prices. The former has slowed investment and consumption, while the latter has decreased export revenues.
Research Assistant – Brookings Doha Center
What is at the root of the oil and gas giant's current struggles, and what steps can the Algerian regime take to address them?
Resource curse
The widespread popular discontent sweeping through Algeria is partly triggered by multidimensional inequality and economic hardship. The repercussions of the coronavirus pandemic and associated lockdown measures, together with the 2020 drop in oil prices, have exacerbated the vulnerabilities of the Algerian economy. The economy suffers from several structural issues relating to a mismanagement of accumulated rents in the 2000s, an unfavorable business environment dominated by the military, and a constrained private sector. Most importantly, the economy is overly dependent on oil and gas, which are susceptible to price fluctuations.
Indeed, oil and gas rents represented 19% of Algeria's 2018 gross domestic product (GDP) and an estimated 40% of the 2018 government budget, while fuel exports accounted for 94% of the merchandise exports in 2017 (see Figure 1). Given recent strains on the national budget, it is projected that Algeria's state-owned oil and gas company Sonatrach (which controls more than 75% of total hydrocarbon production) must set the price for a barrel of oil at $118.20 in 2020 and $135.20 in 2021 to break even fiscally.
FIGURE 1: Fuel and merchandise exports
However, Algeria continues to accumulate a significant fiscal deficit projected to reach 16.5% of GDP in 2020 and 14.8% in 2021, due to lower hydrocarbon export revenues. Oil and gas demand has plummeted: In the first two months of 2020, crude and condensate export volumes were down by 27 percentage points year-on-year while gas export volumes were down 26 percentage points. Furthermore, COVID-19 harshly affected some of Algeria's key gas customers; as of April 2020, piped gas exports to Spain were down by 44% year-on-year.
This situation has been exacerbated by the fall in oil prices, which dropped to a record low of $16-17 per barrel in April 2020 and are expected to remain below $45 through 2021. Furthermore, the lower demand on fuel exports coupled with falling prices are expected to further deplete Algeria's foreign exchange reserves. These are projected to reach $44 billion by the end of 2020, continuing the downward sloping trend since 2014 when they stood at $195 billion (see Figure 2). Overall, according to the latest International Monetary Fund (IMF) projections, the economy is estimated to contract by 5.5% in 2020.
FIGURE 2: Total foreign reserves minus gold (current, billion US$)
Persistent inequality
These revenue cuts have forced the state to review its fiscal policy. In May 2020, it announced a 50% cut in public spending and the postponement of several promised economic and social projects. Such moves might cause greater discontent within the ranks of the Hirak, which is demanding root-level reforms that would eradicate corruption and socioeconomic inequalities.
Indeed, Algeria suffers from multilevel disparities including between genders, regions (urban/rural), and income brackets. Over the past decade, total male unemployment has leveled at around 10%, and youth male unemployment at 26%; for women — especially young women — unemployment continued to rise, thus widening the gender gap (see Figures 3 and 4). Hence, Algerian women who wish to enter the labor market have fewer and fewer chances of being hired, compared to their male counterparts.
FIGURE 3: Total unemployment rate and youth unemployment rate (15-24)
Algeria's political crisis, which began when President Abdelaziz Bouteflika's cronies announced on February 10, 2019 that he would run for a fifth term in office, has entered its 48th week. Millions of Algerians still march throughout the country every Friday to demand the dismantlement of the regime and the establishment of a genuine civilian democratic system, a movement that began on February 22, 2019. While the military forcibly removed Bouteflika on April 2, the peaceful protest movement — hirak — is not content with the half-measures or cosmetic reforms that the authorities offer. Instead, the government must address the demands that the hirak has put forth and initiate genuine change, rather than use subterfuges to maintain the present system.
Former Brookings Expert
Professor & Director, Research in Geopolitics, KEDGE Business School
How we got here
The last 20 years of Bouteflika's authoritarian, neopatrimonial, and corrupt rule — and the nature of the political system in place since independence in 1962 — have resulted in a real rupture of the social contract. Rulers have lost their legitimacy and the Algerian people resist being ruled under the old system.
Faced with a strenuous protest movement last year, the Bouteflika government initiated a roadmap before his April 2 ouster. The powerful vice-minister and head of the chiefs of staff, Ahmed Gaïd Salah (AGS), sought to implement that plan. His objective was to appoint a president loyal to him to provide a civilian façade for the military to maintain the same system. While the hirak succeeded in forcing the regime to cancel the two planned elections in April and July, AGS was able to impose a new date, December 12, without consideration for the wish of the people. Millions of Algerians at home and abroad objected to the December 12 election, and voter participation for that election was the lowest in Algeria's history. (An official announcement claimed that 41% of eligible voters participated, but the best estimates ranged between 10% and 15%.) As the German newspaper Die Zeit put it, the Algerian regime should receive the Nobel Prize for electoral fraud. Former prime minister Abdelmadjid Tebboune (one of the five candidates, all part of the old regime) allegedly won 58% of the votes, and is now president. Tebboune was AGS'choice; the race between 5 candidates was mere diversion.
The election did little to ease the protesters' demands. Quite the contrary: A march a few days ago, on January 10, 2020, demonstrated that the hirak — which has remained remarkably peaceful — has not lost momentum. Protesters are not ready to abandon their essential demands. A week before the march, the government freed 76 detainees, imprisoned under AGS's iron-fist authority before his sudden death on December 23. The same day the prisoners were released, a new government headed by Prime Minister Abdelaziz Djerad was formed.
Trump More Troops into Africa Posted December 6th 2020
WASHINGTON — President Trump, pressing his end-of-term troop withdrawals from conflicts around the world, will pull American forces out of Somalia, where they have been trying to push back advances by Islamist insurgents in the Horn of Africa.
The Pentagon announced on Friday that virtually all of the approximately 700 troops in Somalia — most Special Operations forces who have been conducting training and counterterrorism missions — will be leaving by Jan. 15, five days before President-elect Joseph R. Biden Jr. is scheduled to be inaugurated.
The withdrawal from Somalia followed Mr. Trump's orders to reduce the American presence in Afghanistan and Iraq, and reflected the president's longstanding desire to end long-running military engagements against Islamist insurgencies in failed and fragile countries in Africa and the Middle East, a grinding mission that has spread since the Sept. 11, 2001, attacks.
The debate over the value of counterterrorism and training missions like the one in Somalia, the site of the bloody "Black Hawk Down" debacle in 1993, is growing — among the public, in Congress and even in the Pentagon. Among the points of contention is whether the United States should expend life and treasure for shadowy security operations in remote parts of the world.
But Mr. Trump's push to leave Somalia before he leaves office comes at a delicate time for the East African nation: It is preparing for parliamentary elections next month and a presidential election scheduled for early February. The removal of American troops could complicate any ability to keep election rallies and voting safe from Shabab bombers. It also comes at a time of political turmoil in neighboring Ethiopia, whose army has also battled the Shabab.
Supporters of the mission say it is important for the United States to continue strikes on militants and to help train government forces to prevent their territory from becoming a haven for planning terrorist strikes, much like how Al Qaeda plotted the Sept. 11, 2001, attacks from a home base in Afghanistan. Even some of Mr. Trump's staunchest Republican allies in Congress have warned against troop cuts in Somalia.
"This strategy has worked, and our continued presence there has prevented Al Shabab from expanding its foothold in the region," Senator James M. Inhofe, Republican of Oklahoma and the chairman of the Armed Services Committee, said in a statement this fall when hints of Mr. Trump's likely actions surfaced.
Many of the American troops will be "repositioned" to nearby Kenya, a Defense Department official said Friday. That means airstrikes by drones on militants in Somalia could continue, but efforts to effectively train local security forces on the ground would end.
It was not immediately clear whether other parts of the American presence in Somalia — such as C.I.A. officers, the ambassador and other State Department diplomats who are based at a heavily fortified bunker at the airport in Mogadishu, the Somali capital — will also withdraw.
'S.N.L.' Parodies Rudy Giuliani and Melissa Carone's Disastrous HearingMeryl Streep Isn't on Our List of Greatest Actors. Here's Why.Mystery Couple Found in a Roll of Film From Nearly 70 Years Ago
The Pentagon pledged that efforts to safeguard American interests would continue.
"The U.S. is not withdrawing or disengaging from Africa," it said in a statement. "We remain committed to our African partners and enduring support through a whole-of-government approach."Nicholas Kristof: A behind-the-scenes look at Nicholas Kristof's gritty journalism, as he travels around the world.
The United States will retain the ability to conduct counterterrorism operations in Somalia, especially drone strikes, and to collect early warnings and indicators regarding threats to the United States and allies from militant forces in the country.
"As a result of this decision, some forces may be reassigned outside of East Africa," the statement said, adding that "the remaining forces will be repositioned from Somalia into neighboring countries in order to allow cross-border operations by both U.S. and partner forces to maintain pressure against violent extremist organizations operating in Somalia."
The mission in Somalia has been in the spotlight in recent days, after it was reported that a veteran C.I.A. officer was killed in combat in Somalia, according to current and former American officials. The death has already rekindled debate over American intelligence's counterterrorism operations in Africa. The officer was a member of the C.I.A.'s paramilitary division, the Special Activities Center, and a former member of the Navy's elite SEAL Team 6.
Two weeks ago, Mr. Trump ordered the military to withdraw forces from Afghanistan, halving the number there to just over 2,000. Reductions in the American troop presence in Iraq also are underway.
Also this week, the Pentagon policy official overseeing the military's efforts to combat the Islamic State in Iraq and Syria was fired after a White House appointee told him that the United States had won that war and that his office had been disbanded. The ouster of the official, Christopher P. Maier, the chief of the Pentagon's "Defeat ISIS" task force since March 2017, came just three weeks after Mr. Trump fired Defense Secretary Mark T. Esper and three other Pentagon officials and replaced them with loyalists.
The acting defense secretary, Christopher C. Miller, who has been carrying out Mr. Trump's purge at the Pentagon since he took over from Mr. Esper last month, characterized the moves as a reflection of the success of the American-led effort to crush the terrorist state that the Islamic State created in large sections of Iraq and Syria.
Defense Department officials familiar with internal deliberations said the Somalia pullout would not apply to American forces stationed in nearby Kenya and Djibouti, where American drones that carry out airstrikes in Somalia are based.
Keeping those air bases would mean retaining the military's ability to use drones to attack militants with the Shabab, a Qaeda-linked terrorist group — at least those deemed to pose a threat to American interests.
Since Mr. Trump ran for office in 2016, exiting foreign conflicts has been a central component of his "America First" agenda. That appeal has particularly animated his base of populist voters, many of them veterans who have grown weary of their roles in longstanding wars. The president views his record on the issue as important to any political future he might pursue.
Most American troops in Somalia are Special Operations forces stationed at a small number of bases across the country. Their missions include training and advising Somali Army and counterterrorism troops and conducting kill-or-capture raids targeting Shabab militants.
The Pentagon has long argued that the United States can safely leave areas contested by militants when the local governments can safeguard their own territory. Mr. Trump's order means direct training efforts with Somalia security forces would end.
For years, Somalia has faced civil war, droughts and violence from Islamist extremists. The United States intervened in the country as peacekeepers, but abandoned it not long after the "Black Hawk Down" battle in 1993, which killed 18 Americans and hundreds of militia fighters.
The Shabab, whose name means "the youth," emerged around 2007 and have violently vied for control of Somalia with occasional attacks outside its borders, including a shooting in 2013 at the Westgate shopping mall in Nairobi, Kenya, that killed more than five dozen civilians and a deadly assault in January on an American air base at Manda Bay, Kenya.
Shabab leaders pledged allegiance to Al Qaeda in 2012. In 2016, shortly before leaving office, Obama administration officials deemed them part of the congressionally authorized war against the perpetrators of the Sept. 11 attacks. Under the Trump administration, the military sharply increased airstrikes targeting Shabab militants.President Trump and Troop Withdrawals
Adolf Hitler wins election in Namibia 87 years after his Nazi namesake rose to power in Germany
ADOLF HITLER has won an election, not for the first time.
This particular Adolf Hitler though is a Namibian politician, who insists he has no plans for world domination or the extermination of the Jewish people.
Adolf Hitler Uunona won a seat on his regional council in the southern African country after securing 85% of the vote.
Uunona says that his father named him after the Nazi dictator without properly realising what the name meant.
"My father named me after this man. He probably didn't understand what Adolf Hitler stood for," Uunona told Bild.
"As a child I saw it as a totally normal name.
"Only as a teenager did I understand that this man wanted to conquer the world.
"The fact that I have this name does not mean I want to conquer Oshana [the region of Namibia in which he has just won a seat]."
The politician said his wife calls him Adolf, and that he usually goes by Adolf Uunona, but that it was "too late" to go about officially changing his name.
RESULTS: Uunona Adolf Hitler of the SWAPO party is the duly elected councilor of the Ompundja Constituency.#NamVotes2020 #NamibiaVotes2020 #EagleFM pic.twitter.com/6ZQqaNctZx

— Eagle FM Namibia (@EagleFMNam) November 26, 2020
Namibia was a former German colony, and people, places and street names still carry Germany names and origins.
Once known as German South West Africa, Namibia was colonised during the 'scramble for Africa' and was officially part of the German empire from 1884 until the end of the First World War when the country was stripped of all its possessions.
It's estimated that around 1,200 people still bear the name Hitler today, most of whom aren't considered to be relatives of the Nazi dictator.
Genuine family members are thought to have changed their names after the war to hide any connection to the fascist leader.
See More: Adolf Hitler, Namibia
Africa's 'Civil Wars' Are Regional Nightmares
Long considered domestic issues, the continent's battles are really international contests for influence and power. Posted November 11th 2020
By Alex de Waal | October 22, 2019, 2:14 PM
This month, Ethiopian Prime Minister Abiy Ahmed was awarded the Nobel Peace Prize for the bold steps he took last year to make peace with Eritrea.
Between 1998 and 2000, the two countries fought an extremely bloody border war. On the ground, it was World War I-style trench warfare; in the air, there were dogfights between fourth-generation jet fighters. An estimated 80,000 young men and women died, almost all of them soldiers who perished in mass infantry attacks. Ethiopia gradually gained the upper hand, launching a vast ground offensive in the spring of 2000 that cut through the defending Eritrean forces and threatened to capture the capital, Asmara. That didn't happen: The Ethiopians agreed a cease-fire and the terms of a peace deal, signed in Algiers soon after the offensive. But the terms of the peace deal were never implemented. Notably, when an international boundary commission awarded a small but symbolically crucial piece of land called Badme, where the war had started, to Eritrea, Ethiopia refused to hand it over.
For almost 20 years, the two countries were locked in a cold war, with their armies mobilized in force along their common border. Communities were divided, trade was cut, and vast numbers of Eritrean youth served indefinite compulsory military service on the front line. Meanwhile, the two governments did everything they could to destabilize each other by supporting each other's political opposition, including guerrilla groups that infiltrated across the border. In 2009, Eritrea's support for anti-Ethiopian jihadi groups in Somalia brought down the wrath of the U.N. Security Council, which imposed a draconian sanctions regime on the country—one that continued even after Eritrea abandoned its backing for those groups three years later.
Shortly after coming to power last year, Ethiopia's Ahmed cut this Gordian knot and flew to the Eritrean capital Asmara to offer peace. He embraced Eritrean President Isaias Afwerki, opened the border and promised to implement the controversial boundary ruling. It was a bold move—precisely the kind of peacemaking that the Nobel committee has had in mind for its peace prizes since they were established in 1901—and Ahmed has been appropriately honored.
The media are abuzz with two big questions: first, whether Ahmed deserves it, and second, why Afwerki was not honored—as is customary when two countries make peace. But there's a third issue hiding in the background, and it has to do with interstate peacemaking in Africa.
The Nobel award should alert policymakers to an underappreciated danger to peace and security in Africa: interstate war, either overt or—more often—covert and through proxies.
The Nobel award should alert policymakers to an underappreciated danger to peace and security in Africa: interstate war, either overt or—more often—covert and through proxies.
The threat is growing and can easily be predicted, and now is a good moment to put it on the policy radar.
The conventional wisdom is that African states frequently go to war, but not with one another—with the Eritrean-Ethiopian war standing as the conspicuous exception that proves the rule. African wars are seen instead as domestic, civil wars. Analyses of security threats in the continent focus on fragile and failing states, ethnic rivalries, violent extremism, and conflict over natural resources. African governments are seen as too weak to project power as far as their borders, let alone across them. And indeed, since African countries achieved independence in the 1950s and 1960s—and especially since 1964, when the newly founded Organisation of African Unity adopted its "Cairo Declaration" on the inviolability of inherited colonial boundaries—there have been few border wars and just two successful secessions (Eritrea and South Sudan). There have been only a handful of regime change invasions—such as when Tanzania toppled Uganda's Idi Amin in 1979, and Libya's invasion of Chad under Muammar al-Qaddafi.
Yet closer analysis suggests that this standard story misses an important element in the picture: interstate conflict. In Africa, this rarely takes the form of conventional wars over boundaries or invasions to install a new regime. Instead, armed rivalry takes different, disguised forms: covert war and proxy war between states is common—in fact, it's standard. Scratch below the surface of any civil war and there's usually a foreign sponsor to be found. Occasionally this is just a matter of a government quietly tolerating the guerrillas from a neighboring country using a refugee camp to recruit or a porous border to smuggle weapons. But that's rare. Official pleas of ignorance or incapacity to police a border are a convenient excuse. Most of the time, involvement in a neighbor's war is authorized at the highest level and implemented systematically, if secretively, by military intelligence or national security.
Take the Ethiopia-Sudan border. Civil wars on each side haven't just spilled over to the other as if by natural contamination. The two governments have spent long periods actively but covertly attacking the other. Throughout the 1980s and 1990s, Ethiopia and Sudan each sponsored rebels in the neighboring country with training camps, arms, and logistics, through policy decisions made right at the top. Each country also deployed its own troops clandestinely in the other's territory—Ethiopian commanders led operations under the flag of the Sudan People's Liberation Army (SPLA), for example. Sometimes the rebels were even drafted in as counterinsurgents in their hosts' own countries. The SPLA fought against Oromo rebels inside Ethiopia in the 1980s; the Eritrean People's Liberation Front in turn repelled an SPLA operation inside Sudan's Blue Nile province in 1990.
The Mano River countries of West Africa—Liberia, Sierra Leone, and their neighbors—followed the same pattern. When the Liberian political entrepreneur Charles Taylor began an insurgency in 1989, he did so with arms and men from nearby Burkina Faso, whose leader Blaise Compaoré was practically a pyromaniac, lighting conflagrations in Sierra Leone and Ivory Coast as well. When Nigeria, which sees itself as the West African regional hegemon, sent troops to Liberia in 1990, ostensibly as a West African peacekeeping force (the Economic Community of West African States Monitoring Group), the aim wasn't only to stabilize Liberia and prevent Taylor from taking power, but also to rein in Compaoré's ambitions and cement Nigeria's status as the West African powerbroker.
In a recent article in the Journal of Modern African Studies, some colleagues and I found that just 30 percent of African conflicts since 1960 were "internal" and the remainder a mixture of "internationalized internal" and "interstate": fully 70 percent were actually internationalized in one way or another.
South Africa
OVERALL SCORE58.8 WORLD RANK106
Property Rights58.4
Judicial Effectiveness38.0
Government Integrity46.6
Tax Burden63.7
Government Spending67.4
Fiscal Health64.0
Business Freedom62.0
Labor Freedom58.8
Monetary Freedom75.9
Trade Freedom75.8
Investment Freedom45.0
Financial Freedom50.0
Create a Comparison Chart
See how South Africa compares to another country using any of the measures in the Index. vs Download PDF
Quick Facts
Population:
GDP (PPP):

$789.4 billion
0.8% growth
1.1% 5-year compound annual growth
$13,675 per capita

Unemployment:
Inflation (CPI):
FDI Inflow:
South Africa's economic freedom score is 58.8, making its economy the 106th freest in the 2020 Index. Its overall score has increased by 0.5 point due to a higher government integrity score. South Africa is ranked 12th among 47 countries in the Sub-Saharan Africa region, and its overall score is well above the regional average and slightly below the world average.
The South African economy fell back into the mostly unfree category in 2019 after 24 years in the ranks of the moderately free. It remains mostly unfree in 2020. GDP growth has been anemic for the past five years.
To turn the trajectory of economic freedom positive again in South Africa and achieve its goals of economic growth and job creation, the government needs to confront persistent labor market rigidities and pursue stricter application of rules against anticompetitive behavior. The progressive politicization of economic decision-making is a threat to the private sector and long-term development.
Background
The African National Congress (ANC) has dominated politics in South Africa since the end of apartheid in 1994. Corruption scandals forced two-term president Jacob Zuma to resign in 2018. He was replaced by current President Cyril Ramaphosa, who secured his own five-year term when the ANC won the May 2019 elections with 57 percent of the vote, the lowest percentage in ANC history. A radical leftist party pushing land expropriation received 10 percent of the vote. South Africa has a highly developed economy and advanced infrastructure. One of the world's largest exporters of gold, platinum, and other natural resources, it also has well-established financial, legal, communications, energy, and transport sectors as well as the continent's largest stock exchange. Rates of formal-sector unemployment and crime are high.
Property Rights 58.4 Create a Graph using this measurement
Judicial Effectiveness 38.0 Create a Graph using this measurement
Government Integrity 46.6 Create a Graph using this measurement
Property rights are relatively well protected, and contracts are generally secure, but economic growth and food security are threatened by a highly charged land reform debate and proposals to redistribute land rights. South Africa benefits from a robust legal framework and courts that process judicial cases reliably and competently. There is a robust anticorruption framework, but the laws are inadequately enforced, and public-sector accountability is low.
Tax Burden 63.7 Create a Graph using this measurement
Government Spending 67.4 Create a Graph using this measurement
Fiscal Health 64.0 Create a Graph using this measurement
The top personal income tax rate is 45 percent, and the top corporate tax rate is 28 percent. Other taxes include value-added and capital gains taxes. The overall tax burden equals 28.6 percent of total domestic income. Government spending has amounted to 33.0 percent of the country's output (GDP) over the past three years, and budget deficits have averaged 4.3 percent of GDP. Public debt is equivalent to 56.7 percent of GDP.
Business Freedom 62.0 Create a Graph using this measurement
Labor Freedom 58.8 Create a Graph using this measurement
Monetary Freedom 75.9 Create a Graph using this measurement
Policy uncertainty, weaknesses in regulatory oversight, violent crime, labor unrest, and unprofitable state-owned enterprises have a negative effect on business activity. Labor market rigidity has contributed to extremely high unemployment rates. The government has abolished price controls on all but a handful of items, such as coal, petroleum and petroleum products like diesel and paraffin, and utilities.
Trade Freedom 75.8 Create a Graph using this measurement
Investment Freedom 45.0 Create a Graph using this measurement
Financial Freedom 50.0 Create a Graph using this measurement
The total value of exports and imports of goods and services equals 59.8 percent of GDP. The average applied tariff rate is 4.6 percent, and 175 nontariff measures are in force. Private investment continues to be hindered by nontransparent laws, and foreign investments face additional restrictions that breed inefficiency. The financial sector has undergone modernization, and the banking sector is regarded as resilient and sound.View Chart of Scores over Time
Regional Ranking
South Africa's EFF are acceptable racists November 10th 2020
The Economic Freedom Fighters (EFF) is a South African left-wing[17][18] to far-left[19][20][21] pan-Africanist political party. It was founded by expelled former African National Congress Youth League (ANCYL) President Julius Malema, and his allies, in 2013.[22] Malema is President of the EFF, heading the Central Command Team which serves as the central structure of the party.[23] The party itself has been accused of fomenting anti-Indian and anti-White racism, and Malema himself was convicted in 2011 for singing the racist song, "Shoot the Boer". [24]
It is currently the third-largest party in both houses of the South African Parliament.[25]
At a 26 July 2013 press briefing in Soweto, Malema announced that the new party had over 1000 members, double the 500 required for registration with the Independent Electoral Commission (IEC).[26] The EFF is now registered with the IEC, after an objection to its registration by the Freedom Front Plus (FF+) was dismissed in September 2013.[27]
Splinters and infighting
In 2015, the EFF suspended MP Lucky Twala and expelled three MPs, Mpho Ramakatsa, Andile Mngxitama and Khanyisile Litchfield-Tshabalala.[28] Mngxitama formed his own party, named Black First Land First (BLF),[29] while Litchfield-Tshabalala joined the United Democratic Movement.[30] Malema has been chiefly accused by former members of purging his critics to consolidate his power, thus ruling the party with an iron fist.[31] Malema acknowledged this criticism in a press conference and further went on to say, the party should have expelled more ill-disciplined members.[32][33]
Policies
A small march by the EFF on Mandela Day (18 July) 2014 near the parliament building in Cape Town protesting in support of land reform in South Africa.
The EFF "draws inspiration from the broad Marxist–Leninist tradition and Fanonian schools of thought in their analyses of the state, imperialism, culture and class contradictions in every society", according to its constitution.[1]
It criticises the African National Congress and their primary opposition, the Democratic Alliance, for their allegedly pro-business stances, which it claims have sold out the black people of South Africa to capitalism as cheap labour. It promises to tackle corruption, provide quality social housing, and provide free primary healthcare and education for all, as well as proposing to expropriate white owned farmland, nationalise the mining and banking sectors, double welfare grants and the minimum wage, and end the proposed toll system for highways.[34]
The EFF takes significant inspiration from Thomas Sankara in terms of both style and ideology.[35] In a May 2014 column, the prominent EFF member Jackie Shandu declared his party a "proudly Sankarist formation".[36]
The EFF has been vocal in its criticism of black business owners and black owners of mining companies in South Africa. In an address at the Oxford Union in November 2015, Malema spoke out against billionaire mining company owner Patrice Motsepe.[37][38] Further protests in 2015, the EFF delivered demands that included the socialization of the mining sector and called for more explicit targets for the 26% BEE ownership required by law.[39] The EFF is a vocal proponent of expanding the role of South African state owned enterprises in the country's economy.[40][41]
Malema addressed a crowd in Marikana, Rustenburg in the platinum mining area, blaming mining companies and calling out platinum mining company Lonmin in particular, for poverty in the region.[42]
The party supports the re-introduction of the death penalty.[43][44]
In 2016, after local elections in South Africa, the EFF has suggested that they will back the Democratic Alliance in hung-metro areas, but would not be entering into a coalition with any political party in South Africa.[45]
The EFF was the only parliamentary party that opposed the 2018 political party funding bill.[46]
High-profile members
High-profile members of the Central Command Team include Floyd Shivambu, Fana Mokoena and Mbuyiseni Ndlozi (National Spokesperson).[47] Controversial businessman Kenny Kunene joined the Central Command Team in July 2013 before resigning from the Central Command Team on 20 August 2013 and from the organisation on 26 August 2013.[48][49] On 4 November 2013, it was announced that Dali Mpofu had left the African National Congress (ANC) after 33 years of membership and joined the EFF.[50]
Support base
According to a November 2013 Ipsos survey, the party's supporters are younger than average, with 49% being younger than 24, overwhelmingly black (99%) and mostly male, with women representing only 33% of the support base. A disproportionate number of supporters live in Malema's home province of Limpopo (28%), while only 1% live in KwaZulu-Natal, a more populous province.[51] A 2018 survey conducted by social research company Citizen Surveys found that around 70% of EFF supporters were between the ages of 18 to 34, overwhelmingly black (97%), mostly based in major metropolitan cities (48%), predominantly male (62%) with 43% of their support base located in Gauteng Province.[52]
The party was expected to make an impact in the 2014 general election, taking between 4 per cent and 8 per cent of the national vote. This was potentially enough for the party to hold the balance of power in provinces where the governing African National Congress was in danger of losing its absolute majority.[34] The ANC retained is absolute majority whilst the EFF got 6.35% of the vote in the 2014 election.[53]
Student wing
The EFF Students Command (EFFSC) is the party's student wing, founded on 16 June 2015.[54][55] It campaigns for free education,[56] universal access to education and the elimination of registration fees,[57] among other things. The EFF Students Command claims a membership of about 100,000 students and has branches across all the nine provinces of South Africa. Its current leader is Mandla Shikwambana.
Election results
National elections
National Assembly
National Council of Provinces
Municipal elections
Provincial elections
Achievements
On 6 August 2015, the EFF announced that it has secured a Constitutional Court case for its "#PayBackTheMoney" campaign against Jacob Zuma. The case was heard on 9 February 2016. The judgement was released by Chief Justice Mogoeng Mogoeng and stated that the then-President had violated the Constitution of South Africa, along with the Speaker of the National Assembly Baleka Mbete.[61] The President was given 60 days to fulfill the requirements of the Public Protector Thuli Madonsela.[62]
On 27 February 2018, the EFF tabled a motion in the National Assembly to amend the Constitution so as to allow for the expropriation of land without compensation. The motion, brought by the EFF leader Julius Malema, was adopted with a vote of 241 in support, and 83 against. The only parties who did not support the motion were the Democratic Alliance, Freedom Front Plus, COPE and the ACDP.[63] Land expropriation is one of the EFF's seven cardinal pillars.[64]
In 2018, the party's student wing, the EFF Student Command won many universities across the country. The red berets defeated the ANC-aligned South African Students Congress (SASCO) at the Durban University of Technology, the University of Zululand and Mangosuthu University of Technology.[65] They also won in Cape Town, the District Six, Mowbray and Bellville Cape Peninsula University of Technology (CPUT) campuses with landslide victories, meaning they now are in charge of the institution's SRC. They also won the University of Cape Town.[66] Peter Keetse, president of the EFFSC, said the win was a warning shot for what was going to happen in 2019 national general elections. He said the youth were the influencers of the future, "therefore, this is an indication of what is to follow".[67]
Criticisms and controversies
The ANC has accused the Zimbabwean ruling party, the Zimbabwe African National Union – Patriotic Front (ZANU–PF), of supporting the EFF in order to destabilise the ANC.[68]
In October 2018, a group of 17 former EFF members and councillors in the Northern Cape accused the party's senior leadership of corruption and sexual exploitation of more junior female party members.[69] Four months later two former female employees of the EFF claimed that party leadership intimidated and engaged in acts of bullying behaviour towards them and other party staff members.[70]
In April 2019, a former member of the EFF's central command, Thembinkosi Rawula, accused senior party leaders of dictatorial leadership practices and of using party finances for personal benefit.[71] The EFF denied Rawula's accusation and stated that they would sue him for defamation as well as make the party's financials public.[72]
The EFF was found guilty of defamation of character in May 2019, by the South Gauteng High Court and ordered to pay R500,000 in damages to former Finance Minister Trevor Manuel.[73] Manuel brought the EFF and its leader, Julius Malema, to court after they alleged that the appointment of Edward Kieswetter as commissioner of SARS by Manuel was the result of nepotism.[73][74] Following the judgement Manuel stated that he would be donating the R500,000 in damages to victims of the VBS Mutual Bank scandal which the EFF is alleged to have participated in.[75]
Following a string of court case losses for inciting supporters to commit acts of either intimidation (against Karima Brown), land invasion (AfriForum) or of defamation of character (against Trevor Manuel) the party was left with combined court costs amounting to almost R1 million.[76]
Alleged corruption
Tenders
A number of articles published by investigative journalists have accused the party of using their influence to earn improper payments from government suppliers in cities where the EFF has significant representative power.[77] An investigation by the amaBhungane centre for investigative journalism stated that the EFF received R500,000 in kickbacks from a company in return for a R1.26 billion contract to manage a fleet of vehicles used by the City of Johannesburg with tacit acquiescence of the Democratic Alliance.[78][79] Another investigation alleges that the party improperly benefited from the awarding of a fuel supply contract for the City of Tshwane netting the party R15 million from successful contractors.[80]
VBS Mutual Bank
See also: VBS Mutual Bank
Following the publication of a South African Reserve Bank report[81] into the collapse of VBS Mutual Bank implicating EFF deputy president Floyd Shivambu's brother media reports came out alleging that Shivambu received R10 million in illicit payments from VBS prior to it being placed under curatorship in March 2018.[82][83] Prior to the publication of the Reserve Bank's report the EFF criticised the Reserve Bank for placing VBS under curatorship and accused it of victimising VBS on racial grounds.[84] The EFF stated that it had seen no evidence that Shivambu received the R10 million[85] and called for government to recapitalise VBS Mutual Bank[86] whilst also taking legal action against those mentioned in the Reserve Bank report.[87] A follow up investigation by the Daily Maverick alleged that the EFF illicitly received R1.8 million of VBS money through a network of proxy companies with the party's leadership (notably Shivambu and Malema) also illicitly receiving money though this network.[88] After being approached by the Mail & Guardian for comment on his personal financial expenses Floyd Shivambu admitted that money from VBS, channeled through his brother, was used to buy his Range Rover Sport valued at R680,000.[89]
A follow up investigation by the Daily Maverick found that R454,000 of VBS money was used to pay for the 2017 EFF birthday celebration.[90] It also found that a total of R16.1 million was channeled through a Shivambu associated company largely for the benefit of the EFF.[90] An additional investigation traced financial statements from an account that received VBS funds and allegedly controlled by Julius Malema; leading the author of the investigation to estimate that Malema received and directly benefited from R5.3-million illegally taken from VBS.[91] Additional media reports in October 2019, alleged that the party received R4 million of VBS funds into a slush fund that was channeled to Malema via a company named Santaclara Trading.[92][93][94]
A former member of the EFF's leadership accused the party leadership of accepting donations from VBS Mutual Bank prior to its collapse.[71]
Malema later forwarded a conspiracy theory that the VBS collapse was part of a plot intended to damage the EFF.[95]
Ideology
Feminists and the National Union of Metalworkers of South Africa have criticised the party's militarism and "military command structure".[96][97]
In mid-June 2016, a group calling themselves "Anonymous Africa", claiming to be associated with the hacktivist group Anonymous, perpetrated a DDoS attack on the EFF's website stating the reason for the attack was the party's "nationalist socialist rhetoric".[98] The South African Communist Party also condemns this party.[99]
Violence and bigotry
Vusi Khoza, the party's candidate for Premier of KwaZulu-Natal, has a criminal conviction for his involvement in what was believed to be a xenophobic attack on foreigners at Albert Park, Durban in December 2009.[100]
Feminists have characterised leading members of the party as misogynist.[101][102][103][104]
On 1 July 2014, eight members of the EFF were forcibly removed from the legislature after their attire of red overalls carrying the slogan "asijiki" (meaning "we are not turning back") was found to be inappropriate by presiding officer, Ntombi Mekgwe.[105] Hundreds of EFF members protested against the ruling on 22 July near the legislature building.[106]
In February 2016, during violent university protests characterised by arson and vandalism, EFF Youth leader Omphile Seleke posted instructions for making petrol bombs on social media.[107]
In January 2018, EFF Deputy President Floyd Shivambu congratulated the party supporters for causing damage to various H&M stores[108] across South Africa due to a picture of a young black child wearing a green hoodie reading, "Coolest Monkey in the Jungle".[109][110][111][112][113][114] A Vodacom store in Polokwane was damaged and looted by EFF members following a presentation by Corruption Watch at the 2018 Vodacom Awards which included an image depicting EFF leaders Malema and Shivambu as "abusers of Democracy".[115][116]
In February 2019, after the SONA address in parliament by the SA President, EFF MP Marshall Dlamini physically assaulted a member of the presidential security team after a disagreement between EFF MPs and the security.[117]
Actions against journalists and the media
Journalist Ranjeni Munusamy lodged an affidavit in December 2018 detailing threatening remarks, intimidation, harassment and personal attacks made by party members, including Malema, towards her and other journalists[118] targeted by the party. The affidavit was supported by the South African National Editors Forum and other notable South African journalists such as Max du Preez, Pauli VanWyk, Adriaan Jurgens Basson, and Barry Bateman.[118] The EFF denied any involvement in attacks on Munusamy and other journalists.[119]"We need to ask the IEC how such a party can be on the ballot box. It threatens journalists. It encourages its supporters to make rape threats and sexual assault threats. It wants to dictate what I can do as a journalist."
—Karima Brown[120]
South African political journalist Karima Brown was the target of verbal abuse and threats of violence by EFF supporters following the EFF's publication of her personal contact details. This led charges with the police and Equity Court being laid against the party amidst speculation that this instance might be in breach of South Africa's Electoral Code of Conduct. Parties in breach of the code risk having their registration to run in elections being revoked.[121] Malema stated on the incident that journalists have no privileges whilst accusing Brown of being a state agent and denied that EFF supporters were making threatening remarks.[122] The court found in favour of Brown and ruled that the EFF had contravened the South African electoral code by inciting its supports to harass Brown.[123]
Following the publication of an article by the amaBhungane Centre for investigative journalism looking into allegations of corruption by the EFF the party controversially announced that it would be banning both amaBhungane and the Daily Maverick from its public events[124][125][126] and announced that they would be treated an enemies of the party.[127]
In January 2020 the EFF was forced to publicly apologies and pay damages following a Gauteng High Court judgment that the party had made and spread false allegations that two journalists, Thandeka Gqubule and Anton Harber, were apartheid era 'StratCom' agents.[128][129]
Racial and ethnic prejudice
Since its establishment the EFF has made a number of controversial racially or ethnically based statements about a number of South African minority groups. The EFF is widely criticised for inciting and perpetuating racism.[130][98][131]
Anti-Indian racism
The South African Minority Rights Equality Movement initiated a court case against Malema for inciting racial sentiment by stating that a "majority of Indians are racist" at an EFF Youth Day rally in 2018.[132]
The EFF was criticised by the South African Council of Churches, the Ahmed Kathrada Foundation,[133] and the ANC[134] for comparing Public Enterprises Minister Pravin Gordhan to a "dog" whilst protesting against the Zondo Commission inquiry into government corruption. The EFF also accused the anti-corruption investigators of being members of an "Indian cabal" commenting on the presence of Indian South African's making up the investigative team.[135][136] The EFF also accused Gordhan and his daughter of corruption.[137] The EFF accusations were proven false[138][139] and Gordhan laid charge of defamation against Malema stating that the EFF's "determined defence of corruption and the corrupt, using personal attacks, racism and alleged hate speech is not acceptable and must be challenged."[140] The Equality Court found that the EFF was not guilty of hate speech in its statements relating to Gordhan.[141][142] EFF leadership and its supporters have been criticised for using Gordhan's second name, Jamnadas, as a racial dog whistle to highlight to his Indian ethnicity in a pejorative way and question his status as a South African on social media.[143]
ANC member and government minister Jackson Mthembu accused the EFF of being racist and having a "deep-seated hatred" for Indian South Africans whilst criticizing the party's pursuit of Gordhan whilst participating in a parliamentary debate.[144][145]
Anti-white racism
During a 2016 political rally, EFF leader Julius Malema stated, "We are not calling for the slaughter of white people, at least for now." When asked for comment by a news agency, the ANC spokesperson, Zizi Kodwa stated that there will be no comment from the ANC, as "[h]e [Malema] was addressing his own party supporters."[146] While still the ANCYL leader, Malema was taken to the Equality Court by AfriForum for repeatedly singing "dubul' ibhunu", meaning "shoot the boer [white farmer]". The ANC supported Malema, though AfriForum and the ANC reached a settlement before the appeal case was due to be argued in the Supreme Court of Appeal.[147]
South Africa's Independent Electoral Commission disqualified EFF councillor Thabo Mabotja from the 2016 local elections due to a tweet by Mabotja calling for violence against white South Africans.[148][149] The EFF welcomed the commission's decision and renounced Mabotja.[150][151]
Speaking at a political rally in 2018, Malema, told supporters to "go after a white man", a reference to Nelson Mandela Bay mayor Athol Trollip, adding that "we are cutting the throat of whiteness".[152] This led to the Democratic Alliance accusing the EFF's leader, Malema, of racism and not sharing the more tolerant views of South Africans broadly.[153] The EFF later claimed that the reference to the "throat of whiteness" was a metaphorical reference to destroying white privilege and was not referring or advocating harm to white people.[154]
Following the death of former Zimbabwean President Robert Mugabe, Malema tweeted a number of controversial quotes from the late Mugabe that were racially prejudiced towards white people. Most notable was the quote that "The only white man you can trust is a dead white man".[155][156] The South African Human Rights Commission (SAHRC) condemned the quote and stated that they would be taking Malema to court for spreading hate speech.[157]
See also
References
"EFF Constitution" (PDF). Economic Freedom Fighters. 16 December 2016. Retrieved 25 April 2020. The EFF subscribes to the Marxist-Leninist and Fanonian schools of thought on its analysis of the State, imperialism, class and race contradictions in every society."About Us". Economic Freedom Fighters. Retrieved 16 April 2020. "Economic Freedom Fighters Party reignites debate (in English)". Al Jazeera. 14 October 2013. Archived from the original on 2 November 2013. Retrieved 1 November 2013. "Hundreds gather for EFF launch (in English)". News24. 13 October 2013. Archived from the original on 4 November 2013. Retrieved 1 November 2013. Campbell, John (2016). Morning in South Africa. Indiana University Press. p. 187. Often explicitly antiwhite in its rhetoric, it [the EFF] would expropriate without compensation white-owned property… Lewis, Megan (2016). Performing Whitely in the Postcolony: Afrikaners in South African Theatrical and Public Life. University of Iowa Press. p. 62. Several events added fuel to the fire: the increasing popularity of Julius Malema's antiwhite political party, the Economic Freedom Fighters (EFF)…"ANC holds onto power in South Africa as other parties increase vote share". The Times of India. 11 May 2018. Kwinika, Savious (18 March 2019). "South Africa: Pan-African EFF Makes Most of Rival Parties' Squabbles". allAfrica. Retrieved 16 April 2020. Kepe, Thembela; Levin, Melissa; von Lieres, Bettina (2016). Domains of Freedom: Justice, citizenship and social change in South Africa. University of Cape Town Press. ISBN978-1775822042. the Economic Freedom Fighters (a left-wing group that ostensibly seeks to restructure the economy in the interests of the majority Lamb, Peter (2015). Historical Dictionary of Socialism. Scarecrow Press. ISBN978-0810855601. South Africa: The African National Congress (ANC) youth leader Jacobs Wife is expelled and forms the rival left-wing Economic Freedom Fighters.South Africa's Malema says more than 60 ANC MPs will turn on Zuma. Reuters. Authors – Ed Stoddard and Sisipho Skweyiya. Published 21 July 2017. Retrieved 8 April 2018. Social Changes in a Global World. p.66. Author – Ulrike Schuerkens. Published by SAGE. Published in London in 2017. Accessed via Google Books. The World Since 1945: An International History. p.535. 2nd edition. Authors – P. M. H. Bell and Mark Gilbert. Published by Bloomsbury in London. First published in 2001, 2nd edition in 2017. Chaos in parliament as party gets ejected for grilling Zuma over corruption in South Africa. Independent. Author – Lamiat Sabin. Published 13 February 2015. Retrieved 8 April 2018. "Red Tide: From 'economic freedom' to 'white genocide', extremism grabs the spotlight (in English)". Daily Maverick. 14 October 2013. Archived from the original on 17 October 2013. Retrieved 1 November 2013. Daniel, Luke (2 February 2019). "EFF manifesto launch 2019: Five main talking points". The South African. Retrieved 16 April 2020. George Okello (25 February 2020). "South African court orders for arrest of firebrand politician Julius Malema". PML Daily. Retrieved 13 June 2020. Leader of South Africa's left-wing Economic Freedom Fighters (EFF) Julius Malema wanted arrested Alison Williams (27 October 2015). "South Africa's left-wing EFF leads latest anti-government protest". Reuters. Retrieved 13 June 2020. South Africa's left-wing Economic Freedom Fighters (EFF) led a march on Tuesday calling for a fairer distribution of the country's wealth, the latest sign of anti-government dissent following a wave of student protests last week."South Africa's opposition EFF introduces bill to nationalise…"Reuters. 17 August 2018. Retrieved 23 March 2019. South African lawmakers disrupt parliament and demand Zuma #PayBackTheMoney. AlJazeera. Published 22 August 2014. Retrieved 8 April 2018. South African parliament descends into chaos. Radio New Zealand. Published 13 February 2015. Retrieved 8 April 2018. Meggan Saville (12 July 2013). "Malema launches his Economic Freedom Fighters". Dispatch Online. Archived from the original on 25 July 2013. Retrieved 16 July 2013. Setumo Stone (11 July 2013). "Malema takes command of Economic Freedom Fighters". Business Day. Archived from the original on 14 July 2013. Retrieved 16 July 2013. Laing, Aislinn (12 September 2011). "Julius Malema found guilty of hate speech for singing 'Shoot the Boer'". The Telegraph. Archived from the original on 28 September 2011. Retrieved 13 June 2014. Cohen, Mike (26 February 2020). "Why Land Seizure Is Back in the News in South Africa". Bloomberg via Washington Post. Retrieved 25 April 2020. SAPA (28 July 2013). "EFF readies for election registration as over 1 000 members recruited". The Times. Archived from the original on 30 July 2013. Retrieved 28 July 2013. Verashni Pillay (5 September 2013). "It's official: Malema's EFF is a political party". Mail & Guardian. Archived from the original on 7 September 2013. Retrieved 5 September 2013. Genevieve Quintal (5 June 2015). "Litchfield-Tshabalala UDM's new national organiser". Archived from the original on 30 September 2015. "Elections 2019: Black First Land First". www.sabcnews.com. 21 April 2019. Retrieved 17 April 2020. "Deputy president dumps UDM as infighting claims surface". The Daily Dispatch. Retrieved 17 April 2020. Nyathi, Mandisa; Masuabi, Queenin (25 November 2019). "Malema faces an EFF rebellion". CityPress. Retrieved 20 April 2020. "Economic Freedom Fighters | owlapps". next.owlapps.net. Retrieved 28 May 2020. "Anc Branch Manual Document – EspoCRM Open Source Community Forum". bookforum.buzz. Retrieved 28 May 2020. "Economic Freedom Fighters on rise in South Africa". The Irish Times. 1 May 2014. Archived from the original on 6 May 2014. Retrieved 6 May 2014. Duval Smith, Alex (30 April 2014). "'Africa's Che Guevara': Thomas Sankara's legacy". British Broadcasting Corporation. London. Archived from the original on 1 November 2014. Retrieved 5 November 2014. Shandu, Jackie (22 May 2014). "The Sankarist makings of the EFF". Daily Maverick. Johannesburg. Archived from the original on 6 November 2014. Retrieved 5 November 2014. "Business Day". www.bdlive.co.za. Archived from the original on 29 December 2015. Retrieved 27 November 2016. Jordaan, Buchule Raba And Nomahlubi. "Patrice Motsepe has no power' says Malema". Times LIVE. Archived from the original on 27 November 2016. Retrieved 27 November 2016. John, Victoria. "Yes and no to EFF's list of demands". The M&G Online. Archived from the original on 28 November 2016. Retrieved 27 November 2016. Lourie, Gugu (3 February 2019). "EFF Wants State To Create AI, Robotics And BioTechnology Firms". TechFinancials. Retrieved 17 February 2019. "The EFF's 2019 election manifesto (IV) – DOCUMENTS | Politicsweb". www.politicsweb.co.za. Retrieved 17 February 2019. Tatai, Sello. "SABC News – Malema blames mining companies for high levels of poverty:Thursday 7 July 2016". www.sabc.co.za. Archived from the original on 27 November 2016. Retrieved 27 November 2016. "iafrica.com Juju wants death penalty". News.iafrica.com. Archived from the original on 1 September 2016. Retrieved 19 January 2016. "Malema wants death penalty #EFFlaunch | Economic Freedom Fighters – EFF". Economic Freedom Fighters. 13 October 2013. Archived from the original on 26 January 2016. Retrieved 19 January 2016. Feltham, Luke. "Malema says the EFF won't form coalitions, but will support DA in hung metros". The M&G Online. Archived from the original on 28 November 2016. Retrieved 27 November 2016. "Reasons why the EFF rejects the political party funding bill". Economic Freedom Fighters. "Central Command Team". effonline.org. Archived from the original on 12 August 2013. Retrieved 21 April 2018. Poloko Tau (21 August 2013). "'Sushi King' quits EFF leadership". Independent Online. Archived from the original on 24 August 2013. Retrieved 24 August 2013. SAPA (26 August 2013). "Kunene quits EFF". News24. Archived from the original on 29 August 2013. Retrieved 5 September 2013. "Dali Mpofu joins EFF – Cape Times". IOL.co.za. 4 November 2013. Archived from the original on 2 December 2013. Retrieved 23 November 2013. "The supporter profiles of SA's three largest parties". Politicsweb. Archived from the original on 22 February 2014. Retrieved 6 February 2014. "Citizen Surveys: How many white EFF supporters exist, and 11 other stats". Citizen Surveys. 1 November 2018. Retrieved 30 September 2019. "ANC wins 249 seats". News24. 12 May 2014. Archived from the original on 12 May 2014. Retrieved 30 September 2019. Mabasa, Nkateko. "RISE OF THE EFF YOUTH: EFF Students Command brigades take university SRC elections by storm". Daily Maverick. Riddle, Samantha (23 January 2019). "EFF student command secretary, Aseza Mayaphi, arrested for wearing SANDF uniform". briefly.co.za. "EFF Students Command issues fierce warning to universities". The South African. 21 January 2019. Retrieved 22 April 2020. "EFF Students Command demands fee-free registration at universities… or else". News24. "2014 National and Provincial Elections Results – 2014 National and Provincial Election Results". IEC. Archived from the original on 10 May 2014. Retrieved 11 May 2014. "Results Summary – All Ballots" (PDF). elections.org.za. Archived (PDF) from the original on 8 August 2016. Retrieved 11 August 2016. "Results Dashboard". www.elections.org.za. Retrieved 11 May 2019. "WATCH: Full Nkandla ConCourt judgment". Business Day Live. Retrieved 10 April 2016. Emsie Ferreira (6 August 2015). "Lets meet in court, Malema tells Zuma". Archived from the original on 1 February 2016. Retrieved 26 January 2016. Goba, Neo (27 February 2018). "National Assembly adopts EFF motion on land expropriation". TimesLIVE. Retrieved 20 April 2020. Jan Gerber (27 February 2018). "National Assembly adopts motion on land expropriation without compensation". Archived from the original on 20 September 2018. Retrieved 12 October 2018. Bhengu, Lwandile (1 October 2018). "EFF's student body victory is not a political mirror for 2019 elections' says Sasco". TimesLIVE. Retrieved 20 April 2020. Hlati, Okuhle (3 October 2019). "EFF claiming victory in UCT student elections". Independent Online. Retrieved 20 April 2020. Kwandokuhle Njoli (30 September 2018). "Comrades see red as students back EFF on campus". Retrieved 12 October 2018. Natasha Marrian (29 July 2013). "Mantashe hits out at EFF for 'distorting the Freedom Charter'". Business Day. Archived from the original on 1 August 2013. Retrieved 30 July 2013. reporter, Citizen (7 October 2018). "Expelled EFF members accuse Malema, Shivambu of corruption, want to work with Hawks". The Citizen. Retrieved 13 October 2018. Peter, Zamayirha (16 February 2019). "More women make claims of EFF bullying and abuse". CityPress. Retrieved 22 February 2019. Lizeka Tandwa and Tshidi Madia (5 April 2019). "Former EFF leader accuses Malema, Shivambu of taking VBS donation, party denies claims". News24. Retrieved 9 April 2019. Tandwa, Lizeka (10 April 2019). "Malema to sue Rawula, offers journalists access to EFF's financial records". News24. Retrieved 11 April 2019. Quintal, Genevieve (30 May 2019). "Court vindicates Trevor Manuel in defamation battle with EFF". BusinessLIVE. Retrieved 1 June 2019. Modise, Kgomotso. "Challenge me, don't defame – Manuel to EFF in Kieswetter nepotism matter". ewn.co.za. Retrieved 1 June 2019. Khumalo, Sibongile (31 May 2019). "Trevor Manuel: I don't need a cent of EFF money". Fin24. Retrieved 1 June 2019. Watson, Amanda. "EFF wallows in legal debt of almost R1m". citizen.co.za. Retrieved 19 June 2019. "Malema and EFF get R15m in 'kickbacks' in Tshwane fuel scandal – report". citizen.co.za. Retrieved 17 October 2019. Micah Reddy and Stefaans Brümmer (29 November 2018). "Firm that won R1bn Jo'burg fleet contract paid Malema-EFF 'slush-fund' – amaBhungane". amabhungane.org. Retrieved 29 November 2018. "Tender comrades part 1: Trailing the Juju tractor". amaBhungane. Retrieved 17 October 2019. amaBhungane, Stefaans Brummer & Micah Reddy for. "AMABHUNGANE: Tender Comrades Part Two: Tshwane tenderpreneur's R15m 'EFF tithe'". Daily Maverick. Retrieved 17 October 2019. Motau, Terry (10 October 2018). "The Great Bank Heist: Investigator's Report to the Prudential Authority" (PDF). South African Reserve Bank. p. 135. Retrieved 11 October 2018. Van Wyk, Pauli (11 October 2018). "The Shivambu Brothers and the Great VBS Heist". Daily Maverick. Retrieved 11 October 2018. Jika, Sabelo Skiti, Thanduxolo (12 October 2018). "PIC, VBS, Floyd and his baby brother". The M&G Online. Retrieved 13 October 2018. Ndlozi, Mbuyiseni Quintin (11 March 2018). "EFF STATEMENT ON VBS CURATORSHIP | EFF: Economic Freedom Fighters". Economic Freedom Fighters. Retrieved 13 October 2018. "Money was exchanged – but Floyd did not get any from VBS bank, says Malema". Retrieved 16 October 2018. Zintle, Mahlati (16 October 2018). "EFF calls for VBS to be recapitalised | IOL News". IOL. Retrieved 16 October 2018. Mvumvu, Zingisa (16 October 2018). "Malema: VBS allegations meant to 'discredit the EFF'". Dispatch Live. Retrieved 16 October 2018. Wyk, Pauli Van (21 November 2018). "VBS bank heist: EFF's family ties and moneyed connections". Daily Maverick. Retrieved 21 November 2018. Skiti, Thanduxolo Jika, Sabelo. "VBS's R680k paid for Floyd's wheels". The M&G Online. Retrieved 30 September 2019. Wyk, Pauli Van. "SCORPIO: 'Cruising nicely' on VBS: EFF's Parties, Lies and Looted Money". Daily Maverick. Retrieved 1 June 2019. Wyk, Pauli Van (8 September 2019). "SCORPIO: VBS Theft, Money Laundering & Life's Little Luxuries: Julius Malema's time of spending dangerously". Daily Maverick. Retrieved 30 September 2019. "Over R4m in 'concerning' payments made into Malema slush fund – report". citizen.co.za. Retrieved 17 October 2019. "Julius Malema's 'slush fund' exposed". TimesLIVE. Retrieved 17 October 2019. "Malema linked to another company that had a VBS loan – report". News24. 13 October 2019. Retrieved 17 October 2019. "WATCH: 'VBS was meant to collapse and finish EFF' – Malema". News24. 3 May 2019. Retrieved 1 June 2019. Shanti Aboobaker (29 December 2013). "Numsa wary of 'capitalist' Malema". Sunday Independent. Archived from the original on 3 January 2014. Siphokazi Magadla (2013). "EFF & the Return of the Warrior Citizen". Thought Leader. Archived from the original on 10 April 2014. "EXCLUSIVE: Why Anonymous 'hacked' the SABC, Gupta websites". Fin24. Archived from the original on 17 June 2016. Retrieved 19 June 2016. "SACP supports ANC, condemns Julius Malema's propagation of war in the strongest possible terms, calls on the police ?to act swiftly in terms of the rule of law". www.sacp.org.za. Retrieved 18 June 2018. EFF's KZN man has criminal pastArchived 22 March 2014 at the Wayback Machine, BHEKI MBANJWA, The Daily News, 2014 Floyd Shivambu: Despicable MeArchived 24 December 2013 at the Wayback Machine, Sipho Hlongwane, The Daily Maverick, 2012 Remembering Thomas Sankara, the EFF's museArchived 24 December 2013 at the Wayback Machine, Rebecca Davis, The Daily Maverick, 2013 Elections Analysis: The Economic Freedom FightersArchived 22 March 2014 at the Wayback Machine, Sonja Bornman, Feminist SA, 2013 EFF: Two senior party officials accused of involvement in 2008 gang rapeArchived 22 March 2014 at the Wayback Machine, Rebecca Davis, The Daily Maverick, 2013 "EFF kicked out of Gauteng Legislature". enca.co.za. 1 July 2014. Retrieved 24 July 2014. "EFF storm Gauteng Provincial Legislature". ewn.co.za. 24 July 2014. Retrieved 24 July 2014. de Lange, Ilse (29 February 2016). "EFF's 'petrol bomb recipe' fuels Tuks fears". The Citizen. Archived from the original on 14 April 2017. Retrieved 14 April 2017. @FloydShivambu (13 January 2018). "That @hm nonsense of a clothing store is now facing consequences for its racism" (Tweet) – via Twitter. "H&M monkey hoodie sparks outrage for "racist" image – CBS News". CBS News. 8 January 2018. Archived from the original on 8 January 2018. Retrieved 8 January 2018. "H&M apologizes for using black child to sell 'coolest monkey' top". CNN. 8 January 2018. Archived from the original on 8 January 2018. Retrieved 8 January 2018. "H&M slammed as racist for 'monkey in the jungle' hoodie". CNBC. 8 January 2018. Archived from the original on 8 January 2018. Retrieved 8 January 2018. "H&M is apologizing for a product image called out as racist – Quartz". Quartz. 8 January 2018. Archived from the original on 8 January 2018. Retrieved 8 January 2018. "H&M apologises following backlash over 'racist' image of child model on website – The Independent". The Independent. 8 January 2018. Archived from the original on 8 January 2018. Retrieved 8 January 2018. "H&M Faces Twitter Backlash for "Racist" Hoodie – Pret-a-Reporter". The Hollywood Reporter. 8 January 2018. Archived from the original on 8 January 2018. Retrieved 8 January 2018. Seleka, Ntwaagae (4 December 2018). "'Matter now closed' – EFF, Vodacom issue joint statement following unrest". News24. Retrieved 1 January 2019. Staff Writer (4 December 2018). "Why Vodacom met with the EFF". mybroadband.co.za. Retrieved 1 January 2019. Gerber, Jan (8 February 2019). "EFF MP slaps man after SONA". www.news24.com. Retrieved 8 February 2019. Munusamy, Ranjeni (19 December 2018). "Supporting Affidavit: Navaranjeni Munusamy" (PDF). South African National Editors Forum. Retrieved 1 January 2019. Shange, Naledi (19 December 2018). "EFF denies involvement in attacks on journalists". www.timeslive.co.za. Retrieved 1 January 2019. "Karima Brown vows to lay further complaints as EFF supporters continue to attack". African News Agency. 20 March 2016. Archived from the original on 6 March 2019. Retrieved 6 March 2019. "Karima Brown vows to lay further complaints as EFF supporters continue to attack | IOL News". www.iol.co.za. Retrieved 7 March 2019. "'How do you hold an underground editor accountable ' – Malema on Karima Brown matter". News24. 6 March 2019. Retrieved 7 March 2019. Davis, Rebecca. "REPORT: EFF court losses mount as Karima Brown wins battle, but faces criticism of her own". Daily Maverick. Retrieved 19 June 2019. "Malema and EFF get R15m in 'kickbacks' in Tshwane fuel scandal – report". citizen.co.za. Retrieved 17 October 2019. Maverick, Daily. "Editorial: This is What Panic Looks Like". Daily Maverick. Retrieved 17 October 2019. "Sanef 'appalled' by Malema's call to ban amaBhungane, Daily Maverick's Scorpio from EFF events". News24. 13 September 2019. Retrieved 17 October 2019. "Malema bans amaBhungane and Daily Maverick's Scorpio from EFF events: 'We shall treat them as enemies'". News24. 12 September 2019. Retrieved 17 October 2019. "EFF retracts 'Stratcom agent' allegations against Gqubule and Harber, apologises after court order". News24. 25 January 2020. Retrieved 25 January 2020. Snijman, Lia. "NEWSFLASH: EFF, Ndlozi have twenty-four hours to pay damages to journalists". Daily Maverick. Retrieved 25 January 2020. The EFF and the Question of National UnityArchived 13 April 2014 at the Wayback Machine, Duncan, Jane, SACSIS WEBSITE, 29 Jan 2014 Sain, Raahil (8 March 2016). "EFF must #PayBackTheMoney for damage to varsities". Archived from the original on 14 April 2017. Retrieved 14 April 2017. Mngoma, Nosipho (18 June 2018). "Group to take #JuliusMalema to court for racist rant | IOL News". www.iol.co.za. The Mercury. Retrieved 1 January 2019. "'No one is going to intimidate us' – EFF hits back at clergy and Ahmed Kathrada Foundation". News24. Retrieved 23 November 2018. "'EFF bullies' trying to 'hide their own shenanigans' – ANC chief whip Mthembu". News24. Retrieved 23 November 2018. "'Indian cabal' narrative is to protect the looting project". CityPress. Retrieved 23 November 2018. "Malema to Gordhan: I am not scared of the Indian cabal". eNCA. Retrieved 1 January 2019. Smit, Sarah. "Gordhan decries EFF attack on daughter". The M&G Online. Retrieved 1 January 2019. Jean le Roux, Kyle Cowan, Pieter du Toit and Adriaan Basson (28 November 2018). "FACT CHECKED: EFF's charges against Pravin Gordhan". News24. Retrieved 1 January 2019. Poplak, Richard. "SnowBank – BLEFF, Pravin Gordhan and the imaginary R6…"Daily Maverick. Retrieved 1 January 2019. Ndaba, Baldwin (26 November 2018). "Pravin Gordhan lays defamation charges against Malema | IOL News". www.iol.co.za. Retrieved 1 January 2019. Sutherland, Roland (31 October 2019). "Pravin Gordhan vs Julius Malema". www.politicsweb.co.za. Retrieved 4 November 2019. "Judge slates Malema's 'juvenile' rant as EFF leader wins case against Gordhan". TimesLIVE. Retrieved 4 November 2019. Snijman, Lia. "POPULIST DOG WHISTLES: Pravin Jamnadas Gordhan, a case study: When your name is weaponised on Twitter". Daily Maverick. Retrieved 25 January 2020. Makinana, Andisiwe (17 July 2019). "'Of course, you are racist. You are,' Jackson Mthembu tells EFF MPs". TimesLIVE. Retrieved 30 September 2019. van Diemen, Ethan (18 July 2019). "Cigarettes, corruption and racism: Why the EFF hates Gordhan, according to Jackson Mthembu". News24. Retrieved 30 September 2019. "Malema slammed for comments on whites". ENCA. 8 November 2016. Archived from the original on 17 April 2017. Retrieved 30 May 2017. Cropley, Ed (31 October 2012). "South Africa's ANC, whites agree to silence "Shoot the Boer"". Reuters. Retrieved 20 April 2020. "IEC disqualifies EFF councillor for racist tweet". eNCA. 29 August 2016. Archived from the original on 14 April 2017. Retrieved 14 April 2017. "EFF councillor candidate disqualified after calling for whites to be 'hacked and killed' reports". News24. 29 July 2016. Retrieved 20 October 2019. "'He's on his own' Juju says of Mabotja". eNCA. Retrieved 20 October 2019. "Electoral Court right to give Thabo Mabotja the chop". www.politicsweb.co.za. Retrieved 20 October 2019. "'We are cutting the throat of whiteness' – Malema on plans to remove Trollip". News24. Retrieved 18 June 2018. "South Africans don't share Malema's racist views – Maimane | IOL News". Retrieved 11 March 2018. Thambo, Sinawo. "OPINIONISTA: Empty analysis will not deter the EFF from its core task — reaching out to the electorate". Daily Maverick. Retrieved 22 April 2019. "Yep, it's hate speech, says SAHRC on Julius Malema's 'dead white man' tweet". TimesLIVE. Retrieved 17 October 2019. Grootes, Stephen. "ANALYSIS: Malema's Mugabe closing gambit". Daily Maverick. Retrieved 17 October 2019.
"SAHRC to take Malema to court for hate speech". South African Human Rights Commission. 19 September 2019.
Further reading
Racial tensions rise in South Africa over farm killing Posted November 10th 2020
By MOGOMOTSI MAGOMEOctober 16, 2020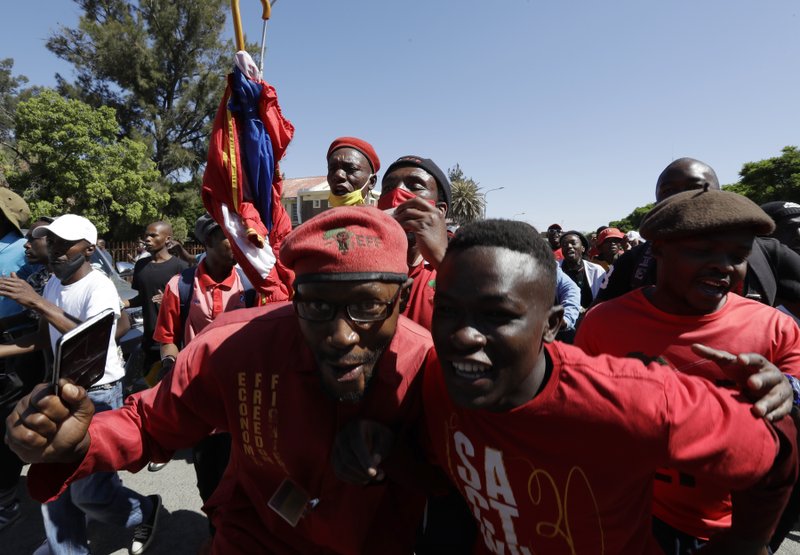 1 of 6Members of the Economic Freedom Fighters protest outside the magistrates court in Senekal, South Africa, Friday, Oct. 16, 2020, where two suspects were to appear on charges of killing a white farmer in the area. (AP Photo/Themba Hadebe)
SENEKAL, South Africa (AP) —
A tense standoff between white farmers and Black activists gripped the South African town of Senekal Friday, as two men accused of killing a white farm manager were to appear in court.
More than 100 police patrolled the area in front of the courthouse in the Free State province and used barbed wire to separate the rival groups.
Sekwetjie Mahlamba and Sekola Matlaletsa appeared in the magistrates' court on charges of killing Brendin Horner, 21, on Oct. 1. Their request for bail was postponed until Oct. 20.
About 250 white farmers gathered to protest the killing, charging that police do not adequately protect white farmers. In an earlier court hearing last week, a group of white farmers stormed the court and burned a police vehicle. ADVERTISEMENT
The country's leftist opposition party, the Economic Freedom Fighters, mobilized about 1,000 of its supporters to challenge the white farmers in front of the court. They sang songs and shouted slogans calling for South Africa's land to be returned to Black residents. Many were dressed in the EFF party's red uniforms and berets.
EFF leader Julius Malema came to Senekal Friday was expected to speak to his supporters after the court hearing.
While most white farmers and organizations representing them have called for farm killings to be made a priority crime, the government insists that white farmers are not being targeted, saying the violence is a result of South Africa's relatively high crime rate. South Africa has one of the highest crime statistics in the world, with a murder rate of just over 58 deaths a day.
The country's official crime statistics indicate there were 49 farm killings in the 2019/2020 financial year.
President Cyril Ramaphosa, in his weekly letter to the nation Monday, condemned Horner's killing, but said the farm killings were part of the bigger crime problem.
"Those people who think that farm attacks affect just a small part of our population are wrong. The farming community is an integral part of our economy," wrote Ramaphosa.
The Senekal murder has also raised the controversial issue of land ownership in the country.
A great deal of South Africa's best farmland is owned by white farmers, as a result of the eviction of Black farmers when the country was ruled by a white minority. Although South Africa now has majority rule, land ownership remains a contentious issue, with parties like the EFF urging the government to seize white-owned land without compensation and return it to Black families.
WAR WAR MORE WAR IN CORRUPT OVERPOPULATED RELIGIOUS AFRICA RUN BY BLACK DICTATORS EMPOWERED BY RICH WHITES November 9th 2020
Ethiopia's army chief, head of intelligence and foreign minister have been replaced as fighting continues in the northern Tigray region.
Prime Minister Abiy Ahmed's office announced the reshuffle on Twitter – no reason was given for the changes.
Long-standing tensions between the central government and the local administration in Tigray boiled over into clashes last Wednesday.
Dozens of casualties have been reported with reports of more air strikes.
There are fears the conflict could lead to civil war, which could also destabilise neighbouring countries.
The UN says there have now been clashes between federal troops and Tigrayan forces in eight different locations.
It says nine million people are at high risk of being displaced by the fighting. Aid cannot reach Tigray as it has been sealed off – and communication with the region has also been cut off.
Tigrayans complain that Abiy, who is from the Oromo ethnic group, Ethiopia's largest, has unfairly targeted them as part of a crackdown on past rights abuses and corruption.Forces of the Tigray People's Liberation Front (TPLF), which governs the region, are battle-hardened and possess significant stocks of military hardware, experts say.They and militia allies number up to 250,000 men, according to the International Crisis Group.One of the biggest risks is that Ethiopia's army will split along ethnic lines, with Tigrayans defecting to the regional force.
There are signs that is already happening, analysts said.The United Nations raised concerns of reprisals against ethnic Tigrayans amid heightened tension in the diverse country in a confidential report dated Sunday and seen by Reuters.Addis Ababa Police Commissioner Getu Aregaw said Sunday that the government had arrested 162 people in possession of firearms and ammunition, on suspicion of supporting the Tigrayan forces.The suspects were "under investigation," he said in a statement. He did not identify their ethnicity.The mayor of the capital, Adanech Abiebie, said on Saturday several TPLF members working in her administration had been arrested on suspicion of planning to disrupt the peace.As Abiy's government mobilizes troops to send to Tigray, other parts of the country roiled by ethnic violence could face a security vacuum, analysts say.
Congo Devils November 2nd 2020
Back in the 1960s, when I was studying A level Economics, my teacher Chris Wilkinson lent me his copy of 'The Peoples' War.' he knew I had an unsual appetite for reading and knowledge. It was written by Angus Calder with the thesis that World War Two was for the British people. Maybe that's what they believed and there were some exgtravagant promises about a wonderful future making all the death, destruction and misery worthwhile. It was however rather a con.
My favourite anecdote from that fat volume was about an London East large family, evacuated to the a Vicarge in the Suffolk countryside. Dad's away in the army. so it is just the worn out woman and her tribe being welcomed by the sedate vicar's wife. This posh woman lays on tea and biscuits, so they are all sitting around the table when one of the little working class boys suddenly gets up, unbuttons his flies, then starts peeing on the expensive Axminster carpet. the vicar's wife is outraged, screaming at the woman. 'Doesn't your son know better than that ?' 'Of course he does' replies the working class woman, adding 'Go on Johnny and do it in the corner.'
I grew up in a little terraced house where the back room tiles were laid on bare earth, draughts, mice and dampness were big problems, with winters long. The lavatory – we called it 'the lav' was up the little back yard. There was no hot water and the pipes froze in winter. I also recall frequent visits down to North London, my grandfather Cook's slum dwelling, all of the Greek Cypriot migrants crowded into the tenement and bomb sites abundant. There was much rebuilding and more migrants on the way, notably West Indians.
Britain was , at the time, being forced out of its empire, whie trying to rebuild and improve Britain. As it turns out, those improvements have been deceptive. The elite, with its 36,000 aristocrats run the show, demcracy a deception. But to impoverished black Africans living under the Black dictators countries like Britain and France and other parts of Europe offers heaven. According to one of the young gangsters, he aims to get a boat and come to soft touch Britain
The picture above shows the high density slums, and locations of the 'Devil's Gang' H.Q, in relation to the overwhelmed police station, the exotically named but almost derelict 'Paris Cafe' and the local toilets. Population is out of control, with the average African woman having 15 children each – rape is commonplace, so is violence and disease.
Here, the Devils leader tells of his only fear. The gang smoke pot all day and commit crime, including theft and protection rackets at night when they are completely stoned.. There is regular work breaking up stone in a quarry but that is not to their liking.
The country is rich in natural resources but only the corrupt dictatorial black government benefits from those resources. Ending colonialism made life much harder for the average black, with many clinging to religions like Islam for hope in the'after life.' One gang member said he hated his life.
The Devils' leader said he would most like to kill the President. If his girl cheated on him he would beat her up and kill the man.
This terrified woman laments the passing of the previous president who was very tough on crime. The local police chief has given up hope.
Here members of the gang relax but are on the look out for criminal opportunities,
The local toilets are an opportunity because they charge 100 francs to let people in.
The local police station where the chief has given up hope. It is no wonder young Africans risk their lives to come to places like the U.K. Estimates suggest there are 50 million who want to come here. R.J Cook
Africans ever more desperate to get to Britain – why ? Stand off on tanker ends when 16 Royal Marines arrive on board, but asylum will be guaranteed. Objectors will be called racists and African dictators and big business will keep on ruining Africa. October 26th 2020
When flashlights were spotted darting around the deck of the Nave Andromeda, it was clear that the 10-hour standoff was nearly over.
Under the cover of darkness, six miles off the Isle of Wight, sixteen Royal Navy Special Boat Service commandos dropped down from four hovering helicopters and took back control of the 228-metre oil tanker from a gang of seven stowaways.
The raid lasted just nine minutes, but the dramatic climax was nearly three weeks in the making.
The enormous vessel left port in Lagos, Nigeria on October 6 heading towards Southampton.
At full capacity, it can carry 500,000 barrels of oil, but it is understood that the tanker is nearly empty and was on its way to collect gasoline from the Fawley oil refinery, run by ExxonMobil.
On board the ship, which sails under the flag of Liberia, there were 22 crew members. But there were also seven stowaways.
CAPTION UPDATE © Licensed to London News Pictures. 25/10/2020. Isle of Wight, UK. A police boat lights up the hull of the oil tanker Nave Andromeda as a rescue mission gets underway off the Isle of Wight in the English Channel. It is being reported that stowaways have seized the ship which sailed from Lagos and was supposed to berth at Southampton this morning. Photo credit: – Peter Macdiarmid/LNP
"Security in third world ports is not as high as in the first world, so it is relatively easy to get through perimeter fences," said Maritime expert and finance editor at Lloyd's List, David Osler.
"International Maritime Organisation guidelines mandate search of vessels prior to departure, but sometimes stowaways slip through."
Flag officials are working on the assumption that they boarded though the rudder trunk of the vessel, he added.
In any case, the ship left port with its human cargo and embarked on the mammoth 4,459 nautical mile journey.
After rounding the West coast of Africa, it dropped anchor just off the Canary Islands to collect bunker fuel – necessary to power the ship's mighty engines.
Five days ago it stopped briefly just off the coast of Saint-Nazaire, France.
It is not known exactly when the stowaways were discovered, but they had no documentation and sources told the Telegraph their presence had been known for "some time".
A source within the Liberian shipping registry said it was understood the seven men were all from Nigeria.
The question facing the captain and crew was how to deal with them.
It is understood that as the ship approached British waters, the crew tried to detain the stowaways in a cabin, but they got violent and that sparked the security incident.
Lawyers for Navios Tankers Management Inc, the Greek company who own the ship, said it was not a hijacking, but the Ministry of Defence did not rule that out.
On Sunday morning, violence erupted.
It was just after 10am when the desperate call went out.
The ship's captain said that stowaways had been discovered on board and were making threats to kill the crew.
"I'm trying to keep them calm but please send help," he pleaded with the coastguard.
"You could hear the fear in his voice," sources said.
"The captain clearly stated he feared for their lives and needed urgent assistance, they needed rescuing."
Glass was smashed and in fear, the crew retreated to the ship's citadel, a secure area in which they can lock themselves, making it impossible for attackers to get in.
They contacted the coastguard, which then alerted police.
The ship was denied access to Southampton port and told to stay out at sea.
For hours, the Nave Andromeda zig-zagged in the ocean. It was unclear who was steering.
Two coastguard helicopters flew overhead, monitoring the situation. On land, an armed unit of police set up a station on the Isle of Wight. A three mile exclusion zone was ordered around the vessel.
A MAJOR security incident is underway after a group of stowaways were found on board an oil tanker off the British coast today.
A MAJOR security incident is underway after a group of stowaways were found on board an oil tanker off the British coast today.
October 25th 2020
The 748ft ship is zig-zagging in the English Channel after the discovery this morning.
A Coastguard helicopter has been circling the ship around four miles south east off the coast of the Isle of Wight.
Military assistance has now been requested to deal with the tanker incident..
The group of seven stowaways – thought to be from Nigeria – "become violent" after being found on the Liberian-flagged Nave Andromeda, Sky News reports.
But Lawyers Tatham and Co, representing the vessel's owners, said it was "100% not a hijacking".
Armed units are are said to be setting up base at Portsmouth's Historic Dockyard, Isle of Wight Radio reported.
The vessel gave a mayday alert at 9am this morning.
Home Secretary Priti Patel is being kept up to speed on the incident, Sky News reported.
The tanker was bound for the Port of Southampton after setting off from Nigeria 19 days ago.
The tanker is currently around four miles south east of the Isle of Wight.
It was last known to be docked in Lagos, Nigeria, on October 5, and was scheduled to arrive at Southampton at 10.30am today.
A Hampshire Police spokesman said: "We are aware and dealing with an ongoing incident on board a vessel which is situated south of the Isle of Wight."
The Coastguard said: "We are currently assisting Hampshire Constabulary with an incident on board a vessel situated off the Isle of Wight.
"The search and rescue helicopters from Lee on Solent and Lydd are in attendance."
A five nautical mile restriction zone has been placed around the ship, and a coastguard helicopter has circled it.
Local MP Bob Seely said a Cobra meeting is about to happen.
He told Sky News: "The skipper has dropped anchor, either because he has been told to or because he is panicking.
"The relevant units will be looking at options as to what we can do."
Mr Seely said it was reported that the coastguard told the ship not to drop anchor before it did.
Former rear admiral Christopher Parry says the zig-zagging of the oil tanker suggests that "the master and the crew aren't in control of the ship".
The Nave Andromeda is sailing under the flag of Liberia, and was built in 2011.
The Special Boat Service is located just a few miles away in Poole, Dorset.
In December 2018, SBS commandos took just five minutes to seize a ship hijacked by four migrants.
Top 20 Most Brutal and Ruthless Dictators in Africa
September 8, 2015 by Africanvault
Let's face it; African leaders can do better.
Coup d'Etats, violence characterize leadership in Africa, and dictatorship and some scholars have argued that democracy is not an African ideology. Historically, leadership in Africa was based on conquest and monarchy and then colonialism.
Following colonialism, dictatorship continued in many parts of Africa.
Top 20 Dictators in Africa
Regardless of how they came to power, these people are regarded as the worst dictators in Africa.
The regime of most of these African dictators was marked by horror, terror, chaos, and bloodshed. Some of these dictators were notorious leaders, and some have led their country towards economic prosperity while others started on the right path and lost their way.
20. Paul Kagame (Rwanda: 1994-present)
Paul Kagame became the President of Rwanda in the year 2000. He rose to power through his guerrilla movement that ended the 1994 Rwandan Genocide.
Years in power: 23 years +
Highs: Kagame has led Rwanda towards the path of economic prosperity, his government has been described by the UN and several international leaders as the model of good governance in Africa.
Lows: Kagame's regime been marked by accusations of human right abuse, oppression of political opponents and the press.
19. Zine El Abidine Ben Ali (Tunisia: 1987–2011)
Zine El Abidine Ben Ali was the President of Tunisia from 1987 to 2011. Ben Ali, he assumed the Presidency in a bloodless coup, a month after he was appointed the prime minister. He led Tunisia for 23 years before stepping down in January 2011 due to a massive protests demanding his exit.
Years in power: 24 years
Highs: Tunisia witnessed stability and economic prosperity under Ben Ali
Lows: In 2012, in abstention, he was sentenced to a life imprisonment for his role in the murders of protesters in the 2011 revolution that led to his exit from power. Embezzlement, misuse of public funds, suppressing political opponents are some of the sins of one of Africa's longest-serving dictators.
18. Gnassingbé Eyadéma (Togo: 1967–2005)
Gnassingbé Eyadema remains one of Africa's longest-serving dictator. Eyadema became the president of Togo in 1967 after he led a military coup against the incumbent President, a man he helped bring to power in a bloody military coup. He died of a heart attack in 2005, and his son Faure was named the President of Togo in controversial circumstances.
Years in power: 38 years
Lows: Eyadema is the pioneer of Africa's first military coup d'etat, an act that soon became the political trend in Africa. He organized a presidential election in 1998 and canceled "in the interests of national security" when he was losing. He was accused of several cases of human right abuses.
17. Hastings Kamuzu Banda (Malawi: 1963–1994)
Banda, one of Africa's greatest dictator, he led Malawi from 1961 till 1994. Banda lost effective control of Malawi during his absence from Malawi in 1993 when he was flown to South Africa for an emergency brain surgery. Bakili Muluzi, his former political protégé, became president in 1994, after the general elections Banda had earlier postponed was conducted in 1994.
Years in power: 31 years
Highs: He was fought against colonialism and led of Nyasaland (now Malawi) to independence as Malawi in 1964.
Lows: His reign left Malawi as one of the World's poorest country. One in three children under five died of starvation, he regularly tortured and murdered political opponents. Human rights groups estimate that at least 6,000 people were killed, tortured and jailed without trial under Banda.
16. Gaafar Nimeiry (Sudan: 1969–1985)
Gaafar Nimeiry came to power in a 1969 coup that put an end to five years of corrupt civilian rule. He was ousted from power in 1985 and went into exile in Egypt until he was allowed to return in 1999. He contested in the 2000 Sudanese elections; he got just 7% of the votes. He died in may, 2009 at the age 79.
Years in power: 16 years
Highs: He signed the Addis Ababa Agreement, which ended the First Sudanese Civil War and brought a decade of peace and stability to the region.
Lows: His indiscriminate borrowing left the Sudanese economy in ruins, the Sudanese currency lost almost 90% of its value against the major international currencies. He imposed Islamic sharia law in 1983; this led to a two-decade-long war religious war between the Muslim north and the mainly Christian south.
15. Siad Barre (Somalia: 1969-1991)
Siad Barre took power in a Coup d'état in 1969, and he ruled Somalia for over 20 years before he was overthrown in 1991. He passed away in January 1995, in exile in Lagos Nigeria. General Siad Barre's exit left Somalia without a central authority, and this resulted in a civil war that left the country without a leader for over two decades.
Siad Barre Quotes: Exiled Absolute Leader of Somalia
Years in power: 22 years
Highs: Siyad Barre served as chairperson of the Organization of African Unity (African Union). During his early years, he successfully created model agricultural factories that boosted the country's economy.
Lows: General Siad Barre's regime, like many dictators in Africa, was marked by human right abuses, The UN Development program asserts "the regime of Siad Barre had one of the worst human rights records in Africa."
14. Charles Taylor (Liberia: 1997-2003)
Charles Taylor once described as the "tyrant of death" was the President of Liberia from August 1997 until 2003 when international pressure forced him to resign and go into exile in Nigeria. He remains one of the most brutal dictators in Africa till date.
Years in power: 6 years
Lows: Charles Taylor is currently serving a 50-year sentence for his involvement in what the judge described as "some of the most heinous and brutal crimes recorded in human history." He was found guilty of the following charges: Acts of terrorism, Unlawful killings, Murder, Violence to life, health and physical or mental well-being of persons,
13. Yahya Jammeh (Gambia: 1994-2017)
Yahya Jammeh took power in a bloodless military coup in 1994. Jammeh got re-elected as the 2016 general elections to Adama Barrow, and surprisingly, he conceded defeat. Only to reject the results few weeks after, he finally left Gambia in exile to Equatorial Guinea after sustained pressure by the African Union, Ecowas, and UN.
Years in power: 23 years
Lows: Strong human rights abuses have marked Yahya Jammeh's regime, he also claims to have a cure for HIV Aids and his hate for homosexuality is well documented, recently, he threatened to slit the throats of any homosexual in Gambia.
12. Idriss Deby (Chad: 1990-Present)
In December 1990, Idriss Deby and his Patriotic Salvation Movement, an insurgent group, backed by Libya and Sudan sacked the incumbent government, and Déby became the President of Chad.
Years in power: 27 years +
Highs: Sacked the barbaric Chadian dictator Hissene Habre from power.
Lows: Deby has used oil proceeds and funds that could have been used to develop Chad to purchase weapons and strengthen his Army. Forbes named Chad the world's most corrupt nations in 2006. It described Deby's decision to buy weapons with the funds supposedly intended to counter famine as "what may turn out to be the single most piggish use of philanthropic funds."
11. Obiang Mbasogo (Equatorial Guinea: 1979-Present)
Teodoro Obiang Nguema Mbasogo has been President of Equatorial Guinea since 1979 when he ousted his uncle, Francisco Macías Nguema, in a bloody military coup and sentenced him to death by firing squad. President Obiang is one of the oldest and longest-serving dictators in Africa.
Years in power: 38 years +
Highs: Equatorial Guinea's has emerged as a significant oil producer under Obiang. He also served as the Chairperson of the African Union from 31 January 2011 to 29 January 2012.
Lows: State-operated radio declared President Obiang "the country's god" with "all power over men and things," and thereby he "can decide to kill without anyone calling him to account and without going to hell." Unlawful killings, government-sanctioned kidnappings; torture of prisoners by security forces, and even accusations of cannibalism has trailed President Obiang's regime. Forbes estimates his wealth to be around $600 million; he has used an oil boom to enrich his family at the expense of the citizens of Equatorial Guinea.
10. Paul Biya (Cameroon: 1982-Present)
Paul Biya has been the President of Cameroon since 6 November 1982. He consolidated power in a 1983–1984 power struggle with his predecessor and he remains a powerhouse in Africa and the president of Cameroon till date.
Years in power: 35 years +
Highs: Cameroon has enjoyed peace and stability for the past 30 years. Paul Biya's regime has also overseen one of the strongest diplomatic relations in Africa.
Lows: Paul Biya has kept himself in power by organizing sham elections and paying international observers to certify them free of irregularities, the top African leader, and dictator who has been accused of constant human right abuse, was ranked 19th in Parade Magazine's Top 20 list of "The World's Worst Dictators."
9. Jose Eduardo Dos Santos (Angola: 1979-Present)
Jose Eduardo Dos Santos, the father of Africa's richest woman Isabel Dos Santos, is Africa's second longest-serving head of state, behind Equatorial Guinea's Teodoro Obiang Nguema Mbasogo. He has been in power since 1979, and in 2017, he announced that he would finally step down and end his dictatorship over Angola.
Years in power: 38 years +
Highs: The Angolan economy has grown to become thethird-largest economy in sub-Saharan Africa, after South Africa and Nigeria.
Lows: Strong allegations of corruption, misuse, and diversion of public funds for personal gain, human rights abuses, and political oppression. 70% of the population of Angola, lives on less than $2 a day and yet the Dos Santos family have amassed a massive sum of personal wealth with Angola's oil proceeds.
8. Robert Mugabe (Zimbabwe: 1987-November 21, 2017)
Robert Gabriel Mugabe, Ex-President of Zimbabwe, and one of the oldest dictators in Africa was in power from 1980, when he was prime minister of Zimbabwe. He consolidated his power to become president on 31st December 1987. After thirty years in power, following what seemed like a coup, smelled like a coup but was officially "not-a-coup," he resigned from office.
Years in power: 30 years
Highs: Zimbabwe boasts of one of the most impressive education systems in Africa.
Lows: The United Nations estimates Unemployment in Zimbabwe to be as high as 80%, the economy of Zimbabwe is in ruins, and life expectancy for both male and females is a little above 50 years. Massive hyperinflation has made the local currency of Zimbabwe worthless, the exchange rate of Zimbabwe dollar is 35 quadrillion to US$1. The local currency has been retired and replaced with the US dollar and South African rand, and this has led to the near collapse of the manufacturing industry in Zimbabwe.
7. Francisco Macías Nguema (Equatorial Guinea: 1968-1979)
Francisco Nguema was the first President of Equatorial Guinea; he ruled Equatorial Guinea before his nephew in 1979 overthrew him and sentenced to death by Firing squad for genocide and other crimes he committed. He was brutal and apparently deranged, and he is one of the worst dictators in modern African history.
Years in power: 11 years
Lows: During his regime, he granted himself "all direct powers of Government and Institutions." He ordered the death of entire families and villages; he executed members of his family, One-third of the population fled the country, he ordered every boat in the nation sold or destroyed and banned all citizens from the shoreline to prevent more people from escaping his terror.
6. Hissene Habre (Chad: 1982-1990)
Hissene Habre seized power in 1982 from Goukouni Oueddei, who had just been elected President, he lost power to his former military commander officer Idriss Deby in December 1990. Habre fled to Senegal when Deby's Libya backed insurgents marched into the capital, N'Djaména. In May 2016, he was convicted of crimes against humanity.
Years in power: 8 years
Lows: Hissene Habre's government carried out a frightening 40,000 politically motivated murders, and there are documented cases of at least 200,000 tortures in Habre's brutal eight-year rule of Niger.
5. Omar Al-Bashir (Sudan: 1989-Present)
Sudanese President, Omar al-Bashir has been the leader of Sudan since 1989 when he took power in a military coup. Al-Bashir is one of the most brutal dictators in Africa and despite ICC's warrant against him; he remains the president of Sudan.
Years in power: 28 years +
Lows: The International Criminal Court wants Omar al-Bashir for genocide, war crimes, murder, rape, torture, and other crimes against humanity for his crimes in Darfur.
4. Sekou Toure (Guinea: 1958-1984)
Ahmed Sékou Touré was elected as the first President of Guinea in 1958, a position he held until to his death in 1984. Toure like many other dictators in Africa, survived several assignation attempts and coups while he was in power, he died of heart failure in 1984.
Years in power: 26 years
Lows: Toure banned all opposition parties and declared his party the only legal party in the country. Toure ruled Guinea as a ruthless dictator with no tolerance for opposition. He was accused of several cases of human right abuse and extrajudicial killings.
3. General Sani Abacha (Nigeria: 1993-1998)
Sani Abacha became the head of state of Nigeria in 1993 after he sacked the interim president appointed after the annulment of the 1993 elections. The exact details of the dictator's death in the presidential palace in 1998 remains unclear, but it was met by wide celebration and soon after Nigeria returned to a democratic path.
Years in power: 5 years
Highs: Abacha's regime was a massive economic success for Nigeria. Foreign exchange reserves rose from $494 million in 1993 to $9.6 billion by the middle of 1997. External debt was reduced from $36 billion in 1993 to $27 billion by 1997; inflation rate went down from the 54% he inherited to 8.5% between 1993 and 1998, and global oil price was priced at an average of $15 per barrel.'
Lows: General Sani Abacha's regime was characterized by massive looting and human right abuses such as the public hanging of political activist Ken Saro-Wiwa and jailing several political opponents.
2. Colonel Muammar Gaddafi (Libya: 1969-2011)
Gaddafi seized power in a bloodless military coup in 1969. The charismatic leader of Libya and one of the greatest dictators in African history met his end during the Libyan revolution in 2011 after rebels in Sirte, his city of birth, killed him.
Years in power: 42 years
Highs: Under Gaddafi, Libya became the first developing country to own a majority share of the revenues from its oil production. Gaddafi provided access to free healthcare, safe houses, food and clean drinking water, free education to university level which led to the dramatic rise in literacy rates
Lows: He led oil-rich Libya as an absolute dictator, for close to 42 years, he quashed anyone that opposed him, and was responsible for the death of thousands of his people.
1. Idi Amin Dada (Uganda: 1971-1979)
Idi Amin seized power in the military coup in January 1971, sacking Milton Obote. Idi Amin fled Uganda in the heat of the Uganda-Tanzania war and went into exile in Libya and then Saudi Arabia where he lived until his death on 16 August 2003.
Years in power: 8 years
Lows: Amin's rule was characterized by rumors of cannibalism, frightening human rights abuses, political repression, several extrajudicial killings, corruption, and gross economic mismanagement. International observers and human rights groups estimate the death toll of his regime to be around 500,000.
Oh Africa
Africa has come a long way, and it continues to overcome setbacks and rewrite its history. These dictators represent the worst moments in post-colonial African history.
Comment Africa is stil a chaotic and backward place, with European post colonial place men, especially British placemen brutalising 'fellow blacks.'. That is why millions are flowing into Europe, with a culture and health background of negative influence on the indigenous masses here.
White history is being re written to ensure lower class people pay for this. Inevitably health and social probelms will become ever more serious. That is the price of empire and a cheapskate rapid withdrawal at post war U.S behest because they wanted the markets and sphere of influence at knockdown price.
It is neither right nor wrong. Humans are not the likeness of God, they are the most apparently highly intelligent and most dangerous animals who have been exploiting, killing and lying to each other for the last 40 million years – not 3000 as the fiction of the very political bible/Koran asserts.
R.J Cook
Uncovering the brutal truth about the British empire
The Harvard historian Caroline Elkins stirred controversy with her work on the crushing of the Mau Mau uprising. But it laid the ground for a legal case that has transformed our view of Britain's pastby Marc ParryThu 18 Aug 2016 06.00 BST
Last modified on Wed 4 Dec 2019 13.25 GMT
Help us sue the British government for torture. That was the request Caroline Elkins, a Harvard historian, received in 2008. The idea was both legally improbable and professionally risky. Improbable because the case, then being assembled by human rights lawyers in London, would attempt to hold Britain accountable for atrocities perpetrated 50 years earlier, in pre-independence Kenya. Risky because investigating those misdeeds had already earned Elkins heaps of abuse.
Elkins had come to prominence in 2005 with a book that exhumed one of the nastiest chapters of British imperial history: the suppression of Kenya's Mau Mau rebellion. Her study, Britain's Gulag, chronicled how the British had battled this anticolonial uprising by confining some 1.5 million Kenyans to a network of detention camps and heavily patrolled villages. It was a tale of systematic violence and high-level cover-ups.
It was also an unconventional first book for a junior scholar. Elkins framed the story as a personal journey of discovery. Her prose seethed with outrage. Britain's Gulag, titled Imperial Reckoning in the US, earned Elkins a great deal of attention and a Pulitzer prize. But the book polarised scholars. Some praised Elkins for breaking the "code of silence" that had squelched discussion of British imperial violence. Others branded her a self-aggrandising crusader whose overstated findings had relied on sloppy methods and dubious oral testimonies.
By 2008, Elkins's job was on the line. Her case for tenure, once on the fast track, had been delayed in response to criticism of her work. To secure a permanent position, she needed to make progress on her second book. This would be an ambitious study of violence at the end of the British empire, one that would take her far beyond the controversy that had engulfed her Mau Mau work.
That's when the phone rang, pulling her back in. A London law firm was preparing to file a reparations claim on behalf of elderly Kenyans who had been tortured in detention camps during the Mau Mau revolt. Elkins's research had made the suit possible. Now the lawyer running the case wanted her to sign on as an expert witness. Elkins was in the top-floor study of her home in Cambridge, Massachusetts, when the call came. She looked at the file boxes around her. "I was supposed to be working on this next book," she says. "Keep my head down and be an academic. Don't go out and be on the front page of the paper."
She said yes. She wanted to rectify injustice. And she stood behind her work. "I was kind of like a dog with a bone," she says. "I knew I was right."
What she didn't know was that the lawsuit would expose a secret: a vast colonial archive that had been hidden for half a century. The files within would be a reminder to historians of just how far a government would go to sanitise its past. And the story Elkins would tell about those papers would once again plunge her into controversy.
---
Nothing about Caroline Elkins suggests her as an obvious candidate for the role of Mau Mau avenger. Now 47, she grew up a lower-middle-class kid in New Jersey. Her mother was a schoolteacher; her father, a computer-supplies salesman. In high school, she worked at a pizza shop that was run by what she calls "low-level mob". You still hear this background when she speaks. Foul-mouthed, fast-talking and hyperbolic, Elkins can sound more Central Jersey than Harvard Yard. She classifies fellow scholars as friends or enemies.
Caroline Elkins with Gitu Wa Kahengeri, secretary general of the Mau Mau War Veterans Association, in Nairobi, Kenya, 2013. Photograph: Noor Khamis/Reuters
After high school, Princeton University recruited her to play soccer, and she considered a career in the sport. But an African history class put her on a different path. For her senior thesis, Elkins visited archives in London and Nairobi to study the shifting roles of women from Kenya's largest ethnic group, the Kikuyu. She stumbled on to files about an all-female Mau Mau detention camp called Kamiti, kindling her curiosity.
The Mau Mau uprising had long fascinated scholars. It was an armed rebellion launched by the Kikuyu, who had lost land during colonisation. Its adherents mounted gruesome attacks on white settlers and fellow Kikuyu who collaborated with the British administration. Colonial authorities portrayed Mau Mau as a descent into savagery, turning its fighters into "the face of international terrorism in the 1950s", as one scholar puts it.
The British, declaring a state of emergency in October 1952, proceeded to attack the movement along two tracks. They waged a forest war against 20,000 Mau Mau fighters, and, with African allies, also targeted a bigger civilian enemy: roughly 1.5 million Kikuyu thought to have proclaimed their allegiance to the Mau Mau campaign for land and freedom. That fight took place in a system of detention camps.
Elkins enrolled in Harvard's history PhD programme knowing she wanted to study those camps. An initial sifting of the official records conveyed a sense that these had been sites of rehabilitation, not punishment, with civics and home-craft classes meant to instruct the detainees to be good citizens. Incidents of violence against prisoners were described as isolated events. When Elkins presented her dissertation proposal in 1997, its premise was "the success of Britain's civilising mission in the detention camps of Kenya".
But that thesis crumbled as Elkins dug into her research. She met a former colonial official, Terence Gavaghan, who had been in charge of rehabilitation at a group of detention camps on Kenya's Mwea Plain. Even in his 70s, he was a formidable figure: well over six feet tall, with an Adonis-like physique and piercing blue eyes. Elkins, questioning him in London, found him creepy and defensive. He denied violence she hadn't asked about.
"What's a nice young lady like you working on a topic like this for?" he asked Elkins, as she recalled the conversation years later. "I'm from New Jersey," she answered. "We're a different breed. We're a little tougher. So I can handle this – don't worry."
In the British and Kenyan archives, meanwhile, Elkins encountered another oddity. Many documents relating to the detention camps were either absent or still classified as confidential 50 years after the war. She discovered that the British had torched documents before their 1963 withdrawal from Kenya. The scale of the cleansing had been enormous. For example, three departments had maintained files for each of the reported 80,000 detainees. At a minimum, there should have been 240,000 files in the archives. She found a few hundred.
But some important records escaped the purges. One day in the spring of 1998, after months of often frustrating searches, she discovered a baby-blue folder that would become central to both her book and the Mau Mau lawsuit. Stamped "secret", it revealed a system for breaking recalcitrant detainees by isolating them, torturing them and forcing them to work. This was called the "dilution technique". Britain's Colonial Office had endorsed it. And, as Elkins would eventually learn, Gavaghan had developed the technique and put it into practice.
Later that year, Elkins travelled to the rural highlands of Central Kenya to begin interviewing former detainees. Some thought she was British and refused to speak with her at first. But she eventually gained their trust. Over some 300 interviews, she heard testimony after testimony of torture. She met people such as Salome Maina, who had been accused of supplying arms to the Mau Mau. Maina told Elkins she had been beaten unconscious by Kikuyu collaborating with the British. When she failed to provide information, she said, they raped her using a bottle filled with pepper and water.
Elkins had uncovered 'a murderous campaign that left tens of thousands, perhaps hundreds of thousands, dead'
Elkins's fieldwork brought to the surface stories repressed by Kenya's policy of official amnesia. After the country gained independence in 1963, its first prime minister and president, Jomo Kenyatta, a Kikuyu, declared repeatedly that Kenyans must "forgive and forget the past". This helped contain the hatred between Kikuyu who joined the Mau Mau revolt and those who fought alongside the British. In prying open that story, Elkins would meet younger Kikuyu who didn't know their parents or grandparents had been detained; Kikuyu who didn't know the reason they had been forbidden to play with their neighbour's children was that the neighbour had been a collaborator who raped their mother. Mau Mau was still a banned movement in Kenya, and would remain so until 2002. When Elkins interviewed Kikuyu in their remote homes, they whispered.
Elkins emerged with a book that turned her initial thesis on its head. The British had sought to quell the Mau Mau uprising by instituting a policy of mass detention. This system – "Britain's gulag", as Elkins called it – had affected far more people than previously understood. She calculated that the camps had held not 80,000 detainees, as official figures stated, but between 160,000 and 320,000. She also came to understand that colonial authorities had herded Kikuyu women and children into some 800 enclosed villages dispersed across the countryside. These heavily patrolled villages – cordoned off by barbed wire, spiked trenches and watchtowers – amounted to another form of detention. In camps, villages and other outposts, the Kikuyu suffered forced labour, disease, starvation, torture, rape and murder.
"I've come to believe that during the Mau Mau war British forces wielded their authority with a savagery that betrayed a perverse colonial logic," Elkins wrote in Britain's Gulag. "Only by detaining nearly the entire Kikuyu population of 1.5 million people and physically and psychologically atomising its men, women, and children could colonial authority be restored and the civilising mission reinstated." After nearly a decade of oral and archival research, she had uncovered "a murderous campaign to eliminate Kikuyu people, a campaign that left tens of thousands, perhaps hundreds of thousands, dead".
---
Elkins knew her findings would be explosive. But the ferocity of the response went beyond what she could have imagined. Felicitous timing helped. Britain's Gulag hit bookstores after the wars in Iraq and Afghanistan had touched off debate about imperialism. It was a moment when another historian, Niall Ferguson, had won acclaim for his sympathetic writing on British colonialism. Hawkish intellectuals pressed America to embrace an imperial role. Then came Bagram. Abu Ghraib. Guantánamo. These controversies primed readers for stories about the underside of empire.
Enter Elkins. Young, articulate and photogenic, she was fired up with outrage over her findings. Her book cut against an abiding belief that the British had managed and retreated from their empire with more dignity and humanity than other former colonial powers, such as the French or the Belgians. And she didn't hesitate to speak about that research in the grandest possible terms: as a "tectonic shift in Kenyan history".
Some academics shared her enthusiasm. By conveying the perspective of the Mau Mau themselves, Britain's Gulag marked a "historical breakthrough", says Wm Roger Louis, a historian of the British empire at the University of Texas at Austin. Richard Drayton of King's College London, another imperial historian, judged it an "extraordinary" book whose implications went beyond Kenya. It set the stage for a rethinking of British imperial violence, he says, demanding that scholars reckon with colonial brutality in territories such as Cyprus, Malaya, and Aden (now part of Yemen).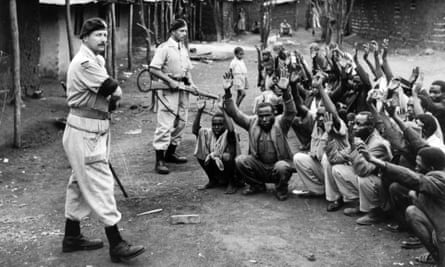 British soldiers assist police searching for Mau Mau members, Karoibangi, Kenya, 1954. Photograph: Popperfoto/Getty Images
But many other scholars slammed the book. No review was more devastating than the one that Bethwell A Ogot, a senior Kenyan historian, published in the Journal of African History. Ogot dismissed Elkins as an uncritical imbiber of Mau Mau propaganda. In compiling "a kind of case for the prosecution", he argued, she had glossed over the litany of Mau Mau atrocities: "decapitation and general mutilation of civilians, torture before murder, bodies bound up in sacks and dropped in wells, burning the victims alive, gouging out of eyes, splitting open the stomachs of pregnant women". Ogot also suggested that Elkins might have made up quotes and fallen for the bogus stories of financially motivated interviewees. Pascal James Imperato picked up the same theme in African Studies Review. Elkins's work, he wrote, depended heavily on the "largely uncorroborated 50-year-old memories of a few elderly men and women interested in financial reparations".
Elkins was also accused of sensationalism, a charge that figured prominently in a fierce debate over her mortality figures. Britain's Gulag opens by describing a "murderous campaign to eliminate Kikuyu people" and ends with the suggestion that "between 130,000 and 300,000 Kikuyu are unaccounted for", an estimate derived from Elkins's analysis of census figures. "In this very long book, she really doesn't bring out any more evidence than that for talking about the possibility of hundreds of thousands killed, and talking in terms almost of genocide as a policy," says Philip Murphy, a University of London historian who directs the Institute of Commonwealth Studies and co-edits the Journal of Imperial and Commonwealth History. This marred what was otherwise an "incredibly valuable" study, he says. "If you make a really radical claim about history, you really need to back it up solidly."
Critics didn't just find the substance overstated. They also rolled their eyes at the narrative Elkins told about her work. Particularly irksome, to some Africanists, was her claim to have discovered an unknown story. This was a motif of articles on Elkins in the popular press. But it hinged on the public ignorance of African history and the scholarly marginalisation of Africanist research, wrote Bruce J Berman, a historian of African political economy at Queen's University in Kingston, Ontario. During the Mau Mau war, journalists, missionaries and colonial whistleblowers had exposed abuses. The broad strokes of British misbehaviour were known by the late 60s, Berman argued. Memoirs and studies had added to the picture. Britain's Gulag had broken important new ground, providing the most comprehensive chronicle yet of the detention camps and prison villages. But among Kenyanists, Berman wrote, the reaction had generally been no more than: "It was as bad as or worse than I had imagined from more fragmentary accounts."
He called Elkins "astonishingly disingenuous" for saying her project began as an attempt to show the success of Britain's liberal reforms. "If, at that late date," he wrote, "she still believed in the official British line about its so-called civilising mission in the empire, then she was perhaps the only scholar or graduate student in the English-speaking world who did."
To Elkins, the vituperation felt over the top. And she believes there was more going on than the usual academic disagreement. Kenyan history, she says, was "an old boys' club". Women worked on uncontroversial topics such as maternal health, not blood and violence during Mau Mau. Now here came this interloper from the US, blowing open the Mau Mau story, winning a Pulitzer, landing media coverage. It raised questions about why they hadn't told the tale themselves. "Who is controlling the production of the history of Kenya? That was white men from Oxbridge, not a young American girl from Harvard," she says.
---
On 6 April 2011, the debate over Caroline Elkins's work shifted to the Royal Courts of Justice in London. A scrum of reporters turned out to document the real-life Britain's Gulag: four elderly plaintiffs from rural Kenya, some clutching canes, who had come to the heart of the former British empire to seek justice. Elkins paraded with them outside the court. Her career was now secure: Harvard had awarded her tenure in 2009, based on Britain's Gulag and the research she had done for a second book. But she remained nervous about the case. "Good God," she thought. "This is the moment where literally my footnotes are on trial."
In preparation, Elkins had distilled her book into a 78-page witness statement. The claimants marching beside her were just like the people she had interviewed in Kenya. One, Paulo Nzili, said he had been castrated with pliers at a detention camp. Another, Jane Muthoni Mara, reported being sexually assaulted with a heated glass bottle. Their case made the same claim as Britain's Gulag: this was part of systematic violence against detainees, sanctioned by British authorities. But there was one difference now. Many more documents were coming out.
Just as the hearings were set to begin, a story broke in the British press that would affect the case, the debate about Britain's Gulag, and the broader community of imperial historians. A cache of papers had come to light that documented Britain's torture and mistreatment of detainees during the Mau Mau rebellion. The Times splashed the news across its front page: "50 years later: Britain's Kenya cover-up revealed."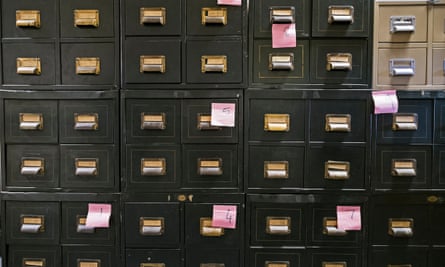 Foreign Office archives at Hanslope Park. Photograph: David Sillitoe/The Guardian
The story exposed to the public an archival mystery that had long intrigued historians. The British destroyed documents in Kenya – scholars knew that. But for years clues had existed that Britain had also expatriated colonial records that were considered too sensitive to be left in the hands of successor governments. Kenyan officials had sniffed this trail soon after the country gained its independence. In 1967, they wrote to Britain's Foreign Office asking for the return of the "stolen papers". The response? Blatant dishonesty, writes David M Anderson, a University of Warwick historian and author of Histories of the Hanged, a highly regarded book about the Mau Mau war.
Internally, British officials acknowledged that more than 1,500 files, encompassing over 100 linear feet of storage, had been flown from Kenya to London in 1963, according to documents reviewed by Anderson. Yet they conveyed none of this in their official reply to the Kenyans. "They were simply told that no such collection of Kenyan documents existed, and that the British had removed nothing that they were not entitled to take with them in December 1963," Anderson writes. The stonewalling continued as Kenyan officials made more inquiries in 1974 and 1981, when Kenya's chief archivist dispatched officials to London to search for what he called the "migrated archives". This delegation was "systematically and deliberately misled in its meetings with British diplomats and archivists," Anderson writes in a History Workshop Journal article, Guilty Secrets: Deceit, Denial and the Discovery of Kenya's 'Migrated Archive'.
The turning point came in 2010, when Anderson, now serving as an expert witness in the Mau Mau case, submitted a statement to the court that referred directly to the 1,500 files spirited out of Kenya. Under legal pressure, the government finally acknowledged that the records had been stashed at a high-security storage facility that the Foreign Office shared with the intelligence agencies MI5 and MI6. It also revealed a bigger secret. This same repository, Hanslope Park, held files removed from a total of 37 former colonies.
The disclosure sparked an uproar in the press and flabbergasted Elkins: "After all these years of being just roasted over the coals, they've been sitting on the evidence? Are you frickin' kidding me? This almost destroyed my career."
Events moved quickly from there. In court, lawyers representing the British government tried to have the Mau Mau case tossed out. They argued that Britain could not be held responsible because liability for any colonial abuses had devolved to the Kenyan government upon independence. But the presiding judge, Richard McCombe, dismissed the government's bid to dodge responsibility as "dishonourable". He ruled that the claim could move forward. "There is ample evidence even in the few papers that I have seen suggesting that there may have been systematic torture of detainees," he wrote in July 2011.
Foreign Office lawyers conceded that the elderly Kenyan claimants had suffered torture during the Mau Mau rebellion
And that was before historians had a chance to thoroughly review the newly discovered files, known as the "Hanslope disclosure". A careful combing-through of these documents might normally have taken three years. Elkins had about nine months. Working with five students at Harvard, she found thousands of records relevant to the case: more evidence about the nature and extent of detainee abuse, more details of what officials knew about it, new material about the brutal "dilution technique" used to break hardcore detainees. These documents would probably have spared her years of research for Britain's Gulag. She drew on them in two more witness statements.
Back in London, Foreign Office lawyers conceded that the elderly Kenyan claimants had suffered torture during the Mau Mau rebellion. But too much time had elapsed for a fair trial, they contended. There weren't enough surviving witnesses. The evidence was insufficient. In October 2012, Justice McCombe rejected those arguments, too. His decision, which noted the thousands of Hanslope files that had emerged, allowed the case to proceed to trial. It also fed speculation that many more colonial abuse claims would crop up from across an empire that once ruled about a quarter of the earth's population.
The British government, defeated repeatedly in court, moved to settle the Mau Mau case. On 6 June 2013, the foreign secretary, William Hague, read a statement in parliament announcing an unprecedented agreement to compensate 5,228 Kenyans who were tortured and abused during the insurrection. Each would receive about £3,800. "The British government recognises that Kenyans were subject to torture and other forms of ill-treatment at the hands of the colonial administration," Hague said. Britain "sincerely regrets that these abuses took place." The settlement, in Anderson's view, marked a "profound" rewriting of history. It was the first time Britain had admitted carrying out torture anywhere in its former empire.
---
The lawyers were done fighting, but the academics were not. The Mau Mau case has fuelled two scholarly debates, one old and one new. The old one is about Caroline Elkins. To the historian and her allies, a single word summarises what happened in the High Court: vindication. Scholars had mistreated Elkins in their attacks on Britain's Gulag. Then a British court, which had every reason to sympathise with those critics, gave her the fair hearing academia never did. By ruling in her favour, the court also implicitly judged her critics.
The evidence backing this account comes from Justice McCombe, whose 2011 decision had stressed the substantial documentation supporting accusations of systematic abuses. That "spoke directly to claims that, if you took out the oral evidence" in Britain's Gulag, "the whole thing fell apart", Elkins says. Then the Hanslope disclosure added extensive documentation about the scale and scope of what went on. At least two scholars have noted that these new files corroborated important aspects of the oral testimony in Britain's Gulag, such as the systematic beating and torture of detainees at specific detention camps. "Basically, I read document after document after document that proved the book to be correct," Elkins says.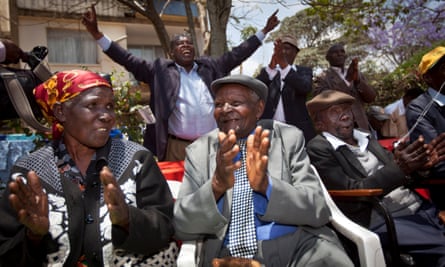 Jane Muthoni Mara, Wambuga Wa Nyingi and Paulo Muoka Nzili celebrate the outcome of the Mau Mau veterans' case at the high court, October 2012. Photograph: Ben Curtis/AP
Her victory lap has played out in op-eds, interviews and journal articles. It may soon reach an even bigger audience. Elkins has sold the film rights for her book and personal story to John Hart, the producer of hits including Boys Don't Cry and Revolutionary Road. An early summary of the feature film he is developing gives its flavour: "One woman's journey to tell the story of the colonial British genocide of the Mau Mau. Threatened and shunned by colleagues and critics, Caroline Elkins persevered and brought to life the atrocities that were committed and hidden from the world for decades."
But some scholars find aspects of Elkins's vindication story unconvincing. Philip Murphy, who specialises in the history of British decolonisation, attended some of the Mau Mau hearings. He thinks Elkins and other historians did "hugely important" work on the case. Still, he does not believe that the Hanslope files justify the notion that hundreds of thousands of people were killed in Kenya, or that those deaths were systematic. "Probably most of the historical criticisms of the book still stand," he says. "I don't think the trial really changes that."
Susan L Carruthers feels the same about her own criticism of Britain's Gulag. Carruthers, a professor of history at Rutgers University at Newark, had cast doubt on Elkins's self-dramatisation: her account of naively embarking on a journey of personal discovery, only to see the scales drop from her eyes. She finds that Elkins's current "narrative of victimisation" also rings a bit false. "There's only so much ostracism one can plausibly claim if you won a Pulitzer and you became a full professor at Harvard – and this on the strength of the book that supposedly also made you outcast and vilified by all and sundry," she says. "If only all the rest of us could be ostracised and have to make do with a Pulitzer and a full professorship at Harvard."
---
The second debate triggered by the Mau Mau case concerns not just Elkins but the future of British imperial history. At its heart is a series of documents that now sits in the National Archives as a result of Britain's decision to make public the Hanslope files. They describe, in extensive detail, how the government went about retaining and destroying colonial records in the waning days of empire. Elkins considers them to be the most important new material to emerge from the Hanslope disclosure.
Elkins thinks all of this amounts to a watershed moment in which historians must rethink their field
One morning this spring, I accompanied Elkins as she visited the National Archives to look at those files. The facility occupies a 1970s-era concrete building beside a pond in Kew, in south-west London. A blue cord held together the thin, yellowed pages, which smelled of decaying paper. One record, a 1961 dispatch from the British colonial secretary to authorities in Kenya and elsewhere, states that no documents should be handed over to a successor regime that might, among other things, "embarrass" Her Majesty's Government. Another details the system that would be used to carry out that order. All Kenyan files were to be classified either "Watch" or "Legacy". The Legacy files could be passed on to Kenya. The Watch files would be flown back to Britain or destroyed. A certificate of destruction was to be issued for every document destroyed – in duplicate. The files indicate that roughly 3.5 tons of Kenyan documents were bound for the incinerator.
"The overarching takeaway is that the government itself was involved in a very highly choreographed, systematised process of destroying and removing documents so it could craft the official narrative that sits in these archives," Elkins told me. "I never in my wildest dreams imagined this level of detail," she added, speaking in a whisper but opening her eyes wide. "I imagined it more of a haphazard kind of process."
What's more, "It's not just happening in Kenya to this level, but all over the empire." For British historians, this is "absolutely seismic," she said. "Everybody right now is trying to figure out what to make of this."
Elkins laid out what she makes of this development in a 2015 essay for the American Historical Review. Broadly speaking, she thinks end-of-empire historians have largely failed to show scepticism about the archives. She thinks that the fact that those records were manipulated puts a cloud over many studies that have been based on their contents. And she thinks all of this amounts to a watershed moment in which historians must rethink their field.
The issue of archival erasure figures prominently in Elkins's next book, a history of violence at the end of the British empire whose case studies will include Kenya, Aden, Cyprus, Malaya, Palestine and Northern Ireland. But if the response to her latest claims is any indication, her arguments will once again be controversial. The same document shenanigans that leave Elkins wide-eyed prompt several other historians to essentially shrug. "That's exactly what you would expect of a colonial administration, or any government in particular, including our own," laughs Wm Roger Louis. "That's the way a bureaucracy works. You want to destroy the documents that can be incriminating."
Murphy says Elkins "has a tendency to caricature other historians of empire as simply passive and unthinking consumers in the National Archives supermarket, who don't think about the ideological way in which the archive is constructed". They've been far more sceptical than that, he says. Historians, he adds, have always dealt with the absence of documents. What's more, history constantly changes, with new evidence and new paradigms. To say that a discovery about document destruction will change the whole field is "simply not true", he says. "That's not how history works."
Some historians who have read the document-destruction materials come away with a picture of events that seems less Orwellian than Elkins's. Anderson's review of the evidence shows how the purging process evolved from colony to colony and allowed substantial latitude to local officials. Tony Badger, a University of Cambridge professor emeritus who monitored the Hanslope files' release, writes that there was "no systematic process dictated from London".
Badger sees a different lesson in the Hanslope disclosure: a "profound sense of contingency". Over the decades, archivists and Foreign Office officials puzzled over what to do with the Hanslope papers. The National Archives essentially said they should either be destroyed or returned to the countries from which they had been taken. The files could easily have been trashed on at least three occasions, he says, probably without publicity. For a variety of reasons, they weren't. Maybe it was the squirrel-like tendency of archivists. Maybe it was luck. In retrospect, he says, what is remarkable is not that the documents were kept secret for so many years. What is remarkable is that they survived at all.
• This article first appeared in the Chronicle of Higher Education.
At Least a Million Sub-Saharan Africans Moved to Europe Since 2010 First Published March 22nd 2018. Posted here October 22nd 2020
Sub-Saharan migration to the United States also growing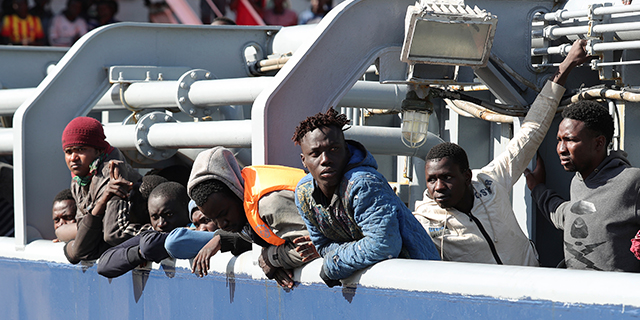 International migration from countries in sub-Saharan Africa has grown dramatically over the past decade,1 including to Europe2 and the United States. Indeed, most years since 2010 have witnessed a rising inflow of sub-Saharan asylum applicants in Europe, and lawful permanent residents and refugees in the U.S.
The factors pushing people to leave sub-Saharan Africa – and the paths they take to arrive at their destinations – vary from country to country and individual to individual. In the case of Europe, the population of sub-Saharan migrants has been boosted by the influx of nearly 1 million asylum applicants (970,000) between 2010 and 2017, according to a Pew Research Center analysis of data from Eurostat, Europe's statistical agency. Sub-Saharan Africans also moved to European Union countries, Norway and Switzerland as international students and resettled refugees, through family reunification and by other means.3
In the U.S., those fleeing conflict also make up a portion of the more than 400,000 sub-Saharan migrants who moved to the States between 2010 and 2016. According to data from U.S. Department of Homeland Security and U.S. State Department, 110,000 individuals from sub-Saharan countries were resettled as refugees over this seven-year period. An additional 190,000 were granted lawful permanent residence by virtue of family ties; nearly 110,000 more entered the U.S. through the diversity visa program.4
Will the inflow of migrants from sub-Saharan Africa to Europe and the U.S. continue at the same pace in the years ahead? It is difficult to say. However, the idea of migrating is on the minds of many Africans living south of the Sahara. According to a 2017 Pew Research Center survey in six sub-Saharan countries that have supplied many of the region's migrants to the U.S. and Europe, many say they would move to another country if the means and opportunity presented themselves. And in Senegal, Ghana and Nigeria, more than a third say they actually plan to migrate in the next five years. Of those who plan to move, more individuals plan to move to the U.S. than to Europe in most countries surveyed.
Increases in migrant stocks and inflows are not the same
About 420,000 more sub-Saharan African migrants lived in Europe in 2017 (4.15 million) than in 2010 (3.73 million). And an estimated 1.55 million sub-Saharan African migrants lived in the U.S in 2017, an increase of about a 325,000 from 2010, when an estimated 1.22 million sub-Saharan African migrants lived in the country, according to the United Nations. These populations are also sometimes referred to as migrant stocks. They constitute the balance of increases and decreases in the total accumulated population of sub-Saharan migrants for a specified time period.
Inflows, by contrast, in this report refer to the annual migration of people born in sub-Saharan Africa to Europe and the United States. Inflows can boost the total migrant stock if inflows to a region or country exceed the combined effects of deaths, outflows and return migration to countries of origin. As a result, in some instances, differences in migrant stocks between two time points can be lower than inflows.
EU countries, Norway and Switzerland received nearly 1 million first-time asylum applications from sub-Saharan Africans between 2010 and 2017, according to data from Eurostat, Europe's statistical agency. (This number removes application counts withdrawn by sub-Saharan Africans between 2010 and 2017 to account for the possible duplication of asylum seekers applying in multiple countries). But asylum applications are not the only way sub-Saharan migrants enter Europe. Some enter, for example, on family or work visas, or as resettled refugees or international students, so the total inflow is likely larger.
At the same time, U.S. Department of Homeland Security and U.S. State Department records indicate that more than 400,000 sub-Saharan Africans entered the U.S. between fiscal 2010 and fiscal 2016 as arriving lawful permanent residents or resettled refugees. (Data from fiscal 2017 were unavailable). A smaller number of sub-Saharan Africans also entered the U.S. as international students or as employees with work visas.
Nigeria and Ghana have been major sources of sub-Saharan migrants to both Europe and the United States
More than half (51%) of sub-Saharan African migrants living in the U.S. as of 2017 were born in just four countries: Nigeria, Ethiopia, Ghana and Kenya, according to migrant population data from the United Nations.5
Nigeria, Ghana and Kenya are also major sources of migrants to the EU, Norway and Switzerland. However, compared with the U.S., sub-Saharan migrants to Europe arrive from a more diverse set of origins, with more than half of migrants living in Europe born in South Africa, Somalia, Senegal, Angola, the Democratic Republic of Congo and Cameroon, in addition to Nigeria, Ghana and Kenya.
Some origin countries of these sub-Saharan migrant populations in the U.S. and Europe have increased more than others. For example, between 2010 and 2017, the total number of Somalian migrants in Europe increased by 80,000 people. Over the same period, the total population of Eritreans living in Europe climbed by about 40,000, according to UN estimates.
In the U.S., between 2010 and 2017, several sub-Saharan migrant populations increased, including those from Nigeria (70,000 individuals), Ethiopia (70,000) and Ghana (40,000).
In terms of destinations, as of 2017, nearly three-quarters (72%) of Europe's sub-Saharan immigrant population was concentrated in just four countries: the UK (1.27 million), France (980,000), Italy (370,000) and Portugal (360,000). In the U.S., migrants from sub-Saharan Africa can be found across the country, with 42% in the American South, 24% in the Northeast, 18% in the Midwest and 17% in the West.6
If circumstances permitted, many sub-Saharan Africans would migrate abroad
Between February and April 2017, Pew Research Center surveyed in six of the 10 countries that have supplied many of the sub-Saharan immigrants now living in the U.S. Four of these countries – Nigeria, Senegal, Ghana and Kenya – are also among the top 10 origin countries for sub-Saharan migrants to Europe.
The survey asked respondents whether they would go to live in another country, if they had the means and opportunity. At least four-in-ten in each sub-Saharan country surveyed answered yes, including roughly three-quarters of those surveyed in Ghana (75%) and Nigeria (74%).
The relatively high shares of people in these countries who say they would resettle in another country is generally consistent with findings from other surveys, like Afrobarometer in Nigeria and Ghana, that pose questions about the desirability of migrating. Compared with other world regions, Gallup polls find that sub-Saharan countries have some of the highest shares of people who say they would move to another country.
What's behind the widespread appeal of migrating in some sub-Saharan countries? Multiple factors could be at play. To begin with, while many sub-Saharan African economies are growing, many countries continue to have high unemployment rates and relatively low wage rates. In addition, the job market looks unlikely to improve anytime soon, thanks to high fertility levels that will mean even more people competing for jobs. Against this backdrop, sub-Saharan Africans could see migrating to countries with more – and better paying – jobs as a means of improving their personal economic prospects.
Political instability and conflict are other factors pushing sub-Saharan Africans to move. For example, the number of sub-Saharans displaced within their own country nearly doubled to 9 million between 2010 and 2016, according to United Nations High Commissioner for Refugees (UNHCR) estimates. Also, the total number of refugees from sub-Saharan countries living in other sub-Saharan countries grew about 2.3 million in the same period. At the same time, reports indicate that anywhere between 400,000 and a million sub-Saharan Africans are in Libya; some of them have been sold as slaves or are being held in jail-like facilities.
Pressures related to economic well-being and insecurity may help to explain why, beyond a general willingness to migrate, substantial shares of sub-Saharan Africans say they actually plan to move to another country in the next five years. Among the six countries polled, the share with plans to migrate ranges from roughly four-in-ten or more in Senegal (44%), Ghana (42%) and Nigeria (38%) to fewer than one-in-ten in Tanzania (8%).
Will all those with plans to migrate in fact leave their home countries in the next five years? If recent history is a guide, the answer would most likely be no. But data from official sources suggest that this will not be for lack of effort.
For example, 1.7 million Ghanaians (or 6% of Ghana's population) applied for the U.S. diversity lottery in 2015, even when only 50,000 people worldwide are permitted to move each year to the U.S. through this visa program. In the same year, other sub-Saharan African countries, such as the Republic of Congo (10%), Liberia (8%) and Sierra Leone (8%) saw high shares of their populations apply for the lottery. Although the lottery only requires an online application and the completion of a high school diploma for eligibility, the high number of applicants underscores the seriousness with which many sub-Saharan Africans contemplate and actively pursue migrating abroad.
In some sub-Saharan countries, U.S. preferred over Europe as destination
Europe's border statistics show a well-traveled route of migrants from Africa to Europe. But this does not necessarily mean Europe is the top choice of potential sub-Saharan African migrants. In fact, in several of the countries surveyed by Pew Research Center, those planning to migrate more often cited the U.S., as opposed to Europe, as their preferred destination when asked where in the world they planned to move.
For example, among the 42% of Ghanaians who say they plan to migrate abroad in the next five years, four-in-ten (41%) identify the U.S. as their intended destination, while three-in-ten (30%) name a country in the EU, Norway or Switzerland. Similarly, shares of potential migrants in South Africa (39% vs. 22%) and Kenya (39% vs. 12%) say they intend to migrate to the U.S. over Europe.7
Only in Senegal, a Francophone country, do more respondents that plan to move intend to migrate to a European country (49%), as opposed to the United States (24%).
The survey did not ask respondents why they preferred the U.S. or Europe, but it did ask whether respondents were in personal contact with friends or relatives in other countries. People planning to migrate in the next five years tended to identify destinations where they already had friends or family. This finding is generally consistent with studies showing that personal connections influence the decision and likelihood of migrating.
Higher shares of adults in Senegal and South Africa say they have friends or relatives they stay in touch with regularly in Europe than say this about friends or relatives in the U.S. Meanwhile, in Ghana, Nigeria and Tanzania, people have friends or relatives they stay in touch with in Europe and the U.S. at about the same rate. In Kenya, a higher share of people have contacts in the United States.
Anti-white racism: An open letter
When I was on holiday in South Africa last year I felt that there was something new in the air, something which was not there on my previous visits, something sinister and threatening. Posted October 20th 2020
by Letter to the Editor2016-02-18 21:25 in Opinion
Note: This is an open letter and opinion piece by Mikael Grut and does not reflect the editorial position of The South African or any of its employees.
Now, after "Rhodes Must Fall", "Open Stellenbosch" and the race riot at the University of Cape Town the other night, I know what it is: anti-white racism. Gone are the days of the Rainbow Nation, gone are the hopes of the Constitution regarding diversity.
The Tyranny of Urban Land Corruption in Zimbabwe October 11th 2020
Source: People's Opinion16 September 2020Democracy, Local Government
The focus on urban land corruption appears centred on Harare with all the high drama on arrests of top officials in Council and in law enforcement. I would want to share with your readers similar shenanigans in Mutare. I bought a stand in one of the suburbs as far back as the early 2000s. I then struggled to build on it and later on moved out of the country. I tried back then to pay all council obligations including getting my building plans approved.
After living out of Zimbabwe for a while, I then came back to try and build on my stand. To my surprise, I found a house completely built with a coterie of tenants. I found out that a ZRP (traffic) officer had been sold my stand by City of Mutare officials. Everything about this transaction was pure criminality by both the city officials and the buyer. Simply, the property in question did not belong to the City of Mutare. To add insult to injury, they illegally went to open duplicate utility services accounts using my account credentials.
After years of banging on the doors of City authorities, attempts are being made to address this issue but I am totally shocked at how Zimbabweans no longer value property rights. Zimbabweans are shamelessly breaking the law with an attitude that it will be treated as a 'double allocation' so you will be allocated another stand. 'Inotambika' ('it happens'). I am shocked that in my case such criminality was perpetrated by a police officer.
I am very angry with this fraudulent behavior because buying stands has always been an expensive undertaking by any family. To get officials recklessly playing poker with our lives is an absolute outrage. I am writing this note so that we continue to talk about the cost of corruption in our individual lives. We must continue sharing our stories to expose the rot in our institutions. Those profiting from this corruption must be held to account whether now or in the future.
This rich pampered irrelevant expensive Royal couple's photo opportunity in Black Africa, showing how much they care ( sic ), cost the £250,000.
HomeShare1.1kSkip to main contentGlobal OpinionsOpinions Post Opinión Post Opinions Arabic Editorial Board The Opinions Essay Global Opinions
Africa has defied the covid-19 nightmare scenarios. We shouldn't be surprised. Posted October 4th 2020
Opinion by Karen AttiahGlobal Opinions editorSeptember 22, 2020 at 2:22 p.m. GMT+1
After the novel coronavirus first appeared in Africa in late February, Ghana's government decided it would take no chances. Ghanaian citizens were soon put under lockdown, and travel between major cities was banned. Then President Nana Akufo-Addo announced the closure of the country's land and sea borders.
At the time, my dad was in Ghana visiting family, and he faced the prospect of being stuck until commercial flights resumed. As experts predicted how the pandemic would be a unique and devastating disaster in Africa, my siblings and I scrambled to get my father a spot on a State Department repatriation flight for U.S. citizens. We rushed to get him out because we thought he would be better off in the United States.
But after he got back to Texas, the number of cases there started to rise, and I joked with him that he would have been safer in Ghana. "Ghana is doing much better with this than America," he had said after I picked him up from the airport, amused that I sprayed down the entire car with disinfectant before making him sit in the back seat, away from me.
Full coverage of the coronavirus pandemic
News reports and opinion articles have posited that corruption and a lack of health-care infrastructure meant that Africa was a "time bomb" waiting to explode. Rampant poverty and a lack of effective governance would cause the dark continent to fall apart under the weight of a public health emergency. The world, the experts said, should prepare to offer aid, loans and debt forgiveness to African governments — in other words, they should prepare to save Africa.AD
No need.
While so much about the virus and how it operates remains unclear, sub-Saharan Africa so far has dodged a deadly wave of coronavirus cases. Many factors have contributed to this. A number of West African nations already had a pandemic response infrastructure in place from the Ebola outbreak of late 2013 to 2016. Just six years ago, Liberia lost nearly 5,000 people to Ebola. At the beginning of this year, Liberia began screening for covid-19 at airports. Travelers coming in from countries with more than 200 cases were quarantined. To date, Liberia, a country of some 5 million, has 1,335 cases and around 82 deaths.
After the Ebola pandemic, Senegal set up an emergency operations center to manage public health crises. Some covid-19 test results come back in 24 hours, and the country employs aggressive contact tracing. Every coronavirus patient is given a bed in hospital or other health-care facility. Senegal has a population of 16 million, but has only 302 registered deaths.Several countries have come up with innovations. Rwanda, a country of 12 million, also responded early and aggressively to the virus, using equipment and infrastructure that was in place to deal with HIV/AIDS. Testing and treatment for the virus are free. Rwanda has recorded only 26 deaths. AD
As the United States approaches 200,000 deaths, the West seems largely blind to Africa's successes. In recent weeks, headline writers seem to be doing their hardest to try to reconcile Western stereotypes about Africa with the reality of the low death rates on the continent. The BBC came under fire for a since-changed headline and a tweet that read "Coronavirus in Africa: Could poverty explain mystery of low death rate?" The New York Post published an article with the headline, "Scientists can't explain puzzling lack of coronavirus outbreaks in Africa."
It's almost as if they are disappointed that Africans aren't dying en masse and countries are not collapsing. While Black Americans have been disproportionately contracting covid-19 and dying, Africa's performance shows, as I quoted a Kenyan anthropologist saying in May, "being a black person in this world doesn't kill you, but being a black person in America clearly can."
This pandemic has coincided with a global movement challenging anti-Black racism and white supremacy. This should have been a moment for media outlets to challenge corrosive narratives about Africa and the idea that Africans are not capable of effective policy-making. We could be learning from the experiences that Africans and their governments have had with pandemics and viral diseases, including Ebola and AIDS.AD
Instead, the media has largely ignored the policy successes out of Africa. In doing so, Western media is reinforcing colonial narratives of Black inferiority and the inability of Black nations to govern themselves at all, much less govern better than resource-rich White nations.
We are interested in hearing about how the struggle to reopen amid the pandemic is affecting people's lives. Please tell us yours.
None of this is to say there have not been missteps and challenges on the continent. In countries such as Kenya, police officers have used coronavirus restrictions as a cover to escalate police brutality against citizens — police killed 15 people while enforcing curfew restrictions. Misinformation has spread online, making things harder for health-care professionals.
But overall, African countries have made great efforts to contain the coronavirus, and citizens so far have escaped the nightmare predictions. African lives have been saved thanks to the hard work of many dedicated health-care workers and the collective responsibility of communities.AD
In this global pandemic, Africa's success stories matter more than ever.
Watch Opinions videos: Subtitle Settings Font Font Size Font Edge Font Color Background Opinion | Redefining home in a pandemic
9 'Facts' About Slavery They Don't Want You to Know
A widely circulated list of historical "facts" about slavery dwells on the participation of non-whites as owners and traders of slaves in America. Posted September 28th 2020
Claim
A circulating list of nine historical "facts" about slavery accurately details the participation of non-whites in slave ownership and trade in America.
Mixture
About this rating Do you rely on Snopes reporting? Become a member today.
Origin
One of the less well known aspects of the history of slavery is how many and how often non-whites owned and traded slaves in early America. Free black slave holders could be found at one time or another "in each of the thirteen original states and later in every state that countenanced slavery," historian R. Halliburton Jr. observed. That black people bought and sold other black people raises "vexing questions" for 21st-century Americans like African-American writer Henry Louis Gates Jr., who writes that it betrays class divisions that have always existed within the black community. For others, it's an excuse to deflect the shared blame for the institution of slavery in America away from white people.
In the latter vein, a "9 Facts About Slavery They Don't Want You to Know" meme lays out a mixture of true, false and misleading historical claims. We'll address each one in turn below:
---
The first legal slave owner in American history was a black tobacco farmer named Anthony Johnson.
Possibly true. The wording of the statement is important. Anthony Johnson was not the first slave owner in American history, but he was, according to historians, among the first to have his lifetime ownership of a servant legally sanctioned by a court.
A former indentured servant himself, Anthony Johnson was a "free negro" who owned a 250-acre farm in Virginia during the 1650s, with five indentured servants under contract to him. One of them, a black man named John Casor, claimed that his term of service had expired years earlier and Johnson was holding him illegally. In 1654, a civil court found that Johnson in fact owned Casor's services for life, an outcome historian R Halliburton Jr. calls "one of the first known legal sanctions of slavery — other than as a punishment for crime."
North Carolina's largest slave holder in 1860 was a black plantation owner named William Ellison.
False. William Ellison was a very wealthy black plantation owner and cotton gin manufacturer who lived in South Carolina (not North Carolina). According to the 1860 census (in which his surname was listed as "Ellerson"), he owned 63 black slaves, making him the largest of the 171 black slaveholders in South Carolina, but far from the largest overall slave holder in the state.
American Indians owned thousands of black slaves.
True. Historian Tiya Miles provided this snapshot of the Native American ownership of black slaves at the turn of the 19th century for Slate magazine in January 2016:
Miles places the number of enslaved people held by Cherokees at around 600 at the start of the 19th century and around 1,500 at the time of westward removal in 1838-9. (Creeks, Choctaws, and Chickasaws, she said, held around 3,500 slaves, across the three nations, as the 19th century began.) "Slavery inched its way slowly into Cherokee life," Miles told me. "When a white man moved into a Native location, usually to work as a trader or as an Indian agent, he would own [African] slaves." If such a person also had a child with a Native woman, as was not uncommon, the half-European, half-Native child would inherit the enslaved people (and their children) under white law, as well as the right to use tribal lands under tribal law. This combination put such people in a position to expand their wealth, eventually operating large farms and plantations.
In 1830 there were 3,775 free black people who owned 12,740 black slaves.
There were approximately 319,599 free blacks in the United States in 1830. Approximately 13.7 per cent of the total black population was free. A significant number of these free blacks were the owners of slaves. The census of 1830 lists 3,775 free Negroes who owned a total of 12,760 slaves.
Many black slaves were allowed to hold jobs, own businesses, and own real estate.
Somewhat true. There were exceptions, but generally speaking — especially after 1750, by which time slave codes had been entered into the law books in most of the American colonies — black slaves were not legally permitted to own property or businesses. From the Oxford Companion to American Law (2002):
Under these early codes, slaves had virtually no legal rights IN most areas they could be executed for crimes that were not capital offenses for whites. Their testimony was restricted in legal cases and could not be used either for or against whites. Trials of slaves were usually by special courts. Slaves could not own property, move about without consent of their owners, or legally marry.
Brutal black-on-black slavery was common in Africa for thousands of years.
True, in the sense that the phenomenon of human beings enslaving other human beings goes back thousands of years, but not just among blacks, and not just in Africa.
Most slaves brought to America from Africa were purchased from black slave owners.
Sort of true. Historian Steven Mintz describes the situation more accurately in the introduction to his book African-American Voices: A Documentary Reader, 1619-1877:
Apologists for the African slave trade long argued that European traders did not enslave anyone: they simply purchased Africans who had already been enslaved and who otherwise would have been put to death. Thus, apologists claimed, the slave trade actually saved lives. Such claims represent a gross distortion of the facts. Some independent slave merchants did in fact stage raids on unprotected African villages and kidnap and enslave Africans. Most professional slave traders, however, set up bases along the west African coast where they purchased slaves from Africans in exchange for firearms and other goods. Before the end of the seventeenth century, England, France, Denmark, Holland, and Portugal had all established slave trading posts on the west African coast.

Yet to simply say that Europeans purchased people who had already been enslaved seriously distorts historical reality. While there had been a slave trade within Africa prior to the arrival of Europeans, the massive European demand for slaves and the introduction of firearms radically transformed west and central African society. A growing number of Africans were enslaved for petty debts or minor criminal or religious offenses or following unprovoked raids on unprotected villages. An increasing number of religious wars broke out with the goal of capturing slaves. European weapons made it easier to capture slaves.
Slavery was common for thousands of years.
True, as noted above — though how "common" slavery has been and what the specific nature of that slavery was has varied according to time and place.
White people ended legal chattel slavery.
It's rather self-serving to claim that "white people" ended legal chattel slavery in the United States (much less ended chattel slavery, period), given that the overwhelming majority of blacks in the U.S. could not vote, could not run for political office, and, in every other way conceivable, were excluded from institutional power. Moreover, even as some white people were laboring to put an end to slavery, many others were fighting to preserve it.
Slavery was eliminated in America via the efforts of people of various ethnicities, including Caucasians, who took up the banner of the abolitionist movement. The names of the white leaders of that movement tend to be better known than those of the black leaders, among whom were David Walker, Frederick Douglass, Dred Scott, Harriet Tubman, Sojourner Truth, Nat Turner, and many others. When Congress passed (and the states ratified) the 13th Amendment in 1865, it was the culmination of many years of work by that multi-racial movement. Snopes.com Since 1994
Help Supercharge Snopes For 2020
We have big plans. We need your help.
Become a member!
Published 17 August 2016
By
Filed Under
Editors' Picks
Voting By Mail? Double-Check Your State's Deadlines Right Now The U.S. Postal Service warned that, if you're voting by mail, waiting until the deadline to apply for or return a ballot may cut it too close. Exclusive: Facebook Groups Removed for Trump Train, Candace Owens, and Ivanka Trump Three pro-Trump Facebook Groups with more than 1.6 million total members all disappeared in September 2020. Discarded Military Ballots for Trump Found in Pennsylvania Raise Questions A decision by the U.S. Department of Justice to make details public in an ongoing investigation drew strong rebuke. Is US COVID-19 Case Total Highest Globally Due to 'Great Testing'? If the virus was not spreading, the rate of positive COVID-19 test results would not increase. But, unfortunately, the rate did increase. Did Kamala Harris Prosecute Journalists Who Exposed Planned Parenthood? Two people associated with the Center for Medical Progress entered several meetings with Planned Parenthood and the National Abortion Federation under the false company name Biomax.
Hate Speech on Facebook Is Pushing Ethiopia Dangerously Close to a Genocide Posted September 28th 2020
Ethnic violence set off by the assassination of a popular singer has been supercharged by hate speech and incitements shared widely on the platform.DGby David GilbertSeptember 14, 2020, 6:54pm
Want the best of VICE News straight to your inbox? Sign up here.
Throughout his life, Ethiopian singer Hachalu Hundessa sang about love, unity, and raising the marginalized voices of his Oromo ethnic group.
He had always tried to keep his work and politics separate, saying, "Art should not be subject to political pressure." But it became increasingly difficult for him to keep these two worlds apart, thanks to a politically-motivated disinformation campaign orchestrated on Facebook through a network of newly created pages and designed to demonize Hundessa.
The incendiary campaign claimed Hundessa abandoned his Oromo roots in siding with Prime Minister Ahmed Abiy. Abiy, Ethiopia's first Oromo leader, has been heavily criticized by hard-line Oromo nationalists who believe he has abandoned his heritage by appeasing other ethnic groups.
The impact was devastating.
Hundessa was assassinated on June 29 while driving through the capital Addis Ababa. The man police charged with Hundessa's killing told prosecutors that he was working as an assassin for the Oromo Liberation Front, an armed nationalist group linked to numerous violent attacks — and who told the shooter that Oromia would benefit from the death of one of its most famous singers.
Hundessa's death at age 34 set off a wave of violence in the capital and his home region of Oromia. Hundreds of people were killed, with minorities like Christian Amharas, Christian Oromos, and Gurage people suffering the biggest losses.
This bloodshed was supercharged by the almost-instant and widespread sharing of hate speech and incitement to violence on Facebook, which whipped up people's anger. Mobs destroyed and burned property. They lynched, beheaded, and dismembered their victims.
The calls for violence against a variety of ethnic and religious groups happened despite the government shutting down the internet within hours of Hundessa's murder. Soon, the same people who'd been calling for genocide and attacks against specific religous or ethnic groups were openly posting photographs of burned-out cars, buildings, schools and houses, the Network Against Hate Speech, a volunteer group tracking hate speech in Ethiopia, told VICE News.
These attacks reflect the volatile nature of ethnic politics in Ethiopia. Abiy's rise to power in 2018 led to a brief period of hope that Ethiopia could be unified under the first Oromo to lead the country. But that quickly evaporated, and the country has since been wracked by violence, coinciding with a rapid increase in access to the internet, where Facebook dominates. And rather than helping to unify the country, Facebook has simply amplified existing tensions on a massive scale.
"When the violence erupts offline, online content that calls for ethnic attacks, discrimination, and destruction of property goes viral," Berhan Taye, Africa policy lead at digital rights group Access Now, told VICE News. "Facebook's inaction helps propagate hate and polarization in a country and has a devastating impact on the narrative and extent of the violence."
And it's not as if Facebook hasn't been warned. In October 2019, a viral Facebook post led to the deaths of over 80 people, and in May, the U.N. published a report highlighting the dangers of hate speech on its platform.
Deaf ears
The company opened its first content moderation center on the African continent last year, promising to employ 100 people through third-party services company Samasource to cover all African markets. It's unclear if Facebook has filled those roles, or how many — if any — it has designated to deal with the situation in Ethiopia.
Additionally, Facebook's Community Standards are not available in Ethiopia's two main languages (the company says it is working on it) and the company has no full-time employees in the country. Activists say Facebook is instead relying on them and a network of grassroots volunteers to flag content and keep the $750 billion company up to speed about what's happening on the ground.
Yet the steps Facebook has taken are simply not enough, experts say, and activists have had it.
"They ask you to jump on a call so that you can give them more context, but fuck no! I said I'm never going to do that ever again," one Ethiopian activist who's been repeatedly asked to speak to Facebook employees told VICE News. The activist was granted anonymity as they were not free to speak openly about their interactions with Facebook.
Are you a content moderator working for Facebook in Africa who wants to speak up? You can contact David Gilbert securely on Signal at +353874178801 or email at david.gilbert@vice.com.
Human rights groups who wrote to Facebook last month flagging their concerns say their warnings are falling on deaf ears, and that Facebook is in danger of repeating the mistakes it made in Myanmar four years ago.
In Myanmar, Facebook allowed hate speech to spread unchecked against the Rohingya Muslim minority, despite the warnings of activists on the ground. The result was a U.N. report that said Facebook's failure to act sooner "turned [it] into a beast" that helped facilitate genocide against the Rohingya.
"There's a lot of similarity," David Kaye, the U.N.'s special rapporteur on the right to freedom of opinion and expression, who visited Ethiopia in December, told VICE News. "You have this enormous multiplicity of languages, and what that means is that Facebook has a hard time getting access to what's actually happening on the ground."
Hate speech
In Ethiopia, the hate speech and incitements to violence come from all sides, including the government and influential media figures — and they are often posted in one of hundreds of languages used throughout the country.
In the wake of the Hundessa murder, the attacks were primarily focused on the Amhara people.
Social media users were quick to assert, inaccurately and without evidence, that the murder was committed by a "neftegna" — an increasingly problematic term that has become a dogwhistle call to demonize and attack Amhara people in parts of Oromia.
The Network Against Hate Speech recorded posts on Facebook that clearly called for "genocidal attacks against an ethnic group or a religion — or both at the same time; and ordering people to burn civilians' properties, kill them brutally, and displace them. There are also texts and videos that give instructions about how to make a homemade explosive to carry out the attacks at a greater scale. There was even a video by someone living in the U.S. that ordered young people to brutally murder some ethnic group and burn their properties, and inciting terror with a suicide bombing."
Facebook would not reveal how much of the hate-speech content linked to the murder it has removed, but experts insist the sharp rise in toxic content online in recent years is clearly linked to real-world violence.
"There is no doubt about the circumstantial evidence of the rise of hate speech and incitement on Facebook in the past two years and how these expressions are accompanied by record numbers of displacements, attacks, and killings on ethnic and religious minorities in regional states," Teddy Workneh, an assistant professor at the school of communication studies at Kent State University, told VICE News.
Hope
Five years ago, Hundessa's music became the soundtrack of a protest movement that culminated in Abiy becoming prime minister in 2018.
Abiy's appointment promised a fundamental change in a country that has historically been tormented by deep ethnic and religious divisions. He implemented wide-ranging reforms and opened up the country's media landscape for the first time.
He freed thousands of political prisoners, welcomed back exiled opposition members, appointed the country's first woman president, and created a gender-balanced Cabinet. In 2019, he was awarded the Nobel Peace Prize for brokering peace with Ethiopia's longtime enemy Eritrea.
But the honeymoon didn't last long, and in recent months Abiy's government has acted like so many others in Ethiopia's recent history.
It has postponed elections that were due in August, while lawmakers have extended their mandate almost indefinitely. The police have begun arresting opposition figures, and Eritrea says the peace deal is falling apart, accusing Ethiopian troops of still occupying its territory.
Social media played a key role in helping bring about change, helping give those without a voice a platform to express opinions that had for so long been silenced.
But, following Abiy's rise to power, the social media landscape became a highly toxic and divisive space, with 80 ethnic groups fighting for attention.
"There is strong evidence of the role social media played in drawing a sizable number of Ethiopians into political discourse, but there is no guarantee that such an increase in participation is contributing to the cultivation of democratic values," Workneh said.
And as social media has become a toxic stew of ethnic and religious hatred, the government has attempted to address the issue. But rather than compelling Facebook to improve its efforts, Abiy's government has turned to the tools of an authoritarian.
Blackouts
According to data from NetBlocks, a nonprofit that monitors internet shutdowns globally, the government pulled the plug on the internet at 9 a.m. local time on Tuesday, June 30 — just hours after Hundessa was killed. The outage lasted three weeks.
However, just like all internet shutdowns, the measures did not have the impact the government hoped for.
That's because a significant proportion of the people posting incendiary content to Facebook don't live in the country.
"There are hours of video that came from the diaspora community, extremist content, saying we need to exterminate this ethnic group," Endalk Chala, an assistant professor of communication studies at Hamline University in Minnesota, told VICE News. "This is a very serious data point that tells us that Facebook is not yet doing enough to protect ethnic minorities."
The blackouts also means that volunteer groups who flag hate speech content for Facebook have no way of reporting the issue, meaning it spreads unchecked for hours or days before it's taken down.
The government also introduced new legislation that nominally aims to tackle hate speech and disinformation, but by bundling the two issues into a single bill, the government has in effect helped stifle free speech.
"This legislation that tries to tackle both hate speech and disinformation, that's super dangerous," Kaye said. "But the government is really defending it because they really do see the possibility of ethnic violence threatening the entire reform effort of the government."
So what is Facebook doing?
Facebook says it is "aware of the complexities both within and outside the country." It says it is "deeply concerned" about the issues flagged by human rights groups and points out that Facebook representatives have visited the country on a fact-finding mission and it has increased its monitoring of harmful content.
But Facebook wouldn't say who is in overall control of the issues impacting Ethiopia, how many people it has working in-house on any issue arising in the country, or how many third-party moderators it employs to review content reported by users.
As well as the moderators it has hired in Kenya, Facebook also has content moderators in Ireland, and the company it uses is currently hiring moderators who speak Amharic — though there's no indication of how many people it is looking for.
Activists also want the findings from Facebook's trip to Ethiopia to be made public so the company can say publicly what it is committing to and therefore be held accountable. But Taye says the conversations she's having with Facebook representatives now are the same ones she was having a year ago, suggesting the company simply doesn't understand its impact in the country.
"Ethiopia has been in a state of perpetual ethnic violence for the past few years, and it's hard not to see Facebook and other social media platforms as culprits. Facebook may not be the perpetrator of violence in Ethiopia, but it is a breeding ground for hate."
Cover: A group of men in Ethiopia hold machetes in a Facebook post by "Ethiopian DJ," an account with over 1 million followers known for spreading fake news, incendiary memes, and conspiracy theories.
African chiefs urged to apologise for slave trade Posted September 38th 2020
This article is more than 10 years oldNigerian civil rights group says tribal leaders' ancestors sold people to slavers and should say sorry like US and Britain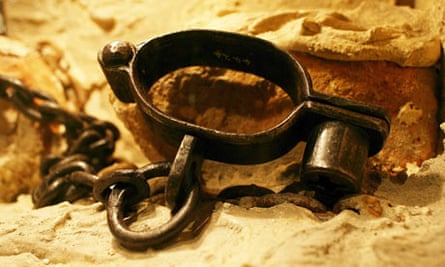 Shackles used to capture people to be sold into slavery in Africa in the 18th century. African tribal leaders have been ordered to apologise for the role of their ancestors in the transatlantic trade. Photograph: Nic Bothma/EPADavid Smith in Johannesburg@smithinamericaWed 18 Nov 2009 15.48 GMT
Traditional African rulers whose ancestors collaborated with European and Arab slave traders should follow Britain and the United States by publicly saying sorry, according to human rights organisations.
The Civil Rights Congress of Nigeria has written to tribal chiefs saying: "We cannot continue to blame the white men, as Africans, particularly the traditional rulers, are not blameless."
The appeal has reopened a sensitive debate over the part some chiefs played in helping to capture their fellow Africans and sell them into bondage as part of the transatlantic slave trade.
The congress argued that the ancestors of the chiefs had helped to raid and kidnap defenceless communities and traded them to Europeans. They should now apologise to "put a final seal to the history of slave trade", it said.
"In view of the fact that the Americans and Europe have accepted the cruelty of their roles and have forcefully apologised, it would be logical, reasonable and humbling if African traditional rulers … [can] accept blame and formally apologise to the descendants of the victims of their collaborative and exploitative slave trade."
Estimates vary that between 10 million and 28 million Africans were sent to the Americas and sold into slavery between 1450 and the early 19th century.
More than a million are believed to have died in transit across the so-called "middle passage" of the Atlantic due to inhumane conditions aboard slave ships and the brutal crushing of any resistance.
Three years ago Tony Blair described Britain's participation as a "crime against humanity" and expressed his "deep sorrow". The US Senate voted for an apology this year.
Shehu Sani, head of the congress, said it was calling for traditional rulers to apologise now because they were seeking inclusion in a forthcoming constitutional amendment in Nigeria.
"We felt that for them to have the moral standing to be part of our constitutional arrangement there are some historical issues for them to address," he told the BBC World Service. "One part of which is the involvement of their institutions in the slave trade."
He said that on behalf of the buyers of slaves, the ancestors of the traditional rulers "raided communities and kidnapped people, shipping them away across the Sahara or across the Atlantic".
Many slaves captured inland in Africa died on the long journey to the coast.
The position was endorsed by Henry Bonsu, a British-born broadcaster of Ghanaian descent who examined the issue in Ghana for a radio documentary. He said some chiefs had accepted responsibility and sought atonement by visiting Liverpool and the United States.
"I interviewed a chief who acknowledged there was collaboration and that without that involvement we wouldn't have seen human trafficking on an industrial scale," said Bonsu, the co-founder of digital station Colourful Radio.
"An apology in Nigeria might be helpful because the chiefs did some terrible things and abetted a major crime."
The non-government organisation Africa Human Right Heritage, based in Accra, Ghana, supports the campaign for an apology. Baffour Anning, its chief executive, said: "I certainly agree with the Nigeria Civil Rights Congress that the traditional leaders should render an apology for their role in the inhuman slavery administration." He said it would accord with the UN's position on human rights.
But the issue was not a high priority for most African citizens, according to Bonsu. "In my experience it's mainly the African diaspora who want an apology. People aren't milling around Lagos or Accra moaning about why chiefs don't apologise. They are more concerned about the everyday and why they still have bad governance."
Fred Swaniker, the founder of the African Leadership Academy, said: "I'm not sure whether an apology is needed, but it would be worth looking at and acknowledging the role Africa did play in the slave trade. Someone had to find the slaves and bring them before the Europeans."
The shameful history of some traditional leaders remains an awkward subject on which many politicians prefer to maintain silence. One exception was in 1998 when Yoweri Museveni, the president of Uganda, told an audience including Bill Clinton: "African chiefs were the ones waging war on each other and capturing their own people and selling them. If anyone should apologise it should be the African chiefs. We still have those traitors here even today."
Yes, Africans Did Sell Africans Into Slavery
A beloved talking point that ignores how White people reshaped slavery in Africa Posted September 27th 2020
Nikki BrueggemanJul 2 · 4 min read
"Blacks sold Blacks into slavery."
This smug proclamation is often used by people who wish to silence discussions of slavery and sooth White fragility. On the surface, it is a easy phrase to repeat. It seeks to derail any White responsibility for slavery and put Black people in the driver seat of causing their own suffering. After all, the slaves wouldn't have ended up on those ships if not for the African hunters who pulled them out of the jungle, right?
This phrase is sexy. It requires the person saying it to learn very little about historical context and simply know that Africans did take part in the slave trade. Wrapped in a bow, it is the perfect zinger in their mind to shut other people up. While there is truth behind the statement, it broadly ignores context and role of White people in the Atlantic slave trade.
"Africans Were Part of the Slave Trade…"
Slavery did exist in Africa before the arrival of White Europeans; as it did in many parts of the world. In truth, the practice of taking someone's freedom and making them work for you with little to no pay or benefits is a simple idea. It is not as if White Europeans thought it up. However, White Europeans did craft a system that spanned continents and created an international economic system built on it. This new system of enslavement changed Africa, as observed by historian Marcus Rediker in his book The Slave Ship: A Human History: "The number of slaves held and the importance of slavery as an institution in African societies expanded with the Atlantic slave trade."
Slavery looked different in Africa before the arrival of White Europeans, and we have historical records to prove it. As author Adaboi Tricia Nwaubani recalled in an article about her great-grandfather, an African slave trader:
"Long before Europeans arrived, Igbos enslaved other Igbos as punishment for crimes, for the payment of debts, and as prisoners of war. The practice differed from slavery in the Americas: slaves were permitted to move freely in their communities and to own property, but they were also sometimes sacrificed in religious ceremonies or buried alive with their masters to serve them in the next life. When the transatlantic trade began, in the fifteenth century, the demand for slaves spiked. Igbo traders began kidnapping people from distant villages."
Nwaubani's story is essential because it highlights a part of history that is rarely discussed within the narrative of "Blacks sold Blacks". It shows that the Igbo people responded to the changes in the economic system (the selling/purchasing of humans). What Nwaubani's narrative does not do is say that life was more humane prior to European arrival. Slavery within itself is a traumatic experience. However, as Nwaubani notes, prior to the arrival of the Europeans, slavery was focused on personal disputes, war, and punishment. The Europeans turned it into a formal system that relied on supply and demand.
It is no surprise that many Africans turned to selling other Black people to advance their wealth and survive in a rapidly changing world. This is not the first and only time in history that people from a vulnerable group sided with oppressors for their own benefit. In fact, this was common, especially in situations of colonialism: side with the oppressor who has more visible power than your own people. For many Africans, being part of the slave trade was a form of personal protection; both financially and physically.
However, this participation does not derail the idea that legacies of slavery, like the Confederate monuments, should be demolished. It only broadens the scope and understanding of how slavery damaged communities. The African role in the Atlantic slave trade has left a legacy within African nations as some are now trying to cope with their part in this traumatic history. The Atlantic Slave Trade tore apart Black lives. It encouraged people to take part in a system where they sold their fellow man and established generations of Black trauma that diaspora communities are still working through.
When someone utters the phrase "Blacks sold Blacks into slavery", it is a scripted response. Rarely, do the people who use it know the specifics surrounding that experience of Africans selling other Africans. They only know that the phrase feels good to say because it blames Black people for their slavery experience. It removes responsibility for the legacies of slavery from White ancestors, hoping to preserve the flags, monuments, and revisionist history that is soothing to White fragility.
In the end, the role of Africans in the Atlantic Slave Trade does not discredit the trauma or anger of Black Americans towards the institution that bound our ancestors. That knowledge only broadens how we understand the power of the system. It was so potent that it changed the way African societies operated in concern to pre-existing systems of slavery. As such, the quickly quipped "Blacks sold Blacks," statement is a weak derailing technique.
Comment This is a pathetic long winded article basically saying that blacks are not repsonsible for their actions – rather like the liberal teacher/media making excuses for feminists along with the nonsense they write about the women they purport to protect.
For these commentators the word and concept of class does not exist. The writer, in the above article, does not like the reality that greedy unscrupulous blacks in power historically used that power to sell lower class young black people into slavery.
This mentality has been seen wih white on white – white upper ruling class have abused lower order whites for centuries. This is just more of the black victim culture.
There are no post imperial African countries that are not corrupt now they are run by rich black dictators who do not , and have never cared, about the mess – just blame and condemn lower class whites as fascists .
Black, over breeding Africa just expects Western countries, at the expense of their white poor to absorb Africa's stupid selfish overpopulation and idiot religions. They whinge about the past, as if lower class whites don't have similar cause for complaint.
The elite want to turn Europe into a version of black African failing culture. Europe logically will degenerate into another war, disease, crime and famine rdden version of Africa. Covid is the elite's cover and excuse for encouragaing and continuing this process. Charles Close.
New project to explore how the pandemic is affecting Ghanaian children Posted September 25th 2020
by Laura Singleton 05 September 2020
A Business School academic has secured funding to analyse the impact of the coronavirus on children's learning and development in Ghana.
Dr Elisabetta Aurino, an Imperial College Research Fellow, has been awarded funding by UK Research and Innovation through the UK Government's Global Challenges Research Fund (GCRF) and the Newton Fund for a project which looks at the impact of the COVID-19 pandemic on children's education and broader development in Ghana.
The project examines how the coronavirus has undermined children's education through school closures, unequal access to remote learning activities, lack of access to food and healthcare and the impact of economic hardship as a result of the pandemic. The study will be conducted with children aged 10-12 through phone interviews, along with their parents and teachers.
Dr Aurino's project is among twenty new projects to be awarded by the UKRI that focus on understanding and developing solutions to mitigate the short and long-term health, social and economic consequences of COVID-19 for some of the world's most disadvantaged people.
"Information and robust data about how the coronavirus pandemic is affecting children's learning, health and food security in developing countries is scarce."Dr Elisabetta AurinoImperial College Research Fellow
These new awards are the first tranche to be announced by UKRI funded through the Global Challenges Research Fund (GCRF) and the Newton Fund and will directly address the negative impacts of COVID-19 across developing countries where communities are already vulnerable due to long-term conflict, food and water shortages and crowded living conditions.
Dr Elisabetta Aurino said: "Information and robust data about how the coronavirus pandemic is affecting children's learning, health and food security in developing countries is scarce. This funding will go a long way to help us gather the data that is urgently needed to help governments and international organisations implement measures to mitigate the effects of the pandemic on this vulnerable group."
Supporting vulnerable children
Ghana's schools have been closed due to the pandemic crisis since March and will remain closed until 2021. Remote learning has started, but its effectiveness will ultimately vary by children's access to technology and parental support. Learning levels are already staggeringly low and the pandemic has further highlighted the inequalities that exist between children of different socioeconomic status and between boys and girls.
With schools closed, children's education is likely to deteriorate further and they are at greater risk from other issues caused by the pandemic such as reduced household income and lack of food due to the suspension of school meals. The gaps in their learning may also continue after they leave school, ultimately undermining the country's overall development path.
Girls are disproportionately affected by major health and economic crises, further widening the gender gaps in Ghana's education system. They are also at higher risk of sexual exploitation, being forced into early marriages and childbearing and dropping out of school.
Dr Aurino's project, which is supported by Innovations for Poverty Action, Ghana, will provide the Ghanaian government with unique, much-needed data to inform remote learning efforts, back-to-school campaigns and social protection, not in only in Ghana, but also in broader Sub-Saharan Africa.
The results of the project will provide new academic and policy insights for Ghana and broader global educational efforts in the wake of the pandemic. The project is supported by two international partners – the University of Pennsylvania and New York University.
Professor Francisco Veloso, Dean of Imperial College Business School said: "Congratulations to Elisabetta for this remarkable achievement. This prestigious award reflects the important work Elisabetta and her colleagues from across the Business School are doing to address major societal challenges especially in developing countries such as Africa. Social enterprise, health and education are key areas within our research mission, which are even more relevant in the wake of the coronavirus pandemic."
Good governance is the solution to Africa's problems
— Prof. Eddy Maloka
From Africa Renewal: August – November 2018By: Zipporah Musau
Photo: Africa RenewalProf. Eddy Maloka, CEO of the African Peer Review Mechanism (APRM) Under the auspices of the African Union, African leaders established the African Peer Review Mechanism (APRM) in 2003 as an instrument for monitoring governance performance among member states. A self-monitoring instrument, APRM aims to foster the adoption of policies, standards and practices leading to political stability, high economic growth, sustainable development and accelerated regional and economic integration. Africa Renewal'sZipporah Musau sat down with Prof. Eddy Maloka, the CEO of the South Africa–based APRM Secretariat, to understand how they conduct their business. Here are excerpts:
Africa Renewal: What is APRM's mandate and how does it operate?
Prof. Maloka: We are a specialized agency created by African heads of state and governments to review each other as a way of strengthening governance. We are based in Midrand, South Africa. We send teams to member countries to compile comprehensive reports on governance. We focus on four areas: democracy and political governance, economic governance and management, corporate governance and socioeconomic development. But recently we were asked to also be a tracking instrument of the AU [African Union] on the state of governance in Africa.
How many countries have signed up?
We started in 2003 with just six members. Today we have 37 members, the latest being The Gambia. We have reviewed 20 countries so far, including Chad, Ghana, Kenya, Mali, Mozambique, Nigeria, Senegal, South Africa and others. We have reviewed Kenya twice, and we have just completed the second review of Uganda. We have national offices in several member countries. We encourage new members to create a national APRM office to follow up on our work.
While you have achieved some success, some countries are reluctant to join APRM. Why?
The accession to the APRM is voluntary. Countries sign up at different times for different reasons. Namibia recently joined, and several countries, such as the Comoros, have written to join. We work with the pace of countries because being a member of the APRM comes with a responsibility. You

must be prepared to open your house for APRM to look at how you are conducting business and give you suggestions on how to improve. Ideally, all AU members should be in APRM.
Do countries believe that peer review is in their best interest?
We always tell countries that APRM is not about finding faults, but that it is a platform to share best practices. For example, Uganda is one of the best models in the managing and integration of refugees. So our report would capture that, although we also highlight the challenges. After our review, some countries may realize that they need to create new ministries, or they may say, "We don't have enough women in parliament" or "We are not doing enough to fight corruption." So they take the necessary measures—institutional and sometimes legislative measures—to ensure that the issues raised in our report are used to strengthen governance in their countries.
Do countries have the technical and financial capacity to implement your recommendations?
Implementation is a sovereign decision. We do our best to work with the countries. We have a working group on best practices in national planning, co-chaired by South Africa and Uganda, to encourage countries to integrate our recommendations into their national and fiscal planning processes so that they can be budgeted for. We plan to also have targeted missions to assist countries to build capacity.
Without an enforcement mechanism, how relevant will the organization be in the future?
You don't need an enforcement mechanism; you don't need a "stick" because it's voluntary. When countries join APRM, they are putting on the plate the kind of responsibilities and obligations they are taking as a country. The current chair of the AU, President Idriss Déby of Chad, has requested us to set up a task force to address the issue you just raised. He wants to deepen the country reviews and for the heads of state and governments to focus on how to make these reviews more effective.
APRM has been praised for its early warning system. Can you highlight a few instances where your early warning to countries may have averted a crisis?
Well, APRM reports highlight some of the issues that require early response. But countries don't always respond early to those issues. For example, I was in Mali recently and everybody was saying that what happened there [fighting between government and rebels] had been predicted in an APRM report, yet the country didn't do much to implement recommendations. And there are other countries where the APRM report highlighted what could happen if certain actions were not taken. We become successful if we implement the recommendations; if we don't, we can only look back and regret.
As part of the AU's reform package, APRM is also now involved in tracking progress in the implementation of Africa's Agenda 2063, as well as the Sustainable Development Goals. Are you up to the task?
We have started work and will be releasing the first State of Governance [and Accountability in Africa] report in January 2019, and [will] launch it on the margins of the AU summit. On the SDGs, we don't have the exclusive responsibility. A lot of strategic planning work is being done in Addis Ababa, Ethiopia [AU headquarters]. We are coordinating with the other actors in the AU that deal with the SDGs and Agenda 2063 so we don't duplicate each other's functions. We are also talking to the UN.
To measure progress, you need to access data. Yet up-to-date government statistics might not be readily available. How do you address this challenge?
We do generate data ourselves, but the problem is we have not been managing our data well. We're now digitizing it under the African Governance Data-Hub and will link it up with our national offices to set up a one-stop shop on data—which can be updated and strategically harnessed and deployed. When we review countries, one of the big challenges is politicized data, for example on unemployment rate. Workers' unions will give you a certain figure but the government will say, "No, it's less." Then the private sector will say something else. So you can get three sets of data on the same issue. At APRM we have a process to validate and verify data, but stakeholders, including the government, have to agree with the data.
How does APRM engage the young generation?
We are organizing with some of our partners a youth event in Namibia. We are creating a youth desk in our communications section and we are also linking up with universities. We have a group of young people working with us and we also have an internship program. I have recruited many young people who are doing an excellent job. So one of the things we have achieved is capacity building, capacity development and bringing the youth into the APRM. A contingent of youth from the AU will be joining the APRM in the next few months. We hope to integrate and use the youth in our review missions.
Do your country reports highlight youth issues?
At the country level, yes. If a country is not doing enough to address the plight of the youth, it will come up in the report and we will make recommendations. It is usually one of the crosscutting issues in our reports.
What about gender equality and women's empowerment?
It's also a crosscutting issue. We don't just confine women to socioeconomic issues, but also to the political sphere and the leadership. If we find that a country does not have enough representation of women in political offices, for example in parliament, we highlight it. The AU has set some targets, and if a country is not working hard enough towards achieving those targets, we say so in our reports. Following our reports, some countries take necessary measures to bring more women into leadership.
What is your final message to African countries?
It's clearly that good governance is the solution to the problems that we have on our continent. Peace and security challenges are largely the manifestation of governance challenges such as how we manage our elections. Even issues relating to terrorism, management of diversity, development and others are all about governance. Good governance in Africa is an enabler; there is a bottleneck if it's not there. So governance is key! Governance is the route for Africa to claim the century. Topics: economic developmentpolitical development