https://harpers.org/archive/1941/08/who-goes-nazi/
Lockdown Police State – June 17th 2021
Is this what a sane person would want ? https://www.youtube.com/watch?v=4WTpO9y2Dh4
Covid: Chris Whitty warns current wave could be 'significant' and expects winter surge – June 17th 2021
Ashley Cowburn,Adam Forrest and Andrew Woodcock
Prof Whitty's warning came as experts said the UK was now at the beginning of a third wave of the virus and the return of lockdown restrictions could not be ruled out, with the possibility of as many as 1,200 deaths a day at the peak.
A study commissioned by the government found that coronavirus cases are "rising exponentially" across England and doubling every 11 days, driven largely by younger and unvaccinated age groups.
Health secretary Matt Hancock announced that from Friday, 18-year-olds in England will be able to book vaccinations as part of a drive to protect all adults against Covid-19 before the delayed end to lockdown restrictions on 19 July.
As the NHS passed the milestone of administering first doses of vaccine to four-fifths of all adults in the UK (42,216,654 people) and second doses to 58 per cent (30,675,207), Mr Hancock said the country was "entering the final furlong in our race against the virus".
But Prof Whitty said that this was unlikely to be enough to prevent "a third surge" of Covid in the coming weeks and a further wave in the autumn and winter.
Speaking to the NHS Confederation, the chief medical officer for England said that the current upsurge in cases of the Delta variant first identified in India will "definitely" translate into further hospitalisations and deaths.
And he added: "My expectation is that we will get a further winter surge – late autumn-winter surge.
"And that's because we know that winter and autumn favour respiratory viruses and therefore it would be very surprising if this particularly highly transmissible virus was not also favoured. So we'll get the current wave – an exit wave – then I do think most people think that there will be further problems over the winter.
"How big they will be I think is uncertain. That partly depends on do we get any variants that can evade vaccines better and depends on how the current wave passes through the UK."
Prof Whitty said it would be "very surprising" if the coming winter was as bad as the one just gone, which was the worst that anyone in the NHS could remember.
But he said: "I think we need to be aware of and brace for the fact the coming winter may well be quite a difficult one.
"We have to just be aware that Covid has not thrown its last surprise at us."
Video: PM wanted Chris Whitty 'to infect him with COVID' (Sky News)
Imperial College epidemiologist and government adviser Prof Neil Ferguson said that the third wave of Covid-19 had already begun in the UK and would "inevitably" result in a rise in hospitalisations and deaths.
Prof Ferguson, who sits on government advisory group SAGE's modelling sub-group SPI-M, said there was not yet enough data to make firm predictions about the scale of the third wave, but he would expect at least 100 deaths a day at its height and possibly a similar daily death toll to the 1,200 seen during the winter peak.
"The uncertainty spans the range (from) having a third wave which maybe is 100-200 deaths a day at peak to something which is at the scale of what we went through in January," he told a media briefing.
Data from nearly 110,000 swab tests submitted to Imperial's React study showed that Covid infections across the UK increased 50 per cent between 3 May and 7 June, as the country struggled to combat the rise of the Delta variant.
The bulk of infections were found among children aged between five and 12, as well as younger adults aged between 18 and 24, with infections among these age groups five times higher than in over-65s, said researchers.
The study showed a "rapid switch" in recent weeks between the Alpha variant first detected in Kent and the Delta variant, with the latter now accounting for up to 90 per cent of all Covid cases.
Scientists said the findings from the React study suggest that the expansion of the vaccine programme to those aged 18 and above "should help substantially to reduce the overall growth of the epidemic".
But SPI-M chair Professor Graham Medley said it was "not impossible" that restrictions removed over the past few months would have to be reintroduced.
"I find it hard to believe that we'd have to go backwards from where we are," said Prof Medley. "But it's not impossible that at some point the government will say, 'Actually this number of hospitalisations is beyond what we want to live with' … and put in place restrictions."
Latest official figures showed that 58,830 people have tested positive for coronavirus in the UK over the past seven days – up almost 34 per cent on the previous week.
Some 11,007 new cases and 19 daily deaths were reported on Thursday. The death toll of 78 over the past seven days was up 42 per cent on the 55 recorded in the previous week.
And hospitalisations were also rising fast, with the 1,324 patients admitted over the past seven days some 43 per cent higher than the previous week.
Medicine professor Paul Hunter, of the University of East Anglia, said the latest data suggested that the rate of increase in cases had declined since the Imperial study was conducted earlier in the month.
"Although it is still a little too early to be sure, the rate of growth in the epidemic in the UK seems to have slowed somewhat in the past few days," said Prof Hunter.
"On balance, it does appear that the epidemic in the UK may no longer be increasing exponentially. Clearly the epidemic is not yet over, case numbers are still increasing but just rather more slowly than a week ago."
One reason for the increase easing off may be the presence of antibodies from previous infections in many members of the age-groups worst-hit by Delta, he suggested.
And he said there were "significant grounds for optimism" that the third wave would not kill anywhere near as many as seen in the winter.
"I am increasingly optimistic that this latest extension to restrictions should be the last," said Prof Hunter. Although we are likely to see case numbers increase in future, we are unlikely to see a surge of cases, hospitalisations and deaths anything like what we have seen this last winter again."
Comment At the very best Whitty and the rest of the vested interests are stating the obvious about respiratory illnesses rising in winter. The reality is that Covid is now endemic and lockdown with or without vaccinations will make no difference.
We are heading for another winter where no one will die of flu – or any other illness apart from Covid. No person dies just from Covid – hence the inflated covid related death figures. The Delta – aka Indian – variant is due to Britain's relationship with the Indian sub continent and the UK's open door no border mass migration policy. Of course the UK's international NHS won't cope. Clapping it will not shorten a five year and growing waiting list – or save those denied cancer treatment. The NHS will continue to struggle and fail. Lockdowns will never come to an end in Britain. Robert Cook
Incredible Furlough & Support Cut – June 14th 2021
This means that pubs, restaurants, cinemas and many other venues will continue to face limits on numbers and distancing restrictions, while nightclubs will remain shut.
Furlough support currently allows businesses impacted by the pandemic the ability to keep workers on with an 80% wage subsidy from the state.
This is due to taper off from the end of this month, moving to a 70% state subsidy supported by a 10% employer contribution in July, tapering further before ending completely in September.
It is understood that the Government's original decision to taper support until the autumn was due to potential uncertainty regarding the schedule of the road map.
Hard-hit hospitality, leisure and retail firms have also benefited significantly from the current business rates holiday and ban on commercial evictions, which will also alter in the coming weeks.
These firms will pay no business rates until the end of this month, with this changing to a 67% discount with a £2 million cap until the end of the financial year.
Meanwhile, commercial property evictions have been banned until the end of June and landlords will have the potential to take tenants to court again from next month for not paying rents despite some still being impacted by restrictions.
Sector leaders and trade groups had called for these support measures to be extended until all pandemic restrictions are lifted.
Sen. Tom Cotton (R-Ark.) speaks during a hearing to examine United States Special Operations Command and United States Cyber Command in review of the Defense Authorization Request for fiscal year 2022 and the Future Years Defense Program, on Capitol Hill in Washington on March 25, 2021.
'Hundreds' of Whistleblowers Say Military Forcing 'Anti-American Indoctrination' on Them: Sen. Cotton
By Jack Phillips June 10, 2021 Updated: June 10, 2021 biggersmallerPrint
Sen. Tom Cotton (R-Ark.) told Defense Secretary Lloyd Austin on June 10 that "hundreds" of military whistleblowers have reported being forced to receive "anti-American indoctrination" training, including critical race theory (CRT).
In a Senate hearing with Austin, Cotton claimed that within the military, there's "plummeting morale, growing mistrust between races and sexes where none existed just six months ago and unexpected retirements and separations based on these trainings alone."
One whistleblower, Cotton alleged, said that military history training was replaced with training about police brutality, "systemic racism," and "white privilege." Another said that his unit had to read "White Fragility" by feminist author and critical theory proponent Robin DiAngelo, according to the senator.
In May, the Space Force confirmed it relieved Lt. Col. Matthew Lohmeier, a former instructor and fighter pilot, as commander of the 11th Space Warning Squadron. While it didn't specifically name the reason why Lohmeier was terminated, the Space Force cited comments made by Lohmeier during a podcast in which he denounced CRT and warned about the spread of Marxism within the Space Force's ranks.
CRT, which draws heavily upon Marxist critical theory and postmodernist writers, denounces U.S. and Western culture as oppressive, and often claims American culture and institutions are promoting "systemic racism" or "white supremacy." Some critics have said the ideology's proponents apply the Marxist tactic of "class struggle" to drive people along the lines of gender, race, and ethnicity, rather than between the "proletariat" and "bourgeoisie."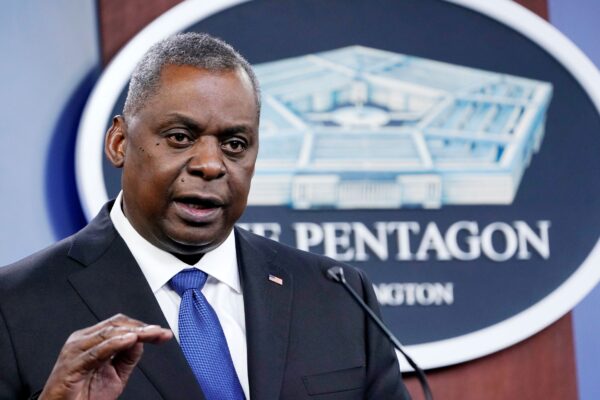 In the hearing, Austin told Cotton that some training is designed to make sure that the armed forces are "welcoming to everyone who can qualify and who is fit to serve."
"We ought to look like the America we support and defend, and senior leadership should look like what's in the ranks," Austin said.
But Cotton suggested that claims the military is attempting to foster diversity with such training are incorrect.
"[It's] about a very specific kind of anti-American indoctrination that is seeping into some parts of our military, based on the whistleblower complaints we have received," he said.
"The military for decades has been one of the institutions in society where you are most likely to get ahead based on your own performance, your own merit, irrespective of the color of your skin, where you came from, who your parents were."
Austin agreed with Cotton's sentiment.
"I absolutely agree with that. I am an example of that," he said.
Austin went on to state that the military needs to be "a bit better," be "absolutely inclusive," and promote "equity." The terms "inclusive" and "equity" have been used in social justice circles for years.
Austin then argued that by doing so, it'll be the "most effective and lethal fighting force in the world."
Grounded – June 13th 2021
Shrinking mass air travel is vital to global reset as we see below. The main thing is to keep the unofficial channels open to third World migrants. They are a safety valve for the Third World's over population , source of cheap labour , promoting racial guilt and inflation.
They are not needed there in Africa where the average woman has 15 babies, so there are more than enough to extract key minerals and harvest crops for the western elite. So better have them in Europe to feed white cultural guilt and compliance on pain of jail and ruin.
It amuses me that fat cat black foot ballers on hundreds of thousands of pounds a week are icons for an equality and white knee bending movement . In reality it is all about attacking white , especially male, working claculture, blaming these people for historic slavery and endemic racism.
The PC c=ap education will consoloidate the reprogramming. So the mass of white morons must kiss goodbye to cheap air travel ,and the staff can do whatever to survive. So much for equality !Irony is this process of never ending lockdown makes the rich so much richer.
The U.K Government now tells us restrictions may – which means will – last until Spring. Masks and lockdowns are doing so well we need more. That's the great reset. Never mind , the G7 are on it, with old Boris calling even much older Boris ' a breath of fresh air.' Robert Cook
Passengers stranded as Aer Lingus regional carrier Stobart Air enters Liquidation June 13th 2021
Almost 500 staff have lost their jobs and thousands of passengers face uncertainty after a regional airline closed down. Stobart Air, based in Dublin, has ceased all operations from today and is appointing a liquidator.
The airline provided a busy network of flights badged as Aer Lingus Regional.
Travellers booked on a dozen flights to and from Belfast City airport have been grounded. Services linking the Northern Ireland airport with Birmingham, East Midlands, Edinburgh, Exeter, Leeds Bradford and Manchester are all cancelled.
Links from Edinburgh, Glasgow, Manchester and Newquay to Dublin have also been cancelled, as well as Irish domestic routes from the capital to Donegal and Kerry.
Stobart Air was founded in 1970 as Aer Arran, originally serving the island of Inishmore off the west coast of Ireland. It had an expanding network of regional routes in the UK and Ireland. Many of the links replaced those left unserved by Flybe, which collapsed in March 2020 at the start of the coronavirus crisis.
Like all airlines, Stobart Air had been hard hit by the pandemic and the travel restrictions involved. In April an Isle of Man company, Ettyl, announced plans to buy the carrier, along with Carlisle Lake District airport. But that deal has now collapsed.
Stobart Air is part of Esken, formerly the Stobart Group.
The airline announced: ""Given the continued impact of the pandemic which has virtually halted air travel since March 2019 and in the absence of any alternative purchasers or sources of funding, the board of Stobart Air must take the necessary, unavoidable and difficult decision to seek to appoint a liquidator.
"All 480 staff at the airline have been informed.
"Last April, Stobart Air announced that a new owner had been identified. However, it has emerged that the funding to support this transaction is no longer in place and the new owner is now unable to conclude the transaction."
Top US General Warns: China Increasing Military at 'Serious and Sustained Rate'
By Jack Phillips June 11, 2021 Updated: June 11, 2021
The top U.S. general warned Thursday that the Chinese regime is increasing its military capacity at a "very serious and sustained rate" and said it could pose a threat to worldwide stability and peace.
Army General Mark Milley, chairman of the Joint Chiefs of Staff, said that it's necessary the United States "retain our competitive and technological edge" over the Chinese Communist Party (CCP), which comes after President Joe Biden and Pentagon chief Lloyd Austin raised similar concerns in recent days about the rhetoric coming from the CCP—as the United States and China have remained intransigent over Taiwan, the CCP's human rights violations, and disputes over territory.
Austin told senators on Thursday that Biden's defense request of $715 billion is needed to meet the challenge posed by the "increasingly assertive" regime.
"The request is driven by our recognition that our competitors—especially China—continue to advance their capabilities," Austin said during a hearing with the Senate Armed Services Committee. "We must out-pace those advances to remain a credible deterrent to conflict around the world."
Milley also noted that the combined total defense spending by China and Russia is greater than that of the United States, although he did not say how he reached that conclusion during the hearing. But aside from that, China poses the "number one" military threat to the United States, he added.
Earlier this month, a bipartisan group of senators visited Taiwan and said the United States would provide 750,000 COVID-19 vaccine doses to the island nation. It prompted a series of bellicose statements from Chinese officials, including Wu Qian, a spokesperson for China's Ministry of National Defense, who alleged the United States is "seriously undermining" stability in the region.
Wu then threatened that anyone—without providing names—who dared to "split Taiwan from China" would see a "resolute attack head-on" from the Chinese army. The CCP has long claimed that Taiwan belongs to it, while Taiwan has asserted that it is a sovereign, democratic nation. Because the regime believes Taiwan is part of its territory, it opposes any government or world body from establishing ties with the island nation.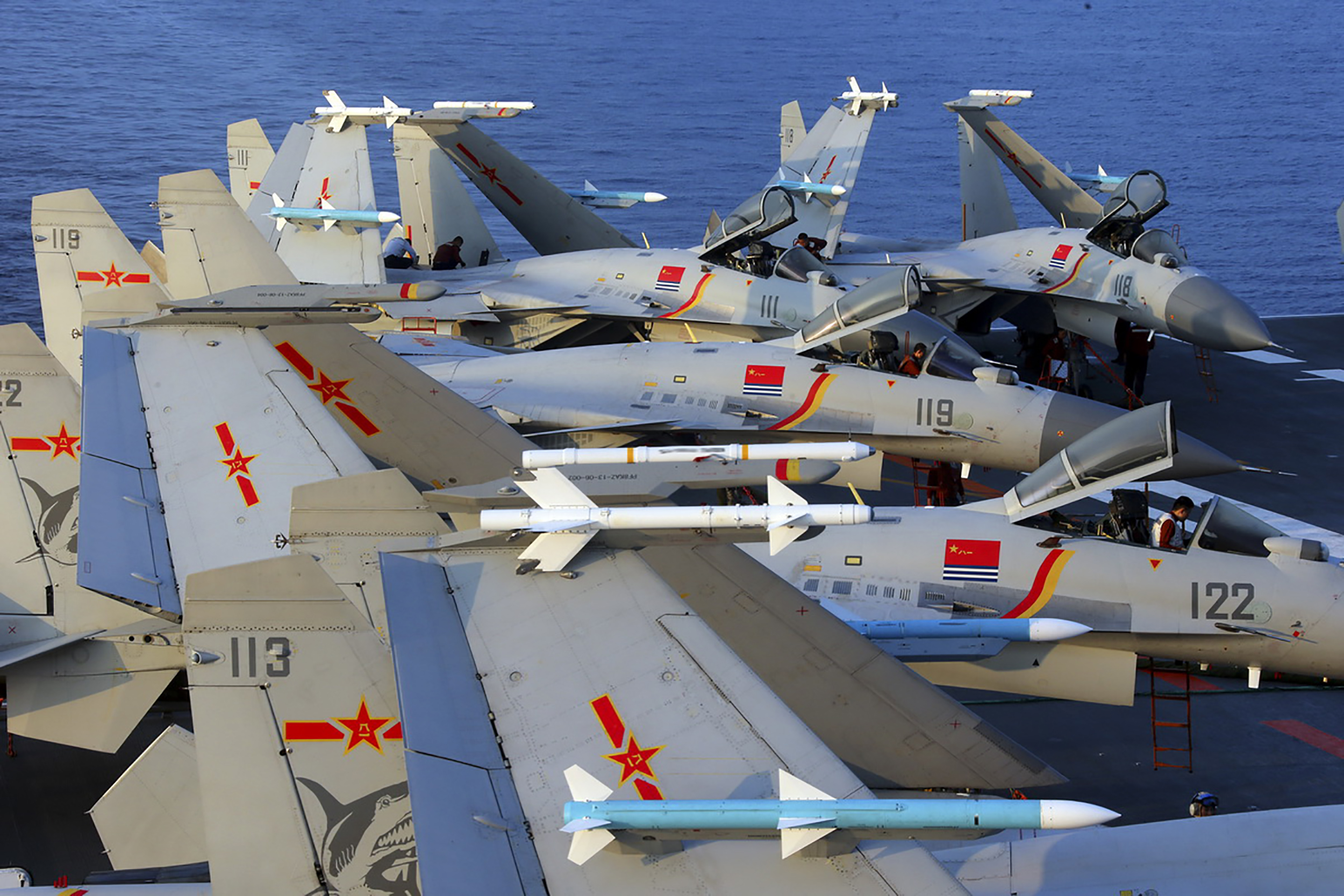 Milley's comment comes months after another top U.S. commander, Adm. Philip Davidson, head of the U.S. Indo-Pacific Command, warned the same Senate panel that China's military is threatening U.S. dominance in the Pacific.
"The military balance in the Indo-Pacific is becoming more unfavorable for the United States and our allies," Davidson said, adding: "Our deterrence posture in the Indo-Pacific must demonstrate the capability, the capacity, and the will to convince Beijing unequivocally the costs of achieving their objectives by the use of military force are simply too high."
The CCP is also able to project more and more naval power in the Indian Ocean, as well as the Horn of Africa, said Gen. Stephen Townsend, head of the U.S. Africa Command, in mid-April.
"Their first overseas military base, their only one, is in Africa, and they have just expanded that by adding a significant pier that can even support their aircraft carriers in the future. Around the continent, they are looking for other basing opportunities," Townsend told the House Armed Services Committee at the time.
The Senate on Tuesday passed a nearly $250 billion bill to invest in manufacturing and technology to out-compete with Beijing, which includes some $190 billion in spending. Much of that money will go to research and development at universities and other institutions.
Comment Western leadership is guided by hedonistic self interest. no risk is to great for them because the stakes are high and luxury long term bomb shelters are ready. It tells its masses what to do and think , doing so on hyper drive with BLM and wokeness at the moment , as if putting in a computer programme.
One black congressmen actually used the world reprogramming to change the way the white masses think. Meanwhile Russia and China – the former more at risk from subversion due to its high European content, geography and history – are basing theiur policies and actions on facts.
The western elite and their media won't let up in furtherance of their unsustainable life styles and greed. Just 2,400 have control of 62% of global wealth and 500 corporations control 75% of the woRLd econmmy.
Robert Cook
Delta variant causes more than 90% of new Covid cases in UK June 11th 2021
Nicola Davis Science correspondent 1 hour ago Ex-Mossad chief signals Israel culpability for Iran attacks Hall & Oates 'opened doors for crossover music'
© Provided by The Guardian Photograph: Geoffrey Swaine/Rex
More than 90% of Covid cases in the UK are now down to the coronavirus Delta variant first discovered in India, data has revealed, as the total number of confirmed cases passed 42,000.
Also known as B.1.617.2, the Delta variant has been linked to a rise in Covid cases in the UK in the past weeks. It is believed to spread more easily than the Alpha variant, B.1.1.7, that was first detected in Kent, and is somewhat more resistant to Covid vaccines, particularly after just one dose. It may be also associated with a greater risk of hospitalisation.
Comment The key words in this piece are beneath the photograph. Those words are 'Keep Apart' . That is what this is all about, it works well with all the so called racial awareness indoctrination. One fine SAGE 'scientist' has already asserted that masks and social distancing should continue indefinitely in spite of there not being any evidence that they or anything else to do with lockdown makes any difference to infections and fatalities.
That is because the real programme is the great global reset. Humans can be trained just like Pavlov's dogs.While virtue signalling anti racists welcome Africa , Middle East and India's surplus populations with open arms, there will be no reforms in those countries and continents. Consequently , there will be more demographic and pollution issues across the planet.
The patronising greedy ruling class don't care. They feed the poorly educated masses on tasty bulls-it. It works , but every so often matters get out of control as we saw with two world wars and the insanity of the more recent oil wars. It amazes me how ordinary people believe we have democracy.
The elite are arrogant and out of touch. Out of 175, 691,350 total worldwide cases , 3,790,489 have led to Covid related death. No one appears to die of Covid alone , no one seems to die of flu or pneumonia anymore , the vast majority of deaths are very old age , BAME life tstyle and Obesity related. Robert Cook
Big Lies Matter ( BLM ) by Robert Cook June 10th 2021
The following article requires an introduction. It is an expression of the ruling elite's sense of exceptional-ism and inherent hypocrisy. Our ruling elite, with their elite owned and staffed mainstream media , have been stirring up and helping fund the Black Lives Matter ( BLM ) movement, the blacks' sense of grievance and entitlement across the board.
The facts that blacks were not the first slaves or that powerful blacks , historically , enslaved their own race as well as rounding them up into stockades waiting for the white man's slave trade ships , just won't stick.
It is equally unpalatable to mention that rich powerful whites treated their white underclass as scum on slave wages and as canon fodder . They sat in judgment transporting them in filthy crowded sailing ships to Australia, Their petty crimes were all about a struggle for survival. Those facts don't suit the 'woke' joke agenda. Not far from where I am writing is the Fremantle Estate. Captain Thomas Francis Fremantle was the first Lord Cottesloe and chairman of magistrates in Winslow. He was notorious for transporting petty offenders desperate for food, to his family's estates in the penal colonies of nineteenth century Australia – see 'The Book of Winslow' by Robert Cook, 1989.
So it came to pass that we lower order whites must grovel and bend the knee to all blacks. We must own our inherent racism because of 'critical race theory.' The white aristocracy can keep their sanitised history and blame us lower born folk for all ills.
Another fact our elite don't like is that our Queen is only four generations down from Queen Victoria. India, a nation with a vile caste system that persists today and was jointly exploited by British and Indian elite, was described by Victoria as ' the jewel in the crown.'
Queen Elizabeth 1st encouraged Captains Sir Francis Drake and Captain Hawkins to rob Spanish galleons full of plunder from exploited South America as well as slave trading. If all of us innocent minions are to have our history lied about, blaming us for racism, then our white Queen should be at the top of the list.
Her swanning about the Commonwealth allegedly fostering tolerance and diversity is a sick joke. The old commonwealth is riddled with corruption , dictatorships and exploitation. Her being head of state is no defence. She is a rubber stamp and is currently being wheeled around along with the rest of her spolied family, as a sticking plaster to cover for ain increasingly corrupt chaotic divided nation. That plaster is made up og gibberish about democracy , diversity and inclusive. I hope to see Prince William bending the knee next time he visits Wembley football ground.
Logically the hypocrisy and name calling that has led to the request to remove her portrait from a snooty Oxford College , exposes the absurdity of the BLM campaign for ' a people rising' has now reached the Queen. Logically all Royal statues have no place in the modern Britain. But this isn't modern Britain. it is the same old Britain underneath the gloss.
The important things have not changed. The tricks and deceptions are merely more sophisticated and education is intended to dumb down, the the media keeps the lies and deceptions going. Britain has long needed reform , particularly in the institutionally police and justice system. That won't happen because those bodies with laws sprouting faster than weeds , are essential to stifle debate and criticism – and boost crime solved statistics.
The rich have never been richer, much helped by the curious Covid lockdown. Things can only get worse. We have a society undergoing transformation , not reformation. There is an important difference. BLM really means 'Big Lies Matter.' Robert Cook
The Perplexing world of the human races – June 10th 2021
For some students at Oxford, the decision to remove a portrait of the Queen from a common room is an "unspeakable thing", and for others it's a welcome acknowledgement of the UK's colonial history – albeit a move now being hijacked by those seeking to exacerbate the "culture wars."
On a sunny afternoon in this university city, students who should otherwise be preoccupied by finals and summer balls are otherwise distracted, and divided.
This week, members of the Middle Common Room (MCR) at Magdalen College voted overwhelmingly in favour of taking down the image of the monarch, arguing it is an emblem of "recent colonial history" that could make some feel unwelcome.
And in so doing, they plunged the university into yet another chapter in the ongoing debate around freedom of speech versus so-called "wokeness" at higher education institutions.
The prime minister has himself weighed into the debate, with his spokesperson on Wednesday backing education secretary criticism of the decision to remove the portrait. Gavin Williamson had tweeted that the Queen has "worked tirelessly to promote British values of tolerance, inclusivity and respect around the world".
For some students, the proverbial dethroning represents a breath of fresh air.
One student said she "fully supported the decision" and argued it was just an extension of the debate around whether or not to remove a statue of Victorian imperialist Cecil Rhodes from the university's Oriel College last year.
"There's definitely a lot of change that needs to happen at Oxford, so I think it's good that they are recognising that actually all these famous figures do not necessarily have a positive history, especially for minorities and people of colour," Safaa Baig, a first year student of philosophy and French at Saint Peters College, told The Independent.
"I think it's helpful to know that actually there are people who think that it is wrong and that a lot of things we did were wrong and should not be put in this glamourised light.
The Queen, she added, "may have done a lot of good but she did a lot of bad and I think the fact that people can now recognise that is important."
For people who "know a lot less about colonisation, for example, the Queen's negative impact on places like India or Africa, it is very easy for them to overlook the negative things she has done," Ms Baig added.
Another student, Rico Kofi, said displaying the picture in the college's common room has "colonial undertones". The 19-year-old student of history at Pembroke College said: "If they voted for it, it's their choice, their college. We're a democracy."
For Joe Drakeley, a 22-year-old physics student at Oriel College, a small decision about a common room has been manipulated by the Conservatives, who he said are "in the middle of a culture war".
"It fits a narrative that they are trying to push. I think it fits their general idea that we are all too left-wing, which is not the case."
"I would not go into someone's house and tell them what to put up. It is their choice whether they have it up. Whatever you think of their reasons for taking it down is entirely irrelevant, because it is just a picture that they have chosen not to put up."
But other students remain adamantly opposed, with one at Magdalen College, who did not want to give his name, revealing that undergraduate students plan to launch a counter motion to have the picture put back.
"The issue comes down to the dysfunctional nature of how internal college politics works," the politics, philosophy and economics (PPE) student said. "We're going to try to pass a counter motion to have it put back up, because we feel it should be done. We did not get a say in this at all. We were not even aware this was happening until it came out."
He said the backlash had been "massively overblown" and added: "Obviously, this is a diverse group of people, we all come from different backgrounds and have different opinions, so it is quite harsh for it to be published that we all think this when it definitely is not a universally agreed upon thing.
"I do think it is trying to present this picture that universities are at war with free speech, and it definitely plays into that rhetoric."
Another student of PPE at Magdalen agreed the issue had been blown out of proportion, but added: "It is just a social place, it is probably not the place for a portrait of the Queen anyway."
For Quentin Skinner, a student of mathematics at Lincoln College, the removal of the portrait was an "unspeakable thing", while another shouted that the decision was "terrible" and branded it "a disgrace to our nation".
Another, who did not want to be named, said it was unclear what the move had achieved. "I think it detracts from the real issues some people face. I don't think it is true that the Queen represents what she was said to represent in the meeting," he said. The backlash among MPs and in the press was "giving the students exactly what they want, which is attention," he said, adding: "They should just ignore it."
The president of the MCR, Matthew Katzman, did not respond to a request for comment by The Independent, but said in a statement to Mail Online: "The action was taken after a discussion of the purpose of such a space, and it was decided that the room should be a welcoming, neutral place for all members regardless of background, demographic, or views.
"The royal family is on display in many areas of the college, and it was ultimately agreed that it was an unnecessary addition to the common room. The views of the MCR do not reflect the views of Magdalen College, and the aesthetic decisions made by the voting members of its committee do not equate to a statement on the Queen. Indeed, no stance was taken on the Queen or the royal family – the conclusion was simply that there were better places for this print to be hung."