Comments to apple.dene@btinternet.com
Liberty, Equality, Fraternity,
R.J Cook. January 25th 2021
Anyone who believes these outdated ideals of the French Revolution have any contemprary relevance , as if they ever did , is an imbecile.
Much has been written on the subject of liberty , a real brain teaser for philopsophers. As someone on the receiving end of police harassment , their criminal lies , slander, libel and cell time, in Police State Britain, I am obviously the last person to believe in freedom before death. I am certainly looking forward to the latter. A common person, like me , can only stand so much.
Two of my favourite efforts to define freedom are 1 ) Freedom is the recognition of necesstity , an idea from Hegel but defined by Friedrich Engels . 2 ) Freedom's just another name for nothing left to lose , and nothing don't mean nothing when its free . Kris Kristofferson .
I will take the term fraternity first as its easiest to deal with . We get the word fraternising from it , we have the idea of a college fraternity house. But the idea that the concept works for an entire empire , as in the case of France where it started as a foundation stone of the French Revolution, or a nation as vast and varied as the United States is absurd.
Equality is an even more ridiculous idea. Worse still , it is a virulent confidence trick from our top down societies. Democracy is an allied and equally ridiculous expression. There is a hierarchy of men in all races , and of women.
Class is the historical reality and issue from which power is derived and exercised by any means legitimated by those who have conqured. Those people then go on to divide and rule the ignorant masses who are taught and indoctrinated on a need to know and show basis.
Empowering common working women with the lie of equality is about disempowering working men – scapegoating and marginalising working men because they are a threat to the elite. That is why the ruling elite pander to ignorant women's pathetic egos, offering ideas of liberation ( freedom ) and equality. It is an easy job, enhanced , as always by making common men appear as nasty rapists and racists. Fittingly the only difference between those two words are P & C.,
Money oils the system , with the lower orders going ever more into debt , men in partuclar increasingly living on the streets, thanks to biased divorce laws, feminist propaganda and Covid 19 lockdown for the New World Order.
The following artiicle gives some substance to this reality, but so much more can be said and written. Suffice it to conclude here that the global elite have been eating the planet for years, orchestrating wars, burrying major issues ( not problems for them ) like over population , consequent resurging religious bigotry and pollution, making the world an ever more violent and dangerous place.
So they insist we have more security cameras, phone bugging, internet censorship, police, secret police and National Guardsmen , all in the name of keeping us safe and free ( sic ). And who are they ? The global elite. They have their cliques but are all the same, spoiled and united by global wealth – which is why Russia must be brought into line by their new Yeltsin ; Navalny .
I used to buy engineering equipment for the Anglo Chilean Nitrate Corporation , a dubious organisation looking after joint interests in oppressing their part of Latin America , and with a ripple effect beyond. My colleaagues had the cold hearts and self interest of Nazis. As I recall, the boss was a high ranking Chilean army officer and I got the job through previous government service and military contact. That's how it works.
Don't worry, democracy means we are free to choose which clique ( or party if you prefer, but they are bought and owned by the elite ) to vote for. Morons are easily led , which is why Western education is so dumb and limited. It does the job very well.
Janis Joplin – Me & Bobby McGee – YouTube
R.J Cook
America's Biggest Owner Of Farmland Is Now Bill Gates Posted January 25th 2021
Ariel ShapiroForbes StaffBillionairesI cover wealth.
Bill Gates, the fourth richest person in the world and a self-described nerd who is known for his early programming skills rather than his love of the outdoors, has been quietly snatching up 242,000 acres of farmland across the U.S. — enough to make him the top private farmland owner in America.
After years of reports that he was purchasing agricultural land in places like Florida and Washington, The Land Report revealed that Gates, who has a net worth of nearly $121 billion according to Forbes, has built up a massive farmland portfolio spanning 18 states. His largest holdings are in Louisiana (69,071 acres), Arkansas (47,927 acres) and Nebraska (20,588 acres). Additionally, he has a stake in 25,750 acres of transitional land on the west side of Phoenix, Arizona, which is being developed as a new suburb.
According to The Land Report's research, the land is held directly and through third-party entities by Cascade Investments, Gates' personal investment vehicle. Cascade's other investments include food-safety company Ecolab, used-car retailer Vroom and Canadian National Railway.
While it may be surprising that a tech billionaire would also be the biggest farmland owner in the country, this is not Gates' only foray into agriculture. In 2008, the Bill and Melinda Gates Foundation announced $306 million in grants to promote high-yield, sustainable agriculture among smallholder farmers in sub-Saharan Africa and South Asia. The foundation has further invested in the development and proliferation of "super crops" resistant to climate change and higher-yield dairy cows. Last year, the organization announced Gates Ag One, a nonprofit to advance those efforts.
It is not entirely clear how Gates' farmland is being used, or whether any of the land is being set aside for conservation. (Cascade did not return Forbes' request for comment.) However, there is some indication that the land could be used in a way that aligns with the foundation's values. Cottonwood Ag Management, a subsidiary of Cascade, is a member of Leading Harvest, a nonprofit that promotes sustainable agriculture standards that prioritize protections of crops, soil and water resources. MORE FOR YOUDid You Get A Second Stimulus Check Today? Here's WhyTrump Signs Executive Orders To Extend COVID-19 Economic Relief, Includes Unemployment Benefits, Eviction MoratoriumSwatting North Korea's Rockets Is A Waste—South Korea Could Target The Launchers
Gates is not the only billionaire on The Land Report's list of top private farmland owners. Wonderful Company cofounders Stewart and Lynda Resnick (net worth: $7.1 billion) ranked number three with 190,000 acres. Their farmland produces the goods for their brands including POM Wonderful, Wonderful Pistachios and Wonderful Halos mandarins.
While Gates may be the country's biggest farmland owner, he by no means is the largest individual landowner. In its list of 100 top American landowners, The Land Report gives the top spot to Liberty Media Chair John Malone, who owns 2.2 million acres of ranches and forests. CNN founder Ted Turner ranked number three with 2 million acres of ranch land across eight states. Even Amazon CEO Jeff Bezos is investing in land on a large scale, landing the 25th spot with his ownership of 420,000 acres, mainly in west Texas.
No More Rebellion, Covid 19 Is Working For The Global Elite January 2nd 2021
2:43 Now playing Luke Kelly – Kelly The Boy From Killane kellyoneill 1.8M views 13 years ago
487K views 4 years ago 3:13 Now playing luke kelly Rising Of The Moon kellyoneill
My maternal grandfather came from near Dublin in 1918. He had 5 children aand 2 daughters. My mother was his last , her mother dying in a North London slum two weeks later. His three sons fought for Britain, one was killed , another wounded. My wounded uncle was given white feathers because he was out on the streets of London out of uniform – he was an air raid warden in great danger.
So much for posh middle class feminists and the working girls they seek to brainwash from school and onwards through media. Working people have always been treated like sh-t, with a few getting on and being worse than their old masters.
The New World Order is in many ways no different from the old. People are what they are and don't get nicer as they age. England may have been conqured by Saxons and Celts, but the masses are mainly descended from over romanticised Celts – I dare not say more about them other than they have been easily bought and misled over the years.
The elite choose the scapegoats and don't care who dies as long as they are better off. Biden may have Irish roots, but there have been many bad and treachorous Irishmen . I worked with some ars-holes on the building sites and am no mere academic . I was a long time truck driver who wrote, until recently .
That doesn't mean I am not a press card carrying qualified journalist, by the way. It means I think the average British and U.S journalist is from a comfortable back ground, arrogant and snobbish, many empowered by grievances about being down trodden blacks or women. I can't speak with certainty about Europe, but suspect it seems the same.
The New World Order is obvious and shameless in how it used the likes and big egos of Biden and Harris to play on their alleged knowledge of suffering
( sic ) with lies that life is black and white , along with men bad , women good.
R.J Cook January 22nd 2021
Covid: 'More deadly' UK variant claim played down by scientists
Posted January 23rd 2020
Published1 hour agoRelated Topics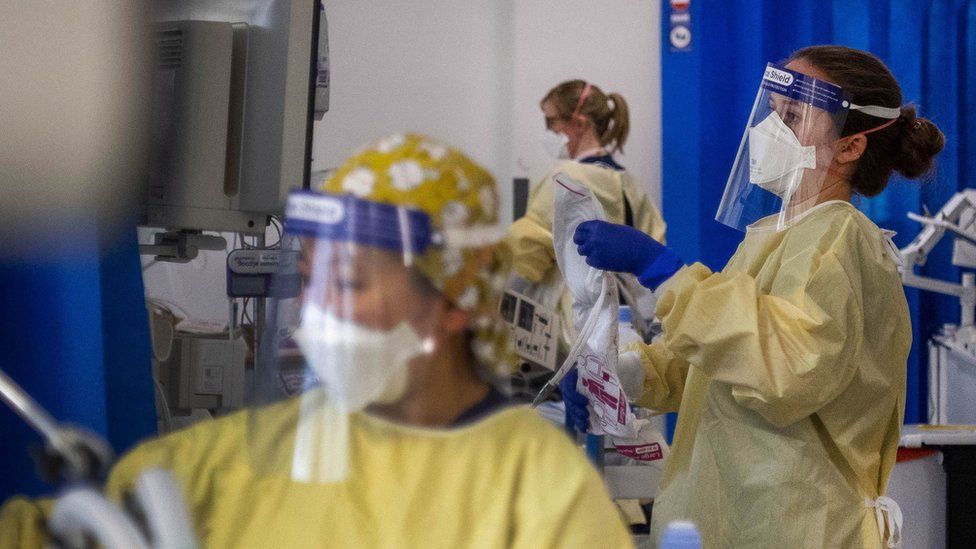 Scientists say signs a new coronavirus variant is more deadly than the earlier version should not be a "game changer" in the UK's response to the pandemic.
Boris Johnson has said there is "some evidence" the variant may be associated with "a higher degree of mortality".
But the co-author of the study the PM was referring to said the variant's deadliness remained an "open question".
Another adviser said he was surprised Mr Johnson had shared the findings when the data was "not particularly strong".
A third top medic said it was "too early" to be "absolutely clear".
At a Downing Street coronavirus news conference on Friday, the prime minister said: "In addition to spreading more quickly, it also now appears that there is some evidence that the new variant – the variant that was first identified in London and the South East – may be associated with a higher degree of mortality."
Speaking alongside the PM, the government's chief scientific adviser Sir Patrick Vallance said there was "a lot of uncertainty around these numbers" but that early evidence suggested the variant could be about 30% more deadly.
For example, Sir Patrick said if 1,000 men aged 60 were infected with the old variant, roughly 10 of them would be expected to die – but this rises to about 13 with the new variant.
The announcement followed a briefing by scientists on the government's New and Emerging Respiratory Virus Threats Advisory Group (Nervtag) which concluded there was a "realistic possibility" that the variant was associated with an increased risk of death.
But one of the briefing's co-authors, Prof Graham Medley, told BBC Radio 4's Today programme: "The question about whether it is more dangerous in terms of mortality I think is still open."
"In terms of making the situation worse it is not a game changer. It is a very bad thing that is slightly worse," added Prof Medley, who is a professor of infectious disease modelling at the London School of Hygiene and Tropical Medicine.
A further 1,401 deaths in the UK within 28 days of a positive coronavirus test were reported on Friday, as well as 40,261 new cases.
Comment The word evidence is much misused. The British police have a long history of faking real evidence and hiding the truth. The British , like the U.S , press distorts and hides the truth in a similar way , in a symbiotic relationship with police and politicians.
Britain's education system is all about tick box testing and social conditioning into multi culture for the masses. The masses are eaily blinded by science nd political prejudice. Most come out of school science illiterate , unless you count playing with computers.
Real scientists , as opposed to technicians working as teams in a techo structure, are on the autistic scale . seeing very little outside of the box , and always surprised when the military uses their inventions and discoveries for dubious purposes. The Wright Brothers , credited with inventing the aeroplane , did not do so for the purposes of war , yet 11 years later it played a key killing role in World War One.
So in this context it is very easy to ramp up the fear with a free production line of deadly virus mutations, lying to the nation and the world that the virus will get them.
Some Facts About Covid Smokescreen
Every year between 7000 and 20,000 die from flu in the U.K. Apparently next to no one died from it 2019-20 so far, which is odd, they all died from Covid related instead.
36 % of Covid related deaths so far were in care homes. 30 % were 80 plus , 20 % were 70 – 79 , 11 % were 50 -69 , 90 % were 50 plus , 86 % were 69 plus , 3 % were under 50. A 60 plus man ( men are most at risk because they neglect their health , with the worst jobs, highest unemployment, homelssness , divorce poverty and take more social blame and ostracism ) has less than 1 % death risk if he catches Covid 19. Source NHS England.
R.J Cook
Better a dead hero ? January 22nd 2021
Yesterday I saw, on the BBC TV news propaganda , a big overweight man in mask, on gurney crying and struggling with the words that he was so afraid that he was going to die because of Covid 19. He was late 30s . early 40s maybe and white -they don't show BAME , even though they account for 34 % of cases out of their 14 % contingent of the population.
As a poor boy of 11, I visited my father on a terminal ward for 9 months. Every week at least one man died until it was my father's turn. His death rattle sounded like all the others. This was a London man who joined the army because the rich caused a depression in the 30s. Then they caused another world war to benefit themselves. My father was worn out when he died aged 41. he had nothing to leave us except hope. Now the system has stolen that from my son and I.
It interests me that from the outset , we in Britain were encouraged to invoke the Dunkirk Spirit ( sic ) and be brave. Imagine a dying John Wayne character crying instead of calmly whispering 'it's O.K Rusty, just a flesh wound. You'll have to take over. This is the the snowflake generation of fake heroes ,middle class fake feminists fake egalitarians in a world led by slippery reptilian fakes. There will be no more great rebellions. R.J Cook
www.youtube.com › watchLyricsRoddy McCorleyA Ballad of the 1798 risingSee the fleet foot host of men
That speed with faces wan,
From farmstead and from fisher? s cot
Along the banks of Bann,
They come with vengeance in their eyes
Too late too late are they.
For young Roddy McCorley goes to die
On the bridge of Toome today.Up narrow street he steps
Smiling, proud and young.
About the hemp rope on his neck
The golden ringlets clung
There was never a tear in his blue eye,
Both sad and bright are they,
For young Roddy McCorley goes to die
On the bridge of Toome today.When he last stepped up that street,
His shinning pike in hand,
Behind him marched in grim array
A stalwart, earnest band.
For Antrim town, for Antrim town,
He led them to the fray,
And young Roddy McCorley goes to die
On the bridge of Toome today.There was never a one of all your dead
More bravely fell in fray
Than he who marches to his fate
On the bridge of Toome today.
True to the last, true to the last,
He treads the upward way,
And young Roddy McCorley goes to die
On the bridge of Toome today.Source: MusixmatchSongwriters: Ronnie Drew / Barney Mckenna / Luke Kelly / Ciaron Bourke / John SheehanRoddy McCorley lyrics © Tiparm Music Publishers, Carlin Music Corp, Universal Music-careers Obo Heathside Music Ltd.
Reporters Without Borders January 22nd 2021
Dear Friends,

My name is Anna K. Nelson and I'm the new Executive Director of Reporters Without Borders (RSF) USA based in Washington D.C.

I am both honored and humbled to be joining RSF at this critical moment in modern American history, when press freedom and access to accurate information are arguably more important than ever.

Following this week's inauguration of President Biden and Vice President Harris, RSF is calling on them and all Congressional lawmakers to take a stand for press freedom by supporting our Press Freedom Pact. A pledge of just under 50 words, it has the potential for tremendous impact.

As we know all too well, the era of Donald Trump's presidency was marked by a sharp increase in hostility towards journalists, including harassment, attacks, arrests, and the destruction of professional equipment. Most recently, during the violent uprising on January 6 against Congress, the words "Murder the Media" were found scrawled on a door inside the Capitol Building. Reporters and photojournalists also endured harrowing situations of being threatened, pursued, and targeted by rioters.

In 2020, the number of press freedom violations in the U.S. skyrocketed to 559— up from 150 the previous year. There has never been a clearer or more urgent need for the U.S. to demonstrate strong leadership in ensuring the safety of journalists and protection of press freedom globally.

We call on President Biden and Vice President Harris to show that leadership by taking immediate action to repair the U.S.' deteriorating press freedom record at home and restore its place on the world stage as a champion and clear defender of press freedom internationally. We urge them to ensure that First Amendment protections are respected by signing the Press Freedom Pact, which was launched ahead of last November's elections and signed by 50 candidates running for congressional office. We are very grateful to those who have already shown their support for this important initiative.

You can do your part by reaching out to your federal elected officials and encouraging them to sign RSF's Press Freedom Pact. Our work depends on the grassroots efforts of supporters like you!

Thank you for your unwavering support!

Sincerely,

—
REPORTERS WITHOUT BORDERS (RSF) USA
Anna K. Nelson
Executive Director
Reichstag Fire !!! Moment January 22nd 2021
I agree with the view that the so called Capitol Hill Coup which inluded the apparent incompetence of police chiefs and public servants, was the global elite's Reichstag moment. I also agree with the following :
S Cooper Jan 22, 2021 12:15 AM Reply to JoeC
"This struggle may be a moral one, or it may be a physical one, and it may be both moral and physical, but it must be a struggle. Power concedes nothing without a demand. It never did and it never will. Find out just what any people will quietly submit to and you have found out the exact measure of injustice and wrong which will be imposed upon them, and these will continue till they are resisted with either words or blows, or with both. The limits of tyrants are prescribed by the endurance of those whom they oppress."
"One is just going to have to admit it, sooner or later is going to have to come blows. Perhaps sooner rather than later, if one wants to live."
Then there is this opinion :
niko Jan 22, 2021 9:13 AM Reply to Norm
I'm not sure what surveillance and control technologies, which undoubtedly have changed, you have in mind. It certainly strikes me that some of the most advanced means of surveilling and controlling people have developed as a result of digital means of communication under concentrated ownership and tyranny of the corporate state. And that a primary purpose served by lockdowns and isolation and confinement is to bring people under greater surveillance and control by the Net's panopticon as a result of suspension of freedom of assembly (and a fuller embodiment of human communication than ghosts in the machine). Within the present circumstances, the power of 'the people' in the open, in simultaneous civil disobedience of ruling powers' restrictions, is a practical imperative, especially when our example helps build resistance by drawing others who realize they are not alone and powerless.
Of course, mass marches and demos are hardly the be-all and end-all of organizing movements of resistance, which involve a lot of dedication and discipline and daily grind in sustaining ongoing relations of a genuine body politic at grassroots levels where people live and work. But I'd argue it's precisely these old methods of direct, participatory democracy which are desperately needed now, as they already had been for decades during neoliberalism's class war rollback of them (including making people think they no longer work), only exacerbated by such virtual replacements as hashtag activism.
Yes, resistance needs to become more radicalized. We are living under occupation.
Comment That is dangerous talk , but moralising won't stop a volcano nor will appeals to what many of us consider to be a non existent God – too much nasty vicious politics in the origins of our world's major religions, all rather too human, hypocritical and power mad – with that crucial ingredient of FEAR. To many punishments and dungeons for non believers and non conformmists.
R.J Cook
RUBY PRINCESS USED TO SPREAD THE COVID-19 VIRUS Posted January 22nd 2021.
5 April 2020: New South Wales Police Commissioner Mick Fuller announces a criminal investigation into the operator of the Ruby Princess cruise ship after the death of 10 passengers from coronavirus. This was to be conducted by the NSW Police homicide squad.
15 April 2020: A Special Commission of Inquiry into the Ruby Princess was initiated to curtail the police investigation. Some months later the Commissioner reported that everything was an unfortunate string of accidents and errors.
22 April 2020: NZ Customs announced an investigation into Ruby Princess cruise-ship staff concerning Covid-19 clusters in New Zealand.
Accidental, or not, the Ruby Princess certainly spread the virus far and wide:
See image showing where virus from the Ruby Princess was spread.
Here is a false declaration of health sent by the Ruby Princess to the Auckland District Health Board. It was obtained by stuff.co.nz under the Official Information Act. The declaration is dated 16 March, and claims to have been submitted at the port of Tauranga, however, the cruise of the Ruby Princess was cut short, and the ship never visited Tauranga.
On 15 March a declaration of health would have been sent from the Ruby Princess, then at the port of Napier, to the Bay of Plenty District Health Board. This would have been needed to dock at the port of Tauranga, as planned for March 16. After changing one word, Napier, to Tauranga, and the (first instance of the) date to the 16th, and presumably the registration number, the same document was sent to the Auckland District Health Board. This would have been needed to dock at Auckland, as planned for March 17. Doing this had the effect of hiding the true health situation on March 16. Why was it necessary to hide the true health situation of the Ruby Princess? One has to assume that someone on board knew the ship was carrying Covid-19.
From: http://www.preearth.net/phpBB3/viewtopic.php?f=15&t=1184
From The New York Times January 22nd 2021
President Biden's first full day in office
A day after his swearing-in, President Biden rushed to put his administration in place and to dismantle some of the Trump administration's most contentious policies.
Mr. Biden released a national pandemic response plan, including 10 executive orders intended to increase coronavirus testing capacity, require mask-wearing on federal property and expand production of Covid-19 supplies. However, experts say that vaccine manufacturing facilities are already at or near capacity and that production capacity will not grow significantly until April. Others worry that the president's plan for 100 million shots in 100 days is far too modest.
Climate policy: Pete Buttigieg, Mr. Biden's nominee for transportation secretary, pledged to prioritize climate change while making policy. Here's how he could do so.
Why are so many of the world's top jobs still held by grumpy old men?
Baby boomers are still clinging on to the global levers of power.
By Vijai Maheshwari April 5, 2020 4:00 am
Share on Twitter Share on Linkedin Mail Print
Vijai Maheshwari is a writer and entrepreneur based in Moscow. He tweets at @Vijaimaheshwari.
Whoever wins the next U.S. presidential election will be the oldest person in history to have been elected to the country's highest office. Donald Trump will be 74 when voters head to the polls in November, nearly a year older than Ronald Reagan was when he clinched his second term. Joe Biden will be 77, just a month younger than "the Gipper" was on his last day in office. Bernie Sanders will be 79.
The winner of the contest will join the ranks of aging world leaders that include India's Narendra Modi (69), Russia's Vladimir Putin (67), China's Xi Jinping (66), Turkey's Recep Tayyip Erdoğan (66), and Brazil's Jair Bolsonaro (65).
Call it the boomers' last stand. Born in the aftermath of World War II, the most entitled generation is clinging on to the global levers of power. At a time of rapid societal, technological and political change, why are so many of the world's top jobs still held by grumpy old men?
Part of the answer is economics. In the U.S., for instance, boomers control two-thirds of America's wealth, and run its major corporations: The average CEO is a boomer. It's the same story in Hollywood, the arts and the media. Even the music that unites America — from the Beatles to the Beach Boys to Fleetwood Mac — is the soundtrack to the '60s, the tumultuous and hedonistic decade when the boomers came of age.
It's not just in America that the youth vote trends geriatric.
President Trump is a classic boomer, with his blow-dried hair, hyperbole, arrogance and innate sense of privilege. Like others of his generation, he came of age at a time when nothing was true (because you weren't supposed to believe your square elders!) and yet everything was possible.
The boomers are so successful in America that even when young people agitated for radical change, they chose Sanders, an aging boomer, to lead their socialist revolution. Even millennials seem to want a grumpy grandpa in charge of their country.
It's not just in America that the youth vote trends geriatric. A majority of Russia's youth — dubbed "Putin's generation" by the media — have chosen stability over change, and still support the authoritarian president. Now Putin plans to change the constitution so that he can reset the clock and serve two more presidential terms. That would make him 83 years old when his final term expires in 2036, or as the comedian Trevor Noah recently joked on the Daily Show, "just old enough to stand for president in America."
Russians have mostly shrugged at Putin's attempt to stay in power into the winter of his life. His predecessor, the alcoholic Boris Yeltsin, gave old age a bad name, but athletic Putin projects vigor and power even in his late 60s. And presiding over Russia into his 70s doesn't seem so strange now that septuagenarians rule America.
Populous China is ruled by 66-year-old President Xi, who has basically anointed himself ruler for life.
And even though more than half of India's population is under 30, voters handed their graying, nationalist prime minister another five-year term last year. Even Brazil, where the population is just as young as India, plumped for grumpy grandpa Jair Bolsanaro in recent elections. It's a similar story in Egypt, Hungary, Turkey, Poland and countless other nations: The boomers are still in charge.
Another part of the reason for the longevity of the "me generation" is that boomers tend to support their own. Twice as likely to vote than the youth, they have an outsize influence on political life.
There's also another darker and primordial reason for boomers' dominance. As the backlash against globalization and immigration grows, frustrated voters fantasize about turning back the clock, and going back to a hallowed past when things were simpler and better. And who better than a grumpy grandpa to lead the charge back to the gloried past?
India's Modi energizes his Hindu base by demonizing Muslims and promising to return India to its ancient, pre-Islamic glory. His attacks on the country's secular ideology have been resisted by liberals, but are widely popular among more nationalistic Indians. Russia's Putin also promises to return the country to its status as a great power during the Soviet Union. The annexation of Crimea and the Kremlin's muscular foreign policy are popular despite the hardships caused by Western sanctions. China's Xi heralds a strong China freed from the shackles of Western imperialism, ready to challenge America in leading the world, its former glory restored.
It's no accident that most boomer leaders are strongmen, who twist the law to achieve their illiberal and populist goals. Hungarian Prime Minister Viktor Orbán and Poland's de facto ruler Jarosław Kaczyński openly flout Brussels diktats to reduce immigration, attack liberals and appease their conservative bases. Their promises of a strong state that cracks down on immigration and crime and upholds "traditional family values" are echoed around the globe, from the Philippines to Brazil.
Michel Barnier tested positive for coronavirus | François Walschaerts/AFP via Getty Images
For the authoritarian-minded among them, the coronavirus epidemic sweeping the globe offers a further excuse to tighten their grip, even as they are among the most vulnerable: The virus has decimated the aging leadership of Iran and has infected many aging politicians from Republican Senator Rand Paul to the EU's chief Brexit negotiator Michel Barnier and the wives of the Spanish and Canadian prime ministers.
For the elderly leaders who survive it, an unstable post-coronavirus situation could even consolidate their appeal further. The boomers built their wealth on a period of unparalleled globalization, trade and freedom of movement. Now, as borders go up and the world tips into recession, people may turn to them for a reminder of happier, wealthier times. The boomers will be all too happy to roll back the clock if it lets them stay in power a little longer.
Comment Will the world be any better when the next batch of rich greedy old bullies take over from their parents and grandparents ? I don 't think so. Evil is ageless. R.J Cook
America's suicide rate has increased for 13 years in a row
Those living in rural and less-populated areas have been hit especially hard
Those living in rural and less-populated areas have been hit especially hardGraphic detail
IN 2010 AMERICA'S Department of Health and Human Services set a goal of reducing the country's suicide rate from 12.1 to 10.2 per 100,000 population by 2020. Instead of falling, however, the rate has climbed. On January 30th the Centres for Disease Control and Prevention (CDC), a federal government agency, reported that more than 48,000 Americans had taken their own lives in 2018, equivalent to 14.2 deaths per 100,000 population. This makes suicide the tenth-biggest cause of death in the United States—deadlier than traffic accidents and homicide.
A recent paper by researchers at Ohio State University and West Virginia University tries to understand why such tragedies occur more frequently in some parts of the country than others. Using county-level CDC data on the nearly half a million 25- to 64-year-old Americans who committed suicide between 1999 and 2016, the authors found that isolation may be an important factor. In 2016 the suicide rate was 25% higher in rural and less-populated counties (those with fewer than 50,000 people) than in more populous ones (with at least 1m). Fifteen years ago, it was only 10% higher.
Several other characteristics go hand in hand with high suicide rates. Deprivation—as measured by low levels of education, employment and income, and high levels of poverty—correlates with more suicides. So does loneliness, which the authors estimate by using the share of households with single or unmarried residents, or residents who have been living in the area for less than a year. Places with fewer opportunities for social interaction (parks, museums, stadiums and the like) tend to have more suicides, too.
Easy access to guns also seems to boost the risk of self-harm. Using a database of firearm-sellers from Infogroup, a data provider, the authors found that the presence of a nearby gun shop was associated with significantly higher suicide rates. American health officials may never find a complete solution to the country's suicide crisis. Making guns less easily accessible might be a start.
Elite, Police and Judiciary above the law in New World Order Britain. New World Order is what the United States would call 'full spectrum dominance.' January 9th 2021
The secrets of a swingers club in Merseyside have revealed police officers, lawyers and even judges are joining as members. The owner's of the Townhouse club in Birkenhead, Merseyside received a grilling from local politicians on how aspects like consent, safety, sexual health and security are managed.
Owner Vicky told the committee that since she and husband Jim took over the venue in 2012, it has 'flourished more as a fetish and LGBT venue', and now boasts around 20,000 members. The secrets of the Townhouse swingers club have been revealed The professions of those members include a judge, students, solicitors, health professionals, teachers, police, civil servants and skilled tradespeople. Speaking after Wednesday's meeting, she said: 'Our membership consists mainly of well educated professionals who want escapism from stressful jobs and family life. All cherish their private lives and it's our job to ensure that their private life stays private.'
They range from 18 to 70 years of age, with the average age being between between Describing how members are initiated into the club, she told the committee: 'We check their ID when they come in and everybody who comes in initially has a tour of premises. 'People who haven't been on premises for a long time will have a new tour and rules reminded to them. 'Upon their first visit and tour, if they feel it's not actually for them and they change their mind, they are welcome to just leave and their membership details will be shredded and no more said about it.
'Their membership can be cancelled at any time, and they are free to do as little or as much as they want. Details of what happens behind the scenes at popular Merseyside swingers' venue Townhouse have been revealed after politicians grilled its owner today. The club in Birkenhead had its application for a sexual entertainment venue licence approved by Wirral council on Wednesday – but not before elected officials visited the site and quizzed boss Vicky on how aspects like consent, safety, sexual health and security are managed. She told the committee that since she and husband Jim took over the venue in 2012 , it has "flourished more as a fetish and LGBT venue", and now boasts around 20,000 members. Townhouse even have STI testing in-house Safe sex is a requirement and the owner's still recommend a 'stranger danger' approach to the experience
'They can chat to people, but they do have the choice to go on and enjoy the rest of the facilities which include rooms in which they can undertake sexual activity. 'They have the choice of private and public areas in which they can play and lock doors. All activities are full consensual, willing parties and nobody is pressured into doing anything they don't want to.' Young annoyed female character, sceptical face expression first person I don't talk to my father and I've got absolutely no desire to start While the application for a sexual entertainment licence proposed more unusual opening hours such as 10.30am until 3.30pm for a regular calendar fixture called MILF Mondays, Vicky said these events have been happening 'for years'.
The application was made to the council to obtain the new licence, which has only been in existence in Wirral for a matter of months. The club had its application for a sexual entertainment venue licence approved by Wirral council. Vicky said: 'Being granted this new licence is excellent news for our guests. Details of what happens behind the scenes at popular Merseyside swingers' venue Townhouse have been revealed after politicians grilled its owner today. The club in Birkenhead had its application for a sexual entertainment venue licence approved by Wirral council on Wednesday – but not before elected officials visited the site and quizzed boss Vicky on how aspects like consent, safety, sexual health and security are managed. She told the committee that since she and husband Jim took over the venue in 2012 , it has "flourished more as a fetish and LGBT venue", and now boasts around 20,000 members.
The bar area of Townhouse Swingers club in Wirral, where every swinging social starts While the establishment has a zero tolerance attitude to drugs, there is a bar members can purchase drinks from 'It will not allow us to do anything different to what we offer now as all events and opening hours will remain the same, but it reassures our guests that we operate a safe and legal venue, putting customer welfare, comfort and privacy at the centre of what we do.' It's not all about sex at Townhouse either – Vicky said the club takes part in a great deal of charity work, and acts as a food bank collection point, as well as offering a 'safe space' for people – particularly the LGBT community. It is ranked one of the top in the country for cleanliness, professionalism and inclusive events, and is the only venue of its type on Merseyside.
Delving deeper into what goes on at the club, which also offers couple swaps, fetish parties and orgies,
Vicky told the committee that although smart dress is required to enter the building, once inside and after 11pm, the rules are relaxed. She said members are often seen 'dancing in their underwear with no sole purpose', adding: 'People just like to dance in their underwear because they can. It's a liberating experience.' Councillors and officials also quizzed the owner over issues such as the club's jacuzzi, and other fetishes catered for at
Townhouse. Councillor David Burgess-Joyce asked Vicky: 'We noticed the jacuzzi area and you talking about water sports, but is there anything you as an open-minded owner would object to?' Details of what happens behind the scenes at popular Merseyside swingers' venue Townhouse have been revealed after politicians grilled its owner today.
The club in Birkenhead had its application for a sexual entertainment venue licence approved by Wirral council on Wednesday – but not before elected officials visited the site and quizzed boss Vicky on how aspects like consent, safety, sexual health and security are managed. She told the committee that since she and husband Jim took over the venue in 2012 , it has "flourished more as a fetish and LGBT venue", and now boasts around 20,000 members. Inside Townhouse Swingers club in Wirral It is ranked one of the top in the country for cleanliness, professionalism and inclusive events, and is the only venue of its type on Merseyside
She responded by saying 'scat', or 'poo play', was banned at the venue, but added: 'There are limits to lots of play between individuals. I act as'dungeon monitor' so walk around and make sure people know what they are doing.'
The topic then switched to 'needle play – a fetish where people insert sterile needles under the skin for sensory pleasure, for which the club has firm health and safety guidelines in place. Vicky said: 'If you don't get it, it's going to sound really weird. It stimulates a hormonal release of endorphins and can give you a real high. It's a nice, euphoric pain-pleasure thing. Picture: Mega, Instagram Zara Holland's BF heads to court for breaking COVID restrictions in Barbados Zara Holland's boyfriend avoids jail after attempting to flee Barbados with Covid 'That's what a lot of people are aiming for when they do BDSM activities.'
But she also reaffirmed the club's strong zero-tolerance policy on drugs, ( wht no viagra and cocaine ? )adding: 'If we found anybody taking drugs, we would call the police immediately.' Vicky said she is always on hand at BDSM nights to be 'dungeon monitor', to the extent where she plans holidays around the event to make sure she is there. She said the only ever incident since taking over the club in 2012 where emergency services had to be called was when a member fell down the stairs. Details of what happens behind the scenes at popular Merseyside swingers' venue Townhouse have been revealed after politicians grilled its owner today.
The club in Birkenhead had its application for a sexual entertainment venue licence approved by Wirral council on Wednesday – but not before elected officials visited the site and quizzed boss Vicky on how aspects like consent, safety, sexual health and security are managed. She told the committee that since she and husband Jim took over the venue in 2012 , it has "flourished more as a fetish and LGBT venue", and now boasts around 20,000 members.
The stretching table inside Townhouse's fetish dungeon Vicky said she is always on hand at BDSM nights to be 'dungeon monitor', to the extent where she plans holidays around the event to make sure she is there (Picture: Emilia Bona) Vicky added: 'Everybody who comes in has a tour and talk about their own responsibility of well-being while in the building. 'We advise people against going into a private room with somebody you don't know. It's always better to have other people around as witnesses.
'From a male point of view, you wouldn't want to be accused of something you haven't done, and from a female point of view, don't do anything silly. 'You wouldn't walk off with strangers in real life, so don't do it in here. Stranger danger also applies here.' Condoms are also readily available at all times of the day and STI testing takes place in-house, she added. And regular checks are carried out to the private rooms in the upper part of the venue, to ensure all activity is safe and consensual. Granting the licence, chair of the committee Cllr Paul Stuart told her: 'We have considered the details regarding the business operation model, and we are satisfied it's run in a satisfactory manner.
'There are appropriate measures in place and will be granting licence with conditions attached that fall in line with the way it's currently being run and managed.'
Read more: https://metro.co.uk/2018/10/25/secrets-of-a-swingers-club-revealed-with-police-lawyers-and-judges-joining-as-members-8075110/?ito=cbshare
Twitter: https://twitter.com/MetroUK | Facebook: https://www.facebook.com/MetroUK/
More from the Ministry of Information January 9th 2021
Lockdown measures in England need to be stricter to achieve the same impact as the March shutdown, scientists advising the government have said.
Prof Robert West said the current rules were "still allowing a lot of activity which is spreading the virus".
Prof Susan Michie also said the spread of the new more infectious variant meant the restrictions were "too lax".
The government said it had adapted its approach and taken "swift action" to try and stop the spread of the virus.
The warnings come after ministers launched a new campaign urging people to act like they have the virus.
Meanwhile, Buckingham Palace has said the Queen, 94, and the Duke of Edinburgh, 99, received Covid-19 vaccinations on Saturday.
Under the national lockdown, people in England must stay at home and can only go out for essential reasons. Similar measures are in place across much of Scotland, Wales and Northern Ireland.
US President Donald Trump has been permanently suspended from Twitter "due to the risk of further incitement of violence", the company says.
Twitter said the decision was made "after close review of recent Tweets from the @realDonaldTrump account".
It comes amid a Big Tech purge of the online platforms used by Mr Trump and his supporters.
Some lawmakers and celebrities have been calling for years on Twitter to ban Mr Trump altogether.
Former First Lady Michelle Obama tweeted on Thursday that the Silicon Valley giants should stop enabling Mr Trump's "monstrous behaviour" and permanently expel him.
Why was Trump banned?
Mr Trump was locked out of his account for 12 hours on Wednesday after he called the people who stormed the US Capitol "patriots".
Hundreds of his supporters entered the complex as the US Congress attempted to certify Joe Biden's victory in the presidential election. The ensuing violence led to the deaths of four civilians and a police officer.
Twitter warned then that it would ban Mr Trump "permanently" if he breached the platform's rules again.
Assange, Nothing New – our 'daily bread.' January 4th 2021
I didn't need Assange and Manning's leaks to know the Anglo U.S in bred incestuous establishment are deparved liars who commit unlawful killings and other crimes in dubious fake democracy wars, as the following clip from 1990 attests.
It was obvious Terry Lloyd saw something he should not have done when Anglo U.S turned on an old friend Iraq, a bulwark against Iran, to cause an oil crisis and price rise . Thatcher and Regan loved wars, living in the fantasy world that brought us to this day. R.J Cook
Iraq reporter unlawfully killed
Terry Lloyd was not "embedded" with the military An ITN journalist was unlawfully killed by American soldiers in southern Iraq, an inquest has found. The troops shot 50-year-old Terry Lloyd in the head while he was in a makeshift ambulance, having already been hurt in crossfire, the coroner said. Mr Lloyd's interpreter was also killed and his cameraman is missing believed dead following the incident, which took place near Basra in March 2003. The coroner is to ask the attorney general to consider pressing charges. Oxfordshire Assistant Deputy Coroner Andrew Walker said he would also be writing to the director of public prosecutions asking for him to investigate the possibility of bringing charges. 'War crime' Mr Lloyd's Lebanese interpreter, Hussein Osman, was also killed and French cameraman Fred Nerac is still officially classed as missing, presumed dead. Belgian cameraman Daniel Demoustier was the ITN crew's only survivor. The National Union of Journalists (NUJ) said Mr Lloyd's killing was a "war crime" and this was echoed by Mr Lloyd's widow, Lyn. The ITN crew
Terry Lloyd, reporter – killed Hussein Osman, interpreter – killed Fred Nerac, cameraman – missing, presumed killed Daniel Demoustier, cameraman – survived In a statement she said: "This was a very serious war crime, how else can firing on a vehicle in these circumstances be interpreted? "This was not a friendly fire incident or a crossfire incident, it was a despicable, deliberate, vengeful act, particularly as it came many minutes after the initial exchange. "US forces appear to have allowed their soldiers to behave like trigger happy cowboys in an area where civilians were moving around." Mr Lloyd's daughter Chelsey said: "The killing of my father would seem to amount to murder, which is deeply shocking." A spokesman for the US Department of Defense said an investigation in May 2003 had found that US forces followed the rules of engagement. "The Department of Defense has never deliberately targeted non-combatants, including journalists," he said. "We have always gone to extreme measures to avoid civilian casualties and collateral damage. "It has been an unfortunate reality that journalists have died in Iraq. Combat operations are inherently dangerous." ITN praised Mr Lloyd, who was originally from Derby, was covering the British and American invasion of Iraq as a "unilateral" journalist, rather than those "embedded" with UK or US forces, who were subject to military censorship.
The ITN crew's vehicle was burnt out in the incident He and his three colleagues were caught up in a firefight between US and Iraqi forces near the Shatt Al Basra Bridge on 22 March 2003. After an eight-day inquest Mr Walker cleared ITN of any blame for Mr Lloyd's death and praised him and his team for their "professionalism and dedication". He said it was his view the American tanks had been first to open fire on the ITN crew's two vehicles. He added Mr Lloyd would probably have survived the first bullet wound he received, but was killed as he travelled away in a makeshift ambulance. Mr Walker said it "presented no threat to American forces" since it was a civilian minibus and was facing away from the US tanks.
The killing of my father would seem to amount to murder, which is deeply shocking

Chelsey Lloyd "I have no doubt it was the fact that the vehicle stopped to pick up survivors that prompted the Americans to fire on that vehicle," he said. ITN's editor in chief David Mannion said: "I would also like to say something that I know Terry would have wished me to say. "Independent, unilateral reporting, free from official strictures, is crucial; not simply to us as journalists but to the role we play in a free and democratic society." Mr Nerac's widow Fabienne said she would continue her "lonely vigil" to find out what happened to her husband.
Elite Rule
This would include investments, houses, and other assets. To be in the top 5% for this age range, your household would need an net worth of $2,598,400. This would include investments, houses, and other assets. Your net worth of $100,000 for ages 18 to 100 ranks at the 46.92th percentile.1 Oct 2020
The top one percent of the usual income distribution holds over $25 trillion in wealth, which exceeds the wealth of the bottom 80 percent. That is more than all the goods and services produced in the U.S. economy in 2018.25 Jun 2019
This maths ( or Math if you are in U.S ) is not commensurate with democracy. The super rich also have accountants and lawyers to help them 'avoid' taxes. Wars are fought for super rich interests by the lower class male masses. R.J Cook
e mail freeusnow@protonmail.com
Paris mayor mocks 'absurd' fine for hiring too many women Posted December 17th 2020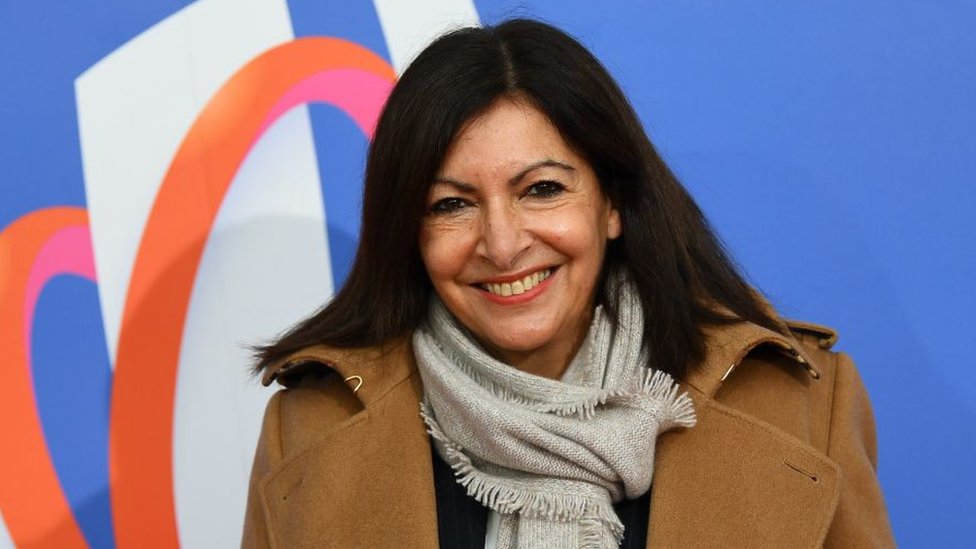 "Too feminist" – Paris Mayor Anne Hidalgo's mocking response after being told she had broken the law by naming too many women to senior posts.
Eleven women and five men had been promoted in 2018, breaching a national 2013 rule designed to bring about gender parity in employment.
The Paris authorities are being fined €90,000 ($109,000; £81,000) by the public service ministry.
"I am happy to announce we have been fined," Ms Hidalgo said.
The 2013 rule meant no more than 60% of new appointments to management positions in public service should go to one sex. Ms Hidalgo's recruitment drive saw 69% of the jobs go to women.
Addressing a council meeting, the Socialist mayor joked: "The management of the city hall has, all of a sudden, become far too feminist."
But she also highlighted a continuing lag in the promotion of women to senior positions in France and the need to accelerate progress towards parity by appointing more women than men.
"This fine is obviously absurd, unfair, irresponsible and dangerous," she said.
France's Public Service Minister Amélie de Montchalin responded on Twitter, pointing out that the law had been changed since 2018.
In 2019, fines were dropped for appointing too many women or too many men to new jobs, as long as the overall gender balance was not affected.
She invited Ms Hidalgo to discuss how to promote women in public service and said the fine would go towards "concrete actions".
Comment I have no problem with this woman openly discriminating against men. The real inequality issue in politics is class. I am mocking the Western World's hypocrisy that it is all about democracy. It is not. It is about wealth.
The wonderful thing about replacing posh men in power with women, is that women can be relied to fixate on themselves and politically correct causes -making stupidly arrogant and dangerous statements about all women being underdogs who must be raised up by the likes of the well dressed privileged woman pictured above and her kind.
However, her kind wanted the equality ( sic ) and diversity laws. So she and her kind should be fined if they are serious about equality. Trouble is that they are not. They are about supremacy.
The likes of George Soros love them because they keep lower class men, especially young whites, down and in their place. BLM have been financed and fired up to help the wealthy's cause, guaranteeing years of racial conflict and a disingenuous patronising 'liberal' ' ( sic ) claim to moral superiority from the elite, minions and lackeys.
The inqualities of wealth are so extreme, the rich fear revolution. France has a little more space. However, in France, like Britain – where 90% of the population live crowded lives ( hence Covid infection spread ) on 10% of the land – there are too many run down multi ethnic confict ridden towns and city areas which have poverty and culturally driven flashpoints.
Having a bus load of female Macrons and male equivalents makes matters worse – which is why Macron has his new 'security' bill to protect bully boys and girl cops' from scrutiny.
That bill is more about his class's 'insecurity' than national security. As in all Europe, especially, France, Germany and Britain ( which will never really leave ) , when the elite mention national interest, they mean class interest.
As for women, they have to be on message which is why Le Pen had no chance with the moralising hypocritical lying western elite ganging up to beat and humiliate her – rather than face real issues. Women of Hidalgo's sort can be relied upon to toe the politically correct line whilst appearing to be fighting for equality. The quality of her clothes, especially the coat, hairdo and make up tells me exactly who she really represents, also her income and financial clout. R.J Cook
The rich are running to the bank while poor Americans starve. Biden needs to use all his powers to quickly fix our broken society Posted December 15th 2020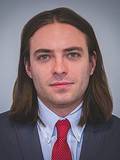 Bradley Blankenship
Bradley Blankenship, Prague-based American journalist, political analyst and freelance reporter. He has a syndicated column at China Global Television Network where he writes about politics in the United States, Latin America, the Middle East and Europe, he's also a freelance reporter for international news agencies including Xinhua News Agency. Follow him on Twitter @BradBlank_14 Dec, 2020 18:48.
Follow RT on The president-elect has suggested that executive action is overreach, but given the economic and health crisis we're in, he needs to act fast & decisively. He should look at what FDR and Lincoln achieved.
Many liberals think that they've averted the end of the world simply by keeping the Republicans out of the White House, but the real challenge lies in fixing our broken society and our Covid-induced economic catastrophe.
The Intercept released a leaked audio on December 10 from a meeting between President-elect Joe Biden and civil rights leaders that shows exactly how he intends to use his power as president. To say the least, Biden does not plan to use much of that power, even though members of his own party and grassroots activists have urged him to do so. Though Biden's argument rests in an appeal to the Constitution, maintaining precedent and holding the political center, it actually has little precedent in American history. Read more Poverty is rising fast, but it's part of a decades-long project which the lockdowns of 2020 will only accelerate
Like the rest of the world, America stands at a historical turning point during the Covid-19 pandemic. But the country's extraordinarily bad management of the crisis, coupled with its long standing societal contradictions, mean that it is in an even more pronounced state of crisis.
Class and racial resentment are bubbling to the fore as nearly 300,000 Americans have succumbed to the coronavirus and millions more are set to lose the federal benefits that have been keeping them afloat during the worst economic disaster since the Great Depression.
The establishment politics that have ruled Washington since the dismantling of the New Deal has no solution for this crisis, but even then some within that establishment are bending.
The Georgia run-off Senate elections will determine America's legislative future; without these two seats, Democrats will get nothing through Senate Majority Leader Mitch McConnell, the self-declared "grim reaper" for "socialism" (referring to redistributive policies that favor the working class).
Supposing the Dems do pick up both seats, which is unlikely, the rules of the Senate that allow for the filibuster – a mechanism that essentially requires any legislation to require a supermajority – will still give the Republican Party unfettered power to obstruct. Thus, Biden told civil rights leaders during his meeting, he has to compromise with the Republican Party.
However, former President Barack Obama, who Biden served under as vice president, already tried this and failed. And Obama never had to face such a serious crisis as we are in now – with thousands of Americans dying by the day and millions facing permanent job loss, homelessness and starvation.
"Executive authority that my progressive friends talk about is way beyond the bounds," Biden said in regards to civil rights, but no doubt implying much more.
He went on to justify this by referencing the Constitution and also citing the fact that the next president could reverse his executive action, which is true – but it's not a good argument for the present context.
Throughout American history, there have been a series of moments that have defined and expanded presidential authority. Two in particular come to mind that perhaps relate the most to the current situation: the American Civil War and the New Deal era.
The Civil War obviously expanded executive authority as any serious internal conflict to this extent would. In 1861, President Abraham Lincoln invoked his "war power" as commander-in-chief to "take any measure which may best subdue the enemy."
Lincoln, in defiance of the chief justice of the US Supreme Court, suspended habeas corpus by decree. He went on to declare martial law, allowed for the trial of civilians by military courts and freed all slaves through executive action, the Emancipation Proclamation of 1863. Though not a saint or true believer in equality, all of these actions by Lincoln were necessary to preserve the Union.
In the 1930s and '40s, President Franklin D. Roosevelt faced another serious crisis that exacerbated unprecedented class contradictions – the Great Depression. FDR oversaw the most sweeping redistributive policies in American history and carried the country through most of the Second World War.
In 1935, the federal government guaranteed unions the right to organize and collectively bargain – and established programs to provide financial aid to the elderly, sick and unemployed. The Fair Labor Standards Act of 1938 established the minimum wage as we know it and capped normal work week hours. These are just a few of FDR's many achievements. Also on rt.com Zizek: There will be no return to normality after Covid. We are entering a post-human era & will have to invent a new way of life
One of his most important characteristics as a leader was his use of the bully pulpit to drive legislation. He used his "fireside chats" delivered via radio to speak directly to the American public and worked closely with grassroots activists, frequently telling labor leaders to lead the charge that his government would follow. When members of Congress or the judiciary disagreed with FDR and his army of activists, they faced serious reprisal.
It was not merely politically advantageous for FDR personally to do all of this. The fabric of American society depended on it. Had there been no FDR and social democratic reforms, there would have likely been another revolution in the 1930s – and he knew it.
It is no exaggeration to say that today America faces all these challenges and more. The Reconstruction politics following the Civil War has long been dismantled and the only serious attempt to recover it, the Civil Rights Movement of the 20th century and its accomplishments, is under constant threat of backslide thanks to the modern Republican Party.
Meanwhile, generalized inequality is soaring just as it was before the New Deal – America is historically unequal, the rich are running to the bank while Americans are quite literally starving. A financial collapse looms as the real economy is in tatters and, of course, there is a once-in-a-century pandemic continuing to kill thousands of Americans every day as a climate catastrophe sits on the backdrop.
All too often, liberals think that they have averted the end of the world by keeping another Republican out of the White House, but for many the world has already ended. If ever there were a time to once again expand the role of the president, now is that time. Joe Biden should not show restraint.
Crapitalism December 14th 2020
Crapitalism December 14th 2020
Yesterday a man, in the U.S was killed after waving a gun shouting for police officers to kill him. Death by cop has become normalised. Behind the scenes in the Anglo U.S world the police have been destroying men by fair means or foul for many many years. But men asking to be killed raises serious questions about our culture and the role of men of any colour outside the elite.
Obviously re writing history to free upper class blacks and whites from blame, dividing and ruling is a tried and tested elitist trick. You won't see unbiased trendy Channel 4 or CBS programmes on the historical abuses of the white working class as factory and cannon fodder.
Extraordinary amounts of money are being added to global elite wealth. These people already own more than the rest of the world's population put together. They feed of corporations that continually exploit the old Third World Countries where puppet hideously rich human rights abusing ethnic dictators are not called racist because the people they abuse are the same race as them. Same goes for whites abusing whites for money. It is O.K because it can't be racist.
The rich made this new world order, that's why they fund the very useful BLM. Police recruit a particular type, who bully their own if they don't shape up. The best liars , creeps , and bullies get to the top in the new world order of police careers. The police will simply bully and abuse more innocent whites if they aren't allowed to abuse blacks. They aren't racist.
There is no evidence Covid 19 lockdown does anything to control the virus. That doesn't matter because it is about controlling the population and protecting the hopeless western health services which cannot cope with mass immigration and ageing populations.
Again the police are key to this process and lapping up the new powers in the U.K, though some U.S Sheriff's Departments are showing more balls at the sight of Joe Biden's requirements.
Most super rich people and their dynasties, owe their wealth to ruthless histories of abusing and exploiting others. To speak of democracy with so much ever growing untaxed wealth and down trodden increasingly divided masses – too many clinging to religious delusion, bigotry and terrorism which is encouraged by elites to justify more oppression – fools only the stupid and ignorant who are incapable of resisting. So, the man who asked police to kill him has made a poetic point about today's new world order and social reality. R.J Cook
Trump: 'Supreme Court Really Let Us Down'
By Janita Kan December 12, 2020 Updated: December 12, 2020 Print
President Donald Trump late Friday responded to the Supreme Court order rejecting Texas's bid to challenge the 2020 election results in four battleground states.
"The Supreme Court really let us down. No Wisdom, No Courage!" Trump wrote in a statement on Twitter following the top court's ruling.
"So, you're the President of the United States, and you just went through an election where you got more votes than any sitting President in history, by far – and purportedly lost," he continued.
"You can't get 'standing' before the Supreme Court, so you 'intervene' with wonderful states that, after careful study and consideration, think you got 'screwed', something which will hurt them also. Many others likewise join the suit but, within a flash, it is thrown out and gone, without even looking at the many reasons it was brought. A Rigged Election, fight on!"
Earlier that evening, the nation's top court handed down an order that disappointed many Americans who were hoping that the justices would shed some light on the ongoing dispute over the integrity of the 2020 election.
The court opined that Texas did not have the legal standing—or right—to sue under the Constitution because it has not shown a valid interest to intervene in how other states handle their elections.
"Texas has not demonstrated a judicially cognizable interest in the manner in which another State conducts its elections," the order (pdf) read. "All other pending motions are dismissed as moot."
Justice Samuel Alito issued a separate statement to say he would have granted Texas's request to sue, but not the preliminary injunction, as he believes the Supreme Court is obligated to take up any case that falls within its "original jurisdiction," meaning the court has the power to hear a case for the first time as opposed to reviewing a lower court's decision. Justice Clarence Thomas joined Alito in his statement.
"In my view, we do not have discretion to deny the filing of a bill of complaint in a case that falls within our original jurisdiction. … I would therefore grant the motion to file the bill of complaint but would not grant other relief, and I express no view on any other issue," Alito wrote in his statement. He did not address the questions in the case.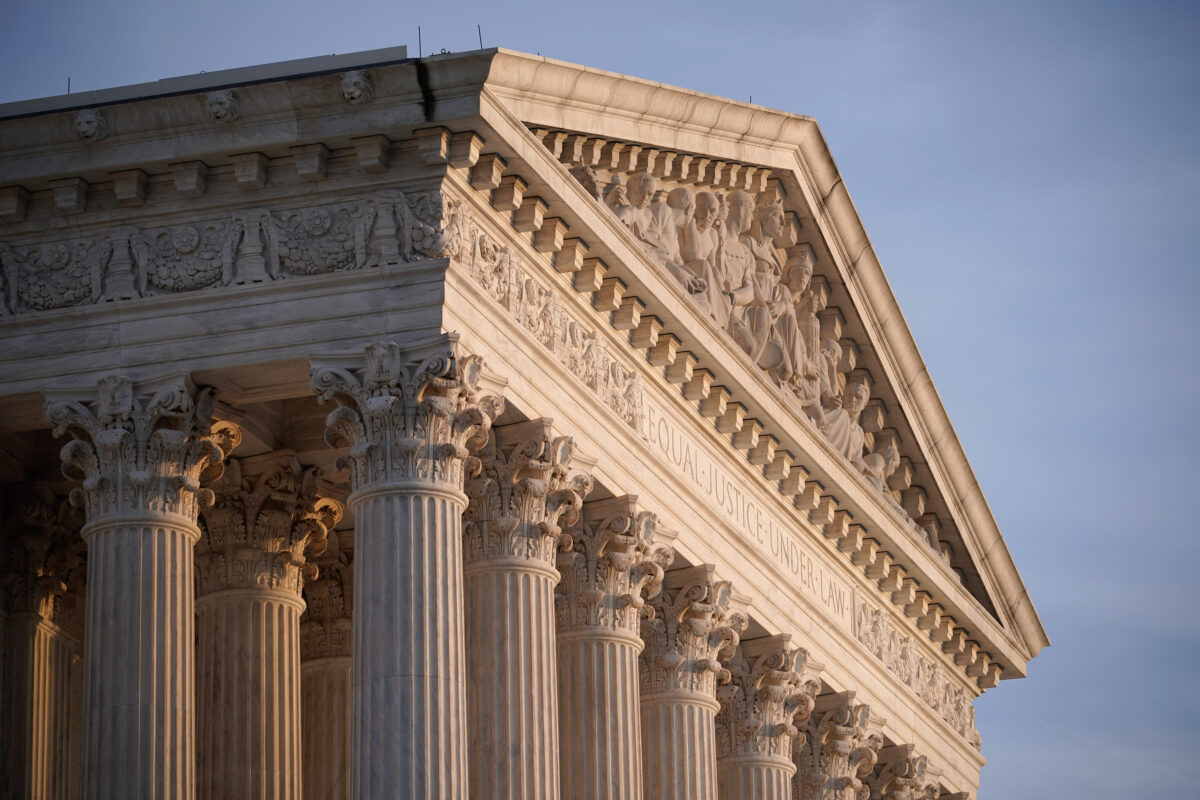 Trump and his allies had pinned high expectations on the Texas lawsuit, with the president characterizing the case as "the big one." He had asked the Supreme Court to allow him to join the case as an intervening party.
Former New York City Mayor Rudy Giuliani, who is leading the Trump campaign's legal efforts, told Newsmax that he thought the court's decision to reject the case was a "terrible mistake."
"The worst part of this is, basically, the court is saying, we want to stay out of this and … they don't want to give them a hearing, they don't want the American people to hear the facts," Giuliani said.
Giuliani said he had spoken to the president following the ruling, who told the former mayor to consider alternate options.
Giuliani added that since the court rejected the case based on legal standing, the president and some of the electors could bring other cases in the district courts, alleging the same facts.
"There is nothing that prevents us from filing these cases immediately in the district court, in which the President of course would have standing. Some of the electors would have standing," Giuliani said.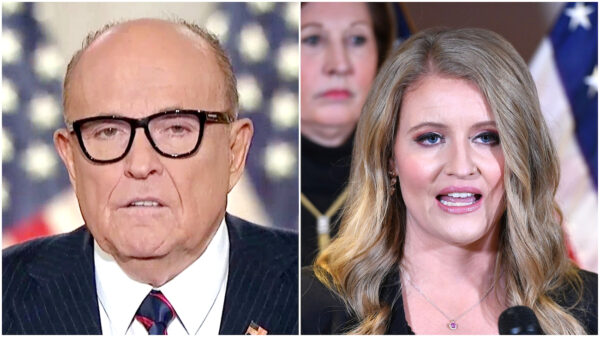 Ellis, a Trump campaign senior legal adviser, told Newsmax she believes the team still has time to challenge the results, adding that Jan. 6 is when Congress officially counts the Electoral College votes.
"That date in January. That's the date of ultimate significance. And the Supreme Court has recognized that," she said. "We still have time, the state legislatures still have time to do the right thing. They can inquire, they can hold hearings, they can reclaim their delegates, and they should and I hope that now all of the evidence we have brought forth in these hearings will give them the inspiration and courage that they need to act."
Texas's case centers around allegations that Pennsylvania, Georgia, Michigan, and Wisconsin changed election rules in violation of the U.S. Constitution's Electors Clause, treated voters unequally, and caused voting irregularities by relaxing ballot-integrity protections under state law, opening up the potential for voting fraud.
Several attorneys general from the defendant states issued a statement welcoming the news.
The president has a number of ongoing legal challenges in state and federal courts, some of which are making their way to the U.S. Supreme Court. Several lawsuits filed by third parties and attorney Sidney Powell are also proceeding through the judicial system.
Mimi Nguyen-Ly contributed to this report.
Europe's Toxic Community December 12th 2020
Brexit: UK-EU talks continue as Navy boats put on standby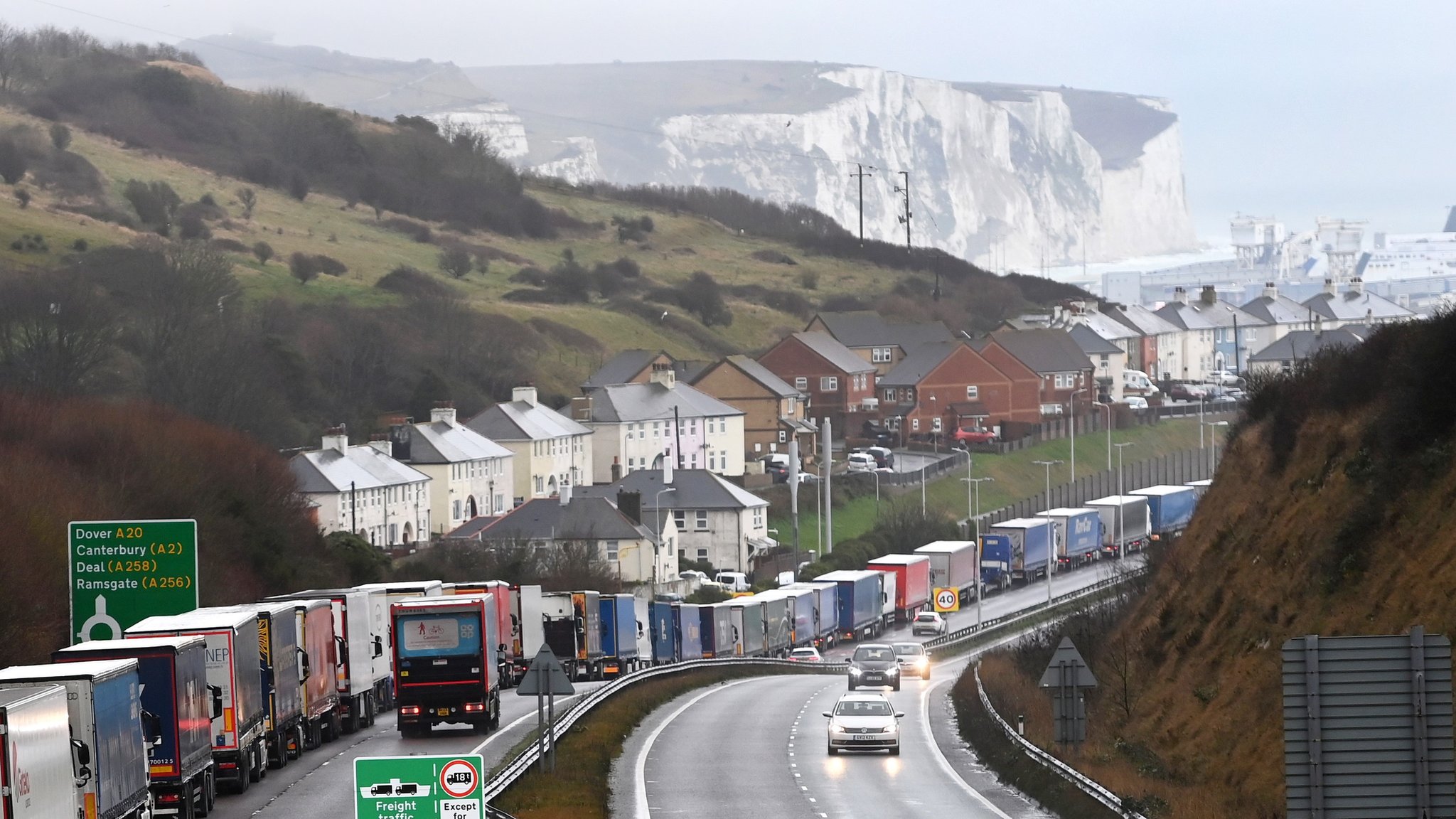 Trade talks between the UK and European Union are continuing in Brussels with one day to go until a deadline imposed by the two sides.
BBC economics editor Faisal Islam said the government's contingency assumptions are that a lack of business readiness will lead to queues of thousands of lorries, with Kent – which is home to the Port of Dover, operating an access permit for hauliers.
A presentation, seen by the BBC, only identified room to fast track between 70 and 100 lorries of perishable goods per day should there be tailbacks, he said.
The leaders of both parties have warned they are unlikely to reach a post-Brexit trade deal by Sunday.
On Friday, Boris Johnson chaired a "stock-take" on the UK's preparedness for a no-deal scenario.
Meanwhile, the Ministry of Defence (MoD) said four Royal Navy patrol boats are ready to protect UK fishing waters.
It is a moot point as to whether the European Community ( sic ) is part of the new or old world order. It was certainly a foundation stone of the 1945 New World Order, ratified by the Treaty of Rome 1960, significantly excluding Britain and her dying Empire.
The Sunday deadline was set by Mr Johnson and European Commission President Ursula von der Leyen after the pair met in Brussels on Wednesday, after months of talks failed to achieve an agreement.
Mr Johnson said the EU needed to make a "big change" over the main sticking points on fishing rights and business competition rules, while Mrs von der Leyen said no deal was the most probable end to "difficult" talks.
If a trade deal is not reached and ratified by both sides by 31 December, the UK and EU could impose taxes – tariffs – on each other's goods.
This could lead to higher prices for some goods, among other changes.
A major sticking point in negotiations has been access to UK fishing waters, with the EU warning that without access to UK waters for its fleets, UK fishermen will no longer get special access to EU markets to sell their goods.
One might wonder why this should be a problem ? Why can it not mean more fish for Britain and lower prices ? The answer is that the British consumer has to suffer, partly because they have let their politicans get out of control, partly because of business greed and the dradful types at all levels of British politics, all of them having the traffic warden's love of rules and regulations.
It said four offshore patrol boats will be available to monitor UK waters and added that it would have "robust enforcement measures in place to protect the UK's rights as an independent coastal state".
An expansion of powers for the Royal Navy Police, enabling officers to potentially board foreign boats and arrest those breaking the law, is one proposal in the MoD's no-deal contingency planning, a spokesman confirmed.
But Tobias Ellwood, Conservative chairman of the Commons Defence Committee, called the threat of using Royal Navy gun boats to patrol UK waters in a no-deal outcome "irresponsible".
"This isn't Elizabethan times anymore, this is global Britain – we need to be raising the bar much higher than this," he told Today.
The authorities have chosen to focus on "fish and chicks" – live and fresh seafood, often transported from Scotland to French restaurants, as well as day old chicks. No other commodities have been added to the list, he adds, raising fears among other food exporters.
Hunter Biden tax probe examining Chinese business dealings Posted December 10th 2020
By ERIC TUCKER, MICHAEL BALSAMO and JONATHAN LEMIREtoday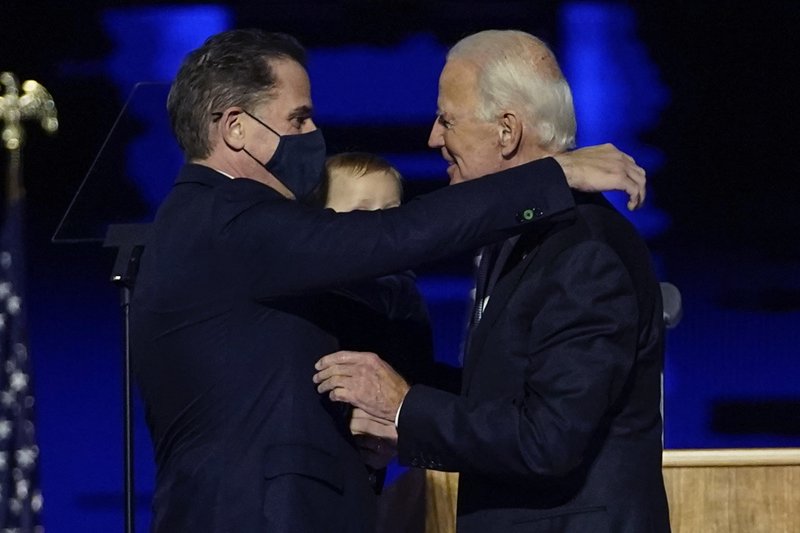 FILE – In this Nov. 7, 2020, file photo, President-elect Joe Biden, right, embraces his son Hunter Biden, left, in Wilmington, Del. Biden's son Hunter says he has learned from federal prosecutors that his tax affairs are under investigation. (AP Photo/Andrew Harnik, Pool)
WASHINGTON (AP) — The Justice Department is investigating the finances of President-elect Joe Biden's son, including scrutinizing some of his Chinese business dealings and other transactions, a person familiar with the matter told The Associated Press on Wednesday.
The revelations put a renewed spotlight on questions about Hunter Biden's financial history, which dogged his father's successful White House campaign and were a frequent target of President Donald Trump and his allies. They also come at a politically delicate time for the president-elect, who is weighing his choice to lead an agency that is actively investigating his son.
The tax investigation was launched in 2018, the year before the elder Biden announced his candidacy for president. Hunter Biden confirmed the existence of the investigation on Wednesday, saying he learned about it for the first time the previous day.
"I take this matter very seriously but I am confident that a professional and objective review of these matters will demonstrate that I handled my affairs legally and appropriately, including with the benefit of professional tax advisors," he said in a statement.
It isn't clear which entities or business dealings might be tied up in the probe, though the person with knowledge of the matter said at least some of focus was on his past work in China. Federal investigators served a round of subpoenas on Tuesday, including one for Hunter Biden, according to another person familiar with the investigation.
Investigators did not reach out until recently because of Justice Department practice against taking overt investigative actions in the run-up to an election, one of the people said. The people familiar with the investigation insisted on anonymity to discuss an ongoing probe.
Hunter Biden has a history of international affairs and business dealings in a number of countries. Trump and his allies have accused him of profiting off his political connections, and have also raised unsubstantiated charges of corruption related to his work in Ukraine at the time his father was vice president and leading the Obama administration's dealings with the Eastern European nation.
Late Wednesday, Trump tweeted a quote from New York Post columnist Miranda Devine claiming, "10% of voters would have changed their vote if they knew about Hunter Biden."
Biden is actively assembling his Cabinet, but is yet to name a nominee to lead the Justice Department. That person could ultimately have oversight of the investigation into the new president's son if it is still ongoing when Biden is sworn in on Jan. 20.
The transition team said in a statement, "President-elect Biden is deeply proud of his son, who has fought through difficult challenges, including the vicious personal attacks of recent months, only to emerge stronger."
The revelations could also add weight to Trump's broad accusations that Biden was weak on China. Trump took a tough line on China during the campaign as he tried to deflect blame for the coronavirus. Biden has rejected the characterization that he was weak and said that, unlike Trump, he would rebuild global coalitions to check China's power.
A New Yorker profile on Hunter Biden last year detailed some of his business work in China, including how he accompanied his father on a 2013 trip to Beijing, where he met with a business associate. He also acknowledged having received a diamond from a Chinese energy tycoon interested in liquified natural gas projects.
He downplayed the idea that the gift could have been intended to affect his father's policy. He told the magazine he gave the diamond to an associate.
"What would they be bribing me for? My dad wasn't in office," he said.
'Covid ended our marriage': The couples who split in the pandemic Posted December 8th 2020
By Emma Ailes
BBC World ServicePublished5 days agoRelated Topics
Around the world – from South America to West Africa – previously happy couples are splitting up and many are divorcing. The stress of the pandemic has been blamed by some, while others say it has highlighted old problems.
"I found out during lockdown that my husband has a girlfriend." Reni* whispers down the phone from her home in Nigeria. Her family are chatting loudly in the next room, plates clinking as they prepare dinner.
"I confronted him about her," she says, "and all he said was: 'How did you get into my phone?' It was a big blow out. I think he wants a divorce. He doesn't know I'm speaking to you now, that's why I can't show my real face."
Cooped up together in homes all over the world, many of us have felt the strain on our relationships. Juggling childcare, chores and work, worrying about health, finances and the state of the world, the global Covid-19 crisis has left many of us also navigating a domestic crisis of our own behind closed doors.
For some, like Reni, the close confinement of lockdown has also meant discovering secrets – and having to deal with the fallout.
The pandemic spared nothing
The number of couples seeking relationship counselling has surged during lockdown.
"Usually most of my clients are individuals," says Dr Rebecca Pender Baum, president of the International Association of Marriage and Family Counselors. "Since the start of lockdown there's been a noticeable shift, the majority of enquiries have been from couples."
Dr Marni Feuerman, a psychotherapist in Florida, says after an initial dip in the first few weeks of lockdown, she too saw a flood of requests from couples.
"The biggest thing I hear is about couples arguing about the new division of labour in the house," she says. "People trying to work and also take care of children – everything has been thrown into chaos."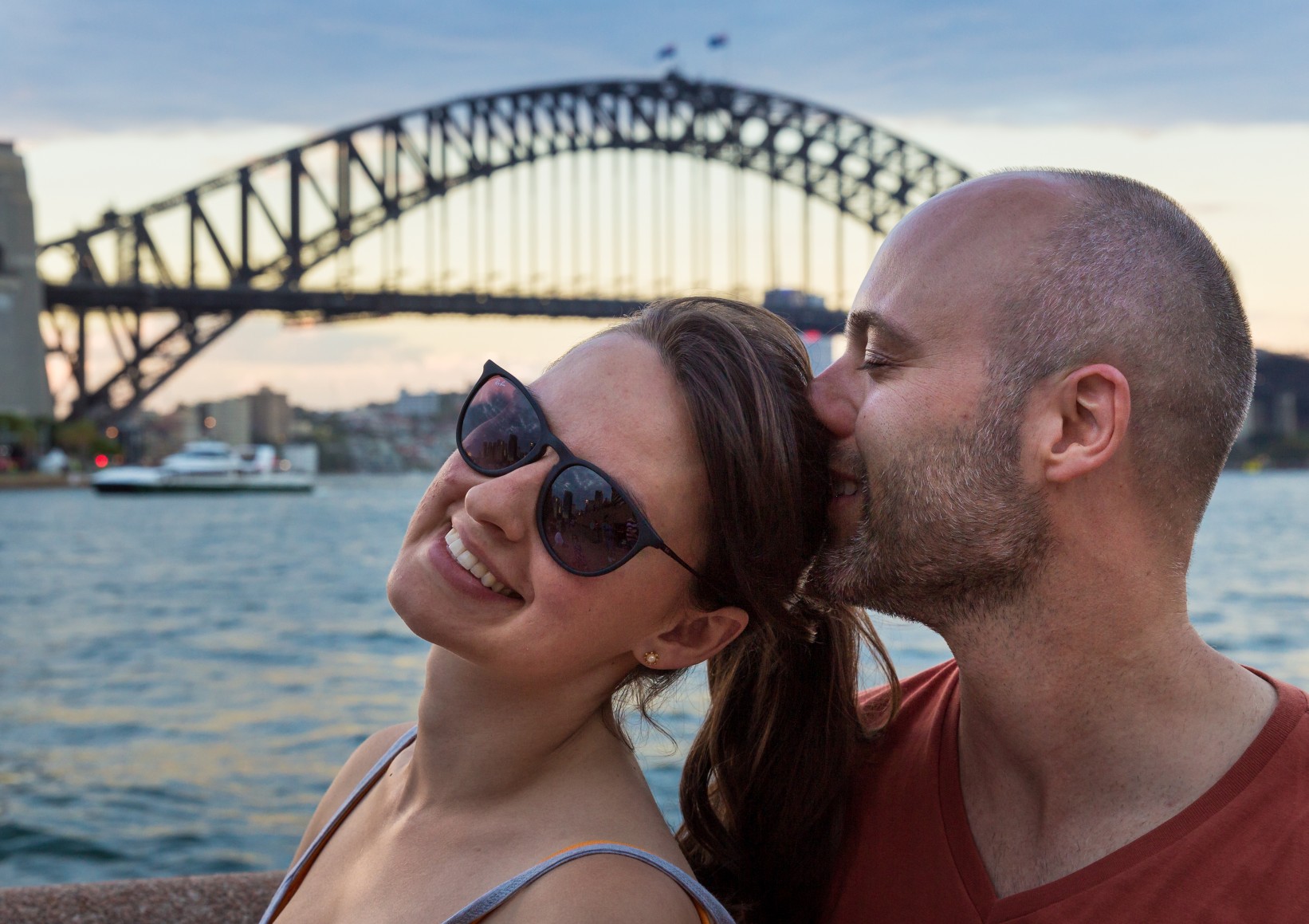 Rafaela SchmidtFor the most part, it was 12 beautiful years together. But the pandemic spared nothingRafaela Carolina Ferreira Schmidt
This was true for Richard Cunha Schmidt, 41, and Rafaela Carolina Ferreira Schmidt, 31, who live in Florianopolis, in southern Brazil. They divorced last month, saying lockdown was the catalyst.
"For the most part, it was 12 beautiful years together," says social worker Rafaela. "But the pandemic spared nothing. It came to expose that in a 24-hour relationship with two children, and one home office…a lot of things were not matching anymore."
"There were those moments of anger and disagreement, of using the situation against each other. I felt that," she adds. "The issues of ​​wearing masks, coming back to the house, taking clothes off and taking a shower, I took it all very seriously. His view was different. I think it's funny now, but we were really furious at the time."
"We started to fight about things. Futile, unimportant things," adds project manager Richard. "Lockdown was very strict, we couldn't leave the house, not even to get some air. And I think at first I didn't accept all this rigour."
A collective trauma
A survey by the UK charity Relate in April found that nearly a quarter of people felt lockdown had placed additional pressure on their relationship. A similar proportion had found their partner more irritating – with women reporting so more than men.
Lockdown created a "make or break" environment, the charity says, with people having "relationship realisations" – both good and bad. A further survey by the charity in July found 8% of people said lockdown had made them realise they needed to end their relationship – but 43% said lockdown had brought them closer.
Dr Feuerman says in many cases lockdown magnified the existing dynamic in a relationship. She has been counselling couples over zoom – sometimes from their garden shed or a parked car to gain some privacy from the family home.
"The pandemic has caused stress for everybody. There's a collective trauma," she says. "But couples that were strong beforehand are even stronger. They already knew how to use their relationship as a resource at a time of stress. The couples who have been worst affected are those where there were problems before this started."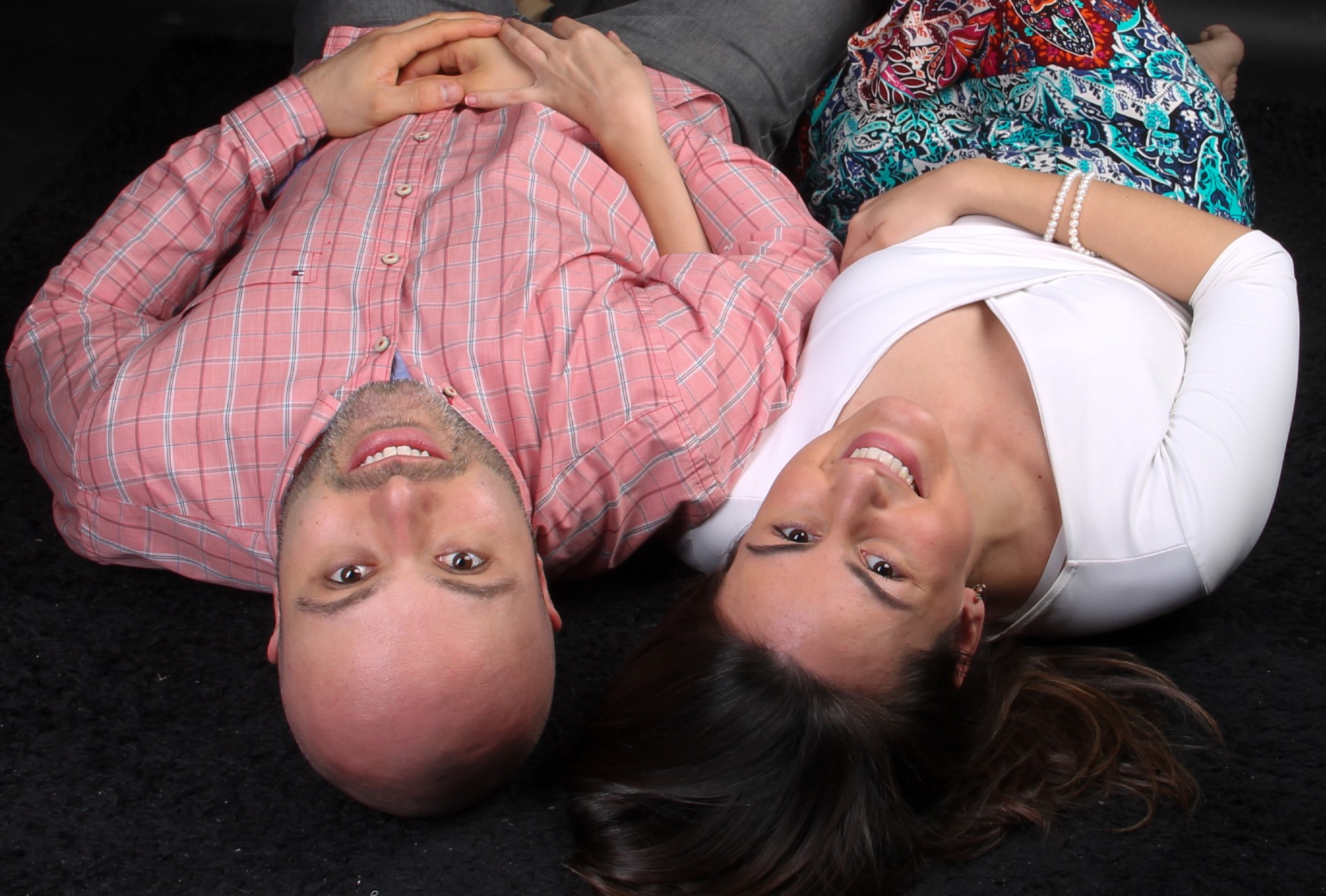 Richard SchmidtLockdown made us face the problems with courage and resignation and not run awayRichard Cunha Schmidt
For Reni, lockdown lifted the veil on the truth about her marriage. She says she would normally have been too busy to notice her husband's cold and unusual behaviour, which led her to check his phone.
But despite the discovery of his infidelity, divorce is simply not an option. "I would call my parents and cry. But my parents are Christians, they don't believe in divorce or separation. They told me stay there no matter what your husband does.
"Do I love him? I'm not sure anymore. I'm just hoping he doesn't speak to her anymore. But I'm glad I found out, it gave me peace of mind that his harsh behaviour was not my fault."
Anecdotally, divorce lawyers in the UK and US have reported that enquiries are up significantly. One Washington DC law firm recorded a 70% increase in calls in October compared to October 2019.

Lockdown relationship tips
Kate Moyle, psychotherapist at the UK Council for Psychotherapy, says:
In lockdown, our partner's habits that normally irritate us a bit can become much more obvious. The Gottman Institute recommends trying to move away from criticising or blaming your partner by using "I" statements in your communication, such as "I'm feeling", "my feelings are", rather than "you do this, you make me feel".
Many couples are reporting spending all their time together – but very little of that is quality time. It is important to consciously make time to be together as a couple, but also make sure you spend some time apart as individuals, even in the same house.
This is a really difficult time to be going through a break-up. If you are, it's important to reach out to family and friends for support, and also to practice self-care by doing the things that make you happy and feel good about yourself.

Early figures in Saudi Arabia, Indonesia and the Chinese cities of Xi'an and Dazhou also suggest a rise in official divorce applications. However, University of Virginia sociology professor Brad Wilcox warns against jumping to conclusions about a universal spike.
"Data that we have from four out of five states reporting divorce in real time – Arizona, Florida, Missouri, Rhode Island and Oregon – indicate that divorce has fallen," he says. "No doubt, some of this decline can be attributed to the fact that some couples had difficulty getting divorces amidst the lockdowns."
But based on the trends seen in previous times of turmoil, like the global recession ten years ago, Professor Wilcox anticipates that many people will be hesitant about making permanent life changes while other aspects of their life are unstable.
"My perspective is that we'll see a decline in divorce this year in 2020, and probably a slight uptick in divorce in 2021 as things return to more normalcy."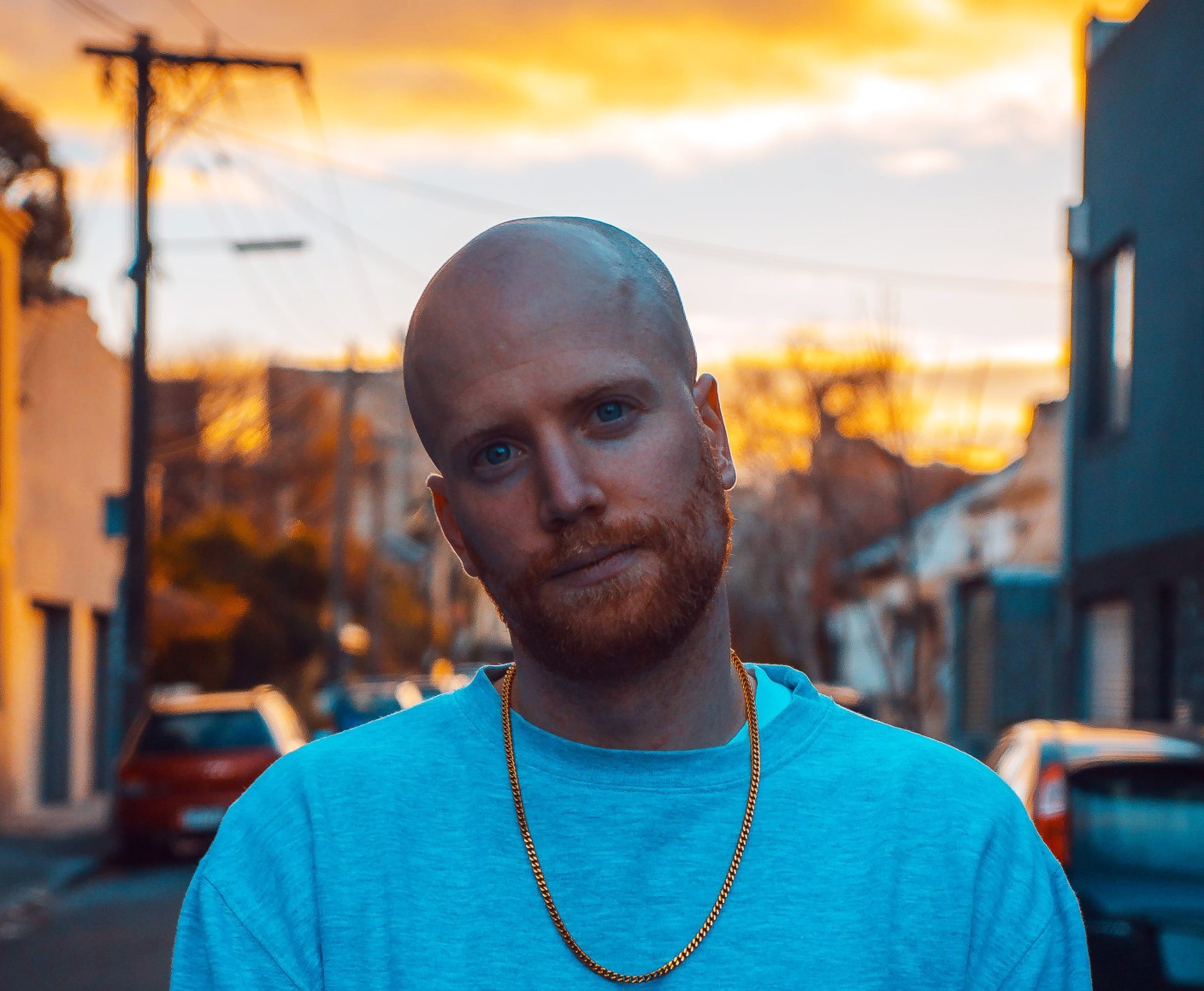 Kieron ByattIt just went down really fast. I think lockdown fast-tracked the expiry dateKieron Byatt
For those who have split, the pandemic presents a further challenge – how to survive heartbreak in a lockdown. In Melbourne, Australia, musician Kieron Byatt sits in the room he shared, until recently, with his girlfriend of nine years. Confined to the house as winter drew in, and without the distractions of normal life, he says they stumbled into a "routine funk".
"It just went down really fast. I think lockdown fast-tracked the expiry date. We went from talking about buying a house together at the start of the year to… she was gone, and I just felt so alone."
Kieron threw himself into a strict routine of work and exercise but the pain of the separation – on top of Melbourne's strict 112-day lockdown – took a mental toll.
"When the breakup happened, Melbourne was opening back up again, and then we got the word we were going back into lockdown. So it was just like all of these incremental steps of like 'how much worse could it get? I got to a point where I got really down, and I just cried my eyes out."
In Brazil, Richard and Rafaela have managed to navigate the end of their marriage amicably and remain friends. Rafaela has moved to a place nearby. They still see each other every day, sharing the care of their two girls.
"Lockdown made us face the problems with courage and resignation and not run away," says Richard. Rafaela nods. "Separating wasn't what I wanted," she adds. "But I didn't see any other alternative. I think we are two very nice people. I think we both deserve to be happy."
Kieron too says he is weathering the present with hope of a brighter future. "Each day is getting better. But then you still have those days that are awful. And you know what, it's very similar to this whole Covid-19 situation," he says.
"There are days where the case numbers are coming down, and then one day they're all back up again. And you've got to maintain the hope that things will be ok."
Additional reporting by Gabriela Silva Loureiro
*Some of the names in this piece have been changed.
Comment Basically, women- who are all about power- are not happy to live with men who have a mind of their own. Men must obey. So shut the sexes up together for too long, then natural male energy will explode. Love is a female fantasy and men are not all about sex, as women seem to think they are – because women are.
The sexes are very different, with different hormones for different jobs. We are not mini Gods as the religious bigots and brainwashers would like us to think we are. We are conscious machines programmed to do certain things and behave in certain ways.
As with all mainstream journalism, this piece is about what's wrong with men. Women are very about their self realisation. They have an absurd outdated idea of love. In the modern world their feminism has destroyed this. They always claim the moral high ground in spite of the fact that they are over 3 times more likely to commit adultery. They do so with men who cheat with multiple women.
These men know how to offer the fantasy the women want from their husbands. They are often called charmers but have little respect for women who fall for their bull-hit. That is why charmers thrive in the police, relishing undercover duties where they justify sex as a means of evidence gatrhering – actually they are rapists.
Some might call the women so sexually abused by these police perverts, stupid. But they respond to powerful men, loving sex, and utterly irresponsible. But their mistakes are always a man's fault.
Women are too much about rights – rather than responsibilities, -which includes harming their children. If a man offers an opinion on any matter, he might get off with being accused of 'mansplaining'.
However, if he persists or raises his voice from frustration he faces the risk of abuse allegations, facing the police and a criminal record. That is a key part of feminists' equality agenda. Any man entering marriage must realise that women are officially incapable of lying ( sic ), so he risks everything when he falls for a woman's charms. Apparently women's groups are lobbying for a law to criminalise any man criticising women – presumably it will apply to dissident women who are already villified by feminazis.
Women call the tune. They need sex more than the average man, whilst playing the innocent. They are the great survivors. Raise your voice to a career woman and you are guilty of assault. Touch her knee and you will be up for rape – even if you are married. If she ends up earning more than her husband, her ego will guide her to find somone earning more – her husband at once a loser, in more ways than one.
One could go on, but my final point is that women take Covid Lockdown very seriously, obsessing on the petty rules, irritatiing men. They trust officials and government who have promised to keep women safe, above all else.
So, by proxy, the bourgeoise female dominated home is infected with petty rules and women putting themselves first. This stupid writer , for some reason thinks divorce will normalise. It won't. Marriage outside of Islam will continue to decline, though fake multi culture will sort out the Muslim Communities in due course. The schools, dominated by hissing women will do their best with the brainwashing, but their pupils are seeing the horrors of divorce because they live with them.
R.J Cook
Global Reset, Great Replacement, Climate Change December 7th 2020
The top three phrases are contentious, though buying into the latter is acceptable so long as you don't blame over population in the old Third World Countries and Latin America where over population is driven by the Old Testament and Koran revisionism, both urging religious believers to 'go forth and multiply' for God.
Religion is seriously back on the white ruling class agenda ( there are also blacks in this class ) because it offers a fantasy of hope in an alleged after life. We are told that we must not offend Islam because it is their sensibilities and we can worship in our own way. It is an offence to challlenge God again, after a very brief interlude in the 1960s. That has always been the elite's con and part of their licence to abuse and confuse the masses.
Religion is so back on the agenda in this age of 'the uni' , where kids just have to go as a right of passage and the illusion of education. The mass produced Humanities and English graduates don't have to be literate, just high on self belief and the liberal agenda. They will tell you, among other idiocies that Islam and Judaism are races. Ironically they won't say the same about Christians.
So, along with all this we have the religion of feminism which must not be questioned on pain of prosecution. The following article talks of a baby bust because of the other mania which is said to pressage the new world order, Covid 19.
It should seem strange to any one of intelligence that such a fuss is being made about a cold virus that has a death rate of less than one percent and the average age of death with Covid ( no one dies from it ) is 82. Any one wondering why vaccine was developed so quickly should consider the evidence that the virus actually came out of the U.S.A, with the Anglo American elite knowing exactly what the virus was and the purpose. So, as in the film 'Contagion' they knew how to create an antidote. Some believe this 'jab' is about changing DNA and tagging us minions.
But believing that there was a conspiracy to hit China and change the Global Economy's dynamic for elite gain is a conspiracy theory and sign of paranoia. To suggest that the exceptionally cold and damp virus friendly weather, along with a shift in the earth's magnetic field, has anything to do with HAARP , is a sure sign of lunacy. However, there can be no doubt that lockdown has made billionaires very much richer, protected a useless health care system, pleased police and enhanced government police state powers. It has significantly blocked social contact with lockdown killing more from consequences rather than Covid 19.
One could go on, but combined with rampant white upper middle class feminism, the white birth rate will now decline at a much faster rate. Rather than encourage education and population control in the old Third World, it suits the Western globalist elite better to import cheap poorly educated religion obsessed people by the million from the Third World. They know their dictators chosen to control the resources of those countries for the Western Elite will make sure they pump out more slaves for the mineral and diamond mines, the oil fields, and farming .
Those people will give them the kind of working class slaves and lumpen proletariat Marx wrote about. The CIA did the ground work on rubbishing conspiracy theories. Wars may come and go – they are always at war somewhere in Africa – but the elite will still have the only real safe spaces on or below ground. They will also be the only ones who will afford a rocket ship seat to another planet when they finally destroy this one.
R.J Cook
Here Comes the COVID-19 Baby Bust Posted December 7th 2020
The U.S. could have hundreds of thousands of fewer births next year than it would have in the absence of a pandemic.Joe Pinsker November 24, 2020
By now, the pandemic has disrupted Americans' daily lives for nearly as long as a baby typically spends in the womb. This means that many children conceived in mid-March are weeks away from joining us in this disorienting new world, but just as notable are the children who won't be joining us—the babies who would have been born were it not for the ongoing economic and public-health crises. These missing births, which could end up numbering in the hundreds of thousands in the U.S., will make up what's been called the "COVID baby bust."
One would think that a baby bust would take at least nine months to reveal itself, but traces of one seem to have already appeared. As Philip Cohen, a sociologist at the University of Maryland, has noted, births started to decline in California and Florida during the summer. That'd be too soon, though, to reflect a drop in conceptions during the pandemic, or a rise in abortions or miscarriages (which tend to happen earlier on in pregnancy). Three possible explanations, Cohen told me, are errors or lags in states' data on births, large numbers of pregnant people moving during the pandemic and giving birth in another state, or a large, unexpected drop-off in births that was already going to happen regardless of the pandemic.
Recommended Reading
The first is probably incorrect—California and Florida's health departments told me that they weren't aware of any delays in reporting data. The second is possible, but a little hard to believe. Cohen thinks the third is likeliest. "It might actually be that we were already heading for a record drop in births this year," he said. "If that's the case, then birth rates in 2021 are probably going to be even more shockingly low."
Read: 'We're talking about more than half a million people missing from the U.S. population'
The baby bust isn't expected to begin in earnest until December. And it could take a bit longer than that, Sarah Hayford, a sociologist at Ohio State University, told me, if parents-to-be didn't adjust their plans in response to the pandemic immediately back in March, when its duration wasn't widely apparent.
The resulting decline in births, whenever it kicks in, could be quite large. In June, the economists Melissa Kearney and Phillip Levine projected that 300,000 to 500,000 fewer babies might be born in 2021 than there would have been otherwise. "We see no reason to think that our estimate was too large at this point," Kearney told me five months after the analysis was published. "In fact, given the ongoing stress for current parents associated with school closures, the effect might even be larger than what we predicted."
Kearney and Levine's estimate is based in part on the declines in birth rates that occurred as a result of past crises, such as the 1918–19 influenza pandemic and, more recently, the Great Recession. But as the two economists note, the coronavirus pandemic is a departure from historical precedents. The influenza pandemic wasn't an economic crisis and the Great Recession wasn't a public-health crisis, so it might be difficult to accurately predict the effects of a disaster that mixes elements of both.
Researchers have also tried other forecasting methods that don't rely on what happened after previous catastrophes. One analysis is based on the volume of Google searches for pregnancy- and unemployment-related terms from earlier this year. It projects a roughly 15 percent drop-off from this month until February, while Kearney and Levine's prediction is a decline of about 10 to 13 percent over the course of 2021.
---
The accuracy of guesses like these should start to become clear next year; while national data for late 2020 won't be available until mid-2021, some state-level analyses might arrive before then. But regardless of the baby bust's exact size, it would be surprising if a significant one doesn't come to pass. The phrase baby bust might imply that the nation is in danger of declaring newborn bankruptcy, but even if 500,000 fewer babies arrive next year than last, more than 3 million will still be born in 2021. Even a large decline in births shouldn't have a significant long-term effect on America's overall population size, given that tens of millions of babies are expected to be born this decade. (Meanwhile, in some countries, the pandemic might produce a spike in births, because of reduced access to contraception.)
It's not just that fewer babies will be born—it's also that different babies will likely be born, to different parents. As I wrote in July, white parents and parents with more resources might be better able to go through with their pre-pandemic childbirth plans than parents of color and parents with fewer resources, such as those who have lost earnings or jobs during the pandemic. In addition, the proportion of births that are "unintended" (whether planned for later or not wanted at all) may rise.
Read: The future of the city is childless
The children of the baby bust may even have some small advantages, by virtue of having a reduced pool of peers nationwide. They could have slightly smaller class sizes growing up, as well as a slightly easier time getting into college or landing a good job.
It doesn't necessarily follow, though, that kids born in 2022 and beyond will have overcrowded classrooms and unusually stiff labor-market competition; the experts I consulted did not expect every missed birth next year to be made up down the line. "Some women will age out of fertility, but even for those who don't, many couples are likely to experience persistent earnings and income loss on account of this economic crisis," Kearney explained. "That will mean fewer babies born ever, not just this year."
---
Researchers, however, are not expecting a post-pandemic baby boom to follow this bust.
There is a precedent, after some events with high or highly publicized death tolls, for birth rates to eventually rise above a previous baseline. For instance, researchers have documented localized increases in births for five years after the 2004 Indian Ocean tsunami in Indonesia (which killed around 200,000 people in the country) and the 1995 Oklahoma City bombing (which killed 168 people). And, famously, baby booms have often followed wars.
These patterns arose for different reasons. In Indonesia, many children and women of childbearing age died, and the rise in fertility "reflected the formation of new unions and the rebuilding of families in the disaster's aftermath," says Jenna Nobles, a sociologist at the University of Wisconsin at Madison who has studied the tsunami's effects. In Oklahoma, the explanation was not as straightforward; Joe Rodgers, a psychology professor at Vanderbilt University who researched the effects of the bombing, theorizes that the extra births could have been the result of a combination of increased community solidarity, a renewed appreciation for the fragility of life, and a sharper focus on the meaningfulness of family. And after a war, explains the UCLA sociologist Patrick Heuveline, a spike in births can result simply from soldiers coming home and reuniting with their partners en masse.
Though COVID-19's death toll in the U.S. is huge—some 250,000 and counting—the pandemic's multifaceted nature and distribution of deaths (which have been concentrated among older Americans) distinguish it from those events. "This crisis is not just sending ripples of loss across American families. It's also an economic crisis, a child-care crisis for parents, an upending of our social institutions and way of life, and of course an ongoing public-health threat," Emily Smith-Greenaway, a sociologist at the University of Southern California, told me. "I increasingly doubt that this crisis is being experienced principally as a mortality shock."
Birth rates should, however, rebound to roughly pre-pandemic levels sometime after the threat of COVID-19 subsides—that's what happened not too long after other disasters, such as the 2003 SARS outbreak in Hong Kong and Hurricane Katrina in Louisiana in 2005. At the same time, identifying a full return to "normal" birth rates could be tricky because, as Hayford noted, "Even before the pandemic, it was kind of not clear what trajectory we were on."
Any rebound will probably unfold incrementally, as different sectors of society recover. "Even for women or couples who will eventually make up for their lost conceptions, the catch-up will not happen all at once, because the resolution of the crisis will be gradual," says Tom Vogl, a development economist at UC San Diego. Like the pandemic itself, the upcoming baby bust likely won't end at a distinct moment in time, but rather little by little.
Georgia County Can't Find Chain of Custody Records for Absentee Ballots
By Ivan Pentchoukov December 6, 2020 Updated: December 6, 2020 Print
Georgia's Dekalb County does not know if it is in possession of the ballot transfer forms used to record the chain of custody for absentee ballots dropped into some 300 drop boxes around the state.
Dekalb County responded to an open records request for the transfer forms from The Georgia Star News by writing that "it has not yet been determined if responsive records to your request exist."
"DeKalb County and [the DeKalb County Department of Voting, Registration and Election] VRE are currently operating within its COVID-19 Emergency Response Plan. These remote operations and VRE's current workload greatly impact how soon responsive records can be provided," the response from the department stated.
"VRE is expected to make this determination within thirty business days."
The Georgia Star News requested the ballot transfer forms from several counties. Cobb County and Cook County have complied with the request, each providing copies of the forms.
A spokesperson for Georgia Secretary of State Brad Raffensperger told Breitbart News last week that the ballot transfer forms are in the possession of individual counties.
Georgia election rules require ballots from drop boxes to be picked up by teams of at least two people who must complete a transfer form upon doing so.
"The collection team shall complete and sign a ballot transfer form upon removing the ballots from the dropbox, which shall include the date, time, location and number of ballots," the relevant rule states.
"The ballots from the drop box shall be immediately transported to the county registrar and processed and stored in the same manner as absentee ballots returned by mail are processed and stored. The county registrar or a designee thereof shall sign the ballot transfer form upon receipt of the ballots from the collection team."
Each of the drop boxes should have more than a dozen signed ballot transfer forms, given the frequency of the pickups required by the rules.
The Peach State first used absentee ballot drop boxes for its June 19 primary, The Atlanta Journal-Constitution reported.
In 2016 in Dekalb County, Hillary Clinton received 251,370 votes and Donald Trump received 51,468 votes.
In 2020, the unofficial results show former Vice President Joe Biden with 308,102 votes and President Donald Trump with 58,361.
The Trump campaign filed an election contest in Georgia on Dec. 4, alleging that violations of the Constitution and state laws took place in the 2020 election.
The president held a rally in Georgia on Dec. 5, alleging that widespread fraud occurred in the state which could be remedied if the signatures on absentee ballot envelopes were to be verified.
Georgia Gov. Brian Kemp called on Raffensperger to order a signature audit after the release of video footage that appeared to show poll workers in Fulton County processing ballots in the middle of the night with no observers.
Speaking to Fox News, Kemp said, "I think it should be done. I think especially with what we saw today, it raises more questions. There needs to be transparency on that."
Juliet Song contributed to this report.
Correction: This article has been updated to reflect the correct titles for the DeKalb County Department of Voting, Registration and Election and The Georgia Star News.
Big Lies Matter R.J Cook December 6th 2020
I have just posted an article on the science page about Dark Matter. Matter is particles that make up atoms. So they are too small to be seen, but so important they hold up the universe, keeping all in space and spinning etc.
So it is in the social world. There is what we see and what keeps it all together. What keeps it together is what matters, but we lower mortals can't see it. Take Black Lives Matter for example. This is a movement funded and encouraged by the super rich who live in the luxurious shadows, controlling and supporting the social and economic order.
The word black- few people are actually black or white – applies to surfaces that absorb all spectral light, just as white reflects it all . Self righteous white anti racists think they are reflecting and shining light on the truth. But the word white has its negative connotations. Just as blacks and virtue signalling whites don't want the word black used to describe unpleasant prospects, like 'Black Friday', whites might be expected to decry the term whitewash. A whitewash is a cover up, something the British police are experts at. But the term 'police wash' would never do. What terms we can and cannot use are increasingly matters of law.
So here we are again with what 'matters'. We don't have to wonder who decides what 'matters.' They, the super rich and elite, do. So when they reference 'public interest', they mean 'class interest.' They, and their enforcersB, especially the police, are the dark matter of the social world.
Yesterday, the nice TV people – especially the upper middle class dominated BBC – were outraged by Millwall football fans booing players for kneeling to the BLM ,an organisation ostensibly set up to fight U.S and U.K police racist moron thugs. The well paid voices of the BBC can't stomach such behaviour and do not want to. With anguished made up faces and in clipped tones, they pour scorn on the lower orders who are not granted the same rights to build their personalities on racial pride.
It gets even worse. They are no longer allowed to be proud of their gender because however awful your lower class life, you are privileged to be white. Women, no matter how comfortable, well off and educated, they are under privileged simply because they are female.
The dark matter of the elite are having a good laugh at all this, while some of them are living off the profits of their shares in the likes of African mining interests, rich women bedecked in diamonds and gold extracted by black slaves.
I only ever met one Millwall supporter, back in the early 1980s. I was a teacher and head of religious education at the time. The boy had the appearance of the sort of street urchin you see on old British black and white films. His family had moved up from Millwall in London, to the greenish pastures of Aylesbury. For some reason this boy took a shine to me. I was not long up from South London.
We had much in common. His life was built around personal pride in his roots and masculinity. Like many where he came from, he expressed this through watching his local club Millwall. His home area was impoverished. His language often crude, but earnest. His nickname was 'Millwall.' He spent a lot of time chatting with me, in and out of the class room about his beloved team.
He left school to join the army, enduring several tours in Northern Ireland. On leave, he came in to see me, telling me of his adventures. Including all about his SLR -self loading rifle with amazing fire power. This boy had an identity which served the dark matter's purposes for the time being. However, as one of the white lower class in pompous 'liberal leftie' Britain, his class did not and do not have the same right to chant insulting raps like the BAME are allowed – and applauded for.
There is an energy issue here and conflict is inevitable. The situation is made much worse by the arrogant patronising condescending feminists and their particular type of male supporter. Beneath this posting, I am going to post a piece by one such 'male'. He fears the 'Me Too' movement might collapse without the right male support – he shouldn't worry, the dark matter of social life will support it. He mocks angry men who oppose or criticise feminism. He ridicules what he calls 'toxic femininity' – women who oppose and do not support feminism.
Feminism and BLM suit the Dark Matter's purposes perfectly, for the time being and in the New World Order -just as Covid 19 lockdown does. To me, BLM is Big Lies Matter ( Nazis knew the value of Big Lies )and feminism is Nazi in its inductive logic, methods, hate speech, censorship and bigotry. It is based on an obsession with biological superiority of women rather than intellect, and corrupts Marxism for the benfit of spolied over paid upper middle class career women who want to own and control all womem. Interesting the schools don't close and there is a programme to remove 'maverick' teachers.
The following artcicle ridicules angry men, while applauding angry women – 'I am woman, hear me roar etc. Officually women never lie and are always victims. Enough will never be enough for the dark matter. To ridicule femism is an assault on all women. Misogyny shoud be a hate crime. Trans people must be kept away from women's spaces because women are so equal, they must be kept safe.
Trans people are so weird they want to look like women so as to rape them at all cost, even after genitals are removed and the person flooded with oestrogen because women are so irresistable. Rape doesn't require a penis anymore, even a raised voice to a woman is an assault, soon it will be on the list of rapist behaviour. .Isn't democracy wonderful ? R.J Cook
We Need to Talk About Toxic Feminism The Feminist Equivalent to Toxic Masculinity? Joe Duncan June 14 2019 Posted Here December 6th 2020
Recently, I was browsing through the comment threads of some of my stories and began to see a string of comments which bore all of the hallmark characteristics of the usual Toxic Masculinity that I deal with often. Angry, aggressive, hostile, confused, selfish, emotionally repressed to the point where every interaction is inflammatory and the slightest touch of the proverbial nerve set off a firestorm of vehemence unmatched by the more emotionally balanced members of our society. But this version of Toxic Masculinity was different in one way — it was being espoused by a woman.
It's a scene that far too many of us men are familiar with, the trolling, the overt hostility, the aggression coming seemingly from nowhere discernible.
This case wasn't an outlier, either, it was something that happens commonly in real life and online, a case of what I call Toxic Feminism. Many readers have read my work and taken the liberty upon themselves to call it "feminist" which is something I won't go into here, but there's been a considerable amount of feedback over the unilateral perceptions of bruised egos and injured pride, suggesting that society is much more favorable to women than it is to men.
"Why don't you write about why the Patriarchy doesn't exist or how Rape Culture doesn't exist?" suggested one reader. A brief aside, both institutions very much exist and that's why I don't write such pieces, and I'll go a step further and say that to deny or refuse to acknowledge the existence of each — or much worse, the refusal to even listen with an open mind on such topics — is irresponsibility to the point of abuse. It disregards the real pain caused by institutionalized sexism and felt by billions of women the globe over, which is, at the very least, condoning it — by turning a blind eye to injustice.
But, for all of the aggression, the knee-jerk reactions made by men to such topics and the statements made therein, what would the female equivalent look like? The world is struggling to find what the equivalent of Toxic Masculinity looks like, Toxic Femininity, and I've personally reflected on this question and typically drawn a blank — not for lack of trying — but for lack of instances of real, bona fide Toxic Femininity that I'm exposed to. Where Toxic Masculinity is abundant and will show up everywhere, even places where we'd never figure the rage, the anger, the hidden agendas, the covert sexism, and more would manifest themselves, there they always appear proudly flaunting such traits, Toxic Femininity is hidden, clandestine, and somewhat indecipherable. The fact that Toxic Femininity is so elusive while Toxic Masculinity is so constant and obvious, tells us much of what we need to know about our culture and world.
Toxic Feminism Vs. Toxic Femininity
One glaring difference between the sexes (and genders) that's quite noticeable is the lack of the feminine equivalent to Toxic Masculinity…but what about Toxic Feminism? And, what's the difference between Toxic Femininity and Toxic Feminism? Aren't those two the same thing? They're not.
Much of Toxic Masculinity is, in fact, Toxic Masculinity because it's so ubiquitous that the existence of such toxic behaviors is cross-cultural, existing in men all over in rather alarming numbers. The propensity towards violence, the propensity towards sexual assault, and the statistics of every single crime which point to a much more criminal male sex than female, all suggest that males and females, men and women live in radically different worlds and face radically different sets of problems.
Many of the problems that Toxic Masculinity describes are exemplified in people with conservative values, but it's not Toxic Conservativeness because Toxic Masculinity still displays itself proudly among liberals and progressives as well, though in arguably significantly fewer numbers. Thus, Toxic Masculinity can be influenced by other ideas but it isn't defined as such.
In short, the same behaviors aren't found in women outside of the pockets of Feminist culture. It is Toxic Feminism and the constituents who further the Toxic Feminist movement (not to be confused with Feminism) which serve as the fundamental blocks to more widespread progress and discussion on some deeply troubling social issues. Nobody wants to listen to someone who hates them for no reason at all — nobody — and the inflammatory hatred of Toxic Feminism substantially invterrupts possible gains of Feminism proper.
That said, there have been some excellent suggestions of what Toxic Femininity looks like which aren't my own, which also likely stem from my limitations and lack of intimacy with such issues as a man, so I'll recommend starting with #MeToo Will Not Survive Unless We Recognize Toxic Femininity.
For that topic, I'll let someone more appropriate and skillful than I tell the story.
Criticizing Behaviors — Not Hating Men
Some would suggest the line is thick, bold, and well-defined, while others would say that it's more of an obscure gradient which is difficult to decipher and can be crossed with ease without the knowledge of the person crossing it, and the line I'm talking about is the difference between criticizing behaviors and hating men — there's a difference between criticizing patently male behaviors and systemic structures, and misandry, often times lobbed at total strangers, be it online or in person. The main difference between the two is that one of them is bona fide sexism and the other is not. For Feminism to progress into the future and (hopefully) deliver on its promises for a more equal society and a reduction in the societal influences which contribute to Toxic Masculinity, Rape Culture, and the aforementioned problems we face, it's going to have to own up to — and disown — the sexists within its ranks.
It is important that we in the information age criticize behaviors but not demonize individuals or whole sexes — and this is the key difference. It's also very important that we do what we can to refrain from metaphorical online witch hunts which only further serve to exclude and radicalize individuals.
A bulk of scientific literature covering the expanse of the past 50 years suggests that social ostracism and vehement rejection are the single biggest predictors of youth violence. Criticizing bad behavior and societal shortcomings is just being responsible, demonizing and targeting individuals is simply creating the next generation of mass shooters and men who will not support important pieces of legislation when the time comes.
Feminism spans the gamut of various individuals, and in no way is this suggesting that Feminism is toxic, but rather, that some individuals who are toxic have likely taken up Feminism as an instrument to achieve toxic ends.
Rather than being a movement of empowerment, critique, and thought, Feminism becomes toxic when, for some people, it becomes a weapon used to vilify men and take out their frustrations with the world on all men, absent any clear goals outside of oppression and the discharge of aggression. They'll show up in the comment threads to detract from the discussion and lead things down the path of Feminism, even when such discussions are wholly unwarranted and unwelcome— they need to mark their territory and remind everyone that men are evil. The constancy with which I'm beset on all sides by women who don't even know me, yet are furious with me for nothing more than being a white male, women who've subverted the sensible messages of feminism as some form of a crusade and license to take out their aggression on all men — particularly complete strangers — is also quite alarming. The fact is, man or woman, no one sex is exempt from feelings of pain, anger, rage, and a need for retribution for perceived wrongs, just as no one sex is entitled to degrade and dehumanize the other for nothing more than their sex, in order to express those negative feelings. There should be no double standard.
Is this not the same thing as Toxic Masculinity? Knee-jerk, reactionary anger that some women are carrying around with them all the time, waiting to unload on the next man who says something they deem slightly offensive?
Part of the problem of Toxic Masculinity lies in the objectification of women by men, and Toxic Feminism does this too, by seeing people as one member of the outgroup of "men" rather than the individuals they are. This is especially toxic online, where most people don't know one another in person, and at best, they lob accusations which seek to offend, inflame, and diminish others. This too often ignores what men themselves say. Just as male readers often haven't stopped to even check whether I was a man or woman and have replied with all the force of the hate they deliver to women on a daily basis, so too have women skipped on reading my actual words and instantly put me (and others) in the "controlling man" department and functionally made up the traits they assigned to me as they went along to put me in a nice and neat little box for their condemnation. This happens for a reason in both cases, and the reason is that angry people, people who are carrying around the crushing weight of their sense of indignation, aren't thinking sensibly…
…and a loss of sensibility is a loss of credibility.
But this isn't about just me and my grievances….the fact is, it's gotten very, very old for many of us men, and it's actually quite frustrating to see a movement with so many positional and ideological merits perversified by those who wear the banner of a movement — yet, their principles are antithetical to what the movement espouses. I don't want to see a world where women's reproductive rights are curtailed because a large amount of men couldn't support reproductive rights because they confused misandry with bona fide Feminism. I don't want to see a world where women are continually written-off and further marginalized because some few angry voices drowned out the meaningful dialogue and important concepts. When striving against oppression, inequality, alienation, and objectification, some have become perpetrators of all of those things at the expense of those who aren't. Some Toxic Feminists even tout how angry and misandrous they are, oftentimes jokingly, usually identifying with their anger as a label, and these jokes are obviously akin to the overt male misogyny proudly put on display by all of the toxically masculine guys out there.
Toxic Feminism is quite real, not to be confused with Toxic Femininity which is ambiguous at least, though nonexistent is also a likely descriptive term that could apply, and Toxic Feminism is as big of a problem to contemporary Feminism as Toxic Masculinity, and it's an even bigger roadblock to it.
To the other men out there, I can only urge and suggest that you find and listen to the more sensible thinkers of feminist-leaning ideas, there are plenty of them here on Medium who are excellent writers and thinkers, and I hope that we can all come to the conclusion that the angriest members of a group aren't representative of that group. Toxic masculinity isn't masculinity, because masculinity itself isn't toxic, only Toxic Masculinity is actually toxic, and the toxically masculine aren't representative of all males and men, just as the Toxic Feminists aren't representative of Feminism itself. The famed phrase "Not all men!" could be easily met with its counterpart, "Not all feminists!"
There are so many great ideas available to us if we simply don't focus on the negative people who hate us for no other reason than we're men, ideas which should not in good faith be ignored because of the presence of Toxic Feminists.
For further reading, I suggest checking out #MeToo Will Not Survive Unless We Recognize Toxic Femininity, by Meghan Daum, as it's one of the most important and critical pieces here on Medium, in my view.
#MeToo Will Not Survive Unless We Recognize Toxic Femininity
Trump Called Nazi by trendy leftie journalist editor of 'The Atlantic' a paper much loved by BBC Luvvies. Deecember 5th 2020
So called democracy failed in the 1930s not because it was weak but because it did not and never has existed. The rich were doing then what they are doing now, treating lower class working class whites like scum, after four years of forcing them to slaughter each other for benefit of the in bred competing ruling class on all sides.
Afterwards the rich shut themselves away having hedonistc fun including orgies, like now turning a blind eye on unemployment and massive poverty. Hence Hitler & Co. A young talented nation destroyed itself – and much more because of the in bred Anglo German ruling class.
If Nazism or populism comes out of all this again, too bad. Once again, I remind readers that 20% of the population have 95 % of the wealth, most concentrated in the hands of 1 %.That is not a recipe or blue print for democracy. Money is power, the masses are powerless and see no hope or definition of democracy in everyday life. Meanwhile the rest compete for 5 % of that global wealth, while rolling wars exacerbate mass immigration and racial tensions outcomes.
Moralising middle class teachers, with whom I worked for 18 years, make matters worse because they preach and can't teach. The young teacher these days is a brainwashed and aspiring social engineer – with no interest let alone understanding of the volatile material of modern excuses for society. That stupid phrase, spoken in sibilant tones, 'bringing us closer together ' is complete bollo-ks. Cramming people closer together in our modern shit-ole cities and deadbeat towns has the opposite effect in this absurdly named 'multi cultural' fantasy world.
The LGBTQI is the icing on this cake with a massive campaign to make football more inclusive for this group. All of this is added to the new ritual of kneeling to blacks just because the police recruit too many morons who triggered riots – and dare I say, blacks actually commit some nasty gang crimes which the most saintly of police would struggle to deal with. I began my teaching career in South London back in the 1970s. It was not easy then and is far worse now. Teaching is in large part policing. I did my best to be inclusive, but it is easier said than done. R.J Cook
Future Perfect December 4th 2020
The following is from the elitists leftie magazine 'Future Perfect.' It was O.K for Hilary Clinton to pronounce they should refuse the result of the U.S Election if Trump won. When the reverse was the case, with overwhelming evidence of voter fraud,Trump and the Republicans were denounced as threats to the wonderful democracy.
When Trump tried to rule with a Democrat Congress, he was villified and blocked at every attempt. Now we have this magazine pretentiously entitled 'Future Perfect' why Biden and Saint Kamala Harris should be allowed to do as they like regardless. As in Britain and Europe, U.S democracy is a sham. Only rich people rule and fool.
The political system should be more important than which side wins. Corruption and secrecy is not compatible with the idea of rule by 'the people,' or the rule of law. We are talking about the elite tweeking the rules to suit themselves whenever they feel like it. R.J Cook
President-elect Joe Biden looks like he will have to find a way to govern without a Democratic Senate to support him. December 4th 2020
There is still a chance that Democrats will win a razor-thin Senate majority if they win both Georgia Senate runoffs on January 5. If they sweep the state, they'll have 50 seats, and future Vice President Kamala Harris will be able to break the tie and make Chuck Schumer majority leader. But if Democrats lose one or both seats, they'll be stuck with Senate Majority Leader Mitch McConnell. And even in a scenario with a slim Democratic majority, they'll have to rely on moderates like West Virginia's Joe Manchin, who's refused to eliminate the filibuster.
That puts Biden at a disadvantage in his first months in office, relative to the four presidents preceding him, who all had a federal trifecta (president, House, Senate) for at least some of their first year. But it doesn't mean he'll be powerless. In foreign affairs, for instance, he has a lot of room to maneuver, from rejoining the Paris climate accord to reengaging with Iran on nuclear issues.
Related
On domestic policy — the focus of this piece — his powers are more limited. But "more limited" isn't "nonexistent." Existing laws give the president and his Cabinet a good deal of flexibility in proposing and implementing regulations. That flexibility could be used for some fairly sweeping policy changes, from forgiving student debt to shutting down coal plants.
Pushing the limits of executive authority is sure to provoke legal challenges that the Biden administration could lose, especially with a 6-3 Republican Supreme Court. But even if only half of the options below are implemented and affirmed by the courts, the practical effects would still be hugely significant.
The best work to date on the next Democratic president's executive action options has been done by the American Prospect through its Day One Agenda project. Many of the below options are explicated in TAP's package; I've added a few ones they left off as well, and have tried to give a set of options in cases (like financial regulation) where Biden has a huge range of possible policies.
This is not a comprehensive list by any means, but the ideas below on 10 issue areas should give a taste of some of the options at his disposal and underscore an important point: that a Biden presidency without a Democratic Senate can still act aggressively to achieve his campaign promises.
Fight climate change
The bad news is that Joe Biden's plan to invest $2 trillion in clean energy over four years is probably dead on arrival with a Republican Senate. But the good news is that there's a ton the executive branch can do all on its own to curb climate change.
The most obvious steps involve reviving measures taken during the Obama administration. Biden has promised to rejoin the Paris climate accord on day one of his presidency.
Beyond that, he could revive the more than 125 environmental rules (and counting) — including more than 40 involving greenhouse gases directly — that the Trump administration rolled back. He could restore California's waiver allowing it to set stricter car emissions rules, which the Trump administration has tried to revoke. He could revoke the Affordable Clean Energy rule, the Trump's administration's replacement for the Obama administration's Clean Power Plan rule, and replace it with a rule leading to net-zero emissions by 2035, his stated goal for his climate policy.
Vox's Umair Irfan has a full list of executive actions that Biden has already committed to taking. Here are a few notable ones:
Requiring aggressive methane pollution limits for new oil and gas operations

Using the federal government procurement system — which spends $500 billion every year — to drive toward 100 percent clean energy and zero-emissions vehicles

Ensuring that all US government installations, buildings, and facilities are more efficient and climate-ready, harnessing the purchasing power and supply chains to drive innovation

Reducing greenhouse gas emissions from transportation — the fastest-growing source of US climate pollution — by preserving and implementing the existing Clean Air Act, and developing rigorous new fuel economy standards aimed at ensuring 100 percent of new light- and medium-duty vehicles will be electrified and annual improvements are made for heavy-duty vehicles

Doubling down on the liquid fuels of the future, which makes agriculture a key part of the solution to climate change. Advanced biofuels, made with materials like switchgrass and algae, can create jobs and new solutions to reduce emissions in planes, oceangoing vessels, and more.

Saving consumers money and reducing emissions through new, aggressive appliance and building efficiency standards.

Protecting America's natural treasures by permanently protecting the Arctic National Wildlife Refuge and other areas impacted by President Trump's attacks on federal lands and waters, establishing national parks and monuments that reflect America's natural heritage, banning new oil and gas permitting on public lands and waters, modifying royalties to account for climate costs, and establishing targeted programs to enhance reforestation and develop renewables on federal lands and waters, with the goal of doubling offshore wind by 2030
Forgive student debt
Senate Minority Leader Chuck Schumer and Sen. Elizabeth Warren (D-MA) have called on the Biden administration to use executive authority to forgive the first $50,000 in federal student debt for every borrower with federal student loans (more than 92 percent of student loan debt is owned by the federal government rather than private issuers).
Biden has previously expressed support for forgiving $10,000 per borrower, and anonymous sources told the New York Times he remains skeptical of using executive authority for the move.
The idea, as Vox's Ella Nilsen has explained, relies on a power known as "compromise and settlement" authority granted under the Higher Education Act of 1965. Advocates for using the power for debt forgiveness, which was pioneered by legal scholar Luke Herrine, argue that it gives the secretary of education broad powers to waive and modify debts.
The legislation intended that power to be used in cases of hard-to-recover debt, as a way to settle with delinquent parties, similar to how debts are discharged in bankruptcy. But Schumer, Warren, Sen Bernie Sanders (I-VT), and others have embraced the idea that compromise and settlement authority gives the Education Department the power to forgive as much student debt as it likes. (Note that this is a different authority than President Trump used to suspend student debt payments this summer.)
That would be a dramatic escalation of the power's usage, and would likely be challenged in court (though it's not clear who would be harmed by the action and thus have standing to sue). Critics also note that holders of student debt tend to be high income — the sizable number of American adults who never attended college, for instance, don't have student debt and would get nothing, despite being economically disadvantaged relative to college graduates.
But advocates of relief note evidence suggesting that debt relief can encourage former debtors to take more risks and get better jobs, which is good economically, and that many debtors are actually college dropouts rather than privileged people with advanced degrees.
Expand immigration
Trump set the refugee cap for fiscal year 2021 at only 15,000 people, down from the 110,000-person ceiling that Barack Obama set his last year in office. Biden has explicitly promised to raise it to 125,000 and increase it from there.
That's only one of the many differences between Biden's promised executive approach on immigration and the one Trump has pursued recently. Biden has promised not to build "one more foot" of the US-Mexico border wall that Trump has championed. As Vox's Nicole Narea detailed, the president-elect has also promised a comprehensive rollback of many Trump initiatives, from his family separation policy to the "travel ban" on 13 mostly Muslim-majority countries to his policy of sending asylum seekers at the border back to Mexico. He could also try to repeal the "public charge rule," which effectively places a wealth test on prospective immigrants and green card applicants, through the rulemaking process.
He has also promised to revive the Obama-era Deferred Action for Childhood Arrivals (DACA) program that offered protection from deportation to nearly 644,000 immigrants who arrived without authorization as children. He has also said he'd revive, in some form, Temporary Protected Status (TPS) and Deferred Enforced Departure (DED), two programs protecting hundreds of thousands of immigrants from El Salvador, Sudan, Nicaragua, Haiti, and Liberia, which the Trump administration has attempted to wind down.
Creating a path to citizenship for unauthorized immigrants would require congressional action. But there is a lot short of that that Biden could do to make the US more welcoming for immigrants.
Ease the ban on marijuana
Even in jurisdictions where medical and recreational marijuana is legal at the state level, selling, buying, or using the substance is still technically illegal under federal law. Under the federal Controlled Substances Act, the federal government has the power to assign drugs to different "schedules" based on their medical value and potential for abuse.
As my colleague German Lopez has explained, drugs deemed to have no potential for abuse are "unscheduled." The highest schedule, Schedule 1, is reserved for drugs with high abuse potential and no medical value, while Schedule 5 is for drugs with some but limited abuse potential but high medical value. Currently, marijuana is Schedule 1, the same classification as heroin, LSD, ecstasy/MDMA, and psychedelic mushrooms. Activists have long decried that classification (for both marijuana and some of its fellow Schedule 1 drugs) as minimizing the drug's medical value and overstating its potential for abuse.
The federal ban has major consequences in jurisdictions with lax marijuana laws, from limiting legitimate cannabis businesses' access to the banking system, to banning millions of federal employees from using marijuana in states where it's legal, to causing evictions of state-legal marijuana users from federally subsidized housing.
"The schedule is not something the president could change alone, but the administration, through the attorney general or secretary of health and human services, can begin a review process for the current schedule," Lopez explains.
There are complications, however. The review process would require some large-scale clinical trials demonstrating that marijuana has medical value; none of those exist currently, ironically because of the drug's Schedule I classification. Moreover, even if marijuana is rescheduled to Schedule II, it would remain effectively illegal federally — cocaine and methamphetamine, for instance, are Schedule II drugs that can be legally prescribed in certain medical contexts, but the federal government still aggressively prosecutes cocaine and meth cases. And rescheduling to below Schedule II, or removing marijuana from the schedule entirely, could violate existing international treaties.
The best prospect for federal marijuana legalization would be for Congress to pass legislation descheduling it, much as alcohol and tobacco are not scheduled drugs despite their limited medical value and high potential for abuse. The MORE Act, introduced in the Senate by incoming Vice President Kamala Harris, is set for a House vote soon, and would totally deschedule cannabis, expunge low-level marijuana offenses from offenders' criminal records, and offer early release to convicts currently in prison for cannabis offense. It has some (limited) bipartisan support, with conservative Reps. Matt Gaetz (R-FL) and Tom McClintock (R-CA) on board.
But MORE could fall short in the Senate, and Biden has sounded cool toward full legalization of marijuana in the past. Gabrielle Gurley of the American Prospect outlines a few steps Biden could take if he changes his tune and needs to act through executive power, including blanket pardons for marijuana offenses, pushing for additional studies to enable administrative rescheduling of cannabis, and rescinding a Reagan-era executive order banning federal employees from using cannabis.
Reverse Trump's rollback of air pollution and lead poisoning rules
While climate change is the primary environmental challenge facing the Biden administration, the Environmental Protection Agency could also be doing a lot more to fight two other scourges with major negative ramifications for human beings: fine-particle air pollution and lead poisoning in water, soil, and paint.
Lead, of course, has profound negative effects, from a near-doubling of heart disease death risk to lower IQ and school testing scores, higher teen pregnancy and drinking, severe neurological damage, and higher crime — to the extent that a reduction in lead poisoning might have been a major contributor to the crime decline in the past three decades. There's also no safe level of lead: The CDC uses 5 micrograms per deciliter as its threshold for lead poisoning in children, but levels below that can still be profoundly damaging.
Particulate matter air pollution — especially what experts call PM 2.5, or particulates smaller than 2.5 micrometers in diameter — has a similarly broad range of negative effects, including increased dementia/Alzheimer's, faster aging, mental impairment, lower economic productivity, worse student performance on tests, and death. Air pollution kills an estimated 250,000 Americans every year.
The EPA has underregulated lead and air pollution for years, and the Trump administration has attempted to ease up on regulating air pollution in particular. Biden's EPA could push in the opposite direction, and executive action on these two fronts could well end up being among the more consequential that a Biden administration could take.
Cut back on factory farming
There's a lot of low-hanging fruit for the Biden administration to tackle in confronting factory farms, a sector that has helped spread Covid-19 and been coddled by the current administration.
Humane Society Legislative Fund president Sara Amundson had a useful rundown of these the other day. Biden's administration could, for instance, reverse Trump administration moves to increase line speeds at slaughterhouses (including eliminating speed limits at pig plants altogether). That would be a huge win for workers in those plants, but also reduce the number of animals being slaughtered every year. It could also bring back the Obama administration's "animal welfare rule," which imposed higher standards for organic farms.
The Trump administration has also finalized a number of rules expanding fishing (including loosening restrictions meant to prevent bycatch of the endangered Atlantic bluefin tuna) and expanding hunting (such as of predators like Alaskan wolves, and of grizzly bears) that animal advocates would like to see reversed.
Jonathan Lovvorn, faculty co-director of Yale's Law, Ethics, and Animal Program, tells me he'd like to see Biden "issue an [executive order] directing USDA, EPA, and other agencies to catalog all the regulatory and enforcement exemptions currently bestowed on factory farms, and to develop a regulatory action plan to restore environmental, labor, animal welfare, and climate accountability to this industry."
Specifically, Lovvorn also highlights the need to incorporate animal agriculture, which accounts for a huge chunk of greenhouse gas emissions, into Biden's climate policies, including by listing emissions from CAFOs (concentrated animal feeding operations, the technical acronym for factory farms) as pollutants covered by the Clean Air Act. He'd also like to see a Biden executive order halting explicit government support for the construction or expansion of any new CAFOs.
Both Lovvorn and Leah Garcés, president of the animal protection group Mercy for Animals, call for Biden to direct the USDA to interpret the Humane Slaughter Act, a 1958 law that, while poorly enforced, nonetheless provides valuable protections to cattle and pigs, so that it applies to poultry for the first time.
For more on what Biden can do to address factory farming, you can read my article here.
Create a postal banking system
Many advocates and scholars, including Biden transition adviser and UC Irvine law professor Mehrsa Baradaran, have been pushing for years for the United States Postal Service to use its authority under existing law to offer retail bank accounts. The American Postal Workers Union has aggressively pushed for the idea in its negotiations with USPS, and it's one of the Biden-Sanders unity task force recommendations from this past summer.
The idea is to provide free, or at least extremely low-cost, banking services to people currently outside the mainstream banking sector. Millions of Americans are un- or underbanked, due to either choice or lack of access. Overdraft fees, "monthly maintenance fees," and other charges can make keeping even a basic checking account at a major bank a burden, especially since those fees are mostly paid by low-income people.
The push for postal banking has mostly come through legislation like Sens. Kirsten Gillibrand (D-NY) and Bernie Sanders's (I-VT) Postal Banking Act, which could be combined with similar proposals to allow all Americans to create checking accounts at the Federal Reserve (perhaps post offices could be the retail interface to Fed accounts).
But as Bryce Covert notes in the American Prospect's Day One package, an aggressive Postal Service leadership could make some moves in this direction on its own. This would require Biden appointing and confirming enough nominees to the Postal Service's Board of Governors that could replace the postmaster general, Louis DeJoy, with a postmaster committed to implementing postal banking. There are three vacancies on the board currently, one seat that vacates in December 2021, and two that vacate in December 2022, giving Biden the ability to fill it with pro-postal banking governors during his first term.
The USPS's Office of the Inspector General in 2014 floated a few ideas for how the service could try out postal banking without new legislation, like offering a checking account-like "Postal Card" that could be loaded and reloaded with cash or check deposits. A 2006 law limits the Postal Service from launching new, non-mail services, and could be used to challenge such initiatives; ultimately, legislation would be a sounder footing for postal banking than unilateral Postal Service action. But Biden does have options to get creative here should he choose.
Crack down on Wall Street
The executive branch has extensive discretion when it comes to regulating the financial industry, both due to provisions in 2010's Dodd-Frank Act and from preexisting securities law. And especially with the Trump-appointed head of the Securities and Exchange Commission resigning to make room for a Biden appointee, Biden and his team could use their authority either timidly (by keeping existing regulation or even deregulating for preferred sectors like community banks) or extensively (up to and including breaking up megabanks like Goldman Sachs or Citigroup).
Graham Steele, a former senior aide to Sen. Sherrod Brown (D-OH), the ranking Democrat on the banking committee, outlined what an aggressive strategy would look like in a piece for the American Prospect's Day One package. It includes:
Imposing a size cap on banks, using the Federal Reserve's authority under either Dodd-Frank or the Federal Deposit Insurance Act. The regulation could follow proposed legislation by Sen. Bernie Sanders (I-VT) and Rep. Brad Sherman (D-CA) and break up JPMorgan Chase, Bank of America, Citigroup, Wells Fargo, Goldman Sachs, and Morgan Stanley, as well as the insurers Prudential, MetLife, and AIG. This is a fairly unlikely and extreme option, but one with some support within the Democratic Party.
The Dodd-Frank Act required large banks to set up plans, colloquially known as "living wills," for their orderly and safe dissolution in the event of a crisis; the idea was to avoid a repeat of the chaos of Bear Stearns' and Lehman Brothers' collapses in 2008.These "living wills" could be used to force major banks to divest some of their lines of business, so they shrink and become less powerful. FDIC and the Federal Reserve jointly issued the "living wills" rules and could take the lead on this issue.
Having the Federal Reserve use the Bank Holding Company Act of 1956 to force large banks to divest major parts of their business if the bank is considered not well-managed or threatening to the safety or stability of the financial system.
Having the Office of the Comptroller of the Currency and the Federal Reserve limit the definition of "banking" to get megabanks out of commodities like electricity and oil and to limit their ability to trade complex derivatives (like the credit-default obligations, credit-default swaps, etc. that contributed to the 2008-2009 financial crisis).
Using the SEC to more meaningfully reform ratings agencies and eliminate the perverse incentive of having the issuer of derivatives pay for their rating (which could lead to risky derivatives being rated as safe).
Using the Sarbanes-Oxley Act, enacted in the wake of the Enron and WorldCom scandals, to more aggressively prosecute and imprison financial executives to ensure individual accountability.
The upshot is that the US has some incredibly powerful laws for regulating the banking industry, both because of Dodd-Frank's passage and predating it. The question is how aggressively the Biden administration wants to enforce those laws. You can read more in Steele's story here.
One idea Steele doesn't touch on is banning stock buybacks, in which public companies repurchase their own shares from investors. These become an increasingly popular way for corporations to reward shareholders. They face a lower tax burden than traditional dividends (especially after the 2017 tax cuts), and they can boost share prices. But as Vox's Emily Stewart has explained, they have serious costs. They can cause corporations to prioritize the short-run interests of shareholders above long-run growth, and they can divert funds from both wage increases for workers and R&D/investment in new products.
Luckily, if Biden and his SEC chair want to fight stock buybacks, there's a simple fix: repeal rule 10b-18, the agency's 1982 rule that legalized buybacks in the first place. Before 10b-18, buybacks were considered per se stock manipulation and were banned. Repealing 10b-18 would return to that policy regime. Corporations could still reward shareholders through (higher-taxed) dividends, but in doing so they would incentive holding on to stock for longer rather than speculating.
Crack down on monopolies
America's primary antitrust law, the Sherman Antitrust Act, was passed in 1890, but how aggressively it's enforced, and against whom, has varied a lot over the past 130 years.
It would be impossible to give a full account of all the possible antitrust actions that the robust and vocal anti-monopoly movement has called on the executive branch to engage in, but here are a few:
Sandeep Vaheesan, legal director at the Open Markets Institute and a prominent anti-monopoly voice, has a longer and more detailed list at the American Prospect.
Expand access to health care
Vox's Dylan Scott has looked into what Biden can do on health care with executive power. At the very least, Biden will stop the Trump administration's efforts to undermine the Affordable Care Act (for instance, by reducing spending on outreach). He will likely also roll back the Trump administration's efforts to encourage states to adopt work requirements for Medicaid. But there are some bigger opportunities, Scott explains:
Every center-left health policy expert I spoke with flagged one administrative action that Biden could take that would extend health coverage to a million people or more: fixing the "family glitch" in the Affordable Care Act. …

In brief: Somewhere between 2 million and 6 million Americans have been deemed ineligible for premium subsidies that would help them purchase an Obamacare insurance plan because of an Obama-era regulation.

The ACA doesn't allow a person to qualify for premium subsidies if they have an offer of affordable health insurance from their employer. The IRS under Obama concluded that the family members of the person who gets employer-sponsored coverage also don't qualify for subsidies, even if an employer plan would be much more expensive for the family members than it is for the worker, as is often the case. …

Democrats have proposed fixing the family glitch through legislation, though that seems unlikely if Republicans control the Senate. But left-leaning policy and legal experts believe a Biden administration could simply rewrite the IRS regulation that created the glitch and make those people eligible for coverage.
And that's far from the only big health care action Biden could take.
There is a long wish list of other administrative changes Biden could make to improve health coverage. He could ease federal rules about taking back money from people who are found to have received too big a subsidy when they file their taxes. He could increase the oversight of private insurance brokers. A Biden administration could establish a special enrollment period for people to sign up for ACA coverage, which Trump has refused to do during the Covid-19 pandemic.

But the most likely venue for innovation that could insure more people would be a state waiver program created by Obamacare known as 1332 … States have big ideas for what they could propose under a 1332 waiver with the Biden administration in power: a public option, or provider rate-setting, or various proposals to cut drug costs.
For more, see Scott's full story here.
---
Will you help keep Vox free for all?
There is tremendous power in understanding. Vox answers your most important questions and gives you clear information to help make sense of an increasingly chaotic world. A financial contribution to Vox will help us continue providing free explanatory journalism to the millions who are relying on us. Please consider making a contribution to Vox today, from as little as $3.
Double Standards December 3rd 2020
A Michigan sheriff's deputy has been fired for posting a "disgusting" photo of a carved watermelon intended to depict Vice President-elect Kamala Harris, department officials said.
The part-time Oakland County Sheriff's Office deputy, Sherry Prose, was terminated immediately once department officials learned of the vile Facebook post, officials told The Post in a statement Thursday.
"We are outraged by this former employee's actions and condemn the behavior she chose to engage in," Undersheriff Michael McCabe said in a statement. "These types of incidents are disgusting and will never be tolerated or pushed aside at the sheriff's office. Behavior such as this brings tarnish to the badge and is not representative [of] all those in law enforcement who protect and serve."
The post, first reported Monday by WXYZ, features several carved pumpkins meant to depict several political figures, including President Trump, President-elect Joe Biden and Vice President Mike Pence.
A second photo, however, shows Harris as a carved watermelon.
"Trump, Biden, Pence and Kamala," the post read. "Happy Halloween."
Prose had worked for the agency since 1994, according to a screenshot of her Facebook profile. She was fired on Oct. 27, four days after putting up the hateful Halloween-themed post, sheriff's department sources told The Post.
A message left for Prose was not immediately returned Thursday, but she insisted to WXYZ that she isn't a bigot.
"I worked hard in my law enforcement career and I am proud of the reputation I earned in my 30 plus years of service," the former deputy told the station in a text. "I am not racist and never will be."
Correlating watermelons to blacks is a relic of the "past" and is "linked to buffoonery and to 'less than'," the Rev. Dr. Wendell Anthony, president of Detroit's NAACP branch, told the station.
"I believe that the intent was purposely structured to diminish and to dilute the significance of the first African American … as vice president of the United States," Anthony said. "To some people, ignorance is bliss."
McCabe said the post had already been removed when sheriff's officials learned of it.
"The employee was terminated immediately by us for this post," his statement continued. "With over 1,400 employees, we expect all of them to have integrity and good moral values. However, when they do not, it is addressed immediately with discipline and/or termination."
Comment U.S & U.K police routinely lie and slander people. Government Minister Andrew Mitchell was destroyed by police lies, as I have been. The police in these symbiotically related countries will never change. The U.K elite are doing their best to undermine the once better sense of humour in the United States at large. Targets must always be those seen as enemies of their bogus democracy. Donald Trump was routinely ridiculed on both sides of the Atlatic, including using giant balloon figures of him portrayed as a baby in a nappy ( diaper ).
That's O.K because Trump was seen as a threat to the New World Order. He displaced St Obama who increased racist wars in the Middle East and beyond because of the perceived Russia China threat. The Chinese got blamed for taking jobs offered on a plate by the Anglo-U.S elite.
Trunp didn't seem to get this, and launched an economic war. Pandering to Israel was nothing new, he just took it to a logical conclusion by recognising Jerusalem as their capital, guaranteed to have Muslims running around like a disturbed ants nest. So the Iran situation has worsened.
But now we have Saint Kamala Harris, an esteemed woman of colour. This crazy female Sherrif could have beaten up , shot , framed and jailed any number of innocent'privilegd white males, but OMG, she compared the woman lined up to replace Biden when he next falls over his dog, off a log or something worse, as a 'melon head.' R.J Cook
Proud Boys join protest at defiant Staten Island bar closed over COVID-19 violations Posted December 3rd 2020
By Alex Taylor and Kenneth Garger
December 3, 2020 | 12:14am | Updated
Here are the celebrities supporting Trump in the 2020 election
Hundreds of people on Wednesday night — including members of the right-wing group Proud Boys — protested the closure of a Staten Island bar that ignored COVID-19 restrictions.
"Proud Boys in the house," a handful of people chanted outside Mac's Public House — the defiant pub that was shut down by authorities Tuesday night after operating without a license and in violation of health orders.
One speaker led the crowd through the Proud Boy credo — "I am a proud Western Chauvinist" — before segueing into Queen's "We Will Rock You."
The entrance of the pub was blocked on Wednesday night by dozens of city sheriffs — who were verbally targeted by some of the protesters.
"Where is your backbone? Where is your morality?" one protester shouted at the deputies through a speakerphone.
The city Sheriff's Department executed the order the night before that also led to the arrest of the pub's 34-year-old co-owner, Daniel Presti.
Presti was charged with obstructing governmental administration and multiple violations of city and state laws, authorities have said.
The business — which called itself an "autonomous zone" — had continued allowing indoor customers, despite being within a state-designated coronavirus "Orange Zone" that only allows outdoor dining or takeout.
15 Hundreds of Staten Islanders showed up in support of Mac's Public House, which was forced to close by NYC Sheriff's deputies.
Steve White
Mac's Public House also received complaints for operating past the 10 p.m. curfew imposed by Gov. Cuomo's executive order.
The state yanked the bar's license to sell booze last week.
Plainclothes deputies went inside the establishment at 4:40 p.m. Tuesday and ordered food in exchange for a mandatory $40 "donation," authorities said.
Uniformed deputies went in an hour later and found 14 people inside the pub, the majority eating and consuming alcoholic beverages.
Upstate NY congressional race in doubt after 55 uncounted ballots found
December 2, 2020 | 2:08am | Updated
Upstate NY congressional race in doubt after 55 uncounted ballots found
A newly discovered batch of 55 uncounted ballots in a rural upstate New York county has the potential to alter the outcome of a yet-to-be-called congressional race.
The ballots from Chenango County were cast during the state's early voting period within the 22nd Congressional District — home to the ultra-tight race between Democratic Rep. Anthony Brindisi and his Republican opponent, Claudia Tenney.
As of Monday — which was supposed to have been the final day for election officials to report vote totals in the district — Tenney led the freshman Democrat by a razor-thin 12-vote margin.
Chenango County Attorney Alan Gordon informed Supreme Court Justice Scott DelConte of the findings on Tuesday.
"Those ballots were apparently mislaid and never counted," Gordon wrote.
"I have advised our Board of Elections to not open any of those ballots and to secure them in their offices," he said.
Of the 55 ballots, 11 appear to be from unregistered voters.
The remaining 44 could reverse Tenney's lead, but DelConte must still rule on over 2,000 other disputed absentee and affidavit ballots in the race.
The Brindisi-Tenney contest has been a seesawing affair, with the Republican jumping to a nearly 29,000-vote lead on election night — only to see that lead disappear as mail-in ballots were counted.
Then last week, Brindisi appeared to grab a double-digit lead, but his small advantage was wiped out over the weekend after two counties said they had made tabulation errors.
Trump will be trumped, populism has to destroyed, BLM means Big Lies Matter. War crimes under Biden and Obama O.K, So is Biden's dealings with Ukraine. This is the New World Order. Evidence suggests Covid started in U.S, bio engineering rubbished as conspiracy as China became World's Largest Economy. What next from Biden Hawks and fake liberal rich democrats, with their contempt for poor white cannon fodder ? December 2nd 2020
In October 2019, about a year before Election Day, a lawyer representing Donald Trump made a striking argument before a courtroom in Manhattan. Even if the President were actually to shoot someone on Fifth Avenue, he could not be charged with a crime while in office, the lawyer, William Consovoy, told the court. He was careful to note, however, "This is not a permanent immunity."
That much is beyond dispute. While legal scholars have long debated whether a sitting President can be charged with a crime, they tend to agree that former Presidents are fair game. Their immunity from prosecution disappears when they leave office, and that is a sobering thought for a President with as many legal vulnerabilities as Trump.
Prosecutors in Manhattan spent the past year investigating the alleged hush money Trump paid in 2016 to Stormy Daniels, an adult-film star. Special counsel Robert Mueller found evidence that Trump obstructed justice on at least three occasions, and as many as 10, during the investigation of Russian interference in the 2016 elections. Then there are the civil lawsuits–dozens of them–and the issues stemming from last year's impeachment inquiry, which found that Trump used military aid to squeeze Ukraine for a political favor.
Trump has denied wrongdoing in all these cases, and he routinely dismisses the investigations against him as hoaxes and witch hunts. His attorney Jay Sekulow did not respond to TIME's request for comment.
Jack Goldsmith, a Harvard legal scholar who served as Assistant Attorney General under President George W. Bush, says the question of whether to prosecute will be among the toughest facing Joe Biden's Administration. "He will be under enormous pressure from elements in his party to investigate Trump," Goldsmith says. But that doesn't mean Biden will do it–or should. No President in U.S. history has faced prosecution for actions taken in office after he stepped down, and Biden has said he would let the Justice Department decide whether to challenge that norm with Trump.
Covid Vaccine Mistrust December 1st 2020
With a number of potential vaccines for Covid-19 now imminent, there are increasing concerns that misinformation online could turn some people against being immunized.
The World Health Organization (WHO) says the world's not only fighting the pandemic, but also what it calls an "infodemic" – where an overload of information, some of it false, makes it difficult for people to make decisions about their health.
And it's trying to answer people's concerns about the vaccines – as well as helping people evaluate the information they see on social media.
Nina, who is 21 and lives in London with her 82-year-old grandmother, is one of those who has concerns,
She says she has "mixed feelings" about Covid vaccines.
Nina, who is a freelance producer, isn't sure yet if she'll be vaccinated in the future. But she thinks the amount of information around makes it harder to understand the science behind the vaccines.
"Obviously like everyone I want this virus to go away as quickly as possible," she says.
Comment Paranoia is inevitable for the intelligent masses living in a police state fake democracy. Some think it should have taken years to develop. But that need not be the case if it was bio engineered in the first place.
Whatever, short of suicide, the vaccine has to be better than lockdown. Maybe some anti vaxers have too much money at stake to want a vaccine and so use social media minions to spread anti vax alarm.
It would be a win win for those people in the short term. In the long run, we are all dead.' – John Maynard Keynes.
R.J Cook
More than 150 are arrested as police clash with anti-lockdown protesters in London and thousands march against restrictions – while 100 Tory MPs prepare to rebel against Tiers after admission that indoor socialising ban could last until EASTER Posted November 29th 2020
Riot police have arrested more than 150 anti-lockdown protesters during an angry clash in London today
Thousands marched through the capital demonstrating against government coronavirus restrictions
Protesters led by Piers Corbyn chanted 'freedom' and booed police as they cracked down on the demo
Grassroots campaign group met in King's Cross station and marched through Angel to Hyde Park
Public anger with government shutdowns continues to grow as restrictions destroy jobs and livelihoods
Published: 12:37, 28 November 2020 | Updated: 08:16, 29 November 2020
7.7k shares 71 View comments Advertisement
Central London descended into anarchy today as riot police arrested 155 angry anti-lockdown demonstrators as thousands took to the streets and booed officers while chanting 'shame on you'.
Dozens of violent anti-lockdown activists clashed with police while thousands more gathered in the capital amid growing discontent with the government's new tier system to be introduced on December 2.
Up to 100 Tory backbenchers are threatening to rebel against Boris Johnson's draconian new tier regime next week.
And Cabinet Office minister Michael Gove today tried to quell the uprising by warning MPs that their failure to back No10's policy could lead to every hospital in England being 'overrun' with Covid-19 cases.
Plans by Conservative backbenchers including 1922 chairman Sir Graham Brady to cast protest votes in Parliament could see the PM forced to rely on Keir Starmer to get the new measures approved.
Backbench anger has been fuelled by reports that senior officials plan to ban all indoor socialising until Easter, while No10 regards efforts to move areas under Tiers 2 and 3 down to Tier 1 as 'unrealistic'.
It comes as an extraordinary projection by economic experts reveals that Mr Johnson's decision to impose tougher Covid Tiers on 99 per cent of the country this week will cost the UK a staggering £900million a day.
Also today, Department for Health figures show that 15,871 new Covid-19 cases were recorded in the past 24 hours – down 20 per cent from last Saturday – while another 479 people died, up 40 per cent from last Saturday.
In other coronavirus news:
Stratford-on-Avon MP Nadhim Zahawi has been appointed as Boris Johnson's vaccine tsar;
Michael Gove told potential Tory rebels to back the Government's strategy or risk hospitals being 'overrun';
Ex-Supreme Court judge Lord Sumption blasted No10's use of 'selective' data to justify shutdowns;
The Mail revealed that town halls are harvesting millions of personal details using Covid software;
Towns and villages near coronavirus hotspots could be lifted out of the toughest lockdown tiers;
Scientists told families not to sing carols or play boardgames when they meet this Christmas;
The R rate fell below 1 for the first time in months while the UK recorded 15,871 new Covid-19 cases today;
A laboratory error meant more than 1,300 people were wrongly told they had coronavirus;
Hospitals have been told to prepare for the rollout of the Pfizer vaccine in as little as ten days.
+77
Riot police clashed with anti-lockdown protesters in Oxford Circus in central London today as public anger rises
An anti-lockdown protester is arrested by police in Oxford Circus in central London as a rally marches through the capita
Police were booed by anti-lockdown demonstrators and faced chants of 'shame on you' as they arrested protesters during a rally against government curbs led by Piers Corbyn
Police pin an anti-lockdown protester to the floor at Marble Arch in Hyde Park in central London during a mass rally Crowds gather in Hyde Park to protest against lockdown restrictions
A crowd of police officers stood on the lookout for trouble on Regent Street as the force cracked down on protests
A woman was tackled to the ground as she was arrested at the anti-lockdown protest in central London on Satur
A woman holds a 'lockdown equals divide and conquer' sign as she walked through central London with the protest
Crowds ignored social distancing measures as they marched down the streets of London from Hyde Park
Protesters smashed down barriers in fits of rage as they demonstrated against the latest coronavirus lockdown measures
One woman got straight to the point with a placade that read 'stop the lockdown' as she joined protesters in Londo
A protester was arrested by a team of police officers as the force battled to maintain control of central Lond
A protesters holds a sign aloft alleging the Government do not plan to give people their freedom back after the pandem
An anti-lockdown protester weeps as he is arrested by police outside King's Cross station in central London tod
A police officer ran to action as protesters tore down barriers during an afternoon of violence when angry demonstrators took to the streets
A demonstrator wore a shirt saying they 'would not be muzzled' and will refuse a coronavirus vaccine as they were arrested by officers on Saturday
An anti-lockdown protester yelled into a megaphone while holding a rolled-up banner during the demonstratio
A man dressed as Santa was taken into custody among 154 others arrested during the afternoon of demonstration
A police officer stood over a man as he was arrested in central London. Hundreds gathered in the capital for a day of protes
A white Lamborghini Gallardo was dangerously close to the action on Saturday as it narrowly missed being hit with a barrier
A man is arrested outside Debenhams in London's West End. A swarm of police officers were on hand to keep the protest under control this afternoon
Police officers marched along a street in central London as they headed to break up what they called an illegal gatherin
A protester was arrested by police officers as a crowd of demonstrators gathered behind him in central Lon
Police blocked a man from the view of other protesters as he was arrested in central London on Saturday afternoon
The march heads out of Hyde park and is blocked by police, leading to a small confrontation in central London earlier tod
An anti-lockdown protester sits on the floor as he is detained by police who clamp down on a mass anti-shutdown rally
Some gathered outside Kings Cross station where an arrest was made, while others joined Piers Corbyn at Speaker's Corner Protesters arrested at anti-lockdown demonstration in London
Anti-lockdown and anti-vaccine protesters stage a march in central London. One sign read: 'Qantas airline stop mandatory vaccination or you will go bankrup
Another sign read: 'No more lies, no more masks, no more lockdowns'. Protestors disagree with the Government's continued use of the tiered system from next wee
A police officer stops a protestor as crowds made their way through central London to demonstrate against lockdown
+77
+77
Protesters held up signs peddling conspiracy theories, including that Covid-19 was just a new name for diseases that already exist. Another sign questioned why the Government was still enforcing lockdo
A protester held up a sign in the American colours of red, white and blue claiming 'Trump is our saviour' during the march
Officers detained protesters led by Piers Corbyn who chanted 'freedom' and carried placards reading 'stop controlling us' and 'no more lockdowns' at Marble Arch for flouting coronavirus restrictions.
Tweets posted by Jeremy Corbyn's brother indicate that grassroots group Save Our Rights UK marched from King's Cross station through Angel to Hyde Park and along a road parallel to Oxford Street.
Traffic was temporarily blocked on Regent Street as officers attempted to handcuff people on the ground in the middle of the road, while police apprehended demonstrators weaving through the capital.
How around 17MILLION people living in parts of England where Covid outbreaks have been shrinking for two weeks or more will STILL be slapped with Tier 2 or 3 rules next week
Around 17million people living in parts of England that have seen their coronavirus outbreaks shrink for at least two weeks in a row will be plunged into the toughest tiers next week when the country's lockdown finally ends, MailOnline's analysis has revealed.
As many as a third of England's authorities – 51 out of 149 – saw coronavirus infections drop in the seven-day spells ending November 15 and November 22 according to Public Health England's weekly surveillance report.
They include all 10 boroughs in Greater Manchester – home to 2.8million alone – and authorities subject to tough restrictions for months, such as Blackburn with Darwen, Gateshead and Lancashire – which are all earmarked for Tier Three.
Boris Johnson has revealed 99 per cent of England will live under toughened restrictions come December 2 – said Tiers would be determined based on the rate of fall in infections, alongside pressure on the NHS, the total number of cases and the rate of infection in the over 60s who are more at risk from the virus.
But officials have refused to reveal the exact criteria needed for areas facing lockdown in all-but-name to escape the tougher curbs, meaning the fate of millions is left in the hands of the secretive Joint Biosecurity Centre, which has previously been slammed as being 'far too opaque'. Advertisement
Videos show police cracking down on protesters, including a lone man who howled in apparent agony and burst into tears as he fell to the ground during an arrest outside King's Cross St Pancras.
The Metropolitan Police said officers had made more than 60 arrests by 3pm.
Those arrests were for offences including breaching coronavirus regulations, assaulting a police officer and possession of drugs.
Officers made a number of early interventions to prevent people from gathering and to urge people to go home. Coaches transporting protestors into the capital were intercepted and those who did not turn back and go home were either arrested or issued with fixed penalty notices.
Chief Superintendent Stuart Bell, policing commander for this event, said: 'This was a challenging day for Met, City of London and British Transport Police officers and I would like to thank them for the professionalism they have shown throughout the day.
'On Friday, we made it very clear how we would police this event, warning those looking to attend that they risked facing enforcement action if they attended a gathering in London. Today's enforcement action is a direct result of those individuals deliberately breaking the law and at times, targeting our officers with aggression and causing disruption to the road network.
'Our policing plan will continue well into the evening and I would urge anyone who hasn't already dispersed to go home. By doing so, you can avoid ending up facing enforcement action and help protect yourself and others during this health crisis.'
Activists marched from Hyde Park to Oxford Circus and Regent Street, clashing with helmeted police who arrived in several vans and ran to respond to the chaos.
Officers grappled with people on the ground in attempts to detain them at different locations as onlookers jeered and filmed on their phones.
At one point, green smoke was released as protesters were surrounded by police at the top of Carnaby Street.
The main crowd of protesters appeared to disperse near Piccadilly Circus before reforming elsewhere in the shopping district.
Several people were handcuffed by officers, while police action was met with booing as demonstrators, many not wearing face masks, ignored requests to go home.
Responding to the protests, Home Secretary Priti Patel said: 'We've seen our police officers yet again do incredible work to ensure that they help to stop the spread of this awful virus.
'The people that are protesting today have been protesting for many months, and we've seen this over successive weekends.'
She added: 'We ask everybody to be conscientious – we all know the regulations and the guidance, we have brought these measures in to save lives and to prevent preventable deaths.'
Protest is not a permitted exemption to the prohibition on gatherings under current coronavirus regulations in England and those who attend risk enforcement action by officers, the Metropolitan Police had warned ahead of the weekend.
The grassroots group Save Our Rights UK, which says it is working for democracy, appeared to be leading the protest, called Unite For Freedom – Time For Action.
The group used its Twitter account throughout the afternoon to encourage people to head to central London locations.
Rights groups Liberty and Big Brother Watch argued that the right to safely protest should be explicitly outlined as an exemption in regulations covering England's tiered restrictions, due to come into force next week.
Another protester held a tongue in cheek sign aloft reading: 'I'm so angry I made a sign'. Protesters flooded the streets of London on Saturda
People pulled down pedestrian covid safety barriers during the protest in West London on Saturday afternoon. The protest, organised by Stand Up X, regrouped in Hyde Park and headed towards Oxford Street
An anti-lockdown protester is detained by police as people gathered at Marble Arch to demonstrate against the current lockdown measures
A man is arrested by police on Oxford Street in central London as thousands hit the streets in an anti-shutdown rally
An anti-shutdown protester is carried away by police officers outside King's Cross station in London today
Police officers block a path during an anti-lockdown demonstration in Hyde Park as anti-government anger rises
Police officers detain an anti-lockdown protestor during a demonstration in Hyde Park in central London today
Police detain a man during an anti-lockdown protest at Oxford Circus as public anger at government shutdowns grow
Police wearing facemasks run through Oxford Circus as they break up a mass anti-lockdown rally marching through London
Anti-lockdown demonstrators march through Oxford Circus carrying signs which read 'freedom is your right'
One protester, Naomi McGregor, called the police 'thugs' on Twitter as she claimed she was slammed into railings when she tried to stop her friend's arrest.
She wrote: 'My friend has just been arrested and I've been slammed into railings by @MetPolice thugs. I tried to help him but they were in my face batons raised. They are not human, I don't know what they are.'
Hundreds of demonstrators including a man dressed as Santa Claus marched through Westminster chanting 'shame on you' and 'freedom'. Others dressed as Christmas elves waved signs reading 'All I want for Christmas is my freedom back', 'Ditch the face masks' and 'Stop controlling us'.
Furious demonstrators have increasingly hit the streets in protest against government shutdowns since August, where a massive 10,000-person rally organised by Mr Corbyn descended upon Trafalgar Square.
The Met Police said it had made more than 60 arrests by 3pm, tweeting: 'Officers have made over 60 arrests following groups gathering in London today. These were for a number of different offences, including breaching coronavirus restrictions. We expect this number to rise. We continue to urge people to go home.'
Scotland Yard said that protests are not a permitted exemption to the prohibition on gatherings under current coronavirus regulations in England and those who attend risk enforcement action by officers.
An anti-lockdown protester carries a sign reading 'free your face' as he marches through Hyde Park in a mass rally
Almost the entire nation is set to be banned from socialising indoors until Easter, officials admitted last night. The senior sources said it was 'unrealistic' to expect areas under the toughest curbs – Tiers 2 and 3 – to move down to Tier 1 before spring
+77
more videos
An anti-shutdown demonstrators is carried by police in Oxford Circus as he is arrested for flouting Covid-19 restrictions
Protesters gather at Marble Arch in Hyde Park to demonstrate against the current lockdown measures
A growing number of people, including Tory backbenchers, regard lockdown measures as oppressive and economically damaging – with some 260,000 jobs already lost and GDP to take a permanent 3 per cent hit.
Analysis by the Centre for Economic and Business Research forecasts that the Tiering system will cut England's GDP by 13 per cent compared to last December – around £20billion over the course of the month.
The prestigious think-tank, which estimated in April that the first shutdown would cost £2.4billion a day, based its forecast on the fact that 31 per cent of England's economy will be placed in Tier 3.
Around 68 per cent of the economy will enter Tier 2 when the blanket shutdown comes to an end on December 2, while just one per cent – Cornwall, the Isle of Wight and the Isles of Scilly – in the lowest Tier 1.
The CEBR estimated that the daily loss in GDP for firms in Tier 3 is 20 per cent, less than the lost output of a quarter of GDP in April. The loss in Tier 2 is estimated to be 10 per cent, the Telegraph reports.
Ministers refused to publish any details of the economic impact of the second shutdown, fuelling speculation that no assessment had been made before the Prime Minister was 'bounced' into action in November.
The Cabinet is only unveiling its economic assessment in the next few days after coming under pressure from a growing chorus of Tory backbenchers who are furious with the economic toll of the restrictions.
Fears of economic ruin were heightened after Chancellor Rishi Sunak's stark revelation in last week's Spending Review that Britain has entered the gravest recession in 300 years – with GDP down by 11 per cent this year, 2.6 million people on the dole next year, and the national debt to rise to £2.8trillion by 2025. Doug McWilliams, the CEBR's deputy chairman, told the paper: 'My suspicion is that the shutdowns imposed by Whitehall will end up doing more economic damage than can be justified on medical grounds
Protesters march down Oxford Street carrying placards reading 'no more lies, plandemic' and 'democracy is gone
A man is carried away by police wearing facemasks at an anti-lockdown protest in London
Police detain a man during an anti-lockdown protest at Oxford Circus as public anger with government shutdowns grows
Police detain a woman during an anti-lockdown protest at Oxford Circus as public anger with government shutdowns grows
Demonstrators during an anti-lockdown protest at Oxford Circus, with one holding a sign reading 'save our children'
Protesters march through central London as they take part in an anti-lockdown protest against government restrictions
One protester holds a placard reading 'vaccines should not be compulsory' as public anger with shutdowns grows7
A protester carrying a placard talks to police outside King's Cross station in London during an anti-lockdown rally
A group of officers march through Hyde Park to break up an anti-lockdown rally which gathered at Marble Arc
A man is pinned to the ground by Met Police officers on Oxford Street in central London during an anti-lockdown demo
A man sits on the floor as he is apprehended by riot police during a mass anti-lockdown demonstration in central London
As many as 70 Conservative MPs could rebel against the Government's new Tier system in Parliament next week, leaving Mr Johnson potentially dependent on Keir Starmer's support to get the measures approved.
It comes as senior officials admitted last night that socialising indoors will be banned until Easter, adding that said it is 'unrealistic' to expect areas under Tiers 2 and 3 to move down to Tier 1 before spring.
Boris names a vaccine tsar: Minister who was furious his Stratford-on-Avon constituency had been plunged into Tier 3 is put in charge of mass-rollout as No 10 furiously tries to quell lockdown rebellion
A minister who has criticised Boris Johnson's tiered lockdown system has been put in charge of the UK's vaccine rollout.
Stratford-on-Avon MP Nadhim Zahawi has been temporarily appointed Parliamentary Under Secretary of State at the Health Department.
The role – which is set to last until next Summer at the earliest – will involve him deploying the eagerly-awaited coronavirus vaccine across the country.
The newly-appointed vaccine tsar has criticised Government's tiered structure which will see his constituency thrust into Tier Three lockdown next week despite low infection rates.
He remains a business minister while undertaking his new role – but will temporarily relinquish responsibility for most areas of his Department for Business brief.
His appointment comes amid a brewing Tory rebellion as furious backbenchers accuse the Government of risking catastrophic damage to the economy with its controversial system for life post-national lockdown.
Mr Zahawi is the second-highest earning MP in the UK due to his various roles – including as chief strategy officer for oil and gas firm Gulf Keystone Petroleum.
He also co-founded research and polling firm YouGov.
Mr Zahawi said he was 'delighted' to take on the new role. He wrote on Twitter: 'Delighted to have been asked by Boris Johnson to become the minister for Covid vaccine deployment.
'A big responsibility and a big operational challenge but absolutely committed to making sure we can roll out vaccines quickly – saving lives and livelihoods and helping us build back better.' Advertisement
In an attempt to quell a restless Tory backbench, Michael Gove today warned dozens of potential rebels to put Britain's interests first, urging MPs to 'take responsibility for difficult decisions' to curb the spread of Covid-19.
The Cabinet Office minister urged MPs to 'take responsibility for difficult decisions' to curb the spread of Covid-19, amid anger from some Conservatives that much of England will face stringent restrictions.
Writing in The Times today, Mr Gove said the decision to impose the restrictions was necessary to 'pull the handbrake' and avoid the 'disaster' of NHS hospitals – and private sector and newly-built Nightingale hospitals – becoming filled to capacity with only Covid patients and emergency cases.
'Keeping our hospitals open, available and effective was not just crucial to dealing with Covid-19. It was imperative for the health of the whole nation,' the pro-shutdown Tory minister argued.
'But the only way to ensure we can take care of cancer patients, administer radiotherapy and chemotherapy, and help stroke victims and treat heart attacks is by protecting the NHS,' he said, adding this could only be done by reducing the spread of the virus and thus limiting the number of Covid patients in hospitals.
Mr Gove also claimed that reducing infections would save the UK economy, which has been decimated by shutdown restrictions that prevent the trade of the hospitality industry and retail, tourism and air travel.
As official forecasts warn that the national debt could soar to £2.8trillion by 2025, he warned: 'Think for a moment what would happen to our economy if we allowed infections to reach such a level that our NHS was overwhelmed.'
But his argument was attacked by former Supreme Court judge Lord Sumption today, who blasted the Government's use of 'extremely selective and tendentious' data to justify shutdowns.
Lord Sumption, last year's BBC Reith Lecturer, also told Radio 4's Today programme that the Tiering system was 'unenforceable' and suggested that the public was growing increasingly unwilling to comply.
Anti-lockdown sentiment grew this week, after Mr Sunak revealed that Britons face £46billion in tax rises and spending cuts to get spiralling debt under control.
The Treasury watchdog the Office for Budget Responsibility forecasts that to keep the Government's finances balanced after coronavirus, between £21billion and £46billion will need to be raised by 2025.
While taxes are not expected to rise in the short term, that could mean more acute economic pain before 2025 if tax raises or spending cuts are delayed.
Unveiling his crucial Spending Review, the Chancellor declared that billions of pounds will be pumped into getting the unemployed back to work, as well as boosting infrastructure, the NHS and defence, in a bid to create a platform for recovery.
A man is arrested as anti-lockdown protestors hold a demonstration Ceilidh outside the Scottish Parliament on November 28, 2020 in Edinburgh, Scotland
Professor Richard Ennos is arrested as anti-lockdown protestors hold a demonstration. The group, known as Saving Scotland, held the Ceilidh ahead of St Andrews day, asking people to listen to real scientific evidence in regard to the health of the Scottish peopl
People take part in a ceilidh outside the Scottish Parliament during a Scotland Against Lockdown protest in Edinburgh. Eleven local council areas in Scotland are under Level 4 restrictions to slow the spread of coronavirus
But in a bloodcurdling message about the problems to come as he disclosed that the immediate response to the crisis has cost £280billion, Mr Sunak told the Commons: 'Our health emergency is not yet over and our economic emergency has only just begun.'
The backdrop to the latest intervention was incredibly grim forecasts from the Government's fiscal watchdog, with Mr Sunak admitting borrowing is expected to hit £394billion this year as the economy shrinks by 11.3 per cent – the worst recession in more than 300 years.
+77
Met Police officers march through Hyde Park to break up an anti-shutdown rally winding through central London
+77
Police officers detain an anti-lockdown protestor during a demonstration in central London
+77
Police officers detain protestors during an anti-lockdown demonstration in Hyde Park in central London
+77
Anti-lockdown protesters are apprehended by Met Police officers during a mass rally in central London
+77
An anti-lockdown protester is detained by Met Police officers during a mass anti-shutdown rally in central London
+77
An anti-lockdown protester holds a sign reading 'what happened to our rights' outside King's Cross station in London
+77
Protesters gather at Marble Arch in Hyde Park, central London to demonstrate against the current lockdown measures
+77
A protester challenges police at an anti-lockdown rally outside King's Cross station in central London today
+77
Three people in total have been arrested by the Metropolitan Police ahead of a mass anti-shutdown demonstration due to meet at King's Cross station
+77
A man is detained by police during an anti-lockdown protest at King's Cross St Pancras
Rishi Sunak is under fire after REFUSING to appear in front of MPs to answer questions on his controversial Spending Review as the Chancellor 'faces questions over his family's finances'
Rishi Sunak is under fire from MPs after he was accused of refusing to appear in front of the Treasury Select Committee to answer questions about his controversial Spending Review.
The Chancellor's spending plans, set out on Wednesday, sparked a political firestorm after he decided to slash the foreign aid budget and freeze public sector pay for many workers.
The Committee asked Mr Sunak to attend a meeting to give evidence on his proposals but he declined and said he would only appear after next year's Budget.
The Tory chairman of the committee, Mel Stride, has now written to the Chancellor to demand he 'provide evidence to us before the end of the year'.
The Spending Review saw Mr Sunak announce a pay freeze for an estimated 1.3 million public sector workers.
He also cut overseas aid from 0.7 per cent of gross domestic product to 0.5 per cent, slicing about £5 billion from the budget.
The decision to cut the aid budget has prompted a Tory rebellion with many Conservative backbenchers adamant they will not support the move.
Mr Sunak also told MPs on Wednesday the UK economy is not scheduled to recover to pre-coronavirus crisis levels until the end of 2022.
The Treasury Select Committee said that the Government's spending watchdog, the Office for Budget Responsibility, as well as a host of economists had all agreed to give evidence in the coming weeks but the Chancellor has so far declined. Advertisement
The OBR says that 'merely to stop debt rising relative to GDP' tax rises or spending cuts worth between £21billion and £46 billion will be required.
Adding a penny to the basic rate of income tax only brings in roughly £6billion, meaning some combination of deeper spending cuts or higher taxes are likely to be needed in the next few years.
In cash terms, total debt is set to hit an eye-watering new high of £2.8trillion by 2025, after the government's deficit hit a peacetime record this year. The OBR predicts that ministers will be borrowing at least £100billion a year into the middle of the decade.
It warned that this increased debt would leave the economy more vulnerable to 'future shocks'.
The jobless rate – currently around 4.8 per cent – is set to peak at 7.5 per cent in the middle of next year, equivalent to 2.6 million people on the dole.
Paul Johnson, director of the respected IFS think-tank, said: 'Rishi Sunak has been spending truly astonishing amounts of money this year and plans to continue to do so next year in response to Covid.
'Yet this was a spending review in which he reduced planned spending into the future, cutting more than £10billion per year from departmental spending plans next year and for subsequent years. He has also allocated precisely nothing for Covid related spending after next year.
'And these plans assume that the temporary increase in Universal Credit will not continue beyond this year. Each of these assumptions is questionable.'
'It seems more likely than not that spending will end up significantly higher than set out today, and so borrowing in 2024-25 will be considerably more than the £100 billion forecast by the OBR. Either that or we are in for a pretty austere few years once again, or for some significant tax rises.'
'And these plans assume that the temporary increase in Universal Credit will not continue beyond this year. Each of these assumptions is questionable.'
'It seems more likely than not that spending will end up significantly higher than set out today, and so borrowing in 2024-25 will be considerably more than the £100 billion forecast by the OBR. Either that or we are in for a pretty austere few years once again, or for some significant tax rises.'
To quell the Tory rebellion, ministers have floated the idea of some rural areas being 'decoupled' from nearby virus hotspots which have dragged them into tougher tiers, according to the Telegraph.
Health Secretary Secretary Matt Hancock is among ministers said to have held talks with backbenchers to offer hope that their constituencies will see an easing of lockdown measures in December.
'My fear is the tiers are going to become like a purgatory with no escape,' said William Wragg, who is chairman of the Commons public administration committee.
'It is vital there is a clear path for areas to emerge from tighter tiered restrictions. We cannot have families, communities and businesses left in limbo.'
Mr Johnson acknowledged people in England felt 'frustrated', particularly in areas with low infection rates that now face tough restrictions. But he refused to adopt a more localised system, saying it was 'too difficult to divide the country up into loads and loads of very complicated sub-divisions'.
MPs will vote on Tuesday on the new system of tiers, which the Government has said it expects to remain in place until the end of March. Once introduced, it will be for ministers to decide whether areas move between the different tiers.
+77
Under a 'virtual lockdown' revealed on Thursday, 99 per cent of the population was put in the top two tiers, which ban household gatherings and cripple the hospitality trade
+77
A graph produced by the respected IFS think-tank shows that the UK economy has taken a permanent 3 per cent hit
+77
The OBR released its first forecasts for the economy since March – with an 11.3 per cent downturn for this year
+77
The watchdog warned that GDP could end up performing considerably worse if the coronavirus recovery does not go well
Only Cornwall, the Isle of Wight and the Isles of Scilly – 1 per cent of the population – will have the lightest restrictions when the lockdown lifts next week. Everyone else is in Tiers 2 and 3.
The Prime Minister yesterday raised the prospect that some parts of the country could have restrictions eased within weeks as he sought to head off the Tory revolt.
Sir David Amess last night said he expects 'more than 50' fellow Tory MPs will vote against the Government. But scientific advisers have warned that Tier One rules are not strict enough.
Officials expect some areas to shift between Tiers 2 and 3, although this is unlikely before Christmas.
However, a senior source yesterday said it would be 'surprising' if areas in Tier Two saw a big enough fall in rates to move down to Tier One until there is a vaccine. Government officials have warned that December and January will be the 'most difficult' in the fight against the virus.
Covid-19 spreads more easily in winter – at a time when the NHS will also be facing huge pressures and flu season.
'All of those things conspire against being able to relax tiers,' a source said. Former minister Damian Green claimed it was 'irrational' to put whole counties under the harshest restrictions when some towns were barely hit.
Rioting erupts in French cities after police use tear gas and batons to break up crowds protesting against police brutality Posted November 29th 2020
Thousands took to the streets of France – from Paris to Marseilles – to to condemn the new 'Global Security' bill
Activists and journalists are concerned the measure will harm press freedoms and enable police brutality
The government says the provision – lobbied for by police – is intended to protect officers from online abuse
In Paris, fires were lit in Place de la Bastille with thousands turning up to demonstrate the potential law
Clashes were seen between protesters and police, who were ordered to use restraint in the demonstrations
By Peter Allen In Paris and Chris Jewers For Mailonline and Wires
Published: 18:18, 28 November 2020 | Updated: 01:47, 29 November 2020
Rioting erupted in major French cities including Paris on Saturday as thousands demonstrated against a new law making it illegal to film the police.
The worst trouble was in the capital city, where officers tried to restore order using tear gas and batons.
Fires were lit in Place de la Bastille – one of the great protest squares in Paris – and huge crowds fought running battles with the forces of law and order.
Tensions were running particularly high because four officers are currently facing criminal charges after beating up Michel Zecler, a black music producer, a week ago.
Demonstrators have pointed to the fact that all the evidence against the police comes from CCTV footage, and film shot by passers-by outside Mr Zecler's Black Gold studio in Paris.
'Today's demonstration is a legal one, but it has turned very violent,' said a CRS riot police officer at the scene. 'We have come under attack from anarchist groups, and many of them are attacking property too.'
President Emmanuel Macron's administration is bringing in laws banning the broadcast of police officers' faces if they might cause 'physical or psychological harm'.
Civil liberties groups and journalists are concerned that the measure will stymie press freedoms and allow police brutality to go undiscovered and unpunished.
The government says the provision is intended to protect officers from online abuse and has been intensely lobbied for by police representatives.
France's Interior Minister Gerald Darmanin condemned 'unacceptable' violence against the police, saying 37 members of the security forces had been injured nationwide.
Thousands also took part in other marches in some 70 cities in France, including in Bordeaux, Lille, Montpellier and Nantes.
Several fires were started in Paris, sending acrid smoke into the air, as protesters vented their anger against the security law which would restrict the publication of police officers' faces.
Some 46,000 people marched in Paris and 133,000 in total nationwide, the interior ministry said.
Thousands of critics of a proposed security law that would restrict sharing images of police officers in France gathered across the country in protest Saturday. Pictured: Fire fighters work to put out a burning car in Paris, November 28
Dozens of rallies took place against a provision of the law that would make it a crime to publish photos or video of on-duty police officers with the intent of harming their 'physical or psychological integrity.'
Officers in Paris, who were advised to behave responsibly during the demonstrations, fired tear gas to disperse rowdy protesters in the largely peaceful crowd
French riot police officers detains a person during a protest against the 'global security' draft law, which Article 24 would criminalise the publication of images of on-duty police officers with the intent of harming their 'physical or psychological integrity'
In Paris, several thousand people packed the sprawling Republique plaza and surrounding streets carrying red union flags, French tricolor flags and homemade signs denouncing police violence, demanding media freedom (pictured, November 28)
Thousands also gathered in Lyon (pictured) to protest the new law, joining the national call to protest on Saturday
What is democracy beyond mixing 2 old Greek Words ?
The above article from mainstream elite magazine 'The Economist' is the usual long winded pompous authoritative stuff. It boils down to how we of the masses should give up our old tribal approach to politics and work together for outcomes.
The British elite never accepted that the U.S split from them and in many ways the U.S elite never did. The mighty U.S like any offspring, has its moments of love and moments of hate for a parent, but they are always bonded until death. So the U.K elite still worries about and patromises the U.S. They even in breed and are united by love of power and money. That elite once had an outpost in Russia, so they never got over how the Bolsheviks cut their cousins throats for letting the masses starve while they indulged a life of feasts, drinking, depravity and orgies.
The idea that we should all buy into diversity, ruled over and dictated to by this privileged 'know all' elite would be an obvious absurdity if so much money was not spent on educating the young into conformity- seasoned with stupidity- while locking up those forced into elite defined crime and injecting dissidents labelled as mentally ill.
If we are going to accept this 'Economists' ( the only thing its hacks are economical with is the truth – blinding the stupid who can read the drivel, with graphs and pseudo science ) definition of democracy, we should first ask who decides the outcomes to which we should all agree to work towards ? Covid 19 lockdown is a prime example of how an outcome has been decided above our heads.
Many of us know there is no evidence Coviid 19 lockdown will kill off the virus. We know it does not threaten the lives of everyone. We know age and lifestyle are key risk factors. We know it has done far more harm than Covid and will go on doing so. We know the goal posts move from Covid deaths, to covid related, death with Covid 28 days after testing. We know that tests are unreliable but a good way of tagging us, with police access to records. We know the NHS has poorly trained staff, bad overpaid managers and cannot cope with demands of migrants and asylum seekers. We know many old folk, like me, end up in filthy privatised profit hungry care homes – where we should be allowed euthanasia if we want it. We know U.K Chancellor Rishi Sunak's wife is a multi millionaire. We know one of Matt Hancock's mates has profited from selling PPE. We know so much more. We know the government wants people to spy on neighbours- if they see any of them breakng lockdown rules they should call the police. Think about this and more, when you read the Economist article. This is not democracy, it is the New World Order.
How do we abandon tribalism to work together for outcomes which include making sure that the top 20% keep their 95% of global wealth in an increasingly overpopulated – where BAME will keep flowing to the west epecting a right to a better life – where the rich elite have no intention of paying for ? Why should we if we haven't had some kind of lobotomy or anti psychotic drugs ?
So we have the fairy land fairy tale of a nice diverse rainbow world where we all support and work to achieve the outcome decided above our heads – worshipping as we please while choosing our own gender whenever. This is passed off as freedom, requiring more police, laws and other state bodies to make sure we all 'enjoy' it. If we don't obey there will be more anti hate laws, language control, mental hospitals and other places for our 'safe disposal.'
All of this is reminiscent of Nazi Germany, where the German masses, after being forced into an incestuous European elite war, were so down trodden that they supported an icon and Nazi Party where they were all expected to work together for the 'agreed' consensus outcome of a 1000 year Reich.
R.J Cook
www.thelightpaper.co.uk
According to statistics next to nobody has had flu in the U.K this year and no one has died from it – because all flu cases are being written down as Covid 19.
e mail freeusnow@protonmail.com