Latin America – area rich in resources. Latin America = countries with newly gained independence .Latin America = area that needs money to modernize and industrializeWhat happens when a countryneeds money?Borrows from other countries.Becomes "enslaved" by debt to these countries Railroads and the Imperialism of Free Trade .
The natural resources of the Latin American republics made them targets for a form of economic dependence called free-trade imperialism. British and the United States'entrepreneurs financed and constructed railroads in order to exploit the agricultural and mineral wealth of Latin America.Latin American elites encouraged foreign companies with generous concessions because this appeared to be the fastest way both to modernize their countries and to enrich the Latin American property owning class. Europe, the U.S. and Latin America.European influence in Latin America was very different than in Africa and Asia.
Europe penetrated South America with investment and trade and immigration. –Argentina, Brazil, Chile, and other countries took in the Irish, Germans, Italians, eastern Europeans, and Spaniards.
Direct imperialism would only come from the United States. –U.S. declared war on Spain in 1898 and captured the Philippines, Puerto Rico, and Cuba.US Foreign Policy. Monroe Doctrine (1823)—declared Western Hemisphere off limits to Europe.
US (& Europe) had invested $$ in Latin American businessesSpanish-American War 1898 kicked Spain out of Cuba, Philippines, Guam, and Puerto Rico 1904—Europeans sent warships to Venezuela demanding repayment of debts .Roosevelt Corollary—US will intervene in financial disputes between Europe and countries in the Americas.
Panama Canal—finished in 1914American Expansionism and the Spanish-American War, 1898After 1865 the European powers used their financial power to penetrate Latin America, but they avoided territorial conquest. The Monroe Doctrine prohibited European intervention in the Western Hemisphere, but this did not prevent the United States from intervening in the affairs of Latin American nations.
After defeating Spain in the Spanish-American War, the United States took over Puerto Rico, while Cuba became an independent republic subject to intense interference by the United States.How do you think this influenced the life of the Cubans, Puerto Ricans etc.?
American Intervention in the Caribbean and Central America, 1901–1914 The United States often used military intervention to force the small nations of Central America and the Caribbean to repay loans owed to banks in Europe or the United States. The United States occupied Cuba, the Dominican Republic, Nicaragua, Honduras, and Haiti on various occasions during the late nineteenth and early twentieth centuries.
The United States was particularly forceful in Panama, supporting the Panamanian rebellion against Colombia in 1903 and then building and controlling the Panama Canal.Effects of the Panama Canal:U.S. gained control of important economic holdings in Latin America.
Latin Americans not totally independent U.S. gained interests in other islands for economic goals (Hawaii, Philippines)
Home The Iran-Contra Affair: Ronald Reagan's Arms Sales Scandal Search the site History & Culture
Covid in Brazil: Hunger worsens in city slums Posted April 18th 2021
By Mark Lowen
BBC News, São Paulo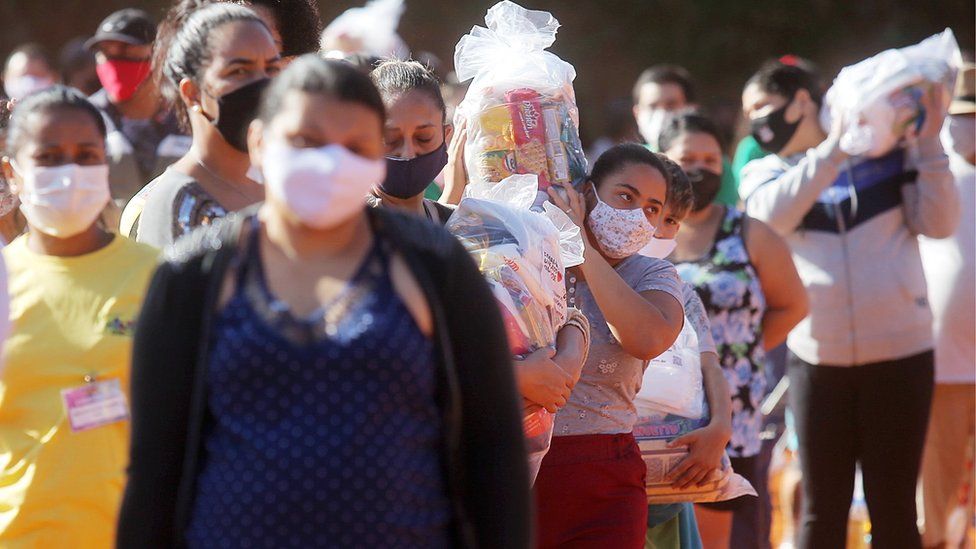 The queue snakes around the block and each day it gets longer: hungry residents of Heliopolis, São Paulo's largest favela, waiting in line for the handout that will keep them going until the next morning.
They are given a bowl of pasta with meat and a portion of rice, two packets of biscuits and a carton of milk, shared between a whole household and usually their only meal of the day. Before the pandemic, 300 people would queue up here. Now it is over 1,000, and the charity that runs it has 650 others across São Paulo.
"The vast majority of people who live in the favelas work in the informal economy, as cleaners in homes or helping to bake cakes, so when businesses close or houses stop using them, they feel the impact," says Marcivan Barreto, the local co-ordinator.
"You see people queuing up at 03:00 for food. I'm very worried that as the pandemic continues, a hungry father will start looting supermarkets. When you're starving, despair hits."
During the first wave of the pandemic, Brazil's government introduced emergency relief, known as "coronavouchers". More than 67 million people received a monthly sum of 600 reais (£83; $107, at the time).
It was the biggest single injection of financial aid in Brazil's history, introduced by a president, Jair Bolsonaro, who had previously railed against welfare spending. It pushed extreme poverty to its lowest level since the 1970s – and boosted the president's support.
But the relief was temporary. With ballooning public debt, the government first suspended the programme and then reintroduced it but at a far lower level of 250 reais and for fewer people.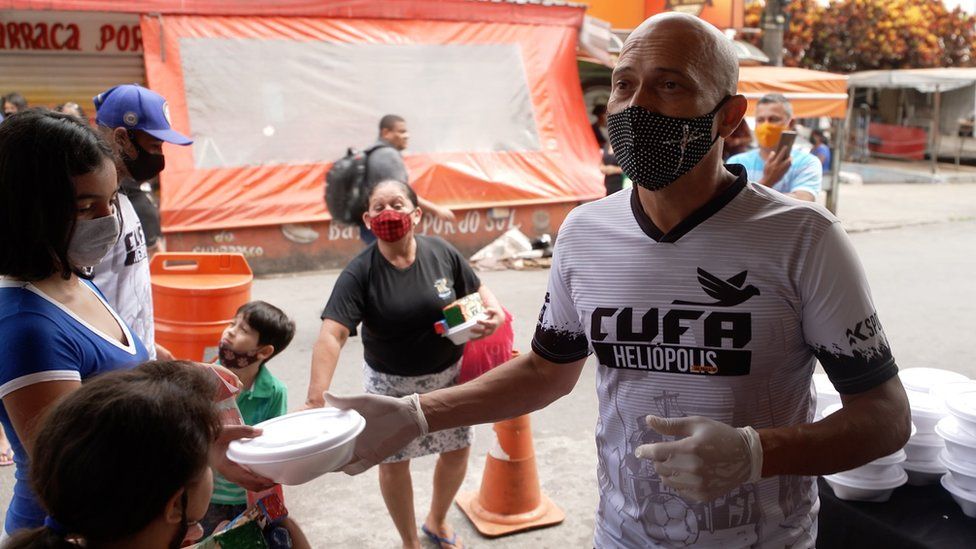 The drop in aid has hit Luciana Firmino and her family hard. She and her husband now depend on the food handout to feed their five children, living in a cramped couple of rooms in one of the favela's narrow alleyways.
When the pandemic hit, she lost her job in a manicure studio and her husband's occasional work dried up.
Clutching her nine-month-old daughter, she says each day is a decision whether to pay for milk or diapers. "We can't afford the rent anymore. So we will soon be out in the streets or under a bridge."
Then she breaks down. "I was hoping for a good life," she says through tears. "Sometimes I think I should give my children away to social services."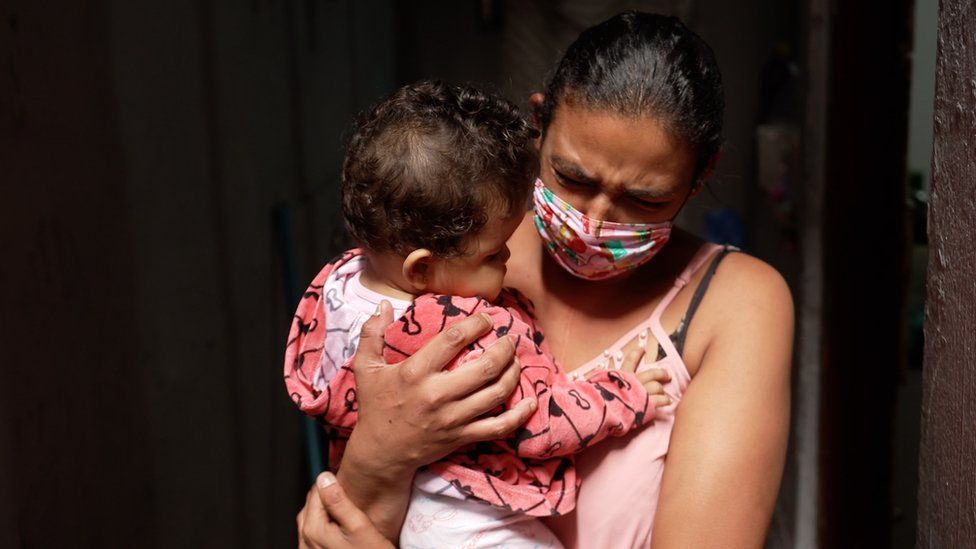 Brazil is in the grip of a health and social emergency. It has the world's second-highest death toll from the pandemic at over 370,000, and hospitals are near collapse. A study last week found that 60% of Brazilian households have food insecurity, lacking sufficient access to enough to eat.
President Bolsonaro – who once dismissed the virus as "just a little flu", opposed lockdowns and failed to secure vaccine supplies in time – has lost support, particularly as the food handouts have declined. Attempts at impeachment are stirring.
But he still has his devoted fans, who insist "the establishment" are trying to destroy him.
Three hours' drive out of São Paulo, the corn harvest is underway on Frederico D'Avila's farm. He has 1,300 hectares of the crop, as well as soybean, barley and fava, nestled beside dense pine forests.
And as the harvester cuts through the stalks of corn, he talks of how the president is slashing "the system of kleptocracy – chains of corruption – that have run here for 35 years".
"President Bolsonaro wants to preserve liberty; he wants people to get out, work, feed their children," he says. "He wants people to decide if they want the vaccine, not to be obligated by the state. Freedom in Brazil has always been under threat."
I put it to him that the price of that policy is the public health disaster that Brazil is living through. "It's not a disaster", he replies. "We don't have all the data from other countries so we don't know true numbers of dead."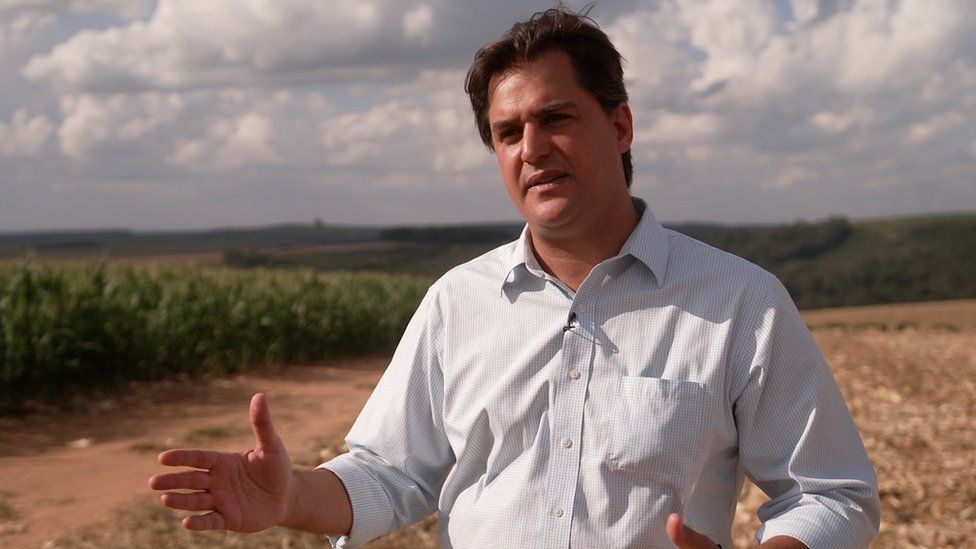 Supporters of the president echo the same line, hammered home by the effective Bolsonaro communication machine with claims that if other institutions, including the Supreme Court, had not tied his hands, he could have managed the pandemic fully.
To the charge that Brazil was desperately slow to order vaccines, they reply that the shots could not have been ordered earlier as they had not yet been approved by Brazil's health regulator.
When I remind him that many countries ordered large quantities of vaccines pending regulatory approval so they could then be rolled out quickly, Mr D'Avila tells me the Supreme Court could have sued the president if the shots were ordered and then not approved.
"If he had unlimited power like a king, it would be better. He wouldn't need to deal with the Supreme Court and pressure groups," he says.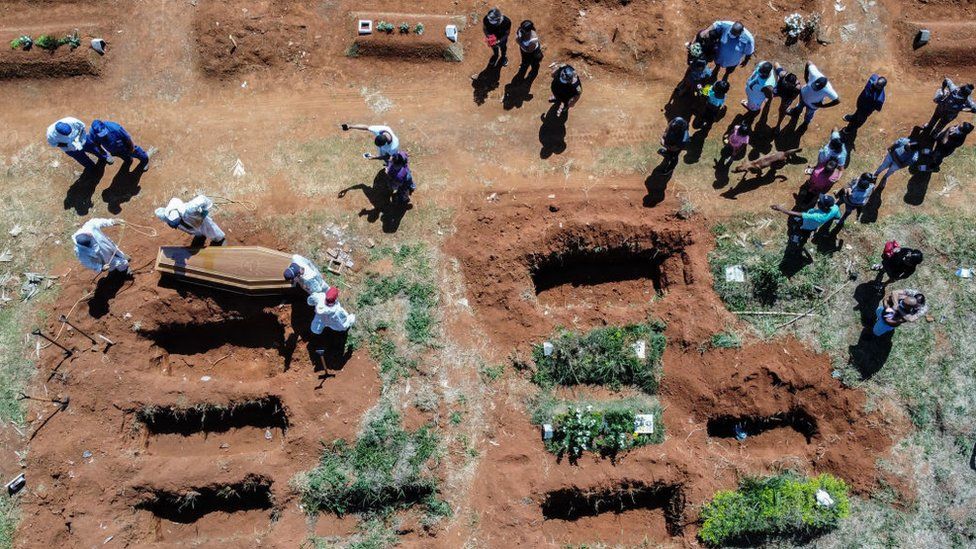 President Bolsonaro is on the back foot. Under fire for mishandling what is becoming a humanitarian crisis and facing a threat from former President Luiz Inácio Lula da Silva, whose conviction for corruption was recently overturned, paving the way to challenge the president in next year's election.
And all the while hospitals fill up, the food queues grow longer, and this shattered country watches helplessly as fresh graves are dug.
Brazil Nuts April 9th 2021
Brazil has recorded more than 330,000 deaths from Covid, second only to the United States, and experts are warning the current surge in cases may not peak for several weeks.
The rapid spread of a coronavirus variant first discovered in Brazil has been a major cause for concern around the world.
President Jair Bolsonaro has consistently played down the severity of the virus, but he is now turning his focus to the nationwide vaccination drive which his critics say has come far too late.
What has Bolsonaro said about Covid?
The president has been highly sceptical about the need to take decisive action to tackle the pandemic:
he has called Covid "just a little flu"
rejected a nationwide lockdown, saying such measures only made the poor poorer
called state governors and mayors who imposed lockdown "tyrants"
cast doubts on the efficacy and safety of jabs and said he wouldn't get vaccinated
joked the Pfizer jab may "turn people into crocodiles"
dismissed opportunities to purchase millions of vaccine doses
told people to "stop whining" about the situation
He continues to oppose lockdowns, but his government has now stepped up its drive to vaccinate the country's population of more than 200 million people.
Comment
If stuff like the above is used to support lockdown , there is no hope. It's from the BBC, I spent nearly 2 years working for an odd dubious Anglo Chilean organisation headed by a Chilean General, as an out come of contact with the British armed forces.
I also understand the economics of primary producing countries relying on mass exploitation and the terms of trade which are manipulated by gredy traders, the impact of Anglo U.S foreign policy, the global corportions, political corruption and the barely educated masses relying on religious escapism with no birth control, thus cheapening themselves in the market place before trying to get up to the U.S promised land for a wholesome 'good old Biden welcome'. I guess starting with giving 11 million a free pass is a step up from Regan's support for the Contras.
The mainstream media is appalling. The same BBC website is still banging the Sarah Everard anti 'male' violence drum , no mention of men being five times more likely to be murdered than women or the fact that a police officer killed her during ludicrous lockdown. Our British cities are obviously not safe for any gullible good person , especially at night and on the Clapham & Brixton fringes where I once lived. The real issue in the Everard case is how a police officer came to commit the crime. The BBC are clearly an arm of the British government which is out to censor everything, especially social networks – all in the name of freedom and democracy. Robert Cook
Brazil Is Looking Like The Worst Place On Earth For COVID-19
Brazil Is Looking Like The Worst Place On Earth For COVID-19 Posted April 3rd 2021
Supporters of Brazilian President Jair Bolsonaro protest during a March 14 demonstration in Sao Paulo. In a recent speech, Bolsonaro yanked off his face mask and lambasted local officials for imposing restrictions across the country. Alexandre Schneider/Getty Images
RIO DE JANEIRO — Cinthia Ribeiro knew she had a fight on her hands when COVID-19 arrived in her hometown in Brazil. What she didn't know was that, one year on, humans would be out to kill her, too.
Ribeiro is mayor of Palmas, capital of Tocantins, a small state wedged between the southeastern edge of the Amazon rainforest and the Cerrado, South America's tropical savanna.
The fresh wave of infections now racing across the landscape has reached her city, flooding hospitals with patients, and pushing intensive care unit occupancy rates up to 96%.
The country is now widely viewed as the epicenter of the pandemic, with the highest number of daily deaths of any nation. On Tuesday, that number topped 3,000 for the first time, with 3,251 deaths recorded.
And this week, Brazil's registered COVID-19 deaths rose above 300,000 — a toll exceeded only by the United States. Ribeiro bleakly remarks that this number is about the same as the population of her city.
Worried that local health systems would collapse, and there would be many more deaths than the several hundred already logged by Palmas city officials, the mayor tried to buy time.
This month, she placed her city under what she calls a "partial lockdown." She shut down the beaches in her jurisdiction along a 106-mile-long lake and banned the public from visiting parks and waterfalls. Supermarkets, bars and restaurants were restricted to deliveries only.
Then came the backlash
"I have suffered real and serious threats against my life," Ribeiro, 44, told NPR.
She said she was bombarded with death threats on her cellphone and social media platforms. A crowd gathered outside her apartment block, yelling abusive comments. People raced by in cars in the middle of the night, shooting fireworks at the building.
O #ConsórcioConectar surge como uma das opções p/ que possamos vacinar a população, suprindo a deficiência do PNI, q ainda está longe de ser minimamente ideal. É hora de todos os entes se unirem, p/ juntos encontramos uma solução que nos ajude a sair dessa crise que afeta a todos— Cinthia Ribeiro (@CinthiaCRibeiro) March 22, 2021
Ribeiro finds it astonishing these attacks by whom she describes as far-right extremists would happen in the middle of a catastrophic pandemic.
"We are trying to save lives! We are fighting against a health crisis," she said. "Yet our lives are being endangered as well."
Public health systems in "collapse"
In more than half of the country's 26 states, ICU occupancy rates have hit 90% or above, according to a bulletin posted March 16 by the Brazilian medical research institution Fiocruz. Brazil's public health systems are "living through the worst collapse in history," it said.
There have been numerous reports in Brazilian media and on social media platforms of patients dying while waiting for beds, shortages of medicines and oxygen, and bodies being dumped in hospital corridors.
Once admired worldwide for its fast and efficient national immunization drives, Brazil has seen its COVID-19 vaccination program plagued by political infighting, bureaucratic blunders and supply problems.
Health workers care for COVID-19 patients in the emergency room of a hospital in Porto Alegre, Brazil, on March 11. In more than half of Brazil's 26 states, ICU occupancy rates have hit 90% or above during the pandemic. Silvio Avila/AFP via Getty Images
So far, three COVID-19 vaccines have been authorized by Brazil's health regulators — AstraZeneca, CoronaVac and Pfizer. Fewer than 7% of Brazilians have had one dose.
"The situation is very, very concerning," said Tedros Adhanom Ghebreyesus, director-general of the World Health Organization. "Brazil has to take it seriously."
Yet medical professionals said that is easier said than done.
A president who yanks off his mask
Brazil's president, Jair Bolsonaro, turned 66 on Sunday.
He marked the occasion by appearing before hundreds of flag-waving supporters outside the presidential palace who, with little regard for physical distancing, gathered there to sing Parabéns (the traditional birthday congratulations) and hand him a birthday cake decorated in Brazil's yellow and green national colors.
Standing before the cheering crowd, Bolsonaro yanked off his face mask and began lambasting governors and mayors who are imposing restrictions in towns and cities across the country.
"Some little tyrants, or tyrants, hinder the freedom of many of you," the retired army captain said.
He declared that Brazilians could "count on the armed forces" to defend their liberty and democracy, including the constitutional right to free movement, without explaining how the military might do so.
"I will do anything for my people!" he declared.
This month, Bolsonaro petitioned the Supreme Court to stop three governors from imposing nighttime curfews. Although they are usually lightly enforced in Brazil, he calls them "a state of siege."
He no longer dismisses COVID-19 as "a little flu." Yet he maintains lockdowns are more harmful than the virus because they create mass unemployment. That "leads to depression, violence, fights, deaths and chaos," he warned his audience on Facebook Live.
To prevent the pandemic from unleashing a wave of poverty last year, his government responded by making emergency payments of $110 a month to more than 65 million Brazilians. Now, facing growing debt, it has cut that sum to $27 — far too little to survive on.
Bolsonaro predicts even more trouble. "Shops will be looted, buses will be torched, there will be serious unrest," he declared.
Frustration and fear in the medical community
Brazil's medical professionals and scientists are watching their president with disdain and alarm and worrying about what will happen next.
"Brazil now represents a threat to global public health," said Dr. Pedro Hallal, coordinator of Epicovid-19, the largest epidemiological study into the coronavirus in Brazil.
People line up for COVID-19 vaccinations Monday in Duque de Caxias, Brazil. After declaring he would never have the injection, Brazil's president now touts his health ministry's vaccination efforts. But experts say it may be too late. Fernando Souza/picture alliance via Getty Images
With the virus out of control, he said he believes Brazil is a breeding ground for more variants that could prove even more lethal and spread to other countries.
"The virus is circulating so widely in Brazil that it is possible, and I would say likely, that new variants will appear in the near future. We need to stop that urgently," he said.
Hallal wants an international task force made up of governments, health organizations and pharmaceutical companies to get far more vaccines to Brazil as soon as possible. If not, "global efforts to control COVID-19 will be jeopardized," he said.
The return of "Lula"
Consensus is also growing among the upper echelons of Brazil that Bolsonaro's handling of the pandemic has been a disaster that is causing avoidable deaths at home and massive reputational damage abroad.
Hundreds of prominent figures from the financial world — including ex-ministers and five former presidents of Brazil's Central Bank — have published an open letter criticizing his government's conduct.
Although the letter does not name Bolsonaro, it complains that Brazil's "largest political leadership" shows "a disdain for science, looks to remedies without evidence of their effectiveness, encourages crowds, and flirts with the anti-vax movement."
The signatories are calling for a nationally coordinated policy of social distancing, including a national lockdown if necessary, a federal-level COVID-19 coordinating body advised by scientists and specialists, free masks and far more vaccines as soon as possible.
Adding to the pressure on Bolsonaro is the return to the limelight of his chief adversary, former President Luiz Inácio Lula da Silva, universally known as "Lula."
On March 8, a judge annulled da Silva's corruption convictions, allowing him — at least for now — to run in next year's elections. The charismatic 75-year-old leftist announced his unexpected comeback by berating Bolsonaro for his "ignorant" pandemic response, and getting vaccinated on TV.
Most Brazilians appear eager to follow the ex-president's example: Eighty-four percent want to be vaccinated, according to a Datafolha poll published on Saturday.
Mayane Brito, 32, a district nurse, travels around remote villages in Paraíba in northeast Brazil, administering vaccines. She said older patients are "laughing in their eyes" when they see her arrive. Yet there are not nearly enough vaccines, and the overall picture in her area is "a calamity," she said.
After jesting that vaccines might "turn you into a crocodile" and declaring he would never have the injection, Bolsonaro has begun to shift ground: He now loudly advertises his health ministry's vaccination efforts and claims Brazil will acquire "500 million doses" this year.
Rio de Janeiro's famed (and usually packed) beaches have been closed as the city's mayor warned of a "very critical" situation. Florian Plaucheur/AFP via Getty Images
Even if true, that is too late, said Dr. Margareth Dalcolmo, a respiratory physician and researcher at Fiocruz.
"We need vaccines now! We have to intercept the transmission of this virus in the community. We already have four variants … responsible for most of the cases in seven states of Brazil. This is [a] very, very worrying fact."
Hallal puts the situation in starker terms: "If we do not have enough vaccines in the next 30 to 45 days, the situation will be terrible — not only for Brazil, but for the rest of the world."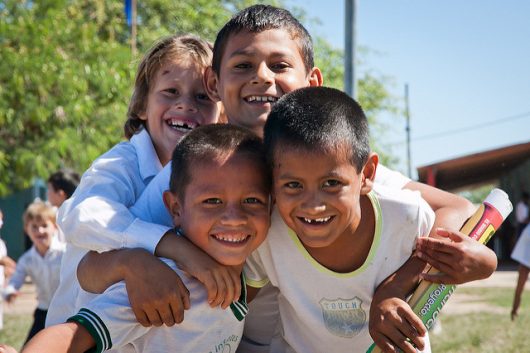 Current events such as protests and political upheavals in Venezuela and Brazil have drawn attention to problems plaguing South America. Some of those problems, having been left unaddressed, have caused higher rates of poverty in Latin and South America. Below are several factors considered to be major causes of poverty in South America at present.
While conditions in South America are improving, progress in certain areas is slow. Those living in poverty in South America are often directly affected by the factors above. The introduction of more efficient and generous international aid programs to people in the region that need it is becoming more and more essential to help combat some of the causes of poverty in South America.
– Arianna Smith
Brazil Nuts February 9th 2021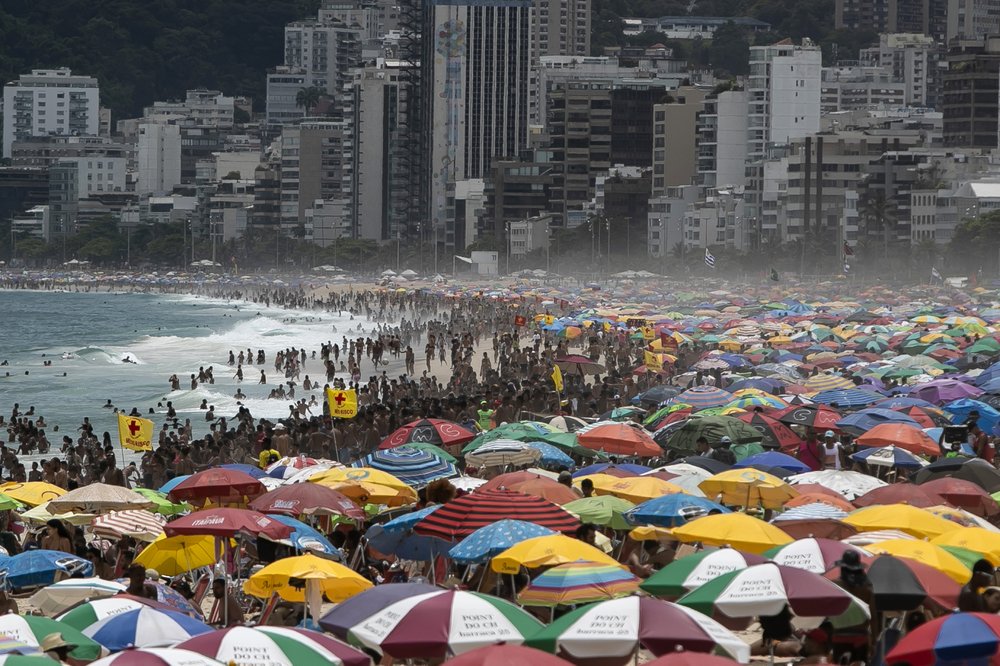 AP PHOTO/BRUNA PRADO
Brazil's wealthy cause friction by trying to queue jump for quick vaccines; Iran starts limited vaccinations with Russian shots – from Associated Press
"When I go to a restaurant and I pay for my own food, I'm not taking anyone else's food." That's how a 68 year-old marketing executive rationalizes being among the wealthy Brazilians who will pay for a COVID-19 vaccination if an association of private clinics can close a deal to bring 5 million shots to the nation.
Many don't see vaccine inequality the same way in a country with one of the world's most inequitable distributions of wealth.
Brazil's government, led by President Jair Bolsonaro, a far-right virus denialist who was stricken by the disease himself, has been failing to secure COVID-19 vaccine doses for its 210 million people, Mauricio Savarese reports from Sao Paulo.
Private clinics, business leaders and some authorities are defending efforts to allow those who can pay to jump the queue and buy jabs to help the country get an economic reboot.
Health experts view such efforts as unethical, given vaccines are scarce globally and at-risk groups are in more immediate need.
The debate is causing intense friction in a nation where nearly 230,000 have died due to the virus, but only 1% have been vaccinated. So far, Brazil has 12.8 million vaccine shots available, with no clear end in sight for immunization efforts.
Iran Vaccination: The Islamic Republic has launched an inoculation campaign among healthcare professionals with Russian Sputnik V vaccines as the country struggles to stem the worst outbreak in the Middle East. The death toll in Iran is nearing 59,000. The health minister said the vaccinations would be simultaneously carried out in more than 600 medical centers across the country. The coronavirus has so far claimed the lives of more that 300 healthcare professionals in Iran.
Portugal's Surge: Hopes are rising in the Iberian nation that the worst of a devastating surge might be over, as the number of deaths reported was the lowest in three weeks. The country's COVId-19 picture is mixed, however. Hospital admissions rose for the first time in a week, but the advance of the virus has by some metrics been slowing since the end of January, Barry Hatton reports from Lisbon.
Portugal, blaming the sudden fast spread on a variant first identified in England, went into lockdown on Jan. 15. Portugal became the world's worst-hit country last month compared to its population, with a deluge of daily deaths and new infections.
Weary migrants wait at Guatemala roadblock as caravan stalls January 18th 2021
SSBy Sandra SebastianThe Associated PressMon., Jan. 18, 2021timer3 min. readupdateArticle was updated 30 mins ago
VADO HONDO, Guatemala – Guatemalan police and soldiers on Monday broke up a group of hundreds of migrants who had spent two nights stuck at a roadblock on a rural highway.
Some migrants threw rocks while authorities launched tear gas and pushed the migrants with their riot shields back down the highway. Migrants with children were more gently prodded back the way they had come.
The year's first migrant caravan had largely stalled two days before President-elect Joe Biden's inauguration. Biden has promised to take a different approach to immigration and even though immediate changes at the U.S. border are not expected, it has created some hope in Central America.
A steep mountain and tall wall flanking the rural highway have allowed Guatemalan authorities to bottle up the group that had numbered about 2,000 when it pushed into Guatemala Friday night.
Their ranks have reduced through attrition as some migrants have agreed to be bused back to the Honduran border. A Guatemalan official repeated that offer Monday morning, telling the migrants they had buses at the ready for those who wanted to return to Honduras. A smaller number have been forcefully sent back after scuffling with authorities who held their line with baton strikes and tear gas.
The primary of objective of the authorities' midday push was to reopen the highway. Police and soldiers banged their riot shields intimidatingly as an official told the migrants to clear the highway. The migrants scattered, but remained in the general area.
Guatemala's immigration authorities said Monday that another group of about 800 migrants had been located about 25 miles (40 kilometres) farther north along the highway near Rio Hondo. They are also blocked from advancing there, but authorities said they successfully negotiated opening one lane of traffic so vehicles could pass.
Pedro Brolo Vila, Guatemala's foreign affairs secretary, criticized Honduras' government Monday for not doing more to dissuade the caravan. He said Guatemala had been preparing since December for this caravan, including meetings with their counterparts in Honduras, Mexico and the United States.
Guatemala was "totally surprised" by Honduras' lack of co-operation, Brolo said. He said Honduras had promised to put out a large contingent of security forces to dissuade the migrants from reaching Guatemala's border. Instead, Honduran security forces accompanied the migrants "toward our borders where regrettably we saw how they entered violently, violating Guatemala's territorial sovereignty."
He also said Guatemalan authorities had detected fake COVID-19 test results among the migrants who stopped to register their entrance to Guatemala.
In total, some 8,000 to 9,000 Honduran migrants were believed to have entered Guatemala in the year's first caravan after departing from San Pedro Sula, Honduras early Friday. Honduras has been battered by the COVID-19 pandemic and two major hurricanes that struck in November, leaving thousands homeless. That's on top of the existing lack of economic opportunity and persistent gang violence.
In Vado Hondo Monday, site of the roadblock outside Chiquimula, migrants leaned against the wall or sat up after a fitful night's sleep in the brush along the road or on the pavement. Some migrants had drifted back to the town in search of food or shade to wait out the stalemate.
Traffic, especially semi-trailers, were backed up for miles. Locals picked their way among the migrants and were allowed to pass the lines of police and soldiers.
On Sunday, Guatemala's Health Ministry reported that 21 of the migrants who sought medical attention at health centres had tested positive for the coronavirus. The department said the 12 men and nine women would not be returned to Honduras until they undergo quarantine at centres in Guatemala.
Even if the migrants manage to find their way to the Mexican border, that government has made a show of force with thousands of National Guard members and immigration agents waiting there.
Mexico has said it would enforce its immigration laws and require an orderly crossing. One year ago, Mexican guardsmen broke up a large caravan in southern Mexico after the migrants forded the river that divides it from Guatemala.
"We are proposing that they seek a dialogue with the migrants, in Honduras, Guatemala," President Andrés Manuel López Obrador said Monday. "They should attend to them so that they don't enter any country by force."
The president said he also hopes to hear Biden address immigration in his inauguration speech Wednesday.
Covid: Brazil approves and rolls out AstraZeneca and Sinovac vaccines January 18th 2021
A nurse has received Brazil's first Covid-19 vaccine dose after regulators gave emergency approval to two jabs.
Regulator Anvisa gave the green light to vaccines from Oxford-AstraZeneca and China's Sinovac, doses of which will be distributed among all 27 states.
Brazil has the world's second-highest death toll from Covid-19 and cases are rising again across the country.
President Jair Bolsonaro has been heavily criticised for his handling of the pandemic.
The far-right leader has played down the pandemic from the beginning, promoted an unproven treatment for the disease and gone against measures including mask-wearing and social distancing.
The president, who caught Covid-19 last year and recovered, has said he will not take a vaccine.
Authorities reported 551 new fatalities on Sunday, the first time in six days that it had fallen short of 1,000 although this could reflect a delay in the reporting of numbers over the weekend.
In all, more than 209,000 Covid-related deaths have been recorded in Brazil, a raw total figure only exceeded by the US.
Over 8.4 million infections have been confirmed since the start of the pandemic – the third-highest tally in the world.
Health Minister Eduardo Pazuello told reporters that the national vaccination programme in the country of 211 million people would begin in earnest in the coming days. Two Brazilian biomedical centres which have been given approval to produce the jabs will be heavily involved.
About six million doses of the Sinovac-developed CoronaVac have already been produced in Brazil, while the government is waiting for shipments of the AstraZeneca vaccine from a laboratory in India.
Shortly after Anvisa's board gave emergency approval, Monica Calazans, a 54-year-old nurse in São Paulo, became the first person to be inoculated with CoronaVac.
Her vaccination was organised by the São Paulo state government, which is led by Mr Bolsonaro's main political rival, João Doria.
Never Give Strongmen a Second Chance
Latin American history offers a clear lesson to the United States: Ban Donald Trump from running for election ever again.
By Michael Albertus | January 14, 2021, 2:17 PM
Sign up for Latin America Brief
Coming January 2021: A one-stop weekly digest of politics, economics, technology, and culture in Latin America. Written by Rio de Janeiro-based journalist Catherine Osborn.
Outgoing President Donald Trump's latest offense to American democracy—inciting riots that sacked the U.S. Capitol—puts in stark relief his disregard for the country's institutions and his insistence on putting himself above the law. Officials in Washington—both Republicans and Democrats—have now turned to the question of what to do about it.
They should pay close attention to the lesson provided by other countries that have lived under authoritarians like Trump: that they must be removed from office and banned from reelection. Research shows that protecting democracy requires eliminating the figures with authoritarian tendencies who pose a threat to it. Ousting Trump could also help to deter future would-be authoritarians from seeking office. Trending Articles
Biden Can't Fight Corruption Without Help From Europe
To stop drug traffickers, criminals, and kleptocrats from laundering their loot, the United States and EU must join…
Latin America provides clear lessons in this regard. My own research indicates that top officials from outgoing authoritarian governments in the region during the years 1900-2015 were four times more likely to return to positions of political or economic power under democracy than to be punished for their misdeeds. And when they did, the quality of democracy deteriorated.
When authoritarians linger, representation and accountability suffer. This can both stall democratic improvement and foster democratic erosion. When authoritarians retain sufficient power to protect their interests, they can limit the scope of democracy by carving out exemptions for themselves from rules and laws, or by ensuring that certain rules and laws are not enacted. The result is a qualified form of democracy.
If authoritarians and their supporters retain enough power to go on the offensive, they can push decision-making and policy toward their own preferences and away from the preferences of the majority. And they can hound their opponents relentlessly, volleying armies of internet trolls, relaying death threats, deploying militiamen, and using powerful political groups to target them for political attack and to fund efforts to unseat them. The result is an impaired democracy that is much more favorable to the interests of authoritarians.
Take for example Brazil. During the country's last military dictatorship from 1964-1985, authoritarian elites were organized within the ruling National Renewal Alliance (ARENA) party, later renamed the Social Democratic Party (PDS). Many of these politicians dispersed across the political spectrum after transition. But they retained substantial influence. Four leading figures from the dictatorship's final administration became national deputies under democracy. Two others—including former Vice President Aureliano Chaves and former Development Minister Jarbas Passarinho—obtained cabinet positions. Former Foreign Affairs Minister Ramiro Saraiva Guerreiro was appointed to an influential diplomatic post, and the regime's intended civilian successor, Paulo Maluf, was elected mayor of São Paulo, and later, a national deputy.
These individuals from Brazil's authoritarian past served as bridges to elected executives who needed authoritarian elements in the legislature to pass legislation, and who sought to avert civil-military crises. And they played a role in watering down the progressivity of Brazil's 1988 Constitution and blocking major social and economic change for decades. Indeed, the military's return to the fore of Brazilian politics under President Jair Bolsonaro can be linked to the country's most recent bout of military rule.
Authoritarians also retained broad influence in Mexico, Peru, and Chile long after their transitions to democracy in ways that limited democratic deepening. All these countries are still struggling with that legacy. Take Chile: Only in 2020 on the back of enormous protests did it vote to replace the authoritarian constitution of General Augusto Pinochet, which still guides the country's politics.
Latin America also provides positive examples of vanquishing authoritarians. Though it took several years, Uruguay excised many of its powerful former authoritarians from the 1980s. Guatemala did the same in the wake of its civil war. In Panama, U.S. invasion in 1989 resulted in the flight or imprisonment of various top-level elites from the Manuel Noriega dictatorship, including the powerful military members that comprised the so-called Gang of Six. All these countries had democratic openings following these changes. And while Guatemala's democracy has teetered at times, Uruguay is a shining star of Latin American democracy. Panama is also solidly democratic.
More recent years have also provided lessons for the United States. As democracy has grown roots in the region, returns to outright authoritarianism have been relatively rare. Instead, the region has more often flirted with elected executives that act as would-be authoritarians while in office in much the same manner as Trump has in the United States.
A number of these politicians seek to overstay their welcome in office. Former Colombian President Álvaro Uribe tried and failed to reform the country's constitution to enable another term in office in the 2000s. Former President Rafael Correa passed a new constitution in Ecuador that paved the way for another reelection. And former President Cristina Fernández in Argentina returned to power by serving as vice president to a political ally. These tricks have challenged democracy in each of these countries. But democracy nonetheless stands, and few observers think that it would be stronger had these politicians gotten their way and remained directly in office. Efforts to attack the media and the independence of the judiciary were cut short by removing them from office. And all were cut further down to size by being prosecuted for their abuses of power.
Read More
Bolsonaro Is Following Trump's Anti-Democracy Playbook
Brazil's "Tropical Trump" is laying the groundwork to discredit his country's electoral process. Argument | Robert Muggah
Those countries in which authoritarians got their way and remained in office indefinitely—especially Hugo Chávez in Venezuela and Daniel Ortega in Nicaragua, as well as Evo Morales's attempts to do so in Bolivia—are clear cautionary tales.
Prosecuting Trump after he leaves office is a more controversial and risky alternative to banning him from office. It would put the burden on President-elect Joe Biden, despite the fact that incumbent American presidents have a long history of forbearance when it comes to judging preceding presidents. Prosecuting a former president who has committed crimes can potentially renew faith in clean government, but it risks polarizing the nation and jeopardizing the agenda of a new president. The current exceptional circumstances might just warrant that risk, but it is a second best.
A better approach to protect the future of American democracy would be for Democrats and mainstream Republicans to work together, building from today's impeachment, to convict Trump and ban him from future office. Many Republicans—though not all—recognize that Trump is a major risk to their party brand. After all, he is the first sitting president since Herbert Hoover to preside over an electoral sweep by his opponents across the presidency, House, and Senate. And Trump's unwillingness to concede an election he clearly lost followed by his incitement of the Capitol riots is testing many Republicans' patience. Even Senate majority leader Mitch McConnell now tacitly supports Trump's second impeachment. And it is not lost on moderate Republicans like the Bushes or Mitt Romney that Trump's stripe of Republicanism poses an existential threat to them within the party.
Banning Trump from office could occur before or after the handover to Biden. Regardless, the key lesson from Latin America is that if you don't rule out the nefarious influence from the past, then it will linger and continue to undermine democracy.
Michael Albertus is an associate professor of Political Science at the University of Chicago. He is author, most recently, of Authoritarianism and the Elite Origins of Democracy.View
Comments Tags: Argument, Democracy, Latin America, Trump
Trending Now Sponsored Links by Taboola By Taboola
More from Foreign Policy By Taboola Latest Germany Prepares to Choose Merkel's CDU Successor January 15, 2021, 6:00 AM Jan. 6 Changed Tech Forever January 14, 2021, 4:35 PM Tokyo Wants the Olympics to Happen Even if the Public Doesn't January 14, 2021, 3:15 PM Never Give Strongmen a Second Chance January 14, 2021, 2:17 PM Time for a Responsible Clean Energy Supply Chain January 14, 2021, 1:26 PM See All Stories
Trending
Covid Brazilian variant sparks South America travel ban January 14th 2021
A ban on travellers to the UK from South America, Portugal and Cape Verde will begin on Friday due to a new Covid variant identified in Brazil.
Transport Secretary Grant Shapps said the change would come into force from 04:00 GMT.
British and Irish citizens and foreign nationals with residence rights will still be able to travel but must isolate for 10 days, he said.
The decision was announced after a meeting of ministers on Thursday.
Meanwhile, the UK has reported a further 48,682 daily cases – the fourth day in a row that the figure has been below 50,000. The government website said updating the death figures had been delayed due to an issue with processing the data.
The new travel ban applies to people who have travelled from, or through, the South American countries of Argentina, Brazil, Bolivia, Chile, Colombia, Ecuador, French Guiana, Guyana, Paraguay, Peru, Suriname, Uruguay and Venezuela in the last 10 days.
Portugal, including the islands of Madeira and the Azores, is also banned, along with the central American nation of Panama and the former Portuguese colony of Cape Verde, off the West African coast.
Mr Shapps said Portugal had been included "given its strong travel links with Brazil" – but there would be an exemption for hauliers travelling from the country to allow the transportation of essential goods.
He said suspending travel from that European country would act "as another way to reduce the risk of importing infections".
On Wednesday, Prime Minister Boris Johnson said he was "very concerned" about the Brazilian variant of the virus.
New variants of Covid-19 have previously been identified in the UK and South Africa, with many countries imposing restrictions on arrivals from both nations.
Several Central and South American nations had already restricted travel from the UK, including Brazil, Chile, El Salvador, Guatemala and Panama, while others such as Argentina and Uruguay have closed their borders to non-resident foreign nationals.
The Department for Transport said under the ban no exemptions would apply, including those for employment, and people who live with someone who has travelled from one of the banned countries will have to self-isolate for 10 days.
Qatar and the Caribbean islands of Aruba, Bonaire, Sint Eustatius and Saba have also been removed from England and Scotland's travel corridor lists, meaning anyone arriving from these countries after 04:00 GMT on Saturday will have to quarantine for 10 days.
Jon Dent, 31, from Wolverhampton, travelled to Brazil with his wife Carla, 32, in October so that her family – who live in Goiania – could see their daughter Luiza, one, for the first time.
They are due to fly back to the UK on 6 February but Jon now fears they may be stuck out there for months due to the travel ban.
"We had planned to visit in February 2020 but we had to postpone because of the lockdown and that was rough on my wife, she suffered a lot.
"Now I think my mum is suffering as she's expecting Luiza to be back, but who knows now?
"My initial reaction was worry because it's so unknown. The thought of not being able to return home and being stranded is not a nice feeling.
"I'm hoping British residents will be able to get home but I don't know if the government will organise flights. I think it's a long shot. I hope we can get home and not be stranded out here for months.
"We've got to be patient but at the same time flexible."
Journey to the Center of the Earth Posted January 8th 2021
Dec 28, 2020
For nearly half a century, legends of a giant cave in the Andes—holding artifacts that could rewrite human history—have beckoned adventurers and tantalized fans of the occult. Now the daughter of a legendary explorer is on a new kind of quest: to tell the truth about the cave in order to save it.
The world's most mysterious cave is difficult to reach.
To get to Cueva de los Tayos—Cave of the Oilbirds—drive east out of Ecuador's capital city of Quito for eight hours along narrow, potholed roads that twist through cloudforest above the Amazon Basin. Pull over outside the small town of Mendez, and walk a path to the bank of the muddy Santiago River, where you'll see locals hauling 150-pound bushels of bananas on their shoulders. Lower yourself into a long wooden canoe and glide past cascading waterfalls to the start of a dirt trail. Hike five hours in the humidity, over Puntilla de Coangos mountain, then up to the summit of Bocana de Coangos. The trail ends at a clearing with three thatch huts, home to a dozen Shuar, the ancient tribe that guards the cave.
The Shuar are the Indigenous people of the region, legendary warriors known for shamanism and for shrinking the heads of their enemies. Tayos beckons from deep inside territory that is managed and protected by the tribe, and visitors must take great care when navigating the local politics and customs. Theo Toulkaridis, a geology professor and researcher at the University of the Armed Forces in Ecuador, who is a leading expert on Tayos, learned this the hard way in 2014. After a few days exploring the cave, he climbed out to find 20 angry Shuar waiting for him. Toulkaridis had hired local guides, but other Shuar were upset that they had not been hired as well. "My guide hugged me close and whispered, 'Don't resist,'" Toulkaridis recalls. Then a Shuar woman whipped him with a belt.
Tayos is named for the brown-feathered, hook-billed nocturnal birds that dwell inside the cave alongside thousands of bats. The birds act a lot like bats, spending their days in darkness and heading out at night to forage for fruit. They're called oilbirds ­because of their fatty chicks, which the Shuar capture and reduce to oil. The cave is also rumored to contain artifacts of a lost civilization. A 1972 bestselling book by Swiss author Erich von Däniken, called The Gold of the Gods, claimed that Tayos held carved passageways and a "metal library" of tablets written in an unknown language. Von Däniken has long believed that aliens once inhabited the earth, and the tablets fit his theory that extraterrestrials helped ancient people evolve. The notion has been criticized as pseudoscientific and racist, attributing the achievements of now marginalized earthlings to ­interlopers from space. Yet it spawned a cottage industry of books, conventions, and TV shows, ­including the History Channel's Ancient Aliens, which premiered in 2010 and is one of the network's most popular programs.
A couple of years after The Gold of the Gods was published, the late Scottish explorer Stan Hall assembled a team of 100 scientists, cavers, British and Ecuadorean military personnel, and, remarkably, astronaut Neil Armstrong, who served as a figurehead, and led them into Tayos to unravel the mystery. What they found astonished them. Deep inside, in spots where it would have been impossible to lug machinery, there were stone passageways that appeared to have been cut at right angles and then polished. They also discovered a burial site dating back to 1500 B.C.
"The cadaver, as if surprised by the sudden intrusion after so many lonely centuries, crumbled to dust when touched," Hall writes in Tayos Gold, his book about the expedition. Though the team didn't find the metal library, Armstrong put the adventure "up there with the moon landing."
Beyond that, only a small number of intrepid hikers, wide-eyed UFO believers, and even a team of researchers from Brigham Young University—who believed that the metal tablets might be linked to the Mormon faith—have made it inside. The cave has also attracted interest from geologists and archaeologists, who have mapped portions using 3D technology to better understand its scope. (Roughly four miles of the cave have been mapped so far, but an estimated three miles remain.) Toulkaridis calls it "a natural laboratory which is fundamentally untouched."
To enter Tayos, you need more than the permission of the Shuar. You also need a blessing from the cave itself. I learn this late one starry night in August of 2019, in Kuankus, the tiny Shuar settlement, which is located about one mile uphill from Tayos. Getting here has been a brutal ten-hour slog in sweltering heat. The trek included crossing a rickety rope bridge high above the rapids and trudging in mud through thick jungle loaded with giant black bullet ants, so named because being bit by one feels like being shot. The plan is to stay in Kuankus for the night, then enter the cave with our Shuar guides the next morning.
I'm here with a small team led by Eileen Hall, Stan Hall's 34-year-old half-Scottish, half-Ecuadoran daughter, who continued her father's quest to understand the true history and power of the cave after he died of prostate cancer in 2008. Eileen, who lives in London, is artistic and spiritual, a former architect who now conducts what she calls energy-healing work with private clients. Along with another architect, Tamsin Cunningham, she is also a cofounder of Tayos, a company that explores the cave through writing, music, and meditation. Today, with her long brown hair in a ponytail, she's dressed in a black Ecuadorean shirt, long gray hiking pants, and blue rubber boots caked in mud. This is her fourth expedition to the cave. When I ask her what I should expect, she tells me that Tayos is "a psychedelic experience."
After sipping from a wooden bowl of chicha, a chalky, alcoholic drink made from fermented yuca (prepared by women who chew it and then spit into the bowl), we gather with the Shuar around a campfire. A shaman—a stout, middle-aged woman with long, dark hair—leads us through the permission ceremony. We hold hands while in Spanish she thanks the stars, the moon, the earth. She removes a smoldering log from the fire, waving its smoke behind each of us in a blessing. Finally, we take turns asking for permission from Arutam, the all-powerful force in the Shuar religion, to enter Tayos. After a few moments of silence, the shaman tells us that the spirit has allowed us inside what she calls "the womb of the earth." Share Tweet Email
---
David Kushner is a contributing editor at Outside, as well as author of The Players Ball: a Genius, a Con Man, and the Secret History of the Internet's Rise.
---
Shuar guide Jaime Tiwiram giving a blessing before leading a group into the cave (Photo: Eoin Carey/Tayos Art)
Stan Hall, 1975 (Photo: Tayos Archives)
The Coangas River (Photo: Eoin Carey/Tayos Art)
The 1976 expedition (Photo: Tayos Archives)
"Morder la cabeza"—bite off the head—the street vendor says as he hands me a chontacuro, a plump white grubworm fresh from a sizzling grill. As I struggle to distinguish the head from the body, Eileen says, in her Scottish brogue, "It's that little black thing right there."
It's a few days before our descent into Tayos, and we've stopped for a break in Mera, a small gateway town to the Andes. A band plays drums and trumpets just off the town square where local merchants sell crafts and food. Eileen sways to the festive music and compliments a local craftswoman on her butterfly earrings. Though Eileen has been living in the UK since she was a young girl, she was born in Ecuador and feels deeply connected to the country. If it wasn't for Tayos, which drew her father here decades before, she wouldn't even exist.
Eileen's father never dreamed of becoming a famous explorer. As a young married man in Dunbar, a seaside town near Edinburgh, he was a mild-mannered civil engineer with a bookish interest in science, history, and travel. "He got interested in explorers," ­Eileen says. "People like Lawrence of Arabia who would go off into the unknown." Reading about Tayos in The Gold of the Gods captured his imagination like nothing before. Von Däniken claimed that an Argentine-Hungarian explorer, Juan Moricz, had taken him to the cave, where they found the tablets that, he wrote, "might contain a synopsis of the history of humanity, as well as an account of the origin of mankind on earth and information of a vanished civilization."
The fantastical account gripped Hall, who on a whim decided to write to Neil Armstrong and invite him to take a trip to the cave in 1976. Armstrong, recently world-famous from his moon walk, could draw enormous attention to the venture, and as Hall had learned, the astronaut had Scottish roots, so he just might consider the idea. To Hall's shock, Armstrong wrote back saying he was interested. With that letter in hand, Hall approached both the British and Ecuadorean governments, which agreed to provide funding and helicopter transportation to the site. Within a year, Hall had organized one of the largest cave expeditions of his time.
Stan Hall assembled a team of scientists, cavers, military personnel, and, remarkably, astronaut Neil Armstrong, and led them into Tayos.
Hall's journey made him famous, inspiring him to quit his day job and move to ­Ecuador to keep exploring the cave. But it also ended his first marriage, which couldn't endure the strain. In Quito, he met and married an Ecuadoran woman, Janeth Muñoz, who shared his passion for Ecuador's history, and in 1986 she gave birth to their daughter. For Eileen, growing up as the child of a celebrated explorer felt like a fairy tale. But Muñoz, who still lives near Edinburgh, says that Hall struggled to get support for his research. He was consumed by his search for the legendary library, and the only money they had came from his occasional consulting jobs. When he wasn't strategizing with treasure hunters over beers, he was off with the Shuar, who made him a blood brother of the tribe. "Dad became obsessed, he called it the fever," Eileen recalls. With Hall so caught up in his work while Ecuador was on the verge of a deep financial crisis, they were often unable to pay their rent.
Hall and Muñoz had a second daughter, and in the mid-1990s Muñoz insisted on moving the family to Scotland to have a safer and more stable existence. For ten-year-old Eileen, the relocation—in the middle of the Scottish winter—was devastating. She was the only brown-skinned, Spanish-speaking child in her class. Bullied by other students, she became depressed and at times suicidal.
As she matured into adulthood, Eileen took steps to find meaning in her life. She traveled around Europe and earned a degree in architecture. Meanwhile, her father continued to return to Ecuador, where his fruitless searches for the metal library grew increasingly frustrating. He was also, Eileen learned, dying of cancer.
Late one night in 2008, while holding vigil at his bedside in Scotland, she was struck with a new sense of purpose: she would keep his work alive. For her, Tayos was about more than the mysteries of the Shuar—it was also a connection to her origins. She would go back to Ecuador, she promised him, and continue the journey he had begun. "I'm going to follow your spirit," she said just before he died.
Eileen's decision left her mother with mixed emotions. "I feel proud of her," Muñoz says, "but I suppose she is going to encounter the same kind of problems that he did," with trying to protect the cave.
An oilbird (Photo: Tayos Archives)
Neil Armstrong inside Tayos in 1976 (Photo: Tayos Archives)
After 2010, the Shuar began guiding small groups of tourists into Tayos. Then, in 2015, Eileen made her first trip into the cave with an Ecuadoran documentary filmmaker. She was excited, but the realities of the journey felt treacherous. It was the rainy season, which meant flooding streams and water coursing down muddy slopes along the approach hike. Entering Tayos begins with a rappel along a series of ropes, and on the descent Eileen was frightened by the screaming oilbirds lurking in the blackness. Once on the ground, she found the cave so overwhelmingly dusty and dark that she jumped at the first chance to leave before nightfall. "It was all too much," she says.
Two years later, in 2017, she was invited to return for an episode of Expedition Unknown, a Travel Channel program. Though she had grown up with what she calls "the treasure story" of Tayos, she was no longer convinced that a metal library existed, and even if it did, she didn't think it would be the work of little green men. Now she felt like a prop in an overwrought reality show. She couldn't stomach the host's perfunctory treatment of the Shuar and his blustery mugging for the camera: as he entered one shadowy chamber, he proclaimed, "This just got real!"
Eileen felt a growing sense of alienation in a male-dominated adventure narrative. Explorer stories—from Columbus to Shackleton to Neil Armstrong—are predominantly about white men seeking the edges of the known world. Where did she fit in? "Men went off and discovered new lands, and that's why our history is that women have to stay at home," she told me. "For me this journey has been about finding my voice as a woman."
In August 2018, she led her first expedition to Tayos, a trip with both artistic and scientific goals. She didn't want to just investigate the cave; she wanted to find new ways of experiencing it. To do this, she brought along a small group of artists, including Jon Hopkins, an electronic musician from England, and neuroscientist ­Mendel Kaelen, who would measure how listening to music in the cave impacted the brain.
Once inside, Eileen and the artists made their way into the shadows, meditating, playing music, and listening to ways that the cave walls sculpted the sound. "It was a gentler way of exploring, instead of this gung-ho way," she says.
She emerged four days later with a new sense of the place, and of herself. "In shamanic work, you go into the darkness and the shadow, but the moment you run away from it is when you get into trouble," she says. "For me the cave is this idea of facing the unknown and befriending it to receive a more complete wisdom about life."
Hall's Tayos team inside the main chamber (Photo: Eoin Carey/Tayos Art)
For our trip, Eileen had a vision, a project that would bring together creativity and activism. The plan is to record musical performances inside the cave for a multimedia installa­tion in London. Publicity from that will generate support for Unesco World Heritage site designation, protecting the area around Tayos from mining and other threats. The musicians are an Ecuadoran multi-­instrumentalist named David Villa­gomez and British producer Henry "Hoffy" Hoffman. We'll set up camp an hour's hike into the cave and spend two days and nights there, recording and exploring under the guidance of the Shuar.
Eileen admits that skeptics would probably label her New Agey, but Toulkaridis told me that, after initially being resistant to her idea of playing music in the cave, he has no objections to the esoteric nature of the enterprise. To him, anything that helps spread the word about the fragility of the region's landscape and the Shuar people is worthwhile. "Scientists have no outreach to the mass media," he says. "You need someone who can help get the message heard."
A seminomadic, polygynous tribe spread across the forests of Ecuador and Peru, the Shuar have been fighting against colonization and missionization since the Spaniards invaded their territory in the 16th century. To the Europeans, they were subjects of fascination: a warrior culture known for shrinking the heads of their victims as a way of capturing souls. In battle they believed that their shaman could conjure invisible darts to destroy their foes. They were so feared that in 1995 the Ecuadorean army developed elite units of Shuar soldiers for territorial battles with Peru.
Since the 1960s, the Shuar have maintained jurisdiction over portions of their land, and they've become a powerful force in protecting the country's natural resources. In 2008, they helped persuade the Ecuadorean legislature to pass the world's first law granting the kinds of legal rights to forests and rivers that are ordinarily reserved for people.
Still, the Shuar are vulnerable to development. In 2012, the government entered into a contract with Ecuacorriente S.A. in which the Chinese-owned mining company would invest $1.4 billion to build a copper and gold mine in the heart of Shuar territory. The move defied Ecuadorean law and international agreements on the rights of Indigenous people, according to the ­International Federation of Human Rights and the United Nations. Called the Mirador Mine, it's the first large-scale mining operation in the country and will occupy some 22,000 acres of forest. Since construction began, the Shuar have staged numerous protests. There have been violent confrontations with police and military forces, and at least two anti-mining activists have been murdered.
Eileen told me that her father earned the respect of the Shuar and that the tribe was instrumental in helping him gain access to the cave. "They were very welcoming," she says. After three past trips to Tayos, she's developed her own familial connection with Kuankus villagers, who dress in modern clothing but still mostly live off the land. When we first arrived, a middle-aged Shuar woman named Susana Wamputsar and her husband, Don Bosco Tiwiram, presented ­Eileen with handmade jewelry.
After the ceremony giving us permission to enter the cave, we sit with the couple—along with one of their sons, Jaime, who will be our primary guide and translator—on a small wooden bench outside a thatch hut. As Susana speaks, Jaime translates her words into Spanish, then Eileen translates them into English so I can follow along. Susana, who was around 12 when Hall's expedition came through the area, recalls the dramatic sight of the helicopters landing. She says the elders in her community wouldn't dare go near the cave while the foreigners were there. According to folklore, the men left with "a thigh bone," she says, as well as boxes of ceramics. She recounts another well-known story, about a time decades earlier when an Italian monk named Father Carlos Crespi left the cave with "tablets wrapped in newspaper."
After a few moments of silence, the shaman tells us that the spirit has allowed us inside what she calls "the womb of the earth."
Ecuador banned expeditions to Tayos soon after Hall's expedition, so that the Shuar could "come back to their place and just be with the cave," Susana explains. It remained closed to foreigners until the Shuar began offering tours a decade ago. When I ask her what the Shuar believe is inside Tayos, she tells me that there is a tall stone that contains salt, as well as a "double spirit." One is Nunkui, a female entity who protects and cultivates the plants of the area. The other is Weh, who makes healing salts. For centuries, the Shuar would descend into Tayos to retrieve Weh's magic salts. But since others began traipsing through the cave, says Jaime, Weh has receded into the shadows. Now he believes Weh is ready to return. Earlier in the year, Jaime was in the cave with a group of tourists when he heard a loud noise coming from a high cranny of a cavern. "It sounded like footsteps," he says.
Jaime, who is intense and wiry, with thick black hair and bangs, flipped on his ­headlamp and, along with another guide, shimmied over fallen rocks toward the sound. At a narrow passageway, the footsteps grew louder and louder, spooking the other guide so much that he retreated, but Jaime crawled inside. He was alone when everything suddenly went silent. Then he looked down and saw a giant footprint.
"A footprint?" I ask, skeptical.
"I have a picture," he replies, matter-of-factly. He swipes at his phone, then hands it to me. The photo indeed shows a fat, wide footprint in brown mud that, by my count, has seven toes.
His account would feel like a hoax if Jaime wasn't so stoic and his words weren't so heartfelt. The Shuar consider dreams to be visions, and for weeks, Jaime says, he has been seeing Weh in his sleep. The spirit, appearing in the form of a Shuar man, told Jaime that he wants to return.
Jaime says he also had been having dreams of Eileen coming back to Tayos, bringing others with her. Together with Jaime, they would sit deep inside the cave in total silence, and if they waited long enough, Weh would emerge. Turning to Eileen, Jaime tells her that, physically, she may live in London, but her true spirit is in Tayos. "I feel that you live in the cave," he says.
Oh, and the group from his dreams who would conjure Weh with her? That would be us.
This just got real!
The mouth of Tayos opens at the end of a steep path in the rainforest. As we walk toward it on the morning of our descent, butterflies flutter between the leaves. A four-inch caterpillar, with black and yellow stripes and spiky green hairs, navigates a sodden log. There are also things that look like aliens. Near the entrance of the cave, we see a triangular gray rock that resembles the head of an ET, with impressions for eyes. Then there's the entrance itself, which looks a lot like the outline of an extraterrestrial's face. Perhaps the psychedelic experience Eileen spoke of begins here.
One by one, we take turns stepping down toward the mouth and slipping into our harnesses, while Jaime and a half-dozen other Shuar connect rappelling devices to ropes secured to the side of the entrance. The 200-foot descent along jagged wet shale lasts about five minutes but feels like an eternity, and I sense that I'm entering another world. About midway down, with the sunlight receding, I hear, for the first time, the distant screams of the cave's namesake birds. And by screams I mean screams: like Linda-Blair-with-her-head-backwards-in-The-Exorcist screams. Capable of hitting 100 decibels—greater than a snowmobile engine—they are among the loudest birds on the planet. When they're not screaming, they're clicking, using echolocation to navigate the darkness. They spend their days perched on rock shelves throughout the cave, heading out at night to forage.
Once inside Tayos, it's difficult to get a true sense of scale. For the most part, this isn't a claustrophobic maze of narrow passageways; it's a series of massive chambers, some hundreds of feet tall.
With our headlamps illuminating the darkness, we clamber away from the entrance over several dozen yards of massive fallen boulders, then rappel down a 15-foot precipice. This takes us to a famous landmark, the Juan Moricz arch, named after the explorer who purportedly led Von Däniken into the cave. Separating two chambers, it appears to have been precisely cut and smoothed. In The Gold of the Gods, Von Däniken writes: "I'd like to see the archaeologist with the nerve to tell me that this work was done with hand-axes!"
He should talk to Florencio Delgado, an archaeologist at San Francisco de Quito University who has studied the cave during multiple visits. "It's a made-up story," he says. Toulkaridis, the geologist, agrees. "I call myself the assassin of ignorance," he tells me with a laugh. The cave is something like 25,000 to 30,000 years old, he says, and is composed of sandstone and carbonate. The polished walls were created by geodynamic pressure grinding the rock into layers, which were then carved by the water that flowed around them.
The deeper we go into Tayos, the more spectacular it becomes. We step into a giant cavern, which I nickname King Kong's Palace. Boulders cover the ground like fallen ruins, and the cave's ceiling looms at least a couple hundred feet overhead. In the distance, there's another passageway with perfectly smooth walls that rise and meet at close to a right angle.
Around the corner, we come to the gargantuan Main Chamber. It could hold a 20-story building lying on its side, and it's just as tall. The light from our headlamps fades before it reaches the far side. The ground is rocky, lunar, and black, but unlike the moon it's teeming with life. Giant brown tarantulas stroll between stones. I catch the glimmer of the silvery back of a three-inch beetle before it scurries into the shadows. On a small boulder, we spy what looks like a steampunk insect, part flesh, part machine. It's an Amblypygi, or whip spider, and as we get closer, we see that it has a beetle in its mandibles.
After pitching our tents and filling up on lentils and rice, we fall asleep to the cries of the oilbirds, which gradually fade to silence.
The 2018 expedition (Photo: Eoin Carey/Tayos Art)
The author in the Altar of Light chamber (Photo: Courtesy David Kushner)
Ecuadoran musician David Villagomez (Photo: Eoin Carey/Tayos Art)
The only way to tell that it's morning in Tayos is by the Altar of Light. Located at the far end of our encampment, the towering chamber is the one spot other than the entrance where sunlight makes it inside. The light streams in through two openings some 200 feet above, along with a shower of rain. Shoots of tall green grass rise from the mound of rich black soil below.
It's a remarkable setting, and Eileen and the musicians decide to do some recording. Hoffy sets up his equipment, while Villagomez perches on a rock with his flute. But then something overcomes Villagomez, who bursts into tears. Until now he's been a jovial, good-humored part of the troupe, but he's sobbing heavily. When he recovers some 15 minutes later, after being comforted by the group, I ask him what happened. He cites the overwhelming energy in the Altar of Light chamber and says, "I felt something inside me die." That sounds far-out, but in this spot it's understandable, and it's hard not to be moved when Villagomez begins to play.
After the session, we take turns standing in the rays of sunlight slashing down to the chamber floor. As the sun arcs higher, they slowly merge into a single beam, shooting down between two towering pillars of rock. If this was an Indiana Jones movie, the light would be pointing to some secret burial site—which, actually, it might have been.
As Stan Hall claims in Tayos Gold: "20th July 1976, 11:25 A.M., seven years to the day since Neil Armstrong's left foot made that 'first small step for man' on the Moon," a scientist on Hall's team "was kneeling on a pile of guano molesting a scuttling beetle with a twig when he scraped across a shard of pottery." The shard led to others, and eventually a cadaver. The location: the spot where the light points when it splits the rocks.
"I'm 100 percent sure that if rituals have been done, they've been done there," Toulkaridis tells me. "The Indigenous people before the Shuar wouldn't care about flat surfaces but about how the sun shines inside that area."
That afternoon, Jaime guides us deeper into the cave. The terrain transforms from large caverns to smaller passageways, and we shimmy and bend around sharp stalactites. Eventually, we come to an area where the ceiling is only about five feet off the ground, a spot that Jaime says is dark and still enough for Weh. We shut off our headlamps and wait in silence. The only sound I hear is a bat's flapping wings, which sends an occasional breeze at my face. After 20 minutes or so, Jaime announces that he feels the presence of a being. Hoffman tentatively asks, "Which being is it? Is it, um, the one with salt?"
In fact, Jaime says it's another one, a guardian who's watching out for the cave, and for us. According to Jaime, the spirit is saying, "This is a very sacred place, very few people have been through here." The spirit says we shouldn't have used the complicated route through the stalactites, and that we should go around them on the way out. The spirit of Stan Hall is with us, too. "I can feel it," Jaime says.
The group is quiet for a beat. The others say they don't sense anything. I say I felt only a cold breeze that blew for a few seconds. A change in temperature, Jaime notes, is what happens when a spirit comes and goes.
Our journey inside Tayos culminates at a crystal-clear waterfall pouring over a 15-foot rock wall into a shallow pool. After our trek through the jungle and two days in the cave, it's a welcome shower that we savor before heading back to our camp.
That wouldn't be our last opportunity to get wet. When we wake up the next morning, rain is pouring into the Altar of Light. By the time we pack our gear and make it past the Juan Moricz arch, the water is pouring over the walls and rising at our feet, drowning out our voices and forcing us to shout. It's a harrowing moment, especially when Jaime and the other Shuar disappear inexplicably into the shadows before suddenly emerging to help us make our exit.
One by one, we pull ourselves up against the current and over a small wall, but the downpour into the mouth of the cave is so intense that ascending the ropes is impossible. If it doesn't let up, we'll have to camp another night, then try again tomorrow. After a couple of hours, though, the rain settles and we begin our climb. The Shuar outside the cave yank us up in fits and starts, which sends me hurtling into the wall. Emerging from the mouth into the misty daylight has me thinking that Eileen was right after all: spending three days inside this mystical underworld was a total trip.
"For me the cave is this idea of facing the unknown," Eileen Hall says, "and befriending it to receive a more complete wisdom about life."
As a new generation seeks out Tayos, the elder Western mythmakers of the cave are losing their hold on the legend. Last spring I drove past the golf courses and palm trees of Indian Wells, California, to watch Erich von Däniken, now gray haired and hard of hearing, address his minions at Contact in the Desert, one of the largest UFO conventions in the world. Hundreds of fans in alien T-shirts and glow-stick hats packed the hall to hear his revisionist history of how, among other things, the biblical Abraham "was on a spaceship in orbit."
When I speak with him afterward, Von Däniken is greatly interested to hear that Stan Hall's daughter is continuing to explore Tayos. But he admits that he's no longer certain aliens visited the cave. Now he has a new theory: "I think a metallic library does exist," he says, "but it belongs to the Mormons."
Back in Ecuador, Eileen reflects on our journey over a lunch of chicken and rice. The trip has deepened her resolve to tell a new chapter of Tayos to the world, she says. She's eager to craft the multimedia installation in London and online. (The installation would be delayed indefinitely by the coronavirus pandemic, but the digital version, called the Liminal Compass, was set to launch this fall at Tayos.org, where she was accepting donations for the project.) When international travel is viable again, she hopes to partner with big-mountain skier turned mindset coach Kristen Ulmer to lead a workshop in which participants will "face their fears" inside the cave. And she and Toulkaridis are planning another expedition to conduct further research as part of their campaign to convince Unesco to protect the site.
"Every time I come back," she says, "there's a deeper connection with the Shuar, with the space, and with the story."
Januart 4th 2021 The Real Virus is the Global Elite, eating everything in sight.
Argentines will be vaccinated with the Russian Sputnik V coronavirus vaccine beginning on Tuesday.
"The doses of the Sputnik V vaccine that arrived from Russia will be available in each province and on Tuesday Dec. 29 at 9 am the simultaneous vaccination will begin throughout the country," President Alberto Fernandez said Sunday in a tweet.
"We continue to work together because our only concern is the health of Argentine men and women," Fernandez added.
The announcement came days after the first batch of 300,000 doses arrived in Argentina, following an authorization for emergency use of the vaccine granted by Argentina's National Administration of Drugs, Foods and Medical Devices, or ANMAT. The country agreed to buy around 10 million doses of the Sputnik V vaccine.
Another agreement to procure 22 million doses of AstraZeneca/Oxford COVID-19 vaccine has also been reached.
Argentina, with a population of nearly 45M, has registered nearly 1.6 million coronavirus cases and more than 42,600 deaths, according to a running tally of the US-based Johns Hopkins University.
Finca Bayano December 19th 2020
FINCA BAYANO
Introduction
Residence Permit In Panama
You Can Only Survive A Crash In A Functioning Group Of Like-Minded People
Europe Is Committing Suicide
Getting The Necessary Information
My Decision To Emigrate To Panama
Founding Finca Bayano In June Of 2010
The Crash Will Come In Winter
Residence Permit In Panama
If you assume that Europe and North America are about to be lost and you want to emigrate for this reason, this website is exactly the right place for you: At Finca Bayano in Panama, we are building a village where you can survive the crash!
The good times are over eventually and only if you prepare yourself in time, you may save what you have built up during your life. The more time passes, the more precious it becomes, and as events are overturning the crash feels like coming two days closer with each day that goes by.
We offer to support you during the whole process of applying for your residence permit. This includes the consultation before your arrival in Panama, the registration of a Panamanian company, picking you up at the Tocumen International Airport (PTY) and the organization of your stay in Panama City. We are planning the most important steps like the opening of a bank account, the introduction to our lawyer and visits to the immigration office. Also, we organize the journey to Finca Bayano, touristic trips to the sea or the highlands and we make sure that you get back to the airport on time.
If you apply for the "Friendly Nations Visa" you will receive a residence permit in Panama within a few months without making a major investment. One of the requirements to apply for this visa is to register a company, with which you declare your interest in doing business in Panama. Registering a company is the only step that you can do from outside Panama to start getting your residence permit. After you have sent us €1,800 and a scan of your passport, our lawyer will begin with the registration of the company. During the registration process in Panama City, which takes about ten days, you can obtain the other documents in your home country, have them scanned and send them to us. This way we can be sure that all the necessary documents will be available when they are needed to file the application.
The lawyer who represents our interests knows all about immigration in Panama. To make sure that everything works well, you may transfer the money to our company's account, we instruct the lawyer and he gets paid when the work is done; this works perfectly. "Finca Bayano Management S.A." does not provide legal advice – this task is performed exclusively by our lawyer.
Experience shows that future emigrants, who register a company before traveling to Panama, feel more comfortable after having registered it because this is the first step in the right direction to create a "Plan B". After all, it is better to have such a plan when it is needed than hoping it would never become a necessity. If you start the registration after your arrival in Panama, you have to expect a delay of up to two weeks, because only after the company has been registered, the application for a residence permit may be filed. Many applicants do not have this time and therefore it is better if you register the company before your arrival in Panama.
In earlier times, it was certainly was a good idea to be familiar with the country which you intended to emigrate to, or get familiar with it in case you did not know it yet. in 2020, however, you might not have enough time anymore to travel a lot and find out which country suits you best, as time is running out. For that reason, and in order not to lose any more precious time, I recommend that you have the company registered before you come to Panama.
If you do so and you only find out that you do not like Panama after your arrival – which I doubt – you would have made a bad investment of €1,800, because in this case you would not need the company, since you would not apply for a residence permit. But if you like Panama and you decide to buy land at Finca Bayano, you save one journey to obtain your residence permit, because you can start the application for your residence permit right after your arrival if the company has already been registered. This way you save about $2,500 and you will receive your visa a few months earlier. In other words, there is basically no risk to register a company before you come to Panama.
You probably know that there is a limit on cash of 10,000 euros, francs or dollars which should not be exceeded undeclared when you leave your home country or when you enter Panama. On the other hand, it is not appropriate nowadays to declare such amounts when you are traveling. Since you need cash to guarantee quick settlements in Panama, however, you may transfer about half of this amount in advance to our bank account. You can find more information here.
You Can Only Survive Within A Functioning Group Of Like-Minded People
If you are aware of what is happening in the Western World and you have understood how much it has changed over the last few years, you should draw logical conclusions and emigrate.
When it comes to Europe, your destination should be a country outside that continent and not one close to your home, like Hungary or Poland, because we have to assume that the whole of Europe – the Azores and the Canary Islands included – will be flooded with refugees. This might sound utopian to you right now, but if someone would have told you back in 2010 how Europe looks like today, you probably would have doubted that, too, by then.
When it comes to the USA or Canada, you should consider a place where you may produce food all year round, as you will not make it in the cold regions.
If you decide to leave your home country, the first question that arises is which country you could go to, because there are very few countries that come into question. I chose Panama. There are no guarantees here either, but the conditions are much better than in most other countries. However, Panama itself is not the whole solution. First and foremost it's a group of people that you have to look for and join. You could build a house at one of the many beaches in Panama or in the highlands of Chiriquí, but then you would be alone when you would need help. Even if you have a large family, according to Western criteria, you probably won't be able to make it in the event of a worst case scenario.
Therefore, you need a large group of people who think like you and have the same goal as you and me: Survival! You need a group that can develop and hold its ground, a group that sticks together, a group that can defend itself, if necessary. As a "single" you will not be able to cope with what we are about to face, no matter how well prepared you are; be it with large supplies of food, tools, weapons and other important things. In this group it must not matter whether you are vegetarian or not, whether you are religious or not; and many other "trifles" that lead to conflict in modern societies must not matter in this group. The main thing is that we all have the same goal and stick together, because only then will we achieve it.
However, you have to organize yourself in time. At the eleventh hour it will no longer be possible to build or join a functioning community. Therefore, it is not only important that you emigrate, that you choose the right country and that you join a strong group. It's just as important that you start planning in time. And that is: Better a year too early than one day too late, because it's an illusion to believe that you will catch the last flight.
Europe Is Committing Suicide
While European problems came to Africa with the colonialisation of past centuries, today, African problems come to Europe with mass immigration. While Africa never became the first world through colonialisation, Europe today becomes third world through mass immigration. I therefore believe that it is right to say that we emigrants are not traitors who abandon their people or their country. It is much more true that we are forced to leave our home countries, because the majority of the population still accepts that the ruling class is destroying the foundations of life and deliberately bringing about the collapse of the Western World.
With the Global Migration Pact Europe is taken over without resistance. While Europeans are getting older and fewer by the day, the "others" are multiplying faster and faster. This development has started decades ago and has been accelerated since August 2015 with the first big refugee movement into Europe. Today, not even so-called populist parties are capable of reversing this development and it is becoming more and more obvious that a whole continent is committing suicide – Savile Town in England is already 100% Muslim and Germany is taking the same direction: In Frankfurt, more than 50% of the inhabitants are no longer organic Germans, 75% of all children under the age of six have a migration background and as far as children under one year of age are concerned, their share, according to the residents' registration office, is an incredible 91%. Those who keep these figures in mind must come to the conclusion that staying in Europe means a greater challenge than emigrating. If you think the situation in the countryside is better, then look at the potato war of 1923, when people were still much more civilized than they are today.
Getting The Necessary Information
20 years ago, I began to doubt the system. It was clear to me by then that pensions would be anything but secure in the long term, due to demographic developments. But it made no sense to me to read thick books, because even at universities bogus was taught by that time, when it came to economics and social sciences. However, it was not until the year 2000, when much more information became available through the Internet in a much more compact style for the first time, to form my own opinion. Ten years ago I finally decided to emigrate.
Some people like Paul C. Martin, predicted the crash already in the 90ies. The essence of their statements was that although the collapse can be delayed, it cannot be prevented, for demographic reasons and because of the enormous indebtedness. On the one hand, the population of industrialized countries is the oldest in the world and aging is progressing rapidly. On the other hand, for technical reasons, real estate and other assets cannot be valued ever higher in order to ever increase the debt.
It cannot be predicted how much time is left to prepare at Finca Bayano, however, Martin and others wrote more than 20 years ago that the crash would be around the corner as soon as cash prohibition and negative interest rates are being discussed publicly. That's the case today! If an increase of the national debt can only be maintained with negative interest rates, a cash prohibition must be introduced. Only with this measure, bank runs can be prevented and we will be forced to leave our money in the bank, even if it becomes less by the day. In addition, compulsory levies such as " Burdensharing 2.0″ (which happened in Germany in 1952) and "Cyprus 2.0" (the confiscation of bank accounts in Cyprus in 2013) are to be expected.
My Decision To Emigrate To Panama
The only way not to be overrun by this development is to emigrate and leave Europe forever! I took this decision in 2010 and chose Panama, where I had been involved in a reforestation project since 2006. For that reason, I knew the country very well. There are beautiful beaches, both on the Pacific and the Atlantic, the people are friendly, the climate at higher altitudes is fantastic and the political situation is stable. The country offers the best conditions for year-round food production, is sparsely populated and fulfils the most important conditions for emigrants: residence and work permits are easy to obtain and foreigners can buy land without restrictions. The fact that the US dollar serves as Panama's currency has had a decisive influence on my decision to emigrate to this country, because I assume that the dollar will survive all other currencies in the event of a crisis. Moreover, Panama is still one of the few tax havens where your savings are still safe.
The best slaves are those who do not even understand that they are enslaved!
Foundation Of Finca Bayano In June Of 2010
In June 2010 I founded Finca Bayano to build up an agricultural business with like-minded people. I advertised the project as a "Survival Insurance" for an uncertain future and "One Of The Few Real Alternatives To Survive A Crash In This World". However, the interest in Finca Bayano was very low, until 2015. This changed in autumn of the same year with the influx of millions of refugees in to Europa. Since the migration pact was signed in December 2018, the interest in our project is greater than ever. At the moment the community consists of seven inhabitants, by mid 2020 we will probably be more than ten and by the end of next year a small village of 20 members should have emerged. The goal of self-sufficiency will be reached by 2021, at the latest.
Finca Bayano is located about 300 kilometers west of Panama City (8°05'56,59 "N and 81°28'29,38′"W) at an altitude of 500 meters above sea level, where almost perfect climatic conditions prevail. About one hundred inhabitants will live on an area of 34 hectares. Politically extreme opinions are not represented at Finca Bayano; we are not a sect and religion plays no role. The precipitation is abundant, the area may cannot be inundated because of the hilly location, spring water is available all year round in sufficient quantity and in very good quality. The soil is fertile, the region is sparsely populated and there are no tropical diseases. Industrial plants or power plants do not exist near Finca Bayano and there are no active volcanoes. During the last 500 years there has been no significant damage due to earthquakes and tropical storms have never happened due to the proximity to the equator. You may read more about other advantages of Panama in other sections of this website.
The Crash Will Come In Winter
Perhaps this autumn, when the cold sets in, millions more will be sent across the Balkans and the Mediterranean. It remains to be seen how they will behave in the event of a collapse.
If the lamps go out in Europe, the new world order will come, according to which 90% of mankind is to be "eliminated". If there is no electricity for a month, the Middle Ages are the order of the day. If this condition persists over a longer period of time, the Stone Age will come.
Please Read The Following Before Contacting Me:
I hope you'll find the answers to some of your questions on this website.
Failing To Prepare Is Preparing To Fail!
Biden heralds shift in US strategy toward Venezuela Posted December 10th 2020
Issued on: 15/11/2020 – 02:38
3 min Advertising
Washington (AFP)
President Donald Trump's election defeat marks the end of a hardline pressure policy designed to oust Venezuela's leftist president Nicolas Maduro, and the arrival of Joe Biden in the White House in January could pave the way for a political solution to the crisis in that country.
Acute tension marked the Trump administration's ties with Maduro, whose second term as president is not recognized by some 50 countries, led by the US. They consider opposition leader Juan Guaido to be the legitimate leader of oil-rich Venezuela.
Trump's strategy of sanctions to strangle the Venezuelan economy included a veiled threat of military force to topple Maduro — he warned often that "all options are on the table."
But it failed, and Maduro remains in power in the Miraflores presidential palace in Caracas.
The economy, meanwhile, is a basket case, with Venezuelans enduring hyperinflation and shortages of food, medicine and just about everything — including such basics as soap and toilet paper.
Once relatively comfortable middle-class people now report going hungry and losing weight. Millions of people have fled the country.
With Biden in power, however, a shift in strategy can be expected.
Juan Gonzalez, who has advised Biden on Latin American issues, wrote in Americas Quarterly in July that a Biden administration would take "serious measures" to address Venezuela's humanitarian mess.
It will also apply "intelligent sanctions" as part of a broad international strategy to restore democracy, he wrote.
"The overriding goal of the United States in both countries must be to press for a democratic change,"Gonzalez wrote.
Diego Area, associate director of the Washington-based Atlantic Council, said Biden "now has an historic opportunity to lead an international coalition to promote a political solution for Venezuela."
But this will not be easy and Biden will need bipartisan support in Washington, Area said.
"I think it is achievable. It takes time. We won't see a regime change or a democratic transition happening in the short term," Area predicted.
Christopher Sabatini, a Latin America researcher at Chatham House, a London-based think tank, said US policy will not change with Biden, the goals still being to ensure a peaceful democratic transition and address the humanitarian crisis.
Rather, Sabatini said, "the change will be in using the administration's sanction policy as more of a flexible tool rather than a blunt instrument to promote constructive, effective negotiation for Maduro's exit."
"This will also provide an opportunity for international collaboration and collection action, which until now has been lacking," he told AFP.
– Trump's 'wishful thinking' –
Another analyst, Michael Camilleri of the Inter-American Dialogue, said, "Biden's policy toward Venezuela will be grounded in reality rather than the wishful thinking that we've seen under the Trump administration."
The reality, he said, is that Maduro presides over a dictatorship that systematically violates people's human rights, and the country is mired in a worsening humanitarian crisis.
"But also the reality that the bombast and vague threats of military action that we've seen from Trump will not solve the crisis in Venezuela," said Camilleri.
Benjamin Gedan, an adviser to the Latin America program at the Wilson Center in Washington, said it is hard to be optimistic about prospects for change in Venezuela.
Maduro's government is ruthless, and while it has been incompetent in handling the economy it has been skilled at dodging sanctions, he said.
Maduro still has the support of key allies such as China, Russia, Turkey, Iran and Cuba, Gedan said.
And the exodus of millions of fed-up Venezuelans reduces the chances of a popular uprising to overthrow Maduro, Gedan said.
© 2020 AFP
Comment Views expressed here are not those of this website. Regime change means more war and profit. The rich parasitical elite have impoverished the masses of Latin America for centuries. Biden and puppet Guido is just more of the same con trick. Russia and China are the bogey people.
Charles Close
Kill the Messenger review – what really happened to Gary Webb Posted November 23rd 2020
2 / 5 stars 2 out of 5 stars.
Jeremy Renner stars in this true-life tale of Gary Webb, a US reporter who broke a story linking the CIA to a drugs conspiracy and the Nicaraguan contras. Review by Mark Kermode
Sun 8 Mar 2015 08.00 GMT Last modified on Thu 22 Mar 2018 00.16 GMT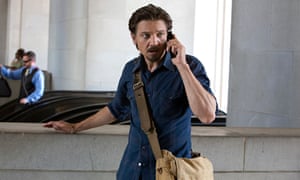 'Convincingly conflicted': Jeremy Renner in Kill The Messenger
In 1996, journalist Gary Webb wrote a series of articles under the title "Dark Alliance" for the San Jose Mercury News suggesting a CIA connection between anti-government contras in Nicaragua and monies raised from the sale of crack cocaine in the impoverished districts of South Central LA. Feeling scooped by a lowly regional (and arguably ignoring the bigger picture), publications such as the Washington Post and LA Times turned on Webb, accusing him of bad journalism with career-wrecking results.
This dramatisation portrays Webb (whom a former editor described as "a relentless reporter [with] an inability to question himself") as a wronged hero with a troubled past but impeccable journalistic credentials. It's sporadically gripping but ultimately rather frustrating fare, leaving us intrigued enough by the conspiracy-theory backstory to want hard documentary evidence rather than mere dramatic licence. Jeremy Renner is convincingly tortured and conflicted as the beleaguered lead, but top marks go to Rosemarie DeWitt and Mary Elizabeth Winstead as Webb's long-suffering wife and editor respectively.
Comment I watched this movie last night. Kermode is typical of modern reviewers. There is a rude word to describe his sort. Suffice it to say, the only good word such people have for the performers lands on the females, however small their part.
Anyone outside of the feminist pseudo liberal media elite should be able to see some very serious issues that make a mockery of all the liberal PC trash about our precious democracies. The script and acting was what it needed to be, subtle when needed, ferocious and tormented in large part.
The very idea of what Regan's vile deep state were doing, its impact on poor neighbourhoods because the CIA were flooding them with cocaine to raise secret funds to seriously help tyrants kill revolutionaries against the Fascist Nicaraguan Government's vile rule, seems to have escaped the smug British elite and BBC favourite reviewer Kermode. Add to that the spineless jealous mainstream media and the sad end of Gary Webb – who strangely fired two shots in what was judged suicide – and this is a five star production but not good for the consensus ( sic ). R.J Cook
Review: An Acceptable Loss Is a Morally Urgent B Movie Posted November 23rd 2020
The film is a cynical critique of American foreign policy wrapped up in an uncluttered narrative that thrives on pulpy thrills.
Published 2 years ago
on January 16, 2019
Photo: IFC Films
Writer-director Joe Chappelle's An Acceptable Loss is a B movie with a morally urgent message, a cynical critique of American foreign policy in the Middle East wrapped up in an uncluttered narrative that thrives on pulpy thrills. By positioning the U.S. government as the film's primary antagonist, Chappelle takes to task the repeated killing of innocent lives as collateral damage in the hunt for terrorists and other ostensible enemies.
The ethical quandary that arises from such an operation is embodied by Elizabeth "Libby" Lamm (Tika Sumpter), a former national security adviser to Vice President Rachel Burke (Jamie Lee Curtis) who's taken a teaching gig at a Chicago university. As Libby secretly transcribes her experiences, and faces civilians who are angry over her role in a controversial military operation in Syria, Chappelle shows a surprising empathy for the character. The filmmaker outlines that Libby's memorializing of her experiences and her honest attempt at assimilating within a society that more or less shuns her is borne out of feelings of regret.
But An Acceptable Loss's compelling take on moral reckoning is compromised by the distracting presence of Martin (Ben Tavassoli), a grad student who consistently exposes lapses in the storyline's logic. Martin mysteriously stalks Libby and sets up an elaborate surveillance system in her house, but it's never explained how Martin can operate with the skill, knowledge, and proficiency of some kind of intelligence officer. Dubiously, when Libby and Martin need each other's help in a moment of crisis, the film oddly passes on holding the latter's disturbingly voyeuristic behavior accountable; Libby shakes her head, and then the film drops the matter completely. For a film eager to ponder the ethics of people's actions, it comes off as strange that Chappelle doesn't scrutinize Martin's own.Advertisement
Still, it's difficult not to get swept up in An Acceptable Loss's technical virtuosity. The film's propulsive narrative is nothing if not efficient, aided in no small part by crisp editing that relishes the fine art of cross-cutting. The dark interiors that Chappelle favors create a Tourneur-like atmosphere of dread that subsumes Libby, underlining the covert nature of her documenting her secrets; even scenes in daylight have a strangely nocturnal feel to them. This visual style complements An Acceptable Loss's pessimistic view of America's foreign policy, which is sustained right up to the film's hopeful coda. The film shows that if policy is to change, it greatly helps to be supported by people like Libby, someone who had been complicit in committing atrocities but ultimately embraced her humanity.
Comment I watched this movie two days ago and it is the most favourable review I could find. Still the writer is more concerned with nit picking about the structure and filming. The seriousness of the Anglo U.S on going attitude to their long standing Middle Eastern stomping ground gets little evaluation.
The reviewer raises the stupid question as how the young grad student knew about surveilance – which any A level Eng lit student could have contrived to explain if it actually mattered. I can only suspect that the liberal elite do not like the obvious caricature of feminist icon Hilary Clinton – who famously said whilst laughing insanely, that she would double down on Syria if elected president.
I dread to think what will happen now her kind of people are back in the White House – not that the world was safe with the people running rings around Trump. But in short, we just can't have women portrayed as lunatic killers on any level, let alone nuclear bombing an entire city. The grad student had every incentive to work out the tricks of surveilance, just as the rich pampered Saudis who flew into the twin towers learned how to fly airlinersd – a much more difficult task with that level of precisions. R,JCook
Mexico ambush: Mormon families waiting for justice a year on from massacre Posted November 11th 2020
By Mohamed Madi & Ana Gabriela Rojas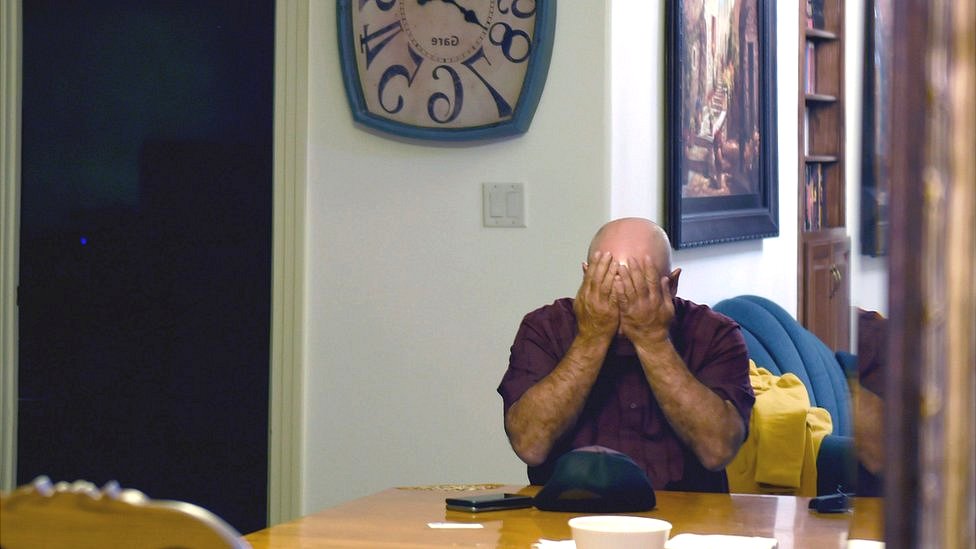 A year ago, three Mormon women and six of their children were massacred on a lonely road in Mexico's Sonora desert. What has happened to the families left behind, and their search for justice?
"We came here to get away from it all. And nobody's ever bothered us."
Kenny Miller speaks in a thick southern American drawl. In a camo trucker hat and thick work boots, he trudges up a dirt path slick with damp clay. On one side are rolling desert hills, thick with mesquite shrubs. On the other, the Sierra Madre mountains push up dark grey clouds.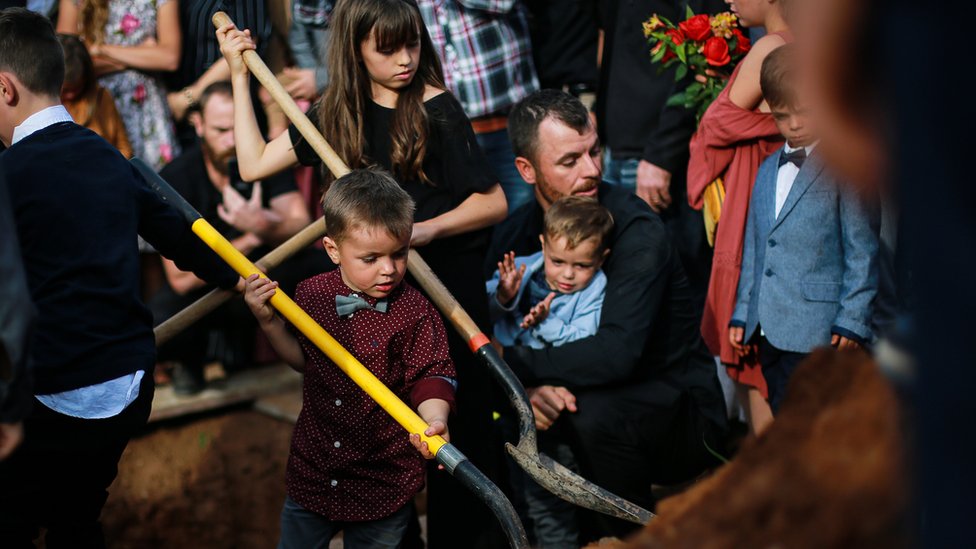 Kenny is a Mexican Mormon, born and brought up in La Mora, a five-hour drive from the US border. La Mora is more a ranch than a village, with a school, a workshop, cattle sheds and about 30 family homes. A rural idyll.
But as he approaches a black tarpaulin held down with rocks, his expression changes. Twisted metal chunks spill out from the sides.
It is haunting evidence of the tragedy that struck this community. "It's just turned our world upside down, and I don't think it will ever be the same again."
On 4 November 2019, Kenny's daughter-in-law Rhonita Miller – known to her family as Nita – and two other women, Christina Langford and Dawna Ray Langford, set out in convoy on a six-hour drive. They were heading to Colonia LeBaron, another Mormon settlement, and home to many friends and family.
Rhonita and Dawna were going to a wedding, while Christina was visiting her in-laws ahead of a move back to the US. She and her six children were to be reunited with husband Tyler who worked in the oil industry in North Dakota.
Lonely journey
The previous night, at a farewell party for Christina, the women had discussed the road to LeBaron. The journey was a familiar but lonely one. The open dirt road climbs through a narrow mountain pass, before dipping into the plains of Chihuahua.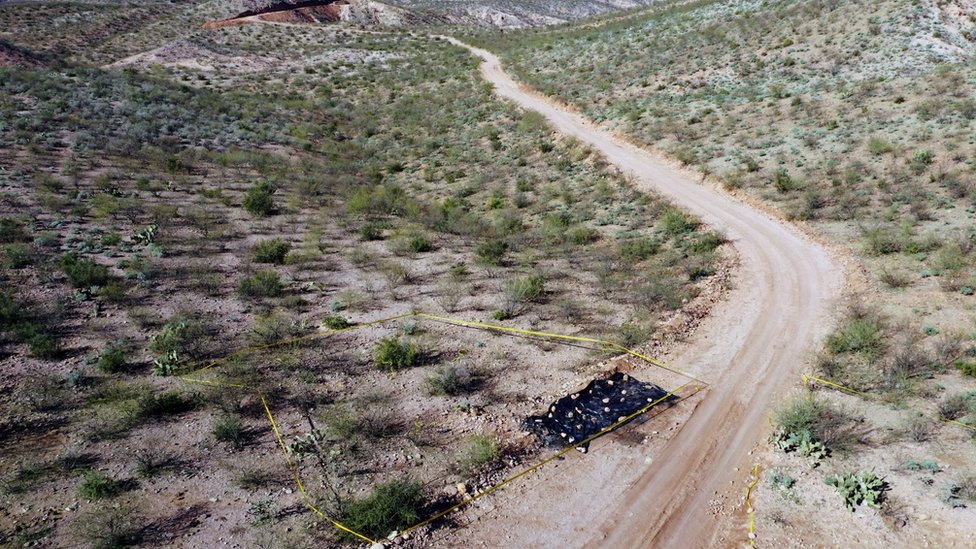 "We talked about how stupid we were as women travelling these roads alone with our kids," Christina's mother Amelia told the BBC.
But she says Christina had laughed it off and said she wasn't afraid.
She left five of her six children with Amelia and strapped her baby, Faith, who she was still breastfeeding, into her car seat. Altogether, there were 14 children with the three women.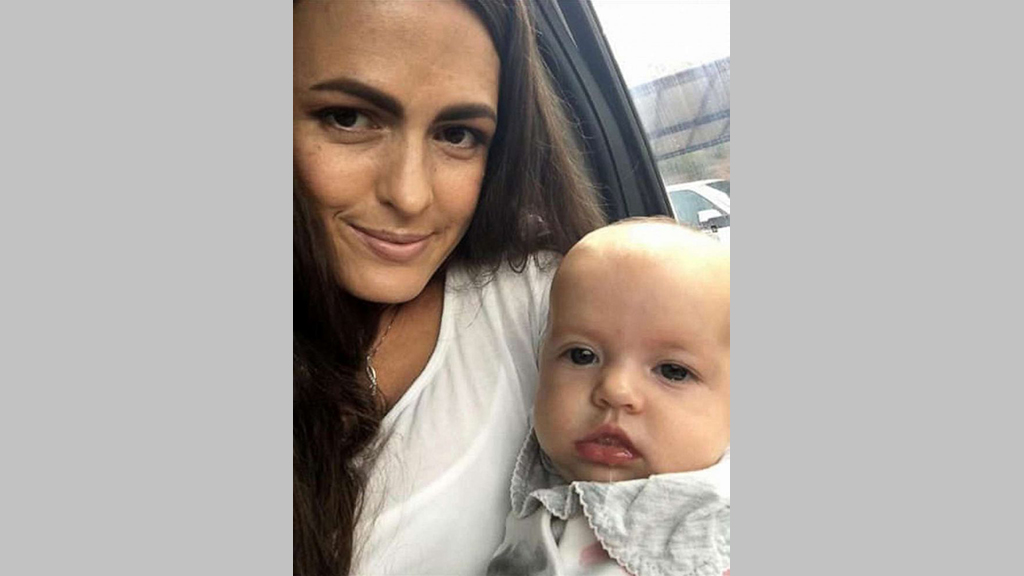 Rhonita's sister, Adrianna, was on an anniversary trip in Canada with her husband when she first knew something was wrong. A message on a family WhatsApp group simply said: "Please, family. Pray this isn't really happening."
The next message, sent to her husband, read: "Nita's Suburban is on fire and all filled with bullets."
"But they're not in there right?" Adrianna recalls asking her husband.
"Nobody would do that to babies, to a woman and four children. Maybe they just kidnapped them and lit it on fire?"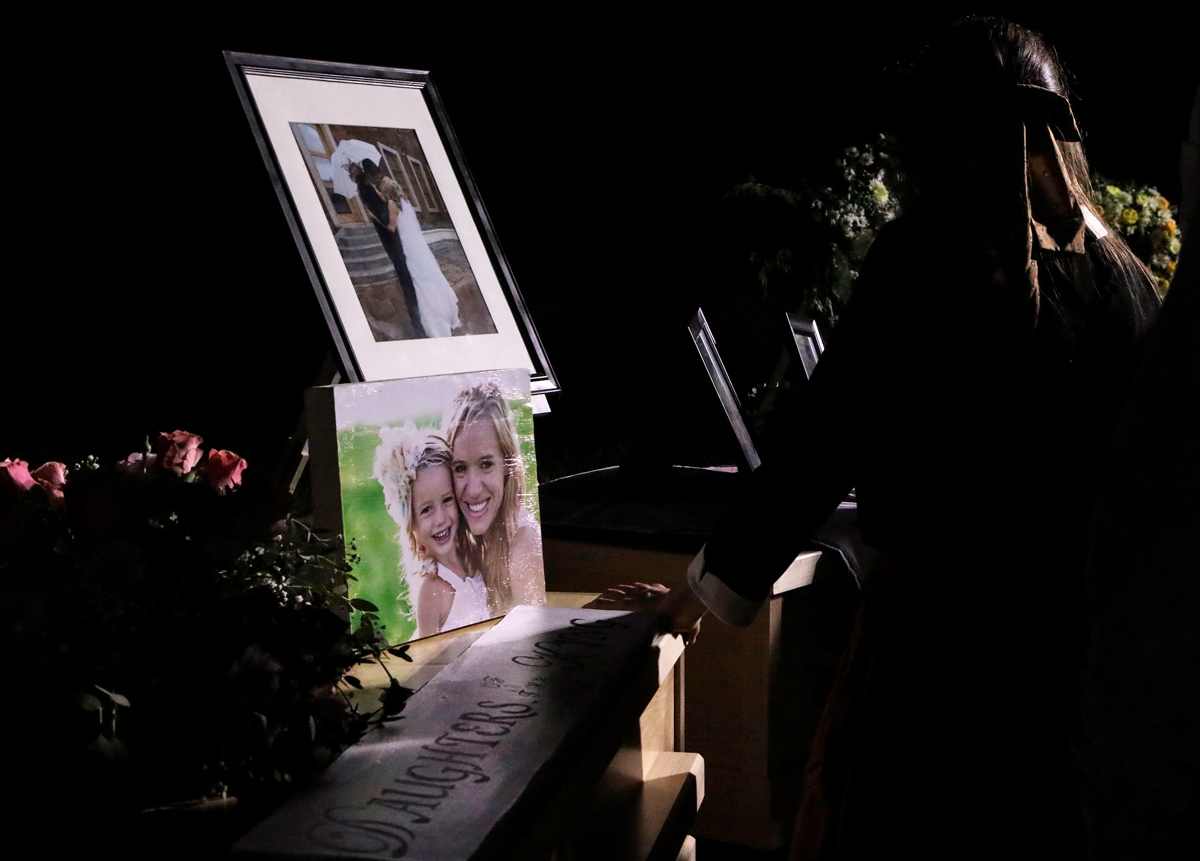 The answer came in a phone call 45 minutes later.
"He turned around to me and said: "They're all gone. They're all burned."
Gunmen lying in wait
Kenny Miller had been one of the first on the scene.
He had heard an explosion less than two miles from his home in La Mora, and one of his sons had gone to investigate. He says his son spotted half a dozen men in new vehicles, with automatic weapons and quasi-military equipment, before they drove away. Another family member sent up a drone to check the area, and once Kenny could see it was clear, approached the scene.
"That's when we realised [it was Rhonita and her children] in the Suburban and they hadn't got out.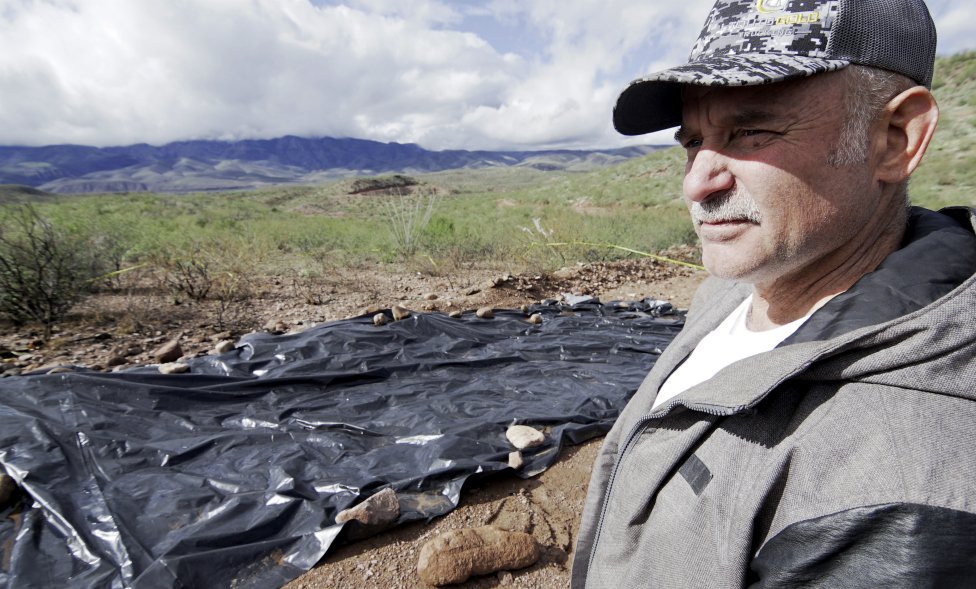 The car was just a twisted, smouldering chunk of metal.
"I never knew it would be a blessing to have a body to say goodbye to. But we never got that here." He breaks down. "There was hardly anything left."
The accounts given by Dawna's children, who survived the attack on their own vehicle, have allowed the police to piece together what happened.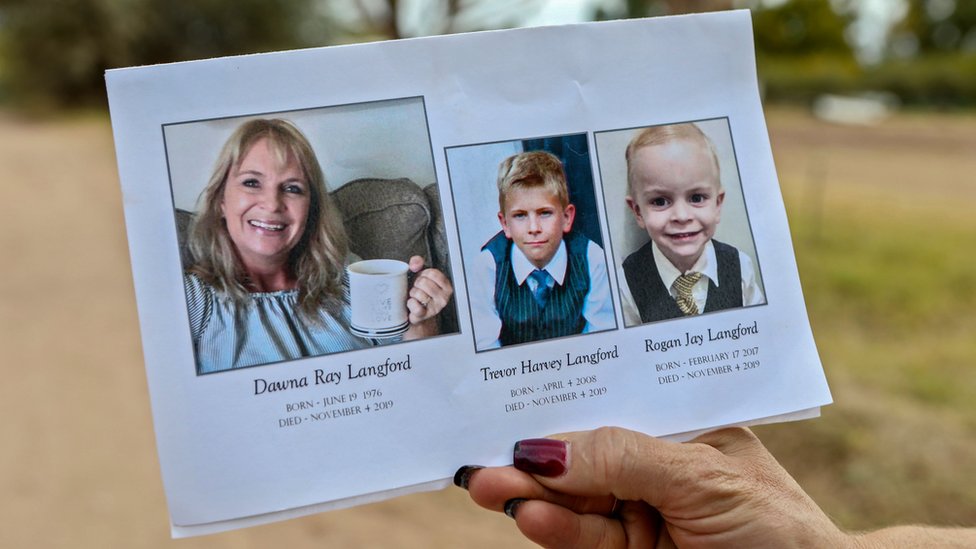 Gunmen lying in wait had opened fire on all three vehicles. Rhonita's car, just minutes away from La Mora, was hit first. Rhonita, eight-month twins Titus and Tiana, Krystal,10 and Howard Jr, 12, were all killed. The attackers then torched the vehicle.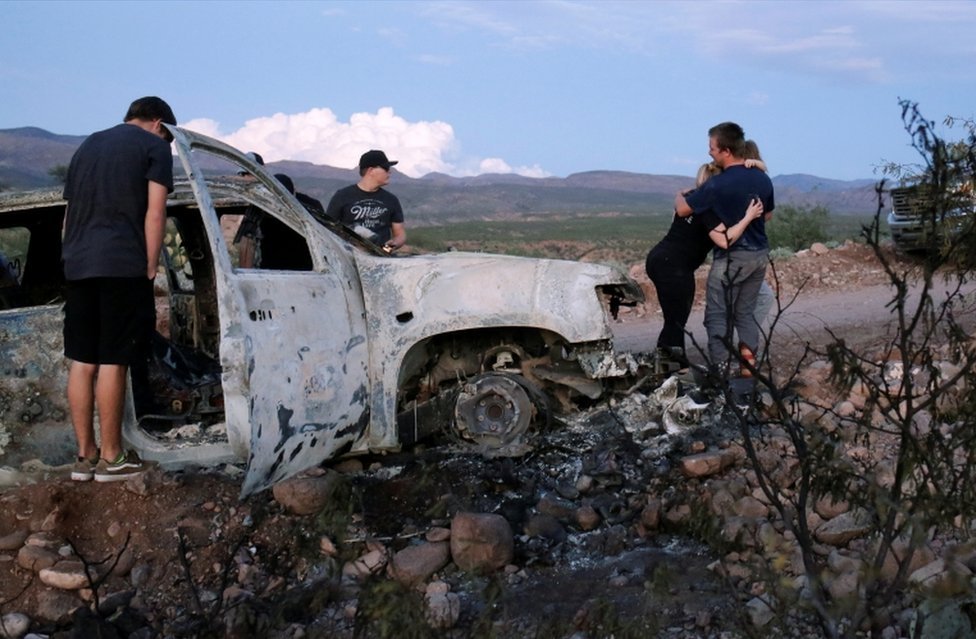 Further up the road, on the mountain pass, Dawna and two of her sons, Trevor, 11, and Rogan, three, were killed. Dawna's other children, some badly hurt, managed to escape their vehicle. Devin, 13, told his six siblings to hide in bushes while he went back to La Mora on foot to raise the alarm. The 14-mile (22.5km) journey took him six hours.
According to the children, Christina had jumped out of her car when the shooting began. She waved her hands above her head, possibly trying to warn the attackers only women and children were in the convoy. Her body was found about 15m (49 feet) away from her white SUV.
When the first convoy of cars from LeBaron arrived about eight hours later, they found Christina's baby Faith alive, with just a tiny graze to her head.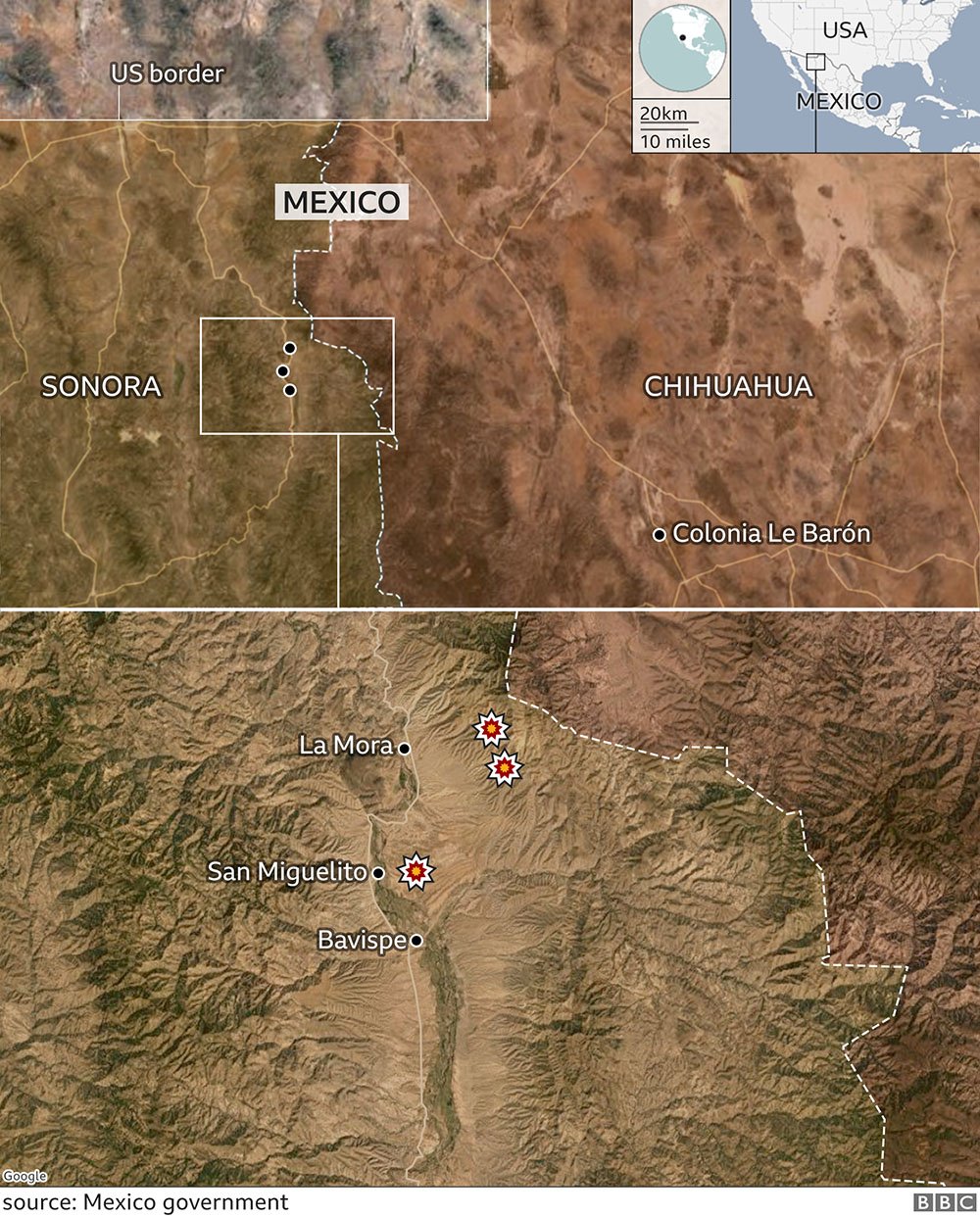 In the wake of the attack, various theories, some outlandish, circulated. Some alleged that the attack was linked to an ongoing dispute over water rights between the LeBaron family and local farmers. Others said it was a deliberate ploy to embarrass the security minister, Alfonso Durazo, who is from the nearby town of Bavispe.
But the authorities' long-held hypothesis is that the La Linea cartel group, strong in Chihuahua state, had been battling with forces aligned with the Sinaloa cartel. A firefight in the nearby city of Agua Prieta the previous night had left both groups on edge. It's believed that when La Linea lookouts spotted the convoy of blacked-out SUVs rolling across the dirt road towards the mountains, they mistook them for their rivals.
The brutality of the attack, and the dual citizenship of the victims, meant the incident attracted huge international attention.
Hours after the news emerged, the FBI sent agents to help the Mexican police investigation. President Donald Trump issued thinly-veiled warnings to Mexico that cartel violence could lead to military intervention.
But that didn't happen, and the investigation itself has proceeded at a glacial pace. Mexican federal judicial authorities confirmed to the BBC that 12 people have been charged in connection with the attack, although only two of those has been indicted for murder. A trial date is yet to be set.
Polygamous marriages
The community which was attacked has been in this part of Mexico for generations. The story of how their descendants came from the US to settle here is rooted in the unique nature of their beliefs.
Polygamous marriages – allowing a man to take two or more wives – were once common in the Mormon Church, otherwise known as the Church of Jesus Christ of Latter-day Saints. But as the Mormon-controlled state of Utah sought to join the union of the United States, the practice became a stumbling block.
So in 1890 Mormon Church President Wilford Woodruff banned new polygamous marriages from taking place.
So-called fundamentalist Mormons began to look outside the US for places to settle. Many crossed the Rio Grande and headed to Mexico. They gained a reputation as hard workers and eager cultivators of the land. Local authorities tolerated their unusual marriages, in light of their economic utility.
Jenny Langford first came to Mexico in 1971, an unlikely candidate for a Mormon pioneer. She was a 23-year-old Welshwoman, who had travelled to the US to work abroad for a year, and met American Mormon Dan Langford in Las Vegas.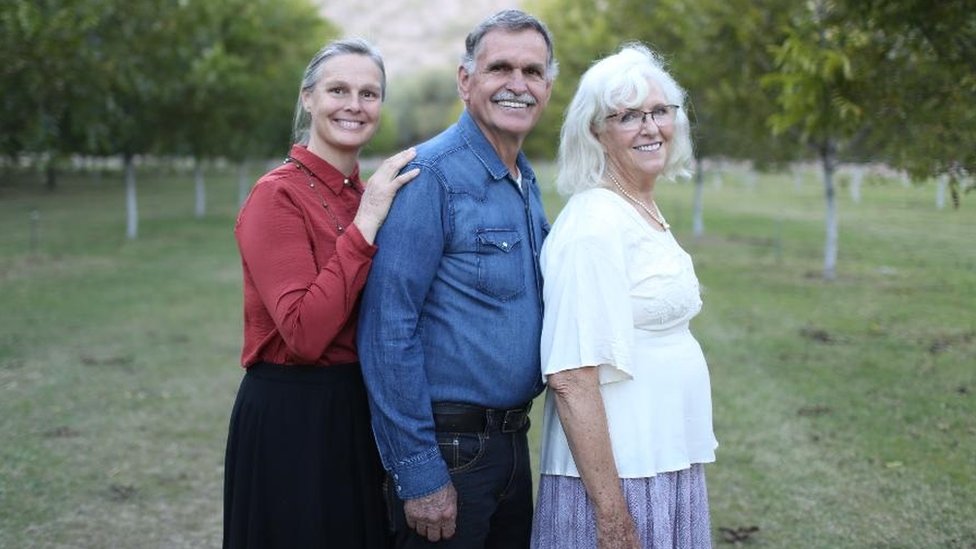 "When I was a little girl, I used to always kind of dream about living on a farm and having lots of children," Jenny says. "I wouldn't dream in a million years I'd end up in Mexico."
When she and Dan arrived in La Mora, the only building was a small brick house owned by Dan's father.
"We didn't have electricity in those days. It was very hard.
"But we lived a natural life in every sense. We grew our own food. We didn't want to be a part of the mainstream. I guess you might say we were a little bit rebellious."
Dan and his brothers built workshops, a cattle shed and eventually, a school. Jenny gave birth to six boys and three girls, home schooling them all.
And then the family expanded further. After about 10 years, a newcomer arrived. Amelia was a tall, striking American woman, almost 20 years younger than Jenny.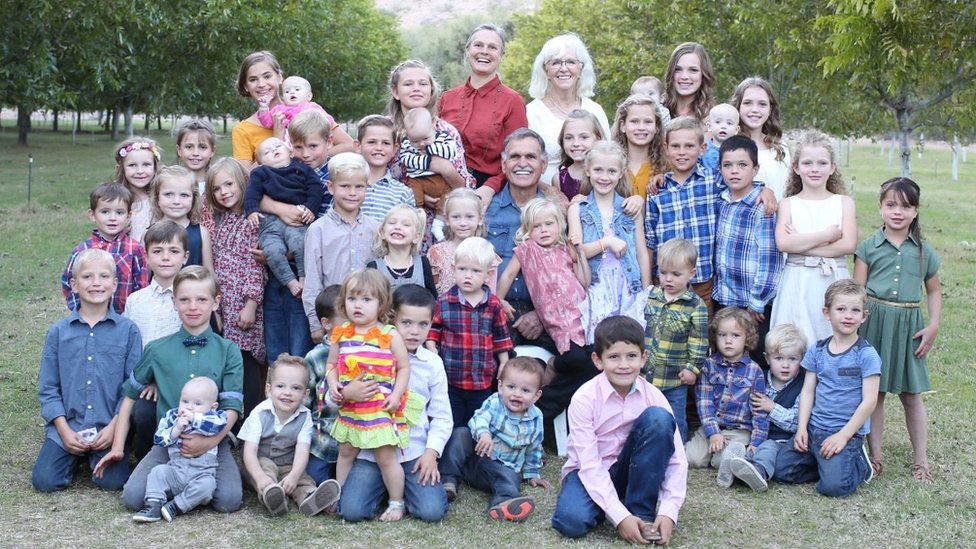 "As soon as I saw Amelia I knew she would be Dan's wife one day," says Jenny. "And then we were married."
Polygamy did not come easily to Jenny.
"But the more I studied, I felt that was what God wanted me to do. We believe that if it was right then, it's right now," she says.
Between them, Jenny and Amelia now have 102 descendants. Jenny, a trained nurse, delivered almost all of them.
"We have a baby shower for every first child and every 12th," Jenny says, laughing as she serves pozole, a traditional Mexican hominy stew. "When God said 'Go forth and multiply', we took him at his word," Jenny says.
"Her children were my children. My children were her children," she adds of Amelia. "If ever I wanted to go on a trip Amelia was here with the children, and vice versa. It worked for us, it really did."
The children love the freedom La Mora offers. "We can do whatever we want here" says Steven, Jenny's 13-year-old grandson, as he milks a cow five times his size. "We can fish and swim, and ride motorbikes and quad bikes".
"There's no police or nothing," he adds with a smile.
Past violence at Colonia LeBaron
If La Mora is the rural idyll, then Colonia LeBaron – the ranch Christina, Rhonita and Dawna were trying to reach – is the power centre of Mexico's fundamentalist Mormons.
Here, pecans are grown in vast orchards to be exported all over the world, and the men unwind with a trip to the shooting range or the local tavern. It's closer to Texas, in both a literal and metaphorical sense.
Rhonita Miller's uncle, Julian LeBaron, is one of its Mormon leaders. He knows all too well the dangers the cartels pose to their way of life.
In 2009, Julian's brother Eric, then 16, was kidnapped by local cartel members, who demanded $1m in ransom. The LeBaron community refused to pay and thereby legitimise the cartels. Instead, they organised a protest movement, SOS Chihuahua, to shame the cartels into releasing Eric.
Benjamin LeBaron, Julian's older brother, emerged as the spokesman for the movement, giving interviews in fluent Spanish and successfully lobbying the local governor for a meeting.
After weeks of relentless pressure, Eric was released unharmed, and the LeBarons became heroes in Mexico for their refusal to cave in to the cartels. But Benjamin knew that his stand would come at a price
Two months later, 15 armed men broke down Benjamin's door. They bundled Benjamin, his brother-in-law, and his neighbour, Luis Widmar, into a waiting car.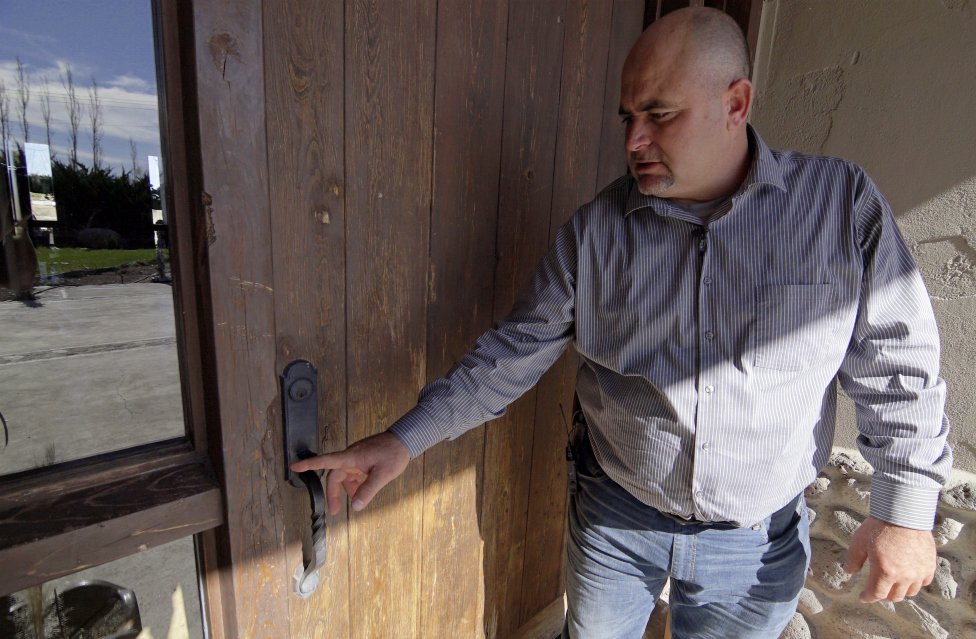 "They took them four miles down the road, knelt them down, and shot them, four times each, in the back of the head," says Julian.
"My brother was brave. He knew that not paying the ransom for Eric would most likely end up costing him his life."
The attack was a turning point for Colonia LeBaron. Sceptical of the Mexican state's promises to provide security, the LeBarons decided to take matters into their own hands. They set up their own armed patrols and look-out points over the town.
"For 10 years, nobody bothered us. But we never received justice for that crime. In fact, most crimes in Mexico never receive justice," says Julian.
The lack of progress with the La Mora killings has therefore come as no surprise for Julian.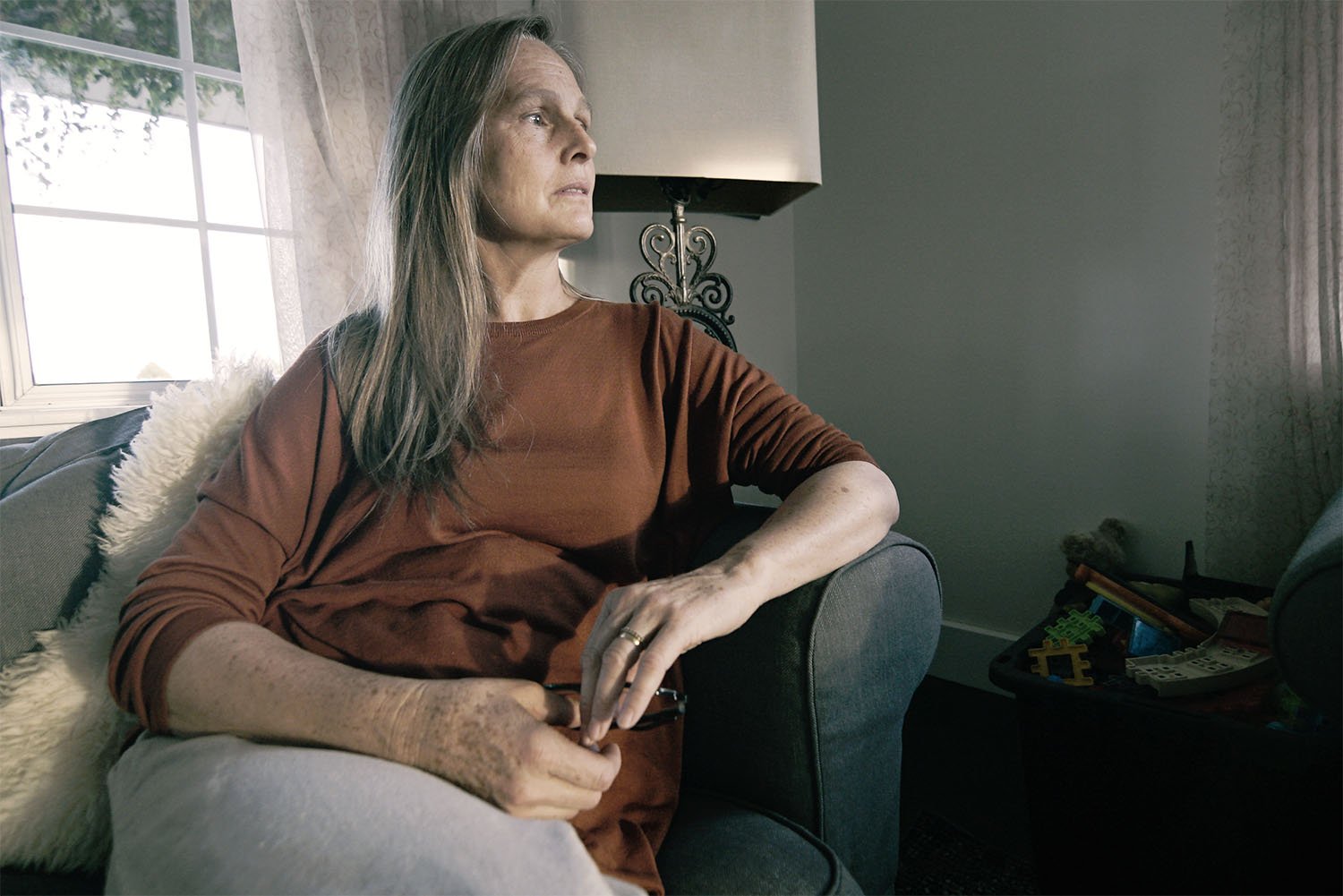 "We don't believe in the authorities anymore. Twelve months on from the attack and they haven't punished the culprits.
"We'll never ever stay quiet. We won't give the authorities the benefit of the doubt."
Rhonita's birthday in September was the first the family have had without her.
"We're still suffering a lot, and at the same time trying to continue living," says her sister Adrianna.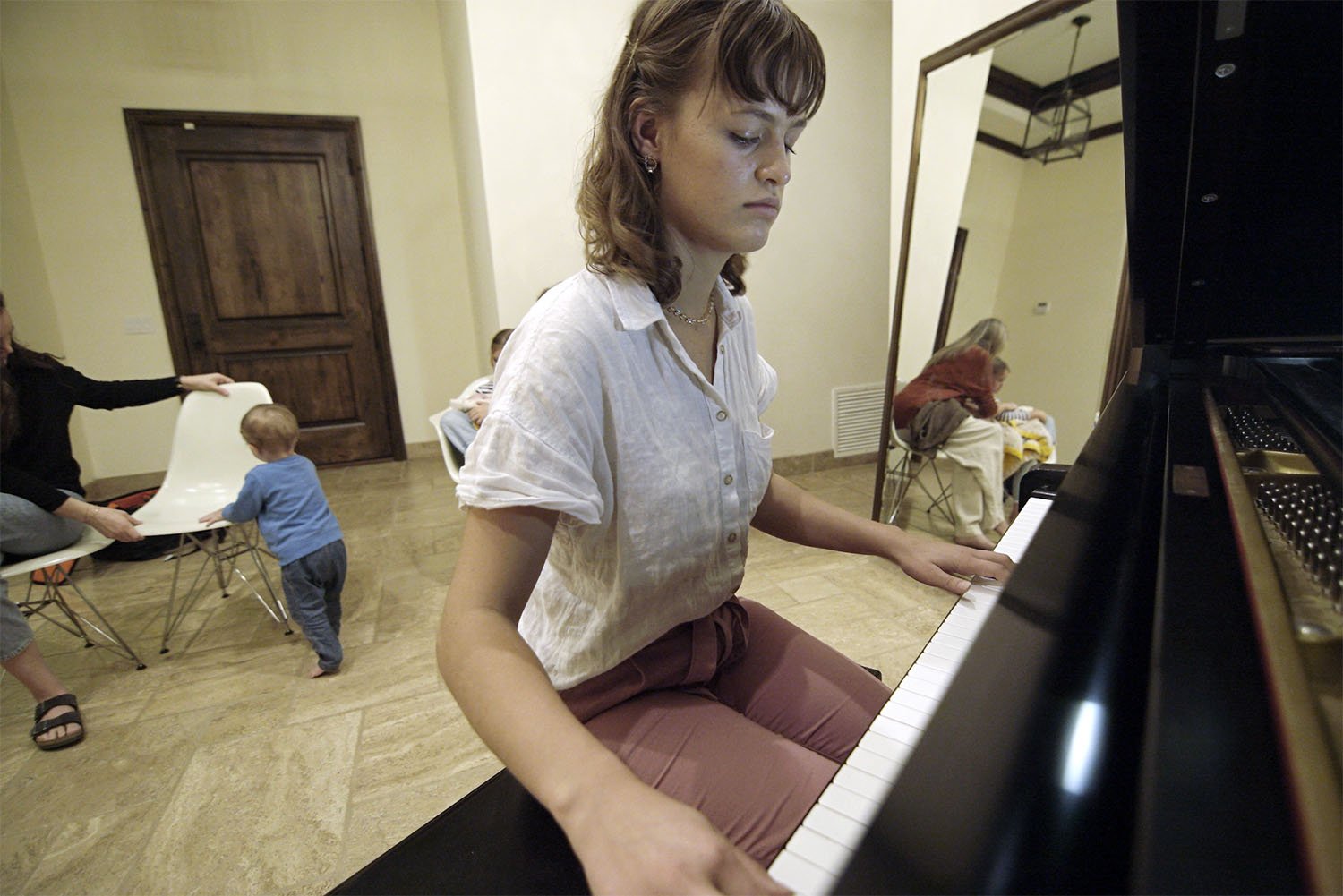 "Six months ago I had more hope. The more I get to know about Mexican system, the less I believe that we will get justice.
But Kenny Miller is more conciliatory.
"Our ancestors came here from the USA, and Mexico received them with open arms. So we respect the authorities, those voted in by the people.
"Of course there is cartel violence and that's affected us directly. But we are demanding justice by the correct channels."
Mexico's President, Andres Manuel Lopez Obrador, has been at pains to reassure the community that his government can handle the situation. He has met with family members several times. During their most recent meeting in October he inaugurated a new National Guard base near the La Mora ranch, as well as announcing a new long-requested highway which will cut the journey time to the US border by several hours, and a monument to the women and children who died.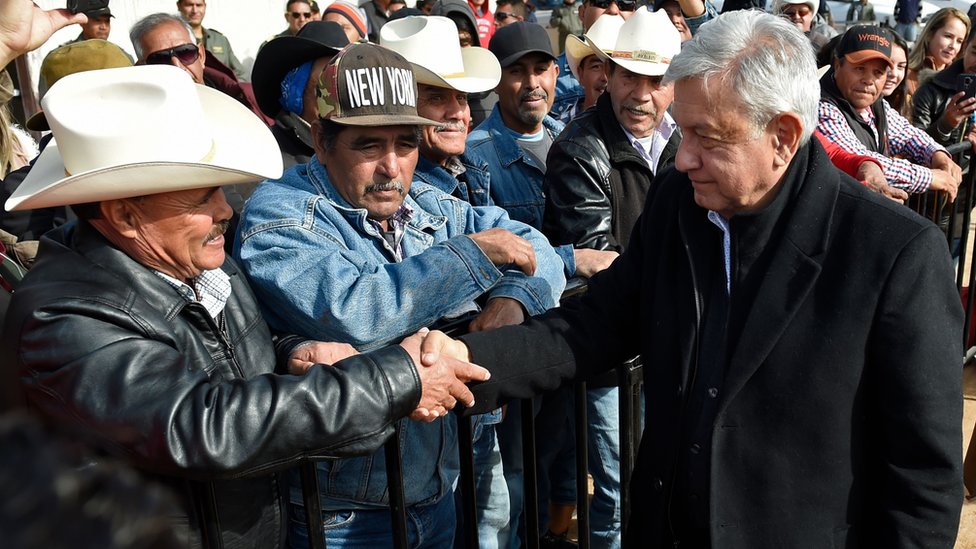 But despite making reducing violence a central tenet of his campaign, he has presided over rising levels of violence in Mexico. He was elected on a "hugs not bullets" approach to the cartels – promising that by eradicating the conditions for cartel recruitment and growth, their power could be sapped.
The year following the attack, however, looks set to be one of the country's most violent ever.
Competition between cartels has intensified, despite the coronavirus lockdown. And new splinter groups from established cartels have proved willing to use even more violent tactics to get what they want. Civilians have too often been caught in between.
Hope for the future
A year after the massacre, the school and workshop in La Mora stand silent. Around two-thirds of the ranch's 30 families have left, most of them setting up base in southern Utah.
Jenny and Amelia are among the few inhabitants who have remained. Jenny has a fatalistic view of recent events.
"I've lived here for 48 years. I would never leave. I feel if you're going to die by a bullet, you're going to die by a bullet."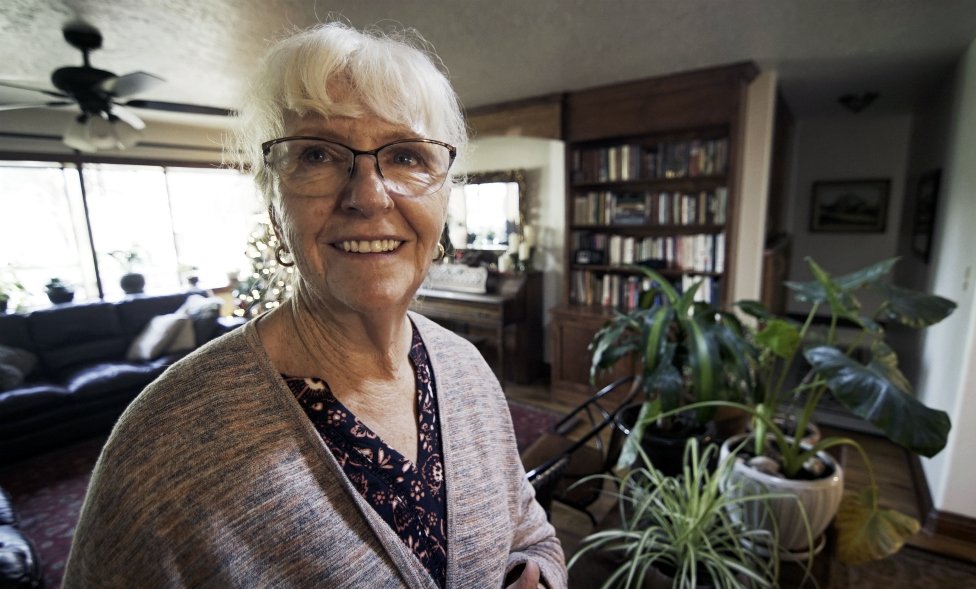 As for her children and the families who have gone, she's optimistic that they will one day return.
"They say the only thing you give your children is roots and wings. And I feel like we've given them the roots and they'll always come back. This is where they belong."
Thirty years on, Argentine survivors of the Belgrano sinking recall the moment Falklands war erupted around them October 25th 2020
It may be 30 years since the Argentine cruiser Belgrano was sunk in the first British attack of the Falklands war, but for survivors it might have been yesterday. By Philip Sherwell 28 April 2012 • 19:57 pm
It was perhaps the most controversial episode of the Falklands War and brought its single heaviest loss of life.
Sinking the Belgrano: the Pinochet connection
No incident in the Falklands War divided opinion so bitterly. Some even called it a war crime. Now a member of the War Cabinet has revealed how Argentine orders intercepted by Chile convinced the British that their enemies' prize cruiser had to be sunk Posted Here October 25th 2020
Colin Brown,Kim SenguptaTuesday 03 April 2012 01:24
Sinking the Belgrano: the Pinochet connection
Show all 2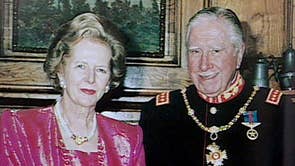 It was the moment which came to define the Falklands conflict, immediately claiming more than 300 lives and setting in chain events which would lead to the invasion of the disputed islands by British troops. Now, as services are held to mark the 30th anniversary of the start of the war, a member of Margaret Thatcher's War Cabinet has revealed details of how intelligence received from the Chilean regime of fascist dictator Augusto Pinochet led to the decision to sink the Argentine warship General Belgrano.
The sinking of the former US warship was controversial because at the time it was outside a British 200-mile Total Exclusion Zone around the Falklands and was steaming away from the UK Task Force. The cruiser went down with the loss of 323 lives – more than half of the total Argentine losses in the war.
In an exclusive interview for a forthcoming book on the history of Britain, Real Britannia, Lord Parkinson discloses that the War Cabinet took the decision after receiving secret intercepts from Chilean intelligence services revealing the orders from the Argentine junta to the warship's captain, Hector Bonzo.
Lord Parkinson, one of Lady Thatcher's closest allies, said: "They [Chile] had intercepted the Argentinian command's instructions… We had been discussing what we would do if we found it [the Belgrano] because we knew the Belgrano was out to sink a carrier. The fact that it was going one way or the other, it was manoeuvring to avoid a torpedo."
The Independent has learned from defence sources that the Chilean information also showed the staff of Admiral Jorge Anaya, the head of the Argentine Navy, had been directing orders to the Belgrano and a destroyer, the Hipólito Bouchard, to continue engaging in combat while taking all measures necessary to avoid coming under attack. This was interpreted by the British high command as signifying that movement towards her home port by the two ships may well have been acts of subterfuge.
The sinking took place 14 hours after the President of Peru, Fernando Belaúnde, proposed a peace plan which included regional states playing a role. After the sinking, Argentina rejected the plan but the UK indicated its acceptance on 5 May. It is not well known that the British continued to offer ceasefire terms until 1 June.
The War Cabinet took the decision to sink the Belgrano on 2 May 1982, after being briefed at a meeting at Chequers with Mrs Thatcher and Sir Terence Lewin, Admiral of the Fleet. Lewin told the Cabinet that Commander Chris Wreford-Brown, the captain of British nuclear submarine Conqueror, had the Belgrano in his sights and was seeking permission to attack. The ship was part of a small battle group, flanked by two Argentinian destroyers.
The War Cabinet authorised Lewin to proceed. The order was sent through Northwood, the Navy's command centre in west London, to the Conqueror. Wreford-Brown fired two non-guided torpedoes, which blew off the ship's bow.
Lord Parkinson said: "We discussed the Belgrano ad nauseam and what it was up to. Then up comes the Captain and says the Belgrano is going into shallower water and I can't follow it. Something as big as a nuclear submarine in shallow water was easy to hit. You couldn't allow that risk."
Pictures taken by survivors of the warship listing to port, before sinking, with orange rafts floating nearby, became one of the lasting images of the war, prompting the Sun headline: "Gotcha!"
Protests about the action were led by Tam Dalyell, the former Labour MP, who claimed the sinking had been ordered for political reasons by Lady Thatcher to destroy the last hopes of a peace plan being pursued in Peru by Perez de Cuellar, the Peruvian Secretary General of the UN, and Al Haig, the US Secretary of State.
Lord Parkinson denied this. "It was nothing to do with that. It was unanimous that if we had let the Belgrano go and it had sunk a carrier, we would all have been finished. We would all have had to stand down, if we had presided over the death of hundreds of British sailors and had the chance to avert it.
"What we didn't realise [was] the Argentinian destroyers took off immediately and they didn't search for survivors. They thought they would all get sunk… When we finally got the satellite pictures, we had pictures showing all the Argentine fleet in port."
Lord Parkinson also dispelled one of the myths of the war, that Britain relied heavily on surveillance from US satellites. The system was so slow that the US only supplied the photographs of the Argentine navy back in port the day after the conflict ended.
His disclosure that Britain received vital intelligence reports directly from Chile explains why Lady Thatcher supported General Pinochet when he was arrested in Britain for alleged war crimes, when he later came for treatment in a private London clinic. She said at the time that Britain owed a debt of gratitude to the Chilean leader for helping it win the war.
It became known later that General Pinochet had permitted a secret SAS surveillance team to use a long-range radar facility in Chile to monitor movements by the Argentine air force from its Comodoro Rivadavia air base – but until now, it was not known that Lady Thatcher was also supplied by the Pinochet regime with more vital raw intercept data revealing the orders to the Argentine commanders in action around the Falklands. The Cabinet records, which may confirm these details, are not due to be released under the 30-year secrecy rule until December.
Real Britannia, Britain's Proudest Years – The Glory and the Spin, by Colin Brown, will be published in October by Oneworld
UK opens files on Israeli arms sales to Argentina during Falklands War Posted October 25th 2020
Newly declassified papers show London was aware of alleged deals providing weapons to its enemy during 1982 conflict
An Argentine Air Force historical photo of the IV Air Brigade A-4C Skyhawk 'C-313' during the Falklands War. (photo credit: public domain)
Newly declassified British documents have provided details on reported Israeli arms sales to Argentina before and during the United Kingdom's war with Great Britain over the Falkland Islands in 1982.
A report by the Telegraph said the Jewish state had provided Buenos Aires with Skyhawk fighter jets which were used during the conflict to sink four British warships, killing dozens of soldiers.
The documents quoted by the paper also noted that arm sales continued well after the war ended, with Israel maintaining they were necessary to support its domestic arms industry.
Get The Times of Israel's Daily Edition by email and never miss our top stories Free Sign Up
Israel's clandestine weapons sales to Argentina's military dictatorship during the conflict were reported upon in a 2011 book by Argentinian journalist Hernan Dobry. The new documents indicated that London was well aware of the transactions.
A Foreign Office official wrote in one declassified memo that though the UK government had requested Jerusalem refrain from such deals after the war, "I do not believe the Israelis are to be moved on this issue.
"This is not satisfactory, but Israeli interests in Argentina will outweigh any readiness they might otherwise feel to be helpful to us," the official said.
In his book, "Operation Israel: The Rearming of Argentina During The Dictatorship," Dobry theorized that Israeli prime minister Menachem Begin agreed to help Argentina during the Falklands War as revenge for Britain's crackdown on the Jewish Irgun during the British mandate of Palestine.
The book explains how Israel secretly supplied arms and equipment to Argentina via Peru.
According to the book, Begin authorized the deal by saying, "Is this going to be used to kill the English? Kadima (go ahead). Dov from up there is going to be happy with the decision."
Dov Gruner was a close friend of Begin who was captured and hanged by the British in April 1947.
"Obviously, it must be all done perfectly," the Israeli prime minister reportedly added.
The testimony was provided by Israel Lotersztain, a salesman for Isrex, an Israeli defense company in Argentina.
"What Israel did was all within legal channels, but was a support to Argentina during the Falklands War that was only shown by a few countries in the world, such as Libya and Peru," Dobry told JTA.
Israel armed Argentina's military dictatorship with air-to-air missiles, fuel tanks for fighter bombers, gas masks and missile radar alert systems, as well as warm dubon parka jackets, according to the book.
"If the United States hadn't turned a blind eye, it would have been impossible for Israel to send such a large amount of weapons," Dobry told JTA. "Many components were American, and there is a law that prohibits the sale of any military component to third parties without the authorization of the White House."
Britain retook the Falkland Islands, called the Islas Malvinas in Argentina, in June 1982, less than three months after Argentina tried to recover the islands. More than 250 British and 650 Argentines were killed in the battle.
Brazil's Bolsonaro rejects plan to buy China's Sinovac vaccine; health minister tests positive
BRASILIA (Reuters) – Brazil's President Jair Bolsonaro said on Wednesday the federal government will not buy a COVID-19 vaccine from China's Sinovac, one day after the health minister said it would be included in the nation's immunization program.
The apparent about-face follows anti-China social media commentary by some of Bolsonaro's supporters and thrusts into the open a simmering debate over vaccine policy between the president and key governors, who have been exploring alternatives to the AstraZeneca vaccine the federal government has prioritized.
On Tuesday, Health Minister Eduardo Pazuello said in a meeting with state governors that the ministry would buy the Sinovac vaccine to include in the immunization program, along with the AstraZeneca/Oxford vaccine. That inclusion would be contingent on approval by drug regulator Anvisa, he said.
Then on Wednesday, the Health Ministry announced that Pazuello has tested positive for the virus, making him the latest Brazilian official to do so. Bolsonaro tested positive earlier this year.
Sao Paulo state biomedical research center, the Butantan Institute, is testing the Sinovac vaccine, and Governor João Doria said he hopes to have regulatory approval by the end of the year to start vaccinating people in January.
But Bolsonaro said on Wednesday Pazuello had been misinterpreted during the meeting with Brazil's governors.
"For sure, we will not buy the Chinese vaccine," Bolsonaro said on social media, responding to a supporter who urged him not to buy the vaccine.
Later in the morning, health ministry official Elcio Franco said all vaccines would be forced to go through federal health approval channels, but that the government had no interest in "Chinese vaccines."
Bolsonaro, a far-right leader who has drawn close to U.S. President Donald Trump, has made disparaging remarks about China in the past, even though it is Brazil's largest trade partner.
Sinovac did not immediately respond to request for comment.
'THE VACCINE IS WHAT IS GOING TO SAVE US'
The reversal surprised state governors, with Maranhao state Governor Flavio Dino saying there was "general outrage." Several other governors urged that vaccines be evaluated on science alone.
Butantan Institute director Dimas Covas told reporters that manufacturing of 46 million doses of the Sinovac vaccine would go ahead and be made available even if not included in the federal immunization program.
Sao Paulo governor Doria, who announced on Tuesday that the federal government had agreed to buy the doses of the Sinovac vaccine, argued in its favor on Wednesday.
"The vaccine is what is going to save us, save us all," he told reporters.
"It's not ideology, it's not politics, it's not an election that will save us. It's the vaccine," added Doria, who is viewed as a potential opponent for Bolsonaro in the 2022 presidential election. The president has minimized the gravity of the virus and criticized lockdowns that governors such as Doria have enforced.
Brazil has been among the world's hardest hit nations by the pandemic, with more than 5 million infections and nearly 155,000 COVID-19 deaths, according health ministry statistics.
The inclusion of the vaccine, called CoronaVac, in the national vaccination program of a nation of 230 million people would be a major success for Sinovac in what could be one of the world's first immunization efforts against the coronavirus.
The Brazilian government already has plans to purchase the AstraZeneca vaccine and produce it at its biomedical research center FioCruz in Rio de Janeiro.
On Wednesday, Anvisa said a volunteer involved in the trial of the AstraZeneca vaccine had died.
But both Anvisa and Oxford said the trial would continue, with a source familiar with the matter telling Reuters that it would have been suspended had the volunteer been in the group that received the vaccine.
The Butantan Institute said on Monday that preliminary results from late-stage clinical trials of CoronaVac on 9,000 volunteers have proven that the two-dose Chinese vaccine is safe. Covas said efficacy data will not be released until trials are completed.
Reporting by Lisandra Paraguassu, Anthony Boadle, Eduardo Simoes and Ricardo Brito; Writing by Anthony Boadle, Gram Slattery and Jake Spring; Editing by Andrew Heavens, Steve Orlofsky and Bill Berkrot.
Comment Brazil dare not upset the U.S. In an honest open world one would have thought saving life to have priority over elite politics. So this is more proof, as if it were needed, that U.S led western democracies are a sham.
It is many years since I studied the Brazilian economy. A major problem was reliance on primary products, best known was coffee, a crop that depletes water supply and requires slave labour. Primary product countries have also been vulnerable to the manipulation of the terms of trade.
The population was and still is out of control, so cheap labour has never been lacking supply. Those who rushed to the cities lived in filthy shanty towns. The police would shoot such poor people on sight if they thought crime a possibility.
The 10 million super rich had to be protected from the bottom 120 million. I found the subject so disturbing that I wrote a poem. That was pre computers, so its in a notebook somewhere, I recall some of the lines were : 'Sao Paulo Worker running for gold, Sao Paulo Worker lucky to get old, Sao Paulo baby dying in a cot, Sao Paulo Worker bathing because it's hot. Sao Paulo Richman says it all must be, Sao Paulo Richman says it's a new land of the free.'
So Bolsonaro has bigger problems than Covid, which doesn't really bother him. The poor will die young anyway. Catholocism will make sure they are quickly replaced and more. That elite does not want a quick solution to Covid and lockdown because fortunes are being made behind the scenes . Meanwhile the masses, worldwide, are paying – fighting among themselves as if their lives are black and white.
Angry females, especially blacks, have closed minds and so keep the charade going. Latest news is that Chinese are hacking U.S defences, like rapists with an innocent virgin it seems from reports. How can any one believe these people ? But they will call you all sorts of nasty names and or paranoid, if you don't. R.J Cook
Brazilian volunteer in Oxford-AstraZeneca Covid-19 vaccine trial DIES, authorities say. October 22nd 2020
A Rio de Janeiro man who was participating in the Oxford University trials of the AstraZeneca coronavirus vaccine has died of complications from Covid-19, Brazil's health authorities have announced.
Brazil's National Health Surveillance Agency (Agencia Nacional de Vigilancia Sanitaria, ANVISA), said on Wednesday that it was informed of the death on October 19, along with a recommendation that the study be continued.
Brazilian media did not identify the deceased by name, saying only that he was 28 years old and either a doctor or a medical student.
It remains unknown whether the man was taking the AstraZeneca vaccine client or was part of a control group taking the placebo. The clinical data has to be kept confidential to protect the participants and the integrity of the study, ANVISA said in a statement.
The British-Swedish pharma multinational is conducting a stage three trial of its Covid-19 vaccine in partnership with Oxford. The study is taking place in Brazil, the UK, India, and South Africa. In September, the UK study was paused out of safety concerns, due to an unspecified illness in one of the participants.
The Utopian Quest to Link the United States and Latin America Posted October 21st 2020
THE LONGEST LINE ON THE MAP
The United States, the Pan-American Highway, and the Quest to Link the Americas
By Eric Rutkow
Latin America and the United States have eyed each other warily for the last two centuries, bound in a cycle of economic interest tinged with suspicion — "distant neighbors," in the memorable phrase of Alan Riding, who was writing about Mexico but might as well have been describing the whole hemisphere.
One of the classic ways to form ties between rival geographies is simply to build a road linking them, and therein lies the politics behind the Pan-American Highway, from Alaska to Tierra del Fuego, which connects the United States and 13 of its neighbors with blacktop ligament. After decades of international squabbles, false starts, overthrown regimes and misappropriated funds, the highway eventually got built end to end except for about 65 missing miles in the marshes of the Darien Gap between Panama and Colombia. The historian Eric Rutkow chronicles that tangled journey in "The Longest Line on the Map: The United States, the Pan-American Highway and the Quest to Link the Americas."
This is not truly a saga of highway construction, as Rutkow spends little of his time on the front lines with the earthmovers. He is more interested in the difficult political road of Pan-Americanism, the romantic notion of hemispheric unity that lives on in the name of the defunct airline Pan Am; the fading country medallions on New York's Sixth Avenue, which nobody ever calls "The Avenue of the Americas"; a little-visited marble building on the Mall in Washington, D.C.; a proto-United Nations body called the Organization of American States and the 19,000-mile highway that still bears the faint stamp of Simón Bolívar's original vision of a common army and parliament for the New World.
The story begins at sea with the nausea of Hinton Rowan Helper, the United States consul to Argentina, who endured a miserable voyage back to New York City in 1866 and wondered "why not by rail?" He devoted the next several years to promoting the then-fantastical concept of an overland rail link between the United States and Latin America. After initially floundering in Congress, the scheme became a choice morsel to be seized in the chaos capitalism typical of the early railroading era. Jay Gould, Collis P. Huntington and William Palmer all vied to be the first to lay tracks from the Rio Grande to Mexico City, an ambition that carried the endorsement in 1880 of the former president Ulysses S. Grant, who had fought in the Mexican-American War as a young officer and, as Rutkow puts it, "loved Mexico almost as much as he loved cigars, horses and whiskey." The extensions of the Pan-American Railway into Central America became mainly a tool of the powerful mercantilist company United Fruit, known to its critics as El Pulpo, or "The Octopus."
By the 1920s, however, the automobile was king, and Washington had embraced the doctrines of the Good Roads movement that sought to bring all-weather macadam and concrete to every muddy corner of the country, and into Central America. Within a decade, Franklin Roosevelt would become one of Pan-Americanism's greatest champions, and his posture toward the highway is a reminder of how freely ideas and cash flowed during the New Deal. Rutkow paints convincing portrayals of technocrat-heroes like Logan Page and Thomas MacDonald at the federal road office, who handled their jobs with efficiency and prudence even while commanding staggering amounts of money.
At times, the book reads like an executive summary of the various conferences organized to promote the highway, while potentially colorful episodes are brushed over. Rutkow is a superb fact-hunter, having raided archives from San José, Costa Rica, to Laramie, Wyo., to find letters, minutes and articles that may not have seen daylight since the years they were written. Yet not every quotation about the highway feels necessary to the story, and there's a paucity of description of the road itself or its surrounding landscape. And for such a well-researched book about a bicontinental project, there's another strange omission. The route through South America receives precious little attention, with almost all the focus trained on United States policy toward road-building in Central America.
Rutkow is a graceful writer with a penchant for well-placed classical allusions, yet he possesses a distracting literary tic: a heavy reliance on the adverb "finally," which occasionally occurs twice on the same page. He uses it to describe such perfunctory matters as Mexico's control of its own rail system, the opening of a tunnel under the Hudson River, the nationalizing of American railroads during World War I, a power transfer in Guatemala, the disbanding of a committee, a proposal for federal funding of canals, the appearance of a Treasury Department report, a vetoed bill in Congress, a call to form a lobbying organization, the emergence of rural free mail, the popularity of good roads, the use of science in road-building, a job offer and the desire among Latin Americans to buy cars. This conclusory word is a curious one when overused in connection with a project whose essence is incompletion.
The narrative finds its highest velocity near the end, with a fascinating section on a North Carolina schoolteacher's efforts to bushwhack his way through the Darien Gap, and Richard Nixon's stated desire to drive the finished road himself in time for the 1976 bicentennial. That was in more ambitious times, before the momentum petered out amid Ronald Reagan's anticommunist wars in Central America and worries about perforating the "biological plug" of the swampy barrier between the continents. The road remains — like the Pan-American ideal — frustratingly snapped in the middle.
Pan American Highway – extracted from 'The Great Soviet Encyclopedia 1979. Posted here October 20th 2020
It is a network of highways in Latin America, linking most of the countries of South and Central America with the USA. Its length is 33,600 km. The decision to build the Pan American Highway was reached at the Fifth Pan American Conference, held in Chile in 1923.
Starting from Nuevo Laredo at the US-Mexican border, the highway passes through several large Mexican cities, including Monterrey, Mexico City, and Oaxaca, and through the capitals of all the Central American states with the exception of Tegucigalpa, Honduras, to which a branch leads from the main highway. As of 1975, two sections of the Pan American Highway have not been completed because of the roughness of the terrain: a 320-km section in Panama and an 80-km section in Colombia. In Colombia the highway runs through the valleys of the Andes and through the Cauca Valley, then along an intramontane plateau through Quito and Cuenca in Ecuador and along the Pacific coast to Lima, the capital of Peru. A section of the highway links Bogotá, Colombia, with Caracas, Venezuela.
The highway branches south of Lima. One branch goes to Buenos Aires, Argentina, through Arequipa, Peru, and La Paz, Bolivia. The other branch goes to Santiago, Chile, and then turns east and runs through the Uspallata Pass and the cities of Mendoza and Mercedes to Buenos Aires. From Rosario the highway again divides into two branches, one of which goes to Córdoba and San Miguel de Tucumán and then to Bolivia; the other branch goes to Asunción, Paraguay. From Buenos Aires, freight and passengers are ferried to Colonia del Sacramento, Uruguay, from which point one route passes through the cities of Mercedes, Paysandú, and Salto to the Brazilian border, and the other to Montevideo and then to Melo, Acegua, and Rio de Janeiro.
The Pan American Highway is of enormous strategic importance, especially in the regions adjacent to the Caribbean Sea and the Pacific Ocean in Central America and northeastern Colombia. The USA is therefore hastening completion of the highway and has granted a loan of $100 million to Panama and Colombia. The Pan American Highway is very important for tourism and for the development of vast territories in tropical regions that are rich in natural resources. It is connected to the Transamazon Road (Rio de Janeiro-Bogotá), which passes through the least developed regions in the Amazon Basin. One of the major branches of the Pan American Highway, the Carretera Bolivariana Marginal de la Selva, or Bolivarian Forest Edge Highway, which will pass through Bolivia, Peru, Ecuador, and Colombia, is in the planning stages.
Bolivia's indigenous voters choose a socialist as President. October 20th 2020
Venezueala, Russia & Sputnik V – Story Source RT Posted October 18th 2020
Venezuela: Maduro says he hopes to start mass rollout of Sputnik V vaccine in April 2021 Venezuela, Bolivarian Republic of, Caracas COVID-19PoliticsSociety October 15, 2020 at 00:29 GMT +01:00 · Published Venezuelan President Nicolas Maduro said he expects mass vaccination in the South American country with the Russian-developed Sputnik V coronavirus vaccine to begin in April 2021, during a press conference in Caracas on Wednesday. "After the completion of phase three of the Russian and Chinese vaccines, in due course, well, we will proceed, with the authorisation of the WHO and the PAHO, to the mass vaccination. I have thought that it may be by April, I said so yesterday, and some people told me that it may be earlier. If it is earlier, better," Maduro said. Besides the vaccine developed in Russia, which arrived in the country on October 2, Venezuela will also test a vaccine developed in China. Copied from page https://www.ruptly.tv/en/videos/20201015-001-Venezuela–Maduro-says-he-hopes-to-start-mass-rollout-of-Sputnik-V-vaccine-in-April-2021
Comment The fact that the Great powers have acted in panic and certainty of a vaccine, along with all the mutations speed predictions, apparently known, suggests that they know that one of them, probably the Anglo U.S Deep State, is responsible for it as a bio weapon against China and Russia.
The so called war on terror broke cover with Gulf War Two. The ruling elite ultimately caused World Wars One and Two, Hitler and his Nazis were just an outcome of scapegoating Germany when it was the British King Edward V11's cousin, Kaiser Wilhelm II who ultimately went rushing to oppressive Austria's aid , 'Like a knight on a dashing white charger' according to his own words.
Millions were killed across the world because of this – from 1914, through the depression years and on through World War Two. All along the way, through the post war years, more and more money has gone to the elite, with more debts to the masses. The universal banner now, in the west, is emblazened with the myth of how lucky we are to live in 'western style democracies, which must be exported to the ignorant Third World – just like in the days of empire which never really ended, and we must embrace the new normal.
The west doesn't want an easy vaccine solution to this problem which is why they will go on rubbishing Russia and China's efforts. They need social distancing to suit elite ends because mass immigration has provoked Europe wide protests. Events like the savage Medieval beheading of white school teacher by a young Muslim makes matters much worse and lockdown more necessary in the name of proetcting the obese , old and sickly.
They need to soak up the popuations they have been exploiting for years in the Third World, before bombing them out in the name of freedonm ( sic ). The U.S with parent British help, has been doing the same in Latin America which now wants to over spill into the U.S. In both cases, the pampered ruthess elite resolve this through divide and rule, claiming the moral high ground and using stuff like agent orange or Covid 19 when necessary.
Mystery nerve agents striking Russian defectors en route to German and in Salisbury, are all too convenient. The yachting partying crowds must have their fun, and they need a lot of money and for millions to breed and pay the price as slaves or cannon fodder – as if there is a difference !
I saw how our elite rubbed shoulders with Chile's fascists back in my Nitrate Crooration of Chile Days. My specialist area was engineering, steel and mining. The British were out for the loot and always have been. There has never been democracy here. As for the 'Mother of Parliaments', well if that is the best -it doesn't matter how many angry upper middle class feminists, aggrieved blacks or fake socialists you pack in there- if that was the breeding stock, you can see why we have this road to the 'new normal.'
'New normal' is a very interesting contrast to the term multi culture. It is top down and very much the elite imposed mono culture. It is a box, for the ignorant divided masses, including religious maniacs, to fight, maim and kill one another, or take the drugs when they diagnose you with a paranoid personality disorder or label you with some other set of words you are not educated to understand. R.J Cook
Chile World October 17th 2020
The main British communities in Chile, or La Colonia Britanica, were located in Valparaíso, Punta Arenas, and Concepción. A key moment in British immigration to Chile occurred in 1811, when free trade was decreed, followed by laws in 1824 and 1845 encouraging immigration.[1]
Chile, facing the Pacific Ocean, has for many years had an important British presence.[2] Over 50,000[3] British immigrants settled in Chile from 1840 to 1914. A significant number of them settled in Magallanes in Province, especially the city of Punta Arenas when it flourished as a major global seaport for ships crossing the Strait of Magellan from the Atlantic to the Pacific Ocean. Around 32,000 English settled in Valparaíso, influencing the port city to the extent of making it virtually a British colony during the last decades of the 19th century and the beginning of the 20th century.[4] However, the opening of the Panama Canal in 1914 and the outbreak of the First World War drove many of them away from the city or back to Europe.
In Valparaíso they created their largest and most important colony, bringing with them neighbourhoods of British character, schools, social clubs, sports clubs, business organizations and periodicals. Even today their influence is apparent in specific areas, such as the banks and the navy, as well as in certain social activities, such as football (soccer), horse racing, and the custom of drinking tea.
During the movement for independence (1818), it was mainly the British who formed the Chilean Navy, under the command of Lord Cochrane.
British investment helped Chile become prosperous and British seamen helped the Chilean navy become a strong force in the South Pacific. Chile won two wars, the first against the Peru-Bolivian Confederation and the second, the War of the Pacific, in 1878-79, against an alliance between Peru and Bolivia. The liberal-socialist "Revolution of 1891" introduced political reforms modeled on British parliamentary practice and lawmaking.
British immigrants were also important in the northern zone of the country during the saltpetre boom, in the ports of Iquique and Pisagua. The King of Saltpetre, John Thomas North, was the principal tycoons of nitrate mining. The British legacy is reflected in the streets of the historic district of the city of Iquique, with the foundation of various institutions, such as the Club Hípico (Racing Club). Nevertheless, the British active presence came to an end with the saltpetre crisis during the 1930s.
An important contingent of British (principally Scottish and Irish) immigrants arrived between 1914 and 1950, settling in the present-day region of Magallanes. British families were established in other areas of the country, such as Santiago, Coquimbo, the Araucanía, and Chiloé.
Cultural and technological legacy
The cultural legacy of the British in Chile is notable and has spread beyond the British Chilean community onto society at large. One custom taken from the British is afternoon tea, called "onces" by Chileans. Another interesting, although peculiar, legacy is the sheer amount of use of British first surname[clarification needed] by Chileans.[5]
British technology in mining, railway, maritime infrastructure, and other industrial applications predominated in Chile in the latter half of the 19th century, continuing through the 1930s. Manuel A. Fernández' book, "Technology and British Nitrate Enterprises in Chile, 1880-1914" (Issue 34 of Occasional Papers- Institute of Latin American Studies Glasgow University, ISSN 0305-8646) details some of the British technology contributions to the development of the Chilean mining industry. Similar benefits were seen in the railway and meat-processing industries. Many of the British engineers and technicians, who came to Chile to support British equipment, remained in the country. Even Chile's modern system of lighthouses was largely the result of British expertise and technology: towards the end of the 19th century, Scottish engineer George Slight designed and constructed 70 lighthouses, most of which are still in operation.
Chile currently has the largest population who can claim to be descendants of the British in Latin America. Over 700,000 Chileans may have British (English, Scottish and Welsh) or Irish origin, amounting to about 4% of Chile's population.[5]
The Iran-Contra Affair: Ronald Reagan's Arms Sales Scandal Posted October 15th 2020
Updated November 12, 2018
The Iran-Contra affair was a political scandal that exploded in 1986, during President Ronald Reagan's second term, when it came to light that senior administration officials had secretly—and in violation of existing laws—arranged for the sale of arms to Iran in return for Iran's promise to help secure the release of a group of Americans being held hostage in Lebanon. Proceeds from the arms sales were then secretly, and again illegally, funneled to the Contras, a group of rebels fighting the Marxist Sandinista government of Nicaragua.
Iran-Contra Affair Key Takeaways
The Iran-Contra affair was a political scandal that played out between 1985 and 1987, during the second term of President Ronald Reagan.
The scandal revolved around a plan by Regan administration officials to secretly and illegally sell arms to Iran, with funds from the sales funneled to the Contra rebels fighting to overthrow Nicaragua's Cuban-controlled, Marxist Sandinista government.
In return for the arms sold to them, the Iranian government had vowed to help secure the release of a group of Americans being held hostage in Lebanon by the terrorist group Hezbollah.
While several top White House officials, including National Security Council member Colonel Oliver North were convicted due to their participation in the Iran-Contra affair, no evidence that President Reagan had planned or authorized the arms sales was ever revealed.
Background
The Iran-Contra scandal grew out of President Reagan's determination to eradicate Communism worldwide. So supportive of the Contra rebels' struggle to overthrow Nicaragua's Cuban-backed Sandinista government, Reagan had called them, "the moral equivalent of our Founding Fathers." Operating under the so-called "Reagan Doctrine" of 1985, the U.S. Central Intelligence Agency was already training and assisting the Contras and similar anti-Communist insurgencies in several countries. However, between 1982 and 1984, the U.S. Congress had twice specifically prohibited providing further funding to the Contras.
The convoluted path of the Iran-Contra scandal began as a covert operation to free seven American hostages who had been held in Lebanon since the state-sponsored Iranian terrorist group Hezbollah had kidnapped them in 1982. The initial plan was to have America's ally Israel ship weapons to Iran, thus bypassing an existing U.S. arms embargo against Iran. The United States would then resupply Israel with arms and receive payment from the Israeli government. In return for the weapons, the Iranian government promised to help free the Hezbollah-held American hostages.
However, in late 1985, U.S. National Security Council member Lieutenant Colonel Oliver North secretly devised and implemented a revision to the plan whereby a part of the proceeds from the weapons sales to Israel would secretly—and in violation of the congressional ban—be diverted to Nicaragua to help the insurgent Contras.
What Was the Reagan Doctrine?
The term "Reagan Doctrine" arose from President Reagan's 1985 State of the Union address, in which he called on Congress and all Americans to stand up to the Communist-ruled Soviet Union, or as he called it the "Evil Empire." He told Congress:
"We must stand by all our democratic allies, and we must not break faith with those who are risking their lives—on every continent, from Afghanistan to Nicaragua—to defy Soviet-supported aggression and secure rights which have been ours from birth."
Scandal Discovered
The public first learned of the Iran-Contra arms deal shortly after a transport aircraft carrying 50,000 AK-47 assault rifles and other military weapons was shot down over Nicaragua on November 3, 1986. The aircraft had been operated by Corporate Air Services, a front for Miami, Florida-based Southern Air Transport. One of the plane's three surviving crew members, Eugene Hasenfus, stated in a press conference held in Nicaragua that he and his two crewmates had been hired by the U.S. Central Intelligence Agency to deliver the arms to the Contras.
After the Iranian government confirmed agreeing to the arms deal, President Reagan appeared on national television from the Oval Office on November 13, 1986, stating of the deal:
"My purpose was to send a signal that the United States was prepared to replace the animosity between [the U.S. and Iran] with a new relationship … At the same time we undertook this initiative, we made clear that Iran must oppose all forms of international terrorism as a condition of progress in our relationship. The most significant step which Iran could take, we indicated, would be to use its influence in Lebanon to secure the release of all hostages held there."
Oliver North
The scandal grew worse for the Reagan administration after it became clear that National Security Council member Oliver North had ordered the destruction and concealment of documents related to the Iran and Contra arms sale. In July 1987, North testified before a televised hearing of a special joint congressional committee created to investigate the Iran-Contra scandal. North admitted that he had lied when describing the deal to Congress in 1985, stating that he had viewed the Nicaraguan Contras as "freedom fighters" engaged in a war against the Communist Sandinista government. Based on his testimony, North was indicted on a series of federal felony charges and ordered to stand trial.
During the 1989 trial, North's secretary Fawn Hall testified that she had helped her boss shred, alter, and remove official United States National Security Council documents from his White House office. North testified that he had ordered the shredding of "some" documents in order to protect the lives of certain individuals involved in the arms deal.
On May 4, 1989, North was convicted of bribery and obstruction of justice and was sentenced to a three-year suspended prison term, two years on probation, $150,000 in fines, and 1,200 hours of community service. However, on July 20, 1990, his conviction was vacated when a federal court of appeals ruled that North's televised 1987 testimony to Congress may have improperly influenced the testimony of some witnesses at his trial. After taking office in 1989, President George H.W. Bush issued presidential pardons to six other individuals who had been convicted for their involvement in the scandal.
Had Reagan Ordered the Deal?
Reagan made no secret of his ideological support of the Contra's cause. However, the question of whether he ever approved Oliver North's plan to provide weapons to the rebels remains largely unanswered. The investigation into the exact nature of Reagan's involvement was hindered by the destruction of related White House correspondence as ordered by Oliver North.
In early 1986, the Reagan-appointed Tower Commission, chaired by Republican Texas Senator John Tower, found no evidence that Reagan himself was aware of the details or extent of the operation, and that the initial sale of arms to Iran had not been a criminal act. In a televised address on March 4, 1987, Reagan, however, took responsibility for the scandal, stating that "what began as a strategic opening to Iran deteriorated, in its implementation, into trading arms for hostages."
President Reagan's television address on the Iran-Contra Affair, 1987. National Archives
While his image suffered as a result of the Iran-Contra scandal, Reagan's popularity recovered, allowing him to complete his second term in 1989 with the highest public approval rating of any president since Franklin D. Roosevelt.
Sources and Suggested References
UK court overturns Venezuela judgment in $1 billion gold tug-of-war
Reuters London, United Kingdom Oct 06, 2020, 12.12 PM(IST)
Venezuelan President Nicolas Maduro in a conference with one hand on gold bars Photograph:( Reuters ) Follow Us
Story highlights
The Court of Appeal granted the Nicolas Maduro-backed Banco Central de Venezuela's (BCV) appeal and set aside July's High Court judgement, which had found that Britain's recognition of opposition leader Juan Guaidó as 'constitutional interim president of Venezuela' was conclusive
A tug-of-war over $1 billion (£770.4 million) worth of Venezuelan gold stored at the Bank of England took a new turn on Monday as the English Court of Appeal overturned an earlier High Court ruling on who the UK recognised as Venezuela's president.
The Court of Appeal granted the Nicolas Maduro-backed Banco Central de Venezuela's (BCV) appeal and set aside July's High Court judgement, which had found that Britain's recognition of opposition leader Juan Guaidó as "constitutional interim president of Venezuela" was conclusive.
The BCV sued the Bank of England in May to recover control of the gold, which it says it will sell to finance Venezuela's response to the coronavirus pandemic.
The BoE has refused to release the gold, however, after the British government in early 2019 joined dozens of nations in backing Guaido on the basis that Maduro's election win the previous year had been rigged.
Monday's decision means the case now goes back to the High Court for it to determine more definitively which of the two rival leaders is in charge.
Monday's judgment said it was necessary to determine whether "(1) the UK government recognises Mr Guaidó as President of Venezuela for all purposes and therefore does not recognise Mr Maduro as President for any purpose.
"Or (2) HMG (the UK government) recognises Mr Guaidó as entitled to be the President of Venezuela and thus entitled to exercise all the powers of the President but also recognises Mr Maduro as the person who does in fact exercise some or all of the powers of the President of Venezuela."
Vanessa Neumann, the ambassador designated by Guaidó for Britain and Ireland, told reporters that the court could issue a new pronouncement within a week or two, but added that the process could be delayed by other appeals.
The BCV has said the proceeds from the sale of the gold would be transferred directly to the United Nations Development Programme to procure humanitarian aid, medicine and equipment to fight the COVID-19 pandemic.
"The Central Bank of Venezuela reaffirms that it will continue carrying out all actions necessary to protect its sovereign international reserves and the sacred patrimony of the Republic," it wrote in a statement in response to the decision.
Venezuela's opposition has alleged that Maduro wants to use the money to pay off his foreign allies, which his lawyers deny.
Over the past two years, Maduro's government has taken some 30 tonnes from its local gold reserves to sell abroad for much-needed hard currency, according to people familiar with the operations and the bank's own data.
Britain's Theft of Venezuela's Gold is Part of Illegal US 'Regime Change' Agenda
By Public Reading RoomsLatin America, Politics, Recent, Venezuel
Fiona Edwards writes: On 2 July 2020, the High Court in the UK made the outrageous decision to approve the British government's blatant theft of more than $1bn of Venezuela's gold reverses deposited in the Bank of England. This is just the latest craven manoeuvre by the British government in its quest to be a loyal junior partner in the Trump administration's efforts to overthrow the legitimate government of Venezuela.
In their criminal adventures to plunder Venezuela's gold, oil and other lucrative resources both Britain and the US are exposing themselves before the entire world as having no interest at all in supporting human rights, freedom and democracy in Venezuela. On the contrary, both Britain and the US continue to demonstrate their utter contempt towards the Venezuelan people and their right to determine their own future.
Imperialist assault on Venezuela's sovereignty and democracy
The British government's justification for the theft of Venezuela's gold is predicated on an unashamed imperialist mentality and policy: that the British government is better placed than the people of Venezuela to decide who the President of Venezuela is.
The High Court noted that the British government "unequivocally recognises" Juan Guaido as the interim President of Venezuela. Despised by the Venezuelan people, Juan Guaido, who has not even stood in a Presidential election in Venezuela let alone won such a contest, declared himself interim President of the country in January 2019 with the full backing of the US administration in Washington.
The United Nations and most countries in the world have rejected Guaido for what he really is – a tool of the Trump Administration – and instead continue to recognise Venezuela's legitimate and democratically elected President Nicolas Maduro.
In maintaining their recognition of the Maduro government, the majority of the world is respecting the result of Venezuela's democratic elections, in defiance of the US, Britain and a handful of allies. Britain's decision to steal Venezuela's gold and attempt to leverage this to politically interfere in the country is a violation of Venezuela's right to self-determination.
Stealing and sanctions: attempts to beat the Venezuelan people into submission
Britain's theft of Venezuela's gold also fits directly into the wider US strategy of 'regime change.' Through economic warfare the US is attempting to impoverish the Venezuelan population to such an extent that they give up on resisting Washington's attempts to overthrow their legitimate government and accept the imposition of a US-puppet President instead.
Whilst US sanctions against Venezuela have proved effective in attacking the living standards and human rights of the Venezuelan people, they have failed to achieve the major shift in political opinion in the country that the US has been aiming for. In fact the Venezuelan people have overwhelmingly opposed US sanctions and millions have mobilised to defend their government against US aggression.
The humanitarian impact of US sanctions, however, has been severe. According to the Centre for Economic and Policy Research US sanctions on Venezuela have "killed 40,000 people… between 2017 and 2018" and caused shortages in vital supplies including food and medicine.
The US administration has seized upon the coronavirus pandemic as an opportunity to increase pressure on Venezuela through tightening the sanctions. Despite this, through a total mobilisation of its government and the whole of its society, the Venezuelan people have so far managed to prevent a major outbreak of the coronavirus and have limited the number of fatalities to 64 in total so far.
It is in this context that the Venezuelan Central Bank made its legal challenge for the Bank of England to release the $1bn worth of gold. Venezuela explicitly stated that these funds were needed to buy, through the United Nations Development Programme, vital supplies of equipment and medicine to combat the pandemic. For the British government to effectively deny the Venezuelan people access to medicine during a deadly pandemic – which is the direct consequence of stealing Venezuela's gold – is to participate in the US' economic war on Venezuela.
Britain's secret plans to "reconstruct" Venezuela exposed
Britain's ambitions to plunder the wealth of Venezuela extend far beyond $1bn worth of gold. In May 2020 The Canary exposed the existence of a secretive "Venezuela Reconstruction Unit" in Britain's Foreign Office. The unit was established to promote the interests of British business in the event of the US regime change agenda succeeding in Venezuela. British officials met with figures from Venezuela's right wing opposition, including with Guaido, to discuss these "reconstruction" plans.
Venezuela is home to the biggest oil reserves in the world – a clear prize for any imperialist power that succeeds in toppling the country's government. Prior to the election of Hugo Chavez in 1998 Venezuela was dominated by US interests that saw the overwhelming majority of oil revenues go to multinational corporations at the expense of the population which languished in poverty. Chavez's decision to nationalise the oil industry and use its revenue to tackle poverty was intolerable for the US. It is precisely this situation that the US – with a little help from Britain – is trying to reverse.
It goes against the basic spirit of humanity for Britain to steal over £1bn worth of gold from Venezuela. These vital funds should be returned to Venezuela immediately. As Venezuela's Central Bank is appealing the UK High Court's decision it is important for all progressive movements in Britain to support Venezuela's fight to recover its gold. We should stand in solidarity with Venezuela by defending the country's sovereignty and against the US and British governments' relentless push for illegal 'regime change' and also oppose the brutal US sanctions which are an attack on human rights.
This article was previously published on Eyes on Latin America
Iran Fuels Venezuela Crisis October 1st 2020
Venezuela receives gasoline from Iran amid surge in protests
Three ships loaded with gasoline from Iran have started to reach fuel-starved Venezuela amid simmering social unrest across the South American country
Via AP news wire14 hours ago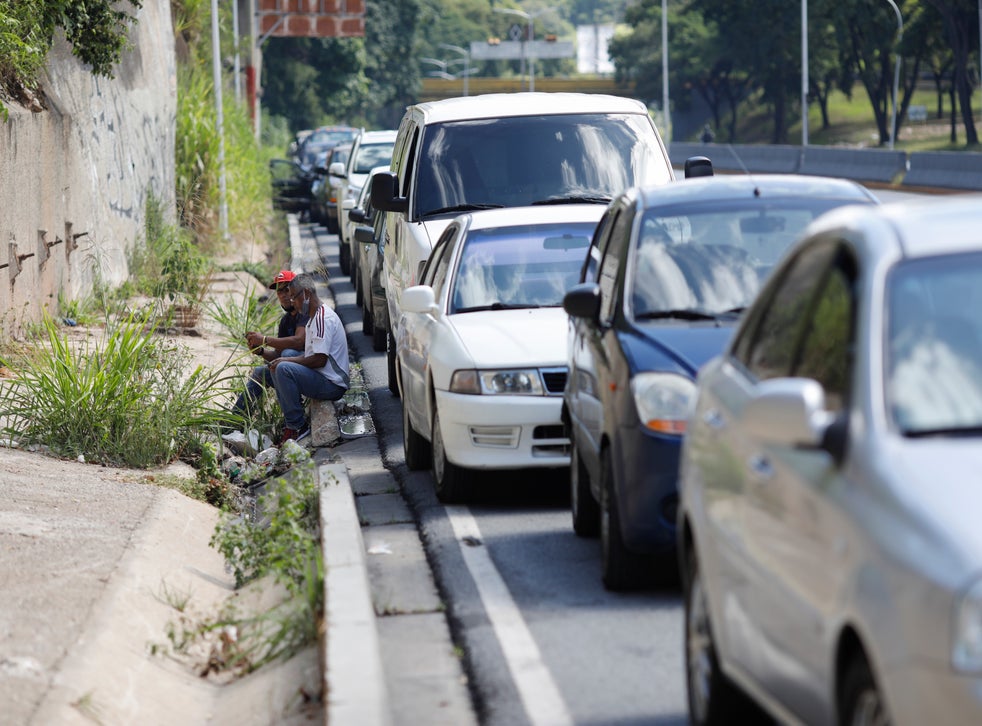 The second of three ships loaded with gasoline from Iran approached fuel-starved Venezuela on Wednesday amid simmering social unrest over a lack of goods and services that's sparked protests across the South American nation.
More than 100 street demonstrations have flared up in remote towns over the last week. Despite each being relatively small, they have raised concern among Venezuelan authorities, who have responded forcefully, sending in soldiers and local police, activists and residents told The Associated Press.
The Iranian tanker Forest arrived Tuesday at a Venezuelan port carrying 275,000 barrels of gasoline, and the Fortune vessel pulled into Venezuelan waters on Wednesday, said Russ Dallen, head of the Miami-based investment firm Caracas Capital Markets, who tracks Venezuela shipments.
The Faxon — the third Iranian tanker en route — is expected to reach the South American nation this weekend, Dallen said, adding that the flotilla is delivering an estimated 815,000 total barrels of fuel.
The authorities have not commented on the latest fuel shipments from Iran, a close ally to the government of President Nicolás Maduro that is also targeted by strict sanctions from Washington.
However, Iván Freites, secretary of the United Front of Petroleum Workers of Venezuela and a Maduro critic, said the Iranian shipments fall short of solving the nation's deep shortages.
In recent weeks, Venezuela — which has the world's largest oil reserves — shut down gas stations nationwide due to shortages, sparking long lines with frustrated drivers waiting hours and days to fuel up their cars.
Venezuela's domestic consumption is around 100,000 barrels a day, so the new Iranian shipments do little to meet the demand, Freites said.
Venezuela Maduro announces new fuel plan as second Iranian tanker arrives Reuters00:42 Venezuela Resumes Operation of Two Oil Refineries, Maduro Says Sputnik02:36 Fifteen States Up in Protests Caracas Chronicles20:20 Wed, 30 Sep USS William P. Lawrence Freedom-Of-Navigation Operation Challenges Venezuela's Excessive Maritime Claim U.S. Southern Command (Press Release)23:34 Wed, 30 Sep Peace Force Intervention in Venezuela: Incessant Clamor to Guaidó PanAm Post18:32 Wed, 30 Sep PREMIUM: Venezuela acquired C-802A anti-ship missiles from China Shephard.co.uk16:04 Wed, 30 Sep
In the last 2 hours Two Iranian-Flagged Tankers Reportedly Arrive in Venezuela as Maduro Vows to Improve Gasoline Output Sputnik11:34 In the last 4 hours Venezuela's Food Chain Is Breaking, and Millions Go Hungry The Wall Street Journal10:36 In the last 6 hours High Court to hear Putrajaya's bid to bar PetroSaudi from accessing 1MDB-linked funds Nov 10 Malay Mail08:08 Earlier today PetroSaudi subsidiary says there's new development, seeks adjournment of… The Edge Markets04:34 Brazil: Violence Against Indigenous People Increased in 2019 teleSUR04:02 Caracas agrees to expand presence of UN human rights officials in Venezuela TASS03:54 Caracas slams US accusations against former Venezuelan officials as slander TASS03:54 US: Spring's 31.4% Economic Drop Biggest Since Great Depression teleSUR03:51 Germany Helps Fund COVID-19 Vaccine for Developing Countries teleSUR03:51 Cuba: Havana Begins Gradual Opening October 1st teleSUR03:32 Venezuela Resumes Operation of Two Oil Refineries, Maduro Says Sputnik02:36 Brazil Again Sees Over 1,000 Daily COVID-19 Deaths teleSUR02:21 Venezuelan opposition leader, EU urge delay in election Mail Online01:35 Venezuela Draft Legislation Sets Ground for More Privatizations BNN Bloomberg01:01 Venezuela Maduro announces new fuel plan as second Iranian tanker arrives Reuters00:42 Colombians Denounce Assassination of Social Leader in Risaralda teleSUR00:01 Yesterday Report urges creation of mechanism to repatriate Venezuela's stolen assets to alleviate humanitarian crisis Univision Noticias23:50 Wed, 30 Sep Why Florida's Cuban population is susceptible to Trump's propaganda CNN23:42 Wed, 30 Sep Cuba Elected to PAHO Executive Committee Despite US Opposition teleSUR23:41 Wed, 30 Sep USS William P. Lawrence Freedom-Of-Navigation Operation Challenges Venezuela's Excessive Maritime Claim U.S. Southern Command (Press Release)23:34 Wed, 30 Sep Firearms Seized from Venezuelan Smugglers in Florida Armament Research Services23:19 Wed, 30 Sep Venezuela and UN High Commissioner hold talks on human rights Prensa Latina22:31 Wed, 30 Sep EU representatives discussed possible election delay with Venezuelan government – statement Reuters22:24 Wed, 30 Sep After Fleeing From Socialism, Some Immigrants Fear for America's Future The Epoch Times22:13 Wed, 30 Sep Venezuela receives gasoline from Iran amid surge in protests Mail Online22:03 Wed, 30 Sep Mafalda's Creator, the Cartoonist Quino, Dies in Argentina teleSUR20:49 Wed, 30 Sep Brazil: Judge Halts Policy Affecting Mangroves and Dunes teleSUR20:29 Wed, 30 Sep Over 80% of Chileans Want a New Constitution teleSUR20:29 Wed, 30 Sep Fifteen States Up in Protests Caracas Chronicles20:20 Wed, 30 Sep Maduro calls on UN to fund support for countries affected by economic and political measures Morning Star20:12 Wed, 30 Sep Venezuela: Press release on EU dialogue with stakeholders in Caracas European External Action Service19:40 Wed, 30 Sep Venezuela Sees Oil Revenue Fall By 99% As U.S. Sanctions Sting OilPrice.com19:31 Wed, 30 Sep The Pernalete Family: Life Without Juan Pablo Caracas Chronicles18:40 Wed, 30 Sep US Offers $5Mln Reward for Information on Venezuela Ex-Electricity Minister, Pompeo Says Sputnik18:38 Wed, 30 Sep Peace Force Intervention in Venezuela: Incessant Clamor to Guaidó PanAm Post18:32 Wed, 30 Sep Colombia: Truth Commission Picks Leyner Palacios as New Member teleSUR18:08 Wed, 30 Sep Major Refiner to Buy Canadian Crude on Venezuela Concerns Rigzone18:08 Wed, 30 Sep Crypto to bypass sanctions? Yes, says Venezuela's President Maduro AMBCrypto17:59 Wed, 30 Sep Ecuador: Indigenous Peoples Harassed When Filing Complaint teleSUR17:58 Wed, 30 Sep Department of State Offers Rewards for Information to Bring Former Venezuelan Public Officials to Justice U.S Department of State17:42 Wed, 30 Sep Feds offer millions in rewards on former Venezuelan officials wanted in Miami Stripes17:41 Wed, 30 Sep Sargeant Marine Pleads Guilty to FCPA Charges and Agrees to Pay $16.6 Million JD Supra17:22 Wed, 30 Sep Major Refiner Shifts to Canadian Crude on Venezuela Concerns Rigzone17:18 Wed, 30 Sep Second tanker of Iranian fuel reaches Venezuelan waters Jewish News Syndicate16:40 Wed, 30 Sep Largest Indian Refiner Switches From Venezuelan To Canadian Crude OilPrice.com16:30 Wed, 30 Sep Anti-Blockade Law Pursues Venezuela's Development Against Aggression Prensa Latina16:19 Wed, 30 Sep Venezuela's oil revenue collapses 99% in 6 years – Maduro Rappler16:16 Wed, 30 Sep PREMIUM: Venezuela acquired C-802A anti-ship missiles from China Shephard.co.uk16:04 Wed, 30 Sep Eustiquio José Lugo Gómez U.S Department of State15:54 Wed, 30 Sep Luis Alfredo Motta Dominguez U.S Department of State15:54 Wed, 30 Sep Trump Turns the Presidential Debate Into a Pointless Spectacle teleSUR15:37 Wed, 30 Sep Mapping Venezuela's shrinking radio landscape Committee to Protect Journalists15:36 Wed, 30 Sep Venezuelan oil revenue drops 99% in six years Asian Lite International15:06 Wed, 30 Sep Venezuela: Renew Europe deplores last week's EU diplomatic mission to Caracas and calls for a plenary debate with HR/VP … Renew Europe15:00 Wed, 30 Sep Venezuelan president urges end to sanctions, embargoes against peoples Xinhua Online14:59 Wed, 30 Sep Peru: Health Workers Demand Better Conditions To Face COVID-19 teleSUR14:57 Wed, 30 Sep Second tanker carrying Iranian fuel reaches Venezuelan waters – data Reuters14:52 Wed, 30 Sep Maduro claims crypto will play role in fighting sanctions against Venezuela Cointelegraph14:45 Wed, 30 Sep Second tanker carrying Iranian fuel reaches Venezuelan waters -data Reuters14:38 Wed, 30 Sep Protests over fuel shortages spread in Venezuela BBC14:17 Wed, 30 Sep President Maduro: Venezuela Seeks Opportunities To Use Cryptocurrency For Global Trade CryptoPotato.com13:38 Wed, 30 Sep Venezuela's oil revenue collapses 99% in six years, says Maduro Buenos Aires Times13:37 Wed, 30 Sep Reliance to buy Canadian crude as threats of Venezuela sanctions rise BNN Bloomberg13:05 Wed, 30 Sep Venezuela's oil revenue collapses 99% in six years: Maduro Gulf Today13:01 Wed, 30 Sep It's Beyond Time to Reform the U.N. Human Rights Council The Dispatch11:49 Wed, 30 Sep Threat of Venezuela sanctions has Reliance buying Canadian crude Energy Voice11:20 Wed, 30 Sep Venezuela shortages prompt wave of protests across country The Guardian10:04 Wed, 30 Sep Threat of US sanctions on Venezuela has Reliance buying Canadian crude The Hindu Business Line04:34 Wed, 30 Sep Reliance shifts to buying Canadian crude as threat of new US sanctions on Venezuela rise ThePrint04:33 Wed, 30 Sep One of three Iranian tankers with fuel reaches Venezuelan waters Digital Journal03:56 Wed, 30 Sep First US Presidential Debate Kicks Off in Cleveland teleSUR03:22 Wed, 30 Sep Venezuela Studying Use of Various Cryptocurrencies in Trade Besides Petro, Maduro Says Sputnik02:19 Wed, 30 Sep FFOS claims Venezuelans dumping diesel in Chaguaramas Trinidad & Tobago Guardian Online02:04 Wed, 30 Sep Police buy supplies for Venezuelans caught along South coast Trinidad & Tobago Guardian Online02:04 Wed, 30 Sep UN: Envoy Alarmed Over Demolition of Palestinian Property teleSUR01:11 Wed, 30 Sep The Sideshow about Venezuela's Prescription Clause Credit Slips (Weblog)00:34 Wed, 30 Sep Nagorno-Karabakh Conflicts Continue, More Casualties Feared teleSUR00:21 Wed, 30 Sep Mexico Guarantees 51.6 Million Vaccines via COVAX teleSUR00:01 Wed, 30 Sep Tuesday US: Democrats, Rubio Ask EU to Not Observe Venezuela Elections teleSUR23:31 Tue, 29 Sep Iranian tanker reaches coast of Venezuela Al-Monitor23:22 Tue, 29 Sep Nicaragua denounces US attacks against Cuba and Venezuela at UN Prensa Latina22:51 Tue, 29 Sep Pompeo announces USD 20 mn for information to arrest three ex-Venezuela officials AniNews.in22:50 Tue, 29 Sep Millions Offered For Capture Of 3 Former Venezuelan Officials Charged In Miami Federal Court… CBS Miami22:40 Tue, 29 Sep Top Refiner Pre-Empts New Oil Sanctions Against Venezuela BNN Bloomberg21:42 Tue, 29 Sep Urban farming grows in Venezuela CGTN21:31 Tue, 29 Sep Ecuador Wastes Over 900,000 Food Tons Annually, WWF Warns teleSUR20:20 Tue, 29 Sep Venezuela denounces health aftermaths of US blockade to PAHO Prensa Latina20:20 Tue, 29 Sep Nicolás Maduro: Iran, Venezuela call for ending criminal blockade IRNA20:01 Tue, 29 Sep Presidents Fernandez and Xi To Strengthen Argentina-China Ties teleSUR19:50 Tue, 29 Sep 'US Agreement on Tiktok Is a Disguised Robbery', Experts Say teleSUR19:50 Tue, 29 Sep Iran a master to face unilateral coercive measures Mehr News Agency19:47 Tue, 29 Sep Burning Bridges with the European Union Caracas Chronicles19:40 Tue, 29 Sep A Conversation With Anwar Gargash Council on Foreign Relations19:39 Tue, 29 Sep New round of protests shakes Venezuela as public services fail Reuters19:27 Tue, 29 Sep US Offers $20Mln in Rewards for Info Leading to Arrest of 3 Ex-Venezuelan Officials, Pompeo Says Sputnik19:07 Tue, 29 Sep Thousands Joined Argentina's Legal, Safe Abortion Virtual Rally teleSUR19:00 Tue, 29 Sep Narcotics Rewards Program Offers for Information to Bring Venezuelan Nationals to Justice U.S Department of State18:56 Tue, 29 Sep If You Want to Explain Venezuela, You Need to Go There Caracas Chronicles18:50 Tue, 29 Sep French Police Dismantle a Migrant Camp in Calais teleSUR17:59 Tue, 29 Sep FM Zarif, Venezuelan counterpart discuss bilateral ties IRNA17:09 Tue, 29 Sep Chile to Prevent Mass Immigration During the Pandemic teleSUR16:59 Tue, 29 Sep Venezuela: Maduro Regime Killed 250 people Per Month in 2020 PanAm Post16:53 Tue, 29 Sep Nicaragua Has One of the Lowest COVID-19 Rates in Latin America teleSUR16:39 Tue, 29 Sep President Maduro Calls UN to Create a Fund for Blocked Nations teleSUR16:19 Tue, 29 Sep Three Iranian tankers approach Venezuela with fuel cargoes Tehran Times16:19 Tue, 29 Sep Brazil: Education Minister Inquired After Homophobic Statements teleSUR15:39 Tue, 29 Sep Iranian oil tanker arrives in Venezuelan jurisdictional waters Prensa Latina15:39 Tue, 29 Sep Iranian Tanker Carrying Fuel Enter Venezuelan Waters: Data Tasnim News Agency14:48 Tue, 29 Sep Synchronizing With Europe on the Venezuela Crisis Council on Foreign Relations14:37 Tue, 29 Sep Colombia: Guerrilla Leaders Urge President Duque's Resignation teleSUR14:18 Tue, 29 Sep Ironic: Maduro Presents Own Human Rights Report at UN PanAm Post14:11 Tue, 29 Sep Yusmeiro Petit: A's 2020 bullpen as good as Giants' World Series championship bullpen in 2014 Eureka Times-Standard, California14:09 Tue, 29 Sep Iran, Venezuela FMs hold video conference Iranian Students' News Agency13:56 Tue, 29 Sep WHO To Distribute 120 Million Rapid Tests To Detect COVID-19 teleSUR13:38 Tue, 29 Sep view more headlines 1 Oct 13:00
World leaders who skipped past UN meetings get their moment; Global powers clash, virus stirs anger at virtual debate September 23rd 2020
For some world leaders, the pandemic brings an opportunity of sorts on the global stage.
This year's virtual U.N. gathering means those who generally wouldn't appear have a chance to address the world. Take Venezuela's Nicolás Maduro, who missed last year's event. Today, Maduro will speak from the comfort of the presidential palace in Caracas without having to worry about getting arrested if he comes to New York, Christine Armario reports.
Others who will speak at the General Assembly for the first time include Saudi Arabia's 84-year-old King Salman and Philippine President Rodrigo Duterte, who has defended his drug crackdown that left more than 5,700 mostly poor people dead.
On the first day of leader speeches, the head of the global body exhorted nations to unite and tackle the era's towering problems: the coronavirus, the "economic calamity" it unleashed and the risk of a new Cold War between the United States and China.
As Secretary-General Antonio Guterres opened the first virtual "general debate" of the General Assembly, the yawning gaps of politics and anger became evident. China and Iran clashed with the U.S., and leaders expressed frustration and outrage at the handling of the pandemic, Edith M. Lederer reports.
They said it: Leaders at the virtual UN, in their own words.
VIDEO: UN chief says poverty rising for first time in 30 years.
Telling COVID's Story: World leaders participating this week are presenting their own visions of the fight against the pandemic, both in their respective countries and around the world while sometimes criticizing other nations and arguing the U.N. itself needs reform. While some heads of state may present a rosy picture of their handling of the crisis, as their political futures at home depend on it, there will also likely be calls to arms around the development of a coronavirus vaccine, mitigating inequality and cooperation between nations to stop the spread of a virus that has killed nearly 1 million people, Peter Prengaman reports.
Margaret Thatcher's secret dealings with the Argentine military junta that invaded the Falklands
Thursday, January30th2020 – 08:44 UTC Full article 41 comments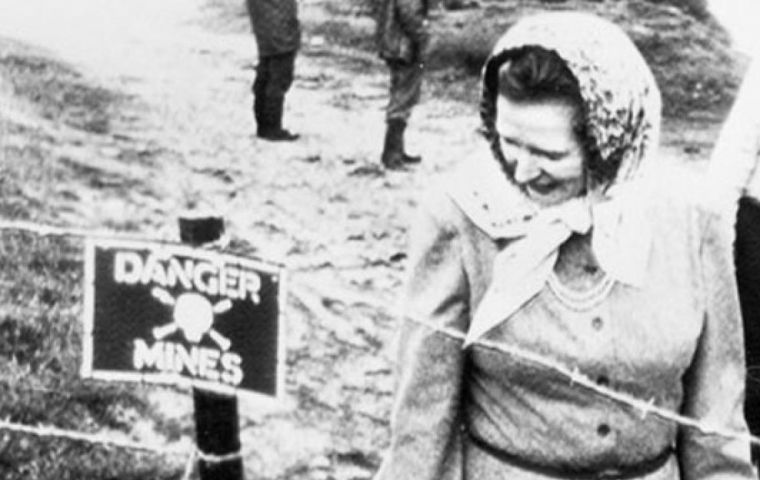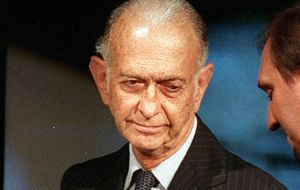 By Grace Livingstone (*) – Former British prime minister Margaret Thatcher is often lauded in the UK for standing up to the Argentine military junta during the Falklands War, but declassified British documents show that her government had far more cordial relations with this regime than her wartime rhetoric suggests. The following article was published by Daily Maverick, a South African online newspaper.
British ministers and diplomats sought to enhance commercial and political relations with the Argentine dictatorship which took power in Buenos Aires in a military coup in March 1976. The then-prime minister, Margaret Thatcher, held a friendly meeting with a leading member of the junta in Downing Street in 1980 while Britain's ambassador in Argentina regarded the promotion of human rights as an "irritation".
The UK government even invited to London the former head of the Argentine Navy, who was responsible for the torture and disappearance of thousands of people in Buenos Aires.
Viewing arms exports to the military junta as a priority, the Thatcher government violated its own guidelines on arms sales, approving licenses for weapons that could be used for internal repression and that posed a threat to the Falkland Islands. Just four days before Argentina's invasion of the Falklands in April 1982, the British government was trying to sell the regime bomber airplanes.
The scale of the atrocities committed by the Argentine military government of 1976-83 was greater than any South American dictatorship in history. Thousands of people were tortured in secret detention centers, their bodies dumped in mass graves or thrown from military helicopters into the Atlantic Ocean.
A truth commission documented 8,960 cases of people who simply "disappeared"; Argentine human rights groups believe the number could be as high as 30.000..
The British Foreign & Commonwealth Office (FCO) had evidence of abuses being perpetrated within months of the 1976 coup. By the time Thatcher came to office in 1979, the barbaric nature of the junta was clearly known to the outside world.
Nevertheless, her government immediately restored a British ambassador to Buenos Aires and ended a refugee program for Latin Americans fleeing persecution, which had been introduced by the previous Labour government.
Meetings of minds

The junta's finance minister, José Martínez de Hoz, was invited to meet Thatcher in Downing Street on 5 June 1980. Martínez de Hoz was the architect of the regime's "free-market" economic strategy and was a great admirer of Thatcherism.
Planned as a brief courtesy call, the meeting overran, according to declassified FCO documents. Martínez de Hoz described his policies as "very similar to those being pursued by the prime minister". Thatcher later wrote to him saying she had very much enjoyed the meeting.
Martínez de Hoz also had a cordial meeting with Conservative trade ministers Cecil Parkinson and John Nott, which was – a civil servant noted — "very much a meeting of minds".
Meanwhile, the Chancellor of the Exchequer, Geoffrey Howe, told Martínez de Hoz, who represented a regime that had banned independent trade unions and killed hundreds of shop stewards, that "in the UK, trade unions had become one of the major fossilisers of the economy".
On his return home, the Argentine finance minister professed himself "delighted" with the "welcoming atmosphere" he had encountered during his visit to London.
In total, Martínez de Hoz made four visits to the UK during the dictatorship years, under both Labour and Conservative governments. He was feted by British business executives including representatives of British Aerospace (now BAE), GEC, Shell, Rolls-Royce and Plessey.
He was also lionised by British diplomats. The British chargé d'affaires in Buenos Aires described Martínez de Hoz as "the most encouraging and attractive personality produced by Argentina since the war".
Martínez de Hoz resigned in 1981 after his experimental policies sparked one of Argentina's worst financial crises in modern history. After the fall of the dictatorship, he was indicted for human rights abuses. Rearrested on charges of kidnapping and extortion in 2010, he died under house arrest in 2013.
The 'irritation' of human rights

The new British ambassador, Anthony Williams, who arrived in Buenos Aires in February 1980, wrote in one of his first diplomatic reports: "Argentina is a very interesting market, as British businessmen are coming to realize."
He later added: "Five years of sobering military administration has made Argentina a much more possible country to deal with." But he lamented that, "The need to be sufficiently active on the human rights front to satisfy public and parliament opinion in the UK will still be a continuing, though minor, irritation."
David Joy, a counselor in Britain's embassy in Buenos Aires, was even more effusive about the dictatorship, writing in March 1982:
"Although I am all for human rights… I am already beginning to have more than a sneaking suspicion that the country is more likely to progress materially under the present regime which re-established order and government, than any government elected by the rabid communist/left-wing Peronist taxi driver who drove me to the office this morning."
He added: "It does seem to me that the best policy for an Argentine government today to pursue is that of gradual – even very gradual – liberalization. The pure air of democracy, applied too early, could well result in a further bout of inebriation."
As part of the drive to do business with the junta, Cecil Parkinson visited Buenos Aires in August 1980, the first British minister to visit Argentina since the coup. Parkinson had a personal audience with the head of the junta, General Jorge Rafael Videla, and met all of the regime's key economic ministers.
British officials had taken care to ingratiate themselves with their hosts, suggesting Parkinson give a book outlining Conservative party philosophy, signed by Thatcher, to the Argentine trade minister. Officials noted that the visit took place "in a notably cordial atmosphere". The following year, a second British minister, Peter Walker, visited Argentina.
Arming the dictatorship

Both Thatcher's government and the Labour governments of Harold Wilson and James Callaghan (1974-79) sold arms to the Argentine dictatorship.
Among the arms deals agreed by Labour were two Type 42 destroyers, two Lynx helicopters, 42 Sea Dart surface-to-air missiles, 100 Seacat and Tigercat surface-to-air missiles, a Blowpipe anti-aircraft missile system and 77 submachine guns for the army, navy and police.
The Lynx helicopters (1979), the second Type 42 destroyer (1980) and the Sea Dart missiles (1981) were delivered to the junta under the Thatcher government.
Just before leaving office in 1979, the Labour government, under pressure from human rights groups, introduced guidelines recommending that licenses should not be granted for arms that could be used for internal repression or that posed a threat to the Falkland Islands (now a British Overseas Territory) in the South Atlantic claimed by Argentina.
Soon after becoming prime minister, however, Thatcher told her ministers that "a more determined effort must be made to sell more defense equipment overseas" and a cabinet committee agreed to remove "political constraints" on arms sales.
When recommending approval for modification kits to enable Oerlikon guns to be fitted to Argentine armored cars, the head of the FCO's Latin America department, Robin Fearn, wrote in March 1981:
"Armored personnel vehicles have clear implications for human rights and we might be criticized if we were to be involved at any stage in their construction or armament. It is, however, unlikely that our involvement would ever become known."
Despite knowing that the Argentine regime was responsible for the murder and torture of thousands of its citizens, Thatcher's government approved licenses for an ex-RAF Vulcan bomber, Centaur armored cars, a Vickers battle tank, eight more Lynx helicopters, a Stingray torpedo, a ship-borne torpedo launching system, Linescan airborne surveillance equipment, spares for Browning machine guns and Canberra bomber planes.
Most of this equipment was not delivered to the junta because arms trading was frozen when Argentine forces invaded the Falklands. Yet the licenses had all been given ministerial approval and clearly violated the UK government's own guidelines.
Just four days before the invasion of the Falklands, on 29 March 1982, a British military attaché in Buenos Aires informed London that he planned to meet the secretary-general of the Argentine air force the following week to discuss the sale of bomber aircraft.
He wrote that the regime had "an interest in acquiring [an] extra squadron of bombers during the 1980s" and that the "relationship with BAE has undoubtedly improved". He added: "If all goes well here BAE could move further up the class in time."
The Thatcher government also invited several Argentine military officers to Britain, including one of the regime's worst human rights abusers.
Admiral Emilio Massera, the head of the Argentine Navy, was responsible for the torture and disappearance of thousands of people at the notorious naval mechanical school in Buenos Aires. He had retired in 1978 but remained an influential figure on the Argentine political scene.
Massera met Foreign Office minister Nicholas Ridley in London in October 1979. The Foreign Office hosted a lunch for Massera at the Savoy hotel and among the invitees was the British Admiral of the Fleet, Peter Hill-Norton. "Massera seemed a little taken aback at the effort to which we had gone," reported one Foreign Office official.
Large Argentine military delegations attended the Farnborough air shows and British army exhibitions in the Thatcher years and several Argentine officers were trained in Britain: more than 80 attended courses in 1980 and 67 in 1981.
When an FCO official enquired on 30 March 1982, three days before the invasion of the Falklands, whether such training places should be withdrawn to convey a signal of displeasure to Argentina, the defense department of the Foreign Office replied: "Any action in this area would risk damaging UK commercial interests."
(*) Grace Livingstone is a journalist and an affiliated lecturer at the Centre of Latin American Studies, University of Cambridge, UK, and the author of Britain and the Dictatorships of Argentina and Chile, 1973-82 (Palgrave Macmillan, 2018), paperback edition to be published in March 2020.
Is it not so ? September 21st 2020
Comment Britain and the U.S.A elites excel at conspiracy, treachery and hypocrisy. The pair of them were cosey with Saadam Hussein and Colonel Gaddafi until it suited them not to be.
General Pinochet seized power on Sept. 11, 1973, in a bloody military coup that toppled the Marxist government of President Salvador Allende. He ruled by terror. I was recommended for a job with the Nitrate Corporation of Chile, as an engineering buyer, by two former RAF officers. The British were heavily involved with this outfit. But suddenly only lunatics and paranoid people believe in conspiracies.
There is ample evidence that the Falklands war – which the elite and their media chose to call merely a conflict – was a set up by the Tory Government. Historically the British have loved wars – which is why so many of them march proudly wearing masks doing their bit in the fake war on Covid19.
So with massive record unemployment, the Tories needed a flag waving war of distraction, showing what a great place Britain still was ( sic ). That is why Capatin Barker RN,warning of a massive Argentian naval & military invasion plans, was told to 'Shut up or get out of the service'. That is why Minister of Defence Sir John Knott lied to Parlaiment that he 'had a substantial number of shis inthe area be'before then invasion. He was at the time cutting the Royal Navy to the bone and ordering massive redundancies at Portsmouth Royal dockyard.
At the time leading up to the Falklands War, Captain Barker was commander of the ice patrol ship HMS Endurance and could see everything leading up to invasion.
British propaganda made much of freeing Falklands natives, in the same way they had lied about going into World War Two to save the Jews. There was also talk about unpludered British oil in the region. Logically, since North Sea oil enriched only the international rich, why did the masses fall for that? With the Anglo/U.S elite 'led byThatcher and Ray Gun- in charge things don't need to make sense. If anything goes wrong there will be a cover up.
Britain even supplied the Argentinian Junta with key hardware, including ships and bullets, and the radar systems used to guide the Exocet missiles that sank British ships like the HMS Sheffield. A senior British Civil Servant, Clive Ponting, was put on trial for leaking documents backing the view that sinking the Argentinian battleship 'Belgrano' with the loss of over 800 lives, was a war crime because it ws not in the exclusion zone.
One theory behind the obviously state sponsored rape and murder of octogenarian Hilda Murell, was that she had been given the log book to hide, from HMS Conqueror, the nuclear submarine which sank Belgrano. British Intelligence believed her nephew – the intelliegence officer on board- had stolen it. Judith Cook's book on the subject suggests that Hilda was murderd by an MI6 contractor after her home was ransacked and phone cut off.
Of course such arguments are rubbished as conspiracy theories. Britain's ruling elite are nice people,harwoking, so taht's why they rule us, is it not so ? R.J Cook
Opinion: Latin America's upheaval tips toward chaos
Peaceful demonstrators have taken to the streets in Bolivia, Chile, Columbia and Ecuador. They have been greeted by the iron fists of security forces. DW's Uta Thofern sees Latin American democracy trembling in 2020.
At first glance, the protests in Ecuador, Chile, Bolivia and most recently Colombia seem to have much in common. They were largely peaceful demonstrations, with occasional instances of violence and vandalism and security forces suppressing any mayhem with an iron fist. The protests have also had far-reaching consequences. In Bolivia, President Evo Morales was forced to step down. In Ecuador, Chile and Colombia, protesters forced lawmakers to scrap various policies and plans.
Though the political and economic situations of these four countries differ, the protests have common roots: the blindness of elites to glaring injustice, the arrogance of those who hold power and the absence of economic systems that balance competition and profit with social equity. Chileans disagree over the best way forward. The same is true in Colombia. Bolivia is more politically divided than ever. Ecuador's current calm is deceptive.
The protests are aimed not at dictators, but at democratically elected leaders. Even Bolivia, where ex-President Evo Morales sought to hold onto his power with quasi-autocratic determination, remains a far cry from a dictatorship. In fact, Bolivians initially took to the street to defend their democracy. However, Morales' resignation spurred his supporters to protest. Both they and the counterprotesters have radicalized — and all while Bolivia's interim government stands by idly.
Instead of calming tensions, interim President Jeanine Anez has broken off diplomatic relations with Venezuela and reestablished them with Israel — two symbolic moves that could have just as well been carried out at the behest of the US. She brandished a bible at her swearing-in-ceremony, which must have been taken as a deliberate show of cultural disdain by those indigenous groups that had turned against Morales, Bolivia's first indigenous president.
Bolivia's former opposition movement, which would have the best chances in fresh elections, is increasingly fragmented, and moderate forces are losing popularity as Bolivia grows ever more polarized.
Hidden problems emerge
The same can be said for Chile and Colombia, where the various opposition camps and governments are increasingly at loggerheads. Chilean President Sebastian Pinera and his Colombian counterpart Ivan Duque have overcome their initial stubbornness and given in to many of the protesters' demands, while also signaling an openness to engage in dialogue. Yet this has done nothing to placate protesters. All trust in the Chilean and Colombian states dissolved after security forces used unnecessary brutality to suppress peaceful demonstrations. Yet some individuals have capitalized on every new demonstration to steal and vandalize property, which has provoked further violence and left ordinary citizens fearing for their safety.
In both countries, protesters and leaders seems to be talking past each other. In Chile, the country's emergence from the Pinochet dictatorship in the 90s and its robust economic growth distracted from growing societal polarization. And in Colombia, decades of struggles against armed guerrillas overshadowed many of its societal problems.
Now, however, people are angry and fed up with lawmakers promising to engage in talks or honor the rule of law. The possibility of a constitutional referendum in Chile has not mollified protesters, who do not even have designated negotiator to talk to the government. And in Colombia, a strike committee comprised of union and student activists claims to represent the entirely of protesters and refuses to even talk to other societal groups, which makes serious negotiations impossible.
emocracy is facing deep challenges across Latin America today.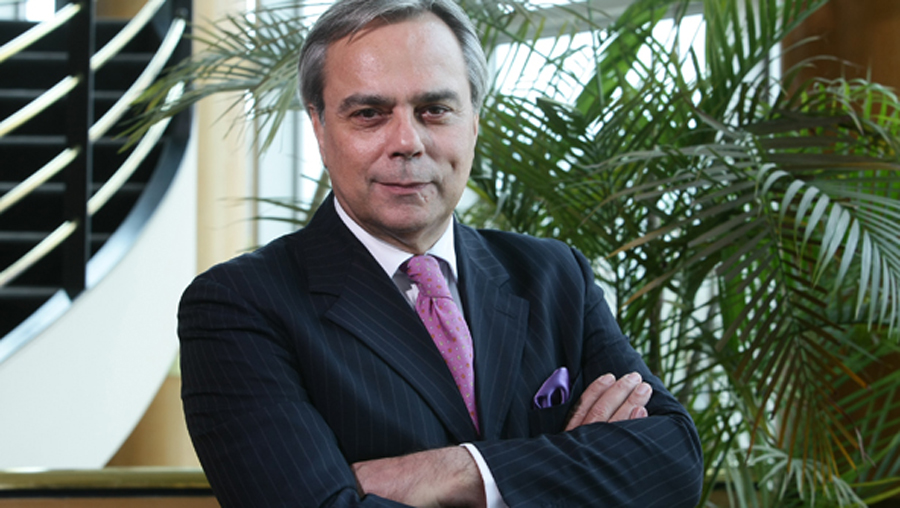 On February 16, for instance, municipal elections in the Dominican Republic were suspended due to the failure of electoral ballot machines in more than 80% of polling stations that used them. The failure sparked large protests around the country, where thousands took to the streets to demand explanations and to express their discontent with the Junta Central Electoral (JCE), the Caribbean nation's electoral body. This has not only left the country in a deep political crisis, but has led citizens to lose trust in democratic institutions.
Another country facing a democratic crisis in the region is El Salvador. On February 9, thousands of Salvadorians gathered outside the country's legislative assembly as the country faced its most significant constitutional crisis since signing a peace agreement to end the civil war in 1992. The crisis started when President Nayib Bukele called the country's legislators to an emergency session to approve a $109 million loan for the third phase of his security plan, called the Territorial Control Plan. After legislators rejected the plan, the president called military officers into the chamber. The president of the assembly called the show of force an "attempted coup" that threatened the separation of powers in the country and disregarded core democratic institutions.
On January 5, the authoritarian regime of Nicólas Maduro in Venezuela orchestrated what opposition officials called a "parliamentary coup" against Juan Guaidó, with police forces blocking the opposition leader from entering the National Assembly to elect the president of the parliament. This clearly exposes the regime's strategy to dismantle the last legitimate organ among the country's constitutional powers.
Finally, there have been violent protests and social movements in Colombia, Ecuador, Bolivia, and Chile.
Related Books
These recent examples show that democracy in Latin America is facing a critical period, as a report from International IDEA — "The Global State of Democracy 2019: Addressing the Ills, Reviving the Promise" — details. The report examines the state of democracy globally, observing that while democracy continues to expand, its quality is rapidly deteriorating and threats to democracy are rising. It shows that democracy remains resilient, with a high level of citizen support, while emphasizing that most of the attacks on democracy are not external but internal.
Never in the last four decades has the future of democracy been as threatened as it is today. In general, the four main risks to democracy are: reduced space for civic action, weakened democratic checks and balances, high levels of inequality, and attacks on human rights. In Latin America, in particular, many of these challenges are acute, but overall the picture is mixed.
The state of democracy in Latin America
The research shows a regional outlook with bright spots and shadows, along with diversity among countries when it comes to the quality of democracy.
While some democracies, such as Uruguay and Costa Rica, are among the best in the world, others — for example, Brazil — have experienced democratic erosion in recent years. Haiti, Honduras, Guatemala, Paraguay, Bolivia, and the Dominican Republic, meanwhile, all present different degrees of democratic fragility. Nicaragua is experiencing a serious democratic backsliding, while Venezuela is suffering a total democratic breakdown. These two countries, together with Cuba, are the region's three authoritarian regimes.
It's important to identify both the positive trends in Latin American democracies and the main challenges they face.
The most notable positive aspects are:
In the last 40 years, Latin America made the most significant gains worldwide, becoming the third most democratic region in the world, after North America and Europe.
The vast majority of the democracies in the region have displayed notable resilience: Only 27% experienced any interruption in these last 40 years.
Latin America has made major gains in the electoral sphere — indeed, elections are popularly accepted as the only legitimate means of coming to power — and the region has the highest levels of election participation in the world, with a regional average of 67%.
While much remains to be done, it is the region with the highest percentage of women parliamentarians in the world, with a regional average of 27%. However, there is currently no female elected Latin American president. In Bolivia, which went through a political crisis after the annulment of presidential elections, Jeanine Añez has been designated as the country's interim president.
There is a long list of challenges as well, including:
Four decades after the beginning of the third democratic wave, the region is showing signs of democratic fatigue. According to Latinobarómetro, overall support for democracy fell to 48%, the lowest level in recent years, while indifference between a democratic regime and an authoritarian one climbed from 16% to 28%. Dissatisfaction with democracy increased from 51% to 71% between 2009 and 2018.
The crisis of representative democracy is worsening. Trust in the legislatures is at a mediocre 21%, whereas trust in political parties has plummeted to an anemic 13%.
The region still has the highest levels of income inequality in the world: Of the 26 most unequal countries in the world, 15 (58%) are Latin American.
The region is also in third place, after Africa and the Middle East, on corruption; it has the highest levels of crime and violence in the world; and despite numerous reforms, weak rule of law continues to be an Achilles' heel of democracy in the region.
Importantly, approval ratings for the governments have been falling significantly and steadily in the last decade. At the same time, there is a heightened citizen perception that the elites govern to benefit a privileged minority of society. Related Content Podcast Episode Interview with Colombia's top official for the Venezuelan refugee crisis Dany Bahar and Felipe Muñoz Tuesday, December 10, 2019 Cuba Cuba's forgotten eastern provinces: Testing regime resiliency Richard E. Feinberg Tuesday, November 26, 2019 Report Latin America's struggle with democratic backsliding Ted Piccone February 2019
Overcast times in Latin America: What should be done?
The year 2020 is expected to see overcast times in Latin America, with conditions equally or even more complex and volatile as in 2019. Political risk consultancy the Eurasia Group names social discontent in the region as one of the top 10 political risks in the world in 2020. Additionally, according to The Economist's 2020 instability risk map, the most vulnerable countries are, in addition to Venezuela and Haiti, Nicaragua, Guatemala, Brazil, Honduras, Chile, Mexico, and Paraguay.
As it enters the new year and a new decade, therefore, Latin America is marked by "irritated democracies," characterized by anemic economic growth, citizen frustration, social tensions, discontent with politics, and weak governance. There is significant fear that 2020 will be another challenging year for the governments of Latin America.
Social discontent and instability will continue. The middle class, dissatisfied with the status quo, feels vulnerable and is demanding more social spending by their governments. Such spending, in turn, reduces governments' ability to implement the adjustment measures that the International Monetary Fund and private investors demand as a condition before delivering fresh loans and/or investments. Moreover, citizens have lost patience, are less tolerant of their governments, are more demanding of their own rights, and are hyper-connected via social networks.
As the International IDEA report stresses, we should "address the weaknesses of democracy and revive its promise" with a renewed agenda that lays the basis for a democracy of a new generation. Such a renovation must be aimed at improving democracy's quality and resilience, as well as strengthening its institutions. It must seek to empower citizens, recover economic growth, rethink the development model, and adopt a new social contract. The agenda must make it possible to respond not only to current issues — including poverty, inequality, corruption, insecurity, and weak rule of law — but also the new challenges.
Lastly, the current situation of democratic discontent and social convulsion that Latin America is experiencing requires offering democratic solutions to the problems of democracy in order to avoid a dangerous escalation of strong populist rhetoric, which could end up aggravating the complex regional situation. It is not merely enough to have quality and resilient democracies. We must also strive to build a modern and strategic state, better governance, and political leadership committed to democratic values, transparency, a connection to the people, empathy, and the ability to govern the complex societies of the 21st century.
Chaos in Latin America Golden opportunity for U.S.A, according to Bloomberg Posted September 19th 2020
It is an angry political season in Latin America. Chile, the most stable South American country and richest by gross domestic product per person, is convulsed by violent street protests that may require a complete rewrite of the nation's constitution. Peru also faces a crisis, with President Martin Vizcarra and the congress declaring each other illegitimate. In Bolivia, riots following a controversial and flawed election (according to independent observers from the Organization of American States) forced President Evo Morales to take political refuge in Mexico City.
Drug violence has shot back up in Mexico, highlighted by a recent shootout in which the son of the incarcerated drug lord Joaquin "El Chapo" Guzman was apparently allowed to escape capture. Venezuela continues to smolder, torn between leftist President Nicolas Maduro, heir to the authoritarian Hugo Chavez and supported by Cuba and Russia, and democratic opposition leader Juan Guaido. Political tensions are likewise high in both Brazil, under conservative populist leader Jair Bolsonaro, and in Argentina, where newly elected populist leader Alberto Fernandez intends to take the country back to the left.
South of the border down Mexico Way. September 16th 2020
Poverty and squalid housing is normal for the majority of people in Mexico and the rest of Latin America. The U.S.A funded and built the Pan American highway all the way down the sub continent, cutting through the Amazon. deliberately infecting opposing natives with fatal measles, because they needed the road to keep watch on the threatening mass of Catholic poor people.
The U.SA currently comprises around 6 % of the world's population and 52 % of all natural resources consumed in the world every year. Most of the resulting wealth creation goes to a very small percentage of the population.
The majority of the U.S population struggle to survive. Covid 19 lockdown has made matters worse. Meanwhile, Donald Trump, is made scapegoat while black communites are led to believe that they are the only ones to suffer.
This reckless campaign by mainstream media is all about getting the fake Biden elected, along with his dubious black female running mate. Meanwhile the U.S.A backed by its aged parent Britain, has to roll on as a war economy. Post 9/11 has created a very dangerous world. The Covid 19 Conspiracy could be the last straw. The economic and world wide social cosnequences are already severe..
R.J Cook
Argentina September 3rd 2020
The phrase 'animal lover' is a funny one. In human parlance it means having an 'intimate relationship.' Here one wonders exactly what it means because Argentina has been, like rather most countries, slaughtering animals for centuries. The firs time I read the word Argentina was on the side of a tin of corned beef in the 1950s – I could read by the age of 4.
Muslims slaughter animals in a most barabaric way but no self respecting liberal would want to 'upset Islamic sensibilities." The God I have never heard from or ever seen, told them to do this ( They are chosen ones who can claim to hear voices without being judged insane ) , along with all sorts of other interesting things. By the way, if you ever see God, never draw his picture because people were killed for drawing such images and publishing them in Paris, now re publishing them. But that is another story, back to China..
These are the days of reviving the old 'yellow peril.' Western elites love Muslims, using religious tolernce laws to revise religious tyranny , in fighting and division. The Chinese government is , to put it mildly, sceptical about the progressisve and realistic qualities of Islam and have incurred self righteous Western liberal wraith accordingly and in large proportion.
R .J Cook
Ecuador Exploitation September 2nd 2020
Poor Peru August 20th 2020
Amazing Amazon August 13th 2020
Bolivia U.S Engineered Vote Rigging and Coup, all about Bolivia's Lithium. August 7th 2020
Assange of Ecuador August 1st 2020
More than 900 women and girls missing and feared dead in Peru since coronavirus crisis started
'Peru has one of the highest rates of violence against women in Latin America, and the coronavirus pandemic has worsened what was already a dire situation,' says campaigner July 29th 2020
More than 900 women and girls have gone missing and are feared to be dead in Peru since the country's coronavirus lockdown started, authorities have warned.
Eliana Revollar, head of the women's rights department of the national ombudsman's office, said girls made up 7 per cent of the total figure.
Ms Revollar said 915 women in Peru were reported missing between 16 March and 30 June – adding they were feared to no longer be alive.
Peru is one of the countries in Latin America which has been most badly affected by coronavirus, with more than 384,000 cases and 18,229 deaths.
The country implemented one of the longest and most stringent lockdowns in the world to curb the spread of Covid-19 – lasting from 16 March until the end of June.
Read more
Jacqui Hunt of Equality Now, a non-governmental organisation which aims to promote the rights of women and girls, told The Independent the number of women and girls going missing in Peru is both "staggering and horrific".
She added: "Peru has one of the highest rates of violence against women in Latin America, and the coronavirus pandemic has worsened what was already a dire situation. Covid-19 response measures introduced by the Peruvian government must address the particular vulnerabilities of women and girls. Strict enforcement of laws against domestic violence and other forms of gender-based violence should be imposed and the justice system should be applying a gender-based lens when investigating and prosecuting cases.
"The systemic problem of victim-blaming requires urgent attention as it fosters a culture of impunity for perpetrators. The Peruvian authorities also need to take greater action to remove the deep-rooted inequalities and prejudices that allow violence against women and girls to be normalised. The pandemic must not be an excuse to further neglect the issue. Rather, extra efforts must be taken to demonstrate that even in times of crisis, gender-based violence will not be tolerated.
"Femicide is not unique to Peru, women and girls are subjected to violence in countries throughout the world, across all cultures and social settings. The Covid-19 pandemic has shone a global spotlight on how male violence against women will continue to flourish unless and until the authorities take it seriously and hold perpetrators to account. Now the world is aware of the extent and horror of domestic violence, it has to act concertedly to prevent, address and end impunity for this harm."
The UN estimates one in three women in Peru is likely to suffer physical or sexual violence from a partner during their life.
Awareness has been raised about gender-based violence in the country in recent years – with thousands descending on the streets of the capital Lima to show their opposition in 2018.
According to the UN, Latin America has the world's highest rates of femicide, defined as the gender-motivated killing of women. Almost 20 million women and girls a year are estimated to endure sexual and physical violence in the region.
Domestic violence has soared in Latin America since the coronavirus pandemic forced governments to introduce lockdowns.
Sinking the Belgrano: the Pinochet connection July 26th 2020
No incident in the Falklands War divided opinion so bitterly. Some even called it a war crime. Now a member of the War Cabinet has revealed how Argentine orders intercepted by Chile convinced the British that their enemies' prize cruiser had to be sunk
Sinking the Belgrano: the Pinochet connectio
The Belgrano sinks amid orange life rafts holding survivors in the South Atlantic in May 1982
It was the moment which came to define the Falklands conflict, immediately claiming more than 300 lives and setting in chain events which would lead to the invasion of the disputed islands by British troops. Now, as services are held to mark the 30th anniversary of the start of the war, a member of Margaret Thatcher's War Cabinet has revealed details of how intelligence received from the Chilean regime of fascist dictator Augusto Pinochet led to the decision to sink the Argentine warship General Belgrano.
The sinking of the former US warship was controversial because at the time it was outside a British 200-mile Total Exclusion Zone around the Falklands and was steaming away from the UK Task Force. The cruiser went down with the loss of 323 lives – more than half of the total Argentine losses in the war.
In an exclusive interview for a forthcoming book on the history of Britain, Real Britannia, Lord Parkinson discloses that the War Cabinet took the decision after receiving secret intercepts from Chilean intelligence services revealing the orders from the Argentine junta to the warship's captain, Hector Bonzo.
Lord Parkinson, one of Lady Thatcher's closest allies, said: "They [Chile] had intercepted the Argentinian command's instructions… We had been discussing what we would do if we found it [the Belgrano] because we knew the Belgrano was out to sink a carrier. The fact that it was going one way or the other, it was manoeuvring to avoid a torpedo.
The Independent has learned from defence sources that the Chilean information also showed the staff of Admiral Jorge Anaya, the head of the Argentine Navy, had been directing orders to the Belgrano and a destroyer, the Hipólito Bouchard, to continue engaging in combat while taking all measures necessary to avoid coming under attack. This was interpreted by the British high command as signifying that movement towards her home port by the two ships may well have been acts of subterfuge.
The sinking took place 14 hours after the President of Peru, Fernando Belaúnde, proposed a peace plan which included regional states playing a role. After the sinking, Argentina rejected the plan but the UK indicated its acceptance on 5 May. It is not well known that the British continued to offer ceasefire terms until 1 June.
The War Cabinet took the decision to sink the Belgrano on 2 May 1982, after being briefed at a meeting at Chequers with Mrs Thatcher and Sir Terence Lewin, Admiral of the Fleet. Lewin told the Cabinet that Commander Chris Wreford-Brown, the captain of British nuclear submarine Conqueror, had the Belgrano in his sights and was seeking permission to attack. The ship was part of a small battle group, flanked by two Argentinian destroyers.
The War Cabinet authorised Lewin to proceed. The order was sent through Northwood, the Navy's command centre in west London, to the Conqueror. Wreford-Brown fired two non-guided torpedoes, which blew off the ship's bow.
Lord Parkinson said: "We discussed the Belgrano ad nauseam and what it was up to. Then up comes the Captain and says the Belgrano is going into shallower water and I can't follow it. Something as big as a nuclear submarine in shallow water was easy to hit. You couldn't allow that risk."
Pictures taken by survivors of the warship listing to port, before sinking, with orange rafts floating nearby, became one of the lasting images of the war, prompting the Sun headline: "Gotcha!"
Protests about the action were led by Tam Dalyell, the former Labour MP, who claimed the sinking had been ordered for political reasons by Lady Thatcher to destroy the last hopes of a peace plan being pursued in Peru by Perez de Cuellar, the Peruvian Secretary General of the UN, and Al Haig, the US Secretary of State.
Lord Parkinson denied this. "It was nothing to do with that. It was unanimous that if we had let the Belgrano go and it had sunk a carrier, we would all have been finished. We would all have had to stand down, if we had presided over the death of hundreds of British sailors and had the chance to avert it.
"What we didn't realise [was] the Argentinian destroyers took off immediately and they didn't search for survivors. They thought they would all get sunk… When we finally got the satellite pictures, we had pictures showing all the Argentine fleet in port."
Lord Parkinson also dispelled one of the myths of the war, that Britain relied heavily on surveillance from US satellites. The system was so slow that the US only supplied the photographs of the Argentine navy back in port the day after the conflict ended.
His disclosure that Britain received vital intelligence reports directly from Chile explains why Lady Thatcher supported General Pinochet when he was arrested in Britain for alleged war crimes, when he later came for treatment in a private London clinic. She said at the time that Britain owed a debt of gratitude to the Chilean leader for helping it win the war.
It became known later that General Pinochet had permitted a secret SAS surveillance team to use a long-range radar facility in Chile to monitor movements by the Argentine air force from its Comodoro Rivadavia air base – but until now, it was not known that Lady Thatcher was also supplied by the Pinochet regime with more vital raw intercept data revealing the orders to the Argentine commanders in action around the Falklands. The Cabinet records, which may confirm these details, are not due to be released under the 30-year secrecy rule until December.
British / US Elite Capable of Anything. Unscrupulous Moral Hypocrits. But Watch Your Sex Life Because they know all about you, all about sex, they do what they like and they don't like the lower orders or dissidents. July 25th 2020
Chile
MORE than 40 years ago, a chambermaid went into a hotel room in the Chilean capital of Santiago and found the body of North Dorset military expert Jonathan Moyle hanging from a rail inside the wardrobe.
The April 1990 death of the 28-year-old former RAF helicopter pilot was put down to suicide by the local police, then a rumour began – subsequently blamed on the British secret service – that he had died while engaged in an auto-erotic act.
But after pressure from Mr Moyle's family, a Chilean judge ruled that Mr Moyle had been murdered. No-one has ever been brought to justice.
Mr Moyle, who lived near Sherborne and attended Foster's Grammar School, was officially in Chile to cover a defence exhibition for the magazine he edited, Defence Helicopter World.
It is widely believed that he was also a British spy, who was investigating a company thought to be modifying a readily-obtainable type of commercial helicopter for the Iraqi military. Less than 10 days before Mr Moyle was killed, the Candian designer of the "supergun" was assassinated in Brussels.
After his father Tony pushed for the death to be investigated properly, new evidence emerged of blood being found on the sheets in Jonathan's room.
Witnesses had overheard a heated row in his room, and his wallet, briefcase and files had gone missing.
A post-mortem examination found sedatives in his stomach, although he had never used them, and there was a puncture wound on his shin. Mr Moyle was 5ft 8in tall, while the rail he was hanging from was only 5ft.
Eight years later, a British inquest into his death recorded the verdict that he was unlawfully killed.
The recent murder of British spy Gareth Williams in London has reawoken speculation over the case. The decomposed body of Mr Williams, a cipher and codes expert working for MI6, was found at his London flat on August 23. He had been padlocked into a sports holdall and placed into the bath.
Rumours about his private life have been denied by his family.
Forty Six years on, declassified documents reveal an outpouring of concern from the British public over Pinochet's coup – and the Foreign Office's attempt to undermine the solidarity campaign

Chilean army troops positioned on a rooftop fire on the La Moneda Palace, Santiago, 11 September 1973. Photograph: AFP/Getty Images
Forty years ago today, when General Augusto Pinochet overthrew Salvador Allende, the elected president of Chile, democrats across the world were horrified. But not the British Foreign Office. Declassified government documents show British diplomats reserved their harshest criticism for human rights campaigners and journalists trying to alert the world to the "disappearance" and torture of thousands of Chileans. The head of the Foreign Office's Latin America department complained:
Intelligence officers were sent to infiltrate the Chile Solidarity Campaign, a movement backed by Labour MPs, trade unions, students and church groups. The secret service reports, declassified earlier this year, can now be seen at the National Archives in Kew. Journalists were another Foreign Office target. Complaining of "black propaganda against the Chilean armed services", British officials tried to manipulate the news. When a team from the BBC Panorama programme visited Chile in November 1973, staff at the British embassy secured them "maximum co-operation from the junta".
The embassy was optimistic about the slant of the documentary, which included interviews with members of the Anglo-Chilean business community speaking approvingly about the coup. A British embassy official wrote: "The balance of the programme should be 60 to 75% favourable to the new regime." The embassy was not so pleased with a World in Action Granada TV team that arrived at the same time. The same official wrote: "I gathered that the WIA producer … came to cover torture and shootings … Granada's activities were certainly known to the junta whose press secretary told me that they had been seeing 'things they should not see'." An FCO official back in London scrawled on the letter: "Ominous news about the World in Action film".
But the archives also tell a more heartening story: an outpouring of concern and solidarity from the British public. In battered brown folders, sheaves of letters urge Edward Heath's government to take action against Pinochet – letters from an elderly couple in Leicester, "an appalled family" from London, from academics, students, Labour party branches and the "Bath Women's Liberation Front". There is even a telegram from a young Gordon Brown.
But most numerous are the letters from trade unionists. The shipbuilders' union urged the government not to sell warships to Pinochet, even though losing these contracts could threaten their own jobs. The government's response? To send spies to shipyards across Britain to check workers were not sabotaging vessels destined for Chile.
When Labour came to power in 1974, it cut off arms sales, aid and credit to Pinochet and, in 1977, withdrew the British ambassador. But existing arms contracts were to be honoured, so trade unionists took matters into their own hands. Employees at East Kilbride engineering yard in Scotland refused to fix bomber-plane engines destined for Chile, forcing Rolls Royce to break its contract with the Chilean air force. This forgotten history of solidarity will be celebrated across Britain today, the 40th anniversary of the coup.
Unsurprisingly, when Pinochet's most prominent defender, Margaret Thatcher came to office in 1979, diplomatic relations were soon restored and arms sales resumed. Declassified papers reveal that, by June 1982, her government had sold the dictatorship: two warships, 60 blowpipe missiles, 10 Hunter Hawker bomber planes, naval pyrotechnics, communications equipment, gun sights, machine guns and ammunition. A unique attempt at a British "ethical foreign policy" had ended.
Comment I went to work as an engineering equipment buyer for the Nitrate Corporation of Chile in 1977. I was recruited by members of the British Military. Among other things, I had to find a supplier for miniturised 'carbon dioxide' producing equipment. I will say no more, other than to say that the Anglo U.S WASP elite are total hypocrits who care only for money and power, they won't miss the stupid statues, they have moved on. They are the MYI Generation.
Remember what I told you, the authorities have written that I am more likely to die by 'misadventure than suicide' quote from cretin Dr C R Ramsay of NHS Aylesbury Whiteleaf Centre who refuses to explain how he got to that conclusion, adding that if I saw all the files on me, they would be upsetting. I kid you not. That is Police State Britain. Robert Cook
Dividing Line July 25th 2020
The US targeted Evo Morales for overthrow ever since he became president. And the Organization of American States helped set the stage for Bolivia's coup. Posted July 17th 2020
By Leonardo Flores / CODEPINK
The United States and the Organization of American States can add another coup to their scorecards, even if U.S. media refuses to recognize it as such.
This time it was in Bolivia, where President Evo Morales was forced to step down on November 10, following weeks of pressure and extremist violence.
Morales resigned under duress in order to avoid bloodshed, and emphasized that his "responsibility as an indigenous president of all Bolivians is to prevent the coup-mongers from persecuting my trade unionist brothers and sisters, abusing and kidnapping their families, burning the homes of governors, of legislators, of city councilors… to prevent them from continuing to harass and persecute my indigenous brothers and sisters and the leaders and authorities" of the MAS (Movement towards Socialism, Morales' political party).
His resignation has yet to take effect, as it must be approved by the legislature. This did not stop opposition party member Jeanine Añez, the senate's second vice president, from declaring herself interim president, further proving that what's happened is a coup.
MAS legislators, who have a majority in both chambers, have been unable to attend parliamentary sessions as security forces have not guaranteed their safety.
ALERT: Legitimate President of the Senate (MAS) Adriana Salvatierra @Adriana1989sa is assaulted by coup police while trying to enter the Congress moments ago. Images in next tweet. @teleSURenglish pic.twitter.com/0zqAy5FApb

— Camila (@camilateleSUR) November 13, 2019
Currently, indigenous and labor movements are on the streets in several Bolivian cities, demanding that President Morales be reinstated.
Supporters of exiled Pres Evo Morales out in full force today near the capital's airport

With fascist paramilitiaries working hand in glove with cops & military to violently repress them, their slogans have gotten steadily more militant:

"Guns! Bombs! El Alto won't stay quiet!" pic.twitter.com/1lMTuMUdM4

— Wyatt Reed (@wyattreed13) November 14, 2019
Meanwhile, police forces are ripping the Wiphala flag, a symbol that represents the indigenous peoples of the Andes, from their uniforms and from government buildings.
Bolivia's right-wing opposition is burning the Wiphala flag, a symbol of Indigenous communities that was recognized as the 2nd official flag of the Plurinational State, which was founded by elected Indigenous President Evo Morales, now overthrown in a couppic.twitter.com/tJ92UxXgRu

— Ben Norton (@BenjaminNorton) November 11, 2019
Coup leader Luis Camacho entered the government palace with a Bolivian flag and a bible; upon leaving, one of his supporters, a Christian pastor, declared that "Pachamama will never return to the palace… Bolivia belongs to Christ." (Pachamama is an Andean goddess representing Mother Earth.)
The coup and its aftermath are not just a rejection of President Morales, but of Bolivia's indigenous majority and the social gains of the last 13 years.
US government fingerprints all over Bolivia coup
Morales' resignation came hours after the head of the armed forces and the chief of Bolivia's police "suggested" that he resign.
The head of the army, General Williams Kalimán Romero, was Bolivia's military attaché in Washington from 2013 to 2016. The chief of police, General Vladimir Calderón, was Bolivia's police attaché in Washington until December 2018.
As attachés they would have been in constant communication with the Pentagon and other agencies; it is no stretch of the imagination to wonder if they were still in contact with their U.S. counterparts as the overthrow of the Morales government unfolded.
The coup was carried out over three weeks after the October 20 elections, but it was months, if not years in the making.
The United States first began targeting Evo Morales in 2001 — five years before being elected president — when the US embassy in La Paz warned that his political base needed to be weakened.
Afterwards, USAID began funding right-wing political parties and "civil society" organizations that would feature heavily in attempts to overthrow President Morales.
The first such attempt came in 2008, two years after Morales was first elected president and days after he survived a recall referendum with 67.4% of the vote. On that occasion, coup plotters in eastern Bolivia, a region rich in minerals where the white minority population is concentrated, attempted to secede from the country.
According to the International Federation for Human Rights, the opposition in eastern Bolivia "promoted separatism and ethnically and socially based hatred through the Civic Committees (Comités Civicos), in particular the Pro-Santa Cruz Civic Committee."
Luis Fernando Camacho, the millionaire coup leader with ties to paramilitaries, is the current president of this committee, which has received U.S. funding in the past.
The desire to overthrow Morales has existed for years, but more immediate plans were finalized in the weeks before the election.
Bolivian media outlet Erbol published leaked audio of conversations held from October 8 and 10 between civic leaders, former military officials and opposition politicians who discussed "a plan for social unrest, before and after the general elections, with the aim of preventing President Evo Morales from remaining" in office.
One opposition politician mentioned being in close contact with Senators Marco Rubio, Ted Cruz, and Bob Menendez.
The OAS role in the coup
The OAS also played an important role in stoking protests and ensuring that the coup was successful.
On October 21, a day after the election, it issued a statement casting doubt on the process due to an "inexplicable" change in the trend of the vote count.
This statement was thoroughly debunked by the Center for Economic and Policy Research (CEPR), which found that trend did not change and that Morales widened the gap over his rivals due to late reporting rural precincts, where he enjoys a tremendous advantage.
A later statistical analysis by CEPR found that there was "no evidence that the election results were affected by irregularities or fraud."
However, the damage was done: protesters took to the streets decrying electoral fraud. These claims were echoed by the State Department and Senator Rubio on Twitter.
The U.S. rejects the Electoral Tribunal's attempts to subvert #Bolivia's democracy by delaying the vote count & taking actions that undermine the credibility of Bolivia's elections. We call on the TSE to immediately act to restore credibility in the vote counting process.

— Michael G. Kozak (@WHAAsstSecty) October 22, 2019
After being invited by President Morales to conduct an audit, the results of which he promised to respect, the OAS instead opted to destabilize the country.
The full electoral audit was initially due by November 12, but on November 10, a day after Morales announced that a coup was taking place and amid political violence throughout the country, the OAS decided to issue a preliminary audit.
This report, which did not include data that could be independently verified, repeated the false claims of the October 21 statement and called for new elections.
In response, Morales agreed to new elections and to replacing the board of the electoral body, yet this offer was rebuffed by coup leaders.
Rather than denounce the coup and insist that Morales be allowed to finish out his term (which ends in January), the OAS held a vote that refused to call it a coup, although several countries dissented.
Mexico criticized the OAS for being "surprisingly quiet" given the violation of constitutional order, while Uruguay condemned the body's "double standard depending on antipathy or sympathy" for the government in question.
Earlier in the day, Argentinian president-elect Alberto Fernández said "what happened in Bolivia is a shame, the behavior of the OAS is shameful because the audit the OAS held is significant in its flimsiness and has conclusions that are absolutely manipulated."
It should be noted that the 2008 coup was neutralized in part because of the role played by UNASUR, the Union of South American Nations. This regional bloc has been severely debilitated in recent years as a direct result of State Department pressure and the willingness of right-wing Southern American presidents to give up on long-term regional integration plans for short-term political benefits.
The decline of UNASUR and CELAC (the Community of Latin America and Caribbean States — another target of the State Department), coupled with the OAS's bias, leaves the region with no credible multilateral organization.
Leonardo Flores is a Latin American policy expert and campaigner with CODEPINK.
Ecuador, 1960 to 1963: A Textbook of Dirty Tricks
If the Guinness Book of World Records included a category for "cynicism", one could suggest the CIA's creation of "leftist" organizations which condemned poverty, disease, illiteracy, capitalism, and the United States in order to attract committed militants and their money away from legitimate leftist organizations.
The tiny nation of Ecuador in the early 1960s was, as it remains today, a classic of banana-republic underdevelopment; virtually at the bottom of the economic heap in South America; a society in which one percent of the population received an income comparable to United States upper-class standards, while two-thirds of the people had an average family income of about ten dollars per month – people simply outside the money economy, with little social integration or participation in the national life; a tale told many times in Latin America.
In September 1960, a new government headed by José María Velasco Ibarra came to power. Velasco had won a decisive electoral victory, running on a vaguely liberal, populist, something-for-everyone platform. He was no Fidel Castro, he was not even a socialist, but he earned the wrath of the US State Department and the CIA by his unyielding opposition to the two stated priorities of American policy in Ecuador: breaking relations with Cuba, and clamping down hard on activists of the Communist Party and those to their left.
Over the next three years, in pursuit of those goals, the CIA left as little as possible to chance. A veritable textbook on covert subversion techniques unfolded. In its pages could be found the following, based upon the experiences of Philip Agee, a CIA officer who spent this period in Ecuador. )
Almost all political organizations of significance, from the far left to the far right, were infiltrated, often at the highest levels. Amongst other reasons, the left was infiltrated to channel young radicals away from support to Cuba and from anti-Americanism; the right, to instigate and co-ordinate activities along the lines of CIA priorities. If, at a point in time, there was no organization that appeared well-suited to serve a particular need, then one would be created.
Or a new group of "concerned citizens" would appear, fronted with noted personalities, which might place a series of notices in leading newspapers denouncing the penetration of the government by the extreme left and demanding a break with Cuba. Or one of the noted personalities would deliver a speech prepared by the CIA, and then a newspaper editor, or a well-known columnist, would praise it, both gentlemen being on the CIA payroll.
Some of these fronts had an actual existence; for others, even their existence was phoney. On one occasion, the CIA Officer who had created the non-existent "Ecuadorean Anti-Communist Front" was surprised to read in his morning paper that a real organization with that name had been founded. He changed the name of his organization to "Ecuadorean Anti-Communist Action".
Wooing the working class came in for special emphasis. An alphabet-soup of labor organizations, sometimes hardly more than names on stationery, were created, altered, combined, liquidated, and new ones created again, in an almost frenzied attempt to find the right combination to compete with existing left-oriented unions and take national leadership away from them. Union leaders were invited to attend various classes conducted by the CIA in Ecuador or in the United States, all expenses paid, in order to impart to them the dangers of communism to the union movement and to select potential agents.
This effort was not without its irony either. CIA agents would sometimes jealously vie with each other for the best positions in these CIA-created labor organizations; and at times Ecuadorean organizations would meet in "international conferences" with CIA labor fronts from other countries, with almost all of the participants blissfully unaware of who was who or what was what.
In Ecuador, as throughout most of Latin America, the Agency planted phoney anti-communist news items in co-operating newspapers. These items would then be picked up by other CIA stations in Latin America and disseminated through a CIA-owned news agency, a CIA- owned radio station, or through countless journalists being paid on a piece-work basis, in addition to the item being picked up unwittingly by other media, including those in the United States. Anti-communist propaganda and news distortion (often of the most far-fetched variety) written in CIA offices would also appear in Latin American newspapers as unsigned editorials of the papers themselves.
In virtually every department of the Ecuadorean government could be found men occupying positions, high and low, who collaborated with the CIA for money and/or their own particular motivation. At one point, the Agency could count amongst this number the men who were second and third in power in the country.
These government agents would receive the benefits of information obtained by the CIA through electronic eavesdropping or other means, enabling them to gain prestige and promotion, or consolidate their current position in the rough-and-tumble of Ecuadorean politics. A high-ranking minister of leftist tendencies, on the other hand, would be the target of a steady stream of negative propaganda from any or all sources in the CIA arsenal; staged demonstrations against him would further increase the pressure on the president to replace him.
The Postmaster-General, along with other post office employees, all members in good standing of the CIA Payroll Club, regularly sent mail arriving from Cuba and the Soviet bloc to the Agency for its perusal, while customs officials and the Director of Immigration kept the Agency posted on who went to or came from Cuba. When a particularly suitable target returned from Cuba, he would be searched at the airport and documents prepared by the CIA would be "found" on him. These documents, publicized as much as possible, might include instructions on "how to intensify hatred between classes", or some provocative language designed to cause a split in Communist Party ranks. Generally, the documents "verified" the worst fears of the public about communist plans to take over Ecuador under the masterminding of Cuba or the Soviet Union; at the same time, perhaps, implicating an important Ecuadorean leftist whose head the Agency was after. Similar revelations, staged by CIA stations elsewhere in Latin America, would be publicized in Ecuador as a warning that Ecuador was next.
Agency financing of conservative groups in a quasi-religious campaign against Cuba and "atheistic communism" helped to seriously weaken President Velasco's power among the poor, primarily Indians, who had voted overwhelmingly for him, but who were even more deeply committed to their religion. If the CIA wished to know how the president was reacting to this campaign it need only turn to his physician, its agent, Dr. Felipe Ovalle, who would report that his patient was feeling considerable strain as a result.
CIA agents would bomb churches or right-wing organizations and make it appear to be the work of leftists. They would march in left-wing parades displaying signs and shouting slogans of a very provocative anti-military nature, designed to antagonize the armed forces and hasten a coup.
The Agency did not always get away clean with its dirty tricks. During the election campaign, on 19 March 1960, two senior colonels who were the CIA's main liaison agents within the National Police participated in a riot aimed at disrupting a Velasco demonstration. Agency officer Bob Weatherwax was in the forefront directing the police during the riot in which five Velasco supporters were killed and many wounded. When Velasco took office, he had the two colonels arrested and Weatherwax was asked to leave the country.
CIA-supported activities were carried out without the knowledge of the American ambassador. When the Cuban Embassy publicly charged the Agency with involvement in various anti-Cuban activities, the American ambassador issued a statement that "had everyone in the [CIA] station smiling". Stated the ambassador: "The only agents in Ecuador who are paid by the United States are the technicians invited by the Ecuadorean government to contribute to raising the living standards of the Ecuadorean people."
Finally, in November 1961, the military acted. Velasco was forced to resign and was replaced by Vice-President Carlos Julio Arosemana. There were at this time two prime candidates for the vice-presidency. One was the vice-president of the Senate, a CIA agent. The other was the rector of Central University, a political moderate. The day that Congress convened to make their choice, a notice appeared in a morning paper announcing support for the rector by the Communist Party and a militant leftist youth organization. The notice had been placed by a columnist for the newspaper who was the principal propaganda agent for the CIA's Quito station. The rector was compromised rather badly, the denials came too late, and the CIA man won. His Agency salary was increased from $700 to $1,000 a month.
Arosemana soon proved no more acceptable to the CIA than Velasco. All operations continued, particularly the campaign to break relations with Cuba, which Arosemana steadfastly refused to do. The deadlock was broken in March 1962 when a military garrison, led by Col. Aurelio Naranjo, gave Arosemana 72 hours to send the Cubans packing and fire the leftist Minister of Labor. (There is no need to point out here who Naranjo's financial benefactor was.) Arosemana complied with the ultimatum, booting out the Czech and Polish delegations as well at the behest of the new cabinet which had been forced upon him.
At the CIA station in Quito there was a champagne victory celebration. Elsewhere in Ecuador, people angry about the military's domination and desperate about their own lives, took to arms. But on this occasion, like others, it amounted to naught … a small band of people, poorly armed and trained, infiltrated by agents, their every move known in advance – confronted by a battalion of paratroopers, superbly armed and trained by the United States. That was in the field. In press reports, the small band grew to hundreds; armed not only to the teeth, but with weapons from "outside the country" (read Cuba), and the whole operation very carefully planned at the Communist Party Congress the month before.
On 11 July 1963 the Presidential Palace in Quito was surrounded by tanks and troops. Arosemana was out, a junta was in. Their first act was to outlaw communism; "communists" and other "extreme" leftists were rounded up and jailed, the arrests campaign being facilitated by data from the CIA's Subversive Control Watch List. (Standard at many Agency stations, this list would include not only the subject's name, but the names and addresses of his relatives and friends and the places he frequented – anything to aid in tracking him down when the time came.)
Civil liberties were suspended; the 1964 elections canceled; another tale told many times in Latin America.And during these three years, what were the American people told about this witch's brew of covert actions carried out, supposedly, in their name? Very little, if anything, if the New York Times is any index. Not once during the entire period, up to and including the coup, was any indication given in any article or editorial on Ecuador that the CIA or any other arm of the US government had played any role whatever in any event which had occurred in that country. This is the way the writings read even if one looks back at them with the advantage of knowledge and hindsight and reads between the lines.
There is a solitary exception. Following the coup, we find a tiny announcement on the very bottom of page 20 that Havana radio had accused the United States of instigating the military takeover. The Cuban government had been making public charges about American activities in Ecuador regularly, but this was the first one to make the New York Times. The question must be asked: Why were these charges deemed unworthy of reporting or comment, let alone investigation?
Notes
Philip Agee, Inside the Company: CIA Diary (New York, 1975) pp. 106-316, passim. Agee's book made him Public Enemy No. One of the CIA. In a review of the book, however, former Agency official Miles Copeland – while not concealing his distaste for Agee's "betrayal" – stated that "The book is interesting as an authentic account of how an ordinary American or British 'case officer' operates … As a spy handler in Quito, Montevideo and Mexico City, he has first-hand information … All of it, just as his publisher claims, is presented 'with deadly accuracy'." (The Spectator, London, 11 January 1975, p. 40.
New York Times, 14 July 1963, p. 20. For an interesting and concise discussion of the political leanings of Velasco and Arosemana, see John Gerassi, The Great Fear in Latin America (New York, 1965, revised edition) pp. 141-8.
This is a chapter from Killing Hope: U.S. Military and CIA Interventions Since World War II by William Blum.
William Blum was an author, historian, and U.S. foreign policy critic. He was the author of Killing Hope: U.S. Military and CIA Interventions Since World War II and Rogue State: A Guide to the World's Only Superpower, among others. Read more →
The Truth About US Foreign Policy and Everything Else
A Guide to the World's Only Superpower
U.S. Military and CIA Interventions Since World War II
Essays on the American Empire