January 3rd 2023
East-West Rail: Bicester to Bletchley phase 'on time'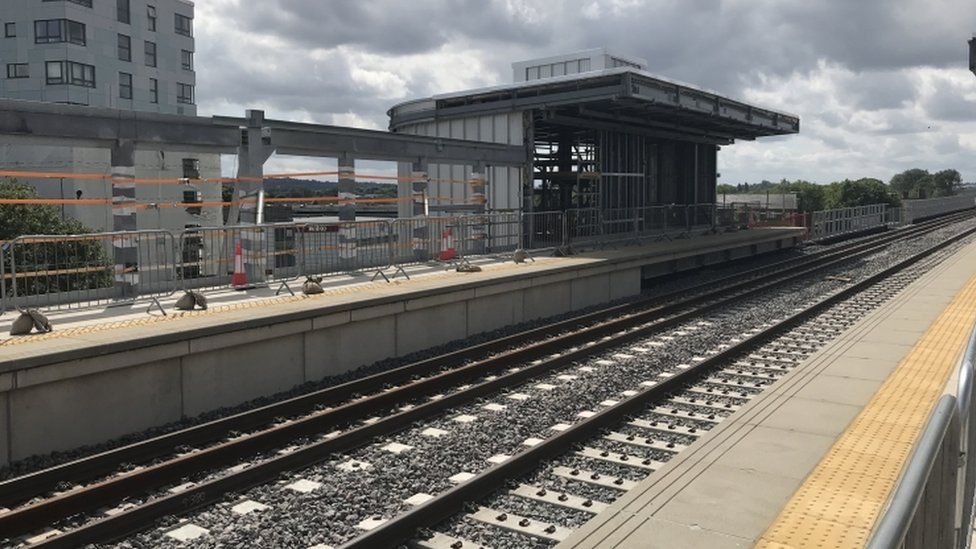 The second section of a £5bn rail link is on time and on budget, according to the company behind it.
Work began on the 21-mile (33km) £760m Bicester to Bletchley stretch of the Oxford to Cambridge East-West Rail project in 2020.
It will include two new stations, new bridges, track-laying and partly rebuilding a viaduct.
East-West Rail Company Alliance director Mark Cuzner said it was "on programme" to finish in 2024.
The project aims to connect the university cities of Cambridge and Oxford by the end of the decade.
The first section to upgrade the railway between Oxford and Bicester was completed in 2016.
The preferred route for the Bedford to Cambridge section would involve the construction of a new track using a southern approach into Cambridge.
The company says it is still going through responses to a consultation which closed last June.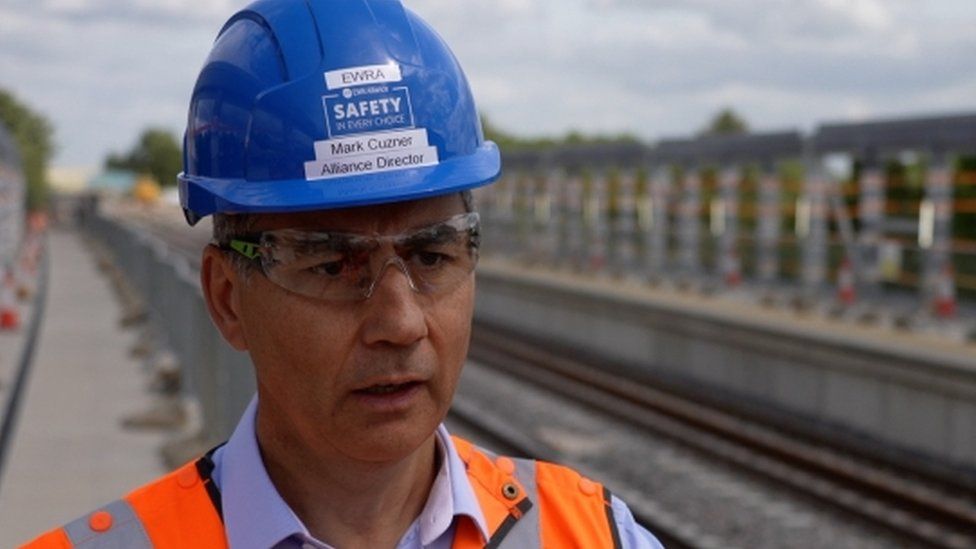 Mr Cuzens said: "Obviously we've come through Covid, but in terms of this section of the railway, because it was disused, a lot of the railway track and the footprint of the railway had been taken over by natural habitat."
"Many rare" native species such as bats and great crested newts had to be "treated with great care", he said.
The East-West Rail Company believes the rail link will provide a £1.1bn boost to the economy.
He said: "For anyone who's travelled east to west across [the] country, you realise rail infrastructure is not really there, so making that link from Oxford through to Cambridge – and hopefully beyond in future years – will be really important."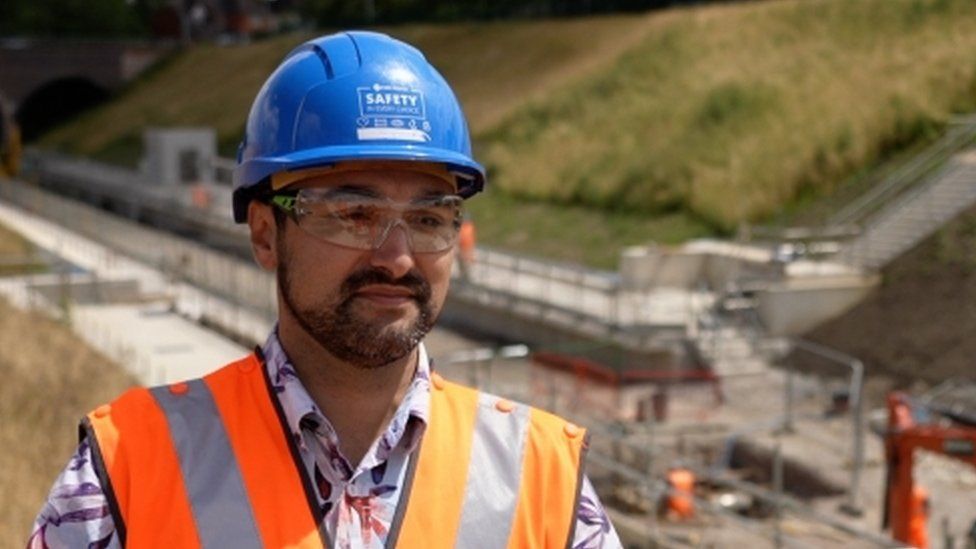 The project will reinstate a railway station at Winslow, Buckinghamshire – its Victorian station was closed in the 1960s.
East-West Rail Alliance project engineer Kevin Bell said: "Once this is operational, it will allow travel into Milton Keynes and over to Oxford and allow passengers to pick up north-south lines they would otherwise have had to make lengthy car journeys to catch."
The relocated station will have a 365-space carpark, a ticket office, coffee shop, cycle shelters, bus stands and a taxi rank.
East-West Rail Company is holding a series of public events in Cambridgeshire, Bedfordshire, Buckinghamshire and Milton Keynes to explain the project to residents until 20 July.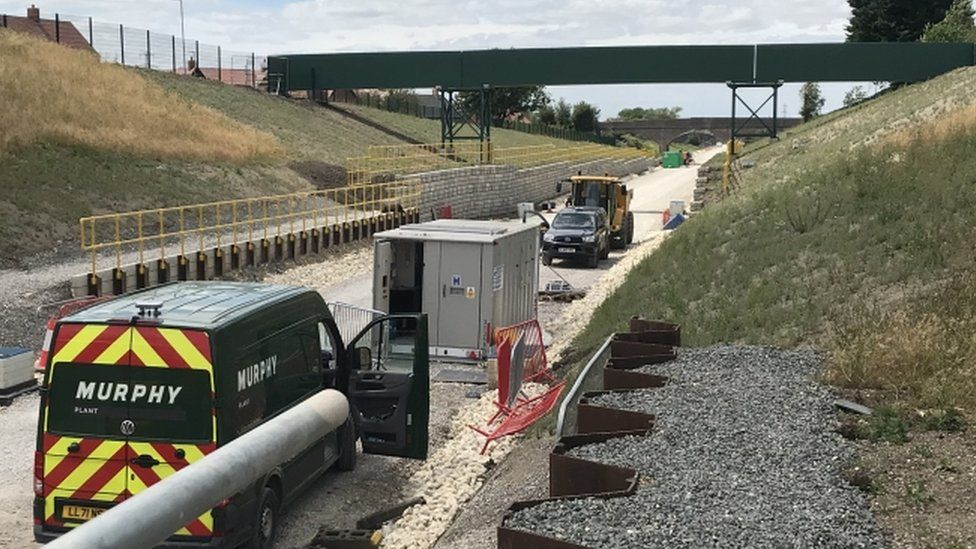 Find BBC News: East of England on Facebook, Instagram and Twitter. If you have a story suggestion email eastofenglandnews@bbc.co.uk
More on this story
September 24th 2022
Fire service covering Milton Keynes and Buckinghamshire is training as many apprentices as it can to fill firefighter vacancies
The fire service covering Milton Keynes and Buckinghamshire has come to a special arrangement to train more apprentices than usual to keep up the number of its front-line officers.
By David Tooley, local democracy reporterMonday, 21st October 2019, 4:25 pm
Apprentices are seen as so important to the future of Buckinghamshire Fire and Rescue Service that they are spending £898,767 in this financial year on supporting some 39 trainee firefighters through their two year training programmes.
Milton Keynes Lib Dem leader Douglas McCall (Newport Pagnell South) asked at Wednesday's Executive Committee meeting o Buckinghamshire and Milton Keynes Fire Authority whether the service has a recruitment problem.
Mark Hemming, the director of finance and assets, reported that there is currently a shortage of whole-time and on-call fire-fighters. But they have adopted a number of strategies to deal with it.
The fire brigade HQ in Aylesbury
Most Popular
Mr Hemming said that they are temporarily increasing the number of trainees they are sending to the Fire Service College, in Gloucestershire, from 16 to 20 to get more employees in the pipeline.
The fire service is currently spending a quarter of a million pounds less than expected on its whole-time fire fighters because it has fewer than it expected to have.
The meeting in Aylesbury heard that they have been losing trained firefighters to the capital, where they receive a pay package boosted by London Weighting. And worse, this has recently been increased by seven per cent and backdated for two years.
Mr Hemming said in some parts of the south of Buckinghamshire, the cost of living in some towns was higher than in the London boroughs. This means that keeping hold of its trained firefighters is an important issue for them to tackle.
Mick Osborne, the deputy chief fire officer, told the meeting that they have also been successful in attracting 26 "expressions of interest" from firefighters who currently work for other services. They are also adopting a more flexible system of on-call firefighters who can respond locally.
Dave Norris, the head of service delivery, added that they are also making connections with the military, so that ex-service men and women can be attracted into firefighting.
The committee noted a report that, overall, the fire service is currently heading for an underspend of £161,000 on its revenue budget of £30.332 million.
August 21st 2022
Memories
March 30th 2022.
Roberta Jane Cook was raped age 17, by another 17 year old.
All images Copyright Appledene Photographics.
Roberta Jane Cook is standing second left , standing out like a sore thumb from her fellow Wolverton Athletic Club award winning athletes. Roberta said : " I had to work very hard to compete with male athletes. As many of us trans people do, we overcompensate, work hard at denial and drink. At school, other boys seemed to know something I did not. I was raped a week after this picture was taken, told I was a dirty bitch who was asking for it. I was dressed as a girl. I hint at this and the confusion afterwards, in my semi autobiographical novel 'Man Maid Woman.' Confusion came from my submission to a male act, where another had identified me as female – and I responded to his force. It was something that haunted me to this day. One cannot be what is supposed to be normal. "
Roberta Jane Cook pictured left , was in a long term friendship with a black Havant Tax Office colleague pictured right. She said " This good friend , retired magistrate V F Church, told me that I was obviously a girl. We were both outsiders at Havant Tax Office. When I told him I was getting married, he was very worried." The black colleague was not allowed to be my best man at the wedding because of his colour and I was too gutless to protest.
This commentary from my past and today's journey is by way of preface to the following article about a Tory MP coming out as trans, and hpw traumatic that is..
I watched the Sky News report on Wallis outing himself as trans. It was also noted that nowadays, due to high demand and other NHS priorities, there is a 5 year waiting list for Gender Identity Clinic Appointments ( GIC ) , let alone the surgery that has been denied to me because of the vile police lies, compounded by lies concerning investigation and 14 years of their refusal to reveal their alleged records of investigation and appropriate police processes..
The point was made as to how much bravery this coming out takes. Hopefully, those involved in the 'multi agency' approach to 'my case', will realise that I am perfectly at ease being recognised as female. I had over 2 years with the London based GIC before the self interested police intervened in my life on October 4th /5th when senior police initiated vile stalking and intent to commit sex crime on female minors were made, recorded, with no records and an illegal PNC Criminal Marker, all kept secret. A senior consultant psychiatrist, Mr Maganty, of Rednal secure unit, reported that I was suffering from 'no known mental illness' and should be shown files relating to sex attack and stalking allegations that led to the PNC Marker etc. The courts refused to make an order and the police still refuse disclosure. In 2011, Trinity Newspapers were briefed to report all as fact, along with a line that I had a bizarre sex change secret.
My full address was published nationwide and I was abused bin the street. I even had a brick thrown so hard at my front window, it penetrated my double glazing, landing on the sofa where my girlfriend would have been sitting if she had not been late on her journey up from exclusive Woldingham School in Birmingham. Of course my mental health is now an issue after all of this. Of course it is only concern for my youngest son Edward that stops me committing suicide.
I have been fighting high level police corruption for the last 14years. The situation is complicated because most of my accusers, along with myself, have signed the 'Official Secrets Act.' So technically, anything I am believed to know about the corrupt British Police State must be kept secret. The British elite are sophisticated in their methods. If you read the New York edition of Wright's' Spy Catcher' as I re read yesterday, one learns that British Civil Scientific Servants involved with weaponry have to be MI6 approved. I was very close to one of these people in the 1970s and after his retirement. Heaven knows what they think I know. Same goes for my connections to the police.
Never mind , there is always suicide. I never wanted to get this old. I thought being 21 was bad enough, that was 50 years ago.
But my major issue now, apart from state sanctioned determination to have me convicted for things I have not done, so getting me jailed or sectioned, is the fact that the police intervened in my transgender treatment. Morons at all levels of our society think transsexuals and transvestites are the same. It is very hard to explain anything to people who do not want to know. Transvestites simply enjoy female clothing usually for masturbation purposes.
Obviously, I like wearing classic female clothing and being viewed as a woman. I used to think it was nuts that I wanted my body to be female and would have loved to have been a mother. I was married to a very masculine woman who dressed like a man, after having retreated from two other Portsmouth women who I envied too much. I would never have had a rift with the woman I married if it had not been for what was happening to my sons. The eldest has had his life destroyed by vile police lies. The youngest, now 34 has been sectioned by parties I dare not mention – for legal reasons , because the police , and possibly MI6, are my only U.K readers..
Meanwhile, although us transsexuals coming out is regarded as traumatic and brave, the GIC changed course for me after nearly 3 years of transgender recognition , away from recording my 'secure female identity' because the police saw an opportunity of protecting themselves from my criminal allegations by writing to my cop loving GP that I am mentally ill. This had been going on for some time, but as a result of a serious rows about me making excuses for my ex wife over Edward, Kieran became very cross. So I phoned the police warning again to deaf ears that Edward was at risk. Reading Police Station wasted no time informing my GP that I am nuts.
That was 2017, and they were already smarting from me being found not guilty of breaching a restraining order for alleging that certain senior police parties were guilty of conspiracy to pervert the course of justice, misconduct in public office and perjury. This verdict was based on the facts that I was telling the truth, but it was blocked from the press in the 'public interest.' This followed 7 Crown Court Hearings where I was berated for not pleading guilty. They even faked domestic violence allegations – which they will still not substantiate. I had no opportunity to defend myself. I was given no details. It transpired the police had fabricated evidence on behalf of alleged victims.
The police went on to recruit an ex partner to keep watch and report on me, following her Claire's law application in 2014. In December 2017, anonymous typed letters, with peculiar alleged porn pictures and videos led to my remote home being staked out while I was either sleeping or doing night into morning trucking shifts. I was accused of sending them from Northampton, when I could prove being hundreds of miles away in my truck. No finger prints or other forensics were taken.
It was alleged that I was a 'gay escort' working for Kieran and his associates from an home based agency. Interesting words from a transsexual, who would either be lesbian or straight female. According to police, I sent them myself. But the police raided regardless in February 2018, with an immediate report to my GP insisting they inform the GIC. They did as ordered by the British Police State. The GIC ordered a psychiatrist to my home, named Ramsay, Ramsay arrived with a burly mental health nurse and medical student. It was all taken as proven, with police criminal lies, perverting the course of justice, were sent to health carers and ultimately the GIC.
I was declared a paranoid personality, schizophrenic with bi polar disorder, deluded and therefore my long overdue sex change surgery could not happen until I took zombifying anti psychotics. I waited years to come out and my sex change surgery is now 3 years overdue. I am not male and have no route to becoming one , and wouldn't want one. Suicide is an option. I cannot abide this appalling secret police state. As for the baby killing NHS, I cannot express enough disgust. Their watchword is always about lessons will be learned, just like the police. There is nothing scientific about anything the GIC do. During Covid , we were exhorted to clap a seriously failing bureaucratic NHS. Now we must clap Ukraine. Remember, we live in a 'democracy.' This pathetic word is used with hypnotic and monotonous regularity.
R J Cook
February 2022
2018
The commuter town just 30 minutes from London where the average house price is only £300,000
Ben Kempton
---
Do Americans Know How To Drive In Winter?The worst cookbooks of all time
Buying a house in London for £300k is practically unheard of, however if you travel only half an hour out of the city, there's a town where that's the AVERAGE price.
Property prices in the capital aren't getting any lower, sadly. And covid has opened the possibility of relocation to many Londoners, now commuters have readjusted to working from home.
In an ideal world, workers want affordable housing but still be close to the office for the days they need to go in.
READ MORE: The commuter town 1 hour from London constantly getting named one of the UK's worst places to live
According to the PrimeLocation heatmap, average house prices in Milton Keynes in Buckinghamshire are only £326k.
In comparison, average house prices in Bromley – a borough considered to be one of the cheapest to buy property in London – is £571k, according to the site.
Milton Keynes was recently voted the best place for commuting in the UK for good reason.
The report states that Milton Keynes had the highest number of electric vehicle charging stations (134.7 per 100,000 people) meaning it's well set up for a greener commute in the years to come, and also had a short average commute of just 14.1 minutes.
It's also perfect for taking a family, with Europe's largest indoor ski slope, Gulliver's Land Theme Park Resort and plenty of outdoor activities.
First-time buyers can afford to have a desired sized home without having to be out in the sticks.
Living near Centre MK means you can have a sociable life while being only a stone's throw from London and other locations such as Loughton, Shenley Brook End and New Bradwell.
Although it's best known for its its roundabouts and concrete cows, Milton Keynes has an abundance of green space to explore, like the stunning Buckinghamshire countryside.
It might not be Knightsbridge, but it's certainly a whole lot cheaper.
Want more from MyLondon? Sign up to our daily newsletters for all the latest and greatest from across London here.