When I began studying economics in the late 1960s, my first teacher- Mr Nussey- gave us the definition that economics was the rational application of scarce resources.
The factors of production were defined as CELL- Capital Enterprise Labour and Land. The object of the exercise was to eliminate waste, which could occur as IDLE FACTORS or because FACTORS ARE UNRELATED TO WANTS.
I went on to learn much more, including that Professor Marshall's 'rational economic man' does not exist, and that Keynes' pretty theories can't withstand lying ego mad politicians like Margaret Thatcher and Sir Keith Joseph. So I never really took economics seriously as an academic subject- I would be much richer if I had.
Robert Cook August 25th 2019
Chained to Globalization Posted December 20th 2019
Why It's Too Late to Decouple
By Henry Farrell and Abraham L. Newman January/February 2020
In 1999, the columnist Thomas Friedman pronounced the Cold War geopolitical system dead. The world, he wrote, had "gone from a system built around walls to a system increasingly built around networks." As businesses chased efficiency and profits, maneuvering among great powers was falling away. An era of harmony was at hand, in which states' main worries would be how to manage market forces rather than one another.
Friedman was right that a globalized world had arrived but wrong about what that world would look like. Instead of liberating governments and businesses, globalization entangled them. As digital networks, financial flows, and supply chains stretched across the globe, states—especially the United States—started treating them as webs in which to trap one another. Today, the U.S. National Security Agency lurks at the heart of the Internet, listening in on all kinds of communications. The U.S. Department of the Treasury uses the international financial system to punish rogue states and errant financial institutions. In service of its trade war with China, Washington has tied down massive firms and entire national economies by targeting vulnerable points in global supply chains. Other countries are in on the game, too: Japan has used its control over key industrial chemicals to hold South Korea's electronics industry for ransom, and Beijing might eventually be able to infiltrate the world's 5G communications system through its access to the Chinese telecommunications giant Huawei.
Globalization, in short, has proved to be not a force for liberation but a new source of vulnerability, competition, and control; networks have proved to be less paths to freedom than new sets of chains. Governments and societies, however, have come to understand this reality far too late to reverse it. In the past few years, Beijing and Washington have been just the most visible examples of governments recognizing how many dangers come with interdependence and frantically trying to do something about it. But the economies of countries such as China and the United States are too deeply entwined to be separated—or "decoupled"—without causing chaos. States have little or no ability to become economically self-reliant. Hawks in Beijing and Washington may talk about a new Cold War, but there is today no way to split the world into competing blocs. Countries will remain entangled with one another, despite the dangers that their ties produce—bringing a new era of what might be called "chained globalization." Under chained globalization, states will be bound together by interdependence that will tempt them to strangle their competitors through economic coercion and espionage, even as they try to fight off their rivals' attempts to do the same.
States today have little or no ability to become economically self-reliant.
In some ways, chained globalization makes the Cold War seem simple. The economies of the Western and Soviet camps shared few points of contact and thus offered few opportunities for economic coercion (and policymakers on both sides came to understand the existential danger of nuclear weapons and developed strategies for limiting it). The situation today is far messier. The world's powers are enmeshed in financial, trade, and information networks that they do not fully understand, raising the risk of blunders that could set off dangerous conflicts.
Accepting and understanding the reality of chained globalization must be the first step toward limiting those risks. Policymakers cannot cling to fantasies of either decoupled isolation or benign integration. Like it or not, the United States is bound to its competitors. Since it cannot break those bonds, it must learn to master them.
BOTTLENECKS AND BLOCKAGES
For decades, commentators understood globalization as a natural extension of market freedoms. To the extent that international economic networks would lead to disagreements, the thinking ran, those squabbles would lie largely between the groups that benefited from open markets and those that opposed them. But that line of thinking missed the fact that globalization itself would also allow for a new kind of conflict. As the world's economic and information networks expanded, many of them coalesced around single points of control, and some states learned to wield those hubs as weapons against their competitors.
Among the first networks to undergo such a transformation was the system underpinning international financial transactions. In the 1970s, the Society for Worldwide Interbank Financial Telecommunication (SWIFT) network made it easier to route transactions through banks around the world, and the dollar clearing system allowed those banks to reconcile torrents of payments denominated in U.S. dollars. Once both banks and individuals had accepted this new messaging system, international exchanges became even more dependent on a single currency—the U.S. dollar—granting Washington additional leverage over the global financial system. International supply chains were next. In the 1980s and 1990s, electronics manufacturers began to outsource production to specialized firms such as Foxconn, creating supply chains with tens or even hundreds of suppliers. Then, in the first decade of this century, cloud computing began to centralize key functions of the Internet in systems maintained by a few large firms, such as Amazon and Microsoft. In each case, money, goods, and information passed through essential economic hubs. A few privileged powers ruled over those hubs, gaining the chance to exclude others or to spy on them.
For decades, commentators understood globalization as a natural extension of market freedoms.
The United States saw those opportunities before most other countries did, thanks to the fact that so many networks lay within its reach. Since the attacks of September 11, 2001, the Treasury Department has used the world's reliance on the U.S. dollar to turn the global financial system into a machinery of control, freezing out rogue actors such as al Qaeda and North Korea and using the threat of sanctions to terrify banks into advancing its goals. The National Security Agency has transformed the Internet into an apparatus of global surveillance by tapping into the networks of telecommunications providers such as AT&T and Verizon and running clandestine programs that can identify communications chokepoints and exploit them against both adversaries and allies.
Until recently, other states struggled to keep up. China, a latecomer to the globalized economy, could respond to perceived slights only by locking transgressors out of its valuable domestic market. And although the European Union played a significant role in global economic networks, it lacked the kind of centralized institutions, such as the U.S. Treasury Department's Office of Foreign Assets Control, that Washington had been able to convert into instruments of power.
Driven by both fear and opportunism, however, China is now insulating itself from networked attacks and building networks of its own to turn against its rivals. Take Huawei, which seeks to build the world's 5G communications network with the tacit support of Beijing. If Huawei comes to dominate global 5G, the Chinese government could exploit its access to the firm to tap into communications around the world, using its new powers over the network against its rivals. Or to put it another way: China could do to the United States what the United States has already been doing to China.
That explains why Washington has worked so hard to frustrate Huawei's ambitions. The Trump administration has barred Huawei from U.S. markets, lobbied U.S. allies to shun the company's 5G infrastructure, and forbidden U.S. companies from selling to Huawei the sophisticated semiconductors that it cannot easily acquire elsewhere. The Chinese government has responded to those moves by threatening to blacklist U.S. firms such as FedEx and companies based in countries allied with Washington, such as the British bank HSBC. Even if the Trump administration eases up on Huawei as part of a trade deal with Beijing, a bipartisan coalition in Congress will likely try to undermine those concessions.
Europe has also been drawn into a fight over networks, in part as a result of the United States' campaign against Iran. Ever since 2018, when the United States pulled out of the international agreement limiting Iran's nuclear activities, it has used its control of the dollar clearing system to limit Iran's access to global financial resources and has threatened to sanction European firms that do business with Iran.
Building phones at a Chinese-owned industrial park in Mukono, Uganda, November 2019 Xinhua News Agency / eyevine / Redux
European governments worry that such measures are a prelude to a wider campaign of U.S. coercion. After all, the economic cost that isolating Iran imposes on European countries pales in comparison to the damage that would follow if the United States used similar tactics to force them to decouple from Russia, by, for example, making it harder for them to obtain Russian natural gas and other raw materials. Some European policymakers are thinking about how to play defense. One option would be to turn the United States' economic ties with Europe against it by withdrawing U.S. companies' rights to operate in the EU if they comply with U.S. sanctions that harm EU members.
Smaller powers are also joining the fray. Japan, incensed by rulings from South Korean courts that have criticized Japanese companies for their use of forced labor during World War II, threatened in July to strangle the South Korean technology industry by restricting Japanese exports of the specialized chemicals on which major South Korean firms, such as Samsung, rely. South Korea responded by threatening to stop exporting the heating oil that Japanese homes and businesses count on each winter. The dispute has highlighted the power states can wield when they target a crucial link in transnational supply chains.
CHAIN REACTIONS
In this landscape, blunders could set off escalatory spirals, and mutual suspicion could engender hostility. By targeting a firm with an unexpectedly crucial role in a broader industrial network, for instance, a government could mistakenly generate widespread economic damage—and trigger retaliation from other states in turn. As global networks grow thanks to developments such as the so-called Internet of Things, such dangers will grow, as well.
Accordingly, it is not surprising that countries want to free themselves from chained globalization by smashing its links. U.S. commentators speak of a great decoupling from the Chinese economy, only vaguely understanding what such a rupture might involve. China, for its part, is pouring resources into an indigenous semiconductor industry that would protect it from U.S. threats. South Korea has sought to build up its own chemical sector in order to lessen its dependence on Japan. Russia, meanwhile, has embarked on a quixotic project to create what it calls a "sovereign Internet": one that could prevent perceived foreign meddling and let Moscow monitor the communications of its own citizens.
Washington should break down the traditional barriers between economic and security concerns.
In a few areas, some degree of insulation might be possible. When it comes to defense procurement, for example, countries can increase their autonomy by rerouting parts of their supply chains to minimize the risks of spying and sabotage. The United States has already made changes to limit the ability of China to compromise its military technology; among other things, it has identified companies with connections to the People's Liberation Army and cut them out of its military's supply chains. Other countries will surely follow suit.
Is this the secret to becoming a stock market millionaire? Posted October 31st 2019
Nick O'Connor
---
Dear Reader,
Something strange is happening in Britain… And it's making some people extremely rich. According to data from the government, at least 810,000 people here in Britain have become millionaires since 2014. How can you put yourself next in line to join them? That's what I set out to investigate. What I found might surprise you. But it could also lead to some of the most extraordinary profits of your life… Click here to see why. Best, Nick O'Connor Publisher, Southbank Investment Research
Brown the Famous Iron Chancellor has gone Rusty. October 16th 2019
When New Labour Prime Minister Tony Blair, the man accused of war crimes by taking the U.K into Iraq and all the cover ups, famously described Gordon Brown as his Iron Chancellor- 'with a great clunking fist'. Well rust is brown- so is sh-t. The inevitable decay has revealed the truth of Brown's Private Finance Initiative con trick. Idiot Blair didn't care. he liked strutting the world stage, setting light to a fire in the oil rich Middle East with his buddy George Bush Jnr.
Taxpayers are shelling out billions of pounds in wasteful payments under controversial private finance initiative contracts that have locked hospitals, schools and police forces in the iron grip of contractors, it can be revealed.
One hospital trust has paid more than £5,500 for a new sink, and a school has been charged more than £25,000 for three parasols, according to figures obtained by JPI Media Investigations, while a police force paid £884 for a chair.
Extra costs and rocketing inflation are set to add nearly £5bn to the overall price tag of PFI schemes, according to figures obtained from hundreds of public bodies.
Penny Mordaunt, the former Defence Secretary, is among those who have warned that PFI schemes have "crippled hospital finances" as it can be revealed hospital bosses in her Portsmouth North constituency will pay out an extra £700m for a hospital expansion scheme signed under the Labour government in 2005.
It can also be revealed that: An NHS maternity unit built and run by a private company was closed after just 16 years but is still costing the taxpayer millions of pounds. A police force in the South East is trying to think up new uses for a mothballed custody suite it is still paying for. The cost of a hospital wing in Sheffield has shot up by £6m despite it having to close for nearly a year because of fire safety concerns.
© Provided by Johnston Publishing Ltd
Ever Escalating Costs
With some PFI schemes set to continue into the 2040s, trade union leaders and public sector campaigners have called for urgent action.'Ever-escalating costs'
© Provided by Johnston Publishing Ltd
Unite assistant general secretary Gail Cartmail said the "ever-escalating costs" of PFI are a "national scandal".
She said: "The money that has poured into the pockets of profit-hungry financial institutions and private companies could have been much better spent directly on public service projects and infrastructure. PFIs are a rip-roaring example of out-of-control 'bandit capitalism'."
© Provided by Johnston Publishing Ltd
Many of the deals struck with the private sector in the late 1990s and early 2000s to replace crumbling buildings were pegged to the retail price index (RPI), the now-discredited high measure of inflation still used to calculate rail fare hikes and student loan interest payments.
This has risen faster than many councils, police forces or NHS trusts had planned for, lumbering them with ever-bigger payments at a time when they have seen their own budgets squeezed.
Authorities trapped in contracts
The Private Finance Initiative sees private companies build and run key infrastructure, leasing it to the public sector through deals usually lasting 25 to 30 years. The agreements often include services such as maintenance and cleaning, but critics say this can leave public bodies paying high prices for basic changes to their buildings, and eye-watering costs for basic maintenance jobs.
In Leeds, almost all of the streetlights are to be replaced just seven years after work finished on previous upgrades. The city's lighting underwent a multi-million pound conversion project between 2006 and 2012, under a PFI deal. The 25-year deal for the maintenance and replacement of street lights runs to 2031 and is set to cost a total of £326m.
Now the council is paying an extra £22m to convert nearly all its lanterns to more eco-friendly LED bulbs. However, the city council said converting 92,000 street lights to LEDs will save around £3.4m a year.
The £5,300 sink
A sink installed in an NHS hospital wing has also added more than £5,300 to the cost of a private finance deal that has ballooned by £6m despite the wing being closed for nearly a year over fire safety concerns.
A Freedom of Information request has revealed that the projected costs of the Northern General Hospital's Sir Robert Hadfield wing in Sheffield, which was built under PFI in 2007, have increased by a staggering £6m since the deal was agreed.
Sheffield Teaching Hospitals NHS Trust said the rise was predominantly due to new works it has specifically asked to be carried out, in addition to pre-existing contract obligations.
Fire officers ordered the hospital to shut the wing, which replaced the old Vickers medical wards that were built in 1878, in December last year until remedial work could be carried out on its walls. Work started only eight months later in August and is expected to take "some months".
'A complete rip-off'
Council leaders in the early 2000s had little choice but to sign PFI contracts if they wanted to secure investment for their areas, according to one former chief.
However, a national campaign group says the public has every right to point the finger of blame at those who signed off on the PFI deals in the early 2000s. Joel Benjamin, co-founder of The People Versus PFI, said: "Somewhere along the line the consultants that provided advice on these deals, suggesting they represented value for money, need to be held up to the spotlight – and to some extent, the councillors and commissioners that signed off on PFI deals also need to be held to account."
Megan Waugh, a researcher at the University of Leeds who is studying PFI, said: "These 'extra charges' are incredibly common and a complete rip-off.
"Public authorities trapped in PFI contracts are forced to use the PFI contractor who can and do charge over the odds for basic maintenance and repairs such as £24,000 to adapt a disabled toilet."
£700 million for hospital expansion after costs spiral
Alterations to buildings or services have also seen authorities hit with unforeseen costs.
Taxpayers are set to fork out an extra £700m for a hospital expansion after costs for a critical redevelopment project spiralled.
Packed with 1,200 beds and 28 operating theatres, Portsmouth's Queen Alexandra Hospital is one of the largest in the UK and its emergency department is one of the busiest in the country. But a £1bn deal struck to upgrade it almost 14 years ago will end up costing more than £1.7bn.
The £256m Queen Alexandra rebuild was completed in 2009 after being funded as part of a 32-year PFI deal in 2005. But after some £400m in repayments had been made, the scheme had to be renegotiated in the wake of the collapse of contractors Carillion last year.
The new deal is set to cost a further £1.3bn.
Portsmouth Hospital, an expansion of which is costing more than £700 million (Photo: JPI Media)
'Financial scam.'
Gerald Vernon-Jackson, the leader of Portsmouth City Council, said: "PFI has never been fit for purpose. It was a financial scam to move spending off the government's balance sheets. This is money that could and should be spent on patient care but instead is going into the financial firms who came up with this clever wheeze.
"That's £700m that could have gone into caring for the people of Portsmouth but instead it has been wasted on this financial scam."
Roger Batterbury, chairman of Portsmouth Healthwatch which scrutinises the hospital, has vowed to lobby for the Health Secretary Matt Hancock to take action. He added: "We will make raising this with the Health Secretary our number one priority. We will shout loudly for Portsmouth so patient care is put first."
Mark Cubbon, chief executive of Portsmouth Hospitals NHS Trust, insisted the contract helped the hospital maintain its vast estate to a "high standard".
Defending the arrangement, Mr Cubbon added: "I am absolutely determined to ensure we get the very best value for money from the ongoing PFI contract and that the quality of the service provided is the best it can be for our patients, staff and the taxpayer."
Annual costs of PFI deals hits £10bn
The contracts were first introduced by John Major's Conservative government in the 1990s, but were significantly expanded under Tony Blair's Labour. The annual cost of PFI deals has this year hit £10bn – equivalent to a tax of more than £150 on every person in the UK.
The Government's oversight of PFI was heavily criticised by MPs and trade unions after the spectacular collapse of outsourcer Carillion, which the National Audit Office estimates is set to cost taxpayers £150m.
The shadow Chancellor John McDonnell has said a new Labour government will end PFI and bring financing schemes "in house". Labour said the cost of schools and hospitals has "ballooned" under PFI.
Sajid Javid talks with John McDonnell (Photo: Getty)
In setting out his post-Brexit investment plans at the Conservative conference last month, the Chancellor Sajid Javid said he would "bring in an infrastructure revolution" and invest an extra £13.4bn into public services.
His predecessor Philip Hammond abolished the PFI model in the wake of the Carillion collapse.
The Treasury said it was supporting health authorities to manage the costs of old PFI deals. A spokeswoman said: "As announced in last year's Budget, we will no longer be using PFI and PF2 funding for new government projects."
The history of Private Finance Initiatives Posted October 16th 2019
Johnston Publishing
1992: The Private Finance Initiative is launched by John Major's Conservative Government to finance new public sector buildings. The then Chancellor Norman Lamont said in the autumn statement: "Obviously, the interests of the taxpayer have to be protected, but I also want to ensure that sensible investment decisions are taken whenever the opportunity arises."
1995: Britain's first PFI project, Scotland's Skye Bridge, opens. Within a decade, a public outcry over its high toll charges forces the Scottish Executive to buy the bridge from its private owners at a cost of £27m.
1997: Two months after New Labour sweeps into power, the Health Secretary Alan Milburn announces it is "PFI or bust" for the funding of infrastructure. Use of the model soars through the Tony Blair and Gordon Brown years. Two years later, Mr Milburn said there had been an "upsurge in confidence… that PFI can deliver the goods".
1999: Alan Milburn says: "Since we came to office in May 1997, this Government has revitalised PFI so that today we can rightly say that it is a key tool in helping provide effective and good value public services." Richard Smith, the editor of the British Medical Journal, denounces PFI it as "PFI: Perfidious Financial Idiocy" in an editorial revealing that repayments will be exorbitant.
2007: The value of PFI deals peaks, with private companies investing £8.6bn in public infrastructure.
2008: Use of PFI falls in the wake of the 2008 financial crisis.
2011: After the Coalition government comes to power, two parliamentary committees heavily criticise PFI. The Public Accounts Committee suspects companies are making excessive profits from the schemes, with chair Margaret Hodge MP warning that "tax revenue is being lost through the use of off-shore arrangements by PFI investors". She said: "While PFI has delivered many new public buildings and services that might not otherwise have been built, it is far from clear that it has provided value for money. At present, PFI looks like a better deal for the private sector than for the taxpayer." In the same year, the Treasury Committee also finds the full cost of a hospital built under PFI is set to be 70 per cent higher than a publicly funded one.
2012: The Chancellor George Osborne relaunches the PFI model as PF2, run in a similar way but with more details of the deals to be made public. He said: "Since we can all see now that the public sector was sharing the risk, we will now ensure we also share in the reward."
2018: Sir Howard Davies, the chairman of Royal Bank of Scotland – a PFI investor – calls the model a "fraud on the people". The National Audit Office publishes a key report finding little evidence of PFI's benefits. The Chancellor Philip Hammond abolishes PFI but old schemes remain in place.
Toxic PFI legacy is pushing schools towards financial ruin Posted October 16th 2019
John Dickens 6 Fri 4th Dec 2015, 6.00
Cash-strapped schools are being pushed into financial ruin by soaring debts owed to the private firms that funded their buildings, Schools Week can exclusively reveal.
Takeovers of underperforming schools have also stalled due to the hefty costs associated with the contracts.
Annual repayments in some schools with private finance initiative (PFI) contracts have soared by £125,000, forcing staffing cuts to balance their books. In others, costs are escalating at a rate of around £30,000 each year – the salary of an average teacher.
Schools in Stoke-on-Trent are locked into 25-year contracts to pay off a consortium of private companies who funded new buildings and refurbishments in 2000 as part of a £153 million deal with Stoke council.
One of the schools, Birches Head Academy (pictured above), is paying more than £380,000 a year on PFI costs – up by more than £125,000 in just four years.
Roisin Maguire, the academy's consultant headteacher, said: "When schools are having to make people redundant to pay huge PFI contracts, then something is wrong."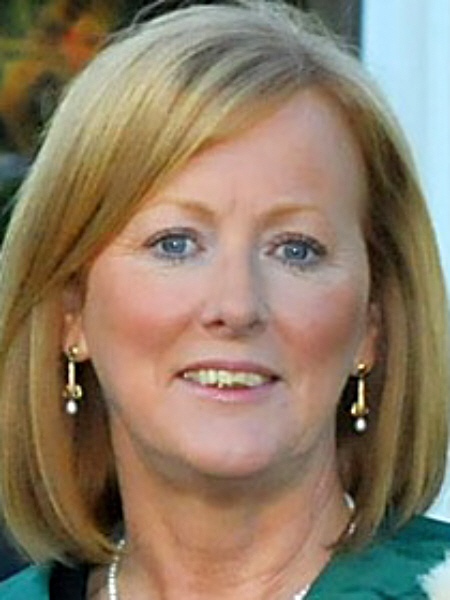 Roisin Maguire
She described the contract as "unsustainable" as the costs were based on the school being funded for a full quota of pupils. At present only 60 per cent of places are filled at the school.
St Joseph's College, where Ms Maguire is headteacher, is considering sponsoring Birches Head to get it back on track but she said the governors "don't want to take on a financial liability".
Elsewhere in the city, Ormiston Academies Trust (OAT) is the preferred sponsor to take over two schools said to be struggling financially, Sandon College and Packmoor Primary.
But the takeover has been delayed as the trust investigates the PFI costs lumped with the schools. The yearly rise in PFI costs at Sandon – which is in special measures – is believed to be the equivalent of funding one maths teacher.
A large chunk of the cost increase faced by the school is to make up for an estimated shortfall in funds after it was reported the council could run out of money to pay for the contract – six years before the deal was due to ends.
Professor Toby Salt, OAT chief executive, has written to schools minister Lord Nash this week to raise his concerns.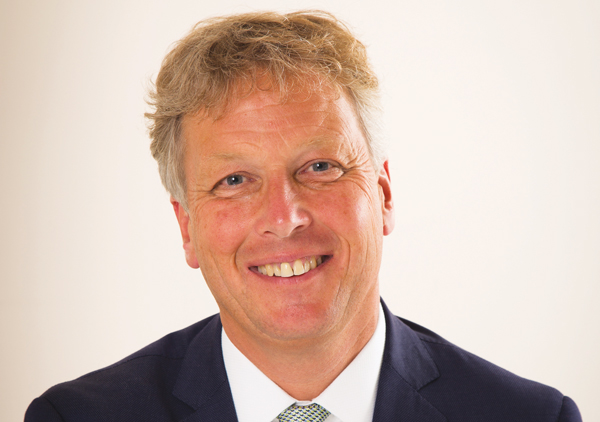 Toby Salt
But the problem isn't confined to Stoke.
Using public records, Schools Week uncovered 128 academies paying almost £70 million in the 2013-14 financial year on PFI costs, which is an average of more than £500,000 per school.
The figures suggest the cost of contracts at some schools rocketed by nearly £200,000 in just 12 months – the equivalent of three senior leaders' wages.
Total amounts paid to private firms under the deals will be even higher as costs for local authority schools are not centrally available and were not included in the analysis.
In Stoke's case, the PFI scheme was set up by the local authority and private firm Balfour Beatty. It is now run by a dedicated PFI company called Transform Schools.
The Financial Times reported that Balfour sold its stake in four school PFI projects – including Stoke – to infrastructure investment company Innisfree in 2013. The paper said that Balfour made a gain of nearly £24.4 million on its equity in the projects.
Ms Maguire said the PFI repayments were forcing Stoke schools to cut costs: "Something is going to have to give. It's coming to a head."
Two school leaders we spoke to described the PFI contracts as "toxic". Another couldn't publicly speak about his school's contract because he said it had a gagging clause.
One academy chain head, with PFI contracts averaging £400,000 across its schools, said: "It's a bit like every time you want to drive somewhere you have to take a taxi with the meter running – that's the reality."
According to annual accounts, the Cabot Learning Federation paid £888,000 in PFI facilities management costs alone last year for two schools.
One of its schools, Bristol Brunel Academy – built under the Building Schools for the Future programme in 2007 – paid £561,000 for maintenance in 2013/14.
Steve Taylor, chief executive of Cabot, told Schools Week the state-of-the-art school provided real advantages for pupils.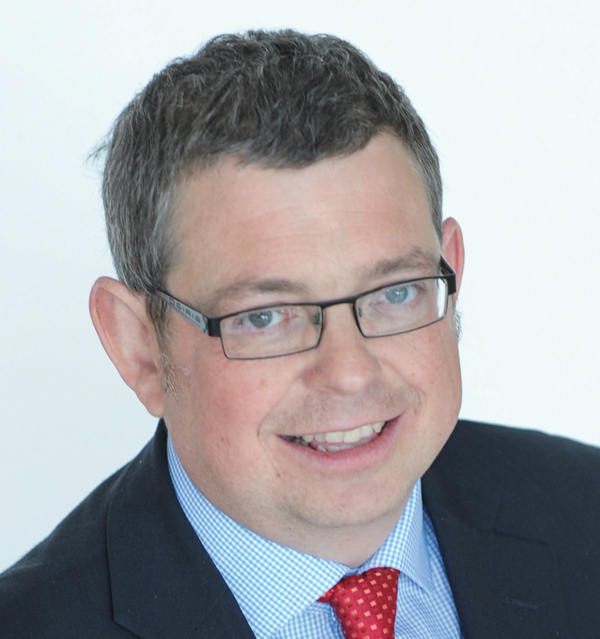 Antony Power
But if the current above-inflation contract increases continued, it would be "considerably less affordable".
Antony Power, a partner and head of education at law firm Michelmores, said academies faced being driven into deficits unless they took greater control of their PFI costs.
"Unless things change, the problems are likely to get worse as time goes on. At the moment inflation is low; when it rises, the PFI costs will rise more steeply, probably faster than school budgets."
Stoke council said it was in talks with Birches Head to review its costs. A spokesperson also said it had met with Ormiston officials to warn that converting did not relieve schools from the contract. If they did, it would place "huge financial burdens on the remaining schools in the PFI contract and the council".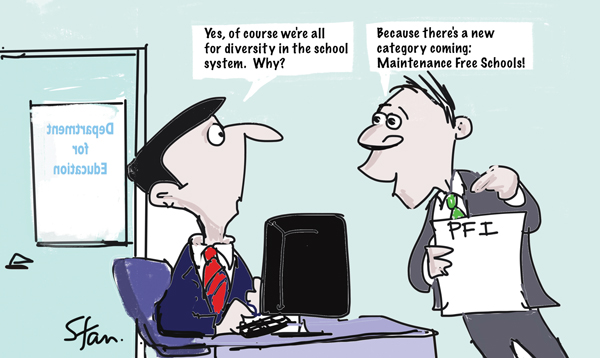 How PFI works
Private finance initiatives involve the private sector financing, building and operating public infrastructure, such as schools.
The private firms are repaid through leases spanning 25 or 30 years which, in the case of schools, are signed by local authorities.
It was used to build and repair secondary schools under the Building Schools for the Future (BSF) programme, which nearly 100 local authorities had signed up to by 2009.
The scheme was the brainchild of the Conservatives, but later became popular under the Labour government towards the end of the 1990s as its "buy now, pay later" structure provided new infrastructure without needing money up front.
But problems emerged over the price of repaying the contracts – which, in some cases, have spiralled to seven times the original investment.
An investigation by the Independent on Sunday newspaper this year found the UK owes more than £222 billion from PFI deals – more than £3,400 per person. It rose by £5 billion last year alone.
Schools Week found many schools are now facing financial problems as they cut costs to meet squeezed budgets.
Local authorities mostly pay for the PFI buildings contract but schools are locked into facilities management repayments, which can include cleaning, caretaking and catering, over the contract span and which come directly from their own budgets.
For instance, in two Bristol schools taken over by the Cabot Learning Federation, the local authority continues to pay the costs of the building, part of Bristol's Building Schools for the Future programme.
However, the trust has taken on the facilities management contract for the academies. It has agreed to repay a percentage of the overall facilities bill based on the funding that would have been available to the local authority if it had stayed a maintained school.
Former education secretary Michael Gove scrapped the BSF scheme in 2010 because of "massive overspends".
The government's new building programme will deliver 46 schools under a new scheme called PF2. Chancellor George Osborne has said this will be more transparent and better value for money.
The Unwinnable Trade War Everyone Loses in the U.S.-Chinese Clash—but Especially Americans
By Weijian ShanNovember/December 2019
U.S China Trade War Posted October 16th 2019
In late June, the leaders of China and the United States announced at the G-20 meeting in Osaka, Japan, that they had reached a détente in their trade war. U.S. President Donald Trump claimed that the two sides had set negotiations "back on track." He put on hold new tariffs on Chinese goods and lifted restrictions preventing U.S. companies from selling to Huawei, the blacklisted Chinese telecommunications giant. Markets rallied, and media reports hailed the move as a "cease-fire."
That supposed cease-fire was a false dawn, one of many that have marked the on-again, off-again diplomacy between Beijing and Washington. All wasn't quiet on the trade front; the guns never stopped blazing. In September, after a summer of heated rhetoric, the Trump administration increased tariffs on another $125 billion worth of Chinese imports. China responded by issuing tariffs on an additional $75 billion worth of U.S. goods.
The United States might institute further tariffs in December, bringing the total value of Chinese goods subject to punitive tariffs to over half a trillion dollars, covering almost all Chinese imports. China's retaliation is expected to cover 69 percent of its imports from the United States.
If all the threatened hikes are put in place, the average tariff rate on U.S. imports of Chinese goods will be about 24 percent, up from about three percent two years ago, and that on Chinese imports of U.S. goods will be at nearly 26 percent, compared with China's average tariff rate of 6.7 percent for all other countries.
The parties to this trade war may yet step back from the abyss. There have been over a dozen rounds of high-level negotiations without any real prospect of a settlement.
Trump thinks that tariffs will convince China to cave in and change its allegedly unfair trade practices. China may be willing to budge on some issues, such as buying more U.S. goods, opening its market further to U.S. companies, and improving intellectual property protection,
Sir Richard Branson Brings Financial Freedom for ALL UK Residents – Here's How He's Doing It.
Britain's billionaire Richard Branson hopes to bring more financial stability to his country of the United Kingdom and all of its residents. He has big plans on giving back to the community and this is his way how. By Rose Evans
Thursday, October 3, 2019
"You can make money in no time."
Sir Richard Branson told the presenters. "The idea behind the platform is incredibly straight-forward. You deposit £250 or more and the algorithm starts buying and selling Bitcoin! You can make money in no time. It's incredible"
Determined to show the presenters just how easy it was to earn, Branson had Kate Garraway deposit £250 live on the show. They then talked again about the amazing benefits before checking the results at the end of the show. By the end of the interview, Kate has £537 in her account.
Even the studio staff were shocked
Even the studio staff were shocked and one of the cameras wobbled as the cameraman rushed to get his phone out to test it for himself. Even co-host Ben Shepard couldn't believe it and wanted to try it for himself.
The next day, the presenters revealed that they had both earned over £1000 each. Ben left saying:
"I never thought an interview could be so profitable but the benefits of this amazing bitcoin trading app are incredible. Even Tim our cameraman has been in on the action."
Tim then revealed that he had earned £2198 since the previous show.
To find out how you can earn money thanks to this amazing platform, read the description below.
Read More
If you had invested just £100 in Bitcoin back in 2010 you would now enjoy dividends of £75 Million!
Latest Red Rumour: They'll Nuke Moon Posted September 16th 2019
Boaz Shoshan


As the US's fresh batch of hypersonic weapons approaches the flight-testing phase…
As a nuclear-powered missile test in Russia goes horribly awry…
And as an Australian MP compares his country's obliviousness to the threat of China as the French were to the rise of Nazi Germany…
We sit back and wonder just how wild this Cold War needs to get before mainstream investors realise it's going on…
Dangerous
In 1958, the US developed a plan to detonate a thermonuclear device on the moon: Project A119.
The top-secret project was developed after the Soviets launched Sputnik, to boost the US's street cred after it'd lost the race to space. In a game of one-upmanship, the US would show the Soviets who was boss by lighting up the moon above Moscow.
Interestingly, nobody actually knows why the project was cancelled. Vince Houghton, the historian that brought the project to light, doesn't believe it was to preserve the moon's beauty:
The mission was scrapped seemingly out of a worry that the best- laid PR plans of the Air Force would be thwarted when the public saw this as an abhorrent defacement of the moon's beauty instead of a demonstration of American scientific prowess. Maybe we realized landing a man on the moon was possible, and more impressive?

… Are you convinced the US Air Force, at the height of the Cold War, in the wake of the shocking launch of Sputnik and the fear left in its wake, scrapped A119 because it might muss up the moon a little bit?

Neither am I.


Included in the planning was, believe it or not, a young Carl Sagan, who would go on to break the rules and put his involvement in the project on his CV. Sagan would go on to happily take credit for writing such papers as Radiological Contamination of the Moon by Nuclear Weapons Detonations and Possible Contribution of Lunar Weapons Detonations to the Solution of Some Problems in Planetary Astronomy when applying for a scholarship at the University of California in 1959 (as great excuses go, "solving some problems in planetary astronomy" has to be up there).
You may be interested in
The fact that such an idea was kicked around for eight months by the US military establishment is indicative of the time. This was a period of all-out competition between the two powers; a period totally opposite to the global order we've experienced since the Berlin Wall fell… but one to which we are rapidly returning to as the US recognises China as a great power competitor.
Project A119 was spurred on in part because the US thought the Soviets would nuke the moon too. But of course, back then American investors had zero capital in Chinese markets. Nor did the Soviet Union have a currency that was pegged to the USD, as China effectively has today.
Imagine how the stock, bond and FX markets would react today if this headline made it to print. Swap out "Russians" for "Chinese Communist Party":
This was printed on Friday 1 November 1957 in the Pittsburgh Press. 7 November was supposedly the date at which the Soviets would nuke the moon to celebrate the fortieth anniversary of the Bolshevik Revolution.
This rumour was completely unfounded, though incidentally the Soviets would develop such a plan soon afterwards. They cancelled their programme as they were afraid the missile wouldn't launch correctly, and fall back to earth, nuking either themselves or a foreign country. The Soviets concluded in a gloriously understated fashion, that this would create "a highly undesirable international incident".
Such schemes appear ludicrous now, but I strongly suspect the great power competition of the Second Cold War will produce some equally mad and dangerous ideas. But this time around, Western investors will feel the impact of them in their portfolios – passive investors especially.
By the end of this year, MSCI (which creates indices or stocks and other assets) will have quadrupled the weighting of mainland Chinese stocks in its global indices (a significant increase happens just this month, with another boost in November). Investment managers which offer passive products – like Blackrock or Vanguard offering low-cost ETFs – use those MSCI indices as a guide to where that money should be invested.
The greater inclusion of China in the indices will direct billions of dollars from pension funds and passive investors into Chinese companies… right as Cold War II ramps up, and geopolitical risk returns to markets in ways we haven't seen in decades.
The inclusion of China in such benchmarks has made MSCI a geopolitical actor. I anticipate it shan't be long before the US administration begins to target such inclusions (and starve China of dollars), just as the US has begun to crack down on Chinese investment in the US.
Not all fund managers are oblivious to what's going on of course. I spoke to an investment manager recently on the subject, who describes the gradual disintegration of US/China relations similarly – as a "New World Disorder". He views the deterioration of post-Berlin Wall order as a "Black Swan Factory" (I wish I'd thought of that line), which he's been developing some strategies to defend against, and profit from.
While Nick Hubble and I have outlined a few ways to play the Second Cold War in Zero Hour Alert, my colleague James Allen has identified another, playing on Russia's role in all this. He'll be publishing his research on the matter shortly – keep an eye out.

Enforced property sales September 8th 2019
Nick O'Connor
---
Dear Reader, Do you own any property other than your main home? If so, how does the idea of selling it, enforced, for far below the market value sound to you? I'm guessing the answer is unappealing, to say the least. Well, it's just one of the many ways your wealth is being sized up. Here's what Britain's potential shadow chancellor says: "You'd want to establish what is a reasonable price, you can establish that and then that becomes the right to buy.""You [the government] set the criteria.""I don't think it's complicated." In a sense, he's right. It's not complicated. It's socialism. And it doesn't stop at your property. If you want to know where else your wealth could be harvested should an election be triggered this year… Click here now to read Nickolai Hubble's analysis. Best,
Nick O'Connor Publisher, Southbank Investment Research
What led to Hitler? Posted September 1st 2019
Nickolai Hubble
Nickolai Hubble
---
Force people to live under extreme conditions, and they'll be more open to extreme solutions. In the 1930s depression, people's savings were wiped out overnight, through no fault of their own. They couldn't afford to warm their houses or feed themselves. So people marched for jobs. And then, when it became plain no jobs were coming, they started marching for food. They were desperate… and starving… And soon, they became bitter and angry. If you know your history, you know where they turned: Towards Hitler… towards Mussolini… And eventually, towards war. Did you know that the current economic crisis in Europe has actually been more damaging than the great depression of the 1930s? You won't see that reported in the media. People are growing angry… and desperate… Mirroring the past. Click here to find out what I think will happen next.
Howzat, America? September 1st 2019
Boaz Shoshan
---


I only found out how the scoring worked in cricket about a month ago.
Cricket isn't taught much in Scotland for reasons which may have something to do with the weather. I think the only time I was ever taught anything about it in school was in a gym class when I was nine, and that was purely because a South African teacher was visiting.
Suffice to say, rugby was more my thing, and the Ashes and Cricket World Cup routinely passed me by. But Kit Winder, research analyst and resident cricket nut (one of several in this office), thought it was time to give me a crash course over beers after work one Friday.
Now I've finally been introduced to "the game of empire". And what a great game it is, with all the nuances and tactics you could ever hope for as an observer. Not to mention terms like "Yorker", "full toss", and the suggestively visceral "bodyline" (a ruthless cricketing strategy invented by a Scotsman, funnily enough).
You're probably wondering (quite rightly) where today's letter is going. Kit made a parallel between cricket and investing in this letter a while back when I was away (Two types of cuts – 19 July). But in light of recent events, I'd like to make a more overt comparison.
The dollar's dismissal
Jerome Powell of the Federal Reserve (left) and Mark Carney of the Bank of England (right) at Jackson Hole Though the pound fell from grace as the world's reserve currency many decades ago, the City of London remains the world's favourite financial cricket ground, where every major bank on the planet goes to play. And while those banks can play a lot dirtier in the City than in their home countries, with far fewer rules and regulations… they still fall under the Bank of England's domain.
In this way, Mark Carney, governor of the Bank of England, is in some respects an umpire of the entire global financial system.
When a cricket umpire raises his index finger to a batsman, it's time for him to leave the field. The opposing team may have outfoxed him, or maybe he made an error. Whatever the case, it's time for him to withdraw: he has been dismissed.
Last week at Jackson Hole, Mark Carney called upon the world to dismiss the US dollar. A bold move, almost perfectly reflected in the image above, taken there as he addressed Jerome Powell, the man batting for the US and the USD at the Federal Reserve.
"In the new world order, a reliance on keeping one's house in order is no longer sufficient. The neighbourhood too must change," Carney declared in his speech. Umpire indeed.
Creating a "Synthetic Hegemonic Currency"
Carney's speech, imaginatively titled "The Growing Challenges for Monetary Policy in the current International Monetary and Financial System", calls upon the financial policymakers elite to not only drastically reduce their use of the dollar, but to replace it with a global digital currency, which he likens to Facebook's new Libra project.
His case against the US dollar is relatively simple, in that the US's currency is much larger than the US's economy, and as a result, problems in the US which should be small on a global scale, end up having massive global impact, especially in emerging markets, where it is much easier to borrow in dollars.
Source: Bank of England John Connally, US Treasury secretary during the Nixon era (trivia: he was also in the car with JFK when he was assassinated), famously declared that the USD was "our currency, but your problem" to his foreign counterparts at a G10 meeting after the US went off the gold standard.
Boris Johnson: Central Banker of the Year 2019
Boaz Shoshan Posted August 29th 2019
---


There's nothing quite like a nice suspension of Parliament to weaken a currency.
If you've been trading the pound, I hope you made the right call this morning.
The strength of the pound relative to the dollar from late last night until 11am today, in ten-minute candles. While £1 was worth $1.2280 around midnight, by 8.30am it was around $1.2155. May seem small, but the currency market is the largest in the world, and large moves in mature currencies require significant volume. Chart courtesy of FXStreet. Boris Johnson really has been doing his bit to create inflation in this country.
Central bankers should take note – Lord knows they've been trying their damnedest to bring it about in the developed world, but to no avail.
You may be interested in
A Gold Bull Is Charging At Us Full Speed The price is up by double digits in just the last 2 months alone. George Soros has already prepared himself with a massive position in the precious metal. The signs couldn't be clearer: we are about to enter an epic bull run for gold. And it could be the biggest one since the late 70's. Click here to prepare yourself… and potentially 5X your money with gold. Forecasts are not reliable indicators of future results
For over a decade they unceasingly strive devalue the currencies, and inflate away the debt burdens which hang heavy on their nations. But their successes are limited. The only thing that seems to have meaningfully inflated in line with their efforts is the net worth of bond investors… the price of property downtown… and the number of Rolls-Royces purring through Mayfair.
But the currencies of developed nations on a trade-weighted basis (TWI) have not got any cheaper.
(TWI = the value of a currency when measured against the currencies of the other nations they trade with most often. The higher the trade weighted index, the stronger the currency.)
The almighty dollar has never been stronger…
Though the crushingly indebted Italy cries out for a weaker euro, the FX market is not nearly so kind.
And though the masters of the yen in the Bank of Japan have been playing this game of devaluation, they continue to fail.
But lo, Boris Johnson, taking macroprudential matters into his own hands, continues to deliver sterling results. Literally.
Bear witness to Britannia, the international exception:
We've discussed some of the more imaginative ways in which a central banker may try to devalue their currency in a pinch. Mark Carney strutting around the City with a naked sword in his belt (as is his right as a Freeman of the City of London) and not explaining it to anybody was one such approach.
But Boris Johnson has proved that while central banks are tasked with generating inflation, in reality this is a politician's game and we can comfortably rely on the government to unceasingly deliver it, whether we like it or not.
It's no surprise considering the above that the price of gold in pounds is once again hitting new all-time highs.
A 1 troy ounce gold Britannia, which for so long cost a grand, will now set you back over £1,300. Britannia, former ruler of the waves, has since become a leader of British investment performance in retirement.
If you've never dabbled in gold before, there's no time like the present to learn.
While central bankers may fail to meet their mandate, politicians stand ever willing to step into the breach. Which is why I hereby nominate Boris Johnson as Central Banker of the Year 2019.
God Save the Queen.
All the best,
Boaz Shoshan
Editor, Capital & Conflict

A Look into Nestle's Controversial Water Bottling Business in Canada Posted August 29th 2019
The company's Canadian subsidiary is currently in dispute with an Ontario town that was experiencing a drought.
by Vanmala SubramaniamSep 30 2016, 3:39pmShareTweet

Photo via Flickr user Wilson Hui
With about 0.5 percent of the world's population, Canada has a disproportionate share of global water supply with seven percent of the globe's renewable water and roughly half of the world's lakes. Groundwater is just one of the many water sources in Canada, but the lack of federal and provincial regulation with regards to groundwater extraction has made it very easy for big companies like Nestle to swoop in and monopolize groundwater resources.
In fact, Nestle Waters Canada—a subsidiary of the multi-billion dollar Swiss company Nestle Group actually has a pretty long history of extracting clean groundwater from all across Canada, specifically British Columbia. Nestle Waters has two plants in Canada—one in Hope, BC, the other in Aberfoyle, near the city of Guelph, Ontario. There have been ongoing water disputes between the community and Nestle in both those regions.
Kawkawa Lake, District of Hope, BC
Nestle and the residents of the District of Hope have been at loggerheads over water supply from the Kawkawa Lake since 2000, when Nestle opened a water-bottling facility in Hope, using water from only one source, the Kawkawa Lake. Nestle vehemently defends its operations, stating that they withdraw less than 1 percent of the available groundwater in the Kawkawa Lake aquifer. But the issue arises when a drought hits and the residents of Hope are forced to restrict water use, while Nestle is allowed to continue the same pace of production.
Nestle bottles approximately 265 million litres of water from BC. Up until the beginning of this year, Nestle paid absolutely nothing for water it took from Kawkawa Lake. It was only in 2016 after much pressure primarily from the residents of Hope, that the province instituted regulations requiring any company extracting clean drinking water to pay $2.25 per million litres of water. According to activist group The Council of Canadians, the $2.25 rate is low compared to other provinces. In Ontario, for instance, companies have to pay up to $15 to extract a million litres of clean drinking water. In 2011, as a gesture of appreciation of sorts, Nestle donated $45,000 to the District of Hope for the construction of a playground.
The BC government takes a different stance on the issue of payment. They say charging a fee for water could have the potential of raising legal questions over who owns that water. In addition, they claim that Nestle is hardly affected by a small fee for water, but many smaller bottling companies would be priced out of the market. Until the Water Sustainability Act was instituted in 2016, BC's only water regulation related to ensuring groundwater extraction techniques were environmentally safe. Clean groundwater is up for bids in most of BC, with corporations like Nestle often having the upper hand because of their scale of production, and ability to ensure that extraction methods do not hurt the environment. Now however, the provincial government has the authority to step in with mandatory restrictions in the case of a drought.
Hillsburgh, Ontario
In 2005, the former CEO of Nestle, Peter Brabeck was quoted as saying that water should not be considered a human right and be instead treated as a "foodstuff commodity." That video was leaked and went viral in 2013—the same year that Nestle was in the middle of another dispute with the town of Hillsburgh, Ontario, near Guelph. Nestle withdraws as much as 1.1 million litres of water daily from a well in Hillsburgh, which has suffered three major droughts since 2007.
2013 was one of the driest years in Hillsburgh, yet Nestle continued to extract the same amount of water from that one well. Public pressure caused the province to intervene, and when it renewed Nestle's contract on the Hillsburgh Well, it made it mandatory for Nestle to reduce the amount of groundwater it extracts during times of drought. The story didn't end there, unfortunately. Nestle aggressively appealed the new permit's restrictions and a few months later, the Ontario's Environment Ministry agreed to remove the restrictions.
Wellington, Ontario
Just a couple of days ago, Nestle outbid the Township of Centre Wellington, Ontario, for it's only new source of clean drinking water—a local well. The Township sits entirely on what is called glacial moraine, an unconsolidated accumulation of soil and rock that once used to be a glacier. This unique geological formation makes it particularly difficult for residents of the town to have access to a safe supply of drinking water. In fact, there is only one new source of clean drinking water in Centre Wellington—the local well that Nestle now owns.
The same activist group that was involved in getting Nestle to pay for water in BC put out a petition last week calling for the boycott of Nestle, which actually already owns a large bottling plant in nearby Aberfoyle, Ontario. According to the petition, Nestle pays less than $15 a day for clean groundwater from this particular well, and "ships it out of the community in hundreds of millions of single use plastic bottles for sale all over North America—at an astronomical markup."
However, according to Andreanne Simard, Nestle's Natural Resource Manager at its plant near Guelph, the Township of Centre Wellington is "lucky to have a company that monitors and manages a resource like water so well."
"We're very particular that there is no adverse, negative impact on the surrounding ecosystem."
Simard claims that in August this year, at the height of the drought in Centre Wellington, Nestle voluntarily reduced their water extraction by 20 percent. "One thing we have in common with the community is our shared passion for water," Simard said.
But the declaration from the Council of Canadians is asking for more than just a boycott of Nestle because of its activities in the Township of Central Wellington, it's calling for Nestle to "stop profiting from water altogether."
"Wasting our limited groundwater on frivolous and consumptive uses such as bottled water is madness," it said.
However, Ontario's government has come to the defence of Nestle. Treasury Board President Liz Sandals, who reps Guelph, says the public often has the wrong facts about the company.
"There's no doubt that there is a lot of concern, but my point to you is that many of the things that people will express a concern about actually turn out to be based on misinformation," she said, according to the Canadian Press.
Follow Vanmala Subramaniam on Twitter.
Growing Mussolini
Nick Hubble August 26th 2019
---
Force people to live under extreme conditions, and they'll be more open to extreme solutions. In the 1930s depression, people's savings were wiped out overnight, through no fault of their own. They couldn't afford to warm their houses or feed themselves.
So people marched for jobs. And then, when it became plain no jobs were coming, they started marching for food. They were desperate… and starving… And soon, they became bitter and angry. If you know your history, you know where they turned: Towards Hitler… towards Mussolini… And eventually, towards war.
Did you know that the current economic crisis in Europe has actually been more damaging than the great depression of the 1930s? You won't see that reported in the media. People are growing angry… and desperate… Mirroring the past. Click here to find out what I think will happen next. Best wishes,
​ Nick Hubble Capital & Conflict
Nick Hubble
---
Dear Reader, Are you sick of it yet? Everyone won't stop talking about Brexit. I do… sometimes. But it never leads anywhere. It's always a waste of time, in the end. I spend most of my time thinking about something else instead. Something I consider to be the most important turn of events for British investors. Something completely under the radar. If you have money in the financial system, you need to know about this. It's an obscure secret hidden in Europe's monetary system.
Think of it as a ticking timebomb. It could explode soon, and when it does it'll make Brexit look like a sideshow. To be honest, it could be big enough to put Brexit on hold altogether. You need to know when things go "bang". Because, I believe, the blast is likely to impact Britain in a big way. It could impact you, your family and your savings.
That's why I chose to write a book about THIS secret and not about Brexit. People were telling me to write a book about Brexit. It would sell more. Sales are important for a writer. But telling the truth is more important for a writer with a conscience. Don't get me wrong… Brexit is important… but this secret is way more important for British investors. I can guarantee you this: The secret is not something you will want to hear… … yet it is something you MUST hear if you want a chance at protecting everything you've worked so hard to build. Before we get to that, let me show you what some fellow investors who read the book are saying:
"Very informative on how the system works, and how it will fail." – Malcom Campbell "Read it! Deny what he says if you can. Ignore it at your peril." – David Gahan "It is essential that you know what is coming in Europe." – Jim Whitelaw "The book dares to expose what the mainstream commentators avoid and fear to admit." – Mark Mellor I won't go on – though I could… You can grab your copy of my book below. I believe you already know that you need to do so… >> Get your copy here << Best wishes,
Nick Hubble Editor, Southbank Investment Research