https://www.bedfordenthusiastsclub.com/pages/bedford90.php
gmc cannonball Photo 194136. Complete collection of photos of the gmc cannonball. www.picautos.com 2019
gmc cannonball Photo 194136. On our site you can find many photos of gmc cannonball and other cars.
EWR March 26th 2021
Atkinson Posted January 9th 2021
Atkinson & Co. was founded in the Frenchwood district of Preston, the cotton town and administrative capital of Lancashire, by two of five brothers, Edward Atkinson (1880–1932) and Henry Birch Atkinson (1882–1921) with assistance from their brother-in-law George Hunt (1870–1950). The real and effective beginning of the company was in 1907, when the partners decided to capitalise on the need for local engineers to make temporary or permanent repairs to the increasing number of 'pullcars' and private motor vehicles on the road. By 1912, the organisation had moved to premises in Kendal Street and the number of employees had grown to twenty. In the same year a second, smaller repair centre was opened in Freemason's Row, Liverpool, to cater for the enormous volume of steam traffic using the docks. Very soon the company made something of a name for itself in the north of England as quality repairers, and the growing number of operators brought new business from far and wide.
Seddon Atkinson Vehicles Limited, a manufacturer of large goods vehicles based in Oldham, Greater Manchester, England, was formed after the acquisition in 1970 of Atkinson Vehicles Limited of Preston by Seddon Diesel Vehicles Limited of Oldham. In 1974, the firm was acquired by International Harvester,[1] which sold it in March 1984 to the Spanish group Enasa which made it a subsidiary of Pegaso. In 1990, it became part of Iveco which used the brand for various types of specialised vehicles in the United Kingdom. The range of models produced included EuroMover, Pacer and Strato, which are aimed at refuse collection, recycling and construction operators.
Iveco announced its decision to manufacture Seddon Atkinsons in Spain in 2005, and shortly afterwards the brand name was incorporated into the mainstream Iveco catalogue. The Oldham manufacturing facilities were shut down in 2004, and the offices were closed at the end of 2006
Comment The closest I came to the inside of an Atkinson was riding as passenger in a Rolls Royce powered Class One, owned by English China Clay in 1974. It was beautiful, but the company went the way of much worthwhile British Industry in the money grabbing Thatcher era. R.J.C
Thornycroft Antar Posted January 3rd 2020
The Mighty Antar was a heavy-duty 6×4 tractor unit built by Thornycroft from the late 1940s onwards. For some decades it was the standard tank transporter of the British Army and was also used by other nations. WikipediaEngine: Rover Meteorite Mk 204; 1,099 cu in (18.0 L) petrol V8; 260 hp (190 kW)In service: 1951–1984Produced: 1951-1964Maximum speed: 28 mph (45 km/h)Length: 332 in (843 cm)Height: 123 in (312 cm)Width: 111 in (282 cm)
I photographed this mighty recovery truck in Northampton services , around 2 years ago, after a 7 hour wait for recovery. I had done all my deliveries and was on my way back to depot with a Tesco collection from Daventry when the turbo blew and the belt broke.

I admire the ingenuity, skill, competence and sometimes sheer bravery of recovery men. They are out on call in all weathers, sleeping in the truck. I asked one recovery chap what made a good recovery man. He replied, grimly, 'Having half your brain removed.'

On another occasion, I broke down in Salisbury around 3 in the morning ( 0300 hours ) on a very cold night, My clutch had gone. Fully loaded, fridge off, I waited several hours for the fitter to tell me the obvious.
Many hours later, the breakdown came. I asked him what was his biggest recovery. He said, a showmans rig, comprising a Class 1 with 2 additional trailers. I think he said it was well over 150 feet long, counting his truck. He was recovering it for one VOSA area, then pulled up and fined over £7,000 by another for being over length. The recovery man laughed, telling him he didn't care because the other VOSA region would have to pay. Good old British bureaucracy and red tape – no one does it better.
R.J Cook.
Image Appledene Photographics/RJC.
(1952 – 1955)
The first military K9 was introduced in 1952. It was derived from the civilian Loadstar range but was modified to make it more suitable for military service, with increased track and ground clearance and all-wheel drive. Designated as the FV16000 series the 4×4 K9 was rated at a very conservative 1 ton and the chassis was adapted for use as a cargo vehicle, ambulance, water tanker and the most numerous was the wireless body.
The Services model saw duty with the Army and RAF from 1951 until as late as 1980 when some of the 'signals vans' were still in the hands of the 'Territorials', and others were in storage depots. None were bought by the Royal Navy and there is no evidence any were even used by the Senior Service. K9 was equipped with the familiar petrol, overhead valve, 3,995 cc six cylinder developing 92 bhp at 3000 revs. But to create the revised model, rifle clips, a gun ring in the roof, and larger tyres (9.00 x 20) – single all round – were fitted. There was a transfer box to take the drive to the front axle, but even so, the off-road capability was very limited.
Over the years various other modifications took place. These included stoplights, and a convoy lamp and plate. Then came manually raised indicator arms and 'NATO' trailer socket, while some 'K9s' used by the BAOR (British Army of the Rhine) got electrically operated trafficators. RAF vehicles differed from their sisters in having no convoy light, a civilian pattern number plate lamp, stoplights from new and semaphore indicators in the panel behind the cab doors.
Three types of cab appeared, the differences being detail changes to the scuttle (no waist level louvers on early examples, for instance), floor and rear panels. Some 'K9s' were supplied as a cab and bare chassis to be fitted with van bodies or a water tank built by outside coachbuilders. Even the standard bodies though displayed immense variety. The most basic 'K9' is probably the Cargo FV 16001 which was designed to carry a section of soldiers and their kit. Cargo/FFW FV 16002 is the somewhat lengthy code which described the standard 'K9' truck when 'fitted for wireless' (FFW).
But in 1955 there were developments on the communications front when a new range of radio stations called 'Larkspur' was introduced. This led to the FFR (fitted for radio) 'K9' with a mast on the body side, brackets for the aerial tuning unit (left front wing top) and various other supports and leads. These were officially described as Radio Station Van FV 16003 and also as 'Wireless Light'. There was also Radio Repair Van FV 16004, which was also the same as 16003 only fitted out for the roles described. The ambulance version called FV 16005. The 200 gallon water tanker was coded FV 16009 or 16008 (for RAF) and had a proprietary body built in Durham. Other versions were FV 16006 signal, FV 16010 welding, and FV 16011 radar calibration equipment.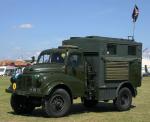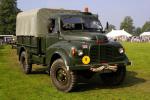 Edwin Richard Foden Posted December 8th 2020
At the beginning of the 1930s, Britain's industry was struggling to survive the worst recession in many years and unemployment exceeded two million. At this time insurers were becoming increasingly reluctant to underwrite steam boilers. As a result, Edwin believed the future of the lorry building industry lay in diesel engine power. The Foden boardroom did not agree, and consequently he resigned along with his son Dennis.
With the help of his son Dennis and two former colleagues, including Ernest Sherratt who became Chief Engineer, Edwin worked to build the first ERF diesel lorry in 1933, and gave the first chassis the number 63 which was Edwin's age. From the beginning, the company bought components only from other suppliers rather than manufacture itself, including engines from Gardner, gearboxes from David Brown and axles from Kirkstall Forge Engineering. This concept would serve ERF well throughout its existence.
A new cab was styled by Sandbach coachbuilder John Henry Jennings, who also provided initial factory space to assemble the new lorry. Based in Sandbach, the company made its own chassis and cab. The cab structure was made in Northampton at Air Flow Streamlines and fitted out by ERF in Sandbach. The engines from Gardner, but later also Cummins, Rolls Royce, Perkins, Detroit Diesel and Caterpillar.[1]
ERFs used to be marketed under the Western Star badge in some countries such as Australia.[2] It also built a specialist fire engine chassis, with a body built on by in-house company JH Jennings, later Cheshire Fire Engineering. However, when recession came in the beginning of the 1980s, and production fell from a total output of 4,000 chassis per annum, CFE was sold to management to eventually become Saxon Sanbec.
ERF was never a major manufacturer; as an example its domestic sales total reached only 1,083 trucks in 1981.[3] The company was bought by Canadian truck maker Western Star in June 1996.[4] However, after Paccar's purchase of Foden, DAF Trucks and Leyland Trucks competitive pressure increased, and after Western Star was approached by Freightliner Trucks, the decision was made to sell ERF.
Purchase by MAN
In March 2000, ERF became part of MAN, with production moving to a new factory in Middlewich.[5] It was later discovered that fraud had occurred at ERF, and its financial position had been incorrectly stated, with MAN winning a legal case against Freightliner.[6][7] Freightliner in turn tried to sue Western Star and ERF's former auditors Ernst & Young, but failed on the grounds of corporate negligence.[8] Source Wikipedia
Having been demonised by malicious police records in 2008, I was forced to take whatever job was offered. Thus I had the pleasure of driving this heavily loaded Iveco bread lorry around Northampton and its extremities. Iveco bought Ford's truck division, this vehicle originally the Ford Cargo design. I did a Class One HGV course back in the 1980s, with a Ford Cargo 6 speed unit and flat bed single axle trailer. I didn't like that vehicle either, but their cars and farm tractors have always been fun, with excellent well matched engines and gear boxes.
Image Appledene Photographics/RJC
Hell Drivers, Film 1957
I have watched Hell Drivers many times, first was back around 1960. I was still a child but loved trucks, having grown up with them because of my father's job and living in a little house by the side of a busy main road. So when it cropped up on the cinema channel yesterday, I watched it again.
Even the recently demised Sean Connery, whose varied pre acting work included truck driving, had a role in this movie about drivers cutting one another up on piece work loads of ballast. The closest I came to being a hell driver was working for City Link where we had a 3 minute delivery window – and at least 100 drops over a wide area.
When I quit driving their vans to go back on the night shift for five years, they were so short of drivers that I was frequently asked to take a van load of parcels out the next morning. Regards tippers, the only ones I experienced were the Bedford J types during a brief period working for Bucks County Council Highways Department. I recall the need to double de clutch on first gear. They were rated Class 3 in those days, used as snow ploughs, spreading chippings while reversing with the door open, and gritting – there were special atatchments.
Sadly, I was young and love sick so had no mind to take photos. I disappointed my boss, who had high hopes that I might follow in my Great Uncle Harry , the County Highways Engineers footsteps. So off I went to Portsmouth and a very boring job in a tax office. R.J Cook
The 800 series diesel marked a low point in British Leyland and was nothing other than a fatal disaster costing way more than just hard cash. AEC's public reputation of a once trusted and respected company was destroyed by nothing more than a British Leyland ego trip.
Essay : Not their finest hour – AEC–Leyland 740/800 series … www.aronline.co.uk/facts-and-figures/not-their-finest-hour-aec–leyland-740-800-series-v8-die
The Restoration of the Movin' On Truck April 24, 2019 The well-known 1970's show Movin' On holds a special place in many hearts. Running from 1974-76, the show featured two gypsy truckers, Sonny Pruitt and Will Chandler, played by Claude Akins and Frank Converse.
The Restoration of the Movin' On Truck
Associated Equipment Company (AEC)
Magnify
The Associated Equipment Company was founded in England in 1912 although, it usually traded under the name AEC. Its origins go back to 1855 when the London General Omnibus Company (LGOC) was formed. It however, did not start producing buses for its own use until 1909. In 1912 the LGOC was in turn taken over by the Underground Group which was responsible for most of London's extensive underground tram operations. As part of that process a separate division was set up for bus manufacturing and this was named Associated Equipment Company (AEC). The advent of WWI saw AEC come under direct control of the British Government who used its assembly lines to mass produce army 'lorries' for the war effort. AEC produced 10,000 three and four ton Y models and 1300 buses converted to transport carriers for the Armed Forces during the war. From that point on, AEC became known for both truck and bus production and manufacture of both continued aggressively after the war.
In 1923, the company produced the first of what was considered a civilian goods model. The two ton 201 was powered with a 28 bhp petrol engine. Following this, there was a brief association with Daimler in 1926 which saw the business relocate to a new plant in Southall. London. This dissolved within a couple of years and in 1928 AEC entered into contractual arrangements with both Hardy Rail Motors Ltd and the English version of the Four Wheel Drive Motor Company (FWD) whereby AEC components would be used in all off-road or cross country models produced. Defence contracts and works were still a major part of AECs business in peace time Britain. Many felt a Second World War was imminent and this was the impetus for development of what is Australia's rarest AEC truck; the 1934 government roadtrain housed at the National Road Transport Hall of Fame in Alice Springs. Magnify
Upon relocation to Southall a new Chief Engineer was appointed. Mr. GJ Rackham, who had previously worked for Leyland Motors, took the business in a new direction of productivity particularly for the export market to other countries of the Commonwealth. From 1929, AEC produced many new models; the names of trucks began with "M" (Majestic, Mammoth, Mercury etc), and those of buses began with "R" (Regent, Regal, Renown). In 1933 AEC was floated as a separate business and the company went public before producing several very unusual products including a low loader type 8×4 rigid called the Crocodile and the 8×8 Overseas Tractor unit based on an earlier design by Hardy Motors Ltd. In .These original "M-models" continued in production until the end of the Second World War when a new range of diesel powered models was introduced. AEC's first diesel engine, released in 1930, was a six cylinder 8.1 litre rated at 95 bhp. At this time, AEC also took a controlling interest in the UK subsidiary of the USA based Four Wheel Drive Company (FWD) introducing the use of AEC components into that range. These were marketed under the name Hardy to prevent confusion with the USA marquee of the same name.
Commercial production ceased in 1941 following the outbreak of WWII and all efforts were once again put to military needs. During this time AEC produced their 10 ton 4×4 Matador Artillery tractor and a 6×6 version (officially called the Marshall but usually referred to as a 6×6 Matador. The Matador was used extensively during WWII as both a gun tractor and an armoured version as a mobile battle headquarters or command posts. Magnify
At war's end AEC acquired Crossley and Maudsay and resumed civilian production with the Mammoth Major, Matador and Monarch ranges. AEC changed its name to Associated Commercial Vehicles (ACV) Ltd., although it kept the initials "AEC" on most of its vehicles. ACV then acquired the bodybuilding company, Park Royal Vehicles, which went on to design a new cab for the AEC Mercury in the mid-1950s; this cab eventually appeared on all models across the range during this period. By 1961 AEC had also acquired Transport Equipment (Thornycroft) and effectively removed that name from the marketplace with the exception of the Nubian airport crash tender and the Mighty Antar roadtrain units best known for their work in Australia on the Snowy River Mountains Hydro Electric Scheme. By the end of the 1950s AEC was experiencing rapid expansion introducing the Mk V range and the Mammoth Major 8 many of which were exported to Australia, South Africa, South America and other countries reliant on an efficient road transport industry for their own development.
A new era for AEC was heralded in 1962 when Leyland Motors acquired ACV in 1962 and Leyland cabs were used on most models. Demand for AEC/ Leyland vehicles from around the world continued well into the mid 1960s by which time European and American trucks were also being imported into Australia. By 1968 production of all double decker buses had ceased but the AEC name continued on some trucks and buses up until 1977. In 1979, following nationalisation in 1975 in an attempt to save the ailing organisation, the doors closed permanently on British Leyland's (as it then had become) Southall plant and all production.
Many AEC models were sent to Australia over the years and for a time the big British built trucks were King of the Road in Australia. Many fine examples of early AEC trucks have been restored by enthusiasts around the country and are on display in museums or private collections. Several buses can be found at the Sydney Bus Museum including a 1963 Routemaster double decker and several Regent Omnibuses dated as early as 1947.Magnify
MAMMOTH
The Mammoth was a 7/8 ton truck with a110 bhp six cylinder overhead valve engine. It went on to have three versions: the Mammoth Minor 6×2, the Mammoth Major 6×4 and the Mammoth Major 8 x4 which could carry a 15 ton payload.
MANDATOR
The AEC Mandator dates from the 1930s and post war production saw it available both as a tray and prime-mover units and was available up until the mid 1970s.
MATADOR
The AEC Matador was originally a 5 ton 4×2 commercial truck made famous for its use in WWII as an artillery tractor with the British Forces where it was given the nickname 'Mat'. AEC had produced 9,620 of these during the war and adapted them afterwards for civilian use where they initially found popularity as recovery vehicles and in the timber industry. The Matador was distinctive with its flat front and curved cabin roof.
MERCURY
The AEC Mercury was a forward control truck first introduced in 1928. It had a wheelbase of 14ft and carrying capacity of 4 ton. In 1930 it became available with a 4 cylinder 65bhp petrol engine.
MILITANT
The AEC Militant, or "Milly" as it was known, became the replacement for the Matador in 1952 and its production continued in various forms up until the 1970s. The Militant was based on the design of a truck produced by Maudslay in 1930. The Militant was renowned for its good cross-country performance making it ideal for recovery work but because it had no power steering military drivers complained it was difficult to turn the wheel at slow speed and in difficult terrain. Interestingly, this model was also nick-named 'Knocker' because of the sound of its slow revving engine. In Australia the Militant was widely used on the Snowy Mountains Hydro Electric Scheme usually fitted with an 11.3 litre diesel engine and 5 speed gearbox with 2 speed transfer case.
MOGUL
The AEC Mogul was also based on the design of an earlier Maudslay model. It was available from the 1960s and was called a "normal control tractor unit".
MONARCH
AEC Monarch were built from 1931 to 1939 having ceased production at the onset of WWII. Over the years it range varied considerably and it was available well into the 1970s.The Monarch was usually fitted with either a 85bhp four cylinder 5.1 litre diesel engine or a 80bhp four cylinder 5.1 litre petrol engine.
At Work in Australia
Collection
Trucks Restored in Australia
Featured Story – The AEC 8×8 Government Roadtrain
Download The AEC 8X8 Government Roadtrain.pdf Featured Story.
The AEC Mammoth was introduced in 1930, being largest truck in the AEC range and the first to be available as a cabover. It was originally a 7/8 ton 4×2 lorry with a six-cylinder overhead valve engine developing 110 bhp (82 kW) on a wheelbase of 16 ft 7 in. A 6×4 variant was the "Mammoth Major". From 1934 a distinction was made between the lighter Mammoth Minor, and the heavier Mammoth Major 6 (6×4) and Mammoth Major 8 (8×2 or 8×4), which appeared in 1934. The Mammoth Major Mk II was introduced in 1935; the eight-wheeler could carry 15-ton loads. It remained in production until 1948 when it was superseded by the Mk III, which was mechanically similar, but had the Park Royal cab. Subsequent Mammoth Majors featured the Mk V cab, and finally the tilting Ergomatic cab. The original 4×2 Mammoth and lightweight Mammoth Minor were relatively short-lived models, but both names were later re-used.
Mammoth, model 667 (1930–34) – 4×2 cabover
Mammoth Major 6 Mk.I/II, models 668 (1930–35), 366/O366 (1935–48) – 6×4 cabover (Mk.II from 1934)
Mammoth Major 6 Mk.III, models 3671/3672/3673 (1948–60) – 6×4 cabover ('tin front' cab from 1955)
Mammoth Major 6 Mk.V, models G6 (1959–66) – 6×4 cabover
Mammoth Major 6, model TG6R (1965–78) – 6×4 cabover (Ergomatic tilting cab)
Mammoth Major 8 Mk.II, models 680 (1934–35), 386/O386 (1935–48) – 8×4 cabover
Mammoth Major 8 Mk.III, models 3871/3872/3873/3881/3882 (1948–61)- 8×4 cabover ('tin front' cab from 1955)
Mammoth Major 8 Mk.V, model G8 (1959–66) – 8×4 cabover,
Mammoth Major 8, model TG8R (1966–78) – 8×4 cabover (Ergomatic tilting cab)
Mammoth Minor, model 366L (1936–41) – lightweight 6×2 cabover
Mammoth Minor, model TG6RF (1965–67) – twin-steer ("Chinese six") 6×2 cabover (Ergomatic tilting cab)
Normal control variants of the Mammoth family were also available, although much less common that the cabovers:
Mammoth Major 6 Mk.I/II, model 266 (1930–36) and 366 (1936–48) – 6×2 normal control
Mammoth Major 6 Mk.III, models 2671 (1948–60) and 2621/2631 (1956–62) – 6×4 normal control
Mammoth Mk.III, model 2421/2431 (1956–62), 4×2 normal control
AEC Mandator Mandator
The AEC Mandator name was originally used for medium-duty models in the 1930s, but in 1949 the Matador 4×2 was renamed Mandator. The name was used for the heavier AEC 4x2s until the end of production in the 1970s, and was especially popular as a tractor unit.
Mandator, model 669 (1931–35) – medium-duty 4×2 cabover
Mandator, model 672 (1931–32) – medium-duty 4×2 normal control
Mandator Mk.III, models 3472/3474/3475 (1949–55) – 4×2 cabover. Successor to model 3471 Matador.
Mandator Mk.III, model 2472 (1949–61) – 4×2 normal-control
Mandator Mk.III, models 3481/3482/3483/3484 (1955–61) – 4×2 cabover ('tin front' cab)
Mandator Mk.V, model G4 (1959–66) – 4×2 cabover
Mandator, model TG4 (1965–78) – 4×2 cabover (Ergomatic tilting cab)
Marathon
The Leyland Marathon (1973–79) was a high powered 4×2 or 6×4 tractor unit with a modified Ergomatic cab, which was built at the AEC factory in Southall. A few were given AEC badges to satisfy individual customer preferences. The Marathon name had formerly been used on a Maudslay bus chassis. Marshal
Pre-war 6×4 3ton military lorry built with various body styles- some were employed by the Royal Air Force as cranes (using the Coles Crane). The name was reintroduced for 6×2 and 6×4 medium-duty lorries from the 1960s-1970s.
Marshal, model 644 (1932/35-41) – 6×4 military truck. Prototypes (1932) included both normal-control and cabover versions, but all production vehicles were cabovers.
Marshal, model GM6 (1961–66) – 6×2 or 6×4 medium-duty cabover (Mk.V cab)
Marshal, model TGM6 (1965–77) – 6×2 or 6×4 medium-duty cabover (Ergomatic tilting cab). Variant with larger (but downrated) engine was known as Marshal Major, model 2TGM6
Marshal 8, model TGM8 (1967–68) 8×4 medium duty cabover (Ergomatic tilting cab)
See also: Matador Matador
The original AEC Matador five-ton 4×2 commercial lorry was introduced in 1932, but the name was most famously used for the 4×4 artillery tractor version introduced in 1938. These vehicles exploited AEC's experience with four-wheel drive that it had gained from its involvement in the British Four Wheel Drive vehicles marketed under the name Hardy. AEC produced 9,620 artillery tractors; 514 6×6 bowsers for the Royal Air Force; 192 6×6 lorries (some of which had Coles Cranes mounted); and 185 similar vehicles, but 6×4, for mobile oxygen plants. They were known by the nickname "Mat". New civilian Matadors appeared after the war, and many ex-military Matadors were adapted for post-war commercial use, especially as timber lorries and recovery vehicles. There was a final short run of the 0853 4×4 Matador for the Army in the early fifties, due to ongoing issues with the introduction of the replacement Leyland. The last Matador was a 4×4 variant of the Mercury, introduced in 1960.
Matador Mk.I, model 645 (1932–35) – 4×2 cabover version of Mercury
Matador Mk.II, model 346/O346 (1935–47) – 4×2 cabover. Model 236/O246 (1935–40) was the normal-control version
Matador Mk.II/III, model 853/O853 (1938–59) – 4×4 cabover (Mk.III from 1947)
Matador Mk.III, model 3471 (1947–49) – 4×2 cabover. Renamed Mandator in 1949
Matador, model 4GM4 (1960–65) – 4×4 cabover (Mk.V cab, but marketed as "Matador Mk.II")
The Matador name is often used for the 10-ton 6×6 military vehicles of Model 854/O854 (built 1940-44), but this model was never given an official name. It was an extended Matador chassis, mated to a Marshal double-drive bogie.
A 1970 AEC Mercury
A 1962-AEC Mercury Mercury
The AEC Mercury (Model 440) was first built in 1928. This was a forward-control lorry with a wheelbase of 14 ft (4.3 m) for 4 ton payloads. The Model 640 was introduced in 1930, with a four-cylinder petrol engine developing 65 bhp.
The name was resurrected for medium-duty 4×2 lorries and tractors built from the 1950s to the 1970s.
Mercury, model 640 (1928–37) – 4×2 normal control
Mercury, model G4M (1953–65) – 4×2 medium-duty cabover. The Mk.I (1953–55) usually had a Duramin cab, whereas the Mk.II (1955–65) usually had Park Royal cabs ('tin front' and later Mk.V cabs). Other cab manufacturers included Bowyers.
Mercury, model TGM4 (1964–77) – 4×2 medium duty cabover (Ergomatic tilting cab). In some export markets (notably New Zealand) this model was sold as a Monarch
Militant
The AEC Militant – or "Milly" – was the 1952 replacement for the Matador; a 6×4 or 6×6 artillery tractor/military lorry which continued in various forms until the 1970s. The Militant name had earlier been used by Maudslay in the 1930s.
Militant Mk.I, models O859 and O860 (1952–66) – 6×4 and 6×6 cabover
Militant Mk.II (1962, prototypes only) – 6×6 cabover (Park Royal Mk.V type cab)
Militant Mk.III models O870 and O880 (1966–79) – 6×6 cabover. These were the last vehicles to use a variant of the AEC/Park Royal cab.
Mogul
The AEC Mogul model GM4 (1959–67) was a normal-control 4×2 built primarily for export markets. The Mogul name had originally been used on Maudslay lorries. Monarch
The original AEC Monarch was built from 1931 to 1939 at AEC's Southall works. The first version had payload of 7 tons (increased to ​7 1⁄2 tons from 1933) and was fitted with either an 85 hp (63 kW) four-cylinder 5.1-litre diesel engine or an 80 hp four-cylinder 5.1-litre petrol engine. This was a robust and well-designed lorry, popular with both drivers and operators. The model was discontinued in the 1950s, although the name lived on into the 1970s in some export markets. TL 3513 (1934) KYE 402 (1949)
Monarch Mk.I, models 641 (1930–33) and 647/648 (1933–35) – 4×2 cabover
Monarch Mk.II, models 344/346/O346 (1935–47) – 4×2 cabover. There was also a normal-control version, model 244 (1935–40)
Monarch Mk.III, models O345/3451 (1947–56) – 4×2 cabover
Monarch, model TGM4 (see Mercury TGM4)
Mustang
The AEC Mustang model GM6 (1956–61) was a medium-weight, twin-steer ("Chinese six") 6×2 cabover, derived from the Mercury Dump Trucks
From 1957 to 1971 AEC built a series of large off-road dump trucks:
Model 3673M (1957–63) – 6×4 half-cab derived from Mammoth Major, with 10 cubic yard dump dumper capacity
Model HDK4 (1959–65) – 4×4 normal-control with 18 cu/yd capacity
Model DK6 (1961–62) – 6×4 or 6×6 semi-cabover derived from Militant, 10 cu/yd capacity.
Model BDK6 (1964–71) – normal-control 6-wheeler, 10 cu/yd capacity. Based on Thornycroft design. Also sold as under the Leyland, Aveling Barford and Scammell brands
Railcar engines
Main articles: GWR railcars, British United Traction DMUs, and AEC railmotor