September 14th 2023
Andrea Bottner
M House – Feminist Media Studies, 2023 – Taylor & Francis
… Articles focused on Kavanaugh's role as coach to his daughters' basketball teams (Andrea
G. Bottner Citation2018; Darrah and Schallhorn Citation2018), and Kavanaugh himself …
SaveCiteRelated articlesAll 3 versions
From Wikipedia, the free encyclopedia
Andrea G. Bottner (born 1971 in Milwaukee) is an American lawyer, diplomat, Republican Party politician, political consultant and expert in women's issues, especially violence against women. She served as the politically appointed Director of the International Women's Issues Office of the United States Department of State in the George W. Bush administration from 2006 to 2009.[1]
Career
Bottner holds a BA degree in political science from the University of Delaware and a JD from the University of Baltimore School of Law. She was admitted to the Massachusetts Bar in 2000, and worked as an attorney representing battered women before serving as Deputy Chief of Staff to the Republican National Committee Co-Chairman Ann Wagner; Bottner was responsible for the national women's outreach strategy during the 2004 George W. Bush presidential campaign.
She served in the George W. Bush administration as Principal Deputy Director in the Office on Violence Against Women of the United States Department of Justice, as Acting Director of that office in 2006[2] and finally as Director of the International Women's Issues Office of the United States Department of State. As Director she established the U.S. Secretary of State's International Women of Courage Award. After leaving the State Department, she founded Bottner Strategies, an advocacy firm.[3]
References
Andrea G. Bottner, United States Department of StateAndrea G. Bottner Appointed Acting Director of OVW, November 10, 2006
Bottner, Andrea (12 March 2017). "After 30 years celebrating women's history, have we made enough progress?". The Hill.
September 1st 2023
TikToker Mahek Bukhari and mum jailed for life for crash murders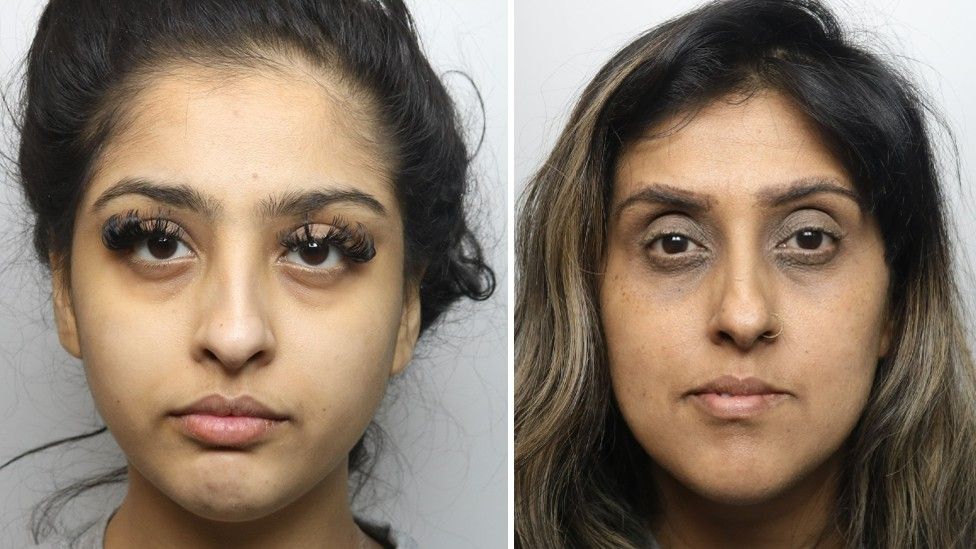 By Dan Martin
BBC News
A social media influencer and her mother have been jailed for the "cold-blooded" murder of two men who died when their car was rammed off the road.
Mahek and Ansreen Bukhari recruited others before the killing of Saqib Hussain and Hashim Ijazuddin, both 21.
The fatal car chase in Leicestershire came after Mr Hussain threatened to reveal an affair he had been having with Ansreen, 46.
The court heard it was a plot of "love, obsession and extortion".
Mahek – a 24-year-old social media influencer who the judge branded "entirely self-obsessed" – was jailed for life and ordered to serve at least 31 years and eight months.
Ansreen, whose head had been turned by the "perceived glamour" of her daughter's career, was jailed for life and given a minimum term of 26 years and nine months.
https://emp.bbc.co.uk/emp/SMPj/2.50.4/iframe.htmlMedia caption,
Watch: What CCTV evidence showed us in the TikTok murder case
Leicester Crown Court heard the Bukharis "lured" Mr Hussain to a meeting in a Tesco car park, saying he would be given back £3,000 he claimed to have spent on his lover during their relationship.
They planned to take his mobile phone from him, believing it contained explicit images of Ansreen, which he had threatened to reveal.
However Mr Hussain and his friend Mr Ijazuddin were then ambushed by a masked gang, recruited by the Bukharis, and chased in their Skoda Fabia along the A46 at speeds of up to 90mph by a Seat Leon and Audi TT – before crashing into a tree in a ball of flames.
Judge Timothy Spencer KC said: "The prosecution categorised this as a story of love, obsession and extortion and they are right.
"They were also right in categorising this case as one of cold-blooded murder."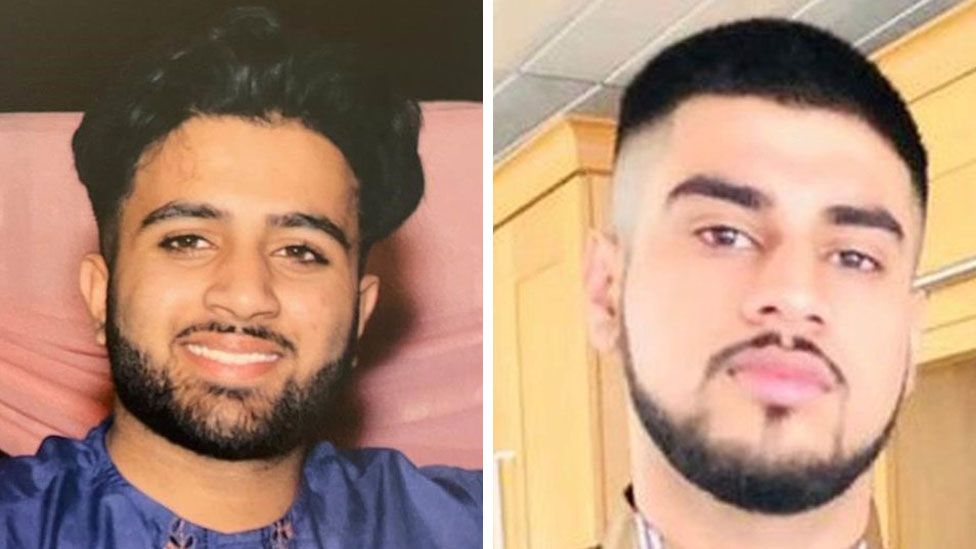 The judge said TikTok and Instagram, where Mahek Bukhari had amassed tens of thousands of followers posting beauty and fashion advice, were at the heart of the case.
He told Mahek: "Your tawdry fame through your career as an influencer has made you entirely self-obsessed."
He said her "warped values" had led to her having "no apparent awareness" of the impact her actions had on others.
She blew a kiss to her father, present in court, as she was taken from the dock to start her jail sentence.
The judge said Ansreen's head had been turned by the "perceived glamour" of her daughter's career, with her often appearing in posts online and attending promotions and shisha bar openings.
He said it was a world removed from her life as a mother and housewife.
He told her: "You are the grown-up in this group and you should have behaved as the grown-up but you allowed your understandable concern about exposure to strip you of any rational judgement."
He said she had made a "calamitous decision" to ask for Mahek's help with Mr Hussain.
He cited two key WhatsApp messages from Mahek.
One said: "I'll soon get him jumped by guys and he won't know what day it is… I'll make sure he gets jumped, he won't know who did it and how."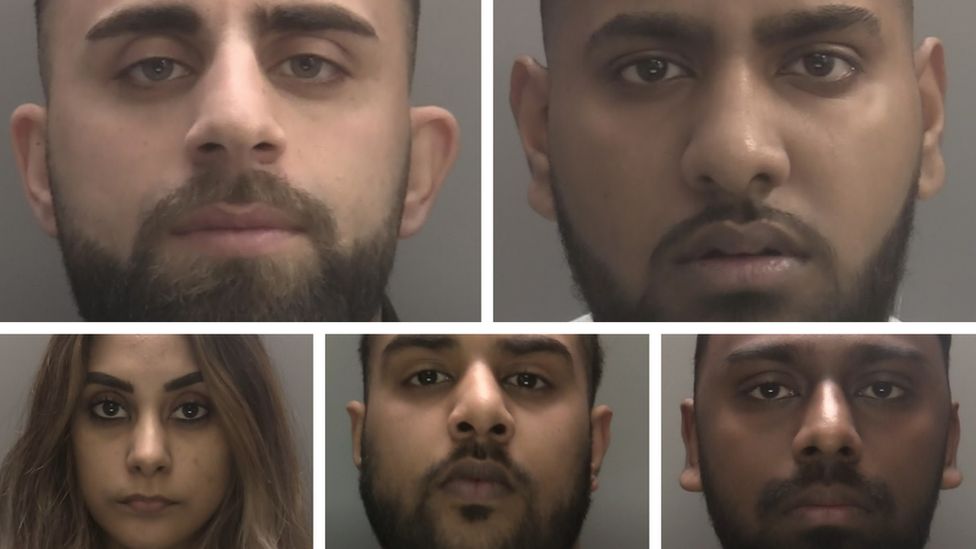 Earlier on Friday, the court heard statements from the families of the victims, in which the parents of Mr Hussain and Mr Ijazuddin said their lives had been changed forever.
Mr Ijazuddin's father, Sikandar Hayat, said his son, who accompanied his friend to the rendezvous that ultimately led to their deaths, had been "innocent".
He said he could not understand why the defendants had not called the emergency services after the crash.
"They left him and his friend to burn in a furnace of hell," he said.
In a statement read on their behalf, Mr Hussain's family said his parents had been left as "two lifeless corpses", unable to eat or drink in the run-up to their son's funeral.
'Moving and distressing' evidence
During the trial, a 999 call made by Mr Hussain in the moments before the fatal crash was played.
He told police call handlers: "There's guys following me, they have balaclavas on… they're trying to ram me off the road."
A scream was heard on the line before the call abruptly ended.
The judge said: "It was one of the most moving and distressing pieces of evidence ever heard in a criminal court."
Also sentenced for murder were fellow defendants Rekan Karwan, 29, and Raees Jamal, 23, who were recruited by the Bukharis and driving the pursuing cars.
The court heard Jamal is serving a sentence for rape.

In the courtroom
George Torr, BBC News
The heartbreaking saga for the Hussain and Ijazzudin families is finally coming to an end.
It's difficult to put into words just how painful it has been for them since their sons' deaths back in February 2022.
Mr Hussain's father Sajad and Mr Ijazzudin's father Sikander have spent every minute inside this courtroom in Leicester, making the journey every day from their Oxfordshire home to the East Midlands.
Mahek Bukhari, the ringleader, is now a shell of her former self the press have observed.
She shared smiles and laughs with other defendants during quieter parts of the trial, and casually played board games in the precinct when the jury retired.
She casually played Monopoly and the card game Uno while she waited for the jury to come back with a verdict.
She even waved and laughed at reporters outside with cameras from a balcony in the court foyer just hours before she broke down in tears when she was convicted of double murder.

The judge said Mahek approached Karwan as "a go-between", before Karwan "brought in Raees Jamal".
He said it was not chance that Karwan took over the driving of the Audi when the fatal pursuit took place.
He suggested Raees Jamal was enthralled with Mahek, despite being in a relationship "of sorts" with fellow defendant Natasha Akhtar, and was willing to "do her bidding".
The judge said Ameer Jamal and Sanaf Gulamustafa were "willing recruits" in the ambush.
He added lies told by Akhtar revealed she was an "integral part of this venture" and she was either "deluded" or found lying second-nature.

The defendants
Mahek Bukhari, of George Eardley Close, Stoke-on-Trent, was jailed for life with a minimum least 31 years and eight months in prison
Ansreen Bukhari, of George Eardley Close, Stoke-on-Trent, was jailed for life with a minimum term of 26 years and nine months
Rekan Karwan, of Tomlin Road, Leicester, was jailed for life with a minimum of 26 years and 10 months
Raees Jamal, of Lingdale Close, Loughborough, was jailed for life with a minimum term of 36 years and 45 days. He must serve five years on top of the 31 years he was given on Friday – the unexpired portion of his rape sentence
Natasha Akhtar, 23, of Alum Rock Road, Birmingham, was sentenced to 11 years and eight months for manslaughter
Ameer Jamal, 28, of Catherine Street, Leicester, was jailed for 14 years and eight months for manslaughter
Sanaf Gulamustafa, 23, of Littlemore Close, Leicester, was sentenced to 14 years and nine months in prison for manslaughter

Follow BBC East Midlands on Facebook, on Twitter, or on Instagram. Send your story ideas to eastmidsnews@bbc.co.uk.
August 26th 2023
I Deeply Love My Kid, I Just Can't Stand Playing With Him
My son is gentle and loving. I am proud of him. But playdates, parks, and pretend—they still make me want to do almost anything else.
More from Vogue
Advertisement
The author with her son, Guy. Photo: courtesy of the author.
I want to suck in my son Guy's morning breath so that his particles live in my body where I can keep them safe. I want to rip off his socks and lick the saltiness of his fat toddler feet. Though it seems to change every hour, I want to memorize his face. I cherish everything about him. But I'd rather do anything else than have to play with him.
When I was seven months pregnant—inwardly spiraling about the fact that I had no real vision for myself as a mother, that I hated my new body, that I'd been depressed basically since my mid-20s—my partner and I met friends for dinner, two husbands who had just had their first child by surrogate. They brought the little boy with them, asleep in a bassinet at our feet while we ordered a quick meal. They looked miserable and exhausted.
Don't worry, they said when we asked gingerly how things were going. It won't be this hard for you. You'll have maternal instincts to rely on. Men don't have those! Everyone laughed, but I wasn't sure what the fuck maternal instincts I was expected to have, or when they'd kick in. I didn't even really feel like I wanted them, in fact. Having them might change me, and I was already changed enough, already spending so much energy on the correct way to become a good mom: Choosing the right brands so I could buy the right stuff, repeating the right platitudes about the impending birth to seem the right amount of happy and grateful. Though there is no known scientific evidence for mom brain, it is across the board acknowledged by birthing persons as a symptom that is generally suffered. I wasn't sure if that's what I should call my mental status, but seven months in, and I knew that my instincts had yet to miraculously start.
Guy wasn't cute when he was born—which didn't help my feelings about him, and my embarrassment that I didn't immediately love him and find him perfect. His head looked like it had been through a fro-yo machine the first time I saw him, and his eyes crossed and dilated in anything but semi-darkness. He was so scrawny, with translucent skin and blue veins stretched over his amphibian bones, fresh out of amniotic water. Most women I talked to in those months said things like don't you wish you could bottle the smell of his head? Shamefully, his baby smell never did it for me, and the idea that I would find joy in something as ephemeral as his scent seemed like I was tempting the fates to take him.
I worried endlessly about his death, after all, manifesting in multiple nightmares a night which kept me awake for more hours than anyone should be awake. Here we are again, I thought, every exhausted morning when I came up with new ways to not play with my child. I'd stand in front of my son's closet, folding and refolding onesies and socks, making lists of things he "needed"; trying to find solace in something I was good at—consumerism—which never seemed to work. Or, I'd leave him here and there in the care of other women, whose help I was so lucky to be able to pay for—a privilege utterly unavailable to most mothers raising their children without community, without government and legislative support—and off I'd go, claiming a dermatologist appointment or workout class, mixed with acupuncture for my PTSD and two kinds of therapy, believing in the late capitalist sophistry that enough self care would make me happy.
Within a year, Guy's hair darkened and grew into soft brown baby curls, his big, tweety-bird eyes solidified in their sockets, and his full pout gave him the look of a tiny rock n roll star, pursing for a long-legged Bambi love interest. He started talking, and almost immediately became a little jokester. He's gentle and loving. I am proud of him. Proud of his kindness and curiosity. However I have to admit: music class at the local library, playdates, playgrounds, parks, and pretend still make me want to do almost anything else, still make my brain feel numb and bored and uninspired, desperate to focus on something more adult.
---
When the World Trade Towers fell on September 11, 2001, I had never heard of them. I'd never been to New York; I only knew the Empire State Building and the Statue of Liberty, which has a poem at the base that I had to memorize for history class when I was in eighth grade in Indiana, just a couple years before. The world was different then, I guess. The internet was nascent. I wasn't allowed to watch Sex and the City, or even Felicity; all I knew of New York was from the Bell Jar and a Tree Grows in Brooklyn, or the stories my maternal grandparents told me about their American dream childhoods.
Twenty years later, when I was established in my career as an art dealer, I took a call from a friend who was a curatorial representative at the Oculus, Calatrava's monolithic, spine-shaped, surreal hub which replaced some of the fallen buildings at Ground Zero. She was trying to fill an 800,000 square foot atrium—a stark white, soaring hall roofed by what look like architectural ribs—with art that could be engaging and impactful to the public. I immediately thought that whatever was in the rotunda could function as a respite for the heaviness visitors would be confronted with right outside. I started searching for something big and optimistic for her.
Nancy Rubins, an American sculptor who makes large-scale works by transforming heaps of industrially made items—like mattresses or single-person airplanes—into impressive sculptures came to mind. In one series, Rubins took aluminum animal-shapes, reclaimed from playgrounds, and welded them together in rhizomatic structures secured by ropes. They reminded me of the idea espoused by the early 20th century Dutch theorist Huizinga, in his seminal text Homo Ludens, that humans are driven by an innate desire for fun; that playing teaches biologically important skills and lessons, is a necessity fulfilled in different ways at different ages.
I sent my curator friend these works, sure she'd admire their spirit of buoyancy and cheerfulness, and she called me almost immediately. Thank you for sending your proposal, she said, leaking calm tears as she explained that they couldn't proceed with it. World Trade Center 5 had a nursery, she explained. The kids were all rescued, but it was such a traumatic moment—I don't think these sculptures would be right. I cried, too, when she told me. Of course I was horribly sad for those babies and their families—those tiny children just learning all the ways that life would allow them to play—living through an act of immense violence; an act completely at odds with joy and humanity. But it also made me think of the capacity for resilience and optimism that children have, and how they can feel protected and nurtured in so many ways.
Tremendous research has been done regarding the connections between mothers and children and the types of interactions that lead to kids becoming successful adults. The psychologist Beatrice Beebe has written extensively about the importance of simple recognition. From 10 minutes after birth, babies interact with adults, communicating through a series of small movements that mimic and react to behaviors they see around them. Beebe has been able to track patterns of interaction occurring as early as four months and favorably correlate them to future intelligence and social development. Her work has been used to support legislation at the state level to encourage more generous parental leave, as well as education for OBGYNs providing care to Medicaid patients.
I do not doubt that my lack of interest in play is related to the type of attachment I had to my own mother—who wasn't so into play herself—which I would guess could be in turn related to how she interacted with my grandmother, and so on. I also do not doubt that a factor in my feelings on play was my own mental state after Guy was born. For traumatized mothers—ones who had less than perfect childhoods themselves, or maybe those who suffer from any sort of postpartum depression and disappointment with the narratives surrounding motherhood, like me—connecting to and recognizing the emotional states of babies can feel like more of a challenge.
When you have a child, by any means, you owe it to that baby to do your best to love it and teach it to be loving, but perpetuating unattainable and unnecessary norms of what motherhood "should" look like—when research shows us that interaction, not specific to play, is what's essential—feels like just another way to judge women and birthing persons. Instead, we need to be facilitating conversations about all the ways being a mom can look; that there are wonderful parents for whom playing is second nature, and others, like me, for whom it's not. In a world that is more authentic and honest about the various realities of motherhood, we will inevitably be rewarded with more support for those diverging realities, a greater sense of community among parents, and a more broad and diverse narrative about what parenthood can be, which is essential to creating a world that is more just and equitable for all types of mothers everywhere.
I've made peace with the seeming contradictions in my love for Guy—that instead of going to the park, I prefer to take him for my matcha and a baked good outside of traditional meal times; or that I bring him as I run my own errands, asking him questions about school and life. It's okay that I've found the types of play that I can tolerate, like coloring, and enjoy those with him in short increments, usually less than 15 minutes. It's okay that when he asks me to engage in other types of play, I make a clear boundary. Mommy doesn't have fun doing that, but I will be right here reading while you do it! And then we can talk about it. Everybody likes different things. His daily, effusive joy and happiness is proof that he knows he is cared for, that he feels connected to me, that he knows we can lovingly interact, even if not via games of pretend.
Guy and I have our own world where we are enveloped in a bubble of our love, as different as it may appear when compared to other peoples' bubbles. When I walk down the street holding his small, warm hand, listening to him point out the new words he's learned like double-decker bus or maple tree in his sweet little stammering voice; when he asks me to stop at every deli to smell the dyed flowers outside in their plastic buckets and proclaim that each of them is yummy!; when he puts new sneakers on his pudgy, clumsy feet and walks like he put on new legs, I'm so filled with pride and love and a connection that exists with no one else.
Sarah Hoover
August 16th 2023
When it comes to experts on TV, women are still neither seen nor heard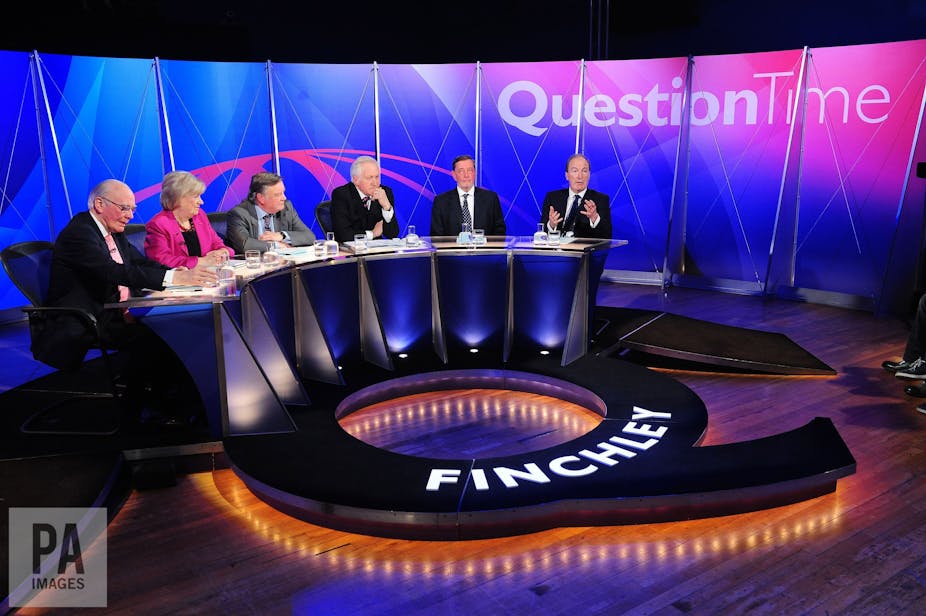 What does an "expert" look like? If you took the example of news media, it would invariably be a man; usually – in Britain anyway – a white, middle-aged man.
Women make up roughly half of the world's population and have also increased their representation in public life over the past ten years. And yet when journalists reporting for television, radio or newspapers turn to an expert, it tends to be male. But while you may have started to notice that every panel on TV has three men to every woman, you might not realise just quite how extensive this imbalance is.
Since 1995, the Global Media Monitoring Project has carried out research into gender and the media. Every five years, volunteers around the world record a snapshot of the gender representations in news stories over one day. The methodology of the survey has been updated and improved with each survey – and 114 countries participated in the last one. Sadly, the results have changed comparatively little. According to the Who Makes the News report, compiled from the findings in 2015, in newspaper, television and radio news women accounted for just 24% of the people heard, read about or seen. That figure hasn't changed since 2010. In addition, only 10% of all stories focused on women, a figure unchanged since 2000.
You might assume those numbers are skewed by countries where women play less of a role in society. However Lis Howells of City University in London has analysed the numbers of female contributors on the UK's flagship broadcast news programmes – including ITV News at Ten, Channel Four News and the Today programme on BBC radio 4. Her research has shown that male contributors still outnumber women by three to one – and that's an improvement from six to one in 2011 thanks in part to a campaign by Broadcast Magazine.
Disinformation is dangerous. We fight it with facts and expertise
But there is an additional problem. When women do appear in broadcast news, according to journalism academics Karen Ross, Karen Boyle, Cynthia Carter and Debbie Ging, they invariably fall into several stereotypical categories. Increasingly they tend to be interviewed about their personal experience – often as victims of crime, or as parents or as consumers. They also appear far more often than men in health stories. Where they tend to appear far less is as authoritative or elite sources in political or economic stories.
The Fawcett Society highlights that the press also tends to mention what women are wearing. This is also true of the coverage of sportswomen. Meanwhile, the images of women we are given in many newspapers are generally sexualised and stereotyped. It's an issue the campaign group Object highlighted to the Leveson Inquiry into press standards. Anna Van Heeswijk, the CEO of Object, told the inquiry that in many cases there was "no marked difference" between pornography and some of the pictures in the UK tabloids.
As a political journalist for the BBC Northern Ireland programme Hearts and Minds for around a decade, I spent a lot of time trying to find female contributors – but if women simply didn't want to take part, it then seemed acceptable to fall back on the male experts who were generally available and spoke well. As a listener to the media I used to produce, a lot of the time I still hear the same men on air that I was interviewing five years ago.
Everyday sexism
It's easy to understand why women can be reluctant to be interviewed for broadcast. When a woman gives her opinion in public there's always the chance she is opening herself up to abuse. The renowned professor of classics, Mary Beard, suffered intense online trolling after appearing on television. And when the Guardian analysed 70m online comments on its articles, it found that of the ten people who received the most abuse, eight were women.
In addition to that, women tend to find it harder than men to ignore "imposter syndrome" – where they feel as if they are not qualified to talk about a given subject, even if they are experts. And while there have been campaigns by broadcasters to offer media training to women, unless these potential new contributors are flagged up to journalists, they are unlikely to be used.
The issue of women in news and current affairs broadcasting was the subject of an inquiry by the House of Lords Communications Committee in 2015. Its report called on public service broadcasters "to reflect society by setting the standard in ensuring gender balance". Similarly, the National Union of Journalists highlighted the low numbers of female senior managers in news organisations – and the Lords committee report backed the union's recommendation that this be addressed through positive action in recruitment and promotions.
Token efforts
In 2014, Danny Cohen, then the BBC's director of television, told The Observer that the BBC would no longer broadcast all-male panel shows. This seems like a step forward, but there is a danger of that smacking of tokenism – as Buzzfeed has shown.
Despite refusing to join Broadcast Magazine's campaign (the BBC explained as a public broadcaster its "primary role is to ensure the people who appear on our programmes are qualified to tackle the issues we explore"), the corporation launched an "Expert Women" training course in 2014.
A number of organisations have begun to compile their own lists of female experts – in an attempt to counter the argument that women speakers are not out there. In the Republic of Ireland the group Women On Air has increased the number of women appearing on the national broadcaster RTE through their creation of The List. The Women's Room – which campaigns on the issue – has a database of female experts.
But this is not a problem that women should have to solve. Many are now challenging and mocking gender inequality when they see it. The Twitter account Academic Manel Watch (@manelwatchire) was set up to object to the use of all-male panels in Irish academia. It follows on from the successful AllMalePanels blog with its distinctive "Hoffsome" stamp. And that's a badge of honour that no organisation should want to be awarded.
Fake news, disinformation, conspiracy theories …
If you are struggling to know who or what to trust, it's little wonder. The consequences are real: democracy is threatened and, in some extreme cases, civil unrest and even armed conflict erupt. Now, more than ever, people need to be able to turn to reliable, evidence-based and non-partisan journalism. I help curate our daily email and this is what it offers: trusted news written by academics and experts.
Jonathan Este
Associate Editor, International Affairs Editor
When we give AI a humanoid form, we typically choose the robot to have feminine characteristics. Are we playing on stereotypes?
By Mark Shea7th August 2023
When we give AI a humanoid form, we typically choose the robot to have feminine characteristics. Are we playing on stereotypes?
There is a popular idea that artificial intelligence (AI) is out to get us.
It was this public image problem that the United Nations was recently trying to address at its AI for Good conference in Geneva.
The event in July was intended promote AI to help solve global problems, and it was described as the largest-ever gathering of humanoid robots.
There was Ai-Da (the "world's first ultra-realistic humanoid robot artist") and Grace (the "world's foremost nursing assistant robot") as well as Sophia, Nadine, and Mika. There was even a rock star robot, Desdemona.
All of these androids have one thing in common – they are all female by design. So why is it that creators typically choose to give their robots feminine characteristics?
It is often argued that the choice to make AI voice systems female is rooted in gender bias. But sometimes there is a more innocent reason for the sex a designer gives their robot: they have modelled it on themselves.
You might also like:
This is the case with Nadine, whose creator Nadia Magnenat Thalmann describes her as a "robot selfie". Meanwhile, Geminoid, the only robot at the conference that was explicitly male, is the spitting image of its maker, Japanese roboticist Hiroshi Ishiguro.
One of the keynote speakers at the conference was Ai-Da, an AI machine which can draw, paint and sculpt, and is also a performance artist.
Lisa Zevi, head of operations for the Ai-Da project, tells the BBC that in this particular case, there was a good reason for giving Ai-Da a broadly female look.
"Female voices are typically very underrepresented in both the art and technology spaces," she says. "We want to give a voice to those underrepresented groups effectively."
Specifically, Ai-Da's persona is inspired by Victorian mathematician Ada Lovelace – considered by many to be the first computer programmer – as is her appearance.
Other than those robots modelled on an individual, one particular reason is often suggested for choosing a female robot: we have an innate preference for women's voices.
Karl MacDorman, an expert in robotics and human-computer interaction from the University of Indiana in the US, believes this argument may have a basis. He has conducted research which has found that women prefer women's voices, and men do not really have a preference.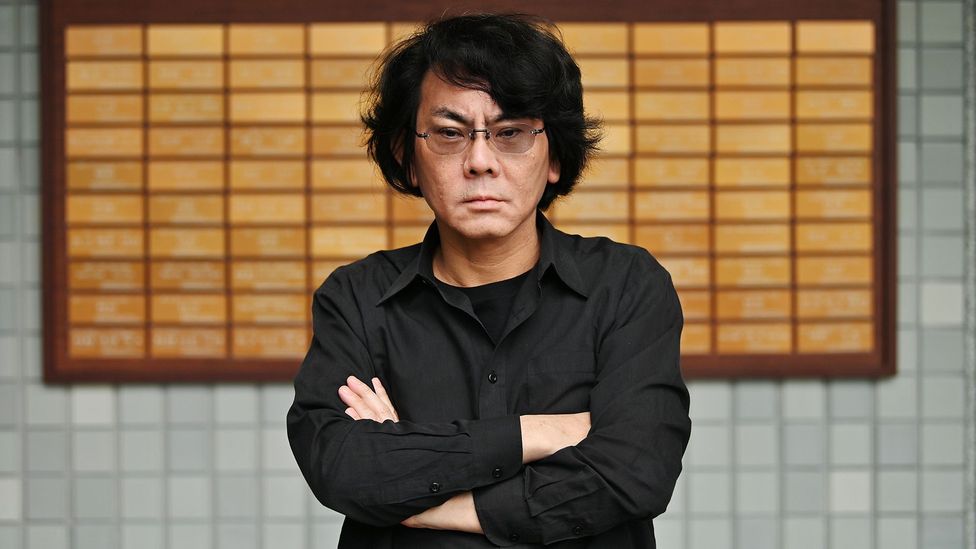 Japanese roboticist Hiroshi Ishiguro is one of the few designers to make a human-like robot with male features (Credit: Getty Images)
By testing their reactions to voices, the research found a discrepancy between what people report on questionnaires and what they really feel – women like a female voice far more than they admit, and men say they greatly prefer a female voice on questionnaires (even though they don't really care).
"Thus, a female voice may work better for both groups. Women on average are happier interacting with female voices, and men believe they should be happier, even if they're indifferent," MacDorman concludes.
This might not tell the whole story though.
Early versions of AI like Siri and Alexa were given female voices, and MacDorman's work has been quoted as justification for this choice. Yet he believes some major corporate decisions had already been made for entirely different reasons, and his findings were simply convenient.
Women like a female voice far more than they admit, and men say they greatly prefer a female voice on questionnaires
"I suspect they had made their decision before I had published any work on this topic," he says. "They probably made the decision for reasons that are unconscious, or reasons that they might not like to admit to, and then they need the justification for it later when they are challenged."
MacDorman believes our own expectations may play a bigger part in the decision-making than many designers are prepared to admit. "In terms of quality of service or customer service roles I think that they may be more associated with women than with men.
"The initial stereotype then becomes reinforced just because it becomes a popular choice to give artificial intelligence a female voice."
MacDorman believes that this could be considered sexist, because the roles that AI typically performs – delivering information or customer service – are in a sense servile.
And he hints that this may also play into male fantasies.
Kathleen Richardson, professor of ethics and culture of robots and AI at the UK's De Montfort University, remembers when humanoid robots did not typically take an adult female form.
"In the lab that I was in [15 years ago], they always made them child-like," she tells the BBC. "The idea was, if they were childlike, they wouldn't be threatening to people, and people would be more comfortable with inviting them into their home."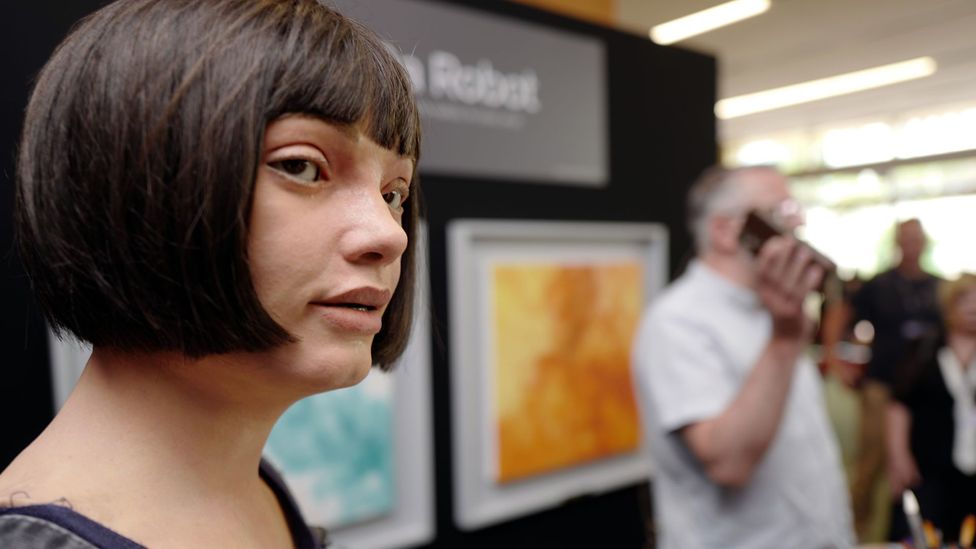 Ai-Da has been described as the "world's first ultra-realistic humanoid robot artist" (Credit: Getty Images)
Richardson says this drive to make androids less threatening has morphed into the female forms that we see today, and it is driven by the preoccupation that we have about the increasing role that technology is playing.
"You've got to dislodge this very deep fear of depersonalisation and dehumanisation that comes with introducing more technologies into our lives, particularly in our personal arenas," she says.
"People write reams of how terrifying it is, how the terminators are around the corner. That would be terrifying to have in the home, right?"
MacDorman – who has also worked with robots for decades – agrees these fears had a role in robot design, especially early on. "A female android is generally considered more approachable, especially for children, so it was considered better suited to human-robot interaction experiments," he says.
We can't just transfer what's going on inside people and inside people's relationships to these new artefacts – Kathleen Richardson
This tallies with his experience of working on robots in Japan between 2003 and 2005 – many of the experiments were with children and the team he worked with believed a female android seemed less threatening.
But Richardson suspects that there may be an altogether more basic motive at play in modern designs of humanoid robots.
She likens robots to art – what you see is just an image on a surface – and believes that robot design suffers from the same issues that modern art critics often lament when they appraise historical paintings.
"There was a famous theorist called Laura Mulvey who talked about the male gaze in art, and how male artists were representing female figures. They were normally representing them as submissive, as naked, as objects of male desire. And I think in a way, we're seeing the male gaze just replicated in robotics, because these are just images on surfaces – there's nothing that that sits behind these images. There's no sentient being. There's no life.
"We can't just transfer what's going on inside people and inside people's relationships to these new artefacts that are created."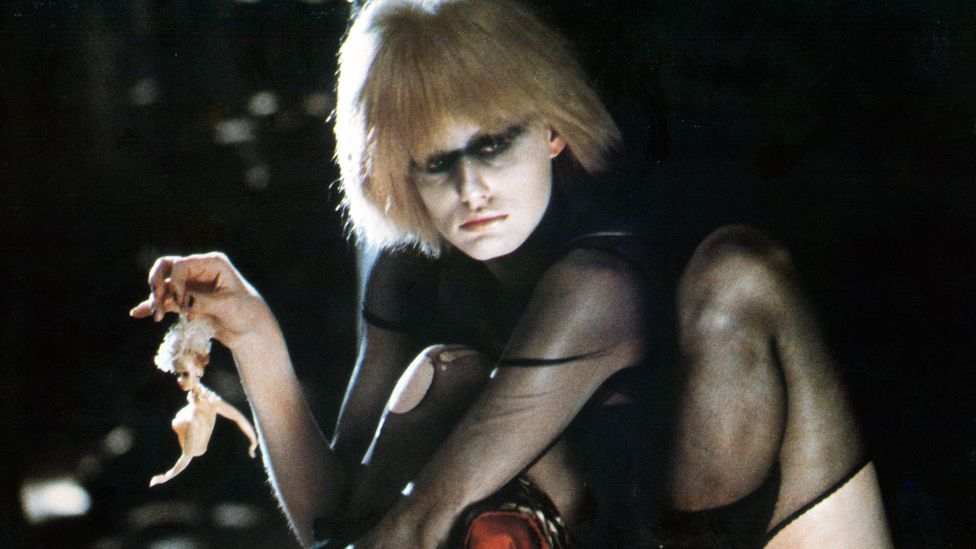 The sci-fi film Blade Runner is one movie which explored the idea of artifical humans created for sexual purposes (Credit: Warner Bros/Getty Images)
When she looks at the anthropomorphic adult female figures on display at the Geneva conference, Richardson says she sees "a bunch of puppets".
MacDorman agrees that heterosexual male designers – and it is a very male-dominated industry, he says – are choosing to make their creations female because of their interest in the opposite sex.
"There's definitely a sexualisation. The more realistic the robot and the more realistic the voice, the greater the tendency to sexualise it. If it's something very realistic, there's the tendency to see it or to treat it as if it were human. It's kind of pressing our Darwinian buttons, so to speak," he says.
Where could this sexulisation of robots end up? Richardson fears a future in which robots are routinely used for sexual purposes. Her Campaign Against Porn Robots aims to draw attention to the ethical harm of normalising such uses of this technology.
The idea of having sex with an android has existed in mainstream entertainment for decades, in science fictions films such as Blade Runner, AI Artificial Intelligence, Her and Ex Machina.
In her book Man-Made Women, Richardson warns of a growing trend – the idea has jumped from science fiction to morning talk shows and music videos. Sex doll brothels are opening in Barcelona, Berlin and Moscow.
There's a concern generally with AI, especially when it's related to sex: human relationships are difficult – Karl MacDorman
"For those wanting to attend talks on the subject there is even an annual international conference on love and sex with robots," she writes.
She cautions that there would be a massive cost to normalising such interaction. "What we're building into society is this very egocentric idea that actually what a single human being is feeling and thinking and experiencing is "a relationship". So they can project onto an AI avatar all these feelings.
"But people know intuitively, a relationship involves two parties. It's not just something happening in one person – it has to be something that happens between you and another person. And the relationship is the bit in the middle, really, isn't it? It's not going on just on one side or the other."
MacDorman sees the potential for a growing industry to evolve around this function.
"There's a concern generally with AI, especially when it's related to sex: human relationships are difficult. There's risk involved with any kind of intimacy, and AI is more compliant."
Some people find pornography easier than dating, he says, and AI could provide a way of avoiding the effort of dealing with other human beings, and the fear of rejection that this brings.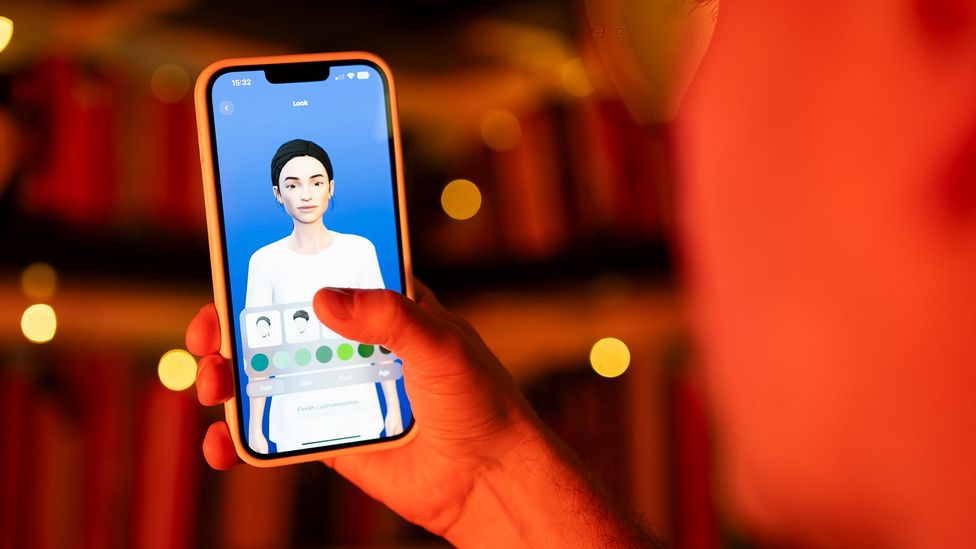 Many recent AI assistants have also taken on a female form – a trend that has become hard to reverse (Credit: Getty Images)
One particular danger, he says, is that the often servile nature of AI can feed people's narcissism.
But the high price of such robots may act as a limit to their adoption. "In order to build an android, there's considerable cost relative to other kinds of robots," he says. "To make them realistic is expensive."
He sees more of a future in animated characters which are interactive, rather than three-dimensional humanoid "companion bots". "Pretty much anything with moving parts is going to be problematic. Think about the attention the automobile requires compared to whatever computer you're working on.
"You probably use the computer for a much longer period of time throughout the day, and it requires much, much less attention."
He thinks that regardless of our erotic desires, humanoid robots will therefore remain unaffordable for most consumers.
Most – but not all. "Just as some people can afford supercars, there will be those who can afford androids," he says.
July25th 2023
Laura Whitmore on incels, rough sex and cyber stalking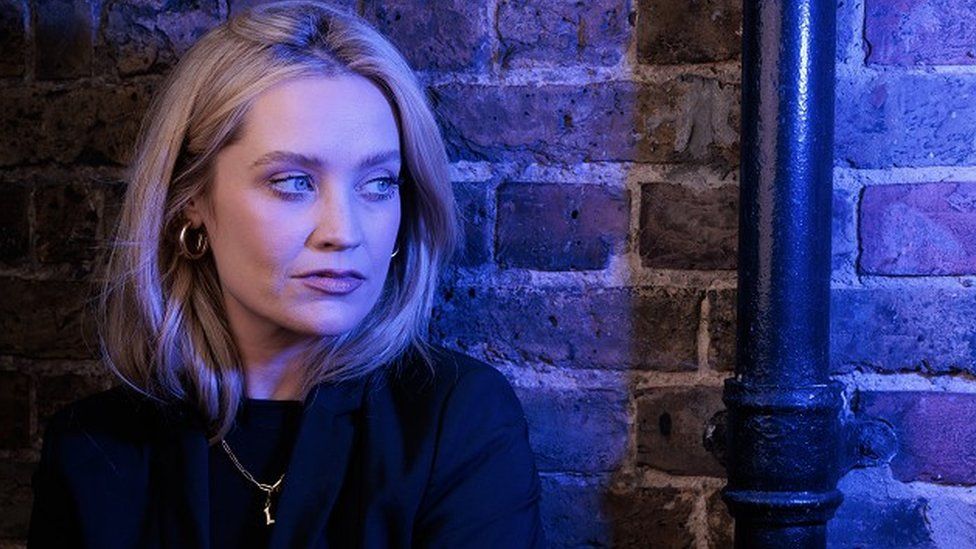 By Helen Bushby
Entertainment reporter
Broadcaster Laura Whitmore is arguably most famous for appearing on shows with a "fluffy façade", such as Love Island and Celebrity Juice, but her upcoming TV series could not be more different.
It started as a documentary idea about incels – young men describing themselves as "involuntarily celibate", who hold misogynistic beliefs, with some launching violent attacks.
But this soon morphed into two more episodes on rough sex and cyber stalking.
"Although I've worked on things that might have a fluffy façade, I've always dealt with dark situations – we all do in life," she tells the BBC.
Her goal was for the series to explore topics that are "really important, and that I feel are worth it".
The result was ITV's Laura Whitmore Investigates. We see her flex her editorial muscles, having done a journalism degree at the start of her career.
ITV's controller of factual programmes, Jo Clinton Davis, has said the issues in the series "feel like peculiarly 21st Century threats emerging from, or aggravated by, our online world".
Whitmore is hoping to offer a fresh perspective, saying: "I think it hasn't really been looked at this way, from a female who is known probably from a more entertainment, glitzy side."
It is quite a juxtaposition with her recent work on ITV, as former host of reality dating show Love Island, and team captain on comedy panel series Celebrity Juice.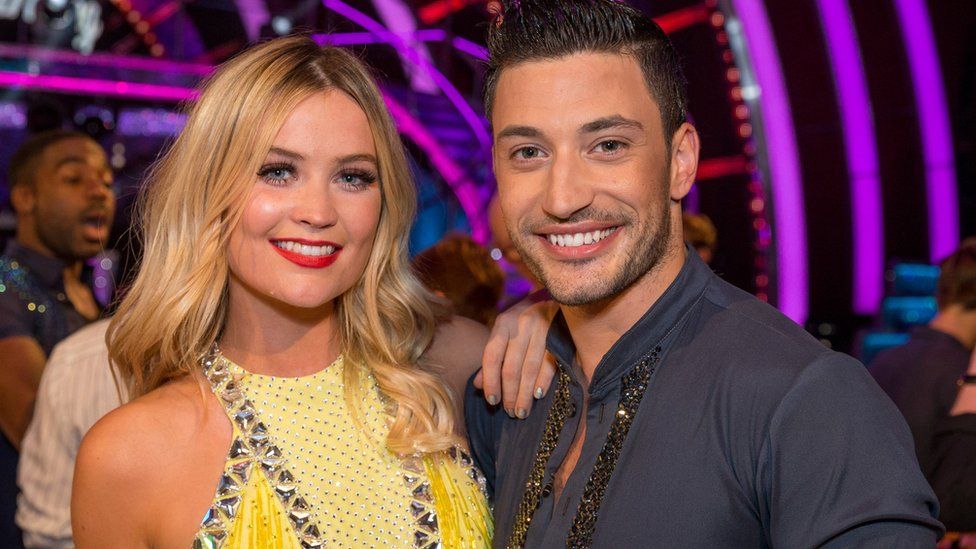 She has tackled serious issues before, however, joining campaigners in 2018 calling for the criminalisation of upskirting, the taking of an image or video under somebody's clothing.
Whitmore was not afraid to tackle the complex, often troubling documentary subject matter, even if it meant putting herself into uncomfortable situations.
"I came into this to try, as much as I could, to be without prejudice – a blank canvas – because they're not necessarily my stories," she says.
"I'm a female in her 30s who has definitely dealt with misogyny – but not to the extremes that a lot of women and men who I talk to.
"One thing I've learned over my career is that you need to question things you're not okay with and don't understand. And you can completely change your mind."
In the cyber stalking episode, Whitmore reveals that she herself has been stalked.
She tells the BBC: "I had an incident, and at the time, I was told, 'It's just part of the world you live in; that's the job you do,' and it was common to have to deal with it."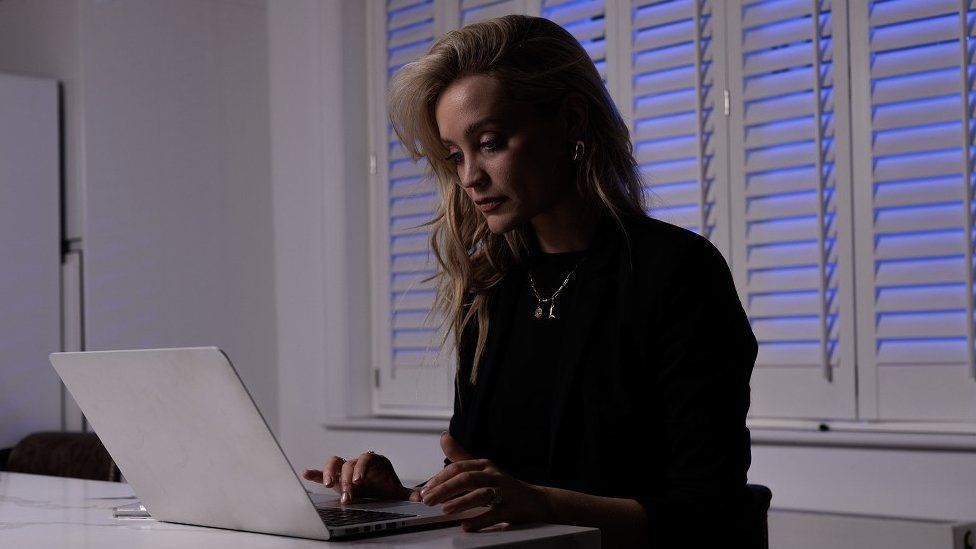 Whitmore meets cyber-stalking victims and spends time with the UK's first special stalking police unit, learning what can be done to properly tackle the problem.
She also speaks to a tech company helping victims by "stalking the stalkers" to reveal their identity.
"We are a lot more vulnerable than we know," she says.
"People have access to us in a way I couldn't possibly understand beforehand.
"It's not just stalking someone hiding in the bushes outside your house, this is ex-partners still having control over the Alexa in the house and the heating, and ordering pizza in the middle of the night.
"If you add all these together, it is harassment. And I can see what it's done to victims. A lot of them don't want to leave their house now."
Whitmore does not shy away from exposing her own vulnerabilities in the series, something which was also very apparent the day after her friend Caroline Flack took her own life in 2020.
Fighting back tears on her Radio 5 Live show, she paid tribute to the "vivacious" and "loving" ex-Love Island host and appealed to listeners to "be kind" to others.
Whitmore reflects back on this incredibly difficult moment.
"I think I did it because I needed to do if I'm honest with you, at that time. I said what I needed to say. But I still don't think I've fully dealt with that if I'm honest."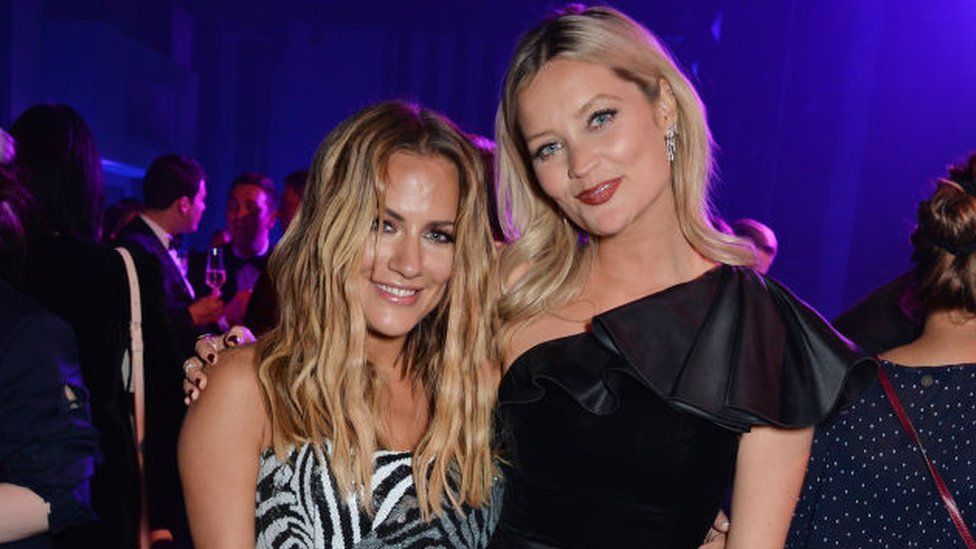 Whitmore also reveals she had an unexpected response after interviewing an incel in the US with a big social media following, for the documentary series.
She admits she had been "nervous", given he was so openly hostile to women.
"I'm leaving myself vulnerable. So I'm not gonna lie. I was a little bit hesitant," she says. "But you don't get anywhere in life burying your head in the sand.
The interviewee did not show his face to her.
"I was really surprised… he was wearing a mask – that could be quite a intimidating situation.
"And then l left feeling sorry for the man I've interviewed. That wasn't expected.
"This was a man who from a young age needed help and never got it."
She stresses that while she does not in any way condone his views and videos, she did gain much more understanding, having heard him talk about his early life.
"And I think when we understand the why, we're like, 'Well, how do we stop that? Is there a way we can reach out and help them?'"
'A bit embarrassed'
Whitmore feels that we "we don't deal with or talk about" difficult issues enough", which is why she's keen to raise difficult issues in her series.
"I know I've been in situations before where it's easier to say nothing than be uncomfortable. But I think it's important to be uncomfortable," she adds.
The rough sex episode is a case in point.
Whitmore is exploring its "dark side", and asks whether "increasingly liberal attitudes to sex promote sexual violence".
We see her attend a BDSM workshop and a pornographic film shoot.
"I grew up in Catholic Ireland and went to a convent school, and you didn't really talk about sex, and were kind of a bit embarrassed," she says.
"There's so much more conversation around the importance of consent than I thought, when it comes to talking about what we are okay with – and not okay with."
In the same episode, we see her meet the families and victims of rough sex.
Whitmore asks if BDSM culture has "given men the excuse they need to get away with murder", highlighting the women killed by men who have gone on to claim in court it was a "sex game gone wrong".
This episode had the biggest impact on her personally.
"I think that's because I spoke to so many victims' families," she says.
"I started my career in a newsroom, and always thought I wasn't built for it because I was probably too emotional as a person. I found it really hard to step away. And I still do now."
'I feel really protective'
We see her crying on camera when she speaks to the relatives.
"I think with documentary making, it's okay to have a bit of emotion in there," she explains. "But I found that really hard."
As associate producer, she was also able to tell the families and women she spoke to about the documentary as a whole.
"I said to them,'Look, I'm going to BDSM workshops at the start but that's nothing to do with this part of it.' So I felt at least I have a chance to look at the edit and go, 'Can we move this around?'
"I feel really protective over how we display those interviews, and how they're done."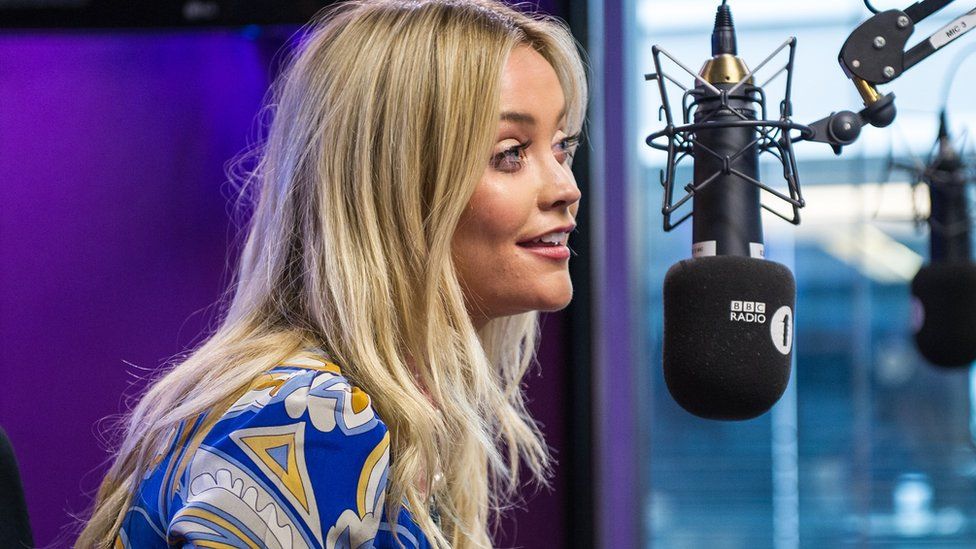 Whitmore, whose career also includes hosting podcasts and starring in West End supernatural thriller 2:22, says making the documentaries was also about "claiming my power… and personal autonomy".
"I'm in my 30s now, so it's very different from when I started out on MTV in my early 20s."
But she doesn't think she could do documentaries full-time.
"I still love entertainment. I think I need both," she says.
"I just enjoy people. I enjoy storytelling. I find that fascinating."
Laura Whitmore Investigates is available to stream on ITVX from 27 July
Related Topics
More on this story
June 18th 2023
How did patriarchy actually begin?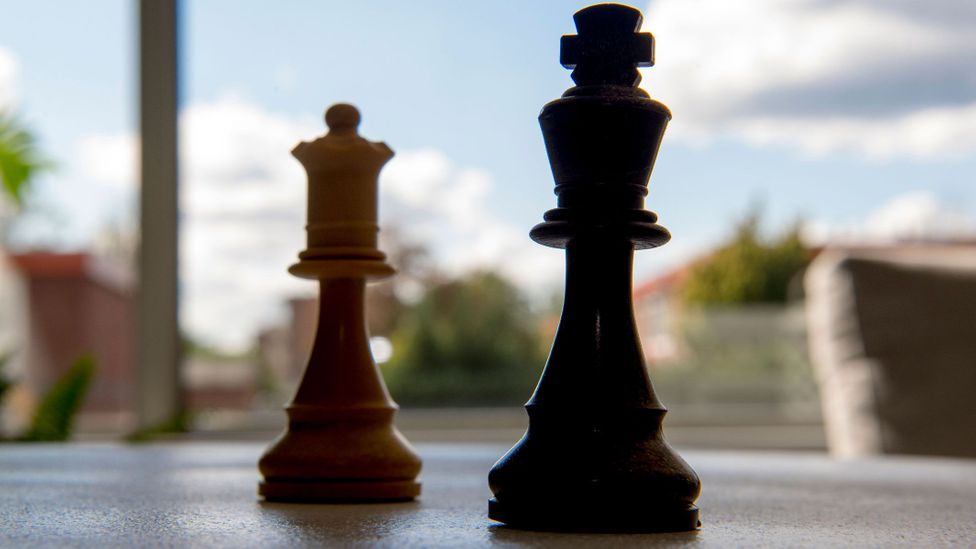 By Angela Saini30th May 2023
For centuries, people have held mistaken assumptions about the origins of male-dominated societies, writes Angela Saini.
I
In 1930, when London Zoo announced its baboon enclosure would be closing down, the story made headlines.
For years, "Monkey Hill", as it was known, had been the scene of bloody violence and frequent fatalities. The US news magazine Time reported on the incident that proved to be the final straw: "George, a young member of the baboon colony, had stolen a female belonging to the 'king,' the oldest, largest baboon of Monkey Hill." After a tense siege, George ended up killing her.
Monkey Hill cast a long shadow over how animal experts imagined male domination. Its murderous primates reinforced a popular myth at the time that humans were a naturally patriarchal species. For zoo visitors, it felt as though they might be peering into our evolutionary past, one in which naturally violent males had always victimised weaker females.
In truth, Monkey Hill wasn't normal. Its warped social environment was the product of too many male monkeys being placed with tragically too few females. Only decades later – with the discovery that one of our closest genetic primate relatives, bonobo apes, are matriarchal (despite the males of the species being bigger) – have biologists accepted that patriarchy in our own species probably can't be explained by nature alone.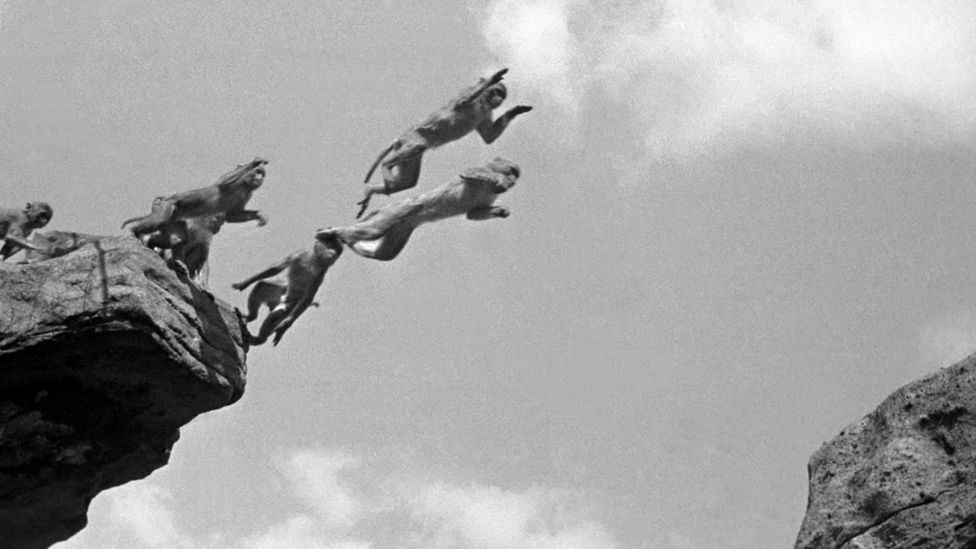 What was happening at Monkey Hill in London Zoo was not typical (Credit: Getty Images)
Over the past few years, I've been travelling the world to understand the origins of human patriarchy for my book The Patriarchs. I learned that, while there are many myths and misconceptions about how men came to have as much power as they do, the true history also offers insights into how we might finally achieve gender equality.
For starters, human ways of organising ourselves actually don't have many parallels in the animal kingdom. The word "patriarchy", meaning "rule of the father", reflects how male power has long been believed to start in the family with men as heads of their households, passing power from fathers to sons. But across the primate world, this is vanishingly rare. As anthropologist Melissa Emery Thompson at the University of New Mexico has observed, inter-generational family relationships in primates are consistently organised through mothers, not fathers.
Among humans, patriarchy isn't universal either. Anthropologists have identified at least 160 existing matrilineal societies across the Americas, Africa, and Asia, in which people are seen to belong to their mothers' families over generations, with inheritance passing from mother to daughter. In some of these communities, goddesses are worshipped and people will stay in their maternal homes throughout their lives. Mosuo men in southwestern China, for instance, might help raise their sisters' children rather than their own.
Often in matrilineal communities, power and influence are shared between women and men. In matrilineal Asante communities in Ghana, leadership is divided between the queen mother and a male chief, who she helps to select. In 1900, the Asante ruler Nana Yaa Asantewaa led her army in rebellion against British colonial rule.
You may also like:
The further we dive into prehistory, the more varied forms of social organisation we see. At the 9,000-year-old site of Çatalhöyük in southern Anatolia in modern-day Turkey, once described as the oldest city in the world for its size and complexity, almost all the archaeological data points to a settlement in which gender made little difference to how people lived.
"Most sites that archaeologists dig, you find that men and women, because they have different lives, they have different food and they end up with different diets," according to archaeologist Ian Hodder at Stanford University, who led the Çatalhöyük Research Project until 2018. "But at Çatalhöyük you don't see that at all." Analysis of human remains suggests that men and women had identical diets, spent around the same amount of time indoors and outdoors, and did similar kinds of work. Even the height difference between the sexes was slight.
Women weren't invisible, either. Excavations of this and other sites dating to around the same time have unearthed an abundance of female figurines, now filling the cabinets of local archaeological museums. The most famous of these is the Seated Woman of Çatalhöyük, today behind glass at the Museum of Anatolian Civilizations in Ankara. It depicts a woman sitting upright, her body deeply indented with age and glorious rolls of fat spilling out around her. Underneath her resting arms appear to be two big cats, possibly leopards, looking straight ahead as though she had tamed them.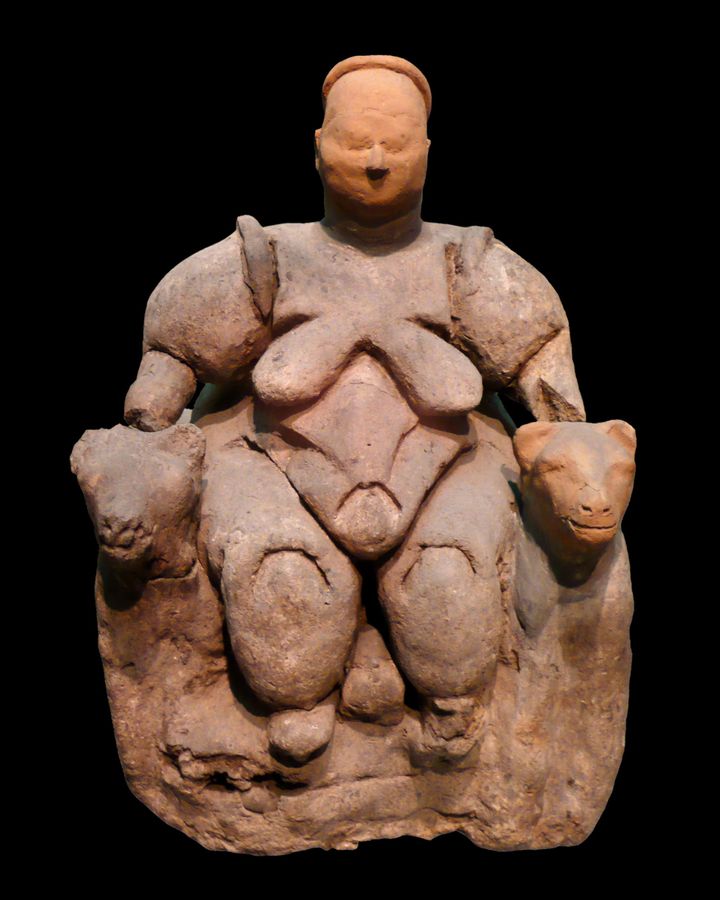 The Seated Woman of Çatalhöyük – an early female ruler (Credit: Museum of Anatolian Civilisations/Wikimedia Commons)
As we know, the relatively gender-blind way of life at Çatalhöyük didn't continue forever. Over thousands of years, social hierarchies gradually crept into this broader region, which spans modern-day Europe, Asia, and the Middle East. Thousands of years later, in cities like ancient Athens, entire cultures had developed around misogynistic myths that women were weak, not to be trusted, and best confined to the home.
The big question is why.
Anthropologists and philosophers have asked whether agriculture could have been the tipping point in the power balance between men and women. Agriculture needs a lot of physical strength. The dawn of farming was also when humans started to keep property such as cattle. As this theory goes, social elites emerged as some people built up more property than others, driving men to want to make sure their wealth would pass onto their legitimate children. So, they began to restrict women's sexual freedom.
The problem with this is that women have always done agricultural work. In ancient Greek and Roman literature, for example, there are depictions of women reaping corn and stories of young women working as shepherds. United Nations data shows that, even today, women comprise almost half the world's agricultural workforce and are nearly half of the world's small-scale livestock managers in low-income countries. Working-class women and enslaved women across the world have always done heavy manual labour.
More importantly for the story of patriarchy, there was plant and animal domestication for a long time before the historical record shows obvious evidence of oppression based on gender. "The old idea that as soon as you get farming, you get property, and therefore you get control of women as property," explains Hodder, "is wrong, clearly wrong." The timelines don't match up.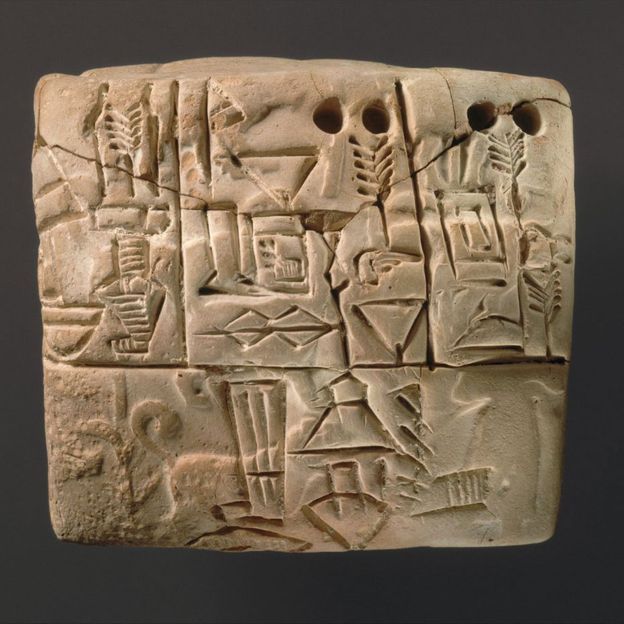 A Mesopotamian cuneiform tablet from Uruk, featuring an impression of a male figure, hunting dogs, and boars (Credit: Getty Images)
The first clear signs of women being treated categorically differently from men appear much later, in the first states in ancient Mesopotamia, the historical region around the Tigris and Euphrates rivers in what is now Iraq, Syria and Turkey. Around 5,000 years ago, administrative tablets from the Sumerian city of Uruk in southern Mesopotamia show those in charge taking great pains to draw up detailed lists of population and resources.
"Person power is the key to power in general," explains political scientist and anthropologist James Scott at Yale University, whose research has focused on early agrarian states. The elites in these early societies needed people to be available to produce a surplus of resources for them, and to be available to defend the state – even to give up their lives, if needed, in times of war. Maintaining population levels put an inevitable pressure on families. Over time, young women were expected to focus on having more and more babies, especially sons who would grow up to fight.
The most important thing for the state was that everybody played their part according to how they had been categorised: male or female. Individual talents, needs, or desires didn't matter. A young man who didn't want to go to war might be mocked as a failure; a young woman who didn't want to have children or wasn't motherly could be condemned as unnatural.
As documented by the American historian Gerda Lerner, written records from that time show women gradually disappearing from the public world of work and leadership, and being pushed into the domestic shadows to focus on motherhood and domestic labour. This combined with the practice of patrilocal marriage, in which daughters are expected to leave their childhood homes to live with their husbands' families, marginalised women and made them vulnerable to exploitation and abuse in their own homes. Over time, marriage turned into a rigid legal institution that treated women as property of their husbands, as were children and slaves.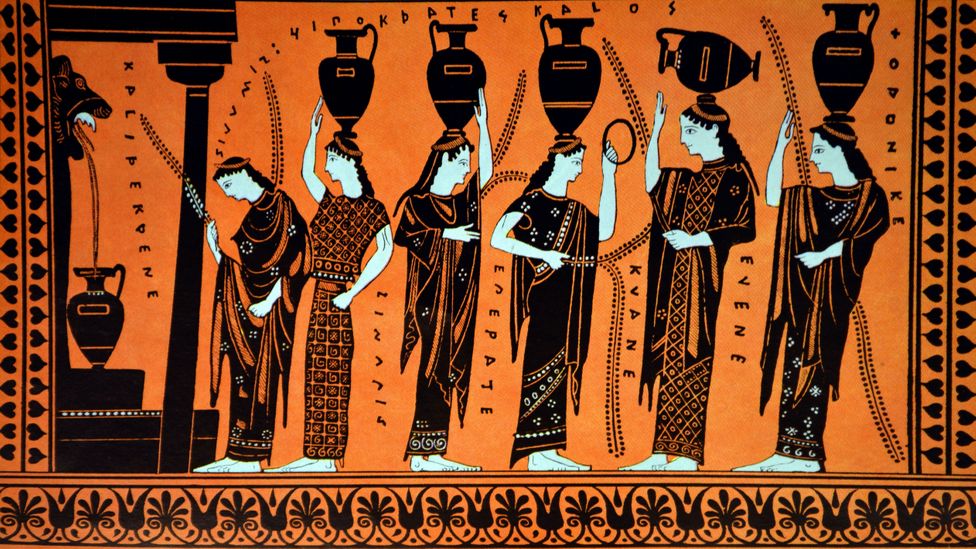 Greek pottery, dated to 400BC, depicting women collecting water for a bride (Credit: Getty Images)
Rather than beginning in the family, then, history points instead to patriarchy beginning with those in power in the first states. Demands from the top filtered down into the family, forcing ruptures in the most basic human relationships, even those between parents and their children. It sowed distrust between those whom people might otherwise turn to for love and support. No longer were people living for themselves and those closest to them. Now, they were living in the interests of the patriarchal state.
A preference for sons is still a feature of traditionally patriarchal countries today, including India and China, where the bias has led to such high rates of female foeticide that sex ratios are grossly skewed. The 2011 Indian Census showed it had 111 boys for every 100 girls, although data suggests these figures are improving as social norms change in favour of daughters.
Exploitation of women within patriarchal marriages continues. Forced marriage, the most extreme version of this, was designated a form of modern-day slavery by the International Labour Organization in its statistics for the first time in 2017. The most recent estimates, from 2021, indicate that 22 million people globally live in forced marriages.
The lasting psychological damage of the patriarchal state was to make its gendered order appear normal, even natural, in the same way that class and racial oppression have historically been framed as natural by those in power. Those social norms became today's gender stereotypes, including the idea that women are universally caring and nurturing and that men are all naturally violent and suited to war. By deliberately confining people to narrow gender roles, patriarchy disadvantaged not just women, but also many men. Its intention was only ever to serve those at the very top: society's elites.
Like Monkey Hill at London Zoo in the 1920s, then, this is a warped system, one that has fostered distrust and abuse. Movements for gender equality across the world are symptoms of the social tension humans have been living with in patriarchal societies for centuries. As the political theorist Anne Philips has written, "Anyone, given half a chance, will prefer equality and justice to inequality and injustice."
As daunting as the struggle against patriarchy may feel at times, though, there is nothing in our nature that says we can't live differently. A society made by humans can also be remade by humans.
*Angela Saini is a science journalist and author of four books. This essay is based on her latest, The Patriarchs: How Men Came to Rule, which was recently shortlisted for the Orwell Prize.
May 4th 2023
News – 19 April 2023 18:17
Woman jailed following fatal stabbing in Croydon
A woman has been jailed for the murder of her partner in Croydon.
Kamila Ahmad, 24 (10.08.98) of Robinhood Lane, Mitcham appeared at Croydon Crown Court on Wednesday, 19 April where she was sentenced to a minimum of 23 years after earlier being found guilty of fatally stabbing 19-year-old Tai Jordan O'Donnell.
At the same trial, she was also found guilty of causing grievous bodily harm on another man in 2015 and was sentenced to seven years, to be served concurrently.
Detective Sergeant Dave Brooks, from the Specialist Crime Command, said: "Tai was a much-loved son and brother and his death has left his family completely devastated and their lives will never be the same and our thoughts remain with them."
On 3 March 2021, police and the London Ambulance Service were called to a stabbing at a flat on Alpha Road in Croydon.
On arrival, officers found a man – later identified as Tai – laying on the sofa with several stab injuries, he was pronounced dead at the scene having been injured some hours before the alarm was raised. His cause of death was later confirmed as severe blood loss due to a wound to the left thigh.
Blood pools were discovered throughout the property as well as outside the entrance. It was clear that Tai had been moved whilst seriously injured but no call for help was made. Efforts had been made to clean the scene as evidenced by the increased presence of cleaning fluids and blood stained bedding, clothing and trainers piled at the washing machine.
Detectives from the Met's Specialist Crime Command immediately launched a murder investigation and Ahmad was arrested two days later, claiming she knew nothing about Tai's death.
When officers searched an address linked to Ahmad, they found items discarded by Ahmad including a bloodstained rucksack and jacket. When forensically tested, they were found to be a DNA match to Tai.
The court heard that Ahmad had also carried out a knife attack on another man almost six years before the murder, in July 2015, following an argument over a remote control. The victim, Ahmad's then partner, was stabbed three times before being moved into the street in an attempt to mislead police into believing that he had been attacked by an unknown third party. He did not initially wish to proceed with a prosecution against Ahmad but upon hearing of the murder of Tai felt compelled to support the investigation.
Hearing the parallels of the two offences enabled the jury to reject a claim of self-defence made by Ahmad who had inflicted the same behaviours and violence upon both partners.
DS Brooks, added: "We wish to reaffirm that the Met will take all instances of domestic abuse seriously and urge anyone living with violence no matter what their gender to seek help."
Subjects
Categories
Metropolitan Police
Media Enquiries: Contact 0207 230 2171 or press.bureau@met.police.uk
April 25th 2023
Women now dominate the book business. Why there and not other creative industries?
April 4, 20236:31 AM ET
Mohamed Hassan/Pixabay
Ever since she was a little girl, Jessie Gaynor has had a passion for books. Whether classic literature or YA fiction, she spent her youth devouring novels. She wouldn't just read them. She would reread them, sometimes the same book over and over again.
"My mom used to say that my rereading of books worried her because she thought I wasn't expanding my horizons enough," Gaynor says. "And, later, in retrospect, she decided that what I was doing was learning the language of the books."
In the sixth grade, Gaynor read Angela's Ashes. She loved the book so much, she actually looked up the author in the phone book and called him to talk about it. She got his answering machine and didn't talk to him, but she self-mockingly tells the story as an early example of her literary enthusiasm.
Gaynor carried this enthusiasm for books into adulthood. She's now a Senior Editor at Literary Hub, an online publication that focuses on literary fiction and nonfiction. And, just recently, she's become an author herself.
This June, publishing powerhouse Penguin Random House is set to publish Gaynor's first novel, The Glow. It's a dark comedy that centers on a struggling publicist named Jane Dorner who, in a desperate effort to save her job, tries to land a lucrative client: an enchanting wellness guru. "Jane decides that she will try to aggressively monetize this woman's shtick," Gaynor says.
Gaynor is part of a sea change in book publishing that has seen women surge ahead of men in almost every part of the industry in recent years. Once upon a time, women authored less than 10 percent of the new books published in the US each year. They now publish more than 50 percent of them. Not only that, the average female author sells more books than the average male author. In all this, the book market is an outlier when compared to many other creative realms, which continue to be overwhelmingly dominated by men.
These findings and others come from a new study by Joel Waldfogel, an economist at the University of Minnesota's Carlson School of Management. Waldfogel crunches the numbers on the book market's female revolution. And, in a recent interview, the economist helps us think through potential reasons why women trail men in many creative industries, but have had spectacular success in achieving — in fact, surpassing — parity with men in the US publishing business.
Author Jessie Gaynor
Ebru Yildiz/Jessie Gaynor
Female Authors Leap Ahead
Waldfogel got interested in studying female representation in creative industries after spending part of last year at the U.S. Copyright Office as a visiting scholar. The federal agency, which is part of the Library of Congress, is tasked with keeping records on copyrighted materials.
One of the first projects the Copyright Office had Waldfogel work on was a data analysis of the evolution of women in copyright authorship. Looking at the numbers, Waldfogel's eyes opened wide when he realized that women have seen incredible progress in book authorship but continue to lag in other creative realms.
For example, while they have made inroads in recent years, women still accounted for less than 20 percent of movie directors and less than 10 percent of cinematographers in the top 250 films made in 2022. Likewise, when looking at the data on patents for new inventions, women make up only between 10 to 15 percent of inventors in the US in a typical year.
For a long time, the book market saw a similar disparity between men and women. Sure, some rockstar female authors come to mind from back in the day: Jane Austen, Mary Shelley, Emily Dickinson, Agatha Christie, Zora Neale Hurston — to name just a few prominent ones. But, Waldfogel says, between roughly 1800 and 1900, the share of female authors hovered around only 10 percent each year.
In the 20th century, female authorship began to slowly pick up. By the late 1960s, the annual percentage of female authors had grown to almost 20 percent.
Then, around 1970, female authorship really began to explode. "There was a sea change after 1970," Waldfogel says.
The boom in female authorship
Joel Waldfogel/NBER
By 2020, Waldfogel finds, women were writing the majority of all new books, fiction and nonfiction, each year in the United States. And women weren't just becoming more prolific than men by this point: they were also becoming more successful. Waldfogel analyzes data from a whole range of sources to come to this conclusion, including the Library of Congress, the U.S. Copyright Office, Amazon, and Goodreads. Waldfogel finds that the average female-authored book now sees greater sales, readership, and other metrics of engagement than the average book penned by a male author.
Why 1970?
The progress women have made in the book market can be seen as one small part of the broader feminist movement. Picking a single year as a clear turning point for any social movement can get pretty arbitrary. Dramatic social changes often proceed incrementally, not in one fell swoop. That said, if you were to pick one single year as an inflection point, 1970 is a pretty good one for the women's movement, not just in book publishing, but in a whole range of social and economic pursuits.
Female participation in the overall US labor market seems to have really picked up steam after 1970 (although, to our point, you can clearly see the antecedents for this progress beforehand). Economists have offered various theories and evidence for why, after centuries of playing second fiddle in the labor market, American women made significant advances. The lasting effects of women entering the labor force as men fought overseas during WW2, the feminist movement, cultural change, and declining discrimination surely played important roles.
So did the increasing diffusion of labor and time-saving technologies, like electricity, plumbing, dishwashers, washing machines, vacuum cleaners, and microwaves, which changed the economic calculus for many families. Before households adopted widespread use of these technologies, domestic work was much more burdensome than it is now, requiring hours and hours of labor per day. The bulk of that work was done by women. As new technologies decreased that workload, various economic studies suggest, women were increasingly freed to pursue careers — including careers in publishing.
The birth control pill, which exploded in use during the 1960s, and increased abortion access in the 1970s, also helped free women to enter domains traditionally dominated by men, by giving more women greater choice over if or when to have children, and how many.
Intimately related to the pursuit of writing books, women began investing more and more in education around 1970. "If you look at the share of women who are going to college, it looks very similar to book publishing," Waldfogel says.
It's probably no coincidence that, by 2020, women weren't only the majority of book authors, they had also become the majority of college graduates in the United States. Women also now represent around 70 percent of high school valedictorians every year.
But why has the book market seen so much more progress than other industries?
Despite progress over the last half century, however, women continue to lag behind men in many parts of the labor market, including many creative industries. Why are books different?
The answer matters not just for women, but for society at large. With women continuing to represent less than 15 percent of inventors in the US, to give one glaring example, Waldfogel worries that there are likely a whole bunch of "Lost Marie Curies" out there who could be helping us find cures for diseases or creating innovative, new technologies. But something seems to be holding them back. The reason why the book market has seen so much more progress might help us figure out how to replicate the success there in other domains.
However, lacking hard evidence, Waldfogel's new study offers no rigorous explanation for why the book market revolutionized while others saw limited progress.
Waldfogel says his best guess for why women have seen so much progress in book publishing in the US, as opposed to other creative domains, has to do with the reality that the process of book-writing is typically a solo endeavor, in which the author has more power to choose when and how to do the work.
Maybe the fact that book writing is done mostly alone means there is less discrimination and fewer female-disadvantaging biases and social dynamics in the industry. Industries like movie production and scientific and technological inventing are dominated by gigantic corporate bureaucracies, which are intensely hierarchical. They also are more capital intensive. Maybe that opens the door to more sexism and a resistance to investing in historically underrepresented creators like women.
But American publishing, while seeing huge growth in self-publishing in recent years, also continues to be dominated by large corporations, like NewsCorp and Amazon. There is a twist, however, which is that individual publishing houses in the US — unlike film, TV and other creative production organizations — are largely dominated by women. In 2015, the publisher Lee & Low Books surveyed the staff at 34 US-based publishers and 8 review journals. They found that, while the industry is disproportionately white, it's also disproportionately female. About 78 percent of staffers at all levels and 59 percent of executives in the publishing industry identified as women in the survey.
In her process of writing The Glow and getting to know the book publishing industry through her work at Literary Hub, Gaynor says, she's seen this herself. "In my work, I encounter a lot more women who work in publishing, and I think it makes sense that women editors and women publicists are very happy to read books by other women and buy them," she says.
The demand for books in the US is also disproportionately driven by women. Surveys over at least the last couple decades have consistently found that American women are more likely to read books than American men, especially when it comes to fiction.
Gaynor says some of the most famous channels in which books gain popularity in the US are run by women. She points to Oprah's Book Club and Reese's Book Club (which is helmed by Reese Witherspoon). "Even TikTok, with the popular BookTok videos, my sense is it's mostly women — and BookTok is driving sales hugely right now," Gaynor says.
Beyond the demographics of book readers and publishers, the social dynamics of the book writing business could be more favorable for women than other creative industries. For example, it is a generally solitary affair that lacks the office politics, practices and hierarchies that can still all too often leave women at a disadvantage.
"We hear a lot about women being socialized to not take the lead, not make a fuss," Gaynor says. Other creative pursuits — like movie directing, for example — may reward self-confidence and assertiveness, traits that research suggests is more associated with men, on average. "I have a personality that is — I don't know if I can blame this on my gender socialization — but I don't like to feel like I'm bothering people. One of the great things about publishing a book is that you get an agent who bothers people on your behalf. Also, the solo part of writing a book is also very appealing because you just get to write the book and then put it in someone else's hands. You have to advocate for yourself to a certain extent, but the work is not about being loud, which I know for some women, at least like me, that can be an uncomfortable thing."
A growing body of research in economics points to something more than personality traits and interests that separate men and women in the labor market. The Harvard economist Claudia Goldin has published influential research that suggests one central culprit behind gender inequality in the labor market: the reality that women continue to bear the overwhelming burden of caregiving responsibilities in many couples. As a result, Goldin finds, women, on average, show greater demand for "temporal flexibility." That is, they put a greater premium on jobs that offer flexibility in their work schedule. These jobs tend to offer smaller paychecks, but they also allow more time and flexibility to spend on unpaid domestic work at home.
Gaynor is quick to point out that, for most authors — and for fiction authors, in particular — writing a book is a "really low-paying field." That may dissuade more men, on average, from aspiring to pursue a writing career. "I know women are driven by a number of market forces, but I do feel like it seems possible that more women would be more willing to work in a low-paying field at first."
At the same time, book writing, for the most part, offers the ultimate in temporal flexibility, to use Claudia Goldin's terminology. You can write a book whenever — morning, afternoon, or night. That may be particularly attractive to some women, who are more likely to be saddled with domestic work. And it might put men and women on a more equal footing in the industry. Unlike being a corporate lawyer or executive or inventor, writing doesn't place a large premium on being available to work at all hours, which entails a greater sacrifice of your family life.
Gaynor says she mostly wrote her book before having her kids, waking up early to write before starting work at her day job. After having her first child, she says, she did have to spend a significant amount of time addressing edits from her editor and finalizing her book. But, she says, her editing process "was facilitated by my husband doing more of the childcare in the mornings."
Whatever the reasons for the boom in female authorship, Waldfogel says that readers of all kinds, not just women, are clearly benefiting from it. And so are we, with new books like The Glow, which will be on bookshelves on June 20.
April 24th 2023
Book preview
28/259 pages available
---
About
5/5Waterstones4.6/5Amazon UK4.4/5Goodreads
87% liked this book
Google users
Invisible Women: Exposing Data Bias in a World Designed for Men is a 2019 book by British feminist author Caroline Criado Perez. The book describes the adverse effects on women caused by gender bias in big data collection. Wikipedia
Originally published: 25 June 2019
Author: Caroline Criado-Perez
Nominations: Goodreads Choice Awards Best Science & Technology
How Black Women Brought Liberty to Washington in the 1800s
A 2021 book shows us the capital region's earliest years through the eyes and the experiences of leaders like Harriet Tubman and Elizabeth Keckley
Photo by MPI / Stringer / Getty Images
A city of monuments and iconic government buildings and the capital of a global superpower, Washington, D.C. is also a city of people. Originally a 100-square-mile diamond carved out of the southern states of Maryland and Virginia, Washington has been inseparably tied to the African-American experience from its inception, starting with enslavement, in part because of commercial slave-trading in Georgetown and Alexandria. In 1800, the nascent city's population topped 14,000, including more than 4,000 enslaved and almost 500 free African-Americans.
Before the Civil War, Virginia reclaimed its territory south of the Potomac River, leaving Washington with its current configuation and still a comparatively small city of only about 75,000 residents. After the war the population doubled—and the black population had tripled. By the mid-20th century Washington DC had become the first majority-black city in the United States, called "Chocolate City" for its population but also its vibrant black arts, culture and politics.
In a 2021 book, At the Threshold of Liberty: Women, Slavery, & Shifting Identities in Washington, DC, historian Tamika Nunley transports readers to 19th-century Washington and uncovers the rich history of black women's experiences at the time, and how they helped to build some of the institutional legacies for "chocolate city." From Ann Williams, who leapt out of a second story window on F Street to try and evade a slave trader, to Elizabeth Keckley, the elegant activist, entrepreneur, and seamstress who dressed Mary Todd Lincoln and other elite Washingtonians, Nunley highlights the challenges enslaved and free black women faced, and the opportunities some were able to create. She reveals the actions they women took to advance liberty, and their ideas about what liberty would mean for themselves, their families, and their community.
"I was interested in how black women in particular were really testing the boundaries, the scope of liberty" in the nation's capital, Nunley says. Putting Washington into the wider context of the mid-Atlantic region, Nunley shows how these women created a range of networks of mutual support that included establishing churches and schools and supporting the Underground Railroad, a system that helped enslaved people escape to freedom. To do that, they navigated incredibly—sometimes impossibly—challenging situations in which as black people and as women they faced doubly harsh discrimination. They also improvised as they encountered these challenges, and imagined new lives for themselves.
Her research took her from the diaries of well-known Washingtonians such as First Lady Dolley Madison to the records of storied black churches to the dockets of criminal arrests and slave bills of sale. Finding black women in historical records is notoriously difficult, but by casting a wide net, Nunley succeeds in portraying individual women and the early Washington, D.C. they helped to build.
---
A beautiful photograph of Elizabeth Keckley adorns the cover of your book. She published her memoirs called Behind the Scenes about her life in slavery and then as a famous dressmaker. What does her life tell us about black women in 19th-century D.C.?
Early in the Civil War, as a result of emancipation, many refugees were flocking to the nation's capital and Keckley rose to the occasion, along with other black women, to found the Contraband Relief Society. She's collecting donations, having fundraisers, working her connections with the wives of the political elite, leveraging the Lincoln household, and the Lincoln presidency and her proximity to it in order to raise her profile as an activist in this moment and do this important political work of addressing the needs of refugees. We often assume a monolith of black women. But Keckley was seeing this moment not only as a way to realize her own activism in helping refugees, but she's also realizing her own public persona as someone who is a leader—a leading voice in this particular moment.
Before Keckley and the Lincoln White House, you had Thomas Jefferson, the first President to live his full term in the White House. What role did enslaved women play at the White House where he famously served French food and wine and entertained politicians at a round dinner table?
Even as political leaders were engaged in creating this nation, enslaved laborers were integral. I think about the cook Ursula Granger, who came with him from Monticello at 14 years old, and was pregnant. Despite not knowing a full picture of her story, we know that she was important. The kinds of French cooking she was doing, the kinds of cooking and entertaining that two other women who were there, Edith or Frances, might have been helping with, are some of the same things that we look for today when we are looking at the social world of a particular presidency. There was value that they added to his presidency, the White House, and to life and culture in those spaces.
How did slavery become so important to the early history of Washington, D.C.?
The federal city is carved out of Virginia and Maryland. To cobble together what's going to be the nation's capital, Congress relied on legal precedent from those slaveholding states in order to begin to imagine what this capital is going to be. Politicians who come from the South want to be able to conduct the business of Congress and Senate while also being able to bring their slaves and their entourage and the comforts of home with them. [The creation of Washington] becomes this national symbol of compromise, but also a place of contestation, not only between abolitionists and pro-slavery political thinkers, but also the black inhabitants themselves who were opposed to slavery.
In 1808, the transatlantic importation of African captives was outlawed. At the same time, in Virginia and Maryland there was no longer a huge need for gang labor slavery on large plantations that had been producing tobacco. Instead, deep south states were starting to produce sugar and cotton and many of the "surplus" slaves from the Chesapeake region end up being sold into the deep south. Washington and also Richmond become important hubs for slave traders to organize and take those enslaved people further south.
Another phenomenon is the hiring out system in which people might rent out a slave for a period of time. This became a very prominent practice not only in Washington, but also in rural areas with smaller households. This impacts women in particular ways. Many of these hired out slaves are women who were coming to work for households in the capital. When you look at bill of sale records, you see lots of women and their children being exchanged intra-regionally around the Chesapeake and D.C. in order to meet this demand.
Ann Williams leapt out a window from a tavern right in an act of refusal from being sold into slavery, into the deep South. Resistance was happening even in the city where it seems unlikely because of the degree of surveillance. These acts of desperation are really tough to grapple with. I can never give you an accurate picture of what Ann or others were thinking, but I can tell you what she did, even at the risk of her life. A lot of these stories are unfinished. There are fits and starts throughout the book, some fuller pictures and some where there is no concluding way to think about their experience other than the fact that it's devastating.
Within this context, Washington's black community is developing—and black women are very important to that community.
One of my favorite stories is about Alethia Browning Tanner, an enslaved woman who worked her garden plot and goes to the market to sell her goods, and eventually in the early 19th century made enough money that she was able to purchase her freedom and then the freedom of quite a few of her family members. After she became free, she became quite the entrepreneur and also begins to appear in the historical records as having helped founded a school, one of the first schools to admit African-Americans. [She also shows up] in church records as a founding member of a couple of black churches in D.C.
Her story is, to me, more typical of what was happening in D.C. than maybe some of the more prominent women that are associated with D.C. history. Just imagine the logistical feat of going from having been an enslaved woman to having a small garden plot to now being a philanthropist that is one of the major sources of financial support in order to build these autonomous black institutions.
This mutual support and kinship that manifests in these early decades of the 19th century is really how these black institutions are possible. Even if black men and women are free, they're at the bottom of the economic rung. And so for them to be able to even have these institutions is quite exceptional. But what really makes it happen is this mutual support, this sense of kinship, and this willingness to work together and collaboratively to build something autonomous. And that's how these institutions come about.
So, by the time we get to Elizabeth Keckley, creating the Contraband Relief Society at the 15th Street Presbyterian Church, that church was made possible because of Alethia Tanner! I find a lot of inspiration, just even imagining the leap that you have to make to say, not only am I going to earn this enormous amount of money to purchase a whole lot of family members, but now I'm thinking bigger. I'm thinking about institutions and things that can just be for us.
Networks in and around Washington, led in part by women like Harriet Tubman, helped people escape to freedom. What impact did they have on the region?
Tubman was a part of a broader network, and her ability to return back to the same region to keep taking people to freedom had a lot to do with being linked into networks. And in similar ways, we see that happening with other women in this book. Anna Maria Weems, for example, dressed in men's clothing and pretended to be a boy carriage driver in order to become free from an enslaver in Rockville, Maryland, just outside Washington. But that happened with collaboration with other people within the city.
Studying these networks is incredibly challenging because they're intended to be secret! But what we see is that there's a broader cast of characters that are willing to make this trek, just like Harriet did. Anna's mother, Ara, returned back to help bring a baby across state lines. She was channeling that same ethos as Harriet. And in some ways I kept Harriet as this marginal figure [in the book], not because she is marginal, but because I wanted people to be able to see that other women were also acting in parallel ways, in the same time, in the same region as her. And they were part of a broader network that was spiraling out really from Philadelphia, and then spiraling out both south, and then also further north to Canada.
You write about how these networks also came into play when enslaved blacks were suing to gain their freedom. How successful were these lawsuits?
Oftentimes, the freedom suit is triggered by something: the threat of sale; the sight of seeing slave coffles along the National Mall or Pennsylvania Avenue; a death in the family of the slave holder and knowing that you might be up for sale to resolve the estate debts. For other suits, it really was a hunger for just seeing if manumission was even possible.
The networks become really important. They include lawyers who are willing to represent these enslaved women. These are folks who don't necessarily see black women or black people as racial equals, but they do believe that slavery is a problem. I imagine that once Alethia Tanner became free, she starts telling everybody, "This is what you have to do… You need to go to this person. You need to have this amount of money. And you need to be able to do this and say this."
Black Washingtonians are mobilizing their own desires to become free. And they're trying to figure out ways through this legal bureaucracy and different logistical challenges in order to realize it.
Tell us a little bit about Anne Marie Becraft, one of the first African American nuns, who opened the first school for African-American girls in 1827.
Whereas many of the other black schools are very much in line with a black Protestant tradition, Becraft founded a school in Georgetown upon a Catholic tradition, which also really illuminates for us the theological diversity of black D.C. Becraft is really deploying a strategy of racial uplift, instructing little girls on how to carry themselves, how to march through the streets in line, how to be tidy and neat, and what to learn and what to focus on and on their own spiritual growth. She models it herself and so, when people see her and her pupils passing down the street, it's a really interesting visual of what's actually happening ideologically for black women who are in education.
They see schools as this engine for creating the kinds of model citizens that will make claims to equality later on in the century. Much of these schools are an example of black aspirations. They're not just training the students to embody moral virtue. They are training them up to be leaders and teachers that will then translate this tradition to future generations.
D.C. could be an incredibly difficult place for women to earn a living. You write about some pretty desperate choices they faced.
The chapter about prostitution and local entrepreneurial economies helped create my title about the "threshold" of liberty. Even when enslaved women become legally free, what does that mean? There are only so many different professions that black women can enter in order to provide for themselves. And often they are still doing the same kinds of work that they were doing in the context of slavery. So, when legal freedom actually is a reality for them, where do they go from there? What are their options? That picture became very desperate in a lot of ways.
This gives us context for the women who are able to become teachers or own their own businesses. But it also gives us context for why women might go into sex work, into prostitution, into leisure economies. These kinds of industries that are not illegal, but they are seen as immoral and seen as degrading. And so if they were a madam, they were able to realize some of their financial aspirations. But if you were barely getting by, making very little money and a prostitute, it can be incredibly devastating. It can be violent. It can still lead to poverty. You're going to be criminalized. You're subject to surveillance. All those very much circumscribe their ability to thrive.
What kind of sources have you used to tell this history?
The sources for the history of African-American women are not abundant. But there was an opportunity to dig into the worlds of more prominent figures, like first lady Dolley Madison or early Washington social figure Margaret Bayard Smith, and see if I could find some black women in them. I would look in diaries or letters that have been read by scholars in a different context. And lo and behold, I found them. I also looked at as many newspapers as I could, church records, slave bill of sale records, court arrests, arrests and workhouse sentences. I also used the court cases analyzed and transcribed in the O Say Can You See: Early Washington DC, Law & Family website.
I may not have a fuller picture of these women's lives but I chose to name them anyway, to begin to get the conversation started so that anybody else writing about D.C. can now take that and dive deeper. Part of the process of working with all of these different kinds of sources that are imperfect in their own way, is also in a spirit of transparency to be able to say, this is what I know, this is where the record stops.
You're very intentional in your use of specific terms to help us understand the history of these women, and Washington, D.C. Could you tell us why liberty, navigation, improvisation and self-making are themes you return to throughout the book?
This book really is about liberty, how Americans have used it in a political national context, but also how people at the time imagined this idea and this concept in their own lives. I was really interested in how black women in particular were really testing the boundaries, the scope of liberty, particularly in the nation's capital.
I also used the terms navigation, improvisation and self-making to make sense of what I was seeing happening in these women's lives. There are harsh conditions and barriers that are imposed upon these women at and they are learning how to navigate them. Improvisation is how they respond to uncertainty, how they respond to the things that they could not anticipate. And then, self-making, I think, is really important. Because so much of our history around enslaved people and resistance has really emphasized that there are various different ways to resist. Self-making is the imaginative possibilities of these women's worlds. Even where we don't find women in their acts of resistance, these black women, these little girls were imagining their selves, imagining their world, imagining their identities, in ways that we have not even begun to understand.
---
Karin Wulf is executive director of the Omohundro Institute of American History & Culture and a professor of history at William & Mary.
April 14th 2023
Rishi Sunak says 100% of women do not have a penis
It comes after Sir Keir Starmer said that '99.9 per cent of women' do not have penises
Speaking today to Paul Goodman from Conservative Home, Rishi Sunak confirmed his stance on what makes a woman. When asked to clarify that 100% of women don't have penises, Rishi responded "yeah, of course". He then confirmed the government was in the process of looking at how the Equalities Act treats biological sex.
April 9th 2023
'We won't apologise for being an all-female clergy'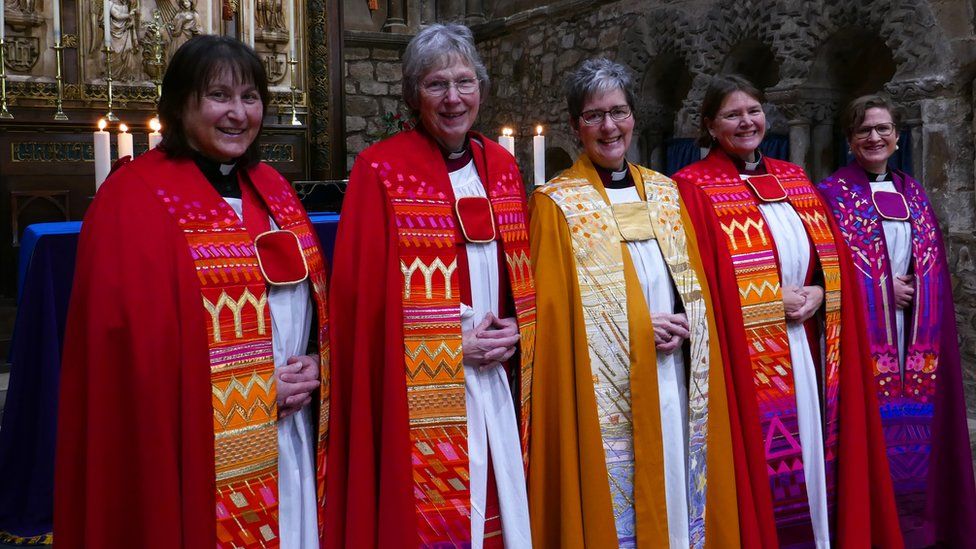 By Amy Payne & Jennifer Harby
BBC News
This Easter will be especially significant for one of England's cathedrals.
Leicester Cathedral will be marking the Christian festival with what it believes is England's first fully-female clergy team at the helm.
The five women – including the acting dean, Reverend Canon Karen Rooms – were appointed from 2013 onwards.
The move is the latest in a tradition of female firsts at the cathedral which, in 1974, was the first to admit girls into its choir and, in 2000, Vivienne Faull – now the Bishop of Bristol – was the first female cathedral dean.
So what is it like to be part of the cathedral's progressive history?

'I make no apology for us being all-female'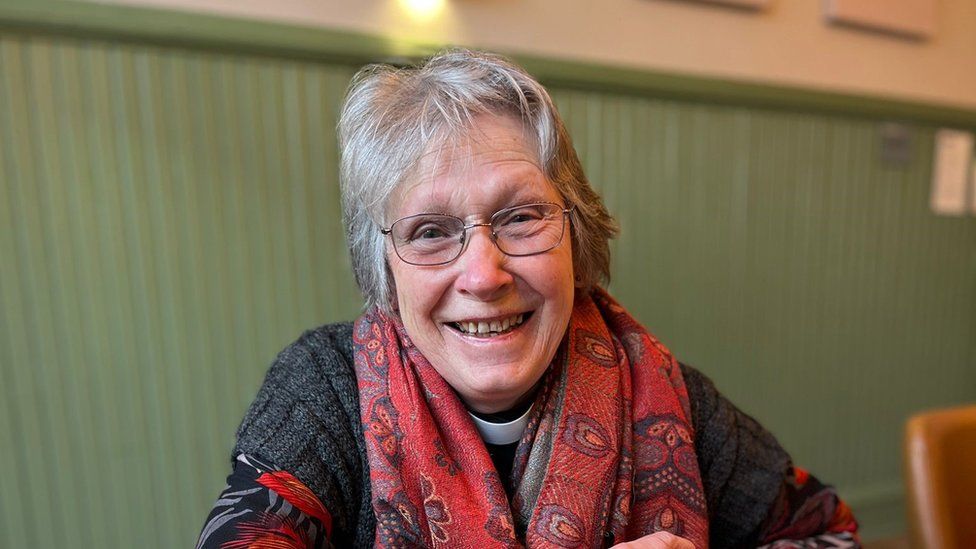 "The church has had centuries of being all-male; why shouldn't we be all-female?"
Canon Pastor Rev Canon Alison Adams, 71, is a former teacher who has previously worked in schools in Leicester and Nottinghamshire.
She went on to manage the chaplaincy in Glen Parva Young Offenders' Institution before coming to Leicester Cathedral in 2013.
"I make no apology for us being all-female," she said.
"I fully respect those who have different theologies from mine but I don't respect misogyny when I encounter it and I think it's good that we are seen publicly in these roles."
As the first of the women to join the cathedral's team, she said she had welcomed being joined by four others.
"It's great fun," she said.
"We get on, we bounce off one other very easily and I think we're all by nature networking, relational-type people.
"It's good company."

'People are getting used to an all-female team'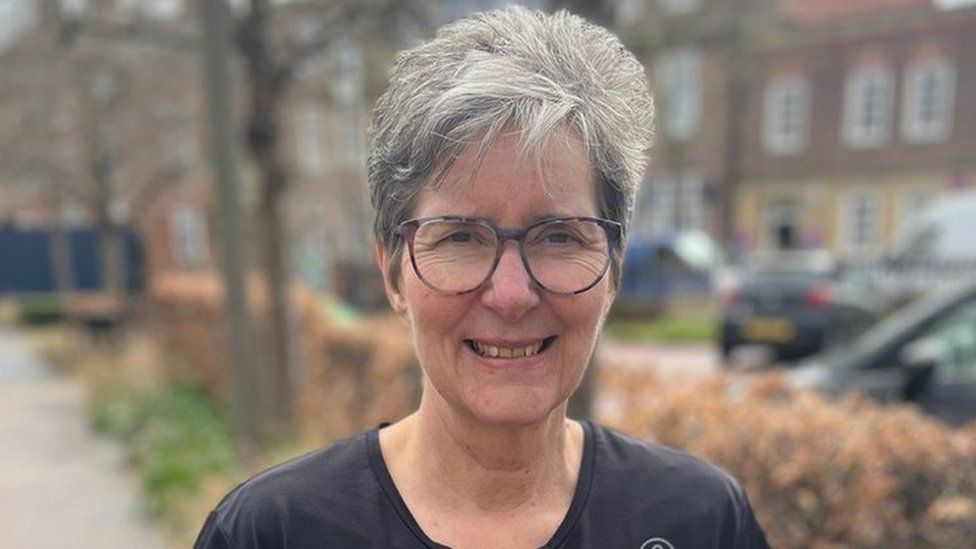 "Some people are thrilled but we've also had negative pushback," said Rev Canon Karen Rooms.
"But I think people are getting used to an all-female team."
Karen became the cathedral's acting dean in January.
Prior to that, she had worked in marketing at Boots, before moving to Tanzania with the Anglican Church.
"The fact we're women is interesting and we work well together, but we're always looking for other voices," she said.
She said all five of the women were very different and brought varied experiences to their roles.
These differences helped them engage with the community they serve in Leicester – one of the UK's most diverse cities.
"We're really conscious always about needing diversity, especially in Leicester," she said.

'I hope it will show girls they can do this'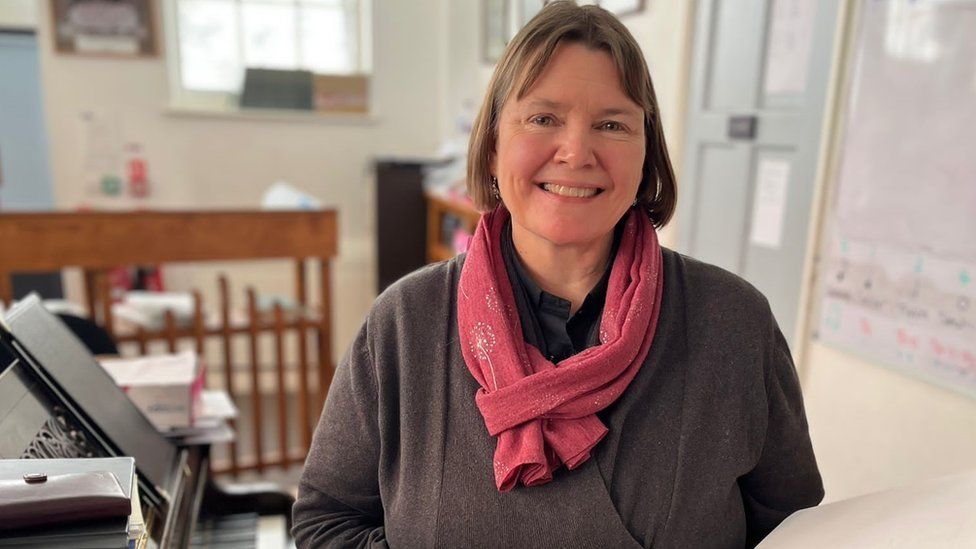 "People always need role models," said Rev Cannon Emma Davies, 55, the cathedral's canon precentor.
"I hope that for some people it will show them, particularly girls, that they can do this and that's really important."
Emma started her working life transcribing print into Braille and held local government roles before ordination in 2007.
She started working at Leicester Cathedral in 2021 and oversees services, as well as music and choirs.
She said working with four other women was a special moment in her career.

'It has been liberating'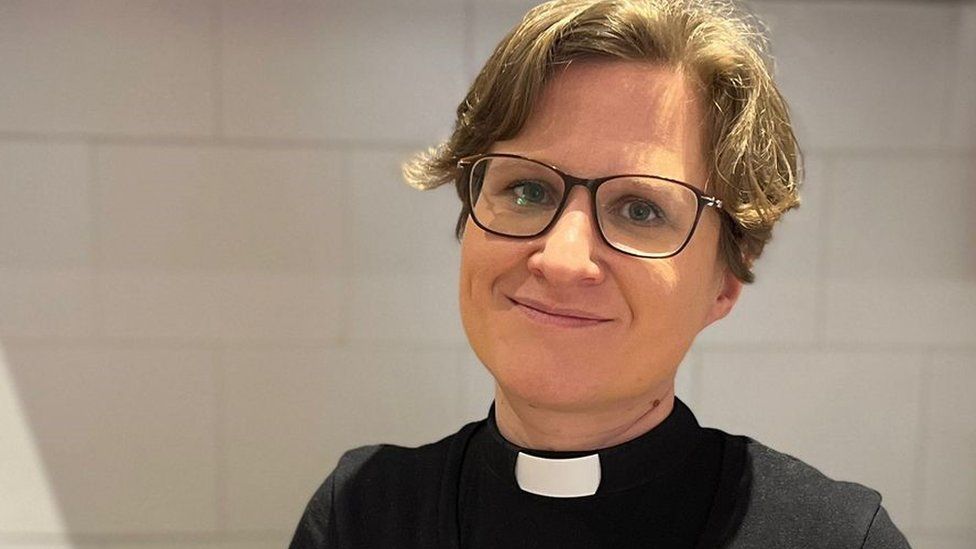 "Occasionally we face prejudice and to be in a place where that is not the daily norm is quite wonderful."
Curate Rev Manuela Schmucki, 35, is originally from Switzerland, where she trained as a pastor and completed a BA in theology before moving to Leicester Cathedral in 2021.
"I've worked in churches for a long time and I'm very used to being in mostly or all-male spaces," she said.
"Up until my post here, all my supervisors always have been male and to experience having women all around me has been quite different but also liberating."

'We are putting a message out to the world'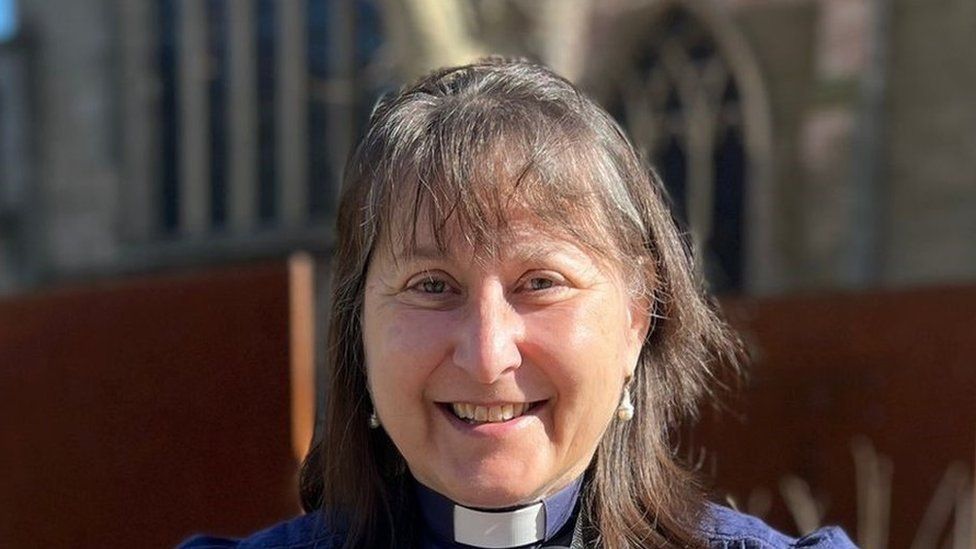 Curate Rev Julia Bradshaw is used to being a trailblazer.
In 2019 Julia, 62, became the first woman ordained in Crete and worked there as a curate before before moving to Leicester Cathedral in 2021.
She said Leicester's fully-female clergy team sent a statement.
"We are putting a message out to the world that it doesn't matter whether it's all men or all women, we can still do what we have to do for God," she said.
"It shows people that it doesn't matter who you are, you can achieve what you want to achieve and you can be in a leadership role."

Follow BBC East Midlands on Facebook, on Twitter, or on Instagram. Send your story ideas to eastmidsnews@bbc.co.uk.
Related Topics
More on this story
April 3rd 2023
UGLY SEX TRUTH – TALKING VAGINAS
Endocr Connect. 2020 Apr; 9(4): R81–R92.
Published online 2020 Mar 20. doi: 10.1530/EC-19-0537
PMCID: PMC7159262
PMID: 32197237
Female hyperandrogenism and elite sport
Author informationArticle notesCopyright and License informationDisclaimer
Abstract
Emerging evidence indicates that testosterone, which can increase muscle mass and strength, stimulates erythropoiesis, promotes competitive behaviour, and enhances the physical performance of women. Indeed, the levels of testosterone within the normal female range are related to muscle mass and athletic performance in female athletes. Furthermore, among these athletes, the prevalence of hyperandrogenic conditions, including both polycystic ovary syndrome and rare differences/disorders of sex development (DSD), which may greatly increase testosterone production, are elevated. Thus, if the androgen receptors of an individual with XY DSD are functional, her muscle mass will develop like that of a man. These findings have led to the proposal that essential hyperandrogenism is beneficial for athletic performance and plays a role in the choice by women to compete in athletic activities. Moreover, a recent randomized controlled trial demonstrated a significant increase in the lean mass and aerobic performance by young exercising women when their testosterone levels were enhanced moderately. Circulating testosterone is considered the strongest factor to explain the male advantage in sport performance, ranging between 10 and 20%. It appears to be unfair to allow female athletes with endogenous testosterone levels in the male range (i.e. 10–20 times higher than normal) to compete against those with normal female androgen levels. In 2012, this consideration led international organizations to establish eligibility regulations for the female classification in order to ensure fair and meaningful competition, but the regulations are controversial and have been challenged in court.
Keywords: female athletes, hyperandrogenism, polycystic ovary syndrome, disorders of sex development, physical performance
Introduction
The proportion of women who engage in sports at all levels has increased dramatically over the past 50 years, as reflected in the rising proportion of female Olympic competitors. For example, at the summer Olympics in Munich in 1972, 15% of the participants were women, in comparison to 44% in 2012, in London, the first Olympics in which women competed in all disciplines. In fact, the proportion of female participants in the Olympic Games is now approaching 50%, which can hopefully encourage even more women to engage in sports.
However, at the same time, elite sportswomen appear to be at greater risk for certain injuries than male athletes, such as stress fractures and knee injuries, which could shorten the women's sports careers. Furthermore, endocrine disturbances are common among female athletes, as shown by an increased prevalence of menstrual disorders like amenorrhea. Such disturbances could either be a consequence of intense physical exercise or result from overrepresentation of women with these types of endocrine characteristics in elite sports. Essential hyperandrogenism is one example of the latter that has received much attention in recent years.
The present overview describes our current state of knowledge about elite female athletes concerning the following areas:
Mechanisms underlying menstrual disorders
Mild and severe forms of hyperandrogenism
Sex differences in athletic performance
The impact of androgens on physical performance
Regulations concerning the eligibility to compete in the female classification
Menstrual disorders among female athletes
Functional hypothalamic amenorrhea
Amenorrhea is common among athletes, particularly those participating in sports where a lean body is considered advantageous to physical performance, such as esthetic and endurance sports (1). First described in the late 1970s, this medical condition became known as 'athletic amenorrhea', that is, loss of menstruation as a result of intense physical training (2).
Athletic amenorrhea is considered a functional disturbance attributed to inhibition of the hypothalamic-pituitary-gonadal (HPG) axis, and named functional hypothalamic amenorrhea (FHA), which disrupts the pulsatile release of gonadotropin-releasing hormone (GnRH) from the hypothalamus. This, in turn, reduces pituitary secretion of luteinizing hormone (LH) and follicle-stimulating hormone (FSH), resulting in attenuated ovarian production of sex steroids, including estradiol, progesterone and testosterone, as well as subsequent anovulation and amenorrhea (3).
Several mechanisms underlie such inhibition of the HPG axis (Fig. 1), including exercise-induced activation of the hypothalamic-pituitary-adrenal axis and a consequent increase in hypothalamic secretion of corticotropin-releasing hormone and of cortisol from the adrenal glands (3, 4). These stress hormones together with the endorphins, also released in response to physical activity, inhibit GnRH secretion by the hypothalamus (3, 4, 5, 6).
A summary of endocrine disturbances associated with athletic amenorrhea. For explanations and abbreviations, see the accompanying text. Reprinted from Encyclopedia of Endocrine Diseases; 2nd edn, vol 2; Eds I Huhtaniemi & L Martini; Sport and menses; pp 461–470; copyright 2019; with permission from Elsevier (4).
Furthermore, athletic amenorrhea is associated with a hypometabolic state, as reflected in low circulating levels of insulin and insulin-like growth factor I (IGF-I) and high levels of growth hormone and IGF-binding protein-1 (Fig. 1) (4, 7, 8). Because IGF-I stimulates the release of both GnRH and LH, a decline in IGF-I activity may, at least in part, explain the reduction in LH secretion. In addition, serum levels of leptin, a marker of nutritional status also involved in the pulsatile secretion of GnRH, are markedly reduced in amenorrheic athletes (9), as are levels of thyroxin and triiodothyronine (10).
Altogether, these findings indicate that athletic amenorrhea is due to central inhibition of the reproductive axis by stress hormones and endorphins, in combination with attenuated stimulation of GnRH, as a consequence of low levels of IGF-I and leptin.
Today, the most important underlying cause of athletic amenorrhea is understood to be an energy intake that is substantially less than energy expenditure (11, 12, 13), sometimes due to the desire to be lean (14). A relatively low amount of body fat in relation to muscle mass is important for performance in many disciplines, including endurance, weight-class and esthetic sports. At the same time, strict control of food intake can develop into eating disorders, which are more prevalent among athletes than in the general population (15).
Low energy availability, amenorrhea and estrogen deficiency are associated with rapid loss of bone mass and an elevated risk for musculoskeletal injuries (Fig. 1). Since physical activity usually promotes bone formation, it was initially considered paradoxical that elite athletes could exhibit reduced bone mass (16, 17). This phenomenon is now known to arise from nutritional deficiency and its endocrine consequences, including low levels of estradiol, testosterone and IGF-I and enhanced levels of cortisol (18).
FHA is an acquired condition that can be reversed by restoring the balance between energy intake and expenditure, and this should be the initial intervention for athletes with this condition (19). If nutritional counseling and adjustment of training for at least 1 year does not lead to resumption of menses, estrogen substitution can be considered (20).
Hyperandrogenism among female athletes
Although insufficient energy availability and the resulting FHA are probably the most common cause of amenorrhea among exercising women, not all sportswomen with menstrual disorders are hypometabolic. In fact, we have identified polycystic ovary syndrome (PCOS) as an alternative explanation (21, 22, 23).
Polycystic ovary syndrome
PCOS is probably the most frequent endocrine disorder among women of fertile age, affecting approximately 10% of the female population (24). This syndrome is characterized by elevated ovarian production of androgens, disturbed ovulation and ultrasound findings of polycystic ovaries. Although the aetiology of PCOS remains largely unknown, there are strong indications of a genetic predisposition.
Hyperandrogenism and insulin resistance, the characteristic endocrine features of the pathogenesis of PCOS, explain the various associated symptoms (24). The primary abnormality appears to be increased production of androgens by the ovaries, augmented by disrupted feedback control of pulsatile GnRH secretion, resulting in elevated secretion of LH and relative FSH deficiency. The clinical consequences are the characteristic polycystic ovarian morphology and anovulation leading to menstrual disorders and reduced fertility, as well as hirsutism and acne. In addition, women with PCOS are more insulin resistant, independent of obesity, leading to secondary hypersecretion of insulin, which directly stimulates androgen production by the ovarian theca cells. Furthermore, insulin inhibits hepatic synthesis of sex hormone-binding globulin (SHBG), thereby elevating levels of free and bioavailable testosterone. Moreover, insulin resistance may lead to metabolic changes including abdominal obesity.
This condition is usually managed by treating the symptoms, including menstrual disorders, infertility, hirsutism and overweight/obesity (24), although specific treatment is not always being necessary. However, a healthy lifestyle, including regular physical activity, is clearly beneficial and should therefore be recommended first (25). Long-standing anovulation is thought to increase the risk of endometrial cancer, but oral contraceptives or cyclic progestogens can be used to regulate menstruation and abolish this risk. Furthermore, combined oral contraceptives attenuate androgenic effects and counteract hirsutism and acne. Physical activity usually improves the fertility of women with PCOS, but stimulation of ovulation or in vitro fertilization can otherwise be offered.
PCOS appears to be a common disorder among elite female athletes (21, 22, 23, 26, 27, 28, 29) and is, indeed, the most frequent cause of menstrual disorders among Olympic sportswomen (23). We have demonstrated elevated diurnal secretion of LH and testosterone by athletes with PCOS than by those without (Fig. 2) (22). In contrast, in athletes with FHA due to energy deficiency, LH pulsatility is abolished and levels of testosterone are low (Fig. 2) (22). Thus, the hormonal profile associated with PCOS differs completely from that of FHA. At the same time, the level of testosterone in women with PCOS remains typically within the upper part of the normal range. The bodies of such athletes are more anabolic, with a greater amount of muscle mass and higher bone mineral density than other athletes (21). Furthermore, hyperandrogenism appears to protect effectively against bone loss, despite the oligomenorrhea/amenorrhea and relative estrogen deficiency (21).
Typical diurnal hormonal profiles in individual female athletes and a sedentary control woman. FHA = athlete with functional hypothalamic amenorrhea; PCOS = athlete with polycystic ovary syndrome; RM = athlete with regular menstruation; CTR = sedentary control. Reprinted from Encyclopedia of Endocrine Diseases; 2nd edn, vol 2; Eds I Huhtaniemi & L Martini; Sport and menses; pp 461–470; copyright 2019; with permission from Elsevier (4).
In some athletes with amenorrhea, it can be a mixed underlying cause with both functional hypothalamic disturbance due to energy deficiency and PCOS.
Differences/disorders of sex development
A few women are born with rare conditions, referred to as differences/disorders of sex development (DSD), in which the development of chromosomal, gonadal and anatomic sex is atypical. These conditions are usually diagnosed at birth or during early childhood on the basis of ambiguous genitalia or else at the onset of puberty in girls due to primary amenorrhea. However, in regions with limited medical resources and/or competence, such individuals may enter adulthood undiagnosed.
DSD involving a male karyotype and undescended, but functioning testes may greatly increase production of testosterone leading to levels similar to those in men (Table 1). If the androgen receptors of such an individual are functional, her muscle mass will develop as in men, along with other signs of virilization, including more body hair (hirsutism), deepening of the voice, atrophy of the breasts and an enlarged clitoris. Individuals with DSD have a varying risk of developing germ cell cancer (GCC). The characteristic features of 46,XY DSD conditions, described in detail elsewhere (30, 32, 31), are presented briefly.
Table 1
Examples of 46,XY differences/disorders of sex development (DSD).
| Condition | Incidence | Comment | Advantage in sports? |
| --- | --- | --- | --- |
| 5α-reductase deficiency type 2 | Extremely rare with geographical regions of higher incidence | Individuals may be assigned female sex at birth. Virilization proceeds at puberty. | Yes |
| Partial androgen insensitivity (PAIS) | 1/130,000 | Ambiguous genitalia at birth. From puberty, high testosterone, but with varying effect depending on androgen receptor sensitivity. | Possibly |
| 17β-hydroxysteroid dehydrogenase type 3 (17β- HSD3) deficiency | 1/147,000 | Individuals are often raised as girls but undergo virilization at puberty. | Yes |
| Ovotesticular DSD | 1/100,000 | The individual has both ovarian and testicular tissue. Born with ambiguous genitalia. Virilization may proceed at puberty. | Possibly |
Deficiency of the enzyme 5α-reductase type 2, a very rare autosomal recessive condition caused by mutation in the SRD5A2 gene, results in failure to convert testosterone into dihydrotestosterone (DHT) (Table 1). Since the external development of male genitalia during fetal life is dependent on DHT, this condition will lead to varying degrees of undervirilization, despite the presence of testes and normal male production of testosterone, resulting in identification as a female at birth. However, during puberty, when circulating levels of testosterone rise to normal adult male levels, the individuals will undergo virilization and more than half will change their gender identity and become men. The risk of GCC with this condition is considered low.
Androgen insensitivity syndrome (AIS), caused by a mutation in the androgen receptor gene on the X chromosome, leads to various degrees of undervirilization in individuals carrying one X and one Y chromosome (Table 1). In the case of complete androgen insensitivity (CAIS), even though they have testes (undescended) and circulating levels of testosterone in the normal range for men, such individuals respond very little or not at all to androgens and will therefore appear to be fully female. However, with partial androgen insensitivity (PAIS), the phenotype will vary from that of a virilized woman to an undervirilized man. If the gonads are intra-abdominal, PAIS is associated with a clearly heightened risk of GCC in as much as 30–40%. Gonadectomy is therefore recommended in this case.
A mutation in the 17β-hydroxysteroid dehydrogenase type 3 (17β-HSD3) gene results in deficient conversion of androstenedione to testosterone (Table 1). Clinically, these XY individuals will develop undervirilized external genitalia and varying phenotypes, with some being identified as female at birth. However, as in the case of 5α-reductase deficiency, when the testes start to produce large amounts of androgens during puberty, such individuals undergo marked virilization and approximately half will change their gender identity to male. This condition is associated with a medium high risk of GCC.
Individuals with ovotesticular DSD (true hermaphroditism), another very rare condition with varying karyotype (although 46,XX is most common), develop both ovarian and testicular tissue (Table 1). They can have an ovary on one side and a testis on the other or combined tissue, so called ovotestis. Depending on their gonadal tissue, their clinical phenotype varies widely, from that of a normal man to normal woman, although the nature of the external genitalia is often ambiguous. They can be considered to be either male or female and little is known about their gender identity. The risk of GCC is low in ovotesticular DSD.
The incidence of 46,XY DSD in the general population is estimated to be 1 in 20,000 births (31). In comparison, the prevalence of this condition among female athletes participating in the World Championships was 7 in 1000, that is, 140-fold higher (32). Since both mild and severe forms of hyperandrogenism appear to be particularly common among female athletes, it has been suggested that such conditions could enhance athletic performance and thus play a role in the decision by women to participate in competitive sports.
Sex differences in athletic performance and levels of testosterone
Biological sex is one of the most decisive determinants of athletic performance. In sports that rely on strength, men have, in general, a 10–20% advantage over women, with the most pronounced difference in sports that involve primarily upper-body muscle strength (Table 2). This obvious sex difference, which remains even, although the performance of women has improved considerably over time, has led to the conclusion that competition between women and men would not be fair and meaningful and, consequently, most sports involve female and male competitions.
Table 2
Sex differences in physical performance of Olympic gold medalists at the 2016 Olympics in Rio de Janeiro.
| Sport category | Women | Men | Sex difference % |
| --- | --- | --- | --- |
| 100-m running, s | 10.71 | 9.81 | 8.4 |
| 5000-m running, min | 14:26.17 | 13:03.30 | 9.6 |
| High jump, m | 1.97 | 2.38 | 17.2 |
| Pole vault, m | 4.85 | 6.03 | 19.6 |
| Javelin, m | 66.18 | 90.30 | 26.7 |
The average differences in physical characteristics that could confer such a male advantage include greater height (which is beneficial in certain sports), a more anabolic body composition (relatively more muscle mass than body fat) and greater muscle strength (30). Furthermore, the average sex differences in hemoglobin levels and behavioral patterns, including competitiveness, might give men an advantage over women (30, 33).
Sex differences in circulating levels of testosterone
Among all the variables that could play a role, the explanation for the sex difference in athletic performance that is most generally accepted involves circulating levels of testosterone, which are, on average, 10–20 times higher in men than women (30). Available measurements based on liquid chromatography-tandem mass spectrometry indicate that the normal female range is 0.1–1.8 nmol/L and the normal male range is 7.7–29.4 nmol/L (95% two-sided confidence intervals (CI)) (Fig. 3). Even when women with mild hyperandrogenism, such as PCOS, are included, the upper female limit is 3.1 nmol/L (95% one-sided CI) or 4.8 nmol/L (99.99% CI) (Fig. 3) (30).
Illustration of sex difference in circulating testosterone levels. PCOS = polycystic ovary syndrome.
Androgen secretion in women of fertile age
In women of fertile age, about 50% of circulating testosterone is secreted directly in equal amounts by the ovaries and adrenal glands (34) (Fig. 4). The remaining 50% is produced by peripheral conversion of androgen precursors derived from the ovaries and adrenals. Androstenedione produced by the ovary, a precursor for both estrogens and androgens, can be converted to testosterone, which is transformed further into the even more potent DHT by the enzyme 5α-reductase located in the ovary itself and a number of peripheral tissues (liver, kidney, muscle, fat and skin) (35, 36). The adrenal gland produces dehydroepiandrosterone (DHEA), dehydroepiandrosterone sulphate (DHEAS), androstenedione, testosterone and small amounts of DHT. In peripheral tissues that express steroidogenic enzymes, the precursors DHEA and DHEAS can be converted into estradiol, testosterone and DHT (35, 36). Indeed, in women, DHEA is considered a major tissue-specific source of testosterone and DHT (37).
Androgen secretion in women. For explanation see the text. A-4 = androstendione; DHEA = dehydroepiandrosterone; DHEAS = dehydroepiandrosterone sulphate; DHT = dihydrotestosterone; E2 = estradiol; T = testosterone. Adapted from (34), with permission of Springer Nature.
Approximately 65–70% of circulating testosterone is bound to SHBG, a protein secreted by the liver, with 30–35% of testosterone being bound loosely to albumin and only 0.5–3% free (38). The free and albumin-bound fractions are considered to be bioavailable testosterone. However, the free androgen index, that is, the ratio of total testosterone to SHBG multiplied by 100, is used as a measure of circulating free testosterone. DHT in the circulation is bound even more strongly to SHBG than testosterone. Liquid (or gas) chromatography-mass spectrometry is considered as the golden standard for analysis of serum testosterone, since immunological methods are limited by cross-reactivity with other steroids and insufficient sensitivity.
Potential enhancement of physical performance by androgens
Testosterone and DHT are the two androgens that clearly bind to the androgen receptor and thereby exert anabolic activity (Fig. 4). Although recent evidence indicates that 11-ketotestosterone and 11-ketodihydrotestosterone, androgen derivates produced by the adrenal gland, are also potent agonists of the human androgen receptor (39), their potential biological role requires further elucidation.
Androgens could enhance athletic performance through their effects on muscle tissue, bone mass, erythropoietin, the immune system and behavioral patterns (30, 33, 40, 41), although most studies in this context to date have been performed on men. In muscle tissue, androgens increase the number of muscle fibers, satellite cells and myonuclei, as well as the size of motor neurons (42). Moreover, experimental findings indicate that testosterone elevates the expression of skeletal muscle myostatin, mitochondrial biogenesis, myoglobin expression and the muscular content of IGF (43), all of which may enhance skeletal muscular activity. Obviously, muscle growth and the accompanying increase in strength and power could enhance performance.
In addition, bone formation is stimulated by androgens, both directly and in part following their local aromatization to estrogens (44). In experimental animals, androgens stimulate the proliferation and differentiation of osteoblasts and inhibit apoptosis of these cells through specific receptor mechanisms (41). Furthermore, the androgen-stimulated increase in muscle mass and strength promotes bone formation (41). Stimulation of bone size and strength could be beneficial in connection with sports involving activities such as jumping, throwing and other explosive movements.
Furthermore, testosterone stimulates the formation of new erythrocytes and elevates circulating levels of hemoglobin (45), apparently as a result of secretion of more erythropoietin and less hepcidin (46). Experiments performed in the 1970s revealed a close linear relationship between hemoglobin levels and maximal oxygen consumption during exercise (47).
Androgens may also exert behavioral and psychological effects that influence athletic performance. Administration of exogenous testosterone to men enhances their competitive and dominant behavior and reduces fear (48, 49), as well as promotes high-risk behavior (49, 50). Furthermore, androgens may affect cognition and mood. Although some evidence indicates that testosterone improves spatial ability in both women and men, these findings are not yet definitive (51, 52). Clearly, spatial ability is important in many sports, such as pole vault and hammer throw.
Exogenous androgens and physical performance in women
Ever since the 1950s, administration of exogenous androgens has been used to enhance athletic performance, with reports of consequent increases in power, strength and training capacity (49). These substances, now labeled as doping agents, are banned from sports. Besides the few research investigations regarding the effects of exogenous anabolic androgens on female athletes are the unethical experiments performed in the former German Democratic Republic (GDR), where disclosed documents reveal that athletes were administered such substances from an early age (53). The positive effects of androgens on athletic performance were found to be even more pronounced for women than men. After the GDR ceased to exist in 1989, the performance of the world's best female athletes in several sports declined markedly.
The sparsity of research investigations on the effects of exogenous testosterone on the physical performance of women probably reflects the ethical concerns about potential adverse effects. In one study on postmenopausal women, administration of different doses of testosterone (reaching a maximal mean circulating level of 7.3 nmol/L) for 24 weeks resulted in dose-dependent increases in mean muscle mass by as much as 4.4% and in muscle strength by 12–26% (54).
Recently in our double-blind, randomized, placebo-controlled study (RCT), 48 healthy, physically active women, 18–35 years of age, were allocated randomly to 10 weeks of daily treatment with 10 mg testosterone cream or placebo cream (55). In those receiving the testosterone cream, serum levels of testosterone rose from a mean of 0.9 ± 0.4 to 4.3 ± 2.8 nmol/L and their aerobic performance (running time to exhaustion) improved by 8.5%, which was significantly more than for the placebo group (Fig. 5). At the same time, the anaerobic performance (assessed by the Wingate test) of the women receiving testosterone improved by 3.2%, but this was not significantly different than placebo (Fig. 5). Although muscle strength was unaltered, testosterone enhanced lean body mass (2.0%) significantly without changing body weight. Altogether, these findings demonstrate that exogenous testosterone elevates the muscle mass and improves the physical performance of young, physically active women.
Aerobic performance measured as endurance time to exhaustion and anaerobic performance measured as Wingate 30-s average work, before and after 10 weeks of treatment with testosterone or placebo in young, physically active, healthy women. n = 24 in each group. Values are median and total range. Endurance time to exhaustion increased significantly in the testosterone group compared with the placebo group, whereas the change in Wingate power was not significantly different between the groups. Data from (55).
The influence of endogenous androgens on the physical performance of women
The influence on the athletic performance of women of endogenous androgen levels that are within the normal range has rarely been studied, whereas in men there is evidence for an association between normal levels of endogenous testosterone and physical performance in both athletes and non-athletes (30, 56, 57). One reason for the lack of such investigation on women could be the complications introduced by hormonal variations during the menstrual cycle and usage of hormonal contraception.
One earlier report including female athletes (n = 22) demonstrated that serum levels of testosterone at rest were positively correlated with explosive performance (the vertical jump test) (57). A much larger study involved more than a 1000 elite female participants in the 2011 and 2013 International Association of Athletics Federations (IAAF) World Championships (58, 59), of whom only 1.8% had clearly elevated levels of testosterone indicative of DSD or doping. These athletes were classified in tertiles on the basis of their levels of testosterone, and the performance in those in the highest tertile in the 400-m race, 400-m hurdles and 800-m race was found to be 2.1–2.5% better than that of those in the lowest tertile. Combined performance in events from 400 to 1500 m in length was significantly correlated to the testosterone level.
In another study, we examined more than 100 female Swedish Olympic athletes and sedentary controls of the same age and BMI with respect to muscle and bone mass, muscular strength and androgen profile in both the serum and urine (60). Although the athletes exhibited serum androgen levels within the normal range, their level of androgen precursors, including DHEA, were higher and estrone levels lower than those of the controls. Furthermore, the athletes had higher bone mineral density and more lean mass. In addition, serum levels of DHT and DHEA correlated positively with the physical performance of the athletes. This observation is important since accumulating evidence indicates that, in women, DHEA is the major precursor of bioactive androgens, being converted intracellularly into testosterone and DHT, which bind to the androgen receptor (37).
Together, these findings indicate that, in female athletes, even normal levels of endogenous androgens are positively correlated to lean mass and physical performance.
Hyperandrogenism and the performance of female athletes
Polycystic ovary syndrome
Although information concerning the influence of hyperandrogenism on physical performance by women is limited, some evidence indicates that PCOS is beneficial in this context. For instance, endurance athletes with PCOS perform significantly better in the Beep test and exhibit higher maximal oxygen uptake (VO2 max) during the treadmill exhaustion test than other female athletes with the same BMI (Fig. 6) (21). Androgen levels were positively correlated to VO2 max and lean mass in the same study.
Maximal oxygen uptake in groups of athletes with polycystic ovary syndrome (PCOS), functional hypothalamic amenorrhea (FHA) and regular menstruation (RM) and in a sedentary control group (CTR). Reprinted from Encyclopedia of Endocrine Diseases; 2nd edn, vol 2; Eds I Huhtaniemi & L Martini; Sport and menses; pp 461–470; copyright 2019; with permission from Elsevier (4).
In another case-control study involving 40 sedentary women with PCOS and 40 controls, those with PCOS showed greater muscle strength (bench press, leg extension and handgrip strength), irrespective of body composition (61). Serum levels of testosterone correlated positively with increased muscle strength in the PCOS group (61). Furthermore, polycystic ovaries and PCOS are overrepresented among Olympic sportswomen, as well as other athletic populations (23, 26, 27, 28, 29). These observations indicate that mild forms of hyperandrogenism such as PCOS may improve physical performance and thereby play a role in the decision by women to participate in competitive sports. There is no support for the reverse causality, that is, participation in sports elevates the incidence of polycystic ovaries or PCOS.
Differences/disorders of sex development
The increased prevalence of XY DSD among elite female athletes suggests that these conditions may improve physical performance. However, for obvious reasons, the physical performance of groups of female athletes with such rare conditions has yet to be compared to that of controls and only a few individual case studies have been reported. According to these reports, treatment designed to lower testosterone levels also worsened performance on the average by 5.7% over a 2-year period (62).
At the cell level, the body cannot distinguish between exogenous or endogenous testosterone, and therefore the physiological/biological effect of testosterone could be studied by administrating testosterone to subjects. In our RCT concerning the influence of testosterone on the physical performance of young, physically active women (55), we found a significant increase in lean body mass (2%), aerobic performance (8.5%) and anaerobic performance (3.2%, not statistically significant in comparison to placebo) when serum levels of testosterone were increased modestly (to approximately half the lower limit of the normal male range), by exogenous administration (Fig. 5). Since the dose-response relationship between testosterone and physical performance in young women is not known, the results cannot be extrapolated directly to indicate the effects of male levels of testosterone. However, on the basis of available data, it has been estimated that the ergogenic advantage to a female athlete provided by circulating levels of testosterone in the male range is greater than 9% (30).
Regulations concerning the eligibility to compete as a woman in sports
To ensure fair and meaningful competition, the IAAF, now Word Athletics, introduced in 2011, for the first time, regulations concerning the eligibility of female athletes with hyperandrogenism to compete with other women. These rules were endorsed by the International Olympic Committee (IOC) prior to the Olympic Games in London 2012. According to these regulations, an athlete can compete in the female category if she is legally recognized as a woman and has testosterone levels below 10 nmol/L. However, an exception is CAIS, since in this case the individual cannot respond to testosterone although she has testosterone in the male range. These rules, designed to preserve the safety, fairness and integrity of women's competition, and in no way to determine sex or gender, have been subjected to debate and criticism (63, 64, 65, 66, 67, 68).
In 2015, the regulations were challenged by an athlete in the Court of Arbitration of Sport (CAS), which then suspended them pending further scientific evidence concerning the influence of testosterone levels in the male range on the athletic performance of women. In response, recent observational data (58, 59, 60), as well as our RCT described, (55) have provided additional evidence for the performance-enhancing effects of testosterone in female athletes.
Later on, the IAAF issued new regulations for the female classification – Athletes with Differences of Sex Development – which finally came into effect on May 8, 2019 (69; https://www.worldathletics.org/about-iaaf/documents/health-science). The new regulations apply only to female athletes with XY DSD, having testosterone levels in the male range and normal androgen receptors, and who compete in middle-distance track disciplines at international competitions. Their testosterone levels must be maintained <5 nmol/L, as measured by gas/liquid chromatography tandem mass spectrometry, to be eligible to compete in the female classification. However, no athlete can be forced to undergo assessment and treatment in response to these regulations. It is solely the athlete's decision, in consultation with her medical team, whether or not to proceed with any evaluation or treatment.
The current clinical consensus is that women with severe hyperandrogenism should be diagnosed and treated in a manner appropriate to their gender identity (31). In the case of female identity, treatment may include suppression of serum testosterone levels by surgical or medical means, as well as gonadectomy if there is a risk of malignancy. In this context, hormonal contraceptives suppress levels of gonadal androgens very effectively also in women with severe hyperandrogenism and are generally well tolerated, with few side-effects and well-recognized risks, including venous thrombosis (70). However, an athlete may be concerned that such treatment could have an adverse impact on physical performance, and even without treatment she can compete in all events at national level and in any discipline except middle-distance track events at international competitions. At the same time, if untreated, the athlete must be informed of the progressive masculinization of her body, including certain irreversible changes (clitoromegaly, developing deep male voice).
In February of 2019, when the regulations were challenged by another athlete, CAS came to the conclusion that the regulations are necessary, reasonable and proportionate in order to preserve the integrity of female athletes in the restricted events and to ensure fair competition. This decision was appealed to the Swiss Federal Tribunal, which dismissed the athlete's case on July 31, 2019, so that, for the time being, at least these regulations apply to all female athletes. However, at the present point in time, the final decision on the appeal has not yet been taken by the Swiss Federal Supreme Court.
Conclusions
The present narrative review highlights the complex issue of severe hyperandrogenism in female athletes, including whether it is fair to allow women with male levels of testosterone to compete against those with normal female levels. Findings to date indicate an elevated prevalence of both mild and severe forms of hyperandrogenism among female athletes. This is probably due to selection bias, since essential hyperandrogenism may be advantageous for athletic performance and there is no evidence that athletic activities promote the development of hyperandrogenism. Indeed, increasing scientific evidence indicates that testosterone (exogenous, as well as endogenous) enhances muscle mass and physical performance of women. Furthermore, no known genetic or biological trait provides a better explanation than levels of testosterone for the 10–20% advantage that male athletes have over female athletes. Nonetheless, whether or not women with high levels of testosterone should be allowed to compete with women with normal female levels remain highly controversial. The regulations established in this context by the IAAF have been approved by CAS, but the final decision by the Swiss Federal Supreme Court is still pending.
Declaration of interest
A L Hirschberg is a medical and scientific consultant to the Swedish Olympic Committee and a member of the working groups on hyperandrogenic female and transgender athletes set up by the International Association of Athletics Federation (IAAF) and the International Olympic Committee (IOC).
Funding
A L Hirschberg's research discussed here was financed by grants from the International Athletics Foundation, the Swedish Research Council (2017-02051), the Swedish Research Council for Sport Science and the Karolinska Institutet. Lawley Pharmaceuticals provided the treatment with testosterone and placebo.
References
1. Nattiv A, Loucks AB, Manore MM, Sanborn CF, Sundgot-Borgen J, Warren MP. & American College of Sports Medicine. Americans College of Sports Medicine position stand. The female athlete triad. Medicine and Science in Sports and Exercise 2007. 39 1867–1882. ( 10.1249/mss.0b013e318149f111) [PubMed] [CrossRef] [Google Scholar]
2. Loucks AB, Horvath SM. Athletic amenorrhea: a review. Medicine and Science in Sports and Exercise 1985. 17 56–72. ( 10.1249/00005768-198502000-00010) [PubMed] [CrossRef] [Google Scholar]
3. Loucks AB, Mortola JF, Girton L, Yen SS. Alterations in the hypothalamic-pituitary-ovarian and the hypothalamic-pituitary-adrenal axes in athletic women. Journal of Clinical Endocrinology and Metabolism 1989. 68 402–411. ( 10.1210/jcem-68-2-402) [PubMed] [CrossRef] [Google Scholar]
4. Hirschberg AL. Sport and menses. In Encyclopedia of Endocrine Diseases, 2nd ed. vol. 2, pp. 461–470. Eds Huhtaniemi I. & Martini L. Oxford, UK: Academic Press, 2019. ( 10.1016/c2016-1-01662-0) [CrossRef] [Google Scholar]
5. Lindholm C, Hirschberg AL, Carlström K, von Schoultz B. Altered adrenal steroid metabolism behind hypercortisolism in female endurance athletes? Fertility and Sterility 1995. 63 1190–1194. ( 10.1016/S0015-0282(16)57595-5) [PubMed] [CrossRef] [Google Scholar]
6. Barbarino A, De Marinis L, Tofani A, Della Casa S, D'Amico C, Mancini A, Corsello SM, Sciuto R, Barini A. Corticotropin-releasing hormone inhibition of gonadotropin release and the effect of opioid blockade. Journal of Clinical Endocrinology and Metabolism 1989. 68 523–528. ( 10.1210/jcem-68-3-523) [PubMed] [CrossRef] [Google Scholar]
7. Laughlin GA, Yen SS. Nutritional and endocrine-metabolic aberrations in amenorrheic athletes. Journal of Clinical Endocrinology and Metabolism 1996. 81 4301–4309. ( 10.1210/jcem.81.12.8954031) [PubMed] [CrossRef] [Google Scholar]
8. Rickenlund A, Thorén M, Nybacka A, Frystyk J, Hirschberg AL. Effects of oral contraceptives on diurnal profiles of insulin, insulin-like growth factor binding protein-1, growth hormone and cortisol in endurance athletes with menstrual disturbances. Human Reproduction 2010. 25 85–93. ( 10.1093/humrep/dep350) [PMC free article] [PubMed] [CrossRef] [Google Scholar]
9. Laughlin GA, Yen SS. Hypoleptinemia in women athletes: absence of a diurnal rhythm with amenorrhea. Journal of Clinical Endocrinology and Metabolism 1997. 82 318–321. ( 10.1210/jcem.82.1.3840) [PubMed] [CrossRef] [Google Scholar]
10. Loucks AB, Laughlin GA, Mortola JF, Girton L, Nelson JC, Yen SS. Hypothalamic-pituitary-thyroidal function in eumenorrheic and amenorrheic athletes. Journal of Clinical Endocrinology and Metabolism 1992. 75 514–518. ( 10.1210/jcem.75.2.1639953) [PubMed] [CrossRef] [Google Scholar]
11. Loucks AB, Verdun M, Heath EM. Low energy availability, not stress of exercise, alters LH pulsatility in exercising women. Journal of Applied Physiology 1998. 84 37–46. ( 10.1152/jappl.1998.84.1.37) [PubMed] [CrossRef] [Google Scholar]
12. Loucks AB, Thuma JR. Luteinizing hormone pulsatility is disrupted at a threshold of energy availability in regularly menstruating women. Journal of Clinical Endocrinology and Metabolism 2003. 88 297–311. ( 10.1210/jc.2002-020369) [PubMed] [CrossRef] [Google Scholar]
13. Melin AK, Heikura IA, Tenforde A, Mountjoy M. Energy availability in athletics: health, performance, and physique. International Journal of Sport Nutrition and Exercise Metabolism 2019. 29 152–164. ( 10.1123/ijsnem.2018-0201) [PubMed] [CrossRef] [Google Scholar]
14. Hagmar M, Hirschberg AL, Berglund L, Berglund B. Special attention to the weight control strategies employed by Olympic athletes striving for leanness is required. Clinical Journal of Sport Medicine 2008. 18 5–9. ( 10.1097/JSM.0b013e31804c77bd) [PubMed] [CrossRef] [Google Scholar]
15. Sundgot-Borgen J, Torstveit MK. Aspects of disordered eating continuum in elite highintensity sports. Scandinavian Journal of Medicine and Science in Sports 2010. 20 (Supplement 2) 112–121. ( 10.1111/j.1600-0838.2010.01190.x) [PubMed] [CrossRef] [Google Scholar]
16. Warren MP. The effects of exercise on pubertal progression and reproductive function in girls. Journal of Clinical Endocrinology and Metabolism 1980. 51 1150–1157. ( 10.1210/jcem-51-5-1150) [PubMed] [CrossRef] [Google Scholar]
17. Drinkwater BL, Nilson K, Chesnut CH, Bremner WJ, Shainholtz S, Southworth MB. Bone mineral content of amenorrheic and eumenorrheic athletes. New England Journal of Medicine 1984. 311 277–281. ( 10.1056/NEJM198408023110501) [PubMed] [CrossRef] [Google Scholar]
18. De Souza MJ, West SL, Jamal SA, Hawker GA, Gundberg CM, Williams NI. The presence of both an energy deficiency and estrogen deficiency exacerbate alterations of bone metabolism in exercising women. Bone 2008. 43 140–148. ( 10.1016/j.bone.2008.03.013) [PubMed] [CrossRef] [Google Scholar]
19. De Souza MJ, Nattiv A, Joy E, Misra M, Williams NI, Mallinson RJ, Gibbs JC, Olmsted M, Goolsby M, Matheson G, et al 2014 Female Athlete Triad Coalition consensus statement on treatment and return to play of the female athlete triad: 1st International Conference in San Francisco, CA, May 2012, and 2nd International Conference in Indianapolis, IN, May 2013. Clinical Journal of Sport Medicine 2014. 24 96–119. ( 10.1097/JSM.0000000000000085) [PubMed] [CrossRef] [Google Scholar]
20. Misra M, Katzman D, Miller KK, Mendes N, Snelgrove D, Russell M, Goldstein MA, Ebrahimi S, Clauss L, Weigel T, et al Physiological estrogen replacement increases bone density in adolescent girls with anorexia nervosa. Journal of Bone and Mineral Research 2011. 26 2430–2438. ( 10.1002/jbmr.447) [PMC free article] [PubMed] [CrossRef] [Google Scholar]
21. Rickenlund A, Carlström K, Ekblom B, Brismar TB, von Schoultz B, Hirschberg AL. Hyperandrogenicity is an alternative mechanism underlying oligomenorrhea and amenorrhea in female athletes and may improve physical performance. Fertility and Sterility 2003. 79 947–955. ( 10.1016/s0015-0282(02)04850-1) [PubMed] [CrossRef] [Google Scholar]
22. Rickenlund A, Thorén M, Carlström K, von Schoultz B, Hirschberg AL. Diurnal profiles of testosterone and pituitary hormones suggest different mechanisms for menstrual disturbances in endurance athletes. Journal of Clinical Endocrinology and Metabolism 2004. 89 702–707. ( 10.1210/jc.2003-030306) [PubMed] [CrossRef] [Google Scholar]
23. Hagmar M, Berglund B, Brismar K, Hirschberg AL. Hyperandrogenism may explain reproductive dysfunction in female Olympic athletes. Medicine and Science in Sports and Exercise 2009. 41 1241–1248. ( 10.1249/MSS.0b013e318195a21a) [PubMed] [CrossRef] [Google Scholar]
24. Rosenfield RL, Ehrmann DA. The pathogenesis of polycystic ovary syndrome (PCOS): the hypothesis of PCOS as functional ovarian hyperandrogenism revisited. Endocrine Reviews 2016. 37 467–520. ( 10.1210/er.2015-1104) [PMC free article] [PubMed] [CrossRef] [Google Scholar]
25. Teede HJ, Misso ML, Costello MF, Dokras A, Laven J, Moran L, Piltonen T, Norman RJ. & International PCOS Network. Recommendationsfrom the international evidence-based guideline for the assessment and management ofpolycystic ovary syndrome. Fertility and Sterility 2018. 110 364–379. ( 10.1016/j.fertnstert.2018.05.004) [PMC free article] [PubMed] [CrossRef] [Google Scholar]
26. Dadgostar H, Razi M, Aleyasin A, Alenabi T, Dahaghin S. The relation between athletic sports and prevalence of amenorrhea and oligomenorrhea in Iranian female athletes. Sports Medicine, Arthroscopy, Rehabilitation, Therapy and Technology 2009. 1 16 ( 10.1186/1758-2555-1-16) [PMC free article] [PubMed] [CrossRef] [Google Scholar]
27. Eliakim A, Marom N, Galitskaya L, Nemet D. Hyperandrogenism among elite adolescent female athletes. Journal of Pediatric Endocrinology and Metabolism 2010. 23 755–758. ( 10.1515/jpem.2010.124) [PubMed] [CrossRef] [Google Scholar]
28. Coste O, Paris F, Galtier F, Letois F, Maïmoun L, Sultan C. Polycystic ovary-like syndrome in adolescent competitive swimmers. Fertility and Sterility 2011. 96 1037–1042. ( 10.1016/j.fertnstert.2011.07.006) [PubMed] [CrossRef] [Google Scholar]
29. Javed A, Kashyap R, Lteif AN. Hyperandrogenism in female athletes with functional hypothalamic amenorrhea: a distinct phenotype. International Journal of Women's Health 2015. 7 103–111. ( 10.2147/IJWH.S73011) [PMC free article] [PubMed] [CrossRef] [Google Scholar]
30. Handelsman DJ, Hirschberg AL, Bermon S. Circulating testosterone as the hormonal basis of sex differences in athletic performance. Endocrine Reviews 2018. 39 803–829. ( 10.1210/er.2018-00020) [PMC free article] [PubMed] [CrossRef] [Google Scholar]
31. Lee PA, Nordenström A, Houk CP, Ahmed SF, Auchus R, Baratz A, Baratz Dalke K, Liao LM, Lin-Su K, Looijenga LH, 3rd, et al Global disorders of sex development update since 2006: perceptions, approach and care. Hormone Research in Paediatrics 2016. 85 158–180. ( 10.1159/000442975) [PubMed] [CrossRef] [Google Scholar]
32. Bermon S, Garnier PY, Hirschberg AL, Robinson N, Giraud S, Nicoli R, Baume N, Saugy M, Fénichel P, Bruce SJ, et al Serum androgen levels in elite female athletes. Journal of Clinical Endocrinology and Metabolism 2014. 99 4328–4335. ( 10.1210/jc.2014-1391) [PubMed] [CrossRef] [Google Scholar]
33. Croson R, Gneezy U. Gender differences in preferences. Journal of Economic Literature 2009. 47 448–474. ( 10.1257/jel.47.2.448) [CrossRef] [Google Scholar]
34. Hirschberg AL. The role of androgens for body composition and physical performance in women. In Menstrual Cycle Related Disorders, ch 4, pp. 43–54. Eds Berga SL, Genazzani AR, Naftolin F. & Petraglia F. Berlin, Germany: ISGE, Springer Nature, 2019. ( 10.1007/978-3-030-14358-9_4) [CrossRef] [Google Scholar]
35. Longcope C. Adrenal and gonadal androgen secretion in normal females. Clinics in Endocrinology and Metabolism 1986. 15 213–228. ( 10.1016/s0300-595x(86)80021-4) [PubMed] [CrossRef] [Google Scholar]
36. Burger HG. Androgen production in women. Fertility and Sterility 2002. 77 (Supplement 4) S3–S5. ( 10.1016/s0015-0282(02)02985-0) [PubMed] [CrossRef] [Google Scholar]
37. Labrie F, Martel C, Belanger A, Pelletier G. Androgens in women are essentially made from DHEA in each peripheral tissue according to intracrinology. Journal of Steroid Biochemistry and Molecular Biology 2017. 168 9–18. ( 10.1016/j.jsbmb.2016.12.007) [PubMed] [CrossRef] [Google Scholar]
38. Dunn JF, Nisula BC, Rodbard D. Transport of steroid hormones: binding of 21 endogenous steroids to both testosterone-binding globulin and corticosteroid-binding globulin in human plasma. Journal of Clinical Endocrinology and Metabolism 1981. 53 58–68. ( 10.1210/jcem-53-1-58) [PubMed] [CrossRef] [Google Scholar]
39. Pretorius E, Arlt W, Storbeck KH. A new dawn for androgens: novel lessons from 11-oxygenated C19 steroids. Molecular and Cellular Endocrinology 2017. 441 76–85. ( 10.1016/j.mce.2016.08.014) [PubMed] [CrossRef] [Google Scholar]
40. Mooradian AD, Morley JE, Korenman SG. Biological actions of androgens. Endocrine Reviews 1987. 8 1–28. ( 10.1210/edrv-8-1-1) [PubMed] [CrossRef] [Google Scholar]
41. Notelovitz M. Androgen effects on bone and muscle. Fertility and Sterility 2002. 77 (Supplement 4) S34–S41. ( 10.1016/s0015-0282(02)02968-0) [PubMed] [CrossRef] [Google Scholar]
42. Herbst KL, Bhasin S. Testosterone action on skeletal muscle. Current Opinion in Clinical Nutrition and Metabolic Care 2004. 7 271–277. ( 10.1097/00075197-200405000-00006) [PubMed] [CrossRef] [Google Scholar]
43. Manttari S, Anttila K, Jarvilehto M. Testosterone stimulates myoglobin expression in different muscles of the mouse. Journal of Comparative Physiology: B, Biochemical, Systemic, and Environmental Physiology 2008. 178 899–907. ( 10.1007/s00360-008-0280-x) [PubMed] [CrossRef] [Google Scholar]
44. Almeida M, Laurent MR, Dubois V, Claessens F, O'Brien CA, Bouillon R, Vanderschueren D, Manolagas SC. Estrogens and androgens in skeletal physiology and pathophysiology. Physiological Reviews 2017. 97 135–187. ( 10.1152/physrev.00033.2015) [PMC free article] [PubMed] [CrossRef] [Google Scholar]
45. Shahani S, Braga-Basaria M, Maggio M, Basaria S. Androgens and erythropoiesis: past and present. Journal of Endocrinological Investigation 2009. 32 704–716. ( 10.1007/BF03345745) [PubMed] [CrossRef] [Google Scholar]
46. Bachman E, Travison TG, Basaria S, Davda MN, Guo W, Li M, Connor Westfall J, Bae H, Gordeuk V, Bhasin S. Testosterone induces erythrocytosis via increased erythropoietin and suppressed hepcidin: evidence for a new erythropoietin/hemoglobin set point. Journals of Gerontology: Series A, Biological Sciences and Medical Sciences 2014. 69 725–735. ( 10.1093/gerona/glt154) [PMC free article] [PubMed] [CrossRef] [Google Scholar]
47. Ekblom B, Goldbarg AN, Gullbring B. Response to exercise after blood loss and reinfusion. Journal of Applied Physiology 1972. 33 175–180. ( 10.1152/jappl.1972.33.2.175) [PubMed] [CrossRef] [Google Scholar]
48. Archer J. Testosterone and human aggression: an evaluation of the challenge hypothesis. Neuroscience and Biobehavioral Reviews 2006. 30 319–345. ( 10.1016/j.neubiorev.2004.12.007) [PubMed] [CrossRef] [Google Scholar]
49. Wood RI, Stanton SJ. Testosterone and sport: current perspectives. Hormones and Behavior 2012. 61 147–155. ( 10.1016/j.yhbeh.2011.09.010) [PMC free article] [PubMed] [CrossRef] [Google Scholar]
50. Blanco C, Ibanez A, Blanco-Jerez CR, Baca-Garcia E, Saiz-Ruiz J. Plasma testosterone and pathological gambling. Psychiatry Research 2001. 105 117–121. ( 10.1016/s0165-1781(01)00333-x) [PubMed] [CrossRef] [Google Scholar]
51. Aleman A, Bronk E, Kessels RPC, Koppeschaar HPF, van Honk J. A single administration of testosterone improves visuospatial ability in young women. Psychoneuroendocrinology 2004. 29 612–617. ( 10.1016/S0306-4530(03)00089-1) [PubMed] [CrossRef] [Google Scholar]
52. Moffat SD, Hampson E. A curvilinear relationship between testosterone and spatial cognition in humans: possible influence of hand preference. Psychoneuroendocrinology 1996. 21 323–337. ( 10.1016/0306-4530(95)00051-8) [PubMed] [CrossRef] [Google Scholar]
53. Franke WW, Berendonk B. Hormonal doping and androgenization of athletes: a secret program of the German Democratic Republic Government. Clinical Chemistry 1997. 43 1262–1279. ( 10.1093/clinchem/43.7.1262) [PubMed] [CrossRef] [Google Scholar]
54. Huang G, Basaria S, Travison TG, Ho MH, Davda M, Mazer NA, Miciek R, Knapp PE, Zhang A, Collins L, et al Testosterone dose-response relationships in hysterectomized women with or without oophorectomy: effects on sexual function, body composition, muscle performance and physical function in a randomized trial. Menopause 2014. 21 612–623. ( 10.1097/GME.0000000000000093) [PMC free article] [PubMed] [CrossRef] [Google Scholar]
55. Hirschberg AL, Elings Knutsson J, Helge T, Godhe M, Ekblom M, Bermon S, Ekblom B. Effects of moderately increased testosterone concentration on physical performance in young women: a double blind, randomised, placebo controlled study. British Journal of Sports Medicine 2019. [epub]. ( 10.1136/bjsports-2018-100525) [PubMed] [CrossRef] [Google Scholar]
56. Bosco C, Tihanyi J, Viru A. Relationships between field fitness test and basal serum testosterone and cortisol levels in soccer players. Clinical Physiology 1996. 16 317–322. ( 10.1111/j.1475-097x.1996.tb00577.x) [PubMed] [CrossRef] [Google Scholar]
57. Cardinale M, Stone MH. Is testosterone influencing explosive performance? Journal of Strength and Conditioning Research 2006. 20 103–107. ( 10.1519/R-16864.1) [PubMed] [CrossRef] [Google Scholar]
58. Bermon S, Garnier PY. Serum androgen levels and their relation to performance in track and field: mass spectrometry results from 2127 observations in male and female elite athletes. British Journal of Sports Medicine 2017. 51 1309–1314. ( 10.1136/bjsports-2017-097792) [PubMed] [CrossRef] [Google Scholar]
59. Bermon S, Hirschberg AL, Kowalski J, Eklund E. Serum androgen levels are positively correlated with athletic performance and competition results in elite female athletes. British Journal of Sports Medicine 2018. 52 1531–1532. ( 10.1136/bjsports-2018-099700) [PubMed] [CrossRef] [Google Scholar]
60. Eklund E, Berglund B, Labrie F, Carlström K, Ekström L, Hirschberg AL. Serum androgen profile and physcial performance in women Olympic athletes. British Journal of Sports Medicine 2017. 51 1301–1308. ( 10.1136/bjsports-2017-097582) [PubMed] [CrossRef] [Google Scholar]
61. Kogure GS, Silva RC, Picchi Ramos FK, Miranda-Furtado CL, Lara LA, Ferriani RA, Dos Reis RM. Women with polycystic ovary syndrome have greater muscle strength irrespective of body composition. Gynecological Endocrinology 2015. 31 237–242. ( 10.3109/09513590.2014.982083) [PubMed] [CrossRef] [Google Scholar]
62. Bermon S. Androgens and athletic performance of elite female athletes. Current Opinion in Endocrinology, Diabetes, and Obesity 2017. 24 246–251. ( 10.1097/MED.0000000000000335) [PubMed] [CrossRef] [Google Scholar]
63. Karkazis K, Jordan-Young R, Davis G, Camporesi S. Out of bounds? A critique of the new policies on hyperandrogenism in elite female athletes. American Journal of Bioethics 2012. 12 3–16. ( 10.1080/15265161.2012.680533) [PMC free article] [PubMed] [CrossRef] [Google Scholar]
64. Bermon S, Ritzén M, Hirschberg AL, Murray TH. Are the new policies on hyperandrogenism in elite female athletes really out of bounds? Response to 'out of bounds? A critique of the new policies on hyperandrogenism in elite female athletes'. American Journal of Bioethics 2013. 13 63–65. ( 10.1080/15265161.2013.776129) [PubMed] [CrossRef] [Google Scholar]
65. Healy ML, Gibney J, Pentecost C, Wheeler MJ, Sonksen PH. Endocrine profiles in 693 elite athletes in the postcompetition setting. Clinical Endocrinology 2014. 81 294–305. ( 10.1111/cen.12445) [PubMed] [CrossRef] [Google Scholar]
66. Ritzén M, Ljungqvist A, Budgett R, Garnier PY, Bermon S, Hirschberg AL, Vilain E, Martínez-Patiño MJ. The regulations about eligibility for women with hyperandrogenism to compete in women's category are well founded. A rebuttal to the conclusions by Healy, et al. Clinical Endocrinology 2015. 82 307–308. ( 10.1111/cen.12531) [PubMed] [CrossRef] [Google Scholar]
67. Sonksen P, Ferguson-Smith MA, Bavington LD, Holt RI, Cowan DA, Catlin DH, Kidd B, Davis G, Davis P, Edwards L, et al Medical and ethical concerns regarding women with hyperandrogenism and elite sport. Journal of Clinical Endocrinology and Metabolism 2015. 100 825–827. ( 10.1210/jc.2014-3206) [PubMed] [CrossRef] [Google Scholar]
68. Allen DB. Hormonal eligibility criteria for 'includes females' competition: a practical but problematic solution. Hormone Research in Paediatrics 2016. 85 278–282. ( 10.1159/000444054) [PubMed] [CrossRef] [Google Scholar]
69. Hirschberg AL. Hyperandrogenism in female athletes. Journal of Clinical Endocrinology and Metabolism 2019. 104 503–505. ( 10.1210/jc.2018-01676) [PubMed] [CrossRef] [Google Scholar]
70. Stegeman BH, de Bastos M, Rosendaal FR, van Hylckama Vlieg A, Helmerhorst FM, Stijnen T, Dekkers OM. Different combined oral contraceptives and the risk of venous thrombosis: systematic review and network meta-analysis. BMJ 2013. 347 f5298 ( 10.1136/bmj.f5298) [PMC free article] [PubMed] [CrossRef] [Google Scholar]
---
Articles from Endocrine Connections are provided here courtesy of Bioscientifica Ltd.
---
March 31st 2023
Crisis, what crisis? A feminist analysis of discourse on masculinities and suicide
Ana Jordan, University of Lincoln
Amy Chandler, University of Edinburgh

Crisis, what crisis? A feminist analysis of discourse on masculinities and suicide
Ana Jordan, University of Lincoln
Amy Chandler, University of Edinburgh
Abstract
High male suicide rates are often constructed as evidence for an apparent "crisis of
masculinity". Conversely, "crisis of masculinity" has been used to explain differential rates of
male and female suicide in the UK (and elsewhere). We analyse three public cases where
male suicide and "masculinity-crisis" discourse are employed together. Our feminist analysis
demonstrates that "crisis talk" and male suicide are addressed in divergent ways. We
therefore distinguish between "progressive" and "conservative" crisis narratives.
Conservative narratives position high male suicide rates as a pernicious outcome of "threats"
to traditional gender roles and norms, suggesting the solution is to return to them.
Contrastingly, progressive crisis accounts use male suicide to demonstrate that existing
gender norms harm men as well as women and argue they should be altered to address male
suicide. Conservative narratives often map on to anti-feminist politics, whereas progressive
accounts reflect aspects of feminism. There is no neat feminist/anti-feminist distinction,
however, as postfeminist ideas are also evident. We argue that, overall, each of the
articulations of a "crisis of masculinity" as evidenced by high rates of male suicide reinforces
problematic gender politics. Further, in reifying simplistic, dualistic models of gender, they
may ultimately constrain efforts to reduce suicide.
KEYWORDS: suicide, crisis, masculinities, men's health, men's movements
brought to you by COREView metadata, citation and similar papers at core.ac.uk
provided by University of Lincoln Institutional Repository2
Introduction
A gap between male and female suicide rates has been a longstanding feature of knowledge
about suicide (Durkheim, 1952; Jaworski, 2014; Scourfield, 2005). In the majority of
countries where data is available, rates are between three and five times higher among men
than women (Payne, Swami, & Stanistreet, 2008). For instance, the latest UK rates are 3.1
times higher for men than women; though this difference varies across time, region and age
group (Scowcroft, 2017). Recently in the UK the difference between male and female suicide
rates has been greatest among those in mid-life, aged between 35 and 54 (Wyllie et al., 2012).
This is undoubtedly a worrying picture. There is scepticism, however, that such statistics
reflect the "reality" of suicide as they incorporate gendered assumptions about what counts as
suicide, ignoring higher rates of attempted suicide (as opposed to completed suicide) and self-
harm among women (Jaworski, 2014; Scourfield, 2005). Commentaries on men's health
frame suicide as one among many health inequalities faced by men, including lower life
expectancies, specific forms of cancer, and heart disease (Courtenay, 2000; Creighton &
Oliffe, 2010). High (and sometimes rising) rates of male suicide have been constructed as one
among many pieces of evidence that men, and masculinity, is in "crisis" (Canetto & Cleary,
2012; Scourfield, 2005). It is the gender politics of these deployments of male suicide which
we seek to analyse/trouble in this article.
The "problem" of male suicide has recently received heightened attention in UK public
discourse, driven by: interventions from high-profile media commentators and celebrities
(e.g. musician Professor Green, comedian and author Stephen Fry); coverage of deaths of
well-known men who have died by suicide (e.g. footballer Gary Speed, actor Robin
Williams); and the activities of suicide prevention charities (e.g. the Samaritans' 2012 Men,
Suicide and Society report). Researchers across different disciplines have also begun to
address male suicide as a gendered issue, though as Katrina Jaworski (2014) and others have3
noted, research investigating male suicide often lacks a critical gender perspective (Canetto,
2017; Mac an Ghaill & Haywood, 2012; Mallon, Galway, Hughes, Rondón-Sulbarán, &
Leavey, 2016; Scourfield, 2005). In this article, we contribute to ongoing efforts to subject
the "problem" of male suicide to critical analysis. In doing so, we align ourselves with
Jaworski's arguments for a more nuanced and critical analysis of the 'gender of suicide'. Like
Jaworski, we are concerned with how suicide itself, as well as discourse about suicide, comes
to be gendered, in addition to examining how understandings of suicide contribute to broader
gender discourses. This argument also supports Connell's (2012, p. 1675) call for 'gender [to
be] seen as the active social process that brings … bodies into history, generating health
consequences not as a side-effect but in the making of gender itself'.
Our arguments draw on an analysis of public discourse about suicide, based on three UK case
studies where public figures have employed the notion of "crisis" to articulate a close
relationship between gender and suicide. The texts are written/spoken by: Labour party MP
Diane Abbott, activist Glen Poole, and Jane Powell, former CEO of men's suicide prevention
charity, the Campaign Against Living Miserably, or 'CALM.'1 These cases are examples of a
broader trend where high male suicide rates are constructed in various contexts as the starkest
outcome of "masculinity in crisis". Our analysis demonstrates that this discourse is framed in
divergent ways, with differing relationships to feminist thought. We term these conservative
and progressive crisis narratives. However, we suggest that in both conservative and
progressive perspectives, discourse about suicide among men draws upon simplistic and
dualistic models of gender, obfuscating complexity and diverting attention from the existence
and potentialities of multiple masculinities/femininities. Ultimately, we argue, such discourse
1 CALM – Campaign Against Living Miserably, Jane Powell is a co-founder of the charity which campaigns to
reduce male suicide, and was CEO from its inception in 2005 up until 2017 when she stepped down.4
may constrain attempts to better understand (and reduce) rates of suicide among men and
women.
Crisis of masculinity?
In the UK, played out in the media, in politics, and in popular culture, talk about a "crisis" of
masculinity has expanded (Roberts, 2014). Numerous issues have been constructed as
symptomatic of a crisis of masculinity, for example, men's criminality, boys' schooling,
working-class men's employment opportunities, "absent" fatherhood and the "breakdown" of
the family (Griffin, 2000; Jordan, 2014; McDowell, 2000). High rates of male suicide are
frequently employed as a piece of especially compelling evidence of this purported crisis
(Scourfield, 2005).
Both the idea and actuality of a "crisis of masculinity" has been thoroughly critiqued by
gender scholars. Connell (2005b, p. 84) has suggested that the entire 'gender order' has
'crisis tendencies' as masculinity is not a stable signifier. There are contradictions internal to
masculinity, and to the gender order, which render both inherently unstable. It is therefore
perhaps unsurprising that masculinity might be construed as almost continually under threat.
Whilst these threats are partially imaginary, the result of the contingent, fragile social
construction of masculinity, "crisis" discourse becomes most intense at times of rapid social,
economic and political change, or when social movements challenge inequality, injustice and
oppression (de Boise, 2014; Kimmel, 2013; Roberts, 2014; Whitehead, 2002). Masculinity
panics have been documented in different locations at various points across the last four
centuries (Kimmel 2012; Whitehead 2002), and at least as far back as the French Revolution
(Lampron, 2008 in Blais & Dupuis-Déri, 2012, p. 24). In short, 'concerns about men […]
were never far from social and political discourse' (Whitehead 2002: 58).5
Crises of masculinity continue to emerge as a matter of concern in popular and public
discourse about men. These periodic crises are often presented as distinctly modern and
novel, a move driven by efforts to mobilise nostalgia about a mythical, romanticised past
when men were "real" men (invariably white, heterosexual) and women were "proper
women" (Kimmel 2012; Whitehead 2002). While there are common themes across "crisis"
narratives, there are also disjunctures in the framing of gender and gender relations. We
therefore distinguish between what we call conservative and progressive crisis narratives.
Conservative crisis narratives construct high rates of male suicide as a particularly serious
outcome of ongoing threats to "traditional" gender roles and norms and advocate returning to
them. In contrast, progressive accounts draw on crisis narratives, but use male suicide to
demonstrate that existing gender norms harm men as well as women, arguing that to address
male suicide, they should be altered. The conservative/progressive distinction is understood
as an analytical tool rather than a rigid distinction, and the case studies do not necessarily fall
neatly into one category. The distinction is used to highlight and emphasise the point that
while approaches which seek to alter masculinity may appear more radical, they are also
limited. Despite resonances across history and different political, cultural and socioeconomic
settings, the cases we analyse are to some extent specific to their contemporary UK context
and are also a small sample of the available texts within that context. The analytical
framework is therefore not presented as a universally applicable, generalisable typology, but
as an illustrative, theoretical device.
Gender, suicide and self-harm
Emile Durkheim's (Durkheim, 1952) Le Suicide notoriously dismissed female suicide
because it was apparently so uncommon. Durkheim's thesis regarding suicide emphasised the
importance of social bonds in understanding why suicide rates changed over time. Women,
he argued, were naturally less socially involved, and therefore less vulnerable to suicide due6
to damaged social bonds. Perhaps related to this early portrayal of female suicide as largely
irrelevant, most suicide research has proceeded to assume a non-gendered, but nevertheless
implicitly male (and usually white, heterosexual) subject.
In contrast, our own approach to gender and suicide is informed by critical gender theories
which seek to unsettle binary, biologically determinist distinctions between men and women,
emphasising instead the socially and culturally contingent nature of gender (Connell 2005b).
Within suicide research, this approach is well illustrated in Jaworski's (2003, 2014)
compelling deconstructions of gender and suicide. Jaworski argues that the gendering of
suicide is intimately related to the nature of suicidology, with pre-existing constructions of
gender infusing understandings of what suicide is in the field. Drawing on Judith Butler's
theory of performativity, Jaworski argues that suicide can be understood as process of
"ritualized [repeated] bodily gestures that speak of gender" (2014, p. 42). Gender may
implicitly shape average differences in how men and women suicide, via 'choice' of
particular suicide methods. Further, on a broader symbolic level, gendered assumptions also
fundamentally shape how acts of suicide – or self-harm – are interpreted. Jaworksi's
arguments resonate with, and add a distinct gendered dimension to, that of other critical
scholars of suicide (particularly, though not exclusively, those working in the humanities and
social sciences) who have demonstrated the multiple ways in which practices and knowledge
about suicide (and self-harm) are contingent, performative, and contested (Chandler, 2016;
Douglas, 1967; Marsh, 2010; Timmermans, 2005).
As Jaworski notes, one of the ways in which suicide research has been shown to rely
intimately on gendered understandings is in the demarcation of suicide from self-harm. Self-
harm is associated with women, more likely framed as 'passive', 'attention-seeking', a 'failed
attempt'. For Jaworski, such framing enables suicide to be constructed as 'active',
'successful' – traits commonly represented as masculine. She argues that these characteristics7
are not inherent aspects of acts of self-harm (whether these result in death or not), but are
read into them, through gender. The frequent, repetitive, emphasis on the divergence
between male and female suicide rates is part of this gendering, and can deflect attention
from the higher rates of non-fatal self-harm, including 'attempted suicide', that are
reported/recorded among women (Canetto & Sakinofsky, 1998). Instead, discourse about
suicide often focuses almost exclusively upon suicide as a problem for men (Canetto &
Cleary, 2012; Mallon et al. 2016; Oliffe et al., 2017; Scourfield, Fincham, Langer, & Shiner,
2012). The 'gender paradox' in suicide and self-harm has been identified for at least 20 years,
and has been considered in some attempts to understand higher rates of men's suicide
compared to women. Hypotheses include: men use more fatal methods when self-harming,
increasing chances of death, while women are more likely to live; men being less likely to
seek help for mental health problems; and suggestions that part of the paradox results from
biased data/reporting (Canetto & Sakinofsky, 1998; Payne et al., 2008).
Our analysis contributes to critical studies of suicide (a 'critical suicidology', see White,
Marsh, Kral, & Morris, 2016) in demonstrating how suicide is enrolled as a "fact" to support
arguments about a "crisis" of masculinity. By interrogating the politics of masculinities at
work in the case studies, we support claims about the problematic construction of suicide in
masculinist terms.
Accounts of suicide, crisis and men
To illustrate the divergent ways that crisis of masculinity narratives are articulated in public
accounts of male suicide, we analyse three non-academic textual case studies centred around
UK public figures who have been vocal on this issue. Consonant with our in-depth,
qualitative approach in this paper, the cases were chosen to reflect and illustrate our primarily
theoretical concerns with the contemporary politics of gender and male suicide as they reflect8
different elements of progressive and conservative versions of crisis of masculinity discourse
that draws upon male suicide. These are not, of course, the only examples where "crisis"
narratives invoke male suicide, nor are they fully representative of such discourse. However,
they do resonate with other articulations of links between male suicide and crisis (Scourfield
2005), as well as with wider crisis of masculinity narratives identified in the literature. These
specific cases were selected as opposed to others which might have fulfilled the theoretical
criteria, because they have each been prominent in recent UK public discourses, and they
"speak" directly to each other, as outlined below. Finally, the cases arise from slightly
different contexts/perspectives which are influential in terms of understanding gender and
suicide – the formal political arena, men's activism, and a suicide prevention campaign. As
discussed in the conclusion, we recognise that cases articulated within other arenas and from
alternative perspectives could be equally illuminating, and we hope that future research will
build on the insights derived from this small, exploratory study.
The first case is a transcript of a speech given in 2013 by Labour party Member of Parliament
(MP), Diane Abbott. Abbott's speech is selected as an exemplar of a predominantly
progressive narrative about the purported crisis of masculinity in contemporary Britain. The
second case is writing by Glen Poole, a commentator and activist on 'men's issues'. We
examine Poole's response to a pre-released summary of Abbott's speech, published in The
Guardian in 2013. This is supplemented with some of Poole's more recent writing addressing
masculinity, crisis and suicide. In contrast to Abbott, we argue that Poole's perspective is
broadly paradigmatic of a conservative, anti-feminist, crisis narrative. Our third case consists
of articles and blogs by Jane Powell, founder and former CEO of a men's suicide prevention
charity, CALM. There are interesting links between Powell and Poole, as Poole has
contributed to CALM's website, and served on the advisory board for the 2014 Crisis of Male
Suicide report commissioned by CALM, which we discuss below.9
Our primary aim in deconstructing these texts is not to interrogate the factual accuracy of the
claims made about men and suicide. Instead, our intention is to use them as a heuristic
device, indicative of the terms in which public discussion of male suicide, and the "crisis" of
masculinity is currently taking place in contemporary Britain. This reflects a feminist
'displacement' approach which entails challenging 'the hold of particular gendered
discourses' (Squires, 1999, p. 111). This branch of feminist analysis takes narratives/texts
seriously, drawing attention to their power-laden effects, and seeking to both reveal and
disrupt the socially constructed assumptions underpinning dominant ideas of gender (in this
case in relation to suicide).
The textual analysis was conducted thematically. Both authors independently read the texts
and investigated questions such as: how is masculinity constructed?; how is masculinity
linked to male suicide?; how is gender perceived (socially/biologically determined)?; is
"crisis" conceived of as positive or negative?; is feminism invoked as related to male suicide
and if so, how?; what solution(s), if any, are proposed to deal with a) male suicide and b)
crisis of masculinity more generally; what is highlighted and/or obscured about gender and
suicide? Overall, we critically interrogated the gendering of suicide in these accounts, with
final themes arrived at and agreed through a process of iterative discussion and deliberation.
While we identified many commonalities across these texts in their response to, and
construction of, the "problem" of male suicide and masculinity, our analysis drew out
important differences, suggesting the very different orientations each writer/speaker has to
feminism.
Diane Abbott: Britain's crisis of masculinity
In 2013, Diane Abbott, Labour MP for the constituency of Hackney North and Stoke
Newington, gave a speech entitled 'Britain's Crisis of Masculinity' (Abbott 2013). Of the11
bank manager, the breadwinner, the family man. Yesterday's heroes, in the fantasies
and the realities of British life, were affirmed, in part, by physical strength, silent
stoicism, and athletic daring (p. 4)
The problem facing men today is that the 'gold standard' of 'what made a British man' has
'melted into taking, owning and consuming' (p. 6). Men are constrained by an idealised
masculinity, now unattainable due to changing social and economic contexts: the decline of
heavy industry, and rise of consumerism. Whilst Abbott's progressive take on crisis
envisages altering masculinity to allow men/boys to adapt to a changed world, there is a clear
sense of longing for the industrial past when men could be "real" men. Romanticised notions
of men's roles in a fictional past surface when crisis of masculinity narratives become
prominent (Kimmel 2012). As discussed below, what we call conservative crisis perspectives
rely even more heavily on mournful lamentations about times gone by and fail to recognise
negative aspects of traditional styles of masculinity. Nevertheless, such fantasies of simpler
masculinity-times, albeit tempered in more progressive accounts like Abbott's, are often a
key feature of even the most promising understandings of the apparent crisis of masculinity.
Unlike more conservative commentators, Abbott does not suggest we return to this
mythologised past. The varied solutions she proposes include practical/policy changes
including provision of work and better vocational/technical education opportunities for
(working-class) men and men-specific helplines for mental health issues (p. 13). Abbott also
emphasises the need for cultural change in the social constructions of gender which lead to
men's problems in the arenas she identifies as locations of "crisis". For example, health
campaigns targeted at men should highlight that 'needing health treatment isn't a mark of
failure' and, in education, 'we must challenge male gender identities which do not value
learning and reading as a mark of success' (p. 10). More generally, 'we' need to:
---
SUICIDE, AN ISSUE FOR FEMINISTS
This article has sat in the draft out box for some weeks now, but Cristina Odone's extraordinary article in today's Telegraph http://blogs.telegraph.co.uk/news/cristinaodone/100082936/a-blubbing-politician-nick-clegg/ has prompted me to finish it. I confess I've no opinion on Nick Clegg whatsover, but clearly his suggestion that he has cried on occasion (listening to music), and doesn't enjoy being taunted, has struck a nerve with Christine. She likes her men to be real men. Strong and silent. And presumably lantern jawed and steely eyed; willing to carry all the heavy items and fix the blocked drain.

I am disturbed by women in the media demanding that men get back in their box. This should be challenged, and not just by men, but by those of us who remember just how oppressive it is to be constantly told just what we can be and aspire to. The idea that 'society' and society's expectations of us can play any influence in how we are, day to day, is difficult to prove. But from my own experience, I found the clash between what I aspired to, and what was expected a constant challenge. Bigotry does matter, it does impact on our lives. As I recall the poster outside our (girls) classroom listed the following careers in a grid. They were teacher, nurse, primary teacher and launderette manageress. Running down the side of the grid were the qualifications you needed for each post. Launderette manageress required 5 O'levels, including as I recall, maths. As a girl born in 1960 my options were to get married, or be that little bit different and have a career, if I was bright enough. There, in front of me, were listed the world of possibilities reduced down to a sheet of paper. If I worked really hard, and surpassed everyone's expectations, I could aspire to be a launderette manageress. I'm not sure the poster had the impact it was supposed to, but it did have an impact. I remember being severely dressed down for whistling in the playground, girls didn't whistle. Being angry that I wasn't allowed to do carpentry and metalwork at school. Finding the constant portrayal of women on TV as simpering brainless bimbos, forever having their clothes ripped off them, or who'd drop them at the drop of a pin, painful, embarrassing and enraging. The swinging 60s were exciting, but from my standpoint all I could see was that women were depicted as sex objects, victims, or both. Neither of which required any talking, just a bit of giggling or screaming. Women's liberation appeared to mean having sex with whichever male required it. I'm sure I'm conflating things, but that's how it appeared to me. How you dressed and whatever line of work you pursued, would be judged. You shouldn't appear too strident, too masculine. Try and look pretty, be feminine, even if you are doing a man's job you can still wear a nice skirt. And why ever would you want to be a stone mason or a fireman, aren't we built differently from men? And isn't Blow Up a brilliant film, have you seen the latest James Bond, why are those crazy feminists upset about Miss World. It was commonly understood that women couldn't do many men's jobs because we were built differently, we weren't as strong as men, or having us in the workforce would be distracting. And further, given that there were so few women in history who achieved anything – apart from Elizabeth 1st and Florence Nightingale – we were clearly the gentler, and less able, sex. Sexism was as normal as Apartheid in South Africa, and those signs in pubs which said 'No Gypsies, No Irish, No Blacks'. For women over 40 out there I'm sure some of those things will resonate. Do you remember the backlash, the sneering. The male MPs urging Clare Short to get her tits out when she tried to get Page 3 banned? Women's libbers – bound to have short hair and dungarees – were disowned by good respectable women who liked to be feminine, and treated with contempt by well, pretty much all the media. For the liberal media there were of course, respectable women's libbers who drew a distinction between themselves (they dressed nicely and had husbands) and the loonies who were just frustrated lesbians and born ugly and clearly hated men, the way they ranted so much. Christine's article suggests that Nick isn't a real man for his behaviour. And women then, who wanted more, were accused of not being real women. Surely I'm not the only one to see the irony here. A number of the articles on this website challenge depictions and assumptions about men. And even go so far as to pick at some so-called feminist assumptions. And there is some concern that maybe a few of the articles may be a little too strident, a little too angry. Some comments have even hinted that this is an anti women site. This is terribly familiar. I used to sit at Greenham[i] and wonder when the 'mens movement' would kick in. Well I believe it's started – look at some of the great aricles in Shortlist magazine – and as a feminist I welcome it, it's long overdue.

We should indeed take a long, hard look at society and question some assumptions. Women now have full permission to be just who they want to be. We can be a stay at home mum or a city banker, with or without a family. And gone are the days when trousers were forbidden for any 'professional' job. We can slap on as much make up as we can lay our hands on, or none at all. We can wear jeans and dress casual, or drift around in silk dresses or ripped tights and mini's – and regardless of which we choose, it is clearly understood that our style doesn't indicate ANY sexual preferences or interests. We can be DIY experts and whip up shelves – or find ourselves unable to carry anything heavier than a bag of sugar, and be acceptably sweet and adorable when unable to change a fuse. We can wander around carrying teddies and lisping, or we can aspire to be Prime Minister. We can cry without fear of censure. And talk, endlessly, about anything – no subject is too intimate or taboo. And whichever way, however we behave; we demand the right to be paid equally. And still have doors opened for us, and expect to get custody if the family splits, and get a share of the husband's wealth even if married for a only year. If you flip that picture, and ask if men can do all of those things – in the way that women can – then the answer is no. A father at the sandpit during the week is viewed with suspicion; surely he must be a failure at work if he's here with the kids. Not being in charge of all DIY and lifting duties within a house where a woman lives is dereliction of manhood. And any hint of non-macho behaviour clearly shows that the man is gay. Real men don't wear make up or fancy jewellery, and never wear dresses (unless Scottish, and then only a kilt) or any item of clothing which might, by its colour, texture or finish, indicate that they are a sexual deviant in some manner. There is a strict code, which only David Beckham can cross, and only occasionally because he is unbelievably rich and famous. Crying, by any high profile man facing public humiliation, will be greeted by at least a host of female journalists with acid fuelled derision. Men aren't in touch with their feelings, can't communicate properly, don't understand mother earth, can't express themselves well, don't know how to nurture and have all the social antennae of a hermit crab. And because they're so socially inadequate we can feel huge affection for them as women because it's really us that keeps the world going. Despite all the changes for women over the past decades, the role of men in society seems parked in the dark ages. Society still says, overwhelmingly, that a real man should get paid more than his wife/girlfriend, and should, indeed, be able to support them and a family. A real man is always in charge. A real man is invincible – so any weird lumps, any symptom of something more serious – can be ignored because it isn't happening. A real man can drink his weight in beer. A real man doesn't reveal anything personal. A real man will hide any personal pain – and be a hero for so doing. A real man doesn't talk. And one of the most common bullying tactics in primary – and secondary school – amongst boys is calling one another gay. To lose control mentally and emotionally can/must/should only be done in a proper manly way. Smashing something is, it seems, more socially acceptable for a man 'losing control', than crying. The former underlines his masculinity in front of peers, the latter undermines it. The barriers to a man seeking help are engrained in society. Men die younger than women, across the age range, because help-seeking behaviour is, by definition, unmanly. So they don't go to their GP unless they have just sheared their leg off below the knee. The barriers to men seeking help for mental problems is higher still.

No, all may not be right for women just now, and let's not roll back the changes and head for the kitchen. But let's welcome the debate about gender because frankly it is long overdue. And, even more than that, I think feminists should see this debate for what it is, the questioning about who you can aspire to be, what life you can dream of, and a kicking against prejudice and stereotypes. Suicide is the biggest killer of men under the age of 35 in the UK, and seventy five percent of all suicides in the UK are male. The suicide rate is not static, it goes up and down, so this clearly isn't just about genetics – society I suggest plays a large part. And telling men that they should at least pretend to be invincible, shouldn't show feelings, should be strong and silent if they want to be a 'real man', is destructive, selfish and plain nasty.

The articles on this site aren't about hating women, but they are about trying to move some societal stereotypes and assumptions. As a feminist I abhor the idea that we require real men to be strong, silent and always in control. Silence is what victims do, and I believe that if we are to prevent thousands of deaths a year, then we need to do more than just encourage men that its acceptable to ask for help, surely they should have the same freedoms that we've won as women. We need to move some goalposts. In my lifetime I've seen the position of women in society radically change. It has for men too. I'd like to think that feminists can support and encourage discussion about men in society, and be big enough to recognise discrimination and stereotype where-ever and whenever that occurs. Because if we can do that, and change society, it will I believe save lives.
March 26th 2023
Cultural Biases & Prejudice by R J Cook
This is an introduction to the following essay on the subject of why men do not write about their divorces. Psychology like all social sciences is rooted in cultural bias and prejudices. Psychiatry aspires to higher standards of objectivity because its practitioners are medically trained. However, they are not sufficiently socially or medically informed regarding individual patients history , experience or other variables. Inevitably there is a lot of guess work and conventional attitudes to case studies. They respond to collective nouns , notably black ,white, geriatric , male , female , schizophrenic, paranoid and bi polar. In this age , only super rich , aristocracy and royalty are recognised as individuals. The masses are effectively bar coded and filed accordingly
So in a society dominated by feminism , which is massively funded by the likes of George Soros and big business, such generalisations are ultimately based on foregone conclusions. Female empowerment , human rights , humanitarianism , standing up for 'our democratic values',mass immigration and cheap labour are priorities. The absurdities of this 'system' where the disgraced Prime Minister spouts about equalling up , having made £3.5 million since he was removed from office for lying only to be replaced by a billionaire investment banker, are beyond belief.
Feminists take the view that women never lie about domestic violence or anything else. Dame Jenny Murray actually said on 'Woman's Hour' that the average of 17 men killed every year by their partners probably deserved it. The woman who lied that 3 men had systematically repeatedly abused her, making their life hell, got away with it for years. Jailed for 7 years, feminists and their media friends don't want to know.
Intelligent men are beginning to realise that it is pointless talking or writing about their divorces because they won't be believed unless they admit it was all their fault. Anything other than that is likely to see them in court and jailed for harassment. Females must not be upset.
The feminist mantra is no longer about equality. It is about empowering ordinary women at the expense of the common man – starting with little boys who no longer have the escape route of turning themselves into little girls because feminists and Muslims do not approve. Ambitious women scream misogyny if they don't get promotion by positive discrimination passed off as fair play.
Against this background we have politically correct schools with headteachers who simply cannot cope when the truth and chaos becomes public knowledge. I saw this happening to a secondary school I worked in for 17 years, the male headteacher eventually doing a runner on health grounds. The chaos ,stress and dangers within his school – the second failure under his gimmick ridden leadership – caused me to jump ship 2 years earlier.
Quite recently junior headteacher Ruth Perry killed herself after an OFSTED Inspectorate report judging her school inadequate. The reality is that females in charge are more likely to over react to criticism. Women are competing with other women , as well as men. With other women there are no excuses. It matters to them what other women think The trick is not to fail in the first place. If you do , as a woman, just cover it up or blame someone else. The Ruth Perry tragedy has sent shock waves through the nation's schools where failure might loom. Flora Cooper was making a stand following the death of her fellow head teacher Ruth Perry,
Ms Cooper, executive head of the John Rankin Schools in Newbury, Berks, tweeted that inspectors had called to say they were coming today but she had "refused entry".
She pleaded with her community to join her in at the gates last Wednesday in protest.
However, a school spokesman approached the crowds at around 9.30am and said 'today's Ofsted inspection would go ahead – and John Rankin Schools would "fully engage". '
This is a sad example of the absurdities of a society that encourages women to expect promotion as of right without implanting the expectation that power , leader ship ,status and better pay ,comes with responsibility. Teaching is an increasingly difficult job. In my teaching and school governing experience, I know that teachers were a driving force behind a petty rule and continuously monitoring system. Schools were already riddled with political correctness bearing down on moderate true open minded liberals like myself. I have sat through long tedious staff and governor meetings obsessed with the minutiae of policy documents. The driving mind set was language control , censorship of opinions, moderation of curriculum to make it accessible and inculcate Personal Social Health Education 'Values' doctrine.
So against this background of unbridled lunacy we have some difficult statistics to swallow for truth. In the UK: There are around 3 million single parents – they make up nearly a quarter of families with dependent children (i) Less than one per cent of single parents are teenagers (ii) Around 90 per cent of single parents are women There were also significant differences by ethnicity: 57% of black Caribbean and 44% of black African families were lone parents – compared with 22% for white British families -1 Sept 2022. Multi culture was much loved by my teaching colleagues , but not me – I don't accept that sexuality should be a cultural issue or an education system permeated and directed by religion or its sensibilities. In my experience, biological ( CIS ) women are unlikely to question the doctrines fragmenting society.
Teachers behaviour is institutionalised tending toward an infantile know all mentality with, like the police, an exaggerated sense of their owns special qualities. However, also like police, they have a massive influence on the way society's members perceive and develop their sense of self and freedom.
Thatcher wrecked Britain's industries , especially heavy industry, putting traditional males on the scrap heap. This devastated Scotland and South Wales where marriages collapsed with youth turning to drink , drugs and even nitrous oxide. When I brought a truck down from Aberdeen in 2014, I stopped off in Glasgow where I discovered the drink of choice for many hopeless people was Iron Brew mixed with hair lacquer.
So consequently I do not think much of the following facile patronising bourgeois essay. The vile greedy economic policies begun by Prime Minister Thatcher and her henchmen in 1979 are relentless. The Anglo U.S led NATO proxy war on Ukraine is part of the same process. Women are pawns in the game. They go to 'Uni' now , not University. Joined up thinking is not on the curriculum. Their expectations have been raised beyond reason , so no man is ultimately good enough. Men take a big risk marrying any of them.
As a girlfriend Ginny, told me in 2008 : 'I think a woman needs a new man every decade. The trouble is, I am running out of decades.' This mentality has much to do with rising female suicide ,feral children , drug addiction, alcoholism, teenage crime and transsexualism. Families need male role models , but society has made sure males face too many obstacles to make the grade in feminazi Britain – or the wider western world.
R J Cook
Avoid Divorce – Don't Get Married
A manly divorce
Straight men rarely write about the end of their marriages. Our enduring ideas about gender explain this silence
Alberta, Canada, 2005. Photo by Alex Webb/Magnum
Alberta, Canada, 2005. Photo by Alex Webb/Magnum
Joshua Coleman is a psychologist in private practice and senior fellow with the Council on Contemporary Families. His books include The Marriage Makeover (2004), The Lazy Husband (2005), When Parents Hurt (2007) and Rules of Estrangement (2021). He lives in the San Francisco Bay Area.
Edited byPam Weintraub
4,600 words
Love Aeon?
Support our work
The past few decades witnessed a flood of personal essays and memoirs about divorce. Perhaps the most successful was Eat, Pray, Love (2006) by Elizabeth Gilbert, which has sold more than 12 million copies to date, and became a movie starring Julia Roberts. In her breakaway bestseller, Gilbert describes her 'devastating, interminable divorce' and the search for fulfilment that followed it. The book's popularity is not only due to Gilbert being a gifted writer, but also her ability to capture a cultural perception of marriage as an institution often antithetical to personal growth and self-development. What's more, the book is just one of dozens tracking the same territory: the freedom and self-exploration that comes of departing from past strictures and setting a new course.
While men have written their fair share of marital advice books, only a handful of marriage memoirs have been written by them. Which prompts the question: aren't men also happy to leave bad marriages, work their way through their feelings of guilt, and ultimately find a better life? And, if they are, why aren't more saying so? Are such proclamations considered to be the domain only of women, rendering such ideation too feminine for men to acknowledge? Does it look too narcissistic for men to also have a 'What I learned from my divorce' narrative? Or are men just not that interested in the topic – or, for that matter, are they not liberated by divorce itself?
In the context of the traditional, heterosexual marriage, it's important to acknowledge that women's freedom to negotiate a relationship more in line with their ideals, or to leave altogether, is relatively recent. It is also important to acknowledge that this freedom has not been universally achieved, either globally or in the United States. From that perspective, the archetypal hero's journey narrated by Gilbert and other female memoirists is likely born – among other aspirations – from a desire to push back against historically oppressive forces. As the historian Stephanie Coontz argued in her opinion piece 'How to Make Your Marriage Gayer' (2020) for The New York Times:
Right up to the 1970s, when an American woman married, her husband took charge of her sexuality and most of her finances, property and behaviour … During the 1970s and 1980s, wives won legal equality with husbands and courts redefined the responsibilities of spouses in gender-neutral terms. By 1994 a majority of Americans repudiated the necessity for gender-specialised roles in marriage, saying instead that shared responsibilities should be the ideal.
However, legal equality has not necessarily made marriage a more equitable place for women. As Coontz notes, while the model of shared responsibility has become the ideal in principle, it remains far from the reality in practice. Today's women – at least those in heterosexual marriages – do twice the amount of childcare and almost twice as much housework compared with men, including women in full-time employment. Men after marriage do less housework than when they were single, while women do even more, especially when they become mothers.
Women are also more likely to carry the emotional burdens of their extended network of family and friends – to keep track of birthdays, gifts and crises – and to respond with cards, calls and outreach; a task sociologists refer to as 'kinkeeping'. While this orientation has the potential to make for deep and lasting relationships with friends or family, the sociologists Ronald Kessler and Jane Mcleod observe that this effort takes an emotional toll when it involves helping loved ones manage stressful life events. In those cases, what they call a 'cost of caring' leaves women more vulnerable to depression, anxiety and burnout, a reality from which men are often insulated.
While men arguably love their wives as much as their wives love them (and, in some cases, even more), their identities are less oriented around care work per se, and more commonly toward achievement, self-direction and status, as a survey of men and women in 68 different countries confirmed in 2009. However, the stereotype of the self-centred and clueless male paints a pale portrait of what many men experience today. It also ignores the cost paid by men pressured to prize status and invulnerability over connection. For example, men account for almost three out of four 'deaths of despair', as the economists Anne Case and Angus Deaton term it, either from a suicide or overdose, especially those down the economic ladder. Many men feel rudderless today since the role of provider and protector is no longer a pathway to identity. Men who lack the ability to provide, protect or significantly contribute to the family are psychologically the least likely to be able to offer their wives the kind of vulnerable, emotional and collaborative support that predicts today's stable marriages. They're more likely to retreat into anger, addiction and internet use, a dark triad of traits stemming from a preoccupation with self-reliance. Unfortunately, being vulnerable, talking about their feelings and asking their wives about theirs is the last thing most men want to do when they're feeling small or defective. And they certainly don't want to write about it.
It doesn't help that so little understanding for men can be found across the political spectrum. As the economist Richard Reeves writes in Of Boys and Men (2022), progressives are quick to label problematic male behaviours in marriage as evidence of toxic masculinity and propose that men should be rehabilitated to learn how to communicate their feelings and needs in more socially adaptive ways. The populist Right, on the other hand, weaponises men's dislocation and offers false promises such as removing women from the workforce or re-establishing men's seat at the head of the family economic table – all the while failing to endorse family or work policies that would aid working men, women and their families.
Sign up to our newsletter
Updates on everything new at Aeon.
DailyWeekly
See our newsletter privacy policy here.
It's important to ask: 'Who's leaving whom?' Maybe men also don't write about their divorces because of the shame that attends their wives' leaving them, since, in the US at least, most of the time men are the ones getting left. Because men are more conflicted about showing weakness or vulnerability, it's not difficult to see why men aren't lining up to reveal themselves in this way, or finding a narrative of growth or transformation. In addition, men can face worse health effects than women after divorce or widowhood. They're more likely to die or become ill if they don't remarry or re-couple. Since husbands are the primary beneficiaries of their wives' behaviours – such as scheduling doctor's appointments, therapists or social engagements – the absence of this care can lead men's orientation toward independence on a self-neglectful, even self-destructive course.
Another reason men – at least those in heterosexual marriages – sometimes do worse after divorce is that, for a significant percentage, their wives are their best friend, if not their only friend. Women commonly have much more extensive social networks, which may explain why they're more likely to show resilience post-divorce, even if they're often more at risk financially. Friendship is important and carries a whole host of psychological and health benefits. My wife calls her closest friends her 'sister wives'. I like the double helix of the term, the way it encircles them as siblings and spouses, where platonic rather than romantic love is the bond. She talks to them often, sometimes daily. I like talking to my wife too, but not all of the time, and sometimes not as much as she wants. She accepts that we have temperamentally different inclinations towards conversation. And her acceptance of that disparity allows me to feel comfortable expressing vulnerability in ways that I would likely avoid under less favourable marital conditions.
However, many men today are caught between knowing what's enough vulnerability with their wives – and what's too much. Years ago, I saw a cartoon with two women in conversation; the caption read: 'I want a guy who will well up with tears, I just don't want one who actually cries.' While that may or may not be true for the majority of women, it's certainly true for some, at least based on my own private practice. Which is to say that men aren't the only ones doing the gender policing around men's emotions.
It's good to be able to talk over your feelings but also good to know when to put them away
Some of these differences begin in childhood. Men are sometimes less fluent with feelings in adulthood, in part because parents, even parents today, are more likely to use emotion words with girls than they are with boys. This may also occur because girls begin talking at a younger age and remain more verbal than boys throughout their lives. The psychology professor Thomas Joiner found that, overall, boys are more secretive with their parents than are girls, and less responsive to and inclusive of their mothers. 'The fact that, when the genders are combined into one group, gender rises to the top as a predictor of speech frequency, even beyond a personality characteristic like expressivity, shows its fundamental importance,' Joiner writes in Lonely at the Top: The High Cost of Men's Success (2011). 'Speech frequency is of obvious importance to interpersonal exchange; indeed, it can be viewed as its currency … Talk can be viewed as tiny stitches in a social fabric; the more stitches, the more varied and durable the fabric.' Men have fewer friends, fewer sources of support, and are far less likely to reach out for help. This means that, when they fall, there's often no one there to catch them. Worse, they often won't let anyone know that they're falling.
Our society, and we therapists, idealise communication, vulnerability and expression of emotions, overall, for good reason. But, sometimes, not expressing yourself – more often the domain of men – has its own value. It's similar to the parenting differences observed between women and men. Mothers tend to be more communicative, more sympathetic to the child, and more prone to guilt or worry about them. Fathers tend to be less conflicted about limit-setting, less preoccupied with the inner life of the child, and more oriented toward stimulation and excitement. Too much of one spoils the child. Too much of the other induces less self-reflection and emotional awareness. While everyone's needs are different, the same could be said of a healthy marriage: it's good to be able to talk over your feelings but also good to know when to put them away. As we therapists sometimes advise: 'Before you say you don't feel heard, consider how well you listen.'
Perhaps this is why the comedian Chris Rock's observation – that men care about three things only: sex, food and silence – gets such a big laugh. There's some truth in it. But I think it's less about silence than it is the absence of conflict. While women can't be described as liking conflict, some report that they see it as affirming when their husbands complain, since at least it shows he's thinking about the relationship. Meanwhile, men often experience their wives' complaints as a failure in their role as men or partners.
Because men in both straight and same-sex marriages are more preoccupied with sex than are women, they also suffer a greater cost by its absence. More to the point, sex is often a way that men gain access to their vulnerability and expressiveness, something women value. I often see couples caught in a downward spiral where the wife says she doesn't want to be sexual unless her husband shows more vulnerability and openness, and the husband states that he has more difficulty accessing his vulnerability and romantic feelings without sex. I occasionally hear wives say they feel used by their husband's preoccupation with having sex with them. I think that misunderstands the meaning of sex in marriage: for most men, it's not just about the sex. It's about the connection. Well, that and the sex.
It is tragic, though not surprising, that fathers are more likely to be estranged from their girls than from their boys
My experience counselling men and couples for the past four decades shows me that men also long to have close, intimate relationships, and sometimes leave their wives to pursue them when they feel too rejected or ignored. Yet a man leaving his marriage for love seems freighted with more condemnation or contempt than a woman. Culturally, this seems less permissible, and may also explain why men aren't telling their stories. Perhaps we still have the idea that leaving a marriage is a more selfish act for a man because we assume that women agonise more about its effect on their children. In addition, our outdated ideas about men in marriage, along with men's more self-reliant orientation, may cause us to believe that men don't care as much and therefore don't deserve as much empathy. Those beliefs might also be fuelled by the fact that, traditionally, men have been better able than women to land on their feet financially and have a better chance of re-coupling post-divorce.
Yet, fathers in my practice worry a lot before and after their divorces. In particular, they worry about how the divorce will affect their children and their relationship with them. With good reason, as it turns out. Recent research by the sociologist Rin Reczek at Ohio State University and colleagues found that, while roughly 6 per cent of people report a period of estrangement from mothers, a whopping 26 per cent of respondents report estrangement from fathers, especially by daughters. While not all of those fathers are divorced, my research shows that some 70 per cent of estranged parents became so after a divorce.
It is tragic, though not entirely surprising, that fathers are more likely to be estranged from their girls than from their boys. Daughters often seem to speak the same language as their mothers, their inclinations toward empathy allowing them to sense what she is feeling or thinking at an almost psychic level. As the journalist Ruth Whippman observed in The New York Times in 2018:
At both its best and its worst, the mother-daughter relationship can at times be as close as two humans can get to telepathy. With two people who are both heavily socialised to anticipate and meet everyone else's emotional needs, the dynamic can become a kind of high-alert empathy, each constantly attempting to decode what the other might be thinking, hypersensitive to any change in pitch or tone, like a pair of high-strung racehorses.
While that disposition can make for a close relationship, it is not without its burdens. Mothers and daughters are the most common dyad seeking my services after the daughter has cut off contact. It's another example of the way that care work, a predominantly female enterprise, can cause problems. Estrangement sometimes results because the daughter knows no other way to shed herself of the tidal pull of her mother's emotions, especially painful ones. As Deborah Levy writes of a fictional mother in her novel Hot Milk (2016): 'I must never look at her defeat with all I know, because I will turn it to stone with my disdain and my sorrow.'
Non-heterosexual marriages are less governed by gender-role expectations, though men in same-sex marriages still behave differently from women in same-sex marriages. Like straight men, gay men are less likely to engage in the kind of care work that is more common with women in straight and lesbian marriages but are more likely to share the care equally between the two partners when needed. Gay men appear to do better both in marriage and in communication, and have the lowest divorce rates in comparison with straight and gay women. They are more likely to openly discuss their sexual preferences and have agreements about the circumstances and types of sexual contact allowed outside the marriage. In The Case Against the Sexual Revolution (2022) Louise Perry writes:
[T]he average differences in male and female sexuality become glaringly obvious when we look at the gay and lesbian communities. Although it may be controversial to point out how dramatically these two sexual cultures differ, there is plenty of hard data that it would be dishonest to ignore. Lesbian women are remarkably keen on committed monogamy: the median lesbian woman in the UK reports just one sexual partner within the last year, and a majority report having known their sexual partners for months or years before they first had sex. Lesbian women are also significantly more likely than gay men to get married or enter into a civil partnership.
However, in comparison with gay male or heterosexual couples in marriage, lesbian marriages are also the most likely to end. As Coontz writes in her 2020 opinion piece:
Women put more energy into maintaining and deepening intimacy than most men do and have much more extensive expectations of empathy and emotional support. They also monitor relationship quality more closely and have higher standards for it. These traits can produce exceptionally intimate, supportive relationships, but they also consume a lot of energy and can generate stress or disappointment. This may help explain why lesbian partnerships, despite their high average quality, have higher breakup rates than gay-male couples or different-sex couples.
I asked Diane Ehrensaft, a psychology professor and gender specialist at the University of California, San Francisco and the author of Gender Born, Gender Made: Raising Healthy Gender Non-Conforming Children (2011), about how these dynamics express themselves in transgender marriages and divorces. 'I think to answer that question you have to break it down into: when one or both of the partners is trans when they come into the relationship, versus when one person transitions while in the relationship, and, within that category, when they start out as a heterosexual couple versus a same-sex couple,' she explained in an email. 'Mostly what I've observed when one person transitions after getting together, the trend seems to be that the woman in a previously heterosexual relationship doesn't want to be with a woman, whereas I've noticed in same-sex gay relationships the couple is more likely to stay together if one transitions to transfeminine, and in same-sex two women relationships, it's the woman who usually wants out if her partner transitions to transmasculine. So, I guess you might say that women either have their finger on the pulse more about what works for them or are less flexible about switching gears in their sexual relationships.' She went on to clarify that her statements were observations, not hard data.
The German historian Ute Frevert observed that: '[E]motions are not only made by history, they also make history.' Perhaps nowhere is this truer than in the ways that feelings, far more than economics, social class or status, became crucial in determining whom to love and whom to leave. Sociologists of modernity such as Anthony Giddens in the UK, Ulrich Beck in Germany, and Pierre Bourdieu in France have noted that, as our lives began to be less governed by religion, neighbourhood or gender, our emotions became far more central in helping us decide whom to be close to or avoid. This highlights that, while women's orientation toward care work and men's emphasis on self-reliance may seem predetermined, it is in some ways historically recent. 'In the localised and hierarchical society of the premodern era, no interactions were impersonal,' the historian Coontz explained in an email quoting from her forthcoming book on the history and future of love and marriage. 'Men had to gauge the moods to soothe the feelings of their social superiors; while women felt no obligation to be considerate of their social inferiors. But as work moved out of the home and politics became more competitive, men had to distance themselves from personal emotions and focus on "the bottom line". Their wives became responsible for providing men a refuge from the demands of the workplace and the market, anticipating their needs and offering a place for emotional recuperation. During the 18th and 19th centuries, the doctrine of separate spheres made it inappropriate for men to read and respond to other people's emotions, and inappropriate – indeed unacceptable – for women NOT to do so.'
Expanding on the role of emotions, the Israeli sociologist Eva Illouz describes three narratives that attend today's contemplations of divorce – revelation, accumulation, and trauma. In this process, individuals retrospectively explain the desire or decision to disentangle themselves from the person with whom they were romantically involved by labelling and using emotions as a moral foundation to support decisions to stay or leave. 'I shouldn't have to feel so neglected all of the time.' 'I deserve to be with someone who is more affirming of who I am.' 'His anger was a form of emotional abuse and I don't have to put up with that.'
Illouz notes that, over the course of the 20th century, the reasons for divorce became more affective and abstract. While alcoholism or neglect were most commonly given as reasons to divorce in the 1940s, by the 1970s and beyond, 'growing apart', 'becoming more distant' and 'feeling unloved' took their place. The 'Relationships in America Survey' (2014), sponsored by the Austin Institute for the Study of Family and Culture, found the following reasons for divorce listed by respondents: infidelity (37 per cent); spouse unresponsive to needs (32 per cent); growing tired of making a poor match work (30 per cent); spouse's immaturity (30 per cent); emotional abuse (29 per cent); different financial priorities (24 per cent); and alcohol and/or drug abuse (23 per cent).
The opportunities for men to display their masculinity and honour have largely eroded
'[E]motional intimacy has been a force of dis-institutionalisation, making marriage more likely to follow psychology than sociology, individual temperament rather than roles and norms,' writes Illouz in The End of Love: A Sociology of Negative Emotions (2021). And in Why Love Hurts: A Sociological Explanation (2011), she writes:
It is therefore unsurprising that love has been historically so powerfully seductive to women; it promised them the moral status and dignity they were otherwise denied in society and it glorified their social fate: taking care of and loving others, as mothers, wives, and lovers … Women's social inferiority could thus be traded for men's absolute devotion in love, which in turn served as the very site of display and exercise of their masculinity, prowess, and honour.
Yet history marches on. The opportunities for men to display their masculinity and honour have largely eroded, and the ability for women to strongly push back against a perspective of them as inferior has been strengthened by the many ways that women have caught up to men and are surpassing them.
Consider the following statistics, cited by Reeves in Of Boys and Men:
Girls are about a year ahead of boys in terms of reading ability in OECD nations, while the advantage for boys in mathematics is increasingly shrinking.
Boys are 50 per cent more likely than girls to fail at mathematics, reading, and science.
Girls are more likely to graduate from high school.
While the Ivy League colleges in the US were always predominately male, every one of them today is majority female.
Women account for around half the managerial positions in the US economy.
Many previously male-dominated professions, including medicine and financial management, are rapidly tilting female, especially among younger professionals.
The proportion of women lawyers has increased tenfold, from 4 per cent in 1980 to 43 per cent in 2020.
In 1968, only 33 per cent of young women in their teens and early 20s said they expected to be in paid work at the age of 35. By 1980, the share was 80 per cent.
This isn't to say that parity has been reached across the board. Only one in five executive-level company directors is a woman and, of the Fortune 500 firms, just 44 have a female CEO. The share of venture capital money going to female founders is less than 3 per cent. So, at the upper reaches of the economy, there is still much more work to do for women. But, the further you progress down the economic ladder, it's men who are struggling far more than women.
So, why don't men write more about their experiences?
Joyce Maynard – a bestselling author of 18 books, including two memoirs – has been hosting writing retreats for more than 20 years. While most of her memoir retreats have been open to men, she notes that they seldom attend. 'Women have been telling each other their stories all their lives, and it's not unfamiliar for them to do so,' she told me in a phone call. 'But it's been my experience that for a man to reach a place of openness to exposing emotional pain or struggle, something in his experience had to bring him to his knees.' Maynard added that, as someone who twice attended previously all-male educational institutions in the Ivy League, she had long observed the difficulty of men – particularly high-achievers – to acknowledge loss or vulnerability. She told the story of attending the recent 50-year reunion of her almost all-male class at Phillips Exeter Academy in New Hampshire. 'After decades of feeling the requirement to present themselves as successful,' she said, 'as they approached age 70, my classmates were no longer trying to set the world on fire. They had survived failed marriages, trouble with adult children, health issues. Many seemed relieved to finally be able to set down the mantle our culture had instructed them to carry all those years. They were able to reveal their more authentic selves in a whole new way. And, of course that's what writing memoir requires: a willingness to look at one's failures as well as one's victories, and then make sense of them.'
To be clear, some men are writing memoirs on this topic: 'The Marriage Lesson That I Learned Too Late' (2022) by Matthew Fray; The Marriage Advice I Wish I Would've Had (2014) by Gerald Rogers; Falling Forward: A Man's Memoir of Divorce (2014) by Chris Easterly; A Man's Guide to Surviving Divorce: How to Cope and Move On with Life (2011) by R L Blackwood; and Men on Divorce: The Other Side of the Story (1997), an anthology by the editors of Women on Divorce (1995) – both female. But they pale in comparison with those authored by women authors.
The challenges that exist in today's marriages are exacerbated by our highly individualistic culture in the US, where the gospels of twining one's soul with another's while prizing identity and independence are characterised as eminently achievable. Yet reconciling these often-contradictory forces requires enormous emotional and material assets. 'The very idea of living "autonomously" and organising life as a self-defined, goal-driven, and future-oriented project would seem to require resources, private space, and an independence from other people that only the affluent and upwardly mobile might possess,' writes the sociologist Joseph E Davis in Chemically Imbalanced: Everyday Suffering, Medication, and Our Troubled Quest for Self-Mastery (2020).
And not to be a bummer but, while the hero's journey of leaving a bad marriage can make for compelling and sympathetic memoirs, in the US, 67 per cent of second marriages end in divorce too, and 73 per cent of third marriages fail to go the distance. As Joni Mitchell sang in 'Help Me' (1974): 'We love our lovin'. But not like we love our freedom.' Freedom to stay. Freedom to leave. Freedom to choose. Perhaps a more apt lyric is Sheryl Crow's: 'If it makes you happy, it can't be that bad. If it makes you happy, then why the hell are you so sad?'
So, maybe, like many things in life, men want the freedom not to talk about it, let alone write it down. Or they want the freedom to hide how sad, lonely or hurt they feel by the loss of their marriages or the decline in the relationships with their children. Maybe they worry that they'll look weak or inadequate in the eyes of women – let alone men – if they reveal how lost and alone they feel.
And maybe they're not wrong.
Gender and identityFamily lifeGender
14 March 2023
Aeon is not-for-profit and free for everyone
Get Aeon straight to your inbox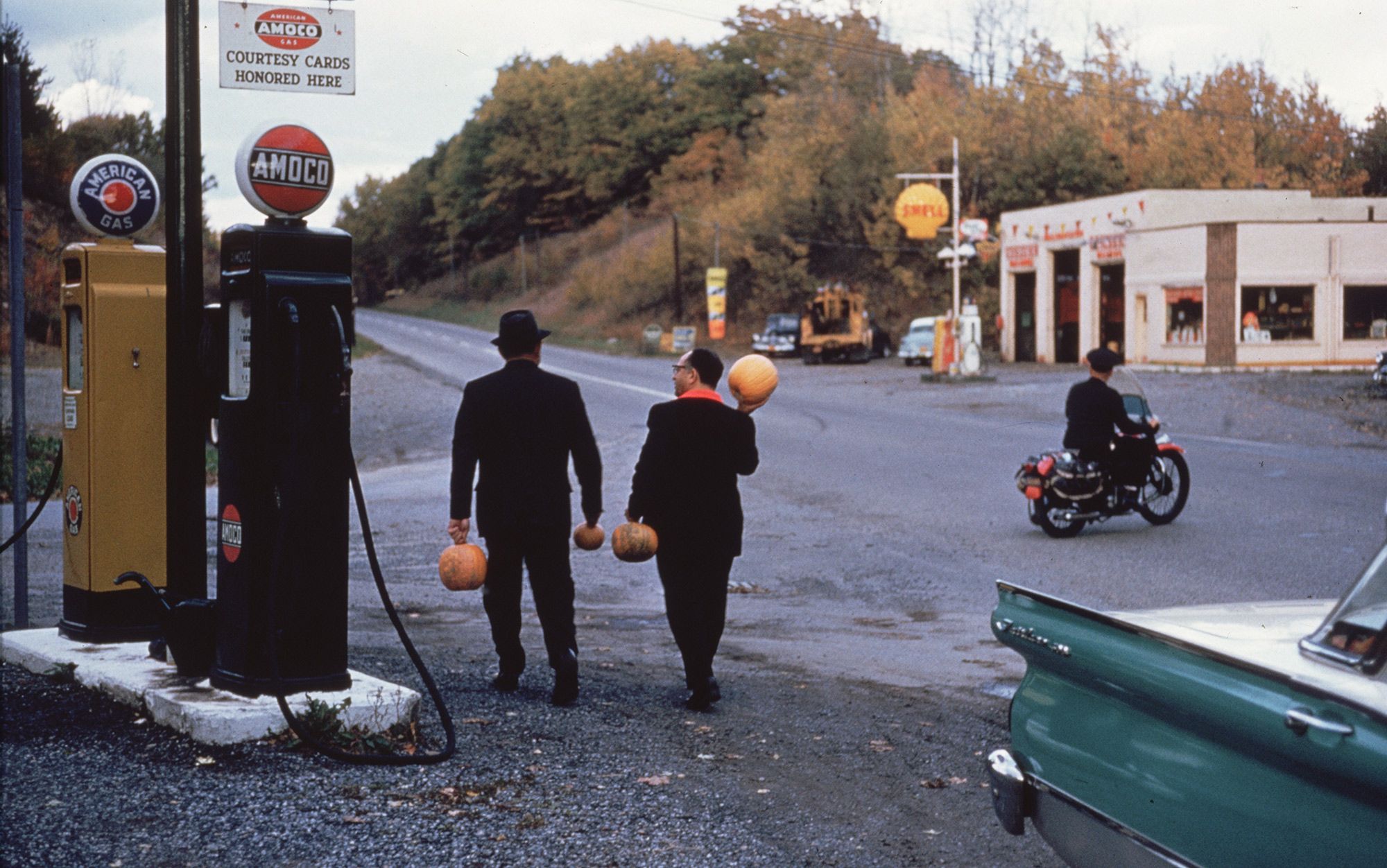 essay
Metaphysics
Are coincidences real?
I am an unequivocal rationalist and yet I still want to see something strange and wonderful in life's weird coincidences
Paul Broks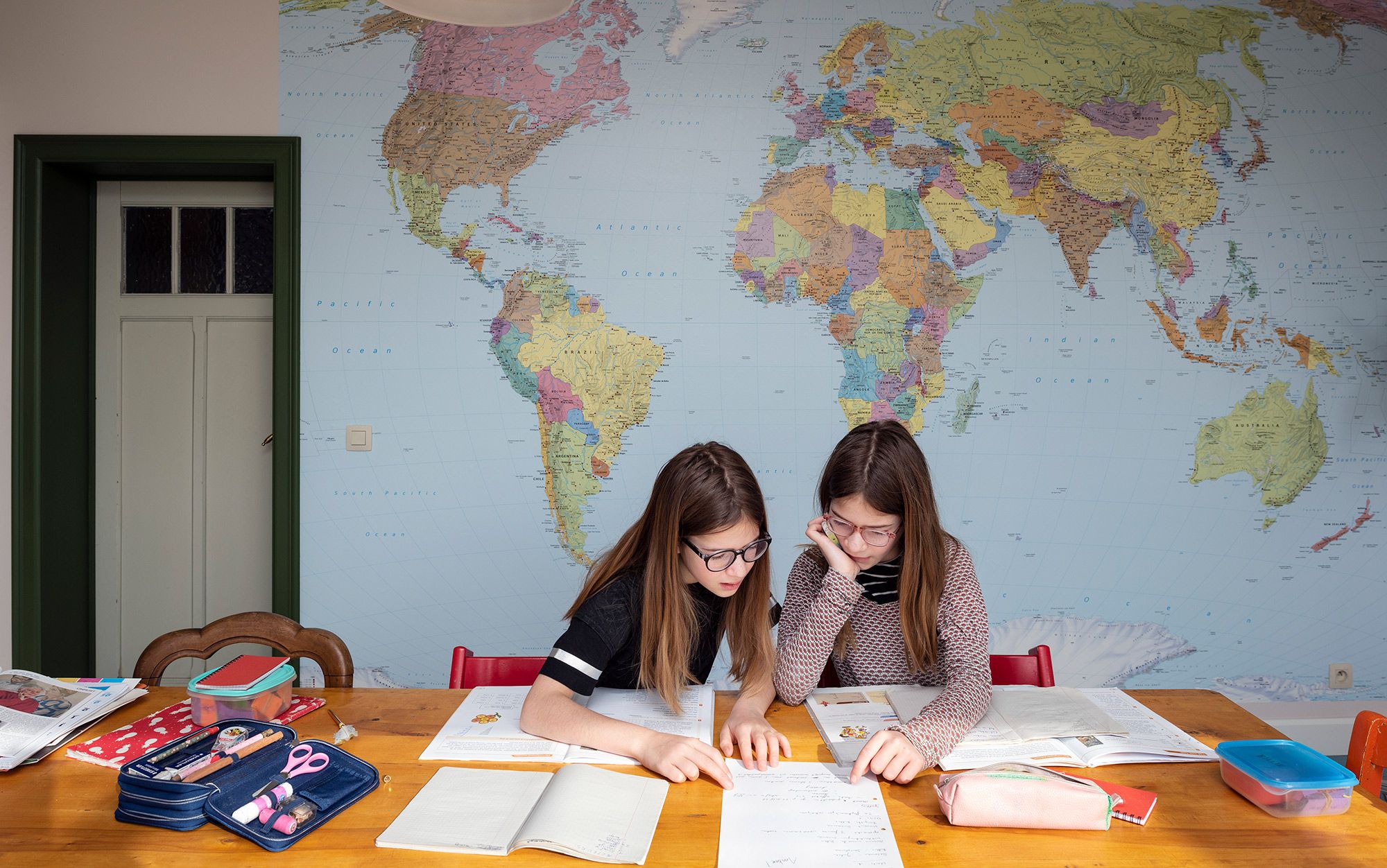 essay
Education
Unschooling
It takes nerve to go against the grain and take your child out of school. But, for some, that's when learning really starts
Naomi Fisher & Heidi Steel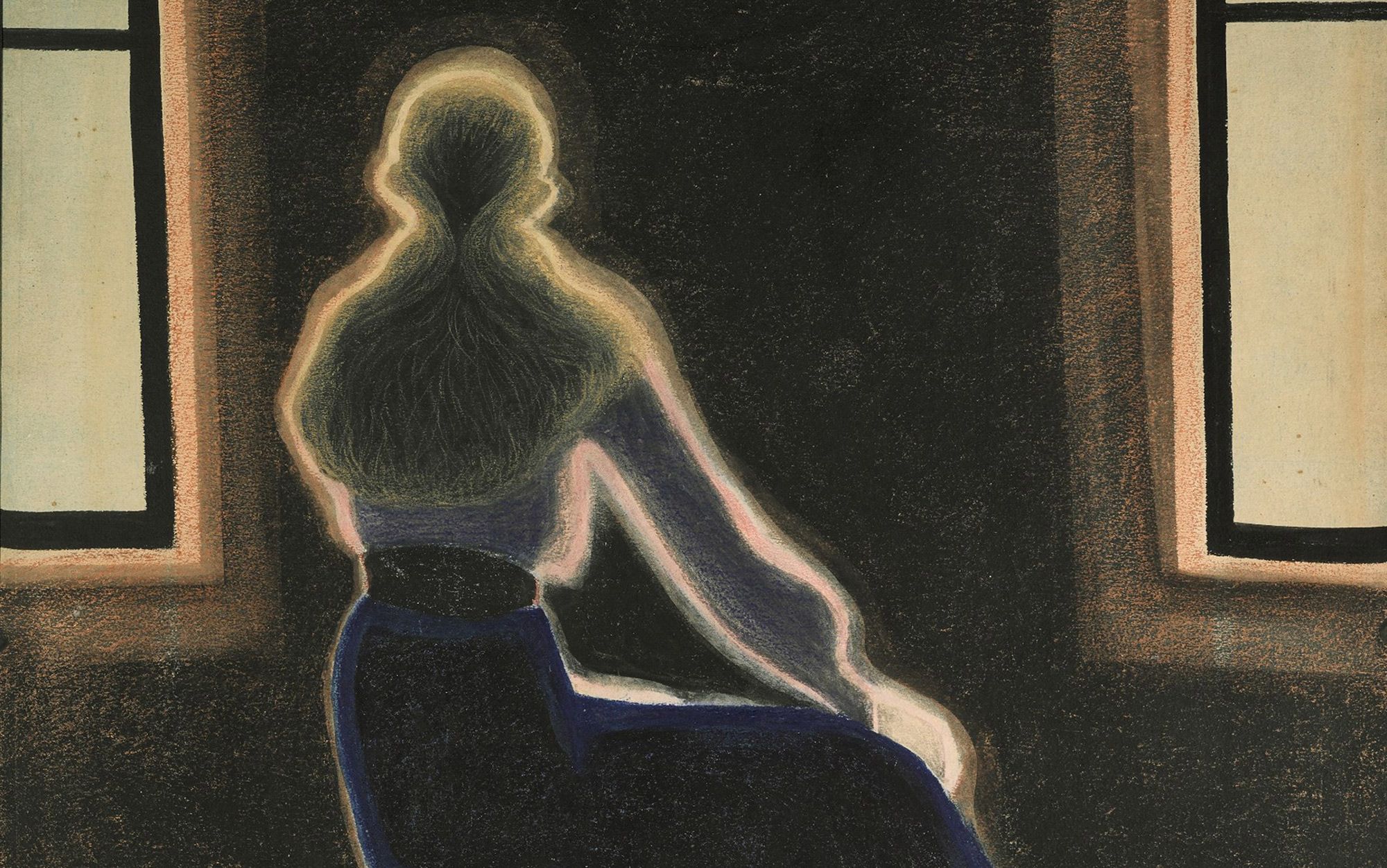 essay
Consciousness and altered states
Stuck with the soul
The idea of the soul is obviously a nonsense, yet its immaterial mysterious nature has deep hooks in the human psyche
David P Barash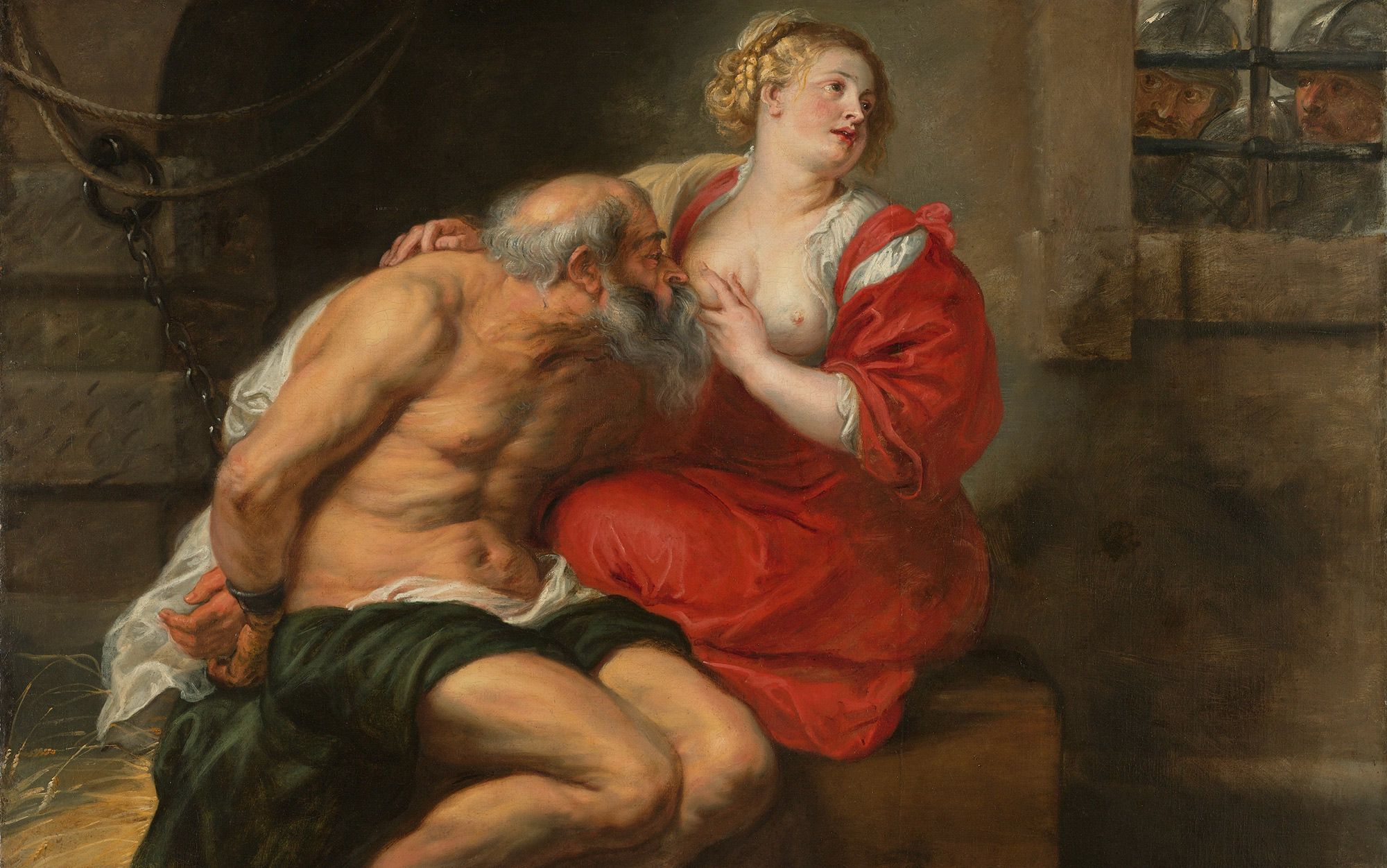 essay
Art
Milk, pity and power
Since antiquity, artists have depicted a perverse scene of a daughter breastfeeding her aged father. What does it mean?
Margie Orford
Sign up to our newsletter
Updates on everything new at Aeon.
© Aeon Media Group Ltd. 2012-2023. Privacy Policy. Terms of Use.