More Working Man I Am Canadian Girl Version videos
www.youtube.com/watch?v=EvFqVgz1AGo
06/08/2009 · Working Man – The Dubliners
La Belle De Jour
More Bob Dylan Knockin Heavens Door videos
www.youtube.com/watch?v=rnKbImRPhTE
29/09/2014 · 50+ videos Play all Mix – Bob Dylan– Knockin' on Heaven's Door "Original" YouTube Bob Dylan – Like a Rolling Stone (Subtítulos en Español) – Duration: 5:57. Luck Braun 1,917,409 views
www.youtube.com/watch?v=rm9coqlk8fY
11/03/2019 · 50+ videos Play all Mix – Bob Dylan – Knockin' On Heaven's Door (Audio) YouTube Pink Floyd – Shine On You Crazy Diamond 1990 Live Video – Duration: 10:38. NEA ZIXNH 39,093,469 views
www.youtube.com/watch?v=cCV84dTevX0
04/11/2017 · 50+ videos Play all Mix – Bob Dylan – Knockin' on Heaven's Door (Live) YouTube David Gilmour – Wish You Were Here 1080p HD – Duration: 4:51. HDPinkFloyd 29,774,184 views
music.youtube.com/watch?v=rnKbImRPhTE&list=RDAMVMrnKbImRPhTE
Bob Dylan– Knockin' on Heaven's Door "Original"
music.youtube.com/watch?v=gazW7MOqHzQ
Knockin' On Heavens Door cover -The Klone Orchestra – The Bob Dylan SongBook If you need more gold music visit my playlists: https://www.youtube.com/channel/…
Diversity blocks free speech Posted January 15th 2020
Stephen King has faced criticism for his comments on diversity in the art world, which one director called "backward and ignorant".
The writer spoke out on Twitter on Tuesday, the day after the Oscars nominations were announced – and denounced for their lack of diversity.
King was invited in 2012 to join the Academy of Motion Picture Arts and Sciences, which oversees the Oscars.
© Provided by The Independent "As a writer, I am allowed to nominate in just 3 categories: Best Picture, Best Adapted Screenplay, and Best Original Screenplay. For me, the diversity issue – as it applies to individual actors and directors, anyway – did not come up. That said…" he wrote, adding: "…I would never consider diversity in matters of art. Only quality. It seems to me that to do otherwise would be wrong."
BondAge Posted January 9th 2020
BBC Big Brother Calling Posted January 4th 2020
Robbie Gibb, who previously worked as a head of political programming at the BBC before becoming Theresa may's head of comms, has now hit out at his former employer for failing to address the rising sense of distrust among the public.
Writing in the Daily Mail, Mr Gibb cited Radio 4's Today programme, which features discussions and interviews on news and current affairs, as a key example.
He also criticised Tony Hall, the director-general of the BBC, for his weak response to the wave of complaints.
Mr Gibb said: "The fact the BBC received a record 24,435 complaints in just a two-week period during the election campaign should be cause for concern at the BBC. It is unwise for Lord Hall to dismiss these concerns so casually.
"Nowhere is impartiality more important than Radio 4's Today programme, but its election coverage was a masterclass in why the BBC is losing the trust of its audience.
"Trapped by its own woke 'groupthink', Today — or Radio Misery as my friends increasingly call it — bombarded its listeners with a relentlessly negative and sneering tone and painted a picture of Britain that was monstrously out of touch."
Lord Hall had said the fact that complaints came from people with different political options showed "we were doing our job without fear of favour".
But Mr Gibb rubbished this claim, insisting that scathing reviews from all corners was not a reason to believe coverage was fair.
Royal Flush Posted November 23rd 2019
Girl Talk October 17th 2019
The President is Missing October 16th 2019
I am just taking a break from reading a novel by Bill Clinton and James Patterson- I am a great fan of the latter and love a great crime fiction writer. The book is called 'The President is Missing.'
Crimes are like volcanoes, natural phenomena. They stand out a mile. The fault lines on which they so proudly and threateningly stand are not often so obvious.
Anywhere along these lines we might expect earth quakes and ooze, like the subtle and powerful crimes of the ruling elite, bankers, media moguls plus lackeys and police will often abuse their positions to enrich themselves.
So I have taken a short break from reading because I just came across the following paragraphs, words spoken from the President's viewpoint :
' Participation in our democracy seems to be driven by the instant gratification worlds of Twitter, Snapchat, Facebook, and the twenty four hour news cycle. We're using modern technology to revert to primitive kinds of human relations.
'The media knows what sells- conflict and division. It's also quick and easy. All to often anger works better than answers; resentment better than reason; emotion trumps evidence. A sanctimonious one liner, no matter how bogus, is seen as straight talk, while a calm, well argued response is seen as canned and phony. It reminds me of the old political joke: "Why did you take such an instant dislike to people? " It saves a lot of time. '
'
Shane Gillis: Saturday Night Live's new hire fired for slurs Posted September 17th 2019
US comedy sketch show Saturday Night Live has dropped a new cast member after videos surfaced online of him making slurs about Chinese people.
Shane Gillis, 31, came under fire soon after his casting was announced when footage resurfaced from a podcast featuring the comic.
"After talking with Shane Gillis, we have decided that he will not be joining SNL," said an SNL spokesman.
Gillis wrote on Twitter that he respected the show's decision.
BBC Elite Fears Rise of Populism August 22nd 2019
The BBC started life as The Ministry of Information and that is what it still is, though the clever people and political elite who run it are very sophisticated. George Orwell, unfit for active service after fighting the Facists during the Spanish Civil War, spent a while working for them, coming to the conclusion that they were not the best of worlds. I have also done some insigmificant work for the BBC.
Orwell decided he would be better employed living in Hertfordshire and writing indepedently. His definitive work '1984' and 'Big Brother' society has increasing relevance today.
Lord Reith was the BBC's first boss. The job has always gone to the upper crust. Reith's name lives on with the eponymous Reith Lectures. Today, I watched another upper crust fellow deliver the first of his Reith Lectures.
First let's look at a few biog details of this great establishment person. Jonathan Philip Chadwick Sumption, Lord Sumption, OBE, PC, FSA, FRHistS (born 9 December 1948), is a British author, medieval historian and former senior judge. He was sworn in as a Justice of the Supreme Court on 11 January 2012, succeeding The Lord Collins of Mapesbury.[1] Exceptionally, he was raised to the Supreme Court bench directly from the practising bar, rather than from prior service as a full-time judge. He retired from the Supreme Court on 9 December 2018 upon reaching the mandatory retirement age of 70.
Sumption was the elder son of Anthony Sumption,[7] a decorated naval officer and barrister, and Hilda Hedigan; their marriage was dissolved in 1979.[8] He was educated at Eton College and Magdalen College, Oxford, graduating in 1970 with a first in History.[9][10] He was elected a fellow of Magdalen College teaching and writing books on medieval history, before leaving to pursue a career in law.[9] He was called to the bar at Inner Temple in 1975 and subsequently pursued a successful legal practice in commercial law.
In the 1970s, Sumption served as an adviser to the Conservative MP and cabinet minister Keith Joseph,[11][12] He wrote parts of Joseph's controversial 1974 Edgbaston speech, which was generally thought to have doomed Joseph's chances of becoming leader of the Conservative Party.[11][13] Sumption and Joseph also co-wrote a 1979 book, Equality, in which they argued that no convincing arguments for an equal society have ever been advanced and that no such society has ever been successfully created.[12] In the late 1970s Sumption was a regular contributor to The Sunday Telegraph.
The Guardian once described him as being a member of the "million-a-year club", the elite group of barristers earning over a million pounds a year.[16][9] In a letter to The Guardian in 2001, he compared his "puny £1.6 million a year" to the vastly larger amounts that comparable individuals in business, sports and entertainment are paid.[16]
For a four-week trial (and all the preparatory work) in the UK in 2005 he charged £800,000 to represent HM Government in the largest class action in the UK, brought by 49,500 private shareholders of the collapsed national railway infrastructure company Railtrack.[17] The Government had money and reputation at stake. The case examined some of the actions of the government, especially of former Transport Secretary Stephen Byers. Byers became the only former Cabinet Minister to be cross-examined in the High Court in relation to his actions in modern times. The UK Government won the case.
With all of this in mind, it is not surprsing that Sumption is once again wheeled out by the BBC to talk about threats to our so called democracy and what threatens it, under the polite guise of the Reith lectures, where his clipped tones were regularly lubricated by a rather affected routine of sipping water from what was probably a crystal glass.
Lord Sumption- though the name Lord Presumption might suit him better- had much to say. Here is my summary of what this patronising long winded elitist said.
Political elites and career politicians have their uses, bringing breadth of experience, wide ranging view and sound judgement. Matters like Brexit should be entirely in their hands. He said 'I am not going to express an opinion.' Implying that he was offering only facts. Because 48% of those voting in the Brexit referendum voted remain, he said that it would not be democratic to leave the EU.
He did not balance this statement of what he calls truth with mention that the ground breaking and society destroying Thatcher landslide in 1979 was based on her party winning 40% of votes cast by the 60% of the electorate who bothered to vote for her.
Of course it is easy to deride and ignore those who don't bother to vote as apathetic, rather than resigned to our sham democracy and the hopelessness of their lives.
Many years ago, back in 2003, I was a frequent guest on BBC Radio Solent's live Saturday morning Peter White Show. Among other things we were discussing whether or not postal voting would increase voting. When Peter turned to me for an opinion, I said : "Can I start my answer with a joke? There was this man laying outside the House of Commons on St Stephen's Green, very badly beaten up. Out comes a New Labour MP, bends down looking at the man, then says; 'My God, you are in a terrible state. Whoever did this to you needs help. I must go and find him.' Moments later a Tory comes out, looks down at the prostrate man, saying; 'My God, you are in a terrible state. You need help. I must get help before you die.' Off goes the Tory who is soon followed by a Liberal Democrat who bends down to the man, whispering in his ear; 'Before I say anything, what did the other two fellows say?' "
As someone who served for nearly twenty years as a senior member of my local council and was selected as a prospective parlaimentary candidate for the Lib Dems, I know a little of the career politcians ilk. John Bercow is also my local MP, which has enhanced my understanding and contempt for career politicians and hypocrits even more.
Smoothy Lord Presumption went on to tell us that political parties are creatures of national democracy. He falsely claimed that Britain invented democracy- yet also calims to be a historian.
He argued that this democracy has brought us, among other goodies and freedoms, a Freedom of Information Act, releasing documents unless it is not in the national ( by which he means Ruling Class ) interest to do so. These parties have to bid for support from a diverse group of MPs and an even more diverse electorate.
Much more of this and it would be more honest to call this a Wreath Lecture as Britain's claim to democracy is rather like the Monty Python Parrot sketch: It is flaming well dead, no matter how stifly one might glue it upright to its perch- assuming it was alive in the first place, which I doubt.
Like the Monty Python Parrot, British Democracy has always been a con, sold by unscrupulous sales persons like Thatcher and Blair with help from spin doctors like Ed Balls.
It won't matter how many feminists like posh Harriet Harman or self righteous Yvette Cooper you put in the Commons via women only short lists, it is still the House of Privilge and Disdain for the working class masses who are supposed to feed their egos with dreams of being on some awful reality TV show or a revamp of Jeremy Kyle.
Robert Cook August 22nd 2019
Control in a mass society August 8th 2019
The traffic was and always is awful on the M25, especially first thing. BBC Radio 4 'Today' programme helps pass the time, though its smug comfortable overpaid out of touch presenters can be irritating, but always amusing because of these qualities. It is not the warm friendly harmonious programme as it was inj the days of Jack Demanio.
They never see themselves as part of the problem, always part of the solution. Their main concerns seems to be the gender pay gap and promoting fake Brexit. They are typical voices from privilged patronising public service broadcasting.
Yesterday they were lamenting the massive decline in viewers for terrestial BBC and ITV channels, in spite of all the wonderful home grown content. They were especially concerned by the decline in younger viewers who spend, on average, watching little more than an hour each week- preferring Netflix and YOU TUBE.
I suggest that the home grown content is far too patronising, politically correct and with messages meant to be subliminal but obviously loaded. So called new drama. with doyens like Dame Judy Dench, Helen Mirren and Sarah Lancashire rather predicatble and sickly to thev taste of most of us. The scripts are written by comfortable people, usually English literature grads, some writers hand picked from the 'underprivilged groups' like feminists.
I watched one nauseating Channel 4 production being partly filmed in my now twee home town of Winslow, I saw and talked to a production crew whe were from very different world to the one most of us live in. The production was called 'The Little Visitor' with story revolving around life in a big country house from long ago and far away, like these fim makers. Humourless and pretentious, like the book it was based on in my view.
The article below explains much of the mind set and why mainstream TV is primarily and overtly about social control. It talks down to the masses.
What is the future of public service television?
Jane Martinson Ofcom believes PSB is in good shape – but decisions on the BBC and Channel 4 could transform the landscape @janemartinson
Sun 25 Oct 2015 18.08 GMT Last modified on Wed 29 Nov 2017 08.34 GMT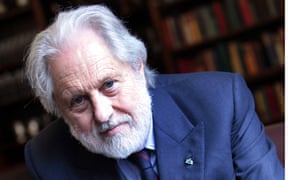 David Puttnam is launching an inquiry into public service television Photograph: Rex Features
Before they started at secondary school two years ago, my older children regularly read the sports pages over breakfast or cuddled up to watch The X Factor on a Saturday night. Nowadays, they constantly scroll through Instagram and YouTube on phones that appear to have been grafted on to their fingers. The biggest threat to public service television is there, live and kicking, in my front room.
Where do they get their news from? Or learn about the world? Surely not just from videos of how to paint nails in ever weirder ways, or from vlogs on how to beat their mates at imaginary football games?
Their ability to make and share video content or communicate with their friends and the world beyond is infinitely greater than mine ever was. But just how good, for want of a better word, is that content? Does it make them better citizens as opposed to just bigger consumers with a lot more choice?
It's hard to be sure. Research on the behaviour of the i-generation born after 2000 is relatively limited. We know that their slightly older peers watch far less television than their parents did. Among 16-24 year olds, viewing of live TV news dropped by 29% between 2008 and 2014.
Public service television isn't all about news, of course. Ofcom has a marvellously rounded definition of the term as "high-quality content, made for as wide a range of audiences as possible, and for public benefit rather than purely commercial ends". It adds "diversity" and "plurality" and the need to "reflect and examine society as a whole". Lord Reith boiled it down to "inform, educate and entertain".
The entire debate probably sounds as Victorian to my children as my own grandmother's description of pounds, shillings and pence did to me. Teenagers may well scoff at the idea of public service broadcasting (PSB), a vague thing that encompasses children's content as well as religious broadcasting, arts and culture. Isn't most of that for old people anyway? But what about national sporting events? Or homegrown drama about British lives, wherever they are?
Analysts at Ofcom, which published its public service broadcasting review in June, think it possible that once this generation reach 35, possibly with children of their own or at least less money or desire to go out every night, they could start watching more public service content on a range of platforms. But this appears less than scientifically based.
It seems clear that Ofcom's overall view that "public service broadcasting is in good shape" with a relatively robust advertising market in television is only true for the next decade at most.
Some will argue that parental concerns about technology are akin to previous generations worrying about boy bands. Yet, decisions being made over the next 18 months – about the future of the BBC and Channel 4 but also the purpose of public service broadcasting – could help create a very different environment whether we like it or not.
The government is looking at the BBC, as is the House of Lords. Yet Labour peer and filmmaker Lord Puttnam is right to launch a broader inquiry into the nature, purpose and role of public service television today and I'm glad to be a member of the advisory committee. There are huge, broad questions to be asked and now seems as good a time as any to ask them.
The first may be why we still need public service broadcasting, or whether it should continue to come from the main public service channels which currently dominate. With investment in new, UK-originated content by these channels down by over £400m in real terms between 2008 and 2014, according to Ofcom, this might be a moot point anyway.
Education, arts and religion saw the biggest real-term declines, though the smallest overall totals. Yet in those areas, other providers have stepped in: Sky Arts in cultural provision, for example, or, in the field of formal education training, the teacher network run by the Guardian where professionals share resources.
But what about the impact of commercial competition in televised sport?
As many fans have argued, including my colleague Barney Ronay, the battle to broadcast Premier League football has ended up with consumers spending the same and getting less sport for their money.
And for those who argue that choice and competition will provide, it seems wise to point to the financial services industry. That didn't work terribly well either, did it?
There are obvious hazards ahead, but the more questions we ask now, the better.