This page is the sequel to Police Station. British Police are self congratulatory, institutionally corrupt, liars, bullies, unaccountable, overpaid with grotesquely extravagant senior officer perks and expenses.
Showing results for man pushed over by police Buffalo head injury
Search instead for man pushed over by police Buffalo headinjury
Videos
Preview1:35Video shows man
motionless,
bleeding from the
head after …Washington Post – 4 Jun 2020Buffalo Officers
Suspended After
Elderly Man Pushed
to …The Advertiser – 5 Jun 2020Preview0:47Buffalo video:
Officers suspended
after 75-year-old
man …ABC7YouTube – 5 Jun 2020Police
A police officer "deliberately lied" in a witness statement claiming a man had behaved in an "extremely abusive" way, a court has heard. PC David Norman, 52, of Haverfordwest, Pembrokeshire, made the false statement after being called to a dispute between neighbours in Milford Haven.
Reference:
020 8299 6000CONFIDENTIAL ENQUIRY
"Thank you for your professionalism & sensitivity." GT Stewart Client
Home>Protecting Your Human Rights>Actions Against the Police
Actions Against the Police
We pursue compensation for our clients whose rights have been infringed or who have suffered from abuses of power or authority.
We can advise on the wide variety of remedies available to people who have faced injustice at the hands of the state. We assist people in pursuing complaints and / or civil claims for compensation against the police, prison service, and other detaining authorities.
We undertake inquest work, representing family members of people who have died in the custody of the state – in prison, police detention, or after contact with police. We help our clients to challenge decisions by public bodies using the Judicial Review procedure, for example, decisions by the Independent Office for Police Conduct, outcomes of DBS checks, and decisions by the police to retain DNA samples, fingerprints and custody photographs. We assist victims of crime who want to apply for compensation from the Criminal Injuries Compensation Authority.
Our Protecting Your Rights services
Actions against the PoliceSocial WelfareMental HealthCourt of ProtectionPublic LawEducation Law
Speak to a Lawyer in confidence 020 8299 6000
Securely message our Lawyers
Clearly no crime in the Channel Islands…
IOPC should stand for Independent ( sic ) Office for Police Corruption –
R.J Cook March 8th 2021
IOPC/IPCC Internal Investigation Unit Not Fit For Purpose, protecting IOPC/IPCC staff, covering up, ignoring evidence, corruption Martin McGartland cases – request Posted march 8th 2021
Martin McGartland (Account suspended) made this Freedom of Information request to Independent Office for Police Conduct

This request has been closed to new correspondence from the public body. Contact us if you think it ought be re-opened.
Follow 3 followers
The request was refused by Independent Office for Police Conduct. Martin McGartland (Account suspended) Delivered
Martin McGartland
3 May 2019
Dear Independent Office for Police Conduct,
As you will be very well aware …. I have already made complaints to your Internal Investigations Unit (IIU) but they (as they have done with my previous complaints) have not carried out any type of proper 'investigation'. All that they have done (as with previous complaints) is either fail to record, property investigate, whitewash, cover up (including ignoring evidence) to protect IOPC/IPCC staff. The IIU just like the IOPC/IPCC is corrupt when it concerns me, my cases.
Under the FOIA I would like to know;
1. Who investigates the IIU? (please supply full contact delails)
2. How many complaints in total (from complaints) have been made against IIU, its staff during the previous 3 years ?
This part of the review relates to all complaints (those which were / and those which were not recorded). I would like this information broken down i.e. 2017 to 2017, 2017 to 2018, 2018 to 2019…
3. How many complaints made against IIU, its staff during 2 above were;
a. Never recorded or investigated?
b. Recorded and investigated?
c. Not upheld?
d. Upheld?
4. How many IIU complaints investigations has resulted (during past 3 years – 2 above) in IOPC/IPCC staff being disciplined?
Yours faithfully,
Martin McGartlandLink to thisReport !Request Info, Independent Office for Police Conduct
This is an automated email please do not respond to it.
Thank you for your email.
If you have made a request for information to the IOPC, your email and any attachments will be assessed, logged and forwarded onto the appropriate department to prepare the response.
FOI & DPA TeamLink to thisReport
IOPC/IPCC Internal Investigation Unit IIU is Not Fit For Purpose – – Martin McGartland FOI request:
https://www.whatdotheyknow.com/request/i… Link to thisReport Phil Johnston, Independent Office for Police Conduct
Dear Mr McGartland
Thank you for your email to the IOPC requesting information. This request is being considered under the Freedom of Information Act 2000 (FOIA).
We propose to respond to you on or before the 4 June 2019 in line with the timescales prescribed by the FOIA.
If you have any questions about this request please contact us. Please remember to quote reference number 1007602 in any future correspondence about this request.
Yours sincerely
Independent Office for Police Conduct (IOPC)
PO Box 473 Sale
M33 0BW
www.policeconduct.gov.uk
Follow us on Twitter at: @policeconduct
Find out how we handle your personal data on our website
show quoted sectionsLink to thisReport !Request Info, Independent Office for Police Conduct
1 Attachment
Dear Mr McGartland
Please find attached our response to your request of 3 May 2019.
Please quote our reference 1007602 in any further correspondence.
Yours sincerely
Independent Office for Police Conduct
PO Box 473
Sale
M33 0BW
Find out how we handle your personal data on our website.
www.policeconduct.gov.uk
Follow us on Twitter at: @policeconduct
show quoted sectionsLink to thisReport Martin McGartland (Account suspended) Delivered
Martin McGartland
04 June 2019
Not you again (copy and paste McCoy – how Lazy) When you, the corrupt (and useless) IOPC/IPCC stop telling Lies about me…. I will stop telling the truth about IOPC/IPCC.
I see the IOPC/IPCC are in the news again: "MP claims 'systematic cover-up' involving North Wales Police, probation service, CRC, IPCC and IOPC over Nicolas Churton murder" – Link to News story, here; http://www.wrexham.com/news/mp-claims-sy…
The IOPC/IPCC is on Life Support ….
I can only repeat…. your information unit and their Corrupt IOPC/IPCC Big Wigs (the controlling minds and decision makers – a number of whom are former police themselves) lied to the ICO (and others) about me, my cases. Why? The answer is sooooo Simple…. because I have (and am) exposing their corruption and wrongdoing in public.
As I said in my request/s, IOPC/IPCC Internal Investigation Unit Not Fit For Purpose, protecting IOPC/IPCC staff, covering up, ignoring evidence, corruption Martin McGartland cases. Corrupt to the Core. All thy are IOPC/IPCC are good for (at) t is protecting Bent, Corrupt police officers and covering up for them.
Yours sincerely,
Martin McGartlandLink to thisReport !Request Info, Independent Office for Police Conduct
This is an automated email please do not respond to it.
Thank you for your email.
If you have made a request for information to the IOPC, your email and any attachments will be assessed, logged and forwarded onto the appropriate department to prepare the response.
FOI & DPA TeamLink to thisReport
The Corrupt (and useless) IOPC/IPCC are in the news again:

"MP claims 'systematic cover-up' involving North Wales Police, probation service, CRC, IPCC and IOPC over Nicolas Churton murder"

Published: Friday, Apr 12th, 2019

Wrexham's MP has spoken in Parliament about 'grave errors' made before the brutal murder of a Wrexham resident – while heavily criticising subsequent attempts by the authorities to establish what went wrong.

Ian Lucas led an adjournment debate in the main Commons chamber yesterday on 'police complaints, accountability and the case of Nicholas Churton'.

Mr Churton was murdered in his Wrexham home in March 2017 by a dangerous offender, Jordan Davidson, who was on licence from prison at the time. Davidson had been arrested and taken into custody four days before the murder for possession of a knife, only to be released rather than being sent back to prison. Mr Lucas read out an account of a second threat to life in Wrexham town centre when Davidson pulled a machete on a man trying to intervene on a robbery in the period after he had murdered Mr Churton.

Mr Lucas has spent two years trying to find out why Davidson was freed to murder Mr Churton, and commit a series of other serious offences, but says several key questions remain unanswered.

In yesterday's speech he praised the 'commendable bravery' of the officers who arrested Davidson. However, he was heavily critical of North Wales Police, the probation service and the Independent Office of Police Conduct (IOPC) over their failure to give him answers in relation to the case.

Speaking in the Chamber, Mr Lucas said: "Davidson is responsible for this horrific crime and for other attacks for which he is now serving a 30-year prison sentence. However, the events leading to those crimes revealed grave errors by the police and by the probation services in Wrexham and North Wales."

Mr Lucas added: "I have secured knowledge of the detail of those errors only with the assistance of Jez Hemming of the Daily Post newspaper in north Wales. For the bulk of this case, I have secured no co-operation whatever from North Wales police.

"Indeed, I now believe that I, along with the public, was misled deliberately about the facts of the case to conceal those errors, and that there has been a systematic cover-up involving North Wales police, the probation service, the community rehabilitation company, the Independent Police Complaints Commission and the Independent Office for Police Conduct."

Davidson was known to Mr Churton and had approached him in the days before the murder.

An IOPC investigation into Mr Churton's contact with the police was launched in the days following his death – yet Mr Lucas was not informed of this important development. It is IOPC protocol for local MPs to be told.

Mr Lucas contacted North Wales Police later that year after learning of Davidson's arrest and release for possession of an offensive weapon, days before the murder. But the then Chief Constable, Mark Polin, said he could not comment because the IOPC was investigating 'all contact' the police had with Davidson prior to Mr Churton's death. Mr Lucas says this was, in fact, not true as the IOPC was only investigating police contact with Mr Churton, not the contact with Davidson.

Following pressure from Mr Lucas, a second IOPC investigation was opened – this time focusing on police contact with Davidson – but it only began in April 2018, more than a year on from the crime. The first IOPC investigation has finished, resulting in misconduct cases for two officers, but the second inquiry is ongoing.

Mr Lucas this week wrote to North Wales Police & Crime Commissioner Arfon Jones to ask him to look into the statements made to him by Mr Polin, who has since left the force.

Mr Lucas posed several questions in the House of Commons yesterday to the Minister for Policing and the Fire Service (Mr Nick Hurd):
– Why did North Wales police and the IPCC fail to tell me of a police conduct inquiry involving a murder and additional serious assaults in the middle of my constituency?
– Secondly, who decided to exclude the police decision to release Davidson on bail after his arrest for possession of an offensive weapon from the terms of reference of the IPCC inquiry, and why was that done?
– Thirdly, why did the then chief constable of North Wales, Mark Polin, tell me that there was an inquiry into Davidson's release when there was not?
– Fourthly, was the North Wales police and crime commissioner notified of the inquiry by the IPCC in 2017, and of its terms of reference? Is there an obligation to notify PCCs of such inquiries? If a notification was made in this case, when was it made?
-Fifthly, was the family of Nicholas Churton notified of the inquiry, and the fact of the release of Davidson four days before his murder?
– Sixthly, why did the probation service and the CRC fail to highlight the fact that the release of Davidson was not included in the IPCC inquiry? Should they have done so?

Mr Lucas added: "It is now over two years since Nicholas Churton was brutally murdered. We need an independent investigation into how this happened. I have no confidence in the various bodies and organisations that I have referred to because none of them and none of the systems worked to reveal the errors in this case, which had catastrophic consequences. What we need above all is some transparency ​and honesty from the organisations involved. The family of Nicholas Churton, with whom I have been working, deserve that honesty."

The Minister replied, "I know the hon. Gentleman to be a man of common sense and experience in this place. When I hear him articulate his feeling that he has been personally misled and talk about a systematic cover-up, I know that he will not be using that language lightly. I take that seriously and congratulate him on his persistence and his campaign on this."

"I heard clearly the hon. Gentleman's frustration about his engagement with the police and the system and the degree to which he feels misled—a powerful word in this context. I understand that he has been in correspondence with and met senior members of North Wales police to discuss its organisational learning, its response to date and intended actions. If he feels that contact has not been substantive or that there are issues that continue to need to be addressed, he and I should discuss that. I can certainly help him to make that point directly to North Wales police's leadership."

Mr Lucas noted "It is fair to say that North Wales police now has a new chief constable and that this case relates to the previous regime, so to speak" with the Minister replying "…under new leadership, the engagement with the ​hon. Gentleman is more forthcoming, and I welcome that."

After a lengthy reply (here) from the Minister Mr Lucas said, "My key concern is that Davidson's release from custody was not made subject to IPCC investigation by North Wales police or by the IPCC, and no one outside the force knew of that fact. It was only when I highlighted it that the investigation commenced. My concern is that the systems are still not in place to make sure it cannot happen again."

The Minister said: "I understand that message very clearly, and it will be heard by the IOPC. I undertake to make sure that the IOPC has absorbed the message. My understanding is that the first investigation looked at the police's dealings and contact with Nicholas Churton and the second is looking specifically at their contact and dealings with Jordan Davidson, but the hon. Gentleman's point is well made. Through the mechanism of this debate and the follow-up, I undertake to make sure that the message is clearly understood by the IOPC as it finalises its work for publication, hopefully this summer."

Speaking outside the chamber, Mr Lucas said: "This case raises serious concerns about the criminal justice system and the safety of my constituents. It is why I have been so determined to find out what went wrong, yet I have been met with a great many obstacles which have been a cause of huge concern to me. The family of Mr Churton also deserve answers but, sadly, we are still waiting more than two years on from this terrible crime."

Top picture: Ian Lucas MP speaking yesterday during the adjournment debate.

You can click on this link to go to the story; http://www.wrexham.com/news/mp-claims-sy… Link to thisReport
IOPC / IPCC Covering up for (and protecting) the police in the Martin McGartland case….

Private Eye(Issue no 1500)12 July – 25 July 2019

Police Conduct

Summary injustice

So much for openness and transparency at the Independent Office for Police Conduct (IOPC). It has been accused of a cover-up after seeking to impose an extraordinary non-disclosure agreement before a complainant could read even a summary of the investigation report into allegations he had made of police wrongdoing.

Martin McGartland has also been told he cannot keep a copy of the report, can only view it under supervision, and must hand over his mobile or any recording device before seeing it. Further, if he wants to get legal advice, his lawyers will have to sign a separate
secrecy order with the IOPC.

McGartland, as regular Eye readers will recall, is no ordinary complainant. The former undercover agent was shot at close range by the IRA in 1999 in Tyneside, where he was living under a false identity, after his cover was blown by Northumbria Police. Adding insult to life-changing injury, the force's initial press briefing wrongly suggested the shooting was linked to the criminal underworld. McGartland has been involved in some kind of litigation or complaint process ever since – against both police and, subsequently, his former MI5 and Special branch handlers when they stopped funding his medical and psychiatric treatment. (eyes passim)

Having safely moved to another area, McGartland and his partner were terrified that they were facing another IRA revenge attack when they let their dog out late one night
only to be seized by balaclava-wearing men in black.

His partner's screams drew neighbours into the street; and the "raiders" turned out to be police officers arresting the couple on suspicion of drug dealing and money laundering. Their house was turned upside down and their computers, phones and documents confiscated for forensic examination. Held for nearly 24hours, they were finally released on bail. It was several months before the couple had their possessions returned and were told there would be no further action.

It transpired that a family who had rented a house McGartland had bought with his criminal injuries compensation money as a holiday and rental property
– which he says both Special Branch and MI5 knew about – had indeed been involved in drug dealing. But, as McGartland says, it would have been easy for the police to see from correspondence and the couple's bank records that their only recent contact with the family had been to chase up unpaid rent.

The couple launched a series of complaints against the police. These included unlawful arrest; failing to immediately identify themselves as police officers; using excessive force(McGartland's partner suffered trauma and severe bruising to her arms and wrist); using balaclavas when dealing with a known traumatised IRA victim; obtaining a search warrant without telling the magistrate who the couple really were and that they were involved in ongoing litigation against MI5 and the Home office; and confiscating legally privileged information.

Initially the force cleared itself of blame. The couple's appeal to the then Independent Police Complaints Commission (IPCC) was upheld, and was then taken over by the IOPC. It has apparently produced a detailed 300-page report, but is only prepared to offer McGartland and his partner a summary to view. All McGartland has been told is that just three of his complaints have been upheld: excessive force used against his partner; failure to properly handle an "exhibit" taken from their home; and wearing balaclavas.

The couple have no idea why the bulk of their complaints have been dismissed, and are even more mystified why, in the interest of open justice and their rights to a full and fair investigation, McGartland cannot know the full reasons. So the Eye asked the IOPC. It said it would be "inappropriate" to comment on the specific case. However, a statement said that while its general position is to provide complainants with as much information as possible, "for reasons, including concerns about the welfare and safety of individuals, it's not always possible to share all of the evidence gathered in an investigation".

It went on: "In these circumstances we may make arrangements with a view to mitigating risks to enable the disclosure of as much information as possible. Such arrangements might include the redaction of material, the preparation of a summary, inspection and in certain circumstances, confidentiality agreements".

A recent appeal Court ruling in an unrelated case said that "the presumption of openness applies in favour of disclosure… and any non-disclosure must be necessary because there is a real risk of the disclosure causing a significant adverse effect".

As a leading QC told the Eye: "If the IOPC believe they have a sound legal justification for this decision they should explain it publicly and defend it rather than seek to impose what are frankly unenforceable obligations of secrecy on the complainant".

It looks like Martin McGartland is heading back to the courts once again.

This Private Eye story can be found at the following page link: https://www.scribd.com/document/41645328… Link to thisReport
CCCBS left an annotation (17 September 2019)
Deep respect, they are as bent as a boomerang professing to be a straight ruler. I've dealt with these fools before and after the Police Reform Act 2004 and they call themselves the IPCC/IOPC . See, the issue is this pile of rabble came about as the result of widespread corruption that existed and had become a running joke when the Police Complaints Commssion existed, itself, set up in the 1980's. The hilarious thing is, their website is now www.policeconduct.gov.uk – not a far shout from the Police Complaints Commission that caused an outcry in the first place.

The best way to deal with these people is to congregate outside their head office (I believe it is still at High Holborn) and cause a massive scene – you never know who might walk past with a great opportunity for securing celebrity endorsement.

Good luck and deep sympathy in your frustration that I have shared for over a decade. Link to thisReport
Follow 3 followers
We work to defend the right to FOI for everyone
Help us protect your right to hold public authorities to account. Donate and support our work.Donate NowWhatDoTheyKnow Pro is a powerful, fully-featured FOI toolkit for journalists.
Act on what you've learnt
Tweet this requestShare on FacebookWrite about this on MediumWrite to your politician
Requests like this
Independent Office for Police Conduct
Independent Office for Police Conduct
Independent Office for Police Conduct
Independent Office for Police Conduct
Independent Office for Police Conduct
Independent Office for Police Conduct
Independent Office for Police Conduct
Northumbria Police and Crime Commissioner
Independent Office for Police Conduct
Independent Office for Police Conduct
Are you the owner of any commercial copyright on this page?
Police Stations & Justice Are Contradictions In Terms March 4th 2021
My journalistic training included an NUJ subeditor's course. There I was taught never to use joke headings for serious subjects. However, since the Mail changed editors , going into decline as an honests document, we get headlines like the one above.
The British police are institutionally corrupt and the so called Independent Office for Police Complaints is staffed by a lot of ex and seconded officers. Professional Standards Departments are headed by Chief Constables who are by no means strangerss to corruption during their rise to and life at the top.
Britain's nice middle class readers who worry about their safety in nice suburbs and villages should take heart. Britain has more officers per head of the population than any other western country – close rivals to China , North Korea and Middle Eastern dictatorships. They have what they call new methods of evidence gatherering according to one senior officer who must be nameless. Don't worry, they are watching you, monitoring your phone and internet and talking to your neighbours and employers if they are 'worried about you. ' If you have a fit of madness, they will calm you down with a powerful taster.
Don't worry, that might sound awful but it is lawful. If they are really worried they can take you to a mental hospital and tell the psychiatrist why they think you are nuts. The psychhiatrists knows he can trust the police , so he can give you anti psychotics and shut you up for your own safety. Same thing applies to all nutters diagnosed by the police, to keep us all safe.
Our wonderful police are working in close partnershipare workin with the top politicians making up lots of new laws to keep us safe, especially from ourselves. There are so many domestic crimes taking up 80% of their time, with new prisons needed for all the bad men. Language needs to be controlled because it upets police officers and all other nice people. It is hoped to create whole generations who have never heard a swear word. It is vital to check phones and e mailss, use peoples' phone GPS to track them if they are suspected of being likely to do something.
For our safety in this respect, the police can creaate soft intelligence reports you don't know about, in case they think you hav done somethng. To keep you in check you will never see your records – or know why you can't get a job. As New Labour's Home Justice Secretary, Harriet Harman famously said, 'Better jail an innocent man to keep women safe than let a guilty one go free.'. Nice people will be safe. That is the main thing.
Britain is becoming nicer everyday. Soon there will be no pubs for police to watch over. So they can spend even more time watching you and me. Makes you feel safe, doesn't it.? Police don't need those old fashioned little police stations anymore. They need big need fortresses with hi tech interrogation sweets and dungeons. It is all good.
For those of us at the bottom of the pile, the police are not our friends. We don't matter. The police are better than us and usually class traitors, many with hang ups about men because of feminism, others worse than neanderthal. Their work is on behalf of and to an agenda set by a very dangerous elite. As with the way we must be with blacks , knee bending is the order to these heroes of the public sector. Serioussly, they do not exist to help us of the lower class, they exist to abuse us..
Roberta Jane Cook
Criminal Behaviour is a U.K Police Norm. March 3rd 2021
Roberta Jane Cook , whose home was raided by 7 police officers based on their willing receipt of malicious false allegations in 2017. The allegations stated she was working from her home in an illegal brothel . 'It was just another of many traumatic and humiliating experiences at the hands of the police, in the British police state' she said,
Roberta Jane Cook , pictured above, whose home was raided by 7 police officers based on their willing receipt of malicious false allegations in 2017. The allegations stated she was working from her home in an illegal brothel run by her son.
Computers , mobile phones and documents were seized, she was locked up for 12 hours .

Three months later she wanted to know what they were doing and they ignored her.
After being left in suspense for over three months, causing her extreme anxiety for wanting to know what was happening, she was reduced to swearing at them on 3 phone phone messages, She then forced back to the police station . without the requested explanation ,for another humiliating and very stressful interview. Refusing a caution for causing alarm and distress by swearing at a CID officer,she was then taken to Crown Court with police lying again to get her jailed.

Having made every effort to pervert the course of justice over 7 Crown Court hearings against her in 2016 , tpolice & CPS they wanted revenge. However , they lost the 2018 case regarding distressing a male CID officer with bad language but refused to explain , investigate and apologise for that or their 13 years of serious harrassment againt her to that effect.
Obviously there is evidence of a trail of hate crime against Ms Cook, starting in October 2008. This needs to be addressed and does much to explain why two police forces have spent over 13 years lying about invesitigations, withholding and fabricating evidence all in the cause of perverting the curse of justice to their own ends.
They have now returned to efforts to have Ms Cook labelled mentally ill and sectioned- having made direct contact with her GP. They have made her and her son unemployable, malicious 'confidential' records being passed to prospective employers. In 2018, she was told the prostitution case was going nowehere but informed her medical practitioners that it was fact – disclosed medical records stating that she 'is likely to die from misadventure and is paranoid. The prostitution case has been left open to protect the police from damages claims.
Their vile behaviour is unabated with mental health problems their original and lasting strategy – they have tried this before . In Britain you don't need evidence because police are portrayed by tame media relentlessly as our protecters..
The police do not just abuse blacks but they do employ and promote seriously moronic and dishonest self interested bullies. They are pretty good at hate crime. This is no excuse for scapegoating using whites , blaming them all for a legacy of racism. The cop who killed Floyd was guilty of manslaughter at the least. But the same happens in Britain.
Innocent news vendor Ian Tomlinson was murdered by police thugs and his killer went free. The police surgeon actually reported that Ian was going to die about the time Officer Hayward violently pushed him to the pavement nose first -and it was actually filmed by several people.
Corruption is even worse at the top, but mainstream journalists don't want to know. The woman who gave the order to shoot an innocent Brazilian was made chief of London's police.
R.J Cook
Confidential Enquiry
The article below relates to a Judicial review taken against the IOPC for an unlawful decision backing Lancashire police.
HomeMiscellaneousIOPCSuccessful Judicial Review against the IOPC for supporting an UNLAWFUL decision made by Lancashire police
Successful Judicial Review against the IOPC for supporting an UNLAWFUL decision made by Lancashire police Posted February 27th 2021
Evidence that the IOPC will back unlawful decisions by police and that Judicial Reviews work!
February 27, 2021IOPC, Lancashire3
A Judicial Review was brought against the IOPC for an allegation that they were protecting Lancashire police, after Lancashire Professional Standards Department (PSD) made an unlawful decision to avoid investigating a police officer who committed perjury, contrary to s1 of the Perjury Act 1911.
Once notified of the Judicial Review, the IOPC immediately conceded.
The sealed High Court order is below.
UPDATE: Should any mainstream media like a full copy of the Judicial review evidence bundle for a national story, please contact me
Please wait while flipbook is loading. For more related info, FAQs and issues please refer to DearFlip WordPress Flipbook Plugin Help documentation.DearFlip: Loading PDF 100% …
Due to the legal framework within the Police Reform Act 2002, this unlawful decision made by the IOPC could not be overturned without the above consent order quashing their decision. The IOPC agreed to pay all reasonable legal costs for this process which may be substantial.
So, what was the background?
In 2019, I was arrested, prosecuted and convicted after a police officer (Acting Inspector) assaulted me, then lied in court therefore committing Perjury.
During the incident, the police officer kicked me (used his foot) to try to force me backward.
I told the officer that I could use reasonable force if he assaulted me again.
The officer, on oath in a criminal court, denied using his foot in any way.
Therefore, I was convicted because I said "I can use reasonable force against you".
The police officer lied. He had kicked me and told the court that my comment was 'threatening' to him, even though he had assaulted me which caused my 'lawful' response.
There was body worn video evidence that the police intentionally withheld from the court. I asked the Crown Court for a mention hearing to get a Court Order to force the police to release the footage. This was granted and the footage proved the officer had committed perjury in court and the CPS accepted my appeal without a hearing!
In my complaint against this incident, Lancashire police refused to record or investigate the complaint of perjury, suggesting that;
"the evidence had been tested in Court", and that
"the Court did not recommend an Investigation into perjury", and
"that I was abusing the complaint process for a Court matter"
(Ironically, the same excuse that the Lancashire Police and Crime Commissioner has recently used tying to protect the Chief Constable… coming soon)
After PSD refused to investigate, I appealed their decision to the IOPC.
Even with a clear appeal letter and supporting evidence, the IOPC made the same decision, backing the unlawful decision made by Lancashire police. (who would have you believe they are whiter that white!)
This decision now has to be remade and the outcome will be published.
The officer who lied in court will be facing prosecution. This will either be by Lancashire police (should they decide to do their job), or by a private prosecution.
Perjury strikes at the heart of justice and offenders could face up to 7 years in prison!
Please sign up to our mailing list to be notified on new articles and Crowdfunding details to support such prosecutions.
Jun. 4, 2020, at 6:00 AM
Why It's So Rare For Police Officers To Face Legal Consequences Posted February 14th 2021
By Amelia Thomson-DeVeaux, Nathaniel Rakich and Likhitha Butchireddygari
Filed under Police Misconduct
UPDATE (September 23, 2020, 4:53 p.m.): On Wednesday, a grand jury decided not to charge any Louisville police officers with killing Breonna Taylor earlier this year. One former police officer was indicted for recklessly endangering Taylor's neighbors, but the other two officers were not charged.
As we wrote earlier this summer, it's actually quite rare for police officers to face criminal legal consequences for using excessive force — or even fatal violence — against civilians.
---
On Friday, former Minneapolis police officer Derek Chauvin was arrested and charged with third-degree murder and second-degree manslaughter after he was caught on video pressing his knee on George Floyd's neck for nearly nine minutes, even though Floyd told him repeatedly he couldn't breathe. And now Minnesota Attorney General Keith Ellison is adding a second-degree murder charge, in addition to charging the three officers who were on the scene when Floyd was killed.
The fact that Chauvin was charged at all was significant. The elevation of the charges — and the fact that the other three officers are also being charged — is even more so. That's because it's still quite rare for police officers to be prosecuted. A review of the data we have on police prosecutions shows that it's uncommon for police officers to face any kind of legal consequences — let alone be convicted — for committing fatal violence against civilians.
The data we have on police misconduct is, admittedly, far from perfect. There is no national system for reporting police misconduct, and state agencies are often reluctant to release any details about investigations into police wrongdoing.
That means some of the most reliable data sets on police misconduct — usually focusing on shootings — come from journalists, researchers or political activists who study it, not the federal government. And according to data from Philip M. Stinson, a criminal justice professor at Bowling Green State University, who collects one of the most reliable data sets on police prosecutions, only a handful of police officers are charged with murder or manslaughter every year.
---
FiveThirtyEight Politics Podcast: The data behind police violence
---
What's more, there's no evidence that substantially more police officers are facing charges, despite an uptick in protests against the use of excessive force by police. Many major cities continue to pay out millions of dollars each year to settle lawsuits against police officers, too, often without firing officers who have been repeatedly sued. So even though police misconduct has drawn greater national attention, it's still really difficult to hold police officers legally accountable for any kind of misconduct — including fatal violence.
Over the past few years, there have been a number of high-profile trials of police officers, but it's often hard to know whether more police are being prosecuted, or if the issue is just receiving more attention. Stinson's Henry A. Wallace Police Crime Database is among the best sources available on prosecutions of police; it logs 10,287 criminal arrest cases between 2005 and 2014 involving 8,495 non-federal sworn law enforcement officers.
Updating this data is difficult and time-consuming, but Stinson was able to send us more recent data for prosecutions resulting from on-duty police shootings, since those are rarer and easier to track. That doesn't include police killings that aren't shootings, but Stinson told us that prosecutions for deaths like Floyd's are especially rare. In fact, Stinson has found only 110 law enforcement officers nationwide1 have been charged with murder or manslaughter in an on-duty shooting — despite the fact that around around 1,000 people are fatally shot by police annually, according to a database maintained by The Washington Post. Furthermore, only 42 officers were convicted. Fifty were not and 18 cases are still pending. And as the table below shows, many of these convictions ended up being for a lesser offense — only five of these officers were convicted of murder (and did not have that conviction overturned).
In shootings, police are rarely convicted of murder
Charges on which nonfederal law enforcement officers arrested for murder or manslaughter in an on-duty shooting were convicted, since 2005
| Charge | Number of Convictions |
| --- | --- |
| Manslaughter | 11 |
| Involuntary manslaughter | 6 |
| Murder* | 5 |
| Voluntary manslaughter | 5 |
| Federal criminal deprivation of civil rights | 5 |
| Official misconduct | 3 |
| Negligent homicide | 3 |
| Reckless homicide | 2 |
| Aggravated assault | 1 |
| Reckless discharge of a firearm | 1 |
*Not counting convictions that were later overturned.
Source: Philip Stinson
Most years, the number of officers charged with murder or manslaughter in connection with an on-duty shooting is in the single digits. And despite the increased scrutiny on police violence since 2014 (when the shooting of Michael Brown in Ferguson, Missouri, and the Black Lives Matter movement raised public awareness of the issue), neither the number of officers charged nor the number of convictions has meaningfully increased. The number of officers charged has edged into the double digits in four of the last six years (topping out at 18 in 2015), but Stinson told us that the uptick was too small to be statistically significant. What's more, officers are still being convicted about as often as they are not — about the same rate as before 2014 — although many of the cases since 2016 are still pending.
Why are police prosecutions still so rare? In the last few years, many cities have pledged to reform their police departments, and progressive prosecutors have even won on promises to hold police accountable for misconduct. But Kate Levine, a professor of law at the Benjamin N. Cardozo School of Law who studies police prosecutions, told us that not all misconduct — including use of excessive or even fatal force — is illegal. "If a civilian is displaying a weapon, it's very hard to charge [the police officer] with murder for taking action against that civilian," she said. "And even if a civilian doesn't have a weapon, it's hard to charge a police officer if [the officer] can credibly say they feared for their life."
There are other barriers to charging and convicting police, too. Prosecutors work closely with police departments, which means they may be reluctant to jeopardize that relationship by pursuing cases against officers. Police officers' contracts also often protect them from interrogation techniques that are often used on civilians, according to Levine. And in the cases that make it to trial, judges and juries may be more inclined to believe law enforcement officers when they say their lives were threatened. All of these challenges are so baked into the system that it's very difficult to make meaningful changes. Altering prosecutors' relationship with police isn't a simple or easy reform, for instance — it would be a fundamental shift in the way our criminal justice system works.
Of course, prosecution isn't the only legal route for holding police officers accountable for misconduct. People can also sue if their constitutional rights are violated by police, which includes offenses like use of excessive force. There's no national data source for this either, but we looked at data on police misconduct settlements in New York, Los Angeles, Chicago and Philadelphia. And New York has paid more than $100 million on police misconduct settlements each fiscal year between 2015 and 2018, per data from the New York City Comptroller's Office. In total, New York Police Department misconduct settlements cost the city $630 million between the fiscal years of 2011 and 2017. In Los Angeles, they totaled more than $139 million in that same time period, according to data compiled by the Los Angeles Times. And in Chicago, police misconduct settlements between the calendar years of 2011 to 2018 totaled $398 million, according to data compiled by The Chicago Reporter. In Philadelphia, that number is nearly $90 million, per data from the city's Law Department.
This might seem like a lot of money, but experts say it's not an especially effective way of promoting police accountability. For one thing, according to research by Joanna Schwartz, a law professor at the University of California, Los Angeles, police almost never pay the settlements out of pocket — instead, the money comes from cities or police departments, and often in ways that don't put financial strain on police departments. That may help explain why some of the nation's largest cities have a history of keeping officers on the force even when their conduct has resulted in many lawsuits — the legal actions may not actually prompt police departments to internally discipline or fire officers who are sued over and over again.
Part of the problem, according to Schwartz and others, is that it's also very difficult to successfully sue a police officer for misconduct because the courts have granted them broad protections from legal liability for actions they take on the job. This doctrine, called "qualified immunity," protects government officials from being sued if there isn't a violation of clearly established law — which means, in practical terms, that a case against a police officer will often be dismissed if the alleged behavior hasn't previously been found unconstitutional.
This has resulted in a bizarre and circular trap for people trying to sue police for misconduct: To succeed, they need to find previous cases where similar misconduct occurred, but there are very few other precedents because other plaintiffs hit the same stumbling block. "This is a big part of the reason victims of police misconduct are very rarely compensated and there is no predictable accountability for law enforcement officers who step out of line," said Jay Schweikert, a policy analyst with the libertarian Cato Institute. His organization is one of many across the ideological spectrum that are currently urging the Supreme Court to reconsider the protections afforded to law enforcement professionals by this doctrine.
Nearly all of the experts we spoke with stressed that the legal system isn't the only way — or even the best way — to prevent police misconduct. Seth Stoughton, a former police officer who's now a law professor at the University of South Carolina, said he thinks police prosecutions shouldn't overshadow other solutions that might also help change police culture. This includes being more proactive about yanking police licenses or more transparent about misconduct data, so the scope of the problem is clearer. "Legal accountability is just one type of accountability," he told us. "It's certainly very important — but it's not the silver bullet I think a lot of people expect it to be."
Amelia Thomson-DeVeaux is a senior writer for FiveThirtyEight. @ameliatd
Nathaniel Rakich is an elections analyst at FiveThirtyEight. @baseballot
Likhitha Butchireddygari is a politics intern at FiveThirtyEight. @LikhithaBu
Police State Europe S.F/PlanetEaters/RCONB
British-Somali man who died after arrest 'had contact with 52 officers' Posted February 10th 2021
Arab News 09 February 2021 1372
Mohamud Hassan had contact with 52 police officers during the last hours of his life
Demands for IOPC to release documents and CCTV footage showing contact between police and victim
LONDON: A British police watchdog is facing growing pressure following the death of a man shortly after his release from custody.
Mohamud Hassan, a 24-year-old with Somalian heritage, died last month in Cardiff. It has been revealed that he had contact with 52 police officers during the last hours of his life.
In response to the information, lawyers have demanded that the Independent Office for Police Conduct (IOPC) — which has launched a probe into the behavior of South Wales police in the case — share evidence with Hassan's grieving family.
More than 30,000 people have signed a petition demanding the IOPC release documents and CCTV footage showing contact between police and the victim.
Hassan was arrested in his Cardiff home on suspicion of breach of the peace. He arrived at a police station just after 10 p.m., but was released without charge the following morning.
Senior independent investigator Ian Andrews revealed that Hassan had contact with 52 police officers during his time in custody.
Andrews revealed the information during a meeting with the family of the deceased, and again during another group meeting last week.
Hilary Brown, a lawyer representing Hassan's family, said: "They are understandably disturbed by the information. There are allegations of excessive force, and to hear that Hassan was subject to this level of police contact has been really upsetting. Then to not be given any further information about this was really difficult and completely unfair."
South Wales police said they had found no evidence of excessive force or misconduct in the case.
IOPC Director for Wales Catrin Evans said police would examine the actions used during Hassan's arrest and whether full assessments were made before his release.
She added that initial observations found no physical trauma injury to explain the death, and that toxicology tests would be necessary.
An IOPC spokesperson said: "We need to ensure we have spoken to anyone who may possibly have useful information to help us build a picture of what happened, as part of our thorough and independent investigation."
Hassan's family paid for a private post-mortem examination following his death. The results of this and another public investigation are expected to be released in the next three months. It is claimed that Hassan suffered a series of injuries during his time in custody.
Police Lie All The Time says retired Southampton Magistrate – a comment by R.J Cook February 10th 2021
The police have no right to be trusted , neither do the IOPC which has a large number of ex or seconded police officers in its ranks , to whose 'expertise' the civilian staff routinely defer. Ony 8 % of complaints , out of thousands, against U.K police are upheld on average each year , seldom against corrupt senior officers who are basically a law unto themselves.
The British ruling elite are expensively educated , offering an appalling and very limited education to the masses – masquerading as being anti sexist and anti racist , when the real aim is to blame all society's dreadful problems and injustices on white working class men. On top of this, they have the cheek to load the bulk of taxation for corrupt wasteful public services , like the police and CPS on to the abused working classes.
So , in my view , the police have made a rod for their own backs. They deserve no sympathy for doing their job so badly and often criminally. They are fond of fitting up hapless and helpless underclass people with vile twisted lying bad character profiles and files ,when in fact there few groups in Britain ( so called United Kingdom ) with more bad character than the police.
When I asked retired Southampton magistrate , Vernon Church , if the police ever lied in his court , he laughed and said : 'All the time.' Poor Police victims face slick CPS lawyers and pathetic cheap legal aid lawyers who always tell the accused to plead guilty or face jail. It is the poor who always pay. The rich rarely face justice and if they do , they buy the best lawyers. The police know that , so pick on the little people – who they contemptuosly call the 'usual suspects.'
R.J Cook
Police State 2
UK Corrupt Police <info@ukcorruptpolice.com>To: pollystate@btinternet.com;07/02/21 18:251
This is just a quick message to our subscribers.
After the unlawful application by Lancashire police to bring a restraining order against me, stopping me from blogging about any Lancashire officers, I am about to begin proceedings for an appeal or to set aside the judgement of the judge, David Knifton.
David Knifton QC (part time judge) is linked to police and never disclosed this in the hearing;
https://ukcorruptpolice.com/qc-david-knifton-failed-to-declare-a-conflict-of-interest-with-police-while-acting-as-a-judge/
Two officers intentionally committed perjury in the same hearing. Criminal proceedings will be brought against them.
https://ukcorruptpolice.com/another-lancashire-police-officer-under-criminal-investigation-for-perjury-against-the-same-victim/
The appeal is being crowdfunded and is likely to go to the High Court, we are hoping that we can get this crowdfunding to ensue a strong case is brought against Lancashire police and the applicant, who is the Chief Constable of Lancashire police, is held to account before he retires in April 2021.
Comment One could say a lot about this . The subject makes me feel sick. So I will confine myself to this , for the moment : "What else would you expect from the British Police State , the most sophisticated police state in the World. Its methods were used across an empire , used by Nazi cousins and techniques of oppression and corruption are exported across the world. with tried and tested Empire Building . Here is just one recent example of a country that has designed jails for Saudi Arabia, good old Britain. As my favourite history teacher often told me : 'Beware the smile on the face of the tiger.'
Doorbell camera catches Surrey's married deputy chief constable 'arranging affair with one of his officers' Posted January 24th 2021
Deputy chief constable Nev Kemp, 48, was speaking to Sgt. Rachael Johnson
But their conversation was picked up by a doorbell camera, sources claim
Her husband Ross Johnson – a fellow police sergeant – was able to listen in
Mrs Johnson is understood to have confessed to a relationship with Mr Kemp
An outside force will now assess the complaint after Mr Johnson reported it
Published: 00:51, 23 November 2020 | Updated: 09:47, 23 November 2020
179 shares 523 View comments
A married deputy chief constable was caught arranging an affair with a sergeant after their conversation was picked up on a doorbell camera.
Nev Kemp, 48 – a deputy chief constable at Surrey Police – was organising a hotel meet-up with Sergeant Rachael Johnson, 38, over the phone, sources claim.
But their conversation was picked up by a doorbell camera and her husband Ross Johnson – a fellow police sergeant – was able to hear it.
+2
Married deputy chief constable Nev Kemp, 48, was caught arranging an affair with a sergeant after their conversation was picked up on a doorbell camera
Mrs Johnson – who worked on personnel matters and criminal justice in the force – is understood to have opened up about her relationship with Mr Kemp when her husband, 40, confronted her about it.
An outside force will now assess the allegations – after they were reported by Mr Johnson.RELATED ARTICLES
Share
Mr Kemp started with Surrey Police in 2017 and later took over from former-deputy chief constable Jeremy Burton.
In February, Mr Burton stepped down over allegations that he had an 'inappropriate relationship' with a colleague.
+2
Nev Kemp, 48 – a deputy chief constable at Surrey Police – was organising a hotel meet-up with Sergeant Rachael Johnson, 38, over the phone, sources claim. But their conversation was picked up by a doorbell camera and her husband Ross Johnson – a fellow police sergeant – was able to listen in. Pictured: Ross and Rachael Johnson
A source told The Sun: 'Rachael and the deputy chief constable worked closely together.
'One thing has seemingly led to another.'
A Surrey Police spokesperson said: 'Surrey Police is aware of a complaint relating to Deputy Chief Constable Nev Kemp.
'The matter is in its very early stages, but has been allocated to another force Professional Standards Department to assess.
'Whilst we await the outcome of this assessment it would not be appropriate to comment further.' Read more:
Married senior policeman 'is caught arranging an affair with one of his officers'
Suicide police chief David Ainsworth 'was not vetted' Posted January 24th 2021
Published26 September 2012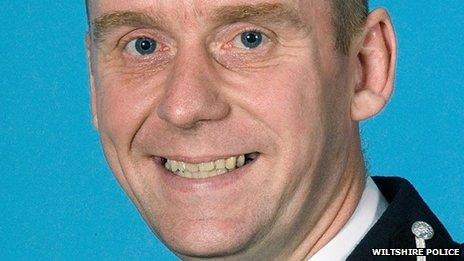 A police chief who killed himself over allegations he harassed female colleagues was never vetted for the job, a report has revealed.
David Ainsworth, Deputy Chief Constable of Wiltshire, hanged himself fearing he would "lose everything".
The officer, 49, had been removed from duties and later placed on secondment.
The report from Her Majesty's Inspectorate of Constabulary (HMIC) said there were "apparent failures" in the Wiltshire force's vetting policy.
HMIC was also critical of it for "assuming" its professional standards department had completed vetting on Mr Ainsworth during the 18 months between him becoming deputy and his death.
The Association of Chief Police Officers (Acpo) issued guidance in 2010 that sets out the "common standards for vetting and personnel security", but this was not followed in the officer's case, the report indicated.
Vetting takes place when an officer takes on a new role and requires access to new restricted information and is designed to prevent corrupt, dishonest and unprofessional behaviour.
'Green light'
The HMIC report added that a lack of vetting was "not an issue singular to Wiltshire Police" with senior officers "across a number of other forces" believing vetting "processes occur automatically".
But Wiltshire Police Authority chairman, Christopher Hoare, said HMIC should accept some of the blame after approving application forms for the deputy chief constable post that did not include a section for vetting.
"We'd always made the assumption, I think understandably, that HMIC together with Acpo would have gone through that process," Mr Hoare said.
"After all, HMIC make the recommendation to us about the suitability of candidates but more importantly they recommend to the Home Secretary that these people are right to be senior police officers.
"We had a recommendation from HMIC that Mr Ainsworth was suitable and we went through a formal interview and we took references from his previous chief constable and he was given the green light."
However, the report also said the force was "ill-prepared" to deal with the "exceptional situation" of harassment complaints against Mr Ainsworth.
'Progressive organisation'
The complaints were dealt with by South Wales Police and, despite concerns about the length of time it took, the inquiry had been "proportionate and timely"
Wiltshire Police said it is "confident" changes have been made in response to the review.
"We will continue to build a progressive organisation where staff treat each other with respect and every staff member feels confident to report wrongdoing," a spokesman said.
At Mr Ainsworth's inquest in June, the coroner cleared the force of any failure in caring for his welfare.
The claims against father-of-four Mr Ainsworth were under investigation when he was found dead in his garage at his home in Potterne, Wiltshire, on 22 March 2011.
He had previously served for 22 years with Kent Police, where he rose to assistant chief constable and was the Association of Chief Police Officers' spokesman on vehicle crime before moving to Wiltshire in 2008.
David Ainsworth 'very upset' by police investigation
Published12 June 2012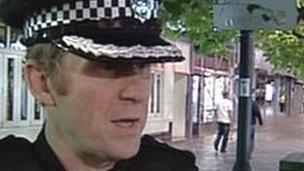 A senior policeman was "very upset" after hearing that 50 colleagues made statements about him, an inquest heard.
David Ainsworth, 49, Wiltshire Police Deputy Chief Constable, was found hanged after allegations he sexually harassed female members of staff.
The inquest was told that Mr Ainsworth was shocked that South Wales Police, which was overseeing the inquiry, had taken that many statements.
The hearing at Trowbridge Town Hall is expected to end later.
For and against
Lynne Owens, Chief Constable of Surrey Police, told the inquest that she had been appointed to act as a "friend" to Mr Ainsworth during the investigation.
She said that it had been a "difficult conversation" when he had become aware of how many people had been asked for statements.
"Colette [Paul – the Deputy Chief Constable of South Wales Police] described that some were in support of David's position and some were against David's position and some were neutral," she said.
"He became very upset at that many people in his organisation had been spoken to about him."
Mr Ainsworth was found dead in his garage last year at home in Potterne, Wiltshire.
He was notified in September 2010 that allegations of misconduct had been made against him.
An investigation began using officers from a different police force and Mr Ainsworth was removed from his duties and later placed on secondment.
After this he became badly depressed and started taking medication from his doctor.
'Being silly'
Mrs Owens said she was "really concerned" after meeting him to discuss new developments in the investigation in February last year.
"We spent an hour in a coffee shop together and he extrapolated an endgame which saw him losing his job, his family, his relationship and his children, and that was devastating to him," she told the inquest.
In a later conversation he said that he "might have found" a way out but, when challenged, replied that he was "just being silly".
On Monday the inquest was told that Mr Ainsworth was "humiliated" over the allegations and one senior officer had told told him it was a witch hunt.
His widow Emma Ainsworth said she and her husband had been going through a difficult and lengthy divorce, while his partner Jo Howse, whom he lived with, added that "he felt that certain individuals had colluded".
The inquest continues.
Comment These Vile people destroy lives. They deserve no pity from the people they abuse. R.J Cook
Hundreds of British Cops Busted For Acting Like Idiots on Facebook
Do we need a computer class?
By Jordan Valinsky • 08/19/14 11:11am
Not sexting. (Photo: Wikipedia)
Hundreds of British cops are being investigating for acting naughty on social media.
For the past five years, cops over on Knife Island allegedly did a lot of stupid things on Twitter and Facebook, including send friend requests to victims, send Facebook messages that were seen as "abusive in nature" and posted pictures of their coworkers in "compromising positions."
Of the 828 cases reported, nearly 10 percent ended in "resignation, dismissal or retirement," the Guardian writes. Other reports didn't have enough evidence to prosecute the officers on and the others ended with a warning.
What were the presumably bored officers up to? One was busted for making rude remarks about a colleague's wife on Facebook. Another person seemingly couldn't control themselves online because they resigned over "excessive and inappropriate use of the Internet during work hours." And, to top it all off, a sergeant was busted for hacking into an ex's Facebook account.
The Association of Chief Police Officers offers a handy guidebook so they don't make boneheaded decisions while trawling the Internet. They're told to entirely avoid the 'net during their downtime and using social media after drinking "due to the potential for their judgment to be impaired."
It also states: "It is recommended police remove personal details from the edited electoral roll, ensure telephone numbers are ex-directory, ask Google maps to remove pictures of their house, car or persons."
criminal behavior
Hundreds of British Cops Busted For Acting Like Idiots on Facebook
Do we need a computer class? Posted January 20th 2021
By Jordan Valinsky • 08/19/14 11:11am
Hundreds of British cops are being investigating for acting naughty on social media.
For the past five years, cops over on Knife Island allegedly did a lot of stupid things on Twitter and Facebook, including send friend requests to victims, send Facebook messages that were seen as "abusive in nature" and posted pictures of their coworkers in "compromising positions."
Of the 828 cases reported, nearly 10 percent ended in "resignation, dismissal or retirement," the Guardian writes. Other reports didn't have enough evidence to prosecute the officers on and the others ended with a warning.
What were the presumably bored officers up to? One was busted for making rude remarks about a colleague's wife on Facebook. Another person seemingly couldn't control themselves online because they resigned over "excessive and inappropriate use of the Internet during work hours." And, to top it all off, a sergeant was busted for hacking into an ex's Facebook account.
The Association of Chief Police Officers offers a handy guidebook so they don't make boneheaded decisions while trawling the Internet. They're told to entirely avoid the 'net during their downtime and using social media after drinking "due to the potential for their judgment to be impaired."
It also states: "It is recommended police remove personal details from the edited electoral roll, ensure telephone numbers are ex-directory, ask Google maps to remove pictures of their house, car or persons."
We'd love to see their rules about Snapchat.
We'd love to see their rules about Snapchat.
UK Police Interview Suspects

By Dr. Andy Griffiths – Detective Superintendent, Sussex Police, UK Posted Here January 16th 2021




The history of how suspects are questioned in the UK and US are similar up to the last 30 years. Now the UK does things very differently. I am a detective superintendent with 28 years experience, and when I talk about interviewing it's from both a practical and theoretical perspective. I have studied the subject extensively, but my biggest interest is in what works—in terms of making police officers better at solving crimes, but also preventing false confessions and miscarriages.



The watershed for the UK came in 1984 when a new law was passed governing how suspects were to be questioned. The new law, known as the Police and Criminal Evidence Act (PACE) included, amongst other changes, mandated audio recording of all suspect interviews, the right to legal representation for suspects and limits on detention before charge. PACE resulted from growing judicial and public criticism of police conduct when dealing with suspects, most notably arising from the mid-1970s cases of the Birmingham Six and Guildford Four. These were two groups of suspects arrested for terrorist attacks on the UK mainland whose confessions formed the basis of cases against them, and which were later found to have been coerced by physical and psychological abuse. Eventually, the convictions were quashed. Much like in America, the system didn't want to accept that the police misbehaved in such cases, because, first of all, that would mean that you couldn't trust the police, and secondly, it would mean that the real offenders were still out there.



The recording of all police interviews showed that many officers were, contrary to popular belief, unskilled as interviewers. Many officers went into the interview room assuming guilt. It's incredibly damaging to suggestive subjects if they know the officer doesn't believe them. But also it means that as an interviewer, you only listen to certain parts of the evidence. You ignore things that don't fit with your script. If there's strong evidence in a case, that's your best chance of getting a charge – quite simple really.



Senior police leaders recognized that officers needed to be trained, so they devised a program called PEACE with the help of psychologists. The week-long course, which also covered interviewing witnesses, was undertaken by every operational officer in the country. In the UK, unlike the USA, there is a high degree of cooperation and standardization between all forces. The training was a massive commitment, but it has helped avoid miscarriages, and it delivers better justice. Research studies and practical evaluations have also consistently shown higher skill levels and more objective approaches by officers. It is now accepted that not all officers will make good interviewers. PEACE has developed into several tiers of training linked to an officer's field of work and identified potential.



Police in the UK don't see interviewing as a secret process, and we don't feel the need to hide interview techniques. The law does not allow lying to suspects, under any circumstances. Officers are trained to concentrate on probing a suspect's account, seeking to confirm or negate by comparison with other known information. When the suspect knows that I can't lie—my job is on the line if I do—I get more information.



It's taken over a decade, but now I'm confident that you can come into my police force and any other police force in the UK and ask any officer "What is the point of an interview?" and they will not say "a confession." That shift has caused a chain reaction in investigation because now investigators are looking for reliable information when they investigate. They're not looking to find the likely suspect and turn the whole thing onto them. They're looking to exclude all other options leaving the one. It doesn't always work, but that is the approach.
New Year message To Corrupt British Police December 31st 2020
Perjury, Conspiracy to pervert the course of justice, before or during a trial, and misconduct in public office – including witholding evidence, witness tampering and fabricating evidence, are still very serious criminal offences, especially when committed by yourselves.
Lying about having followed proper process or about finding and damning alleged miscreants who were never there at the scene of 'the crime' should invite serious jail time for any officers so inclined. Labelling police's victims of such, as paranoid, bi polar and schizophrenic makes matters even more incredible and life threatening.
It beggars belief that the police can now influence health care given the stock from which they are intentionally recruited and promoted.
Hate crimes against people identifying as transgendered are also very serious – hate crime is vile and can costs lives. There is no statute of limitations on any of these offences. Attempting to change the material basis of the charges. using corrupt CPS, leading to trial, and during trial, is quite extraordinary and illegal – a very serious perversion of the course of justice.
Hopefully there will be a a growing campaign to reform Britain's institutionally corrupt police and CPS ( which is programmed especially to convict men of rape regardless of evidence ) and to take them off their ' hero' ( sic ) pedestals.
Corrupt police deserve very severe punishment. They are being paid a lot of lower class peoples high taxes to do incalculable harm and are rotting from the head down. The CPS are , like the police, target driven and culpable.
The police are also vindictive with big fragile egos. They get paid well for their responsibilities, but too many of them ruin lives, protect other corrupt officers and pander to 'superiors' ( sic ) because they want promotion or fear them. R.J Cook
U.K Police perverts, racists, sexist, bigots , rapists, adulterers, bullies , financial fraudsters and liars define a British Police Culture. The fact there is a question as to whether the sizeable 'minority' exposed should be sacked says it all. They should be even more bound by our Draconian Police State. The IOPC is a sick joke on those of us who pay for it. Politicians don't care so long as their lackeys harass working men of all races, obsessed with women and their endless violence and sex allegations, where they are always believed. Doesn't matter how many of these mainly white men – such besotted fools kill -themselves because of this and feminist hate crimes. Police should be judged as public servants not heroes and Gods. R.J Cook January 6th 2021.
13th August 2019
86 North-East police workers arrested: corrupt cops, violent officers and sex offenders among those apprehended Posted January 3rd 2020
By Joanna Morris jomorrisecho Data Investigations Reporter
CORRUPT cops, sex offenders and violent officers are among 86 North-East police workers to have been arrested in recent years, The Northern Echo can reveal.
Since 2015, more than 900 officers and almost 300 police staff have been apprehended while working for UK forces.
Among those jailed for their crimes in our region are sexual predators David Waller and Chris Hogg.
Former Cleveland Police officer Waller was imprisoned for 12 years in July over a string of sex offences against five teen girls while ex-Detective Constable Christopher Hogg – who worked for North Yorkshire Police at the time of his arrest – was put behind bars in 2017 after being convicted of indecently assaulting children in the 1980s.
Other notable arrests include assistant chief constable Adrian Roberts, who was arrested and suspended from his role with Cleveland Police.
In April, the force said he had been suspended on suspicion of gross misconduct but would not clarify why the senior officer was apprehended.
Corrupt cop Jon Snaith was dismissed from Northumbria Police and was told an "immediate custodial sentence" was inevitable after pleading guilty to charges of police corruption and offering to supply cocaine.
Once dubbed a hero for life-saving work in the line of duty, ex-North Yorkshire firearms officer Paul Duffield ended up behind bars in a fall from grace earlier this year.
A judge told him "corruption is a creeping cancer" and jailed Duffield for ten months over a scam that saw him charge upmarket hotels for advice he should have provided for free.
Other employees, mostly officers of varying ranks, were convicted of crimes ranging from fraud to GBH, drink-driving, harassment and serious sex offences.
A joint investigation between The Northern Echo and Newsquest's Data Investigations Unit analysed disclosures from the region's forces and found that around a third of the arrests resulted in cases being dropped without further action and that seven officers were acquitted or found not guilty at court.
At least 18 force employees were dismissed in relation to their arrest and many more sanctioned by their force, despite some being cleared of offences by the criminal justice system.
One Cleveland officer received a final warning despite being acquitted of a sex offence and misconduct in a public office while another was dismissed after being cleared of similar crimes.
In Northumbria, a written warning was issued to a PC cleared of assault, while a special constable accused of inciting a male under 13 to engage in a sexual act resigned from the force, despite the case being dropped.
At least 22 officers resigned or retired from their roles after being arrested.
Phill Matthews, conduct lead for the Police Federation, said the data reflected efforts made by the police to weed out a minority of unwanted criminals amongst their ranks.
He said increased scrutiny of police activity could also be a factor, adding: "We are a reflection of society so we will get one or two who are corrupt or attempting to get into the force to get some criminal gain from it.
"Where these cases happen, they can make headlines but they do come to the fore very quickly.
"There are one or two real bad people that get into policing for malicious endeavours deliberately and are there to subvert and I have no qualms at all about them going to prison."
The Home Office, National Police Chiefs Council and the Independent Office of Police Conduct stressed that efforts were currently being made to overhaul and reform the police disciplinary system.
Changes introduced in December 2017 saw initiatives including the police barred list introduced to improve transparency and accountability, with the former officers' regime ensuring that investigations could continue despite resignation or retirement.
In England and Wales, around two in every thousand police officers were arrested – equating to approximately one per cent of the work force over four years.
About half of the police workers arrested across the UK had their cases dropped by the criminal justice system, while 31 per cent of them were convicted, cautioned or otherwise reprimanded in relation to offences committed.
At least 283 employees were dismissed while 137 resigned or retired. Forces handed out 43 final warnings in connection with arrests for suspected offences including rape, violence and drink-driving.
Arrest figures could be considerably higher due to forces restricting the information disclosed in response to a Freedom of Information request. The data analysed did not include officers and staff charged following voluntary interview attendance.
Files shed light on alleged efforts to hide 1970s police corruption Posted Janauary 3rd 2020
This article is more than 2 years old
Detective kept files as evidence of how senior officers thwarted Operation Countryman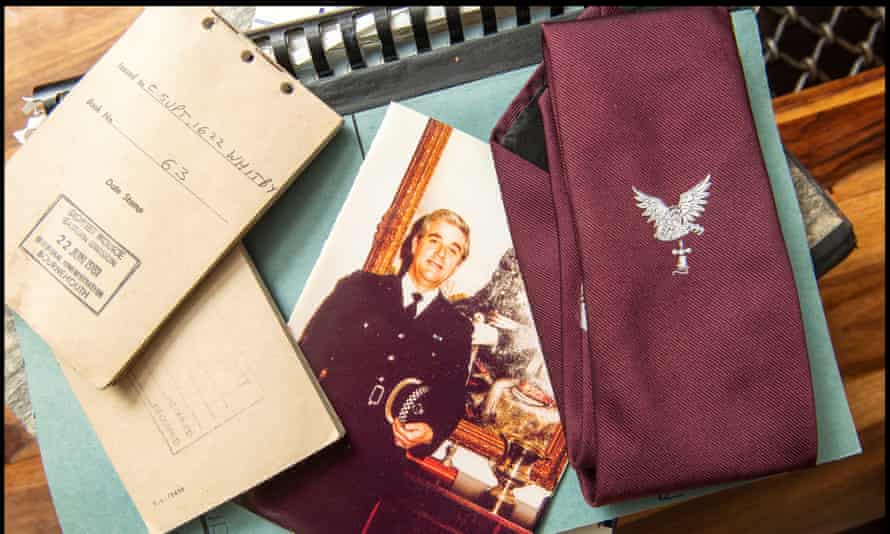 DCS Steve Whitby's records and tie from Operation Countryman, which investigated corruption allegations against Met and City of London police officers. Photograph: Phil Yeomans/BNPSDuncan Campbell and Rob EvansSun 19 Aug 2018 14.30 BST
Last modified on Sun 19 Aug 2018 19.10 BST
Documents retained by a senior detective involved in one of Britain's biggest police corruption inquiries have shed light on how efforts were allegedly made to prevent the true scale of wrongdoing from coming to light.
The family of the late DCS Steve Whitby says he kept papers from the Countryman investigation as evidence of how he and his colleagues were thwarted by senior police officers and the then director of public prosecutions (DPP).
His daughter, Lynne Kerley, who has passed the documents to the Guardian, said: "He felt peeved that individuals were allowed to go scot-free. I did not want it to go to the tip without something being being said or done."
Whitby was a leading member of Operation Countryman, which ran from 1978 until 1982. It investigated allegations against 84 members of the Metropolitan police and 29 officers from the City of London police who were accused of taking bribes, planting evidence, conspiring with bank robbers and improperly facilitating bail.
The operation resulted in just two successful prosecutions, to the frustration and anger of the investigators who had been recruited from Dorset constabulary.
Whitby's papers cast light on the alleged police corruption of that time and the efforts apparently made by leading figures in the criminal justice system to suppress its exposure.
Other previously secret documents highlight how successful attempts were made to force the Countryman team to pretend the Met had cooperated fully with them.
The Dorset officers were nicknamed the "Swedey", a pun on the Flying Squad's "Sweeney" nickname, and they were well aware that they were regarded by the Met and City officers as naive, rural plods. They even designed a squad tie – Kerley still has her father's – featuring a country mouse giving a V-sign to a hovering eagle, the Flying Squad's symbol.
At the end of the investigation, Arthur Hambleton, the Dorset chief constable, said he was "absolutely staggered" by the extent of institutional corruption. He suggested that the then DPP, Sir Thomas Hetherington, who died in 2007, and the high command at Scotland Yard had been highly obstructive. "We felt the director's office was never really with us," he said after the collapse of the operation.
The operation was prompted by a growing number of corruption allegations, as the Whitby papers show. On 25 July 1979, Whitby told Leonard Burt, an assistant chief constable and the operational head of Countryman: "The information we now have clearly shows that corrupt police officers have permitted criminals who are guilty of serious offences, ie armed robbery, to be released and not prosecuted."
There were two key figures at the heart of the investigation: Alf Sheppard, a bank robber who was prepared to be wired up to get evidence against corrupt officers, and DCI Phil Cuthbert, a City of London officer and leading Freemason who was one of the two men later jailed.
Three major robberies were at the centre of the investigation: the £175,000 robbery of the Daily Express payroll in 1976; the £520,000 Williams & Glyn's bank robbery the following year; and, most seriously, the 1978 Daily Mirror payroll robbery in which a security guard, Antonio Castro, was shot dead and £200,000 was stolen.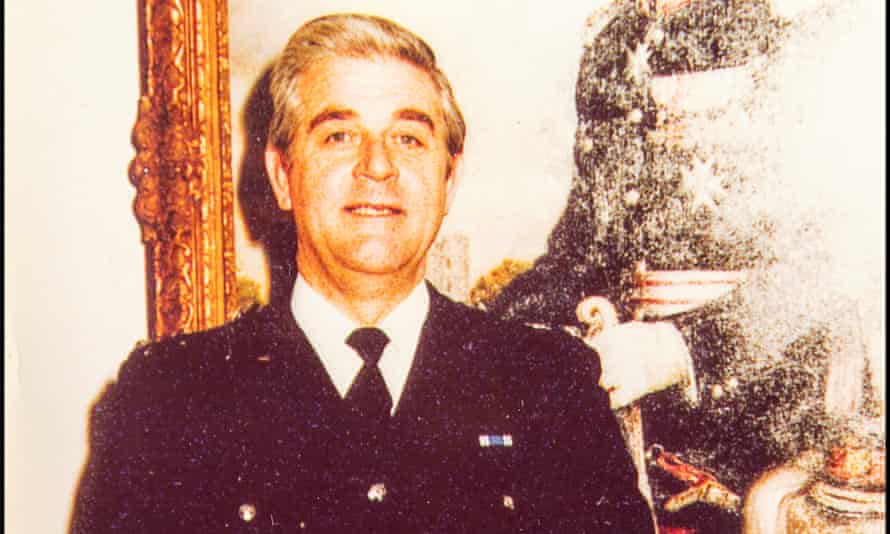 DCS Steve Whitby was a leading member of Operation Countryman. Photograph: Phil Yeomans/BNPS
At the start of the operation, Whitby interviewed Cuthbert, who "explained that he first became involved in corrupt deals during his secondment to the regional crime squad. He said that it was a way of life and involved deals, informants, money and recovered property. Any reluctance to participate resulted in the officer leaving the squad."
On 8 November 1979, Whitby reported that Sheppard had agreed to cooperate. "The question must also be asked: 'Will these men be prepared to sacrifice their friendly policeman?' At this time there is every indication that, providing the criminals are sure they will not be prosecuted, they will give the necessary evidence."
By the following year, however, tensions were becoming apparent. On 18 February 1980, the DPP protested against Cuthbert's arrest and decided that his department would offer no evidence against him.
According to a report on 21 October 1980, Cuthbert had said "he was not going to be the patsy if things went wrong and he would put Mr Moore [Commander Hugh Moore of City of London police] in it as well".
He claimed Moore had received £20,000 for allowing bail during the Express investigation. Moore, who died in 1993, denied the claim and Cuthbert said at his trial that he had been drunk when he made the accusation.
Whitby's papers suggest Sheppard was prepared to pay up to £20,000 to officers to help him and other criminals get bail.
On 19 November 1981, Whitby reported on discussions with the DPP's office about granting limited immunity for the criminals who cooperated. He observed: "The decision not to permit any form of limited immunity, as previously given, is beyond comprehension. It can only guarantee that critical evidence concerning corrupt police officers will not be obtainable."
In memos in 1982, Whitby wrote that Cuthbert, who was awaiting trial, initially appeared to seek help from Dorset police, but within weeks retracted the request. This suggested Cuthbert had been offered a deal by others whereby, if he did not implicate anyone else, he would be looked after at the end of his sentence.
Whitby, who died in 1999, wrote: "He made it clear that he would serve his sentence, does not want parole and will not assist Countryman."
Home Office documents held in the National Archives underline the level of frustration felt by the Countryman officers. One document refers to Burt and his team being "in a very depressed state. They felt that unless they were able to offer the immunities which the DPP had not, up till now, been disposed to grant, their inquiry would not succeed … Mr Burt and his team are more than ever convinced of the gravity and scale of corruption among [redacted] and are talking of payments of up to £1m having been received by corrupt police officers on a systematic basis".
Another document noted that Hambleton was "incensed that the home secretary and the attorney general had publicly stated in parliament that there had been no obstruction to his enquiries. In his view he had no doubt at all he had been obstructed and indeed this had been admitted to him by [senior Met officers]".
A book, Operation Countryman by the former Flying Squad officer Dick Kirby, was published this year. Kirby was highly critical of the "inept and inexperienced country policemen" but also of Moore.
He suggested that Moore warned Cuthbert of the impending inquiry, "championed the cause of officers who were thought to be crooked, denigrated those who were straight" and was "found to be less than truthful".
The full story may have to wait until 2067, when all of the Home Office papers are due to be released.
UNDER HEAVY MANNERS Posted December 30th 2020
UNDER HEAVY MANNERS means: Under heavy manners is Jamaican slang for oppressed.
I first heard the phrase 'under heavy manners' while a post graduate student at Goldsmiths College London University, New Cross. It was in the context of Britain's flagship force picking on the capital's blacks, even planting 'evdence' etc.
The year was 1978, the issue was the historic 'sus' law. This law entitled police officers to order a body and vehicle search if the officer had seen three overt suspicious acts. In reality, in South London, police equated black faces with at least 3 overt acts.
Of course, police also picked on long haired students on suspicion of carrying drugs – that happened to me twice, once after I had left university to work before going back. Young police did then what they do to protest groups now, dressing and acting the part to 'collect evidence' and frame people. It is all about a career ladder to them in the U.K. But young blacks were and still are targeted for no obvious reason, other than biology. Mass illegal immigration gives them ever more excuse because these young migrants have brought gang and drug culture enough to shame local villains.
The sociologist R.K Merton, building on the work of William H Whyte's 'Street Corner Society' categorised the police as 'perspectivist thinkers'. he meant that they were, to coin a phrase, looking for types, 'the usual suspects'. The police have a fancy name for that now, with specialised uncritical degree courses to add psuedo science credibility to their corruption and bullying. They call it 'profiling'. Colin Stagg and Barry George are testaments as to how corrupt this practice is.
In this context, Boris Johnson – beware the smile on the face of the tiger- is trawling for more of the unique characteristics needed to expand the police in line with wonderful multi culture, increasing poverty and social breakdown in the Covid age, where 5 % own and/or control 95 % of the wealth, making a mockery of claims to democracy and equality. The ruling elite uses feminazis and their gullible followers, along with BLM as cover for their abuses, lies and greed.
I have much evidence for my viewpoint, and among other things in files sent to me by West Midlands CPS, I read an e mail from CS Pepper of West Mercia Police to the then Inspector Garside of Thames Valley, comparing me to his four year old child. That is just another example of this pampered elite police force's contempt for serious complaints and criticisms. Even when exposed, as we see in more stories below, including the fraudster and perjurer couple from Leicester, a crooked top cop's consequent suicide was described as a tragedy and the case against his wife was dropped 'in the public interest.' ( sic ) R.J Cook
Democracy, policing and the coronavirus pandemic Posted December 28th 2020
Policing during the pandemic shows that we still have a long way to go before the UK can say it polices by consent.
Ben Twomey 10 November 2020
As England enters its second national lockdown due to the COVID-19 pandemic, police officers continue to go to work to keep us safe. They are still responding to emergencies, investigating murders and finding missing people. Among the traditional police work though, our police are taking on new roles. Breaking up house parties and handing out substantial fines to individuals and businesses who break COVID-19 rules have become part of the job.
In the interests of public health, this pandemic has seen our liberties curtailed more significantly than any time since the Second World War. While polls suggest that many agree with the principles of the new measures, the situation has also introduced a challenge for the police and their legitimacy.
Discussions around policing practices in the US have dominated British media of late. Without getting into theories of 'bad apples' versus 'structural oppression', the footage and images that stream in from the US can go a long way in shaping our opinion of police officers and perception of policing here.
The democratisation of policing
Disturbingly, many of the shocking scenes of police brutality and racism that we see in the US take place under the command of elected Sheriffs. So, does democracy really give us better policing? Should power be better shared with the public to be seen as legitimate? Should we have a clearer say over the institutions that regulate our lives?
The UK introduced Police and Crime Commissioners in 2012 in what some called the 'Americanisation' of British policing. These are directly elected officials responsible for deciding police strategy and holding their local police force to account on behalf of the public. Their powers also include setting the police budget and hiring or firing the local Chief Constable.
Police and Crime Commissioners are supposed to bring the principle of 'policing by consent' to life. Almost two hundred years after the modern police were founded, the public would have the opportunity to explicitly consent, by way of voting, to how they are policed.
The problem in 2012 was that very few people took that opportunity. Less than one in six people participated in choosing their Police and Crime Commissioner. Four years later, this rose to one in four, but this was largely because the election date then coincided with local council elections that had a higher turnout.
Another election was due in 2020, but was postponed by the government until at least May 2021 because of the pandemic. This means every strategic policing decision made locally this year is done so with a mandate from the government, while the mandate from local people has expired.
This could be a serious problem, as so many new laws have been, and still are being, brought in by the government in response to COVID-19. Many are being introduced without parliamentary scrutiny, but most definitely with the assumption that the police will be the ones to enforce such rules.
Once confined to the cities, anti-lockdown protests are already spilling out into towns. If polls are to be believed, most people are still in favour of lockdowns to control the virus, but the policing of protests has always been a contentious issue and has now been thrust into the limelight. The Home Secretary has even called for police to stop protests of two or more people. The government may have banned protests, but enforcing this ban remains an operational decision for the Chief Constable, guided by the strategy of their Police Commissioner (or Mayor if in London or Greater Manchester). The approach to policing the grey areas of legitimate or illegal protest is therefore almost entirely down to local discretion.
Tackling racism in policing
When the Home Secretary Priti Patel demanded a clampdown on Black Lives Matter protests shortly after the first lockdown in England, one Chief Constable called it a "chilling abuse of power". In Bristol, the Home Secretary bypassed the Avon and Somerset Police Commissioner to have a "firm" conversation with the Chief Constable following the toppling of Edward Colston's statue. While this jostle for power grabs headlines, it also reveals how the people who are the subject of policing debates often have very little power to shape them.
It is no coincidence that the Black Lives Matter movement caught the public's attention at the same time that COVID-19 was also exposing serious racial inequalities in the UK and abroad. Liberty found that police forces in England and Wales were up to seven times more likely to fine people of colour for breaking lockdown rules in the spring. The government has been considering increasing the size of these fines. If they go unpaid, it can lead to criminalisation. While we distance ourselves from the worst aspects of US policing, it is a fact that there is greater disproportionality in the number of black people in prisons here than in the United States.
But across England and Wales efforts are being made by Police and Crime Commissioners and Mayors to tackle disproportionality in policing. A key debate has long been around the use of stop and search powers, and again the pandemic has brought this into even sharper focus. During the first COVID-19 lockdown, police in London stopped and searched young black men more than 20,000 times, the equivalent of more than a quarter of all black 15 to 24-year olds in the capital.
One way of addressing this is to introduce local Stop and Search Scrutiny Panels, which are made up of members of the public who are independent from the police.
Panel members regularly meet to review police records of stop and searches that have happened in their area and challenge any that do not meet their standard. In the West Midlands, where I oversaw ten of these panels on behalf of the Police and Crime Commissioner, they have directly led to refresher training for individual police officers and influenced strategic decision-making. Being open to challenge has undoubtedly improved police recording and the use of stop and search.
In recent years, a scrutiny panel in Birmingham made an impact nationally when one of their recommendations entered Her Majesty's Inspectorate of Constabulary's guidance. The panel contended locally that where the smell of cannabis in a public open space was often recorded by officers to demonstrate reasonable suspicion of an offence, the outcomes from searching someone on these grounds were questionable.
The panel noted that the subject of the stop and search was significantly less likely to be carrying anything illegal. Police were also even more likely to stop people of colour on these grounds than the already disproportionate average for stop and search. Because of this, West Midlands Police changed their practices and helped to inform national guidance: "smell of cannabis" alone is no longer considered reasonable suspicion to justify a stop and search. Police forces and elected Police Commissioners had, up until that point, never challenged those grounds. Involving the public proved invaluable to more effective and proportionate use of police time.
As lockdown measures continue to either subside or intensify at the behest of Westminster, it is vital that the public consent to how the pandemic is policed.
Models like Stop and Search Scrutiny Panels could be adopted to empower communities. The public must shape and share in the vision for a safer society. Police officers, as public servants, must be accountable, but their elected Police and Crime Commissioner must also be proactive in engaging communities between elections. Democratising the police cannot be achieved through a small minority of the public outsourcing their consent and confidence once every four years. There is so much further to go.
The pandemic and the government policies it has provoked make this an urgent concern. But what comes after is also a vital question. Building back better must involve empowering local people in the decisions that affect their lives.
British Police , Institutionally Corrupt, Hypocritical, Transphobic & Homophobic in an Institutionally Corrupt Police State- December 18th 2020
Greater Manchester Police chief Ian Hopkins stands down amid force failures
Published December 17th 2020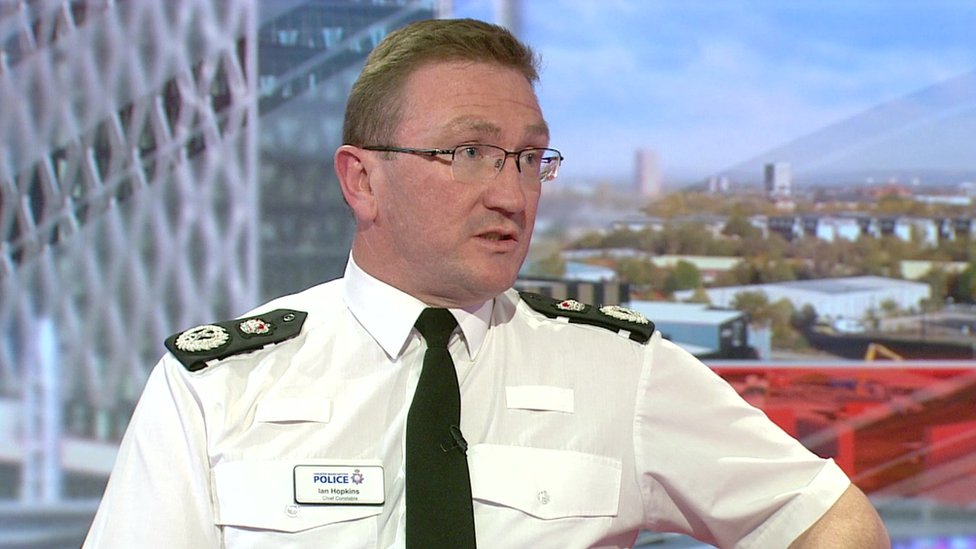 Greater Manchester Police's chief constable has stood down after the force was placed into special measures.
The force was placed into an "advanced phase" of monitoring on Thursday, after inspectors found it had failed to record 80,000 crimes in a year.
Ian Hopkins, who earlier revealed he was on sick leave, said he would step down with immediate effect.
Inspectors said GMP's service to victims of crime was a "serious cause of concern".
Her Majesty's Inspectorate of Constabulary and Fire and Rescue Services (HMICFRS) said it was left "deeply troubled" over how cases handled by GMP were closed without proper investigation.
It said about 220 crimes a day went unrecorded in the year up to June 2020.
In a statement, Mr Hopkins said these were "challenging times" for GMP and he believed a chief constable should oversee the force's "long-term strategic plan" to address the issues raised from "start to finish".
'Time for new leadership'
Mr Hopkins revealed on Wednesday he had been suffering from labyrinthitis – an inner-ear infection which affects balance – since the end of October.
He said "given my current ill health", he would bring his retirement, which he was due to take in autumn 2021, forward, adding that it had been "an honour to serve the public for 32 years".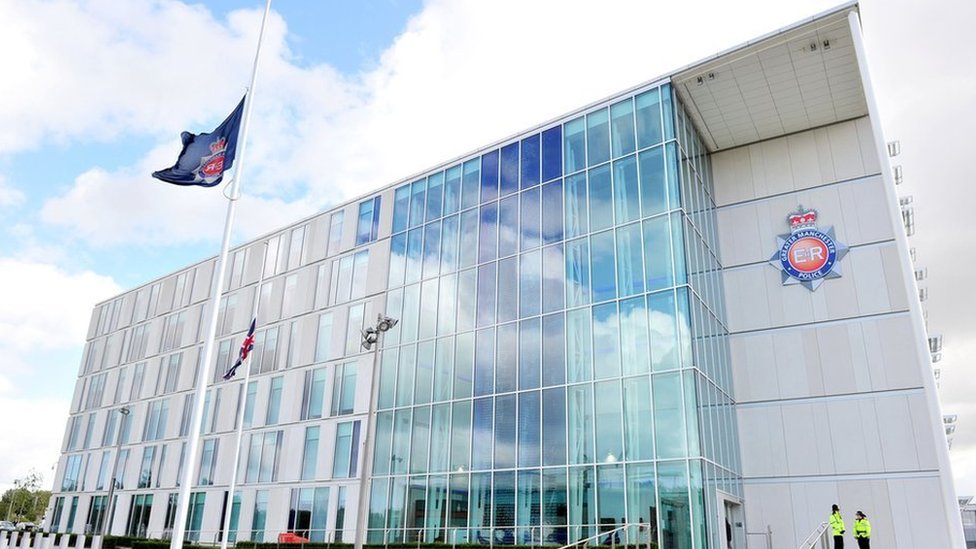 Mr Hopkins has been chief constable of GMP since October 2015, leading a force of almost 7,000 officers.
"Throughout my career, I have been committed to achieving the best outcomes for the people I serve [and] the decision to stand down is not one I have taken lightly, but I feel the time is right," he said.
Conservative MP for Bolton West Chris Green earlier called for Greater Manchester Mayor Andy Burnham, who oversees policing in the region, to step down over the HMICFRS findings.
The Labour mayor said while he had "a regard" for Mr Hopkins, "now is the time for new leadership and a new era in our police force".
"At the end of the day, it's public confidence in Greater Manchester Police that matters," he said.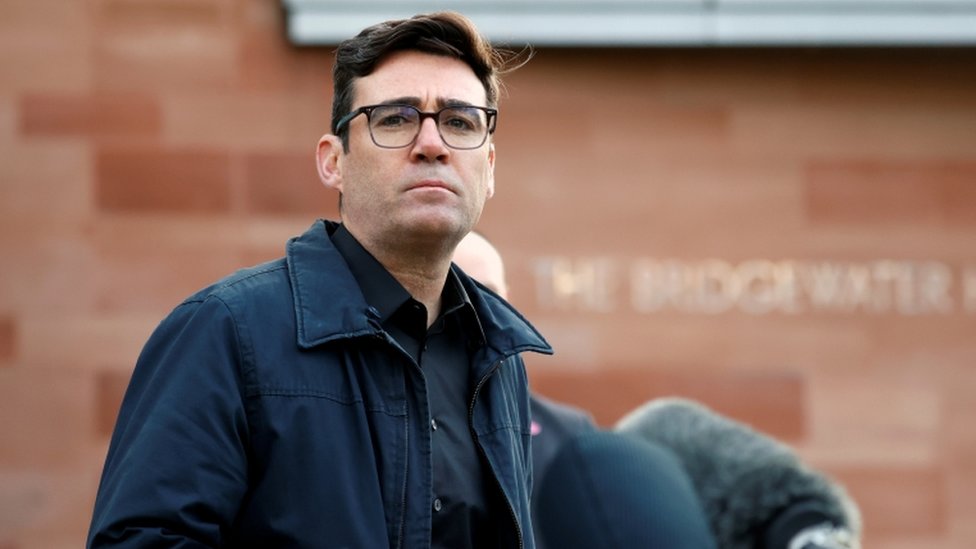 He said Mr Hopkins had led the force during "one of the most difficult periods in its history" and had dealt with budget cuts and "complex threats", such as the Manchester Arena terror attack, but GMP had not made the progress needed "in other important areas".
Mr Burnham, who has responsibilities around the governance and budgets of GMP in his role as mayor, said he "did not run GMP on a day-to-day basis" and his job was to hold the force to account.
"At times, this essential task has been made too difficult by an overly defensive culture within GMP," he said.
"This needs to change if GMP is to develop the open learning culture that will allow the failures identified to be properly addressed."
Mr Burnham said deputy chief constable Ian Pilling would assume the operational duties of chief constable ahead of a full recruitment process.
How many MORE lovers did 'suicide' police chief have?
By PAUL BRACCHI and NICK CRAVEN
Last updated at 13:12 15 March 2008
The widow of Greater Manchester police chief Michael Todd returned to the family home yesterday for the first time since his body was found on Mount Snowdon on Tuesday.
Meanwhile, Todd's private life is to be investigated in order to make sure it had no impact on his professional performance.
Greater Manchester Police have asked that colleagues from the West Midlands look into Mr Todd's personal life to ensure it had no impact on his duties as chief constable, it was announced today.
A statement from Her Majesty's Inspectorate of Constabulary said that North Wales Police were investigating the circumstances surrounding Mr Todd's apparent suicide, but West Midlands Police had been called in following the revelations about his personal conduct.
It read: "An independent rigorous inquiry into the circumstances surrounding Michael Todd's tragic death is currently being handled on behalf of the coroner by North Wales Police.
HM Inspectorate are in liaison with that constabulary and are monitoring developments closely.
"Given the circumstances, an examination of the circumstances will take place to ensure that nothing in the conduct of Mr Todd's personal life had adversely impacted on the professional discharge of his duties as chief constable."
A Manchester police source revealed the decision to investigate Mr Todd's private life had been taken to ensure that everything was done above board.
The source said: "We decided to say, 'Let's do this properly, and lets make sure everything is being done properly'."
It recently emerged Mr Todd had sent "absolutely devastating" text messages to his mistress Angie Robinson and an unnamed policewoman shortly before he went missing.
It is understood the search for the father-of-three was launched after they raised the alarm. He was found on the mountain with a bottle of gin. It is not clear whether he committed suicide or was drunk and stumbled during a storm.
A senior police source said: "It appears Mr Todd sent just two texts from Snowdon – one to Angie Robinson and one to a female officer in the Met.
"The content of these texts has been described to me as 'absolutely devastating' and was distressing enough to lead both recipients to immediately telephone Greater Manchester Police."
Mr Todd's wife Carolyn, 47, was informed last Thursday that her husband – who has been linked to a number of women – was having an affair with 50-year-old Mrs Robinson, chief executive of the Greater Manchester Chamber of Commerce.
Here, a Mail investigation unravels Mr Todd's complicated private life.
Loving tribute: Mr Todd's widow Carolyn, yesterday
There would seem to have been no more fitting tribute to Michael Todd than the photograph which appeared in his local paper this week.
It showed him surrounded by his colleagues, many of them from the rank and file, and was accompanied by the headline: "Chief constable who led from the front".
He was, to use that old cliche, the "Copper's Copper", and never more so, his many admirers would argue, than on the occasion of this picture. It was taken in 2004.
Mr Todd had just successfully lobbied the Government for extra funds to put more bobbies on the beat in Manchester.
Now, for the first time, the manpower of his force had reached 8,000 (the following year, burglaries were down 41 per cent, robberies by 32 per cent, and car crime by a quarter).
Among those taking part in the lineup to publicise the successful recruitment drive was the '8,000th' officer to join the force.
Mr Todd is seen standing beside Laura Nagulapalli, warmly shaking her hand.
"From this moment on you will be training to perform a crucial role, fighting crime and protecting people," he told her. It didn't turn out quite that way.
Less than six months on, Laura Nagulapalli was arrested and subsequently convicted of fraud.
Shortly before joining the police, it emerged, she had obtained more than £1,000 from an insurance company – to cover the cost of her mortgage payments – by falsely claiming she was unemployed.
In fact, she was working at a local beauty salon.
Scroll down for more…
Loving wife: Mrs Todd said she and her husband were still in love
Todd is said to have made advances towards Laura Nagulapalli, a former model
Behind this story, however, was an even more potentially embarrassing one for Greater Manchester police and their charismatic Chief Constable.
Only now, in the wake of his death on Tuesday close to the summit of galelashed Snowdon, is it finally emerging – along with other details of his complicated private life.
Miss Nagulapalli, a former model and air stewardess in her late 30s, and Michael Todd, a married father of three, had, it is alleged, started seeing each other socially after they were officially introduced, and had enjoyed candlelit dinners together.
Moreover, their relationship – according to a senior police source – came under scrutiny during an internal inquiry into Miss Nagulapalli when the fraud allegations first came to light.
She insisted that she never had an affair with Michael Todd. Nevertheless, the inquiry resulted in the brilliant, and almost universally popular chief constable – who many tipped to one day lead Scotland Yard – being dragged into a scandal.
Under different circumstances, the story might have gone away. Instead, it has been given fresh impetus by other revelations which surfaced this week.
Mr Todd's affair with prominent Manchester businesswoman Angie Robinson has already been exposed.
But there were, by all accounts, many more women. One former lover, it is alleged, is a serving policewoman from Hertfordshire who is now married to a Harrow schoolmaster.
Another is said to be a national newspaper journalist.
What a tragedy that Michael Todd's glittering 30-year career and towering achievements have been overshadowed by such matters.
"He was flirtatious, yes, even with his secretaries, but not sleazy or threatening," said one colleague.
"To be fair, it was not always him doing the chasing. Women were drawn to him and he often found it hard to resist."
Which is perhaps why his extramarital exploits, which reportedly resulted in him being "tailed" by a private detective, remained secret for so long.
His weakness, if we may call it that, for other women contrasted dramatically with the discipline he brought to his job.
Scroll down for more…
Superman: Michael Todd was renowned for having a way with the ladies
Not for nothing did Mr Todd, who was 50, have a Superman mug on his desk. He may have been sending himself up, but there was more than a little truth to the joke.
In a working day which stretched from 6.45am to "whenever", he still found the odd hour to maintain the supreme fitness he had in the days when he turned out for Essex police's rugby and football teams.
Superintendent Julia Wortley is said to have had a relationship with Todd when they worked together for Scotland Yard
He had a crunching handshake and lantern jaw.
Who else but Todd would have volunteered to be zapped with a high-voltage Taser gun to prove his confidence in its safety?
He made a point of walking the beat himself for a few hours every month, and had a habit of turning up at police stations unannounced.
He once manned an anti-terrorist roadblock in Oldham and on a home security drive in Bolton, he insisted on fitting door and window locks for one resident himself.
Of course, it was all good PR. But behind his high-profile public image was a bold policing vision.
One of his first moves after becoming chief constable of Greater Manchester Police in 2002 was to get 200 officers off traffic duties and into the battle against street crime.
Perhaps the real victims of Michael Todd's all-consuming approach to policing turned out to be his family: it's hard not to see it that way in the light of his death this week, and the subsequent focus on his private life.
While he worked in Manchester, where he lived alone during the week, his wife Carolyn, their twins sons aged 13 and 16-year-old daughter stayed in their home in Halam, Nottinghamshire.
They had remained in that area, where Mr Todd was assistant chief constable from 1995 to 1998, even though he subsequently joined the Metropolitan Police before finally transferring to Manchester.
Both in London, and later in Manchester, Mr Todd retained his own flat.
"Mike was living the life of a single man," said an officer who worked with him in Manchester. "He rarely brought Carolyn to any public functions."
It had been this way for most of the past decade. By the time he joined the Met, his marriage was in trouble, and he and Carolyn separated temporarily.
It was during this period that he became close to a senior officer in the Complaints Investigation Bureau (CIB), the department responsible for investigating police officers.
Scroll down for more…
Lady in red: Angie Robinson was cheating on her husband with the police chief
Julia Wortley, a detective chief inspector, was based at Colindale police station in North-West London. Mr Todd's office was on the same floor. The two were often spotted together in the gym situated along the same corridor.
"I saw them flirting," said a contemporary who worked at Colindale in the late Nineties.
"They were laughing and joking, touching each other's arms, and
flicking water at each other from their plastic bottles. I never heard anyone say a bad word about Michael Todd, but Julia was not popular with everyone."
Perhaps this is not surprising considering her job was to investigate fellow officers.
Her methods were described as "rigorous" and Miss Wortley, 43, was the subject of malicious canteen gossip. Their relationship is understood to have continued until she joined Hertfordshire police as a superintendent in 2003.
Last year, she married Andrew McGregor, 49, a classics teacher and house master at Harrow School. The couple declined to comment about Mr Todd when contacted yesterday.
This week Mr Todd was also linked with another young woman, journalist Andrea Perry.
Until a few months ago she was a crime reporter on a Sunday newspaper and is said to have interviewed Mr Todd shortly before he left the Met six years ago.
Yesterday, Miss Perry refused to answer her door at her rented flat in South London.
Scroll down for more…
Michael Todd and his wife Carolyn on their wedding day
Perhaps Todd hoped he could leave behind the rumours of infidelities when he left London in 2002. He was the polar opposite of his rather grey predecessor in Manchester, Sir David Wilmot.
On one occasion, Todd wrestled an offender to the ground on the streets of the city; he was a snappy dresser and embraced the media enthusiastically.
"Mike Todd had charm and he was very flirtatious. He also had immense power and standing but he knew how to put women at their ease and that was part of the attraction," said a senior colleague.
"Obviously he attended many social occasions in an official capacity and met plenty of highly-powered and motivated women, and many were attracted to him."
It was at one such function that he became acquainted with Laura Nagulapalli. Some sources claim he invited Miss Nagulapalli out for dinner that evening.
A chief constable could not have chosen a more unsuitable companion. Apart from her criminal past, she had what can best be described as a colourful life.
Born in Malaysia, she had worked as a model, as sales manager for an internet company and as an air hostess.
At one time or another, she spent time living in the Middle East and the Far East. Along the way she'd had a daughter, now aged 12, by a former husband.
At the time of her arrest over the insurance fraud in 2004, she was living in a terraced house on the outskirts of Chorley, Lancashire, with a married police inspector.
John Robinson: The husband of Angie Robinson is thought to have hired a private detective
Having been convicted at Preston Crown Court, she was sentenced to 200 hours' community service and ordered to pay more than £2,000 in costs and compensation.
Miss Nagulapalli, who has moved to Australia, still rents out her home here. Now living in Brisbane, she insisted this week: "The suggestion there was an affair between us [her and Mike Todd] is absolute rubbish."
By 2005, a new lover had entered the life of Michael Todd. Angie Robinson, 50, was the first female chief executive of the Greater Manchester Chamber of Commerce.
They met at a business lunch and once more, it seems, Mr Todd's domestic situation in Manchester afforded him the opportunity to begin an affair.
But was the married mother-of-two the only "girlfriend" he was seeing? It seems not, according to a senior police source, who describes himself as "a close friend and colleague of Michael Todd for years".
He says: "Angie Robinson was a regular visitor to Mike's flat in the evenings and at weekends, but she wasn't the only other woman in his life.
"But Mike wasn't the kind of man to brag about it, and wouldn't be seen out with Angie or anyone else for that matter at public events. He kept that side of his life separate."
Nevertheless, Mrs Robinson's husband John, 52, the father of their two grown-up children, did discover his wife's infidelity. He is said to have hired the services of a private detective agency after becoming suspicious of his wife.
As well as sharing a family home, a converted barn on the outskirts of Congleton, Cheshire, with her husband, Mrs Robinson – like Mike Todd – is understood to have kept a flat in Manchester.
Those close to Michael Todd now suspect it was Mr Robinson's discovery of his wife's affair which precipitated this week's tragedy.
Todd allegedly had an affair with high-flying businesswoman Angie Robinson
Perhaps Mrs Todd knew about her husband's flings in the past, but last Thursday, Mr Robinson, who has cancer, allegedly drove 70 miles to knock on the door of the Todd family home near Newark, Nottinghamshire, to tell Mrs Todd about her husband's relationship with his wife.
So what was the fallout of the cuckolded Mr Robinson's visit? Did it precipitate an ugly scene between Mr and Mrs Todd over the weekend?
Did Mr Robinson himself confront Todd? We may never know, but what is clear is that just four days later, Michael Todd had gone missing.
Having parked his Range Rover in the village at the foot of Snowdon, he struggled to within 300 metres of the summit. When his body was found on Tuesday, he was over the legal drink-drive limit – a bottle of spirits at his side.
Whatever may have gone on between him and his wife in the final days before his death, Carolyn Todd remains loving and dedicated.
As she revealed in her moving tribute to her husband in yesterday's Mail, they had recently returned from a family holiday in Jamaica.
"I loved Michael very much and the last time I spoke to him he told me he loved me, too. We have been married for 27 years and eight months.
"The whole family is struggling to come to terms with his death."
Many others have been left bereft by Michael Todd's death. A poster of Manchester's most distinguished officer has been put up at the entrance to the city's police HQ.
It says: Chief Constable Michael Todd 1957 – 2008.
Inside, among the floral tributes in the foyer, is a card which reads: "Boss – To serve and protect. Be Proud. You did both."
That is how his officers and the people of Manchester will choose to remember him.
1986. Politics: Manchester's Chief Constable James Anderton
Posted on by Colin Clews
James Anderton was appointed Chief Constable of Greater Manchester in 1975 and remained there until 1991, despite his ongoing campaign against LGBT people.
Like many homophobes, Anderton claimed to be a God-fearing Christian. Indeed, he came to be nicknamed 'God's Copper' – not so much because he had been a Methodist lay preacher but because he had claimed in a radio interview that, "I have to accept that I may well be used by God in this way."
Doing God's work included resurrecting an old Victorian law in order to charge gay men in one Manchester venue with 'licentious dancing'. In this case, licentious dancing simply meant two men dancing together.
He also devoted large amounts of police resources to the surveillance of gay men. Journalist Beatrix Campbell claimed that:
"Anderton…encouraged his officers to stalk [Manchester's] dank alleys and expose anyone caught in a clinch, while police motorboats with spotlights cruised for gay men around the canal's locks and bridges."
In 2011, Manchester historian Jeff Evans told the Manchester Evening News:
"I've interviewed retired officers who took part in police surveillance of public toilets, lying in the roof space watching men urinate for hours on end."
Unsurprisingly then, the advent of AIDS afforded Anderton the opportunity to step up his bigotry even further. Speaking at a national seminar on how police should interact with people with AIDS, Anderton said:
"Everywhere I go I see evidence of people swirling around in the cesspool of their own making. Why do homosexuals freely engage in sodomy and other obnoxious sexual practices knowing the dangers involved?"
Whilst the comments brought understandable outrage and condemnation from most people, the Murdoch tabloid 'The Sun' applauded Anderton;
"Their defiling act of love is not only unnatural, in today's world it is lethal…What Britain needs is more men like Anderton – and fewer gay terrorists holding the decent members of society to ransom."
As calls for Anderton's sacking grew, Prime Minister Margaret Thatcher also threw her weight behind Anderton and blocked calls for a public enquiry.
But Anderton's hideous homophobia was all to much for one person – his daughter, who came out as a lesbian shortly thereafter as Thatcher and Co. moved to impose the notorious Clause 28 on the country. Posted in Gay Scene UK, LGBT History, Local politics, National politics, Politics Tagged greater manchester police, james anderton, manchester gay scene, margaret thatcher, police homophobia
Leicestershire officer Gordon Fraser's death suicide, inquest concludes Posted December 17th 2020
Published8 October 2014
A senior police officer who was suspended from duty took his own life, an inquest has concluded.
Gordon Fraser, former Assistant Chief Constable of Leicestershire Police, was suspended over allegations of misconduct and fraud in December 2010.
He was hit by a train in October 2012, days before he was due in court charged with perverting the course of justice.
The charge, later dropped, related to allegations his wife accepted penalty points for speeding on his behalf.
Gloucestershire Coroners' Court heard Mr Fraser's health declined as he tried to clear his name.
He died after he was struck by a train near Moreton-in-the-Marsh on 19 October 2012.
Coroner Katy Skerrett said Mr Fraser, a father-of-three from Ansley, Warwickshire, took his own life after "a series of tragic triggers meant he couldn't cope any more".
In a statement, his widow Teresa said she "witnessed the downward spiral" of her husband's spirit and decline of his mental health over time.
She said: "It was probably 12 months after his suspension that things spiralled far beyond that.
"He came under increasing pressure over that period of time and his health deteriorated and he wasn't coping well."
'Widely respected officer'
Deputy Chief Constable of Leicestershire Police, Simon Edens, called Mr Fraser's death a "terrible tragedy".
"During his service Gordon had become a very experienced and widely respected police officer," he said.
"However in the autumn of 2010 serious allegations were made against him which, whilst being thoroughly investigated by an outside force, necessitated his suspension from his duties in Leicestershire.
"It is extremely sad that he found himself in a state of mind where he felt determined to take his own life."
Mrs Fraser, a former detective with West Midlands Police, was charged alongside her husband for perverting the course of justice over a speeding incident in Scotland in 2011.
The case was dropped last year by the Crown Prosecution Service after prosecutors decided the case was no longer in the public interest.
Mr and Mrs Fraser were both suspended from police duty in December 2010 over a separate investigation into allegations of misconduct and fraud, relating to a timeshare business in Florida.
Mrs Fraser is due to appear in court on a date yet to be set.
An expensive inquiry into the Hillsborough Disaster and Police Cover Up, was intentended to be the last word in cover ups. Here is a report of inquiry on June 28th 2017. Posted here December 11th 2020. British Police Corruption in a fake braggard elitist 'democracy' ( sic ) goes on and on and on and on. Race has nothing to do with it. British police criminal misconduct is an expression of their paymaster's contempt for the working class masses. R.J Cook
Today's Hillsborough decision confirms what Liverpool has known for years: The 96 deaths were part of a police cover-up, not a 'disaster'
Jim Edwards Jun 28, 2017, 12:33 PM
For the past 28 years, Liverpool FC fans have supported the Hillsborough Justice Campaign in its efforts to get some legal accountability for the death of 96 supporters in the 1989 stadium crush in Sheffield.
Quietly, away from the media, many thought this day would never come. But last year, an inquest jury verdict found that the commanding officer on the day of the match, David Duckenfield, had a role in the unlawful killing of those fans.
On Wednesday, the Crown Prosecution Service charged six police officers for their alleged roles in managing the crowd at the Nottingham Forest v. Liverpool game that day, and their alleged plot to cover up the role of South Yorkshire Police officers in those deaths.
This ought to change how we think about Hillsborough. For the past three decades, it has been referred to as a "disaster," as if it were an accident, and not really anyone's fault. But the evidence shows it looks more like a manslaughter — particularly when you take together the awful police decision to alleviate crowding at the match by opening a set of doors that allowed more fans to enter the stadium; and a series of secret meetings afterward at which police officers agreed to not tell the truth about how they acted, destroy their notes, and instead publish a false story blaming the fans.
The truth about Hillsborough is far, far worse than even the most conspiracy-minded Reds fan ever thought it would be. It came out first in 2012, with a government inquiry that found the police officers responsible for the mishandling of the crowd later engaged in a conspiracy to cover-up their role in the deaths.
This is an extraordinary thing: The police took actions that led to the deaths of 96 people, and then tried to cover it up. Hillsborough wasn't a horrible accident. It wasn't caused by drunk fans without tickets forcing their way into the stadium. None of that happened. It was the result of negligence. And the Liverpool fans' complaints about it aren't the victim-status whining that others have made it out to be.
Now the CPS alleges it was a manslaughter, and the police lied about it.
The Guardian has an excellent long-read on this conspiracy, and it's worth quoting a couple of sections. The conspiracy started the night of the disaster, when police were drinking in their pub:
The story that the disaster should be blamed on the supporters was, meanwhile, being spread throughout that night by South Yorkshire police officers in their Niagara sports and social club, including the most lurid tales that would be published by the Sun, under the headline The Truth, during the week. It emerged at the inquests that one of the nastiest stories, that fans had picked the pockets of the dead, was not just untrue, but that the police had evidence that it was untrue from the beginning because they had made routine logs of all the cash and other property found on each person.
Sykes confirmed that in the Niagara he had seen a local Conservative MP, Irvine Patnick, and asked him if he wanted to know "the truth." He then took Patnick to several officers who told him that some supporters were "p****d out of their minds," and that they were "pissing on us" and kicking and punching police during the rescue operation.
"It was booze that did it," Patnick, in a note, recorded Sykes telling him. "You speak up for us to tell them in parliament what happened."
None of that was true.
Later, the police falsified their notes of the disaster:
The South Yorkshire police officers were ordered, contrary to all regular practice, to record their Hillsborough experiences not in their official pocketbooks but on plain paper. A series of officers acknowledged at the inquests that this was unprecedented: It was a disciplinary offence not to write in a pocketbook, which is a contemporaneous note, very difficult to amend without it being obvious, and therefore persuasive, credible evidence in a courtroom. Accounts on plain paper could be — and infamously were — amended before going to the official public inquiry by Lord Justice Taylor.
Ello Ello What's all this then ? December 10th 2020
Preface to the following article on mental health of U.K Police December 10th 2020
Firstly, psychology is a social science and therefore culturally biased in favour of the authorities commissioning research. Psychiatry is a bogus branch of medicine, also culturally biased.
So, not surprisingly, the research below doesn't talk about the personality types required by police selection processes, the brainwashing candidates receive, the focus on domestic violence with feminist agenda, and the paranoia associated with a war on terror. Mass paranoia has been ramped up by Covid lockdown, using police in situations promoting role conflict.
Furthermore, theres is no mention of the corrupt nepotistic police promotion system, obsession with the psuedo science of sociology and profiling, the elite's focus on extending public space into the home, challenges of multi culture, LGBTQI and Islamic sensibilities.
Command and control in this context leaves a lot to be desired. Chief Officers have been exposed as a bunch of cronies with ample evidence of bullying. The good cops are not identified by gender. There are plenty of nasty ones , even at senior level.
The women are among the worst, many with an anti male agenda and highly skilled in politics. Making the police a graduate career, on the assumption that universities confer wisdom – I have attended two of them – is about blinding the masses with science. They are an institutionally corrupt organisation, in which well meaning members inevitably suffer mental illness, trapped because they need a job in an increasingly mad world with an ageing domestic population and major influx of migrants. I experienced the same decline in the world of education. Both of these so called public services are crucial to the modern elite's police state. The elite do not want reforms that challenge the elite self interest. R.J Cook
Mental Health in the UK Police Force: a Qualitative Investigation into the Stigma with mental Illness Posted December 10th 2020
International Journal of Mental Health and Addiction (2020)Cite this article
6748 Accesses
1 Citations
3 Altmetric
Abstract
Police work is a high-risk profession that can cause mental health conditions. With increasing sickness levels and falling police numbers, it is essential prompt mental health treatment be implemented. The study aims to explore institutional negativity and stigma in the police force towards mental ill health. Semi-structured interviews attended by five police officers with thematic analysis captured (i) police culture, (ii) the stigma of mental illness, (iii) disclosure of mental illness and (iv) breaking down barriers. Findings indicate police culture and attitudes to mental health may contribute to the causes of psychological illness, rather than the nature of the job itself. Increased education and awareness surrounding mental health have been shown to be fundamental in how an officer reacts to stress, but change is needed at a managerial level. Future research needs to explore the effects of mental health stigma on ethnicity and gender in the police force.
A police officer is responsible for the prevention and detection of criminal activity, whilst maintaining public order (Myhill and Quinton 2011). Sickness absence has become a growing concern in the UK police force, employing approximately 130,000 police officers (Hargreaves et al. 2018): with half of officers taking sickness leave for mental health-related illnesses in the last 5 years (Police Firearms Officer Association 2017). This is not limited to the UK police force. For example, an Australian study reported a higher prevalence of mental illness among the police and emergency services than other professions (Harman 2019). Likewise, in Canada, mental illness is widespread among police officers; high proportions of them reported having suicidal ideation (10% during the past year, 28% in lifetime), planned suicide (4% during the past year, 13% in lifetime), and attempted suicide (0.4% during the past year, 5% in lifetime) (Carleton et al. 2018; The Centre for Addiction and Mental Health (CAMH) 2018). Mental wellbeing of police officers is a cause for concern in many countries, highlighting the need for further study.
Generally, mental illness in the workplace results in a significant economic burden (LaMontagne et al. 2014), due to long-term sickness absence (Thomas et al. 2016): 16 million days are estimated to be lost annually due to mental health issues such as stress, depression and anxiety (Office for National Statistics 2017).
Recent research has identified policing as a hazardous and stressful occupation (Deschamps et al. 2003; Liberman et al. 2002; Tuckey et al. 2012). The consequences of organisational stressors and the high-risk nature of frontline duty mean officers are at greater risk of developing psychological illnesses (Habersaat et al. 2015). Cumulative exposure to a number of potentially traumatic situations is an integral part of operational policing (Tuckey et al. 2012), and thought to be a predictor for the development of post-traumatic stress disorders (PTSDs) (Marchand et al. 2015; Marmar et al. 2006), depression, anxiety and other stress-related conditions (Husain 2014). If left untreated, mental ill health has the potential to adversely affect workplace performance and future career prospects (Heffren and Hausdorf 2016). The cost of stress-related illnesses for officers is viewed in the context of individual mortality and morbidity, culminating in reduced productivity, sick leave and premature retirement (Collins and Gibbs 2003; Summerfield 2011). As criminality on our streets increases, unpredictable events that the police encounter remain commonplace (Marchand et al. 2015). As such, there is a higher prevalence of stress-related illnesses in the police force than in the general public (Soomro and Yanos 2018).
It is vital for officers to look after their mental health; however, research by mental health charity Mind (2013) suggests that emergency services personnel are less likely to seek help for mental health conditions. Officers may resist disclosing their mental ill health for fear of stigma and negative reactions from colleagues (Bullock and Garland 2018; Kurtz 2008). Internal stigma, where the police stigmatise each other because of mental health problems, is pervasive in the police force and was identified as playing an essential role in influencing individual reactions to stress (Stuart 2017). It plays a significant role in the way a person responds to psychological distress and has been noted as one of the main reasons why officers avoid seeking help (Stuart 2017).
Much has been reported about workplace stress (Alexopoulos et al. 2014; Kotera et al. 2018a; Morash et al. 2006; Violanti et al. 2016), and in regard to policing, a variety of research within the last 20 years has focussed on law enforcement's perception of mental health in the community (Desmarais et al. 2014; Lamb et al. 2002; Soomro and Yanos 2018; Watson et al. 2014; Wood et al. 2017); however, the occupational psychological distress of police officers has received little attention in the research literature. Frequent exposure to operational stressors has the potential to significantly affect the psychological functioning of police officers (Marchand et al. 2015). Given the critical role of police work, it is crucial to understand the psychological strain this puts on officers. Increasing mental health awareness and education at an organisational level is essential in helping to alleviate the psychological symptoms derived from their occupation (Randall and Buys 2013). The experiences officers face at an operational and organisational level is decisive in determining their mental wellbeing (Deschamps et al. 2003).
Deschênes et al. (2018) reported that the culture and style of leadership within the police force has more influence in determining an officer's mental wellbeing, rather than the actual nature of the job itself. Access to mental health support is provided through occupational health services by delivering one-to-one counselling. In contrast, despite access to those services, officers continue to face considerable psychological distress as a consequence of the pressures they encounter at an institutional level (Fox et al. 2012).
Regrettably, due to the lack of mental health training within police forces (Cummings and Jones 2010), additional training is required in order to change attitudes towards mental health (Booth et al. 2017; Soomro and Yanos 2018). Addressing these attitudes starts at a managerial level (Bell and Eski 2016). Line managers need education on how to identify the triggers and warning signs of mental health conditions among their officers. Preventative measures (Hayday et al. 2007), early intervention (Tuohy et al. 2005), together with prompt treatment from mental health services will help to ensure that periods of short absence do not turn into long-term sickness absence (Summerfield 2011).
The updated hypothesis extended from the original version of labelling theory (Scheff 1966) called into question the significance of stigma and stereotyping of individuals and the consequent discrimination, loss of socioeconomic status, low self-esteem and increased symptoms (Markowitz 2014). The modified labelling theory (Link et al. 1989) argued that labelling negatively influences mental wellbeing, even when it is not specifically the cause of mental disorders; labelling can make individuals feel isolated and discriminated, damaging their coping and social bonding skills (Link et al. 1989). Research in the field of modified labelling theory indicates that stigma plays an important part in labelling (Markowitz 2014). Accordingly, the present study aims to examine mental wellbeing of UK police officers, focussing on police culture and the attitudes towards the mental health of police officers.
Sickness Absence
Given the increase in sickness absence for stress-related conditions (Police Firearms Officers Association 2017), the mental wellbeing of police officers has become an increasingly important topic. A study by the Police Federation in 2016 involving 17,000 officers found that mental wellbeing among police officers was considerably poorer than that of the general population, with 39% needing help for mental ill health (Houdmont and Elliott-Davies 2016). Furthermore, socioeconomic factors such as increased budget restrictions, higher levels of crime and falling police numbers are placing more pressure on officers (Police Federation 2020). If this trend continues, it will likely create a more significant mental health crisis in the police force.
Police Culture and Mental Illness
Society has a stereotypical view of mental illness, and law enforcement is no exception. The culture of policing makes it difficult for officers to disclose mental illness, many of whom will subsequently suffer in silence. This culture of dominance and masculinity (Evans et al. 2013) as well as emotional self-control (Bell and Eski 2016) and stigma make officers resistant to help-seeking. Displays of emotional responses to work-related stressors are often regarded within police culture as a sign of weakness and not comparable with the masculine perception of policing (Kurtz 2008).
Stigma of Mental Illness
Stigma is a label given to those who may have a personal or physical characteristic that distinguishes them from others (Wester et al. 2010). This often places individuals into a stereotypical group, consequently leading to discrimination and isolation. Labels commonly associated with mental ill health not only have the potential to stigmatise, but to alienate individuals as well. The social stigma attached to mental ill health, and the discrimination people face, makes it difficult for them to seek any psychological intervention (Kotera et al. 2018b; Kotera & Ting, 2019). Furthermore, officers who experience increased stigma tend to have negative opinions about seeking psychological support (Soomro and Yanos 2018). Unsurprisingly, police officers suffering from mental ill health are seen as a marginalised community within the police service (Bell and Eski 2016). The decision not to disclose mental health conditions can adversely affect the wellbeing of officers (Stuart 2017). It is important to consider mental health stigma with regard to police work and the probable risks of disclosure.
The present study used a qualitative approach, attempting to explore the first-hand experience of police officers. Although police work is regarded as a high-risk occupation for the development of mental health conditions (Burke 1998), there is still a lack of empirical evidence to support these claims (Van Der Velden et al. 2013). Likewise, understanding of research into the attitudes of the police force towards officers with mental health problems remains limited (Deschênes et al. 2018).
Methodology
Participants
Five participants were recruited through a referral from a charity, personal network, police forum and contact from within the police force. Participants were suitable if they were (i) over the age of 18; (ii) serving officers with mental ill health, or who had been on sick leave due to mental ill health or have left the police force due to a mental health condition and (iii) proficient in English. Participants who do not speak English, have not been diagnosed with a mental health condition or have had exposure to a recent violent crime or traumatic event which has impacted on their mental health were excluded from the study.
Appendix 1 summarises the participant demographic information. Participants consisted of four males and one female (three retired and two serving officers). The mean age was 52 years (range 43–62) old. Four participants described their ethnicity as white British, and one retired officer only disclosed his ethnicity as British. Three participants were currently married, one divorced and one single. The mean length of the time in the police force was 24 years (range 18–30 years). Officer rank included police constable (N = 2) and sergeant (N = 3). All participants had experienced a variety of mental ill health conditions such as stress, anxiety, depression and PTSD. As all participants have experienced some form of mental ill health; it was important to put measures in place to protect them should the interview cause them any psychological harm. The researcher was responsible for ensuring participant privacy and confidentiality and providing details of who to contact should the interview cause the participant any undue distress.
Semi-Structured Interviews
Semi-structured interviews were conducted to attain an in-depth understanding of the participants' lived experiences (Sofaer 1999). The interview was guided by open-ended questioning, encouraging meaningful discussion (Weller et al. 2018) about each participant's accounts of mental health awareness in the police force. The question order was determined by the flow of the interview. Interviews began with a brief overview of the participant's career in policing, together with the reasons for the onset of their mental health conditions. All aspects of information and information-seeking were explored. Interviews were audio-recorded and lasted for an hour on average. Recordings were transcribed verbatim and analysed.
Materials
Participants were provided with a formal invitation to participate, an information sheet and consent form outlining the procedure, benefits and risks of participating. This included an explanation of how to acquire the results of the research, details of mental health services, voluntary participation, how to withdraw and contact information for the researchers.
Procedure
After informed consent was granted, the researcher commenced the interviews using the proposed interview schedule as a basis for open-ended questioning (Appendix 2). On completion of each interview, all participants were thanked for their time, and a formal debrief was sent to each participant by e-mail which reiterated the purpose of the study, details on their right to withdraw and contact information of mental health services, along with contact details of the researchers.
Qualitative Data Analysis
Data were analysed using the thematic analysis (Braun and Clarke 2006), an approach used for identifying, analysing and reporting themes found in qualitative data. The purpose of using thematic analysis in the present study is that this method is regarded most appropriate to investigate into under-researched areas, while still providing high research rigour (Braun and Clarke 2006). Thematic analysis identifies patterns in the dataset to extract trustworthy and insightful findings (Nowell et al. 2017). In line with the recent updates on thematic analysis (Clarke and Braun 2018), the researchers of this study actively engaged with the personal accounts of participants, and reported findings in a straightforward manner.
The interviews were transcribed, read and re-read until the researchers became fully immersed in the dataset. This method of familiarisation set the foundation for the subsequent data analysis. Having become familiar with the dataset, a list of initial codes was manually generated to identify keywords. The extracted data were again re-read in order to double-check the initial codes. During this process, some codes were discarded due to inconsistencies with the dataset (Identifying). A slight overlap was noted in regard to the subtheme 'support'; however, it was felt that the topic warranted inclusion in the two main themes: 'the stigma of mental health' and 'breaking down barriers.' Names for each theme were then finalised, providing each theme with names and explicit descriptions that were necessary to capture the essence of every theme (Analysing). Finally, the data were transformed into a written report, supported by empirical evidence (Reporting).
Results
The analysis identified four themes: police culture, the stigma of mental health, disclosing mental illness and breaking down barriers (Appendix 3).
Theme 1: Police Culture
A recurrent theme throughout the interviews was a sense among participants that the culture within policing often inhibits any open and honest discussion around mental health issues with senior management and colleagues. Existing research has acknowledged that police culture influences work-related stress (Deschênes et al. 2018). Additionally, it can easily isolate officers from important support mechanisms, and in so doing, heightening the likelihood of developing a mental illness (Tuckey et al. 2012).
Subtheme 1.1: Macho Culture
In all cases, participants reported operational and organisational stressors had affected them to some degree. Policing has long been stereotyped and perceived as masculine. This 'macho' culture means many officers do not feel comfortable about disclosing mental illness and will likely avoid seeking support for mental health issues as a result of the widespread belief that their masculinity might be called into question (Bell and Eski 2016; Garbarino et al. 2013; Wester et al. 2010).
I've seen too many people, particularly the police, adopt the macho attitude, go pop and some of them are dead, some of them become alcoholics, some had to leave the job because they plunge from one crisis to the next. (Participant 3).
Emotional responses to psychological illnesses resulting from work-related stressors are considered as a sign of weakness and not encouraged within law enforcement (Garbarino et al. 2013). These opinions undoubtedly add to the feelings of shame experienced by many officers. One individual used the analogy of soldiers who had suffered from shellshock in World War I and were viewed by colleagues as cowards and malingerers (Pols and Oak 2007).
It's a bit like the shell-shocked veterans in World War 1, being branded as cowards and shot, you know, they're cowards. (Participant 4).
Participant responses were consistent with research reporting that policing encourages masculinity, self-reliance and emotional control, which in turn has a negative impact on help-seeking behaviour (Johnson 2016).
Subtheme 1.2: Emotional Response Is a Sign of Weakness
Because police officers are typically regarded as self-reliant, tough and aggressive (Soomro and Yanos 2018), any display of emotional response to work stressors will risk them being stigmatised for appearing weak (Kurtz 2008). Any vulnerability may cause colleagues to distrust their ability (Heffren and Hausdorf 2016). This negative mindset from colleagues and line management leads to the individual feeling uncomfortable in sharing any psychological suffering for fear of the repercussions, resulting in many continuing to suffer in silence, thus preventing early psychological intervention (Garbarino et al. 2013).
You've got to be able to go out and unload to somebody, who might not necessarily know anything about the police. (Participant 3).
One officer did not realise there was a problem but acknowledged there must have been a gradual decline in her mental health over a significant period time.
I didn't recognise it as what it was; I just thought I was grumpy…you don't see them creeping up, and in the end, the thing that tips you over the edge, the thing that makes your bottle overflow if you like can be something quite small because you've got used to dealing with stuff. (Participant 5).
Talking about mental health is crucial in helping to share experiences and normalise feelings.
I would just talk about what happened to me, and for me that makes me feel better. (Participant 4).
Officers will typically suppress any emotion by adopting a 'get on with it' kind of attitude; however, it can adversely affect the psychological wellbeing of even the most resilient of police officers, taking a physical and mental toll upon the individual if it remains unrecognised and undiagnosed (Hayday et al. 2007; Karaffa and Koch 2015). Regrettably, police culture often inhibits discussion around psychological illnesses (Bell and Eski 2016). As such, avoidance is common (Stuart 2017).
You sort of bottled it up for years, you just kept going because I had a young family to support. I had to earn the money and the overtime and one thing and another. I think I got to a point where I'd just had enough. (Participant 2).
I've watched the biggest and hardest people bottle it all up, being the big macho man and end up in psychiatric wards. I can think of one person who took his own life. (Participant 3).
It is clear from the preceding accounts that police culture inhibits emotional expression, often perpetuating the stigma associated with help-seeking for psychological distress (Tuckey et al. 2012), or for fear of stigma and discrimination from colleagues (Waugh et al. 2017).
Subtheme 1.3: Coping Strategies
When subjected to increased levels of stress, some officers will often resort to self-medication with alcohol as a coping mechanism. (Bell and Eski 2016) A small number of participants indicated that alcohol was something they used to help them cope with the pressures of work and psychological symptoms. One participant explained that he was so stressed and full of adrenalin; the insomnia he suffered prevented him from sleeping, and so he resorted to increased alcohol intake as a coping strategy.
You can't put enough adrenalin into your body to counteract the stress; you develop bad habits like drinking because it was the only way I could get to sleep and then you physically and mentally push yourself to the edge. (Participant 1).
Another interviewee commented she had started drinking to counteract the stress she was under.
… I'd started relying on alcohol… I'd started using alcohol as a coping mechanism. (Participant 5).
While not all participants used alcohol, another noted he was aware of the drinking culture in some areas of policing; feeling obliged to drink to get ahead, which he saw as another added stressor.
…generally, if you want promotion you need to go in CID [Criminal Investigation Department], a big drinking culture which I'm very averse to. (Participant 4).
Drinking alcohol is consistent with the need for police officers to maintain a certain image (Karaffa and Koch 2015; Shane and Andreychak 2008) and has been historically used to numb depressive feelings. Research has identified a link between problematic alcohol intake and higher levels of depression and anxiety in police officers (Karaffa and Koch 2015).
Theme 2: Stigma of Mental Health
Participants reported the adverse outcomes of developing mental illness whilst working within law enforcement. Responses included stigmatising attitudes and discrimination, self-stigma and lack of empathy.
Subtheme 2.1: Stigmatising Attitudes and Discrimination
Mental illness stigma in the police force is embedded at an individual and institutional level (Bullock and Garland 2018). A culture where the perception of mental illness plays a pivotal role in an individual's reaction to stress. Almost all participants experienced some form of stigma and conceded that mental illness is often viewed negatively by colleagues.
Some people that I spoke to when it happened were very negative because obviously there's a stigma with it. (Participant 1).
The success of one's career may well be negatively affected by mental health misconceptions. Many will experience challenges establishing a stigma-free relationship with their employers, whose opinion of the individual's ability to undertake their role may change (Gabriel and Liimatainen 2000). One officer argued, however, that his understanding was that attitudes in the police force were less stigmatising than in the private sector.
If anything, I would argue there's probably less stigma in organisations like the police than there is in most of the private sector. (Participant 3).
In contrast, a mental health charity, Mind (2017) states a higher prevalence of mental health problems has been found in the public sector, with a lack of support available following disclosure. This contrast may imply underestimation of mental health issues, linking with repressive coping (i.e., unconsciously deny negative emotions and information to secure a positive image (Garssen, 2007) that is often seen in a masculine culture (Kotera, Green & Sheffield, 2019)).
Subtheme 2.2: Self-Stigma
Self-stigma occurs when individuals become aware of the societal stereotypes of people with mental illness and internaliase those attitudes (Stuart 2004). Individuals who are self-critical will often experience adverse emotional reactions such as feelings of low self-esteem and self-efficacy (Johnson 2016). The female participant began to display feelings of paranoia, thinking those around her disliked her.
I was paranoid, part of my anxiety was paranoia, so I thought that everybody hated me, I still get that sometimes now. You can get really worked up about what other people think about you. (Participant 5).
Yet, she did feel the negativity she was experiencing was 'perceived and might not have been what was happening.' This internalised prejudice makes the individual affirm negative stereotypes of themselves because of their condition. The result of internalising public preconceptions of mental illness brought on by feelings of self-stigma creates negative feelings of frustration, anger and shame (Johnson 2016), as described by another participant when speaking about his visit to a counsellor.
Every time I spoke to her I burst into tears, it was a mixture of frustration, anger and shame. Shame that I'd gone pop, shame that I thought I'd let myself down. (Participant 3).
In summary, self-stigmatisation among police officers is considered a barrier to help-seeking behaviour, treatment adherence and recovery (Büchter and Messer 2017; Soomro and Yanos 2018).
Subtheme 2.3: Lack of Support from Line Management
Previous research has established that exposure to stressors such as increased workload and lack of organisational support can account for more significant amounts of stress in the police force than operational stressors (Shane and Andreychak 2008; Van Der Velden et al. 2013). Speaking with others, acts as an emotion-focussed coping strategy which aids in reducing occupational stress but also alters the way you react to stressful situations (Patterson 2003). In response to the question of what the police must deal with on a day-to-day basis, a retired officer expressed the need for support from others through talking.
I think it's the inability to say; actually, I've been affected by this, and someone to say, you know what, I'm affected by it as well, it's really bad isn't it. (Participant 4).
Lack of support and increased workload from senior managers are seen as significant predictors of mental health problems (Van Der Velden et al. 2013), thereby causing long-term absence and exacerbating already apparent psychological problems (Hayday et al. 2007).
In the end what tipped me over the edge, and I think it was building for a long time was a lack of support from senior managers. (Participant 5).
Although there were no outward signs the female participant was suffering from mental ill health, she felt her senior managers could have done more for her. She was on the brink of a 'meltdown', but she had no support; either senior managers did not recognise the signs or were unsure of how to deal with the situation.
I was very clearly on the brink, that somebody should have realised that. And I think they probably did; they just did not do anything about it. (Participant 5).
It is essential to recognise signs of mental illness in an employee but also to provide them with the opportunity to talk about how they feel without the risk of encountering negativity.
Theme 3: Disclosing Mental Illness
One way of challenging the stigma of mental health is by revealing you are struggling (Corrigan and Rao 2012). However, disclosing to your employer that you have a mental health condition requires careful consideration after weighing up the pros and cons. Table 1 lists some of the advantages and disadvantages of disclosing a mental health condition (Wheat et al. 2010).Table 1 Advantages and disadvantages of disclosing a mental illnessFull size table
Subtheme 3.1: Effect of Mental Illness on Career Advancement
Officers who have mental ill health are frequently marginalised in the profession due to their reluctance to disclosure mental illness, thereby impacting their psychological wellbeing and career opportunities (Bell and Eski 2016). One participant stated that any form of mental illness would hinder career progression.
If you've a form of mental health illness you will not get on; you will not be promoted, …people will not want you on their section. (Participant 4).
He went onto describe the perception of colleagues towards mental ill health.
My experience is the attitude of officers universally that I worked with. Depressed, depressed are timewasters. (Participant 4).
Subtheme 3.2: Relationship with Fellow Officers
Another participant who received a much more positive response from his division explained his fellow colleagues knew he could still be relied upon to perform his role as an officer. It was the less experienced, younger members of his team who were shocked to see someone with so many years' experience in the police fall foul to mental ill health.
He's been here for donkey's years, he should be able to handle this sort of thing…and then suddenly to watch me go pop. (Participant 3).
Subtheme 3.3: Attitudes towards Sickness Absence
Work stress, including shift work (Shane and Andreychak 2008), is the leading cause of sickness absence, ill health and early retirement of police officers (Garbarino et al. 2013; Hargreaves et al. 2018; Summerfield 2011). One participant recounted, even though there was support from occupational health, upon returning to work any reference to stress or depression was negatively viewed by fellow officers.
As an institution, they were very very good, in getting me better, at making me understand, but back at work that was a different ball game. You've got your colleagues who are still at work, still running around like idiots and they're like, oh fucking hell, you've had three months off, you know, I should have gone off with stress. (Participant 1).
It was obvious sickness absence had on the whole been viewed negatively. In contrast, one participant said he had been fairly treated by his line management because of his openness about his situation.
It's down to individuals. I've been in the job a long time, and I did know most people, most people did know my history, and those that didn't could read it. I got looked after really, I was just open and honest with them, I didn't try and big anything up, a lot of people gild the lily I suppose. Sort of just play straight baton, they looked after me. (Participant 2).
Senior managers acknowledged that the nature of his work affected his psychological wellbeing.
…we're gonna keep paying, realise it's job-related PTSD that you've got, so they made special dispensation that I'd be paid, I'd get a full wage. (Participant 2).
Despite the contrasting views on how sickness absence was viewed, it is important for line management to work with their staff to help reduce periods of sickness absence.
Subtheme 4: Breaking Down Barriers
Death by suicide occurs more in police officers than it does in the line of duty (Miller 2005). This is often due to the compounded stress experienced by police correlated with high rates of suicide (Collins and Gibbs 2003; Fox et al. 2012; Gutshall et al. 2017).
Subtheme 4.1: Support from within the Force
While most participants experienced difficulties with support from their line managers, all participants were provided with support through occupational health services; in the form of counselling, cognitive behavioural therapy (CBT), eye movement desensitisation and reprocessing (EMDR) therapy. Participants explained the benefits of referral to occupational health.
The welfare side was very very good, very quick. (Participant 1).
Although the time to referral was swift, one retired officer talked about the unsatisfactory initial meeting he had with an occupational health professional, as he was in such a vulnerable position at the time, he was experiencing negative thought patterns about health professions, who, in his words 'not having a clue what's going on'.
If you're in a very vulnerable position which I was, the slightest thing is too much, your thought pattern is already distorted. (Participant 4).
Occupational health is seen as an avenue where individuals can disclose their mental health without fear of stigma. Despite the initial negative experience with counselling services, this officer did continue with his counselling sessions.
I went through extensive counselling, and for somebody to say what you're thinking, it requires a certain confidence, faith in the individual you're talking to, and a release of unburdening yourself from your own private thoughts. I don't think a lot of people can do that. (Participant 4).
One interviewee explained she had asked to be referred to occupational health because she felt she needed support but had not received any from her superiors. Her line manager admitted he recognised he was part of the problem and acknowledged that her mental health symptoms were exacerbated following a staffing incident which had occurred 12 months previously.
I was referred to occi health by my then line manager, well I asked him to refer me to occi health. (Participant 5).
There is a need for officers to seek help from psychological services. However, there still remains a gap between acknowledging this need and a call to action (Johnson 2016). A willingness to speak with others in a supportive environment is critical in help-seeking behaviour (Heffren and Hausdorf 2016).
You would find increasingly as my career progressed was that people would be more open in talking about these things. There was no sort of hiding it. (Participant 3).
Subtheme 4.2: Increasing Education and Awareness
Mental health awareness is determined mainly by perceptions of mental illness in society. It is affected by a range of social and cultural factors which also impact self-confidence and self-identity. Stigmatisation and lack of knowledge of mental illnesses are critical considerations for improving awareness.
Oh, I think there was a lack of awareness because I remember a civilian member of staff, really nice guy and he used to go on about sickness levels, and he'd go, ah these malingers, "Stress? So and so's off with stress, it's malingering, it's malingering!" He used to go on about it. (Participant 4).
Using the analogy of having a broken leg was the participant's way of describing the lack of awareness and understanding which he experienced. Because you can see the physical injury to a person's leg, it proves the injury exists. However, with the mind, there are no visible signs of psychological injury.
The best way to describe it is if you've broken your leg and you've got a caste on, you can see that. (Participant 1).
Subtheme 4.3: Changing Attitudes
One interviewee described how his attitude changed as a result of going through mental ill health. He saw it as positive experience, helping to increase his mental health awareness and understanding.
It has made me much much stronger and much more resilient, and the other thing is, I can see stress in other people. To be fair, I'm really glad I went through it because I've totally changed my outlook, I've totally changed the way I work, the way I look at everything in life. A very positive experience to go through, even though at the time it didn't feel like it. (Participant 1).
Likewise, another officer commented he had seen a noticeable difference in the way line management's attitudes were also changing.
…the police are trying to do more, I think they are trying to recognise signs of stress in people, and what have you, that's what they're training line managers to do anyway, they are putting us on courses about stress management and things like that. (Participant 5).
It is important that line managers are trained on how to identify the symptoms of mental ill health and help to reduce the psychological distress for officers (Bell and Eski 2016) if we want these attitudes to continue changing. Increasing awareness is important in order to spot the signs of mental illness. It is also important for fellow colleagues to recognise the signs.
Lived experience of mental ill health gives one the ability to identify the signs in others.
It's only because I've been through the process myself that you're able to recognise and assist with certain stuff. (Participant 1).
The psychosocial context of frontline police work has played a crucial role in the development and progression of mental illness, whether inflicted by traumatic experiences or by the more common pathway to psychological injury (Tuckey et al. 2012).
Discussion
The present study elucidated the first-hand experience of police officers' attitudes towards mental health problems, relating to the police culture. Five participants reported that the police culture was indeed affecting negative attitudes towards mental health problems (Theme 1), entailing mental health stigma (Theme 2), which hindered police workers to disclose their mental distress (Theme 3). Lastly, they suggested the ways to counter these challenges including a supportive workplace atmosphere and education (Theme 4).
One notable finding was that, as reported recently (Stuart 2017), police culture has a significant effect on attitudes to help-seeking behaviour and emotional responses to psychological distress. Any display of emotional response to work stress in police officers can be considered as a sign of weakness or inability to perform their role and goes against being tough, aggressive and in control (Kurtz 2008). Officers are therefore expected to maintain emotional self-control. Police culture is often thought of as a problematic feature of policing, which is averse to change and progress (Cordner 2017). This 'cult of masculinity' and 'machoism' is not only viewed as negative and persistent features of policing (Silvestri 2017) but also in other occupational groups such as the construction industry (Fielden et al. 2000), and the military (Karaffa and Koch 2015), which is typically male-dominant. It is interesting to note male dominance and gender featured greatly in a review of the literature (Fielden et al. 2000; Silvestri 2017; Veldman et al. 2017). Further research into this area could address these barriers.
The theme 'the stigma of mental health' represents feelings of discrimination towards mental illness experienced by some of the participants. The negative perception held by others towards them tended to be discriminatory in nature. Attitudinal barriers such as self-stigma were expressed and associated with feelings of shame, anger, frustration and paranoia (Gabriel and Liimatainen 2000). Some participants identified the negativity they faced from fellow officers and senior management. The effects of police-to-police mental illness-related stigma (Stuart 2017), self-stigma and perceived stigma were also apparent throughout the dataset. All participants conceded that colleagues negatively viewed mental illness. Moreover, consistent with previous literature (Maguen et al. 2009; Van Der Velden et al. 2010), depression, anxiety, PTSD and stress were among the main reasons for sickness absence among the interviewees (Harnois and Gabriel 2000; Husain 2014). Participants additionally reported that alcohol was frequently used as a coping mechanism. Further, police culture expects officers to remain calm and controlled; therefore, any emotional expression is severely limited (Pogrebin and Poole 1991), making difficult for officers to disclose their mental distress. As suggested, mental health awareness and understanding in the workplace and education about mental health could break down the barriers for officers to receive support. Moreover, training and development can help ameliorate the mental health status of police workforce. For example, induction training that informs the daily challenges and demands of the police profession would be useful for new officers to better prepare for various challenges that they may encounter during their duties (Gershon et al. 2009). Even though mental health is an essential factor of day-to-day policing, particularly in the community, it is an area which has been somewhat neglected (Cummings and Jones 2010). Future research should evaluate the effects of such training and development on the mental health attitudes of police workers, and their mental health status. Considering that poor mental health of police forces is a cause for concern in many other countries, more comprehensive studies (e.g., cross-cultural comparison) can offer useful insights to this international problem.
Limitations
There were several limitations in this study. Although a thematic analysis did not aim for generalisability, the sample size was modest: more data would strengthen our findings. Relatedly, only one participant was female. Other demographic variables that are associated with mental health and stigma (e.g. age, position, cultural background; Kotera et al. 2018a) needed to be adjusted. Notwithstanding the relatively limited sample, this work offers valuable insights into the culture of policing and the mental health of its officers.
Conclusion
The present study sought to elicit experiences from a sample of five police officers. The findings from this study indicate that sources of psychological illness have more to do with the organisational culture and attitudes to mental health than the nature of the job itself. The findings presented above highlight the need to increase mental health awareness in the British police force and to target institutional stigma, which is fundamental to breaking down attitudinal barriers. As sickness absence continues to rise due additional pressures put on officers, like budget cuts, fewer officers and increased crime, it is vital for police forces to recognise the signs of mental illness in their officers. Officers of all ranks must undergo education and implement changes in working practices to help reduce symptoms of psychological distress among its officers.
References
Alexopoulos, E. C., Palatsidi, V., Tigani, X., & Darviri, C. (2014). Exploring stress levels, job satisfaction, and quality of life in a sample of police officers in Greece. Safety and Health at Work, 5(4), 210–215.PubMed PubMed Central Article Google Scholar
Bell, S., & Eski, Y. (2016). 'Break a leg—it's all in the mind': police officers' attitudes towards colleagues with mental health issues. Policing, 10(2), 95–101.Article Google Scholar
Booth, A., Scantlebury, A., Hughes-Morley, A., Mitchell, N., Wright, K., Scott, W., & McDaid, C. (2017). Mental health training programmes for non-mental health trained professionals coming into contact with people with mental ill health: a systematic review of effectiveness. BMC Psychiatry, 17(1), 196. https://doi.org/10.1186/s12888-017-1356-5.
Braun, V., & Clarke, V. (2006). Using thematic analysis in psychology. Qualitative Research in Psychology, 3(2), 77–101. https://doi.org/10.1191/1478088706qp063oa.Article Google Scholar
Büchter, R. B., & Messer, M. (2017). Interventionen zur Reduktion der Selbststigmatisierung von Menschen mit psychischen Erkrankungen: Eine systematische Übersicht von randomisiert-kontrollierten Studien. GMS German Medical Science, 15, Doc07.PubMed PubMed Central Google Scholar
Bullock, K., & Garland, J. (2018). Police officers, mental (ill-)health and spoiled identity. Criminology & Criminal Justice, 18(2), 173–189.Article Google Scholar
Burke, R. J. (1998). Work and non-work stressors and well-being among police officers: the role of coping. Anxiety, Stress and Coping, 11, 345–362.Article Google Scholar
Carleton, N. R., Afifi, T. O., Turner, S., Taillieu, T., LeBouthillier, D. M., Duranceau, S., et al. (2018). Suicidal ideation, plans, and attempts among public safety personnel in Canada. Canadian Psychology, 59(3), 220–231. https://doi.org/10.1037/cap0000136.Article Google Scholar
Clarke, V., & Braun, V. (2018). Using thematic analysis in counselling and psychotherapy research: a critical reflection. Counselling and Psychotherapy Research, 18(2), 107–110. https://doi.org/10.1002/capr.12165.Article Google Scholar
Collins, P. A., & Gibbs, A. C. C. (2003). Stress in police officers: a study of the origins, prevalence and severity of stress-related symptoms within a county police force. Occupational Medicine, 53(4), 256–264.CAS PubMed Article PubMed Central Google Scholar
Cordner, G. (2017). Police culture: Individual and organizational differences in police officer perspectives. Policing, 40(1), 11–25.Article Google Scholar
Corrigan, P. W., & Rao, D. (2012). On the self-stigma of mental illness: stages, disclosure, and strategies for change defining self-stigma. In Canadian Journal of Psychiatry (Vol. 57).
Cummings, I., & Jones, S. (2010). Blue remembered skills: mental health awareness training for police officers. Journal of Adult Protection, 12(3), 14–19.Article Google Scholar
Deschamps, F., Paganon-Badinier, I., Marchand, A. C., & Merle, C. (2003). Sources and assessment of occupational stress in the police. Journal of Occupational Health, 45(6), 358–364.PubMed Article PubMed Central Google Scholar
Deschênes, A.-A., Desjardins, C., & Dussault, M. (2018). Psychosocial factors linked to the occupational psychological health of police officers: preliminary study. Cogent Psychology, 5(1), 1426271.Article Google Scholar
Desmarais, S. L., Livingston, J. D., Greaves, C. L., Johnson, K. L., & Brink, J. (2014). Police perceptions and contact among people with mental illnesses: comparisons with a general population survey. Psychology, Public Policy, and Law, 20(4), 431–442.Article Google Scholar
Evans, R., Pistrang, N., & Billings, J. (2013). Police officers' experiences of supportive and unsupportive social interactions following traumatic incidents. European Journal of Psychotraumatology, 4(SUPPL). https://doi.org/10.3402/ejpt.v4i0.19696.Article Google Scholar
Fielden, S. L., Davidson, M. J., Gale, A. W., & Davey, C. L. (2000). Women in construction: the untapped resource. Construction Management and Economics, 18(1), 113–121. https://doi.org/10.1080/014461900371004.Article Google Scholar
Fox, J., Desai, M. M., Britten, K., Lucas, G., Luneau, R., & Rosenthal, M. S. (2012). Mental-health conditions, barriers to care, and productivity loss among officers in an urban police department. Connecticut Medicine, 76(9), 525–531.PubMed PubMed Central Google Scholar
Gabriel, P., & Liimatainen, M. R. (2000). Mental health in the workplace: introduction, Executive Summaries.
Garbarino, S., Cuomo, G., Chiorri, C., & Magnavita, N. (2013). Association of work-related stress with mental health problems in a special police force unit. BMJ Open, 3(7).
Garssen, B. (2007). Repression: finding our way in the maze of concepts. Journal of behavioral medicine, 30(6), 471-481.PubMed PubMed Central Article Google Scholar
Gershon, R. R. M., Barocas, B., Canton, A. N., Li, X., & Vlahov, D. (2009). Mental, physical, and behavioral outcomes associated with perceived work stress in police officers. Criminal Justice and Behavior, 36(3), 275–289.Article Google Scholar
Gutshall, C. L., Hampton, D. P., Sebetan, I. M., Stein, P. C., & Broxtermann, T. J. (2017). The effects of occupational stress on cognitive performance in police officers. Police Practice and Research, 18(5), 463–477.Article Google Scholar
Habersaat, S. A., Geiger, A. M., Abdellaoui, S., & Wolf, J. M. (2015). Health in police officers: Role of risk factor clusters and police divisions. Social Science and Medicine, 143, 213–222. https://doi.org/10.1016/j.socscimed.2015.08.043.Article Google Scholar
Hargreaves, J., Husband, H., & Linehan, C. (2018). Police workforce, England and Wales, 31 March 2018. Statistical Bulletin, 11(18).
Harman, G. (2019). Answering the call: mental health needs of police and emergency services personnel. Australian Journal of Emergency Management, 34(1), 23 Retrieved from www.beyondblue.org.au/. Google Scholar
Harnois, G., & Gabriel, P. (2000). Mental health and work: impact, issues and good practices. Retrieved from http://digitalcommons.ilr.cornell.edu/gladnetcollect/222/.
Hayday, S., Broughton, A., & Tyers, C. (2007). Managing sickness absence in the police service: a review of current practices. London: HSE. Google Scholar
Heffren, C. D. J., & Hausdorf, P. A. (2016). Post-traumatic effects in policing: perceptions, stigmas and help seeking behaviours. Police Practice and Research, 17(5), 420–433.Article Google Scholar
Houdmont, J. & Elliott-Davies, M. (2016). Police Federation of England and Wales 2016 Officer Demand, Capacity, and Welfare Survey: Initial Report -Descriptive Results
Husain, W. (2014). The levels of depression, anxiety and stress in police officers. Academic Research International, 5(4).
Johnson, S. F. (2016). Investigating Barriers to Mental Health Care in Law Enforcement Officers. Electronic Theses and Dissertations. Paper 3154. https://dc.etsu.edu/etd/3154
Karaffa, K. M., & Koch, J. M. (2015). Stigma, pluralistic ignorance, and attitudes toward seeking mental health services among police officers. Criminal Justice and Behavior, 43(6), 759–777.Article Google Scholar
Kotera, Y., Adhikari, P., & Van Gordon, W. (2018a). Motivation types and mental health of UK hospitality workers. International Journal of Mental Health and Addiction, 16(3), 751–763. https://doi.org/10.1007/s11469-018-9874-z.Article PubMed PubMed Central Google Scholar
Kotera, Y., Green, P., & Sheffield, D. (2018b). Mental health attitudes, self-Criticism, compassion and role identity among UK Social Work Students. The British Journal of Social Work, 49(2), 351–370.
Kotera, Y., & Ting, S. H. (2019). Positive Psychology of Malaysian University Students: Impacts of Engagement, Motivation, Self-Compassion, and Well-being on Mental Health. International Journal of Mental Health and Addiction, 1-13.
Kotera, Y. , Green, P. , and Sheffield, D. (2019). Mental Health Shame of UK Construction Workers: Relationship with Masculinity, Work Motivation, and Self-Compassion. Journal of Work and Organizational Psychology, 35(2), 135–143. https://doi.org/10.5093/jwop2019a15 Article Google Scholar
Kurtz, D. L. (2008). Controlled burn: the gendering of stress and burnout in modern policing. Feminist Criminology, 3(3), 216–238.Article Google Scholar
Lamb, H. R., Weinberger, L. E., & DeCuir, W. J. (2002). The police and mental health. Psychiatric Services, 53(10), 1266–1271.PubMed Article Google Scholar
LaMontagne, A. D., Martin, A., Page, K. M., Reavley, N. J., Noblet, A. J., Milner, A. J., et al. (2014). Workplace mental health: developing an integrated intervention approach. BMC Psychiatry, 14(1), 131.PubMed PubMed Central Article Google Scholar
Liberman, A. M., Best, S. R., Metzler, T. J., Fagan, J. A., Weiss, D. S., & Marmar, C. R. (2002). Routine occupational stress and psychological distress in police. Policing, 25(2), 421–441.Article Google Scholar
Link, B. G., Cullen, F. T., Struening, E., Shrout, P. E., Dohrenwend, P., Link, B. G., et al. (1989). A modified labeling theory approach to mental disorders : an empirical assessment. American Sociological Association, 54(3), 400–423. Google Scholar
Maguen, S., Metzler, T. J., McCaslin, S. E., Inslicht, S. S., Henn-Haase, C., Neylan, T. C., & Marmar, C. R. (2009). Routine work environment stress and PTSD symptoms in police officers. Journal of Nervous and Mental Disease, 197(10), 754–760.PubMed Article Google Scholar
Marchand, A., Nadeau, C., Beaulieu-Prévost, D., Boyer, R., & Martin, M. (2015). Predictors of posttraumatic stress disorder among police officers: a prospective study. Psychological Trauma: Theory, Research, Practice, and Policy, 7(3), 212–221.Article Google Scholar
Markowitz, F. E. (2014). Mental Illness and Labeling Theory. The Wiley Blackwell Encyclopedia of Health, Illness, Behavior, and Society, (December 2013), 1582–1587. https://doi.org/10.1002/9781118410868.wbehibs328.
Marmar, C. R., McCaslin, S. E., Metzler, T. J., Best, S., Weiss, D. S., Fagan, J., … Neylan, T. (2006). Predictors of posttraumatic stress in police and other first responders. Annals of the New York Academy of Sciences, 1071(1), 1–18.PubMed Article Google Scholar
Miller, L. (2005). Police officer suicide: causes, prevention, and practical intervention strategies. International Journal of Emergency Mental Health, 7(2), 101.PubMed Google Scholar
Mind. (2013). Mental wellbeing – Police | Mind, the mental health charity – help for mental health problems. Retrieved from https://www.mind.org.uk/information-support/police/mental-wellbeing-police/#.W-R_tdL7Tcs.
Mind. (2017). Mind reveals shocking differences in mental health support for public & private sector workers. Retrieved from https://www.mind.org.uk/news-campaigns/news/mind-reveals-shocking-differences-in-mental-health-support-for-public-private-sector-workers/
Morash, M., Haarr, R., & Kwak, D. H. (2006). Multilevel influences on police stress. Journal of Contemporary Criminal Justice, 22(1), 26–43.Article Google Scholar
Myhill, A., & Quinton, P. (2011). It ' s a fair cop? Police legitimacy, public cooperation, and crime reduction An interpretative evidence commentary. Retrieved from http://whatworks.college.police.uk/Research/Documents/Fair_cop_Full_Report.pdf .
Nowell, L. S., Norris, J. M., White, D. E., & Moules, N. J. (2017). Thematic analysis: Striving to meet the trustworthiness criteria. International Journal of Qualitative Methods, 16(1), 1–13. https://doi.org/10.1177/1609406917733847.Article Google Scholar
Office for National Statistics. (2017). Sickness absence in the UK labour market – Office for National Statistics. Retrieved from https://www.ons.gov.uk/employmentandlabourmarket/peopleinwork/labourproductivity/articles/sicknessabsenceinthelabourmarket/2016.
Patterson, G. T. (2003). Examining the effects of coping and social support on work and life stress among police officers. Journal of Criminal Justice, 31(3), 215–226.Article Google Scholar
Pogrebin, M. R., & Poole, E. D. (1991). Police and tragic events: the management of emotions. Journal of Criminal Justice, 19(4), 395–403.Article Google Scholar
Police Federation of England and Wales. (2020). Mental Health. Retrieved 8 January 2020, from https://www.polfed.org/our-work/mental-health/
Police Firearms Officer Association. (2017). Police Mental Health sickness up by 47% – The PFOA News feed. Retrieved from https://www.pfoa.co.uk/blog/police-mental-health-sickness-up-by-47.
Pols, H., & Oak, S. (2007). The US psychiatric response in the 20th century. American Journal of Public Health, 97, 2132–2142.PubMed PubMed Central Article Google Scholar
Randall, C., & Buys, N. (2013). Managing occupational stress injury in police services: a literature review. International Journal of Public Health, 5(4), 413–425 Retrieved from https://search.proquest.com/openview/8336a40d8692a2d359fdebf5f46cac82/1?pq-origsite=gscholar&cbl=2034853. Google Scholar
Scheff, T. J. (1966). Being mentally ill: a sociological theory. Chicago: Aldine. Google Scholar
Shane, J., & Andreychak, C. (2008). Organizational stressors and police performance. Conference Papers — American Society of Criminology, 1.
Silvestri, M. (2017). Police culture and gender: revisiting the "cult of masculinity". Policing (Oxford), 11(3), 289–300. https://doi.org/10.1093/police/paw052.Article Google Scholar
Sofaer, S. (1999). Qualitative methods: what are they and why use them? Health Services Research, 34(5 Pt 2), 1101–1118. https://doi.org/10.1080/09638237.2017.1370635.PubMed Article PubMed Central Google Scholar
Soomro, S., & Yanos, P. T. (2018). Predictors of mental health stigma among police officers: the role of trauma and PTSD. Journal of Police and Criminal Psychology, 1–9.
Stuart, H. (2004). Stigma and work. Healthcare Papers, 5(2), 100–111.PubMed Article PubMed Central Google Scholar
Stuart, H. (2017). Mental illness stigma expressed by police to police. Israel Journal of Psychiatry and Related Sciences, 54(1), 18–23.PubMed PubMed Central Google Scholar
Summerfield, D. (2011). First person: Metropolitan police blues: protracted sickness absence, ill health retirement, and the occupational psychiatrist. BMJ, 342. https://doi.org/10.1136/bmj.d2127.PubMed Article PubMed Central Google Scholar
The Centre for Addiction and Mental Health (CAMH). (2018). Police mental health : a discussion paper. (October), 1–14.
Thomas, S., Jenkins, R., Burch, T., Nasir, L. C., Fisher, B., Giotaki, G., … Wright, F. (2016). Promoting mental health and preventing mental illness in general practice. London Journal of Primary Care, 8(1), 3–9.PubMed PubMed Central Article Google Scholar
Tuckey, M. R., Winwood, P. C., & Dollard, M. F. (2012). Psychosocial culture and pathways to psychological injury within policing. Police Practice and Research, 13(3), 224–240.Article Google Scholar
Tuohy, A., Knussen, C., & Wrennall, M. J. (2005). Effects of age on symptoms of anxiety and depression in a sample of retired police officers. Psychology and Aging, 20(2), 202–210.PubMed Article Google Scholar
Van Der Velden, P. G., Kleber, R. J., Grievink, L., & Yzermans, J. C. (2010). Confrontations with aggression and mental health problems in police officers: the role of organizational stressors, life-events and previous mental health problems. Psychological Trauma: Theory, Research, Practice, and Policy, 2(2), 135–144.Article Google Scholar
Van Der Velden, P. G., Rademaker, A. R., Vermetten, E., Portengen, M. A., Yzermans, J. C., & Grievink, L. (2013). Police officers: a high-risk group for the development of mental health disturbances? A cohort study. BMJ Open, 3(1).
Veldman, J., Meeussen, L., Van Laar, C., & Phalet, K. (2017). Women (do not) belong here: Gender-work identity conflict among female police officers. Frontiers in Psychology, 8(FEB). https://doi.org/10.3389/fpsyg.2017.00130.
Violanti, J. M., Fekedulegn, D., Hartley, T. A., Charles, L. E., Andrew, M. E., Ma, C. C., & Burchfiel, C. M. (2016). Highly rated and most frequent stressors among police officers: gender differences. American Journal of Criminal Justice : AJCJ, 41(4), 645–662.PubMed Article Google Scholar
Watson, A. C., Swartz, J., Bohrman, C., Kriegel, L. S., & Draine, J. (2014). Understanding how police officers think about mental/emotional disturbance calls. International Journal of Law and Psychiatry, 37(4), 351–358.PubMed PubMed Central Article Google Scholar
Waugh, W., Lethem, C., Sherring, S., & Henderson, C. (2017). Exploring experiences of and attitudes towards mental illness and disclosure amongst health care professionals: a qualitative study. Journal of Mental Health, 26(5), 457–463. https://doi.org/10.1080/09638237.2017.1322184 .PubMed Article Google Scholar
Weller, S. C., Vickers, B., Russell Bernard, H., Blackburn, A. M., Borgatti, S., Gravlee, C. C., & Johnson, J. C. (2018). Open-ended interview questions and saturation. PLoS One, 13(6), e0198606. https://doi.org/10.1371/journal.pone.0198606.CAS Article PubMed PubMed Central Google Scholar
Wester, S. R., Arndt, D., Sedivy, S. K., & Arndt, L. (2010). Male police officers and stigma associated with counseling: the role of anticipated risks, anticipated benefits and gender role conflict. Psychology of Men and Masculinity, 11(4), 286–302.Article Google Scholar
Wheat, K., Brohan, E., Henderson, C., & Thornicroft, G. (2010). Mental illness and the workplace: conceal or reveal? Journal of the Royal Society of Medicine, 103(3), 83–86.PubMed PubMed Central Article Google Scholar
Wood, J. D., Watson, A. C., & Fulambarker, A. J. (2017). The "gray zone" of police work during mental health encounters: findings from an observational study in Chicago. Police Quarterly, 20(1), 81–105.PubMed Article Google Scholar
Affiliations
University of Derby, Kedleston Road, Derby, DE22 1GB, UKAnn-Marie Edwards
Online Counselling and Psychotherapy, University of Derby, Kedleston Road, Derby, DE22 1GB, UKYasuhiro Kotera
Corresponding author
Correspondence to Ann-Marie Edwards.
Ethics declarations
Conflict of Interest
The authors declare that they have no conflict of interest.
Informed Consent
All procedures followed were in accordance with the ethical standards of the responsible committee on human experimentation (institutional and national) and with the Helsinki Declaration of 1975, as revised in 2000 (5). Informed consent was obtained from all patients for being included in the study.
Additional information
Publisher's Note
Springer Nature remains neutral with regard to jurisdictional claims in published maps and institutional affiliations.
Appendices
Appendix 1. Participant Demographic Information
| Participant No | Gender | Age | Ethnicity | Marital status | Number of years in Policing | Rank | Current employment status |
| --- | --- | --- | --- | --- | --- | --- | --- |
| Participant 1 | Male | 43 | White British | Married | 18 | Police Sergeant | Serving officer |
| Participant 2 | Male | 52 | British | Married | 27 | Patrol, Crime, Training, Multi-Agency | Retired (2 years) |
| Participant 3 | Male | 56 | White British | Married | 30 | Police Constable | Serving officer |
| Participant 4 | Male | 62 | White British | Single | 24 | Police Sergeant | Retired |
| Participant 5 | Female | 48 | White British | Divorced | 22.5 | Police Sergeant | Serving officer |
Appendix 2. The Proposed Semi-structured Interview Schedule
Proposed interview questions
1. Could you give me a little bit of background on your time in the police force?
2. Could you describe some positive/negative aspects of being in the police, and what effect it has had on your personal life?
3. Can you explain when you first noticed you were developing mental ill health?
4. Explain how you think the police force could have handled your situation better?
5. Do you think mental health awareness education should be introduced in the police force?
Appendix 3. List of Key Themes and Subthemes
| Police culture | The stigma of mental health | Disclosing mental illness | Breaking down barriers |
| --- | --- | --- | --- |
| • Macho culture | • Stigmatising attitudes and discrimination | • Effect of mental illness on career advancement | • Support from within the force |
| • Emotional response is a sign of weakness | • Self-stigma | • Relationship with fellow officers | • Breaking the silence |
| • Coping strategies | • Lack of support from line management | • Sickness absence procedures | • Increasing education and awareness |
Cite this article
Edwards, AM., Kotera, Y. Mental Health in the UK Police Force: a Qualitative Investigation into the Stigma with Mental Illness. Int J Ment Health Addiction (2020). https://doi.org/10.1007/s11469-019-00214-x
Provided by the Springer Nature SharedIt content-sharing initiative
Keywords
Police culture
Mental illness
Mental health stigma
Discussing mental health
Mental health awareness
An Unholy Trinity Posted December 6th 2020
We have three very expensive failing public services in this country. They are riddled with vested interests and resistant to reform. These are the NHS, exposed by the Covid 19 crisis, the corrupt Crown Prosecution Service ( CPS ) and , worst of all , the institutionally corrupt and unaccounatble U.K Police.
Many years ago, due to my status as a senior member of council and someone working with the police in crime prevention , I recommended a West Indian friend and former Civil Service colleague, for legal training and a position on Southampton City Magistrates Bench.
After a few years retirement in his native Trinidad, he had to return to England for his ailing wife's care. So we met up, and mindful of 13 years of hell delivered on to me by the police, I asked him : 'Do the police, in your experience, ever lie. ?' He chuckled before replying : ' All the time.' R.J Cook
The world's leading provider of legal research and analysis
Search ranked Lawyers and Law Firm by name
Browse our Rankings Guides
Chambers USA 2021 Submissions
Expanded coverage of the US legal market
Chambers UK Bar Awards 2020
Join us to celebrate the notable achievements over the past 12 months including outstanding work and excellence in client service.
Chambers Canada 2021
Find the top lawyers and law firms across Canada in Chambers Canada 2021
Chambers Diversity & Inclusion Webinar
Why D&I must remain a core business imperative post-COVID-19
Chambers UK and UK Bar 2021
Find the top legal professionals in Chambers UK and UK Bar 2021
Visit Global Practice Guides
Comparative juridisctional law guides
Chambers Student 2021 is live
The student's guide to the UK's leading law firms
Other updates Chambers Global 2020 Acquisition of Top 3 Legal Market Snapshots
Powered by
"The solicitors are approachable and care about the clients"
Chambers & Partners
"They are extremely competent in their legal and strategic advice, their files are very well prepared and they have some of the hardest-working and most dedicated solicitors that I have ever worked with"
Chambers & Partners
"They are able solicitors, who are hardworking and understand what is necessary tactically in preparation to advance a case"
Chambers & Partners
"The solicitors are approachable and care about the clients"
Chambers & Partners
"They are extremely competent in their legal and strategic advice, their files are very well prepared and they have some of the hardest-working and most dedicated solicitors that I have ever worked with"
Chambers & Partners
Fife police officers Steven Harker and Gordon to stand trial for perjury Lanarkshire Scotland Posted December 6th 2020
TWO police officers are to go on trial over allegations of assault and then lying in court.
The officers are 35-year-old Steven Harker, of Dunfermline, and 30-year-old Gordon Butchart, from Polmont.
They were charged after giving evidence in a trial at Dunfermline Sheriff Court last year.
That case related to an incident in Dunfermline in late 2018. A man and woman were arrested in their home by the officers and it is now alleged they were assaulted.
The officers are also accused of lying when giving evidence at the trial of the man and woman in June 2019.
Harker and Butchart deny all the charges and a trial date has now been set.
It is alleged that on November 15 2018 at Willowbank Brae, Dunfermline, in their capacity as serving police constables and whilst acting together, they assaulted a man residing there, seized him by the body, threw him on to a couch, choked him, repeatedly stabbed him on the back with a key or keys, kneed him on the body and struck his head against a wall, all to his injury
It is also alleged that Harker assaulted a woman who was also living there, by seizing her.
It is further alleged that on June 12 last year at Dunfermline Sheriff Court, having been sworn in as witnesses at the trial of the man and woman, they wilfully provided false evidence that the man had deliberately headbutted a wall during the course of his arrest, the truth being that they had assaulted him by deliberately striking his head against a wall, to his injury.
Harker faces another charge that he provided false evidence that he had not seized the woman, the truth being, as he knew well, he had done.
The accused men were not present when the case called at Dunfermline Sheriff Court but submitted not guilty pleas through their solicitors.
The defence successfully called for the trial to be moved to another venue.
Some members of Dunfermline court staff and Sheriff James Macdonald, who presided at the trial in June, could be called as witnesses.
he trial will take place at Dundee Sheriff Court on June 16. There will be an intermediate diet at the same court on April 23.
Powers of the Police: When to provide your mobile phone PIN or Password
22 May 2019
Can a Police Officer seize your mobile phone and do you have to provide your PIN or Password? When arresting a suspect, the police will routinely seize any mobile telephones in the suspect's possession in order to gather evidence that may indicate their involvement in criminal activity. Such evidence can be found in incriminating text messages, WhatsApp messages, call logs, images, videos, and cell site data.
Depending on the settings created by the owner of the mobile phone, there is likely to be some sort of security encryption on a mobile phone. Whether it is a PIN number, password, pattern, fingerprint or face recognition. In order to gain access to the electronic device, the mobile phone will need to be "unlocked". However, that task may not be as straightforward as one would expect.
Suspects are often unaware of their rights regarding the giving or withholding of PIN numbers, passwords and other forms of security encryption. Pressure is often placed on a suspect perhaps at the point when they are arrested, or when they are being booked into the custody suite or in an interview to provide this information to the police. Unfortunately, these can be occasions when the suspect is feeling vulnerable and shocked at the fact that they have been arrested and wishing to co-operate with the police investigation. The suspect can be given a false pretence that "they will be out of the custody suite if they provide this information". We are also aware of situations where mobile phone passwords or PIN numbers were handed over to where the suspect was unrepresented or by someone who does not appreciate the law fully.
What suspects often do not realise is that they are entitled to legal advice on whether or not to provide their PIN or password, or other security encryption for their mobile phone to the police. Depending on the investigation, tactical decisions are usually made as to when the security encryption should be provided to the police. That is where you will need legal advice, from the outset.
The police at times can use tactics in order to obtain the PIN number or password from a suspect, either by threatening to hold the mobile phone for longer than necessary, or by incorrectly warning the suspect that a direct refusal will result in further offences being committed. This is not the case.
It is only once the police office have applied and obtained a court order, under section 49 of the Regulation of Investigatory Powers Act (commonly known as a RIPA notice), that refusal to provide such information becomes a criminal offence.
Section 49 enables the police, or other authorised law enforcement, security or intelligence agency, to serve a notice on a suspect requiring the disclosure of the PIN or password. Once served it becomes a separate criminal offence to refuse to provide the information under Section 53 of RIPA. The maximum sentence for committing this offence is 5 years custody in national security cases and 2 years custody in all other cases.
EncroChat Phones – June 2020 Hack:
EncroChat phones are discussed by Deepak Vij, a Partner at this firm, in the following article, including the latest actions by the National Crime Agency (NCA) and other law enforcement agencies: EncroChat Phones Article
Deepak further provided commentary to the Mail Online, link to which can be found here: Mail Online
Should you require further advice in this area then please do not hesitate to contact us. Posted in Articles, Legislation
Post navigation
← Rape Cases – Police to seek the consent of complainants to examine their phones in rape casesConviction Quashed for Money Laundering Case →
Get the help you need
Police officer in court over 'witness statement lie' – BBC …
We're working in our Liverpoool offices, subject to coronavirus restrictions. Read how they might affect you here. 08000 124 246 Search for:
THE HIGHEST LEVEL9 months agoyoutube.comIan Puddick TV Film Exposing City London Police Corruption banned in UK4 years agoyoutube.comAndrew Harding reports on allegations of high-level corruption in South Africa involving a British PR2 years agobbc.co.uk'The UK is the most corrupt country in the world,' anti-mafia journalists Saviano claims3 years agoyoutube.com
UK Corrupt Police UNCOVERED A glimpse at the UK police who are supposed to 'serve and protect'
Stephen Lawrence murder investigation shelved, Cressida Dick confirms
Four police officers could be prosecuted over alleged misconduct in Stephen Lawrence murder investigation.
VILE SICK OVERFUNDED OVER PAID INSTITUTIONALLY CORRUPT BIG EGO FAKE HEROE COPS WATCHING YOU FOR THE RICH AND POWERFUL. YOU PAY FOR THEM IN FAKE U.K DEMOCRACY. NOVEMBER 27TH 2020
Crown Prosecution Service considering misconduct in public office charges
Lizzie DeardenHome Affairs Correspondent @lizziedeardenTuesday 03 November 2020 14:2012 comments
Four police officers could be prosecuted over alleged misconduct during the investigation into the racist murder of black teenager Stephen Lawrence.
The Independent Office for Police Conduct (IOPC) has passed a file of evidence to prosecutors to consider charges of misconduct in public office.
The former Metropolitan Police officers, who have not been officially named, were in senior roles during the first few weeks of the 1993 murder investigation.
Stephen, 18, was stabbed to death during an unprovoked racist attack, and only two of at least five men suspected of involvement have been jailed for murder.
Since 2015, the National Crime Agency (NCA) has been investigating alleged corruption in the original investigation, which ended without a successful prosecution.
Read more
"Following thorough and careful analysis of the evidence, we have decided there is an indication that four former officers may have committed the offence of misconduct in public office in relation to their actions and omissions prior to the arrests of the five key suspects for Stephen's murder in 1993," said IOPC regional director Sarah Green.
"All four former officers were in senior roles at various times during the first few weeks of the investigation."
A fifth officer was accused of protecting one of the suspects but that investigation was closed last year because "there was no indiciation of corruption on their part in relation to the investigation of Stephen's murder", the IOPC said.
The NCA gathered millions of pages of information and intelligence relating to the 1993 investigation, and interviewed more than 150 people including police officers and staff, witnesses and journalists.
The probe was sparked by a 2014 review that said a former undercover Metropolitan Police officer had spied on the Lawrence family as they campaigned for justice.
The Ellison review also found there remained a number of lines of inquiry relating to allegations that officers had been corrupt.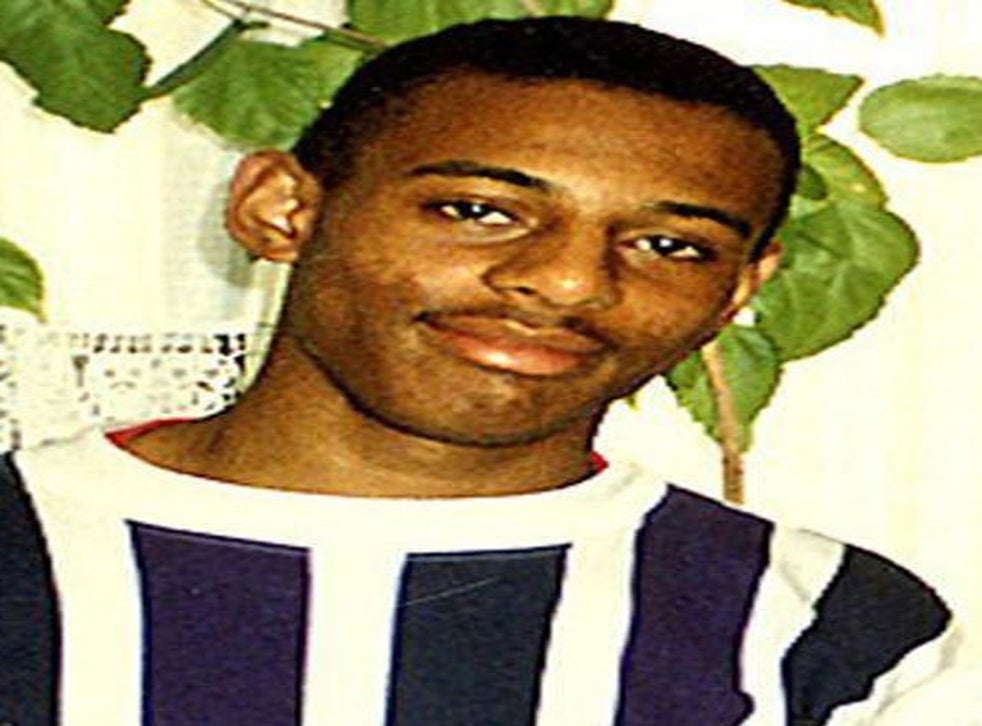 Allegations of corruption, incompetence and discrimination in the original investigation also sparked another damning report finding institutional racism in the Metropolitan Police.
In August, it announced that "all identified lines of enquiry have been completed" and no prosecutions can currently be brought against remaining suspects.
Two of the killers, Gary Dobson and David Norris, were jailed for murder in 2012.
Two of the three remaining suspects, brothers Neil and Jamie Acourt, have since served jail time for drug dealing, while Luke Knight has remained free.
On 22 April 1993 Stephen had been waiting for a bus with his friend, Duwayne Brooks, on Well Hall Road in Eltham, southeast London.
Mr Brooks saw a group of white youths moving towards them and said he heard one call Stephen a "n*****" before they started a brutal attack.
He was forced to the ground and stabbed, managing to run more than 100 metres before collapsing and dying of his injuries.
The initial Metropolitan Police investigation identified five suspects who were arrested — Dobson, the Acourt brothers, Knight and Norris.
Acourt and Knight were charged with murder but the prosecution was discontinued in court, then a 1994 private prosecution brought by Stephen's family against all five suspects failed.
They attended a 1997 inquest into his death but did not answer questions, and in the same year an investigation by the then Police Complaints Authority revealed there were weaknesses and lost opportunities in the original investigation, including inexplicable delays in arresting suspects.
Jack Straw ordered a public inquiry by a former High Court judge, Sir William Macpherson, which found the Metropolitan Police to be institutionally racist in 1999 and made 70 recommendations.
The report and legacy of Stephen's death has come into renewed focus following international Black Lives Matter protests sparked by the police killing of a black man in the US.
British police officer dismissed for making homophobic and racist posts on far-right Facebook group Posted November 18th 2020
A Metropolitan Police officers alleged to have made 'homophobic' comments on a far-right social media group. (Dan Kitwood/Getty Images)
A British police officer at London's law enforcement agency, the Metropolitan Police, was dismissed "without notice" after he made a slew of racist and homophobic comments as well as posts in a far-right Facebook group.
Police constable Gus Mirams, part of the Met's central west unit stretching the boroughs of Westminster, Hammersmith and Fulham and Kensington and Chelsea, made barbed comments in front of two members of the public and a security guard in 2019, a force misconduct hearing heard.
Moreover, the hearing heard, he was alleged to have engaged with a social media group linked to Britain First, a fringe group which believes that white Christian civilization is under threat from Islam.
The group emerged in 2011 as an offshoot of the far-right British National Party, fanning anti-immigrant sentiment and xenophobia so extreme that many fellow far-right organisations have even shunned it.
As a result, the BBC reported, the panel found the actions of Mirams amounted to gross misconduct and was dismissed without notice.
Police officer made 'homophobic' comments online about cops attending Pride parades.
The three-dayslong hearing, the Met said, took place behind-closed-doors "due to the current COVID-19 pandemic".
Mirams posted various "offensive comments" on social media in response to news stories involving cops attending Pride events in the UK.
The panel also heard that the 15 July 2019 incident occurred while Mirams was on restricted duties. During the time, he was sat in a public gallery at an unrelated misconduct hearing.
He was alleged to have made "homophobic and racially offensive comments" overheard by gallery-goers and security.
Due to this, the panel ruled that Miriams' behaviour violated equality and diversity standards. In both circumstances, his language "could reasonably be perceived to be abusive, oppressive, victimising or offensive and did not treat certain communities with fairness, respect and impartiality", the panel said.
The panel concluded that Miriams' conduct "is alleged to amount to gross misconduct as is so serious as to justify dismissal".
More: Homophobia, London, Metropolitan Police, police, Pride, racism
Latest Posts
UK To the surprise of nobody, journalist Andrew Neil doesn't seem to know how pronouns work Josh Milton – November 18, 2020 Film and TV Ryan Phillippe thought his religious parents would disown him after taking gay roles and Cruel Intentions Nick Duffy – November 18, 2020 Music 7 things you probably didn't know about Lady Gaga's The Fame Monster, the album she didn't even want to release Josh Milton – November 18, 2020 UK The terrible history of Margaret Thatcher's homophobic Section 28, 17 years since it was repealed in England and Wales Lily Wakefield and Patrick Kelleher – November 18, 2020
Enter your email to receive a daily roundup of the top LGBT+ news stories
Paul Craig Roberts
Institute for Political Economy
Guest Post: Fighting Police Corruption in London, and Beyond
Posted on here on November 14th 2020 Matthew Stephenson
Matt Gardner, previously served as the Head of Anti-Corruption at New Scotland Yard, Metropolitan Police.
The Metropolitan Police in London (the "Met') is a large city force, with 30,000+ officers policing a city of over 10 million on any working day. Even in a well-trained professional force like this one, keeping police corruption down to low levels is a constant challenge. The ordinary difficulties of tackling corruption are compounded by the authority that the police are entrusted with: If you are a thief, a sexual predator, a bully, or lean towards corruption and criminality, joining the police service in any country is an excellent career choice. You can hide behind your warrant card, police ID, or uniform.
So what can police departments do to keep corruption within their own ranks in check? In this post, I want to highlight the four most important tools for keeping police corruption at low levels, using the Met's experience to illustrate each of these elements:
First, suppressing police corruption requires an effective internal police command—a division that at the Met we call the Professional Standards Department (PSD), and that is often called the Internal Affairs Department (IAD) in other countries. The Met's PSD was established as a dedicated anticorruption unit in 1998 by Commissioner Sir Paul Condon. Today the PSD exists as a separate command with 380 personnel (300 officers and 80 support staff), under a Chief Superintendent. (The numbers in the PSD command are approximately 1% of the total number of police officers in the force, a percentage broadly replicated across the 43 police forces in England and Wales, as shown in the figure opposite from a 2014.) The PSD handles all public complaints, deaths following police contact, and gross misconduct; the PSD also has a stand-alone anticorruption wing, as well as a hearings unit that hears gross misconduct level cases for both police officers and staff. When the PSD receives a complaint, the first step is to determine its seriousness; lower-level misconduct cases are referred to local misconduct units, whereas serious cases (such as those that could result in dismissal of an officer, or worse) are investigated by the PSD itself.
Second, rigorous external and internal oversight of the police is essential, as numerous studies of police integrity in multiple countries have shown. In the UK, external oversight of the police is required by legislation (the Police Complaints and Misconduct Regulations of 2012), which established the Independent Office for Police Complaints (IOPC), and, within the police the "Appropriate Authority" (AA) function. This AA role, critical to the independence and credibility of the anticorruption effort, is performed by a senior police officer of Chief Inspector rank or above. The AA is legally independent of the investigation, and is to assess whether the evidence presented would, on the balance of probabilities, find the accused guilty at a gross misconduct hearing. Additionally, the AA must refer certain matters (including cases involving serious corruption) to the IOPC, an external body. This mandatory reference to outside oversight is an essential safeguard of independence and neutrality. The IOPC reports directly to the Home Office and has no accountability to the local Chief Constable, nor is the IOPC required to refer its investigations back to the local police force, other than what is legislated for under the statutory guidance scheme. Under more recent legislation, (the Police and Crime Act of 2017), all complaints—not just those that are deemed to warrant investigation—will need to be recorded; and the responsibility for triaging cases is to be removed from the PSD and given to the independent Police and Crime Commissioners.
Third, in-depth peer review and feedback from other countries can play a crucial role in improving police integrity systems. In Europe, the most relevant framework here is the GRECO process. The current fifth round of the GRECO peer review process, launched in March 2017, is focused on law enforcement agencies; GRECO has published a report on fighting corruption in law enforcement in the UK, as well as in numerous other countries including Finland, The Netherlands, Estonia, Luxembourg, Iceland, Latvia, Malta, North Macedonia (confidential), Poland and Sweden. Later this year should see reports for Denmark, Slovak republic, Spain, Belgium, Croatia and France. Speaking both as a subject of the GRECO UK review process and as a member of one of the current GRECO review teams, I am deeply impressed both by the professionalism of GRECO process, as well as the persistence of the organization in following up on recommendations through both political and peer pressure mechanisms. This is sector-specific monitoring at its best. I have also found that the informal network of European Partners Against Corruption (EPAC), which includes more than 70 police oversight bodies and anticorruption authorities from Council of Europe member countries is a constructive mechanism for sharing knowledge and experience.
Fourth, while all the above developments are to be welcomed, the way forward in the fight against police corruption must also involve preventative "integrity testing" of officers. In the Met, we used a range of techniques to test the ethics and values of the police officers we employed—from "mystery shoppers" to random drug tests—and the Met is currently developing mechanisms to randomly test inappropriate use of IT systems and the sale of police data. Just as random drug tests deterred officers from abusing narcotics, we need to put tests in place that will deter officers from corruptly misusing technology.
Police corruption will never go away. There will always be those among us who seek personal gain, just as there are those in society who commit crime. Our objective must nevertheless be to provide a strong and credible deterrent so that officers think twice before going down this road. There's sometimes an understandable reluctance of police departments to trumpet their successes in fighting corruption or other forms of misconduct within their own ranks, because exposure of such malfeasance may make the department look bad. But that instinct should be resisted. When we have successes, as we need to shout about them from the rooftops, so that the public knows we are doing our best to combat this problem and keep our own house in order. We must accept that our successes are never easy stories to sell but sell them we must.
Matthew Stephenson
Professor of Law, Harvard Law School
The British Police Once Respected Have Completely Discredited Themselves
November 3, 2020 | Categories: Guest Contributions | Tags: | Print This Article
The British Police Once Respected Have Completely Discredited Themselves
https://www.rt.com/uk/504770-police-christmas-celebrations-covid19-lockdown/
Statement of a lying cop from Ormskirk who is under investigation for perjury
August 21, 2020 UKCP Lancashire 2
This is redacted parts of a statement submitted by a Lancashire police officer stationed in Ormskirk.
As in the previous article here, this officer is under investigation for perjury
Section 1 of the Perjury Act 1911 states;
"If any person lawfully sworn as a witness or as an interpreter in a judicial proceeding wilfully makes a statement material in that proceeding, which he knows to be false or does not believe to be true, he shall be guilty of perjury, and shall, on conviction thereof on indictment, be liable to penal servitude for a term not exceeding seven years, or to imprisonment"
The officer assaulted me (kicked me) on TWO separate occasions, I told him on both occasions to stop assaulting me or I would use 'reasonable force'.
He confirmed (as can be seen in his statement), that I had verbally made clear to him that I had been assaulted by him, yet, this lying cop fails to mention that in his statement and lied in court.
He did, however, confirm this verbal announcement of assault took place on TWO occasions and that I had said I would use reasonable force if it continued.
Self-defence is clearly defined by the CPS here; https://www.cps.gov.uk/legal-guidance/self-defence-and-prevention-crime
Reasonable Force
A person may use such force as is reasonable in the circumstances for the purposes of (in the alternative): –
self-defence;
defence of another;
defence of property;
prevention of crime;
lawful arrest.
So, if a cop kicks me, I have a right to self-defence.
Before I even utilised my lawful right of self-defence, I gave him a positive warning, and because of that I get arrested, prosecuted and convicted, all because this snowflake cop didn't like the fact that I could legally stand up to him and as he was an acting inspector in the presence of two PC's, he wanted to show them who was the boss!
So he arrested me, (as he confirmed in his statement), for my comments about using reasonable force.
At trial, he then LIED to the magistrates when asked if he had kicked me. He also lied about the exact same incident in a Civil hearing, again, under oath.
I was convicted because of his LIES.
Fortunately, I was later acquitted on appeal after the CCTV containing this conclusive evidence of him kicking me was ordered to be released by the Crown Court.
This CCTV was being withheld, intentionally, by now-retired Inspector who is alleged to have perverted the course of Justice.
Lancashire police failed to hold any officer to account for this gross injustice, now it is with the IOPC.
U.K Racist Police November 10th 2020
Disproportionate numbers of ethnic minority groups were fined for alleged breaches of the lockdown in London, data released by the Met Police show.
Between 27 March and 14 May, 26% (253) of fixed penalty notices were issued to black people, who make up 12% of the capital's population.
Asian people, who represent 18% of Londoners, were given 23% of fines (220) out of a total of 973 issued.
The Met said the reasons were "complex" and reflected a "range of factors".
"This includes interactions between the areas subject to significant proactive policing activity targeting crime hot-spots and both the variation in the age-profile and geographical distribution of ethnic groups in London," the force said.
Out of all the fines processed, 46% (444) were imposed on white people who make up 59% of Londoners.
Scotland Yard also revealed 774 arrests made in the period involved breaches of Covid-19 legislation, although in all but 36 cases other "substantive offences" were also involved.
Out of those arrests, 38% of people were white (284), 31% were black (232) and 14% were Asian (14%).
Assistant Commissioner Mark Simmons said policing the new legislation had been "complex".
"Our aim has been to protect London, and not to unnecessarily criminalise where we can avoid it."
However, Green Party London Assembly Member Sian Berry said the disproportionate number of fines and arrests issued to ethnic minorities was "a problem" which "requires action and leadership from the top".
"It is not a coincidence that yet again we are seeing harsh police tactics being used more often against the black community. The reasons behind this must be taken seriously," she added.
Former chief superintendent Owen West told BBC Radio 5 Live that racism was a potential factor.
"There are many, many communities out there that feel that that is their experience, that feel that stop (and) search, that feel that Covid fixed penalty notices are there on the basis of discrimination by officers."
You might think that is only a US problem and it could never happen here in the UK. Unfortunately it has happened – as recently as 2017, when the avoidable death of Rashan Charles was recorded on a grocery shop's CCTV in Hackney, east London. Following a chase on foot, an officer used a chokehold in an attempt to remove suspected drugs from Charles's mouth; none of the actions were compliant with Metropolitan Police Service or College of Policing policy. Directly after that incident both organisations re-emphasised that British officers were unauthorised to use such holds and tactics in drug searches, reiterating that in those circumstances the suspect should be treated as a patient and not just as a prisoner. However, the inquest decided the officer was not responsible for his death.
Other tactics, such as section 1 stop-and-searches, also point to aggressive policing. The Met accounts for more than 300,000 of these encounters per year – half the national total – even though it is only one of 43 forces in England and Wales. The problem is not only in the volume of stops that are carried out but also the pre-emptive use of force – handcuffing people before the search is justified. Added to this is the racial profiling that has been evident for decades, where a black person is nine times more likely to be stopped and searched for drugs than a white person.
For section 60 stops, pre-authorised by an inspector or above, the disproportionality is even greater: black people are stopped more than 11 times more than white people.
Freedom of Information Request Reference No: 01.FOI.19.011089Freedom of Information Request Reference No: 01.FOI.19.011089
www.met.police.uk/SysSiteAssets/foi-media/metropolitan-police/disclosure_2020/march_2020/information-rights-unit—alleged-police-corruption-from-january-2014-to-august-2019
The following is an extract from a much longer document – link above. That document demonstrates the reality that U.K police, not just the Met featured here, police are covered by a plethora of convoluted laws and exemptions, in the name of making it easier for them to catch 'real criminals,'
They are doing it for your good and at your expense ( sic ). In a nutshell, senior officers headed up by Chief Constables, have almost absolute power – unless selection makes a mistake as it did with heroic Sue Sim- are unaccounatble as are all the chsoen ones below them. The police internal officer appraisal system means dissenters speak out at their peril. That is why good officers leave or get driven out. It is not about race or gender, it is about type. R.J Cook
Freedom of Information Request Reference No: 01.FOI.19.011089 I note you seek access to the following information:1. Please state the number of cases of alleged police corruption that your force has investigated internally or referred to the IOPC over the last five calendar years, including 2019 to date.2. For each case, please provide the number of police officers involved and list the rank of each officer. 3. Please provide the outcome of each investigation, including the effect on the officer's employment and what disciplinary or prosecutorial action took place. NB: Ongoing cases can be marked as "unresolved" or "ongoing". 4. Please provide estimates of the amount spent on internal investigations. 5. Please provide details of the alleged misconduct or criminal behaviour involving corruption.DECISIONI have today decided to disclose some of the requested information. Some data has been withheld as it is exempt from disclosure and therefore this response serves as a Refusal Notice under Section 17 of the Freedom of Information Act 2000 (the Act). I have disclosed the information located in response to questions 1 and 3 of your request. In response to question 2 of your request, I have grouped police officers holding the following ranks to minimise the risk of identification:•Police Constable and Special Constable•Sergeant and Inspector •Chief Inspector and Above I have also grouped all police staff ranks together to minimise the risk of identification. Additionally, I have refused to release the information located in response to question 5 of your request and can confirm in response to question 4 of your request, that the MPS does not hold estimates of time or money spent on internal investigations. In grouping all police staff ranks and the specified police officer ranks in response to question 2 and refusing to release the information requested in response to question 5 of your request, I have claimed the personal data exemption of the Act. This notice therefore serves as a Partial Refusal Notice under Section 17 of the Freedom of Information Act 2000 (the Act). Additionally, the MPS neither confirms nor denies that it holds any other information relevant to this request by virtue of the following exemptions:Section 30(3) InvestigationsSection 31(3) Law EnforcementSection 40(5) Personal informationREASON FOR DECISIONSection 40(2)&(3) – Personal Information – Section 40(2)(a)(b) of the Act provides that any information to which a request for information relates, is exempt information if the first condition of Section 40(3A)(a) is satisfied. The first condition of Section 40(3A)(a) states that personal information is exempt if its disclosure would contravene any of the data protection principles. If the disclosure of the requested personal data would not contravene the data protection principles, the disclosure must also not contravene Sections 3A(b) and 3B of the Act.There are six principles that are set out in Article 5(1)(a) of the General Data Protection Regulations (GDPR) that dictate when the processing of personal data is lawful. The first principle requires that any processing of personal data must be lawful, fair and transparent. Under Article 6(1)(f) of the GDPR, the disclosure of personal data is considered to be lawful if:a. There is a legitimate interest in the disclosure of that personal data.b. The disclosure of the personal data is necessary to meet that legitimate interest.c. The disclosure would not cause unwarranted harm to the data subject.The requested records contain the following types of personal data that I consider to be exempt under the Act:1. The individual ranks of police officers and police staff investigated for 'corrupt practice' 2. Details of each corrupt practice allegation.Having considered the release of each piece of identified personal data, I have found, having considered the legitimate interest test, that:Ranks of police officers and police staff investigated for corrupt practicea. The disclosure of the ranks of all employees subject of an allegation of corrupt practice, would provide further factual information about those investigated under this allegation category. Given the extraordinary powers that are granted to police to execute their duty, a legitimate interest in transparency and accountability would be satisfied through the release of this information.b. This disclosure of the requested personal data is necessary to satisfy the legitimate interest identified at point a.c. A relatively small number of Met employees are the subject of a corrupt practice allegation each year. Given the small number of employees' subject of this type of allegation, there is a risk that persons with prior knowledge of an allegation who are not aware of the allegation's outcome, would be made aware of this information, should it be disclosed under the Act. This risk of disclosing personal data would be heightened should the allegation be disclosed alongside the rank of the employee and other data. The outcome of allegations of misconduct are confidential matters that are known to the accused, the accuser (in some instances) and those involved in investigating the allegation. The outcome is only typically made public when a gross misconduct hearing has been held or there is an exceptional public interest in doing so. Those employees accused of corrupt practice, irrespective of their rank, would not accordingly, expect the MPS to publish information (i.e. individual ranks) that would allow the outcome of their investigation to be established. Releasing information that would lead to identification would accordingly be unexpected and distressing to them. Furthermore, identification may lead to unwanted and unsolicited intrusion from the media and/or others interested in the facts of each case. In this regard, I believe that disclosure of this personal data would be likely to cause unwarranted harm to the data subjects in this request. Details of each corrupt practice allegationa. The disclosure of the detail of each corrupt practice allegation would provide further factual information about those employees subject of the allegations, satisfying a legitimate interest in transparency and accountability.b. This disclosure of the requested personal data is necessary to satisfy the legitimate interest identified at point a.c. The public release of the detail of each allegation of corrupt practice would, alongside a breakdown of the year of each allegation, complaint type, employee type and the outcome of each allegation, be likely to lead to identification. Identification would occur as those internal/external to the MPS that have some awareness of each allegation, would be able to identify each employee. They would then be able to establish the outcome of each investigation into an allegation of corrupt practice. The outcome of an investigation into alleged misconduct is a confidential matter that is known to the accused, in some instances the accuser and those involved in investigating the allegation. The outcome of a misconduct investigation is typically only made public when it is classified as gross misconduct and a hearing has taken place or where an exceptional public interest in making the outcome public exists. The employees accused of corrupt practice would not accordingly, expect the MPS to publish information that would allow the outcome of an investigation about them to be established. This would be unexpected, distressing and could lead to unwanted and unsolicited intrusion from the media and/or others interested in the facts of the case. In this regard, I believe that disclosure of this personal data would be likely to cause unwarranted harm to the data subjects in this request.The provision to refuse access to information under Section 40(2)(a)(b) and (3A)(a) of the Act is both absolute and class based. When this exemption is claimed, it is accepted that harm would result from disclosure. There is accordingly no requirement to demonstrate what that harm may be in refusing access to information. Additionally the MPS neither confirms nor denies that it holds any other information relevant to this request by virtue of the following exemptions:•Section 30(3) Investigations•Section 31(3) Law Enforcement•Section 40(5) Personal information Any disclosure under FOI is a release to the public at large. Whilst not questioning the motives of the applicant, confirming or denying that any other information relating to ongoing investigations, some of which may be covert, would reveal investigative activity surrounding police corruption. This would highlight to any corrupt officers that their Professional Standards Department are aware of their offending and are trying to prevent and detect crime as well as apprehend officers at the correct time. This awareness would also allow offenders to take steps to avoid apprehension which could include destroying evidence.Section 30(3) Investigations Section 31(3) Law EnforcementBy confirming or denying whether any other information is or isn't held in respect to this request could compromise law enforcement tactics which would hinder the MPS's ability to prevent and detect crimes which would not be in the public interest. A fear of crime will be realised as offenders identify vulnerable areas to target and exploit. As much as there is a public interest in knowing that the MPS is appropriate and balanced when delivering law enforcement, there is, in this case, an overriding factor that to reveal whether or not any other information is or isn't held in relation to ongoing investigations, some of which may be covert, would not be in the public interest. It is our opinion that for the issues highlighted above the balancing test for confirming or denying that any other information is held, is not made out. No inference can be taken from this refusal that information does or does not exist.INFORMATION DISCLOSEDPlease find attached to this email, a spreadsheet in which some of the requested information has been provided. Please also find a number of key definitions below that will assist you when reading the attached spreadsheet.KEY DEFINITIONS Corrupt Practice: The category 'Corrupt Practice' will include allegations that would not be considered 'corruption' in accordance with common usage of this term. For example, an allegation of falsifying a time sheet or inappropriately claiming an allowance could be included within this allegation category. The allegations within this category will accordingly range in gravity. This should be borne in mind when considering the data presented within the attached spreadsheet. It may also assist you to note that there is a specific criminal offence of police corruption but also a number of criminal and non-criminal matters that fall within the National Police Chiefs' Council (NPCC) and Independent Office for Police Conduct's (IOPC) definitions of corruption.Officer/Staff Allegations: The spreadsheet provided is broken down by 'officer/staff allegations'. Officer/staff allegations refer to the number of separate allegations recorded against police officers and members of police staff. For example, a member of the public is restrained by three police officers. The member of the public is unhappy and complains alleging that they were assaulted by the three police officers.
How Do You Get The Right People Into U.K Police When The Wrong People Are In Charge ? November 1st 2020.
Detective sent 'flirtatious' text messages to attempted rape victim, panel hears
Kent Police officer denies trying to enter sexual relationship with vulnerable woman
Peter Stubley Monday 12 October 2020
A police officer exchanged "flirtatious" messages about sugar daddy relationships with a victim of attempted rape, a misconduct hearing was told.
Detective Sergeant Jonathan Pearce, who is in his 40s, allegedly tried to enter a sexual relationship with the vulnerable young woman after they became friends on social media.
He sent her a topless photograph of his head and shoulders if he were "20 years younger" he would have asked her out, the tribunal heard.
DS Pearce is also accused of "serious failure" to secure evidence after he deleted messages from his phone.
The officer claims that his messages were "light-hearted banter, never anything serious" and that he was "just trying to make her feel better about herself".
He appeared before a disciplinary hearing at Kent Police HQ in Maidstone on Monday to admit misconduct but deny gross misconduct.
The panel heard that DS Pearce and the woman – identified only as Miss A – became friends online in September 2019 and started chatting.
Watch more
The following month she told him she had been the victim of an attempted rape.
Miss A sent him screenshots of messages she had exchanged with the alleged attacker, including her saying "no means no".
Hours after telling Det Sgt Pearce about the incident, she said to him "you want me", the panel heard. He replied: "Maybe a little bit."
She also sent him a screenshot from a newspaper article about so-called sugar daddies.
David Mesling, bringing the allegations against Det Sgt Pearce on behalf of the police force, said: "You said that you didn't have that kind of money but asked what would you get."
DS Pearce insisted he was not asking her for a sexual favour but accepted it could be read as that.
Mr Mesling added: "Knowing or believing Miss A to be a vulnerable person you continued to attempt to enter into a sexual or emotional relationship with her."
Giving evidence, the officer said he wanted to "protect her and look after her" and did not want a romantic involvement.
He said: "We messaged and we talked and she felt more like my daughter as it went on. I didn't want a sexual relationship with her, I had a partner and children."
DS Pearce claimed he repeatedly tried to get Miss A to report the alleged attempted rape incident but she was adamant that she would not.
"I know I have let everyone down and I'm sorry," he said.
He also claimed that his deletion of the messages was "purely accidental" and that he meant to move them to an archive. "I deleted them because I was stupid and pressed the wrong button," he said.
The hearing continues.
Additional reporting by Press Association
More Evidence of British Police Racism October 29th 2020
Police Corruption Cop Corruption 🚨
THE HIGHEST LEVEL9 months agoyoutube.comIan Puddick TV Film Exposing City London Police Corruption banned in UK4 years agoyoutube.comAndrew Harding reports on allegations of high-level corruption in South Africa involving a British PR2 years agobbc.co.uk'The UK is the most corrupt country in the world,' anti-mafia journalists Saviano claims3 years agoyoutube.com
Three US cops sacked after calling for race war so they can 'slaughter' black people by Steve Sweeney, The Morning Star Posted Here October 26th 2020
Tyshawn, 9, (left) and his brother Tyler, 11, (right) of Baltimore, hold signs saying 'Black Lives Matter' and 'I Can't Breathe' as they sit on a concrete barrier near a police line as demonstrators protest along a section of 16th Street that has been renamed Black Lives Matter Plaza, in Washington DC yesterday
THREE US cops have been sacked after dash-cam footage caught them saying they hoped that the Black Lives Matter (BLM) protests trigger a race war so they could "slaughter" black people.
Kevin Piner, James Gilmore and Jessie Moore were fired from the Wilmington Police Department (WPD) in North Carolina on Wednesday following an internal probe.
A report seen by the Morning Star said they were caught after a monthly audit of dash-cam footage exposed the trio encouraging racial violence, including the execution of a black magistrate who Mr Moore said deserved "a bullet in her head."
The sickening discovery was made soon after the killing of George Floyd, who died when Minnesota police officer Derek Chauvin knelt on his neck for more than eight minutes while he pleaded for his life.
Mr Floyd's death sparked huge protests in the US and many other countries expressing anger over structural racism and discrimination.
The footage caught officers hitting out at the WPD for "kneeling down with the black folks" and calling one of the force's black officers, Michael Scott, "bad news" and "a piece of shit."
Mr Piner is heard saying: "Let's see how his boys take care of him when shit gets rough, see if they don't put a bullet in his head."
In a later phone conversation Mr Moore is heard describing a woman he arrested the previous day as "n****r" and "negro."
In one of the most shocking remarks aimed at the magistrate, he described her as a "fucking negro magistrate," saying that she needed "a bullet in her head right then and move on. Let's move the body out of the way and keep going."
Mr Piner replied: "That's what I've been trying to tell you."
Later in the conversation Mr Piner tells Mr Moore that he is ready for a civil war and is buying himself a new assault rifle in preparation.
"We are just gonna go out and start slaughtering them fucking n****rs. I can't wait. God I can't wait," he said.
Shortly before the end of the recording Mr Piner said that a race war was needed "to wipe them off the fucking map."
"That'll set them back five or six generations," he said.
In interviews all of the men confirmed the recordings were of their voices and did not deny making the remarks. The trio denied they were racist and said the stress of the current climate for police officers was the reason for their "venting."
Corrupt West Mercia Police Witheld Evidence to jail innocent Irishman – Irish Post October 25th 2020
A DUBLINER who lost everything after two decades behind bars for a crime he didn't commit is to sue the British Government.
Victor Nealon spent 17 years in a British prison after his wrongful conviction in January 1997 for the attempted rape of a woman leaving a nightclub in Redditch.
News that he has lodged a compensation claim with the Ministry of Justice came as he received an apology for the missed clues that kept him from being freed.
But despite repeated attempts to have his case reviewed, it was not until December last year that the 53-year-old had his conviction quashed.
The former postman was turned down twice by the Criminal Cases Review Commission, a body responsible for examining miscarriages of justice.
He was only freed after his defence team discovered key evidence that police failed to disclose at the time of his initial trial.
"I have lost friends, I lost a partner, I lost my job, I have lost anything I ever had in my life prior to going to prison," Mr Nealon told the BBC. "I could have been out at least 10 to 12 years ago but, on account of the CCRC and their failure to research a paper trail, I remained in prison."
The CCRC said it should have investigated the Irishman's case more thoroughly.
"I regret the fact in this particular case we missed something and I apologise to all concerned for the fact we did so," said commission chairman Richard Foster.
The apology came as a part of a BBC investigation into the CCRC for the File on 4 programme.
Mr Nealon's lawyer, Mark Newby, told The Irish Post that the CCRC made "very serious errors" in Mr Nealon's case that led to him being kept in jail for more than a decade when there was sufficient evidence to free him.
He added that Mr Nealon is still waiting for the Ministry of Justice to say whether or not it will contest his compensation claim.
"The test now for compensation is whether or not you can show beyond a reasonable doubt that the person did not commit the offence and clearly there is evidence of that in this case," the solicitor said.
"I think he has a good claim and that the Secretary of State should compensate him."
In the BBC documentary, Mr Nealon speaks of the "devastating" impact his wrongful conviction has had on his life. He says it has left him "thrown on the streets after 17 years with no money and nowhere to go".
Mr Nealon was living in Redditch, in the West Midlands, when he was found guilty of the attempted rape at Hereford Crown Court.
He received a discretionary life sentence and an appeal in 1998 was unsuccessful. He was then denied parole because he refused to admit his guilt.
Mr Nealon's initial trial was told that DNA tests had produced no significant results.
His two subsequent applications to the CCRC for details of the forensic reports, in 1998 and 2002, were rejected.
In the documentary Mr Nealon is deeply critical of the commission's "face value" acceptance of claims by West Mercia Police that its file on his case had gone missing.
After it emerged that police failed to disclose items of clothing belonging to the victim, Mr Nealon's legal team appealed for further tests to be carried out. They revealed DNA samples of another, unknown man.
The CCRC then undertook further tests before referring Mr Nealon's case to the Court of Appeal, where it was quashed on December 13, 2013.
Mr Nealon said more miscarriages of justice would happen if the CCRC did not learn from its failure to probe police paperwork in his case.
"These are people who are the last resort for people like myself because I was told by the prison authorities that I would never be freed unless I admitted guilt and I depended upon people in that position to research paperwork and they didn't do it," he added.
West Mercia Police said it is studying the Court of Appeal's judgment and reviewing the original case against him.
The Irish Post contacted Mr Nealon who said he did not wish to add any further comments.
See More: Ministry Of Justice, Sue, Victor Nealon, Wrongful Conviction
Police Corruption Cop Corruption 🚨
Posted 19/03/06 #61 Rebel officer says he is Yard's fall guyDavid Leppard
BRITAIN'S most senior gay police officer believes he has been made the "fall guy" in a campaign to save the job of Sir Ian Blair, the Metropolitan police commissioner. Colleagues say Brian Paddick, a high-profile deputy assistant commissioner, is furious that he has been "hung out to dry" by the Met after he gave potentially damning testimony against Blair to investigators probing last year's Stockwell Tube shooting. This weekend, senior officers said Scotland Yard was in "a state of siege" as the ramifications of the inquiry into the shooting of Jean Charles de Menezes, a 27-year-old Brazilian, threatened to destroy Blair and throw the Met into freefall. "Ian Blair has become a lame duck commissioner. His job is hanging on a thread," a senior Home Office source said. This weekend Patrick Mercer, the Tories' spokesman on homeland security, said: "This infighting must stop immediately. The Met and the commissioner must now focus on its most important task of protecting London from terrorism." Blair, stunned by a series of apparently orchestrated leaks designed to torpedo him, is said to have ordered his office to be swept for bugs last Monday. He was greeted on his return from a skiing holiday with news reports disclosing that he had tape-recorded a private phone conversation with Lord Goldsmith, the attorney-general. He has instructed Paul Stephenson, his deputy, to conduct a molehunt to root out those who have been briefing against him. One suspect is said to be a senior officer whose unhappiness with his alleged treatment at the commissioner's hands pre-dates the Stockwell fiasco. But Blair's immediate problem is Paddick, known for his outspoken views on the liberalisation of cannabis and his comments to a website that he found the concept of anarchy appealing. Paddick's anger could well seal Blair's fate if he proceeds with a threatened libel action against his employers for issuing a statement last week denouncing his testimony as false. At issue is Blair's claim that he did not know until 24 hours after the shooting that police marksmen had killed an innocent man, mistaking de Menezes for one of the July 21 bomb suspects. De Menezes's family complained that this claim was among several misleading statements issued by the Met in the aftermath of the shooting. But it has now emerged that Paddick, who acted as the Met's chief spokesman during the July bombings, has given a signed statement to the Independent Police Complaints Commission (IPCC) directly contradicting his boss's own account. Sources say Paddick has told the IPCC that he was in a room at Scotland Yard during the afternoon of the day of the shooting, July 22, when he heard a member of Blair's staff being told the wrong man had been shot. When Paddick's account was leaked last week, the Met issued a remarkable press statement saying "it was simply not true". He also discovered he is to be formally questioned in an internal inquiry into an alleged "unauthorised" disclosure of information about Stockwell. He is alleged to have spoken out of turn to a journalist last month. Paddick denies the accusations. In a potentially explosive move, he has called in lawyers to discuss suing the Met for libel. Papers could be served this week. Friends say the mere threat of legal action, with Paddick in the role of whistleblower persecuted for telling the truth, could be terminal for Blair. A colleague said: "Brian is bitter at the way he has been treated. Many people in the Yard were aware that it looked within hours of the incident like we had shot the wrong person at Stockwell. The IPCC was investigating all the circumstances and Brian felt that he had to be truthful in what he said to investigators, even if that put the commissioner's office in a bad light. "Then the next thing that happens is that a colleague overhears a phone call Brian is having with a journalist and he is reported to the department of professional standards. He is being hung out to dry by the Met's machinery. He's been put up as a fall guy." Damagingly for Blair, Paddick's recollection of events is said to be corroborated by other witnesses who are understood to have told the IPCC the realisation that de Menezes might not be a terrorist was quite widespread in the Met within six hours of the shooting.
Magpie



Registered:04/03/06
Posts: 815
Posted 19/03/06 #62 Top police 'clear' Met chief over Menezes

· Ian Blair backed by senior officer's account
· Tragic mistake not revealed for 24 hours

David Rose
Sunday March 19, 2006
The Observer

The first detailed police account of the aftermath of the shooting of Jean Charles de Menezes, the Brazilian killed after being mistaken for a terror suspect, can be revealed today by The Observer. The testimony by a top Scotland Yard officer confirms that the police did not know for nearly 24 hours that they had shot a man with no terrorist links. His account backs claims by the head of the Metropolitan Police, Sir Ian Blair, that he was unaware until the following morning that de Menezes was innocent. Deputy Assistant Commissioner Alan Given, one of the officers in command of the Met's firearms unit, also reveals that the officers were initially 'buoyant' after the shooting, thinking they had 'protected Londoners' from a dangerous assailant. The account – the first from anyone directly involved in the shooting or its aftermath – comes in an exclusive interview with Given, the most senior officer directly responsible for the CO19 tactical firearms team who shot de Menezes at Stockwell tube station on 22 July last year. Given met the officers who killed de Menezes that afternoon, and later attended a series of high-level meetings about the investigation into it. His evidence goes to the heart of the 'Stockwell II' inquiry by the Independent Police Complaints Commission into Blair's claims that he was not briefed about de Menezes's innocence until the following day. If the inquiry were to find against Sir Ian, it would put pressure on him to resign. 'Stockwell 1' is the already-completed IPCC report into the shooting itself, which has gone to the CPS. Given said that he saw Assistant Commissioner Alan Brown, who was co-ordinating work by several Yard departments on the shooting, shortly before he went home at 11pm on the Friday. 'When I left, I had no indication that the wrong person had been shot,' said Given. 'Alan had no clue that we had made a mistake. I did not learn the truth until the following day.' Last week, the commissioner was the subject of a series of media leaks that led to calls for his resignation. He apologised for taping phone calls with IPCC officials and with the Attorney General, Lord Goldsmith. Later reports that his private office knew that de Menezes was innocent by the afternoon of 22 July were denied. Together with other senior officers, Given insisted that Sir Ian had become the target of a 'grossly unjustified' campaign. Given said that, having briefed the commissioner, he went to Leman Street police station in east London to see the two officers who shot de Menezes, at about 4.30pm on the day of the shooting. 'They were behaving in a very professional way,' he said. 'They'd done the job that we ask firearms officers to do – to go out into potentially dangerous situations and shoot someone. 'They were sombre, clearly concerned that they had shot a man dead. There wasn't even a sniff of the fact that there had been a tragic mistake. There was no rejoicing, but the mood was buoyant.' Given said he also spoke to Commander Cressida Dick, the firearms team chief who is thought to have given the order to shoot. She, too, had been convinced that de Menezes was a terrorist. Throughout the day, he revealed, a 'Gold group' met at two-hourly intervals at Scotland Yard, at which senior officers from all the departments involved with the shooting presented their latest findings. Some meetings were attended by Given in person, others by a member of his staff, who briefed him later. According to Given, Sir Ian 'has tried to be as open and honest as he can,' he said. 'He's now facing a campaign that is grossly unfair, much of it based on information that is totally inaccurate.' Last week, other senior police figures strongly backed the commissioner, including Chris Fox, president of the Association of Chief Police Officers, who suggested that the campaign was fuelled by elements of the media and a minority inside the police who were opposed to Sir Ian's support for racial diversity and ethnic minority recruitment. Sir Ian, he said, was accused of being 'politically correct,' where in fact, 'what he's trying to do is be fair'. Magpie says: The Met Spin Doctors are on the loose.
Shoot to kill: John Stalker After shooting dead an innocent man in London, police have defended the 'shoot to kill to protect' policy. But is it justified? We ask the former Manchester officer who led the 'shoot to kill' inquiry in Northern Ireland.
John Stalker: Shoot to kill 1980: Six men shot dead in Northern Ireland – five with connections to IRA RUC accused of operating a 'shoot to kill' policy 1984: John Stalker appointed to lead inquiry into 'shoot to kill' Said to have clashed with the RUC Chief Constable, John Hermon Three months later, Stalker is suspended: alleged he socialised with criminal members of Manchester's Quality Street gang Stalker claimed he was victim of 'dirty tricks' and his suspension was politically motivated 1986: Stalker cleared of misconduct and reinstated There's been widespread shock in the UK at the fatal shooting of an innocent man in London who police mistook for a suicide bomber. Brazilian Jean Charles de Menezes, 27 was shot dead in error by police at Stockwell Tube station as part of the inquiry into attempted bomb attacks in the capital. He was later found not to be connected to the incidents. Former deputy Chief Constable of Greater Manchester Police John Stalker led the initial stages of a controversial inquiry into an alleged 'shoot to kill' policy by the Royal Ulster Constabulary in the early eighties. Stalker was appointed to head the investigation into the killing of six men in Northern Ireland but was taken off the case when he faced disciplinary charges which were later dropped. John Stalker: Q & A What do the guidelines say? "The rules of engagement have been in existence for well over 20 years. But they were framed for incidents involving armed criminals where a gun could be seen, or a sword and there was time for negotiation and time to contain the situation. The advent of suicide bombers has changed all that and they've had to be added to. But nonetheless, the basic tenet of those rules remains the same: the police must not open fire unless the individual officer [with the gun] is satisfied that nothing short of opening fire will protect that officer or any other person from death or serious injury. "What's less clear in the heat of the moment is what governs the officer's actions. And that is the quality of the intelligence he's getting. If he's getting good information about a possible suicide bomber it has to be good information. What the officer is getting through his ear piece is all important and in many ways is as equally important as the pulling of the trigger. What about the number of shots fired?
John Stalker "I think that's been the most worrying aspect so far – the number of bullets used. Now, I wasn't there.. but the rules of engagement particularly involving suicide bombers is to make sure that the man is dead, and dead quickly. Because even a dying man can set off a bomb which could have exploded on a crowded train… So if the officer decided that five [sic] were necessary then we're going to have to accept that. "His actions are going to be subject to the most stringent investigation by the Independent Police Complaints Commission who are completely independent of the police and indeed use their own investigators. So he's going to have to answer and if he's got it wrong, he's going to have to appear possibly before a tribunal or even a court. "I think everything conspired against this poor man. It was a station, he was possibly of an appearance that made the officers suspicious – he'd got a heavy coat on on a hot day. Plus he may not have understood what the police officer was shouting at him. They were in plain clothes – if it was a uniformed officer he probably would have stopped. And all together, these things have conspired towards a tragic mistake. "We must all remember that an innocent man has died. But that does not mean that the officer acted wrongly." Are there any comparisons with the Northern Ireland shootings?
Police at Stockwell tube station "No absolutely no comparisons at all… they've had the same label attached to them – 'Shoot to Kill' – but they are quite different. In NI, there were six men shot dead by police over a six week period. One was a 16-year-old mentally subnormal boy. And in particular case, one man had 109 bullets pumped into him. So there's quite a lot of difference and I'm not drawing any parallels at all. " Could we see more incidents like this? "It could happen again this morning. Please God, it doesn't but it could do. Because given the same situation, the same information the officer was getting, who's to say it wouldn't happen again? I carried a firearm on a regular basis during the IRA matters for five or six years and I know the pressures on officers carrying guns – it's an enormous pressure. But there has to be some blunt talking here. You don't shoot a man in the head with any other intention but to kill him. And the only way to stop a suicide bomber is to shoot him in the head – torso is no good. "What's worrying all of us – including me – is this: we're talking about the British police here. We're talking about the bobby who used to see kids over the road to school and it's very difficult for us in this country to knit the two together: the policeman pumping five bullets into a man's head in the London Underground is the same policeman who could have been a community policeman 12 months ago." Are we all more likely to be innocent victims? "Ten per cent of the Met are now armed: you're talking about more than 4,000 officers – that's the entire size of the Merseyside force, every single officer. In a poll that's been released, 71 per cent of Londoners want armed police on the buses. Now, once you've got policemen on buses or trains patrolling in that way, you're only one step away from a 100% routinely armed police force, and none of us wants to see that. We're drifting towards that but the pace has been accelerated over the last few days."





Ferris Conspiracy > Topics > POLICE CORRUPTION SOUTH OF THE BORDER
Police Warn of Scams October 12th 2020
It would be churlish to say that the police don't do any good. Traffic Cops need a lot more credit and a few more on the road. For me the major issues are with command and control, especially at very senior levels. Community policing is not the best route for promotion, but initiatives like this one are important. The unit was , among other things, raising awareness of scams.
Covid lockdown will inevitably increase policing problems and crime. People are desperate on both sides of the criminal fence. I was told that loan sharks are busy preying on this despertion. Leaflets were being handed out. I spent several years working with the police, in my councillor capacity, on the Buckingham & District Crime Prevention Panel. It is a worthy cause, but in a 'diverse' society, a little more than challenging.
R.J Cook
There should Be No Mercy For Corrupt Lying Police, Not The Usual Promotion October 11th 2020
We know lots of jobs have their perks and workers steal bits and pieces, maybe cover their failings with little lies. But with the police it goes to a whole new level. They destroy lives to assert power and privilege.
Officers of all ranks, but senior ones are the most dangerous which is why they are senior, have the power to get revenge on people they do not like, -falsifying or withholding evidence, encourging and promoting underlyings who buy into the culture of corruption.
There is no danger of getting caught out, the complaints system is a sham and their uniforms and scrambled egg on top frightens people. This is another powerful reason why there can be no claim to democracy in Britain. Step out of line and its jail or the madhouse. R.J Cook
British Police Routinely Withheld Evidence Exonerating Young Men of Rape Posted October 11th 2020
April 8, 2018 MJA Uncategorized 4
Dangerous> Shocking documents have revealed that British police officers are being trained to avoid giving vital evidence that would undermine their criminal cases.
A dossier, seen by The Times of London draws upon reports from 14 focus groups with the police. These focus groups included prosecutors, judges, and a survey of prosecutors. In one section of the report, an anonymous prosecutor said:
"In even quite serious cases, officers have admitted to deliberately withholding sensitive material from us and they frequently approach us only a week before trial. Officers are reluctant to investigate a defense or take statements that might assist the defense or undermine our case."
Another comment, this one from the police, said:
"If you don't want the defence to see it, then [the evidence] goes on the MG6D."
The MG6D is a list of sensitive material which the defense team does not have access to. An inspector said that the police "have been trained to put items on there that they do not want disclosed to the defense" whilst another recorded comment was that "officers put undermining material on the MG6D list to hide."
The revelations come at a time where the CPS is being scrutinized over how some cases are handled. Last year over 900 charges were dropped after police failed to hand over evidence to defense lawyers. 22-year-old student Liam Allan was forced to go to trial for almost two years after being accused with six counts of rape. The case collapsed after it was revealed that the police did not hand over hundreds of text messages that proved his innocence, in which the complainant expressed that she had enjoyed having sex with him.
Police officer charged with falsifying evidence cries in court
Four Merseyside PCs are accused of conspiring to pervert the course of justice – with one also charged with assaultliverpoolecho
Get the inside track on the big stories from Liverpool Crown Court with our weekly newsletterWhen you subscribe we will use the information you provide to send you these newsletters. Sometimes they'll include recommendations for other related newsletters or services we offer. OurPrivacy Noticeexplains more about how we use your data, and your rights. You can unsubscribe at any time.
A policewoman cried when she appeared in court today with three other officers all accused of conspiring to pervert the course of justice.
Four Merseyside Police officers were in the dock at Liverpool Magistrates' Court over an alleged plot last summer.
One of the officers, PC Darren McIntyre, 45, is also charged with assault causing actual bodily harm.
The charges all relate to an arrest in the early hours of June 19.
According to the charges, McIntyre and PCs Garrie Burke, 43, Laura Grant, 34, and Lauren Buchanan-Lloyd, 24, later conspired to pervert the course of justice by "falsifying and interfering with evidence".
McIntyre is alleged to have assaulted 52-year-old Mark Bamber during a callout to an address in Cherry Road, Ainsdale , Sefton.
Mr Bamber was arrested on suspicion of assaulting an emergency worker and taken into custody, but later released without charge.
McIntyre, of Derwent Avenue, Southport ; Burke, of Holmefield Grove, Maghull ; Grant, of Somerville Grove, Waterloo ; and Buchanan-Lloyd, of Kings Close, Higher Bebington , were not asked to enter any pleas to the charges today.
They spoke only to confirm their personal details and then sat in silence for the remainder of the hearing.
Following legal discussions, Grant, with long black hair and wearing a black coat in the dock, started crying.
McIntyre, bald and wearing a blue suit; Burke, with short brown hair and beard and wearing a grey suit; and Buchanan-Lloyd, with long black hair and wearing a tan-coloured coat, did not show any emotion.
Read More
District Judge Jack McGarva sent the case to Liverpool Crown Court, where he said they would all next appear on February 3.
He granted all four officers unconditional bail.
Following Mr Bamber's release from custody, the incident was reported to the force's Professional Standards Department.
Read More
An investigation resulted in charges being approved by the Crown Prosecution Service.
Merseyside Police confirmed the charges had been brought against its officers.
However, a spokeswoman said no statement would be provided while court proceedings are ongoing.
Can I Sue if the Police Use False Evidence to Justify Arrest?
On occasion, police officers will fabricate, lie, or otherwise create false evidence to justify an arrest. You may be able to sue for compensation if this has happened to you. Read on to find out more, contact us on 08000 124 246, or complete the online form on this page.
Contact Kevin Donoghue, solicitor, for advice if you think the police used false evidence to justify your arrest.
The Consequences of Police Fabricating Evidence to Justify Arrest Posted October 8th 2020
An unlawful arrest results in false imprisonment, which can lead to:
disciplinary action against the arresting officer
a compensation payment to the arrested person
bad publicity for the police force involved.
To try to avoid these issues, the police can resort to falsifying evidence to claim that an arrest was lawful.
How the Burden of Proof in False Imprisonment Claims Changes Things
In nearly all civil litigation compensation claims the burden of proof is on you, the claimant. This means that you must prove your claim against the defendant on "the balance of probabilities". The court is asked "is it more probable than not that the claimant has made out his/ her claim as alleged?"
If the answer is "yes", you win your claim and receive your legally entitled compensation.
False imprisonment (also known as unlawful arrest, wrongful arrest, or false arrest) is different because it reverses the burden of proof. So once you prove that you have been deprived of your liberty (which is usually obvious and accepted by the police) it is the defendant arresting officer's job to justify your arrest by proving that it was lawful. (Read our detailed explanation about why this happens here.)
The question for the court in false imprisonment claims is then "is it more probable than not that the defendant has proven that the arrest/ detention was lawful?" If not, you can be awarded compensation calculated on this basis.
Justifying Arrest- The Reasonable Suspicion Test
Arresting officers rely on various powers to make a lawful arrest but, if you are arrested without a warrant, they must show that they followed the strict rules in s.24 and s.28 of the Police and Criminal Evidence Act 1984 ("PACE") which, in plain English, are:
(i) the arresting officer honestly suspected that you, the arrested person, were involved in the commission of a criminal offence
(ii) the arresting officer held that suspicion on reasonable grounds
(iii) the arresting officer's reasons for effecting an arrest amount to a reasonable belief that the arrest was necessary, usually to allow the prompt and effective investigation of the offence or of the conduct of the person in question
(iv) the officer informed you of the fact and grounds of arrest as soon as reasonably practicable
(v) the arresting officer's exercise of his or her discretion to arrest was reasonable in public law terms because PACE gives a discretion, not a duty to arrest.
So if the arresting officer had a reasonable and honestly held suspicion that you were involved in a criminal offence your arrest will be lawful provided the officer also complied with the other rules. This is true even if the arresting police officer was completely mistaken or acting on information from another person which turned out to be false.
Reasonable suspicion has been described as "more than a hunch but less than proof". This is a very low threshold which makes false imprisonment claims hard to prove. But the first part of the s.24 test also includes another crucial element: honesty. If the arresting officer did not honestly believe you were involved in the commission of a criminal offence the other grounds for arrest are irrelevant. Like with the reasonable suspicion test, the honesty element is considered from both from the arresting officer's point of view (subjectively) and from an impartial observer's perspective (objectively).
In our experience, when faced with a challenging situation, police officers will sometimes exaggerate or lie to justify an arrest.
When the Police Create False Evidence: Public Order and Other Offences
Again, in our experience, police falsified evidence tends to appear in cases where the reason for arrest is based on the arresting officer's own evidence. For example, under:
s.91 Criminal Justice Act (1967) (drunk and disorderly behaviour)
Breach of the Peace (technically not a criminal offence but included here for convenience).
These are known as "the public order offences". Police can create false evidence to justify arrest in public order offences in two situations:
The reasonable suspicion test described above is met in some public order offences if (e.g. in s.5 Public Order Act) the arresting officer themselves is caused "harassment, alarm or distress" by a person's threatening (or abusive) words or behaviour, disorderly behaviour, or displaying of writing, signs etc. which they consider threatening. (see DPP v Orum (1989) and Southard v DPP (2006)). Without the need for independent witnesses to be harassed, alarmed, or distressed, the police can be tempted to fabricate evidence as to their own state of mind.
Depending on the public order offence, it is not enough for police officers to suffer from the alleged behaviour. Members of the public have to be threatened, harassed, alarmed, or distressed. But those people do not have to give evidence as witnesses. This means that the arresting police officer can give evidence about the state of mind of an independent witness. Because the witness is not available for cross-examination it can be difficult (without other evidence like CCTV footage) to prove that the arresting officer's interpretation of events was wrong.
In addition to the public order offences, arresting officer evidence alone is commonly used to seek convictions for assaulting or obstructing a police officer in the execution of their duty.
Unscrupulous police officers who know these loopholes in the law can be tempted to lie and give false evidence. For example, in this blog post our client, who was arrested for a breach of the peace, was described by the arresting officer in his written statement as "hostile and aggressive". Luckily for our client, body worn camera footage proved this was untrue and that the arresting officer lied.
The Three Things You Need to Claim Compensation if the Police Falsified Evidence
If you want to claim compensation for false imprisonment, you need to prove that:
you were arrested and detained. Read our page on false imprisonment for a full explanation of what that means (it's a technical term) and/or
you were prosecuted, and the prosecution ended in your favour. The prosecution could be concluded, for example, by a decision by the Crown Prosecution Service to discontinue proceedings, or it could proceed to trial where you were acquitted after the arresting officer gave false evidence at court, and
the arresting officer gave false evidence. If available, we can help you by getting hold of body worn camera footage, CCTV, independent witness evidence etc. But because these cases hinge on a conflict between your version of events and the police's, success or failure often depends upon your credibility, character, and resolve.
Every case is different. Read our page about remedies to find out what you might be entitled to claim.
How to Start Your False Imprisonment Compensation Claim Against the Police Posted October 8th 2020
Contact Donoghue Solicitors if you think the police gave false evidence to justify your arrest. Strict time limits apply so don't delay. Depending on the circumstances we may be able to help prove your false imprisonment claim on a "no win no fee" basis. Read all about your funding options here, what information we need from you, then call 08000 124 246 or complete the online form on this page.
Read our other FAQs for more information, and please note our terms and conditions, and in particular, section 4 "Disclaimers".
Rating: ***** Excellent service This is a excellant [sic] firm who are very efficient and work hard on your case to get the very best outcome for their clients. I would recommend Donoghue Solicitors to anyone. The communications between them and their clients are very good and they are very east to talk and explain things… Read more » ― JNH
Rating: ***** Accident at work I would highly recommend Donoghue Solicitors to anybody who is looking for a good, honest and reliable solicitor. From start to finish I was always kept up to date with the progress of my claim and was always made fully aware of what was happening. I was always explained everything thoroughly… Read more » ― Claire
Rating: ***** Professional and driven solicitors who see the job through to the end. Kevin Donoghue & the staff at Donoghue solicitors worked hard and with enthusiasm on my case for 3 years. They did exactly what they said they would do informing me at every stage and ensuring that I received One Hundred per… Read more » ― L Dixon
Dear Kevin, I would like to thank you for all your help over the past year or so. My family and me had a fantastic Christmas and its all thanks to you. I cannot explaine [sic] how happy I was to receive that money, not alot left but kids had a fantastic Christmas and my… Read more » ― Laura D
Claim compensation here
Name (*Required to send form)*
Phone*
Email*
Type of matter
Tell us what happened:*0 of 10000 max characters
Consent* I consent to my personal information being collected, used, and disclosed in accordance with the >privacy policy.*
Contact Us
25 Hatton Garden, Liverpool,
Merseyside, L3 2FE, UK.
0151 236 1336
info@donoghue-solicitors.co.uk
www.donoghue-solicitors.co.uk
Open Monday to Friday 09:00-17:00
© 2020 Donoghue Solicitors. Privacy & cookies. This site uses cookies. By continuing to use this website, you agree to their use. To find out more, including how to control cookies, read our Cookies PolicyClose and accept Necessary Always Enabled
Why you should never trust the U.K Police Posted October 2nd 2020
As kids, many of us were told that if we were ever lost or in trouble, to find a policeman. How many of us tell our kids that today?…
I know I don't. I tell my child she'd be better off finding a cab office than a policeman. At least that way she'll make it home without a gaggle of social workers straggling behind in the desperate hope of a prosecution.
The police are not your friend. That's the most fundamental piece of advice I can give to anyone who encounters them. And if you believe the romantic myth that they are there just to protect the good from the bad, then you really don't understand what it is the police actually do…
Protect The Innocent or Protect The State?
When the police arrive at a scene they are there to bring about a conclusion. They are not there to settle disputes, or mediate between warring parties. They aren't a shoulder to cry on or an impartial stranger willing to see your side of the story. They are there to find trouble and end it. Hopefully by making an arrest. And if you make the mistake – as so many do – in believing that the more honest and open you are with the police, the more you explain, then the more likely they'll see it from your point of view, then you are gravely mistaken. Because if the police believe you are guilty of something – no matter how flawed, biased or unfounded that belief is – all the 'explaining' in the world is not going to make them change their minds.
A recent PR campaign from Durham police designed to improve their image. Do they seriously expect us to LIE to our children?
The primary job of the police is NOT to protect but to prosecute. They are in the business of imprisonment, not freedom.
If this isn't so then ask yourself this: Why do the police not set targets for all the people they let go rather than prosecute? Why do the Home Office not reward police officers who mediate rather than arrest? Why do the police not conduct interviews with suspects to prove their innocence rather than to determine their guilt?
The police are not motivated to protect the liberties of the people, because it's not the people they serve. They serve the state. No matter how idealised your notion may be of the police, the fact remains that it is the state that employs them, pays them and governs them.
The police are not there to protect the people from each other, but to protect the state from it's people.
Safety In Numbers?
Another over-perpetuated myth is that we all feel much safer with a heavy police presence on our streets.
But do we?
If you are walking along the street or driving down the road and suddenly come into the view of the police, do feel a glowing sense of reassurance? Or do you, like most people, feel a mild and unpleasant sense of paranoia. That perhaps right now, for whatever reason, their focus is on you, even though you have done nothing wrong.
If so, then what you are experiencing is a perfectly natural and healthy mistrust of authority for an obvious reason: You know that they have the power to take away your liberty there and then. So few of us are actually comforted by the false concept of community policing. In much the same way so few of us feel comforted by the almost impossible numbers of CCTV that scrutinise us from every street corner, making Britain the most watched nation on earth. The same argument for an increase presence of police on our streets is the same argument used for the ever growing number of CCTV cameras: That we all feel so much safer knowing that the state are watching over us. Rather than the actual truth: that it is the state that feels safer, knowing that we are all being watched.
After all, aren't we all just criminals waiting to happen?
Community Policing or Intelligence Gathering?
We are not policed by consent, but by fear. And the police routinely use that fear to get us to comply with unreasonable and unlawful demands, just to inflict their desire for obedience upon us.
The fact that you may never have committed any crime in your life means nothing to either the police or the state. They are equally suspicious of everyone. You will never get the police 'on side' by opening your heart up to them, or protesting your innocence.
That friendly PCSO who walks the high street, smiling and saying hello, chatting casually to shopkeepers and passers-by. They are gathering intelligence. It's a fundamental part of their job. Almost anything they deem worthwhile will be collected and written up later, stored on police computers indefinitely. It doesn't matter if it's petty gossip or unsubstantiated rumour. If it can be used to prosecute, it will be gathered.
That formal police chat, or stop-and-account, where the police come to your door or approach you on the street, or invite you to the station. That's not so that they can ELIMINATE you from any notion of wrongdoing. It is to help them obtain evidence they don't already have. To prosecute you by your own words and actions. After all, tricking an admission of wrongdoing from someone they suspect (or simply don't like) is much easier than going to the trouble of gathering independent evidence.
If you want to stay safe from abuses of the police then you must never place your trust in them. Treat them in the same way they would treat you. With suspicion. Because no matter how much you may trust them, you must remember that the police are trained to NEVER TRUST YOU.
We have written a number of Ebooks to help anyone who has been subject to police abuse of authority, or wishes to protect themselves from such abuses.
A selection of them appear below and are all available for instant download.
Uncovering Your Hidden Police Data
Click here For more information on "Uncovering Your Hidden Police Data"
Suspect in Croydon police shooting had hands cuffed behind his back
Investigators trying to establish how gunman was able to kill Sgt Matt Ratana inside police station
Vikram Dodd, Jamie Grierson and Damien Gayle
Fri 25 Sep 2020 19.40 BST First published on Fri 25 Sep 2020 19.00 BST
Shares 745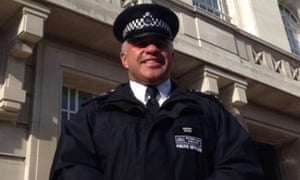 Matt Ratana had served with the Metropolitan police for nearly 30 years. Photograph: NO CREDIT
The suspect who shot a police sergeant dead inside a custody suite had his hands cuffed behind his back when he opened fire, the police watchdog has said.
The long-serving officer, who was said to be close to retirement, was named as Matiu Ratana. The 54-year-old, known as Matt, was killed after the gunman opened fire at Croydon custody centre in south London in the early hours of Friday.
The 23-year-old suspect also shot himself and was critically ill in hospital on Friday evening. Police had been about to run a metal detector over him when he managed, while handcuffed with his hands behind his back, to reach a revolver he had secreted on his body and open fire, shooting the sergeant in the chest and himself in the neck.
The suspect is understood to have been known to the government's anti-extremism programme.
He had previously been known to Channel, an arm of the government's Prevent scheme that tries to stop people becoming radicalised, although the incident is not being treated as terrorism-related.
The suspect had been flagged over concerns about both rightwing and Islamist indoctrination, sources said, but nothing of concern was found. Mental health is also a consideration in the inquiry, with the suspect understood to have a learning disability – though whether this was a factor is yet to be determined.
Mystery surrounds how the shooting could have happened inside a supposedly secure area.
The Guardian understands the suspect, who is believed to have Sri Lankan heritage, had been searched by officers away from the police station, and ammunition and cannabis were found
On Friday night, the Independent Office of Police Conduct, which is investigating, said: "What we have established is that the man was arrested for possession of class B drugs with intent to supply and possession of ammunition. The man was handcuffed to the rear before being transported to Croydon custody suite in a police vehicle where he was escorted into the building. He remained handcuffed to the rear and seated in a holding area in the custody suite.
"His handcuffs remained in place while officers prepared to search him using a metal detector. It is at the point that shots were fired resulting in the fatal injuries to the officer and critical injuries to the man. A non-police issue firearm, which appears to be a revolver, has been recovered from the scene."
Metropolitan police commander Cressida Dick said Sgt Ratana was known as a "big guy" with a "big heart".
As well as serving as a police officer, he was the head coach for East Grinstead Rugby FC. In a promotional video on the club's website, Ratana explains that "having previously competed at a national level, one of our goals is to return to the London leagues".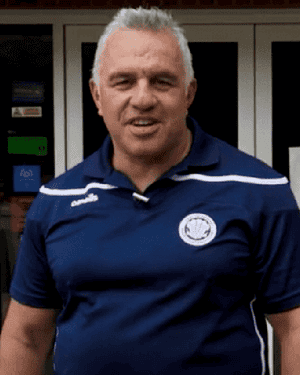 Sgt Matiu Ratana was also the head coach for East Grinstead Rugby FC. Photograph: East Grinstead RFC
Ratana was described as "an inspiration" by a friend who knew him from playing rugby together.
The 27 year-old, who would only give his name as Paul, said: "We all looked to him – on the field or off the rugby field, he always found a way to gee us up. Losing that is big.
Leroy Logan, a former Met superintendent, said there were questions to be answered. "How did that person come to be in the station – whether it's in the yard or the building itself – and be able to produce a weapon, whether it's on them at the time?" he said.
"It depends on the calibre of the weapon, because obviously if it's a small weapon and it can be easily in that person's clothing, then obviously it brings another question on how thoroughly that person was searched, if at all.
"Those are the things the department for professional standards will look at and the IOPC as well as the investigating officers who will have to look at this thing thoroughly."
Ratana is thought to be the first officer to be killed in a shooting in the line of duty since PCs Fiona Bone, 32, and Nicola Hughes, 23, in September 2012. They were murdered by Dale Cregan in a gun and grenade attack while responding to a report of a burglary in Greater Manchester.
The prime minister, Boris Johnson, and the home secretary, Priti Patel, had earlier paid their respects to the sergeant. Speaking at the Home Office, Patel said: "I'm deeply shocked and saddened by the tragic killing of the officer in Croydon overnight. All our thoughts are with the officer's family, friends and colleagues across the Metropolitan police force, but also the policing family across the country.
"This is a sad day for our country as once again we see the tragic killing of a police officer in the line of duty as they're trying to protect us and keep us safe."
Lissie Harper, the widow of PC Andrew Harper, who was killed while on duty last year after being dragged behind a car while trying to stop quad bike thieves in Berkshire, said: "This is devastating news. No person should go to work never to return. No human being should be stripped of their life in a barbaric act of crime.
"Another hero has been taken from us in unwarranted violence. They protect us but who protects them? Another life is gone in a disgraceful act that reminds us of the danger our police officers face with every shift they begin.
"My heart is broken for yet another member of our blue line family, and all of his family, friends and colleagues who must now accept a life without him in it."
At Croydon police station on Friday morning, flowers were laid outside the main entrance. Forensic investigators and police officers could be seen inside.
People living in Croydon were saddened and incredulous at the circumstances of the shooting. One man, who asked not to be named, said he had passed the scene about 2.30am and saw a street filled with police vehicles and blue lights.
Ken Marsh, the chairman of the Metropolitan Police Federation, said: "Officers put themselves in danger every day to protect the public. Sadly, on very rare occasions officers make the ultimate sacrifice whilst fulfilling their role. When that happens we will ensure their bravery and sacrifice is never forgotten."
The National Police Chiefs' Council chairman, Martin Hewitt, added: "It is another tragic reminder of the risks police officers take on a daily basis to keep the public safe. Policing is a family and I join my colleagues across the country in mourning the senseless death of one of our own in the line of duty."
Comment The risk of an officer being shot by a prisoner in handcuffs should be zero, not an everyday likelihood. Was this softly softly because of BLM and was the prisoner an escspologist ? Cut the propaganda and explain who was responsible for this. It was not the victms's because he was the custody officer. R.J Cook
How the neoliberal project embeds corruption in Britain
Posted September 25th 2020
---
The central message from an important new book is that combating corruption needs be placed at the centre of social justice campaigns.
Writing in the Huffington Post in June 2015, prime minister David Cameron called on world leaders to learn lessons from the FIFA scandal and 'break the taboo on talking about corruption'. From 'the migrants drowning in the Mediterranean … fleeing from corrupt African states', to the 'corrupt governments preventing people getting the revenues and benefits of growth that are rightfully theirs', to the 'ordinary people [who] are drawn to extremist groups partly as a reaction to the oppression and corruption of their own governments', he argued, corruption is 'the cancer at the heart of so many of the problems we face around the world today'. A threat to 'our security and prosperity across the world', was how he described it; a threat that could be combated through 'tax, trade and transparency'. And Britain, he argued, has 'taken important steps in practising what we preach'.
Framing corruption as a foreign problem
Such perceptions of corruption, shrouded in neoliberal dogma, are challenged in How corrupt is Britain?, a collection of fourteen essays published earlier this year, edited by radical criminologist David Whyte. With contributions from scholars with extensive experience in researching and analysing corruption and corporate power, it shows how such definitions – driven in large part by political elites – construct a narrative within which corruption is seen as something that predominantly happens elsewhere, generally in post-colonial African states in the global South, in oligarchies in Russia, or in 'our Southern European counterparts'. It is a narrative that constructs a definition of corruption as a by-product of 'weak governance'. And where corruption is found in Britain, it is 'only found at the margins' of institutional and economic life.
Split into four sections – on neoliberalism and corruption, policing, government and public institutions, and finance and the corporate sector – each chapter provides in the first instance a riposte to such claims. As the introduction sets out, the £3 billion in fines that HSBC, Lloyds and Barclays have recently had to pay for 'money-laundering and sanctions-busting', the 'steady stream' of lobbying scandals, the allegations of price fixing in the energy supply industry, the 'cash for questions' and expenses scandals in parliament and so on, all indicate that it may be time to start thinking about a 'quintessentially British … brand of corruption'.
But the question of the title is not a simple quantitative one. The collection says something about the levels of corruption in Britain, but much more profoundly claims that corruption is a 'routine practice that is used for maintaining and extending the power of corporations, governments and public institutions'. How, asks the book, does corruption work? And it is in answering this question that the contributors speak most directly to the concerns of social justice movements today.
In a panoramic overview of police corruption, for example, Phil Scraton examines the recent acknowledgement of embedded police corruption over Hillsborough (also set out in detail in a chapter by Sheila Coleman), in the investigation of the murder of Stephen Lawrence and the infiltration and instigation of sexual relations with animal rights activists and others. The myth of policing by consent shatters when set against 'institutional differential policing', the manufacturing of evidence, entrapment and surveillance. And, as Scraton shows, police corruption cannot be seen as a peripheral activity undertaken by the occasional officer, but rather needs to be understood as something related to the broader institution and activity of policing. Further, as Joanna Gilmore and Waqas Tufail go on to show, the mechanisms charged with 'policing the police' (most specifically the IPCC) not only fail to hold them to account, but can embed corruption further.
Accountability, neoliberalism and 'the new normal'
Questions about accountability are central to this book, underpinned in large part by an analysis of the embedding of corruption in the neoliberal era. The UK's neoliberal counter-revolution may have been ushered in under the Thatcherite slogan of 'there is no alternative' (TINA). But, as Jörg Wiegratz argues, these 'reforms', as well as the values they advance such as 'unrestrained self-interest, wealth accumulation and consumption; achievement, enjoyment, materialism, money availability, and individualism …', have been gradually institutionalised as 'the new normal'. The point is important. For while How corrupt is Britain? does not claim that neoliberalism is the sole rationale for corruption, in Britain or elsewhere, it does argue that the neoliberal project – too often understood simply as an 'anti-state' project – has been accompanied by a concerted increase of particular forms of state power which ensure that certain key British institutions and sectors are granted relative impunity when corruption occurs. It is state power, in other words, that ensures in many cases that they are 'too big to fail', even when rampant corruption is exposed. This can be seen in the continued transfer of public money to companies such as G4S despite a procession of well publicised scandals. But it is this notion of being 'too big to fail' which also provides one of the links between corruption in institutions such as the police and the security services with that within other sectors such as banking and finance.
The UK, as John Christensen explains, is the world's 'leading purveyor of financial secrecy' when overseas territories and crown dependencies are taken into account. It has market dominance in tax havens (or 'secrecy jurisdictions') which are widely recognised as contributing to the 'impoverishment of countries, rich and poor, by enabling capital flight, kleptocracy, tax evasion and avoidance on an industrial scale'. This form of corruption, with historical roots in the way the Foreign and Commonwealth Office encouraged some British overseas territories to develop as secrecy jurisdictions, shows how corruption elsewhere can be linked to policies and practices here. It is a form of corruption serving the interests of 'a class of unaccountable, untouchable offshore-diving super-rich'. And, as Prem Sikka discusses, in an analysis of the 'big four' accountancy firms, the corruption which underpins the workings of the UK's financial industries is linked to the way major players have been allowed key roles in developing the frameworks which regulate their activities.
It is deregulation, self-regulation and an unwillingness or inability of governments to enforce regulation that Steve Tombs examines in a chapter on 'corporate theft' by financial services firms (specifically, personal pension frauds in the 1980s, endowment mortgage fraud in the 1990s and the 'miss-selling' of payment protection insurance more recently). 'Literally, "normal business"', he explains, is in this context 'now corrupt business'. But the retail arms of financial services companies have inflicted systemic harm upon millions of people with impunity. Claims for compensation have frequently been resisted; the costs of them have been dispersed through raising prices or charges for other products. The representation of financial services companies as the 'good' or 'clean' side of banking (as opposed to investment banking arms) still predominates.
A political economy of corruption
What all of this points to, as emphasised in the introduction, is a political economy of institutional corruption within which corruption itself is a form of class power. Corruption, as the book explains, is related to notions of the public interest. And in an era when neoliberalism has, in large part, been normalised, the 'public interest' has been reduced to the pursuit of profit. If corruption is produced 'when the means of particular policies and practices are subjugated to the ends' – that is, it reproduces the inequities of a particular social order – then it is of little surprise that those communities which are targeted and criminalised within that same unequal social order often feel corruption's brunt. And it is equally of no surprise, then, that the contributors in this book – many of whom are activists themselves – point to the resistance to corporate and state power that is emerging – be it over police monitoring, challenges to corporate dominance, movements against inequality, investigating torture by the British government or groups exposing the UK's private finance initiative. This is an important book that comes at an important time.
RELATED LINKS
How corrupt is Britain?, by Pluto Press, can be purchased here
Rotten Core Of British Police Posted September 23rd 2020
This is no surprise to those who have been on the recieving end of the police.
(CNN)Martin Gugino, the 75-year-old protester who was pushed by two Buffalo, New York, police officers earlier this month, has a fractured skull and is not able to walk, his lawyer said in a statement provided to CNN on Monday."I am not at liberty to elaborate at this time other than to confirm that his skull was fractured," Gugino's attorney Kelly Zarcone said. "While he is not able to walk yet, we were able to have a short conversation before he became too tired. He is appreciative of all of the concern about him but he is still focused on the issues rather than himself."CNN has not been able to speak with Gugino directly, but in her press statement, Zarcone passed along a message from him: "I think it's very unnecessary to focus on me. There are plenty of other things to think about besides me."Gugino is focused on getting better and he remains in rehabilitation, Zarcone told CNN on Tuesday.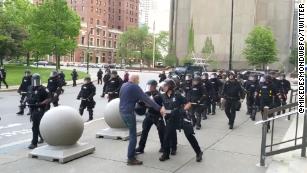 Buffalo police officers plead not guilty to assaulting 75-year-old man at demonstration"Barring something unusual and unforeseen, I don't expect much change at all this week," she said.Gugino was injured when two police officers shoved him backwards during a protest against racism and police brutality on June 4. Video of the incident shows that he fell to the sidewalk and his head began bleeding as other officers walked by him.Officers Aaron Torgalski, 39, and Robert McCabe, 32, each pleaded not guilty to second-degree assault and have been released on their own recognizance without bail.Based on the initial video, police issued a statement that said Gugino tripped and fell, Buffalo Police spokesman Mike DeGeorge told CNN. Police later amended that statement and suspended the officers without pay and opened an investigation.After video of the incident spread widely — Gov. Andrew Cuomo said it was "wholly unjustified and utterly disgraceful" — Gugino became the focus of a conspiracy theory pushed by One America News Network and President Donald Trump that suggested the 75-year-old was an "ANTIFA provocateur" and that his serious injury "could be a set up."
Comment I would not normally comment favourably in respect of what British and U.S police officers do to court criticism. The two countries have similar ruling interest groups and command and control outlooks.
Policing has changed but promotion systems and structure have not. Incompetent politicans, who encourage mass immigration and the lunacy of multi culture, pander to the oily reptiles in the police who slimed all the way to the top. These idiots have spent as little time as possible in the front line, their expertise focused on jargon and time spent on expensive bullshit courses.
So what we see in this case is a relic from the 60s draught dodging protest fake peace and love era standing pompously in the way of officers who have been given clear orders to advance on the BLM The video evidence avoids showing what they were advancing towards. It is utterly stupid to stand in the way of a juggernaut. It is clear that this was an accident and an outrage that these young low ranking officers have been scapegoated by the hierarchy who care only for themselves.
The British and U.S police – I cannot judge other nation's forces – need urgent reform, especially Britain's, but certainly not abolishing.
Senior officers hob nob with dreadful egotisticsl politicians, who with all of their outrageous perks, are a big part of the problem. But ultimately it is the corrupt and incompetent politicans on both sides of the Atlantic who are to blame.
They create one problem after another, pass laws to pander to sections of the elctorate, then leave it to police forces who are not just corrupt – in spte of all of their new technology – but are badly and inefficently organised. Senior officers like it just the way it is. One lives in hope that change will be forced on them and the terrible political systems on both sides of the Atlantic. R.J Cook
Police officer Lee Tatton who starred in TV documentary pleads guilty to child sex offences
September 3, 2020 UKCP Staffordshire 0
1+
Lee Tatton featured in a behind the scenes documentary called 'Cops UK: Bodycam Squad' but this week, the response officer pleaded guilty to a number of child sex offences.
A police officer who became a star of a TV documentary has been unmasked as a paedophile.
Lee Tatton, 54, was featured on the documentary 'Cops UK: Bodycam Squad' in which he would be followed by cameras to get an insight about his job.
But this week he admitted a number of child sex offences.
Tatton, nicknamed Tatts, was a response officer and was included in the fly on the wall series multiple times, StokeonTrentLive reports.
Production company Raw Cut spent several weeks shadowing PC Tatton and his fellow officers on a range of incidents including rescuing people from a flat fire and breaking up a brawl outside a pub.
While arresting one of the men involved in the fight, PC Tatton ended up being accidentally parva sprayed by a colleague.
It was hoped the programme – on UKTV's Really channel – would give the public an insight into the work of the force.
Speaking at the time the show was premiered, PC Tatton said:
"It was put to our shift about the camera crews coming out with us and I was happy to volunteer. After a while it became second nature explaining to them what we were dealing with.

"I hope it will give people an insight into what we do and the things we have to deal with at 4am and 5am when most people are tucked up in bed."
But the Staffordshire Police officer was arrested in December last year following an investigation by the force's Operation Safenet team, a dedicated unit tasked with looking into online child abuse.
He was immediately suspended from duty.
Appearing before Birmingham Crown Court Tatton, whose address was not disclosed, pleaded guilty to attempting to engage in sexual communication with a child and four counts of making an indecent photograph/pseudo-photograph of a child.
In a statement this week, Assistant Chief Constable Scott Green said:
"Tatton's actions are unacceptable and have caused harm and distress to the very people we should be protecting and keeping safe.

"His actions fell well below the high standards that the public and the force demands and expects of police officers."
Tatton remains on suspension subject to an internal force hearing and will be sentenced on November 2.
In a statement this week, Assistant Chief Constable Scott Green condemned his officer.
He said:
"Tatton's actions are unacceptable and have caused harm and distress to the very people we should be protecting and keeping safe.

"His actions fell well below the high standards that the public and the force demands and expects of police officers.
Police pay: Senior officers' salaries revealed for 2017 – big rises since then, along with serious corruption issues.
Share this with Facebook Share this with Messenger Share this with Twitter Share this with Email
Wide variations in the way police chiefs are paid have been revealed, as the pay, allowances and expenses of senior police officers in England and Wales are published for the first time.
The statistics, for 2015-16, show salary payments ranging from £7,622 to £278,563.
Meanwhile, benefits range from none at all to £32,521 in one case.
The Home Office, which compiled the data, also set a limit on the amount of annual leave chief constables can take.
Salaries for chief constables and deputy chief constables are determined by rank, the size of their force and the area's population.
The publication is part of an attempt to increase transparency across forces.
The figures show that some earned thousands of pounds in "benefits in kind", while a small number claimed large sums in expenses, and others received nothing but their salary.
Nick Gargan, who resigned from Avon and Somerset police following a misconduct inquiry, was given £39,000 for what is described as "compensation for loss of office".
Mick Creedon, who was in charge of Derbyshire police, received a "retention" payment and money for a medical scheme of almost £34,000 on top of his £142,000 salary, the data shows.
An assistant chief constable for Dyfed Powys received £30,139 for "relocation expenses".
There is no suggestion of any wrongdoing. Image caption Nick Gargan resigned from Avon and Somerset police following a misconduct inquiry in 2015
The figures offer a snapshot for 2015-16, with some representing just a portion of an annual salary with staff only having been in post for part of the year.
The largest salary listed, of £278,563, was for the head of the Metropolitan police in London.
---
'Handsome rewards'
by BBC Home Affairs correspondent, Danny Shaw
It may not be a coincidence that the Home Office has chosen to publish the figures just five days before the Budget.
The chancellor has faced growing calls from chief constables to inject extra money into the police service.
And although senior officers' pay represents a fraction of overall costs, the release of the data is a subtle reminder, perhaps, that forces can still afford to reward senior brass handsomely.
All of the chief constables earn more than the policing minister, with some salaries dwarfing the home secretary's pay and even that of the prime minster, who takes home £150,402.
No doubt chiefs would say they're worth it: being in charge of a police force carries immense responsibility – when vacancies arise there are often not many candidates.
Nevertheless, the figures have exposed inconsistencies in the way senior officers are rewarded for their considerable efforts which the staff who work for them and members of the public may not be entirely comfortable with.
---
In an effort to iron out inconsistencies in holiday entitlement, senior officers will in future be able to take no more than 35 days' leave each year. The current model allows for 48 days a year, but with poorly defined rest days.
When they leave their job they must notify their force if they are employed elsewhere.
The figures, for 261 of the most senior police officers up to the rank of chief constable, have been published on the Police UK website.
It is hoped that the overhaul could act as a blueprint for other sectors.
Policing Minister Nick Hurd said the figures would bring greater clarity and accountability to the public, as did Mark Polin, chair of the Chief Police Officers Staff Association.
Julia Mulligan, who speaks on transparency and integrity for the Association of Police and Crime Commissioners, said they would bring greater transparency.
Police officer's allegations led to £40,000 payout
Do police believe they are above the law? Posted September 6th 2020
By Danny Shaw Home affairs correspondent, BBC News
Share this with Facebook Share this with Messenger Share this with Twitter Share this with Email
There is no person or organisation that has as much potential power over us as the police.
They can arrest us, stop us in the street and search us, fingerprint us and take our DNA.
They are allowed to retain some of our personal information on their own computer databases – and access details held by other organisations, on request.
They can monitor our movements on CCTV and trace driver records via a car number plate recognition system known as ANPR.
It would be surprising if, on occasion, police officers didn't overstep their powers
Details of our phone records can be obtained, and, with the home secretary's approval, phone calls and emails may be intercepted.
Sometimes, police are permitted to detain us in custody – for up to four days (seven in terrorism cases); determine the length and conditions of bail while they carry out an investigation; and in some cases, caution or charge us with a criminal offence.
In addition to all that, officers have equipment – handcuffs, batons, CS spray, Tasers, firearms – that can be deployed, when necessary, proportionate and reasonable in the circumstances to do so.
It is quite a list – and it would be surprising, despite the numerous safeguards that are in place to prevent abuse, if, on occasion, police officers didn't overstep their powers. Image copyright PA Image caption Lord Hanningfield won damages for unnecessary arrest
In February 2013, for example, Lord Hanningfield, who had been jailed for false accounting over parliamentary expenses, won £3,500 damages after suing Essex Police.
The former Conservative peer said he had been unlawfully arrested as part of a police investigation into the alleged fraudulent use of a county council credit card, an inquiry that was eventually dropped.
The High Court judge hearing the case, Mr Justice Eady, said he had considered whether the arrest had been necessary "to allow the prompt and effective investigation".
He ruled that it had not. "I have come to the conclusion that the requirement of 'necessity' as laid down by Parliament has not, on any realistic interpretation of the word, been met," he said.
Subtle misuse of powers
Critics of the police say that such cases happen far more frequently than we realise.
Although officers may not beat confessions out of suspects, routinely doctor their statements and fit them up, as it was alleged happened in the 1970s and 1980s, it is argued that the more subtle misuse of police powers goes on every day.
Sean O'Neill, crime editor of the Times, says his attention was drawn to it by a series of cases involving journalists.
Police use of bail has also come under scrutiny
First, came a wave of arrests of reporters suspected of hacking mobile phone voicemails, making illegal payments to public officials or misusing computer data.
A total of 148 people have been arrested as part of operations Weeting, Elveden and Tuleta, 63 of whom are journalists.
Many were detained during dawn raids at their homes, some with their children present.
"It was a show-of-strength issue," says Mr O'Neill, speaking in a personal capacity.
He argues that police interviews could just have easily been conducted with suspects by appointment, as they subsequently were in later cases.
Dawn raids
The tactic of early raids, often used by police, is defended by Alex Marshall, chief executive of the College of Policing, which is responsible for setting standards of professionalism and integrity.
Mr Marshall says suspects have to be detained before they leave for work, while starting early helps to maximise the time available for questioning.
"It does make sense," he says, but points out that arrests need to be "necessary".
The police use of bail, under which suspects are released from custody after questioning with conditions attached, has also come under scrutiny.
The decision to bail some of the Weeting, Elveden and Tuleta suspects for months and in some cases two years or more while inquiries continued, made Mr O'Neill "wake up" to a practice he believes is widespread.
A snapshot survey of 40 forces – compiled by the BBC last year – showed that at least 71,000 people were on police bail in England, Wales and Northern Ireland, including 5,480 who had been bailed for more than six months.
One individual, arrested by the Metropolitan Police, had been on bail for three and a half years.
Mr Marshall acknowledges that in some forces, police bail has not been well managed, with suspects arrested too early in an investigation and then bailed while numerous inquiries take place.
The College of Policing recommends that bail should not exceed 28 days unless there are "exceptional circumstances".
The Home Office is planning to legislate to put that into effect.
'Plebgate' case
Finally, Mr O'Neill points to the so-called "plebgate" case, involving the former Government Chief Whip, Andrew Mitchell, as an example of the way in which police are misusing their powers. Image copyright PA Image caption Andrew Mitchell faces a big bill for legal costs after a failed libel action
During its investigation into who leaked details of Mr Mitchell's row with a policeman at the gates of Downing Street in September 2012, the Metropolitan Police accessed the phone records – the who, what, when and where of calls, but not the content – of at least one journalist on the Sun, which broke the story.
"If plebgate is an example of what goes on routinely, we ought to be worried," says Mr O'Neill.
To find the information, the Met used the Regulation of Investigatory Powers Act (Ripa) legislation, which governs the use of police surveillance, interception and data-collection measures.
A report published this week from the interception of communications commissioner found that over a three-year period, 19 police forces had sought phone data in relation to 34 investigations into illicit dealings between public officials and journalists.
That amounted to more than 600 separate applications for data – 0.1% of the total number of applications for communications records. Image copyright AP Image caption Andy Coulson, former News Of The World editor, was jailed as part of Operation Weeting
Mr Marshall says Ripa contains a series of checks and balances against misuse – it can be used to investigate only crimes that are "serious", and applications have to be authorised by a senior officer.
He says police must be "open to challenge" and officers must ask themselves, before they apply for "journalistic material", if it's relevant to the case under investigation.
"You have to justify what you're doing," he says.
But Mr Marshall also issues a reminder that no-one is above the law.
"Journalists have no more protection than a judge, police officer or milkman, if you're investigating serious crime," he says.
Nevertheless the disquiet over the use of Ripa has led Theresa May, the Home Secretary, to order a review by David Anderson QC, the independent reviewer of terrorism legislation.
It is due to be completed by the general election, in May, when the balance between individual liberty and journalistic freedom, on the one hand, and security and effective policing on the other, will be at the forefront of the debate.
Correction: The caption beneath the picture of Andy Coulson has been changed
Thousands of pounds have been awarded to a man after claims made against him by a Dyfed-Powys police officer were shown by CCTV to be false.
Richard Roberts from Milford Haven received £40,000 in an out-of-court settlement after it was claimed in a witness statement he was shouting and swearing at the time of his arrest.
He denied the allegations but the force proceeded to charge him.
"I was calm even though I'd been assaulted," he said.
Police are 'trained to deliberately hide evidence they don't want defence to see' finds report exposing full extent of disclosure failures after collapse of a series of rape trials AUGUST 26TH 2020
Documents show how police employ tactics to stop handing over vital evidence
Dossier reveals how officers and prosecutors hide some materials on a secret list
Other accusations include officers being reluctant to record witness statements
Revelations come after collapse of several rape cases over handling of evidence
By Alexander Robertson For Mailonline
1k shares
Police officers are trained to hide evidence that would undermine their investigations in court, a damning dossier reveals.
Documents show how police and prosecutors employ certain tactics to stop defence teams from seeing materials that could help their client during their trial.
Other accusations include officers being reluctant to record witness statements that hurt their case or presenting vital evidence to lawyers at the last second.
The revelations come after the recent collapse of several rape cases, leading to heightened concerns that evidence is not being disclosed properly.
+4
The case against Liam Allan (pictured), who was accused of rape, was dropped days before he was due to stand trial after evidence including his accuser's diary was uncovered
One ploy used by police is to put evidence 'on the MG6D', which refers to a list of sensitive unused material which a defendant's legal team does not have access to.
Examples of legitimate materials which may be put on the MG6D include those relating to the interest of national security or information about an undercover officer.
According to The Times, the dossier is compiled from reports of 14 focus groups of police officers, judges and prosecutors.
RELATED ARTICLES
Share this article
Share
One comment in the file read: 'In even quite serious cases, officers have admitted to deliberately withholding sensitive material from us and they frequently approach us only a week before trial.
'Officers are reluctant to investigate a defence or take statements that might assist the defence or undermine our case.'
Referring to the practice of exploiting the MG6D, an inspector said that officers are'trained to put items on there that they do not want disclosed to the defence'.
+4
Scotland Yard commissioner Cressida Dick (shown) said officers must investigate rather than blindly believe allegations and should keep an open mind when a victim has come forward
The revealing dossier was obtained under a freedom of information act request by charity the Centre for Criminal Appeals.
More than 900 suspects had charges dropped last year because police and prosecutors failed to hand evidence to defence lawyers.
In the lead up to criminal trials, police and prosecutors have a duty to disclose evidence that might either assist the defence case or undermine the prosecution.
But the recent collapse of several rape cases has heightened concerns that evidence is not being disclosed early enough, and that the rules are not being followed.
The trial of student Liam Allan, 22, who was charged with six counts of rape, was halted by a judge after it emerged his accuser had sent hundreds of messages to friends that would have cleared him.
The case against an Oxford student accused of rape was dropped days before he was due to stand trial after evidence including his accuser's diary was uncovered.
Yesterday it was announced by Scotland Yard that officers would be abandoning the policy of automatically believing victims of rape.
Commissioner Cressida Dick said officers must investigate rather than blindly believe allegations, and should keep an open mind when a victim has come forward.
Failure to disclose evidence has led to a series of collapsed cases
The issue of disclosure of evidence has been at the centre of a series of sex offence trials which have collapsed in recent months.
More than 900 criminal cases were dropped last year due to a failure by police or prosecutors to disclose evidence.
The series of failures led former Lord Chief Justice, Igor Judge, to warn that juries may start to think they have not been shown all the evidence, and victims to not come forward.
+4
+4
Oliver Mears (left) and Isaac Itiary (right) both had sex cases against them dropped when evidence emerged at the eleventh hour
In December, Isaac Itiary was released from prison after it emerged his alleged victim posed as a 19-year-old woman and lied about her age.
Police officers had texts which showed the girl was lying about her age but only released them after he had spent four months in custody awaiting his trial.
In February, the case against Samson Makele, 28, was halted after his defence team unearthed vital photographs from his mobile phone which had not been made available.
Mr Makele was accused of raping a woman after they met at Notting Hill Carnival in 2016 but he always claimed the sex was consensual.
His case, which was due to begin in March, was thrown out after more than a dozen photographs were found which showed the pair naked and cuddling in bed.
Oxford student Oliver Mears, 19, spent two years on bail accused of raping and indecently assaulting a woman in July 2015.
But the CPS decided to offer no evidence against him in February on the basis of fresh evidence, including a diary that supported his case, which was passed to the CPS just a week earlier.
e
Press Release August 22nd 2020
My story is about 12 years of police harassment because I wanted to know why I was given a PNC Criminal Marker on my car and soft intelligence for alleged stalking and domestic violence – which I discovered via the CRB and which the police still refuse to explain. Police admitted investigating nothing, my protests earning me a restarining order for things I had never done.
My ex brother in law, Chief Constable Simon Chesterman, involved himself in my divorce for his cash strapped family's financial gain. He made malicious false allegations that my eldest son and I were stalking him while he had my vulnerable 20 year old son shut up in his remote Shropshire home.
My divorce from his sister was basically about her abuse manipulation and control of myself and youngest son and my decision to seek gender reassignment. In desperation to find out why police cars, some unmarked, were chasing and searching myself and car- also I could not get a job because of them- I launched an internet and leaflet campaign which gained no information other than a conviction for harassment.
Since then, I have won two court cases against them, been raided because the police produced malicious documents suggesting I shopped myself as a 'gay escort' working for my son at this house, allegedly a brothel, taken to Crown Court for swearing at them, they lost their last two court cases against me – fined for lying in 2018.
Now they have blocked my gender reassignment surgery by telling my GP that I am a violent, paranoid and deluded . I have masses of documents to back up my story. I have spent a lot of time in police cells, spent a fortune on lawyers, been driven close to suicide -also been subject to adverse local and national publicity.
The police have now blocked my e mails to stop me complaining, the Tavistock Gender Clinic sending a psychiatrist, medical student and big mental health nurse around with a view to having me sectioned. Chesterman is famous for his role in the Plebgate cover up and head of the Civil & Nuclear Police/National Firearms lead.
Roberta Jane Cook August 22nd 2020
For more on this story read 'A Life and Death Sentence in Police State Britain' below, and also further down 'My Story.'
Robo Dogs & Cops August 24th 2020
Police in the US have been quietly testing a highly-advanced robot dog alongside officers, prompting an urgent response from a civil liberties group
The American Civil Liberties Union made a public records request to robotics firm Boston Dynamics after the Massachusetts State Police published a video demonstration of the Spot robot dog.
It is believed the robotic dogs, which are capable of opening doors and navigating obstacles, have already been used during live incidents.
"All too often, the deployment of these technologies happens faster than our social, political, or legal systems react," the ACLU said in a statement shared with TechCrunch.
"We urgently need more transparency from government agencies, who should be upfront with the public about their plans to test and deploy new technologies."
Cops call on 'Commissioner Coward' to quit: Police chief who stayed in his car during Westminster terror attack is compared online to hero officers who got stabbed taking on London Bridge jihadis
Sir Craig Mackey witnessed Khalid Masood stabbing PC Keith Palmer to death
He said he went to get out of his car but was told to 'shut the door' and locked it
Former detective Peter Bleksley described the actions as 'utterly unforgivable'
Photo-shopped images mocking Sir Craig are being shared on police forums
Others have also highlighted the actions of Lisa Potts and Bernard Kenny
The heroics of brave police officers are once again being highlighted – as a London police chief is slammed for hiding during the Westminster terror attack.
Sir Craig Mackey, the now deputy commissioner of the Metropolitan Police, was slammed online as it was revealed he locked himself in his vehicle before being driven away as colleague PC Keith Palmer was stabbed to death outside the Houses of Parliament in March last year.
Amid calls for him to quit, social media users have slammed Sir Craig on Twitter, with one branding him a 'disgrace' compared with hero police officer Wayne Marques, who fought London Bridge attackers while being stabbed in the head, leg and hand.
The British Transport Police officer fought off terrorists Khuram Butt, Rachid Redouane and Youssef Zaghba with just his baton, having been temporarily blinded in one eye as they lunged at him with their knives. Also during the London Bridge attack, off-duty Metropolitan Police officer Charlie Guenigault rushed to help the injured without protective clothing.
Freddy Forsyth Tweeted today that Sir Craig was 'unlike BTP PC Wayne Marques who single-handedly ran at and engaged the 3 Muslim terrorists during the London Bridge attack in June '17 armed with only his police baton'.
He added Sir Craig is an 'absolute coward' as Jess Clark pointed out that Mr Marques earned significantly less than the commissioner.
Scroll down for video
+16
+16
Sir Craig Mackey (pictured receiving his knighthood at Buckingham Palace in June) has been slammed online for not helping PC Keith Palmer as people compared him with the heroic officer Wayne Marques (right)
Comment
Politics and back stabbing gets promotion in the police. Of course the promoted hide fom reality on the street and talk good jargon/bullsh-t, go on lots of courses, get degrees – e.g CC Simon Chesterman with his interesting Soicology BSc from Portsmouth University- at taxpayers expense, QPMs, ludicrous pompous knighthoods from the classist Queen, so this guy shows his true cowardly colours. Robert Cook
British Police Horribly Racist Say 65% of public. August 22nd 2020
Two-thirds of minority ethnic Britons believe the police and criminal justice system are biased against them, a new poll finds.
Coming after racial injustice protests swept across Britain in recent months, the poll for the charity Hope Not Hate shows the level of concern about bias in policing among minority groups.
Eight out of 10 black Britons and eight out of 10 Bangladeshi Britons fear "police are biased against people from my background and ethnic group", with 65% of all ethnic minorities agreeing.
The poll also finds four out of 10 minority ethnic people witnessing or experiencing racial violence or abuse in the past 12 months, in results that challenge the notion Britain is at ease with itself over race.
The figures in the poll of minority ethnic people suggest potentially significant problems of legitimacy for the main institutions of the criminal justice system, more than 20 years after radical reforms were promised in the wake of the Stephen Lawrence inquiry.
Pollsters Focaldata, who carried out work for the Conservative party during the 2019 general election, conducted the survey.
Accurate polling of ethnic minorities in Britain is hard and expensive. But some broad headline findings on policing in the new survey chime with a poll last month for ITV. That previous poll asked whether policing had a culture of racism and 59% of minority ethnic respondents said yes, rising to 77% among black people specifically.
The new poll may be a warning to the government and leaders of the criminal justice system of big problems in trust among ethnic minorities.
Asked whether they would be proud if a family member joined the police, 52% said they would, 18% said they would not and 30% were neutral. Among black people 47% said they would be proud.
Police chiefs hope the recruitment of another 20,000 officers will be a once-in-a-lifetime chance to make policing less disproportionately white. The increase in minority ethnic officers has come mainly from Asian communities and not black ones.
Report author Rosie Carter said: "People do see a culture of racism within the police and criminal justice system but that manifests itself through a few individuals."Dawn Butler police stop 'rooted in bias', says UK chief of black police officersRead more
The poll also showed 54% support among all ethnic minorities surveyed for "defunding" police, by moving money from law enforcement to "preventative areas such as youth work, social care and mental health services".
The survey found most minority ethnic people (64%) thought the police were generally good, with a few individuals causing problems. Respondents were not asked specifically about whether they thought bias was systemic or institutional.
The report finds a generational difference and says: "Eighty-one per cent of over-65s agree that the police as a whole are good, it is only a few individuals who are a problem, compared to only 55% of 16-24s."
Seventy-two per cent said that black and Asian people faced discrimination in their everyday lives, and just 9% disagreed. More than half in the last 12 months said they experienced or witnessed racism in the press, on social media, or in public.
Black Lives Matter protests had overwhelming support and were backed by 73% of minority ethnic people and 78% of black people, and 87% of all minority ethnic people aged 16-24. A majority of those identifying themselves as Conservative supporters supported BLM.
Experience of racism was also prevalent, especially for younger respondents. The report says: "Racist violence is a feature of many young people's lives; only a third (35%) of 16-24s could say that they had not witnessed or experienced racist violence in the last 12 months compared with 75% of 55-64s and 80% of over-65s." Just 15% of 16-24s could say they had not witnessed or experienced racism on social media.
The National Police Chiefs' Council said it was drawing up an action plan to address racial inequalities in policing. It said: "It is crucial that we retain the trust of all communities, so that we can work with them to fight crime and keep people safe. We have recently invested significant time and resources into working out how we can better engage with communities of all backgrounds."
Insp Andrew George, leader of the National Black Police Association, said: "Now is the time to acknowledge the evidence produced in this report and build long-term strategies to increase trust and confidence in black, Asian and minority ethnic communities."
Fife Chief Constable Guilty of Careless Driving Causes Fatal Crash
By Exposed Police | on 02/05/2013 | Police Exposed
A FORMER chief constable was found guilty yesterday of causing a head-on car crash after a sheriff didn't believe her version of events.
Norma Graham, who was head of Fife police until last year, took the stand to defend herself but was convicted of careless driving.
The crash left a young woman in hospital for three days.
Graham, 50, is understood to be the first chief constable ever convicted of a crime in Scotland.
She said the crash happened after her steering locked but a sheriff said: "I do not accept the accused's evidence."
He fined Graham £400 with seven points on her licence. She got three points for speeding in another incident after the accident.
Graham, Scotland's first woman chief constable, retired from her £120,000-a -year job on full pension months after the crash.
The top cop was driving an Audi A6 Quattro on the morning of February 7 last year when it veered across a country road near Fife police HQ in Glenrothes and hit a Renault Clio driven by physiotherapist Hannah Shedden, 25.
Witness Graham Campbell, who was in the car behind Hannah's, told Kirkcaldy Sheriff Court: "There was an incredible impact.
The Clio went up in the air and on to its nose, then back down."
Hannah, forced to give evidence by Graham's not-guilty plea, broke down in the witness box as she relived her ordeal.
She said: "I saw a car heading straight towards me. It was on my side of the road. Originally I thought it was trying to avoid something like a cyclist but it just seemed to keep coming over."
The court heard Hannah suffered a broken collarbone and knee injuries which needed surgery, and was off work for four months.
She said: "I was in hospital for three days."
The Clio was a write-off.
Graham had just crested a hill when the crash happened. The court heard that the Audi seemed to appear out of nowhere and "shoot" on to the wrong side of the road.
She told the court she had taken account of the freezing conditions that morning and had been doing no more than 45mph.
And she insisted: "There was nothing I could do. I felt the car was locked and I couldn't steer left."
Graham said she would not have fought the case if she'd had any doubt about her innocence.
She added: "I felt awful that Hannah had to give evidence and was very concerned about her at the time of the accident."
Police found small patches out of ice on the road, about 330ft from the crash site, and initially claimed they could "cumulatively" have caused Graham to lose control.
But crash investigator Alistair Bain, of Lothian and Borders Police, told the court he thought that was highly unlikely.
He added: "It is my opinion that the cause was an unknown driver error by the driver of the Audi."
Finding Graham guilty after a two- day trial, Sheriff Grant McCulloch said: "I do not accept the accused's evidence that the car would not let her steer to the left. It was examined and no defect was found.
"She was either not braking hard enough or her speed was such that hard braking had not enough effect on her speed.
"The force of the impact shows that the accused's driving fell below the standard expected of a careful and considerate driver."
Graham, of Dalkeith, Midlothian, refused to comment as she left court with her husband.
News published on: http://www.dailyrecord.co.uk/news/scottish-news/police-chief-guilty-horror-crash-1864984
Comment She is the first Chief Constable in U.K to be convicted because they are rather a law unto themselves. Few senior officers are investigated and even fewer prosecuted.
How is an underling going to challenge the likes of a CC ? The CCs cronies will freeze such people out, careers go out the window and working life is impossible.
Most police officers have families and bills to pay and do the job for money. The arseh-les find their way to the top and are the real basis of serious corruption. We need the police, we need accountability and we need reform. Robert Cook
Bob Lambert, undercover cops, and the awful cost of sleeping with the enemy. Are they no better than rapists ?
In adopting a persona, the secret policemen of the SDS seem to have lost touch with reality. August 21st 2020
Former Special Branch detective Bob Lambert, who used the pseudonym Bob Robinson
By Glenda Cooper
2:30PM BST 25 Oct 2014
Giving birth is a messy, painful, exhilarating process – and one of the most precious and intimate of experiences a couple can share. No wonder Bob Robinson burst into tears the first time he held his son, as his partner Jacqui, exhausted after a 14-hour labour, looked on proudly.
But it wasn't his first child. And he wasn't really Bob Robinson. Jacqui even suspects that he might have been paid overtime to be present at that key moment in their lives.
Because "Bob Robinson" never existed: he was, in fact, Bob Lambert, an undercover police officer in the Met's Special Demonstration Squad (SDS), who took up with Jacqui to bolster his credibility while infiltrating protest groups in the Eighties – and promptly vanished when their son was two years old.
Last week, Jacqui reportedly won £425,000 in compensation from the Met Police. It was an unprecedented settlement after she and a number of other women sued the force, saying they were duped into relationships with officers who were spying on them. While no one doubts the need for undercover policing – and the bravery of those who do it – Jacqui's case raises fundamental questions about the way the undercover squad operated, and how women and children became collateral damage in the desire to get a job done.
Lambert had met Jacqui at an animal rights protest in 1984. He was in his thirties; she was 22. She was a regular hunt saboteur, but didn't subscribe to violence. They quickly became a couple – he was her first serious boyfriend, and she thought their relationship was stable enough to suggest they had a child together.
Related Articles
The problem is that nothing that Jacqui thought she knew then, she can rely on now. She had no idea that when Bob cuddled their newborn son, he was already a married father of two (he would sneak off to see his other family, by claiming he was visiting his father with dementia). Even more seriously, she also had no idea that both his other children later died because of a rare genetic disorder (Jacqui's son thankfully does not carry that gene). When Bob's undercover role was finished, he told her he was moving to Spain to evade Special Branch. In fact, while Jacqui struggled as a single mum, he was sitting at a desk only a few miles away in London.
All Jacqui's memories are tainted now, her most private of moments served up as potential evidence. "I don't know why I was singled out by the police to be duped into an intimate sexual relationship with Bob Lambert," she said this week. "I don't know if he was paid overtime to be with me during the 14 hours of labour I went through giving birth to our son."
No wonder that when the truth came out about the real life of her former lover, Jacqui suffered a breakdown. Her distress, she says, was exacerbated by the Met Police's longstanding response to her attempt to sue them for emotional trauma. It was that security reasons meant they could neither confirm nor deny which officers had worked undercover – until a high court judge overruled them in July this year.
The exact nature of what the SDS and its officers were up to is now the subject of a forthcoming inquiry and a continuing internal police investigation. But it is incredible to think that, as far as we know, no one seems to have questioned whether what Lambert and other officers were doing was morally appropriate – and those officers themselves did not question what they did.
Lambert has apologised to Jacqui and the other women he had relationships with during his time undercover. In an interview he gave last year, he said that he loved her.
But if he had really loved her and knew that this was a relationship he would at sometime disappear from, the truly loving thing would have been to extricate himself before they got involved – and without a shadow of doubt before she got pregnant. And what about his other forgotten family? His first wife and now deceased children were victims, too. It's almost beyond belief that, since Lambert's identity was revealed, he has managed to forge a meaningful relationship with Jacqui's son, after more than 20 years of absence.
Of course, the strain of living life undercover is immense, and of course there are many incredibly brave police officers who risk their lives in order to infiltrate dangerous groups. But cases like Jacqui's damage our view of how such operations are run, in a set-up where innocent people ended up being treated as commodities.
Perhaps in adopting a persona, the undercover officers lost touch with reality. But the consequence was that they didn't – or wouldn't – take heed of the lives they smashed. And so behind men like Lambert, there is a trail left of friends betrayed, lovers deceived and a child left fatherless – and all because sleeping with the enemy appears to have been seen as a perk of the job.
Comment Like James Bond, the British police appear to be licenced to rape, kill and walk all over civil liberties, breaking the rich persons laws to uphold those laws, vile people all. Chief Constable Simon Chesterman was involved dealing with animal rights protestors – he told me so. He got the Queen's Policing Medal for pioneering new methods of evidence gathering. I
was on the receiving end of this appalling indivdual's skills, when he, members of his family and other officers lied and fabricated 'evidence' that my eldest son and I were stalking him over the weekend of October 4th/5th 2008, when we were actually hundreds of miles away in Ormskirk, and clould prove it.
That is what I call scumbag police. Now they refuse to answer my complaints, blocking my e mail and getting my pathetic doctor to pass on lies that I am a violent paranoid alcholic. That is what I call living in a police state. Robert Cook
Independence Daily
The Two Tier Police Service – Not Fit for Purpose
Posted by Stephen Place | Oct 17, 2018 | Debate, Editorial |
I make no apologies for writing again about the current state of the British Police force. What I have found when talking to ordinary men and women who don the blue each day is that there is an enormous disconnect between them and their so called senior officers who are supposedly in command.
Never more was this reflected than in the case of PC Palmer murdered at the gates of Parliament not ten feet away from a senior commander who locked the doors of his car and hid. I have no compunction whatsoever in calling Craig Mackey out for what he is, a coward. Yes the senior bods at New Scotland Yard have closed ranks to defend him and his actions, you would not expect any less from them.
However in this case they could not be more wrong. They have further deepened the already enormous chasm between them and the officers they seek to manage, direct and dare I say protect. We are told that the doors on his car would have been locked from within by the other "people" in the car with him as protocol. Well the "others" in that car, if they too are serving police officers, I presume one would be his driver, then they are total cowards too.
Three people in a car not twenty feet away from a brother officer who was being stabbed to death, chose to hide and lock the doors, securing them safely. What further makes this a cowardly dereliction of their duty is that, when the incident was over, they drove away. They drove away, leaving other officers and an MP to try and attempt valiantly to save PC Palmer's life.
When did this descent into the disconnect that is prevalent between the management and seniority and the constables and sergeants that are the backbone of the force start? I think it started with positive discriminatory recruitment, promotion and direct entry.
In 2014 Cameron the then PM decided to introduce direct entry to the force at Inspector and Superintendent level. This meant that anyone with a degree could apply to become a Police Inspector. This was a calamitous mistake. Man management and budget control are required at this level but a deep understanding of the policing brain, the ethos and culture within the police family can only be gained by doing the job over a number of years. These skill sets are a paramount requirement for promotion.
You need to have the experience of being lied to throughout an interview, how to stomach the "no comment" response in hours of interviewing. A Police Officer needs to understand the people with whom you come into contact with each and every day, those that will run, hit you, spit at you and those that are genuine. You cannot get that experience at university studying a zoology degree.
Fast track promotion breeds a culture of not wanting to get involved, of dodging and staying well away from any job that may just be tricky or need a certain level of bending the rules to get through. It breeds and establishes the feeling that coming into work every day involves doing the politically right thing and staying clear of trouble.
Coming in for shift to build a portfolio and looking towards that next step up the ladder will only create that disconnect. Your officers turning out to every job, no matter what it is, running toward the trouble, need that security that if it goes wrong, and it will, they have a boss who will have their backs. Not a boss who`s first thought is "how will this affect my career".
I have long advocated that UKIP should take up the challenge on behalf of the police force, and too the Prison service, but that is another article that needs writing. The following are not UKIP Policy but just my thoughts on policy ideas for the future.
Scrap direct entry and the need for a degree as an entry requirement at recruitment
Investigate the influences of common purpose within the force
Recruit a minimum of 25 – 30,000 new officers
Scrap direct entry recruitment at Detective level
Establish a national police force to deal with CSE, terrorism, cyber- crime, fraud and organized crime
Keep the 43 police forces as 'local' forces dealing with local issues and crime
Each local division to have a divisional commander responsible for his/her budget and policing management best targeted at local issues
Scrap Police Crime Commissioners. Return to police panels on a local basis made from councilors, and members of the public elected to those posts
Introduce minimum levels of service prior to promotion.
The biggest change should be scrapping the 50% rule on sentences and a complete overhaul of the parole board and probationary service. This list is not exhaustive. I firmly believe that if Ukip take on the police as a cause, coupled with strong law and order, they will be vote winners.

Civil & Nuclear Police Not Fit Enough To Carry Guns August 18th 2020
Too fat and old to carry guns: Nuclear plant police too unfit to be armed .
Twitter: https://twitter.com/MetroUK | Facebook: https://www.facebook.com/MetroUK/
Police officers have won damages because bosses refused to listen to their admissions they were too fat, old and unfit to carry guns. The five men left their jobs guarding a nuclear base saying they should not be expected to be armed. They complained they were neither physically nor psychologically able to cope with the demands of firing weapons or wearing body armour. But their bosses in the Civil Nuclear Constabulary, an armed force paid for by energy companies, demanded they retract the claims or lose their jobs. Advertisement Today, the men, all in their 50s, won an unfair dismissal case and are in line for compensation in August. However, Chris McEvoy, of the Civil Nuclear Police Federation, said: 'This was not about money. Ideally, they would like their jobs back but not be asked to carry guns. 'They had given good service for years and then the constabulary rode roughshod over them because they had a sense of their own limitations. Arming them with guns may have been a hindrance, rather than a help.' The five officers, based at Capenhurst, Cheshire, argued giving them guns would put the public in danger. Charles Shone, 58, claimed he had a dodgy knee which would 'pop out' and he was struggling to keep up with younger and fitter colleagues. He said: 'I used to be able to make critical and life-threatening decisions but I didn't feel capable any more. 'I did not want to be the person potentially pulling the trigger and being responsible for something catastrophic. My general fitness, my stamina, agility, reflexes, sight and hearing had all diminished.' His brother, Harry, 57, said he was a 'larger gentleman' who struggled to carry the 34kg (74lb) of kit required by an armed officer. 'I didn't have any problems hitting a target but it was the running around with all that armour, for a man of my size, that was difficult,' he said. The brothers, along with colleagues Morgan Tudor, Steven Collins and Peter Jones, won their unfair dismissal case at an employment tribunal, which dismissed the CNC's claims the men had been colluding to win a better redundancy deal. Last month, a female officer at Sellafield won a sex discrimination case against the force because her gun was too big for her small hands.
Read more: https://metro.co.uk/2014/03/04/too-fat-and-old-to-carry-guns-nuclear-plant-police-too-unfit-to-be-armed-4415775/?ito=cbshare
Twitter: https://twitter.com/MetroUK | Facebook: https://www.facebook.com/MetroUK/
Read more: https://metro.co.uk/2014/03/04/too-fat-and-old-to-carry-guns-nuclear-plant-police-too-unfit-to-be-armed-4415775/?ito=cbshare
Twitter: https://twitter.com/MetroUK | Facebook: https://www.facebook.com/MetroUK/
Ex-police officers employed at the IOPC Posted August 17th 2020
Peter Thompson made this Freedom of Information request to Independent Office for Police Conduct
Follow 1 follower
The request was successful. Peter Thompson Delivered
Dear Independent Office for Police Conduct,
Please could you provide the following information;
How many ex-police officers are currently employed by the IPOC in the following roles;
Investigation
Management of investigations
Assessing/deciding appeals
Management of appeals
Senior management/strategic roles
Yours faithfully,
Peter ThompsonLink to thisReport !Request Info, Independent Office for Police Conduct
1 Attachment
This is an automated email please do not respond to it.
Thank you for your email.
If you have made a request for information to the IOPC, your email and any attachments will be assessed, logged and forwarded onto the appropriate department to prepare the response.
FOI & DPA TeamLink to thisReport !Request Info, Independent Office for Police Conduct
Dear Mr Thompson

Thank you for your correspondence to the IOPC in which you made a request
for information. This request is being considered under the Freedom of
Information Act 2000 (FOIA). We will now consult with the relevant
department to gather the response to your request.

We propose to respond to you on or before the 11 November 2019 in line
with the timescales prescribed by the FOIA.

If you have any questions about this request please contact us. Please
remember to quote reference number 1007943 in any future correspondence
about this matter.

Yours sincerely


FOI and DPA Team
Independent Office for Police Conduct (IOPC)
PO Box 473
Sale
Manchester
M33 0BW
Tel: 0300 020 0096
[1]www.policeconduct.gov.uk
Follow us on Twitter at: [2]@policeconduct
Find out how we [3]handle your personal data.
We now regularly publish practical advice and guidance for handling
complaints in our magazine [4]FOCUS



References
Visible links
1. http://www.policeconduct.gov.uk/
2. https://twitter.com/policeconduct
3. http://www.policeconduct.gov.uk/privacyn…
4. https://policeconduct.gov.uk/research-an…Link to thisReport !Request Info, Independent Office for Police Conduct
2 Attachments
Dear Mr Thompson
Please find attached our letter responding to your FOIA request together with the table of data to which our letter refers.
Please quote our reference 1008001 in any further correspondence.
Yours sincerely
Freedom of Information & Data Protection Team
Independent Office for Police Conduct
PO Box 473
Sale
M33 0BW
0300 020 0096
Find out how we handle your personal data on our website.
www.policeconduct.gov.uk
Follow us on Twitter at: @policeconduct
show quoted sectionsLink to thisReport
Peter Thompson left an annotation (12 November 2019)
40% of IOPC staff employed in investigation roles or management of investigations are ex police officers – no wonder they are so reluctant to carry out proper searching investigations or deal with appeals in an unbiased manner!
They should be independent – they are independent in name only!
Police State Latest August 16th 2020
The following report is more of the same, using Covid 19 hysteria and fear for social control. Hate crime legislation clearly only applies to certain groups, defintely not Muslims.
The reason Islam is protected. using drivel like anti racism and we can all worship in our own way, is to divide and rule. Religion is oppressive, Catholocism was a Roman perversion of Jesus's teachings, Islam was a politcial offshoot of Christain teachings, and their parent Jews killed Jesus for political reasons.
Religion has nothing to do with truth. it is not compatible with science, so oft quoted by the lockdown merchants. It is a form of mind policing, most useful to our ruling elite who rely on their self important toadying Chief Police Officers to tell us what we can and can't do. These grotesque people aspire to make up law as they go along. Covid 19 was made for them Robert Cook
www.facebook.com/IOPCIsOnLifeSupport
Manchester police condemn large gatherings in lockdown August 16th 2020
Greater Manchester Police (GMP) have condemned the behaviour of people attending large gatherings this weekend despite local lockdown measures.
Officers were hit with missiles as they tried to break up a street party in Gorton on Saturday, a day after a large gathering in Wilmslow Road, Rusholme.
They also had an "unprecedented surge" of 930 more calls to 999 on Friday compared to a year ago, the force said.
Deputy Chief Constable Ian Pilling said the weekend events were "outrageous".
Gorton MP Afzal Khan tweeted that he was "angered" after the "appalling behaviour" on display by some people celebrating Pakistan Independence Day on Friday in Rusholme's Curry Mile.Skip Twitter post by @Afzal4Gorton
To those who came from outside Manchester, knowing full well the COVID situation across our region, your choice to visit Rusholme last night increases the danger of spreading the virus further here and at your home. You should be ashamed – you have put your loved ones at risk.— Afzal Khan MP (@Afzal4Gorton) August 15, 2020
End of Twitter post by @Afzal4Gorton
Lockdown restrictions on social gatherings remain in Greater Manchester and some parts of northern England, despite measures being relaxed elsewhere across the country.
Extra rules were enforced on 31 July following a local spike in cases.
GMP said it had received 2,459 calls to 999 on Friday, compared to 1,590 on the same day last year – requiring staff to work long shifts on what should have been their days off.
On Sunday, DCC Pilling said a "significant number of GMP officers… were extremely stretched again yesterday with unprecedented demand" and had to be supported by officers from North Wales and Cheshire.
In a strongly-worded statement, he added: "The last thing we need is large gatherings such as this, as well as unacceptable attacks on officers attending the scene.
"Quite frankly, it is beyond comprehension and I am incredibly disappointed that people feel they can gather in this way – blatantly flouting the rules.
"I can honestly say that, in 30 years of policing, I have never seen anything quite as outrageous as this behaviour."
He said officers were gathering evidence and "hope to act shortly" with regards to prosecutions.
Black civil servant accused of car theft while jogging August 3rd 2020
Police have apologised to a black civil servant who was accused of being a car thief while jogging near her home.
Dr Andrea Charles Fidelis, who works for the Ministry of Justice, said she was racially profiled and "dehumanised" by an officer in Swanley, Kent.
She was "threatened with arrest" after a man claimed to have seen her leaving his driveway on 29 March, she said.
Kent Police said claims the officer had been "biased and discriminatory" were not upheld by an investigation.
But the force said it had apologised to Dr Charles Fidelis "for the way the officer had spoken to her".
Dr Charles Fidelis, 41, said she had sought sanctuary in a railway station after being followed while jogging by a man who mistakenly believed she had attempted to steal his car.
When police arrived, an officer presumed she was guilty without asking any questions and did not believe her account that she was in fear of being attacked by the man, she said.
"I was dismissed by him as not having the capacity to have natural human feelings," she added.
'Criminals first'
The findings of Kent Police's inquiry, shared with Dr Charles Fidelis, said there was no evidence of "discrimination or incivility" and the officer had not breached the force's policy or the law.
A report said the information available to the officer at the time was "sufficient to identify Dr Charles Fidelis as a suspect".
She said the force had failed to take account of the "engrained" racial bias of the officer, who had been "unable to empathise or even see me as a potential victim".
"Throughout this whole saga I have not been treated equally to my white accuser," she wrote in a blog.
"The embodiment of black people being seen first as criminals, rather than victims has played out at every stage from start to finish."
The experience left her feeling "brutalised" and "frightened to go out", she said.
The mother of three, who sits on the board of a violence reduction charity, said she had been aware of a "deeply held resentment in the black community towards policing", but had previously had a "really positive experience with the police".
However, her treatment had provided a "painful insight into how it plays out", she said.
Kent Police said it "takes all complaints relating to racial discrimination seriously".
It said Dr Charles Fidelis had "appealed against the outcome of the complaint and this is now in the hands of the Independent Office of Police Conduct (IOPC) to allow the matter to be considered independently".
The IOPC said it was assessing the appeal.
Comment This is also a police state story. Lockdown has been used to remove key freedoms. We are in a police state of fear. Much as blacks might like to think its all about colour. It is not.
Police officers are recruited for a peculiar type of intelligence that would have suited Nazi Germany. The police may grovel in this case because of BLM sensibilities and fear for their jobs. They pick on the working classes and always have. Much to their surprise here the girl is not working class. The bullies came unstuck.
Read 'Love on the Dole' by Walter Greenwood. The police state is about looking after the rich. To the average cop, especially in London, black equals lower class and a soft target. Charles Close
Ashford Police Wearing Nazi Uniforms Leaked on Private Facebook Page British Police and dirty dark mindsets July 31st 2020
By Exposed Police | on 06/02/2014 | Police News
Several photographs have emerged appearing to show trainee police officers blacked up, wearing Nazi uniforms and surrounded by female staff dressed in stockings and suspenders.
The images were posted on a hidden Facebook page set up for officers to reminisce about their days at Ashford Police Training Centre in Kent.
They came to light after an anonymous former officer took exception to the 'I Survived Ashford Police Training Centre' page, which also reportedly contained sexist and homophobic jokes and raises serious questions about the behaviour of trainees between 1973 and the centre's closure in 2006.
The former WPC who brought the Facebook page to light told The Times that as well as sharing controversial images and jokes, many of the 2,000 members were using it 'almost like a confessional' to boast about inappropriate behaviour and even occasions where they knowingly broke the law.
Posting on an anonymous whistleblower website, the former WPC said she was 'infuriated' by the content of the Facebook page, which she has extremely high security settings making it impossible to view unless an administrator personally invites you to join to page.
As well as posting the images of trainees dressed in Nazi uniforms and wearing black face makeup, she also shared a number of screengrabs of comments allegedly taken from the page.
One posting appears to suggest that part of the training at Ashford was showing potential officers how to take suspects 'down and alley and sort 'em out'.
Other posts revealed apparent bigoted behaviour among the trainees, with one officer who claims to have been recruited in 1995 responding to a message about popular senior figures by saying his own sergeant: 'certainly wasn't the shaved-headed ginger-haired Sgt from Sussex that eventually got the sack for inappropriate gayness!!!'
The former officer went on to say that the page shows the training centre to have been a 'drink fest and a shag fest'. She added: 'It's very much a culture of what happens at Ashford stays at Ashford'.
Among the examples of apparent boasts of engaging in minor criminal behaviour were officers telling stories of stealing beer from the training centre bar, removing signs from doors and throwing bangers off of rooftops.
Other officers reportedly told of driving panda cars to the top of a steep hill, then letting them roll back down without brakes to see how fast they would go.
The former officer wrote: 'How can the public have faith in a service that allows officers to behave in a way that contradicts their duty'.
The Ashford Police Training Centre closed in 2006 after training officers for the British Transport Police and Buckinghamshire, Cambridgeshire, City of London, Essex, Guernsey, Hampshire, Hertfordshire, Jersey, Kent, Norfolk, Surrey, Sussex and Thames Valley police forces, as well as the Royal Parks Constabulary from 1973.
A spokesman for the College of Policing said they had no way of knowing if people who have posted on the Facebook page are still serving police officers. He added that many of the pictures appear to have been taken several years ago.
'As the new professional body for policing, we set standards for the service and the behaviour shown does not reflect what we would expect in modern-day policing,' the spokesman said.
'We encourage officers and police staff to use social media as an important tool to engage with communities, gather intelligence and help keep people safe.
'Each person working in the service needs to ensure their online presence meets the standards expected of them.'
Read the full story at: http://www.dailymail.co.uk/news/article-2552762/Police-Facebook-page-appears-trainees-blacked-wearing-Nazi-uniforms-making-racist-homophobic-jokes.html
Comment The British police are a disgrace, lying, hyporcrisy and bullying seems to be the norm – including bullying other officers who do not fit. They seem to think Nazism is a joke. As for the sex images, it is still the same culture and it is dreadful to know these animals will be dealing with sex cfrime victims. On top of that, many of these officers will have gone on to senior positions where they choose who gets promoted and so feed ongoing corruption. Robert Cook
To: Professional Standards professional.standards@thamesvalley.pnn.police.uk; oxfordhealth.aylesburyoacmht@nhs.net oxfordhealth.aylesburyoacmht@nhs.net; Complaints complaints@tavi-port.nhs.uk; enquiries.aylesbury.crowncourt@justice.gov.uk enquiries.aylesbury.crowncourt@justice.gov.uk;03/08/20 10:274Dear Sir/Madam,
There is an clear need for me to place a further complaint on the record. Obviously you feel protected by Dr C R Ramsay's so called psychiatric assessment identifying me as a paranoid personality disorder, schizophrenic, bi polar, and more likely to die by misadventure than suicide. Thus you do not feel obliged to update me on the 2018 alleged infrigement of my spurious restraining order – based on things I have never done – and your investigation into me as a sex worker for my son, a crime for which you say I shopped myself ( sic ) !
I have seen evidence that the police have contacted my GP surgery urging them to contact the Gender Identity Clinic alleging that I am a violent alcoholic, guilty of domestic violence and mentally ill – curiously none of this GP facilitated information to the GIC did not mention them having cleared me as not mentally ill or alcoholic on my HGV medical renewals. Obviously this is the root point at which the strategy of a multi agency approach was put in place, leading up to the GIC insisting that I took mind altering anti psychotic drugs in 2018, prior to Gender Reassignment Surgery ( GRS ). The assumption would have been that sex change patients will do anything to achieve their goal because they see it as a panacea, which I do not .Ramsay covers that with his conclusion that I have 'abnormal psychology'. – a most interesting concept, the way he puts it.
When I refused, an eager and compliant Ramsay was drafted in for an ex post facto justification to explain away and cover collusion between Norden House Surgery, the GIC and the police. The first two parties interestingly and persistently refuse to explain themselves, as do the police..
As a social scientist, I rather agree with R.D Laing that State employed psychiatrists are prostitutes. So within two weeks, I went from being described as a person with 'a secure female identity' to all of the things that Ramsay had been asked to prejudge for his report, commissioned to justify me having to take the anti psychotics. Very interesting. I am aware that these people work from the 6kg DSM 'Book' – Diagnosis Statistics Medication.

This is all rather different from Mr Maganty's expert assessment as a consultant forensic psychiatrist court witness in 2012/13 when the police attempted to jail me for suggesting the only reason TVP woud not stop my ex wife contacting my home address was due to her brother's status. This was construed as breach of the aforementioned restraining order. The police are characteristically trigger happy here. I see the pattern.
Since then TVP seem not to accept that you have lost the last two court cases against me, both of them matters of malicious prosecution distributing false information to my lawyers and the judge and witholding evidence, also taking me through seven court hearings without an evidence file, then having the cheek to ask for more time after wasting over a year not investigating the real author and letter sender. This is another development in your conspiracy to pervert the course of justice. I have contacted the Crown Court regarding these matters.
Those seven court hearings in early 2016 were fascinating. I had been under the impression that I had been taken to court for messaging the truth that the now Chief Constable Simon Paul Chesterman et al, abused his position to fabricate a stalking incident allegedly over the weekend of October 4th/5th 2008. Considering Chesterman's character, which was also revealed in his Plebgate cover up, I suspect he and his family have said a lot more than the substantial paper work copied to me by West Midlands CPS. In my case, he was backed up by an equally corrupt liar Sergeant Rees who testified that he found us on a campsite near, my ex brother in law Chesterman's home, on those dates ..My eldest son was also mentioned, libelled and slandered regarding this invented threat.
It took me until May 2009 to find out about the illegal PNC Criminal Marker, leading me to an internet campaign of increasing ill temper because the then WMC and TVP would not release records of this corrupt marker and soft intelligenc criminal suspect records. The marker was not removed until I was on bail, because of the leaflet, in December 2010.
It was caused by Chesterman's criminal lies, backed up by his friend, mentor and boss CC Paul West. Facts. It is also a fact that the CPS and TVP conspired to change the direction of the 2016 hearings to domestic abuse, without me ever being accused or investigated for the like. Total CPS / Police corruption in order to protect a corrupt lying senior officer and members of his equally culpable family..
My efforts to have update on my February 2018 arrest have been futile, with corrupt TVP playing the card of me being mad, an ongoing threat to the Chestermans and therefore subject to on going monitoring. Dr Ramsay – of the Whiteleaf Centre Aylesbury – has put in writing that if I saw all the files on me I would be very upset. So much for paranoia !
It is notabe that the CID Officer, Bellamy, who arrested me -for apparently working for, then shopping my son and I as sex workers sending porn pics to some 'great and good' – refused to investigate the obvious culprit as identified by me, having admitted not doing any forenssic works after watching my remote home for five months looking for signs of sex work – I was actually a long distance truck driver at the time , in spite of the police's best efforts to make me unemployable..
And so we come to Wednesday July 28th 2020 when I called the police reference an act of criminal damage to my property. Clearly an airgun had been fired twice at one of my double glazed front windows. The window was hit in two places. I timed it at around 10.30 – 11.00 when I heard a loud bang, thinking it was something else. so continuing working on a book project.
I saw the damage that afternoon, calling the police. An officer , PC4667, came out at 04.30 hours the following morning. Unfortunately I had fallen asleep. Another officer, PC 1771 arrived around 09.00 hours. We surveyed the damage together. The officer suggested a bird strike. I drew his attention to the two air gun pellet sized points of impact, noting it would not be effective to crouch and strike so low with a small stone and a larger one would have gone right through, as it did when a malicious party threw a brick in 2010, luckily not killing my friend. On both window breaking occasions I named the suspects.The police refusal to investigate any of three malicious events – four if you count the police and Chesterman lies regarding October 4th/5th 2008, which were not only ignored, they led to vile ;police PNC marker and devastating criminal records – manifests a vile self interested corrupt and malicious attitude from high level police command and control, as inititiated by Chesterman and West in 2008..
With so much time having passed. so much malicious presecution and so much damage done, the police have an incentive to continue ignoring my complaints, lying, planning more malicious prosecutions and now interferring with my health care, also with devastating effects including labelling me mad. If I could be judged as mentally ill after over 12 years of all this, it would be no surprise. This Police and Chesterman malice has been spread over national press, the internet and all around t this small town- it started long before I said or did anything, with me complaining to corrupt deaf police ears in TVP and WMP throughout the period October 2008- Septmber 2010..
There is a clear link between this and the harassment my son and I have experienced. I want to know why and how domestic violence was raised as a 'bad character' diversion during the traumatic hearings of 2016, a smokescreen to obscure my very serious allegations against the Chesterman family and police ? I want to know why you and the CPS consider that legal, and why I have never been openly accused or investigated by the police for such crimes. Interestingly, and in contrast, my ex wife admitted hitting me on four occasions she could remember but has been protected from any investigation.
I do not wish to attribute too much intelligence to the police, but it may be the case that, ( as in 2008-10) the police hope to ignore me, pushing me into more despiar as they did 2008-10, totting up more spurious records, then pouncing with an even more vile dishonest 'bad character' file. There is a pattern here. West Mercia Police had the audacity to admit investigating nothing before employing the devastating criminal marker along with lies about violence in 2008 – I am aware that until December 2012, it was necessary for Chesterman to have lied about stalking and fear of violence to get the marker. What he really feared was that my youngest son , an acute OCD sufferer, might leave the prison of Chesterman's home and I might pick him up from nearby ( hence Chesterman's curious comment that this younger son was 'vulnerable to manipulation and control- so I am adding abduction to my allegations against Chesterman ), where his condition was being exploited for family financial gain during my divorce. The Chestermans are high livers and need much money, which is why my ex mother in law told me to retire, sell my large property, put my mother in a home, one son into mental health care and the other into a bed sit. Fact. The year was 2007.

So, to come back to last Tuesday/Wednesday – as with me telling police who was responsible for the ludicrous vengeful documents causing outrage in 2018 – the police officer did not rush of to interview or make immediate hate records against any of the parties I named as suspects. This expereince highlights the misconduct and criminality of WMP in October 2008.. Tthere is a due process. Police should not go straight to marker and records without evidence and obvious investigation, simply on the word of an aggrieved person or persons. This whole criminal sequence has destroyed mine and my son's lives. This is a very serious insight into police and CPS corruption.
On Wednesday 28th July. the officer 1771 spent about 5- 10 minutes visiting a neighbour, coming back with the conclusion that there was no video evidence of a suspect. in the lane at the time of the criminal damage. All very different to the treatment the self interested Chestermans got when they lied about me stalking and threateing violence over the weekend of October 4th/5th 2008, repeatimg their allegations in December 2008 to get enhanced security. I want answers and records please. The 2016 and 2018 cases have made matters very much worse, compouned by Ramsay, Norden House and the GIC.

It is an outrage that Chesterman has never been invesigated, but I should not be surprised that he is now a CC. That is typical of the arrogant self congratulating British Police hierarchy and their obsequious underlings.
Yours Sincerely R.J Cook
Comment on Harper Convictions July 31st 2020
As someone on the receiving end of police harassment, lies and abuse, now lasting over 12 years, it is difficult to join in the group mourning for this unfortunate officer. It seems that he was doing what we used to think of as normal police work and in a dangerous situation, on his own, making a snap judgement. I cannot understand why the offenders did not seem to know that the officer was caught in a rope looped to the rear of their vehicle. We should wonder why and find answers as to why so many young black and whites are involved in serious crime.
Last year, taking advantage of my rural location, thieves cut through a fence, attempting to steal my large motorhome, then making off with £2,500 of tools. The police told me they would not investigate because it was obviously gypsies.
Last Wednesday, an air gun was fired through my front window. An officer said it was not worth investigating. They said the same when a brick was thrown through the same window in 2011. It nearly killed a female friend.
A few years ago Ian Tomlinson was brazenly killed by Police State thug PC Steven Harwood. Sir Kier Starmer, 'The Harmer' , as head of the corrupt CPS, tried to block Harwood's prosecution -and Harwood got away with it anyway.
No serious matter in Police State Britain because the police victim was a homeless poorly old white man, Harwood was found not guilty of manslaughter – even though the evidence of an innocent white man being killed was caught on several videos. The Police Surgeon even said that Ian was going to die about the time he did, anyway. One just cannot make it up in Police State Britain.
So whilst the heavy sentences given in this case are justified, it should be the case that well paid police officers who are only occasionally at risk, doing the job by choice, should face even more severe penalties for killing, as well as for other crimes like perjury, misconduct in public office and conspiracy to pervert the course of justice. Senior officers should be very severely punished for wrong doing, not promoted as Dick was after giving the order to pursue then shoot to kill an innocent young Brazillian. The case of PC Harper was not one of intent to kill. Unfortunately this officer didn't see the loop of rope. Workplace accidents happen every day. the police are so appalling, dishonest and incompetent, I can not support the inevitable use of this story to present them all as heroes. One should not pursue a moving vehicle as it departs a crime scene.
Meanwhile Chief Supt Duckenfield got off scot free after being reponsible for circumstances leading to the death of nealy 100 people at the Hillsborough football ground. The police do great harm to innocent people. They treat people differently accoring to prejudice, ignorance, classism and poor training. To suggest that they are accountable through the IOPC is a very bad joke.
Robert Cook
PC Andrew Harper's teenage killers jailed July 31st 2020
The killers of a police officer who was dragged to his death behind their getaway car have been jailed.
PC Andrew Harper died when he suffered catastrophic injuries as his ankles got caught in a strap attached to the car.
Driver Henry Long was jailed for 16 years for his manslaughter, in Berkshire last August.
PC Harper's widow Lissie said she was in "a lost and endless world" after her husband was killed in the line of duty, a month after their wedding day.
Long's accomplices Albert Bowers and Jessie Cole received 13 years for the same offence of manslaughter.
In a victim impact statement she read to the court, Mrs Harper said she had "screamed and cried and broken down in fractured defeat" in the wake of her husband's death. Image copyright PA Media Image caption Lissie Harper said she felt 'broken, distraught, beaten' because of he husband's death
As he sentenced them at the Old Bailey the judge, Mr Justice Edis, described the killers as "young, unintelligent but professional criminals". Image copyright Thames Valley Police Image caption Jessie Cole, Henry Long and Albert Bowers (L-R) had been convicted of killing PC Harper at the Old Bailey
Long, Bowers, and Cole had been previously cleared of murder, following a four-week trial that concluded last Friday.
Jurors had heard PC Harper was dragged for more than a mile along country lanes, after he and a colleague responded to reports of a quad bike theft on 15 August.
The officer became "lassoed" to the back of the killers' Seat Toledo as he tried to apprehend Cole, who had unhitched the stolen quad bike from the car.
As PC Harper chased Cole, the 28-year-old from Wallingford, "unwittingly" stepped with both feet into the loop of a tow rope which was trailing behind the vehicle.
The judge told the court: "Sometimes death may be caused by an act of gross carelessness, sometimes it is very close to a case of murder in its seriousness. That is so, here."
He said the defendants' denials hey did they know they were dragging anything behind the car were "clearly false" and he rejected the idea they had shown remorse.
"You killed a talented and brave young police officer who was going above and beyond his duty in order to provide a public service," he told the killers.
"You did so because you have deliberately decided to expose any police officer that got in your way to a risk of death."
'Faced hell attending court'
In her statement, Mrs Harper said she had had only four weeks to call PC Harper "my husband. Four weeks to be called his wife".
"My life often feels bleak, hopeless, irreparable… I am without question a mere shadow of the person I once was, broken, distraught, beaten," she continued.
PC Harper's mother Deborah Adlam said the "family and I feel broken"
"Can you imagine a loved one dying with such indignity?" she said.
"I have sat in the mortuary of my son's covered body, too damaged for me to see."
Aimee Harper, the officer's sister, said she had "faced hell by attending court" and "heard and seen things that have left me physically sick".
Police Bullying and Corruption in Police State Britain – July 25th 2020
Metropolitan Police Still Institutionally Racist and Classist July 30th 2020
Yvonne Lawson says she is "disheartened and appalled" to hear what young people think of the police.
She is the founder of the Godwin Lawson foundation, set-up after her 17-year-old son, Godwin, was stabbed to death in 2011.
In January, her foundation – aimed as reducing gang and knife crime – published a report after speaking to young people in Haringey, north London.
"We interviewed over 70 young people who expressed the same concerns I had 20 years ago.
"Most of the young people we spoke to said they didn't trust the police and wouldn't even call them when they or their friends were in danger."
She says not enough is being done to bridge the gap between black and ethnic minority communities and the police.
"One young person was even convinced the force didn't hire black people," she says.
"This is why we need more diversity. More young people from these backgrounds need to feel like they can identify with the police.
"This issue of trust kept coming up and once you identify with someone, you immediately start trust them more."
---
'They are still institutionally racist'
Leroy Logan, 62, is a former Met officer and ex-chairman of the National Black Police Association.
Twenty years after Macpherson, he says the force remains institutionally racist.
Logan says improvements were made post-Macpherson, such as hate crimes now being identified, but adds: "We still don't have the promotion of equality and justice in the organisation.
"Black officers are disproportionately subjected to discipline compared to their white counterparts.
"You still see black staff hugging the lower ranks and they aren't breaking through to the upper levels of the organisation."
He adds: "We still have disproportionality in stop and search, where a black person is five times more likely to be stopped by police than their white counterparts.
"They are 20 times more likely to be stopped under section 60 roadblocks and you are more likely to be Tasered if you are black.
"So even if this is unconscious bias, the fact the police force know these figures but have not decided to question why this is happening and haven't addressed it – it is institutionally racist."
Logan runs a leadership programme called Voyage Youth and says the young people he works with have the same attitude towards the police as he did in his younger years.
"They say they are over-policed and under-protected. They don't feel safe."
He adds: "In London we have white British gangs, Bengali gangs, eastern European, you name it.
"So why is it that 80% of them on the [police] gangs matrix is black? What happened to the rest of them?"
Sir William Macpherson, a retired high court judge from rural Scotland, led the public inquiry into Mr Lawrence's murder and wrote the final report, and the findings he still stands by.
"I couldn't work miracles about making the police behave better or improving the relationships between black and white people.
"But I hoped that the inquiry might assist," he said.
At the time, the public inquiry heard from more than 80 witnesses and considered 100,000 pages of documents.
Sir William said the police needed to re-establish trust with minority ethnic communities.
He says he recognised there was a problem within the force, which was "worse than individual acts of racism".
Sir William says that he has been through his initial report "over and over again" since 1999 and stands by the recommendations he made.
He says the report allowed police to take a step in the right direction, but adds: "There's obviously a great deal more to be done."
---
Find out more
Macpherson: What Happened Next presented airs on BBC Radio 4 at 11:00 GMT on Monday 11 March.
Or catch up later online.
---
'More accountability'
Image copyright PA
Gwenton Sloley, 35, served three years in prison for armed robbery before going on to become one of Britain's leading anti-gangs advisors.
He has helped set up witness protection programmes, trained Met police officers, and had national contracts to work with young people.
But he too says the police are still institutionally racist.
Mr Sloley says the 1999 report gave minorities "a voice at a time when a lot of people were suffering in silence".
But he says there still needs to be "more accountability".
---
'Not about racist slurs'
Image copyright Hackney CVS
Tim Head, 25, is a volunteer for Hackney's Stop and Search Monitoring group and the Youth Independence Advisory Group, (YIAG).
"The impact of the report is felt in many ways and still talked about a lot, I think in terms of the rhetoric it's had a huge impact.
"In terms of actual changes on the ground, it's difficult to measure."
Despite the Met's claim that today's force is "utterly different" to 20 years ago, he says "a lot of the issues raised by Macpherson are still present".
"This isn't about officers using racist slurs, its about something much wider, much more structural. It's about the way demographics are policed.
"You can have very well meaning officers, who still support racist structures, even if their own personal beliefs aren't racist."
---
'This is an utterly different force'
Image copyright Reuters
Cressida Dick, Britain's most senior police officer, believes the Macpherson Report was "the most important thing that's happened in my service".
The Metropolitan Police Commissioner says Macpherson "defined my generation of policing", adding: "We're not at all complacent."
Currently 14% of Met officers are from BAME (black, Asian and minority ethnic) backgrounds.
However, 40% of London's population comes from BAME backgrounds.
This means, if the Met continues to recruit at this rate, it will take 100 years to build a workforce that truly reflects the community it serves.
Despite this, Ms Dick says she does not believe the force is still institutionally racist.
"I simply don't see it as a helpful or accurate description. This is an utterly different Metropolitan Police", she claimed.
Black advisers claim they were 'targeted' by Met Police
Posted July 30th 2020
By Jon Ironmonger BBC London
Share this with Facebook Share this with Messenger Share this with Twitter Share this with Email
Related Topics
Three prominent, black community advisers have claimed they have been wrongfully searched or arrested by the Metropolitan Police.
The men work with police in London on youth violence but said their treatment harmed race relations with the force.
It comes 20 years after the MacPherson report said the Met was "institutionally racist" over its handling of Stephen Lawrence's murder.
The force has denied allegations of racial profiling.
It said the officers in the men's cases acted appropriately.
About 14% of Met officers are from black, Asian and minority ethnic backgrounds.
While this was the highest proportion in England and Wales, the 2011 census showed a far higher proportion of Londoners, 40.2%, identify as BAME.
As a result the force has said it wants to recruit 250 extra BAME officers a year.
Wrongly accused
Ken Hinds, the chair of the Haringey Independent Stop and Search Advisory Committee, has worked for decades to promote community cohesion.
In April, he was arrested after intervening in the search of a young black man near his home in north London.
He told the BBC: "This officer pushed me out of the way. I asked him not to put his hands on me.
"The next thing I know I'm under arrest for obstruction and assault, accused of head-butting." Image caption Mr Hinds was convicted of an assault that was later found not to have happened
Mr Hinds was charged and found guilty of assault.
But his conviction was quashed nine months later by an appeal judge who said the assault did not take place.
He said: "The community was so incensed by my arrest that we held a public meeting and decided we weren't going to deal with the police until my case was settled.
"As soon as I got arrested the whole establishment washed their hands of me.
"Being a black man in this area, it fits the racial profiling that we're the victims and perpetrators of violent crime."
The Metropolitan Police said it had reached out to Mr Hinds, who is in the process of pursuing legal action.
In 2009 Mr Hinds won £22,000 compensation after he was arrested by British Transport Police for watching a stop and search procedure.
'Stitch me up'
Image caption Gwenton Sloley said police were "desperate to take me down"
Gwenton Sloley has won awards for helping young people escape violent lifestyles.
Mr Sloley said his home in Lewisham was raided by detectives last October, while he was an adviser to the Met Police – the officers were looking for a previous occupant who was involved in drug dealing.
"They totally destroyed the property, ripped off my air-vent, stole money from me, took my children's stuff, phones, earrings, parking tickets, letters, bank statements, pictures of me.
"They know I live here because they invoice me to the same property – the same people who searched the house." Image caption Mr Sloley says the Met Police have raided his home "twice in three months"
After the raids, Mr Sloley said officers tarnished his reputation by telling his clients about the warrant, which resulted in them cancelling valuable contracts with him.
"The police are trying to stitch me up," he said.
"They've raided me twice in three months, desperate to take me down, telling people I'm too big for my boots."
Scotland Yard said the Directorate of Professional Standards was investigating.
'Specifically Targeted'
Image caption Mahamed Hashi says the police should apologise for "targeting" people like him
Mahamed Hashi is a Labour councillor for Stockwell and a recent winner of a Community Champion award for his work to support vulnerable young people.
In 2017, he said he was stopped by police officers who surrounded his car in Brixton.
"They asked me 'have you been taking any drugs mate? Your eyes look glazed', and I said 'I don't smoke, I don't take drugs'."
"They put cuffs on me because they thought I was a threat. I said 'what part of me constitutes a threat?' And they said 'your size'."
Mr Hashi has raised his concerns with the deputy mayor of policing.
"It feels like we're being targeted as specific people. I feel there should be apologies you know," he said.
"We're standing in Brixton where we've had four riots because of police action, and on one side we're trying to heal those rifts but it's being eroded by officers who don't seem to know any better."
How the most ethnically diverse police forces compare to the population
Proportion from Asian, black, mixed and other ethnic groups Note: Figures for police are as of March 2018, population as a whole from 2011 CensusSource: Home Office
'Human endeavour'
Image caption Commander for community engagement Mark McEwan said the Met Police had not engaged in racial profiling
Met Police commander for community engagement Mark McEwan said he did not agree Mr Hinds and Mr Hashi had been racially profiled.
"They were dealt with due to the circumstances the officers perceived at the time and they acted appropriately," he said.
"I'm sorry that relationships have been damaged but this is not a case of right or wrong.
"Policing is a human endeavour and we will at times find ourselves in these situations.
"What's important is how we respond to that and reach out to the individuals involved."
Despite their concerns, Mr Hashi and Mr Sloley are still working with the Met, while Mr Hinds told the BBC now his appeal had been upheld he would engage with the police again.
More of the same with no mention of institutional corruption and need for reform. Just more police state, more watching, more petty thought control laws. The British public lap it up, with old New Labour under Sir Kier 'Harmer' Starmer offering even more, based on his career as head of Britain's corrupt CPS. Must keep us safe, you know and some must be kept safer than others – the lower orders can be kept safe in prison, and they will be building more of those. July 30th 2020
A government drive to recruit more police has led to the largest annual increase in officers for 16 years.
Under the Home Office scheme, 4,336 more have been taken on in England and Wales this year – with ministers pledging to recruit 6,000 by next March and 20,000 by March 2023.
But figures show more than 20,000 police were lost between 2010 and 2019.
The PM said he was "delivering" more officers, but Labour said services had been "cut to the bone".
Critics of the government's policing target have pointed out that the extra recruitment would do no more than return officer numbers to 2010 levels, after which they fell as part of austerity measures.
The latest figures show the largest increase in officers since 2003-4, when Labour's Tony Blair was in Downing Street.
Prime Minister Boris Johnson said: "Just over one year on [from Mr Johnson taking over from Theresa May] we are already delivering on our promise, with over 4,000 new officers already, meaning we're ahead of track on our plans to recruit 20,000 in the next three years."
Police Scotland's latest figures show that 180 more officers were employed in March than a year earlier – an increase of 1%. This also represents a rise of 1,197, or 7.4%, since 2007.
Pay increase
In England and Wales, the government has announced plans to hire 1,000 more probation officers by the end of the year, with 800 having started training.
The supervision of all offenders on probation in England and Wales is being put back in the public sector after a series of failings with the part-privatisation of the system.
Meanwhile, the number of applications to become trainee teachers in England increased 32% from February to July, compared with that period last year, according to the university admissions service Ucas.
Under a pay deal unveiled earlier this month, public workers will receive increases of up to 3.1%.
But Labour says the Conservatives froze public sector pay for seven years, and the rises they introduced after that failed to plug the gap.
Shadow chancellor Anneliese Dodds said: "It feels pretty rich for the prime minister to talk of valuing the public sector when the Covid-19 crisis has shown just how starkly his government has let down our NHS and social care workers."
Comment
As a victim of police lying and bullying to protect their corrupt officers, one now a Chief Constable, it is difficult for me to be calm and moderate in my preface to the story below or conclusion to the one above. During my truck driving or teaching days, I did not expect a medal for doing my job. If I messed up, then I expected to be held accountable.
That is not so in the police, unless you are too honest and your face doesn't fit. Former Assistant Metropolitan Police Commissioner Brian Paddick made this point in his memoirs 'In The Line of Fire.' He wrote, 'It wasn't my homosexuality that caused me problems in the police, it was my honesty.'
The British police like to boast how they are heroes protecting us. They like awarding themselves medals, one from the Queen, lots of service medal ribbons etc. In truth they are overpaid with excellent gold plated pensions, especially at senior level, protecting only a select few, especially themselves.
Apart from fabricating or hiding evidence in cahoots with corrupt Crown Prosecution Service, the police are incompetent and trained like robots. They have no worthwhile morals or conscience, not caring whose or how many lives they destroy, deliberately or by neglect.
They have harassed me and my son for the past 13 plus years, falling back on a pathetic self congratulatory NHS to pronounce me as paranoid schizophrenic, not 'needing hospital yet' Very auspicious and suspicious. That is how self centred and ruthless they are. Many will have forgotten the couple victimised for flying a drone over Gatwick Airport. The police ran to the press to hep them expose and crack their victims. All went quiet when it turned out that the offending drone belonged to the police.
They and the press have been equally quiet about the couples' stress= locked in cells for 36 hours- and cost of getting compensation for their life changing trauma. As I have said, this is how it all started in Nazi Germany, with women, and now BLM, encouraged to think the state is their friend.
The elite don't mind sacrificing a lot of old statues or vandalised Christian symbols. They mean nothing to them , beyond some things they want forgotten. Badly educated people are easily fooled.
Robert Cook
PC Andrew Harper death: Innocent man's family 'torn apart' by murder charge
By Michael Race BBC News
An innocent man accused of murdering PC Andrew Harper has said he feared he "could die in prison".
Jed Foster was charged over the killing of the police officer and spent a month behind bars before proceedings against him were dropped.
The 21-year-old told the BBC he worried about being wrongly convicted and said the "terrifying" experience "broke me and tore my family apart".
He has now started legal action against Thames Valley Police.
On Friday, teenagers Henry Long, Albert Bowers and Jessie Cole were convicted of the manslaughter of PC Harper.
The officer, who was responding to a report of a quad bike theft in Berkshire, suffered catastrophic injuries when his ankles got caught in a strap trailing behind a car driven by Long in August 2019.
But four days later Mr Foster, who lives near Reading, was the first suspect charged. Image caption Mr Foster has started legal action against Thames Valley Police
The case against him was eventually discontinued and he was released from custody in September, but by then his family had been bombarded with hate mail and people "wrote on social media that I should be hanged or hang myself", he said.
"Newspapers targeted me and my family even though I had not been convicted. They acted as though I was guilty."
He said he was also targeted with abuse because of his family's traveller heritage.
Despite his protestations of innocence, Mr Foster was charged by the Crown Prosecution Service under the Threshold Test.
---
When is the Threshold Test applied?
There are reasonable grounds to suspect the person has committed an offence
There are reasonable grounds to believe that continuing the investigation will provide evidence that is capable of establishing a realistic prospect of conviction
The seriousness of the case justifies an immediate decision
There are valid objections to bail
A charge is in the public interest
Source: CPS
---
"I could prove even then I was not involved, but the police did not seem to be interested," Mr Foster said.
"I was arrested and then charged with murder and spent several weeks in prison accused of an offence that I did not commit."
He said the police "appeared to just to want to find someone to blame for the death of their colleague and were not concerned whether I was actually involved".
Thames Valley Police declined to comment on Mr Foster's claims.
"It was terrifying being accused of a murder I had not done," he added.
"I knew I was innocent, but I was worried that I would be wrongly convicted, and that for the murder of a police officer I could die in prison." Image caption PC Andrew Harper, from Wallingford, died when his ankles got caught in a strap trailing behind a car
As detectives continued to gather evidence they found Mr Foster had an "electronic alibi".
The reasons for Mr Foster's release can only be reported now because a judge ruled their disclosure might have prejudiced the trial of the three men eventually convicted.
During the hearing in September, prosecutor Jonathan Polnay said Mr Foster was arrested at the Four Houses Corner caravan site where the Seat Toledo, which dragged PC Harper to his death, was found.
The court heard officers who seized Mr Foster's phone found "highly incriminating" messages.
But when they analysed the GPS and location data on the phone it showed he was not in the vicinity of the crimes when they were committed.
'Living nightmare'
Representing Mr Foster at the Old Bailey hearing, Jeremy Dein QC said his client was working full time when he was arrested and had no previous convictions, although he did have two cautions for minor matters.
The barrister said Mr Foster's time in custody had been "a living nightmare".
Mr Dein told the court his client had answered police questions "on six separate occasions [and] adamantly maintained he had no involvement".
Mr Foster said he had "every sympathy with the family of PC Harper and the loss they have suffered".
He said the evidence presented in court last year proved he was innocent and "had nothing to do with PC Harper's death". Image copyright Thames Valley Police Image caption Jessie Cole, Henry Long and Albert Bowers (L-R) are due to be sentenced at the Old Bailey
He said he was "pleased that everyone now knows that I am innocent", but added he did not feel that "I have had any justice for the way that I was treated by the police".
"This experience broke me and tore my family apart – we are all still trying to recover from it," he said.
Mr Foster's solicitor, Michael Oswald, said it was "entirely understandable that Thames Valley Police wanted to bring to justice anyone involved in the death of PC Harper".
But he said the force "cannot justify or excuse the devastating impact on Mr Foster when they wrongly identified him as being responsible".
He added: "The actions of the police meant that he spent several weeks in prison – and in the spotlight of intrusive national media attention – accused of murdering a police officer, an experience from which he and his family are still struggling to recover.
"It is now a matter of public record that the evidence proves he is completely innocent.
"By way of the proceedings that have been issued, Mr Foster looks to Thames Valley Police to accept that he should in fact never have been arrested or prosecuted and to take now all possible steps to mitigate the damage they have caused and allow him to move on with his life."
Thames Valley Police said it had "received notification of a potential compensation claim from Jed Foster's solicitors so it would be inappropriate to make any further comment at this stage".
From 'The Sun' September 10th 2015, posted from Appledene Archives July 15th 2015.
Posted July 24th 2020
Armed Police Puncture Innocent Motorist's Tyres
By Exposed Police | on 17/05/2016 | Police News
A father-of-one who was driving to collect his daughter had his tyres punctured with a stinger device and ordered out of his van at gunpoint by armed police – only to be told they had got the wrong man.
Nathan Poole, 32, was driving near Ston Easton, in Somerset, at around 4pm last Friday when he was brought to an abrupt halt by armed police who threw a stinger across the road.
After ordering a petrified Mr Poole out his van, bungling police told him it was a case of mistaken identity and drove off in the opposite direction.
Mr Poole then waited 45 minutes for the police recovery truck to take him to a garage for new tyres.
When it finally arrived he was informed the van would be towed to the police compound in Wells and he would have to fork out £150 for a recovery charge.
Recalling the terrifying ordeal, Mr Poole said: 'I nearly had a heart attack when it first happened. It was scary.
'I was distracted by a man who was hiding behind a tree. He popped his head out which made me take my eyes off the road.
'The next thing I knew was there was a noise under the van and all my tyres had gone. I originally thought I had driven over an animal or something.
'I stopped the van and went to get out. I put one foot on the road and the next thing I knew was that there were two armed police pointing their guns at me. 'They ordered me to get back into the van in a violent and authoritative tone.'
After ordering him out the van, police sheepishly told him they had got the wrong man.
They had actually been searching for Nicholas Caple, 29, who is still on the run.
He is wanted for burglary, assaulting a police officer and escaping police custody.
As police continued their unsuccessful search for Caple, Mr Poole was left stranded in his Vauxhall Vivaro – still 15 miles away from his two-year-old daughter Callie he was collecting.
Police insisted a police recovery truck would take him to a garage for new tyres and he could claim the money back from the force's legal services team.
But when it turned up he was told he would have to pay a £150 fee to have the van towed to the police compound in Wells.
'I said no way and basically he cancelled the job and left,' said Mr Poole. 'I phoned the company who own the van I was driving, they were amazing and they organised a mobile mechanic to come and fit four new tyres. They covered the cost too for which I am grateful.
After ordering him out the van, police sheepishly told him they had got the wrong man.
They had actually been searching for Nicholas Caple, 29, who is still on the run.
He is wanted for burglary, assaulting a police officer and escaping police custody.
As police continued their unsuccessful search for Caple, Mr Poole was left stranded in his Vauxhall Vivaro – still 15 miles away from his two-year-old daughter Callie he was collecting.
Police insisted a police recovery truck would take him to a garage for new tyres and he could claim the money back from the force's legal services team.
But when it turned up he was told he would have to pay a £150 fee to have the van towed to the police compound in Wells.
'I said no way and basically he cancelled the job and left,' said Mr Poole. 'I phoned the company who own the van I was driving, they were amazing and they organised a mobile mechanic to come and fit four new tyres. They covered the cost too for which I am grateful.
Congresswoman Maxine Waters jumps out of her car to intervene as black man stopped by police
She said cops were going to give her a ticket, 'but that's okay, as long as I watch them' July 21st 2020
Congresswoman Maxine Waters jumps out of her car to intervene as black man stopped by police
She said cops were going to give her a ticket, 'but that's okay, as long as I watch them'
California congresswoman Maxine Waters went to assist a black man who was pulled over by police in Los Angeles this weekend.
In a video shared online, Ms Waters parked her SUV and said she intervened to see what officers were doing when they pulled a black man over.
The black Democrat told the person videoing that "they stopped a brother so I stopped to see what they [the police] were doing".
She added that police had threatened her with a ticket, and said: "They say I'm in the wrong place"
"They're going to give me a ticket, but that's okay, as long as I watch them," added the congresswoman.
Comment Ignoring the colour aspect of this story, it symbolises how more vulnerable elements in our society, U.S and Britain, need more outside independent supervision. They cannot be trusted. I have personal experience of U.K police corruption and criminal lies. They deserve no sympathy. They are well paid public servants, with most , if not all, of their mishaps due to incompetence. They are target driven self interested liars who do not hesitate to fabricate, withhold evidence. lie and use violence. Their main role nowadays, is social control and protecting class interests and hierarchies. They are specially selected for moronic characteristics. Robert Cook
British Police are bigoted lying morons deployed by even worse morons. Posted July 18th 2020
Killing of man with table leg 'unlawful'
Press Association
Fri 29 Oct 2004 16.52 BST
A man who was shot by police while carrying a table leg which was mistaken for a gun, was unlawfully killed, an inquest jury ruled today.
Harry Stanley, 46, a painter and decorator of Hackney, east London, was shot in the head and hand by police marksmen on September 22 1999. Two Metropolitan police officers fired the shots after mistakenly being informed that Mr Stanley had a sawn-off shotgun.
The father-of-three, who was originally from Lanarkshire, Scotland, was carrying a blue plastic bag with a coffee table leg inside, which had just been repaired by his brother Peter. He was shot as he walked home from the Alexandra Pub in Hackney.
Today a jury of six women and four men at St Pancras coroner's court took around seven hours to reach their majority verdict at the end of a two week inquest.
The inquest was the second to take place into Mr Stanley's death. The open verdict recorded at the end of the original inquest was later quashed by the high court.
The dead man's family and friends have campaigned for a new inquest and today there were shouts of "yes" from the public gallery as the verdict was read out.
The officers who shot Mr Stanley told the inquest earlier that they thought he was raising a gun and was about to shoot when they confronted him. One, PC Kevin Fagan, described how he saw Mr Stanley walking with a cylindrical object in his hand. He said: "It was tightly wrapped in a bag, about 18in long and the majority of it was pointing downwards … the realisation struck me that I was about to be shot at 15ft with a sawn-off shotgun."
The officer said he shouted for the man to "drop it" by which time he was looking straight at the officer in a "boxer's stance". PC Fagan said Mr Stanley then moved his left hand to grip the object so he carried it with both hands. The officer said he fired just before his colleague Inspector Neil Sharman, hitting him in the hand.
Mr Sharman told the inquest he fired one round when he thought PC Fagan was about to be shot. "Fearing for Kevin Fagan's life, and believing that the contents of that bag was a sawn-off shotgun, and with the actions of the person holding it, I felt he was about to be shot. In response I fired one round," Mr Sharman said.
He told the court he aimed at Mr Stanley's "central body mass" but missed and shot him in the head. The Stanley family's barrister described Mr Sharman's version of events as "concocted".
After the verdict was delivered, the Independent Police Complaints Commission said it had recommended that the coroner invite the Home Office and the Association of Chief Police Officers to commission research in order to try to prevent similar deaths. Coroner Dr Andrew Reid backed the recommendation.
The IPCC commissioner, Deborah Glass, said: "There is a need for further research into whether there are more effective methods for firearms officers in dealing with vulnerable people, such as those impaired by alcohol, as Mr Stanley was.
"Such people are often less likely to react rationally and more likely to react negatively to certain sorts of approaches and challenges." The inquest heard evidence that since Mr Stanley's death, the Met had substantially improved training for control room staff, as well as for firearms officers and tactical advisors. The inquest also heard that "less lethal" options such as tasers, or electrified darts, were now more readily available to Met officers.
Deborah Coles, co-director of deaths in custody campaign group Inquest, which has been working with the Stanley family, said: "This inquest is a vindication of the family's fight for the truth and the only just outcome of this shocking case … We now expect them to be prosecuted for manslaughter. We have always believed that these officers should face criminal charges."
Mr Stanley's widow Irene, 51, said outside the court that she was pleased with the verdict but now she thought that the officers should be suspended.
She said: "Harry was an unarmed man. It is bad enough the family was devastated when Harry died. We should not have to fight for justice. My grieving has been fighting for justice. I have not had time to grieve."
The Crown Prosecution Service looked at the case in 2001 and concluded there was insufficient evidence to bring criminal charges against the police officers involved in the death. However a CPS spokeswoman confirmed today that it would review the case.
The Metropolitan police said it was "re-considering" suspending the two officers until the outcome of a review by the IPCC.
A force spokesman said: "The Met wishes to again offer its sympathy to the family of Mr Stanley and express our regret for his death … the death resulted from the most tragic set of circumstances … it must be remembered that the officers were called upon to make a split-second decision while confronting what they believed to be an imminent threat to their lives. They did not have the benefit of hindsight.
"Along with their colleagues working in police armed response units, they are required to regularly face the most challenging of policing situations in order to make the streets of London safer for us all."
Police Pursuits U.K Record Deaths 2019.
The number of people killed during high speed police chases reached its highest level for a decade last year, it has emerged.
A total of 30 people died during police pursuits, almost double the previous year when 17 were killed.
A third of those who were died were innocent motorists or pedestrians, who were not involved in the pursuit itself, according to figures collected by the Independent Office for Police Conduct (IOPC).
According to the statistics there were 33 fatal police related road traffic incidents resulting in the deaths of 42 people.
While some of those were straight forward road traffic accidents, a high proportion were as a result of high speed pursuits.
Twelve of the 30 who died during pursuits, were driving the car being followed, while eight were passengers in the suspect vehicle….
To conti
17th April 2009 Police defend staged high-speed chase for TV show Posted July 18th 2020
Channel Five is showing the second series of Police Interceptors, a documentary charting the actions of the force's three intercept teams armed with automatic number plate recognition technology.
The teams, based in Basildon, Colchester and Chigwell, use powerful Mitsubishi Evos and Subaru Imprezas to chase crooks, often in high-speed pursuits.
But the force has come under fire after officers staged a chase involving show presenter Natalie Pinkham.
Officers gave the presenter, who was driving a high-powered Lamborghini fitted with a tracker, a 30-minute start.
They then spent around an hour pursuing her, at times breaking the speed limit and using blue lights.
But the move has been blasted by road safety charity Brake.
Spokeswoman Katie Shephard said: "The police need to consider whether it's vital to be speeding and whether they should be putting on blue lights for a training exercise. Perhaps they could have done it on tracks where there is no risk to pedestrians."
And Mark Wallace, of the TaxPayers' Alliance, added: "It's concerning that Essex Police seem to think their officers and valuable cars can be spared for use as film extras."
But Essex Police said the chase was one of several training exercises filmed for the show.
Spokeswoman Donna Veasey said: "Police helped producers stage three scenarios, with one demonstrating the roadside drink-drive procedure and its road safety message, another highlighting offences associated with bodywork modifications and the final one a training exercise dealing with a stolen vehicle tracker-activation.
"Viewers also only saw police helicopter footage during the pursuits. The production team hired their own helicopter for the series."
She said the Interceptors improved road safety by arresting 60 crooks in a month and taking 75 dangerous vehicles off the road every four weeks.
The criticism came after viewer Mike Sullivan complained to Chief Constable Roger Baker that the ANPR officers were "wannabe Lewis Hamiltons
Cleveland and Durham forces paid more than £120,000 to take part in Police Interceptors TV show
Cash given to forces for popular TV series Police Interceptors has been revealed.
By The NewsroomThursday, 25th April 2019, 1:33 pmUpdated Thursday, 25th April 2019, 1:39 pm
Officers from Cleveland and Durham forces took part in the TV show Police Interceptors.
Cleveland and Durham Police's joint Specialist Operations Unit regularly features on the Channel 5 series.
Figures from a freedom of information enquiry show Cleveland Police and Durham Police shared £120,400 for their participation in five series up to October 2018.
The popular programme has followed traffic cops catch criminals for 14 editions since 2018.
The joint unit took part in series 9, 10 and 11 which aired in 2015 and 2016 – as well as series 13 and 14 which went out in 2017 and last year.
Up to 2016, Durham Police managed the arrangement which saw each force take £32,500 each.
Cleveland took the reigns in 2017/18 meting out £55,400 between the two constabularies.
A spokeswoman on behalf of the Cleveland and Durham Specialist Operations Unit said the programme had shown some of the great work it did on a daily basis which the public didn't normally get to see.
She added: "We believe that the programme has had a positive impact on the unit and on both forces.
"The level of positive interaction that we have had with members of the public about the show has been fantastic.
"We regularly hear how children who have watched the show now want to become police officers and there is a huge following of people who come along to events and queue for hours to meet their "heroes", as they have been called by some children.
"The fees which have been paid have been used to fund additional staffing for any filming which was over and above everyday policing and road safety initiatives which helps to reduce casualties and save lives on the roads across both counties."
The high-octane documentary drew in more than one million viewers per episode at its peak on Channel Five.
Rawcut, the company which produces Police Interceptors, declined to comment on the sums.
Alex Metcalfe, Local Democracy Reporting Service
Police Officer Steven Harwood gets away with killing an innocent man, as filmed below. Now Labour Leader Sir Keith 'Harmer' Starmer in charge of lying England & Wales CPS at the time, was responsible for covering this killing up along with many other perverions of justice by witholding evidence to get innocent men convicted. July 14th 2020
Why are there so many assaults on U.K Police and who is responsible ?
Assaults on Police July 18th 2020
Police leaders have hit out at the "sickening hobby" of filming officers when they are being assaulted, following the latest example of escalating violence against those on the front line.
Priti Patel, the Home Secretary, described the video, showing a male and female officer being attacked by a mob in east London, as "shocking and disgraceful".
More than 30,000 officers are assaulted each year in England and Wales, but there is mounting concern over the craze of people filming the incidents and then posting them on social media.
In the latest incident, which took place in Hackney on Wednesday, two beat officers stopped to help a person who reported they had just been assaulted.
As the male and female officer attempted to help they were set upon by a small group.
While the male officer struggled on the ground with a large assailant, his female colleague, was kicked and pushed by the others.
At one stage a man carrying a baseball bat appeared on the scene, and appeared to try and intervene.
But the passer by, who filmed the incident, remained in their car, while another man appeared to dance in front of the prone officer while taking a selfie on his mobile phone.
The Home Secretary tweeted her disgust at the incident.
Sickening, shocking & disgraceful.

My thoughts are with the outstanding @metpoliceuk officers who were subject to this disgusting violent attack. https://t.co/zPECxrQAkb
— Priti Patel (@pritipatel) June 10, 2020
John Apter, the chair of the Police Federation of England and Wales, said the images of people mocking officers and filming while they were being attacked, was "stomach churning" and he urged people to step in and help where they could.
He said: "It was horrific to watch because you didn't know what was going to come next. Last year there were over 30,000 assaults on police officers across England and Wales alone.
"That's 85 police officers a day, every single day, being assaulted. And many of them are videoed.
"It's almost like a hobby for some now to video an attack on a police officer and put it on social media.
"Not to assist an investigation, but to mock my colleagues and to, almost, encourage violence against them."
He went on: "How dare people stand by and video my colleagues in distress. Far too many people stand back and rather than assist anyone in trouble, I accept we have to manage our risks, but when people are in trouble, I think as a citizen we should step forward."
Ken Marsh, who represents rank and file officers in London, said police officers had become "society's punching bag".
Chris Bryant, the Labour MP, who introduced the private members bill to introduce tougher sentences for those who assault emergency workers, said one answer might be to prosecute those who glorified acts of violence against officers under the joint enterprise laws.
He said: "Sometimes the filming of these incidents can be useful in helping to highlight the issue and identify the perpetrators, but where it is done to glorify violence it should be dealt with under the law as appropriate."
A source at the Police Federation said discussions had been held about what to do to tackle the worrying trend of people filming assaults.
The source said: "It is perhaps understandable that people might not want to put themselves at risk by intervening when they see something like this unfolding. But what is not acceptable is standing there and filming the incident in order to glorify it. It is certainly something we take very seriously and want to address."
The man who could be seen in the footage wielding the baseball bat was last night identified as a local businessman called Kerman.
He said: "Nobody was doing anything other than film it on their mobile phones so I decided I had to help him.
"I would have done the same for anyone being attacked by a bigger group. If I'd seen a black guy being attacked by a group of white guys I'd go and help the black guy."
Both officers suffered minor injuries in the incident. On Thursday night, police said a total of four people, including a 13-year-old boy, had been arrested over the incident.
Superintendent Martin Rolston said: "This incident, which was captured on someone's mobile phone is truly shocking.
"My officers went to the assistance of a member of the public – who asked for their help – after stating that they had been assaulted. What happened next is a reminder of the risks our officers take whilst going about their duties.
"It is fortunate that their injuries are not more serious. There is no place for this level of violence on our streets.
Mayor of London, Sadiq Khan, added: "I utterly condemn the disgraceful attack on two Metropolitan Police officers this afternoon.
"These brave officers were doing their duty and assisting the public. We owe them a debt of gratitude and I wish them a full and speedy recovery."
Met Officer Suspended For Apparent Racist Assault July 17th 2020
An officer has been suspended after footage emerged which appears to show police kneeling on a man's neck.
Video recorded in Islington, London, shows two officers holding a handcuffed suspect, who is black, on the pavement.
A second officer has been removed from operational duty after the arrest on Thursday evening.
Deputy Met Police commissioner Sir Steve House said the footage was "extremely disturbing" and had been referred to the police watchdog.
'Get off my neck'
The force confirmed it had arrested a man on suspicion of affray and possession of an offensive weapon.
In the footage, shared with the BBC, one of the officers appears to be using his knee to control the suspect and has his hand on his head.
The man on the ground, who is in handcuffs, repeatedly shouts: "Get off my neck."
He is eventually released from the ground and continues to talk to officers after they sit him up.
Several police cars arrive at the scene after the arresting officers are confronted by onlookers.
'Not taught in training'
An eye witness told the BBC: "I was worried he was going to get executed. That's just how George Floyd got killed.
"If not for the crowds filming the police they could have suffocated him or broken his neck.
"He was on the floor and in handcuffs, what's the reason for a kneeling on his neck?"
Sir Steve said: "The video footage that I have seen today and is circulating on social media is extremely disturbing.
"Some of the techniques used cause me great concern – they are not taught in police training.
"One officer has been suspended and another officer has been removed from operational duty, but not suspended at this time. This decision will be kept under review."
The man has since been seen by a doctor, said Scotland Yard, which has referred the arrest to the Independent Office for Police Conduct (IOPC). Image copyright WhatsApp Image caption In the footage several police cars attend the arrest after officers are confronted by onlookers
London Mayor Sadiq Khan said: "I'm deeply concerned about this distressing incident and we have raised this with senior officers at the Met Police as a matter of urgency.
"I welcome the fact the incident has been reviewed quickly by the Met and it's right that they have referred it to the IOPC."
U.K Police Beating Black Man In Cell – Video ResultsMore U.K Police Beating Black Man In Cell videos
New video 'shows George Floyd struggling inside police car … www.thesun.co.uk/news/11748031/new-george-floyd-video-cop-car31/05/2020 · NEW footage has emerged that appears to "show George Floyd struggling inside a cop car" shortly before he was pinned down and "killed." The video, which is believed to show the black man who died…
Shocking video shows white cop repeatedly beating a black … www.dailymail.co.uk/news/article-8293081/Shocking-video-shows-white-cop… 06/05/2020 · Shocking video shows white cop repeatedly beating a black man while another pins him to the ground 'for not following social distancing rules' – despite the officers not wearing masks themselves

Video Duration: 40 sec
Author: Leah Simpson For Dailymail.com

Police force refers itself to watchdog over viral video of … www.independent.co.uk/news/uk/crime/police-video-black–man-west-midlands-beat… 11/03/2019 · Police investigating video of black man 'being beaten up' by officers "The full body-worn video of the response shows the man attack the officers with his walking sticks, injuring three of them….

Video Duration: 29 sec
Author: Thomas Hornall

Police officer filmed beating boy in handcuffs will be … metro.co.uk/2019/04/26/police-officer-filmed-beating-boy-handcuffs-will… 26/04/2019 · Footage posted online appears to show a black male in handcuffs on a pavement being struck several times by an officer using a baton. In a statement, the arrested boy's mother said she was…
Four officers fired following death of unarmed black man … www.independent.co.uk/news/world/americas/police-arrest-black–man-neck-video… 26/05/2020 · Four Minneapolis police officers have been fired after video showed one of them kneeling on the neck of a black man who later died. Minneapolis mayor Jacob Frey confirmed the termination of the …