This page is the sequel to Police Station. British Police are self congratulatory, institutionally corrupt, liars, bullies, unaccountable, overpaid with grotesquely extravagant senior officer perks and expenses.
Showing results for man pushed over by police Buffalo head injury
Search instead for man pushed over by police Buffalo headinjury
Videos
Preview1:35Video shows man
motionless,
bleeding from the
head after …Washington Post – 4 Jun 2020Buffalo Officers
Suspended After
Elderly Man Pushed
to …The Advertiser – 5 Jun 2020Preview0:47Buffalo video:
Officers suspended
after 75-year-old
man …ABC7YouTube – 5 Jun 2020
(CNN)Martin Gugino, the 75-year-old protester who was pushed by two Buffalo, New York, police officers earlier this month, has a fractured skull and is not able to walk, his lawyer said in a statement provided to CNN on Monday."I am not at liberty to elaborate at this time other than to confirm that his skull was fractured," Gugino's attorney Kelly Zarcone said. "While he is not able to walk yet, we were able to have a short conversation before he became too tired. He is appreciative of all of the concern about him but he is still focused on the issues rather than himself."CNN has not been able to speak with Gugino directly, but in her press statement, Zarcone passed along a message from him: "I think it's very unnecessary to focus on me. There are plenty of other things to think about besides me."Gugino is focused on getting better and he remains in rehabilitation, Zarcone told CNN on Tuesday.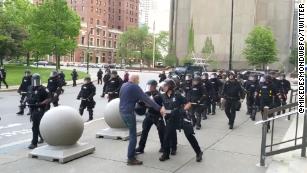 Buffalo police officers plead not guilty to assaulting 75-year-old man at demonstration"Barring something unusual and unforeseen, I don't expect much change at all this week," she said.Gugino was injured when two police officers shoved him backwards during a protest against racism and police brutality on June 4. Video of the incident shows that he fell to the sidewalk and his head began bleeding as other officers walked by him.Officers Aaron Torgalski, 39, and Robert McCabe, 32, each pleaded not guilty to second-degree assault and have been released on their own recognizance without bail.Based on the initial video, police issued a statement that said Gugino tripped and fell, Buffalo Police spokesman Mike DeGeorge told CNN. Police later amended that statement and suspended the officers without pay and opened an investigation.After video of the incident spread widely — Gov. Andrew Cuomo said it was "wholly unjustified and utterly disgraceful" — Gugino became the focus of a conspiracy theory pushed by One America News Network and President Donald Trump that suggested the 75-year-old was an "ANTIFA provocateur" and that his serious injury "could be a set up."
Comment I would not normally comment favourably in respect of what British and U.S police officers do to court criticism. The two countries have similar ruling interest groups and command and control outlooks.
Policing has changed but promotion systems and structure have not. Incompetent politicans, who encourage mass immigration and the lunacy of multi culture, pander to the oily reptiles in the police who slimed all the way to the top. These idiots have spent as little time as possible in the front line, their expertise focused on jargon and time spent on expensive bullshit courses.
So what we see in this case is a relic from the 60s draught dodging protest fake peace and love era standing pompously in the way of officers who have been given clear orders to advance on the BLM The video evidence avoids showing what they were advancing towards. It is utterly stupid to stand in the way of a juggernaut. It is clear that this was an accident and an outrage that these young low ranking officers have been scapegoated by the hierarchy who care only for themselves.
The British and U.S police – I cannot judge other nation's forces – need urgent reform, especially Britain's, but certainly not abolishing.
Senior officers hob nob with dreadful egotisticsl politicians, who with all of their outrageous perks, are a big part of the problem. But ultimately it is the corrupt and incompetent politicans on both sides of the Atlantic who are to blame.
They create one problem after another, pass laws to pander to sections of the elctorate, then leave it to police forces who are not just corrupt – in spte of all of their new technology – but are badly and inefficently organised. Senior officers like it just the way it is. One lives in hope that change will be forced on them and the terrible political systems on both sides of the Atlantic. R.J Cook
Police officer Lee Tatton who starred in TV documentary pleads guilty to child sex offences
September 3, 2020 UKCP Staffordshire 0
1+
Lee Tatton featured in a behind the scenes documentary called 'Cops UK: Bodycam Squad' but this week, the response officer pleaded guilty to a number of child sex offences.
A police officer who became a star of a TV documentary has been unmasked as a paedophile.
Lee Tatton, 54, was featured on the documentary 'Cops UK: Bodycam Squad' in which he would be followed by cameras to get an insight about his job.
But this week he admitted a number of child sex offences.
Tatton, nicknamed Tatts, was a response officer and was included in the fly on the wall series multiple times, StokeonTrentLive reports.
Production company Raw Cut spent several weeks shadowing PC Tatton and his fellow officers on a range of incidents including rescuing people from a flat fire and breaking up a brawl outside a pub.
While arresting one of the men involved in the fight, PC Tatton ended up being accidentally parva sprayed by a colleague.
It was hoped the programme – on UKTV's Really channel – would give the public an insight into the work of the force.
Speaking at the time the show was premiered, PC Tatton said:
"It was put to our shift about the camera crews coming out with us and I was happy to volunteer. After a while it became second nature explaining to them what we were dealing with.

"I hope it will give people an insight into what we do and the things we have to deal with at 4am and 5am when most people are tucked up in bed."
But the Staffordshire Police officer was arrested in December last year following an investigation by the force's Operation Safenet team, a dedicated unit tasked with looking into online child abuse.
He was immediately suspended from duty.
Appearing before Birmingham Crown Court Tatton, whose address was not disclosed, pleaded guilty to attempting to engage in sexual communication with a child and four counts of making an indecent photograph/pseudo-photograph of a child.
In a statement this week, Assistant Chief Constable Scott Green said:
"Tatton's actions are unacceptable and have caused harm and distress to the very people we should be protecting and keeping safe.

"His actions fell well below the high standards that the public and the force demands and expects of police officers."
Tatton remains on suspension subject to an internal force hearing and will be sentenced on November 2.
In a statement this week, Assistant Chief Constable Scott Green condemned his officer.
He said:
"Tatton's actions are unacceptable and have caused harm and distress to the very people we should be protecting and keeping safe.

"His actions fell well below the high standards that the public and the force demands and expects of police officers.
Police pay: Senior officers' salaries revealed for 2017 – big rises since then, along with serious corruption issues.
Share this with Facebook Share this with Messenger Share this with Twitter Share this with Email
Wide variations in the way police chiefs are paid have been revealed, as the pay, allowances and expenses of senior police officers in England and Wales are published for the first time.
The statistics, for 2015-16, show salary payments ranging from £7,622 to £278,563.
Meanwhile, benefits range from none at all to £32,521 in one case.
The Home Office, which compiled the data, also set a limit on the amount of annual leave chief constables can take.
Salaries for chief constables and deputy chief constables are determined by rank, the size of their force and the area's population.
The publication is part of an attempt to increase transparency across forces.
The figures show that some earned thousands of pounds in "benefits in kind", while a small number claimed large sums in expenses, and others received nothing but their salary.
Nick Gargan, who resigned from Avon and Somerset police following a misconduct inquiry, was given £39,000 for what is described as "compensation for loss of office".
Mick Creedon, who was in charge of Derbyshire police, received a "retention" payment and money for a medical scheme of almost £34,000 on top of his £142,000 salary, the data shows.
An assistant chief constable for Dyfed Powys received £30,139 for "relocation expenses".
There is no suggestion of any wrongdoing. Image caption Nick Gargan resigned from Avon and Somerset police following a misconduct inquiry in 2015
The figures offer a snapshot for 2015-16, with some representing just a portion of an annual salary with staff only having been in post for part of the year.
The largest salary listed, of £278,563, was for the head of the Metropolitan police in London.
---
'Handsome rewards'
by BBC Home Affairs correspondent, Danny Shaw
It may not be a coincidence that the Home Office has chosen to publish the figures just five days before the Budget.
The chancellor has faced growing calls from chief constables to inject extra money into the police service.
And although senior officers' pay represents a fraction of overall costs, the release of the data is a subtle reminder, perhaps, that forces can still afford to reward senior brass handsomely.
All of the chief constables earn more than the policing minister, with some salaries dwarfing the home secretary's pay and even that of the prime minster, who takes home £150,402.
No doubt chiefs would say they're worth it: being in charge of a police force carries immense responsibility – when vacancies arise there are often not many candidates.
Nevertheless, the figures have exposed inconsistencies in the way senior officers are rewarded for their considerable efforts which the staff who work for them and members of the public may not be entirely comfortable with.
---
In an effort to iron out inconsistencies in holiday entitlement, senior officers will in future be able to take no more than 35 days' leave each year. The current model allows for 48 days a year, but with poorly defined rest days.
When they leave their job they must notify their force if they are employed elsewhere.
The figures, for 261 of the most senior police officers up to the rank of chief constable, have been published on the Police UK website.
It is hoped that the overhaul could act as a blueprint for other sectors.
Policing Minister Nick Hurd said the figures would bring greater clarity and accountability to the public, as did Mark Polin, chair of the Chief Police Officers Staff Association.
Julia Mulligan, who speaks on transparency and integrity for the Association of Police and Crime Commissioners, said they would bring greater transparency.
Police officer's allegations led to £40,000 payout
Do police believe they are above the law? Posted September 6th 2020
By Danny Shaw Home affairs correspondent, BBC News
Share this with Facebook Share this with Messenger Share this with Twitter Share this with Email
There is no person or organisation that has as much potential power over us as the police.
They can arrest us, stop us in the street and search us, fingerprint us and take our DNA.
They are allowed to retain some of our personal information on their own computer databases – and access details held by other organisations, on request.
They can monitor our movements on CCTV and trace driver records via a car number plate recognition system known as ANPR.
It would be surprising if, on occasion, police officers didn't overstep their powers
Details of our phone records can be obtained, and, with the home secretary's approval, phone calls and emails may be intercepted.
Sometimes, police are permitted to detain us in custody – for up to four days (seven in terrorism cases); determine the length and conditions of bail while they carry out an investigation; and in some cases, caution or charge us with a criminal offence.
In addition to all that, officers have equipment – handcuffs, batons, CS spray, Tasers, firearms – that can be deployed, when necessary, proportionate and reasonable in the circumstances to do so.
It is quite a list – and it would be surprising, despite the numerous safeguards that are in place to prevent abuse, if, on occasion, police officers didn't overstep their powers. Image copyright PA Image caption Lord Hanningfield won damages for unnecessary arrest
In February 2013, for example, Lord Hanningfield, who had been jailed for false accounting over parliamentary expenses, won £3,500 damages after suing Essex Police.
The former Conservative peer said he had been unlawfully arrested as part of a police investigation into the alleged fraudulent use of a county council credit card, an inquiry that was eventually dropped.
The High Court judge hearing the case, Mr Justice Eady, said he had considered whether the arrest had been necessary "to allow the prompt and effective investigation".
He ruled that it had not. "I have come to the conclusion that the requirement of 'necessity' as laid down by Parliament has not, on any realistic interpretation of the word, been met," he said.
Subtle misuse of powers
Critics of the police say that such cases happen far more frequently than we realise.
Although officers may not beat confessions out of suspects, routinely doctor their statements and fit them up, as it was alleged happened in the 1970s and 1980s, it is argued that the more subtle misuse of police powers goes on every day.
Sean O'Neill, crime editor of the Times, says his attention was drawn to it by a series of cases involving journalists.
Police use of bail has also come under scrutiny
First, came a wave of arrests of reporters suspected of hacking mobile phone voicemails, making illegal payments to public officials or misusing computer data.
A total of 148 people have been arrested as part of operations Weeting, Elveden and Tuleta, 63 of whom are journalists.
Many were detained during dawn raids at their homes, some with their children present.
"It was a show-of-strength issue," says Mr O'Neill, speaking in a personal capacity.
He argues that police interviews could just have easily been conducted with suspects by appointment, as they subsequently were in later cases.
Dawn raids
The tactic of early raids, often used by police, is defended by Alex Marshall, chief executive of the College of Policing, which is responsible for setting standards of professionalism and integrity.
Mr Marshall says suspects have to be detained before they leave for work, while starting early helps to maximise the time available for questioning.
"It does make sense," he says, but points out that arrests need to be "necessary".
The police use of bail, under which suspects are released from custody after questioning with conditions attached, has also come under scrutiny.
The decision to bail some of the Weeting, Elveden and Tuleta suspects for months and in some cases two years or more while inquiries continued, made Mr O'Neill "wake up" to a practice he believes is widespread.
A snapshot survey of 40 forces – compiled by the BBC last year – showed that at least 71,000 people were on police bail in England, Wales and Northern Ireland, including 5,480 who had been bailed for more than six months.
One individual, arrested by the Metropolitan Police, had been on bail for three and a half years.
Mr Marshall acknowledges that in some forces, police bail has not been well managed, with suspects arrested too early in an investigation and then bailed while numerous inquiries take place.
The College of Policing recommends that bail should not exceed 28 days unless there are "exceptional circumstances".
The Home Office is planning to legislate to put that into effect.
'Plebgate' case
Finally, Mr O'Neill points to the so-called "plebgate" case, involving the former Government Chief Whip, Andrew Mitchell, as an example of the way in which police are misusing their powers. Image copyright PA Image caption Andrew Mitchell faces a big bill for legal costs after a failed libel action
During its investigation into who leaked details of Mr Mitchell's row with a policeman at the gates of Downing Street in September 2012, the Metropolitan Police accessed the phone records – the who, what, when and where of calls, but not the content – of at least one journalist on the Sun, which broke the story.
"If plebgate is an example of what goes on routinely, we ought to be worried," says Mr O'Neill.
To find the information, the Met used the Regulation of Investigatory Powers Act (Ripa) legislation, which governs the use of police surveillance, interception and data-collection measures.
A report published this week from the interception of communications commissioner found that over a three-year period, 19 police forces had sought phone data in relation to 34 investigations into illicit dealings between public officials and journalists.
That amounted to more than 600 separate applications for data – 0.1% of the total number of applications for communications records. Image copyright AP Image caption Andy Coulson, former News Of The World editor, was jailed as part of Operation Weeting
Mr Marshall says Ripa contains a series of checks and balances against misuse – it can be used to investigate only crimes that are "serious", and applications have to be authorised by a senior officer.
He says police must be "open to challenge" and officers must ask themselves, before they apply for "journalistic material", if it's relevant to the case under investigation.
"You have to justify what you're doing," he says.
But Mr Marshall also issues a reminder that no-one is above the law.
"Journalists have no more protection than a judge, police officer or milkman, if you're investigating serious crime," he says.
Nevertheless the disquiet over the use of Ripa has led Theresa May, the Home Secretary, to order a review by David Anderson QC, the independent reviewer of terrorism legislation.
It is due to be completed by the general election, in May, when the balance between individual liberty and journalistic freedom, on the one hand, and security and effective policing on the other, will be at the forefront of the debate.
Correction: The caption beneath the picture of Andy Coulson has been changed
Thousands of pounds have been awarded to a man after claims made against him by a Dyfed-Powys police officer were shown by CCTV to be false.
Richard Roberts from Milford Haven received £40,000 in an out-of-court settlement after it was claimed in a witness statement he was shouting and swearing at the time of his arrest.
He denied the allegations but the force proceeded to charge him.
"I was calm even though I'd been assaulted," he said.
Police are 'trained to deliberately hide evidence they don't want defence to see' finds report exposing full extent of disclosure failures after collapse of a series of rape trials AUGUST 26TH 2020
Documents show how police employ tactics to stop handing over vital evidence
Dossier reveals how officers and prosecutors hide some materials on a secret list
Other accusations include officers being reluctant to record witness statements
Revelations come after collapse of several rape cases over handling of evidence
By Alexander Robertson For Mailonline
1k shares
Police officers are trained to hide evidence that would undermine their investigations in court, a damning dossier reveals.
Documents show how police and prosecutors employ certain tactics to stop defence teams from seeing materials that could help their client during their trial.
Other accusations include officers being reluctant to record witness statements that hurt their case or presenting vital evidence to lawyers at the last second.
The revelations come after the recent collapse of several rape cases, leading to heightened concerns that evidence is not being disclosed properly.
+4
The case against Liam Allan (pictured), who was accused of rape, was dropped days before he was due to stand trial after evidence including his accuser's diary was uncovered
One ploy used by police is to put evidence 'on the MG6D', which refers to a list of sensitive unused material which a defendant's legal team does not have access to.
Examples of legitimate materials which may be put on the MG6D include those relating to the interest of national security or information about an undercover officer.
According to The Times, the dossier is compiled from reports of 14 focus groups of police officers, judges and prosecutors.
RELATED ARTICLES
Share this article
Share
One comment in the file read: 'In even quite serious cases, officers have admitted to deliberately withholding sensitive material from us and they frequently approach us only a week before trial.
'Officers are reluctant to investigate a defence or take statements that might assist the defence or undermine our case.'
Referring to the practice of exploiting the MG6D, an inspector said that officers are'trained to put items on there that they do not want disclosed to the defence'.
+4
Scotland Yard commissioner Cressida Dick (shown) said officers must investigate rather than blindly believe allegations and should keep an open mind when a victim has come forward
The revealing dossier was obtained under a freedom of information act request by charity the Centre for Criminal Appeals.
More than 900 suspects had charges dropped last year because police and prosecutors failed to hand evidence to defence lawyers.
In the lead up to criminal trials, police and prosecutors have a duty to disclose evidence that might either assist the defence case or undermine the prosecution.
But the recent collapse of several rape cases has heightened concerns that evidence is not being disclosed early enough, and that the rules are not being followed.
The trial of student Liam Allan, 22, who was charged with six counts of rape, was halted by a judge after it emerged his accuser had sent hundreds of messages to friends that would have cleared him.
The case against an Oxford student accused of rape was dropped days before he was due to stand trial after evidence including his accuser's diary was uncovered.
Yesterday it was announced by Scotland Yard that officers would be abandoning the policy of automatically believing victims of rape.
Commissioner Cressida Dick said officers must investigate rather than blindly believe allegations, and should keep an open mind when a victim has come forward.
Failure to disclose evidence has led to a series of collapsed cases
The issue of disclosure of evidence has been at the centre of a series of sex offence trials which have collapsed in recent months.
More than 900 criminal cases were dropped last year due to a failure by police or prosecutors to disclose evidence.
The series of failures led former Lord Chief Justice, Igor Judge, to warn that juries may start to think they have not been shown all the evidence, and victims to not come forward.
+4
+4
Oliver Mears (left) and Isaac Itiary (right) both had sex cases against them dropped when evidence emerged at the eleventh hour
In December, Isaac Itiary was released from prison after it emerged his alleged victim posed as a 19-year-old woman and lied about her age.
Police officers had texts which showed the girl was lying about her age but only released them after he had spent four months in custody awaiting his trial.
In February, the case against Samson Makele, 28, was halted after his defence team unearthed vital photographs from his mobile phone which had not been made available.
Mr Makele was accused of raping a woman after they met at Notting Hill Carnival in 2016 but he always claimed the sex was consensual.
His case, which was due to begin in March, was thrown out after more than a dozen photographs were found which showed the pair naked and cuddling in bed.
Oxford student Oliver Mears, 19, spent two years on bail accused of raping and indecently assaulting a woman in July 2015.
But the CPS decided to offer no evidence against him in February on the basis of fresh evidence, including a diary that supported his case, which was passed to the CPS just a week earlier.
e
Press Release August 22nd 2020
My story is about 12 years of police harassment because I wanted to know why I was given a PNC Criminal Marker on my car and soft intelligence for alleged stalking and domestic violence – which I discovered via the CRB and which the police still refuse to explain. Police admitted investigating nothing, my protests earning me a restarining order for things I had never done.
My ex brother in law, Chief Constable Simon Chesterman, involved himself in my divorce for his cash strapped family's financial gain. He made malicious false allegations that my eldest son and I were stalking him while he had my vulnerable 20 year old son shut up in his remote Shropshire home.
My divorce from his sister was basically about her abuse manipulation and control of myself and youngest son and my decision to seek gender reassignment. In desperation to find out why police cars, some unmarked, were chasing and searching myself and car- also I could not get a job because of them- I launched an internet and leaflet campaign which gained no information other than a conviction for harassment.
Since then, I have won two court cases against them, been raided because the police produced malicious documents suggesting I shopped myself as a 'gay escort' working for my son at this house, allegedly a brothel, taken to Crown Court for swearing at them, they lost their last two court cases against me – fined for lying in 2018.
Now they have blocked my gender reassignment surgery by telling my GP that I am a violent, paranoid and deluded . I have masses of documents to back up my story. I have spent a lot of time in police cells, spent a fortune on lawyers, been driven close to suicide -also been subject to adverse local and national publicity.
The police have now blocked my e mails to stop me complaining, the Tavistock Gender Clinic sending a psychiatrist, medical student and big mental health nurse around with a view to having me sectioned. Chesterman is famous for his role in the Plebgate cover up and head of the Civil & Nuclear Police/National Firearms lead.
Roberta Jane Cook August 22nd 2020
For more on this story read 'A Life and Death Sentence in Police State Britain' below, and also further down 'My Story.'
Robo Dogs & Cops August 24th 2020
Police in the US have been quietly testing a highly-advanced robot dog alongside officers, prompting an urgent response from a civil liberties group
The American Civil Liberties Union made a public records request to robotics firm Boston Dynamics after the Massachusetts State Police published a video demonstration of the Spot robot dog.
It is believed the robotic dogs, which are capable of opening doors and navigating obstacles, have already been used during live incidents.
"All too often, the deployment of these technologies happens faster than our social, political, or legal systems react," the ACLU said in a statement shared with TechCrunch.
"We urgently need more transparency from government agencies, who should be upfront with the public about their plans to test and deploy new technologies."
Cops call on 'Commissioner Coward' to quit: Police chief who stayed in his car during Westminster terror attack is compared online to hero officers who got stabbed taking on London Bridge jihadis
Sir Craig Mackey witnessed Khalid Masood stabbing PC Keith Palmer to death
He said he went to get out of his car but was told to 'shut the door' and locked it
Former detective Peter Bleksley described the actions as 'utterly unforgivable'
Photo-shopped images mocking Sir Craig are being shared on police forums
Others have also highlighted the actions of Lisa Potts and Bernard Kenny
The heroics of brave police officers are once again being highlighted – as a London police chief is slammed for hiding during the Westminster terror attack.
Sir Craig Mackey, the now deputy commissioner of the Metropolitan Police, was slammed online as it was revealed he locked himself in his vehicle before being driven away as colleague PC Keith Palmer was stabbed to death outside the Houses of Parliament in March last year.
Amid calls for him to quit, social media users have slammed Sir Craig on Twitter, with one branding him a 'disgrace' compared with hero police officer Wayne Marques, who fought London Bridge attackers while being stabbed in the head, leg and hand.
The British Transport Police officer fought off terrorists Khuram Butt, Rachid Redouane and Youssef Zaghba with just his baton, having been temporarily blinded in one eye as they lunged at him with their knives. Also during the London Bridge attack, off-duty Metropolitan Police officer Charlie Guenigault rushed to help the injured without protective clothing.
Freddy Forsyth Tweeted today that Sir Craig was 'unlike BTP PC Wayne Marques who single-handedly ran at and engaged the 3 Muslim terrorists during the London Bridge attack in June '17 armed with only his police baton'.
He added Sir Craig is an 'absolute coward' as Jess Clark pointed out that Mr Marques earned significantly less than the commissioner.
Scroll down for video
+16
+16
Sir Craig Mackey (pictured receiving his knighthood at Buckingham Palace in June) has been slammed online for not helping PC Keith Palmer as people compared him with the heroic officer Wayne Marques (right)
Comment
Politics and back stabbing gets promotion in the police. Of course the promoted hide fom reality on the street and talk good jargon/bullsh-t, go on lots of courses, get degrees – e.g CC Simon Chesterman with his interesting Soicology BSc from Portsmouth University- at taxpayers expense, QPMs, ludicrous pompous knighthoods from the classist Queen, so this guy shows his true cowardly colours. Robert Cook
British Police Horribly Racist Say 65% of public. August 22nd 2020
Two-thirds of minority ethnic Britons believe the police and criminal justice system are biased against them, a new poll finds.
Coming after racial injustice protests swept across Britain in recent months, the poll for the charity Hope Not Hate shows the level of concern about bias in policing among minority groups.
Eight out of 10 black Britons and eight out of 10 Bangladeshi Britons fear "police are biased against people from my background and ethnic group", with 65% of all ethnic minorities agreeing.
The poll also finds four out of 10 minority ethnic people witnessing or experiencing racial violence or abuse in the past 12 months, in results that challenge the notion Britain is at ease with itself over race.
The figures in the poll of minority ethnic people suggest potentially significant problems of legitimacy for the main institutions of the criminal justice system, more than 20 years after radical reforms were promised in the wake of the Stephen Lawrence inquiry.
Pollsters Focaldata, who carried out work for the Conservative party during the 2019 general election, conducted the survey.
Accurate polling of ethnic minorities in Britain is hard and expensive. But some broad headline findings on policing in the new survey chime with a poll last month for ITV. That previous poll asked whether policing had a culture of racism and 59% of minority ethnic respondents said yes, rising to 77% among black people specifically.
The new poll may be a warning to the government and leaders of the criminal justice system of big problems in trust among ethnic minorities.
Asked whether they would be proud if a family member joined the police, 52% said they would, 18% said they would not and 30% were neutral. Among black people 47% said they would be proud.
Police chiefs hope the recruitment of another 20,000 officers will be a once-in-a-lifetime chance to make policing less disproportionately white. The increase in minority ethnic officers has come mainly from Asian communities and not black ones.
Report author Rosie Carter said: "People do see a culture of racism within the police and criminal justice system but that manifests itself through a few individuals."Dawn Butler police stop 'rooted in bias', says UK chief of black police officersRead more
The poll also showed 54% support among all ethnic minorities surveyed for "defunding" police, by moving money from law enforcement to "preventative areas such as youth work, social care and mental health services".
The survey found most minority ethnic people (64%) thought the police were generally good, with a few individuals causing problems. Respondents were not asked specifically about whether they thought bias was systemic or institutional.
The report finds a generational difference and says: "Eighty-one per cent of over-65s agree that the police as a whole are good, it is only a few individuals who are a problem, compared to only 55% of 16-24s."
Seventy-two per cent said that black and Asian people faced discrimination in their everyday lives, and just 9% disagreed. More than half in the last 12 months said they experienced or witnessed racism in the press, on social media, or in public.
Black Lives Matter protests had overwhelming support and were backed by 73% of minority ethnic people and 78% of black people, and 87% of all minority ethnic people aged 16-24. A majority of those identifying themselves as Conservative supporters supported BLM.
Experience of racism was also prevalent, especially for younger respondents. The report says: "Racist violence is a feature of many young people's lives; only a third (35%) of 16-24s could say that they had not witnessed or experienced racist violence in the last 12 months compared with 75% of 55-64s and 80% of over-65s." Just 15% of 16-24s could say they had not witnessed or experienced racism on social media.
The National Police Chiefs' Council said it was drawing up an action plan to address racial inequalities in policing. It said: "It is crucial that we retain the trust of all communities, so that we can work with them to fight crime and keep people safe. We have recently invested significant time and resources into working out how we can better engage with communities of all backgrounds."
Insp Andrew George, leader of the National Black Police Association, said: "Now is the time to acknowledge the evidence produced in this report and build long-term strategies to increase trust and confidence in black, Asian and minority ethnic communities."
Fife Chief Constable Guilty of Careless Driving Causes Fatal Crash
By Exposed Police | on 02/05/2013 | Police Exposed
A FORMER chief constable was found guilty yesterday of causing a head-on car crash after a sheriff didn't believe her version of events.
Norma Graham, who was head of Fife police until last year, took the stand to defend herself but was convicted of careless driving.
The crash left a young woman in hospital for three days.
Graham, 50, is understood to be the first chief constable ever convicted of a crime in Scotland.
She said the crash happened after her steering locked but a sheriff said: "I do not accept the accused's evidence."
He fined Graham £400 with seven points on her licence. She got three points for speeding in another incident after the accident.
Graham, Scotland's first woman chief constable, retired from her £120,000-a -year job on full pension months after the crash.
The top cop was driving an Audi A6 Quattro on the morning of February 7 last year when it veered across a country road near Fife police HQ in Glenrothes and hit a Renault Clio driven by physiotherapist Hannah Shedden, 25.
Witness Graham Campbell, who was in the car behind Hannah's, told Kirkcaldy Sheriff Court: "There was an incredible impact.
The Clio went up in the air and on to its nose, then back down."
Hannah, forced to give evidence by Graham's not-guilty plea, broke down in the witness box as she relived her ordeal.
She said: "I saw a car heading straight towards me. It was on my side of the road. Originally I thought it was trying to avoid something like a cyclist but it just seemed to keep coming over."
The court heard Hannah suffered a broken collarbone and knee injuries which needed surgery, and was off work for four months.
She said: "I was in hospital for three days."
The Clio was a write-off.
Graham had just crested a hill when the crash happened. The court heard that the Audi seemed to appear out of nowhere and "shoot" on to the wrong side of the road.
She told the court she had taken account of the freezing conditions that morning and had been doing no more than 45mph.
And she insisted: "There was nothing I could do. I felt the car was locked and I couldn't steer left."
Graham said she would not have fought the case if she'd had any doubt about her innocence.
She added: "I felt awful that Hannah had to give evidence and was very concerned about her at the time of the accident."
Police found small patches out of ice on the road, about 330ft from the crash site, and initially claimed they could "cumulatively" have caused Graham to lose control.
But crash investigator Alistair Bain, of Lothian and Borders Police, told the court he thought that was highly unlikely.
He added: "It is my opinion that the cause was an unknown driver error by the driver of the Audi."
Finding Graham guilty after a two- day trial, Sheriff Grant McCulloch said: "I do not accept the accused's evidence that the car would not let her steer to the left. It was examined and no defect was found.
"She was either not braking hard enough or her speed was such that hard braking had not enough effect on her speed.
"The force of the impact shows that the accused's driving fell below the standard expected of a careful and considerate driver."
Graham, of Dalkeith, Midlothian, refused to comment as she left court with her husband.
News published on: http://www.dailyrecord.co.uk/news/scottish-news/police-chief-guilty-horror-crash-1864984
Comment She is the first Chief Constable in U.K to be convicted because they are rather a law unto themselves. Few senior officers are investigated and even fewer prosecuted.
How is an underling going to challenge the likes of a CC ? The CCs cronies will freeze such people out, careers go out the window and working life is impossible.
Most police officers have families and bills to pay and do the job for money. The arseh-les find their way to the top and are the real basis of serious corruption. We need the police, we need accountability and we need reform. Robert Cook
Bob Lambert, undercover cops, and the awful cost of sleeping with the enemy. Are they no better than rapists ?
In adopting a persona, the secret policemen of the SDS seem to have lost touch with reality. August 21st 2020
Former Special Branch detective Bob Lambert, who used the pseudonym Bob Robinson
By Glenda Cooper
2:30PM BST 25 Oct 2014
Giving birth is a messy, painful, exhilarating process – and one of the most precious and intimate of experiences a couple can share. No wonder Bob Robinson burst into tears the first time he held his son, as his partner Jacqui, exhausted after a 14-hour labour, looked on proudly.
But it wasn't his first child. And he wasn't really Bob Robinson. Jacqui even suspects that he might have been paid overtime to be present at that key moment in their lives.
Because "Bob Robinson" never existed: he was, in fact, Bob Lambert, an undercover police officer in the Met's Special Demonstration Squad (SDS), who took up with Jacqui to bolster his credibility while infiltrating protest groups in the Eighties – and promptly vanished when their son was two years old.
Last week, Jacqui reportedly won £425,000 in compensation from the Met Police. It was an unprecedented settlement after she and a number of other women sued the force, saying they were duped into relationships with officers who were spying on them. While no one doubts the need for undercover policing – and the bravery of those who do it – Jacqui's case raises fundamental questions about the way the undercover squad operated, and how women and children became collateral damage in the desire to get a job done.
Lambert had met Jacqui at an animal rights protest in 1984. He was in his thirties; she was 22. She was a regular hunt saboteur, but didn't subscribe to violence. They quickly became a couple – he was her first serious boyfriend, and she thought their relationship was stable enough to suggest they had a child together.
Related Articles
The problem is that nothing that Jacqui thought she knew then, she can rely on now. She had no idea that when Bob cuddled their newborn son, he was already a married father of two (he would sneak off to see his other family, by claiming he was visiting his father with dementia). Even more seriously, she also had no idea that both his other children later died because of a rare genetic disorder (Jacqui's son thankfully does not carry that gene). When Bob's undercover role was finished, he told her he was moving to Spain to evade Special Branch. In fact, while Jacqui struggled as a single mum, he was sitting at a desk only a few miles away in London.
All Jacqui's memories are tainted now, her most private of moments served up as potential evidence. "I don't know why I was singled out by the police to be duped into an intimate sexual relationship with Bob Lambert," she said this week. "I don't know if he was paid overtime to be with me during the 14 hours of labour I went through giving birth to our son."
No wonder that when the truth came out about the real life of her former lover, Jacqui suffered a breakdown. Her distress, she says, was exacerbated by the Met Police's longstanding response to her attempt to sue them for emotional trauma. It was that security reasons meant they could neither confirm nor deny which officers had worked undercover – until a high court judge overruled them in July this year.
The exact nature of what the SDS and its officers were up to is now the subject of a forthcoming inquiry and a continuing internal police investigation. But it is incredible to think that, as far as we know, no one seems to have questioned whether what Lambert and other officers were doing was morally appropriate – and those officers themselves did not question what they did.
Lambert has apologised to Jacqui and the other women he had relationships with during his time undercover. In an interview he gave last year, he said that he loved her.
But if he had really loved her and knew that this was a relationship he would at sometime disappear from, the truly loving thing would have been to extricate himself before they got involved – and without a shadow of doubt before she got pregnant. And what about his other forgotten family? His first wife and now deceased children were victims, too. It's almost beyond belief that, since Lambert's identity was revealed, he has managed to forge a meaningful relationship with Jacqui's son, after more than 20 years of absence.
Of course, the strain of living life undercover is immense, and of course there are many incredibly brave police officers who risk their lives in order to infiltrate dangerous groups. But cases like Jacqui's damage our view of how such operations are run, in a set-up where innocent people ended up being treated as commodities.
Perhaps in adopting a persona, the undercover officers lost touch with reality. But the consequence was that they didn't – or wouldn't – take heed of the lives they smashed. And so behind men like Lambert, there is a trail left of friends betrayed, lovers deceived and a child left fatherless – and all because sleeping with the enemy appears to have been seen as a perk of the job.
Comment Like James Bond, the British police appear to be licenced to rape, kill and walk all over civil liberties, breaking the rich persons laws to uphold those laws, vile people all. Chief Constable Simon Chesterman was involved dealing with animal rights protestors – he told me so. He got the Queen's Policing Medal for pioneering new methods of evidence gathering. I
was on the receiving end of this appalling indivdual's skills, when he, members of his family and other officers lied and fabricated 'evidence' that my eldest son and I were stalking him over the weekend of October 4th/5th 2008, when we were actually hundreds of miles away in Ormskirk, and clould prove it.
That is what I call scumbag police. Now they refuse to answer my complaints, blocking my e mail and getting my pathetic doctor to pass on lies that I am a violent paranoid alcholic. That is what I call living in a police state. Robert Cook
Independence Daily
The Two Tier Police Service – Not Fit for Purpose
Posted by Stephen Place | Oct 17, 2018 | Debate, Editorial |
I make no apologies for writing again about the current state of the British Police force. What I have found when talking to ordinary men and women who don the blue each day is that there is an enormous disconnect between them and their so called senior officers who are supposedly in command.
Never more was this reflected than in the case of PC Palmer murdered at the gates of Parliament not ten feet away from a senior commander who locked the doors of his car and hid. I have no compunction whatsoever in calling Craig Mackey out for what he is, a coward. Yes the senior bods at New Scotland Yard have closed ranks to defend him and his actions, you would not expect any less from them.
However in this case they could not be more wrong. They have further deepened the already enormous chasm between them and the officers they seek to manage, direct and dare I say protect. We are told that the doors on his car would have been locked from within by the other "people" in the car with him as protocol. Well the "others" in that car, if they too are serving police officers, I presume one would be his driver, then they are total cowards too.
Three people in a car not twenty feet away from a brother officer who was being stabbed to death, chose to hide and lock the doors, securing them safely. What further makes this a cowardly dereliction of their duty is that, when the incident was over, they drove away. They drove away, leaving other officers and an MP to try and attempt valiantly to save PC Palmer's life.
When did this descent into the disconnect that is prevalent between the management and seniority and the constables and sergeants that are the backbone of the force start? I think it started with positive discriminatory recruitment, promotion and direct entry.
In 2014 Cameron the then PM decided to introduce direct entry to the force at Inspector and Superintendent level. This meant that anyone with a degree could apply to become a Police Inspector. This was a calamitous mistake. Man management and budget control are required at this level but a deep understanding of the policing brain, the ethos and culture within the police family can only be gained by doing the job over a number of years. These skill sets are a paramount requirement for promotion.
You need to have the experience of being lied to throughout an interview, how to stomach the "no comment" response in hours of interviewing. A Police Officer needs to understand the people with whom you come into contact with each and every day, those that will run, hit you, spit at you and those that are genuine. You cannot get that experience at university studying a zoology degree.
Fast track promotion breeds a culture of not wanting to get involved, of dodging and staying well away from any job that may just be tricky or need a certain level of bending the rules to get through. It breeds and establishes the feeling that coming into work every day involves doing the politically right thing and staying clear of trouble.
Coming in for shift to build a portfolio and looking towards that next step up the ladder will only create that disconnect. Your officers turning out to every job, no matter what it is, running toward the trouble, need that security that if it goes wrong, and it will, they have a boss who will have their backs. Not a boss who`s first thought is "how will this affect my career".
I have long advocated that UKIP should take up the challenge on behalf of the police force, and too the Prison service, but that is another article that needs writing. The following are not UKIP Policy but just my thoughts on policy ideas for the future.
Scrap direct entry and the need for a degree as an entry requirement at recruitment
Investigate the influences of common purpose within the force
Recruit a minimum of 25 – 30,000 new officers
Scrap direct entry recruitment at Detective level
Establish a national police force to deal with CSE, terrorism, cyber- crime, fraud and organized crime
Keep the 43 police forces as 'local' forces dealing with local issues and crime
Each local division to have a divisional commander responsible for his/her budget and policing management best targeted at local issues
Scrap Police Crime Commissioners. Return to police panels on a local basis made from councilors, and members of the public elected to those posts
Introduce minimum levels of service prior to promotion.
The biggest change should be scrapping the 50% rule on sentences and a complete overhaul of the parole board and probationary service. This list is not exhaustive. I firmly believe that if Ukip take on the police as a cause, coupled with strong law and order, they will be vote winners.

Civil & Nuclear Police Not Fit Enough To Carry Guns August 18th 2020
Too fat and old to carry guns: Nuclear plant police too unfit to be armed .
Twitter: https://twitter.com/MetroUK | Facebook: https://www.facebook.com/MetroUK/
Police officers have won damages because bosses refused to listen to their admissions they were too fat, old and unfit to carry guns. The five men left their jobs guarding a nuclear base saying they should not be expected to be armed. They complained they were neither physically nor psychologically able to cope with the demands of firing weapons or wearing body armour. But their bosses in the Civil Nuclear Constabulary, an armed force paid for by energy companies, demanded they retract the claims or lose their jobs. Advertisement Today, the men, all in their 50s, won an unfair dismissal case and are in line for compensation in August. However, Chris McEvoy, of the Civil Nuclear Police Federation, said: 'This was not about money. Ideally, they would like their jobs back but not be asked to carry guns. 'They had given good service for years and then the constabulary rode roughshod over them because they had a sense of their own limitations. Arming them with guns may have been a hindrance, rather than a help.' The five officers, based at Capenhurst, Cheshire, argued giving them guns would put the public in danger. Charles Shone, 58, claimed he had a dodgy knee which would 'pop out' and he was struggling to keep up with younger and fitter colleagues. He said: 'I used to be able to make critical and life-threatening decisions but I didn't feel capable any more. 'I did not want to be the person potentially pulling the trigger and being responsible for something catastrophic. My general fitness, my stamina, agility, reflexes, sight and hearing had all diminished.' His brother, Harry, 57, said he was a 'larger gentleman' who struggled to carry the 34kg (74lb) of kit required by an armed officer. 'I didn't have any problems hitting a target but it was the running around with all that armour, for a man of my size, that was difficult,' he said. The brothers, along with colleagues Morgan Tudor, Steven Collins and Peter Jones, won their unfair dismissal case at an employment tribunal, which dismissed the CNC's claims the men had been colluding to win a better redundancy deal. Last month, a female officer at Sellafield won a sex discrimination case against the force because her gun was too big for her small hands.
Read more: https://metro.co.uk/2014/03/04/too-fat-and-old-to-carry-guns-nuclear-plant-police-too-unfit-to-be-armed-4415775/?ito=cbshare
Twitter: https://twitter.com/MetroUK | Facebook: https://www.facebook.com/MetroUK/
Read more: https://metro.co.uk/2014/03/04/too-fat-and-old-to-carry-guns-nuclear-plant-police-too-unfit-to-be-armed-4415775/?ito=cbshare
Twitter: https://twitter.com/MetroUK | Facebook: https://www.facebook.com/MetroUK/
Ex-police officers employed at the IOPC Posted August 17th 2020
Peter Thompson made this Freedom of Information request to Independent Office for Police Conduct
Follow 1 follower
The request was successful. Peter Thompson Delivered
Dear Independent Office for Police Conduct,
Please could you provide the following information;
How many ex-police officers are currently employed by the IPOC in the following roles;
Investigation
Management of investigations
Assessing/deciding appeals
Management of appeals
Senior management/strategic roles
Yours faithfully,
Peter ThompsonLink to thisReport !Request Info, Independent Office for Police Conduct
1 Attachment
This is an automated email please do not respond to it.
Thank you for your email.
If you have made a request for information to the IOPC, your email and any attachments will be assessed, logged and forwarded onto the appropriate department to prepare the response.
FOI & DPA TeamLink to thisReport !Request Info, Independent Office for Police Conduct
Dear Mr Thompson

Thank you for your correspondence to the IOPC in which you made a request
for information. This request is being considered under the Freedom of
Information Act 2000 (FOIA). We will now consult with the relevant
department to gather the response to your request.

We propose to respond to you on or before the 11 November 2019 in line
with the timescales prescribed by the FOIA.

If you have any questions about this request please contact us. Please
remember to quote reference number 1007943 in any future correspondence
about this matter.

Yours sincerely


FOI and DPA Team
Independent Office for Police Conduct (IOPC)
PO Box 473
Sale
Manchester
M33 0BW
Tel: 0300 020 0096
[1]www.policeconduct.gov.uk
Follow us on Twitter at: [2]@policeconduct
Find out how we [3]handle your personal data.
We now regularly publish practical advice and guidance for handling
complaints in our magazine [4]FOCUS



References
Visible links
1. http://www.policeconduct.gov.uk/
2. https://twitter.com/policeconduct
3. http://www.policeconduct.gov.uk/privacyn…
4. https://policeconduct.gov.uk/research-an…Link to thisReport !Request Info, Independent Office for Police Conduct
2 Attachments
Dear Mr Thompson
Please find attached our letter responding to your FOIA request together with the table of data to which our letter refers.
Please quote our reference 1008001 in any further correspondence.
Yours sincerely
Freedom of Information & Data Protection Team
Independent Office for Police Conduct
PO Box 473
Sale
M33 0BW
0300 020 0096
Find out how we handle your personal data on our website.
www.policeconduct.gov.uk
Follow us on Twitter at: @policeconduct
show quoted sectionsLink to thisReport
Peter Thompson left an annotation (12 November 2019)
40% of IOPC staff employed in investigation roles or management of investigations are ex police officers – no wonder they are so reluctant to carry out proper searching investigations or deal with appeals in an unbiased manner!
They should be independent – they are independent in name only!
Police State Latest August 16th 2020
The following report is more of the same, using Covid 19 hysteria and fear for social control. Hate crime legislation clearly only applies to certain groups, defintely not Muslims.
The reason Islam is protected. using drivel like anti racism and we can all worship in our own way, is to divide and rule. Religion is oppressive, Catholocism was a Roman perversion of Jesus's teachings, Islam was a politcial offshoot of Christain teachings, and their parent Jews killed Jesus for political reasons.
Religion has nothing to do with truth. it is not compatible with science, so oft quoted by the lockdown merchants. It is a form of mind policing, most useful to our ruling elite who rely on their self important toadying Chief Police Officers to tell us what we can and can't do. These grotesque people aspire to make up law as they go along. Covid 19 was made for them Robert Cook
www.facebook.com/IOPCIsOnLifeSupport
Manchester police condemn large gatherings in lockdown August 16th 2020
Greater Manchester Police (GMP) have condemned the behaviour of people attending large gatherings this weekend despite local lockdown measures.
Officers were hit with missiles as they tried to break up a street party in Gorton on Saturday, a day after a large gathering in Wilmslow Road, Rusholme.
They also had an "unprecedented surge" of 930 more calls to 999 on Friday compared to a year ago, the force said.
Deputy Chief Constable Ian Pilling said the weekend events were "outrageous".
Gorton MP Afzal Khan tweeted that he was "angered" after the "appalling behaviour" on display by some people celebrating Pakistan Independence Day on Friday in Rusholme's Curry Mile.Skip Twitter post by @Afzal4Gorton
To those who came from outside Manchester, knowing full well the COVID situation across our region, your choice to visit Rusholme last night increases the danger of spreading the virus further here and at your home. You should be ashamed – you have put your loved ones at risk.— Afzal Khan MP (@Afzal4Gorton) August 15, 2020
End of Twitter post by @Afzal4Gorton
Lockdown restrictions on social gatherings remain in Greater Manchester and some parts of northern England, despite measures being relaxed elsewhere across the country.
Extra rules were enforced on 31 July following a local spike in cases.
GMP said it had received 2,459 calls to 999 on Friday, compared to 1,590 on the same day last year – requiring staff to work long shifts on what should have been their days off.
On Sunday, DCC Pilling said a "significant number of GMP officers… were extremely stretched again yesterday with unprecedented demand" and had to be supported by officers from North Wales and Cheshire.
In a strongly-worded statement, he added: "The last thing we need is large gatherings such as this, as well as unacceptable attacks on officers attending the scene.
"Quite frankly, it is beyond comprehension and I am incredibly disappointed that people feel they can gather in this way – blatantly flouting the rules.
"I can honestly say that, in 30 years of policing, I have never seen anything quite as outrageous as this behaviour."
He said officers were gathering evidence and "hope to act shortly" with regards to prosecutions.
Black civil servant accused of car theft while jogging August 3rd 2020
Police have apologised to a black civil servant who was accused of being a car thief while jogging near her home.
Dr Andrea Charles Fidelis, who works for the Ministry of Justice, said she was racially profiled and "dehumanised" by an officer in Swanley, Kent.
She was "threatened with arrest" after a man claimed to have seen her leaving his driveway on 29 March, she said.
Kent Police said claims the officer had been "biased and discriminatory" were not upheld by an investigation.
But the force said it had apologised to Dr Charles Fidelis "for the way the officer had spoken to her".
Dr Charles Fidelis, 41, said she had sought sanctuary in a railway station after being followed while jogging by a man who mistakenly believed she had attempted to steal his car.
When police arrived, an officer presumed she was guilty without asking any questions and did not believe her account that she was in fear of being attacked by the man, she said.
"I was dismissed by him as not having the capacity to have natural human feelings," she added.
'Criminals first'
The findings of Kent Police's inquiry, shared with Dr Charles Fidelis, said there was no evidence of "discrimination or incivility" and the officer had not breached the force's policy or the law.
A report said the information available to the officer at the time was "sufficient to identify Dr Charles Fidelis as a suspect".
She said the force had failed to take account of the "engrained" racial bias of the officer, who had been "unable to empathise or even see me as a potential victim".
"Throughout this whole saga I have not been treated equally to my white accuser," she wrote in a blog.
"The embodiment of black people being seen first as criminals, rather than victims has played out at every stage from start to finish."
The experience left her feeling "brutalised" and "frightened to go out", she said.
The mother of three, who sits on the board of a violence reduction charity, said she had been aware of a "deeply held resentment in the black community towards policing", but had previously had a "really positive experience with the police".
However, her treatment had provided a "painful insight into how it plays out", she said.
Kent Police said it "takes all complaints relating to racial discrimination seriously".
It said Dr Charles Fidelis had "appealed against the outcome of the complaint and this is now in the hands of the Independent Office of Police Conduct (IOPC) to allow the matter to be considered independently".
The IOPC said it was assessing the appeal.
Comment This is also a police state story. Lockdown has been used to remove key freedoms. We are in a police state of fear. Much as blacks might like to think its all about colour. It is not.
Police officers are recruited for a peculiar type of intelligence that would have suited Nazi Germany. The police may grovel in this case because of BLM sensibilities and fear for their jobs. They pick on the working classes and always have. Much to their surprise here the girl is not working class. The bullies came unstuck.
Read 'Love on the Dole' by Walter Greenwood. The police state is about looking after the rich. To the average cop, especially in London, black equals lower class and a soft target. Charles Close
Ashford Police Wearing Nazi Uniforms Leaked on Private Facebook Page British Police and dirty dark mindsets July 31st 2020
By Exposed Police | on 06/02/2014 | Police News
Several photographs have emerged appearing to show trainee police officers blacked up, wearing Nazi uniforms and surrounded by female staff dressed in stockings and suspenders.
The images were posted on a hidden Facebook page set up for officers to reminisce about their days at Ashford Police Training Centre in Kent.
They came to light after an anonymous former officer took exception to the 'I Survived Ashford Police Training Centre' page, which also reportedly contained sexist and homophobic jokes and raises serious questions about the behaviour of trainees between 1973 and the centre's closure in 2006.
The former WPC who brought the Facebook page to light told The Times that as well as sharing controversial images and jokes, many of the 2,000 members were using it 'almost like a confessional' to boast about inappropriate behaviour and even occasions where they knowingly broke the law.
Posting on an anonymous whistleblower website, the former WPC said she was 'infuriated' by the content of the Facebook page, which she has extremely high security settings making it impossible to view unless an administrator personally invites you to join to page.
As well as posting the images of trainees dressed in Nazi uniforms and wearing black face makeup, she also shared a number of screengrabs of comments allegedly taken from the page.
One posting appears to suggest that part of the training at Ashford was showing potential officers how to take suspects 'down and alley and sort 'em out'.
Other posts revealed apparent bigoted behaviour among the trainees, with one officer who claims to have been recruited in 1995 responding to a message about popular senior figures by saying his own sergeant: 'certainly wasn't the shaved-headed ginger-haired Sgt from Sussex that eventually got the sack for inappropriate gayness!!!'
The former officer went on to say that the page shows the training centre to have been a 'drink fest and a shag fest'. She added: 'It's very much a culture of what happens at Ashford stays at Ashford'.
Among the examples of apparent boasts of engaging in minor criminal behaviour were officers telling stories of stealing beer from the training centre bar, removing signs from doors and throwing bangers off of rooftops.
Other officers reportedly told of driving panda cars to the top of a steep hill, then letting them roll back down without brakes to see how fast they would go.
The former officer wrote: 'How can the public have faith in a service that allows officers to behave in a way that contradicts their duty'.
The Ashford Police Training Centre closed in 2006 after training officers for the British Transport Police and Buckinghamshire, Cambridgeshire, City of London, Essex, Guernsey, Hampshire, Hertfordshire, Jersey, Kent, Norfolk, Surrey, Sussex and Thames Valley police forces, as well as the Royal Parks Constabulary from 1973.
A spokesman for the College of Policing said they had no way of knowing if people who have posted on the Facebook page are still serving police officers. He added that many of the pictures appear to have been taken several years ago.
'As the new professional body for policing, we set standards for the service and the behaviour shown does not reflect what we would expect in modern-day policing,' the spokesman said.
'We encourage officers and police staff to use social media as an important tool to engage with communities, gather intelligence and help keep people safe.
'Each person working in the service needs to ensure their online presence meets the standards expected of them.'
Read the full story at: http://www.dailymail.co.uk/news/article-2552762/Police-Facebook-page-appears-trainees-blacked-wearing-Nazi-uniforms-making-racist-homophobic-jokes.html
Comment The British police are a disgrace, lying, hyporcrisy and bullying seems to be the norm – including bullying other officers who do not fit. They seem to think Nazism is a joke. As for the sex images, it is still the same culture and it is dreadful to know these animals will be dealing with sex cfrime victims. On top of that, many of these officers will have gone on to senior positions where they choose who gets promoted and so feed ongoing corruption. Robert Cook
To: Professional Standards professional.standards@thamesvalley.pnn.police.uk; oxfordhealth.aylesburyoacmht@nhs.net oxfordhealth.aylesburyoacmht@nhs.net; Complaints complaints@tavi-port.nhs.uk; enquiries.aylesbury.crowncourt@justice.gov.uk enquiries.aylesbury.crowncourt@justice.gov.uk;03/08/20 10:274Dear Sir/Madam,
There is an clear need for me to place a further complaint on the record. Obviously you feel protected by Dr C R Ramsay's so called psychiatric assessment identifying me as a paranoid personality disorder, schizophrenic, bi polar, and more likely to die by misadventure than suicide. Thus you do not feel obliged to update me on the 2018 alleged infrigement of my spurious restraining order – based on things I have never done – and your investigation into me as a sex worker for my son, a crime for which you say I shopped myself ( sic ) !
I have seen evidence that the police have contacted my GP surgery urging them to contact the Gender Identity Clinic alleging that I am a violent alcoholic, guilty of domestic violence and mentally ill – curiously none of this GP facilitated information to the GIC did not mention them having cleared me as not mentally ill or alcoholic on my HGV medical renewals. Obviously this is the root point at which the strategy of a multi agency approach was put in place, leading up to the GIC insisting that I took mind altering anti psychotic drugs in 2018, prior to Gender Reassignment Surgery ( GRS ). The assumption would have been that sex change patients will do anything to achieve their goal because they see it as a panacea, which I do not .Ramsay covers that with his conclusion that I have 'abnormal psychology'. – a most interesting concept, the way he puts it.
When I refused, an eager and compliant Ramsay was drafted in for an ex post facto justification to explain away and cover collusion between Norden House Surgery, the GIC and the police. The first two parties interestingly and persistently refuse to explain themselves, as do the police..
As a social scientist, I rather agree with R.D Laing that State employed psychiatrists are prostitutes. So within two weeks, I went from being described as a person with 'a secure female identity' to all of the things that Ramsay had been asked to prejudge for his report, commissioned to justify me having to take the anti psychotics. Very interesting. I am aware that these people work from the 6kg DSM 'Book' – Diagnosis Statistics Medication.

This is all rather different from Mr Maganty's expert assessment as a consultant forensic psychiatrist court witness in 2012/13 when the police attempted to jail me for suggesting the only reason TVP woud not stop my ex wife contacting my home address was due to her brother's status. This was construed as breach of the aforementioned restraining order. The police are characteristically trigger happy here. I see the pattern.
Since then TVP seem not to accept that you have lost the last two court cases against me, both of them matters of malicious prosecution distributing false information to my lawyers and the judge and witholding evidence, also taking me through seven court hearings without an evidence file, then having the cheek to ask for more time after wasting over a year not investigating the real author and letter sender. This is another development in your conspiracy to pervert the course of justice. I have contacted the Crown Court regarding these matters.
Those seven court hearings in early 2016 were fascinating. I had been under the impression that I had been taken to court for messaging the truth that the now Chief Constable Simon Paul Chesterman et al, abused his position to fabricate a stalking incident allegedly over the weekend of October 4th/5th 2008. Considering Chesterman's character, which was also revealed in his Plebgate cover up, I suspect he and his family have said a lot more than the substantial paper work copied to me by West Midlands CPS. In my case, he was backed up by an equally corrupt liar Sergeant Rees who testified that he found us on a campsite near, my ex brother in law Chesterman's home, on those dates ..My eldest son was also mentioned, libelled and slandered regarding this invented threat.
It took me until May 2009 to find out about the illegal PNC Criminal Marker, leading me to an internet campaign of increasing ill temper because the then WMC and TVP would not release records of this corrupt marker and soft intelligenc criminal suspect records. The marker was not removed until I was on bail, because of the leaflet, in December 2010.
It was caused by Chesterman's criminal lies, backed up by his friend, mentor and boss CC Paul West. Facts. It is also a fact that the CPS and TVP conspired to change the direction of the 2016 hearings to domestic abuse, without me ever being accused or investigated for the like. Total CPS / Police corruption in order to protect a corrupt lying senior officer and members of his equally culpable family..
My efforts to have update on my February 2018 arrest have been futile, with corrupt TVP playing the card of me being mad, an ongoing threat to the Chestermans and therefore subject to on going monitoring. Dr Ramsay – of the Whiteleaf Centre Aylesbury – has put in writing that if I saw all the files on me I would be very upset. So much for paranoia !
It is notabe that the CID Officer, Bellamy, who arrested me -for apparently working for, then shopping my son and I as sex workers sending porn pics to some 'great and good' – refused to investigate the obvious culprit as identified by me, having admitted not doing any forenssic works after watching my remote home for five months looking for signs of sex work – I was actually a long distance truck driver at the time , in spite of the police's best efforts to make me unemployable..
And so we come to Wednesday July 28th 2020 when I called the police reference an act of criminal damage to my property. Clearly an airgun had been fired twice at one of my double glazed front windows. The window was hit in two places. I timed it at around 10.30 – 11.00 when I heard a loud bang, thinking it was something else. so continuing working on a book project.
I saw the damage that afternoon, calling the police. An officer , PC4667, came out at 04.30 hours the following morning. Unfortunately I had fallen asleep. Another officer, PC 1771 arrived around 09.00 hours. We surveyed the damage together. The officer suggested a bird strike. I drew his attention to the two air gun pellet sized points of impact, noting it would not be effective to crouch and strike so low with a small stone and a larger one would have gone right through, as it did when a malicious party threw a brick in 2010, luckily not killing my friend. On both window breaking occasions I named the suspects.The police refusal to investigate any of three malicious events – four if you count the police and Chesterman lies regarding October 4th/5th 2008, which were not only ignored, they led to vile ;police PNC marker and devastating criminal records – manifests a vile self interested corrupt and malicious attitude from high level police command and control, as inititiated by Chesterman and West in 2008..
With so much time having passed. so much malicious presecution and so much damage done, the police have an incentive to continue ignoring my complaints, lying, planning more malicious prosecutions and now interferring with my health care, also with devastating effects including labelling me mad. If I could be judged as mentally ill after over 12 years of all this, it would be no surprise. This Police and Chesterman malice has been spread over national press, the internet and all around t this small town- it started long before I said or did anything, with me complaining to corrupt deaf police ears in TVP and WMP throughout the period October 2008- Septmber 2010..
There is a clear link between this and the harassment my son and I have experienced. I want to know why and how domestic violence was raised as a 'bad character' diversion during the traumatic hearings of 2016, a smokescreen to obscure my very serious allegations against the Chesterman family and police ? I want to know why you and the CPS consider that legal, and why I have never been openly accused or investigated by the police for such crimes. Interestingly, and in contrast, my ex wife admitted hitting me on four occasions she could remember but has been protected from any investigation.
I do not wish to attribute too much intelligence to the police, but it may be the case that, ( as in 2008-10) the police hope to ignore me, pushing me into more despiar as they did 2008-10, totting up more spurious records, then pouncing with an even more vile dishonest 'bad character' file. There is a pattern here. West Mercia Police had the audacity to admit investigating nothing before employing the devastating criminal marker along with lies about violence in 2008 – I am aware that until December 2012, it was necessary for Chesterman to have lied about stalking and fear of violence to get the marker. What he really feared was that my youngest son , an acute OCD sufferer, might leave the prison of Chesterman's home and I might pick him up from nearby ( hence Chesterman's curious comment that this younger son was 'vulnerable to manipulation and control- so I am adding abduction to my allegations against Chesterman ), where his condition was being exploited for family financial gain during my divorce. The Chestermans are high livers and need much money, which is why my ex mother in law told me to retire, sell my large property, put my mother in a home, one son into mental health care and the other into a bed sit. Fact. The year was 2007.

So, to come back to last Tuesday/Wednesday – as with me telling police who was responsible for the ludicrous vengeful documents causing outrage in 2018 – the police officer did not rush of to interview or make immediate hate records against any of the parties I named as suspects. This expereince highlights the misconduct and criminality of WMP in October 2008.. Tthere is a due process. Police should not go straight to marker and records without evidence and obvious investigation, simply on the word of an aggrieved person or persons. This whole criminal sequence has destroyed mine and my son's lives. This is a very serious insight into police and CPS corruption.
On Wednesday 28th July. the officer 1771 spent about 5- 10 minutes visiting a neighbour, coming back with the conclusion that there was no video evidence of a suspect. in the lane at the time of the criminal damage. All very different to the treatment the self interested Chestermans got when they lied about me stalking and threateing violence over the weekend of October 4th/5th 2008, repeatimg their allegations in December 2008 to get enhanced security. I want answers and records please. The 2016 and 2018 cases have made matters very much worse, compouned by Ramsay, Norden House and the GIC.

It is an outrage that Chesterman has never been invesigated, but I should not be surprised that he is now a CC. That is typical of the arrogant self congratulating British Police hierarchy and their obsequious underlings.
Yours Sincerely R.J Cook
Comment on Harper Convictions July 31st 2020
As someone on the receiving end of police harassment, lies and abuse, now lasting over 12 years, it is difficult to join in the group mourning for this unfortunate officer. It seems that he was doing what we used to think of as normal police work and in a dangerous situation, on his own, making a snap judgement. I cannot understand why the offenders did not seem to know that the officer was caught in a rope looped to the rear of their vehicle. We should wonder why and find answers as to why so many young black and whites are involved in serious crime.
Last year, taking advantage of my rural location, thieves cut through a fence, attempting to steal my large motorhome, then making off with £2,500 of tools. The police told me they would not investigate because it was obviously gypsies.
Last Wednesday, an air gun was fired through my front window. An officer said it was not worth investigating. They said the same when a brick was thrown through the same window in 2011. It nearly killed a female friend.
A few years ago Ian Tomlinson was brazenly killed by Police State thug PC Steven Harwood. Sir Kier Starmer, 'The Harmer' , as head of the corrupt CPS, tried to block Harwood's prosecution -and Harwood got away with it anyway.
No serious matter in Police State Britain because the police victim was a homeless poorly old white man, Harwood was found not guilty of manslaughter – even though the evidence of an innocent white man being killed was caught on several videos. The Police Surgeon even said that Ian was going to die about the time he did, anyway. One just cannot make it up in Police State Britain.
So whilst the heavy sentences given in this case are justified, it should be the case that well paid police officers who are only occasionally at risk, doing the job by choice, should face even more severe penalties for killing, as well as for other crimes like perjury, misconduct in public office and conspiracy to pervert the course of justice. Senior officers should be very severely punished for wrong doing, not promoted as Dick was after giving the order to pursue then shoot to kill an innocent young Brazillian. The case of PC Harper was not one of intent to kill. Unfortunately this officer didn't see the loop of rope. Workplace accidents happen every day. the police are so appalling, dishonest and incompetent, I can not support the inevitable use of this story to present them all as heroes. One should not pursue a moving vehicle as it departs a crime scene.
Meanwhile Chief Supt Duckenfield got off scot free after being reponsible for circumstances leading to the death of nealy 100 people at the Hillsborough football ground. The police do great harm to innocent people. They treat people differently accoring to prejudice, ignorance, classism and poor training. To suggest that they are accountable through the IOPC is a very bad joke.
Robert Cook
PC Andrew Harper's teenage killers jailed July 31st 2020
The killers of a police officer who was dragged to his death behind their getaway car have been jailed.
PC Andrew Harper died when he suffered catastrophic injuries as his ankles got caught in a strap attached to the car.
Driver Henry Long was jailed for 16 years for his manslaughter, in Berkshire last August.
PC Harper's widow Lissie said she was in "a lost and endless world" after her husband was killed in the line of duty, a month after their wedding day.
Long's accomplices Albert Bowers and Jessie Cole received 13 years for the same offence of manslaughter.
In a victim impact statement she read to the court, Mrs Harper said she had "screamed and cried and broken down in fractured defeat" in the wake of her husband's death. Image copyright PA Media Image caption Lissie Harper said she felt 'broken, distraught, beaten' because of he husband's death
As he sentenced them at the Old Bailey the judge, Mr Justice Edis, described the killers as "young, unintelligent but professional criminals". Image copyright Thames Valley Police Image caption Jessie Cole, Henry Long and Albert Bowers (L-R) had been convicted of killing PC Harper at the Old Bailey
Long, Bowers, and Cole had been previously cleared of murder, following a four-week trial that concluded last Friday.
Jurors had heard PC Harper was dragged for more than a mile along country lanes, after he and a colleague responded to reports of a quad bike theft on 15 August.
The officer became "lassoed" to the back of the killers' Seat Toledo as he tried to apprehend Cole, who had unhitched the stolen quad bike from the car.
As PC Harper chased Cole, the 28-year-old from Wallingford, "unwittingly" stepped with both feet into the loop of a tow rope which was trailing behind the vehicle.
The judge told the court: "Sometimes death may be caused by an act of gross carelessness, sometimes it is very close to a case of murder in its seriousness. That is so, here."
He said the defendants' denials hey did they know they were dragging anything behind the car were "clearly false" and he rejected the idea they had shown remorse.
"You killed a talented and brave young police officer who was going above and beyond his duty in order to provide a public service," he told the killers.
"You did so because you have deliberately decided to expose any police officer that got in your way to a risk of death."
'Faced hell attending court'
In her statement, Mrs Harper said she had had only four weeks to call PC Harper "my husband. Four weeks to be called his wife".
"My life often feels bleak, hopeless, irreparable… I am without question a mere shadow of the person I once was, broken, distraught, beaten," she continued.
PC Harper's mother Deborah Adlam said the "family and I feel broken"
"Can you imagine a loved one dying with such indignity?" she said.
"I have sat in the mortuary of my son's covered body, too damaged for me to see."
Aimee Harper, the officer's sister, said she had "faced hell by attending court" and "heard and seen things that have left me physically sick".
Police Bullying and Corruption in Police State Britain – July 25th 2020
Metropolitan Police Still Institutionally Racist and Classist July 30th 2020
Yvonne Lawson says she is "disheartened and appalled" to hear what young people think of the police.
She is the founder of the Godwin Lawson foundation, set-up after her 17-year-old son, Godwin, was stabbed to death in 2011.
In January, her foundation – aimed as reducing gang and knife crime – published a report after speaking to young people in Haringey, north London.
"We interviewed over 70 young people who expressed the same concerns I had 20 years ago.
"Most of the young people we spoke to said they didn't trust the police and wouldn't even call them when they or their friends were in danger."
She says not enough is being done to bridge the gap between black and ethnic minority communities and the police.
"One young person was even convinced the force didn't hire black people," she says.
"This is why we need more diversity. More young people from these backgrounds need to feel like they can identify with the police.
"This issue of trust kept coming up and once you identify with someone, you immediately start trust them more."
---
'They are still institutionally racist'
Leroy Logan, 62, is a former Met officer and ex-chairman of the National Black Police Association.
Twenty years after Macpherson, he says the force remains institutionally racist.
Logan says improvements were made post-Macpherson, such as hate crimes now being identified, but adds: "We still don't have the promotion of equality and justice in the organisation.
"Black officers are disproportionately subjected to discipline compared to their white counterparts.
"You still see black staff hugging the lower ranks and they aren't breaking through to the upper levels of the organisation."
He adds: "We still have disproportionality in stop and search, where a black person is five times more likely to be stopped by police than their white counterparts.
"They are 20 times more likely to be stopped under section 60 roadblocks and you are more likely to be Tasered if you are black.
"So even if this is unconscious bias, the fact the police force know these figures but have not decided to question why this is happening and haven't addressed it – it is institutionally racist."
Logan runs a leadership programme called Voyage Youth and says the young people he works with have the same attitude towards the police as he did in his younger years.
"They say they are over-policed and under-protected. They don't feel safe."
He adds: "In London we have white British gangs, Bengali gangs, eastern European, you name it.
"So why is it that 80% of them on the [police] gangs matrix is black? What happened to the rest of them?"
Sir William Macpherson, a retired high court judge from rural Scotland, led the public inquiry into Mr Lawrence's murder and wrote the final report, and the findings he still stands by.
"I couldn't work miracles about making the police behave better or improving the relationships between black and white people.
"But I hoped that the inquiry might assist," he said.
At the time, the public inquiry heard from more than 80 witnesses and considered 100,000 pages of documents.
Sir William said the police needed to re-establish trust with minority ethnic communities.
He says he recognised there was a problem within the force, which was "worse than individual acts of racism".
Sir William says that he has been through his initial report "over and over again" since 1999 and stands by the recommendations he made.
He says the report allowed police to take a step in the right direction, but adds: "There's obviously a great deal more to be done."
---
Find out more
Macpherson: What Happened Next presented airs on BBC Radio 4 at 11:00 GMT on Monday 11 March.
Or catch up later online.
---
'More accountability'
Image copyright PA
Gwenton Sloley, 35, served three years in prison for armed robbery before going on to become one of Britain's leading anti-gangs advisors.
He has helped set up witness protection programmes, trained Met police officers, and had national contracts to work with young people.
But he too says the police are still institutionally racist.
Mr Sloley says the 1999 report gave minorities "a voice at a time when a lot of people were suffering in silence".
But he says there still needs to be "more accountability".
---
'Not about racist slurs'
Image copyright Hackney CVS
Tim Head, 25, is a volunteer for Hackney's Stop and Search Monitoring group and the Youth Independence Advisory Group, (YIAG).
"The impact of the report is felt in many ways and still talked about a lot, I think in terms of the rhetoric it's had a huge impact.
"In terms of actual changes on the ground, it's difficult to measure."
Despite the Met's claim that today's force is "utterly different" to 20 years ago, he says "a lot of the issues raised by Macpherson are still present".
"This isn't about officers using racist slurs, its about something much wider, much more structural. It's about the way demographics are policed.
"You can have very well meaning officers, who still support racist structures, even if their own personal beliefs aren't racist."
---
'This is an utterly different force'
Image copyright Reuters
Cressida Dick, Britain's most senior police officer, believes the Macpherson Report was "the most important thing that's happened in my service".
The Metropolitan Police Commissioner says Macpherson "defined my generation of policing", adding: "We're not at all complacent."
Currently 14% of Met officers are from BAME (black, Asian and minority ethnic) backgrounds.
However, 40% of London's population comes from BAME backgrounds.
This means, if the Met continues to recruit at this rate, it will take 100 years to build a workforce that truly reflects the community it serves.
Despite this, Ms Dick says she does not believe the force is still institutionally racist.
"I simply don't see it as a helpful or accurate description. This is an utterly different Metropolitan Police", she claimed.
Black advisers claim they were 'targeted' by Met Police
Posted July 30th 2020
By Jon Ironmonger BBC London
Share this with Facebook Share this with Messenger Share this with Twitter Share this with Email
Related Topics
Three prominent, black community advisers have claimed they have been wrongfully searched or arrested by the Metropolitan Police.
The men work with police in London on youth violence but said their treatment harmed race relations with the force.
It comes 20 years after the MacPherson report said the Met was "institutionally racist" over its handling of Stephen Lawrence's murder.
The force has denied allegations of racial profiling.
It said the officers in the men's cases acted appropriately.
About 14% of Met officers are from black, Asian and minority ethnic backgrounds.
While this was the highest proportion in England and Wales, the 2011 census showed a far higher proportion of Londoners, 40.2%, identify as BAME.
As a result the force has said it wants to recruit 250 extra BAME officers a year.
Wrongly accused
Ken Hinds, the chair of the Haringey Independent Stop and Search Advisory Committee, has worked for decades to promote community cohesion.
In April, he was arrested after intervening in the search of a young black man near his home in north London.
He told the BBC: "This officer pushed me out of the way. I asked him not to put his hands on me.
"The next thing I know I'm under arrest for obstruction and assault, accused of head-butting." Image caption Mr Hinds was convicted of an assault that was later found not to have happened
Mr Hinds was charged and found guilty of assault.
But his conviction was quashed nine months later by an appeal judge who said the assault did not take place.
He said: "The community was so incensed by my arrest that we held a public meeting and decided we weren't going to deal with the police until my case was settled.
"As soon as I got arrested the whole establishment washed their hands of me.
"Being a black man in this area, it fits the racial profiling that we're the victims and perpetrators of violent crime."
The Metropolitan Police said it had reached out to Mr Hinds, who is in the process of pursuing legal action.
In 2009 Mr Hinds won £22,000 compensation after he was arrested by British Transport Police for watching a stop and search procedure.
'Stitch me up'
Image caption Gwenton Sloley said police were "desperate to take me down"
Gwenton Sloley has won awards for helping young people escape violent lifestyles.
Mr Sloley said his home in Lewisham was raided by detectives last October, while he was an adviser to the Met Police – the officers were looking for a previous occupant who was involved in drug dealing.
"They totally destroyed the property, ripped off my air-vent, stole money from me, took my children's stuff, phones, earrings, parking tickets, letters, bank statements, pictures of me.
"They know I live here because they invoice me to the same property – the same people who searched the house." Image caption Mr Sloley says the Met Police have raided his home "twice in three months"
After the raids, Mr Sloley said officers tarnished his reputation by telling his clients about the warrant, which resulted in them cancelling valuable contracts with him.
"The police are trying to stitch me up," he said.
"They've raided me twice in three months, desperate to take me down, telling people I'm too big for my boots."
Scotland Yard said the Directorate of Professional Standards was investigating.
'Specifically Targeted'
Image caption Mahamed Hashi says the police should apologise for "targeting" people like him
Mahamed Hashi is a Labour councillor for Stockwell and a recent winner of a Community Champion award for his work to support vulnerable young people.
In 2017, he said he was stopped by police officers who surrounded his car in Brixton.
"They asked me 'have you been taking any drugs mate? Your eyes look glazed', and I said 'I don't smoke, I don't take drugs'."
"They put cuffs on me because they thought I was a threat. I said 'what part of me constitutes a threat?' And they said 'your size'."
Mr Hashi has raised his concerns with the deputy mayor of policing.
"It feels like we're being targeted as specific people. I feel there should be apologies you know," he said.
"We're standing in Brixton where we've had four riots because of police action, and on one side we're trying to heal those rifts but it's being eroded by officers who don't seem to know any better."
How the most ethnically diverse police forces compare to the population
Proportion from Asian, black, mixed and other ethnic groups Note: Figures for police are as of March 2018, population as a whole from 2011 CensusSource: Home Office
'Human endeavour'
Image caption Commander for community engagement Mark McEwan said the Met Police had not engaged in racial profiling
Met Police commander for community engagement Mark McEwan said he did not agree Mr Hinds and Mr Hashi had been racially profiled.
"They were dealt with due to the circumstances the officers perceived at the time and they acted appropriately," he said.
"I'm sorry that relationships have been damaged but this is not a case of right or wrong.
"Policing is a human endeavour and we will at times find ourselves in these situations.
"What's important is how we respond to that and reach out to the individuals involved."
Despite their concerns, Mr Hashi and Mr Sloley are still working with the Met, while Mr Hinds told the BBC now his appeal had been upheld he would engage with the police again.
More of the same with no mention of institutional corruption and need for reform. Just more police state, more watching, more petty thought control laws. The British public lap it up, with old New Labour under Sir Kier 'Harmer' Starmer offering even more, based on his career as head of Britain's corrupt CPS. Must keep us safe, you know and some must be kept safer than others – the lower orders can be kept safe in prison, and they will be building more of those. July 30th 2020
A government drive to recruit more police has led to the largest annual increase in officers for 16 years.
Under the Home Office scheme, 4,336 more have been taken on in England and Wales this year – with ministers pledging to recruit 6,000 by next March and 20,000 by March 2023.
But figures show more than 20,000 police were lost between 2010 and 2019.
The PM said he was "delivering" more officers, but Labour said services had been "cut to the bone".
Critics of the government's policing target have pointed out that the extra recruitment would do no more than return officer numbers to 2010 levels, after which they fell as part of austerity measures.
The latest figures show the largest increase in officers since 2003-4, when Labour's Tony Blair was in Downing Street.
Prime Minister Boris Johnson said: "Just over one year on [from Mr Johnson taking over from Theresa May] we are already delivering on our promise, with over 4,000 new officers already, meaning we're ahead of track on our plans to recruit 20,000 in the next three years."
Police Scotland's latest figures show that 180 more officers were employed in March than a year earlier – an increase of 1%. This also represents a rise of 1,197, or 7.4%, since 2007.
Pay increase
In England and Wales, the government has announced plans to hire 1,000 more probation officers by the end of the year, with 800 having started training.
The supervision of all offenders on probation in England and Wales is being put back in the public sector after a series of failings with the part-privatisation of the system.
Meanwhile, the number of applications to become trainee teachers in England increased 32% from February to July, compared with that period last year, according to the university admissions service Ucas.
Under a pay deal unveiled earlier this month, public workers will receive increases of up to 3.1%.
But Labour says the Conservatives froze public sector pay for seven years, and the rises they introduced after that failed to plug the gap.
Shadow chancellor Anneliese Dodds said: "It feels pretty rich for the prime minister to talk of valuing the public sector when the Covid-19 crisis has shown just how starkly his government has let down our NHS and social care workers."
Comment
As a victim of police lying and bullying to protect their corrupt officers, one now a Chief Constable, it is difficult for me to be calm and moderate in my preface to the story below or conclusion to the one above. During my truck driving or teaching days, I did not expect a medal for doing my job. If I messed up, then I expected to be held accountable.
That is not so in the police, unless you are too honest and your face doesn't fit. Former Assistant Metropolitan Police Commissioner Brian Paddick made this point in his memoirs 'In The Line of Fire.' He wrote, 'It wasn't my homosexuality that caused me problems in the police, it was my honesty.'
The British police like to boast how they are heroes protecting us. They like awarding themselves medals, one from the Queen, lots of service medal ribbons etc. In truth they are overpaid with excellent gold plated pensions, especially at senior level, protecting only a select few, especially themselves.
Apart from fabricating or hiding evidence in cahoots with corrupt Crown Prosecution Service, the police are incompetent and trained like robots. They have no worthwhile morals or conscience, not caring whose or how many lives they destroy, deliberately or by neglect.
They have harassed me and my son for the past 13 plus years, falling back on a pathetic self congratulatory NHS to pronounce me as paranoid schizophrenic, not 'needing hospital yet' Very auspicious and suspicious. That is how self centred and ruthless they are. Many will have forgotten the couple victimised for flying a drone over Gatwick Airport. The police ran to the press to hep them expose and crack their victims. All went quiet when it turned out that the offending drone belonged to the police.
They and the press have been equally quiet about the couples' stress= locked in cells for 36 hours- and cost of getting compensation for their life changing trauma. As I have said, this is how it all started in Nazi Germany, with women, and now BLM, encouraged to think the state is their friend.
The elite don't mind sacrificing a lot of old statues or vandalised Christian symbols. They mean nothing to them , beyond some things they want forgotten. Badly educated people are easily fooled.
Robert Cook
PC Andrew Harper death: Innocent man's family 'torn apart' by murder charge
By Michael Race BBC News
An innocent man accused of murdering PC Andrew Harper has said he feared he "could die in prison".
Jed Foster was charged over the killing of the police officer and spent a month behind bars before proceedings against him were dropped.
The 21-year-old told the BBC he worried about being wrongly convicted and said the "terrifying" experience "broke me and tore my family apart".
He has now started legal action against Thames Valley Police.
On Friday, teenagers Henry Long, Albert Bowers and Jessie Cole were convicted of the manslaughter of PC Harper.
The officer, who was responding to a report of a quad bike theft in Berkshire, suffered catastrophic injuries when his ankles got caught in a strap trailing behind a car driven by Long in August 2019.
But four days later Mr Foster, who lives near Reading, was the first suspect charged. Image caption Mr Foster has started legal action against Thames Valley Police
The case against him was eventually discontinued and he was released from custody in September, but by then his family had been bombarded with hate mail and people "wrote on social media that I should be hanged or hang myself", he said.
"Newspapers targeted me and my family even though I had not been convicted. They acted as though I was guilty."
He said he was also targeted with abuse because of his family's traveller heritage.
Despite his protestations of innocence, Mr Foster was charged by the Crown Prosecution Service under the Threshold Test.
---
When is the Threshold Test applied?
There are reasonable grounds to suspect the person has committed an offence
There are reasonable grounds to believe that continuing the investigation will provide evidence that is capable of establishing a realistic prospect of conviction
The seriousness of the case justifies an immediate decision
There are valid objections to bail
A charge is in the public interest
Source: CPS
---
"I could prove even then I was not involved, but the police did not seem to be interested," Mr Foster said.
"I was arrested and then charged with murder and spent several weeks in prison accused of an offence that I did not commit."
He said the police "appeared to just to want to find someone to blame for the death of their colleague and were not concerned whether I was actually involved".
Thames Valley Police declined to comment on Mr Foster's claims.
"It was terrifying being accused of a murder I had not done," he added.
"I knew I was innocent, but I was worried that I would be wrongly convicted, and that for the murder of a police officer I could die in prison." Image caption PC Andrew Harper, from Wallingford, died when his ankles got caught in a strap trailing behind a car
As detectives continued to gather evidence they found Mr Foster had an "electronic alibi".
The reasons for Mr Foster's release can only be reported now because a judge ruled their disclosure might have prejudiced the trial of the three men eventually convicted.
During the hearing in September, prosecutor Jonathan Polnay said Mr Foster was arrested at the Four Houses Corner caravan site where the Seat Toledo, which dragged PC Harper to his death, was found.
The court heard officers who seized Mr Foster's phone found "highly incriminating" messages.
But when they analysed the GPS and location data on the phone it showed he was not in the vicinity of the crimes when they were committed.
'Living nightmare'
Representing Mr Foster at the Old Bailey hearing, Jeremy Dein QC said his client was working full time when he was arrested and had no previous convictions, although he did have two cautions for minor matters.
The barrister said Mr Foster's time in custody had been "a living nightmare".
Mr Dein told the court his client had answered police questions "on six separate occasions [and] adamantly maintained he had no involvement".
Mr Foster said he had "every sympathy with the family of PC Harper and the loss they have suffered".
He said the evidence presented in court last year proved he was innocent and "had nothing to do with PC Harper's death". Image copyright Thames Valley Police Image caption Jessie Cole, Henry Long and Albert Bowers (L-R) are due to be sentenced at the Old Bailey
He said he was "pleased that everyone now knows that I am innocent", but added he did not feel that "I have had any justice for the way that I was treated by the police".
"This experience broke me and tore my family apart – we are all still trying to recover from it," he said.
Mr Foster's solicitor, Michael Oswald, said it was "entirely understandable that Thames Valley Police wanted to bring to justice anyone involved in the death of PC Harper".
But he said the force "cannot justify or excuse the devastating impact on Mr Foster when they wrongly identified him as being responsible".
He added: "The actions of the police meant that he spent several weeks in prison – and in the spotlight of intrusive national media attention – accused of murdering a police officer, an experience from which he and his family are still struggling to recover.
"It is now a matter of public record that the evidence proves he is completely innocent.
"By way of the proceedings that have been issued, Mr Foster looks to Thames Valley Police to accept that he should in fact never have been arrested or prosecuted and to take now all possible steps to mitigate the damage they have caused and allow him to move on with his life."
Thames Valley Police said it had "received notification of a potential compensation claim from Jed Foster's solicitors so it would be inappropriate to make any further comment at this stage".
From 'The Sun' September 10th 2015, posted from Appledene Archives July 15th 2015.
Posted July 24th 2020
Armed Police Puncture Innocent Motorist's Tyres
By Exposed Police | on 17/05/2016 | Police News
A father-of-one who was driving to collect his daughter had his tyres punctured with a stinger device and ordered out of his van at gunpoint by armed police – only to be told they had got the wrong man.
Nathan Poole, 32, was driving near Ston Easton, in Somerset, at around 4pm last Friday when he was brought to an abrupt halt by armed police who threw a stinger across the road.
After ordering a petrified Mr Poole out his van, bungling police told him it was a case of mistaken identity and drove off in the opposite direction.
Mr Poole then waited 45 minutes for the police recovery truck to take him to a garage for new tyres.
When it finally arrived he was informed the van would be towed to the police compound in Wells and he would have to fork out £150 for a recovery charge.
Recalling the terrifying ordeal, Mr Poole said: 'I nearly had a heart attack when it first happened. It was scary.
'I was distracted by a man who was hiding behind a tree. He popped his head out which made me take my eyes off the road.
'The next thing I knew was there was a noise under the van and all my tyres had gone. I originally thought I had driven over an animal or something.
'I stopped the van and went to get out. I put one foot on the road and the next thing I knew was that there were two armed police pointing their guns at me. 'They ordered me to get back into the van in a violent and authoritative tone.'
After ordering him out the van, police sheepishly told him they had got the wrong man.
They had actually been searching for Nicholas Caple, 29, who is still on the run.
He is wanted for burglary, assaulting a police officer and escaping police custody.
As police continued their unsuccessful search for Caple, Mr Poole was left stranded in his Vauxhall Vivaro – still 15 miles away from his two-year-old daughter Callie he was collecting.
Police insisted a police recovery truck would take him to a garage for new tyres and he could claim the money back from the force's legal services team.
But when it turned up he was told he would have to pay a £150 fee to have the van towed to the police compound in Wells.
'I said no way and basically he cancelled the job and left,' said Mr Poole. 'I phoned the company who own the van I was driving, they were amazing and they organised a mobile mechanic to come and fit four new tyres. They covered the cost too for which I am grateful.
After ordering him out the van, police sheepishly told him they had got the wrong man.
They had actually been searching for Nicholas Caple, 29, who is still on the run.
He is wanted for burglary, assaulting a police officer and escaping police custody.
As police continued their unsuccessful search for Caple, Mr Poole was left stranded in his Vauxhall Vivaro – still 15 miles away from his two-year-old daughter Callie he was collecting.
Police insisted a police recovery truck would take him to a garage for new tyres and he could claim the money back from the force's legal services team.
But when it turned up he was told he would have to pay a £150 fee to have the van towed to the police compound in Wells.
'I said no way and basically he cancelled the job and left,' said Mr Poole. 'I phoned the company who own the van I was driving, they were amazing and they organised a mobile mechanic to come and fit four new tyres. They covered the cost too for which I am grateful.
Congresswoman Maxine Waters jumps out of her car to intervene as black man stopped by police
She said cops were going to give her a ticket, 'but that's okay, as long as I watch them' July 21st 2020
Congresswoman Maxine Waters jumps out of her car to intervene as black man stopped by police
She said cops were going to give her a ticket, 'but that's okay, as long as I watch them'
California congresswoman Maxine Waters went to assist a black man who was pulled over by police in Los Angeles this weekend.
In a video shared online, Ms Waters parked her SUV and said she intervened to see what officers were doing when they pulled a black man over.
The black Democrat told the person videoing that "they stopped a brother so I stopped to see what they [the police] were doing".
She added that police had threatened her with a ticket, and said: "They say I'm in the wrong place"
"They're going to give me a ticket, but that's okay, as long as I watch them," added the congresswoman.
Comment Ignoring the colour aspect of this story, it symbolises how more vulnerable elements in our society, U.S and Britain, need more outside independent supervision. They cannot be trusted. I have personal experience of U.K police corruption and criminal lies. They deserve no sympathy. They are well paid public servants, with most , if not all, of their mishaps due to incompetence. They are target driven self interested liars who do not hesitate to fabricate, withhold evidence. lie and use violence. Their main role nowadays, is social control and protecting class interests and hierarchies. They are specially selected for moronic characteristics. Robert Cook
British Police are bigoted lying morons deployed by even worse morons. Posted July 18th 2020
Killing of man with table leg 'unlawful'
Press Association
Fri 29 Oct 2004 16.52 BST
A man who was shot by police while carrying a table leg which was mistaken for a gun, was unlawfully killed, an inquest jury ruled today.
Harry Stanley, 46, a painter and decorator of Hackney, east London, was shot in the head and hand by police marksmen on September 22 1999. Two Metropolitan police officers fired the shots after mistakenly being informed that Mr Stanley had a sawn-off shotgun.
The father-of-three, who was originally from Lanarkshire, Scotland, was carrying a blue plastic bag with a coffee table leg inside, which had just been repaired by his brother Peter. He was shot as he walked home from the Alexandra Pub in Hackney.
Today a jury of six women and four men at St Pancras coroner's court took around seven hours to reach their majority verdict at the end of a two week inquest.
The inquest was the second to take place into Mr Stanley's death. The open verdict recorded at the end of the original inquest was later quashed by the high court.
The dead man's family and friends have campaigned for a new inquest and today there were shouts of "yes" from the public gallery as the verdict was read out.
The officers who shot Mr Stanley told the inquest earlier that they thought he was raising a gun and was about to shoot when they confronted him. One, PC Kevin Fagan, described how he saw Mr Stanley walking with a cylindrical object in his hand. He said: "It was tightly wrapped in a bag, about 18in long and the majority of it was pointing downwards … the realisation struck me that I was about to be shot at 15ft with a sawn-off shotgun."
The officer said he shouted for the man to "drop it" by which time he was looking straight at the officer in a "boxer's stance". PC Fagan said Mr Stanley then moved his left hand to grip the object so he carried it with both hands. The officer said he fired just before his colleague Inspector Neil Sharman, hitting him in the hand.
Mr Sharman told the inquest he fired one round when he thought PC Fagan was about to be shot. "Fearing for Kevin Fagan's life, and believing that the contents of that bag was a sawn-off shotgun, and with the actions of the person holding it, I felt he was about to be shot. In response I fired one round," Mr Sharman said.
He told the court he aimed at Mr Stanley's "central body mass" but missed and shot him in the head. The Stanley family's barrister described Mr Sharman's version of events as "concocted".
After the verdict was delivered, the Independent Police Complaints Commission said it had recommended that the coroner invite the Home Office and the Association of Chief Police Officers to commission research in order to try to prevent similar deaths. Coroner Dr Andrew Reid backed the recommendation.
The IPCC commissioner, Deborah Glass, said: "There is a need for further research into whether there are more effective methods for firearms officers in dealing with vulnerable people, such as those impaired by alcohol, as Mr Stanley was.
"Such people are often less likely to react rationally and more likely to react negatively to certain sorts of approaches and challenges." The inquest heard evidence that since Mr Stanley's death, the Met had substantially improved training for control room staff, as well as for firearms officers and tactical advisors. The inquest also heard that "less lethal" options such as tasers, or electrified darts, were now more readily available to Met officers.
Deborah Coles, co-director of deaths in custody campaign group Inquest, which has been working with the Stanley family, said: "This inquest is a vindication of the family's fight for the truth and the only just outcome of this shocking case … We now expect them to be prosecuted for manslaughter. We have always believed that these officers should face criminal charges."
Mr Stanley's widow Irene, 51, said outside the court that she was pleased with the verdict but now she thought that the officers should be suspended.
She said: "Harry was an unarmed man. It is bad enough the family was devastated when Harry died. We should not have to fight for justice. My grieving has been fighting for justice. I have not had time to grieve."
The Crown Prosecution Service looked at the case in 2001 and concluded there was insufficient evidence to bring criminal charges against the police officers involved in the death. However a CPS spokeswoman confirmed today that it would review the case.
The Metropolitan police said it was "re-considering" suspending the two officers until the outcome of a review by the IPCC.
A force spokesman said: "The Met wishes to again offer its sympathy to the family of Mr Stanley and express our regret for his death … the death resulted from the most tragic set of circumstances … it must be remembered that the officers were called upon to make a split-second decision while confronting what they believed to be an imminent threat to their lives. They did not have the benefit of hindsight.
"Along with their colleagues working in police armed response units, they are required to regularly face the most challenging of policing situations in order to make the streets of London safer for us all."
Police Pursuits U.K Record Deaths 2019.
The number of people killed during high speed police chases reached its highest level for a decade last year, it has emerged.
A total of 30 people died during police pursuits, almost double the previous year when 17 were killed.
A third of those who were died were innocent motorists or pedestrians, who were not involved in the pursuit itself, according to figures collected by the Independent Office for Police Conduct (IOPC).
According to the statistics there were 33 fatal police related road traffic incidents resulting in the deaths of 42 people.
While some of those were straight forward road traffic accidents, a high proportion were as a result of high speed pursuits.
Twelve of the 30 who died during pursuits, were driving the car being followed, while eight were passengers in the suspect vehicle….
To conti
17th April 2009 Police defend staged high-speed chase for TV show Posted July 18th 2020
Channel Five is showing the second series of Police Interceptors, a documentary charting the actions of the force's three intercept teams armed with automatic number plate recognition technology.
The teams, based in Basildon, Colchester and Chigwell, use powerful Mitsubishi Evos and Subaru Imprezas to chase crooks, often in high-speed pursuits.
But the force has come under fire after officers staged a chase involving show presenter Natalie Pinkham.
Officers gave the presenter, who was driving a high-powered Lamborghini fitted with a tracker, a 30-minute start.
They then spent around an hour pursuing her, at times breaking the speed limit and using blue lights.
But the move has been blasted by road safety charity Brake.
Spokeswoman Katie Shephard said: "The police need to consider whether it's vital to be speeding and whether they should be putting on blue lights for a training exercise. Perhaps they could have done it on tracks where there is no risk to pedestrians."
And Mark Wallace, of the TaxPayers' Alliance, added: "It's concerning that Essex Police seem to think their officers and valuable cars can be spared for use as film extras."
But Essex Police said the chase was one of several training exercises filmed for the show.
Spokeswoman Donna Veasey said: "Police helped producers stage three scenarios, with one demonstrating the roadside drink-drive procedure and its road safety message, another highlighting offences associated with bodywork modifications and the final one a training exercise dealing with a stolen vehicle tracker-activation.
"Viewers also only saw police helicopter footage during the pursuits. The production team hired their own helicopter for the series."
She said the Interceptors improved road safety by arresting 60 crooks in a month and taking 75 dangerous vehicles off the road every four weeks.
The criticism came after viewer Mike Sullivan complained to Chief Constable Roger Baker that the ANPR officers were "wannabe Lewis Hamiltons
Cleveland and Durham forces paid more than £120,000 to take part in Police Interceptors TV show
Cash given to forces for popular TV series Police Interceptors has been revealed.
By The NewsroomThursday, 25th April 2019, 1:33 pmUpdated Thursday, 25th April 2019, 1:39 pm
Officers from Cleveland and Durham forces took part in the TV show Police Interceptors.
Cleveland and Durham Police's joint Specialist Operations Unit regularly features on the Channel 5 series.
Figures from a freedom of information enquiry show Cleveland Police and Durham Police shared £120,400 for their participation in five series up to October 2018.
The popular programme has followed traffic cops catch criminals for 14 editions since 2018.
The joint unit took part in series 9, 10 and 11 which aired in 2015 and 2016 – as well as series 13 and 14 which went out in 2017 and last year.
Up to 2016, Durham Police managed the arrangement which saw each force take £32,500 each.
Cleveland took the reigns in 2017/18 meting out £55,400 between the two constabularies.
A spokeswoman on behalf of the Cleveland and Durham Specialist Operations Unit said the programme had shown some of the great work it did on a daily basis which the public didn't normally get to see.
She added: "We believe that the programme has had a positive impact on the unit and on both forces.
"The level of positive interaction that we have had with members of the public about the show has been fantastic.
"We regularly hear how children who have watched the show now want to become police officers and there is a huge following of people who come along to events and queue for hours to meet their "heroes", as they have been called by some children.
"The fees which have been paid have been used to fund additional staffing for any filming which was over and above everyday policing and road safety initiatives which helps to reduce casualties and save lives on the roads across both counties."
The high-octane documentary drew in more than one million viewers per episode at its peak on Channel Five.
Rawcut, the company which produces Police Interceptors, declined to comment on the sums.
Alex Metcalfe, Local Democracy Reporting Service
Police Officer Steven Harwood gets away with killing an innocent man, as filmed below. Now Labour Leader Sir Keith 'Harmer' Starmer in charge of lying England & Wales CPS at the time, was responsible for covering this killing up along with many other perverions of justice by witholding evidence to get innocent men convicted. July 14th 2020
Why are there so many assaults on U.K Police and who is responsible ?
Assaults on Police July 18th 2020
Police leaders have hit out at the "sickening hobby" of filming officers when they are being assaulted, following the latest example of escalating violence against those on the front line.
Priti Patel, the Home Secretary, described the video, showing a male and female officer being attacked by a mob in east London, as "shocking and disgraceful".
More than 30,000 officers are assaulted each year in England and Wales, but there is mounting concern over the craze of people filming the incidents and then posting them on social media.
In the latest incident, which took place in Hackney on Wednesday, two beat officers stopped to help a person who reported they had just been assaulted.
As the male and female officer attempted to help they were set upon by a small group.
While the male officer struggled on the ground with a large assailant, his female colleague, was kicked and pushed by the others.
At one stage a man carrying a baseball bat appeared on the scene, and appeared to try and intervene.
But the passer by, who filmed the incident, remained in their car, while another man appeared to dance in front of the prone officer while taking a selfie on his mobile phone.
The Home Secretary tweeted her disgust at the incident.
Sickening, shocking & disgraceful.

My thoughts are with the outstanding @metpoliceuk officers who were subject to this disgusting violent attack. https://t.co/zPECxrQAkb
— Priti Patel (@pritipatel) June 10, 2020
John Apter, the chair of the Police Federation of England and Wales, said the images of people mocking officers and filming while they were being attacked, was "stomach churning" and he urged people to step in and help where they could.
He said: "It was horrific to watch because you didn't know what was going to come next. Last year there were over 30,000 assaults on police officers across England and Wales alone.
"That's 85 police officers a day, every single day, being assaulted. And many of them are videoed.
"It's almost like a hobby for some now to video an attack on a police officer and put it on social media.
"Not to assist an investigation, but to mock my colleagues and to, almost, encourage violence against them."
He went on: "How dare people stand by and video my colleagues in distress. Far too many people stand back and rather than assist anyone in trouble, I accept we have to manage our risks, but when people are in trouble, I think as a citizen we should step forward."
Ken Marsh, who represents rank and file officers in London, said police officers had become "society's punching bag".
Chris Bryant, the Labour MP, who introduced the private members bill to introduce tougher sentences for those who assault emergency workers, said one answer might be to prosecute those who glorified acts of violence against officers under the joint enterprise laws.
He said: "Sometimes the filming of these incidents can be useful in helping to highlight the issue and identify the perpetrators, but where it is done to glorify violence it should be dealt with under the law as appropriate."
A source at the Police Federation said discussions had been held about what to do to tackle the worrying trend of people filming assaults.
The source said: "It is perhaps understandable that people might not want to put themselves at risk by intervening when they see something like this unfolding. But what is not acceptable is standing there and filming the incident in order to glorify it. It is certainly something we take very seriously and want to address."
The man who could be seen in the footage wielding the baseball bat was last night identified as a local businessman called Kerman.
He said: "Nobody was doing anything other than film it on their mobile phones so I decided I had to help him.
"I would have done the same for anyone being attacked by a bigger group. If I'd seen a black guy being attacked by a group of white guys I'd go and help the black guy."
Both officers suffered minor injuries in the incident. On Thursday night, police said a total of four people, including a 13-year-old boy, had been arrested over the incident.
Superintendent Martin Rolston said: "This incident, which was captured on someone's mobile phone is truly shocking.
"My officers went to the assistance of a member of the public – who asked for their help – after stating that they had been assaulted. What happened next is a reminder of the risks our officers take whilst going about their duties.
"It is fortunate that their injuries are not more serious. There is no place for this level of violence on our streets.
Mayor of London, Sadiq Khan, added: "I utterly condemn the disgraceful attack on two Metropolitan Police officers this afternoon.
"These brave officers were doing their duty and assisting the public. We owe them a debt of gratitude and I wish them a full and speedy recovery."
Met Officer Suspended For Apparent Racist Assault July 17th 2020
An officer has been suspended after footage emerged which appears to show police kneeling on a man's neck.
Video recorded in Islington, London, shows two officers holding a handcuffed suspect, who is black, on the pavement.
A second officer has been removed from operational duty after the arrest on Thursday evening.
Deputy Met Police commissioner Sir Steve House said the footage was "extremely disturbing" and had been referred to the police watchdog.
'Get off my neck'
The force confirmed it had arrested a man on suspicion of affray and possession of an offensive weapon.
In the footage, shared with the BBC, one of the officers appears to be using his knee to control the suspect and has his hand on his head.
The man on the ground, who is in handcuffs, repeatedly shouts: "Get off my neck."
He is eventually released from the ground and continues to talk to officers after they sit him up.
Several police cars arrive at the scene after the arresting officers are confronted by onlookers.
'Not taught in training'
An eye witness told the BBC: "I was worried he was going to get executed. That's just how George Floyd got killed.
"If not for the crowds filming the police they could have suffocated him or broken his neck.
"He was on the floor and in handcuffs, what's the reason for a kneeling on his neck?"
Sir Steve said: "The video footage that I have seen today and is circulating on social media is extremely disturbing.
"Some of the techniques used cause me great concern – they are not taught in police training.
"One officer has been suspended and another officer has been removed from operational duty, but not suspended at this time. This decision will be kept under review."
The man has since been seen by a doctor, said Scotland Yard, which has referred the arrest to the Independent Office for Police Conduct (IOPC). Image copyright WhatsApp Image caption In the footage several police cars attend the arrest after officers are confronted by onlookers
London Mayor Sadiq Khan said: "I'm deeply concerned about this distressing incident and we have raised this with senior officers at the Met Police as a matter of urgency.
"I welcome the fact the incident has been reviewed quickly by the Met and it's right that they have referred it to the IOPC."
U.K Police Beating Black Man In Cell – Video ResultsMore U.K Police Beating Black Man In Cell videos
New video 'shows George Floyd struggling inside police car … www.thesun.co.uk/news/11748031/new-george-floyd-video-cop-car31/05/2020 · NEW footage has emerged that appears to "show George Floyd struggling inside a cop car" shortly before he was pinned down and "killed." The video, which is believed to show the black man who died…
Shocking video shows white cop repeatedly beating a black … www.dailymail.co.uk/news/article-8293081/Shocking-video-shows-white-cop… 06/05/2020 · Shocking video shows white cop repeatedly beating a black man while another pins him to the ground 'for not following social distancing rules' – despite the officers not wearing masks themselves

Video Duration: 40 sec
Author: Leah Simpson For Dailymail.com

Police force refers itself to watchdog over viral video of … www.independent.co.uk/news/uk/crime/police-video-black–man-west-midlands-beat… 11/03/2019 · Police investigating video of black man 'being beaten up' by officers "The full body-worn video of the response shows the man attack the officers with his walking sticks, injuring three of them….

Video Duration: 29 sec
Author: Thomas Hornall

Police officer filmed beating boy in handcuffs will be … metro.co.uk/2019/04/26/police-officer-filmed-beating-boy-handcuffs-will… 26/04/2019 · Footage posted online appears to show a black male in handcuffs on a pavement being struck several times by an officer using a baton. In a statement, the arrested boy's mother said she was…
Four officers fired following death of unarmed black man … www.independent.co.uk/news/world/americas/police-arrest-black–man-neck-video… 26/05/2020 · Four Minneapolis police officers have been fired after video showed one of them kneeling on the neck of a black man who later died. Minneapolis mayor Jacob Frey confirmed the termination of the …