Iran refinery ablaze and its navy's largest ship sinks in day of suspicious mishaps June 2nd 2021
Massive plumes of thick, poisonous black smoke rose over Tehran on Wednesday after a refinery located outside the city caught fire in the latest in a series of mysterious industrial accidents that have struck Iran.
Hours earlier, Iran's largest naval warship caught fire and sank in the Gulf of Oman, news agencies reported. The entire crew safely disembarked from the naval support and training ship Kharg, but "all efforts to save the vessel were unsuccessful and it sank", one report said.
The fire at the Tondguyan refinery south of the Iranian capital could be seen from residential areas of Tehran. Videos posted to the internet showed several fires blazing at the site.
Firefighters struggled to put out the blaze, while ambulances were mobilised and hospital beds prepared to treat any injured. According to Iranian news outlets, the fire was spreading late Wednesday, burning up fuel in storage facilities.
The 1960s-built facility is one of Iran's largest oil refineries.
Severe damage to it could further strain the Iranian economy, which has already been crippled by United States sanctions and decades of mismanagement by the country's regime.
An official told state television that the fire began at an emergency liquified gas line leading to the refinery. Another official was quoted as saying the inferno was not caused by sabotage, but there was no official explanation for the cause of the original fire.
Iranian officials also offered no explanation for the fire aboard the Kharg. However, it comes after a series of mysterious explosions that began in 2019 on ships in the Gulf of Oman. The US Navy later accused Iran of targeting the ships with limpet mines – timed explosives typically attached by divers to a vessel's hull.
Iran denied targeting the vessels, though US Navy footage showed members of the Revolutionary Guard removing one unexploded limpet mine from a vessel. The incidents came at a time of heightened tensions between the US and Iran, after the then president Donald Trump unilaterally withdrew America from the nuclear deal Tehran had agreed with powerful nations.
Israel has also been suspected in attacks on Iranian ships and on industrial sites linked to Iran's nuclear and missile programmes.
The blaze aboard the Kharg began in the early hours of Wednesday morning, and although firefighters tried to control it, the vessel sank near the Iranian port of Jask, some 1,270km southeast of Tehran near the Strait of Hormuz, the narrow mouth of the Persian Gulf.
Photos on Iranian social media showed sailors wearing life jackets evacuating the vessel as a fire burned behind them.
State TV referred to the Kharg as a "training ship", with one source publishing a video of thick, black smoke rising from the ship on Wednesday morning.
The Kharg serves as one of a few vessels in the Iranian navy capable of providing replenishment at sea for its other ships. It can also lift heavy cargo and serve as a launch point for helicopters.
The warship, built in Britain and launched in 1977, entered the Iranian navy in 1984 after lengthy negotiations following Iran's 1979 Islamic Revolution.
Iran's navy typically handles patrols in the Gulf of Oman and the wider seas, while the country's paramilitary Revolutionary Guard operates in the shallower waters of the Strait of Hormuz and the Persian Gulf. In recent months, however, its navy has launched a slightly larger commercial tanker called the Makran, which has been converted to serve a similar function to the Kharg.
The sinking of the Kharg marks the latest naval disaster for Iran. In 2020, during an Iranian military training exercise, a missile mistakenly struck a naval vessel near the port of Jask, killing 19 sailors and wounding 15. And in 2018, an Iranian navy destroyer sank in the Caspian Sea.
Four Arrested For Racially Abusing Jews In North London May 17th 2021
Four men have been arrested by officers investigating a video which appeared to show antisemitic abuse being shouted from a car in north London, the Metropolitan Police says.
It comes after a video was posted and widely shared on social media showing a group of cars decorated with the Palestinian flag pulling up at traffic lights.
As the group of cars arrive in the video, one person with a megaphone appears to be shouting abuse.
The events in the footage are described as having taken place in north London's Finchley Road.
The Met Police investigation into the footage comes amid continuing violence in Gaza, which has seen 192 Palestinians killed, including 58 children and 34 women.
Thousands of people marched through London on Saturday to the gates of the Israeli embassy, while protests took place in other cities across the UK and Ireland in solidarity with the people of Palestine.
The arrests come as a rabbi has said that members of the Jewish community are "very afraid" that "threats could turn into actions".
Rabbi Herschel Gluck said: "People are very concerned and very afraid about where this will lead.
"There is always the fear that threats could turn into actions."
He added: "It is very important to emphasise in London that the Muslim and Jewish communities stand shoulder to shoulder and in a great spirit of solidarity. There aren't tensions locally, all these tensions are coming from people who have never seen a Jew and they are coming from outside London."
Comment Press reports do not mention ethnicity of the abusers , but video footage clearly shows men of Arabic appearance waving the Palestinian flag from the open top car, while hurling abuse at Jews. London's Muslim mayor Sadiq Khan has said that 'there is no place for hate crime in London'. London has a large and growing Muslim population. The truth seems rather different.
Who , apart from a Muslim or new left agitator would recognise a Jew, the Palestinian flag and bother to do this ? We are supposed to believe they have travelled from outside London ? As in 1939 , the patronising elite are underplaying a very serious problem. It is a London problem , a British problem and so much more.
There have been anti Jewish protesters rampaging across Europe and the U.S where Islamic immigration has created an ongoing expanding Islamic power base. The associated mainstream media coverage is giving a very pro Palestinian view point. The west's ruling elite clearly take the view that Islam is a benign peace loving inclusive religion with no eye on world government. They expect us to share their privileged cloistered patronising arguments that Islamic extremism has nothing to do with Islam's underlying philosophy and basic teachings.
Robert Cook
Muslims see appeasement as weakness , but what is the alternative ? May 16th 2021
Who is the villain & why is religion still taken so seriously – when we keep being told about the science? May 16th 2021
Multiple US commentators have been celebrating the Israeli bombing of an international media tower that houses offices for AP, the BBC, and Al Jazeera.
After videos were published on social media showing the destruction of the building by Israeli missiles, people from around the world – including many journalists – condemned the bombing, calling it terrorism, a war crime, and an attack against the free press.
Several high-profile conservative commentators in the United States, however, mocked the bombing and expressed their support.
"Looks like the IDF took out Hamas's PR team," reacted television commentator John Cardillo, who was recently a host at Newsmax TV, while conservative journalist David Reaboi also celebrated the bombing.
Mainstream media takes a hit in Palestine May 15th 2021
The Israeli air force has destroyed a tower block in Gaza City housing the offices of the Associated Press and Al Jazeera in what has widely been decried as an attack on press freedom.
The airstrikes on Saturday – the sixth consecutive day of hostilities between Israel and Hamas – came roughly an hour after the Israeli military ordered people to evacuate al-Jalaa tower.
There was no immediate explanation beforehand for why the 15-storey building was targeted. As well as the two international media organisations, the high-rise was home to several other media outlets, offices including several internet providers, and private apartments.
🚨 Israel has given a "warning" that it will bomb the building that houses Al Jazeera offices and other international media channels in Gaza City in one hour…our colleagues have already evacuated— لينة (@LinahAlsaafin) May 15, 2021
The building was hit approximately six times before collapsing in plumes of black smoke, which engulfed the entire neighbourhood.
Al Jazeera broadcasted live a phone call between the building's owner, Abu Husam, and an Israeli intelligence officer in which Husam asks the officer to give the media personnel time to evacuate equipment from their offices. His request was denied.
A statement from the Israel Defence Forces said the building had contained military assets belonging to the intelligence offices of Hamas.
© Provided by The Guardian The aftermath of the attack on al-Jalaa tower in Gaza City. Photograph: Mohammed Salem/Reuters
Comment Press freedom is owned by the corporations. It is their freedom and they are biased against Israel which is fighting for the right to exist. Pretending that an Islamic partnership will lead to toleration is patently absurd if one looks at the encompassing Islamic surroundings. Hamas have not ceased to promise that they are going to destroy Israel.
Muslims do not play at religion. Islam is the Holy Truth and they have a proselytizing religion. Multi culture is a joke to them. Their minds are on the afterlife because it explains why life on earth is so horrible and is seen as a test for heaven. Obviously that is not my view , but new laws prevent serious argument and the Jew are ' a little 'more open minded Robert Cook
The God Question by Robert Cook May 15th 2021
Covid lockdown has been a wonderful elite distraction from major issues facing humans and their future on this planet. The Israeli question is thus underrated as a matter of global importance.
As a former head of religious education at a major Buckinghamshire school , I am well aware that people, from an early age , are either bigots certain of their faith , or materialists who ignore the subject.
Across the world there are masses who follow Catholicism and Islam. They are coincident with major locations of poverty. Most of them follow the Old Testament and derivative Koran , taking the God advice 'Go forth and multiply' quite literally.
This multiplication , combined with improved health care, foreign aid , elite greed for oil and mass migration has enhanced Islamic Ideological self confidence and resentment of alternatives. Islam is now a powerful force in the U.K and a source of conflict in other parts of Europe. In this context , along with Covid and Climate issues, one can expect this latest round of Israel and Palestine confrontation far worse. The self styled neo liberals aid the process by conflating religion with race.
The non religious comfortable white hypocrites working for the BBC across the world are at one with Islam, 'a beautiful religion' according to upper middle class white high flying actress Angelina Jolie. London is now a BAME and sanctuary city which has just returned an Islamic mayor. The BAME population in certain parts of U.K is so rapidly expanding that extra Covid restrictions are still required. So called Covid restrictions have allowed Islamists to go to and back from the Indian sub continent, as well as keeping the door open to the boat people claiming asylum.
Strict new language and reporting rules are enforced due to racial sensitivities in 'faulty cultural' Britain, whose well paid protected elite see their actions as an example to the world. They are blaming all of us 'privileged white' working class for all ills, including slavery . They get away with it because state education is appalling. Britain's towns and cities, especially London, are hot beds of crime and violence.
With all of this in mind , one ought to appreciate why the so called Jewish homeland's old guard fear a power share with Islam and Palestine. In spite of the fact that the Jews were there first , having escaped slavery in Babylon and Egypt, to the promised land , Caanan. There were no Arabs there when the Jews arrived. It is also true to say that Egyptians and the Arab world had an advanced civilisation and culture until Islam entered their world in the 6th century. By this time the Romans had stopped ritually killing Christians for fun and had established the Roman Catholic religion to frighten and control the masses.
As part of the British elite's empire building , they used divide and rule tactics , along religious lines. This was to distract from what they were doing. This process was far more important than slavery to empire building.
Meanwhile , the Jews were kicked out of the 'promised land' by the Roman and Egyptians. So they crossed the Mediterranean , as money lenders and traders. Europe's brutally established monarchies joined forces , allowing only Jews to lend money. This created the basis for hatred in inter war poverty stricken Germany , leading to mass murder by the Nazi State. Post War, the British set out to solve the problem , creating the Israeli State , via the Balfour Agreement. The land was pretty well abandoned, but as soon as the Jews got to work making it pay, the Palestinians , with their exploding population . wanted it for themselves.
Whatever mealy mouthed BBC folk care to say about Jews and Muslims living in equality and harmony , nothing will unite them unless the Martians land. The Syria and Iranian crises have been hideously prolonged because of this. The British elite continue to be a malign force in these matters. They see no problem with fostering Islamic states for their own interests , pandering to them at home also. They do not accept the idea of a Jewish free state, even though their arrogant posh ancestors created it. So here we are today.
For those like me , who don't think 3000 year old bible and Koran writings, have anything to do with our planet and human origins , this ongoing conflict is absurd. We need some imagination and honesty to face up to the reality of Islam and its basic mind set. For them , there is no other truth and multi culture is a useful joke. Robert Cook
Heavy Price May 12th 2021
The Israeli prime minister, Benjamin Netanyahu, has vowed to increase the intensity of attacks on Gaza, after a day of ferocious confrontations that left 31 people dead as Israeli jets and Palestinian militants traded airstrikes and rockets.
As medics on both sides put the death toll at 28 Palestinians, including 10 children, two Israelis and an Indian woman working in Ashkelon, the Israeli prime minister said there would be no pause. "It was decided that both the might of the attacks and the frequency of the attacks will be increased," he announced.
Netanyahu vowed that Hamas and Islamic Jihad "will pay a very heavy price for their belligerence."
Israeli Prime Minister Benjamin Netanyahu says that Hamas "will pay a heavy price for their belligerence" as the country steps up its attacks on the Gaza Strip.
On Tuesday, the Israeli military destroyed a building used by Hamas, killing at least three militants, as Palestinian rockets continued to fall on parts of Israel.
Read the latest news and updates on India's Covid emergency.
It is the heaviest fighting between the two enemies since 2014.
Israel's Prime Minister Benjamin Netanyahu said in a televised address: "We are at the height of a weighty campaign."
Comment Religion is power. I have just finished watching a fil called Culloden. The Battle of Culloden – just another tragic story of working class white men being used by an elite power struggle, with mass slaughter – was the final confrontation of the Jacobite rising of 1745. On 16 April 1746, the Jacobite army of Charles Edward Stuart was decisively defeated by a British government force under William Augustus, Duke of Cumberland, on Drummossie Moor near Inverness in the Scottish Highlands. It was the last pitched battle fought on British soil.
Charles was the eldest son of James Stuart, the exiled Stuart claimant to the British throne. It was a battle against Catholicism.
Britain was on its way to a more secular society. But its leaders dabbled at using religion abroad to motivate its colonial troops and to divide and rule the conquered The conniving Indian Upper Caste were there to help the British and themselves oppress and exploit the ignorant masses.
Britain's post world war two retreat from an empire built more on exploitation and fostering religious bigotry than it was on slavery, recreated the historic Jewish State. Islam was an offshoot and rewrite of the Old Testament. Jews came first , like it or not. But as a former head of religious studies at Aylesbury's Grange School , I know that people claim to be one religion or another without having a clue what they are following. We see the same tribal mentality with football supporters.
So we have the Muslims for ever attacking Israel. Israel feels forever insecure and is a serious problem for Syria. So Israel goes running to the Anglo U.S alliance who bomb the hell out of the place, in the name of democracy, hiding the facts that their compliance is all about oil first and Israeli Jews second.
There is no happy ending in sight as long as people keep on killing in the name of their Gods. To a rational scientific mind, the whole business is absurd and state sponsored murder on all sdes. But it suits the global rich who posture as carers for the earth and its deteriorating physical , social and economic climate. To support any of the three major religions , is to believe that God likes frightened obsequious grovelers.
There will be no peace in the Middle Eat , between Israeli Jews and Palestinian Muslims until one of these groups ceases to exist. Palestinians have an astronomical birth rate and need what Hitler called liebensraum. Britain recreated Israel , but is now a very pro Islamic country with a rising Muslim population of influence. London's Muslims are already protesting against Israel.
Robert Cook
'20 killed' in Gaza air strikes after Hamas fires rockets at Jerusalem Posted May 10th 2021
2 hrs ago Florida court rules against Black mother arrested for filming police detaining… Tom Cruise returns Golden Globe and NBC decides to no longer host awards…
© Reuters Rockets were fired from Gaza City towards Israel
Palestinian officials say 20 people, including nine children, have been killed in Israeli attacks after rockets were fired from the territory towards Jerusalem.
The rockets were launched minutes after a Hamas ultimatum passed for Israel to withdraw forces from flashpoints in the city.
Hamas claimed responsibility and called it retaliation for Israeli "crimes and aggression".
Gaza's health ministry said at least seven members of one family, including three children, were killed in an explosion in northern Gaza but the origins of the explosion are unknown.
Israel Defense Forces told Sky News that 45 rockets had been fired in total – not all at the Jerusalem area – with most aimed at the south of the country and hitting open ground.
The rocket attack was launched minutes after a Hamas 6pm ultimatum for Israel had passed.
It demanded the release of all detained Palestinians, the removal of Jewish settlers from an East Jerusalem neighbourhood, and the withdrawal of police from the Al Aqsa Mosque.
What led to the rocket barrage?
The Hamas attack came after clashes between Palestinians and Israeli forces around the Jerusalem mosque compound on Monday morning, with hundreds reportedly injured in the worst flare-up of several weeks of trouble.
Rubber bullets, tear gas and stun grenades were fired by police and some landed inside the mosque itself.
The Palestinian Red Crescent Society said more than 305 Palestinian worshippers were injured and at least 228 taken to hospital after clashes at the compound.
Seven people were said to be in a critical condition, while police said 21 officers were injured.
Israeli authorities said "extremists" had thrown stones and other objects at police and on a road near the Western Wall where thousands had gathered to pray.
© Reuters Tensions in the city are particularly high as Israel marks Jerusalem Day on Monday
It is unclear who started this morning's violence.
Ofir Gendelman, a spokesman for Mr Netanyahu, claimed in a tweet that "extremist Palestinians planned well in advance to carry out riots".
He said Israel guarantees freedom of worship, but "not the freedom to riot and attack innocent people".
Meanwhile, Nabil Abu Rudeineh, a spokesman for Palestinian President Mahmoud Abbas, accused "Israeli occupation forces" of conducting a "brutal raid" at Al Aqsa.
© Associated Press The route of the Jerusalem Day march was changed to avoid the areas which saw violence. Pic: AP
The compound, known to Jews as the Temple Mount and to Muslims as the Noble Sanctuary, is considered the holiest site in Judaism and the third holiest in Islam.
Hundreds of Palestinians and about two dozen police officers have been injured in similar incidents over the last few days as Muslims marks the holy month of Ramadan.
A number of factors have stoked tensions in the decades-long conflict to their worst in years,
Lt Col Jonathan Conricus called it a "very severe assault" and that Israel had started to attack Hamas military targets in Gaza.
© Reuters Israel said 45 rockets were launched from Gaza – with six landing near Jerusalem
He said it was too early to verify reports that children had died in Gaza, but that Israel does all it can to avoid civilian casualties.
There is a possibility Hamas rockets may have misfired, the spokesman added.
Sky News correspondent Mark Stone, in Jerusalem, said Israeli officials believe six of the rockets were fired at an area about eight miles west of Jerusalem in the early evening.
© Reuters An Israeli forensics expert carries the remains of a rocket in the outskirts of Jerusalem
Stone said Israel's Iron Dome defence system had destroyed one of them, but that the others landed.
He said the attack was almost certain to mean a "heavy night of bombardment" on Hamas base the Gaza Strip.
There were also reports of 15 more rockets fired from Gaza later on Monday night – this time from the Palestinian Islamic Jihad group – aimed at the southern city of Ashkelon.
© Reuters A man in Gaza is comforted after one of his relatives died in the violence
Prime Minister Benjamin Netanyahu said the rocket attacks had "crossed a red line".
"Israel will respond very forcefully. We will not tolerate attacks on our territory, our capital, our citizens and our soldiers. Whoever strikes us will pay a heavy price," he said.
A US State Department spokesman called it an "unacceptable escalation".
Dominc Raab, the UK foreign secretary, tweeted: "The UK condemns the firing of rockets at Jerusalem and locations within Israel.
"The ongoing violence in Jerusalem and Gaza must stop. We need an immediate de-escalation on all sides, and end to targeting of civilian populations."
What is a country these days ? May 8th 2021
'Israel is not a country, but a terrorist camp,' Iran's leader Khamenei says Posted here May 8th 2021
7 May, 2021 14:14 Get short URL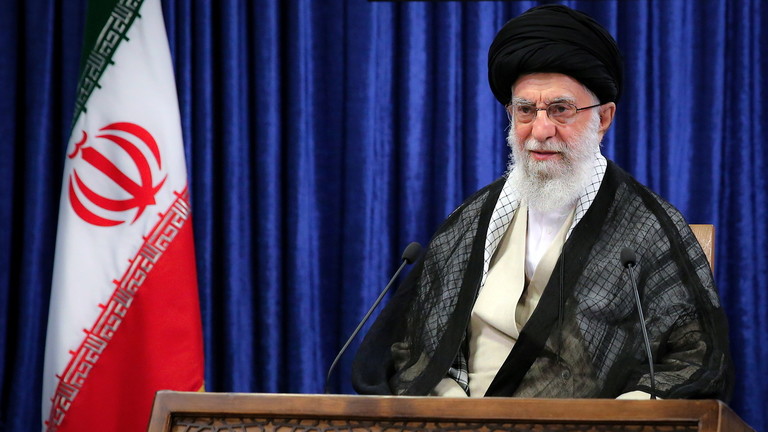 Iran's Supreme Leader Ali Khamenei delivers a speech on Quds Day in Tehran, Iran, May 7, 2021. © Official Khamenei Website / Reuters
Follow RT on Iranian Supreme Leader Ali Khamenei has blasted Israel as nothing more than a "terrorist camp" and urged the Palestinians to unite their efforts in fighting Tel Aviv.
Israel has "turned occupied Palestine into a base for terrorism," Khamenei tweeted.
"Israel isn't a county; it's a #TerroristCamp against Palestinians & other Muslim nations," he wrote, adding that it was "everyone's responsibility" to fight against it.
Khamenei made his comments on the so-called Quds Day, an annual day designated by Iran to mark support for the Palestinian independence movement.
In follow-up tweets, the Iranian leader urged Palestinians living in East Jerusalem, the West Bank and in Gaza to "form a single unit" and "use the tools at their disposal" against Israel despite Tel Aviv signing normalization agreements with several Arab countries last year.
Khamenei said that Palestinians must demand a referendum, during which "original residents" of all ethnicities and religions will vote on a new "political system." Also on rt.com Iran decries 'cherry-picked' & 'illegal' reports of classified chat that claim foreign minister revealed power struggles with army
Iran previously blamed Israel for a major blackout on its chief nuclear site in Natanz in April. Officials in Tehran often accuse Tel Aviv of carrying out acts of sabotage and assassinations on Iranian soil.
Israel says that Iran uses Palestinians and its proxies in Syria to attack Israeli citizens. Israeli Prime Minister Benjamin Netanyahu claimed that Iran was behind the February explosion on board Israeli-owned cargo vessel MV Helios Ray, which occurred as the ship was sailing in the Gulf of Oman.
British Hypocrisy Posted April 27th 2021
I have issues with the following article concerning Nazanin Zaghari Ratcliffe. The Middle East was the cradle of early known human civilisation. The Judaic religion crept across it , splitting , over the centuries into various versions of itself ,Christianity and Islam. The march of science has done nothing to loosen religion's grip on the ignorant masses – masses that all these hierarchical religious versions seek to divide and fool.
Whilst Europe and its U.S offspring managed to keep religion separate from reason, helped by Western 'divide & rule colonialists' who were grabbing the resources, Islamic dictatorships held their people back and multiplying into more war disease and poverty – now overflowing into the west.
Iran used to be under rule of the Shah, a western place man. Britain and the U.S never got over his displacement , using Iraq to fight a long proxy war before stabbing that old ally in the back , plunging it into chaos and bloodshed that has spilt across the region , like burning oil.
Amidst all of this is rich little Israel, now fighting ever more for survival and a big reason for the Anglo U.S hate campaign against Iran and Syria, faltering under Anglo U.S bombs , sponsored terrorism , drone attacks, sanctions and propaganda.
Enter Nazani Zaghari Ratcliffe , an apparently innocent visitor , however described by Boris Johnson in Parliament with the statement 'Everyone knows she is a spy.' Ratcliffe was there to train Reuters journalists. What this entailed has not been explained . Because she is an upper middle class woman married to an upper middle class Englishman , we are supposed to believe she is innocent on all charges – and even if she wasn't she should be allowed back to her adopted country because she is a woman.
The comparison and contrast with the Julian Assange case should be obvious. Except he is just a man with children. He exposed Anglo U.S war crimes so our elite invented sex charges – a catch all for men the system doesn't like. The U.S even funded regime change in Ecuador so that the British State Police could bust into his refuge then lock him up until such time as they can slip him away to Kangaroo Court' in camera' in the United States. No tears for him , no mercy in our PC feminised parliament. We are supposed to believe , here in the west, what our masters tell us because they are the good people and know what's best. Torture is just what other countries' regimes do ( sic ). Robert Cook
'Tell Iran their treatment of Nazanin is torture' – husband urges UK Government
Sophia Sleigh Evening News April 27th 2021
Nazanin Zaghari-Ratcliffe's husband today called on the UK Government to tell Iran their treatment amounts to "torture" after she was sentenced to an additional year in jail.
Richard Ratcliffe warned that her latest jail term was a "signal" that the mother-of-one will be held in open-ended detention until the UK resolves a long-running debt dispute with Iran.
He said his wife was being used as a "political bargaining chip" in talks over reviving the 2015 Iran nuclear deal with the West and a £400 million tank debt owed to the country by the UK.
Mr Ratcliffe said "strong rhetoric" was needed from the UK Government, telling the Standard: "Six weeks ago we sent into the Government a torture report.
"They haven't even raised it with Iran yet. So I think they should be saying 'listen this treatment is torture' and I think they should be calling her a hostage."
Ms Zaghari-Ratcliffe, a British-Iranian charity worker from north London, has already completed a five-year sentence on widely-denied spying allegations levied by Iranian authorities.
© ASSOCIATED PRESS In this undated family photo showing British-Iranian woman Nazanin Zaghari-Ratcliffe. An Iranian Revolutionary court has sentenced British-Iranian aid worker Nazanin Zaghari-Ratcliffe to a further one-year jail term and is banned from leaving the country for a year, according to her lawyer Hojjat Kermani on Monday April 26, 2021. (Nazanin Zaghari-Ratcliffe via AP)
She has now been sentenced to one year in prison and a further year ban from leaving the country on charges of propaganda against the Islamic Republic, her lawyer Hojjat Kermani said.
The 42-year-old has been separated from her daughter and husband for almost five years after she was arrested at Tehran's Imam Khomeini airport. She has always denied all claims.
Mr Ratcliffe described her fresh sentence as "abusive" and added: "We spent the best part of eight months warning this was going to happen and the Government only reacted, waited for it to happen.
"They do need to stop and look at what they are doing. There does need to be a review of the UK's approach to state hostage taking because it is not fit for purpose."
He added: "Talk is cheap at some point."
© Provided by Evening Standard Mr Ratcliffe with Boris Johnson when he was Foreign SecretaryStefan Rousseau/PA
Mr Ratcliffe said the UK Government had "lessons to learn" and added: "There's a macho stand-off there that has an innocent mum and baby caught in the middle of it.
"I think in reality there are ways they could pay [the debt] – there's obviously a fig leaf of sanctions. The Government has to look at what makes British citizens safe. Not paying angry people money back is an odd way to keep your own citizens safe."
He said it was "perfectly reasonable" for the UK not to want to incentivise hostage taking but accused their stance of "normalising it".
He said the Foreign Office had a really strong instinct to de-escalate and calm things down, but he added: "A word like 'appeasement' gets thrown around but that is, it is normalising this behaviour. And this behaviour is beyond the pale. Hostage taking is a crime against humanity."
Prime Minister Boris Johnson said yesterday that he thought the sentencing was "wrong".
Israel , like its' patron U.S.A is a failing confused state. It cannot , I feel , survive as a Jewish Homeland in the chaotic Middle East they have helped to create through influence of kindred U.S.A – which is also failing. Robert Cook , April 25th 2021
A suspected drone attack left an oil tanker ablaze off the coast of Syria, the country's state media said. The tanker was reportedly of Iranian origin.
Firefighters quickly extinguished the blaze, which threatened one of the vessel's tanks, the Syrian Arab news agency reported on Saturday. Also on rt.com Iran exports 500,000 barrels of oil per day despite US sanctions
Syria's oil ministry had originally reported the tanker fire, with officials telling state-run media that the ship had been attacked by a drone that came from Lebanese waters.
The tanker was of Iranian origin, according to a report by the Tehran-operated Al-Alam TV. It was reportedly one of three Iranian vessels to have arrived recently at the Baniyas oil terminal, an important oil transit location on the Syrian coast.
Two projectiles hit the tanker, the Al-Alam report added, citing "informed sources."
Anonymous attack in an Iranian fuel tanker in front of the Syrian borders.Most likely to be an Israeli attack on the Iranian ship while it was trying to smuggle fuel to the Assad regime pic.twitter.com/Y0V2jLWJND— Asaad Hanna (@AsaadHannaa) April 24, 2021
The fire was extinguished shortly afterwards, Syrian officials reported.
Photos taken from the shore show a thick column of smoke rising from the apparently stricken vessel.
Israel and Iran have accused each other of targeting each other's ships in the region in recent months. Israel admitted earlier this month that it targeted at least one Iranian vessel, a military cargo ship. Also on rt.com Syrian air defenses repel 'Israeli aggression' as IDF launches attack in response to missile landing near Israeli nuclear reactor
Israel May Have Destroyed Iranian Centrifuges Simply by Cutting Power
The details of the blackout at Iran's Natanz nuclear facility are scattered — but intriguing. Posted April 17th 2021
Kim Zetter
April 13 2021, 4:41 p.m.
The explosion and blackout at the Natanz nuclear facility in Iran over the weekend raised the specter of past sabotage — including the Stuxnet cyberattack that took out some of Natanz's centrifuges between 2007 and 2010 as well as an explosion and fire that occurred there last July — destroying about three-fourths of a newly opened plant for the assembly of centrifuges.
Government officials and news reports gave conflicting accounts of what caused the latest blasts, the extent of damage, and Iran's capacity to quickly recover. Initial reports said there was no harm to the Natanz facility, but Iranian officials later acknowledged damage to its centrifuges.Join Our NewsletterOriginal reporting. Fearless journalism. Delivered to you.I'm in
And while media accounts have suggested saboteurs focused on taking out the facility's electric supply, David Albright, founder and president of the Institute for Science and International Security in Washington, D.C., believes the aim was to destroy centrifuges. Power is easy to restore even when electrical equipment is damaged, allowing enrichment work to quickly resume. But an abrupt blackout that also takes out backup power would have destroyed some centrifuges, Albright says, since they need to be powered down slowly. Failure to do so leads to vibrations that can cause centrifuge rotors and bellows to become damaged and in some cases disintegrate, which is what Albright suspects occurred.
Below is a summary of what we currently know and don't know about the incident at Natanz.
What Happened?
On Sunday, news organizations reported an electrical blackout at the Natanz uranium enrichment plant, located in the desert about 155 miles south of Tehran. Natanz is critical to Iran's nuclear program. The heavily secured site is protected by anti-aircraft guns and has two large centrifuge halls buried more than 50 feet underground to protect them from airstrikes. Despite the conflicting reports, it appears the facility's main power distribution equipment — Natanz has its own grid — was taken out with explosives. Backup emergency electricity also was taken down, and power cut out across the multibuilding compound, Behrouz Kamalvandi, spokesperson for Iran's Atomic Energy Organization, told Iran's state-run TV.
Iranian officials initially said there were no casualties or damage to facilities. But Kamalvandi later conceded that the "small explosion" had "damaged sectors [which] can be quickly repaired." Kamalvandi was speaking from a hospital bed, however, because he had fallen down a 20-foot hole while visiting Natanz after the attack, breaking an ankle and gashing his head. This would suggest that the explosions may have done extensive ground or structural damage.
"This tells me that the damage must be quite a lot in some spots," says Olli Heinonen, former deputy director of the Safeguards Division of the U.N.'s International Atomic Energy Organization and currently a Distinguished Fellow with the Stimson Center in Washington, DC. "Nuclear installations normally are very safe. There are no open places where you can go down 7 meters just like that. So probably he went to some area that is damaged, and that is a bad sign."
Reports have indicated that the sabotage set Iran's uranium enrichment program back nine months. See "How Quickly Can Iran Recover?" below.
Who Was Behind the Explosions?
Iranian Foreign Minister Mohammad Javad Zarif blamed the incident on Israeli sabotage, calling it a "terrorist attack" and "nuclear terrorism." Both U.S. and Israeli sources have told Western reporters that Israel was indeed behind the attack. Though Israel has not formally taken responsibility for the operation, Lt. Gen. Aviv Kohavi, chief of staff of the Israel Defense Forces seemed to hint at Israel's involvement during a speech on Sunday at a ceremony for Israeli soldiers.
"The IDF's actions throughout the Middle East are not hidden from our enemies' vision, who are observing us, seeing our capabilities and carefully considering their next steps," he said. "By virtue of clever operational activities, the past year was one of the most secure years that the citizens of the State of Israel have known. We will continue to act, combining power and discretion, determination and responsibility — all of this to guarantee the security of the State of Israel."
Israel has the most to fear from a nuclear-armed neighbor. Although Iran has long insisted that its controversial nuclear program is peaceful and not a weapons program, the U.S. intelligence community found that Iran did have a nuclear weapons program until 2003, when it halted the program following the U.S.-coalition invasion of Iraq. And although Israel has its own nuclear program, it has worked hard to prevent its close neighbors from developing one as well.
Israel has a long history of sabotaging nuclear facilities in Iraq, Syria, and Iran, both through cyber means — including the sophisticated Stuxnet attack against Iran, which Israel conducted with U.S. and Dutch intelligence agencies — and with conventional bombs and explosives. Israel is also reportedly behind a number of assassinations of Iranian nuclear scientists and officials over the last decade. The Stuxnet attack was particularly significant because it launched the era of cyberwarfare, as it was the first cyberattack known to use a digital weapon that could leap into the physical realm to cause actual destruction of equipment. The highly skilled covert operation was conducted in lieu of a kinetic attack to avoid attribution and an escalation in hostilities with Iran; it remained undetected for three years.
Iraq Iwreck -The Timeline March 24th 2021
March 20, 2003 – U.S.-led forces invade Iraq from Kuwait to oust Saddam Hussein.
May 1, 2003 – President George W. Bush declares hostilities over.
June 15, 2003 – U.S. military completes its troop build-up, or "surge," to around 170,000 soldiers.
December 2011 the United States completes its withdrawal of troops, concluding the Iraq War.
December 2019, Iraq and the United States begin discussing the partial withdrawal of American military forces from Iraq.
Exporting Demonocracy March 21st 2021
The following is a 2018 BBC report on the alleged Syrian Government attack on Douma , using nerve gas on a hospital. It was part of a smug BBC state broadcaster rant against social media allegedly posting conspiracy theories.
"As the investigation continues into another alleged chemical attack in Syria, one group of influential online activists is busy spreading their version of events.
Inspectors from the Organisation for the Prohibition of Chemical Weapons (OPCW) are attempting to access the previously rebel-held town of Douma, where medical organisations and rescue workers say President Bashar al-Assad's forces dropped bombs filled with toxic chemicals in an attack on 7 April, killing more than 40 people.
The Syrian government and its key ally, Russia, say the incident was staged. But the US, UK and France – who support the opposition to Mr Assad – say they are confident that chlorine and possibly a nerve agent were used.
Despite the uncertainty about what happened in Douma, a cluster of influential social media activists is certain that it knows what occurred on 7 April.
They've seized on a theory being floated by Russian officials and state-owned media outlets that the attacks were "staged" or were a "false flag" operation, carried out by jihadist groups or spies in order to put the blame on the Assad government and provide a justification for Western intervention.
The group includes activists and people who call themselves "independent journalists", and several have Twitter followings reaching into the tens or hundreds of thousands.
Here is an extract from Robert Fisk's report in 'The Independent' April 23rd 2019 , telling a different story :
"We like to take the Big Boys on trust. No longer do we believe in our meretricious little leaders with their easy lies and twitters: the Trumps and Mays and now all the nationalists of Europe. We certainly don't put any credit in Arab dictators.
"But when, despite all its bureaucracy and corruption, the UN tells us that the world faces climate change, we largely believe what it says. If the International Red Cross warns us of a humanitarian catastrophe in Africa, we tend to take their word for it. And when the Organisation for the Prevention of Chemical Weapons (OPCW) – which represents 193 member states throughout the world – reports on chlorine attacks in Syria, we assume we are hearing the truth, the whole truth and nothing but the truth.
"Until now. For in the last few days, there has emerged disturbing evidence that in its final report on the alleged use of chemical weapons by the Syrian regime in the city of Douma last year, the OPCW deliberately concealed from both the public and the press the existence of a dissenting 15-page assessment of two cylinders which had supposedly contained molecular chlorine – perhaps the most damning evidence against the Assad regime in the entire report.
"The OPCW officially maintains that these canisters were probably dropped by an aircraft – probably a helicopter, presumably Syrian – over Douma on 7 April 2018. But the dissenting assessment, which the OPCW made no reference to in its published conclusions, finds there is a "higher probability that both cylinders were manually placed at those two locations rather than being delivered from aircraft".
"It is difficult to underestimate the seriousness of this manipulative act by the OPCW. In a response to the conservative author Peter Hitchens, who also writes for the Mail on Sunday – he is of course the brother of the late Christopher Hitchens – the OPCW admits that its so-called technical secretariat "is conducting an internal investigation about the unauthorised [sic] release of the document".
The Official Version of 9/11 goes like this… Posted by R.J Cook March 16th 2021
The Official Version of 9/11 goes like this…
Directed by a beardy-guy from a cave in Afghanistan, nineteen hard-drinking, coke-snorting, devout Muslims enjoy lap dances before their mission to meet Allah…
Using nothing more than craft knives, they overpower cabin crew, passengers and pilots on four planes…
And hungover or not, they manage to give the world's most sophisticated air defense system the slip…
Unphased by leaving their "How to Fly a Passenger Jet" guide in the car at the airport, they master the controls in no-time and score direct hits on two towers, causing THREE to collapse completely…
Our masterminds even manage to overpower the odd law of physics or two… and the world watches in awe as steel-framed buildings fall symmetrically – through their own mass – at free-fall speed, for the first time in history.
Despite all their dastardly cunning, they stupidly give their identity away by using explosion-proof passports, which survive the fireball undamaged and fall to the ground… only to be discovered by the incredible crime-fighting sleuths at the FBI…
…Meanwhile down in Washington…
Hani Hanjour, having previously flunked two-man Cessna flying school, gets carried away with all the success of the day and suddenly finds incredible abilities behind the controls of a Boeing…
Instead of flying straight down into the large roof area of the Pentagon, he decides to show off a little…
Executing an incredible 270 degree downward spiral, he levels off to hit the low facade of the world's most heavily defended building…
…all without a single shot being fired…. or ruining the nicely mowed lawn… and all at a speed just too fast to capture on video…
…Later, in the skies above Pennsylvania…
So desperate to talk to loved ones before their death, some passengers use sheer willpower to connect mobile calls that otherwise would not be possible until several years later…
And following a heroic attempt by some to retake control of Flight 93, it crashes into a Shankesville field leaving no trace of engines, fuselage or occupants… except for the standard issue Muslim terrorist's bandana…
…Further south in Florida…
President Bush, our brave Commander-in-Chief, continues to read "My Pet Goat" to a class full of primary school children… shrugging off the obvious possibility that his life could be in imminent danger…
…In New York…
World Trade Center leaseholder Larry Silverstein blesses his own foresight in insuring the buildings against terrorist attack only six weeks previously…
While back in Washington, Dick Cheney, Donald Rumsfeld and Paul Wolfowitz shake their heads in disbelief at their own luck in getting the 'New Pearl Harbor' catalyzing event they so desired to pursue their agenda of world domination…
And finally, not too disturbed by reports of their own deaths, at least seven of our nineteen suicide hijackers turn up alive and kicking in mainstream media reports…
Every item here is part of the approved by the corporate media truth and if you don't believe them, you're a "conspiracy theorist".
For Syrians, a decade of displacement with no end in sight Posted March 13th 2021
By FAY ABUELGASIMyesterday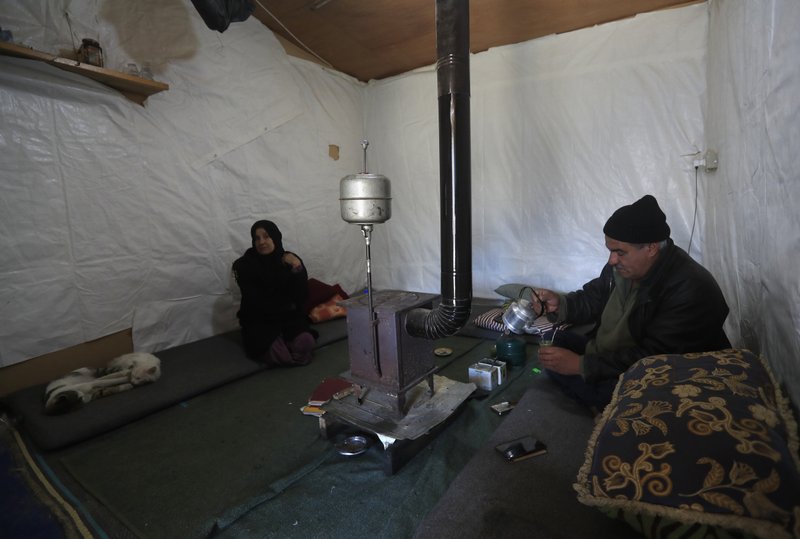 1 of 8A Syrian displaced man Mohammed Zakaria, 53, who fled his Syrian hometown of Homs in 2012, prepares a hot drink as he sits inside his tent with his wife, left, at a refugee camp, in Bar Elias, in eastern Lebanon's Bekaa valley, Friday, March 5, 2021. Nearly ten years later, the family still hasn't gone back and Zakaria is among millions of Syrians unlikely to return in the foreseeable future, even as they face deteriorating living conditions abroad. The Syrian conflict has resulted in the largest displacement crisis since World War II. (AP Photo/Hussein Malla)
BAR ELIAS, Lebanon (AP) — Mohammed Zakaria has lived in a plastic tent in eastern Lebanon's Bekaa Valley for almost as long as war has raged in his native Syria.
He and his family fled bombings in 2012, thinking it would be a short, temporary stay. His hometown of Homs was under siege, and subject to a ferocious Syrian military campaign. He didn't even bring his ID with him.
Almost 10 years later, the family still hasn't gone back. The 53-year-old Zakaria is among millions of Syrians unlikely to return in the foreseeable future, even as they face deteriorating living conditions abroad. On top of his displacement, Zakaria now struggles to survive Lebanon's financial meltdown and social implosion. ADVERTISEMENT
"We came on the assumption that we would come in and out," said Zakaria, sitting outside his tent on a cold day recently as his children walked around in worn-out slippers.
Syria has been mired in civil war since 2011, when Syrians revolted against President Bashar Assad amid a wave of Arab Spring uprisings. The protests in Syria, which began in March that year, quickly turned into insurgency — and eventually a full-blown civil war — in response to a brutal military crackdown by Assad's security apparatus. More Stories:
Nearly half a million people have been killed, and about 12,000 children have died or were injured in the conflict in the past decade, according to the U.N. children's agency, UNICEF. The conflict also resulted in the largest displacement crisis since World War II.
The Norwegian Refugee Council this week said that since the war began in 2011, an estimated 2.4 million people were displaced every year in and outside Syria. Hundreds of thousands of Syrians face continued displacement with each year that the conflict continues and economic conditions deteriorate.
The war has left Syria divided and in ruins. Nearly a million children have been born in exile.
Of the country's pre-war population of 23 million, nearly 5.6 million are refugees living in neighboring countries and Europe. Some 6.5 million are displaced within Syria, most of them for longer than five years
Lebanon, a small Mediterranean country with a population of about 5 million, hosts the highest concentration of refugees per capita, estimated at around 1 million. Most of them live in informal makeshift tent settlements spread out across Lebanon's Bekaa, not far from the Syrian border.
A former porter for a Homs construction company, Zakaria has struggled to provide for his family, even as it continues to grow in Lebanon. He has two wives and eight children, including two who were born in Lebanon. One of his children was only a year old when the family escaped Syria.
In Lebanon, jobs are hard to come by asan economic and financial crisis roils the country. Financial assistance is scarce and irregular. A currency crash sent inflation and prices soaring. Zakaria now tries to make ends meet by selling gas bottles used for heaters to other refugees in his settlement.
He makes 1,000 Lebanese pounds (about 10 cents) from each gas canister he sells. But this winter, his neighbors in the settlement, which houses around 200 Syrian refugee families, could hardly afford to buy enough gas to heat their tents.
Through the unprecedented economic crisis, Lebanon's currency has so far lost over 80% of its value.
"Life is expensive here," he said. "It is so expensive even for medicine or doctors." Full Coverage: Syria
When his wife needed urgent eye surgery, Zakariya arranged for her to be smuggled briefly back into Syria to do the surgery there. The surgery was going to cost 22 million Lebanese pounds — about $2,200 at the current market rate. They managed to get it done in Syria for 85,000 Lebanese pounds ($850).
Zakaria said he feels great sadness for his younger three children who have no memories of Syria and their home in Homs. They have also not been to school, and don't know how to read and write.
According to UNICEF, nearly 750,000 Syrian children in neighboring countries, including Lebanon, are out of school.
"All of our memories are gone now," said Zakaria, watching his children run around, playing hopscotch. Two dirty street cats serve as their playmates.
"Now we have a generation — 10-year-olds are a new generation," he said. "I have young kids and … they don't even know our neighbors" back home.
Many Syrians are unable to return because their homes were destroyed in the fighting, or because they fear military conscription or retribution from government forces.
Zakaria clings to the hope that he would one day go back to his home.
"God willing we will die in our country," he said. "Everyone should die in their own country."
Kissing the ground, hundreds of Ethiopian immigrants welcomed to Israel
Ethiopia-born Absorption Minister Pnina Tamano-Shato arrives with flight, greeted with fanfare at airport, as plan to bring 2,000 kicks off, with thousands more still waiting
By Stuart Winer and TOI staff 3 December 2020, 12:30 pm 5
Members of the Ethiopian Jewish community arrive at Ben Gurion airport, outside Tel Aviv, on December 3, 2020. (Miriam Alster/Flash90)
Members of the Ethiopian Jewish community arrive at Ben Gurion airport, outside Tel Aviv, on December 3, 2020. (Miriam Alster/Flash90)
Prime Minister Benjamin Netanyahu, right, greets members of the Ethiopian Jewish community as they arrive at Ben Gurion airport, outside Tel Aviv, on December 3, 2020. (Amos Ben Gershon/GPO)
Members of the Ethiopian Jewish community arrive at Ben Gurion airport, outside Tel Aviv, on December 3, 2020. (Miriam Alster/Flash90)
Prime Minister Benjamin Netanyahu, second left, and his wife Sarah, third left, greet members of the Ethiopian Jewish community as they arrive at Ben Gurion airport, outside Tel Aviv, on December 3, 2020. (Amos Ben Gershon/GPO)
Members of the Ethiopian Jewish community arrive at Ben Gurion airport, outside Tel Aviv, on December 3, 2020. (Miriam Alster/Flash90)
Members of the Ethiopian Jewish community arrive at Ben Gurion airport, outside Tel Aviv, on December 3, 2020. (Miriam Alster/Flash90)
Members of the Ethiopian Jewish community arrive at Ben Gurion airport, outside Tel Aviv, on December 3, 2020. (Miriam Alster/Flash90)
Members of the Ethiopian Jewish community arrive at Ben Gurion airport, outside Tel Aviv, on December 3, 2020. (Miriam Alster/Flash90)
Waving Israeli flags as they came down the steps of the aircraft, over 300 members of Ethiopia's Jewish community arrived in Israel on Thursday in a special airlift from Gondar headed by Absorption and Immigration Minister Pnina Tamano-Shata.
The celebratory arrival, attended by several of Israel's leaders, marked the opening phase of a plan to bring some 2,000 members of the community to Israel from Ethiopia in what has been dubbed Operation Tzur Israel.
Critics have urged the government to speed the arrival of all 2,000, as well as thousands more community members estimated to be waiting to emigrate from the war-torn country.
Get The Times of Israel's Daily Edition by email and never miss our top stories Free Sign Up
The first of the 316 immigrants to emerge from the Ethiopian Airlines jet led a young girl with one hand and with his other blew a ram's horn, or shofar, that in Jewish tradition is used to signal a moment of redemption.
Some of the passengers kissed the ground as soon as they reached the tarmac, another tradition for those arriving for their first time in the Holy Land. Many were dressed in traditional Ethiopian robes, and many women held babies in their arms. Festive Hebrew songs were blasted over loudspeakers.
The arrivals, some of whom have waited 15 years or more to emigrate and many of whom have family here, will not be able to be reunited with their relatives immediately, due to coronavirus guidelines that require all arrivals to isolate for two weeks. They are slated to spend their first several months in Israel at an absorption center in the north, where they will learn Hebrew.
Another plane is set to arrive on Friday, bringing the number of new immigrants to 500.
The rest are expected to arrive by the end of January.
The new arrivals were greeted at Ben Gurion Airport by Prime Minister Benjamin Netanyahu, Foreign Minister Gabi Ashkenazi, Defense Minister Benny Gantz and other senior government figures at an emotional welcome ceremony, reminiscent of the fanfare surrounding airlifts of Ethiopian Jews in the 1980s and 90s.
Prime Minister Benjamin Netanyahu, second left, and his wife Sarah, third left, greet members of the Ethiopian Jewish community as they arrive at Ben Gurion airport, outside Tel Aviv, on December 3, 2020. (Amos Ben Gershon/GPO)
"I don't remember having been so moved for many years in such a clear image of Zionism," Netanyahu said. "I had tears in my eyes."
"This is the purpose of the Zionist story, the Jewish story," he said.
The story of the Ethiopian immigration to Israel, with all its lethal dangers and hardships, will be taught to all Israeli schoolchildren, Netanyahu vowed, referring to journeys made by some immigrants by foot across Sudan and Egypt to reach Israel.
Israel's determination to bring home all of the Ethiopian community also extends to Avera Avraham Mengistu, an Israeli citizen believed held captive by the Hamas terror group after crossing into the Gaza Strip, Netanyahu said.
"I am moved to be here," said Gantz who recalled that as an officer in the Israel Defense Forces he had participated in the military's covert 1991 Operation Solomon, an airlift that brought over 14,000 Ethiopian Jews to the country in the space of a day and a half.
Israel, he said, is committed to fulfilling the dreams and hopes of the Ethiopian community to arrive and live in Israel.
"The State of Israel was set up to be a home for the Jewish people," Gantz said. "Welcome to Israel, welcome to those who are returning home."
Members of the Ethiopian Jewish community arrive at Ben Gurion airport, outside Tel Aviv, on December 3, 2020. (Miriam Alster/Flash90)
Tamano-Shata, who arrived in Israel as a young girl in Operation Moses airlift, a 1984 airlift that brought 6,000 Ethiopian Jews to the country from Sudan, praised the unity government for taking the necessary action to authorize bringing more of the community to the country, despite its crippling political logjam.
"In a moment that rose above the fighting," the unity government made decisions that saved lives, Tamano-Shata said.
"You can't imagine how dangerous the situation is now in Ethiopia," she said, referring to an ongoing internal conflict in the country's northern region.
"The Jews of Ethiopia will not be forgotten," she promised.
After years of dreams and fears, "here you now are in the Jewish state," said chairman of the Jewish Agency Isaac Herzog to the new arrivals.
The Agency, he said, is preparing for a large influx of Ethiopian Jewish community members with the further stages of the Create Israel operation.
Screen capture from video of Defense Minister Benny Gantz at a welcoming ceremony for hundreds of Jewish Ethiopian immigrants at Ben Gurion Airport, December 3, 2020. (Facebook)
The ceremony ended with a rendition of Israel's national anthem "Hatikva" (The hope), which speaks of the Jewish people's yearning for return to the national homeland from its dispersal around the world.
About 140,000 Ethiopian Jews live in Israel today, most of them from the Beta Israel community, and many are integrated across all strata of society, though accusations of institutionalized racism persist.
In 2019, massive protests broke out following the police killing of Solomon Teka, 18, an unarmed man of Ethiopian descent.
Tamano-Shata, the first Israeli of Ethiopian descent to be made a minister, flew to Ethiopia on Saturday night to oversee the final stage of the airlift, including a meeting with Ethiopian President Sahle-Work Zewde.
In October Netanyahu announced plans to bring 2,000 members of the community to the country. The proposal earmarked NIS 370 million ($109 million) for the mass immigration, the Prime Minister's Office said at the time.
1/2 President Sahle-Work Zewde received Ms. Pnina Tamano-Shata, Israel's Immigration Minister. pic.twitter.com/4RPIarmswZ

— Office of the President, Ethiopia (@POEthiopia) December 3, 2020
Community members and activists have held several protests urging the government to approve the immigration of the rest of the community, thought to number between 7,000 and 12,000, many of whom are endangered by the recent outbreak of war in the northern Tigray region.
About 9,000 of the would-be immigrants have been waiting for 15 or more years to immigrate, local activists say. About a quarter of that number, located in the capital Addis Ababa, have been waiting for more than 20 years, they say, while the rest, in Ethiopia's second city Gondar, have been hanging on for 15 to 20 years.
"Once again, the government led by Prime Minister Netanyahu has decided to place quotas on the immigration of Jews from Ethiopia," said Muket Fenta, an activist who has been fighting for over a decade to bring his aunt to Israel.
"The government is celebrating a few hundred immigrants from Ethiopia, while thousands were supposed to be here and are still left behind while their fate is in question," he said.
The coronavirus has hit the group especially hard economically, sources have told The Times of Israel. Work has dried up and food is in short supply, with prices up by 35 to 50 percent; families in Israel who had previously sent their relatives money are strapped for cash because of their own COVID-19-related problems, and philanthropic organizations are less able to raise donations due to the pandemic.
Fighting between Ethiopian Prime Minister Abiy Ahmed's government and the Tigray People's Liberation Front from the country's northwest claimed its first victim from Gondar's Jewish community on November 12 — Girmew Gete, 36. He had waited 24 years to immigrate to Israel.
Tigray refugees who fled the conflict in the Ethiopia's Tigray region carry their furniture on the banks of the Tekeze River on the Sudan-Ethiopia border, in Hamdayet, eastern Sudan, December 1, 2020. (Nariman El-Mofty/AP)
In 2013, the Jewish Agency declared the end of Ethiopian aliyah, prompting protests by Ethiopian lawmakers and community members in Israel.
In November 2015, the government passed a decision to airlift "the last of the community" waiting in Addis Ababa and Gondar to Israel within five years.
Since that decision, however, just 2,257 Ethiopians have been brought, in dribs and drabs, according to Jewish Agency figures.
While Ethiopian Jewish immigrants from the Beta Israel community are recognized as fully Jewish, immigrants from Ethiopia belonging to the smaller Falash Mura community are required to undergo Orthodox conversion after immigrating. The Falash Mura are Ethiopian Jews whose ancestors converted to Christianity, often under duress, generations ago. Some 30,000 of them have immigrated to Israel since 1997, according to the Prime Minister's Office.
Because the Interior Ministry does not consider the Falash Mura to be Jewish, they cannot immigrate under the Law of Return, and therefore must get special permission from the government to move to Israel.
At this time when so many feel isolated, here's a Hanukkah gift that connects you and those you care about to Israel, the Jewish people and to one another.
It's not so easy to visit Israel – or, in many cases, each other – this year. So our connections through shared values, ideas and discussion are now more important than ever.
Sue Sykes contributed to this article.
A Times of Israel Community gift membership entitles your recipient to one full year of membership benefits, at a special, discounted price. Learn more Already a member? Sign in to stop seeing this read more:
Iran warns of 'crushing response' after Trump said to mull strikes on nuke sites
Threat follows NY Times report that US president last week weighed military options, but was dissuaded by aides; Pompeo, present at those talks, to arrive in Israel on Wednesday November 18th 2020.
Iran warned on Tuesday of a "crushing response" in the wake of reports US President Donald Trump convened top advisers last week to ask if he had options to strike Iranian nuclear sites during his final weeks in office.
"Any action against the Iranian nation would certainly face a crushing response," said government spokesperson Ali Rabiei in remarks streamed on an official government news site, according to the Reuters news agency.
The New York Times reported Monday that Trump had made inquiries about the possibility of strikes, but was dissuaded by warnings that it could lead to a wider conflict.
Get The Times of Israel's Daily Edition by email and never miss our top stories Free Sign Up
Trump convened top officials on Thursday, a day after the UN nuclear watchdog said Iran had stockpiled more than 12 times more enriched uranium than the 2015 nuclear deal allows, the Times reported, citing four current and former US officials.
US President Donald Trump arrives to address the nation from the White House on the ballistic missile strike that Iran launched against Iraqi air bases housing US troops accompanied by Joint Chiefs Chairman Gen. Mark Milley, center, and US Air Force Chief of Staff Gen. David L. Goldfein, January 8, 2020. (AP Photo/Alex Brandon)
Among those present were Vice President Mike Pence; Secretary of State Mike Pompeo; acting defense secretary Christopher C. Miller; and Gen. Mark A. Milley, the chairman of the Joint Chiefs of Staff, the report said.
Trump asked them how he should respond to the International Atomic Energy Agency report and what his options were. The Times said the focus of any attack would almost certainly be the heavily fortified Natanz nuclear center.
Pompeo and Miley reportedly warned that a major strike, whether with missiles or by a cyberattack, could easily escalate into a major regional conflict.
The report said they left Thursday's meeting believing that Trump had taken a missile strike off the table, but could still be looking at a more measured response against Iran or its allies.
US Secretary of State Mike Pompeo listens during the third annual US-Qatar Strategic Dialogue at the State Department in Washington, DC on September 14, 2020. (ERIN SCOTT / POOL / AFP)
Pompeo is set to arrive in Israel on Wednesday. He will likely meet Prime Minister Benjamin Netanyahu, Defense Minister Benny Gantz, Foreign Minister Gabi Ashkenazi and Mossad chief Yossi Cohen, according to the Walla news site.
"If I were the Iranians, I would not feel at ease," Energy Minister Yuval Steinitz said in response to The New York Times report, clarifying that he was not directly aware of any deliberations on the matter by the Trump administration.
"It is very important that the Iranians know that if, indeed, they suddenly dash toward high levels of enrichment, in the direction of nuclear weaponry, they are liable to encounter the military might of the United States — and also, perhaps, of other countries," Steinitz told Army Radio on Tuesday.
Trump's most high-profile attack on Iran, when the US killed top Iranian general Qassem Soleimani in a January 3 drone strike at Baghdad's airport, resulted in a limited Iranian response.
The Pentagon has a wide range of strike options for Iran, including military, cyber and combination plans, the Times report said, noting that some called for direct action by Israel.
Israel has been blamed for an attack on an advanced centrifuge development and assembly plant at Natanz in July. It has also been blamed, together with the US, for the Stuxnet virus that sabotaged Iranian enrichment centrifuges a decade ago.
A building Iran claims was damaged by a fire at the Natanz uranium enrichment facility some 200 miles (322 kilometers) south of Tehran, on July 2, 2020. (Atomic Energy Organization of Iran via AP)
The New York Times also reported this week that Israel assassinated Al-Qaeda's No. 2 in Tehran in recent months at the behest of the US.
Monday's report highlighted fears that Trump could seek to dramatically influence events in his final few weeks in office (even though he has not conceded the election) in a bid to tie US President-elect Joe Biden's hands on issues like Iran.
In a quarterly report distributed to members last week, the International Atomic Energy Agency also said it still had questions from the discovery last year of particles of uranium of manmade origin at a site outside Tehran not declared by Iran.
Illustrative: Iran's alleged atomic warehouse in Turquzabad, Tehran. (YouTube screenshot)
The United States and Israel had been pressing the IAEA for some time to look into the Turquzabad facility, which Netanyahu described to the UN in 2018 as a "secret atomic warehouse."
In the current report, the IAEA said the "compositions of these isotopically altered particles" found there were "similar to particles found in Iran in the past, originating from imported centrifuge components." It said it found Iran's response to questions last month "unsatisfactory."
"Following an assessment of this new information, the agency informed Iran that it continues to consider Iran's response to be not technically credible," the IAEA wrote this week. "A full and prompt explanation from Iran… is needed."
Creation of the State of Israel
November 14th 2020
Following the defeat of the Ottoman Empire in World War I, the British assumed control of Palestine. In November 1917, the British government issued the Balfour Declaration, announcing its intention to facilitate the "establishment in Palestine of a national home for the Jewish people." In 1922, the League of Nations granted Britain a mandate over Palestine which included, among other things, provisions calling for the establishment of a Jewish homeland, facilitating Jewish immigration and encouraging Jewish settlement on the land.
The Arabs were opposed to Jewish immigration to Palestine and stepped up their attacks against the Jews. Following an increase in Arab attacks, the British appointed a royal commission in 1936 to investigate the Palestine situation. The Peel Commission recommended the partition of the country between Arabs and Jews. The Arabs rejected the idea while the Jews accepted the principle of partition.
At the end of World War II, the British persisted in their immigration restrictions and Jewish survivors of the Holocaust were violently turned away from the shores of Palestine. The Jewish Agency and the Haganah continued to smuggle Jews into Palestine. Underground cells of Jews, most notably the Irgun and Lehi, engaged in open warfare against the British and their installations.
The British concluded that they could no longer manage Palestine and handed the issue over to the United Nations. On November 29, 1947, after much debate and discussion, the UN recommended the partition of Palestine into two states ­ one Jewish and one Arab. The Jews accepted the UN resolution while the Arabs rejected it.
Meanwhile, since the time of the British Mandate, the Jewish community in Palestine had been forming political, social and economic institutions that governed daily life in Palestine and served as a pre-state infrastructure. Zionist leader David Ben-Gurion (1886-1973) served as head of the pre-state government.
The British mandate over Palestine officially terminated at midnight, May 14, 1948. Earlier in the day, at 4:00 p.m., David Ben-Gurion proclaimed the creation of the State of Israel and became its first prime minister. Longtime advocate of Zionism in Britain Chaim Weizmann (1874-1952) became Israel's first president. On May 15, the United States recognized the State of Israel and the Soviet Union soon followed suit.
The fledgling State of Israel was faced with many challenges. While fighting a war of survival with the Arab states who immediately invaded the new nation, Israel had to also absorb the shiploads of immigrants coming in daily to the Jewish homeland. Many were penniless refugees from Europe broken in body and in spirit. They needed immediate health and social services in addition to acculturation to their new home.
How Israel Became a Country November 14th 2020
Social and political developments in Europe convinced Jews they needed their own country, and their ancestral homeland seemed like the right place to establish it. European Jews — 90 percent of all Jews at the time — arrived at Zionism partly because of rising anti-Semitic persecution and partly because the Enlightenment introduced Jews to secular nationalism. Between 1896 and 1948, hundreds of thousands of Jews resettled from Europe to what was then British-controlled Palestine, including large numbers forced out of Europe during the Holocaust.
Many Arabs saw the influx of Jews as a European colonial movement, and the two peoples fought bitterly. The British couldn't control the violence, and in 1947 the United Nations voted to split the land into two countries. Almost all of the roughly 650,000 Jews went to the blue territory in the map to the right, and a majority of the Arab population (roughly twice the size of the Jewish community) went to the orange.
The Jewish residents accepted the deal. The Palestinians, who saw the plan as an extension of a long-running Jewish attempt push them out of the land, fought it. The Arab states of Egypt, Jordan, Iraq, and Syria all later declared war on Israel, as well (albeit not to defend the Palestinians).
Israeli forces defeated the Palestinian militias and Arab armies in a vicious conflict that turned 700,000 Palestinian civilians into refugees. The UN partition promised 56 percent of British Palestine for the Jewish state; by the end of the war, Israel possessed 77 percent — everything except the West Bank and the eastern quarter of Jerusalem (controlled by Jordan), as well as the Gaza Strip (controlled by Egypt). It left Israelis with a state, but not Palestinians.
---
Navy takes helm of first new warship from Germany to guard gas rigs November 14th 2020
INS Magen, first of four Sa'ar 6 corvettes, to sail to Israel where it will be outfitted with sensors, weapons, anti-missile batteries in coming months before deployment
By Judah Ari Gross 11 November 2020, 11:30 pm 1
The Sa'ar 6-class corvette INS Magen is handed over to the Israeli Navy in a ceremony in Germany on November 11, 2020. (Israel Defense Forces)
The Israeli Navy on Wednesday received the first of four new Sa'ar 6-class corvettes from Germany — its first new missile ships in over a quarter-century — which will be used to defend Israel's natural gas rigs and shipping routes.
The ship, the INS Magen, will reach Israeli shores next month where it will be outfitted with sensors, weapons and communication systems, before being declared operational.
"The INS Magen, the first of four new Magen-series ships for the Israeli fleet, will answer in the best way possible the future challenges on the naval front," Israeli Navy commander Maj. Gen. Eli Sharvit said at the official hand-over ceremony in Germany.
Get The Times of Israel's Daily Edition by email and never miss our top stories Free Sign Up
"The INS Magen will be armed with the best offensive and defensive systems, with fighting systems that are at the forefront of international military technology, the vast majority of which are products of Israeli industries," Sharvit said.
Commander of the Israeli Navy Maj. Gen. Eli Sharvit, right, salutes during a ceremony marking the hand-over of the Sa'ar 6-class corvette INS Magen to the Israeli Navy from Germany on November 11, 2020. (Israel Defense Forces)
The remaining three ships will be delivered to Israel over the next year.
The Sa'ar 6-class vessels are being constructed by Germany's Thyssenkrupp manufacturing conglomerate in the port of Kiel. The INS Magen was originally planned to be handed over to the Israeli Navy earlier this year, but this was delayed due to production issues caused by the coronavirus pandemic.
The ceremony was presided over by Sharvit and the deputy director-general of the Defense Ministry, Avi Dadon, as well as a number of other senior defense officials, the military said.
The INS Magen was the first new missile ship received by the Israeli Navy
in 26 years, since the Sa'ar 5-class INS Hanit was delivered in 1994.
Israeli sailors on board the Sa'ar 6-class corvette INS Magen salute as the vessel is handed over to the Israeli Navy in a ceremony in Germany on November 11, 2020. (Israel Defense Forces)
The four Sa'ar 6 ships were ordered after the government tasked the navy with defending rigs built over natural gas deposits in Israel's territorial waters.
Each nearly 2,000-ton missile ship is equipped with two Iron Dome interceptor launchers — known as the Naval Dome — to intercept rockets and a Barak-8 battery to shoot down cruise and ballistic missiles.
The ships are also covered in some 260 static radar arrays — known as a phased array — that allow them to detect incoming projectiles and aircraft in the sky, as well as ships and low-flying cruise missiles at sea level. In the past, a ship would have needed two separate radar systems, one to detect objects at sea level and one to scan the skies. That the 260 or so arrays stay in place also means that the ship is less easily detectable than vessels with radar systems that rotate.
The Sa'ar 6 is large compared to the country's existing vessels, but Navy officials say it is far smaller than the types of ships that perform the types of missions it is being tasked with. And though it has a helicopter landing pad on its back, is larger than the Israeli Navy's other two classes of corvettes, the Sa'ar 5 and Sa'ar 4.5, it shows up as far smaller on radar, thanks to advancements in stealth technology in recent decades.
Unlike its predecessors, the Sa'ar 6 is also specifically built to house both male and female sailors. The navy anticipates that roughly a quarter of the crew of the missile ships will be women.
A view of the Leviathan natural gas processing rig from Dor Habonim Beach Nature Reserve, January 1, 2020. (Flash90)
The navy sees the protection of the natural gas rigs as one of its highest priorities, believing that a direct strike on an operating extraction platform would be catastrophic. Defending Israel's shipping lanes in the Mediterranean Sea, which are used to import over 90 percent of the country's goods, are also seen as a major task.
The Lebanese Hezbollah terror group has in fact identified Israel's national gas rigs as a potential target, releasing a video in 2018 showing the Leviathan platform in gunsights and threatening to destroy them "within hours."
The threat from Hamas in the Gaza Strip, which fired a rocket toward Israel's Tamar gas extraction platform in the 2014 Gaza war, is considered to be far less. The terror group is not believed to have advanced munitions capable of accurately striking a platform at sea. According to Israeli Navy calculations, Hamas would have to fire roughly 10,000 simple, unguided rockets at a gas rig to ensure one successful strike, making such an attack not technically impossible, but highly unlikely.
The decision to purchase the Sa'ar 6 ships from the German industrial firm Thyssenkrupp, along with another deal with the company to buy submarines, is part of a graft investigation in Israel involving several leading Israeli businessmen, including close contacts of Prime Minister Benjamin Netanyahu, as well as a former commander of the navy, Eli Marom.
Netanyahu, who has been indicted on three other corruption charges, was not named as a suspect in that scandal — dubbed Case 3000 — and no current Israeli Navy officials have been connected to it either.
The Israeli Navy refused to comment on the specific manner in which the tender was issued to Thyssenkrupp or other matters related to the purchasing process, but maintains that the Sa'ar 6 itself was a necessary ship to buy and that decisions over its specifications were made solely out of operational considerations.
Israel warns Gaza terrorists against attacks on tense anniversary – report November 14th 2020
Jerusalem said to send message that any assault to mark 1 year since IDF killing of Islamic Jihad terror commander will be met with return of targeted killings
By TOI staff and Judah Ari Gross 12 November 2020, 11:19 am 0
The home of Palestinian Islamic Jihad commander Baha Abu Al-Ata after it was hit in an Israeli strike in Gaza City on November 12, 2019. (Hassan Jedi/Flash90)
Israel has sent a message to Palestinian groups warning them that any attack to mark the anniversary of the killing of a senior Palestinian Islamic Jihad commander last year will be met with the assassination of terror leaders, a UK-based Arabic newspaper reported on Thursday.
According to Al-Araby Al-Jadeed, the message was sent to both the Hamas and Palestinian Islamic Jihad terror groups, warning them that the firing of rockets or any other form of attack against Israel will elicit a harsh response.
The report comes amid concerns of a possible attack on Israelis living in the West Bank or in communities surrounding the Gaza Strip to mark the one-year anniversary of the killing of Palestinian Islamic Jihad commander Baha Abu al-Ata Thursday.
UK probe finds Labour guilty of anti-Semitic discrimination
British government watchdog report finds party broke equality law, had 'inadequate processes' for handling complaints about Jew-hatred in party under Corbyn's leadership October 29th 2020
By TOI staff Today, 12:42 pmUpdated at 12:54 pm 3
Members of the Jewish community hold a protest against Britain's opposition Labour Party leader Jeremy Corbyn and anti-Semitism in the Labour party, outside the British Houses of Parliament in central London on March 26, 2018. (AFP/Tolga Akmen)
A UK government investigation into anti-Semitism in the Labour Party found that equality laws were broken and the party was "responsible for unlawful acts of harassment and discrimination," officials said Thursday.
The report by the state anti-racism watchdog came at the end of a year-long probe into allegations of anti-Semitism in the party.
The Equality and Human Rights Commission (EHRC) investigation found there were "serious failings" by the party's leadership when it came to anti-Semitism, and that Labour had "inadequate processes" for handling complaints.
Get The Times of Israel's Daily Edition by email and never miss our top stories Free Sign Up
The EHRC gave the party an unlawful act notice, meaning it has to publish an action plan in response to the report within six weeks.
Labour Party leader Jeremy Corbyn leaves his home in Islington, north London, December 16, 2019. (Isabel Infantes/PA via AP)
"The equality body's analysis points to a culture within the party which, at best, did not do enough to prevent anti-Semitism and, at worst, could be seen to accept it," the watchdog said in a statement. "This is in direct contrast to the comprehensive guidance and training in place to handle sexual harassment complaints that demonstrates the Party's ability to act decisively when it needs to, indicating that anti-Semitism could have been tackled more effectively."
The watchdog found the party responsible for unlawful acts in three major areas: political interference in anti-Semitism complaints, failing to provide adequate training to those handling anti-Semitism complaints, and harassment.
There were 23 instances of "inappropriate involvement" by Corbyn's office and others in the 70 files examined in the report, the EHRC said, with interference happening more frequently in complaints of anti-Semitism than other discrimination allegations.
Former London mayor Ken Livingstone. (AP Photo/Kirsty Wigglesworth, file)
The report also singled out former London mayor Ken Livingstone and Pam Bromley, a Labour Party local authority councilor in Rossendale in the north of the UK, for using anti-Semitic tropes and for claiming accusations of anti-Semitism were false smears, saying the party was responsible for their conduct.
However the report said those cases were the "tip of the iceberg," and that there were a further 18 "borderline" cases in which there was not enough evidence to conclude that the party was legally responsible for the conduct of the individual.
"These were people such as local councilors, local election candidates and Constituency Labour Party office holders. Many more files contained evidence of anti-Semitic conduct by an 'ordinary' member of the Labour Party, who did not hold any office or role and the Labour Party cannot be held directly responsible for under the Equality Act 2010," the report said.
The EHRC, the main government anti-racism watchdog, had initially announced a probe into whether the main opposition party led at the time by Corbyn had discriminated against, harassed or victimized Jews in violation of the UK's 2006 Equality Act.
Keir Starmer, who replaced Corbyn in a party election earlier this year, has said he would fully cooperate with the EHRC's report into anti-Semitism in the party.
Government extends multi-billion dollar plan for Arab municipalities
Vote widely praised by Arab lawmakers, but also sparks accusations that one MK may have collaborated a little too closely with Netanyahu in order to secure the extension. Posted October 26th 2020
View of the main road in the Arab-Israeli village of Majd al-Krum, near the northern Israeli city of Karmiel, on November 8, 2017.(Hadas Parush/Flash90)
The cabinet voted on Sunday to extend by a year a multi-billion dollar program aimed at closing extensive gaps between Jewish and Arab communities in Israel. The program, known as the 922 plan was set to expire in December, with over a third of its funds still unused.
"It must be understood that economic investment in Arab society contains enormous economic potential; in my opinion, it is a clear interest of the Israeli government," said Social Equality Minister Meirav Cohen after the vote.
The decision was widely praised by Arab politicians, but also sparked accusations that one Arab MK may have collaborated a little too closely with Prime Minister Benjamin Netanyahu in order to secure the extension.
Get The Times of Israel's Daily Edition by email and never miss our top stories Free Sign Up
The plan, initiated in 2015, allocated NIS 10 billion ($2.96 billion) to reduce widespread inequalities between Arab and Jewish communities in Israel. The extension will add another NIS 1.7 billion ($500 million) to the plan through the end of 2021.
The decision is even more noteworthy given the severe budget crisis facing Israel due to the coronavirus and two costly national shutdowns.
The extension will allow Arab municipalities time to use the unspent money, remove some restrictions, and act as a stop-gap until the expected passing of a new five-year-plan — called, appropriately enough, 923 — set to be approved in 2022.
"The 922 plan acted to shrink the inequality and develop infrastructure in Arab society, but this mission is not yet over. As such…, we have advanced an additional budget for 2021 and we've removed operational obstacles," said Yael Mabrouch, a senior official in the Social Equality Ministry.
While some of the unspent money was a result of it being allocated to long-term construction projects, spending was also hampered by bureaucracy.
"The budget, especially with regard to planning and building, imposed many conditions which municipalities could not really fulfill, and much of the money never made it to us," said Arara Mayor Mudar Younes, who leads a union of Arab local municipalities.
National Committee of Arab Municipalities chairman Mudar Younes (courtesy)
In an effort to ensure that the remaining money is spent, the government's decision designated an additional five cities as "strategic cities" on Sunday, meaning they will receive additional funding for planning and building. The same decision also removed some of the conditions for building.
Arab Israeli MKs largely hailed the move to extend the 922 funding and remove obstacles to its use by local municipalities.
"Removing obstacles to receiving the budgets constitute an essential step in reducing the gaps which hurt all Arab citizens. The path to equality is long, but we will not give up," Joint List chairman Ayman Odeh said in a statement.
While MK Yousef Jabareen praised the decision to extend 922 by a year, he said that "billions of additional funding is needed" to create "true equality."
Jabareen said 922 had not yet resulted in "essential change," and called for the new plan to include "a serious expansion of Arab jurisdictions, the establishment of industrial parks, including hi-tech, and advancing Arab education."
Activists said 922, widely seen as an unprecedented action by the Israeli government to support Arab infrastructure and economic development at the time of its approval, had been a great success, but much more work was still needed.
Ofer Dagan, co-executive director of the shared society NGO Sikkuy, which advocates for equality between Arabs and Jews in Israel, highlighted some of 922's key achievements, including improving the integration of Arab women in the workforce, expanding public transportation in Arab villages, and increasing public trust and collaboration between Arab municipalities and the Israeli government.
Police at a temporary checkpoint in the northern Arab town of Deir al-Asad, April 18, 2020, following the government decision on a full lockdown on the town. ( Basel Awidat/Flash90)
"I don't think that the manner in which Arab municipalities succeeded in reducing the rates of coronavirus infection, which required coordination with the government and the (IDF) Home Front Command, could have happened without this improved trust which had been acquired over the last few years," Dagan said.
But he noted that the improvements could have been far greater if there had been fewer restrictions on actually receiving the money.
Joint List tensions
While the extension was widely praised, the move also causes some tensions within the mostly Arab Joint List party, with some noting that the vote came only days after MK Mansour Abbas, who has been the Joint List point man for the 922 plan's approval, helped Prime Minister Benjamin Netanyahu avoid a Knesset embarrassment.
Abbas ignited a firestorm of controversy within the bloc of mostly Arab parties last week after he helped Knesset speaker Yariv Levin nullify a vote which would have authorized a Knesset committee of inquiry into the submarine affair, which involves several of Netanyahu's closest associates.
Coalition whip Miki Zohar pleads his case to Deputy Knesset Speaker Mansour Abbas in the plenum on October 21, 2020. (Shmulik Grossman/Knesset)
Some Joint List members have even accused Abbas of conducting backdoor deals with Netanyahu to ensure the plan's passage.
MK Mtanes Shahadeh accused Abbas of "coordinating" with the Likud as part of a quid-pro-quo for passing the 922 extension. "My friend Mansour Abbas erred. The Likud is not our partner. So it was and so it will be," Shehadeh wrote on Twitter on Thursday.
Abbas, who heads the Ra'am party in Joint List is reportedly considered to be too friendly to the ruling coalition and to have his own channels of communication with Netanyahu's Likud.
"There will always be political disagreements inside the Joint List, but we also need a uniform framework of cooperation. The approach that MK Abbas is taking can't create such a framework," MK Hiba Yazbek from the Balad faction told the Haaretz newspaper.
Mansour Abbas of the Ra'am party holds a press conference after a meeting with President Reuven Rivlin at the President's Residence in Jerusalem on April 16, 2019. (Noam Revkin Fenton/Flash90)
Abbas, for his part, said on Sunday that the sudden passage of the 922 extension was unrelated to his decision to agree to nullify the Knesset vote. He called rumors of backroom deals with the Likud "imprecise publications."
"I conduct myself in a transparent, professional, efficient, and respectable manner with all governor actors, not in accordance with the 'deals' which some have tried to accuse me of," Abbas said in a statement.
Last Monday night, Abbas had read out a series of recommendations to Netanyahu, who was sitting in the Knesset at the time, including passing an extension for 922. According to Abbas, the prime minister had already responded favorably at the time.
"I brought up our righteous demands before the prime minister during a Knesset session, and he agreed, even before the Knesset vote incident," Abbas said.
Whores of War September 27th 2020
A group of human rights organisations have filed a complaint with the International Criminal Court (ICC), accusing BAE Systems and other arms manufacturers based in Europe of being party to alleged war crimes in the conflict in Yemen.
Their 350-page dossier argues that aircraft, missiles and other arms made by 10 companies "contributed to the capacity" of the Saudi-led coalition in the conflict, which is accused of bombing schools, hospitals and civilians in 26 airstrikes.
Radhya Almutawakel, the chair of a Yemeni organisation Mwatana for Human Rights, said: "Saudi/UAE-led coalition airstrikes have caused terrible destruction in Yemen. Weapons produced and exported by the US and Europe have enabled this destruction.
"Five years into this war, the countless Yemeni victims deserve credible investigations into all perpetrators of crimes against them, including those potentially complicit."
Over 100,000 people are estimated to have been killed since war in Yemen broke out in 2015, including 12,000 civilians in directly targeted attacks. The Saudi-led coalition intervened in 2015 against the Iran-aligned Houthi rebels with a pattern of airstrikes that has brought repeated humanitarian criticism.
The 26 strikes specifically cited, where 135 people were killed and 181 injured, include what are described as indiscriminate attacks on hospitals and schools by bombers from Saudi Arabia or its ally the United Arab Emirates, and where remnants of bombs made by companies based in Europe were discovered.
The human-rights groups, who also include Amnesty International and Campaign Against the Arms Trade, met with members of the prosecutors' office on Wednesday afternoon in The Hague, where the ICC is located, to hand over the file.
Linde Bryk, a lawyer representing the human rights groups said: "By seeking an investigation into corporate executives and government officials the communication seeks to hold to account those selling arms to countries known to have committed war crimes."
BAE Systems is cited in the complaint because the British arms giant is the principal supplier of Eurofighter Tornado and Typhoon jet aircraft to the Royal Saudi Air Force, which has conducted a string of deadly strikes Yemen, as is the UK arm of Raytheon, which manufactures Paveway IV guided missiles used in the conflict.
In the case of BAE Systems, it argues that the company "purposely intended" to supply the Saudis with arms, and after the conflict began company bosses would have become aware of "the abundance of reporting on the violations being committed".
It argues: "The use of Eurofighter and Tornado jets by the coalition in Yemen – that the realisation of the war crimes, for example the intentionally targeting of civilians, attacks on schools, hospitals and cultural heritage, was a consequence of the assistance in the ordinary course of events."
It also references Airbus companies in Spain and Germany, France's Dassault and Thales, Italian group Leonardo, the Italian arm of Germany's Rheinmetall and units of European missile manufacturer MBDA in France and Britain. Dassault supplies fighter aircraft to the UAE.
Companies based in the UK are the largest exporter of arms to Saudi Arabia between 2015 and 2019, accounting for €5.8bn worth, according to publicly available data in the complaint. Firms based in France were recorded as doing €2.5bn worth of business, and their German equivalents €1.5bn.
BAE Systems has previously defended its sales to Saudi Arabia, saying it is a defence company which complies with UK arms export regulations. New arms sales to Saudi Arabia which could be used in Yemen have been on hold since June when the British court of appeal said that ministers had not properly assessed the risk they would be used in breach of international humanitarian law.
Raytheon's chief executive of international operations has previously said the company's role is to comply with existing arms export policies.