January 22nd 2023
Food firms raising prices unnecessarily, Tesco's John Allan says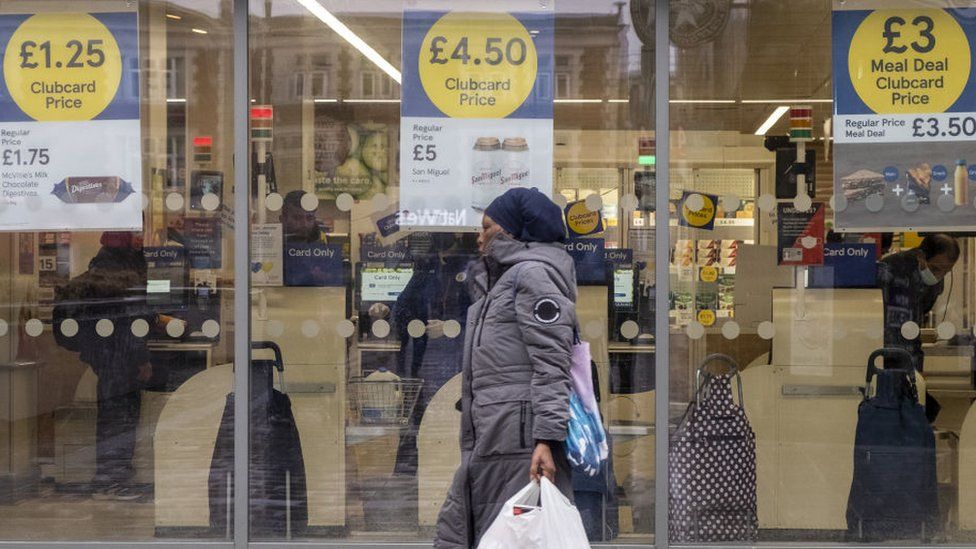 By Faarea Masud
Business reporter
Some food firms may be using inflation as an excuse to hike prices further than necessary, the chairman of Tesco has said.
Asked by the BBC's Laura Kuenssberg if food producers were taking advantage of the poorest in society, John Allan said it was "entirely possible".
He said Tesco was trying "very hard" to challenge price hikes it thinks are illegitimate.
Food costs including milk and cheese are rising at their fastest since 1977.
Mr Allan said all supermarkets were challenging cost increases from suppliers where they could – and Tesco was confronting companies it believed were increasing prices beyond what was necessary.
"We do try very hard to challenge [price hikes], I think," Mr Allan said.
"We have a team who can look at the composition of food, costs of commodities, and work out whether or not these cost increases are legitimate."
He said it was something Tesco's buying teams were dealing with "every day of the week".
Tesco, which has a 27.5% share of the Great Britain grocery market, had "fallen out" with "a number of suppliers" after "robust" discussions over price hikes that the supermarket had challenged, he said.
Most price hikes were legitimate, Mr Allan added.
"There have been some dramatic increases in commodity costs, energy costs and labour costs. On the other hand, if you don't want to pay £1.70p for… soup in Tesco or any other supermarket, there are own-label alternatives," he said.
Heinz beans and tomato ketchup were among the products Tesco temporarily removed from shelves last year in a row over pricing. Kraft Heinz said at the time it was becoming more expensive to make its products.
Millions of people continue to struggle with the cost of living which rose steadily as Covid restrictions eased and after Russia launched its assault on Ukraine.
Inflation, which measures the rate of price rises, fell to 10.5% in the year to December from 10.7% in November – but remains at levels not seen for 40 years.
Food prices rose 16.8% in the year to December, said the Office for National Statistics (ONS).
Basics such as milk, cheese and eggs saw the biggest increases. Prices for jam, honey and chocolate also jumped. However, price growth slowed for bread and cereals.
Consumer group Which? has also been tracking how much major retailers have put up their prices compared with their competitors.
Tesco was sixth in the list of supermarkets with the highest price rises, the group said.
Which?'s supermarket food and drink inflation tracker records the annual price rises of tens of thousands of food and drink products across three months at eight major supermarkets – Tesco, Sainsbury's, Asda, Morrisons, Aldi, Lidl, Waitrose and Ocado.
It found that despite being the cheapest supermarkets overall, Lidl's prices went up the most in December at 21.1% since this time last year, followed closely by Aldi at 20.8%.
More on this story