The British police have never had so much power. The IOPC – Independent ( sic ) office for Police Conduct -is a sham , so the police are effectively unaccountable. They recruit some very odd people, according to weird police state criteria. This should be borne in mind when reading the following story , pausing to wonder how many crimes the police are getting away with. There is no place for heroics in public service – where I spent most of my working life – but much room for lies, cover ups , dishonesty and boasting. R.J Cook
Version:1.0 StartHTML:000000244 EndHTML:000052912 StartFragment:000028460 EndFragment:000052880 StartSelection:000028519 EndSelection:000052844 SourceURL:https://crimebodge.com/the-10-worst-police-forces-most-corrupt-complaints-system/ The 10 Worst Police Forces: Most Corrupt Complaints System | CRIMEBODGE Trending
https://www.bing.com/videos/search?q=metropolitan+police+officer+hit+mentally+handicapped+black+woman&ru=%2fvideos%2fsearch%3fq%3dmetropolitan%2bpolice%2bofficer%2bhit%2bmentally%2bhandicapped%2bblack%2bwoman%26qpvt%3dmetropolitan%2bpolice%2bofficer%2bhit%2bmentally%2bhandicapped%2bblack%2bwoman%26FORM%3dVDRE&qpvt=metropolitan+police+officer+hit+mentally+handicapped+black+woman&view=detail&mid=A79064A1303AA0266445A79064A1303AA0266445&&FORM=VDRVSR
On The Beat In Modern Britain – Robert Cook May 6th 2021
Astonishingly this innocent woman was beaten up by a skinhead police officer in the cells, caught on camera but still making excuses. Being on the beat has a whole new meaning for Anglo U.S policing. Apparently they are specially selected for particular and rare human characteristsics, so to get 20,000 new officers , a senior U.K offcer involved in selection said they would need over 200,000 applicants.
The mind boggles as like recruits and promotes like.But it really isn't sexist or racist. Any soft target has an equal opportunity to be fitted up and beaten up by U.K Policevbecause they are unaccountable – although one is in custody for murdering a viulnerable young female, but getting caught is unusual and he was let off of a previous sex offence complaint because he was a copper. Robert Cook
Police officer beat black woman 34 times—but he isn't facing assault charges May 1st 2021
by Sophie Squire
---
Such cases reveal the nature of the police
---
A Metropolitan police officer has been found guilty of gross misconduct after beating a young black woman with learning disabilities 34 times with a baton in east London.
Benjamin Kemp, who was based at the MPS north command has now been dismissed from the police force after facing a disciplinary panel.
But he isn't facing assault charges.
The panel heard that the 17 year old woman—who won't be named to protect her identity—had broken away from an escorted walk after becoming distressed.
She then flagged down a police car to ask for help. The young woman, who was in distress, informed the police officers that she had mental health issues and was vulnerable.
She was then handcuffed by Kemp. When she resisted she was sprayed in the face at very close range with CS spray. Kemp then moved on to repeatedly beat her with a baton.
When another police unit arrived, the woman was immediately Tasered by an officer from that vehicle. The tame Independent Office for Police Conduct (IOPC) said the six-month investigation found the officer who used the Taser "had no case to answer for use of force".
But there was a case for misconduct and he received "management action" in August last year.
Beatings
After the beatings, the young woman's mother as well as a number of NHS workers made a complaint to the IOPC.
The woman's cousin, who was present at the hearing, told Bhatt Murphy solicitors, "having listened to two days of evidence I am shocked at the extent of force that my cousin was subjected to by Benjamin Kemp.
"Rather than helping her as he should have done, he violently assaulted her.
"Instead of showing any remorse, Kemp has spent the last two days trying to justify his actions. I am beyond happy that the panel entirely rejected his evidence."
And the victim's solicitor, Sophie Naftalin added, "There have been too many cases of disproportionate force being used by police officers upon members of the black community.
"We call on the Crown Prosecution Service to review its decision not to charge Kemp with assault".
Perverting
Meanwhile, a Merseyside police officer who punched a man in the face four times has been convicted of actual bodily harm. The three police officers who attempted to cover up the assault have been convicted of perverting the course of justice.
But it's not yet completely clear if they will be dismissed from the police.
In June 2019 police officer Darren McIntyre hit Mark Bamber in the face and in the ribs.
McIntyre's colleagues Laura Grant and Lauren Buchanan-Lloyd decided to turn their body cameras off during the assault.
You can't change the cops Read More
McIntyre also mentioned the assault to another officer, Garrie Burke. None of them mentioned the punches when they later gave "inaccurate" statements about the arrest.
Analysis of the bodycam footage revealed Bamber had not done anything wrong before he was attacked.
A police spokesperson said the officers will now face internal proceedings that "could lead" to their dismissal
These incidents highlight and the racism, violence and corruption that are ingrained within the police force.
And while those that were affected in these cases may have received some small justice, countless more will not.
Incidents like these make building the protests against the new Tory police bill even more urgent.
Comment
I write from experience. As a journalist and as a former member of Buckingham Crime Prevention Panel, I saw the PR nice face of the police and had personal connection at high level. The Chief superintendent who selected me for that panel – on the strength of my work as a senior member of the local council – said that there were too many comfortable people on it. In his view , the panel needed someone with more complex breadth of experience and viewpoint.
The police are what sociologists used to describe about total institutions. A prison is an obvious example , but the police have much in common with the enclosed criminal world. There is even cross fertilisation. They are inward looking and close ranks against criticism , complaint and threat of reform.
The head of The Police College' reported ,based on the college's study, that the wrong people were not only being recruited , the worst of them were being promoted by their own kind who had already risen. As the saying goes , a fish rots from the head down.
It doesn't matter how many degrees these top cops have in 'basket work ' or 'thermo fretwork' that officers have. Education makes liars , cheats and bullies even more dangerous and deceptive. France is pushing through a law to make it illegal to take and share images of police officers where they can be identified. Punishment will be up to 75,000 Euros and 5 years in jail.
I have experienced police lies , malpractice cover ups and corruption at first hand, over a long life changing period of time.. Making their misconduct as being all about racism which can only be solved by more black officers is a smokescreen covering for ongoing institutional corruption.
Robert Cook
Commentary May 2, 2016 Rob Warner Running this site and speaking to people who use the Action Against Police Service, I spend a lot of my time giving advice and…
Running this site and speaking to people who use the Action Against Police Service, I spend a lot of my time giving advice and alternatives to those who have been failed by the utterly corrupt police complaints system. By doing so it never fails to amaze me just how often the police will disregard, misinform or even punish those that turn to them for help. This is because on the whole, the police seem to think that they provide their services to the public as a favour, not an obligation.
In some cases the people that come to me cannot get the police to perform even the most basic of tasks: Such as investigating a serious crime or even allow one to be reported. When challenged or asked to hold themselves to account they usually respond in a vile manner: Resorting to intimidation and threats, as well as wilfully and openly abusing their positions of authority to get the complainant to surrender to them.
Over the years I have heard thousands of horror stories, and read an almost equal number of complaint reports that have been rinsed and bleached by the police professional standards department. In the last year however I have been hearing more and more complaints about the same police forces, over and over again. And always with the most shocking and outrageous of behaviour from the officers concerned.
The truth about police complaints
Recently I decided to see if there was any correlation with the forces I keep hearing about and the official figures on police complaints. In my experience it's the police forces that uphold the least number of complaints (while receiving the highest number of them) which have the greatest disregard toward the public. This demonstrates just how willing officers in the complaints department are to get their colleagues off the hook at the expense of the public.
Each year the IPCC publish comprehensive data on police complaints (the only useful function they serve). Although they give the figures of which forces have the highest amount of complaints, and which forces have the lowest rate of upholding those complaints, they fail to compile them into any league table. So I have done it for them.
Sure enough when I re-compiled the IPCC data, the same forces I keep hearing about over and over were right up at the top.
So if you are unfortunate enough to live within the borders of any of the forces I have listed below, I would urge you to be extra vigilant when having any contact with the police. These are the top ten worst forces in the country, who employ the most poorly trained, self-entitled and unruly police officers in the country.
Furthermore, in the likelihood that you DO experience a problem with any officers from these constabularies, their complaints process is designed specifically to help THEM, not you.
So be warned!
10 worst police forces in England and Wales
(Most corrupt complaints system)
10. Wiltshire Police
Complaints (over 12 months): 880
Staff Employed: 2,296
Complaints per 1000 staff: 383
Chief Constable: Mike Veale
Previous Chief Constable Patrick Geenty took early retirement right after the IPCC buried an investigation on him in relation to a sexual abuse inquiry.
In the 1990s Wiltshire Police buried multiple rape allegations made against conservative politician Edward Heath.
9. Leicestershire Police
Complaints (over 12 months): 1,550
Staff Employed: 3,851
Complaints per 1000 staff: 402
Chief Constable: Simon Cole
Leicestershire Police faced ridicule last year when it emerged officers would only investigate break-ins at properties with even door numbers. Odd numbered houses being ignored.
In 2014 Leicestershire police were also the subject of an undercover documentary revealing just how negligent police officers are "because they can't be bothered". It has to be seen to be believed.
8. Surrey Police
Complaints (over 12 months): 1,680
Staff Employed: 4,112
Complaints per 1000 staff: 409
Chief Constable: Nick Ephgrave
Previous chief constable Lynne Owens was yet another example of an under-qualified pile of useless being catapulted into a top job by virtue of having a vagina. Under her politically correct tenure, Surrey Police were condemned for 'failing vulnerable children, rape and domestic violence victims asking for assistance'. Despite her utter uselessness she was then given the job as head of the National Crime Agency. Supposedly Britain's answer to the FBI. That is if the question is: got any raped children that want ignoring?
7. Nottinghamshire Police
Complaints (over 12 months): 1,710
Staff Employed: 4,139
Complaints per 1000 staff: 413
Chief Constable: Chris Eyre
In 2014 Notts police announced it will not attend a third of reported crimes. They did this in protest to government cuts despite the fact that cuts to frontline policing are forbidden.
6. Northumbria Police
Complaints (over 12 months): 2,382
Staff Employed: 5,709
Complaints per 1000 staff: 417
Chief Constable: Steve Ashman
Previous Chief Constable Sue Simm (another useless top cop promoted by virtue of her sex) took early retirement right after allegations were made that she was rude and a bully to her staff.
5. Devon and Cornwall Police
Complaints (over 12 months): 2,431
Staff Employed: 5,789
Complaints per 1000 staff: 420
Chief Constable: Shaun Sawyer
Had any items taken from you by Devon and Cornwall police that they never returned? Well chances are they are flogging it for a profit on their Ebay page here.
4. Bedfordshire Police
Complaints (over 12 months): 914
Staff Employed: 2,083
Complaints per 1000 staff: 439
Chief Constable: Jon Boutcher
Previous Chief Constable Colette Paul took early retirement right after a report from HMIC declared her police force as being unfit for purpose.
Bedfordshire police have been criticised by Liberty GB as being a Shariah compliant force. They recently refused to investigate death threats made to EDL leader Tommy Robinson by Muslim fanatics.
3. Gwent Police
Complaints (over 12 months): 1,033
Staff Employed: 2,331
Complaints per 1000 staff: 443
Chief Constable: Jeff Farrar
Previous chief constable Carmel Napier was given the heave-ho by Gwent Police and Crime Commissioner when he cited her leadership as being "unacceptably dismissive, abrupt and unhelpful." Yes, just like most of the uniformed officers that work under her.
Jeff Farrar was recently investigated by the IPCC for 'corrupt practices'. The IPCC swiftly buried the investigation before it's completion.
2. Avon and Somerset Police
Complaints (over 12 months): 2,524
Staff Employed: 5,511
Complaints per 1000 staff: 458
Chief Constable: Andy Marsh
Previous Chief Constable Nick Gargan resigned in October 2015 right after misconduct proceedings which found him guilty of being a sex pest.
Current chief constable Andy Marsh is married to one of his assistant chief constables. It's all okay though, because the IPCC and all the other truth keepers have assured us that there's nothing bent about such power-play nepotism.
1. Lincolnshire Police
Complaints (over 12 months): 1,032
Staff Employed: 1,780
Complaints per 1000 staff: 580
Chief Constable: Neil Rhodes
Lincolnshire police were condemned last year when it emerged that a third of adult rapes reported were recorded as 'no crime'. Unsurprisingly Lincolnshire has the highest 'no crime' rate in the country.
The most common complaint made against Lincolnshire police is that the officers neglected or failed in their duties.
The IPCC have attempted to excuse away the excessive amount of complaints received by Lincolnshire Police as being the public's fault, because – get this – "the public are 'readier and more willing' to complain as well as having 'more things to complain about".
What else would you expect & what other nasty tricks are unaccountable U.K Police up to ?
The following story is far more serious than it might appear. Back in 2008 , I had a job on VW Audi Bentley U.K testing. I was asked to drive the chairman's Bentley from our 4 Star hotel to his 5 star one outside the city. It was an imposing and powerful piece of work. They might be status symbols , but they are not toys for police joy rides , at the public's expense. These are the kind of people the courts trust.
The U.K police are also a piece of work, a nasty piece and basically unaccountable. Crime Commissioners are either linked to 'the job' or paid a bonus in flattery. They are part of an elaborate hoax of accountability.
The PSD departments and IOPC are expensive rubber stamps and officers , especially senior ones , are not held to account unless a person is willing to risk their reputation and freedom in a very dangerous fight. The police have the majority of people where they want them ; terrified.
The officers in this case committed very serious road traffic offences and gross misconduct. In the present police state climate , a two year written warning is nothing. This is an appalling case and another insight into the hermetically sealed and corrupt world of U.K police. They should have been sacked and jailed for damage to property , derliction of duty and putting the public at risk. Robert Cook
Police officers 'took seized Bentley on Cheshunt drive'
Published4 hours ago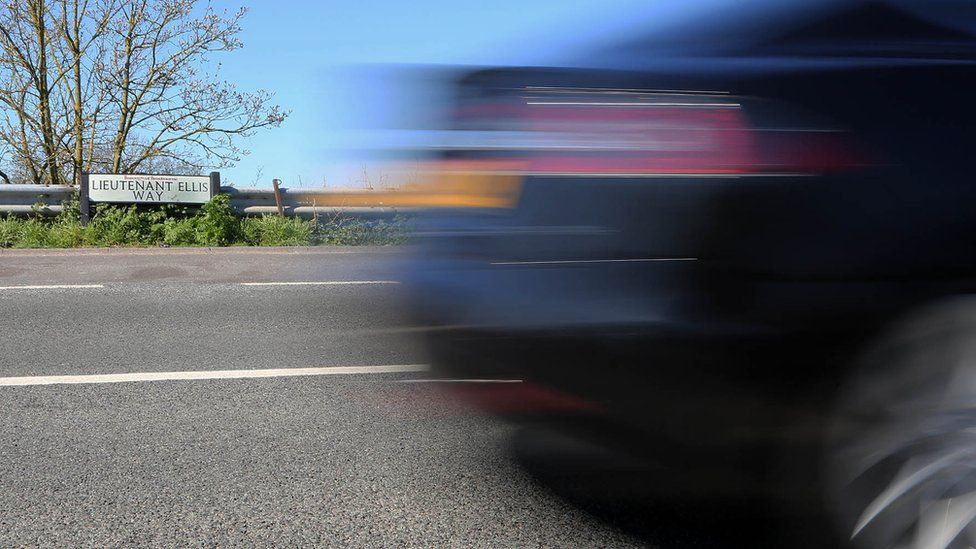 Three Hertfordshire police officers who sped on a dual carriageway in a luxury car seized from its driver have been given a final written warning after being found guilty of gross misconduct.
PCs Lewis Mack, Sam Butler and Ian Gould were taking the Bentley back to Cheshunt police station because its driver had no insurance.
But the car had a tracker and its owner saw the three had been on a detour.
They were given the warning at a police misconduct hearing held by the force.
It heard the black Bentley Continental GT V8 was stopped on the evening of 29 May as it travelled north on the A10 towards Cheshunt, because it was not displaying its lights.
The three PCs attended the scene, along with a number of other officers. After roadside checks revealed the driver was not insured, they decided to take it to the police station.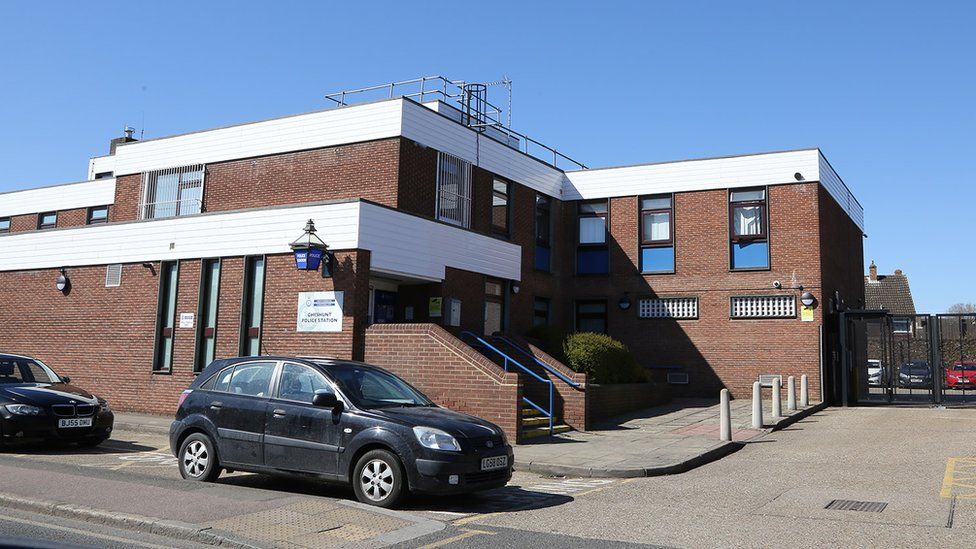 But after setting off they drove up and down nearby Lieutenant Ellis Way – a one-and-a-half mile-stretch of dual carriageway with a speed limit of 50mph – taking it in turns to drive, the hearing was told.
The car had a tracker and its owner – not the driver – could see they did not return to the station straight away and made a complaint.
The officers told a sergeant at the station what happened and how each had exceeded the speed limit.
PC Mack said he had got caught up in the "luxury" of the car's interior.
"I am ashamed to say I didn't have the self-control," he said, adding it only "dawned on us how wrong our actions were" when they got back to the station, and they "decided to be open and honest".
The officers faced allegations they breached Standards of Professional Behaviour by driving the car for their own pleasure, speeding, failing to challenge one another's behaviour, and failing to show courtesy and respect, which the panel found amounted to gross misconduct.
Chairman Akbar Khan told the officers that public confidence and trust in the force would have been undermined.
The written warning will last for two years.

Find BBC News: East of England on Facebook, Instagram and Twitter. If you have a story suggestion email eastofenglandnews@bbc.co.uk
Devon and Cornwall police officers sacked after speeding Published April 10th 2021
Two police officers have been sacked after filming themselves breaking the speed limit at 89mph in a seized high-performance vehicle.
Devon and Cornwall Police officers PC Shaun Pearce and PC Daniel Pike shared the video with colleagues on WhatsApp.
They were taking part in a road safety campaign, which included preventing speeding, at the time.
A disciplinary hearing on Thursday found the officers had committed gross misconduct and should be dismissed.
They are now banned from working for the police in England and Wales.
PC Pearce and PC Pike were on road safety duty as part of the 'Fatal Five' campaign – which includes targeting speeding drivers – when the incident happened on 16 January 2019 , the hearing heard.
The officers had seized the vehicle, and while waiting for a recovery vehicle to arrive, drove it without the owner's permission reaching speeds up to 89 mph over 3.1 miles.
The vehicle was returned minutes later to the same position.
PC Pike, who was a passenger, filmed PC Pearce speeding.
The footage was then shared with colleagues in a WhatsApp group, along with an explanation that the vehicle had to be moved rather than await recovery.
'Undermined public trust'
After a three-day hearing, the panel concluded the officers had breached expected standards of professional behaviour and they should be dismissed without notice.
Head of Professional Standards Det Supt Paul Kessell said: "The behaviour displayed by these officers falls well below what the force and the public expect of a police officer.
"Through their actions, they have undermined the public's trust and confidence in the police force and taken advantage of the responsibility placed on them in their roles.
"We will not tolerate such behaviours and therefore dismissal was the right and proper outcome."
Odd Coppers – posted April 7th 2021
Hertfordshire Constabulary officer who had sex with an underage girl has been sacked from the force.
Michael Grigg, 34, was jailed in December 2020 after being found guilty of two counts of penetrative sexual activity with a child.
The former officer was sentenced to six and a half years in prison for the offences at a hearing at Harrow Crown Court on December 17. Grigg was also placed on the sex offenders' register for life.
Herts Police's Chief Constable described Grigg's actions as a "most outrageous and serious breach of trust".
He added that Grigg, formerly of Hatfield, Hertfordshire, had proven himself to be a "disgrace to his colleagues and the profession".
Real heroes do not boast , lie or respect liars, a hero is not a conspirator, true heroes are rare – R.J Cook April 1st 2021
A hero is a man or woman of action rather than thought and lives by a personal code of honour that admits of no qualification. His responses are usually instinctive, predictable, and inevitable. He accepts challenge and sometimes even courts disaster. Thus baldly stated, the hero's ethos seems oversimple by the standards of a later age. He is childlike in his boasting and rivalry, in his love of presents and rewards, and in his concern for his reputation. He is sometimes foolhardy and wrong-headed, risking his life—and the lives of others—for trifles. Roland, for instance, dies because he is too proud to sound his horn for help when he is overwhelmed in battle.
Legendary heroes belong to a princely class existing in an early stage of the history of a people, and they transcend ordinary men in skill, strength, and courage. They are usually born to their role. Some, like the Greek Achilles and the Irish Cú Chulainn (Cuchulain), are of semidivine origin, unusual beauty, and extraordinary precocity. A few, like the Anglo-Saxon Beowulf and the Russian Ilya of Murom, are dark horses, slow to develop.
Nothing's Gonna STOP US Jefferson starship video

https://www.youtube.com › watch
R.J Cook Comments to roberta.cookofnorthbucks@btinternet.com
https://www.theguardian.com/uk-news/2021/mar/25/police-retract-claims-that-officers-suffered-broken-bones-at-bristol-protest
Kill the bill: Protesters clash with cops in UK, in demonstration against 'draconian' policing legislation Posted March 22nd 2021
The Guardian article I read at 8am said that this protest was peaceful until the protestors were surrounded by police. The strong implication was that police actions brought about a reaction.
However, the article I read was replaced at 9.15 by this: https://www.theguardian.com/uk-news/2021/mar/22/twelve-police-officers-injured-in-bristol-kill-the-bill-protests
The content is virtually the same, with a little more detail about injuries, but any reference to how or why the riot began has been expunged.
Censorship before our very eyes. Clearly any possible criticism of the police, even if it's only implied, is no longer acceptable.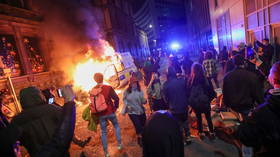 Demonstrators stand near a burning police vehicle during a protest against a new proposed policing bill, in Bristol, UK, March 21, 2021 © Reuters / Peter Cziborra
Follow RT on Hundreds of protesters turned out in Bristol to protest a bill that would dramatically expand police powers in the UK. Clashes soon broke out, with demonstrators launching projectiles, and police responding with batons.
The House of Commons passed a controversial policing bill last week which, in addition to providing stiffer penalties for serious crime, sets out prison sentences of up to 10 years for anyone causing "serious annoyance or inconvenience" in public – a provision that activists say will be used to clamp down on peaceful protest.
After nationwide protests against the bill on Saturday, hundreds of people gathered again in Bristol on Sunday, assembling in College Green before marching to a nearby police station. RT's video news agency, Ruptly, captured hours of footage from the protest.
The city's constabulary were out in force, forming a line against the hundreds-strong crowd. Clashes soon broke out, and chants were replaced by projectiles and fireworks from the protesters' side, and batons and riot shields from the police side.
Demonstrators sprayed a police van with graffiti at one point, before attempting to topple the vehicle over. The van was later torched by protesters.
"We're aware of a small number of incidences of criminal damage during the afternoon, including graffiti, and these will be investigated," Avon and Somerset Police stated on Twitter after the protest had dispersed. "This is unacceptable behaviour and those responsible for offences will be identified and brought to justice."
While officers scuffled with protesters, the police response was not as severe as in London on Saturday, when riot officers arrested at least 33 people and were seen on video repeatedly kicking one downed demonstrator. Also on rt.com 'Stop destroying our kids' lives!' Clashes, arrests as thousands protest against Covid lockdown in London (VIDEOS)
Having passed its second reading in the House of Commons, the policing bill now faces scrutiny from the House of Lords. It has been criticized by multiple human rights groups, including Amnesty International and the Rights of Women​ campaign group. Democratic Unionist Party MP Gavin Robinson said that the bill includes "overreaching, sweeping and draconian provisions on protest" that would "make a dictator blush."
Think your friends would be interested? Share this story
Cressida Dick 'could STEP DOWN as Met Police chief within a year' amid outrage at Scotland Yard's handling of Operation Midland probe Posted March 20th 2021
Application to search widow of Leon Brittan's homes rested on police claims
Detectives used the infamous words 'credible' and 'true' to persuade judge
Cressida Dick has insisted one of her officers 'mistakenly' used the phrase
Commissioner is predicted to leave when contracts is up in 2022, source claims
But document shows the words were in search warrant application
By Stephen Wright for the Daily Mail and Martin Robinson, Chief Reporter For Mailonline
Published: 10:29, 11 February 2021 | Updated: 10:33, 11 February 2021
Dame Cressida Dick will 'go gracefully' in 2022 as the Met continues to be hammered over its handling of the botched VIP paedophile scandal, it was claimed today.
The Met Commissioner is in the firing line after Lord Brittan's widow said Scotland Yard lacked a 'strong moral compass' and had a culture of 'cover up and flick away'.
Diana Brittan has not pointed the finger directly at Dame Cressida, Britain's most senior officer, but said the 'buck stops' with the force's leadership as they blindly followed the false claims made by fantasist Carl Beech – better known as 'Nick' – to pursue her husband as he was battling cancer.
Dame Cressida's five-year contract ends in 2022 – and she would need to ask for an extension to stay on – but she is 'willing to step down gracefully', a source told the Daily Telegraph.
Her predecessor Bernard Hogan-Howe presided over the Operation Midland scandal and had his request for a contract extension rejected in the aftermath.
Scotland Yard declined to comment on the current Commissioner's contract and whether she'll go next year.
+17
Met Chief Dame Cressida Dick is predicted to leave in 2022 as more revelations about the VIP paedophile inquiry run by her force emerged
+17
Detective Superintendent Kenny McDonald used the phrase 'credible and true' at a press conference in December 2014
RELATED ARTICLES
Detectives used the infamous words 'credible' and 'true' to persuade a judge to let them raid Lady Brittan's homes, the Daily Mail reveals today.
Scotland Yard chief Cressida Dick has insisted that a senior officer 'mistakenly' used the phrase to describe sex abuse liar 'Nick'.
But the Mail has obtained a copy of the application used to justify the raids – and police used the same words to describe the twisted fantasist, who is now serving 18 years in jail.
The document states that police believed Nick, real name Carl Beech, was 'credible' and 'telling the truth'.
It led to Lady Brittan's homes in London and North Yorkshire being searched by police six weeks after the death of her husband Leon, the former home secretary.
Detective Superintendent Kenny McDonald used the phrase 'credible and true' at a press conference in December 2014.
At the time Dame Cressida was an assistant commissioner in the Metropolitan Police with oversight of the shambolic VIP abuse inquiry, Operation Midland.
The phrase was criticised for destroying the presumption of innocence and supporting Beech's wild accusations of murder and child sex abuse against Lord Brittan and other high-profile figures. But Dame Cressida has insisted it was said mistakenly.
Today's revelation leaves the Met chief under pressure to explain the wording of the search warrant and deepens the controversy around Scotland Yard's entire handling of Operation Midland.
It follows Lady Brittan's searing interview in yesterday's Daily Mail in which she attacked a 'culture of cover-up' at the Met. In other developments:
The Prime Minister's spokesman yesterday called the Operation Midland fiasco 'deeply disturbing';
Tory MPs, peers and victims of Beech demanded an independent inquiry;
Pop stars said former Labour deputy leader Tom Watson's role at UK Music was now 'untenable' because of his support for Beech's preposterous lies;
Senior Operation Midland officers were allowed to retire on gold-plated pensions without punishment;
Its boss Steve Rodhouse failed to win declarations of support from colleagues at the National Crime Agency;
Dame Cressida may step down when her contract expires in April next year instead of seeking an extension.
Last night the son of former Armed Forces chief and D-Day hero Field Marshal Lord Bramall – also falsely accused of sex abuse by Beech – backed Lady Brittan.
Nick Bramall said: 'There should be a public inquiry into Operation Midland. The officers were seduced by the idea of getting people in high places. They didn't investigate properly and consequently these people got tossed to the wolves.'
Lady Brittan has accused the leaders of Britain's biggest police force of lacking a 'moral spine' and expressed her frustration that no officers involved in the shambolic VIP abuse inquiry had been held to account over the multi-million pound fiasco.
+17
The Mail has now obtained a copy of the search warrant application used to justify the raids on the houses of Lord Brittan's widow (pictured) – in which police used the same words to describe the fantasist's credibility
A search warrant application, revealed for the first time today, reveals the decision to raid her homes had been 'considered at DAC [deputy assistant commissioner] level', a reference to the gold commander of the bungled inquiry, Mr Rodhouse.
By the time the raids took place, Dame Cressida had left the Metropolitan Police to take up a job at the Foreign Office.
In 2019, she told LBC radio that she knew straight away that Det Supt McDonald blundered by calling Beech a 'credible and true' witness at the press conference.
She said she realised the senior detective had made 'a mistake' and she 'felt for him'.
Yesterday leading politicians called for a fresh review of the disastrous Operation Midland investigation.
The Prime Minister's spokesman said the case raised 'serious issues' as to the conduct of the Met.
An earlier report by retired High Court judge Sir Richard Henriques was scathing about Scotland Yard's handling of the case but none of the officers he criticised faced any sanction.
+17
Lady Brittan's late husband was among a number of notable figures falsely accused of child sexual abuse and murder by paedophile Carl Beech (pictured)
Former Tory leader Sir Iain Duncan Smith said: 'It is appalling that after all this time and after the desperate circus unfairly put on Lord Brittan that nothing has happened to anybody. We need a proper and full inquiry into what happened.
'The original report was damning. Why has nothing been done since then?
'The answer is to go back to the original inquiry and hold a full new one into what went wrong.'
Norman Lamont, a former chancellor and friend of Lord Brittan, said: 'Lady Brittan has been treated appallingly.
The timing is extraordinary that after the strong criticism by Sir Richard Henriques of the Metropolitan Police Service that people have not been disciplined in connection with Operation Midland.
'It was always to me astonishing that people believed these incredible rumours which have destroyed people's lives.
'There is certainly a case for another inquiry. It's extraordinary that no police officers have been disciplined.'
Scotland Yard yesterday declined to answer questions about Dame Cressida's previous defence of the 'credible and true' press conference.
Last year she was cleared of any wrongdoing over her role in the disastrous VIP paedophile ring investigation.
Beech was jailed for 18 years after being found guilty of perverting the course of justice, fraud and child sex offences.
Warrant of untruth: Application to raid Lord Brittan's homes shows devastating falsehoods from police… leaving his widow 'speechless' with shock
By Stephen Wright for the Daily Mail
Lord Brittan's widow was left 'speechless' on seeing the secret court document that persuaded a judge to grant search warrants for her two homes.
She expressed her astonishment at the information provided by police to justify the raids and at the fact no officers faced misconduct charges.
The document, which the Mail can reveal today, shows that the decision to seek a warrant had been 'considered at DAC [deputy assistant commissioner] level'.
This is a reference to Steve Rodhouse, 'gold commander' of the bungled VIP sex abuse inquiry into high-profile figures, including Lady Brittan's husband, the former home secretary.
+17
Lord Brittan's widow was left 'speechless' on seeing the secret court document that persuaded a judge to grant search warrants for her two homes
The application makes clear that police sought the warrants because they believed she would not allow them entry when they arrived at her homes in London and North Yorkshire in March 2015.
In yesterday's Mail, Lady Brittan said the raids were a 'violation' that left her feeling like a criminal.
Authorised by Detective Inspector Alison Hepworth, the warrant states: 'Given the status of the individuals involved in these applications, it is not felt that the occupants would allow search of their premises on a voluntary basis.
'Given the nature of the material sought, any delay or pre-warning of an intention to search would allow the removal or destruction of such material with minimal effort.'
Critically the document includes the wholly incorrect claim that 'Nick', the fantasist Carl Beech, was 'credible' and 'telling the truth'.
It states: 'The victim in this matter has been interviewed at length by experienced officers from the child abuse investigation team.
His account has remained consistent and he is felt to be a credible witness who is telling the truth.'
That sentence helped persuade District Judge Howard Riddle to grant the warrants at the centre of the Operation Midland scandal.
+17
The Daily Mail has now obtained a copy of the search warrant application used to justify the raids on Lady Brittan's homes
Lady Brittan, 80, a former long-serving magistrate, said: 'This is the most extraordinary search warrant I have ever seen. The information that might support the application is not there.
'Judge Riddle presumably believed the fact that the application had been signed off at a very senior level.
'And he would have taken, I suppose, some comfort in that. And he had no reason, I suppose at the time, to believe that he was not being told the entire story.'
The secret court document obtained by the Mail was part of a two-stage process that gave police permission to raid the homes of Lady Brittan, six weeks after her husband died.
+17
Pictures of police vehicles during two-day search at Lord Brittan's North Yorkshire home in March 2015
The first involved a detective completing a confidential form and the second involved three murder squad officers going before court to get official permission to storm her houses.
The document also shows that when asked if there was anything that might undermine their request, the Metropolitan Police simply answered 'N/A' – not applicable.
In fact, police were aware of several factors that raised questions about the claims made by Beech.
In an article for the Mail in July 2019, former High Court judge Sir Richard Henriques, who wrote a scathing report about Operation Midland, insisted Beech had 'not been consistent', dating back to when the liar had first made claims of child sex abuse.
Sir Richard said: 'His allegations made to the Wiltshire Police in 2012 were fundamentally inconsistent with those made to the Metropolitan Police in 2014 and with Beech's blogs also published in 2014.
'The identities of subsequent named alleged rapists were inconsistent. The alleged locations were inconsistent, persons allegedly present were inconsistent, the alleged accompanying acts of violence were inconsistent.'
Judge Riddle, now retired, has said he was misled over warrants for raids on the homes of Lady Brittan, former Armed Forces chief Lord Bramall and Tory ex-MP Harvey Proctor.
Officers' rewards for failure: Operation Midland saw lives ruined, homes ransacked and reputations trashed on the bogus testimony of a fantasist… but five years after the probe was shut down not one officer involved has received an official sanction
By Glen Keogh and Stephen Wright for the Daily Mail
It is widely regarded as one of the worst police investigations in living memory.
Operation Midland saw lives ruined, homes ransacked and reputations trashed on the bogus testimony of a fantasist who was not properly challenged until it was too late.
In a post-Jimmy Savile culture of automatically 'believing' victims, police officers and politicians saw the 'Nick' case as a career-defining coup, seemingly rendering them blind to inconsistencies in Carl Beech's accounts.
He is now serving an 18-year prison sentence for his lies.
But what of those who helped the lies take root, and initially failed to conduct the most basic inquiries to determine their veracity?
The answer is that five years after Midland was shut down not one officer involved in the scandal has received an official sanction or punishment.
As head of Scotland Yard during Operation Midland, Sir Bernard Hogan-Howe regularly defended the probe
LORD HOGAN-HOWE: ENOBLED
As head of Scotland Yard during Operation Midland, Hogan-Howe regularly defended the probe, refusing to apologise for home raids in 2016.
He commissioned Sir Richard Henriques' review of the scandal but announced his retirement that September, weeks before the judge's scathing findings were made public.
He was elevated to the House of Lords where the register of interests reveals 14 paid posts including advising a legal firm and the Cabinet Office.
Accrued an estimated £5million pension pot and owns an apartment in the Swiss ski resort of Valais.
STEVE RODHOUSE: PROMOTED
'Gold commander' and in overall charge of Operation Midland, then-deputy assistant commissioner Rodhouse approved decision to seek search warrants to raid homes and briefed superiors.
Accused of prolonging Operation Vincente probe into Lord Brittan to keep Midland going.
Cleared by police watchdog and now at the National Crime Agency on a pay package of nearly £300,000.
+17
'Gold commander' and in overall charge of Operation Midland, then-deputy assistant commissioner Steve Rodhouse approved the decision to seek search warrants to raid homes and briefed superiors
DIANE TUDWAY: RETIRED
As senior investigating officer in charge of Operation Midland, the detective chief inspector reviewed and accepted the search warrants despite being aware of discrepancies in Nick's account between his Met and Wiltshire Police interviews.
Made a superintendent in 2018 while under investigation by the police watchdog and the only officer to have a face-to-face interview. Retired on a full pension in 2019 on eve of Nick trial.
+17
As senior investigating officer in charge of Operation Midland, Detective Chief Inspector Jane Tudway reviewed and accepted the search warrants despite being aware of discrepancies in Nick's account between his Met and Wiltshire Police interviews
KENNY MCDONALD: RETIRED
In day-to-day charge of Operation Midland when it was launched, the former detective superintendent infamously told reporters in December 2014 that he, and senior officers specialising in both child abuse and murder, believed Nick's allegations to be 'credible and true'.
Replaced as head of Midland in October 2015 but was cleared by the watchdog of any wrongdoing.
Mr McDonald retired on a full pension in 2019 after 30 years of service. Made no comment yesterday.
+17
In day-to-day charge of Operation Midland when it was launched, former Detective Superintendent Kenny McDonald infamously told reporters in December 2014 that he, and senior officers specialising in both child abuse and murder, believed Nick's allegations to be 'credible and true'
PATRICIA GALLAN: RETIRED
As a Met assistant commissioner at the time of Operation Midland, Miss Gallan received briefings from Mr Rodhouse.
However she has appeared to blame him for blunders, saying he had 'operational control'.
Formerly the highest-ranking black female in British policing, she said she did not approve raids on the homes of Lord Brittan, Lord Bramall or Harvey Proctor.
She was cleared in a judge-led inquiry and retired in 2018. She is now a non-executive director at HMRC.
+17
As a Met assistant commissioner at the time of Operation Midland, Patricia Gallan received briefings from Mr Rodhouse
DAME CRESSIDA DICK
Had oversight of Operation Midland when it was set up, as well as Operation Vincente, a probe into a bogus rape claim against Lord Brittan.
Left the Met for a job at the Foreign Office but returned as £230,000-a-year commissioner in 2017.
+17
Dame Cressida Dick had oversight of Operation Midland when it was set up
ALISON HEPWORTH: RETIRED
The detective inspector authorised the applications used to raid homes before they were submitted to the court.
Told investigators that despite her 'extensive' knowledge of Operation Midland, she could not recall what she knew about inconsistencies in Nick's claims at the time, and insisted the decision to apply for warrants was made 'at a higher level'.
Had already retired on a full pension before the IOPC inquiry started. Provided a written statement to watchdog.
+17
Detective Inspector Alison Hepworth authorised the applications used to raid homes before they were submitted to the court
ERIC SWORD: RETIRED
A detective sergeant working on Operation Midland, Mr Sword made the applications for search warrants used to raid homes and attended Westminster Magistrates' Court to answer questions when they were granted.
He indicated he had no information that might undermine the application.
He admitted he had been provided with a summary of Nick's interviews with Wiltshire Police, which could have highlighted discrepancies, but said he did not read it.
+17
A detective sergeant working on Operation Midland, Eric Sword made the applications for search warrants used to raid homes and attended Westminster Magistrates' Court to answer questions when they were granted
+17
James Townly played a key role in allegations made against Lord Brittan, interviewing the terminally-ill peer under caution in May 2014 as part of Operation Vincente
JAMES TOWNLY: STILL SERVING
The detective sergeant played a key role in allegations made against Lord Brittan, interviewing the terminally-ill peer under caution in May 2014 as part of Operation Vincente.
Months later he became the first Scotland Yard officer to interview 'Nick', where he was taken in by the fantasist's preposterous claims.
DS Townly became Nick's liaison officer and took him on drives through central London to see whether he 'recognised' anything, insisting the star witness was the 'real deal'.
Avoided a misconduct probe. Still serving.
WATCHDOG THAT DIDN'T BARK
Michael Lockwood
A former council leader and accountant, he became the first director-general of the Independent Office for Police Conduct in 2017.
The £185,000-a-year executive ultimately presided over the 'whitewash' report exonerating all five Operation Midland police officers referred over alleged misconduct.
He defended the report in a Guardian newspaper article, maintaining 'shortcomings' were found, but no misconduct.
+17
A former council leader and accountant, Michael Lockwood became the first director-general of the Independent Office for Police Conduct in 2017
He was accused of cronyism in 2019 when it emerged he hired his former Harrow council colleague as his taxpayer-funded £140,000-a-year deputy.
The IOPC said that Mr Lockwood 'declared that he knew the candidate, in accordance with policy'.
Mr Lockwood declined to comment on Lady Brittan's interview yesterday.
Kimberley Williams
Kimberley Williams was appointed lead investigator of the IPOC probe into Operation Midland
Appointed 'lead investigator' of the IOPC probe into Operation Midland just a few years after leaving university.
In her 20s at the time, Miss Williams admitted when taking statements that she had no legal training and was not fully aware of the process for obtaining search warrants.
She is thought still to be in IOPC employment.
Comment Having been on the end of several corrupt malicious police raids , locked in cells for many hours ,so called investigations, with malicious prosecutions, I am not surprised by this story. It would have been difficult if not impossible to find decent contenders for the top job, replacing Hogan Howe or Blair. Like the police nationally, the Met are riddled with corrupt and incompetent officers. Sorting on the basis of preferred females will not make matters better. In the first instance a certain type regardless of gender is recruited. Choosing females is about creating a psuedo equality smokescreen.
The next step is for the incumbent management and civilian hangers on basking in police glory ( sic ) to recruit the worst of them – in their own image. So the response to the protesting girls poster 'Cressida, You're A Woman Too ? ' The answer is no, Cressida is a type not a gender, the pick of the Metropolitan Police who – in complete ignorance – gave the order to shoot an innocent 27 year old Brazillian dead on a Stockwell Tube train, then being party to removing vieos and rubbishing a female witness as a whore. She was almost immediately promoted. R.J Cook
Fish Rot From The Head Down by R.J Cook Posted March 17th 2021
Comment on the following articles :
In my view the world sexist is just another politically correct cliche. The police are experiencing record bad publicity, all for the wrong reasons in my view.
Retired Nottinghamshire Chief Constable Susannah Fish has said :"Sarah Everard had not been in a bar and was simply walking home – as were thousands of women who have suffered harassment, sexual assault, verbal abuse whilst in public spaces, and will be in the future." She went on , quite correctly, to mock the Police State Government's plan for undercover officers to lurk in busy town and city bars. But, again for the wrong reasons. Unlike Cressida Dick who was simply following police state rules when attending an illegal vigil for Sarah Everard, Ms Dick was acting as a police officer first , not as a woman.
Ms Fish came to fame when she ordered her officers to criminalise anyone showing dislike of women – no specific legal definition of misogyny on statute. She is now a director of her PR consultancy.
A government spokeswoman said the extra patrols around bars and clubs – dubbed Project Vigilant – would help women feel safe at night, with a successful 2019 pilot by Thames Valley Police in the southern city of Oxford now being rolled out nationwide.
She said Thames Valley force – which is leading on the new national scheme – had stationed officers outside venues to help tackle and deter offending inside.
"We recognise that there is more we need to do to tackle the root causes of gendered violence and to support women," she added in a statement.'
This is a major challenge for police in a new world order that gets more probelmatic everyday. Putting aside my peculiar issues with senior level police officers, I have to say that this is an interesting and significant priority which, like Covid Lockdown has more to do with social control than anything else.
If Ms Fish really doesn't know this then it figures , alongside her trying to make liking modern women – i'e feminists – compulsory. She failed in her attempts to force her culture on the police she headed up. Unlike brave Chief Constable Sue Sim, who tried to expose institutional corruption and an old boys ( and girls if they were equally moronic ) clique at the top of Cleveland Police, the feminists elite media are lapping her up.
She can get away with ignoring that Sarah Everard was in breach of lockdown on two counts – seeing a friend in her flat 50 minutes walk away and exceeding the permitted exercise period. Women are using this case to become police priority, screaming about an epidemic of assaults being far higher than statistics suggest.
Back in the days before corrupt senior police officers destroyed my career as a writer and journalist, trying to get me sectioned in the process to shut me up – I interviewed a number of retired police officers who were unhappy with the new breed of graduates. In 1977 , while living in London, I was told I would be welcome on the Met's accelerated promotion scheme , reaching Inspector in 3 years. The sky was the limit.
I chose teaching instead because I wanted long holidays to pursue my career as a writer. I didn't realise that teaching was a form of policing years ahead of the official police in social engineering. It got ever worse during my 18 years service. During this period, I worked with police as a coopted councillor and had close contact with senior officers.
I saw a great deal of worrying changes in these public bodies , accelerating under the socially and economically devastating Thatcher Government's greed policies. Clearly only a certain type of person is going to be selected for the modern police – the name changed from force to service as an amusing marketing gimmick. From what I saw , the type of person rising to the top needed similar qulities in both police and education.
It all came down to what sociologist Irving Goffman called 'Impression Management.' The kind of person who rises to the top – the term spiralist applies – needs to move quickly , not getting bogged down in details or mistakes, find a mentor and act with utter cynicism and immorality. Acting the part, learning the jargon and finding a mentor is crucial on the way up.
Once you are part of the police chief's mafia it is party time. At the merest sight of a threat to the consensus from below can be nipped in the bud by the police apprasal system. As one retired Met Inspector told me on a training course two years ago, complaints against the police are in three categories , a) malicious b) about the usual suspects c ) genuine. Only 8% of complaints to the IOPC are judged guilty, with the police PSD departments blocking the majority of complaints , especially in respet of senior officer.
However, in this context it has to be said that the politically correct are making life more difficult if not impossible for a lot of male officers. It would be unfair to condemn all male officers on the basis of the one accused of killing Sarah Everard. It is also a grave injustice to patronise and condemn all men as potential sex abusers – on a par with saying all women 'are asking for it.' But appalling self seeking politicans are using the police to drive and control change. Getting the right sort of woman on top is part of the process.
So inevitably we have the police being policed for using bad or inappropriate language. Women make great spies and the sort who get into the police have a ceratin attitude. Many years ago I interviewed a senior fire officer in Southampton. I asked him how he felt when he attended his first emergency.
He said : 'It was in the 1960s. An RTA ( Road Traffic Accident ) in Romsey. We knew it was fatal. I was only young, wondering what I would have to do. A tanker had flattened a car with an old couple who had just come out of the garden centre. We had a lot of ex servicemen who had seen real carnage. So while I was standing there, this old fireman said " Here boy, catch." I saw a bloody lump hurtling toward me with meat hanging red and raw. I shouted in horror. The old boy started lauging. It was the dead couples' Sunday joint. That's how it was. They had developed a black sense of humour to cope with job where we might be pulling dead children from wrecks. It was a coping strategy. " ( See Southampton Past & Present' by Robert Cook. )
So it is the case in policing. As corrupt and badly managed as the police is, male officers take the brunt of the more dangerous policing jobs – because the mantra is about keeping women safe in spite of all the equality nonsense. Bad language happens as I know from over 13 years in warehousing and truck driving.
By the time I left the industry last year, we had been given strict new rules on appropriate and banned language in the despatch office. Now I loved the tension and excitement of the despatch office just after midnight, especially in the dangerous winter. I was one of the select drivers used to do any run. The runs were long and there were risks and challenges.
So on those early mornings , there was some choice language. One veteran despatcher and ex NCO, who I had known since 2003, used to say some interesting things to me, many might have considered abusive. The fact we made each other laugh with serious banter was fun. But when the new orders came out , he said he wasn't going to start being nice to me. I said I'd miss it if he did. However , I reminded him , 'Be careful because it says if anyone overhears they can take offence and I will be in trouble if I don't take it seriously.
So for the ruling elite and the spiralists who played the game to get the high pay with perks running the police , pandering to politicians. life at the top is ever more power and fun – while at the bottom it becomes ever more difficult. The policeman's body and in car cameras are there to film them too. If they don't fit in, then recordings will be used to weed them out. If they are the right stuff, the recordings will disappear because the right sort have to get to the top keeping up the high standard of U.K police corruption. Fish rot from the head down . No pun on Ms Fish intended. No worries now the police role is all about the women's right to roam and occupy all and thus legally enforced safe spaces . This is a world where the ubiuitous rapist and wife beater must need a lot of viagra and gym membership. R.J Cook
'Toxic culture of sexism' in police, says former police chief Posted March 17th 2021
Published6 hours agoRelated Topics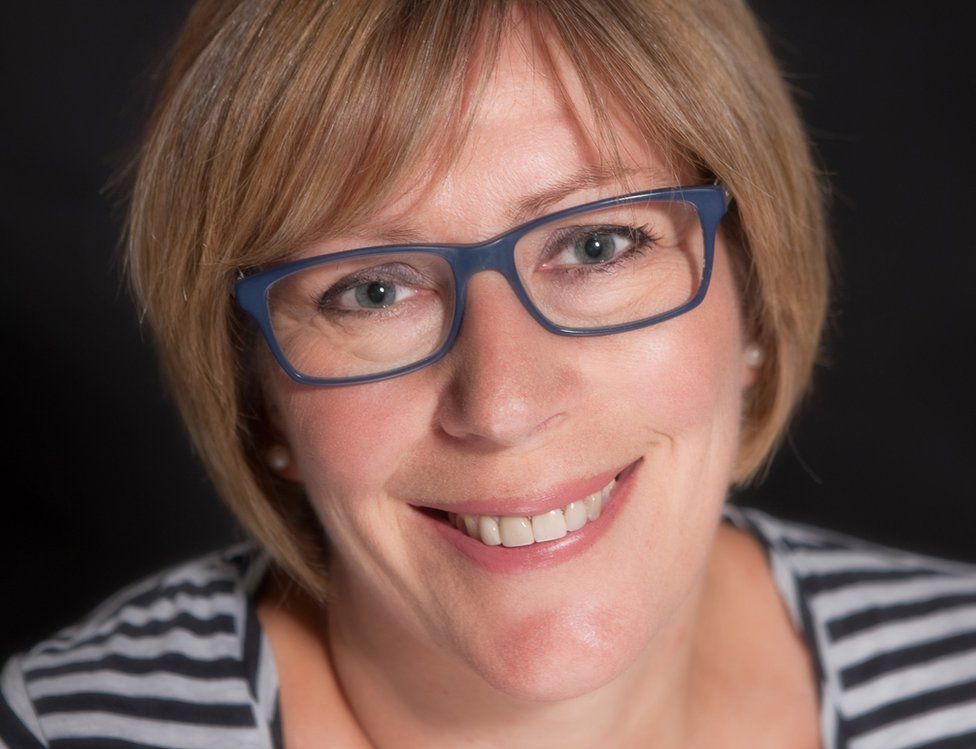 A former police chief has said she would think "very carefully" about reporting a crime committed against her because of how she would be "judged".
Susannah Fish, former chief constable of Nottinghamshire Police, said there was a "toxic culture of sexism" in significant parts of policing.
But the police chiefs' body said women who came forward would be listened to.
It comes after the killing of Sarah Everard sparked concerns for women's safety in public.
During an interview with BBC Radio 4's Woman's Hour, Ms Fish was asked how she felt about reporting a crime to the police as a woman.
She replied that while reporting a crime against property was "not an issue", for a crime against herself she would "probably struggle for how I would be judged".
Ms Fish added that while some officers would be "sensitive", others would not.
"I also know in terms of conviction rates and the challenges of going through the criminal justice system, as a woman, it's thankless," she said.
"Endless repeated humiliation, telling your story over and over again, worrying whether you're ever going to be believed, putting yourself through that repeatedly, as well as the shame of what's happened to you."
She added that victim-blaming had become "endemic" and "trying to then explain yourself and justify yourself, just feels to me to be incredibly difficult".
However, Olivia Pinkney, chief constable of Hampshire Police and representing the National Police Chiefs' Council, told the programme: "When women have the courage to come forward to anyone, including the police, then they will be listened to, they will be heard, they will be supported.
"I know that happens, because I know that we follow up every case."
She added: "I'm sure that we get stuff wrong. But if we get it wrong, then we'll hear about it and we'll fix it."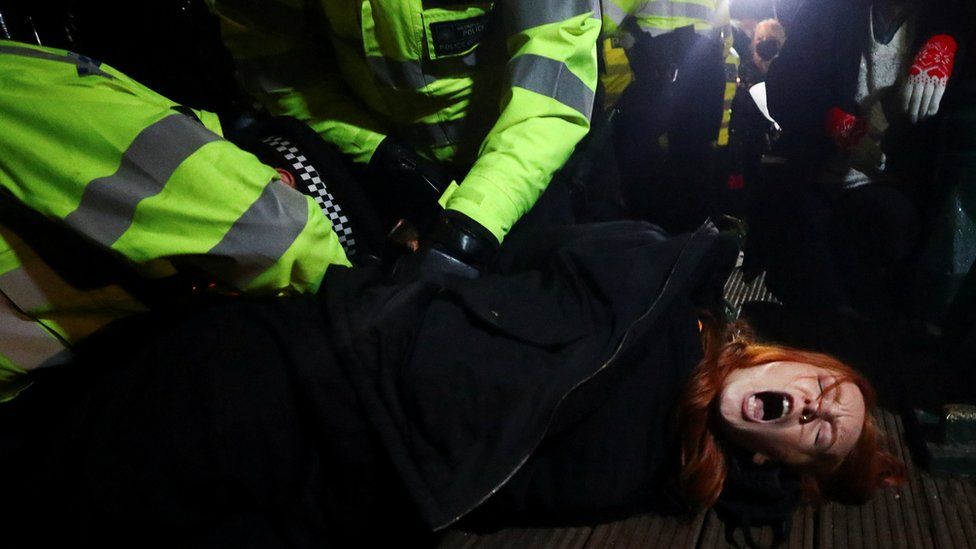 On Monday, Ms Fish described the Met Police response to a vigil for Ms Everard last weekend as "institutional" misogyny.
The force faced criticism over its handling of the vigil, where officers handcuffed women and removed them from crowds on Clapham Common in south London.
The home secretary has commissioned an independent investigation into the force's decisions, which were taken in the light of Covid restrictions.
Met Commissioner Cressida Dick said she agreed on the need for a "sober review" but defended how officers responded to the "really big crowd".
Ms Everard, 33, went missing while walking home alone in Clapham on 3 March. Her body was found a week later in Kent woodland and a Met Police officer has been charged with her kidnap and murder.
Asked what she meant by institutional misogyny in the way the police handled the vigil, Ms Fish told Woman's Hour that while there were "many good people" in policing, it was about the "mindset" and "culture" of the institution and how decisions were made.
"I think there is still significant parts of policing where there is a very toxic culture of sexism, of misogyny that objectifies women," she added.
Under Ms Fish's leadership, Nottinghamshire Police was the first force to record misogyny as a hate crime in 2016.
Undercover police at bars scorned as 'laughable' plan to keep UK women safe – extract posted March 17th 2021
By Sonia Elks
LONDON (Thomson Reuters Foundation) – Plans to send plainclothes police to British nightclubs and improve public lighting to increase women's safety in the wake of a high-profile murder case were criticised as "laughable" by policing experts and rights campaigners on Tuesday.
The government announced the measures on Monday as the death of Sarah Everard, 33, and police's handling of a memorial vigil, where they tussled with mourners, fuelled a national debate over women's safety and criticism of police.
Critics said far more wide-ranging action was needed to tackle the root causes of gendered violence across society, and rebuild damaged trust between women and police forces.
"Undercover officers in bars is laughable," said Susannah Fish, the former Chief Constable of Nottinghamshire Police, who described the move as "eye catching PR of no substance".
"Sarah Everard had not been in a bar and was simply walking home – as were thousands of women who have suffered harassment, sexual assault, verbal abuse whilst in public spaces, and will be in the future."
Six Hampshire police officers guilty of misconduct over offensive comments Posted March 16th 2021
This article is more than 2 months old
Officers in elite unit were recorded making racist, homophobic and sexist remarks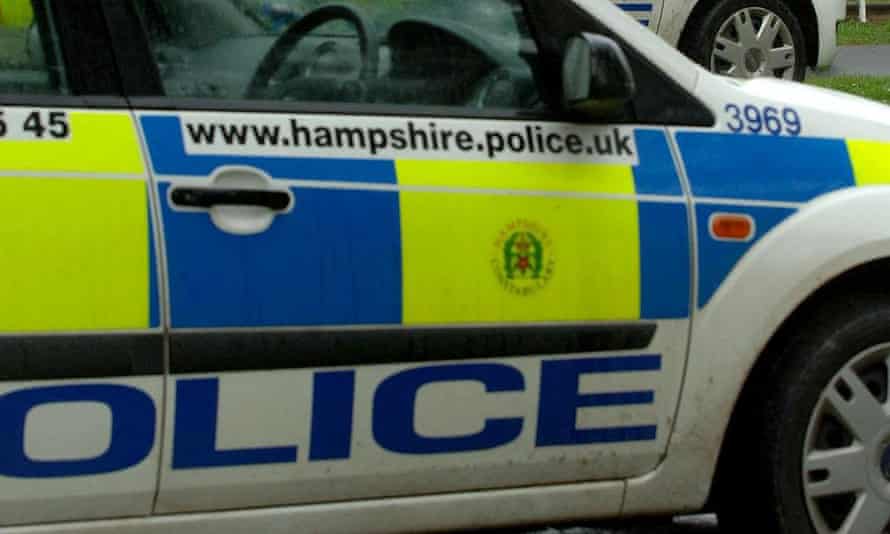 The officers were members of Hampshire police's serious organised crime unit. Photograph: Clara Molden/PAVikram Dodd Police and crime correspondentFri 18 Dec 2020 17.41 GMT
Last modified on Fri 18 Dec 2020 19.19 GMT
Six police officers who were part of an elite unit plagued by racist, homophobic and sexist behaviour have been found guilty of gross misconduct at a disciplinary hearing.
A covert bug recorded members of Hampshire police's serious organised crime unit regularly making offensive remarks, including wishing death on foreigners, and an investigation found that part of the office where a black officer worked was called "Africa corner".
A police discipline tribunal on Friday found all six guilty of gross misconduct. The tribunal panel will consider what sanctions to impose on the officers when it reconvenes on 4 January.
The officers are DS Oliver Lage, former PC Craig Bannerman, trainee detective constable Andrew Ferguson, and PC James Oldfield, who was also accused of boasting of turning up for duty drunk. In addition, retired DI Tim Ireson and DS Gregory Willcox, who has also left the force, were accused of failing to fulfil their supervisory roles to stop or report the inappropriate behaviour.
The four still serving will find out next month whether they will be sacked.
As the tribunal delivered its findings, Oldfield interrupted to shout: "This is an absolute disgrace. It is absolutely ridiculous. Unbelievable."
An anonymous complaint had led to an electronic bug being placed in the unit's Basingstoke offices between 9 March and 2 April 2018. The Guardian understands that the complaint came from an officer concerned about the unit's behaviour.
Opening the case against the six in October, Jason Beer QC said: "It was a unit that was racist – a black officer is described as a 'pavement special', ie a mixed-breed dog. People are described as 'pikeys'; a black officer is accused of behaving like a colonial overseer running a plantation of white people. When speaking to a black officer, a colleague puts on a fake Caribbean accent – in fact he was from Ghana. A detail like that doesn't matter, he was a black man after all."
Beer also told the hearing that the unit displayed sexism: "Women were called or referred to as 'whores', 'sluts', 'sweet tits' or 'sugar tits', 'Dorises', 'a fucking Doris' … A suspect is called a 'fucking cunt'. And the officers ponder amongst themselves if a person using the Tannoy system is 'getting any cock'."
Beer told the hearing that the covert recording device caught derogatory terms being used for disabled, gay and transgender people, and suggestions that Albanian nationals "should be shot, or even killed with a nerve agent".
It was also said that "illegal immigrants deserve the death penalty", Beer told the hearing. "The officers joked about immigrants having a 'long swim' and drowning in the sea."
During the hearings, Ireson said "swearing was in the fabric" of the police force but accepted some of the offensive comments made were "stomach-turning".
Joanna Bunch, an intelligence analyst who worked on jobs with the team, told the hearing that the unit "just seemed to be stuck in a time from 25 yearsago".
Beer told the hearing: "It was a unit that was plain nasty, that displayed attitudes towards groups and communities that police officers are called upon to protect."
He said the unit was isolated from the rest of the force due to the sensitive and covert nature of its work.
The hearing was told that the only black officer was said by members of the unit to have been brought from Africa in a crate and taken to London zoo. "All the time a song is sung in the background to the tune of Buffalo Soldier," Beer said
He said offensive photos of black men were shared on a WhatsApp group in reference to the only black officer in the unit, and offensive pornographic images of Kate Middleton and Prince Harry were also circulated.
Lawyers for the men claimed that stress and a heavy workload meant the officers "forgot to apply the filter" when on duty. The officers claimed the investigation into their behaviour had "lost all sense of perspective". It was carried out by Hampshire police's professional standards unit, supervised by the Independent Office for Police Conduct.
A Hampshire police spokesman said: "An internal investigation was launched in 2018 following an anonymous report through the force's confidential reporting system. In response to concerns raised, a decision was made to conduct covert monitoring within the SOCU North office at the Northern Police Investigation Centre. During the three-week period, comments of a discriminatory nature were recorded.
"The panel has spent a number of weeks listening to the evidence, and the submissions from the officers to explain their behaviours, before reaching their findings, which have been delivered cumulatively. We will receive a full breakdown of the decisions in due course."
Northamptonshire Police officer dismissed over 'offensive' remark Posted March 6th 2021
Published28 January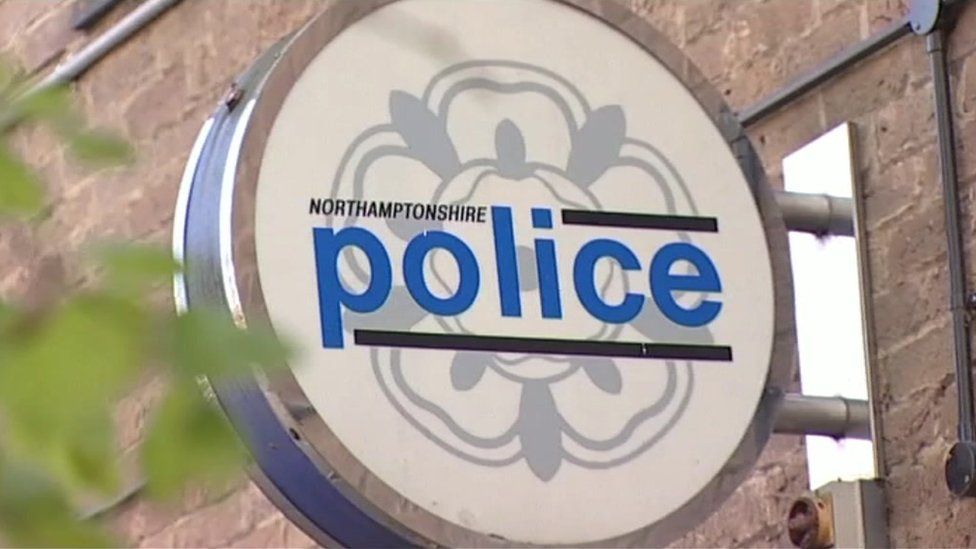 A police officer who used the word "blackitude" while on a training course for the use of stop-and-search powers has been sacked.
PC Mehmet Akkaya, of Northamptonshire Police, had asked colleagues if any of them had dated a "black girl", a misconduct panel heard .
He said: "I could never go out with a black woman. Too much blackitude."
He was dismissed for gross misconduct after a panel ruled the language could be "perceived to be offensive".
Mr Akkaya, who told the panel he was of Jamaican and Turkish heritage, was dismissed without notice.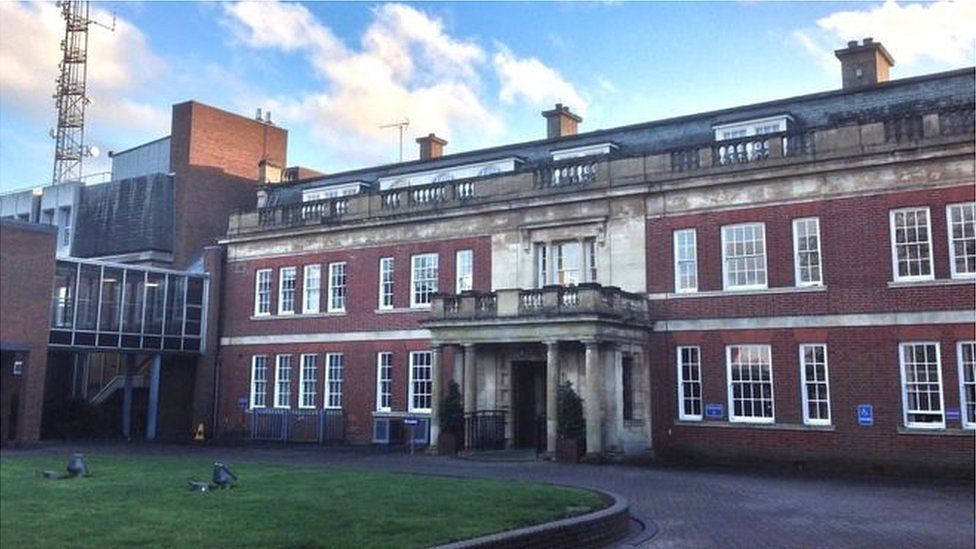 The officer, who was talking to colleagues while on a break from the course, also said: "If I was going out with a black woman I'd take the weave off her head and slap her across the face with it."
A police misconduct panel was told colleagues complained about his comments, made in February 2020.
The hearing decided the language he used was "apparently racist and/or condoning violence" and "discourteous and discriminatory".
"The use of this language could reasonably be perceived to be offensive by the public or policing colleagues," the panel ruled.
The incident had "the potential to seriously damage the reputation of Northamptonshire Police", it added.
In a written apology, the officer explained his words were meant to be "light-hearted".
He apologised without reservation and accepted his language was "inappropriate and unacceptable" but did not accept he breached standards.
Social scientist Richard Bramwell, of Loughborough University, was asked to define the word "blackitude" at the hearing.
Mr Bramwell said it was not "derogatory" or "racist".
In his report for the panel, Mr Bramwell said: "In my opinion, the ordinary British use of the word, conveys a sense of pride, knowledge and confidence in relation to black culture."
Northamptonshire Police's senior investigating officer and equalities officer recorded the complaint as a hate incident.
What's wrong with the police ? The following is extracted from an ONS report which I will comment on later. Posted March 15th 2021
My introduction to the ONS propaganada which is just more about enhancing the police state. Feminist hysteria over Sarah Everard rather than anger at modern psycho police will be used to enhance the police state , in the name of protecting females and BAME while marginalising 'dangerous white working class males.
What the vile lying abusive British police have done to me tells me all I need to know about them. I will be interested to find out how a serving London police officer could put himself into a position to kidnap and murder a young white female – a month after police refused to investigate him for flashing. I would like to know why and how he thought he could get away with it – the last part of the question has to be because as a police officer he thought he could do as he liked including sex and murder.
R,J Cook
1. Summary
Summary
Since it began in 1981, the Crime Survey for England and Wales (CSEW) has asked the public a range of questions about their perceptions of the police. This chapter presents analyses on this topic from the 2013/14 survey, and on victim satisfaction with how the police handled the incident. Key findings include:
The proportion of adults who gave the local police a positive rating (said they did a good or excellent job) was 63% in 2013/14. This represents a small increase from the 2012/13 figure (61%) and is similar to the 2011/12 figure (62%). While not directly comparable, prior to this, the proportion of adults who gave the local police a positive rating increased from 47% in 2003/04 to 59% in 2010/11
The proportion of adults who (tended to or strongly) agreed with, overall, having confidence in the local police, was 76% in 2013/14. This represents a small increase from the 2012/13 and the 2011/12 figures (74% and 75%). While not directly comparable, prior to this, the proportion rose from 63% in 2005/06 to 72% in 2010/11
The proportion of adults who reported seeing police officers or police community support officers (PCSOs) on foot patrol in their local area about once a week or more (high police visibility) was 32% in 2013/14. This continued the downward trend seen since 2010/11 when reported levels of high police visibility were at their peak (39%). Before this, the proportion of adults reporting high visibility rose from 26% in 2006/07
High police visibility was associated with positive ratings of the police. For adults who reported high police visibility, 71% gave the local police a positive rating. This compares with 61% of adults who reported medium police visibility (seeing officers/PCSOs on foot patrol in their local area about/less than once a month) and 53% of adults who reported low police visibility (never seeing officers/PCSOs on foot patrol in their local area)
In 2013/14, victims in 74% of incidents were (very or fairly) satisfied with how the police handled the matter, representing no change from the previous year. Before this, the proportion increased from a low of 58% in 2005/06
2. Introduction
Research suggests that positive perceptions of police trust and fairness promote engagement and compliance with the police (Myhill and Bradford, 2012). Also, if people do not believe that the local police are fair, the police may lose legitimacy and people's connections with the police can be eroded (Jackson et al., 2013). The Crime Survey for England and Wales (CSEW) asks several questions which measure confidence and trust in the police.
Research has also shown that police visibility may impact on people's confidence in the police and their concerns about crime (Skogan, 2009). The CSEW asks adults how often they see police officers or Police Community Support Officers (PCSOs) on foot patrol in their local area.
Victim satisfaction with the police is another measure of service delivery. Myhill and Bradford, 2012 found that personal treatment by the police seems to be more important in driving satisfaction than criminal justice outcomes. They suggest that how officers interact with victims, for example in demonstrating interest in what they say, can positively impact on victim satisfaction. The CSEW asks victims if they were satisfied with how the police and other agencies (for example Victim Support) handled their case.
Changes in police numbers may affect perceptions of the police, police visibility and victim satisfaction with the police. Home Office figures1 showed that at 31 March 2014, there were 127,909 (full-time equivalent) police officers across the 43 police forces in England and Wales (excludes the British Transport Police). This represents a decrease of 1.3% or 1,674 officers, the fifth consecutive annual fall, and the lowest number since March 2002.
The number of operational front-line police officers, may particularly impact on police visibility. Her Majesty's Inspectorate of Constabulary (HMIC) figures2 showed that at 31 March 2014 (latest actual figures), there were 113,601 officers, representing 91% of the total number of officers. Examining a 5-year trend shows that whilst the number of front-line officers decreased from 125,756 in 31 March 2010, the proportion increased slightly from 89%.
Dick denies wrong doing at vigil. March 14th 2021
The Met Police chief has said she is not considering her position, after the force was criticised over its handling of a vigil for Sarah Everard.
Officers handcuffed women and removed them from crowds on Clapham Common in London on Saturday.
Commissioner Cressida Dick said she was "more determined" to lead the Met.
Home Secretary Priti Patel has called for an independent investigation into force's decisions, which were taken in the light of Covid restrictions.
Sources said both Ms Patel and the prime minister had confidence in Dame Cressida.
Dame Cressida said she agreed on the need for a "sober review" and defended how officers responded to the "really big crowd".
"Quite rightly, as far as I can see, my team felt that this is now an unlawful gathering which poses a considerable risk to people's health," she said.
"I don't think anybody who was not in the operation can actually pass a detailed comment on the rightness and wrongness… This is fiendishly difficult policing."
She added: "What has happened makes me more determined, not less, to lead my organisation."
Comment It's nice to agree with the police for a change. That hasn't been possible since my long lost days working with them on the Buckingham Crime Prevention panel, to which I was recruited by a Chief Superintendent contact -n my capacity as a senior member of my local council.
I don't know if I used to be naive or whether the police have always been a corrupt monolith ruled by a self promoting slippery elite. I will never like Dick, especially because of her careless and incompetent order to fire nine rounds into a recumbent innocent 27 year old civilian. Her self centred response and her crass insensitive subsequent promotion said it all about London's great and 'good' ( sic ).
However, you didn't need much brainpower to realise her officers were simply following stupid government lockdown rules. They had no choice, but the arrogant loud self righteou females think they are special, making the most of Sarah Everard's murder after she decided to take a 50 minute walk home in the lockdown nightime darkness of Clapham Common. I assume there was no suitable public transport as lockdown assumes people are staying home. Interestingly no one is asking what this says about the kind of men – and women – recruited into the Metropolitan and other police forces.
The alleged killer cop had been cleared of indecent exposure without investigation the previous month. British police have a reputation for incompetence, cover ups and malicious prosecution. In 2008 innocent news vendor Ian Tomlinson was brutally attacked and killed by riot police officer Steven Hayward. He escaped punishment in spite of being filmed doing it – the corrupt police surgeon having the audacity to say Ian was going to die at that moment anyway. There is something odd about the preferred police mind set and how it is developed. R.J Cook
What do we know about the ethnicity of people involved in sexual offences against children? Posted March 14th 2021
6 September 2017
What was claimed
Nearly 90% of those convicted of wider child abuse offences and on the sex offenders register are white men.
Our verdict
There isn't much publicly available information on this. The data we do have shows a large majority of those convicted of sexual offences (no matter the age of the victim) are white.
"Yes Pakistani men are disproportionately involved in grooming gangs and this particular model of abuse. And no that is not a racist statement. Neither is it racist to say that when it comes to wider child abuse nearly 90 per cent of those convicted and on the sex offenders register are white men."

Naz Shah MP, 12 August 2017
Following the high profile conviction of eighteen people in Newcastle found guilty of a catalogue of offences including rape and conspiracy to incite prostitution there has been a lot of discussion in the media about so-called grooming gangs. In particular there has been a lot of debate over what role, if any, ethnicity and cultural backgrounds play in both grooming and child sex offences more widely.
The information we have about this is patchy and has a lot of problems. It also tends to focus on England and Wales rather than the whole of the UK. Studies on those involved in grooming children do suggest that a disproportionate number of offenders are categorised as being of Asian ethnicity. The proportion of offenders or suspected offenders varies from study to study, but was anywhere from 27% to 75% in the studies we looked at. These studies all vary slightly in the way they analyse the offenders and suspected offenders and the level of response they received from child protection agencies across the country.
The government told us that it doesn't routinely publish information on the ethnicity of people convicted of wider sexual offences. What is available suggests that the majority of offenders are white.
In the overall population of England and Wales 86% of people were white in 2011 (at the last census), 8% of the population was of Asian ethnicity, and 3% was black. Of course this will vary from place to place around the country.
Researchers point out that the disproportionate representation of people of Asian ethnicity in studies on grooming gangs may be caused by a number of things including: bias in the collecting of information, the high profile nature of similar cases, and small sample sizes. This might mean, for example, that when recording information about offenders or suspected offenders, the organisations involved are more likely to record ethnicity if the person is Asian. Or it might mean that, because they had seem similar cases in the media, child protection organisations look out for specific types and patterns of grooming and abuse more than others leading to similar types of groups being caught.
Curious & Curiouser – Just in From Our Own Correspondent. March 13th 2021.
This will be read by most as a lunatic conspiracy theory. It would ne no surprise is Everard's killer dies in custody because there doesn't seem any normal explanation for a man in the killer's position to commit this crime. Unfortunately I have had close contact with the secret police mentality and am officially insane, with one report stating that I am more likely to die by misadeventure than suicide.. R.J Cook
EXPLOSIVE: Sarah Everard's murder and the link to Britain's Secret State March 13th 2021
The mainstream media seem happy to publicise mentally ill supporters of imposing a 6pm curfew on all men following an alleged murder by one secret State policeman. This coming week, the Lords will debate making misogyny a hate crime. The Slog discusses a possible return to sanity, and begins an investigation into the process of orchestrating public acceptance of full-on totalitarian corporatocracy.
---
I offer a riposte to the MSM line about the Everard murder case today. The media, Green, feminist, hard Left response to this act shows all the signs of orchestration. Within a few hours of disappearing, Sarah Everard's absence was running end to end on all social media. Someone is reported missing every thirty seconds in the UK: this level of concern was completely atypical in both speed and size.
Plod apprehended the alleged killer within 24 hours. Surely a record for them. He is in fact a member of the security services. A day later he was in hospital with "serious head wounds" that occurred while in custody. But then he was discharged and back in custody. The media seem little interested in these details; instead, they have whipped up support for vigils….and given a voice to the man-haters from both within and without their ranks.
The result is that another "reason" for draconian totalitarian action has been created and is gaining ground. Meanwhile, some form of national security agenda (or vendetta) is being completely ignored.
This has to stop, right? Secret State censors gag our mouths and disable our sensors.
This morning, the Chancellor Rishi Sunak said a full return to the office after the "pandemic" will probably not happen. We are being conditioned to a future existence as fulltime political prisoners. On arriving there we can rejoin our minds that were imprisoned decades ago.
The deranged policy options we're asked to accept, debate and then support get more surreal with every day.
The assertions we no longer challenge – only white people are racist, George Floyd was a hero, Islam is the religion of Peace, Trump was a racist-Russophile sex pest, all men are born rapists, Pakistani rape gangs are a myth, Incorrect Statues must be smashed – are legion.
How do we kick-start a Cold War of counterbalance against this deep pool of unhinged thought?
---
There's a case for arguing that, when it comes to fighting choreographed insanity, there are ten social typologies to take into account:
Too desperate, busy, idiotic, "grounded" or distracted to care about it
Ideologically blinded knee-jerk supporters of it
Orchestrators of it
Suspect it, but prefer denial to facing the music
Probably accept it, but are too socially nervous to say anything
Recognise it, moan about it, but prefer Netflix and the sofa to doing anything about it
Cooperate with it for purely personal (often selfish) reasons
Appalled by it, but bullied into silence by family and peers
Oppose it, but see little sign of having any influence without organised mass support
Oppose it volubly in all media
Obviously, these broad simplifications cannot be hard and fast….and they change over time. For myself, I'd say I'm 75% in the last category, 25% in the penultimate one. Twenty years ago, I was in the first category.
Today, I draw one strategic insight, based both on the above list, and some rough stats I've imputed over the last eighteen months. It goes as follows:
Those in the last grouping represent only around 1 in 200 of the adult population. However, creating an organisation offering succour, identity and unity would gain more active support from Groups 8, 9, and 5; further, in a worsening economic environment, it would make inroads into Group 4, and the higher social end of Group 1.
In a nutshell, in 2021, a well branded and relevantly constructed resistance group would have appeal to roughly 8.5% of adults in the UK. By the time serious fiscal anarchy had taken hold (say, 2023) this would rise to nearer 20% of the electorate.
So the concept of pushing back against madness has an immediate appeal to some 5.7 million already unhappy and active people….and within two years could easily build into 13.6 million.
Civil disobedience among that large a social group could, if directed imaginatively:
Reduce business funding to politicians
Starve the Treasury of funds when it most needs them
Break the link between dirty money and the MSM
Hold individual ministers to account
Reduce social media advertising revenue
Apply stealth pressure in key electoral contituencies
Leave pols in fear of unpredictable actions
Stay completely pacifist and within non-tyrannical laws.
---
For a couple of weeks now I've been talking to people, testing hypotheses and gaining reactions. To be frank, it's an uphill task….but with enough will among those who prefer being awake rather than woke, it can be achieved.
It would, however, be completely inappropriate to discuss and develop specifics of structure and tactics in any public medium. That will be done entirely through encrypted invitation.
In the meantime, vigilance remains absolutely vital. Stay close to the Everard murder case – and other similar orchestration methods.
Rate this:
"Lockdown Men" Says Greenie from the House of Snores R.J Cook March 13th 2021
Imagine the furore if I pointed out that many young black males predominate in London' drug and murderous gang crime culture. It would be called racist and taken as hate crime if I went on to suggest a curfew on all black males under 40. So , logically, this woman has committed a vile sexist hate crime by suggesting a curfew on all males.
The Everard murder happened during lockdown when the only males free to roam such distance at night time, were police officers. so no surprise the killer was a cop. R.J Cook
Another Odd Copper Posted March 13th 2021
The serving Metropolitan Police officer accused of murdering Sarah Everard has appeared in court for the first time.
Police constable Wayne Couzens, 48, is charged with kidnapping and killing the 33-year-old marketing executive, who went missing while walking home from a friend's flat in south London on March 3.
Her body was found hidden in an area of woodland in Ashford, Kent, on Wednesday.
Couzens appeared in person at Westminster Magistrates' Court on Saturday morning for his first appearance following his arrest on Tuesday.
He was remanded in custody to appear at the Old Bailey on March 16.
The Metropolitan Police previously said Couzens joined the force in 2018, most recently serving in the Parliamentary and Diplomatic Protection Command, an armed unit responsible for guarding the Parliamentary estate and embassies in London.
His main job was uniformed patrol of diplomatic buildings and Scotland Yard said he was not on duty at the time of Ms Everard's disappearance.
The force said that Couzens, of Deal, in Kent, was taken to hospital for a second time in 48 hours on Friday for treatment to another head injury suffered in custody, before he was discharged and returned to a police station.
He was previously treated in hospital for a separate head wound on Thursday, also sustained in custody when he was alone in his cell.
Comment I have seen the terrifying bullying reality of the British police. No doubt this man had those special qualities the police say they are looking for in new recruits. I am still dealing with material and psychological consequences of life destroying lies and harassment from British police, led at senior level. I thought nothing could surprise me. I don't think it can.
But blaming all men is an outrage and positive proof of a feminazi power grabbing mentality. I lived near Clapham Common in the late 1970s. It was a horrible place then. Brixton was even worse and Lambeth was not a safe place at night. It is worse now, for reasons we mustn't mention. This odd copper was no stranger to a sexual allegation. The police did what they always do. Deny , Ignore, Refuse , Evade – DIRE, which is what they are. R.J Cook
Unfair Cops March 12th 2021
The following extracts are from an article By Suyin Haynes Inevitably she presents the issue from a feminist viewpoint. It would be racist to point out that London's character has been massively changed by mass , predominantly male BAME economic migrants and related gang culture. We are supposed to negate white culture and accept that the future is BAME and BLM. Everything white is bad. So we have feminists full blast against all men being rapists and eager to commit domestic violence. So this si more grist to the mill calling for more laws and punishments for men regardless of evidence. This feminist article is a political rant. The reality is that it is not safe for anyone, especially tiny young women to walk out late at night in any British city. Uncontrolled mass immigration , shtting men out of families and the politically correct have made Britain just another Third World hell hole. But there is a much more sinister angle on this case which mainstream media wilfully chooses to ignore. I will come to this in my conclusion.
Everard's case has dominated social media over recent days in the U.K., with many women coming forward to share their own experiences of public sexual harassment and assault, and the hashtags of her name and #ReclaimTheNight trending on Twitter. Wednesday's news also came as U.N. Women U.K. released a new report showing 97% of women aged 18-24 in the U.K. said they had been sexually harassed, while 80% of women of all ages in the country said they had experienced sexual harassment in public space.Everard's case has dominated social media over recent days in the U.K., with many women coming forward to share their own experiences of public sexual harassment and assault, and the hashtags of her name and #ReclaimTheNight trending on Twitter. Wednesday's news also came as U.N. Women U.K. released a new report showing 97% of women aged 18-24 in the U.K. said they had been sexually harassed, while 80% of women of all ages in the country said they had experienced sexual harassment in public space.v
The sudden disappearance of a 33-year-old woman in London and the arrest of a senior police officer on suspicion of her murder has ignited a national conversation about harassment and the abuse of women in the U.K.
Sarah Everard, a 33-year-old marketing executive, had last been seen on the evening of March 3, as she was captured on doorbell video footage walking home from a friend's house on a main road near Clapham, south London at around 9.30 p.m. Her family said that it was uncharacteristic of her to not be in contact with her friends, and alarms were raised over the last week over her disappearance.
On Tuesday, a serving officer in London's Metropolitan Police (Met) was arrested at a house in Kent on suspicion of murder following Everard's disappearance. The Met said that the officer is in his 40s and part of the Parliamentary and Diplomatic Protection Command. In a televised statement the following day, the head of the capital's police force said that officers searching a woodland area near Ashford in Kent, the county bordering south of London, had found "what appears to be human remains" in the search for Everard. "Sarah's disappearance in these awful and wicked circumstances is every family's worst nightmare," said Cressida Dick, Commissioner of the Metropolitan Police.
Read More: Men Are Finally Waking Up to Sexual Harassment. But They Still Have a Lot to Learn
Everard's case has dominated social media over recent days in the U.K., with many women coming forward to share their own experiences of public sexual harassment and assault, and the hashtags of her name and #ReclaimTheNight trending on Twitter. Wednesday's news also came as U.N. Women U.K. released a new report showing 97% of women aged 18-24 in the U.K. said they had been sexually harassed, while 80% of women of all ages in the country said they had experienced sexual harassment in public space.
This is my conclusion. The most significant aspect of this case, which feminists are trying to smokscreen is that the prime suspect is a Senior Police Officer. Regular readers of my site , which the police would like to close down, will know how my life has been ruined by a corrupt senior police officer , his toadying colleagues and family's lies. When I first complained about these parties, I was told that my complaint was a 'vexatious abuse of the police complaints process'. The Chief Inspector who wrote this sneering dismissive reply went on to say that he was applying for a dispensation to avoid an investigation. They did not investigate, yet have spent the last 13 year lying to courts and judges that they did.
So it is an unpalatable fact that the prime suspect here had been the subject of a long list of previou allegations of sexual misconduct. As with the police in general and senior officers in particular, those complaints were not upheld. It is a fact that a lot of women are fools for men in uniform. Hence the con that we would be safer with ever more police. Britain is a long way down the road to police state fascism.
The police have a knee jerk response to all complaints. Feminists prowl like sharks for more labels on all men , showing little interest in the bigger picture. The British police are isntitutionally corrupt, unaccountable ( IOPC is sick joke on the public ) liars , arrogant , self righteous , self congratulating and expect to get away with murder. Who will ever know how many unsolved murders they have got away with. The British system is fake democracy protected by adoring politicans and fawning journalists. It is journalism by cliche, as we see with these extracts.
R.J Cook
Sarah Everard disappearance: Police officer arrested 'not on duty' when she went missing in Clapham
Searches are being carried out at woodland and a property in Kent as officers say hopes remain of finding Sarah Everard alive.Sunita Patel-Carstairs
News reporter @SunnyNadal
Wednesday 10 March 2021 14:51, UK
'Arrested officer not on duty' when Sarah disappeared
A Metropolitan Police officer arrested in connection with the disappearance of Sarah Everard was "not on duty" when she went missing.
Assistant Commissioner Nick Ephgrave described the arrest in Kent as a "serious and significant" development in the search for the 33-year-old, last seen in south London a week ago.
The force has not revealed what the officer was arrested for, and Mr Ephgrave would not say whether the person knows Ms Everard.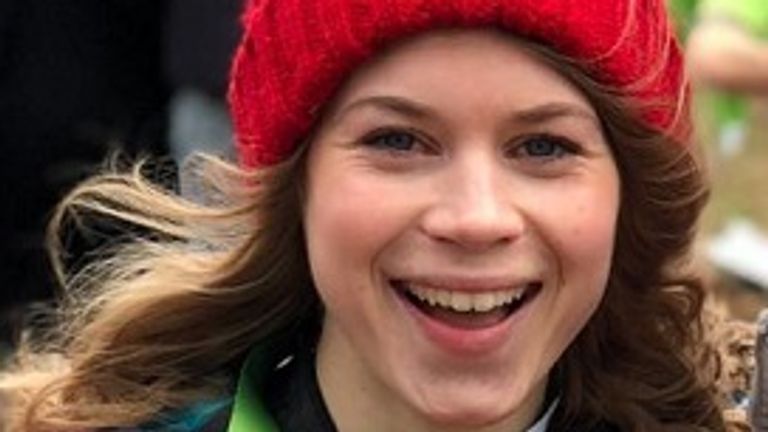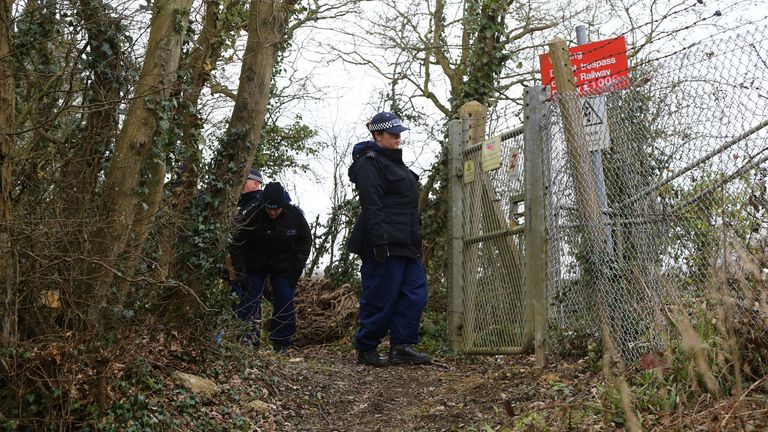 Sky News understands that a police search is taking place in land and woods near a former golf course in Ashford, Kent, but it has not been confirmed if this is linked to the case.
A home in Deal is also reportedly being searched and a car was seen being taken away from the property.
A tent was erected outside the house in Freemans Way, and later a metal fence surrounding the front garden and driveway, while forensics officers could be seen examining rooms inside the property.
A neighbour told the Press Association police were digging up the garden.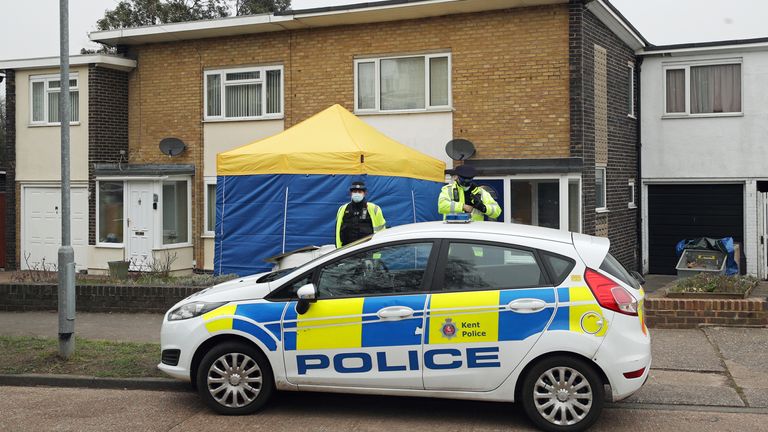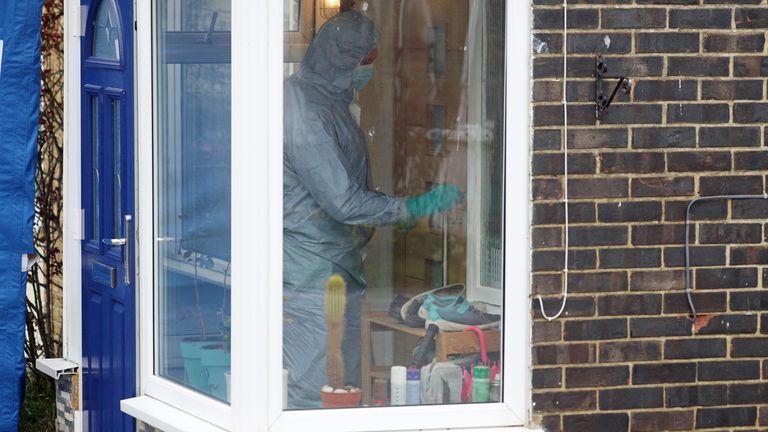 Speaking to reporters outside Scotland Yard on Wednesday, a week on since Ms Everard was reported missing, Mr Ephgrave said the officer arrested "was not on duty at the time of Sarah's disappearance".
Asked if he believed she might still be alive, the officer replied: "We are searching as hard as we can to find Sarah so we really hope that is the case, of course."
He said the fact a serving police officer had been detained was both "shocking and deeply disturbing", and the force was working at "speed" to find Ms Everard. Missing Sarah Everard's last known movements – where she was seen and who she spoke to
Turning to Ms Everard's family, who along with her friends have issued desperate pleas for help via social media, he said: "As a father myself of four young women I can only imagine the anguish that Sarah's family are feeling at this very, very difficult time."
Scotland Yard too appealed again for the public's help, with Mr Ephgrave saying "every piece of information is important to us".
An extensive search involving police, relatives and volunteers has been under way to find the marketing executive who disappeared after leaving a friend's house in Clapham, southwest London, at about 9pm last Wednesday (3 March).
Ms Everard went missing while walking to her home in nearby Brixton – a journey that was expected to take her around 50 minutes. She has not been seen or heard from since.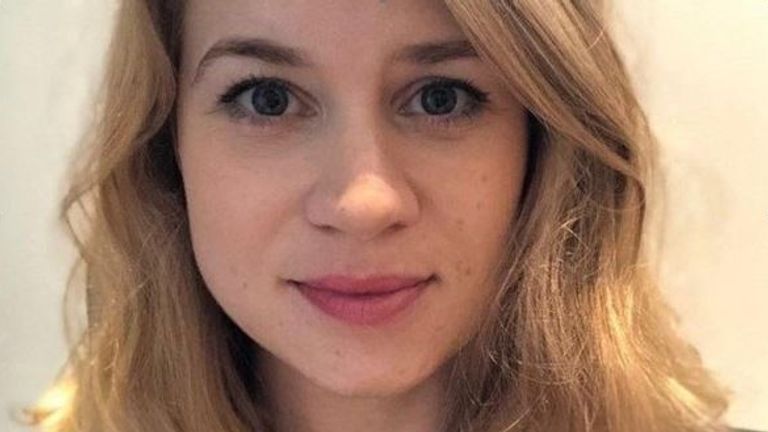 She is described as 5ft 4in (162cm) tall with a slim build and blonde hair.
Ms Everard was wearing a green rain jacket, navy blue trousers with a white diamond pattern, and turquoise and orange trainers – and is thought to have been wearing green earphones and a white beanie hat too.
Her family described her disappearance as being "totally out of character" and said her phone was not ringing and WhatsApp messages were not getting through.
Her uncle, Nick Everard, said "things are utterly dire" – but the family were hoping and "waiting for positive news from the police".
Last night, a serving Metropolitan Police officer was arrested at an address in Kent in connection with her disappearance.
A woman was arrested at the same address on suspicion of assisting an offender.
Both remain in custody at a London police station.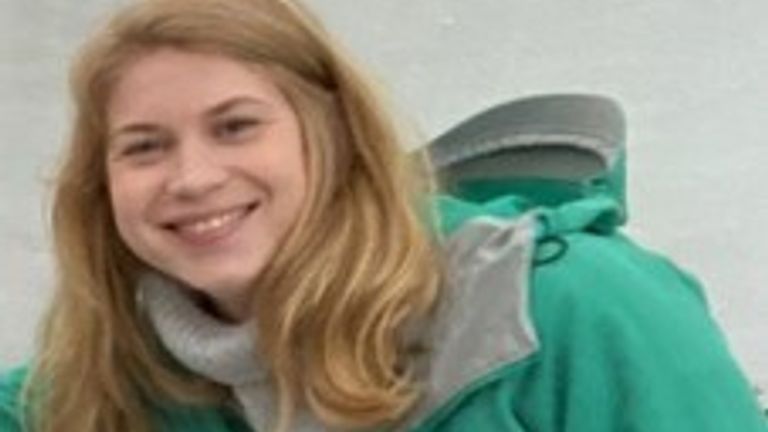 On Tuesday two new photographs of Ms Everard were released by police.
One of the new images showed her wearing the same coat as on the night she went missing.
The other, a CCTV still taken from a doorbell camera, showed Ms Everard walking along the A205 Poynders Road at about 9.30pm.
The footage captured her walking alone from the junction at Cavendish Road, toward Tulse Hill, which lies south of Brixton.
The image appears to suggest she walked through Clapham Common and was heading towards her home, although police have said it is unclear if she made it there.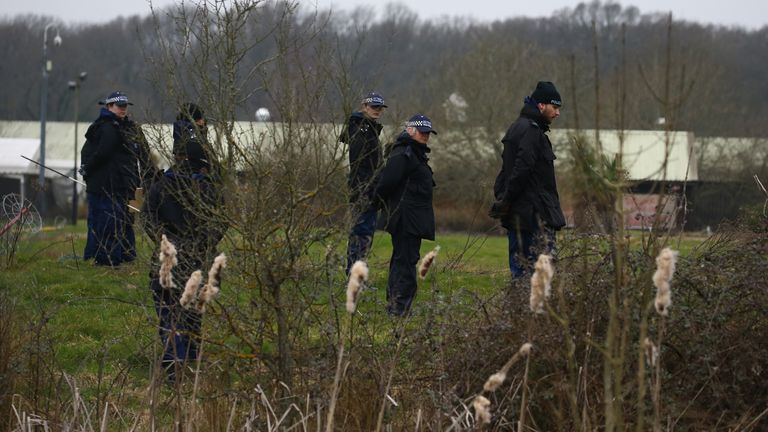 As well as searches, police have also been making house-to-house enquiries in the Clapham and Brixton areas.
A cordon was put in place on the A205, near the Poynders Court housing complex in the Clapham area, with forensics officers seen examining the area.
A resident told Sky News: "It was quite weird, me and my partner went out for a walk in the morning so we saw them dredging out the drains, we didn't even realise it was the police at the time."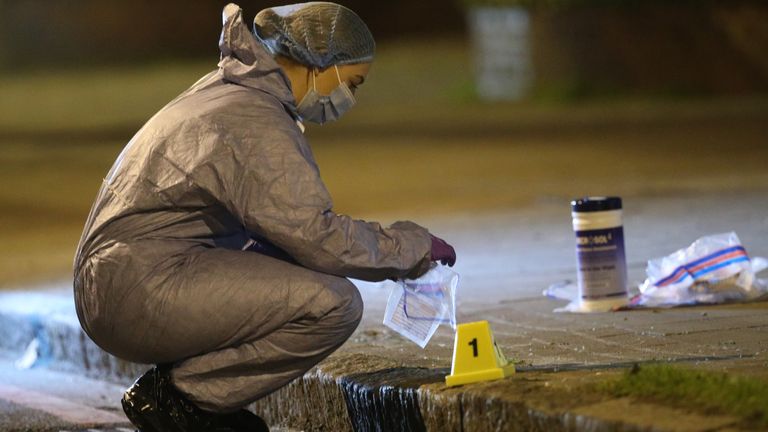 They added: "Van after van was pulling up. They were checking the grass, they were here all night. They were on their hands and knees patting down the road at one point, they had sniffer dogs out."
The Met said it has received more than 120 calls from the public and has visited 750 homes in the area as part of the investigation.