August 11th 2022
Dalian Atkinson's family say five-year wait for trial was 'unacceptable'
This article is more than 1 year old
Police officer Benjamin Monk convicted of manslaughter of former footballer during disturbance in 2016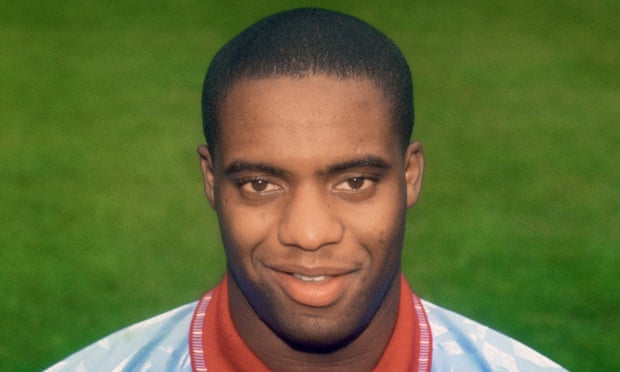 Dalian Atkinson was shot with a stun gun for 33 seconds, then kicked twice in the head as he lay on the ground. Photograph: PAVikram Dodd Police and crime correspondentWed 23 Jun 2021 20.31 BSTFirst published on Wed 23 Jun 2021 11.48 BST
Dalian Atkinson's family told of their relief and continuing pain after a five-year battle for justice saw a British police officer become the first in 35 years to be convicted of manslaughter while on duty.
PC Benjamin Monk used excessive force when he fired an electric stun gun into the former professional footballer for 33 seconds – six times longer than is standard – and kicked him twice in the head as he lay on the ground, a jury found.
Monk was called to attend a disturbance in Telford, Shropshire in August 2016, when Atkinson was suffering an acute mental health crisis. His behaviour was erratic and out of character, the trial heard.
Comment It is interesting how much mileage and kneeling the U.S police causing the death of known armed robber George Flloyd, in the wake of his failed crime , has been made. Justice was swift in the Flloyd case and a foregone conclusion, boosting the BLM movement.
Meanwhile, the peculiar police killing of a black footballer took years coming to court, with the killer kept on the police payroll, protected by West Mercia Police. At no stage has this terrible matter been labelled racist or of any interest to BLM.
As with war crimes, the British Establishment controls mainstream media, defining public opinion in the process. As I have said before, the police should not come within a mile of mental health patients. Unfortunately, they are the tail wagging the mental health dog , even though so many of its officers are chosern for their abnormal psychology, which is why police cheifs stated they needed 200,000 applicants to fill 20,000 vacancies.
If the odd normal person slips through, in the words of one officer speaking to me : 'They will be weeded out.' R J Cook
June 5th 2022
Freedoms Not Freedom – Subtle Patronising Word Play Building On The Age Of Demon Eyes Tony Bliar Brown Bullshit. More To Come from Miss Roberta Jane Cook
May 3rd 2022
Tory Police and Crime Commissioner caught speeding five times in very short period
Recently a senior Tory compared Boris Johnson's Partygate fine to getting a speeding ticket then tried to U-turn in an excruciating radio interview.
A Tory Police and Crime Commissioner who pledged to crack down on speeding has been caught breaking a 30mph limit five times within a 12-week period.
It comes as a senior Tory compared Boris Johnson's Partygate fine to getting a speeding ticket then tried to U-turn in an excruciating radio interview.
Brandon Lewis was sent out to defend Boris Johnson. Mr Lewis said the Prime Minister had accepted and paid the fine issued by the Metropolitan Police over his surprise birthday gathering in Downing Street on 19 June 2020.
But he tried to minimise the severity of the PM's rule-breaking by claiming the Partygate penalty was similar to receiving a speeding fine, as both offences result in fixed penalty notices.
In an awkward clash, Mr Lewis then tried to wriggle out of his own comments when challenged by Radio 4 Today programme presenter Mishal Husain.
When he was challenged to back up his comments, he then pivoted: "If somebody gets a speeding ticket, I'm not in any way trying to equate a speeding ticket somebody has had with the situation, the sacrifices people have made through Covid.
"I want to be really clear about that."
Read More Tory Police and Crime Commissioner caught speeding five times in very short period (thelondoneconomic.com)
Officers 'restrained economist's son as he lay dying in the street'
David Averre For Mailonline
Police officers held down and attempted to handcuff the son of a Bournemouth university lecturer even after he had been ran over by an unmarked police car, according to witnesses.
Footage of the incident seen by The Times appeared to show 27-year-old Arthur Holscher-Ermert lying motionless on the ground as officers attempted CPR as enraged onlookers screamed 'you've killed him!'
In another clip filmed moments earlier, the man could be heard moaning in agony as he lay face down in the street being manhandled by officers after he was struck by a black BMW police vehicle near the junction of Dorothy Avenue in Peacehaven, East Sussex at around 11:00pm on April 30.
Read More Officers 'restrained economist's son as he lay dying in the street' (msn.com)
Comment British Police are corrupt self interested self congratulating and totally unaccountable. They are a very big big problem.
Miss Roberta Jane Cook
May 1st 2022
Met officer who went on Nigerian Big Brother given final warning
Tobi Thomas
A Metropolitan police officer has been given a final written warning after appearing on the Nigerian version of Big Brother without permission.
© Provided by The Guardian Photograph: Ian West/PA
A misconduct hearing found that PC Khafilat Kareem had breached the standards of professional behaviour in relation to "orders and instructions" and "discreditable conduct", so a final written warning should be given after gross misconduct was proven.
Read More Edit Page ‹ Robert Cook the voice of North Bucks — WordPress (robertcookofnorthbucks.com)
Britain's police forces urged to 'decolonise' their training material
Jake Ryan Home Affairs Correspondent For The Mail On Sunday
Police forces have been urged to 'decolonise' their training material in a bid to attract new recruits.
The College of Policing, which sets guidance for the training of police officers, issued the call in a jargon-filled equality manifesto sent to forces nationwide.
It wants trainers to 'review curriculums to ensure "decolonisation" of learning content' and check that teaching methods 'implement culturally sustaining pedagogy'.
The guidance is the latest move in a controversial drive by educational institutions to make lessons more diverse, with race campaigners urging them to be more conscious of ethnic minority experiences.
Forces and universities offering professional policing courses are also being advised to 'consider introducing gender neutral facilities' to take account of 'gender reassignment' candidates.
Read More Britain's police forces urged to 'decolonise' their training material (msn.com)
April 28th 2022
Jimmy Savile escaped justice because of libel laws, claims reporter
Jim Waterson Media editor
The Sun attempted to expose Jimmy Savile as a paedophile while he was still alive – only to have to back down because of Britain's tough libel laws, according to one of the journalists who investigated the case.
© Provided by The Guardian Photograph: Michael Putland/Getty Images
Meirion Jones said the tabloid was ready to publish the story in 2008, which could have brought the entertainer to justice while he was still alive. The newspaper's reporters had signed affidavits from women who had been abused as children by Savile at the notorious Haut de la Garenne children's home in Jersey.
Read More Jimmy Savile escaped justice because of libel laws, claims reporter (msn.com)
Comment The U.K has moved on from the problem just being about libel laws. We now have injunctions and New Labour's swingeing Restraining Orders to protect the rich and powerful , including corrupt senior police officers. The only lessons that will be learned here is how the powerful can get better at cover ups. It is extraordinary how Prince Andrew's mummy can buy her favourite son out of his rightful punishment for being a paedophile. But still we get lectures on how lucky and privileged to be living in a corrupt war mongering so called liberal democracy.
Roberta Jane Cook.
April 27th 2022
PNC Criminal Markers
You may or may not have heard of the term, but Police markers could be concerning when you're searching for your next vehicle. But don't get too stressed, as Motorscan is on hand to give you all the information you need on what they are and what to look out for when buying your next car.
What is a Police Marker?
In a nutshell, a Police marker is fundamentally a red flag registered on the Police National Database against a vehicle's registration plate. It flags up that the car could be of interest and is, therefore, more likely to be pulled over by the Police. Since ANPR cameras were invented, it's now so much easier for Police to identify cars with registered markers.
Why does a Car get marked?
There are several reasons why Police markers are assigned to vehicles, from a car being involved in anti-social behaviour to a vehicle that has previously been caught carrying drugs. The reasons can therefore vary as follows:
– A vehicle that's been used in anti-social behaviour
– Vehicle that is stolen
– Cloned vehicle (false number plates)
– Failing to stop
– A vehicle that's been used in criminal activity
What is a Section 59 Marker?
A section 59 warning is issued in the specific circumstances where vehicles are found to have been used to cause distress, alarm or annoyance or used in an anti-social manner.
Can I Check if my Car has a Police Marker on it?
Unfortunately, there are no free resources through which you can check a vehicle for any Police markers. However, through Motorscan's paid for vehicle check service, it's possible to check if a car has been registered as stolen or has any Police interest markers attached to it—we'll be able to alert you if the registration has been marked on the Police National Database.
Can you get a Police Marker Removed?
If you unwittingly find you've purchased a vehicle that has been Police marked, although challenging, it is possible to have this marker removed. You should contact your local police force to get the mark removed, and if you provide the proper evidence and make a good case, it is certainly possible. For example, you will likely need to provide proof of new ownership, valid tax, MOT and insurance documents.
However, it's always advisable not to get involved in buying a vehicle that has a marker attached to it, as removal can be problematic. Motorscan makes it easy to avoid these pitfalls by offering our premium vehicle check service, where you can check a vehicle for the following:
Finance check by Experian
Vehicle Keeper History
Write-off;
Stolen;
Scrapped;
Imported/exported;
Plate/colour changes
50+ other datapoints
How long does a Police Marker Stay on your Car?
There is no specific time limit on how long a marker can remain attached to a vehicle. Some markers can expire automatically after a certain period, and if the offence was relatively minor, then this expiry can be in as little as six months. However, other markers can remain with the vehicle for its entire life on the road. Police forces will usually review markers periodically, but this depends entirely on the specific Police force. Reviews typically range from 28 days to one year, with average reviews being held monthly to ensure continued relevance.
Read More Police Markers: What are they and Should You be Concerned? – Motorscan Car History
Comment West Mercia Police put one of these on my car on October 9th 2009. Along with accompanying so called soft intelligence records, this marker ruined mine and my eldest sons lives. The Police still won't tell me what it was for or reveal records of the so called investigation. I cannot say more for legal reasons at the current time.
But suffice it to say, all non police personnel should be concerned by a system wide open to abuse. In my case the damage is ongoing and has led to me being labelled a bi polar paranoid delusional schizophrenic with a history of alcohol abuse.. No evidence is required .
My GP was duly informed by police , Informing the Gender Identity Clinic accordingly. . I won a case about this in 2016, but still took a lethal overdose, was found collapsing in the street when police called an ambulance. I really wanted to die and that is what the police can make person feel like. It is a perverse joke to call Britain a democracy.
Miss Roberta Jane Cook
https://www.justiceinspectorates.gov.uk/hmicfrs/wp-content/uploads… · PDF file
The Police National Computer (PNC) is a national database of information available to all police forces throughout the United Kingdom.1 In addition, certain other organisations, referred to as "non-police organisations", have access to information held on the PNC in order to help them fulfil their statutory functions.
Read More police-national-computer-use-acro-criminal-records-office.pdf (justiceinspectorates.gov.uk)
Bedfordshire PC sacked for sending racist traveller messages
A Police Officer has been sacked after he was found to have sent offensive and racist messages about travellers in a private WhatsApp group.
PC Jeffrey Cresswell was fired from Bedfordshire Police following a misconduct hearing, the force said.
Chief Constable Garry Forsyth said his language was "abhorrent and completely unacceptable".
He made the comments after a traveller funeral was held in Bedford, in November, a hearing was told.
The force said PC Cresswell was "dismissed without notice" after it was found he had breached the Standards of Professional Behaviour for Authority, respect and courtesy; Equality and diversity and Discreditable conduct.
Read More Bedfordshire PC sacked for sending racist traveller messages – BBC News
Comment This is all very well , but it is always the lower ranking officer who pays the price. U.K Police management is institutionally corrupt, as the Sue Sim story and so much else attests. Sim didn't fit the corruption criteria. Those high ranking officers get to the top because like recruits like. It is not as simple as gender or race. Commissioner Dick proved the former. Senior officers sit in judgement, holding lower ranking officers to ransom for good appraisals. This case is being used to make the police look accountable. Where it really matters they most certainly are not.
Miss Roberta Jane Cook.
April 20th 2022
Britain Is Turning Into A Totalitarian Police State, Warns Top Lawyer Lord Sumption
Posted on by DianCecht in Afternoon Thread, Globalism, International, News
Read more Britain Is Turning Into A Totalitarian Police State, Warns Top Lawyer Lord Sumption (thenewamericanist.com)
Too Dangerous A State
by Roberta Jane Cook.
As a noun, a police state is defined as a totalitarian state controlled by a political police force that secretly supervises the citizens' activities. That seems to fit with a government that wants a net gain of 20,000 specially selected extra police and gets away with breaking its own police state lockdown laws.
That same government, with its Boris Johnson mouthpiece,, had the masses robotically clapping , in a daily televised solidarity ritual, for a failing not fit for purpose National Health Service where every significant spending increase goes on wage and salary rises. Doctors are hideously revered and overpaid, creating an artificial shortage.
Mass immigration should have seen a commensurate reform of health care with euthanasia an option for those of us who have quite enough of living in tis vile fake democracy. Lockdown measures have had no effect on defeating an obviously man manipulated virus. But they do help brain training , keeoing people afraid and apart.
There is an element of the Stockholm syndrome to these police state measures. Now we have the war on Russia – which NATO admits it is not fit to openly fight at the moment, so we have war by proxy. People are actually accepting g higher living costs so that the elites behind this war can maintain their profits and privileges. So out come Royalty and the self obsessed Prince Harry to bring us all together in shoe box Britain – for the Golden Jubilee..
I have to be honest that up until 15 years ago I was part of the system, with years in public service and local politics. As a writer and journalist, I simply wrote what I was asked to write about. My comfortable world didn't exactly change overnight, I just didn't see the danger signals. Nor did I realise how my life experience was changing me. That's how it happens, an outcome of the last straw or the last bucket of slag on the infamous Aberfan pile. Another , favourite analogy, is the frogs who start out happy in a pan full of cold water. They don't feel the rising heat until it is too late. Ever since the industrial revolution , the wars have raged between competing groups, all for profit and greed.
Over the centuries we have seen the emergence of the Corporate State, with the arms industry allied with politicians and military- high ranking personnel overlapping. Feminism has done nothing to lessen greed and war mongering because ambitious upper middle class women want pay and status, along with the illusion that they are keeping ordinary women safe. The masses still bask in the nonsense of having their country and its 'illustrious' imperial past back again, Hence they are enjoying paying the price of supporting aggressive NATO and their war of support for corrupt Ukraine.
In reality, ordinary men ,women and their children have never been less safe. In Britain, the are rolling the drums and rolling back the pages to glory days. We are almost officially at war with Russia and their dreadful oligarchs who have bailed out ailing Premier League football clubs and kept the west's luxury yacht builders in business for years – and so much else in the corrupt west, where U.K and U.S lead the field.
The letter published above, from my GP , is a response to my request for correspondence from the police to him and colleagues and correspondence, including 'five interesting letters' mentioned from his boss to the London Gender Identity Clinic. No official body wants to talk about the 'multi agency approach' to my alleged paranoid schizophrenia, bi polar delusional personality – with alcoholic neuropathy and a history of alcohol abuse thrown in for good measure.
I have written much about ths on other pages, most notably Trasnsaction and Toxic aTransgender Clinic here. Suffice it to say, for reasons they won't disclose, decribing their files as 'sensitive' the police have been overseeing and limiting – controlling in all key areas- for over 14 years.
A consultant forensic psychiatrist concluded that I was suffering from no known mental illness and should be told why a PNC Criminal Marker was placed on my car on October 9th 2008 by a police force outside of my home area and where I rarely went. It turned out that I had been accused of a very serious stalking incident with appalling intent, recorded ands used as an excuse to watch me. Sound like paranoia on my part , does it ?
The same psychiatrist, ordered at West midlands CPS behest in 2013, warned me to stop challenging the police because I was putting myself up against a monolith. he may well be right. He implied that the police will lie wherever and whenever they need to. A similar comment was made when I ssdked my old friend Southampton Magistrate Vernon F Church, if the poloice ever kied. He chuckled then replied 'All the time.'
We live in a nation of fear, where people worship the police and deranged sex killers like Wayne Couzens or racist Benjamin Monk, are regarded as not typical of the U.K Police. We are supposed to belive in the words of one top cop I used to know 'The Police out their lives on the line for us every day they go on duty. That would be an alarming comment about our society if it were true. But it isn't. It is self promoting self important self justifying drivel, to put it mildly.
The British Police have never been perfect. Corruption has always been an issue. But in this computer PNC spying age, where one officer boasts of pioneering 'new methods of evidence gathering', we should ordinary folk should be be alarmed. The 1986 Coal Miner's Strike was a turning point in polixcing modern Britain. It was the first time since the 1930s, that their deployment was overtly political. But it is the covert that should most worry honest decent people.
As someone who has been the subject of covert surveillance and record keeping, destroying mine and my son's lives, I can tell you, it is pretty frightening and I have nearly succeeded with suicide twice in the last five years.
On a snippet from a mental health report on me, Dr CR Ramsay of Aylesbury's Whiteleaf Centre concluded ' Roberta is more likely to die by misadventure than suicide. I often wonder exactly why my car's brakes failed on the way to Portsmouth in 2020. My mechanic, who had given a clean MOT 4 weeks earlier, did not want to talk about it and I didn't bother to check. he said he could do nothing because it was in too dangerous a state.
Julian Assange's extradition to the US moves a step closer
Assange extradition a 'political case', says wife | Watch (msn.com)
Julian Assange's extradition to the US has moved a step closer after a court order.
Westminster Magistrates' Court has formally issued an order to extradite the WikiLeaks founder after years of legal toing and froing.
Home Secretary Priti Patel will need to approve the order, although defence lawyers may yet appeal to the High Court.
An extradition order was issued by chief magistrate Paul Goldspring during a seven-minute hearing at Westminster Magistrates' Court on Wednesday.
Read More Julian Assange's extradition to the US moves a step closer (msn.com)
Stay in France if you don't want to go to Rwanda, minister tells asylum seekers
Asylum seekers in France should stay there if they want to avoid being sent to Rwanda by the UK, a government minister has warned.
March 17th 2022
Met Police officers who strip searched Black schoolgirl under investigation
Nadine White
Three Metropolitan Police constables are under investigation for misconduct over their roles in either conducting or supervising the strip-search of a Black schoolgirl.
The student, known as Child Q, was subjected to "traumatic" degradation by officers while on her period after being wrongly suspected of carrying cannabis, according to a safeguarding report which also found that racism "likely played a factor". She was forced to spread her legs, use her hands to spread her buttock cheeks, and cough.
Staff members at her Hackney-based secondary school called the police after falsely alleging drug possession; the Independent Office for Police Conduct (IOPC) launched a probe in the matter following a mandatory referral by the Met in May 2021.
Read More Met Police officers who strip searched Black schoolgirl under investigation (msn.com)
Comment It is interesting how long this has taken to come to light. Of at least equal concern to racism here, is the massive policing role now taken on by the modern breed of indoctrinated school teacher. The girl and her parents should be taking legal action against school and police. These people need to be made accountable for abusing their massively enhanced powers. Above all , the unreformed Victorian invented U.K Police need reform and a seriously empowered truly independent fast acting body should pounce on the slightest hint of misconduct. R J Cook.
January 26th 2022
UNDIE COVER COP & Mark's Animal Magic
January 23rd 2022
Far From The Right Sort by R J Cook
The following story was published on the 'About Britain' page yesterday. It is of significance when measuring the dangers of Britain's advanced police state.
Very few people outside of the police force, understand how it works and why it is so dangerous. My connections with the police have been explained elsewhere and cannot be repeated here for legal reasons, but I most certainly have detailed knowledge of their mindset, hierarchy and modus operandi.
The U.K police have an appraisal system and promotion opportunities are limited. Ambitious officers ingratiate themselves with superiors to get the best appraisal. Even the unambitious have to compromise with the police's semi military hierarchy. It is not just appraisals that matter. Former Chief Constable Sue Sim was destroyed by a conspiracy of senior officers, not because she was a woman. It was worse than that. She was honest.
The vile repulsive individual featured in the following report, was in a powerful position to write appraisals or influence them in respect of officers below his high position in the Metropolitan Police Hierarchy. His superiors ( sic ) must have had a good opinion of him since he climbed very high in so few years. He was one of the chosen ones.
This is the second Metropolitan Police officer in just a few months, exposed as serious sexual perverts. I suspect this mentality is widespread and know officers are very attracted to dogging sites.
One officer had the police helicopter hover over a dogging site so he could make recordings which he collected for masturbation purposes. He had a large collection which his wife handed to police when she divorced him. He was jailed for a year. Male police officers score high for domestic violence , adultery and divorce. PC Benjamin Monk was protected for 5 years, for the killing of a black footballer. He was in a sexual relationship with the female officer who was accused of aiding the fatal attack, covered up by West Mercia Police's senior management.
West Mercia Police's Deputy Chief Constable rejected and rewrote a report calling for officers who lied over Plebgate and former Cabinet Minister Andrew Mitchell , to be disciplined and inevitably sacked, so serious was their misconduct, airing their lies on live television. West Mercia also withheld evidence and lied to get an Irishman 17 years in jail for a sex assault for which there was no evidence and he did not commit.
It should alarm any thoughtful person that senior police officers protecting their own and helping to denigrate senior politicians , are a threat to freedom and democracy. Moreover, they are freeing lying officers to further harm the integrity of the police and the cause of justice for the public who pay their inflated salaries and overtime. It was dubious overtime claims that Mitchell had taken issue with and which put him in the police firing line in the first place.
In Police State Britain, the police tell the politicians what they want and usually get it. In return, Boris Johnson et al are free from investigation for breaches of Covid lockdown rules, while large numbers of private individuals got massive fines.
If this were a democracy and not a police state, we would have more than the sham of the IOPC and Crime Commissioners. We would have a totally independent body of legally trained officers, with their own promotion system and no crossover with the police, to give any officer, whatever their rank, as hard a time as they give suspects when they falsify or withhold evidence. Police officers should be subject to the same fear they engender in others. Misconduct , including lying to court, should attract massive custodial sentences, so severe is the fear and misery they create and long term harm they do.
Whenever I drove a truck, all hours and in all weathers for 12 years, I was subject to serious punishment if I caused harm. I was not a hero. I was just a person taking my job very seriously in return for my pay. The police portray the opposite image. They are outraged when anyone calls them to account or exposes their crimes.
Matters are getting ever worse with the U.K police. We are told they need 200,000 applicants to get the 20,000 net gain of new officers. This is because they need the right sort of person who police chiefs say are rare. Trouble is, they are far from the right sort to be making the choices – if we want honest decent people in the job. Further information on this site, suggests they choose psychos far too frequently, as with Benjamin Monk. This is particularly alarming considering their powers to label their victims mentally ill. R J Cook
Met detective jailed for three years after spying on naked women
Jem Bartholomew
A senior Met police officer who deployed spy cameras to film naked women has been sentenced to three years in prison, in a case the judge said would "impact public trust" in the police.
Neil Corbel, a 40-year-old detective inspector who resigned after being suspended by the Met, concealed spy cameras in keys, glasses, phone chargers, air fresheners, tissue boxes, and headphones.
Read More Met detective jailed for three years after spying on naked women (msn.com)
January 21st 2022
"Why aren't they nicking Boris and his mates?" Angry NHS protester rants at Downing St
During a London protest against mandatory vaccination for public health workers, a woman was filmed ranting about Prime Minister Boris Johnson outside the gates of Downing Street. The woman, believed to be a health worker, was complaining that the police had not arrested the PM for apparent breaches of lockdown rules with parties held at Downing Street, his official residence, during lockdown. Workers in the UK's National Health Service (NHS) are required to be vaccinated by April. The need for a delay between jabs mean the process of firing what could be more than 70,000 as-yet unvaccinated staff could begin on 3 February. The crowd included NHS staff, people concerned about civil liberties, and so-called anti-vaxxers.
Watch Video "Why aren't they nicking Boris and his mates?" Angry NHS protester rants at Downing St (msn.com)
There will be an 'ethical earthquake' when the Queen dies, Andrew Marr says
Alex Green
Andrew Marr has said there will be an "ethical earthquake" when the Queen dies, as he claimed some members of the royal family have been "behaving like free riders".
The veteran broadcaster, 62, addressed the future of the monarchy during his first interview since leaving the BBC in December after more than two decades at the broadcaster.
He told The Daily Mail he expected the Prince of Wales and Duke of Cambridge to "orchestrate a clear-out" with the aim of maintaining the support of the public.
Read More There will be an 'ethical earthquake' when the Queen dies, Andrew Marr says (msn.com)
January 10th 2022
Noam Chomsky: Unvaccinated should 'remove themselves from the community,' access to food 'their problem'
Philosopher Noam Chomsky argued that those who remain unvaccinated should be segregated, saying that obtaining food after they had "the decency to remove themselves from the community" was "their problem."
Read More Noam Chomsky: Unvaccinated should 'remove themselves from the community,' access to food 'their problem' | Washington Examiner
Comment So now we see Chomsky, beloved of the left, in his true colours. He is just as totalitarian has those conservatives he has spent a lifetime in academia condemning.
I know that generation of pseudo liberals very well because they preached from their moral highground at the two universities I attended in the 1970s.
The result is the tortuous world of political correctness and so much more. Clearly this champion of human rights wants them removed when he doesn't agree with them. It was always obvious that none of these Covid measures would work. I had my two vaccinations. They made me quite ill. Now I am supposed to have more.
They preach 'the science'. Science , which I have taught, is a methodology, not a fixed body of knowledge. Epidemiologists are not virologists. There modelling is based on misleading people into believing we all have the same level of risk and the disease will go everywhere and kill us. It is based on a series of arrogant patronising assumptions.
They avoid home truths. On the other hand, nerdy virologists can only speculate where this virus originated and the nature of its mutations. Vaccines make money and Damehoods etc. masks make money and are about as useful as a chain link fence keeping out rodents. Chomsky sees everything through a 1960s sentimentalised romanticised , spaced out, age of fakery and hypocrisy. R J Cook
January 8th 2022
Psychopaths & The Police
Police Chiefs in the U.K , a leading authority on training police across the world, are always keen to remind us that they look for unique qualities in recruits, They reckon they need 200.000 applicants to find 20,000 suitable personality types.
Two high profile unlawful police killings in the U.S sparked race riots and looting. Two white officers have been jailed, much to the chagrin of their colleagues. The British press made the most of it , flashing their anti racist liberal credentials.
They were more reticent when West Mercia Police's senior management spent 5 years trying to cover up for their officer Benjamin Monk. Monk just had to keep on tasering an obviously mentally ill former Premier League black footballer until he was as good as dead – with Monk's boot print on his forehead. The same force's Deputy Chief Constable re wrote a report calling for 3 obviously lying officers in the Plebgate Scandal to get them off disciplinary charges that would have seen them sacked and out of harms way.
When Sarah Everard was raped and had her neck broken in the process by the elite Metropolitan Police Officer, Wayne Couzens, whose odd ( Maybe not odd, who knows , maybe odd is normal in the police ? ) behaviour, including flashing, earned him the nickname the rapist, the press went into full man hating diversionary mode, backing a Liberal ( sic ) female Peer calling for all men to have a curfew. The reason was given as all men having a tendency toward violence against women. It just couldn't be linked to U.K's beloved police.
The then and still Metropolitan Police Female Chief is the senior officer who , as Divisional Commander, authorised the unlawful killing of an innocent young Brazilian, Charles de Menezes at Stockwell tube station, going on to discredit a female eye witness as of bad character. One could go on, but I will stop at the Stephen Lawrence scandal , where family were watched to get dirt on the murder victim's family. This is not, hopefully , the behaviour of normal people. It is psychopathic.
A U.S study mentioned below references two types of psychopathic personality traits, Self Centred Impulsivity ( SCI ) and Fearless Dominance. ( FD ). The study showed that FD was high in new recruits. As officers progressed over time and with careers, their SCI levels became much higher.
Since a fish rots from the head down, one can see how this process translates to the police in action – abuse of office , closing ranks for cover ups like Hillsborough and dishonesty more than inevitable.
People don't see the danger, even though the police have never had more power, and want more. Among those powers is the awesome interference in labelling people they don't like or who are in their way, as mentally ill. Doctors dare not argue even if they wanted to. R J Cook
13 Clear Traits of a Psychopath (Spot Them)
Read More 13 Clear Traits of a Psychopath (Spot Them) – (drpsychotoday.com)
The link between crime and the antisocial lifestyle aspects of psychopathy (e.g., Self-Centered Impulsivity; SCI) is well established. However, some psychopathic traits may be adaptive in specific institutions and cultures. Lykken (1995) conjectured that socialization within first responder culture may enable "heroes," to utilize the interpersonal and affective aspects of psychopathy (e.g., Fearless Dominance; FD) in a manner that benefits society. Previous research (Falkenbach et al., in press) suggests that psychopathy and its correlated traits differ between law enforcement officers and the community. The objective of the present study was to bring further clarity to the presence of these traits within the police community and consider the influence of socialization within police culture. Self-report measures were used to evaluate how aggression, behavioral inhibition/activation, empathy, affect, and anxiety were related to factors of the Psychopathic Personality Inventory-Revised. These measures were administered to 1450 police officers, including recruits, detectives, sergeants, lieutenants, and executives. Recruits had lower SCI and behavioral inhibition, and higher FD and positive affect than higher ranking officers. These findings support the hypothesis that there are differences in the expression of psychopathic traits and correlates in those just starting a police.
Read More (PDF) Psychopathy and Associated Traits in Police Officers (researchgate.net)
Is That Cop Dangerous? 4 Tips to Detect Psychopaths in Uniform
Author and lawyer Joseph Tully, November 17th, 2017
Psychopathic cops can be more dangerous than criminals. They are responsible for police brutality, unjustified shootings, false testimony, and many other forms of police misconduct.
Every year, dozens of people who were convicted based on a cop's testimony, are released from prison because they were innocent. In three out of four homicide exonerations, official misconduct is a factor.
Thousands of Americans have died at the hands of cops in suspicious circumstances. This kind of behaviors are, more often than not, the work of a psychopath.
Is the Cop Dangerous? 4 Tips to Detect Psychopaths in Uniform (jaildeathandinjurylaw.com)
Read More about police & psychopaths on Psychology – Robert Cook the voice of North Bucks (robertcookofnorthbucks.com)
January 6th 2022
Tony Blair: Former defence secretary and Notts MP Geoff Hoon claims he was told to 'burn' Iraq memo by ex PM
It comes after Mr Blair was given a knighthood by the Queen
The former defence secretary under Tony Blair's leadership claims he was told to burn a secret memo about the Iraq war.
Geoff Hoon, the former Ashfield Labour MP, has made the shocking allegations about the ex-Prime Minister after it emerged Mr Blair has been given a knighthood by the Queen.
Mr Hoon said his private secretary was told by Jonathan Powell, Sir Tony's chief of staff, that after reading a document – which said that the 2003 invasion of Iraq could be illegal – he must 'burn it, Daily Mail reports.
Read More Bureaucratic Brexit checks have begun and are hitting British businesses when they're at their most vulnerable (msn.com)
January 5th 2022
PM faces Commons showdown after rejecting calls to abandon Plan B
MPs are returning to Westminster after their Christmas break and plunging straight into a potentially fiery Prime Minister's Questions and a Commons showdown over COVID-19.
Besides the latest crisis over Omicron, Boris Johnson and Sir Keir Starmer are poised to clash over soaring energy bills, investigations into Downing Street parties, and the PM's flat makeover.
And immediately after the leaders' first confrontation of the New Year, Health Secretary Sajid Javid will face a lengthy and tough interrogation from MPs on the government's latest COVID strategy.
MPs will want to challenge Mr Javid on NHS staff absences, the controversial issue of masks in schools, shortages of COVID test kits, and demands from doctors and health chiefs for tougher curbs.
Read More PM faces Commons showdown after rejecting calls to abandon Plan B (msn.com)
Comment The elite, elite media, appalling greedy NHS vested interests wanting more money, and chattering classes are setting the agenda. The essence of this problem must not be discussed. Its' alleged solutions are impossible and mere smokescreen. As a problem, it is just what those in charge of moronic multi culture ordered, because only the ruling class culture matters – hence police won't touch Boris & Co for rule breaches. Adding insult to injury these people call it democracy, claim to protect us and imply we voted for it by majority. It is a reign of fear and tyrant's heaven, at all levels of tyranny. R J Cook
January 3rd 2022
Truss insisted on 'luxury lunch' at club owned by Tory donor & people aren't impressed
"How about Wetherspoons? Tim Martin is a party donor too, so that would be acceptable, and it would portray Brexit Britain to the world."
by Joe Mellor2022-01-03 16:13in News
Read More Truss insisted on 'luxury lunch' at club owned by Tory donor & people aren't impressed (thelondoneconomic.com)
December 31st 2021
Giuffre lawyers seek details on Prince Andrew's claimed inability to sweat
Sarah Marsh 41 mins agoLike39 Comments|18
---
Mum-of-four buys Christmas presents for kids from charity shops – and saves £1,000sCan Robert Pattinson's The Batman defeat a Tom Holland's super-cool new Spider-Man?
Lawyers representing a woman who has accused Prince Andrew of sexual abuse are demanding that he hand over documents explaining why he does not sweat.
Read more Giuffre lawyers seek details on Prince Andrew's claimed inability to sweat (msn.com)
Prince Andrew told he will face justice after Ghislaine Maxwell verdict
Victoria Ward, Josie Ensor
---
The Duke of York has been warned that the conviction of Ghislaine Maxwell proves that justice will prevail "whether you're a president or a prince".
Read More Prince Andrew told he will face justice after Ghislaine Maxwell verdict (msn.com)
'When did the UK turn into a failed state?': Doctors run out of blood tubes
GPs are being forced to ration tubes for blood tests, with the BMA saying we are at a "very perilous point".
BREAKING: The UK now cannot do most blood tests. No tubes. GPs are forced to ration. Read this BMA press release from last night. "At a very perilous point"…
Read More 'When did the UK turn into a failed state?': Doctors run out of blood tubes (thelondoneconomic.com)
Angry reactions at reports PM will be cleared AGAIN of breaching ministerial code
"Failed state territory," tweeted Steve Peers
by Joe Mellor2021-12-31 08:52in Politics
FacebookTwitterLinkedinEmailWhatsapp
Boris Johnson has "made a mockery" of the standards expected of him, Labour has said, amid reports he is set to be cleared again of breaching the ministerial code over the refurbishment of his Downing Street flat.
Angry reactions at reports PM will be cleared AGAIN of breaching ministerial code (thelondoneconomic.com)
Vile West Mercia Police
18th November
West Mercia Police officer admits corruption over 'sex with crime victims'
By James Connell @JamesConnell8Chief Reporter/Crime/court reporting
POLICE CORRUPTION
(3)
A POLICE constable who had been working for West Mercia Police has admitted corruption after attempting to engage in sexual relationships with three alleged female crime victims.
Rhett Wilson indicated guilty pleas to three charges of corrupt or improper exercise of police powers and privileges by a constable while working for West Mercia when he appeared before magistrates in Worcester on Thursday.
Read More West Mercia Police officer admits corruption over 'sex with crime victims' | Malvern Gazette
PC Ian Langford & Corrupt Police Officers in West Mercia Police Force
Mr MCJ Chambers made this Rhyddid Gwybodaeth request to West Mercia Police

This request has been closed to new correspondence. Contact us if you think it should be reopened.
Dilynwch 2 ddilynwr
Yn disgwyl am adolygiad mewnol gan West Mercia Police o'u triniaeth o'r cais hwn.Mr MCJ Chambers Delivered
Dear West Mercia Police,
I request to you that you provide details of the following corrupt police officer by the name of PC Ian Langford and explain why WMPF fails to report matters on their website.
1) Why was PC Langford dismissed from his position at WMPF.
2) How many times has PC Langford been reported for poor, verbal warnings, miss or gross conduct while working for WMPF.
3) Why is this information not reported on WMPF website in line with recommendations in the Home Affairs Committee – Sixteenth Report – Police and Crime Commissioners (26th March 2014) & the Normington report Home Affairs Committee – Eighteenth Report – Reform of the Police Federation to all Chief Constables in England as this asked for greater transparency.
Read More PC Ian Langford & Corrupt Police Officers in West Mercia Police Force – cais Rhyddid Gwybodaeth i West Mercia Police – WhatDoTheyKnow
West Mercia , A Feral Police Force.
West Mercia
West Mercia's police and crime commissioner says the conviction of a serving police officer for the manslaughter of Dalian Atkinson cannot draw a line under the case. John Campion was speaking after Benjamin Monk, a West Mercia Police officer, was convicted of the manslaughter of the former Premier League star. A jury failed to reach […] […]
Bishop Desmond Jadoo, of the Justice 4 All Coalition, said the organisation welcomed the conviction of West Mercia Police constable Benjamin Monk at Birmingham Crown Court. Mr Jadoo and friends of the retired sports star led a march and demonstration outside Telford's Malinsgate Police Station after the incident happened five years ago. He said: "It […] […]
A police officer has been found guilty of the manslaughter of ex-Aston Villa striker Dalian Atkinson in what is believed to be the first time in recent history that officer has faced such a conviction. Atkinson, a 48-year-old black man, died on August 15 2016 following the use of force by police officers which included […] […]
A jury has been discharged following its failure to reach a verdict on allegations that a police officer assaulted the former footballer Dalian Atkinson with a baton after he was felled by a stun gun on the night he died. The case against Mary Ellen Bettley-Smith, a West Mercia probationary constable, ended with a hung […] […]
Read More West Mercia Archives – Page 3 of 4 – UK Corrupt Police
Priti Patel's 'alarming' asylum seeker plan , as will harm modern slavery victims claim watchdogs
Charles Hymas
---
Perrottet stands by decision to ease restrictions as NSW records 11,201 Covid cases…Jada Pinkett Smith 'wants to be friends with alopecia'
Police efforts to root out modern slavery will be undermined by "alarming" plans by Priti Patel to put a time limit on victims' asylum claims, say two senior independent watchdogs.
Read More Priti Patel's 'alarming' asylum seeker plans will harm modern slavery victims claim watchdogs (msn.com