Record-high Covid-19 rates in areas of Scotland, Wales and south-west England
Ian Jones 1 hour agoLike40 Comments|25
---
Extinction Rebellion protest – live: Activists target Bank of England over fossil fuel…Rihanna's Savage X Fenty announces 2021 runway show on Amazon Prime
© PA Wire Medical staff at a vaccine clinic at the SSE Arena in Belfast (Niall Carson/PA)
Growing numbers of local areas across the UK are recording their highest rates of new cases of Covid-19 since comparable records began, as the third wave of coronavirus continues to pick up pace across the country, new figures show.
Parts of Scotland Wales and south-west England are all experiencing case rates higher than at any point since mass testing was first introduced in summer 2020, while areas of Northern Ireland hit a new peak in recent days.
Read more Record-high Covid-19 rates in areas of Scotland, Wales and south-west England (msn.com)
Comment Apart from the fact that this is scaremongering , it is clear evidence that the virus cannot be defeated by lockdown or vaccine. These dubious figures will be used to justify more socially controlling lockdown. Logically only vulnerable groups should be given the right to voluntarily shield. But this is not politically correct. It seems certain groups interests are of prime importance – along with their more consequent elite wealth, security and freedom. R J Cook
'Boris Johnson given sobering reminder of how little clout he has on world stage' – Posted August 25th 2021
Voice of the Mirror
The Prime Minister failed in his attempt to persuade Joe Biden to delay the withdrawal of US troops from Afghanistan in order to secure more time for the evacuation effort.
Western countries now face a desperate scramble to rescue as many Afghans as possible before the August 31 deadline.
Read More 'Boris Johnson given sobering reminder of how little clout he has on world stage' (msn.com)
Comment It is high time that Britain's ruling elite and their WOKE brigade were cut down to size. An elderly male Tory MP has recently said that vacant military housing should be used for Afghan refugees. Why is it not already being used for native homeless, many of whom are very young victims of our broken society ?
The virtue signalling upper middle classes – the aristocracy don't need to seem to care – dismiss the natives as lazy and deserving of their situation.. It is never the ruling classes and the up and coming BAME elite's fault that the social fabric has been torn apart – starting with greedy ghastly Thatcher.
Blair is a prime example of what happens when a bloated pumped up privileged Scottish elitist takes charge. I never thought there could be worse than Thatcher.
Meanwhile up in Scotland, Jimmy Clitheroe lookalike , Nicola Sturgeon only wants to talk about Covid. . British elite politiicans and their equally elite overpaid sychophantic symbiotic media friends don.t deserve a say in the world. They have done so much to ruin it and undermine Europe.
From Russia bashing to crying over Afghanistan without talking about the very serious problem of religion having far too much clout in the world today is what our elite prefers. They do not want to criticise religion because it has always been helpful in scaring and controlling the masses with hopes of a better after life. They have a lot of Islamic voters to consider. The whites must accept that they are all privileged , espcially the males even if there are thousands sleeping rough.
Islam is a spin off of Christianity. The Romans invented the Christian church , not Jesus as many ignorant followers believe. They called it Catholic because that word means for everyone. So it became the church of the Roman Empire, surviving the empire's collapse and the religious Crusades to become the dominant and mind controlling belief system for Europe's emerging and competing kingdoms .
The Roman rulers created the Christian Church to help prop up their empire even though they did the Jews work of crucifying Jesus . Religion is thus political, not reason or logical except from a psychological comforting and group bonding perspective.
If there is ever to be a one world unifying culture it has to confront the deep psychological problems associated with devout religious belief. This won't come from Islam or multi faced vote hungry so called democratic politicians.
Religion is a driving force to overpopulation , with related poverty , health and climate issues. The British elite are ignoring this , exploiting the ignorant and feeding the politically correct. It won't lead to happy outcomes – which is presumably why the super rich have their back up plans. R.J Cook
Afghanistan news – live: Raab denies paddle-boarding while Taliban took Kabul as UK evacuates more than 10,000 – Posted August 25th 2021
Maroosha Muzaffar and Rory Sullivan
Afghanistan news – live: Raab denies paddle-boarding while Taliban took Kabul as UK evacuates more than 10,000 (msn.com)
---
Impact on hospital admissions after schools return hard to predict –…Celebrity MasterChef 2021: Line-Up, Start Date And Judges
LIVE – Updated at 12:14
© PA kabul-evacuation.jpg
Covid Con Goes On & On , a comment on the following article – August 25th 2021
Covid Con Goes On & On – August 25th 2021
These studies claim to be science. Science is a methodology, not matters of fact based conclusion. Viruses are invisible to the human eye. Predicting spread depends on the honesty and competence of researchers. Hypotheses should be tested to destruction and sampling accurate. One suspects bias here in order to justify on going testing , fear , tighter control and more vaccination.
Leaving aside so many questions – about why and how the Covid scenario exists , enriching the obscenely rich even more while being used to block socialising and protest – the only certain thing about this speculative 'study is that the virus cannot be beaten. This the same for any cold virus. The authorities know that.
To talk of hidden agendas is to be labelled a 'conspiracy theorist' , thus inviting a visit from the men in white coats and to be taken away in the yellow van, as we used to say back in the 1950s. The mental health industry is as prolific as any virus.
Meanwhile The Delta strain , renamed to avoid offence to its country of origin ( India ) is the epitome of the hopeless task of living without Covid 19.
R.J Cook
Protection from COVID-19 jabs wanes within six months, study suggests – Posted August 25th 2021
Lucia Binding, news reporter
---
© Associated Press Protection from the AstraZeneca jab fell to 77% just one month after the second dose, the study found
COVID-19 protection from two doses of the Pfizer or AstraZeneca vaccines begins to wane within six months, new research suggests.
In a reasonable "worst-case scenario", protection could fall to below 50% for the elderly and healthcare workers by winter, analysis from the Zoe COVID study found.
The Pfizer-BioNTech jab was 88% effective at preventing coronavirus infection a month after the second dose.
But the protection decreased to 74% after five to six months – suggesting protection fell 14 percentage points in four months.
Meanwhile, protection from the Oxford-AstraZeneca vaccine fell to 77% just one month after the second dose.
It decreased to 67% after four to five months – suggesting protection fell by 10 percentage points over three months.
The vast study involved more than 1.2 million test results and participants, though the vaccines were not trialled against the now dominant Delta variant of the virus.
Pfizer's mid-term efficacy trial observed an initial 96.2% risk reduction in infection up to two months after the second dose.
There was an 83.7% reduction around four months after the second dose – a 12.5 percentage point increase in risk of infection.
Public still avoiding face-to-face contact despite lifting of restrictions – August 21st 2021
Paul Nuki
---
Man due in court charged with murder of wifeJesy Nelson hasn't talked to Little Mix bandmates since her departure
People are still having half the daily face-to-face contacts they had pre-pandemic and it's helping to suppress the virus, data suggests.
© Joe Giddens/PA Wire A woman uses her laptop on her kitchen table as she works from home – Joe Giddens/PA Wire
Despite Covid restrictions having been all but dropped in Britain, people's movement and socialising still lags behind many comparable countries and remains far below normal.
Public still avoiding face-to-face contact despite lifting of restrictions (msn.com)
Comment Patronising social controlling drivel. The data suggests nothing except being manipulated for on going social control. If we really truly lived in a democracy then the authotities wouldn't have to keep telling us that we do. R J Cook
Rush hour trains on major commuter lines face axe in threat to return to offices – August 21st 2021
Christopher Hope
---
Country diary: the ups and downs of buying a retired shepherd's flockOlivia Newton-John on her birthday wish: I want to raise money for cancer…
Train services could be permanently axed from the country's biggest commuter lines within months in a move that could threaten efforts to encourage workers back to offices as the Covid pandemic eases.
© Daniel Leal-Olivas/AFP Govia Thameslink Railway said in an internal memo that there were likely to be fewer trains at peak times – Daniel Leal-Olivas/AFP
The company that operates Thameslink, Great Northern and Southern – which carry hundreds of thousands of workers into London and other cities each day – said it was planning for the end of "big spikes in rush-hour commuting".
Govia Thameslink Railway (GTR) said in an internal memo to MPs and campaign groups that there were likely to be fewer trains at peak times, while more trains will run on Saturdays than weekdays to capitalise on leisure travellers.
But campaigners warned that any drastic cut to services could cause huge overcrowding on some of the country's busiest lines when more office workers return to work.
Read More Rush hour trains on major commuter lines face axe in threat to return to offices (msn.com)
John Major Set Out To Prove He Was Despot Margaret Thatcher's Equal, So He Destroyed The Nationalised British Railway System – August 21st 2021
Comment Britain is incredible. The Industrial Revolution was incredible along with the empire that supported it. Protestant Reformation was credited with allowing Britain to break the mould of religious bigotry and oppression , but greed and ruthlessness was just as important to this progress as were the engineering and scientific geniuses set free to innovate.
It is that greed that backed the Thatcher Tory Revolution 1979 -97 when Blair took over to make it worse. Thatcher's successor John Major, according to British Rail's last Chairman Sir Bob Reid in interview with R J Cook in 2003, was desperate for something to privatise – so he could be seen as great as Thatcher.
Sir Bob criticised the idea, adding that if 'you must do it, leave it to my board who have experience of running railways.' Major ignored him. Railtrack failed and was renationalised by New Labour's Stepehen Buyers, much to the outrage of greedy share holders who had seen shares top £11 before the bubble burst. They demanded compensation for an investment that should never have been allowed.
But the likes of franchisees Thames Link and GNER continued to rot a nationalised rail network that had emerged from the ruins of World War Two. They milked the new private system at taxpayer's expense through ongoing massive subsidies and ever rising fare prices. Services , meanwhile , were hitting the dirt. So now we have this absurd secnario. No doubt Thames Link are among the vested interests that want Covid lockdown to go on forever.
Roberta Jane Cook.
Brits should build their OWN homes to ease housing crisis, says report – August 21st 2021
Daniel Martin Policy Editor For The Daily Mail
---
© Provided by Daily Mail MailOnline logo
The housing crisis should be tackled by encouraging Britons to build their own homes, according to a report commissioned by the Prime Minister.
It warns that the country risks becoming 'two nations' – with the young unable to get on the housing ladder while those in mid-life 'add to their buy-to-let portfolio'.
Read More : Brits should build their OWN homes to ease housing crisis, says report (msn.com)
Comment Nearly 20 years ago I was head of the North Bucks Town & Parish Council Consortium. In that capacity I was a consultant to the Richardson Inquiry into the expansion of Milton Keynes. This expansion was part of a wider South East England expansion plan including Luton. At the time , I had also been appointed as an ambassador for Luton by their council. I wrote two books for my publisher Sutton Haynes covering both connurbations.
I am not going to break confidences with people who were doing their best with a bad job. However, the whole South East expansion plan was under the auspices of John Prescott's grandly named ODPM – Office of the Deputy Prime Minister. It was done on the cheap. We were conned by the New Labour luvvie Kate Barker's report which stated how house prices would fall if the supply was massively increased. I had pointed out in a previous book that Thatcher's fire sale of council housing would cause serious problems back in the mid 1990s.
By the time I wrote 'More of Milton Keynes – Building on the Vision' , unscrupulous landlords had bought up large chunks of council housing at knock down prices, sub dividing it all into tiny bed sits, then charging massively inflated rents.
Milton Keynes displays some horrible contrasts in living standards. It is a metaphor for Britain's fake democracy and fake multi culture. I would say Milton Keyne symbolised Britain's failure. However, I think the whole splurge ( not a legal city ) is just what the ruling elite want it to be. So now we have more official drivel of an idea to solve a housing crisis that can only get worse. London, which I know very well and have seen so many rough sleepers at night around Charing Cross, is even worse.
Roberta Cook
Independent journalist 'too frightened' to go to door after Tommy Robinson turned up 'to prevent publication of story' – August 20th 2021
Chiara Giordano
---
Where is Colin Stagg now – wrongly accused of Rachel Nickell murder and 'blew…20 celebrities who appeared on WWE
© Stefan Rousseau/PA
Tommy Robinson appeared in court accused of stalking Independent home affairs correspondent Lizzie Dearden- Stefan Rousseau/PA
Tommy Robinson turned up at the house of an Independent journalist late at night after finding her address, leaving her "too frightened" to answer the door, a court has heard.
Days later the English Defence League (EDL) founder, real name Stephen Yaxley-Lennon, threatened to accuse her partner of being a paedophile in a bid to prevent the publication of a news story.
Robinson/Lennon appeared in person at Westminster Magistrates' Court on Friday where an application for a stalking protection order was to be considered.
It came after he went to the home of The Independent's home affairs and security correspondent Lizzie Dearden and her boyfriend Samuel Partridge shortly before 10pm on 17 January this year.
The court heard how Mr Robinson had turned up in an attempt to get the journalist to drop an investigation into claims he misappropriated donations from his supporters after she contacted him through his website and emailed solicitors seeking comment for the story two days earlier.
Ryan Dowding, acting on behalf of the commissioner of the Metropolitan Police, said there was shouting about Mr Partridge being a paedophile and Mr Robinson was heard to say "Lizzie, I will be back every day if I have to" outside the building.
He said Mr Robinson had another person with him during the incident, observed by two neighbours and a security guard, who was in a Range Rover sounding the horn loudly.
It is still not known how he gained knowledge of the couple's address.
A court previously heard how Mr Robinson, speaking over the building's intercom and shouting outside, asked Ms Dearden and her partner to "come down and talk". He attempted to get into the building but was turned away by security.
Asked on Friday why she did not wish to come down while Mr Robinson was outside, Ms Dearden, giving evidence remotely, said: "Because I didn't know what he was going to do and from what I could hear on the intercom and the street he sounded very angry and agitated. I was frightened."
Ms Dearden said she called 999 when Mr Robinson turned up and could hear him referring to her and her partner by name.
© Provided by The Independent English Defence League founder Tommy Robinson, whose real name is Stephen Yaxley-Lennon, speaks to media outside Westminster Magistrates' Court (Tolga Akmen/AFP via Getty Images)
Alex di Francesco, representing Mr Robinson, put it to Mr Partridge, who also gave evidence remotely, that he had "overstated" how loud and agitated Mr Robinson had been – and that he had been relatively "polite" over the intercom.
Mr Partridge disagreed, adding: "He was polite to begin with but that changed very quickly."
Mr Dowding said Mr Robinson, who was arrested over the incident that same night, later posted two images of Mr Partridge on social media.
Unable to "resist one more attempt to intimidate Ms Dearden", he sent the reporter an email on 19 January, in which he changed the subject line to "TR" followed by the name of the area in which she lived, Mr Dowding told the court.
The court previously heard how Mr Robinson falsely claimed in the email to have a source who claimed Mr Partridge groomed a child.
But Mr di Francesco said the three-page-long email sought to address the allegations made against him.
Deputy Chief Magistrate Tan Ikram, who imposed an interim stalking prevention order in March ahead of the full application on Friday, adjourned the case until 26 August.
Comment This is very interesting. Firstly , dealing with Tommy Robisnson. I really think he should give up his campaign. He is fighting for something that doesn't exist. There is no perfect England to go back to. History was badly taught when I was a teacher because it was edited to suit the Tory agenda. Nowadays it is being rewritten by the New Left. Time goes forward. As for the records, they are written by or for the powerful.
I don't condone stalking, but as a journalist, I know how annoying journalists can be. However, good journalists have a right to hold public figures and State officials to account. I got used to verbal abuse. My editor thought the nasty letters sent about my work meant that I was hitting the spot. He asked for more. The fact that mainstream media are highly selective about their targets is by the way. The principle matters.
Secondly , I am just going to add a note for my police readers. This case clearly demonstrates how the law is supposed to work regarding stalking and harassment allegations. The accused actually has to have been there and there needs to be evidence of an offence. The accused has to be interviewed at the time or soon after.
The police do not have legal right to make things up , fake witnesses , create malicious so called soft intelligence records for stalking , harrassment and threat of violence – leading to a devastatiting life changing PNC Criminal Marker without warning , investigating or talking to the accused. Nor do they have the right to spend over 13 years covering matters up and creating other malicious charges and pseudo investigations to protect themselves from corruption and malpractice charges.
Roberta Jane Cook.
UK imposes sanctions on seven Russian FSB agents over Navalny poisoning – August 20th 2021
Greg Heffer, political reporter
---
Refugees previously removed from 'unfit' hotel where boy fell to his deathLena Headey welcomes attitude 'shift' in Hollywood
Seven members of the Russian security services have been hit with sanctions by the UK following the poisoning of Alexei Navalny with a nerve agent.
Comment Navalny was a dubious person wanted on fraud charges. It is a red herring and just another excuse for Russia bashing. There are some very serious issues facing Britain and the world.
The Blair Bush war mongering for the rich in the Middle East is revealing horrors with more to come. Islam is intolerant monoculture, although Sunni and Shiite is bothersome, they are as one with plans to dominate the world view by weight of numbers.
Though religion is not a race, our liberal do gooders ( virtue signalling ) have forced laws to say that it is. Overpopulation is the essence of climate change. Religion fosters ignorance and bigoted escapism. It thrives on poverty.
The British and U.S did not enter Afghanistan for good reasons. They fostered a vile corrupt regime.
This is the icing on the Blair Bush , many layered cake – including Syria, Iraq and Libya. The elite have made millions and are quite happy to see the chaos from which they are protected and enriched. The money people don't want wars to end. The sanctified World Wars One and Two were not about good fighting evil. The Anglo US and French elites created the Nazis. Those wars were about the money and ruling classes. Now we have Afghanistan fall out with the prospect of millions more Muslims in Europe.
They are not multi culturalists and have been given no good reason to respect the western leaders and the minions who tore the Middle East apart. It says it all that British feminists and the BBC are agonising over the fate of women's rights in Afghanistan. This obession with women's rights in a world dominated by an obscenely rich international incestuous minority is more destabilising and threatening to order than Islam ever could be. Roberta Jane Cook
What is the difference between incel and feminism , I ask this as a serious question ? Why are there always excuses for female miscreants and killers but none for men – if equality is the true State & Feminist Goal for the masses , which it isn't at all ? August 20th 2021.
Interesting.
https://www.bournbrookmag.com/home/sympathy-for-the-incel
Mother, 31, held her head in hands as she appeared in court accused of murdering two-year-old son at family's £500,000 suburban homeA mother held her head in her hands as she today appeared in court over the alleged murder of her toddler son. Natalie Steele …Posted August 19th 2021
Foreign 'enemies' strengthened by UK 'caving in' to Black Lives Matter, Tory peer claims in Afghanistan debate – August 18th 2021
Foreign 'enemies' strengthened by UK 'caving in' to Black Lives Matter, Tory peer claims in Afghanistan debate (msn.com)
Comment: Black Lives Matter is an intolerant totalitarian leftwing ideology which – much like the Taliban's extremist version of Islam – does not ever tolerate dissent or opposition. You are not allowed to reject its vile bigotry.
BLM does nothing to promote equality,diversity or decency. It is an anti white racist discriminatory movement which ignores all the advantages and privileges held by an upper class elite that funds the BLM. There are many extraordinarily fortunate upper class black people with millions in the bank and extensive wealth portfolios that are rarely taxed.
BLM seeks to divide the UK along race and political lines to the benefit of a globalist corporate agenda that profits from weak states divided along multi cultural and racial lines. White men are not allowed their voice in the UK.
Lord Robathan's remarks – while poorly articulated – make a very serious point about the divisive nature of extremist left wing political groups – what did the violence of BLM protests in the UK have to do with peaceful protest?
What he fails to understand is that the profound social changes that have taken place in demography within the UK ever since Blair's New Labour government intentionally opened the borders to non Europeans however extreme and intolerant their belief systems – is now largely irreversible.
The values – history – and ultimately identity – of what used to be a far less violent racially aware society are under sustained assault from within.
The left wing extremists driving this revolution are themselves the products of a white people hating education system and cultural environment that teaches whites self loathing and trains them to reject their own cultural heritage. White males are the open public subjects of ridicule and extreme hostility. They are encouraged to embrace others as superior to them.
The past is presented solely as a series of 'white' abuses of other ethnic groups. How many know – or would dare to say – that the trade in black slaves in west Africa was driven by black elites commercialising the surplus population they had no interest in educating, feeding or housing? There would have been no slaves to take to the New World without their support.
The ongoing denigration and destruction of Britain's small c conservative values system and its heritage would – if it were for example taking place in western China – be called ethno cultural genocide. As whites across the Western World are its victims no left wing person or academic cares today.
There will be no left wing protests in favour of controlling the unrestricted unregulated mass migration into the UK. Those who identify as left wing are too busy prioritising the aspirations and demands of the millions of economic migrants – like the traitor Afghans who worked for the UK for the rich pay – desperate to reach the UK to enhance their own living standards and enhance their survival chances at the expense of the white lower class.
Lord Robathan is right to think that the foreign enemies of the UK look at its social economic and political problems and rejoice. What him and too many idiotic members of that ruling class fail to understand is that it is their inept recent historic decisions taken for reasons of expediency and social control of lower class white people of both genders that are the cause of the UK fall.
Britain is a disunited kingdom of various ethnicities and cultural groupings. It is impossible to be an active leader in world affairs when your homeland and the people that national power ultimately rests on the backs of – lower class white males of military age in the case of the UK – are being expelled from their own families by empowered women and their decrepit parents and marginalised economically, socially and politically by the ruling elites.
In the case of Afghanistan and its immediate surrender to the Taliban Britain owes its people nothing. When the Twin Towers fell on 9/11 Afghans were among the Muslim masses who celebrated from Morocco to Indonesia.
If after twenty years of fat living on Western taxpayers money the liberated empowered Afghan women and the others who got rich on the government salaries and loans paid for primarily by hard working white working class will not fight to save themselves why should anyone – least of all white men – go to help them. They should be left to deal with the Taliban on their own.
Very few Aghans care about the drug related crime and health problems caused by the heroin that their countrymen supplies to white Europeans. They are non Muslim and therefore largely worthless unless female. In the UK some of the Muslim gangs – that for years have preyed on underage white girls from single mother homes – were refugees of Afghan heritage.
Lord Robathan – like many disingenuous ignorant old fools from Britain's vile national socialist ruling elite – confuses class interest with the national interest. Were the intrusive new police state technologies to be deployed on Muslim global travellers and communities in the same way they are in use now for monitoring what the West's rulers call the 'far right' Islamofascism could be safely confined to the Islamic world and its surging populations.
Lord Robathan's best intellectual years are now far behind him – sadly that is the case for the majority of the Western world's aged leaders. They are living in a fool's paradise when the 21st century is already a new age where countries of the global south and east are the rising global powers.
In the meantime he and those others like him – and the women's activists – are more than welcome to leave the UK to fight the Taliban in Afghanistan. They will not last very long or achieve anything but their death in doing so. Britain is no longer an important major world power that matters. RJ Cook
PM faces criticism from all sides of Commons over UK's 'moment of shame' in Afghanistan – August 18th 2021
Alan McGuinness, political reporter
---
'Britain has moral duty to refugees and immigrant stories show they will give…Anderson .Paak gets a tattoo warning against releasing his music if he dies
Boris Johnson has been criticised by MPs from across all parties in the House of Commons during an emergency debate on the crisis in Afghanistan.
© PA The PM said the new Taliban regime in Afghanistan would be judged based on its actions, not words
The prime minister faced anger from both sides of the Commons – including from senior Conservatives – as he addressed parliament following the dramatic Taliban takeover.
But, defending the final pull-out of British troops from Afghanistan after two decades, Mr Johnson denied the UK had been caught "unawares" by the militant group's takeover of the country.
He told MPs the collapse of Afghanistan's government happened faster "than even the Taliban predicted".
Opening a recalled session of parliament, Mr Johnson claimed it was "not true" to say the UK was "unprepared" for or "did not foresee" events in the south Asian country.
"It was certainly part of our planning," the PM said.
Mr Johnson's comments in the emergency debate come after he told MPs at the start of last month that there was "no military path to victory for the Taliban".
But the militants swept into Kabul at the weekend after a lightning advance through the country.
Labour leader Sir Keir Starmer accused the government of displaying "staggering complacency" about the Taliban threat and "the result is that the Taliban are now back in control of Afghanistan".
Referring to the fact that the US decided in February 2020 to withdraw its forces by May 2021, he said the UK had 18 months to prepare for what would follow.
"The very problems we are confronting today in this debate were all known problems… and there has been a failure of preparation," Sir Keir told the debate, adding that this is "unforgivable" and the PM "bears a heavy responsibility".
He also hit out at Dominic Raab's decision to go on holiday last week before swiftly returning home, telling the foreign secretary: "He stayed on holiday while our mission in Afghanistan was disintegrating. He didn't even speak to ambassadors in the region as Kabul fell to the Taliban. Let that sink in.
"You cannot co-ordinate an international response from the beach."
Labour's shadow foreign secretary Lisa Nandy described recent events in Afghanistan as a "moment of shame" and called on government ministers to apologise.
"They have been warned and warned and warned about the consequences by members on all sides of this House, and they have ignored us, they have ignored their own backbenchers and they have abandoned the people of Afghanistan," she said.
SNP Westminster leader Ian Blackford said Mr Raab has "no dignity whatsoever" and was "lying on a sunbed" as the crisis in Afghanistan unfolded, while Lib Dem leader Sir Ed Davey labelled the PM a "national liability" who had presided over a "foreign policy catastrophe".
Backbench MPs from across the Commons were also critical, both of the UK government and US President Joe Biden.
Former Tory PM Theresa May claimed her successor in Downing Street had hoped "on a wing and a prayer it'd be alright on the night" in the wake of the US withdrawal and labelled the si
"In July this year both President Biden and the prime minister indicated that they did not think the Taliban was ready or able to take over control of the country," she said.
"Was our intelligence really so poor? Was our understanding of the Afghan government so weak? Was our knowledge of the position on the ground so inadequate? Or did we really believe this?"
Conservative MP Tobias Ellwood, chairman of the Defence Select Committee, said the UK had been "found wanting", adding: "We have some serious questions to ask about our place in the world, what global Britain really means and what our foreign policy is all about, we must raise our game."
Asked later on Sky News whether Mr Raab should resign in the wake of the Taliban's capture of Afghanistan, Mr Ellwood would only say that he hoped "all hands will be working" on the immediate response to the crisis.
"But, quite rightly, there needs to be a review of the conduct of what happened here – these are gargantuan mistakes that have been made and Britain looks a lot smaller in the world today than it did a couple of weeks ago," he added.
Fellow Tory Tom Tugendhat, who served in Afghanistan, received a round of applause in the Commons after delivering an emotional speech.
The recall of Parliament comes after the Taliban seized power at the weekend, almost 20 years after the invasion of Afghanistan was launched in the wake of the 9/11 attacks to oust the Taliban and prevent it from harbouring al Qaeda, the group behind the 2001 terror attack on the US.
Once the US took the decision to withdraw from the country, the PM said the UK came up against a "hard reality".
"That since 2009, America has deployed 98% of all weapons released from NATO aircraft in Afghanistan and at the peak of the operation – where there were 132,000 troops on the ground – 90,000 of them were American," he said.
"The West could not continue this US-led mission, a mission conceived and executed in support of America."
Amid calls for other nations to act in lieu of any change in stance from Washington, Mr Johnson told MPs it was an "illusion to believe that there is appetite amongst any of our partners for a continued military presence or for a military solution imposed by NATO in Afghanistan".
"That idea ended with the combat mission in 2014, and I do not believe … that deploying tens of thousands of British troops to fight the Taliban is an option," he added.
Mr Johnson also said the new Taliban regime would be judged based on its actions, not words, adding that the militant group was currently allowing the evacuation in Afghanistan to proceed.
"The situation has stabilised since the weekend but it remains precarious," the PM said.
"UK officials on the ground are doing everything that they can to expedite the movement of people, those that need to come out, whether from the ARAP scheme or the eligible persons, to get from Kabul to the airport."
Mr Johnson said it would be a "mistake" for any country to recognise the new Taliban regime "prematurely or bilaterally", adding that the UK would work with other nations to unite the international community behind a "clear plan for dealing with this regime in a unified and concerted way".
A total of 456 British forces personnel or Ministry of Defence civilians died in Afghanistan, while many more were wounded.
In his statement to MPs, the PM said the "sacrifice" of British troops in Afghanistan was "seared into our national consciousness" and would "never" be forgotten.
"They gave their all for our safety and we owe it to them to give our all to prevent Afghanistan from once again becoming a breeding ground for terrorism," Mr Johnson added.
"No matter how grim the lessons of the past, the future is not yet written."
And Mr Johnson told MPs that the UK would do "everything to support" those who have helped its mission in the country and "do everything we can to avert a humanitarian crisis".
He said the UK has ensured the safe return of 306 UK nationals and 2,052 Afghan nationals as part of the government's resettlement programme, with another 2,000 Afghan applications completed and "many more being processed".
"UK officials are working round the clock to keep the exit door open in the most difficult circumstances and actively seeking those we believe are eligible but as yet unregistered," the PM said.
The UK has announced it will take up to 20,000 vulnerable Afghans over the coming years as part of a resettlement plan.
Wrapping up the debate in the Commons, Mr Raab said there needed to be "basic checks" in place for those who come to the UK from Afghanistan in order to "make sure that the seats on those planes go to those we want them to go to".
"As the son of a refugee, I am deeply proud that this government is continuing the big-hearted tradition of the British people in offering safe haven to those who need it," he told MPs.
The foreign secretary also paid tribute to the teams working on the current evacuation effort, saying they are working "with gunfire overhead to save others before they get out themselves".
Comment President Ghani ran away with £123 million to the UAE , where he has been welcomed on humanitarian( sic ) grounds. He was a fake as was his U,S funded 300,000 strong army which was in fact only 50,000. Afghanistan has been the U.K's prime source of heroin. The country is riddled with corruption that has gotten worse under Anglo U.S occupation.
To say the U.K has a moral duty to accommdate as many Afghan refugees as possible, should carry the proviso that they are made aware that Britain's masses belong to a secular society to which they must fit in publicly. This moral duty should also extend to housing and caring for the indigenous homeless. It is sickening listening to pampered overpaid politicians laying down laws that won't affect them.
Roberta Jane Cook
Reality Check For A Deluded Nation -August 18th 2021.
Britain is a very peculiar country. It's imperial past is now being blamed on the working class white men who , apparently made victims across the globe and of women at home. One is not supposed to notice the elite – with many descended from the feudalistic Norman – whose great estates testify as to where the real privileged reside. They affect polite accents and have smiling ( sneering ) faces , good education and style to fool and rule the lower orders.
I was born into those lower orders, like my father and mother's family. I spent a lot of my early childhood playing in the grim streets of North London and on its bombsites. That was the normal of my early years. So when my teacher talked of God , when I was seven, I compared such belief with believing in Enid Blyton's Noddy of 'Toy Town.' She thrashed my bare legs with a springy snappy ruler until they were inflamed.
My father was 21 , a regular soldier because there was no other work during the depression years, was one of those 'privileged white males' clustered on the Dunkirk beaches, desperate for escape in 1940. My Uncle Arthur Close was invalided out of the army to become a target of incensed young women handing out white feathers.
All of my seven uncles served during World War Two, which was round two of the Anglo German incestuous elite Imperial conflict. Common people had no idea what it was all about, being spurred on by tunes of glory and propaganda.
When I was a child, I had no idea what those wars were about either. I saw myself like my Uncle Herbert Cook who served in the RAF. But none of my uncles or my father ever talked about the war. They never wore their medals to go on Remembrance Day Parades. They wanted to forget.
So I carried on with my delusions, planning to join the Royal Airforce as a trainee pilot after University. I had been in the Air Training Corps ( ATC ), from age 13, where we had the opportunity to fly in dual control Chipmunk trainers , being told parachute drill. We also learned to maintain and fire .303 Lee Enfield Rifles and use the firing range. My mother didn't like me flying because , having lost her husband when I was 11, she didn't want to lose me.
Wearing real RAF uniform – the ATC was founded as a feeder for the wartime RAF- gave me a sense of belonging, identity and importance. The fact that local yobs used to mock and laugh at us marching through town, along with the chant 'Up to two three four' made us feel even more special.
However, aged 17, I fell under the spell of a fiery Welsh history tutor at Aylesbury College of Further Education. his jaundiced view of the British Empire and ruling elite was compounded by my three years at the snooty elitist University of East Anglia. This was the era when only 3% of the population got to university , before Thatcher diluted higher education and abolished grants. It was all about hiding the mass unemployment her vicious policies had caused.
It was the age of student protest led by offspring of the upper middle classes who were flexing their muscles for when they followed mummy and daddy into their illustrious careers in the British establishment. These up and coming students focused their virtue signalling on the Vietnam War and Northern Ireland. My naïve self ended up intimidated and feeling guilty for ever thinking the armed forces were a good idea.
I drifted off into various jobs , alighting on the civil service in Portsmouth , where an ex wartime RAF officer suggested I would be better suited to the RAF regiment. I thought a career as a Royal Marines officer would be a better step. They told me I was too old at 24 , but still eligible to train as a navy helicopter pilot. During the selection process at RAF Biggin Hill, it was made clear that I would be obliged to kill without question. They wrap all that up a bit now, making it even more complicated by holding troops criminally responsible should they be accused of not following the rules – often meaning giving the other side a best possible chance to kill you first before you respond.
So we come to Afghanistan. The toffee nosed British elite led by the toffee nosed Tony Blair – the man who did so much to destabilise one of the most stable middle eastern states – couldn't wait to support Bush Jnr's war here and in Iraq. The Afghanistan misadventure was apparently to capture the mysterious former Anglo U.S agent Osama Bin Laden. Blair sold the Afghan war as a war to liberate its women. Female voters had replaced working men as the New Labour bedrock. He and his fake socialist government saw votes in this war.
If logic was applied to this situation , it might be called absurd. highly educated privileged s called Anglo European so called foreign police experts haven't learned from all the post 1945 wars. They are disappointed and angry that their stooge president Ghani fled – with loads of wealth because he and his crew were off the scale for corruption.
They are even more disappointed and angry about Joe Biden's alleged betrayal. They were relying on him to behave as a senile old man, who like Ronald Regan , could be pointed in any direction deemed profitable to the elite. Maimed and dead soldiers are no matter, the pointless medals clatter while the mainstream media chatters. That media is elite owned for propaganda.
This is why they rubbished Brad Pitt's brilliant production and performance in 'War Pig.' Having come from a small Mid Western ' town , Pitt knew what he was talking about. His film was on par with 'The Deer Hunter.' Defeat is not a word mainstream media owners and lackeys will ever admit. So there is more to come. R.J Cook.
Men hurt in homophobic attack at Birmingham's Gay Village – August 16th 2021
Two men have been attacked with bottles and had homophobic abuse shouted at them in Birmingham, police have said.
Detectives said an attacker snatched a phone from Patrick as he tried to film them and one of their female friends was dragged along by the SUV as she tried to get it back.
The woman, in her 20s, suffered a foot injury.
Rob said he then ran after the car to try and challenge the group but, when they stopped at a red light, they got out and attacked him with bottles.
Patrick said he ran to help his partner but "someone from the car got out and hit me from behind my head and I blacked out".
Having been treated in hospital for lacerations and cuts, Rob said he regretted chasing after the group.
But he added: "[The Gay Village] should be a safe area to be who you want and not have to tolerate people yelling homophobic remarks at you."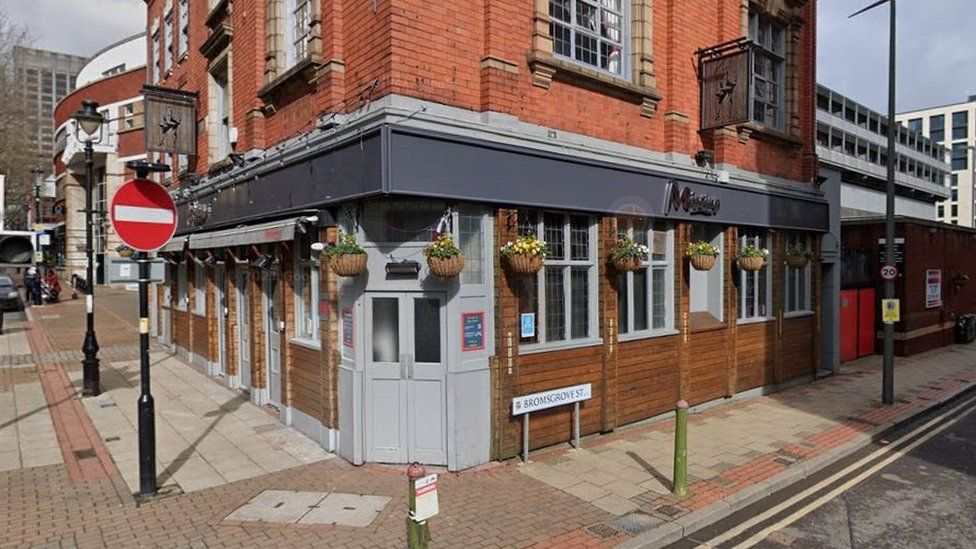 Detectives said the men in the car were described as being of Middle Eastern or Asian appearance.
CCTV footage is being gathered by the force and Insp Steve Lloyd said officers were taking the hate crime seriously.
"This was an absolutely appalling attack and robbery on people just trying to enjoy a night out in the city centre," he said.
"This was an absolutely appalling attack and robbery on people just trying to enjoy a night out.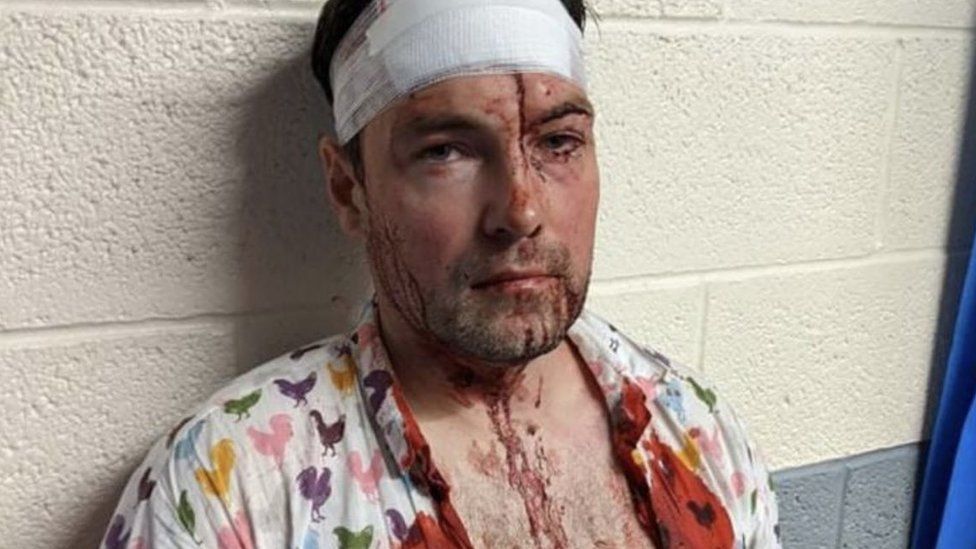 Comment It is noteworthy that the attackers were of Middle Eastern or Asian appearance , and therefore most likely Muslim. Muslim religion does not accept homsexuality. They are not multicultualists or secularists. They believe their culture is superior and God's way. Our society has too many parts pulling in different directions – with a media propaganda machine making out it's all wonderful. Rainbow posters won't fix this. Most people can't tell the difference between gays, transvesitites and transsexuals . So celebrities obsessed and precious about their gender , like J.K Rowling are committing and encouraging hate crimes and putting vulerable people at risk when she rants about transsexuals – see HATE MALE page. She should have been prosecuted.
R,J Cook
UK 'surprised by scale and pace' of Taliban takeover, Raab admits – as 200 more troops being sent to Kabul to help with evacuation- August 16th 2021
Greg Heffer, political reporter
---
Boris Johnson under pressure to set up resettlement scheme for AfghansEmma Bunton enjoyed 'beautiful familymoon' in Italy
Play VideoEnsuring 'gains aren't lost' top priorityClick to expand

Hundreds more British troops are being sent to Kabul to help with the evacuation effort in Afghanistan's capital – as the foreign secretary admitted the UK was left "surprised" by the speed with which the Taliban took control of the country.
An extra 200 British troops will be sent to Kabul, bringing the number of UK armed forces personnel in the city to around 900 – the majority of which have been deployed in the past week.
It is understood several hundred further troops are also set to be deployed in the region in order to be able to move into Afghanistan quickly, if needed.
And more personnel are being held at readiness in the UK in order to be able to deploy at short notice, if further troops are needed for defensive duties, according to the Ministry of Defence.
© Other There will soon be around 900 British troops in Kabul. Pic: Ministry of Defence
Meanwhile, Prime Minister Boris Johnson intends to host a virtual meeting of G7 leaders on Afghanistan in the "coming days", Downing Street said.
The UK currently holds the presidency of the group of the world's leading democracies.
An immediate focus of British troops in Kabul will be the evacuation effort from the city's airport, with UK armed forces working with partners to secure the Hamed Karzai International Airport to ensure RAF and civilian chartered flights can operate.
Foreign Secretary Dominic Raab revealed this was the focus of an emergency COBRA meeting of top ministers and officials on Monday.
But the foreign secretary refused to state how many refugees the UK might accept from Afghanistan, which has fallen back into Taliban control after 20 years, although he stressed Britain was "obviously a big-hearted nation".
"Everyone, I think, has been surprised by the scale and the pace at which the Taliban have taken over in Afghanistan," said Mr Raab, who flew back to the UK last night from a summer holiday abroad amid criticism he had been absent during an unfolding international crisis.
"And that's a lesson that we've all got to learn from. But the truth is what matters right now is focusing on getting British nationals out, getting out those who have so loyally served the UK, and making sure that the gains that we've made over 20 years are not lost.
"Let's remember we haven't had a terrorist attack on the UK from Afghanistan in 20 years.
"Because of UK aid, 10 million more children have been in education. Because of UK efforts with others, eight million more landmines have been cleared.
© Reuters The Taliban have swiftly retaken control of Afghanistan
"So we have a record that we should not overlook. Of course, the priority now is to make sure that the gains aren't lost because of the Taliban taking control."
The government is under pressure from its own Conservative MPs over its handling of the crisis in Afghanistan.
And the families of those who died fighting during the two decades of Western military intervention in the country have criticised the UK and US over the withdrawal of troops.
Mr Raab vowed the UK would hold the Taliban "to account" if they did not uphold commitments on human rights and preventing Afghanistan from being used as a base for terrorism.
He suggested that economic sanctions, the withholding of UK foreign aid, and work with international partners could be used as "levers" put pressure on the Taliban to make sure "they are held to the undertakings that they've made".
The foreign secretary described the Taliban takeover of Afghanistan as a "new reality" although "not what we wanted".
"We're making it clear with our partners with all the means at our disposal, that we will hold the Taliban to account, to its commitments, to have a new start in Afghanistan," he added.
"It's clearly not going to be to the values that the UK, the West, the European Union, the Americans believe in, but we can have a moderating influence.
"I think it's important we use all of the policy tools at our disposal – working with our partners – to try and achieve that."
The foreign secretary said he had been "engaged" in all three of the COBRA meetings held in the past four days, while he revealed he spoke to his Pakistani counterpart on Sunday and was due to speak with US secretary of state Antony Blinken later on Monday.
Earlier, Labour leader Sir Keir Starmer said there was an "obligation" to those in Afghanistan who had helped the UK effort.
"We need to get UK nationals out, but we also have an obligation to all of those Afghans who helped and assisted the UK, and we shouldn't have nice distinctions between this type of person, this type of help, and that type of help," he said.
"If those in Afghan have helped us, the UK, in our work in Afghanistan, we have got an obligation to them."
Taliban says its 'type of rule' will become clear soon after president flees to 'avoid bloodshed'
---
How To Grill Corn The Cob Perfectly Every TimeJada Pinkett Smith gets new tattoo: 'I'm starting to build my sleeve'
A senior Taliban official has declared victory in Afghanistan, praising the "unrivalled feat" of taking the capital Kabul and ousting the president.
© Associated Press Taliban fighters are pictured inside Kabul's presidential palace. Pic: AP
Mullah Baradar said in a video statement on Sunday that the militants' road to power was unexpectedly fast, but the "war in Afghanistan is over now".
He told Al Jazeera the "type of regime" the Taliban plans to introduce "will become clear soon", but they will guarantee the safety of all citizens and officials.
Taliban spokesman Suhail Shaheen told the Associated Press that they are holding talks to form an "open, inclusive Islamic government".
It comes after the group captured the presidential palace and 11 districts of Kabul, causing President Ashraf Ghani to flee "bloodshed".
British troops arrived in the city to help evacuate UK nationals over the weekend, as the Pentagon ordered a further 1,000 US personnel and countries across the globe scrambled to get their diplomats out of the country safely.
© Associated Press A Taliban spokesman said the nature of its rule will 'become clear soon'. Pic: AP
Earlier on Sunday Reuters reported Mr Ghani's departure Tajikistan, citing a senior interior ministry official.
But in a later Facebook post, the president said he was faced with a "hard choice" between the "armed Taliban" or "leaving the dear country that I dedicated my life to protecting the past 20 years".
"If left unchecked, countless patriots would be martyred and the city of Kabul would be devastated, resulting in a major humanitarian catastrophe in the six-million-strong city," he said.
"The Taliban had made it clear that they were ready to carry out a bloody attack on all of Kabul and the people of Kabul to oust me. In order to prevent a flood of bloodshed, I decided to leave."
© Associated Press Taliban fighters are pictured in Ghazni, southeastern Afghanistan as they raise their flag. Pic: AP
He added that the militants had "won victory in a judgment of sword and gun" and they "have a responsibility to protect the honour, prosperity and self-respect of our compatriots".
© Reuters Afghan President Ashraf Ghani is pictured speaking inside parliament in Kabul
It came amid reports of several explosions in city, despite the Taliban saying that they wanted a "peaceful transition of power".
Prime Minister Boris Johnson chaired a COBRA meeting on the Afghan crisis this evening after requesting to recall parliament from its summer break on Wednesday.
He said the UK and its international partners should work to ensure "Afghanistan does not become a breeding ground for terror" once again.
Mr Johnson added that the "situation remains difficult" and the world is facing a "change of regime in Kabul".
As British troops from the 16 Air Assault Brigade landed on Sunday, British Airways and Virgin Atlantic ordered its pilots to stay away from Afghan airspace over security concerns.
© Reuters Women on the streets of Kabul over the weekend
Mr Johnson said the government is trying to get as many British nationals out of the country as it can "in the next few days".
A Foreign Office spokesperson added that the UK had "reduced" its diplomatic presence in Afghanistan, "but our ambassador remains in Kabul and UK government staff continue to work to provide assistance to British nationals and to our Afghan staff".
According to The Sunday Telegraph, Britain's ambassador to Afghanistan Sir Laurie Bristow is going to be flown out of the country by tonight.
The Taliban has made rapid gains over the past week, with Western countries urgently deploying troops to assist with the evacuation of diplomatic staff.
Meanwhile, crowds of people were seen at the border gate to Pakistan in an attempt to leave the country over the weekend, as militants drove through the streets of Kabul.
The Islamists have said there will be no fighting in the city and anyone who wants to leave should be able to do so peacefully, with women told to head for protected areas.
But President Ghani's comments on Sunday painted a very different picture, with international observers fearing the worst.
The UN Security Council said it would hold an emergency meeting on Monday morning, with secretary-general Antonio Guterres urging the Taliban to "exercise utmost restraint in order to protect lives".
© Reuters Afghans walk towards the border with Pakistan in a bid to escape the crisis
US President Joe Biden announced he was sending 6,000 troops to Kabul to help remove personnel – and the evacuation of the American embassy has now begun.
US diplomats have been urgently destroying sensitive documents, with helicopters seen flying over the US embassy.
The Biden administration has warned Taliban officials any actions that put American personnel at risk "will be met with a swift and strong US military response".
The president has defended his decision to withdraw US troops from the country in the coming weeks, and said the task of fighting back against Taliban insurgents must fall to Afghan forces.
He warned that an indefinite American military presence in Afghanistan is not an option, and has vowed not to pass on the war to a fifth US president.
But the handling of the crisis has attracted criticism from some American politicians, with his predecessor Donald Trump claiming that Mr Biden "gets it wrong every time on foreign policy" and it "will go down as one of the greatest defeats in American history".
Play VideoAfghans try to flee at airportClick to expand
In a strongly worded statement, Mr Trump said: "After I took out ISIS, I established a credible deterrent. That deterrent is now gone. The Taliban no longer has fear or respect for America, or America's power.
Play VideoPM warns of 'breeding ground for terror'Click to expand
"What a disgrace it will be when the Taliban raises their flag over America's embassy in Kabul. This is complete failure through weakness, incompetence, and total strategic incoherence."
Play VideoBritish troops arrive in KabulClick to expand
Afghanistan: Boris Johnson urges Western nations not to 'prematurely recognise' Taliban regime- Rob Merrick August 15th 2021
---
Boris Johnson has urged other Western nations not to "prematurely recognise" the Taliban regime in Afghanistan, as he denied its sudden takeover is a surprise.
After chairing an emergency meeting, the prime minister said his priority is to get remaining UK nationals – and Afghans who have helped its mission – out of the war-torn country "in the next few days".
But he also asked foreign capitals to hold back from recognising the likely new Taliban-led government in Kabul until after discussions at the United Nations and Nato this week.
"We don't want anybody bilaterally recognising the Taliban," Mr Johnson said, speaking in Downing Street.
© AP PRI194902486.jpg
"We want a united position amongst all the like-minded, as far as we can get one, so that we do whatever we can to prevent Afghanistan lapsing back into being a breeding ground for terror."
In a statement just five weeks ago, the prime minister had told Parliament there was no reason to expect an imminent Taliban triumph in Afghanistan.
But he insisted: "It's very clear from what I said the situation in Afghanistan was going to change.
"It's fair to say the US decision to pull out has accelerated things. But we've known for a long time that this was the way things were going."
Mr Johnson spoke as Dominic Raab, the foreign secretary, rushed back from holiday to confront the crisis – amid fierce criticism of his invisibility in recent weeks.
Parliament will be recalled for one day on Wednesday to debate the dramatic events in Kabul, where the militant Islamist group is poised to declare an "Islamic Emirate of Afghanistan" from the presidential palace in Kabul.
Senior Conservatives are turning on the government over its paralysis, after the prime minister insisted the UK is hamstrung following the US pullout.
All commercial flights have been suspended from Kabul Airport, Nato says, leaving only military aircraft allowed to operate.
But Mr Johnson defended the UK's record on evacuations, with almost 2,000 Afghans already resettled in the UK, saying: "We're going to get as many as we can out in the next few days."
And he said: "It is very important that the West should work collectively to get over to that new government – be it by the Taliban or anybody else – that nobody wants Afghanistan once again to be a breeding ground for terror."
The prime minister also denied that the huge gains made in the 20 years since the 2001 US-led invasion were now doomed to disappear.
"A lot of women and girls were educated, thanks the efforts of the UK," Mr Johnson said.
"Human rights and equalities were promoted and protected in a way that Afghanistan hadn't seen before. Of course we don't want to see that thrown away."
Comment Boris Johnson is full of soundbites and living in Winston Churchill fairyland. Churchill was a bombastic nonentity trading on his ancestors , wanting to be like the Dulke of Marlborough. His book on Churchill is drivel as is his opinion of Afghanistan.It is stupid privileged men like him that brought us two world wars and he will bring something just as bad if not worse , in his deluded state of self importance. R.J Cook
Labour left-wingers hit out at party's 'shameful' expulsion of Ken Loach
Tom Batchelor
Left-wing Labour voices including former leader Jeremy Corbyn have criticised an apparent move by the party to expel veteran filmmaker Ken Loach.
Reacting to his expulsion, Mr Corbyn said the 85-year-old "deserves our respect and solidarity" and used the hashtag "StandWithKenLoach".
"Ken Loach has made outstanding films from Cathy Come Home to I Daniel Blake, directed brilliant broadcasts for Labour, and has always stood with the oppressed," the Islington North MP said.
Richard Burgon, who served in Mr Corbyn's shadow cabinet, described the apparent expulsion as "outrageous".
He said: "Ken's films expose the deep injustices that scar our society and have inspired so many people to seek to build a better society.
"Those are the values of socialism that should be at the heart of our Party."
Claudia Webbe, MP for Leicester East, wrote: "How is Ken Loach more dangerous than Boris Johnson and the Tories? #StandWithKenLoach."
Jon Trickett MP tweeted: "What kind of people would remove someone of Ken Loach's immense calibre from the Labour Party?"
Labour's Zarah Sultana said it was "shameful" that Mr Loach, "a renowned filmmaker whose art gives voice to the impoverished and oppressed", had been removed.
And left-wing professor Yanis Varoufakis suggested Mr Starmer had "proven his determination to purge Labour of its anti-fascist, anti-racist soul". In an earlier tweet, the former Greek finance minister claimed that in removing Mr Loach, officials were "leaving behind an arid, soulless Labour Party".
Mr Loach's expulsion comes after the party last month expelled four associated groups on the grounds that they were "not compatible" with Labour values.
They included groups which had been critical of Sir Keir's efforts to tackle antisemitism within the party's ranks.
Mr Loach, who has long expressed his socialist ideals through films such as I, Daniel Blake and Sorry We Missed You, has previously attracted criticism for referring to charges of antisemitism within Labour as "exaggerated or false".
Others publicly backed his removal on Saturday, including Labour MP Neil Coyle, who wrote: "Goodbye Ken Loach. You were against Labour in government and fielded people against us even 5 years after we left office, helping the Tories, but still mindless cretins pretend you were Labour … Good riddance."
Labour has not confirmed Mr Loach's expulsion, with a spokesperson saying they do not "comment on individual cases".
Mr Loach, a life-long socialist, said he had been ejected after he refused to "disown" other critics from the Labour left who had already been removed, accusing Sir Keir Starmer "and his clique" of a "witch-hunt".
Privileged White Males & Toxic Masculinity Up For Canon Fodder – Posted August 14th 2021
bing.com/videos3:29
The Were Only Playing Leapfrog From Oh What A Lovely War!
906K views · Apr 14, 2014SaveShareYouTubeWW1Photos
Mothers Must Be Respected Not Blamed Says Murdered Mum's Friend. August 14th 2021
Plymouth killer had clashed with mother and first victim Maxine Davison over his extreme views
Izzy Lyons, Patrick Sawer 8 hrs agoLike71 Comments|37
---
Protesters in France denounce Covid-19 health passBlood, gore and a healthy dose of catharsis: why horror can be good for us
© Provided by The Telegraph Maxine Davison
Maxine Davison repeatedly argued with her son over his sexist and misogynistic views.
Family members have confirmed that the 51-year-old and her son Jake were once very close, often doing the food shop together at their local supermarket when the 22-year-old would help his mother with the heavy bags.
But relations recently became strained after her son turned to the online world of radical incels.
Davison's mother became his first victim, in her own home, when he began his killing spree on Thursday night.
The mother of three, who is reported to have recently recovered from cancer, had become deeply upset with her son's behaviour, friends said.
A neighbour said: "Maxine and Jake used to be close. You'd always see him helping her with the shopping at Lidl up the road, but then his views changed and he went against women and he became a misogynist. They clashed a lot about that.
"I know she found that upsetting as a mum and as his parent. As a mum you expect to be respected."
Posts unearthed from Davison's social media profiles revealed him heavily criticising his mother.
In one comment, he wrote: "Try being an unemployed autistic poor sexually frustrated male with tons of health issues and no social circle and being stuck in government housing with my disgusting abusive mother for years on end and having missed out on so much in life and then come back and tell me if you're not negative".
In another post, when asked by a Reddit user "what do incels think of their mother?" Davison replied: "can't stand her".
© Provided by The Telegraph Jake Davison
An unnamed source close to the family said that Davison, pictured above, suffered with mental health problems for many years and recently came to blows with his father.
"Apparently he hasn't been well for quite a bit, mentally, and also beat up his father a couple of months ago," the source said.
Despite his history with poor mental health, Davison was able to obtain a firearms licence.
The close friend and neighbour said Davison had suffered from ADHD, prompting his parents to seek professional help for him. He added: "Jake was always very quiet growing up, almost introverted. He was a troubled soul. He got into guns and he knew everything there was to know about them."
He also revealed that at one stage during the killing spree, as he was making his way from his home where he had killed his mother before firing on others, Davison had told a passing resident stunned at what was happening: "Nothing to worry about mate."
Reports surfaced yesterday that Ms Davison had recently asked the NHS for help after her son's mental health deteriorated in lockdown but there was not enough staff to deal with her request.Video player from: YouTube (Privacy Policy, Terms)
A close friend of Ms Davison, one of 11 children, said: "Maxine was a lovely, lovely person.
"She never had a bad word to say about anyone and would always try to help you out if you needed it."
Another friend said: "I'd heard the news from a friend. It's devastating. I know Maxine's sister – I can't begin to imagine what she's going through."
Ms Davison was born in Plymouth but grew up in the Shetland Isles, where she had several relatives.
'You'd always see him helping her with the shopping up the road, but then his views changed
Comment
It is odd , to say the least, that this very disturbed young man was given licence for a shot gun. Why on earth anyone but a farmer would want such a weapon is mind boggling.
However, the most important question is why did Jake Davison do this terrible thing ? Cases like this are no surprise to me. It was not a good sign that the boy was helping his mom with the weekly shop. One gets the impression from the paucity of this story and Jake's remarks, that the parents were separated. If this had been a case where someone ( male ) said how nice it was that a captive 20 year old daughter was helping her dad with the weekly shop, there would be outrage and sympathy if she ended up going mad and murdering him.
Psychiatrists in the U.K , use a book called the DSM. This stands for dignosis, statistics and medication. It is pseudo science used to label and medicate disruptive people.
It works by categorising behaviour patterns , labelling them – e.g paranoid personality disorder – then medicating according to the book by persuaasion or force.
Human nature is what it is. Religion is being brought back to judge and control, under the guise of racial tolerance , even though religion is not a race. We are not all little gods made by a bigger verssion of ourselves. That is an absurd idea. We are organic with extreme – as yet unexplained consciousness. Good and evil emanate from our biology interacting with society or lack of it.
Feminists don't agree with this , increasingly seeing themselves as righteous -and with adverts for Venus razor blades telling them they are Goddesses. This is an intolerable situation.
Many years ago , when my feminine image was even more dazling than it is now, I surprised a mesmerised male by telling him that I was transsexual. He looked most surprised. He replied : 'How long does it take you to look like that?' I replied : 'About as long as the average female. ? As much as I have always enjoyed looking glamorous, I have always known that it is an illusion – albeit a very powerful one.
I have written elsewhere about why and how the police have spent nearly 14 years, and a lot of money, interferring and ruining my life, including writing to my GP telling him that I am and that the Gender Identity Clinic should be warned. This effectively blocked my Gender reasignment Surgery. That is how the British Police State Works.
So it is no surprise that young men growing up in a culture dominated by feminism, one parent families and ever extending police controls of an expanding public space, will learn to hate and explode. They won't need shotguns to do it. It will just happen , probably triggering more laws and controls.
The arrogance of our elite and pressure group entourage is incredible. They see no contradiction between their war on alleged misogyny and permiiting hate speech and misandry from feminists. But we are not allowed to question their vile phrases like 'white male privilege' and 'toxic masculinity.' That sort of hate is endorsed by the BBC daily. It is laughable to demand respect for mothers when so little care is there for what it is like to be male growing up in this world of female empowerment , covid mania , mass immigration and weird concept of diversity – which never mentions class and the ruling elite who are calling and benefitting from this tune.
R.J Cook
Inevitable Knee Jerk Over Plymouth Shootings – August 14th 2021
Police must start taking misogyny more seriously in order to prevent more tragedies such as that in Plymouth, a top prosecutor has said, after a man who had regularly expressed his hatred of women killed five people and wounded two more.
Nazir Afzal, who was previously chief crown prosecutor for north-west England, said Jake Davison should have been on a police watchlist.
Davison, 22, killed his mother on Thursday in the Keyham area of Plymouth before going on to shoot dead four more people, including a three-year-old girl, and injure two others.
Comment. It is very disturbing when chief prosectors make orders for people to be placed on watch lists because their opinions are unpopular. There will be no end to this. This week's Plymouth shooter's first victim was hs 51 year old mother, who he described as vile, chaotic and dysfunctional. That is where the problem lives. This case is so simlar to Michael Ryan, a gun fanatic who went on the rampage around Hungerford before going home to shoot his mother and himself.
Putting women ever more above criticism is to compound the problem. As my old history teacher often repeated, if you drive protest underground you only make it stronger. Women are contributing to the misogyny issue, They have demanded and grabbed changes without accepting that nature is binary and a matter of balance. Power , within class groups, is a zero sum. thus , empowering women is invitably at male expense. Their Woke attitude is the same one that refuses to accept that overpopulation and elite greed is the driver for climate change and pandemics.
The vested interests – who have close to absolute power- are hyper sensitive when it comes to turning society's failings to their own advantage by tighetning laws. The prosecutor quoted above, has a vested interest in seeing more law and heavy handed policing as a solution to this killer behaviour. It is utterly unpalatable to confront the truth that one parent familes, with just a mother, cannot cope with young males.
The whole 'girls just wanna have fun now' and empowerment culture incessantly demeans men. I had a father for 11 years before his hard life as a wartime soldier and truck driver wore him out and killed him aged 41. Men like him are forgotten.
My late mother was a very special person to me. It wasn't her fault that I had wanted to be a girl from my earliest memories , but seriously did not come out until she had died. Being true to myself eventually forced my hand , after years of domestic stress and abuse. Others close to me , knew and the hate crimes , including from police pesonal, began. Females are the most likely to display transphobia hate crime. Transseuals are a thret to their sense of privilege , which includes them being allowed to wear short hair and traditional male clothing.
The Gender Identity Clinic never seemed to get the message that I didn't want to be perceived and live as a female because I wanted to be another persson. I didn't expect my transition would solve all my major problems, but would seriously improve how I saw and expressed myself. For me , changing from male to female clothing – something I first recall doing when about 4 – was like Clark Kent changing into Superman clothes.
There is nothing inherently good or better about being a woman. There is nothing inherently bad either. The same goes for men. I was warned that transition would reduce my muscle mass. It is a fact of female hormone effect , which is why female athletes cheat by taking steroids. Hormones inevitably affect behavior too.
Asserting that women must be protected from criticism has done so much to feed mysogyny. As a trans person , I know how hateful people have been toward me. But endless laws will not deal with reality. Women are capable, in this feminist 'me too ' era of doing serious harm to boys and men. When people are driven mad, a plethora of laws and abundance of places to lock them up , will make society even more of a hell than it already is. All the time, we hear that men must change – to suit the feminist agenda.
We hear from radical feminist terfs ( trans exclusionary radical feminists ) that trans people are rapists in waiting and disguise, like the wolf in Little Red Riding Hood. There are no limits to how much anti male hatred that terfs can spill. That's because they are women. They are pretty , innocent and above it all. Carry on with that absurd mindset and more tragedy is inevitable, even if it is just more male drug addiction and suicide. I should add , that my longing to be female began in an innocent age, when I was about 4 , admiring the women I saw around me. It was not reactive as I suspect the army of sex change candidates lining up for sex change are now.
Roberta Jane Cook
Plymouth – Comment on the following reports – August 13th 2021
Plymouth – Comment on the following reports – August 13th 2021
Plymouth – Comment on the following reports – August 13th 2021
What struck me when I first saw this terrible story last night was the immediate public response from the police. They warned the public not to comment on social media. This is the ever present police state. Interestingly, when Sarah Everard's body was discovered , there were immediate hysterical demands for all men to endure curfews.
When Sarah's killer turned out to be police officer Wayne Couzens of the Metropilitan Police's elite armed diplomatic squad, there were no calls for curfews or of any outside monitoring and accounatbility for the police.
We have reached the stage when officers get medals, even one from the Queen, mking them look like heroes. As with the NHS, we are supposed to protect the people who are apparently our protectors.
The job of the police in this and any incident or crime, should be to investigate, not act as censors. We are on a very dangerous road toward totalitarianism,. There are issues with this story , as with the hushed up Everard and Monk cases, that should be talked about.
Apparently , police are aware that the fully licensed gunman in this case, had discussed a misogynist website. The following paragraph from the report below, says rather a lot : The home secretary, asked by broadcasters whether the government and police forces were doing enough to combat online extremism, said: "The whole issue of online activity and incitement of extremism is an enormous issue, and is something the government is actually working on already in legislation that is forthcoming this autumn.
The government is keen to exploit any happening outside Westminster to tighten up on social media. It is already a minefiled for those of us concerned with freedom and justice. Women's groups are gagging for a law to make not liking them illegal. The fact is that the term women's groups has not the same meaning as the word women. Women are the people who are meant to be brainwashed into the feminist coral , there for reprogramming for the war of female empowerment. It is inevitable on this road, that speaking freely to or about women will be subject to ever stricter regulation. Meanwhile the female terfs ( Trans Exclusionary Feminists )and their male sympathers are free to spread their hatred and poison everywhere across all media and beyond.. It is illegal to criticise them.
Alos meanwhile, feminists are free to talk of toxic masculinity and white male privilege. So this story has only permission to be seen in a feminist context rather than address the issue ofr why young white men are so alienated and how the most disturbed and criminalsed are from one parent families. Back in the early 1970, I found an interesting book called 'Soft City' by Jonathan Raban. I borrowed it from my local library, Kentish Town in North London.
Raban opens his story, about being anonymous and whatever you like in London, by describing people walking past a soundless man lying in the gutter. He was a Japanese student who had come out at the cinema interval – the trendy British Film Instute. He wanted a smoke and fell victim to a gang called 'The Envies.' They attacked people who looked like they had a good life, so they severed his spinal chord just above his shoulders. trendy cinema goers just thought he was a drunk or homeless person, walking on by.
You don't have to be Sherlock Holmes to understand why the killer was reading a misogynyst website – considering his victims- or his most likely relationship with the people he killed. The killer had left social media postings describing his single mother as 'Vile Chaotic and Dysfunctional. unfortunately women cannot be blamed for anything. To do so is to be abusive. They seeK total empowerment. Men are there to take the blame. Without facing these ugly truths , society's problems will get worse – especially with the terrible effects and aftermath of the applling way Covid lockdown has been handled.
Roberta Jane Cook
Plymouth Latest – August 13th 2021
Plymouth shooting – news: Jake Davison killed five including 3-year-old girl in six-minute spree, police say
Joe Middleton,Lamiat Sabin,Zoe Tidman and Sam Hancock 41 mins agoLike|343
---
'An economic calamity': Africa faces years of post-Covid instabilityJade Bird: The upbeat tone of my album is weird
© James Dadzitis / SWNS PRI194537514.jpg
Five people – including a three year old girl – were killed by Jake Davison in Plymouth in a shooting spree that lasted six minutes, police have said.
The 22-year-old shot seven people in total around the Keyham area of the city on Thursday evening before turning the gun on himself.
It has been revealed that he had a firearms licence and used a pump-action shotgun in the shooting spree, which police said was not terror-related.
Two women – aged 51 and 66 – two men – aged 43 and 59 – and a three-year-old girl were killed by Davison, while two local residents have been left injured, according to the latest update from Devon and Cornwall Police.
Luke Pollard, the local MP, said it was "utterly heartbreaking" that a small child was one of the victims.
Meanwhile, home secretary Priti Patel announced that the gunman's online activity are being looked into after news broke that he had discussed the misogynistic "incel" movement online and had "liked" a series of videos about guns on social media.
Key Points
Plymouth shooter named as James Davison
Three-year-old girl was one of five killed by Davison, police say
Gunman had firearms licence and used pump-action shotgun in shooting spree – police
Council leader says Plymouth has faced 'nothing like this in my living memory'
Labour frontbenchers offer condolences after 'nightmare' attack
Plymouth MP urges social media users against sharing distressing footage
First mass shooting in 11 years
14:00 , Sam Hancock
The mass shooting in Plymouth is the first in Britain for more than a decade.
The incident on Thursday in which Jake Davison killed five people before killing himself is said to be the first involving an active shooter for 11 years.
In 2010, taxi driver Derrick Bird killed 12 people in Cumbria and injured 11 others before taking his own life.
Still described as one of the deadliest mass shootings in British history is the Dunblane massacre in March 1996, when Thomas Hamilton shot dead 16 pupils and a teacher at a Scottish primary school, as well as injuring 15 others, before killing himself.
PA
Patel: Police will investigate shooter's firearm and online activity
13:54 , Sam Hancock
Priti Patel has said the online activity of Jake Davison and the firearm he used during the Keyham shooting are being looked into as part of the investigation.
The home secretary, asked by broadcasters whether the government and police forces were doing enough to combat online extremism, said: "The whole issue of online activity and incitement of extremism is an enormous issue, and is something the government is actually working on already in legislation that is forthcoming this autumn.
"The investigations by the police will obviously give us more information through the intelligence as to what has happened."
She added: "We need to find out the facts, let's establish the facts behind this and, of course, we will work to do everything to make sure that if there are issues with the online space, post this incident we will look to follow that up."
Police in Keyham
Zoe Tidman
Police have remained in the area of the shooting on Friday.
Images show officers in the Keyham area of Plymouth the day after the incident, which left six people – including the gunman – dead and two others injured.
© Provided by The Independent Police activity on Royal Navy Avenue in the Keyham area of Plymouth where six people, including the offender, died of gunshot wounds in a firearms incident Thursday evening (PA)
© Provided by The Independent Police activity at the junction of Royal Navy Avenue and North Down Crescent in the Keyham area of Plymouth (PA)
Three-year-old girl was one of five killed by Davison, police say
Shaun Sawyer from Devon and Cornwall Police said police believe the first female victim and Davison were "known" to each other, and said there was a view there was a familial relationship.
He said he did not yet know of any formal relationship between Davison and the other victims.
Mr Sawyer added: "We believe we have an incident that is domestically related, that has spilled into the street and seen several people in Plymouth losing their lives in extraordinarily tragic circumstances."
Plymouth: 'Serious' incident underway as multiple ambulances respond to emergency
Joe Middleton and Tom Batchelor August 1tth 2021
---
Impeachment: American Crime Story – Clive Owen's Bill Clinton denies affair…Marvel's Gemma Chan on Asian representation and Dwayne Johnson's success
Emergency services are attending a "serious and tragic" incident in Plymouth amid reports of gunshots being fired.
© James Dadzitis / SWNS PRI194537510.jpg
South Western Ambulance Service said it was called at just after 6pm on Thursday to an "ongoing incident" in Keyham.
A number of air ambulances were filmed in the area and unverified video showed a person lying on the ground covered with a blanket.
Sky News reported that the incident resulted in "multiple fatalities".
Local MPs Luke Pollard and Johnny Mercer have advised people to stay safe and follow police advice.
Mr Mercer, Plymouth MP, said on Twitter that the incident was "not terror related, and neither is the suspect on the run in Plymouth".
Eyewitnesses have claimed to have heard "loud bangs" and "gun shots".
South Western Ambulance Service tweeted: "We responded to the incident with a significant number of resources, including Hazardous Area Response Teams (HART), multiple ambulances, air ambulances, multiple doctors and senior paramedics.
"We will provide an update here in due course."
A number of emergency service vehicles are currently at the scene and roads have been closed.
Priti Patel, the home secretary, tweeted: "The incident in Plymouth is shocking and my thoughts are with those affected. I have spoken to the chief constable and offered my full support.
"I urge everyone to remain calm, follow police advice and allow our emergency services to get on with their jobs."
Local Labour MP Luke Pollard said he was "awaiting confirmation of number of victims but this looks like a very grim day for our city and our community".
Mr Mercer earlier tweeted: "I am aware of a serious and tragic incident unfolding in Plymouth.
"Please obey all instructions from the Police and do not post rumour or speculation on social media. I will post news when I have it."
The PlymouthLive news outlet reported that police dogs were on the scene and that two of the air ambulances had landed at Derriford Hospital in the city.
Comment Britain is a feral society and people are going mad , especially due to lockdown. official command to not talk about or share photos of this major incidet , is anoter reminder of The Britih Police State. R.J Cook
Britain Has Class -August 12th 2021
Andrew's legal team 'stonewalling' lawyers of his accuser
Tony Jones 6 hrs agoLike64 Comments|33
---
China recalls Lithuania ambassador in row over Taiwan officeHalle Berry 'surprised' offers didn't flood in after Oscar win
The lawyer representing the Duke of York's accuser has warned against anyone ignoring the US courts as he claimed the royal's legal team have "stonewalled" appeals for information.
© PA Archive Pitch@Palace Bootcamp
Virginia Giuffre is suing the Queen's son for allegedly sexually assaulting her when she was a teenager, and has said it was "past the time for him to be held to account".
She claims she was trafficked by Andrew's former friend and convicted sex offender Jeffrey Epstein to have sex with the duke, when she was aged 17 and a minor under US law.
David Boies, who represents Ms Giuffre, said his client ultimately wanted "vindication" from her civil suit for damages.
Andrew has vehemently denied the allegations in the past, and a spokesman for the duke said there was "no comment" when she was asked to respond to Ms Giuffre's legal action.
Mr Boies told Channel 4 news: "This is now a matter for courts to decide and it would be very ill-advised for anyone to sort of thumb their nose at a federal court."
© Provided by Evening Standard (PA Media)
He claimed Andrew's lawyers have not co-operated: "They have just totally stonewalled. They have refused to provide any explanation, they refuse to engage in any discussions.
"They refuse to provide any facts, they've even refused to respond to any of the allegations that have been made in any reasonable way. They have basically simply ignored every letter, every phone call, every outreach that we've made."
Mr Boies said about his client: "I think she expects to get vindication" from the legal process and went on to say, "Her hope is calling the rich and powerful abusers to account will have some effect on reducing the chance that other young girls will suffer what she suffered."
The duke does not have to attend or give evidence in the civil proceedings in New York but the legal action will be a further blow to his reputation and the standing of the monarchy, according to Joe Little, managing editor of Majesty Magazine.
He said about the Epstein scandal: "It's damaging not only for Andrew but for the institution of the monarchy itself because all sorts of allegations have been thrown at the institution since all this came to light – and the perception is, most likely incorrectly, they are not taking it seriously."
Andrew stepped back from public duties after the backlash from his 2019 Newsnight interview, dubbed a "car crash", which had attempted to draw a line under his relationship with Epstein – but instead saw him heavily criticised for showing little empathy with the sex offender's victims.
"I can't think of any kind of rehabilitation that will bring him back into the royal fold as a working member of the family," added Mr Little.
© Provided by Evening Standard (PA Archive)
Lawyers for Ms Giuffre filed the civil suit seeking unspecified damages at a federal court in New York, where the court documents claim she was "lent out for sexual purposes" by Epstein including while she was still a minor under US law.
Andrew is named as the only defendant in the 15-page suit, brought under New York state's Child Victims Act, although Epstein and his former girlfriend Ghislaine Maxwell are mentioned frequently throughout.
It is alleged in the documents Ms Giuffre, then known as Virginia Roberts, was sexually abused while aged under 18 by the Queen's second son at Maxwell's home in London, at Epstein's New York mansion and at other locations including Epstein's private island in the US Virgin Islands.
British socialite Maxwell has pleaded not guilty to sex-trafficking charges in Manhattan federal court, where she faces trial in November, while Epstein took his own life in a US federal jail in August 2019, a month after he was arrested on the same charges.
The documents claim Ms Giuffre "was compelled by express or implied threats by Epstein, Maxwell, and/or Prince Andrew to engage in sexual acts with Prince Andrew, and feared death or physical injury to herself or another and other repercussions for disobeying Epstein, Maxwell, and Prince Andrew due to their powerful connections, wealth and authority".
© Provided by Evening Standard (PA Wire)
The duke allegedly engaged in the sexual acts without Ms Giuffre's consent, while aware of her age and while "knowing that she was a sex-trafficking victim", the documents claim, adding the alleged assaults "have caused, and continue to cause her, significant emotional and psychological distress and harm".
Mr Boies told Channel 4 News: "The evidence in terms of what he (Andrew) knew about Jeffrey Epstein's sex-trafficking operation is something that obviously will be for the jury to decide. I think that everybody who was closely associated with Jeffrey Epstein knew that he had these young girls, these young women who he was trafficking."
Solicitor advocate Nick Goldstone, head of dispute resolution at international law firm Ince, said: "I don't think Prince Andrew will be compelled to attend the New York court and give evidence to defend himself.
"I don't think he will be compelled to put in any defence in writing because he can maintain his right to silence.
"And under the American terminology, 'take the fifth' – the Fifth Amendment, everybody has a right to silence for fear of self-incrimination."
© Provided by Evening Standard (PA Media)
If the duke and his legal team do not engage in the civil proceedings, they are expected to continue without their input – with the court making its judgment in due course.
Andrew does not face the prospect of an extradition hearing as this only applies to criminal charges and not civil cases.
In his Newsnight interview with the BBC's Emily Maitlis, Andrew denied claims that he slept with Ms Giuffre on three separate occasions, saying: "I can absolutely categorically tell you it never happened. I have no recollection of ever meeting this lady, none whatsoever."
The duke also said he has no memory of a well-known photograph of him with his arm around Ms Giuffre's waist at Maxwell's house, and has questioned whether it was his own hand in the image.
::Anyone feeling emotionally distressed or suicidal can call Samaritans for help on 116 123 or email jo@samaritans.org in the UK
Ghislaine Maxwell prepared to give evidence on behalf of Prince Andrew – August 12th 2021
Robert Mendick, Victoria Ward
---
China recalls Lithuania ambassador in row over Taiwan officeHalle Berry 'surprised' offers didn't flood in after Oscar win
© Andrew Toth/Getty Images Ghislaine Maxwell – Andrew Toth/Getty Images
Ghislaine Maxwell is prepared to give evidence on behalf of Duke of York after he was sued for the sexual assault of a teenage girl 20 years ago.
Friends of Ms Maxwell said the socialite would support Prince Andrew's insistence that he had never had sex with Virginia Roberts Giuffre.
Ms Giuffre has filed a lawsuit against the Duke, alleging that she was a victim of sex trafficking who had been abused by him on three separate occasions when she was only 17. The legal action raises the astonishing prospect of Prince Andrew being forced to give evidence on the stand in a New York courtroom.
Ms Giuffre, now aged 38, claims she was abused by the Duke after first being groomed by Ms Maxwell for the sexual gratification of Jeffrey Epstein, the convicted paedophile who committed suicide while awaiting further charges in 2019.
Her lawyer, David Boise, claimed on Tuesday night that the Duke's lawyers "have totally stonewalled", adding: "He can ignore me. And he can ignore Virginia … but he can't ignore judicial process."
In the legal claim, Prince Andrew is alleged to have "intentionally committed battery by sexually assaulting Plaintiff [Giuffre] when she was a minor", adding that "on multiple occasions Prince Andrew intentionally touched Plaintiff in an offensive and sexual manner without her consent".
© Provided by The Telegraph Virginia Roberts Giuffre – Bebeto Matthews/AP Photo
In an interview with Channel 4 News on Tuesday night, Ms Giuffre's attorney said that while evidence including the photograph of his client with the Duke in Ghislaine Maxwell's house "doesn't go directly and conclusively to the fundamental question as to whether there was sexual abuse, it does I think significantly go to his credibility. And…this ultimately comes down to a question of credibility."
Friends of Ms Maxwell have let it be known that the socialite, currently languishing in jail awaiting trial in November on sex trafficking charges, will testify on behalf of the Prince should the case ever reach court.
Ms Maxwell would herself need to be cleared of wrongdoing at her own trial if her evidence is to be considered credible in a New York courtroom.
Ms Maxwell is a key witness to a number of alleged incidents, including a claim by Ms Giuffre that she was forced to have sex with Prince Andrew at Ms Maxwell's London home in 2001. The Prince denies all wrongdoing and Ms Maxwell has to date always supported him.
"Ghislaine will be prepared to give evidence on the Duke's behalf," said a friend. "By the time the case against the Duke gets to court, Ghislaine will either be convicted and serving up to 85 years in jail [or if] cleared of course she would help Prince Andrew. They have been friends for a very long time. It is highly likely Ghislaine will offer to assist him."
Return to public life
The civil case lodged by Ms Giuffre shatters the Duke's final lingering hope of a return to public life after being forced to step down from all royal duties following giving a disastrous interview to the BBC's Newsnight in November 2019, in which he failed to condemn Epstein.
The Duke of York was seen for the first time since the lawsuit was filed on Tuesday evening arriving at Balmoral Castle accompanied by his ex-wife Sarah Ferguson.
The Queen returned to her Highland retreat on Monday where she will spend her first summer in Scotland without her late husband, the Duke of Edinburgh.
On launching her legal action, Ms Giuffre alleged she was trafficked to the Duke and sexually abused on three separate occasions, when she was 17, in London, New York and the US Virgin Islands.
"I am holding Prince Andrew accountable for what he did to me," she said. "The powerful and rich are not exempt from being held responsible for their actions."
© Provided by The Telegraph Prince Andrew, Duke of York – LINDSEY PARNABY/AFP via Getty Images
The Duke had long planned to rebuild his reputation and had hoped to reframe his role in a way that would allow him to return to public service this year. However, Buckingham Palace aides have repeatedly stressed that while family members privately support him, a return to any form of public role could only be considered if it was no longer overshadowed by his link to Epstein.
Such a development appeared increasingly unlikely, with the Duke facing the prospect of having to challenge the suit or settle, which could be seen as an admission of guilt, even if he did not accept liability.
Should the Duke ignore the legal case, the suit would likely proceed in New York without his participation. Any trial in absentia would increase Ms Giuffre's chances of winning, raising the horrifying prospect of the Queen's second oldest son being branded a sex offender by a New York court and paying substantial damages.
Nigel Cawthorne, the Prince's biographer, said: "Giuffre's lawsuit will preclude a return to public duties. It is very difficult to see how Prince Andrew can return to the frontline of the monarchy while a suit is pending, or with a verdict against him passed in absentia."
Responding to allegations
The Duke's legal team, headed by Clare Montgomery QC, the UK's leading expert on extradition law, and Gary Bloxsome, a criminal defence solicitor, were on Tuesday locked in discussions about how to respond to the allegations.
The Prince's team of advisers are thought likely to challenge the suit and to accuse Ms Giuffre of fabricating claims, or else changing her story to paint her as an unreliable witness. One source pointed to previous claims that she was abused by the Duke on Epstein's New Mexico ranch in 2001, which is not mentioned in the 15-page legal document.
They are also thought to be frustrated that Ms Giuffre has only sued Prince Andrew, despite alleging that she was abused by "several powerful men."
'Small chance' of court appearance
Arick Fudali, a lawyer with The Bloom Firm, which has represented nine of Epstein's victims, said the case "certainly put pressure" on Prince Andrew, but that there was only a "small chance" it would end up in court.
Mr Fudali said there was a possibility that the Duke would have to be served the court documents in person but noted that it was "very difficult for public figures to hide".
Mr Fudali acknowledged that with little evidence, the case might amount to her word against his, but that juries were "not giving Jeffrey Epstein the benefit of the doubt".
He said: "Looking at the circumstances of this case and the imbalance of power, I would be confident if I was the plaintiff going in front of a jury".
The lawsuit notes that in his November 2019 Newsnight interview, the Duke claimed he had no recollection of meeting Ms Giuffre and also stated that he did not regret his friendship with Epstein.
It also highlights that subsequently, the Duke pledged to assist law enforcement with their investigations should it be required. But the document states that he has refused to cooperate with the US authorities as well as lawyers for Epstein's victims.
Attempts to rehabilitate the Duke's image began when he hired a formidable legal team, which has been working around the clock to clear his name.
Last year, he was photographed packing cupcakes at his home, Royal Lodge, in Windsor, and delivering care parcels to the Thames Hospice. In April, he was interviewed on television about his late father, the Duke of Edinburgh.
But any ambitions to return to public life were shattered when Ms Giuffre lodged her lawsuit at the Southern District of New York on Sunday, just days before the expiration of the Child Victims Act, a state law that helps victims of historical sexual abuse to seek redress.
Anglo-U.S Exceptionalism – August 11th 2021
Britain and the United States must be ready to send troops back into Afghanistan if a withdrawal deal with the Taliban – signed on Saturday – unravels and the militant force attempts to "march on Kabul", a former British military chief has warned.
If it succeeds, General Lord Richards said the agreement would represent a draw between the two sides following almost 19 years of war.
"My feeling is that we don't certainly have to be ashamed [of] this if it will work, but there is a lot of risk," Lord Richards told Sky News in an interview.
"We must be prepared to do again with the Americans and our allies what might be required for another few years to remind the Taliban that there is a line beyond which we won't go."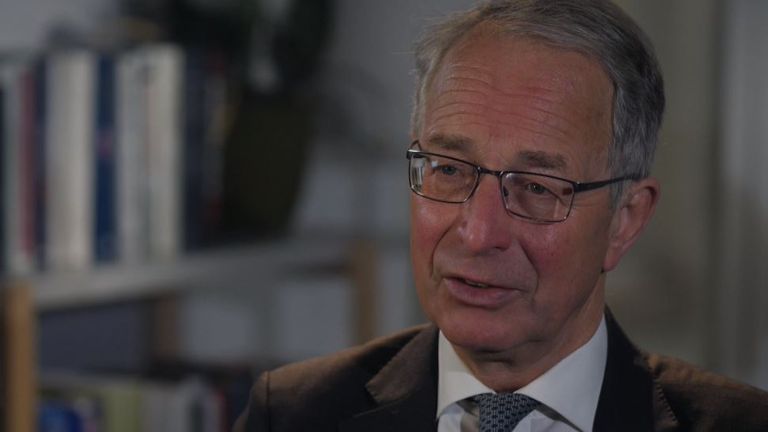 Asked if he meant that Britain and it allies must be ready to send forces back into the country, the general said: "Yes – if this deal doesn't work and the Taliban start marching on Kabul for example then we have got to help our Afghan allies and make sure the vast majority of Afghans – who don't want that – are not ruled by the Taliban.
"That then would be a tragic defeat."
The comments came as the United States and its once-sworn enemy, the Taliban, signed the deal in the Qatari capital of Doha.
Comment Anglo U.S Foreign policy has little to do with defence. It is provocative and self sustaining. Arrogant Anglo U.S leaders and their waffling European lackeys are concerned about money and power which is why their attitide to Islam is ambiguous.
Islam is not compatible with post war western values which is why the elite are out to brainwasH the lower orders into multi culture and acceptance of mass immigration from the predominantly Islamic old Third World where imperialists and their eager ethnic dictators bathed the native underclass in slavish religious blind faith – with dreams of a better after life. But mass communications means that many Third Worlders want that after life now , before they die. That's why they come in claiming refugees to the glitzy first world.
The problem is that most bring Islam with them and are not ultimately into multi culture. So they may feel at risk and limited by the Taliban, but they still want to place and extend their Islamic limits and culture in the countries they adopt.
To current and old generals , along with arms merchants it doesn't matter if they get more people killed in Afghanistan by interferring in that country's ancient way of doing things. They claim they are bringing democracy which is why they have been bombing the hell out of the Middle East since Batty Man George Bush II and Boy Blunder Blair set it all on fire. It's O.K. These people make monety from war , pretending its about equality and democracy when it's all been about an oil pipleine and making the rich richer, killing young working class soldiers without care or limit. R.J Cook
Covid 19 Herd Immunity Impossible Because Of Delta Variant So Learn To Live With It Like Flu – August 11th 2021
Professor Sir Andrew Pollard, director of the Oxford Vaccine Group, said there is likely to be some "bumpiness" in transmission and "uncertainty of what happens next over the next six months", with scientists expecting a rise in cases ahead of winter as the weather worsens and people spend more time inside.
And because of mounting evidence that the highly transmissible Delta variant can infect those who have been vaccinated, it's unlikely that herd immunity will ever be reached, said Sir Andrew, meaning infections will continue to bubble away throughout the population – as now appears to be the case.
Britain's seven-day total up to 10 August is 7.3 per cent higher than it was for the previous week, while the current national rate stands at 277.4 infections per 100,000 people.
Following an unexpected and sudden drop in cases, which began around mid-July, cases bottomed out at 20,106 on 31 July, before briefly rising, falling, and then levelling out. A total of 23, 510 infections were recorded on Tuesday.
In England, this trend has largely been driven among the young across all regions of the country, except the North East, where rates are continuing to clearly fall in every age group.
The case-to-hospitalisation ratio has also increased in recent weeks – albeit well below pre-vaccine levels. According to analysis up to 8 August, the proportion of cases that end up in hospital is up by 50 per cent on the week before.
© Provided by The Independent Covid cases in England by region (Colin Angus)
Colin Angus, a senior research fellow and health inequalities modeller at the University of Sheffield, said this upturn is "entirely down" to the age mix of infections, with case rates rising among older adults once again.
"Prior to the latest stalling in the fall in cases, cases in younger age groups fell the most, so the percentage of cases coming from older age groups increased," he said.
"As older cases are more likely to end up in hospital, this means the average proportion of cases that are hospitalised rises when cases get older. So it isn't because people who test positive are getting Covid more severely."
However, he warned that admissions are "definitely going back up in several regions, including across the north of England – an early signal that things might be heading back in the wrong direction".
NHS data meanwhile show that Covid bed occupancy in hospitals appears to be flattening in all regions of England, with the highest rates seen in London and the northeast. Although this is again at a much lower level than recorded during the winter wave, it comes at a time of intense pressure on health services, which are attempting to work through large patient care backlogs.
© Provided by The Independent Hospitalisations from Covid cases are increasing (Colin Angus)
© Provided by The Independent Covid admissions to hospital are increasing throughout the country (Colin Angus)
Professor Keith Neal, an epidemiologist at Nottingham University, said that it was "very difficult" to interpret the recent trends, but insisted that the vaccines are continuing to offer lasting protection against serious disease and hospitalisation.
"The vast majority of people who are ill are unvaccinated," he said. "At the moment the percentage of people who die with Covid who are vaccinated is going to increase because more people are vaccinated, and those vaccinated initially are the most at risk.
"There's a huge disproportion though between vaccinated and non-vaccinated people being admitted."
Although the vaccines have blunted the impact of Covid-19, they cannot be used to build up herd immunity in the population – a concept that Sir Andrew referred to as "mythical".
"We know very clearly with coronavirus that this current variant, the Delta variant, will still infect people who have been vaccinated and that does mean that anyone who's still unvaccinated, at some point, will meet the virus," he told the parliamentary All-Party Group on coronavirus.
Due to the fact that herd immunity is "not a possibility", this is "even more of a reason not to be making a vaccine programme around" it, Sir Andrew added.
Prof Neal insisted that the high number of infections being recorded shows "we are not out of the woods" yet, and drew comparisons with influenza. "Covid could be around for several decades until we get an effective vaccine that eliminates spread. We live with flu. We'll have to treat Covid like flu, which keeps coming back."
Experts also expect another rise in cases once children return to school next month, which could help fuel a wider wave in infections throughout the UK.
Dr Peter English, a former chair of the BMA Public Health Medicine Committee, said: "We know that the virus circulates in young people and spread between children. I'm very concerned about what's going to happen when schools go back and people start mixing indoors more again."
The number of weekly Covid deaths in England and Wales has also climbed to its highest level since the end of March, according to the Office for National Statistics. Some 404 deaths were registered in the seven days to 30 July – a 24 per cent increase on the previous week.
This reflects the delayed impact of the 'exit wave', which began in the UK in May when the first round of restrictions were eased and infections surged.
The number of daily new cases has fallen since then but this is yet to be reflected in the data for deaths, due to the length of time between someone getting Covid-19, becoming seriously ill and then dying.
Three-quarters of adults in the UK have meanwhile received both doses of a Covid-19 vaccine, the government said on Tuesday, amounting to 39,688,566 people.
Here We Go Again – August 11th 2021
I am not the one who first said that if the government wants you to know something then it probably is not true.
On average flu kills around 125,000 every year in the U.K , mainly the elderly .Since March 2019 , no one appears to have died from flu or any other infection. Premature cancer deaths and cancelled treatment , along with so much else, has been cancelled. Officially it just doesn't happen. No frightening graphs for snything except Covid 19 , aka The Grim Reaper.
Regurergated statistics have one aim in mind; mass fear and compliance. Sarah Everard would not be dead except for lockdown which made her vulnerable – the matter of her police killer rapist is an added dimension to the story.
The vested interests of elite and WHO , behind the lockdowns – for which there is no eficacy in defeating this man made virus- have made and continue to make massive profits. The masses are going to pay for this elite enrichment. Feminists , Blacks and transsexuals will be fooled and try to fool the rest of us about equality and empowermemt. The elite love this and BLM because their monopoly of wealth is a monopoly of power. Democracy is a word for sham.
Our smug ruling class elite like to use media stars and sports heroes ( sic ) to make us all feel part of a wonderful progressive raibow community, so when Van Morrioso and guitar legend Eric Clapton ridicule and warn against vaccination ( I have had the double jab and experienced worrying side effects ) the ruling class mainstream media gets in touch with another guitar legend.
That person , Brian May, is not on par with Clapton or Morrison , merely part of the background to 'Queen.' However , what he does excel at is Astro Physics. He is Dr Brian May with a doctorate from Imperial College London – with which he is still associated. Imperial has made huge profit and raised status via its' so called experts – in particular Neil Ferguson. R.J COOK
Covid-19 weekly deaths in England and Wales at highest level since March
Exams 2021: How does university clearing work, when does it open and…Queen's Brian May Just Took a Shot at Eric Clapton for His Anti-Vax Commentary
© PA Wire Coronavirus – Mon Jul 12, 2021
The number of deaths involving coronavirus registered each week in England and Wales has climbed to its highest level since the end of March, new figures show.
A total of 404 deaths registered in the week ending July 30 mentioned Covid-19 on the death certificate, according to data from the Office for National Statistics (ONS).
This is up 24% on the previous week and is the highest number since 719 deaths were registered in the week to March 26.
Of the deaths registered in Week 30 in England and Wales, 404 mentioned #COVID19 on the death certificate (4.1% of all deaths).

This is an increase compared with Week 29 (327 deaths)➡️https://t.co/kYFOYDQWp9 pic.twitter.com/OE48yVgmFa— Office for National Statistics (ONS) (@ONS) August 10, 2021
Deaths dipped as low as 84 in the week to June 11.
The latest figures reflect the impact of the third wave of Covid-19, which began in the UK in May and led to a sharp increase in the number of new cases of coronavirus as well as a smaller rise in hospital patients.
The number of new cases has fallen in recent weeks but this is yet to be reflected in the data for deaths, due to the length of time between someone getting Covid-19, becoming seriously ill and then dying.
While the number of deaths in the latest week is the highest for four months, it is still well below the level seen at the peak of the second wave.
Some 8,433 deaths involving Covid-19 were registered in England and Wales in the week to January 29.
© Provided by Evening Standard (PA Graphics) (PA Graphics)
There were 10,135 deaths in England and Wales registered in the week ending July 30, 12% above the pre-pandemic five-year average, the ONS said.
Some 49 care home resident deaths involving Covid-19 in England and Wales were registered in the week to July 30, up from 35 deaths in the previous week.
In total, 42,698 care home residents in England and Wales have had Covid-19 recorded on their death certificate since the pandemic began.
The ONS figures cover deaths of care home residents in all settings, not just in care homes.
A total of 155,667 deaths have now occurred in the UK where Covid-19 was mentioned on the death certificate, the ONS said.
The highest number of deaths to occur on a single day was 1,484 on January 19.
During the first wave of the virus, the daily toll peaked at 1,461 deaths on April 8 2020.
August 10th 2021
bing.com/news
Chinese nuclear attack subs 'stalking' Britain's new aircraft carrier across PacificCHINESE nuclear attack submarines have attempted to secretly shadow the Royal Navy aircraft carrier HMS …Daily Express · 22hChina's submarines attempt to shadow UK Aircraft carrier heading to Pacific : ReportsChinese nuclear submarines tried to secretly follow UK aircraft carrier HMS Queen Elizabeth that was moving into the Pacific Ocean, but were soon identified, the Express newspaper reported on
Comment Britain's elite moral and self righteous indignation when Russians and Chinese ships shadow intrusions into their space, is amusing and nauseating. Along with their U.S offspring, they think they are the moral example to the world.
They reacted in exactly the same way when Russia's carrier sailed past the Isle of Wight. I am putting aside comment on the morals of all sides here for the moment, to place attention on the way Anglo-U.S and European mainstream media is part of ongoing indoctrination process far more sophisticated in its war on free thinking and protest than the Eastern bloc ever could be.
Their on going exploitation of the old Third World in hoc with bigoted dictatorships, with cover of lamenting slavery , is one major example of their ruthless planet destroying deceptions. It is laughable but disruptive to global stability. It is a driving force behind mass migration from the Third World , because Third world populations expect a better life in the West . It is the force behind global pandemics , while enriching the elite and immiserating the masses – for whom the elite have utter contempt.
R.J. Cook
David Cameron 'made $10m from Greensill' before lender's collapse – August 9th 2021
Lucy Fisher
---
Charles visits unique railway station in ScotlandParallel Mothers: New Penelope Cruz film promoted with poster of…
David Cameron made around $10 million from Greensill Capital before the controversial lender collapsed, it was reported on Monday night.
© Victoria Jones/PA David Cameron – Victoria Jones/PA
The former Prime Minister reportedly received a $1 million annual salary for working as a part-time adviser to the finance firm, while also pocketing $4.5 million post-tax from cashing in Greensill shares in 2019, according to the BBC's Panorama.
The alleged remuneration package, also said to include a separate $700,000 bonus in 2019, is likely to spark anger among investors in Greensill, who stand to lose billions after the firm went into administration in March.
Details of the financial arrangement were set out in a letter from the company to Mr Cameron, which the BBC said it had obtained. The correspondence asserted that he had agreed to the deal, it was reported.
Mr Cameron is believed to have made approximately $10 million before tax from Greensill over a two and a half-year period.
It emerged earlier this year that the former Prime Minister bombarded ministers and officials with 68 messages about Greensill as part of an intense lobbying campaign to increase access to Covid loan schemes for the firm.
On one occasion, he sent 19 calls, texts and emails in a single day, transparency data published by the Treasury select committee showed.
Mr Cameron began working for Greensill as a paid adviser following the end of his administration, during which he had brought the Australian banker Lex Greensill, founder of the eponymous firm, into the heart of Downing Street as an adviser on supply chain finance.
MPs said he showed a "significant lack of judgment" but cleared him of breaking lobbying laws. In a report published last month, the Treasury select committee said the episode suggested a "strong case for strengthening" the rules on lobbying.
Mr Cameron's spokesman declined to comment on his remuneration from the lender, describing it as a private matter.
The spokesman said: "David Cameron deeply regrets that Greensill went into administration and is desperately sorry for those who have lost their jobs.
"As he was neither a director of the company nor involved in any lending decisions, he has no special insight into what ultimately happened. He acted in good faith at all times, and there was no wrongdoing in any of the actions he took … He had no idea until December 2020 that the company was in danger of failure."
Equality & Democracy – a comment on the following August 9th 2021
I have said it before and will say it again. Nobody does hypocrisy like the British elite against the background of divide and rule politics. Cameron is not the only one to have exploited his status and position , but he should have an Olympic model for showing outstanding greed and contempt for the great British masses. One mustn't use harsh words in earshot or about the authorities . We need police licence to protest under very strict rules, so I will let the facts speak for themselves. R.J Cook
'We are so, so proud': PM's message to Team GB as they equal London 2012 medal tally – August 8th 2021
---
'Rice, rice baby': Japanese parents send relatives rice in lieu of newbornsCasualty exit: Why did Fenisha Khatr actress Olivia D'Lima leave Casualty?
© Associated Press 'Thank You' was displayed in Japanese as the closing ceremony ended the Games
Jason Kenny has become the most decorated British Olympian ever – as Boris Johnson hailed Team GB's athletes for their "sportsmanship, hard work and determination" during the Tokyo Olympics.
As the games came to an end with the closing ceremony, the prime minister congratulated Team GB, whose 65-medal haul matched the number earned at London 2012.
At the end of the ceremony, the Olympic flag was handed over to Paris, where the Games are held in 2024, and the Olympic flames extinguished. Digital signs displayed "Arigato" – "Thank you" in Japanese.
© Reuters Laura Kenny carried the flag at the closing ceremony
Kenny made history as he won his seventh gold medal with victory in the men's keirin cycling final on the last day of the games.
Malaysia's Mohd Azizulhasni Awang and Dutch rider Harrie Lavreysen won bronze and silver respectively.
With Kenny's victory, and Lauren Price's boxing gold in the middleweight final, Team GB end the games with 22 gold medals.
Team GB also won 21 silvers and 22 bronzes, making it the second most successful overseas games, behind Rio 2016.
© Reuters Jason Kenny is now Britain's most successful Olympian of all time
Mr Johnson said the British public were "so, so proud" of Team GB's athletes for their "sportsmanship, hard work and determination".
"This team has shown that even in the most difficult circumstances, sport brings people together and changes lives," the prime minister said of Great Britain's performance at the games.
"You have shown grace in victory and amazing courage in defeat. And whilst you may not have heard the roar of the crowd in Tokyo, every one of you has given us a reason to cheer back home – in living rooms, pubs, parks and offices across the land.
© Reuters Laura Kenny had a disappointing start to the women's omnium after she was involved in a crash in the first race
"Above all, you have again revealed the central truth about this country: that when we put our minds to it, there is no limit to what we can achieve."
Kenny overtakes former cyclist Sir Chris Hoy as the most successful British Olympian, and becomes the first-ever Team GB athlete to win seven Olympic golds.
Sir Chris won six golds, while Bradley Wiggins and Kenny's wife Laura have won five.
Unfortunately for Laura Kenny, she could not add to her medal haul in the women's omnium after a mixed day on the track.
But she was selected as Great Britain's flag bearer for the closing ceremony.
In the first race of the day, Laura Kenny was involved in a nine-cyclist pile-up – but put herself in contention for a medal after winning the tempo race.
She will still be going home with a gold medal after finishing first in the madison earlier in the Games – and a silver medal from the team pursuit.
USA's Jennifer Valente finished first in the omnium despite crashing in the final race, while Japan's Yumi Kajihara, who also crashed in the last race, took silver.
Dutch rider Kirsten Wild won bronze in what was the last cycling event of the Games.
Elsewhere in the Izu Velodrome, British rider Jack Carlin finished in eighth position overall in the men's keirin after just missing out on a place in the final.
And Canada's Kelsey Mitchell won gold in the women's sprint race, defeating Ukraine's Olena Starikova in two sprints.
Hong Kong's Wai Sze Lee won the bronze medal.
Earlier in the day, British runners appeared in the marathon race but finished well outside the medal places.
Chris Thompson finished in 54th position, but his compatriots Callum Hawkins, who struggled with an ankle injury, and Ben Connor did not finish.
Pre-race favourite Eliud Kipchoge of Kenya won gold, with race partners Abdi Nageeye of the Netherlands and Belgium's Bashir Abdi finishing second and third respectively.
Comment This politicisation of sport is worrying, Hitler realised its value at the 1936 Munich Olympic Ganes. R,J Cook
Wearing a face mask has become about making a political statement rather than public health, a government scientist has said. August 7th 2021
Wearing a face mask has become about making a political statement rather than public health, a government scientist has said.
© Henry Nicholls/Reuters Sadiq Khan, London's Mayor, has said failure to wear a face covering on the capital's Tube should become a criminal offence – Henry Nicholls/Reuters
Prof Clifford Stott, of Keele University, told LBC: "We know that wearing masks, particularly in crowded, poorly ventilated environments, has a big impact on the levels of transmission that can take place.
"But also I think, particularly now, wearing a mask is also communicating to others about a sense of responsibility – and I think that's a key issue in mask-wearing now, unfortunately."
Prof Stott, a member of the Scientific Pandemic Insights Group on Behaviours (SPI-B), added: "I think, unfortunately, it's become almost a little bit politicised whether one wears one or not, which is I think a shame."
Boris Johnson has said people should still wear a mask when in crowded areas, despite the laws on coverings being scrapped last month.
According to the Office for National Statistics (ONS), 92 per cent of people said they wore a mask in the last week.
Less than a third of those – 31 per cent – said they wore one on public transport, compared to 92 per cent of people who did so while shopping. Half of 16 to 29-year-olds said they wore a face mask on buses and trains, while only 22 per cent of the over-70s did so.
Video: To mask or not to mask? (Sky News)
To mask or not to mask?
Prof Stott added: "I think the data that we do have show that the majority of the public do want to retain some legal infrastructure around there – so I think the latest data was around about 67 per cent of the population.
"I think this is a broader issue about how the Government is communicating that transmission no longer matters. I think the argument that we should be having here is that it's about the way that the broader relaxation of the Government's position over the virus is effectively communicating to people that transmission is no longer that important.
"Yet at the same time, of course, we're seeing this rise and very heavy spread of the delta variant."
It came as Sadiq Khan, the Mayor of London, said failure to wear a face covering on the Tube should become a criminal offence.
Mr Khan called on the Government to allow a bylaw to be introduced by Transport for London (TfL) which would require masks to be worn on the capital's public transport system.
Since the easing of restrictions last month, the requirement for a mask on London's Tube lines has been a "condition of carriage" rather than a legal requirement. A bylaw would see TfL officers able to impose fines, in addition to current powers to prevent passengers from boarding.
Research by YouGov this week found that 79 per cent of English people want to bring back mandatory face coverings for public transport.
Despite restrictions being eased in Wales on Saturday, Mark Drakeford, the country's First Minister, said masks would still be required on public transport and in shops.
Mr Drakeford told BBC Radio Wales: "In other parts of the world where mask-wearing was lifted, it's having to be reintroduced again, as it was last week in the United States of America."
RJ Cook Comment: Mask wearing is utterly pointless. There are no major international scientific studies that support the massively exaggerated claims of their imaginary public health benefits.
Mask wearing – like vaccination – does not stop you from becoming Covid positive – nor does it stop you from transmitting the virus to others around you. Now that the very elderly – of which I am one – have all been double vaccinated there is no clinical need for rising restrictions on the young.
The virus is to all intents and purposes beaten in Britain – it is time to get on with getting back to the old normal. The new normal that government and its so called experts are seeking to impose is an authoritarian dictatorship of the very rich globalist elite over everybody else.
It is a world of identity papers and police checks that have never existed before in Britain – even in times of war. Brave New World and 1984 are not something we should be making a reality. The older generations have no right to steal the futures of the young by overloading them with debt to artificially extend their lives: they do not deserve this huge sacrifice.
The average age of those who died with Covid – NOT FROM IT – is 82 years old. The official figures collated by the ONS are corrupt fabrications made up to engineer public support for increasing restrictions that will never be lifted. Welcome to POLICE STATE BRITAIN – a land of no personal freedoms where all protest requires police state consent. What a superb democracy?!
Sign up to the Front Page newsletter for free: Your essential guide to the day's agenda from The Telegraph – direct to your inbox seven days a week.
War Mongering Moralisers – August 4th 2021
Covid lockdown and the mass obedience – or else – menatlity shows us just how dangerous Britain and the world are. Britain's elite are part of a minority who want to distract us with the illusion of multi culture while the rich get ever richer.
They are part of the dominant global elite whose problem is bringing Russia and China into line. The fate of the Middle East – along with supporting key African dicators and their civil wars – is esssential to this. They expect to scare the Russia Chinese alliance which is why Boris ( Churchill wannabe ) Johnson promises to help topple – Russia's ally – Belarus's leadership in that good old name of 'demcoracy.'
No we have a leading member of the British Officer class, Sir Nicholas ( call me Nick if you are upper class ) Carter, calling for more confrontation with Iran – as if Britain is a wounded virgin here. Of course his sort always remind us it is about standing up for democracy – not Israel and global dominance. They told the same lies to justify two world wars and now they don't care if there is a third because they will be alright. R.J Cook
Britain must retaliate against Iran over deadly ship attack, says UK army chief – August 4th 2021
---
Bradford child sex abuse probe: West Yorkshire Police arrest 19 menChris Martin's music advice from Shane Warne
© Johan Victor/REUTERS The Mercer Street – Johan Victor/REUTERS
The head of the British Army has said that the UK must retaliate against Iran to deter it from carrying out further attacks in the Gulf region.
General Sir Nick Carter, the Chief of the Defence Staff, told BBC Radio 4's Today programme: "What we need to be doing, fundamentally, is calling out Iran for its very reckless behaviour.
"They made a big mistake on the attack they did against the Mercer Street vessel last week because, of course, that has very much internationalised the state of play in the Gulf."
He added: "Ultimately, we have got to restore deterrence because it is behaviour like that which leads to escalation, and that could very easily lead to miscalculation and that would be very disastrous for all the peoples of the Gulf and the international community."
He was referring to a suspected Iranian drone strike on the Mercer Street oil tanker last Thursday which killed a British security guard and the vessel's Romanian captain.
It came as Iranian hijackers who seized an oil tanker off the coast of the United Arab Emirates in the Gulf of Oman left the targeted ship on Wednesday morning, the British Navy reported, without explanation.
The British military's United Kingdom Maritime Trade Operations said that the "incident", which it had described as a potential hijacking the night before, was now "complete". It did not provide further details.
The Financial Times reported that US military forces had gone to the area to investigate overnight.
It was not immediately clear who was responsible for the attempted ship hijack. Shipping authority Lloyd's List and maritime intelligence firm Dryad Global had both identified the hijacked vessel as the Panama-flagged tanker, Asphalt Princess. The vessel's owner, listed as Emirati free zone-based Glory International, could not immediately be reached for comment.
Lloyd's List reported that armed men had boarded the tanker and ordered it to sail to Iran. The incident took place in an area in the Arabian Sea leading to the Strait of Hormuz, the conduit for about a fifth of the world's sea-borne oil exports.
Apparently responding to the incident, Iranian Foreign Ministry spokesman Saeed Khatibzadeh described the recent maritime attacks in the Persian Gulf as "completely suspicious". He denied that Iran was involved.
"Reaffirming our strong commitment to regional stability and maritime security, Iran stands ready to offer assistance in case of any maritime accidents," he said.
The event unfolded amid heightened tensions between Iran and the West over Tehran's tattered nuclear deal with world powers and as commercial shipping in the region has found itself caught in the crosshairs.
Most recently, the US, the UK and Israel have blamed Iran for a drone attack on an oil tanker off the coast of Oman that killed two people. Iran has denied involvement.
Speaking to the BBC on Wednesday, the professional head of the British Army, General Sir Nick Carter, said it was time to get tougher on Iran.
© Provided by The Telegraph Asphalt Princess – Steve911/Fleetmon
The US military's Middle East-based 5th Fleet and the British Ministry of Defence did not return calls for comment about the reported hijack. The Emirati government did not immediately acknowledge the incident.
Late on Tuesday, as the incident was underway, six oil tankers off the coast of Fujairah had announced around the same time via their Automatic Identification System trackers that they were "not under command", according to MarineTraffic.com. That typically means a vessel has lost power and can no longer steer.
Fujairah, on the UAE's eastern coast, is a main port in the region for ships to take on new oil cargo, pick up supplies or trade out crew.
For the past two years, the waters off Fujairah have seen a series of explosions and hijackings. The US Navy blamed Iran for a series of limpet mine attacks on vessels that damaged tankers.
The US stopped short of assigning blame for the latest episode, but State Department spokesman Ned Price said there had been "a very disturbing pattern of belligerence from Iran".
"When it comes to this specific incident, it's too early for us to offer a judgement just yet," he said.
White House spokeswoman Jen Psaki said the US was in close touch with Britain over the "deeply concerning" incident.
Sign up to the Front Page newsletter for free: Your essential guide to the day's agenda from The Telegraph – direct to your inbox seven days a week.
Posted August 2nd 2021
bing.com/news
Police officer convicted of assaulting two black males including 15-year-oldJudge says footage of PC Declan Jones of West Midlands force does not show police in a good light …The Guardian · 1hPolice officer found guilty of assaulting two people during lockdown patrolsYahoo Finance · 1hWest Midlands Police officer convicted of assaulting two people during lockdown patrolsThe 30-year-old Pc Declan Jones committed both offences while on duty in Birmingham, starting with an assault on a man in …ITV · 3hWest Midlands Police officer convicted of assaultsA police officer has been found guilty of assaulting two members of the public on consecutive days when he wrongly suspected each of a crime. PC Declan Jones committed
'Fear is Power'- Donald Trump – August 1st 2021
Not one of Sage Neil Ferguon's predictions have come true. Vast majority of Covid deaths have underlying health conditions. Average age of Covid death is 82. Pre existing conditions , terrible elderly health care , BAME lifestyle, imported migrant cases and dubious tests are being used terrify.
Shutting the economy down for this nonsense is either a conspiracy for a hidden agenda or elite incompetence. So we have more drivel about having more of the risky vaccine and pointless social distancing and lockdown.
So here is the latest news for BAME, obese and the worried affluent old – a lot of us poorer old people have had our day, outliving our uses and are eager to leave this sorry world :
Tories must 'come clean' over secretive club that gives access to PM – LabourHollywood's Mr Antiques is the go-to man for A-listers in search of something…
Booster vaccines are to be offered to 32million Britons starting early next month with up to 2,000 pharmacies set to deliver the programme, The Telegraph can disclose.
© Thomson Reuters A person receives a dose of the Pfizer BioNTech vaccine at the Central Middlesex Hospital in London, Britain, August 1, 2021. REUTERS/Henry Nicholls
Amid fears that the efficacy of the vaccines may begin to decline, ministers are planning to deliver an average of almost 2.5million third doses a week starting in the first week of September.
Pharmacies will be at the forefront of the vaccine programme so that GPs and other NHS staff can focus on the growing backlog of patients waiting for other treatments.
All adults aged 50 and over, as well as the immuno-suppressed, will be offered the booster jabs.
The campaign could start as soon as Sept 6, which would see the rollout completed by early December if it goes to plan. It is hoped the timetable will leave at least a fortnight for the final people vaccinated to benefit from the jab's effect before Christmas.
Proposals have been drawn up for the Covid-19 vaccine to be co-administered alongside the flu jab, with one injection in each arm mooted.
"That is the plan, wherever possible," said a government source, but stressed it "depends on final JCVI [Joint Committee on Vaccination and Immunisation] advice and coronavirus vaccine booster trials".
The source added that ministers were "looking to beat our record of jabs per day". To date, the highest tally of doses given in a single day was 873,784, which occurred on March 20. The feat was equivalent to vaccinating the entire adult populations of Liverpool, Southampton and Oxford combined, NHS England pointed out.
The Government will be looking to administer an average 2.46 million jabs a week throughout the booster campaign in order to meet its deadline for finishing the rollout.
Ministers are considering giving people a different booster jab to the shot they received for their first and second dose, after early trials suggested that mixing vaccines could provoke an enhanced immune response. It could mean a significant reduction in the use of AstraZeneca jabs.
Seven jabs are being tested, with the mRNA vaccines Pfizer-BioNTech and Moderna, and subunit protein vaccine Novavax showing positive results in preliminary data, it is understood.
Details of the booster jab rollout emerged after Nadhim Zahawi, the vaccines minister, briefed MPs on it.
On Sunday the Government announced that 85million doses of Covid vaccine had been administered so far, with 88 per cent of adults receiving their first shot and 72 per cent both doses. All adults are due to be offered a second jab by mid-September.
Public Health England data shows that two doses provide over 90 per cent protection against hospitalisation from the delta variant, which is the dominant strain in the UK.
The booster jab campaign aims to protect the most vulnerable ahead of winter from any other variants of concern.
Video: What is long Covid and what are the known symptoms? (Daily Record)

The number of pharmacies involved will triple from around 650, marking a change to the next phase of the vaccination programme.
At the end of June, Matt Hancock, then health secretary, served notice of plans for a "big shift" towards delivery through pharmacies. He added: "Frankly we need GPs to be back in surgeries practising medicine in the normal way."
Nikki Kanani, the NHS England medical director for primary care, last month unveiled a streamlined application process to allow more pharmacies to sign up to hand out the jab.
Sites can now express an interest in administering as few as 100 jabs a week. Previously they had to be able to commit to giving out 1,000 to be eligible.
There appears to be public demand to get jabs at pharmacies. A YouGov poll conducted last month for the National Pharmacy Association [NPA] showed that 90 per cent of people would consider getting a Covid-19 booster jab at a pharmacy.
The survey showed that 67 per cent said this would be very convenient, compared with 30 per cent for mass vaccination centres.
The pharmacy industry has welcomed plans to increase the number of sites authorised to carry out Covid jabs.
Pharmacies can take the load off GPs
Andrew Lane, the NPA chairman, highlighted that involving more pharmacies would allow GPs to focus on clearing the care backlog in the NHS.
He said he had met with Mr Zahawi, who acknowledged that people have a high level of trust in their local pharmacists. In addition, Mr Lane said that pharmacies were present in all communities, including the most deprived areas of the country.
"After the mass vaccination centres are wound down, pharmacies will still be there for the long haul out of this nightmare," he added.
Concerns have arisen in the sector, however, about plans to withdraw state indemnity for pharmacies during the booster campaign, which will raise the cost of their participation as they are forced to seek private insurance.
The plan to cover only GPs under the state-backed scheme during the third phase of the vaccination programme was revealed by Caroline Temmink, the NHS England and NHS Improvement director of primary care vaccination, in a webinar last month, according to the publication Chemist and Druggist.
Simon Dukes, the chief executive of the Pharmaceutical Negotiating Services Committee, which represents high street pharmacies during talks with the Government, called on ministers to reverse the plan.
"The Government should think again about that," he said. "It does seem odd that we've got indemnity for GP sites and not for pharmacy sites. For something like this, a national effort against a pandemic, we should be doing everything we can."
Another senior pharmacy industry source called for more transparency in the relationship between the sector and the health service, saying: "The NHS has been quite coy about sharing data with us."
While up to 2,000 pharmacies will become Covid vaccination centres, the number falls far short of the 9,500 pharmacies that usually offer flu vaccines.
Sector insiders called on ministers to ensure that those chemists that ordered stocks of flu jabs back in March, but are not set to offer Covid jabs, are not left out of pocket if they are shunned by people who prefer to visit a site where they can get both at once, if the "one in each arm" policy is approved.
An NHS spokesman said: "Community pharmacies have been an important part of the NHS Covid vaccination programme, the biggest and most successful in the health service's history, and they will continue to play a vital role as we move into the next phase this autumn."
A Department of Health and Social Care spokesman said the booster programme would be "informed by the JCVI's final advice", with details of the rollout confirmed "in due course".
UK can expect thousands of Covid deaths every year, warn scientists – July 31st 2021
Robin McKie Observer science editor 2 hrs agoLike70 Comments|18
---
Elderly could fall into poverty after TV licence grace period ends –…Indiana Jones 4K steelbook on sale with 25% off
Britain faces the prospect of thousands of annual Covid deaths for years to come, scientists have warned.
© Provided by The Guardian Photograph: Hollie Adams/Getty Images
They say waves of cases are likely to sweep the country every winter as Covid-19 joins other seasonal viruses, including influenza, in taking its toll of elderly and infirm people. Every year, as cold weather forces people indoors, virus transmission will increase, case numbers will rise, and some of these will result in deaths.
The warning comes as Covid case numbers look likely to stabilise through the summer, but with researchers saying incidence could rise again in autumn as vaccination rates falter and schools return. This could lead to a fourth wave this winter – one that could become an annual occurrence for years to come.
"We are going to see problems with Covid for a long time," said Prof Adam Finn of Bristol University. "The virus has shown itself to be genetically more nimble than we expected, though not as much as the influenza virus. So I would envisage Covid being a continuing problem for some time, with annual death tolls reaching thousands and possibly tens of thousands."
This view was backed by Prof James Naismith, director of the Rosalind Franklin Institute in Oxford. "We won't see Covid-19 spread like wildfire again. There will be enough herd immunity in the population to ensure it will never kick off like that again.
"But everything will not be hunky dory. We will have waves of illness similar to flu, I think. And they will kill. The issue is: how many? That is difficult to assess but if you look at current Covid deaths, these are occurring at about 100 a day.
"So a wave that kills a few thousand seems a reasonable measure of what you might expect in a future winter wave. And then, you might get a bad wave one year and have the tens of thousands of deaths."
However, Prof Jonathan Ball of Nottingham University said: "I suspect numbers of Covid deaths will decrease over time as population immunity to the disease not only increases but also broadens. This is not to say we won't have deaths every year. But to say it's likely to be in the thousands is overly pessimistic.
"It could be to start with, but I think the amount of severe disease will decrease over time because of continual exposure to the virus, which will therefore boost natural immunity."
Most of those who will die will probably be the old and the seriously ill – the same set of people who have succumbed every winter to influenza and other respiratory diseases. It remains to be seen if Covid-19 will increase average fatality numbers or merely act as a new addition to the repertoire of illnesses that kill vulnerable people every year.
"Covid is not going to be something that brings society to a halt," added Finn. "And we can minimise the problems it poses – through careful use of vaccines, for example."
A similar note of caution was expressed by Prof Martin Hibberd of the London School of Hygiene and Tropical Medicine. "I think we may be at a turning point in Covid-19 in the UK, with the proportion of people with antibodies now rising above 90%. That means that soon we will be in as good a place as possible with vaccine protection – and yet, we are still seeing disease.
"This is what we will have to live with: a new nasty disease that will continue to cause problems. I think we can use influenza as an example here. We have vaccines for influenza and yet we still have perhaps an average of 20,000 deaths a year in the UK."
The prospect of the next Covid wave beginning in autumn, as schools return and the weather worsens, has led scientists to press for the introduction of booster vaccines for people over 50 and for 16- and 17-year-olds to be considered for vaccination.
There is also a fear that previous lockdowns may have weakened the British population's immunity to other respiratory illnesses such as flu. These worries were highlighted last month by the Academy of Medical Sciences in its report Covid-19: Preparing for the future.
"We are going to go into this winter and start mixing again in ways that we didn't do last year," said Dame Anne Johnson, president of the academy. "In those circumstances, we can expect to see a real upsurge in respiratory infections such as flu, for which we may have waning immunity because we were not exposed to it last year."
Comment: We are supposed to grovel to so called 'scientists'. Most people do because our appalling education system means the masses don't know what real science actually is. Modelling an epidemic spread is basically guesswork and very biased in this case. The 'scientists' do not want us to know that it primarily kills certain groups in association with their age – average 82 years, life style and other pre existing serious health problems.
These so called scientists are computer modellers editing data corruptly in support of a particular political agenda – i.e the never ending lockdown. The aim is zero covid – unachievable in any climate – let alone a cold wet one!
Covid is a cold virus and can't be eliminated and will remain out there. The beauty of this for the elite, is to make protests illegal – unless state approved like BLM. Brits need to get used to having their NHS services use restricted.
It beggars belief that the lower orders have passively taken the huge Covid financial hit – just like they did in 2008. The greedy UK police and NHS are ourtaged about their pay rises being too low. They already earn on average nearly two times the wages of the average private sector employee. Britain is a country with a national debt well in excess of £2 trillion and rising fast.
Public sector workers are not heroes just because they go to work for well above the real average UK wage. The media are trying to brainwash us into the belief that they are somehow heroes. The NHS is inefficient, bumbling and wasteful. It kills thousands of patients every year by accident or intentionally. The police are institutionally corrupt. But who cares when diversity inclusion is top of the political and media agenda? Robert Cook
'Obey the rules' Beijing warns UK as Royal Navy enters disputed South China Sea – July 30th 2021
Danielle Sheridan, Sophia Yan
---
Labour calls for PM to explain 'advisory board' for wealthy Tory donorsAnnie Mac's last Radio 1 show review – beloved DJ bows out with a beautiful tearjerker
Beijing has blasted Britain for sending the HMS Queen Elizabeth carrier strike group into the South China Sea, threatening action if it does not "remain restrained and obey the rules".
© LPhot Unaisi Luke/Ministry of Defence/Crown Copyright The Royal Navy's carrier strike group is led by the flagship HMS Queen Elizabeth – LPhot Unaisi Luke/Ministry of Defence/Crown Copyright
In a terse warning, an editorial in state newspaper the Global Times made clear that Beijing wouldn't hesitate to make an example out of Britain – "to execute one as a warning to a hundred".
"China is likely to escalate its attempts to expel the warships at any time. In the future, stopping such intrusive behavior that violates China's territorial waters is a struggle China is destined to intensify."
Earlier this week The Telegraph revealed that Britain's aircraft carrier had entered the contested waters on Tuesday.
It is thought that strike group will not be sailing through the contested Taiwan Strait on its operational maiden voyage while in the area, although its returning route has not yet been confirmed.
© Provided by The Telegraph The HMS Defender is part of the Carrier Strike Group
One defence source said it was anticipated that China would watch the group's movements from the air, as well as under the water, although they cautioned they expected it would be smoother than when Russia reacted to HMS Defender as she passed through the Black Sea last month.
When The Telegraph was granted access to HMS Queen Elizabeth in Cyprus recently, there was a heavy amount of surveillance of the aircraft carrier by Russia, which included in the sky, below the water and on the surface. At the time it was described by those on board as a game of "cat and mouse". Video player from: YouTube (Privacy Policy, Terms)
Ben Wallace, the Defence Secretary, set the scene earlier this month for a confrontation with Beijing when he said the deployment would sail on any route defined as legitimate under international law.
Tobias Ellwood, Chairman of Defence Select Committee, told The Telegraph: "We must hold our nerve. China is now, after having ten years able to operate at will in the South China Sea, feeling the might of the international community questioning its false right over what are clearly international waters. This is the beginning of the ratcheting up tensions with China as they see this as their backyard and are using this harsh language to intimidate."
China claims the South China Sea, despite an international court ruling in 2016 that it did not belong to the nation. Beijing has grown increasingly assertive as it builds military bases and airport runways on constructed islands in the disputed waters.
'The very idea of a British presence in the South China Sea is dangerous'
The editorial in the Global Times said the strike group entered the sea on Sunday as part of the "UK's effort to show its presence in the region".
"We advise US allies to be particularly cautious, keep a sufficient distance from China's red lines, and refrain from pushing ahead," said the editorial.
"They must be bluntly told that if their warships rampantly behave as the US military does in the South China Sea, they will more likely become an example of China defending its sovereignty and territorial integrity – just as a popular Chinese phrase indicates: To execute one as a warning to a hundred."
It also said the "very idea of a British presence in the South China Sea is dangerous".
"If the UK wants to play the role of coercing China in the South China Sea, then it is behaving badly. If it makes any substantial moves, it is looking for trouble.
"We seriously warn this group: They are obliged to remain restrained and obey the rules. Please follow the current international shipping lanes and stay at least 12 nautical miles away from the Chinese islands and reefs."
Mr Wallace has declined to say whether the fleet would breach China's 12-mile zone.
The tensions come after Dominic Raab, the Foreign Secretary, said there was a global "battle for hearts and minds" to attempt to reduce China's influence on international organisations.
'Confident but not confrontational'
Speaking in the Commons earlier this month, Mr Raab said he was "very familiar with the routing" of the group and had discussed the deployment with his Chinese counterpart, insisting it was being done in a "confident but not confrontational" way.
China has displayed increasing aggressiveness in the South China Sea, where a number of South East Asian countries all lay claim to the rocks, reefs and waters.
Beijing has continually ramped up its maritime push in these resource-rich waters — including into the East China Sea and Taiwan Strait, angering Japan and Taiwan — while the world has been busy battling the coronavirus pandemic.
It has recently deployed its "little blue men," a maritime militia that helps China assert its territorial claims.
The concern has long been that Beijing could cut off access to the South China Sea – a key international shipping route — as a way to squeeze nations during diplomatic rows.
An MoD spokesperson said: "The Carrier Strike Group is lawfully navigating the South China Sea, just as one third of global shipping does on an annual basis. It is taking the most direct route through international waters to conduct exercises with allies and partners in the Philippine Sea.
"As the Defence Secretary said to UK Parliament back in April, we are not going to go to the other side of the world to be provocative. We will be confident, but not confrontational."
Sign up to the Front Page newsletter for free: Your essential guide to the day's agenda from The Telegraph – direct to your inbox seven days a week.
Price of Covid lockdown: Spectre of ghost shopping malls haunt Britain
Sean Poulter for the Daily Mail
---
Best pictures of the day'I feel like crying': Billie Eilish releases Happier Than Ever
© Provided by Daily Mail MailOnline logo
Shopping centres across the country are turning into 'ghost malls' as a record number of stores shuts down.
The loss of household names like Debenhams, plus closures by big names like Marks & Spencer and John Lewis, has left a hole in many centres.
The situation is so bad that up to 70 shopping centres face demolition or being repurposed as offices, entertainment venues and housing.
© Provided by Daily Mail (
On average one in five shops in shopping centres is closed, the British Retail Consortium (BRC) and the Local Data Company (LDC) has found.
The LDC says at least 30 shopping centres in the UK are at least half empty, including five with more than 80 per cent of shops vacant.
Centres already set for redevelopment include Stockton's Castlegate, the Riverside centre in Shrewsbury and the Chilterns centre in High Wycombe.
© Provided by Daily Mail (
© Provided by Daily Mail (
Helen Dickinson, chief executive of the BRC, said: 'It comes as no surprise that the number of shuttered stores continues to rise after retailers have been in and out of lockdown for more than a year.
'The regional contrast is stark – the south of England has seen lower vacancy rates, while the North, where disposable income is lower, continues to have a higher proportion of closed shops.'
The Daily Mail's long-running Save Our High Streets campaign calls for a level playing field between traditional shops and their newer online rivals.
Vote Leave chief awarded £580k Covid deal after call from Dominic Cummings – July 29th 2021
David Conn
Dominic Cummings personally called a former colleague on the Vote Leave Brexit campaign and asked if his company would work for the government on its response to the Covid pandemic, leading to the award of a £580,000 Cabinet Office contract with no competitive process.
In an email on 20 March 2020, Boris Johnson's former chief adviser asked the most senior civil servant responsible for contracts to sign off the budget immediately, and that if "anybody in CABOFF [the Cabinet Office] whines", to tell them Cummings had "ordered it" from the prime minister.
The company, Hanbury Strategy, was founded by Paul Stephenson shortly after the 2016 Brexit referendum, during which he worked alongside Cummings as the Vote Leave director of communications. Hanbury also worked for the Conservative party on the 2019 general election campaign, with Cummings and Ben Warner, a data specialist who worked for Vote Leave before becoming an adviser at No 10.
The contract with Hanbury, to conduct opinion polls on the public's view of the government's Covid response, is subject to a legal challenge by the Good Law Project (GLP), which argues that it shows "apparent bias", particularly given the company's close connection to Cummings and the Conservative party.
A witness statement by Cummings and other documents including internal Cabinet Office emails were made public at a court hearing last Friday. They show that concerns were expressed among civil servants that some work Hanbury did with public money, such as polling opinion on opposition politicians, including the Labour party leader, Keir Starmer, and Sadiq Khan, the Labour mayor of London, was carried out for the political advantage of the Conservative party.
On 26 May 2020, a Cabinet Office official emailed a colleague saying: "Hanbury measures attitudes towards political figures, which they shouldn't do using government money, but they've been asked to and it's a battle that I think is hard to fight."
Cummings said in his witness statement that "my expert opinion" was that Hanbury would provide world-class polling work, and was the only firm who could do what was needed, start immediately and "we can trust to give their all and be honest".
Cummings said that, on Sunday 15 March 2020, "I called many people to ask for help – epidemiologists, project managers etc. I also asked Paul Stephenson, a partner at Hanbury, if he would help with polling, data collection and modelling."
Stephenson said they could start straight away. Cummings said in his statement: "Following my call to Paul Stephenson … I requested that Hanbury be engaged urgently to start conducting frequent large-scale polls immediately."
On 20 March, Cummings emailed Alex Aiken, the head of government communications at the Cabinet Office, saying: "URGENT: Alex pls sign off immediately budget so Paul S can get out our large scale polls into field TODAY. Anybody in CABOFF whines tell them I ordered it from PM [OFFICIAL]."
Normal legal requirements for government contracts to be opened out to a full competitive tender were suspended due to the emergency of the pandemic, and the contract was directly awarded to Hanbury.
In a similar judicial review challenge to a direct contract – awarded to Public First, a research company with longstanding connections to Cummings – Mrs Justice O'Farrell ruled in GLP's favour in June, saying that even in the pandemic the government should have conducted an exercise to consider other potential companies.
Aiken said in his witness statement that Cummings' email was not "an instruction to me or my team to appoint Hanbury … this was purely an idea we were being asked to consider and I have pushed back on such requests before". Aiken said he decided to hire Hanbury after it provided a good proposal for opinion polling, and its work was of high quality which had "left a legacy" for Cabinet Office opinion polling.
He said he would have preferred the questions about Starmer and Khan not to have been asked, but explained it was not to seek political advantage; they were testing an idea for joint press conferences with government ministers, and to "benchmark" the credibility of government spokespeople. It was "well-intentioned but ill-considered", Aiken said. Cummings also said that polling was to see if the politicians "could help public health communication, it had no political purpose of any kind".
A Hanbury spokesperson said the company agreed to do the work "at extremely short notice" although it involved reputational risk.
They said: "Our work contributed to what was a hugely successful public health communications campaign which undoubtedly prevented many deaths. For that reason, if we had to make the choice again we would still agree to step up and help in this time of crisis."
The Cabinet Office has appealed against the judgment in the Public First case, and is also defending the GLP's challenge to the Hanbury contract, arguing it was awarded lawfully.
A Cabinet Office spokesperson said: "In response to an unprecedented global pandemic, the government acted with urgency to undertake vital research into public attitudes and behaviours. This research shaped crucial public health messages, helping us to protect the NHS and save lives."
Hillsborough's 97th victim: Liverpool fan Andrew Devine dies 32 years after life-changing injuries in disaster – July 29th 2021
Alastair Jamieson
---
Coronavirus news – live: Mounting calls for India to reopen schools as closures…Justin Bieber voices support for Simone Biles after her Olympics exit
© PA
Andrew Devine pictured after emerging from an eight-year vegetative state following the Hillsborough disaster- PA
A Liverpool FC fan who suffered life-changing injuries at Hillsborough has died, 32 years on, with a coroner recording him as the 97th victim of the disaster.
Andrew Devine, 55, was badly hurt in the tragedy at the FA Cup semi-final on 15 April 1989. He spent the rest of his life in a wheelchair and needed constant professional care.
"It is with great sadness and a sense of immense loss that we can confirm that Andrew Devine passed away yesterday at the premature age of 55," his family said in a statement released on Wednesday night through Liverpool FC.
"Our collective devastation is overwhelming but so too is the realisation that we were blessed to have had Andrew with us for 32 years since the Hillsborough tragedy."
The family was told Mr Devine would not survive after his chest was crushed and his brain deprived of oxygen in the lethal crush that saw 96 fellow supporters killed in Britain's worst ever sporting disaster.
Flowers, shirts and photographs surround the eternal flame of the Hillsborough memorial at Anfield in Liverpool, north west England on April 14, 2021, the eve of the 32nd anniversary of the Hillsborough football stadium disaster in which 96 Liverpool football fans were killed during a FA Cup football tie. (Photo by Paul ELLIS / AFP) (Photo by PAUL ELLIS/AFP via Getty Images)
"In the intervening years, Andrew has been a much loved son, brother and uncle," the family said.
"He has been supported by his family and a team of dedicated carers, all of whom devoted themselves to him."
The statement added: "We welcome the conclusion of the coroner, Mr Andre Rebello, made today at Liverpool Coroner's Court, that Andrew was unlawfully killed, making him the 97th fatality of the tragic events that occurred on April 15, 1989."
Comment The Police never admitted responsibity. Inquiries were questionable but after many years , petered out ;in the public interest.' Robert Cook
'We'll never have Zero Covid. But yes, I believe the end is in sight' – July 27th 2021
Philip Thomas For The Daily Mail5Ken Clarke criticised for showing 'contempt' at infected blood inquiryParis Hilton expecting her first child!
© Provided by Daily Mail MailOnline logo
Has the beast been tamed? Could the end of Covid really be in sight? The numbers certainly look promising.
Yesterday, it emerged that new daily infections had fallen in England for six days in a row. The numbers had plummeted 38 per cent week on week, with deaths happily down 24 per cent.
Every English region saw a significant drop in new infections.
The ever-gloomy modellers at the Government's scientific advisory committee, Sage, had warned that new cases could reach 100,000 per day by the start of August, with 'Professor Lockdown' Neil Ferguson even suggesting this could surge to 200,000 per day.
Yet, yesterday, fewer than 25,000 positive tests were reported: less than a quarter of Sage's bleak prediction.
Even more reassuringly, unlike the first two waves, the new cases are not translating into a surge in hospitalisations or deaths — just 14 deaths were reported yesterday, down almost a quarter on the week before.
Last week, when the Prime Minister decided to lift the remaining official Covid restrictions, he was accused by critics of indulging in a 'reckless' experiment that could result in the virus spreading like wildfire across Britain, threatening the NHS.
Police Federation survey reveals more than three in four police officers admit to suffering mental health and wellbeing issues – July 26th 2021
By Ldn-Post July 26, 2021
Policing the pandemic has taken a major toll on police officers with more than three quarters admitting to having experienced mental health or wellbeing difficulties in the past year.
The devastating impact was detailed in a new report from the Police Federation of England and Wales (PFEW) which followed a survey of 12,471 rank and file police officers.
The report revealed 69 per cent of all respondents linked 'work-related difficulties' to their distress. Of these respondents, 58 per cent experienced work-related mental health and wellbeing difficulties and cited heavy workloads as a factor.
The survey also illustrated a gap between those officers who sought help and those who chose not to do so, with just one in five respondents admitting to asking for help to manage their mental health and wellbeing. A perceived stigma around declaring mental health or wellbeing issues within policing was also evident, with 41 per cent of those who had received help admitting they didn't share this information with their line manager, because they didn't want to be treated differently in the workplace.
More positively, the results showed the police service was playing an increasing role in combating mental health issues, and proactive support services were having a constructive impact.
71 per cent of those who sought help for mental health and wellbeing had disclosed this information to line managers, with 67 per cent claiming they were 'adequately' supported by the police service after doing so.
A total of 74 per cent indicated they were aware of force provided support services, such as resilience training, mindfulness workshops, and mental health awareness programmes.
Officers who responded to the survey were asked about their awareness of national support initiatives within policing, with the Blue Light Project by Mind, Oscar Kilo, and PFEW's Welfare Support Programme the most recognisable.
PFEW National Chair John Apter said: "The pandemic has put pressure on policing like never before. But while the negative impact on the mental health of police officers comes as no surprise, it should sound alarm bells.
"Police officers often feel as though their concerns are irrelevant. Policing and government therefore must do much more to make sure they can more easily access the support they deserve.
"On a positive note, there is more mental health and wellbeing support available than ever before -and it's clear from the evidence more officers are seeking support.
"But we need to remove the stigma around these issues. We have to ensure every officer knows where they can reach out and get support no matter what time of day or night they need it.
"The Police Covenant, which is currently going through parliament, is the perfect opportunity to ensure that help and support is provided to officers. That's why it is essential that what the Covenant delivers is both tangible and meaningful."
Comment There are many in the police who do not like me – a matter explained elsewhere. This is a shame because I used to be one of their biggest apologists and supporters. They changed how I saw them , not the other way around.
The police themselves, as an organisation, have been changed by forces beyond their control. These days there is a tendency to put people into groups with no account to individuality.
Large organisations are always prone to corruption but it matters most with the police , who are not by nature racist anymore than I was as a tax man or school teacher.
But of all our public services, the police are the most vulnerable to corruption and destroy lives in the process. I kept my old fashioned view of the police for many years and even thought of joining the Met. But I wanted long holidays and time to write.
Looking back on what the police have become, I know I made the right decision. But working with the public, under a self seeking incompetent gimmick loving jargon spouting management , was my experience in teaching and I have reason to believe it is the same with the police. As a tax man, my line manager noted that I spent 'too long talking to the taxpayers.' As a teacher it was noted that I 'agonised over the pupils' – as we used to call them in olden times. I always saw my role as bringing harmony , not exploiting conflict for a pay rise and more showy life style.
Teaching is a form of policing and teachers can subtly destroy lives , as police officers can. When I was young I had no idea of how much responsibility I had , but a certain type of ambitious person in public service doesn't care because promotion is everything.
A few years ago , I was friendly with a gentle giant of a police officer, a man well seasoned and eager to retire. One night , at my home , he said 'I don't like the police, Rob.' Like a fool , I said , 'How can you be a police officer and not like the police ?' Then I amswered my own stupid question.
The police managemment have five key issues , Recruitement , training , promotion , retention and politcians. By and large , they understandbly do not like politicans who define their targets and rules of engagement. The head of the police college boiled matters down to recruitment and promotion with like recruiting and promoting like.
One , to be fair , has to suspect that it is the better more thoughtful officers who have mental health issues. The ones who get to the top , just do not care. A recent study has shown that narcissists and psychopaths flourish across the board. It was the same in teaching , where the damage is not so obvious but no less serious in the long term. Teaching , ultimately, is another form of policing , especially today. Robert Cook
The real threat to the UK isn't asylum seekers, it's the far right – July 26th 2021
---
Labour moderates oust Jeremy Corbyn supporters to seize key London…Billie Eilish lands BBC special Billie Eilish: Up Close
The government's Nationality and Borders Bill is as flawed as it is inhumane. It's a clear signal that the UK government is more than willing to turn its back on some of the most vulnerable people on Earth, hitting a new low with the risk of criminalising even RNLI lifeboats saving people from drowning in the Channel.
© PA
The government's bill risks criminalising even RNLI lifeboats saving people from drowning in the Channel- PA
A less publicised area of the bill focuses significantly on asylum accommodation centres, suggesting an expansion of their use and a move away from community accommodation. But as well as inhibiting integration, and the fact that institutional accommodation for asylum seekers has been so squalid they've been found unlawful, these proposals pose a significant terror risk from the far right.
Last year, a shortage of accommodation and compliance with Covid restrictions saw the Home Office become reliant on housing asylum seekers in contingency accommodation, using hotels, B&Bs and disused barracks. Almost immediately, the far-right seized on this to reignite their bored and fractured groups. We saw the rise of so-called "citizen journalists", a group of activists joined by organised far-right groups like Britain First, who filmed the beaches of the south coast and "hunted" arriving migrants and asylum seekers.
Their videos, some showing arrivals being chased by cameras and others featuring angry activists ranting in the lobbies of bed & breakfast hotels, quickly spread across far-right social media platforms and whipped anti-immigrant activists into a peak of anger. Each new video has served to confirm the far-right's belief that Britain is being "invaded", while directly stirring fear among asylum seekers placed in hotels and barracks.
This threatening behaviour, with far-right groups actively breaking into accommodation sites and approaching boats with the sole purpose of harassment, underlines a growing threat from the far right. Proposals for replacing community accommodation for asylum seekers with out-of-town accommodation centres, not only inhibits integration and traps residents in isolated, detention-like settings, it also poses a risk for further harassment and violence.
Moreover, the Home Office should be aware of these risks, given recent charges against members of a new terror-advocating, far-right group that has allegedly been recruiting minors to its ranks via Instagram and Telegram. Last year, research by Hope not Hate revealed that the leader of an extreme far-right group had posted that he was planning an attack against migrants arriving in Dover, and received support from other members in the group. Others similarly stressed their willingness to commit violent attacks against migrants, discussing how to acquire weapons and how to hide their political views in order to enlist in the military.
New laws threaten asylum seekers (Sky News)
Far-right extremism remains the UK's fastest-growing terror threat. In this light, the very real threat posed by the far-right against asylum accommodation, and the increased risk with the proposed move from community accommodation to accommodation centres, should be taken seriously as an active terror threat. At the height of Europe's "refugee crisis" during 2015-16, the German organisation Pro Asyl counted 126 arson attacks on refugee accommodation – one every three days.
Yet the Home Office seems to have not yet grasped the potential threat that accommodation centres could pose. Having reached out to accommodation providers and asylum organisations offering direct support over the last year, Hope not Hate found many were concerned about the threat of the far right, yet were given no guidance on what they could do to mitigate risks.
In the Home Office's equality impact assessment for using Ministry of Defence sites to accommodate asylum seekers – including Napier barracks – Hope not Hate found no mention of the far-right threat, or even local opposition. It found no mentions of "terror", "extremism/extremist" or "far right" in the UKVI Suitability Assessment for Contingency Accommodation, nor in a letter from the home secretary, Priti Patel, on institutional accommodation and documents relating to Napier barracks from March 2021. It appears the threat has not been considered at all in the decision to move towards accommodation centres and away from community accommodation, where these threats are more easily mitigated.
In a hostile climate, where migrants and refugees have faced daily harassment from organised far-right political groups, the home secretary, it appears, has offered no safeguards. Rather, it seems she has pursued a line of inflammatory language that incubates the far right, relentlessly using the term "illegal immigrant", and focusing on small vessel crossings, despite the numbers arriving via these routes still being very small.
The Home Office must take the threat of the far-right seriously when making a decision on accommodation for asylum seekers. Instead of ramping up hostile language and fuelling enmity and division with an inhumane and unworkable system – a system that puts asylum seekers at even greater risk in institutional asylum accommodation centres – the government should offer decent housing in communities across the country, allowing people to integrate and become part of our country.
If the Home Office is serious about keeping people in our country safe, it would rethink this unworkable Nationality and Borders Bill, and start putting some compassion into its policymaking: the starting point for any such policy should be the preservation of human life.
Sarah Owen is MP for Luton North and vice-chair of the Hope not Hate parliamentary group
Change 'absurd' rules so MPs can accuse each other of lying, says John Bercow – July 26th 2021
---
Labour moderates oust Jeremy Corbyn supporters to seize key London…Billie Eilish lands BBC special Billie Eilish: Up Close
Former House of Commons Speaker John Bercow has defended the backbench Labour MP who was kicked out of the chamber for calling Boris Johnson a liar.
© PA
Former Speaker John Bercow- PA
Mr Bercow said Dawn Butler was entitled to claim the prime minister had lied – calling for "absurd" parliamentary rules to be changed so MPs can accuse one another of lying in the chamber.
Ms Butler was told to leave the Commons for one day last week after she refused to withdrawn her claim that Mr Johnson had "lied to the House and the country over and over again".
In a joint piece with the Labour backbencher, Ms Butler and Mr Bercow wrote: "The glaring weakness of the system is that someone lying to tens of millions of citizens knows he or she is protected by an ancient rule."
They told The Times: "They face no sanction. By contrast, an MP with the guts to tell the truth is judged to be in disgrace. It is absurd."
Sir Keir Starmer has said he supported and "agreed" with Labour MP Dawn Butler when she said Mr Johnson had repeatedly lied to the country.
"I agree with what Dawn had to say – I think the prime minister is the master of untruth and half truths," Sir Keir told LBC on Monday. "Dawn was simply giving some examples of that."
Expressing his sympathy with the Labour MP, Sir Keir suggested that it was unfair she had been sanctioned for saying the prime minister had lied.
But the Labour leader also said it was "right" for the backbencher to have been ordered to leave the House of Commons for a day for breaking parliamentary etiquette.
Ms Butler was ordered to leave the House after refusing twice to take back her remarks, since it breaks current parliamentary etiquette to call another member a liar.
She highlighted disputed claims made by Mr Johnson – referring to his statements on economic growth, NHS spending and nurses' bursaries, before adding: "It's dangerous to lie in a pandemic."
As explained on the UK parliament website, such language "breaks the rules of politeness in the House of Commons Chamber" and can lead to a member being asked to withdraw what was said or leave.
In a chamber where MPs must refer to each other as the "honourable member", accusations of deliberate deceit and dishonesty are forbidden.
Many left-wing commentators and Labour MPs, including the party's deputy leader, threw their support behind Ms Butler after the incident. "Just to confirm, Boris Johnson is a liar regardless of who calls him a liar or where they call him a liar," Angela Rayner said.
Comment I think it is ironic that the lefty PC Woke feminists element in mainstream politics should complain about punishment for bad language. They are the ones who wanted this censorship and hate speech law inside and outside of the House of Commons. They never expected it to apply to them because they are so psychotic and intolerant that they believe that they own the truth and are the truth. Robert Cook
Covid news – live: Javid apologises for 'poor choice of words' after outrage over 'cowering' from virus remark – July 224th 2021
Andy Gregory 35 mins agoLike5 Comments|7Police warning after six people die in Scotland's waters in just over 24 hoursLeon Bridges: Gold-Diggers Sound review – unashamedly grown-up songs for the soul
LIVE – Updated at 15:23
© Dan Kitwood/Getty Images GettyImages-1325881667.jpg
Sajid Javid has apologised "for his poor choice of words" and deleted a tweet in which he claimed the public should not "cower" from coronavirus, after the health secretary's "deeply insensitive" remark sparked outrage, particularly among bereaved families and the clinically vulnerable.
It came as an NHS executive said hospitals are experiencing a "perfect storm", as rising Covid hospitalisations and record-breaking demand for A&E collide with holiday season, amid warnings of a summer of venue closures, travel disruption and food supply woes as a result of worker shortages caused by the so-called "pingdemic". The British Medical Association blamed the government for allowing cases to "skyrocket".
And MPs cautioning that taxpayers will be spending money on the pandemic for decades to come have warned that the government is still spending millions on unusable personal protective equipment (PPE), with some 7 per cent of items failing quality checks – totalling more than 2.1 billion wasted purchases.
Meanwhile, Professor Adam Finn, a member of the Joint Committee on Vaccination and Immunisation, said that "there are younger people really getting seriously ill at the moment", citing the nearly 200 people recently admitted to hospital in Bristol, who he said have a mean age of 40.
Key Points
Anger over health secretary's 'cower' remark
Government has wasted £2.1bn on unusable PPE
'Perfect storm' for hospitals as Covid and holiday season collide
15:23 , Andy Gregory
The foreign affairs committee's Tory chair Tom Tugendhat has warned that vaccine passports "risk a social credit system of control".
Vaccine passports risk a social credit system of control.

If we need a vaccine to for events like a party conference or a nightclub – why not to travel by a train, or go to a university lecture or a shop? What other choices will result in denial of service?— Tom Tugendhat (@TomTugendhat) July 25, 2021
Comment So I conclude that the powers behind the government including mainstream media, wants us to cower. Robert Cook
Anti-vaxxer's son condemns her comments about executing NHS workers – July 24th 2021
15:15 , Andy Gregory
The son of Kate Sherimani – an anti-vaxxer whose comments at yesterday's protest in Trafalgar Square were condemned by the mayor of London as "utterly appalling" – has also spoken out against his mother.
In a speech yesterday, Ms Sherimani, a former nurse who was was struck off by the Nursing and Midwifery Council in June for spreading false information about Covid, said that she was drawing up a list of nurses names in connection with the vaccines, adding: "At the Nuremberg trials, the doctors and nurses stood trial and they hung."
Her son, Sebastian, has told the BBC: "It's only a matter of time before a follower of my mum's lies decides to take matters into their own hands and hurt one of our NHS professionals."
Comment There is no reason why the boy should agree with his mother. One can just imagine mintream media rushing to get the woman stitched up by her son. But ,the boy is rather missing his mother's point and I am sure she was being a lot more abstract in her comments. Putting an appalling NHS on a predestal because they can't do the job is pathetic , as is exxaggerating the death risk. Because of this futile smokecreen lockdown many more are dying from other causes. Poverty and mental health issues are off the scale. Viruses cannot be defeated which is why we still have colds, flu and AIDs. the powers behind this scenario know that. Australia is an even more absurd situation.
Robert Cook
Britain heading for biggest cut to social security since WWII, think tank warns – July 23rd 2021
---
Hunt for 11-year-old Bolton girl believed to have travelled to LondonKanye West – Donda release, live: Is the rapper still releasing his new album…
Britain is heading for the biggest cut to the basic rate of social security since the creation of the welfare state at the end of World War II, a leading think tank has warned.
© PA
Boris Johnson and chancellor Rishi Sunak- PA
Boris Johnson's ministers must use the parliamentary recess to rethink plans to cut universal credit by £20 a week in October, said the Joseph Rowntree Foundation (JRF).
New analysis from JRF shows how damaging the changes will be to working families – who make up the majority of those who will be affected by the looming cuts to universal credit and the working tax credit.
In the JRF's illustrative scenario, a family with three children, where one adult is working full-time, and the other is working part-time, living in a medium cost area, would be left £150 per month below the poverty line if the planned cuts go ahead.
Katie Schmuecker, deputy director of policy for the JRF, said: "The new analysis should act as a stark warning of the immense, immediate and avoidable consequences of what amounts to the biggest overnight cut to the basic rate of social security since the Second World War."
She added: "Ministers cannot hide the fact that they are ploughing ahead with a cut despite knowing it will be devastating for millions of families."
The reversal of the £20-a-week uplift in universal credit – introduced at the outset of the coronavirus lockdown last year – will cost £1,040 a year for some of Britain's poorest families, including many in low-paid jobs.
Covid UK news – live: Train services to be reduced due to 'pingdemic' as new variant under investigation
Akshita Jain,Conrad Duncan,Celine Wadhera and Charlene Rodrigues 58 mins agoLike215 Comments|183
---
Drift club: we go seriously sideways… in a Morris MarinaBurnt pans? Try these easy cleaning hacks
LIVE – Updated at 20:50
© PA Coronavirus – Thu Jul 22, 2021
Rail leaders across the country are planning to reduce train services from next week because of staff shortages caused by the "pingdemic".
Already, dozens of trains, including a London Tube line, have been forced to suspend service amid the related staff shortages.
Figures on Thursday showed that more than 600,000 people had been alerted by the NHS Test and Trace app to self-isolate following close contact with someone who has tested positive for Covid-19.
Meanwhile, Public Health England has confirmed that a new coronavirus variant is under investigation in the UK.
Sixteen cases of the variant known as B.1.621 have been identified across the country, most of which have been linked to overseas travel, with no apparent community transmission.
PHE has said that it does not appear to make vaccines less effective or cause more severe illness.
Key Points
BMA calls for 'urgent rethink' of government's plan to 'let Covid rip' through UK
No self-isolation exemptions for retail, hospitality or supermarket staff, minister says
Food industry workers to avoid self-isolation through testing scheme
New Covid variant under investigation in UK, PHE says
Daily Covid testing for school children just as effective as isolation, study suggests
Eight-week dose interval is 'sweet spot' for Pfizer vaccine, scientists say
UK food industry at 'crisis point' over self-isolation chaos and Brexit issues
Comment There is always going to be a new variant. Positive tests are not reliable but used to pump up the numbers, especially because they are falling. There are lot of vested interests making money from controls and others , namely the carefully selected experts ruling the roost , with at best guesswork, and avoiding key variables regarding the spread because they are unpalatable. the NHS don't like the extra work , nor do GPs. The reality is that deaths are at worst 'with Covid' with the avrage age at 82.
No mainstream media or authority figure wants to talk about wider deeper damage. The NHS workers and police are showing just how much they are not heroes as they seek to milk the situation for extra money without proper accountability – with the lower orders inevitably set to pay for it because they pay most of the direct and indirect taxation. It is superficially nonsense , but the masks and lockdown keeps people apart, with dissenters facing masssive life destroying penalties for serious disobedience and protest.
Multi culture is a cage under the control of the elite culture and well paid lackeys. We have hero footballer Harry Kane preaching equality as he looks forward to a new team with over £400,000 a week. Why does anyone watch these people ? We have an MP banned from Parliament for using really strong language – she called the PM a liar. I am too stunned by events to say more at the moment. – other than the Pfeizer vaccine had some rather nasty side effects on me and a lot of others , and it is apparently still not enough. So obviously giving the virus its freedom is the only solution as with all other viruses unless this bio engineered eample is expected to turn very nasty as it was designed to do , perhaps ! Robert Cook
Not a Pretty Sight – July 23rd 2021
Patel has attempted to position herself as a champion for the police, declaring in her 2019 Conservative party conference speech that the Tories had taken "their rightful place as the party of law and order in Britain once again" and pledging to give police the powers they need to tackle crime.
The prime minister, Boris Johnson, placed policing at the heart of his campaigning ahead of the last general election, pledging to recruit 20,000 police officers as well as expanding stop and search powers and increasing sentences for assaulting police officers.
VThe prime minister, Boris Johnson, placed policing at the heart of his campaigning ahead of the last general election, pledging to recruit 20,000 police officers as well as expanding stop and search powers and increasing sentences for assaulting police officers.
Rank-and-file police officers have overwhelmingly supported a vote of no confidence in the home secretary, Priti Patel, the first such move in more than a decade.
In a scathing announcement, the Police Federation of England and Wales (PFEW), which represents 130,000 officers, said Patel and the government "could not be trusted" and warned "warm words were not enough".
The move comes after Wednesday's confirmation that officers earning £24,000 or more would be hit by a pay freeze in 2021-22.
The PFEW's national chair, John Apter, said: "As the organisation that represents more than 130,000 police officers, I can say quite categorically – we have no confidence in the current home secretary. I cannot look my colleagues in the eye and do nothing."
Fears for hundreds of steel jobs as famous firm calls in administrators
July 22nd 2021
Hundreds of jobs are under threat at a steel firm which helped build the Wembley arch, the Shard and Dubai International Airport.
Cleveland Bridge, a 144-year-old company in the heart of the Tories' Red Wall, called in administrators – triggering fears for about 200 staff.
The company, whose plant straddles the Darlington and Sedgefield constituencies seized by the Conservatives from Labour in December 2019, said it was "actively taking advice and exploring a range of options".
Shadow Business Minister Seema Malhotra said: "This is extremely worrying news and my immediate thoughts are with every affected employee who may be feeling anxious about their livelihood.
EDL FOUNDER TOMMY ROBINSON LOSES LIBEL LAWSUIT BY SYRIAN SCHOOLBOY | UK NEWS – July 22nd 2021
By Patrick Lawson -July 22, 20211 0
English Defense League founder Tommy Robinson has lost a defamation case brought by a Syrian schoolboy who was caught on camera being attacked at a school in Huddersfield.
After the video went viral in 2018, Robinson claimed in two Facebook videos that Jamal Hijazi was "not innocent and he violently attacks young English girls at his school."
His lawyers said the comments had "had a devastating effect" on him and his family, who had come to the UK as refugees.
A judgment by Judge Nicklin on Thursday ruled in Jamal's favor and awarded him £ 100,000 in damages.
Robinson's Facebook videos in response to the attack at Almondbury Community School in October 2018 have been viewed nearly a million times.
He also claimed Jamal "beat up a black and blue girl" and "threatened to stab" another boy – allegations the teenager denies.
The case went to trial in April and Robinson – who represented himself – argued his comments were essentially true and claimed to have "uncovered dozens of accounts of aggressive, abusive and deceptive behavior" from of the teenager.
Jamal's lawyer Catrin Evans QC said Robinson's comments in the videos led to death threats and "extremist agitation" against him.
She had claimed damages of between £ 150,000 and £ 190,000.
More information about this article Read More
Source: news.sky.com
This notice was published: 2021-07-22 13:12:00
Comment Libel and perjury are serious issus and , either line of publicity , even if it comes from the police, deserves serious punishment. I have not seen evidence to support Tommy Robinson on this matter. Robert Cook
Lex Greensill given 'extraordinarily privileged' No 10 access, inquiry finds – July 22nd 2021
Rajeev Syal Changing of the Guard returns to Windsor CastlePrince: Welcome 2 America review – the best album of his last two decades
© PA Wire/PA Images Screen grab from parliamentlive.tv showing Lex Greensill giving evidence to the Commons Treasury Committee. Picture date: Tuesday May 11, 2021. Lex Greensill has apologised and said he takes "complete responsibility" for the collapse of Greensill Capital. (Photo by House of Commons/PA Images via Getty Images)
The businessman Lex Greensill was given "extraordinarily privileged" access to Downing Street while the government's process for managing lobbying is insufficiently transparent and allows access to a "privileged few", a report into the Greensill lobbying scandal commissioned by the prime minister has concluded.
The former prime minister David Cameron and the late cabinet secretary Jeremy Heywood have been criticised in the 141-page review drawn up by the City solicitor Nigel Boardman.
Cameron "understated" the nature of his relationship with Greensill when lobbying officials, the report said.
© Thomson Reuters Former British Prime Minister David Cameron returns home, as investigations continue into the collapse of Greensill Capital and his failed attempts, as a Greensill employee, to persuade the British Treasury and the Bank of England to include the firm in the UK's COVID rescue programmes, in London, Britain, May 12, 2021. REUTERS/Hannah McKay
A covering memo to the prime minister in 2012 points to Lord Heywood as the person primarily responsible for Greensill being given a role in government, the report claims.
Comment The British Political system and its associated elite are rotten to the core. Th police are seriously corrupt and dishonest – in a symbiotic relationship with this vile system that abuses lower claass whites , especially men , in the name of equality and human rights.
It is a dreadful example to the world where it uses its myths and Upper Middle class dominated mainstream media , most notably the BBC, to sread its fake democracy poison.
As Bob Dylan wrote and sang : 'All the criminals in their coats and their ties are free to drink Martinis and watch the sun rise.' Robert Cook
Videos of Hurricane Bob Dylanbing.com/videos8:17Bob Dylan – Hurricane 1975 [Live]1.4M views · Nov 9, 2016SaveShareYouTubeVagner Ferreira
Very Worrying – July 22nd 2022
It will take until October to vaccinate all under-30s under current vaccination rates, worrying figures reveal.
Demand for the jab among young adults has plummeted by 80 per cent as the rollout slumps to its slowest pace yet.
Just 18,100 under-25s a day have come forward to get their first dose in the past week, NHS England figures show.
This is a dramatic fall since the vaccine programme was first opened to all adults a month ago. In the week to June 18, more than 90,000 under-25s got jabbed every day, but just 31,000 people a day on average have received their first dose so far this week.
© Provided by Daily Mail (
Overall, the UK's vaccine rollout is crawling along at its slowest level since it began eight months ago. In March, more than half a million people were getting vaccinated every day with first doses peaking at 752,000 shots in a single day. Some GPs have even had to redistribute doses of the vaccine after struggling to fill appointments, despite all over-18s being eligible.
Experts believe the fall in demand shows Britain is 'getting close' to the limit of uptake, amid rising concerns over vaccine hesitancy in the young, with three million under-30s still unjabbed.
Comment
I learned today that government papers reveal reform proposals to tighten up official secrets , with grave implications for independent journalism. We are well along the road of Police State dictatorship where mainstream journalism is all about setting and reinforcing an ongoing repressive agenda for the sake of a national and interwoven global elite who have made incredible extra billions from lockdown whilst setting the masses against each other on gender and racial lines.
This country's governing elite have shown their true colours through their treatment of war crime whistle blower Julian Assange. The way mainstream media have avoided this story speaks volumes for their complicity in this Anglo-U.S conspiracy and cover up.
Brainwashing us , of all ages into mass vaccinations – unless you have religious objections as many Mulims do – is a key part of the process. To doubt the vaccines safety is to challenge the system. Young people are supposed to have been brainwashed into State compliance by the dreadful education system.
When Hancock came out with the rules and brazenly broke them for sexual pleasure at work with his posh female assistant, a Whitehall purge was called for to shoot the messenger. Hancock's sex at work with a girlfriend handpicked and paid for by the taxpayer was an official secret.
There are far too many contradictions about lockdown , vaccines and increasing infections, as well as the ongoing welcome to illegal migrants , not to conclude either a) Conspiracy or b) Government idiocy & incompetence.
I have felt very ill since my double pfeizer jab ,with viral fatigue , vertigo and brain fog. They tell us it isn't a block on catching or spreading the virus – so why bother ? We know it hits unfit old folk – I am nearly 71 and am ready to leave the planet but many of my generation want to live forever.
Last Saturday , I found myself having to share a bench in Buckingham Town Centre sitting near to an 80 year old white female who had moved up from London. She told me how boring the town was. She said she cravd the excitement of being able to visit London every week for stimulation. It was a most revealing conversation.
As a retired teacher, she felt that young people were being selfish by not having the jab and making the country safer for older people like her. This is just another twist on the Covid con trick. We must not be allowed to question the authorities on the matter or protest without permission and following the rules , including no shouting or bad language – rather defeating the object of protest. Robert Cook
Lydon tells Sex Pistols court case – July 22nd 2021
Anita Singh|7LIVE: Nurses 'consider protest' over 3% NHS pay rise in EnglandDizzee Rascal wants to make music until he's 80
The producers of The Crown tried to invent scenes of a rioting crowd pelting the Queen with bottles during her Silver Jubilee procession, John Lydon has claimed.
© Dominic Lipinski/PA Wire John Lydon, aka Johnny Rotten, smokes outside the Rolls Building at the High Court, London – Dominic Lipinski/PA Wire
The former Sex Pistols frontman said he refused to allow God Save the Queen to be used in the Netflix drama after learning how it was to be used.
"It was a very perverse interpretation of the history of the Jubilee," Lydon told the High Court, where he gave evidence as part of a dispute with his former bandmates.
It is the latest accusation of falsehood to hit the show, which has been accused of a series of inventions that portray the Royal family in an unflattering light.
On June 7 1977, the day of the Jubilee procession, the Sex Pistols staged a publicity stunt to perform God Save the Queen on a boat down the Thames.
Lydon said he was open to the idea of the song being used on The Crown's soundtrack.
But in his witness statement to court, he said: "Then it turned into the producers wanting to use actors for a re-enactment of [the] famous boat trip.
© Provided by The Telegraph Court sketch of John Lydon – Elizabeth Cook/PA Wire
"The producers of The Crown wanted to distort the history of the day and depict me as a political protester and to show scenes of protest in front of the Queen in the middle of her Jubilee celebrations. Events that simply did not happen.
"The story that they presented was with the Queen in despair in her carriage, and all those ugly scenes on the streets of crowds fighting and chucking bottles, whilst others were celebrating the Queen.
"Nobody was rioting, and here is my real, serious problem with it. This never happened. This is a lie about history.
"There were no bricks and bottles thrown at the Queen… it's a lie. The only people making any demonstration at all about the Royal family that day were the Sex Pistols on a boat trip down the Thames – lovely songs of protest in front of the Houses of Parliament, and that's it."
"They can mish-mash history all they want, but they can't do it using my name."
The episode eventually broadcast showed the Queen in her carriage, with no protests around her.
'Hamilton knows he will be dethroned by Verstappen' – July 22nd 2021
Finley Crebolder
---
McCarthy threatens to pull Republican picks from Capitol riot committee…Hayden Panettiere reunites with Brian Hickerson after jail release
Dutch racing driver Tom Coronel says Lewis Hamilton is getting "stressed" by Max Verstappen as he knows the Red Bull man will dethrone him.
© PA Images Max Verstappen Lewis Hamilton PA
The title fight between the two was taken to another level at the British Grand Prix where the two made contact soon after the start, causing Verstappen to crash out of the race.
Hamilton went on to win and afterwards, the Dutchman slammed his celebrations as disrespectful, while the Mercedes man criticised his rival for being too aggressive.
Coronel feels the incident was further proof that Hamilton is struggling with the pressure put on him by Verstappen and the fact he knows he will be "dethroned".
"I just see that Hamilton is getting stressed by Verstappen," he told the Dutch branch of Motorsport.com.
"We've known that for three years because if he leads the way, he will ask where Max is.
"He just knows he is the all-time best and that he will be dethroned. We also know by whom."
Check out all the latest Lewis Hamilton merchandise on the official Formula 1 store
The collision from both angles

(via @F1) pic.twitter.com/6QfE7CDNzp

— Channel 4 F1® (@C4F1) July 21, 2021
The stewards decided to award Hamilton a 10-second time penalty for the incident at Copse, which the Briton and his team felt was unfair.
In the aftermath of the race, he remained adamant he did not do anything wrong and that Verstappen should not have been so aggressive.
Coronel disagrees, thinking the seven-time World Champion should own up to making a mistake and that while he races hard, Verstappen always races fairly too.
"Just say 'I made a mistake'," he added.
"Then the race goes on and take the points from Verstappen and laugh about it. But don't go back and say 'yes, but there was a fierce battle….'
"Max has always fought fair. He never hit Hamilton. He did break open the door a bit with a crowbar. Look at Barcelona, look at Imola. But there, you see they understand and respect each other. That was not the case now.
"Max gave him space, thought 'well then, we'll just go through Copse together'. And then Hamilton makes the mistake. Then it's very simple – then you also have to say you are wrong."
Coronel feels the main issue was that Hamilton missed the apex of the corner and says his successful overtake on Charles Leclerc at the same corner later on shows that.
"Hamilton also overtook Leclerc. Only when he did it with Max, he missed the apex by one-and-a-half metres," said the Dutchman.
Comment Hamilton is very British in his lack of sportsmanship. We saw the same mood with the footballers and the European Cup. BLM is an egotistical virtue signalling issue for Hamilton and Southgate et al . There is such smug self righteous arrogance about sports people and the U.K commentators today. But there is also the age issue. Senna could not handle the rise of young Schumacher. His driving as always on the dangerous side, but he was suddenly one of two Dick Dastardlys.
The incredible greed and egotism of these people appalls me. I remember motor racing whene there were real British and foreign heroes. The quiet modesty of super talent Scot Jim Clark was my hero. It was so sad when he was killed at Hockenheim.
Cars were rather dangerous back in the 1960s and there was rather a lot of manual gear changing. Those days are gone. Hamilton is very much of the new era. His dad was the hero , doing extra jobs to support his son's go karting.
The real message to the BLM merchants is not to listen to Hamilton's victim of blackness story , but follow the example of what families of all colours should be doing for their kids. Hamilton's parents were divorced , but that didn't stop his dad being a good parent. Sadly female egotism , with all its excuses, is a bigger problem in creating problems for society, not skin colour or the likes of Hamilton – but that is another story. Robert Cook
Government offers NHS staff in England 3% pay rise – July 20th 2012
Denis Campbell Health policy editor 30 mins agoLike3 Comments|10Business leaders say UK and EU must reach 'urgent agreement' over NI ProtocolDerek Hough to perform Las Vegas show this Autumn
Ministers have offered more than 1 million NHS staff in England a 3% pay rise, three times higher than its initial 1% offer, which sparked fury among frontline workers.
© 2021 Anadolu Agency LONDON, UNITED KINGDOM – JULY 03: NHS staff march through central London during a protest demanding a 15% pay rise for healthcare workers, focus on patient's safety and an end to privatisation as part of a national day of action coinciding with the 73rd birthday of the NHS in London, United Kingdom on July 03, 2021. (Photo by Wiktor Szymanowicz/Anadolu Agency via Getty Images)
However, nurses are likely to reject the award as too low and may take industrial action in protest. Other health unions also plan to ballot their memberships over possible strike action.
The government dropped plans to make only 1.5% of the 3% uplift a permanent increase to salaries, with the other 1.5% in effect a one-off bonus, after staff groups warned privately that structuring the deal that way would lead them to condemn the deal.
However, the government's decision to exclude the NHS's 61,000 junior doctors – all medics below the level of consultant – from the award is certain to cause deep unease among a key group of staff who undertook a series of strikes in 2015-16 in protest at a proposed new contract.
What is the SNP's policy on immigration? – July 20th 2021
Scotland needs an immigration policy suited to our specific circumstances and needs. Scotland needs people to want to work here, in our businesses, our universities and in our public services. The current UK one-size-fits-all approach to immigration is failing Scotland.
UK immigration policies do not take into account Scotland's unique circumstances and they are harmful to our communities and future prosperity. Tory immigration proposals would be disastrous for Scotland. They will send our working-age population into decline, threaten tax revenues and cause serious staffing shortages in our NHS, care services and key sectors such as tourism, agriculture and construction.
With independence, and full power over migration policy, we can build asylum and immigration systems geared to meet Scotland's needs and founded on fairness and human rights.
Until then, we will continue to call on the UK Government to introduce a fair and humane asylum and refugee system where people have the right to work and to contribute to society, and to lift the harmful restrictions caused by No Recourse to Public Funds.
The UK Government should also review family migration, looking at the definition of family members, costs, and children born here, and extend the rights of EU nationals in the UK automatically, or at the very least to cancel the deadline for the EU Settlement Scheme.
Comment: It is a great shame that those within Scotland who campaign so tirelessly with such determination and committment for the rights and needs of economic migrants – have so little care and concern for native white Scots. The majority of whom are now living lives of pitiful hardship.
The working age population of Scotland has been falling for a number of years now. As the SNP has held power at the devolved Scottish Parliament since devolution why have they done nothing to arrest this decline?
Many young Scots move south into Engalnd and Wales every year seeking better economic opportunities than those presently available at home. Others are so addicted to alcohol and hard drugs incapable of sustained work. Death by suicide or violence continues a steady rise also in Scotland.
Scotland's circumstances are not unique within the context of the UK as a whole. There are many industries and sectors – such as tourism agriculture construction and public services – that rely on an ever growing unskilled pool of cheap foreign born labour to control wage costs and fill manpower.
Where is the fairness in Scotland – the humanity – to place the needs of its own desperate downtrodden underpriviliged white working – and lower middle – classes who have borne the brunt of economic crises caused by the greed and corruption of their masters – on an equal priority at least to those primarily economic migrants from Africa, the Middle East and Asia?
The priviliged upper class Scots – of all colours, faiths and persuasions – do not care at all for their own people. The continued demographic decline of white working age Scots – a possible intentional policy of the fascist like SNP – should be addressed before any consideration is given to their immediate replacement by those born overseas. It amounts to ethno-cultural genocide. Robert Cook
The Guardians – July 20th 2021
Boris Johnson news – live: PM refused autumn lockdown because Covid victims 'all over 80', claims Cummings – July 20th 2021
Chiara Giordano
---
Bezos blasted for traveling to space while Amazon workers toil on planet EarthShailene Woodley is in no rush to get married
© Jeff Overs/BBC/PA BBC Cummings
Boris Johnson resisted a second national coronavirus lockdown because he believed those dying were "essentially all over 80" and denied the NHS was overwhelmed, Dominic Cummings has claimed.
The prime minister's former chief adviser shared WhatsApp messages with the BBC in his first broadcast interview as he accused his one-time boss of putting "his own political interests ahead of people's lives".
Mr Cummings has repeatedly accused the prime minister of being too slow in imposing the second lockdown, which came into force on 5 November.
The political adviser, who left Downing Street during a bitter row in November, shared a series of messages from 15 October that appear to be from Mr Johnson to aides.
Mr Cummings also claimed the prime minister wanted to meet the Queen early in the pandemic despite signs the virus was spreading in his office and the public was being told to avoid all unnecessary contact, particularly with the elderly.
Key points
PM refused autumn lockdown because Covid victims 'all over 80', claims Cummings
Boris Johnson's leaked WhatsApp messages
Boris Johnson has had some 'really difficult' decisions to make, says business minister
Plan to hike national insurance payments to fund social care attacked as 'tax on the young'
NHS staff in England set to be offered 3% pay rise
10:01 , Chiara Giordano
The government is expected to announce a pay rise of 3 per cent for NHS staff in the coming days, triple its original offer earlier this year.
The Department for Health and Social Care originally told the independent NHS Pay Review Body in March it could only afford a 1 per cent pay rise this year for doctors, nurses and other NHS workers.
My colleague Tim Wyatt has more details:
© Provided by The Independent
NHS staff in England set to be offered 3% pay rise
Plan to hike national insurance payments to fund social care attacked as 'tax on the young'
09:40 , Chiara Giordano
A plan to hike national insurance payments to tackle the social care crisis has been attacked as unfair on younger workers – while older people would escape paying more.
The Resolution Foundation condemned "a terrible way to raise the funds required" and both senior Tory and Labour politicians echoed the criticism.
Paying for social care must be 'fair to all income groups and ages', says shadow economic secretary
09:31 , Chiara Giordano
Shadow economic secretary Pat McFadden said paying for social care must be fair to all income groups and all ages.
The Labour MP told Sky News: "There's been a social care problem in the country for many, many years. We know we've got to fix it, the Covid pandemic has shown us the problems in the system, and we understand that's got to be paid for.
"And again, with a tax proposal, which has been briefed to one or two newspapers, the best way to judge it is on two criteria.
"One: does it really fix the problem in social care? And secondly, is it fair to people of all ages, and all income groups? And at the moment, we've got one story briefed, but we've had this quite a few times, so again, on this, it's better to wait to see what the proposal is.
"But if we're going to affect social care in this country, it will have to be paid for."
He added: "I think any proposal, as I said, has to be fair to all income groups and people of all ages."
Eleven arrested as protesters clash with police outside parliament on 'Freedom Day' – July 19th 2021
---
PM could announce 3% NHS pay rise unions say is a 'small step forward on…Lady Gaga and Tony Bennett will perform two One Last Time concerts
Anti-lockdown protesters clashed with police during a demonstration outside parliament on the same day that Covid restrictions in England were eased.
© Anadolu Agency via Getty Images SEI88303383.jpg
Video showed an angry confrontation between crowds of predominantly men and police near Downing Street on Monday afternoon.
The Metropolitan Police said 11 people had been arrested "for a variety of offences", adding that "sadly officers have been met with hostility while engaging with crowds".
Police were earlier forced to close roads in Westminster after a group of demonstrators gathered to voice their opposition to coronavirus curbs and vaccines on so-called Freedom Day.
Protesters chanted "arrest Boris Johnson" and "shame on police" while holding signs saying "say no to the Covid vaccine" and "vax passport = digital slavery".
Prince Harry to write 'intimate and heartfelt' memoir – July 19th 2021
---
Strong El Nino turned section of Amazon into major carbon polluter –…Reese Witherspoon thrills fans in a hot pink dress we want too
The Duke of Sussex is to write an "intimate and heartfelt" memoir of his life, from childhood to the present day.
© Invision Prince Harry, Duke of Sussex – Invision
The book, to be released late next year, will share the "definitive account" of his "experiences, adventures, losses, and life lessons," publisher Penguin Random House announced last night.
Prince Harry, who will donate the proceeds to charity, said he was "excited for people to read a firsthand account of my life that's accurate and wholly truthful."
The book marks the first time a senior royal has ever written such a personal account of their life and the prospect is likely to send shockwaves through the Royal family.
Buckingham Palace aides declined to comment last night. It is not known if the Queen, or other senior members of the family, were informed about the project before it was announced.
The Duke has reportedly been working on it for almost a year, since he and Meghan confirmed that they would not be returning as working members of the Royal family.
He is said to have joined forces with Pulitzer-winning ghostwriter JR Moehringer, an American journalist and novelist.
The Duke said: "I'm writing this not as the prince I was born but as the man I have become.
"I've worn many hats over the years, both literally and figuratively, and my hope is that in telling my story—the highs and lows, the mistakes, the lessons learned—I can help show that no matter where we come from, we have more in common than we think."
He added: "I'm deeply grateful for the opportunity to share what I've learned over the course of my life so far and excited for people to read a firsthand account of my life that's accurate and wholly truthful."
© Provided by The Telegraph The Duchess of Sussex and Prince Harry attend Royal Ascot in 2018 – Getty Images Contributor
The first draft of the manuscript, currently untitled, is said to be almost completed, with the deadline in October.
Publication in late 2022 year could bring a dramatic end to the Queen's Platinum Jubilee year.
It follows a raft of television and podcast interviews in which he has spoken extensively about his life, often focusing on the damage he believes he suffered as a member of the Royal family and his mental health struggles following the death of his mother, Diana, Princess of Wales.
The Sussexes have accused the Royal family of racism, while Meghan said the pressure of royal life left her sudical, claiming the institution offered no support.
© Provided by The Telegraph Prince Harry Works in n Australia wearing the traditional Akubra leather hat – Tim Graham Photo Library
More recently, the Duke said on his new AppleTV mental health series that "forces working against" them had tried to make it "impossible" for them to leave the UK.
The Duke did not disclose which charity he had chosen to donate the proceeds to, although it is thought unlikely they will be channelled into his own Archewell Foundation.
The publisher said the book would cover his military service and the joy he has found in being a husband and father.
It added: "Prince Harry will offer an honest and captivating personal portrait, one that shows readers that behind everything they think they know lies an inspiring, courageous, and uplifting human story."
Markus Dohle, CEO of Penguin Random House, said: "All of us at Penguin Random House are thrilled to publish Prince Harry's literary memoir and have him join the world-renowned leaders, icons, and change-makers we have been privileged to publish over the years.
"Prince Harry has harnessed his extraordinary life experience as a prince, a soldier, and a knowledgeable advocate for social issues, establishing himself as a global leader recognised for his courage and openness. It is for that reason we're excited to publish his honest and moving story."
The book will be published in both print and digital formats and an audiobook edition will be released simultaneously by Penguin Random House Audio.
Sign up to the Front Page newsletter for free: Your essential guide to the day's agenda from The Telegraph – direct to your inbox seven days a week.
Freedom day: From nurses to shop staff, the people not looking forward to restrictions lifting today – July 19th 2021
Chiara Giordano
---
World's feral pigs produce as much CO2 as 1.1m cars each year, study findsHalsey welcomes first child: Meet Ender Ridley Aydin!
While many of us will be eagerly anticipating the lifting of almost all coronavirus restrictions on so-called "freedom day", for others 19 July is a date that has been filling them with dread.
© Dominic Lipinski/PA
Some people are anxious about coronavirus restrictions lifting in England on so-called 'freedom day'- Dominic Lipinski/PA
England will move to step four of the government's roadmap out of lockdown today, when social distancing and mandatory mask wearing will come to an end, although people will be advised to continue wearing face coverings in crowded and enclosed spaces such as public transport.
But the clinically vulnerable and those working in customer-facing roles such as retail, hospitality and healthcare have grave concerns about the "confusing" new guidance.
Claire Saunders, convenience store manager
Claire Saunders, who manages a convenience store near a pub in Essex, said her colleagues were "more anxious than ever before" as freedom day loomed.
The 41-year-old said the level of abuse her team has faced has "increased massively" during the pandemic as they have tried to enforce the use of face masks and social distancing by asking people to wait outside.
"Convenience stores are a lot smaller than supermarkets so it's more difficult to socially distance, we are open until a lot later, you get a variety of people coming in, it's not a big supermarket where you have guards on the door," she told The Independent.
"People are still scared," she added. "We're in the community and especially get elderly customers and they're still very anxious, as are colleagues, because Covid hasn't just thought, 'oh, I'm going away'."
Lockdown exit news – live: Current wave could see 200,000 cases a day warns Ferguson on eve of freedom day – July 18th 2021
Celine Wadhera
The current wave of coronavirus infections could see up to 200,000 new cases a day, Imperial College London epidemiologist Neil Ferguson has warned.
Prof Ferguson told BBC1's Andrew Marr Show that it was "almost inevitable" that daily infection rates would hit a record 100,000 within a week, and that cases could spike at more than double that figure.
His frightening announcement comes just hours ahead of England's "freedom day", where all remaining coronavirus restrictions are set to be lifted on Monday.
All adults in the UK have been offered a Covid-19 vaccine ahead of the planned lifting of coronavirus restrictions on Monday, the government says.
The latest figures show that 46.2 million adults (87.8 per cent of the population) have had a first dose of a vaccine, and 35.7 million (67.8 per cent) are fully vaccinated.
Prime Minister Boris Johnson said that the vaccination target had been met, and called it an "extraordinary achievement".
UK Covid figures
16:05 , Celine Wadhera
As of 9am on Sunday, a further 48,161 Covid cases were recorded by the government.
While lower than Friday and Saturday's figures which were higher than 50,000, it is not far from the highest number of daily cases ever recorded, which stands at 68,053, reported on 8 January.
In addition, there were also 25 new deaths of people within 28 days of testing positive for coronavirus.
This new data brings the total of people confirmed to have caught Covid in the past week to 316,691, an increase of 43.3 per cent compared to the previous seven days.
There have also been 283 deaths in the last seven days, an increase of nearly 39.4 per cent.
Hospitalisations have also been increasing with 740 reported on 13 July, representing a week-on-week increase of 39.4 per cent.
Boris Johnson shares video on Twitter asking public to 'take the appropriate course of action' when pinged by NHS app – July 18th 2021
15:42 , Celine Wadhera
On Sunday afternoon, hours after the prime minister tried to dodge self-isolation through a pilot programme, Boris Johnson released a video on Twitter, where he pleads with the public, asking people to "stick to the rules".
He said: "Like so many of hundreds of thousands of people across the country I've been 'pinged' I've been asked to self-isolate by the Test, Trace and Isolate system.
"We did look briefly at us taking part in the pilot scheme which allows people to test daily, but I think it's far more important that everybody sticks to the same rules.
"I really do urge everybody to stick with the programme and take the appropriate course of action when you're asked to do so by NHS Test and Trace."
He added that he would be in self-isolation until 26 July.
Boris Johnson pleads with people to 'stick to the rules' – hours after trying to escape self-isolation
15:37 , Celine Wadhera
Boris Johnson has issued a remarkable plea, asking everyone to "stick to the rules" hours after he tried to dodge self-isolation rules.
Comment Some freedom Day. It's the new freedom. By the above logic, there will be some form of lockdwon indefintely. In the U.S , Ted Cruz has been mocked by the mainstream for stating the obvious about on going mass economic migration will raise case numbers. Robert Cook
Fear , Mainstream U.K Press Fights The Woke Fight – July 18th 2021
In Trump's Jan. 6 recast, attackers become martyrs, heroes
Via AP news wire
---
'Bank robber Boris Johnson's latest bout of chaos will cause more needless deaths'Ian McKellen's Hamlet loses two actors amid claims of bitter disagreement
A cocktail of propaganda, conspiracy theory and disinformation — of the kind intoxicating to the masses in the darkest turns of history — is fueling delusion over the agonies of Jan. 6.
© Copyright 2021 The Associated Press. All rights reserved. Capitol Breach Delusion – Copyright 2021 The Associated Press. All rights reserved.
Hate is "love." Violence is "peace." The pro-Donald Trump attackers are patriots.
Months after the then-president's supporters stormed the Capitol that winter day, Trump and his acolytes are taking this revisionism to a new and dangerous place — one of martyrs and warlike heroes, and of revenge. It's a place where cries of "blue lives matter" have transformed into shouts of "f— the blue."
The Guardian is the voice of the deceptive WOKE heavily policed state. Here in Britain, Donald trump was and still is seen as a threat to the WOKE elite bbacked consensus. Robert Cook
Cloth face masks are 'comfort blankets' that do little to curb Covid spread, Sage adviser warns – July 18th 2021
Justin Stoneman
---
Long Covid might strike half a million people during current wave, Neil…The week in TV: This Way Up; Naomi Osaka; Our NHS: A Hidden History…
Standard face coverings are just "comfort blankets" that do little to reduce the spread of Covid particles, a scientist advising Sage on ventilation has said.
© Provided by The Telegraph Boris Johnson wears a cloth face mask
Dr Colin Axon, who has advised the government on minimising the risk of cross-infection in supermarkets, accused medics of presenting a "cartoonish" view of how how tiny particles travel through the air.
He warned some cloth masks have gaps which are invisible to the naked eye, but are 500,000 times the size of viral Covid particles.
"The small sizes are not easily understood but an imperfect analogy would be to imagine marbles fired at builders' scaffolding, some might hit a pole and rebound, but obviously most will fly through," he told The Telegraph.
The mask debate has been reignited this week after the Government published 'Freedom Day' guidance recommending their continued use. It led to Sadiq Khan, the Mayor of London, enforcing their continued use on the London Underground.
Dr Axon said the public need to be offered a wider view of the science behind face masks, rather than the "partial view" of information being pushed by medics over their effectiveness.
'Medics have a cartoonish view of how the world is'
"Medics have this cartoonised view of how particles move through the air – it's not their fault, it's not their domain – they've got a cartoonish view of how the world is," he said.
"Once a particle is not on a biological surface it is no longer a biomedical issue, it is simply about physics. The public has only a partial view of the story if information only comes from one type of source. Medics have some of the answers but not a whole view."
Dr Axon, Brunel University's senior lecturer in engineering, said that the true mechanisms involved are best evaluated through science.
"When the particle enters another body it returns to a biomedical issue but the mask debate is about the particle journey," he said.
"Masks can catch droplets and sputum from a cough but what is important is that SARS CoV-2 is predominantly distributed by tiny aerosols."
© Provided by The Telegraph Passengers wear face masks on a platform at Canning Town underground station in London
Dr Axon said that medics were "unable to comprehend" the miniscule elements at play, adding: "A Covid viral particle is around 100 nanometres, material gaps in blue surgical masks are up to 1,000 times that size, cloth mask gaps can be 500,000 times the size."
Dr Axon, whose report on ventilation in supermarkets was used by both Nervtag and Sage to aid decisions, says that medics "cannot have it both ways" over asymptomatic spread.
He added: "Not everyone carrying Covid is coughing, but they are still breathing, those aerosols escape masks and will render the mask ineffective."
Droplets from coughs are much larger, and more likely to be stopped by a properly used mask, Dr Axon says. An Oxford study last summer concluded that masks were "effective" in reducing the spread of the virus.
'We are entrenching bad behaviour'
However, other studies have cast doubt on their effectiveness. A subsequent Danish study involving 6,000 people concluded that there was no statistical difference in infection spread in non-wearers, while data on US states with non-mandated usage failed to show a correlated uptick in cases.
"The public were demanding something must be done, they got masks, it is just a comfort blanket," Dr Axon noted. "But now it is entrenched, and we are entrenching bad behaviour.
"All around the world you can look at mask mandates and superimpose on infection rates, you cannot see that mask mandates made any effect whatsoever.
"The best thing you can say about any mask is that any positive effect they do have is too small to be measured."
Tube line suspended and bus services cancelled as NHS COVID app pings leave them short-staffed – July 17th 2021
---
Revealed: police trainees' violence and dishonesty
The London Underground's Metropolitan line has been suspended and others are facing disruption after the amount of people being pinged by the NHS COVID-19 app left the service short-staffed.
© Imagebridge London's Metropolitan line has been suspended after the COVID-19 app left it short-staffed
The Piccadilly and District lines have also been affected by the coronavirus contact tracing app.
There are also problems beyond the capital, with bus services in East Yorkshire among those impacted by the sheer number of people being pinged after coming into contact with a COVID case.
© Imagebridge The NHS COVID-19 app has been alerting an unprecedented number of people recently
Richard Jones, London Underground's head of network operations, said: "Due to a shortage of control room staff who are having to self-isolate following notification this morning via the Test and Trace app, there will be no service on the Metropolitan line for the rest of the day.
Whitty warns we're 'not out of the woods' on COVID
"This will also impact the Piccadilly line, with no service between South Harrow and Uxbridge and no service on the District line between High Street Kensington and Edgware.
"Services are expected to resume on the Piccadilly and District lines at 2100 this evening.
"We apologise to customers for the disruption. London Underground tickets will be accepted on local bus services."
The Piccadilly line serves the tourist areas of central London, including Covent Garden and Leicester Square, and Heathrow to the west, while the District line runs between west and southwest London through to Upminster.
Meanwhile, bus services in East Yorkshire are also being cancelled as a result of staff shortages.
Ben Gilligan, the area manager for East Yorkshire Buses, wrote on Twitter: "Apologies to all of our customers who are currently facing disruption. The team have worked so hard to minimise the impact of this.
"Please be considerate to those colleagues who are working today."
Elsewhere, trains could be altered on some Northern Rail routes this weekend due to the number of app alerts and positive tests.
Trains between Huddersfield, Sheffield and Lincoln, Sheffield and Leeds, Retford and York, and Leeds and Doncaster, are all facing cancellations in both directions, according to National Rail.
It comes amid the chaos caused by the app, with people dubbing it "pingdemic".
Latest figures to 7 July show that 530,126 people were alerted by the app to isolate after coming into contact with someone who has tested positive for COVID-19 – the highest figure recorded to date.
Despite Transport Secretary Grant Shapps suggesting last week a tweak to the app was in the offing, Sky News understands there are no plans to reduce the sensitivity of the app in line with new social distancing guidelines.
But transport unions have warned of "dire consequences" in the coming weeks as infections rise and the number of people being told to isolate rises.
Cases are rising across the UK – more than 50,000 infections were reported yesterday and the health secretary has revealed that he is now among those isolating after testing positive.
Rail, Maritime and Transport union (RMT) general secretary Mick Lynch had previously warned that Monday, when restrictions ease in England, "will see a surge in workers pinged with a self-isolation instruction next week".
"Even at this late stage, the government, the train operators and the bus companies should issue a clear, legally backed instruction that levels up the rest of the UK to the safety standards that will remain in force in Wales and Scotland," he said.
With the government having decided to drop the legal requirement for masks to be worn on public transport, several operators including Transport for London have taken it upon themselves to maintain the rule.
Multi Culture – July 17th 2021
Multi Culture Lies by R.J Cook
Quite simply , there is overwhelming evidence that multi culture is a big lie. It is a confidence trick. The whole process is designed and promoted by the mixed race global elite. Every time some moron defaces a plaque or statue to an ethnic group hero, like Marcus Rasford, is feeding the elite's deliberate distraction policy.
That elite has violent roots in European history which saw the Industrial Revolution change the world. The reason why the revolution started in the English speaking British Isles ( English is a mix of German and French resulting from two invasions following Rome's decline ) are complex , involving the overthrow of the Catholic's oppressive religion. The Celts continued to be oppressed and treated as inferiors.
Industrial change was funded by a self interested elite who protected their own privileges to this day. Divide and rule tactics were essential to the process , hence the Norman's strict social hierarchy known as the Feudal system. The elite conquered the world , all the time fighting amongst themselves, so bringing us two World Wars for their class's freedom at the expense of the fooled white masses on both sides. Uniforms have a peculiar effect on people – hence enforcing them in school.
The European Community was an idea to institutionalise a new hegemony protecting against their little inbred cliques and the nouveau riche who had married into them, with a planned new super state . It was brought in under the wire as a free trade con. The United States loved the idea , along with the rich clique, to protect against communism.
While I was growing up in snobbish Winslow , we lower class people were told that culture was the high art , literature , music and language of the upper classes who ruled over us. It was not until I got to Aylesbury College , where I added Sociology to my existing 3 A levels during my last 6 months there, that my brilliant teacher , Janet Skinner, taught me the precise definition of the term culture. It means ' attitudes and values.' There were no hidden messages with Janet or her equally brilliant husband John.
I owe a lot to my teachers from that long gone age. The wonderful local librarian Ruth Hall, diligently ordered sociology books from Central Library. I couldn't stop reading it , managing a Grade B in that short period of study.
Along with culture , I learned about sub culture and the work of people like Basil Bernstein. Bernstein's concept of restricted and elaborated language codes was particularly stimulating.
It is easier to explain the concept with a simple story. Imagine an image in side cross section. A child is playing ball in a front garden. He is on a path, chasing his bouncing ball toward an open gate. Outside on the road a big truck approaches.
With this image in hand, Bernstein's sample of working and middle class four year old children were asked to describe the scene. The middle class children predicted that , having lost control of the ball, the child would chase it out into the road and be hit by the truck.
In contrast, the working class children's vocabulary had no words to analyse or predict. Life chances and longevity were thus limited by class. Back immigrants were typically unskilled working class. Asian immigrants had Islam which defined their culture and has increasingly separated them from the rest – in western world having long abandoned Christianity as anything but a pose.
Bernstein wasn't the first to link achievement with home environment. Unskilled parent's conversation was limited and parenting was performed according to how they saw the world – a hierarchy.
In the 1960s , youthful working class frustration was give the safety valve of youth culture , increasingly sexualising clothes and behaviour in the age of contraceptive pills. Unskilled work was available along with high rise inner city housing – as what was left of the old community terraced housing made way for money grabbing property developers.
Into this 1960s barren landscape was born the world of multi culture nd the Notting Hill race riots of 1959. Until the consequences and pigeons of globalisation came home to roost , one might have thought all was well. But the elite are frightened and can not live without privilege . That's why there was a 1960s Vietnam War and revival of the Irish Troubles.
So now the elite are rewriting history, amplified by mainstream media , state education and gullible young campaigners , to shift blame on to the white working classes. Anyone understanding foot ball could see Gareth Southgate's scheme to put three black footballers up to take penalties in last week's Euro Cup final. One was too young and inexperienced and another nursing a serious shoulder problem. All three missed. The cup was lost. Obviously Southgate aimed to use these players to show how much we owed , as a nation to multi cultural football, regardless of the game's reliance on working class white support. It is a simple and long standing solidarity ritual. The backlash was quickly used to support the Southgate agenda.
But all the time the real issues are ignored. Using an anti racist mission during ludicrous lockdown and all the related consequences of globalisation , including mass illegal immigration represneted as asylum seeking, is just another manifestation of the multi cultural con. The elite are still setting the agenda. The black and white masses do not have the language code or interest to understand what is being done to them.
The migrants may be black , but have no more in common with back British than I have with the Queen. There is a clear softening up process going on. The elite are overseeing a distortion of history for the purposes of symbolic knee bending and scapegoating the white masses. Their public sector minions will make sure of compliance until enough people go totally mad.
To call all of this multi culture is a joke. It doesn't matter how many little sub groups are encouraged or criminalised , the inhabitants of these little boxes are increasingly watched and legislated for. People may not understand what I happening to them or why , but thy will feel the pain nd despair. It is still the old us and them culture.
All of us with expertise in social science and statical modelling know what is happening, but the arrogant elite have sacrificed millions of lives before and will happily do it again. Their true attitude to equality in Britain, is exemplified by the on going media fawning to Prince Harry and Meghan ( who don't know where the next million dollars is coming from ), Wills and Kate. This is all about protecting the ruling class and their culture.
Robert Cook
Boris Johnson pursuing Covid policy of mass infection that poses 'danger to the world', scientists warn – July 17th 2021
Adam Forrest and Jon Stone Tory jitters mount at political drift of Boris Johnson's governmentBiz Markie death: 'Just a Friend' rapper dies, aged 57
© PA
The prime minister has set out plans to end all restrictions in England from Monday- PA
Boris Johnson's government has come under pressure to urgently reconsider its plan to end Covid restrictions in England on Monday, as international scientists warned that the move poses a "danger to the world".
More than 1,200 scientists from around the globe have condemned the prime minister's decision to forge ahead with so-called "freedom day" on 19 July, describing it as "unscientific and unethical".
Some of the experts convened an emergency summit on Friday, warning that the UK government's decision to lift its rules on social distancing and masks amounted to a "murderous" policy of "herd immunity by mass infection".
The group of scientists – who all signed a recent letter to The Lancet warning against the plans – fear next week's reopening in England will allow the Delta variant to spread rapidly around the world.
The latest data from the Office for National Statistics suggests that 1 in 95 people in England had Covid last week, with 67.5 per cent of the adult population now fully vaccinated and 87.6 per cent having received their first jab.
Professor Michael Baker, a member of the New Zealand government's Covid advisory group, said his colleagues were "amazed" and "astounded" that the UK had decided to lift curbs when transmission of the virus was rising so rapidly in the country.
Official advisers to the governments of New Zealand, Israel and Italy all expressed alarm at the UK government's strategy.
Professor Baker claimed the UK had started the pandemic "with an approach of herd immunity … rapidly identified as unacceptable". He added: "It seems now, strangely, that the UK is going back to that approach."
Professor Stephen Duckett, Australia's former health secretary, said the UK and other governments should make sure transmissions were under control and the population was protected through vaccination before lifting restrictions.
"If you open up when either one of those is not the case, you are doomed to an exponential rise in [Covid] cases," Prof Duckett said, adding that it "defied logic" to open up when the virus was spreading rapidly.
Professor Jose M Martin-Moreno, from the University of Valencia in Spain, said: "UK policy affects not only UK citizens, it affects the world. We cannot understand why this [unlocking] is happening."
The public-health professor claimed Spain had already made the mistake of allowing transmission to rise by ending compulsory face coverings. "Our prime minister in Spain decided to remove on 26 June the mandatory use of masks outdoors … It is an experiment in disaster to remove the tools to contain transmission."
The international experts were joined by some of the scientists from the UK's Independent Sage group, which has urged Downing Street to rethink the end of restrictions.
Professor Christina Pagel, a member of the group, said: "Because of our position as a global travel hub, any variant that becomes dominant in the UK will likely spread to the rest of the world."
She added: "We saw it with the Alpha variant. I'm absolutely sure that we have contributed to the rise of the Delta variant in North America and Europe. UK [government] policy doesn't just affect us – it affects everybody."
Speaking at the online summit, she said: "What I'm most worried about is the potential for a new variant to emerge this summer. When you have incredibly high levels of Covid, which we have now in England – and it's not going to go away any time soon – and a partially vaccinated population, any mutation that can infect vaccinated people better has a big selection advantage and can spread."
William Haseltine, an eminent US scientist renowned for his work on HIV/Aids and cancer at Harvard University, said: "We have always looked to the UK for good, sensible policies. Unfortunately that has not been the case for the Covid pandemic.
"It is leading to disaster as we can see in the numbers. I follow the numbers daily in the UK and I am extremely dismayed to see the very rapid rate of increase in infections in a population which is vaccinated like we are."
He added: "I believe that the strategy of herd immunity is actually murderous: I think that's a word we should use, because that is what it is; it is knowledge that you are doing something that will result in thousands, and in some cases tens of thousands of people dying. It is a disastrous policy, it's been clear that that's been the case for some time, and to continue to espouse that policy is unconscionable."
© Provided by The Independent Professor Chris Whitty has said the UK could 'get into trouble again surprisingly fast' (PA)
And Professor Walter Ricciardi, president of the World Federation of Public Health Associations, warned: "This is becoming international, because from England and the UK the virus is spreading all over the world: there are flights from London every day in Europe; we have already seen in the past that from the UK the virus spreads all over Europe."
The warning comes as Professor Chris Whitty, England's chief medical officer, conceded that the number of people in hospital with Covid in the UK is currently doubling about every three weeks and could reach "quite scary numbers" soon.
Speaking on Thursday evening, Prof Whitty said: "I don't think we should underestimate the fact that we could get into trouble again surprisingly fast."
Prof Whitty has said there is "no clear evidence" that delaying the next step of England's road map out lockdown would make a difference in reducing the spread of Covid transmission.
But Lancet editor-in-chief Richard Horton said Prof Whitty was "wilfully misrepresenting scientific opinion" with claims that there was widespread support for the prime minister's approach.
'Pingdemic' could lead to food shortages as millions face self-isolation- July 17th 2021
Christopher Hope, Alan Tovey, Max Stephens 12 hrs agoLike16 Comments|4Tory jitters mount at political drift of Boris Johnson's governmentDavid Harbour reveals the best thing about Las Vegas wedding to Lily Allen
The chaos caused by the NHS Test and Trace app could cause food shortages, the leader of one of the UK's biggest ports companies has warned.
© Gareth Fuller/PA Lorries arrive at the Port of Dover in Kent – Gareth Fuller/PA
There is mounting alarm at the economic impact of the disruption caused by more than 500,000 people being forced to stay at home for up to 10 days after receiving an alert telling them they have been near someone who tested positive for Covid-19, as it was predicted that the numbers could rise to up to five million.
In urgent meetings between government officials from three departments and business groups in recent days, it was stressed that an app alert is advisory, whereas contact from the official Test and Trace service is legally enforceable.
However, Number 10 continued to publicly insist that anyone pinged by the app had to self-isolate, despite The Telegraph revealing some people are being identified as contacts through walls.
Tim Morris, chief executive of the UK Major Ports Group, described what has been dubbed the "pingdemic" as the most "significant threat to ports' resilience we have seen yet".
He said: "If the current trajectory of absences continues without the Government taking any action, there has to be a risk of disruption to important supply chains, including food."
Meat processors also reported that one in 10 of their workforce were being told to self-isolate by the app, in a development that could require firms "to start shutting down production lines altogether".
Elsewhere, trains were cancelled and councils warned residents that garden waste bins would not be emptied for 10 weeks because of staff shortages caused by the requirement to self-isolate.
Even holiday destinations such as Padstow – which had hoped to benefit from a "staycation summer" owing to the pandemic cancelling foreign holidays – have been affected.
Alarms and warnings
The scale of the disruption has alarmed economists, with one warning that it would set back the post-pandemic recovery by "a few months", costing the economy billions of pounds in lost growth.
The chaos comes as millions of people prepare to return to work on Monday, when most Covid restrictions in England are lifted on what has been dubbed "Freedom Day".
Lorry catches fire and people feared dead in crash on A1 – July 16th 2021
People are feared to have been killed after a multi-vehicle crash in which a lorry caught fire on the A1.
Police at the scene of the collision on the A1 motorway.
The collision involved several vehicles including two lorries.
It happened on the northbound carriageway at Bowburn, County Durham, at 6.20pm on Thursday evening, Durham Police said.
"Sadly, there appear to have been fatalities," the force said.
Highways England tweeted on Friday morning that the A1M would remain closed in both directions – north from J60 to J61 and south from J62 to J60 – throughout the day.
Other A number of vehicles are said to have been involved in the crash.
"We do not have a time for reopening," the tweet said.
The road was closed in both directions between Bradbury and Carrville immediately after the collision, while emergency services worked at the scene.
Motorists have been asked to avoid the area and use alternative routes.
Drivers with video of the incident are being urged to contact police and witnesses should call 101, quoting incident number 322 of July 15.
Other Police said there were fatalities after the incident on Thursday evening.
Comment Lockdown is making some peculiar things happen in Little Britain. Robert Cook
Alcohol-related deaths surged during Covid lockdowns – Posted July 15th 2021
Joe Pinkstone
---
Mick Jagger backs report calling for sugar and salt taxCooking With The Stars: 'Just imagine an hour-long advert for a retail giant'
Alcohol-related deaths jumped by a fifth during lockdown as people bought more to drink at home with pubs forced to shut.
© Finnbarr Webster/Getty Images Europe Closed pub lockdown – Finnbarr Webster/Getty Images Europe
Statistics from Public Health England (PHE) reveal that nearly 7,000 people died due to alcohol misuse last year – up 20 per cent from 2019. There was a similar spike – 21 per cent – in deaths due to alcohol-induced liver damage.
PHE found that while pubs and restaurants were shut for several months, the amount of alcohol bought from shops increased by 25 per cent from 2019 – around 12.6 million extra litres.
"We saw increases for all product types, with the largest relative increase for beer (+31.2 per cent), followed by spirits (+26.2 per cent), wine (+19.5 per cent), and cider (+17.6 per cent)," the PHE report said.
Further analysis found the bulk of the extra alcohol was purchased by the heaviest drinkers. The top 20 per cent of at-home drinkers bought 5.3 million extra litres of alcohol during the pandemic than in 2019, accounting for 42 per cent of the total year-on-year increase.
Dr Katherine Severi, the chief executive of the Institute of Alcohol Studies, said: "This report highlights the shocking increase in alcohol harm following the Covid-19 pandemic.
"A 20 per cent increase in deaths directly caused by alcohol must be an alarming wake-up call for the Government to act. Alcohol harm in England has, for too long, been neglected – but these data show it can no longer be ignored."
Dr Severi called for the Government to introduce minimum unit pricing, which has already been rolled out in Wales and Scotland and will soon be in force in Northern Ireland.
Experts also found that increased and higher-risk drinking was maintained for much of last year after an initial surge during the first lockdown. However, there are now signs that people are returning to drinking levels similar to those seen before the virus crisis hit, according to the study.
Rosanna O'Connor, the director of drugs, alcohol, tobacco and justice at PHE, said: "Our research suggests that lockdown has affected heavy drinkers the most and that they are drinking more.
"Liver disease is currently the second leading cause of premature death in people of working age and this is only set to get worse if the Covid-19 pandemic results in a long-term increase in drinking."
Jo Churchill, the public health minister, said the evidence of increasing harm during the pandemic was "deeply concerning", adding: "I am committed to addressing this and widening the availability of treatment services at both a local and national level."
Comment Firstly the scaremongering infection rates are extrapolated and exaggerated as a projection average based on dubious samples and dubious testing. Secondly there are profound reasons why our over expensive inefficient top heavy NHS can't cope – mass immigration is not without impact.
Lockdown has hit working and young people hard. The elite and the vested interests of Covid lockdown profiteers won't let go. The NHS cannot cope with demand regardless of Covid. It is all very well for the 1960s 'got lucky' Rolling Stone Jagger to moralise about tax. From my experience of working for the Inland Revenue and a London accountant, I know wealthy people avoid tax. I doubt Jagger is an exception. The lockdown disaster has gotten the ruling elite and patronising PC MPs looking for new ways to tax us – in our own interests of course and still getting their Parliamentary cheap booze and fat cat salaries with generous expenses. I have drunk in the House of Commons and know what they are doing.
Taxing the working person's meagre pleasure from drinking , especially with rising male unemployment , marital breakdown and loneliness is pure evil elite greed. They , including Royalty and footballers of all races should pay much more tax and stop telling the rest of us how to live. Covid hits old people like me ,if they are not fit. Obese people won't stop eating sugar by taxing more. The thesis that salt causes high blood pressure is just more extrapolating from known cases.
There is no certain connection between salt and blood presure. Same goes for cholestorol – different people have different rates and levels of storing it. People don't read about these things because mass education is appalling and school kids have all sorts of attention issues. I know. I was a teacher for 18 years, including maths and science. Science is a methodology , not a fixed body of knowledge as the elite would have you believe. You are not supposed to think. Current stress levels are pushing up cancers. You can't get back time for treatments cancelled by this ludiccrous obsession with 'defeating the virus.' It is absolute drivel , but politically motivated drivel.
The NHS just doesn't want you in their hospitals and the GPs would prefer you kept your distance. With the matter of salt and high blood pressure, it is a question of considering other variables. I love salt and have lots of it. I have always had low blood pressure because I have always had lots of exercise , including training since I was 12, running 60 miles a week aged 14 and up to 100 miles a week by 16. Running. Not jogging. I taught P.E , among other subjects.
I was still very healthy until I had a double dose of Pfeizer. Covid lockdown has caused many life threatening ailments. It is an outrage. Few , if any die from Covid by itself and flu is obviously been written down as Covid – because it hasn't gone away. The average age of Covid death is 82. As for the imponderable issue of Third World Covid , take a look at the Africa page on this site and open your minds. The government only tell you what they want you to know and if they want you to know then it is most likely a lie. Robert Cook.
Britain Without Equal – July 15th 2012
John Major oversaw lowest foreign aid spending in 50 year span despite attack on Johnson
Charlie Bradley
---
Covid-19 pandemic: Deaths caused by drinking in England rise by a fifthTikTok users are creating a crowdsourced Fast & Furious musical
This week, Boris Johnson's Government won a key vote meaning foreign aid will be cut from 0.7 percent of national income to 0.5 percent. MPs voted by a majority of 35 in favour of the policy, but there were also a number of Conservative rebels who joined Labour in trying to maintain foreign aid spending. Prime Minister Johnson has argued that the cuts are needed to keep public debt down amid the pandemic. However, former prime ministers have criticised the impact the cuts will have around the world.
One person to attack the plan is Mr Major – he took aim at the Government for spending public money on a national yacht while claiming public finances need to be kept in order.
He said: "It seems that we can afford a 'national yacht' that no one either wants or needs, whilst cutting help to some of the most miserable and destitute people in the world.
"This is not a Conservatism that I recognise. It is the stamp of Little England, not Great Britain."
However, Mr Major has been challenged on his criticism, given his government's record on foreign aid spending and his own calls for a "Royal Yacht" in 1997.
At the time, Mr Major said: "We have taken that decision because we believe that a Royal Yacht is an important national asset and projects a prestigious image of Britain which adds powerfully to official occasions.
Comment
In my near 71 years of life , I cannot recall one political era where British politicians carried out a plan with reforms intended to benefit and give opportunities to all. Britain is undoubtedly high up in the world corruption league and without equal at hypocrisy.
Foreign aid does little if anything to repair the damage caused by rapid elite withdrawal from empire – under pressure from elite U.S cousins who wanted to take over their markets and cheap resources.
The chaos that is the old third world will not be remedied by any amount of foreign aid. Third World dictatorships are not benign just because they are run by dark skinned people. Same goes for whites ruling whites. Racism and anti racism , using obscenely rich pampered opinionated footballers as gurus and moralisers is a laughable smokescreen so that the rip off and deceit may continue.
A cursory glance at the Africa page on this site says it all. Religious bigotry with African women having an average of 15 babies each , exporting all the problems west , is a recipe for ongoing and worsening disaster. Self important failed leaders like Sir John Major – who did more to ruin the railways than Dr Beeching – are utterly nauseating.
Britain is , I repeat for emphasis, without equal in the world of elite hypocrisy and mass stupidity. Robert Cook
No freedom , no end to restrictions- July 15th 2021
Flu deaths could double this winter as a "triple-threat" of viruses is set to push the NHS to breaking point, a report has warned.
Covid cases are expected to surge in the winter, and experts are also predicting an unprecedented spike in influenza and RSV (respiratory syncytial virus) infections due to a lack of natural immunity as a result of lockdowns throughout 2020 and 2021.
Sir Patrick Vallance, the Chief Scientific Adviser, commissioned the report which was spearheaded by Professor Sir Stephen Holgate, Medical Research Council clinical professor of immunopharmacology, and involved 29 leading experts.
The report projected flu deaths could reach 60,000 this winter in a worst-case scenario, more than twice as many as the record-breaking figures of the winter of 2017/2018.
Those arriving in Wales from England will need to don a face covering, says First Minister
Mark Drakeford said people arriving from England by train would be required to don a face covering as soon as they entered Wales.
The Welsh First Minister told BBC Breakfast he hoped people in England would observe the "clear" advice on face coverings given by Boris Johnson but that the practice would be a legal requirement in Wales.
"The people who run the transport system will make sure that people are aware that as they come into Wales different rules apply," he told BBC Breakfast.
"If you travel into Wales by road now you will see signs that say 'Welsh rules apply'. That will be true on trains and other forms of transport as well.
"I hope people will observe the clear advice of the prime minister in England, that they should continue to wear face coverings on public transport.
"Here in Wales the rule will be clear, it isn't simply advice, it's what the law will require."
This is England ' a special country' indeed. July 14th 2021
England fans launched "random attacks on Italians" after the final of the Euro 2020 tournament, police have said.
Forces across the country are still collating figures on the number of incidents targeting supporters of Italy, who won the tournament on penalties.
More than 2,300 police incidents linked to the Euros have so far been recorded, surpassing the 2018 World Cup to make it the worst football tournament on record for crime.
They include stabbings, glassings, fights and assaults on police officers, with at least 622 people arrested so far in England and Wales.
Cheshire Constabulary chief constable Mark Roberts, who is the national lead for football policing, told The Independent: "We have seen random attacks on Italians … Italians celebrating the win have been attacked.
More than 125,000 people sign petition demanding England v Italy Euro 2020 final be replayed
Greg Evans
---
Police name woman stabbed to death at holiday siteRobin Roberts announces huge career news that gets fans talking
A petition demanding that the final of Euro 2020 be replayed has been signed by more than 125,000 people.
© Laurence Griffiths/Pool via AP SEI87135328.jpeg
As you'll probably know by now, England lost their first appearance in a major final for 55 years to Italy via a penalty shootout after the game had finished 1-1.
However, many complained during the match that at least two of the Italian players should have been sent off for fouls on the England players.
The two instances that particularly aggrieved fans included a studs-up challenge from Jorginho which caught Jack Grealish on his upper thigh leaving the midfielder in some agony. The second came from Italy's captain Giorgio Chiellini, who shamelessly grabbed the neck of Bukayo Saka's shirt as the winger raced away from the veteran defender.
These two moments that were punished with only yellow cards build the basis of the aforementioned petition on Change.org that is demanding that the final be played again.
The petition that has been created by Sharon Guilmen states: "The match on 11/07/2021 was not fair at all. After Italy only receiving a yellow card for dragging England players like they were slaves. All the pushes, pulls and kicks and Italy was still allowed to win? Definitely biased. Italy should have been given a red card for their gameplay and the rematch should happen with a non-biased referee. This was not fair at all."
Dutch referee Bjorn Kuipers gave five yellow cards to the Italian players during the match, whereas Harry Maguire was the only player to receive a yellow card for England.
Despite more than 125,000 people signing the petition (at the time of writing), which has a goal of 150,000, we doubt that Uefa will actually take any notice of this petition as replaying the match would be a logistical nightmare and would open the floodgates for other long-standing football gripes about players not being sent off in matches.
Comment will follow just as soon as I have considered this outrageous pathetic England demand – which raises a number of issues cocnerning how and why England got to the final in the first place. Robert Cook
Covid UK news – live: Scientists accuse PM of 'criminal' mass infection plan, and London transport keeps masks – July 14th 2021
Akshita Jain and Jon Sharman 22 mins ago
---
Police name woman stabbed to death at holiday siteRobin Roberts announces huge career news that gets fans talking
LIVE – Updated at 09:46
© Getty Images UK To End Covid-19 Social Restrictions Despite Rising Cases
Scientists have accused the UK government of pursuing a "mass infection" strategy in a bid for herd immunity from coronavirus. Some 1,200 experts wrote in a letter to The Lancet that this alleged approach was "unscientific and unethical", with one calling it "criminal".
On Monday Boris Johnson announced that most remaining Covid-19 restriction in England would be lifted, including the mandatory wearing of face masks.
However, Transport for London will still require passengers to wear face coverings. Sadiq Khan, the London mayor, said: "I'm not prepared to stand by and put Londoners, and our city's recovery, at risk."
Key Points
Scientists accuse government of chasing 'herd immunity by mass infection'
TfL will still require passengers to wear face masks
Vietnam and Thailand to mix Covid-19 vaccine doses
Sydney's lockdown extended by at least two weeks
Children in Delhi report post-Covid symptoms like brain fog and headache
Union threatens to 'name and shame' MPs who don't wear masks at Westminster
, Jon Sharman
A union representing civil servants plans to "name and shame" any MPs who refuse to wear face coverings in parliament once legal requirements are dropped next week, writes Adam Forrest.
FDA general secretary Dave Penman said he would write to all MPs warning them that his union was willing to "call out" those ditching their masks, even after Covid restrictions are lifted on July 19.
It comes as leader of the Commons Jacob Rees-Mogg said he would no longer wear his mask around the parliamentary estate from Monday – suggesting many MPs had already ditched their face coverings.
Comment to follow in due course.
Boris Johnson gave two reasons for lifting all restrictions. Both are wrong – July 13th 2021
Christina Pagel
There were almost 194,000 new cases of Covid-19 reported in England last week, which is 35% more than the week before. At the time of writing, 52% of the UK population had been fully vaccinated. Perhaps another 20% have some immunity from one dose of vaccine or previous Covid infection. If this level of population immunity was enough to contain the pandemic alongside public health measures, cases would be falling. They aren't falling and it isn't enough.
So cases will keep rising, currently doubling every fortnight or so, until either population immunity is high enough or public health measures are effective enough – or a combination of both – to halt Covid's spread. The government yesterday announced a removal of all public health measures next Monday, meaning that population immunity has to do all the work. With millions of people still without the protection of full vaccination or previous infection, it is inevitable that a good chunk of that immunity will come from new infection rather than vaccination.
Comment The above is extracted from the moralising patronising Guardian. These writers have good regular pay cheques and live in a comfortable bubble. Life is very certain and dogmatic for them. She makes no mention of the damage already done by lockdown and absence of evidence it achieved anything claimed or worthwhile.
She just insists on not that facing facts about who are most vulnerable and why , the influence of mass migration and the global economy and the fact that herd immunity can only come from close human contact. Vaccines are never going to keep up. Tests are not reliable in any sense except fueling fear.
They cannot distinguish Covid from flu which is why no person has officially died from flu since March 2019. It is also a fact that few if anyone has died from simple Covid 19 and no related causes. It i also a fact that large unaccounted numbers have died and are still dying because of lockdown. It is notable that a large number of Muslims , including those working for the NHS fear that vaccines will reduce their all important fertility.
Robert Cook.
'Justice has been done': Italian papers celebrate Euros victory and hit out at English fans – Posted July 13th 2021
Julia Buckley
"We are the champions," read the front page of the Corriere della Sera. "Europe is ours," crowed La Repubblica, while Il Messaggero and La Stampa went one further: "We are Europe".
Italian captain Giorgio Chiellini on the plane during the journey back to Rome
That was just the quality dailies. Italy's sports newspapers were even more exuberant. "It's ours!" screamed the Corriere dello Sport, its leading article reading, "Football came home! To ours, though."
"All roads lead to Rome," was the front page of Il Romanista, self-styled "newspaper of the world's most hardcore fans".
Inside, they were jubilant. Donnarumma was "the giant who shut Wembley up", according to Il Messaggero.
There were also harsh words for the England fans who, having trashed Leicester Square earlier in the day, booed the Italian national anthem – against the wishes of Gareth Southgate, who had begged them not to.
"Justice has been done against these unpleasant English who booed our sacred national anthem," Il Messaggero said, calling them "hooligans who, brexit or no brexit, are all the same."
"The night before they sacked London in all conceivable ways, with smoke bombs, wild choirs, beer that overflowed from their bottles and their stomachs and ended on the pavement amid broken glass and the stench of alcohol – and, what's more, trampled our flag throughout the city.
"Better to beat them like this, on penalties, under their lovely drizzle."
La Repubblica mentioned "shameful scenes outside the stadium" from "dozens of drunk England fans".
Not all Italians were so harsh, however.
"There's always someone stupid," Roberto Pola, who runs a newspaper kiosk near the Trevi fountain, told The Independent.
"Italy does it too. Sadly sport is followed by people who don't have a sense of sportsmanship. It's ugly but it's not only the English who do it. You can't judge a nation on that."
And the night before, Italians celebrating in Rome's Piazza del Popolo had even apologised to England fans for winning and called England "a great team".
As fans brandishing Italian flags and honking horns converged on Piazza Venezia, the symbolic centre of Rome, the atmosphere was one of elation, not menace – even at 3am.
However, he only England flag to be seen had had an expletive spraypainted over it, and two more fans carried a banner with an obscene comment about the Queen.
But overall, it was a relaxed night, with fans waving their flags and lighting flares in front of the Vittorio Emanuele II monument, known as the "altar of the fatherland".
Police lined the monument, where an eternal flame burns at Italy's Tomb of the Unknown Soldier, but, other than some instances of bottles being thrown at police, there was none of the trouble that had been forecast.
In fact, the local Rome section of Il Messaggero called it a "magic night".
Although the atmosphere is one of delight in Italy, it's not gleeful – and in places it's generous, too. "The Great Shame of 2018 [in which Italy failed to qualify for the World Cup] is now forgotten," said the Corriere dello Sport, which also devotes an entire page to Roberto Mancini's end-of-match tears.
And La Repubblica called Italy "an immortal cat that sees the lorry's headlights on the motorway but manages to dodge it".
The paper's London correspondent Antonello Guerrera, meanwhile, labelled Jordan Pickford "extraordinary" and said that "gentleman" Gareth Southgate was "a good patriot, the glue sticking a split country back together".
"The calm manager has transformed a nation of clans and primadonnas into a group of extraordinary harmony and competence," he wrote – although he couldn't help noting that England's "curse" continues.
In fact, "Wembley was a puddle," wrote journalist Marco Evangelisti in Il Messaggero. "Everyone cried – winners and losers. Happiness and desperation, after a history so long and intense that… it's impossible not to understand how much a success like this means."
Romans agreed – and they also knew how much it meant to England.
"I'm sorry – I really thought we would lose," said one newspaper seller on Monday morning.
Eike Schmidt, the football-loving director of the Uffizi Galleries, said that Italy has now "assumed the role of fighting for and speaking for the whole of Europe."
He added that Dante – who died in 1321 – was the man to do it "on a cultural level". A day earlier, on their Facebook page, the Uffizi had compared the final to a contest between the two nations' cultural heavyweights, captained by Dante and Shakespeare.
They weren't the only ones getting poetic. So excited was newspaper-seller Pola that he had written a poem to his customers in Roman dialect, and pinned it up in his kiosk.
Wembley "suddenly became the Colosseum", he wrote.
"We thought we were going under after two minutes, but we weren't lost.
"We pulled out our pride and partisans, and then we made it on penalties.
"We're champions! It's true, and it's beautiful too.
"And the hurricane [of the English]… was only a little breeze."
Andrew Lawrence: Comedian's shows cancelled after racist joke about England footballers Posted July 13th 2021
Louis Chilton
PM to urge social media firms to take tougher action over online racism
Comedian Andrew Lawrence has had scheduled performances pulled by venues after making a racist joke about England's Black footballers on Twitter.
Lawrence tweeted: "All I'm saying is, the white guys scored."
He then added: "Equality, diversity, s*** penalties."
In another tweet, the comedian wrote: "I can see that this has offended a lot of people, and I'm sorry that black guys are bad at penalties."
His comments drew criticism from Twitter users and fellow comedians, and several venues announced that they were cancelling his bookings forthcoming tour.
Hampshire's Hanger Farm Arts Centre wrote on Twitter: "Following the racist comments made by comedian Andrew Lawrence on Twitter we made the decision to cancel his show. As a part of learning disability charity Minstead Trust, we work hard to promote inclusivity, provide safe spaces for everyone and have zero tolerance for racism."
Joking Apart : Comment Calling and labelling all whites as racist is a cornerstone of BLM and Critical Race Theory. It is a statement adumbrated as a simple eternal all encompassing truth. It is in harmony with the sort of feminist comedian who makes jokes like 'What is the best thing to come out of a penis when it is erect ? The wrinkles.
Humour has been steadily politicised and aimed at white men because they are , unless of the ruling elite , guilty.
Gareth Southgate made it very clear that under his rule England's team would be about the politics of racism. He presented his team to the world with a strong sense of moral superiority. Obviously it was absurd and ignorant to say blacks can't take penalties. As with whites , some can , some can't. But my concern here is that blacks appear to be exempted from charges of racism because we must assume they are underdogs and fragile.
England adopted this attitude following the police killing of George Floyd with the media ramping the matter up as white racism rather than the dangerous minds of western police officers. On the other hand , the media never mentioned racism when West Mercia Police senior management joined in the lies and cover up , over a five year period , to protect two of their officers from murder and man slaughter charges.
As Southgate said .'England is special.' In that connection , worshipping and sanctifying the police is as mandatory as worshipping the England football team , turning a blind eye to its cheating and Southgate's obvious politically correct penalty shoot out player choice of 60% black.
I don't think politics has been so involved in sport since Hitler and the 1936 Olympic Games. It is almost incredible , until you take note of how the human mind works and entrenches behaviour patterns, that people are so easily distracted from Britain and the wider world's , most serious socio economic and resultant environmental problems. Africa is in the hands of many corrupt blacks – who don't care about their people- and multi national corporations- 500 of the latter dominate the global economy.
The elite see no problem with third world over population driven by religion and associated ignorance of true science. That's where the likes of self righteous Southgate come in. The elite see the Third World overpopulation being solved by mass migration into western countries. People need softening up for this because the lower classes will take the strain as they are with Covid nd the crumbling NHS.
England is the cheer leader for mass immigration and diversity ( sic ) which is why so many cross two seas to get here. The British , and most notably English elite cum chattering classes , see the likes of Salvini and Italy as the enemy of their cause. That is why losing to Italy is even more painful. The English wanted Italy cut down to size. Italy needs to remember its Roman heritage and the mindset of the Celts they civilised. But by modern standards , that is a racist statement because the word race has been redefined by the elite as a weapon of tried and trusted divide and rule.
The mechanism extends everywhere which is why the Euro stadiums were lit up in rainbow colours. To the extent to which sex change or the vague gender reassignment is possible, it is only acceptable and encouraged in so far as candidates take appropriate medication , including anti psychotics , and relate to fellow transsexuals ( not CIS Women ) as defined by the LGBTQI community.
Community now is a word like democracy. It offers false hope and solidarity that is easily manipulated. It serves the serious goals of the dominant elite culture who make and enforce the laws. Protest must be government approved , like comedy. My old landlord Humphrey Barclay was head of London Weekend TV Comedy. One of his series was called 'Mind Your Language.'
It was about a group of mixed ethnic London immigrants at an evening class for English class students. It wouldn't be allowed now. Humphrey shared his three storey house in Stockwell , with a black actor called Christopher Asante. I saw Chris play a West Indian gangster in an episode of Hazell. He was awful. That wasn't because he was black. He was from black African aristocracy and Oxford educated. He had nothing in common with British West Indians.
I was a post graduate student at Goldsmiths' College , London University, at the time , frequently cycling to and from New Cross to my flat in Bromfelde Road, which was Humphrey's basement.
It was 1979. I arrived back on my bicycle one afternoon to see an anguished Chris outside on the paving fronting the house, telling my wife how a black chippy ( carpenter ) from neighbouring Brixton , who was working for Humphrey, had refused an offer of Earl Grey tea. He also had implied that Chris and Humphrey were gay because they were living together – Chris was rather elegant. Waving hiss arms in despair , Chris shrieked 'And him a fellow black !' I would like to say that times change. Maybe they will under current brainwashing , anti psychotics, rising mental illness , crime and disease related to globalisation.
Whatever , Southgate became legend for missing an easy penalty as a player for England. He will now become legend for choosing the wrong three because he was making an anti racist point. One of the black players had only been on pitch for less than the last 10 minutes of play , so had not even warmed up. Clearly he had been brought on , by Southgate , for the inevitable penalties.
This has fed racism on both sides. Meanwhile Italy have every right to be proud because England fouled their way into the final with lots of help from the ref. Had the ref done his job during the final in which one Key Italian player had to be stretchered off after an ignored foul, then England would quickly have been down to 9 men.
That is what you get for overtly politicising sport. Europeans take note , the U.K has not left Europe. Its elite have simply had Brexit ( Brino ) opportunity to disband membership of an EU Parliament that they never wanted to help working class Brits in the first place.
That elite are still with you , lurking behind the expensive scenery, in Europe , seeing themselves , with their minions , as ambassadors for International football and everything else. They and their millionaire footballers preach human rights and equality , but they have no intention of freeing Julian Assange. The U.K is ruled by hypocrites using the masses as pawns, then acting surprised when the masses riot about losing a football game that was going to 'put the swagger back into England.' The people who say this sort of thing are the truly tacky comedians who need banning.
Robert Cook.
No Foot Out Of Place July 13th 2021
The government needed a victory. I heard on Sunday that some schools indicated last week that pupils were only expected in after 10am on Monday, because they expected the poor babies would be up watching the match – and would be tired. F.S
The following is taken from two mainstream media reports today.
'A lock of John Stones' hair or a fingernail within Jordan Pickford's glove. Marcus Rashford's penalty with Gianluigi Donnarumma committed and the goal gaping. Small margins are inevitable after the narrowest of defeats as England picks up the pieces.
There is a danger in reading too much into a loss that could clearly have gone the other way. Yet, perhaps mistakes can also be made if lessons are ignored as Gareth Southgate's impressive team came up just short for a second major tournament in a row.
The minutiae will dominate the discussion in the aftermath. What had looked to be a bold call in bringing Marcus Rashford and Jadon Sancho on specifically to take penalties appeared folly within minutes when both men failed to find the net with their spot-kicks.'
Tyrone Mings has accused the home secretary Priti Patel of 'pretending to be disgusted' by racist abuse aimed at England players, after she branded the taking of the knee "gesture politics".
Bukayo Saka, Marcus Rashford and Jadon Sancho have all been targeted on social media after missing their penalties during Sunday night's Euro 2020 final shootout defeat to Italy. Malik Ouzia
Throughout the Euros, England have continued to take the knee ahead of kick-off in a stand against racial injustice, but as debate raged over whether they should do so ahead of the tournament, Patel labelled the practice "gesture politics" and suggested fans had a right to choose whether to boo while players made the stance.
On Monday, Patel said she was "disgusted" by the abuse of "players who have given so much for our country this summer".
Quoting her condemnation on Twitter, however, Mings wrote: "You don't get to stoke the fire at the beginning of the tournament by labelling our anti-racism message as 'Gesture Politics' & then pretend to be disgusted when the very thing we're campaigning against, happens."
Mings has been one of England's most outspoken figures in the fight against racial injustice, having been subjected to abuse from Bulgarian fans during his international debut in 2019.
The defender started the first two games of England's Euros campaign, keeping clean sheets against Croatia and Scotland, before losing his place when Harry Maguire returned from injury.
"I'm still struggling to find the words to express my emotions from the past month," Mings tweeted. "I'm so proud of everyone who has contributed to the joy and togetherness this team has bought to millions. We have celebrated, smiled, cried and cheered together & for that, I'm so so proud.
"But waking up today and seeing my brothers being racially abused for being brave enough to put themselves in a position to help this country, is something that sickens, but doesn't surprise me. We have literally made history. We've gone where no one else has gone. Take that in." '
Covid Lockdown Never Ending -July 13th 2021
Lifting England's coronavirus lockdown could have "devastating" consequences, a doctors' union has warned. The British Medical Association said ending legal restrictions on masks and other measures would allow Covid-19 to "re-tighten its grip" because many people have still not been fully vaccinated.
The comments came after Boris Johnson announced that legal requirements for social distancing and wearing would end on 19 July in England, even as he urged people to continue to observe the practices and admitted the pandemic was not over.
The PM was accused of sending "mixed messages".
Meanwhile, analysis by the Scientific Advisory Group for Emergencies found that up to 200 people were likely to die per day in a summer wave of the virus.
Key Points
Mixing and matching Covid vaccines a 'dangerous trend,' says WHO
WHO review process for India's homegrown vaccine 'Covaxin' begins
Lockdown lifting 'potentially devastating', says BMA
Coronavirus summer wave could lead to hundreds of daily deaths within weeks, officials warn
Nightclub chain won't ask for Covid passport despite rules
A nightclub chain has said that it will not ask customers for vaccine passports when it reopens its doors on 19 July as restrictions lift.
This comes despite the UK government's advice that businesses and large events should use the NHS Covid Pass to ensure that event-goers are either fully vaccinated, or have tested negative for Covid.
Government should be more comforting in its approach, sociologist says
Jon Sharman
Robert Dingwall, professor of sociology at Nottingham Trent University, has said it will take people a significant period to conquer the fear and anxiety that Covid-19 has caused.
"It's going to take some time for those to subside as people get used to Covid as an endemic infection that sits in the background, that doesn't really represent the sort of catastrophic threat that it might have presented when it first appeared last spring," he told Sky News.
He added: "I think the government needs to make a much more conscious shift towards positive messaging – the message that Covid is now generally a mild illness, that it rarely requires people to go to hospital, that this is something that we can get on with our lives with (it) in the background, and that almost every situation that you might find yourself in carries with it a minimal risk of picking up infection.
"I think we need to concentrate on pressing the message about safety, rather than pressing the message about risk."
Retail sales grow at record pace as restrictions ease and shoppers flock back to stores
Retail sales grew at a record pace in the past three months as lockdown restrictions eased and shoppers returned to high streets, according to the latest industry data.
Total sales rose 10.4 per cent in the three months to June, the latest British Retail Consortium (BRC) monitor showed.
The research also indicated that the recovery gathered further pace in June, which saw a 13.1 per cent increase in spending, writes Ben Chapman.
More to come : Comment The Covid crisis is being run by vested interests. The anti racists cause is being run by vested interests. The word democracy is a word with no honestly defined meaning beyond 'one person one vote.'
Julian Assange cannot and will not be released because others must live in abject fear of consequences for publishing official secrets that confirm what intelligent honest people can see happening on the ground.
To compare the WOKE brigade and their ongoing outcomes with real Nazis would be judged a hate crime. But this is the road to a totalitarian State where the worst is inevitable.
Britain's elite have always been the most ruthless after years of inbreeding extending to their cousins in the United States which they founded. This hegemony rules most of the world. Russia and China are obstacles that they thought they had removed when they backed Yeltsin, opening up the old U.S.S.R to gangsters and corruption.
Britain's Queen looks and sounds like she is still living in a 1950s fantasy world of Empire and Commonwealth. During those years , I grew up among the common folk , she grew up among the wealth. It was an era when young men were still being conscripted to fight for her class interest during an ignominious retreat from empire – where Britain's rulers solved the power vacuum with ethnic rich brital place men and today's legacy which they do not want to talk about.
The reality of wars is always hidden by smokescreens and propagandists. That's why we have BLM , taking the knee and lockdowns. Meanwhile the super rich get ever richer and more protected. Every new Covid lockdown bankruptcy is more wealth repossession by elite owned banks , along with more misery , poverty , homelessness unemployment and premature deaths for the common people.
This global society we live in is not as crazy as it seems. Mass education is actually mass indoctrination. Power comes , as Trump told Bob Woodward , from instilling fear – which covid and its curiously never ending and fast developing variants , does very well. Covid has created some powerful vested interests. The fact that former (W)health Secretary ( Where his view of being hard at work was having sex with his personal appointee at taxpayr's expense ) Matt Hancock stuck two fingers up to his own Draconian rules is now forgotten.
As former British Prime Minister , Harold Wilson said 'Today's news is tomorrow's fish and chip wrapper. A week is a long time in British politics.' I might add that it is also a long time in jail. The rate at which vested interests create new crimes means that will become an experience for many more men. Arguing with this system is very dangerous and protests must be government approved. You need to know where to tread, as Priti Patel has discovered. Women above all people are expected to stay on message and part of the feminists blob.
England's team of patronising young millionaires. were not the best team at the Euro final and should have been punished for cheating – with only 34% possession during the final- had a lot of help and blind eyes to foul play on the road to and during the European cup final. The black players were supposed to score the majority of penalties to prove Gareth Southgate's mission was a good one in the war against racism. Even though they failed , the attention moves against comment because we are in an age where lower class whites must repent , by order of ruling elites , to repent for sins of the whites and blacks who prospered from empire building. We are in a social and economic minefield and must not put a foot out of place. If we do then our lives will be forfeit. It is total lockdown and not just of our person. As mainstream media flunkies like saying 'More to come.' Robert Cook