Contact rj.cookofnorthbucks@btinternet.com
Ukraine war: Russia pledges to give BAE's business 'attention'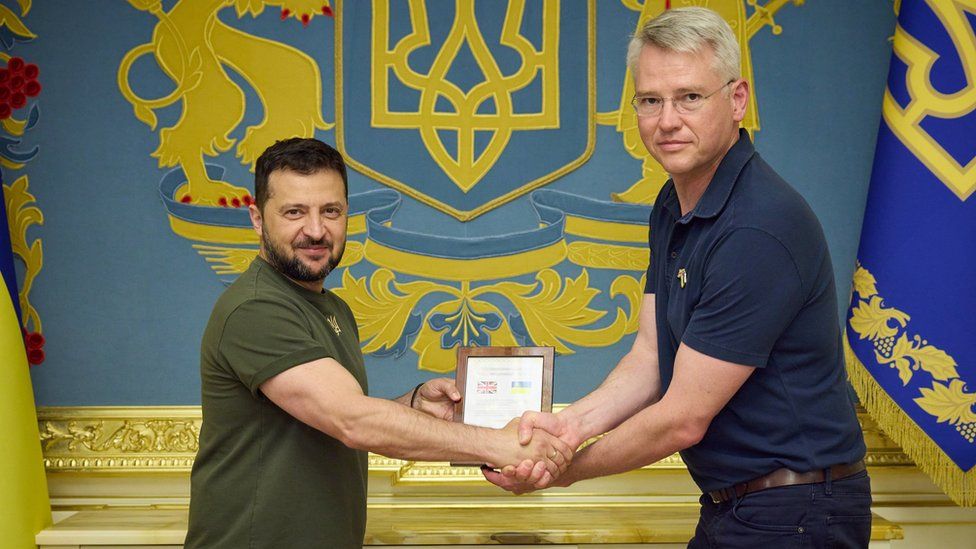 By Peter Hoskins
Business reporter
Russia has said that BAE System's new business in Ukraine will be an "object of special attention" for its military.
The UK defence giant has signed deals to ramp up weapons and equipment supplies to Kyiv, which include ultimately producing light artillery in the country.
Kremlin spokesman Dmitry Peskov said the Russians saw the move "in a negative light".
BAE has made much of the arms the UK and other nations have sent to Ukraine.
Since Russia's invasion of the country in February 2022, Britain has become a major defence supplier to Ukraine.
The BBC understands that BAE has not yet opened an office or factory in Ukraine but is in discussions about potentially doing so.
The firm said the move will allow it to work directly with Ukraine to explore potential partners and produce some weapons there.
"The development of our own weapons production is a top priority," Ukrainian President Volodymyr Zelensky wrote on X, the social media platform formerly known as Twitter.
Mr Zelensky made the announcement after holding a meeting with BAE's chief executive Charles Woodburn.
"Signing the agreements and establishing a legal entity in Ukraine builds on our existing trust and support and paves the way for us to work together to provide more direct support to the Ukrainian armed forces," said Mr Woodburn.
But Mr Peskov responded to the decision saying: "We of course see it in a negative light, and any facilities for the production of weaponry, particularly if that weaponry shoots at us, do of course become an object of special attention for our military".
Interfax news agency said the Kremlin's spokesman said foreign arms production in Ukraine "cannot fundamentally change the situation".
"It also cannot in any way influence the predetermined successful outcome and completion of the special military operation," he added
Ukraine and Sweden signed a statement of intent to strengthen co-operation in production, operation, training and servicing of CV90 armoured vehicles, which are currently produced by BAE Systems' Hägglunds business in Sweden.
Mr Zelensky said in May that Kyiv and BAE were working on a plan for the company to open an office in Ukraine.
Kyiv is eager to boost its supplies of weapons and other military equipment, as well as create jobs in an economy hit hard by the war.
BAE, which has seen its share price jump by more than 75% since February 2022, is already providing training and repair services to Ukraine's military.
The multinational arms, security and aerospace company employs 93,000 people in about 40 countries around the world.
It is Europe's biggest defence contractor with annual sales of more than £23bn and almost £2.5bn in profits last year.
Comment BAE's profits have increased by 75 % since the NATO proxy war on Russia started.
R J Cook
Ukraine war: Kyiv confirms drone attack on Russia's Pskov airbase
Related Topics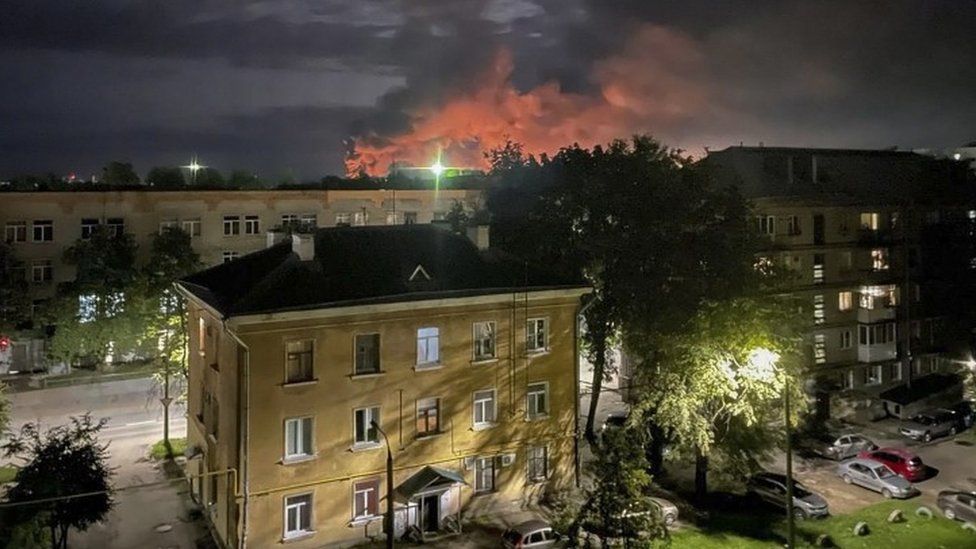 By Paul Adams
International affairs correspondent
A Ukrainian government official has confirmed to the BBC that Ukraine was behind Wednesday's drone attack on a Russian airbase at Pskov.
A number of Ilyushin transport planes were said to be damaged or destroyed.
The official, from the Ministry of Defence, confirmed local reports that Ukrainian military intelligence (GUR) was behind the attack.
Meanwhile, President Volodymyr Zelensky said that a Ukrainian-made weapon had hit a target at a distance of 700km.
He did not specify the weapon or the target, but the distance could correspond to the Pskov attack.
Ukraine believes that four Il-76 planes were destroyed and two others damaged. Russian officials say four planes were damaged.
The damaged aircraft are long-range cargo planes, ideal for transporting troops and equipment over long distances and therefore valuable war assets for Russia.
Russia has vowed that Ukraine will "not go unpunished" for the attacks.
Ukraine's drone war on Russia is now an almost daily occurrence. Wednesday's attacks at Pskov, Bryansk and elsewhere were among the most widespread so far.
A fuel depot in Kaluga and a microelectronics factory in Bryansk where components for Russian weapons systems are made were also hit in those attacks.
On Thursday morning, the Mayor of Moscow, Sergei Sobyanin, said another drone had been shot down south-east of Moscow.
Earlier, Russian media reported dozens of flights had been delayed at Moscow airports, a regular occurrence during drone attacks.
In a Telegram post, Bryansk regional governor Alexander Bogomaz said three drones had been shot down over Bryansk.
Ukrainian officials are generally tight-lipped about attacks inside Russia. But it seems that as the campaign gathers pace, officials in Kyiv seem more willing to claim them as part of the country's war effort.
Comment If truth be told this attack came via Estonia. The drones did not travel 400 miles. Reminder : NATO is at war with Russia by proxy.
R J Cook
Ukraine war: Putin influencers profiting from war propaganda
Related Topics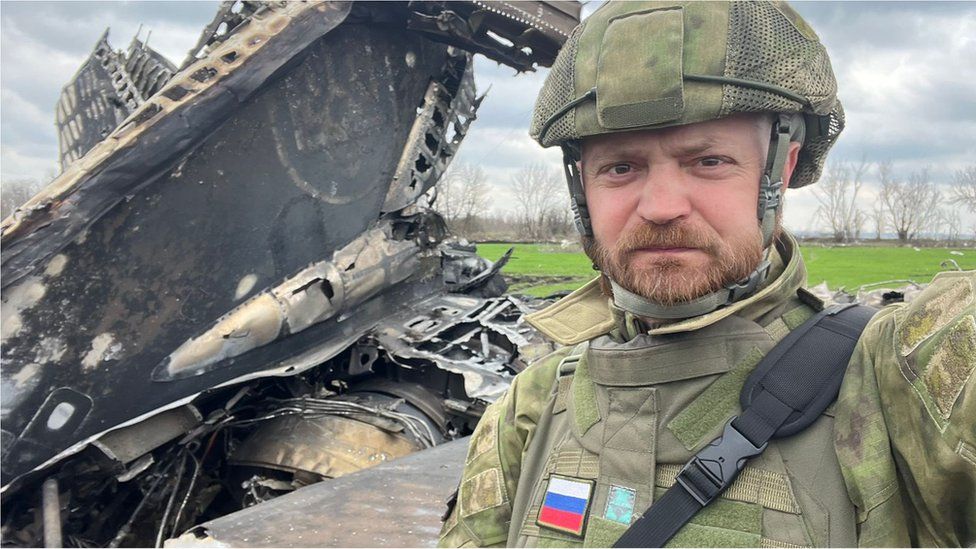 By Grigor Atanesian
BBC Global Disinformation Team
Russia's pro-war influencers are generating big advertising revenues from their social media coverage of the conflict, the BBC has found.
Alongside a daily ration of gruesome videos of drone strikes and false claims about Ukraine's President Volodymyr Zelensky, they share ads for anything from cryptocurrency to fashion.
Known in Russia as "Z-Bloggers" because of their support for a war often symbolised by the letter Z, they are often embedded with the Russian army and post footage from the front line where they call on young Russians to enlist.
Since the start of the full-scale invasion in February 2022, pro-war influencers have gained millions of followers on Telegram, the social media platform many Russians turned to after President Vladimir Putin banned Instagram, Facebook and Twitter.
That explosion in users has led to a surge in Telegram's advertising market.
War influencers have taken advantage of this. They sell ad spaces for companies looking to reach their young audiences.
To find out how much they charge, members of the BBC's Global Disinformation Team posed as hotel owners interested in posting ads on their channels.
We reached out to some of the most prominent players.
One of them was Alexander Kots, a veteran correspondent for a pro-government newspaper who became a war influencer, with more than 600,000 followers on his personal Telegram channel.
Semyon Pegov, known as WarGonzo, was another. Perhaps the most well-known Z blogger, he has more than 1.3 million followers.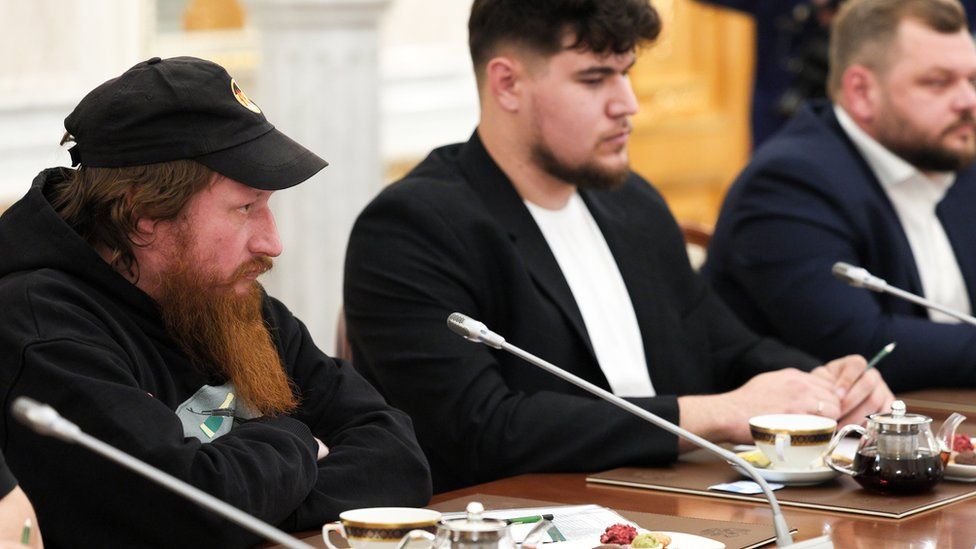 Alexander Kots said it would cost 48,000-70,000 roubles (£440-£680) per post on his channel, depending on how long the ad was kept at the top of his Telegram feed. WarGonzo quoted us the equivalent of £1,550 per post.
Top war influencers post at least one ad per day, so their potential income dwarfs Russia's average monthly wage of 66,000 roubles (£550).
An advertising agent working with Wagner-linked channels quoted us the equivalent of £260 per ad in Grey Zone, a Telegram channel with exclusive access to Wagner and over 600,000 followers.

To advertise on the channel of Alexander Simonov, a correspondent for the Ria Fan website founded by late mercenary boss Yevgeny Prigozhin, the agent quoted £180 per post.
Another Ria Fan reporter, Alexander Yaremchuk, has fewer followers so his rates are lower, at £86 per post.
While some of the Z-bloggers have significant experience of war reporting for state-run media, others like Maryana Naumova have no professional training.
A former powerlifter, she took a reporting course on a Wagner mercenary base and now presents her own show on national TV.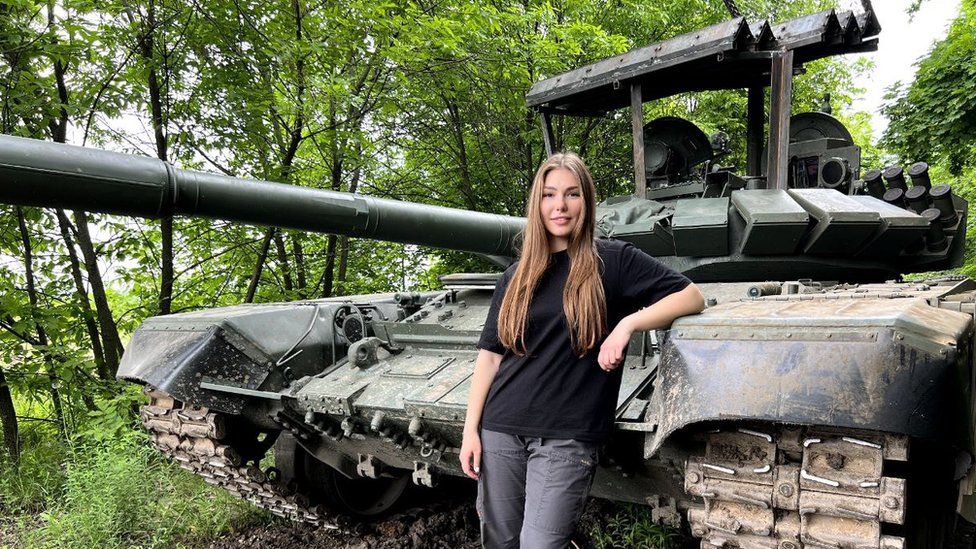 The BBC tried to interview prominent war-bloggers, but Alexander Kots was the only one of them who agreed to talk.
Speaking from the occupied Ukrainian city of Bakhmut, he described himself as a reporter in an information war. Nevertheless he understood Russia's propaganda depended, in part, on people like him.
"The Ministry of Defence often listens to us, and we have a direct channel to privately communicate information to them. It's all behind the scenes, and I do that," he said.

For more on this story:
Watch Putin's Influencers: The Bloggers Selling Russia's War – now on YouTube
The BBC's Global Disinformation Team tells the story of social media influencers making money from war propaganda.

The growing market for the Z-bloggers' material is sustained by a steady stream of exclusive videos. The footage brings them a diverse following, from domestic pro-war audiences to Western and Ukrainian analysts trying to understand what is really going on in the Russian trenches.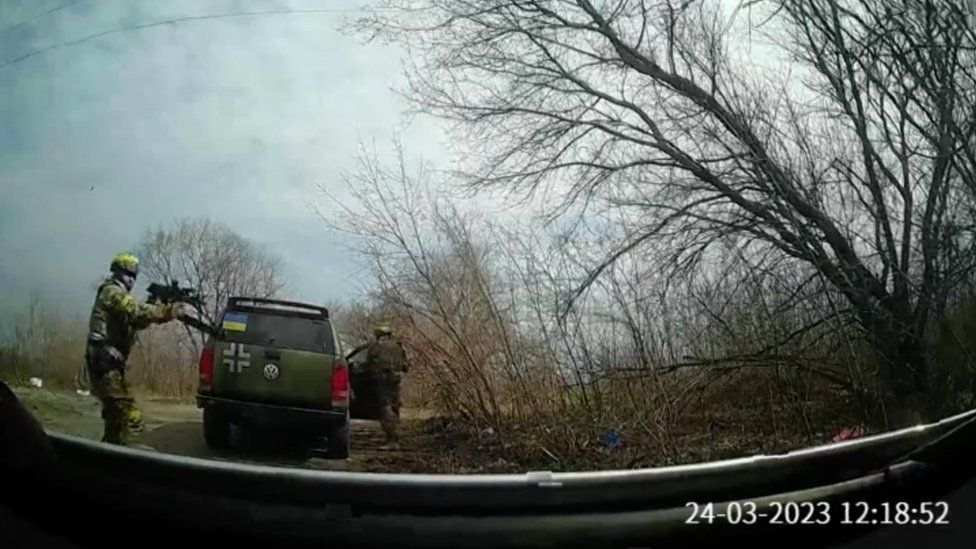 However, some of the videos posted by the pro-war bloggers are fake.
Last March, prominent influencers including Alexander Kots posted a dashcam video that purported to show two Ukrainian soldiers stopping a car with a woman and a small child.
The gunmen in the video call the woman "a pig" for speaking Russian and threaten her. Z-bloggers said the video was a perfect example of how Ukraine treated civilians.
But we have geolocated this video to Makiivka, a town near Donetsk. This area of Ukraine has been occupied by pro-Russian proxy forces since 2014. It is impossible that a uniformed Ukrainian soldier could have operated in this occupied territory.
Added to that, the use of dashcams is illegal in Ukraine. The ban was imposed after the full-scale Russian invasion to keep troop movements secret.
And the cross on the vehicle is different from the one used by Ukraine's armed forces. All these elements suggest the video was staged.
It is one of many fakes spread by Z-bloggers to encourage young Russians to support the war, and there is evidence they are succeeding.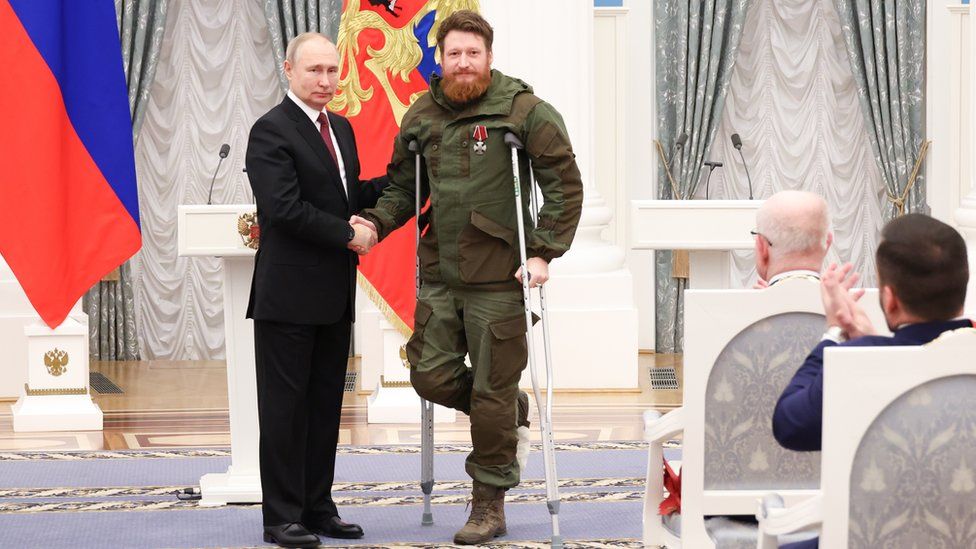 In one video a mobilised Russian man says he went to a recruitment centre after watching a number of videos from Vladlen Tatarsky, one of the most vocal bloggers. Tatarsky was killed in April 2023 at a meeting with his fans.
Another Russian man who volunteered to fight in Ukraine told a blogger he did so after watching a lot of WarGonzo reports. "I follow all the military news and analysis on Telegram," he said, referring to the Z-bloggers.
Asked to respond to the rise of pro-Putin war bloggers on the platform, Telegram said it was the "last platform through which Russians can access independent media outlets like Meduza, uncensored international news like the BBC or [President] Zelensky's speeches".
A spokesman said while all parties were "treated equally", Telegram respected international sanctions and blocked Russian state media "where laws forbid it".
Over the course of the war, President Putin has shown his appreciation of the Z-bloggers' efforts.
He appointed Alexander Kots to the presidential human rights council and made Semyon Pegov and several other bloggers members of a working group on mobilisation.
In June, he invited pro-war influencers and state media reporters to the Kremlin for a two-hour long conversation.
"The fight in the information space is a battlefield. A crucial battlefield," he told them. "And I really count on your help."
Related Topics
More on this story