This page will set Greta Thurnberg in the real world and in accord with how the laws of economics and the people who abuse it all. Greta is a puppet and is being used and manipulated. She obviously has no idea of Realpolitik and the ruthless smiling people who make the rules and run the show.
The Anti Greta Posted February 26th 2020
For climate skeptics, it's hard to compete with the youthful appeal of global phenomenon Greta Thunberg. But one U.S. think tank hopes it's found an answer: the anti-Greta.
Naomi Seibt is a 19-year-old German who, like Greta, is blond, eloquent and European. But Naomi denounces "climate alarmism," calls climate consciousness "a despicably anti-human ideology," and has even deployed Greta's now-famous "How dare you?" line to take on the mainstream German media.
"She's a fantastic voice for free markets and for climate realism," said James Taylor, director of the Arthur B. Robinson Center for Climate and Environmental Policy at the Heartland Institute, an influential libertarian think tank in suburban Chicago that has the ear of the Trump administration.
Pictures: 30 teens who changed the world (Espresso)

In December, Heartland headlined Naomi at its forum at the UN climate conference in Madrid, where Taylor described her as "the star" of the show. Last month, Heartland hired Naomi as the young face of its campaign to question the scientific consensus that human activity is causing dangerous global warming.

"Naomi Seibt vs. Greta Thunberg: whom should we trust?" asked Heartland in a digital video. Later this week, Naomi is set to make her American debut at the Conservative Political Action Conference, or CPAC, a high-profile annual gathering just outside Washington of right-leaning activists.
If imitation is the highest form of flattery, Heartland's tactics amount to an acknowledgment that Greta has touched a nerve, especially among teens and young adults. Since launching her protest two years ago outside the Swedish parliament at age 15, Greta has sparked youth protests across the globe and in 2019 was named Time magazine's "Person of the Year," the youngest to ever win the honor.
The teenager has called on the nations of the world to cut their total carbon output by at least half over the next decade, saying that if they don't, "then there will be horrible consequences."

"I want you to panic," she told attendees at the World Economic Forum in Davos, Switzerland, last year. "I want you to feel the fear I feel every day. And then I want you to act."
Naomi, for her part, argues that these predictions of dire consequences are exaggerated. In a video posted on Heartland's website, she gazes into the camera and says, "I don't want you to panic. I want you to think."

Graham Brookie directs the Digital Forensic Research Lab, an arm of the nonprofit Atlantic Council that works to identify and expose disinformation. While the campaign "is not outright disinformation," Brookie said in an email, it "does bear resemblance to a model we use called the 4d's — dismiss the message, distort the facts, distract the audience, and express dismay at the whole thing."
Brookie added: "The tactic is intended to create an equivalency in spokespeople and message. In this case, it is a false equivalency between a message based in climate science that went viral organically and a message based in climate skepticism trying to catch up using paid promotion."
Naomi said her political activism was sparked a few years ago when she began asking questions in school about Germany's liberal immigration policies.
She said the backlash from teachers and other students hardened her skepticism about mainstream German thinking. More recently, she said that watching young people joining weekly "Fridays For Future" protests inspired by Greta helped spur her opposition to climate change activism.
"I get chills when I see those young people, especially at Fridays for Future. They are screaming and shouting and they're generally terrified," she said in an interview. "They don't want the world to end."
Naomi said she does not dispute that greenhouse gas emissions are warming the planet, but she argues that many scientists and activists have overstated their impact.
"I don't want to get people to stop believing in man-made climate change, not at all," she said. "Are manmade CO2 emissions having that much impact on the climate? I think that's ridiculous to believe."
Naomi argues that other factors, such as solar energy, play a role — though the amount of solar energy reaching the Earth has actually declined since the 1970s, according to federal measurements. A slew of peer-reviewed reports, from scientific bodies in the U.S. and elsewhere, have concluded that greenhouse gas emissions are the dominant cause of warming since the mid-20th century, producing a range of devastating effects from massive marine die-offs in South America to severe wildfires in Australia and sinking ground in the Arctic.
In addition to climate change, Naomi echoes far-right skepticism about feminism and immigration. The German media have described her as sympathetic to the nationalist Alternative for Germany (AfD), the biggest opposition party in parliament, whose leaders have spoken of fighting "an invasion of foreigners." Naomi says she is not a member of AfD — she describes herself as libertarian — but acknowledges speaking at a recent AfD event.
Her path to Heartland began in November with a speech at EIKE, a Munich think tank whose vice president is a prominent AfD politician. By then, Naomi was already active on YouTube, producing videos on topics ranging from migration to feminism to climate change. In the audience was Heartland's Taylor. He said he immediately recognized her potential and approached her about working with Heartland.

Founded in 1984 and funded largely by anonymous donors, Heartland has increasingly focused on climate change over the past decade. Its staff and researchers enjoy ready access to the Trump administration, and one of its senior fellows, William Happer, served as a senior director on the White House National Security Council between September 2018 and 2019.
An emeritus professor of physics at Princeton University, Happer has repeatedly argued that carbon emissions should be viewed as beneficial to society — not a pollutant that drives global warming. During his time with the Trump administration, he sought to enlist Heartland's help in promoting his ideas and objected to a U.S. intelligence official's finding that climate impacts could be "possibly catastrophic," according to documents obtained by The Washington Post.
Why would an American think tank want to get involved in German politics? Because it worries that Berlin's strong stance on reducing greenhouse-gas emissions could be contagious, according to a recent investigation aired on German television. 

For two decades, Germany has been a leader in pressing other nations to curb carbon output and shift to renewable energy. Though it is falling short of its ambitious goals, Germany has pledged to cut its greenhouse gas emissions this year by 40 percent compared to 1990 — and by up to 95 percent by mid-century.

In December, during the Madrid climate conference, two undercover staffers from the nonprofit investigative newsroom CORRECTIV approached Taylor and claimed to work for a wealthy donor from the auto industry who wanted to give Heartland a half-million euros. Taylor took the bait, and followed up with a three-page proposal outlining a campaign to push back against German efforts to regulate emissions.

"These restrictive environmental programs are largely unnecessary," says the document, a copy of which was obtained by The Post. "Worse, other nations — including the United States and European Union nations — are increasingly being influenced by unwise German policy."
The proposal described Naomi as "the star" of a "Climate Reality Forum" organized by Heartland during the Madrid talks. With "over 100,000 people viewing her talk on climate realism," the proposal said, Naomi was well-positioned to fight German climate policies.
"Funding for our Germany Environmental Issues project will enable Heartland to provide Naomi with the equipment and the sources she needs to present a series of effective videos calling attention to the negative impacts of overreaching environmental regulations," the proposal says.
CORRECTIV aired its report on Heartland earlier this month on German TV. Taylor dismissed the report, saying, "Heck, I would have spoken with them if they told us who they were, and the answers would have been pretty much the same."

The report included secretly filmed footage of Naomi, who struck back with her own video response. Invoking Greta, she said, "To the media, I have a few last words: How dare you?"
Despite echoes of Greta's style, Naomi has objected to the comparison.
"The reason I don't like the term anti-Greta is that it suggests I myself am an indoctrinated puppet, I guess, for the other side," she says in one video. Asked if she meant that as a criticism of Greta, Naomi says: "That sounds kind of mean, actually." She added: "I don't want to shame her in any way."
Taylor said the tendency to associate Naomi with Greta is "kind of natural" — and benefits Heartland's message.
"To the extent that Naomi is pretty much the same, just with a different perspective, yeah, I think that it's good that people will look at the two as similar in many ways," he said.

Still, Naomi has a long climb to reach the level of global attention lavished on Greta. While Greta measures her social media following in the millions, Naomi counts slightly under 50,000 YouTube subscribers.
Through her spokespeople, Greta declined to comment.
www.youtube.com/watch?v=8O7heJ5ILvM
24/03/2013 · Category Music; Song A Hard Rain's A-Gonna Fall; Artist Jason Mraz; Album Listen to Bob Dylan: A Tribute; Writers Bob Dylan; Licensed to YouTube by
Greta at Davos January 22nd 2020
Of course little Greta gave the assmebled billionaires and meglomaniacs an ear bashing. Still I doubt that any one there, other than Britain's higly sensitive Prince Charles felt guilt of gave a damn. Robert Cook
What did Greta Thunberg say?
Greta urged her audience, who were largely made up of world leaders, to listen to young people.
She spoke during a panel session titled Forging a Sustainable Path Towards a Common Future.
She said: "I'm not a person that can complain about not being heard.
"The science and voice of young people is not the centre of the conversation, but it needs to be."
Thunberg continued: "It is about us and future generations and those who have been affected today.
"We need to bring the science into the conversation."
You can watch her speech here.
Greta will also be speaking on during a second panel session titled Averting a Climate Apocalypse.
Life Sentence Posted January 10th 2020
It is unusual for the Daily Star to carry, let alone front page a story worth reading. It seems preoccupied with a weird worship of the female body.
The thing most overlooked about the female body is that it exists and is reproduced so that humans can reproduce. The reason it is overlooked is because we, especially males, are not supposed to know that women use their looks for power, calling the shots in the mating game- when they can find time off from career building, putting men down and sniping at other females.
Humans are conceited, believing that a God made them especially, in that God's own image. The truth is humans created God. God like sex, is used by ruling elites to manipulate the foolish, if not downright stupid masses.
The Greta phenomenon works on the same principle. She embodies a powerful self righteous female image. She talks of 'the science'- her script writers cognisant of the fact that the masses are ignorant. So the word science overwhelms their minds just as religion does. Heretics are at risk from Draconian hate speech laws.
We are the frogs in the pan of boiling water. The water started out cold, got pleasantly warm, now it is boiling. Humans population has been doubling every fifty years since statistics have been collected and projected back in time..
Life spans have been extended, nature cut back to accommodate human greed and pollution. Forests have gone. Religion has encouraged the poorer ignorant dictator led countries to follow the bible's primitive adage 'Go forth and multiply.' Richer nations have plugged into the consequent mass of cheap labour and stupidity to embelish their elites.
So we come to this 'boffin' message, Eat Algae. Red meat is first and foremost a threat to poorer religion obsessed dictatorships who must be allowed to catch up with the ignorant stupid masses of the richer countries- migrating here as their own countries decline further into war, desease and famine as economist Rev Thomas Malthus predicted. Those migrants are the moral icons necessary to the continued enrichment of the global elite who will not be eating algae any time soon. Robert Cook
Rather Stupid Posted January 8th 2020
3 Jan, 2020 21:17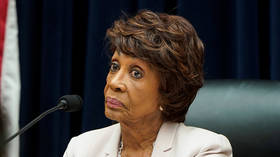 Follow RT on
US Congresswoman Maxine Waters has allegedly fallen for a prank call in which she thought activist Greta Thunberg was offering her a tape of Donald Trump confessing to pressuring Ukraine into investigating his political rivals.
YouTube pranksters Vladimir Kuznetsov and Alexey Stolyarov, who go by the names Vovan and Lexus, are claiming they tricked Waters (Dem-Calif.) into thinking she was speaking to teen climate change activist Greta Thunberg.
Vovan and Lexus made names for themselves by previously pranking Congressman Adam Schiff (Dem-Calif.) into thinking there were nude photos of US President Donald Trump that Schiff could get his hands on. They also claim to have pranked Waters two years ago, in a phone call where one posed as Ukraine's prime minister.
Though Waters herself has not responded to the new video, the woman at the other end of the phone identifies herself as the congresswoman and sounds an awful lot like her.
In the call, the pranksters pretend to be Thunberg and her father, with help from a female colleague, and claim to have proof that Trump pressured the Ukrainian government into investigating his political rivals, something Democrats have claimed, for months now, is true.
Greta's 'father' says on the call that his 'daughter' met Trump and he admitted to wrongdoing.
"He said to her, 'You know, little girl, nobody believe you anyway, I will tell you the truth. I really pushed on Ukrainian president and you know that you will never achieve your goals like those congressional fools that accuse me," the prankster posing as the famous teenager's father says.
"Oh my God, he mentioned the Ukrainian president?" the woman who identifies herself as Waters responds.
Cardiff City High Level Pollution Alert Posted January 8th 2020
Measures to tackle congestion in Wales' capital are set to be brought in amid concern over pollution levels.
Air quality averages in Cardiff are the fourth worst in the UK, according to research, with Castle Street a particular concern.
Cardiff council will publish its transport white paper on 15 January to cover its vision for the next 10 years.
One councillor said he feared it could include a congestion charge on vehicles.
The council would not confirm details of the white paper but said it would announce funding to bring in 36 electric buses on a number of routes into the city centre, which had previously been announced.
It also said it would make changes to the taxi licensing policy, clean up older buses to the latest emission standards and "re-model roads in the city centre to encourage public transport and active travel".
Greta is Old News Posted December 22nd 2019
Greta Thunberg may have insisted that her bestselling book was printed on paper sourced only from sustainable forests but the young campaigner's army of supporters do not appear to be quite so environmentally diligent in expressing their admiration for her.
The popularity of the 16-year-old Swedish activist's uncompromising message on the danger of climate change has led to a boom in the sale of "Greta" merchandise online but analysis by The Times news paper suggests that much of it is either shipped from China and other parts of the old Third World. Worse still, production involves hazardous materials and work practices.
The whole Greta story reeks of some sort of distracting conspiracy. The best the Greta camapaign and travelling circus can ahieve is mass panic. It turns out a photo archive of this figurehead was in production before she hit the media.
Her campaign is clearly aimed at the mass of little people rather than looking at serious issues of mass over production, rolling wars, nuclear testing, modern slavery, elite profits, the jet set, too much rain in Europe and too little in Australia, currently bedevilled by forest fires running massively and ruinously out of control.
The underlying issue of global overpopulation is not allowed a mention because it is too coincidental with regions like the Indian sub continent, Middle East and Latin America- where religion is- dare I say it- commensurate with Marx's 'Opium of the masses.' Charles Close
Who's Behind Greta Thurnberg? This Radical Professor Claims to Be…
by Natalie Winters / September 24, 2019
You probably know who Greta Thunberg is: the Swedish teenager who thinks anthropogenic climate change is "killing the Earth". She "wants you to panic" about the climate, and blames your fossil fuel usage for stealing her "dreams and childhood".
Thunberg is the latest iteration of the left's tactic of using children to push their radical agenda. They've now resorted to using autistic children because their other arguments haven't moved the needle in years.
Thurnberg is sadly just a disposable mouthpiece for an alarmist climate change movement borne more out of ideology than science, but who exactly is behind her?
One name that pops up is Kevin Anderson, a climate scientist and professor of Energy and Climate Change at the universities of Manchester (UK) and Uppsala (Sweden).
He confessed in an interview:
"The Thunberg family approached me some time ago. Greta was already very interested in climate change. Since she started the strike, we are in regular contact."
He further explained their relationship as frequently "discuss[ing] issues" and Greta "sends me manuscripts and asks me to check if everything is correct."
Anderson is overly insistent that Greta is responsible for her own content and is not merely a mouthpiece, given she's only 16: "What you hear from Greta Thunberg's mouth is what Greta Thunberg is thinking about and what she writes down."
How likely is that, given his admission to her reliance on his fact-checking?
Anderson is a climate change zealot. He preaches "radical change" and believes "radical action is required immediately." In the past, he's proposed a "rationing system" for individual carbon emissions. He's even too radical for some of his academic counterparts:
"For many years I have been deafened by the silent roar of academics unprepared to speak out, and consequently, through their silence, [they] vociferously support the status quo; that is a deeply political position. Others have been more actively co-opted by the established system, believing that we need to keep our advice in line with current economic thinking, or we will be ignored."
Much of his work also focuses on the dichotomy between politicians' inaction on climate change and its perceived existential nature. He was referenced in The Times several months prior to the Copenhagen Climate Summit:
"Professor Anderson [and a colleague] expect politicians at the summit merely to pay lip service to scientific evidence that greenhouse gas emissions need to be brought under control within a decade, if not sooner."
And even policy-backed change doesn't satisfy him according to one of his research papers:
"Put bluntly, while the rhetoric of policy is to reduce emissions in line with avoiding dangerous climate change, most policy advice is to accept a high probability of extremely dangerous climate change rather than propose radical and immediate emission reductions."
He also attacks the inaction of those in power:
Agree – but that talk needs to go alongside radical action to cut emissions. We're not short of policy options, opportunities for social change, low-CO2 demand & supply technologies, etc; what we have lacked thus far has been courage & multi-level leadership. https://t.co/cnpK6oPMmq

— Kevin Anderson (@KevinClimate) August 9, 2018
This narrative: the world is ending soon because of human emissions, and those in power aren't doing enough to stop it, is virtually identical to Thunberg's.
But Anderson's message was relegated to the confines of academia despite his belief that "climate change is an issue on which scientists cannot be politically neutral".
That all changed once he met Thunberg.
Thunberg has Asperger's, OCD, and autism, and has previously suffered from depression, eating disorders, and selective mutism. She describes having Aspergers as a "superpower" since it allows her to not "care about social codes", making her a better activist.
Anderson noticed this:
"Greta cares little about what others think of her. It does not take into account the sensitivities of interest groups or politicians."
Exploiting it, he uses her to amplify his message beyond his classroom and conferences, a world which he reckons "has broadly abdicated its responsibility to speak truth to power, choosing instead to care about political and economic sensibilities and fine tune its assumptions to ensure its conclusions on mitigation fit within the existing economic paradigm."
He could use her as a puppet to advance his radical agenda and filled her head with doomsday scenarios about how the world is going to end if drastic political and cultural change was not implemented.
Greta was the missing component to Anderson's agenda:
"She is an expert for communication. She manages to summarize vast amounts of information into concise, simple, honest messages. This expertise has been missing us so far. Greta reaches people we scientists have never met, especially children and adolescents."
It's sick how adults are exploiting a child suffering from a host of mental illnesses that make her especially vulnerable to such dystopian and unfounded fears about climate change and the future.
She's become a poster child for climate change advocacy but also for how far the left is willing to go to advance their agenda – exploiting kids.
---
© 2018 All rights reserved WeartStudio.
Photo From 1898 Sparks Hilarious Theory That Greta Thunberg Is A Time-Traveler
Josie HarveyHuffPostNovember 21, 2019
Photo From 1898 Sparks Hilarious Theory That Greta Thunberg Is A Time-Traveler
A photo taken 121 years ago has sparked a hilarious internet conspiracy theory that teen climate activist Greta Thunberg is a time-traveler who landed in 2019 to save the Earth.
The image shows three children operating a machine in a gold mine during the Klondike Gold Rush in 1898. It was shot by Eric Hegg in the Yukon territory of northwestern Canada and is today part of the University of Washington's Special Collections archive.
Three children operating rocker at a gold mine on Dominion Creek, Yukon Territory, ca. 1898 pic.twitter.com/NA1yRrWRSP
— Cool History (@history2cool) November 19, 2019
When the image circulated on Twitter, people were in awe of the striking resemblance between the girl in the image and the Swedish teen activist, who has sparked a global youth-led movement to combat the climate crisis after staging school strikes every Friday for more than a year.
The 16-year-old has lambasted leaders of global superpowers for inaction on climate change, sailed around the world promoting her message, turned down tens of thousands of dollars in prize money, and addressed the United Nations. She's been labelled by Leonardo DiCaprio as a "leader of our time" and nominated for a Nobel Prize.
"So 'Greta Thunberg' is in a photo from 120 years ago, and it's my new favourite conspiracy. Greta's a time traveller, from the future, and she's here to save us," one Twitter user wrote, sharing the 1898 photo superimposed on a picture of Thunberg.
Eyes of a Child October 28th 2019
Greta is on the one hand infuriating to me, because of her naivety/innocence, but on the other hand enlightening. Her youtful openness illuminates the ugly old people of wealth who do not care, going on to use fake democratic institutions that the lower classes pay for. Why does one have to have lots of money to be U.S President?
Greta seems to have no idea of the engines and the drivers behind environmental destruction. It has been going on since the industrial revolution. Still through the eyes of this young innocent woman, her anguish comes across in a powerful cry.
But the war lords will go on talking about democracy and Islamic theocracy. The oil wells will be guarded, with media lies to make it all look good and hopeful.
Greta is being manipulated. I am told she is aspergic, but she shows rather too much emotion. She will grow to realise how much she has been manipulated.
Below is an extract about the latest California fires which were started by an overheating power station- run by a bankrupt private owned cost cutting U.S energy company- catching fire, then spreading to all around it.
Politics & Policy
How Can California Be Left in the Dark?
America's biggest and most innovative economy should not treat a blackout as some kind of unavoidable natural event. By Tyler Cowen 28 October 2019, 13:00 GMT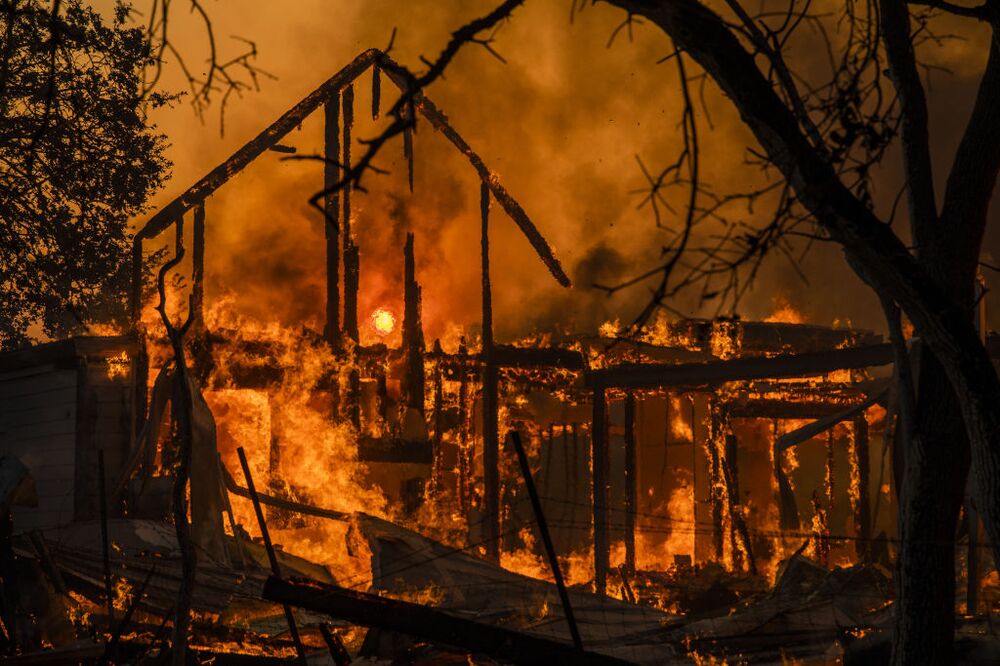 America continues to innovate wonderfully in cyberspace, but when it comes to solving actual, physical-world problems, its record is deteriorating. The fires in Northern California — and the resulting power blackouts, affecting millions and running for days on end — show just how many nodes of failure Americans are willing tolerate or even encourage.
The practical and moral failings in this matter are so numerous it is hard to know where to start. You're in private mode.
No need for carbon dioxide to be an environmental problem Posted October 27th 2019
The Massachusetts Institute of Technology may have developed a new weapon in the fight against climate change. Researchers have created a new system for removing carbon dioxide from a stream of air that can work at almost any concentration level, from power plant emissions to open air, according to MIT News.
MIT said the new system requires less energy and money to operate than other methods, which require higher concentrations, such as those found in the flue emissions from fossil fuel-based power plants.

The device at the heart of the system behaves like a large battery. It absorbs carbon dioxide from a gas stream that passes over its electrodes as it's being charged up. It then blows out the pure carbon dioxide as it discharges.
The system's inner-workings are detailed further by the researchers — MIT postdoc Sahag Voskian and professor T. Alan Hatton — in a paper called Faradaic Electro-swing Reactive Adsorption for CO2 Capture, which was published this month n the journal Energy and Environmental Science.
"In my laboratories, we have been striving to develop new technologies to tackle a range of environmental issues that avoid the need for thermal energy sources, changes in system pressure or addition of chemicals to complete the separation and release cycles," Hatton told MIT News. "This carbon dioxide capture technology is a clear demonstration of the power of electrochemical approaches that require only small swings in voltage to drive the separations."

While operating, the device alternates between charging and discharging. During a charging cycle, fresh air blows through the system. During discharging, concentrated carbon dioxide blows through.
The research team has launched a company called Verdox to commercialize the system, which could have applications for the bottling of soft drinks and the creation of plant food.
G.A.I.L Posted October 22nd 2019
Fortunately I was born just in time to have a good education- more about that on my Junius page in due course. Opting to study economics at the University of East Anglia in 1971, my first year required me to study economics- obviously- along with economic history, sociology, philosophy, economic history and anthropology.
Teaching was of a very high sttandard and not all left wing. Most of my contemporarise were from upper middle class public school backgrounds. Through their parents and elite schools, the knew the system and exactly where they were going. Money was what mattered to them. They had high expectations.
During my sociology lectures and seminars I was introduced to the Talcott Parsons 'Pattern Variables.' These could be memorised through the pneumonic GAIL. This stood for goals. adaptation, integration and latency.
Parsons was a sociological functionalist which means he saw society as an organism with organs driving it to function, manage latent tensions, integrate its members and thus achieve its goals. Obviously the goals were and still are decided ny the elite. Multi Culture is an elite or elitist goal for our society. It also deals with latent tension by scapegoating and villifying those who reject or question it.
The reason I mention this here is because Western Globalistic societies have firstly a survival goal through the creation or production of goods and services, secondly a mechanism to reward its member contributors, thirdly to somehow integrate them, and lasty but far from least is a mechanism for managing society's latent tensions.
This is where little Greta comes in to the picture. For years environmentalists were judged with an emphasis on the last syllable of their name 'mentalists'- nut cases. As I have said elsewhere, I had my teacher promotion withdrawn because of my song, 'Nuclear Winter' being performed on the radio by schoolchildren from a class I was teaching. Local Tory Councillors condemned me for politicising, as the head of the educvstion committe.
Since the demise of the Thatcheriste dictatorship we have seen worse. The left wing goal of more ethnic minorities and women in Parliament was latent tension management. It made the masses the chosen few. They were supposedly there to represent and look as if they were being taken seriously.
In truth these minority representatives became fixated with themselves, telling the masses they clain to represent what they need, what they should want and what they should be.
Meanwhile Blair starts a fire in the Middle East, mass immigration from war zones depressing wages, raising prices etc. So the economic machine pumps out more goods and services, improrts from enslaved carbon dangerous countries like China feeds the masses need for consumer goods, especially electrical. Energy demands rise. The rich profit and one of the elite proposes a carbon tax on the lower order consumers who already have too little money for too much working that is wearing them out and driving them mad.
The sytem's main goal is more for the rich who own and run the polluting system,- which is relaint on the poorly educated and easily flattered underclass.
Greta is the perfect distractor and deceiver- though she doesn't know this. She is an unwitting agent of latent tension management. She does the job well because she doesn't know what she is talking about. There would be outrage if she were called to Westminster Magistrates Court, where I saw then queing to get in this morning,
The Real World October 6th 2019
Back in the 1980s, when I was the youngest member of my local council, I got sick of the old men prefacing their self righteous monologues with the phrase 'Those of us who live in the real world.' It was patronising and exclusive based on the assumption that people like me had read too many books, listened to too many teachers but had no worthwhile body of experience.
I recall reading a philosopher, forget his name, suggesting that it is the job of the old to corrupt the young into their ways. That, I suppose, is obvious. It is how cultures survive. But cultures also have to change to adapt. Multi culture, as opposed to a world of sub cultures , is in fact a situation of too many moving parts and inevitable conflict.
Still, the ruling elite culture has thought of that. In contrast to the 1960s years of protests and protest songs, we have a public information system that the Nazis' Dr Goebels would have died for.
So enter Greta. She is a rather young, aspergic 15 year old. She won't mention overpopulation, greedy competing political ideologies, oppressive religions, rampant consumerism on which the world economic order depends, wage slavery, mass migration from war zones and corrupt regimes, the class system which puts so much real power in very few hands, or any of the nasty global conflicts orchestrated and prolonged, as in Syria, by dishonest media manipulating elite greed for control of resources and elite profit.
Greta cannot help unleash her child like fear. Many love her passion, others mock her apparent obssessive behaviour, body language, facial contortions and blazing eyes. The elite like all this. It is a distraction. When she lectures the Senate she puts me in mind of the young nerdy William Hague, at one of Thatcher's Tory Party Conferences.
Then a sixth former, rich man's son gruff little Yorhshire Hague spoke like one of the workers, he spoke down to them. He made an impassioned Thatcher worshiping speech. Maybe he didn't know what he was talking about. That never matters in politics where it is all about image over substance.
Few expected the now millionaire Lord Hague to go on to be one of their most ineffectual Tory leaders. I don't know if little Greta will go on to lead anything -after leading on gullible youngesters and stupid older middle class folk- but it will be seen as a hate crime if anyone dares to doubt or mock her verion of the truth. Robert Cook
Greta's achievements in just a year are undoubtedly phenomenal. Posted September 28th 2019
Her "school strike for climate" began 12 months ago today and sparked a global movement which saw 1.6million people in 133 countries go out on demonstrations.
Greta, who has a form of autism called Asperger syndrome, is a charismatic and forthright speaker who has managed to wrap senior politicians round her finger.
'YOU LIED TO US'
Pulling no punches, she told MPs at the Houses of Parliament: "You lied to us. You gave us false hope. You told us that the future was something to look forward to."
She added that unless CO2 emissions are reduced by at least 50 per cent by 2030, "we will be in a position where we set off an irreversible chain reaction beyond human control, that will most likely lead to the end of our civilisation as we know it".
Now Gretamania is about to arrive on US shores — and it will not be without controversy.
Big Oil Tussles With Teens, Tweets and Trust
Liam DenningBloombergSeptember 24, 2019
(Bloomberg Opinion) — In capital markets, trust boils down to – what else? – money. The more trusted you are, the more money investors will give you at a relatively low cost. Trust is in the eye of the beholder, of course. The U.S. government borrows fantastical sums at next to nothing, as you might expect. Then again, WeWork was also showered with cash despite a gaping wound of a P&L statement and multiple red flags.
Some of the world's biggest oil companies were grappling with this squishy concept at a Monday gathering on the fringes of United Nations Week in New York. The Oil and Gas Climate Initiative is a group of 13 majors representing roughly a third of global oil and gas production. Founded in 2014, it aims to provide a reasonably unified industry response to climate change, with a particular focus on such things as reducing methane emissions and encouraging carbon capture technologies.
Or maybe it's greenwashing. That, at least, was the gist of one of the opening, and more provocative, questions posed in a long afternoon session at the Morgan Library & Museum. Ben van Beurden, CEO of Royal Dutch Shell Plc, gamely took it on, arguing the sheer scale of the climate-change challenge means big, motivated companies like his must play a crucial role. It's a valid point, and Shell has moved perhaps the furthest in realigning its business and targets in this way.
But the industry must contend with the reason he had to answer the question in the first place: decades of opposition to taking action. That same day, not too far from the OGCI's gathering, teenage activist Greta Thunberg delivered a scathing speech on that very subject to assembled world leaders. While many, including the U.S. president, have reacted with sarcasm or worse to Thunberg's campaign, millions have come out in support; and her frustration at the lack of urgency about climate change is justified.
Darren Woods, CEO of Exxon Mobil Corp., framed the challenge of meeting energy demand while reducing carbon emissions as an "evolution" of the industry, which will be led by technology. He is right about the latter, but I suspect technologies like Twitter and other social media could play an even bigger role than things like biofuels from lab-grown algae.
Ignoring or obfuscating climate change for many years has had a similar effect to pulling on an elastic band. Frustration and a sense of urgency on the issue have grown, dovetailing with our wider political environment of anger, memes and divisions between party tribes and generational cohorts. A carbon tax, as the OGCI calls for, would constitute an evolution of sorts, albeit a wrenching one. Bold as that might seem, though, the long delay means it now jostles with more prescriptive proposals that could truly snap the elastic back, disrupting the oil and gas business and maybe stranding assets.
Voters still love the things that oil and gas provide, of course, so there is no guarantee Thunberg's words or Green New Dealers' sweeping plans will be anything more than that. Yet the inexorable logic of climate change and falling costs of renewable technologies and electric vehicles suggest change is coming in some form. The point is, the range of potential outcomes may be wide, but that's a lot different from the more certain world in which the oil majors have been used to operating, where prices swing about and there's the odd expropriation of assets or war but, in the end, demand always goes up.
While videos of Thunberg's speech zipped around the ether, another UN-led announcement that day got less attention: namely the formation of the Net-Zero Asset Owner Alliance by a group of institutional heavy hitters managing more than $2 trillion. The group aims to not merely shift their portfolios to compliance with net-zero greenhouse gas emissions by mid-century but also to advocate for companies to similarly align themselves.
What makes this pressure especially troublesome is that it comes at a time when the sector has only recently begun trying to rebuild trust with capital markets after the oil crash. Scarred by poor returns and wary of the climate-change crapshoot, generalist investors have backed away. This is trust, or the lack of it, manifested as money. As I wrote here with my colleague Nathaniel Bullard, energy stocks now sport dividend yields at their highest levels in 25 years.
The day after attending the OGCI gathering, Patrick Pouyanné, the CEO of Total SA, announced the French oil major would bump its dividend growth from 3% to 5-6% a year, effectively distributing an extra $5 billion to investors through 2025. This both advertises Total's confidence in its low breakeven oil prices and bumps its own yield closer to 6%. In other words, it's a big call on investors to trust the company's got this.
This is the difficult balancing act the industry must now pull off. In the year through June, the OGCI's members collectively paid out $138 billion of dividends.(1) Technically discretionary, they are now more like the ante just to play. Yet investors are demanding a bigger cut of cash flow even as these companies, to varying degrees, are trying to not only maintain their current operations but also invest in newer technologies that aren't likely to generate the cash needed to support those payouts anytime soon.
Investors' trust in the industry's ability to deploy capital effectively in its core business has waned. Now it must rebuild that while also asking for trust to spend money on entirely new ventures – and all against the backdrop of denuded societal trust. The companies are compelled to try anyway. You can trust it won't be easy.
(1) This figure includes PetroChina Co. Ltd.'s's payout as a proxy for unlisted parent China National Petroleum Corp. Petróleos Mexicanos doesn't pay a dividend, instead paying taxes and royalties to its government owner. Data are from Bloomberg and company filings.
To contact the author of this story: Liam Denning at ldenning1@bloomberg.net
To contact the editor responsible for this story: Mark Gongloff at mgongloff1@bloomberg.net
This column does not necessarily reflect the opinion of the editorial board or Bloomberg LP and its owners.
Liam Denning is a Bloomberg Opinion columnist covering energy, mining and commodities. He previously was editor of the Wall Street Journal's Heard on the Street column and wrote for the Financial Times' Lex column. He was also an investment banker.
For more articles like this, please visit us at bloomberg.com/opinion
©2019 Bloomberg L.P.
September 27th 2019