Archived April 27th 2023
April 25th 2023
Russia's new T-14 Armata battle tank debuts in Ukraine
Al Jazeerahttps://www.aljazeera.com › news › russias-new-t-14-a..
Russia has begun using its new T-14 Armata battle tanks to fire on Ukrainian positions "but they have not yet participated in direct assault …
The T-14 tank has an unmanned turret, with crew remotely controlling the armaments from "an isolated armoured capsule located in the front of the hull." The tanks have a maximum speed on the highway of 80 kilometres (50 miles) per hour, RIA reported.5 hours ago
Reutershttps://www.reuters.com › world › europe › russias-new-…
April 24th 2023
Has Nato Expansionism Caused Conflict With Russia ?
Some analysts have suggested western expansion into eastern Europe after 1991 is a strategic blunder, and has predictably led to the catastrophe unfolding in Ukraine. The growth of the North Atlantic Treaty Organisation (NATO) from 16 members in 1990 to today's 30 is sometimes described as imperialist, and EU enlargement has been subjected to similar criticism, namely that a western power grab has provoked Russia.
Such views give succour to Vladimir Putin and undermine the legitimate wish of Ukraine to become part of the European economic and security architecture. They also undermine Ukrainian citizens under siege and defending their homeland.
Putin sponsored the uprising in Eastern Ukraine that has cost 14,000 lives, and illegally annexed Crimea. Years of aggression, including cyber-attacks, have culminated in the current disastrous war against an independent, democratic, and sovereign state, threatening regional and global stability.
The 1989 revolution in the Communist east of Europe was powered internally by popular protest. Beginning in Poland with the Solidarity movement, boosted by support from Pope John Paul II, change swept through the whole region. Soviet-backed governments fell, and the USSR itself imploded. Mikhail Gorbachev's dream of 'socialism with a human face' died, giving way to a kleptocratic autocracy under Boris Yeltsin.
Former Warsaw Pact members soon applied to join NATO and the EU. The Treaty of Rome offers EU membership to any European state willing and able to take on associated responsibilities and meeting Copenhagen Criteria for accession. Former Communist states had to implement reforms to business practice, property rights, and legal systems to cope with EU law and a market economy.
This upsets many on the left: the EU favours a capitalist market economy, which the peoples of the former Communist states wanted in the 1990s. They did not want, as Timothy Garton Ash eloquently testified, a version of socialism. From under Russian bombardment, a Ukrainian leftist, Taras Bilous, has appealed to critics of Western policy to suspend their criticisms while Moscow rains missiles on Ukrainian cities.
NATO too has an 'open door policy' enshrined in Article 10 of the Atlantic Treaty. This offers membership to any 'European State in a position to further the principles of this Treaty and to contribute to the security of the North Atlantic area'. All the former Communist countries wanted to join NATO to protect their interests and aspirations as independent sovereign states.
Applications to join both the EU and NATO are 'merit-based' and include shared values and a common understanding of democracy. In contrast, Russian claims on Ukraine are based on ethnicity, nationality, and geopolitics.
Three of the Visegrád Group – the Czech Republic, Hungary, and Poland – joined NATO in 1999. In the following year, Yeltsin handed power to Vladimir Putin and ten more states formed the Vilnius Group to prepare and lobby for NATO membership. Seven of them, Bulgaria, Estonia, Latvia, Lithuania, Romania, Slovenia, and Slovakia, joined NATO in 2004, just before their EU accession, for which Bulgaria and Romania had to wait until 2007.
States choose whether to apply to NATO or the EU. They can leave either bloc if they wish. To suggest that NATO or the EU have indulged in imperialist expansion ignores the choice element exercised by the states concerned. The EU has certainly extended its influence for political and economic gain, but the process has been of mutual benefit. It is not the zero-sum game implied by imperialism.
NATO has been a defensive alliance since its foundation in 1949. This does not mean that some of its members, the US, UK, and France, have not engaged in egregious acts of war and human rights abuse since 1949. NATO's only Article 5 intervention, involving collective defence, was in 2001 in Afghanistan. NATO's International Security Assistance Force operation lasted from 2003 until 2014, and while it can hardly be described as an unmitigated success, the major failures came later.
Other NATO operations in Bosnia Hercegovina and in Kosovo were provoked by what the International Criminal Tribunal for the former Yugoslavia later judged to be war crimes, including genocide, by the Serbian leaderships in Bosnia and in Belgrade. Those interventions lacked UN Security Council authorisation because Russia and China could apply a veto. Both were reluctant to condemn their Serbian allies.
EU and NATO enlargement should be seen in the context of the Helsinki Final Act (1975) to which the USSR was a signatory, and the Charter of Paris (1990), signed by Gorbachev. These texts underline the right of sovereign states to self-determination in their choice of partnerships. In the Budapest memorandum (1994) Russia agreed to respect the territorial integrity and the existing borders of Ukraine in exchange for Ukrainian denuclearisation.
What was agreed or not agreed regarding NATO expansion after the end of the Cold War is highly contested. Putin is aggrieved that the West broke commitments made in the aftermath of the Soviet collapse.
But it is an odd logic that supposes that Russia, a successor state to the former oppressor of nine NATO members, should have a veto over who joins the Alliance, a demand rejected by NATO Secretary General Jens Stoltenberg. Given the threat now, Putin's demand that NATO forces withdraw from the Baltic states is untenable.
Why did NATO not admit Russia as a member? There was a short period where Russia might have pursued membership, according to former NATO Secretary General George Robertson. Putin asked to be invited to join 'as an equal'. Robertson replied that NATO does not invite states to join, they must apply. Putin never did apply, and by 2004 he had gone off the idea, preoccupied with the Orange Revolution and pro-democracy movement in Ukraine. In any case, Russia did not meet the stipulation that a state joining the Alliance should be free from border disputes or internal conflict. Wars raged in Chechnya between 1994-96 and 1999-2000, with hostilities continuing for years afterwards.
NATO instead offered Russia a partnership, initially through the NATO-Russia Founding Act in 1997, intended to reassure Yeltsin. This was augmented by a NATO-Russia Council in 2002 to aid security cooperation. After the Vilnius enlargement in 2004, even Putin expressed the view that 'each country has the right to choose the form of security it considers most appropriate'. Neither Yeltsin nor Putin were keen on NATO enlargements, but they acquiesced in their inevitability. They had no choice against the settled will of the countries involved.
Throughout the post-1949 period, NATO and the EU have been consistent in their shared commitment to European security. It is Putin who has changed, and Russia's actions consolidate the prospect of a new cold war in Europe. NATO's function is to secure peace in the North Atlantic area, a task as valid now as it ever was pre-1991. Given the bellicosity of the current regime in Moscow, NATO must maintain guarantees to its membership. It is fundamental to the values and aspirations cherished by NATO and EU members, and prospective members.
A new thought is whether current events will cause Finland and Sweden to reconsider their neutrality, and apply to join NATO.
By Simon Sweeney, Reader in International Political Economy and Business at the University of York.
'DEMOCRACY' PROTECTS US FROM RUSSIA AND REVIVED COMMUNISM , By R J Cook.
Comment The answer to this question is yes. Meanwhile the CIA have been targetting Kazakhstan for years. They are next on the NATO list. China will follow in the not so long term. NATO's respect for national sovereignty and independence is a sick joke.
The key phrases in the above article are as follows :
NATO too has an 'open door policy' enshrined in Article 10 of the Atlantic Treaty. This offers membership to any 'European State in a position to further the principles of this Treaty and to contribute to the security of the North Atlantic area'. All the former Communist countries wanted to join NATO to protect their interests and aspirations as independent sovereign states.
Applications to join both the EU and NATO are 'merit-based' and include shared values and a common understanding of democracy. In contrast, Russian claims on Ukraine are based on ethnicity, nationality, and geopolitics.
NATO with its Anglo – U.S elite leadership is as stuck in the lucrative cold war mindset as Russia , if not more so. U.K has too much influence in its old colonies as we see with their panic over Sudan. The U.S is the worlds greatest colonial power and a credit to its British parents. Given their incestuous mentality they are equals in hypocrisy with their mantras of sovereign states and democracy. Eastern Europe is riddled with exploitation and corruption which is why so many East Europeans have gone west. They now think all will be well if west comes east. I have discussed these issues with East European and Russian colleagues during my 12 years in the haulage industry who have taken my understanding way beyond the academic.
NATO and EU policies serve and protect the rich elite whose treacherous maniplulative wealth grabbing policies and activities are why the planet is in environmental, demographic, social and economic crisis. A recent report concluded that the world population is also in the grip of a mental health crisis. All the western political and media elite will tell us is that Russia is evil because of Vladimir Putin. So all you have totell the dopey and doped up masses is that 'DEMOCRACY PROTECTS US FROM RUSSIA AND REVIVED COMMUNISM. Western elites had no problem when Yeltsin's oligarchs came west with money bags from asset stripping the Russian peoples' infrastructure. That is the essence of NATO EU principles, fool and fleece ( rob ) the common people. Russian oligarch stolen money pumped into obscenely rich football clubs was a particularly clever trick.
R J Cook
April 22nd 2023
Ukraine unveils plan for recaptured Crimea – but West 'reluctant' to help
Ukraine unveiled on Sunday a 12-point plan outlining how it would reintegrate Crimea back into the country if it regained the territory militarily. Kyiv has repeatedly said that seizing the peninsula back from Russia is one of its key war aims. But Washington is tacitly sceptical.
Advertising
The most telling detail in the report by Oleksiy Danilov, secretary of Ukraine's National Security and Defence Council, concerned Sevastopol – Russia's main port on the Black Sea for the past 200 years. In this plan for Crimea's "de-occupation", Danilov said "the so-called 'city of Russian glory' is to be renamed Object 6".
Danilov also promised tough action against Ukrainians in Crimea deemed to be collaborators with the Russian enemy: "In addition to prosecuting perpetrators for collaboration and high treason, a lustration mechanism is under development that will determine the level of responsibility and degree of involvement of Crimean residents in supporting occupation administration activities," the report said. "Sanctions could include the right to participate in elections – to vote and to be elected."
Posted on Facebook, the plan also calls for the demolition of the Kerch Strait Bridge connecting the peninsula to Russia, the expulsion of all Russian citizens who settled in Crimea after 2014, and the nullification of all property transactions made in Crimea under Russian rule.
This was the first indication of what Crimea would look like after Ukraine took it back. But many say Kyiv is getting ahead of itself, as the Ukrainian army is still fighting ferociously to try and repel Russian assaults on Bakhmut in the east. Planning for the aftermath of the re-conquest of Sevastopol is unlikely to be an immediate item on the agenda of Ukraine's general staff.
'Reassuring public opinion'
In fact, Danilov's statements were motivated primarily by domestic political purposes. "These 12 points include many aspects of plans set out for the Donbas; they're all policies that allow Kyiv to reassure public opinion by showing it's serious about taking back every bit of Ukrainian territory from the Russians," said Huseyn Aliyev, a specialist in the Russo-Ukrainian War at Glasgow University.
Nevertheless, Kyiv has pushed Crimea up its agenda since the Russian invasion in February 2022. Crimea was a "taboo subject" at the start of the war when the Russian conquest of Kyiv itself was on the cards, Aliyev pointed out.
"Since the Russian attack on Kyiv failed and Ukraine had that wave of success with its first counter-offensives, the idea of retaking Crimea has become integral to the official Ukrainian discourse," said Jeff Hawn, an expert on Russian security issues and a non-resident fellow at US geopolitical research centre the New Lines Institute.
Ukrainian President Volodymyr Zelensky said in August that "everything started with Crimea and will end with it", referring to Russia's annexation of the peninsula in 2014. Asking for more Western arms, Zelensky said at the Davos summit in Switzerland in January that "our objective is to liberate all of our territories" and "Crimea is our land".
Zelensky was trying to show just how much Ukraine's military is "keen to retake land, strengthened by its successes on the ground", underlined Nicolo Fasola, a specialist in Russian military issues at the University of Bologna.
Long-range weapons necessary
Rhetoric from the Biden administration's hawkish faction emboldened Kyiv. US Under Secretary of State for Political Affairs Victoria Nuland said in February that "Ukraine is not going to be safe unless Crimea is at a minimum demilitarised".
But just days before, Nuland's boss Secretary of State Antony Blinken implied scepticism about Ukraine retaking Crimea on a private call with experts leaked to the press – saying Crimea is a "red line" for Russian President Vladimir Putin.
While stressing that decisions about the war are Ukraine's to take, Blinken told a congressional committee in March that Kyiv may want to think about using diplomacy instead of military offensives in trying to take back some parts of its territory.
Analysts say retaking Crimea is easier said than done. "As things stand, the Ukrainian army has only attacked non-fortified Ukrainian positions," Fasola observed. "But Crimea will be completely different because Russia has had an entire defence system in place for the last eight years."
Long-range missiles are an all-important lacuna in Ukraine's arsenal. Kyiv has long demanded ATACM missiles, which have a range of over 300 km. Washington has refused to give them.
"Ukraine will find it extremely difficult to even approach Crimea without using long-range missiles to destroy part of Russia's defences," Hawn said.
But there are significant reasons why the US does not want to send ATACMs, Fasola noted: "The US fears that Ukraine would use them to hit Russian territory, while a missile of American origin striking Russian soil could provoke a serious escalation of the conflict."
Moreover, amid broader Western concerns about depleting their own stockpiles to feed Ukraine's war effort, Washington is also worried that it just "doesn't have enough ATACMs to be able to send them to Ukraine", added Glen Grant, a senior analyst at the Baltic Security Foundation.
Nuclear risk
Daily newsletterReceive essential international news every morningSubscribe
Experts underline that Ukrainian rhetoric about re-conquering Crimea is not just bluster: "There's definitely going to be fighting over control of Crimea before the war is over," Grant put it.
But analysts are equally confident that battles over Crimea are not going to happen in the immediate future.
"Before that, Ukraine wants to liberate Kherson and Zaporizhzhia provinces, and the army will need all the strength it's got to achieve that – so Crimea will have to wait for at least a year," Aliyev said.
But how the Kremlin would react to such an offensive is an entirely different question. "There's a definite risk that Putin would use nuclear weapons to counter a Ukrainian offensive in Crimea," Fasola concluded. "And that's why Ukraine's Western allies are reluctant to openly support the retaking of Crimea.
This article was adapted from the original in French.
Read more on related topics:
Related content
Key battles in the Ukraine war: From Kyiv's stand to the Kharkiv counterattack
Sergei Roldugin, the cellist who looks after Putin's fortune
Battle for Bakhmut highlights divide between Wagner mercenary chief and the Kremlin
Comment If Zelensky gets his way Russia will either have to surrender or make a nuclear response. I know what I would do. Actor Zelensky is demanding immediate NATO entry which is tantamount to demanding nuclear war and it looks as if he is going to get it. Sergei Lavrov has said Russia wants the war to end, but only with their original request that Ukraine remains a neutral buffer. He is discussing this with the head of the United Nations on Monday. It won't happen because Zelensky and his cronies are looking for an established high life, first class travel & accommodation and banquets at all the NATO, EU and G20 summmits where the corrupt greedy power maniacs plan increasing their wealth at the cost of more war and ultimately destroying the planet. R J Cook
April 20th 2023
Cleaning Up A Dirty World With God On Their Side.
NATO's response to Russia's invasion of Ukraine
Last updated: 04 Apr. 2023 17:52
NATO condemns in the strongest possible terms Russia's brutal and unprovoked war of aggression against Ukraine – which is an independent, peaceful and democratic country, and a close NATO partner. NATO and Allies continue to provide Ukraine with unprecedented levels of support, helping to uphold its fundamental right to self-defence.
This page contains information about NATO and its relationship with Ukraine, and the latest news on NATO and Allies' responses to the ongoing war.
A strong, independent Ukraine is vital for the stability of the Euro-Atlantic area. Relations between NATO and Ukraine date back to the early 1990s and have since developed into one of the most substantial of NATO's partnerships. Since 2014, in the wake of Russia's illegal annexation of Crimea, cooperation has been intensified in critical areas. Since Russia's full-scale invasion in 2022, NATO and Allies have provided unprecedented levels of support. more >>
Frequently Asked Questions
DEEP DIVE – RELATED TOPICS
› Read more about the Alliance, its policies, activities and structures
News
Official Texts
Maps
Video
HIGH-QUALITY B-ROLL
Register on natomultimedia.tv to download
NATO Basics
About us
What we do
Newsroom
Work with us
Learn more
Quicklinks
April 17th 2023
NATO SET UP . April 17th 2023
There is no end to the Anglo American led NATO's hypocrisy, with elite mainstream media blasting their messages across the world. That's where Vladimir Kara Murza came in. He holds dual Russian citizenship, having returned from living in London. That is very interesting timing. So it doesn't surprise me that Vladimir Kara Murza has been convicted of spying. He has committed treason.
The west is not democratic as my experience of U.K authorities ,years as a public servant and senior member of my local council has taught me. However, though most people haven't a clue what democracy means, they are fooled into a sense of freedom based on demonising Vladimir Putin's Russia. So our moralising media are demanding stronger sanctions on Russia. At best this is the old 'lesser of evils' con trick.
They and our corrupt politicians are certain that no connection between Vladimir Kara Murza and what has been and is still being done to war crimes whistle blower Julian Assange – concerning the illegal second Gulf War which destabilised the Middle East and more. The media does not want to know him or brave Chelsea Manning. The same goes for young Jake Teixeiria, who saw rather too clearly the military mad men and communist fearing fat cat politicians baying for what could easily turn into nuclear war. He is lined up for 15-25 years because , among other things, he revealed that Britain and the U.S lead the numbers of NATO special forces fighting Russia in Ukraine. That means on top of all the ordnance and free equipment, NATO has to stop denying they are at war with Russia – setting them up by reneging on treaties.
R J Cook
Vladimir Kara-Murza: Russian opposition figure jailed for 25 years
Related Topics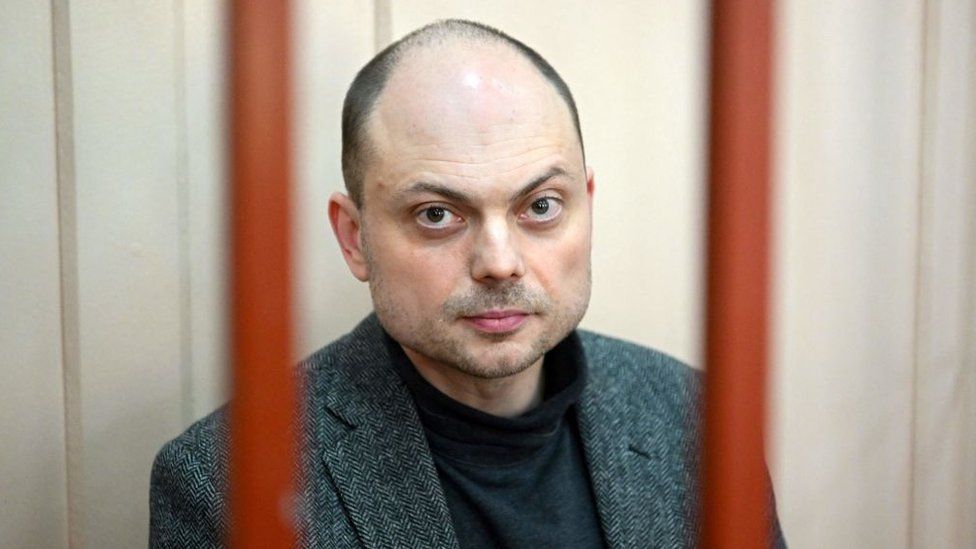 By Steve Rosenberg and Kathryn Armstrong
BBC News, Moscow and London
Opposition activist Vladimir Kara-Murza has been sentenced to 25 years in jail in Russia for charges linked to his criticism of the war in Ukraine.
He was found guilty of treason, spreading "false" information about the Russian army and being affiliated with an "undesirable organisation".
The Russian-British former journalist and politician is the latest of several Putin opponents to have been arrested or forced to flee Russia.
He has denied all of the charges.
Mr Kara-Murza, 41, has spent years speaking out against Russian President Vladimir Putin and, alongside the war in Ukraine, has also been critical of the government's crackdown on dissent.
Last week, he said in a statement that he stood by "every word that I have said… Not only do I not repent any of this, I am proud of it."
"I know that the day will come when the darkness engulfing our country will clear," he added in remarks posted online. "Our society will open its eyes and shudder when it realises what crimes were committed in its name."
Mr Kara-Murza's 25-year sentence, which has been widely condemned, was the maximum sought by prosecutors and is the longest sentence an opposition figure has received since the war in Ukraine began.
It took only minutes for the judge to rule on his case – sometimes the delivery of verdicts and announcing sentencing can take a long time in Russian courts.
The judge said Mr Kara-Murza would serve his time in a "strict regime correctional colony" and that he would be fined 400,000 roubles ($4,900; £4,000).
The tough sentence is a sign that in today's Russia the authorities are not only determined to silence critics but also to neutralise anything or anyone they believe represents a threat to the political system.
The BBC was not allowed access into the courtroom and only a handful of journalists from Russian state media were granted access, along with the defendant's mother and lawyer.
Instead, reporters and foreign ambassadors crowded into a separate room to view proceedings on two TV screens.
Speaking outside the court after the sentencing, his lawyer Maria Eismon, said the sentence was "terrifying" but also a "high appreciation" of her client's work.
"When [Mr Kara-Murza] heard it was 25 years, he said: my self-esteem even rose, I realised I'd been doing everything right!" she said.
Russian opposition leader Alexei Navalny also weighed in on Mr Kara-Murza's sentencing, calling it "revenge" by the Kremlin "for the fact that he did not die at one time" after he allegedly survived two poisonings by Russian authorities.
Mr Kara-Murza played a key role in persuading Western governments to sanction Russian officials for human rights abuses and corruption.
He was arrested a year ago in Moscow, initially for disobeying a police officer. More serious charges were levelled at him once he was in custody.
Mr Kara-Murza's case was partly based on a speech he made to politicians in the US last year, where he said Russia was committing war crimes in Ukraine with cluster bombs in residential areas and "the bombing of maternity hospitals and schools".
Those claims have been independently documented – but deemed false by Russian investigators who said the defence ministry did "not permit the use of banned means… of conducting war" and insisted Ukraine's civilian population was not a target.
Another charge stemmed from an event for political prisoners at which Mr Kara-Murza referred to what investigators called Russia's "supposedly repressive policies".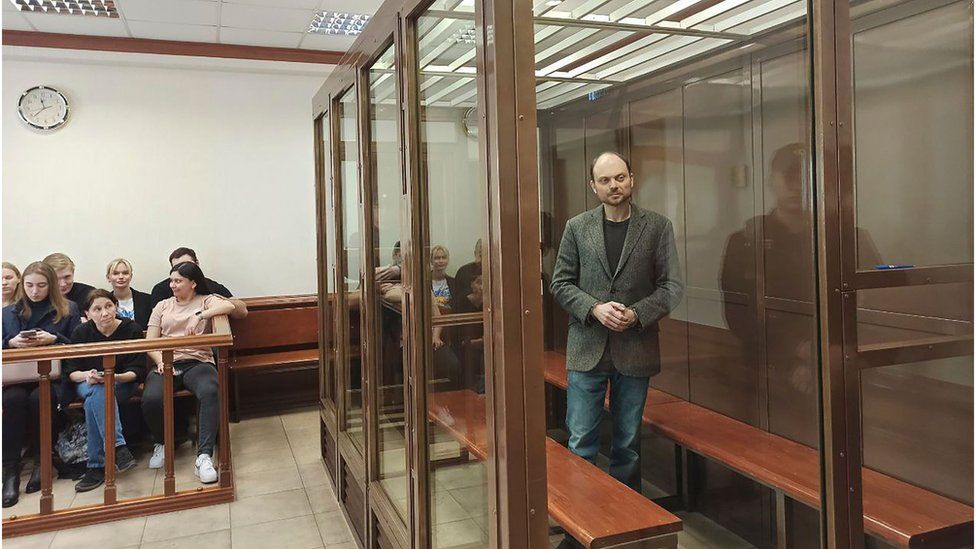 Last week, a copy of a speech he made to the closed court was released, in which he said his trial reminded him of a Stalin-era show trial of the 1930s.
"I only blame myself for one thing," he said.
"I failed to convince enough of my compatriots and politicians in democratic countries of the danger that the current Kremlin regime poses for Russia and for the world."
His sentence has been widely condemned, with the British government summoning its Russian ambassador and saying that it would look at measures for holding those involved in Mr Kara-Murza's detention and "mistreatment" to account.
The UK had already sanctioned the judge who presided over the trial for previous involvement in human rights violations.
"Russia's lack of commitment to protecting fundamental human rights, including freedom of expression, is alarming," British Foreign Secretary James Cleverly said in a statement.
Later on Monday, the Russian Foreign Ministry criticised Britain's response to Mr Kara-Murza's arrest, describing it as "direct interference in the internal affairs of Russia", AFP news agency reported.
The ministry said the British ambassador made "unacceptable" remarks after London demanded his immediate release.
The United Nations and the US State Department have also condemned the verdict, with the latter describing Mr Kara-Murza as "yet another target of the Russian government's escalating campaign of repression".
Not-for-profit group Human Rights Watch, meanwhile, described the verdict as a "travesty of justice" and called on Russia to "immediately vacate the verdict and unconditionally free him".
Mr Kara-Murza comes from a well-known Soviet dissident family. His father, Vladimir Sr, was also a Kremlin critic.
He received British citizenship when he moved to the UK as a teenager with his mother and he attended Cambridge University.
He began his career in journalism before becoming an adviser to Boris Nemtsov, another prominent Russian opposition leader and politician who was shot dead in Moscow in 2015.
Mr Kara-Murza was involved in the passing of the Magnitsky Act in the US – a key piece of legislation that helped secure the adoption of sanctions targeting human rights abusers in Russia.
He nearly died twice after being poisoned and moved to the US with his family to recover. He later returned to Russia but refused to leave after the invasion of Ukraine, despite the growing risk to those who opposed the government.

Ukraine war: Leak shows Western special forces on the ground
https://emp.bbc.co.uk/emp/SMPj/2.49.2/iframe.htmlMedia caption,
Watch: The Pentagon leaks explained in under 60 seconds.
By Paul Adams & George Wright
BBC News
The UK is among a number of countries with military special forces operating inside Ukraine, according to one of dozens of documents leaked online.
It confirms what has been the subject of quiet speculation for over a year.
The leaked files, some marked "top secret", paint a detailed picture of the war in Ukraine, including sensitive details of Ukraine's preparations for a spring counter-offensive.
The US government says it is investigating the source of the leak.
According to the document, dated 23 March, the UK has the largest contingent of special forces in Ukraine (50), followed by fellow Nato states Latvia (17), France (15), the US (14) and the Netherlands (1).
The document does not say where the forces are located or what they are doing.
The numbers of personnel may be small, and will doubtless fluctuate. But special forces are by their very nature highly effective. Their presence in Ukraine is likely to be seized upon by Moscow, which has in recent months argued that it is not just confronting Ukraine, but Nato as well.
April 15th 2023
Before It's Too Late by R J Cook
As much as U.K pretends it is not at war with Russia, it is. Therefore criticising my native country is dangerous. This is all the more so since this website has a regular police watch on it. Google rank the site well down the list with many users telling me access is marked restricted..
Back in my maths teaching days, a colleague called me a Luddite for my concerns about computers spreading into education and public life. Nerds can't always see the danger, but some of us more imaginative nerds read, think too much and make dangerous connections. I said at the outset that the information highway would work out to be the disinformation highway. I am stating the obvious. Powerful countries like U.K and U.S.A use it to spread propaganda. They got caught by Jake's leaks.
The Anglo U.S elite establishment politicians, press and security services have ridiculed anyone who mentions conspiracy or fake news. They go out of their way to hide the truth of their dirty deeds, corruption and dishonesty. So we come to the case of 21 year old National Guardsman Jake Teixeira a junior intelligence officer, following in the illustrious footsteps of Chelsea Manning and the second Gulf War.
Defence experts on British media were rubbishing Jake. One observed that Manning, Snowden and now Teixeira were all young men easily manipulated. No credit is given to these men because we are supposed to believe only that our so called enemies – chosen by the rich western ruling elite – do bad things . These three men have made informed judgements. The SKY defence man asserted, "This kind of intelligence work should be conducted by colonels." He was probably thinking of the great U.S Colonel Oliver North CIA selling weapons to Iran for the Shah to send them to support the Contras in El Salvador and Guatamala because they wanted regime change. Congress would not grant the money so the CIA ran drugs into the U.S to fund the project. It is no wonder the CIA ran the conspiracy to use media to rubbish conspiracies. So we know why so many Washington & Langley insiders are official liars and surreptitious killers, by proxy when deemed necessary. They are serving a powerful elite with U.K totally on board.
Jake Teixeira may or may not have known what he was doing when he leaked top secret papers onto the DISCORD private website, papers then leaked world wide by another group member. They have , however, been the most explosive weapon used so far in what has been a war of attrition. The U.K has been exposed for providing 50 out of 97 NATO Special Forces along with 14 U.S active on the ground in Ukraine, confirming NATO going beyond its dubious supply of weapons, munitions ,tanks , Sea King helicopters and intelligence. This explains the attack on the Crimea Bridge and false flag operations. Disclosure has also revealed Ukraine field dispositions and shortage of anti aircraft shells. Apparently shells are expected to run out in May and thus offering an invitation for Russia to mobilise its airforce. There is further information concerning exposing human sources of field intelligence that has been helping NATO's Ukraine proxy forces, with fear of reprisal.
I suspect young nerd Jake, like Anglo U.S war crime whistle blower Chelsea Manning, was crunching the numbers predicting a nuclear holocaust if the Anglo- U.S NATO led industrial and military mad men were exposed as the liars and hypocrites that they are – before its too late.
R J Cook
April 13th 2023
'Paddy' Joe Biden and Finnegan's Tale by R J Cook
Paddy Biden April 13 2023.
The English working classes call it the gift of the gab, the Irish call it Blarney. Down to earth Americans call it bullshit. Whatever, you call it ,the BBC and Sky News were sloshing it around like cheap intoxicating wine when the great long lost intergenerational Irish American President Paddy Joe Biden arrived at Dublin Airport yesterday where his armour plated bomb proof limousine and more security men were on guard.
According to the smarmy commentator, Paddy Joe had a sense that he was coming back to his spiritual home. Though Biden is an old English name, he is more closely related to the Finnegans. That is a name made famous by notable Irish writer James Joyce in the entertaining thought provoking 'Finnegan's Wake' and a Dubliner's recording of a song of the same name,sung by an old Folk hero of mine Ronnie Drew. His name is Scots and his vocal timbre was like gravel being shovelled. Beautiful. I played my Dubliners LPs over and over, even in my student residence room , from 1971-74. I practised their songs with my guitar, performing them in folk clubs as recently as 2008- 11.
I was working with my then girlfriend Christine Halpin, a talented musician and song writer. One Sunday night in the Bradwell area of Milton Keynes by the Grand Union Canal, we were performing Eric Bogle's 'Green Fields' of France, with me on lead guitar and lead vocals.
I was looking down from the stage at a room full of hard drinking men and their women. A well built upright elderly man was striding to the door. I worried he didn't like us. He was wearing a white Aran jumper. As I struck up the vocals with "Well how do you do young Willie McBride, do you mind if I sit here down by your graveside, I've been working all day and I'm nearly done", the man turned,then walked right up to the stage ,watched and listened intently. Afterwards he asked me,with a strong Irish accent, which part of Ireland I came from. I said I am English. He said "No , you are definitely Irish. Your accent is somewhere south of Dublin." He was so insistent that I eventually agreed, replying : "Alright, I admit it. I am an Irishman pretending to be English." The old Irishman's weather and age worn face contorted into an expression of wonderment. Then after a long pause, he asked "Now why on earth would you want to do that ?"
Christine and I finished our set , then joined the old fellow and his sister, listening to his tales of travels to the United States and around, doing all sorts of work before coming back to the British Isles.
In my late teens and 20s, I had a great passion for Ireland and republicanism which I hoped would catch on in Britain. Irish literature and history was of much interest during my teens and twenties. But the curious resurgence of terrorism,the mysterious role of MI5 in stirring it all up while young British soldiers were sitting targets and ultimate scapegoats in their old age, I abandoned my cares for Ireland's plight. Ireland was turning into a tax haven and developer's playground. It no longer seemed such a romantic place. Maybe that's a good thing. I remember in 1973, my United States Economic History tutor and sometime drinking companion at the University of East Anglia, Irish American Dr Alan O'Day. I asked him about his time in Dublin, researching his PhD. Alan stifled an imaginary yawn, then said " Boooring"
Another Irish American,young lawyer Jack Haskew told me the difference between the struggling Irish, with the line " It was terrible. It got worse ,the even worse and they all died." The Irish American sees things differently. So we have : "It was terrible. It got worse. Then we did something about it."
Ireland changed after the Good Friday Agreement, based on optimistic promises and EU membership , with allied multicultural immigration, with sights like Muslims praying on the hallowed Croke Park Dublin, countenanced by the Roman Catholic hierarchy. Class divisions and liberal political correctness tends to put the south's government more out of touch with the white working classes who traditionally were expected to take out their anger over the border issue. Botched Brexit has inflamed the situation, so along comes Paddy Biden to remind them and the world how fellow saintly President and sex pest Democrat (sic ) Bill Clinton was the brains and power behind the Good Friday Agreement.
The Irish , WASP Americans and British are not that different , they speak versions of English and generally accept authority. Biden knows how close we are to a massive escalation of what is already World War 3. He is out to strengthen the incompetent planet eating Anglo Saxon greedy new world order. To me his fake Irish ness is nauseating but , helped by elite media, it is working on the ignorant frightened masses who want to believe they are part of a big fair minded democratic collective. The ruling elite don't actually care. In the nineteenth century Phoenix Park was famous for a terrorist attack on the British ruling elite. Today the white mansion dazzled in the sunshine as stern faced rulers looked forward to the evening's banquet, wine and beer.
When my Irish fan insisted on me being Irish, I was rather modest. He was correct about my South Dublin roots. My maternal grand father William Close left the Irish family mansion, coming to England in 1916 where he fathered five children, my mother Gladys Close who was his last born in 1924. His youngest son, my uncle Charles was killed while fighting with the London Irish Rifles in 1944. With this in mind, I would never dream of trivialising my Irish ancestors by claiming to have shared their hardships.
That is why I am utterly appalled and nauseated by Biden , Democrats and fawning pseudo liberal elite media. I have every reason to loathe my police state feminazi fake democratic,unjust home country , but I am English. I used to be proud of that, as a member of the Air Training Corps and offering myself for military service. That was my outlook until the Thatcher and Regan regimes turned opportunities into self seeking profiteering hypocritical nightmares that worsen every day.
R J Cook
Facing Reality by R J Cook
Facing Reality
There is an interesting range of expressions on the faces of western media folk and their experts responding to the Ukrainian so called crisis. Here are some examples broadcast yesterday.
Smug arrogant and condescending describes the Sky selection, voices oozing and rasping away their self righteous hypocrisy. Zelensky portrays an agony worthy of Shakespeare's 'Hamlet' -then once an actor always an actor.
'One man's reality is another man's paranoia' as a psychiatrist once told me. Having to study philosophy to an advanced level -as part of my stimulating first undergraduate year at the University of East- defining reality was a major theme.
There appears to be a real world of solids,liquids and gases ,but humans have to sense them and agree on a working definition. Most of the masses are low on senses and the political class excel in persuading us that only their definition is true. From this we get cultural differences, tribalism, nationalism, greed, power mania and war.
So here we are once again with the ever popular war game which the west insists must be played according to their euphemistically defined rules based world order – their rules. If they are caught out as war criminals the messenger has to be locked away like Julian Assange on trumped up secretive treason charges.
Now we have a leak from Washington. Anglo U.S led Special Forces,with the UK making up 50 of the 97 troops on the Ukraine battlefield. All hell is quietly breaking loose because added to the massive arms shipments responsible for the so called 'cost of living crisis', NATO is actually at war with Russia confirming World War 3,which has already hit Russian targets,featured Ukraine's false flag missile attack on Poland and an SAS obvious attack on the Crimean Bridge. The latest news is the U.K has trained Ukrainians to fly and supply Sea King helicopters. Only yesterday a mad U.S General told Sky News it was time for an all out assault on Crimea to protect resources and prevent it becoming a strategic Russian missile base. This highlights a major Russian problemBritish media is working and censoring as if the U.K is at war with Russia. This site is restricted in the U.K to authority monitoring. I have been officially labelled a deluded paranoid bi polar schizophrenic more likely to die by misadventure than suicide.
Zelensky was on Sky News gurning away about a Ukrainian soldier who was decapitated with a carving knife. Raising the stakes will make even worse things happen on masse.
Oxford educated bourgeois Liz Truss's speech for the annual memorial war mongering Thatcher lecture, had its moment of ranting about evil Putin before turning her feminist guns on helpless hopeless transwomen – of which I am one. She playing Lone Ranger to Major Ben Wallace's Tonto were out to stimulate the arms industry mega war profiteering. They are getting there with their penultimate regime change. China is next on their list which is why they are flexing their muscles over Taiwan , source of 90 % of the world's micro chips.
The bottom line is that the U.K was a key player and instigator of the last World Wars. The vile pleasure bent Russian Tsar Nicholas II , first cousin to the British and German Kings were all about ostentatious wealth, patronising, ignoring and slaughtering their masses in the name of God. Nicholas II ignored the warning signs of his starving people,expecting them to fight for the elite in1914. When that butchery ended, the Russian Revolution was fact, so beloved aristocrat and war monger Winston Churchill led the charge to war on communism. That class and its moronic lackeys are still at war. They thought the rise of Yeltsin and his deputy Putin,with all the asset stripping oligarchs rushing gold west had sorted the problem. The west does not want us to know that over 70% of the German army were killed or captured by the Russian army and that it took the western allies a year to get from France to Germany. Russia knows the truth. They know reality when they see it. Communism never had a chance because the wealthy western elite are only willing to sacrifice their masses, not pay taxes at the extortionate rate as fawning masses. This is the reality of war.
R J Cook
April 10th 2023
April 8th 2023
NATO's dangerous game gets more so by the hour. Under their guiding influence , Ukraine is weighing up an assault on resource rich and strategically important Crimea. It is obvious that Britain had some influence on blowing up the bridge. It is equally obvious that Anglo U.S Special forces were responsible for blowing up sections of Nordsteam. Before war broke out , both Britain's PM Johnson and U.S President Biden insisted that Nordstream would never come on line. Anyone who believes the Ukrainian horror show is about universal freedom and democracy is either brain dead or the epitome of self important ignorance.
There is more than one significant person in Russia eager to make due response to extreme provocation, that has been boiling up since Western hedonistic drunken puppet Yeltsin's deserved demise. The capitalist and monarchistic elites fear a resurgence of communist ideals. The paradox is that such ideals, however hopeless to enact, thrive on the kind of ruthless self centred secretive conspiring liars that currently run and are ruining the planet.
Cheer leaders for NATO supplying state of the art tanks to so called democratic Ukraine have no idea of the potentially disastrous escalation in the offing. Russia will have to respond. Meanwhile western masses appear to have no idea why this insane hostility to Russia is so vital to the ruling elite.
As with two previous world wars,the masses are brainwashed into seeing it all in black and white. That is why there appears to be no end to warfare until the capitalist elite either control everything or destroy what is left of anything approaching social order and life sustaining environment. Making the Ukraine war all about tanks will lead to reckless use of depleted uranium shells on both sides, as happened in Syria where Abrams tanks were not invincible and NATO war crimes were buried with the dead.
Depleted Uranium ( DU ) is used by the U.S. Army in 120 mm or 105 mm cannons employed on the M1 Abrams tank. DU is a by-product of the enrichment process used to make reactor-grade uranium. Because of the different percentages of uranium isotopes in depleted uranium , its specific activity (14.8 mBq/μg) is approximately 40 percent lower than that of naturally occurring uranium (25.4 mBq/μg) and considerably lower than that of enriched uranium (approximately 1,750 mBq/μg) (Harley et al., 1999). However as discussed above, the chemical properties of depleted uranium are the same as those of the enriched and natural forms.
The chemical and physical properties of depleted uranium are ideal for many military and commercial uses. It is 65 percent more dense than lead (with a density of 18.9 g/cm3), has a high melting point (2070°F, 1132°C), is highly pyrophoric (it ignites when it fragments), has a tensile strength comparable to most steels, and is chemically highly reactive (Kirk, 1981). The density of DU and its ability to self-sharpen are properties that attracted the attention of the Department of Defense (DoD) beginning in the late 1950s, as the military sought to increase the armour penetration of munitions (OSAGWI, 1998)
Penetrating the armour of an enemy tank is the name of the game in tank warfare. The M1A2 Abrams main battle tank can fire a highly-accurate kinetic energy sabot round. This shell uses depleted uranium that can be deadly against any tank around the world, but the shells could cause health problems for soldiers and civilians who are exposed to potential radiation.
The M829 round has an electric primer, propellant, sabot projectile, and depleted uranium penetrator with fins and a tracer. The ballistic tip keeps the shot flat, so it doesn't drop in the air.
The U.S. Army had previously used tungsten-tipped penetrators. They found that depleted uranium was tougher and heavier than the tungsten rounds.
The depleted uranium causes the round to burst into flames once it penetrates the armour of the targeted tank. M829 series (now upgraded to the M829A4 variant) can go through half a meter of armour at a range of over one mile.
So it will be very interesting to see what happens next ,in so far as we in Britain will be told anything if it goes as badly wrong as I expect it to.
R J Cook.
Ukraine to export electricity again after months of Russian attacks
Related Topics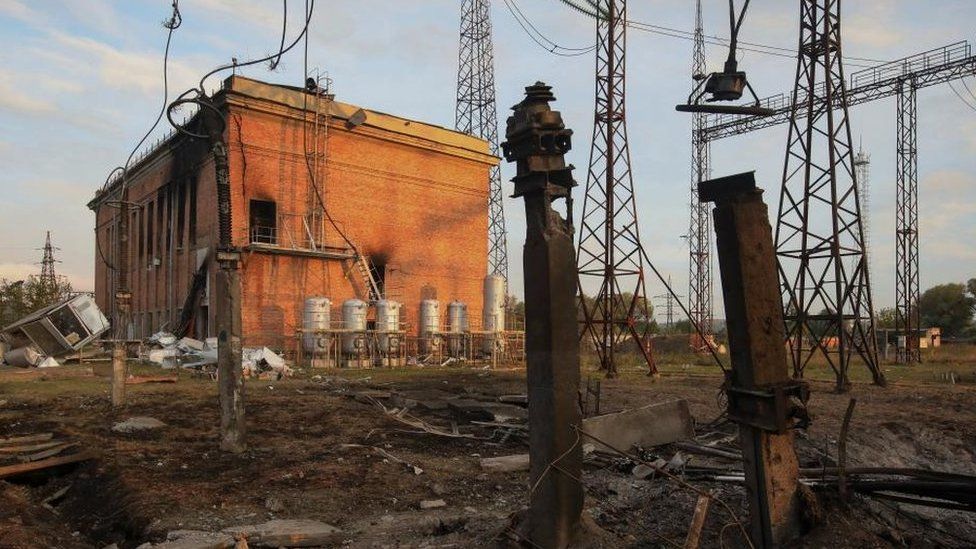 By Marita Moloney
BBC News
Ukraine is able to export electricity for the first time in six months as its energy infrastructure recovers from months of repeated Russian attacks.
Russia began its lengthy and deliberate assault on Ukraine's energy infrastructure last October.
It led to power cuts and scheduled blackouts, leaving towns and cities in darkness during winter.
Ukraine was forced to stop electricity exports – but will now be able to sell its excess power again.
Energy Minister Herman Halushchenko signed an executive order authorising the exports, although local customers remain the priority.
He said the system had been producing extra capacity for almost two months and that Ukrainians were not facing restrictions.
"The most difficult winter has passed," Mr Halushchenko said on Friday.
"The next step is to start exporting electricity, which will allow us to attract additional financial resources for the necessary reconstruction of the destroyed and damaged energy infrastructure."
He also praised the "titanic work" of engineers and international partners to restore the system.
Last month, residents across Ukraine told the BBC that power supplies were becoming more reliable.
"The city has transformed," said Inna Shtanko, a young mother in Dnipro. "Finally, street lights are back, and it's no longer scary to walk the city streets."
However, the operator of the country's electricity network, Ukrenergo, has warned that Ukraine could not count on Russian attacks stopping.
Ukrenergo said on Saturday that Russia has launched more than 1,200 missiles and drones at its energy facilities so far during the war.
The company described the assault as the largest attempt to destroy a European country's energy system.
In cities across Ukraine this winter, some civilians had to use hubs known as "resilience centres" to keep warm during power cuts and freezing temperatures.
The hubs provided power and heat, as well as basic supplies like food and medicines.
Every one of Ukraine's thermal and hydroelectric power plants has been damaged since Russia began targeting energy infrastructure.
Kyiv has also lost control of Europe's biggest nuclear power plant at Zaporizhzhia, which is in Russian hands.
In June 2022, Ukraine had said it was hoping to bring in €1.5bn (£1.33bn) from electricity exports to the EU – its main export market for energy since the war began – by the end of the year.

From February: The battle to keep Ukraine's power running

With a dusting of fresh winter snow settling around us and the crackle of electricity loud in the wires over our heads, Michael runs his gloved fingers over golf ball-sized holes in the crippled hulk of a huge transformer.
"Here, and here, and here," he says, as he shows where shrapnel from a Russian missile punctured the transformer's thick sides.
Sharp metal fragments of the missile lie on the ground nearby.
Along the way, other transformers as big as bungalows are disappearing behind protective cocoons of concrete and sandbags.
April 7th 2023
Bear Baiting
NATO – EXISTENTIAL REALITY By R J Cook
NATO – Existential Reality
Here in the west , much is being made of hero Zelensky and saintly Anglo-U.S led NATO which had no problem destroying war crime whistle blower Chelsea Manning and jailing Julian Assange forever ( so imagine just what NATO'S U.K & U.S darlings are hiding ) after failing to get Assange in custody on faked rape charges. The nasty British elite and lackeys pursued their rape fit up even after Sweden dropped the charges. The U.S paid for Ecuador's regime change so their parent country U.K Plc partners in crime could drag Julian out of Ecuador's London Embassy. So much for NATO respecting sovereign states rights and regimes.
That is Anglo U.S led western style democracy. Inevitably if they get their land and resource grabbing regime change they will want their hands on U.S asylum seeker Snowden. In British eyes, as my comfortable next door neighbour asserted, 'Putin is evil. His people are either evil or cowards." She speaks for the bourgeois. The masses outlook is even more moronic.
The whole hideously moralising saga ,as recounted in the western media, ignores history ,why NATO and SEATO were created and what they exist for nowadays. They are a rich man's club vital to the arms industry and global elite planet eating resource grabbing profiteers.
I worked with all nationalities of East Europeans in the haulage and logistics industry for 12 years. Most of them commented to me about political corruption with much EU money wasted or embezzled.
Much is made of Vladimir Putin's luxury lifestyle , but no mention of Boris Johnson making millions since being kicked out of Downing Street for lying or the Biden fortune from Ukraine – making a mockery but saying all about the latest Democrat elite attack on Trump, which is much loved by British mainstream media..
NATO is a rich person's club fighting for privilege. It is a matter of record that Britain was happy with the 1920s rise of Hitler as a bulwark to contain Stalin's USSR , leading the attack on Russia in 1920. Many rich British supported and would have allied with Hitler. It was a close call. But from the encirclement of Germany, these privileged communist fearing power and money grabbers have raised the stakes today celebrating Finland's membership, proving Vladimir Putin's point has nothing to do with paranoia. It is his and Russia's existential reality. It is about encirclement,containment and controlling the Black Sea for a new western hegemony which will never accept a bi polar world..
R J Cook
April 6th 2023
Doors of Perception – Heaven & Hell – by R J Cook
As a psychiatrist said to me,'One man's paranoia is another man's reality.' Western elite media is a crucial part of the Corporate State. It assumes the right to define reality. The above extracts from U.K's trendy free Metro newspaper which gets its money from commercial advertising are typical of simplistic Trump and Putin lowest common denominator reporting..
'The Metro ' is available all over London and the Home Counties on buses , from mainline and underground stations. It is a cunning device mixing state and western elite opinion, trashy advertisements and mind numbing sport reporting in cliches.
Aldous Huxley, renowned for his 1960s book 'Brave New World',wrote a lesser known work ' The Doors of Pereception, Heaven & Hell'. It was about hallucinogenic drugs and their effects. In our touchy feelie brave new feminised world , perceptions of select groups that are useful to the New World Order are the only ones that matter. Trump is right about the United States, like Britain and Europe going to Hell. Vladimir Putin looks as if he is living in it. Meanwhile, China's leadership smile inscrutable smiles , but are weighing it all up. They could do very well out of all of this, but currently there are no certainties.
R J Cook.
April 3rd 2023
Finland will join NATO on Tuesday – Stoltenberg
[1/2] NATO Secretary-General Jens Stoltenberg attends a news conference before a meeting of NATO foreign ministers in Brussels, Belgium April 3, 2023. REUTERS/Johanna Geron
BRUSSELS, April 3 (Reuters) – Finland will join NATO on Tuesday, a step that will make Finland safer and the alliance stronger, NATO chief Jens Stoltenberg said on Monday.
"We will raise the Finnish flag for the first time here at NATO headquarters. It will be a good day for Finland's security, for Nordic security and for NATO as a whole," he told reporters in Brussels.
"Sweden will also be safer as a result."
Darya Trepova: Russia releases video of suspect in cafe killing of Vladlen Tatarsky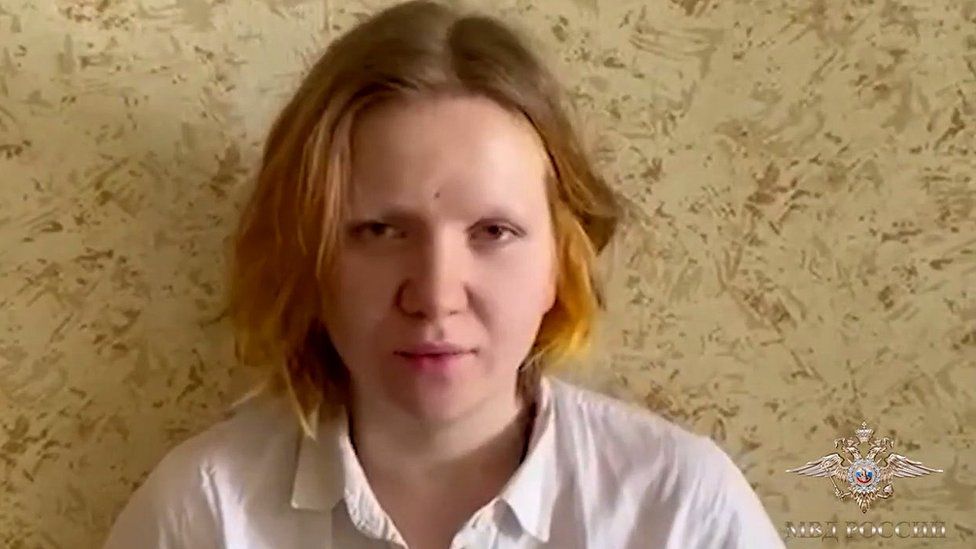 By Will Vernon in Moscow & Paul Kirby in London
BBC News
Russian investigators have detained a woman in their hunt for the killers of pro-war blogger Vladlen Tatarsky in a blast at a St Petersburg cafe.
In video released by authorities – most likely recorded under duress – Darya Trepova is heard admitting she handed over a statuette that later blew up.
But in the footage, she does not say she knew there would be an explosion, nor does she admit any further role.
Investigators said they had evidence the attack was organised from Ukraine.
However, Kyiv officials said it was a case of Russian infighting.
More than 30 people were wounded in the bombing in Russia's second city.
Tatarsky had been attending a patriotic meeting with supporters in the cafe as a guest speaker late on Sunday afternoon.
A video circulating on social media showed a young woman in a brown coat apparently entering the cafe with a cardboard box.
Images showed the box being placed on a table in the cafe before the woman sat down. Another video showed a statue being handed to Tatarsky.
In a brief excerpt of her interrogation released by the ministry, Darya Trepova, 26, appeared under duress as she sighed repeatedly.
When her interrogator asked if she knew why she was detained, she replied: "I would say for being at the scene of Vladlen Tatarsky's murder… I brought the statuette there which blew up."
Asked who gave it to her she responded: "Can I tell you later please?"
Russia's anti-terrorism committee alleged the "terror attack" was organised by Ukrainian special services "with people co-operating with" opposition leader Alexei Navalny.
The investigative committee later went further, saying it had evidence it was "planned and organised from Ukrainian territory". It was working to establish the "entire chain" of people involved, it added.
Navalny's Anti-Corruption Foundation, which has released a series of exposés of corruption involving the Putin entourage, said it was "very convenient" for the Kremlin to blame its critics when Navalny was due to go on trial soon for extremism.
Navalny has been in jail ever since he returned to Russia from Germany in January 2021. He survived a nerve agent attack in Russia in August 2020, which was blamed on Russian FSB security service agents.
Foundation head Ivan Zhdanov said everything pointed to FSB agents themselves. "Naturally we have nothing to do with this," he said, adding that Russia needed an external enemy in the form of Ukraine and a domestic one in Navalny's team.
Ms Trepova was detained in a St Petersburg flat owned by a friend of her husband's, Russian reports said.
On the day of Russia's full-scale invasion last year she was reportedly detained for a number of days for taking part in an anti-war protest.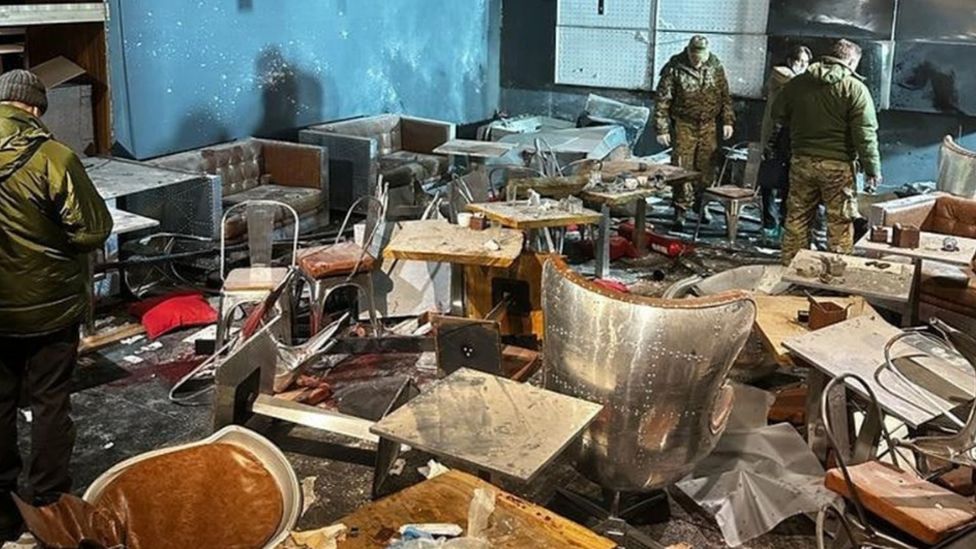 The cafe, Street Food Bar No 1 near the River Neva, was once owned by Yevgeny Prigozhin – who runs Russia's notorious Wagner mercenary group which has taken part in much of the fighting in Bakhmut in eastern Ukraine.
Prigozhin said he had handed it over to Cyber Front Z, a group that calls itself "Russia's information troops" and said it had hired out the cafe for the evening.
Prigozhin paid tribute to Tatarsky, whose real name was Maxim Fomin, in a late-night video which he declared was filmed from the town hall in Bakhmut.
He displayed a flag which he said had the words "in good memory of Vladlen Tatarsky".
Tatarsky, a vocal supporter of Russia's war in Ukraine, was neither a Russian official nor a military officer. He was a well-known blogger with more than half a million followers and, like Prigozhin, had a criminal past.
Born in the Donetsk region of eastern Ukraine, he said he joined Russian-backed separatists when they released him from jail, where he was serving time for armed robbery.
He was part of a pro-Kremlin military blogger community that has taken on a relatively high-profile role since Russia's full-scale invasion of Ukraine began in February 2022.
Tatarsky is among those who have gone so far as to criticise the Russian authorities, slamming the military and even President Vladimir Putin for setbacks on the battlefield.
Unusually, Tatarsky took up arms in combat operations and reported from the front line. He claimed to have helped launch combat drones and build fortifications.
Last September, he posted a video inside the Kremlin where Mr Putin was proclaiming the annexation of four part-occupied Ukrainian regions.
"We will defeat everyone, we will kill everyone, we will rob everyone as necessary. Just as we like it," Tatarsky told his followers.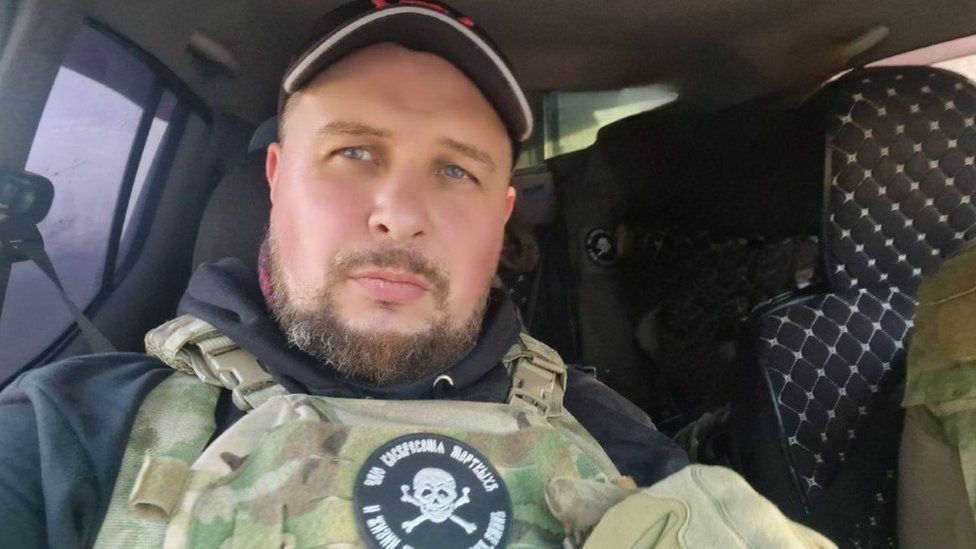 The military bloggers have provided information about the war in a country where many have become frustrated with the lack of accurate information from official sources.
Information provided by the Russian military, Kremlin-controlled television and state officials has been criticised for being inaccurate.
Last week, several official Russian sources shared a video allegedly showing Ukrainian troops harassing civilians. Western analysts proved using open-source information that the video had been staged.
Some pro-Kremlin bloggers also slammed the video as a crude fake. Much of the bloggers' pro-Russian material is not factual either.
Who was behind Tatarsky's murder is unclear, but it is reminiscent of the killing of Darya Dugina, a vocal supporter of the war and the daughter of a Russian ultra-nationalist. She died in a car bomb attack near Moscow last August.
While Russian officials pinned the blame firmly on Ukraine, in Kyiv presidential adviser Mykhailo Podolyak said the blast was part of a Russian "internal political fight", tweeting: "Spiders are eating each other in a jar."
The Ukrainians have proved themselves as more than capable of carrying out drone attacks and explosions deep inside Russian territory in recent months. They rarely admit involvement but often drop hints.
Yevgeny Prigozhin said he did not think it was the Ukrainian government: "I think there is a group of radicals operating, which unlikely has something to do with the government."
The blast could be linked to Russian political infighting. There are now a lot of angry men carrying guns in Russia.
With the military running low on troops, convicts have been let out of prison, handed weapons and sent to the front. Russian authorities have also conducted large-scale recruitment campaigns for volunteer fighters and recruited some 300,000 men in a "partial mobilisation".
The Kommersant newspaper recently reported that the number of murders committed in Russia last year rose for the first time in 20 years.
https://emp.bbc.co.uk/emp/SMPj/2.48.0/iframe.htmlMedia caption,
Watch: Russian military blogger given statue before St Petersburg cafe blast
April 2nd 2023
Russian Military Blogger Killed & 19 Others Injured In St Petesburg Cafe – TASS NEWS AGENCY.
Cafe bomb in St Petersburg kills military blogger
Related Topics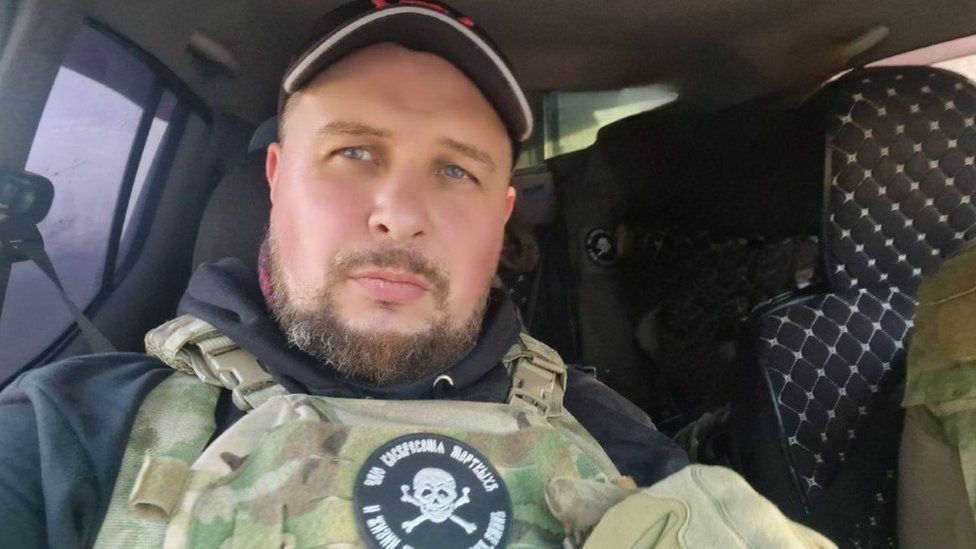 An explosion in a St Petersburg cafe has killed prominent Russian military blogger Vladlen Tatarsky, Russia's Interior Ministry has confirmed.
At least 19 people were injured in the bomb blast at Street Food Bar No 1.
Videos posted on social media show an explosion and injured people on the street. It is not clear who was responsible for the blast.
Vladlen Tatarsky (real name Maxim Fomin) was a vocal supporter of Russia's war in Ukraine.
He was a guest speaker at an event hosted by the cafe when the bomb went off.
He had reported from the Ukraine frontline and gained particular notoriety last year after posting a video filmed inside the Kremlin in which he said "We will defeat everyone, we will kill everyone, we will rob everyone as necessary. Just as we like it."
The occasion for that was a Kremlin ceremony hosted by President Vladimir Putin, who proclaimed Russia's annexation of four partly-occupied regions of Ukraine. That land grab was internationally condemned. St Petersburg is President Putin's home city, where he first rose to prominence.
Interior Ministry sources quoted by Russia's RIA news agency said a bomb was hidden in a statue presented to Tatarsky in a box as a gift.
The cafe targeted on Sunday was previously owned by Yevgeny Prigozhin, the head of Russia's notorious Wagner mercenary group, the St Petersburg news site Fontanka reports.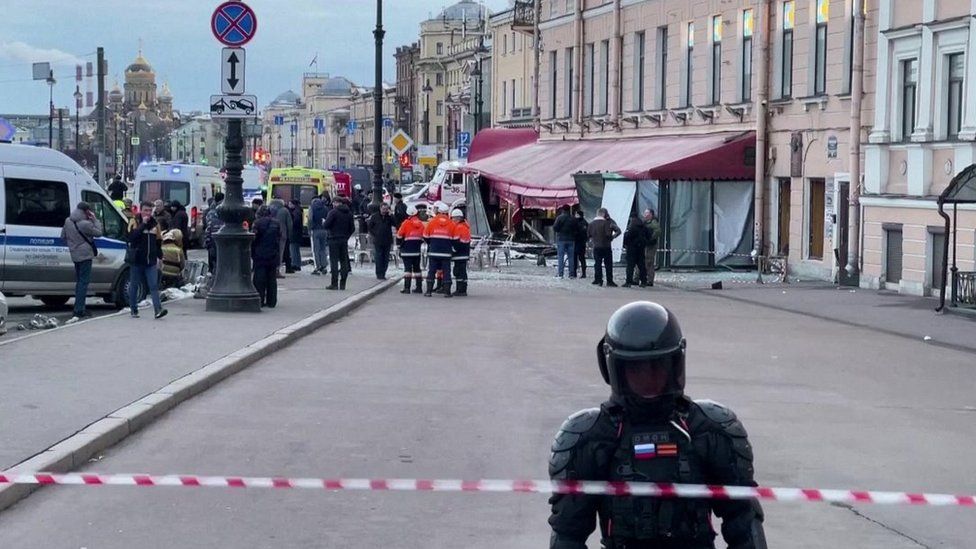 Tatarsky's following on Telegram numbers more than 500,000. He and other military bloggers have criticised aspects of the Russian campaign in Ukraine.
A group called Cyber Front Z, calling itself "Russia's information troops" on Telegram, said it had hired out the cafe for the evening.
"There was a terrorist attack. We took certain security measures but unfortunately they were not enough," its post on Telegram said. "Condolences to everyone who knew the excellent war correspondent and our friend Vladlen Tatarsky," it said.
Last August a car bomb attack near Moscow killed Darya Dugina, a journalist and prominent supporter of the Russian military. She was the daughter of ultra-nationalist philosopher Alexander Dugin, a close ally of Mr Putin.
Related Topics
More on this story
April 1st 2023
In A Few Years, The Russian Army Could Run Out Of Tanks. What Happens Then?
Russia has yet to run out of tanks though the west , relying on spying, hopes so. Western tanks are highly provocative and it is going to get worse. The western global economy is being restructured to facilitate this lunacy. Western media is pumping out the propaganda. They are convincing the likes of number one Ukraine War cheer leader U.K that rising taxes and the so called 'cost of living crisis' are worth prolonging the carnage.
One wonders how many westerners have any idea how Russia was provoked into this situation by reneging on important treaties. This has been in the cause of expanding NATO to encircle Russia, with their secret war in Syria intended to open a gateway into Asia to surround China as well. Chinese nerves are straining. The west wants oil from the South China Sea and regime change there too.
The environmental consequences of world wide war are being down played. Added to this is rampant overpopulation and pollution from five appalling African countries, along with western fears that Russia and China want to provide positive aid here and in Pakistan. Hence the assassination attempt on Imran Khan for making an energy deal with Russia. They are confident they can keep India on side by 'divide and rule'. However Modi worries the west.
That doesn't suit the planet eating fat cat western capitalist global corporations , political left wing posers, bankers and global media. The latter exalt themselves along with the chattering classes with nonsense about open door immigration for 'asylum seekers' which the lower orders must finance even if they lose everything and it kills them. If the Chinese get totally on side , using their skills at destroying satellites, then what is left of the global economy will go with them. The west must work harder to subvert their enemies' populations and distribute more man made viruses. Russia and China's response to such antics after mysterious Covid 19 – which apparently escaped from a Chinese meat market ( sic ) – could be devastating'
Britain is always on Iran's case because it is too close to Russia. Their Iran issue is their beloved well trumpeted human rights ranting over wearing of Niqab and Hijab. Interestingly there is no similar questioning of Islamic practices in the U.K or France. The U.K condemned France for trying to ban restrictive Islamic female clothing. Travel to Birmingham and see the Burkhas, Niqabs and Hijabs out and about in the U.K.
Fortunes are being made, ugly egos are being pleasured among the western war mongers. Trump has to face prosecution for trumped up charges concerning hush money paid to a porn star. There is no chance of applying the same rules to Hunter Biden or his father. Trump never had a chance ,always portrayed as a Russian agent. He has to be blocked from the Presidency by any means which is why the Capitol Riots were arranged and blamed on him.
Ukraine has no defined history as a nation and is certainly not at one with Crimea. What Ukraine and Crimea do have is an abundance of resources including oil. The ignorant western and Ukrainian masses are being duped. Russia is fighting NATO and all its ego maniac military mad men for a global elite that , as in the glorified World War One and Two. These grotesque moralising money grabbing hypocrites see no danger to themselves and are happy to thin out the lower order white population.
R J Cook
Kremlin spokesman: NATO has become Russia's enemy because it is party to the conflict in Ukraine
NEWS: Russian President's Spokesman Dmitry Peskov said in an interview with Izvestia that the collective West, the US and NATO are the main source of global Russophobia. "We must not hide the truth or sugarcoat the reality, we must call things as they are […] NATO has become Russia's enemy because it is party to the conflict in Ukraine where Ukrainians are killing civilians, including Ukrainians and Russians.
Peskov recalled the words of Russian President Vladimir Putin, who emphasized that the secret services of the NATO states are working around the clock against us, and their diverse and increasingly technologically advanced weaponry is being offered to Ukraine for free […]
At the meeting of the FSB collegium, Putin stated that the West had never shied away from using extremists against Russia in its own interests, having at its disposal all possible means […]. The danger of terrorist actions on the territory of Russia is increasing due to the actions carried out by Kyiv and the West, who will continue to use their "old friends".
U.S.: The Iran Threat & Options
March 13, 2023
For decades, the United States has considered the Islamic Republic to be among the greatest threats to its interests and allies in the Middle East. Successive presidents, both Democrats and Republicans, have cited Iran's nuclear program, support for terrorism, meddling in the Middle East and imprisoning American citizens on trumped up charges. Since the 1980s, U.S. forces deployed in Iraq, Lebanon, Saudi Arabia and Syria as well as Afghanistan have come under attack by Iran's surrogates and allies. Washington has charged that hundreds of Americans have been killed in firefights, suicide bombings, improvised explosive devices and assassinations. Tehran has claimed, in turn, that U.S. forces have assassinated a top military commander, sank or disabled warships, and shot down a civilian passenger plane. U.S. forces have also attacked Iranian proxies in Iraq and Syria.
Washington's top concerns about Iran have included:
Increasingly accurate ballistic missiles with a range of up to 2,000 kilometers (1,250)
Drones provided to Russia and tens of millions of dollars in arms to militant proxies in Iraq, Lebanon, the Palestinian territories, Syria and Yemen
Aggression at sea, including seizure of U.S. drones and provocations of U.S. naval forces in the Persian Gulf
Cyberattacks on the U.S. government, infrastructure, and private businesses
Plots to kill current and former U.S. officials in retaliation for the 2020 assassination of General Qassem Soleimani
Like his three predecessors, President Joe Biden has repeatedly vowed that Iran will never obtain a nuclear weapon. "The only thing worse than the Iran that exists now is an Iran with nuclear weapons," he said in July 2022. In the same interview with Israeli television, he said the use of force was a "last resort." Yet his diplomatic initiative to revive the historic nuclear deal—brokered between Iran and the world's six major powers in 2015 but abandoned by President Trump in 2018—deadlocked after 17 months of talks launched in April 2021.
"We continue to believe that diplomacy presents the most attractive option, but we also agree with our Israeli partners that we shouldn't take anything off the table," State Department Spokesperson Ned Price warned on Jan. 9, 2023. Biden faced pressure, at home and abroad, to do more to contain Iran's program as Tehran increased the enrichment of uranium, which could be used to fuel a nuclear weapon, and installed more faster and efficient centrifuges for enrichment.
In early 2023, Iran would still need up to a year, or possibly two, to assemble a bomb and a warhead with a missile—if Iran made the political decision to cross the nuclear threshold, according to Israeli estimates. In January, Lt. Gen. Aviv Kochavi, the retiring head of the Israeli Defense Forces, claimed that Iran already had enough uranium that, if enriched further, could fuel four nuclear weapons.
Iran also posed a threat to the U.S. homeland and American partners in the Middle East. Tehran is "becoming more aggressive and more capable in their nefarious activity than ever before," FBI Director Christopher Wray told the Senate Committee on Homeland Security and Governmental Affairs on Nov. 17, 2022. "They employ a growing range of tactics to advance their interests and to harm the United States."
Under Biden, the U.S. and Israel have accelerated the pace of joint military exercises.
U.S. warplanes often conducted patrols with partner forces, which showcased the "ability to combine forces to deter and, if necessary, defeat our adversaries," Lt. Gen. Alexus Grynkewich, the top U.S. Air Force officer in the Middle East said after two B-52s flew near Iran in September 2022. "Threats to the U.S. and our partners will not go unanswered."
Jan. 27, 2021: B-52 flight to the Persian Gulf
March 7, 2021: B-52 flight to the Persian Gulf
Oct. 30, 2021: B-1B flight to the Persian Gulf, the Red Sea and the Suez Canal
Nov. 11, 2021: B-1B flight to the Red Sea
Feb. 14, 2022: B-52 flight to the Persian Gulf and the Red Sea
March 29, 2022: B-52 flight to the Persian Gulf and the Red Sea
June 8, 2022: B-52 flight to the Persian Gulf and the Red Sea
Sept. 4, 2022: B-52 flight over the eastern Mediterranean, the Arabian Peninsula and the Red Sea
Nov. 10, 2022: B-52 flight to the Middle East
In January 2023, the mounting tensions were reflected in the largest U.S.-Israeli military exercise ever conducted. It was carried out by land, sea and air over four days. "More than 6,400 American troops and more than 1,500 Israeli troops conducted long-range strikes, suppression of enemy air defense, electronic attacks, offensive counter and air interdiction, and air operations in the maritime domain," said General Michael Kurilla, commander of U.S. Central Command. "Juniper Oak 23," a live-fire drill, included 42 Israeli aircraft and 100 U.S. warplanes — including F-35 stealth fighters and B-52 bombers — as well as a U.S. carrier strike group and Special Operations Forces. "The scale of the exercise is relevant to a whole range of scenarios, and Iran may draw certain inferences from that," a U.S. official told NBC News. The exercise also deployed two KC-46 air refueling tankers, which can be used to support a long-range bombing mission.
Juniper Oak 23.2 has just begun… pic.twitter.com/DN8tVsGT3D — U.S. Central Command (@CENTCOM) January 24, 2023
The escalating tensions since the 1979 revolution are in stark contrast to the warm ties between the United States and Iran during the monarchy. President Richard Nixon's administration (1969-1974) cultivated a close relationship with Mohammad Reza Shah Pahlavi. Nixon and his successors – both Republicans and Democrats – considered Iran to be the primary guarantor of U.S. interests in the region and a bulwark against Soviet expansion. In the 1970s, the United States sold oil-rich Iran military equipment worth billions of dollars. Tens of thousands of U.S. technicians deployed in Iran to train local armed forces and maintain weapons. The U.S. Embassy in Tehran was a sprawling 27-acre compound.
Relations soured after Iranian students seized the U.S. Embassy and 52 diplomats in 1979. Washington broke off relations with Tehran in 1980. The United States allied with Iraq's Saddam Hussein during the eight-year war with Iran. Washington provided intelligence to Iraqi forces who used chemical weapons to kill thousands of Iranians. Since the mid-1980s, Washington and Tehran have made sporadic diplomatic overtures, with mixed results. In the mid-1980s, they traded arms for American hostages in a covert operation that was the most controversial decision of the Reagan administration.
In 1997, President Mohammad Khatami called on both nations to "bring down the wall of mistrust," as the Clinton administration lifted sanctions on Iranian carpets, pistachios, and caviar. In 2013, President Barack Obama and President Hassan Rouhani launched direct diplomacy that produced the 2015 nuclear deal involving five other major powers. President Trump withdrew from the deal in 2018 and imposed more than 1,500 sanctions. The following are key remarks by U.S. officials on the Iranian threat since 2021.
President Joe Biden
In an interview with Israeli Channel 12 News on July 13, 2022: "The only thing worse than the Iran that exists now is an Iran with nuclear weapons." The United States would use force "as a last resort."
Special Envoy for Iran Robert Malley
In an interview with Foreign Policy on Nov. 30, 2022: "We'll have the sanctions, pressure, and diplomacy. If none of that works, the President has said, and, as a last resort, he will agree to a military option because if that's what it takes to stop Iran from acquiring a nuclear weapon, that's what will happen. But we're not there."
Secretary of State Antony Blinken
In a tweet on Aug. 4, 2022: "Our message to Iran is clear: we will not tolerate threats of violence against Americans — and that certainly includes former government officials. Any attack would be met with severe consequences."
In comments during the J Street National Conference on Dec. 4, 2022: "Our countries [Israel and the United States] participate regularly in joint military exercises, research, weapons development. We hold regular strategic dialogues. And this cooperation allows us to collaborate in countering a range of regional threats, none graver than those posed by Iran. The Iranian regime routinely threatens to wipe Israel off the map and continues to provide weapons to terrorists and proxies like Hizballah and Hamas that remain motivated, like Iran, by the rejection of Israel's right to exist.
"In recent months, more and more countries are realizing that – what we have long known about the Iranian regime's propensity to sow violence and instability.
"We see this daily, as the regime is once again viciously cracking down on peaceful protesters at home; killing hundreds of his own people, including scores of women and children; and locking away thousands more in its brutal prisons. At the same time, the regime is arming and training Russian forces with drones, drones that President Putin is using to kill Ukrainian civilians and destroy the infrastructure that provides millions of families with heat, with water, with electricity, just as winter is setting in.
"The United States is committed to standing with the Iranian people, especially women, as they demonstrate extraordinary courage in standing up for their rights. We are licensing technology so that Iranian citizens can communicate with one another, as well as remain connected to the outside world, despite the regime's constant internet blockages and shutdowns. And we're coordinating with allies and partners to sanction those responsible for the abuses against Iranian civilians, including the killing of Mahsa Amini."
"We continue to believe that diplomacy is the best way to prevent Iran from obtaining a nuclear weapon. But should the Iranian regime reject that path, its leaders should make no mistake that all options are on the table to ensure that Iran does not obtain a nuclear weapon.
"We will continue to consult closely with European allies, with Israel, with partners in the region, and colleagues in Congress on the way forward."
In an interview with Al Arabiya on Jan. 29, 2023:
Q: I wanted to start with Iran. The administration said that this is not the right time to go back to the JCPOA. Your President described it as dead. Yet, you don't prefer the military option. How can you stop Iran from acquiring a nuclear weapon?
Blinken: "First, Iran had an opportunity to get back into the JCPOA at the end of this past summer. Unfortunately, they rejected what was on the table and had been agreed to by everybody. Their either wouldn't move forward with it. Now our focus is on the many things that have happened since, including the horrific repression of the Iranian people on the streets of Iran as young people, women in particular, have been standing up for their basic rights, and very important communities across Iranian society are doing the same thing and are being repressed violently by the regime.
At the same time, we're also seeing Iran support Russia in its war of aggression against Ukraine, providing it with drones and potentially other weapons systems. So that's where the focus is and that's the concern of many countries around the world.
At the same time, yes, we continue to believe that the most effective way to deal with the international community's concerns about Iran's nuclear program is through diplomacy. Diplomacy is never off the table. But President Biden has also made clear that we're determined that Iran not acquire a nuclear weapon, and every option remains on the table to ensure that that doesn't happen. But our preferred path would be diplomacy."
Q: Including military option?
Blinken: "Everything is on the table."
Q: You talked about the regime. The regime has been executing demonstrators after a sham trial. How can you support people who have been calling for help actually from the West and particularly from the United States?
Blinken: "We have been, with many other countries, standing up and speaking out for those who are simply trying to have their voices heard and their rights upheld. We've gone after those who have been involved in repressing them, and through sanctions, through designating them in various ways. We've sought to help the Iranian people be able to continue to communicate with each other as well as with the rest of the world through communications technology. And of course, we continue to look for ways to disrupt the malicious activities that they're engaged in.
But I think there's tremendous solidarity around the world with the Iranian people, who are simply trying to have their basic rights respected by the regime."
Q: So is this military maneuvering or exercise with the Israelis and other people in the Gulf meant to deter Iran activities in the region?
Blinken: "All of our military efforts are designed with the idea of deterrence in mind – that is, to try to make sure that a would-be aggressor thinks twice, thinks three times, and then doesn't do it. That's what deterrence is all about. And it's important to be able to demonstrate that and to make sure that you're ready if aggression comes. And if deterrence doesn't work, that you're also in a position to effectively defend yourself."
Q: The United States always support people who want to change the regime that oppresses them. Why not the case with Iran?
Blinken: "We support the Iranian people, but these decisions are theirs. They're not ours. They're not anyone else's. One of the things that we don't want to do is to somehow make this about us. That's exactly what the Iranian regime wants. They want to say to their own people, "Oh, no, this is somehow the work, the design of some outside power," the United States or someone else. It's not. It reflects a profound misunderstanding of their own people if they believe that somehow we're responsible for this, and it reflects a profound weakness. They're afraid of their own people."
In remarks with Israeli Prime Minister Benjamin Netanyahu on Jan. 30, 2023: "We agree that Iran must never be allowed to acquire a nuclear weapon, and we discussed deepening cooperation to confront and counter Iran's destabilizing activities in the region and beyond. Just as Iran has long supported terrorists that attack Israelis and others, the regime is now providing drones that Russia is using to kill innocent Ukrainian civilians.
In turn, Russia is providing sophisticated weaponries to Iran. It's a two-way street. Russia's ongoing atrocities only underscore the importance of providing support for all of Ukraine's needs – humanitarian, economic, and security – as it bravely defends its people and its very right to exist, a topic that we also discussed today."
Gen. Michael Kurilla (Commander of Central Command)
In an interview with Al Arabiya on May 12, 2022: "I view Iran as the most destabilizing force in the Middle East. The United States' position is that we will not allow a nuclear Iran. However, our concerns about Iran go beyond its nuclear capability."
In testimony to the Senate Armed Services Committee on Feb. 8, 2022:
Q: What is your assessment of U.S. national security interests associated with the growth of Iranian influence in the Middle East?
Kurilla: "My assessment is that Iran's negative influence in the region continues to grow and is incompatible with U.S. national interests, as well as those of our allies and partners. Iran views the U.S. as its greatest enduring threat and continues a multifaceted approach to remove U.S. forces from the region while avoiding escalation into major conflict. The risk of miscalculation and escalation remains high."
Q: If the United States returned to compliance with the Joint Comprehensive Plan of Action (JCPOA), what concerns, if any, would you have for regional security?
Kurilla: "Iran is, in my view, the single biggest contributor to instability in the region and any agreement must fully prevent Iran from obtaining a nuclear weapon. Without knowledge of the specific terms of ongoing diplomatic negotiations, it is premature to assess the outcomes on regional security. Renewed negotiation efforts must consider the significant changes that have occurred in the security and geopolitical environments since the 2018 American withdrawal from the agreement."
Biden UKRAINE Dodgy Deals Unquestioned While Trump Persecuted In Ongoing Plot To Destroy Trump.
US UK Americas Europe Asia Middle East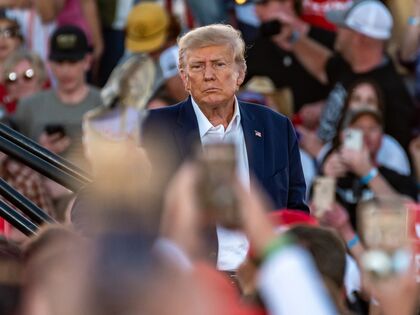 Politics Donald Trump Thought He Beat the Rap. Then the Indictment Hit
Why Trump Indictment Is Being Criticized as Weak 'Zombie' Case
At Mar-a-Lago, Few Show Up to Protest Trump's Indictment
Trump Campaign Says It Has Raised $4 Million Off Indictment News
March 31st 2023
British Ruling Elite Meddlers & Gamblers By R J Cook
This is a comment on the following report. Britain's ruling class elite are topped off by the descendants of the class obsessed Northern French and Italian gangsters who made up Norman William the Conqueror's 1066 world changing event.
Ever since, Britain has dominated Europe and misled its United States offspring. They have been major players in making it impossible for decent hard pressed working class Americans to give Donald Trump a second chance. These people set up the NATO proxy Ukraine war on Russia. They need lies and cover ups to complete the New World Order programme set in train with the collapse of the Soviet Union and First Gulf War set up in 1990. Without U.S.S.R the Anglo U.S saw an open door in the Middle East and the rest is history
So it is no surprise that the following is psuedo intellectual drivel provides no answers , exonerating Ukraine and insidiously implying blowing up Nordstream One was a 'false flag' Russian operation. In reality it has all the signs of Britain's beloved SAS and SBS. Hence, the report states that even if they knew the truth – which the elite already does know – this truth will remain secret. That is what that elite means by democracy (sic ).
R J Cook
Online Sleuths Untangle the Mystery of the Nord Stream Sabotage
Open source intelligence researchers are verifying and debunking opaque claims about who ruptured the gas pipelines in the Baltic Sea.
It's been six months since the Nord Stream gas pipelines were ruptured by a series of explosions, leaking tons of methane into the environment and igniting an international whodunit. Russia, the United States, the United Kingdom, and an unnamed pro-Ukrainian group have all been accused of planting explosives on the Baltic Sea pipelines in recent months. But half a year since the sabotage took place, the mystery remains unsolved.
Digital sleuths are stepping in to help provide clarity around bombshell claims about who was behind the attacks. Open source intelligence (OSINT) researchers are using public sources of data in their efforts to verify or debunk the snippets of information published about the Nord Stream explosions. They're providing a glimpse of clarity to an incident that's shrouded by secrecy and international politics.
Since early February, multiple media reports have claimed to provide new information about who could have attacked the Nord Stream 1 and 2 pipelines on September 26. However, the reports have largely been based on anonymous sources, including unnamed intelligence officials and leaks from government investigations into the attacks.
First, American investigative journalist Seymour Hersh published claims that the US was behind attacks in a post on Substack. This was followed by reports in The New York Times and German publication Die Zeit claiming a pro-Ukrainian group was responsible. (European leaders have previously speculated Russia could be behind the attacks, and Russia has blamed the United Kingdom.) No country has claimed responsibility for the blasts so far, and official investigations are ongoing.
Each of the recent reports has provided little hard evidence to show what may actually have happened, while helping to fuel speculation. Jacob Kaarsbo, a senior analyst at Think Tank Europa, who previously worked in Danish intelligence for 15 years, says the claims have been "remarkable" but also "speculative" in nature. "In my mind, they don't really alter the picture," Kaarsbo says, adding the attacks look highly complex and would likely be "very hard to pull off without it being a state actor or at least with state sponsorship."
In the absence of official information, OSINT researchers have been trying to plug the gaps by examining the claims of the new reports with public data. OSINT analysis is a powerful way to determine how an event may have unfolded. For instance, flight- and ship-tracking data can reveal movements around the world, satellite images show Earth in near real-time, while small clues in the backgrounds of photos and videos can reveal where they were taken. The techniques have uncovered Russian assassins, spotted North Korea evading international trading sanctions, identified potential war criminals, and documented pollution.
For the Nord Stream blasts, there was little OSINT available. Researchers identified "dark ships" in the area. But underwater, there are obviously limited data sources that can be tapped into—cameras and sensors don't monitor every inch of the pipelines. "OSINT probably won't break this case open, but it can be used to verify or strengthen other hypotheses," says Oliver Alexander, an analyst who focuses on OSINT and has been closely looking at the Nord Stream blasts. "I do think that it's more of a verification tool."
Most Popular
Alexander and others have been examining the claims made so far. The New York Times and Die Zeit both published stories on March 7 claiming a Ukrainian group was behind the sabotage. (Ukraine has denied any involvement.) Die Zeit published more details, claiming German investigators searched a yacht rented from a company based in Poland, knew where the yacht sailed from, and that six people were involved in the operation, including two divers. All of them used forged passports, the publication reported.
The details were enough for OSINT researchers to start tracking down which yacht could have been used. Alexander, as well as contributors to the open-source investigative outlet Bellingcat, started following the breadcrumbs, narrowing down potential vessels. A follow-up report soon named the boat under suspicion as the Andromeda, a 15-meter-long yacht. Webcam footage from the harbor where it is believed the Andromeda was docked shows the movement of a boat around the time reported by the publications. (The Andromeda is reportedly too small to be required to use ship-tracking systems.) Years-old videos and photos of the boat have surfaced. The sleuthing adds public details to the reports.
Similarly, OSINT has been used to debunk Hersh's story claiming the United States was behind the explosions. (Hersh has defended his article, while US officials have said it was false.) Alexander has used, among other things, ship-tracking data to show Norwegian ships were "accounted for" and not in a "position to have placed the explosives on the Nord Stream pipeline, as claimed by Hersh." Another detailed article from Norwegian journalists has similarly poured cold water on Hersh's claims, partly using satellite data.
The sabotage was always likely to be controversial and surrounded by rumors: Russia's full-scale invasion of Ukraine in February 2022 has heated global tensions and put pressure on diplomats around the world. There has been a whirlwind of disinformation around the blasts, further muddying the waters. Mary Blankenship, a disinformation researcher at the University of Nevada, Las Vegas, who has analyzed online conversations around the war, says the "high uncertainty and high stakes" of the incident help to fuel the spread of disinformation.
"This is an issue that exploits existing worries, tensions, and grievances within European audiences," Blankenship says. Initially, the earliest disinformation on Twitter about the explosions came from conspiracy theorists, Blankenship says, who shared a pre-war statement from US president Joe Biden, where he said there would be an "end" to Nord Stream 2 if Russia invaded Ukraine. Since then, Russia and China have taken to sharing unproven theories about the sabotage, the researcher says.
Most Popular
"Disinformation actors, but also official representatives of the [Russian] regime, stepped up their efforts on every news story that was published on this—however contradictory about the origins of the blast—be it a blog post by Seymour Hersh or a New York Times article," says Peter Stano, an EU spokesperson, adding most disinformation narratives have circled around the idea that "the US is to blame." The EU's disinformation monitoring project, EUvsDisinfo, has flagged more than 150 pieces of disinformation linked to the Nord Stream explosions, including those building on Hersh's story. "EUvsDisinfo experts also found that Moscow considers the recent materials in German-language media a hoax," Stano says.
While OSINT is helping to provide bits of extra detail on the claims about the Nord Stream attacks, it is likely that reports debunking dubious claims reach fewer people than disinformation or claims that are hard to verify. "It does not nearly get the same level of engagement," Blankenship says. "You can have a book's worth of evidence for it, and they would still find a way to discount it."
And while OSINT research can answer some questions, it has its limits and can also raise new ones. Kaarsbo, the former Danish intelligence official, and other experts have pointed out that the Andromeda is a relatively small yacht, and it may have been unable to carry the amount of explosives needed to blow the pipelines. "The Andromeda is quite likely a piece of the puzzle, but I don't think it's a bigger piece of the puzzle that everyone makes it out to be," Alexander says. "I think there are a lot of the big pieces missing." Detailed sonar imagery of the damaged pipes would help people to understand what happened underwater, Alexander adds.
Ultimately, there is still very little hard public evidence—either from governments or publicly available online—about who may have been behind the attacks. Behind closed doors, intelligence agencies likely have more data and theories on the potential culprits. However, investigators in Sweden and Denmark refused to comment on their progress, while Germany's Office of the Federal Prosecutor confirmed it had searched a yacht and is continuing to examine for explosives. German officials have also said there could be a chance of a "false flag" operation to smear Ukraine. And when the countries complete their investigations, there's no guarantee they will publish their findings or evidence to back them up. The mystery continues.
9:25
Can Trump still run for president?

Anthony Zurcher
BBC North America correspondent
In a word, yes. An indictment or even a criminal conviction would not prevent him from continuing his presidential campaign if he so chooses – and he has given every indication that he will keep pushing ahead regardless of what happens.
In fact, there is nothing in US law that prevents a candidate who is found guilty of a crime from campaigning for, and serving as, president – even from prison.
Trump's arrest would certainly complicate his presidential campaign, however.
While it might cause some Republican voters to rally around their embattled champion, it could be a significant distraction for a candidate on the campaign trail, trying to stump for votes and participate in debates.
It would also deepen and enflame already sharp divides within the American political system.
Conservatives believe the former president is being held to a different standard of justice, while liberals view this as an issue of holding law-breakers – even those in the highest positions of power – accountable.
Read more to find out what happens next when Trump is arrested.
Article share tools
Share this post
Posted at 9:139:13
Donald Trump's historic indictment: What you need to know
Getty ImagesCopyright: Getty Images
Here's a recap of what has happened so far:
Donald Trump is the first US president to be indicted in criminal proceedings, which also happened as he is seeking the Republican nomination in 2024
The specific charge is not known, but the grand jury investigation centered on a $130,000 bribe to porn actress Stormy Daniels to stop her from going public about a sexual encounter with Trump
The key witness in the case, former Trump lawyer Michael Cohen, told MSNBC that the indictment "will speak for itself"
Trump is due to appear in court on Tuesday next week for his arraignment, during which he will be asked to enter a plea, according to his lawyer
Trump described the indictment as "political persecution" and said he doesn't expect a fair trial
Supporters waving US flags have gathered outside Trump's Mar-a-Lago estate in Florida, where he has been staying
Longtime ally Sen. Lindsey Graham called the indictment "a shocking and dangerous day for rule of law in America"
Democrats say the indictment proves that no one is above the law. There has been no statement yet from US President Joe Biden
Comment You can't drain a shark , rodent and snake infested swamp. Also some people and organisations are definitely above the law – including law makers and enforcers. A very corrupt system will do anything to maintain the lucrative Anglo U.S led NATO proxy UKRAINE war on Russia. Regime change is vital to these grotesque planet eaters. Their masses and minions will gladly follow just as the Jews walked into the gas chambers. Just as so many cheered intelligent maniac Adolph Hitler who made their country what it is today. .R J Cook
March 30th 2023
Aboard the Giant Sand-Sucking Ships That China Uses to Reshape the World
Massive ships, mind-boggling amounts of sand, and an appetite for expansionism in the South China Sea: the recipe for a land grab like no other.
Read when you've got time to spare.
Advertisement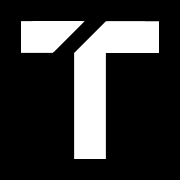 More from MIT Technology Review
Advertisement
CSIS Asia maritime transparency initiative / DigitalGlobe.
Fifteen miles out on the water south of Biloxi, Mississippi, below a cloudless sky, a foaming torrent of gray-black slurry gushes into a ship. Every three seconds, another truckload's worth of salt water and sand, siphoned from the bottom of the Gulf of Mexico, pours into the Ellis Island's vast, open cargo hold, called a hopper. The ship is gargantuan—the biggest such dredge ever built in the United States. Its progress is, by design, slow. It is hauling a pair of 30-ton drag heads, studded with steel teeth, which scrape along the sandy sea bottom. Twin pipes, each three feet (90 centimeters) in diameter, connect the drag heads to giant pumps on the ship's deck. The pumps suck slurry into the hopper, which slowly fills with roiling gray soup, speckled with muculent, softball-size bubbles.
"We call ourselves dirt merchants," Gabriel Cuebas, the Ellis Island's captain, told me when I visited on a hot day in October 2018. His ship is 433 feet (132 meters) long—a good bit longer than an American football field and about half the length of an aircraft carrier. Twin yellow cranes perch on either side of the deck. Their metal bulk towers over a maze of catwalks and pipes that surround the hopper.
It takes several hours for the hopper to fill with slurry. Once that is done, enormous winches haul up the drag heads, and the ship sets course toward the mainland. An hour or so later, the Ellis Island drops anchor several miles offshore, in water deep enough for its 30-foot draft. An assembly that looks like an eyeless robotic sea serpent bobs in the waves. Crew members get a rope around the serpent's head and winch it out of the water. They connect the serpent to a pipe leading from the hopper. The ship's pumps kick in again, pulling slurry back out of the hopper and shooting it down a mile of pipe to a floating booster station, where more pumps will usher it along. The sand will travel through almost five miles (eight kilometers) of pipe before it is finally blasted onto the shore of Ship Island.
Ship Island is, for the moment, actually two islands. What was originally its center was eroded by hurricanes: Camille in 1969 and Katrina in 2005. (It was spared the worst of 2018's Hurricane Michael.) The US Army Corps of Engineers, the federal agency charged with maintaining America's waterways, has hired the Ellis Island to help rebuild the eight-mile-long island, an important bulwark against increasingly severe storm surges.
Once this load of sand has been discharged, the Ellis Island will head back out for another, and then another, around the clock, day after day. The whole job will take about a year, during which a relay of ships will move enough sand to bury the real Ellis Island 50 yards deep: 7 million cubic yards (5.4 million cubic meters) of it. The total cost of rebuilding Ship Island, to be paid by the federal government, will be some $350 million.
The Wan Qing Sha, a trailing suction hopper dredger, helps build a new city off the coast of Colombo as part of a massive Chinese infrastructure project, the largest foreign investment in Sri Lanka's history. Photo credit: ISHARA S. KODIKARA / AFP / Getty Images.
It is a colossal operation. But compared with what China is doing, it's a drop in the ocean.
In China as elsewhere, dredging is used to build protective barriers against the rising seas, as the Ellis Island is doing, and to create valuable new real estate. But for China's president, Xi Jinping, it is also an important geopolitical tool. Today, more than ever, dredges have the power to create land where there was none, altering the shapes of coastlines and the contours of countries. No nation has cultivated this power more zealously than China.
In recent years, China has assembled an armada of oceangoing dredges. Some it buys from Japan, Belgium, and the Netherlands. Increasingly, though, China manufactures them itself. China's homemade dredges are not yet the world's largest, nor are they any more technologically advanced than those of other countries, but it is building many more of them than any other country. In the past decade, Chinese firms have built some 200 vessels of ever greater size and sophistication. In 2013, Rabobank, a Dutch firm, declared that China's dredging industry had become the biggest in the world, and it has only grown since then. Chinese firms bring in as much revenue from domestic dredging as is accrued in all of Europe and the Middle East combined.
Since 1985, according to Deltares, a Dutch research group, humans have added 5,237 square miles (13,564 sq km) of artificial land to the world's coasts. China is a major—and growing—contributor to that total.
Most plant and animal life on the seven Spratly reefs was destroyed by the mountains of sand dumped atop the coral.
In 2015 alone, China created the equivalent of nearly two Manhattans of new real estate. In recent years, it constructed two artificial islands to support a 34-mile-long bridge that connects Hong Kong with Macao and the Chinese mainland; it opened in October 2018 and is the world's longest sea crossing. Much of that work was carried out by state-owned CCCC Dredging, the world's largest dredging firm. By way of comparison: In 2017, Great Lakes Dredge and Dock, America's biggest, took in an estimated $600 million from dredging operations. CCCC Dredging booked $7 billion.
Manufacturing land is not a new practice. The Dutch have been creating new territory since the 11th century by damming wetlands and pumping them dry. Peter Stuyvesant, the first governor of what would come to be called Manhattan, expanded the island with earth displaced by the construction of buildings and canals. Land reclamation, as the practice is called even when the "reclaimed" land is entirely new, has long gone hand in hand with dredging's other main purpose—clearing paths for ships to travel in.
Today the industry's basic tool is the centrifugal pump. It is something like a blender bisected by a garden hose. A motorized drive shaft spins an impeller. The impeller's spin pulls liquid (and sand) through the pipe. First introduced in the 1860s, these pumps enormously increased the amounts of sediment that can be siphoned from the ground under the sea. They also make it possible to pump the stuff through miles of pipeline to distant destinations.
As steam power gave way to diesel in the late 19th century, the size and power of dredges grew. Developers in Los Angeles used centrifugal pumps to expand the city's port and turn marshlands into seaside real estate. Sediment dredged from underwater built Boston's Back Bay, as well as large portions of Marseilles, Mumbai, and Hong Kong.
Beginning in the 1970s, oil-exporting countries in the Persian Gulf plowed their surging wealth into developing huge new ports, which spurred dredging companies to bring larger, mightier ships to market. For coastal megalopolises long on population but short on waterfront, land reclamation offers a way to add room. Hong Kong and Osaka, Japan, both built new international airports on artificial islands in the 1990s. Many of the world's largest artificial islands are either in the Middle East, such as Dubai's famous palm-tree-shaped islands, or off the coast of Japan. But that is changing.
The Chinese government declared dredging a "priority growth area" in 2001, as part of a push to increase China's maritime power. At the time, the country's dredging fleet consisted of aging, outdated ships. Chinese companies were capable of building only relatively small vessels. With the government's support and investment, capabilities boomed. In the past 15 years, Chinese companies have built scores of the main types of giant dredges: trailing suction hopper dredgers—"trailers" for short—and cutter suction dredgers.
Trailers like the Ellis Island gather sand while on the move. Their drag heads break up loosely compacted sea-bottom sands, which are then vacuumed up and stored in the ship's hoppers for transport. In 1965, the biggest such dredges could hold about 6,500 cubic yards of material. That number more than tripled by 1994; by now, it has grown nearly tenfold. The world's two biggest dredges, the Cristóbal Colón and the Leiv Eiriksson, were built in Spain for Belgium's Jan De Nul Group in 2009 and 2010. They are identical twins. Stood on end, each would rise higher than a 60-story skyscraper. They can carry about four times as much sludge as the Ellis Island.
Cutter suction dredgers, meanwhile, anchor in areas where the sea bottom is too hard for trailers. A boom arm capped with a cutter head—a tooth-­studded steel ball the size of a wine barrel—protrudes from the bottom of the ship. The ball spins around, tearing up sand, rocks, and whatever else it finds on the seabed, while a suction line behind it hoovers up the grains. The material is then pumped onto a barge, or sometimes straight into a pipe leading to the land reclamation site. Cutter suction dredgers' might is measured by their installed electrical power, which has also grown exponentially in recent decades. The most potent generate and consume more than 40 megawatts—enough to power 30,000 American homes.
In 2017, CCCC Dredging launched the Tian Kun Hao, Asia's biggest cutter suction dredger, which was built entirely in China. It is about the same size as the Ellis Island, or about a quarter the size of the Belgian behemoths, and can suck nearly 8,000 cubic yards of sand and other material per hour from depths up to 100 feet.
CCCC Dredging has begun taking on projects overseas, and it now operates in dozens of countries. It has a particular focus on places targeted for Chinese-led port development as part of Xi's Belt and Road Initiative.
China's land reclamation work will have tremendous economic consequences in coming years. Its political consequences are already profound.
The South China Sea is one of the world's busiest shipping routes. What's more, billions of barrels of oil and trillions of cubic feet of natural gas lie under the seafloor. So it's no surprise that every country in the region—China, Taiwan, Vietnam, Brunei, Malaysia, and the Philippines—lays claim to parts of the Spratly Islands, a scattering of rocks and reefs in the middle of the sea, 500 miles due east of Vietnam and 200 miles southwest of the Philippines.
China controls seven naturally occurring Spratly outcroppings (one of which it seized from Vietnam in a 1988 clash that left dozens of soldiers dead). It is using its industrial might to create new facts in the water. Starting in late 2013, the Chinese government set dozens of CCCC Dredging's ships to work. Within 18 months, these ships added nearly 3,000 acres (1,200 hectares) of new land to the Spratlys, enough to fit three copies of New York's Central Park with room to spare.
Almost as soon as the sand was dry, China began turning the new islands into military bases. It installed antimissile weaponry, runways capable of handling military aircraft, structures apparently designed to house long-range surface‑to‑air missile launchers, and port facilities for warships. China has also built new territory in another tiny collection of South China Sea islands called the Paracels, where it has similarly installed airstrips and missile batteries.
This expansion of Chinese power into the Pacific has alarmed the US as well as China's neighbors. To show it does not recognize the new islands as Chinese territory, the United States has made a point of flying B-52 bombers over them and sending warships to pass close by. For its part, China has landed long-range bombers on its new runways, as a show of force.
Ships congregate just northeast of Fiery Cross Reef. CSIS Asia maritime transparency initiative / DigitalGlobe.
Tensions spiked in late September 2018, when the Lanzhou, a Chinese destroyer, cut across the bow of the USS Decatur, an American destroyer. The Decatur's captain slammed the ship's engines into reverse, averting a collision by only 45 yards—a quarter of the length of his ship. The incident took place just a few miles away from some of the new artificial islands.
It may be too late for other nations to do much about China's artificial-land grab. Admiral Philip S. Davidson, head of the US Indo-Pacific Command, told Congress in April (shortly before assuming his command) that "China is now capable of controlling the South China Sea in all scenarios short of war with the United States."
All that island building has also caused "devastating and long-lasting damage to the marine environment," according to the Hague-based Permanent Court of Arbitration, which rejected China's claim to sovereignty over much of the South China Sea in 2016. Most plant and animal life on the seven Spratly reefs was destroyed by the mountains of sand dumped atop the coral. John McManus, a University of Miami marine biologist, called it "the most rapid rate of permanent loss of coral reef area in human history."
Other land reclamation projects have inflicted similar, albeit smaller-scale, damage. They have destroyed or damaged coral reefs and oyster and seagrass beds in Dubai, Bahrain, and other Gulf countries, as well as killing marine life. In the US, dredges are required to make sure they're not sucking up turtles and other sea creatures; if they do, they have to stop work until they address the problem. Environmental concerns are one reason why, while China is feverishly building new land, land reclamation in the US is just what it sounds like—confined almost exclusively to counteracting the erosion of previously existing land. "In Bahrain, if we found a turtle we'd just throw it back over the side," says Brian Puckett, a Great Lakes executive who oversees the Ship Island project.
Puckett is proud to show off pictures of the islands he helped create for real estate developers in the Persian Gulf. "It's amazing to be able to show them to people on Google Earth and say, 'I built that,'" he says. "That was part of the reason I came to work with Great Lakes. I want to work on projects that are important."
Island building, as China has shown, is one of the most important projects there is. Today, geopolitical power goes not only to those who control territory but to those who can manufacture it.
Vince Beiser is the author of "The World in a Grain: The Story of Sand and How It Transformed Civilization." Reporting for this article was supported by the Pulitzer Center on Crisis Reporting.
Copyright © 2018. All rights reserved MIT Technology Review; www.technologyreview.com.
March 29th 2023
Breaking China – Comment On Bloomberg by R J Cook
This is a comment on Bloomberg's Balance of Power article below. The Anglo-Americans led NATO do not favour of any form balancing power. They favour lies, word play, propoganda, secrecy and blatant corruption. Their hypocritical elite excel in illuusions mesmerising the population with black and white lies, pseudo morality and human rights drivel where the truth is exemplified by the fates of Julian Assange and Chelsea Manning. It speaks volumes about these people and their gullible masses that calling this vile corrupt most unequal system a democracy is taken seriously.
That global elite are worried about the strengthening alliance between Russia and China. These two countries are lined up for regime change. Rather than act as Yeltin's grown up poodle , when let off the lead ( leash ) he measured the damage done by oligarchs asset stripping shifting communist era wealth to the hedonistic western elitist money obsessed world – reacting accordingly. China meanwhile conserved resources and profits made from supplying 40% of the world's manufactured goods. This included computer equipment. Moralist Bill Gates had no problem exploiting China's cheap labour or the hypocrisy concerning indigenous Muslims human rights. So the United States built up massive debt to China. The U.S controls world finance and will have no hesitation defaulting if China does not come back into the line President Nixon et al drew for the country in the 1970s.
So Putin cracked up over NATO's manipulation of Ukraine and an obvious intent to encircle them. Like Russia, Chinese leadership is between a rock and a hard place. U.K and U.S dominate the west with illusory democracy, human – especially female – rights. I retain the view that Covid 19 was engineered and released with China in mind, to weaken it. Either Russia and China accept this and toe the line, or they will have to accept that the corrupt western elite will push this conflict to another world war that will make the last two global wars look like bonfire night.
R J Cook
The Bloomberg Balance.
March 28th 2023
U.K Building Fast Track To Armageddon – by R J Cook.
The resource power grabbing insanity of this NATO poxy war appears to have no bounds in the jingoistic rabble rousing lowest common denominator world of elite owned mainstream media. Since the British senile imperialistic and feminist morons running the U.K raised the bar pushing for state of the art tanks ,fighters and anti aircraft systems, we can expect the ultimate fast train to Armageddon. Russia now has the all clear to using depleted uranium shells to destroy these tanks the U.K government fought so hard to have deployed. They are the ones set to send depleted uranium shells to their patsy Ukraine. They are setting the standard.
R J Cook
Ukraine war: Germany sends much-awaited Leopard tanks
Related Topics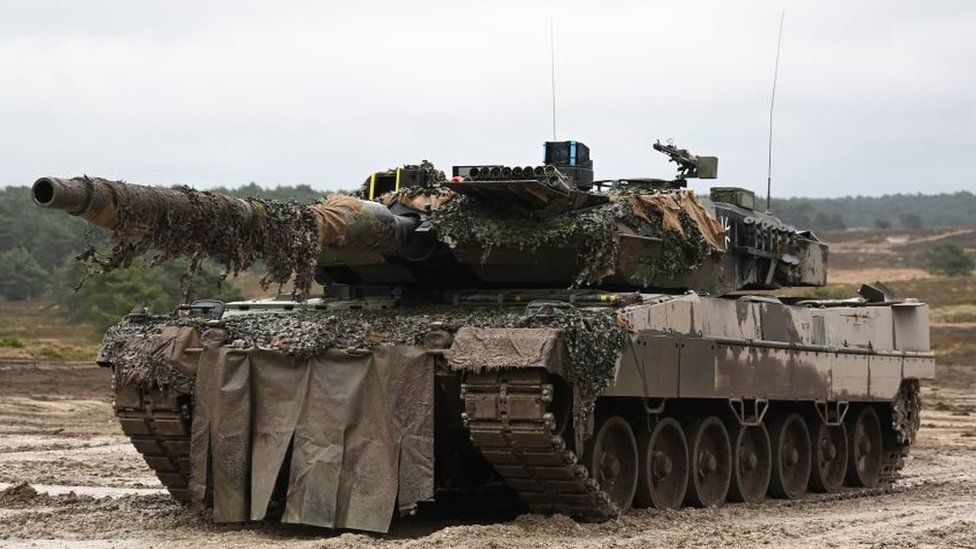 By Adam Durbin
BBC News
The first shipment of Leopard 2 tanks from Germany has been sent to Ukraine, the German defence ministry says.
Eighteen cutting-edge main battle tanks were delivered after Ukrainian crews were trained to use them.
Defence Minister Boris Pistorius said he was sure the tanks could "make a decisive contribution" on the frontlines of the war.
Challenger 2 tanks from the UK have also arrived, according to reports from Ukraine.
Ukraine has been calling for more modern vehicles and weapon systems for months to help fight Russia's invasion.
The Ukrainian government is yet to comment on the arrival of the Leopard 2s, but they have confirmed the arrival of the first UK-made Challenger 2 tanks.
Around 2,000 Leopard 2s, widely regarded as being among the best main battle tanks produced by Nato countries, are in use by European countries.
Germany agreed to supply the tanks to Ukraine in January, after being initially reluctant to do so – or even to permit other countries from sending their own.
Under German law, Berlin must approve Leopard 2s being re-exported by any country.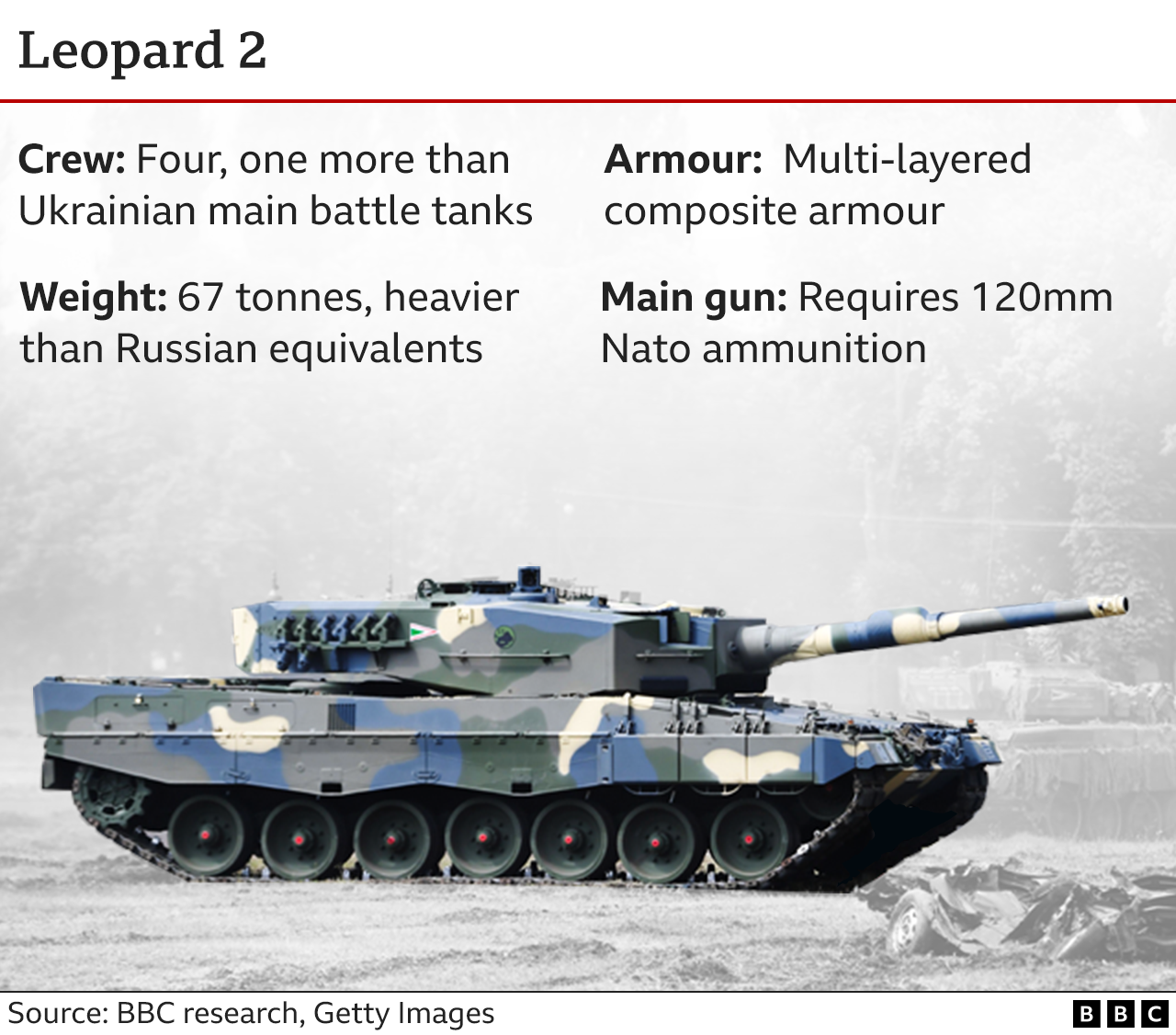 German Defence Minister Boris Pistorius said the tanks "have made it into the hands of our Ukrainian friends as promised and on time".
The German army has trained Ukrainian tank crews to use the advanced A6 variant of the Leopard 2 over the past several weeks.
They have been specifically designed to compete with the Russian T-90 main battle tank and is considered to be easier to maintain and more fuel-efficient than most other Western tanks.
On top of the Leopard 2s, Germany has also sent Ukraine two specialist tank-recovery vehicles and 40 Marder infantry fighting vehicles.
Meanwhile, Challenger 2 tanks from the UK "are in Ukraine already", defence ministry spokeswoman Iryna Zolotar told AFP news agency.
Posting a picture of a Challenger 2 alongside other Western-made military vehicles on his Facebook page, Defence Minister Oleksii Reznikov described the British vehicle as a work of military art.
The UK Ministry of Defence declined to comment but earlier confirmed Ukrainian tank crews training in Britain had returned home after completing their training with the tanks.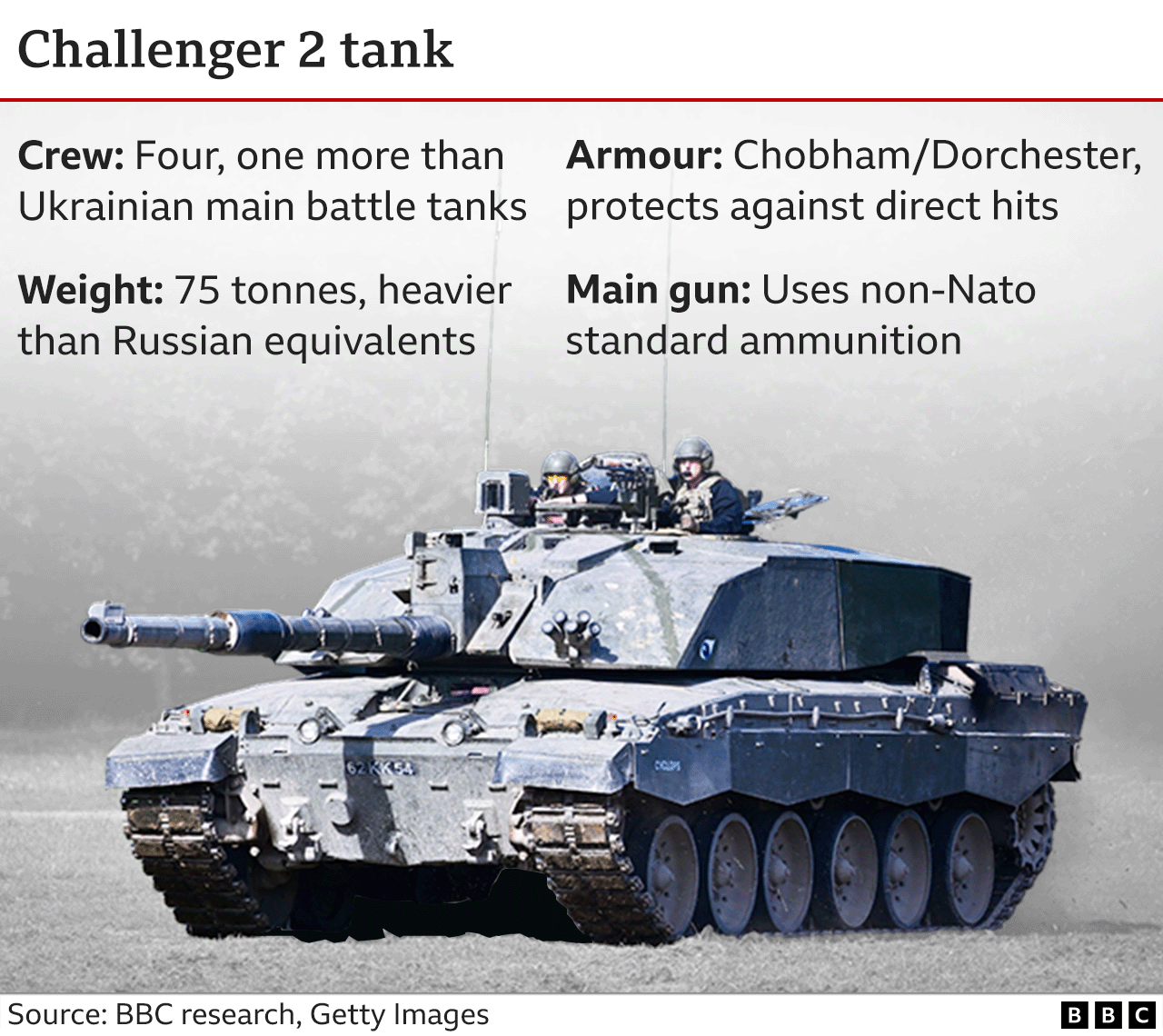 Related Topics
More on this story
https://www.bbc.co.uk/comments/embed/news/world-europe-65095126?embeddingPageUri=https://www.bbc.co.uk/news/world-europe-65095126%23comments&embeddingPageTitle=Ukraine%20war%3A%20Germany%20sends%20much-awaited%20Leopard%20tanks
Related Topics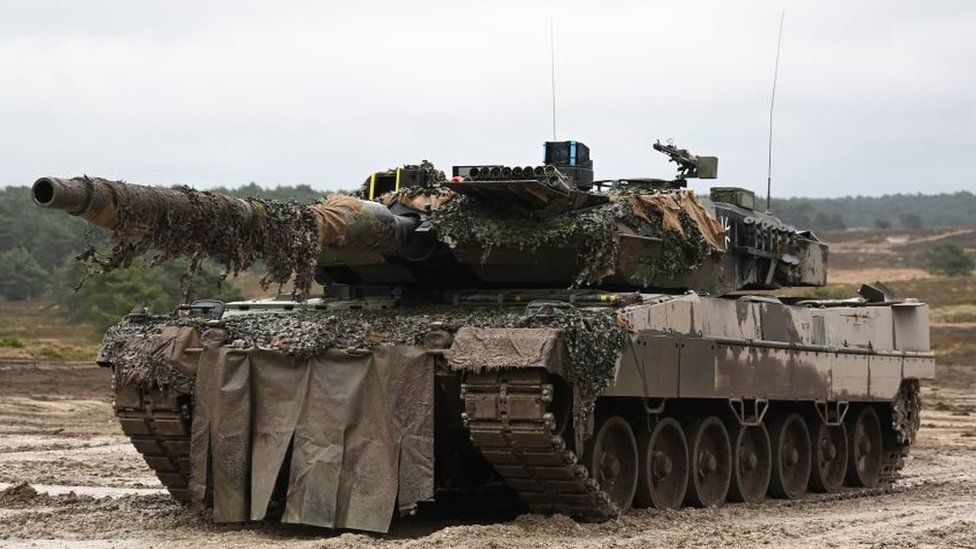 By Adam Durbin
BBC News
The first shipment of Leopard 2 tanks from Germany has been sent to Ukraine, the German defence ministry says.
Eighteen cutting-edge main battle tanks were delivered after Ukrainian crews were trained to use them.
Defence Minister Boris Pistorius said he was sure the tanks could "make a decisive contribution" on the frontlines of the war.
Challenger 2 tanks from the UK have also arrived, according to reports from Ukraine.
Ukraine has been calling for more modern vehicles and weapon systems for months to help fight Russia's invasion.
The Ukrainian government is yet to comment on the arrival of the Leopard 2s, but they have confirmed the arrival of the first UK-made Challenger 2 tanks.
Around 2,000 Leopard 2s, widely regarded as being among the best main battle tanks produced by Nato countries, are in use by European countries.
Germany agreed to supply the tanks to Ukraine in January, after being initially reluctant to do so – or even to permit other countries from sending their own.
Under German law, Berlin must approve Leopard 2s being re-exported by any country.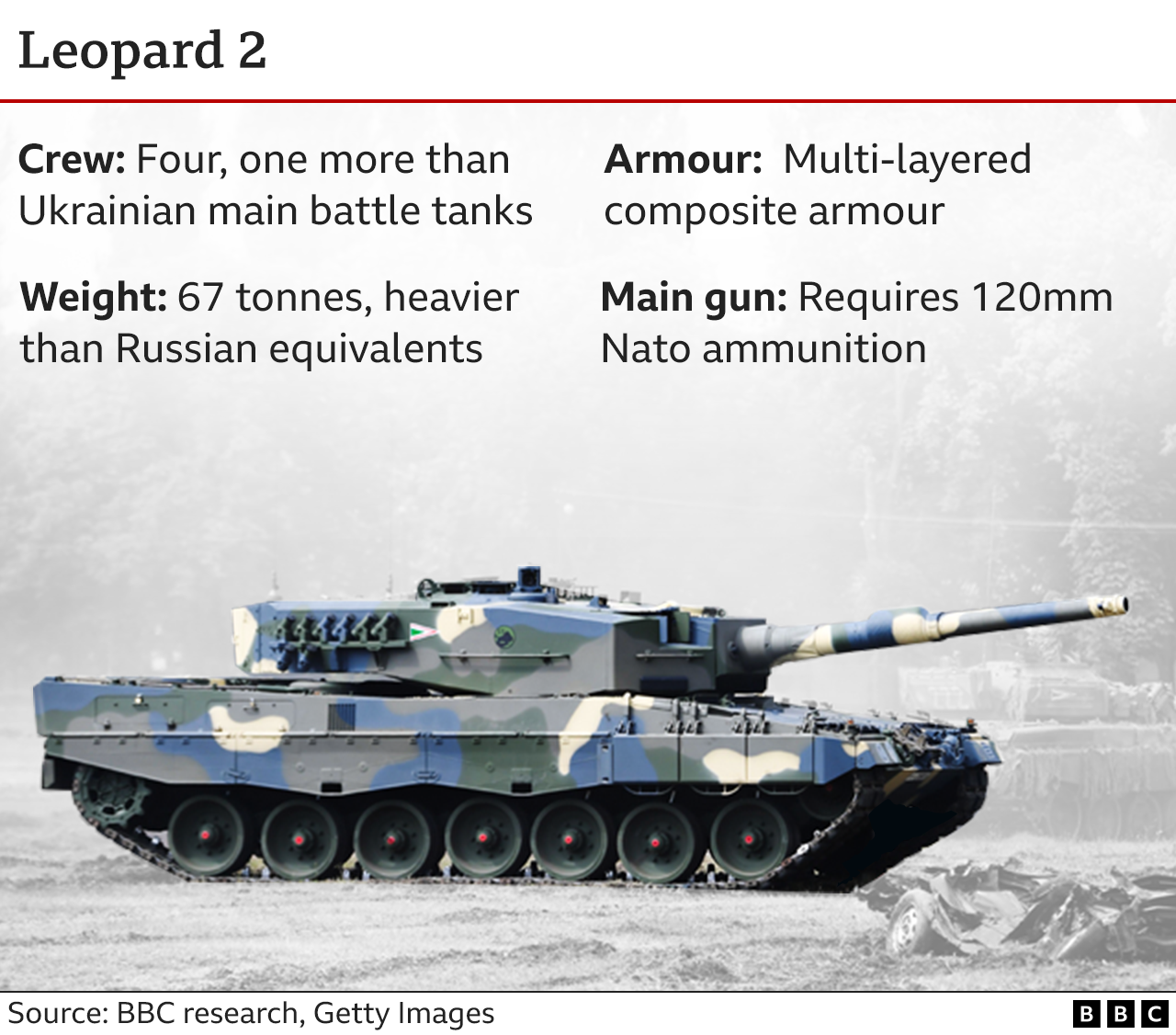 German Defence Minister Boris Pistorius said the tanks "have made it into the hands of our Ukrainian friends as promised and on time".
The German army has trained Ukrainian tank crews to use the advanced A6 variant of the Leopard 2 over the past several weeks.
They have been specifically designed to compete with the Russian T-90 main battle tank and is considered to be easier to maintain and more fuel-efficient than most other Western tanks.
On top of the Leopard 2s, Germany has also sent Ukraine two specialist tank-recovery vehicles and 40 Marder infantry fighting vehicles.
Meanwhile, Challenger 2 tanks from the UK "are in Ukraine already", defence ministry spokeswoman Iryna Zolotar told AFP news agency.
Posting a picture of a Challenger 2 alongside other Western-made military vehicles on his Facebook page, Defence Minister Oleksii Reznikov described the British vehicle as a work of military art.
The UK Ministry of Defence declined to comment but earlier confirmed Ukrainian tank crews training in Britain had returned home after completing their training with the tanks.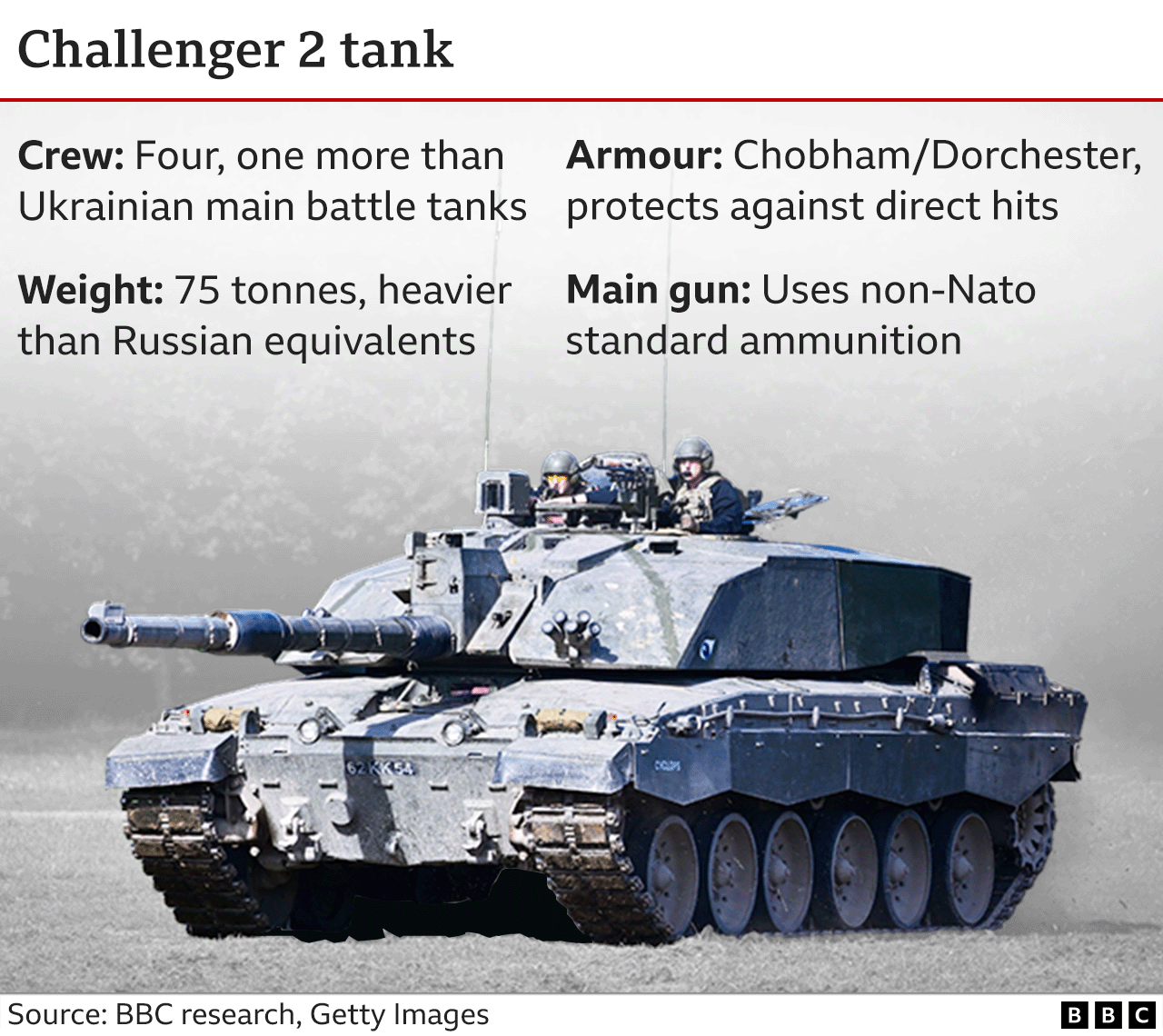 Related Topics
More on this story
https://www.bbc.co.uk/comments/embed/news/world-europe-65095126?embeddingPageUri=https://www.bbc.co.uk/news/world-europe-65095126%23comments&embeddingPageTitle=Ukraine%20war%3A%20Germany%20sends%20much-awaited%20Leopard%20tanks
Territorial Disputes in the South China Sea | Global Conflict …
Council on Foreign Relationshttps://www.cfr.org › global-conflict-tracker › territori…
4 May 2022 — China's sweeping claims of sovereignty over the sea—and the sea's estimated 11 billion barrels of untapped oil and 190 trillion cubic feet …
US showcases its military might in South China sea – YouTube
YouTubehttps://www.youtube.com › watch
United States is demonstrating its military might in China's backyard – the South China Sea. Seahawk helicopters and Hornet jets have rode …
March 26th 2023
How the search for Iraq's secret weapons fell apart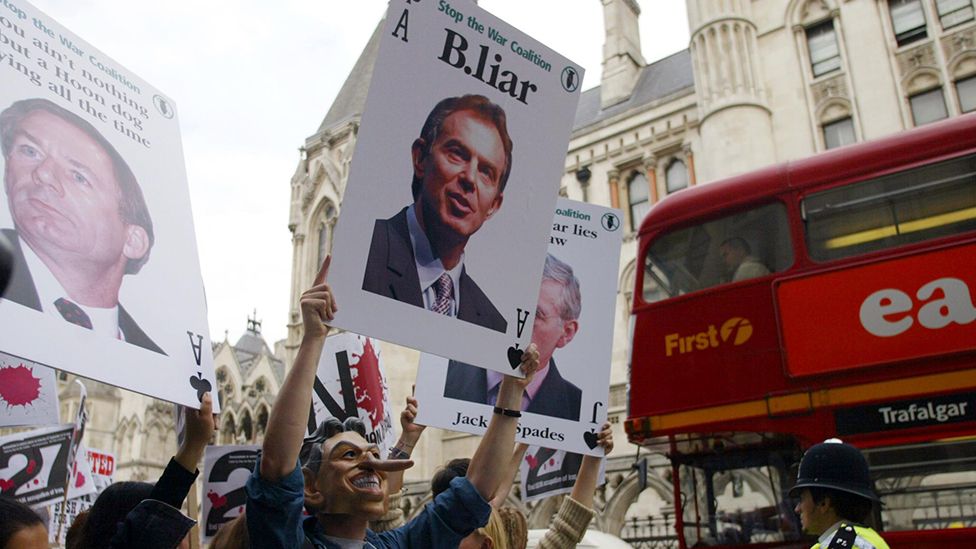 By Gordon Corera
Security correspondent, BBC News
Twenty years after the invasion of Iraq, controversy still rages over the existence of the "weapons of mass destruction" (WMDs) which provided the UK's justification for taking part. New details about the search for WMDs have emerged as part of a BBC series, Shock and War: Iraq 20 years on, based on conversations with dozens of people directly involved.
"Crikey." That was the one-word reaction from a senior MI6 officer when told by a colleague in late 2001 that the Americans were serious about war in Iraq.
CIA officers also recall the shock of British counterparts. "I thought they would have a heart attack right there at the table," recalls Luis Rueda, head of the CIA's Iraq Operations Group. "If they weren't gentlemen, they would have reached across the table and slapped me."
The message soon reached Downing Street. It would be spies rather than diplomats who would deliver it.
"I was probably the first to say to the prime minister, 'Whether you like it or not, get your ducks in a row because it looks as though they're building up to an invasion," the then-head of MI6, Sir Richard Dearlove, and a frequent visitor to Washington, tells the BBC in a rare interview.
MI6 – the UK's foreign intelligence service – was about to become deeply embroiled in one of the most controversial and consequential episodes in its history.
For the US, the issue of weapons of mass destruction (WMDs), were secondary to a deeper drive to overthrow the Iraqi leader, Saddam Hussein. "We would have invaded Iraq if Saddam Hussein had a rubber band and a paperclip," says Mr Rueda. "We would have said, 'Oh, he will take your eye out.'"
For the UK, when it came to selling Iraq to an uncertain public, the threat supposedly posed by Iraq's WMDs – chemical, biological and nuclear weapons – was central.
It has sometimes been alleged that the UK government made up the claims about WMDs. But ministers from that time say they had been assured by their own spies the weapons did exist.
"It's really important to understand the intelligence I was getting is what I was relying on, and I think I was entitled to rely on it," former Prime Minister Sir Tony Blair tells me. On the eve of the invasion he says he asked for – and was given – reassurances from the Joint Intelligence Committee. He declines to criticise the intelligence services for getting it wrong.
Other ministers say they had doubts at the time.
"On three occasions I questioned Richard Dearlove about the provenance of this intelligence," says the then foreign secretary, Jack Straw. "I just had an uneasy feeling about it. But Dearlove assured me on each occasion that these agents were reliable." However, Mr Straw says that it is ultimately for politicians to take responsibility, because they make the final decisions.
Asked if he looks back on Iraq as an intelligence failure, Sir Richard's answer is simple: "No." He still believes Iraq had some kind of weapons programme and that elements may have been moved over the border to Syria.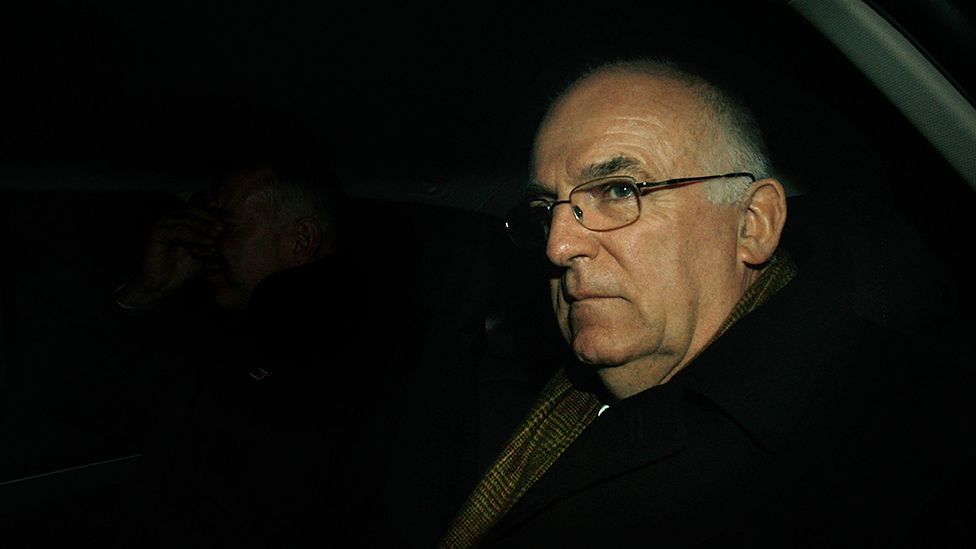 Others disagree. "It was a major failing," says Sir David Omand, then the UK's Security and Intelligence Co-ordinator. He says a confirmation bias led government experts to listen to fragments of information which supported the idea that Saddam Hussein had WMDs, and discount any that did not.
Some inside MI6 say they also had concerns. "At the time I felt what we were doing was wrong," says one officer who worked on Iraq, who has never spoken before and asked to remain anonymous.
"There was no new or credible intelligence or assessment which suggested that Iraq had restarted WMD programmes and that they posed an imminent threat," says the former officer, speaking of the period of early 2002. "I think from the government's point of view it was the only thing they could find…. WMD was the only peg they could hang the legality on."
Existing intelligence in the spring of 2002 was patchy. MI6's long-standing agents in Iraq had little or no information about WMDs, and there was a desperate hunt for fresh intelligence from new sources to bolster the case, particularly when a dossier was planned for September.
Another insider recalls decoding a message saying there was "no more important role" for the intelligence service than persuading the British public of the case for action. They say that questions were raised if this was appropriate, and the message was deleted.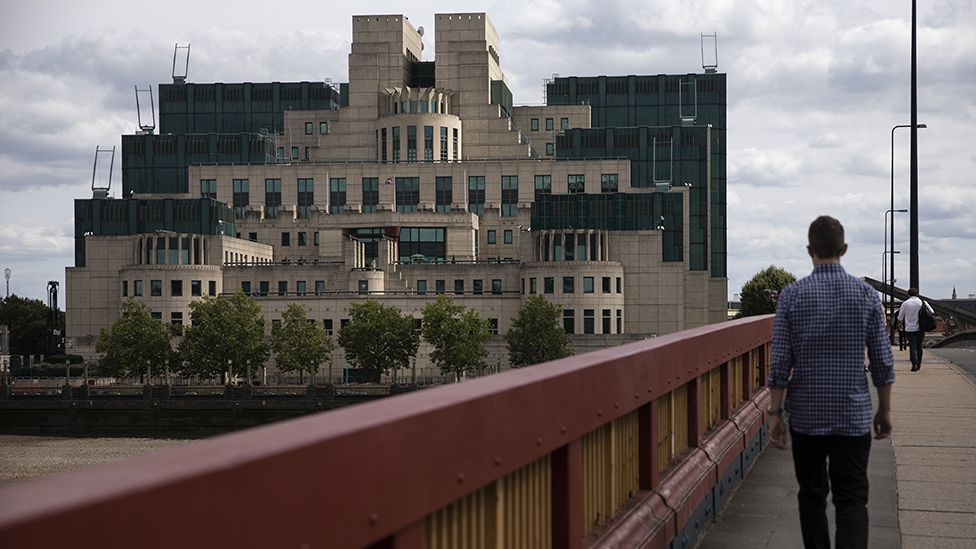 On 12 September, Sir Richard walked into Downing Street with news of an important new source. This person claimed Saddam's programmes were being restarted and promised to deliver new details soon. Even though this source had not gone through the full checks, and their information was not shared with experts, details were handed to the prime minister.
Sir Richard dismisses accusations that he got too close to Downing Street as "ridiculous" but will not comment on the details of the case or specific sources. But in the coming months, this new source never delivered and was ultimately deemed to have been making it up, other intelligence sources say. Quality control was breaking down, they argue.
It was likely some of the new sources were making information up for money or because they wanted to see Saddam overthrown. In January 2003, I met a defector from Saddam's intelligence service in Jordan. He claimed to have been involved in developing mobile laboratories to work on biological weapons, out of sight from UN inspectors.
His claims made it into US Secretary of State Colin Powell's presentation to the UN in February 2003, even though some within the US government had already issued a "burn notice", saying that the information was not to be trusted. Another source codenamed "Curveball", whom the US and UK relied on, was also making up details about the labs.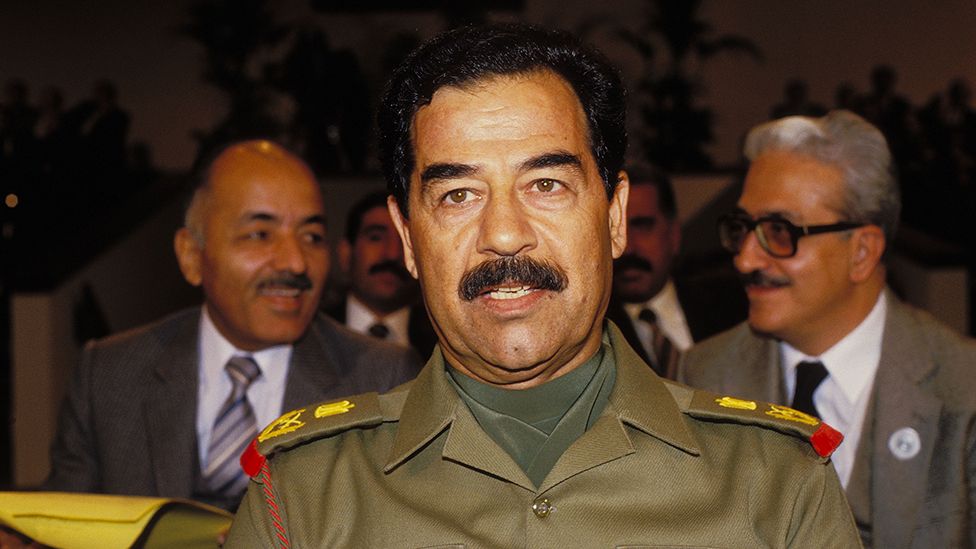 It is worth remembering that Saddam did once have weapons of mass destruction. A few weeks before the 2003 war, I visited the village of Halabja in Northern Iraq, and heard locals describe the day in 1988 when Saddam's army had dropped chemical weapons on them. The truth about what happened to those weapons would only emerge after the war.
Saddam had ordered the destruction of much of his WMD programme in the early 1990s after the first Gulf War in the hope of getting a clean bill of health from UN weapons inspectors, one of Iraq's top scientists later told me. The Iraqi leader may have hoped to restart the programmes at a later point. But he had destroyed everything secretly, partly to maintain the bluff that he might still have something he could use against neighbouring Iran, with whom he had just fought a war. So when Iraq was later asked by UN inspectors to prove it had destroyed everything, it could not.
One Iraqi scientist later revealed that they had disposed of a deadly compound that western intelligence agencies said was unaccounted for, by pouring it into the ground. But they had done so near one of Saddam's palaces, and they feared that owning up to this fact would have got them killed by the Iraqi leader. The result of all this was that Iraq could never really prove that it no longer had weapons.
By the end of 2002, UN inspectors were back in Iraq looking for WMDs. Some of those inspectors, speaking to the BBC for the first time, can recall looking at sites where intelligence tip-offs from the West suggested mobile labs might be based. They found only what one calls a "glorified ice cream truck" covered in cobwebs.
The public at the time never learned that as war approached, with sources failing to deliver and inspectors drawing a blank, there were concerns. "Panicky" is how one insider describes it. "My future is in your hands," Mr Blair said, half-jestingly, to Sir Richard in January 2003, as the pressure was growing to find proof of WMDs.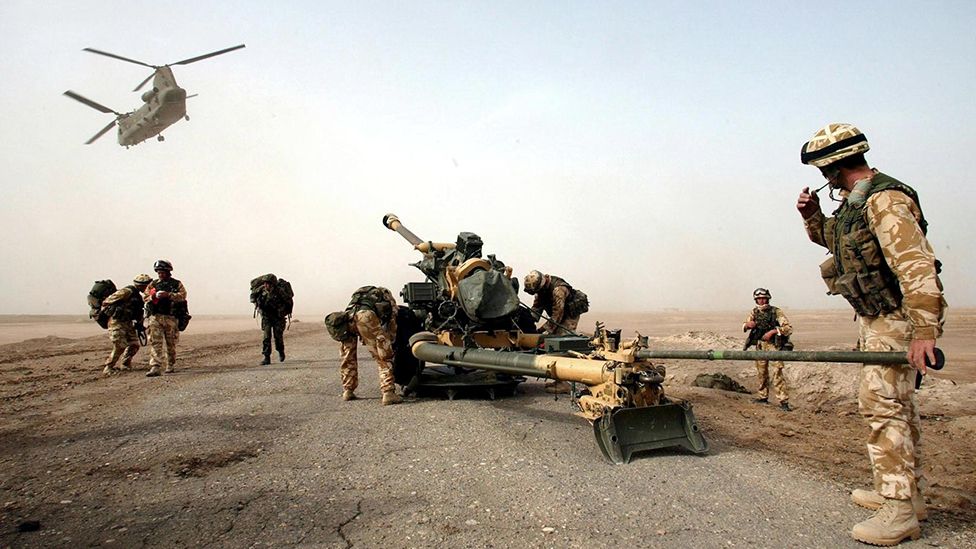 "It was frustrating at the time," Sir Richard now recalls. He accuses inspectors of having been "incompetent" for failing to find anything. Hans Blix, who led UN chemical and biological inspections, tells the BBC that until the start of 2003, he had believed there were weapons, but began to doubt their existence after the tip-offs drew a blank. He wanted more time to get answers but would not get it.
The failure to find a "smoking gun" would not stop war in March 2003.
"I tried right until the last moment to avoid military action," Tony Blair tells the BBC. President George Bush, fearing his ally would lose a vote in parliament on the eve of war, did offer him in a video-call the opportunity to back out of the invasion and only be involved in the aftermath, but the prime minister turned it down.
He defended his decision both as a matter of principle in terms of the need to deal with Saddam Hussein, but also because of the need to maintain the UK's relationship with the US. "It would have had a significant impact on the relationship," he says, adding: "When I was prime minister, there was no doubt either under President Clinton or President Bush, who the American president picked up the phone to first. It was the British prime minister. Today we're out of Europe and would Joe Biden pick up the phone to Rishi Sunak first? I'm not sure."
But no WMD would be found afterwards either. "It all fell apart," one former MI6 officer says, recalling a post-war internal review of sources. And this would leave deep and lasting consequences for both spies and politicians.
Related Topics
March 24th 2023
Putin says Moscow to station nuclear weapons in Belarus, US reacts cautiously
March 25 (Reuters) – Russia will station tactical nuclear weapons in neighbouring Belarus, President Vladimir Putin said on Saturday, marking the first time since the mid-1990s that Moscow will have based such arms outside the country.
Putin made the announcement at a time of growing tensions with the West over the Ukraine war and as some Russian commentators speculate about possible nuclear strikes.
The United States – the world's other nuclear superpower – reacted cautiously. A senior administration official noted Russia and Belarus had talked about such a deal over the past year, and said there were no signs Moscow planned to use its nuclear weapons.
Establishment Still Fearing Donald Trump.
Former President Donald Trump on Wednesday revealed a letter that he says is "totally exculpatory" evidence proving his innocence in the Stormy Daniels hush money case.
It comes as the latest development in the case dominating national headlines in the past days, in which Manhattan District Attorney Alvin Bragg is reported to be pursuing an indictment on Trump regarding his alleged involvement in $130,000 of hush money paid to adult film actress Daniels to stop her from going public about an affair she claims she had with Trump. Trump has denied the affair, saying he's a victim of extortion.
As a part of the investigation, a Manhattan grand jury has heard testimony from former Trump associates, which included former Trump lawyer Michael Cohen, a star witness who pleaded guilty to violating federal campaign finance laws in August 2018 for arranging that payment to Daniels and another woman claiming to have had an affair with Trump.
Cohen initially told press outlets in February 2018 that he paid this money out of his own pocket, but reversed his account in his guilty plea, claiming to have done so at Trump's direction and that he was reimbursed by the Trump Organization through routine legal expenses.
Trump has previously called the payment part of a monthly retainer given to Cohen, through which the lawyer "entered into, through reimbursement, a private contract between two parties." He has denied any wrongdoing in the matter.
The letter that Trump disclosed in a Truth Social post on Wednesday was sent by Cohen's lawyer Stephen Ryan to the Federal Election Commission on Feb. 8, 2018, in response to a complaint filed by government watchdog Common Cause.
"In a private transaction in 2016, before the U.S. presidential election, Mr. Cohen used his own personal funds to facilitate a payment of $130,000 to Ms. Stephanie Clifford," Ryan stated in the letter.
"Neither the Trump Organization nor the Trump campaign was a party to the transaction with Ms. Clifford, and neither reimbursed Mr. Cohen for the payment directly or indirectly," Ryan continued, referring to Daniels, whose real name is Stephanie Clifford.
The statement in the letter mirrors Cohen's statement to media outlets in February 2018.
Joseph Tacopina, Trump's lawyer on the case, confirmed with The Epoch Times the letter's authenticity.
Trump said the letter constitutes "exculpatory" evidence and called for an immediate end to Bragg's case.
"Wow, look what was just found—A Letter from Cohen's Lawyer to the Federal Election Commission. This is totally exculpatory, and must end the Manhattan District Attorney's Witch Hunt, immediately," Trump wrote in the post.
"Cohen admits that he did it himself. The D.A. should get on with prosecuting violent criminals, so people can walk down the sidewalks of New York without being murdered!"
Though the exact charges pursued by Bragg's office are unclear, it is widely speculated that Bragg is pursuing a felony charge of falsifying business records, which requires the falsifying of business records to be done in connection with another crime—in this case, the violation of federal campaign finance laws. This complicated legal strategy that combines state and federal laws, however, is seen by some legal experts as high risk.
March 23rd 2023
The Unexpected Climate Impact of Russia's War in Ukraine
There are many ways to measure the consequences of Russia's full-scale invasion of Ukraine, which began a year ago on Friday, Feb. 24, 2022. Most of them—7,200 Ukrainian civilians killed, 8 million forced to flee abroad, a global hunger crisis driven by surging food prices—paint an unremittingly tragic picture, for both Ukraine and the world. For the climate though, it's a little different.
Twelve months in, the war's decidedly mixed carbon impact is coming into view. Inside Ukraine, experts have tracked vast amounts of the greenhouse gasses that have been unleashed by Vladimir Putin's path of destruction. Outside of Ukraine, though, the opposite has happened. To many analysts' surprise, Putin's decision to squeeze gas exports to Europe last summer has pushed the region's emissions down in recent months. It has also accelerated a global phase out of fossil fuels: just ask British oil major BP, which in January revised its pre-invasion estimates to predict a much sharper decline in demand for fossil fuels in 2035, citing countries' post-war belief that renewables provide better energy security.
WATCH LIVE: TikTok CEO Testifies Before the House Energy and Commerce Committee
Posted 2 Hours Ago
Watch More
But let's look at the bad climate news first. Forest fires sparked by fighting, attacks on the Nord Stream 1 and 2 gas pipelines, the need to rebuild hundreds of thousands of blasted buildings, plus the millions of fossil-fueled journeys by soldiers, munitions, and refugees, adds up to a lot of extra carbon pollution. Russia's targeting of Ukraine's energy system, starting in October, has been particularly damaging: as oil depots and gas power plants have exploded, releasing carbon and methane into the air, Ukrainians have been forced to rely on dirtier fuels to keep warm. "We saw a huge influx of inefficient [diesel-powered] generators in November and December," says Lennard de Klerk, a Dutch carbon accounting expert in Kyiv preparing a report on the war's greenhouse gas impact, due to be presented to the U.N. in June.
Read more: Ukraine Wants Russia to Pay for the War's Environmental Impact
De Klerk puts the first year of war's carbon footprint in the region of 155 million metric tons, roughly the annual emissions of the Netherlands. Some of that will have been offset by the fact that Ukranians likely didn't emit as much carbon as they normally do in a year (202 million metric tons in 2021): energy demand has fallen due to the shuttering of industries and the fact that 18% of the population was forced to flee to the safety of nearby countries. De Klerk, though, says much of that economic activity and residential energy use will simply have migrated to other European countries.
The better—if not exactly good—news is that Europe slashed its emissions in the later part of 2022. Many climate advocates had feared that Russia's suspension of natural gas exports to the E.U. would force the bloc to use more coal, which is twice as polluting. And some countries, including Germany and the U.K., did extend the life of coal plants that were due to be shut down. But the far more dominant trend was a fall in energy use. Europeans responded to dizzyingly high gas prices by turning down their gas-powered home heating—an option made more feasible by an unusually mild winter—or closing down businesses that couldn't pay their energy bills. The E.U.'s non-electricity natural gas consumption has fallen 17% year-over-year since the start of the war—which translates to 117 metric tons of avoided carbon emissions, according to Lauri Myllyvirta, lead analyst at the Finland-based Centre for Research on Energy and Clean Air. "Europe's CO2 emissions overall would have been higher without the invasion and Putin's attempts at an energy war."
Read more: Soviet-Era Centralized Heating Systems Were Ukraine's Secret Weapon for Cutting Emissions. Now They're a Vulnerability
To be clear, Ukrainian lives ruined, businesses imploding, and Europeans unable to afford heating are no one's idea of a good way to cut carbon. But it's hard to ignore the push towards cleaner, more efficient energy spurred by Putin's actions over the last year. In 2022, as fossil fuel prices rose and European leaders sought to wean the region off Russian fossil fuels, the amount of solar capacity installed jumped a staggering 47% compared to 2021. Sales of heat pumps, an electric alternative to gas heating, jumped 37%; sales of electric vehicles rose 31%. Some of the more coordinated efforts to cut energy use will be helpful even if energy prices fall: for example, the rollout of apps to help people use electricity at low-demand times, or programs to better insulate homes to improve energy efficiency.
If such changes continue to accelerate, as Myllyvirta predicts they will in 2023, it won't only bring us closer to our climate goals. It will also bring us closer to a world in which leaders who depend on fossil fuels for their power lose their ability to wage pointless wars.
A version of this story also appears in the Climate is Everything newsletter. To sign up, click here.
More Must-Reads From TIME
---
Write to Ciara Nugent at ciara.nugent@time.com.
March 21st 2023
U.K Pushes Russia Nearer The Abyss.
Vladimir Putin has sought to exploit a British statement that it would supply Ukraine with tank shells made with depleted uranium, arguing that the delivery of the armour-piercing weapons would prompt a Russian response.
The Russian leader's comments, made during the visit to Moscow by his Chinese counterpart Xi Jinping, came in response to a parliamentary answer given by a junior British defence minister in the House of Lords on Monday.
Annabel Goldie said that the UK would supply "armour piercing rounds which contain depleted uranium" to Ukraine with its gift of 14 Challenger 2 tanks because they are deemed "highly effective in defeating modern tanks and armoured vehicles".
Does Russia have depleted uranium weapons?
Russia has a significant number of different DU-rounds in its arsenals. There are reports of mass production of the improved Svinets-1 and Svintes-2 depleted uranium ammunition, for which the T-80BVM tanks were modernized during the last years.
Where does Russia get its uranium?
The Russian Federation's main uranium deposits are in four districts: The Trans-Ural district in the Kurgan region between Chelyabinsk and Omsk, with the Dalur ISL mine.
Depleted uranium is used for tank armor, armor-piercing bullets, and as weights to help balance aircrafts. Depleted uranium is both a toxic chemical and radiation health hazard when inside the body
What does depleted uranium do to the body?
Very severe exposure causes tissue destruction and is rapidly fatal. Radiation sickness is only seen above a threshold radiation dose. Such doses are not expected to be seen from any imaginable pathways of exposure to depleted uranium.
Why do we use depleted uranium in bullets?
First deployed on a large scale during the Gulf War, the U.S. military uses depleted uranium (DU) for tank armor and some bullets due to its high density, helping it to penetrate enemy armored vehicles.24 Jan 2023
Why deadly depleted uranium is the tank buster's weapon of choice
Thu 18 May 2000 14.45 BST
The use of depleted uranium weapons is again causing concern. The people of Kosovo have been alarmed to discover that the conflict there has left radioactive contamination, just as it did in Kuwait nine years ago.
Why do the United States and Britain continue to use a waste product of the nuclear industry in their weapons? Some commentators allege that it is a conspiracy between the military and the nuclear industry to dispose of dangerous waste in hostile countries. The real reasons are more complex.
Metallic uranium occurs naturally in tiny quantities. In its native state it is a mixture of highly radioactive uranium-235 and less active U-238. U-235 is used in reactors and atomic weapons; once it is extracted, the rest is depleted uranium (DU). It is a poisonous heavy metal like lead or mercury, but only slightly radioactive.
To understand why DU makes a good anti-tank weapon you have to enter the Alice In Wonderland world of high-energy collisions. When metal meets metal at five times the speed of sound, hardened steel shatters like glass. Metal flows like putty, or simply vaporises. A faster shell does not necessarily go through more armour, but, like a pebble thrown into a pond, it makes a bigger splash.
Armour penetration is increased by concentrating the force of a shell into as small an area as possible, so the projectiles tend to look like giant darts. The denser the projectile, the harder the impact for a given size. DU is almost twice as dense as lead, making it highly suitable. The other metal used for anti-tank rounds is tungsten, which is also very hard and dense. When a tungsten rod strikes armour, it deforms and mushrooms, making it progressively blunter. Uranium is "pyrophoric": at the point of impact it burns away into vapour, so the projectile stays sharp. When it breaks through, the burning DU turns the inside of a vehicle into an inferno of white-hot gas and sparks.
Normal uranium is not as hard as tungsten. But a classified technique allows it to be hardened. This is believed to involve alloying it with titanium and cooling it so that it forms a single large metallic crystal rather than a chaotic mass of tiny crystals. This structure is very strong and produces an improvement similar to the difference between a brittle pencil lead and a carbon-fibre tennis racquet. The final advantage of uranium is cost. Machined tungsten is expensive, but governments supply DU more or less free.
As with most weapons, depleted uranium is not as deadly as its proponents – or its critics – claim. One tank was hit four times with no casualties. Twenty US vehicles took penetrating hits from DU weapons during the Gulf war. Thirteen crew members were killed, but 113 others – almost 90% – survived. The long-term health effects are not known.
It is likely that DU will be phased out eventually, not for health reasons but for military ones. It was introduced to solve the problem of breaking through heavy armour. But tank armour is concentrated mainly at the front, facing the main threat; it is thinner on the sides, and thinner still on top. If the entire vehicle were clad in thick armour it would be too heavy to move. Instead of brute force, the clever approach would be to attack the weakest point.
After decades of development a new generation of anti-armour weapons is being fielded. These "brilliant" weapons find their own targets, unlike mere smart bombs, which have to be directed. One example is Sadarm (Seek And Destroy Armour). It is fired like a normal artillery shell into the target area, where it ejects two submunitions that descend by parachute. As they fall, Sadarm scans the ground with radar and infrared sensors. Targets are identified, and the most important are selected – a Scud launcher in preference to a tank, a tank rather than a truck.
Sadarm fires a slug of molten metal at the selected target. The slug takes on an aerodynamic shape as it travels through the air, ideal for piercing armour. Though less powerful than a DU shell, it can break through the top armour of any tank.
Engagements between tanks are fought face-to-face, at a maximum distance of about 4km. Sadarm can be lobbed at an enemy 20km away. Missiles carrying brilliant munitions can range out to 100km or more.
Sadarm and other brilliant weapons use tantalum, an exotic heavy metal for which little data is available. But it appears to be highly toxic, especially when vaporised. We will probably discover its full effects only after the next hi-tech war.
In sufficient amounts, DU can be harmful because of its chemical toxicity. Like mercury, cadmium, and other heavy-metal ions, excess uranyl ions depress renal function. High concentrations in the kidney can cause damage and in extreme cases renal failure.
No human cancer of any type has ever been seen as a result of exposure to natural or depleted uranium. The chance of developing cancer is greater with exposure to enriched uranium, because it is more radioactive than natural uranium [ATSDR 2008b].
Why use depleted uranium in bullets?
SILVER BULLET made from depleted uranium can pierce even the heaviest armor. Uranium shells burn away at the edges upon impact¿a "self-sharpening" that helps them bore into armor. Used as ammunition, it penetrates the thick steel encasing enemy tanks; used as armor, it protects troops against attack.
What to Know About Depleted Uranium Exposure in Veterans
Written by Rebekah Kuschmider
Medically Reviewed by Poonam Sachdev on July 06, 2022
In this Article
Serving in the armed forces leads to potential exposure to dangerous substances. Veterans who were deployed to missions in the Persian Gulf, Bosnia, and Eastern Europe may have been exposed to depleted uranium. This byproduct of uranium enrichment was used in military vehicles and weaponry.
Because enriched uranium is a radioactive substance, there has been concern about the possible health effects of depleted uranium. While depleted uranium does not have the level of radioactivity of enriched uranium, some experts fear that it might cause health problems. The Department of Defense and Department of Veteran's Affairs monitor exposed veterans to track any health problems they may have.
What Is Depleted Uranium?
Uranium is a naturally occurring element that has radioactive properties. All uranium isotopes are radioactive, but one particular isotope called Uranium-235 (U-235) is critical for providing nuclear energy and in nuclear weapons. The military has applications for U-235 in their weapons programs as well as non-lethal functions like powering submarines.
U-235 makes up a very small portion of uranium ore. It must be extracted through an enrichment process that leaves the remainder of the ore behind. This remainder is known as depleted uranium.
Depleted uranium is still radioactive, but it emits alpha particle radiation, which is not powerful enough to penetrate human skin. Just being around depleted uranium is not a danger to human health. If a person ingests depleted uranium, though, it can be a health hazard.
What Are Some Depleted Uranium Effects?
Natural uranium is a common element found in soil and water. Everyone consumes some amount of uranium without ill effects. Your body can excrete most uranium that you ingest.
The small amount that gets absorbed, though, spreads throughout the body. It is most likely to accumulate in the bones or the kidneys. Uranium can remain in bones for a long time; the half-life of uranium in bone tissue is 70–200 days. Uranium that settles in other tissue leaves the body as urine within 1 to 2 weeks.
Natural and depleted uranium have the same level of toxicity and typically do not cause health effects. If you take in very large quantities of the material, though, you may be at risk for health issues related to uranium toxicity, such as kidney damage.
There are no indications that either depleted or natural uranium can cause cancer. The major concern from uranium ingestion is damage to the kidneys. Typical uranium consumption has not been shown to lead to kidney damage. Kidneys have even been shown to heal within several weeks of above-average levels of exposure, such as exposure due to occupation.
Ukraine war: UK defends sending uranium shells after Putin warning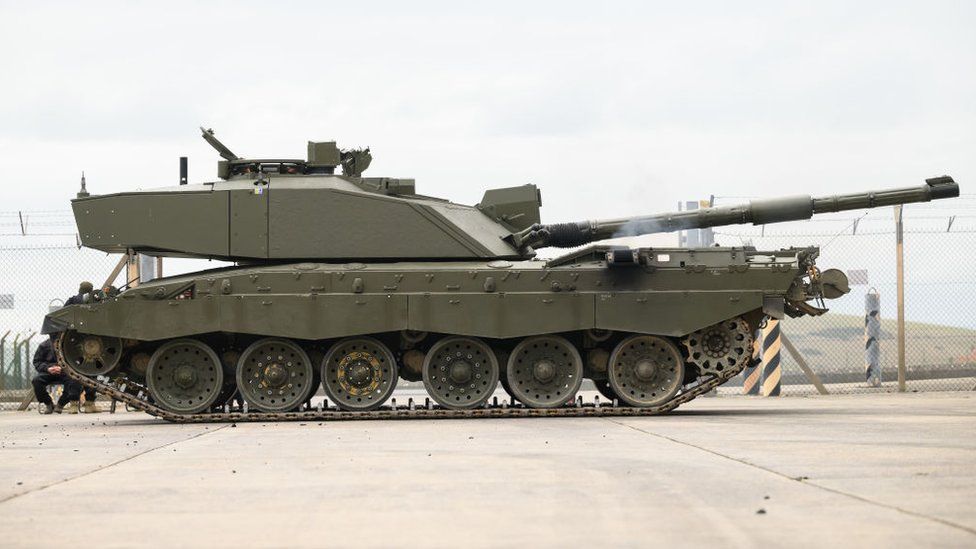 By Laura Gozzi
BBC News
President Vladimir Putin has said Russia would be "forced to react" if the UK sent shells made with depleted uranium to Ukraine.
He accused the West of deploying weapons with a "nuclear component".
The UK confirmed it would provide Kyiv the armour-piercing rounds alongside Challenger 2 tanks – but insisted they have a low risk of radiation.
Depleted uranium "is a standard component and has nothing to do with nuclear weapons", the MoD said.
"The British Army has used depleted uranium in its armour piercing shells for decades," the statement added.
"Russia knows this, but is deliberately trying to disinform. Independent research by scientists from groups such as the Royal Society has assessed that any impact to personal health and the environment from the use of depleted uranium munitions is likely to be low."
Former British Army tank commander – and chemical weapons expert – Col Hamish de Breton-Gordon, said Mr Putin's comments were "classic disinformation".
He said depleted uranium rounds used by Challenger 2 tanks contained only trace elements of depleted uranium.
He added it was "laughable" to suggest depleted uranium rounds were in any way linked to nuclear weapons, which uses enriched uranium.
Depleted uranium is what is left over after natural uranium has been enriched, either for weapons-making or for reactor fuel.
It is mildly radioactive in its solid form. But it is a very heavy substance, 1.7 times denser than lead, and it is used to harden rounds so that they can penetrate armour and steel.
When a weapon made with a depleted uranium tip or core strikes a solid object, like the side of a tank, it goes straight through it and then erupts in a burning cloud of vapour.
The vapour settles as dust, which is poisonous and also weakly radioactive.
Russian Foreign Minister Sergei Lavrov said sending depleted uranium ammunition to Ukraine would mean the UK was "ready to violate international humanitarian law as in 1999 in Yugoslavia".
"There is no doubt this will end badly for London," Mr Lavrov added.
On Tuesday evening, a spokesman for the Pentagon said the US would not be sending any munitions with depleted uranium to Ukraine.
Shells with depleted uranium were used in Iraq and the Balkans, where some claim it was linked to birth defects.
A 2022 UN Environment Programme (UNEP) report said depleted uranium was an environmental concern in Ukraine.
"Depleted uranium and toxic substances in common explosives can cause skin irritation, kidney failure and increase the risks of cancer," it said.
"The chemical toxicity of depleted uranium is considered a more significant issue than the possible impacts of its radioactivity," it added.
Related Topics
More on this story
CReply posted by Chris P Bacon, today at 11:26Chris P Bacon11:26to This name is awaiting moderation
Chris P Bacon replied:
I hate Putin, but I do feel sorry for Russian squaddies.
T
Comment posted by Twittykins, today at 11:22Twittykins
11:22
Hopefully more help and equipment will help Ukraine in their fight against Putin's warmongering. Good luck Ukraine!
TReply posted by Tristan Hugh-Farqhuar, today at 11:50Tristan Hugh-Farqhuar11:50to Twittykins
Tristan Hugh-Farqhuar replied:
It's remarkable how busy Putin is. Reading the BBC, he personally appears to run every major company in Russia, is in day-to-day charge of the war in Ukraine, runs the FSB, has some spare time to allegedly manage billions in private wealth, and somehow manages to run Russia too.
Phenomenal work ethic for a 70 year old.
T
Comment posted by This name is awaiting moderation, today at 11:22This name is awaiting moderation
11:22
A Challenger 2 has never been lost in combat to enemy fire and has a system inside to make cups of tea. Enjoy!
SReply posted by StillManyMoreTimes, today at 11:25StillManyMoreTimes11:25to This name is awaiting moderation
StillManyMoreTimes replied:
Until now! I'm sure the Russian Army will spoil the tea party.
T
Comment posted by This name is awaiting moderation, today at 11:27This name is awaiting moderation
11:27
Once those Challenger 2's get up and running things will get awkward for the soviets, i've seen video of one of those going through rough terrain at 50mph with it's turret staying dead level then turning it's turret and taking out a target half a mile away without even slowing down. It's a serious piece of weaponry that will cause havoc.
J
Comment posted by JOHN SPARTAN, today at 11:30JOHN SPARTAN
11:30
As Putin says 'I will fight to the last drop of YOUR blood'.
While the coward is hundreds of miles away in his iron fortress
CReply posted by col, today at 11:33col11:33to JOHN SPARTAN
col replied:
He sounds just like our brave leaders,send your family to die while they hide.
M
Comment posted by MrWhite, today at 11:47MrWhite
11:47
As someone who lived in Salisbury when the Russians came and released a chemical weapon there – Give 'em hell, Ukraine!
TReply posted by Tristan Hugh-Farqhuar, today at 12:13Tristan Hugh-Farqhuar12:13to MrWhite
Tristan Hugh-Farqhuar replied:
I heard Putin personally oversaw that operation whilst riding bare-chested atop a great Russian bear.
W
Comment posted by what we do defines us, today at 11:24what we do defines us
11:24
Go Ukraine ✌️🇺🇦✌️🇺🇦
TReply posted by Tristan Hugh-Farqhuar, today at 11:52Tristan Hugh-Farqhuar11:52to what we do defines us
Tristan Hugh-Farqhuar replied:
My Ukraine flag at home flies in pride of place, just above the flags of Iraq, Afghanistan, Libya and Syria.
K
Comment posted by king802, today at 11:25king802
11:25
Only the dead have seen the end of war.
SReply posted by Snickering Englishman, today at 11:33Snickering Englishman11:33to king802
Snickering Englishman replied:
Plato
F
Comment posted by Finkelstein, today at 11:37Finkelstein
11:37
Germany sends much-awaited Leopard tanks…great news. I hope the Ukraines batter the living crap out of the Russians. The fact is Putin knows he will never win this war and he is fighting a people that will never surrender. The real tragedy is the family ties between Ukraine and Russians and the fact so many of the Russian soldiers are conscripts who dot want to fight. Putin you are a $&*t.
TReply posted by Tristan Hugh-Farqhuar, today at 12:14Tristan Hugh-Farqhuar12:14to Finkelstein
Tristan Hugh-Farqhuar replied:
The war will end on Putin's terms, whether you like it or not.
March 20th 2023
BBC says Xi Jin Ping Is Thick Like Stalin.
Foreword to the following, British BBC news reports today described Xi as rather dim witted surrounding himself with even more retarded government officials whose compliance keeps him in power. The self important macho suit wearing suave patronising reporter went on to liken Xi to Stalin. The 'analysis' went on to assert that Xi would supply limited arms to Russia but did not want Russia to win, only to help broker a face saving deal for Russia as a country it aimed to dominate. It was asserted that both countries wanted to revert to a world order from 300 years ago because they objected to the Anglo U.S multi polar world order model (sic ).
R J Cook
Bi-bi-si govorit, chto Si TSzin' Pin takoy zhe tolstyy, kak Stalin.
Predisloviye k sleduyushchemu: segodnyashniye novostnyye soobshcheniya britanskoy Bi-bi-si opisali Si kak dovol'no tupogo cheloveka, okruzhivshego sebya yeshche boleye otstalymi pravitel'stvennymi chinovnikami, ch'ya ustupchivost' derzhit yego u vlasti. Samovlyublennyy macho v kostyume uchtivogo pokrovitel'stvennogo reportera sravnil Si so Stalinym. Daleye v «analize» utverzhdalos', chto Si budet postavlyat' Rossii ogranichennoye kolichestvo oruzhiya, no ne khochet, chtoby Rossiya pobedila, a tol'ko dlya togo, chtoby pomoch' zaklyuchit' sdelku po spaseniyu litsa Rossii kak strany, nad kotoroy ona stremilas' dominirovat'. Utverzhdalos', chto obe strany khoteli vernut'sya k mirovomu poryadku 300-letney davnosti, potomu chto oni vozrazhali protiv anglo-amerikanskoy modeli mnogopolyarnogo mirovogo poryadka (tak v originale).

R Dzhey Kuk
Xi Putin meeting: What to expect from China-Russia talks
Related Topics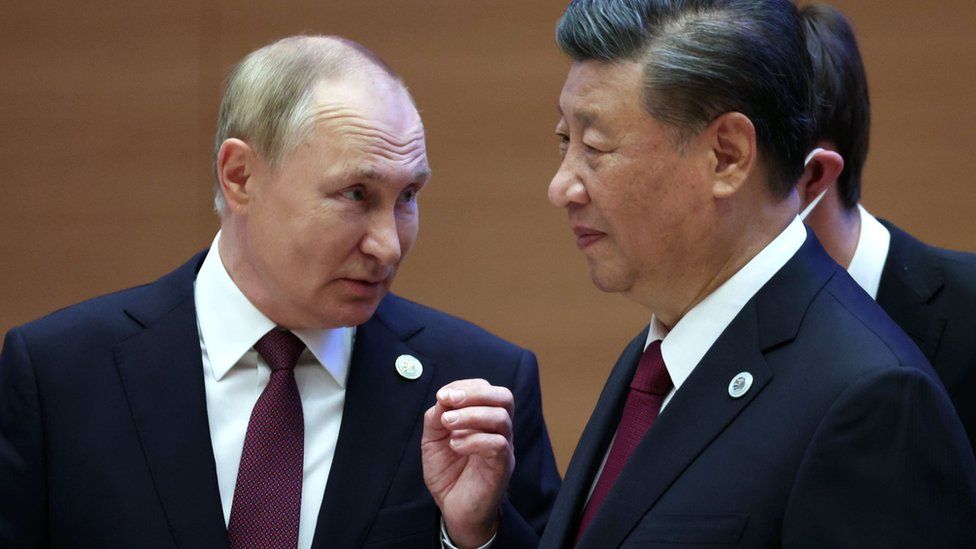 Chinese President Xi Jinping is embarking on his first trip to Russia since the country invaded Ukraine last year, and is set to sit down for talks with President Vladimir Putin.
Our Russia editor Steve Rosenberg and China correspondent Stephen McDonell have been considering what each side seeks to gain from the talks, and what we know about the relationship between the two countries.
Putin looking for help from a friend

Imagine you're Vladimir Putin.
You've started a war that hasn't gone to plan; you're up to your eyeballs in sanctions; and now the International Criminal Court has issued an arrest warrant for war crimes with your name on it.
It's at times like these you need a friend.
Enter Xi Jinping.
President Xi once called President Putin his "best friend". The two have much in common: they are both authoritarian leaders, and both embrace the idea of a "multi-polar world" devoid of US domination.
In Moscow they're expected to sign an agreement on "deepening the comprehensive partnership" between their two countries.
The Chinese president's state visit is a clear sign of support for Russia – and its president – at a time when the Kremlin is under intense international pressure.
And Russia's relationship with China is fundamental to withstanding that.
"Putin is building his own bloc. He doesn't trust the West anymore – and he never will again," believes journalist Dmitry Muratov, a former Nobel Peace Prize laureate.
"So, Putin's looking for allies and trying to make Russia part of a common fortress with China, as well as with India, some parts of Latin America and Africa. Putin is building his anti-Western world."
In this "anti-Western world", Moscow is heavily reliant on Beijing – now more than ever, as the war rages in Ukraine.
"War has become the organising principle of Russian domestic politics, foreign policy and economic policy. There is an obsession with destroying Ukraine," concludes Alexander Gabuev, a senior fellow at the Carnegie Endowment for International Peace.
"For that you need arms, money and an economic lifeline. China provides Russia with, at least, components for arms, and civilian technology that can be used for military purposes. It definitely provides money."
To counter Western sanctions, and to shore up the Russian economy, Russia has been boosting trade with China, primarily in the energy sector. Expect oil, gas and energy pipelines to be on the agenda at the Putin-Xi talks.
But, once again, imagine you're Putin. One year ago you and Xi proclaimed that your partnership has "no limits". If that's really the case, might you expect China now to help you out in Ukraine, by supplying Russia with lethal aid and facilitating a military victory for Moscow? The US claims that China is considering doing just that. Beijing denies it.
As they say in Russia, "there's no harm wishing for something" – but it doesn't mean it's going to happen. If there's one thing the last year has shown it is that the "no-limits partnership" does have limits. Up to this point Beijing has apparently been reluctant to provide direct military assistance to Moscow, for fear of triggering secondary sanctions in the West against Chinese companies. As far as Beijing is concerned: sorry Russia… it's China first.
That very point was made very bluntly recently on a Russian state TV talk show.
"Ahead of President Xi's visit to Moscow, some experts here have been overexcited, elated even," noted military pundit Mikhail Khodarenok.
"But China can have only one ally: China itself. China can only have one set of interests: pro-Chinese ones. Chinese foreign policy is utterly devoid of altruism."
Xi's signals to Putin can only go three ways

Officially Xi Jinping's visit to Russia is to promote bilateral ties between two neighbours and certainly these governments say they are becoming ever closer.
There are agreements to be signed, meals to be had, photo opportunities to be staged.
All governments have such visits, so why all the attention on this one?
Well, for one, this is the leader of one of the world's two great superpowers visiting an ally – who happens to be the person who has unleashed a bloody invasion of another country in Europe – in 2023.
Many analysts have pondered what China might do if it looks like Russia is facing a clear, humiliating defeat on the battlefield.
The Chinese government says it is neutral. Would it just step back and let that happen, or start pumping in weapons to give the Russian army a better edge?
After Xi arrives in Moscow, he and his Russian counterpart may speak about other things, but all the attention will be on the Ukraine crisis.
His signals to Vladimir Putin can only go three ways:
1. Time to consider pulling back with some face-saving compromise
2. Green light to keep going or even go in harder
3. Nothing either way from China's leader
China is coming off the back of brokering a deal in which Iran and Saudi Arabia have re-established diplomatic relations. It is becoming ever more prepared to inject itself into matters way beyond its shores. This would seem to make option three unlikely.
With option one, if it involves Beijing again being able to claim the mantle of global peacemaker following the Iran-Saudi deal, this would be quite a neat feather in Xi's cap.
The main problem with that option is the extent to which it would also benefit China.
The bleakest of options is number two, but there is a reading whereby Russia's war with Ukraine plays into Beijing's geopolitical strategy. The Kremlin is taking on the West, eating up Nato resources and, the longer the war goes on, the more it tests the appetite of the Western public for yet more conflict if the People's Liberation Army should move to take Taiwan by force.
The calculation from Beijing could be that, the longer the war continues, the fewer people are going to want to get involved in another one.
The Chinese government's claim to neutrality also does not match the state-controlled news reporting here. The evening TV bulletins run the Kremlin line and devote a huge proportion of their coverage to blaming the "the West" for the "conflict". It doesn't speak about a "war" and would never dream of referring to an "invasion" of Ukraine.
Publicly, China says the sovereignty of all nations should be respected (ie Ukraine's), but so should the "legitimate security concerns" of other countries (ie Russia).
Yet it is not Kyiv where Xi Jinping is visiting. It's Moscow.
So, when Xi leaves Moscow in a few days, Putin will either be worried about wavering Chinese support or buoyed by the backing of one of the two most powerful people on the planet.
The smart money seems to be on the latter.
Related Topics
More on this story
March 19th 2023
Ukraine war: Putin pays visit to occupied Mariupol, state media reports
By Laurence Peter & Samuel Horti
BBC News
Russian President Vladimir Putin has paid a surprise visit to Mariupol, a Ukrainian port captured by Russia after its forces pounded much of it to ruins.
An official video shows Mr Putin driving a car through streets at night and speaking to people. The Kremlin says it happened late on Saturday.
It is believed to be his first trip to a newly-occupied Ukrainian territory.
Mariupol's exiled mayor told BBC News that Mr Putin was a "criminal" who had "returned to the scene of the crime".
"He has come in person to see what he has done," Vadym Boychenko said. "He's come to see what he will be punished for."
Other exiled Ukrainian city officials said Mr Putin had visited at night so he would not see the destroyed city in daylight.
Tass news agency says he travelled to Mariupol by helicopter. In the video he is in the car with Russia's Deputy Prime Minister Marat Khusnullin, who explains how the city is being rebuilt.
The Kremlin has said the decision to drive round the city was made spontaneously by the Russian leader.
Putin also visits the city's Philharmonic Hall, which had been due to be used for trials of captured Ukrainian forces before they were released in a prisoner swap instead.
The Russian leader is also reported to have met top military commanders in Rostov-on-Don, a Russian city just east of Mariupol.
Mariupol has been under Russian occupation for more than 10 months after being devastated in one of the longest and bloodiest battles of the conflict. Ukraine says more than 20,000 people were killed there.
UN analysis estimates that 90% of the buildings were damaged and around 350,000 people were forced to leave, out of a pre-war population of about 500,000.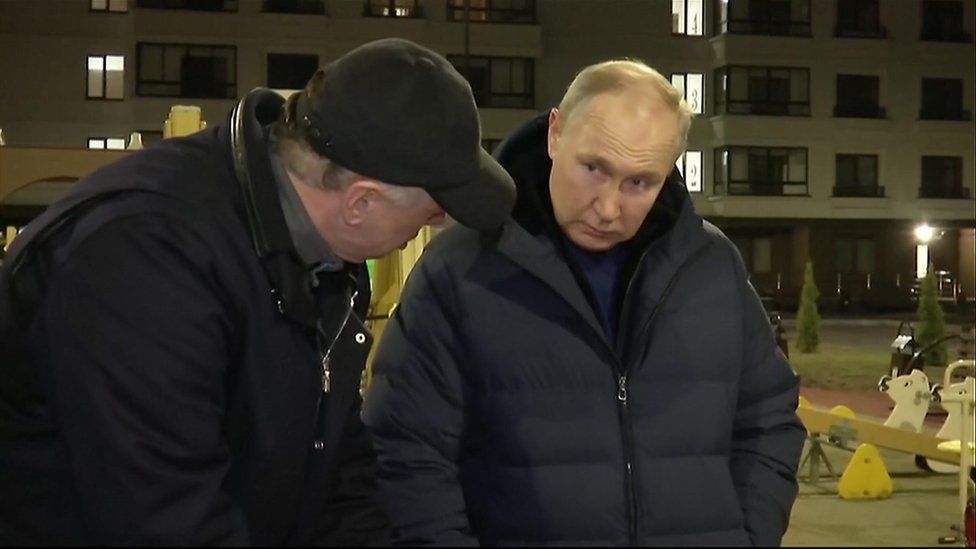 A group of locals have told the BBC that Russia is conducting an expensive campaign to rebuild the city and win over the hearts and minds of its people. The purpose is to assimilate Mariupol and make it Russia's own. Russian authorities say 300,000 people are now living there.
The fighting saw Russia strike a Mariupol theatre where hundreds of civilians were sheltering. The building collapsed, and at least 300 are believed to have died there.
Ukraine and human rights groups say the attack amounted to a war crime.
It is among incidents for which Mr Putin and his regime could be held legally responsible, the United Nations has said.
The International Criminal Court said on Friday it had issued a warrant for the arrest of Mr Putin over involving the illegal deportation of Ukrainian children to Russia. It means he could now be arrested if he sets foot in any of the court's 123 member states.
On Saturday Mr Putin made an unannounced visit to Crimea, to mark the ninth anniversary of Russia's annexation of the territory from Ukraine.
He visited a new Russian arts school, a children's summer camp and future cultural projects, such as the New Russia museum and museum of Christianity, Russian state media reported.
The Kyiv authorities have vowed to liberate all Russian-occupied territories, including Crimea, which was annexed by Russia in 2014.
Comment The Anglo U.S led NATO fat cat elite feel the pain of Crimea like a festering sore. They know their jingoistic masses won't see, let alone connect, the hideous western war crimes in Latin America , Afghanistan and Middle East,, with all the power grabbing murderous regime changing shamelessy advertised as war for democracy – as with Ukraine.
BBC is supposed to the bench mark of stromg independent media in a country that uses Google to mark and block this website as unsafe , as well as blocking my RT newsfeed. A retired U.S General has commented that Ukraine cannot defeat Russia without NATO boots on the ground – an obvious trigger for nuclear conflict. Crimea, among other things, is considered a rich source of oil deposits, so well worth World War 3. R J Cook.
March 17th 2023
Inane supercilious patronising chattering classes – have no interest in justice or human rights unless it suits the cause of their self interested vainglorious pseudo liberal leftism, R J Cook.
This is a comment on the following report from the BBC. The ICC claims to be independent but never does anything the western hideously rich elite does not tell them to do. Their hypocrisy is shuddering. When it comes to dealing with western war crimes,which are abundant, the ICC is at best pusillanimous.
If this was not the case, then George Bush Senior, George Bush Junior,Tony Blair and Ukraine's Petro Porsoshenko, and Saudi Arabia's ruling Mafia would be top of the list. It is laughable that Dominic Raab boasts that Britain will lend a hand to 'bring Putin to justice (sic ).'
I know from personal experience that the ruling elite- backed by the inane supercilious patronising chattering classes – have no interest in justice or human rights unless it suits the cause of their self interested vainglorious pseudo liberal leftism.
The proof of this pudding is there in the reality of how the Anglo U.S elite- with their military mad men and forked tongued lying politicians – jailed and abused the human rights of war crime whistle blowers Chelsea Manning and Julian Assange. Manning has been neutralised by the elite and their media. Julian Assange spent years in refuge at the London Ecuadorian Embassy before the U.S ,with Britain's blessing, financed a regime change to open the doors to heavy handed London moronic cops. He is now quietly dying in a stinking dirty British jail, awaiting extradition to face a secret Kangaroo Court in the U.S.. Britain's vile so called independent media refuse to talk about it because MI6 and wealthy media owners set the agenda.
This attack on Vladimir Putin, who was forced into this war by western treachery,treaty violation NATO expansionism so lucrative to the arms industry, and greed for Ukraine's resources and a dumping ground for the constant influx of New Europeans, worsens every day. Trumped up war crimes by the western parasites who set fire to the Middle East in 1990 ( over oil prices and control of supply, with lies about democracy) demonstrates just how far they will go to secure regime change in Russia – before moving on to China. The explosive potential of this situation is horrendous. The recent Black Sea drone incident should have been another warning but the west has some big egos in charge. They have been ignoring Putin for the last 15 years. I don't expect them to stop before it is way too late.
R J Cook
Arrest warrant issued for Putin over war crime allegations
No excuse to deport children to Russia, says ICC prosecutor
Vladimir Putin stands accused of being responsible for war crimes in Ukraine, including the unlawful deportation of children to Russia.
ICC prosecutor Karim Ahmad Khan tells the BBC's Anna Holligan that the deportation of children was inhumane and that Russia could have taken other measures to protect children – if that was its intention. The children's commissioner Maria Lvova-Belova has suggested she was helping children by evacuating them from war zones.
"If there was a danger in a particular area, move them to other parts of Ukraine where that danger was not present," he says.
"If that wasn't possible, offer to move them to third countries."
But this "accelerated process that seemed to have been implemented" by Moscow to give children a foreign nationality "is something that required attention, and this is what also gave additional impetus to the investigation", he says.
Article share tools
Share this post
Posted at 18:5718:57
We see where the evidence leads us – ICC prosecutor
More now from the prosecutor of the ICC.
Karim Ahmad Khan tells the BBC's Anna Holligan that "no proper prosecutor will start with a target, you start with the evidence and see where the evidence leads you".
It doesn't matter if you're a head of state, in the military, or someone "low in the pecking order", no impunity is allowed, he says.
"Individuals are responsible for their actions," he adds.
"This type of crime, one doesn't need to be a lawyer, one needs to be a human being to know how egregious it is," he says, on the crimes that Vladimir Putin is accused of.
Article share tools
Share this post
Posted at 18:4218:42
Law will catch up with you, says legal commentator
Sputnik/Mikhail Metzel/Pool via REUTERSCopyright: Sputnik/Mikhail Metzel/Pool via REUTERS
The ICC's arrest warrant for Putin is "to some extent symbolic" but it does "send a message", lawyer and legal commentator Joshua Rozenberg tells the BBC.
He says the message sent by the court is that Putin may be head of state today, but might not in future, and "at some point the law will catch up with you".
Rozenberg goes on to say the warrant may have a diplomatic impact on other countries that have been sitting on the fence.
He also tells the BBC that we don't know "what other arrest warrants are lined up but are sealed and haven't been published".
"The court thinks it's in the interest of justice for us to know about these particular arrest warrants," he adds.
Article share tools
Share this post
Posted at 18:3418:34
ICC prosecutor urges war criminals: Look at history
Those who feel they can "commit a crime in the daytime, and sleep well at night, should perhaps look at history".
That's the message from Karim Ahmad Khan, prosecutor of the ICC, who's spoken to the BBC's Anna Holligan.
Khan says no-one thought Slobodan Milosevic, the Serbian leader who went on trial for war crimes in Croatia, Bosnia and Kosovo, would end up in The Hague.
But he did.
So did Liberia's Charles Taylor, who was sentenced to 50 years in jail, and Rwanda's Félicien Kabuga, who was arrested in 2020.
Article share tools
Share this post
Posted at 18:2718:27
Watch: Raab vows to assist ICC with forensic and investigative support
Some more reaction to bring you from the UK government, this time from Justice Minister Dominic Raab.
He vows to assist the ICC with forensic and investigative support and says he will be meeting with counterparts from other countries in London on Monday.
Has Putin been anywhere he could now be arrested?
The ICC itself can't arrest Vladimir Putin – that's up to the countries that have signed an agreement with the court called the Rome Statute.
123 states have signed up – and Russia isn't one of them. So Putin won't be arrested or extradited from Russian territory.
But has he travelled anywhere since the war started where he could now technically be arrested?
Here's a list of his foreign trips:
June: Tajikistan, Turkmenistan
July: Iran
September: Uzbekistan
October: Kazakhstan
November: Armenia
December: Kyrgyzstan, Belarus
Of these, only Tajikistan is party to the statute
.
But it's also worth mentioning that all of the places he's been – apart from Iran – are either full or associate members of the Commonwealth of Independent States, a post-Soviet group dominated by Russia.
Article share tools
Share this post
Posted at 18:1118:11
ICC uses very specific offence to directly accuse Putin

Dominic Casciani
Legal Correspondent
The ICC has the power to charge political leaders with "waging aggressive war" – meaning an unjustified invasion not undertaken in self-defence.
But Russia is not a signatory to the court so that's not a route open to its prosecutors. Russia would also use its veto, as it has already done in relation to Ukraine
, to stop any attempts at the UN Security Council to grant the ICC new powers in relation to that offence.
So some war crime experts had been calling for world leaders to launch an Ukraine war crimes tribunal as another means of charging Russia's leaders.
They argued that no other crime but waging aggressive war could be pinned on Putin – meaning the only people who could ever theoretically face court would be his generals and foot soldiers.
But the ICC appears to have found a way around this justice gap by dusting off the very specific offence of deporting children.
The fact that Russia is not a party to the ICC still means Putin won't be extradited anytime soon but the arrest warrant could leave the president marooned in his own country – unless he wants to voluntarily surrender to The Hague.
Article share tools
Share this post
Posted at 18:0018:00
Warrants are a wake-up call – Human Rights Watch

Nada Tawfik
reporting from New York
Some reaction to bring you now from Balkees Jarrah who is the associate international justice director at Human Rights Watch.
He tells me: "This is a big day for the many victims of crimes committed by Russian forces in Ukraine since 2014.
"With these arrest warrants, the ICC has made Putin a wanted man and taken its first step to end the impunity that has emboldened perpetrators in Russia's war against Ukraine for far too long.
"The warrants send a clear message that giving orders to commit or tolerating serious crimes against civilians may lead to a prison cell in The Hague.
Quote Message: The court's warrants are a wake-up call to others committing abuses or covering them up that their day in court may be coming, regardless of their rank or position." from Balkees Jarrah

The court's warrants are a wake-up call to others committing abuses or covering them up that their day in court may be coming, regardless of their rank or position."Balkees Jarrah
What does the International Criminal Court do?
ICCCopyright: ICC
The International Criminal Court in The Hague has been part of the global justice system since 2002, but its concentration on African issues has led to accusations of bias.
The Rome Statute which established the court has been ratified by 123 countries, but the US is a notable absence, along with China, India and Russia.
What is the court designed to do?
To prosecute and bring to justice those responsible for the worst crimes – genocide, crimes against humanity, and war crimes. The court has global jurisdiction.
It is a court of last resort, intervening only when national authorities cannot or will not prosecute.
Summary
The International Criminal Court issues an arrest warrant for Russian President Vladimir Putin for alleged war crimes in Ukraine
The court accuses him of being responsible for forcibly deporting children from Ukraine to Russia after the invasion last year
ICC Prosecutor Karim Khan says children "can't be treated as spoils of war" and that it's possible Putin could stand trial
Russia, which does not recognise the ICC's jurisdiction, denies its forces have committed atrocities in Ukraine
Putin's spokesman called the decision "outrageous and unacceptable" while Ukrainian President Volodymyr Zelensky hailed it as "historic"
A warrant has also been issued for Russia's commissioner for children's rights
BBC Analysis
Frank Gardner
BBC News, Security Correspondent
So are we about to see a penitent Vladimir Putin sitting in the dock in The Hague?
Not a chance, much as Ukraine and its friends would relish that.
Russia, like the US, is not a party to the ICC, which can only prosecute those held in countries in its jurisdiction.
Under present conditions it is unimaginable that Russia would hand over either its president or his Commissioner for Children's Rights to face justice.
But legally, this move still presents Putin with a problem.
He may be the head of a G20 state and about to shake hands with another world leader, China's Xi Jinping, but he is now a wanted man and this will inevitably place restrictions on which countries he now visits.
March 14th 2023
Aukus deal: Summit was projection of power and collaborative intent.
Related Topics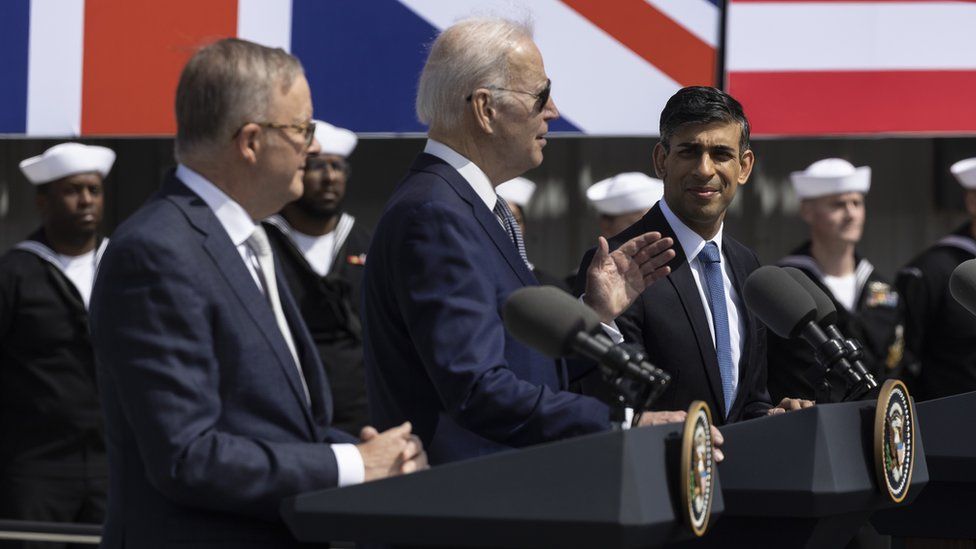 By Chris Mason
political editor, travelling with prime minister
This was a projection of power and collaborative intent in images and words.
Under warm early spring sunshine the message was clear.
The imagery and words working in unison: old democracies coming together to counter a new and growing adversary – China.
The submarines deal will create thousands of jobs in Barrow-in-Furness in Cumbria, in Derby and elsewhere.
And while any political agreement can be unpicked by successors, the budgets, decades-long timelines and near inevitability of China's strategic importance suggest this is an alliance that could last.
The trip rounds off an intense blast of international diplomacy for Rishi Sunak, after Friday's dash to Paris.
The prime minister's team appear happy with how it went, although being described in public by US President Joe Biden as a man who "has a home here in California" is not an element of his biography they would seek to put up in lights.
He faced questions too on this trip – not least from me – about a story in The Guardian he doesn't deny, that the electricity grid in his corner of North Yorkshire had to be upgraded, at his own expense, to provide the power needed to heat his private swimming pool.
There is no suggestion of any scandal. It is, instead, a further illustration of his vast wealth. It is for you to decide whether this matters one iota, or not.
Some of his political opponents seek to use it to suggest a detachment from the day-to-day worries of millions of families. Others are squeamish about sounding envious or anti-aspiration.
This trip also taught us about some future moments to look ahead to. One firmly in the diary. The other almost firmly in the diary.
"It's my intention to go to Northern Ireland and the [Irish] Republic", said President Biden, referring to the 25th anniversary of the Good Friday Agreement in April.
It's thought he will formally confirm his plans on St Patrick's Day, when many of Northern Ireland's politicians will be in Washington.
And talking of Washington, the prime minister will head there in June.
This trip to California was Rishi Sunak's first to the US as prime minister, but its focus was narrow, on defence. The aim of the visit in the summer would be to discuss a far wider range of issues.
Now, as I type these words on the flight back from San Diego, attention turns back to the domestic fray – and Wednesday's Budget.
Related Topics
More on this story
March 13th 2023
In A Few Years, The Russian Army Could Run Out Of Tanks. What Happens Then?
It's a matter of intensive debate just how many recoverable tanks Russia has in storage. Novaya Gazeta estimated there are 8,000 "preserved" tanks. But one open-source analyst counted 10,000 T-72s, T-80 and T-90s in the war reserve.17 Feb 2023
Forbes Staff
I write about ships, planes, tanks, drones, missiles and satellites.
Feb 17, 2023,04:12pm EST
Two or three years. That's how long the Russian army might have before it runs out of tanks, according to one estimate.
And that's why it's not inconceivable that, in the near future, Moscow might do what Kyiv has done—and ask its foreign allies for their tanks.
Russia widened its war in Ukraine with a front-line force of around 2,500 T-90, T-80 and T-72 tanks. In a year of hard fighting, it has lost no fewer than 1,600 of them.
The Kremlin has ordered tank-makers Uralvagonzavod and Omsktransmash to make good those losses, but there are limits to what they can accomplish.
The companies at present lack the capacity and components for large-scale production of new tanks. And there are only so many old tanks in long-term storage that the firms economically can recover and restore for front-line use.
Uralvagonzavod in Sverdlovsk Oblast, in southeast Russia, builds new T-72B3 and T-90M tanks, but slowly. According to Novaya Gazeta, the Russian defense industry currently produces no more than 250 new tanks a year.
But at the present rate of loss, just maintaining the armor corps' fighting strength requires Russia annually to come up with 1,600 tanks. Barring a once-in-a-generation expansion of Russia's industrial capacity, production constraints mean 1,350 of those "new" tanks must come from reserve stocks.
It's a matter of intensive debate just how many recoverable tanks Russia has in storage. Novaya Gazeta estimated there are 8,000 "preserved" tanks. But one open-source analyst counted 10,000 T-72s, T-80 and T-90s in the war reserve.
The problem is, most of those tanks are lined up tread-to-tread in outdoor parks, where they've been exposed to rain and cycles of cold and hot that have rusted metal, rotted rubber and degraded sensitive optics.
The open-source analyst assumed just a third of the 6,900 stored T-72s are recoverable. Maybe half the 3,000 T-80s realistically can be restored. There also are a couple hundred new-ish T-90s in storage, most of which should be in reasonably good condition.
So in fact, Russia might have as few as 3,800 repairable tanks in reserve. A Russian source told Novaya Gazeta that Uralvagonzavod and Siberia-based Omsktransmash can restore 600 old tanks a year on top of the 250 new T-72s and T-90s Uralvagonzavod can build.
Do the math. Russia went to war with 2,500 tanks, lost 1,600 in the first year and, over the same span of time, might have built or repaired around 850.
Russian industry in the last year or so also patched up a few hundred 1970s-vintage T-62s, but these tanks clearly were an expedient—and have made exactly one notable contribution to the war effort: providing Ukraine with captured hulls its technicians can modify into engineering vehicles.
The gap, between Russian tank losses and the production or restoration of fresh tanks, isn't insurmountable. The less effort Uralvagonzavod and Omsktransmash put into "upgrading" an old war-reserve tank, the faster they can provide that same tank to a front-line brigade.
Standards visibly are slipping. Just a couple of years ago, Russian industry equipped new tanks with the latest Sosna-U digital day-night sight—a reasonably modern set of optics that should allow a tank crew to identify an enemy vehicle from two or three miles away under the right conditions.
But the Sosna-U appears to include cloned or illegally-sourced European components. It's a bottleneck in Russian tank production. Nearly-complete tanks could wait around for years for production of sights to catch up to production of hulls.
So Uralvagonzavod and Omsktransmash have begin delivering reconditioned, war-reserve T-72s and T-80s with the low-tech 1PN96MT-02 analog thermal sight substituting for the Sosna-U.
The 1PN96MT-02 would have been state-of-the-art … in the 1970s. Compared to the Sosna-U, it cuts in half the range at which a tank crew can identify an enemy vehicle.
Uralvagonzavod and Omsktransmash could speed up tank deliveries in order to keep pace with losses—but at a capability cost, and not for long. As the companies recover from storage the last intact T-72 and T-80 hulls, Russia could have just four options. None of them good.
It could dip back into its stocks of 50-year-old T-62s. But T-62s tend to get captured or destroyed nearly as fast as they arrive at the front, so the museum-quality tank is less a solution to Russia's tank problem than the appearance of a solution.
Alternatively, the Kremlin could invest billions of dollars in a risky bid to expand new tank production.
But every dollar the government spends on Uralvagonzavod and Omsktransmash is a dollar it can't spend on, say, artillery shells, cruise missiles or fighter jets. Russia's military needs are wide-ranging and deepening as the war grinds on. Tanks aren't the only priority.
There's a theoretical third option—one that has been inconceivable in Russia since the darkest days of World War II. Russia could import tanks the same way it now imports drones, shells and rockets. It just so happens that North Korea and Iran both produce heavily-modified versions of the T-72.
The fourth option of course is to de-armor the army—and equip fewer brigades with fewer tanks. But that would require the Kremlin to rewrite decades-old doctrine so that its suddenly tank-less forces have some guide for how to fight.
It's worth pointing out, however, that doctrinal flexibility isn't exactly a Russian strength. If intellectual reform is the alternative, a Russian general might prefer to send his troops into battle in North Korean tanks.
Comment This is typical patronising western propoganda. NATO planned this proxy war on Russia with Poroshenko et al in 2008. If their docile ignorant football obsessed masses had any idea of what war in Ukraine is about,what it is doing and leading to, they would go mad. R J Cook
How the search for Iraq's secret weapons fell apart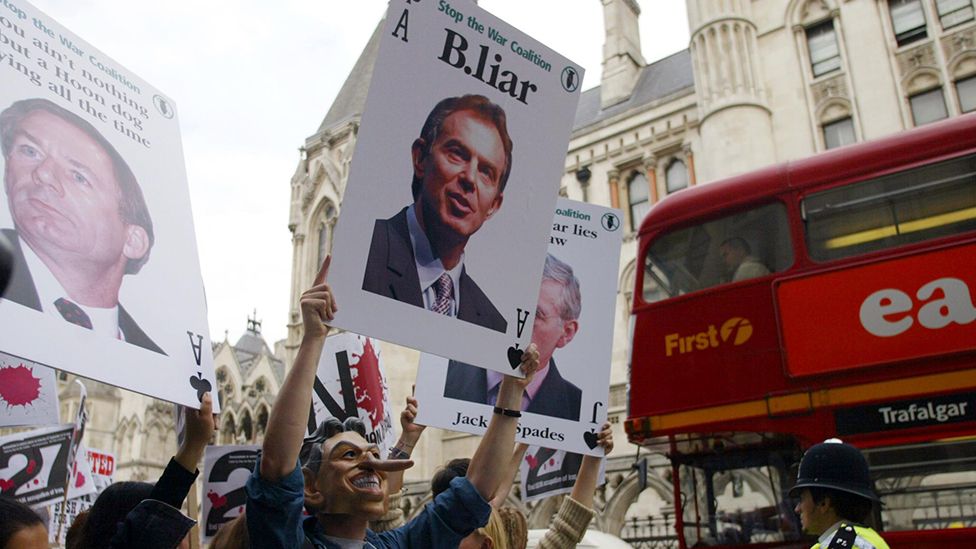 By Gordon Corera
Security correspondent, BBC News
Twenty years after the invasion of Iraq, controversy still rages over the existence of the "weapons of mass destruction" (WMDs) which provided the UK's justification for taking part. New details about the search for WMDs have emerged as part of a BBC series, Shock and War: Iraq 20 years on, based on conversations with dozens of people directly involved.
"Crikey." That was the one-word reaction from a senior MI6 officer when told by a colleague in late 2001 that the Americans were serious about war in Iraq.
CIA officers also recall the shock of British counterparts. "I thought they would have a heart attack right there at the table," recalls Luis Rueda, head of the CIA's Iraq Operations Group. "If they weren't gentlemen, they would have reached across the table and slapped me."
The message soon reached Downing Street. It would be spies rather than diplomats who would deliver it.
"I was probably the first to say to the prime minister, 'Whether you like it or not, get your ducks in a row because it looks as though they're building up to an invasion," the then-head of MI6, Sir Richard Dearlove, and a frequent visitor to Washington, tells the BBC in a rare interview.
MI6 – the UK's foreign intelligence service – was about to become deeply embroiled in one of the most controversial and consequential episodes in its history.
For the US, the issue of weapons of mass destruction (WMDs), were secondary to a deeper drive to overthrow the Iraqi leader, Saddam Hussein. "We would have invaded Iraq if Saddam Hussein had a rubber band and a paperclip," says Mr Rueda. "We would have said, 'Oh, he will take your eye out.'"
Ukraine war: Heavy losses reported as battle for Bakhmut rages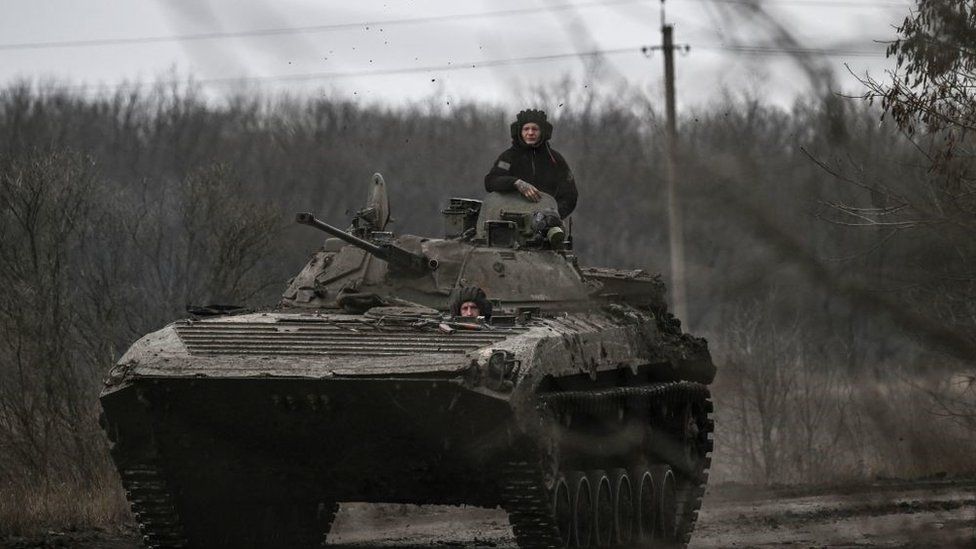 By George Wright
BBC News
Ukraine and Russia have reported inflicting heavy losses as the battle for Bakhmut rages on.
Moscow has been trying to take the eastern Ukrainian city for months in a grinding war of attrition.
Ukrainian President Volodymyr Zelensky said Russian forces had suffered more than 1,100 deaths in the past few days, with many more seriously injured.
Russia said it had killed more than 220 Ukrainian service members over the past 24 hours.
The BBC is unable to verify the numbers given by either side.
Analysts say Bakhmut has little strategic value, but has become a focal point for Russian commanders who have struggled to deliver any positive news to the Kremlin.
Capture of the city would bring Russia slightly closer to its goal of controlling the whole of Donetsk region, one of four regions in eastern and southern Ukraine annexed by Russia last September following referendums widely condemned outside Russia as a sham.
"In less than a week, starting from 6 March, we managed to kill more than 1,100 enemy soldiers in the Bakhmut sector alone, Russia's irreversible loss, right there, near Bakhmut," Mr Zelensky said in his nightly video address.
He added that 1,500 Russian soldiers were wounded badly enough to keep them out of further action.
Russia's defence ministry said Russian forces had killed "more than 220 Ukrainian servicemen".
The commander of Ukraine's ground forces, Col Gen Oleksandr Syrskyi, said the Russian mercenary Wagner Group was attacking his troops from several directions in a bid to break through defences and advance to the central districts of the town.
The paramilitary organisation is at the heart of the Russian assault on Bakhmut. Its leader, Yevgeny Prigozhin, has staked his reputation, and that of his private army, on seizing Bakhmut.
He said on Sunday that the situation in the city was "difficult, very difficult, the enemy is fighting for every metre".
"And the closer to the city centre, the fiercer the fighting," he said in a voice recording published on Telegram.
After his envisioned capture of Bakhmut, "we will begin to reboot" and "will start recruiting new people from the regions", he said.
And on Saturday, the Institute for the Study of War – a US think tank – reported that Moscow's offence was stalling.
"Wagner Group fighters are likely becoming increasingly pinned in urban areas… and are therefore finding it difficult to make significant advances," it said.
There were about 70,000 people living in Bakhmut before the invasion, but only a few thousand remain. The city was once best known for its salt and gypsum mines and huge winery.
Like Russia, Ukraine has also given Bakhmut political significance, with President Zelensky making the city an emblem of resistance.
When he visited Washington in December, he called it "the fortress of our morale" and gave a Bakhmut flag to the US Congress.
Western officials estimate between 20,000 and 30,000 Russian troops have been killed or injured so far in and around Bakhmut.
March 12th 2023
The toxic legacy of the Ukraine war
It has been one year since the Russian Federation's invasion of Ukraine. The war has killed tens of thousands of people, displaced millions and caused widespread environmental damage. A preliminary monitoring of the conflict in Ukraine undertaken last year by the UN Environment Programme (UNEP) and partners points to a toxic legacy for generations to come.
The full range and severity of consequences will require verification and assessment, although thousands of possible incidents of air, water and land pollution and the degradation of ecosystems, including risks to neighbouring countries, have already been identified.
UNEP, the environment authority within the UN system, is supporting the Government of Ukraine on remote environmental impact monitoring and is preparing to undertake field-level impact assessments – expected to be a colossal task given the scale and geographical spread of reported incidents.
Support to disaster- and conflict-affected Member States and regions is core to UNEP's mandate of delivering technical assistance and environmental governance support that keeps the state of the world's environment under constant review.
Over the past twenty years, UNEP has conducted multiple conflict-related impact assessments, including in Afghanistan, Colombia, DR Congo, Kosovo and the Western Balkans, Iraq, Lebanon, the occupied Palestinian territories, Somalia, South Sudan and Sudan.
The organization conducted an initial scoping visit to Ukraine in 2022, in support of the UN Resident Coordinator and at the request of Ukrainian authorities and is mobilizing more support to help assess the broad range of environmental impacts.
"The mapping and initial screening of environmental hazards only serves to confirm that war is quite literally toxic," said UNEP Executive Director Inger Andersen. "The first priority is for this senseless destruction to end now. The environment is about people: it's about livelihoods, public health, clean air and water, and basic food systems. It's about a safe future for Ukrainians and their neighbours, and further damage must not be done."
"Ukraine will then need huge international support to assess, mitigate and remediate the damage across the country, and alleviate risks to the wider region," she added.
"Millions of displaced Ukrainians need a safe and healthy environment to come home to if they are expected to be able to pick up their lives. As soon as the fighting ends, and it must end soon, a colossal clean-up operation must be supported," said Lubrani, the UN's Resident Coordinator in Ukraine.
According to UNEP and partner data, the conflict has seen damage across many regions of the country, with incidents at nuclear power plants and facilities, energy infrastructure, including oil storage tankers, oil refineries, drilling platforms and gas facilities and distribution pipelines, mines and industrial sites and agro-processing facilities.
The result has been multiple air pollution incidents and potentially serious contamination of ground and surface waters.
Water infrastructure, including pumping stations, purification plants and sewage facilities, has also suffered significant damage, and multiple industrial facilities, warehouses and factories have been damaged, some storing a range of hazardous substances ranging from solvents to ammonia and plastics.
Hazardous substances have also been released from explosions in agro-industrial storage facilities, including fertilizer and nitric acid plants. There are also reports of the targeting of several large livestock farms, where livestock carcasses pose a further public health risk.
In many urban areas the clean-up of destroyed housing will bring its own challenges, with debris likely to be mixed with hazardous materials, particularly asbestos. Satellite imagery has also shown a significant increase of fires in various nature reserves and protected areas, as well as forested areas.
Furthermore, pollution from the extensive use of weapons including in populated areas and the large volumes of military waste, including destroyed military vehicles, creates a major clean-up challenge.
March 11th 2023
If I Was A Patriot – by R.J Cook
Watching England's Rugby UnionTeam beaten at home by France 53 to 10 was a pleasure.One hopes for a similar disaster against France. A male friend recently asked me if I was a patriot. I said I would be if I could find anything about England, or Britain for that matter, to be patriotic about.
I recall, as a deluded youth, joining the Air Training Corps, sort of RAF kindergarten. We paraded, did rifle drill and had flying lessons in Chipmunk trainers. I read comics and watched 1950s films where the images were as black and white as the messages about Britain's righteous wartime heroics..
Britain has always excelled at propogada which is why they are cheer leaders for the proxy war on Russia in the name of Porsoshenko's super corrupt Ukraine – a perfect mate for Britain. The cost of supporting this war is presented to the gullible masses as a cost of living crisis.
Britain's elite, in bred with their upstart better organised German rival Imperial elite, wanted European war in 1914, playing French 'revanche' for 1870-1 to get it. In the process they got the 1917 Russian Revolution and have feared Russia ever since. That is why they conspired to assassinate intellectual Lenin and have him replaced by brutal moron Stalin. The object of the exercise was to discredit communism.
While the global rich retrenched during the inter war years, Karl Marx's 'spectre of communism haunting Europe' loomed large, even scaring the United States' fat cats. Hitler and the Nazis were seen as a bulwark aganst communism until it became clear that Hitler and company believed their own lies. Hitler deceived Russia while expecting an alliance with fellow U.K Fascists.
The rest is history as they say ,so here we are again, the British elite and the U.S playing the vain EU megolomanacs and NATO war mongers. Still one hopes that France and Germany will see the danger before it is too late.
State Asset stripper Petro Porsoshenko,Ukraine's fifth post Soviet President ,2014 -19, has admitted lying on NATO's behalf about Ukraine neutrality ,with the 2008 Minsk Treaty to buy time for an arms build up,leading to lucrative NATO and EU membership. Meanwhile the U.K's MI6 had been busy buying traitors like Skirpal to subvert Russia's last vestiges of national identity, cultural independence and socialism.
Ukraine has to be opened up to global capitalism, and living space for African migrants. The current massive war damage is a bonus for U.S dominated construction companies. It makes a mockery of pandering to climate change. Recent strange summer and winter should ring alarm bells.
So what has this to do with the rugby ? Shutting Russia out of international sport on the grounds of drug abuse when all seriously competitive nations including U.K do this, was crucial to making Russia look evil and corrupt. Sport is religion and religion has always been politics as with Judaism, the Roman perversion of Christianity and the Muslim rip off of the bible -or offshoot if you want to be polite.
Since the U.K are the leading war mongers and U.S front men over Ukraine, an England rugby defeat of France would have been used to pump up its' media and politicians into even more strident lunacy leading us off the cliff. The type of English public school boys and girls of Mi6 don't see that the Russian viewpoint is wider than aged Putin's – and Russia is much bigger than Moscow. Russia is not Iraq. Russia is not alone. The U.K should be because it is run by very dangerous spoiled greedy self obsessed hedonistic hypocritical amoral conceited arrogant morons whose only interest in Europe is what they can get out of it.
With all of this in mind and what corrupt police state Britain has done to my son and I, there is no reason for me to be a patriot or to salute the hypocrit adulterer King Charles III ,who famously expressed a desire to be the TAMPAX of his fomer lover, now wife ,Queen Consort and champion of oppressed women everywhere. R J Cook
March 10th 2023
Feds: Proud Boys deployed foot soldiers in sedition plot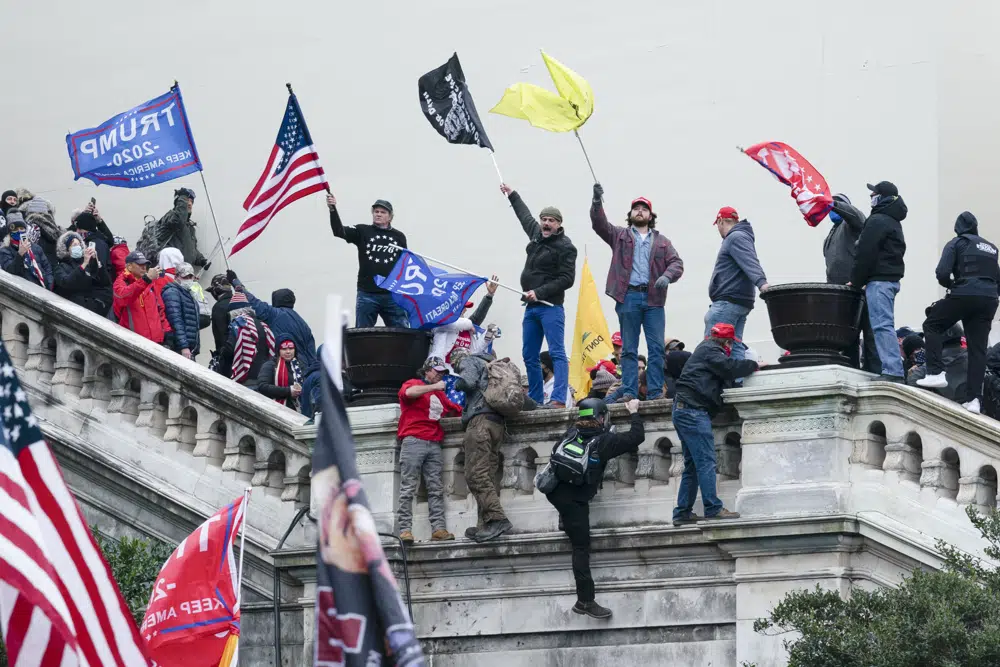 FILE – Rioters wave flags on the West Front of the U.S. Capitol in Washington on Jan. 6, 2021. Federal prosecutors are employing an unusual strategy to prove leaders of the far-right Proud Boys extremist group orchestrated a violent plot to keep President Joe Biden out of the White House, even though some of the defendants didn't carry out the violence themselves. AP Photo/Jose Luis Magana, File)
WASHINGTON (AP) — Federal prosecutors are employing an unusual strategy to prove leaders of the far-right Proud Boys extremist group orchestrated a violent plot to keep President Joe Biden out of the White House, even though some of the defendants didn't carry out the violence themselves.
As they wrap up their seditious conspiracy case, prosecutors are arguing that Proud Boys chief Enrique Tarrio and other leaders of the group handpicked and mobilized a loyal group of foot soldiers — or "tools" — to supply the force necessary to carry out their plot to stop the transfer of power from Donald Trump to President Joe Biden after the 2020 election.
These "tools" helped Proud Boys leaders overwhelm police, breach barricades, force the evacuation of the House and Senate chambers and disrupt the certification of Biden's victory, prosecutors allege.
Defense attorneys have dismissed the "tools" theory as a novel, flawed concept with no legal foundation. They argue that the Justice Department is trying to unfairly hold their clients responsible for the violent actions of others in the crowd of Trump supporters. Tarrio, for example, wasn't even in Washington on Jan. 6.
ADVERTISEMENT
The seditious conspiracy trial, which started nearly two months ago, is one of the most serious cases to emerge from the Jan. 6 attack on the Capitol and comes as some conservatives continue to try to downplay the riot and push false narratives about what happened that day. Tarrio, who led the neofacist group as it became a force in mainstream Republican circles, is among the highest-profile defendants to stand trial yet and could face up to 20 years in prison if convicted of seditious conspiracy.
March 9th 2023
Balance Of Power According To Bloomberg
Ukraine war: Russian air strikes hit cities across country
Related Topics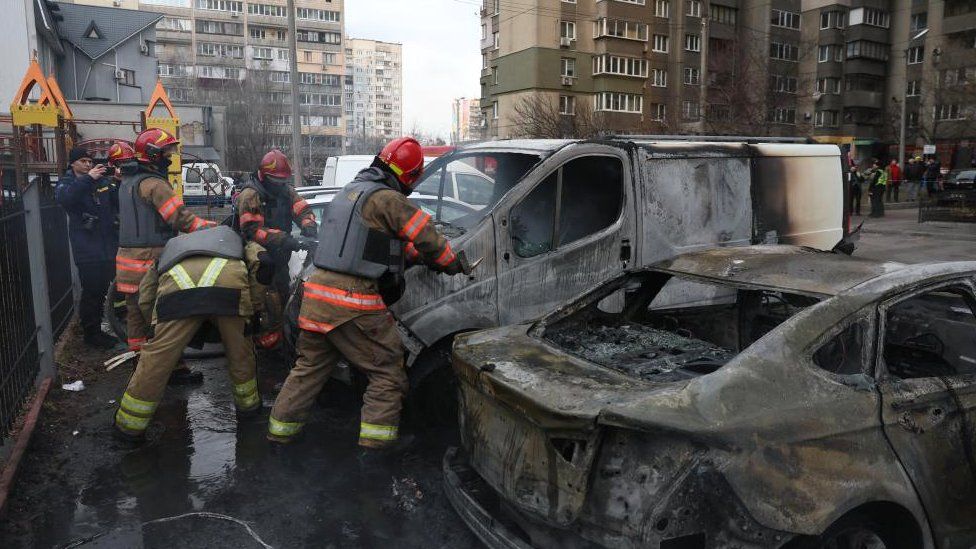 By Emily McGarvey & Marita Moloney
BBC News
Russia has launched missiles at targets across Ukraine, from Kharkiv in the north to Odesa in the south and Zhytomyr in the west.
Buildings and infrastructure were hit in Kharkiv and Odesa, with power blackouts in several areas. Attacks on the capital Kyiv are also reported.
The electrical power supply at the Russian-controlled Zaporizhzhia nuclear power plant has also been lost.
It comes as bitter fighting continues for the eastern city of Bakhmut.
Emergency services in Kyiv are at the scenes of blasts in western and southern districts of the capital where the mayor, Vitaly Klitschko, said explosions had taken place.
Mr Klitschko said cars were burning in the courtyard of one residential building and he urged people to stay in shelters.
A mass missile attack struck an energy facility in the port city of Odesa, triggering power cuts, its governor Maksym Marchenko said. Residential areas were also hit but no casualties were reported, he added.
"About 15" strikes hit Kharkiv city and region, with "critical infrastructure facilities" and a residential building targeted, regional administration chief Oleg Synegubov said.
In western Ukraine, at least four people were killed in Lviv after a rocket hit their home, the region's governor Maksym Kozytskyi said on Telegram.
One person has died and two others were injured following drone and missile strikes in the Dnipropetrovsk region, according to governor Serhii Lysak.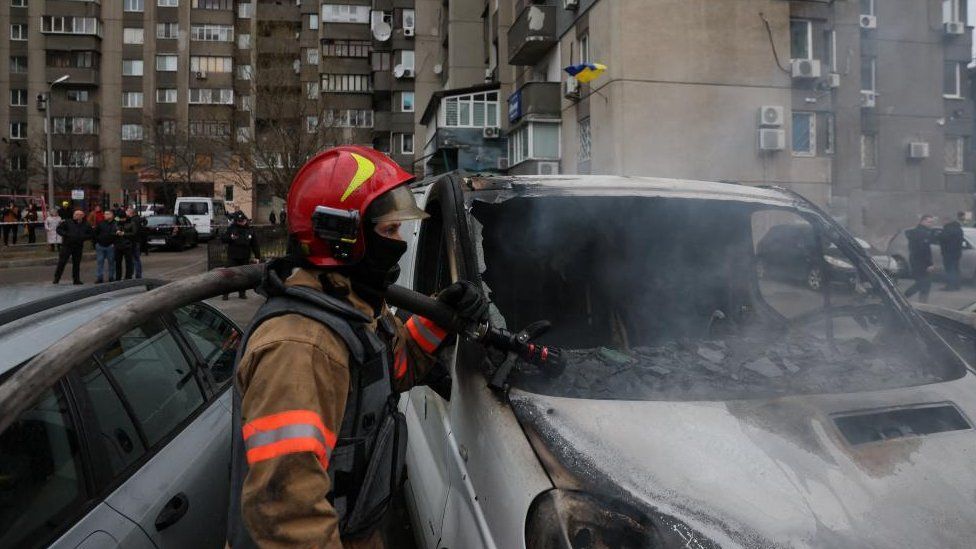 Nuclear energy operator Energoatom said a strike at the Zaporizhzhia plant, which is Europe's largest, meant the "last link" between the facility and the Ukrainian power system was cut off.
Russia-installed officials in the Moscow-controlled part of Ukraine's Zaporizhzhia region said the halt in electricity supplies to the power station from Ukrainian-held territory was "a provocation".
Other regions hit include Vynnytsia and Rivne in the west, and Dnipro and Poltava in the centre of the country.
The attacks mark the biggest day of Russian missile strikes on Ukraine since the end of January, when 11 people died after dozens of buildings were struck in several regions.
Russian President Vladimir Putin launched his invasion just over a year ago. Since then tens of thousands of combatants and civilians have been killed or injured and millions of Ukrainians became refugees.
The US Director of National Intelligence, Avril Haines, suggested on Wednesday that President Putin might be planning to drag out the war for years but that Russia was not strong enough to launch major new offensives this year.
She said the war in Ukraine had become a "grinding attritional war in which neither side has a definitive military advantage".
"We do not foresee the Russian military recovering enough this year to make major territorial gains, but Putin most likely calculates the time works in his favour, and that prolonging the war including with potential pauses in the fighting may be his best remaining pathway to eventually securing Russia's strategic interests in Ukraine, even if it takes years," she said.
Ms Haines said Russia might turn to defending the territories it now occupies, adding that it would need additional "mandatory mobilization and third-party ammunition sources" to sustain even its level of operations in Ukraine.
Read More https://www.bbc.co.uk/news/world-europe-64897888
March 8th 2023
March 7th 2023
Asylum requests soared in the EU last year. Applications neared 1 million, a level that hasn't been recorded since the 2015 migrant crisis.
Police Computer Hacking Powers and Civil Liberties
By: Garry Crystal – Updated: 8 Jan 2021|

*Discuss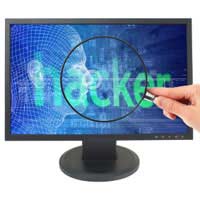 The view that Britain has become a surveillance society has been reinforced by the computer hacking powers granted to the police. The police are now able to hack into personal computers without the need for a court warrant.
Police Powers and Remote Searching
The UK police has now been given the power to hack into private computers without the need for permission from the courts. This new power utilises remote searching to access personal computers and obtain private information. Civil liberty groups are calling these new powers a breach of privacy rights. The new police hacking powers have been quietly rolled out across Britain without much publicity. The police claim that this type of surveillance is a necessity when it comes to tracking criminal activity on the internet.
Diversity of Police Hacking Powers
There are a number of ways that the police can hack into a personal computer without the user's knowledge. Remote searching means that the police can hack into the user's computer from another location. This is achieved by sending a virus to the suspect's computer in an email. The police would then be able to view the suspects emails and browsing habits. Key logging is another form of hacking that sends back details of each keyboard key used by the suspect and can be used to obtain passwords. Wireless networking can be used to hack into a suspect's computer and monitor their online activities and search hard drives.
Police Computer Hacking and Court Warrants
Civil liberties groups such as Liberty are claiming that this type of police power should be backed up by a court warrant. Police do not need a court warrant to hack into a member of the public's personal computer. The only permission that is required is the approval of a Chief Constable. The Chief Constable must be satisfied that the act of hacking into a personal computer is in proportion with the crime that is being investigated. According to Liberty, the act of police computer hacking is no different from breaking into someone's home and taking private information without a warrant.
UK Personal Computer Information Accessed Across Europe
The information obtained by the police through computer hacking will not just be limited to the UK. The European Union has now been given the power to request this information from UK police. Police authorities in EU countries can now request that UK police hack into certain computers to obtain information. This information will then be passed back to the police in countries in the
European Union. This can all happen without the knowledge of the computer user.
The Many Ways the Public can Be Tracked
The police power to hack personal computers is just one more addition to the list of the ways in which the UK public are constantly monitored and tracked. Common surveillance and tracking of UK residents include:
CCTV in the UK; the public make 300 appearances each day on closed-circuit television cameras
Registration plate recognition cameras can track vehicles across the UK
Landline telephones and mobile phone tapping and call list details
Credit card transactions can be used to monitor shopping habits and account holder locations
New UK passports with biometric details
Anyone arrested for a recordable offence can be made to give DNA samples to the police
Electoral role and NHS records can be used for location and personal details
Personal computer cookies that monitor and collect data on a user's web browsing habits
The UK has arguably become a surveillance society with decreasing privacy rights. British residents are under constant surveillance the minute they leave their homes. There are over four million CCTV cameras in the UK alone; that is one camera for every 14 people. The monitoring of work rates, communication methods and travel is constantly increasing. Simply going on holiday abroad can mean full body scans in UK airports. With the police now able to hack into the public's personal computers it looks like this is one more step to complete UK citizen surveillance by the government.
Consequences for Refusing a Full Airport Body Scan
By: Garry Crystal – Updated: 28 May 2020|

*Discuss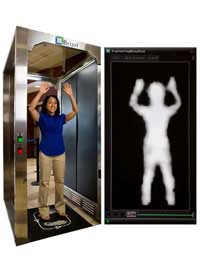 Full body scans used at UK airports have been criticised by civil liberties groups for breaching privacy rights. But this has not stopped the authorities from enforcing consequences such as banning passengers from flights if they refuse a full body scan.
Full Body Scanners and Safer Flights
Full body scanners have been in use in some UK airports since the summer of 2010. These devices are aimed at improving security on flights and designed as an anti terrorism measure. These scanners were introduced after a failed bomb attempt on a transatlantic flight on Christmas day 2009. The body scanners are being rolled out at major airports across the UK and are already in place in Heathrow, Manchester and Birmingham. Many people simply view body scanners as necessary security measure but civil liberties groups do claim they are an infringement of privacy rights.
The Public's View of Full Body Scanners
Many passengers believe that if they have nothing to hide they have nothing to be concerned about. But the first passengers to use the scanner did have mixed reactions with some claiming that the scan felt incredibly intrusive. The biggest misconception, according to airport security staff, is that the scanners will show passengers naked. According to security employees this is not the case, although photographs of the images taken from the body scanners are extremely revealing. The images taken from the full body scans are deleted as soon as the scan has been undertaken.
Alternatives to a Full Body Scan
People who do refuse to allow a full body scan in the UK do not have an alternative. In the US, passengers can refuse a full body scan and have the right to request a full body pat down by security officials instead. This is not the case in the UK as the government decided that full body pat downs would not offer the same search efficiency. Not everyone will be chosen to undergo a full body scan at airports. The selection process is random but passengers who are chosen for a full body scan and refuse to comply will not be permitted to fly.
Extra Security Measures taken at Airports
Undergoing a full body scan at airports may not actually be the end of the airport security checks. If for some reason the scanner cannot make a full assessment of the passenger then a strip search may be necessary. Passengers will then be required to enter a private area where they will be asked to explain any abnormalities. If security officials are still not satisfied the passenger may be required to remove layers of clothing until the security officials are satisfied. Passengers do have the right for a body search to be made by members of the same sex.
Consequences of Refusing a Full Body Scan
Anyone who is chosen for a full body scan at a UK airport and refuses will be banned from the intended flight. There is no alternative method of security search available to passengers. This consequence extends to every age group, and the exemption for under 18s that was in place has now been removed. Civil liberties groups are critical of this infringement of rights especially since no alternative to the full scan has been set in place. Members of the public who have refused the scan on religious grounds have been banned from flying.
Airport Full Body Scan Code of Practice
A code of practice has been drawn up by the Department of Transport on the use of full body scanners. Rules for the use of the scanners include:
Body scanner operators and passengers are separated by a screen
The images are anonymous and are destroyed after the screening
Passengers are chosen to be scanned at random
Passengers cannot be selected for scanning on the basis of race, ethnic origin, age or gender
Passengers have the right to request that they are scanned by members of the same sex
Although there has been an outcry from civil liberties groups the airport full body scanners are set to stay in the UK. Passengers have a choice if they are selected for screening, and that choice is comply with the screening or be banned from flights.
Can police hack your WIFI?
Your digital communications are stored across a variety of locations, including on locally on your device, on a service provider's systems or by your network provider. The police can gain access to your data through mobile phone extraction, device hacking, cloud extraction or social media intelligence.
Read More https://www.civilrightsmovement.co.uk/police-computer-hacking-powers-civil-liberties.html
'Something Was Badly Wrong': When Washington Realized Russia Was Actually Invading Ukraine
A first-ever oral history of how top U.S. and Western officials saw the warning signs of a European land war, their frantic attempts to stop it — and the moment Putin actually crossed the border.
Illustrations by Nazario Graziano for POLITICO; Photos by AP, Getty Images, iStock
By Erin Banco, Garrett M. Graff, Lara Seligman, Nahal Toosi and Alexander Ward
This oral history was compiled and woven together by writer and historian Garrett M. Graff,based on dozens of hours of interviews by POLITICO national security reporters Erin Banco, Lara Seligman, Nahal Toosiand Alexander Wardwith more than 30 key figures of the U.S. government and Western allied response. (Additional interviews were contributed by Jack Blanchard, Graff and Maggie Miller.)
The Russian invasion of Ukraine exactly a year ago was as shocking as it was clearly foreseen. The merciless bombardment of Ukrainian cities, the hundreds of thousands of troops and scores of tanks that rumbled across the border on Feb. 24, 2022, followed months of rising tension and concern, and provided perhaps the biggest foreign policy test yet for the Biden administration.
For nearly a year prior, U.S. and Western officials had signs of what was coming: a suspicious buildup of Russian troops, intelligence about the Kremlin's plans, statements from President Vladimir Putin himself. Those officials raised increasingly specific public alarms, some of which were based on a novel new strategy of rapidly declassifying and publicizing intelligence in near real-time, and made desperate attempts to avert a war, even as it became more and more clear that Putin was determined to invade.
The events in eastern Europe in 2021 and 2022, coming just as the world emerged from the Covid-19 pandemic, also unfolded against a fraught geopolitical backdrop: In 2014, Russia had already seized Crimea from Ukraine, and fighting by Russia's irregular, unmarked troops, known as "little green men," had destabilized eastern Ukraine and led to a long-running, low-level war that had continued ever since. Meanwhile, during the summer of 2021, the United States faced its own challenge: a chaotic and controversial end to its nearly 20-year war in Afghanistan.
This is the story of the Biden administration's strategy and reaction to that looming Russian invasion — the battle to persuade skeptics and rally foreign allies to confront an almost-unthinkable threat, one that continues to shake the world today. All titles and military ranks are presented based on roles the speakers held in February 2022, and interviews have been condensed and edited for clarity.
I. The Buildup on the Border
'Something Was Badly Wrong'
Spring – Fall 2021
Lt. Gen. Scott Berrier, director, Defense Intelligence Agency: DIA is supposed to be the master sense-makers of militaries around the world — how they're organized, trained, equipped, where they are, why they fight, when they would fight, what their doctrine is and what their leaders are all about. I've been thinking about the Russians for a very long time. The national defense strategy said, "Hey, the pacing threat is China, but Russia is this acute threat out there." I always had that in the back of my mind — Russia is potentially very, very dangerous.
Jon Finer, deputy national security adviser, National Security Council, White House: In the spring of 2021, we started to see a concerning buildup of Russian forces on the border with Ukraine.
Avril Haines, director of National Intelligence: In that April-March period, I'd seen it build up. There was definitely a moment where I recognized that this is not just a force buildup for diplomatic effect. Putin is clearly considering military action on some level. At that point, the only military action that seemed plausible was a much smaller incursion.
Jake Sullivan, national security adviser, White House: That was deeply alarming, because it was out of historical norms. There was no other credible explanation for what they were up to.
Jon Finer: For obvious reasons, given the history of 2014, given the conflict that had been going on ever since, it raised real concerns about their intention.
Gen. Paul Nakasone, director, National Security Agency, and commander, U.S. Cyber Command: We knew they weren't going to invade in April 2021. Why do we know it was an exercise? Because the U.S. intelligence community really knows when Russia conducts exercises, and it was an exercise.
Jake Sullivan: Part of the motivating impulse for making the proposal for the summit in Geneva [in June 2021] was to try to create an alternative path that would involve Russia deescalating around Ukraine and us trying to inject some stability — not just into the U.S.-Russia relationship, but stability into the broader Ukraine situation. When President Biden met with President Putin in Geneva, obviously the top story around that visit was the ransomware attacks and cyber, but a healthy amount of the discussion behind closed doors was about Ukraine.
MOST READ
Jon Finer: There was a period leading into that summit and immediately after in which the Russians appeared to draw some forces back.
Emily Horne, spokesperson, National Security Council, White House: That immediate crisis turned out to be diffusible.
Avril Haines: A variety of things took place that brought everybody's temperature down.
Emily Horne: There was a sense of "This is not over yet" as we were leaving Geneva. Did we think that there would be war in Europe in the next six months when we left that meeting? No, I don't think anybody would have predicted that on the plane ride home. But very quickly after that meeting, Putin came out with his manifesto.
Jake Sullivan: Over the summer, Putin published a long article about Ukraine. His rhetoric began to change quite markedly in public. At that point, our antenna went up higher. Something was shifting in his mindset.
"Over the summer, Putin published a long article about Ukraine. His rhetoric began to change quite markedly in public."
—Jake Sullivan
Antony Blinken, U.S. secretary of State: The storm clouds were starting to gather many months before the invasion.
Avril Haines: Then we were starting to see this new buildup.
Dame Karen Pierce, British ambassador to the U.S., Washington: Something was badly wrong.
Gen. Mark Milley, chair, Joint Chiefs of Staff, Pentagon: We're out of Afghanistan by 31 August, and there was a planned Russian exercise called Zapad, and they started marshaling the troops for the exercise in the September time frame. Right about then we realized this is odd; it was much bigger in scale and scope than the previous year's exercise.
Vice Adm. Frank Whitworth, director of Intelligence (J-2), Joint Staff, Pentagon: Some of the intelligence became quite compelling.
Lt. Gen. Scott Berrier: You have a bunch of analysts here who are specialists in military intelligence — this is what they do. Their happy spot is doing assessments on order of battle and many other things. When you see the amount of stuff that the Russians moved towards the Ukraine, and when they did that, that's a pretty significant tell.
Gen. Mark Milley: In September, they came to me with this map, and laid it out on my table; they explained, this was different, sir, this looks different, this is bigger in size and scale and scope, the disposition, composition of the force, etc. We talked for maybe an hour. I gave them a bunch of questions — next day they come back. They drilled down in a lot of detail. I say, "OK, let's see what the rest of the intel community has to say."
Bill Burns, director, Central Intelligence Agency: We had begun to see across the U.S. intelligence community, including CIA, what were unmistakable signs of a serious Russian buildup along Ukraine's borders, and picking up intelligence that they're planning for what seemed to be a major new invasion of Ukraine.
Lt. Gen. Scott Berrier: It looks very, very dark for the Ukrainians.
Eric Green, senior director for Russia and Central Asia, National Security Council, White House: I was struck by the confidence and clarity that the IC [intelligence community] had in this assessment. The alarm bells definitely went off.
Daleep Singh, deputy national security adviser for international economics, National Security Council, White House: We thought we had quelled his appetite for territory by meeting him in Geneva and trying to address some of the strategic concerns he'd been raising, but then here we were again, with an even larger force.
Gen. Mark Milley: It took about a week or two to put together this picture of a really significant, sizable Russian force. Then I said, "OK, we need to brief SecDef." We didn't say it was an invasion yet. We just knew it was different.
Antony Blinken: We saw not only the massing of forces on the borders of Ukraine, we also — through the information that we got — had an understanding of what the Russian leadership was actually thinking and planning for those forces.
Laura Cooper, deputy assistant secretary of defense for Russian, Ukrainian and Eurasian affairs, Pentagon: We were reading intelligence that convinced us of Russia's motives — to significantly destabilize Ukraine, and then ultimately to invade Ukraine.
Avril Haines: We were pulling together the strings and constantly in that mode: "OK, but could this be interpreted from a different perspective? Is there another way to think about this?"
Gen. Mark Milley: We set up to brief the president. We briefed in the Oval, and it's a very serious, very somber brief. There's this many Russian forces, this is the size, this is what the capability is, this is their composition, this is the disposition. This is the size of the Ukrainian forces. We went over what the Russians' most likely and most dangerous courses of action are. It certainly grabs everyone's attention.
Avril Haines: It was hard to believe, at first, honestly. Most people said, "Really? A large-scale military option? That seems unlikely!"
"It was hard to believe, at first, honestly. Most people said, 'Really? A large-scale military option? That seems unlikely!'"
—Avril Haines
Gen. Mark Milley: When someone like me is saying, "Hey, this is the most dangerous course of action — you're probably going to see five field armies coming this way, two over here, and five over there. It's going to be preceded by a significant amount of Russian bombings and missile attacks, and this is going to be the most horrific combat operations since the end of World War II." People are sitting there going "What planet did this guy just walk in from?" I can understand that, actually.
Gen. Paul Nakasone: By the 11th of October, I'm convinced the Russians are going to invade Ukraine. The preponderance of intelligence was different than anything we'd ever seen before.
Dame Karen Pierce: A few people in our system — because of the [April] 2021 [buildup] not coming to anything — thought this was saber rattling, but not for very long. It didn't take too long for the whole U.K. system to think this would be an invasion. We thought it would take the form either of an air assault on Kyiv or an assassination of the leadership — or possibly both.
Gen. Mark Milley: We end up briefing [President Biden] frequently throughout the fall because this thing keeps getting bigger and bigger and bigger in size and scope.
Liz Truss, foreign secretary, United Kingdom: The threats clearly became worse through the autumn.
Antony Blinken: That began an incredibly intense period of engaging the world, as well as engaging with the Russians, to try to prevent them from doing what we saw building, and with the rest of the world to warn them about what was coming.
Emily Horne: There were three priorities early on: Support Ukraine — nothing about Ukraine without Ukraine, bolster NATO and avoid a war with Russia.
Anne Neuberger, deputy national security adviser for cyber and emerging technology, National Security Council, White House: This was really a coming-of-age for our cyber community — we never before mobilized like this for a geopolitical crisis. It reflects the extent to which cyber was now a mainstream national security issue. The White House had three major lines of effort [on the cyber side]: We mobilized to provide a range of assistance to the Ukrainians, we mobilized with the international community, and we really mobilized across the U.S. government and the private sector in a way we never did before.
Jon Finer: It's a very rare thing in international affairs that you get such a clear, unmistakable and advanced warning of a major geopolitical event. More often, they just happen and you're forced to scramble and respond and react.
Gen. Mark Milley: It's 30 days after the exit from Afghanistan. Some people said that the invasion of Ukraine was a result of the withdrawal. I don't agree. It's obvious the invasion was planned before the fall of Afghanistan.
Jake Sullivan: Looking back over the course of 2021, it seems clear that [Putin] was toying with the idea all the way through, and he was getting more and more agitated about the future course of Ukraine. He didn't wake up one day in September-October and decide to do this. The footsteps were there.
II: Preparing for the Worst
'I don't think any of us wanted to believe.'
October – November 2021
Jake Sullivan: [The buildup] led us to do two things in October — one, to have the president send Bill Burns to Moscow to engage the Russians directly and to have the president make this a major topic of conversation with key allies at the G-20 in Rome.
Daleep Singh: It was tense because Russia was part of the G-20. Putin didn't show up. [Russian Foreign Minister] Sergey Lavrov did. In the general session, I remember very clearly sitting behind President Biden, and he was reflecting on the historical moment. "We're at this inflection point, history is going to judge whether democracies could come together and defend core principles that underpin peace and security." He was looking right at Lavrov when he said that, and he said defending freedom is not costless.
Antony Blinken: There was a meeting on the margins of the G-20, in Italy, when President Biden convened the French, German and U.K. leaders. We shared with those leaders in some detail the information we had about what Russia was planning. That was maybe the most significant early wake-up call moment.
Jake Sullivan: Coming back from Rome, I realized that we were looking at a matter of weeks, not months or years. We needed to get ourselves organized as a government. I instituted a daily meeting here at the NSC, with a significant number of senior people at the NSC who covered everything from the military to sanctions to diplomacy to intelligence, so that we could organize a whole-of-government response and whole-of-alliance response to what Russia was doing.
Eric Green: [Jake Sullivan's] office isn't massive, but he has a table with eight or 10 chairs, then some easy chairs and a couch. The meetings would be from a half-dozen to 15 people depending on the issue set, all very informal.
Jake Sullivan: I was determined not to have regrets if the worst came to pass — I was determined to ensure that we had done everything we possibly could think up to first try to head this off, and if we couldn't put it off, put ourselves the Western world and Ukraine in the best possible position to deal with it, and to put Russia in the worst possible position to succeed. That was my motivation every single day through November, December, January, February. That was the North Star.
Bill Burns: The trip the president asked me to take to Moscow at the beginning of November was to lay out in an unusual amount of detail exactly why we were concerned that Putin was preparing for a major new invasion, and then to be very clear about what the consequences would be should Putin choose to execute that plan. I had a bad feeling going out on that trip about what was coming. That was only reinforced by the conversations I had there.
Michael Carpenter, U.S. ambassador to the Organization for Security and Co-operation in Europe, Vienna: When you've spent your entire adult career working on Russia, there is a distinction between the plausibility of something and the shocking nature of something that is so epic in its proportions that you know it's going to shape your career and world politics for years to come.
When I saw this information about Russia's imminent attack for the first time, it did seem plausible, but it was also deeply, deeply shocking — it would be history changing. That was the horror of it all. Any large-scale Russian war against Ukraine was going to be a human and humanitarian tragedy.
"It would be history changing. That was the horror of it all."
—Michael Carpenter
Bill Burns: [While I was in Moscow,] I was talking to [Putin] on a secure phone. It was a strange conversation. He was in Sochi — this was the height of yet another wave of Covid, Moscow itself was under a curfew — so he was isolating himself. The conversation was pretty straightforward. I laid out what the president had asked me to lay out to him. His response was a lot of what I had heard before from him about his convictions about Ukraine, and in many ways, his cockiness about Russia's ability to enforce its will on Ukraine. His senior advisers were pretty consistent as well. Not all of them were intimately familiar with his own decision-making, so at least one or two of them were a little bit surprised with what I laid out to them because the circle of advisers had gotten so small.
Eric Green: The Russian interlocutors — they didn't seem fully read into what was going to happen.
Bill Burns: I came away with a very strong impression that Putin had just about made up his mind to go to war.
John Kirby, assistant to the secretary of Defense for public affairs, Pentagon: That trip went a long way to convincing us that this was a no-kidding invasion.
Emily Horne: I am no Kremlinologist, but one thing that has struck me throughout this process — and certainly struck me throughout the fall of '21 — is that a lot of the times Putin and Russia were saying very plainly what their intentions were and what they wanted to do. And the West often had a very difficult time understanding that and hearing that. He made the case for what ultimately transpired very clearly in that manifesto in the summer of '21.
Sen. Lindsey Graham (R-S.C.): The big thing that was clear to me was that after we basically gave him Crimea after the 2014 invasion — Putin was allowed to stay in occupation of these territories — his goal was always the same. The rhetoric coming from Putin was very escalatory, setting the conditions for toppling the government in Kyiv because there were Nazis, making the argument they're defending Mother Russia against the NATO puppet aggressor, all the rhetoric to the domestic audience to justify the invasion. The invasion of Crimea made him believe that we would do nothing.
Dame Karen Pierce: He had said so much that it did not seem possible he would or could back down, which was unusual because normally Putin leaves himself wiggle room.
Avril Haines: There were things that really made this a much more compelling case — budget decisions that were taken, other forms of intelligence surrounding it, the information campaign that they were playing. It wasn't until you brought it all together, you start to see how the picture pulls together. Then the second piece was, "OK, I still don't understand why would he make this decision?" It seems self-defeating. The analysts really put together that picture that helped us to see [his reasoning] more effectively.
Read More https://www.politico.com/news/magazine/2023/02/24/russia-ukraine-war-oral-history-00083757?utm_source=pocket-newtab-global-en-GB