September 26th 2023
Five alleged Russian spies appear in London court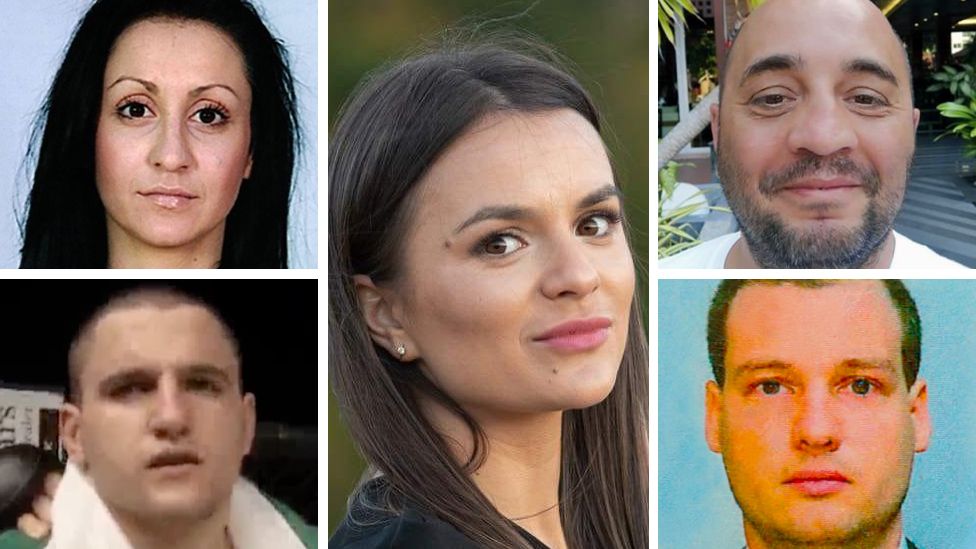 By Daniel De Simone
BBC News
Five people accused of being part of a Russian spy ring operating in the UK have appeared in court.
Bulgarian nationals Orlin Roussev, Bizer Dzhambazov, Katrin Ivanova, Ivan Stoyanov, and Vanya Gaberova allegedly conspired to gather information which would be useful to an enemy.
It is alleged they carried out surveillance on people and places targeted by Russia between August 2020 and February 2023.
The suspects were remanded in custody.
Their surveillance activities are alleged to have apparently been for the purpose of assisting Russia to conduct hostile action against the targets, including potential abductions.
They did not enter pleas at Westminster Magistrates' Court, where they appeared via video link from four different prisons.
All five defendants remained silent other than speaking to confirm their names and dates of birth.
Met Police counter-terrorism officers arrested them in February under the Official Secrets Act. They are:
Orlin Roussev, 45, of Great Yarmouth, Norfolk
Bizer Dzhambazov, 41, of Harrow, north-west London
Katrin Ivanova, 31, of the same Harrow address
Ivan Stoyanov, 31, from Greenford, west London
Vanya Gaberova, 29, from Churchway, north-west London
Mr Stoyanov, nicknamed "the Destroyer", was an amateur mixed-martial-arts fighter appearing in contests in the UK. In Bulgaria he appeared in so-called combat sambo fights, a form of martial arts popular in eastern Europe.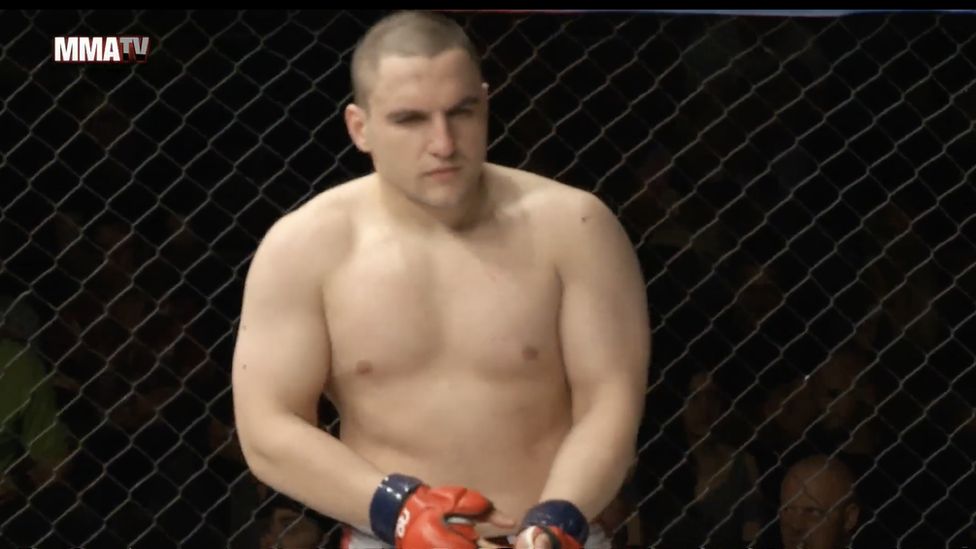 While Ms Gaberova is an award-winning beautician, who specialised in eyelashes and ran a salon called Pretty Woman in west London.
Mr Roussev previously worked in financial services. Biser Dhzambazov and Katrin Ivanova lived as a couple and ran a community organisation for Bulgarian citizens living in the UK.
Describing the charges, prosecutor Kathryn Selby said the "operating hub in this country for the offence of espionage" was the property of Mr Roussev.
His home address was a now-closed seaside guesthouse in Great Yarmouth.
Mr Roussev is alleged to have organised and managed the cell's spying operations from the UK. It is alleged that such operations took place in the UK and Europe.
The five defendants are accused of being part of a conspiracy with a "person known as" Jan Marsalek. He is not charged in the case.
It is claimed Mr Roussev received tasking from abroad by a person known as Jan Marsalek.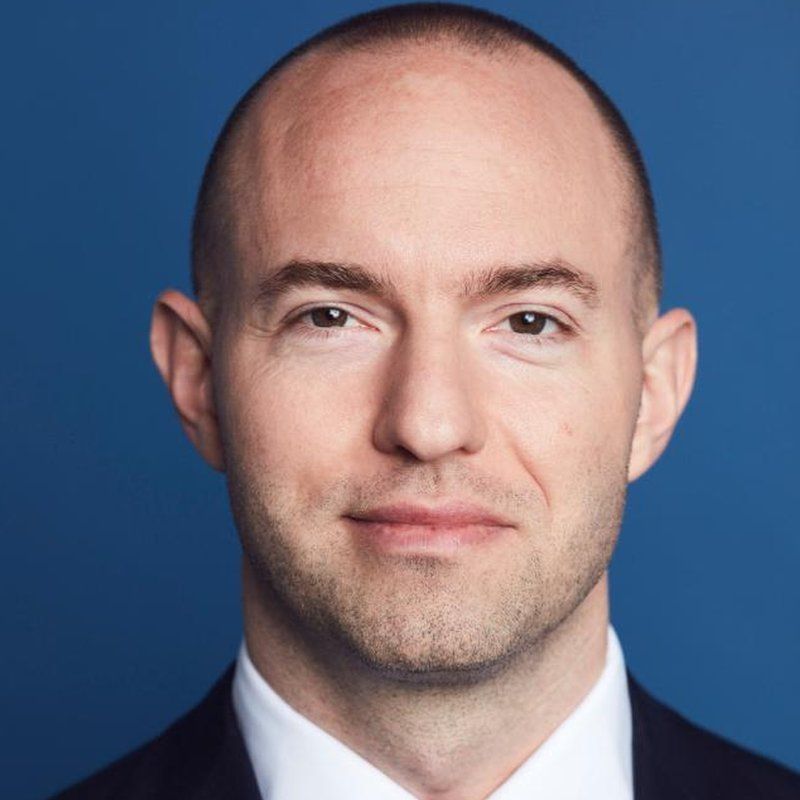 Mr Marsalek is best known as the Austrian former chief operating officer of the company Wirecard, who became a wanted man in Germany after being suspected of having committed fraud.
He is believed to have fled to an airport south of Vienna before flying to Belarus by private jet. He is reportedly now in Russia.
Speaking at Westminster Magistrates' Court on Tuesday, Deputy Chief Magistrate Tan Ikram said the five would appear at the Old Bailey on 13 October.
Ukraine: The soldiers who can't leave the front line until the war is over
By Mark Urban
BBC News, Ukraine
Open-ended service, just 10 days leave a year and a high casualty rate – for Ukrainian soldiers in one unit, life on the front line is far from easy, as BBC Newsnight witnessed up close.
Standing among some flattened buildings, "Jimmy", a Ukrainian officer who's been on active service for years, reflected on his survival: "I'm a lucky man… as I see it, war can either love people or not."
His soldiers think the fact Jimmy's still with them, despite multiple wounds, means he lives a charmed life.
His unit, the 24th Mechanised Brigade, has a long history, and is part of the old regular Ukrainian army, fighting the Russians from 2014. But since the invasion of February 2022, the army has more than trebled in size, the nation mobilised and Jimmy's unit changed out of all recognition.
We spent two weeks in August with the 24th, which now serves in the Donbas, that old centre of smokestack industries in the east, occupying a section of the front between Bakhmut and Horlivka.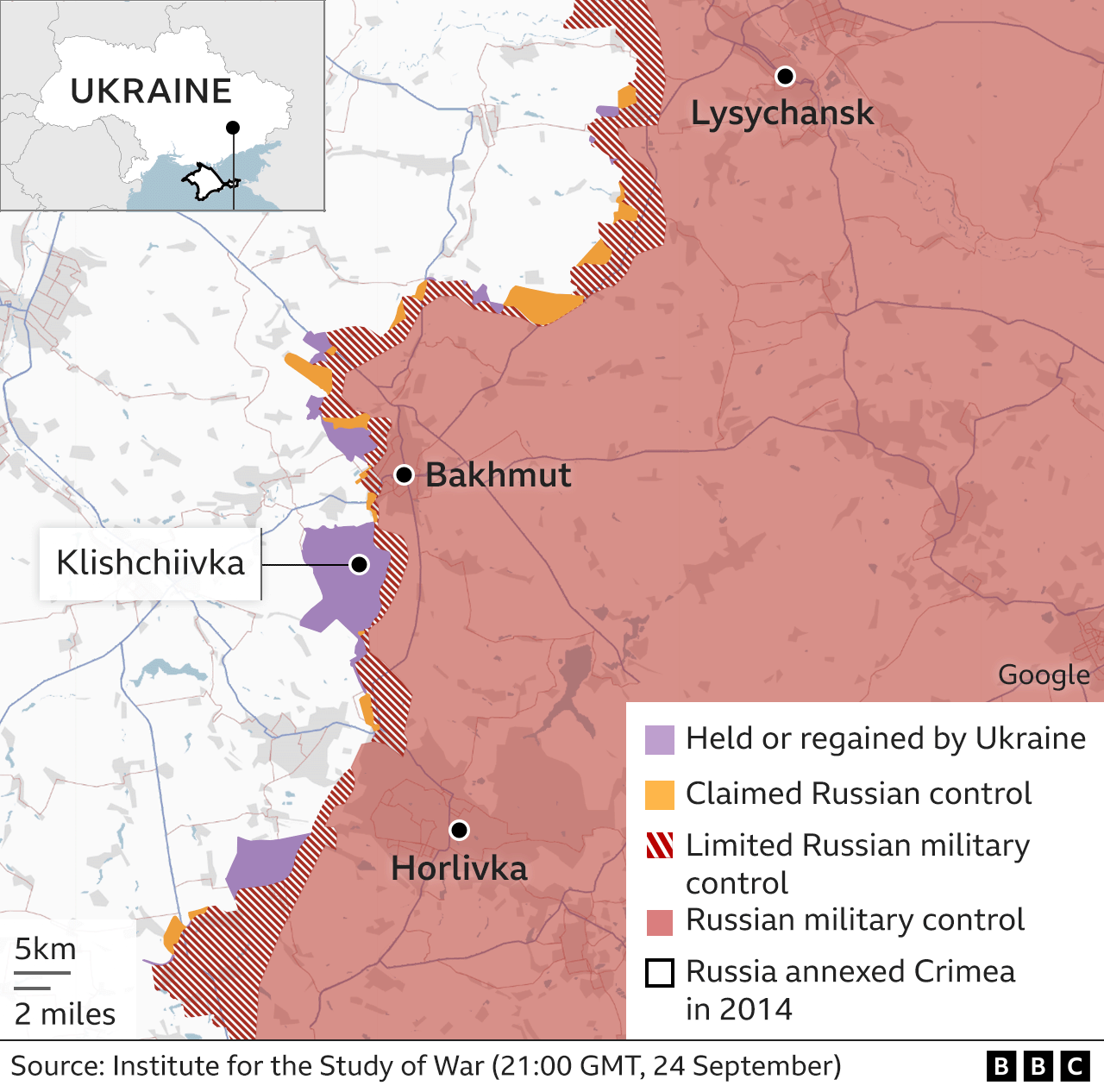 And we went to the home community in western Ukraine where the brigade was garrisoned before the war, and where many of its families still live.
Jimmy – the Ukrainian army asks that we use soldiers' nicknames rather than their real ones – commands a company (usually about 120 troops), a post he stepped into last year. One officer told me that none of the 15 company commanders in post at the start of the war are still in place, all having been promoted or become casualties.
In the run-up to war, the 24th Brigade was just over 2,000 strong, rotating its three battalions to the front line in eastern Ukraine for occasional tours of duty. Although the Ukrainian army rarely discusses numbers, sources told me it has now swelled to more than 7,000, with a total of five infantry battalions, four of artillery, a tank battalion and numerous other supporting elements.
As that mobilisation happened, the old regular soldiers were joined by thousands of volunteers and conscripts. "Yurii," a twenty-something venture capitalist from Kyiv, is one of the talented incomers.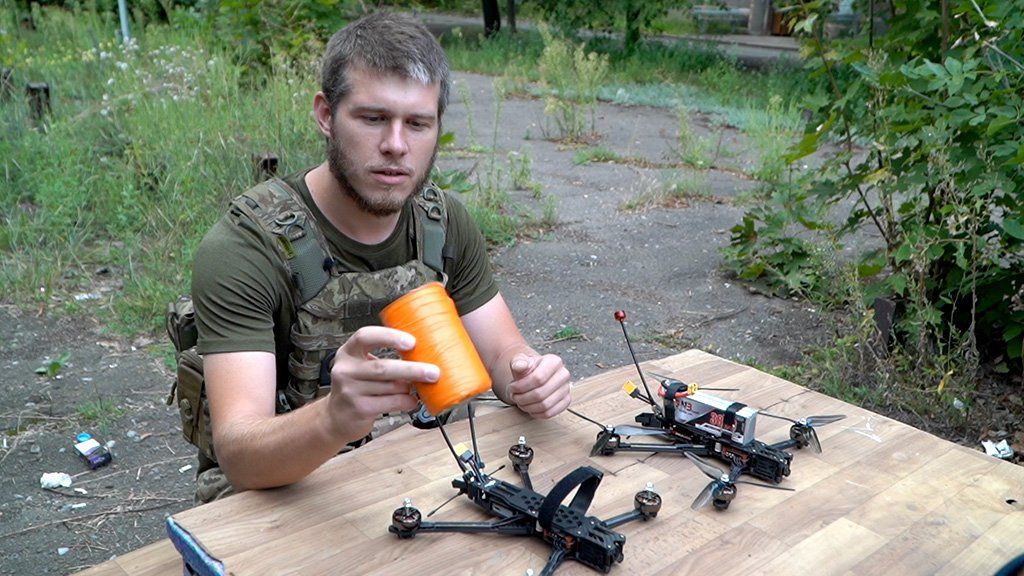 Initially given a rifle and sent to the infantry, a few months later, Yurii was transferred into a military "start-up", the 24th Brigade's strike drone company. Sitting at a table in a children's playground near the front, he showed us new drones, and the packages of explosive they carry, allowing him and others to fly them into vehicles, buildings, or bunkers where the Russians are taking cover.
Yurii explained how his mother was initially sceptical about him joining up, but once he started guiding drones into Russian trenches, "then she changed her mind", and became proud of him.
Under the terms of their contracts, volunteers – in common with conscripts – can't walk away and are obliged to serve until the war ends. In the meantime, they are entitled to only 10 days' leave each year.
Yurii is unusual among the 24th's men in that the £2,600 ($3,195) he earns monthly (80% of which is combat pay) is less than his earnings in civilian life.
Bearded, and with a banker's flair for selling a business plan, Yurii told me how the company has to be more ingenious than the Russians because the enemy have so many more drones.
One of the officers revealed that although Yurii ranks as a simple private soldier, he basically runs this unit. That rethinking of the usual hierarchy is one of the differences between the pre-2022 army set-up and the force that now fights the Russians.
Another is their willingness to overlook age and other factors that might have counted against volunteers before 2022. We met a sergeant nicknamed "Hryb" (it means mushroom) who had been put in charge of a self-propelled artillery gun.
He's an older man, 52 to be exact, who did his army service more than 30 years ago. What could he know about modern warfare?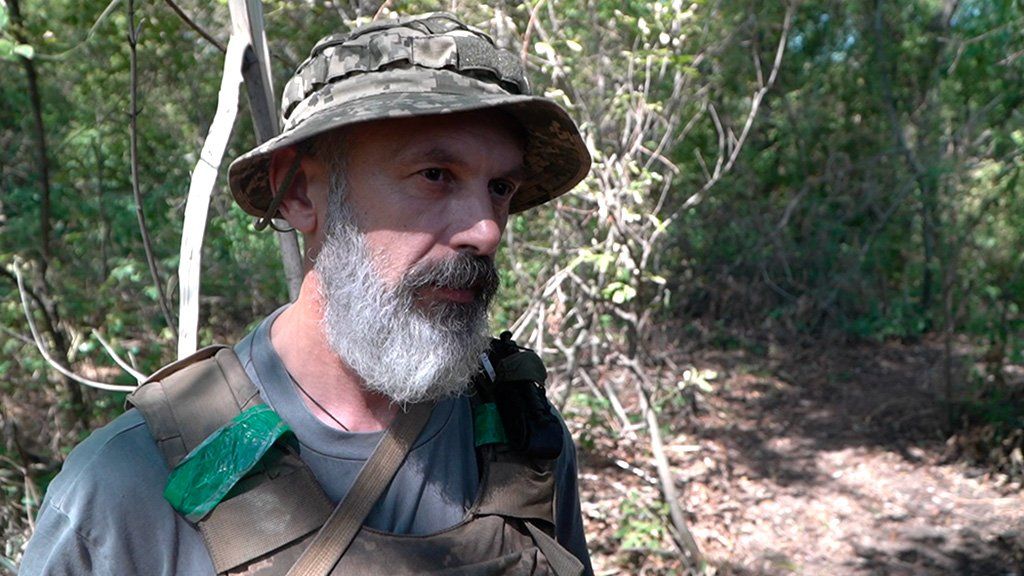 As it happens, the 24th Brigade's 152mm Akatsiya (or Acacia) howitzers are so ancient that they're the same kind as the one Hryb commanded while serving with the Soviet Army in East Germany in the early 1990s.
The shells we watched them firing were manufactured 40 years ago, and the crew have nicknamed the howitzer Babushka or Grandma. Who better to know her old quirks than Grandpa Hryb?
His decision to volunteer did not sit easily with his family. "They cried silently," Hryb explained. "They said they would wait for me, that they loved me."
Behind the summit declarations, of "as long as it takes", are hundreds of thousands of Ukrainian families struggling along, managing their hopes and fears as the war passed its 18-month point without any end apparently in sight.
At a rehabilitation centre in Lviv for soldiers with life-changing injuries, I discussed the difficult exchanges when some of the less badly wounded tell their wives they want to return to the front.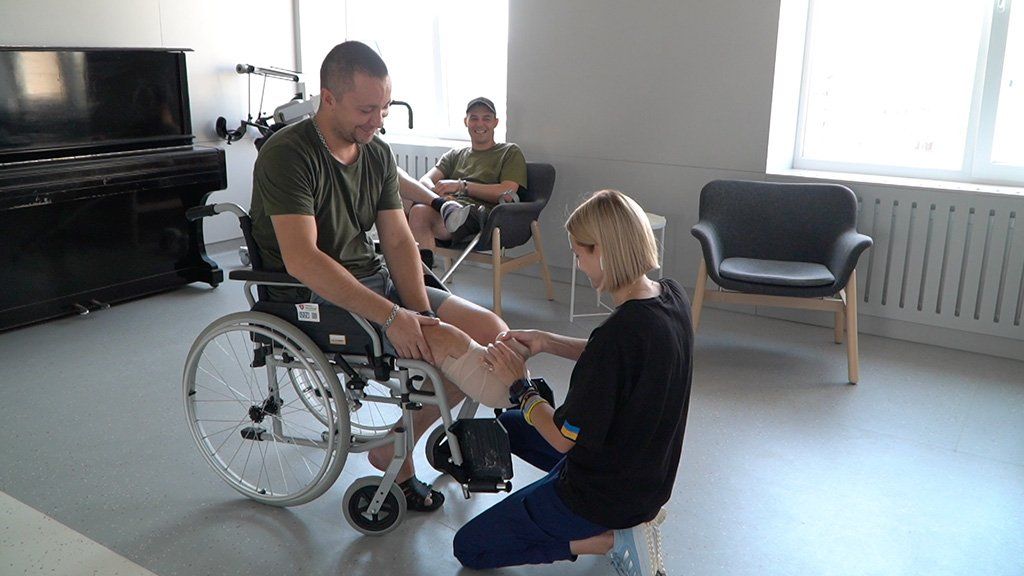 "Many boys, well those who remained alive but lost a limb, also lost their family," Pavlo, one of the patients, told me.
That conversation has been taking place within his marriage too, he says ruefully: "She thinks I have already done my duty." Another man, wounded in a minefield during the recent counter-offensive, tells me that Ukrainian society has not yet woken up to how many damaged people there are now.
The record of death, maiming, and capture may well be affecting people's willingness to serve. Recruitment is another topic on which Ukraine does not publish official figures.
However, among the men that we filmed being trained at Yavoriv and another range closer to the front, many were in their 40s, and quite a few in their 50s. Officers told us about the intense competition for younger recruits among various brigades.
It also emerged in August, following the sacking of officers supervising the call-up, that thousands of men were bribing their way out of it or being smuggled out of the country to avoid service.
Among those who volunteer willingly to go to the front are many who have lost their jobs in the economic crisis that's accompanied the war and are attracted by the high pay that comes with being on the front line.
As for attempts to turn the tables on Russia this summer, in order to liberate occupied lands, the expectations of what the Ukrainian military could achieve were perhaps higher in the Pentagon than among the veterans of the 24th Brigade.
"An easy breakthrough is simply impossible," Jimmy told us. "We are getting ready for a long-term war."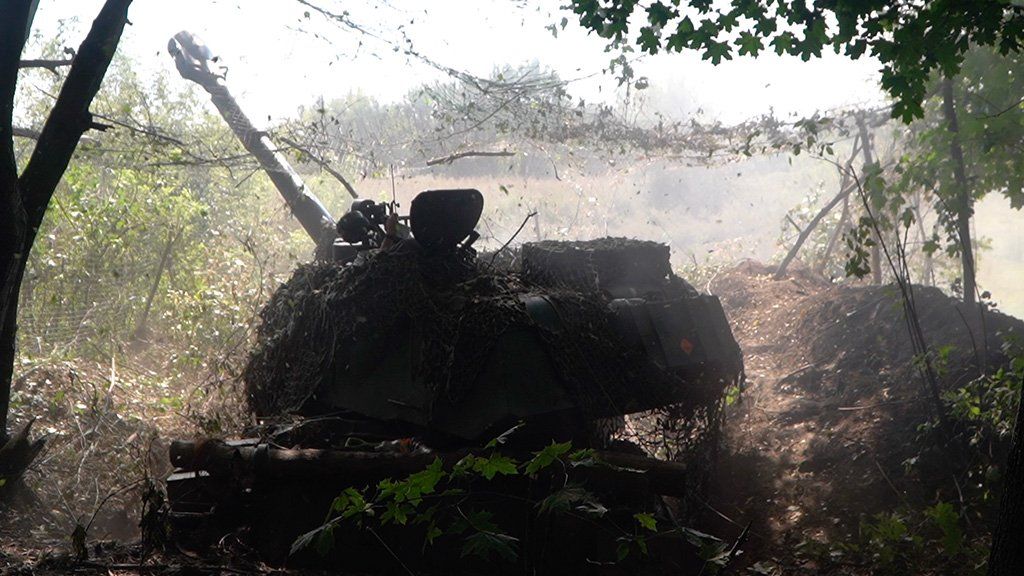 Another of the brigade's officers, the commander of one of its battalions, compared the conflict to Vietnam, implying it could last many years.
And as the fight goes on, so does the loss. Casualties are a matter of great sensitivity in Ukraine, it being against the law to publish figures. But the Pentagon estimated recently that 70,000 Ukrainians had been killed in the war, the great majority of them in the military.
From our analysis of social media and archive news reports, our conservative estimate would be that the 24th Brigade has lost something like 400 personnel in total. About 120 of these died during the fighting from 2014 to the start of 2022, the remainder since the Russian invasion.
It has also had scores or even hundreds of men captured, another difficult topic for the authorities, since prisoner swaps have been very limited in scale so far.
The wife of one prisoner of war told us that just 22 men from the 24th Brigade had returned so far and that all of the government departments she's written to had given her the same message: "You should wait."
The repatriation of prisoners of war is just one of many issues that will have to be negotiated once the guns fall silent. But the loss and public outrage at Russia's actions have made it so much harder for Ukrainian politicians to agree to an armistice or peace deal that looks like a messy compromise.
At a cemetery on the outskirts of Lviv, we followed Natalia Nezhura as she placed fresh flowers on her brother Andrii's grave. "I tried everything to stop him going to the front line," she explained.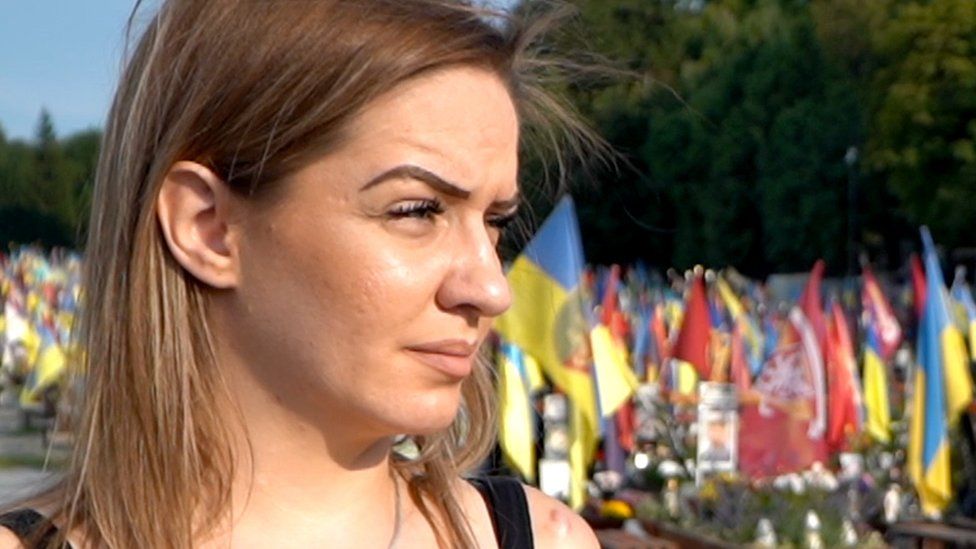 She breaks down as she tells me of her feelings of failure that she had not managed to do this.
She had hidden Andrii's call-up papers, then, when that was not successful, used a connection to get him a firearms instructor's job at the Yavoriv training ground, "but in the end most of the boys were sent to the front line".
Andrii was killed earlier this year, when the 24th Brigade had units engaged in the battle for Bakhmut. Our conversation took place among the fluttering flags of many units that adorn the military plot in Lviv, a place where we counted more than 2,000 graves.
Those who imagine this loss and pain might engender a yearning for peace would be in for a rude shock. When I asked her how the war should end, Natalia replied: "I just want all Russians dead, I hate them with all my heart and soul," adding, "how can you talk about peace when they killed so many of our people?"
For years, the old professional army managed an uneasy peace and occasional flare-ups along the line of contact with the Russians. But now everybody feels a stake in the conflict, and the attitudes we encountered among the soldiers and families of the 24th Brigade underlined the degree to which society as a whole has been mobilised and only a clear-cut victory is now acceptable to Ukrainians.
Comment Biden has admitted that this is a proxy war on Russia, his family making a small fortune from contracts with the institutionally corrupt so called 'soverign nation.' Anglo U.S money mad power mad NATO leadership never intended to respect the Minsk agreements. Their long term plan has always been Russian regime change before moving on to China. The China scaremongring has already begun, starting with the weather balloons and spy stories. The Russell Brand story may well have launched as cover. Police and media are openly trawling for more 'non recent victims', may well be more about silencing male media & politcal dissent. However, anyone advancing that argument will be labelled a fellow sex offender and conspiracy crack pot.
R J Cook
September 24th 2023
War in Ukraine
Top Stories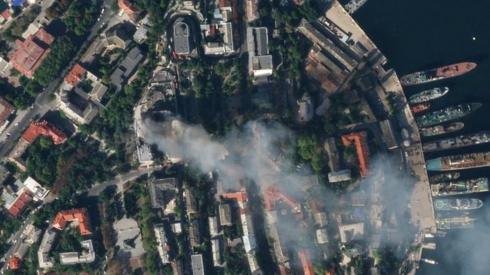 Kyiv says senior officials in Russia's Black Sea fleet were present, but did not offer evidence.
Related content
Watch: Moment missile hits Russia's Black Sea fleet HQIs Ukraine trying to retake Crimea?US to give Ukraine long-range missiles – reports
By Robert Plummer
BBC News
Ukraine says Friday's missile strike on the headquarters of Russia's Black Sea fleet in Crimea was timed to coincide with a meeting of naval officials.
In a short statement, the Ukrainian military claimed the strike had caused deaths and injuries but did not provide more details.
On Friday Moscow said one serviceman was missing after the attack.
The fleet, based in the port city of Sevastopol, is seen as the best of Russia's navy.
A Ukrainian military source told the BBC that Friday's attack was carried out using Storm Shadow missiles, which are supplied by Britain and France.
The Ukrainian military statement on Saturday asserted that it had left "dozens of dead and wounded occupiers, including the top management of the fleet".
Kyiv's intelligence chief, Kyrylo Budanov, claimed that two Russian commanders were badly injured in the missile strike.
The BBC is unable to independently verify many of the battlefield claims made by either side.
Meanwhile, Russian Foreign Minister Sergei Lavrov said Western powers were "de facto fighting against us, using the hands and bodies of Ukrainians".
He was speaking to journalists after delivering a speech at the UN General Assembly in New York, where he denounced the West as "a real empire of lies" unable to negotiate with the rest of the world.
Russian President Vladimir Putin launched a full-scale invasion of Ukraine in February 2022, triggering international condemnation. Moscow had illegally annexed Ukraine's Crimea peninsula in 2014.
The Sevastopol area came under renewed attack on Saturday. The city's Russian-installed governor, Mikhail Razvozhaev, said debris from a missile shot down by air defences had fallen near a pier.
He also told residents he was ordering an inspection of bomb shelters following some complaints they were hard to access or in poor condition.
"We earnestly ask everyone: stop sowing panic and pleasing our enemies with this – panic is their main goal," he wrote on Telegram.
https://emp.bbc.co.uk/emp/SMPj/2.50.6/iframe.htmlMedia caption,
Watch: Moment Ukrainian missile hits Russia's Black Sea fleet HQ
Kyiv's forces have recently been launching near-daily strikes against Russian forces based in Crimea.
Last week, Ukraine's navy claimed to have knocked out an S-400 air defence missile battery covering the peninsula, degrading Russia's ability to defend against fresh attacks.
A day earlier, a large Russian landing ship and submarine were damaged in an attack which Ukraine said also made use of Storm Shadow missiles.
The attacks on Crimea are strategically and symbolically important.
As well as being a platform from which to attack Ukraine, the Black Sea fleet is a major symbol of Russia's centuries-old military presence in the region.
It was based in Crimea under a leasing deal even before Russia's 2014 annexation of the peninsula.
Comment This isn't as simple as Ukraine trying to retake Ukraine. It is Zelensky et al trying to bring NATO in out of the cover. His ego demands a world war.
R J Cook
September 22nd 2023
Germany remains in denial over its Russia policy
Despite Berlin's foreign policy pivot after the Kremlin's full-scale invasion of Ukraine, many German politicians have not learned their lessons or atoned for their past mistakes.
In a nutshell
Many allies think Germany is not helping Ukraine enough to defend itself
Olaf Scholz undermines his credibility with inconsistent actions and rhetoric
Berlin may still harbor hopes of returning to business as usual with Russia
Germany has made many positive changes to its foreign and security policies since Chancellor Olaf Scholz announced a Zeitenwendealmost a year ago, even if Berlin continues to lag in its support for Ukraine compared with other, often much less prosperous, allies. Mr. Scholz's decision on January 25 to free 14 Leopard 2 tanks for transfer to Ukraine was a landmark and positive decision, if too little and very late.
For all these improvements, most of the politicians who for decades oversaw Germany's policy toward Russia remain in denial about their past role in, if not responsibility for, the challenges that now confront Germany and broader Europe. A more forthright acknowledgment would go far to prove that the German political class has learned the right lessons from its mistakes and demonstrate that Zeitenwende represents a long-term strategic change in German foreign policy, including vis-a-vis communist China, rather than a tactical phase before returning to the "prewar peace order," as Mr. Scholz recently put it, and business as usual.
Mr. Scholz's glib, year-end characterization in the Sueddeutsche Zeitung of his relations with Russian President Vladimir Putin as mere "differences of opinion" and former Chancellor Angela Merkel's continuing defense of her Russia and energy policies, most recently in Spiegel, are just the latest of many examples of continuing efforts by German leaders to explain away the Russia and energy policies for which they were responsible.
Landmark shift or a passing phase?
Since Chancellor Scholz's landmark February 27, 2022, Zeitenwende speech to the Bundestag, his coalition government has made major positive changes to the naive Russia-friendly policies that Berlin pursued for decades under Ostpolitik, even if these changes are still too few and long overdue. Berlin's financial and military contributions to Ukraine have been significant, have grown over time, and have helped Kyiv significantly in its valiant struggle against President Putin's brutal attempts to wipe Ukraine off the map of Europe.
At the same time, senior German officials are aware that they are underperforming compared to other allies and that they are suffering reputational damage as a result of their pulling-teeth approach to supporting Ukraine with materiel. They continue to stress at every opportunity in Washington and elsewhere that Zeitenwende is indeed a landmark policy shift and not a slogan or a passing phase.
For the Zeitenwende policy to mean a real break with the past, German policymakers need to raise their game.
To address widespread perceptions that they are still not doing enough, German officials reiterate that Berlin is second in terms of its commitments to Ukraine, according to the most recent Kiel Institute for World Economy Ukraine Assistance Tracker, even if researchers there say it is difficult to quantify support provided. Ukraine and NATO allies appreciate these contributions and acknowledge German policy since February 24, 2022, has indeed been a watershed, even as they continue to press Berlin for more support to Kyiv.
Read a related report
PoliticsJanuary 17, 2023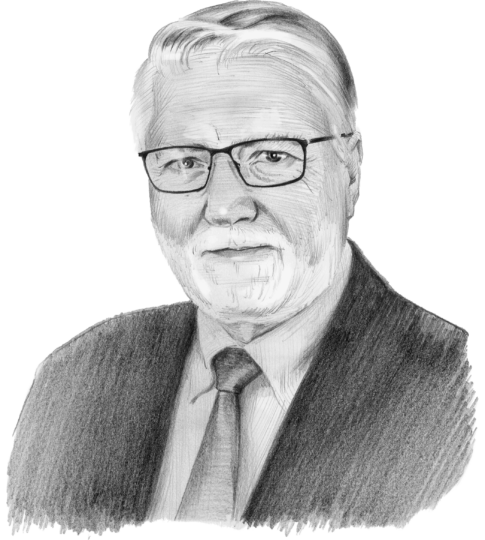 is a former foreign correspondent.
What does Zeitenwende actually mean?
The term Zeitenwende now rolls easily from the tongues of non-German speakers, but German watchers noticed immediately that Chancellor Scholz's use of the term was not original. It was the title of a paper published almost 18 months earlier by the Munich Security Conference. The term itself remains somewhat vague in definition and means different things to different people, with advocates calling it a landmark 180-degree policy shift and skeptics considering it shorthand for a policy declaration in search of clear, unambiguous and long-term substance.
For the Zeitenwende policy to mean a real break from the past, German policymakers need to raise their game. Few friends of Germany think Berlin is doing enough, even after the Leopard decision; all advocate sending more military equipment and financial support to Kyiv. It is heartening to see some coalition politicians advocate strongly for doing more, even if they have often lost policy debates. They understand that this is a unique and pivotal moment in history when German leaders must get off the fence and commit to strongly opposing Russia's complete upending of the post-1989 European security order they for decades considered immutable, not to mention a host of international agreements and international law.
German leaders, however, must more directly confront their own role in getting themselves into this mess in the first place. Here is a walk through the phases of German policy vis-a-vis the USSR/Russia over the last 60 years: Wandel durch Annaeherung – change through rapprochement; Wandel durch Verpflechtung – change through interdependence; Modernisierungspartnerschaft – modernization partnership and, most recently, the catch-all Wandel durch Handel – change through trade.
All of these foreign policy concepts underpinned the wishful thinking and flawed assessments of what Berlin had hoped for from President Putin during the last 15-plus years. Critics called this policy thinly disguised justifications for profits ueber alles, or profits above all, or what a pro-European Union Polish politician recently referred to as German policy shaped by "greed and cowardice."
A few German leaders have been forthright about their role, publicly stressing how mistaken they had been. Social Democratic Party (SPD) chair Lars Klingbeil stands out for his clear and repeated acknowledgment of past mistakes, blind spots and misconceptions, as well as for attempting to explain that Zeitenwende indeed means major long-term changes in German foreign policy. He has delivered headline speeches and even published a piece in a major German foreign policy journal entitled "What German Social Democrats Got Wrong About Russia."
In it, he urged his party to draw the right conclusions, to learn from its mistakes, and to ask self-critically what Germany could have done differently. He is one of the few SPD leaders who have declared this old German mantra as no longer valid: "there can be security and stability in Europe only with, not against, Russia." Now he says that "as long as things in Russia do not change fundamentally, European security will have to be organized against Russia."
The 21-page report his party's International Policy Committee (KIP) just produced incorporates this idea and acknowledges that Germany made a mistake by paying too little attention to the Eastern and Central Europeans. For now, the paper remains a draft and the SPD will not vote on it until its national party conference at the end of the year. Mr. Klingbeil has, however, also declared flatly that Germany's energy policy is not to blame for the country's energy crisis.
Most other SPD leaders, however, including those who led the party during the eras of former Chancellors Gerhard Schroeder and Angela Merkel, have been much less forthright. President Frank-Walter Steinmeier, the politician currently most associated with Wandel durch Handel, has used the term "mistakes," but his language has shifted in recent months. In an address to the German nation in October, he spoke of a "bitter failure to prevent this terrible moment." He used "failure" again with an American audience in New York in November, defending Berlin's Russia policy as a noble attempt to achieve peace. In that speech, he also stressed Germany "must cast off old ways of thinking and old hopes" and "learn lessons," but defined the latter as reducing "one-sided dependencies."
Mr. Steinmeier has used this line of argument in other settings, observing to the Atlantik Bruecke association that "all our attempts did not prevent this war." Yet other SPD leaders have used the phrase "mistaken assessment." In passing these policies off as "failures," rather than major errors in strategic judgment or worse, he glosses over critical questions of role, responsibility, appeasement, and compromised policy, while instead selling them as simply Berlin's best efforts to do the right thing.
Meanwhile, former SPD Foreign Minister Sigmar Gabriel has dismissed concerns about Russian influence networks in Germany as "conspiracy theories" and SPD Bundestag caucus leader Rolf Muetzenich continues adamantly to defend past SPD policy and call for diplomatic initiatives with Russia where possible.
Since February 24, Chancellor Scholz has sided with "go-slow" constituencies in the SPD, resisting a reckoning with past policy and slow-rolling military support for Ukraine under the principle of "avoiding escalation" and preserving Germany's options for the postwar period. He recently said Germany learned its lesson about gas dependence, but like Mr. Steinmeier referred to the lesson as diversifying supply chains. The chancellor recently called for Europe to return to the prewar peace order with Russia and missed an opportunity to make a decisive break with the past in the latest issue of Foreign Affairs, where he instead focused on the need to avoid a new Cold War.
These utterances raise questions of whether he has learned the right lessons from German policy, not to mention Russia's war against Ukraine. Mr. Scholz's key foreign policy aide, Jens Ploetner, is known for dismissing the need to send armored vehicles to Ukraine because of his concern for Berlin's future relationship with Russia.
Little accountability for past mistakes
None of those responsible for Wandel durch Handel have paid a political price for their mistakes, except perhaps for former Chancellor Schroeder, whose fall from grace was swift and steep. But even he survived an August attempt by party activists embarrassed by his corruption to expel him from the SPD, with Mr. Scholz commenting that the Bundestag was correct to strip him of his office space, but there should be no further punishment. The others – in all parties – remain active and continue to enjoy considerable stature. The president of the American Academy in Berlin bestowed the prestigious Kissinger Prize on Mr. Steinmeier in November for serving as a "beacon of compelling moral guidance."
Green leaders have been more forthright than most, with Foreign Minister Annalena Baerbock urging Germany to launch an honest discussion to reach clear answers and to be "self-reflective" with other party leaders. Green member of the European Parliament Viola von Cramon recently told Focus that "due to Germany's past Russia policy we are in a crisis in Europe, which is partly due to the 'bought elites' in German politics," adding that Berlin should have listened to Eastern Europe much earlier. Green MEP Reinhard Buetikofer has long been vocal on the Russia problem in German foreign policy. However, party co-chair Vice Chancellor Robert Habeck found it necessary recently to admit he feels guilty that German weapons will kill many Russians, which indicates that for all the coalition's progress moving away from past shibboleths, changes in thinking remain slow and uneven.
Justice Minister Marco Buschmann of the Free Democratic Party (FDP) has been particularly clear, declaring that Germany's push for Nord Stream 2 contributed to Russia's war on Ukraine and declaring it was Berlin's "duty to confront this truth directly." Bundestag Defense Committee Chair Marie-Agnes Strack-Zimmerman (FDP) has been among the most visible advocates in Germany of a robust response to Mr. Putin's aggression, commenting recently that Ms. Merkel's policy was well-intentioned to prevent harm to the German nation, but "naive in retrospect" and "blue-eyed," observing that "appeasement policy has failed."
Merkel keeps defending her policies
Meanwhile, former Chancellor Merkel defends her record against all critics, even while suggesting she knew all along that President Putin was playing her. Since she broke her silence in June, she has rejected criticism of her Russia and energy policy, even as she claims she never believed in Wandel durch Handel in the first place. She says she has nothing to apologize for and that to join the critics simply because it is expected would be "cheap." It would be "evidence of weakness" (Armutszeugnis) to say now that it was wrong "just to get some peace and quiet."
Ms. Merkel has variously described Ukraine as a "huge tragedy," said "we should have reacted more quickly to Russia's aggressiveness," strongly criticized President Putin, and called for increased spending on the Bundeswehr, but she has refused to distance herself from her policies or to take responsibility for their failures. She stays on message: she tried hard to prevent the conflict, regrets she failed, and does not blame herself. She did all that can be expected of a German chancellor: she played the cards she was dealt and did the best she could for the German national interest. Meanwhile, she recently spoke favorably about a Netflix film, "Munich – The Edge of War," as it showed Neville Chamberlain could be portrayed more positively.
Interestingly, Ms. Merkel tried not to shift responsibility to her former SPD coalition partner, which might seem like a relatively easy political step to take, given that the SPD invented and basically owns Ostpolitik. She probably does not because the Christian Democratic Union (CDU) totally bought into Wandel durch Handel as well. As she continues to reject any responsibility, she has raised eyebrows further.
Other CDU leaders like Saxony Premier Michael Kretschmer advocate repair of the Nord Stream 1 pipeline and lifting sanctions against Russia while Merkel's former chief military adviser, now-retired General Erich Vad recently called Russia's war against Ukraine a "domestic political confrontation" akin to a "civil war" and the Greens a "war party" as he argued against assisting Ukraine to defend itself and for negotiations to end the war.
German leaders may well continue to skate around their role in their current plight.
Their defense of past German Russia policy contrasts sharply with that of former CDU Finance Minister Wolfgang Schaeuble, who recently declared flatly, "I was wrong, we were all wrong," adding "we didn't want to see it" and regretting not to have listened to late Polish President Lech Kaczynski and the Baltic states, "who were right." CDU Bundestag members Norbert Roettgen and Roderich Kiesewetter have been openly critical of past German policy toward Russia and particularly vocal in support of Ukraine. CDU leader Friedrich Merz has staked out something of a middle ground, claiming he never believed in Wandel durch Handel and pronouncing it "failed." He criticized President Putin and called for more assistance to Ukraine, but did not criticize Ms. Merkel.
How German leaders approach their mistakes on Russia and energy policy has implications for Berlin's policy toward China, which will be unveiled in the coming months. The European energy crisis has prompted increasing numbers of German thought leaders to question the wisdom of continuing the country's great dependence on a dictatorship like China for critical resources, export markets and supply chains. Key parts of the government and political spectrum are listening. Coalition leaders have highlighted the challenge and Mr. Klingbeil, the SPD leader, has stressed the need to avoid mistakes with China that Berlin made with Russia. Will others listen, or will the trade-above-anything principle that has guided German foreign policy for so long remain the operative one?
To be clear, President Putin bears full responsibility for Russia's war against Ukraine and the negative consequences. But those German leaders who oversaw Berlin's Russia and energy policies that enabled him for years could do more to acknowledge their role. Germany has rightfully earned much respect for its honesty about, and special responsibility for, the past. It may be unrealistic to expect German politicians to take responsibility for major errors like these or for any to be held accountable, not least because of the cross-party consensus that their approach was not only correct but the highly debatable view that Ostpolitik was responsible for ending the Cold War.
Many of Germany's allies and friends, along the eastern flank of NATO and elsewhere, would welcome more contrition after being told for so many years they were naifs and hopelessly wrong about Mr. Putin's Russia, while Germany was the adult in the room and knew what it was doing while others did not. It would also increase Berlin's credibility with allies that have noticed Chancellor Scholz's recent public comments that hold out the prospect of resuming business with Russia.
Scenarios
Muddle through
German leaders may well continue to skate around their role in their current plight. Chancellor Scholz did tell foreign audiences in his most recent Foreign Affairs article that Germany must bury its illusions about the lessons of 1989, but his utterances since then raise questions about the extent to which he will pursue such a strategy. To continue fudging while keeping up the prospect of returning to business as usual is probably the easiest policy for a chancellor to take and avoids the awkward question of accountability. However, it also feeds critics who are angry at Germany's responsibility for Europe's current mess, even if they may not vocalize it, and believe the country would really rather return to business as usual as soon as possible.
Full reckoning
With Germany's strong and positive historical track record on Vergangenheitsbewaeltigung, or dealing with unpleasant chapters of its past, its leaders could face up fully to their significant role in the current crisis, including more forthright mea culpas and pledges to change their attitude toward Ostpolitik permanently. This seems less likely because it would implicate several generations of politicians in naivete and appeasement or worse, and dash comforting narratives that have sustained them for decades. If they were to do it, however, Berlin would gain in stature, not only with allies on the eastern flank of NATO, where Berlin's stock has fallen significantly in recent years.
Expand Zeitenwende to China
Parts of the German government want the business sector to diversify considerably away from China, but the China Policy Paper due out later this year will show how much of a Zeitenwende Berlin's policy toward Beijing will actually be. This may be the most difficult option given the massive equities the German business sector has with communist China, even as some German firms are taking steps to diversify toward other markets and some experts argue that German dependence is less than commonly thought. This would represent a radical departure from the foreign economic policy Berlin has pursued for decades and would entail major costs.
Biden 78 Year Old Finger On The Trigger Short Steps To Nuclear Annihilation.
Vote may reverse Slovakia's pro-Western policies
The pro-Russian populist party of ex-prime minister Robert Fico is leading polls in the run-up to a snap parliamentary election. His victory would be welcome in the Kremlin.
In a nutshell
Slovakia's democracy faces a big test in the September 30 election
Anti-Western narratives have become widespread in public debate
Ukraine could lose big if Robert Fico's SMER party returns to power
Officials in NATO and European Union capitals were relieved with the outcome of the last parliamentary election in Slovakia in February 2020: Voters elected enough members of parliament to form a pro-Western coalition to govern the country of 5.5 million people. It came as a surprise because preelection opinion polls suggested a strong showing for the left-wing, nationalist, populist Slovak Social Democracy party, known as SMER-SD. Its victory would likely have led to pro-Russian, euroskeptic and statist economic policies.
But NATO and the EU may not like the outcome of the September 30 parliamentary elections, coming early after the government lost a no-confidence vote in parliament on December 15, 2022. Opinion polls show large numbers of Slovak voters will turn away from the parties that since 2020 have delivered growth, domestic reforms and the strongest geopolitical consensus since Slovakia joined NATO in 2004 and the EU in 2009.
Surveys show voters are almost certain to give a plurality to SMER-SD, led by former Prime Minister Robert Fico, who left office in 2018 in disgrace, and send at least one far-right party, Republika, and possibly another, the Slovak National Party (SNS), to the 150-seat National Council of the Slovak Republic, the nation's parliament.
The election takes place against the background of two strong but contradictory trends: 1) the enormous progress Slovakia has made since late United States Secretary of State Madeleine Albright in 1997 referred to it as "the black hole of Europe," even as the country faced major challenges in recent years from the pandemic and Russia's war against Ukraine; and 2) a populace that is now among the most open in Europe to Russian narratives, with a strong opposition whose leader, Mr. Fico, seeks to modify, if not reverse, key domestic reforms and Slovakia's Euroatlantic foreign policy. How did this happen?
Comment One hopes it happened because there are intelligent people who can see western aid to Ukraine for what it and Ukraine really is. Poland has had an awakening. I hope Europe sees the danger and moves away from the Anglo U.S plans to continue building this road to hell. U.K Labour's Kier Starmer's fine words about realigning with Europe should send warning signals. Britain is ruled by money grabbing thugs, liars, idiots and rampant feminazis. Europe needs their money so will go on listening unfortunately.
R J Cook
Ukraine hits HQ of Russia's symbolic Black Sea navy
By Megan Fisher & Vitaly Shevchenko
BBC News
A Ukrainian missile strike has hit the headquarters of Russia's Black Sea fleet in Crimea.
One soldier is missing after the missile attack, according to Moscow. Footage on social media shows plumes of smoke over the building in Sevastopol.
The fleet is an important target for Kyiv and is seen as the best of Russia's navy.
Ukraine has hit several targets in Crimea recently, including an air-defence system and two naval vessels.
Against the backdrop of the attack, Ukrainian President Volodymyr Zelensky visited the Canadian parliament to give a speech in which he thanked Canada for being an "example for others around the world" in its support of his country.
Canada is home to a large Ukrainian diaspora.
Mr Zelensky, who was given multiple standing ovations, said "people will be the winners, not the Kremlin" and insisted Ukraine could call on support as it was about "saving lives of millions of people".
Canadian Prime Minister Justin Trudeau pledged additional support worth 650m Canadian dollars ($482m, £394m), including 50 armoured vehicles and training for F-16 fighter jet pilots and engineers.
A Ukrainian military source told the BBC that Friday's attack on Crimea was carried out using Storm Shadow missiles, which are supplied by Britain and France, highlighting the importance of Western weaponry to Kyiv.
Russia's defence ministry said five missiles were shot down by its air defences, while the Ukrainian military-linked StratCom Ukraine said Ukraine had "successfully" hit the naval base.
Ukraine's air force commander Gen Mykola Oleshchuk said on Telegram "we told you there'd be more".
Kyiv's forces have recently been launching near-daily strikes against Russian forces based in Crimea.
Last week, Ukraine's navy claimed to have knocked out an S-400 air defence missile battery covering the peninsula, degrading Russia's ability to defend against fresh attacks.
A day earlier, a large Russian landing ship and submarine were damaged in an attack which Ukraine said also made use of Storm Shadow missiles.
The attacks on Crimea are strategically and symbolically important.
As well as being a platform from which to attack Ukraine, the Black Sea fleet is a major symbol of Russia's centuries-old military presence in the region.
It was based in Crimea under a leasing deal even before Russia illegally annexed the peninsula in 2014.
President Vladimir Putin has said that Russia had to take control of Crimea to stop it from falling into Western hands.
Russia has also repeatedly threatened to use the fleet to block shipping routes used by Ukraine to export grain.
The Ukrainian president is visiting North America, where he has been urging world leaders to continue to support Ukraine.
On Thursday, he met President Joe Biden in Washington where there is growing scepticism – particularly among Republicans – over the level of funding for Kyiv.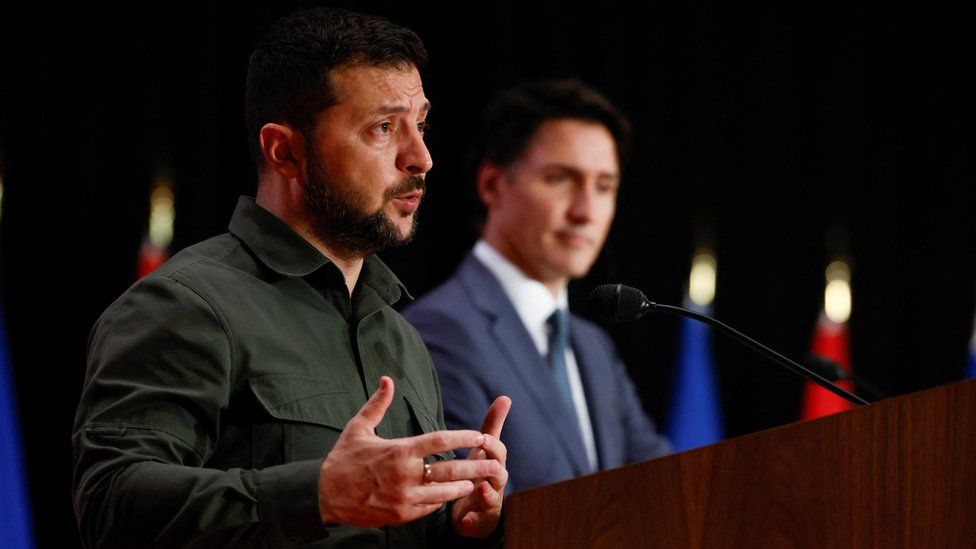 But speaking at a news conference in Ottawa on Friday, Mr Zelensky said Russia was "spreading disinformation, spreading its narratives all around the place" to try to divide the unity of the rest of the world.
Asked about reports in the US media that President Biden had agreed to supply Ukraine with a small number of long-range missiles, Mr Zelensky did not directly answer the question but said the two countries were discussing "all the different types of weapons", including long-range weapons, artillery shells and air defence systems.
"I believe that [on] the majority of what has been discussed yesterday with President Biden, I think will be able to reach agreement."
He said it was a matter of time but added "quite frankly the sooner, the less people we will lose".
The US already provides far more financial aid and weapons to Ukraine than any other country.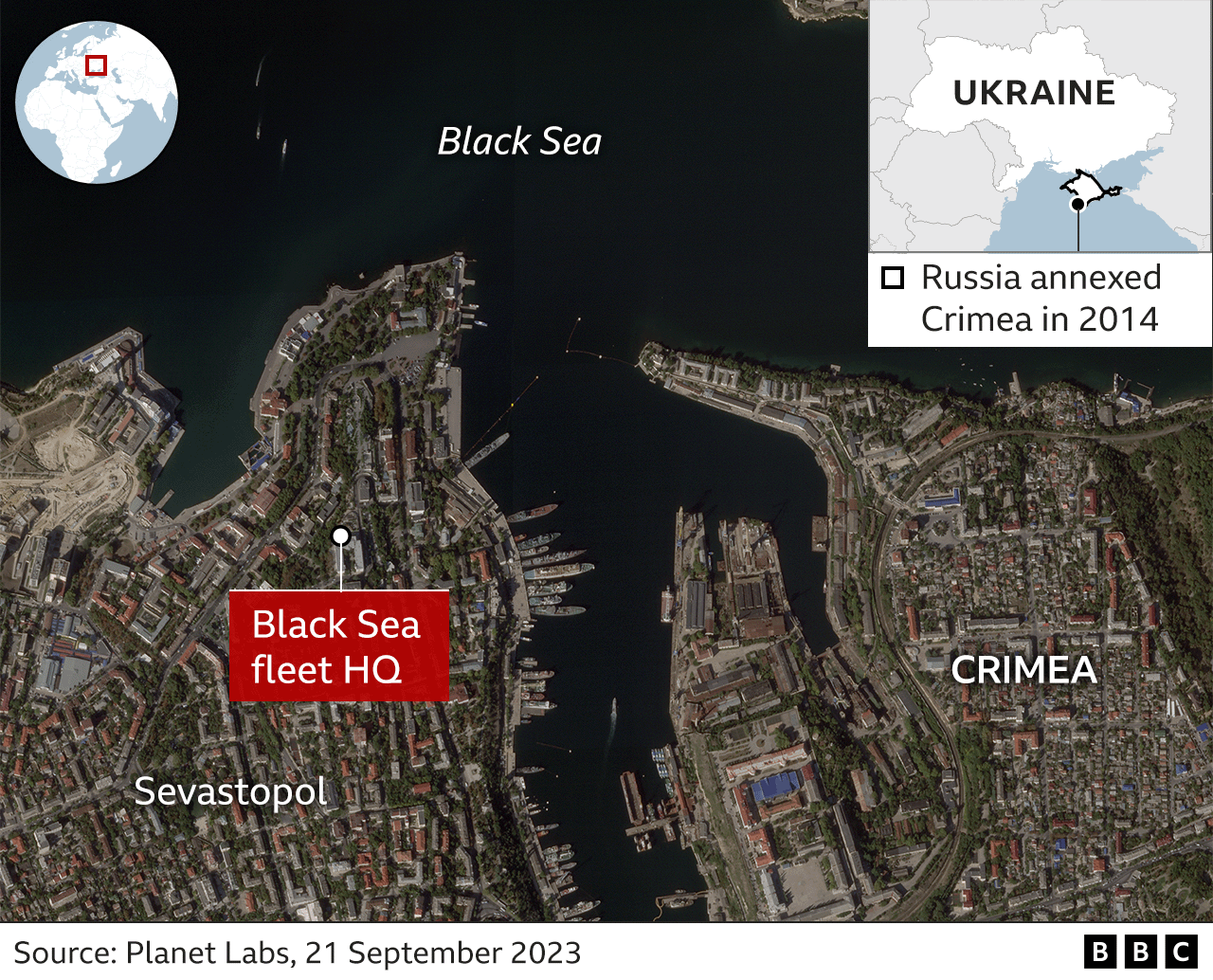 Related Topics
More on this story
Breaking China – A Wider War.
I watched a House of Lords debate on support for NATO's proxy war in Ukraine against Russia. Russia became the west's bogey man in 1917 when they kicked out the murderous Tsar – who was first cousin to his inbred British and German counterparts.
Under immediate attack from the western elite once their imperialistic World War One had finished, Lenin suffered a life changing British planned assasination attempt. He eventually died, giving way to the inevitably tyranical Stalin. His name has been used to besmirch socialist ideas ever since. In spite of the disgraced U.S President Nixon's best efforts to send China down the capitalist road, the historically great nation is still seen as a communist threat to the U.S led western elite who define the democracy comfidence trick.
The combination of elderly Lords and Dames buttressed by the feminist 'peace loving' feminist nobles, clustered on the sumptuous beautifully uphostered House of Lords expensive seating, clearly regarded NATO's victory over Russia as a done deal. Their were fine words about democracy triumphing over autocracy. As a demonstrable victim of the British police state and injustice system, I know that the word democracy is carelessly deployed as propaganda.
Britain's Dames in the aforementioned Lord's debate agonised over Russian human rights abuses. Meanwhile a range of Lords drooled over the trillions to be made from reconstructing and excavating Ukraine. It was a done deal. Well, with so many dead young men bleeding out and decomposing on Ukraine's battlefields, there has been a lot of human fertiliser to aid even more prosperous agriculture for when the new Europeans move in to work the vacated land for the capitalist western elite. The next step is to break China. The following BBC propaganda is a step along the way.
R J Cook
Do China's recent military purges spell trouble for Xi Jinping?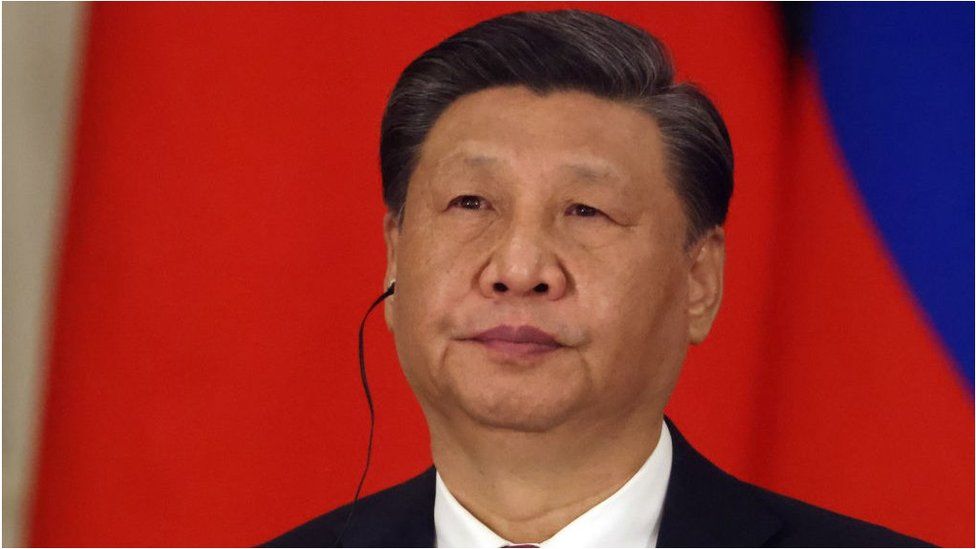 By Tessa Wong
Asia Digital Reporter, BBC News
They were trusted and favoured by Xi Jinping. Now, they seem to be vanishing.
In recent months, the disappearances of several high-ranking Chinese officials have sparked intense speculation over whether Mr Xi is embarking on a purge, particularly of those linked to the military.
The latest person who appears to have fallen from grace is defence minister Li Shangfu, who has not been seen in public for some weeks now.
While his absence was not seen as unusual at first, scrutiny intensified when a top US diplomat pointed it out. A Reuters report later said General Li, who used to oversee arms procurement for the People's Liberation Army (PLA), was being investigated over military equipment purchases.
His "disappearance" comes weeks after two top officials in the Rocket Forces – the military arm that controls nuclear missiles – and a military court judge were removed.
Fresh rumours are now circulating that some cadres in the Chinese Communist Party's (CCP) central military commission that controls the armed forces are also being investigated.
Little to no official explanation has been given for these removals, apart from "health reasons". In this void, speculation has blossomed.
The main theory is that authorities are cracking down on corruption in the PLA.
The military has been on heightened alert – in July it issued an unusual call-out asking the public for tip-offs on corruption in the past five years. Mr Xi also launched a fresh round of inspections, criss-crossing the country to make five visits to military bases since April, according to checks by BBC Monitoring.
Corruption has long been a problem in the military particularly since China began liberalising its economy in the 1970s, noted James Char, a research fellow at Singapore's Nanyang Technological University who studies the relationship between the CCP and the military.
Every year China spends more than a trillion yuan on the military with some going towards procurement transactions, which for national security reasons cannot be fully revealed. This lack of transparency is further compounded by China's one-party centralised system.
Unlike the kind of public scrutiny other countries' militaries are subjected to, China's armed forces are overseen exclusively by the CCP, pointed out Dr Char.
While Mr Xi has had some wins in tempering corruption within the armed forces and restoring its reputation to some extent, "rooting out corruption is a formidable if not impossible undertaking" as it would require "systemic redesigns which I'm afraid the authoritarian state remains averse to", Dr Char added.
"Until the CCP government is willing to put in place a proper legal system no longer sanctioned by itself, such purges will keep occurring."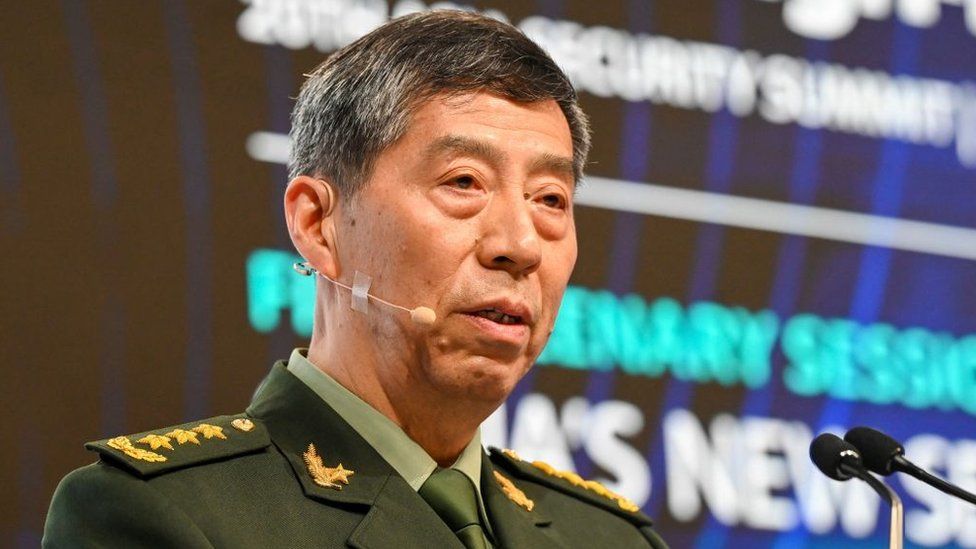 But the disappearances could also be put down to a deepening paranoia in Chinese government as it navigates its tricky relationship with the US.
In July, an expanded counter-espionage law took effect in China, giving authorities greater power and reach in conducting investigations. Soon after, China's state security ministry publicly encouraged citizens to help them combat spy activities.
General Li's disappearance echoes that of foreign minister Qin Gang, whose removal in July also caused speculation to reach a fever pitch. This week, the Wall Street Journal reported Mr Qin was being investigated over an alleged extramarital affair that resulted in a child born in the US.
"Having an affair is not disqualifying in elite [Communist Party] circles, but having one with someone who may be suspected of having foreign intelligence ties and producing a child holding the passport of your key geopolitical rival, if not enemy, may now be," noted China analyst Bill Bishop.
There is also speculation that Mr Xi is acting under internal party pressure to clean out the stables, as China struggles with a slowing post-Covid economy and soaring youth unemployment. Under China's political system, Mr Xi is not only China's president but also the top leader of the military.
Viewed one way, the disappearances are a sign of instability in Mr Xi's leadership.
Observers have homed in on the fact that General Li and Mr Qin, who were not just ministers but also occupied more elevated positions as State Councillors, were favoured by Mr Xi. Their sudden downfalls could therefore be seen as a lack of judgement by the Chinese president.
If one sees the disappearances as a political purge, then the fact that he had to enact one so soon after consolidating power at the party congress last year, where he successfully neutralised potential rival factions and stacked key committees with his allies, is a bad look.
But the other view is that it is yet another show of strength by Mr Xi.
The son of a purged CCP official, Mr Xi is famous for his public crackdowns on corruption – which also act as political purges aimed at rooting out his enemies, say observers.
Since Mao Zedong, no other Chinese leader has come close in matching the scale of Mr Xi's crackdowns. They are estimated to have netted thousands of cadres over the years, and have targeted both low-level and top officials beginning with his "tigers and flies" campaign launched shortly after he took office in 2013.
In 2017, he targeted the armed forces and removed more than 100 senior officers. At that time state news agency Xinhua said in an article that the figure "far exceeded the number of generals killed in wars to create the new China".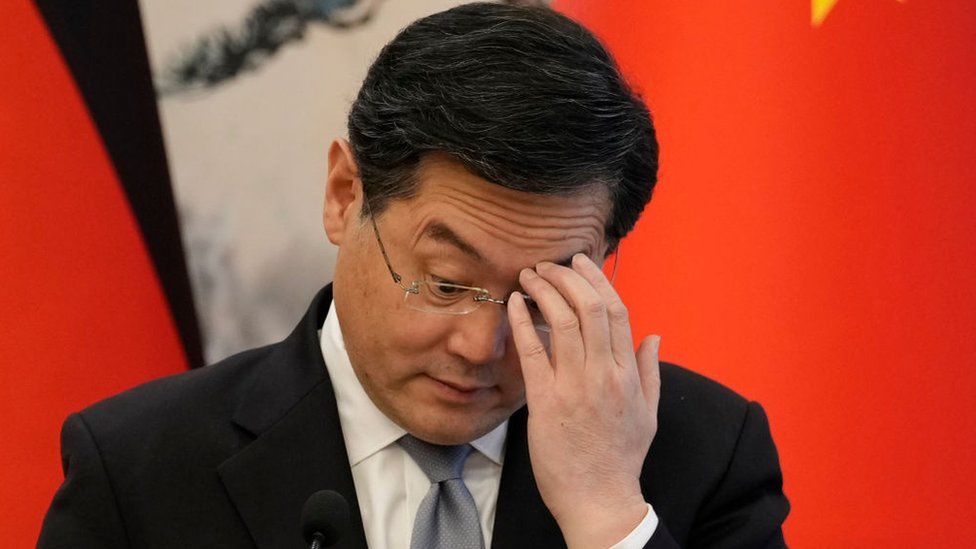 But the biggest question is over the signal the latest disappearances sends, and their ultimate impact.
Observers say they would create a climate of fear in the military and government. Though this may be the intended outcome to ensure compliance, it would also have a demoralising effect.
Years of systematically rooting out those who have fallen out of his favour and packing top posts with his followers could mean that Mr Xi has surrounded himself with yes-men. The risk of groupthink is the "real instability" of Mr Xi's leadership, as it could adversely affect China's national security and foreign policy, noted Dr Char.
The disappearances in fact have happened during a tense period in the Taiwan Strait, with China sending more warships and military jets there in recent weeks.
Any disruption in communication over foreign policy and defence diplomacy would be "especially concerning" as "accidents could happen and managing escalation could become more challenging", said Ian Chong, a non-resident fellow at the Carnegie China think tank.
Others however argue that China's military leadership is robust enough to withstand the replacement of some top officials, and point out that it has been careful to operate below the threshold of war.
Still others believe the disappearances are unlikely to have a long-term impact on Mr Xi's leadership stability. None of the cadres who have been targeted so far are part of his inner circle, pointed out Neil Thomas, an expert in Chinese elite politics with the Asia Society Policy Institute.
What most observers can agree on is that these incidents highlight the opacity of the Chinese system. "It further sharpens questions about the continuity of policy implementation and the credibility of any working-level promises or assurances," noted Dr Chong.
Ultimately, these officials' vanishing acts have fueled a "resulting unease".
Additional reporting by BBC Monitoring.
Related Topics
More on this story
September 21st 2023
This site may be forcibly closed today as a result of police action. For details of any replacement site please contact us via the following e mail.
rj.cook@btinternet.com
Facing Up To More & More War – the fire is burning out of control.
Polish Prime Minister Mateusz Morawiecki has decided to stop supplying Ukraine with weapons in its war against Russia in reaction to escalating tensions between the two countries over grain imports.
Poland's foreign ministry summoned Ukraine's Ambassador Vasyl Zvarych following statements by Ukrainian President Volodymyr Zelenskyy at the UN General Assembly in New York on Wednesday.
During the assembly, Zelenskyy said, "Some in Europe play out solidarity in political theatre, making the grain supply into a thriller".
"Those countries seem to play their own role while they actually help set the stage for the Moscow actor", he added.
Zelenskyy discussed Poland, Slovakia, and Hungary's refusal to drop the grain import ban despite the European Commission not prolonging it. The countries argue that they defend their own grain growers against falling demand and prices that harmed the domestic markets over the last year.
Kyiv sued the three countries at the WTO, as confirmed by the organisation's spokesperson, and a request for consultations was received on Monday evening, the spokesperson told Reuters.
Ukrainian Prime Minister Denys Shmyhal later confirmed on Telegram that Kyiv would impose retaliatory import restrictions on certain categories of goods from Poland and Hungary if they did not lift their unilateral bans.
In the case of Poland, an embargo would be imposed on apples, cabbage, onion and potatoes.
This will pose significant trouble, especially for apple growers, who already suffer from the lower demand for their crops due to the excessive inflow of cheap apple juice from Ukraine to Poland. Ukraine is the fourth biggest importer of Polish apples, according to the Polish Association of Fruit-Growers (ZSP).
The conflict escalated further after the Polish PM stated that Warsaw would stop providing Kyiv with weapons as a response.
"We are no longer transferring weapons to Ukraine because we are now arming Poland with more modern weapons," Morawiecki said on Wednesday in an interview with Polsat television.
He added that he will not put obstacles on arms shipments from other countries, considering Poland is a crucial military hub for weapons transfer to Ukraine.
Warsaw slams Ukrainian oligarchs
Zelenskyy's statements were also criticised by the Polish ruling Law and Justice (PiS) party MEP and former prime minister Beata Szydło.
"President of Ukraine is complaining… but for what? The transit corridor existed, and it still exists. Unfortunately, it was the Ukrainian oligarchs who abused the trust and flooded the markets of EU countries with their grain instead of transporting it further," she wrote on X.
"What Volodymyr Zelensky says today are insinuations unworthy of such a serious politician", Szydło added.
Meanwhile, President Andrzej Duda compared Ukraine to a drowning man.
"Anyone who has ever been rescuing a drowning person knows that a drowning person is incredibly dangerous and that it can pull you into the deep […] A drowning person is grasping at everything he can", he said.
Poland "must act to protect itself from harm to us because if a drowning person causes harm and drowns us, he will not receive help," according to Duda.
The Polish president was supposed to meet his Ukrainian counterpart in New York, but the meeting was called off at the last moment.
(Aleksandra Krzysztoszek | Euractiv.pl)
Read more with EURACTIV
Western Europe
EURACTIV.com] BERLIN German businesses have invested proportionately more in China this year than ever, despite government pledges to reduce dependence on trade with Beijing. Read more. /// PARIS France must triple renewable energy capacities by 2035, says network operator. To meet its EU targets, France will need to triple its use of renewable energy and reduce its energy consumption by a third by 2035, France's electricity grid operator RTE said in its outlook for the energy mix in 2030 and 2035. Read more. /// BRUSSELS Diamonds are not forever, as Belgium ready to ban Russian stones. Global diamond hub Belgium is prepared to extend sanctions on Russian diamonds, as Belgian Prime Minister Alexander De Croo told jewellery industry in New York on Tuesday evening that these 'war symbols' should be banned from the G7 market from January 2024. Read more. Today's edition is powered by META Surgeons can practice in the metaverse
Millions go blind due to lack of access to eye care. To help, FundamentalVR and Orbis International deploy cataract surgery training in the metaverse. Surgeons can train as many times as needed before working with real patients. Find out more →
Would you like to sponsor The Capitals? Contact us EU Institutions Vestager pitches EIB candidacy to Le Maire during Paris visit. Margrethe Vestager, a top candidate to lead the European Investment Bank (EIB), came to Paris on Wednesday to speak at a flagship start-up conference – and pitch her candidacy for the EIB job with Economy Minister Bruno Le Maire. Read more. Nordics HELSINKI Finnish opposition in uproar as government delays important law for disabled people. The Finnish Parliament's Health and Safety Committee was up in arms as opposition members boycotted a meeting after it was announced that the Finnish government intended to delay the implementation of the long-awaited Disability Services Act. Read more. /// COPENHAGEN Denmark to encourage NATO ammunition production. The Danish government is looking to increase ammunition production and already has its eyes set on purchasing back land with an old weapons factory in a bid to help Ukraine and boost NATO's military production. Read more. Europe's south Click on the picture to read the story | Photo by [EPA-EFE/MASSIMO PERCOSSI] ROME The Italian government will take Austria before the EU court over its blocking of the Brenner crossing at the Italo-Austria border, said League leader and Deputy Prime Minister Matteo Salvini, calling Austria's move an 'act of violence and political arrogance'. Read more. /// MADRID Catalan separatist leader takes for granted that Spanish government will pass amnesty law. The Spanish government passing an amnesty law for those implicated in the 2017 secessionist attempt, to clear the way to reinstate the acting Prime Minister Pedro Sánchez, was taken for granted by Catalan separatist leader Oriol Junqueras, president of the pro-independence formation Republican Left of Catalonia (ERC). Read more. Eastern Europe Click on the picture to read the story | Photo by [Shutterstock/LariBat] BRATISLAVA The Slovak agricultural sector achieved its highest-ever profit of €346.5 million in 2022, but farmers still worry about a 'definitive end' of their business unless the government keeps Ukrainian grain off its territory. Read more. /// PRAGUE Czech government pushes for lithium mining despite regional scepticism. The Czech government is making every effort to facilitate lithium mining in the country as it is a strategic raw material for the recovery of the Czech economy, Prime Minister Petr Fiala (ODS, ECR) said on Wednesday while visiting potential mining areas. Read more. The Balkans Click on the picture to read the story | Photo by [Shutterstock/LCV] BUCHAREST Each member state will establish an anti-corruption directorate, but it is also important to have integrity agencies to handle the prevention and conflicts of interest, the EP rapporteur on the new anti-corruption directive Ramona Strugariu told Euractiv Romania. Read more. /// SOFIA Bulgarian government promised protesting miners a secure civil service. A protest in Sofia, organised by the two unions of Bulgarian miners and energy workers from the Maritsa basin, led to an agreement with the government to guarantee the preservation of jobs for those employed in the sector. Read more. /// PRISTINA Kosovo's parliamentary speaker reiterates accusations against Lajcak. The speaker of Kosovo's parliament, Glauk Konjufca, has become the latest in a line of politicians to accuse the EU's Special Envoy to the Western Balkans, Miroslav Lajcak, of bias in the ongoing Kosovo-Serbia dialogue process. Read more. Agenda EU: ​​Informal meeting of transport ministers discusses the role of transport and mobility to achieving social and territorial cohesion, within the framework of decarbonisation and digitalization; Commission President Ursula von der Leyen delivers keynote speech at the Global Citizen NOW climate session, in New York, United States; Commission Vice President Maroš Šefčovič represents the EU at the COP28 Incoming Presidency Ministerial Consultation on Global Stocktake; Participates in roundtable with CEOs on "Accelerating the net zero transition"; Participates in third high level dialogue on "Building a 1.5C-aligned energy transition"; Vice President Vĕra Jourová speaks at the Public Broadcasters International Conference, in Prague, Czech Republic; Jobs and Social Rights Commissioner Nicolas Schmit attends high level conference organised by the Spanish Presidency on "The future of work and social dialogue"; Economy Commissioner Paolo Gentiloni hosts Governor of the National Bank of Moldova Octavian Armasu; Crisis Management Commissioner Janez Lenarčič meets UN Under-Secretary General for Humanitarian Affairs and Emergency Relief Coordinator Martin Griffiths; Delivers speech at EU hosted ministerial level event on broadening the donor base; Delivers speech at EU cosponsored ministerial level event on "Closing the gap: accelerating climate action in fragile and vulnerable contexts", in New York, United States; Agriculture Commissioner Janusz Wojciechowski participates in the International Dairy Cooperative Forum in Bialystok, Poland; France: Armed Forces Minister Sebastien Lecornu hosts German Defence Minister Boris Pistorius; ECB President Christine Lagarde speaks during the Mediterranean meetings in Marseille; UN: Special Rapporteur on rights situation in Russia presents first report to the UN Human Rights Council; *** [Edited by Sarantis Michalopoulos, Daniel Eck, Zoran Radosavljevic, Alice Taylor, Sofia Stuart Leeson] The Capitals is brought to you by Senior Network Editor, Sarantis Michalopoulos (@SarantisMich), Editor & Reporter, Alice Taylor (@Aliceinalbania) and Sofia Leeson (@sofia_leeson) , Network Coordinator, Daniel Eck and Network Reporter Charles Szumski (@charles_szumski)
Where Ukraine's army of amputees go to repair their lives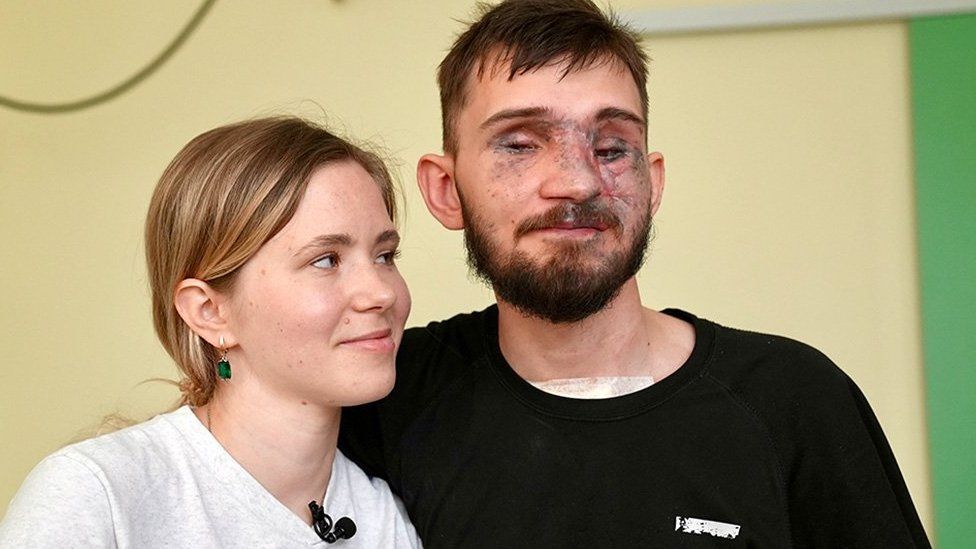 By Orla Guerin
BBC News, Kyiv, Ukraine
As Ukraine's counter-offensive grinds on – with limited gains and no decisive breakthrough – the number of amputees in the country is soaring.
There were 15,000 in the first half of this year alone, according to the Department of Health in Kyiv. The ministry won't disclose how many are soldiers. The authorities guard casualty figures closely, but the vast majority are likely to be military.
That's more amputees in six months than the UK had in the six years of World War II, when 12,000 of its servicemen and women lost limbs.
There may be many more to come in Europe's newest war. Ukraine is the most heavily mined country in the world, according to the country's former defence minister, Oleksii Reznikov.
Russia's war is creating an army of amputees here, a conveyor belt of broken bodies.
We meet some of them at a rehabilitation clinic in the capital, Kyiv, and a hospital in south-east Ukraine.

Alina Smolenska's only thought when her husband Andrii was wounded was to get to his bedside. "I just wanted to be with him, to touch him, to say that he's not alone," she says. "In situations like this, when a person needs support, I would touch their hand."
But when she reached him in hospital that was impossible.
"I saw that Andrii really didn't have his hands, so I just touched his leg and started to talk to him," she says.
"I said: 'We are a family. Don't worry. Of course, there will be some harsh moments, but we are together'."
Hours earlier, Andrii Smolenskyi had been commanding a small reconnaissance unit on Ukraine's southern front.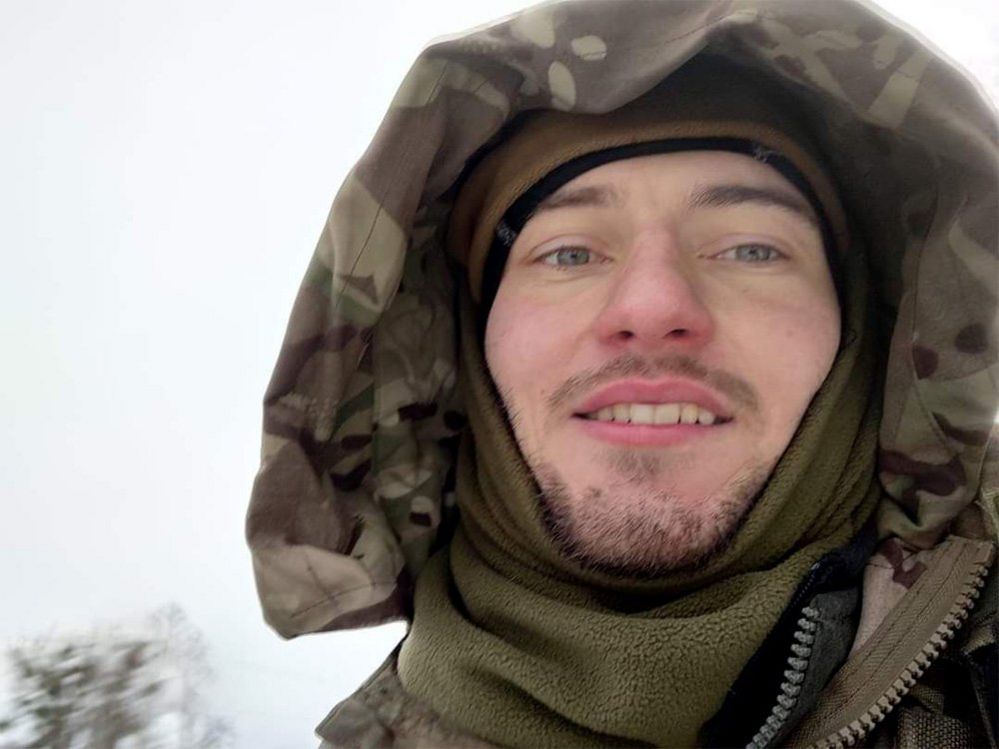 As the 27-year-old started climbing out of a trench, an explosion ripped through earth and sky. His next memory is of waking up in hospital.
"It felt like a dream," he says, "everything was so dark."
Slowly, he realised he couldn't move his hands, and that something was on his eyes, covering them.
Andrii lost his sight, most of his hearing, and both of his arms – one amputated above the elbow, the other below. Shrapnel was embedded deep under his skin. His face had to be rebuilt.
Four months on, we meet at a clinic in Kyiv where he's having rehabilitation, along with other war veterans.
Andrii is tall and lean, with ready humour, and a slightly rasping voice. His latest surgery was to remove a breathing tube from his neck.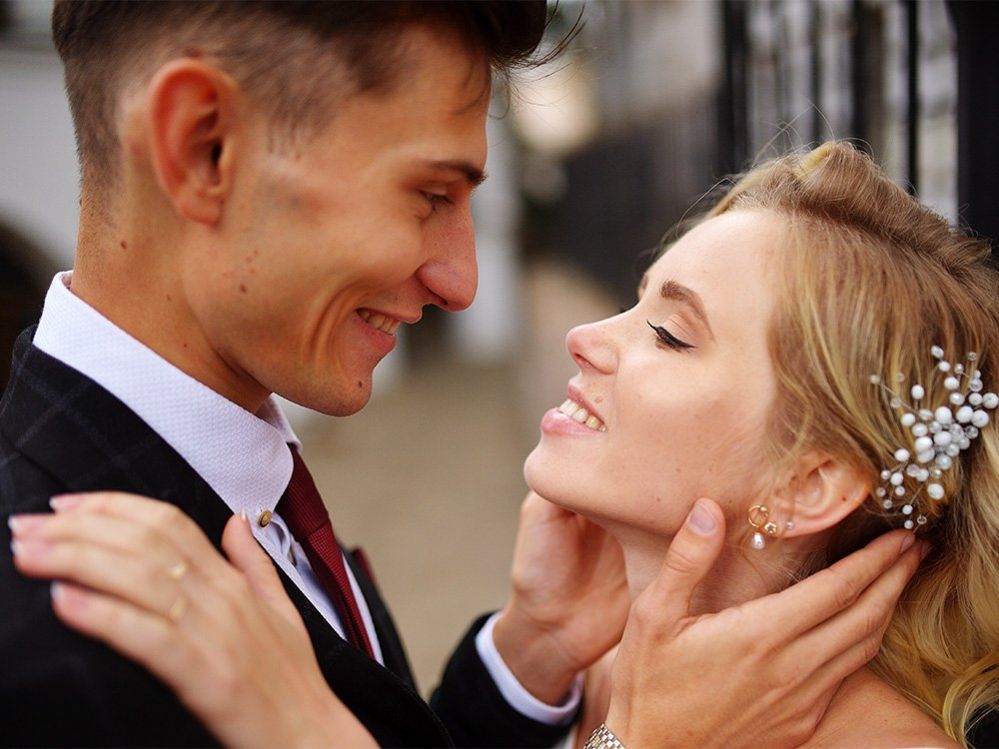 Alina sits by his side, on his hospital bed, her head nestling on his shoulder, her hard resting on his knee. Their words, and their laughter, often overlap. She is also 27 – petite and blonde and a tower of strength.
"My wife is incredible," Andrii says. "She's my hero, with me 100%."
Alina has supported him through his injury and his battle to adjust, through physiotherapy and 20 operations (there will be more). When he's thirsty she gently lifts a straw to his lips. He now sees the world through her eyes.
Andrii is "grateful to God" to have escaped any brain injury. His call sign in the army was "the apostle", and he believes his survival was miraculous.
"Psychologically it was hard to get through that, but when I accepted my new body, I would say I felt good," he says. "Challenge accepted."
Doctors expected him to be in a coma for three days after he was injured. He was conscious in one. Alina says he's "stubborn, in a good meaning of that word".
When they met on a summer evening in 2018, she was smitten from the start. "I realised he was an exceptional person," she says," extremely intelligent, and thoughtful."
They shared a love of the outdoors, and hiking in the Carpathian Mountains. Four years ago this month, they married.
Adversity has drawn them closer still.
"In the past three months I think I started to even love him more," Alina says with a laugh, "because he gave me so much motivation, so much inspiration".
The couple want to show that life goes on after life-changing injuries. "We will do everything possible to deal with it," says Alina, "and with our example to show everyone that everything is possible".
Andrii was an unlikely soldier – a financial consultant and self-confessed nerd, who sang in church and liked to talk about philosophy.
But he volunteered soon after Russia's full-scale invasion in February 2022. For him it was a battle of good versus evil, "a war of values".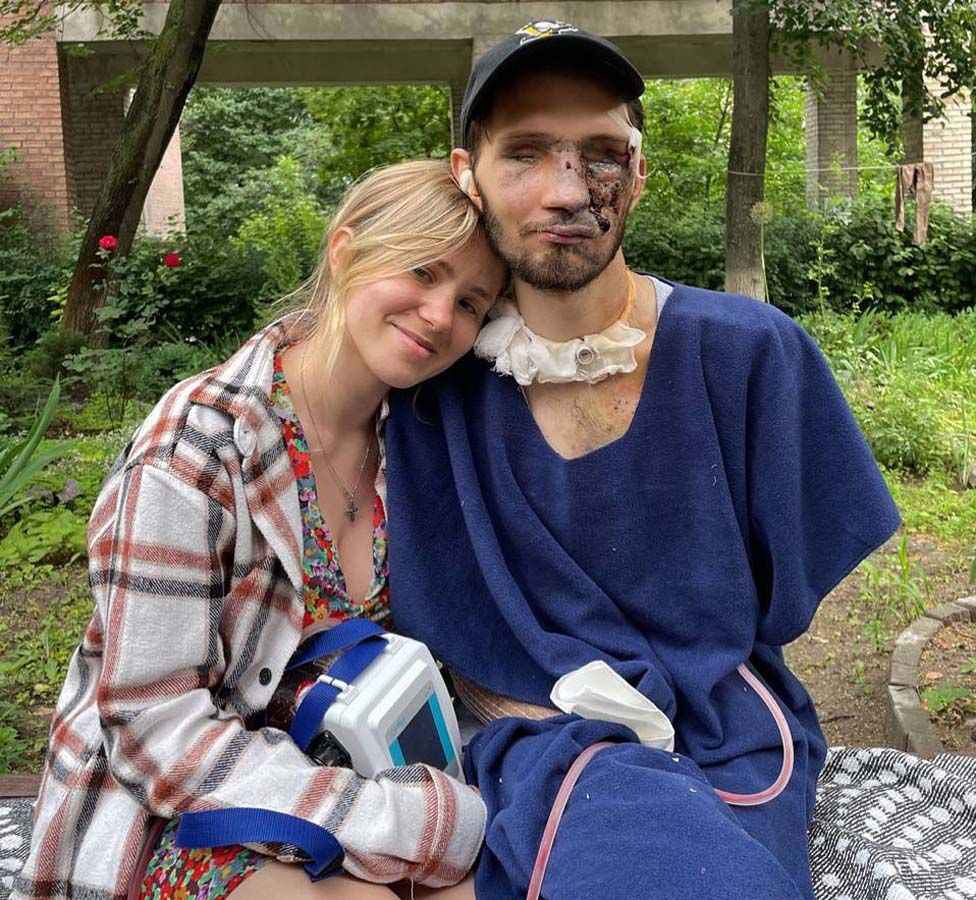 Now his battle is in the gym – where he trains two hours a day – rebuilding his strength and working on his balance. And he has taken on a new mission – to help those who may come after him.
"Ukraine has never had such a big number of amputees, and people blinded by the war," he says.
"Our medical system is not ready in some ways. Some veterans come in with really complex cases."
And Ukraine's legion of amputees is growing – mine by mine, and shell by shell.

Far from Kyiv, closer to the front lines, we see some of the most recent casualties at a hospital in the south-east.
After darkness falls, ambulances started arriving, carrying Ukraine's young generation.
One is wrapped in a gold foil blanket to prevent hypothermia. Another has a bandaged stump in place of a leg. The amputation was done hurriedly near the battlefield to save his life.
On arrival, a number is written on the upper body of every casualty. There is no chaos, no shouting.
The staff here know the drill. Since the war began, they have treated 20,000 wounded soldiers – and counting.
"This is our front line," says Dr Oksana, an anaesthesiologist.
"We are doing what we must do. These are our men, our husbands, fathers, brothers, and sons."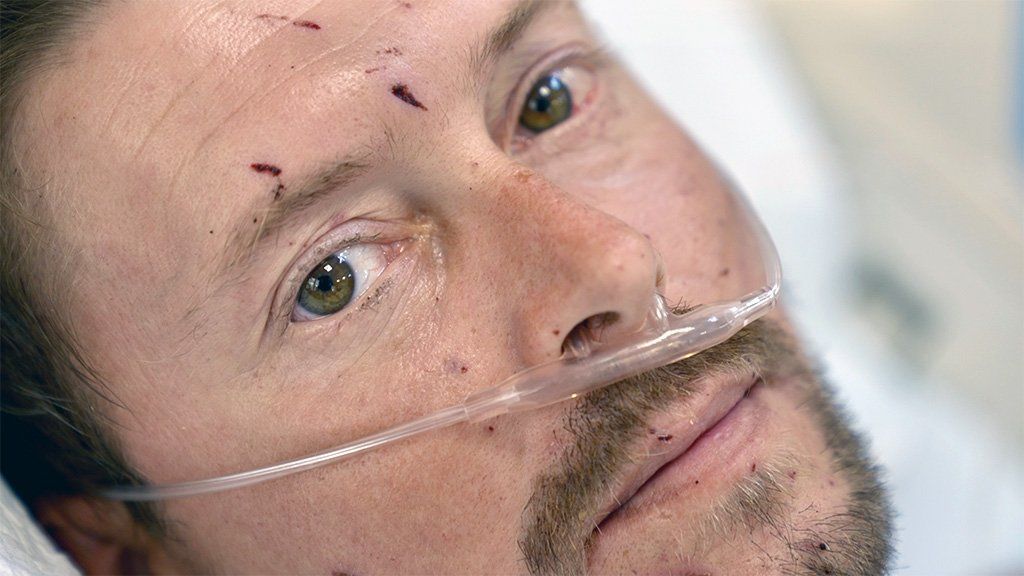 In the intensive care unit, we meet Oleksii, his military dog tag still around his neck. He's 38 and the father of a teenager. Just days before he lost both legs.
"I remember I got into a trench, and I think there was a tripwire", he says. "I stepped on it. I remember a big explosion and friends trying to take me out."
The hospital director Dr Serhii – a fatherly figure – holds his hand and tells him he is a hero.
"We will do everything possible so you can get prostheses quickly and run," he says.
I ask Dr Serhii if he ever feels overwhelmed by the flood of maimed soldiers.
"As a rule, this feeling comes every night," he tells me.
"When you see all this grief, all the wounded that arrive at the hospital. During the war we have seen more than 2,000 like Oleksii."
Back in Kyiv, Andrii and Alina keep the darker moments to themselves.
He's battling on, surprising doctors. They didn't think he could walk with a white stick because he couldn't hold it. But he found a way by clenching the cord at the top of the stick between his teeth.
His voice is getting stronger. He hopes he will be able to sing in church again and return to the mountains with Alina.
She dreams that new technology will restore his sight one day. "I also hope for some kids," she says with a laugh, "and for our house in a peaceful Ukraine".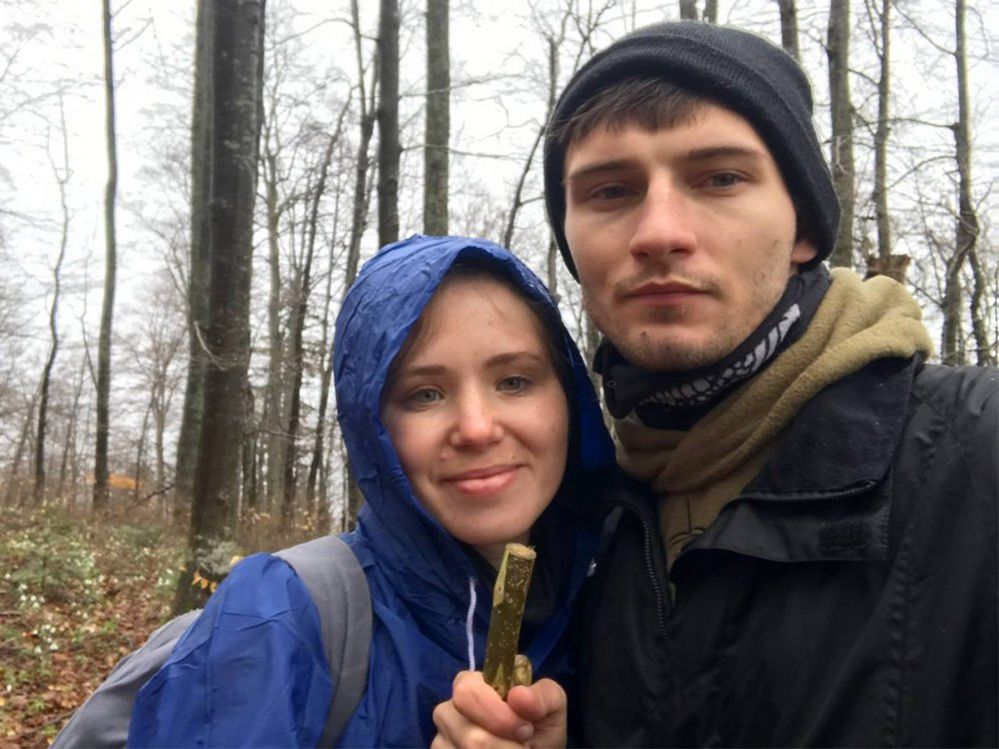 Alina is trying to arrange treatment abroad, possibly in the United States, where specialists have more experience with complex needs like her husband's.
Andrii grows quiet when asked what the hardest thing is now.
It was not his injuries, he says, but that he did not get to finish what he started and win the war.
Outside the clinic, a few of his fellow patients gather to smoke and share stories of the trenches. All have lost legs. Their wheelchairs form a sunlit semi-circle. One says the government is downplaying the number of amputees. He asks us not to use his name.
"There are at least three times as many as they say," he insists.
"They want to hide us away. They don't want people to know how many there really are. They are worried about getting people to join up and fight."
He still gets a small salary from the military. "Enough for eight packets of cigarettes," he says with a bitter laugh.

How long can Ukraine sustain these losses, and continue to fight? And how well can the growing ranks of amputees fit back into civilian life?
These are hard questions as a second winter of war approaches.
"We definitely are not ready, as a country, for a big number of people with disabilities on the streets," says Olga Rudneva, chief executive officer of the Superhumans rehabilitation centre. "People will need to learn to interact. It will take years."
Her new state-of-the art facility – in the relative safety of Western Ukraine – provides prosthetics for soldiers and civilians, free of charge.
Olga wants amputees to be visible, and she wants a new definition of beauty in Ukraine.
"This is our new normal," she says. "They lost their limbs fighting for Ukraine and for our freedom."
Additional reporting by Wietske Burema and Natalka Sosnytska

September 17th 2023
Nato chief warns of 'long war' in Ukraine, with no clear end in sight
Nato general secretary Jens Stoltenberg said that 'quick peace' would be unlikely, as either Russia or Ukraine laying down its weapons would mean 'an end' to their country
Freelance news reporter
September 17, 2023 11:53 am(Updated 2:59 pm)
Nato secretary general Jens Stoltenberg has warned that there is no clear end in sight to the war in Ukraine.
"Most wars last longer than expected when they first begin, therefore, we must prepare ourselves for a long war in Ukraine" Mr Stoltenberg told Germany's Funke Media.
He added: "We are all wishing for a quick peace, but at the same time, we must recognise that if President Zelensky and the Ukrainians stop fighting, their country will no longer exist.
"If President Putin and Russia lay down their weapons, we will have peace."
The Nato chief also said he was confident that Ukraine will join the alliance eventually, stressing: "There is no doubt that Ukraine will eventually be in Nato."
Mr Zelensky has made membership of the Western-led defensive alliance a key priority and has pressed for a timetable to be set out on Nato accession – though he has accepted such a change is impossible while the war is ongoing.
Related Article
Joining Nato, a collective defence pact that would guarantee a joint military response to any territorial incursion, would require the consent of all 31 member states – a process that can be protracted even for countries like Sweden, which has seen its own application held up by wrangling with Turkey.
Ukraine would also need to implement reforms to meet the membership requirements.
A guarantee of Ukraine's future neutrality is likely to be key among Russian demands in any future peace process, though there has been no progress towards peace, despite frustrations with the limited gains made by Ukraine's counter-offensive in recent weeks.
Mr Zelensky and other officials have dismissed critics who say the three-month offensive is too slow and riddled with strategic errors.
On Sunday, Russia said it had thwarted a co-ordinated Ukrainian attack on occupied Crimea, while drones also targeted Moscow, disrupting air traffic in the capital.
In southwestern Russia, a Ukrainian drone damaged an oil depot early on Sunday, sparking a fire at a fuel tank that was later extinguished, the regional governor said.
Ukraine in recent days has launched a series of strikes on Russian military targets in occupied Crimea, including the Russian Navy Black Sea Fleet's facilities, seeking to undermine Moscow's war efforts in the critical region.
Attacks deep inside Russia, far from the front lines, have also increased, with Moscow's mayor saying at least two drones were shot down in the region of the capital early on Sunday.
Oleksiy Danilov, the secretary of Ukraine's Security Council, over the weekend urged Kyiv's allies to speed up the delivery of weapons, saying this was the only way to end the war as the conflict drags on.
"For example, the complete or partial elimination of the Russian Black Sea Fleet, which is a doable task, should significantly accelerate the process of Russia's search for a way out of the ongoing war," Mr Danilov wrote on the Ukrainska Pravda news site.
Ukrainian forces have been warning for weeks that a shortfall of supplies has hindered the counter-offensive, despite a steady flow of Western aid and munitions into the country.
Meanwhile, Russia launched a combined drone and missile attack on Ukraine early on Sunday, targeting chiefly the southern parts of the Odesa region and hitting an agriculture facility there, Ukraine's Air Forces said on the Telegram messaging app.
Russia launched six Iranian-made Shahed drones and 10 cruise missiles, with Ukraine's forces destroying six drones and six missiles before they hit their target, the Air Force said.
The situation in Odesa and its ports has been watched carefully by grain markets, as Kyiv said on Saturday that two cargo vessels arrived there to use a temporary corridor to sail into Black Sea ports and load grain for African and Asian markets.
Russia, which like Ukraine is short of munitions on the frontline, has been courting North Korean leader Kim Jong Un in a bid to shore up its own dwindling weapons supplies.
The pariah state leader, who has spent several days visiting Russia after a summit with Vladimir Putin, departed from Russia's far eastern city of Artyom on his armoured train on Sunday, set to whisk him back to North Korea.
He was given the red carpet treatment after pledging support to Vladimir Putin's "sacred fight" against the West, with a number of key Kremlin officials present to see him off as he was escorted onto the train carriage as the music of a military band played.
Monday will see Russia and Ukraine square off before the International Court of Justice, in a case that centres around claims by Moscow that its invasion of Ukraine was done to prevent genocide.
Ukraine brought the case to the United Nations' highest court just days after the Russian invasion last year, with Kyiv arguing that Russia is abusing international law by saying the invasion was justified to prevent an alleged genocide in eastern Ukraine.
Russia wants the case to be thrown out and objects to the jurisdiction of the International Court of Justice (ICJ). The hearings, set to run until 27 September, will not delve into the merits of the case and are instead focused on legal arguments about jurisdiction.
Moscow says Ukraine is using the case as a roundabout way to get a ruling on the overall legality of its military action.
Topics
Crisis ? What Crisis ?
Will Labour's plan to stop the boats make matters worse?

So, finally, we have learned how the Labour Party proposes to stop the boats. They will: Seek a returns agreement with the EU in exchange for the UK taking a share of the asylum seekers reaching the EU Engage in more intelligence sharing with the EU, plus a new partnership with Europol Devise a new organised crime strategy to target traffickers by treating them as terrorists. Abandon the Rwanda scheme Reduce the asylum backlog overnight. By implementing such a plan, the claim is that they will not only stop the boats but save the taxpayer £2bn per year.

Wow, we wonder what AI-bred super genius thought up such an astounding plan?
Will it work? [spoiler alert] Of course not. Leaving aside the fact that Brussels will effectively decide what our allocation of asylum seekers will be, and let's not forget that nearly a million people sought asylum in the EU in 2022. It will be more in 2023.

Moreover, the number entering illegally this year will be around half a million. Looking at the years ahead these numbers are bound to grow. (See our article of the week below).

As for smashing the gangs; not that there's the remotest chance of this happening; as the National Crime Agency has said, 'trafficking networks are illusive, ramshackle and easily replicated. Take one down and another will quickly replace it.'

What of a returns' agreement with the EU, with the quid pro quo of our taking in asylum seekers from them? NB, one calculation, given the size of our population, and based on 2022 data, put it at 120,000. All this will mean is that we will be back to the pre-Brexit scenario of each year being directed by Brussels to take in whatever our allocation has been set at. The boats would continue to come because we'll, more or less, be back in the position we are in now, unable to return everyone who comes illegally, fully signed up to the ECHR and, no doubt, falling within the ambit of the European Court of Justice (ECJ).

As for ending the backlog at a stroke, this implies an amnesty, because there will be no other way of clearing the backlog overnight. Far from solving the problem, the strength of the magnet will increase immeasurably, overnight.

And what of those asylum seekers we would be agreeing to take in? They would still be coming to a country with a huge housing shortage, NHS queues, chock-a-block GP surgeries and congested roads. Where will they be housed? Hotels? Converted military camps? Tents?

The problem with plans such as this is that the clever people who devise them have little understanding of immigration and invariably look at the present without any thought given to the future. As if there is a finite number of migrants; get them all in quickly and, Bob's your uncle, job done.

Alex Lyon MP, a Labour Immigration Minister, took this line in the 1970s and instructed entry clearance officers in our missions on the Indian sub-Continent to issue clearance (visa) to all fiancé(e)s applicants: 'there's a finite number', he said. But there wasn't, the number of applicants just kept growing. When James Callaghan became PM on succeeding Harold Wilson, one of the first things he did was to sack Mr Lyon.

The only thing that this plan has going for it in the eyes of the public is that it hasn't been put together by the Tories. Indeed, neither party has any credible ideas (bar Rwanda, should it ever get off the ground) on stopping the boats. People are fed up with broken Tory promises on immigration, with many concluding that Labour won't be any worse. Sadly, they can and will be worse but successive Conservative governments have brought it on their own heads.

Interestingly, both the major parties have studiously avoided the issue of legal immigration, despite a current annual inflow of 1.3 million and net migration of 600,000 – over ten times the rate of illegal migration. What are they afraid of? Mr Sunak thinks people aren't worried about legal migration. They most certainly are, Prime Minister, and you're deluding yourself if you think they aren't.
Gavin Mortimer, The Spectator – Europe's migrant crisis is only going to get worse

In this week's top article, Gavin Mortimer assesses the scale of the migrant crisis in Europe, putting the Labour plan into context.

"It's unlikely the smugglers will lose much sleep over von der Leyen's pledge. Nor will they take any notice of Keir Starmer's promise to crack down on their business. Why should they after a decade of similar declarations from European politicians, such as Francois Hollande and David Cameron?"

Leading comments in both the Daily Telegraph and The Times today are scrutinising Labour's plan, both are worth a read.
MIGRATION WATCH IN THE MEDIA
Above, our Executive Director Mike Jones spent a quarter of an hour talking to TalkTV's Mike Graham about Labour's asylum plan. Be sure to give this a watch.

The Daily Express took note of our warnings should the government fail to reduce net migration significantly. 'Alp Mehmet, Chairman of Migration Watch UK said: "As this polling implies, there isn't much trust in either of the main parties to get the balance on immigration right. We have long known of the public's frustration with the government's failure to deal with the small boats and to remove those crossing the Channel illegally. "However, it is also clear that there is little confidence in Labour coming up with a solution. "Meanwhile, runaway legal net migration is roughly ten times the number of Channel crossers and yet neither party is keen to discuss this. The present level of net migration of 600,000 will have devastating consequences on the whole country if it is allowed to continue."' Read the full article here.

Breitbart picked up the same quote here.
We wouldn't be able to continue this work without the help of our supporters. If you would like to donate, please click the button below.
Alternatively, we use an alternative payment provider, Stripe, which can be used to make donations via our Cut Immigration campaign website here. We are hoping to introduce this to the main Migration Watch website in the future.

Our supporters are all as concerned about the future of our country as we are. Some have been kind enough to remember us in their will. If you wish to consider leaving a bequest to Migration Watch UK, or wish to discuss anything else, do please get in touch. Our email is: admin@migrationwatchuk.org
September 16th 2023
Ukraine's Crimea attacks seen as key to counter-offensive against Russia
Related Topics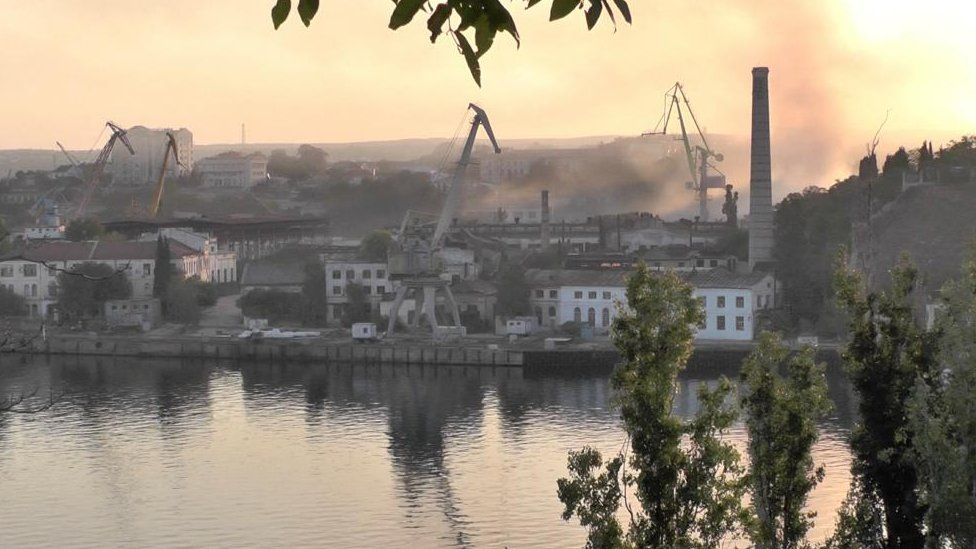 By Paul Adams
Diplomatic correspondent, in Kyiv
This week saw spectacular Ukrainian attacks on the Crimean Peninsula, hitting Russian warships and missiles.
Estimates of the damage done ran into billions of pounds and raised the question: is Ukraine getting ready to retake Crimea, which Russia annexed in 2014?
Crimea is a Russian fortress, so it is important not to get carried away.
"The strategy has two main goals," says Oleksandr Musiienko, from Kyiv's Centre for Military and Legal Studies.
"To establish dominance in the north-western Black Sea and to weaken Russian logistical opportunities for their defence lines in the south, near Tokmak and Melitopol."
In other words, operations in Crimea go hand-in-glove with Ukraine's counter-offensive in the south.
"They depend on each other," Musiienko says.
Let's look at Ukraine's recent successes in Crimea.
On Wednesday, long-range cruise missiles, supplied by the UK and France, dealt a heavy blow to Russia's much-vaunted Black Sea fleet at its home port of Sevastopol.
Satellite images of the scene at the Sevmorzavod dry dock repair facility showed two blackened vessels.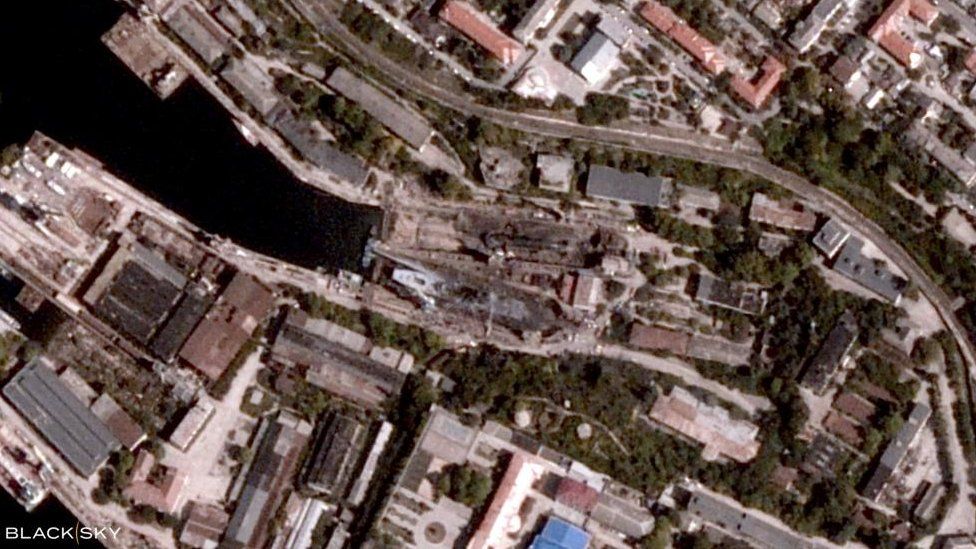 On Friday, Britain's Ministry of Defence said a large amphibious landing ship, the Minsk, had "almost certainly been functionally destroyed".
Next to it, one of Russia's Kilo class diesel-electric submarines, the Rostov-on-Don – used to launch Kalibr cruise missiles hundreds of miles into Ukraine – had "likely suffered catastrophic damage".
Perhaps equally importantly the dry docks – vital for maintenance of the entire Black Sea fleet – would likely be out of use "for many months", the ministry said.
On Saturday, Ukraine offered tantalising new details.
It said special forces had played a key role, using boats and an unspecified "underwater delivery means" to get ashore, before using "special technical assets" to help identify and target the vessels.
But with the fires barely out in Sevastopol there were more dramatic night-time explosions as Ukraine blew up one of Russia's most modern air defence systems, an S-400, around 40 miles (64km) north at Yevpatoria.
This was another sophisticated operation that used a combination of drones and Ukrainian-made Neptune missiles to confuse and destroy a key component of Russia's air defences on the Crimean Peninsula.
A significant side note: Russian attempts to use exactly this technique over Kyiv have generally failed, largely thanks to the presence of US Patriot interceptor missiles.
Thursday was the second time in less than a month that Ukraine has knocked out an S-400 surface-to-air missile system on the peninsula.
On 23 August, at Olenivka, on the western tip of the Tarkhankut Peninsula, Ukraine managed to destroy another launcher and a nearby radar station.
Russia was thought to have not more than six S-400 launchers in Crimea. Now it has lost two.
But these are only some of Ukraine's recent operations.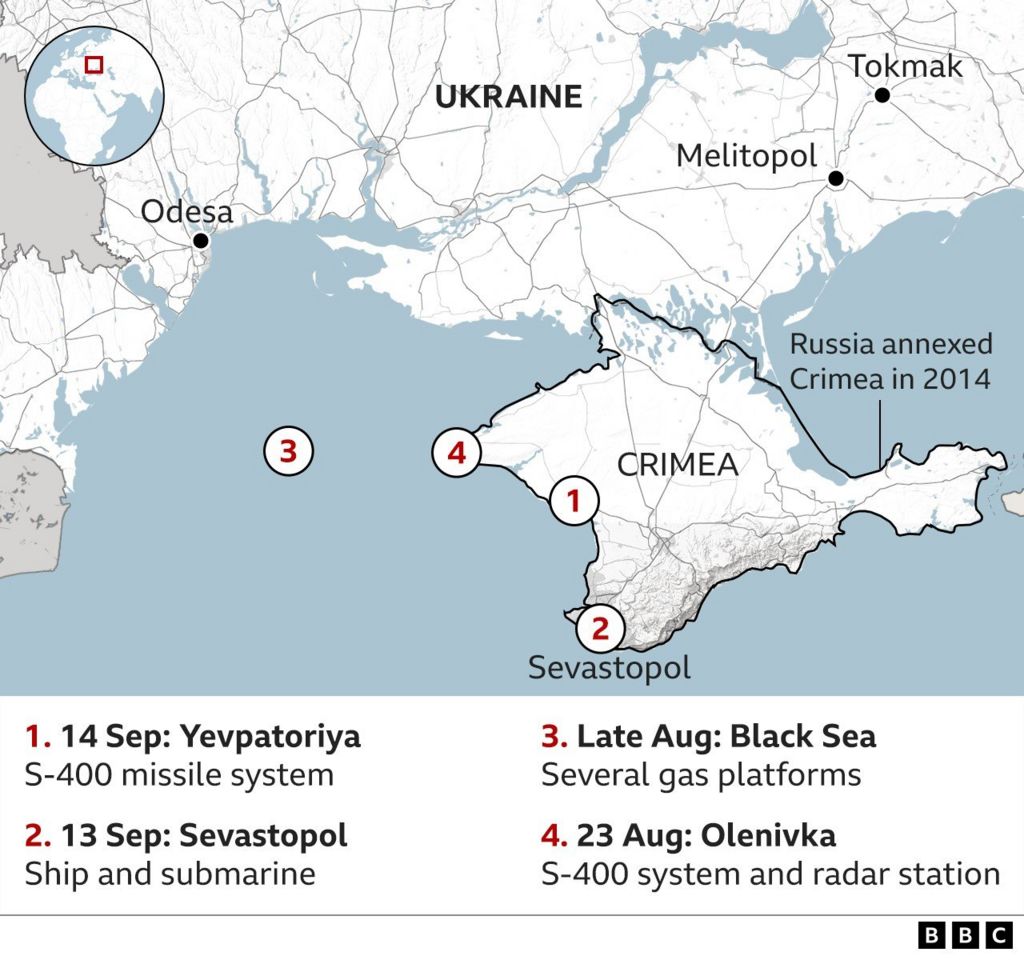 Others have knocked out Russian radar positions on offshore gas platforms and, according to Kyiv, used experimental maritime drones to attack a hovercraft missile carrier at the entrance to Sevastopol harbour.
With its airbases, troop concentrations, training grounds and the Black Sea fleet, Crimea has been a key target since Russia's full-scale invasion last year.
"In Crimea, they still have a lot of stockpiles, with artillery shells and other types of weapons," Musiienko says. "And this is the main logistic supply line for them."
Over the months, Kyiv's operations have grown in sophistication, from a drone attack in August 2022 which destroyed an estimated nine Russian aircraft at the Saky air base, to the combined drone and missile attacks of today.
With more advanced weapons thought to be in the pipeline, Musiienko expects Ukraine to launch ever more sophisticated operations.
"When we get ATACMS (tactical ballistic missiles) from the United States, I think we will try to use – in one attack – ballistic missiles, cruise missiles and also drones," he says.
"And that will be a serious problem for Russia's air defence system," he adds.
"We will try to blind them."
Each successful attack, he says, makes the next one easier. "We are clearing the way, and it's becoming more simple."
The latest reports from Washington suggests the Biden administration is close to approving the ATACMS long range missile system after months of Ukrainian lobbying.
Does any of this mean that Kyiv is getting closer to its goal of liberating Crimea?
"It's getting closer, but there's still a lot to do," says retired Ukrainian navy captain Andriy Ryzhenko.
"We need to liberate the Sea of Azov coast and cut the land corridor," he says, referring to Ukraine's slow, grinding offensive in the south.
And then there is the Kerch Bridge.
Ukraine has been hitting Moscow's lifeline to Crimea for almost a year, but Russian heavy equipment still moves along its vital railway.
Despite being much better defended now, it remains very much in Kyiv's sights.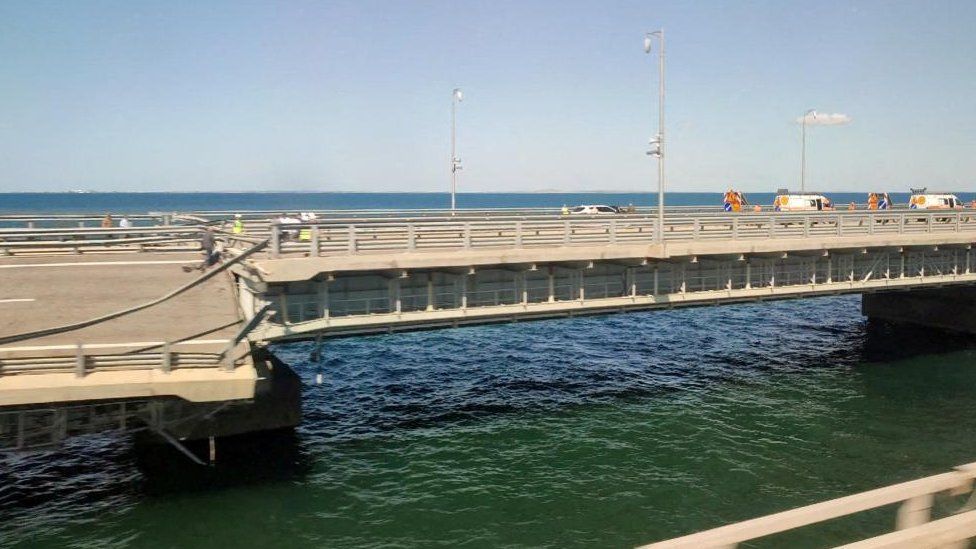 "When we shut down the Crimean bridge, it will be a logistical problem for them," Ryzhenko says, with some understatement.
Cutting off Crimea would be catastrophic for Russia and provide a welcome boost to Ukraine's difficult southern offensive.
So is all this a prelude to a Ukrainian effort to retake the peninsula?
Observers here in Kyiv are trying not getting ahead of themselves.
"I think this could be a preparation for the liberation of Crimea," Musiienko. "But I understand that it will take time.
"What we're trying to do right now is clean the way to Crimea."
On Saturday, the Secretary of National Security and Defence Council, Oleksiy Danilov, said Ukraine was using every means at its disposal to force Russia to abandon Crimea.
"It looks like if the Russians do not leave Crimea on their own," he said in a radio interview, "we will have to 'smoke them out'."
Related Topics
More on this story
Comment
This war is obviously about taking Crimea with massive Anglo U.S backing. This is an old story. The moralising western elite have destroyed Middle Eastern stability, opening up North Africa to chaos and mass exodus. Boris Johnson was quick to assert that Nordstream 2 would never come on stream. Johnson is a long time advocate of U.S imported LPG. British covert forces also orcehestrated attack on Nordstream 1. U.S born Churchill war monger wannabe Johnson expects to come out of the wilderness to play his part in World War Three. Please note Churchill's mother was a U.S citizen.
Over here in the Nazi police state west we are led to believe Russia had nothing to do with defeating Nazism. British elite Nazis , like windbag racist upper class Churchill encouraged Hitler to block the rise of communist Russia – where in bred Tsarist relatives of the Anglo German ruling elite's cruelty and indifference provoked the 1917 Russian Revolution and got their inevitable end.
After World War Two racist Churchill wanted to nuke the U.S.S.R. That mentality hasn't changed. Britain is the arrogant cheer leader for this proxy war for Russian regime change. Clearly a fake evidence based Anglo U.S money grabbing and popular distraction for their nation is perfect for control. Their masses are easily persuaded that they are experiencing an orgasmic moment in history.
'Conspiracy' a collection of essays by Ian Shircore, is among a dozen politcal books I have read this week. The chapters on Dr David Kelly and MK Ultra aren't bad, but when I got to Flight MH17, Shircore revealed his true grovelling pro western exceptionslim true colours. There is no joined up thinking in this books episodes. In my experience as a writer, that may be because his editor's would not allpw such freedom. That is life in western police srates where their ruling eite' never stop reminding us of their 'democratic values.'
R J Cook
September 13th 2023
Ukraine launches missile attack on Crimea
Related Topics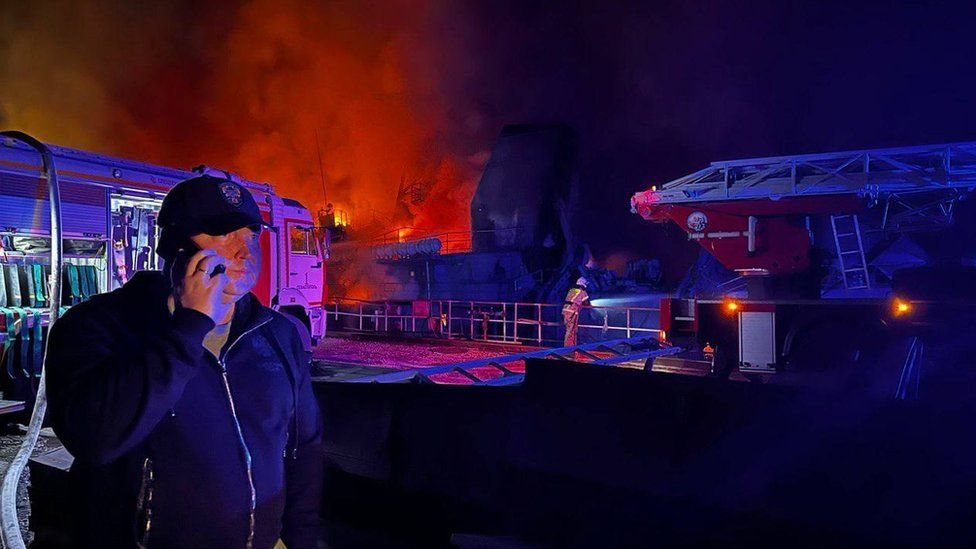 By Paul Adams & Megan Fisher
BBC News in Kyiv, Ukraine and London
Ukraine has said it attacked naval targets and port infrastructure in Crimea, in one of its biggest strikes on the Russian navy's Black Sea fleet.
Russia earlier claimed Ukraine had launched 10 missiles and three unmanned boats in the attack.
It caused a large fire at a Sevastopol shipyard which left 24 people injured, Russia said.
The Moscow-installed governor claimed most of the weapons were intercepted but that two ships had been damaged.
Ukraine has strongly implied western-supplied cruise missiles were used in the attack, one of the biggest on the Black Sea fleet since the war started.
Unmanned vessels, known by many different names including sea drones and drone boats, operate on or below the water. They usually have built-in explosives and cameras that feed directly back to the person controlling them.
A photo shared by Sevastopol Governor Mikhail Razvozhayev on Telegram shows flames engulfing what appears to be a ship at a port as he stands speaking into his phone.
It is thought to be in an area where ships were undergoing repairs.
A large landing ship, named the Minsk, and a submarine, called the Rostov-on-Don – both thought to be in dry dock – are said to have been damaged. This makes it one of Ukraine's most significant attacks so far on the Black Sea fleet.
According to state-run Ria Novosti news agency, the Russian defence ministry said both vessels will be fully repaired and continue in normal service.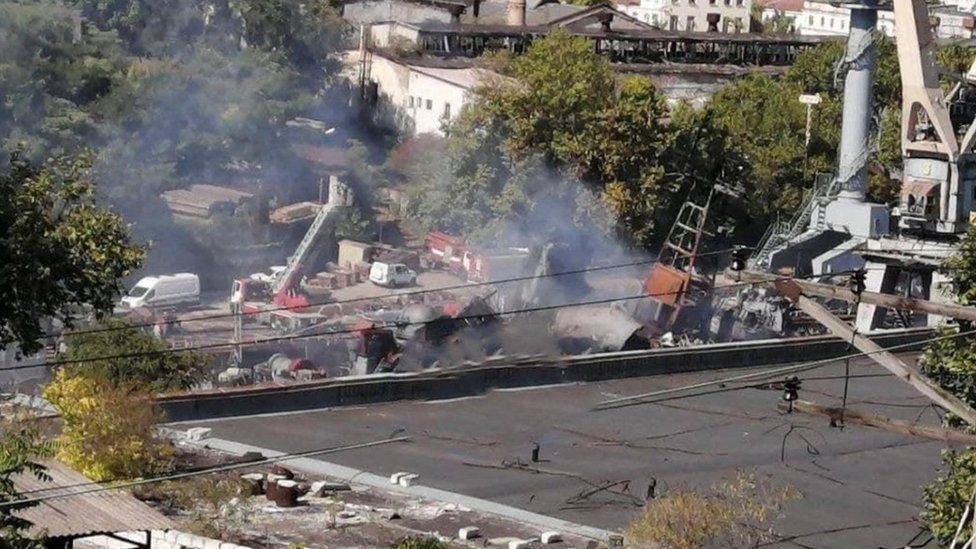 Ukrainian military intelligence official Andriy Yusov told Reuters: "We confirm a large landing vessel and submarine were hit. We do not comment on the means (used) for the strike."
In a post on Telegram, the head of Ukraine's air force Mykola Oleshchuk thanked his pilots for their "excellent combat work" – strongly suggesting weaponry had been launched by Ukrainian aircraft. He also warned there was more to come.
Posted in Ukrainian, Mr Oleshchuk used language which strongly implied the use of either UK Storm Shadow or French SCALP cruise missiles. These missiles have a range of over 150 miles (240km) – triple the range of missiles Ukraine used previously.
When contacted, the air force said Storm Shadow and SCALP cruise missiles are the only such weapons currently in Ukrainian use.
This appears to be the first time such weapons have been used on targets inside Crimea.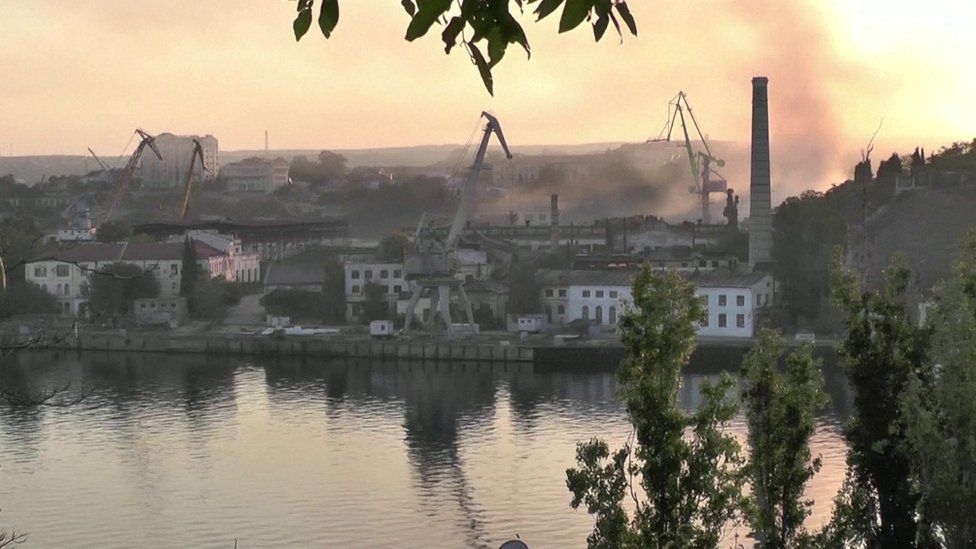 Images circulating on social media, which the BBC has yet to verify, show several large explosions in the area.
The fact that some missiles got through Russia's air defences and appear to have done substantial damage will be of real concern in Moscow.
Seven of the missiles were downed and all three unmanned boats were destroyed, the country's defence ministry claimed.
Russia illegally annexed Crimea from Ukraine in 2014 and this attack shows the tussle for control of the waters.
Ukraine has consistently maintained that its ultimate goal is to retake the peninsula and it is not the first time it has targeted Sevastopol and the Black Sea fleet.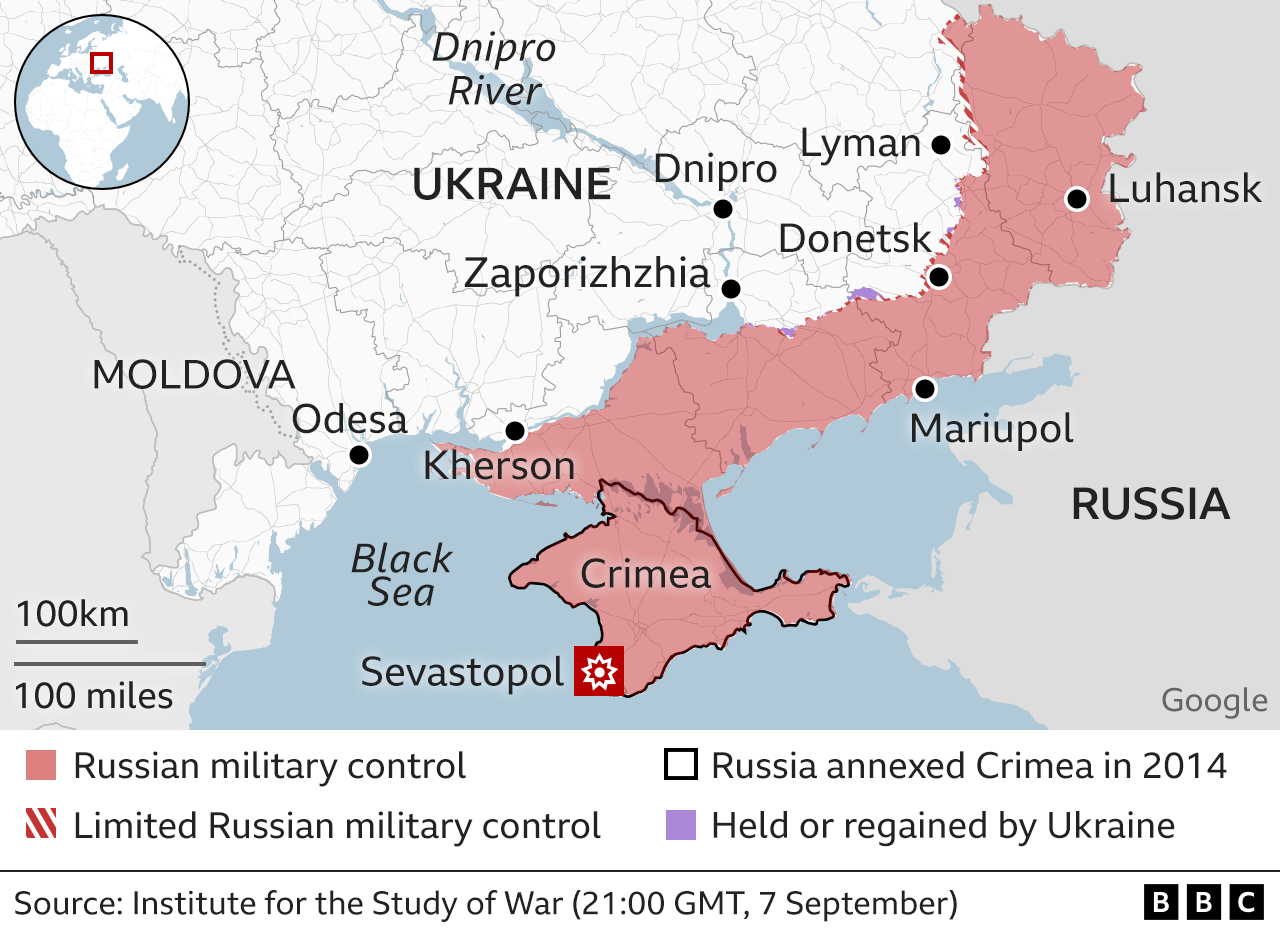 Meanwhile, Russian drones reportedly damaged the Ukrainian grain port of Izmail, on the Danube river.
The governor of the Odesa region, Oleh Kiper, said six people had been injured in the attack, which caused a fire and damaged infrastructure.
"Several groups of drones were launched at the Izmail district," Mr Kiper said on Telegram.
"Unfortunately, there were hits: damage to port and other civil infrastructure was recorded."
In recent days, Ukraine claimed it seized back control of four gas drilling platforms in the northern Black Sea, close to the Crimean peninsula. The so-called Boyko Towers were captured by Russia in 2015, shortly after its annexation of Crimea.
Related Topics
More on this story
'GET ON WITH IT !!!!
Comment
The Daily Mirror has reported that Vladimir Putin is terminally ill, his public appearances being handled by a body double. Meanwhile Britain's disgraced former PM is in full Churchill bombastic mode strutting around on the western elite world stage criticising and ordering his wind blown successor to 'GET ON WITH IT.' SKY so called independent news announced that 'It will be interesting to see how Putin responds to the attack on Sevastopol's Naval Base rumoured to have caused £340 million of damage. Add to that the U.S War Crime cluster bomb weapons today destroyed an entire Russian Squad of soldiers.
This is the road and skyway to hell. Then there are U.K trained demolition soldiers captured en route to blow up a Russian nuclear facility. What few sane people there are in the west will see where this is likely to end.
I have no doubt that western NATO duplicity and dirty tricks caused this war as they intended. They have made no secret of their intention to splinter Russia with more puppet well paid Zelenskys managing its separated parts for global elite power and wealth. MI6 and CIA have been working on this for decades. Biden recently announced plans to send U.S warships to police the freedom of the Black Sea while Russia claims to have a hypesonic nuclear missile system which can fly via the North Pole with enough independently targetable nuclear war heads to destroy every major U.S city. In this context Elon Musk's patriotism is being called into question because he has so far refused to put his Starlink system at the warmongering hypocrites full disposal. He faces nationalisation.
R J Cook
September 12th 2023
Biden's false tales are increasing: Is it a sign of a memory disorder?
Doctor: "Doing This Every Morning Can Snap Back Sagging Skin (No Creams Needed)"
Commentary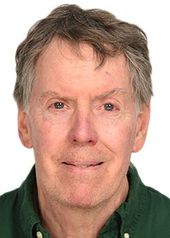 Surprise witness in Trump friend Elliott Broidy's battle with Qatar
Don't cry for China's collapsing economy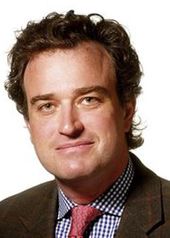 Bedtime in America: John Wayne is dead and President Biden falls asleep
Question of the Day
Does the country do enough to recognize and remember the events of 9/11?
Story Topics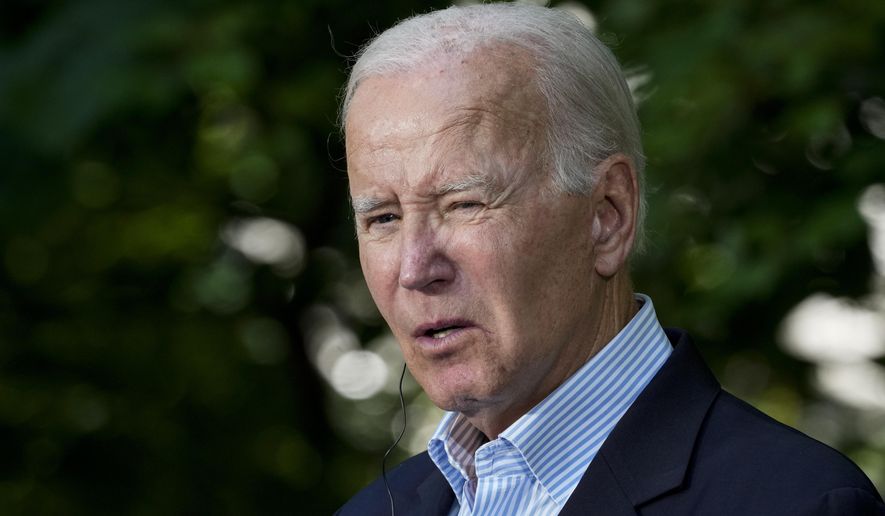 By Jeff Mordock – The Washington Times – Friday, August 25, 2023
President Biden has a long history of telling stories that are embellished, if not outright fabricated, but his falsehoods are increasing rapidly.
Mental health experts say the false memories might be signs of confabulation, a neurological disorder linked to dementia.

"Confabulation is most closely associated with dementia-related memory loss," said Dr. Tanveer Ahmed, a psychiatrist. "You are trying to tell a story, but your brain can't fill the space, so your brain protects you by making stuff up."
Dr. Ahmed has not personally assessed Mr. Biden but said evidence of confabulation is "overwhelming."
---
---
In a speech this month in Milwaukee, Mr. Biden entertained the audience with previously debunked tales about his grandfather's death, a conversation with an Amtrak conductor, his father's education and an eyewitness account of a bridge collapse in Pittsburgh.

A week later, Mr. Biden attended a campaign fundraiser where he repeated the debunked Amtrak story and then spun a yarn about encountering a same-sex couple in 1960s Delaware. Although the story is impossible to prove or disprove, several fact-checkers, including The Washington Post, responded skeptically.
In Hawaii last week, Mr. Biden told survivors about a house fire that threatened his wife, Corvette and cat. Media reports at the time described a small kitchen fire under control in roughly 20 minutes.

Republicans and others accuse Mr. Biden of outright lying. Some supporters are concerned that Mr. Biden's age could plague his reelection bid.
Putin: UK leaders don't understand responsibility of training Ukrainian 'saboteurs'
Putin said Federal Security Service of Russia (FSB) captured several "Ukrainian saboteurs," who were tasked with damaging a Russian nuclear power plant. "During the questioning, they testified that they were trained under supervision of British instructors," he stated. Britain's military communications networks were hit by more than 6 ,illion cyber attacks last year, according to the head of U.K Strategic Command,
Russian President Vladimir Putin said on Tuesday that British leadership was unlikely to understand the responsibility for training what he labeled as "Ukrainian saboteurs" who planned an attack on Russian nuclear power plants.
"Do they even understand what they are playing with? Do they provoke us to some response actions against Ukrainian nuclear facilities, power plants? Does the British leadership and the prime minister know what their intelligence agencies do in Ukraine?" Putin said at an economic forum.
He added: "Or, maybe, they don't know at all? I accept that the British intelligence acts under leadership of the Americans as well."
Putin said Federal Security Service of Russia (FSB) captured several "Ukrainian saboteurs," who were tasked with damaging a Russian nuclear power plant. "During the questioning, they testified that they were trained under supervision of British instructors," he stated.
He stressed that those he described as "Ukrainian saboteurs" "don't know where to stop and may cause serious consequences."
"The leadership of British intelligence agencies knows that I am telling the truth. But I am not certain if the British leadership understands what it is. Such things are truly concerning," Putin said.
There was no immediate reaction from British officials addressing Putin's claims at the time.
Read more:
Putin says Ukraine will only initiate peace talks when it runs out of resources
Putin says Ukraine obtaining F-16 jets will not change anything but prolong war
Putin says Russia developing weapons based on 'new physical principles'
Get the latest stories from AlArabiya on Google News
Ukraine offensive could have only 30 days left – US Army chief
By Laura Kuenssberg & Emily McGarvey
Sunday with Laura Kuenssberg
Ukraine has little more than 30 days left of fighting before the weather hinders its counter-offensive, the top-ranking US military officer says.
Speaking to the BBC's Sunday with Laura Kuenssberg programme, Gen Mark Milley said colder conditions would make it much harder for Ukraine to manoeuvre.
He admitted the offensive had gone more slowly than expected. But he said: "There's still heavy fighting going on.
"The Ukrainians are still plugging away with steady progress."
Gen Milley said it was too early to say whether the counter-offensive had failed, but said Ukraine was "progressing at a very steady pace through the Russian front lines".
"There's still a reasonable amount of time, probably about 30 to 45 days' worth of fighting weather left, so the Ukrainians aren't done.
"There's battles not done… they haven't finished the fighting part of what they're trying to accomplish."
Kyiv's counter-offensive, which was launched in the summer and aims to liberate Russian-occupied territory in Ukraine, has so far seen only small gains.
But Ukrainian generals claim they have breached Russia's formidable first line of defences in the south.
"I said at the very beginning of this [war] that this was going to be long, slow, hard, and high-casualty-producing, and that's exactly what it is," Gen Milley said.
In the same interview, Adm Sir Tony Radakin, the UK chief of defence staff, said "Ukraine is winning and Russia is losing".
"That is because the aim of Russia was to subjugate Ukraine and to put it under Russia's control", he said.
"That has not happened and it never will happen, and that's why Ukraine is winning."
He added that Ukraine was making progress in its battle to regain its territory, having recovered 50% of the ground Russia seized.
Ukraine's progress was also down to the international community "applying economic pressure and diplomatic pressure, and Russia is suffering because of that", he said.

Tactical adjustment, not halt

Last year, Ukraine's armed forces retook Kherson on 11 November, while during the generally mild winter fighting continued to rage around Bakhmut.
Autumn rains and winter cold do have an impact on the nature of the fighting, but the slowdown in Ukraine's offensive operations last year was more about equipment and ammunition.
Asked about the weather's impact, the head of Ukraine's military intelligence, Lt Gen Kyrylo Budanov, said on Saturday that "the fighting will continue one way or another".
He acknowledged it was harder to fight in cold, wet weather, but said it was a question of adjustment, not calling a halt.
Wheeled vehicles, he said, are more problematic in wet weather than tracked vehicles like tanks.
But he pointed out Russia's use of extensive anti-tank defences and kamikaze drones is just as challenging.
"So in the majority of cases, unfortunately, our offensive is walking on foot," he said.

Meanwhile, Vladimir Putin's alliance with North Korea shows the Russian president is in a "state of desperation", said Adm Radakin.
He said the ties between the two countries showed how few partners Russia had left.
North Korea's leader Kim Jong Un reportedly plans to visit Russia this month to meet Mr Putin for weapons talks.
The two leaders are said to be planning to discuss North Korea providing Moscow with weapons to support its fight in Ukraine.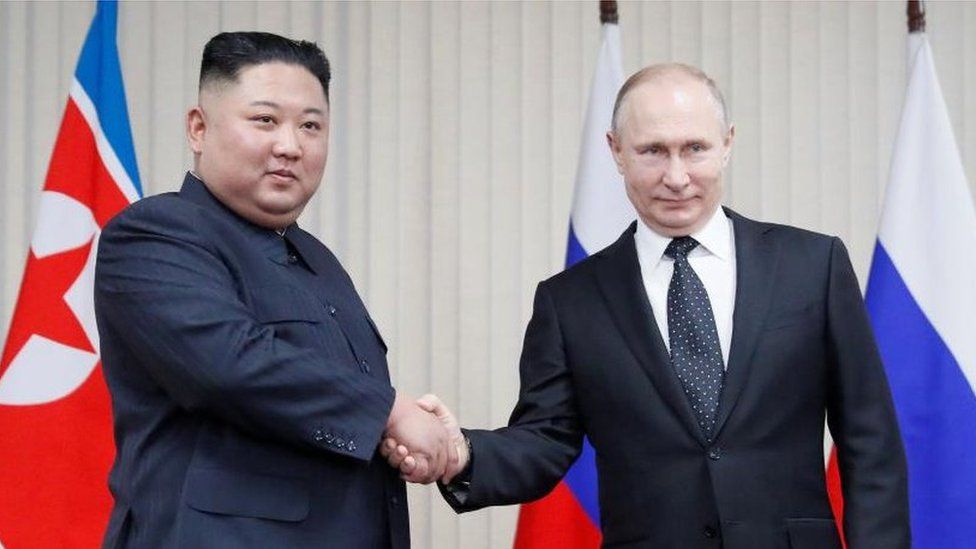 There is concern both in Washington and in Seoul about what North Korea would get in return for an arms deal, which may result in increased military co-operation between the two countries in Asia.
The alliance was "a reflection of the catastrophic mistake that Russia made by invading Ukraine", said Adm Radakin.
And it was also a reflection of the domestic situation in Russia, he said.
"You've got to look at the fact that [Russia's] economy is under pressure, the sanctions are having a greater impact. It doesn't have a raft of international partners.
"It's lost half a million people that have fled the country. There's at least a million more that want to leave the country.
"It's struggling to have enough people to keep supporting the war," he said.
On the subject of Donald Trump, Gen Milley said the US military's allegiance was "to the constitution", when asked if it would serve a commander-in-chief who was in jail.
Donald Trump, who hopes to be the Republican candidate in the 2024 US election, faces multiple criminal charges which could see him jailed if found guilty.
"We take our oath to a document, the constitution of the United States of America," he said.
"So we will be faithful always to that constitution regardless of who occupies the White House."
He said the military would obey all lawful orders from whoever is the duly-elected president of the United States.
Gen Milley ruled out entering politics himself, and said he would "run for best grandad" when he retires in a few weeks.
Russia targeted civilian cargo ship with cruise missile – UK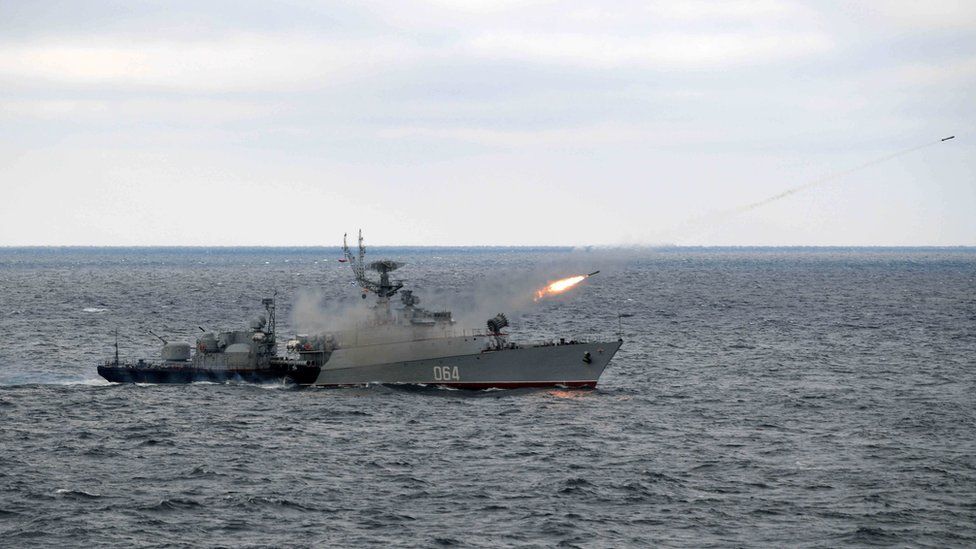 By Matt Murphy
BBC News
The UK has accused Russia of targeting a civilian cargo ship with multiple cruise missiles as it rested in the Ukrainian port of Odesa last month.
The attack – which took place on 24 August – was thwarted by Ukrainian air defences, the UK's foreign office said.
The Liberian-flagged ship was targeted by missiles fired by a Russian carrier, it added.
In July, Russia warned ships travelling to Ukraine's ports through the Black Sea may be seen as military targets.
The warning came after Moscow withdrew from a landmark UN-backed grain deal, which had seen civilian cargo ships promised the freedom to export Ukrainian grain through the Black Sea.
At the time, President Vladimir Putin complained there were too many restrictions on its own agricultural goods.
Moscow also demanded a major Russian bank be let into a global payments system, restrictions be lifted on Russian fertiliser companies, and for its ships to get full access to insurance and foreign ports.
It began a series of strikes on ports in southern Ukraine within days of withdrawing from the deal, which it had pledged not to do under the agreement.
Speaking to parliament on Monday, UK Prime Minister Rishi Sunak said the foiled attack on the grain ship succeeded only in "demonstrating just how desperate Putin is".
"Ukraine has the right to export its goods through international waters and they have the moral right to ship grain that is helping feed the world," Mr Sunak said.
Russia has yet to comment on the attack.
Moscow has increasingly targeted Ukrainian port infrastructure since it pulled out of the grain agreement. Kyiv has accused it of a "cynical" attempt to damage its grain exports and undermine global food security.
In its statement, the Foreign Office said Russia has destroyed 280,000 tonnes of grain since it pulled out of the deal, accusing it of trying to "weaponise food and innocent trade at the expense of the rest of the world".
Officials also said Russian attacks had damaged 26 port infrastructure facilities in Odesa and the nearby ports of Chornomorsk and Reni since July.
In July, Kenyan officials said Russia's withdrawal from the deal amounted to a "stab on the back" for those in drought-hit countries.
Korir Sing'Oei, the top civil servant in Kenya's foreign affairs ministry, said any increase in global food supplies caused by the move "disproportionately impacts countries in the Horn of Africa already impacted by drought".
President Vladimir Putin has pledged to provide free grain to six African nations – all of whom have supported Russia at international forums.
But the foreign office said the amount of grain destroyed by Russian strikes already exceeded the total amount Moscow had pledged to donate to African states, adding that it could have fed up to a million people for a year.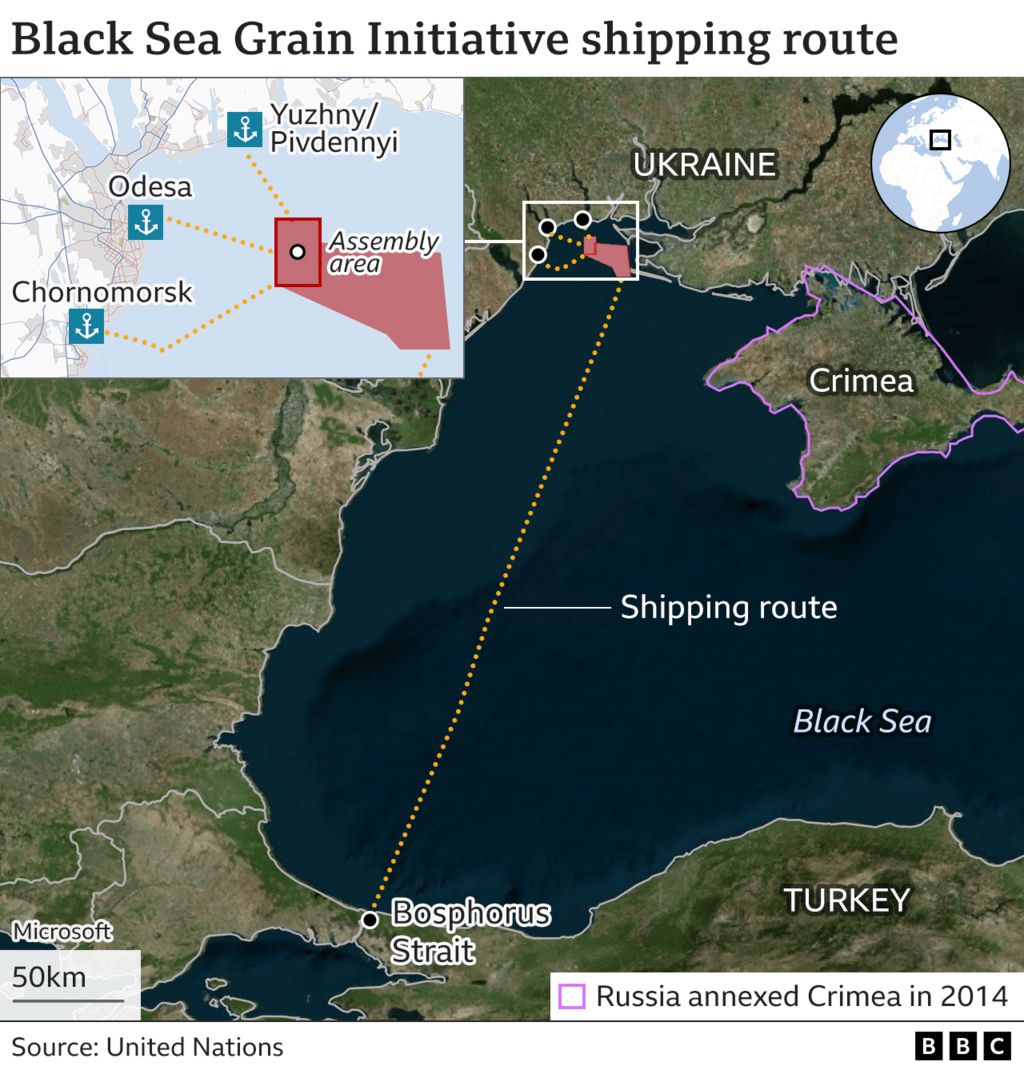 Related Topics
Kim Jong Un crosses Russian border for talks with Putin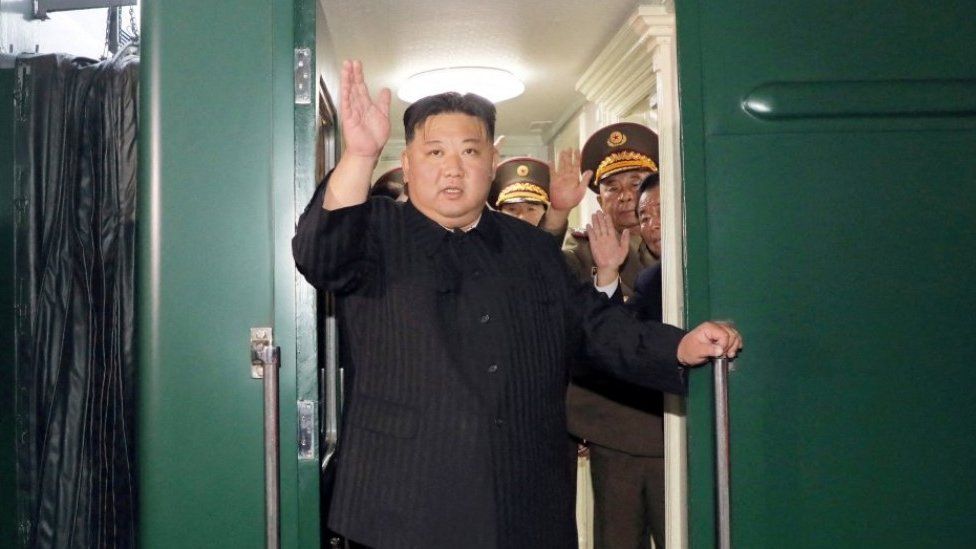 By George Wright
BBC News
North Korean leader Kim Jong Un has arrived via rail in Russia where he is due to meet President Vladimir Putin.
Mr Kim left Pyongyang for Russia on Sunday on his private train, North Korea's state media reported.
It is not known where the leaders will meet, as Mr Kim's train is reportedly heading north, away from the city of Vladivostok.
A US official said they were expected to discuss an arms deal as Russia faces a Ukrainian counter-offensive.
The Kremlin said that the "fully fledged visit" would cover "bilateral relations, the situation in the region and in the global arena".
The meeting could take place as early as Tuesday local time – although the statement from the Kremlin said it would happen in the "coming days".
Mr Kim left his train to meet Russian representatives when it pulled into the border station of Khasan on Tuesday morning.
Footage shows him stepping off the train onto a red carpet to be greeted by a Russian delegation as a brass band plays.
He also met Alexander Kozlov, Russia's minister for natural resources. According to Oleg Kozhemyako, a regional governor who released footage of the meeting, they discussed the potential launch this year of joint tourism and agricultural projects.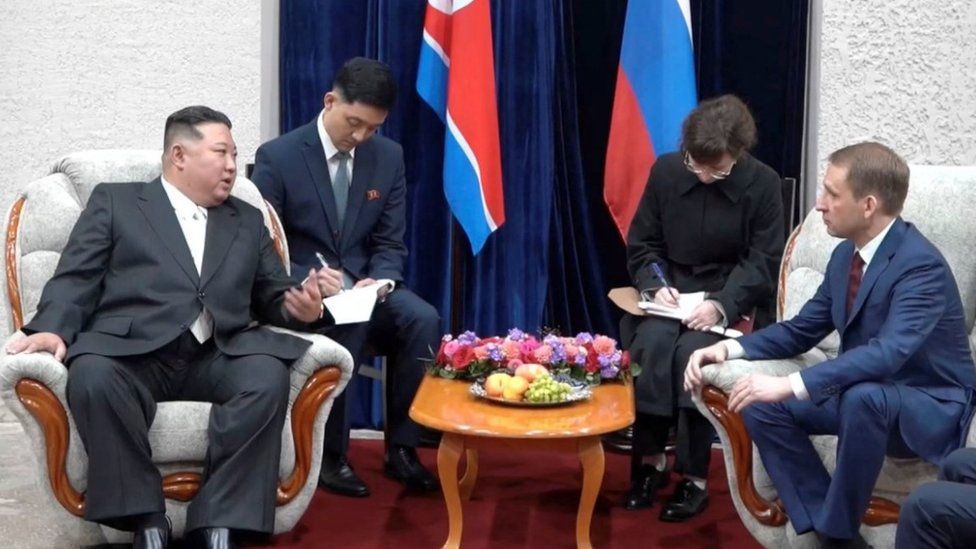 Mr Kim's train is rumoured to include at least 20 heavy bulletproof carriages. The extra weight means the train is very slow – it can only travel at around 37mph (59 km/h).
The North Korean leader's last trip abroad was to Vladivostok in 2019 for a summit with Mr Putin after the collapse of nuclear disarmament talks with the then-US president, Donald Trump.
The Vostochny cosmodrome, located in Russia's far east near the border with China, has been suggested as the possible meeting place for the two leaders.
It is the country's first commercial space centre and is one of Mr Putin's pet projects.
The Russian president has announced he plans to go to the cosmodrome but has not confirmed that Mr Kim will meet him there. Responding to a question at the Eastern Economic Forum, Mr Putin said: "When I get there, you will know".
North Korea may seek co-operation from Russia on its space programme, which late last month failed a for second time to place a spy satellite in orbit after a rocket failure.
The White House said it had new information that negotiations between the Russia and North Korea were on a weapons deal "actively advancing".
National Security Council spokesman John Kirby said Russia's Defence Minister Sergei Shoigu had tried to "convince Pyongyang to sell artillery ammunition" to Russia during a recent visit to North Korea.
Both sides have denied the reports.
The US and its allies have expressed concern over the possibility of closer military ties between Russia and Moscow.
Kremlin spokesman Dmitry Peskov said Russia would always act in its national interest.
"The interests of our two countries are important to us, and not warnings from Washington," he was quoted as saying by Russian media.
North Korea also wants food aid and possibly technology to help its banned nuclear and missiles programme, analysts say.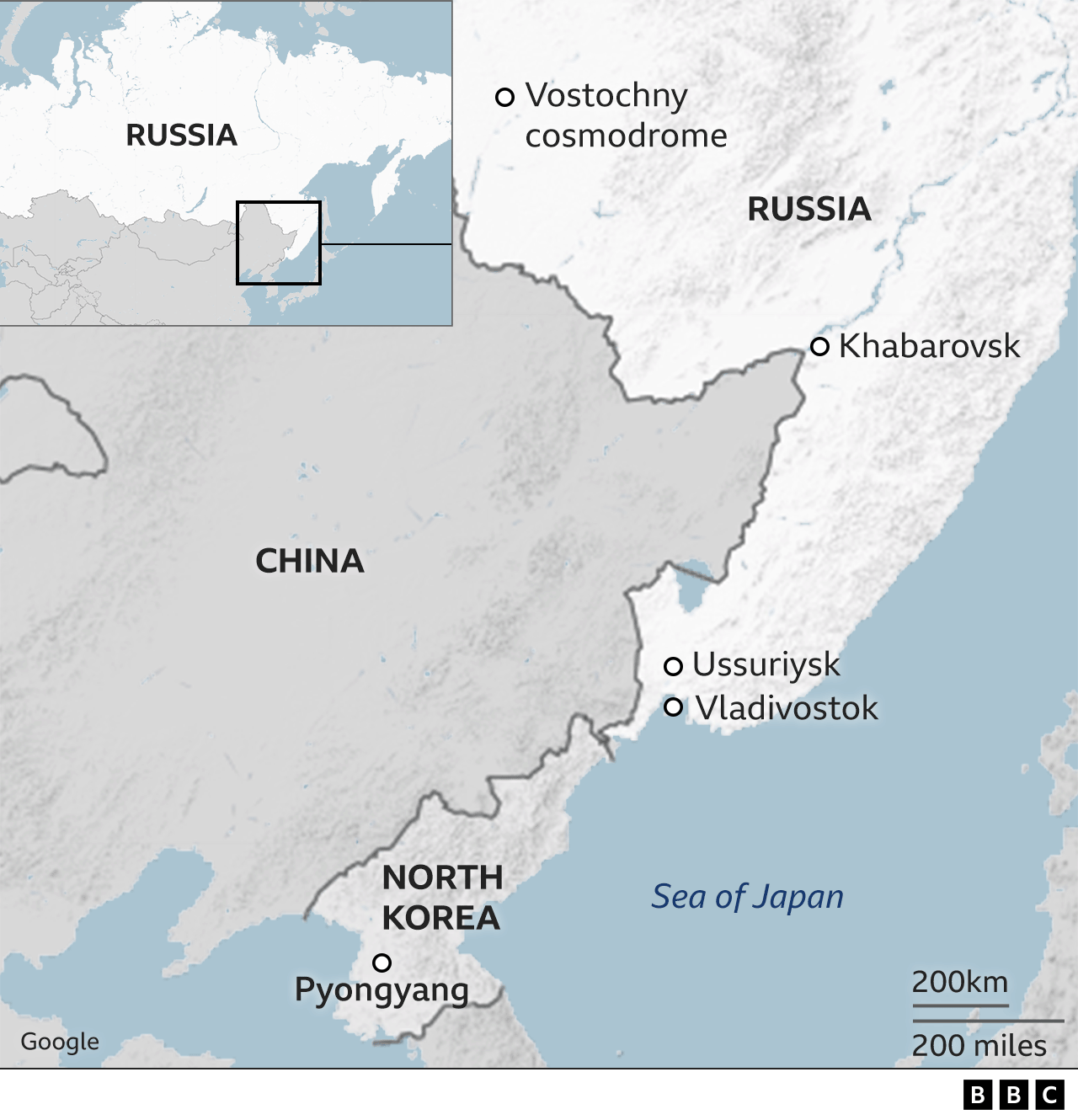 Related Topics
More on this story
Comment I am so sick of how the dumbed down western masses are convinced that they are fighting an axis of evil with Vladimir Putin leading neo Nazi Imperialism. The west manifestly cause this ever worsening war for total control, a consensus for their fake democratic hegemony, elite dominance over the masses who can be anything they like, vegetbles welcome.
As I write I am listening to the BBC House of Commons broadcast where 'fragile' frightened posh female MPS call for stronger on line harm legislation. They are playing to father figure and avuncular old MPs who are grovelling to feminist scare mongering with overwhelming support for their cause, slipping in their concerns that the internet is a breeding ground for the far right and encouraging young women to kill themselves.
Meanwhile, way down in South America, aided by the Anglo British, the secret slaughter and human rights abuses go on, as they do in Africa. Pregozhin and Wagner threatened these excuses for freedomwhich was the real reason for that plane crash.
R J Cook
Terry Lloyd: No charges over death of ITN reporter killed in Iraq
Stephen Brook and agencies
Mon 28 Jul 2008 18.00 BST
There will be no prosecutions over the death of ITN journalist Terry Lloyd, killed in Iraq in 2003, after the Crown Prosecution Service said today there was insufficient evidence to bring charges against any individuals.
Sue Hemming, the head of the CPS counter-terrorism division, said it was not possible to say who fired the shots that killed the reporter, who died after a shoot out in southern Iraq.
Hemming said forensic evidence indicated Lloyd was injured by shots from Iraqi forces and then by US fire.
Lloyd, 50, and his interpreter, Hussein Osman, were killed near the Shatt al-Basra bridge outside Basra on March 22, 2003 in the opening days of the Iraq invasion.
The four-strong ITN team, which was covering the war for ITV, was caught in crossfire between US and Iraqi forces.
Lloyd was shot in the back after being caught in US and Iraqi crossfire, then wounded again in the head as he was taken for medical treatment.
"Having considered all the evidence gathered by UK authorities and the evidence from the US, together with advice from counsel, we have decided there is insufficient evidence for a prosecution," Hemming said.
"I understand that this will be very upsetting news for the family and friends of Mr Lloyd but I can reassure them that every care was taken in pursuing lines of inquiry and reviewing the evidence."
In October 2006 an inquest recorded a verdict of unlawful killing by US forces.
Last year ITN claimed a US marine from red platoon, delta company, "almost certainly" fired the fatal shot that killed Lloyd, but American authorities have not confirmed this.
ITN and the National Union of Journalists both issued critical statements following the CPS' decision today.
"Coroner Andrew Walker concluded just under two years ago that Terry Lloyd was unlawfully killed by American troops and ITN has done everything it could to try and ensure Terry's killer is brought to justice," ITN said in a statement.
"We are disappointed that the CPS has decided they cannot take this matter further, and that despite the coroner's call on the attorney general and the DPP to demand that the Americans bring the perpetrator of a possible war crime before a British court of law, the US authorities remain uncooperative." The National Union of Journalists said it was "appalled" by the decision.
"The CPS should be ashamed of itself for backing away from this issue so completely," said NUJ general secretary, Jeremy Dear.
"To suggest that Mr Lloyd was in some way responsible for his own situation by not wearing a helmet or bulletproof vest is insulting. He had received injuries from both Iraqi and American bullets but the fatal shot came from an American soldier whilst Terry was being transported in a makeshift ambulance," Dear added.
"Terry was killed because he was trying to do his job. The CPS has failed to secure justice for Terry, his family or his colleagues. It's disgraceful that the CPS has shied away from taking in action in this case."
Fred Nerac, who was working as a cameraman, was also caught in the attack and is still missing, believed dead, more than five years later.
ITV News editor-in-chief David Mannion, a close friend of Lloyd's, said: "It's sadness really. I'm past anger, that went along time ago. I'm disappointed after the inquest and everything the family put themselves through.
"The real villains of this particular piece are the American military and the American defence department.
"They are aware that one of their men shot Terry and killed him and they refused to allow the men that pulled the trigger to speak for themselves in a court of law.
Mannion added that Lloyd's killer was probably "an 18- or 19-year-old in the middle of some kind of hell on the battlefield there".
"We have never called for any kind of revenge on this but we have just asked for justice," he said.
"The American authorities have chosen to put the Lloyd family through an interminable amount of pain."
September 11th 2023
Make your work easier and more efficient installing the rrojasdatabank toolbar ( you can customize it ) in your browser.
The Chilean Armed Forces: training dogs to rape political prisoners (Róbinson Rojas)(1998) On November 9, 1998, the House of Lords in London heard how the military secret police and the civilian secret police in Chile, between 1973 (October) and 1990, were under the direct command of the dictator Augusto Pinochet. Pinochet and the rest of the Chilean generals were directly involved in murdering and torturing political prisoners. They gave the orders for having the political dissidents in hell. The following illustrates the methods used by these criminals: Below there is short translation from the report by the Committee on Truth and Reconciliation, headed by Raul Rettig. This section gives a summary of the techniques utilised systematically by Pinochet's secret police since the end of 1973 until 1990. Military and civilian interrogators used the following methods of torture to extort confessions and prepare reports on internal security to be assessed by the generals. The methods were aproved by Augusto Pinochet: 1.- Both men and women are given electric shocks in the genitals. This happens on a metal bed to which the naked victim is bound with his/her arms and legs spread apart. This torture is called "roasting". 2.- Blows are dealt to all parts of the body an in many cases this results in the deliberate rupture of the ear-drum. 3.- The victim receives burns to parts of the body by cigarettes or other forms of direct naked flame. 4.- The person to be interrogated has his/her nose and mouth blocked in order to bring on suffocation. 5.- For periods at a time the prisoner's head is put into a bucket filled with water or excrement. 6.- Women detainees are raped. 7.- Women detainees are forced to have sexual intercourse with dogs. 8.- Hot iron objects are inserted into the vagina of women. 9.- Iron objects are inserted into the victim's anus. 10.- Detainees are made to comply by threats that if they refuse to make any statement their families will be tortured. Sometimes these threats are really carried out. 11.- Pharmaceutical products, especially drugs, are commonly used in the interrogations. 12.- Hypnosis is part of the interrogation procedure. (Translated by Dr. Róbinson Rojas) _____________________________________________________________________ From Róbinson Rojas, "The Murder of Allende and the end of the Chilean Way to Socialism", Harper and Row, New York, 1975. Chapter 6, The Inferno, pages 206-207: "THE WOMEN The military torture teams, graduates of the Americas School in the Canal Zone, have revealed a degree of human bestiality with Chilean women that puts them way ahead of their American trainers. A woman professor at the East santiago campus of the University of Chile, married, with two children, was detained for forty days in the National Stadium. She wrote me this about the "female prisoners of war": They were obliged to remain all day long face down with their hands on their necks and their legs spread…There were lines of them kneeling or standing against the walls, and at the slightest movement they were struck or kicked -and, in several cases I saw, shot. In rooms fifteen by eighteen feet there were a hundred women. Food came only once a day, at 4 or 5 P.M. There were mainly two groups of women: workers and university professors. Girls and women were harassed, obliged to disrobe, manhandled, and insulted as a preamble to the interrogations. The academics among us had been taken out of our classrooms at gunpoint. One group of schoolteachers had a typically sad experience: at the investigatory commission one of them had her hair cropped off…then at Los Cerros de Chena, the eyes were always blindfolded. To go to the bathroom, they had to be accompanied by guards who took the opportunity to manhandle and beat them. They were interrogated naked. Electric current was applied to the mouth, hands, nipples, vagina. Water was poured over their bodies to intensify the pain. The language used with them was completely degenerate; they were forced to repeat, over and over: "I am a cunt, I am a cunt…" A hospital technician was taken to the Quinta Normal naval enclosure. She was kept there for three days without sleep, and subjected to electric tortures every few hours. She also had electricity applied to her vagina. Afterward they brought her to the National Stadium. She was taken for interrogation there too, blindfolded as others were. This time she apparently was taken to the cycle track, where by then the torture chamber had been installed. Besides electric shocks, this time she was forced to take something in her hand. They had given her an injection, which she guessed was Sodium Pentothal, and it had made her dizzy, but she was still conscious. At once she realized the object was a penis which, on contact with her hand, became erect. They thrust it into her mouth, where it ejaculated." I have other memoranda from women prisoners who were able to write to me afterward. Essentially they tell the same story…"They stretched the women out on tables and dripped candle wax on their stomachs"…"There were rapes, either in groups or individually. 'Move, you Marxist whore,' they would tell the victims. 'If you don't respond you're going to have to suck cock, even for General Pinochet, you shitty whore.'""Some officers started by sticking their fingers in my vagina, hoping to excite me…."…There are plenty of examples …The cemeteries of Chile are filled with mutilated corpses". Back
Comment I have posted this story because I worked for the shell company 'The Nitrate Corporation of Chile 1977-78. I was recommended for the job by a contact in the U.K military. So I am well aware how far the British and United States were complicit in this regime change, with their elite's fear of communism, and in bed with Pinochet's fascists. I am aware how the United States, with Henry Kissinger in the lead role, conspired to bring down the Allende Communist Government. The patronising U.K establishment has not changed. They are fighting a currently proxy war against Russia for sweet innocent instirutionally corrupt Ukraine which has earned the Bidens, et al, a small fortune. The Anglo Americans have no right to make speeches about human rights, freedom and democracy.
R J Cook
September 10th2023
G20 INDIA
Summary
World leaders have formally adopted the joint declaration at the G20 summit held in India
Ukraine has expressed its disappointment at the declaration, which does not name Russia or directly criticise it for the war
But Russia said the summit was a 'milestone' and praised India's role in building consensus on the joint statement
The summit was marked by the absence of Russia's Vladimir Putin and China's Xi Jinping
The two-day event saw big moments, including the African Union being made a permanent member of the G20
India has formally handed over the G20 presidency to Brazil, which will take over in December
Live Reporting
Edited by Geeta Pandey & Sharanya Hrishikesh
WATCH: Putin is 'in the wrong', Trudeau tells BBC
Canada's Justin Trudeau has said that his country would "continue to stand strong against Russian aggression in Ukraine". He was responding to a question from the BBC's Samira Hussain on whether the language referring to Ukraine in the joint declaration should have been stronger.
Trudeau defends signing joint declaration
Getty ImagesCopyright: Getty Images
Canada's Prime Minister Justin Trudeau has said that if it were up to just him, the language on the Ukraine war in the joint declaration would have been stronger.
"And if it were up to other leaders [in the G20], it would have been much weaker," he said, adding that they worked hard to arrive at a consensus.
He was responding to questions on why he agreed to the declaration, which Ukraine has called "disappointing" for its refusal to condemn Russia. Before travelling to India for the summit, Trudeau had said he was disappointed that Volodymyr Zelensky wasn't "invited" and promised to advocate for Ukraine.
Trudeau also responded to questions about his "strained relationship" with PM Modi – the Canadian leader did not attend last night's dinner hosted by President Droupadi Murmu.
"We have always shared a good relationship in which we are able to talk frankly about difficult issues and we will continue to have that," he said, adding that he missed the dinner because of "a scheduling issue".
Article share tools
Share this post
Posted at 11:3511:35
'Putin didn't attend over fears of sanctions' – Macron
While the official G20 summit has ended, leaders are still holding bilateral talks on the sidelines and some are addressing press conferences.
Minutes ago, we heard from French President Emmanuel Macron who hit out at Russia for its invasion of Ukraine.
"The G20 supports territorial integrity in UN charters. That is the opposite of what Russia is doing," he told reporters in Delhi.
Getty ImagesCopyright: Getty Images
The French president said that Putin did not attend the Delhi summit because "he has been sanctioned by many of us – and that is with good reason". Moscow has sent Foreign Minister Sergei Lavrov instead.
Macron added that the consensus on the joint declaration was "reasonably easy".
"I gave my remarks on where there was room to improve," he said.
Earlier today, Macron held bilateral talks with PM Modi where the two leaders discussed a series of issues, including India-France relations.
Article share tools
Share this post
Posted at 11:0811:08
Can India be a global power without its neighbours?
Anbarasan Ethirajan
South Asia Regional Editor
Delhi has used the G20 to project itself as a global power – and with a successful joint declaration, analysts say it has been able to achieve some of these ambitions.
But India's rise has caused some wariness among its immediate neighbours.
India and Pakistan are at loggerheads over several issues.
Whenever I visit other south Asian capitals like Kathmandu or Dhaka, I can see anti-India sentiment among a section of people gaining ground.
Nepal expects Delhi to address bilateral issues causing irritants in ties. A water-sharing dispute is causing a lot of hurt in Dhaka.
Some in Bhutan feel that India stands in the way of Thimpu reaching a border settlement with its giant northern neighbour China.
Sri Lankans, battered by the economic crisis, are watching, rather helplessly, the ongoing China-India rivalry being played out in their country.
The successful conclusion of the G20 summit has no doubt boosted Delhi's international image.
But can India become a global power without taking its neighbours along?
Article share tools
Share this post
Posted at 10:5610:56
Russia didn't expect consensus on Ukraine – Lavrov
BBCCopyright: BBC
Russian Foreign Minister Sergei Lavrov has said his country did not expect a consensus on the section about Ukraine in the G20 joint declaration.
Lavrov was responding to a question from the BBC's Yogita Limaye who asked the minister for his views on why all the G20 members had agreed on the language in the statement which differed significantly from the one in Bali last year.
"Perhaps it was the voice of their conscience," Lavrov said. "Frankly speaking, we didn't expect that. We were ready to defend our wording of the text."
Adding that "we cannot isolate that paragraph [on Ukraine and Russia] from the rest of the declaration", he said it was a sign that the Global South was no longer willing to be lectured.
"They don't want to be told to follow the Zelensky formula. This is disrespectful to developing countries," he said. "This is neo colonialism from Western countries and they have failed this time."
Russia's Lavrov calls Delhi summit a 'milestone'
Russia's Foreign Minister Sergei Lavrov has called the Delhi G20 summit a "milestone" in remarks made at a press conference.
Lavrov said that India as G20 president had played a decisive role in building consensus on the Ukraine paragraphs in the joint declaration. He added that the wording "fully reflects our position".
The statement speaks about the suffering caused by the war in Ukraine but does not directly mention Russia or criticise it.
Ukraine has expressed its disappointment at the language of the declaration.
Speaking on Sunday, Lavrov said, "The crisis is mentioned but only in reference to all conflicts and those being resolved in accordance with the UN charter."
"The paragraph is more about geopolitical realities in general. It also contains an important point about how to proceed with food security. It fully reflects our position," he added.
The fact that Western countries – which have strongly condemned Russia's invasion – consented to the language is a step in the right direction, he said.
He also reiterated that Russia was ready to resume the Black Sea grain deal if its conditions were met.
Comment Zelensky is getting well paid for this Anglo-U.S led proxy war. The rest of the world needs to recognise the danger they present. Their consensus to do as they like needs challenging, though it may be to late.
R J Cook
September 9th 2023
Ukraine war: US to arm Kyiv with depleted uranium tank shells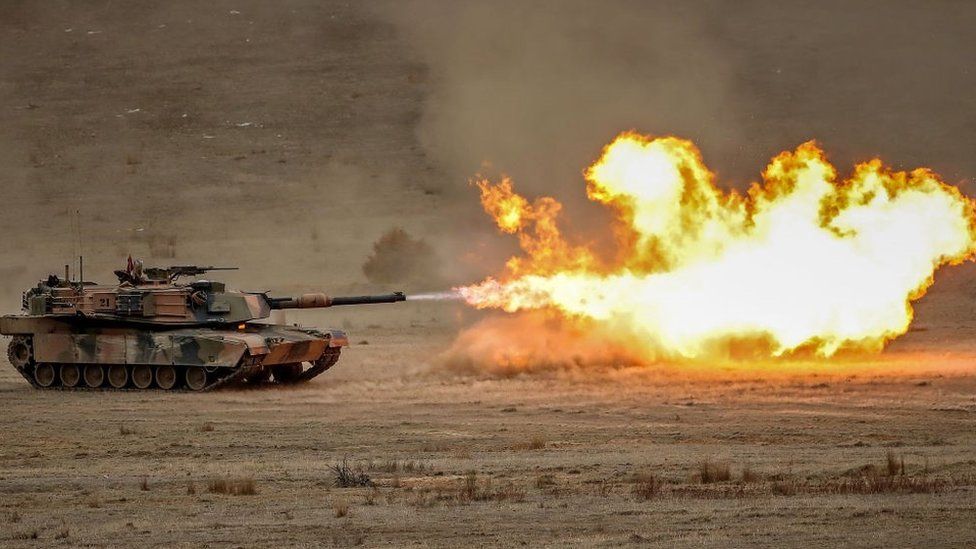 By George Wright
BBC News
The US has announced it will send controversial weapons to Ukraine as part of more than $1bn (£800m) in military and humanitarian aid.
Russia condemned the move to equip US Abrams tanks with shells strong enough to pierce conventional tank armour.
They are made of depleted uranium – a by-product of uranium enrichment stripped of most radioactive material.
Overnight, suspected Ukrainian drone attacks were reported on the Russian city of Rostov-on-Don and near Moscow.
Unconfirmed video showed what appeared to be a blast in central Rostov where, according to Governor Vasily Golubev, one person was lightly injured and several cars were damaged.
Moscow Mayor Sergei Sobyanin said a drone that targeted the town of Ramenskoye had also been shot down and no damage reported.
The announcement of a new security package for Ukraine came during top US diplomat Antony Blinken's visit to Kyiv, prompting an angry Russian response.
The 120mm uranium tank rounds – included in $175m of US military equipment for Ukraine – are for M1 Abrams tanks due to be delivered to Ukraine later this year.
The rounds are made of depleted uranium, a waste product from the process of enriching naturally occurring uranium for nuclear fuel or weapons. It cannot generate a nuclear reaction and is considered "considerably less radioactive than natural uranium", according to the International Atomic Energy Agency.
Depleted uranium can be used to reinforce armour-plating on tanks but is favoured for weapons because of its extreme density and ability to pierce conventional tank armour.
These types of shells sharpen on impact, which further increases their ability to bore through armour, and they ignite after contact.
Russia also reacted angrily when the UK announced in March it was sending depleted uranium shells to Ukraine for its Challenger 2 tanks.
When President Vladimir Putin described the weapons as having a "nuclear component", the UK Ministry of Defence said it had used depleted uranium in its armour-piercing shells for decades and accused Moscow of deliberately spreading misinformation.
The UN Scientific Committee on the Effects of Atomic Radiation has found no significant poisoning is caused by exposure to depleted uranium but a 2022 UN Environment Programme (UNEP) report said it was concerned about potential health issues arising from its use in Ukraine.
"The chemical toxicity of depleted uranium is considered a more significant issue than the possible impacts of its radioactivity," it said.
The US decision is a U-turn from March when the Pentagon said it would not be sending any depleted uranium munitions to Ukraine.
A Department of Defense official told the Politico news website the US had now decided to send the weapons because they were thought to be the best way of arming Abrams tanks in Ukraine.
National Security Council spokesman John Kirby has described them as "a commonplace type of munition".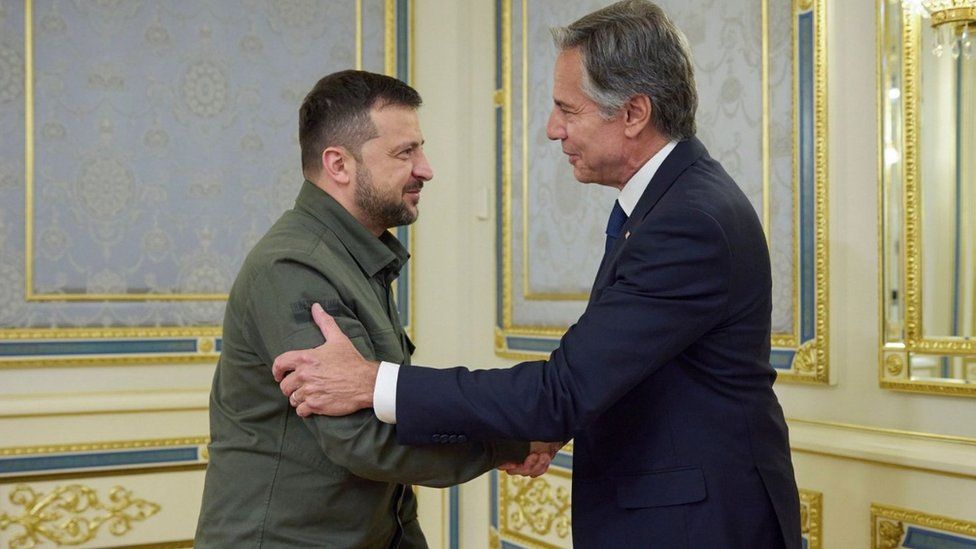 The US will also provide anti-armour systems, tactical air navigation systems and additional ammunition for Himars missiles.
"This new assistance will help sustain it and build further momentum," Mr Blinken said.
The Russian embassy in Washington denounced the decision as "an indicator of inhumanity", adding that the US was "deluding itself by refusing to accept the failure of the Ukrainian military's so-called counter-offensive".
Since June, Ukraine's territorial gains in the counter-offensive have been very small, but Ukrainian generals claim they have breached Russia's formidable first line of defences in the south.
On Wednesday, 16 people, including a child, were killed in an attack on the city of Kostyantynivka, in Ukraine's eastern Donetsk region.
Ukrainian President Volodymyr Zelensky blamed Moscow for the attack but Russia is yet to comment.
https://emp.bbc.co.uk/emp/SMPj/2.50.4/iframe.htmlMedia caption,
Related Topics
Comment This tells us how desperately ruthless the Demonocratic run United States is to neuter Russia, and eventually China, with nuclear war if necessary , backed by the fake U.K Democracy.
The wealthy parasitical western police state elite want it all and more besides. Biden has been photographed shaking hands with Bin Salman at G20 from noted human rights abusers, Saudi Arabia. Then let's not forget the disappearance of Anglo U.S war crimes whistle blower Julian Assange.
R J Cook
Elon Musk says he withheld Starlink over Crimea to avoid escalation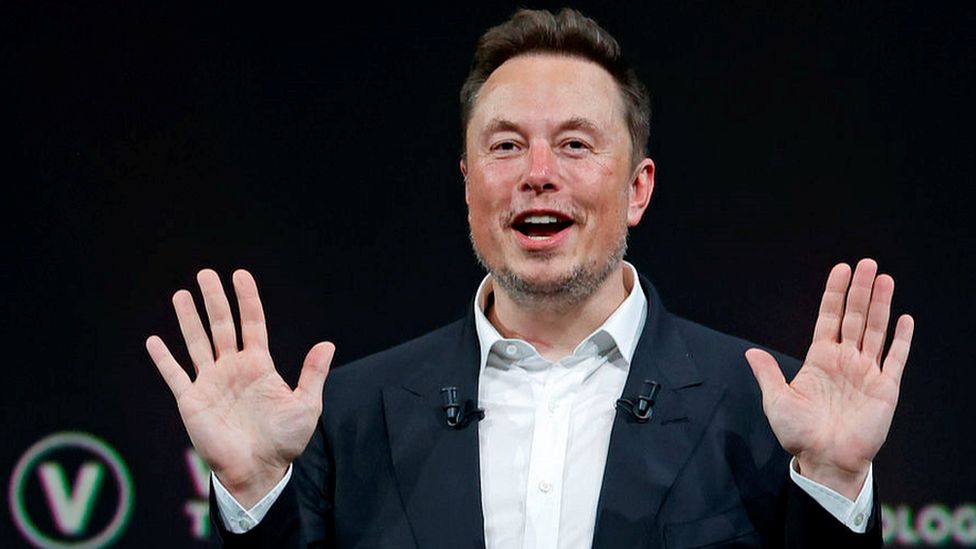 By Dearbail Jordan
BBC News
Elon Musk says he refused to give Kyiv access to his Starlink communications network over Crimea to avoid complicity in a "major act of war".
Kyiv had sent an emergency request to activate Starlink to Sevastopol, home to a major Russian navy port, he said.
His comments came after a book alleged he had switched off Starlink to thwart a drone attack on Russian ships.
A senior Ukrainian official says this enabled Russian attacks and accused him of "committing evil".
Russian naval vessels had since taken part in deadly attacks on civilians, he said.
"By not allowing Ukrainian drones to destroy part of the Russian military (!) fleet via Starlink interference, Elon Musk allowed this fleet to fire Kalibr missiles at Ukrainian cities," he said.
"Why do some people so desperately want to defend war criminals and their desire to commit murder? And do they now realize that they are committing evil and encouraging evil?" he added.
The row follows the release of a biography of the billionaire by Walter Isaacson which alleges that Mr Musk switched off Ukraine's access to Starlink because he feared that an ambush of Russia's naval fleet in Crimea could provoke a nuclear response from the Kremlin.
Ukraine targeted Russian ships in Sevastopol with submarine drones carrying explosives but they lost connection to Starlink and "washed ashore harmlessly", Mr Isaacson wrote.
Starlink terminals connect to SpaceX satellites in orbit and have been crucial for maintaining internet connectivity and communication in Ukraine as the conflict has disrupted the country infrastructure.
SpaceX, in which Mr Musk is the largest shareholder, began providing thousands of Starlink satellite dishes to Ukraine shortly after Russia launched its full-scale assault on its neighbour in February last year.
Responding to the book's claim, Mr Musk said on X that SpaceX "did not deactivate anything" because it had not been activated in those regions in the first place.
"There was an emergency request from government authorities to activate Starlink all the way to Sevastopol. The obvious intent being to sink most of the Russian fleet at anchor," he said.
"If I had agreed to their request, then SpaceX would be explicitly complicit in a major act of war and conflict escalation."
Dmitry Medvedev, Russia's former prime minister, tweeted: "If what Isaacson has written in his book is true, then it looks like Musk is the last adequate mind in North America."
Comment The greedy Anglo U.S elite headed NATO are threatening nationalisation if Musk does not comply. Britain's aircraft carrier Queen Elizabeth has sailed to join with a NATO fleet in the North Atlantic to harass Russia's northern fleet. We are very close to nuclear oblivion as Russia is subjected to constant propaganda, with constant internal MI6 & CIA subvserison in an existential war.
R J Cook