October 24th 2023
"Public Servant Defacto Slavemasters In Police State Britain"
– R J Cook
The following report shows just how selective our authorities are, especially the dangerous corrupt self congratulating fake hero bullying police. Ignoring the cry for Jihad during a Palestinian flag waving hysterical angry London protest exemplifies the revolting police and public order double standard.To suggest, as the smug Sky reporter below does – like all the mainstream others – that a religious ranting Islamist waving the aforementioned flag was reminding himself of his daily need for self improvement is an absolute absurdity.
As for the corrupt police, they arrested protestors at the King's Coronation on suspicion that they might be going to do something nasty. It is important to note that Islam is not a race and the majority of its's followers are Caucasian like myself. But as a former teacher and college lecturer with 18 years experience and as a school governor, watched the system decline into brain washing and tick box testing to suit the ruling class pseudo liberal feminsist dumbed down closed mind agenda.
Sir Mark Rowley was hand picked and presented as a new broom Metropolitan Police Chief by Islamic Mayor Sadique Khan, who commented that middle class white people were not real Londoners. Rowley was no new broom. He retired on pension to take up lucrative private security work for 3 years before being lured back for even more money to the excessively well paid and privileged top job. There will be no improvements to service, with corruption and racism rife as ever.
As a former public servant, I was taught the importance of covering oneself and impression management. My wise well meaning but timid ex father in law, himself a senior Civil Servant warned me while I was in my twenties : "I know you want success with integrity, but that is very hard to achieve." I got the impression he tried and failed much to his anguish. He was a nice man and suffered accordingly.
Rowley won't make that mistake. This is no time to go around arresting protesting Palestinians. Rowley likes the power, privilege and prestige. Such people are not public servants in practice. They are slavemasters appointed by the ruling elite of which they feel themselves to be our masters- hence the Plebgate Horror and West Mercia Police Deputy Chief Constable's cover up for three experienced officers who took exception to the idea that fellow police officers had allegedly been called Plebs by Cabinet Minister Andrew Mitchell, lying that he admitted it.
Returning to the subject of Jihad, might those heard chanting it have been reminding themselves of their goal to become better terrorists in the name of Allah. Perhaps police officers should join the craze, using this sacred 'self improving' word. They should start group chanting 'Jihad, Jihand' to psych themselves up to becoming better officers, better liars, rapists, sex pests,domestic abusers, adulters, paeodophilesm evidence fabricators, sharp shooters and baton wielders ? After all, the police are for diversity ( sic ). Can we really believe that the average and limited intelligence perspectivist thinking police officer has any idea what the word Jihad means in any context ?
It is a very serious word uttered as a death sentence with a Fatwah to Muslim revisionist writer Salman Rushdie. His crime was the magnificent 'Satanic Verses' in 1986 questioning the perfection of Mohammed's teachings. I got condmned and interrogated by senior staff at Grange School Aylesbury Bucks because I was seen carrying and reading it at my desk. Thirty six years later, Rushdie was violently assaulted at a literary event. Stabbed and blinded in one of his eyes and badly beaten with ribs broken, he was lucky to survive.
These are the kind of people who attacked Israel because Palestinians never accepted their return to a small part of what was their homeland before the Romans forced them out. Maybe the Italians and Roman Catholic Church should pay them reparations. Palestinians, 80 % of whom rely on foreign aid, are jealous of what Israel's Jews have achieved. For them Jihad means killing or driving out the tiny country's Jews for the caliphate and ever expanding population. The Egyptians don't want them and their version of Islam. But 'liberals', aid agencies and Scotlands Islamic First Minister have issued their welcome to The U.K's model democracy ( sic ) as refugees with priority state care for sufferings they have brought upon themeselves. The only perfection they are seeking in attacking Israel is the perfection the Israelis have buit. They want it all for themselves. They, like the Nazis, have a very nasty attitude and to them Jihad means another pogrom.
My comments are not welcome in the U.K for obvious reasons which is why it comes with a google warning and has a very low google ranking. The Police check it daily for evidence of offences.
R J Cook
What does jihad mean and why wasn't a pro-Palestine protester arrested for chanting the word?
The Metropolitan Police stance created an apparent clash with the government.
Home affairs reporter and feature writer @Henry_Vaughan
Monday 23 October 2023 22:30, UK
Listen to this article
0:00 / 7:36BeyondWords
Audio created using AI assistance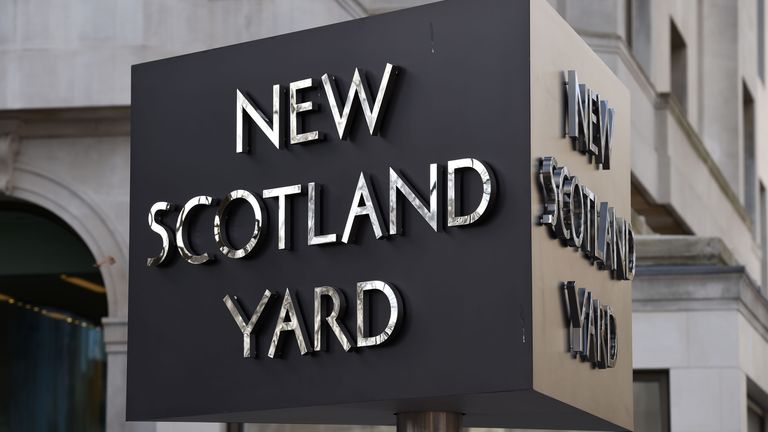 The Metropolitan Police's decision not to arrest a man filmed chanting words including "jihad" at a pro-Palestine protest over the weekend has put the force apparently at odds with the government about what crosses the line between legitimate protest and breaking the law.
The force said specialist counterterrorism officers had not identified any offences arising from the clip showing a demonstration by the Hizb ut-Tahrir Islamist group, which was separate to the main rally.
But Home Office minister Robert Jenrick said chanting the word on London's streets is "inciting terrorist violence", while the home secretary challenged Met commissioner Sir Mark Rowley over the force's response to the incident.
Politics live: Sunak announces £20m aid for Gaza
What does jihad mean?
As the Met pointed out, the word, although sometimes associated with terrorism, has "a number of meanings", which include struggle or effort but also holy war.
Nick Aldworth, former counterterrorism national co-ordinator, said: "That word has had an affiliation to terrorists, but actually has an enormous amount of legitimacy in the Islamic faith."
Shaykh Ibrahim Mogra, an imam in Leicester, said the word in Arabic means to "struggle" or to "strive" and has two strands.
He explained that greater jihad is an everyday struggle "to improve yourself, to be a better human being, a better Muslim – kind, caring, peaceful".
"What is the solution to liberate people from the concentration camp called Palestine?"

"Jihad! Jihad! Jihad!"

From the Hizb ut Tahrir demonstration pic.twitter.com/Ba5CfkiOsy— Harry's Place (@hurryupharry) October 21, 2023
"The lesser jihad is where you pick up a weapon and fight alongside your fellow Muslims or the group that's fighting in self-defence or to remove an injustice or oppression," he said.
But there are a number of rules about a military jihad, which can only be called for by a Muslim ruler or Khalifa who is ruling according to the Sharia, or Islamic law.
"The rules include the killing of civilians not being permitted, religious buildings cannot be targeted and prisoners of war must be treated humanely," said Mr Mogra.
"Sadly, the word jihad has been so grossly misunderstood as it's portrayed in the media and public discourse, even as it's expressed by Muslim people from time to time, where none of the conditions are being met yet they may want to label that as a jihad when it's anything but."
He said jihad is a "very noble thing for Muslims where you risk your life or lay down your life to protect others or liberate others," but added: "No individual Muslim in this country can call for a jihad because that's not for us as UK citizens to do."
Why wasn't the protester arrested and charged?
The Met said specialist officers had assessed the video and did not identify any offences, while specialist Crown Prosecution Service lawyers reached the same conclusion.
"However, recognising the way language like this will be interpreted by the public and the divisive impact it will have, officers identified the man involved and spoke to him to discourage any repeat of similar chanting," the force said in a statement.
What has the response been?
The Met's statement prompted a backlash from some members of the government as well as Jewish groups.
Jewish safety organisation Community Security Trust criticised the force, saying that "in trying to communicate complex and nuanced legal issues" on social media "they gave the impression of legitimising obnoxious and hateful behaviour that may or may not be criminal but nevertheless causes profound concern to British Jews and many other people".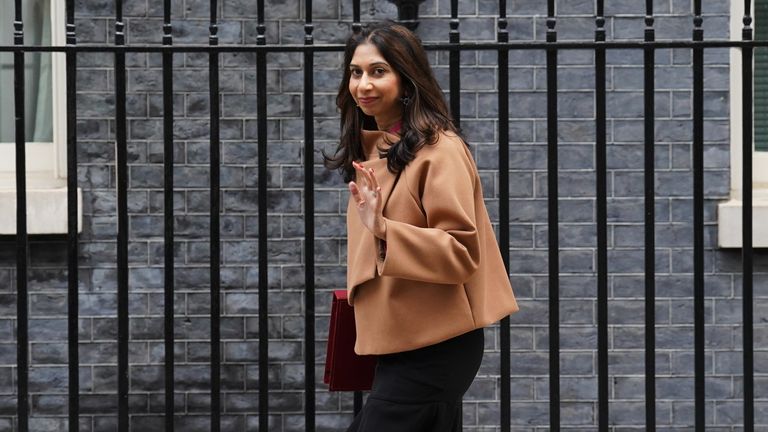 Home Office minister Robert Jenrick said chanting the word on the streets of the capital is "inciting terrorist violence" and should be tackled with the full force of the law, while Suella Braverman used her scheduled meeting with Sir Mark on Monday to ask for "an explanation over the response to incidents" on Saturday.
"There can be no place for incitement to hatred or violence on Britain's streets and, as the home secretary has made clear, the police are urged to crack down on anyone breaking the law," a source close to the home secretary said ahead of the meeting.
What is the law?
According to Jonathan Hall KC, the government's independent reviewer of terrorism legislation, police and prosecutors would have looked at the Terrorism Act as well as public order laws when assessing the incident.
It is an offence to encourage terrorism in this country or abroad and asking for support of Hamas, which was proscribed as a terrorist group in its entirety in 2021, would also be against the law.
But Mr Hall said "it would be quite difficult" to prove that chant "might encourage terrorism", while public order legislation tends to work only if someone "was calling for immediate unlawful violence against people who happen to be present".
Read more:
Israeli soldier killed by Hamas fighters in Gaza
Hamas fighters carried instructions on how to make chemical weapons, Israeli president claims
Mr Aldworth said in "some contexts people chanting that word could possibly be committing an offence".
But he highlighted the difficulties of policing large crowds in London and said: "When passions are high, do you make it worse by wading in and arresting people and possibly creating violent disorder on the streets of London?
"The wonderful thing about British policing is individual officers are empowered with a great degree of individual discretion about how they deal with those matters."
Are tougher laws needed?
Mr Hall said he was looking to see if the law could be "tweaked" to potentially prosecute similar incidents in the future.
"I would like to see a clear rule that prevents people crying for jihad during public protests about the Middle East," he said. "I don't think at the moment the law does that."
Speaking to journalists after a meeting with Suella Braverman, Sir Mark also suggested that laws around extremism and hate crime should be redrawn.
He said: "The law that we've designed around hate crime and terrorism over recent decades hasn't taken full account of the ability in extremist groups to steer around those laws and propagate the truly toxic messages through social media. Those lines probably need re-drawing."
Court transcript costs are exploitative – victims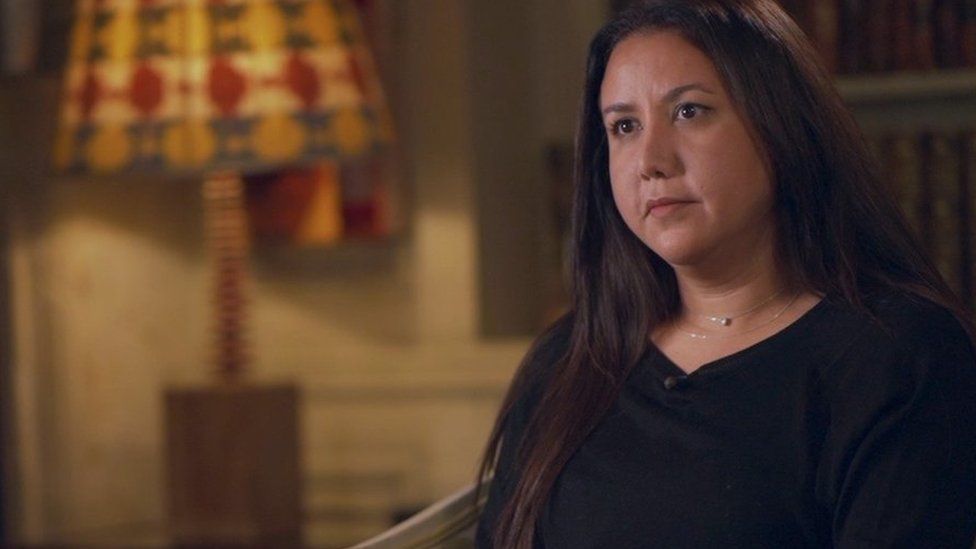 By Sima Kotecha
UK Editor, BBC Newsnight
Victims of violent and sexual crimes are calling for court transcript costs to be cut after they were quoted "unaffordable" sums for them.
They told BBC Newsnight that charging thousands of pounds for copies of court hearings was "exploitative".
One rape survivor said she was quoted £7,500 for the transcript of her trial.
The Ministry of Justice (MoJ) said victims could ask a judge to order a transcript at public expense, but cases were not routinely transcribed.
"If the request is declined, the fee covers the considerable costs that come with writing up the audio recording of potentially weeks' worth of hearings," a MoJ spokesperson said.
Warning: This article contains details some readers may find distressing.
Juliana was raped by her former partner in 2020.
"He drugged me. He recorded the video of himself raping me and he actually played it back to me after waking me up," she said. "He then threatened to send the video to my 88-year-old father. That's when I reported him to the police."
Juliana's former partner was convicted by a jury at a trial, which lasted ten days.
She later wanted to revisit what had been said in court, but her request for a free copy of the transcript was rejected.
She was told provisions were only made in exceptional circumstances, such as in murder and manslaughter cases, but those circumstances were "not met in your application".
Instead, she was advised to contact one of the companies outsourced by the government to supply transcripts.
Acolad UK Limited quoted £7,459 for the transcription, Juliana said. The firm said the price was an estimate based on the length of the audio, which needed to be listened to by a transcriber.
"I just thought 'I can't afford this'. I had to stop working. My mental health was a mess," Juliana said. "Why do I have to pay for a service with data that is pertaining to me?"
The government's website says crown court hearings and those at civil and family courts are always recorded. Anybody can apply for a transcript of the proceedings.
It says victims will usually have to pay for the transcript, unless the court believes there are special circumstances. The final cost will depend on the size of the transcription, whether it's new or a copy, and other factors.
The court transcription service is outsourced to six companies in the UK, in a contract worth more than £17m.
BBC Newsnight found transcription costs at the six government-contracted firms varied from 80p per 72 words, to £1.71, for a 12-working-day transcription.
According to the government's guidance notes, Acolad UK Limited charges 80p per 72 words if the transcription is to be completed in 12 working days, which is listed as the cheapest turnaround option.
The company said pricing is based on the quantity of material to be transcribed, the level of urgency, and other factors.
"The sensitivity of the matter at hand – as in all legal and court proceedings – determines that use of AI-assisted tools is limited, and human expertise prioritised," Acolad said.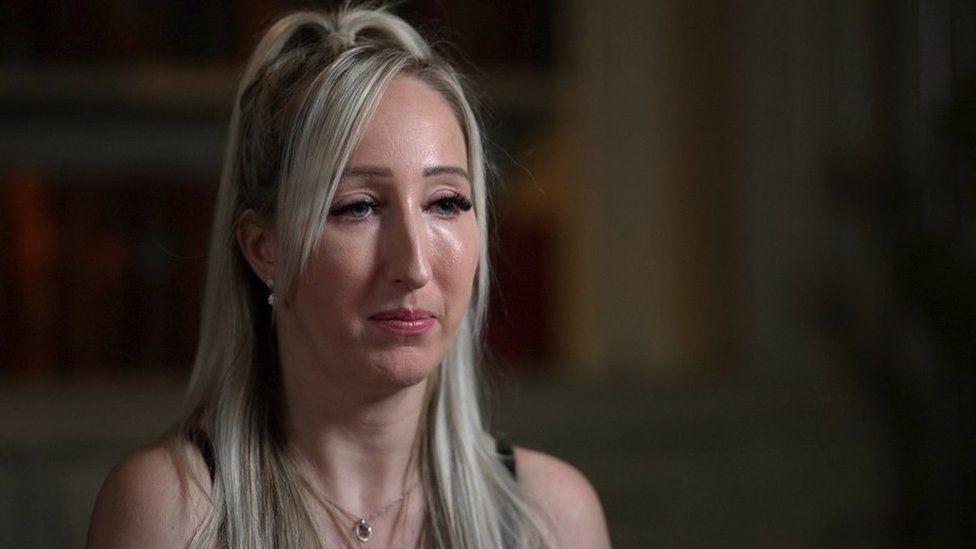 Crime victims have told BBC News that absorbing what is said in court can be incredibly difficult and traumatic, meaning they may have to rely on a transcription.
They argue having access to affordable transcripts allows them to go over the evidence and statements properly after cases have concluded.
According to the government, families in murder cases are entitled to free a copy of the judge's sentencing remarks following a conviction.
'People deserve closure'
But Claire, whose ex-partner tried to kill her in 2020, said she was still quoted hundreds of pounds by Acolad for a transcription.
"I was asleep and he cut my throat and then repeatedly stabbed me," Claire said. "I woke up to him trying to cut my neck."
Her former partner pleaded guilty to attempted murder and was sentenced to 18 years in prison. Because she had struggled to take in what had been said in the court hearing, Claire wanted to be able to read the judge's sentencing remarks.
She said she was not told a free copy could be requested from the court. Instead, she was advised to contact a transcription company.
Claire said the firm quoted her almost £300 to provide a transcript of the judge's sentencing remarks. "I was quite shocked," she said. "I was homeless, I'm not working, I'm disabled, and I really need this for my closure – and I wasn't able to get it."
She finally managed to get the transcript for free because somebody had already requested it and paid for the transcription work, which is standard procedure with all the companies.
"Some of the costs I've heard are astronomical, and these people deserve closure," Claire added.
London's Victims' Commissioner, Claire Waxman said the current system must "urgently change".
"Victims must be able to access accurate and timely transcripts, at no cost to themselves, to support their understanding and recovery, which is an essential part of their justice journey."
The Ministry of Justice said it was "incredibly rare for a victim to request a transcript of an entire trial" and it was more common for people to request the judge's sentencing remarks, which summarise the case against the defendant made at trial. It said that typically costs about £40.
If you've been affected by issues raised in this story, there is information and support available on BBC Action Line.
Related Topics
More on this story
October 23rd 2023
Plan for UK to host thousands of Gaza refugees drawn up by charities
Groups urge government to introduce emergency family reunion scheme modelled on initiative for Ukrainians
Ben Quinn Political correspondent
@BenQuinn75Mon 23 Oct 2023 00.01 BSTLast modified on Mon 23 Oct 2023 02.30 BST
A blueprint setting out how Britain could provide refuge to thousands of Palestinians from Gaza has been drawn up by a coalition of charities and groups.
Organisations including the Refugee Council, Safe Passage International, Doctors of the World, Helen Bamber Foundation and City of Sanctuary have raised concerns about the conflict worsening the Palestinian refugee crisis.
They are urging the UK government to introduce an emergency family reunion scheme modelled on the initiative for Ukrainians and carry out out a medical evacuation for people in need of specialist care.
Other actions being called for include the prioritisation of cases of Palestinians and Israelis already in the UK asylum system, along with facilitated travel for UK nationals and those with the right to enter the UK.
Enver Solomon, chief executive of the Refugee Council, said the UK must be ready to play a role in the refugee crisis.
"As the conflict worsens the number of Palestinian men, women and children displaced and those facing grave danger will only increase," he said. "People who aren't secure and safe in their homes need access to safety and the UK must be ready to play a role by implementing a package of emergency measures at short notice."
Meetings are to be sought with the UK government about the proposals, which are set out in a briefing paper by the Refugee Council and supported by the other organisations. They build on approaches taken by the British government in response to the conflict in Afghanistan and Russia's invasion of Ukraine, which resulted in thousands taking refuge in Britain under resettlement schemes.
They also echo a call made last week by the veteran Labour peer, Alf Dubs, for a permanent scheme that the UK could turn to when emergency situations arise.
Solomon said: "Responses to recent major conflicts have resulted in different schemes for different nationalities, all with separate and often complex eligibility criteria and unclear funding regimes. Instead of this ad hoc and inconsistent approach, a standard set of measures to provide safe passage to those who need it should be operationalised as and when a crisis warrants such a response."
The proposals stress that the package of emergency measures must also work alongside an asylum system that processes people's claims in a fair and effective way, and safe routes into the UK.
"Those safe routes should include a bold and ambitious multi-year resettlement commitment, wider family reunion pathways, and the piloting of a refugee visa that allows people to travel safely in order to apply for asylum in the UK," it adds.
The organisations envisage that the plans would be subject to security vetting. In the case of a proposed family reunion scheme – under which people affected by the conflict could join family members in the UK – applications would be submitted online by a UK-based family member.
Calls for a UK resettlement scheme for Palestinian refugees have been made in parliament by the leader of the Scottish National party's Westminster leader, Stephen Flynn, who made a direct appeal to Rishi Sunak during prime minister's questions.
Sunak did not address calls for a resettlement scheme, but did say the UK was "one of the most significant contributors to the United Nations' efforts to support Palestinian refugees".
Robert Jenrick, the immigration minister, brushed off calls for a specific scheme for Palestinians when asked about the idea on Sky News's Sunday Morning programme, saying the priority was getting British nationals out of Gaza.
"We already have a global scheme, which is operated by the United Nations on our behalf and they choose individuals," he said. "The idea of the cap is that we consult local authorities across the country, better understand what capacity there is, and if there is further capacity then think about increasing a scheme like that so that more people can come."
Pressed over whether there might be a specific scheme for Palestinians, he said: "At the moment, priority is simply to get the British nationals out of Gaza and to ensure there is as much humanitarian relief there. That's the first step.
"It's quite a long way ahead before we could reach the point where we might be able to see more people leaving Gaza. At the moment Egypt, for example, is not willing to admit refugees, and we understand the reasons behind that."
The number of internally displaced people across the Gaza Strip is estimated at around 1 million, according to United Nations Relief and Works Agency for Palestine Refugees in the Near East, a UN agency working with Palestinian refugees.
October 20th 2023
Britain secretly helped Chile's military intelligence after Pinochet coup
As the Pinochet regime rounded up and murdered its political opponents after the 1973 coup, a UK Foreign Office propaganda unit passed material to Chile's military intelligence and MI6 connived with a key orchestrator of the coup, newly declassified files show.
JOHN McEVOY
5 September 2023
Britain secretly helped Chile's military intelligence after Pinochet coup
As the Pinochet regime rounded up and murdered its political opponents after the 1973 coup, a UK Foreign Office propaganda unit passed material to Chile's military intelligence and MI6 connived with a key orchestrator of the coup, newly declassified files show.
JOHN McEVOY
5 September 2023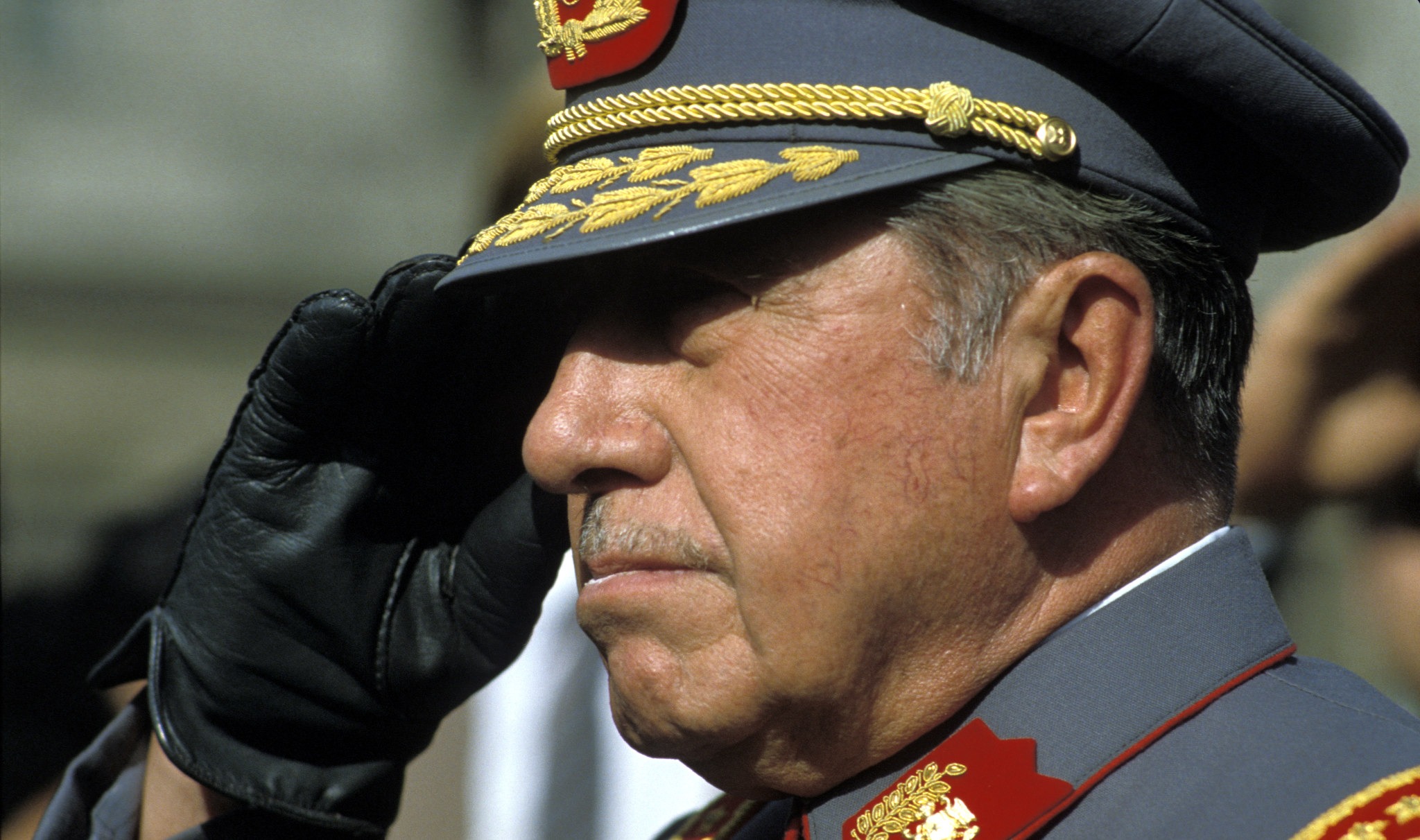 General Augusto Pinochet. (Photo: Greg Smith / Corbis via Getty)
Foreign Office helped Pinochet regime to develop a counter-insurgency strategy based on British military campaigns in Southeast Asia
MI6 officer David Spedding was attached to British embassy in Santiago in 1972-4, and had relations with a key member of the military junta
The UK government assisted Chile's military intelligence in the aftermath of the brutal 1973 coup against elected president Salvador Allende, newly declassified files show.
The assistance was authorised by the Information Research Department (IRD), a secret Foreign Office propaganda unit which worked closely with Britain's secret intelligence service, MI6.
The IRD had long seen Allende as a political threat. As Declassified previously revealed, throughout the 1960s, the unit had sought to prevent Allende from ever becoming president through election interference and covert propaganda operations.
After Allende was elected in 1970, the IRD's distribution of propaganda material became "strictly limited", with the British embassy having fewer reliable contacts in the Chilean government.
This all changed after the coup.
In January 1974, the IRD began to "extend the distribution" of its material, which was now passed "to the Chilean Ministry of Foreign Affairs, Government information organisations" and, crucially, the dictatorship's "military intelligence" services.
At this time, Chile's security forces – including the country's intelligence apparatus – were responsible for massive human rights violations, including the widespread use of torture as a political weapon.
The UK government was under no illusions about this. As Foreign Office official Christopher Crabbie noted three months after the coup in December 1973, "I do not think that anyone seriously doubts that torture is going on in Chile".
Reliable figures indicate that, between 1973 and 1988, Chilean state agents were responsible for over 3,000 deaths or disappearances and tens of thousands of cases of torture and political arrests. This was in a country which, in 1973, had a population of only 10 million people.
RELATED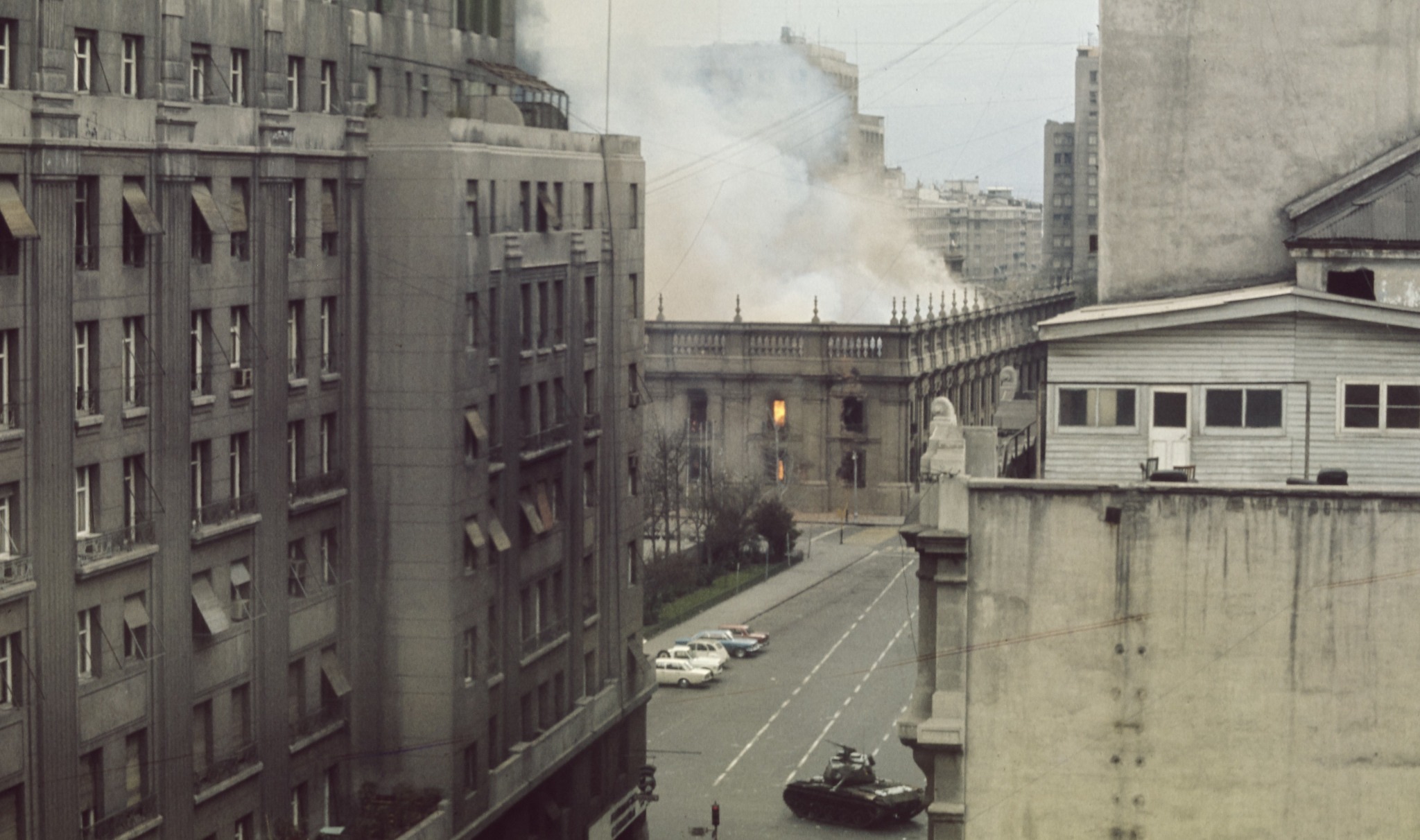 'Hearts and minds'
The nature of the information passed to Chile's military intelligence remains unclear, though the files suggest it may have included material for use in propaganda, research reports on left-wing activity, and even manuals on domestic security operations.
For instance, newly declassified files show how the UK government secretly helped the Chilean authorities to develop a counter-insurgency strategy, using techniques refined during Britain's colonial interventions in Southeast Asia.
The idea for such assistance was first raised during the visit of British navy chief Sir Michael Pollock to Chile in late November 1973, two months after the coup.
The timing of Pollock's visit was "politically tricky", noted the British ambassador in Santiago, Reginald Secondé, since there was "much critical attention" being given "to the Chilean Government's treatment of their political opponents".
However, there were "two frigates and two submarines for the Chilean Navy under construction in British yards" – an arms deal worth around £50m – and "this was not a moment to prejudice the historic tradition of Anglo-Chilean naval friendship".
"This was not a moment to prejudice the historic tradition of Anglo-Chilean naval friendship"
In Santiago, Pollock and Secondé met with a number of regime officials, including navy chief José Toribio Merino Castro, defence minister Patricio Carvajal Prado, and foreign minister Ismael Huerta.
With Huerta, the British officials spoke about the UK government's "hearts and minds" campaign in Northern Ireland, a counter-insurgency strategy inspired by Britain's war in Malaya (1948-60).
Huerta "seemed impressed with the concept", and Secondé "later twice heard him muttering to himself 'hearts and minds'".
Subsequent meetings were held between Secondé, British information officer Tony Walters, and Captain Carlos Ashton, the director of overseas information in Chile's Ministry of Foreign Affairs.
Like Huerta, Ashton was "very receptive to the idea that this kind of approach to Chilean security problems might be the right answer", and requested "details of what practical measures a 'hearts and minds' exercise would involve".
RELATED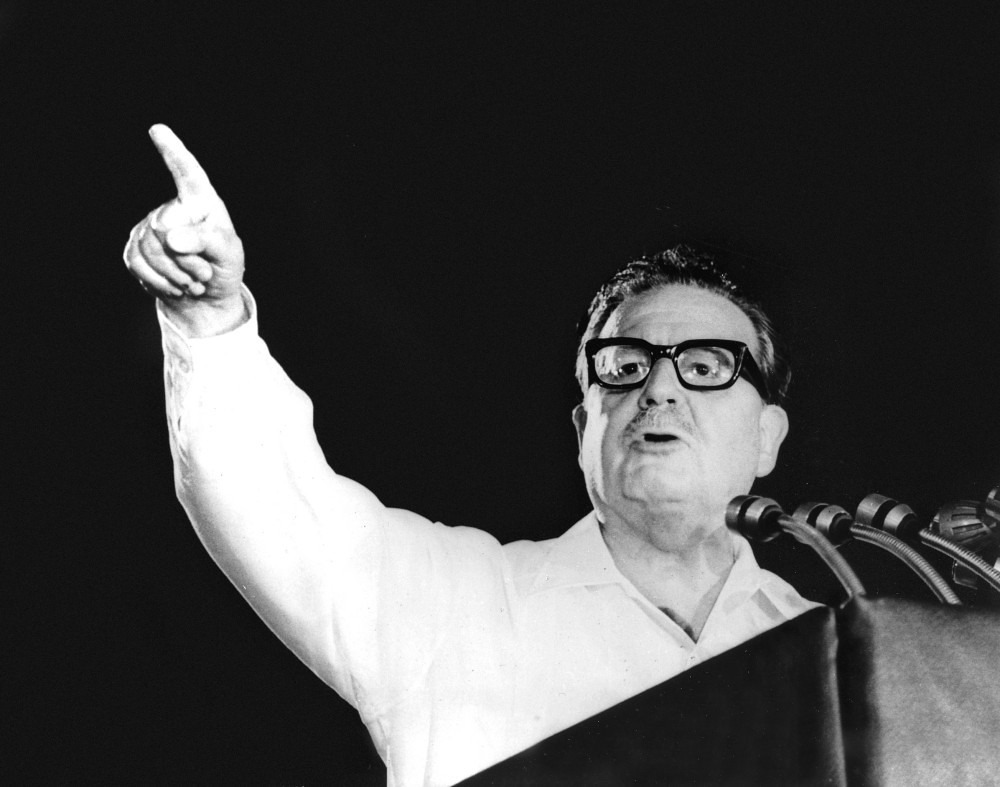 Counter-insurgency advice
Ashton's request for assistance was forwarded to Rosemary Allott, the head of the IRD's Latin American desk.
In a letter dated 15 February 1974 and marked 'secret', Allott agreed to provide the Chilean regime with counter-insurgency advice, but limited this to material on Britain's past colonial interventions.
"In view of the delicate political considerations involved", Allott wrote, "it would be best to confine, at this stage at least, the material we send you of insurgencies of the past, rather than those currently preoccupying HMG" such as Northern Ireland.
The Pinochet regime was soon issued with three books on British counter-insurgency strategy, alongside a "Manual of Counter Insurgency Studies".
"Britain agreed to share its colonial policing methods with the Chilean junta"
Allott also tracked down "various official reports on Malaya" including "The Fight Against Communist Terrorism in Malaya", the "Review of the Emergency in Malaya (1948-57)", and "two booklets on the Philippines insurrection".
Britain's military campaign in Malaya involved the "resettlement" of over 500,000 civilians, aerial bombardment, and an intensive propaganda operation.
Embassy officials suggested that they were teaching Chilean officers "tactics of tolerance and magnanimity". However, brutal repression often lay behind the UK government's rhetoric about "winning hearts and minds", and the Chilean authorities were only sharpening their repressive techniques.
None of the material given to the Pinochet regime was "for attribution to HMG". This meant that the Chilean authorities could use the information but not source it to the UK government.
The extent to which Britain's advice was acted upon remains unclear; the Pinochet regime was certainly not lacking in support from the CIA.
Nonetheless, it is clear that Britain agreed to share its colonial policing methods with the Chilean junta, with the goal of stabilising Pinochet's regime against domestic opposition.
MI6 in Chile
Evidence of British assistance to Chile's intelligence services raises further questions about what Britain's own secret intelligence service, MI6, was doing in Chile.
In 1972, MI6 officer David Spedding was attached to the British embassy in Santiago – his only foreign posting outside of the Middle East throughout his career.
This was not Spedding's first visit to Chile. As a postgraduate student at Oxford University during the mid-1960s, Spedding had spent his gap year in Santiago and found work as an assistant in the British embassy's press office.
Spedding's first role in the diplomatic service was thus in the same British embassy that had been directing covert propaganda operations against Allende throughout the 1960s. The job gave him "an entrée into SIS [MI6]", historian Nigel West noted.
Spedding remained in Chile until September 1974. He was subsequently made responsible for MI6 operations across the Middle East, and would go on to become MI6 chief between 1994 and 1999.
RELATED
'Our relationship with Admiral Merino'
Spedding's name rarely appears in declassified Foreign Office files on Chile.
Yet in one file, dated 4 December 1973, Spedding informed the Foreign Office that 2,800 civilians and 700 armed forces personnel had been killed during and after the coup.
"In order to protect our relationship with Admiral Merino", Spedding noted, "we would not like these figures to be quoted, at least for the time being".
Admiral Merino was one of the key orchestrators of the 1973 coup. He was head of the Chilean navy in September 1973, and remained in post until the fall of the dictatorship in 1990. Merino claimed responsibility for convincing Pinochet to join the coup.
One of Spedding's roles, then, was to ensure close collaboration with the Chilean junta by covering up its responsibility for massive political repression and human rights violations.
The MI6 station in Santiago was only closed down in 1974 amid the UK Labour Party's return to government.
It would not be surprising if MI6 played a supporting role to the CIA's covert operations against Allende during the early 1970s. It was recently revealed that the Australian Secret Intelligence Service (ASIS) had "opened a base in Santiago to assist in the US Central Intelligence Agency's destabilisation of the Chilean government" in 1971.
Britain's secret assistance to the Pinochet regime was consistent with the UK government's position on the coup.
The Conservative government under Edward Heath had welcomed the coup and rushed to give diplomatic recognition and arms to the Chilean junta, with the Foreign Office noting that it had "infinitely more to offer British interests than the one which preceded it".
The coup against Allende inaugurated a 17-year dictatorship under General Augusto Pinochet, who only left office in 1990.
---
John McEvoy is co-directing a forthcoming documentary investigating Britain's hidden role in the death of Chile's democracy and rise of the Pinochet dictatorship. You can support the film's production here.
TAGGED:
Comment I worked for the Nitrate Corporation of Chile in the late 1970s on the recommendation of an RAF Squadron Leader. I had grown up in the 1950s and believed in Britain, hence my ambition to be a military pilot. I learned about Chile, the coup and MI6 the hard way and could not wait to escape – assuming that I ever did. I am aware of the U.K's interest in this site, including Special Branch. I know what they are looking for and their role in my forthcoming trial.
R J Cook
U.K , Diverse Or Divided ? A Comment By R J Cook
Comment Scotland's Islamic first minister has issued a welcome to Gaza refugees even though Egypt is more than reluctant to open their border and let them into its own Islamic haven. Reality Check is that Islam wants a world wide caliphate for its believers – and to hell with the rest.
Britain's massively expanding Islamic population are attacking Jewish property while U.K Mainstream media refuses credibility for factual evidence making clear HAMAS fired the dud Israel bound rocket that landed short on the crowded hospital Gaza hospital car park. It is the same trick played by Zelensky when one of his old Soviet issue missiles landed in Poland – hoping to trigger open NATO involvement.
Islamists are not multi culturalists so the two state solution in Israel is an absurd white Liberal piece of garbage and virtue signalling. Egypt was a leading civilisation until conquered by Islam. Similarly, Catholicism held back European progress for centuries – and is a big factor in South American backwardness, overpopulation, internecine conflict, corruption and gang violence.
R J Cook
History in the making, says Starmer after double by-election victory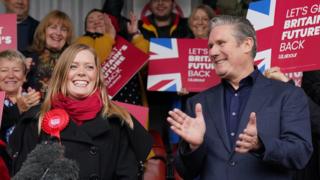 Sir Keir Starmer hails victories in Tory safe seats Tamworth and Mid Bedfordshire, saying people "want change".
Related content
Sir John Curtice: By-election results show terrible night for ToriesHenry Zeffman: More than mid-term blues for the ToriesVideoHow a dismal night for Tories unfolded'People want a change': Mid Beds voters react to winVideoWatch: What defeats could mean for ToriesLabour says it is 'redrawing political map'
October 19th 2023
Boy with water pistol arrested by armed police 'for being black', mother says
A police van "rammed" him off his bicycle "without any warning", a legal firm says, "knocking him to the ground".Thursday 19 October 2023 14:56, UK
The mother of a 13-year-old boy who was arrested while playing with a water pistol says he was targeted "for being black".
Officers would not have treated her son in the same way had he been a "white 13-year-old boy", she added.
The teenager, described only as Child X, was in the streets outside his home with a younger sibling in Hackney, east London, when a uniformed officer reported a potential firearms incident.
Armed units from the Met and City of London Police were sent to the scene, according to the Alliance for Police Accountability (APA).
A police van "rammed" him off his bicycle "without any warning", Bhatt Murphy Solicitors said – "knocking him to the ground".
He was then "surrounded by armed officers who pointed their firearms at him, handcuffed and arrested him on suspicion of being in possession of a firearm", the legal firm added.
The boy was de-arrested at the scene.
His mother said she felt "very angry" about his treatment by the police.
In a statement issued by Bhatt Murphy, she said: "The attitude of the police to him – and to me – is shown up in the words of the senior officer at the scene when I protested to him about the conduct of his officers: he told me I was lucky that they had not arrested my son!
Advertisement
"For what? For playing with a brightly coloured plastic water gun with his younger sibling on the streets behind our home?
"For being a black boy on the streets of Hackney?
"I know – and the police know – that they would not have treated my son in the way they did if he had been a white 13-year-old boy.
"I know that they would not have treated me with the contempt shown towards me or described me as 'aggressive' if I was not black."
She said she felt "broken" by what had happened and "distraught" because she was unable to protect her boy.
She commented: "How can I ever tell (my children) that they can turn to the police for help?"
The borough commander arranged for her to view the body-worn video footage from the officers involved but she found it "too painful and traumatic to see what they did to my son".
Detective Chief Superintendent James Conway, who is in charge of policing for Hackney and Tower Hamlets, said he had apologised to the family.
He said: "This incident was understandably extremely distressing for the boy involved as well as the rest of his family.
"We know it may cause public concern and we want to help the public understand why we responded in the way we did.
"This does not in any way detract from our recognition of the trauma caused to the boy, for which I apologised soon afterwards to his family."
He added: "Such is the nature of the threat from firearms that the College of Policing is clear that officers should treat all firearms as real and loaded until proven otherwise.
"The police have a positive legal obligation under human rights legislation to protect life, which shapes our approach to responding to suspected firearms."
An internal investigation by the Metropolitan Police found no misconduct had been committed by the officers involved.
A further complaint accusing them of racial bias is still being investigated by the force's standards department.
The Independent Office for Police Conduct watchdog stated that the Met could carry out both investigations itself.
The boy's mother said: "How can I be expected to place my faith in the police to investigate themselves?"
Related Topics
Comment Whilst I am aware that U.K Police are institutionally racist, corrupt and led by some of the most appalling officers, there is the wider and deeper reality that cities like London are dangerously ungovernable in this age of mass immigration and black gang violence. Liberals don't want to face up to this. My generation are some of the worst in this respect.
My experience of the police is being on the receiving end of corrupt senior officers who feel untouchable. The fact, as the head of the police college noted in detail, the worst get to the top where they recruit like minded people for promotion. Those who want to do good are called boy scouts and, as a now retired traffic cop friend told me, his department were called wooden tops. As a commercial driver for 12 years, I would not like to have been on the road all hours without them. Sadly there were never enough traffic officers for speed safety cameras are no substitute. So as the saying goes, they should not all be tarred with the same brush. Government is either scared to reform the police or happy that they serve their ends as guard dogs and on protest control.
R J Cook
October 16th 2023
Off The Buses by R J Cook
Bearing in mnd the recent school bus crash killing one 15 year old girl and injuring many others, one with life changing injuries, I hope you will take interest in the attached images and what I have to say. School children along the Arriva X60 route between Aylesbury and Milton Keynes have to use service busy services buses. On this long route, students have the 'choice' (sic) of middle and secondary schools in Aylesbury, Whitchurch, Buckingham, Winslow or Milton Keynes according to the 'wisdom' of the joint Buckinghamshire and Milton Keynes educational planning authorities.
The outcome is that children from each area are bussed in every direction, partly on the basis of the number of school places in the most favoured schools, children from Milton Keynes are bussed to Buckingham , Winslow and Aylesbury and in the reverse direction for all points. Consequently the buses are massively overcrowded – no seat belts – as you see in the first picture. At one point on the 15.10 out of Aylesbury last Friday October 14th , I counted 20 standing passengers on a 70 seater single decker bus when leaving Buckingham for Milton Keynes. On diversion because of the fair in Buckinghan, the vehicle made a sharp right turn into Bourton Road to travel up a steep hill in a town where parked cars challenged the driver's skills and the engine struggled to make the gradient..
Slowing for a roundabout near a turning for Old Stratford, there was a loud bang. I was sitting at the back of the bus, feeling it jump up in the air,land and lurch to the nearside. The driver's warning signal cut across the loud chattering and shrieking of the young passengers oblivious of any other noise but their own. As a person experienced in the world of commercial transport, I guessed an air bag had blown with a suspension collapse. It was raining heavily at the time. The driver slowed to a crawl, struggling to get to safety in the posh Milton Keynes Stony Stratford suburb where the bus was evacuated.
Had this vehicle's structural failure happened at the generally maximum speed drivers are forced to achieve on this long demanding rural route, the driver could have lost control with disaterous consequences inside and outside the bus. This high risk system of travel is normal on our school buses. Children are being treated as mere commodities inside and outside school as you see in the first image. The second image shows the passengers waiting for a replacement bus. The third inage shows the collapsed suspension.
October 15th 2023
Luton Airport fire cars 'unlikely to be salvageable'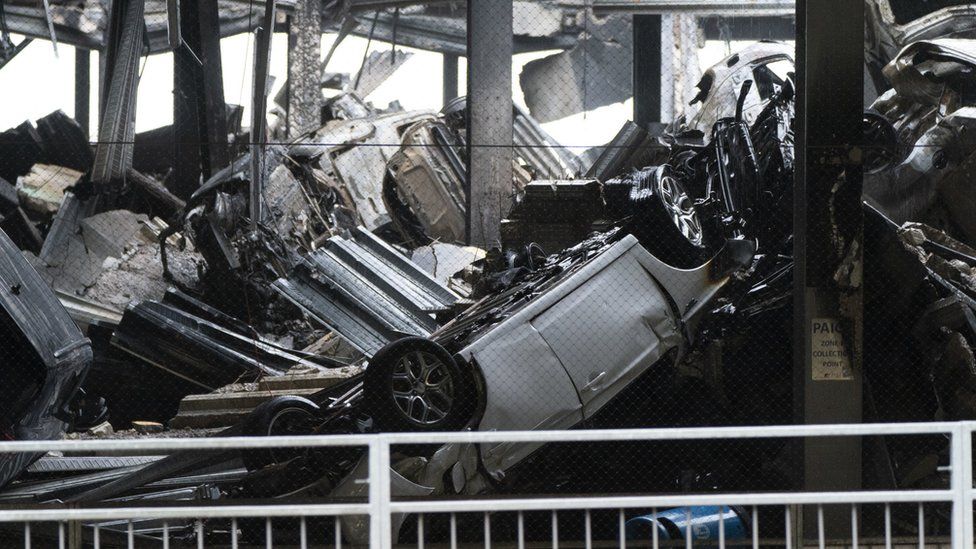 By Peter Walker and Hannah Cottrell
BBC News and PA Media
Luton Airport says it is "unlikely" any vehicles will be salvageable following a massive fire that caused one of its car parks to collapse.
Flights were suspended after the blaze ripped through Terminal Car Park 2 on Tuesday night.
Up to 1,500 cars were inside and the airport said it had replied to almost 16,500 customer queries since the fire.
The emergency services have returned control of the car park to airport management.
"Regrettably, it is unlikely that any vehicles in the car park will be salvageable, but this is still in the process of being assessed," said an airport spokesman.
"We recognise this has been an extremely distressing time for all concerned and we would like to thank our customers for their ongoing patience and understanding while we work through the many complexities following this incident."
The spokesman said the airport had provided the Motor Insurers' Bureau with the registration details of 1,405 vehicles and was working with the Association of British Insurers to try to retrieve any personal items.
Inbound passengers on Tuesday were diverted to other airports, some scrambled to find alternative transport or hotel accommodation while others told the BBC they were "in limbo".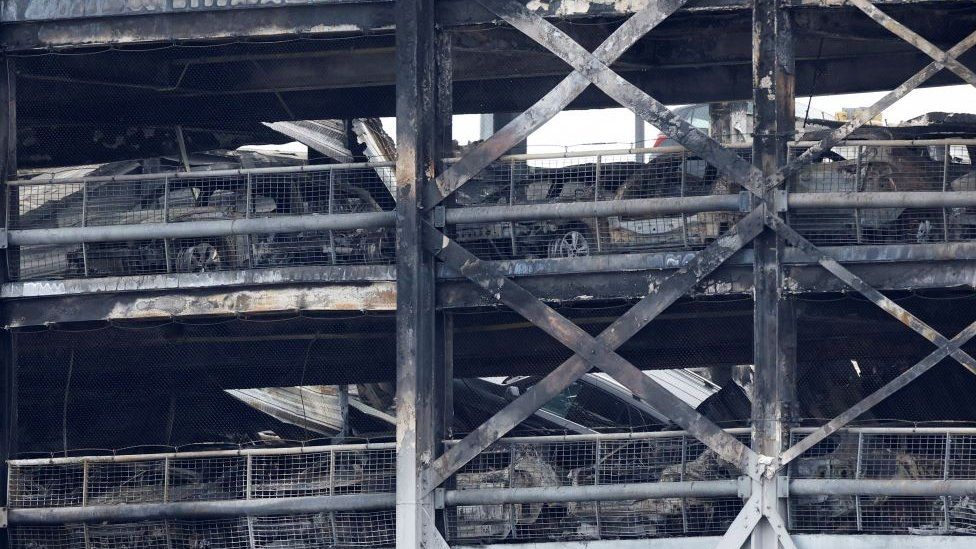 Three firefighters and a member of airport staff were taken to hospital suffering from the effects of breathing in smoke on Tuesday.
A further firefighter was treated at the scene by the paramedics. No serious injuries were reported.
October 13th 2023
Lot of Balls
John Simpson ,stalwart of the BBC, denied live on air, that the BBC never calld the IRA terrorists and cannot do so with Hamas. The cannot take sides.The principal mosque in North West London, it is located on Ealing Road, Wembley, and serves the United Kingdom's fifth largest Muslim community, which is predominantly Pakistani and Bangladesh The religious make up of Wembley Central is 45.0% Hindu, 25.1% Christian, 16.3% Muslim, 3.7% No religion, 1.9% Buddhist, 1.0% Sikh, 0.1% Jewish. 790 people.
The Provisional IRA is a terrorist organisation dealing in violence.
Much of its passive support among Roman Catholics i~Northern Ireland results
from inti~idation. It raises money in Northern Ireland and in the Irish
Republ ie .from criminal acti vi ties such as armed robbery" blackmail, extortion,
protection rackets and fraud.
Comment No cause for the fire has been published. Terrorism was immediately ruled out. Apparently a parked empty car simply caught light and exploded. As a former ambassador for Luton and author of three books on the town, I know the area very well – including the airport. It has a high Islamic population and well covered by CCTV.
R J Cook
What is Terrorism ?
Eamon was born and grew up in Ireland.
Assuming you are referring to the Provisional IRA, it is listed as a terrorist group because it engaged in a terrorist campaign from its founding in January 1970 until the signing of the Good Friday Agreement in 1998.
Terrorism is: (1) the use of violence, (2) directed at non-combatants or civilians, (3) intended to induce extreme fear in a population or government, (4) in order to achieve a political, religious or ideological end. What is Terrorism? That description fits the IRA to a 'T." For more, see Éamon O'Kelly's answer to Were the IRA freedom fighters or terrorists? See also the answers to: Do you consider the IRA to be a terrorist organization?
I watched with disgust as the saintly veteran bloated BBC puppet war correspondent John Simpson excused his BBC paymasters for refusing to back the Israeli cause. BBC's claim of independence is ludicrous. It has always been an explainer and justifier of the empire's rise, plateeau, fall and rise into the absurd world of diversity. His fat face smiled patronisingly as he lied that the BBC had never – way back in the super hippy1970s – described the IRA as terrorists . He used this excuse to justify pushing the Hamas evil actions as equal to the Israeli's war of self defence. More black comedy to come. What are King Charles, Queen Camilla , Princess Kate and Prince William going to do in this insane situation ?
R J Cook
October 6th 2023
HS2: the great British train robbery
How a 180km 'railway to nowhere' came to symbolize British decline.
September 28, 2023 5:30 pm CET
7 minutes read
Share on Twitter Share on Linkedin Share on WhatsApp Mail Print
Press play to listen to this article
Voiced by artificial intelligence.
LONDON — "If you want to get on board the high-speed revolution, you've got to start planning now."
These were the words of David Cameron in 2013 as he announced the route for Britain's first extended high-speed rail network, known as HS2, a £37 billion state-of-the-art train line running through the heart of the country.
Ten years later, Britain's high-speed "revolution" has stalled.
With billions of pounds already spent, the promise of a high-speed line connecting central London to the northern cities of Manchester and Leeds looks doomed, as the U.K. government prepares its second program of project cuts in as many years.
You may like
By Gregorio Sorgi and Jacopo Barigazzi
Thanks to ballooning costs, the line now looks unlikely to reach Manchester, Leeds — or even central London — at all.
The project has become a huge embarrassment for a nation that once prided itself as the world's railway pioneer. Much soul-searching is underway about Britain's ability to deliver large-scale infrastructure projects on time and on budget.
"It's been terribly badly managed," William Hague, the former Tory leader and U.K. Foreign Secretary under Cameron, said this week. "A national disgrace."
With impeccable timing, reports of the latest cuts to the HS2 project emerged just as the Conservative faithful prepare to head to Manchester for their annual party conference this weekend. Farcically, the news leaked when a government official was photographed heading into No. 10 Downing Street with telltale documents on show.
Protests are now expected in Manchester this weekend, where Labour Mayor Andy Burnham is ready to combust with anger at the curtailment of a project which was meant to symbolize the Conservative government's commitment to "leveling up" investment in the English regions. Downing Street has delayed a formal announcement until the conference is out of the way.
Despite the noisy recriminations, Rishi Sunak will try to win plaudits for his decision, portraying himself as a leader willing to confront problems other politicians have tried to ignore.
But a deeper malaise is apparent — a weighty British bureaucracy and a "not-in-my-backyard" attitude toward development that many MPs fear exerts an impossible drag on major infrastructure projects.
How much has HS2 cost so far?
Delays and spiraling costs have plagued HS2 ever since Cameron and his right-hand man George Osborne, an evangelist for the project, used their early political capital to get it off the ground. Costs quickly rose from £37 billion to £50 billion — and are now said to be closer to the £80-£100 billion mark.
In 2021, Boris Johnson canceled the eastern spur of the line, taking passengers to Leeds and Sheffield, in a bid to get the rest done.
The latest round of cuts are expected to scrap or delay the western spur of the line — from Birmingham to Manchester — as well.
To top things off, the southern end of the line running into London may now terminate at Old Oak Common — a rail depot in a suburb of northwest London, 10 km from the city center — rather than continuing to Euston, one of the capital's main termini. Passengers from Birmingham would be expected to disembark and board slower local services for the rest of their journey.
The upshot may be, as Paul Johnson of the Institute for Fiscal Studies think tank put it, a new railway "at a cost of tens of billions, which will get you from Birmingham to central London less quickly than you can do at the moment."
"Ending the line at Old Oak Common is pretty much the definition of a railway to nowhere," a senior government official told the Times.
While Sunak is pointing the finger of blame at highly paid HS2 executives who pocketed hundreds of thousands of pounds in pay and bonuses as the project collapsed, the saga hints at deeper problems with the way things are built in the U.K.
Leaves on the line
There is a growing sense of despair about the state of public services and infrastructure in Britain, which is only strengthened by comparison with near-neighbors.
Sam Dumitriu of growth campaign group Britain Remade found that even if the original estimate of HS2's cost had been correct, it would have been more than double the price-per-km of the high-speed connection between Naples and Bari in southern Italy, and 3.7 times more expensive than France's high-speed link between Tours and Bordeaux.
Not all such initiatives pass off smoothly on the Continent either, of course. A high-speed railway between Lyon and Turin and a tunnel between Germany and Denmark have both been beset by political wrangling — though both cases have the added complication of crossing national borders.
Another megaproject, a high-speed railway connecting the Baltic states with Poland, has been in the works for decades, with billions of euros in funding commitments set aside.
But Dumitriu says Britain has a specific problem — the high costs and complexity caused by the vagaries of its planning system, which seems designed to protect countryside at all costs. He points to a proposed new crossing of the Thames estuary for which the planning application alone cost £267 million — and ran to 60,000 pages.
The planning process for HS2 has proved particularly tortuous due to local opposition along the route of the line, which was due to traverse some of southern England's most genteel countryside. Vociferous Tory MPs representing affected constituencies have successfully lobbied for many more miles of expensive tunnelling than had been planned.
More broadly, Dumitru blames Britain's "stop-start" approach to undertakings of this scale, which means a diminution of skills and uncertainty for industry between each large infrastructure project.
"People won't learn by doing if you've only built one high-speed rail line," he said, referencing the 100 km strip of track linking London to the Channel tunnel, built in 2007, "and the next one you're building is 10 or 15 years later."
Planned upgrades
Others say the government must ultimately carry the can for a major project falling apart on its watch.
"It tells you something about where 'leveling up' sits now," said a senior Whitehall official not authorized to speak publicly. "This government has talked big about policy priorities and not backed any of them sufficiently."
Sunak hopes to avoid accusations of betraying the north by upgrading local transport services instead, though some are skeptical about how successful this will be without the extra speed and capacity offered by HS2.
He — like previous Conservative PMs — has talked about overhauling the planning system, though countless previous efforts have run aground due to opposition from Tory MPs fearful of the impact on their local areas. For now it appears any fresh endeavor will have to wait until after the next election.
Keir Starmer's Labour, meanwhile, is reluctant to commit to HS2 before the latest official cost estimates are released. His party too has promised planning reform as part of its "five missions for growth," but details remain vague.
If either leader can actually get meaningful planning reform off the ground, it really would hail a new dawn in British politics. Few in Westminster are holding their breath.
Joshua Posaner contributed reporting from Berlin.
Comment The U.K is bankrupt and institutionally corrupt – including the police. Democracy is absolute rubbish. The ruling elite can only envisage ever more laws and very severe punishments to punish its vcitims and inncocents – always pandering to the lowest common denominator while stoking up more fear and scapegoats. We would not be allowed the vote if it made any difference ( Mark Twain ).
Labour, the only politcial altermative is headed by Sir Kier Starmer ,the former head of the institutionally corrupt Crown Proscution Service, which continues to withhold evidence while advancing police fabricated material to meet male conviction targets -represents a country where elites thrive on mass fear, especially females'.
Two years ago we had Covid, then came the NATO Proxy War on Russia. Now Covid is back again, sneaking up on stage like a pantomine villain. The real reason HS2 has been scrapped is because of the Ukraine proxy war on Russia, where even each 'little Storm Shadow missiles' costs £.2.2 million each. Next there are the daily expenses for keeping asylum seekers in comfortable hotels, all tax free with expenses paid, is £8 million. Matters can only get worse. Braverman is right.
R J Cook
October 4th 2023
https://www.google.com/search?client=firefox-b-e&q=cheap+sheds
Laurence Fox and Calvin Robinson sacked by GB News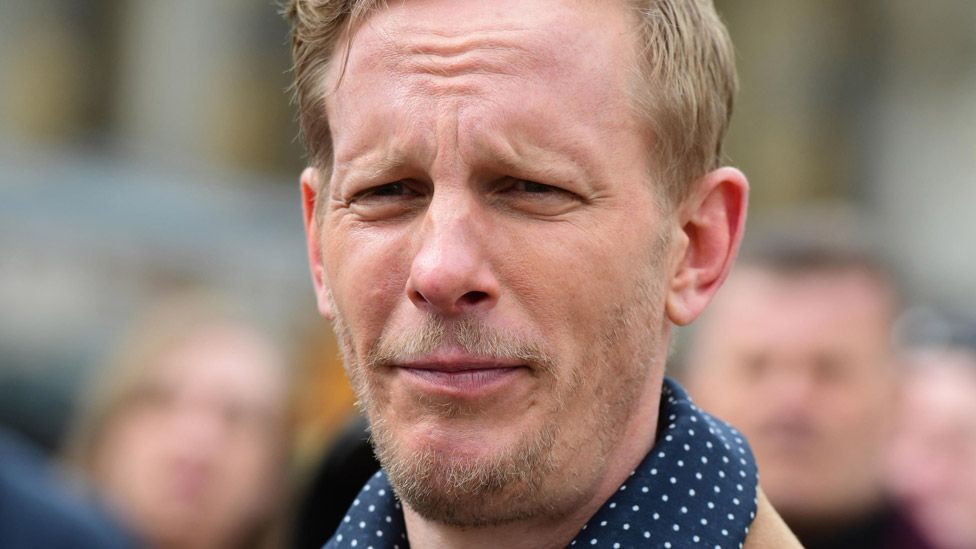 By Ian Youngs
Entertainment & arts reporter
Laurence Fox has been sacked by GB News after an outcry about comments he made on air about a female journalist.
The former actor and political activist sparked controversy last week when he asked what "self-respecting man" would "climb into bed" with Ava Evans.
Fox hosted a weekly show on the channel and made the comments while appearing as a contributor on Dan Wootton's show.
Fellow host Calvin Robinson, who was suspended after voicing support for Fox and Wootton, has also been fired.
Responding to his sacking on social media, Robinson said: "How long can a station keep calling itself 'the home of free speech' when it continues to engage in cancel culture?
"I supported my friends/colleagues and will continue to do so. That should not be a fireable offence. GB News is controlled opposition."
He said he was "absolutely in shock", adding he had tried to "provide some critical challenge" to the leadership at GB News but "they saw it as bringing the station into disrepute".
More than 8,800 people complained about Fox's remarks to media regulator Ofcom, which has launched an investigation.
In a video last Thursday, Fox apologised for the language he used and predicted his sacking, which he said would open GB News up to "complete destruction".
"GB News had one opportunity and that opportunity was to stand up and defend free speech, which they haven't done," he said.
"So I think now as they brand themselves the home of free speech, they're actually the home of cancel culture."
The announcement by GB News came on the same day he was arrested on suspicion of conspiring to commit criminal damage to Ulez traffic cameras.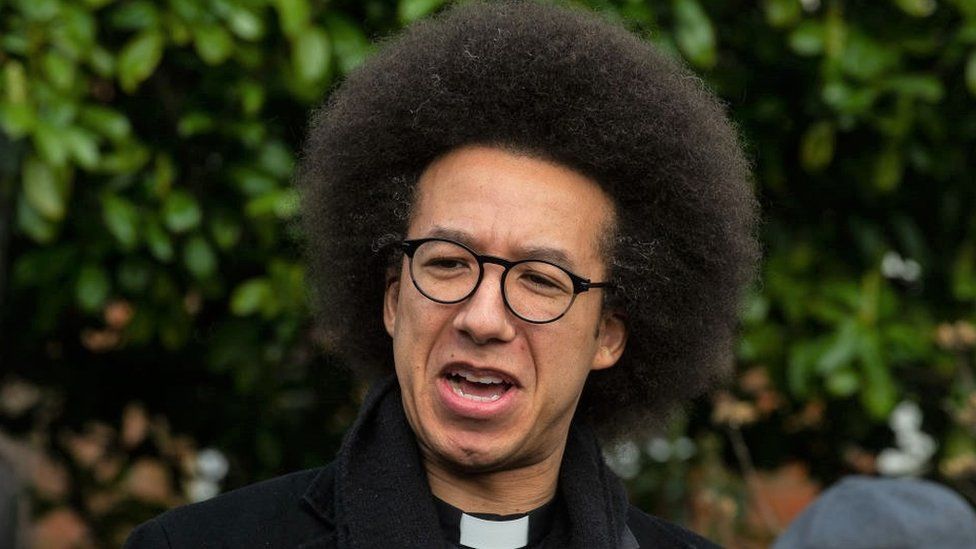 Last week, GB News also suspended Wootton, who has apologised "unreservedly" for "a very unfortunate lapse in judgement on my part under the intense pressure of a bizarre exchange".
In a statement on Wednesday, GB News said: "Laurence Fox and Calvin Robinson were both suspended last week pending internal investigations that have now concluded.
"As of today, GB News has ended its employment relationship with Laurence Fox and Calvin Robinson.
"The internal investigation into Dan Wootton continues."
What happened?
The incident happened when Fox was asked by Wootton for his view on an appearance by Ms Evans, political correspondent for PoliticsJoe, on the BBC's Politics Live the previous day.
She was on Politics Live with comedian and commentator Geoff Norcott, who raised the issue of men's mental health and suicide, and supported a call for a dedicated minister for men to address such issues.
Ms Evans argued that such suggestions "feed into the culture war" and "make an enemy out of women".
GB News suspends Laurence Fox for comments on a female journalist involved in a BBC discussion about men.
In response on GB News, Fox said: "We're past the watershed so I can say this. Show me a single self-respecting man that would like to climb into bed with that woman – ever, ever," he said.
"That little woman has been fed, spoon-fed oppression day after day after day.
"And she's sat there and I'm going like – if I met you in a bar and that was like sentence three, [the] chances of me just walking away are just huge."
He then added: "Who'd want to shag that?"
Wootton laughed at that line, before reading a post from Ms Evans saying she had been "a little rash on my anti-minister for men comments which I do regret".
On social media, Wootton later wrote: "Having looked at the footage, I can see how inappropriate my reaction to his totally unacceptable remarks appears to be and want to be clear that I was in no way amused by the comments."
Speaking to BBC Radio 4's Today programme on Friday, GB News chief executive Angelos Frangopoulos said Fox's remarks were "appalling" and "way past the limits of acceptance".
He said: "We are about free speech, but it's about being done in a respectful and proper way, and that was not the way that that conversation played out."
He added: "That comment should not have gone to air and that should have been properly challenged, quite frankly."
We have a vile sexist feminist culture that should make all men wary, as Fox put it, of getting into bed with any woman,
by R J Cook
Comment : Mr Frangopoulos said he had written to Ms Evans to say "it was very unfortunate and does not reflect our values and of course we are very sorry". It is incredible that precious Ava Evans has not been punished for her highly provocative statement on air, that women are justified in weaponsing false rape allegations to deter men from sexual assault. We have a vile sexist feminist culture that should make all men wary, as Fox put it, of getting into bed with any woman.
The brief fantasy triggered orgasmic spasm is not worth jail time. The dirty stinking cells, as I know from experience are not worth the trouble of pleasing women. The plethora of adverts for viagra say so much about the issue of female desirability. Intelligent men are starting to get the message. Make babies, get accused of abuse, pay for your ex wife and never see your kids again, lose all you have worked for , then end up ruined and in jail. No wonder so many intelligent me kill themselves.
GB News launched in June 2021, promising to "change the face of news and debate in the UK". It had 2.8 million viewers last month, according to ratings body Barb.
Its editorial charter says it values "freedom of expression but not by causing unjustifiable offence or exposing our audience to harm".
Fox made his name as an actor in TV shows like Inspector Morse spin-off Lewis, and in films like The Hole and Gosford Park.
In recent years he has repositioned himself as a right-wing commentator, activist and aspiring politician but has frequently caused controversy.
He set up the Reclaim Party and stood for election for London mayor in 2021, finishing sixth, and came fourth in the by-election to succeed Boris Johnson as MP for Uxbridge and South Ruislip this July.
Comment Understanding Laurence Fox requires understanding the fallout from his marriage to Swindon girl made good, Billie Piper. By all accounts his divorce was hell. He formed the very reasonable conclusion that the law favoured female opinion. His struggle to establish his own public account of marital miseries failed because England is the home of Radical Feminism. His next life changing event was when he was set up as a sexist pig when he accepted an invitation to appear on the BBC Political Consensus Brainwashing Show called 'QUESTION TIME.'
Actor was described as a 'white privileged male' in row over coverage of Duchess of Sussex
A mixed-race university lecturer, Rachel Boyle accused of being racist by the white actor Laurence Fox has been bombarded with hate messages via social media, she has told the Observer.
Rachel Boyle, a researcher on race and ethnicity at Edge Hill University in Lancashire, clashed with Fox during a TV discussion about the press's treatment of the Duchess of Sussex.
Since the row, Boyle, 39, says she has received a barrage of online abuse, mainly from people who appear to be of the alt right, via Twitter and email.
"At this stage I'm not worried but I'm going to monitor it closely," she said. But positive responses to her appearance on BBC Question Time on Thursday far outweigh the abuse and she would "absolutely" make the same points again, she adds. The problem for so called 'privileged white males' is that they are not automatically privileged, even members of upper middle class acting dynasties. But the problem with these comfortble people of both genders is that the world has changed since the end of World War Two. the colonial pigeons have come home to roost. Elitist universities,thanks tomy 'reforming ' spolied generation have become mass dumbed down 'unis' of very reduced intellectual significance in the real world – though the indoctrianting staff are obscenely overpaid. Truth and Ideology, post Prime Minister Margaret Thatcher's famous 'Sea Change have become the same thing. That is why moronic lemming Britain believes we have a cost of living crisis and not a cost or war crisis – the latter being the real reason HS2 has been scrapped.
R J Cook
Laurence Fox arrested over Ulez camera damage threat
By George Wright
BBC News
Actor Laurence Fox has been arrested on suspicion of conspiring to commit criminal damage to Ulez cameras.
The Metropolitan Police did not name him but said a 45-year-old man was also accused of encouraging or assisting offences to be committed.
A daily charge applies for driving in Ultra Low Emission Zone, commonly referred to as Ulez, if the vehicle does not meet emission standards.
Fox posted a video on social media as police searched his London home.
In it he said: "Look at how many coppers there are in my house… That, ladies and gentlemen, is the country that we live in."
The Reclaim Party, which he founded, posted on social media to confirm he had been arrested at his home and taken to a police station.
His arrest comes on the same day GB News announced Fox had been sacked from the network for his comments about a female journalist.
The expansion of Ulez has been a point of contention among politicians and the public. The Met is running an ongoing operation against damage to Ulez cameras.
Between 1 April and 30 September, there were 795 crimes recorded relating to the cameras, while there have been 200 reports of stolen cameras and 595 cases of damage to the cameras, the Met said. A Scotland Yard statement this week said: "The Met continues to treat criminal activity in relation to Ulez seriously and has deployed considerable resources to our operation."
Fox, who worked as a presenter on GB News, was suspended after he made remarks about a female political journalist, asking what "self-respecting man" would "climb into bed" with her.
GB News is being investigated by Ofcom after it received more than 8,000 complaints over the comments Fox made on Dan Wootton's show.
Wootton has also been suspended.
Fox, 45, first established a public profile as an actor, most notably in ITV's detective series Lewis. His extended family is closely associated with the acting profession and he is the son of actor James Fox.
In recent years he has become known as a right-wing political commentator and activist. He launched his own political party, the Reclaim Party, in 2020.
Fox's attempt to become London mayor the following year saw him finish sixth with 1.9% of the vote.
Man forced to sell home for HS2 has 'lost everything'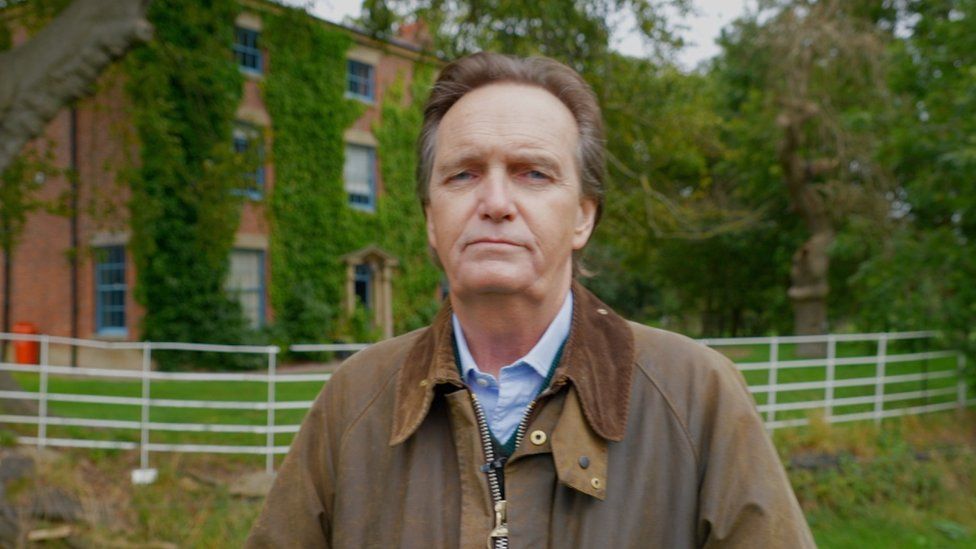 By Danny Savage & Jenny Coleman
North of England correspondent, BBC News
A man who says he was forced to sell his house by HS2 said the failed project has "destroyed his life".
Roly Bardsley learned his home in Stanthorne, Cheshire, was affected by the planned route when he received a letter containing a map of the line.
After being denied a compulsory purchase order, the 59-year-old said he had "lost everything".
"I tried to sell it and estate agents laughed at me. It was blighted forever," he said.
The BBC has contacted the Department of Transport for comment.
The Prime Minster Rishi Sunak has announced at the Conservative Party conference in Manchester that HS2 will be scrapped. HS2 was a proposed high-speed rail link between London and the north of England.
Mr Sunak told the conference that £36bn allocated to it would be reinvested into other northern rail and road schemes.
Mr Bardsley said the route would have come within 40 yards (37m) of his house and that an additional bypass would have left the place on "an island with no means of access".
"It was unbelievable," he said.
"They refused to compulsorily purchase it because it didn't knock the house down.
"I would have had trains travelling at 240 miles an hour every twelve minutes, 40 yards from my window."
At the same time Mr Bardsley's business got into financial difficulty. He was forced to sell the property and his business folded within months.
"I was now in financial distress caused by them," he said.
"I lost my business. I lost my livelihood. And I lost my home.
"It is profoundly the worst thing that's ever happened to me and my family ever."
'Destroyed lives'
He said life had been "going well" before the letter dropped through the door. Now he finds it too upsetting to drive past the property – the place where his children grew up – because there are "too many memories".
"We had everything there," he said. "I think we could have lived there forever."
Mr Bardsley said he supported the levelling up of the North and said the plan to put Leeds and Manchester and London all within an hour of each other was "fantastic".
"Development happens," he said, "and I was expecting clean answers, a solution and to move on.
"To be at war for that amount of time, it cost everything I had. I spent everything we had in the bank.
"Now that HS2 is not going to happen, it has destroyed lives.
"It's been a decade of hell. I never thought that something could define my life as much as this. [We've lost] our home, my livelihood, my business, which had 200 employees. [Some of them had] worked for me for 40 years."
The facts have changed, says Rishi Sunak, as he scraps HS2 leg
Related Topics
"If voting made a difference they wouldn't let us do it."
Comment The project was badly mamanged and riddled with fraud. But the real reason it is cancelled is because of the horrendous cost of the Ukraine proxy war on Russia , with just one Storm Shadow missile costing £2.2 million, with its massive impact on the cost of living.
Consequently doctors, nurses lead the public sector protests for hyper inflation proofed pay. Then there is the pervasive impact of open door economic immigration – the hotel bill alone costing £8 million a day.
It won't be long before the aptly named Home Secretary Mrs Braverman gets fired for stating the truth. That is the last thing she should be doing in Britain's brave democracy. As Mark Twain said. "If voting made a difference they wouldn't let us do it."
R.J Cook
Rishi Sunak: I am cancelling the rest of the HS2 project
By Henry Zeffman & Kate Whannel
Chief political correspondent and political reporter, BBC News in Manchester
"The facts have changed," the PM has said, as he confirmed the HS2 high-speed rail line from Birmingham to Manchester would be scrapped.
Addressing his party conference, Rishi Sunak said the project had come from a "false consensus" that links between big cities were "all that matters".
He announced he would instead invest in transport projects across the country.
He also set out plans for a a new post-16 qualification and to phase out smoking.
It was the PM's first speech to party conference as Conservative leader, and his hour-long address marked the start of a new and more risky approach from Mr Sunak.
It was an audacious speech from a prime minister who is often accused of political caution, and who leads a Conservative Party that has been in government for 13 years.
He said the public were exhausted with the politics of the last 30 years and that he was the man to deliver change.
Conceding that the public thinks it's time for a change carries significant opportunities – and significant risks. If Mr Sunak can convince voters that he offers a better chance of a new approach to government than Sir Keir Starmer, he may yet arrest the persistent and wide polling gap between the Tories and Labour.
Talk about the scrapping of HS2 overshadowed the conference with senior Tories and Mr Sunak insisting a decision was still to be made.
The PM announced that the northern leg, between Birmingham and Manchester, as well as the eastern leg to East Midlands Parkway, would no longer go ahead.
He confirmed that the line from the West Midlands would run all the way to Euston station, not Old Oak Common in west London as had been rumoured.
This was accompanied by news that nearly £4bn would be reallocated to transport schemes in six northern city regions.
There will be £3bn for upgraded and electrified lines between Manchester and Sheffield, Sheffield and Leeds, Sheffield and Hull, and Hull to Leeds.
He also said money would go towards resurfacing roads across the country.
The decision has angered some including local leaders, such as Andy Street, the Conservative Mayor of the West Midlands, businesses in Manchester and former PM David Cameron.
Mr Cameron said it was the wrong decision, meaning a "once-in-a-generation opportunity was lost".
In a post on X, formerly Twitter, he said the reversal would "make it much harder to build consensus for any future long-term projects".
However, there has been growing concern about the ballooning cost of the project, which has already seen its section to Leeds cancelled.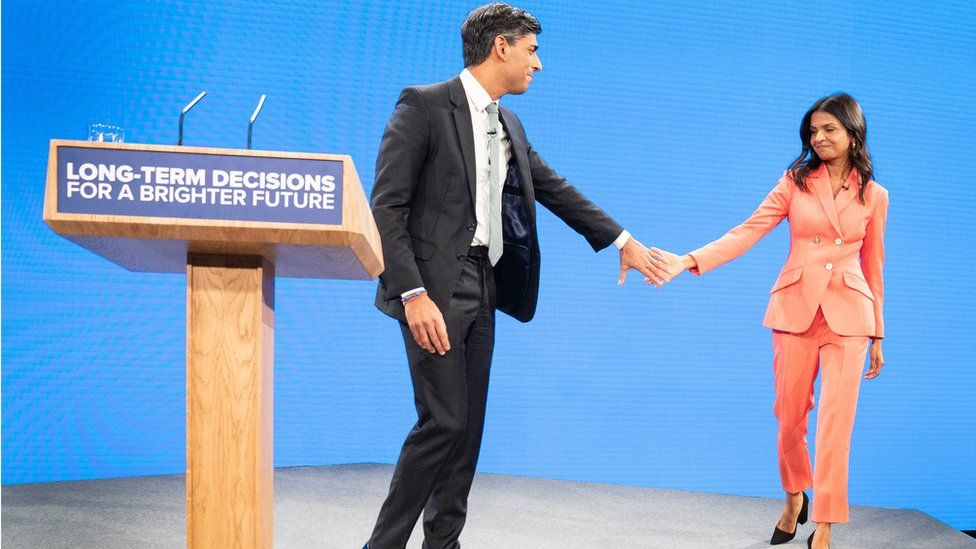 There had been speculation the decision might drive Mr Street to resign, but he has told the BBC that while disappointed he would not be quitting either his job or the party.
Labour's shadow Cabinet Office minister Pat McFadden stopped short of committing the party to reviving HS2 between Birmingham and Manchester, saying it would need to "look at the numbers" if it won the next election.
He described Mr Sunak's announcement as a "Tory fiasco".
Labour also said most of the transport schemes listed by the prime minister had either been previously promised or planned, so these projects did not amount to new investment.
Mr Sunak's speech also included the pledge that the age at which people can buy cigarettes and tobacco in England should rise by one year every year so that eventually no-one can buy them.
MPs were to be given a free vote in parliament on the issue, Mr Sunak said. Former Prime Minister Liz Truss has already said she will vote against the ban.
Labour said it would "not play politics with public health" and would "lend" the prime minister the votes to get the law passed.
Mr Sunak also announced that A-levels and T-levels would be folded into a new qualification for all school leavers, called the Advanced British Standard.
It will mean 16 to 19-year-olds will study five subjects instead of three, and some English and Maths to 18.
Mr Sunak's speech will have been delivered with an eye on a forthcoming general election, which must be held before January 2025.
But if voters conclude instead that the fifth Conservative prime minister in a row does not embody the change they want, then he will not have much room to manoeuvre or change approach.
He has conceded, fairly explicitly, that he thinks his Conservative predecessors failed in various ways – so he won't be able to switch to defending the Conservatives' record.
Whatever Mr Sunak can achieve between now and the next election – that is what he will be running on.
And his speech set out some of the policies – including the cancellation of HS2 – that will form part of the record.
During the speech, Mr Sunak sought to draw comparisons between himself and the former Tory Prime Minister Margaret Thatcher, a heroine for many party members.
He said the Conservatives would always be "the party of the grocer's daughter and the pharmacist's son" – a reference to Mrs Thatcher and himself respectively.
He also sought to subtly admonish his immediate predecessor, Liz Truss, who, returning to the conference a year after her troubled premiership, had called for immediate tax cuts.
She received a rapturous reception from some party activists for her plea, but Mr Sunak said while he too wanted to cut taxes, it was more important to focus on cutting inflation.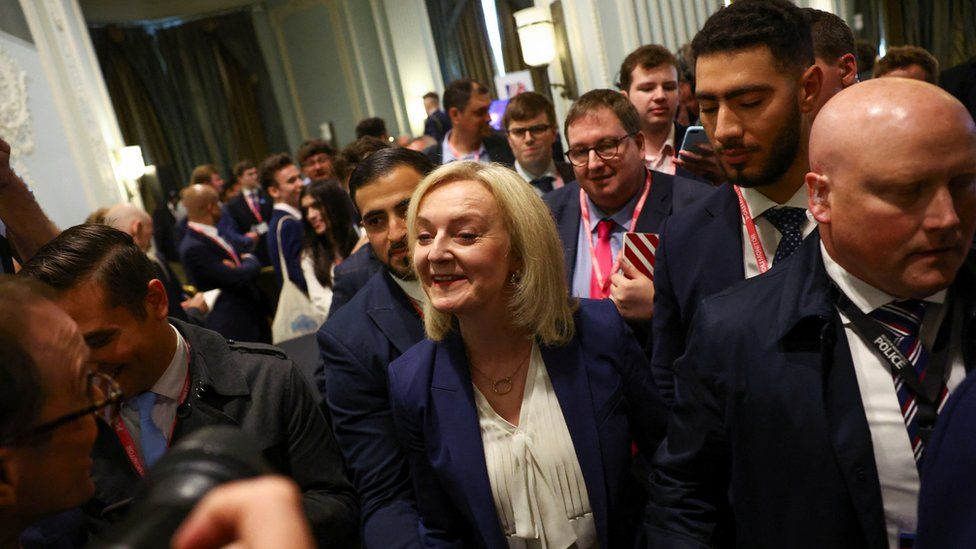 Quoting Mrs Thatcher he said: "Inflation is the biggest destroyer of all – of industry, of jobs, of savings, and of society – no policy which puts at the risk the defeat of inflation – no matter its short term attraction – can be right."
Mr Sunak won applause from activists by weighing in on gender issues, telling them it was "common sense" that "a man is a man and a woman is a woman".
"We shouldn't get bullied into believing that people can be any sex they want to be," he said.
As is customary with leader's speeches, the prime minister spoke of his family and background.
He recalled how his grandfather, on visiting Mr Sunak in Parliament when he first became an MP, instantly got out his phone to call the landlady he had when he had first arrived in the UK.
"He said to me, 'I just wanted to tell her where I was standing'," said the prime minister.
He was introduced to the stage by his wife – Akshata Murty – who described her husband as her "best friend".
"We are one team and I could not imagine being anywhere else but here today with all of you to show my support to him and to the party."
Smoking age should rise from 18, by one year every year – Rishi Sunak
6 hours ago
comments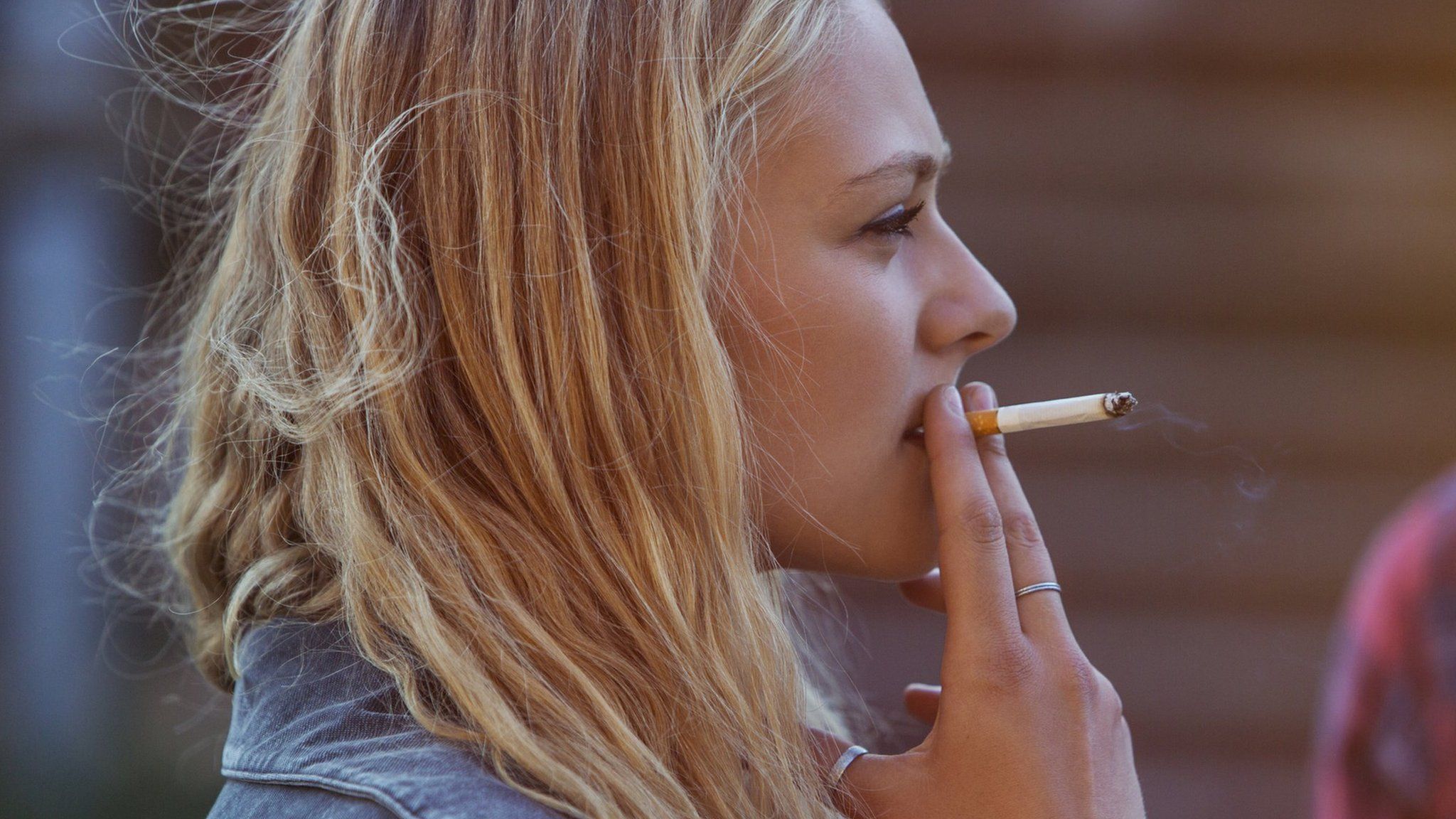 By Nick Triggle
Health correspondent
The age at which people can buy cigarettes and tobacco in England should rise by one year every year so that eventually no-one can buy them, the prime minister says.
Rishi Sunak said MPs were to be given a free vote in parliament on the issue.
Under the plan, the age of sale would rise from 18 every year so a child aged 14 today would never be allowed to buy tobacco.
The idea was put forward by a government-commissioned review in 2022.
Speaking at the Conservative party conference, Mr Sunak said he believed it was the right step to tackle the leading cause of preventable ill-health.
Smoking increases the risk of strokes, heart disease, dementia and stillbirth as well as causing one in four deaths from cancer.
"There is no safe level of smoking," he said.
Smoking rates have been falling since the 1970s. But there are still more than five million smokers in England and six million across the UK.
Currently, one in nine 18 to 24-year-olds smokes, according to the Office for National Statistics.
Mr Sunak told the conference: "If we want to do the right thing for our kids, we must try and stop teenagers taking up cigarettes in the first place.
"Because without a significant change, thousands of children will start smoking in the coming years and have their lives cut short." he said.
"Four in five smokers have started by the time they're 20. Later, the vast majority try to quit, but many fail because they're addicted."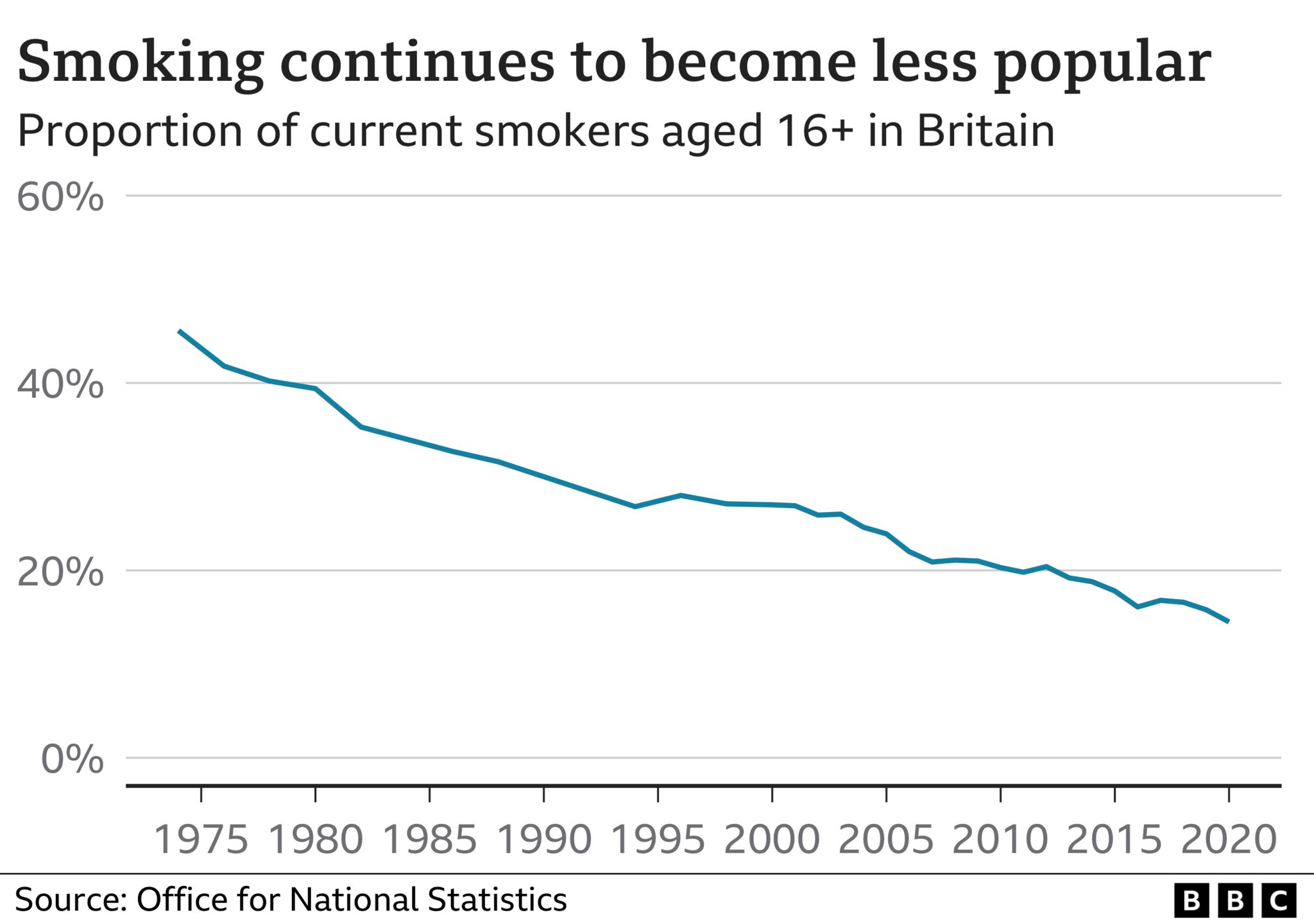 October 3rd 2023
September 30th 2023
Laurence Fox: The actor who became a political activist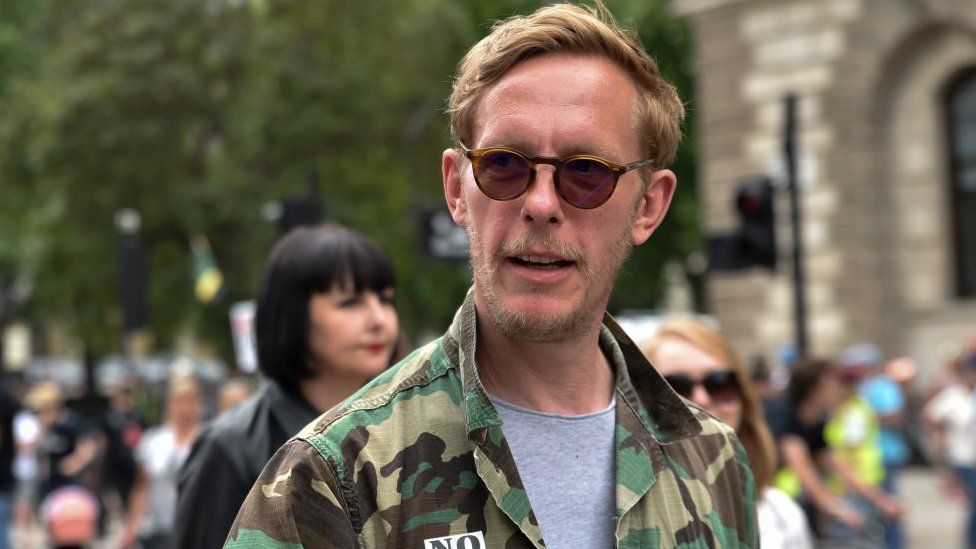 By Annabel Rackham
Culture reporter
Laurence Fox, who was suspended from news channel GB News this week after on-air comments about journalist Ava Evans, has been in the public eye throughout his career.
He started as an actor, but is now a right-wing commentator, activist and aspiring politician.
Appearing on Dan Wootton's live GB News show, Fox asked what "self-respecting man" would "climb into bed" with Evans.
It was a response to her appearance on the BBC, in which she said calls for a minister for men "feed into the culture war".
The boss of GB News, Angelos Frangopoulos, said on Friday he was "appalled" by Fox's comments.
Fox was suspended alongside Dan Wootton, who is one of the most high-profile hosts on the news channel. Wootton later apologised, saying he should have intervened.
Fox also apologised on Thursday for the remarks, saying he was "sorry for demeaning Evans".
Wootton could be seen smiling and laughing whilst Fox was speaking, interjecting with "a touch of balance" to say Evans regretted her comments and called her a "very beautiful woman".
Frangopoulos said an internal investigation process will be "completed very soon" and Ofcom also announced they would be investigating GB News after Wootton's show on Tuesday received 7,300 complaints.
Fox's career has pivoted in recent years, but he began his life as an actor after attending the Royal Academy of Dramatic Art, having been asked to leave boarding school Harrow as a teenager.
He is best known for appearing in high profile roles such as DS James Hathaway in the ITV series Lewis, the spin-off detective show from Inspector Morse, which ended in 2015.
The 45-year-old also appeared in the 2001 Oscar-winning film Gosford Park, the TV film version A Room With A View in 2015 and a 2022 film in which he plays Joe Biden's son, called My Son Hunter.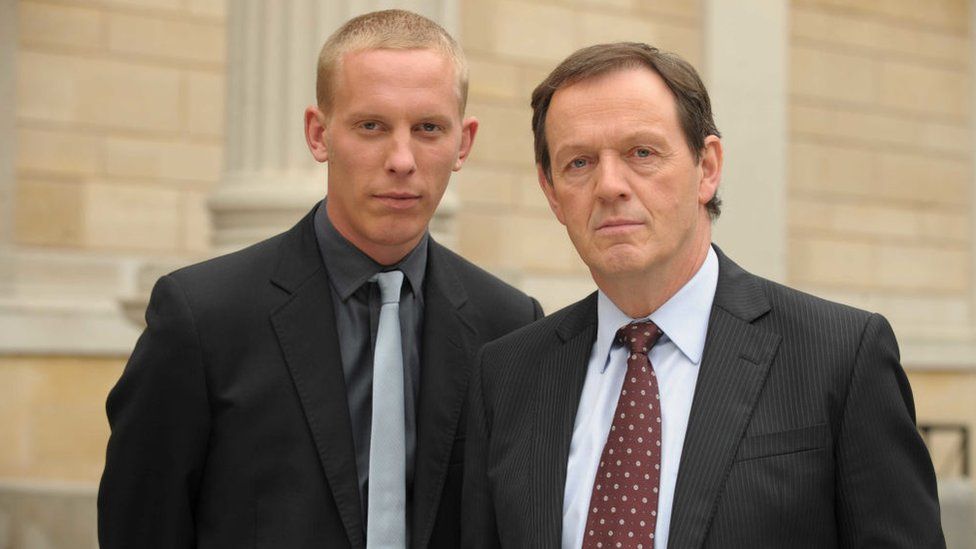 He comes from an acting family – his uncle, Edward Fox, starred in the 1973 film The Day of the Jackal, and appeared in films including 1984's The Bounty and 1982's Gandhi, while Laurence Fox's father James appeared in films including A Passage to India in 1984 and 1993's The Remains of the Day, and ITV drama series Downton Abbey.
Laurence Fox's cousin Emilia appears in BBC TV series Silent Witness, and other roles include 2002's Oscar-winning film The Pianist, while her brother Freddie Fox's roles include playing Mark Thatcher in The Crown in 2020.
Three of Laurence Fox's four siblings are also involved in the industry – Robin is a film producer, while Jack and Lydia are both actors.
The family acting connection back to their grandfather, the first Robin Fox, who was a theatre agent.
Laurence Fox has also tried his hand at a music career, releasing albums Holding Patterns in 2016 and A Grief Observed in 2019.
In 2016, he also apologised swearing at a heckler whilst performing in the play The Patriotic Traitor in London. The audience saw Fox step out of character – that of French statesman Charles de Gaulle – and chastise the heckler with robust language.
More recently he positioned himself as a right-wing commentator and activist, and has stood for various political roles.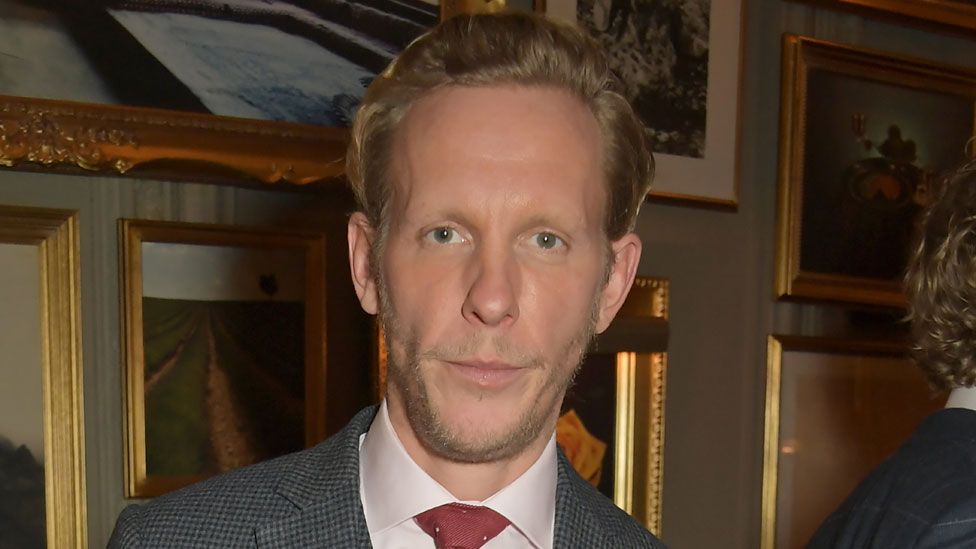 He caused controversy during the Covid pandemic, when he expressed scepticism over the vaccine and spoke out against lockdowns.
When he tested positive for the virus in January 2022, he said he was "joining the natural immunity club" and was taking an anti-worming treatment along with painkillers.
Fox apologised in 2020 for comments he made about the inclusion of a Sikh soldier in a World War One film.
He had previously referred to "the oddness in the casting" of a Sikh soldier in Sir Sam Mendes' movie 1917.
"Fellow humans who are Sikhs, I am as moved by the sacrifices your relatives made as I am by the loss of all those who die in war, whatever creed or colour," Fox tweeted.
"Please accept my apology for being clumsy in the way I expressed myself."
During an appearance on BBC Question Time in 2020, he called an audience member "racist" for calling him "a white privileged male", which led to him taking a break from social media.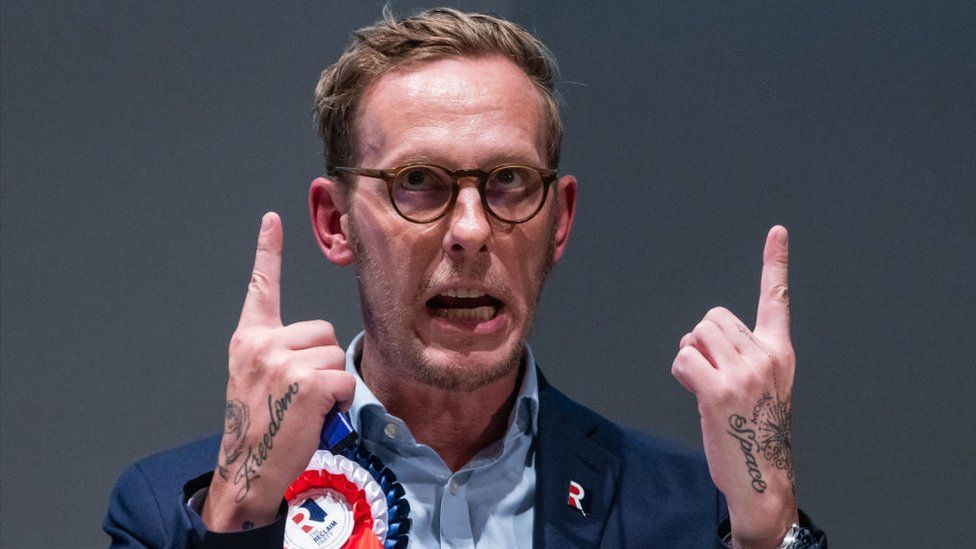 After this exchange went viral, he told podcast host James Delingpole: "The most annoying thing is the minute a black actor – it's the same with working-class actors – the minute they've got five million quid in the bank, every interview they do is about how racism is rampant and rife in the industry".
In 2021 he unsuccessfully stood for London mayor as part of The Reclaim Party, which he founded.
Its website says the party exists "for patriotism and believes hard work should be rewarded".
His manifesto said he would provide "free travel on the Tubes and buses for six months" and "tough New York style community policing to target petty crime".
Fox criticised London Mayor Sadiq Khan for failing to tackle knife crime, and said: "Children are dying on our streets" and "hospitals are filling up with the stabbed and shot… in the name of political correctness".
He received 47,000 votes, which was not enough to get back his £10,000 deposit.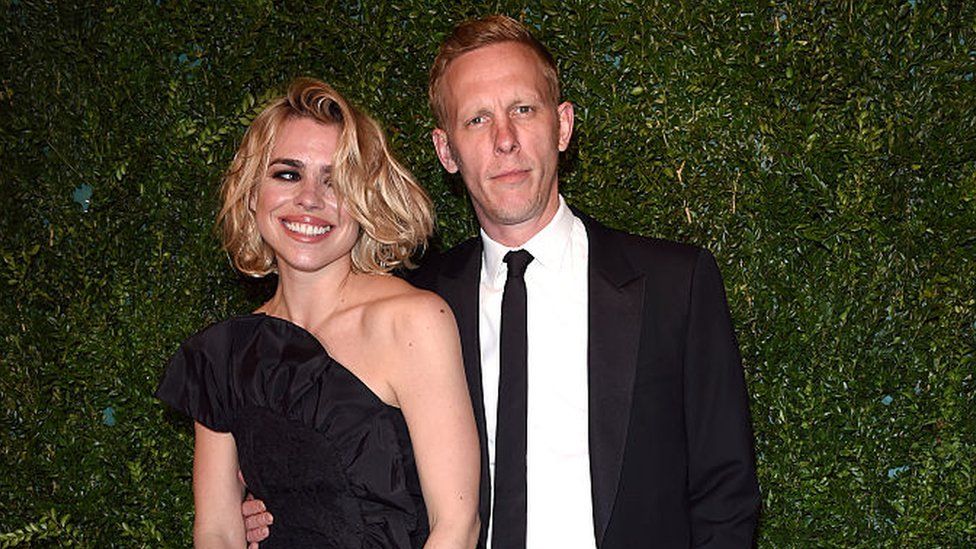 He also stood in the recent Uxbridge and South Ruislip by-election, a seat previously held by former Prime Minister Boris Johnson.
He was also unsuccessful, winning 714 votes.
Fox said he was happy with this result, as it put him ahead of the Liberal Democrats.
Away from his acting and political projects, he also launched the Bad Law Project, an organisation he says "is there to protect and support those crushed by the system and give a voice to the voiceless".
Fox was married to actress and former Doctor Who star Billie Piper from 2007 to 2016, and they share two sons.
Comment 'Ava Evans said women should weaponise false rape allegations in order to keep men afraid of actually committing sexual assault, and when I questioned this she implied that me and my friends would only be afraid of this if we are potential rapists. 'She's suffered no repercussions for that.'
This vile comnent should have provoked criminal investigation as inciting crime and hate crime against men . She as woman cares not about female and police victims like Andrew Malkinson who did 17 years for a rape police knew he had not done. It is highly provocative hate speech, Evans is denying ever having said it in spite of the broadcast, so it is incumbent on police to release the broadcast records.
Fox could have simplified his comment to the point that no sane male person should get into any sort of sexual situation with a woman like Ava Evans who thinks false rape allegations are acceptable to discourage sex assaults. It is no wonder that so many men need viagra or that I decided, back in 2003 when my wife's admitted domestic violence against me, also warning me that if I didn't do as I was told I would lose my family, encouraged my decision to change sex.
Women admit no wrong ,think they are God's gift to parenting in an age of record child mental illness, bask in careerist ego maniac career trips with no idea of their well deserved impending lonely old age and death in the care homes. So ends my generations' self obsessed hedonistic hypocritical age of ban the bomb and free love. Prolapse of the womb,vaginal canal and other organ failures will end their delusions about superior women who don't need men. Thank God my beloved long time widowed mother was from a better more natural and honest world. She would have been 99 years old today God Rest Her Soul.
R J Cook
October warm spell likely as September breaks records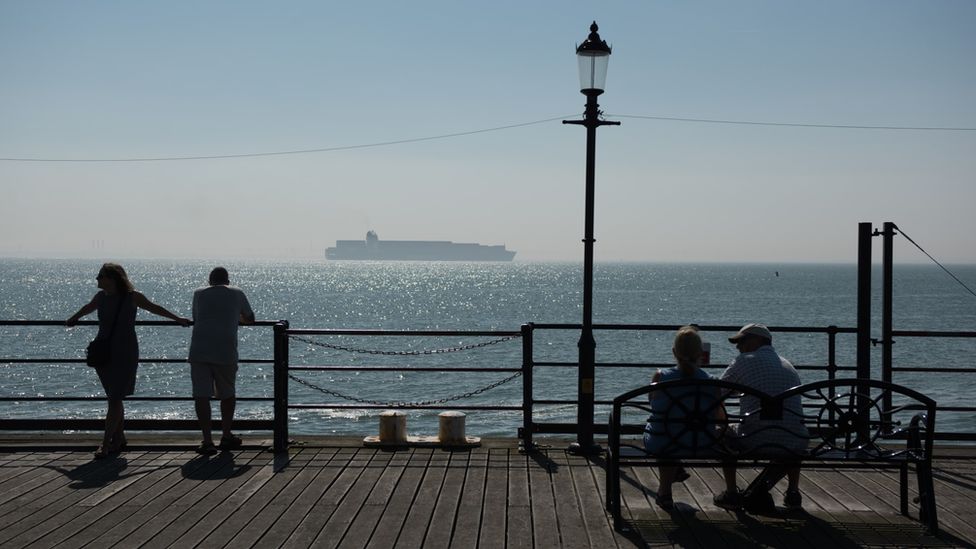 By Simon King
BBC Weather
With nights drawing in and Storm Agnes recently bringing strong winds and rain, the early September heatwave might seem a distant memory.
However, that heatwave and above average temperatures generally will have made it one of the warmest Septembers on record in the UK.
This also ties in with global average temperatures which are running at record warmth too.
Warmer weather is expected to extend into the beginning of October.
According to the Central England Temperature (CET) series – the longest record of temperature in the world – September was warmer than any of the summer months of June, July or August.
The average maximum temperature has been 22 degrees Celsius, beating the previous record of 20.9C set in 1895.
In terms of the mean temperature which averages out maximum and minimum temperatures, up to the 26 September it has been nearly four degrees above average in the CET series.
The high temperatures have been partly due to the extensive and record heatwave at the start of September. There were seven consecutive days when the temperature rose above 30C.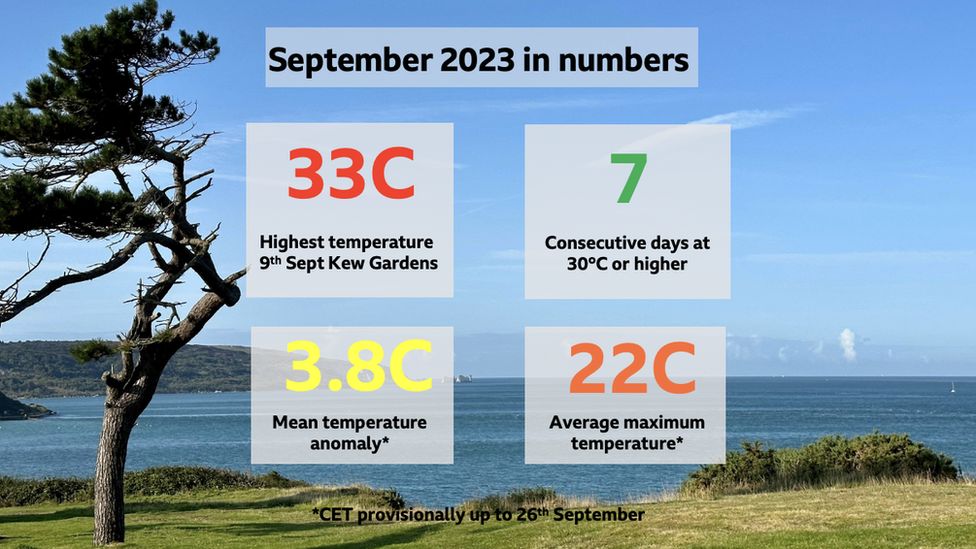 Global heat
The heat seen in the United Kingdom is also reflected in what we have seen elsewhere.
For France, Germany, Denmark and Austria, September was also the warmest on record. In France, the mean temperature was over a degree higher then the previous warmest set in 1949.
Globally, temperatures have spiked since the start of June with the last few months being the warmest on record – and by quite a margin.
Berkeley Earth, an organisation that tracks global temperatures, said in their August temperature assessment that 2023 is "virtually certain to be the warmest year on record".
Scientists have previously suggested that with the presence of El Niño in the Pacific, a warming phase of a natural weather pattern, global temperatures are expected to be higher.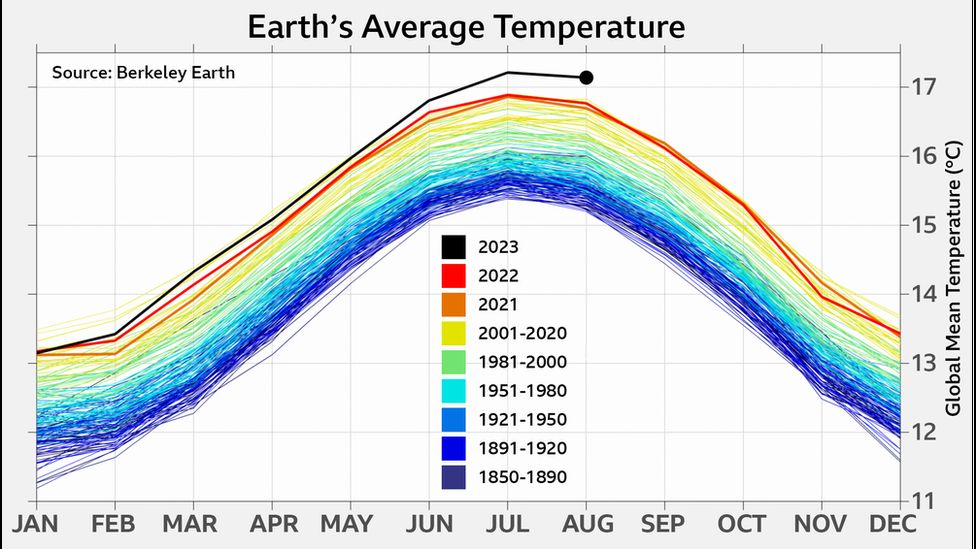 The margin at which the globe has warmed since the summer has surprised some.
Professor Ed Hawkins from the University of Reading recently said "global temperatures in 2023 are extraordinary". He commented that global temperatures are breaking records by "shocking" amounts.
Warm October
Back in the United Kingdom, the warmer than average weather is expected to continue into the start of October.
On Sunday, the first day of October, the temperature in south-east England is likely to peak at 24C. This is around six degrees higher than average for the time of year.
If the temperature does indeed go above 23C as expected, it would be the warmest October day in five years and the warmest start to the month since 2011.
While this warmth will be limited to the south-east, other parts of the UK will also see slightly higher than average temperatures until Monday.
There are some signs that we may see a return of warmer weather again later in the first week of October.
Comment There is no mainstream media interest in the fact of a 31.5 inch shift in the earh's 23.5 degreee bi annual to and away from its' face toward the sun during annual orbit. Added to this is the carbon footprint of the Anglo U.S led NATO proxy Ukraine war for Russian regime change. This all adds up to serious climate change issues. The seriously extra heat, with political and retarded religion obessed cultural issues and rampant overpopulation in the southern hemisphere drives massive ongoing economic migrant influx into the United States and Westerm Europe. This is an outcome driving the existential threat to U.K identity that the white liberal chatterrin classes villify as racism.
R J Cook
September 28th 2023
Freedom of Speech For Evans Sake ?
'Ava Evans said women should weaponise false rape allegations in order to keep men afraid of actually committing sexual assault, and when I questioned this she implied that me and my friends would only be afraid of this if we are potential rapists. 'She's suffered no repercussions for that.'7
During a debate on Sky News, Connor Tomlinson was arguing for 'free speech' and insisted Laurence Fox should not be removed from the TV channel over his derogatory comments about Evans after he was suspended.
In order to illustrate his point, the GB News commentator referred to a past debate he'd had with Evans.
'Ava said women should weaponise false rape allegations in order to keep men afraid of actually committing sexual assault, and when I questioned this she implied that me and my friends would only be afraid of this if we are potential rapists.
Fox Hunting
GB News presenter Laurence Fox has been formally suspended by the channel for saying of a female journalist live on air: "Show me a self-respecting man that would like to climb into bed with that."
GB News had launched an investigation after Fox made a series of remarks about Ava Evans, the political correspondent for online news site Joe, during an episode of Dan Wootton Tonight on Tuesday.
For the latest on this story, read here: Dan Wootton suspended by GB News
Fox hosted his own show on GB News, titled "Laurence Fox", in which the channel says he "tackles the issues of the day with his unique and outgoing style".
But in a post on X, formerly known as Twitter, the broadcaster said on Wednesday morning: "GB News has formally suspended Laurence Fox while we continue our investigation into comments he made on the channel last night.
"Mr Fox's suspension is effective immediately and he has been taken off air.
"We will be apologising formally to Ms Evans today."
Read more:
Reaction and what Fox said – in full
Who is Laurence Fox?
Fox's comments made journalist feel 'physically sick'
In a clip shared by Ms Evans on X, Fox said: "We're past the watershed so I can say this… show me a single, self-respecting man that would like to climb into bed with that woman… ever… ever.
"That little woman has been fed… spoon-fed oppression day after day after day, starting with the lie about the gender pay gap.
"She's sat there, and I'm going like, if I met you at a bar and that was like sentence three, chances of me just walking away are just huge.
"We need powerful, strong, amazing women who make great points for themselves. We don't need these feminist 4.0.
"They're pathetic and embarrassing.
"Who'd want to shag that?"
When sharing the video, Ms Evans included a caption saying: "Laurence Fox just did a whole speech on GB News on why men apparently won't shag me?"
In a follow-up tweet, she added that the footage made her feel "physically sick".
And speaking to Channel 5's Jeremy Vine show on Wednesday morning, Ms Evans said she is "really hurt" by the comments Fox made about her "body rather than her work".
"I'm really hurt by it… I'm shocked about by it, I'm shocked that it went out.
"Do you know this is the sort of talk that you worry that men have about you when you're not in the room. There is always sort of a worry in the back of your mind which is: 'Are people actually interested in what I'm saying or what I'm doing?'
"Or are they just looking at me… physically and I think that that clip proves that there are some men who are."
On Wednesday afternoon, Ms Evans updated her followers, thanking people for their support, and added: "I haven't had an apology yet if anyone was wondering."
The discussion came after Ms Evans appeared on the BBC's Politics Live on Monday.
Read more:
Ofcom launches four new investigations into GB News
Impartiality rules breached when Tory MPs interviewed chancellor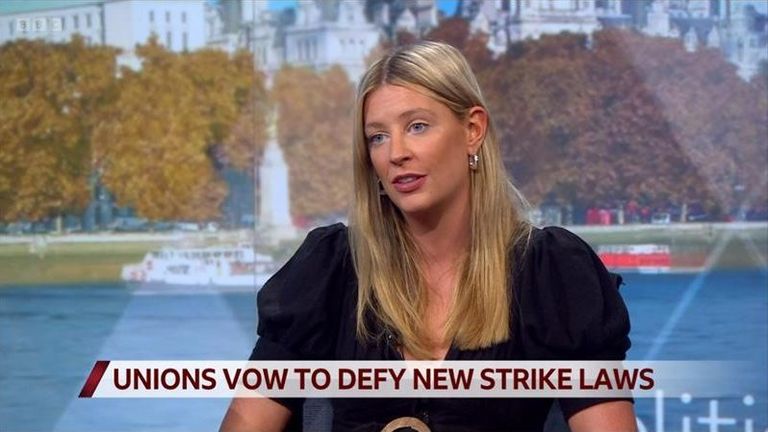 Fox's suspension came after he stood by his comments in his own social media posts on Wednesday.
He said: "I stand by every word of what I said."
He went on to add: "It's called free speech.
"I realise that the new woke world is low on laughter and high on offence, but it's still worth trying to find the lighter moments in this joyless new cancel culture which has been created for us."
The actor and presenter also said: "So if you are expecting a grovelling apology, I suggest you don't hold your breath. I won't ever apologise to the mob.
"Have a lovely day."
'What he said does not reflect our values'
In its own statement posted to X, GB News said: "Comments made tonight on GB News by Laurence Fox were totally unacceptable.
"What he said does not reflect our values and we apologise unreservedly for the comments and the offence they have caused.
"We have launched an investigation and will be apologising to the individual involved."
In a message to Ms Evans on X, host Dan Wootton said: "I think you're brilliant… I apologise for what was said during the course of my show and should have done this immediately on air.
"This is not what our channel is about."
Host Dan Wootton apologised for his reaction to the remarks(Picture: GB News)
Laurence Fox's vile rant in full
"We're past the watershed so I can say this: show me a single self-respecting man that would like to climb into bed with that woman, ever, ever, who wasn't an Incel?
'That little woman has been fed, spoon-fed oppression day after day after day… starting with the lie of the gender wage gap, and she's sat there and I'm going, if I met you in a bar and that was like sentence three, chances of me just walking away are just huge.
'We need powerful strong amazing women who make great points for themselves, we don't need these sort of feminist 4.0… they're pathetic and embarrassing. Who would want to shag that?"
From The Daily Sceptic
And yet, the fuming reaction to Fox's comments, the middle-class mob that has formed with unholy speed to demand that GB News be officially sanctioned, is more objectionable in my view. It is an objectively greater menace to public life than the chauvinistic blather of a man on the telly. This hopping-mad army of aspiring censors scares me far more than Fox.

This is not a defence of Fox. You'll have to go somewhere else for that. It was nauseating to see him describe Ms Evans, a journalist at Politics Joe, as a 'little woman' and to ask, 'Who'd want to shag that?'. 'Show me a single self-respecting man that would like to climb into bed with that woman ever, ever', he said.

It's the kind of thing you'd expect to hear from a table of pissed teens in a pub. GB News swiftly issued an apology. Dan Wootton, on whose show Fox said those words, also apologised. This morning GB News announced that it has suspended Fox from the channel and will be formally apologising to Ms Evans. Far from being the biliously hateful channel of the bourgeois left's fever dreams, actually GB News is taking this incident very seriously.
GB News has formally suspended Laurence Fox while we continue our investigation into comments he made on the channel last night.

Mr Fox's suspension is effective immediately and he has been taken off air.

We will be apologising formally to Ms Evans today.— GB News (@GBNEWS) September 27, 2023
It won't stop the pile-on, though. And that's because the pile-on isn't really about Laurence Fox. Or Ava Evans. Or sexism. It's about the virtual left's burning hate for GB News. Their prim horror that there exists a news channel that thinks differently to them. Their staggeringly entitled belief that they should never have to see 'unwoke' commentary on TV. The Fox scandal is a Trojan horse for the longstanding urge of middle-class authoritarians to take GB News down.

Consider their frenzied condemnation of GB News as a cesspit of misogyny. Who are they kidding? For the woke left to call other people sexist is an act of industrial-strength chutzpah.

These are the people who fight for the right of men to strip off in women's changing rooms. Who think rapists should be in women's jails. Who turned a blind eye, or even nodded along, when Róisín Murphy was ferociously set upon by misogynists in gowns for the crime of criticising puberty blockers. Who said nowt when Kellie-Jay Keen was assaulted by a feral sexist mob in New Zealand. Who kept schtum when ex-con turned trans activist 'Sarah Jane' Baker told a crowd in London that if they see a TERF they should 'punch them in the fucking face'. Who are fine with the hounding and censure of women like Maya Forstater, Kathleen Stock, Julie Bindel and far too many others to mention, all for the wrongthink of believing sex is real.

Yes, Fox's comments were loathsome – but so is the hypocrisy of these privileged virtue-signallers who spend their days siding with bepenised people against women and then think they can get on their high horse over a sexist jibe on a news channel. Get real, fellas.
Worth reading in full.
Stop Press: Dan Wootton has been suspended from GB News as well, which may be linked to Laurence Fox leaking a text exchange between the two of them following the interview.
Honesty is the best policy. https://t.co/snrQdY9Zbe pic.twitter.com/gQfg0P3pKA— Laurence Fox (@LozzaFox) September 27, 2023
Stop Press 2: Fox has also lashed out at his fellow GB News presenter Mark Dolan, accusing him of being a "cos play freedom fighter". A return to the channel for Fox looking less likely by the hour.
Cos play freedom fighter.

"Yes, boss. Whatever you say boss. Please keep paying me boss!" https://t.co/5yLLnzgZEx