September 1st 2023
More stories from DW
Africa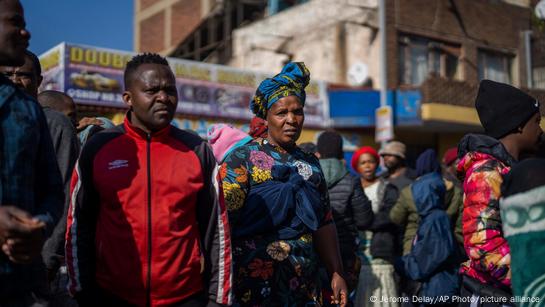 Asia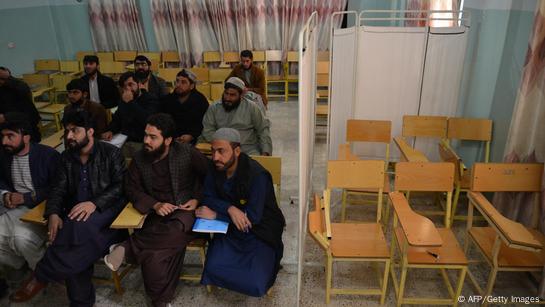 How stable is Russia after the Wagner rebellion?
Miodrag Soric
The Wagner Group's mutiny ended abruptly, and now its leader, Yevgeny Prigozhin, is dead. But recent events have left their mark. How firm is Putin's grip on authority? Is Russia, a nuclear power, on the brink of chaos?
Copy link
Advertisement
When thousands of mercenaries from the Wagner Group marched toward Moscow two months ago, they encountered little resistance. The next day, their leader, Yevgeny Prigozhin, who died in a plane crash last week, called off the coup, and the anticipated Kremlin power struggle came to nothing.
But people have not forgotten how weak Russian President Vladimir Putin appeared at the time when he spoke first of "negotiations" and then "betrayal" in the space of just a few hours.
Since the cancellation of the uprising, there has been some debate about the stability of Russia. Janis Sarts, the director of NATO's Strategic Communications Centre of Excellence in Riga, believes the march on Moscow constituted a blow to the power in the Kremlin.
Martins Vargulis, the deputy director of the Latvian Institute of International Affairs, agrees. He thinks forces inside Russia are threatening Putin's power.

Meanwhile, inflation in Russia continues to rise, with the ruble falling against the dollar and euro. Moscow's pro-government propaganda paper Izvestia has complained that, outside the capital, there are long lines at gas stations — in Russia, the world's third-largest oil producer.
Moscow's war of aggression against Ukraine is also faltering. In recent weeks, Ukraine has mainly been the one to report small territorial gains.
Is Putin losing his grip on power?
Stefan Meister of the German Council on Foreign Relations (DGAP) thinks this is not likely right now. He tells DW that Putin's regime has managed to win over a large part of the population with repression and propaganda and is managing to circumvent Western sanctions to some degree. Many companies, including some Western ones, are still active in Russia.
Meister has observed a reduction in prosperity among the Russian population. However, he says the country cannot be said to be disintegrating, nor is Putin showing signs of weakness.
He believes that if Putin were to be challenged someday, it would be by someone from within the security apparatus. At the moment, though, the Russia expert believes that Putin is "firmly in the saddle" and has sufficient resources to pursue his war against Ukraine for another two or three years.
How strong is Vladimir Putin's grip on power at the moment?
04:41
Tobias Fella, a researcher at the Institute for Peace Research and Security Policy (IFSH), agrees that Russia is not currently facing significant instability. However, things could become problematic for the Kremlin, he says, if the government has to mobilize more troops or the economic situation deteriorates dramatically. Fella comments that Russia has proven itself to be "militarily adaptive" following Ukraine's recent territorial gains at the front.
Who might be able to challenge Putin?
Some Western experts speculate that the Kremlin itself could be spreading the narrative that Russia is teetering on the brink of chaos. Were this to be the case, they suggest, the aim would be to weaken the West's support for Ukraine — the idea being that the West could accept Ukraine being forced to give up territory but not Russian nuclear missiles going AWOL.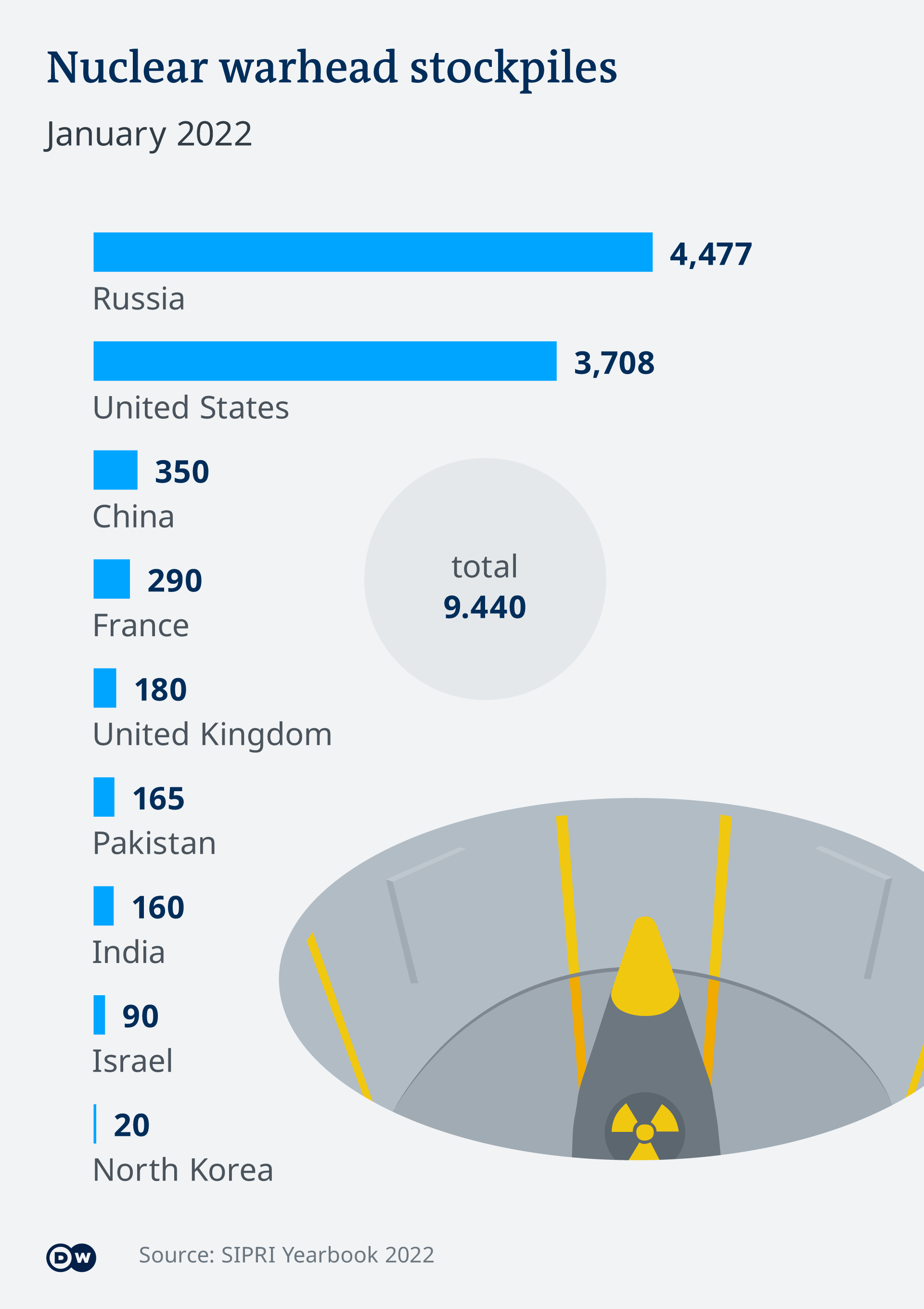 Meister does not subscribe to these theories. His view is that Putin's system is actually demonstrating strength — including with the death of Prigozhin. He doesn't believe that oligarchs, society, the military or the people who surround Putin and depend on him could call his power into question. Only the intelligence services or the security apparatus might one day be able to do that, he says.
According to Meister, minor military defeats in Ukraine do not put Putin's power at risk. The only thing that might make a difference, he says, would be if Ukraine succeeded in taking back Crimea, for example, and all its territories currently occupied by Russia.
This article has been translated from German.
August 26th 2023
False Flag
Yevegeny Prigozhin's demise has all the hallmarks of a NATO UKRAINE false flag operation. Vladimir Putin is not stupid and would have seen this fallout coming from what looks like a deliberate killing. Wagner was being undermined in the heat of battle. Prigozhin made legitimate criticism of Russia's military leadership from which I hope their war effort benefits. I have no doubt that NATO caused this war for material and political gain. For Russia this is an existential war.
Their proxy, Ukraine, has been to quick to cash in on the 'blame Putin' hysteria. Over here in the U.K, the BBC and Sky News are on the same bandwagon. This war will either fizzle out or get very much more unpleasant. Had Putin wished to punish Prigozhin he would have done so at the time, not taken 9 others with him. I suspect that a Ukrainian sympathiser or sympathisers planted a bomb on the aircraft. Prigozhin was posing a new threat to the western elite's exploitation of Africa. This situation and the BRICS threat are allied NATO concerns in their attack on Russia that began with the demise of their corrupt puppet Boris Yeltsin.
R J Cook
August 24th 2023
Long Live Death
Summary
The US Pentagon has rejected suggestions that a surface-to-air missile brought down Wagner boss Yevgeny Prigozhin's plane
Earlier, Russian President Vladimir Putin sent condolences to the victims of Wednesday's crash, describing Prigozhin as a "talented businessman"
In a televised address, he said Prigozhin "made serious mistakes in life, but also sought to achieve the necessary results"
Authorities say all 10 people on board the plane were killed when it crashed near Moscow – and that passengers also included Prigozhin's right-hand man Dmitry Utkin
There's continued speculation about what happened. UK defence sources have told the BBC that Russia's FSB intelligence agency is most likely to be responsible
The Wagner mercenary group was very active in Ukraine, until Prigozhin led a short-lived mutiny against the Russian military leadership in June – which Putin called "treachery" at the time
Live Reporting
Edited by James FitzGerald
What is a surface-to-air missile?Getty ImagesCopyright: Getty ImagesA surface-to-air missile launcher seen in Moscow in 2019Image caption: A surface-to-air missile launcher seen in Moscow in 2019Patrick Ryder just said at the Pentagon briefing that there was no information to indicate a surface-to-air missile brought down Prigozhin's plane – contrary to earlier reports by some outlets. But what exactly are the missiles under discussion?Often abbreviated to SAM, a surface-to-air missile is designed to be launched from the ground to destroy aircraft, among other objects. It can be fired from land or sea towards other missiles or even aircraft.Article share tools
Mercenary group's future leadership its own concern – Pentagon
Brig Gen Ryder is asked by a reporter what to expect next for the mercenary group's leadership.
"I'd refer you to the Wagner group, if you're able to get in touch with them, for any questions on what their current business model and path forward is," he replies.
"We've seen the Russian government, shortly after the events near Moscow two months ago, say to some of these members: 'Sign a contract with the ministry of defence.'
"We're aware that some members of Wagner left and others stayed, but, as it relates to the future of this company, this mercenary company, I really don't have anything to provide," he adds.
US to begin training Ukrainian F-16 pilots in September
The Pentagon says English-language training for Ukrainians on how to operate F-16 fighter jets will begin in Texas in September. Flight training is expected to begin the following month in Arizona.
Spokesman Brig Gen Pat Ryder says the Pentagon does not currently know exactly how many Ukrainians will be taking part in this training, but that it's thought that several pilots and dozens of maintenance workers will be included.
His comments come as a coalition of other Western allies prepare to start training Ukrainians later this month.
Ryder says the US training will "complement" this training and the US will remain in "close consultation" with its European allies about the requirements for F-16 pilots.
The American decision earlier this year to supply Ukraine with F-16 jets represented an about-turn.
This is because the US and its allies – who had earlier ruled out the move – had feared this would lead to further escalation with a nuclear-armed Russia.
More on Trump's legal troubles

A televised appearance
Mr Trump's proceedings in Georgia – where he is expected to plead not guilty – could be the first time the public actually sees him in court.
To date, video cameras have not been allowed during Mr Trump's arraignments in New York, Washington DC and Miami.
That's because New York state and federal courtrooms do not usually allow video and microphone recordings.
But the state of Georgia does.
It's up to the judge to decide whether cameras are allowed, said Ms Kaufman, adding that the judge assigned to Mr Trump's arraignment, Scott McAfee, has often allowed them in the past.
"He's a full transparency judge," she said. "My guess is that whatever happens in front of him is going to be televised."
That could mean cameras in the courtroom for Mr Trump's potential trial, too.
It would not be the first time that one of Fulton County District Attorney Fani Willis' high-profile cases took place on screen.
In 2014 and 2015, an eight-month long trial involving a controversial Atlanta Public School cheating scandal was broadcast on television and radio, capturing the attention of locals.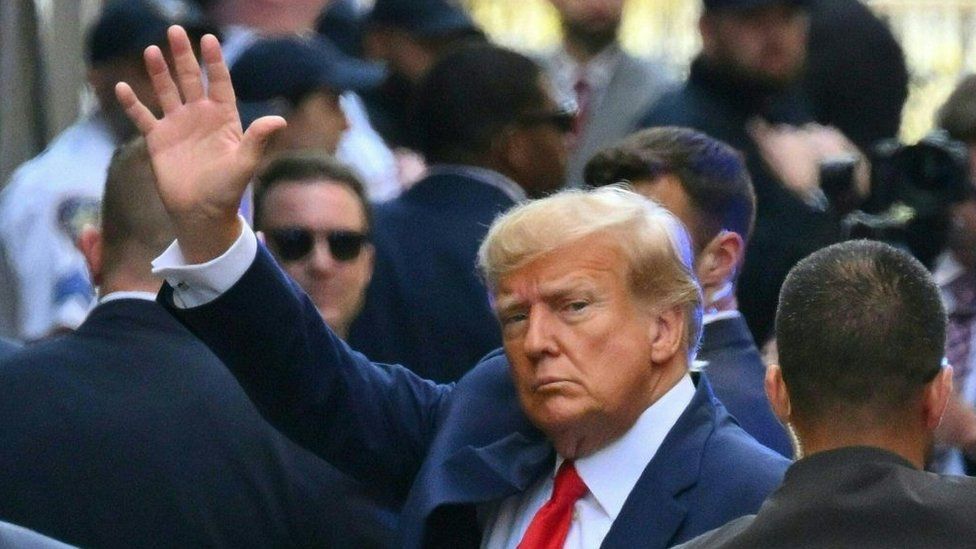 A slim chance of pardon
Mr Trump floated the idea of pardoning himself before leaving the White House in 2021, and some have suggested he might attempt to do so in the criminal cases against him if elected president in 2024.
But experts say that would be much harder for the top Republican candidate to pull off in the state of Georgia.
For one, presidents can only issue pardons for federal crimes, and Mr Trump is facing state charges in Georgia.
Mr Trump would not be able to appeal to Georgia's governor for a pardon either, because unlike many other states, the governor there is not allowed to issue them.
Instead, Georgia's State Board of Pardons and Paroles is responsible for issuing pardons, which it only does five years after a convicted person has completed his or her sentence.
Mr Trump is facing up to 20 years in prison in Georgia if convicted of the most severe charge of racketeering.
Related Topics
August 23rd 2023
August 22nd 2023
Georgia Rico case: John Eastman surrenders to authorities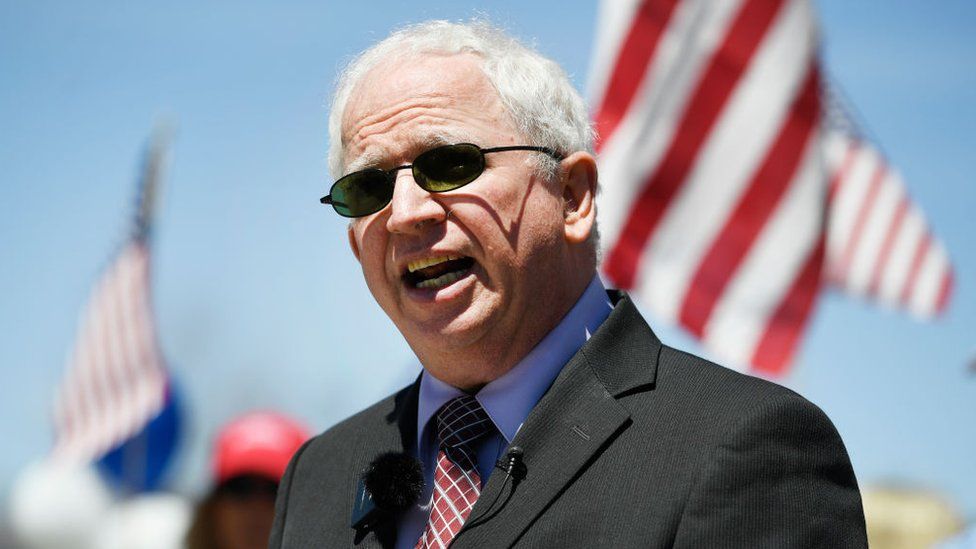 By Sam Cabral
BBC News, Washington
Two people accused of conspiring with ex-President Donald Trump in the state of Georgia have turned themselves in to face charges of election interference.
John Eastman, one of 19 co-defendants named in the Georgia indictment, faces nine counts of racketeering and conspiracy.
Another defendant, Scott Hall, a Georgia bail bondsman, has also turned himself in to local officials.
Mr Trump is expected to surrender on Thursday on the 13 charges against him.
The Fulton County district attorney's office last week charged the former president and 18 allies with attempting to overturn his electoral defeat in the closely contested state in 2020.
Prosecutors have set a deadline of Friday noon local time for each defendant to surrender and be booked into the Atlanta jail.
Prosecutors consider Mr Eastman, 63, a key figure in the plot to meddle with the 2020 election results.
The California law professor represented the former president in a lawsuit trying to overturn election results in four states he lost in 2020.
In Georgia, he is alleged to be part of a plan to urge state senators to disregard the election results and appoint fake electors.
On Tuesday, he was released on a $100,000 (£78,500) bond agreement after being booked and spending a couple of hours inside the jail.
In a statement, Mr Eastman claimed that the Georgia case "targets attorneys for their zealous advocacy on behalf of their clients, something attorneys are ethically bound to provide".
He promised to "vigorously contest every count of the indictment in which I am named, and also every count in which others are named".
Asked by reporters outside court if he still believes the 2020 election was stolen, Mr Eastman responded: "Absolutely, no question in my mind."
The lawyer's post-election actions are currently the focus of disciplinary proceedings by the State Bar of California and could see him lose his law licence there. Hearings set for this week were delayed ahead of his surrender in Fulton County.
Mr Eastman is also mentioned, but not named, in a separate federal indictment on election subversion charges filed this month by Special Counsel Jack Smith, a US justice department-appointed investigator.
Earlier on Tuesday, Mr Hall became the first defendant in the Georgia case to turn himself in.
The bail bondsman from Atlanta faces seven charges related to his alleged involvement in a voting systems breach in Coffee County in January 2021.
Having signed a $10,000 bond agreement, Mr Hall was released after about an hour at the jail.
Other co-accused, including alleged fake electors Shawn Still and David Shafer, have also negotiated bail agreements through their lawyers.
On Tuesday afternoon, one of the defendants, former White House chief of staff Mark Meadows, filed court papers asking a judge for an immediate ruling on a bid to move his case from Fulton County to a federal court, or – alternatively – issue an order shielding him from arrest in Georgia.
The filing comes after Fulton County District Attorney Fani Willis denied a request to delay Mr Meadows' arrest. An email from Ms Willis included in the filing said Mr Meadows "is no different than any other criminal defendant in this jurisdiction".
A similar request was made by former justice department official Jeffrey Clark earlier. Attorneys for both men have argued that their alleged actions should be handled by the federal court system, as they were federal officials at their time of their alleged involvement in the case.
The Georgia case is the latest in a series of criminal indictments filed against Mr Trump.
Prosecutors in Fulton County accuse him of scheming to subvert the will of the state's electorate following his narrow loss there to Democrat Joe Biden.
Mr Trump was granted a $200,000 bond as well as other release conditions, such as being barred from using social media to directly or indirectly threaten alleged co-conspirators or potential witnesses.
The former president, however, has drawn criticism for not paying the legal fees of his co-defendants in the case.
One of them, ex-Trump lawyer Jenna Ellis, wrote on X, the platform formerly known as Twitter, that "this has became a bigger principle than just one man. So why isn't MAGA, Inc funding everyone's defense?"
Another former Trump lawyer, Michael Cohen, now a fierce critic of his former boss, told CNN on Tuesday that Mr Trump was not paying the fees of another former attorney, ex-New York City Mayor Rudy Giuliani. The BBC has contacted Mr Giuliani's lawyer for comment.
In a Monday night post on his Truth Social platform, the Republican frontrunner for the 2024 presidential election reiterated his claim that the case was a politically motivated attempt to thwart his bid to challenge Mr Biden for the White House.
The ex-president also faces 78 charges across three other criminal cases, including an investigation into his alleged mishandling of classified documents.
August 21st 2023
Idiot Culture – a comment by R J Cook
The amazing witch hunt on former U.S President Donald Trump should be a cause for concern for any ordinary U.S Citizen and the more prominent and pampered ones. Biden , his son Hunter, acolytes and associates are not innocents but they don't get prosecuted for tax fraud like Hunter Biden, or sexual misconduct like Bill Clinton or trying to overturn a presidential election like Hilary Clinton and her clique..
Saint Hilary Clinton had a blase and dismissive interest in her President husband's sexual behaviour, most notably Monica Lewinsky. These people are smug self righteous power mad hypocrites and worse. Their greed and 'job done attitude' to Yeltsin and his understudy the not so drunk and deluded Vladimir Putin had an unexpected set back. Gung Ho idiots in this faded ghost of a British Empire are all egging Biden on. There is a lot of money being made on both sides of the Atlantic by the global rich. Over in the U.K , the usual jingoists are ecstatic and orgasmic that the U.S F16s will be doing their bit for the NATO proxy war on Russia.
Meanwhile Ukraine admits losing experienced men and elite Spetnaz are on the way. These warriors's rites of passage include being beaten unconscious by seasoned warrors. seeNATO's pompous officials and Banana Republic uniform wearing war mongers, who are running out of ammunition, say they will fight on to defend hideously corrupt Ukraine. The level of ignorance over here is astonishing. A male visitor last night suggested Vladmir Putin's regime is responsible for the wild fires raging across the planet still. I said that the most you can say is that the Ukraine War – triggered by NATO greed and desperation for western empire building regime change war – adds significantly to Greenhouse Gases creating overheating of the earth's forests already depleted by Third World Deforetation to make room and fodder fields for their rampant religion driven overpopulation. Hence water wars will be next – as we should soon see with the effects on Egypt of hideously overpopulated Ethiopia's dam across the Nile.
The state of Africa and Middle East is the major push factor for U.K's massive influx of migrants seeking a 'better life.' The fact that Russia and China wants to cut this problem off at source – by doing more than pander to ancient religions, bigotry and tyrants flogging off their collapsing nation's valuable resources cheap for a share of the high life in London, Paris and New York – is another big reason NATO must cut Russia down to what it considers its rightful size. Add to that getting control of Crimea and the Black Sea, Russia has good reason to fight the real invaders. Germany is suffering enough from mass Third World immigration. E.U Magnates have a plan to see this ineluctible flow of planet eating bodies well into Ukraine and beyond. They see lots of educationally limited cheap labour, not the kind of highly skilled German workers decimated by the parasitical greedy elite and their minions. The leaders of the so called free world want anything but freedom and democracy. They don't want multi culture , they want an idiot culture. They have got their project well in hand. The BBC , CNN and Hollywood are all there to help.
R J Cook
August 18th 2023
How the Georgia indictment against Donald Trump may be the biggest yet
Former President Donald Trump and 18 allies have been indicted in Georgia over efforts to overturn his 2020 election loss in the state. (Aug. 15)
By NICHOLAS RICCARDI and MEG KINNARD Updated 12:50 PM BST, August 15, 2023
The fourth indictment of former President Donald Trump may be the most sweeping yet.
The sprawling, 98-page case unveiled late Monday night opens up fresh legal ground and exposes more than a dozen of Trump's allies to new jeopardy.
But it also raises familiar legal issues of whether the First Amendment allows a politician to try to overturn an election. Already, Trump and his supporters are alleging the indictment is the product of a politicized, corrupt process to hobble him as he competes for the GOP nomination to face President Joe Biden next year.
This may be the last of the Trump indictments, but it was the big one. The indictment lists 18 defendants in addition to Trump, all joined together by Georgia's unusual anti-racketeering, or RICO, law.
Many of the defendants aren't even based in Georgia. The better-known defendants include former New York Mayor Rudolph Giuliani and attorney Sidney Powell, who appeared in numerous hearings and on television spreading false claims about unfounded incidents of purported election fraud. Giuliani and Powell were among the unnamed co-conspirators in the federal indictment against Trump for his push to overturn the election that was released earlier this month.
Others, however, had to date escaped mention in charging documents, like Trump's then-chief of staff Mark Meadows, who was on the call during which Trump urged Georgia election officials to "find" him the votes he needed to be declared winner of the state.
Other defendants include Mike Roman, a Trump campaign official who the indictment alleges helped arrange slates of fake Trump electors whose votes Congress could count rather than those of the actual appointed ones for the winner of the election, President Joe Biden. Another person charged is Jenna Ellis, who has become a prominent conservative legal personality after working on the Trump campaign and helping spread Trump's false allegations of widespread fraud.
The charges also fall upon several Georgia players, including Ray Smith and Robert Cheeley, lawyers working for Trump in Georgia, and David Shafer, then the state GOP chairman, for serving as a fake Trump elector along with fellow co-defendants Shawn Still, then the state GOP finance chairman, and Cathleen Alston Latham.
A WIDER APPROACH
Critics may argue this is an overreach for a local prosecutor's office. But the Georgia RICO statute gives Fulton County District Attorney Fani Willis' office the ability to construct a wide-ranging narrative by citing and charging other players in the alleged wrongdoing, even those out of state.
Some legal analysts think that Jack Smith, the federal prosecutor who filed the earlier charges against Trump for trying to overturn the election, didn't charge people identified as co-conspirators in his case, like Giuliani, because he is aiming for a trial as quickly – and with as much time as possible before the 2024 presidential election — as feasible.
Willis on Monday night said she hoped for a trial date in six months. But her office is taking a notably different, more sweeping approach from the more streamlined federal indictment. She vowed that she would seek to try all 19 defendants together.
THE FIRST AMENDMENT ARGUMENT
Trump is expected to employ a similar defense in both the earlier federal indictment and the Fulton County case. He and his supporters contend he's being charged simply for speaking up against what he saw as an unfair election and practicing politics as usual.
But it's not clear that defense will work.
Indeed, some of the 161 acts that prosecutors contend were part of the conspiracy to overturn may sound like protected political machinations in isolation – emails and texts about meetings of people contending to be Trump electors, tweets about alleged voter fraud, even the filing of a lawsuit in Georgia challenging the election outcome.
But the indictment argues they were all steps in what it calls "a conspiracy to unlawfully change the outcome of the election in favor of Trump." For example, it alleges that those fake elector meetings were part of an attempt to convince Georgia state lawmakers to "unlawfully" appoint the phony Trump electors, rather than the Biden ones they were bound to by law.
The indictment contends the tweets about phony voter fraud and even the lawsuit were part of a similar scheme. And, finally, it says some of the lies trying to persuade Georgia's top election official, Secretary of State Brad Raffensperger, and Gov. Brian Kemp to declare Trump the victor could be considered another crime under state law, solicitation of violation of oath by a public officer.
DOCUMENT DRAMA
A document briefly posted to the Fulton County Clerk's Office website earlier Monday snagged the day's proceedings and gave Trump a window to further disparage the case against him.
People were still waiting to testify before the grand jury when Reuters reported on a document listing criminal charges to be brought against Trump, including state racketeering counts, conspiracy to commit false statements and solicitation of violation of oath by a public officer.
Reuters, which later published a copy of the document, said the filing was taken down quickly. A spokesperson for Willis said the report of charges being filed was "inaccurate," but declined to comment further. A statement subsequently released by the Fulton County courts clerk called the posted document "fictitious," but failed to explain how it got on the court's website.
Trump and his allies immediately seized on the apparent error to claim that the process was rigged. Trump's campaign aimed to fundraise off it, sending out an email with the since-deleted document embedded.
"The Grand Jury testimony has not even FINISHED — but it's clear the District Attorney has already decided how this case will end," Trump wrote in the email, which included links to give money to his campaign. "This is an absolute DISGRACE."
Trump's legal team said it was not a "simple administrative mistake." Rather, it was "emblematic of the pervasive and glaring constitutional violations which have plagued this case from its very inception," said lawyers Drew Findling, Jennifer Little and Marissa Goldberg.
TRUMP'S MOUNTING LEGAL BILLS
The sheer number of investigations, criminal cases and lawsuits brought against Trump are unprecedented for a former president. The same could be said for the tens of millions of dollars in legal fees paid out to attorneys representing him and his allies, straining the finances of his campaign.
An Associated Press analysis of recent fundraising disclosures shows Trump's political committees have paid out at least $59.2 million to more than 100 lawyers and law firms since January 2021.
The threat posed by this colossal drain of resources has led Trump's allies to establish a new legal defense fund, the Patriot Legal Defense Fund.
Divide and Fool, A Comment By R J Cook
This is the most massive concerted effort yet to knock Donald Trump out of the Presidential Race. The sheer number of actions being brought against him simultaneously is redolent of a major establishment conspiracy with Democrat District Attorneys ( DAs ) in the foreground along with Democrat Judges. Meanwhile no one investigates Hunter and Joe Biden who have profited from, among other things, the proxy regime change war and resource grab in Ukraine. No such moralising fuss was made concerning Hilary Clinton's hectoring in Unredacted Complaints that she really won the election in 2020. She even wrote a book in an aftermath that lasted the duration of Trump's term with vicious endless attempts to impeach him. The Democrats fear that withoout criminalising Trump, he will beat creepy Joe Biden, do something for the blue collar population , help the poor and stop wasting billions on a proxy imperialistic war that benefits only rich and upper middle classes. The following report on Soros damns the nonsense of Western Style Demiocracies which relies on sustenance from the grotesquely self centred super rich , like him, for propoganda and definition.
R J Cook
August 17th 2023
Soros, The World's Greatest Democrat ( sic ) !
August 15th 2023
Trump condemns Georgia election charges as 'witch hunt'
Jack Smith went narrow, Fani Willis swung wide
Kayla Epstein
Reporting from Georgia
At first glance, the federal charges against Trump for 2020 election interference and the Georgia state charges seem to have a lot of overlap.
Both deal heavily with the actions of Trump and his associates in Georgia, and even zero in on the same actions.
But the prosecutors in each case have taken a very different strategic approach.
Jack Smith, the Justice Department special counsel overseeing the case in Washington DC, indicted only Donald Trump – though the indictment mentions unnamed co-conspirators who allegedly helped carry out election interference.
Prosecuting only Trump allows Smith to move much faster, as the government has indicated it would like a speedy trial ahead of the 2024 election.
Fani Willis, the Fulton County district attorney in Georgia, did the opposite: she charged Trump along with 18 other co-defendants in a racketeering case.
It's a sprawling legal strategy that allows her to try multiple figures at once. Willis is trying to hold several people responsible for a wide range of activity in Georgia, all while pointing the finger at Trump.
In fact, several of the named defendants in the Georgia case – Rudy Giuliani, John Eastman, Jeffrey Clark, Sidney Powell and Kenneth Cheseboro – are also unnamed co-conspirtators in the federal indictment.
Willis's case is the first time they are actually being charged for their alleged attemps to help the former president interfere in the 2020 election.
Rudy Giuliani jailed mobsters with a charge he now faces
Before Rudy Giuliani was Trump's personal lawyer, and prior to serving as mayor of New York City, has was a federal prosecutor.
In the 1980s, Giuliani made headlines around the world for aggressively going after New York's Italian-American mafia, the infamous "Five Families".
The investigation – which involved hundreds of FBI agents and New York police officers – saw extensive use of listening devices, discreetly placed in locations including an East Harlem social club and a mob driver's Jaguar used to ferry gangsters across the city.
Anyone who can be connected to a criminal enterprise can be convicted under Rico, the Racketeer Influenced and Corrupt Organizations Act.
But now, decades after using Rico to tackle organisational crime, Giuliani is on the other side of the law.
He faces 13 charges, more than any of the co-accused except for Trump himself.
Giuliani has dismissed the investigation against him as politically motivated.
You can read more about Giuliani and his prosecutions against NYC crime families here.
The ex-Kanye publicist charged alongside Trump
Getty ImagesCopyright: Getty Images
Among the list of lawyers and political movers and shakers listed on the indictment is a name you might not be familiar with, Trevian C. Kutti.
Kutti is the ex-publicist of Kanye West – the rapper now known as Ye. Kutti was also previously a spokesperson for R. Kelly.
According to the charges filed against Kutti, she went to a Georgia election worker's home in January 2021, when Trump's team were trying to find ways to challenge the state's election results.
Kutti allegedly pressured the worker to make a false statement.
The Chicago-based publicist has been charged with violating Georgia's Racketeer Influenced and Corrupt Organizations (RICO) statute, conspiracy to commit solicitation of false statements and writings, and influencing a witness.
A spokesperson for Ye told Reuters that Kutti was not associated with the rapper "at the time of the facts".
You might remember Ye himself ran for president in 2020, and has spoken about running again in 2024.
Posted at 18:2318:23
Why Trump might try to 'remove' the case
Kayla Epstein
Reporting from Georgia
While Trump's legal team has not laid out their strategy in public, there are a few moves they could make to defend him against the charges.
The first is requesting that the case be "removed" from state court to federal court.
Trump's lawyers could argue that as president, he was acting as an officer of the federal government in order to ensure the legitimacy of the 2020 election, Anthony Michael Kreis of Georgia State University College of Law explained.
Moving the case to federal court would widen the jury pool beyond Democratic-leaning Fulton County, though plenty of people here have mixed opinions of Trump.
Another obvious defence for Trump to attempt is a First Amendment argument – that his false claims of election fraud in Georgia was protected political speech.
Will we see all 19 defendants at trial? Not likely
Kayla Epstein
Reporting from Georgia
A total of 19 defendants are named in this indictment, with Donald Trump at the top of the list. But not all of them could wind up standing trial.
It's not unusual in a racketeering case for some of the defendants to take plea deals or flip and work with prosecutors in exchange for a lighter punishment, Anthony Michael Kreis of Georgia State University College of Law explains.
"Prosecutors often start big and winnow people out through plea deals and other means," Kreis told me.
"There will be deals that will be struck, there will be offers made, some people might turn into states' evidence in order to save themselves the lengthy and stressful process of a trial."
By the time this case goes before a jury, those 19 defendants could whittle down to a smaller number.
"For those who don't reach deals, Willis says she plans to try all of the defendants together" Kreis says.
What does a racketeering case mean for Trump?
Madeline Halpert
Reporting from Georgia
Yesterday, Donald Trump and 18 others were charged with violating Georgia's Racketeer Influenced and Corrupt Organizations (Rico) Act.
Presenting that type of case allows Fulton County District Attorney Fani Willis to broaden the evidence and witnesses that she can present at trial, according to former federal prosecutor Neama Rahmani.
Those charges also carry a potential 20-year prison sentence, which is more severe than all the other charges Trump and his co-defendants are facing, Rahmani told the BBC.
But Rico cases are also highly complex, and this is Trump's fourth indictment, meaning Willis is likely fourth in line for a trial, the timing of which could be complicated by Trump's run for president in 2024, he said.
That "raises the question of whether Willis waited too long" to bring charges, Rahmani added.
Trump's a fighter – Republican Party chairperson in Georgia

Sarah Smith
North America editor
Committed Republicans in Cobb County, Georgia, have been expecting these charges.
They've watched Donald Trump's support increase each time he gets arrested and are clearly not worried about his legal problems.
I attended a breakfast hosted by the local Republican party in Marietta, Georgia. There they held a straw poll asking attendees to write on slips of paper who they want as their party's presidential candidate – Trump won easily.
I asked Salleigh Grubbs, the Republican Party chairperson in Cobb County, if Trump can successfully run for president if he's fighting four court cases at the same time.
She says their straw poll here speaks for itself. "He's a fighter, he's used to fighting, he's been fighting for years. So I think he'll have no problem," Grubbs told me.
Who is the judge overseeing Trump's case?
Superior Court of Fulton CountyCopyright: Superior Court of Fulton County
Like all judges in the state of Georgia, Inspector General Scott McAfee was randomly selected to oversee Donald Trump's case.
He only became a Fulton County Superior Court judge in February, having worked as an investigator and prosecutor with cases involving "major drug trafficking organizations, fraud, and illegal firearms possession", according to his biography
.
When McAfee was appointed to the Office of Inspector General in 2021, Governor Brian Kemp said: "His experience as a tough prosecutor equips him to search out fraud, waste, abuse, and corruption, and bring those to justice who break the law."
In June, he fined pro-Trump attorney and conspiracy theorist, Lin Wood, $5,000 (£3,924) for violating an order forbidding him from insulting his former law partners.
Comment If the corrupt establishment succeeds in their designs and schemes to block Donald Trump's Presidential candidacy it should prove beyond doubt that the United Srates is not a democracy – any more than the U.K is. The top item on the western elite agenda is regime change in Russia. The Swamp Dwellers will do whatever it takes. It will always be backed by the U.K's pampered elite BBC in a tiny minded country of fake liberals. Here we are not allowed to mention Huw Edwards, darling of the BBC Propaganda Poison to free thinking and free expression.
R J Cook
August 12th 2023
Migrant boat sinks in Channel killing six people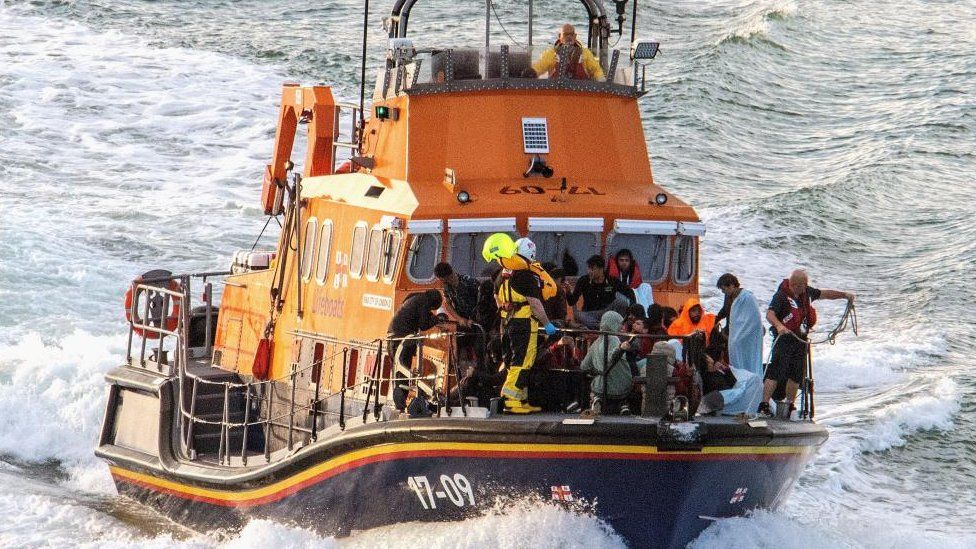 By Megan Fisher & Simon Jones
BBC News, London and Dover
Six people have died after a boat carrying migrants sank in the Channel, off the French coast.
Two people may still be missing, a spokeswoman from French coastal authority Premar said, after the vessel got into difficulty in the sea near Calais in the early hours of Saturday.
About 58 people were rescued by British and French coastguards, officials said.
A number of people were seen being brought off a lifeboat, some on stretchers, in Dover.
The extent of injuries remain unclear and the exact numbers of those rescued have changed since the morning as more information was released.
French authorities said a passing ship first raised the alarm that an overloaded boat was in difficulty off the coast of Sangatte.
When the French lifeboat arrived, they found numerous people in the sea, with some screaming for help.
The Dover lifeboat, which was already in the Channel dealing with another boat carrying migrants, joined the rescue operation.
A volunteer, who was on one of the rescue boats, told the Reuters news agency migrants were using shoes to bail water out of the sinking boat.
Anne Thorel said there had been "too many" people on board.
Rescue crews say this is the seventh time this week that they have had to pull people from the water.
In its latest update, Premar said interviews with survivors suggest 65 or 66 people were on the boat. Often boats are so overloaded it is difficult to tell how many people are on them.
Premar said 22 or 23 people were taken to Dover by UK rescue crews and a French boat took 36 to Calais.
Two French boats were still searching for the two people who could still be missing, it added.
A French Navy aircraft and a helicopter had been deployed to help the search.
The MP for Calais, Pierre-Henri Dumont, said authorities are interviewing the migrants who are able to speak and not too unwell, to establish what happened and where they are from.
Although the incident happened in French territory, with these types of operations, British and French rescue teams work together to rescue as many people as possible.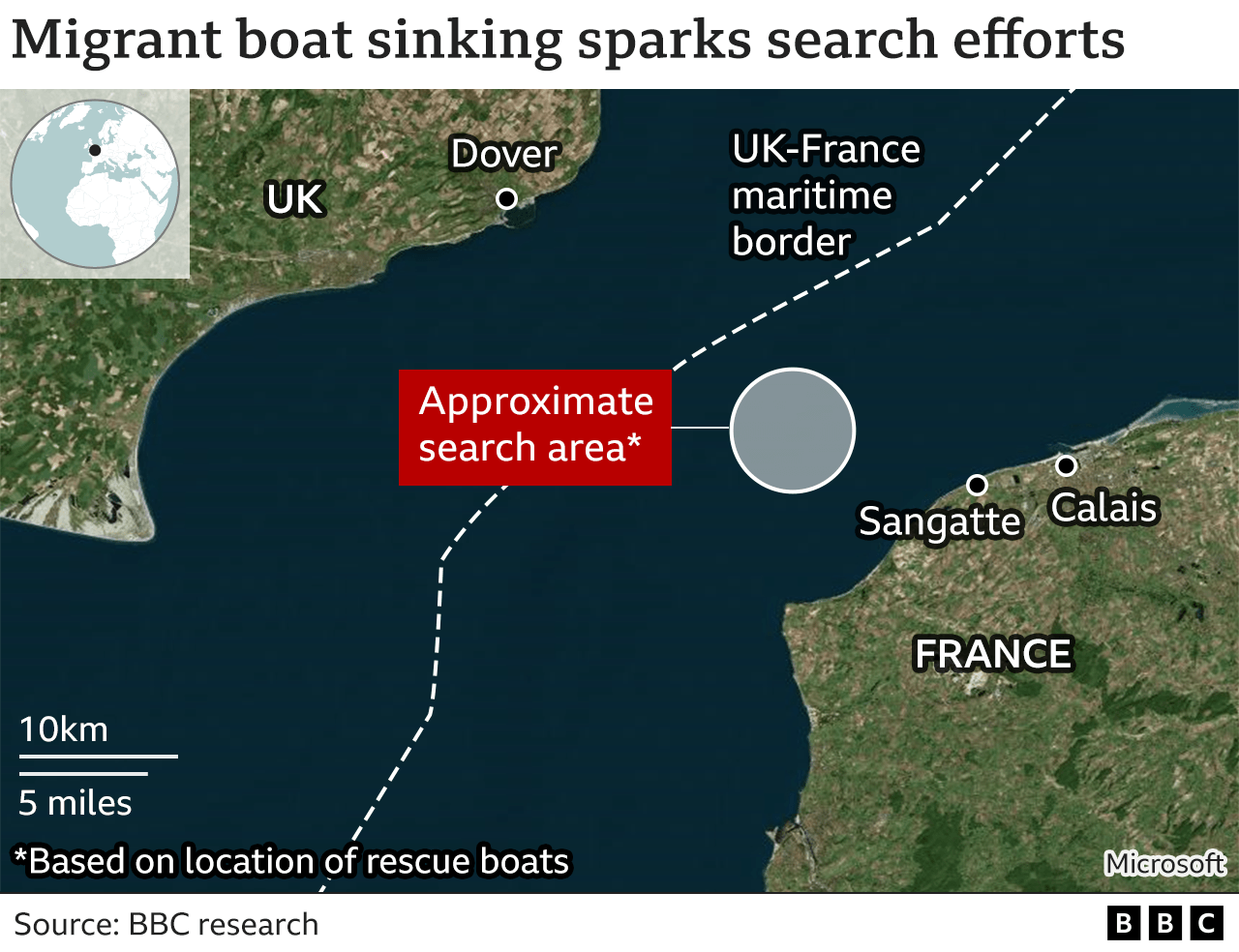 A French prosecutor told the AFP news agency that the first of the victims was an Afghan man aged between 25 and 30.
Enver Solomon, chief executive of the Refugee Council, thanked the rescuers for their efforts but urged the UK government to work on creating an "orderly and humane asylum system".
The English Channel is one of the most dangerous and busiest shipping lanes in the world, with 600 tankers and 200 ferries passing through it every day.
Home Secretary Suella Braverman called what happened a "tragic loss of life".
A UK government spokesperson said the deaths were "devastating and our thoughts are with the victims' families and friends at this time".
They added: "This incident is sadly another reminder of the extreme dangers of crossing the Channel in small boats and how vital it is that we break the people smugglers' business model and stop the boats."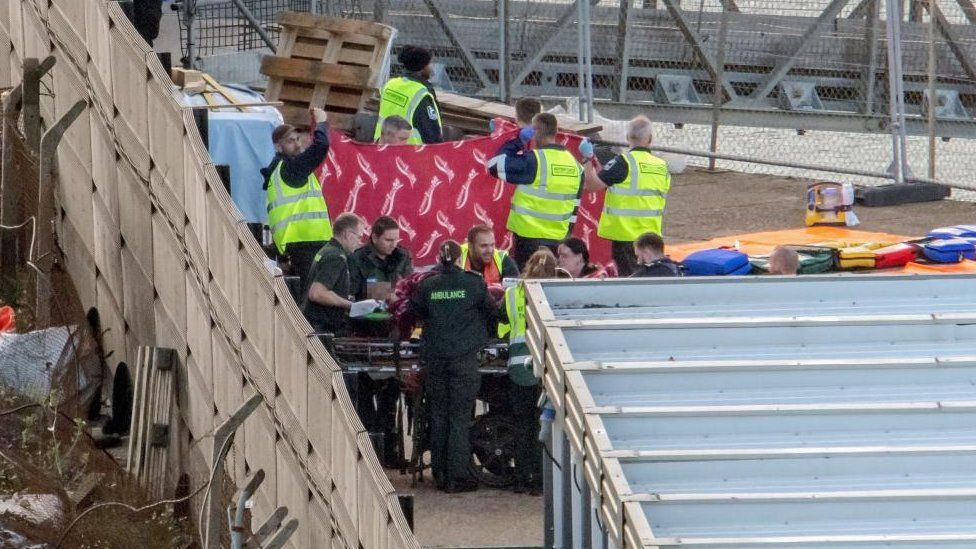 Dover MP, Natalie Elphicke, said the incident highlighted the need for joint patrols on the French coast.
"These overcrowded and unseaworthy death traps should obviously be stopped by the French authorities from leaving the French coast in the first place," she said.
On X, formerly known as Twitter, shadow immigration minister Stephen Kinnock said it was an "appalling, deeply shocking tragedy".
Another small boat also got into difficulty but all on board have been rescued, the UK Coastguard said.
In the last two days more than 1,000 people made the journey across the Channel to the UK, government figures show. More than 100,000 migrants have crossed in small boats since 2018.
At least 27 migrants died after a dinghy sank while heading to the UK from France in November 2021, the highest recorded number of deaths from a single incident.
Four people died at sea while trying to cross in December 2022.
The incident comes after the UK government faces pressure over fears of a Legionella outbreak on its new migrant barge, Bibby Stockholm, moored in Portland Port, Dorset. The first migrants to board the vessel had to be removed after bacteria was found in the water system.
August 11th 2023
Climate Change Does Not Begin At Home by R J Cook.
Elite media capitalist lackeys and puppets earn a good living patronising, talking down to, dividing and fooling the masses. We are at the mercy and in the gift of a vile totalitarian elite. They own most of the world and want it all. We face a Dystopian future.
The top 1% of our near 8 billion human population are responsible for 60% of the pollution, including greenhouse gasses by dint of their leisure and the global economic system that sustains them. The masses mimic them but cannot reach their level. They do not get paid enough.
I recently read Mike Bannister's book on the rise and fall of the Concorde air plane. Though a fabulous piece of engineering flown by the best of pilots, it was a grotesque planet eating device where elite passengers spent £10,000 on a one way ticket. It flew so high and fast that it ate the ozone while consuming hideous amounts of fuel. It symbolised the hideous waste of air travel.
At the heart of the matter is global politics, the essence of its disgusting ugliness back in focus with what is essentially World War III. Two past world wars were all about empires and elite greed. World War One involved three inbred leaders who were members of the same Royal Family and a vengeful France who never forgave upstart Germany for defeating them in 1870 and occupying Paris. It had several significant outcomes, most notably the 1917 Russian Revolution and Nazi Germany. This led to the post war psychoses of the Cold War and anti Fascism without addressing their causes. It gave us political correctness, virtue signalling and Anglo U.S Exceptionalism.
The latter is a major problem when it comes to climate change because the Anglo U.S elite are the amoral hypocritical voice of western capitalism. They give is rampant self seeking man hating feminist virtue signalling along with their male subservient modern males who dominate the front line soldiers of the New World Socio Political Police State Hegemony. Smarmy characters like Sir Tony Blair, who contrived the illegal second Gulf War which set fire to the Middle East, opening the door to economic migrants, are hailed as heroes. Blair has made and continues to make millions from his abuse of power.
The past is riddled with such dreadful egomaniacs. The Shah of Iran was a western puppet and human rights abuser protecting U.S led western oil interests. When he was toppled, the U.S set their lackey Saddam Hussein to restore the status quo. He took the fall for the second Gulf War and the region has never recovered. The west is haunted by the danger of Russia in Syria and friendship with Egypt. Ultimately there cannot be enough planet destroying war to maintain their corrupt exploitative influence, with parent geriatric U.K right beside them egging them on. The same goes for Africa which the Anglo U.S and French have been exploiting via puppet regimes for centuries.
Africa wallows in ignorance, poverty ,disease and religious bigotry. Five African poverty and disease riddenh nations account for the world's terminal overpopulation. Western white bourgeois virtue signalling self styled liberal elite see no limit to African and Islamic immigration. To criticise or suggest African reform is labelled racist. Estimates suggest 400 million want a better life in Europe. Ukraine's population has been reduced by war and is labelled European lebensraum for African migrants. To argue restraint in Africa is decried as racism. Russia's appeal to African leaders to aid development and trade is decried and demonised. This is a big factor in NATO using Ukraine as excuse for a proxy war on Russia and why Biden has voted another $20 billion arms aid for Zelensky – rather than help is own suffering poor or deal with the flood of cheap labour migrants across the border from Mexico.
One could go on. Suffice it to say that senior and aspiring politicians are inveterate self serving liars like their police lackeys. It suits them to blame their masses. The U.K accounts for less than 1 % of greenhouse gases. The U.S consumes 55 % of all the earth's natural resources consumed in any one year. The west, led by the U.K , caused the current world war with devastating consequences on the environment and its climate.
Russia is crucial to redress the balance of power. China needs to see beyond its immediate trading priorities and punish the west before matters get worse. They also need to accept that their once great civilisation needs to accept that it stands alongside the U.S and India, as joint major polluters. As for Africa, with their current level of ignorance and female fecundity, they face an unsustainable future and are simply being encouraged by white virtue signallers to export their cultural problems, religious bigotry and backwardness west. They are too much enthral to the likes of OXFAM. Meanwhile we of the white western slave underclass need to ditch the guilt. Climate Change does not begin in our homes.
R J Cook & Sons Edward & Kieran.
Climate Crisis – What Crisis ? Montage & Comment By R J Cook
Comment I disagree with the above superficial blame shifting. I will join up the following image dots for an account of the truth much later today.
August 6th 2023
Donald Trump says he will ask the Judge to step aside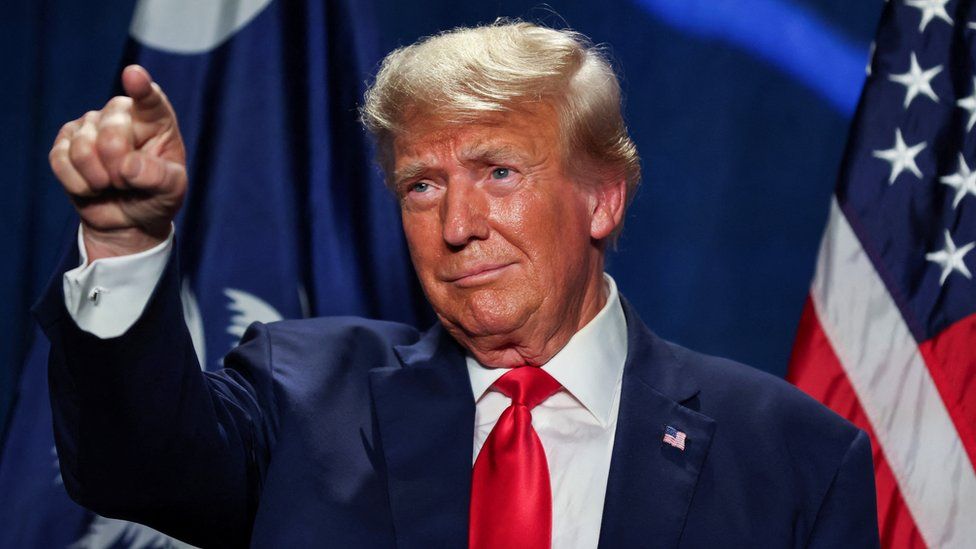 By Ece Goksedef
BBC News
Donald Trump has said he will ask the judge in his election fraud case to step aside on what he called "very powerful grounds".
He claimed that "there is no way I can get a fair trial" unless she does.
His call came after the prosecution requested a court order that would limit what he can publicly say about the case.
The judge, Tanya Chutkan, was appointed by former President Barack Obama.
Trump took to his social media platform, Truth Social, on Sunday morning, describing the case as "the ridiculous freedom of speech, slash fair elections case" and saying that his legal team would immediately be asking for recusal of the judge.
He give no details of his grounds for asking her to step down.
Judge Chutkan previously ruled against Mr Trump's efforts to shield evidence from the House January 6 Committee and has faced frequent attacks from Trump allies in recent days. Mr Trump had described her and the Department of Justice (DOJ) as "highly partisan and very corrupt".
Judge Chutkan, who was appointed in 2014, is the only federal judge in Washington who has delivered sentences against defendants in cases related to the 6 January Capitol riot that are longer than the sentences that the DOJ asked for, according to NBC News.
Any judge of the United States shall disqualify themselves in any proceeding in which their impartiality might reasonably be questioned, according to the US Department of Justice.
Recusal of the judge was not the only thing Mr Trump said he would request. He also wants his case to be moved out of Washington.
He says that it is "impossible for him to get a fair trial in Washington", which he describes as "anti-Trump".
Mr Trump's lawyer, John Lauro, said on Sunday that the former president "believed in his heart of hearts" that he won the 2020 election,.
Speaking to US TV networks, he said Mr Trump was being attacked for exercising his constitutional First Amendment right to free speech.
Earlier this week, Mr Trump wrote in capital letters, "If you go after me, I am coming after you!" on Truth Social, just a day after he pleaded not guilty to four charges in the alleged election fraud case.
And the same night, the prosecutors said they feared Mr Trump might disclose confidential evidence and asked for a protective order to prevent "the improper dissemination or use of discovery materials, including to the public".
Judge Tanya Chutkan gave Mr Trump's legal team until 17:00 local time on Monday to respond to the submission. Mr Trump's lawyers asked for three more days, but the judge denied their request.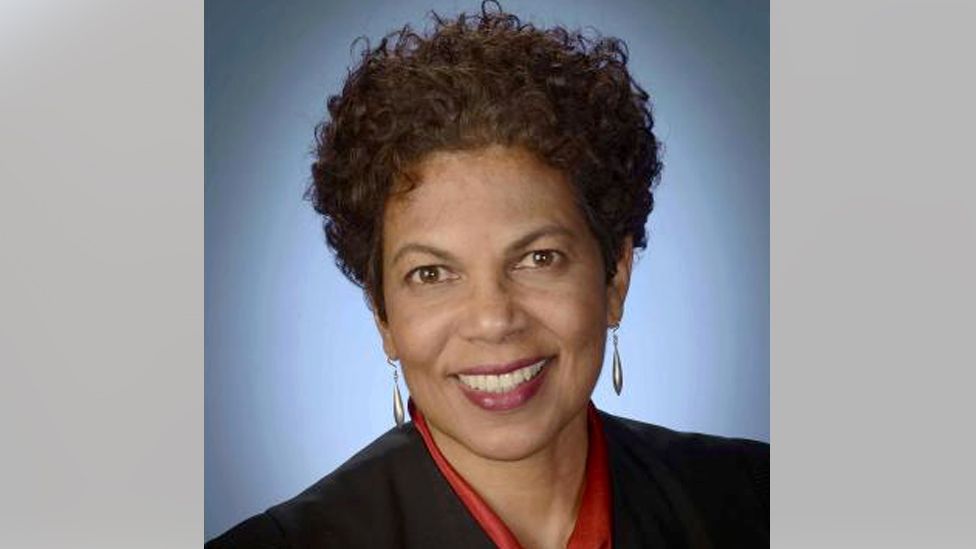 Judge Chutkan, a noted hardliner on cases against those accused of participation in the Capitol riots, is expected to call in attorneys from both sides on 28 August to discuss setting a trial date.
The charges – which include conspiracy to defraud the US, tampering with a witness and conspiracy against the rights of citizens – stem from the former president's actions in the wake of the 2020 election, including around the 6 January Capitol riot.
Over the past two years, the 61-year-old judge has won a reputation for harsh sentences for those convicted of participation in the riots. Of the 31 defendants who have come before her, Judge Chutkan has sentenced every one of them to at least some jail time, according to a Washington Post tally.
Mr Trump now faces five upcoming trials – three criminal trials which include the classified documents case, the hush money case, and these election charges; and two civil trials over business practices and alleged defamation of a woman who accused him of rape.
Comment This case is a foregone conclusion because Donald Trump has to be discredited and silenced. There is no place for him in politically correct U,S.A and the wider world. Like the U.K , the U.S.A is a fake democracy. The swamp dwellers are always going to be in charge. U.K media are just as obsessed with putting Trump down as the U.S counterparts. Ukraine has to win for them, opening the door to an Aladdins cave of wealth, then on to Russian regime change and back to the good old days of Yeltsin. Trump is seen as a major threat to this.
R J Cook
August 3rd 2023
Trumped Up Charges by R J Cook
Trumped Up Charges by R J Cook
Dead people voting, U.S Service personnel votes dumped by the road side in Georgia are just some examples of 2020 electoral fraud. There is no evidence that Donald Trump provoked or participated in the Capitol Riots. Biden got several Republican States within the realm of error. Hilary Clinton and key democrats never accepted Trump's victory, spending his whole term defaming and attempting impeachment. By Democrat criteria , Clinton should have been jailed. The media went nuts when her use of a private server for Secretary of State e mails was exposed- just as they have done to protect Hunter Biden and his dad. That is the 'liberal way.' Corruptions is endemic in the Anglo – U.S profiteering war mongering establishment.
As I write, Sky News is playing in the background. The anti Trump bias is so thick in the air you could cut it with a chain saw. Their bumptious smirking U.S editor James Matthews is waiting for his prey in Washington. I have just witnessed his arrogant patronising so called interview with a forty something white male. This man made it quite clear why his class stand by Donald Trump -as I would if I were a U.S voter. When this man explained how Trump was their only hope to restore U.S greatness and democracy, Matthews asserted : 'But Donald Trump works to destroy that democracy.' The white American snapped back : 'Where are you from ?' 'Scotland' said Matthews.'
'So you have a King. Well we are a republic. But Donald Trump could be my King'. Matthews continued to irritate the American who resorted to adult language. Matthews admonished him and apologised to viewers who might be offended by a taste of reality instead of hearing the slimey sound of patronising privilege oozing from bald headed smirking Matthews.
Handing back to the studio, the equally smarmy young anchor made another apology for broadcasting bad language. That little cameo spoke volumes for the insipid self righteous voice of the incestuous financially and power mad Anglo U.S elite leading the charge for worldwide lockdown following the mysterious release of the Covid Virus from a Wuhan laboratory funded by the United States.
The wealthy Anglo U.S elite has a lot to fear from an unchained Donald Trump. The so called U.S Democracy of Washington and New York has an injustice system primed to protect them. Hence Trump was found guilty of an indecent assault by a female septuagenarian who, in spite of being a professional journalist, could not remember the day or explain why she accompanied Trump into ladies changing rooms with an item of expensive lingerie selected by him.
Trump exposes these charlatans for what they are and has always been against Russian regimes change profiteering wars. This angers the Democrat fakes,like the Bidens who have profited from Ukraine,empowering and substantially rewarding billionaire Zelensky. Britain's elite media is banging the same drum. So we have the appalling list of new 'trumped up charges' noted in the following report. The justice department are pretty much as over here. They are self interested to the point of corruption, especially when it comes protecting powerful vested interests. The Democrats are such people, hypocrites prepared to risk nuclear war for their hedonistic pampered privileges, confident in support from their lackeys and the prospective cheap masses flowing like a river through the Mexican border.
R J Cook
The charges facing Trump in the Jan. 6 investigation, explained
Special counsel Jack Smith speaks about an indictment of former President Donald Trump on Tuesday at a Department of Justice office in Washington.
Jacquelyn Martin/AP
The criminal charges against former President Donald Trump related to efforts to overturn the results of the 2020 presidential election are some of the most serious allegations facing him, one law professor told NPR.
The indictment is "damning" and represents real "legal jeopardy" for him, said University of Richmond Law Professor Carl Tobias.
The allegations that Trump interfered in the 2020 election "cut to the heart of democracy," Tobias said.
He added, "This indictment shows how broad and deep the conspiracy was."
Trump is currently facing dozens of criminal charges in two other cases. One in Florida is based on his alleged withholding of classified documents, and a second in New York is over the accounting of hush money payments made in 2016.
Here's a summary of the charges Trump is facing in Washington, D.C., for attempts to overturn the results of the 2020 election:
one count of conspiracy to defraud the United States applies to Trump's repeated and widespread efforts to spread false claims about the November 2020 election while knowing they were not true and for allegedly attempting to illegally discount legitimate votes all with the goal of overturning the 2020 election, prosecutors claim in the indictment.
one count of conspiracy to obstruct an official proceeding was brought due to the alleged organized planning by Trump and his allies to disrupt the electoral vote's certification in January 2021.
one count of obstruction of and attempt to obstruct an official proceeding is tied to Trump and his co-conspirators' alleged efforts after the November 2020 election until Jan. 7, 2021, to block the official certification proceeding in Congress.
one count of conspiracy against rights refers to Trump and his co-conspirators alleged attempts to "oppress, threaten and intimidate" people in their right to vote in an election.
Democracy ( sic )Trump & More From Bloomberg Perspective. By This Argument Hilary Clinton et al Should Have Been Jailed For spending Trumps Entire Term Discrediting His Election – R J Cook.
August 1st 2023
A Few Words From Pro Republica About Freedom & Democracy In The Land Where 50 million live in dire poverty, misery and hoplessness while Biden's Hedonistic Egomaniacal Fake Democrats spend billions on Russian Regime Change War, causing global devastation for a rich western elite's benefit – R J Cook.
July 31st 2023
How Russia's war on Ukraine is threatening climate security
The international community needs to redouble its efforts to avert new security risks as a result of climate change.
Expert comment
Associate Fellow, Environment and Society Programme
The geopolitical consequences of Russia's full-scale war in Ukraine are coming into focus as the invasion enters its second year.
The war is an existential threat for Ukraine, but its impacts go well beyond the immediate devastation that it's causing, particularly with regard to the climate.
The war is an existential threat for Ukraine, but its impacts go well beyond the immediate devastation that it's causing, particularly with regard to the climate.
The war threatens to increase vulnerability to climate change around the world and therefore exacerbate climate-security risks.
It also risks hindering global efforts to cut greenhouse gas emissions as investigated in an independent paper coordinated by Chatham House for the Organization for Security and Co-operation in Europe (OSCE).
Over the course of the past year, Russia has weaponized energy supplies – and the climate itself – as never before. It has cut or halted gas deliveries to many countries across Europe, aiming to sap their military, financial and political support for Ukraine. Indeed, in October 2022, Russia began systematically destroying power generation and heating infrastructure across Ukraine with the aim of freezing the population into submission.
The invasion has triggered unprecedented jumps in global energy and food prices which has created a cost-of-living crisis that is impoverishing millions around the world.
The war has also raised the risk of violent conflict around the world by compounding sources of insecurity that are already under pressure because of climate change including food insecurity, large-scale human displacement and the sort of inflationary price spikes that can foment social unrest.
The invasion has triggered unprecedented jumps in global energy and food prices too which has created a cost-of-living crisis that is impoverishing millions around the world. It has also led to the highest number of refugees in Europe since the Second World War while, around the globe, an additional 47 million people are acutely hungry because of war-related disruptions to food exports from Ukraine and Russia.
Meanwhile, the war is raising tensions in places where climate change is threatening regional security. The Arctic is one example. Warming temperatures are already reshaping the region where countries vie for control over valuable resources and strategic shipping lanes in the once ice-bound seas. Since 1996, the Arctic Council has worked to encourage cooperation across the eight nations bordering the Arctic. Now, seven of its eight members are either NATO members or – as in the case of Sweden and Finland – applying to join NATO as a direct result of the war.
1996
is the year since which the Arctic Council has been working to encourage cooperation across the eight nations bordering the Arctic but, now, seven of its eight members are either NATO members or applying to join NATO as a direct result of the war.
The remaining member of the Arctic Council, with more than half of the Arctic Ocean coastline, is Russia. Over the past decade, Russia has built or re-activated 50 military installations and bases in the Arctic.
It makes no secret of its plan to extend its power in the region. With trust between Russia and other Arctic states at a historically low ebb, and the work of the council largely halted, there is a growing risk of misunderstandings and miscalculations in the once-frozen North.
Furthermore, the war is adding to the challenge of climate change itself. During the first seven months of the war, the fighting released some 100 million tonnes of carbon into the atmosphere, as well as the sabotage to the two Nord Stream pipelines in September 2022, which led to the biggest ever point source release of methane – a potent warming gas.
90%
of Ukraine's wind power and 50 per cent of its solar energy capacity has been taken off-line since the war began.
But the effects on the climate have been indirect as well. The war has caused widespread deforestation across Ukraine while also damaging the country's renewable energy systems: 90 per cent of the country's wind power and 50 per cent of its solar energy capacity taken off-line since the war began. Indeed, military operations and a lack of firefighters led to 25 times more forest fires in 2022 than the previous year which has both released vast amounts of CO2 and stopped, or radically slowed, future carbon sequestration.
Beyond its immediate impact on the battlefield in the cities of Ukraine, the war is having tectonic impacts on global energy politics. The war has exposed the downsides of global interdependencies, particularly for those countries whose economic model has relied on low-cost sources of Russian fossil fuels.
It is increasingly clear that the impacts of the war in Ukraine will continue to reverberate around the world for years to come.
But, in many ways, the war's ultimate impact on the world's long-term ability to tackle climate change is still unclear.
Of course, Russian President Vladimir Putin has provided perhaps the strongest argument for phasing down reliance on fossil fuels – particularly when those fuels come from unreliable autocratic states that use energy as an instrument of coercion. In the EU, for example, total gas consumption fell by nearly 20 per cent in 2022 as a result of fuel-switching and demand-side measures.
But, in the short term, there is a risk of locking in new greenhouse gas emissions as governments, prioritizing their energy independence, sidestep action to reduce their carbon footprints. In many countries, the goal of decarbonization, frequently mentioned before the war, has been replaced by energy affordability. Indeed, across the world, countries are building or reopening coal power stations and investing in oil and gas development.
Climate action is getting tangled in a politicized stand-off between the West and Russia.
In the meantime, climate action is getting tangled in a politicized stand-off between the West and Russia, which is putting climate action on the backburner according to UN Secretary-General Antonio Guterres.
In the run up to COP27 last year, Russia tried to list Crimean emissions in its national level greenhouse gas inventory, a claim that was vigorously disputed by Ukraine as an effort to legitimize the illegal annexation of land.
Image — Smoke from wildfires in Kyiv covering the city on 5 September 2022 in Ukraine. Photo: Yurii Stefanyak/Global Images Ukraine/Getty Images.
Topics
Regions
Departments
Subscribe to our weekly newsletter
Our flagship email provides a round-up of content, plus the latest on events and how to connect with the institute. Enter email
How Russia's war on Ukraine is threatening climate security 2nd part
Russia's climate envoy also linked Russia's action on its climate targets to the wider political situation at the conference, somewhat cynically, arguing that Russia could achieve its carbon neutrality target earlier if only sanctions were lifted.
With no end to this devastating war in sight, it is increasingly clear that the impacts of the war in Ukraine will continue to reverberate around the world for years to come. What is equally evident is that the international community, including the OSCE, needs to monitor these impacts and redouble its efforts to avert new security risks as a result of climate change.
July 30th 2023
The Black Man's Burden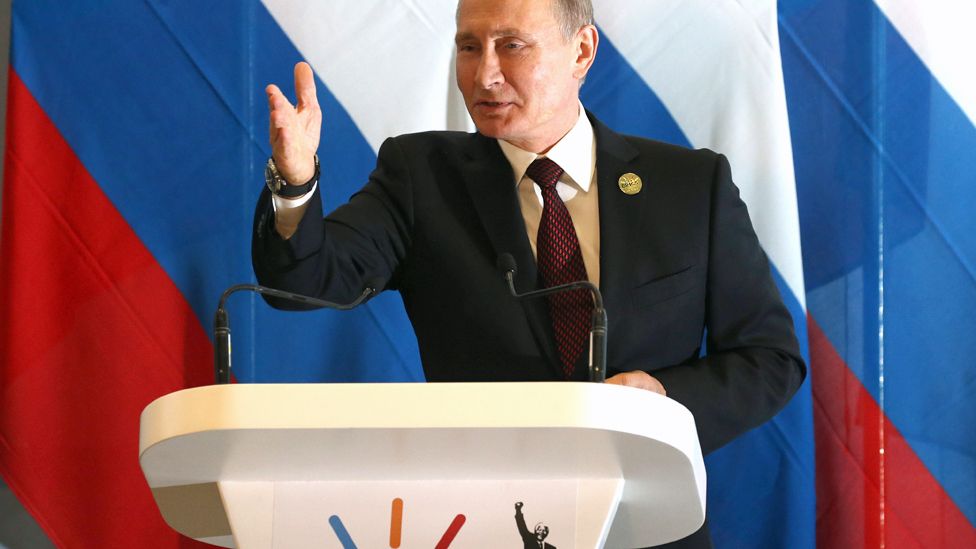 Why Russia's invasion of Ukraine still divides Africa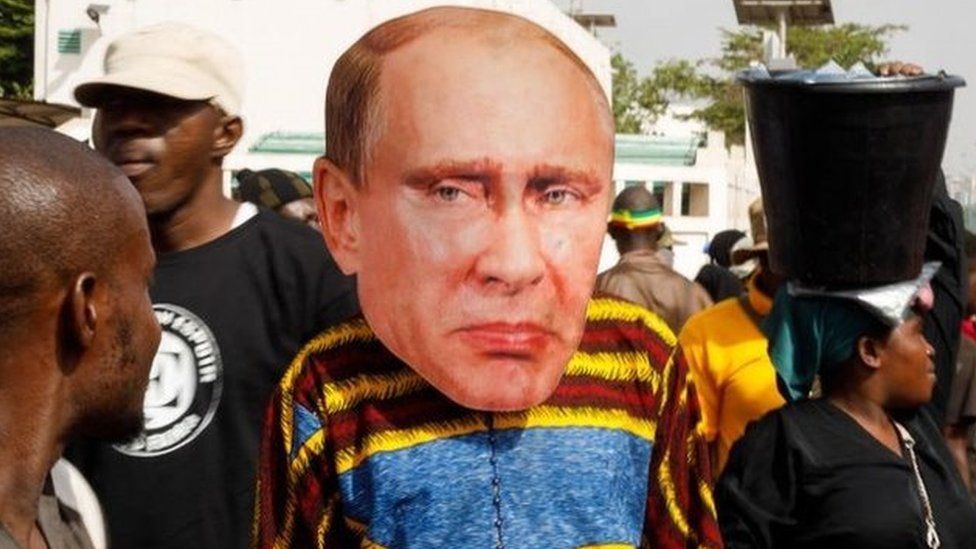 Why is South Africa's navy joining exercises with Russia?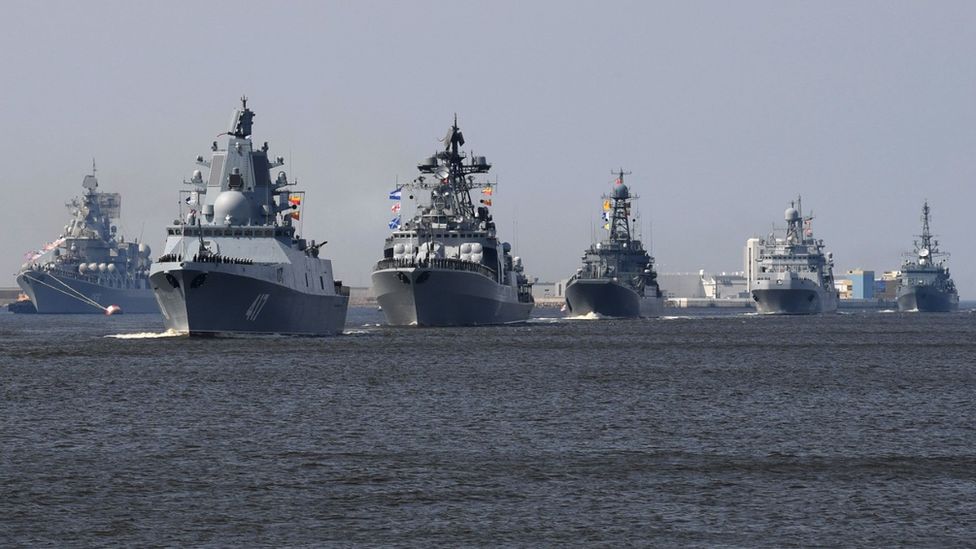 July 29th 2023
Rivals' silence at Iowa dinner shows Trump's dominance in 2024 race
Related Topics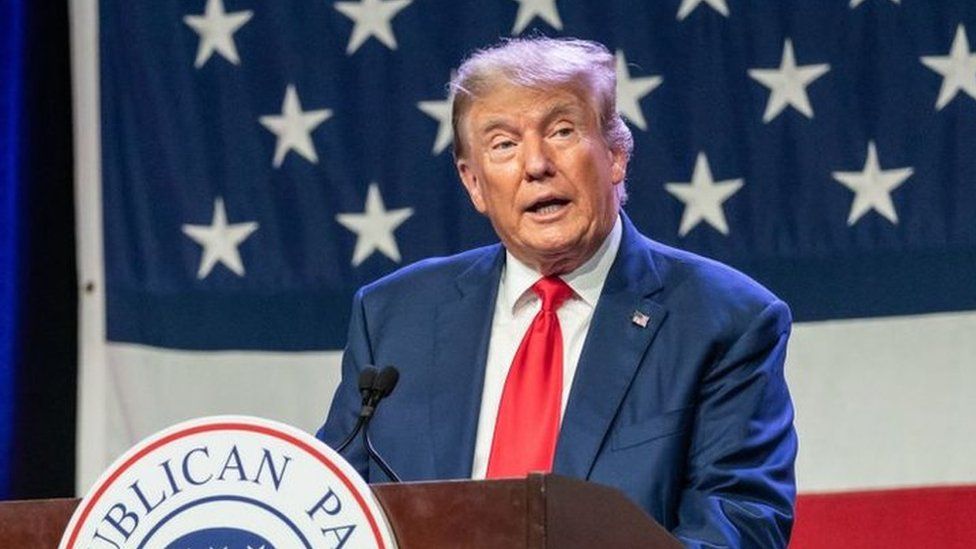 By Sarah Smith, North America editor
Des Moines, Iowa
On the night a dozen of Donald Trump's Republican rivals spoke at the same event in Iowa, only one challenged the former president head on – and he was roundly booed. It highlights the grip Mr Trump still has on his party.
Someone backstage at the Lincoln Dinner clearly had a mischievous sense of humour.
As each of the candidates hoping to become the Republican Party's presidential nominee for 2024 walked out to speak they were accompanied by a blast of music: a clip of the country song Only In America.
When it was Mr Trump's turn, two lyrics, describing two alternative paths that could await someone in the US, seemed particularly poignant:
One could end up going to prison
One just might be president
The 45th President of the United States didn't seem to mind. He doesn't try to hide from the fact that he is already facing two criminal trials and may soon be indicted in two more cases. In fact, he wears these charges as a badge of pride.
Mr Trump insists he is being unfairly targeted for purely political reasons.
He told the crowd of 1,200 Republican supporters at this dinner in Iowa – a key state because it will hold the first election in the race for the nomination next January – that he would not have been prosecuted if he was not running for the White House again. And he would not have been prosecuted if he was not winning.
Using serious criminal charges as a mark of success takes chutzpah. But that is something Mr Trump has always had in spades. And it leaves his opponents deeply confused about how to respond.
Most simply chose to ignore Thursday evening's news that Mr Trump had been charged with three more counts in the classified documents investigation. In fact, they declined to take the opportunity to challenge the clear frontrunner in the contest at all.
One of the lesser known contenders, Will Hurd, did take a shot. The former Texas Congressman and CIA officer claimed Donald Trump was not running to make America great again.
"Donald Trump is not running for president to represent the people that voted for him in 2016 or 2020. Donald Trump is running to stay out of prison."
Loud boos and rattling cutlery nearly drowned out the rest of what he had to say, with one man shouting "go home". It was clear he had lost the room.
Stacey Taiber, one of many Republican voters wearing Trump stickers, told me she did not believe any of the charges against Mr Trump. If the political establishment were "trying so hard to get him out of the way they must be terrified he will beat Joe Biden", she said.
https://emp.bbc.co.uk/emp/SMPj/2.50.2/iframe.htmlMedia caption,
Watch: Why Hunter Biden is important to Republicans
Her husband, Dan, said it was President Biden and his son Hunter who should be facing criminal trials. He and many others in the ballroom repeated unproven allegations about Hunter's business dealings and claims of foreign influence (which the White House has dismissed but Republicans in Congress are investigating).
There was no fun to be had watching the different candidates interacting with each other at the dinner. They each had their own backstage suite which they popped out of to deliver their 10-minute speech. They actually didn't have to see each other at all.
Maybe there will be more fireworks when the candidates come face to face at the first Republican debate on 23 August – although Mr Trump has suggested he might skip it because he is so far ahead in the polls.
Chris Sununu, the Republican governor of New Hampshire, is no fan of the former president but recently ruled himself out of running against him in 2024.
He told me that for the other candidates to compete with Mr Trump it is not about what they say – because there are not significant policy differences – it is about how they perform.
"They need to be exciting, bring some passion, show some emotion, and they need a bit of humour and charisma."
Who voters like and who they think can win is what matters, he added, noting that it was very hard for newcomers to the national stage to compete with the name recognition and star power of a former president.
Vivek Ramaswamy, the millennial entrepreneur and political novice, was one candidate who showed at Friday's dinner that he has the potential to break out from the crowded field of candidates currently polling in single digits.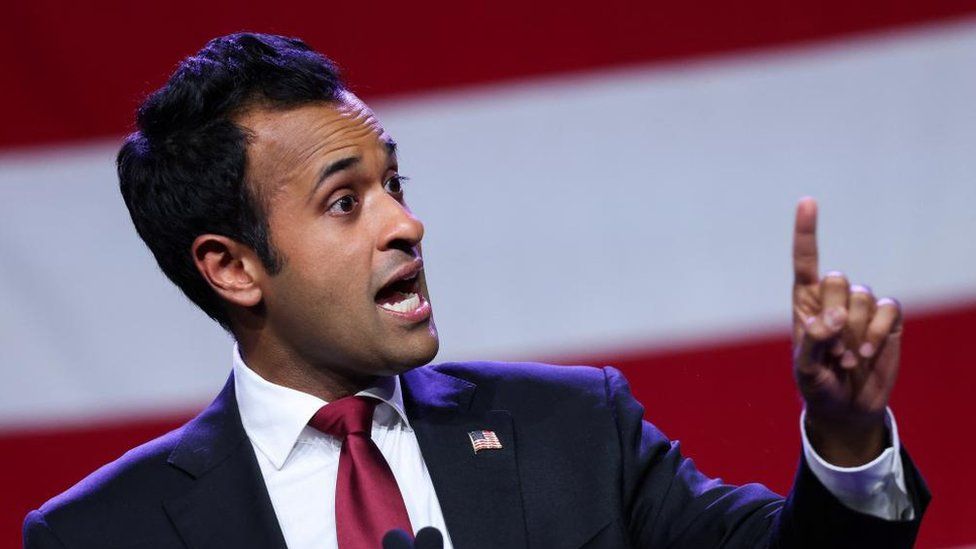 After a barnstorming performance, he got one of the few standing ovations – along with Mr Trump and Florida Governor Ron DeSantis, the candidate currently sitting in second place in most surveys.
Outside the venue there was a stall selling the usual badges, T-shirts and baseball caps. Thirteen candidates appeared on stage (Chris Christie was the only official contender not to attend), but only four of them had their names on the merchandise.
Mr Trump, Mr DeSantis and Mr Ramaswamy, along with Tim Scott, the senator from South Carolina who has been getting a bit of attention recently.
"I've been making my living doing this for a long time," the vendor told me. "I know what sells." And Republicans have always been strong believers in market forces after all.
Diving For A Living By R J Cook
As a boy I found the drama of football interesting. I routed for London Clubs in the FA Cup and got caught up in the myth of post Munich Manchester United. My mother adored Bobby Charlton while I admired the renegade magic of young George Best. The pair's lives tell a story, in microcosm, of English football transitioning from the late 1950s 'Boy's World' through the overtly sexual sixties and into the sinking seventies. Through all the years, football changed its essence and ambitions.
Nowadays its all about money. This week former Liverpool Captain Jordan Henderson arrived in Saudi Arabia to enjoy a £700,000 a week pay packet. Jordan Henderson was seen as an LGBT+ ally when speaking out on injustices and advocating inclusion as Liverpool captain wearing a rainbow armband.
"I do believe when you see something that is clearly wrong and makes another human being feel excluded you should stand shoulder-to-shoulder with them," the Premier League and Champions League winner wrote in Liverpool match day programme notes in 2021.
"You also have a responsibility to educate yourself better around the challenges they experience."
Now we have women moving in on this obscene hypocritical political wealth generating industry, claiming equal pay though their sport being subsidised by much larger gates and viewing figures from the men's game. The Women's World Cup co hosted by Australia and New Zealand. A great deal is being done to talk up the event but so far the standard has been equal to the sort of 14 year old boys I coached during my years as a PE teacher. That was until I saw China !
It was my impression that England today would never have beaten Denmark without the referee as their 12th woman. If the subsequent match between Haiti and China was anything to go by, China need to be very careful against the sanctified English team. The English 'Lionesses' are not only in it for the money. They are in the international vanguard of feminism asserting themselves ever more in the last great male bastion.
The China game made it very clear that how that great country is only one up in the western wlite approved pecking order from Russia. Russia was driven out of international sport long before NATO had managed to provoke a proxy war on Russia , on the spurious grounds that their athletes were far more likely to abuse drugs than sacred western competitors.
China , like Russia are a threat to the planet eating new world order. The British, U.S and France have massive interests in Africa which is why they are on the rather belated anti slavery trip of guilting us lower orders for the fantastic wealth they and powerful blacks made out of that industry. So they have to big up African and Afro Carribean teams at this world cup. The white diversity loving western elite are afraid that African nations will realise that they have more to gain from cooperation with Russia and China than the Anglo U.S led parasitical hypocritcal OXFAM plugging wealthy elite.
So the Chinese lady footballers were the whipping girls for the very western run FIFA Women's World Cup's pro Africa political agenda. Hence the cruel and undeserved red carding of a key Chinses striker because the Chinese were running rings around the lumbering Haiti girls. The referee was forced into the decision by the politcally correct VAR team. So down to 10 players, the fleet footed Chinese still managed to score from a well deserved penalty. Haiti responded in the only way they knew, repeatedly diving for more penalties. Play was allowed to go way beyond the ridiculously extended extra time in order to give Haiti a goal and prove an ethnic point. These kind of pseudo white liberal antics raise African expectations and promote racism – offering more food for these ghastly fake liberals to protest about.
Everyone Expects – ."THE TRIAL OF THE CENTURY!"
84 Years Ago, Einstein Wrote an Urgent Letter that Altered History Forever
While Einstein didn't work directly on the Manhattan Project, he was responsible for its inception.
July 21, 2023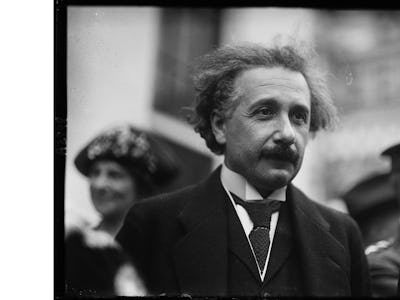 On August 2, 1939, German physicist Albert Einstein penned a letter to President Franklin D. Roosevelt. It was one month before Germany invaded Poland, and two years before the attack on Pearl Harbor.
This letter, mentioned in the newly released Christopher Nolan movie Oppenheimer, set off its own chain reaction that resulted in the Manhattan Project, which began in August 1942 and ended three years later with the devastating atomic bomb drops.
Einstein wrote to Roosevelt that "it may be possible to set up a nuclear chain reaction in a large mass of uranium, by which vast amounts of power and large quantities of new radium-like elements would be generated." This achievement, which would almost certainly come about "in the immediate future," could lead to the creation of "extremely powerful bombs."
Einstein then urged the President to keep Government Departments abreast of further developments, especially about securing a supply of uranium ore for the U.S., and hasten experimental work. While the letter was written in August, it wouldn't reach Roosevelt's hands until October of that year.
"Immediately after getting the letter, [Roosevelt] put a scientific committee to work looking into the possibility of making use of atomic power in the war," Jeffrey Urbin, an education specialist at the Roosevelt Presidential Library and Museum, writes to Inverse in an email. The weapons were coded "tube alloys" going forward.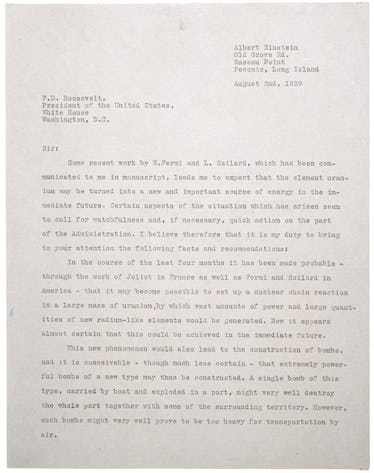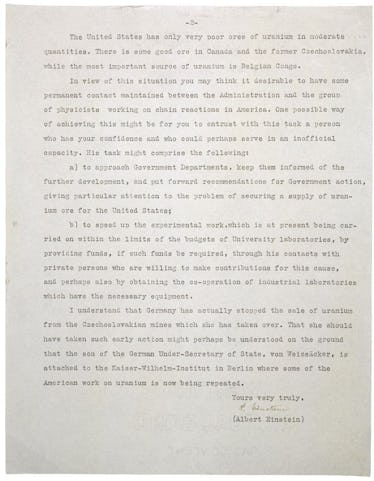 Behind the Letter
Einstein mentions three other renowned physicists: Enrico Fermi, Leo Szilard, and Jean Frédéric Joliot. Each one independently contributed to the science behind the atomic bomb, building on decades of prior nuclear research that set the stage for this historic inflection point.
Hungarian-Jewish Szilard conceived of the nuclear chain reaction in 1933. In light of the neutron's discovery by James Chadwick in 1932, Szilard contemplated that when an atom's nucleus is split, vast energy stores are released, including neutrons that could instigate another split producing more neutrons, and so on, but he couldn't procure research funding.
It wasn't until December 1938, after Szilard had emigrated to America, that Otto Hahn and Fritz Strassman discovered fission in uranium, impelling him to conduct experiments on neutron emission in the fission process. In March 1939, during a three-month research tenure at Columbia University, he proved that for every neutron absorbed about two neutrons were released during fission. "That night," Szilard wrote, "there was very little doubt in my mind that the world was headed for grief."
All the while, Italian Fermi also investigated nuclear fission and chain reactions, also at Columbia. He had received the 1938 Nobel Prize in Physics for his work on neutron artificial radioactivity and nuclear reactions from slow neutrons. After the discovery of nuclear fission in December 1938, Fermi and his team probed chain reactions in uranium.
French Joliot conducted elaborate research on atomic structure with his wife, Iréne Joliot-Curie (daughter of Marie Curie, whom he assisted in the lab at age 25). Joliot and Curie jointly received the Nobel Prize in Chemistry in 1935 for their discovery of artificial radioactivity, which occurs when neutrons swarm stable isotopes.
As Einstein intimates, the methodology for building atomic bombs was all but set, and the Nazis had taken over the uranium ore mines in Czechoslovakia. Urbin also writes that Hitler and his regime would build a super weapon without a second thought. "It was imperative that the Allies prevent them from being the first to do so. Einstein understood as well as anyone given he had fled Germany."
The question became: Who could build a bomb first?
Enter: Oppenheimer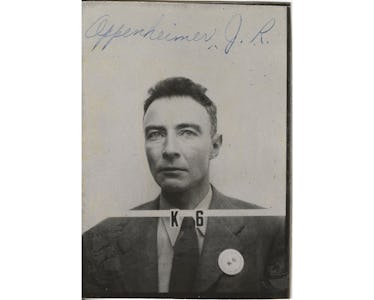 Meanwhile, American theoretical physicist J. Robert Oppenheimer had been working in Ernest Lawrence's Radiation Lab at the University of California, Berkeley since 1927. There, he developed a fast neutron theoretical physics in 1942. Later that year he began investigating bomb design and then combined the two disciplines with a fast neutron lab to develop an atomic weapon. In the fall of that year, General Leslie R. Groves asked the 38-year-old Oppenheimer to spearhead Project Y, at the secret Los Alamos Laboratory in rural New Mexico.
However, Oppenheimer hadn't always been entrenched in nuclear warfare research. Before 1940, he had sunk his teeth into quantum field theory, astrophysics, black holes, and more. Berkeley also served as fertile ground for Oppenheimer's stake in political activism. Partially because of Lawrence, he became interested in the physics of the atomic bomb in 1941. A brilliant physicist who received his Ph.D. at age 22, Oppenheimer proved a tireless researcher and "excellent director" of Los Alamos
In August 1939, Oppenheimer likely wasn't even writing out equations for building an atomic bomb. Neither Einstein nor Roosevelt could've known at that point who he would become. Still, in retrospect, it seems almost inevitable that he became the momentous figure we know now.
July 27th 2023
Ukraine war: Western armour struggles against Russian defences
Related Topics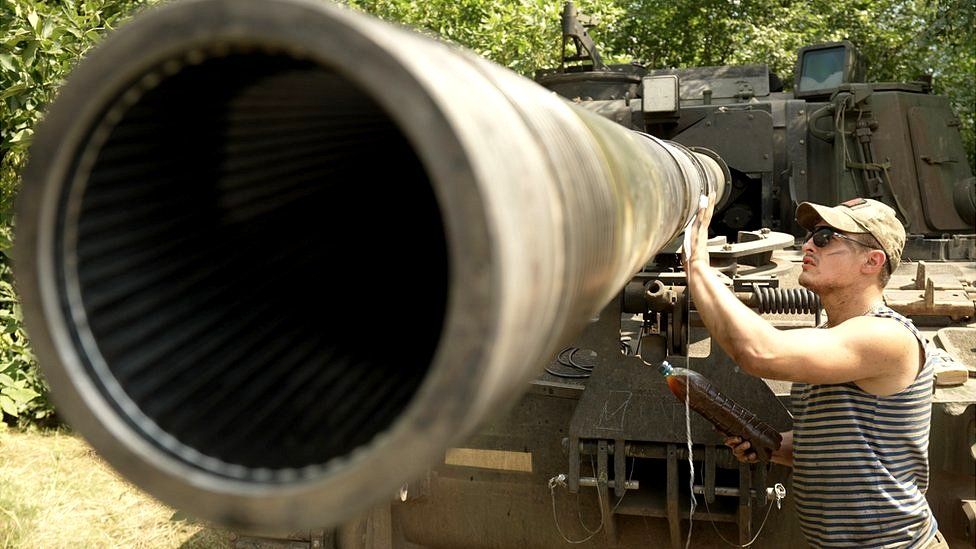 By Jonathan Beale
Defence correspondent, southern Ukraine
The general in charge of Ukraine's stuttering counter-offensive in the south has said Russian defences are making it difficult for military equipment, including Western tanks and armoured vehicles, to move forward.
Gen Oleksandr Tarnavskyi says his forces are struggling to overcome multi-layered minefields and fortified defensive lines.
"That is why most of the tasks have to be performed by troops."
He says Russia's military has displayed "professional qualities" by preventing Ukrainian forces from "advancing quickly".
"I don't underestimate the enemy," he adds.
Latest unconfirmed reports from the US suggest the main thrust of the counter-offensive has begun. The Institute for the Study of War says Ukrainian forces appear to have broken through "certain pre-prepared Russian defensive positions".
But so far there's little evidence that Western supplied tanks and armoured vehicles have been able to tip the balance decisively in Ukraine's favour.
Several Leopard tanks and US Bradley fighting vehicles were damaged or destroyed in the first days of the offensive, near the city of Orikhiv.
Ukraine's 47th Brigade, which had largely been trained and equipped by the West to try to break through Russian lines, were soon stopped in their tracks by mines and then targeted by artillery.
Russia released multiple videos of the incident claiming Ukraine's offensive had already failed. In reality it was an early setback rather than a decisive blow.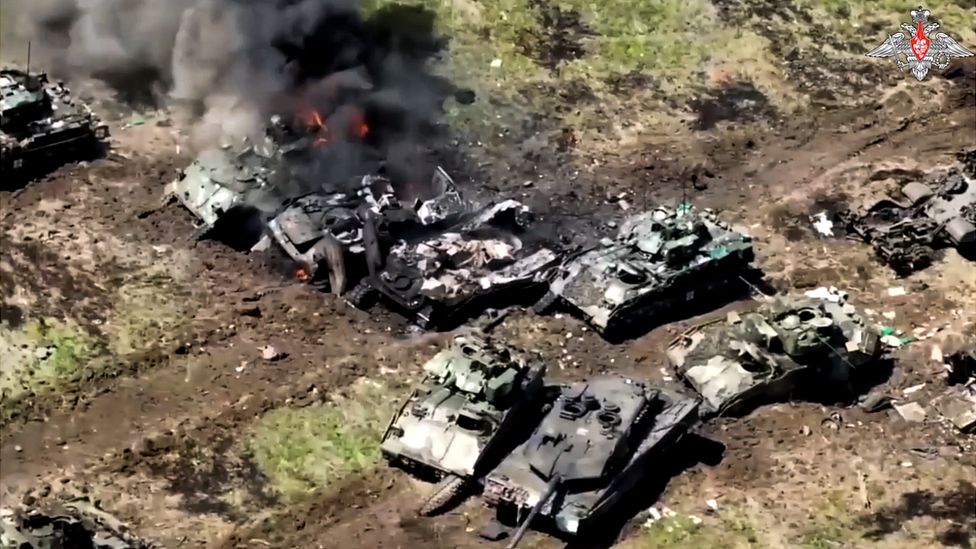 We visited the same brigade's outdoor workshop, hidden in a forest behind the front line, where they are now trying to repair more than a dozen armoured vehicles – most of them US Bradleys.
They first arrived unscathed but now bear the scars of battle. Broken tracks and buckled wheels – the tell-tale signs that several have hit Russian mines.
Serhii, one of the engineers, says: "The faster we can repair them, the faster we can get them back to the front line to save someone's life."
But he also admits that some are beyond repair and will have to be either scavenged for spare parts or "returned to our partners" to be rebuilt.
While Western armour has provided Ukrainian troops with better protection, it has not been able to punch through the rows of Russian mines – one of the biggest barriers for Ukraine's advance.
Travelling the southern front we also saw British supplied Mastiff armoured vehicles damaged and destroyed.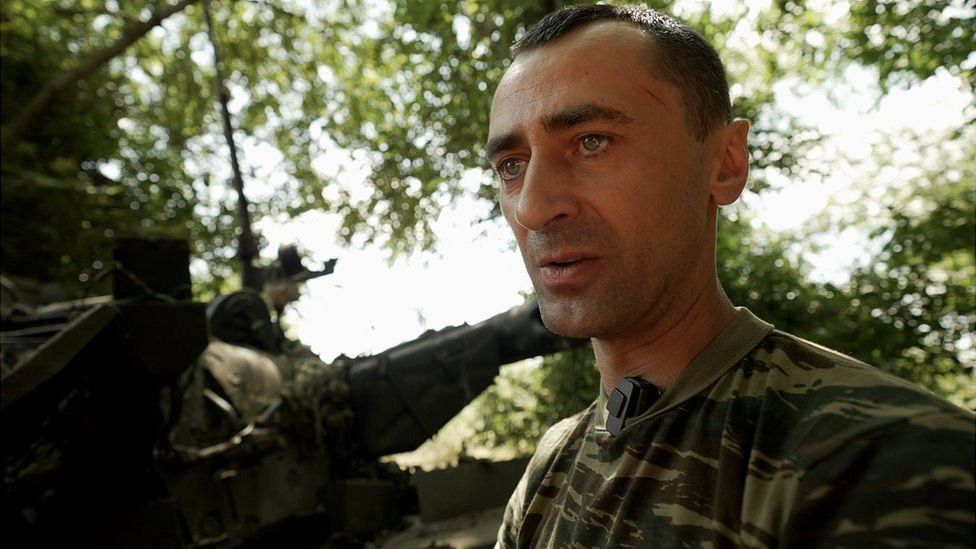 The 47th Brigade is now using some of its older, Soviet-era tanks to clear minefields. But they too can't escape the explosives hidden in the ground, even when fitted with specialist mine-clearing equipment.
Nearer the front line, tank commander Maksym showed us his recently-damaged T-64 tank. It's been fitted with two rollers on the front to deliberately set off the mines. He lost one of the rollers the night before as he was trying to clear a path for troops.
"Normally our rollers can withstand up to four explosions," he says. But the Russians, he adds, have been laying mines on top of each other to destroy their mine clearing equipment.
"It's very hard because there are too many mines," Maksym says, adding that there were often more than four rows of minefields in front of the Russian defensive lines.
It's been painful to watch the battle unfold for Doc and his drone reconnaissance team from Ukraine's Volunteer Army.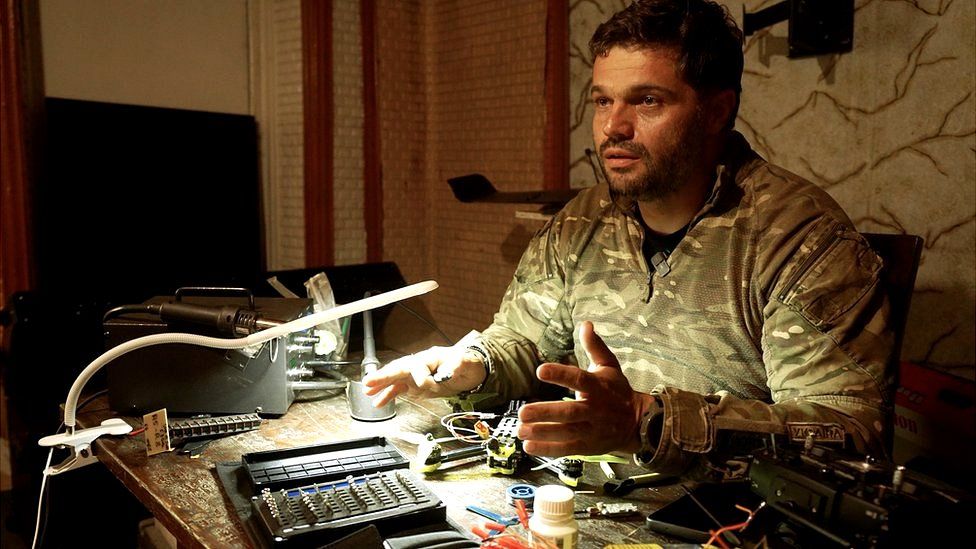 Doc, his call sign, took part in last year's successful offensive on Kherson. But he says this time it's proving to be much tougher. For the first time in the war, he says, soldiers are being injured by mines more than artillery: "When we go forward we meet minefields everywhere."
Doc shows me a video he recently filmed from one of his drones while Ukrainian troops advanced towards a Russian trench.
There's a massive explosion as soon as the soldiers enter. The trench was empty but rigged with mines. Doc says Russian forces are now using remotely controlled mines. "When our soldiers get to the trenches they push a button and it blows up, killing our friends." He says he's seen the tactic being used over the past two weeks and calls it "a new weapon".
There is a military logic to Ukraine's offensive in the south. It's seen as key to dividing Russian forces and reaching the occupied cities of Melitopol and Mariupol – all the way to Crimea. But the focus on this axis means that Ukraine is also now attacking Russian defensive lines where they're strongest.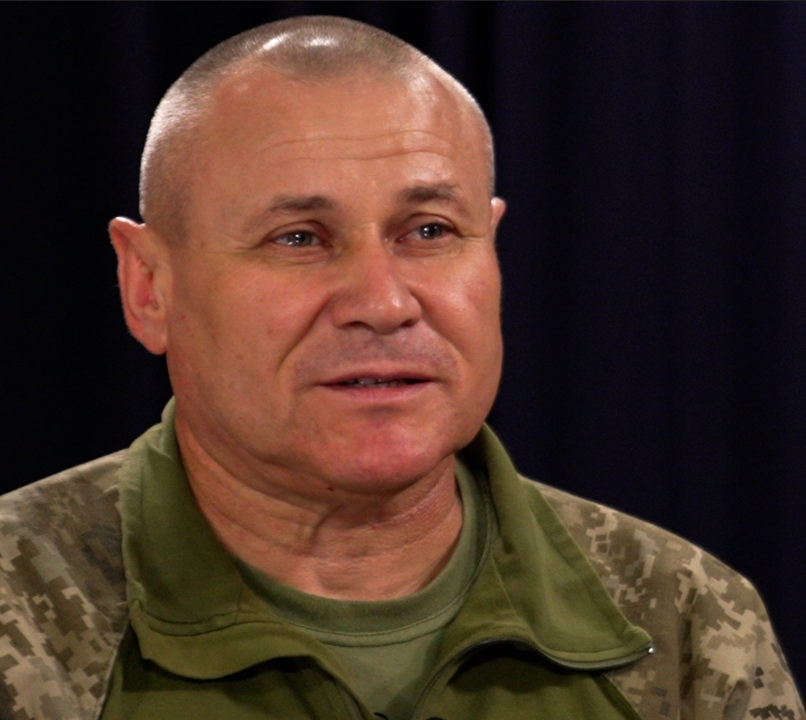 Moose Campbell
Slow or not, the offensive is taking place and it will definitely reach its goal
Gen Oleksandr Tarnavskyi
In charge of Ukraine's south offensive
Gen Tarnavskiy said his forces were doing "hard and painstaking work". He said "any defence can be broken but you need patience time and skilful actions".
Ukraine was slowly wearing down their enemy, he said. Russia didn't care about losing men, and recent changes in their military leadership "means everything is not OK", he added. He insisted that Ukraine had yet to commit its main strike force.
"Slow or not, the offensive is taking place and it will definitely reach its goal," he says.
I ask Gen Tarnavsky how we can judge whether it's a success or a failure?
He smiles and replies: "If the offensive were not successful, I wouldn't be talking to you now."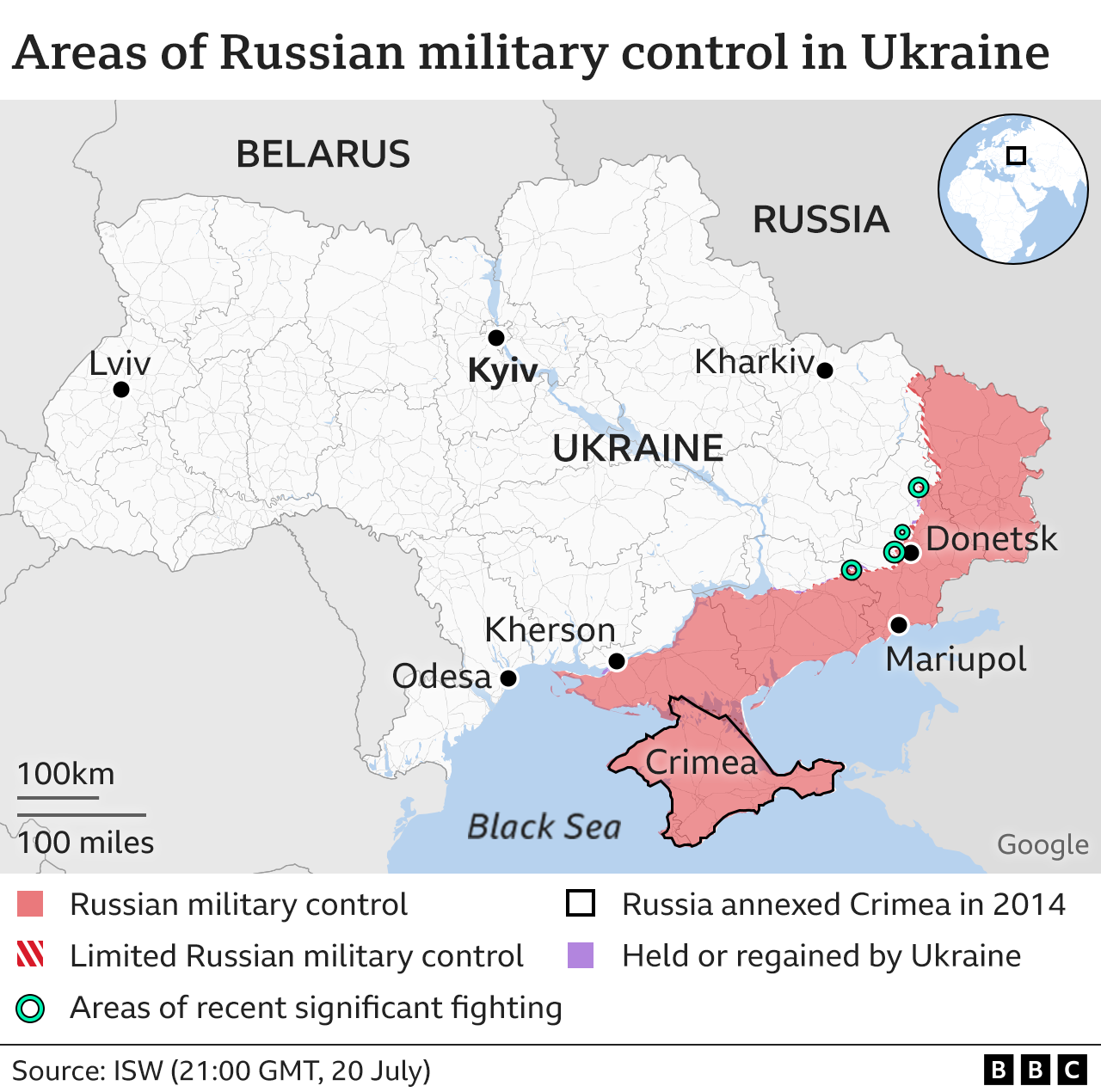 July 23rd 2023
Pots & Kettles – British Hypocrisy by R J Cook
I grew up in the British self congratulating aftermath of World War II, believing all the rubbish about fighting bad evil Germans. Little has changed since then apart from the technology,which instead of being used to end world poverty, elite greed and religious bigotry is being used to enhance all of it. The United States with China, cause more pollution and threat to the environment than the rest of the world put together. The former's interest in the latter is simply to take it over. Sixty two per cent of global wealth is owned by three percent of the world's population. Fifty two per cent of all natural resources consumed annually are by the United States which accounts for six percent of the world's population. In Britain 90% of the population live on 10% of the land while 10 % of the population own 90 % of that land.
Britain led the global fight on Russia following the Russian Revolution in1917. They led the clamour for a punitive peace settlement unfairly blaming Germany for World One , so fed Hitler's Nazism and then encouraged Hitler as a bulwark against Stalin's Russia – MI6 having facilitated Lenin's demise and Stalin's rise to discredit communism. Britain only turned on Hitler because he was perceived as a threat to their global rule. They provoked previous world wars and have provoked this one – all in the name of bogus democracy to conceal their greed and deception. Boris Johnson saw this coming, helping the build up with Brexit a device to stand back from Europe, joining forces with the United States to tell European elites what to do, Europe has already paid a high price in jobs and rising cost of living.
The continent is in peril as Russia is forced to face an existential western fake democratic threat. Britain's elite never cared about the Jews any more than they care about ordinary Ukrainians. Billionaire actor and comedian turned President Zelensky is all they care about. Britain and the U.S elite have been paranoid about communism ever since the end of World War One. Britain's vested interests and media are welcoming back the Cold War. Pathetically the masses believe the elite who tell them the so called cost of living crisis has nothing to do with this massive shift of resources and finance to a war economy. Wars have always been fought for the rich by the bullied and deluded poor.
This Anglo U.S western elite could not hide their glee when their Russian regime change plot put drunken Yeltsin in power. They relished the consequent Russian asset stripping, the oligarch's and flood of capital west into U.K stock markets, London Property Market , Premier League Football clubs , media , Tory Party funds and other get rich quick schemes. They did not reckon with Yeltsin's understudy , proud Putin, seeing the danger to his country's social fabric as planet eating NATO closed in around it. Agreements to leave Ukraine as a neutral buffer zone were deceptions buying time for war preparations before NATO's regime change proxy war went into overdrive. Bogus sexual allegations against Donald Trump were far milder than those proven against sex pest Bill Clinton. They were necessary to discredit him. They knew he would never buy in to NATO's proxy war on Russia – or even NATO. The Anglo U.S fake democratic elite fears his come back. Hence the recent 'trumped up' absurd charges.
So the following BBC smug elite British media article attacking Russia's existential NATO provoked war, exaggerating Russia's war dead, with the same old hypocritical mantra against war crimes is more of the same. It comes from the same elite media that never mentions the illegal second Gulf Oil War and demise of western war crime whistle blower Julian Assange or Chelsea Manning. Had Russia actually been using banned war crime cluster bombs we would have heard already.
Now we have a back story to justify more sanctimonious western elite war crimes. Unilever care only for the profits and value of their assets. It is a pity more Western investors haven't taken the same course. Renault recently sold their Russian plant for one rouble. The impact on their profits and jobs as with German car makers has been massive. The world is heading for a major global recession, food crisis, famine, riots, pandemics and civil conflict as in Sudan and Mali. All of this will fan the roaring flames of world war, global pollution, disaster's that have seen a 31.5 inch shift in the earth's axis and extraordinary weather events due to significant climate change that seems beyond redemption. This is all thanks to the powerful pervasisve pernicious western ruling elites, controlling the money , putting their interests first, only ever offering more of the same, defining truth and dictating justice according to laws and a system they control. Their ancestors founded this system and class structure through murderous cruel violence. Now they assume the moral high ground ever vigilant against the sort of serious opposition they face from Vladimir Putin.
R J Cook
Unilever has said it will let Russian employees be conscripted to be sent to Ukraine if they are called up.
By Tom Espiner
Business reporter, BBC News
The consumer goods giant, which has about 3,000 employees in Russia, has policies that cover the well-being and safety of its workers.
However, in a letter to campaign group B4Ukraine, it said it would comply with Russian conscription law.
Unilever has been under pressure to pull out of Russia, but says the situation is "not straightforward".
In a letter to B4Ukraine, which campaigns for companies to cease operating in Russia to hurt its economy, Unilever said it "absolutely condemns the war in Ukraine as a brutal, senseless act by the Russian state".
It also said it had responsibility for its 3,000 workers, adding that it had "global principles including the safety and well-being of our employees".
Nevertheless, the British firm, which makes products including Marmite and Cornetto ice creams, said it was "aware of the law requiring any company operating in Russia to permit the conscription of employees should they be called".
"We always comply with all the laws of the countries we operate in," wrote Reginaldo Ecclissato, Unilever's chief business operations and supply chain officer.
A spokesperson for the firm declined to say whether any Russian employees had been called up.
Any who are will not continue to be paid by the firm, the spokesperson added.
In its letter, it said it had paid 3.8bn roubles (£33m; $36m) in tax to the Russian state in 2022, which was a similar amount to the previous year.
The majority of its business in Russia is personal care and hygiene products, but it continues to supply ice cream.
At least 25,000 Russians have been killed in the war, according to research by the BBC's Russian service and Russian website Mediazona, but other sources put the figure much higher.
In February, UK intelligence services estimated that between 40,000 and 60,000 Russian troops had died.
Russian soldiers have also been accused by the UN of war crimes, including rapes, "widespread" torture and killings.
Unilever and other Western firms have been under pressure to pull out of Russia since its invasion of Ukraine.
However, Unilever has said this is "not straightforward". If it abandoned operations, they would be "appropriated and then operated" by the Russian state.
It has not managed to find a way to sell the business that "avoids the Russian state potentially gaining further benefit, and which safeguards our people".
It said there were no "desirable" ways forward, but continuing to run the business with "strict constraints" was the best option at present.
However, the Ukraine Solidarity Project, which is part of B4Ukraine, said Unilever's response was "jaw-dropping".
"One day you're manufacturing ice cream, the next you're gearing up for the front line. You can't say Unilever isn't offering its employees varied work experience," said campaigner Valeriia Voshchevska.
"If this is protecting your workers, I'd hate to see what putting them in harm's way looks like."
July 20th 2023
Protesters set fire to Swedish embassy in Baghdad
Hundreds of people have stormed Sweden's embassy in Iraq, scaling the walls of the complex and torching the building.
They were protesting the second planned burning of the Quran in Sweden in under a month.
Swedish officials condemned the attack and confirmed that all Baghdad embassy staff were safe.
Sweden's police denied several applications earlier this year for protests which were expected to include burning the Quran.
But the country's courts ruled the protests should be allowed to go ahead, citing free speech laws.
Comment I am no fan of religion, though oddly enough I served for a period as Head of Religious Education at the Grange School in Aylesbury. It still puzzles me why the world's religious lunatics and pious God woshipers cannot see that religion began as a type of obsessive compulsive disorder before becoming, like the religion of feminism, pure politics and mass hypnosis.
Britain's civilisation was an outcome of conquest by the Roman Empire – except for the still savage bit beyond Hadrian's Wall. The Roman's caught on to the political value of Christianity so stopped throwing Christians to the Lions for sport. They invented the Roman Catholic Church, marginalisng and stigmatising their captive Jews in the process. Rome declined but Catholicsm did not. The Christain Church spawned break away groups, notably Islam and Protestantism and the Crusades.
Rome's successor, the British Empire exploited these factions to divide and rule. Their Imperial infant offspring the United States still looks to 'mummy Britain' for approval – as in Ukraine.. They sowed the seeds of religious wars all over the world, notably stirring up the oil wars in 1990, starting with destabilising Iraq as a prelude to world wide regime change. Sweden is another British lackey, hence all the help its leaders and police gave Britain to jail innocent Iraq war crimes whistle blower Julian Assange.
Against this background it is no surprise that manipulative vengeful Islamic leaders and their desperate fearful impoverished ignorant abused masses attack a symbol of white elitist thieving arrogance that raped their country then rolled on to their neighbours. Sweden like all western Europe – and the east if NATO wins their proxy war on Russia – has huge problems with Islamic migrants. However burning copies of the Koran is not a solution, though Islamists and Christians are not strangers to book burning – and burning heretics. That is the basic problem with the obsessive compulsive disorder we call faith. I am waiting to learn the name and ethnicty of todays mad gun man in Auckland New Zealand. Authorities quickly ruled out terrorism These are violent times and it is much more insidious than World War II. However, it is World War III.
R J Cook
July 16th 2023
Breaking China by R J Cook
This is wishful thinking because China is the world's largest and fastest growing economy. Some of us believe Covid 19 was engineered to destroy them. China is higly disciplined and hasn't fallen for the multi culture drivel. They know what is really going on in Ukraine and what it means to them. The western leaderdhip are afraid. They are the aggressors. Their policies have promoted climate horror, Third World overpopulation, religious bigotry, ignorance, the rainbow world of infinite genders, rampant man hating feminism, family breakdown, mass unemployment, record elite profits, record banker bonuses, record dividends ' and rolling wars.
Under Yeltsin they raped and asset stripped Russia. They cannot forgive Putin for putting the brakes on in an effort to stop his great country from remaining in chains with these lying smooth talking planet rapists on the cliff edge. It is no coincidence that saintly NATO boss Jens Stoltenberg was invited to take the Governorship of Norway's Central Bank having been his fake socialist Labour Government's 'most successful' Finance Minister.
The global elite are all about money. Their proxy poxy war on Russia is all about money. China also cares about money and the U.S market which is why they are dragging their feet. But NATO has gone way too far now for any more pretence. They are are so close to if not way beyond Russia's redlines. 'Creepy Joe' Biden was empowered to get Trump out of the way. Trump has to be kept out of the way because Russia and then China must be broken.
R J Cook
July 13th 2023
Checked Out: How LA Failed to Stop Landlords From Turning Low-Cost Housing Into Tourist Hotels
by Robin Urevich, Capital & Main, and Gabriel Sandoval, ProPublica, photography by Barbara Davidson for ProPublica
This article was produced for ProPublica's Local Reporting Network in partnership with Capital & Main. It was also co-published with LAist. Sign up for Dispatches to get stories like this one as soon as they are published.
By law, the American Hotel in downtown Los Angeles is supposed to be reserved for residents who can't afford to live anywhere else. For decades, the building was a haven in the city's sky-high housing market, where artists, musicians and people down on their luck could rent rooms for about $500 a month. At the end of the day, longtime tenants would hang out at Al's Bar, a legendary punk and alternative rock venue on the ground floor where bands like the Red Hot Chili Peppers played long before they sold out stadiums.
But amid the largest homelessness crisis in the nation, the American's owner has turned the building into a boutique hotel where tourists can book rooms for as much as $209 a night.
And the city has done nothing to stop him.
Long before Los Angeles Mayor Karen Bass declared a housing emergency last year, city officials recognized that affordable housing was vanishing and sought to address it by making it difficult for developers to scoop up the residential hotels whose single-room dwellings were the only places many people could afford. Residential hotels consist of small, bare-bones rooms, some with shared bathrooms and most with no kitchens, in aging downtown buildings and roadside motels. In 2008, the LA City Council passed an ordinance to place strict limits on the conversion of more than 300 such buildings, totaling nearly 19,000 rooms (about 15% of the city's lowest-cost housing units today).
But seven years later, the American's new owner, Mark Verge, called the residents to a meeting. He said he planned to remodel the crumbling building and, according to tenants, offered to pay them to move. For months before the meeting, rumors had swirled around the American, said Jomar Giner, a barista who lived there until late 2014. The main topic on everyone's mind, she said, was: "They're going to ask us to move, but where are we going to live?"
Many of the American's residents said they took Verge up on his offer, unaware that his plan to eventually turn the American into a tourist hotel was supposed to be illegal under the residential hotel law. The conversion disrupted a tight-knit community that had lived at the hotel for years — including at least one person who said he ended up sleeping in his car.
Under the law, Verge was required to compensate the city for the loss of affordable housing by either building replacement units or paying into a fund for housing construction. In Verge's case, that could have cost more than $10 million. But like many landlords, Verge did neither of those things, and the city Housing Department didn't compel him to, even though the law provides for $250-per-day fines and jail time for violators.
Scouring city records and online advertisements, Capital & Main and ProPublica identified 21 residential hotels, totaling more than 800 dwelling units, that were supposed to be preserved as housing but that have recently been on offer to tourists.
"That is illegal by statute and problematic for several reasons," because residential hotels are supposed to be for the city's lowest-income people, said Deepika Sharma, a housing law professor at the University of Southern California. "These are the folks struggling the most."
It's a staggering loss considering the severity of LA's affordable housing shortage and what it would cost to replace 800 dwellings: more than $475 million at the current average cost of nearly $600,000 for the construction of a single affordable unit.
Some hotels have done little to hide their boutique transformations, advertising "expertly crafted" cocktails in a lobby bar and "a whimsical home away from home" for $270 a night. The hotels list rooms on their websites, on travel platforms like Expedia and Booking.com and on outdoor signs.
The American says on its website that the hotel in LA's Arts District provides "affordable options for guests who are looking to make the most of their visit to the city of angels without blowing their entire vacation budget."
Yet none of the 21 hotels, including the American, have received clearances from the city that would indicate they've replaced the low-cost housing they've taken off the market, Housing Department records show. Nor have the owners taken the other option of paying the fee to the city's Affordable Housing Trust Fund. And none have been fined or prosecuted for failing to comply.
LA Housing Department director Ann Sewill referred questions to her staff. "We need to enforce it better," said Greg Good, a senior policy adviser at the agency. "We're working 24/7 to get there, and we've got to get better."
Verge — who founded Southern California's go-to apartment listing service, Westside Rentals, before selling it to CoStar Group, the parent company of Apartments.com — insisted he was unaware of the residential hotel law and of the American's inclusion on the city's residential hotel inventory. "I don't know about this magical list," Verge said, though records show the city informed his lawyer that the American was residential after he bought the hotel in 2013.
Verge said he has been paying the city's hotel tax for years and noted that he has openly advertised the American as a hotel. "Do you know how many banners I've put on that thing?" he said. "I definitely don't think I'm violating any law."
The story of how Verge was able to convert the American into a tourist hotel underlines the city's failure to preserve affordable housing — and how easily landlords have avoided the law.
"One of the Most Pro-Tenant Ordinances"
Today, more than one in 10 unhoused people in the U.S. — some 75,000 people — live in Los Angeles County. Far beyond downtown's Skid Row neighborhood, tents and tarps are jammed together under bridges alongside overflowing shopping carts, broken-down bicycles and blankets. Men and women wrap themselves in ragged blankets under the overhangs of grocery stores and strip malls. They spread bedrolls in parks and next to the stars of celebrities on Hollywood Boulevard.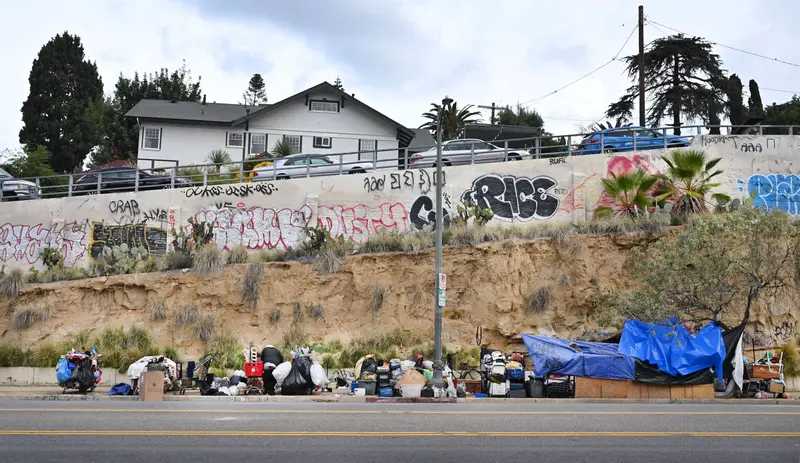 The human misery on display across the city made homelessness the central issue in the 2022 mayoral race and drove Bass to proclaim a housing emergency on her first day in office.
But in reality, the emergency has been coming for a long time. Nearly two decades ago, LA officials foresaw that rapid gentrification would eat away at residents' ability to live in the city. Residential hotels were rapidly being converted to condos.
So, in 2008, the City Council voted to preserve the hotels with a law. LA's then-housing director Mercedes Márquez — who now leads the mayor's effort to combat homelessness — called it at the time, "without question, one of the most pro-tenant ordinances to come before the City Council in its entire history."
City officials drew up a list of 336 hotels, using the state's legal definition of a residential hotel: a building of six or more units that are the primary residences of their guests. Some were traditional single-room occupancy buildings with shared bathrooms. Others were motels with various claims to fame. One was the hotel where singer Janis Joplin was found dead; another served as the site of Julia Roberts' apartment in the final scene of "Pretty Woman."
By the time of the ordinance, the once-grand downtown hotels that served travelers in the early 20th century and the roadside motels that catered to mid-century motorists had fallen out of fashion with tourists. City officials determined they were being used as living spaces for local residents, not tourist accommodations.
The new law strictly limited what residential hotel owners could do with their properties. But Márquez and the city attorney's office assured councilmembers it would stand up in court: A nearly identical San Francisco law had been upheld by California's Supreme Court in 2002, and the U.S. Supreme Court had reviewed the case, affirming the state's power to decide such issues. Márquez signaled that enforcement would be stringent.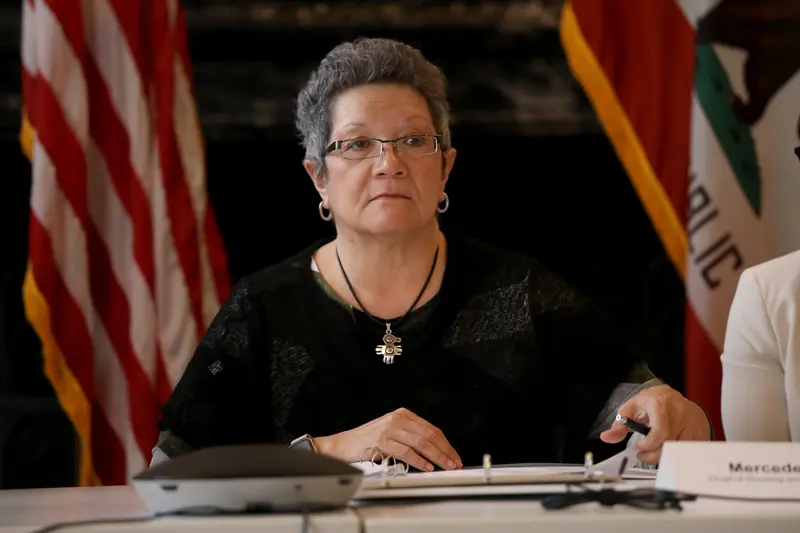 City councilmember Bill Rosendahl, who strongly supported the ordinance, asked Márquez somewhat tongue-in-cheek questions about a prime beachfront property in his district that had been designated as a residential hotel.
"My God, I could tear that down and build high-end condos and move in the rich. Does this stop me from doing that?" Rosendahl asked.
"Pretty much," Márquez replied.
The law "is designed to make it difficult," although not impossible, for owners to convert their buildings into condos or tourist hotels, Márquez told the City Council. Owners would first have to apply to the Housing Department for approval. They would then have to either replace all the residential housing units or pay a fee, set at the acquisition cost of nearby property plus the cost of constructing 80% of the replacement dwellings.
Márquez referred an interview request to the mayor's press office, which did not make her available. And she did not respond to emailed questions.
"I would think the owners would find it quite onerous," Gary Painter, an economist who specializes in housing at USC, said in a recent interview. "Anything that makes it harder for them to fully exercise their options on their real estate, they're going to be upset about."
Many hotel owners are indeed unhappy with the residential hotel designations. Ray Patel, who heads the North East Los Angeles Hotel Owners Association, said the law was an unfair attempt to shift the burden of LA's housing problems onto hotel owners. "The city was trying to avoid the elephant in the room: how difficult it is to build housing," he said. "There's too much red tape."
But in adopting the law with no opposition, the City Council decided that limiting hotel owners' property rights was in the public interest because the loss of residential hotel rooms had become a housing emergency that affected elderly, disabled and low-income people "who are least able to cope with displacement in the Los Angeles housing market." The council predicted that "unregulated conversion or demolition of residential hotels would lead to an unacceptable and socially harmful increase in homelessness."
The ordinance allowed owners to appeal their designations by submitting tax records, housekeeping reports and guest registration records to prove their buildings had operated as traveler hotels. Patel, who owns the Welcome Inn on old Route 66 — Colorado Boulevard in the Eagle Rock neighborhood — said he submitted reams of paperwork, got his motel off the list and helped others to do the same. About 100 properties were removed, though others have since been added. The city's most recent list contains more than 300 hotels.
Some hotel owners have tried to challenge the ordinance in court, arguing that the city's designation of the motels as residential amounts to an unconstitutional government taking of private property. But last year, a federal judge dismissed one claim, noting that the ordinance falls within the city's authority to promote residents' health and welfare. And in 2015, the U.S. Court of Appeals for the Ninth Circuit rejected another hotel's claim and upheld the ordinance as a "rational" attempt to preserve low-income housing.
Barbara Schultz, director of housing justice at the Legal Aid Foundation of Los Angeles, said the law is well-settled. Her 2002 lawsuit against the city's redevelopment agency resulted in a settlement that preserved downtown residential hotels and sparked the city's interest in an ordinance.
"The city is squandering a great opportunity to have more housing," Schultz said. Without tight enforcement, she said, "people on the street who could be in housing are not."
By the time Verge bought the American, the Housing Department had determined it to be a residential hotel in 2008 and again in 2011. City records show Verge's attorney inquired about the American's status, and in a 2013 letter, the department confirmed it was subject to the residential hotel law, providing him a copy of the ordinance.
"I don't even recall anything like that," Verge said in an interview, asserting that he bought the American because he intended to run it as a tourist hotel.
How Verge Turned the American Into a Tourist Hotel
Verge said in an interview that he wanted to buy the American in 2013 because of its rich history and his own memories of hanging out with friends at Al's Bar. "We were kids from Santa Monica and liked to go there," he said. It was, he added, a "different world."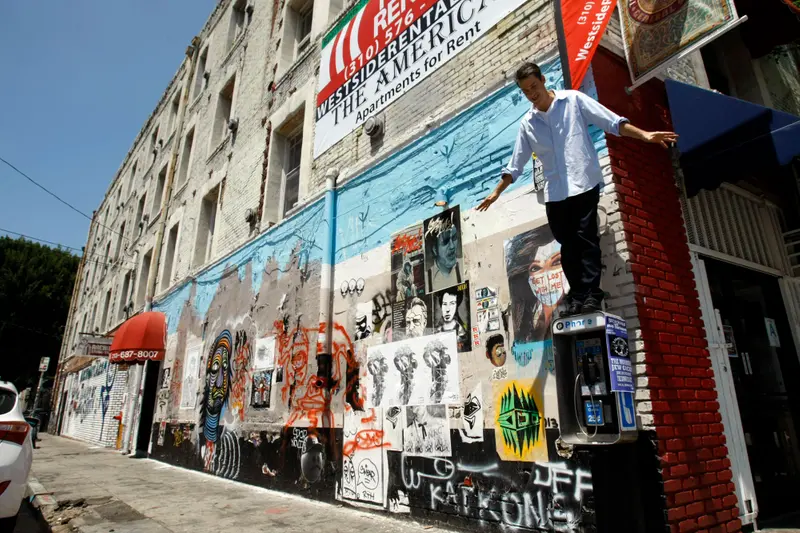 Al's Bar, located on the American's ground floor, rose to fame in the city's arts and music scene in the 1980s and 1990s as it attracted up-and-coming bands like Nirvana, Hole and Sonic Youth. Some tenants thought of Al's as their living room where they played pool and drank beer. But it also attracted celebrities. Then-Gov. Jerry Brown and singer Linda Ronstadt once dropped in at Al's, where graffiti covered the walls and a neon sign near the bar warned, "TIP OR DIE."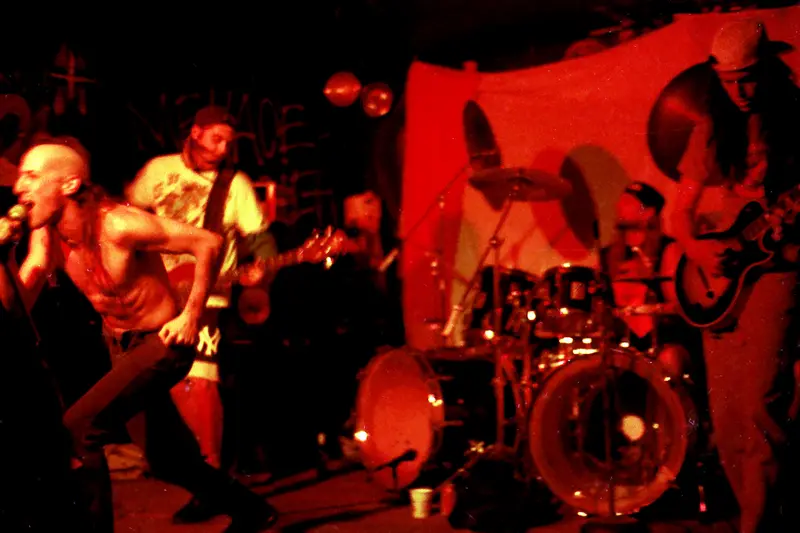 But above all, the American provided cheap housing for people who didn't have other options. The American, which was originally called the Canadian, was built in 1905 as the one of the only Los Angeles hotels where African Americans were welcome. And ever since, it had been a refuge for people on the margins of society. It was a classic residential hotel that one former tenant dubbed "a flophouse for artists," offering basic single rooms and shared bathrooms.
At the American, former residents said they needed no application or credit check. A month's rent would buy a month's shelter, no questions asked.
When Verge took over, the American was in bad shape. In 2012, a housing inspector had warned the building department that the hotel was in danger of collapsing.
Verge denied offering buyouts to move and said the residents requested relocation payments from him. "I'm not a cash for keys guy," he said. But seven former residents interviewed by Capital & Main and ProPublica said they had received a buyout offer and knew of others who had as well. A printed notice provided by a former resident says, "the owner of the building would like to offer relocation assistance to anyone already considering a move." The former residents said Verge also promised that if they were willing to endure the noise and dust of a remodel, he would let them stay. And some did.
Verge said the American had been partially operating as a tourist hotel when he bought it. But five tenants said that wasn't the case. "They were all residents," Giner wrote in an email. A photo published in the Los Angeles Times in 2013 shows Verge perched atop a pay phone outside the hotel. Just above him is a sign that reads, "Apartments for Rent," with the name of his company, Westside Rentals.
Verge had started other hotels, restaurants and bars and seemed to bet that the American's mystique would lure guests willing to lug suitcases up stairs and share bathrooms for a chance to drink in the hotel's bohemian past. Graffitied walls, an Al's sign and a giant mural of LA artist Ed Ruscha adorn the building's facade, though most of the American's artist residents and the noise and chaos of the hotel's heyday are long gone.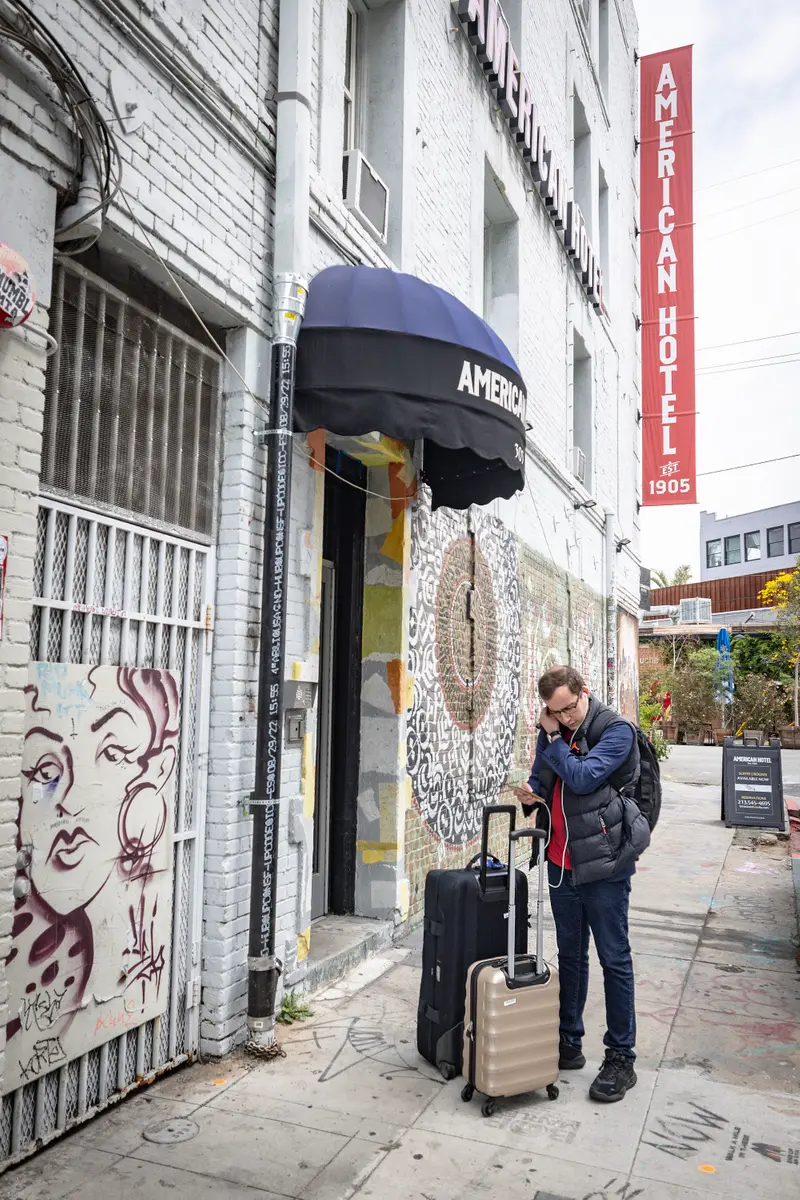 For Verge, who once owned racehorses and was briefly the CEO of Santa Anita Park, it was a bet that paid off.
Yet Verge never applied to the Housing Department for permission to convert his new purchase, according to department records. And as he remade the American into a tourist hotel, Verge suffered no legal repercussions for failing to build replacement housing or pay the in-lieu housing fee to the city. Either option would have been costly: In addition to site acquisition, the cost of building affordable housing averaged about $450,000 per unit between 2014 and 2016, according to the Terner Center for Housing Innovation at the University of California, Berkeley.
Even when the American remodel began, it slipped undetected through a key enforcement mechanism in the residential hotel law: The Housing Department must approve building permit applications at residential hotels to ensure the owners aren't converting rooms into tourist accommodations.
Five times between 2014 and 2018, the American applied for building permits. Verge repaired a crack in an exterior wall and put a new roof on the building. He remodeled bathrooms and repaired drywall and stucco. But only one permit was ever reviewed for adherence to the residential hotel law, according to building department records.
In 2016, a housing inspector found 32 rooms had been remodeled and a laundry area had been added, noting "permit required." Records show the inspector didn't inquire about whether the rooms were redone for short-term guests and never followed up. Verge wasn't cited for violations of the residential hotel law.
The Housing Department's code enforcement director Robert Galardi told Capital & Main and ProPublica that the hotel was inspected last November, resulting in "minimal code violations with compliance obtained in a timely manner." The inspection made no mention of the hotel's tourist offerings, which the hotel advertises on a sandwich board sign just outside the front door.
Told of the tourist conversion, Galardi said he'd "conduct further investigation."
Failure to Enforce
The Housing Department has plenty of mechanisms for enforcing the law, yet the city has used hardly any of them — even in the face of what appear to be violations.
The TikTok account of the Hometel Suites in Koreatown features videos of guest rooms and the reception desk as K-pop songs play in the background. Guests can dine on $115 steamed crab dinners at the hotel's seafood restaurant. Years ago, the Housing Department had determined Hometel — once known as the Hamilton — to be a residential hotel, and in 2008 and in 2011 the department informed the hotel's then-owners it was subject to the ordinance.
Galardi said his inspectors saw no evidence of short-term rentals at the Hometel when they visited the hotel in May 2019. But at least since March of that year, a three-story-tall banner on the facade has shown a family with suitcases on a luggage cart and the message "Book your stay today."
General manager Becky Hong said neither she nor the owner would comment on Hometel's residential hotel status or city enforcement, and she did not respond to emailed questions.
A review of more than 10,000 pages of Housing Department documents obtained under the California Public Records Act, including inspectors' notes, correspondence and other enforcement records, along with interviews with housing officials, shows hotel owners have little reason to fear fines or prosecution for violating the residential hotel law.
Logan Altman, the former owner of the Ramona Motel in South Los Angeles, said when he bought the property in 2016, the previous owner had assured him he could rent out rooms on a nightly basis without fear of a city crackdown. "What I heard was enforcement was somewhat lax," he said. "The seller said he hadn't had any problems." And neither did Altman, according to Housing Department records. He sold the motel to a nonprofit housing developer in 2021.
In the past 15 years, LA Housing Department data shows, the city has cited just 17 hotels under the law. However, the city's recordkeeping seems deficient: Capital & Main and ProPublica found two additional hotels it cited by separately looking through enforcement records provided by the department. Only four of the 21 residential hotels that Capital & Main and ProPublica found marketing rooms to tourists have been given warnings by housing inspectors for residential hotel violations.
A block away from Hometel at the H Hotel, a neon H on the building's brick facade signals the former East West Hotel's new hip vibe. A Saturday-night stay ranges from $200 to $270, and a crystal chandelier hangs above the lobby near a lounge where guests can order brunch and $115 bottles of champagne.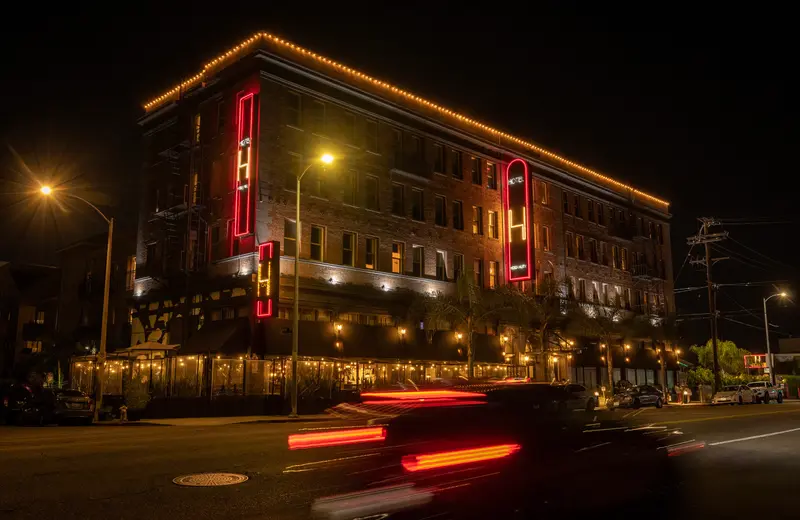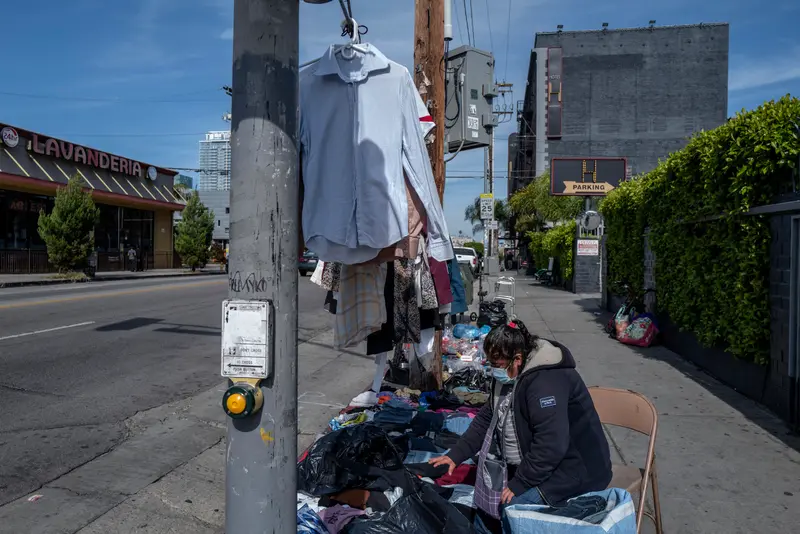 Last year, a housing inspector noted that Nojan Haddadi, the H Hotel's operations manager, told him that the property is currently being used as a "transient hotel," using the legal term for hotels that rent rooms to tourists. But the hotel, which is officially designated residential, never applied to convert to a tourist hotel, Housing Department records show. And there's no evidence in the records that the department took any enforcement action against the hotel for violating the residential hotel law. Haddadi told Capital & Main and ProPublica that the hotel hasn't accepted long-term residents since 2019. He said he didn't know if the hotel was violating the law but noted that the hotel's management has asked the city to remove its residential designation. The H Hotel's owner, Mike Barry, declined to answer questions, citing advice from his attorney.
When asked why the Housing Department hasn't enforced the law against the H Hotel, Galardi noted that his inspector was barred from entering without an administrative warrant. Haddadi said the hotel had been instructed by its attorney not to let inspectors in. Galardi wrote, "Moving forward, staff will conduct further investigation regarding tourist units."
Throughout the inspection records, a pattern emerged: Hotel owners or their attorneys could dodge city regulators simply by refusing to consent to inspections without a court order.
The department could obtain such warrants, but Galardi said that its inspectors have not secured them — to enter either the H Hotel or others whose owners have barred inspectors.
Even when city inspectors have attempted to enforce the law, their efforts have proved futile because they haven't always followed up to ensure compliance. Between 2016 and 2018, LA housing inspectors ordered the owners of the Studio Lodge, Hyland Inn, Central Inn Motel and Top Hat Motel to either return their rooms to residential use or obtain the required clearances to convert them.
But after inspectors said they'd return to ensure the violations were corrected, attorney Frank Weiser, who represented the Hyland, the Central Inn and the Top Hat, sent letters to the Housing Department that said they would not be allowed to reenter without administrative warrants. Housing department enforcement records show no evidence that inspectors obtained warrants — even though the hotels were also cited for fire safety and electrical issues that inspectors rated as "high severity" violations.
And until recently, travelers could still book rooms online at any of the three hotels.
The owner of the Central Inn and the manager of the Top Hat said they had recently begun providing short-term housing funded by local homelessness programs. But the Top Hat manager said the motel still does nightly rentals when there are vacancies, and both acknowledged they'd been offering daily rates until earlier this year. Neither hotel owner answered written questions about whether the nightly rentals violated the residential hotel law. The owner of the Studio Lodge didn't return phone calls or emails seeking comment.
Weiser, who still represents the Hyland's owner, said he thinks the hotel corrected its housing code violations. But he said of the residential hotel violations, "The bottom line: There was never any action taken by the city. I think that speaks for itself."
Sharma, the law professor, who previously advised former LA Mayor Eric Garcetti on housing policy, noted the residential hotel law allows the city attorney to seek court orders to stop building owners from renting to tourists. "I think by even filing against a few buildings, it sends a message to the rest of the buildings that the city is watching," she said. "That's how enforcement works in larger scale."
The residential hotel ordinance also required the Housing Department to file annual reports to the City Council and mayor, informing them of the total number of residential hotel units, any conversions or demolitions and the department's enforcement activities. But in response to a public records request, the department told Capital & Main and ProPublica that it didn't have any of the reports. The city clerk's office said it has no record of receiving any, and Galardi said he didn't think the reports were ever compiled.
Good, the Housing Department's senior policy adviser, said that understaffing is an obstacle to enforcement, pointing out that a single inspector is assigned to all of the city's residential hotels. "There are significant capacity issues," he said.
The bleak contrast between the American's trendy remodel and the city's homelessness crisis can be seen on the surrounding streets. On one recent day, a man pushed a shopping cart full of plastic bags past the hotel's sandwich board advertising rooms and suites. On another, a man covered head to toe in dirty blankets stood against a graffitied wall as a tour group admired the art behind him.
As tourists spilled out of the American, many said they were shocked by the seemingly endless tents pitched on downtown sidewalks and were startled to learn that the American was supposed to be reserved for the city's neediest residents. "I don't like to hear that," said Britt Booram, a realtor from Indianapolis as she got into a black van after checking out of the hotel. How We Measured the Title Lending Industry in Georgia
Galardi said Capital & Main and ProPublica's reporting had "gotten the ball rolling" on another potential enforcement tool to shut down short-term rentals in residential hotels: the city's 2018 Home-Sharing Ordinance, which regulates listings on sites like Airbnb. But it's rarely been used in the past. The city has fined just two hotels, and the planning department issued warning letters to a third hotel in 2020.
Only one of the three has stopped accepting online bookings. The others continue to advertise residential hotel rooms to tourists.
Gabriel Sandoval is a research reporter with ProPublica.
July 9th 2023
Families of Boeing 737 Max crash victims seek unlawful killing verdict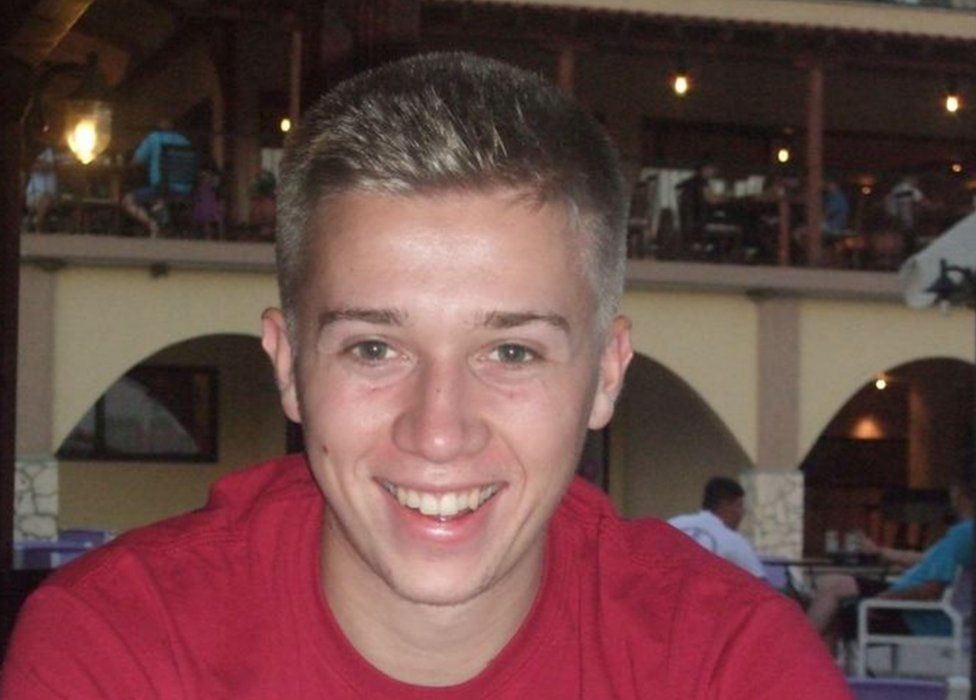 By Theo Leggett
Business correspondent, BBC News
It is more than four years since a Boeing 737 Max airliner crashed into remote farmland outside the Ethiopian capital Addis Ababa.
One hundred and fifty seven people were killed. On Monday, an inquest in Horsham, West Sussex will finally take place into the deaths of three of the British citizens who were on board.
For relatives of those who died, it is a landmark moment.
Lawyers for the families will be seeking a verdict of unlawful killing.
The inquest will look into the deaths of humanitarian workers Sam Pegram and Oliver Vick, as well as sustainability campaigner Joanna Toole.
"Sam was just a joy to have in your life," his mother Deborah says, blinking back tears. "Right from when he was a little boy, he wanted to help people."
Sitting at home with her husband Mark and her other son Tom, she struggles to find the right words to tell me about the wound that opened up in their lives when the plane went down.
She talks about 25-year-old Sam's smile, and his wicked sense of humour.
"He just made our lives better, really… and he's left a really big hole."
The family have spent the past four years fighting legal battles, trying to gain some kind of justice for Sam, as well as to obtain compensation.
Now they're simply exhausted.
"It's just been a constant struggle," says Mark. "I mean, on top of the grief and the normal things that you deal with having lost somebody, you to have to continually relive it.
"You have to tell that story to your lawyers, to opposition lawyers, to a forensic psychologist… going right into the depths of what you were feeling the day you found out.
"It's taken its toll."
Flight ET302 – a passenger flight from Ethiopia to Kenya – crashed shortly after take-off because of a design flaw.
Flight control software that was meant to be used in very limited circumstances to make the plane easier and more predictable to fly deployed at the wrong time due to a sensor failure.
It pushed the aircraft into a catastrophic dive, despite the pilots' frantic efforts to keep it in the air. But arguably that plane should never have left the ground in the first place.
Just months before, an identical failure had caused another 737 Max to crash into the sea off Indonesia, costing 189 lives. Yet the model was allowed to continue flying.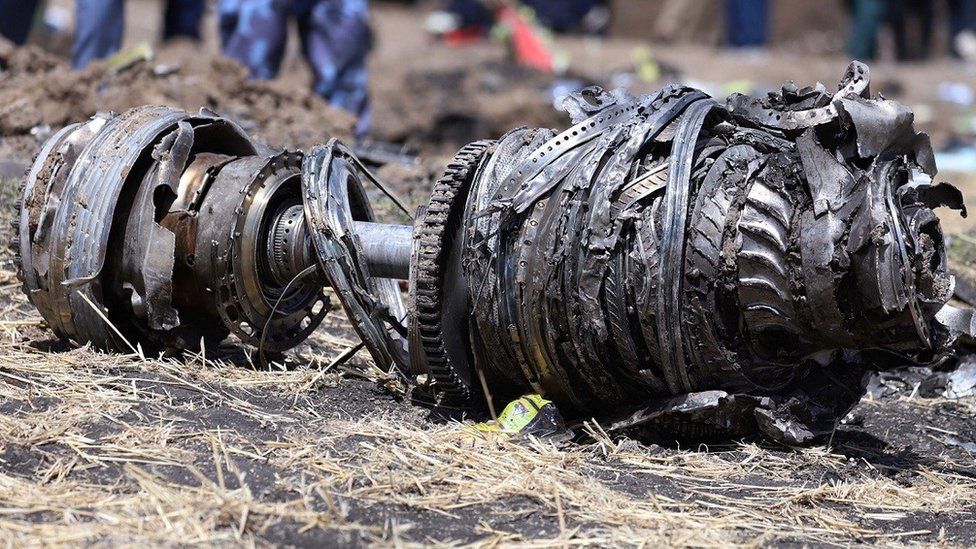 Boeing later admitted responsibility for the loss of ET302.
But under the terms of an agreement reached with the US government in 2021, it gained immunity from prosecution, in return for paying $2.5bn in fines and compensation.
That deal was done quietly, without the knowledge of the victims' families. It has been challenged in court, so far without success.
Sam's brother Tom is furious at what he sees as a failure to hold anyone to account for the disaster.
"I feel like, how can you believe in justice when there's people that are responsible for hundreds of deaths?" he says.
"You'd think in a world where there's justice, within weeks or months there would be people in prison. And there obviously isn't, to this day."
At the recent Paris Airshow, I met one of Boeing's top executives, chief strategy officer Marc Allen, and I asked him if he had a message for the bereaved families.
After expressing "such deep sympathy and condolence" for those who lost loved ones in both crashes involving the 737 Max, he emphasised Boeing's new commitment to safety.
"We can be sure we can show up and tell them, 'here's what we do better now, in the face of this terrible, terrible loss,'" he said.
Reeling off a long list of changes that have been made within the company, he told me he disagreed "with this idea that there hasn't been full accountability throughout the organisation".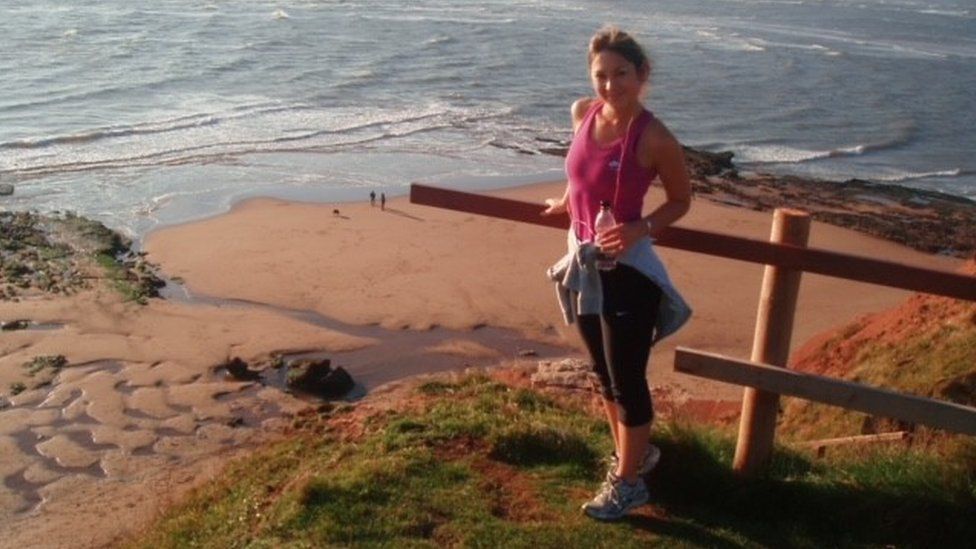 For the Pegrams though, these were "just words".
For the family now, the priority is to keep Sam's memory alive. They plan to use compensation funds from Boeing to set up a charitable foundation, to promote the humanitarian causes he cared about.
"We can help refugees, asylum seekers, and we can also help young people who want to go and do the work like Sam did," says Mark.
Meanwhile, with the crash having occurred in Ethiopia, and most of the legal wrangling in the United States, the inquest is seen as a vital step.
It is the only formal inquiry into the affair to take place in this country, and the verdict – though largely symbolic – could send out a powerful message.
And for Joanna Toole's father, Adrian, it also serves another purpose.
"For me, it represents what may be my only opportunity to actually talk about Joanna to what is effectively a captive audience," he says.
"And what I hope to point out is what has been lost with Joanna's death.
"To her partner, Paul, to me, and to the international sustainability effort."
Related Topics
Comment It is interesting how such an un airworthy airframe as the Boeing 737 Max 8 has taken such a long time dying, very much in contrast with the U.S aviation authorities rush to condemn Comcorde on the strength of one tragic and fatal complex failure.
On that latter subject I advise people to read Concorde by Mike Bannister. Mike was BA's former Chief Comcorde pilot with test pilot status. The U.S had no interest in the thorough meticulous Anglo French inquiry and subsequent major modifications with corrections to loading and take off procedures.
Concorde's crash had nothing to do with an absurd reliance on computer aided flight for an aircraft with an impossible centre of gravity due to overlarge enignes intended to reduce noise and fuel consumption.
Concorde's centre of gravity was of obvious importance requiring fuel transfers between its 11 tanks. There was clear evidence that the Paris Charter flight crash was due to take off delays caused by thrust reverser failure and no spare aircraft. There was a fatal hurry to connect with a New York cruise liner. The tyres were not up to spec and there was a lethal lump of metal on the runway, shredding a tyre. There was also the serious matter of the fuel tanks being over filled. BA were making money from Comcorde while Air France was losing it. Modifications , including kevlar fuel tank linings , dealt with all safety and operational issues.
Though I was fanatical about aircraft from childhood into my teens, becoming an RAF sponsored air cadet where we were given the opportunity to fly RAF Chipmunks, I came to abandon my plans for a military flying career – the odious Vietnam War shaping my moral attitude. I also dislike the proliferation of environmentally destructive air travel. But I am still fanatical about justice which has applied to neither the Boeing Max 8 or Comcorde. Without justice in all matters there can be no claim to civilisation.
Boeing, along with other vested interests, fought Concorde from the outset. Its' special status is entirely due to its primary role in the United States Industrial Military Complex so vital to its NATO and other imperialistic activities masquerading as an international fight for global democracy.
R J Cook 1955
July 6th 2023
SCO summit: Putin says sanctions making Russia stronger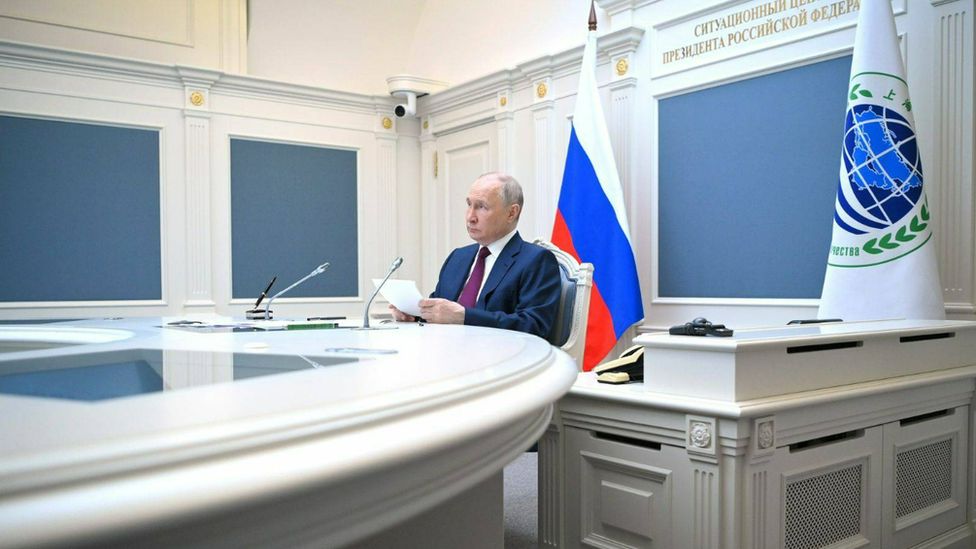 By Vikas Pandey
BBC News, Delhi
Russia will continue to oppose Western sanctions, President Vladimir Putin has said, following Moscow's invasion of Ukraine.
His address to a virtual Shanghai Cooperation Organisation summit was his first to an international meeting since last month's mutiny in Russia.
Mr Putin backed trade accords between SCO nations in local currencies – seen as an attempt to blunt sanctions.
The 2023 SCO summit is taking place virtually, under India's leadership.
Mr Putin used the platform to send a message of defiance to the West, saying "Russia counters all these external sanctions, pressures and provocations and continues to develop as never before".
He has made several public appearances since the Wagner mercenary group staged a short-lived mutiny in late June, but this was the first time he'd been seen with a group of international leaders.
"I would like to thank my colleagues from the SCO countries who expressed support for the actions of the Russian leadership to protect the constitutional order and the life and security of citizens," he told the summit in a televised address from the Kremlin in Moscow.
Mr Putin added that more than 80% of trade between Chinese and Russian people was in roubles and yuan, and urged other SCO members to follow the same process.
He also welcomed Russian ally Belarus's application to become a permanent member of the SCO next year.
Summit host Indian PM Narendra Modi called on members to boost trade, connectivity and tech co-operation, among other things.
But he didn't directly refer to either the war in Ukraine or China's increasingly assertive stance in the Indo-Pacific. India – historically non-aligned – had to walk a tight diplomatic rope, due to its increasingly strong ties with the West.
Just days earlier the US had rolled out the red carpet for Mr Modi when he was received in Washington on a state visit.
While Mr Modi talked about regional security, he did not mention China, a neighbour with whom India has long had hostile relations. Indian and Chinese troops fought deadly clashes on their long disputed border in 2020 and tensions persist to this day.
The West increasingly sees India as a counterweight to China, although Delhi has publicly never owned the tag. And it once again refrained from doing so at the SCO.
India's PM instead urged members to co-operate on cross-border terrorism.
"Some countries use cross-border terrorism as an instrument in their policies, (they) give shelter to terrorists… the SCO should not hesitate to criticise such countries," Mr Modi said.
Such statements are always seen as directed at neighbouring Pakistan, India's bitter rival over the decades. Its Prime Minister, Shahbaz Sharif, said SCO nations must take measures to "combat the three evils of terrorism, extremism and separatism".
But he also said religious minorities should not be demonised in the "pursuit of domestic political agendas" – viewed as a dig at India, which Muslim-majority Pakistan has often accused of not protecting the rights of Muslims.
Mr Modi's government has always rejected evidence that it is not protecting the rights of minorities in India, whose population is largely Hindu.
When it was Chinese President Xi Jinping's turn to speak, he mentioned the importance of safeguarding regional peace and security. He urged SCO members to "follow the right direction and enhance their solidarity and mutual trust".
One factor that all members seemed to agree on unanimously was maintaining stability in Afghanistan, following the Taliban takeover after US troops pulled out two years ago.
A joint statement due later should give more clues on how SCO nations aim to work together on Afghanistan.
China, Russia and four Central Asian countries formed the SCO in 2001 as a countermeasure to limit the influence of the West in the region. India and Pakistan joined in 2017.
The group has become more relevant for Russia and China as their relations with the West have deteriorated.
Experts say the group's potential can't be underplayed, despite the existence of more prominent forums like the Brics (Brazil, Russia, India, China and South Africa), the G20 and G7.
The SCO groups around 40% of the world's population and more than 20% of global GDP. Add Iran's, and it will control around 20% of the world's oil reserves.
Iran's inclusion as a full member at this year's meeting will boost the SCO's energy portfolio but it will spark anger in Western capitals. As the SCO is increasingly pitted against Western-led forums, it may get harder for India to strike a diplomatic balance between its different global partners.
But Indian diplomats say they are confident about keeping their foreign policy independent without pandering to one group or the other. How Delhi manages its diplomacy – and its differences with Russia, China and Pakistan in particular – will have an impact on future of the SCO.
Additional reporting by Meryl Sebastian and Zoya Mateen
July 3rd 2023
Comment British Liberal White Media's priority is their own virtue sugnalling , followed by praise for British Democracy and war on inequality. These deceptive long standing attitudes solve nothing but create fodder for more self righteous moralising. With the French police what you see is what you get. The U.K police are a much darker deeper chasm of deceit , dishonesty, self importance and corruption. To churn out the cliche that we in the U.K have 'policing by consent' is a grotesque dishonest establishment cliche. U.K Police are unaccountable and, CPS partners. perssistent in withholding and fabricating evidence which has nothing to do with justice. There is no political will for reform beyond feminists MPs like Yvette Cooper wanting more men jailed for domestic violence and sex offences on the basis that 'women never lie.'
R J Cook
July 2nd 2023
France shooting: Macron accuses rioters of exploiting teen killed by police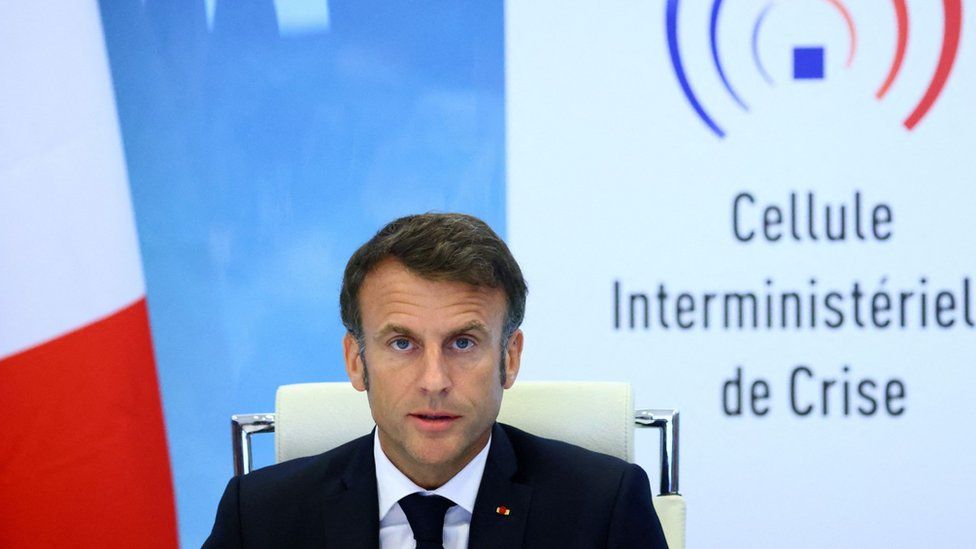 By Sam Hancock
BBC News
Emmanuel Macron has accused protesters of exploiting the death of a teenager shot by police at point-blank range.
At a crisis meeting, France's president said more officers would be deployed to contain the violence, but stopped short of declaring a state of emergency.
He urged parents to keep rioting children at home and social media platforms to remove certain content.
France has been rocked by three nights of unrest after Nahel M, 17, was killed as he drove away from a traffic stop.
More than 915 arrests were made on Thursday night alone, officials said, and the government announced it would deploy 45,000 police officers in a bid to contain further violence.
Mr Macron said that about a third of those arrested for rioting were "young, or very young", with Interior Minister Gérald Darmanin later clarifying that some were as young as 13.
Imploring parents to take action, he said it was their "responsibility" to keep any child intending to protest "at home".
Mr Macron condemned the violence of the last three days "with the greatest firmness" and said Nahel's death had been used to justify acts of violence – calling it an "unacceptable exploitation of the adolescent's death".
He also urged social media companies such as TikTok and Snapchat to take down "the most sensitive types of content" that had been posted, and supply authorities with the names of people using their services to organise violence.
A spokesperson for Snapchat said it had a "zero tolerance" for content that promoted violence and hatred, and would continue to monitor the situation closely.
From Lille and Roubaix in the north to Marseille in the south, shops were ransacked across France on Thursday night, streets were badly damaged and cars set on fire. The interior ministry said there had been more than 3,880 fires on public roads, compared with 2,391 on Wednesday.
Police in Marseille, France's second-largest city, had already arrested 80 people by Friday evening. It followed more clashes between protesters and riot police.
Public transport halted early in some places and curfews were enforced, with a nationwide curb on buses and trams running from 21:00 local time (19:00 GMT).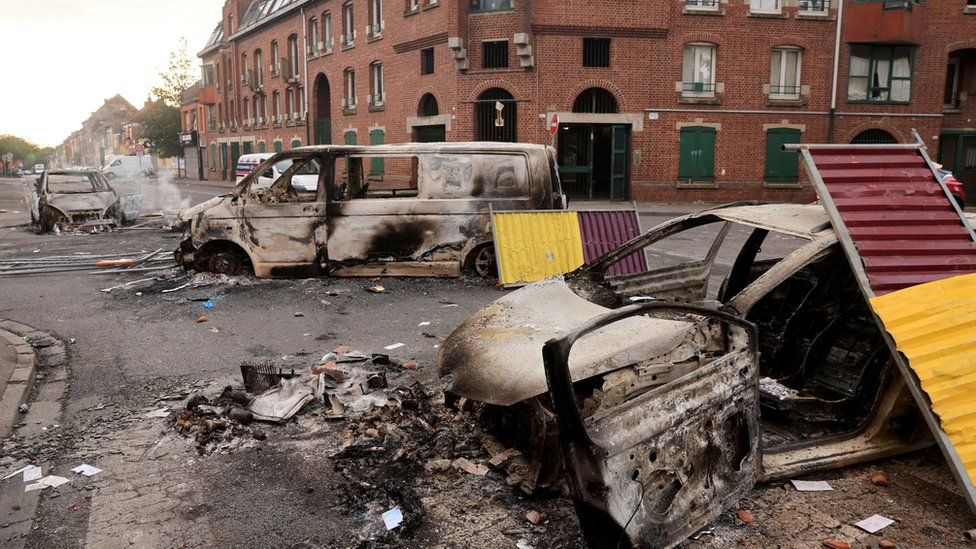 Some public events have also been cancelled, including two concerts by French pop star Mylène Farmer, due to take place at the Stade de France just outside Paris on Friday and Saturday night.
France's capital has been at the heart of the unrest because Nahel lived in Nanterre, a north-west Parisian suburb, and was killed there just after 09:00 on Tuesday.
He was shot after refusing to stop for a traffic check and died after emergency services attended the scene. A video, shared online in the hours following Nahel's death, showed two police officers trying to stop the vehicle and one pointing his weapon at the driver.
The officer who fired the fatal shot has since been charged with voluntary homicide and apologised to the family. His lawyer said he is devastated.
Nahel's death has reignited debate around the state of French policing, including a controversial 2017 firearms law which allows officers to shoot when a driver ignores an order to stop.
More widely, it has led to questions of racism in the force. The UN's human rights office said the unrest was a chance for France "to address deep issues of racism in law enforcement".
Summary
France has seen a fifth night of unrest, with heavy clashes between police and rioters in the southern city of Marseille
Some 719 people were arrested overnight, down from well over a thousand the previous night
Interior Minister Gérald Darmanin has hailed a "calmer" night and praised the 45,000 police officers deployed
Rioters in a southern Parisian suburb rammed the local mayor's home and fired rockets at his wife and small children, police say
The riots began after police fatally shot a 17-year-old boy of Algerian descent, Nahel, in the Paris suburb of Nanterre on Tuesday
Edited by Tom Spender
Posted at 11:0611:06Call to scrap law on police gun useA human rights group in France, the League of Human Rights, has reiterated its call for the abrogation of the law which allows French police to shoot against drivers who disobey orders to stop.The 2017 law has been blamed for the killing of Nahel M during a police traffic stop on Tuesday.It was the third such death this year and followed a record 13 deaths last year. Most of those killed were of black and Arab origin.Why are French police allowed to use guns in this way?Read our explainer here.
June 30th 2023
France riots: Why are police using guns during traffic stops?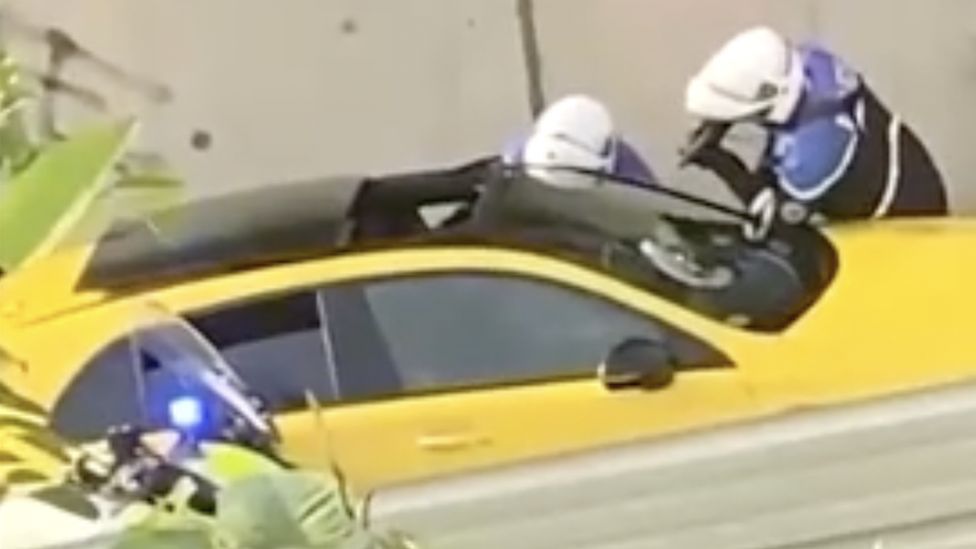 By Laura Gozzi
BBC News
The fatal shooting by police of a 17-year-old boy driving a car in a Paris suburb is the latest in a spate of such deadly incidents in France.
It was the third killing this year during a police traffic stop and followed a record 13 deaths last year.
Most of the victims have been of black or Arab origin, Reuters news agency reports.
What is the legal basis for firing during a traffic stop?
By law French police are allowed to shoot in five instances following a 2017 change in the law.
That includes when the driver or occupants of a vehicle ignore an order to stop and are deemed to pose a risk to the officer's life or physical safety, or other people's.
France's human rights ombudsman has opened an inquiry into Tuesday's killing of Nahel M, the sixth such inquiry since the start of last year.
The officer involved has been charged with homicide.
Why did France expand the police use of guns?
France is no stranger to unrest in its banlieues – poorer outer suburbs with high levels of unemployment and crime – and police say they are facing increasing levels of violence.
In 2016, in a housing estate outside of Paris, an officer suffered serious burns and was put in an induced coma after a group of youths pelted his patrol car with petrol bombs.
Police unions protested and demanded a strong response from the government.
In response, the then-interior minister Bernard Cazeneuve vowed to change the law on the use of firearms by police, and the passing of Article 435-1 of the penal code followed in March 2017.
What happened to Nahel M?
On Tuesday police shot dead a 17-year-old boy of Algerian descent, named as Nahel M, as he drove away from a traffic stop.
According to the Nanterre prosecutor, Nahel was shot after he refused to stop the car he was driving following orders by two policemen, who later said the vehicle committed various traffic violations and endangered pedestrians.
On Thursday, Laurent-Franck Lienard said his client discharged his firearm "in full compliance of the law".
"He did not act outside the legal framework," Mr Lienard said.
What do critics of the firearms law say?
Last year a study showed that fatal police shootings on drivers of moving vehicles had multiplied fivefold since the law was implemented.
Of the 39 people killed by police in 2022, 13 were drivers who were shot on the basis that they failed to comply with orders.
They included Rayana, a young woman who was shot dead by police while a passenger in a car when the driver ignored a police order to stop.
Critics argue the increase in such incidents is a direct result of Article 435-1, which they say is much too vague because it leaves officers to determine whether the driver's refusal to comply poses a risk.
Henri Leclerc, president of French NGO Human Rights League, said the law allowed officers to be "uninhibited" with their firearms as it provides them with "legal protection" for shooting.
Some politicians have also called for the law to be reviewed.
Far-left politician Jean-Luc Mélenchon has denounced it as a "right-to-kill" law.
How are the government and police defending the policy?
Interior Minister Gerald Darmanin has rejected the criticism of the firearms law and insisted fewer people had been killed by police since 2017.
However, a study by investigative media outlet Basta disputed this, saying that while 27 people were killed by police in 2017, that number grew to 40 in 2020 and increased further to 52 in 2021.
Earlier this week Mr Cazeneuve defended the legislation, saying "it does not at all give officers permission to shoot whenever".
The former interior minister told Le Monde that the legislation should not be blamed for police lack of professionalism or training.
Speaking to the BBC, the Unsad-Police trade union's Deputy Secretary General Thierry Clair said an investigation would determine whether the weapon had been used legally.
"The key thing is the principle of proportionality with the nature of the threat," Mr Clair said.
"For instance, one of the cases refers to stopping a vehicle whose occupants refuse to comply and present a risk for someone else if they attempt to escape.
"And the incident we're talking about – in which a weapon was used – might fall into that category."
Comment : Fool Brittania – so have the sanctimonious British elite forgetten the Streatham Police killing of an innocent young black ? As a recipient of an evil vindictive illegal corrupt West Mercia Police PNC Criminal Vehicle Marker on October 9th 2008 and multiple police chases, I knew that I could be shot if I did not stop in Police State U.K and I am white. WMP and TVP still refuse to explain these extant vile records. U.K Police Have Destroyed Mine and My Sons lives. The BBC should be seen for the State Broadcaster that they are. They have no right to judge. 'Judge Not Lest Ye Be Judged.' R J Cook.
Jaded Europe – The New Africa.
This Is Multi Culture & What Putin Does Not Want For Russia
– R J Cook.
Over educated white liberals, of which group I may have been one, have much to answer for. My time at London University , where I studied education and psychology as a post graduate, was basically brain washing and white guilt training.
The difference between me and my agonising white contemporaries was that my truck driver father died when I was 11 and I grew up in a very poor single parent working class home. It is true that we had well off patronising property owning close relatives who provided us with a basic house, so I was superficially bourgeois. Still, I came to realise that white liberalism had much to do with fear of the underclass regardless of ethnicity.
One is not allowed to mention the appalling mess that Africa is, massively overpopulated with ever expanding ignorant disease prone masses addicted to religion and goodness knows what else ,while their western orientated hedonistic dictators are laughing their socks off. The Indian subcontinent is little better and equally impeded by religious escapism, delusion and division. The Arab world is ridiculously divided between rich Oil Sheiks and the grovelling rest – as ordained by the Anglo U.S elite, not God. That is why 3 % of the world's population control 62 % of global wealth. It is why Russia has to be brought back into the fold. They can't be left alone with dangerous projects like 'Belt & Road.' There needs to be ever more space for 'asylum seekers' – aka economic migrants. These people are not genuine refugees. They are economic migrants and there will be no end to their influx. whites killing whites in Ukraine is perfect for them.
Meanwhile, France's colonial pigeons have exposed the reality of bourgeois diversity for what it is. Macron, the French elite and ultimately the EU have no answers. The non white population have a simple outlook and sense of entitlement. The West is in decline. Putin et al knows this. Inscrutable China is biding time.
R J Cook Sheep Street Winslow 1955
Summary
Some 667 people are arrested as clashes between police and protesters in France continue for a third night
In Paris, shops are ransacked and cars set on fire despite a heavy police presence. 40,000 officers were deployed across France
The violence began on Tuesday after police shot dead a 17-year-old boy of Algerian and Moroccan descent, named as Nahel M, as he drove away from a traffic stop
The officer who shot Nahel has apologised to the family. He has been charged with voluntary homicide and his lawyer says he is "devastated"
Nahel's mother earlier said she didn't blame the whole police force – just the officer who fired the lethal shot
"He saw the face of an Arab, of a little kid, he wanted to take his life," she said
The teen's death has revived grievances about policing and racial profiling in France's suburbs
Live Reporting
Edited by Marita Moloney
Get involved
WATCH: Fire rages at Olympic pool under construction in Paris
Videos circulating on social media show a fire at the site of an Olympic swimming pool, reported to be under construction for the 2024 Games, after a third night of unrest in France.
Ambulances and a fire truck were seen arriving at the scene in Aubervilliers, a commune in the north east suburbs of Paris.
Video content
https://emp.bbc.co.uk/emp/SMPj/2.49.3/iframe.htmlVideo caption: Watch: Fire rages at construction site in ParisWatch: Fire rages at construction site in Paris
June 29th 2023
Published June 29, 2023 8:18am EDT
'Purge': Top Russian generals Gerasimov and Surovikin are reportedly missing following Wagner mutiny
Russian generals Sergei Surovikin and Valery Gerasimov have not been seen in public since Wagner Group mercenaries attempted to oust Russia's military command
Two of Russia's senior commanders have reportedly disappeared from public view after the Wagner Group's aborted mutiny, which targeted Russian military leadership.
One general was reportedly arrested in the days since Yevgeny Prigozhin called off his short-lived rebellion and relocated his forces to Belarus. Prigozhin's "march for justice" on Moscow was seen as the most significant challenge to Russian President Vladimir Putin's regime in decades, and Putin now seeks to reassert his authority.
The other commander, Chief of General Staff Valery Gerasimov, has not appeared in public or on state TV since the aborted mutiny on Saturday, when Prigozhin demanded Gerasimov be handed over. Nor has he been mentioned in a defense ministry press release since June 9, Reuters reported.
Gerasimov, 67, is the commander of Russia's invasion force in Ukraine and one of three Russian commanders who hold "nuclear briefcases," according to some Western military analysts.
RUSSIAN COMMANDER WHO MAY HAVE KNOWN ABOUT WAGNER REBELLION IS ARRESTED: REPORT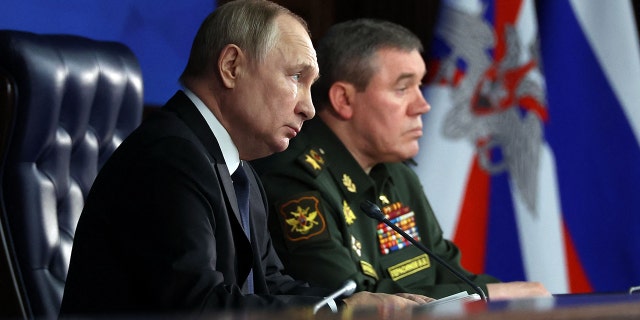 Russian President Vladimir Putin, left, and Chief of the Russian General Staff Valery Gerasimov attend an expanded meeting of the Russian Defence Ministry Board at the National Defence Control Centre in Moscow, on Dec. 21, 2022. Gerasimov has not been seen in public since mercenary chief Yevgeny Prigozhin called off his rebellion against Russia's military leadership. (MIKHAIL KIREYEV/Sputnik/AFP via Getty Images)
Also missing is deputy commander Gen. Sergei Surovikin, nicknamed "General Armageddon," who The Moscow Times reported was arrested on Sunday, though those reports are unconfirmed.
Rumors of the deputy commander's arrest were previously discussed by military blogger Vladimir Romanov, who reported that Surovikin was arrested Sunday, the day after Wagner mercenary troops led by Prigozhin engaged in a short-lived mutiny.
News of Surovikin's possible arrest came after The New York Times reported that he had advanced knowledge of Prigozhin's plans to rebel against Russia's military leadership.
U.S. officials briefed on American intelligence told the Times they are trying to determine whether Surovikin helped Prigozhin.
KREMLIN SAYS IT ONLY HITS 'MILITARY INFRASTRUCTURE' AFTER STRIKE AGAINST RESTAURANT IN UKRAINE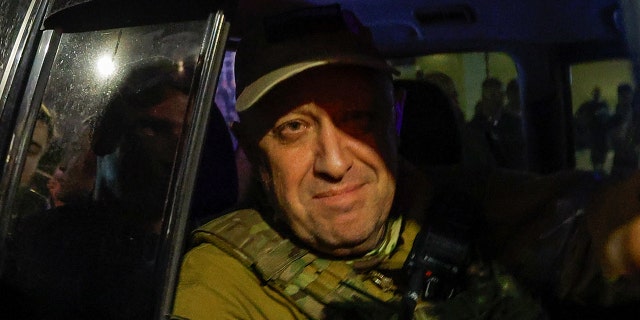 Wagner mercenary chief Yevgeny Prigozhin leaves the headquarters of the Southern Military District amid the group's pullout from the city of Rostov-on-Don, Russia, on Saturday. (REUTERS/Alexander Ermochenko)
The Kremlin on Wednesday played down the reports, saying there would be a lot of speculation and gossip.
Rybar, an influential Telegram channel run by a former Russian defense ministry press officer, said a purge was underway, Reuters reported.
Rybar claimed Russia's top brass were trying to remove military personnel believed to have shown "a lack of decisiveness" in crushing the rebellion amid reports that Wagner fighters met little resistance from Russia's armed forces in the first hours of the rebellion.
"The armed insurgency by the Wagner private military company has become a pretext for a massive purge in the ranks of the Russian Armed Forces," Rybar said, per Reuters.
UKRAINIAN FORCES CLAWBACK TERRITORY HELD BY RUSSIA SINCE 2014: UK INTEL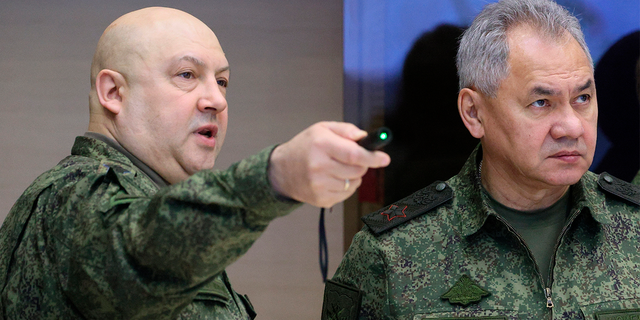 The top Russian military commander in Ukraine, Gen. Sergei Surovikin, left, and Russian Defense Minister Sergei Shoigu. (AP)
Gerasimov was not present on Tuesday when Putin thanked the army for preventing a civil war, unlike Defense Minister Sergei Shoigu, a longtime Putin ally who Prigozhin had accused of corruption and incompetence in prosecuting the war in Ukraine.
Surovikin, Gerasimov's deputy, has not been seen since Saturday when he appeared in a video appealing to Prigozhin to stop the mutiny. Western analysts suggested Surovikin looked exhausted and may have been speaking under duress.
The general first gained notoriety in 1991 for ordering Russian soldiers to fire on protesting civilians in Moscow in the final months of the Soviet Union. He displayed similar brutality when Putin deployed him to Syria in 2017, allegedly ordering the indiscriminate bombings of Aleppo and other anti-government strongholds.
Prigozhin had previously praised Surovikin as "the most able commander in the Russian army."
CLICK HERE TO GET THE FOX NEWS APP
Former U.S. defense intelligence officer Rebekah Koffler agreed that Putin looks to be consolidating power and surrounding himself with loyalists.
"Putin is orchestrating a purge to capitalize on the coup, which in my intelligence assessment was a false flag operation," Koffler told Fox News Digital. "He is continuing to advance the narrative that he is the one and only strong leader who is able to crush all the traitors, squash the mutiny and save Mother Russia — this is in preparation for his 2024 re-election run. He is consolidating power even further, ensuring he is only surrounded by loyalists."
Koffler said Putin wants to drive the narrative that instability in Russia, which possesses the world's largest nuclear arsenal, is bad for the entire world.
"General Armageddon is arrested and Gen. Gerasimov, of the holders of Putin's three nuclear footballs is missing — a threatening situation. Until Ukraine is crushed by Russia and Putin gets to keep Crimea and the provinces he has annexed, no one will sleep safely," Koffler said. "This is what Putin wants the world to know."
Fox News' Bradford Betz and Anders Hagstrom and Reuters contributed to this report.
Chris Pandolfo is a writer for Fox News Digital. Send tips to chris.pandolfo@fox.com and follow him on Twitter @ChrisCPandolfo.

Get all the stories you need-to-know from the most powerful name in news delivered first thing every morning to your inbox
Arrives Weekdays
Comment The reason the west advance the theme of western instability is because they are promoting it.
R J Cook
Dangers of Comfortable People By R J Cook
Comfortable People
Many years ago Chief Superintendent Tom W recruited me to the Buckingham & District Crime Prevention Panel because I had made an impression as a local council member. His guiding words were 'The panel has too many comfortable people.' Tom, like a lot of long gone old police officer friends ( I daren't say men) was old school and well intentioned, whatever other human failings they may have had.
Back in the days of accelerated graduate promotion – pre unis and toilet paper degrees – I was offered the chance of becoming an inspector within 3 years with the Met. I respected the police and didn't think I was a good enough person for them. Tom was ridiculed to me by a person, now a very senior officer, I thought I knew well. He told me they only promoted Tom to enhance his pension and get rid of him. He had similar things to say about another CS I knew quite well, Gary D. Like Tom, Gary started at the bottom riding a police motor cycle. This very senior officer, who must be nameless for legal reasons , represents the new breed of police officer and everything that is wrong with the modern U.K police and wider western world.
I am sick of hearing and reading about what is wrong with Russia. It is what is wrong with the U.K that matters. Having too many comfortable people in charge and en masse, means they don't see the wider world of trouble ahead. Feminists, the 'He For She Men' , LGBT and religious minorities crave safety. The supercilious self seeking politicians , public servants and capitalists offer them the illusion of safety – before they get squashed like insects. So we find ourselves at last, on the cusp of World War III. Fear is the essence of power, which is why women must be made to live in fear by the ruling elite and feminist tyrants.
R J Cook
Wagner: Satellite images show activity at military base in Belarus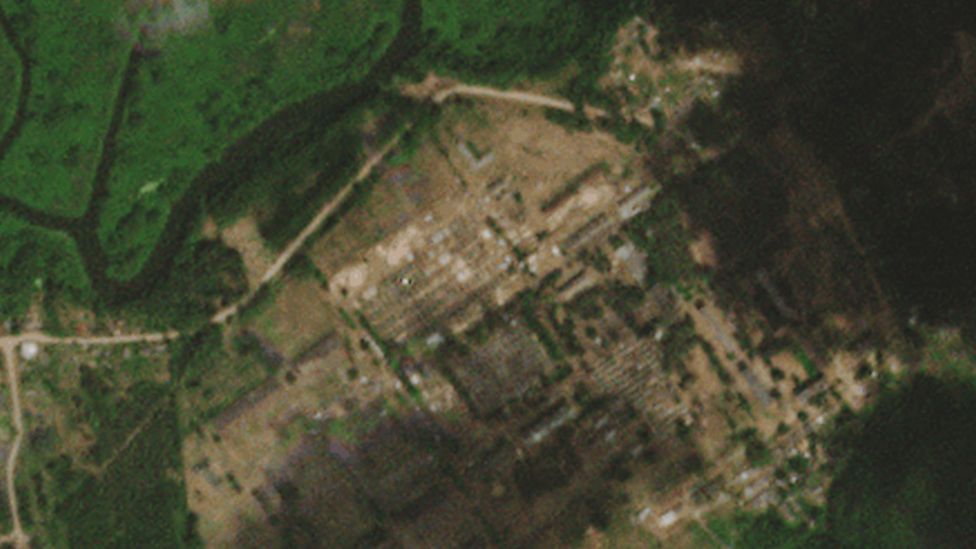 By Jake Horton & Daniele Palumbo
BBC Verify
Satellite images appear to show activity at a disused military base in Belarus, amid speculation about Wagner forces relocating to the country.
An image from 27 June obtained by BBC Verify, and first reported by Radio Free Europe, shows what could be tents or similar structures appearing at the base.
An earlier image taken on 19 June shows the fields within the military compound largely empty.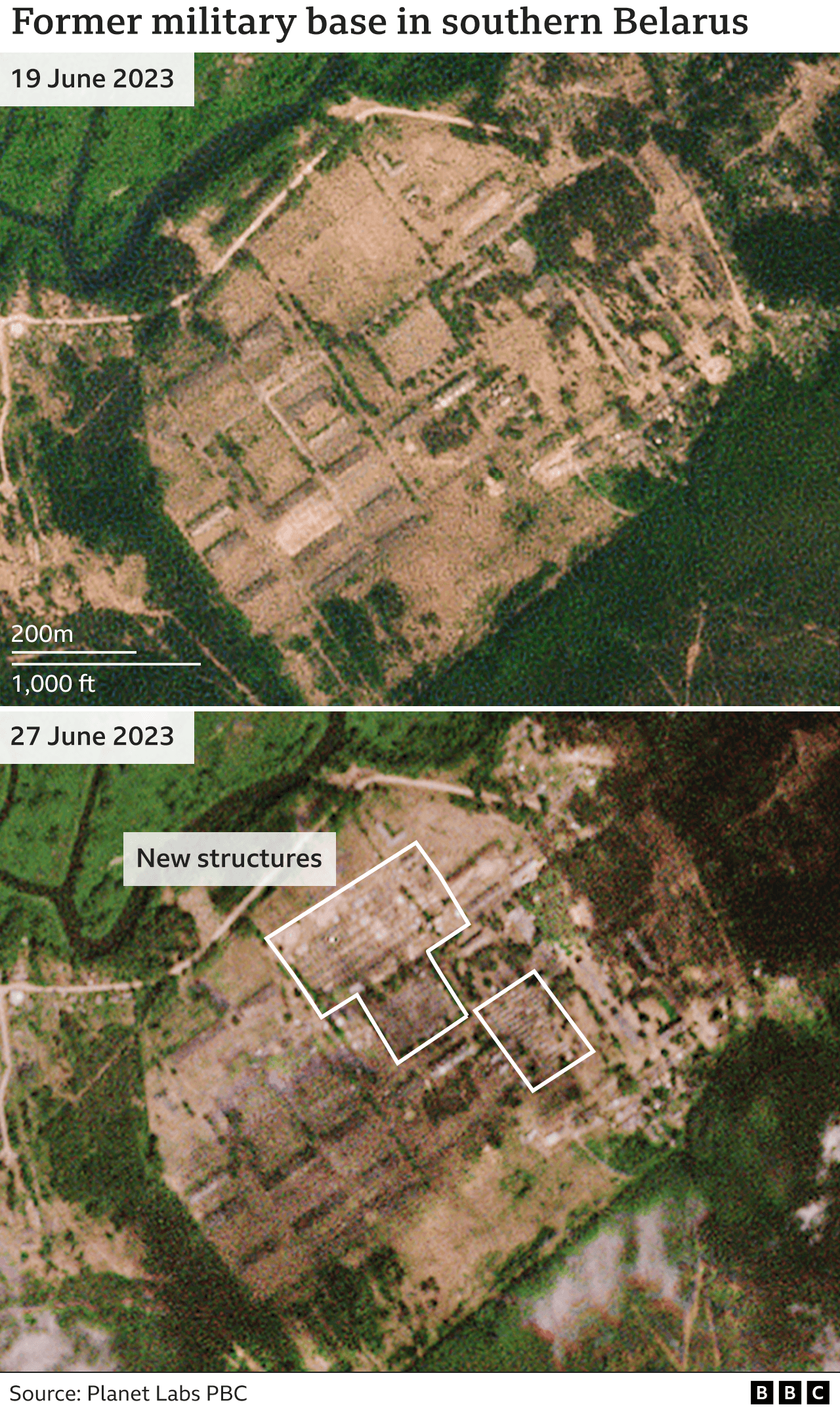 The Wagner group, which is made up of mercenaries, had been fighting for Russia in Ukraine until last weekend, when it staged a rebellion.
Its leader, Yevgeny Prigozhin, later called off an advance to Moscow after a deal was struck with the help of the Belarusian leader Alexander Lukashenko.
After the failed mutiny, the Russian authorities said Wagner would be disarmed but its members would escape prosecution. Russian President Vladimir Putin said the military could either join the Russian army, go home or go to Belarus.
The base seen in the satellite images is about 13 miles (21km) from the town of Asipovichy – around 64 miles from the capital Minsk. The area has been reported in Russian media as a place which could house Wagner fighters.
Mr Lukashenko has offered to accommodate Wagner fighters in his country, where it is believed Prigozhin has gone into exile.
The Belarusian leader also mentioned an abandoned military base but did not specify the location, saying: "There is a fence, everything is available, erect your tents."
There has since been speculation about a site near Asipovichy which used to be home Belarus' 465th Missile Brigade before they relocated in 2018.
The image taken on 27 June is low resolution, so saying exactly what has been constructed there is difficult, but there's clearly been development since mid-June.
You can see several lines of rectangular structures which look to be consistent with tents seen at other military bases in the region.
It's unclear who was responsible for these structures being erected.
Ukrainian military expert Oleg Zhdanov told Radio Free Europe it was "unrealistic" for Wagner troops to have started building a camp with so little time passing since the rebellion.
But Marina Miron, a researcher specialising in the Russian military at the Department of War Studies at King's College London, said it was possible.
"It [Wagner] is not like an army where everything is slow… if they managed to get halfway to Moscow within one day it is plausible to think they might already be starting to build camps in Belarus," she said.
The New Europeans , Colonial Pigeons Or Birds Of Prey –
By R J Cook
My old history teacher, John Skinner,back in 1968, often said 'The Colonial Pigeons are coming home to roost.
The British elite and 'liberal' chattering classes are predisposed to judge France's police for shooting a young Arab as racist. They took the same view regarding the U.S Officer Derek Chauvin whose carelessness and moments of distraction led to the death of petty black criminal George Floyd. It led to pious England football team manager instituting the ludicrous offensive pre kick off kneeling for BLM.
They were not so outspoken regarding the West Mercia Police hideous long drawn out killing of innocent mentally ill black footballer Dalian Atkinson. Press were complicit in the 5 year cover up. This is because U.K Police are protected and sanctified in a fractious claustrophobic tiny country owned by 10 % of an increaingly frightened elite.
The same had happened after the brutal shooting of Brazilian Jean Charles da Silva e de Menezes on 22 July 2005). He was a young man killed by officers of the London Metropolitan Police Service at Stockwell station after he was wrongly deemed to be one of the fugitives involved in the previous day's failed bombing attempts on the London Underground. The female senior officer who gave the plain clothes police the kill order was subsequently promoted. Her name was Cressida Dick.
Then there was the killing of the 24-year-old unarmed rapper in 2022 by a police marksman in Streatham sparking calls for justice from angry protesters in residential Kirkstall Gardens, Streatham Hill. Residents still ask who Chris Kaba is and why the 24-year-old, black unarmed rapper was shot dead by a police marksman through his car windscreen. Press avoided coverage because it would undermine the police and trigger racism. He was totally innocent and his grieving family left distraught. Clearly, like myself, he was vcitim of a corrupt PNC ( AKA PND ) Criminal Vehicle Marker which police state police are allowed to create with vile records on the PNC, on suspicion or because they don't like you. They don't need evidence or fear calling to account. I was , and still am, a victim, so know what it is like to be chased by marked and unmarked police cars.
Mr Kaba's killing had echoes of the fatal police shooting of Mark Duggan, 29, a decade ago in Tottenham, which sparked rioting across Britain. An inquest jury later found Duggan was lawfully killed. On social media, supporters passionately argue Mr Kaba's case with the hashtag #JusticeForChrisKaba, as Mr Bosela, 27, a former English teacher and year head, pleads: "He mattered to us."
The British are inclined to judge and lead Europe and the U.S from patronising heights and distance. Europe should have hoped Britain's ruling class had really left. The likes of Boris Johnson didn't want to be encumbered by European rules they had done so much to create. Hence Johnson, representing Anglo U.S NATO leadership, rushed to block an impending Russo Ukraine peace treaty. His elite needed a lucrative power base extending aggrandising war and they got it. As with their 1914 and 1939 provocative Imperialistic roles, they had no concern for the masses. Facts attest that they certainly did not care about the Jews and still don't. Hence they favour Palestine which wants to take over prosperous Israel with their own culture. Diversity is a pernicious confidence trick.
White liberals in Britain have a youth full mouthpiece with the privileged politicians in waiting : 'Uni Girls and Boys' brainwashed products of our dumbed down politically correct education system – for which I worked for 18 years.
Ironically these people's ancestors were the ones building and enriching themselves from exploiting empire and the white working classes – dividing and ruling in all they did. These peoples antecedents invented the mass media and know how to use and abuse it – which is why they need to shut down social media and extend the public space into pubs, clubs and even our homes.
Here in Britain we are indoctrinated into the world of diversity. Gays , lesbians and transsexuals are encouraged to make a show of their precious differences, as are religious and ethnic groups. The elite's intention is fake humanitarian idealism. They know they are sowing conflict, causing more distraction, excuses for more intrusive laws, more police powers and opportunity for their self aggrandising virtue signalling.
So Britain's elite press have another big opportunity to lecture France whilst assured their media will avoid any comparisons with Britain. Britain's elite loves the new Europeans which is why it does not want reform in Africa or the Indian sub continent. Since 1945, the U.K masses have been overeducated. They need to set the clock back. They need more religious bigotry and pomposity – as we saw with King Charles militaristic coronation. The New Europeans are here to help them and that is why the Paris riots are so helpful. Ukraine's remaining masses should watch with care because this is western style democracy and it is coming to them.
R J Cook
The New Europeans
The teenager, named as Nahel M, was shot at point-blank range as he refused a traffic stop and drove away. He later crashed to a stop
Videos shared on social media show cars being set alight and shops ransacked
Other footage shows people inside the town hall of the Mons-en-Barœul suburb of Lille, setting documents and chairs alight
French President Emmanuel Macron earlier called the shooting of Nahel "unforgivable", drawing anger from police unions, who accused him of rushing to judge the officers involved
Nahel came from a French-Algerian family, a neighbour told Reuters news agency. Their tally found that most of those killed by police in traffic stops since 2017 were black or Arab
Little sign that the call for calm is working

Lucy Williamson
BBC News, Paris
Anger at Nahel's death spilled onto France's streets again last night, the violence spreading out from the Paris suburbs to cities across the country.
In Nanterre, where he was shot on Tuesday, police fired tear gas at groups throwing stones, and bins and vehicles were set on fire.
In another suburb of Paris, a bus was reportedly emptied of passengers before being set on fire.
Fires also burned in Toulouse, Lyon and Lille, public buildings were attacked in several places – and police pelted with stones, bottles and fireworks.
The government understands the risk that this situation could quickly spiral into widespread rioting, fuelled by long-running frustrations over inequality and police behaviour.
President Emmanuel Macron quickly described the shooting of Nahel as "unforgivable and inexplicable". He and several government ministers have called for calm. So far, there's little sign it's working.
French MP says she shares protesters' anger
Sabrina Sebaihi, a member of parliament for Nanterre, has told the BBC that she shares the anger of those who have taken to the streets in France.
"The situation is still very tense and people are still very angry. Not only do I understand but I also share the anger," she told World Service radio.
"How can you stand still after watching the video of a 17-year-old boy killed by a police officer, yelling seconds before that he's going to shoot him in the head…All of this has been going on for too many years with a lot of racially-motivated shootings of Arab and black youth.
Quote Message: You don't need to be an expert to see that what happened was a flagrant disregard for human life. We have to act now. This means tackling the use of police in general in this country and especially the use of deadly force." from Sabrina Sebaihi MP for Nanterre

You don't need to be an expert to see that what happened was a flagrant disregard for human life. We have to act now. This means tackling the use of police in general in this country and especially the use of deadly force."Sabrina SebaihiMP for Nanterre