July 20th 2022
Ukraine war: Russia's Lavrov says ready to expand war aims
By Ben Tobias
BBC News
Russia's military focus in Ukraine is no longer "only" the east of the country, Foreign Minister Sergei Lavrov has said.
In an interview with Russian state media, he implied Moscow's strategy had changed after the West supplied Ukraine with longer-range weapons.
Russia would now have to push Ukrainian forces further from the front line to ensure its own security, he explained.
The US had earlier accused Russia of preparing to annex parts of Ukraine.
Russia invaded Ukraine in February, claiming falsely that Russian-speakers in Ukraine's eastern Donbas region had suffered a genocide and needed to be liberated.
Five months on, Russia has occupied parts of the east and south of the country, but it failed in its original aim of capturing Kyiv and has since claimed its main objective was the liberation of Donbas.
Since February, the West has supplied Ukraine with increasingly powerful weapons to use in its defence against Russian forces.
Mr Lavrov says that has forced Russia to expand its objectives further.
"We cannot allow the part of Ukraine controlled by [Ukrainian President Volodymyr] Zelensky… to possess weapons that would pose a direct threat to our territory," Mr Lavrov said in the interview with Margarita Simonyan – a well-known commentator on Russian TV and editor-in-chief of broadcaster RT.
"The geography is different now," he said, naming the southern Kherson and Zaporizhzhia regions as Russia's latest objectives. Moscow's forces already occupy parts of both regions.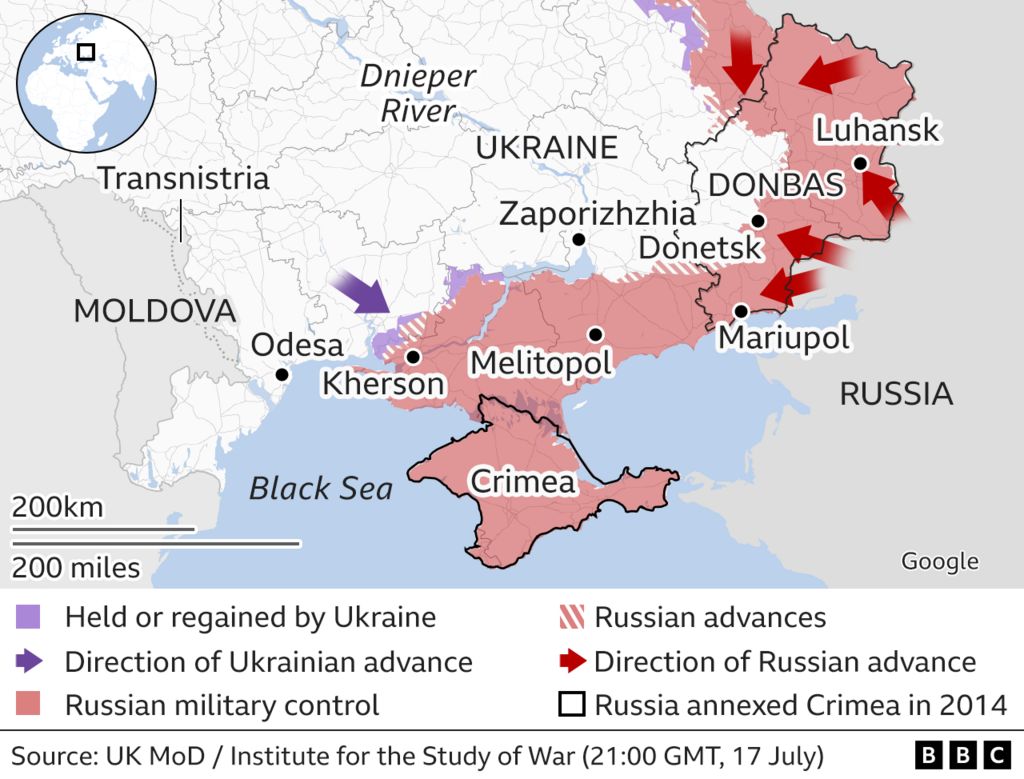 Mr Lavrov specifically referred to the Himars longer-range rocket system – supplied only recently by the US – with which Ukraine has had some success.
For two days running Ukrainian forces have used Himars to hit a key, strategic bridge in occupied Kherson, reports say. The Antonivskyi bridge is one of two bridges that Russia relies on to supply areas it has captured on the west bank of the Dnipro river, including Kherson city.
The Russian foreign minister described the West's actions in giving weapons to Ukraine as an "impotent anger" and a "desire to make things worse".
Russia's annexation plans
The apparent expansion of Russia's objectives was also noted on Tuesday by US National Security Council spokesman John Kirby, who said Russia was already making plans to annex large swathes of Ukrainian territory.
He accused Moscow of using a similar "playbook" to its takeover of Crimea, when it annexed the Ukrainian peninsula by organising a sham referendum in 2014.
Mr Kirby said Russia was installing illegitimate pro-Russian officials to run occupied regions of Ukraine. These new "administrations" would then organise local referendums on becoming part of Russia, possibly as soon as September.
The results of the votes would be used by Russia "to try to claim annexation of sovereign Ukrainian territory", Mr Kirby said.
Crimea was annexed by Russia in 2014 after a hastily-organised referendum – viewed as illegal by the international community, in which voters chose to join Russia.
Many supporters of Kyiv boycotted the vote and the campaign was neither free nor fair.
By Ben Tobias
BBC News
https://www.bbc.co.uk/news/world-europe-62231936
July 15th 2022
14 Jul, 2022 15:53 HomeRussia & FSU
Civilians killed as Ukraine shells Donetsk
The Donbass republic's leader says a US-made M777 howitzer was used in the attack
Two civilians have lost their lives, with another six sustaining injuries, as a result of Ukrainian shelling of the city of Donetsk, local authorities reported on Thursday.
The leader of the Donetsk People's Republic (DPR), Denis Pushilin, said in a Telegram post that the Ukrainian military had hit a bus terminal.
Among the victims are a young woman "who was going home from work" and a bus driver, the official revealed.
Pushilin went on to claim that a US-supplied М777 howitzer had been used in the attack against an area where there are no military installations.
He described the attack as "yet another deliberate shelling of civilians in the republic."
Also on Thursday, the authorities in Kiev claimed Moscow hit the city of Vinnitsa with missiles, allegedly killing 20 people, including three children, with 52 more injured.
Trends:DonbassDonetskRussiaUkraine
July 14th 2022
Russia-Ukraine grain talks outcome revealed
Moscow and Kiev have agreed to create a "coordination center" on grain exports in Istanbul, Turkey has said
Russian and Ukranian delegations meet along with UN and Turkish officials in Istanbul, Turkey, July 13, 2022 © AP / Turkish Defense Ministry
Russia and Ukraine have agreed to establish a joint coordination center on grain exports in Istanbul that will include representatives from all parties, Turkish Defense Minister Hulusi Akar told local media following the four-way talks that also involved Turkey and the UN.
On Wednesday, negotiators from Russia, Ukraine, Turkey and the UN met in the Turkish city to discuss the situation regarding the held-up Ukrainian exports.
Ahead of the meeting, Ukraine's Foreign Minister Dmitry Kuleba said that Kiev and Moscow had been close to breaking the impasse on the issue.
"An agreement has been reached on technical issues such as joint controls at the destination points and … the safety of navigation on the transfer routes," Akar told journalists. Russian and Ukrainian delegations "should meet again in Turkey next week," he said, adding that the parties would "review all the details once again" during that meeting. READ MORE: EU warned of new 'waves of migration'
Ukraine is one of the world's leading grain exporters. Yet, it has been unable to export its grain by sea due to the ongoing conflict with Russia. Kiev and Western nations have accused Moscow of preventing Ukrainian grain shipments from leaving the nation's Black Sea ports. Russia has denied such accusations and, in turn, blamed Kiev for the crisis, arguing that its forces mined the Black Sea waters, thus creating a threat to cargo ships.
The West has also accused Moscow of attempting to cause a global food crisis by supposedly blocking shipments of Ukrainian grain and "using hunger as a weapon." Last month, President Vladimir Putin said that Russia was not impeding exports and criticized the West for its "cynical attitude" towards the food supply of developing nations, which have been the most affected by the soaring prices. Moscow is ready to provide free passage to international waters for ships carrying grain, he added.
Hungary declares energy emergency
Budapest will ban exports and boost domestic production ahead of possible winter shortages
© AFP / ATTILA KISBENEDEK
The Hungarian government declared a state of emergency over tightening energy supplies on Wednesday. Gergely Gulyas, an aide to Prime Minister Viktor Orban, announced that domestic gas and coal production will be stepped up and gas reserves filled before winter.
With the EU cutting itself off from Russian energy imports, Gulyas told reporters that the bloc will likely not have enough gas from Autumn onwards. In response to the supply crunch, he announced a seven-point plan, effective from August.
Hungary will increase domestic gas production from 1.5 to 2 billion cubic meters, while filling the country's storage facilities with foreign gas. At present, Gulyas said that the country's reserves are 44% full.
Meanwhile, his government will impose a ban on the export of firewood, while increasing domestic coal extraction. At the same time, the coal-fired Matra power plant will be restarted as soon as possible, having been partially shut down since January 2021.
EU will pay the price for sanctions on Russia – minister
The reckoning will come in the winter, which will be the harshest in decades, the Romanian deputy PM has said
The EU will have to pay a heavy price for its sanctions on Russia, as this year the continent could experience the harshest winter in decades, Romanian Deputy Prime Minister Hunor Kelemen told B1 TV on Wednesday.

"First of all, we, the European Union, will have to pay for the sanctions against Russia… Truth be told, we will all pay the price this winter while, unfortunately, there are no signs that the end of war is near… It will be a harsh winter, perhaps the harshest one in the last 40-50-60 years," he told the outlet.
According to Kelemen, Ukraine's conflict with Russia will last longer than anticipated, and it will take a toll on Europe. The deputy PM, however, defended the sanctions imposed by the West in response to Moscow's military campaign in Ukraine, saying Europe "did not have any other leverage." Read more Germany sounds gas crisis alarm
Despite the economic woes plaguing the EU, Kelemen tried to strike an optimistic tone, saying Romania will be able to cope with the energy issues.
"We can cover about 80% of Romania's needs in natural gas, but we will have to buy about 2 billion cubic meters on the market. If not, we will certainly face some problems, but I am convinced that we will buy gas, we will have electricity, and this compensation will allow us to get through the winter," he explained.
Amid the Ukraine conflict, the EU imposed sweeping sanctions on Russia, including a ban on Russian oil delivered by sea. The bloc also vowed to cut its dependence on natural gas from Russia.
On Monday, Russian energy giant Gazprom suspended operations of the Nord Stream 1 gas pipeline due to planned maintenance, set to be complete by late July. In mid-June, the flow of gas through the major conduit was slashed to 40% of capacity due to operational challenges caused by the failure to return a serviced turbine from Canada, due to the sanctions.
As a result, all of these factors have exacerbated Europe's energy crunch.
https://www.rt.com/trends/anti-russian-sanctions-us/
July 12th 2022
What a lot of gas ?
Russian natural gas supplies to Germany via the Baltic Sea pipeline Nord Stream 1 have been halted for 10 days for annual maintenance work.
But German Economy Minister Robert Habeck warned that EU countries had to be prepared in case gas shipments did not resume.
He has accused the Kremlin of using gas "as a weapon" in response to EU sanctions over the war in Ukraine.
Mr Habeck admitted Germany had become too dependent on Russian gas.
He described that as "a grave political mistake as we can see today, which we are trying to remedy as quickly as we possibly can".
He said two floating terminals for deliveries of liquefied natural gas (LNG) would be ready by the end of the year.
In mid-June Russia's state gas firm Gazprom cut gas flows through Nord Stream 1 to just 40% of the pipeline's capacity. It blamed a delay in the return of equipment being serviced by Germany's Siemens Energy.
The Canadian government says it will now return a repaired Siemens turbine to Germany for the pipeline. That move angered the Ukrainian government, which accused Canada of adjusting the sanctions imposed on Moscow "to the whims of Russia".
Canada says it is granting Siemens Canada a "time-limited and revocable permit" to send repaired turbines back to Germany, despite the sanctions.
Germany's government is worried that gas supplies could be reduced or cut permanently.
Pipeline maintenance is normal every summer, when gas demand is lower than in winter, but the worry is that Russia may not turn the taps back on.
The pipeline shutdown is also affecting Italy, where energy group Eni said it would receive about a third less gas from Russia's Gazprom on Monday compared with average volumes supplied over the past few days.
The head of the International Energy Agency, Fatih Birol, has warned that Russia may cut off gas supplies to Europe entirely and that Europe needs to prepare now.
Russia has already cut gas supplies to Poland, Bulgaria, the Netherlands, Denmark and Finland over their refusal to comply with a new payment scheme.
Austria and the Czech Republic get some gas from Nord Stream 1, but Russian gas also flows to them via a Ukraine pipeline.
Visiting Prague, Mr Habeck signed an agreement with the Czech Republic pledging mutual help in the event of a sharp drop in Russian gas supplies.
Since Russia's invasion of Ukraine in February, Germany has reduced its dependence on Russian gas from 55% to 35% and wants to stop using gas from Russia altogether.
Last year the other main suppliers of natural gas to Germany were Norway (31%) and the Netherlands (13%). Germany is now getting more gas from them, since reducing imports from Russia.
The government has also given the go-ahead for Germany's first LNG terminal to be built, at Wilhelmshaven.
Another undersea Baltic pipeline from Russia, Nord Stream 2, has been built, but plans to pump gas through it are now on hold because of the war.
If Russian supplies were suddenly cut overnight, this could tip Germany into a major recession, because entire industries rely on gas and most German homes use it for heating.
A leading energy market analyst, Henning Gloystein of Eurasia Group, warned that "if Nord Stream 1 doesn't come back on at all, let's say by early August, we think that the German government will have to raise its gas alert level to the third level, which is the maximum level".
"That would be suspending the wholesale gas market and the government and regulator stepping in as the distributor of natural gas. So that will effectively mean rationing next winter. What happens in Germany, sadly, will spread over to the rest of Europe if it gets bad, because of the geographical location in the middle of the EU," he told the BBC.
Germany's gas storage facilities are currently about 64% full, German broadcaster ZDF reports.
Industry experts quoted by German media say the chemicals sector would be hardest hit by a gas shortage. It accounts for 15% of Germany's gas consumption, and disruption could lead to shortages of goods such as fertiliser, pharmaceuticals, detergent and cosmetics.
German households and key services such as hospitals will be prioritised for gas supplies under a government emergency plan.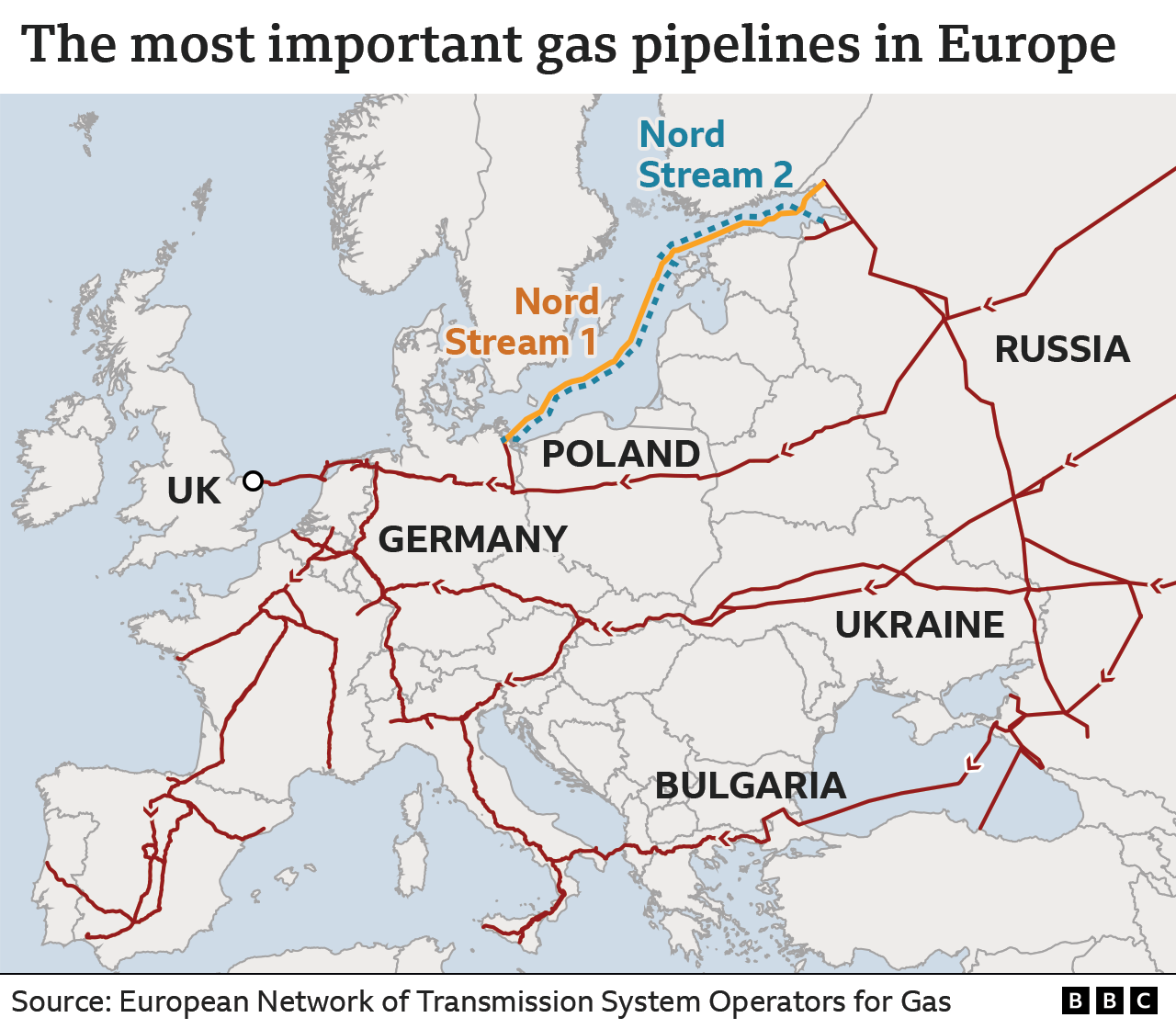 Comment With U.K's Liz Truss poised to become Prime Minister, we can expect matters to get worse. Truss is strident and more simplistic , self righteous and strident than the previous Iron Lady – Margaret Thatcher. The party is bound to choose a woman, in the absurd name of equality and levelling up ( sic ). None of of them are good news for the lower classes.
Sadly Starmer and his ludicrously named Labour Party are no good either – except to themselves. They all want more war for Russian regime change, however much it hurts the lower orders. They also expect Europe to do as the U.K tells them to.
Truss's only opposition will be from tainted Sunak. Given that Sunak could not make drastic tax cuts because the rich are not going to pay for the c`onsequences of sending lethal aid to Ukraine, or for the outcome of the insane sanctions causing the 'crisis' The U.K and European masses will simply blame Russia. R J Cook
July 8th 2022
7 Jul, 2022 17:11 HomeRussia & FSU
Defense minister updates Putin on latest Ukrainian losses
.
Sergey Shoigu described the Russian military's progress to the president
In just two weeks, Ukraine has lost almost 5,500 troops, including over 2,000 killed, Russian Defense Minister Sergey Shoigu said on Monday while delivering an update on the conflict with Ukraine to President Vladimir Putin.
The minister made his second report to the Russian leader in as many days. On Sunday, he confirmed that Russian and allied forces had assumed full control of the territory that the government of the Lugansk People's Republic claims as its own, after the capture of the city of Lisichansk. The report, delivered in-person, provided additional details on the outcome of the operation.
According to Shoigu, Ukrainian troops sustained 5,469 casualties over the last two weeks, including 2,218 fatalities. The fighting also cost Kiev a significant amount of hardware, including 12 warplanes, six long-range air defense missile systems, 97 rocket artillery launchers and almost 200 tanks and other armor, the defense minister reported. Ukrainian troops abandoned some of the weapons in Lisichansk, including almost 40 vehicles, he said.
Read more Ukraine gives update on combat losses
Earlier, Ukrainian officials, including President Volodymyr Zelensky, reported suffering heavy losses in the east, with an average of 200 casualties per day. Kiev claimed its troops were vastly outgunned by Russia and its allies in artillery and urged Western nations to speed up delivery of promised military aid to Ukraine.
Russia sent troops into Ukraine on February 24, citing Kiev's failure to implement the Minsk agreements, designed to give the regions of Donetsk and Lugansk special status within the Ukrainian state. The protocols, brokered by Germany and France, were first signed in 2014. Former Ukrainian President Petro Poroshenko has since admitted that Kiev's main goal was to use the ceasefire to buy time and "create powerful armed forces."
In February 2022, the Kremlin recognized the Donbass republics as independent states and demanded that Ukraine officially declare itself a neutral country that will never join any Western military bloc. Kiev insists the Russian offensive was completely unprovoked.
https://www.rt.com/russia/558329-shoigu-report-putin-donbass/
Russia hasn't really started anything yet – Putin
The president cautioned Russia's rivals against attempting to defeat it on the battlefield
Russian President Vladimir Putin. © Sputnik / Mikhail Metzel
Russia is ready to engage in peace negotiations with Ukraine, President Vladimir Putin said on Thursday, warning that those who reject such prospects should realize that prolonging the ongoing conflict would only make such talks more difficult.
"We do not refuse to negotiate peace, but those who refuse should know that the longer they do, the more difficult it will be to negotiate," Putin said, issuing a warning to those who might think Russia has already exhausted its capabilities amid the conflict.
We hear today that they want us to be defeated on the battlefield. Well, what can I say? Let them try. We haven't even really started anything yet.
Putin also said that the West appears to actually be willing to "fight until the last Ukrainian," which he said is a "tragedy" for the Ukrainian people.
Putin challenges West to fight Russia on the battlefield: 'Let them try'
By Timothy BellaJuly 8, 2022 at 8:17 a.m. EDT
More than four months into the invasion of Ukraine, Russian President Vladimir Putin bragged Thursday that the conflict had only just begun. And he challenged Western countries supporting Ukraine to "try" to fight Russia on the battlefield.
Russian President Vladimir Putin. © Sputnik / Mikhail Metzel
Russia is ready to engage in peace negotiations with Ukraine, President Vladimir Putin said on Thursday, warning that those who reject such prospects should realize that prolonging the ongoing conflict would only make such talks more difficult.
"We do not refuse to negotiate peace, but those who refuse should know that the longer they do, the more difficult it will be to negotiate," Putin said, issuing a warning to those who might think Russia has already exhausted its capabilities amid the conflict.
We hear today that they want us to be defeated on the battlefield. Well, what can I say? Let them try. We haven't even really started anything yet.
Putin also said that the West appears to actually be willing to "fight until the last Ukrainian," which he said is a "tragedy" for the Ukrainian people.
In televised remarks to parliamentary leaders, Putin pushed back on the idea that Russia has let the invasion drag on for too long, saying it hadn't "even really started anything yet." He said negotiating peace is getting more and more difficult, then focused his ire on Western countries that have imposed wide-ranging sanctions on Russia while offering support and resources to Ukraine.
https://www.washingtonpost.com/world/2022/07/08/putin-russia-ukraine-west-battlefield/
July 6th 2022
From The BBC.
Residents have been told to leave Ukraine's eastern city of Slovyansk, a day after two people were killed in a Russian attack on a market.
Civilians boarded minibuses on Wednesday morning as Russian forces advanced from the north and east.
UK defence intelligence said there was a "realistic possibility" the battle for Slovyansk would be the next key contest in the struggle for the Donbas.
Russian forces were likely to be 16km (10 miles) north of the city, it said.
Donetsk governor Pavlo Kyrylenko said the Russians had turned the entire Donetsk region into a hotspot where it was dangerous for a civilian to remain. "I call on everyone to evacuate, evacuation saves lives," he said on his social media feed.
Russia switched its focus to Ukraine's eastern Donbas region in March, after a failed bid to capture the capital Kyiv. It has taken control of Luhansk region, to the north and east of Slovyansk, and has now pushed on to the rest of Donetsk. The industrial Donbas embraces Donetsk and Luhansk.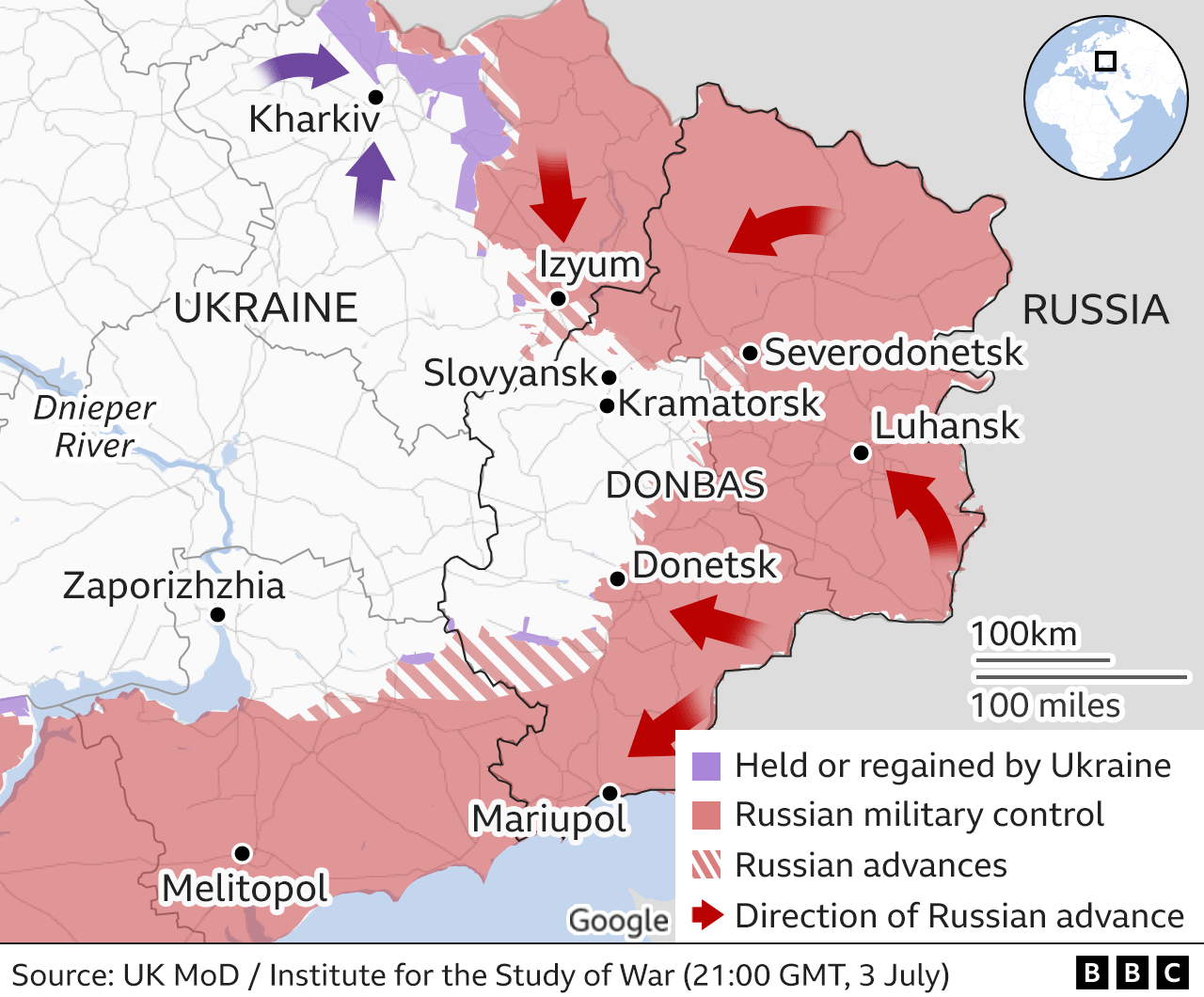 July 4th 2022
EU eyes anti-Russia sanctions authority
A new bloc-wide agency, similar to OFAC in the US, could soon be created, a top official says
Lawmakers in the European Union are seeking a new authority to enforce sanctions against Moscow over the conflict in Ukraine, Mairead McGuinness, European Commissioner for Financial Services, told the Financial Times on Sunday.
According to the official, the bloc is considering an EU version of the Office of Foreign Assets Control (OFAC), a financial intelligence agency of the US Treasury Department, which spearheads enforcement of penalties.
"Anything that would help member states implement [sanctions], and where we see European oversight and co-ordination… would be a plus," McGuinness said. "The idea of having an overarching view of sanctions and their implementation is one I would support."
She added that as an alternative, Brussels could authorise its planned Anti-Money Laundering Authority (AMLA) to oversee sanctions, by amending legislation currently being thrashed out by the European Parliament and member states.
The European Union is working on new sanctions to include Russian gold, people familiar with the matter told Bloomberg on Friday. According to the report, the EU is looking to limit Moscow's revenue sources.
Preparations for the new sanctions package are ongoing and some nations will be pushing to add more measures to the proposals before they are presented to member states for approval, one of the people in the report said.
The report comes after the US prohibited the imports of Russian gold on Tuesday, with the UK, Japan, and Canada joining the ban. READ MORE: Russian gold arrives in Switzerland
Industry analysts describe the ban on Russian gold as mostly symbolic because Western sanctions have largely closed off European and US markets to gold from the world's second-biggest bullion miner. Experts add that Russia still has the option to sell the precious metal directly to refineries, or to buyers in China, India, and the Middle East.
Russia's gold exports were estimated to be worth $15 billion in 2021, according to Bloomberg.
For more stories on economy & finance visit RT's business section
G7 leaders agree to support Ukraine indefinitely – Bloomberg
The West's strongest states plan to continue providing Ukraine with all kinds of assistance
© AP / Susan Walsh
The Group of Seven (G7) will pledge to provide support to Ukraine in all possible forms "for as long as it takes," according to a draft communique of its ongoing summit, seen by Bloomberg.
The three-day meeting of the G7 leaders began on Sunday in Bavaria, Germany, with the Ukrainian conflict dominating the agenda.
"We will continue to provide financial, humanitarian, military and diplomatic support and stand with Ukraine for as long as it takes," reads the draft of the leaders' statement.
Russia has warned the US, EU and their allies against providing Ukraine with weapons, saying that it will only prolong the conflict. However, Western leaders have ignored the statements. On Sunday, UK Prime Minister Boris Johnson and French President Emmanuel Macron agreed to continue supporting Kiev militarily to "strengthen their hand in both the war and any future negotiations."
West bars Kiev from thinking about peace – Kremlin
The US and its allies still bet on a continuing conflict, Moscow has said
The US and its allies are still interested in continued conflict in Ukraine, Kremlin spokesman Dmitry Peskov said on Sunday. Western nations effectively prevent the government in Kiev from even thinking about any potential peace talks, the official added.
When asked about potential reasons that have led German Chancellor Olaf Scholz and French President Emmanuel Macron to no longer call Russian President Vladimir Putin, Peskov called this another sign suggesting that western leaders are not interested in achieving peace through dialogue and negotiations.
"At the moment, the western nations are actively betting on the continued war," Peskov told the TV show 'Moscow. Kremlin. Putin.' on Russia's Rossiya 1 channel. The position of the western nations –led by Washington– leads to a situation where they "allow Ukrainians neither to think nor talk about or discuss peace," the Russian president's spokesman added.
Read more Russia tells Ukraine how to end conflict quickly
The Kremlin believes that "common sense" would eventually prevail and the sides will return to the negotiation table. "Now, the demand for pacifying the situation is low," Peskov commented, adding that "we are sure … that the time for talks will come."
Kiev will still have to "once again understand" all the demands put forward by Moscow before the talks could continue, the Kremlin spokesman pointed out. The Ukrainian government is well aware of Russia's position, he said, adding that Kiev just needs to "sit down at the [negotiation] table" and "sign a document that has already been largely agreed."
Moscow and Kiev started peace talks just four days after the start of the Russian military operation in Ukraine in late February. The sides have held several rounds in person in Belarus and then continued the talks via a video link. In late March, the delegations from Russia and Ukraine met once again in Istanbul.
Since then, however, the talks have completely stalled, as the Ukrainian side has insisted it would only come back to the table when it was in a "stronger negotiating position." In April, Putin accused Kiev of bringing the process to a deadlock. Peskov said at that time that Russia had provided Ukraine with a draft agreement and was awaiting a response.
Macron says he doesn't want to 'annihilate' Russia
While the French president has backed anti-Russia sanctions, he has refrained from the extreme rhetoric of his US and UK counterparts
French President Emmanuel Macron condemned "Anglo Saxon" leaders for openly wishing annihilation upon Russia in clips from a recent documentary. Macron has already been criticized by some of Ukraine's most fervent supporters for staying in contact with Russian President Vladimir Putin.
While he has condemned Russia's military operation in Ukraine and supported EU sanctions on Moscow, the French president has spoken to Putin by phone on several occasions since February. These calls have apparently not brought Ukraine any closer to peace, but have earned Macron scorn from Kiev's supporters, including Polish Prime Minister Mateusz Morawiecki, who castigated his French counterpart for talking to a man he compared to "Hitler."
However, in a documentary recently broadcast on French television, Macron gave some insight into his approach to diplomacy.
Filmed on a train back from Kiev last month, Macron explained that talking to Putin is necessary to prevent the conflict in Ukraine from becoming a wider war. Describing "Anglo Saxon" leaders as pushing the message that "we must annihilate Russia, weaken it permanently," Macron said that his goal is instead to "help Ukraine to win," and "not to fight against Russia, let alone annihilate it."
Whatever the practical similarities between Macron's approach and that of his US and UK counterparts, all of whom have provided Kiev with weapons and ammunition, there exists a clear difference in rhetoric between France and the "Anglo Saxon" world.
While US President Joe Biden has accused Russia of committing "genocide" in Ukraine, Macron has cautioned the West against bandying around such loaded terms. Likewise, he has dismissed requests from Kiev that he declare Russia a "sponsor of terrorism."
And while US Secretary of State Lloyd Austin has described the conflict in Ukraine as an opportunity to leave Russia "weakened" and Biden has let slip that he wishes for regime change in Moscow, Macron has stated that the West "must not humiliate Russia," in order to make a peace deal possible some day.
In Britain, Prime Minister Boris Johnson has compared Putin to a "crocodile" and repeatedly dismissed the idea of peace talks with Moscow. Meanwhile, the newly-appointed chief of Britain's armed forces has declared that the UK's military must prepare for the possibility of "defeating Russia in battle."
July 3rd 2022
John Bolton makes prediction for Ukraine conflict
Biden has "made mistake after mistake" in handling the crisis, the hawkish Republican and former US national security adviser says
A Ukrainian serviceman walks in front of a burning vehicle during the fighting the city of Lysychansk. © AFP / Aris Messinis
US President Joe Biden had failed to deter the Russian offensive in Ukraine and now has no idea what to do with the ongoing conflict, former US national security adviser John Bolton has said. Bolton also claimed that a deal between Moscow and Kiev seems to be unlikely at the moment.
The Republican politician, who is a staunch critic of Russia and one of the most hawkish figures on the American political scene, appeared on CBS on Saturday, claiming that Biden had "made mistake after mistake" in handling the Ukrainian crisis.
The US leader had the means to prevent the Russian military operation, but "didn't exercise them," he insisted. According to Bolton, Biden shouldn't have announced publicly that American troops wouldn't be sent to Ukraine to "leave the burden of ambiguity on Russia." The right thing to do for Biden was also to slap sanctions on Moscow before the start of the offensive, not after it had already begun, he added.
As for the possibility of the conflict between Russia and Ukraine being settled at the negotiating table, the former US national security adviser said: "I don't see any possibility of a deal between the two of them."
Read more Pre-emptive use of force perfectly fine to thwart threats to US and its allies, John Bolton tells RT
"I don't think [Russian President Vladimir] Putin is in a position to say he has achieved Russia's objectives. He may come to that at some point. It may be a lie, but he'll find a way to stop the hostilities on his own terms," he said.
Ukrainian President Volodymyr Zelensky also "has no flexibility to negotiate at this point," as polls show that the majority of Ukrainians object to any territorial concessions to Russia, he added.
"So, sadly, particularly for Ukraine, I think this grinds on for some time," Bolton said of the fighting.
When asked whether the White House had a winning strategy in Ukraine now after four months of conflict, Bolton responded by saying: "I don't think they do."
"I think now they don't know what outcome to expect; they don't know what they want to achieve," he pointed out.
"The initial strategy [of the Biden administration] was to prevent catastrophic defeat" for Kiev as Washington expected Ukraine to fall in a couple of weeks, the 73-year-old said. READ MORE: US intelligence sets out possible scenarios for Ukraine
"Let's not get too excited about the fact that Ukraine wasn't overrun," he urged, adding that "now we need to decide what our objectives are."
According to Bolton, they should be "gaining again full territorial integrity and sovereignty for Ukraine."
Biden addressed the Ukrainian conflict during the NATO summit in Madrid earlier this week. "I don't know how it's going to end," he said, but at the same time vowed that "it will not end with a Russian defeat of Ukraine in Ukraine."
The US has been the strongest backer of Kiev amid the Russian military operation, providing Ukraine with billions of dollars in military and financial aid, as well as with intelligence data. "We are going to stick with Ukraine, and all of the [NATO] alliance is going to stick with Ukraine as long as it takes," Biden said.
1 Jul, 2022 09:02 HomeRussia & FSU
Kissinger outlines three possible outcomes in Ukraine
Victory for Moscow, a war between Russia and the West, and a return to pre-February 24 lines are all viable scenarios, the veteran US politician believes
Former US Secretary of State Henry Kissinger, who recently turned 99, has shared his thoughts on how the ongoing conflict between Russia and Ukraine could end.
"There are three possible outcomes to this war – all three of them are still to some extent open," Kissinger said in his interview with The Spectator magazine.
The first scenario would be "if Russia stays where it is now, it will have conquered 20% of Ukraine and most of the Donbass, the industrial and agricultural main area, and a strip of land along the Black Sea."
If this happens it would be "a victory" for Moscow that will also show that "the role of NATO will not have been as decisive as earlier thought," the veteran politician pointed out.
The second possible outcome "is an attempt is made to drive Russia out of the territory it acquired before this war, including Crimea, and then the issue of a war with Russia itself will arise if the war continues," Kissinger warned.
Read more Kissinger turns 99, declared 'enemy' by Ukraine
"The third outcome… is if the Free People can keep Russia from achieving any military conquests and if the battle line returns to the position where the war started, then the current aggression will have been visibly defeated," he said.
This would see Ukraine rebuilt the way it was before the Russian military operation started on February 24 and rearmed by NATO, "if not [made] part of it," the former secretary of state suggested.
"The remaining issues could be left to a negotiation. It would be a situation which is frozen for a while," but the deadlock would be overcome with time, he assured.
According to Kissinger, this "third outcome" is the same that he sketched out during his video-address to the World Economic Forum (WEF) in Davos in May.
In the speech that made international headlines, he insisted that "negotiations on peace [in Ukraine] need to begin in the next two months," otherwise the conflict could turn from "a war about the freedom of Ukraine, which had been undertaken with great cohesion by NATO," into a "war against Russia itself."
The ideal outcome of those talks would be a "return to the status quo ante," he said.
The proposal angered many in Ukraine, with President Volodymyr Zelensky saying that Kissenger "emerges from the deep past and says that a piece of Ukraine should be given to Russia" in order to appease Moscow. He suggested that the former secretary of state forgot that it was 2022 and thought that he was talking to an audience in Munich in 1938.
Comment Zelensky's arrogance and hubris knows no limits.
Miss Roberta Jane Cook
Ukraine reiterates threat against Crimean Bridge
The attack will take place "at the right moment," Zelensky's top aide says
Ukraine still has plans to strike Europe's longest bridge connecting Crimea to Russia's Krasnodar Region, Alexey Arestovich, a top aide to Ukrainian President Volodymyr Zelensky, has said.
On Friday, alarming reports emerged of large plumes of while smoke coming from an area near the Crimean Bridge, also known as the Kerch Bridge. But the Crimean authorities later said there was no reason to panic, explaining that Russian police were holding drills near one of the sections of the 19km-long structure.
When asked about those exercises during an interview with activist Mark Feygin on YouTube, Arestovich said the authorities "were right to be preparing."
"Nobody is being sentimental. If such a need arises, we'll strike the Crimean Bridge, at the right moment," he said.
However, the presidential aide acknowledged that the weapons currently possessed by the Ukrainian military were "technically incapable" of reaching the strategic bridge.
Serbia says it will not be 'NATO foot soldier'
The West must apologize for killing Serbian children in the 1999 invasion, Serbia's interior minister says
Western nations should apologize to Serbia instead of forcing it to become a "NATO foot soldier" in the conflict with Russia, Serbian Interior Minister Aleksandar Vulin has said. Belgrade will not let itself be dragged into "other people's wars," he told the morning show on Serbia's Pink broadcaster on Saturday.
Belgrade's stance in relation to the ongoing conflict between Moscow and Kiev is "very clear," Vulin said, adding that Serbia respects the territorial integrity of Ukraine but would not join the sanctions regime against Russia due to its longstanding close and friendly relationship with Moscow.
The interior minister was responding to the words of Deputy Prime Minister Zorana Mihajlovic, who had earlier said that a hypothetical future Serbian cabinet should be more "specific" in its stance on the conflict.
Decline in Western training of Ukrainian troops – media
Lack of relevant experience leave Kiev's forces unable to use advanced Western weapons systems, Foreign Policy has learned.
Many EU countries in 'direct war' with Russia – Serbia
Bloc members are sending weapons to Ukraine and are angry that Serbia "is not in their shoes," President Aleksandar Vucic claims
© AP / Olivier Matthys
Many EU states are in "a direct war" with Russia and are "angry" with Belgrade for refusing to go along with sanctions, Serbian President Aleksandar Vucic said on Saturday.
Speaking at a press conference two days after attending a meeting between the 27 EU leaders and six heads of government from the West Balkans, Vucic claimed the Balkans "were not important that day" for the EU, as the bloc is "completely at war with Russia" and its priority was to provide Ukraine and Moldova with EU candidate status.
"[Hungarian Prime Minister] Viktor Orban said that in the economic sense, Serbia and Montenegro are much more ready to be part of the EU than some other countries. But who cares?" Vucic remarked.
He explained that Serbia is now in a difficult position due to the pressure to join EU members in imposing sanctions on Russia. The president stressed he is aware of "how angry many of them are" over the issue.
Serbia reveals how to get fast-track pass to EU
If a military conflict has become the condition for quick EU accession, Belgrade is not interested, the country's minister has said
A military conflict with Russia appears to be the condition for a fast-track accession to the European Union, Serbian Interior Minister Aleksandar Vulin said on Thursday, adding that, if this was the case, Serbia would not rush with its bid.
On Thursday, the European Council agreed to grant candidate status to Ukraine and Moldova. While joining the EU has been a prime talking point for pro-Western Ukrainian politicians for decades, Kiev's drive to join the bloc has been reinvigorated amid the ongoing conflict with Russia. By becoming candidates, Ukraine and Moldova joined Albania, North Macedonia, Montenegro, Serbia, and Turkey in the EU's waiting room.
Commenting on the bloc's move, Vulin claimed that the EU had decided "to stop pretending that there are the same rules for everyone who wants to join this organization."
Stressing that Ukraine falls short of meeting standards which are "so carefully applied to Balkan countries," the minister claimed that Kiev's "participation in the war was enough to start negotiations."
Read more https://www.rt.com/russia/557774-zakharova-eu-status-ukraine/
July 1st 2022
'Russian-speakers will be second-class citizens unless they give up their language': A view on Ukraine's future from Donbass
RT interviews a journalist living in the Donetsk People's Republic since 2014
During his 2019 election campaign, Ukraine's current President Volodymyr Zelensky constantly repeated that his mission was to unite the country and breach the ideological gap between the EU-leaning West and the Russian-speaking East.
This was the division that resulted in the declaration of independence by the Donbass republics, in 2014.
However, but the differences are so deep that even the present, and obvious, threat to the state's territorial integrity has failed to fully unite Ukrainians. One of the principal issues is language, those in the West prefer to use Ukrainian and the east is mostly Russian speaking.
There is a historical reason, of course. Modern Ukraine was created – by the Soviet Union – as a result of sticking various territories together. Thus, parts of the south-west came from Hungary and Romania, a large chunk of the West is historically Polish land and places like Odessa and Kharkov have long been Russian.
Indeed, many soldiers from the western regions don't want to risk their lives fighting in the East, but would happily defend their home regions.
RT spoke with Vladislav Ugolny, a journalist and expert on the history of Novorossiya, about the attitude of one group in Ukrainian society towards the other. We also asked Vladislav if there is any hope for reconciliation.
–We keep seeing videos online showing soldiers from western Ukraine refusing to fight in the East. It seems that they don't want to risk their lives defending the eastern territories.
[Some of] the territorial defense units mobilized in western Ukraine have different objectives. They are not eager to die for Kharkov or Kiev; they don't feel that it's their land and they have no warm feelings towards the people living in these cities. We've seen the video showing the mother of a Ukrainian soldier from Dnepropetrovsk who tried to receive humanitarian aid in Lviv, where she had been evacuated, and she was refused because she spoke Russian. This is very typical.
Comment The Anglo- U.S elite has another unmentioned motive for attacking Russia and ultimately China – cowering Turkey in the process. They have a history of fueling oppressive religions to divide, rule and fool Islamists and Christians in the western rebranded 'Developing Nations.' The last thing these psychological Imperialists want is real development. overpopulation and disease drives migration west, offering an endless supply of desperate migrants seeking a better life. It also fuels the so called racism which they use as a moralising stick to beat and guilt the lower class masses of white people.
This also applies to the U.S and Latin America. The elite need to control the land for groups, resources and global poower. They have contempt for the masses. They back BLACK African dictators and puppet governments. They undermine regimes they don't like, as we see in Africa ,Venezuela, Ecuador , Chile and Colombia – the latter wbere the CIA fostered the drugs industry. The Russo – China 'Belt and Road' initiative has been a real nightmare for the Anglo U.S and their EU Poodle. The last two world wars were led by the U.K , with the U.S following behind . With Doris Johnson, War Monger Wallace and their Truss, it all seems to be happening again. Miss Roberta Jane Cook
June 30th 2022
https://www.bbc.co.uk/news/live/world-europe-61960122
Russia Accuses NATO Of Destabilising World Order
RT News (28 June 2022)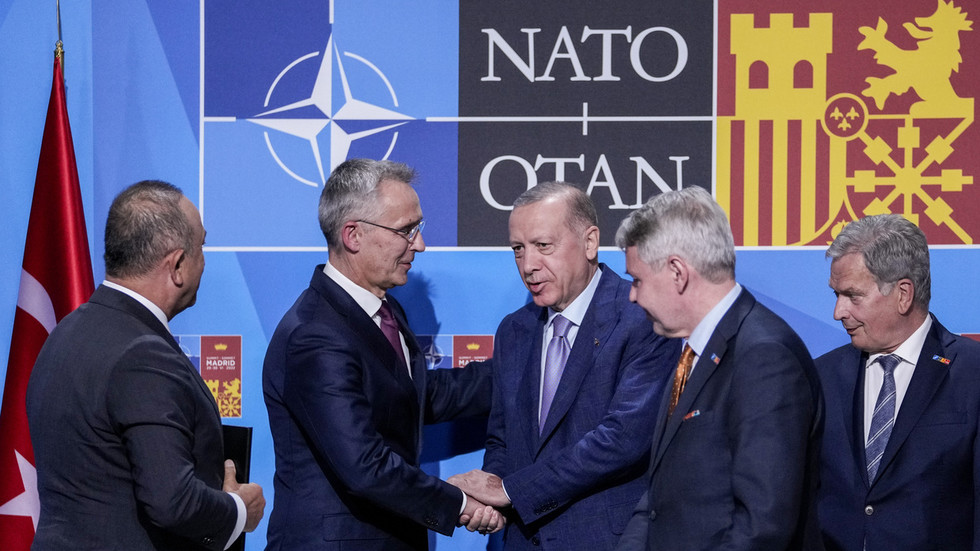 Turkey reaches NATO deal with Finland and SwedenFinland and Sweden have reached a breakthrough in talks with Turkey over their invitation to join NATO, which Ankara will no longer blockRead more on the site
Comment NATO provoked war in Ukraine, with the plan working well to encompass Scandanavia. Britain's posh boy army chief talks of our 1937 moment sounding just like the imbeciles who created the environment for World War Two.
As with those who gave the world the provocative moralisngs and appalling 1919 peace settlement, Britain's hypocritical elite & their media are just as as hot on moralising self righteousness. NATO and posturing narcisistic comedian Zelensky like the antiques from the old glory gory days.
Britain's media, elite and chattering classes used to laugh at the Soviets for rewriting history. The joke is that these arrogant Brits are experts in that field. Reality check, this is a war. Britain wants it to go even more global. In war do not site strategic targets next to Shopping Centres, especially when sanctions are denying Russia the precision technology to guide their missiles.
Inevitably the pathetic British censors have blocked my news feed from RT news. The BBC and other western media deserve blocking by Russia. The west has reneged on every post 1991 promise to Russia. This is the penultimate step in regime change, China being next unless a hot World War Three comes first.
Our vile planet eating wealth and power grabbing divide & rule, ruling elite with their rampant psychological imperialism, probably have conscription plans ready to send our young men off to war.
Miss Roberta Jane Cook.
June 29th 2022
27 Jun, 2022 11:43 HomeWorld News
NATO to increase rapid-response forces sevenfold – Stoltenberg – RT
The military bloc's chief says the number of high-readiness forces will reach 300,000
NATO will drastically boost the number of its rapid-response combat forces, Secretary General Jens Stoltenberg said on Monday.
"We will transform the NATO response force and increase the number of our high readiness forces to well over 300,000," Stoltenberg told reporters ahead of the bloc's summit in Madrid, Spain later this week.
The NATO Response Force (NRF) currently has around 40,000 personnel.
Stoltenberg said the allies will strengthen their air defenses and increase stockpiles of military supplies.
Together, this constitutes the biggest overhaul of our collective deterrence and defense since the Cold War.
NATO leaders will kick off a three-day summit on Tuesday and focus on the collective response to the Russia-Ukraine conflict.
"I expect it will make clear that allies consider Russia as the most significant and direct threat to our security," Stoltenberg said. READ MORE: Poland seeks NATO brigade group on its territory
Many NATO member states imposed sweeping sanctions on Moscow and have supplied Kiev with heavy weapons, including missile systems, combat drones, and armored vehicles.
Russian President Vladimir Putin cited NATO's eastward expansion and "efforts to gain a military foothold" in Ukraine as reasons for launching the military campaign in late February.
Comment It is interesting how NATO pass their behaviour off as defence and deterrence. They committed untold war crimes in the Middle East and jailed 2 whistle blowers. They violated the Minsk Agreement while turning a blind eye to war crimes against ethnic Russians in the Donbas region of East Ukraine for too many years.. All along this has been a NATO war with a one time comedian Zelensky nominally in charge.
Britain's diversity loving toff PM Doris Johnson is another joker, taking the mickey out of Putin, egged on by his pampered fellow fake democrats. There may be choice in the west, but only for the elite and ruling classes. The masses are easily fooled by slick well dressed well paid media front men and women into believing that the money spent on supporting NATO expansion has nothing to do with the cost of living crisis, where they get poorer and the elite profits ever higher. U.K's rail strike is a current example of that mentality.
Russia has been put into an intolerable position from the NATO threat. NATO are chancers with MI6 and CIA working hard behind the scenes to subvert Russian order with more regime change in the name of freedom on the table. They just don't believe that Putin will go nuclear. interesting how much influence Doris Johnson and the U.K elite still have on the Europe they pretended to leave. it was so touching to see Doris embracing Macron at the luxury tax payer funded G7 hiude away yesterday. The public exclusion zone and security forces had been massively expanded because so many Europeans dislike their so called leaders, which begs the questions how they get elec`ted and stay there. Brexiteers fell for the rubbish about getting their country back, unable to comprehend that 7000 tax dodging people own 90% of that alleged democracy, with 90 % crammed on to 10% of the land and paying most of the taxes.
Miss Roberta Jane Cook
June 26th 2022
Iran says it's 'serious' about reaching revived JCPOA, expects 'realism' from US
Foreign Minister Hossein Amir-Abdollahian says 'negotiations train has reached difficult stops' as talks near end, in presser with visiting Russian counterpart
By AFP
TEHRAN — Iran said Thursday that it remains "serious" about reaching a revived nuclear deal with major powers that ends economic sanctions and to which the United States is again a party.
Foreign Minister Hossein Amir-Abdollahian was speaking at a joint news conference with visiting Russian counterpart Sergei Lavrov as talks between the parties in Vienna remain stalled.
"The nuclear negotiations train has reached difficult stops as they near the end," Amir-Abdollahian said.
He stressed Iran was "serious about reaching a good, strong and lasting agreement" and called for similar realism from the US side.
"I hope we can reach the final point of the agreement in the near future with realism from the American side," he said.
SOURCE The Times of Israel.
Inflation sparks global wave of protests for higher pay, aid
By AYA BATRAWY AP
Rising food costs. Soaring fuel bills. Wages that are not keeping pace. Inflation is plundering people's wallets, sparking a wave of protests and workers' strikes around the world.
This week alone saw protests by the political opposition in Pakistan, nurses in Zimbabwe, unionized workers in Belgium, railway workers in Britain, Indigenous people in Ecuador, hundreds of U.S. pilots and some European airline workers. Sri Lanka's prime minister declared an economic collapse Wednesday after weeks of political turmoil.
Economists say Russia's war in Ukraine amplified inflation by further pushing up the cost of energy and prices of fertilizer, grains and cooking oils as farmers struggle to grow and export crops in one of the world's key agricultural regions.
As prices rise, inflation threatens to exacerbate inequalities and widen the gap between billions of people struggling to cover their costs and those who are able to keep spending.
"We are not all in this together," said Matt Grainger, head of inequality policy at antipoverty organization Oxfam. "How many of the richest even know what a loaf of bread costs? They don't really, they just absorb the prices."
Oxfam is calling on the Group of 7 leading industrialized nations, which are holding their annual summit this weekend in Germany, to provide debt relief to developing economies and to tax corporations on excess profits.
NATO'S DANGEROUS GAME
Let us know you agree to cookies
Russia promises Belarus Iskander-M nuclear-capable missiles
Published11 hours agoRelated Topics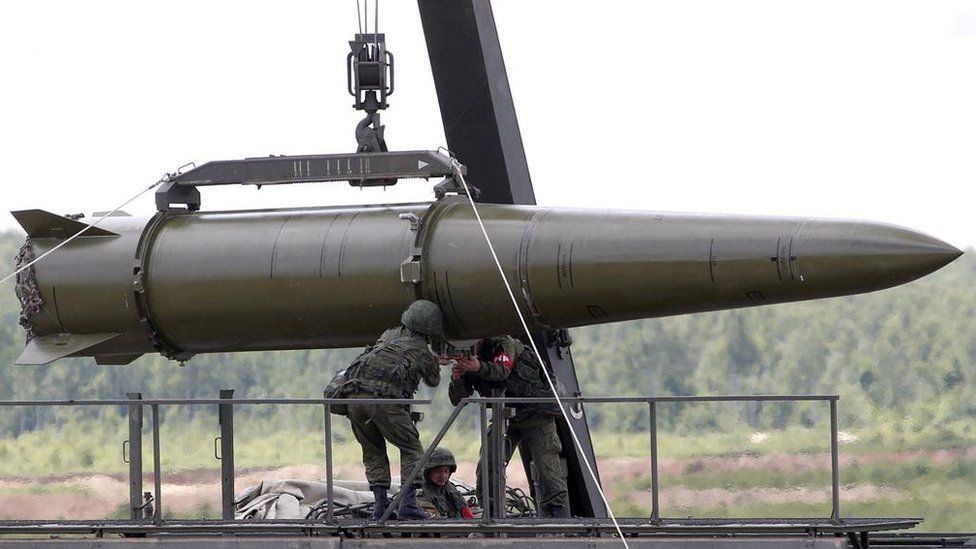 Russia will send nuclear capable short-range missile systems to its ally Belarus in the coming months, President Vladimir Putin has said.
He said Iskander-M systems "can fire ballistic and cruise missiles, both conventional and nuclear types".
The systems have a range of up to 500km (310 miles).
Tensions between Russia and the West have escalated, following President Putin's decision to invade Ukraine on 24 February.
Mr Putin has made several references to nuclear weapons. since then, which some have interpreted as a warning to Western countries not to intervene.
KYIV, Ukraine (AP) — Russian forces were seeking to swallow up the last remaining Ukrainian stronghold in the eastern Luhansk region, pressing their momentum after taking full control Saturday of the charred ruins of Sievierodonetsk and the chemical plant where hundreds of Ukrainian troops and civilians had been holed up.
Russia also launched dozens of missiles on several areas across the country far from the heart of the eastern battles. Some of the missiles were fired from Russian long-range Tu-22 bombers deployed from Belarus for the first time, Ukraine's air command said.
The bombardment preceded a meeting between Russian President Vladimir Putin and Belarusian President Alexander Lukashenko, during which Putin announced that Russia planned to supply Belarus with the Iskander-M missile system.
Russian Defense Ministry spokesman Igor Konashenkov said late Saturday that Russian and Moscow-backed separatist forces now control Sievierodonetsk and the villages surrounding it. He said the attempt by Ukrainian forces to turn the Azot plant into a "stubborn center of resistance" had been thwarted.
Capturing Lysychansk would give Russian forces control of every major settlement in the province, a significant step toward Russia's aim of capturing the entire Donbas. The Russians and separatists control about half of Donetsk, the second province in the Donbas.
Russia's Interfax news agency quoted a spokesman for the separatist forces, Andrei Marochko, as saying Russian troops and separatist fighters had entered Lysychansk and that fighting was taking place in the heart of the city.
There was no immediate comment on the claim from the Ukrainian side.Lysychansk and Sievierodonetsk have been the focal point of a Russian offensive aimed at capturing all of the Donbas and destroying the Ukrainian military defending it — the most capable and battle-hardened segment of the country's armed forces.Russian bombardment has reduced most of Sievierodonetsk to rubble and cut its population from 100,000 to 10,000. The last remaining Ukrainian troops were holed up in underground shelters in the huge Azot chemical plant, along with hundreds of civilians.
A separatist representative, Ivan Filiponenko, said earlier Saturday that its forces evacuated 800 civilians from the plant during the night, Interfax reported.Ukrainian military analyst Oleg Zhdanov said some of the troops were heading for Lysychansk. But Russian moves to cut off Lysychansk will give those retreating troops little respite.Some 1,000 kilometers (600 miles) to the west, four Russian cruise missiles fired from the Black Sea hit a "military object" in Yaroviv, Lviv regional governor Maksym Kozytskyy said. He did not give further details of the target, but Yaroviv has a sizable military base used for training fighters, including foreigners who have volunteered to fight for Ukraine.
Comment This is war. Foreign fighters stirred up by the likes of Boris Johnson and Liz Truss have encouraged this. They seem to believe that such glory & fortune hunters should be accepted by the Russians , free to shoot them without consequence for breaking international law.This is incredible, self righteous and ludicrous. Miss Roberta Jane Cook
FEMINIST FURY
More War
Comment Last Monday was International Refuge Day. Comentators on Algerceras News described Europe prioritising Ukrainian refugees over a flood of African economic migrants as racist. African leaders have described the NATO proxy war on Russia in their bid to consoilidate contol and exploitation of Ukraine as a European War . This is what the previous two Imperialistic elite led world wars were, shrouded in propaganda, accompanied by bomb blasts, gun fire, tunes of glory and flooded with young peoples blood, leaving a legacy of grief and desperate hope for a better world. Now we have this.
Miss Roberta Jane Cook former lecturer in Political History at Aylesbury College of FE.
June 25th 2022
US 'alarmed' that captured Americans could face death penalty
The White House says it's still "trying to learn more" about two fighters captured in Donbass
The US is alarmed that two American fighters captured in Ukraine could face the death penalty, a spokesman for the National Security Council (NSC) said on Tuesday, calling it "appalling" that Kremlin spokesman Dmitry Peskov would even suggest such a possibility.
"It's appalling that a public official in Russia would even suggest the death penalty for two American citizens that were in Ukraine. And we're going to continue to try and learn what we can about this," NSC spokesman John Kirby told reporters at the White House.
Alexander John-Robert Drueke and Andy Tai Ngoc Huynh had been fighting for the Kiev government in the area north of Kharkov. They were reported as missing on June 9, the same day a court in Donetsk convicted two Britons and a Moroccan for being mercenaries and sentenced them to death. Last Friday, Drueke and Huynh were shown alive and in a detention facility in Donetsk, prompting fears they might meet the same fate.
Asked about them by NBC News on Monday, Peskov called Drueke and Huynh "soldiers of fortune" who were involved in "illegal activities" and fired on Russian troops, and said their fate would "depend on the investigation" and the subsequent trial.
Comment The United States and Britain have no moral basis for judging other countries justice and war crimes. Both have appalling levels of police corruption along with fitting up and jailing innocent people. Then there is the festering sore of Julian Assange, a brave journalist and publisher whose crime was exposing crime. I know what that feels like.
It is perfectly obvious that NATO provoked their Russo Ukraine proxy war and are relishing every moment of it. Glory hunting soldiers of fortune know the risks and have done plenty of killing. If Russia treats such people lightly all the world and its wife will think Ukraine ripe for chancers. Anglo U.S hypocrites like to quote international law when it suits them. In this case it is very clear.
Miss Roberta Jane Cook
June 24th 2022
23 Jun, 2022 18:30 HomeWorld NewsJune 25th 2022
23 Jun, 2022 12:09 HomeBusiness News
Biden weighs in on cost of anti-Russia sanctions
The US government knew its measures would cause a global fuel crisis, according to the president
Washington was aware that sanctions against Russia would have consequences for the US, causing a spike in energy prices, President Joe Biden admitted on Wednesday.
Speaking at the White House, Biden blamed Russia for hikes in US fuel costs, saying the American people and the rest of the world would have to pay a price for siding with Ukraine.
"We cut off Russian oil into the United States, and our partners in Europe did the same, knowing that we would see higher gas prices." he said, adding that the US Congress gave near unanimous support to the oil ban, "knowing full well the cost."
Gasoline prices in the US are now hovering near $5 per gallon, compared to roughly $3 per gallon a year ago. According to Biden, the US government is doing everything it can "to reduce this pain at the pump." The president proposed suspending the 18-cent federal gas tax for the next three months, and called on states to remove their own taxes on fuel. Biden also urged oil refining companies to increase their capacity.
EU grants Ukraine candidate status
The leaders of 27 EU member states have also accepted the bid of Moldova
© FREDERICK FLORIN / AFP
The European Council agreed to grant candidate status to Ukraine and Moldova during an EU summit on Thursday. Earlier, Belgium had said that the status would be a major sign of hope to Kiev, but it is, as of now, more of a "symbolic" gesture than a practical benefit.
The news on Ukraine becoming a European Union hopeful was broken by Luxembourg's Prime Minister Xavier Bettel.
"[The] European Council has granted the status of candidate country to Ukraine and Moldova. Historic moment and a signal of hope for the Ukranian (sic) people," Bettel tweeted.
The President of the European Council Charles Michel hailed the decision as a "historic moment". While Georgia fell short of getting a candidate status, the bloc recognized "the European perspective" of the country, Michel explained, adding that the European Council "is ready to grant candidate status once the outstanding priorities are addressed."
Earlier in the day, the European Parliament overwhelmingly backed a proposal to grant EU candidate status to Ukraine, Moldova and Georgia. Last week, Kiev's bid was supported by the EU Commission.
The President of the EU Commission, Ursula von der Leyen, congratulated the three countries on the bloc's decision. She warned, however, that all of them "have work to do before moving to the next stage of the process."
June 21st 2022
'Stop NATO,' protesters chant at massive rally in heart of EU (VIDEOS)
Tens of thousands demonstrated against the rising cost of living, with many linking the crisis to the West's Russia policies
20 Jun, 2022 20:11 HomeWorld News
Protesters march during a national demonstration of trade unions in Brussels, Belgium, June 20, 2022 © AFP / Jonas Roosens
A trade union-organized protest numbering 70,000 to 80,000 demonstrators packed the streets of Brussels on Monday, bringing the city to a standstill. In addition to expressing anger at the rising cost of living in Belgium, many condemned the US-led NATO alliance and its involvement in the Ukrainian conflict.
Trade unions said that 80,000 people attended the protest, while police said that the turnout was closer to 70,000, Reuters reported. In addition to packing the streets, the protest led to mass cancellations of flights at Brussels Airport, as unions representing security personnel went on strike. Public transit routes around the city were also operating at drastically reduced capacity.
Inflation hit 9% in Belgium in June, a four-decade high. With spending power declining, protesters demanded salary hikes and tax cuts.
Biden's sanctions against Russia this time prompted Brussels to take to the streets. The cost of living is so high that people can not afford it pic.twitter.com/RJOreap3zt— Protest News (@ProtestNews_EN) June 20, 2022
However, many linked their dire economic straits to the EU's sanctions regime on Russia and with the NATO alliance's rush to arm Ukraine.
Protesters demanded that their leaders "spend money on salaries, not on weapons," and chanted "stop NATO."
🇧🇪Protesters came out in #Brussels demanding "to spend money on salaries, not on weapons.""Stop spending money on the war" and "Stop #NATO!" — with such slogans, the participants of the action came out pic.twitter.com/1NbgIQjwIR— K Boz (@KBoz3) June 20, 2022
While similar protests against rising costs have taken place across Europe as of late – thousands of trade unionists marched in London on Saturday – few have linked the soaring prices with the actions of NATO and its members.
Just three months ago, some protesters in Brussels waved Ukrainian flags and demanded that the EU cut itself off from "Putin's Oil." Weeks before that, there was a demonstration outside European Parliament buildings calling for "sanctions for Russia."
Brussels is home to headquarters of both the EU and NATO. It was also the city from where US President Joe Biden chose to announce a round of sanctions on Moscow in March, before immediately telling a reporter that "sanctions never deter" those targeted by them.
Despite predicting in April that these measures would "wipe out the last 15 years of Russia's economic gains," Russia's energy earnings have hit record levels since February, and the Russian ruble is currently at a seven-year high against the euro.
Russian President Vladimir Putin has accused European countries of committing economic "suicide" via sanctions, and predicted last week that the EU's "direct losses" from this sanctions policy "could exceed $400 billion in a year." You can share this story on social media: Follow RT on
Trends:Anti-Russian sanctionsBrusselsEuropean Union – EUNorth Atlantic Treaty Organization – NATO
June 20th 2022
18 Jun, 2022 16:57 HomeRussia & FSU
Top Ukrainian official lashes out at Zelensky adviser
The head of the Security Council criticized Mikhail Podoliak for becoming the self-proclaimed "voice of the army"
https://www.rt.com/russia/557405-ukraine-lashes-military-zelensky/?utm_source=Newsletter&utm_medium=Email&utm_campaign=Email
Presidential advisor Mikhail Podolyak © Getty Images / Anadolu Agency / Contributor
The head of Ukraine's National Security and Defense Council (NSDC), Alexey Danilov, has called out presidential adviser Mikhail Podoliak for making statements on behalf of the military.
Earlier this week, Podoliak unveiled an arms wish list for the West, saying Kiev needs 300 multiple-launch rocket systems, 500 tanks, and 1,000 howitzers to achieve heavy weapons parity with Russia.
On Saturday, in an interview with news outlet Liga, Danilov stressed that only senior military officials can make statements like this, questioning why Podoliak "is now the voice of the army."
"I don't understand why Podoliak makes such statements. Is he a representative of the General Staff? I only saw him on the stumps of Yanukovich," Danilov said. By 'stumps', he was apparently referring to a path at former Ukrainian President Viktor Yanukovich's country residence. In 2011, Yanukovich showed off the residence to a group of journalists, telling them that every morning for half an hour, he would run up and down the stumps – comments which inspired numerous internet memes.
More War For The Rich Paid For By The Poor
Ukrainian shelling kills five – DPRFive people killed and 12 injured as a result of shelling of Donetsk People's Republic by Ukrainian forces, local authorities saidRead more on the site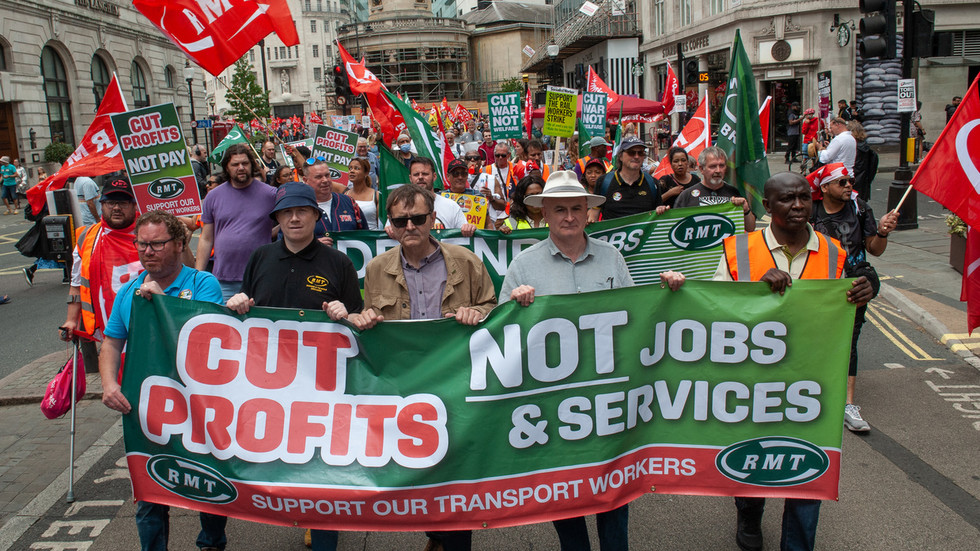 Rising cost of living sparks massive protests in UK and Irelandrotests have taken place across the UK and Ireland against soaring inflation and rising food and fuel costsRead more on the site
June 14th 2022
https://www.rt.com/russia/557073-three-killed-ukrainian-shelling-donetsk/?utm_source=Newsletter&utm_medium=Email&utm_campaign=Email
June 10th 2022
Readers who wish to comment must use the e mail address roberta.cookofnorthbucks@btinternetcom as too many are using comments to dump porn. Eroticism is permitted here because it is art. Porn is brutal and not inspring. This is not a porn site and there is the additional danger of police bots dumping stuff here as part of their ongoing harrassment. They set out to frame me as a 'gay escort' working for my son and his associates in 2017-18. alleging I outed my self to police ex in laws, with anonymous letters and picture of a stange woman in lingerie, allegedly my ex wife, a Chief Constables sister.
They repeated these lies as a conviction in September 2021, having the cheek to tell Milton Keynes Magistrates as I stood helpless and humiliated in the dock, using it as poison passed on to the Gender Identity Clinic to block my sex change surgery, causing me the terrible health problems. I now have including suspected cancer due to stress and the Gender Identity Clinic blocking my hormones because the police have told them I am a fake transsexual and pervert. I am not allowed to see secret police and health records, ( because they are marked sensitive ) but apparently do not need hospital yet.
That is another example of the British Police State, having me labelled a paranoid bi polar alcoholic violent schizophrenic with delusions and refusal to engage with anti psychotic drugs. Evidence and explanation are simply not required in fascists Nazi Britain.
Reminds me of Solzsenitsyn's a'Cancer Ward.' My eldest son Kieran has been labelled and crippled for jobs, by police by association with me, with whome he was not supposed to live ), who also played a role in having my other son sectioned because a certain party said she feared violence. Court proceedings prevent me saying more.
Miss Roberta Jane Cook
June 9th 2022
Ukraine plead guiltyThree foreigners captured while fighting for the Ukrainian government could face the death penalty after pleading guilty in a DPR courtRead more on the site
King & Country (1964) starring Dirk Bogarde, Tom Courtenay, Leo …www.themoviescene.co.uk › reviews › king-and-country-1964Watching and more importantly reviewing movies can leave you feel guilty when you come across a movie which is rated highly by many but you find yourself …
June 5th 2022
Putin might turn to weapons of mass destruction if Russia doesn't win in eastern Ukraine, historian Niall Ferguson says
Key Points
Russian President Vladimir Putin might resort to weapons of mass destruction, like chemical and tactical nuclear weapons, if he fails to achieve a "conventional forces victory" in eastern Ukraine, says Niall Ferguson, a senior fellow at the Hoover Institution at Stanford University.
"Those are very serious risks the Biden administration seems to be discounting rather too casually," he told CNBC's "Squawk Box Asia" on Thursday.
The U.S. strategy seems to be to let the war go on to "bleed Russia dry" and hope for a regime change in Moscow, but Ferguson said this is a "very hazardous" strategy.
He noted Putin has already shown himself willing to perpetrate "horrific destruction" with conventional forces like cruise missiles. Russia holds the largest nuclear warhead arsenal in the world, with the U.S. coming in second.
Comment Russia cannot afford to lose this war. The so called internaional community is an elite of western dominated world leaders who want total control. To call their quest as being for a new world order is flattery because it is a new world of disorder for the masses. Britain's ludicrous Platinum Jubilee Celebrations solidarity ritual around Buckingham Palace today defines how overblown Britain is. The leading lights of war mongering Britain are Boris Johnson , Liz Truss and Ben Wallace, 2 fantasists getting off on war killing and a minor ex army officer with delusions of military grandeur but apparently no grasp of military reality – not unusual among the officer class. One can't speak too lowly of them.
Now conveneiently outside Europe, this unholy trinity of first class arrogant conceited idiots are punishing masses, distracting them with the dreadfully Platinum Plonkers Day Parade of multi cultural zombifying colonial drivel, aspire to stoke up a Nuclear War. Russia cannot afford to open the door to Ukraine and western moron culture withjout a fight. Imbeciles in Britain want Biden to give more powerful weapons to fire into Russia. That can only have one outcome. Our unholy Trinity of puffed up leaders who are not fit for purpose – but that is normal in elite politics – are shamelessly exploiting the old Queen to invoke myths of past glories.
There is no mention of the way the rich exploited, immiserated and impoversihed the masses between their two imperialistic world wars, which had nothing to do with saving Jews for whom they did not care. The same is true now. We are supposed to believe that the young Princess Elizabeth drove and mended army trucks, dodging bombs, just as we are supposed to believe the Ukraine War is about freedom from Russian tyranny. Utter rubbish, Ukraine is required for farmland, other key resourced, Russisn regime change and a backdoor into China. Russia and China know this, but is probably treason to say so in the U.K, which is. along with all NATO, at war with Russia.
Miss Roberta Jane Cook June 2022
May 31st 2022
Britain's
PER

VERSION OF DEMOCRACY wants more war on Russia and more killing for 'our freedoms' (sic). Roberta Jane Cook
It alarms me that British Government Ministers like LIz Truss, can still moralise about Russia's war in Ukraine and war crimes – given Anglo U.S conduct in the Middle East , where they want to oust Russia, hence all their lies about chemical weapons, with faked White Helmet footage.. They want Ukraine as a stepping stone for the corrupt elite culture toward all of Russia and China. They don't care about starving their lower orders , depriving them of income and decent health care. Britain's elite made the 1914 -18 war global, punished Germany, supported Hitrler against the Soviet Union, causing World War Two. There was lots of stirring martial music. The rich got richer and the masses gotr lied to, as they are being now.
Britain's war mongers are making the most of the Queen's Platinum Jubilee, with no media mention of her pasying off her son Andrew's sex abuse victim in the sum of £12 million. The British masses are desperate for a sense of identity and purpose. So along with forced respect for all religions in the name of multi culture, most can be relied on to wave the falg and enjoy ythe loong weekend of royalist celebratiins, getting drunk and oblivious of all the propaganda they are fed, beliveing only Nazis and Russian Communists ever purvey war mongering evil The Russian forced into this war because NATO violated the Minsk agreement ,could so easily escalate now the idiots running the U.S are expected to send heavy artillery.
War has a massive carbon foot print, evident in our peculiar weather. It makes a mockery of protecting the climate – hopefully my readerss know the difference between weather asnd climate.
Miss Roberta Jane Cook
May 30th 2022
Miss Roberta Jane Cook In Poor Health, with cancer suspected due to 14+ Years of Police Harassment & Police Taking Key Role Of Her Health Care In Britain's Famous

Per

version Of Democracy.
They Advised , with lies , her doctors in February 2018, that she had written to inform them and ex in laws that she was working as a 'gay' prostitute, while actually and demonstrably a truck driver. Fake pictures , anonymous typed letters and an alleged video were also sent , probably by the police themseves.
This did not stop police repeating lies of a conviction in Milton Keynes Magistrates Court on September 21st 2021. This is NATO Style democracy bound for Russia in Weird War III.
Due To Ongoing U.K Police Surveilance & Hacking Our Main Data System Coinciding With Our IT Manager's Illness, There Will Be Limited Postings. Roberta Cook Is Also Back In Court On Thursday.
RT News (27 May 2022)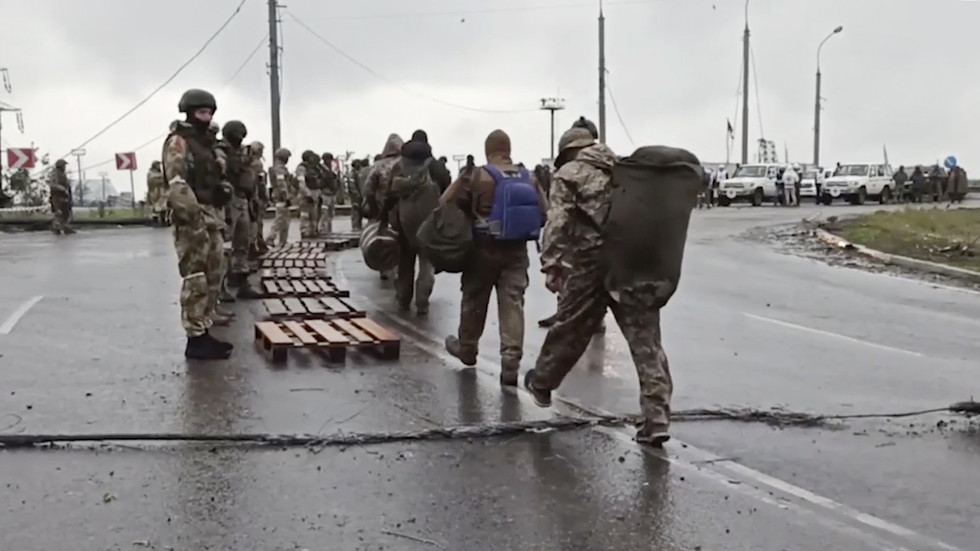 British mercenaries in Ukraine face death penaltyThe DPR has not ruled out the possibility of applying the death penalty to Ukraine's foreign fightersRead more on the site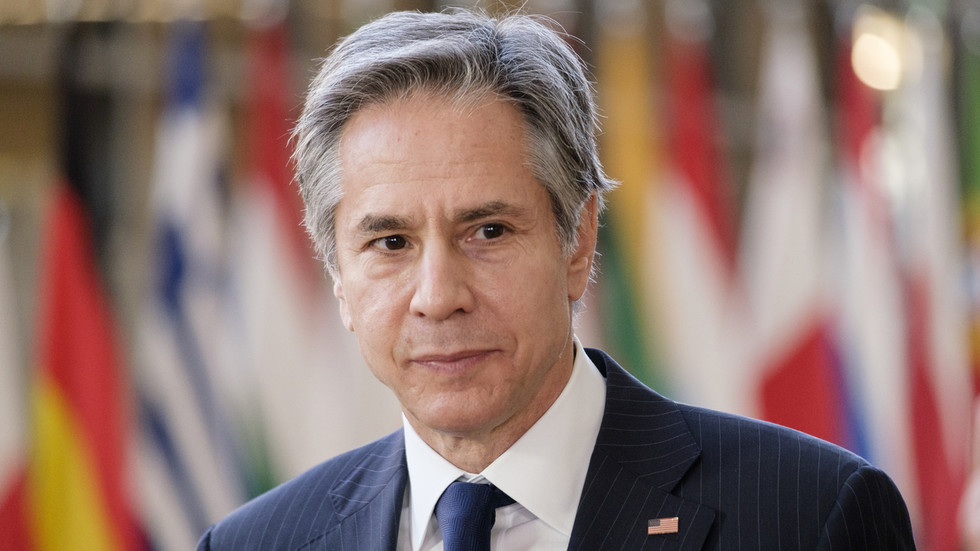 China confronts US secretary of stateChina accuses US Secretary of State Antony Blinken of "smearing the country" in his latest speech on countering Beijing's influenceRead more on the site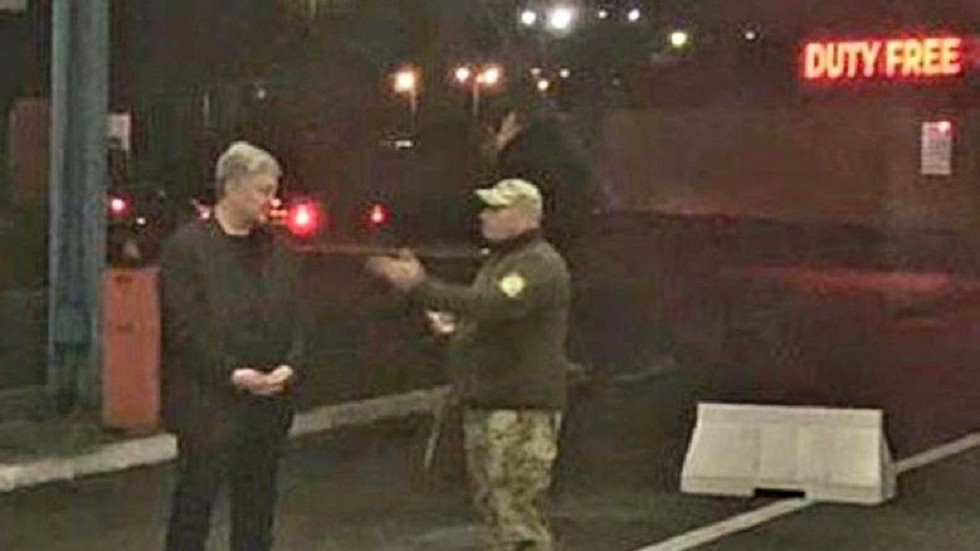 Ex-president attempts to leave UkraineFormer president of Ukraine was spotted on the border with Poland, allegedly attempting to leave while facing treason chargesRead more on the site
Ukraine risks merging with Poland – former presidentUkraine is facing a complete loss of sovereignty and a potential "merger" with Poland, ousted president Viktor Yanukovych believesRead more on the site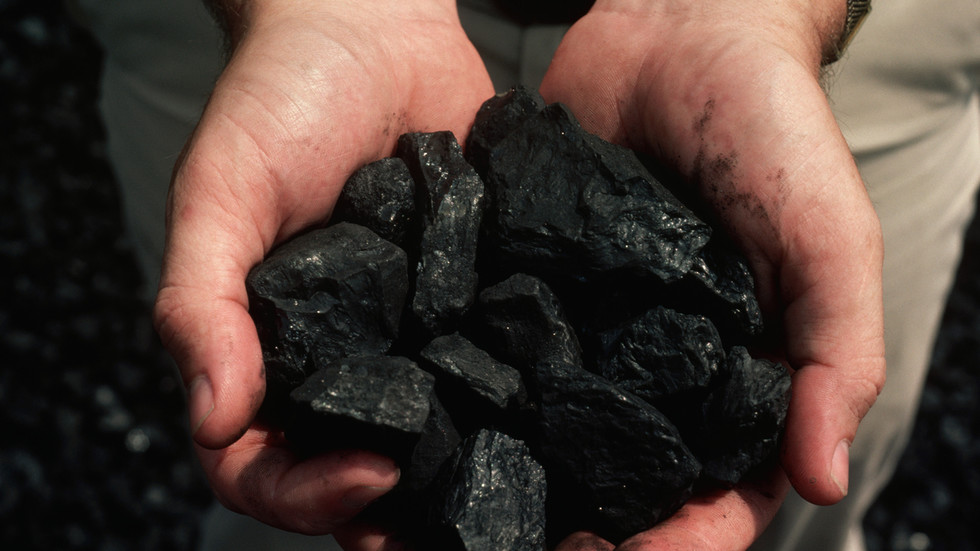 Poland is running out of coalPoland has limited the sale of coal amid soaring nationwide demand following an EU ban on Russian suppliesRead more on the site
May 20th 2022
Russia Today
RT News (19 May 2022)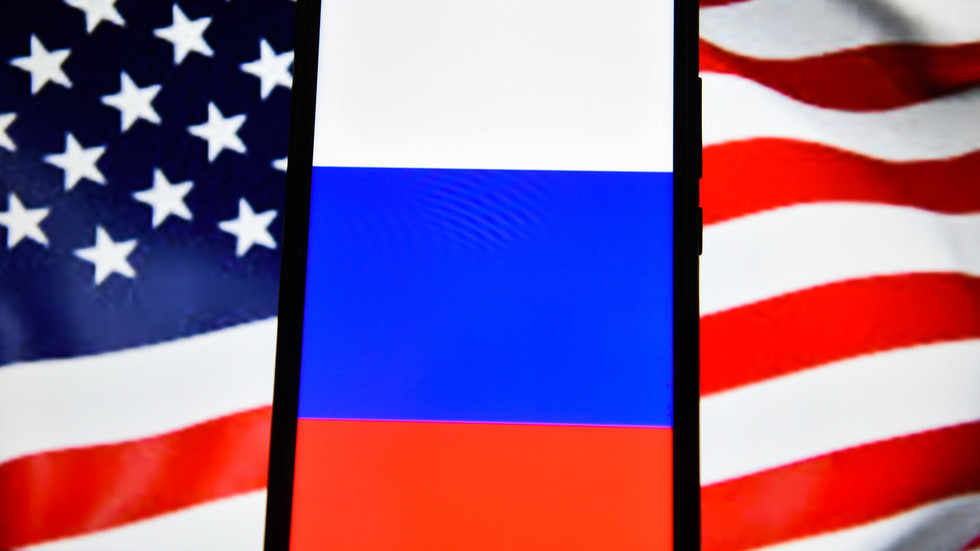 Russian and US top generals hold talksRussian and US chiefs of staff have held phone calls discussing Ukraine and other outstanding issuesRead more on the site
US Senate passes $40 billion Ukraine billThe US Senate has voted to pass a $40 billion package of military and economic aid for UkraineRead more on the site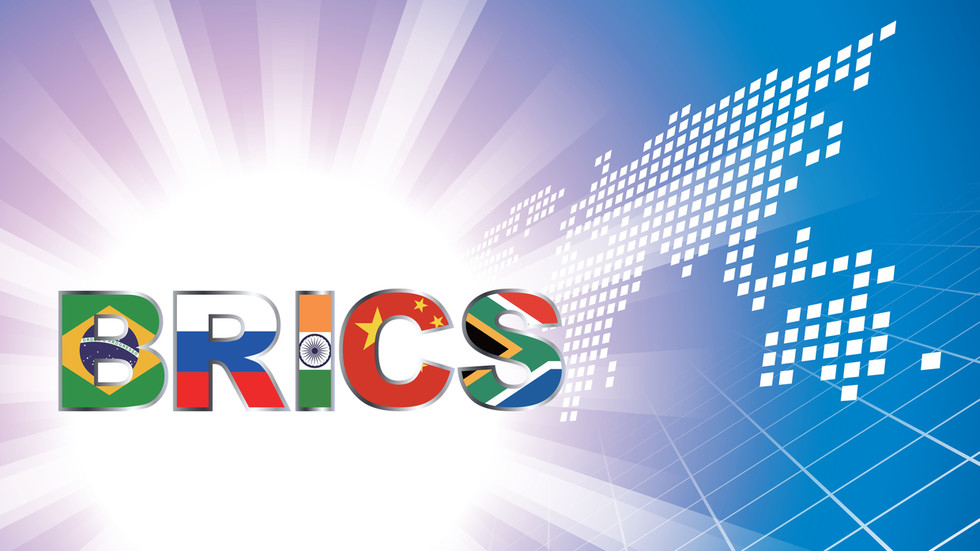 China calls for BRICS expansionChina wants to expand the BRICS group of the five major emerging economiesRead more on the site
With a $40 billion plan, the US is setting itself up for an expensive failure in UkraineRead more on the site
More Ukrainians surrender in Mariupol – RussiaUkrainian troops continue to abandon the Azovstal plant in Mariupol and surrender to Russia in their hundredsRead more on the site
George Bush's Iraq slip when slamming Putin is perfect ironyRead more on the site
Russia will not export food to detriment of own market – top officialRussia will prioritize its own people's interests when it comes to food supplies, former Russian president Dmitry Medvedev saidRead more on the site
'This is just a lie': How Jeff Bezos' Washington Post twisted a report about Donbass refugees to fit its narrativeThe Washington Post disregarded volunteer testimonies for the sake of its anti-Russian narrativeRead more on the site
May 19th 2022
Royal Mail to raise prices cut costs to cope with soaring inflation
James Sillars, business reporter
Royal Mail has said it will need to rise prices and cut costs in the face of soaring inflation.
© Reuters Royal Mail is seeking to reduce costs as it continues efforts to modernise and improve efficiency
The company warned that it sees "significant headwinds" from rising costs including wages, energy and fuel.
Royal Mail revealed that it aimed to make cost savings of £350m over the course of its current financial year in an attempt to bolster its position but did not say whether that plan would place jobs under threat.
Read More Royal Mail to raise prices cut costs to cope with soaring inflation (msn.com)
World hunger levels 'at a new high', UN chief says, as 22 million tonnes of grain are stuck in Ukraine
Sharon Marris, news reporter
The secretary-general of the United Nations has warned that hunger levels around the world "are at a new high".
© Reuters Ukraine is one of the world's biggest wheat exporters
Antonio Guterres was speaking at a meeting of world leaders called to discuss the escalating food security crisis.
He said the number of people facing severe food insecurity had doubled in just two years from 135 million before the coronavirus pandemic to 276 million today.
© Associated Press This wheat warehouse is in the west of Ukraine – far from the heart of wheat country in the south. But the area has been asked to plant as many fields as possible. Pic: AP
The number of people living in famine conditions has increased by more than 500% since 2016 and now sits at more than 500,000.
"The complex security, economic and financial implications require goodwill on all sides for a package deal to be reached," Mr Guterres said.
"I will not go into details because public statements could undermine the chances of success.
Read More World hunger levels 'at a new high', UN chief says, as 22 million tonnes of grain are stuck in Ukraine (msn.com)
May 18th 2022
Poorest UK households facing highest inflation rates as cost of living crisis deepens – as it happened
Graeme Wearden
Several Guardian readers have got in touch today to explain how soaring inflation is hurting them:
Suzanna, a retired teacher from London, has changed what she eats to help reduce her spending.
"The cost of food means I buy less and have a basic diet," she says. "I don't [use the oven], because you worry about how much energy does the oven use. I normally eat very healthily. I'm going round looking at things that maybe I can just stick in the microwave because they're cheaper. Even boiling vegetables, it takes quite a long time."
Ken Taylor, 72, a retired salesperson from Sherburn in Elmet, North Yorkshire, has begun keeping a list of everything he spends.
Read More Poorest UK households facing highest inflation rates as cost of living crisis deepens – as it happened (msn.com)
Is Norway in Nato? Why the Nordic country was a founding member but Finland and Sweden are only joining now
Molly Blackall
Finland and Sweden have submitted their Nato application, having abandoned their military neutrality in the face of Russia's invasion of Ukraine.
But neighbouring Norway is already a Nato member, having co-founded the organisation. Here's why the neighbouring countries have had different approaches to the alliance.
What is Nato?
The North Atlantic Treaty Alliance (Nato) is a military and political alliance between 30 member states. It was formed in 1949, during the Cold War, with 12 founding members.
Nato says it is "committed to the peaceful resolution of disputes" but has the military power to undertake "crisis-management operations" if diplomatic efforts fail.
Read More Is Norway in Nato? Why the Nordic country was a founding member but Finland and Sweden are only joining now (msn.com)
Comment NATO has done nothing but war monger. This peace keeping drivel is nauseating. Until they release Julian Assange and rehabilitate Chelsea Manning, no sane honest non brain dead person should have any respect for Anglo U.S resource grabbing NATO hypocrites – who deliberately provoked their proxy war in Ukraine. They are turning the whole world into an armed camp. Western leaders are vile disingenuous con merchants, exploiting neurotic self obsessed sensitive feminists ( sic ) and the moronic masses..
Miss Roberta Jane Cook
Russia 'already lost' in Ukraine as Vladimir Putin's troops humiliated into wide retreat
Sophia Mencarelli
Ukrainian MP Oleksiy Goncharenko said "Ukraine has already won" the war as "all the objectives that Putin had in mind" haven't been achieved. He claimed "Ukraine will win this war", stressing the importance for western leaders to keep providing Ukraine with weapons. He added that "[Ukraine] will continue to kick off Russians from Ukrainian territory and liberate our territories".
Mr Goncharenko told TalkTV: "Russia has already lost, and Ukraine has already won.
"Because all the objectives Putin had in his mind are lost.
"Kyiv has not been taken.
"Kharkiv, the second-largest city, has not been taken.
© GETTY Vladimir Putin
Russia-Ukraine war: UK says Russia has 'significant resourcing problems'; fate of Azovstal soldiers remains unclear – live
Shortage 'likely contributing to disunited command', says MoD; concerns for welfare of 250 Ukrainian fighters who surrendered.09:12
Reuters has a quick snap that Israel says it has delivered 2,000 helmets and 500 protective vests for emergency and civilian use.
Read More Russia 'already lost' in Ukraine as Vladimir Putin's troops humiliated into wide retreat (msn.com)
Russia claims 694 Ukrainian fighters surrendered at Azovstal in last 24 hours
09:10
Russia's defence ministry has issued its latest operation briefing.
It says that a total of 959 combatants have surrendered from the Azovstal steel plant since Monday. It said that 694 Ukrainian fighters who had been under siege surrendered over the last 24 hours. Russia says that in total 80 of those who surrendered were wounded, of whom 51 have been taken to hospital.
In addition the Russians claim that they have killed 270 Ukrainian fighters and "54 units of military equipment were disabled" overnight. They also claim to have shot down two planes and 15 drones.
The claims have not been independently verified.08:49
Russia's ministry of defence has issued a statement on Telegram saying it has been requested by the investigative committee of Russia to provide information on "the illegal actions of Ukrainian armed formations related to the use of civilian objects for military purposes".
Read More Russia-Ukraine war: UK says Russia has 'significant resourcing problems'; fate of Azovstal soldiers remains unclear – live (msn.com)
EU plans 300-billion-euro investment to quit Russian fossil fuels
BRUSSELS (Reuters) – The European Union intends to mobilise up to 300 billion euros of investments by 2030 to end its reliance on Russian oil and gas, European Commission President Ursula von der Leyen said on Wednesday.
© Reuters/POOL FILE PHOTO: Conference on the Future of Europe, in Strasbourg
AdChoicesUkraine's Way OutThe AtlanticOwn A Barrel of Whisky With Historical Annual Returns of 8-12%Ad Whisky Investment PartnersEx-police officer pleads guilty to manslaughter in killing of George FloydSky News
Why the West Needs to End the War in Ukraine Soon
Charles A. Kupchan
The war in Ukraine is entering a more dangerous phase. Even though Russia appears to have downsized its goals after Kyiv blunted Moscow's initial invasion, the Kremlin is now determined to enlarge the chunk of eastern and southern Ukraine that it grabbed in 2014. Meanwhile, NATO allies are pouring in arms, providing intelligence, and savoring the prospect of a "victory" that entails expelling Russia from Ukraine.
© Yasuyoshi Chiba / AFP / Getty
With both sides doubling down, NATO must engage in a forthright dialogue with the Ukrainian government about its goals and how best to bring the bloodshed to a close sooner rather than later. Russia has already been dealt a decisive strategic defeat. Ukrainian forces have rebuffed the advance on Kyiv and retain control of most of the country; the West has hit Russia with severe economic sanctions; and NATO has reinforced its eastern flank, while Finland and Sweden now seek to join the alliance. For NATO and Ukraine alike, strategic prudence argues in favor of pocketing these successes rather than pressing the fight and running the tantamount risks.
So far, the United States and its allies have shied away from pushing Kyiv to limit its strategic objectives. NATO has instead focused on providing Ukraine the means to defend itself—more anti-tank and antiaircraft missiles, more drones, more artillery, more intelligence. The Biden administration legitimately argues that Ukrainians must decide their own war aims. It's also true that Kyiv is fully justified, on both moral and legal grounds, to seek to restore Ukraine's full territorial integrity by retaking Crimea and the section of the Donbas that Russia occupied in 2014.
But Kyiv's right to fight for complete territorial sovereignty does not make doing so strategically wise. Nor should Ukraine's remarkable success in repelling Russia's initial advance be cause for overconfidence about the next phases of the conflict. Indeed, strategic pragmatism warrants a frank conversation between NATO and Ukraine about curbing Kyiv's ambitions and settling for an outcome that falls short of "victory."
Several considerations call for such restraint. First, the longer the war continues, the greater the death, destruction, and dislocation it will reap. Russia's invasion has already taken tens of thousands of lives, forced some 12 million Ukrainians to flee their homes (about 6 million have left the country), and destroyed some $60 billion of Ukraine's infrastructure. Sanctions against Russia and the war's disruption to supply chains are fueling rising prices in many countries and could spawn a global food shortage.
Second is the risk of escalation. If Russian forces fare well in the east and the south, the Kremlin could eventually decide to enlarge its own war aims and seek to swallow more of Ukraine. Alternatively, if Russian forces falter in the coming weeks and Vladimir Putin faces a further defeat, he could well look to use weapons of mass destruction, or to trigger a wider conflict to change the course of the war. Accidental escalation is also a real risk, with Russia already carrying out strikes near NATO territory and Russian and NATO forces operating in close proximity.
Third, even though the West has demonstrated impressive unity in supporting Ukraine and standing up to Russian aggression, the West's solidarity may wane over time. Inflation is spiking on both sides of the Atlantic, fueled in part by the knock-on effects of the war. Rising prices are weighing down President Joe Biden's popularity—despite his strong handling of the war—and his earlier focus on improving the lot of working Americans has effectively been sidelined. Bipartisan cooperation on standing up to Putin could erode.
Differences are starting to emerge among transatlantic allies. The leaders of France, Germany, and Italy last week talked up the need for a cease-fire and a negotiated settlement. Meanwhile, Washington and London appear to be backing Ukraine's intention to achieve, in the words of its foreign minister, "the liberation of occupied territories."
Electoral outcomes since the war began do not bode well for the West's collective staying power, either. Viktor Orbán, the self-proclaimed defender of "illiberal democracy," won reelection in Hungary. He has so far blocked the European Union's effort to impose an oil embargo on Russia. Although the centrist candidate Emmanuel Macron was reelected in France, the hard-right and pro-Russian candidate, Marine Le Pen, garnered more than 40 percent of the vote. German Chancellor Olaf Scholz initially outlined a bold shift in German foreign policy to counter Putin's move into Ukraine. But Berlin has since wavered on following through, and the Scholz government has been weakened by a political setback in regional elections over the weekend.
In the U.S., buoyed by Donald Trump's endorsement, J. D. Vance recently won a hotly contested Senate primary in Ohio. His views of the war in Ukraine are rather blunt: "I think it's ridiculous that we are focused on this border in Ukraine. I got to be honest with you, I don't really care what happens to Ukraine one way or the other." Amid rampant inflation, the "America First" wing of the Republican Party is poised to surge in the November midterms.
Finally, the West needs to begin looking beyond the war to salvage a relationship with Russia that keeps the door open to a modicum of collaboration. Even if a new cold war is opening, dialogue will be even more important than it was during Cold War 1.0. In a more interdependent and globalized world, the West will need at least a measure of pragmatic cooperation with Moscow to tackle common challenges, such as negotiating arms control, arresting climate change, managing the cybersphere, and promoting global health. To that end, bringing the war to an expeditious close through a cease-fire and negotiated settlement is far preferable to either a war that drags on or a new frozen conflict that ends in a hostile stalemate.
Critics charge that any outcome short of total defeat would embolden Putin. Allowing him to claim victory by retaining control of even a small slice of Ukraine, the arguments run, would only encourage his next land grab. So, too, might China interpret any outcome shy of a rout of Russia as encouragement for testing the West's readiness to defend Taiwan.
But Putin will remain a troublemaker no matter how this war ends. And he has already been dealt a setback more than sufficient to drive home the costs of further adventurism. The Russian military is reeling as the country's economy shrinks. Ukrainians have soundly rejected any future that entails subjugation to Moscow's sphere of influence. And Russian aggression has prompted previously neutral Finland and Sweden to head for membership in NATO, an alliance that has integrated more than a dozen countries (encompassing some 100 million people) that were once part of the Soviet bloc.
Putin's back is up against the wall. Pushing him further is both unnecessary and unnecessarily risky. And China can hardly be interpreting the blowback against Russia—in particular, Russia's detachment from the global economy—as anything but a stark warning against Beijing's own expansionism.Putin's errant invasion of Ukraine has produced no winners, but one clear loser: Russia. Even as the West continues to provide Ukraine the means to defend itself, it's time for the Atlantic democracies to turn their focus to bringing the war to an end.
Read More Why the West Needs to End the War in Ukraine Soon (msn.com)
Ukraine's Way Out
Charles A. Kupchan
The war in Ukraine is entering a more dangerous phase. Even though Russia appears to have downsized its goals after Kyiv blunted Moscow's initial invasion, the Kremlin is now determined to enlarge the chunk of eastern and southern Ukraine that it grabbed in 2014. Meanwhile, NATO allies are pouring in arms, providing intelligence, and savoring the prospect of a "victory" that entails expelling Russia from Ukraine.
With both sides doubling down, NATO must engage in a forthright dialogue with the Ukrainian government about its goals and how best to bring the bloodshed to a close sooner rather than later. Russia has already been dealt a decisive strategic defeat. Ukrainian forces have rebuffed the advance on Kyiv and retain control of most of the country; the West has hit Russia with severe economic sanctions; and NATO has reinforced its eastern flank, while Finland and Sweden now seek to join the alliance. For NATO and Ukraine alike, strategic prudence argues in favor of pocketing these successes rather than pressing the fight and running the tantamount risks.
Read More EU plans 300-billion-euro investment to quit Russian fossil fuels (msn.com)
Read More Why the West Needs to End the War in Ukraine Soon (msn.com)