The subject of Europe is now to all consuming and has to have its own page. Angela Merkel complained that the British were always blaming the European Parliament for all the petty rules and regulations. She said the British were behind 80% of legislation, and out of the room when the rest was decided because it didn't interest them I raised this with a Polish co worker when were out in a lorry together. He laughed before saying, 'Oh yes, we call the British the great bureaucrats of Europe.
The Faceless Suits in the EU have plans
by Nick Hubble 
---
Open any Brexit analysis in the mainstream news, and you'll see all sorts of accounts why Britain is doomed, or why Britain will thrive.   But what's always puzzled me most about the 'Britain is doomed' crowd is the assumption they all seem to make without thinking: that Europe itself will be fine.   Think about it.   If you were desperate not to leave the member state, and assumed that by leaving, Britain will be toast…   Then you're saying the member state is healthy, and will thrive whether we're in it or not.  
That it's 'the place to be', essentially.   But… it's really not.   In fact, depending on what form Brexit takes… you might find yourselves thanking whatever God you believe in that we got out while we could.   It's like the Euro…   At the time, no end of people thought that Britain not joining the Euro would lead to financial disaster for us, and relentlessly prosperity for them.   Then 2008 happened. Britain, able to devalue the pound, could stimulate our economy in the economic disaster months.  
Countries like Italy and Greece, trapped in the single currency, are still paying the consequences of 2008 more than a decade later.   Either way, we need to be mighty cautious about our connections with Europe.   Especially because some of our financial links will remain in place no matter what happens with Brexit.   There are some chains you can't break.  
Peace in Our Time October 16th 2019
True to the form of his overrated drunken windbag hero warmonger egotistical power mad failure Winston Churchill, Boris Johnson has agreed a BRINO ( Brexit In Name Only ) deal with Europe.
Britain's mainstream media appear to be treating this as a victory. My new nickname for Boris will be Vick Tory.
More to cum in this giant cock up for an already miserable country in a fading European experiment destroyed by elite lies and greed. Robert Cook
Manufacturing consent Paul Waugh October 16th 2019
For Brexiteers, unlike Theresa May, deadlines in negotiations really matter. British politics right now is focused on three different dates with destiny: this Thursday's EU summit, this Saturday's Benn Act trigger and this Halloween's scheduled Brexit Day.
And as each deadline is approached, we should find out very soon which of the two contradictory caricatures of the EU is correct. Do they only ever act at one minute to midnight? Or do they always find some way to kick the can down Brussels' Rue de la Loi?
But deadlines can also be a double-edged sword. It's the EU which has set its own informal deadline of midnight Tuesday for both sides to agree something like a legal text of a Brexit deal. With Boris Johnson all but committed to getting prior sign-off from the DUP and the hardline European Research Group (ERG), those two groups are facing some tough choices of their own.
Enough of the ERG seem to be on board with what they've been told (or rather sold) by No.10 so far. Coming out of an 80-minute Downing Street meeting, Self-styled Brexit hardman Steve Baker said they had had "very constructive talks" and "I am optimistic that it is possible to reach a tolerable deal that I am able to vote for". After the ERG meeting he added: "we do, we can and we must trust the PM."
Some of this is a very delicate diplomatic dance. As our Arj Singh reports, sometimes No.10 have asked their own MPs "what does success look like to you?", as they scope out green lights rather than red lines.
Several backbenchers have been reassured not just by the presence of fellow hardcore Brexiteer Dominic Cummings, but also by the PM's political secretary, Danny Kruger, seen as a pragmatist who won't let sell them out. Kruger's mum is TV cookery judge Prue Leith and the Great Brexit Bake-Off will involve a tricky mix of challenges. All against the clock.
As trusting as the ERG are in the PM, they are unlikely to back any deal that fails to satisfy the DUP. Tonight, Arlene Foster and Nigel Dodds headed in to No.10 for yet another meeting. Beforehand, Foster said that some of speculation about the shape of the deal is "so far off the mark you can't see the mark". Afterwards, they stressed there were still gaps to be closed.
That's a valuable reality check. According to some speculation about the deal, the DUP are being asked to sign up to an effective customs and regulatory border in the Irish Sea. This is something that Theresa May famously said in February 2018 that "no UK Prime Minister could ever agree to". Foster herself said that particular red line was "blood red".
And although the DUP have smudged that blood line by engaging in talks about a customs alternative, No.10 knows it can't get them to adopt a rebadged version of the 'Northern Ireland-only backstop' pushed by the EU. Such a backstop, however disguised by linguistic rebranding, wouldn't be May's deal dressed in a Boris blond wig. It would be Brussels' deal boasting Michel Barnier's own ash-blond thatch.
The key however will be consent and the latest word is that Dublin has backed off its talk of a referendum to replace Stormont's veto on any Brexit deal. A compromise is in the offing that reassures the DUP it will every four years have a real say.
So if Johnson can somehow unlock the consent of Belfast, Dublin, the ERG and Brussels, can he gain the consent of the last bit of the jigsaw, Labour MPs? If all Tories back him, he still needs two a handful of Labour MPs to get to his magic 320 figure for a bare majority. If some Tory hardliners refuse, he needs more Labour rebels.
Which is where Jeremy Corbyn comes in. I'm told that there are now nine Labour backbenchers who are so fed up with the delays that they will vote for 'any Brexit deal'.
But if Johnson offers some red meat to Tory Brexiteers in the political declaration (the future relations with the EU), in the form of Singapore-style freedoms to cut workers rights, Corbyn would be duty bound to oppose it with a three-line whip. He would then come under huge pressure to remove the whip from those nine Labour MPs, ensuring they can't stand as party candidates in the coming election. That's a very high price few will want to pay.
Corbyn is a big fan of American linguist and theorist Noam Chomsky, who co-wrote a book, 'Manufacturing Consent', on how politicians get into and stay in power. Will Johnson now manufacture consent for his plans by stepping back from the Singapore model? Could he even surprise some by giving Stephen Kinnock, Lisa Nandy and their colleagues pledges on workers' rights? That could get him not just over the line, but give him a decent working majority he needs for the legislation.
One senior figure in government told me tonight that a note of caution was needed after what they saw as spin from Brussels that a deal was imminent. "People are getting a bit over-excited, which is what the EU wants." There are still hurdles in both London and Brussels, though negotiators will be working late into the night to try to come up with that text.
That first Great Brexit Bake-Off deadline isn't far away. Will the technical challenge be followed by a signature dish and then the showstopper of an actual Brexit deal, even if it comes a little late? Or will we finally discover this is a PM who really can't have his cake and eat it? Not long to find out.

Trendy Posh Left Wing Comedian's litte book mocks the PM.
October 10th 2019
While Extinction Rebellion are preparing to shut down London this month, a campaign themed around Boris Johnson is also set to cause havoc in the capital. Comedian Lucien Young has written a new satirical book, entitled The Secret Diary of Boris Johnson Aged 13¼, and he and his publishers, Quercus, are planning some troublemaking to promote it. "We are sending people to bookshops to distribute copies and to rearrange the displays of Boris Johnson and David Cameron's book," Young told The Londoner this morning. "We are also going to be putting up massive posters of Boris Johnson and approaching members of the public with permanent markers and inviting them to make their feelings known."
The first Boris impersonators went out around London yesterday and will continue to do so throughout the month, and a billboard will go up on Morning Lane in Hackney from October 21.
On the question of whether he might get in trouble with police for the stunt, Young was confident he'd get away with it but added that lawyers had changed the book before publication.
"There is a big 'unofficial' stamp on the front which I didn't know about — that was the lawyer."
Young felt that the carnivalesque mind of a teenage Johnson was interesting because "he doesn't control himself". The book reads as an imagined diary, with Johnson writing to "Dearest D". "During Latin this AM, our teacher Mr Beesley — he of the confetti dandruff and bodily odours — demanded that I give a brief talk on Catullus…" reads one excerpt.
Young, who primarily writes for television, has previously written books about Donald Trump and Jeremy Corbyn. An audiobook version of the diary has been recorded by the impressionist Jon Culshaw.
The Londoner asked Young what on earth it's like to inhabit Johnson's mind? "It's nowhere near as bad as Trump's Christmas Carol."
Top Conservative says he fears riots if UK fails to leave EU October 9th 2019
James Cleverly makes comments on Today programme despite Labour fears of inflaming tensions
Rowena Mason Deputy political editor The Guardian
Wed 2 Oct 2019 10.15 BST Last modified on Wed 2 Oct 2019 10.57 BST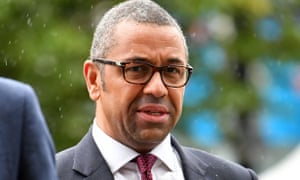 Conservative party chairman, James Cleverly, said that failing to leave the EU could cause civil disorder. Photograph: Ben Stansall/AFP/Getty Images
James Cleverly, the Conservative party chairman, has again suggested that failing to leave the EU could cause civil disorder, despite concerns among many MPs about inflaming tensions around Brexit.
Speaking on BBC Radio 4's Today programme, he said: "Discussing the implications of decisions we make is part of what politics is about. We have a huge amount of discourse around Yellowhammer planning and a lot of people have been making apocalyptic predictions. I have been very, very careful not to do the same but the broader point is both sides said they would respect the referendum result.
"My fear is of the message we put out to millions of voters is that if change is not initiated through the ballot box, then they may regard disappointment in that as a trigger to initiate other methods of change."
He said political patterns around the globe showed people being frustrated with politicians not acting on what they wanted.
Cleverly said: "I think Brexit was a warning shot for us … please stop listening just to each other and listen to us. If we don't do that I think there will be anger and disappointment."
He previously told a fringe event that disorder "could happen" if there is no Brexit and an anonymous cabinet minister told the Times that riots could occur if the 2016 referendum result is not honoured.
The language has continued despite warnings from Labour MPs that government ministers referring to legislation blocking a no-deal Brexit as the "surrender act" risked worsening tensions and death threats.
Priti Patel, the home secretary, was more cautious about the idea there could be riots.
She told LBC: "I'm part of that committee that meets every single day where we are absolutely doing all the planning and the preparedness for every Brexit scenario … That is the right and responsible thing for a government to do. I'm not planning for disorder. We are planning for the delivery of Brexit."
So, what is Brussels hiding? Posted September 29th 2019
Nick Hubble
Open any Brexit analysis in the mainstream news, and you'll see all sorts of accounts why Britain is doomed, or why Britain will thrive. But what's always puzzled me most about the 'Britain is doomed' crowd is the assumption they all seem to make without thinking: that Europe itself will be fine. Think about it.
If you were desperate not to leave the member state, and assumed that by leaving, Britain will be toast… Then you're saying the member state is healthy, and will thrive whether we're in it or not. That it's 'the place to be', essentially. But… it's really not. In fact, depending on what form Brexit takes… you might find yourselves thanking whatever God you believe in that we got out while we could.
It's like the Euro… At the time, no end of people thought that Britain not joining the Euro would lead to financial disaster for us, and relentlessly prosperity for them. Then 2008 happened. Britain, able to devalue the pound, could stimulate our economy in the economic disaster months. Countries like Italy and Greece, trapped in the single currency, are still paying the consequences of 2008 more than a decade later.
Either way, we need to be mighty cautious about our connections with Europe. Especially because some of our financial links will remain in place no matter what happens with Brexit.
There is only one law: there must be no Brexit
The weight of the state is being used to crush the aspirations of the electorate September 26th 2019
Will Brexit ever happen? Rod Liddle thinks not: in his cover story, he says the Supreme Court thunderbolt this week proves that there's no limit to the obstacles that will be thrown in Brexit's way.
From The New Statesman, Boris's old political magazine.
Nothing has changed, or has it? This is the New Staesamn view below.
By Stephen Bush, political editor New Statesman
Posted September 24th 2019

Good morning. Boris Johnson returns to the United Kingdom today with his attempt to prorogue Parliament rejected and undone by the Supreme Court, who ruled unanimously that he acted unlawfully. Parliament, too, returns from its forced holiday, with opponents of no-deal planning a variety of measures to further frustrate Johnson.

Does it matter? The government has already been defeated over Brexit in any case. What's the worst that can happen to the Conservative government now? In the short term, it gives MPs the ability to further improve the law they passed to force an extension to the Article 50 process to prevent Johnson finding some loophole or another to get out of his obligations and secure a no-deal Brexit by some nefarious route.

The biggest and most important implications have little to do with Brexit, however. The first and most important consequence is that the use of the executive's control over when Parliament sits to frustrate Parliament's constitutional role has been ruled as unlawful. That prevents a repeat of John Major's early rolling-up of Parliament in 1997 to avoid questions over cash for access, as well as undoing Johnson's prorogation. That's a major victory for our elected legislature against our executive that will stand indefinitely.

It gives a reprieve to important bills on domestic violence and divorce reform, that the government had stalled on but the large parliamentary majority in favour of both can, if it wishes, now resume the final stages of its passage. The immediate political consequence is to transform the mood music out of Labour conference. Today's frontpages and television bulletins aren't dominated by coverage of Tom Watson's speech, which was only going to cause the Labour leadership a headache. (If it's had been booed, it's a sign of disunity. If he'd been cheered, it would have been a repudiation of Corbyn.) Instead, the last images out of Labour conference are a series of quick clips of a confident Corbyn being cheered to the rafters after calling for Johnson to resign – a huge contrast to the footage of a shellshocked Johnson returning from New York with his tail between his legs.

And that change in the mood music at Westminster may yet filter out to a broader change in the country. As far as the politics of Brexit go, who benefits is simple: it hurts Labour when the question is whether to do Brexit or not, which promotes Johnson as the leader of the Leavers and Jo Swinson as the leader of Remainers. It helps Labour whenever the Conservatives create situations where Corbyn can assert his role as the leader of the largest single parliamentary obstacle to no deal, relegating Swinson and co to the role of a backing chorus.

The return of Parliament opens up other prizes to the opposition parties too. Boris Johnson continues to face questions about his relationship with Jennifer Arcuri, the model turned entrepreneur, and the funds that his mayoral administration handed to her businesses. The oversight committee of the London Assembly is already using its powers to keep the story going and to keep the spotlight on Johnson – the far bigger level of media coverage that will be afforded to the row if MPs use their powers in a similar way means that it might cause real difficulties for the government.

What the Court's decision doesn't do is create a constitutional crisis or take us towards an American style system where judicial appointments become intensely political and contested by partisans. Johnson isn't the first Prime Minister to have his actions thrown out by the United Kingdom's highest court, whether that be since its separation from the House of Lords to form our Supreme Court or when it sat as the 12 Law Lords in the Upper House.

But in the past, a government that was defeated in the Lords had a parliamentary majority and a lot of the time would simply pass a law to override its defeat in court. What we're seeing now is not a constitutional crisis but an outgrowth of the fact that the Conservatives did not win the 2017 election. That is wholly different from the American Supreme Court, where US justices have the power to override the act of any elected government, no matter how large its electoral mandate. It's a good and important victory that a party without a majority in our elected Parliament cannot act like one does – whatever the longterm consequences of Boris Johnson's electoral hopes or the resolution to the Brexit deadlock turns out to be.

UK 'cannot meet' EU deadline for Brexit plan and needs another year, government says
The Independent
The EU has set Britain a test it "cannot meet" with its demands to see a replacement for the Irish backstop, the Brexit Secretary has said. Read the full story September 20th 2019
Brexit Truth and Lies September 20th 2019
I did not vote in the Brexit referendum as I was busy fighting in the Crown Court yet another police prosecution to have me jailed. I had no opinion at taht time, and have no ceratinty about the best choice now.
However, it is clear to me that the British elite are accomplished at misleading the public and lying. They insult the public who voted leave by telling the country, via elite media, that no person voted for leave without a deal. so what deasl were they voting for?
Were they voting simply to give up representation in the European Parliament so that they could be even more at the mercy of the EU? The writing at the time may not exactly have been on the wal, but it was on Boris's and Farage's battle buses.
I am more concerned about how our elite establishment works, along with all those who buy into it- and the malign influence it has had on the EU which it needs as much as a junkie needs a fix.
Brexit court case: Who is Gina Miller? Posted September 17th 2019
Editorial Comment Miller comes from wealth and has married into it several times. There can be no doubt that she is an enterprising person. However, she is from a privileged background and can be seen as a defender of privilege. We see underprivilege across Europe, elite profiteering, protests, censorship and people trafficking. As I write, I am watching Miller's lead lawyer acting arrogantly seemingly expecting their case to be a walkover.
This case boils down to attributing underhand motives for the PM proroguing Parliament. Basically, Gina Miller et al are accusing PM Boris Johnson of a thought crime. Parliament has connived in all sorts of govermnet secrets , connived with he EU, including bombing innocent people, but suddenly they demand the PMs secret papers on Brexit. They are not answerable to their thought crimes and obvious intent to overturn Brexit, with a dubious deal if necessary. Robert Cook
Gina Miller 'This Is Your Life'
Gina Miller has become the figurehead of the legal fight to get Parliament to vote on whether the UK can start the process of leaving the EU – but who is she?
Ms Miller, 51, is an investment manager and philanthropist who was born in Guyana but was educated in Britain.
In an interview with Vogue in January, Ms Miller spoke of her early years in the UK after she and her brother moved to Eastbourne in East Sussex leaving their parents in Guyana.
She was sent first to Roedean School on the outskirts of Brighton at the age of 10, then to Moira House Girls' School, in Eastbourne, East Sussex.
She recalls working in local hotels as "a chambermaid or clearing up in the restaurant" while her brother did paper rounds and washed up in kitchens because their parents were not allowed to send money to the UK.
"Whilst we missed our parents dreadfully, and it was difficult juggling our home lives with homework and school, it made us who we are today," she said.
According to her LinkedIn page, she then went to university in London to study law.
Ms Miller married her first husband at 20 and they had a daughter, who has serious learning difficulties.
Her daughter, now 28, has a reading age of six, a writing age of four and very little short-term memory, Ms Miller told the Mail on Sunday.
But she describes her as having "amazing emotional intelligence" and being an inspiration to her.
In the early 1990s, she set up her own marketing company, got divorced and married the financier Jon Maguire.
Her marriage to Mr Maguire, who stood for the anti-EU right-wing English Democrat Party in the 2010 election, did not last and they divorced in 2002.
She married her third husband, hedge fund manager Alan Miller, in 2005 and they had two children.
'Black widow spider'
Ms Miller is best known for having campaigned for transparency in investment and pension funds.
In 2009, she co-founded the investment firm SCM Private and launched True and Fair Foundation – formerly known as Miller Philanthropy – with her husband.
The foundation says it supports smaller charities by providing funding and support. Charity Commission records show it spent £135,982 in 2015.
Ms Miller also began the True and Fair Campaign in 2012, which campaigns against mis-selling and hidden fund charges in the City of London's fund management industry.
According to an interview with the Financial Times in April, this has led some in the industry to label her the "black widow spider".
Speaking about a time she asked three men at an industry party why they were staring at her, she told the paper: "One of them replied that I was a disgrace and that my lobbying efforts would bring down the entire City."
Ms Miller launched the Brexit legal case with London-based Spanish hairdresser Deir Tozetti Dos Santos and the People's Challenge group, set up by Grahame Pigney – a UK citizen who lives in France – and backed by a crowd-funding campaign.
They argued the government could not invoke Article 50 of the Lisbon Treaty – starting the formal process of the UK leaving the EU – without seeking approval from Parliament.
Three London law firms – Mishcon de Reya, Edwin Coe and Bindmans – agreed to take up the case.
Ms Miller argued that only Parliament could make a decision leading to the loss of her "rights" under EU law.
But she has stressed throughout that the challenge was not an attempt to overturn the referendum decision, telling BBC Radio 4's Today programme: "We are all leavers now."
'Verging on dictatorship'
On 3 November, three judges ruled Parliament must vote on when the process can begin. The case went to the Supreme Court in December but the 11 judges rejected the government's appeal by a majority of eight to three.
Speaking after the High Court verdict, Ms Miller told the BBC the case was about scrutinising the details of Brexit, such as "how we leave, how they're going to negotiate, the directions of travel the government will take".
Ms Miller added that the challenge was about more than Brexit.
"It is about any government, any prime minister, in the future being able to take away people's rights without consulting Parliament," she said.
"We cannot have a democracy like that. That isn't a democracy, that is verging on dictatorship."
'Biggest fan'
She has described herself as neither a leave nor a remain campaigner.
Asked whether she was "a remainer to your boots", she told BBC's Andrew Marr Show she had campaigned for "remain, reform and review" during the referendum.
But she said the case was now not about the referendum result, but "how we leave the EU".
She told the then-UKIP leader Nigel Farage that he should be her "biggest fan" following the controversial court case.
"This is about creating legal certainty and actually, everyone in the country should be my biggest fan because I've used my own money and a few of us we have used our own money to create legal certainty for Mrs May to move ahead," she told the programme.
Rape threats
She has also spoken about the abuse she suffered as a result of her legal battle.
"I was aware there would be nastiness because anything to do with the word Brexit, people lose their minds and it's all about heart. Actually it is about your head and your heart."
She told BBC Radio 5 live she plans to report online trolls to police after receiving rape and beheading threats.
In December, a 55-year-old man from Swindon was arrested over alleged threats against Ms Miller. He was later released and, after consultation with the Crown Prosecution Service, no further action was taken, the Metropolitan Police said.
Ms Miller told the BBC's Clive Coleman that a discussion with the police concluded that employing security would be "sensible" during the Supreme Court hearing.
She also told the Andrew Marr Show she was appalled by fierce criticism by the newspapers of the High Court judges who ruled on the case.
The Daily Mail branded the judges "Enemies of the people", while the Daily Express said the ruling had marked "the day democracy died".
Ms Miller said "that is unforgivable", saying she is "a nobody and they are "the biggest brains in this country".
"They are what make us great."
John Bercow Issues Fresh Brexit Warning To Boris Johnson While Hitting US Speaking Circuit
Commons speaker says "no force on earth is going to stop parliament" during event at New York University.
John Bercow has issued a defiant warning to Boris Johnson over any attempt to ride roughshod over parliament to deliver Brexit, telling an audience in New York that MPs "cannot be rejected from the centre stage".
The Speaker of the House of Commons told students at the American city's university that "no force on earth" to break the deadlock over leaving the European Union could ignore parliament.
Bercow has announced that he will stand down as speaker at the end of next month.
In recent months he has also come under fire for a series of controversial rulings in the chamber which were widely considered to favour Remain supporters.
Bercow has previously warned MPs were ready to use "procedural creativity" in the Commons to block the prime minister if he tried to force through a no-deal Brexit in breach of legislation passed by MPs in recent weeks.
He has also compared the prospect of Johnson ignoring a law to block a no-deal Brexit to "robbing a bank".
Bercow said at New York University: "There are three ways to proceed in relation to Brexit: leave with a deal, leave by resolution of parliament with no deal, or put the matter back into the melting pot.
"I am not arguing for one course of action in this circumstance as against another.
"What I am arguing is that in a parliamentary democracy, parliament cannot be rejected from the centre stage of the attempted dispute resolution process and the pursuit of closure on the matter of Brexit.
"No force on earth is going to stop parliament in a parliamentary democracy from deciding what course it decides to chart."
Bercow entered parliament in 1997 as a Conservative MP and held several shadow ministerial positions before taking the speaker's chair in 2009, promising to serve "no more than nine years in total".
He abandoned that commitment ahead of the 2017 snap election, but allegations of bullying by former members of his staff, denied by the speaker, led to fresh calls for him to quit.
At the New York University event, he was introduced as being known for his "quick wit" and the audience was played the clip of Stephen Colbert, the host of The Late Show, impersonating Bercow's takedown of Michael Gove, while wishing US politicians would take a similar approach.
UPDATE: Story was corrected to Bercow saying "no force on earth is going to stop parliament in a parliamentary democracy" rather than "no course on earth"
Supreme Court Expected to Block Parliament shut down in name of Democacy- September 17th 2019
Parliament will today claim the right to scrutinise the PMs EU negotiations today in the UK Supreme Court. The anti Brexit body is expected to win the case, arguing that the British people did not know they were actually voting to leave in 2016, believing instead that they were voting to throw away their rights to have MEPs representing them in the European Parliament, so that laws could be passed without them having any say. I have been told that Parliament have a very powerful case against their captive PM, Boris Johnson.
Boris Johnson's advice to the Queen to suspend parliament for five weeks was an "unlawful abuse of power", leading judges have heard.
The claim was made on Thursday at the start of the latest legal challenge to the prime minister's move.
Lord Chief Justice Lord Burnett, sitting with two other judges at the High Court in London, is being urged to make a declaration that the decision taken on August 28 to advise the Queen to prorogue parliament was unlawful.
Get the news that really matters Sign me up
The urgent judicial review application to contest the prime minister's decision has been brought by businesswoman Gina Miller, who successfully challenged the government at the High Court in 2016 over the triggering of the Article 50 process to start the Brexit countdown.
Brexit bombshell: Why Tony Blair is behind Supreme Court ruling on Parliament shutdown
TONY BLAIR is responsible for the location of the explosive Supreme Court battle Boris Johnson is going to fight on Tuesday over the highly controversial prorogation of Parliament, unearthed reports reveal.
By Martina Bet PUBLISHED: 05:03, Fri, Sep 13, 2019 | UPDATED: 07:21, Fri, Sep 13, 2019
Brexit: Sumption says ministers are 'responsible' to Parliament
On Wednesday, Scotland's highest civil court ruled that Boris Johnson's suspension of Parliament is unlawful and in breach of Britain's constitution. A panel of three judges at the Court of Session found in favour of a cross-party group of politicians, who were challenging Mr Johnson's prorogation. At the appeal hearing on Friday, Aidan O'Neill QC, representing the parliamentarians, made their case, saying: "A decision to prorogue shuts down Parliament.
Related artic
"It is in those circumstances an attack on democracy.
"It is an attack on the balance of the constitution and therefore it is unlawful."
The judges ruled the Prime Minister was attempting to prevent Parliament holding the Government to account ahead of Brexit.
The Government is now planning to appeal against the latest ruling to the Supreme Court, in what is going to be an explosive and intensive showdown.
Tony Blair is responsible for the location of the explosive Supreme Court battle (Image: GETTY)
Prime Minister Boris Johnson (Image: GETTY)
READ MORE
As Mr Johnson and his key advisor Dominic Cummings prepare for the legal battle, the reason this ruling will be made at the Supreme Court can be revealed – and it is all because of Tony Blair.
The former Labour Prime Minister controversially swept aside 1,400 years of history by setting up a new US-style Supreme Court in place of the Law Lords in 2005.
The Law Lords were judges appointed under the Appellate Jurisdiction Act 1876 to the House of Lords in order to exercise its judicial functions, which included acting as the highest court of appeal.
The House of Lords lost its judicial functions upon the establishment of the Supreme Court of the United Kingdom in October 2009, when Constitutional Reform Act 2005, introduced by Mr Blair, came into force.
JUST IN: Varadkar on brink: 'Not telling truth!' Dublin government partner explodes over Brexit
Former Prime Minister Tony Blair (Image: GETTY)
The Supreme Court replaced the Law Lords in 2009 (Image: GETTY)
Related articles
Lords of Appeal in Ordinary then in office automatically became Justices of the Supreme Court.
Those Supreme Court justices that had seats in the House of Lords lost their right to speak and vote there until their retirement as justices of the new court.
Somewhat bizarrely, had the Committee still been in existence today, under section 8 of the Appellate Jurisdiction Act 1876, the Lords would have had to rule on the suspension of their own Chamber.
The abolishment of the Law Lords created a lot of controversy at the time – in particular over the running costs of the Supreme Court in comparison to the Law Lords.
According to parliamentary records, on November 10, 2009, Conservative MP Shailesh Vara addressed the House of Commons, saying: "Given that it was widely reported that the decision to set up a Supreme Court was taken by Tony Blair and Lord Falconer over a glass of whisky, and that the annual cost of running the Supreme Court is some £14million whereas the cost of the previous arrangement was £3million a year, does the Minister agree that it has proved to be a very expensive glass of whisky?"
Supreme Court judges (Image: GETTY)
Trending
Then Minister of State Michael Wills, replied: "No, I do not agree, and I counsel the Honourable Gentleman – and I suspect his colleagues who will follow on shortly – that they must be very careful to ensure that they compare like with like.
"If I may, I will give the Honourable Gentleman a few figures.
"The figures he quotes are roughly right, but they do not include all the costs incurred in the running of the Appellate Committee of the House of Lords, as they were not included when we looked at the costs of the Supreme Court.
"Let me just give an example: The costings he has quoted go back to 2002-03, I think.
"Inflation since then and the costs that cannot be separated out precisely from the running of Parliament, such as those for rent, security, IT, catering, library services, cleaning and non-cash items, amount to about £7million.
"So when the Honourable Gentleman looks at these figures and genuinely tries to arrive at a like-for-like comparison, he will find there is no significant difference."
Related articles
Brexit NewsBoris JohnsonEuropean UnionTony Blair Popular in the Community
Baby Archie photos: Meghan shares a rare new picture of the family for Harry's birthday Type 2 diabetes: Best breakfast to lower blood sugar – what food to eat Strictly fans in meltdown as Kevin Clifton and Stacey Dooley romance 'snubbed' from show Kevin Clifton: 'Wasn't allowed' The Chase's Jenny Ryan 'banned' from filming with pro Avengers Endgame SHOCK: Robert Downey Jr RETURNING as Iron Man in Black Widow movie 'A knighthood for selling his country out' Farage savages May's Brexit man Olly Robbins 'I was clueless on Brexit' Damning admission by Cameron as failed PM's vote tears UK apart 'Treated me like a war criminal' Farage launches astonishing attack on BBC's Andrew Marr Solid gold toilet stolen from Blenheim Palace – police launch hunt for £4.8m loo thieves Pastor and Imam combine in fight against knife crime – 'We want to be catalyst for change' The suicidal frontline police who are too busy to ask for expert help Home Office policy giving EU citizens three days' deportation notice ruled lawful Britain's high streets: Government gives £95million cash injection David Cameron admits using illegal drugs (which might explain a few things…) Sorry not sorry! Cameron, who quit when he lost, still unapologetic over Brexit Brexiteer warns Johnson's plans to lead UK to 'beg' for way back into EU – shock claim Brexit Party MEP attacks David Cameron over shock intervention – 'Frustrate the situation' Brexiteers vindicated! Police abandon investigation into Nigel Farage backed Leave.EU British public react to MPs behaving like 'spoilt children' in Commons – 'Get on with it' London crimewave: Horror as man hacked to death by machetes gang Army veteran betrayal: Soldier in attempted murder trial for actions while serving Britain Thailand horror: Briton died in freak suitcase fall on holiday Faceless civil servant to decide future of Britain if Boris refuses to beg for more time Hartley-Brewer's response leaves Blackford red-faced- 'OK from Merkel but not from Boris?' Rose West's former tenant reveals killer's revolting daily habit: 'Vile, vile vile!' SEARCH CONNECT WITH US
TODAY'S PAPER Sunday, 15th September 2019
EXPRESS.CO.UK
IPSO Regulated Copyright ©2019 Express Newspapers. "Daily Express" is a registered trademark. All rights reserved.


Anyone who thinks Brexit won't bring back violence to Ireland doesn't understand the Good Friday Agreement
Religion in Northern Ireland is like the Hotel California. You can check out, but you can never leave
It was the first time I had been to Northern Ireland since my friend, Bridie, wet herself when a British soldier pointed a gun at her. A bunch of 10-year-olds on a school trip, our bus was searched at the border.
Five years after the Good Friday Agreement (GFA), I was in Belfast again for work. This time there was no border, no indignity and no fear. Hearing my Dublin accent, a man in his sixties asked, "Are you Catholic or Protestant?"
"Neither, I'm atheist!" I said triumphantly.
"Yes, but are you a Catholic atheist or a Protestant atheist?"
Religion in Northern Ireland is like the Hotel California, I was told. You can check out, but you can never leave.
Today marks the twentieth anniversary of the Good Friday Agreement. Having witnessed the horrors of the Troubles, I never take peace in the province for granted.
When I visited the region on a family holiday last year, children of all religious persuasions played together on the beach. By then, the GFA was firmly embedded and a shared European identity had taken hold. What preoccupied Catholic and Protestant parents alike was not religion, but how to safeguard the hard-won social cohesion and economic security amid increasingly reckless Brexit rhetoric.
Northern Ireland voted to remain in the EU. Despite the fact that the DUP were the only party that backed Brexit, this right-wing minority group is holding not just Northern Ireland but the entire UK to ransom. Neither Arlene Foster nor Theresa May has any mandate to remove Northern Ireland from the EU, to impose a hard border and rip up the Good Friday Agreement. To impose any of these would give grounds to trigger a unity referendum, provided for within the terms of the GFA.
It's 14 months since the Northern Ireland executive became locked in political paralysis, exacerbated by the Tory-DUP deal to prop up Theresa May's Government. Meanwhile, Brexit talks continue in Brussels and, while Scotland and Wales are represented at the table, Northern Ireland is not.
In March, Conservative MP and chair of Westminster's Northern Ireland committee, Andrew Murrison, warned Theresa May that the lack of a functioning executive was a "democratic deficit", depriving the region of the opportunity to raise Brexit concerns.
The committee also published a report concluding that the Government has failed to produce evidence that an alternative to a hard border in the province can be avoided. The people on the island of Ireland, my family and friends, deserve better. They want to know what Brexit will mean for their livelihoods and their future and with just 12 months to go, Theresa May has yet to answer some fundamental questions.
If Northern Ireland leaves the single market, a hard border is inevitable. What will become of the cross-border collaboration enabling farmers on both sides to compete with their counterparts elsewhere in the world?
Twenty-five per cent of the region's raw milk goes south of the border to be processed and 40 per cent of Northern Irish lambs are processed in the Republic. A hard Brexit would impede that flow because of tariffs and customs checks. The burden of paperwork around traceability and standards would also be prohibitive.
Editorial Comment So IRA thugs use the Brexit aspirations of poor Britains to blow up more innocent people in Northern Ireland. The peace process and Good Friday Agreement was a sham to cover de facto unifiication. I am no fan of religion. It intrigues me how ignorant religious zealots of Christian and Islamic persuasion are of their religion's history. The world did not start 3000 years ago and their common God- with their individual versions of him- did not make it. People have been put in the mad house for odd beliefs, but the Judaic/Christian/Islamic one – with all of its political schisms- rolls on and on, as do the wars in its name.
Brexit threatens life on the Irish border: in pictures Posted September 12th 2019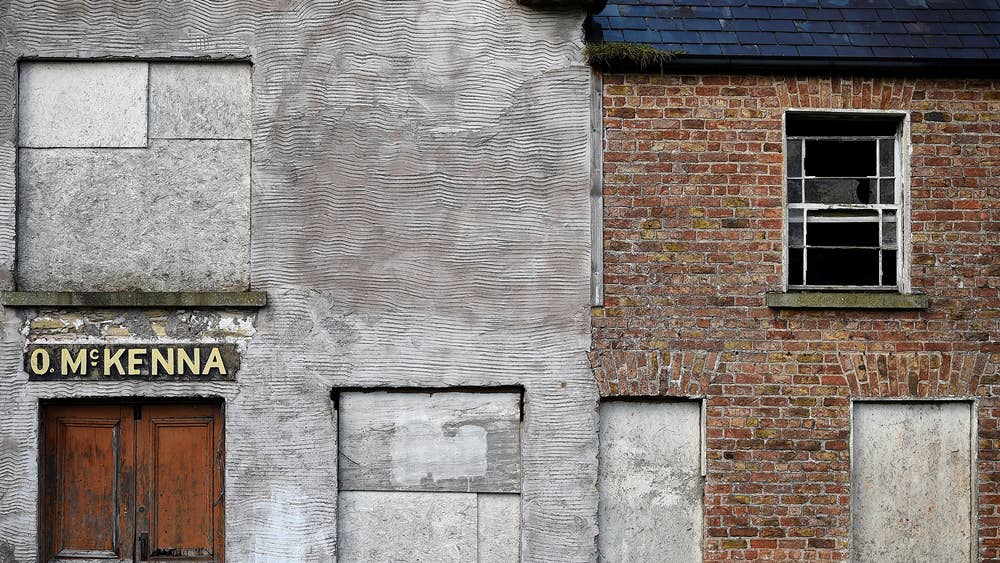 What will become of patients from the Republic who receive radiotherapy in the North and the children who travel from Belfast to Dublin for heart surgery in the only all-island newly opened world class facility? How will emergency services continue to collaborate?
Northern Ireland already has the highest levels of unemployment and poverty in the UK and can ill afford to lose €3.5bn in EU subsidies up to 2020. How will the British exchequer fill that gap?
By getting into bed with the DUP and riding roughshod over the rigorous impartiality required by the Good Friday Agreement, the Tories are gambling with peace in the province. Despite them having no mandate to impose a hard border and promising there wouldn't be one, their continued inability to propose concrete alternative plans makes a hard border, and a return to sectarian violence, almost inevitable.
Sinn Fein – IRA Threatens Violence over Brexit – Posted September 12th 2019
Statement by TUV -Traditional Unionist Voice- leader Jim Allister:
"The unambiguous threat from Sinn Fein/IRA MP Chris Hazzard that there could be "civil disobedience" as a result of Brexit should be universally condemned.
"We often hear vague suggestions that Brexit could lead to a return to violence. It's always been clear that that threat didn't come from Unionists. Now Hazzard has told us explicitly where that threat comes from. Speaking in Westminster today he said:
"An awful lot of the focus has been on maybe dissident republican organisations and threats, but it is wider than that – it goes right down to a feeling of civil disobedience."
"If it is "wider than that" it is clear that the threat comes from Sinn Fein/IRA and their supporters.
"These comments should result in a renewed determination to ensure that the will of the British people is respected and a full and complete Brexit for the entire United Kingdom of Great Britain and Northern Ireland takes place. We cannot permit the threat of violence to blackmail us."
Closing Parliament UNLAWFUL- September 12th 2019
Severin Carrell Scotland editor and Rowena MasonThe Guardian11 September 2019
Scottish appeal court judges have declared Boris Johnson's decision to suspend parliament in the run-up to the October Brexit deadline is unlawful.
The three judges, chaired by Lord Carloway, Scotland's most senior judge, overturned an earlier ruling that the courts did not have the power to interfere in the prime minister's political decision to prorogue parliament.
Lawyers acting for 75 opposition MPs and peers argued Johnson's decision to suspend parliament for five weeks was illegal and in breach of the constitution, as it was designed to stifle parliamentary debate and action on Brexit.
The judges failed to issue an interdict, or injunction, ordering the UK government to reconvene parliament, prompting a row over whether the decision meant MPs could go back to the House of Commons.
The court issued an official summary of its decision declaring the prorogation order was "null and of no effect", but Carloway said the judges were deferring a final decision on an interdict to the UK supreme court, which will hold a three-day hearing next week.
Jolyon Maugham QC, the legal campaigner whose Good Law Project funded the legal action, said he and Aidan O'Neill QC, the group's lawyer, believed this meant prorogation was suspended with immediate effect unless the UK government won a court order reinstating it.
The UK government will appeal at the UK supreme court against the latest ruling, which also contradicts a decision in Johnson's favour by senior English judges last week.
The UK supreme court has already scheduled an emergency hearing on both the Scottish and English cases for 17 September, alongside a third challenge brought in the courts in Belfast.
The three Scottish judges, who will issue their reasonings in full on Friday, said unanimously the prorogation was unlawful "because it had the purpose of stymying parliament".
Carloway, the lord president of the court of session – the supreme civil court of Scotland – said parliamentary scrutiny of the executive was "a central pillar of the good governance principle enshrined in the constitution".
Lord Brodie said that attempting to frustrate parliament in this way was "an egregious case of a clear failure to comply with generally accepted standards of behaviour of public authorities".
The court's summary concluded that Johnson's prorogation request to the Queen and her decision to accept it "was unlawful and is thus null and of no effect".
Maugham said: "Our understanding is that unless the supreme court grants an order in the meantime, parliament is unsuspended with immediate effect.
"I'm relieved that my understanding of the functioning of our democracy – that allows parliament to exercise its vital constitutional role – has been vindicated by Scotland's highest court.
"This is an incredibly important point of principle. The prime minister mustn't treat parliament as an inconvenience."
Joanna Cherry QC, the Scottish National party MP who was the lead applicant in the case, called for prorogation to be halted. "The court agreed it is unlawful to suspend the UK parliament for the specific purpose of preventing parliament from scrutinising the Brexit process and holding this shambolic Tory government's extreme Brexit plans to account," she said.
"This ruling takes us one step closer to ensuring the UK government cancels their shameful prorogation and blatant plot to force through an extreme Brexit. Boris Johnson cannot be allowed to break the law with impunity."
A UK government spokesperson said: "We are disappointed by today's decision and will appeal to the UK supreme court. The UK government needs to bring forward a strong domestic legislative agenda. Proroguing parliament is the legal and necessary way of delivering this."
No 10 sources said the government noted that last week the high court in London did not rule that prorogation was unlawful, which suggests ministers may try to hold back from recalling parliament until an appeal ruling.
A spokeswoman for John Bercow, the Speaker, and the House of Commons authorities said it would be up to Johnson to recall parliament during prorogation. "Any decision to accelerate the meeting of parliament during prorogation is a matter for the government," she said.
However, calls quickly grew among opposition parties for Johnson to act now to restore sitting for the House of Commons and Lords.
Must Respect Judges and the Law. No protests in UK please- September 12th 2019
I never saw leaving Europe as a solution to British elite corruption and economic bias towards their greed and loathing of the indigenous working classes.
Thatcherism broke the old post war so called Butskillism in the name of progress and more profit. It evolved into the current cross party consensus that offered politicians careers, status, TV fame, and the vote winning lie of a Brexit referendum, confident that most of us did not care and the rest would vote remain.
This has exposed the bigger issue of the new elite cross party consenus toward passing off a Brexit deal as leaving. Lord Sumption, with his visibly awakwardsly heaving shoulders, was wheeled out again yesterdasy, by the BBC.
This was for yet another of his Reith lectures- named after the upper class Lord Reith who had the first BBC Director General job handed to him on a plate, decades ago.
It was an interesting talk, which I will review later today. For now, the key phrase of this talk was : 'The public are demanding more freedom with the safety to do what they want. For this it is necesaary to increase the public space at the expense of the private space. This is particularly important in our diverse society.' It means privacy is being reduced so that we have ever increasing State Power to watch and control us underlings- not the likes of Price Andrew for example.
Sumption told us that in 1919 there was one solicitor per thousand of the population. Today the ratio is one for every 400. 'There are 50 stout volumes of British law.' He said.
The City of London is the least regulated financial market in the world and higly lucrative for the international elite. Merkel accused Britain of hypocrisy over Euro law grumbles. She said Britain has been responsible for 80% of them. So, all in all, anyone who thinks leaving will make Britain less rule and law bound is mistaken. Brexit may not do much for the common people, but it would cost the elite and big business. it would also remove their shield of blaming Europe.
I just heard a Labour big whig saying we must respect our judges ( who are not out of touch, he said ) and the law as per the Scottish High Court judging closing Parliament illegal. A few days ago, we saw how the cross party elite rushed out a law to prevent Brexit. Respecting the law is about respecting the ruling rich elite and their power.
I am sure the Nazis insisted on common folk respecting the law. The penalty for not doing would be horrible. Laws are not inherently sacrosanct or benign and rely on popular consent, which is why the elite and their media fear any hint of populism, always ready to apply and/or change the law. Diversity is a big part of the con. Robert Cook September 12th 2019
Brexiteer anger as Theresa May's chief negotiator Oliver Robbins is set to cash in by leaving the civil service for Goldman Sachs Posted September 10th 2019
Theresa May's chief negotiator Oliver Robbing is now leaving the civil service
Mr Robbins will join Goldman Sach following a sabbatical at Oxford University
He thrashed out an agreement with the EU but it was rejected by the Commons
By James Tapsfield, Political Editor For Mailonline
Published: 21:59, 9 September 2019 | Updated: 22:08, 9 September 2019
Theresa May's chief EU negotiator is to cash in by leaving the civil service and joining Goldman Sachs.
Oliver Robbins is to become managing director in the investment banking division after undertaking a sabbatical at the University of Oxford. He is likely to earn a package in the high six figures.
However, Brexiteers claimed the move amounted to 'buying information' about the standoff with Brussels.
Mr Robbins was Mrs May's envoy in the fraught talks, sealing an agreement with the EU that Boris Johnson has now effectively torn up after it failed to secure backing from the Commons.
His departure from the civil service was confirmed in a press release from the Cabinet Office tonight.
It said Mr Robbins will take up a visiting fellowship at Oxford set up in memory of former cabinet secretary Lord Jeremy Heywood.
+2
Oliver Robbins (pictured) is to become managing director in the investment banking division at Goldman Sachs, it was revealed tonight
The fellowship, based at the Blavatnik School of Government, will allow a permanent secretary to explore issues relating to public service and policy.
Mr Robbins will take up the sabbatical immediately after it was approved by the PM.
But buried in the notes was the detail that he will then leave the civil service and join Goldman Sachs.
Brexit Party MEP James Wells responded to the news on Twitter: 'How can that be right, they are simply buying information!'
Lord Heywood, who spent four years as Cabinet Secretary, died of cancer in November last year at the age of 56, days after retiring through ill-health.
RELATED ARTICLES
Share
Mr Robbins said: 'Jeremy, with his pride in the Civil Service and its values, remains an incredible inspiration to me and many other civil servants.
'It is an enormous privilege to be given the opportunity to reflect on some of the challenges the Civil Service faces, as the first Heywood Fellow.'
Mr Johnson added: 'I am delighted that Olly will be the first permanent secretary to take up this Fellowship in Jeremy Heywood's memory, which follows his many years of dedication to public service in a variety of different roles.'
Lady Suzanne Heywood, chairwoman of the Heywood Foundation, said: 'On behalf of my fellow trustees I would like to congratulate Olly on this fellowship which was created to continue the passion that Jeremy Heywood (Lord Heywood of Whitehall) had for policy innovation and diversity.
'We are delighted that Olly will be our first fellow and I know that Jeremy would have felt the same way.'
+2
Mr Robbins sealied an agreement with the EU on behalf of Theresa May (pictured this summer) that failed to secure backing from the Commons
Editorial Comment The elite invented hate speech laws to protect themselves against criticism. Multi culture is part of this con. There is only one culture that counts in this country and it is the elite's.
Culture, in sociological terms, means 'attitudes and values.' It is class basesd and class biased. Under Blair, the elite started a fire in the Middle East, along with a mass exodus from there and beyond. The wars were about money and oil.
Throughout Britain Imperial past, its elite has propped up puppets and dictators, Mugabee being one of the most recent, with claims of promoting democracy.
What utter hypocrisy. Robbins was working to undermine true Brexit behind David Davis's back, now we see why his sort and ilk are so pro remain. Brexit was meant to get a national endorsement for remjain. Had the numbers been the other way around, that elite would not be calling for another vote.
As for Labour, they are International socialists and feminists- very strange bedfellows for money grabbing Tory greedy Capitalist rebels masquerading as croass party moderates who respect democracy so long as the vote goes in their favour.
Prime Minister in Name Only- PMINO – September 5th 2019
The ruling elite attitude to Brexit is all about big money interests and related mass immigration from the Middle East and North Africa . Cameron allowed the referendum vote so to release a massive propoganda campaign for staying in Europe. Aware of Europe's massive self inflicted elitist problems, with worse to come, the plan was to show the British masses no alternative to Europe.
The plan backfired so the population have to be conned by a deal that means staying in on worse terms. The BBC and other elite media are full throttle to this end. So we have the absurd situation of a cross party elite forcing Boris Johnson to stay as PM in name only- PMINO.
The real power behind the drama and constitutional outrage is Speaker John Bercow who has broken tradition and redefined the Speaker's role. He has been unable to hide his glee as the battle to block Brexit has gone the Remainer way. This issue is bigger than Brexit. It proves beyond reasonable doubt that Britian's democracy, not just Brexit, is a con.
Britain and U.S Bombs Middle East in the name of Shamdemocracy, creating refugee crisis and Guardianistas winge about Brexit No Deal blocking child refugees. Crazy. September 2nd 2019.
This time last year, as the Calais camp was razed to the ground, the Home Secretary announced the UK would take a leading role in protecting children caught up in the demolition.
As a result, this country helped secure the transfer of over 550 unaccompanied children to their family here in the UK.
It was a welcome and compassionate step by the Home Secretary and a move only made possible by our membership of the EU's Dublin III Regulation.
But Brexit means this legal right to safety will soon come to an end. This piece of EU legislation meant those children could reach their family; their parents, grandparents, aunts, uncles, or adult siblings.
But the UK's own refugee family reunion rules do not currently recognise family in the same way, defining a refugee child's family as only their parents.
Just as Government knows Brexit must not slam the door shut on our relationship with our European neighbours, it must not close down safe and legal routes for refugee children either.
While many people accept Brexit will mean new rules on how people come to our country, I suspect few believe it should force some of the world's most vulnerable children to make dangerous journeys with people smugglers.
Nor would they want these children to head to Calais, Dunkirk or Bilbao in order to reach the safety of their family in the UK.
As Unicef UK has warned, there are children still in Afghanistan whose homes are lost and embark on a long dangerous journey in search of sanctuary.
There are still children whose parents have been killed in the brutal Syrian war looking for a route out. For those children with family in the UK, family reunion is their best hope to find safety, and their best hope to find a home.
This was recognised by David Davis, the Brexit minister, in Parliament just two weeks ago. He said: "we are a country with a strong tradition of tolerance and generosity, and if anything, I expect that to grow after we leave, not diminish."
This is the right position for us to take and a welcome statement, but so far we've seen no detail on how we intend to fill the legislative gap when we leave the EU. Children dodging shrapnel need us to build on his words. They need their family.
This month Parliament started debating the EU Withdrawal Bill – the so-called Great Repeal Bill – which is set to transpose EU Regulations into UK law.
Does this mean the Dublin III Regulations will automatically become the UK's regulations? Our generosity as a nation and sense of global partner would be reaffirmed if we had clarification on this. The Immigration Bill is some way away, but the refugee crisis remains ever present.
By expanding our family reunion rules so that refugee children can apply from source countries to be with their family in the UK, managed by our own embassies and consulates, we can really start to take forward our vision for a 'Global Britain'.
That's why Unicef UK's report today on keeping refugee families together is so important. Right now a child is trafficked or exploited every 30 minutes taking the central Mediterranean route.
Editorial Comment Can we talk about indigenous or native populations on the net, with so many PC PCs watching us? Well there are over 4 million native children living in poverty and the police dealt with over 450, 000 mentl health call outs in the last 12 months.
Is there any wonder the far right is on the rise.? I went to university in the early 1970s, the places were full of spoield upper class public school types, arrogant know alls. They rose to power, designed and built this unsinkable sinking ship.
Their millenial offspring are yet more strident. They infest the BBC where lies are truth and truth is a lie, a nasty right wing lie that must be swatted like a fly.
Thousands protest against Boris Johnson's parliament shutdown
Crowds march, wave banners and chant 'stop the coup' in cities across UK
Sat 31 Aug 2019 14.56 BST First published on Sat 31 Aug 2019 13.11 BST
Shares 1,260
1:41 'Stop the coup!': thousands protest against prorogation of parliament – video
Tens of thousands of demonstrators are taking to the streets across Britain and outside the gates of Downing Street in protest against Boris Johnson's move to suspend parliament.
Crowds brandished banners pledging to "defend democracy", chanted "stop the coup" and waved EU flags in London in a bid to resist the parliament shutdown.
Demonstrators are massing at protests in dozens of locations around the country including Manchester, Glasgow, Birmingham, Brighton, Swansea, Bristol and Liverpool.
Owen Jones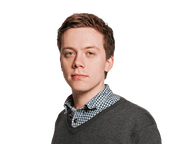 Read more
One Facebook group for the capital's protest event, called "Stop the coup, defend democracy", said: "Boris Johnson is trying to shut down our democracy so that he can deliver on his Brexit agenda. We can't just rely on the courts or parliamentary process to save the day. We all have a duty to stand up and be counted."
Organisers have backed the use of peaceful civil disobedience at the protests. It comes after critics have accused the prime minister of trying to circumvent parliamentary democracy to stop MPs blocking a no-deal Brexit. The protests are being organised by a series of groups including Momentum, the grassroots campaign organisation set up to support Corbyn.
In London, crowds chanted outside the gates of Downing Street and waved homemade placards. Laura Parker, Momentum's national coordinator, told the crowd from a nearby stage: "This is our democracy and we will not let an unelected prime minister manage this power grab.
"He wants to shut the system down and hide … We know where you live, Mr Johnson."
Diane Abbott, the shadow home secretary, also took to the stage to deliver a message from Jeremy Corbyn, saying that he "100% supports this demonstration" and would soon be in No 10 as prime minister.
The shadow chancellor, John McDonnell, labelled Johnson a "dictator" in a stinging attack as he addressed crowds outside Downing Street.
Referencing Corbyn's absence from the rally – which earlier prompted cries of "where's Jeremy?" from protesters – McDonnell said the brought a "message of solidarity" from the Labour leader.
He went on to attack the prime minister's move to suspend parliament, saying it had "rightfully" been called "a very British coup". He added: "We have defeated dictators in the past in our history and we will defeat this dictator under Johnson."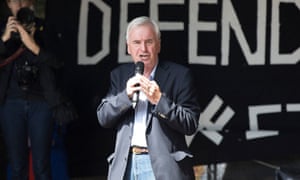 Facebook Twitter Pinterest John McDonnell speaking to the crowd. Photograph: Rick Findler/PA
Earlier, he said: "This is a fight to protect our democracy. We know what Johnson is up to, it's not very subtle, is it? He wants to close down our democracy to force through a no-deal Brexit.
"He also wants to try and convene a general election based upon this idea of his, he can frame it as people versus parliament. Let's make it absolutely clear … Boris Johnson, this is not about parliament versus the people, this is about you versus the people."
Meanwhile, the shadow women and equalities minister, Dawn Butler, wearing a "defend democracy" sticker, geed up the crowd, chanting: "You want to know what democracy looks like? This is what democracy looks like."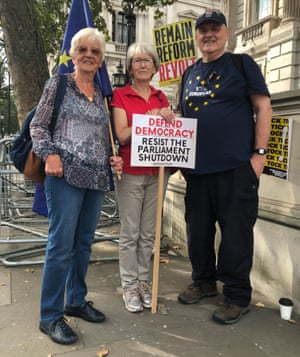 Facebook Twitter Pinterest Maureen Loney, Linda Abbott and Alan Costar. Photograph: Simon Murphy
Alan Costar, 65, Linda Abbott, 69, and Maureen Loney, 73, arrived earlier in the day, brandishing banners and flags to convey their opposition to the suspension of parliament. The trio of retired teachers carried an EU flag as well as placards reading "defend democracy" and "remain, reform, revolt".
Loney, who has a Slovakian son-in-law, said: "I feel that prorogation is cutting off our legs for any form of protest and the legs of parliament. I think that Boris Johnson is trying to hold Europe to ransom.
"What they actually should be doing is someone with a brain needs to stand up and say: 'Sorry folks, we actually got it wrong.' It [leaving the EU] isn't the best thing for the country, it never was."
Costar, who is half-German, added: "I have a dual-national granddaughter and I'm here for her. She's two-and-a-half.
"My daughter has already done a master's in Germany, effectively for free rather than for £18,000. There are so many advantages for young people. This is about the fourth or fifth time I've been up here to protest at various stages as it's gone closer and closer to the edge.
"Boris has completely miscalculated if he thinks the German government will cave on its principles for a few car exports. He doesn't understand German postwar history."
Linda Abbott, who is Loney's sister, said: "The reason that I'm here is that I really do feel that enough is enough."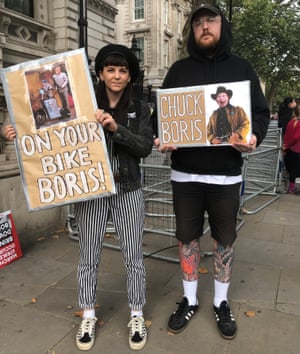 Facebook Twitter Pinterest Tish Mantripp and Luke Hallows. Photograph: Simon Murphy
Tish Mantripp was joined by her boyfriend, Luke Hallows, carrying a homemade placard depicting Donald Trump as Dr Evil from the Austin Powers movies and Johnson as the fictional villain's sidekick Mini-Me. Mantripp, from Buckingham, said she made her sign on Saturday morning after dreaming up the idea.
Asked about suspending parliament, she said: "It's fucking nuts. It's just ridiculous. It's really underhand I think. Obviously, I voted remain but even so every MP has been voted in to represent constituencies and I just feel it's shutting down any voice. It's just Boris Johnson becoming a bit of a dictator. It just seems like bully boy tactics."
Hallows, from Brighton, said his placard showing the prime minister as "Chuck Boris" was made from a discarded beer box last night. He said: "With Brexit, everything that's going to happen is going to happen, but there are certain ways to do it. Deciding you're going to shut everything down isn't the way to do it."
Steve Ferguson, from Bournemouth, was at the protest with his partner, Carly. The pair, calling for the defence of democracy, were wearing customised T-shirts depicting Johnson as a clown.
Read more
Ferguson, whose T-shirt quotes the Manic Street Preachers' lyrics "if you tolerate this then your children will be next", said: "We have come here today to show that we are unsatisfied, discontented with the way Boris Johnson is taking over parliament, closing it down. I think that he's using it just so he can force his no-deal Brexit through. That's not the democratic way of doing things."
Carly, whose T-shirt displayed Johnson as a clown with the message "worst BJ ever", said: "We've got teenagers just going into work and you worry for them."
Scotland Yard said: "A proportionate policing plan is in place. Any public order incidents will be dealt with appropriately."
Editor This website does not share Owen's views, but they need to be evaluated carefully and not ridiculed by us. Owen Jones is a serious journalist and deserves respect.
We have heard that France is to demand continued access to Britain's territorial waters, whatever happens, to protect its fishing industry. So much of Britain's industry has given way to European competition, but Thatcher and the post Thatcher age deserve much of the blame/credit for that.
Britain has not been a benign influence on Europe. Cameron's toadying to China led him to back a no bail out policy to Britain's steel industry. So called professional politicians need to be watched, as do their guarad dogs, the British police.
Britain has been a powerful influence toward turning Europe into a police state. Its elite feel the same way about creating European army to back expansion toward Russia in the Ukraine. When you dd Britain's support for Pakistan over Kashmir, along with greed, hypocristy and idiocy in the Middle East, one migh just get WORLD WAR THREE.
"disease" in British democracy. August 29th 2019
European sources have warned that Boris Johnson's move to suspend parliament for five weeks has increased the chances of a no-deal Brexit, while a leading MEP said: "Taking back control has never looked so sinister."

The plan to suspend parliament for five weeks, which would drastically reduce MPs' ability to influence changes to the withdrawal agreement or seek a delay, is seen in Brussels as a move to overpower rebels and force through Johnson's Brexit agenda.

The European parliament's coordinator on Brexit, Guy Verhofstadt, said the move was unlikely to deliver a stable future relationship. "'Taking back control' has never looked so sinister," he wrote. "As a fellow parliamentarian, my solidarity with those fighting for their voices to be heard. Suppressing debate on profound choices is unlikely to help deliver a stable future EU-UK relationship."

Nathalie Loiseau, a former Europe minister, who is a close ally of the French president, Emmanuel Macron, said the move showed there was a "disease" in British democracy.
Britain is still clueless about the EU's motives in Brexit negotiations
Brussels' main aim is to contain Britain and to prevent contagion. The Brexiters are blind to this
Tue 6 Mar 2018 13.42 GMT Last modified on Tue 6 Mar 2018 18.34 GMT
Shares 616 Comments 2,766
'The EU fear is that Britain will have its cake and eat it.' David Davis mets Guy Verhofstadt in Downing Street on 6 March. Photograph: Will Oliver/EPA
What works for a lamb will not work for a lion. This was how a senior European official dismissed the idea that Britain could ever be trusted with the same deal outside the EU as Norway enjoys today. After more than 40 years of membership and nearly two years of endless debate about Brexit, there is still virtually no understanding in Britain of how the British are viewed by the rest of Europe.
The lack of self-awareness is costly. It is impossible to understand the negotiating approach of the EU without first understanding how it views the UK. A successful negotiation should first be a process of discovery: understanding what matters to the other side, why it matters, and where common ground might be found. This has not happened.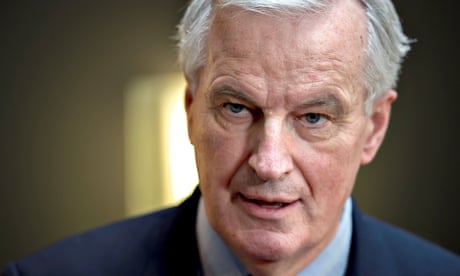 Tue 6 Mar 2018 13.42 GMT Last modified on Tue 6 Mar 2018 18.34 GMT
Posted Augus 29th2019
Read more
The discourse of European officials means it is easy to mistake the motives behind the EU's position. The article 50 process is often presented as merely the "application of rules" – that it has a legal order that must proceed mechanically, in the arena of technocracy rather than politics. This is not true. The EU's primary negotiating objective is best understood in a single word: containment – both of a Britain unconstrained by membership and of the exit contagion introduced by Brexit. The EU is in equal measure fearful and resolute.
The fear is that Britain will have its cake and eat it. For the EU, this means enjoying rights without accepting responsibilities, accruing the benefits of European integration without shouldering the burdens. The success of the European project is more important to Brussels than the economic value of the trading relationship with the UK. Brussels is resolute that the British will not "get the better" of the EU. But why is it so fearful?
Perceptions of character, history and politics are what inform the EU's negotiating approach. In Brussels, the British are viewed with suspicion – seen as hiding cunning behind charm, using manners as a cloak for ruthlessness, and, at their core, being strategic, stubborn and mercantile. These stereotypes of character are joined by experience. It is precisely because Britain has so successfully secured its interests as a member of the EU – shaping the evolution of the European project while securing opt-outs from key parts of it – that the other member states understand how ruthlessly it pursues its interests. One of the great ironies of the current impasse is that Britain's success in the EU stokes fears of its conduct outside it.
Moreover, that Britain should choose to storm out of an institution where it had thrived diplomatically and journeyed from the "sick man" to the fastest-growing economy, has convinced European officials that British politics is erratic, unstable, and irrational. British politicians are, therefore, not to be trusted. There is a belief that the British – accustomed to great power for centuries – are simply incapable of accepting any rules. Britons lazily project their domestic political model – where one side wins, the other loses, and the winner dominates the loser – on to a European politics that is very different. For two years, the British government has seized every opportunity to amplify these fears.
Read more
When European bureaucrats emphasise "the integrity of the single market", or "the autonomy of the union's legal order", as when they rail against "cherry picking", what they mean is that Britain and the Brexit contagion must be contained, to prevent other countries from seeking to follow Britain's example. From the EU's perspective, there are three alternative strategies to achieve this containment.
First, containing Britain in the existing European system as a member state, achieved by reversing Brexit. This strategy is the most preferred but least likely. Wisely, Brussels does not promote this path, but neither does it act to exclude it. The second alternative would be to create a new arrangement whereby Britain remains economically close to the EU, enjoying similar benefits to today, but is contained within a parallel system of rules – not EEA membership but a bespoke deal on similar principles. It is why the EU says the customs union and the single market are on the table, if the UK is interested in them. The third option for the EU is to establish new barriers to trade – outside the single market and without a customs union – and to treat the UK as simply another "third country" with which an interests-based trade deal will be struck. It is understood that new barriers would come at a cost.
For Brussels, the first strategy is unlikely and the third strategy is undesirable. But it is Theresa May who has taken the second option off the table. In Brussels last week, it was apparent that a good deal – one that honours the referendum result but seeks to continue our close economic partnership, as described in the IPPR's "shared market"proposal – is still possible. Before the referendum of 2016, most Brexiters claimed this was their desired outcome – economically close, but politically separate. Yet since the vote to leave, the Brexiters' aversion to all things European has developed into a full-blown allergy. The prime minister's speech shows they have won: while the government might have wisely softened its tone, it has foolishly hardened its stance.
The sharpest critique of Britain's vote to leave was that the country had blamed problems of its own making on Brussels because it was easier than taking responsibility for them. The UK government is making Michel Barnier's job easy: Britain seems determined to contain itself.
• Tom Kibasi is director of the Institute for Public Policy Research and chair of the IPPR Commission on Economic Justice
MILES GOSLETT
BBC's hissy fit over Brexit bias research PROVES it has something to hide Posted August 29th 2019
This important piece of research – published yesterday in the Sun – triggered a hissy fit at our publicly-funded national broadcaster Comment
13 Oct 2017, 3:20
Updated: 13 Oct 2017, 4:03
SO now we know. The BBC hates Brexit so much it has four times more pro-EU guests on its flagship politics shows than those who voted Leave.
Unsurprisingly, this important piece of research — published yesterday in The Sun — triggered a hissy fit by our ­publicly funded national broadcaster.
One newspaper reporter who asked its press office for a statement was even threatened with "Twitter bombs" — a form of online attack — if she dared to quote The Sun's statistics.
Its aggression suggests it has something to hide. Yet the facts are there for all to see, and they only confirm what most fair-minded people have long suspected — the BBC is run by a pro-EU metropolitan elite which is out of tune with the majority who, let's not forget, voted for Brexit.
Let's look at the evidence. I recently asked the Corporation for a list of every guest it invited to the Proms this summer. The answer was very revealing.
Bosses spent £19,020 entertaining dozens of luvvies and politicians.
And guess what? The vast majority of those treated to free drinks and a night at the Royal Albert Hall — courtesy of TV licence payers — were vocal defenders of the EU and prominent critics of Brexit.
They included Bank of England Governor Mark Carney, London Mayor Sadiq Khan, David Attenborough, Judi Dench, Tory politician Lord Patten, Financial Times editor Lionel Barber, Guardian ­editor Katharine Viner and ex-Deputy Prime Minister Nick Clegg.
MOST READ IN OPINION
DANIEL HANNAN
It's not Boris putting the Government at risk – it's those deranged Remainers Comment
JANE MOORE
Coleen will forgive 'silly fool' Wayne again after club girl lift photograph Comment
THE SUN SAYS
Remainers have no right to complain now that the tables have turned Comment
ROD LIDDLE
Parliament works AGAINST the people so BoJo is right to threaten to suspend it
THE SUN SAYS
Signing away powers to get Brexit over the line could cost Boris his job Comment
ROSS CLARK
Remainers are the ones telling porkie pies on trade deals, not Boris Johnson
Theresa May, Chancellor Philip ­Hammond and Labour's Jeremy Corbyn — who all backed Remain — also accepted a free ticket and were hosted on separate nights in a private box by £450,000-a-year BBC director-general Lord Hall.
By contrast, I counted just two ­prominent pro-Brexiteers among the invitees, one of whom was Transport Secretary Chris Grayling.
The BBC may argue it did not deliberately exclude Brexiteers from the guest list, but that is beside the point.
Here is the proof that its executives ­routinely rub shoulders in private with those who share their views. They just can't help it.
Another example relates to Nigel ­Farage. Last month he made a formal complaint to the BBC after it broadcast a story linking him to the violent death of a Polish man shortly after the Brexit vote.
The corporation aired the very serious charge — made by a member of the public with the apparent encouragement of a BBC journalist — that Farage had "blood on his hands" for the fatal attack on Arkadiusz Jozwik because of his role in the EU referendum campaign.
A court case a few weeks ago proved this was nonsense. Farage then revealed this allegation had caused him and his family "more misery than any other in my 25 years in politics", with people ­regularly abusing him in the street.
Yet despite the BBC's highly questionable coverage, it has refused to publicly ­apologise. It cannot bear to admit it was wrong — or to say sorry to a man whose views it despises.
Compare its treatment of Farage with its adulation of Nick Clegg. He has been given free rein this week to plug his new book, unsubtly titled How to Stop Brexit, on BBC TV and radio.
Clegg's pro-EU views helped cost him his Sheffield seat at the last election after the city voted for Brexit in the referendum. But in the cosy bubble inhabited by the BBC, such ­considerations are apparently irrelevant.
This delusional politician has been ­welcomed with open arms to use the BBC's platforms to spout his anti-democratic ­ideology. It is as though the 17.4million votes cast in favour of leaving the EU do not count.
In July, a cross-party group of 70 MPs wrote to the BBC complaining it is heavily "in favour of those who wish to water down or even reverse the referendum decision".
Their letter followed research painstakingly compiled over months by the pressure group News-Watch, which claimed that Radio 4's coverage of Brexit was biased, with listeners two-and-a-half times more likely to hear a pro-EU speaker than an anti-EU one.
But BBC head of news James Harding rejected their calls for new anti-bias guidelines to be drawn up.
He told them the BBC's job was not to be "pushed or pulled by one political interest or another". And, laughably, he said it was "impartial" on the EU.
Yet amazingly, its pro-EU tentacles have even got a grip on a programme like Countryfile on BBC1.
Earlier this year an edition of the ­agriculture show interviewed strawberry farmer Anthony Snell, who said that his business would fail "catastrophically" without migrant workers.
Many viewers were outraged at this one-sided, pro-EU view, but the BBC saw nothing wrong with it.
But then again, should we be ­surprised?
A few years ago I discovered that the BBC receives regular payments from the EU via a little-known scheme called the EU Framework Programme for Research and Development.
Between 2014 and 2016 it accepted £2.7million. The most recent grant, during the last financial year, was for £1.35million.
This money is not used for editorial purposes, but you have to ask why the BBC, which receives a guaranteed £3.5billion a year from the public, is tapping the EU for yet more cash.
You also have to wonder — how impartial and objective can the BBC be when it comes to the EU, given it is on its payroll?
Jeremy Corbyn is in unfathomable trouble over Brexit by Professor Stephen Fielding Posted August 29th 2019

Jeremy Corbyn is in unfathomable trouble over Brexit. From once being on the verge of power, Corbyn's handling of the issue looks like ending his hopes of ever becoming Prime Minister. How has it come to this? Perhaps the Labour leader's own history is catching up with him?
The Labour party which Corbyn joined was often at loggerheads over Britain's relationship with the rest of Europe. In 1975 the country held its first ever referendum on whether to remain in the European Economic Community (as was) because Labour could not decide.
The Remain leadership was opposed by a Leave membership, including Corbyn, already a councillor. The people's overwhelming vote to Remain did not however end the dispute in Labour's ranks: insurgent left activists among whom numbered Corbyn continued to see the EEC as a capitalist club and a barrier to socialism.
Thanks to the left, Labour's 1983 general election manifesto contained the pledge to leave the EEC. Corbyn was elected an MP in 1983 but the party's crushing defeat marginalised Benn and his allies. And, during the rest of the 1980s the party began to see EEC membership in a positive light, if only to contain Thatcherism.
For if the Conservatives undermined workers' rights Brussels often sought to regulate working conditions. If some members had doubts about Tony Blair, few disagreed with his ambition in 1997 to put Britain at the heart of Europe.
Corbyn remained immune to this Europhilia, being one of a handful of MPs determined to keep the Bennite torch burning. He remained a constant critic of the EEC, opposing its transformation into the European Union in 1993. His hostility only increased when the EU imposed severe conditions on the Greeks following the banking crisis.
Unexpectedly elected leader in 2015 Corbyn's victory reflected members' frustration with moderation in the face of austerity: he promised to reflect their desire for socialism by creating a 'member-led party'. If in that campaign refusing to say whether he would support Remain in the upcoming referendum, it did not concern those who made him leader, despite their keen desire to remain in the EU.
Corbyn ostensibly campaigned for Remain, in line with established Labour policy, but some believed his contribution was half-hearted. That hours after the decision to Leave was announced he called for the immediate invocation of Article 50 further inflamed matters. Such was their anger Labour MPs tried to unseat him. But Corbyn was re-elected by members who while supporting Remain believed 'centrist' MPs launched their coup not because of his attitude to Brexit but because he was a socialist.
Corbyn's position was secured when Labour did unexpectedly well in the 2017 general election. By then he had committed the party to 'respect the referendum' and seek as soft a Brexit as possible, albeit one ending free movement and leaving the Single Market. This position was seemingly pragmatic – a significant number of Labour MPs represented Leave-voting constituencies – but also suited Corbyn's preferences.
Despite now being a Leave party, faced with a Conservative party apparently intent on as hard a Brexit as possible Corbyn won over many younger Remain voters, because he promised to end austerity and they believed leaving the EU was inevitable. It was by maintaining this coalition and winning over more Leave voters Corbyn hoped to win office in the near future.
Theresa May's failure to win backing for her Brexit deal has, however, upset Corbyn's approach. For it opened up the possibility that Britain might not leave the EU while polarising opinion between Leave and Remain supporters. It has also exposed Corbyn's differences with Remainers in his party and with the voters he attracted to the party in 2017, seeing Labour crash to 14 per cent in elections for the European Parliament and 41 per cent of members vote for another party.
Corbyn's claim to want to unite Leave and Remain supporters and focus on more important issues, notably austerity and the inequalities it has engendered is now in tatters. He is faced with the need for clarity or see his party squeezed by the Brexit Party and those parties which enthusiastically support Remain.
The overwhelming majority of Labour voters and members want the UK to Remain in the EU and at the very least seek a referendum on any deal agreed by the Commons. In the European Parliament elections the party mostly lost support to Remain parties. There is, bluntly, no other electorally pragmatic course for Labour to take but to embrace Remain.
In the days following the announcement of Labour's European Parliament election results, Corbyn remained reluctant to take that course. He appears to have grudgingly conceded that any Brexit deal should be put to a referendum, but expressed himself such opaque terms it is uncertain if that vote would have Remain as an option. His pained expression during interviews in which this apparent concession was announced is easy to interpret.
For Corbyn, history has come full circle: he is now part of a Leave Labour leadership faced with a Remain membership. If the Labour leader hopes to obfuscate his way out of this fix, unlike the wily Harold Wilson – whose pragmatism was infamous – Corbyn lacks the ability or desire to abandon one of his cherished ideological lodestars.
What was once seen by members as one of Corbyn's most cherished characteristics – his stubborn adherence to principle – has now become a fatal weakness.
By Steven Fielding, Professor of Political History at the University of Nottingham.
Disclaimer:
The views expressed in this analysis post are those of the authors and not necessarily those of the UK in a Changing Europe
Macron attacks 'extraordinarily rude' Bolsonaro after insults about wife Brigitte August 26th 2019
A war of words broke out between the presidents of France and Brazil as Emmanuel Macron responded angrily on Monday to Jair Bolsonaro's "extraordinarily rude comments" about his wife Brigitte.
Mr Bolsanaro appeared to endorse a Facebook comment posted by one of his supporters mocking Mr Macron, 41, for being married to a woman who is nearly 25 years his senior.
The comment suggested that Mr Macron was attacking Mr Bolsonaro over the Amazon fires because the Brazilian president was married to a much younger woman.
"[Mr Bolsonaro] has made some extraordinarily rude comments about my wife," Mr Macron said at a press conference.
"What can I say? It's sad for him, firstly, and for Brazilians … I think Brazilian women will probably be ashamed to read that from their president."
He added: "As I feel friendship and respect for the Brazilian people, I hope that they will very soon have a president who behaves in the right way."
The Facebook comments which the French president found offensive appeared below a picture of the Macrons beside one of Mr Bolsonaro, 64, and his wife Michelle, 37 years his junior.
"Do you understand now why Macron persecutes Bolsonaro?" read a comment under the pictures.
Mr Bolsonaro posted a response: "Don't humiliate the guy. Ha ha."
Abraham Weintraub, Brazil's education minister, joined the attack on Mr Macron on Sunday with a Twitter post calling him a "calhorda", a Portuguese term designating a rascal or a cretin.
The row between Mr Macron and Mr Bolsonaro broke out over the French president's attempt last week to put international pressure on Brazil to deal with vast fires that were raging unchecked in the Amazon.
He threatened to block ratification of an ambitious free trade pact between the EU and the South American common market, Mercosur, until the fires were put out.
Mr Bolsonaro, a far-Right climate sceptic, accused the centrist French president of having "a colonial mindset" and interfering in Brazil's domestic affairs by declaring the fires to be a global emergency.
Mr Macron retorted that Mr Bolsonaro had "lied" about his environmental commitments at the G20 summit in Japan in June.
"President Bolsonaro has decided not to respect his commitments on the climate. nor to involve himself on the issue of biodiversity," he said.
Editorial Comment I do not like Macron and Bolsanaro even less. If the latter really believes Macron has attacked him over the relative ages of their wives, then he believes in overt rule by penis- ONE BIG COCK UP.
Related Topics
More Stories
Follow The Telegraph
A Deal is not Brexit and not what leavers voted for, so it is time for Irish Unification. Religion should have no role in democracy- August 21st 2019
TwitterFacebookLinkedInWhatsAppEmailShare
Addressing the Irish border question has been at the centre of Brexit. Proposed solutions to the issue have divided not just the UK and the EU, but also the UK government and Parliament, and the two main political parties in Northern Ireland. These polarised approaches have resulted in delays to the Brexit process. Given the current political impasse, a viable alternative solution to the Irish border conundrum is through constitutional means – i.e. Irish unification, writes Darryn Nyatanga (University of Liverpool). This involves altering the constitutional status of NI, which the Good Friday Agreement (GFA) 1998 allows for.
With the increasing likelihood of the emergence of a 'hard border' in Ireland post – Brexit, through the default legal position of a 'no-deal' Brexit, discussion of Irish unity is beginning to gain more traction. It is key to note that momentum in the debate does not entail that Irish unity is any closer: rather it illustrates the willingness to contemplate this option, which has been greatly overlooked in the Brexit withdrawal process.
The GFA and Irish unification
Embedded within the GFA 1998, are provisions that allow for NI's constitutional status to alter. These provisions provide that NI will constitutionally remain part of the UK, until a majority of people vote in a border poll for a united Ireland, as set out in the GFA. The border poll refers to "the term for a referendum on Irish reunification… which would take place simultaneously in both the Republic of Ireland and Northern Ireland." The border poll in NI would be initiated by the Secretary of State "if at any time it appears likely to him that a majority of those voting would express a wish that Northern Ireland should cease to be part of the United Kingdom and form part of a united Ireland." If the majority vote for NI to be part of a sovereign Ireland, the Secretary of State "shall lay before Parliament such proposals to give effect to that wish as may be agreed between Her Majesty's Government in the United Kingdom and the Government of Ireland."
These constitutional arrangements have been translated into UK domestic law through the Northern Ireland Act 1998 and Articles 2 and 3 of the ROI's constitution, as per requested by schedule 2 of the GFA.
United Ireland constitutional arrangements
Central to the debate over Irish Unification, is the question over what an all-Ireland future constitutional settlement would look like. The two different constitutions that currently govern the separate jurisdictions on the Island of Ireland are incompatible given their irreducible values e.g. consociationalism (a central part of the GFA 1998) is incompatible with the Irish constitutional order. There has been a number of proposed constitutional models for a united Ireland, which include;
Unitary State under existing Irish Constitution – This can be understood as the German unification model, which would see NI absorbed into the Irish constitutional structure. The main issue with this model, however, is that it fails to incorporate consociationalism for the North.
(Con) federal arrangement – This model would allow for the existing consociation arrangements in NI to remain, whilst also maintaining the status quo in the South. This model does provide for a weak Irish state nevertheless, with complications arising in the situation whereby power fails in the North, resulting in direct rule from the South – will NI have secession rights in such circumstances?
Consociation in Unified unitary state – This model would require a new constitution with no separate Northern government. The main issue with this arrangement is in regards to the process of defining which communities to protect e.g. should the new minority Protestants / Unionists in a united Ireland be protected?
Consociation through devolution – This model mirrors the current UK devolution arrangements, which would be transferred to Ireland. The difficulties with this, amongst other things, is the need for the renewal of the Sewel convention and this model would also transfer the West Lothian question to NI.
Irish unification as a solution to the Irish border question Posted August 21st 2019
With the ongoing impasse over the Brexit withdrawal negotiation process, the default legal position of a 'no deal Brexit' is becoming ever more real. The ramifications of such a scenario challenge the status quo of the seamless Irish border. Given then the threat of a 'hard border' in Ireland after Brexit, added with fact that NI voted majority to remain within the EU during the 2016 referendum, a compelling argument could be made for a border poll. This requires the Secretary of State to be inclined of the belief that a majority in NI would opt for a United Ireland, as a way of remaining within the EU.
Irish unity would both resolve the Irish border question, and also respect the 2016 Brexit referendum outcome in NI as it would keep the region within the EU. In regards to the former, having NI become part of a united Ireland would guarantee no divergence in regulations between North and South of the Island, ensuring the land border ceases to exist, moving it to the Irish sea instead. In regards to the latter, the assumption that NI, if it were to become part of a United Ireland, would get automatic EU membership was confirmed and formalised by the EU following negotiations with the Republic of Ireland in April 2017.
Challenges to Irish unification
Given the current political climate, however, it is very unlikely that the secretary of state who's also part of the UK government would initiate a border poll anytime soon. The UK government has remained consistent in its aim to conserve the existing UK constitutional arrangements, during its Brexit withdrawal negotiations. Thereof the government has continued to reject any solution to the Irish border that separates NI from the rest of the UK by creating a border in the Irish sea. This approach of protecting the UK's constitutional integrity is also central to ensuring that NI cannot be used as an influence to calls for Scottish independence. Thus the current UK government is very unlikely to support Irish unification as a solution to the Irish border question.
Another important hurdle to Irish Unification for NI, is the potential rejection (in a border poll) by the Republic of Ireland to incorporate the North into a united Ireland. A huge constitutional crisis would emerge, as the rejection by the South would void NI's will to change its constitutional status. The GFA entails that the border polls would be done concurrently, this could be taken to mean at exactly the same time or similar period. In order to avoid a constitutional crisis like the one mentioned, it would be best to conduct the border polls in a similar period, with the South voting first and the North after.
Likelihood of a 'yes' vote in a border poll North and South
According to a recently published Irish Times/Ipsos MRBI poll, there was more support for a border poll in the South ( 49 per cent) than there was in the North ( 38 per cent ). If the border poll was held, a considerable majority in the South (62 per cent) said they would vote in favour of Irish unification. On the other hand, only 32 per cent of those in the North said they would vote for Irish unification in a border poll, whilst 45 per cent would vote against. In the North, the number in favour of Irish unity rises by 58 per cent from Catholic background voters, with 18 per cent against. Seventy-five per cent of voters from a Protestant background said they would vote against Irish unification in a border poll, with only 9% saying they would vote in favour.
As shown above, the South has a much greater appetite for Irish unification than the North, which is problematic given that the GFA requires a majority in favour for Irish unification from the two jurisdictions. However given the current impasse over the Brexit withdrawal process, the above figures in favour for Irish unification (in the North) can be predicted to increase, as argued below.
In the same poll, majority voters in NI stated that they reject a 'hard Brexit', would also vote to remain in the EU in a second referendum , and preferred customs checks in the Irish sea than on the Irish land border. Given this, one of the only certain ways to ensure these preferences is arguably through Irish unification.
This post represents the views of the author and not those of the Brexit blog, nor the LSE.
Darryn Nyatanga is a PhD researcher at the University of Liverpool.

Related
Brexit's implications for Northern Ireland may be destabilising, but not fatalApril 6, 2017In "European politics"
What are the Irish government's Brexit priorities? A united Ireland is not one of themJanuary 17, 2019In "European politics"
Life after Brexit: What would unifying Ireland actually entail?June 3, 2019In "Featured"TwitterFacebookLinkedInWhatsAppEmailShare
Related posts:
May 7th, 2019|Exit negotiations, Featured, UK and European law, UK politics|2 CommentsPrevious postNext post
2 Comments
Ian Ogden May 7, 2019 at 5:30 pm – Reply I agree , but,since neither side wants a poll at this moment perhaps a hard border would sort things out. At least it would give the antis. a chance to show they can behave themselves. If not the UK can legitimately use as much force as it likes to control the dissidents. All the bleating from the EU and the World would possibly enable the UN to take control of the dissidents and a hard border.

Richard Sullivan May 9, 2019 at 7:10 am – Reply Superb article but my god Ian Ogden your ignorance is astonishing like an imperialist from a different Century. The EU and US will be furious if the U.K. meddled in Ireland. The U.K. is looking short of friends in the world at the moment. The winds of change are coming and reunification will happen in the next 5-10 years.
Leave A Comment
Supported by


My Tweets Our most popular posts Long read | The powerful psychological rationale behind the desire for a no-deal Brexit It's the English, stupid! Brexit is an expression of English nationalism Don't be fooled: the last thing Johnson wants is a no-deal Brexit Boris Johnson's real agenda: The 'Singapore scenario' We can and should revoke Article 50: here's how to do it Sites about Brexit British Politics and Policy Bruegel Democratic Audit UK European Politics & Policy Future of Britain in Europe LSE Business Review LSE Library Britain & Europe archive NIESR UCL: Britain & Europe Subscribe to our weekly email Email address: LSE European Politics & Policy Democratic Audit UK LSE Business Review LSE British Politics & Policy Facebook Twitter RSS Copyright © 2015 London School of Economics We use cookies on this site to understand how you use our content, and to give you the best browsing experience. To accept cookies, click continue. To find out more about cookies and change your preferences, visit our Cookie Policy.
Brexit: Voters firmly reject Boris Johnson's plan to crash out of EU with no deal, poll finds
The public decisively rejects Boris Johnson's threat to crash the UK out of the EU without a deal, undermining his claim to have a mandate for the dramatic step, an exclusive poll for The Independent shows.
Only 34 per cent of voters want the prime minister to carry out a no-deal Brexit on 31 October if necessary – while 49 per cent urge him to either delay, cancel Brexit altogether, or stage a fresh referendum.
The survey, carried out by BMG Research, also reveals the public is overwhelmingly gloomy about Mr Johnson's chances of negotiating a fresh deal, with only 19 per cent believing he will.
© Provided by Independent Digital News & Media Limited Voters also favour MPs being given a final vote on the Brexit outcome – rather being shut out of the process, as the government intends – by 42 per cent to 39 per cent.
Guto Bebb, a Conservative MP fighting a crash-out departure, seized on the findings, saying: "There is no mandate and never has been a mandate for a no-deal Brexit.
"Boris Johnson in 2016 promised a better deal than our current one with the EU. Why can't he deliver that promise rather than the disaster of a no-mandate no deal?"
And Jo Swinson, the Liberal Democrat leader, said: "A no-deal Brexit must be taken off the table. Not only, as the poll shows, is there no public support for it, it is also incredibly irresponsible for any government to pursue something that will result in job losses, damage to our economy and hit our public services."
Related: No deal edges closer as key Tories refuse to back Corbyn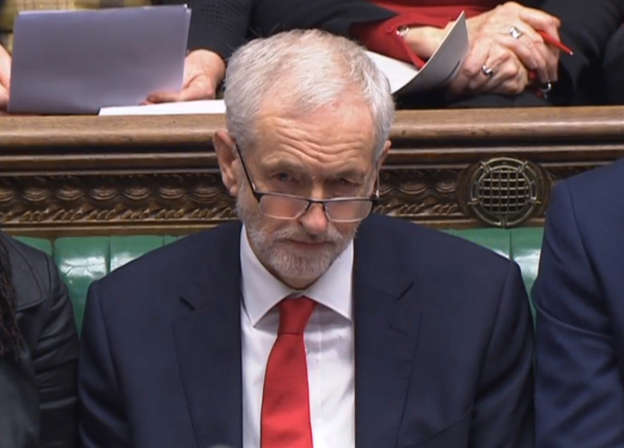 © PA Related: MPs can't agree on plan to stop no deal, leading Brexit rebel admits
The comment follows official warnings that no deal will trigger a recession and fears of a mass slaughter of sheep and cattle, as ministers make fresh plans to bring in emergency food and medicines.
The prime minister has justified his warning of a "do or die" Brexit on Halloween, even without an agreement, by claiming the 2016 referendum gives him the authority.
Dominic Cummings, his controversial chief aide, attacked MPs manoeuvring to block a no deal – even by replacing Mr Johnson with an "emergency government" – by insisting it was "simple".
"The prime minister believes that politicians don't get to choose which votes they respect, that's the critical issue," Mr Cummings said.
However, an independent fact check found no reference to voters being told, three years ago, that a vote for Leave was a vote to crash out of the EU with no agreement, if necessary.
Last week, Mr Johnson admitted that the risks of a no-deal Brexit were on the rise, despite dismissing it as a "million to one" chance during the Tory leadership campaign.
He also failed to rule out calling a general election – but would delay it until after 31 October, in order to thwart parliament's attempts to block it by shutting it down.
Mr Johnson acknowledged there was no hint of the EU folding on its refusal to renegotiate the divorce deal, blaming "a terrible collaboration" with anti-Brexit MPs.
"The awful thing is that, the longer that goes on, the more likely it is of course that we will be forced to leave with a no-deal Brexit," he told an audience on Facebook.
The prime minister is expected to meet the leaders of Germany and France ahead of next weekend's European Council, in an attempt to achieve a breakthrough.
But he admitted: "Our European friends are not moving in their willingness to compromise. They're sticking to every letter, every comma of the withdrawal agreement – including the [Irish] backstop."
The Independent poll, of 1,515 adults, carried out in the days up to 12 August, suggests the public is increasingly desperate to settle the Brexit controversy one way or the other, rather than prolong the crisis.
Just 7 per cent of voters want any extension to the Article 50 process to be used for fresh negotiations, reflecting the belief that no different deal is likely.
Some 20 per cent want a Final Say referendum, with 22 per cent favouring revoking Article 50 to scrap Brexit and just 6 per cent still backing Theresa May's doomed deal.
Worryingly for the Conservatives' long-term prospects, if there is a no deal, backing plummets further to just 20 per cent of 25- to 34-year-olds – and only 15 per cent of 18- of 24-year-olds.
Even among over-65s, the bedrock of support for Brexit, only a minority (48 per cent) favours a Halloween crash-out, if no fresh deal has been struck. Microsoft may earn an Affiliate Commission if you purchase something through recommended links in this article
Editorial Comment A deal means staying in the customs union, subject to all of its policies and rules. It is taxation- because it will cost- without representation. So Britain becomes jsut a colony. Even Slithery Blair said that would be a foolish choice. So, with all the negative propganda firing from the media and politicians, it would be best to just accept the status quo. European bureaucrats rule and they are destroying Europe. Britain, as a key player in Europe, has palyed a big part in making Europe and the rest of the world an awful dangerous mess.
Blame it all on 'Call me Dave Cameron.' August 15th 2019
Weekly Highlights By Fraser Nelson
Might Brexit soon be the least of the EU's problems? Italy is preparing for a new election after Matteo Salvini decided to capitalise on his party's surging popularity by ditching his coalition partner.

He's routinely described as far right, but is he? Douglas Murray explores the European minefield: there certainly are neo-fascists, but it's hard to spot them when the label is hurled at every new party. Katy Balls, meanwhile, lifts the lid on the Boris operation: No. 10 aides are working 11-hour days and special advisers are being asked to snitch on their bosses (and are agreeing to do so). But Dominic Cummings could have Tory MPs doing morning press-ups if they thought it meant a way out of this Brexit impasse. In her diary, Rachel Johnson admits she backed the wrong horse and wonders which party she should join next (the one led by her brother, it seems, holds no appeal). Jesse Norman considers the merits of Walter Bagehot, Rod Liddle considers the merits of an all-female cabinet and Matthew Parris offers a £200 reward for anyone who can explain why the new train seats as so bum-achingly uncomfortable. I hope you enjoy the issue – somewhere more comfortable. Fraser Nelson, Editor The Spectator.

No chance of US-UK deal if Northern Ireland peace at risk – Pelosi August 15th 2019
Senior US politician says Brexit cannot be allowed to imperil Good Friday agreement
Julian Borger in Washington
Wed 14 Aug 2019 17.06 BST First published on Wed 14 Aug 2019 14.00 BST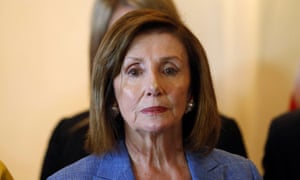 Nancy Pelosi said a trade deal would not pass Congress if it jeopardised peace in Northern Ireland. Photograph: Jorge Cabrera/Reuters
There is no chance of Congress approving a US-UK trade agreement if Brexit undermines the Good Friday peace agreement in Northern Ireland, the speaker of the House of Representatives, Nancy Pelosi, has said.
Pelosi was restating the entrenched position of congressional Democrats and many Republicans in the wake of remarks made by Donald Trump's national security adviser, John Bolton, during a visit to London this week.
Bolton had said that Britain and the US could sign interim, partial free trade deals, one sector at a time, which would go through the a fast track legislative process, to help the UK cope economically if there is a no-deal Brexit on 31 October.
In a statement on Wednesday, the House speaker, who commands a Democratic majority, warned that the Trump administration would not be able to sidestep congressional approval.
"Whatever form it takes, Brexit cannot be allowed to imperil the Good Friday agreement, including the seamless border between the Irish Republic and Northern Ireland, especially now, as the first generation born into the hope of Good Friday 21 years ago comes into adulthood." Pelosi said. "We cannot go back."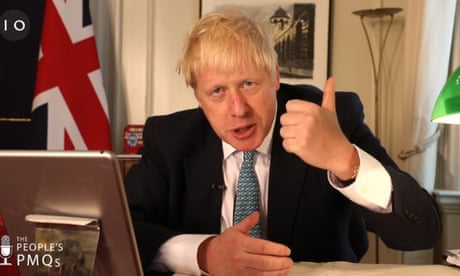 Bolton said the sectoral deals, focusing on industries such as car manufacturing, could be negotiated quickly, and insisted they would receive overwhelming bipartisan support in Congress.
"The ultimate end result is a comprehensive trade agreement covering all trading goods and services," he said after meeting Boris Johnson and senior British officials on Monday. "But to get to that you could do it sector by sector, and you can do it in a modular fashion. In other words, you can carve out some areas where it might be possible to reach a bilateral agreement very quickly, very straightforwardly."
Political observers however said it would be very hard to get piecemeal deals through Congress, partly because of the staunch opposition of agricultural and other sectoral lobbies concerned that their interests are being sidelined if they are not included in a broader agreement.
For that reason, trade deals, if they are passed at all, often take years to get through Congress. The existence of a powerful bipartisan Irish American voting bloc, adamant that it will not be complicit in any arrangement that undermines the 1998 Good Friday accord, is almost certain to complicate US-UK trade negotiations still further.
Brendan Boyle, the Democratic co-chairman of the Friends of Ireland caucus, told the Guardian: "The nonsensical utterings of John Bolton should not be taken seriously. He has no role in trade agreements. Zero."
"I strongly support Speaker Pelosi's statement today making crystal clear, once again, that protecting the Good Friday agreement is paramount," Boyle said.
"As the Speaker said: if Brexit undermines the Good Friday accord, there will be no chance of a US-UK trade agreement passing the Congress."
Forty-five Republican senators have signed a letter indicating willingness to back a trade deal with the UK in case of a no-deal Brexit, but it had no Democratic signatories, fell short of a majority any deal would need, and would not help any agreement overcome more staunch opposition in the Democrat-controlled House.
Fast track authority gives the president the power to negotiate trade deals which Congress cannot amend or filibuster (stall by extended debate). However, the legislature still has the authority to reject such deals outright.
This will devastate all but society's anointed elite
Nick O'Connor
---
Dear Reader, My name is Nick O'Connor. I'm a publisher of one of Britain's leading independent financial think tanks – Southbank Investment Research. Our office is located just over the bridge from the City. Next to the Financial Times.
But unlike the Financial Times, we're used to making claims not a lot of people believe at first… that end up being right. For example, in 2005, when one of our analysts anticipated a financial crisis starting in the US property market – and spreading worldwide – nobody believed us. In 2011, several of our analysts accurately forecast the European debt crisis… again, falling on deaf ears. And last year, our Chief Strategist – a former Goldman Sachs insider – foresaw the events of the Italian debt crisis down to the exact day…
Meanwhile everyone was talking about Brexit. And now, we believe Great Britain is racing towards an unforeseen event that will devastate all but society's most elite. In short, the most dangerous financial idea of the 21st century is on the cusp of reaching critical mass. And it's all taking place from inside The Cabinet Office.
The wheels of this event are already set into motion. It is something that threatens to change everything about your normal way of life. The type of car your drive. The size of your mortgage. Even the police's ability to protect you when you're most in need. I strongly encourage you to read my run-down of the situation. You can read, all my analysis, free of charge, on this page right here. Sincerely, Nick O'Connor
Remainer MPs see hopes to end Brexit dashed as professor warns 'they can't do it'
MPS hoping to put an end to the no deal Brexit threat will not be able to keep Boris Johnson and his Government from taking the UK out of the European Union without an agreement, Prof Alan Sked has claimed.
Brexit: There is 'no way MPs can stop no deal' says Sked July 30th 2019
Brexit: Farage advises Boris Johnson on delivering no deal July 30th 2019
MPs have repeatedly voted in favour of taking a no deal Brexit off the table but the scenario has remained the default position of the British Government. Boris Johnson has maintained he will deliver Britain out of the European Union on October 31 "come what may," pledging to leave "with or without a deal". Despite the Commons voting to make it harder for the Prime Minister to push them out of the final phases of Brexit, Prof Sked insisted MPs will not be able to intervene to stop Mr Johnson from going through with a no deal.
Related articles
The historian told RT UK: "I don't think they can. The only way you can stop a no deal is either to vote out the Government or to revoke Article 50.
"Only the Government can revoke Article 50, so they can't do that. Then it comes down to is would they really vote Boris out in a vote of confidence?"
The Labour Party confirmed before recess they will lodge a motion of no confidence in Mr Johnson "when the time is right" after political commentators suggested the opposition could attempt to oust the Prime Minister shortly after his election.
However, Prof Sked suggested Conservative MPs would face "enormous pressure" not to back the Labour Party.
LISTEN HERE: Latest Brexit news from the Express.co.uk Final Countdown podcast
Brexit news: Sked warned MPs they are unlikely to prevent a no deal Brexit (Image: RT UK•BBC)
Brexit news: Sked also said Tory MPs may face "enormous pressure" not to back a confidence vote (Image: RT UK)
He continued: "The pressure would be enormous on them not to do that and some like Oliver Letwin seem to be turning.
"Of course, there may be Labour MPs who would vote to support Boris to get Brexit, to get a no deal Brexit."
Following yet another rejection from Brussels to re-open the withdrawal agreement to change terms Westminster had deemed controversial enough to reject the deal three times, Mr Johnson announced he will not attend meetings with the EU until they relent.
A spokeswoman for the Prime Minister said on Monday: "The Prime Minister has been setting out to European leaders the position that the withdrawal agreement with the backstop has not been able to pass Parliament on the three occasions it was put in front of Parliament. Therefore it needs to change.
Posh Ms BBC TV Producer blames 'Dad's Army' re runs for Brexit- serious censorship gets even worse in Police State Britain.
Author and TV producer Daisy Goodwin is calling for the broadcaster to stop showing repeats of the Second World War sitcom, which originally aired from 1968 to 1977. Ms Goodwin, who created ITV drama Victoria, claimed showing old episodes could have convinced the public to support the UK leaving the European Union. The 57-year-old told the Radio Times: "If you really want to nail the BBC for influencing the nation's state of mind about Brexit, you might look at how often Dad's Army has been shown on BBC2.
"The BBC, if it wants to maintain its claim to impartiality, needs to retire the Home Guard (or send them on leave), because in the words of Private Frazer, 'We are all doomed!'
"The world of Dad's Army is a comforting place – it was reassuring during the mayhem of the three-day week and it's soothing to those of us who worry about the effects of a No Deal Brexit.
"But while David Davis may sound like Corporal Jones, Philip Hammond has Sergeant Wilson's hangdog look about him and there is more than a touch of wide-boy Walker to Boris Johnson, perhaps the Conservatives, indeed the whole nation, need to be reminded that we are not living in Walmington-on-Sea.
"Our current difficulties will not be resolved with a comic flourish and a jaunty burst of Bud Flanagan."
The show starred Arthur Lowe, John Le Mesurier and Clive Dunn and is still watched by millions of people every Saturday.
Dad's Army followed the lives of the Home Guard protecting the Walmington-on-Sea coastline from a Nazi invasion.
But the dysfunctional team protecting the coast are made up of the local bank manager and his team of volunteers.
It is up to them to take on the German enemies as they invade from across the Channel.
The Home Guard was made up of men who couldn't take part in military service.
This was mostly due to being too old to join the army or navy.
They were nicknamed "Dad's Army" because of their age.
The show has been linked to Brexit previously.
The Royal Mail released a collection of stamps last year to mark the show's 50th anniversary.
But this also coincided with the day MPs voted on the first EU withdrawal.
The stamps featured the show's most popular characters and catchphrases.
One stamp had Private Frazer's quote: "We're doomed. Doomed!"
Source India Times & Post
Italy at the Crossroads
by Daniel Pipes
The Washington Times
June 18, 2019
Italian Interior Minister Matteo Salvini has shut the country's ports to illegal migrants.
ROME – Italy is in the news these days for two main developments. First, Interior Minister Matteo Salvini has – against massive opposition from the media, the judiciary, and the church – shut the country's ports to illegal migrants and thereby reduced the number coming from the Mediterranean Sea by 97 percent between 2017 and 2019. Second, his civilizationist party, the League (Lega in Italian), went from winning 6 percent of the votes in the 2014 European parliamentary elections to 34 percent in those same elections last month, making it by far Italy's most popular party.
Seen from outside Italy, these dramatic developments suggest that growing numbers of Italy's 61 million inhabitants have stopped denying their country's apocalyptic immigration and Islamization problems and are ready to confront the country's existential threats. But is this really the case, have Italians turned a corner in the battle to control their destiny? What do the port closures mean and how significant is the rise of the League?
A growing number of Italians have stopped denying their country's apocalyptic immigration and Islamization problems.
To research these questions, I spent a week in Rome, meeting with 25 politicians, diplomats, journalists, and intellectuals espousing a wide range of views; Salvini was compared to everyone from Juan Perón to Margaret Thatcher. I came away impressed by the scope of the battle underway, one in which the civilizationists enjoy a momentary and vulnerable advantage that missteps could quickly reverse.
Italy's challenges provide the context for this battle. Government at all levels is notoriously dysfunctional from Rome's traffic to Genoa's bridge. Its population has about the oldest median age in the world, 48. Nearly ¾ of Italians are pessimistic about the country's future. With the largest government debt in Europe and the continent's second largest government debt as a percentage of GDP, it is in danger of legal action and huge fines by the European Union. Lampedusa Island and Sicily make it the European country closest to the anarchy in Libya and therefore the most affected by Africa's population boom.
Italy's two dominant cultural forces – the Communist Party and the Roman Catholic Church – are both universalist and thus favor mass immigration.
Worse, the two dominant cultural forces in Italy – the Communist Party and the Roman Catholic Church – are both universalist, with little appreciation for what makes Italy a distinct nation. Naturally, both favor large-scale immigration, as expressed by Pope Francis' ardent statements. On May 27, for example, he called the presence of migrants "an invitation to recover some of those essential dimensions of our Christian existence."
In addition to these lofty reasons, other Italians have more practical ones to want an unceasing flow of migrants. Italy's Left cannot but notice how the migrant vote helps its counterparts in other countries (e.g., France). State-funded migrant services, which employed some 36,000 people, let go of 5,000 employees when the number of illegals dropped, with another 10,000 expected to be laid off. Corruption, including embezzlement and prostitution, is endemic to those services, with the Mafia making "vast profits off the backs of migrants."
Civilizationist pride in Italian heritage stands in direct contrast to universalist attitudes.
On the other side stand those who wish to celebrate not just the nation of Italy and its glorious national culture but also its many distinctive regions, with their long histories, mutually-unintelligible dialects, and renowned cuisines. Venice, for example, enjoyed independence through eleven centuries (697-1797), developed a unique method of glass-making (Murano), and has its own school of music composition. Civilizationist pride in this heritage stands in direct contrast to universalist attitudes.
The person of Matteo Salvini, 46, drives the civilizationist impulse to preserve. A career politician who joined the then-marginal Northern League at age 17, he became a Milan city councilor at 20 and rose through the party ranks, finally taking on and defeating the party's long-time boss in 2013. As the new leader, he quickly turned a regional party into a national one (dropping "Northern" from the name) and made control of immigration his central message.
Salvini, 46, drives the civilizationist impulse to preserve Italy's identity.
Salvini so dominates the League and drives Italy's politics that the country's future course depends in large part on his priorities, skills, depth, vision, and stamina. Should he succeed in turning the ports closure into a long-term solution to the problems of immigration and Islamization, his current electoral success presages a watershed for Italy. But if he fails in this attempt, Italians will not soon again have an opportunity to control their borders and assert their identity and sovereignty.
In larger terms, Italy has the potential to join Hungary in leading Europe out of its current decline; but this happy prospect requires enormous skill and more than a pinch of luck.
European Remainer Mainstream propoganda again- Huffington Post June 13th 2019:
MORE TORY CUTS
Tory austerity may or may not be ending sometime soon, but today the party embarks on fresh round of brutal cuts – this time of its own leadership candidates. The culling process means that we could end up with just six, possibly seven, contenders left by lunchtime. The new rules, designed to speed up the contest, mandate that those who can't muster 17 votes must drop out.
Few expect Andrea Leadsom, Esther McVey or Mark Harper to make the cut. Rory Stewart thinks he may squeak it with 20 votes, a triumph that would allow him to catapult into the TV debates in the next few days. He's vowed not to serve under Boris Johnson, but I wonder if he'll resist the call of 'Queen and country'. After Johnson's message that he wasn't 'aiming' for no-deal, could he stay on in the Cabinet and then walk out in a blaze of glory if the new PM does indeed go for the nuclear option? Either way, many think Stewart is perfectly placed for another run at the leadership next time.
For now, it's all about raw numbers. This is a secret ballot and with a still sizeable chunk of undeclared MPs, it will be fascinating to see how Johnson, Hunt, Gove, Raab, Javid and Hancock fare. Each camp will be desperate to mop up supporters from those who fail to clear the first ballot hurdle. Despite the herd mentality, MPs are rugged individualists at times and it's not always obvious where they will switch loyalties. Still, many expect Johnson and Raab to be boosted by McVey and Leadsom's numbers, while Harper's will head towards Hunt, Javid or Hancock.
Everyone will be looking to see whether Michael Gove's numbers have hit a ceiling. If so, could Javid or Hancock build up momentum to overtake him and Raab? Should Stewart drop out, Hancock could leapfrog Javid. It may all be academic, if Johnson comes close to the magic 105 needed to guarantee a place in the last two next week. With his obvious support out among members, will it be all over bar the shouting as early as today?
SERIOUSLY? BORIS?
Boris Johnson got through his big day yesterday without imploding on the launchpad as he did so spectacularly three long years ago. Yet his critics are already pointing out that even a few minutes of scrutiny exposed his slipperiness on everything from a Brexit no-deal to his drug history to his past remarks about 'letterbox' Muslim women or 'bumboys'.
I've written an in-depth piece on how Johnson fared not just at his launch event and the 1922 Committee hustings, but also more widely on how he got his act together (in every sense) in recent weeks. Most telling of all was how neither the launch nor the '22 distracted him from the real business that has shaped this entire leadership race – those one-on-one meetings with wavering backbenchers up in his fourth floor office in Portcullis House. Boris met more yesterday, including some who had been in to see him before and had been unconvinced. It was revealing that they went back at all.
It was obvious Johnson was deliberately more serious and sober yesterday. The Q&A was more freewheeling. Yet given that he is a consummate actor who has spent years crafting the 'bumbling Boris' persona since his student days, where does the artifice begin and end? Was he simply acting at being serious? Is he always acting at being dishevelled? The fact that his family call him 'Al' (Alexander is his first name, not Boris) suggests few know who the real Boris Johnson is.
Javid had a jibe that Johnson is 'yesterday's news'. But his supporters think that he's very much the leader they need right here, right now, the only man who can save the party from what he told MPs yesterday was the 'near extinction event' of a Farage and Corbyn carve-up. Some waverers want a leader for tomorrow, someone who can win in 2022 and 2027. However, the real undercurrent of Johnson's pitch is that his time has finally arrived – and that he's the one to call and win a snap election in 2019 to end the Brexit deadlock for good.
Is no deal inevitable? Steven Bush June 13th 2019
Jeremy Corbyn's motion to prevent a no deal Brexit was narrowly defeated in the House of Commons yesterday, after 10 Conservative rebels were cancelled out by 12 Labour MPs going the other way – eight voted against the motion while four were absent without leave

It's the same combination of factors that has defeated attempts to soften or stop Brexit in the past and the same combination that frustrated Yvette Cooper's first attempt to delay no deal in January 2019: some regular Tory rebels felt that the time is not yet ripe, while some Labour MPs feared that the vote would be seen as frustrating Brexit. Both believe they will get another chance to vote to prevent no deal.

The numbers are certainly there to do so. Several Labour MPs who have consistently voted for the deal and against measures they regard as stopping Brexit have privately said that, if they are forced into a choice between no deal and revoking Article 50, even they will take the option of revocation.
Many Conservative MPs who sat this one out because they are backing candidates who they still hope could defeat Boris Johnson. And, most importantly of all, the number of opponents of no deal is going be swelled because at least some ardent critics of no deal, such as Philip Hammond, are going to end up on the backbenches whoever emerges as leader. As Katy Balls reveals in the Spectator,
Theresa May warned the Cabinet this week that while they had got used to Brexiteers voting against Brexit, the next leader will have to adjust to a new reality of Remainers voting against no deal.

There's a but coming, though, and it's a big one: what if Boris Johnson doesn't want to bring back the deal with a fresh coat of paint? What if he does decide to go for no deal? Yesterday's vote also boosts his argument to Conservative MPs that when push comes to shove, Parliament's no deal majority will shy away from the concrete and radical moves it would have to make to actually prevent no deal. I wouldn't bet heavily on that in his shoes, but nor would I bet heavily against it.

It would be a democratic outrage if the new Prime Minister opted to mothball Parliament to get their way but it would be within their powers. MPs have narrowly opted against their one certain chance to change that and they are not guaranteed to get another.
Comment There is nothing democratic about Cameron offering a referendum smug in the notion it would be a remain vote, then it becomes a decision for Parliament's elite and media cronies, when the vote goes wrong, to disguise a remainer 'deal' as if it were not in fact remaining on worse terms- which is what a deal effectively is.
MPs place their faith in John Bercow, the Speaker, to block no deal. He has said the idea parliament wouldn't get a say in the matter is 'for the birds'.
Assuming without precedent, he has taken on the power to bend parliament's rules and even break them, historic as they are. He is a powerful advocate for Remain. Impartaiality is not his thing, so he sets a dangerous precedent in the name of democracy (sic).
Chief Whip Julian Smith told cabinet this week that the IfG report is wrong as it doesn't take into account the fact that the government faces an activist speaker. Pity Bercow is not more of an activist in his role as my constituency MP.