Birmingham stabbings: Zephaniah McLeod charged with murder of Jacob Billington
Tuesday 8 September 2020 22:15, UK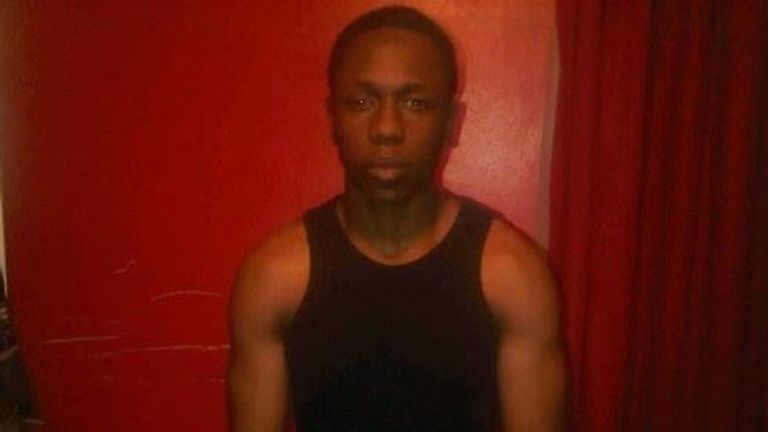 A man has been charged with the murder of Jacob Billington – one of eight people stabbed in Birmingham in the early hours of Sunday.
Zephaniah McLeod, 27, of Nately Grove, Selly Oak, Birmingham, is also accused of the attempted murder of the seven other victims.
Police have so far not released an image of McLeod but Sky News has tracked down one of the first pictures – showing the accused man against a red background.
Mr Billington, 23, was on a night out with school friends from Liverpool, visiting one of their group studying in Birmingham, when he was stabbed in the neck.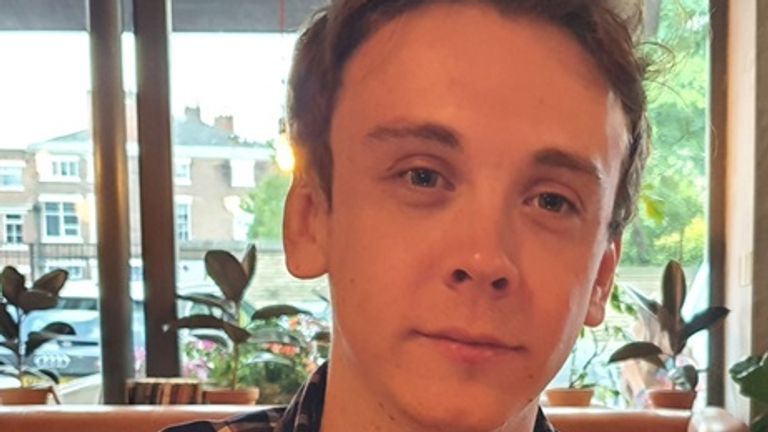 Three people are still in hospital after the city centre attack, including Mr Billington's friend, Michael Callaghan, who is in a critical condition.
A 22-year-old woman, attacked in Hurst Street, is critical but stable, and a man aged 30 is in a serious condition.
The other four victims have been discharged.
More from Birmingham
Three people arrested on suspicion of assisting an offender were released earlier on Tuesday pending investigation.
Mr Billington's family said in a statement on Monday that he was "a funny, caring and wonderful person who was loved by every single person he met".
More tributes were paid today by the the university he worked and studied at.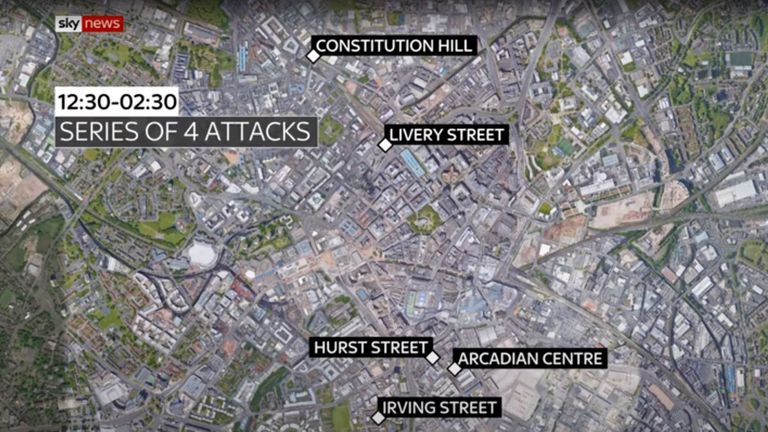 A spokesperson for Sheffield Hallam University said: "Jacob was a Sheffield Hallam graduate and had joined the library as a graduate intern, where his warmth and enthusiasm made him a greatly valued member of our team.
"Our thoughts and condolences are with his family, friends and colleagues at this very difficult time.
"We are providing support to those in our community who have been affected by this tragic incident."
Mr Billington and Mr Callaghan had both attended the Sacred Heart Catholic College in Crosby, which held prayers for them on Monday evening.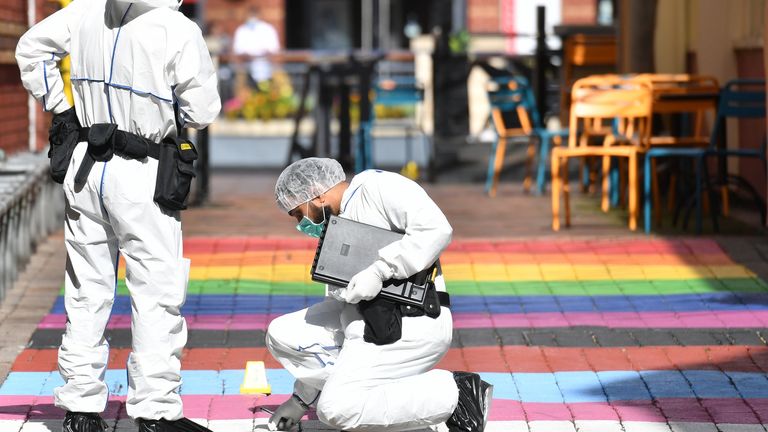 The school said in a statement: "We are saddened at the events in Birmingham which took Jacob's life and left Michael critically injured."
"We are praying for Michael's recovery and will never forget Jacob, his life touched so many in our school."
Also paying tribute was Mr Billington's local MP for Crosby, Bill Esterton, who said that his friends had acted "heroically" in a bid to save his life.
:: Anyone with information, photos or video which could help is asked to contact police here: https://mipp.police.uk/operation/20HQ19G54-PO1
Comment This is a ad man, probably a deranged Muslim. Mustn't say that.
Corrupt Police and Lying NHS Mental Health April 19th 2020
The Joker April 19th 2020
Lives Destroyed by Institutionally Corrupt Police April 17th 2020
'The Woman Within' by Polly Sexual aka Roberta Jane Cook April 12th 2020
Due to police and NHS collusion and lies, to avoid investigating my serious criminal allegations against the police, my ex in laws and the NHS, my eldest son and I have been made unemployable. The Corona Virus has further damaged our finances so seriously that we face homelssness and destitution. As to my other son Edward, goodness knows what my ex in laws, police and NHS have done to him.
My involvement with the Gender Identity Clinic was the result of my ex wife insisting that I saw a psychoanalyst. Her brother was, and probably still is, a senior police and anti terrorist officer. She told me that I had to do as I was told or have no family. I was not allowed to talk to my sons if she was not present. I also had to account for my whereabouts and any money I wanted. Drinking was limited to her, mother and I sharing one bottle of wine a week, on Saturday evening.
That was in 2003. My novel 'Man,Maid,Woman' had just been published. so when the analyst asked me what I had written, I told him about the novel. He said 'We must set about finding the woman within' . If yo want to know more, read on. My ex brother in law was, at the time ACPO firearms lead who wanted all officers to have tasers, he was the man who changed an official report into Plebgate by exonerating three officers facing disciplinary proceedings, and he is the man who detroyed mine and my eldest son's life by lying that we were stalking him and his family, threatening violence when were hundreds of miles away.
With help from corrupt colleagues, like Cheief Constable Paul West and Sergeant Rees, to name only two, he gave us a PNC Criminal Marker and malicious so called soft intelligence records on October 8th 2008. His motive will be explained later.
The police's corruption and cover up, with years of lies and libelous national press releases, have given my son and I, 12 years of hell, abuse and insecurity. Now they are playing the old 'He's mad you know routine.' My ex wife never mentioned domestic violence during our divorce, which was running at the same time my in laws made stalking allegations, which rather than confront me, they lied they found me there in woods by Chesterman's home, and police created the criminal marker- leading to me being chased and frequently stop/searched.
I was 200 hundred miles away at the time of the alleged stalking incdent that I know of, -Chesterman may have invented more, -and can still prove it. Two officers went on record, lying to back DCC Simon Chesterman and his family. As a former public servant, I have to say how sick I am of hearing how wonderful our public services are.
My ex father in law's brother spent his entire adult life in an asylum, dying there. My father in law also suffered from mental illness and was forced to retire from the Civil Service aged 50. The family projected their history on to myself and two sons. Two police forces have spent a fortune watching, bugging and taking me to court. I live in fear because of them. They are institutionally corrupt and a corner stone of the British Police State. My story, all true, follows in some detail below.
R.J Cook
Brief Intro : Harassment originating from high level, in particular my ex brother in law DCC Simon Chesterman, of Plebgate fame, for his family's financial gain during my divorce, his boss, friend and mentor CC Paul West of WMP being responsible for a malicious PNC Criminal Marker and so called soft intelligence records to restrict my freedom of movement, blacken my name, label me violent and mentally ill, destroying my work prospects.
Twelve years later Thames Valley Police still hide behind so called ongoing investigations and allegations of mental illness in order to avoid revealing to me, or the press, records of their so called investigations dating from October 2008 to present. The story also involves domestic violence by my ex wife, hate crime, abuse manipulation and control of a vulnerable young adult, perjury, misconduct in public office and conspiracy to pervert the course of justice.
I won my last two courts cases against the police, but as we know, when defeated the police just say it was 'lack of evidence,' rather than fabricated or no evidence, then they keep watching. Having won against them in 2016, I was so traumatised, I took a large overdose of tamazapam and had to be taken to hospital. My wife's domestic violence toward me, and abuse of my youngest son had previously driven me to hanging from a door knob in March 2007, because I felt so alone, helpless and worthless. She said no one would believe anything a useless excuse for a man like me had to say. Hence my drift toward the notion of being transsexual.
Having lost their previous court cases, the police contacted my GP surgery asserting that I am a mentally ill alcoholic- a young GP showed me the police letter to them. They were advised to inform the Gender Identity Clinic (GIC), where I had been a patient for over two years. They had been prescribing hormones with a view to GRS, then suddenly concluded that I have a paranoid personality disorder and needed anti psychotic drugs, but no need for hospital YET. The NHS and police were to pursue a multi agency approach to my case, said their report. The recommendation for my gender reassignment came from the same psychiatrist who wrote the report that I am a paranoid personality disordered person with abnormal psychology. Police, GIC and my GP still refuse to answer my questions.
I have photographs and documents to support this very alarming story of high level police corruption, showing just how easily senior British Police officers can abuse the system for their own ends, in collusion and conspiracy at the public's expense. R.J Cook April 9th 2020
Background
My eldest son Edward life has been ruined. I have no idea where my youngest son is because his controlling mother took him from my home in March 2008. He has not been seen or heard of since. My ex brother in law, Deputy Chief Constable Simon Chesterman, is a high ranking 'well respected ' senior police officer' who lied to get a restraining order so that his whole family could benefit from his sister's historic very disturbing relationship with this son. In 2012, Birmingham Crown Court were told that Edward was too ill to be interviewed by police.
They destroyed my eldest son Kieran's life with lies about him being Edward's abuser and that he was and is violent. to prevent him having contact with his brother. My father in law's brother was locked in a mental home- called asylums then- from the age 18, and died there. Their father was also a police officer.
The Chesterman family are hypersensitive to mental health issues and family image. Chesterman and police lies, in order to protect the Chesterman family with a malicious restraining order on me, is their stock and trusted defence. The order is based on the lie that I stalked DCC Simon Chesterman's home, threatening him and his family with violence, and that I admitted making false and malicious complaints about him.
As soon as you go to them, they will trot out these vile lies, but will not dare offer honest evidence because there isn't any. If all else fails, they will say that I am certified as mentally ill. That is because the British police are institutionally corrupt. I can support my allegations with documents, police correspondence, court records, evidence of my true whereabouts when Kieran and I were allegedly stalking and photographs. I can also prove that I was my youngest son Edward's County Council approved tutor.
This is a story about high level British police corruption, a transsexual, hate crime on the part of senior public servants, the abuse, manipulation, coercive controlling behaviour, defrauding the benefits system and control of a young vulnerable adult, serious domestic violence, perjury, misconduct in public office and conspiracy to pervert the course of justice – and the ruin of five lives, one dead.
There was a related death when Chesterman's eldest daughter's ex boyfriend, Craig Shell, a key witness in my first trial attempted suicide in May 2011, killing himself the following November by hanging.
The British Police, backed up by their spin doctors and slavish politicians, never miss an opportunity to present themselves as heroes. Just as forcefully, they never expect to be held accountable, investigated and exposed. They have very comfortable niche in British society handling complaints against themselves, even when they go through the IPOC.
Deputy Chief Constable Simon Chesterman is my ex brother in law . At the time of my divorce from his sister in 2008, Nicola, he was an Assistant Chief Constable and third in command at West Mercia Police ( then called a Constabulary ).
Chesterman, by then Deputy Chief Constable, is the person who re wrote the report quashing an inspector's conclusion that three officers should face disciplinary proceedings over their proven Plebgate criminal lies.
He was moved sideways into the Civil and Nuclear Police following exposure in national press- after withdrawing his resignation from the police. He has form and complained on cpurt statements against me, that my 2008/9 allegations had been career threatening he said that he was hoping I would go away and fearing he might turn up in one of my books.
Chesterman's greatest claim to fame was getting the notable World War Two Enigma machine back, following a call from Jeremy Paxman's BBC office, where the thief had sent it parcelled up in what was obviously a long publicity stunt to save wartime code breaking H.Q from becoming a housing estate. But as Chesterman told me; 'It got me my promotion.'
He was recommended, in 2003, for his West Mercia post by the force's Chief Constable Paul West who had been his second in command and Chesterman's mentor when both men served with Thames Valley Police ( TVP ).
As Bucks Divisional Commander at TVP, Chesterman began his anti terrorist training because he had responsibility for PM Tony Blair's security at Chequers. Chesterman told me this impressed his friend West, making him the perfect candidate for the West Mercia job.
Having passed his ACC board, Chesterman told me, during a visit to his Oxford home, in 2003 that there were two ACC vacancies. One was in Hampshire, the other was West Mercia. Chesterman told me that WMP boss and friend West had told him the West Mercia job was his, so not to bother with Hampshire.
Simon Chesterman likes to deflect my persistence in trying to bring the truth to light in court over the last 12 years, as me blaming him for my divorce. There is no evidence to support his argument, but as a very senior police officer, Simon Chesterman knows the police do not need evidence when they conspire to convict and jail people they don't like. Senior officers are unaccountable, unless they break ranks- like Sue Sim.
I do, however, allege that Simon Chesterman became involved in my divorce from his sister, with malice aforethought and for family financial gain. In this connection, my vulnerable young adult son Edward was crucial to their game plan. In Simon Chesterman's words ( from one of his court statements in this case ) 'Edward is vulnerable to manipulation and control.' Chesterman was referring to his fears that Edward might choose to live with his brother rather than be shut up in his house, which was the case on the highly significant dates of October 4th/5th 2008 – a weekend.
The Chestermans were and presumably still are, high livers, with a very large remote family home in Cleobury Mortimer, Shropshire and expensive tastes including extravagant foreign holidays. He also had an ex wife and older son at school, then university in France where his ex ife had moved. Simon Chesterman lived in Cleobury Mortimer with his second wife, both elderly pensioner parents and three daughters. His living costs and lifestyle were upper end.
As a consultant forensic psychiatrist appointed to have me sectioned during crown court hearings in 2013, when I was taken to court for trying to stop my ex wife contacting – via the police – my home in 2012, commented, when you challenge the police you are up against a monolith.
Needless to say, he pronounced me perfectly sane, I have the 22 page report to prove it. Each time the police have failed to jail me, they go for the mental health card. It begs the question why don't they go for sectioning first rather than all these expensive monitoring exercises and court cases ? They lost in 2016 because they had no evidence against me, brazenly lying to the judge and my lawyers. They were fined and had to pay costs. It is almost funny and proves them to be imbeciles at the every highest level – and criminally corrupt by their very nature.
They took me to court for making allegations of Chesterman family conspiracy to pervert the course of justice, misconduct in public office and perjury, based on new evidence previously withheld and clearly explaining the malicious PNC Criminal Marker and false records from WMP. The police and CPS mysteriously converted the prosecution, with no regard to law, to accusing me of domestic violence.
They had no evidence for this or anything else. I made the allegations by e mail, six times, in 2014. the sixth time, I warned them that this would not go away. The sixth time was January 2015. They sent 3 officers to arrest me and search the house, but I was with my then partner in North London. I agreed to a voluntary interview in March 2015. My lawyer phoned to tell me they were going to prosecute me on Christmas Eve 2015. I was changing trains at Finsbury Park Station at the time.
It will become clear, if you decide to read all, that I have been in court regarding these matters from 2011 until the last case in September 2018. but the root of the problem lies back in 2008, when the Chesterman family lied that Kieran and I were stalking their remote large rural home, which was fitted with a panic alarm, over the weekend of October 4th/5th 2008 when we were in fact hundreds of miles away and can still prove it.. Paul West was involved in this and it is very serious criminal misconduct which they still refuse to investigate and explain.
I am currently labelled as having a paranoid personality disorder, subject to a multi agency approach but 'not needing hospital yet.' I have heard no more on that score since receiving the report last August. One assumes they could come for me whenever they think I am too much of a problem for them. Paranoia indeed ! I refused their anti psychotic drugs which would have turned me into a zombie – a type of chemical lobotomy . More of that later.
The Bare Facts
I married Nicola Chesterman at Catherington Church, near Portsmouth, on August 12 1977. We divorced in 2008 – decree nisi November 19th 2009.
Having left my job with the Inland Revenue, we moved to London in August 1977, where I worked in the City, my wife as a student nurse. We hated our jobs, so Nicola got a place at Imperial College and I trained as a teacher, at Goldsmiths' College.
Afterwards we moved up to Buckinghamshire to live with my mother in the house I had bought for her in 1971. Here in Bucks I taught for 18 years, as secondary school teacher and college lecturer along with part time newspaper work. I also served on the local council, with ten years heading planning. I held a senior council consortium position – chairman with an advisory role to the Government's Richardson panel during the Milton Keynes planning inquiry, writing a book on the subject of the city's origins and expansion.
My wife had two miscarriages in the early 1980s Our first son Kieran was born in September 1985. Our second son Edward was born in March 1988. My ex mother in law came up from Cornwall on the latter occasion, starting a major row with me, by telling me my mother was senile and should be in a home. She had always been a source of interference and was obsessed with her son and his police career. My ex wife later alleged on a 2011 court statement ( not shown to me before 2013 ) that she only stayed with me for the following 20 years to protect my two sons and mother from my violence. Simon Chesterman alleged that I was always rude to his mother and therefore 'rather odd.'
My ex wife presumably told all this to her brother's police force back in October 2008 as part of the lies to get the PNC Criminal Marker and 'soft intelligence' records ( lying again that they were being stalked in December 2008 and getting enhanced security ). I have not been shown any records of any police investigation, though they must have typical police lies on record. If I die before this matter is resolved, the police will be able to get their dishonest records even more protected by writing me off as malicious, vengeful and nuts.
This means, along with the latest mental health slur, I will not be able to leave any property or wealth to my son Kieran. Any Will I have made will be open to challenge -and ultimately the outcome will be that the lying Chestermans and police will benefit .
Given that I was forced by my wife to take all of my holidays with in laws in Cornwall, the stress of my mother in law's acid tongued judgemental interference was difficult to cope with. I did not like here. It begs the question why was I still being forced to visit and holiday with them right up to summer 2007?
My ex mother initiated a row with me in 1978, while on one of those enforced Cornish holidays and in front of her family which included Simon Chesterman with whom I was adversely compared, saying she considered me selfish and reckless for giving up my city job to teach. She told me that her son Simon was much more thoughtful and 'placid '
Image was everything with her. I just wanted to pay the bills through teaching, be a writer, guitar maker and musician – not proper jobs as far as the Chestermans were concerned. So, after the 1978 row,I told Nicola I was going back home to London next day and wanted a divorce. My ex wife chased after me, begging me not to end the marriage, saying she wanted to end contact with her parents.
Somehow we limped on, eventually making renewed contact with her parents a year later, but my relationship with my ex mother in law remained strained. My relationship with her son Simon was also strained. Simon had been a good friend in the years up to my marriage. I found him very good company and amusing. Their move to Cornwall changed everything, with my ex father in law falling into deep depression. I felt I no longer knew him. Simon told me he could not wait to leave for the city, 'With bright lights and smoked glass – Cornwall is for old folk.' he said.
My father in law, whose family had a history of mental illness, was by this time heavily sedated, and had been for several years since his enforced retirement from ASWE ( Admiralty Surface Weapons Establishment ), when aged only 50. That is why they retired back to my mother in law's Cornish birth place. My mother in law asserted command of us all.
Simon Chesterman joined Thames Valley Police in 1984, the same year he married Cathy, his first wife. They moved close to us, 20 miles away in Oxford. This meant that my mother in law, leading her husband was a frequent visitor to her son, and hence to my family home where she was always very critical of my mother and I -being always bossy, sanctimonious and judgemental.
However, Simon Chesterman never visited us in all of my time married to his sister, yet he and his second wife made statements judging myself, Kieran and Edward adversely.
I also got the impression that my ex mother in law's criticism was similarly directed toward Simon's first wife and a factor in their divorce.
My ex mother in law's father left home the day after the night she was conceived, never being seen in Cornwall again. She never met her father. My ex mother in law took after her mother, with the same moralising narrow minded Cornish outlook. She told me that meeting the mature Frank Chesterman when she was 17, was her way out of Cornwall and poverty. Frank had turned up as temporary lodger while involved with weapons sea trails off Pendeen lighthouse. My ex mother in law told me that she made the decision to dump her tenant farmer boyfriend as soon as she saw Frank.
Simon's marriage failed due to his rampant adultery, so my mother in law had her husband sell up and move up country to Oxford, bailing Simon out because he had lost everything, including custody of his two young children. Simon was by now with his second wife Carron , also a TVP officer.
The ongoing presence, rudeness and interference of my ex mother in law in my family life was an increasing source of argument. As Edward grew older, this woman decided that Edward was in some way retarded because he had a large head in relation to his tiny body.
She said her friend, Cornish District Nurse and midwife Rachael Ewer had told her that maybe Edward had fluid on his brain. This woman's interference was intolerable to me. Added to everything else, she insisted my mother be put into an old peoples' home. There was no alternative to hers' or her son's opinion. My ex wife increasingly followed suit, with no time or care for what I thought or needed.
By 1997, the situation with Edward was critical. He was leaving me pleading notes begging to be excused school where he had been bullied and humiliated for years. I had been special needs governor for four years at his school, thus very aware of the school's shortcomings which I was powerless to resolve, although I challenged the headteacher who argued that special needs was my responsibility.
Edward had been frequently talking about suicide. I think the real problem was the domestic situation, with all the arguments upsetting Edward and making him feel very insecure. My ex wife's very odd relationship with Edward made matters much worse.
After much argument, and only with my ex mother in law's support, I managed to get my ex wife Nicola to agree to home schooling, with me as Edward's Council approved tutor.
By this time I had taken early retirement from teaching to pursue a writing career, as well as part time music teaching. My ex wife would later allege that I was forced to leave teaching due to mental health problems.
Through my ex brother in law's corrupt influence, this judgement, along with violence allegations have been recorded post divorce as fact, were making it very difficult for me to earn a living. Similar allegations have been recorded against Kieran, making him unemployable.. My sister – with whom I had never been close- and her family helped to circulate the allegations against us both, including to the police. My music teaching business was destroyed, along with my writing career .
Before my marital break up, I taught Edward, with Bucks County Council approval, at home for two years. During this period in 1997- over just the first two months- I raised his literacy and numeracy score by a mean of 3 years, measured by a Harley St Psychologist Beverley Sobel. I alos took him flying and have a photograph of him at the controls over Penwith Peninsula. However , my ex wife insisted I send Edward to Private School, at my expense. This lasted for 2.5 years, with terrible consequences.
Edward consequently developed very severe Obsessive Compulsive Disorder ( OCD ) in relation to germs and hand washing. Edward's condition was so severe that he frequently requested help with suicide. I have a copy of the contract he drew up, signed by my ex wife, where she agreed to help him kill himself if he could not go on coping with the private school. Obviously I was alarmed, but told to keep out of it on pain of divorce.
The police have never wanted to know about any of this because there are no depths to which they will not sink to protect senior officers- like Simon Chesterman and Paul West who broke the law to help and to protect and pursue Simon Chesterman's vile intentions and the appalling consequences back in 2008, when he made and had recorded criminal lies about myself and son Kieran, with two police forces conspiring to cover their crimes and misconduct- and the force's inflated egotistical reputation.
The situation became increasingly alarming. To cut a long story short, I had previously persuaded Nicola that Edward faking illness for a whole half term and saying he stayed up all night to push the morning away, was a very serious matter. This resulted in more rows, with her chasing, slapping and punching me.
After several more unpleasant rows – which often ended with her shouting, screaming and hitting me- I said I was not paying for the private school any more and withdrawing him. I also said I was going to our GP to get urgent help.
Meanwhile, my eldest son who had deferred university to accompany Edward to FE classes after withdrawal from school, had commenced life as a student at UEA in Norwich. He was coming home each weekend in 2005/6 to support his troubled brother. My ex sister in law PC Carron Chesterman later stated to police that ' Kieran and his father had bullied Edward for years.'
This contrasted with her and her husband admitting on court record that they rarely saw us. Curiously, I have photos of me looking after and entertaining Simon Chestermans youngest daughters whenever they visited our home with their grandparents. I used to collect them and take them back over the short journey to Oxford.. Odd isn't it, since Simon put on police record that 'I always thought Cook rather odd ', that I was left alone with his daughters?
I drove Kieran 128 miles to and from UEA each week – 512 mile total per week. When Kieran decided the course was not for him, and wanted to leave, Nicola told him she would kick him out of the house if he quit or tried to change course.
The outcome of my request for help from our GP with Edward's problems was a weekly visit from a mental health nurse called Clive, for cognitive behavioural therapy. Because my wife timed the sessions for the mornings when I was collecting Kieran from UEA, I was not present.
She had told me back in 2003, that I could not talk to my sons unless she was present. She stormed out of the house on Boxing Day night in 2007, ostensibly because I would not tell her what I had said to my sons. She had found out from Edward that I had broken her rule not to talk to them without her.
She was gone all night. I was becoming increasingly depressed, while doing a lot of freelance writing plus music teaching and hours of guitar practice= she told me I could play guitar in my sleep, not respecting the amount of work involved, especially for classical guitar garde lessons.
So I had the idea to write a novel about a boy who was not allowed to be a man, published as 'Man,Maid.Woman' in 2003, with TV and radio interviews following after. For a while I was a regular guest on the live Saturday morning Peter White show, until my wife ridiculed and threatened me, saying I was using the opportunity to meet other women.
The novel was narrated by a man, a maid and a woman, with the boy becoming his own girlfriend, a man made woman. The sense of failure and inadequacy of the main character in the book was all mine. A TVP Chief Inspector took a copy away with him in 2011 as part of a strategy to label me mentally ill.
The significance of this will become clear later here. It was one of my three books published that year, but I wrote it as therapy because by this time I was considering suicide. My ex wife was verbally and physically abusive- admitting her violence toward me on four separate occasions that she could remember.
She watched and checked up on me all the time, using my mother and housebound Edward as reporters on my comings and goings.
The psychiatrist C R Ramsay, who forced his way into my home in 2019, with two others, said he was not interested in seeing any of the books I had written, he was here to investigate my police sourced allegations of mental illness. Interesting, I thought, that he was not interested in any of the work I had been doing over the previous 20 years. He as many other of my interrogators, insisted there was something I was not telling him. In retrospect, I realise they had all been briefed as me being in denial of serious domestic violence and abuse toward wife, sons and mother, as per Nicola's statements finally revealed to me in 2013.
Odd, is it not that none of them, including the police will reveal details of the said domestic violence or answer as to why I was not investigated and charged by the police back in 2008, from which time the allegations were put on record to justify the malicious West Mercia PNC Marker, which the police have refused to explain ever since I discovered it in May 2009. It is also odd, bearing this in mind, that I was given enhanced CRB clearance to sleep in a female friend's flat, an unlocked landing away from the 9th year girls dormitory at exclusive Woldingham School, in Surrey.
During my forced three meetings with Ramsay, he consistently interrupted me rather than do the necessary old fashioned listening to my answers and explanations. This was because he had been told what he had been sent to find. Among his conclusions was the phrase that I have 'abnormal psychology' he didn't relate this to me with evidence or argument, or explain any of his other conclusions. What I said had to fit the pre diagnosis. If being a zombie is normal, then I have to admit I am not that. More of that later.
My ex wife's official excuse for her admitted domestic violence toward me, related on her redacted 2011 court statement was that I had said nasty things about her mother. In fact she went into demented rants and fist waving every time I said something she disapproved of. It all became so bad that I hung myself from a door handle in March 2007. Consequently I saw a psychiatrist – by personal request because I hated my life, being blamed for everything my ex wife considered wrong. The psychiatrist told me I was not depressed, but very unhappy. She said she had no pills for that.
My absence from the mental health team visits to Edward left the door open to Nicola covering herself and getting what she wanted. By this time in 2006, Edward had completely been withdrawn from public life.
On my return from collecting Kieran at UEA one day in 2006, my ex wife told me she had been talking to the mental health nurse while he was visiting Edward. She said they had agreed that I, not Edward, had the mental health problems. I needed to see a private analyst. So I did. She then cancelled Edward's outside help, setting up the situation where he spent all day on his own in his bedroom, while she was at work, with contact from myself and mother forbidden. Obviously that was creepy, distressing and a source of argument.
So, back to my meeting with the analyst. The meeting was arranged via Nicola's ex boss and Chief Psychologist at Bucks, Joan Baxter, with the shrink this woman saw every week about her own problems. He had been told I was a writer, asking what I had written. When I told him about 'Man, Maid, Woman' he said 'We must go about finding 'the woman within.' In other words, I had to confront being transgendered. As a writer, this phrase conjured up an idea for a Kafkaesque revision of 'Metamorphosis.' I thought about writing a new book about a transsexual who hates the woman within, so goes looking for someone to kill her-and obviously himself too.
By now Edward was a mid teenager, he was washed and taken to the toilet by his mother every day. Very disturbing noises were heard coming from the bathroom while she was washing him, right up until he was 20 when they left the marital home.
For the last three years here, Edward had lain all day on his bed in underpants, with cling wrapped sandwiches, water bottle and bottles to pee in. He had a play station for fun. No one was allowed near him until his mother came home from her work as a senior education officer with Bucks County Council.
This practice continued right up until my last row with her on this subject on March 16th 2008 when she was again trying to get him into the shower and toilet. He was 20 years old and she was going in there with him. In my view, this practice had connection with his wider psychological problems.
It was a Sunday night, one week after she had cornered me attacking with verbal abuse having broken a full glass of wine because I would not give her ' more bloody wine' as she put it . She was using the broken wine glass as a weapon, screaming at me for not being quick enough to wish her a happy birthday., She then stormed down the passage and into the bathroom.
My mother pleaded with her to come out and calm down. She came out angrier than ever, pushing my elderly mother on to her back. I ran in to the adjoining conservatory- which I had built for her in 2003 because she wanted one like her parents , my skills coming from late teenage years on major building sites.
So on the evening of Sunday March 16th, we argued her latest attempt to get Edward, then 20 , into the bathroom and toilet. He did not want to go. But I got nowhere with her, as always. In desperation, I left the house on March 16th and went to a pub. I very rarely went to the pub, and rarely drank. My ex wife disapproved if I drank, becoming very angry if I wanted to go beyond her, mother and me sharing one bottle of wine per week.
When I came home the house was empty. My ex wife, I later learned, took my sons on pretext of a cooling off period, dropping my mother off with my sister on the way. I had no idea where any of them were for two following weeks, the police refusing to help me. It transpired that leaving, via my sister's home had been planned back in January.
It also transpired that she had consulted a divorce lawyer the previous January, after consulting with Simon and his family. He certainly had a vested interest -ultimately committing serious crime to help her by criminally supporting her – but he did not make her divorce me. Nicola only did what she wanted to do, manipulating others, including me. Simon Chesterman is an opportunist with no principles whatsoever – but has a fraction of his sister's considerable intelligence..
I phoned my ex mother in law on March 17th 2008. She reminded me that she had come from a broken home. 'You are sick and in need of help. You will never change. You will never see your sons again. Don't call here again.'
My sister and I were never close, so she told me nothing, having sided with my ex wife and her family. It was Easter 2008. My sister, with other members of her family, would later bear witness that I am mentally ill.
My ex wife later alleged, helped by her brother's police media people, that she had fled the house from my violence, though this was never raised in the divorce hearings, and only to the police via her brother later on. My mother was shut up in my niece's house for two weeks, with no means of contact before protesting that she wanted to go home. I had the additional stress of not knowing where she was.
My sister. I discovered. took instructions from my ex wife to fill in a housing application for my mother to move in to sheltered accommodation, backing up the lies that I had a history of violence toward her. This strategy was to prevent me from keeping the marital home, a situation inflamed by Kieran choosing to come back and live with me rather than his violent aggressive controlling mother.
I was never openly accused or investigated for domestic violence or anything else related to the Chestermans or my mother – but records were obviously made, contributing to the lies used by Simon Chesterman and Paul West to short circuit proper police procedure before putting the PNC Criminal Marker on my car dated October 9TH 2008 , and not removed until October 2010 when I was arrested for distributing a leaflet on this matter. The leaflet and internet campaign was an outcome of the nightmare police harassment and their refusal to explain themselves when I found out what they were doin and why.
None of the information that I learned about this marker came from West Mercia Police and they still won't tell me why they created this or soft intelligence records against myself and Kieran. The IOPC as with the IPCC before them, refuse to investigate because the police have lied to them, and in any case this renamed body is as corrupt and in hoc to the police as its predecessor. It just has a new name, but too many of the same corrupt ex or seconded cops on staff.
As I said, I was not home when my ex wife left with my mother and two sons. I had fled from her angry outbursts over washing and taking Edward to the toilet, which I considered unhealthy to put it mildly. She even commented on the size of Edward's penis. She has him all to herself now thanks to the corrupt police et al.
While all of this was building up during my son's first year at University, I had the idea of buying a second house in Norwich. I thought it would help Kieran settle in and maybe his brother could visit to escape what I considered a very toxic home environment. I thought Kieran could let rooms to other students and maybe find a girlfriend and a future. Kieran agreed, putting in his earnings from two years work prior to UEA – over £20,000 and paying 75% of the mortgage from his student loan.
Both he and I put our savings into the project and a mortgage was taken out in my ex wife's name, even though she was the minor financial contributor. I was also persuaded to buy a six berth motor home during this period, for £21,000. We only used it as a family to drive to Cornwall once in 2007, where we spent £2000 to rent a house for two weeks in 2007. My mother in law was down with Frank, especially on holiday from West Mercia to greet us.
My ex wife decided that the Norwich House would be our weekend cottage, so although Kieran had funded the purchase and 75% of the mortgage, zero rated as a student home, he had little freedom there and Edward could not visit without his mother.
Without going in to too much more detail. Edward became worse, ferried back and forth weekly between each property like an invalid, from one bedroom to another. If anyone touched the car while we were in traffic, Edward insisted I washed it as soon as we got to Norwich.
My wife was meanwhile rising in the Bucks County Council hierarchy, with a close male colleague, friend, Peter Eddington, as mentor e.t.c. My marriage was over. She began circulating stories to my sister's family, friends and GP that I was an alcoholic. This had a serious impact on my medical treatment because my ex wife was a former Norden House Surgery employee, she knew which of their buttons to push. Throughout my married life in I had not been allowed to drink more than one third share of a wine bottle once a week.
So my ex wife erupted violently when I started buying myself a bottle of wine each week for my band practice, where I was lead guitarist and co lyricist. She did not like me having spending money, but I started taking it from my guitar lesson money – which she used to claim all of, along with my book royalties and freelance money.
So very soon after the band started up, she burst in to what became our final session in January 2008- we practised in my large office, screeching to my colleague, 'I have to tell you Adam, Robert is an alcoholic.' Adam was one of my many talented ex guitar pupils, just out of the army ( REME ), telling me, wehn I asked him why he wanted me in his band 'You know what you are doing and will add character.
After our session, she told me 'You are only in that band to run off with young women.' She was increasingly displaying extreme controlling tendencies, psychosis and related paranoia I once told her our marriage was one long round of arguments and rows. I told her it was at the root of Edward's OCD. He believed all our arguments were about him, heightening his insecurity and withdrawal. I told her that I was getting too old for it. She replied ; ' I feel I have to challenge you.' Life, by now, for me was very heavy weather and utterly depressing.
My estranged wife reacted furiously when Kieran decided to come back to live with my mother and me. She needed Kieran to look after Edward and brooked no disagreement or dissent. When we – Kieran, mother and I- , drove up to the Norwich House, which was legally a student council subsidised home. We found the locks had been changed. It was early May 2008. We later discovered that all of our personal property, including Kieran's laptop and study material, had been sold off by my angry ex wife. The house was on the market.
With under three months to go to finals, a post grad law place and intern ship lined up in barrister's chambers, Kieran was locked out of his student home. His life was destroyed. He told mother and I he could not do his finals. He was already a year behind because he took a year out to attend college with his brother who would not have gone without him. I was also back teaching Edward after I withdrew him from school again.
My mother -who had brought Kieran and Edward up – because Nicola, by her own admission, was not maternal and had little time for our sons – became depressed, stopped eating, worried, consequently run down and caught pneumonia. She contacted c difficile in Milton Keynes Hospital, dying several months later in Stoke Mandeville.
As I have said, my sister's family supported and encouraged by my ex wife, were hostile to Kieran. He was sent a letter signed by three of them, accusing him of killing my mother. One of my nephews visited my home just before my mother's funeral, having been told by my then wife that Kieran had come back to live with me.
This nephew raged : 'Where is the little fucker. I'll smash his head in. He has to go back to Nicola.' I reported all of this to the police, as harassment. They were not interested, telling me harassment was hard to prove.
A few weeks after my mother's death in August 2008, my ex wife phoned Kieran to tell him that he could never see his brother again. My two sons had met up just after my mother' death when he returned to his mother on condition he never saw me again.
Edward told Kieran that he had heard his mother- in August 2008- phone her brother Simon Chesterman for permission to let Kieran into her flat.
Edward said that Simon Chesterman said on speaker phone 'only if he is coming back permanently.' That is why my nephew was sent to threaten Kieran. These threats became ongoing with a local smear and hate campaign, socially isolating us, making it hard for us to make a living.
The only work we could get was night shift sorting for five brutal years sorting, caging, baying out and loading at City Link.
I gained a double hernia, after surgery spending a year in customer service, on vans and lorries, then back into the warehouse.
Through Simon Chesterman, we had soft intelligence criminal records and a PNC Criminal marker. These markers are intended to deny recipients freedom of the road. We were pursued and checked out by police wherever we drove. They are given for violence, drugs, arms and sex offences.
West Mercia Police's DCI Watson was the first to respond to my complaints against his force, sent on October 7th 2008. I did not then mention Chesterman, but Watson assumed I was blaming Chesterman for something concerning him.
Watson put in writing that I was guilty of a malicious vexatious abuse of the complaints system and he would block investigations at any level, including the then IPCC. He wrote : 'I am warning you not to involve West Mercia Police in your complex and difficult marital affairs.' This was absolute proof that Simon Chesterman was the person involving my and my marital affairs with West Mercia Police.
Thus my complaints escalated and the best WMP could come up with was that it was all a matter of Simon Chesterman's private life.
There has never been an investigation of my complaints, but everything the Chestermans said about myself and Kieran has gone on police and medical records as fact- helping them to create a massive bad character file which they have several times used in efforts to jail me.
Simon Chesterman got me a PNC Criminal Marker because he feared I would bring Kieran to see his brother and that his brother might abscond from the Chesterman's home. Edward's alleged disabilities were worth thousands of pounds in established false benefit claims and as a lever for extra money in the divorce settlement.
I had been made aware that the Chestermans had serious money problems in September 2007, when my ex mother in law told me that her and her son had questioned Frank Chesterman about where his money was. Frank had become enraged. Obviously he spent it all bailing out his adulterous son. I was told to sell my big house and land, put mother in a home, Kieran in a bedsit and Edward in an institution. I should be looking forward to 'a golden retirement'
I had been very close to my mother and found her passing, in such awful circumstances extremely difficult- my ex wife forbade Edward seeing her even though mother was dying. After her death, I said to Kieran that we should go on holiday to the Lake District, in the motor home., stopping off to see my friend Mick Birrell in Ormskirk Lancashire en route. Birrell provided a witness statement that we were at his home on October 3rd and 4th 2008, after travelling up from Cleobury Mortimer.
So why were we in Cleobury Mortimer on October 2nd 2008 ?. Kieran told me told me that during his breif meeting with his brother, after mother's death, he and Edward had already arranged a meeting in woods near Simon Chesterman's home, where Edward knew he was going to be shut up by the Chestermans for the duration of the divorce. Reluctantly I agreed to divert en route to Ormskirk, but in no frame of mind to meet Edward. I parked on a campsite near the woods and about three or four miles from Chesterman's home. I paid the farmer £5 for the day, parking near the river. The weather was fine at the time.
I remained in the motorhome for nearly five hours, with no word from Kieran. I was upset by what was happening to my sons, and bereaved. The idea that I would be capable of stalking at any time is absurd. To say I would be a stalker while bereaved and grieving is a vile insult. I could not e a stalker any time. Having no idea how to or why one should do it. The situation during the family break up was stressful. The weather was turning stormy. The river could be a problem, and regularly flooded.
So I phoned West Mercia Police and told them who I was and what was going on. I explained my relationship to the Chestermans and my concern for my son's welfare. Kieran has never carried a mobile phone. I phoned my friend Birrell, and for diplomatic reasons asked him to phone the Chestermans to find out if Kieran was there. No bona fide stalker would do that !
The whole awful situation was the result of my ex wife's obsessive controlling attitude to my young adult sons. It would never have happened if she had not banned contact between them. To make matters worse, I had forgotten my phone charger. My phone went dead . I used a local garage phone several times to re establish contact with the police, cut off each time it was answered. My last attempted call was around 4 pm.
Kieran returned after about six hours, having spent a long time waiting for his brother to arrive from the Chesterman house, then talking. It had started to rain heavily and was getting dark. I tried to leave the site but my heavy vehicle was bogged in.
The farmer's camp site was empty. I realised I had to wait it out until morning. Around 9pm that night, a police car crossed the field. Kieran was asleep in the curtained off back section. I answered the door to one Sergeant Rees from Ludlow Police Station, and his female partner.
He told me he was answering my call from six hours earlier, then asked me if Kieran was O.K. I said yes. He insisted on seeing him. When I later complained about such poor service, WMP's PSD boss jumped the gun, accusing me of trying to involve them in my 'complex and difficult marital affairs. ' It transpired, from this response to my October 7th complaint, that Rees had reported back to Simon Chesterman, his boss. WMP tried to pass this off as a welfare check, but it would lead to the PNC marker.
There was no dispute that the date of his visit was October 2nd 2008. Chesterman and Rees maliciously and criminally changed the date and nature of the visit to the weekend of October 4th/5th 2008, according to four Chesterman statements withheld from me during my first trial sessions. This adds up to further misconduct on teh oart of police and CPS.
From Chesterman witness statements it was alleged that I was actually in the woods meeting Edward, threatening Chestermans with violence, insisting Edward come away with us and terrifying Chesterman's daughters so much they dare not go out. That is a very very serious charge, especially when made against a qualified teacher. Their statements shifted my visit from October 2nd to the whole weekend of October 4th/5th, by which time we were nearly 200 miles away in Ormskirk.
Sergeant Rees, according to the Chestermans lied that he found Kieran and I on that site. Chesterman said to Rees, according to one of his statements, that he did not want legal action because it was a family matter, I was mentally ill. Thus the PNC Criminal Marker was put on my car and the malicious records were made. Is taht not worse than normal legal action ? I think it is misconduct and corruption. The purpose of the Chesterman crime includes covering up for and being party to the abuse and exploitation of a vulnerable young adult, who, according to West Mercia Police in 2012, was too ill to be interviewed by them
The 12 year police and CPS conspiracy and impasse in avoiding my complaints – reporting me as mad, violent ( see Harrassment Law reform of December 2012 ) hiding key, criminal lies, hiding key information, their expensive horrifying humiliating police raids, confiscations of property, time in cells, prison threats, tagging and national press release including these stalking lies along with home address released, also referencing ' a sex change secret',so called ongoing investigation to avoid themselves being investigated – was achieved based on the myth that police, especially senior ones never lie or conspire to pervert the course of justice.
Early next day after Rees's actual visit – accepted on WMP response to my complaint as being on October 2nd 2008 and just a welfare check on Kieran – October 3rd 2008, we were pulled out by Landrover, which damaged a track rod. We drove into Kidderminster, as recorded on hard evidence. Here I attempted to buy a new charger for my phone from Carphone Warehosue. Sadly it was obsolete, so I had to buy a new one.
By the way, I was in no state of mind to offer violence, kidnap Edward or hostility toward the Chestermans at this time. A forensic pyschiatrist/court witness concluded that I am not a violent personality. It is important to understand OCD and why Edward had his concept of a safe zone. He feared germs and other stuff all the time. This is known as transference, in the jargon. It was my wife who cancelled his care plan, saying I was the one with mental health problems. Kieran asked me to divert on my way to Lancashire, so he could meet with Edward in the woods where both had used to walk together..
This is where Simon Chesterman's paranoia triggered by greed and family self interest kicks in.
WMP's refusal to explain themselves and Chestermans misconduct led to my internet postings, then the leaflet campaign because his and family crimes made Kieran and I near unemployable and socially isolated. Homelessness was, and still is, a real prospect made worse and action more urgent by the Corona Virus lock down and Police/ Norden House lies to the Gender Identity Clinic, leading to the corrupt and current mental health diagnosis contrived by the Gender Identity Clinic as links in this vile public service chain.
One Saturday afternoon in autumn 2010, a brick was thrown through the large front window of my remote rural home. It would have killed a musician friend if she had not been late up from exclusive Woldingham Catholic Girls' School,- where she worked in a senior position and where I had enhanced CRB Clearance to visit, in spite of all police allegations. Whoever threw the brick knew me and the best time and approach up my steep drive. It was not random as the police immedaitely concluded.
It was the CRB who alerted me to the PNC marker and records, later confirmed by CS Michael Tighe in May 2008, triggering my further complaints , which were ignored for a year before I resorted to the internet and ultimately the offending leaflet.
The brick thrown through my window on October 2010, landed on the sofa where my friend normally sat. I had been sleeping after a long City Link Night shift when Kieran alerted me to what had happened. Harassment was hard to prove, I was told, but obviously not when you are a senior police officer or member of his family. No evidence is needed in Chesterman's case, even if the police officer is making it all up.
As always, the police did not want to know about the brick. This violent act coincided with imminent court action relating to my criminal allegations against Simon Chesterman and his family. I think the Chestermans believed I had all the evidence against them, not that key information was being withheld by DCC Chesterman's self interested employers, particularly West who must have signed off on the marker and records, as 'officer on the ground.'
Police refused to explain about the marker, lying that they did and lying that they gave me records of any investigation. Nor have they ever investigated Chesterman or his family. What they had done was set up monitoring mechanisms of myself and Kieran, the marker helping forces to find and chase me on the road, even into my workplace at midnight where they searched my car in front of colleagues. It happened everywhere because of Chestermans lies and they still refuse to explain. I was nearly sacked over that incident, which was the police intent as they blocked other job applications directly or through CRB. They have also blocked me from taking lodgers.
I was arrested in September 2010 for distributing a leaflet in Simon Chesterman's home village of Cleobury Mortimer, Shropshire. This leaflet included a picture of him where he was described by me as looking like a famous German dictator. I took the offending picture with his kNowledge in 2003, when he was giving a Hitler impersonation.
The leaflet went on to give a summary of the problems he had caused me during and after my divorce, most notably making false allegations of me stalking him, getting me a PNC Criminal Marker, and soft intelligence records for stalking him on the weekend of October 4th/5th 2008, threatening violence and terrifying his children.
I was never interviewed regarding 2008 stalking allegations or domestic violence. But, aided by Paul West, all was recorded along with WMP illegally creating the PNC Criminal Marker which they still refuse to explain.
Interestingly, his court statements reveal Chesterman did not want a police investigation, just his assertions reported as fact. His allegations went on to assert, as I found out some years later, that I was mentally ill and had been abusive to his mother and sister for many years.
Chesterman also called in Sergeant Rees to back up his stalking lies. This is an important point because lying police rely on weight of numbers to cover themselves, as we saw with Hillsborough – also see 'In the Line of Fire ' by former Assistant Met Commissioner Brian Paddick.
To this day, Thames Valley and West Mercia Police refuse to answer my questions reference this PNC marker and records that have also damned my eldest son as my violent accomplice – persisting in their lies to the Gender Identity Clinic and my GP practice principal.
They hide behind Blairite laws of ongoing investigations with bad character reports intended to protect women. In 2012, I received information form West Midlands CPS, a massive file, informing me that TVP had been monitoring me for WMP from the start of Chesterman's criminal allegations in October 2008. In one senior officer's report to CI Emma Garside of TVP, I am compared to his 4 year old child.
Interestingly and significantly, none of my so called violence and alleged stalking was made known to me during my divorce hearings which were concurrent. I did , however, make domestic violence form e allegations against my ex wife, being told they wouldn't count unless I could prove she tried to kill me. I pointed out that she also physically assaulted Edward, often.
When I finally got the Chesterman statements, it was notable that they were contradictory and taken on different dates- facilitating collusion, with Simon Chesterman being asked for a second statement to tighten the 2010 case against me.
None of this information or an alleged 'secret weapon' statement from Edward was disclosed to me at the time. We now know the police collude amongst themselves and with the CPS, regularly break the law by withholding evidence, among other things, in order to convict innocent people.
They passed their self serving lies to my ex partner in 2014 when she made a Claire's law request, resulting in them using her to try to get more dirt on me, hence the 2018 court cases. The police lied to her that I had lied to the police. I ender the relationship because of their interference, so she sent anonymous material alleging I was working for Kieran as a 'gay escort.' The police watched the house from December 2017- Feb 2018 before arresting me while I ahd a day off from truck driving. They , without any investigation, concluded that I had sent the material.
She made allegations via badly written anonymous letters and fake images that I was working as a 'gay escort' -with Kieran as pimp. I was subject to a 7 officer police raid and more of the police cells, which is referenced later on. I had, according to them posted the material in Northampton of December 12th 2017. I had shopped myself to my ex wife, Simon Chesterman, both of their bosses and officers of WMP. According to them, I did this for revenge on my son, who I named as my pimp.They did not like it when I proved that I was miles away driving a truck that day, as was my daily routine.
In spite of lack of evidence or any explanation of their corrupt methodology, they blamed me for sending the material to various senior police officers, public servants and the Chestermans. They still refuse to give me records of investigation or to confirm the case is closed.
They can do that. The CPS are their lackeys. Obviously, if the press approaches them they will continue to lie, arguing that I have been pronounced mentally ill and have to be under continuous observation. This has been mine and Kieran's life since 2008. It would drive any normal ( sic ) person mad. It is very Franz Kafka, and 'The Trial.'
Inevitably I have frequently considered suicide. Counselling has been useless because these people are always briefed by the police and my GP. To help these people need to consider that I might be telling the truth, realising I have told the same story over and over again, from all directions and to so many people.
Counsellors cannot help if they presuppose my guilt. They can only make matters worse. I am always asked 'There is something you are not telling me? ' Obviously I am supposed to confess to the mythical domestic violence and all the stuff on my unofficial police record and 'bad character file'.
Because the police, GIC and GP morons can get away with this, Corona Virus lock down is pushing me over the edge. I can't earn money and will lose my house, Kieran will also be homeless.
They are even using my research- which the police stole with all the other stuff off my computers- on a new transgender book, called 'The Woman Within' derived from Kafka's Metamorphosis concept, as evidence that I lead a wild reckless sexual life and am more likely to die from misadventure than suicide. I am 70 in December, but old age and stress of all this doesn't seem to occur to them. It is almost funny.
Ramsay's latest report states that I have a paranoid personality disorder and cannot communicate with other people, indicated by my reckless impulsive behaviour and pressured speech during his three forced interviews n my home. He recommended a multi agency approach. Noting that 'Roberta doesn't need hospital yet. I have been an HGV driver ever since I left City Link in 2014. It is noteworthy, since my G.P practice jeaporadised my health care, with criminal neglect, hiding behind my ex wife's lies of alcoholism, that City Link subjected all employees to random drug and breath tests while on shift. I passed every time.
That multi agency approach is in the report written by the psychiatrist Ramsay who turned up here last summer, with a mental health nurse and student. He had been sent by the gender identity clinic.
Ramsay and the Gender Identity Clinic who sent him, wanted me to take anti psychotic drugs. The police have led them, intruding their ultimate and last ditch defence that I must be deluded and totally mad to persist in my allegations against the Chestermans because 'We all know police don't lie. Especially the top 'well respected officers who are so awfully brave, rather than just awful.'
Among this man CR Ramsay's other conclusions was that I could not see all the files and reports on me because it would upset me. Two weeks before, Dr Kirpal Sahota of the Gender Identity Clinic sent my GP a letter telling him she assessed that I had a secure female identity and my medication should be advanced pursuant of surgery. Does she mean all women need anti psychotic drugs ? Of not, why does she refuse to put in writing why she thinks I need them ? That is a rhetorical question, of course.
My GP had for several years been persistent in advising the GIC that I am an alcoholic and should not be given gender reassignment hormones. Curiously he was the man who regularly signed me off as fit to drive HGVs which I have been doing until the Corona Virus issue. I have a copy of the GP's HGV report on file. Among other things, he notes I am not a heavy drinker, drug abuser or mentally ill. Rather odd, don't you think ?
I have seen correspondence that the police informed my GP that I am mentally ill because I have been saying such nasty things about my ex wife and her family. My GP, Roger Dickson et al at his practice, is an obsequious idiot and believes every word the police tell him. Having failed with the last two court cases, the police returned to the back up Mental Illness and ongoing investigation to avoid having to talk to the press and to wind me up indefinitely.
Also very odd is the fact that my previous GP, a woman, and Ramsay recommended me for Gender Reassignment over three years ago. I have to add that this transgender experience of mine, raises serious questions about the Gender Identity Clinic's professional judgement, integrity and competency. This clinic sits on the fence over who told them to check me out for psychosis. One of the most interesting things about the way they work is they give patients three annual assessments over the two year period set for living as a woman before surgery. Their view of this is pretty stereotypical, but they don't check up. So, this means another agancy told them that I was nuts, right at the end of the process !!! They get around fingering the police with the statements : We have not had direct contact with a third party." Their diagnosis is a year old. I have heard nothing of the proposed 'multi agency approach' to my alleged mental illness, and prediction that I am 'likely to die by misadventure.'
My ex partner's sending this material, calling me a 'gay escort' was a reference to the fact that I had decided to come out as transsexual, a hate crime aspect of the Chesterman's pursuit of me from the get go. The police had done no forensics on the material and did not intend to, just watched my house, bugged my phone and internet.
They clearly had reports of a sexual nature on me, apparent from the last mental health report, but did not like it when I came out because they, informed by the Chestermans I was nuts, not a writer, needed the sexual slurs, which was one of the reasons they frequently followed me.
For them, I need to be portrayed as violent sexual pervert who may well be murdered on a dogging site, like the main character in my book. I have evidence, they don't. They are malicious criminals. I am not. Paranoia is a Chesterman thing, but a useful label to ignore and sideline me. The police and Chestermans are weird about sex – ironically Chesterman was chosen to be a diversity officer early on in his police career. The Chestermans would not let me have my black best friend from the tax office, as my best man.
While watching my house for five months before their 2018 raid,, checking my internet and phones, the police didn't seem to have noticed that I had been working all the while as an HGV driver, because they are dangerous morons. I was rarely home and soon to bed after dinner ready for another early start and long day.
When they were confronted with evidence their super sleuth DC Bellamy went quiet, then said I must have posted the material to all six parties- including a video which they later admitted did not exist, but will have kept that lie on record because they stoop very low and never admit mistakes, particularly those of a malicious conspiratorial life destroying nature.
They kept all of my stuff, in spite of two ludicrous interviews and more lies to my lawyers. They have done this all the way since the first case in 2011 – keeping all my stuff, debit card, computers, phones, tacho card, driving licence and debit card for three months until I left lead officer Bellamy three phone messages, swearing at him, telling him if I did my job as badly as he did I would get sacked.
I was taken to court for abusive language, offered a caution on pain of jail. I refused and was found not guilty of the offence. It came less than two years since TVP's previous attempt to have me jailed, for making the following allegations, based on information revealed to me by West Midlands CPS in 2013.
This was clearly police revenge for 2016, when I had sent the same e mail six times accusing Simon Chesterman and his family of their conspiracy to pervert the course of justice, misconduct in public officer and perjury. The email was based on files and Chesterman false statements passed to me by West Midlands CPS in 2012.
The case was turned into one of domestic violence, without warning or evidence. My e mails were scarcely mentioned.. My first barrister quit under the onslaught Judge Sheridan ranted that he had enough of domestic violence cases. 'they were getting worse and he would send me to jail for a very long time if I did not plead guilty.'
I suffered this for 7 hearings, until pre trial the CPS admitted they did not have a case file. I was found not guilty in May 2016. I went sick from work. In December I took an overdose of tamazapam. My life was saved by one of the few well meaning police officers I have ever met, PC Ian Carter.
I was taken to hospital, but had wanted to die because I could not face any more. I had no hope for myself or Kieran. I had always been creative, needing to build and progress and see Kieran take off in life.
There is so much more to this story. I very much hope that you can help me. I am copying it to the police and they will probably either arrest or section me. They are in too deep to investigate now. They have spent a lot of money trying to jail, then, when that failed, section me. They have also fed their lies to the media, probation service, NHS, judges, magistrates, courts, my own lawyers and goodness knows who else. Now they have the cheek to use their lies to have me labelled 'paranoid personality disordered.'
The conclusion of my experience with the Gender Identity Clinic is that they listened to the police, Ramsay, and my GP without disclosing anything. They prescribed mind and body altering hormones, then as we reached the GRS stage, they forced a local psychiatrist on me, briefed to support the anti psychotic drugs because they assert that I am paranoid/delusional, as a prelude to totally changing my body through a rather risky operation for 70 year old, such as myself. I have already been exposed to mood and body changing hormones, anti androgens and hair removal. I have made several further complaints to the GIC, the GMC, my GP and the police. Several weeks have passed since my last complaints. I have received no reply.
I can supply documentary and photographic evidence to support this document and my allegations. I have given you a fact based account.
During the period 2008-10, when I was supposed to be a demented stalker, I had four books published, including one on Brutalist Architecture co authored with Dr Celia Clark of Portsmouth University Architectural Dept -the foreword was written by 'TheTimes' architectural correspondent Tom Dyckoff, I also wrote lyrics, composed and produced a CD of songs based on Portsmouth's Tricorn, along with Woldingham house mistress and year head, Christine Halpin, with whom I was touring various acoustic clubs during that period of alleged insanity. The CD was called 'Seventh Child.' I played lead guitar.
On December 10th 2008, I had a guest slot on BBC Radio Solent, talking about this with other musicians. Interestingly, the psychiatrist , Ramsay -who was hired by the GIC on the basis of information supplied by the corrupt lying police to my obsequious GP, who chose to ignore my actual medical records, labelling me alcoholic, whilst signing me off as mentally and physically fit to drive HGVs – concluded that I have abnormal psychology.
I realise I have an advantage in having been a maths teacher, but an imbecile should be able to spot that this story, from the official point of view just does not add up.
Roberta Jane Cook March 31st 2020.
Nightmare or Opportunity for Labour as Starmer wins leadeship ? April 14th 2020
In her role as Home Secretary, Priti Patel has already crafted the attack lines the Labour Party will face if Sir Keir Starmer becomes its next leader. After having been appointed head of the Crown Prosecution Service (CPS) in November 2008, Sir Keir's half decade in the position oversaw cases as large and polarising as the Rochdale grooming gang scandal, mass sexual abuse scandals involving entertainment figures such as Jimmy Savile, and the John Worboys case. Patel noted Sir Keir has a complete 'lack of interest in prosecuting horrendous crimes against women', a statement hard to argue with when presented with his record. He also seemed to have blind eye to the corrupt British police witholding evidecne to meet targets.
Arguably the biggest scandal during his time as DPP came right at the beginning of his tenure. A victim of the Rochdale Grooming gang had reported to Greater Manchester Police the sexual exploitation she'd been experiencing since the age of 15, including becoming pregnant by one of the men abusing her. When referred to the CPS, they decided that the victim was 'not credible' and that due to 'insufficient evidence' there was an 'unrealistic prospect of conviction'. Victims continued to be plied with alcohol, drugs and gifts and were prostituted out to multiple men a night, multiple times a week for a further five years.
In 2011, Nazir Afzal, who was then the chief prosecutor in the North West, reopened the case. The evidence previously deemed 'insufficient' by Starmer's CPS — evidence which included DNA and eventually led to 47 other victims allegations — proved vital to securing the convictions of ten men. One of the victims was still not seen as 'credible' enough by the CPS because, despite being abused herself, she had later assisted in recruiting other girls to be groomed. The CPS did not want to call her as a witness and had ruled it was not in the public interest to prosecute the men who had abused her, but they needed to use the victim's evidence. The CPS chose to name this victim as a co-conspirator without informing her that she had been named on the indictment along with the men who had trafficked and raped her. This resulted in social services attempting to remove her child from her custody, and the resignation of the Detective Constable overseeing the case resigning from the force — so that he could publicly criticise the CPS's treatment of victims.
Local authorities had previously blamed their reluctance to prosecute on the fear of being perceived as racist due to the fact the perpetrators were of South Asian origin and the victims were mostly white British girls. This reluctance and inaction saw a rise in far-right agitation across northern England; a father of one of the victims even joined the BNP for a short period over frustration at the lack of action by authorities. After significant public backlash, Sir Keir was forced to apologise for the mishandling of the case, saying that prosecutors shouldn't "shy away" from the "issue of ethnicity" which had to be "understood and addressed", and that 'a number of assumptions, myths and stereotypes' about sexual violence had resulted in the previous decision to 'no further action' the case.
This response feebly indicated that the CPS needed to review how staff viewed sexual violence and the treatment of victims. Unfortunately, as later demonstrated by repeated failings on such issues, any internal review that may have gone on seems to have further embedded assumptions, myths and stereotypes within the institution. Retrospectively looking at Sir Keir's language, it is quite clear now that his wording, though seemingly confident on this issue, lacked any substance.
In 2009, whilst Jimmy Savile was still alive, police in Surrey and Sussex referred 4 cases to the CPS alleging that Jimmy Savile had abused 3 girls under the age of 16. Savile was interviewed under caution at Stoke Mandeville Hospital, where one of the incidents allegedly took place in the seventies. Within the same month, the CPS had received the files from police, but dropped the case due to 'insufficient evidence''. It would later emerge after Savile's death that he had abused up to 500 victims over a four-decade period. In 2012 Emily Thornberry, Sir Keir's former opponent in the current Labour leadership contest, stated that she found it "deeply disappointing" that the CPS was "presented with evidence of a clear pattern of sexual assaults by Savile and decided not to act."
However, one of the most crucial cases is related to John Worboys, the black cab driver who spiked the drinks of scores of unsuspecting women before sexually assaulting them while they were unconscious in the back of his taxi. Worboys was convicted in 2009 of 19 charges against 12 women. It was suspected that there were over 100 more victims. But Sir Keir ruled not to pursue further charges. What is most interesting about the case is that Carrie Symonds, the current partner of Boris Johnson, was a victim of Worboys. If Sir Keir is elected Labour's next leader elected, the party would face a situation where they would have not only failed to elect a woman leader, but they would also elected a man who oversaw the mishandling of a high-profile rape case involving the prime minister's partner.
Sir Keir also oversaw the dramatic decline in the prosecution rate of rape cases as a result of the introduction of new guidance which led to police referring fewer cases to the CPS for charging decisions. The guidance saw an increase in the burden of proof from 50% to 60% which resulted in more complex cases that were more difficult to prosecute being dropped, with thousands of victims seeing their cases 'no further actioned' due to 'insufficient evidence' and an 'unrealistic prospect of conviction'. These are the same things the victims of both Savile and the Rochdale grooming gang were originally told, which points to systemic failures resulting in untold numbers of abusers walking free without ever facing trial.
A senior Met officer told the Bureau of Investigative Journalism that 'referrals (to the CPS) had dropped as a result of policy change put in place in response to the CPS director's 2011 guidance on charging'. This has contributed to the current crisis in the criminal justice system where campaigners have described rape as being 'effectively decriminalised'. As a result, the End Violence Against Women and Girls Coalition and Centre for Women's Justice have brought a judicial review against the CPS for their failure to prosecute rape cases.
Sir Keir also failed to end the process of survivors who are disbelieved by authorities, or who withdraw their allegations from being charged for 'false reporting'. The fear of false accusations is hugely disproportionate to the frequency of this occurrence. False allegations are extremely rare, ones that are labelled as 'false' often result in being true years later or are legitimate allegations that were withdrawn under pressure from the attacker, family and friends or the police.
After Sir Keir's resignation from the role, he called on the CPS to implement changes to how rape cases were investigated and even helped the Labour Party draw up a victim's law outlining how it could be done. This was after he had the power to push for these changes himself within the institution. Instead he left deeply held biases and myths go mostly unchallenged, allowing for a culture of disbelief to continue, paving the way for the further decline of conviction rates. Survivors deserve support and justice, but Sir Keir reserved that for a small few choosing suspicion first and foremost, even in cases with multiple victims like the Rochdale grooming gang and Jimmy Savile scandals.
As shown when it comes to sexual violence, Sir Keir is not a man of principle, he won't champion justice or stand up for human rights, he will actively deny you them. Sir Keir doesn't believe sex crimes to be in the public interest to prosecute. Evidence of this is on public record for all to see. If Labour Party members ignore Sir Keir's history at the CPS we risk sending a damning message that his previous judgements as DPP do not matter and by extension those victims who were let down don't either.
Coronavirus: Police and military will patrol south coast to uphold lockdown
Richard Ford, Charlotte Wace, Neil Johnston Saturday April 11 2020, 12.00am, The Times
Police forces across the country used a range of tactics to keep people off the streets, away from beaches and out of parks yesterday, including monitoring shopping aisles and launching boat patrols off the south coast.
Downing Street has warned the police against "heavy-handed" lockdown tactics after one officer tweeted that they were policing supermarkets for people with "non-essential" items. The message came as a video showed an officer in South Yorkshire rebuking a family for letting their young children play on the front lawn.
Surrey police deployed what they called a "sky talk" drone to break up a group of 30 people in Walton-on-Thames. The drone plays a pre-recorded message through a loudspeaker: "Attention this is a police message. You are gathering in breach of lockdown "
Furlough will cost taxpayers £16bn a month April 11th 2020
Taxpayers are facing a wage bill of more than £16billion a month as businesses hammered by the coronavirus outbreak furlough staff.
Dozens of major companies including McDonald's, British Airways, British Gas owner Centrica and the fashion empire behind Topshop have rushed to take advantage of the Government's job retention scheme.
This has seen them send millions of workers home – with the taxpayer covering 80 per cent of their wages up to £2,500 a month.
Moral Force From The Left April 9th 2020
Priti Patel is involved in a bitter clash over coronavirus with Labour's Yvette Cooper, who has accused the home secretary of dodging scrutiny by MPs.

But in a furious exchange of letters Ms Patel has accused Ms Cooper, who chairs the House of Commons home affairs committee, of being "adversarial" and wasting civil servants' time during the coronavirus crisis.
The row is over demands by Ms Cooper – in no fewer than six letters – for the home secretary to appear before her committee to answer questions about the Home Office's role in battling COVID-19.
The allegation against Ms Patel of evading scrutiny comes as her non-appearance, so far, at any of the daily Downing Street briefings on coronavirus is also being criticised, given the Home Office's key role.
There will also be a suspicion that Ms Patel does not want to appear before Ms Cooper's committee because she would be asked about bullying allegations and the resignation of her former Home Office permanent secretary Sir Philip Rutnam.

Ms Patel strenuously denies all allegations against her, which are still the subject of an ongoing Whitehall inquiry.
Ms Cooper says MPs want to quiz Ms Patel about issues arising out of the coronavirus crisis; such as domestic violence, policing and enforcement, testing and personal protection equipment for frontline staff, and quarantine arrangements.

But an angry Ms Patel has told Ms Cooper: "I am disappointed at the increasingly adversarial tone of our exchanges and I am very sorry that you have declined my offer of regular briefings with officials and ministers at the Home Office.

"I feel my proposal strikes an important balance between ensuring the department receives that vital scrutiny, while ensuring the committee can receive operationally sensitive, and sometimes classified, updates at this time of national emergency.