By Paul Waugh. 14 October 2019.
Rowley but surely?
It wasn't so much a Queen's Speech as a Queen's Manifesto. With a general election looming, and little time to actually pass any of the 26 bills she read out, Boris Johnson turned Her Majesty into his very own prime time campaign ad for cracking down on crime, investing in the NHS and, yes, delivering Brexit.
But in many ways, it wasn't the 93-year-old Monarch who mattered most. It was the 39-year-old Tory MP for North East Derbyshire, Lee Rowley. The PM's decision to pick Rowley as the first respondent to the Humble Address in the Commons was a very carefully calibrated campaign message all of its own.
North East Derbyshire is a seat that voted by a whopping 63% to Leave the EU in the 2016 referendum. It's a seat that had elected Labour MPs solidly since 1935, until Rowley came along and triumphed in 2017. Along with Mansfield, Walsall and close-run-things in the north east, his election is seen by some in No.10 as offering a path to a majority.
Rowley used his speech to explain he was a "working-class kid who grew up in the north during the miners' strike", whose aunt was NUM leader Arthur Scargill's secretary. He was also canny to cite Tony Benn as the local MP who had once taken him as a sixth former on a tour of the Commons and reminded him never to forget that MPs get their power from the people. While Benn's own nephew Hilary is now synonymous with a law to delay Brexit, Rowley is a reminder of that other Benn tradition of deep distrust of Brussels.
But as impressive as his speech was in the Commons, Rowley is not just the poster boy for a new breed of Tory MPs in traditionally Labour areas. He is also one of the hardcore of 28 'Spartans' who voted three times to defeat Theresa May's Brexit deal.
And today he signalled he was happy to swallow the PM's compromise plan, as imperfect as it is. "If there is light at the end of the tunnel later this week – and heaven knows I hope there will be – we have a fundamental responsibility in this place to try and resolve this most vexed of problems," Rowley said.
That's serious support from a backbencher whose dislike of May's own compromises once led him to tell her in a particularly bruising 1922 committee meeting last December: "stamina is not a strategy". Johnson's own 'trust me, I'm not Theresa' message seems to be working. If, and it's a big if, the message can work on the DUP (which has been largely disciplined so far not to comment in detail) too, there could well be that elusive majority for a Brexit deal.
But as ever, the real issue is whether Johnson has left this all too late to hit his 'do-or-die' October 31 exit deadline. Finnish PM Antti Rinne, who currently holds the rotating EU presidency, warned there was no "practical or legal way" to find an agreement before Thursday's summit. Irish deputy PM Simon Coveney said the talks may "move into next week" and a special emergency summit is mooted.
Don't forget the Benn Act sets a deadline of this Saturday for Johnson to have "concluded an agreement with the European Union under Article 50(2)". The PM's deal may even be half-done (or half-baked some would argue) but few think it will be 'concluded' by this weekend – and under the law that means a delay to January 2020.
That's perhaps the real reason that Johnson didn't further try to embarrass the Queen by getting her to say her government "will" leave the EU on Halloween. Instead, she began the whole thing with this much weaker line that "my government's priority has always been to secure the United Kingdom's departure from the European Union on 31 October." A 'priority' is not a promise.
None of this means Johnson can't politically survive a short delay. But he's going to need a heck of a lot of Lee Rowley-style victories to have a hope of winning that election, whenever it comes. And Labour, for so long terrified of losing ground in its heartlands, is slowly waking up to the fact that most its own voters even in Leave seats actually voted Remain.
Extinction Rebellion- October 14th 2019
Focused on London's financial hub,Extinction Rebellion'hundreds of activists decidedto block streets around the City of London intending tto cause "maximum disruption" to the money men and women who rule the official underworld of high finance.
These protest group blame the financial sector's investment in coal, gas and mineral extraction, intensive farming and logging for harming people in the southern hemisphere. Obviously they do not mention the massive overpopulation, much driven by religious bigotry and inevitably cheapening the cost of labour. These protests won't even scratch the surface of this problem.
As always their totem Greta was there in spirit with her image being projected on to the Houses of Parliament, giving her opinionated and much loved U.N Speech.
Meanwhile over in Japan they may be seeing more fierce evidence of climate change. Back in the 1980s, Japan was subject of a Key Stage Three module called ' Too far too fast. The argument was that the governemnt was pushing its limited land spce and resources too far. Attention was paid to their nuclear power stations and the risks of building them on the Pacific Ring of Fire Fault line.:
More than 110,000 people are taking part in search and rescue operations after Typhoon Hagibis struck Japan on Saturday.
Thid typhoon idthe worst storm to hit the country in decades -leaving at least 40 dead, with 16 missing.
Typhoon Hagibis also caused the cancellation of three Rugby World Cup matches but a key match between Japan and Scotland went ahead. That will obviously have upset those with a financial stake in the games.
Pile of Vommit October 13th 2019
According to Britain's Guardian newspaper :
'The UK government has been accused of acting like "a banana republic" after suppressing charges against the British group of Isis militants known as "the Beatles" out of fears that trying them at home could set a precedent for mass jihadist repatriations.
Prosecutors charged one member of the group, Alexanda Kotey, with multiple counts of murder in 2016 but the Home Office made no attempt to bring him home to face justice because, sources say, then home secretary Theresa May felt it was politically problematic.'
Editorial Comment While waiting to unload my truck, outside a restaurant in a Central London street last week, I wanted a birds fighting for a share of a pile of vommit. The Middle East with all of its war devastation, religious fanatic, terrorist groups and various militias reminds me of something that has been chewed up and spewed out by a monster. It is full of bugs and smells rather nasty.
Boris Johnson is a remainer- truth revealed – October 3rd 2019
Boris Johnson wants to remain, first and foremost as Prime Minister. If that means joining in on the Brexit Surrender Act Con trick, then he will do it. Ultimately he is the same as all of the post Thatcher Prime Ministers. The offer explained by the MSN report below says it all. There will not be another referendum for a no deal Brexit because they fear people will vote the same way again.
What is Boris Johnson's offer?
The proposal is similar to Theresa May's deal but with the Irish border backstop ripped up and replaced by his own plan, labelled "two borders for four years".
Under the plan the entire UK would leave the EU on 31 October with the original transition period staying in place until 31 December 2020.
Related: Take my deal or UK walks, defiant Johnson tells EU (Sky)
On the new Brexit day of 1 January 2021, Great Britain would leave all the institutions and structures of the EU including the customs union, which allows frictionless trade with all member states and all regulations on goods and food. It will also mean the UK exiting judicial structures including the European court of justice, security and defence arrangements and agreements such as data sharing.
What about Northern Ireland?
Northern Ireland would also leave the customs union on 20 December 2020. But it would remain aligned on regulations and, it is assumed, freedom of movement of people within the island of Ireland for another four years, until 2025.
Related: The three potential scenarios facing Johnson (FT)
But would that not mean a border down the Irish Sea?
Yes. Goods coming into Northern Ireland would have to be checked to see if they complied with EU standards, which would apply across the island.
Armed police respond as man 'pours petrol on himself' outside Parliament October 1st 2019
1 October 2019 • 12:23pm
A man has been detained by police after dousing himself in petrol outside the Houses of Parliament.
The man, who was also carrying a lighter, was rugby tackled to the ground by armed police who were patrolling nearby.
Witnesses described seeing the man close to Parliament's Carriage Gates cover himself with a flammable liquid that smelt strongly like petrol.
Huw Merriman, the Conservative MP for Bexhill and Battle, who witnessed the incident, tweeted his praise for the police who he said had responded bravely and quickly.
He wrote: "Man next to me at Parliament's carriage gates appears to have poured (what smells like) petrol on himself. Incredibly brave response from police, who are now helping him."
Man next to me at Parliament's carriage gates appears to have poured (what smells like) petrol on himself. Incredibly brave response from police, who are now helping him.— Huw Merriman (@HuwMerriman) October 1, 2019
London Fire Brigade and London Ambulance Service raced to the scene and the man was sprayed down with a fire extinguisher.
He was detained under the Mental Health Act and it is understood the protest was not politically motivated, with one officer at the scene claiming he had been complaining about a parking ticket.
Describing the police response, an officer at the scene said: "He poured petrol on himself. One of the lads rugby tackled him."
A Scotland Yard spokesman said: "At 10:44hrs on Tuesday, 1 October Officers became aware of a man dousing himself with, what appeared to be, a flammable liquid at Old Carriage Gates, Westminster.
"The man, who had a lighter, was sprayed with a fire extinguisher. There was no ignition and the man was detained.
London Fire Brigade (LFB) and London Ambulance Service (LAS) have attended the scene. LFB made the scene safe by dispersing the suspected flammable liquid.
"The man was assessed by LAS and taken to a central London hospital. He has been detained under the Mental Health Act. No reports of any injuries. The area affected has now been reopened."
Source 'TheIndependent.'
Editorial Comment It woud be interesting to know more about this man and why he did it. If he was serious he would have just set himself alight. This was a publicity stunt by a very stupid or possibly deranged person. It may be reasonable to relate this incident to parliamentary failings, lies and manipulation but hard to see how a sane person would see immolation a solution to anything except a death wish. I don't know. It is a cause for concern, however, that there a lot of mentally ill people out and about. Why is that, I wonder?
So Sensitive In Parliament September 26th 2019
The girls in Parliament are such sensitive little flowers, or claim to be. i used to stay over with my girl friend in a leading girls boarding school, where my friend was a hosue mistress and head of year. The elite's daughters cost £25,000 a year there and were far from softie angels. So one has to applaud the actresses ( can I use that word without committing hate speech? ) there if they were faking it.
So Boris really upset them, leaving many in tears according to today's press. The Attorney General, a good one for a change, described this parliament as a dead parliament too scared to face the electorate, clinging to their sets on the green benches. He upset the girls of both genders in RAINBOW land where the pot of gold is at the end of it in Brussels.
The following extract is from a gleeful 'Independent' today:
Move means PM must be in Westminster for prime minister's questions on the scheduled day of his leader's speech to activists
Downing Street has responded with fury to MPs' refusal to allow Boris Johnson to shut parliament down for a second time just days after it was reopened by his humiliating Supreme Court defeat.
The House of Commons' rejection – by a margin of 306 to 289 – of Mr Johnson's request for a six-day recess lasting until Thursday has thrown plans for next week's Conservative Party conference into disarray.
Conservative sources insisted that the four-day gathering in Manchester – opening on Sunday and due to culminate in Mr Johnson's first address to delegates as leader on Wednesday – will go ahead as planned.
But a senior Number 10 source blasted as "cynical" the MPs who voted to block the recess, including some former Tories expelled for their rebellion over Brexit.
"Conference is a part of our democratic process and it's a massive moment for our members," said the source. "The fact that a group of political parties have got together to try to undermine this for another political party doesn't reflect well on them.
"The public will see a broken, zombie parliament determined to block everything, whether it is Brexit or the party conference.
Brexit Magic September 25th 2019
Brexit appeared as an amazing apparition in May 2016. Now by magic it seems to have disappeared.
It seems to me that the Supreme Court broke with precedent when a rich woman brought a case against the government for prorogueing parliament. Now we hear all sorts repeating allegations that Boris broke a law that did not exist before the rich woman, Gina Miller, and her backers brought the case to protect their vested interests- including the liberal feminists who fear that non EU immigration via France will cease.
Boris Johnson accused the Opposition leader of political cowardice in not being prepared to face a General Election. In my view there are, in a debate ongoing as I write, a considerable number of shrill self righteous female voices who are even more deaf to the government's viewpoints than the male opponents.
Having said that, the women on the Government side were fierce and hard to argue with. Labour women come across as patronising calling for humility and apology. Jess Phillips was almost in tears as she called for Boris's humility. Boris replied that 'The best we can do is respect the voice of the people who voted to leave.'
Lib Dem leader Jo Swinson told the chamber that we had reached a difficult and dangerous point in our emocracy. She urged him to stop his quest for a 'no deal' and apologise to the house. She said that the PM ' Can not pick and choose when it comes to the law, he must resign . He uses language not suitable for the Prime Minister of any country.
Language, tone and insensitivity appears a major concern for left wing female politiians. They are out to control language, therefore thoughts and actions. Boris reminded Swinson that she had undermined negotiations by going to Brussels, like Hilary Benn, urging the EU not to do a deal. Thus she underminded Boris's ability to do a deal.
SNP Joanna Curry called PM's speech a populist rant. She made very clear that her party wants a remain outcome. Julian Lewis of the New Forest Consituency asked Boris Johnson if he would repeal the 'ghastly Fixed Term Parliament Act.' Richard Dax asked if there would be an assurance that Britain will not become a vassal state.
But the wordy women of the left are just looking for a cosey fantasy land out of touch. Alison McGovern Labour Wirral South condemned 'the toxic culture of Westminster' reminding all that the memory of her late freind Jo Cox required that respect. Do these smug Parlaimentarians not understand this is an adversorial environment, which is why the government and opposition benches are set two swords lengths apart, with the mace on the ornate table.
I have listened to all I can stand of this so called debate, utterly convinced that this country is now in the hands of a pampered upper middle class students union, while the masses are limited in their options, most in low paid jobs. Boredom and drudgery is their routine, living in tiny houses and flats, or homeless.
These women have no idea of the everyday struggles of everyday people. As I close this despatch, at 20.00 a coterie of elite women are on their feet screeching and shouting down the Prime Minsister because he has called the May Brexit Deal 'The Surrender Act.' They have a fixation with the myth of an idependent judiciary as if these lofty folk judge by science.
These women are self obsessed, hence repeated references to protective law and a law breaking PM who upsets them with his 'dreadful language.' Boris this moderated his language to rename the 'Surrender Act' the 'Capitulation Act.' This still shocked Labour's Tracy Brabin. Boris was dishonouring the memory of Labour's late lamented Jo Cox. The coterie of saintly women just would not shut up. Boris Johnson said that the best way to shut down on democracy was to fail to deliver on Brexit.
They were outraged, and as he explains again the leftie women are, in Boris's words 'getting very agitated.' One just shouted out at him 'Disgusting.' I think she should look at and listen to herself and consider that there are other opinions. Vicky Ford, a Tory has just been shouted down for arguing with the leftie women.
One waits with baited breath to see what will happen next. Speaker John Bercow has just tried to hush them all by pointing out that Brexiteers have been on the receiving end of violence threats. My last quote is from Cardiff North' Anna Morrin and Green's Caroline Lucas's repteated leftie women's obsession and persistence with Boris Johnson's use of language.
Poor little Morrin said Lucas was ashamed to be an MP. I bet she is not so ashamed she won't take the wages. Why not just turn the whole show over to women an everything will be nice? The people will live happily ever after. It will be as magical as 'Cinerella.' Robert Cook.
Wrightbus to enter administration on Wednesday putting 1400 jobs at risk September 25th 2019
September 24 2019
Ballymena bus manufacturing company Wrightbus is set to enter administration on Wednesday.
Sky News has reported that the company is expected to formally appoint Deloitte as administrator in the morning.
The move will put around 1400 staff jobs at risk and affect dozens of suppliers in the Co Antrim area.
Read More
A source close to one of the bidders for the company told Sky News that the appointment of administrators on Wednesday was "almost certain".
DUP MP Ian Paisley said that administration was now an "inevitability" and that the future of the company "hangs in the balance".
"Essentially from this point the administrator has a week to find a buyer," he told the BBC.
Mr Paisley said it was a "terrible time" for Wrightbus employees and their families.
"All 1500 of them deserve our support. The supply chain workers also face troubling times," the North Antrim MP said.
"The company has been working very hard to conclude a sale but difficult decisions need to be made and time has run out."
UUP leader Robin Swann told the News Letter that administration looked likely for the company and that it was a "worrying time" for everyone involved.
"The news is not looking good at this minute in time. If it goes into administration, as seems likely, the administrator needs to find a buyer to protect jobs and industry in this area," the North Antrim MLA said.
Stephen Kelly, chief executive Manufacturing NI said the news would have huge ramifications for the entire area.
"If reports are true, then this would be a devastating blow to the staff at Wrightbus, the manufacturing sector across NI and particularly damaging to the Ballymena economy," he said.
"Businesses in the supporting supply chain have been doing what they can to support the company over this past year in the hope the business can be saved.
"They face some very uncertain months as they try to secure the money they are owed and replace the trade they have done with Wrightbus.
"That won't be easy as there's a significant cooling of demand across the UK economy as Brexit bites and buyers are reluctant to make big capital purchases. The company has a great product and a very talented workforce. Hopefully the administration process will see the firm put back on a firm footing."
Attempts to find a buyer for the company have failed, last week it emerged that two would-be buyers including entrepreneur Jo Bamford, whose father owns machinery giant JCB, had walked away from a potential takeover.
Reports suggest Mr Bamford had baulked at the high rent payable on Wrightbus' premises.
Wrightbus has faced growing financial difficulties due to a downturn in demand in some of its major markets, prompting it to appoint business advisers Deloitte in July to help it find investors.
Speaking on Monday a spokeswoman for Wrightbus, which was co-founded by Sir William Wright, said it had no update on the next steps that will be taken.
One person in communication with Wrightbus said: "They're still working very hard to see if anything can be salvaged there."
"The administrator needs to be proactive with the parties that had expressed an interested in order to see what can be saved."
Wrightbus is best known for constructing Routemaster buses for the city of London while Boris Johnson was mayor. They were dubbed 'Boris buses' due to their close association with the Prime Minister.
Speaking in the House of Commons in July Mr Johnson vowed to do "everything we can" to save the company.
"It was of great value to the people of this country and I think it's a great company and we will make sure, I give my assurance, we will do everything we can to ensure the future of that great UK company," he said.
Belfast Telegraph Digital
Editorial Comment Vehicle Manufacture has been problematic in Britain while European manufacturers just get on with it. The United Kindom and Northern Ireland are peculiar elitist and class ridden societies.
Membership of the EU has favoured the elite and arms industries. Manufacturing, particularly vehicles have not recovered from the 1960s in what is eumphesitcally and bombastically called a diverse society.
Supreme Court Ruling September 23rd 2019
A ruling on the legality of Boris Johnson's decision to suspend Parliament will be announced by the Supreme Court on Tuesday at 10:30 BST.
Ministers say the five-week suspension – or prorogation – is not a court matter, but critics argue the PM wants to limit scrutiny of his Brexit policy.
Parliament is currently due to return on 14 October, with the UK scheduled to leave the EU on 31 October.
The government has said it will "abide by the ruling".
But Mr Johnson has refused to rule out seeking to prorogue Parliament for a second time if the Supreme Court judgement goes against him.
Asked by the BBC's deputy political editor John Pienaar if he would do that, Mr Johnson replied: "I think it's very important that we look at what the judgement says when it comes out."
Asked whether he would resign if the court ruling went against him, he said: "Let us see what the justices say. I'm going to wait and see what the judgement is.
"And I want to stress that this is a government that fully respects the law and fully respects the judiciary."
The PM added that it was "sensible" for MPs to have their say on Brexit – but there was "ample time at the end of October for them to do just that".
During prorogation, the business of Parliament stops. This means any laws that have not been passed will fall.
It also means MPs are unable to put questions to ministers or scrutinise government legislation.
MPs have no say over when and if Parliament is prorogued – it is done by the Queen, who acts on a request from the prime minister.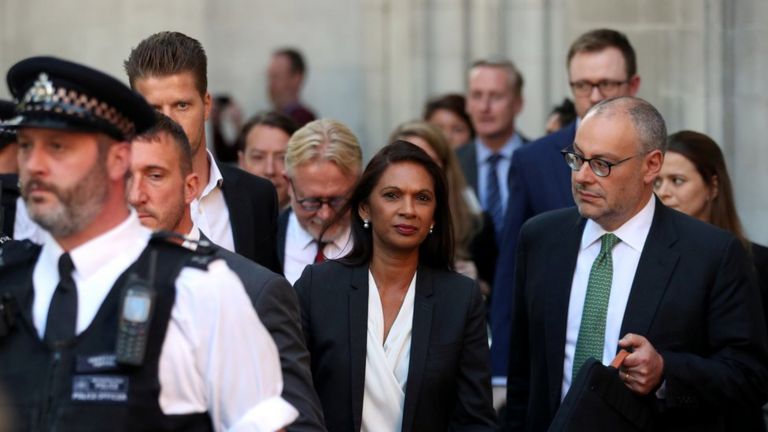 The three-day hearing at the highest court in the country dealt with two appeals – one from campaigner and businesswoman Gina Miller, the second from the government
Mrs Miller was appealing the English High Court's decision to throw out her challenge to prorogation.
The government, on the other hand, was appealing the ruling from Scotland's Court of Session that the prorogation was "unlawful" and had been used to "stymie" Parliament.
The challenge to the prorogation in the Scottish Court was brought by 75 parliamentarians, including SNP MP Joanna Cherry.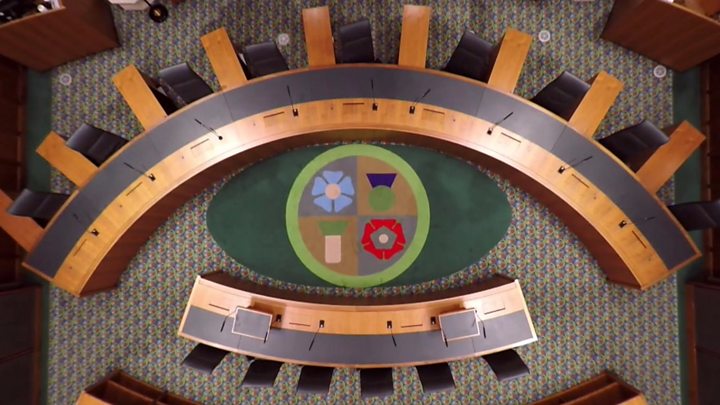 During the court case, government lawyer Lord Keen QC said prorogation was "forbidden territory, which is a matter between the executive and Parliament", and MPs "had the tools" to change the law if they did not like it.
However, Lord Pannick QC, representing Mrs Miller, argued it "was motivated, or at least strongly influenced" by Mr Johnson's belief that Parliament was "a threat to the implementation of his policies".
Mr Johnson said he was proroguing Parliament at this time in order to hold a new Queen's Speech on 14 October to outline the government's legislative plans for the year ahead.
However, the timing has been controversial, as it reduces the period Parliament is sitting in the run up to the Brexit deadline.
Some MPs held protests in the chamber when the prorogation began earlier this month, with some MPs holding signs saying "silenced" while shouting: "Shame on you."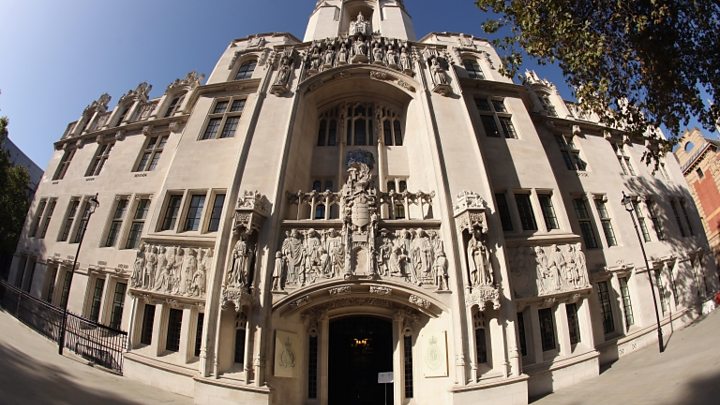 Mr Johnson, who is in New York for a UN climate conference, said he hoped to "make progress" with a Brexit deal in meetings with other EU leaders later on Monday.
But he stressed the UK would leave regardless on 31 October, adding: "I will not extend and I don't think, by the way, there is much appetite around the table for an extension either – people want to get this thing done."
What could happen next?
If the government wins at the Supreme Court, then nothing changes – Parliament remains suspended until 14 October.
But things could get complicated if the justices decide Mr Johnson acted unlawfully.
In documents submitted to the court, the government said it could see three options if the court ruled against it – and in some scenarios, it might just suspend Parliament all over again.
The court might rule this suspension unlawful, but their reasons might leave open the possibility of proroguing Parliament for the same time period in a different, lawful way
The judges could decide that the only lawful option is for the prime minister to recall Parliament before 14 October. Lawyers for Mr Johnson said he would comply, but it would require "extensive arrangements" to draw up a new Queen's Speech and get ready for the ceremonial State Opening of Parliament
The judges could declare the suspension unlawful, and therefore Parliament remains in session as if it had never stopped. The government said it might still be able to consider suspending it again
But Lord Pannick said all the judges needed to do was declare the suspension unlawful. The prime minister would not have to take any action and the Speakers of the Commons and Lords could decide how to proceed.
Brexit News
A Brexit, or British exit, is what will happen now that the people of Britain have voted for the UK to leave the European Union. The Brexit campaign won an in-out referendum of EU membership which took place on June 23rd 2016. But it is almost certainly going to be BRINO= Brexit in name only. September 23rd 2019
www.altnewsmedia.net Brexit Party betrayal by Nigel Farage allegations. Hear interview with Catherine Blaiklock
The UK needs to submit its new Brexit deal proposal to the EU by the end of September or it will be "over", according to Finland's prime minister.
September 19th 2019
Antti Rinne said he and French president Emmanuel Macron agreed at a meeting in Paris on Wednesday the UK needs to produce the plans in writing by 30 September.
"If the UK wants to discuss alternatives to the existing Brexit agreement then these must be presented before the end of the month," he told Finnish reporters.
David Cameron sought intervention from Queen on Scottish independence
Ben Quinn 7 hrs ago Johnson 'glad' angry father confronted him during hospital visitBrexit: Boris Johnson slammed as 'father of lies' in the Supreme Court
David Cameron has revealed that he suggested to the Queen's private secretary how the monarch could influence the outcome of the 2014 Scottish independence referendum, before she went on to make an intervention that was widely seen as helping a faltering pro-union campaign.
Cameron, as prime minister, was on a weekend break at the Balmoral estate in the Scottish Highlands in September 2014 when a YouGov survey put the campaign for Scottish independence in the lead for the first time.
In the second part of a BBC series about his life in politics, which is to be broadcast next week, Cameron says the poll hit him "like a blow to the solar plexus" and led to "a mounting sense of panic".
He says: "I remember conversations I had with my private secretary and he had with the Queen's private secretary and I had with the Queen's private secretary, not asking for anything that would be in any way improper or unconstitutional, but just a raising of the eyebrow, even you know a quarter of an inch, we thought would make a difference."
The equivalent of a raised eyebrow came a week later when, outside Crathie Kirk, the church where the Queen attends Sunday services while at Balmoral, a woman disclosed in widely reported remarks that the monarch had offered a coded warning about the impending referendum, telling her: "Well, I hope people will think very carefully about the future."
While the Guardian has reported that Sir Jeremy Heywood, then cabinet secretary, and Sir Christopher Geidt, then the Queen's private secretary, had discussed how she might register her concern at the prospect of a yes vote for independence while remaining "impartial", Cameron's remarks are an explicit admission that he sought intervention.
The remarks are likely to be provoke the ire of Scottish nationalists.
Pete Wishart, a Scottish National party MP, said there was no doubt the Queen's remarks had an impact on Scottish voters, particularly those who had not decided which way to vote.
"We knew Cameron was up to something at the time and for him to explicitly chronicle how he approached it, almost strategically, is almost beyond belief," Wishart said.
The revelation is potentially the most controversial element of the programme Cameron Years, the first episode of which will be broadcast on Thursday with a focus on the lead-up to the referendum on Britain's EU membership.
George Osborne, chancellor of the exchequer in Cameron's government, is particularly critical of Cameron's approach, saying: "David Cameron was just one of a number of British prime ministers who had fed this idea that we were different than Europe, that Brussels was to blame, and that the public ultimately had to have a say – and we've all paid a price for it in my view."
Osborne and Cameron have also spoken openly about the increasingly fraught attempts to convince Michael Gove to be on their side. Gove tells the programme that he felt "some of the conversations we had were attempts on his part to reassure himself that our friendship would mean that I wouldn't stray from the fold".
Others involved in the Tory government at the time also speak of how the emotional ties due to the closeness of Cameron's family with Gove's family had an effect on decision-making, coming to a bitter head when Gove, then education secretary, was demoted. Gove was moved in the reshuffle of summer 2014 to the post of chief whip. Cameron says Gove had wanted to become chief whip and speaks of his surprise when the other sent him an email in the midst of the reshuffle saying that he did not want that job.
David Laws, a Liberal Democrat minister in the coalition government, tells the programme that the consequences of the breakdown of the relationship between Cameron and Gove were enormous for the future of the country.
"Quite simply," he says, "we might never have had that referendum vote to leave the European Union without Michael's demotion in 2014."
In a preview of the series this week, at the BBC, the executive producer Denys Blakeway said that during hours of interviews Cameron was asked if he felt any remorse over the EU referendum. The former prime minister chose deliberately, he said, to use the word "regret" instead.
Low: Cameron becomes prime minister thanks to Liberal Democrats' support
David Cameron's premiership did not get off to a very good start. His Conservative Party did not win an overall majority, resulting in a hung parliament. He had to rely on the Liberal Democrats' support to become prime minister, thus leading a coalition government. On May 11, 2010 he became the youngest prime minister, since 1812, aged just 43.
High: Same-sex marriage legislation passed
British MPs voted in favour of controversial legislation allowing same-sex marriage on Feb. 5, 2013. The prime minister welcomed the change even when more than half of his Conservative legislators refused to back him. The bill finally won a majority in the House of Commons.
Low: Plan for British military action in Syria blocked in parliment
A blow to his authority came in August 2013 when the House of Commons rejected the plan of British military action in Syria. Many Conservative Party members rebelled and joined forces with Labour to vote against the motion of military action, and Cameron lost by 13 votes.
High: Scotland votes to remain within United Kingdom
In September 2014, he was saved from an early political debacle when Scotland decided to remain within the UK after a public referendum, thus defeating Scottish First Minister Alex Salmond's separatist campaign. His campaign "Let's Stick Together" managed to sway public opinion favourably.
Low: UKIP support builds
In October 2014, the United Kingdom Independence Party (UKIP) won support at the European Elections, pushing the Conservatives into third place in a national election. The same month, Douglas Carswell won the Clacton by-election for UKIP, while Mark Reckless won Rochester and Strood, after defecting from the Conservatives.
High: Wage growth outstripped inflation
In November 2014, economic growth figures looked up as wage growth finally outstripped inflation. George Osborne, the Chancellor of the Exchequer, lauded this and praised the government's economic plan.
Low: Austerity measures affect services
High: Sweeps to re-election after clear majority
Low: President Obama accuses Cameron of becoming 'distracted'
Low: Cameron's gamble fails and UK votes in favour of leaving European Union
The end: Cameron chairs final cabinet meeting before leaving Downing Street
THE WAUGH ZONE Posted September 19th 2019
By Paul Waugh. | 13 September 2019.
Karma Cam-eleon
On the eve of the publication of his long-awaited memoirs, David Cameron has given an interview to the Times and it makes fascinating reading.
There's lots of characteristically sweary indiscretions, but also a heck of a lot of what feels like denial about his role in the Brexit mess. It's as if he's cherry picked the five stages of grief – denial, anger, bargaining, depression, acceptance – and chucked them in a smoothie blender. And acceptance is the missing ingredient.
Yes, he admits he's been down, saying he was "hugely depressed" about the Vote Leave result. But there's no real acceptance of his own direct responsibility for one of the biggest earthquakes to hit Britain for a generation.
The lack of remorse or regret is most striking. And that's why (quite apart from the fact that the interview shows him sitting in the designer garden room of his multi-million pound London home) he will get scant sympathy.
"I think about this every day. Every single day I think about it, the referendum and the fact that we lost and the consequences and the things that could have been done differently, and I worry desperately about what is going to happen next."
That will remind some of Tony Blair's line to the Iraq Inquiry that he spends every day thinking of those killed in the conflict. But at least Blair had the grace to say "I express more sorrow, regret and apology than you can ever believe".
Asked if he finds sleeping hard, he spots the elephant trap but still replies "I worry about it a lot. I worry about it a lot." 'Worry' somehow doesn't capture the enormity of what's happened. You worry you didn't put the cat out at night, but perhaps as a former PM you should do more than worry that you plunged the entire nation into a three-year-long omnishambles that remains unresolved.
Cameron however defends himself repeatedly. Crucially, he says that a referendum was "inevitable", as if holding one was to follow some iron law of physics, rather than a political choice he personally made. Even George Osborne clearly thinks it was not inevitable, as the book reveals the former chancellor to this day still refers to "you and your fucking referendum".
Asked if he feels guilty, all he can say is "Look, having a referendum was not a decision that I took in any way lightly." That 'look' is the classic defensiveness of an ex-PM who simply refuses to accept the place in history others have given him.
For millions, Cameron will be 'the man who broke Britain', but what's also notable about his interview is the way he blames others, particularly Michael Gove and Boris Johnson. The vitriol for Gove drips off the page. He reveals he texted Gove during one falling out, "you are either a team player or a wanker", and describes him as 'mendacious'.
Both Johnson and Gove "left the truth at home" with their referendum claims about an invasion of millions of Turkish migrants, and about the £350 million on the Vote Leave battlebus. Why can't he just say they lied? Well, that would be to tell the truth.
Cameron was famously chameleon-like as a politician. He shape-shifted from 'Hug-a-Husky' Opposition leader to a PM who condemned 'green crap'. He spent years slagging the EU, then belatedly tried to trumpet its membership. He pledged to match Labour on public spending, then instituted what turned into a decade of austerity.
Yet for all his twists and turns, Cameron was never as politically tone deaf as he sounded today. It's no wonder that many will feel that bad karma has finally found him. But if is ever to move on from Brexit, he will need to change his tone and his belief system once more. Right now, that seems that's a change too far.
Lawyers to argue PM's parliament suspension was lawful September 18th 2019
Alan McGuinness, political reporterSky News18 September 2019
The government's lawyers will argue Boris Johnson's suspension of parliament was lawful and the Supreme Court cannot interfere in political matters.
Critics have taken their legal challenge to the UK's final court of appeal as they claim the prime minister's decision to shut parliament for five weeks was intended to prevent scrutiny of his belief that the UK should leave the EU as soon as possible, with or without a deal.
Lord Keen QC, acting for the government, will argue on Wednesday that the prorogation was lawful and the court has no legal reason to interfere in what he will say are political issues.
The decision to suspend parliament – known as proroguing it – is one of "high policy and politics, not law", Mr Johnson's lawyers claim in a written submission to the court.
Judges therefore have "no jurisdiction" to rule on something that would be "constitutionally inappropriate" for them to decide, the prime minister's legal team added.
On Tuesday, the first day of the three-day hearing, Lord Keen said he would not rule out Mr Johnson trying to close parliament for a second time as he outlined his argument against a Scottish court ruling the prorogation of parliament was unlawful.
Mr Johnson made the move at the end of August, asking the Queen to approve a suspension from the week beginning 9 September to 14 October.
The PM said this was so he could set out his government's legislative agenda at the start of the new session of parliament next month – but opponents argue he wanted to curtail scrutiny of his Brexit strategy.
Lord Pannick QC, the lawyer representing anti-Brexit activist Gina Miller, earlier told the hearing that Mr Johnson wanted to "avoid parliamentary control" and "silence" MPs in the run-up to Brexit.
The UK's highest court will hear two separate challenges brought in England and Scotland over the legality of prorogation.
The High Court in London dismissed Mrs Miller's case, ruling that the issue was "purely political" and not a matter for the courts.
However, the Court of Session in Edinburgh concluded that the PM's move was unlawful, after a legal challenge was launched by a cross-party group of more than 70 MPs.
A panel of 11 justices is sitting for only the second time in the Supreme Court's decade-long history.
They will consider the two appeals and determine whether Mr Johnson's advice to the Queen to suspend parliament is "justiciable" – capable of challenge in the courts.
If they do, the justices will then rule whether it was lawful.
The court will hear more submissions on Thursday, although it is not clear exactly when a ruling will be made.
The question of what the government will do if the Supreme Court rules against it was raised during Tuesday's proceedings.
Lord Keen said Mr Johnson would "take the necessary steps" to comply with the court's ruling.
But when asked by Lord Kerr, one of the justices, what would happen if the court rules that the prorogation was unlawful, and whether parliament would be recalled, he responded: "It will be then for the prime minister to address the consequences of that declaration."
Lord Keen, Scotland's advocate general, continued: "I have given a very clear undertaking that the prime minister will respond by all necessary means to any declaration that the… prorogation was effected by any unlawful advice that he may have given."
Lord Kerr then asked if it was the case that parliament could not be prorogued for a second time.
"I'm not in a position to comment on that," Lord Keen replied.
"That will have to be addressed by the decision maker."
:: Listen to the Daily podcast on Apple Podcasts, Google Podcasts, Spotify, Spreaker
He added: "If the court finds it was unlawful, the prime minister will take the necessary steps to comply with any declaration made by the court."
Referring to the Scottish case, Lord Keen said the courts "must not cross the boundaries and intrude upon the business of parliament".
He added that MPs would only lose "seven sitting days" because of prorogation, as it would have been in recess for party conference season for most of the five weeks.
Lord Keen added: "It is quite plain that the inner house [the Scottish court that ruled against the government], in addressing this issue and deciding that it could impugn the decision of the prime minister, was proceeding upon a fundamental misconception about how parliament works."
Universities 'failing' victims of sexual misconduct
By Dulcie Lee & Kate West BBC News & File on 4
Dozens of students who reported sexual assaults to their university have said they were failed by complaints processes that left them traumatised.
A BBC investigation found universities received more than 700 allegations of sexual misconduct during the past academic year.
Students accused their universities of being paralysed by fear of reputational damage and not offering proper support.
Universities UK said institutions were making progress in handling complaints.
But students said they had to go through "traumatic" and lengthy complaints procedures, with one saying she "felt like the one on trial" and another calling it "a waste of time".
Freedom of Information responses obtained by File on 4 from 81 UK universities found more than 110 complaints of sexual assault and 80 allegations of rape were made last year.
In a number of cases students and universities also reported the alleged attacker to police.
However, there are no mandatory guidelines on how universities should investigate or record such complaints.
The result, campaigners and survivors say, is a "patchy" system that is failing students.
One student, who reported a violent rape to her university and police, was repeatedly forced to see her alleged attacker around campus because of a loophole in the university's safe-guarding procedure.
Women from multiple universities have also been dissuaded from coming forward on the grounds that the reporting process would be "traumatic".
One student said she was told by her university to spend the night in the library, after she told them she could not return to her accommodation out of fear of another attack.
Another described her experience as "like being 'gaslit' [a term for psychological abuse where victims are made to constantly doubt themselves and reality] on an institutional level".
Dani, 21, from the University of Cambridge, started having panic attacks after her supervisor sent her inappropriate and sexual messages.
On the verge of quitting her course, she tried to complain – but was passed around and given contradictory advice.
When she did manage to report it, she was warned eight times that she could face a harassment charge if she told anyone else about the allegations.
"Throughout the whole process I just felt like I was the one who was on trial," she told the BBC.
Before the disciplinary hearing, she asked to give evidence behind a screen – something commonplace in a court of law – but the university refused.
"I had to sit on the same side of the table just a couple of seats away from him, while I was cross-examined by his lawyer," she says.
Her complaint against him was upheld. But his punishment was to write a four sentence letter of apology and to follow a no-contact agreement that saw Dani – not her supervisor – barred from certain university buildings.
The man was allowed to remain at the university.
The University of Cambridge told the BBC it places the "utmost importance" on the welfare of its students and said improvements have, and will continue to be, made.
'It will ruin you' – Alice's story
Alice, not her real name, reported a student for "stealthing" – a term for when a condom is removed during sex without the other person knowing.
The person would "potentially be committing rape", lawyers say, because if you agree to having sex with a condom and remove it – without saying – then you no longer have consent.
After seeing a complaint on social media about the same student, Alice felt she had to come forward, despite hearing "so many horror stories" about her university's sexual misconduct reporting process.
Through social media, she spoke to eight women who had similar experiences with the same man.
A trail of emails, seen by the BBC, shows how she kept the university updated on what she found. But when Alice was waiting for a date for her preliminary hearing with the university, she was suddenly told her case was being dropped.
A rule change by the university's disciplinary committee meant her case no longer fitted its definition of "harassment".
Alice, who has now graduated, is "terrified" that the man remains on campus unchallenged – unless a current student decides to mount a fresh complaint under the new rules.
A University of Cambridge spokesman said: "We are doing everything we can to make sure students feel supported, and informed, regarding their choices". But the university said there is "always more we can do".
"It's a total waste of time," Alice says. "And it will ruin you."
What happens when a student complains?
Each institution is different, but normally the university appoints an investigator who takes witness statements.
Then a panel, made up of academic staff and sometimes a student representative, interviews the accused and the accuser before deciding whether the complaint should be upheld.
The process is supposed to be quick, but the BBC heard from one woman whose complaint of sexual assault took nine months to resolve – the entirety of her second year.
Some universities do not tell the accuser the outcome of their own complaint – viewing it as a matter between the institution and the accused.
BBC research found punishments for sexual misconduct ranged from expulsion to bans from university bars. Others were told to write letters of apology to victims.
At the University of Sussex, one sanction for sexual misconduct was a suspended £250 fine, only payable if the student got into trouble again before the end of that year.
Anna Bull from the 1752 group, which researches sexual misconduct in higher education, is calling for better regulation of complaints procedures.
"Universities have encouraged students to come forward and make complaints, but actually institutions are not necessarily safe to report to," she says.
Part of the problem, she says, is that universities police themselves – and while some manage this well, many do not.
Nicola Dandridge, chief executive of the Office for Students, England's independent regulator of higher education, told the BBC it would intervene in "serious examples of universities failing to address these issues seriously".
"But we will always be focused on making sure that our intervention is appropriate and in the best interest of students. It's not about punishing universities," she said.
Universities UK, which represents higher education institutions, urged universities to follow its voluntary guidelines.
Editorial Comment It is notable in this article that reference is made to universities having no mechanism to record 'offences' not a refrence to allegations. It is also notable that women seem to object having to offer evidence because it makes them feel as if they are on trial. For goodness sake, they are making life destroying allegations.
Male students also need protection in this environment. Once again we see how fake gender quality is and how the system must bend over backwards to protect what we must never call the weaker sex on pain of harassment charges.
Grenfell Tower: London Fire Brigade interviewed under caution by police over blaze response
Posted September 17th 2019
Jamie JohnsonThe Telegraph16 September 2019
The London Fire Brigade has given an interview under caution as part of the continuing Metropolitan Police Service investigation into the Grenfell Tower fire.
According to a statement released by the Brigade this morning, they were invited to give the interview as a corporate body, rather than as an individual in relation to the Health and Safety act.
Dany Cotton, London Fire Commissioner, said this morning that "it is entirely correct that we are part of the investigation."
"We have always been subject to the Metropolitan Police investigation and I want to ensure it is accurately and publicly known the Brigade has now, voluntarily, given an interview 'under caution in relation to the Health and Safety at Work Act'", she said.
"As the fire and rescue service attending the Grenfell Tower fire it is entirely correct that we are part of the investigation. Hundreds of firefighters, officers and control officers have already provided voluntary police interviews and we will continue to do all we can to assist investigators.
"The bereaved, survivors and residents need answers and we must all understand what happened and why to prevent communities and emergency services from ever being placed in such impossible conditions ever again.
"This was the largest residential fire London Fire Brigade has attended in its history and we will also continue to ensure firefighters, officers and control officers and other Brigade staff are supported throughout this investigation and the on-going Public Inquiry."
The interviews have focused on sections 2 and 3 of the Health and Safety at Work Act .
London Fire Brigade is subject to duties under the act, and section 2 is a general duty to ensure, so far as is reasonably practicable, the health and safety and welfare of all employees.
Section 3 is to ensure, so far as is reasonably practicable, non-employees are not exposed to health or safety risks by the conduct of London Fire Brigade.
Editorial Comment I do not understand why the fire brigade told people to remain in their flats.
GUY ADAMS: The racist and gay hate past of Speaker John Bercow – who's now the hero of the right-on MPs who are battling to block Brexit Posted September 17th 2019
By Guy Adams for the Daily Mail
Published: 23:16, 19 March 2019 | Updated: 01:09, 20 March 2019
1.1k shares 186 View comments
Leading Remainers cheered John Bercow to the rafters this week, with 'People's Vote' architect David Lammy MP among those celebrating the Speaker's apparent knockout blow to Theresa May's Brexit deal.
The Labour MP said: 'The Speaker is absolutely right to block May's attempt to batter Parliament into a third meaningful vote.'
Meanwhile, Chuka Umunna MP – Lammy's Labour colleague until he defected from the party last month – circulated messages saying the British public should 'blame May not Bercow for this catastrophe'.
Their glee was understandable.
John Bercow is pictured here in 2012 for the State Opening of Parliament. He is seen with David Leakey, a senior officer in the House of Lords
At 24, Bercow was a Tory councillor in Labour-run Lambeth, south London. He is pictured on the left in 1990. Today, as the speaker in the House of Commons, he was approached by camera crews for his insistence Parliament cannot put an unchanged deal to a third vote
However, perhaps Lammy, whose father was a West Indian immigrant, and Umunna, whose father grew up in Nigeria, were being admirably generous in their praise.
For had the views Bercow espoused as a young man ever been enacted, it's highly unlikely either Lammy or Umunna would now be MPs. One might even argue they and their families would not be living in the UK.
The reason? The young Bercow campaigned with neo-Nazis who endorsed an odiously racist policy for black and Asian Britons to be 'repatriated' to their ancestral homelands.
Also, for much of the 1980s and 1990s, he was a hero of the far-Right and made outspoken attacks on feminism and gay rights. He endorsed capital punishment, too, and, after becoming an MP in 1997, gained a well-earned reputation for misogyny.
It is no exaggeration to say Bercow has executed one of the most extraordinary political U-turns in Parliamentary history. Nowhere is this more pronounced than on the issue of Europe, where he's lurched from political extremes, turning from one of the EU's most outspoken critics into perhaps its most controversial defender.
In these polarised times, this naturally divides opinion. Some will doubtless applaud the path he's taken. But many colleagues regard it as a cynical manoeuvre by a politician governed by insatiable vanity and an overbearing lust for power and attention.
Speaker John Bercow addressing MPs in the House of Commons today where he has ruled out another vote on Theresa May's Brexit withdrawal agreement
Bercow's political journey began shortly after his 18th birthday, when he decided to join the hard-Right Monday Club, a controversial organisation that promoted what it called 'traditional Tory values' but most notably a campaign against immigration.
After suffering acne and being bullied at school, this son of a cab driver was drawn to politics by Enoch Powell, the Right-wing Conservative whose 'Rivers of Blood' speech raised fears of Britain becoming a country where 'the black man will have the whip hand over the white man'.
Bercow stood for election to the Monday Club's ruling national executive committee. His manifesto stated 'the strengthening of our national identity demands a programme of assisted repatriation' for black and Asian immigrants.
A contemporary, Gregory Lauder-Frost, recalled that although his accompanying speech was 'very well received' at its 1982 conference, Bercow failed to win the vote, perhaps due to the fact he 'rubbed people up the wrong way because he was extremely pushy and rather pleased with himself'. Undeterred, Bercow served as secretary of the club's so-called 'immigration and repatriation committee' for around 18 months.
Minutes he took of one meeting stated that members 'formally agreed that the policy of the committee should be: An end to New Commonwealth and Pakistan immigration, a properly financed system of voluntary repatriation, the repeal of the Race Relations Act and the abolition of the Commission for Racial Equality. Particular emphasis on repatriation.'
John Bercow concurrently serves as the Member of Parliament for Buckingham. He is pictured on the left in 1998 and on the right in 2002, while serving as a shadow cabinet member
When his role in furthering its racist agenda became public in the 1990s, he apologised grovellingly, saying he left at 21 in 1984 after finding 'there were a lot of people at the meetings who were really unpleasant racists'.
He also described his membership of the Monday Club as 'utter madness' and dismissed his views from that time as 'bone-headed'.
Bercow next threw himself into student politics at Essex University. As chairman of its Conservative Association, he was a hate figure among Left-leaning peers.
'Essex was a very Left-wing university at the time and he was pretty much universally despised,' a contemporary once recalled. 'He was always attacking Left-wingers, gays and feminists.' Despite, or perhaps because of, such incidents, Bercow swiftly rose to greater prominence, next as chairman of the Federation of Conservative Students, which became notorious after its members attended protests in T-shirts with the slogan 'Hang Nelson Mandela'.
Bercow has since denied he approved of the stunt, or wore one of the shirts. However, a contemporary, Derek Laud, has said the firebrand Right-winger was 'robustly in support of the apartheid regime in South Africa'.
Either way, Bercow's federation also campaigned against the Labour-led National Union of Students under the banner 'We sank the Belgrano and we'll sink the NUS' (referring to the Argentine navy cruiser in the Falklands War) and ran a recruitment campaign featuring a poster of an Ethiopian child with the headline 'Poor? Starving? Desperate? As if! Join Conservative students.' So extreme were some of its stunts it was shut down by Norman Tebbit for being too Right-wing.
By then 24, Bercow was a Tory councillor in Labour-run Lambeth, south London. In 1987, he kicked up a fuss over a scheme to put gay literature in children's homes and libraries, telling reporters he'd written to Neil Kinnock, then Labour leader, asking him to intervene to prevent 'this sinister and evil proposal'.
John Bercow celebrates victory at a general election count for his Buckingham constituency
Bercow's controversialism survived his election as MP for Buckingham a decade later. Indeed, he continued to enjoy making offensive public pronouncements. In 1998, for example, he told an interviewer that female Labour MPs complaining about sexism were guilty of 'a defence mechanism against their own inadequacy. You don't get the competent, attractive ones like Yvette Cooper moaning about sexism'. Two years later, he launched a misogynistic attack on Cherie Blair, calling her 'a cross between First Lady and Lady Macbeth'. He also called Labour MP Robin Cook 'the most arrogant, pompous and unsuitable foreign secretary in living memory… buzzing around like a demented bluebottle'.
Trying to grab attention himself, at a Tory conference in the mid-1990s, Bercow spoke about the EU and called on Conservatives to take on 'federalist conspirators'. He said: 'If there's one thing worse than the provisions of the Social Chapter, it's the cynical, sneaky and unscrupulous way in which Brussels still tries to foist them upon us.'
He remained a council member of the Freedom Association, which campaigned for the UK's withdrawal from the EU, until the early 2000s.
But that, of course, was then.
+
Bercow is pictured when made the new speaker of the House of Commons in 2009
In 2002, Bercow married Labour activist Sally Illman. Soon after, he began his political U-turn, campaigning for liberal issues such as racial equality, while seeking to gloss over his Right-wing past.
While part of the then Tory leader Iain Duncan Smith's team, he clashed with his boss over Duncan Smith's refusal to support gay adoption. Many in the party think there is still a bitter legacy from that disagreement – with Duncan Smith being an ardent hard Brexiteer and Bercow seemingly on a mission to sabotage Brexit.
In 2005, Bercow's Wikipedia page was mysteriously edited by someone inside Parliament to remove reference to the Monday Club; four years later, he was elected Speaker thanks to Labour MPs' support.
Nowadays, Bercow's fiercest insults are saved for Tory former allies such as Andrea Leadsom, whom he called a 'stupid woman', and the Parliamentary staff he's been accused of mercilessly bullying.
Perhaps the only constant in a career that has seen John Bercow veer from political extremes is his ability to put himself at the centre of controversy. Advertisement
Mother Kills Children for More Sex- posted September 13th 2019
Nigeria News
Nigerian Newspaper
August 3, 2019
Woman Kills Her Two Children For Not Allowing Her To Have Sex
by Amaka
A heart-wrenching CCTV footage showing the moments, a three-year-old girl was murdered by her own mother has been released after she was convicted in court.
The 23-year-old British sex worker mum, Louise Porton killed both her daughters because they 'got in the way' of her job but made it seem like they had died from natural causes.
Porton had reportedly searched for "can you actually die if you have a blocked nose and cover your mouth with tape" on the internet before contacting emergency services.
Footage shows the part-time model taking her daughter, Lexi Draper into their home in Rugby, Warwickshire, hours before she suffocated her on January 15 2018.
The woman strangled her 16-month-old baby, Scarlett Vaughan just 18 days later.
The court heard how Porton had tried to avoid spending time with her daughters and even claimed to have had sex with a man while they slept in another room.
Louise Porton is to spend a minimum of 32 years in prison for the murder of both her 17-months-old Scarlett Vaughan and 3-year-old Lexi Draper, following her conviction after a five-week trial at Birmingham Crown Court.
Jurors heard Porton accepted 41 friend requests on a dating app just a day after Lexi died.
Strangely, prosecutors described her as being "calm and emotionless" following Scarlett's death. Ad ==> LEARN How A Young Unemployed Graduate Makes 235K Monthly Online Legally, In This Recession Period. Click Here! Tags from the storyLexi Draper, Louis Porton, murder, Scarlett Vaughan, Sex 0 Facebook Twitter Pinterest Google + LinkedIn Email
You may also like
Previous articleToyin Lawani Smells Princess Shyngle's Vagina In New Raunchy PhotoNext articleEedris Abdulkareem Reacts To Sowore's Arrest
Your email address will not be published. Required fields are marked *
Comment
Name *
Email *
Website
Notify me of follow-up comments by email.
Notify me of new posts by email.
More Stories
Domestic Violence Increases September 13th 2019
Domestic violence murders surge to five-year high Some 173 people were killed in domestic violence-related homicides last year, the highest number since 2014, according to data from 43 police forces across the UK. And BBC analysis of the first 100 killings of 2019 suggests one in every five was committed by a partner, an ex-partner or a family member. One criminologist describes those killed as the "invisible victims of knife crime".

The government insists it is "fully committed" to tackling domestic abuse, with Home Office Minister Victoria Atkins saying MPs will again get to debate a domestic abuse bill, alongside a scheme to let people find out if their partner has a history of domestic violence, once Parliament's suspension is over. However, Nogah Ofer, of the Centre For Women's Justice, argues police are not making use of powers they already have. "Women have to go off and get orders in the civil courts. Then those orders are breached and the police don't do anything to arrest the suspects," she says .
Sharp Rise in Knife Crime- September 13th 2019
Sharp rise in women caught carrying knives Increasing numbers of women are being caught carrying knives by police in England, with the number of offences up 73% over the last five years, data obtained by the BBC shows. Some 1,509 were recorded in 2018, according to figures from 38 of England's 39 forces. Jennifer Blake, a gang leader-turned community worker from Peckham, in south London, tells the BBC: "For some women it's a normal thing to have in your bag, like lipstick. We have got girls that stab, but… no-one wants to talk about it because no one knows how to deal with it."
Youth workers say some women carry weapons for gangs as they are less likely to be stopped by police if, say, they are pushing a pram. Heather Nelson, of the Black Health Initiative in Leeds, says: "They're asked to be the couriers of these weapons and they'll agree to do that because they want to please their partner." With a record number of fatal stabbings in England and Wales in the last year, the Home Office says it's investing £220m into steering young people away from violent crime. For female offenders specifically, it says it's funding advocates to work with gang-affected young women in London, Manchester and the West Midlands.
The fight is on at Royal Mail September 12th 2019
---
Gate meetings have been a show of strength for determined Royal Mail workers (Pic: Guy Smallman)
---
Royal Mail postal workers across Britain staged a mass show of force on Tuesday as they gear up for what their union leader called "the most important dispute in the recent history of industry in this country".
CWU union members are preparing for a national strike ballot to stop bosses smashing up Royal Mail—along with their jobs, pay, conditions and union.
Speaking to workers outside a delivery office in Brighton on Tuesday, CWU general secretary Dave Ward said the coming fight will be "a watershed moment".
Royal Mail bosses led by chief executive Rico Back are planning a major attack that the union says could cause as many as 40,000 job losses.
Robots
Those who keep their jobs will be made to work like robots or suffer low pay on zero hour or bogus self-employment contracts.
It's the biggest attack that postal workers have faced since Royal Mail was privatised in 2013.
Back wants to break up Royal Mail into a parcel delivery company run for profit, and a separate letters firm that will be run down.
Bosses hope their new parcel company will allow them to employ workers on much worse conditions similar to those in other private courier firms.
A documentary exposing conditions in Back's European parcels company GLS found employees working up to 13 hours a day and often forced to drive while dangerously tired. It's a vision of the future Back wants for Royal Mail's parcels. Meanwhile, jobs will be slashed from the declining letters company.
Those left will be forced to take on extra workloads and pushed to work harder.
Pressure to do that has already sparked a stream of unofficial walkouts against bullying Royal Mail managers at workplaces across Britain.
CWU members are set to vote on whether to stage national strikes to stop the attack, in a ballot running from Tuesday 24 September until 15 October.
The union wants a thumping Yes vote—and a turnout that will smash through the 50 percent turnout threshold demanded by Tory anti-union laws.
Royal Mail workers have held union gate meetings at workplaces across Britain to make sure that happens—including with an impressive show of force on Tuesday.
Serious
CWU area rep Mark Dolan told a meeting in Islington, north London, "I've done about 40 years in Royal Mail. This is the most serious attack on terms and conditions ever."
He added he thought the coming battle wouldn't be like previous disputes, ending without strikes after union leaders use the ballot result to force a new deal. "I don't think we're going to get an agreement off the back of that Yes vote," he said.
"You're going to have to be prepared to strike."
Mark Antony, a rep at the delivery office, told Socialist Worker, "This Rico Back is not someone to play about with. We're going to make sure he's not able to take our terms and conditions."
---
Click here to subscribe to our daily morning email newsletter 'Breakfast in red'
Boris Johnson's minority government staggers on after MPs reject his bid for an early general election Posted September 8th 2019
Thomas Colson and Adam Bienkov Sep. 4, 2019, 4:36 PM
Members of Parliament in the UK reject Prime Minister's bid for an early general election.
Johnson had challenged opposition parties to authorise an election on October 15.
However, Johnson's opponents voted against a motion to hold an early poll due to suspicions he would use the timing of the election to trigger a no-deal Brexit on October 31.
LONDON — Boris Johnson was dealt another blow to his authority on Wednesday after MPs rejected his attempt to force a snap general election.
The prime minister had tabled a motion calling for an early election after MPs voted to block Johnson from forcing a no-deal Brexit in October, a move that Johnson said left him no choice but to go to the polls on October 15, just weeks before the Brexit deadline.
Under the Fixed-Term Parliament Act, the government would require two-thirds of MPs — in this case, 434 — to back the motion for an election to be called. Labour and other opposition parties abstained on the motion, meaning that it did not pass.
Labour have called repeatedly for a general election since the last in June 2017, but their MPs were instructed not to approve the plan designed to stop a no-deal Brexit had entered the statute books, which is not likely to happen until at least next week.
It must first be approved by the House of Lords before heading back to the Commons, where it would receive final approval.
Nick Brown, Labour's chief whip, reportedly told a meeting of Labour MPs on Tuesday evening that they wanted Johnson to "stew in his own juices" before they backed an election.
Johnson called on Corbyn to reflect on the "unsustainability" of Labour's position in opposing an election.
"He has become the first leader of the opposition in the democratic history of our country to refuse the invitation to an election. I can only speculate as to the reasons behind his hesitation. The obvious conclusion is that he does not think he will win."
Editorial Comment Britain is in absurd situation thanks to narcistic former PMs Blair, Brown and Cameron's reforms. PM Boris Johnson and his super minority government cannot have an election unless they agree to what a motley crew of self interested anti democratic comfortable cross party MPs who outnumber the Tories give in to their demands..
There is no law that says they should, so Johnson should play a waiting game until it is time to shut down Parlaiment, then do Brexit for real. It is quite clear that is what Brexiteers voted for, which means the Remoaners are anti democratic.
Boris Johnson copies Trump's playbook: PM lines police behind him for speech in echoes of US president's appearances with troops – as Labour brand it an 'abuse of power' Posted September 8th 2019
Boris Johnson posed in front of a wall of trainee police officers in West Yorkshire
PM promised £750 million to fund a recruitment drive of 20,000 new officers
But the stunt was branded an 'abuse of power' and 'unacceptable' by Labour
The photo op was compared to Donald Trump's poses in front of the US military
Published: 20:55, 5 September 2019 | Updated: 00:19, 6 September 2019
Boris Jonson used a tactic from 'Donald Trump's playbook' when he used a wall of police officers as a backdrop for a speech.
The prime minister spoke to the media with around 35 new recruits at the West Yorkshire Police's training complex in Wakefield today.
Mr Johnson was condemned as having used the officers as an 'inappropriate' backdrop as part of a 'political stunt' when he made a speech which ended up referencing a possible general election and criticising Jeremy Corbyn.
His use of officers while answering questions about Brexit and his brother's shock resignation as a minister have been compared to the US president, who often poses in front of the military.
Labour called the stunt an 'abuse of power' and dubbed the photo opportunity 'completely unacceptable'.
Yvette Cooper, the chairwoman of the Commons Home Affairs Committee, criticised Mr Johnson's use of police officers as a backdrop to his speech.
The Labour MP for Normanton, Pontefract and Castleford, in West Yorkshire, said: 'This is an abuse of power by Boris Johnson, making so many police stop their training and work to be part of his political stunt.
'They have a job to do here in West Yorks, and they train and work hard for the whole community – completely unacceptable to use them in this way.'
Wes Streeting, Labour MP for Ilford North, tweeted: 'Every single one of these officers would be better placed policing our communities, not providing a Trump-style photo op. Boris Johnson should be arrested for wasting Police time.'
A police inspector, and author of Perverting the Course of Justice, tweeted: 'Two months ago we were #CryingWolf and #Scaremongering. Now they're using us in an election campaign. Straight out of the #DonaldTrump playbook.'
Since becoming prime minister in July, the US commander-in-chief has heaped praise on his opposite number across the Atlantic.
On the eve of his election as Tory party leader, Mr Trump described Mr Johnson as 'Britain Trump'.
At the G7 summit last month, Mr Trump spoke in glowing terms, insisting Mr Johnson is the 'right man' to deliver Brexit and promised a 'very big trade deal' was available between the US and Britain.
Yesterday Trump again gave his backing to the British premier, saying his 'friend' knows 'how to win', just hours after he suffered his second Commons set back in two days.
Editorial Comment Regarding Saintly Yvette Cooper's comment here,: Comment One wonders how she visualises these nice police officers training. Obviously women feel the need for lots of policemen to defend their life of equality on the streets, in the home and in the work place, whilst being ever vigilant for hate speech.
Youth violence is being used as an excuse to increase police numbers. The ugly truth is that, in London, so called youth crime is black gang related, often linked to immigrant communtites. Being seen to defend ethnic communities is virtue signalling for white liberals.
In Scotland youth crime is about the neglect and decline of a nation mostly owned by 400 rich families- where Trump owns a Golf Course for the rich. Extra police arere not about solving this, they are about the Police State. The speed at which a new law was knocked out to block a real Brexit should alarm anyone with a brain.
We do not have a government, we have rule by a smug remote self righteous Parliament, led by Bercow. They think they know best and will knock out a law against anything gets in their way.
For more on Scottish crime read Jimmy Boyle's 'A Sense of Freedom.'
ITV Good Morning Britain: Sir Keir Starmer shut down for blasting Boris 'zero trust!' September 4th 2019
ITV GOOD MORNING BRITAIN welcomed Sir Keir Starmer onto the show today to talk about Boris Johnson's decision to call a vote on a general election.
By Helen Kelly PUBLISHED: 08:09, Wed, Sep 4, 2019 | UPDATED: 10:39, Wed, Sep 4, 2019
GMB: Starmer told Labour lacks trust over Brexit by Susanna
Current Time 0:17/Duration 1:22
Good Morning Britain hosts Susanna Reid and Piers Morgan probed Sir Keir Starmer about Boris Johnson's decision to call a vote for a general election.
The shadow Brexit secretary was insistent Johnson has lost the trust of both parliament and the public claiming he is being dishonest about his plans for Brexit. But he was quickly slapped down by Reid who said the public currently has little trust in any politicians.
The Labour MP said: "When the result came in, we accepted the result and triggered Article 50.
"But a lot of water has gone under the bridge now.
Related articles
"Boris Johnson isn't even negotiating a deal. Now, given the mess we're in, we need permission from the public.
"This is a million miles away from where we were in 2016."
Morgan jumped in to hit back: "The biggest threat to me is if the UK doesn't leave the EU, that seems to be an overriding threat to democracy.
"At what point is parliament conspiring, is collectively conspiring to stop it happen.
"They vote against every Brexit deal that was offered. What are they going to do to make Brexit happen?"
ITV Good Morning Britain: Susanna Reid shuts down Sir Keir Starmer over Boris trust jibe (Image: ITV)
ITV Good Morning Britain: Reid told Starmer the public don't trust politicians (Image: ITV)
Reid went on to ask: "What will happen if there's a motion for a general election? You have this opportunity to campaign for a second referendum, will you vote for a general election?"
Sir Keir said he wouldn't back Mr Johnson's call for a general election, despite Labour previously campaigning for one. He said: "We're not dancing to Boris Johnson's tune today."
He added: "There's zero trust of that man in parliament. There is zero trust and that's a massive problem for him."
Starmer added when Theresa May was prime minister, he had "a strong sense of trust" but it's the complete opposite with Johnson.
"He does not have the trust, and that's partly because he chose to shut down Parliament, and he's pretending it's all about a Queen's speech," he continued.
"When someone is dishonest like that, they lose trust."
Editorial Comment Starmer means that Boris Johnson cannot be trusted to carry out the cross party elite consensus to con people with a DEAL which really means Brexit in name only – Brino. He is a pot calling a kettle black.
Wish You Were Here': Pink Floyd's Roger Waters to stage Assange rally outside UK Home Office Posted September 3rd 2019
Published time: 1 Sep, 2019 11:39 Edited time: 2 Sep, 2019 15:35 Get short URL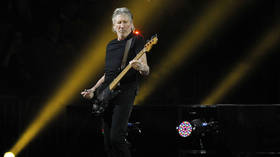 FILE PHOTO Roger Waters performs in in New York, 2012 © Reuters / Lucas J
Pink Floyd's Roger Waters will perform the band's hit song 'Wish You Were Here' in support of WikiLeaks founder Julian Assange, at a demonstration outside the UK Home Office on Monday.
WikiLeaks tweeted that the Pink Floyd frontman will play the iconic number at the central London event, which will also see award-winning journalist and filmmaker John Pilger speak "in solidarity with Britain's political prisoner."
Event: On Monday, 2 Sept at 6pm, Roger Waters of Pink Floyd will perform 'Wish You Here' for Julian #Assange outside the Home Office (interior ministry) in Marsham Street in the heart of London. pic.twitter.com/GCZpLADzGM— WikiLeaks (@wikileaks) August 31, 2019
Waters is a vocal supporter of Assange, and said he was "ashamed to be an Englishman" after the UK arrested the whistleblower in April. He has used his concerts to draw attention to Assange's case, and recently took aim at Twitter, calling it "Big Brother" after it suspended a prominent account supporting the WikiLeaks founder. Also on rt.com Roger Waters brands Twitter 'thought police' for suspending Assange support account (VIDEO)
Assange has been imprisoned in Belmarsh Prison in London since he was arrested for violating bail conditions following his removal from the Ecuadorian embassy in London, after almost seven years living in asylum there. He faces extradition to the US where he is accused of 'conspiracy to commit computer intrusion' for allegedly trying to help whistleblower Chelsea Manning, who leaked a huge tranche of US war logs and cables to WikiLeaks, which revealed shocking details about foreign policy and civilian casualties.
Pilger recently visited Assange in prison and reported he is being psychologically tortured and is isolated and not allowed to have phone calls with his parents. Also on rt.com 'His psychological torture is unabated': John Pilger reveals Assange prison conditions
Subscribe to RT newsletter to get stories the mainstream media won't tell you.
'His psychological torture is unabated': John Pilger reveals Assange prison conditions
Published time: 29 Aug, 2019 11:09 Edited time: 30 Aug, 2019 07:18 Get short URL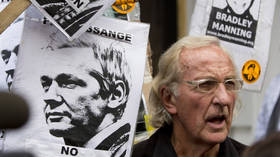 File photo: © REUTERS/Neil Hall
Australian journalist and BAFTA award-winning documentary filmmaker John Pilger says the "psychological torture" of WikiLeaks founder Julian Assange continues "unabated" while he remains in British custody.
Pilger tweeted that he recently spoke with Assange and said the journalist had lost even more weight than previously reported; he has also been denied a chance to speak to his parents on the phone.
I spoke to Julian #Assange at the weekend. His psychological torture is unabated. He remains isolated in his small cell, mostly 23 hours a day, denied proper exercise. He has lost more weight. Although 'approved', phone calls to his parents are still not possible. Britain 2019.— John Pilger (@johnpilger) August 28, 2019
Also on rt.com 'Slow, cruel assassination': Mother blasts US & UK for treatment of Assange
"Britain 2019," Pilger concluded.
The journalist has been a staunch defender of Assange since his showdown with Western governments began following WikiLeaks' publication of sensitive US documents exposing potential war crimes in Iraq.
Assange, 48, has been serving a 50-week prison sentence since his arrest outside the Ecuadorian Embassy in London on April 11, ostensibly for skipping bail, though many of his supporters argue it's just a holding period before his eventual extradition to the US to stand trial for the alleged possession and dissemination of classified information. If convicted, he could be sentenced to 175 years in prison. Also on rt.com Assange being 'treated worse than a murderer' in prison – John Pilger
Editorial Comment British Democracy and Parliament is a model for dictatorships and self serving hypocrits everywhere.andech Wakana Mura, another local leader within the forest, said: "With each passing day we see the destruction advance – deforestation, invasion and logging.