Serious Assaults on British Police Officers August 13th 2019
There were 10,399 serious assaults on British police officers at work in the last 12 months, representing a 37% rise, according to official figures.
Mainstream media and police officialdom explain this as a sign of increasing violence, which it may be to some extent. But these people are always tardy when it comes to explaining why Britain is more violent. I don't think it is due to lack of police officers or that more stop and search will make much difference.
Stop and search has always been problematic in the post World War Two era. This has much to do with issues of policing predominantly immigrant communities. From the get go, white police officers revealed issues with Britain's black communities.
Modern police training may be high on the PCs having PC jargon, but poor hard pressed immigrant and working class white communities tend to disttrust the police as they struggle to make a living and survive. During the 1985 Coal Miners strike, Metropolitan Police officers ridiculed striking miners on the picket line by waving their overtime pay slips at them.
My cousin was a police sergeant based in a coal mining area at the time, Stoke on Trent. Those were dark days and a Thatcher revolution for the police and so much else.
Being a graduate is not what it used to be, with even remedial students getting on the continous assessment courses, and many subjects low on intellectual requirements.
However, simple minded students, flourshing their credentials will be welcome in Boris Johnson's 'New Model Army' of police officers, possibly over confident and not helped by a police training programme which, for many years, has encouraged the police to keep emotional distance from the public- unless they are rich members of the public. That is why the police officers involved in Plebgate were so upset when a toff from the government did not show them respect.
Mainstream media and police top brass milking the terrible assaults on two police officers in the last few days, claiming all cops are heroes is not going to help. On a day to day basis lower class people are treated abrasively by the police. Corruption at high level and cover ups are also issues in a system wide open for insider abuse.
This website does not condone crime of any kind, least of all violence towards anyone, but the police are not little white knights in shining armour. They are well paid officials who like asking questions , working on the new princiole of guilty until proven guilty, but they are very shy about answering questions about their conduct and misconduct. They routinely withold evidence, to get convictions and meet targets.
The new Independent Office for Police Conduct is just a revamp of the old IPCC nd is no more than a mailing service for the police.
Robert Cook
Epstein Lates August 13th 2019
It is being acknowledged by U.S authorities and media that Jeffrey Epstein could not have killed himself using any equipment or structure in his cell for that purpose.
A lot of rich and pwoerful people travelled on the Epstein jet, enjoying parties on board and at his luxury homes, where there were always lots of young attractive girls. Epstein was protesting his innocence and angry with his treatment.
As a member of the elite he could have easily turned on his old cronies, blaming them for his predicament and to save his own skin.
Bill Clinton speny years fighting off sex assault claims and the Monica Lewinsky affair nearly pulled him down. The 'little black dress' with semen stains was a tricky one for Bill to explain, but he has a way with words and Hilary to protect him.
Meanwhile, I wonder how Prince Andrew is bearing up.
Prince Andrew faces new Jeffrey Epstein Anguish
August 11th 2019
How on earth can such a key prisoner – with obvious links to the U.S great and good, and others, as the image of the late Jeffrey Epstein with Prince Andrew here shows- commit suicide in a cell.? Cells are supposed to be suicide proof and are video monitored- don't ask how I know.
This guy was considered a suicide risk. He was also a potential target because he knew the rich guys who were buying sex with underage girls. His death is reminiscent of Dr Stephen Ward and the John Profumo affair.
I know what the Anglo Americn elite are capable of. As my old history teacher, John Skinner, used to keep reminding me: 'He who sups with the Devil should use a long spoon.'
How Britain can't let go of Hong Kong August 11th 2019
BRITAIN has vowed "unwavering" support for protesters demonstrating against Chinese rule in Hong Kong but urged against violent actions.
Foreign Secretary Jeremy Hunt promised to continue his support after China warned Britain not to interfere in the affairs of its former colony.
The foreign ministry in Beijing responded to Mr Hunt after he issued a statement reiterating support for the protests.
A spokesman was quoted as saying that Britain needed to "know its place and stop interfering" in what was a "purely internal affair" for China.
Hong Kong became a British colony at the end of the First Opium War in 1842.
Britain obtained a 99-year lease for the strategically important territory which expired in 1997.
Since then, Hong Kong has been part of China, but kept laws allowing citizens more freedoms than those enjoyed in the mainland.
Protesters forced their way into Hong Kong's parliament following outrage about a controversial new law which would allow enforced extraditions to mainland China.
The Portugese had been the first European power involved in establishing relations in the area. They managed to create a trading factory and concession at Macao from 1557. There were many goods that could be acquired relatively cheaply and sold for many more times its price back in Europe; silk, spices, tea, etc… The other European nations wanted to get involved and to take a cut of the huge profits that were being made by the Portugese.

The English East India Company sent their first ship to Macao in 1635 but found it difficult and prohibitive to engage trade with the Portugese. Trading directly with the Chinese was not much easier. Trade was restricted to the port of Canton where English traders had to deal with one of 13 merchants selected by the Chinese government. These were referred to as the 'Hong'. For the Eighteenth Century, the English East India Company had a monopoly of British trade from Asia at least which in many ways counter-balanced the Chinese trading restrictions. However, in 1833 the British government ended the East India Company monopoly and traders rushed to fill the vacuum.

These traders would become known as Taipans and they competed voraciously to get hold of the precious Chinese commodities. Unfortunately, they did not have many products that were of interest to the Chinese – silver was preferred but was in short supply. Therefore, many of the Taipans resorted to using Opium as a trading commodity. The Chinese government was concerned at the debilitating effects of the drug and wished to prevent the inflow of Opium into the country. To this end, in 1838 they appointed a new Imperial High Commissioner to Canton, Lin Tse-hsu, to stamp out the importation of Opium. The British traders were to use his policies as an excuse to force the Chinese government to relax its restrictive trade practices.

The so-called Opium War started in 1839 and lasted until 1842. The Royal Navy was able to impose its will on the unsophisticated Chinese fleet. As a result, the British were able to make demands upon the Chinese government before lifting their blockades and stopping the bombardment of important ports. The Chinese agreed to cede the rocky island of Hong Kong to Britain as a free port with rights of trade to the mainland. In fact, both the Chinese and British negotiators got into trouble. Kishen, the Chinese negotiator, was blamed for ceding inviolable Chinese territory to the foreigners. Whilst Charles Eliot, the British negotiator, was lambasted for acquiring such an unpromising rocky outcrop with virtually no indiginous population and no history as a port whatsoever. Over time though, the acquisition would prove invaluable to the British.
On taking possession of the island, it was estimated that the population was no more than 1,500 who mostly made their living from fishing. Disaster seemed to afflict the early colony especially when a number of Typhoons devastated the flimsy wooden structures that had been hastily thrown up. However, the increase in trading activity continued to act as a spur to the growth and development of the fledgeling colony. By just 1844, the population had increased twelve-fold to 19,000. It was not just British traders who were attracted to the colony. Other European traders took advantage of the free port and ease of establishing businesses on the island. Chinese labourers from the mainland were attracted to work on the infrastructure and for the companies themselves.

The island also became a means of emigration for many Chinese who could board ships for Singapore, Malaya, California or Indonesia. The Tai Ping Rebellions brought another wave of refugees who sought to escape the instability of the mainland. By 1861 the population had grown to
120,000 and space was beginning to be an issue.

The British sought to expand their foothold, and the Second Opium War with China provided just such an opportunity. In 1860, the Peking convention was signed which ceded to Britain the Kowloon peninsula (up to Boundary Street) and Ngon Sun Chau. Britain had now acquired land on the mainland of China itself – and this was to be in perpetuity. This provided some additional space for building and allowed the port facilities to expand.

Although it was still not enough and in 1898 the British leased the New Territories together with 235 islands for a period of 99 years. The beginning half of the Twentieth Century saw further turmoil in China as the 1912 revolution occurred and a period of political instability ensued. The Japanese invasions saw yet more refugees head towards the British colony. By 1939, the population had risen to 1.6 million.
www.britishempire.co.uk/maproom/hongkong.htm
'UNWAVERING' SUPPORT FROM BRITISH EMPIRE LAUGHED AT.
The Chinese spokesman said the Beijing government was "extremely dissatisfied" with the way Britain had "continuously gesticulated" about Hong Kong.
Editorial Comment It is interesting to contrast the British Government's attitude to protestors at home in Britain. Hong Kong is a hot bed of financial corruption with many fearing extradition to China. Britain is soft on finacial corruptio and has much sympathy with money making Hong Kong. Britain's imperialist die hard elite hide behind human rights and pro democracy rhetoric.
I offer no judgement, just ridicule for the hypoctits who run Little Britain as if it is still an imperial force. No amount of multi cultural msytification should be allowed to hide the truth about this island. The only culture that matters here is the ruling one, with its love of money and divide and rule methods.
Shipping Companies abandon British flag July 24th 2019
www.facebook.com/rj.cook.9081
Stenna Shipping line et al are considering abandoning the British flag of convenience in the wake of their tanker being impounded by the Iranian government. They are unhappy that Britain's depleted Royal Navy cannot protect shipping. At the moment 4,500 ships fly the famous British Red Ensign, with ships registered in Britain, The Cayman Islands or Gibraltar. The attraction has been that the taxpayer funded Royal Navy was always there to protect the big business of international merchant shipping.
Polly Toynbee of the Guardian wrote the following piece of Britain's record in merchant shipping back on August 30th 2016- Guardian.
Malaviya Twenty has been moored in Great Yarmouth docks since December. To look at, it's no rustbucket, kept in good shape by its Indian crew – but when I visited a week ago, they hadn't been paid by the ship's owners for all those months. This is a story about the fate of shipping in Britain – an often forgotten industry, though we depend on it for over 90% of our imports and exports, and for most of what is stacked on supermarket shelves.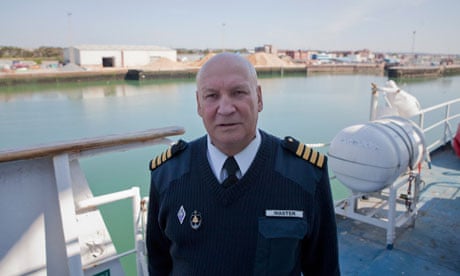 Waiting for their wages, the 12 crew members spent their time growing vegetables – onions, garlic, cabbages and tomatoes – in pots on the deck. The company hoped they would give up, but they are holding out for their pay. "They're trying to wear us down," says one officer: they want no names printed for fear of blacklisting. He can't go home without his pay as he has taken out loans to keep his family.
Why was this ship contracted here in the first place? That reveals much about British shipping and the fate of seafarers. This is an Indian supply ship sailing between the British coast and UK offshore oil rigs and wind farms. Despite this, their foreign owners need not pay the UK minimum wage: rates are often a third less than for British sailors.
The trade union Nautilus International,which often helps stranded crews, has stepped in, calling in the UK's Maritime and Coastguard Agency (MCA). This means the ship is officially prevented from leaving port until the men are paid.
Its sister ship Malaviya Seven has been similarly holed up in Aberdeen. This crew were owed a total of $380,000 (£290,000) in June: some has been paid following MCA intervention, but Paul Keenan of Nautilus says $200,000 is still owing. The ship, worth millions, could be sold off to pay its debts.
The shipping industry is a prime example of what an unfettered free market does to a workforce, of globalisation at its reddest in tooth and claw. Flying flags of convenience, British shipping has been allowed to register in low-pay, low-regulation countries. That exodus took off in the wicked 1980s when the number of British merchant navy officers was cut by two-thirds, replaced by cheaper foreign staff. Now only a third of British-owned shipping is registered under a British flag.
Can Britain rule its own waves again after Brexit, restoring its ships to the UK flag with decent pay and safety conditions? No chance, since Britain has been the strongest lobby in Europe against reform. Of EU nations, Britain protects its own sailors least from unfair, undercutting competition, and issuing most "certificates of equivalent competency" to foreign mariners so they can work on its ships.
The three politicians who now command the Brexit negotiations are all extreme free marketeers. Once outside the EU, don't expect welfare, wages and working conditions to be high among their priorities as they attempt to strike new trade deals. Indeed, the risk is that after Brexit shipping companies based in the UK will try to drop existing EU regulations. Others may leave because they need an EU base: Stena Line warned immediately after the referendum that it might re-flag its UK vessels.
A manning directive to ensure that ships sailing between EU states are paid and regulated under EU law has failed to gain approval in Brussels for years, defeated by ship owners wanting to hire cheaper non-EU crews.
Compare this with how the US protects its industry: all ships working between US ports must be US-built and crewed. Many countries do likewise. But in Britain and the EU it's a global free-for-all, where the cheapest contract wins. The result is a collapse in the British-registered shipping industry, now only 0.8% of the total worldwide. Why would owners pay British wages when they can hire crews elsewhere for much less?
There has been a steep drop in training British mariners: companies are obliged to train some cadets, but then rarely take them on. More than 10 keen, well-qualified young people apply for every merchant navy training place; but despite promising good apprenticeships, the government has just cut funding for maritime training. Numbers are falling fast, though thousands of experienced officers are needed onshore as harbourmasters and marine pilots.
The City employs 15,000 of these trained officers in marine insurance, who arbitrate in causes of accidents and other shipping specialisms. A government report last year dodged all the real issues, but it did warn of the urgent need "to replenish and develop the skills needed to maintain our position as a world-leading maritime centre". The 90,000 UK seafarers of 40 years ago have now become only 19,000.
In Britain, few employees are as brutally undercut as these. Ship owners fly foreign flags of convenience that allow them to fire British crews and hire others from the poorest countries, paying the lowest rates in a race to the bottom. Meanwhile the government turns a blind eye.
The sea has ebbed in the national consciousness, though it matters as much as ever to an island. Its romance still draws keen recruits, but it's a dangerous workplace, with climate change causing more violent storms. Britain depends for everything on this buccaneering industry, yet wages are undercut and jobs lost through aggressive globalisation. As with the equally essential road transport industry, the state steps back where it should step up.
Two days ago Malaviya Twenty's owners paid off some of the crew, who are flying home – though the ship will be detained until all wages are fully paid. And as the Nautilus union protests: "The exploitation of these crews directly undermines our own shipping industry with unfair competition."
British politics focuses too little on the reality of working lives. Many who voted Brexit overestimated the impact of migration on their own low pay, or the lack of housing and public services. But here's a case of crude, obvious labour-market abuse by employers substituting cheaper foreign staff.
If one company does it and undercuts the rest, then all must follow suit in bidding for contracts. Only government intervention can prevent a race to the bottom that is eroding established working rights in so many sectors.
Britain's Cameron appointed puppet ambassador to U.S resigns after secret memo leaks- The British Elite love their secrets, and still call Britain a democracy. July 10th 2019.
Kim Darroch has resigned as British ambassador to the United States, following soured relations with the US President's administration.
Daroch has the typical upper middle class background of the ambassador and senior British Civil Service. Darroch was born in the village of South Stanley in County Durham on 30 April 1954.[6] He was educated at exclusive Abingdon School and at Durham University (Hatfield College), from where he graduated with a bachelor's degree in zoology in 1975.[4][7]
His resignation comes after leaked diplomatic documents described Donald Trump and his administration as "inept" and "uniquely dysfunctional", according to the memos published by the Mail on Sunday.
Mr Darroch reportedly said Mr Trump's presidency could "crash and burn" and "end in disgrace", in the cache of secret cables and briefing notes sent back to Britain seen by the newspaper.
| | |
| --- | --- |
| Gove: Brexit might not happen on 31 October | |
Conservative leadership candidate Michael Gove says the latest Brexit deadline – 31 October – is "arbitrary" and he is "not wedded" to it. But he said any delay – in order to pass a deal – would be a matter of weeks, not months. Other candidates, including Boris Johnson, say the UK must leave the EU by the deadline, deal or no deal. The UK was supposed to leave on 29 March, but Parliament did not approve Mrs May's withdrawal agreement.
Source BBC

The truth is that Britain is never going to leave the single market, the
referendum was a con to get posh boy Cameron elected. The political
elite, over 90% univerity elected and far from diverse, are the ones
deciding.

The term democracy is bandied around to deceive is. A deal is not
leaving. Deception is a very serious matter. But this is the elite that
has no problem extraditing Julian Assange for shopping U.S war
criminals while taking the moral high ground about Trump for his
sexual antics.

Britain has big issues with sex and gender hypocrisy. It worries the
country more than anything else.

What about dealing with Gove the Class A drug user- can't do that
because it has to be him or Rudd as the next Tory leader?
apple.dene@btinternet.com